Background
The background for this trip was, in March this year, we had just qualified for out first BA Companion voucher and wanted to use it in October. Scanning though various location we noticed that BA were starting their direct Chengdu (CTU) service from September onwards. We grabbed this opportunity and booked two tickets via the superb BA website, using the BA Amex companion voucher, £1100 poorer but super excited, I couldn't wait to try out the BA 777 Club world to CTU. My only gripe was I was unable to select my seats in advance, I thought at least with club world when you are expected to shell out your (or your company's) hard earned money, BA should at least allow us to reserve a seat in advance. Well, it was not to be. So will wait for the 24 hour check window to open before we can select our seats.
Next stop Chengdu!
Route Map, courtesy of gcmap.com
1: British Airways BA 89 : LHR - CTU
Flight Reg: [url= http://www.airframes.org/reg/gymmk] G-YMMK [/url]; delivered Dec 2000
Boeing 777-236ER
Seat 15K
Departure time 15:35 (15:45)
Arrival 08:55 (08:20)
18 Oct 2013
Price: GBP 550 (BA AMEX Redmeption voucher)
24 hours before departure
Checked in 24 hours before departure. Got pretty decent seats as I had desired. 15 j and k. Bassinet seats. Last row of club world cabin.
One month before our travel date I grabbed a long stay parking at Purple Parking - 11 days for a mere £62.00, a steal for sure. Having used them before, if you have an extra 20 minutes to spare, I think is the best deal in the market. Regular, free shuttle ply from the parking area to all 4 terminals. Since our flight was in the afternoon, I was sure we would have ample time to spare and hence went for this deal. (But towards the end of the trip, we realised this is not the best method if you are using T5; better options available closer to T5)
On day of travel
Left home with plenty of time to spare with the plan of using the galleries lounge. Reached purple car park, seamlessly connected to t5, albeit it was a 25 minute shuttle ride away.
At t5, there was a bit of queue for club world baggage drop. Wife mentioned that it would've been quicker to use the world traveller baggage drop instead
Security was quite brisk although t5 looked extremely busy. A quick scroll through duty free, picking up some chocolates we made our way through to the south galleries.
En-route made an appointment with the elemis spa for a 15 minute massage. Had an hour and 15 minutes for lunch before hitting the spa
Lounge – South Galleries:
Heathrow Lounge – South Galleries – T5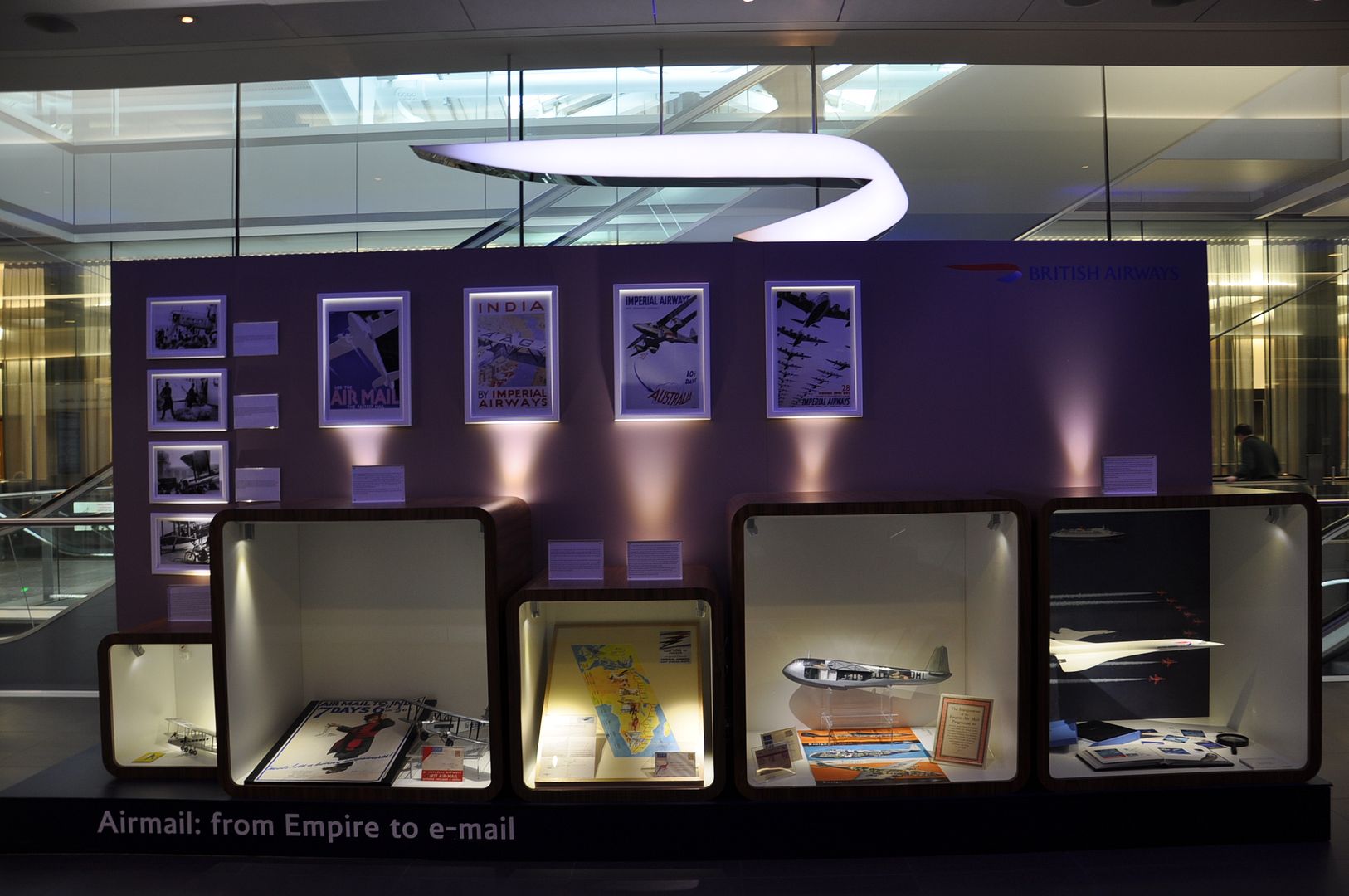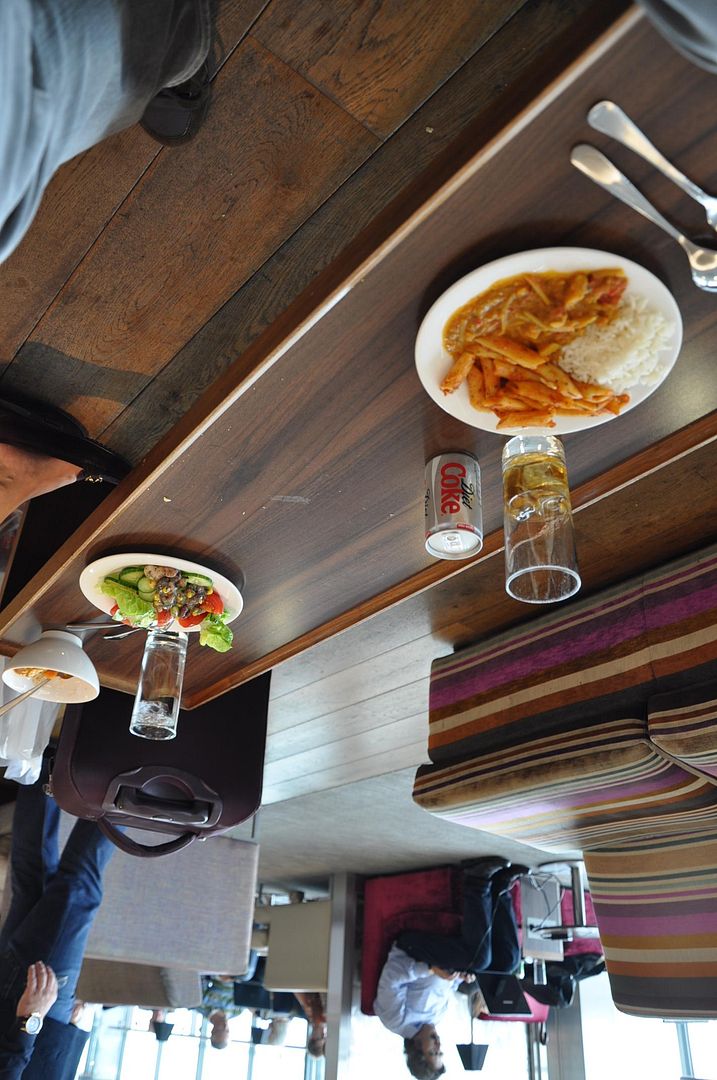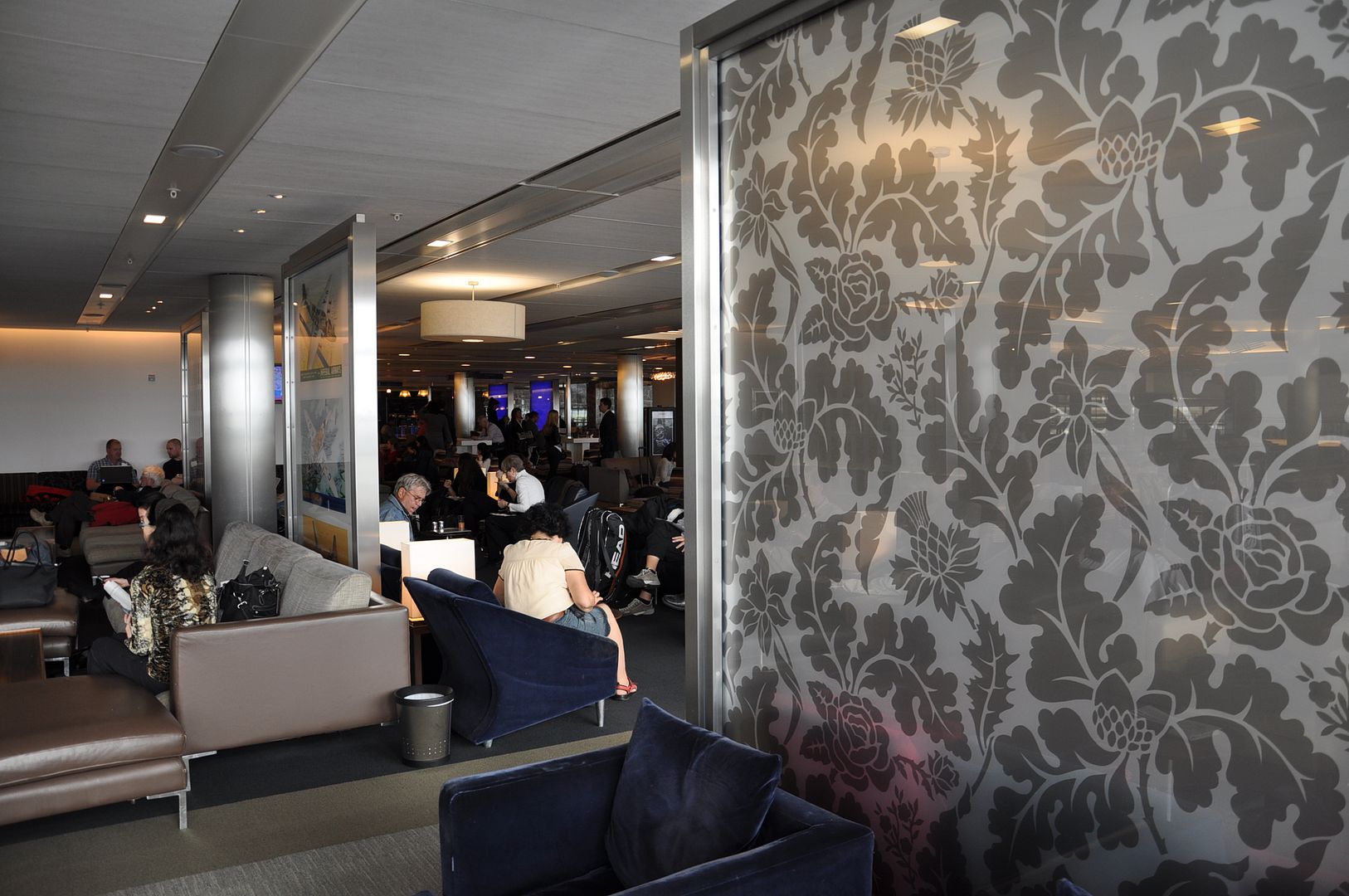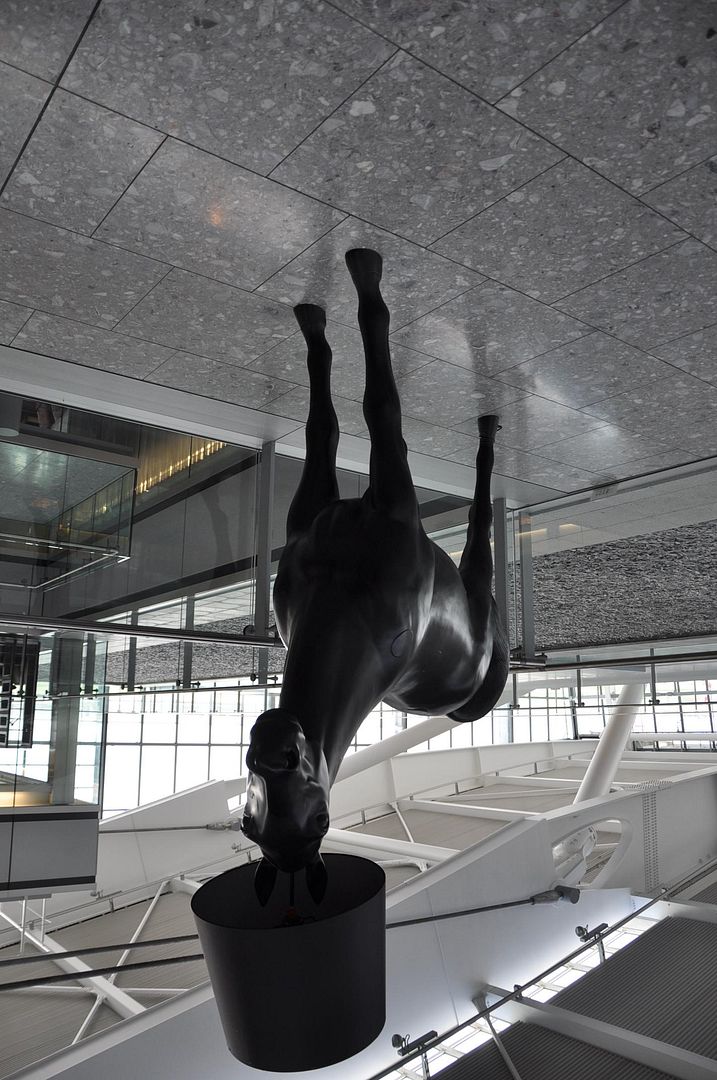 The lounge seemed extremely busy, I am not sure if its always the same, but today it was bursting at its seams. Found a decent place to relax and grab some food and drinks.
Tidiness: perhaps it was due to the large crowd, but the lounge did look a bit shabby, crumbs of food all over the place, tardy sofas, etc. on the whole not impressed with the tidiness. Staff seemed a bit demoralised too.
Food: decent selection of food on offer. Hot food consisted of pasta, rice and Thai curry, and wide ranges of jacket potatoes and varied fillings. Cold selection included a good array of salad selection along with wide ranges of cold sandwiches. Drinks wise I felt it was excellent. Great variety of wines, champagnes and hard liquor. On the whole food and beverage was excellent for a lounge that seemed this busy.
Drinks: Other facilities: there were a lot computers for business activities, a kids play area, a cinema - on the whole quite well stocked to while away a few hours.
Toilets: was just about alright. Not as clean it could've been but not filthy either.
Staff attention to detail. Could improve on this. More so the body language of the staff just felt as if they were forced to be there.
On the whole I am not impressed as this is BA flagship lounge. Been to better lounges (the priority pass lounge at T3- fantastic).decor looked outdated, average staff, only saving grace was the food and bev. on offer.
From here it was a quick jaunt to the spa. The spa was very good, albeit only for 15 minutes, I thought it was a good way to relax before a long haul flight.
Boarding
Boarding commenced at 14:30 and we reached the boarding gates by 15:00. We were one of the last passengers to board. We were all bussed (crowded bus..!) to the aircraft which was parked in a remote stand; which looked like closer to T3. It was a long ride away.
Expecting to see the smiling panda aircraft, it was not to be so. Our aircraft for today was G-YMMK, Built in 2000 and delivered to BA in Dec 2000. Interestingly, speaking to the crew, it seems that BA rotate that aircraft and not specific to Chengdu. In fact, during taxiing, we did notice the aircraft waiting for departure elsewhere, although I wasn't quick enough to snap a picture.
I think this was the first time I was boarding a 777 via stairs and the size of the engine left me gobsmacked! It's no wonder that this aircraft has been a work horse for many airlines and was she a beauty.
GobSmacked.!
G-YMMK – delivered December 2000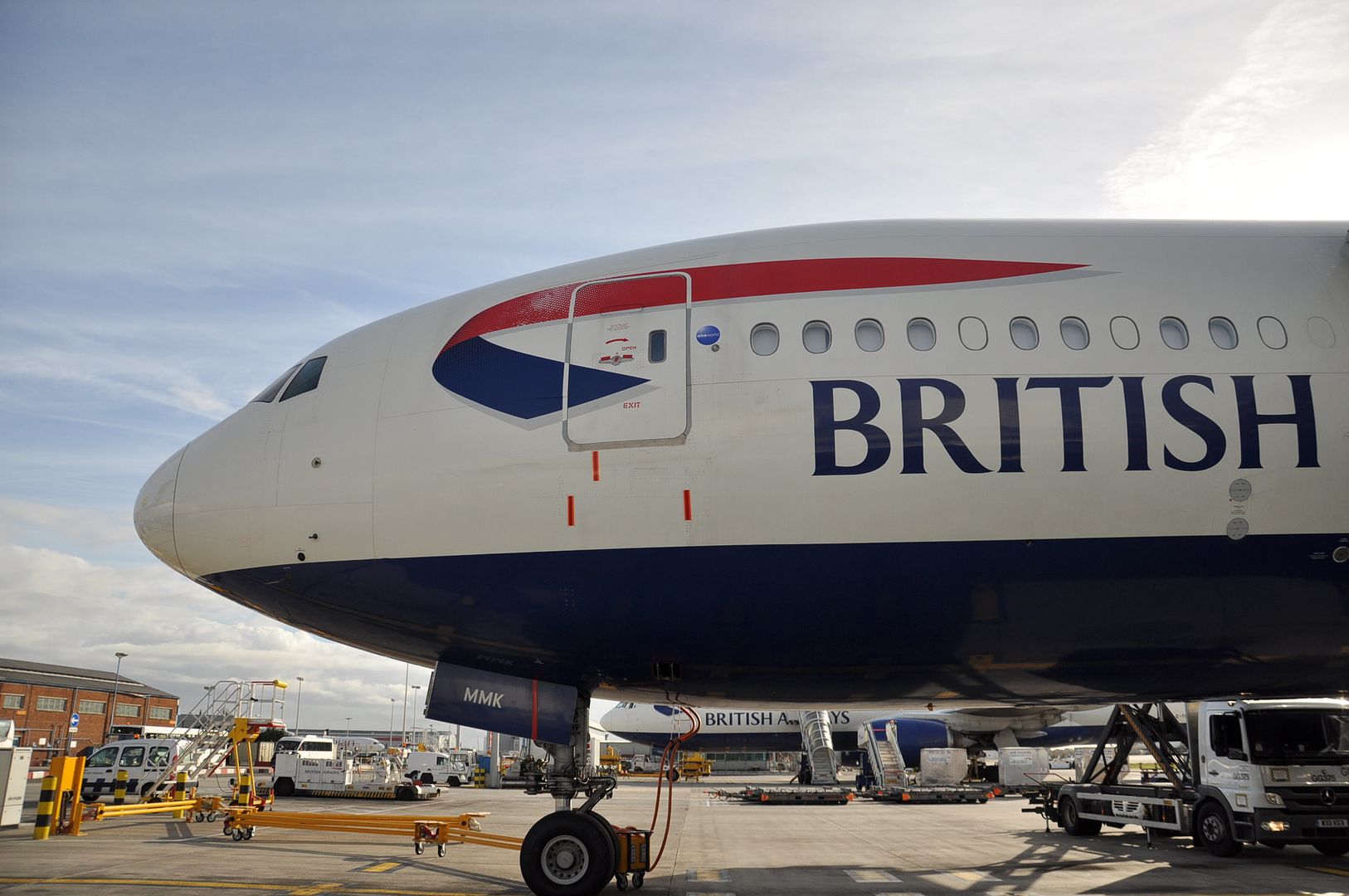 Bus to G-YMMK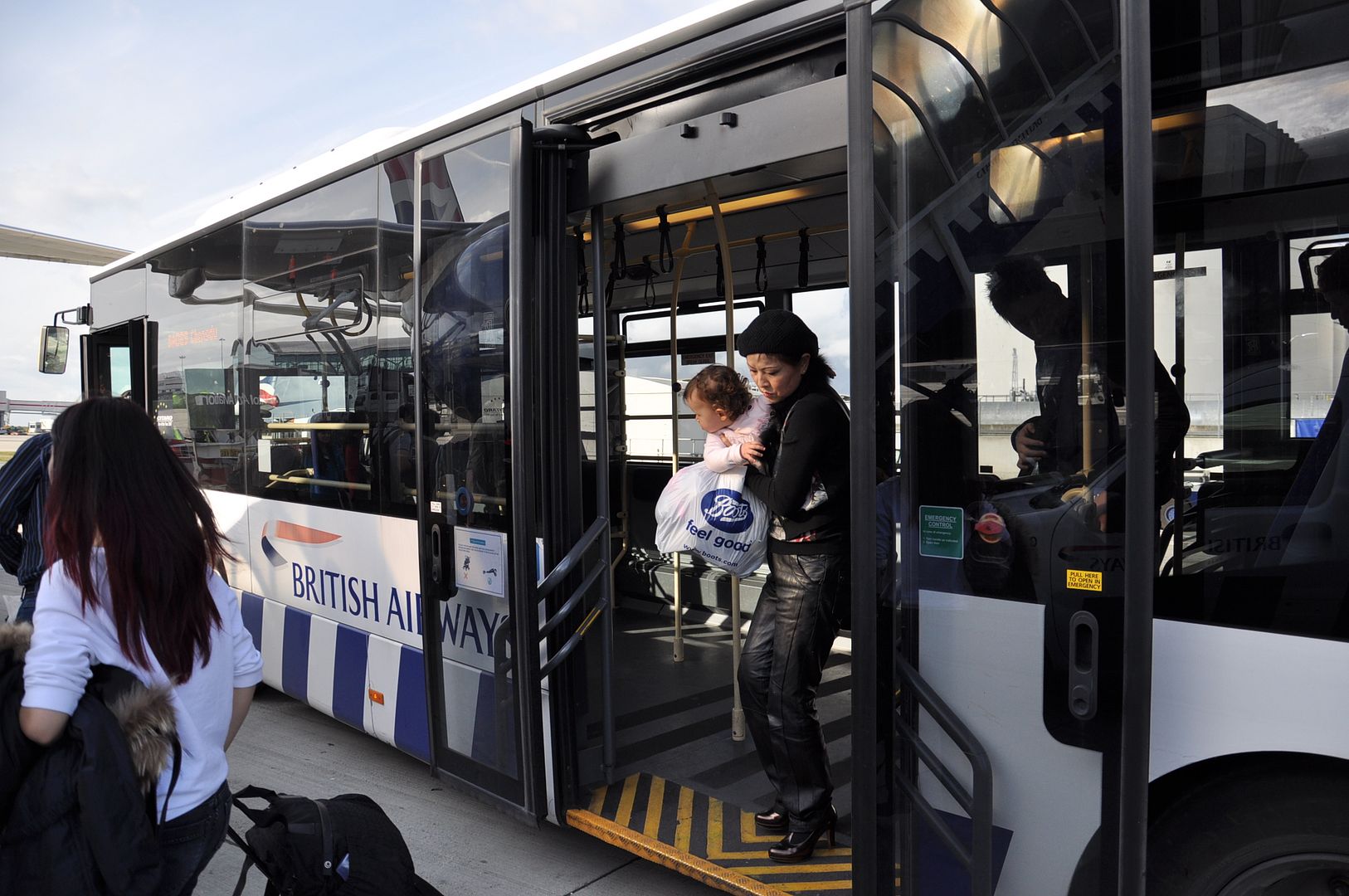 Boarding was quick. We were not introduced by names, but were offered drinks even before we reached our seats. Champagne it was for Me.!
Nothing much to say about the seat and cabin layout as I am sure it's been discussed many a times on this forum. There were a few kids at the back of the club world cabin so not sure if this was the best idea to choose the last row seats. Nevertheless the load looked light and I later came to know that out of a total 250 odd capacity this 777 could carry, the flight had a total load of 80...! 0 in f, 12 in club, 8 in WT+ and 60 in WT. Not feeling very optimistic about this route.
Cabin crew were very friendly (special mention to Gary, who has been serving BA for 40 years now.!) Got to get a Tour of the first cabin. Having not seen many first cabins, I thought the BA one looked the part - sophisticated, clean, and crisp and felt new.
Always – I ve never left Heathrow without seeing these whales
For better of for worse - IAG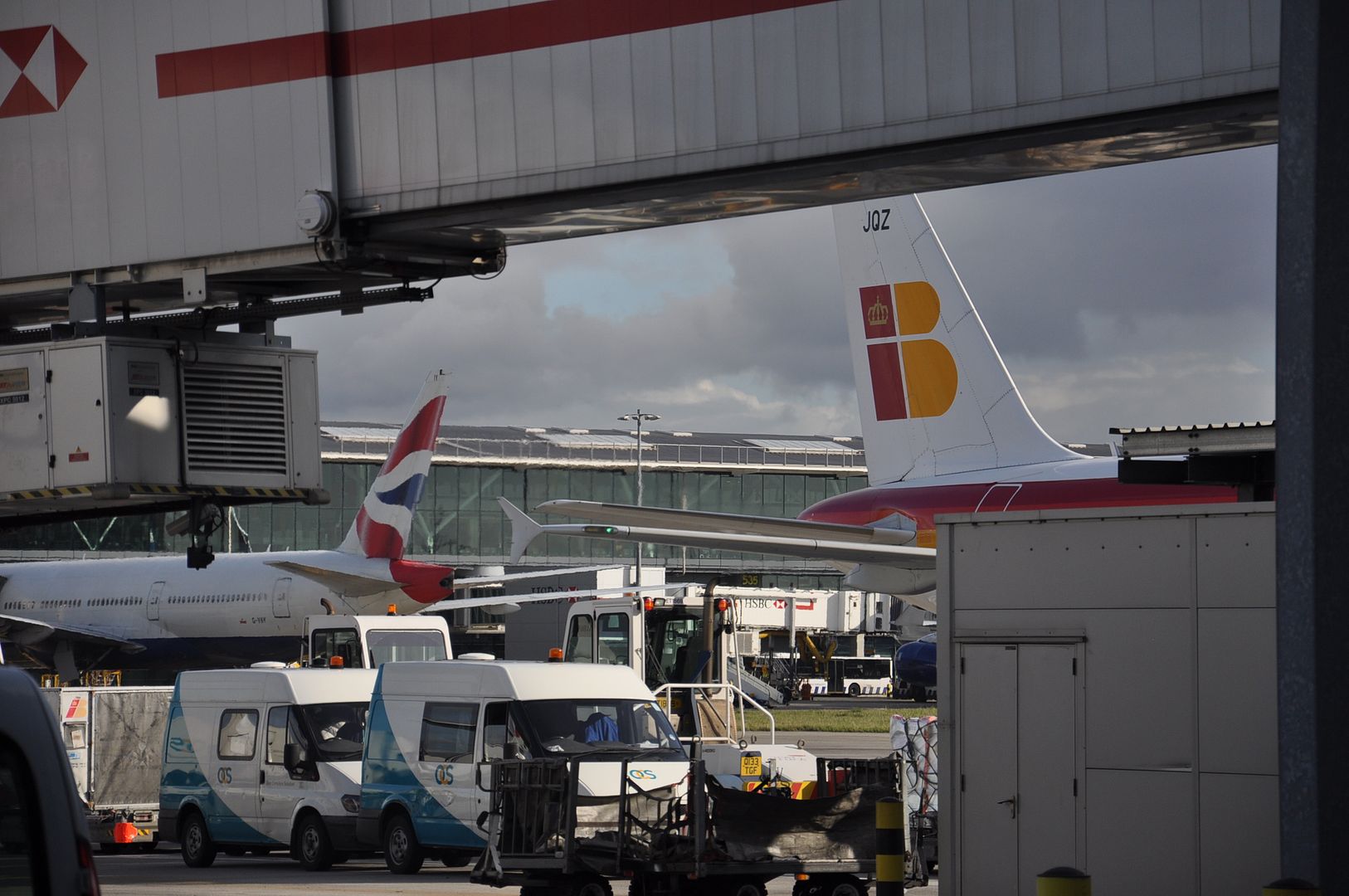 First impressions about the club world was that it felt slightly cramped to my liking, although I did like the clever use of space. Seats comfortable and with the divider up I like the sense of privacy you get. One gripe is that to get a good view, you need to sit in row 10, which means that you were too close to the lavatory. Or else the best seats would be row 15, which meant you had a window seat with direct aisle access, but right over the wings.
New First cabin tour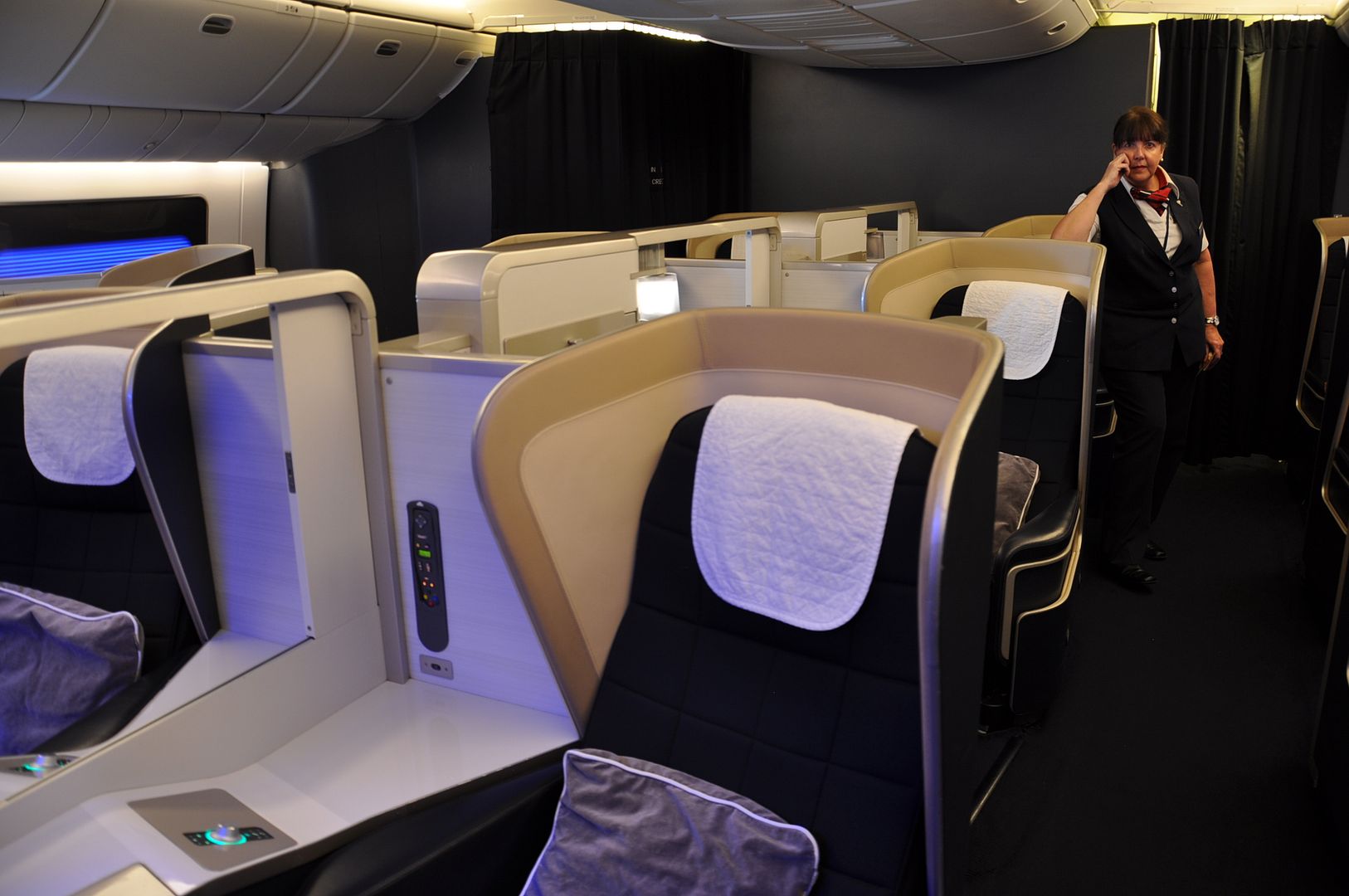 Flight took off at the scheduled time and we were airborne before 4:00 pm. Announcements made by the captain and menu card handed over.
Nearly empty Club world cabin, after take off
I like the manual – neat and professional
After take off –Southall?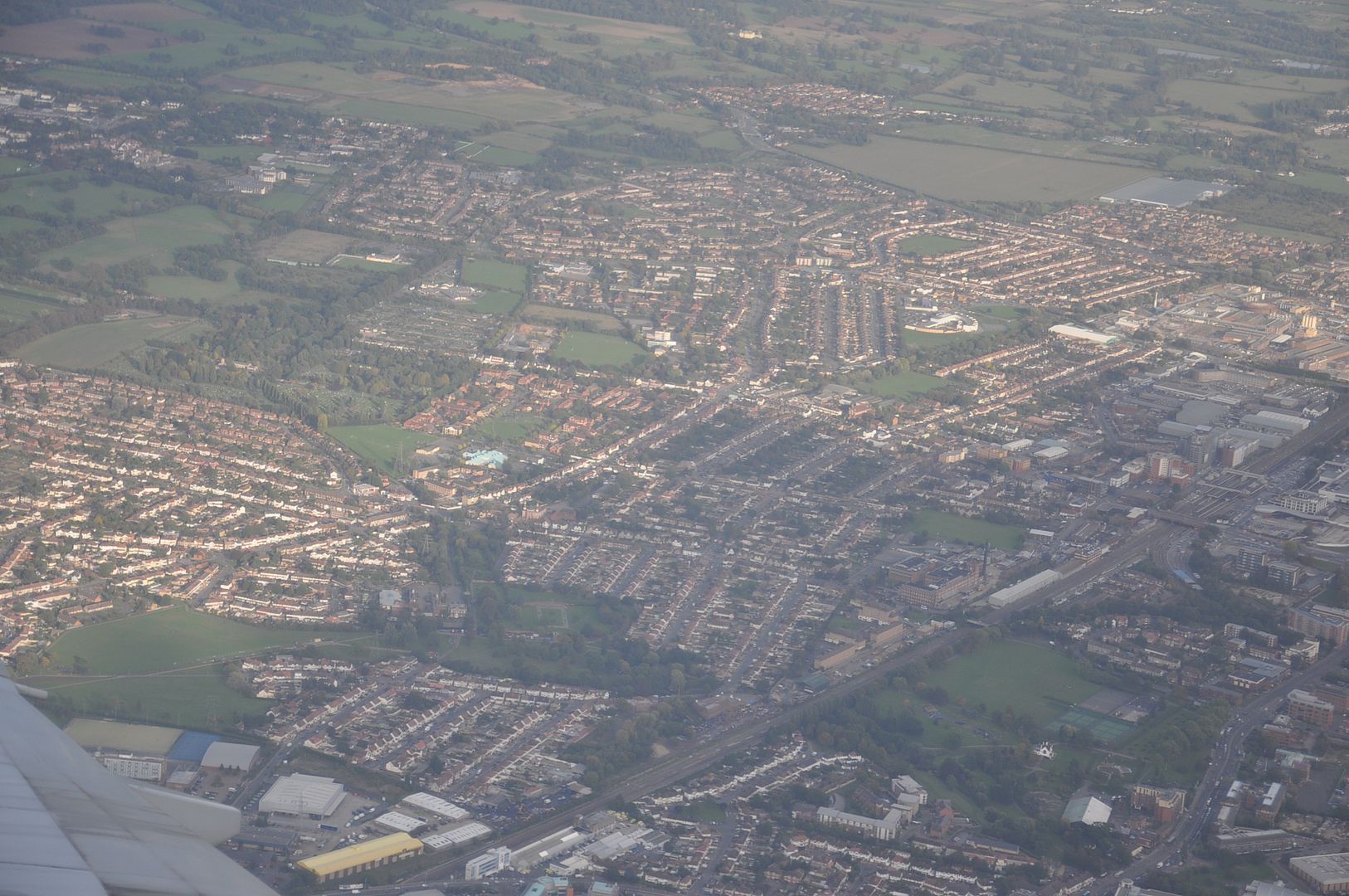 BA, BA and more BA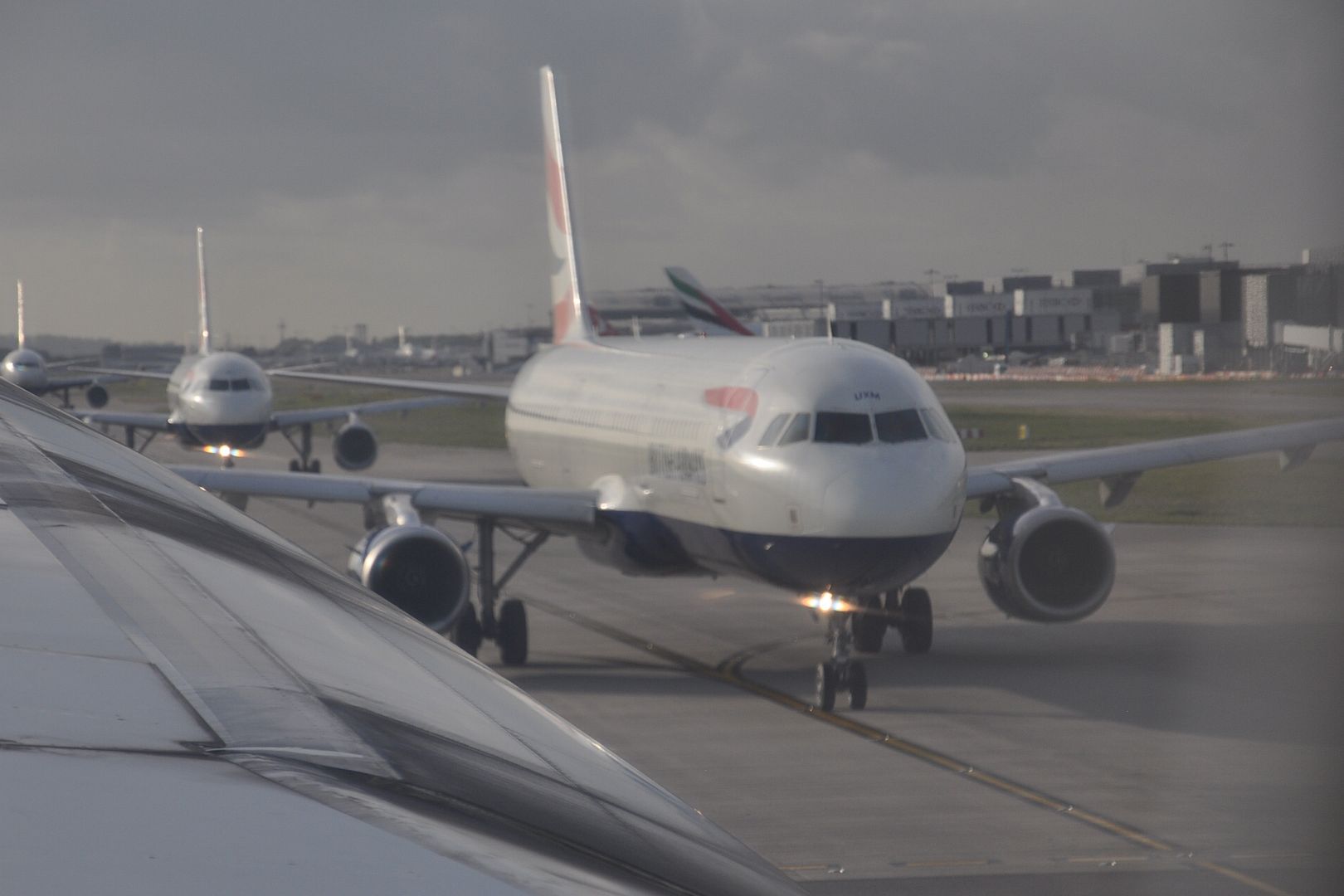 Menu – note the Keralan veg curry – surprised to see an South Indian dish on a Chinese flight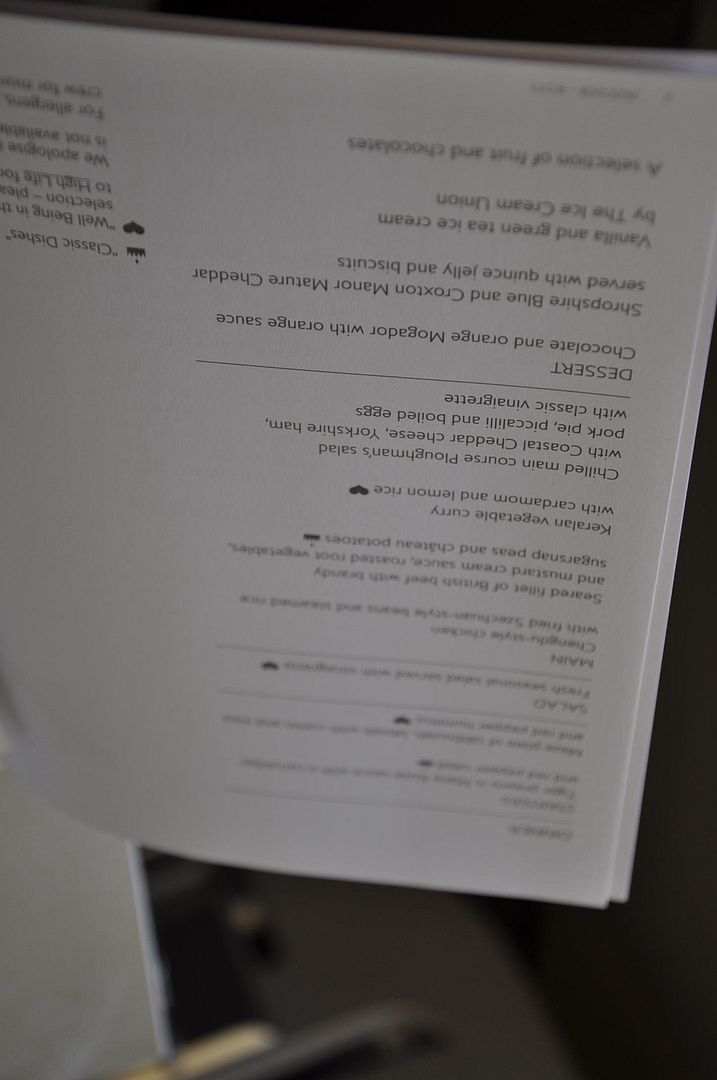 Coffin – kidding, was a very decent seat and a very good flat bed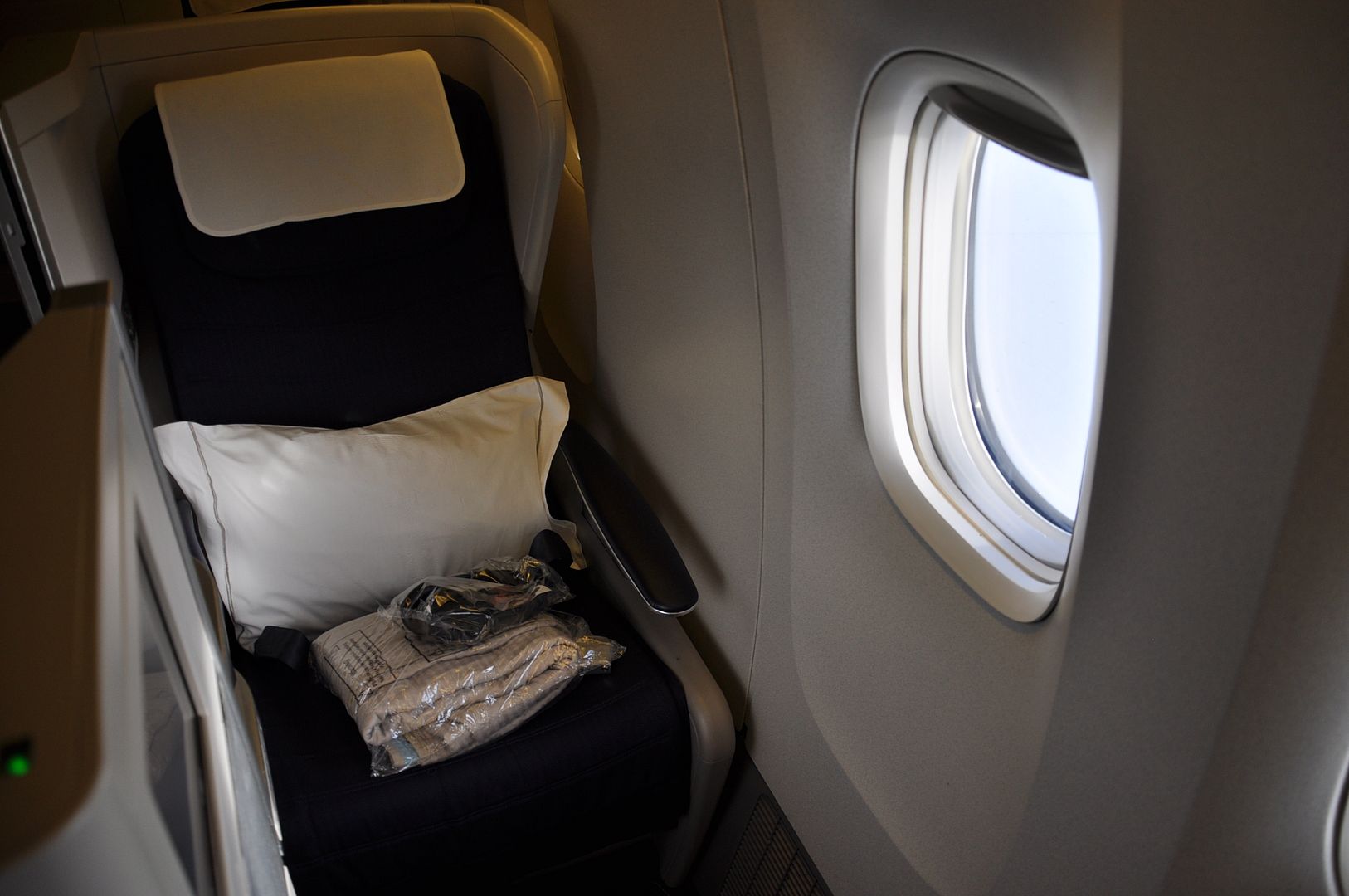 The food option looked appetising and was looking forward to it. was surprised to see a Kerala veg curry on a flight to china, and was almost tempted to try it. Tried the buck fizz for first round drinks service. Food quickly followed with prawn salad as the starters. The starter was amazing and my wife could not believe that this was airline food. This was followed by Chengdu style chicken (again excellent) and topped it off with some delicious chocolate and orange mousse and green tea ice cream. On the whole food was easily the best I've ever had without a shadow of a doubt. Service was also prompt and it never felt too hurried or lethargic, top so far.
Crab salad starter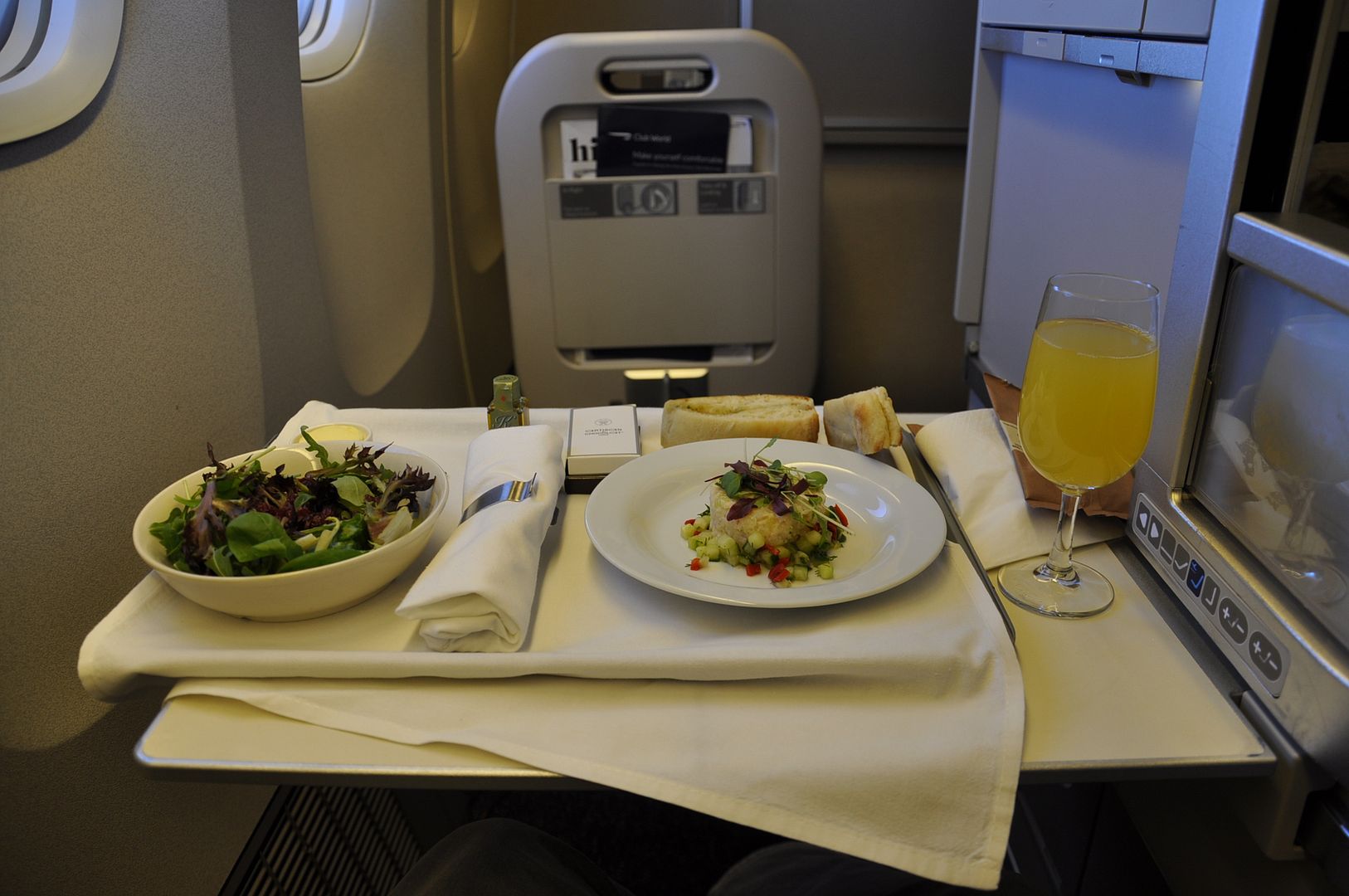 Chengdu style Chicken – sumptuous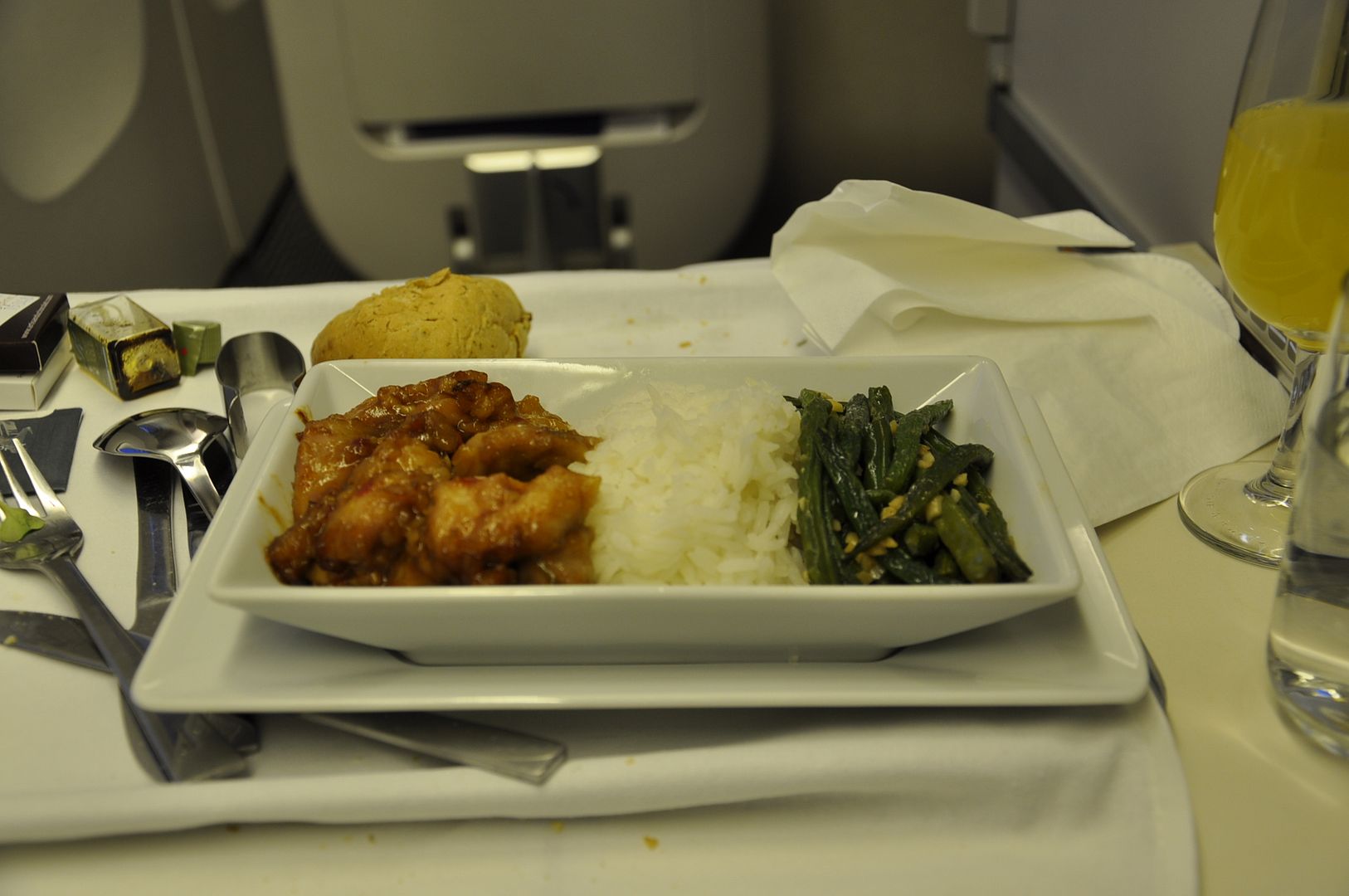 Yummy desserts…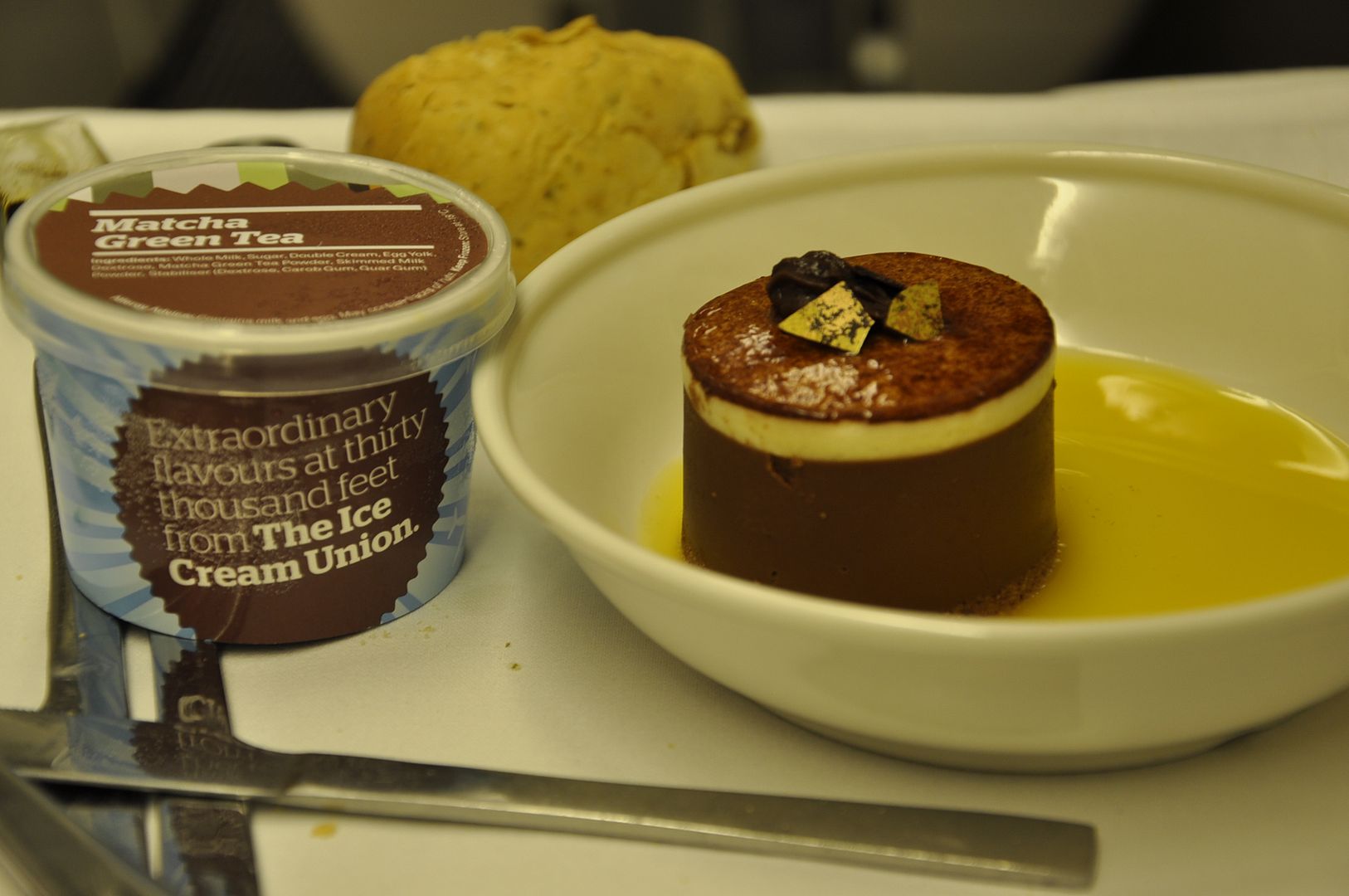 Post dinner drinks
Pre landing snack – salmon and scrambled egg wrap
Tried out the AVOD whilst having dinner. The usual BA standard, better screens for club world, but choices were very good for a 10 hour flight. Good collection of recent movies. settled for GI Joe retaliation, which is a kind of a movie that you leave your logic and brains back at home and just enjoy the pyrotechnics on screen.
Movie and dinner done with it was now time to experience the flat bed. We were somewhere above Moscow when I resigned and tried to sleep for a bit.
Slept off, just about now..
Had an ok'ish sleep, not as good as I had imagined, but that could be more to do with my excitement than the flat bed not doing its job. Might've got around 3-4 hours of sleep before it was time for breakfast.
Breakfast was served an hour away from landing. Again it was top quality. We even had warm breads.! Tried the salmon and ham roll which was tasty and did well as a breakfast.
The descent into Chengdu was smooth but just as any other Chinese cities these days, it was foggy, more like smoggy and raining. Toughed down at 8:30 and we were at the gates by 8:50. Immigration and baggage collection was super quick and we were out of the airport in our taxi by 9:15.!
Note: liked the captains announcement welcome us to Chengdu, signing off by saying thank you for choosing BA, and not like we had any choice!
like the humorous touch.
On the whole the best way to reach Chengdu from London. Although I doubt BA's tactics. With loads like these I see it quite hard for BA to sustain this. I am not even sure if the 3:30PM return to Heathrow, would give passengers enough time to connect to any US bound flight. As just an O&D route I see it hard for BA to sustain this, perhaps a re-jig in timing should allow for any further US connections and perhaps this should be the angle BA must be looking towards.
Reverse thrusters on..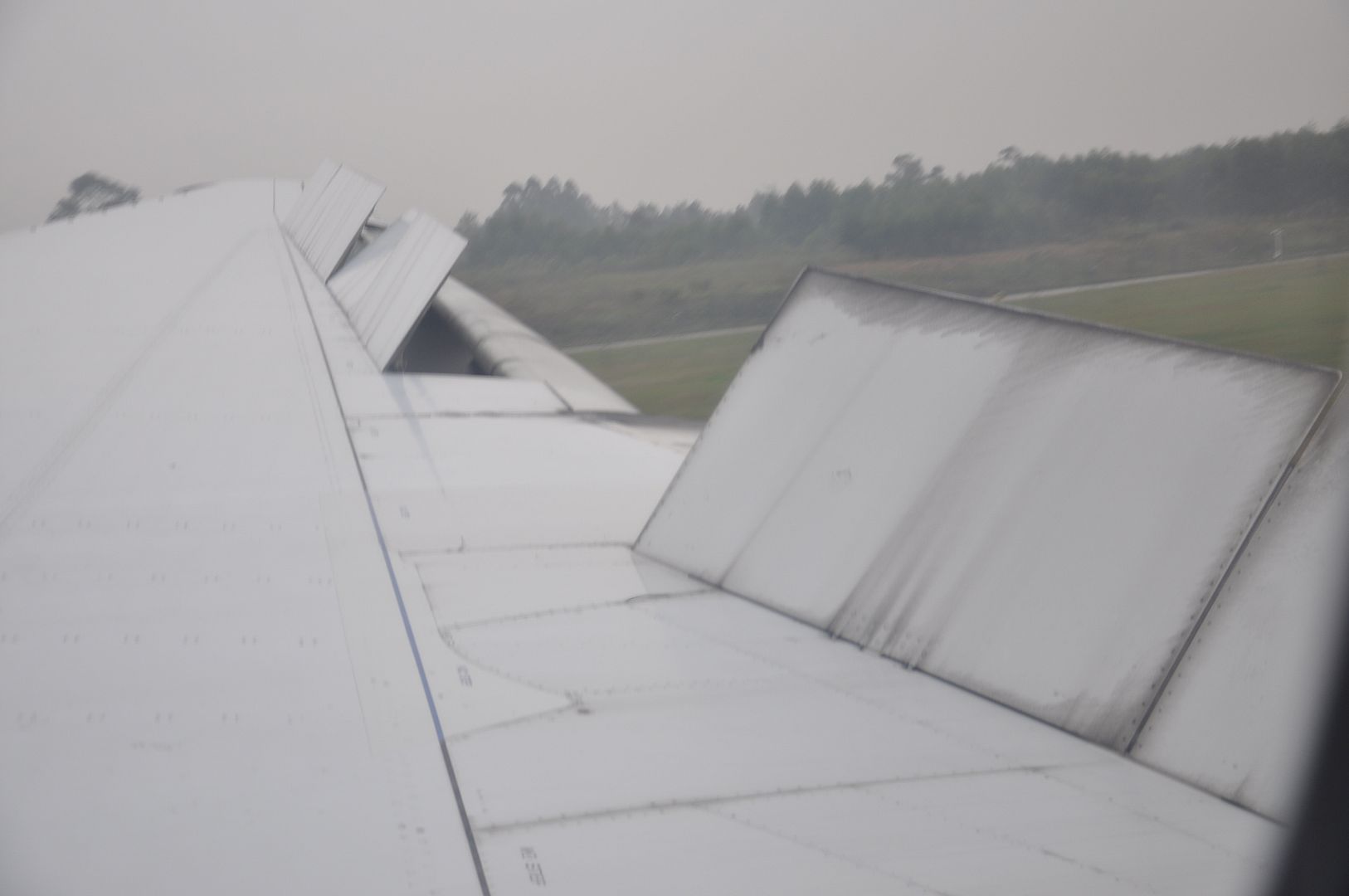 2: British Airways BA 88 : CTU – LHR
Flight Reg: [url= http://www.airframes.org/reg/gymmi] G-YMMI [/url]; delivered Dec 2000
Boeing 777-236ER
Seat 11A
Departure time 12:45 (13:35)
Arrival 16:05 (16:50)
28 Oct 2013
Price: GBP 550 (BA AMEX Redmeption voucher)
Checked in the previous day. This time it looked like. There were a lot more passengers in club world than before. All the window seats had been greyed out and we had been assigned the first row window seats 10 j and k. Not sure about how inconvenient it would be so close to the lavatories, decided to change seats to the middle 2 seats - 12 e and f. Hoping to see if we can amend it at the airport.
Another thing to note was that the flight time looks to be changed to what it originally was - from a 10:55 departure to 12:45, landing into London at 16:05. I am not sure if this was done due to the dst time change, but for whatever reason, we were not informed by BA. Only got to know it when I was about to check in online.
On the day of the flight, we reached Chengdu international airport with a lot of time to spare in the hope that we would be able to shop some last minute spicy delicacies from Sichuan. Reaching the airport I realised that terminal 1 was still the old terminal where we had been before and was looking its age. It was terminal 2 where all domestic flights were used (except Sichuan airlines at the time of writing).
Chengdu international airport is not the easiest as there were a couple of groups of Indian and German tourists who were completely lost and I had to step in to help them navigate the airport.
We were told that the check in gate would only open in an hour's time. There is nothing much to do in the international departure area of the airport and advisable that you reach there as close as possible to the time of the flight.
The check in gates opened at 10:30 for a 12:45 flight. The check in area was the bare minimum and nothing special for the club world section. We were told that due to the storms in London, there would be a delay of around 40 minutes (which meant a new departure time of 13:25). We were also able to change our seats to a window one, 11 a and b, but we were told that the club world cabin is full (nearly). I was happy and disappointed at the same time - happy about the future of this route but disappointed that the cabin is full, I was being selfish
Check in counters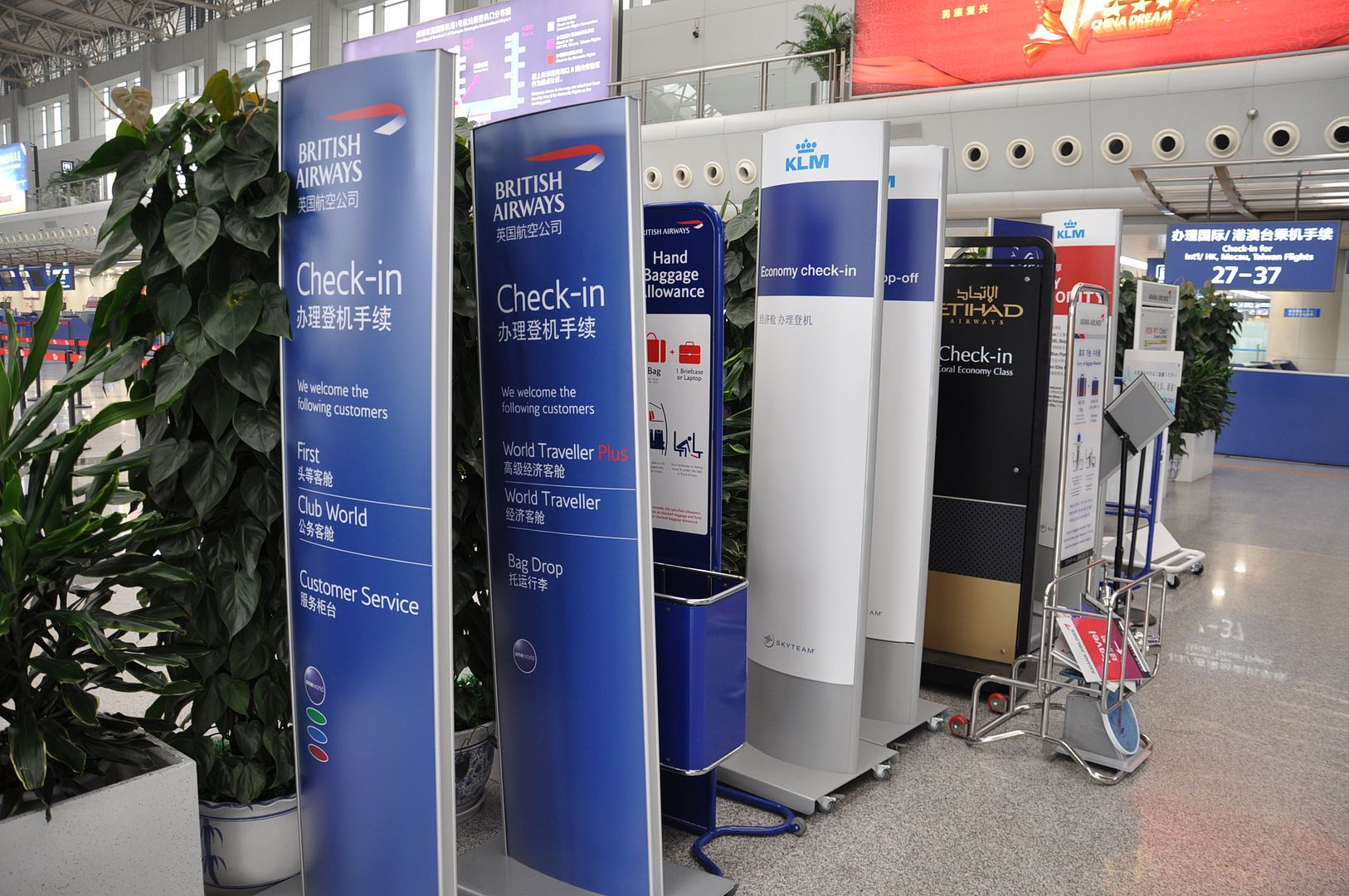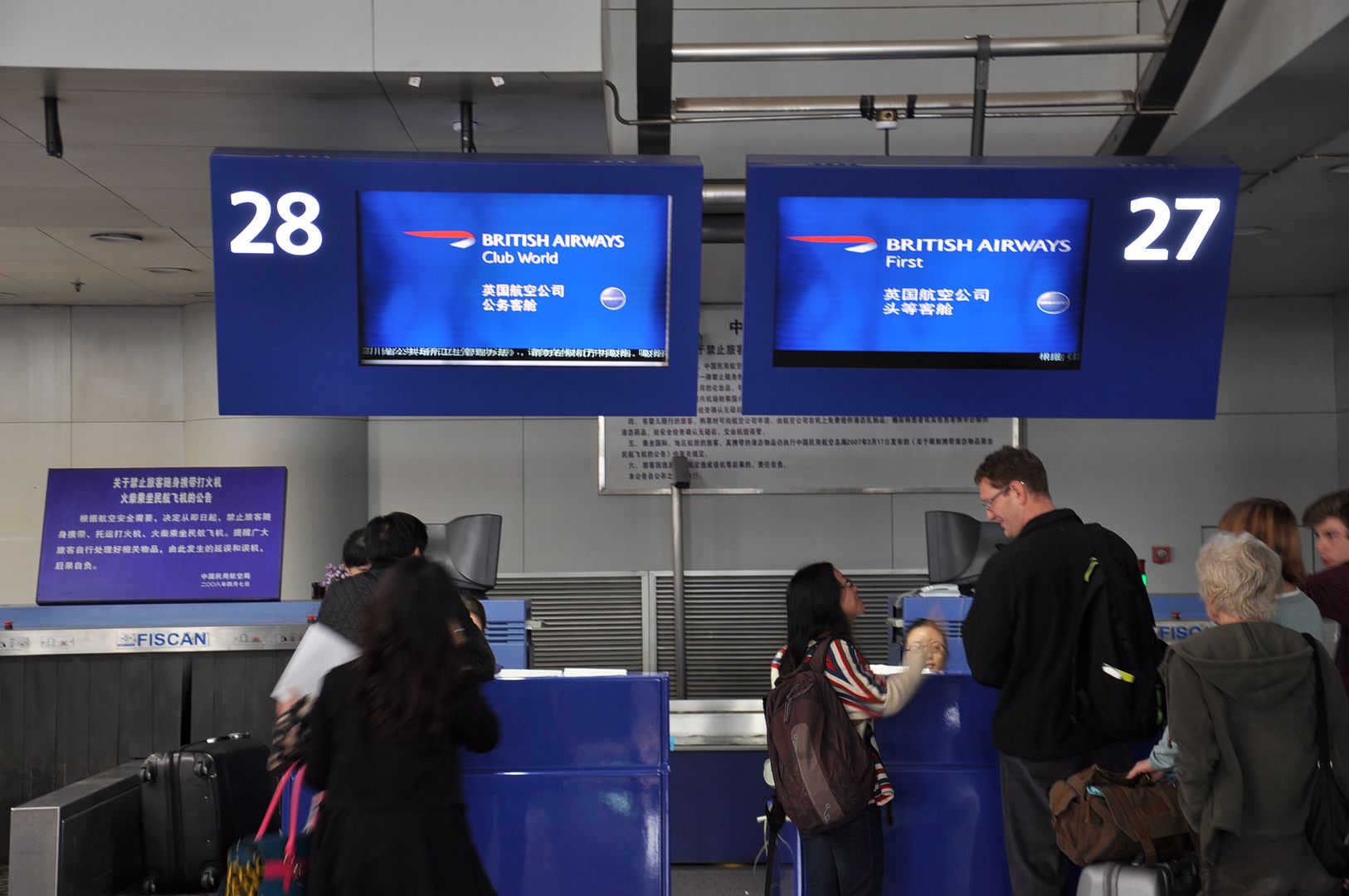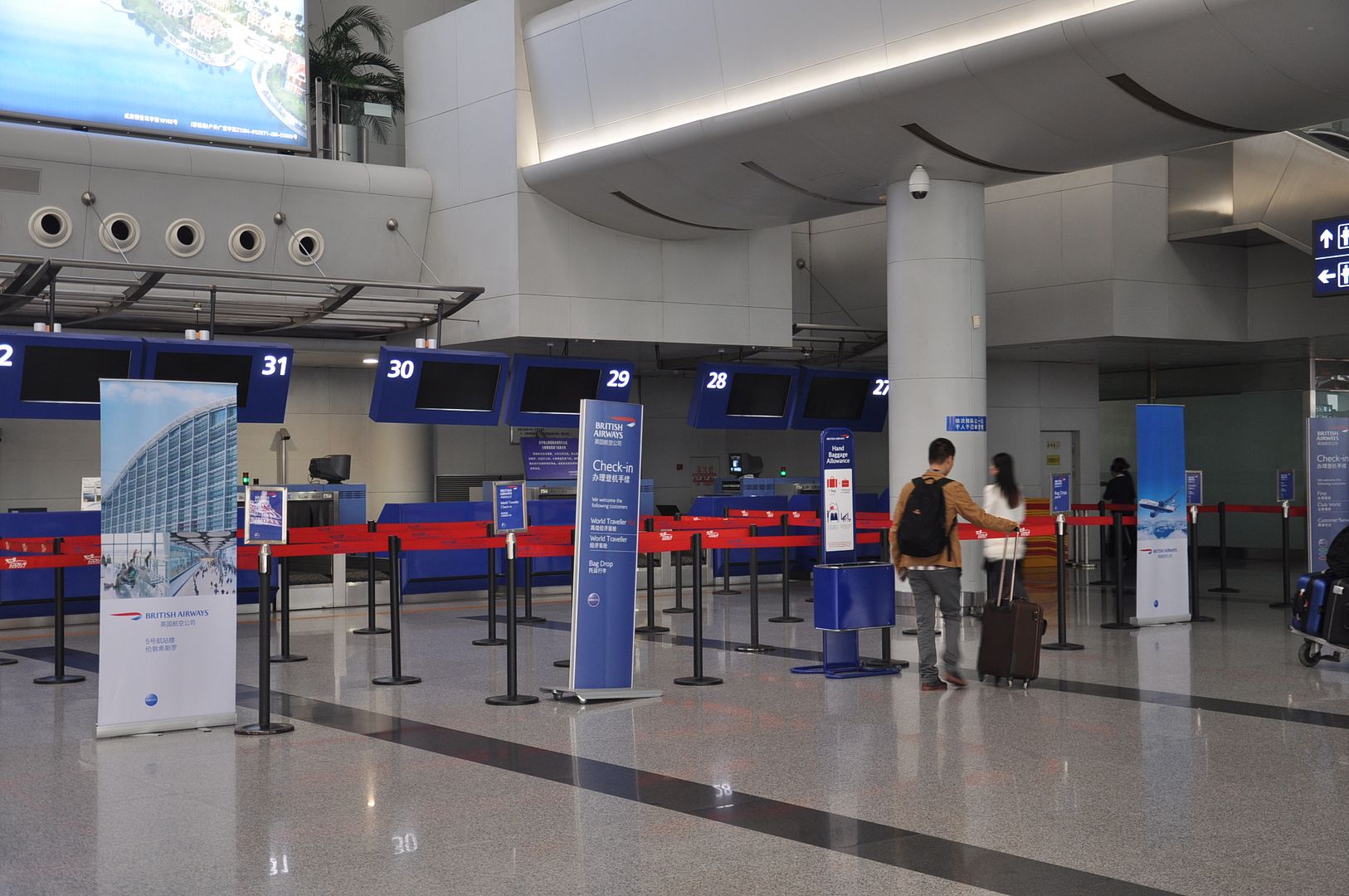 Map of CTU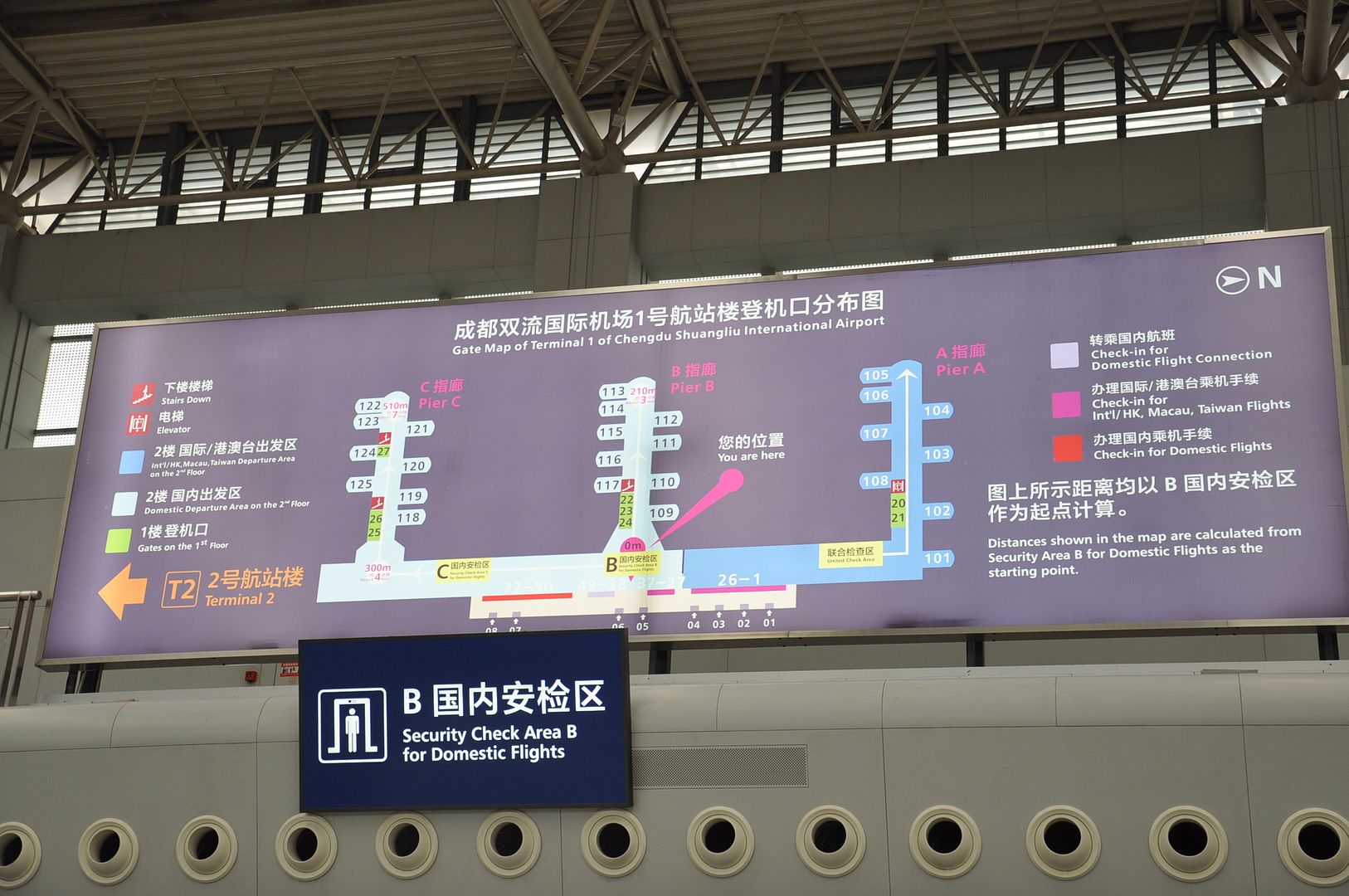 FIDS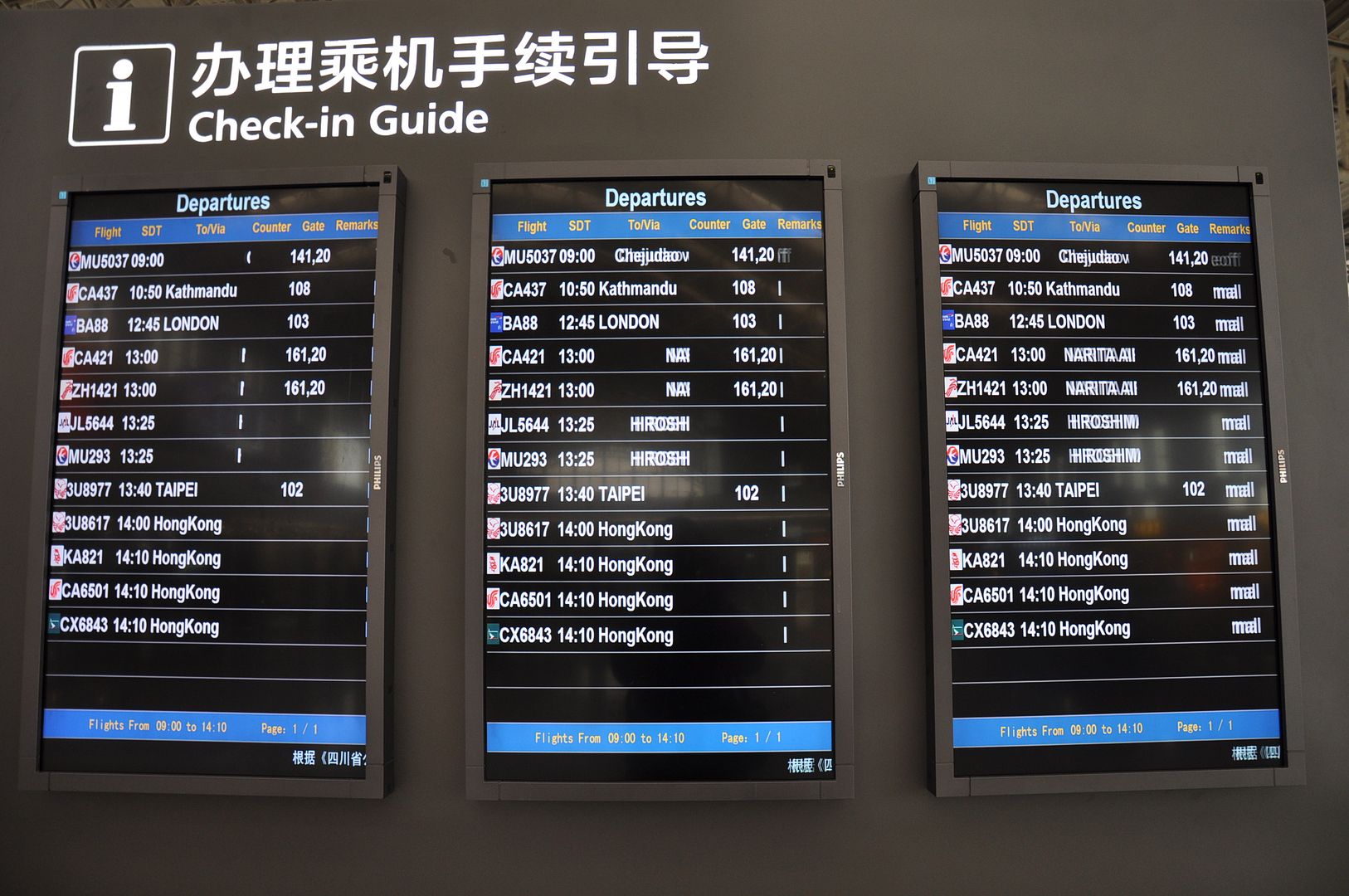 Check in was attentive and all details explicitly mentioned - the baggage tags, our lounge access, etc...Good on them.
As there was no other international flight during this time from Chengdu airport, immigration was sub.1 minute and we at the airside in no time.
Once airside, you realise how difficult it would be for BA to maintain a premium clientele on this sector. Correct me if I am wrong, but I feel that lounge access is very important for premium passengers, and the lounge access for club and first passengers was a joke,, if not a laugh out riot. it was a small room with some sofas scattered with few verity of drinks and some crisps/peanuts. I would be horribly gutted if I were a 6000 GBP+ paying first class passenger on this route. BA really need to give this a thought, I can surely say this was truly sub standard, perhaps on par with the lounge I used in Tangier. The only way I can think of is to substitute the 777 for a 787, or else I predict this route to disappear into there realms of historic routes in less than a year, given the current situation.
The empty CTU Terminal 1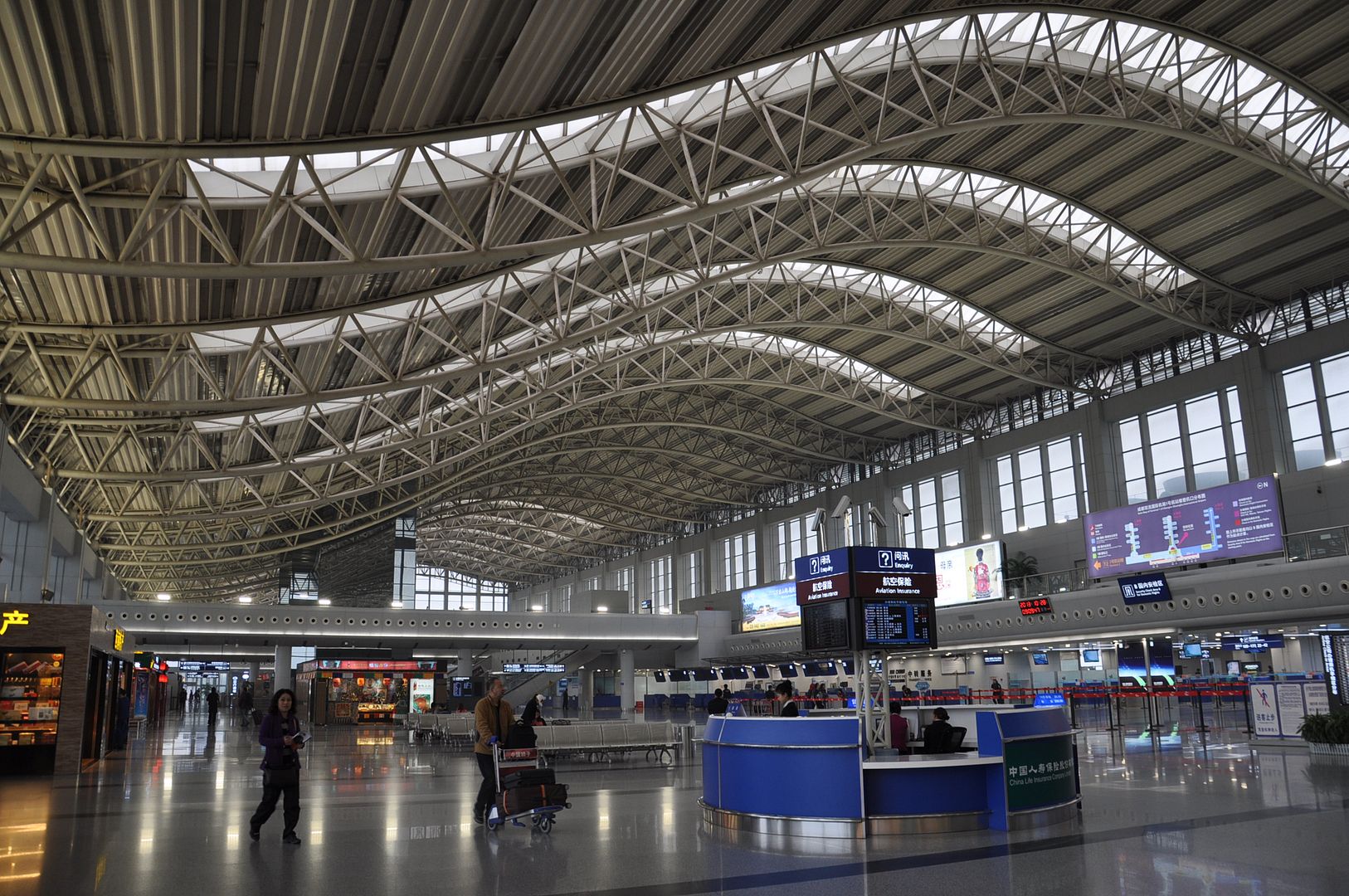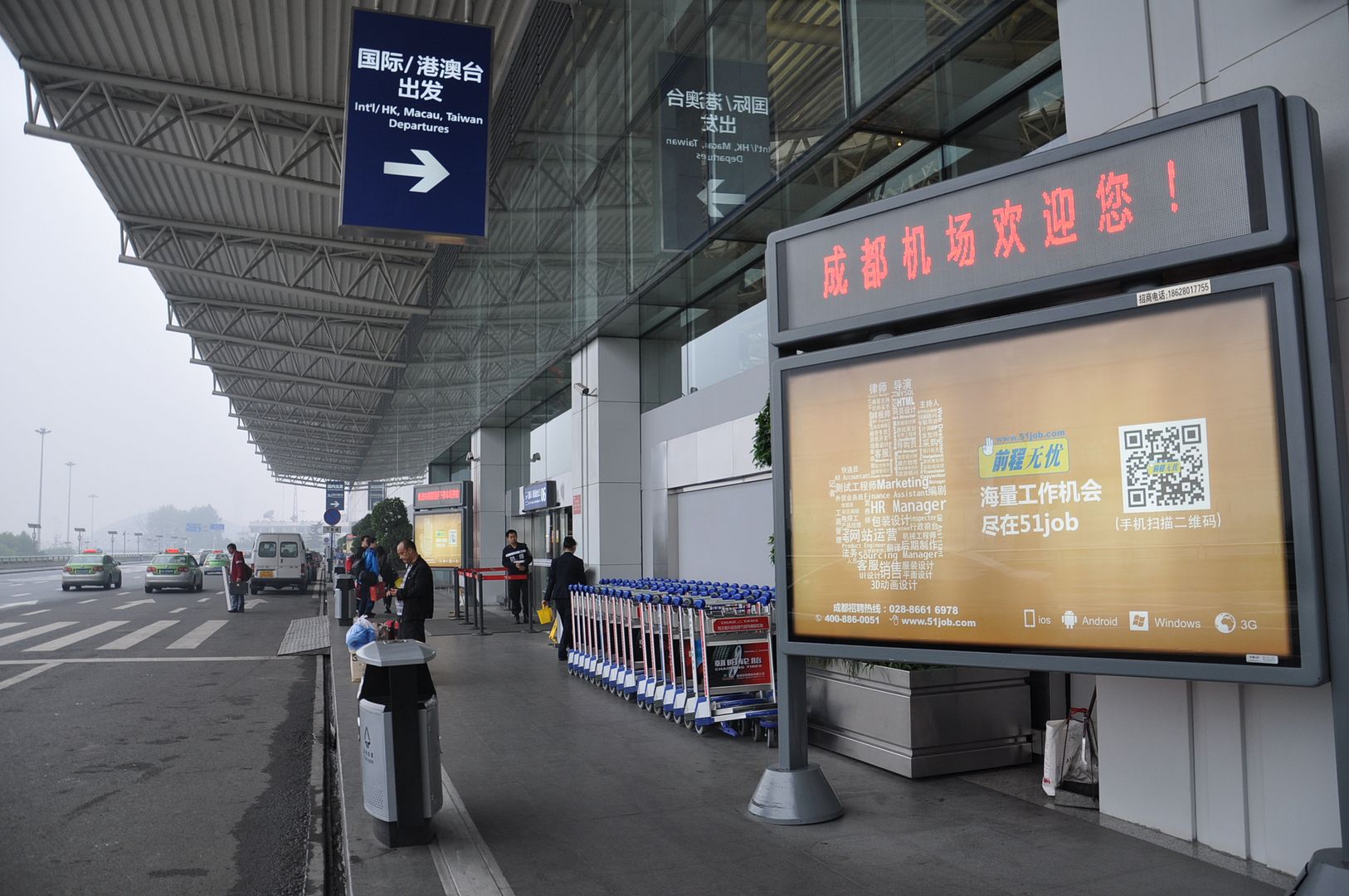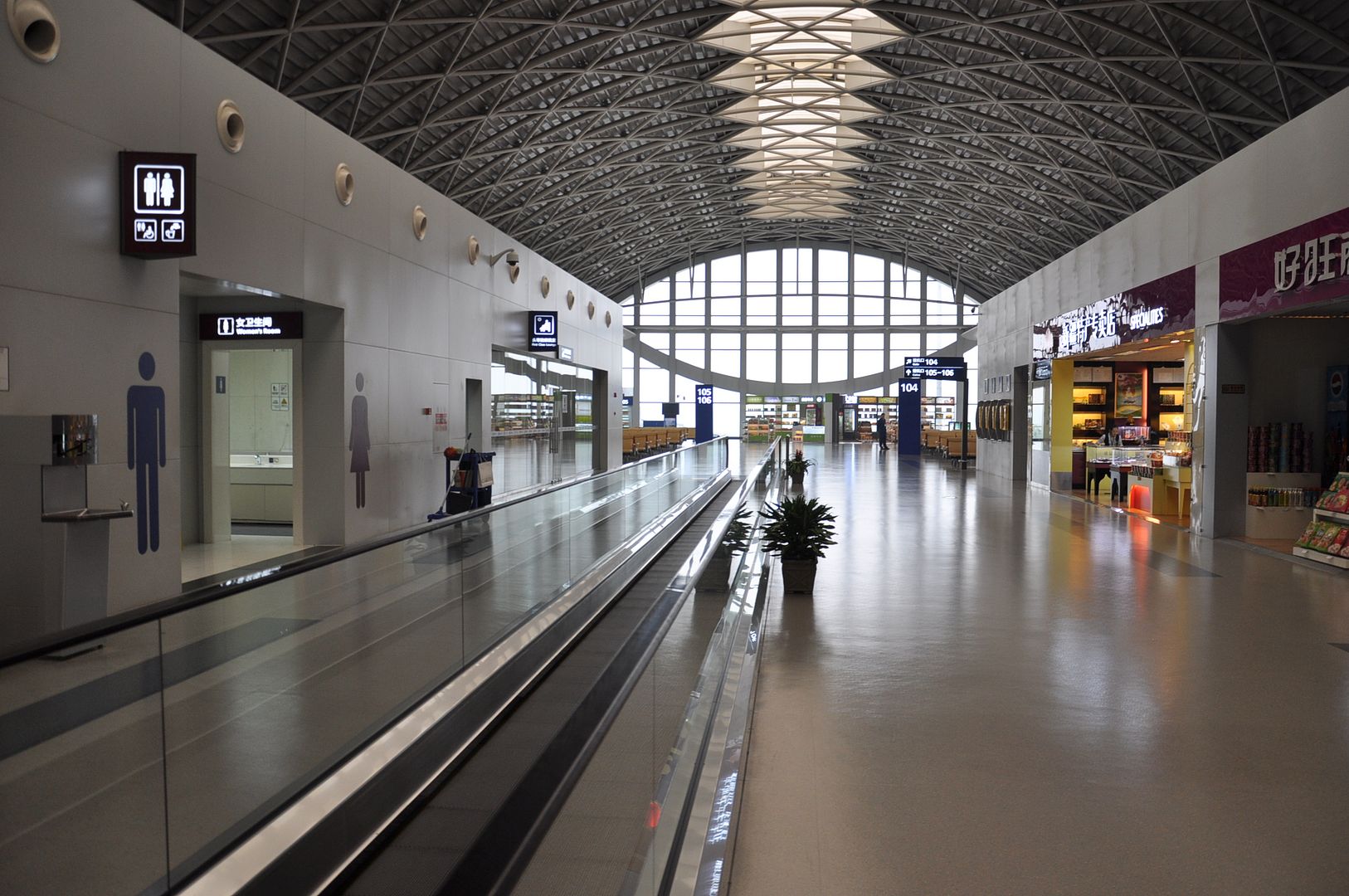 Lounge food at CTU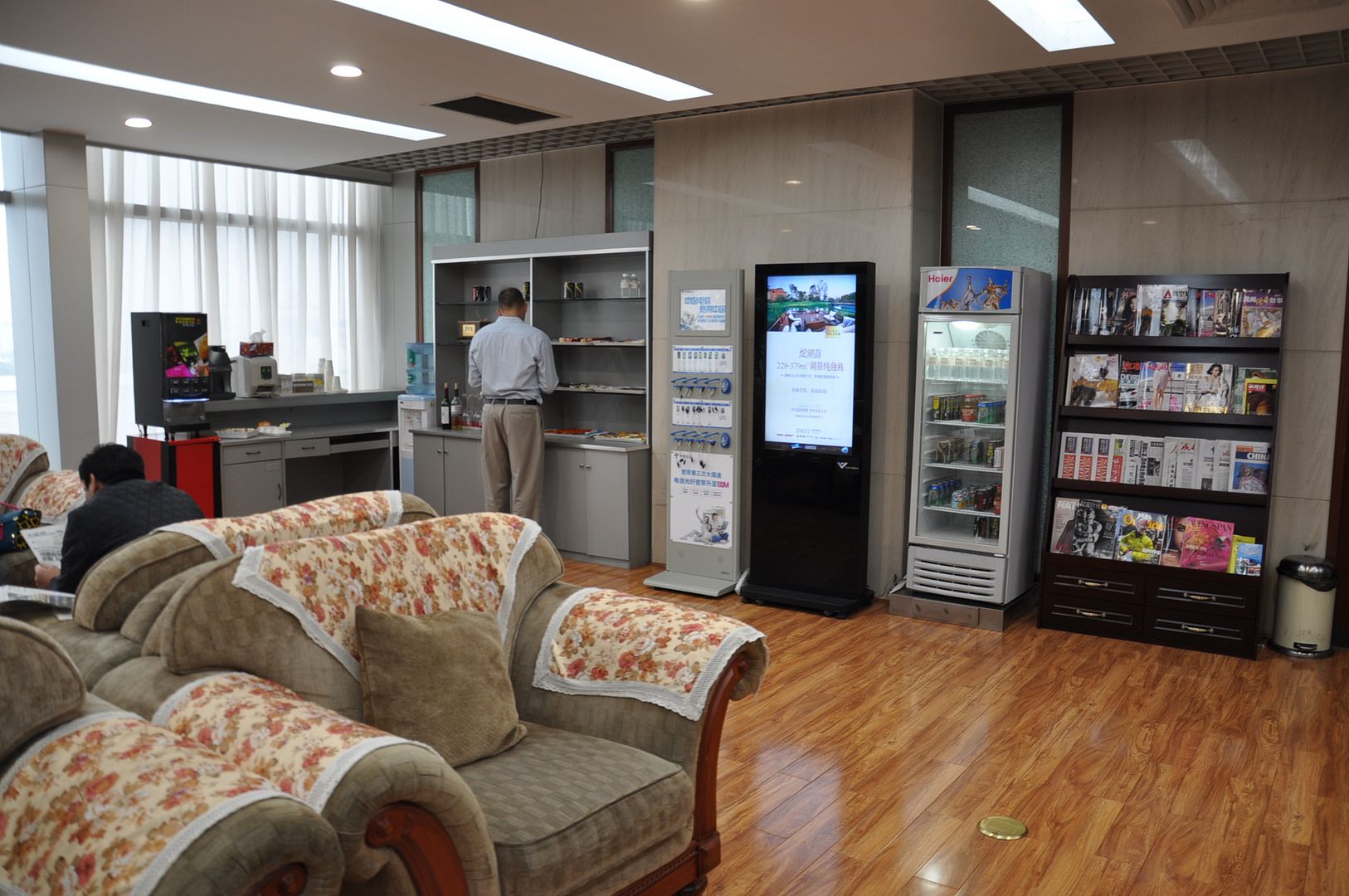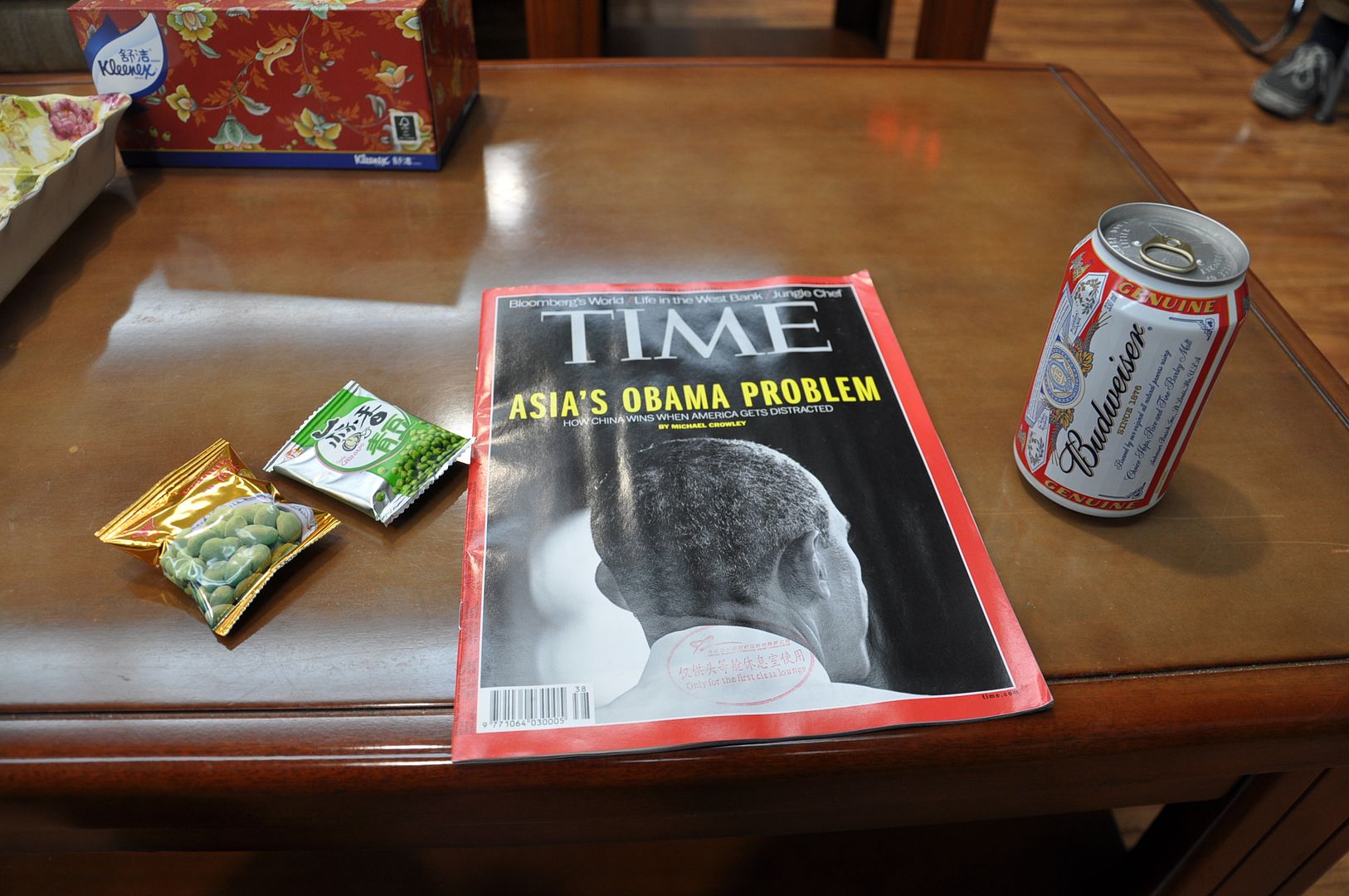 So far the entire check in process at Chengdu is in shambles (for premium customers) - no availability of early check in, very poor duty free selection and a less than adequate lounge, doesn't warrant BA to charge the premium tag it does. Hopefully the flight is better than the on-ground service at CTU.
Boarding
G-YMMI – Delivered November 2000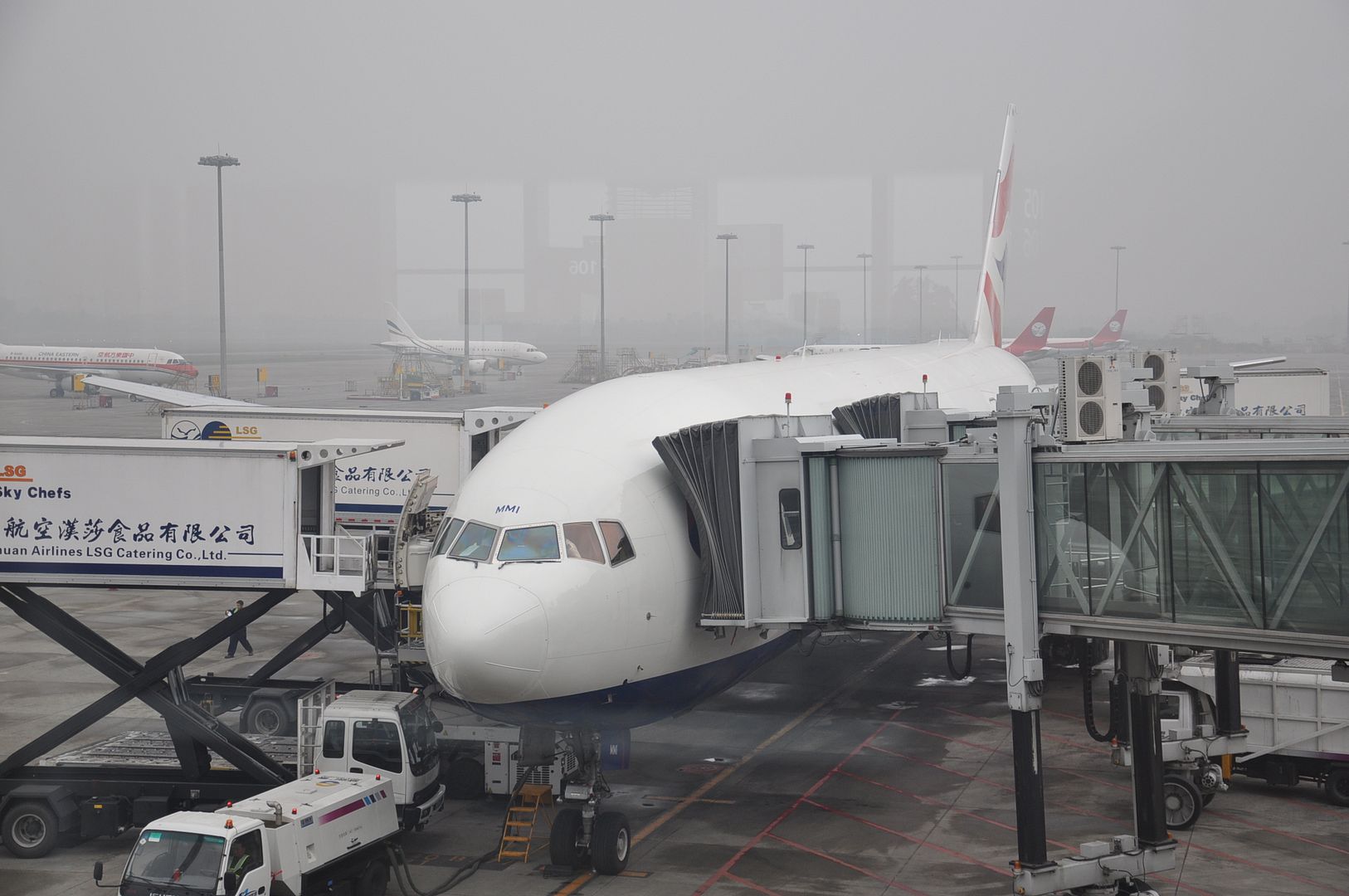 Getting ready
Boarding gate at CTU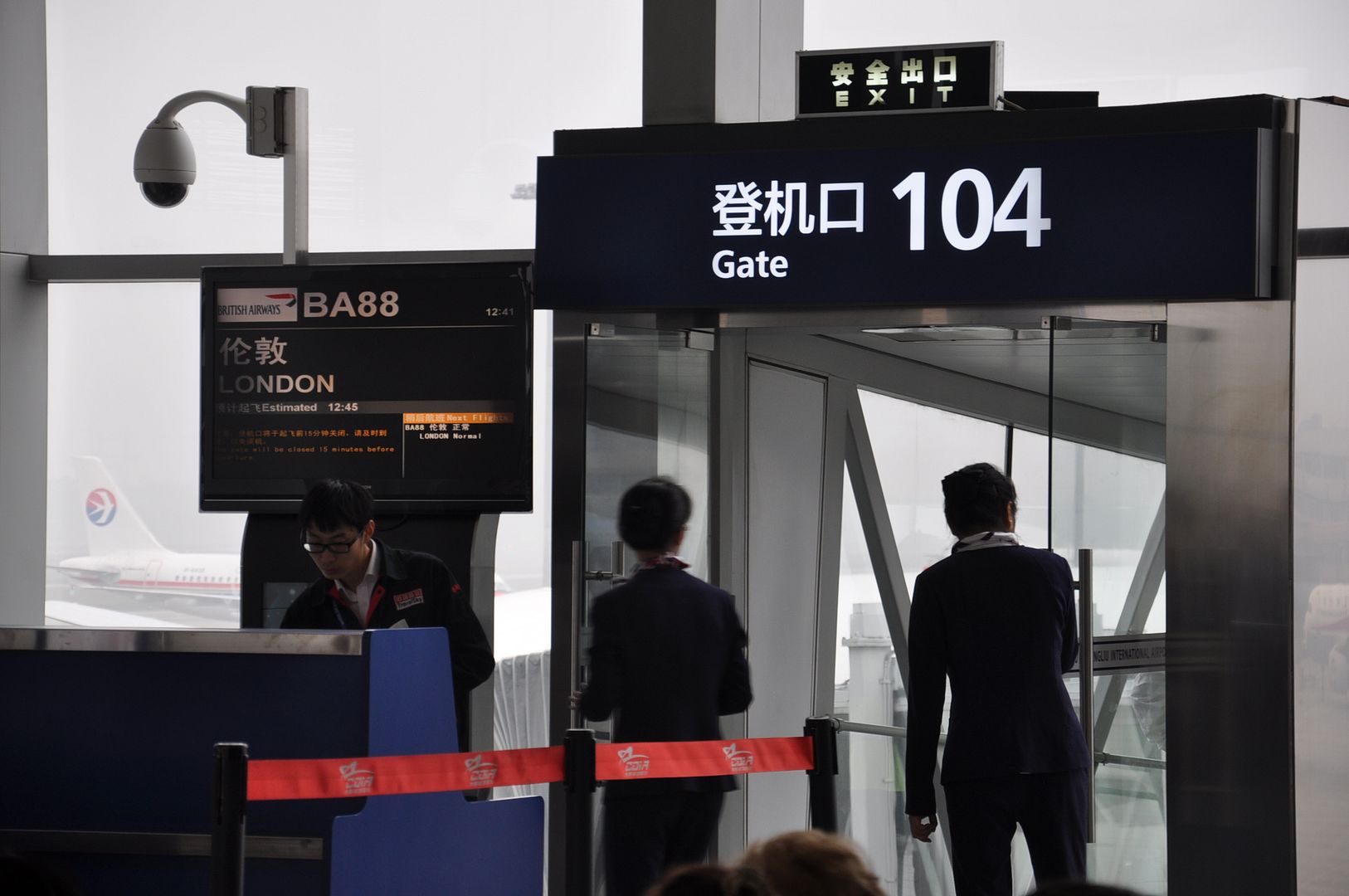 On Board G-YMMI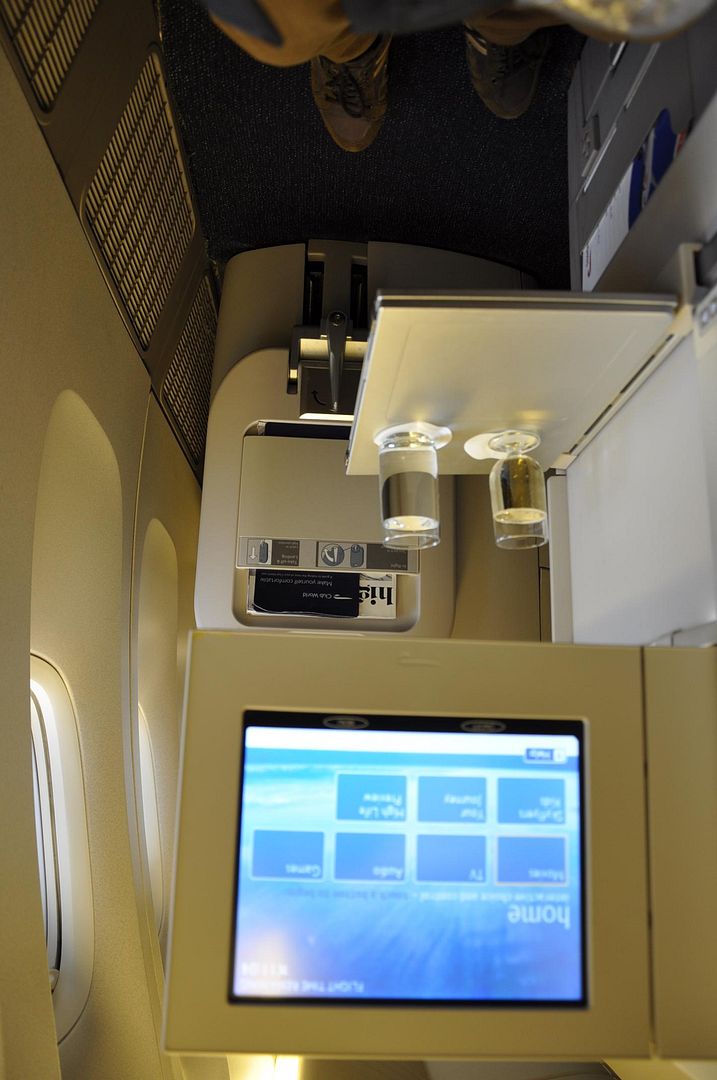 Boarding was on time and although it was again, being in China, chaotic. There was no announcements made, and we just began standing in line and we were allowed to board! No priority queue for premium members, parents travelling with children, no announcements what so ever. Once again, in line with the poor ground service at Chengdu.
On board, we were directed to our seats. So far, only once have I been addressed as my name. The 13 year old aircraft did not show its age and was looking quite new. Slightly dirty with a few pieces of crumbs on my seat/floor area, but nothing too drastic. I particularly liked my seat as it gave me a good view of the great RR engine, which I have now become a huge fan of. (Novice question - do airlines get to choose which engine they want to use, and do BA choose RR being British or are RR actually better than their GE counterpart?)
It was a refreshing change to hear the captains' voice, in china. He duly apologised for the delay and the reason for the delay being the late arrival of the flight into Chengdu due to storms in London. He explained that the route looked clear and we should be into London with a flight time of 11 hours.
Boarding was soon complete and we disembarked some 35 minutes behind schedule. It was a short taxi to the runaway, and that's where the twin RR's came into life.
From here on the rest of the flight was uneventful. Similar to our onward journey, our trip back to London was turbulence free and very good service. Once again the crew were efficient, but lacked any personal touch, except for one Singapore based CC, who made an effort to speak and chat casually (informed me about CTU going 787 from next summer onwards). No complaints on the whole, but would've expected a bit more of a personal service, an X factor, which was missing.
Plane Spotting at CTU - Sichuan Airlines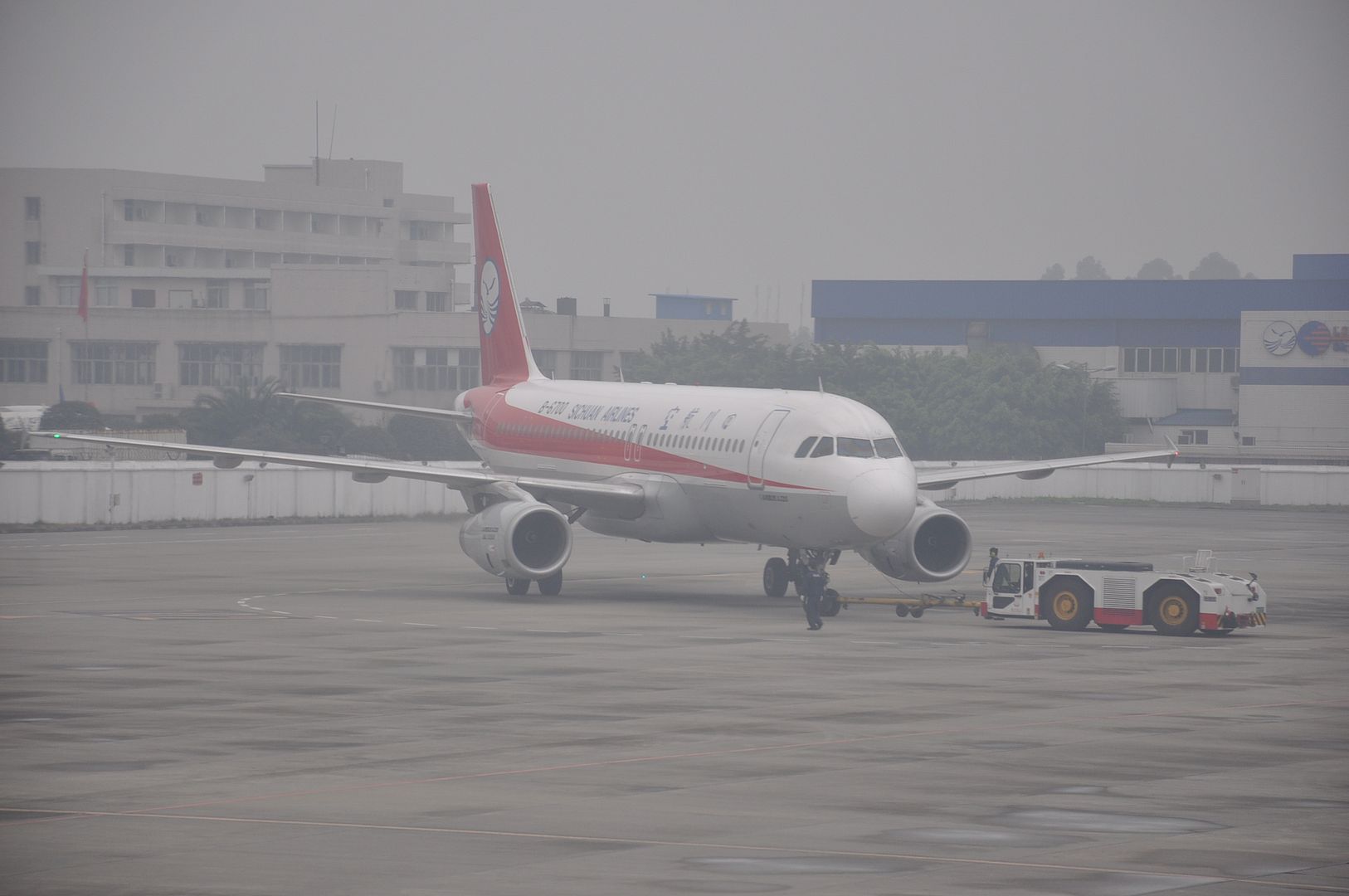 Air China (A319 - Delivered Sep 2004)
Load was slightly better this time with 4 in F (Chinese senior officials - had their own personal coach drop them to the aircraft, and later on in LHR, had a Jaguar waiting for them), 25 in CW, 10 in WT+ and 70 in WT, taking it to a total of 109 pax.
Once again, the food on board, personally, was fantastic! Easily the best I ve had on a flight. Perhaps a bit more can be done on the presentation, but all that is forgotten once you start eating it. Good quality wines and champagnes also n offer. On the whole I couldn't ask for more, in terms of F&B for the 11 hour flight - great lunch, followed by a well stocked bar, and then a pre landing snack - perfect! Top marks for BA on this front.
Stir fried prawns and Kung pao sauce
Chinese Mushrooms
Opera cake for dessert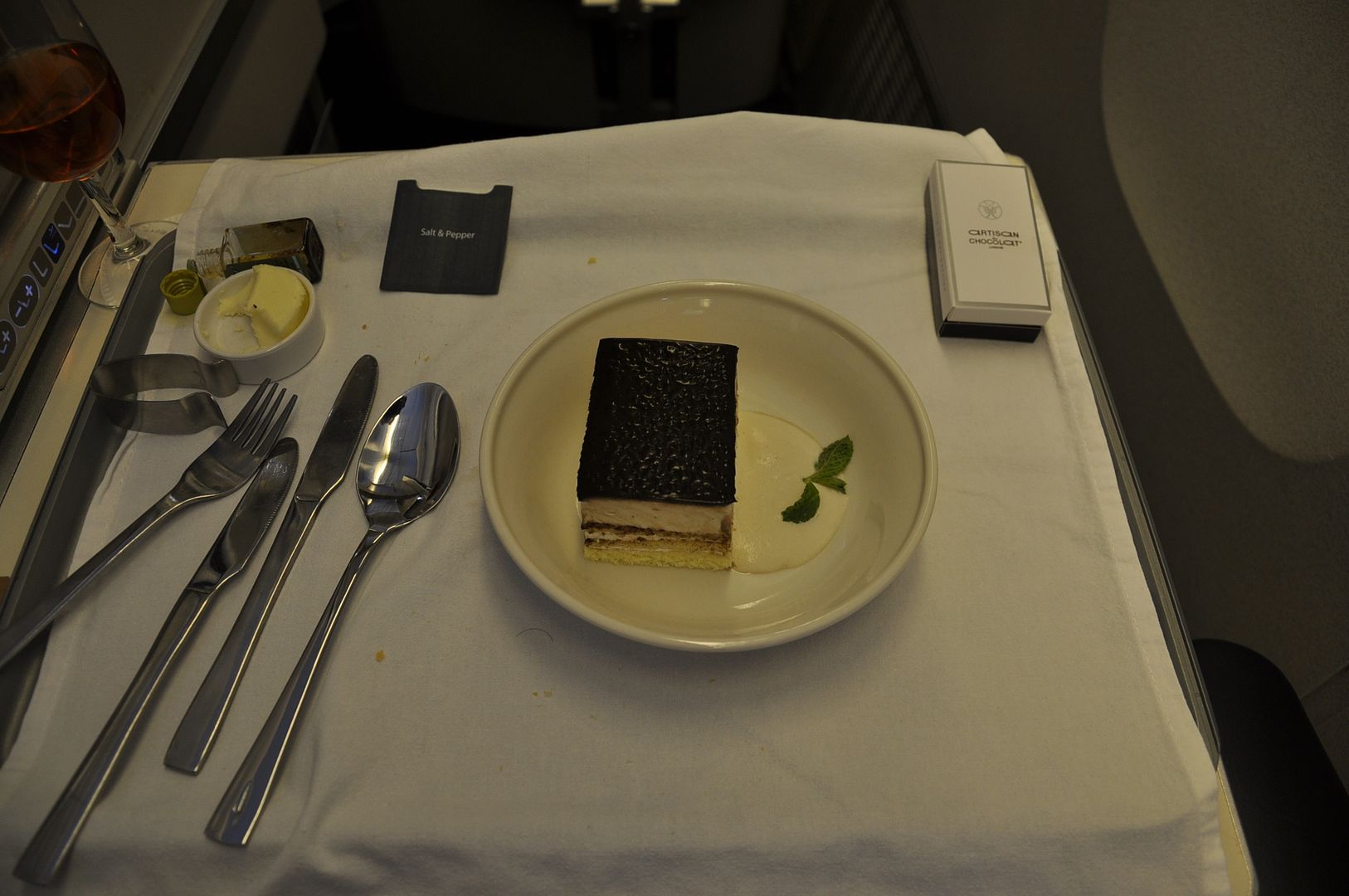 Stir fried sea bream for mains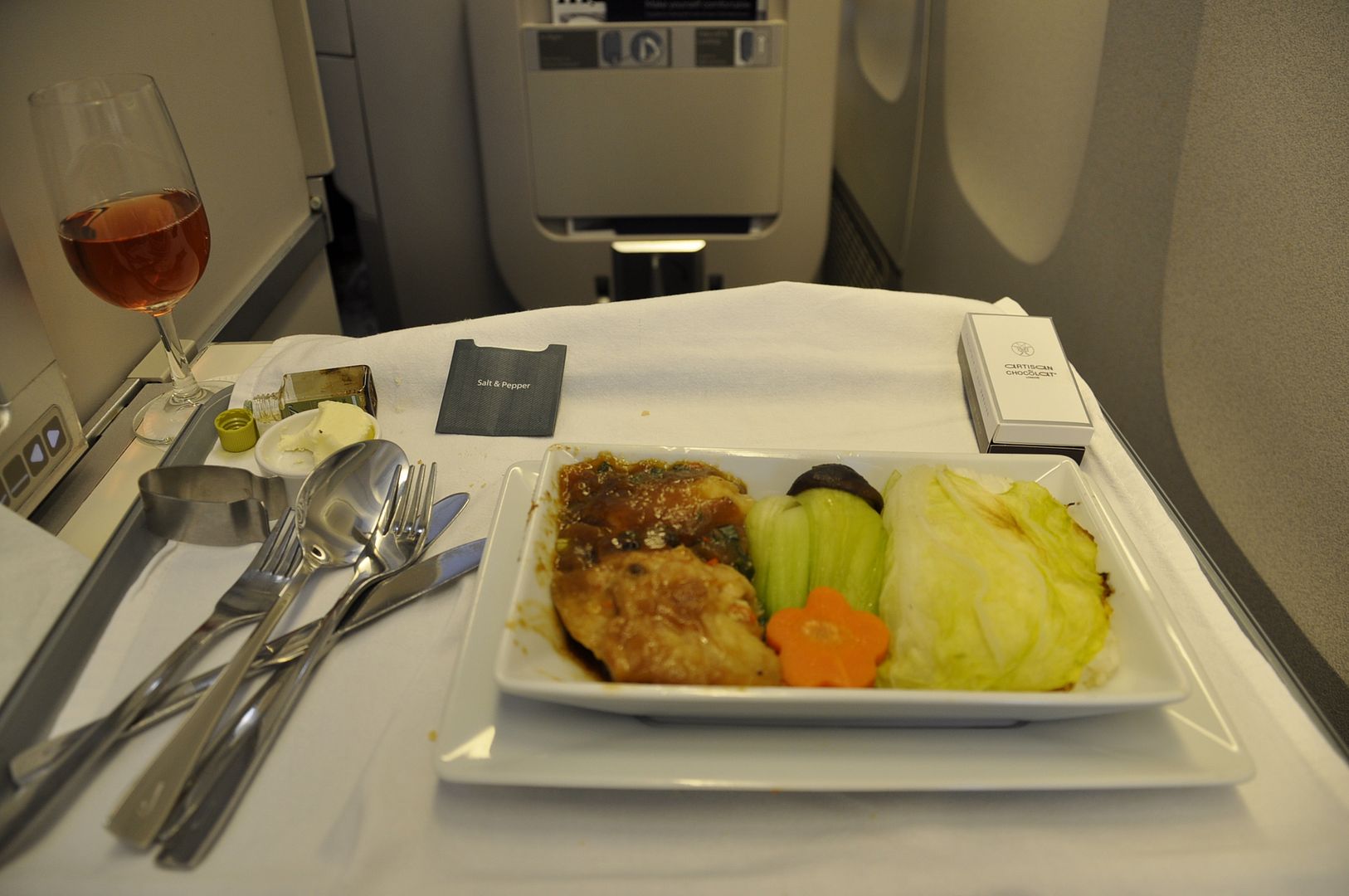 Spiced salmon with wasabi mayonnaise as starters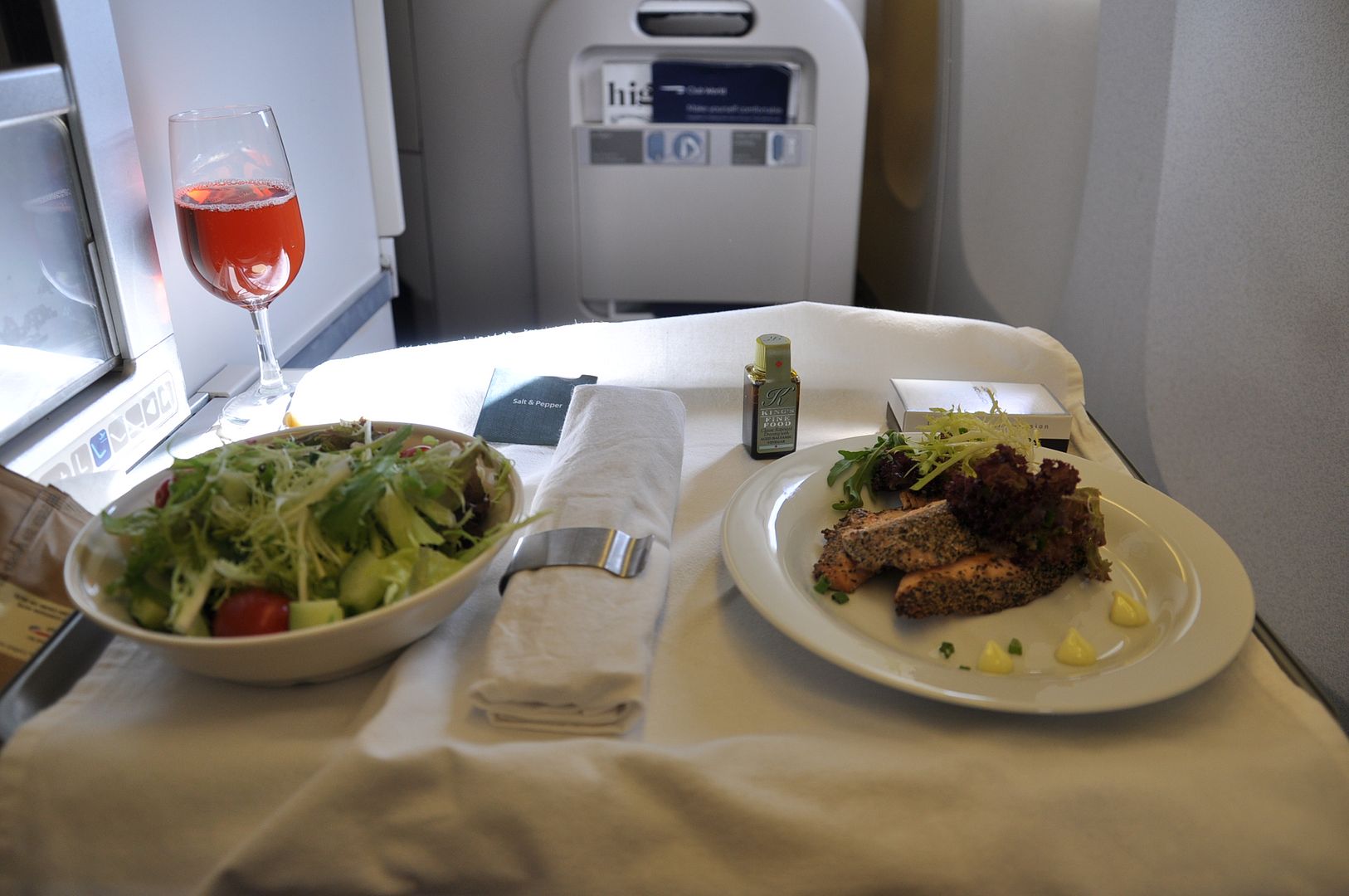 Menu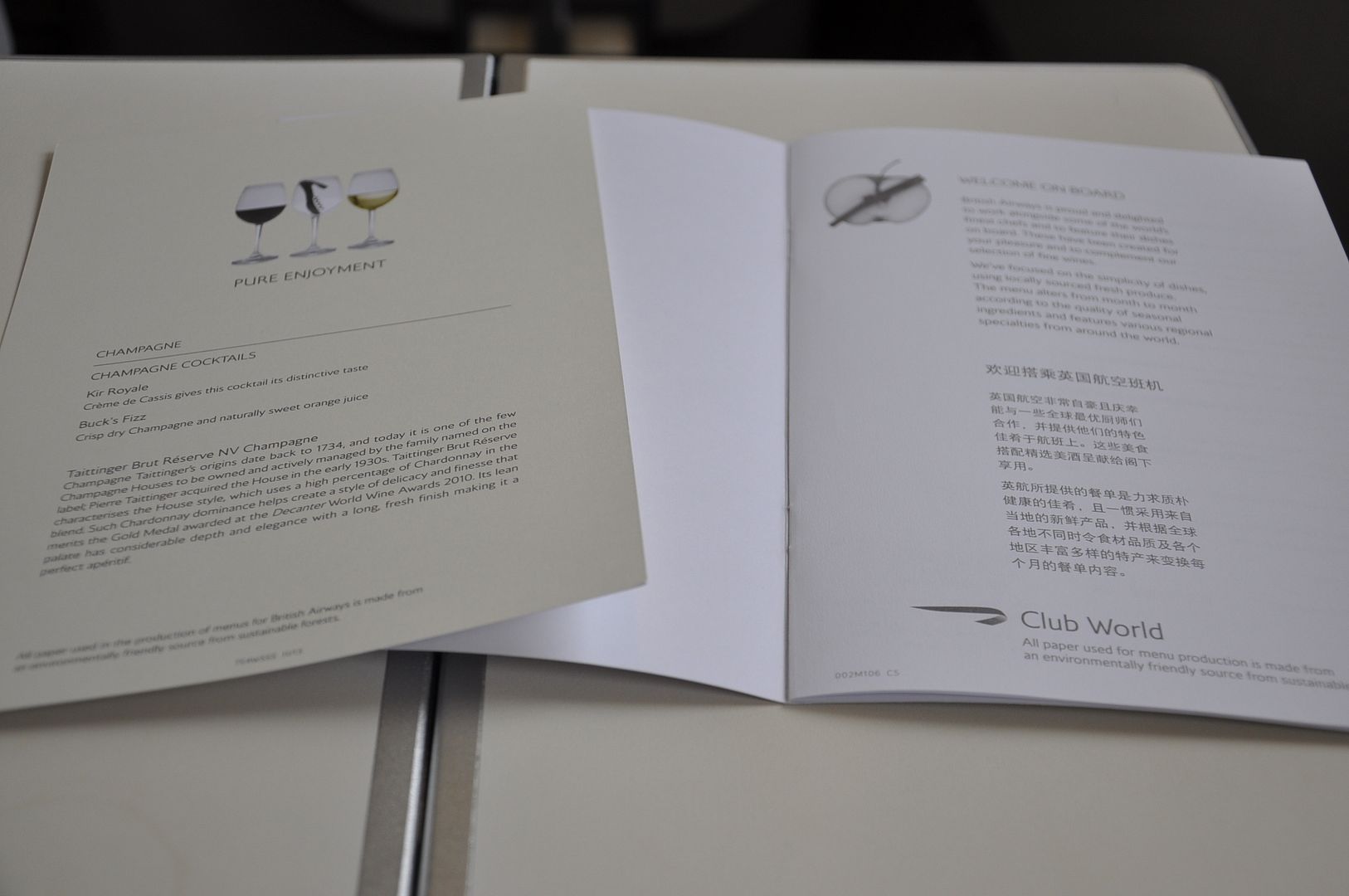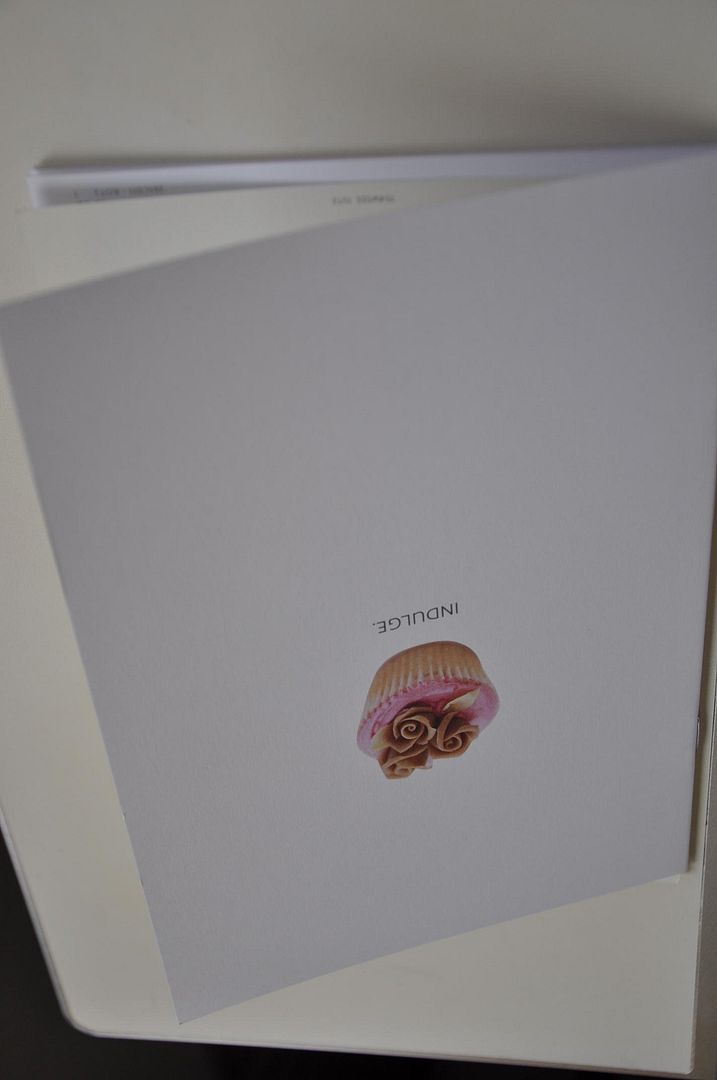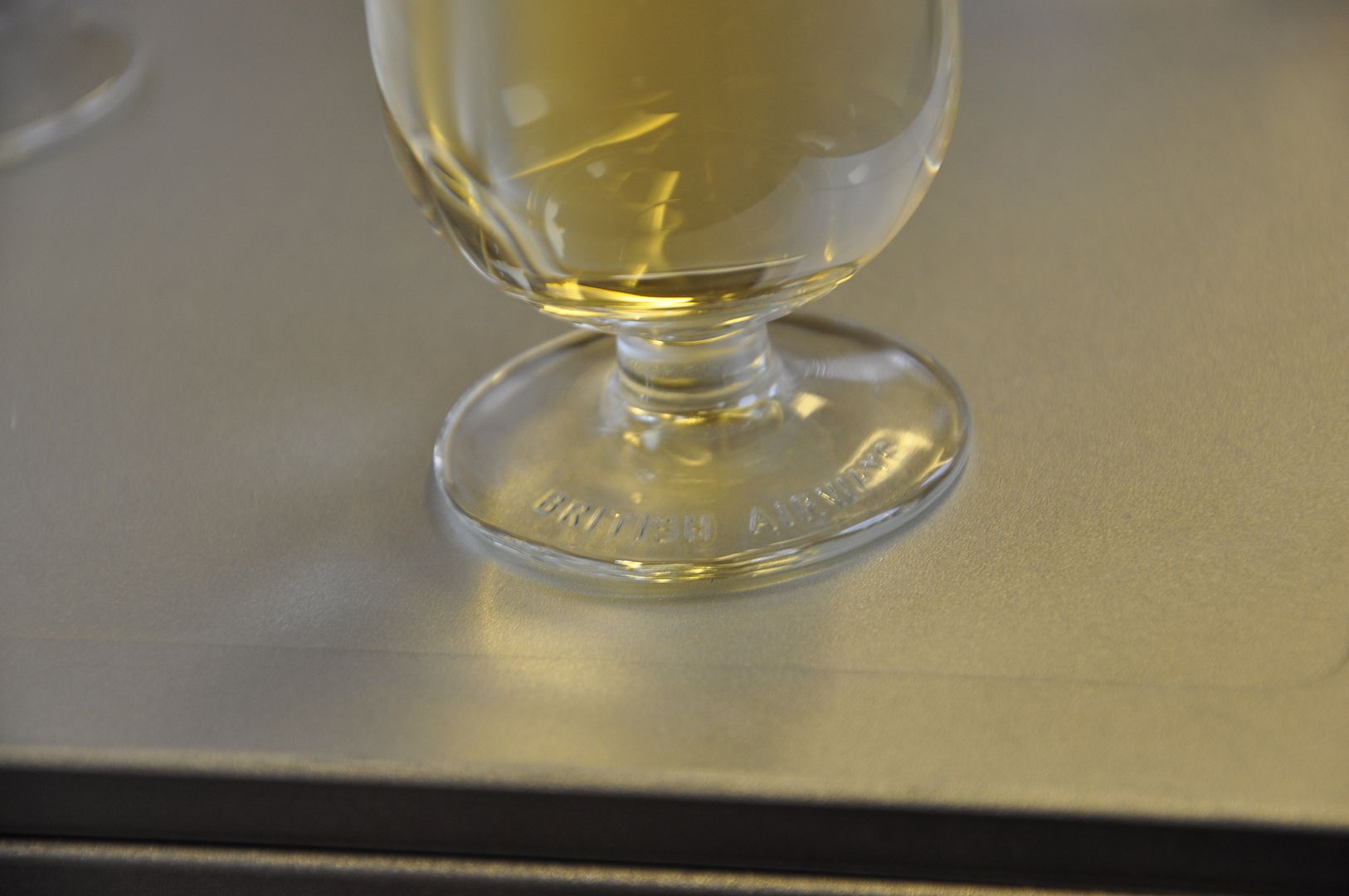 A couple of movies later fell asleep for around 3-4 hours. Once again, the bed proved very effective and the only reason for a short nap, was because I chose not to over sleep.
Wembley Arena
The Marketing genius, i.e. The O2
Is this normal – 43000 Feet?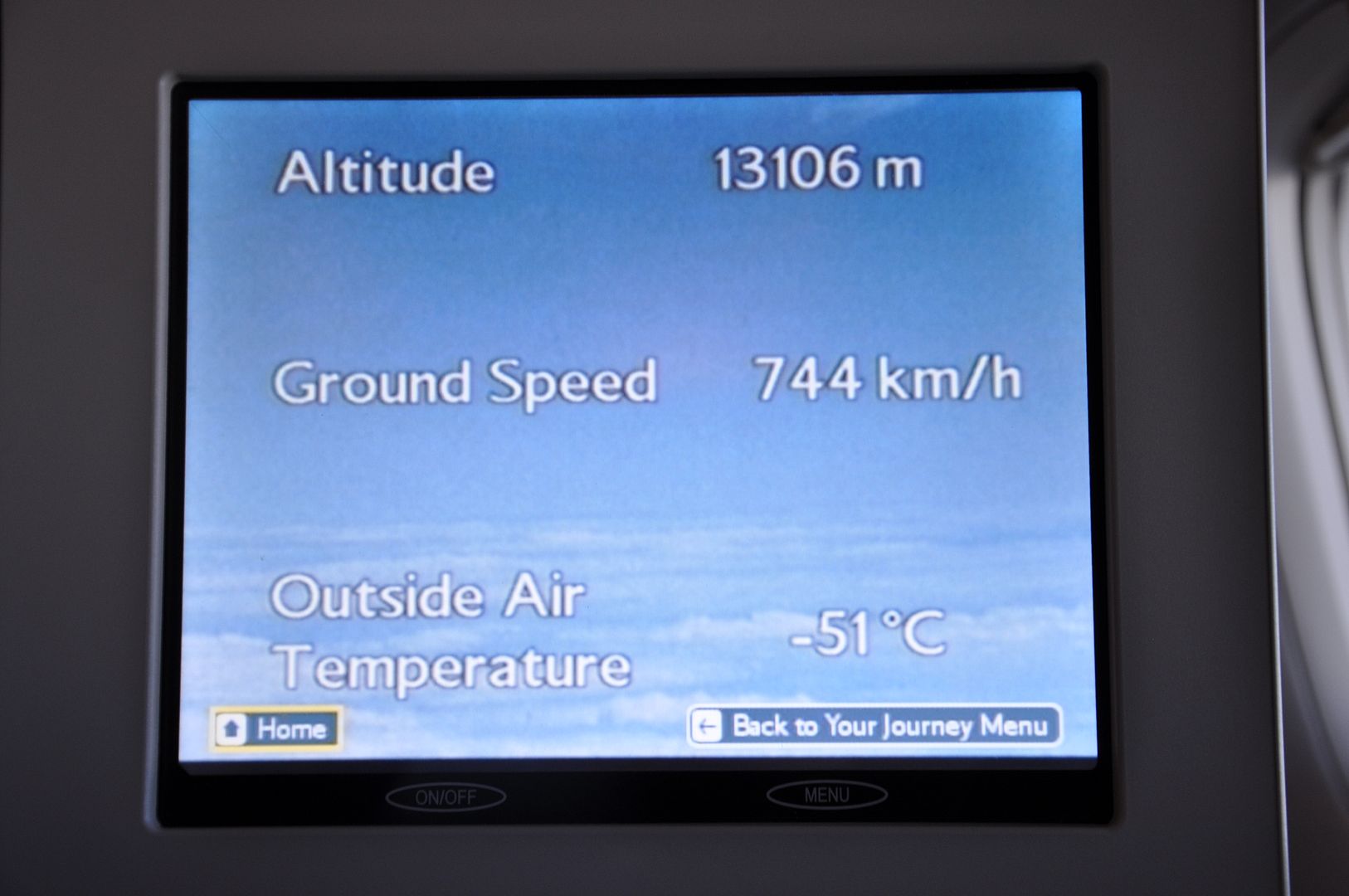 Once we approached London, we had to circle a few times before we were given a landing slot. The landing was one of the smoothest I have experienced. As predicted, we were 40-45 minutes behind schedule. It was then a quick hop to the immigration, and once done, bags were waiting for us - priority tags did work, as ours was one of the first bags to be on the conveyer belt.
BA Heavies – The whale and the beauty side by side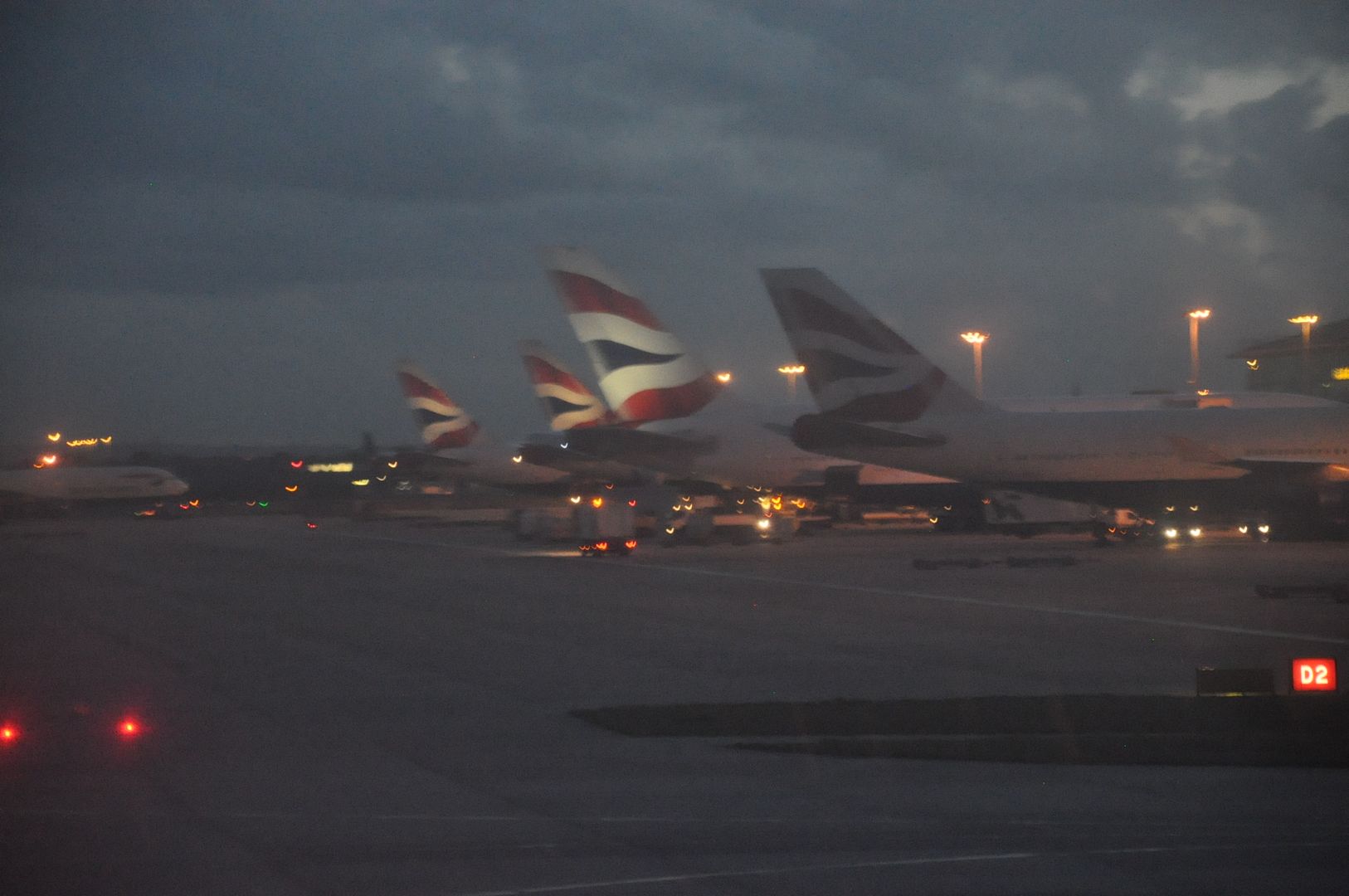 Can never leave Heathrow without seeing these heavies – do they ever fly?
American Marmite livery – love it or hate it – I love it!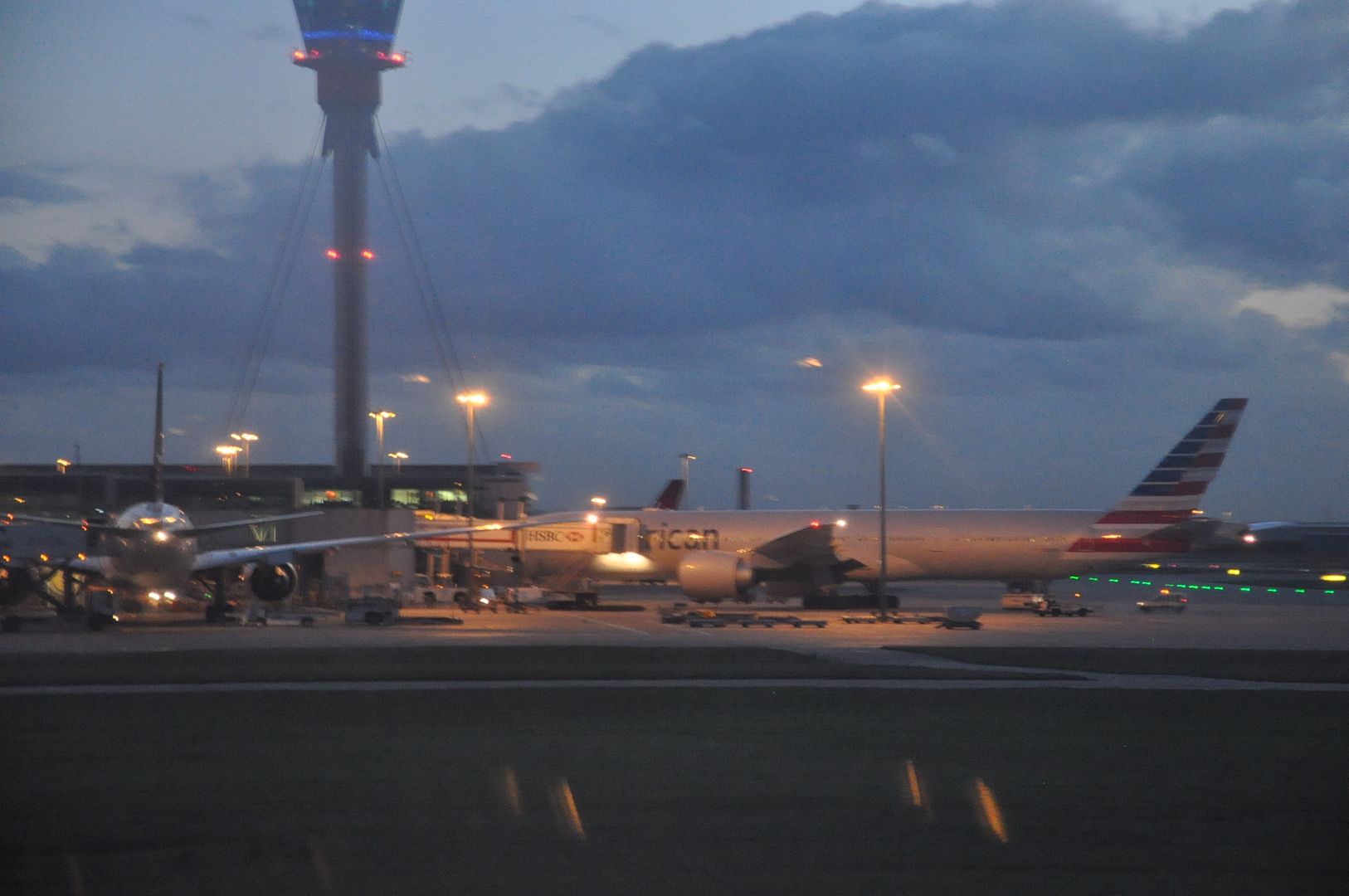 In summary, for a redemption ticket, this value ticket cannot be matched - in terms of efficient service, quality of food, good beds, decent IFE. But paying a full price ticket, I cannot say the same about it, unless they up the ante at their ground services in Chengdu.
Hope you liked the trip report, thanks for reading and all your comments welcome. Until next time, safe flying and keep the trip reports coming. Adios..!
Few Sights and sounds of Sichuan
The stunning Jiuzhaigou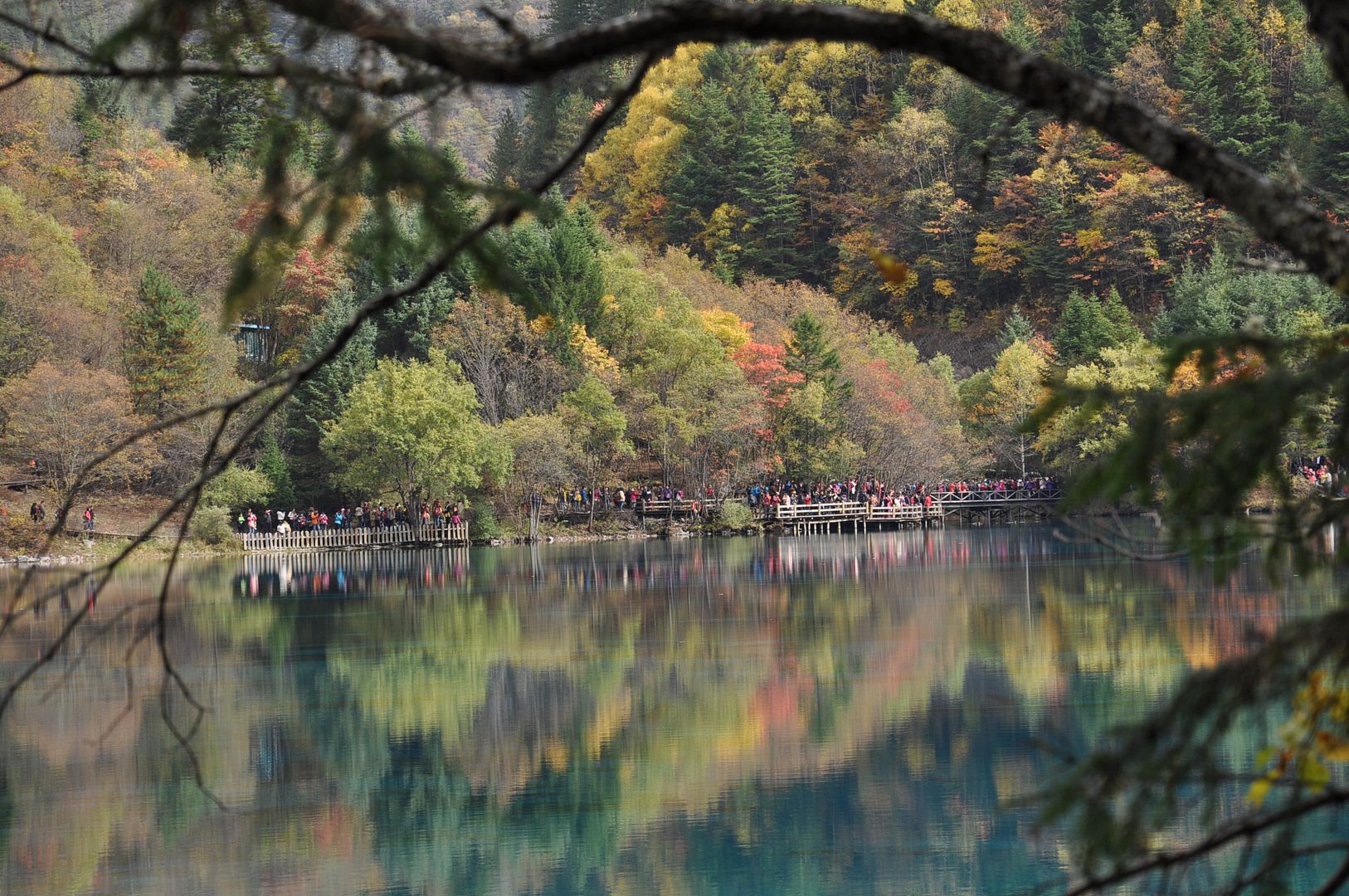 Huanglong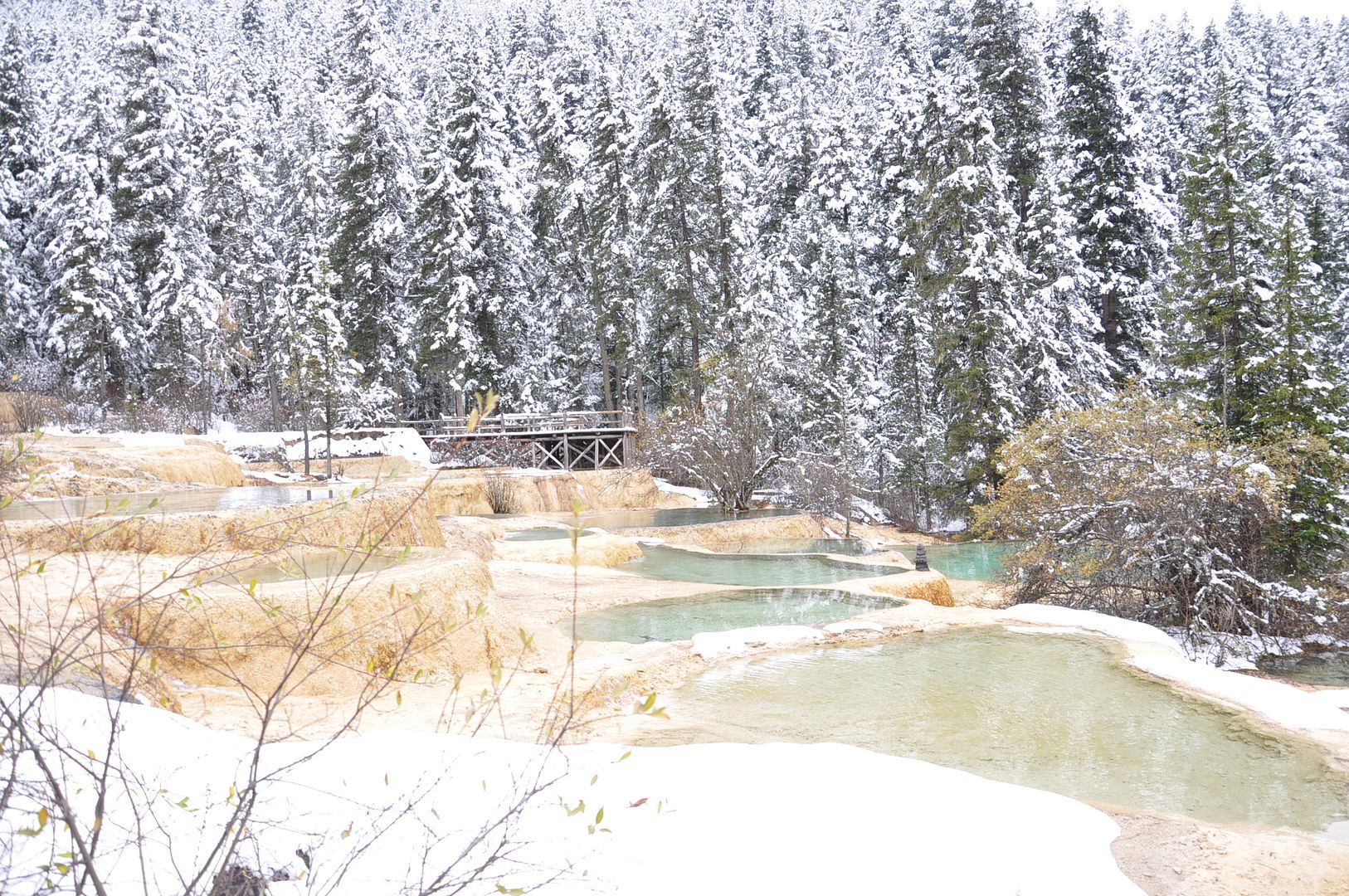 I like to move it ..Move it..
Giant Buddha at Leshan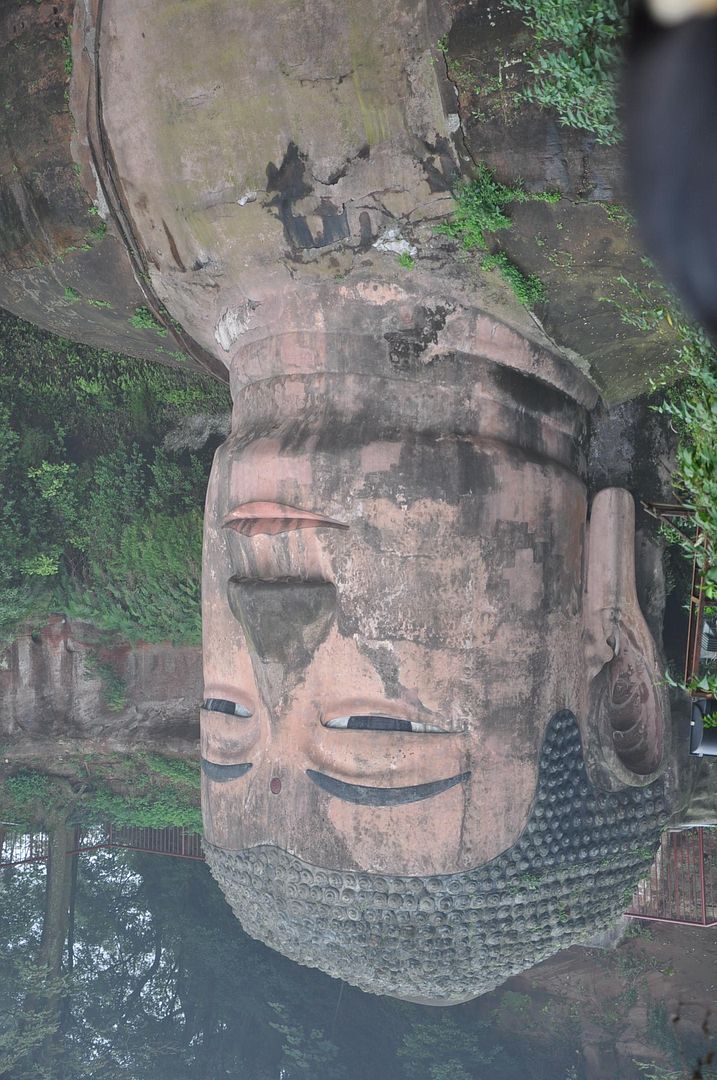 Previous trip reports:
China - The Low Cost Way - Spring Airlines - SJW-CTU
China United Airlines (KN) - CTU - SJW - B737-700
Norwegian B737 - LGW-TOS-BGO-LGW
Jet Airways : LHR – COK
Barra Trip – that was not to be
LHR - KWI - BA 747 - Part 1 - Middle East - China
Part 5: PVG-LHR - BA - Economy - B777
Part 2: KWI-DXB - FlyDubai - Economy - B737
Part 4A&B - SHA-SJW-SHA - FM: Eco: B737
Part 3A&B : DXB-HKG-PVG: CX & KA :Eco: A333
Morocco Trip - LGW-RAK-TNG-LHR - EasyJet & Iberia
Dusseldorf Calling - BA & EZY - Club/Eco - A321