Introduction
This trip report is about my second trip to the USA. The first one I made last January to Miami. This time I travelled to New York and Los Angeles. During this trip I experienced one new aircraft type and airline for me.
The route:
HEL-JFK
AY005
Airbus A330 (OH-LTN)
14:09-17:23
I am not a big fan of Finnair. I try to avoid it as much as possible, but this time it was the best option to choose from. I haven't flown longhaul with Finnair before, so I expected it to be a bit different from shorthaul or leisure flights. I checked in at home, but I still have to wait for baggage drop so I don't really win anything here, except I got a better seat when I checked in early. Security check is full of people so I need to wait for a while. Usually there aren't many people ahead of you, but this is one of the busiest times of the day at HEL so you may have to wait for a while.
I want to make one point about Finnish people and this is one of the reasons I try to avoid travelling with too many of them. Finnish people are very selfish. I noticed this on both flights to and from JFK. Even before business class passengers get in the plane everybody stands in 10 different lines trying to be the first onboard. I followed this same thing when I was flying from JFK to LAX and back. American people don't do that thing. They sit and wait until their boarding group is announced and boarding goes much faster and smoothier. It is very annoying when boarding is announced for rows 40-50 or something like that and people from rows 10-20 goes first. Then they think 10 minutes where they should put their bags and don't care about other passengers.
In-ear headphones, blanket and pillow. I don't like in-ear headphones, because they just hurt. All of these amenities are very nice, but I don't use them so they just take space from already small place. Seatpocket is full of magazines so they don't fit there, my bag is under the seat in front of me, so they don't fit there. Eventually I did put them somewhere on the floor.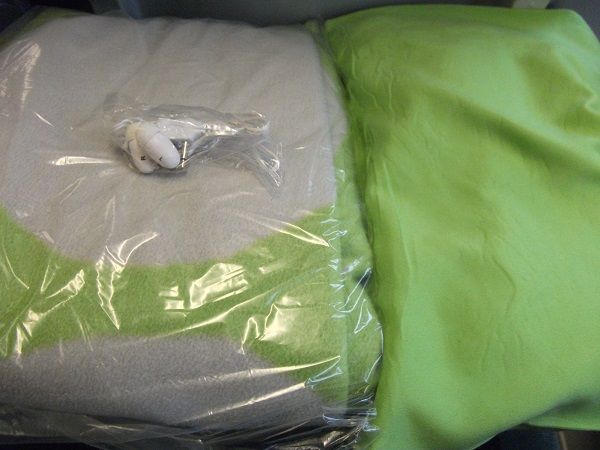 Entertainment system. Screen is big and bright enough, but touchscreen is very bad. It is much faster and easier to use the controller. There were a couple of good movies to my taste, but thats about it.
.
Rainy day at HEL.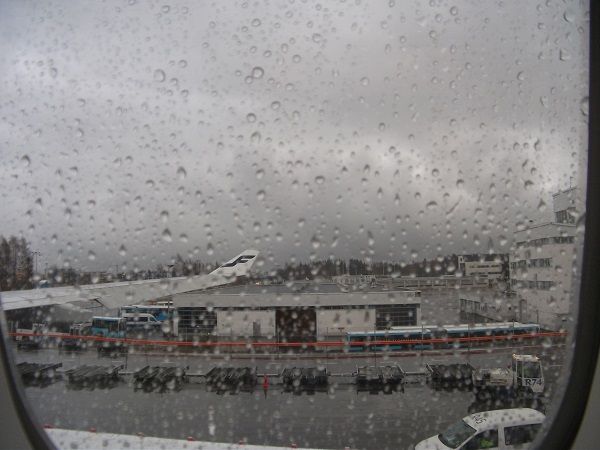 Meal of the flight. This is something I have been waiting for, because usually Finnair's meals are very bad. This time I chose the vegetarian option, because it sounded better. The main meal is pasta with some vegetables which didn't taste anything. I don't know what that salad is, but I didn't like. Dessert was okay. Crackers were also okay, but what do you think that bread looks like? Maybe somebody think it is funny to serve bread that looks like you know... or then somebody just came to work on Monday morning and said that is what we are going to serve. That bread was hard as rock by the way.
Greenland. Sadly very cloudy, but Greenland is something I have wanted to see for a long time.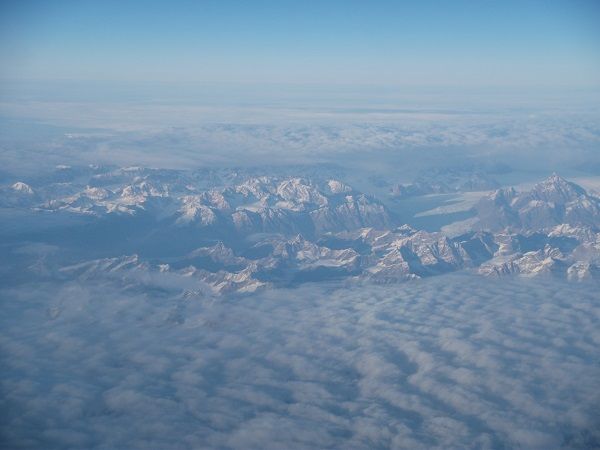 Second meal of the flight. Okay, this is just pathetic. The same bread again. Now they decided to but something brown inside of it. It was again hard as rock and tasted awful.
Finally at JFK.
.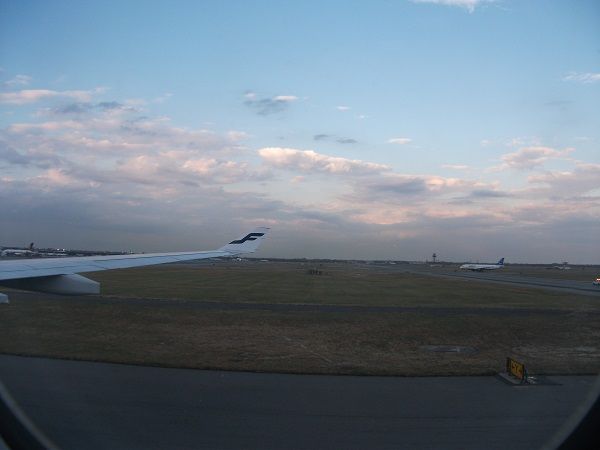 At the gate.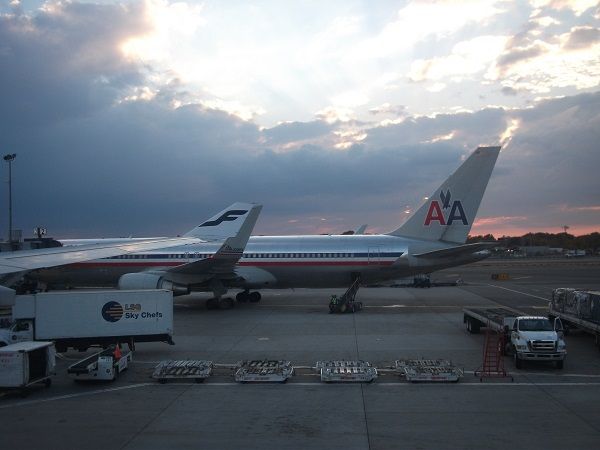 Through the necessary procedures and trip to the Manhattan can begin. That trip took almost 2 hours, because of the traffic.
First night and the next day I spent just walking around Manhattan. I remember those old good days when Finnair flew MD-11 to New York. When I was much younger it was my dream to fly with Finnair and MD-11 to New York. Finally that dream came almost true, I experienced Finnair and now I was in New York, but I flew there with a bit more modern airplane.
Who goes to New York without wanting to see the Statue of Liberty? I didn't want to pay and wait with other tourists to get on the island, so I decided to take the free Staten Island Ferry. I was able to see the Statue of Liberty from a good distance and I got also change to take pictures of Manhattan skyline from Staten Island. All of this for free!
Ellis Island.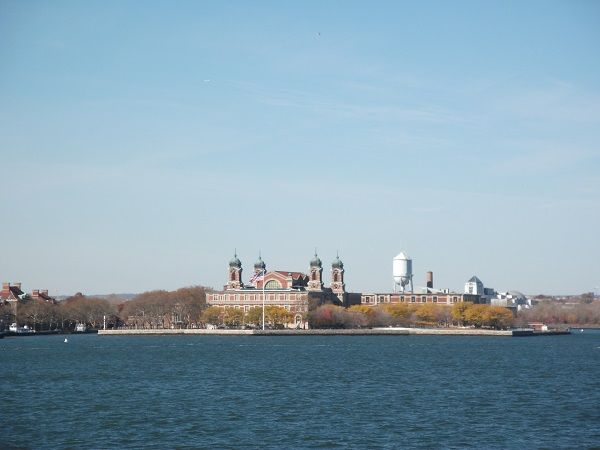 Statue of Liberty.
Manhattan.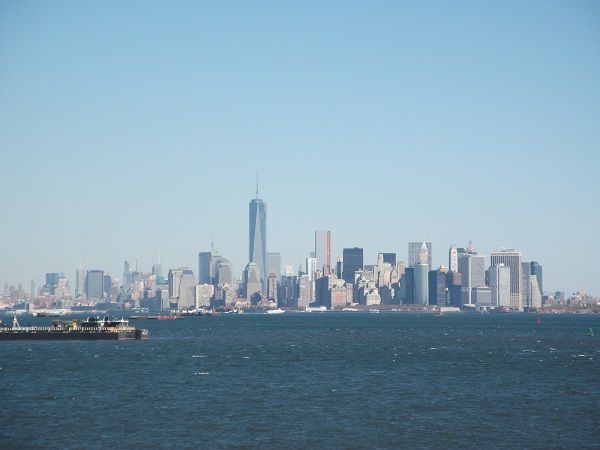 Jersey City.
A couple of pictures from Staten Island.
.
After the trip to Staten Island and back. I decided to go to see the Brooklyn Bridge, because it is quite near the ferry terminal.
Brooklyn Bridge surprised me totally. I never thought that pedestrians use the middle part of the bridge that goes above cars. I knew that people and cars don't go at the same level, but I thought there is two sidewalks on each side of the bridge. The one quite narrow footpath later split up to two parts in the middle of the bridge. It was a nice experience anyway and it was the only place in the New York (if airport doesn't count) where I met another Finnish person.
.
Times Square. I did modify this picture a bit, because there were people in front of me.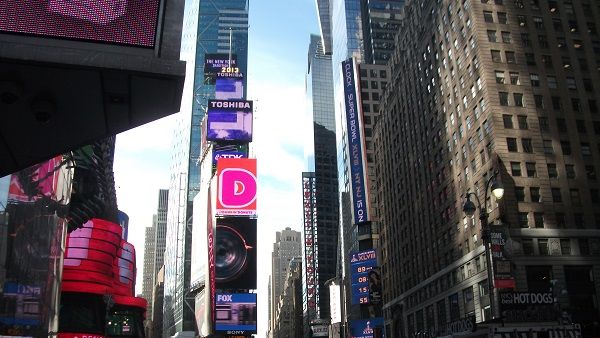 Central Park. Absolutely amazing place. So peaceful place in the middle of big city. Later I checked from a map how much I walked there and then I just realised how big it really is.
.
Prometheus at Rockefeller Center.
GE Building.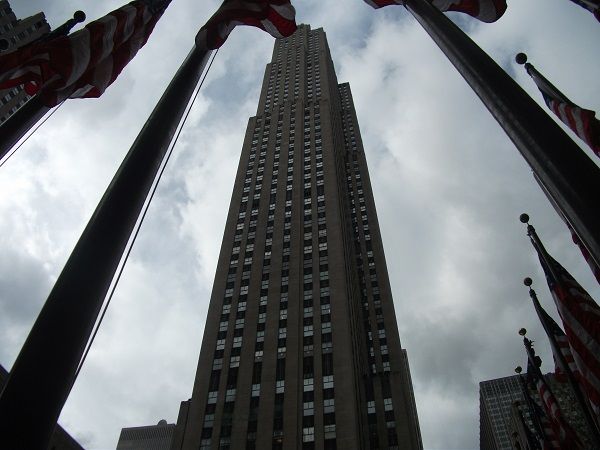 I also went to see one Rangers match and one Knicks match to the legendary Garden. Tickets weren't cheap, but both of the games were great experiences. I am a big NHL fan and I had only seen one NHL game live before in Helsinki.
One day I went to the Empire State Building and the Intrepid Sea, Air & Space Museum.
.
Here you can see now officially the tallest building in North America and the Statue of Liberty.
.
.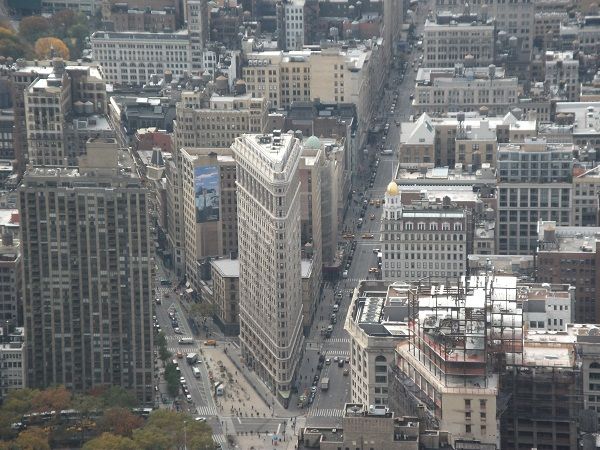 Chrysler Building and LaGuardia Airport in the backround.
The massive Central Park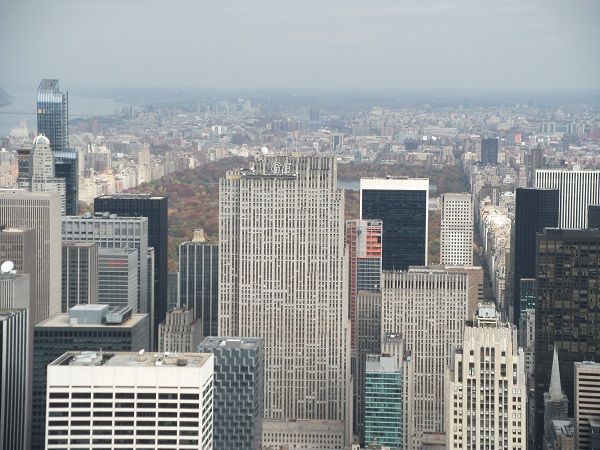 It wasn't too busy at the Empire State Building, but it still took quite much time to get to the observation deck.
I wouldn't want to experience that when there are much more tourists like in summer probably.
Intrepid Sea, Air & Space Museum is very exciting museum to visit. I really recommend it to everybody, even if you are not so interested in ships. It is just amazing to see how people have lived inside of those ships. The deck itself looked much smaller than I thought, but I guess present day aircraft carriers are much bigger than Intrepid.
.
.
.
.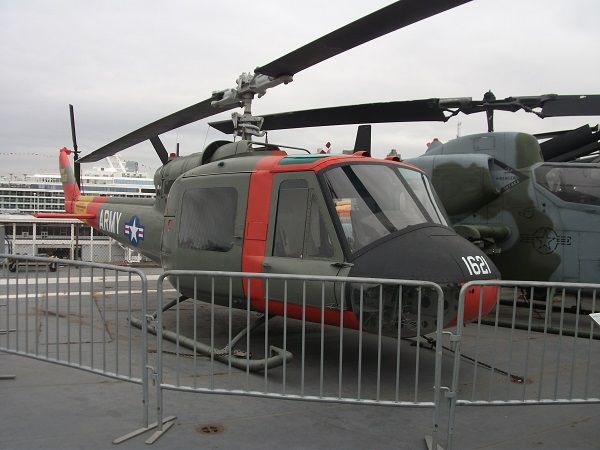 .
A couple of shots from inside of the ship.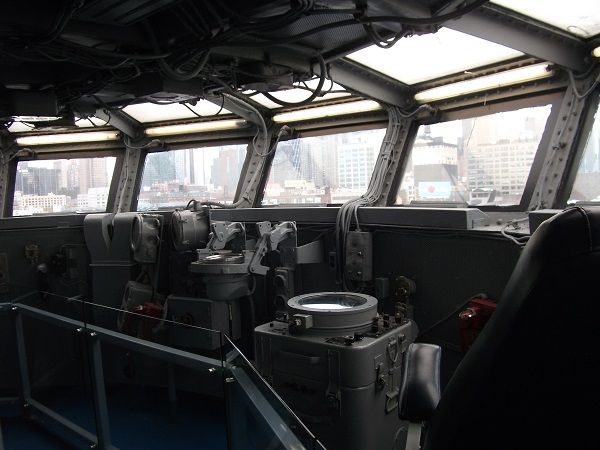 .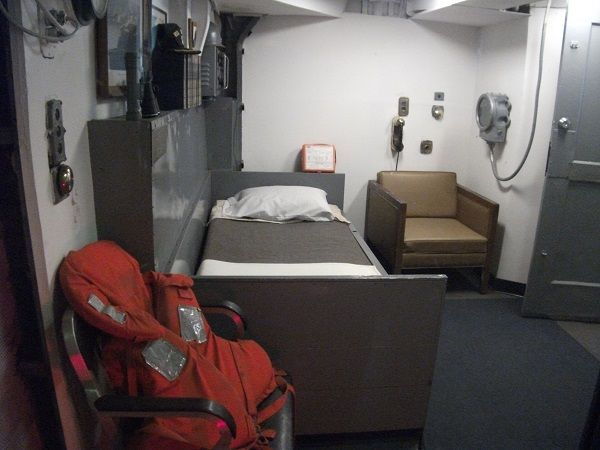 There is also a submarine named Growler that you can visit. It is included in your ticket price, so you don't have to pay anything extra.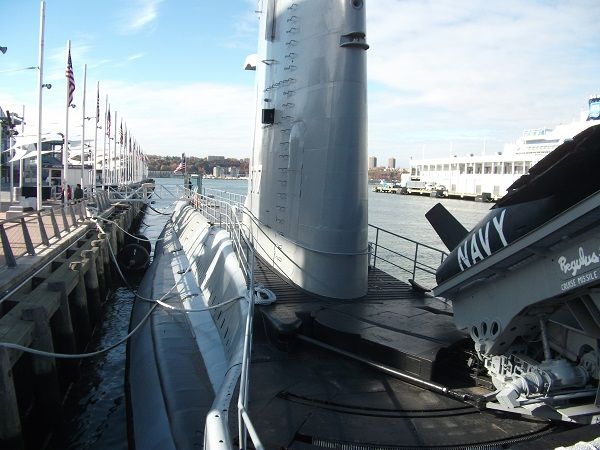 .
.
.
I have much more pictures from New York, but I don't want to make too long and boring trip report so let's move on.
JFK-LAX
DL472
Boeing 757 (N717TW)
6:51-10:05
I have flown with Finnair's Boeing 757 many years ago, so this is not a new aircraft type for me, but Delta is a new airline for me.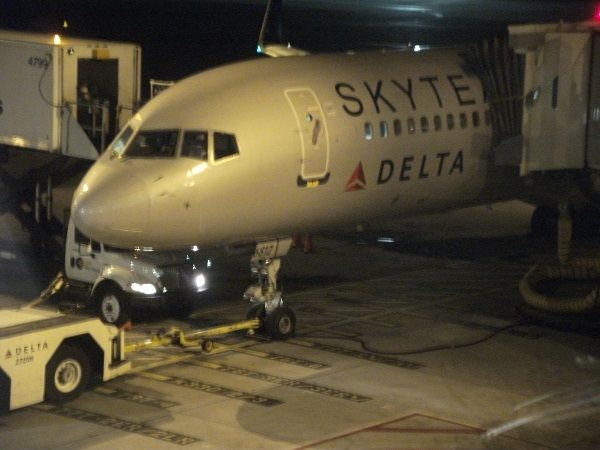 PTV! This was a surprise, since I didn't expect it to be on this flight.
View from my seat. Last time I was watching out of 757's window I was much younger and I this didn't bother me, but now that I am taller I couldn't really see outside of the window if I was sitting straight. Windows are lower on 757's than on most of the airplanes in my opinion.
Luckily it wasn't cloudy over NYC and I managed to take some photos.
.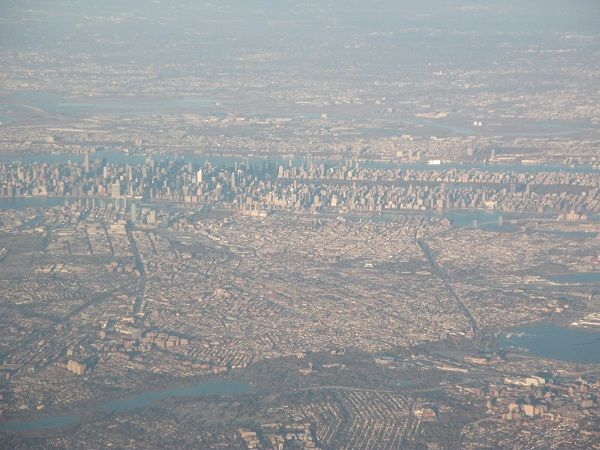 Snacks of the flight. I think that there should be a real meal on a flight as long as this is. I was already very hungry before this flight, but I knew that there would be only snacks. These are still better than nothing and they gave them also more than these three.
Somewhere over Missouri.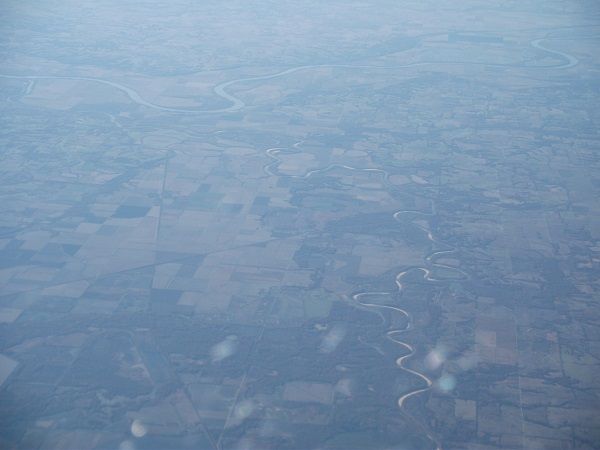 Kansas City International Airport
Part of the Rocky Mountains. Not the highest peaks of them though.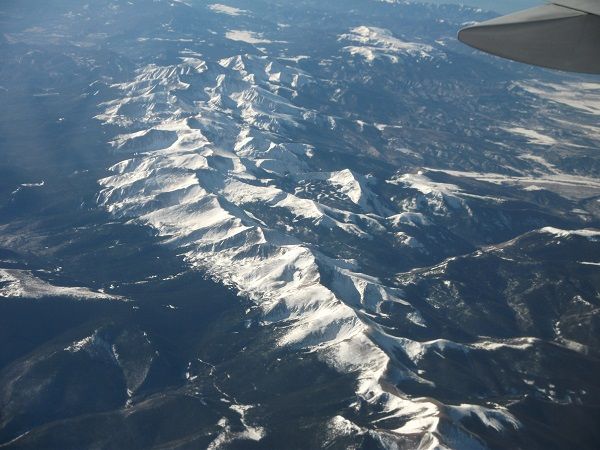 Grand Canyon. I don't know was this just a good luck or more like habit, but pilots announced that they would make a small change to the flight route so everybody can see the Grand Canyon. We left from JFK earlier than scheduled so maybe we weren't in a hurry.
.
Can somebody tell to me what city this is?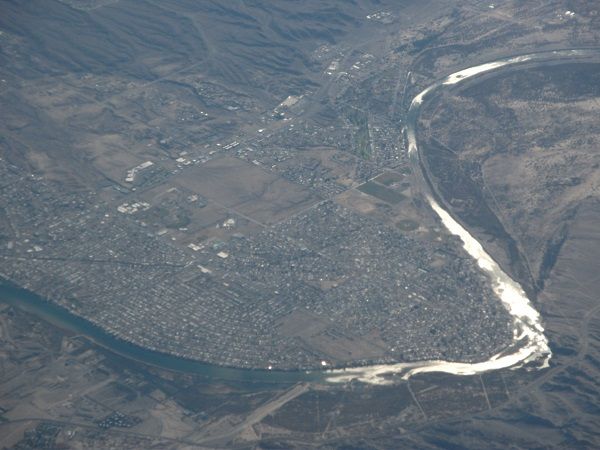 Taxiing after landing at LAX.
AA MD-80
Delta B737
At the gate next to a B777.
I stayed in Hollywood. There wasn't actually much to see than Hollywood Boulevard, Santa Monica Boulevard and the famous Hollywood Sign.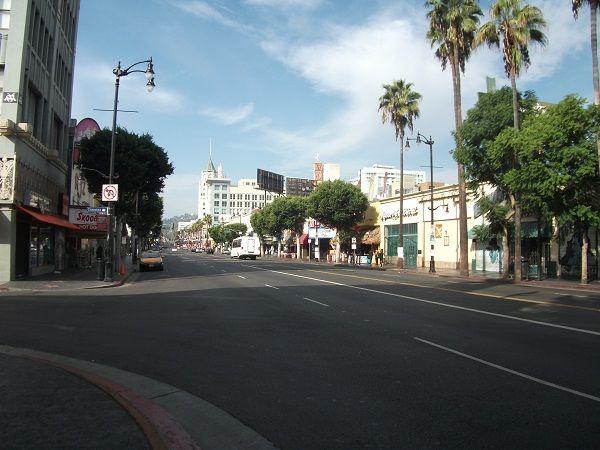 .
One thing surprised me totally. I thought that Hollywood Sign has lights and you could see it when it is dark, but no. Apparently there are no lights, since this photo was taken from the same place as the previous picture.
Christmas tree in Hollywood. I didn't expect to see this in California already in November.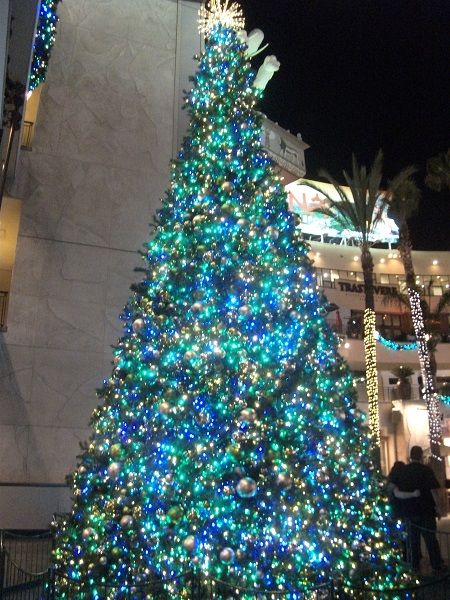 One day I went to Downtown which was a big dissappointment. There were absolutely nothing to see except a few buildings.
Santa Monica was the real jewel I found during my trip. This place remainds me about Miami Beach. Beach, lots of shops and nice weather, what else can you hope for a nice relaxing holiday? Sadly bus was the only for me to go there and that trip took almost 2 hours one-way.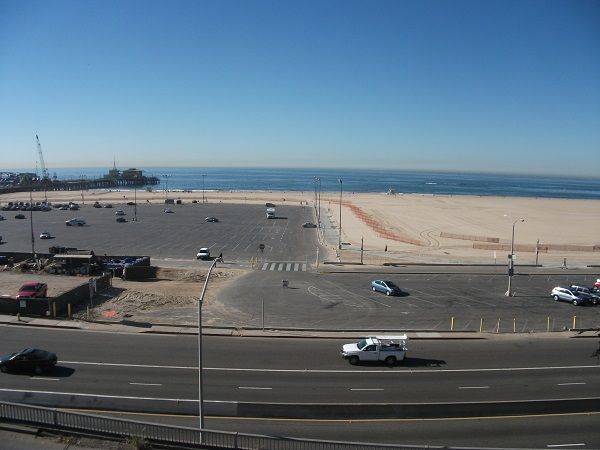 .
.
Pictures from Santa Monica Pier.
.
.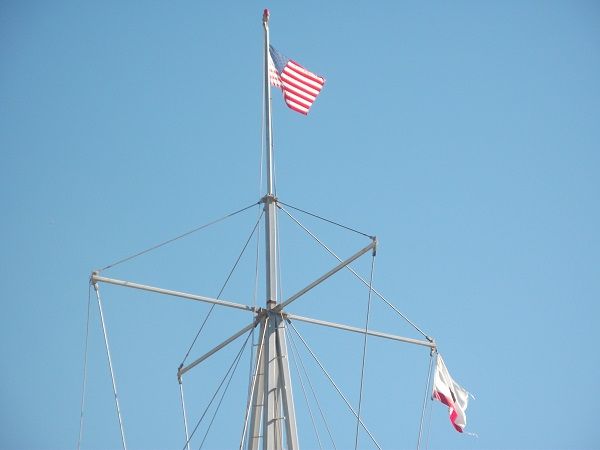 Blue and cloudless Californian sky.
I didn't know that Route 66 ends here, but now I can probably say that I have been on the Route 66.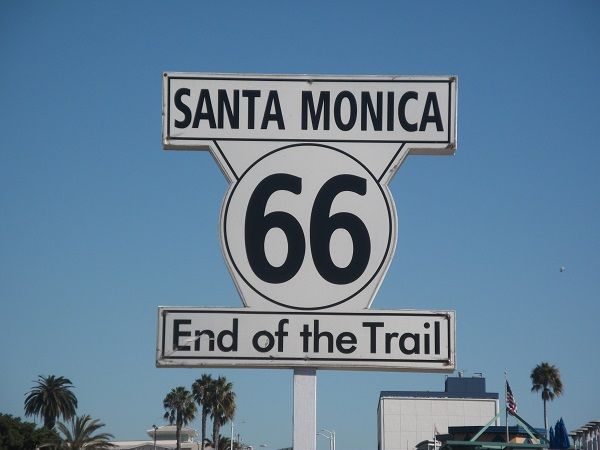 A couple last days of my holiday were spoiled by Finnair and its employees. There was a possible strike coming at the time I should be going home and Finnair published a list of possibly operated flights during possible strike. My flight wasn't on the list and I had to contact Finnair. They said it is not their problem, because they didn't sell the tickets to me. They said I should contact American Airlines and ask a new route to home. Well what was the only option to contact them? By calling of course and doing it with my phone would mean every call I make goes through Finland and that would cost me very much so I ain't going to pay that. The only option was to go to the airport and I did. The whole trip from hotel to airport with three metro rail lines and back to hotel took over 4 hours. I didn't get a new route, because my original flight wasn't cancelled yet and AA also said that it is Finnair's problem to solve these situations during strikes. Luckily there wasn't any strike and because of this trip I got to see other parts of LA too.
LAX-JFK
AA118
Boeing 767 (N335AA)
6:54-14:55
Time to go home!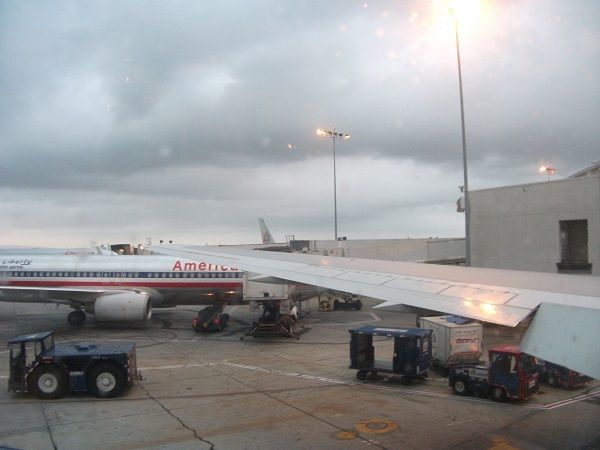 American B737 next to us.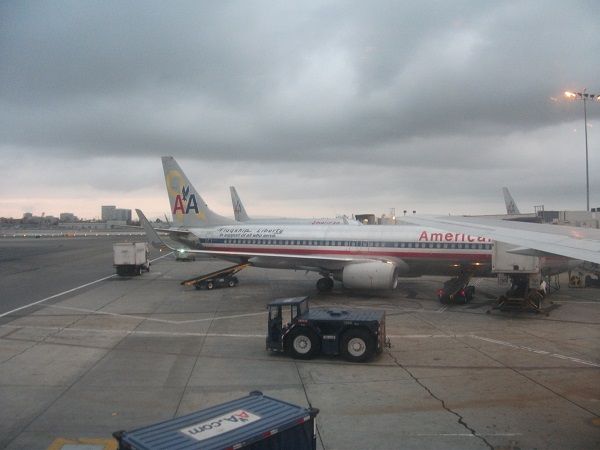 Beautiful view.
This time I was wise and bought my own meal from airport. It wasn't cheap, but still better than nothing, because American didn't offer even snacks. They offered free soft drinks, but I had my own bottle.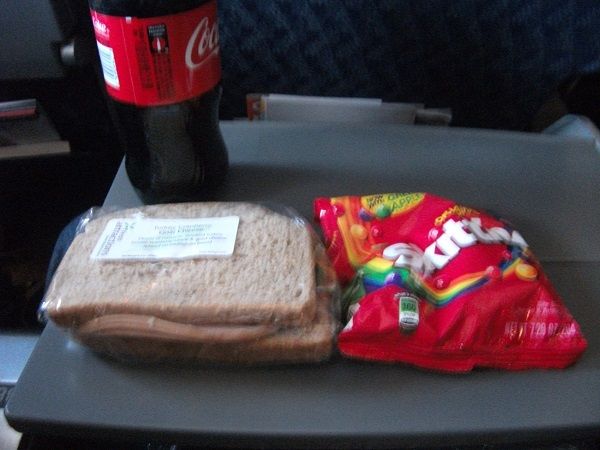 One week later back at JFK.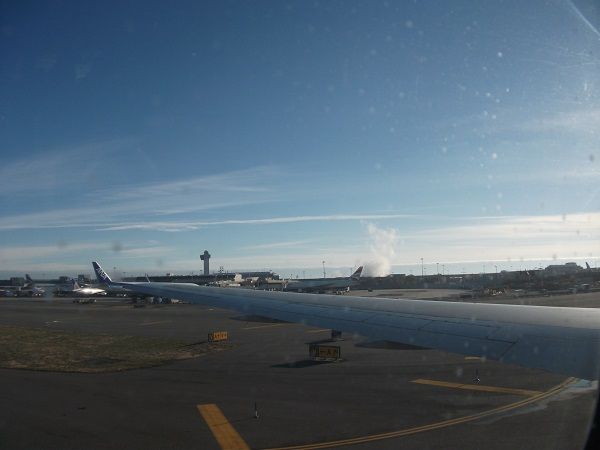 .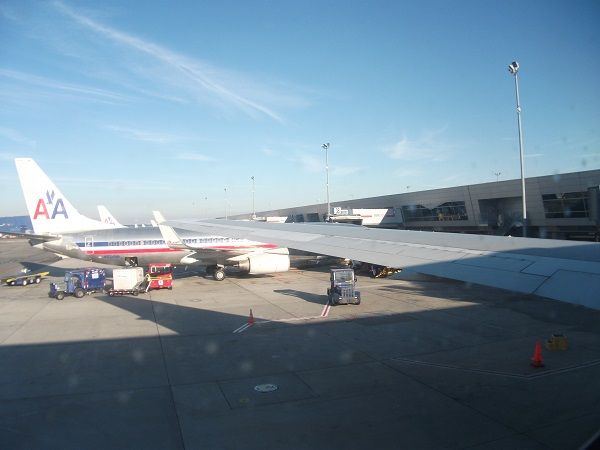 Some spotting from terminal 8 at JFK.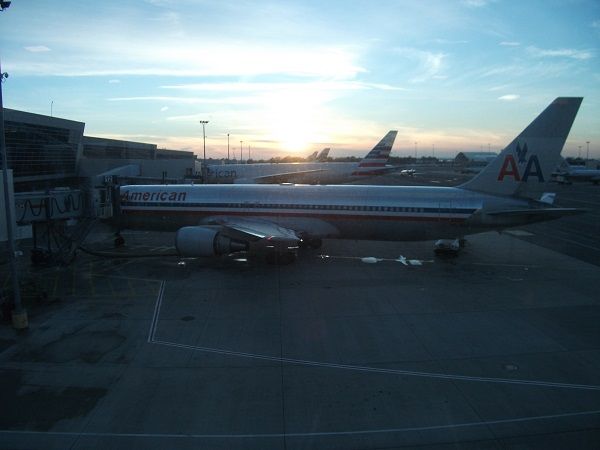 .
JFK-HEL
AY006
Airbus A330 (OH-LTN)
17:41-8:18
I only have meal photos from this flight, because I was sitting in the row of four seats. I did check-in early, but AA didn't let me change seats on Finnair's flight. I just should have tried to do this flights check-in on AY's website. At least I got seat from last row before toilets so I could lean back as far as the seat goes. I normally keep my seat in that position where it should always be, because I know how annoying it is to have other persons seat in front of your face. Now there was nobody behind me so I enjoyed this "benefit".
This meal was much better than the one I had on HEL-JFK flight. Chicken and potatos and good salad. Dessert was some kind of brownie, which was hard, I prefer to eat them when they are soft. There was some kind of sauce with the chicken which wasn't so good, but still okay meal.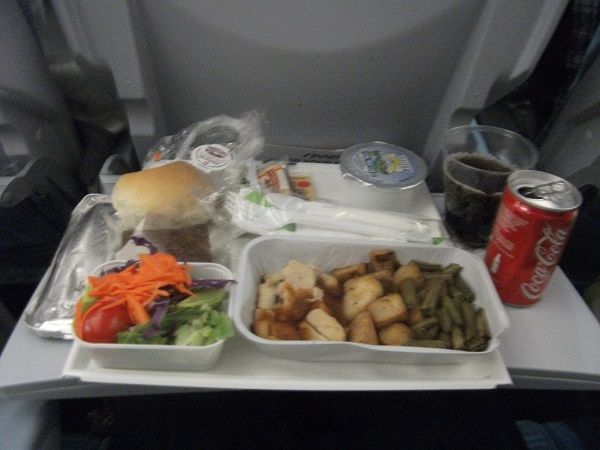 Second meal. Okay, this is the normal Finnish breakfast or snack bread maybe, but it just looks very cheap. I know AY wants to save from everything, but customer experience should still be one of their highest priorities. The bread itself was good, but it is just not enough for a breakfast. There could have been something more with this bread or at least bigger and better bread.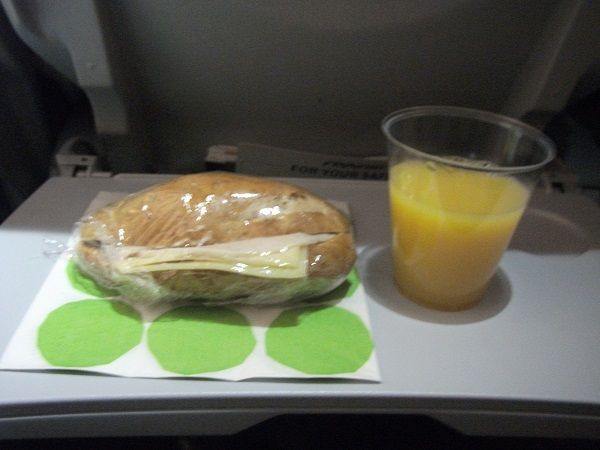 Conclusions
I have to say that every trip to the USA is really worth it. I love American people, because most of them are very friendly. They may not care or know that you are tourist, but they still treat everybody in the same friendly way.
Comparison between New York and Los Angeles
I know it is hard to compare these cities, because everybody has their own opinion about them. I have seen so much pictures and videos from both of these cities and seeing everything in reality was just unbelievable. New York is huge city and there is so much to see. It didn't surprise me as much as I expected, probably because I already "knew" the city from so many different sources. Los Angeles is much different from New York. Public transportation is much worse than in New York. Traffic in LA is also much worse in my opinion. Yes, there is a lot of traffic in New York too, but it is much easier and faster to move there by foot. There is much to see in LA, but you really need a car for that. I liked Santa Monica very much and I would go there again. On the other hand there is pretty much nothing interesting in Downtown LA. Food was much cheaper in Los Angeles than in New York.
Now I can say that I have been in California, but I am not probably going back there anytime soon. If I go back there someday, then I will probably go to San Francisco.
New York is definitely a city where I want to go back someday. There are so many cities I would like to see in USA, but I guess next it will be either Chicago or Washington D.C.
Terminals
Terminal 4 at JFK is spacious and very nice. I know it has been recently renovated. Terminal 8 was in my opinion "typical" American terminal with long corridors. Still there were lots of services which is good. Terminals 4 and 5 at LAX were much older and smaller in my opinion. I also know that LAX has a new international terminal. I did't go there, but I have seen pictures of it and it looks very good. I said this because I don't want to give you that impression that I thing New York is better in everything.
Airplanes
A330 was a new aircraft type for me. Finnair's 2-4-2 seating made it look very crammed. Legroom was okay, but of course selfish Finnish persons can't sleep while sitting straight so they recline their seats. I think every airline should use Ryanair type of non-reclining seats in economy class. If you want better travelling experience then pay more to travel in economy+ or something, where reclining seats could work better.
I still have to mention that I liked AY's seats. Headrest was comfortable and it stayed in its position even if you leaned your head on it.
Delta was a nice experience, but I didn't like their leather seats. Leather is not very comfortable, especially when you are flying 6 hours.
American B767 was old, but not complaining. The flight was 100% full so I wonder how they are going to make out with narrowbodies in the future on that route.
This year has been a record breaker for me. Ten flights during the year, six new airports, five new aircraft types and four new airlines for me.
Thanks for reading and comments are appreciated.