"This dedication is as simple as it is and it goes to KL, just for the chance to fly these magic bird again"
The trip in one word:
HOMEWARDS
"How to spend a night under an engine?. Well, we will see!".
Hello again, dear readers,
the number of links around the Canada trip is growing:
Canada Airlinair AirFrance Toronto Westjet
(by
FLIEGER67
Oct 28 2013 in Trip Reports)
Canada CanadianNorth Yellowknife BuffaloAirways
(by
FLIEGER67
Oct 30 2013 in Trip Reports)
Canada 732C Yellowknife BuffaloAirways DC3Incident
(by
FLIEGER67
Nov 2 2013 in Trip Reports)
Canada Jazz AirCanada CentralMountainAir Comox
(by
FLIEGER67
Nov 12 2013 in Trip Reports)
Canada PacificCoastal HarbourAir Tofino DHC2
(by
FLIEGER67
Nov 17 2013 in Trip Reports)
Canada SEAirSeaplanes HarbourAir PascoB19C
(by
FLIEGER67
Nov 24 2013 in Trip Reports)
Canada CampbellRiver CentralMountainAir JazzAir
(by
FLIEGER67
Nov 30 2013 in Trip Reports)
And this looks like, only for calming, as finals this time:
Good to have this great tool ready:
http://www.gcmap.com/
Saturday, 24.08.2013
.
.
.
.
Service KLM KL 9727 operated by WestJetAirlines
Scheduled: 11.30 // 17.21
Here are the latest news with the visited countries map:
VISITED COUNTRIES
auf einer größeren Karte anzeigen
Good morning from the "Super 8 Edmonton International Airport Leduc", where breakfast is prepared for us.
And soon thereafter we are heading for the airport
by the free shuttle bus
Well, I´am close to sure that we catched the right exit!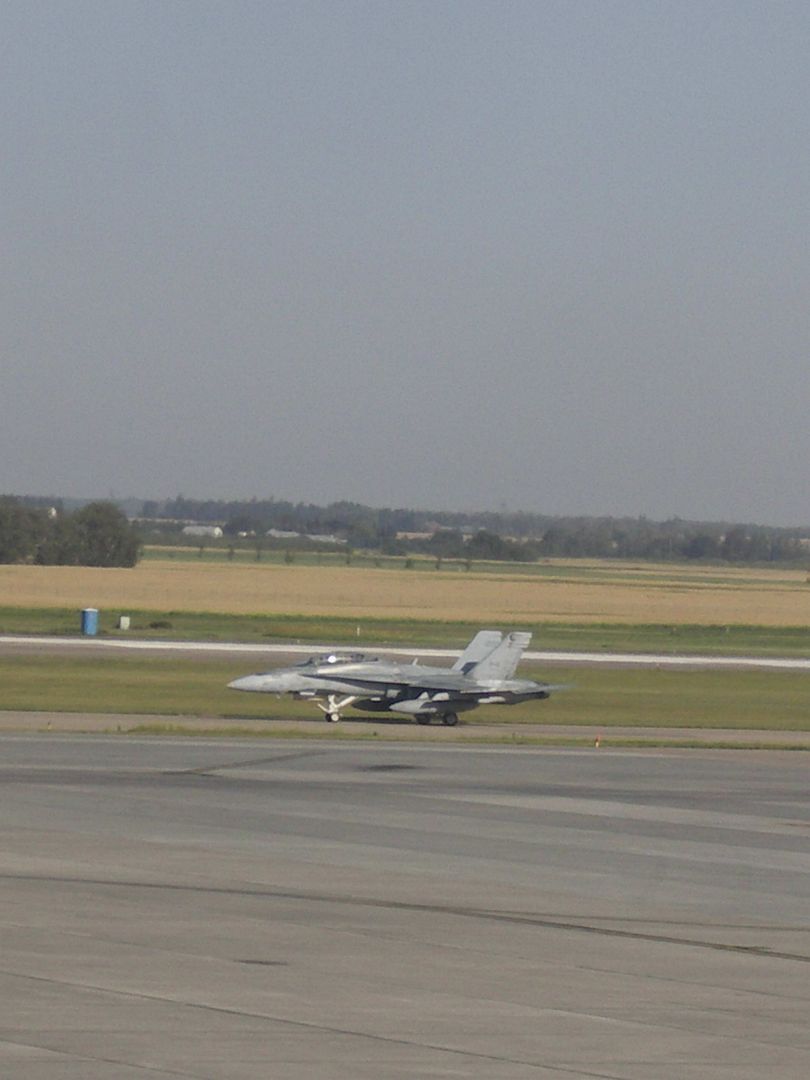 Check-In is done manually. Sure, that´s the common standard here these days for us.
Just a couple of minutes to wait and the bags are on the way for good old Europe!.
All three flights today/tonight/tomorrow are on one confirmation managed by CheapTickets.de.
And the fare per leg is 130.00 Euro´s.
Interesting again to feel how close the cooperation between Westjet and KLM works.
No boarding papers possible for the KL flights at Edmonton.
We should catch it at YUL. Well, we will do so. Seats are preselected anyway.
No time to wait at the security check, as every occasion here at Edmonton for us, well organized it is.
The flight looks like ok so far from gate 56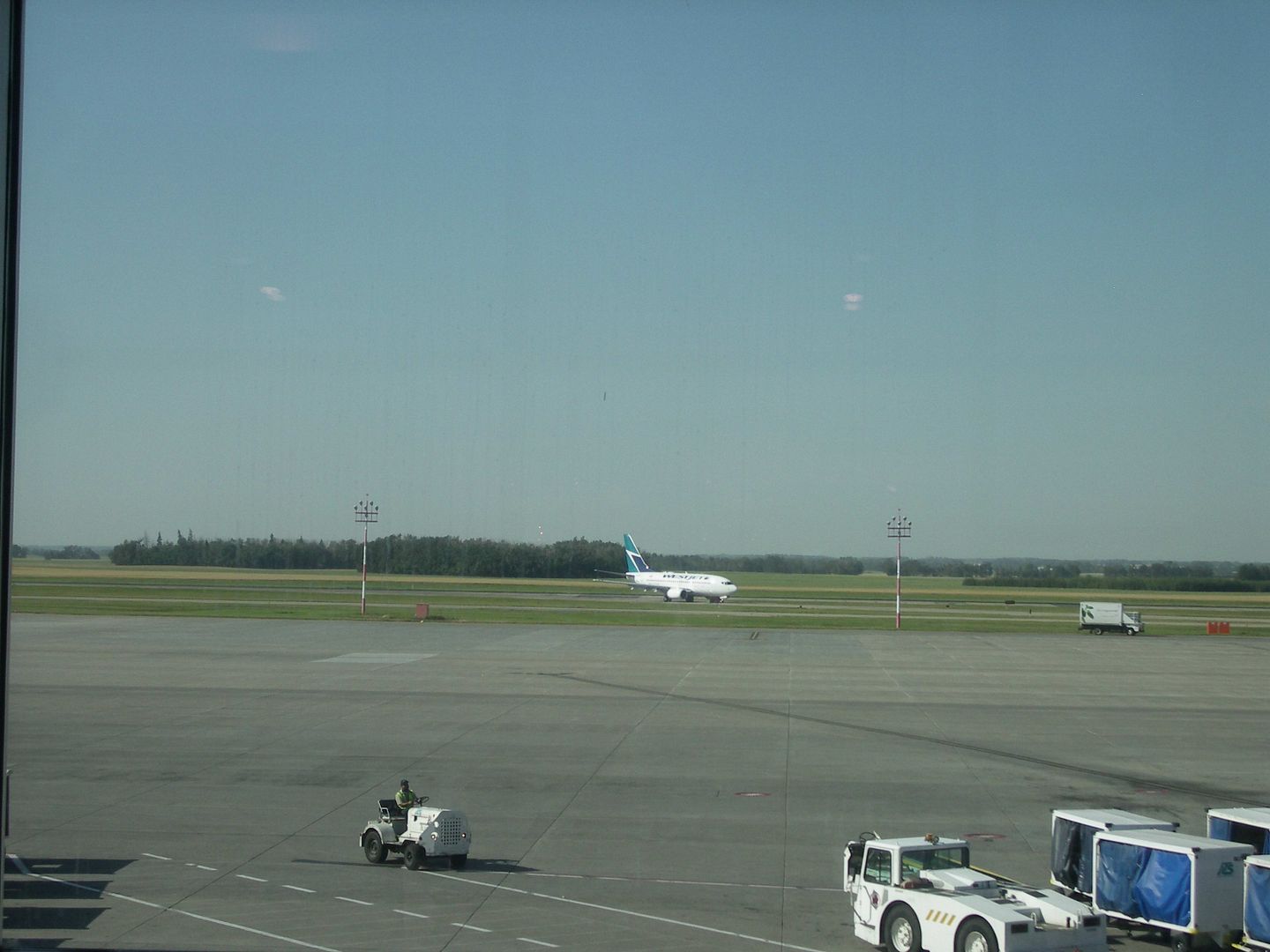 There is a 737-600 on schedule, not that often logged, so looking foward to.
And well, that fit´s!
So we see here C-GWCQ, not to talk about an individual name at WestJet.
New to the log and leg no. 10 on type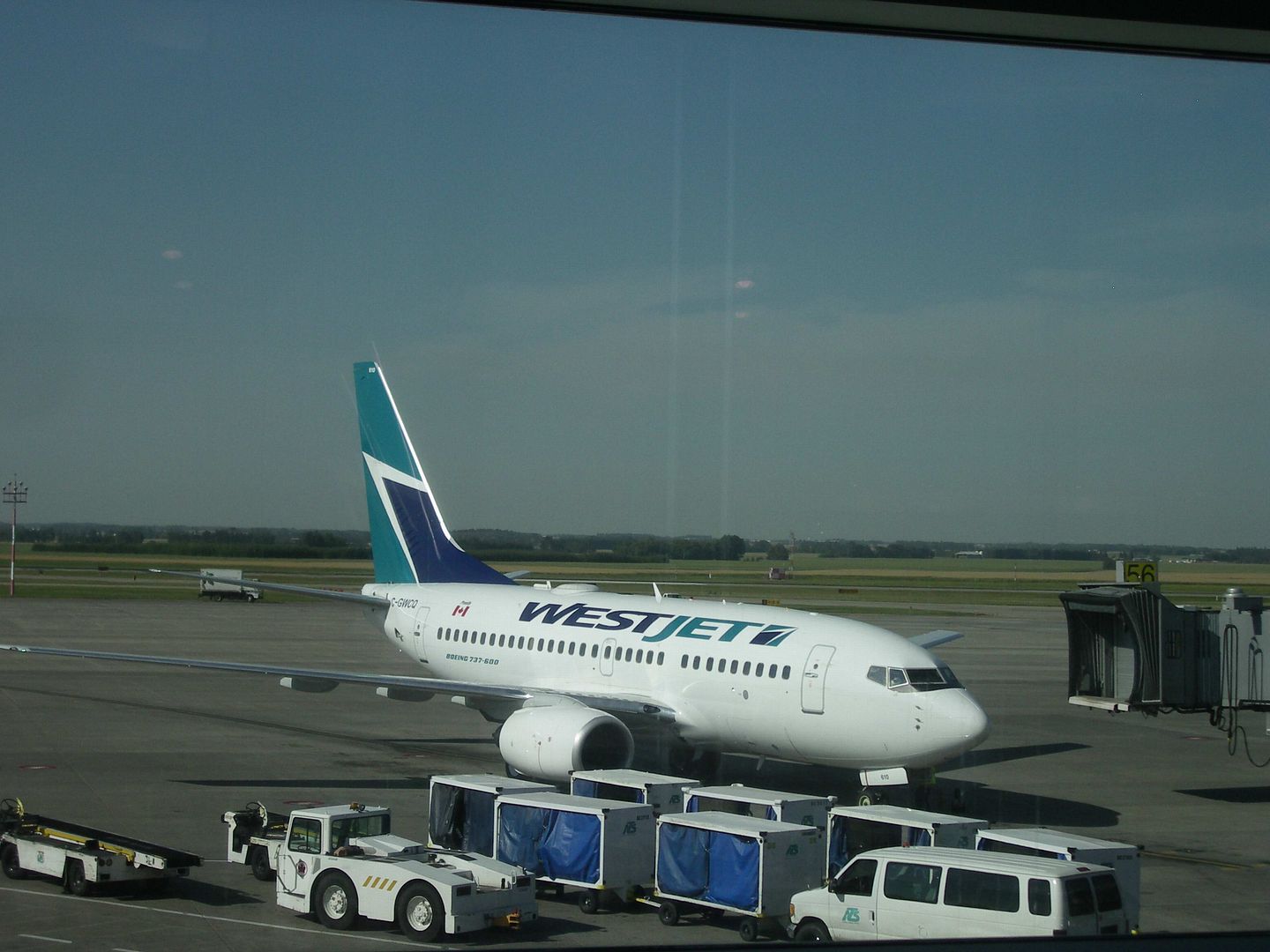 Newly delivered at 28.07.2006 to WestJet, 13 examples are in the fleet and there are also stories to show:
http://avherald.com/h?article=425ae460&opt=0
http://avherald.com/h?article=4262c4af&opt=0
No time to use a lounge here.
They called for boarding. Well, why not?
A warm welcome by WestJet.
Cockpit crew is from Canada.
The captain with a short greeting on the ground,
all crew is introduced by name, well done and once again later announcing descent
11.30 am, what is perfectly ontime by "WestJet".
20 sunny degrees and 3.30 hours to go now.
Leaving "Edmonton International Airport" from the 3109 meters runway "Three-Zero".
And the safety card is still there!.
Routing is via Saskatoon, north of Winnipeg, Thunder Bay,
starting at 37000 feet and going higher mile per mile, 38000 feet, 40000 feet, till 41000 feet
We have a well loaded cabin this late morning cruising eastbound, very close to 100%. VFR travellers on the way.
20 A/C for us with B open, lucky us.
Dark grey leather seaters, oldfashioned, but clean so far and the legroom is ok
Something to eat with the modern style cabin ceiling
Who needs more entertainment than a window and the map?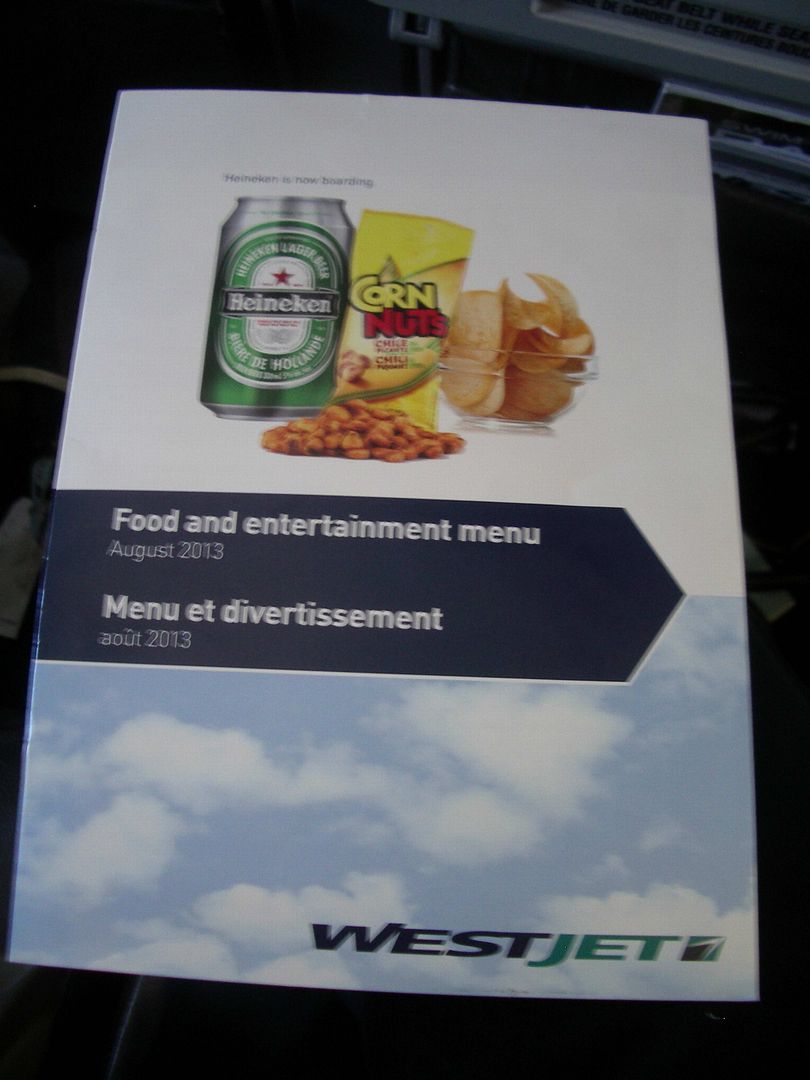 Cabin crew is one male FA, middle aged and nice together with two elder women, really nice and motivated.
The advantage of the last row, well served by one of the two women.
Drinks for several times, snacks and cookies a plenty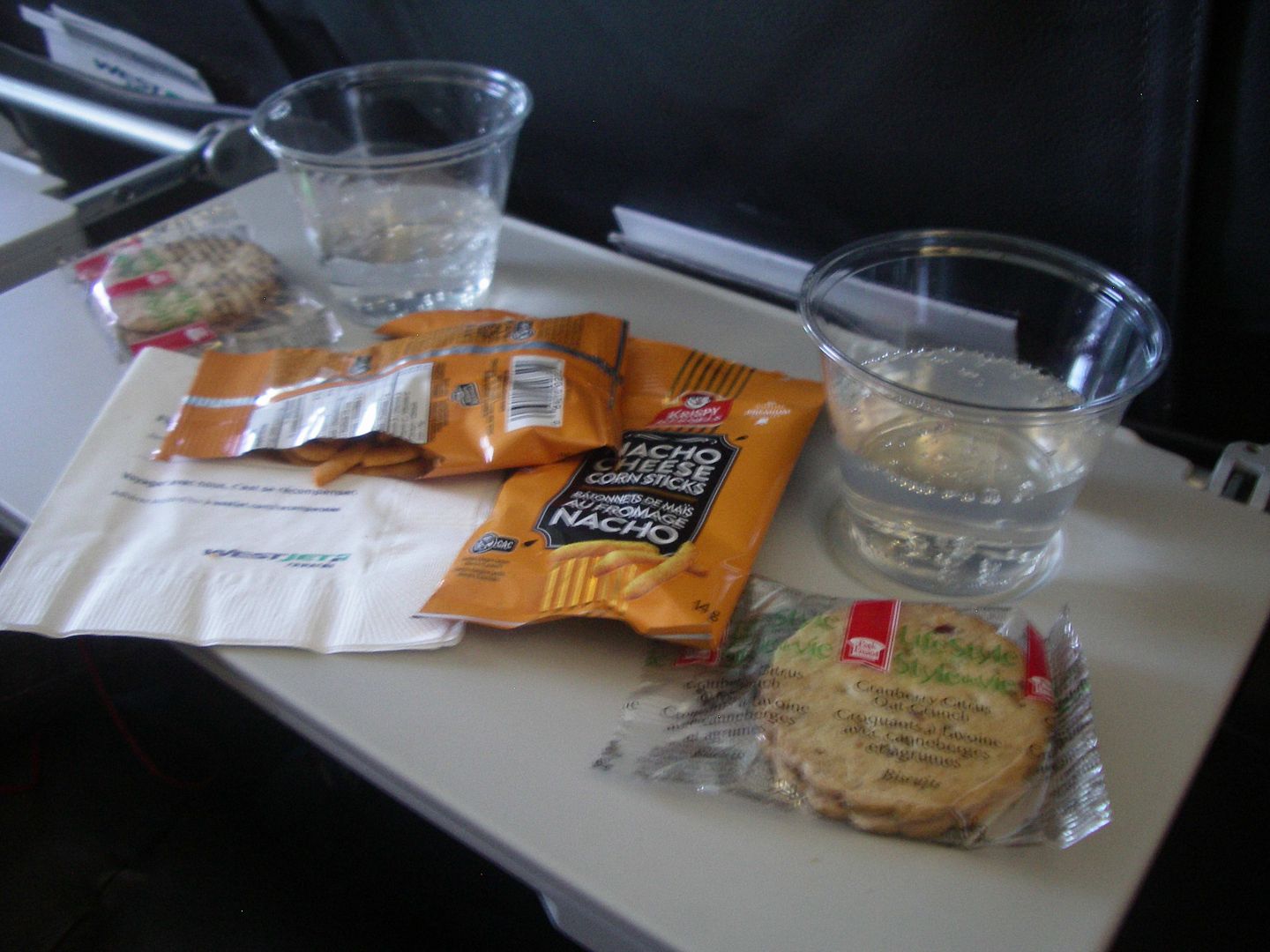 Well, are you sure, there is definitely much more to fly to reach Germany but this advertissement here on WestJet is in German language
Interesting scenery down there
Not that far to go
On finals for the 3353 meters "Two-Four-Right",
"Aéroport international Pierre-Elliott-Trudeau de Montréal"
5.15 pm, short ahead to schedule and 22 sunny degrees.
Yes, it is Montreal, where something like this should wait for us. Two engines, or four, or maybe three?
-------CONTINUED BELOW---------------------------