Hello a-netters!
Welcome to my new trip report featuring Iberia on the London-Heathrow route, flying the A340 on the return leg. I believe this is the first trip report about Iberia with the new corporate image, so you will be able to see how the new branding looks like.
INTRODUCTION
There was a long weekend in the beginning of December so my sister, her boyfriend and I decided to visit London for four days. I was the one in charge of buying the tickets and Iberia offered a very good fare of around 150€ round trip, returning on the A340. In September Iberia introduced a new fares structure that consist on three levels: Basic, Classic and Flexible. Basic fare does not include checked baggage or seat selection (at check-in the system assigns you a seat and if you want to change it you have to pay), Classic fare includes seat and one piece of checked baggage and the Flexible fare is what the name says. The Basic fare is usually 15-25€ cheaper than the Classic fare when available, so if you don't want to check baggage and don't mind about where you are seated you can save some money. There is an exception though, and it is London flights, where the Basic fare is not available, so I had one piece of checked baggage included and I assumed it also was the case with seat selection. When I was checking-in online the day before departure the system assigned us 24D,E and F, when I tried to change them they wanted to charge 15€ per passenger! I was very upset about that, as I wasn't told that the seat selection was an extra. In this case the preselected seats were fine so it wasn't really an issue.
OUTBOUND FLIGHT
Bag drop was quick and hassle free, it was Saturday morning so lines were short at the counters. The staff at the counter was very friendly, I remember that the agent who attached the tags to our bags joked with us, saying "Oh! You three are going to London! Do you really get on well with each other??... I hope so, have a nice flight!" That simple thing showed that he was enjoying his job and it made us to feel comfortable, being young travellers we like that informal touch. Security was a bit busy but we passed through without any issue and then we went to have something for breakfast.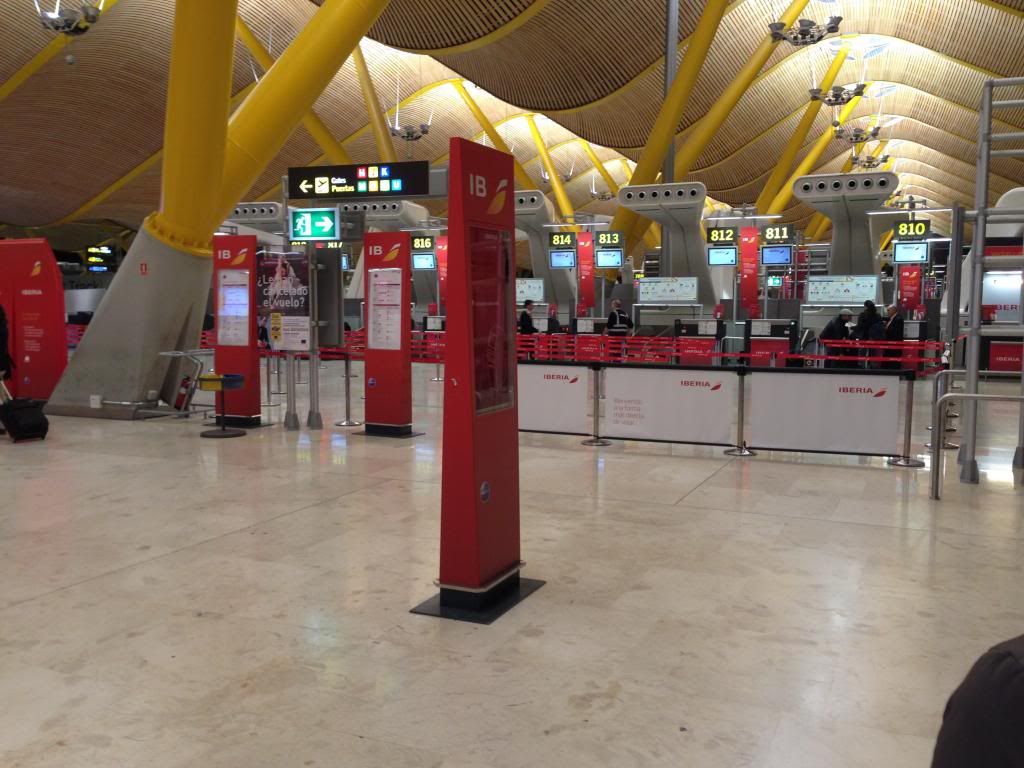 Bag drop counters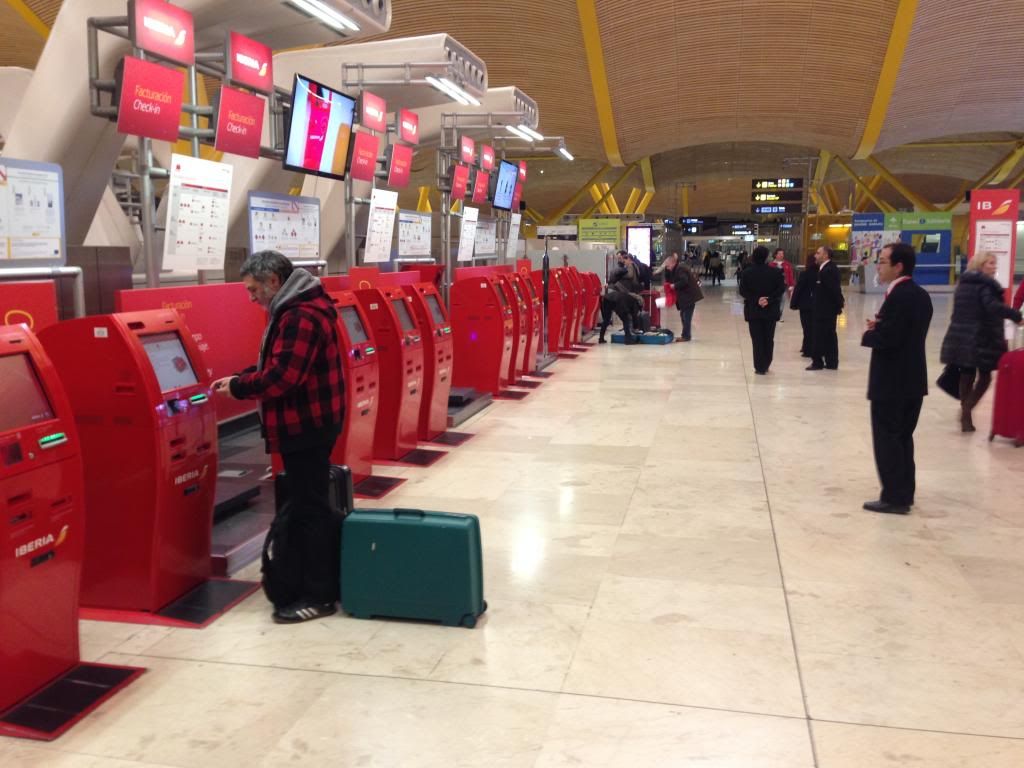 Check-in machines, there were plenty of staff if assistance was needed
Standard BP
Passbook BP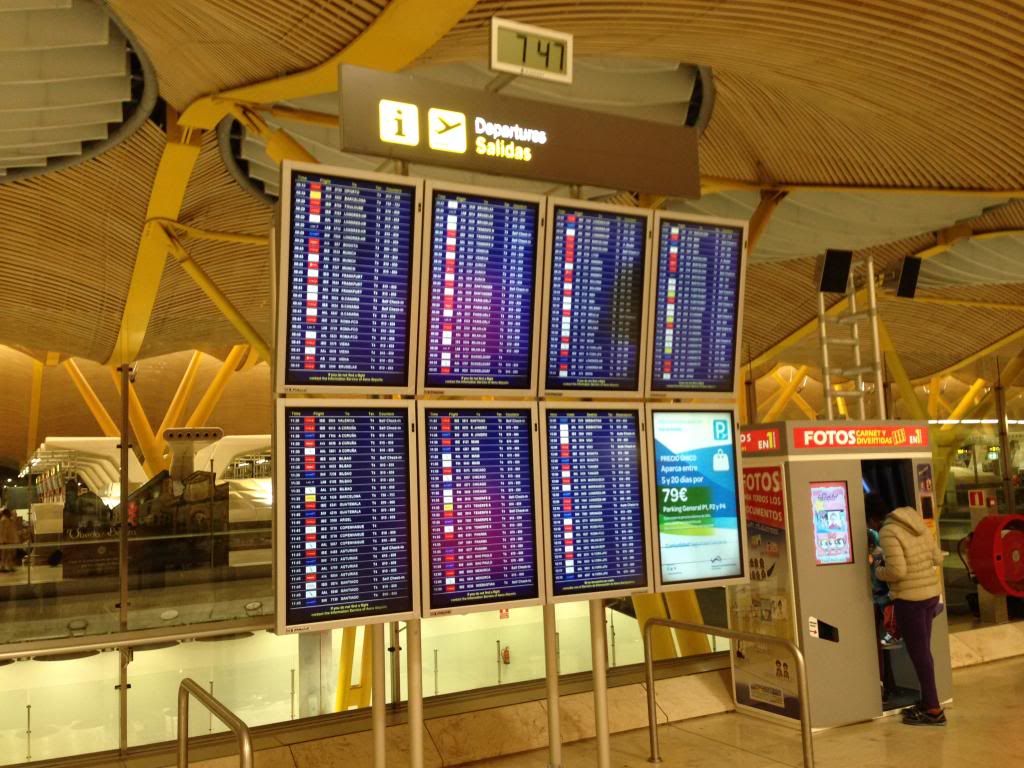 Recently renewed shops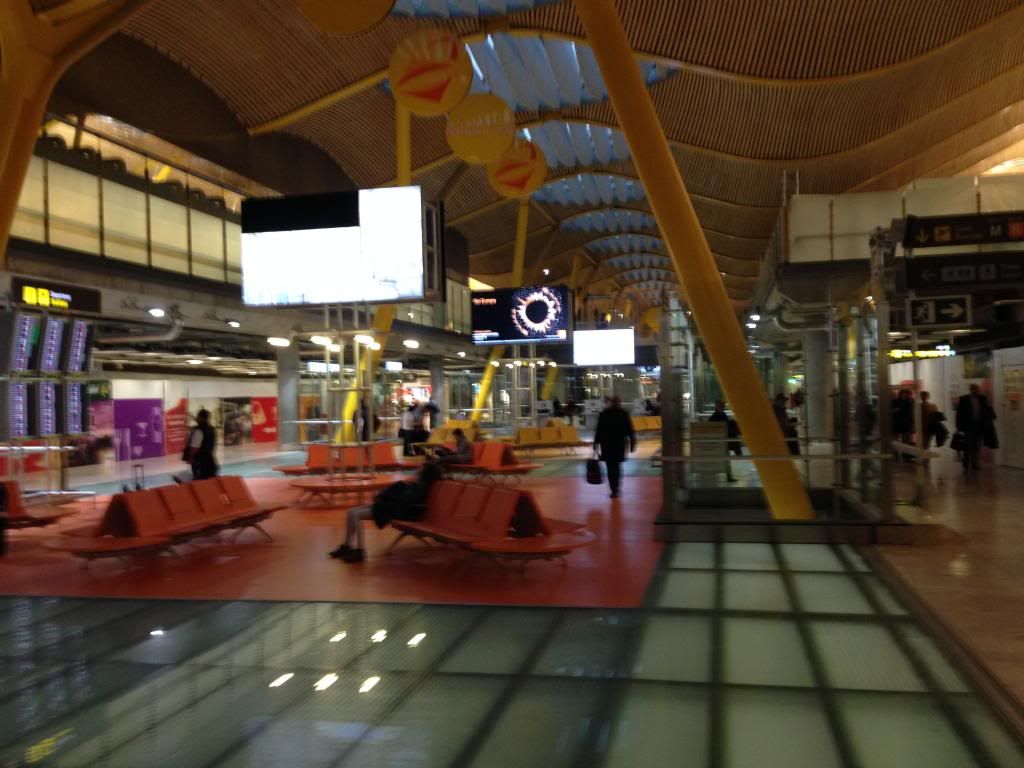 When it was boarding time we headed off to the departure gate, which was in the southern end of the Terminal in a separated area from the other gates as UK is a non-Schengen country. After passing immigration I noticed that the A321 for the earlier flight to London was still at the stand and expected the worst, then I received this message from Iberia:
I checked the FIDS and it showed a delay of 2h5min!! New departing time was 11:15.
Our A321 ready for departure
I checked Heathrow's website and saw that many European flights were heavily delayed, but at least they were arriving so the problem seemed to be solved, meanwhile our flight was again delayed to 11:45. I went to Iberia's information desk to find out the reason for the delay and the agent told me that there was a communication failure in the ATC system at LHR and that they didn't know when it would be fixed.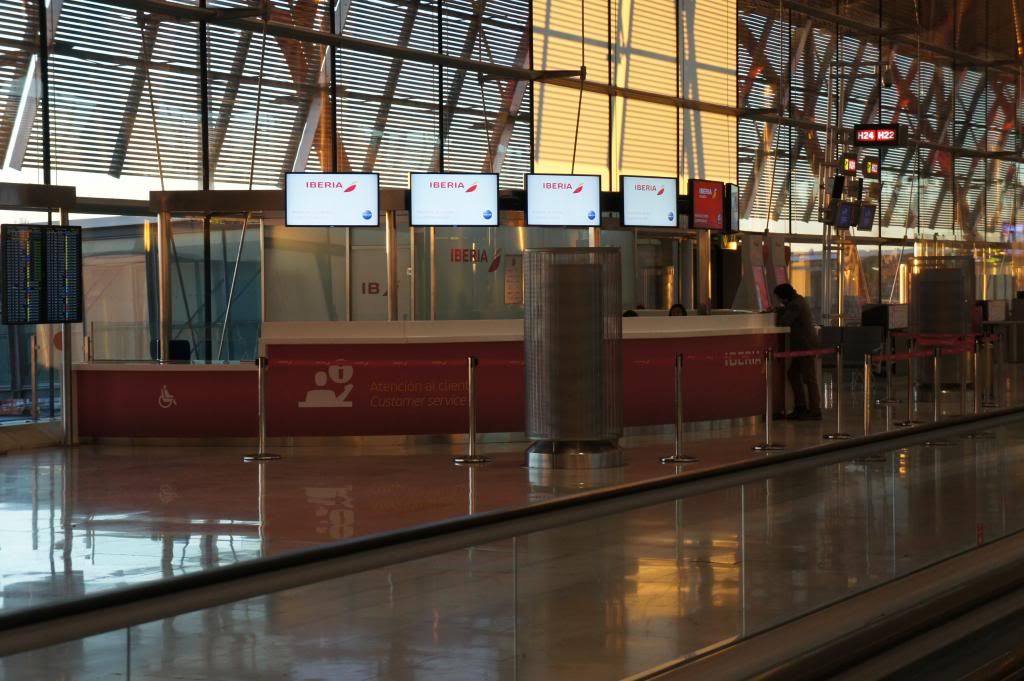 Iberia information desks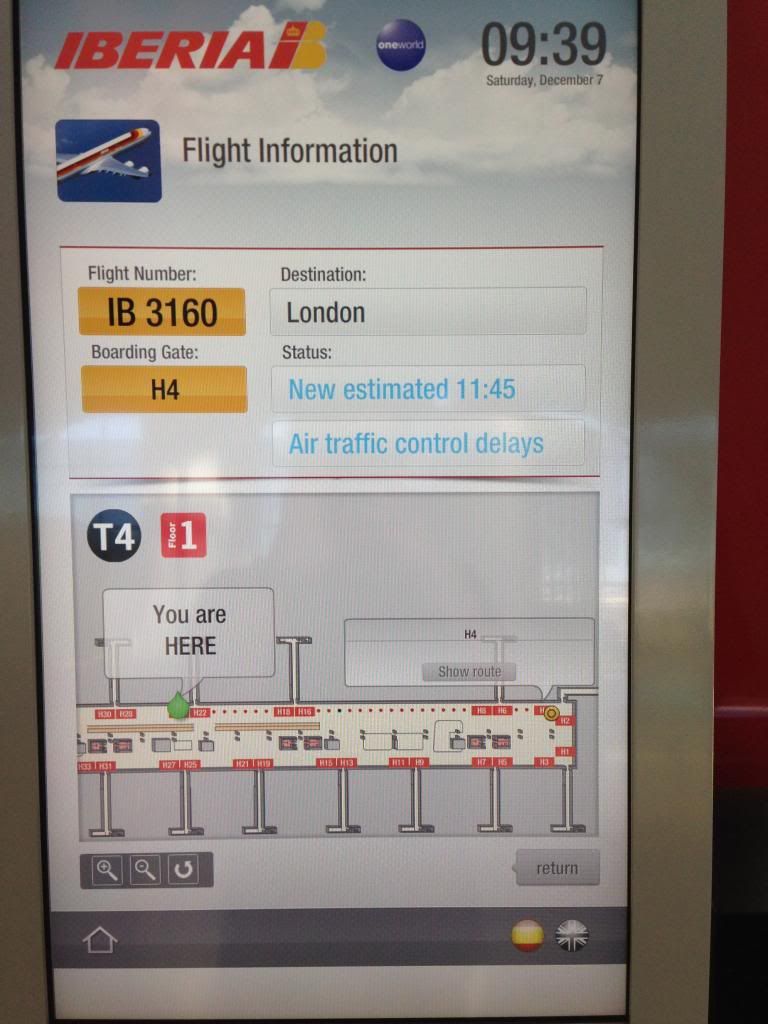 I also checked the status of my flight with this machine that was next to the desk
At 11:15 we headed off to the gate again but first we visited the info desk to know more about the status of our flight. The agent told me that the problem was solved and that the earlier flight had already departed, so we went to the gate. When we arrived five minutes later after a stop at the restrooms, there was nobody near the gate so it seemed that boarding was completed. We got our boarding passes scanned and were directed to the shiny A321.
Flight details

Flight number: IB3160
Origin: MAD
Destination: LHR
Airplane: Airbus A321-211
Registration: EC-JQZ
Airplane name: Generalife
Age: 7.7 years

Seat: 24F

ETD/ATD: 9:10/11:30

ETA/ATA: 10:40/12:40
Load factors: 11/36 in J (30%) 52/168 in Y (31%)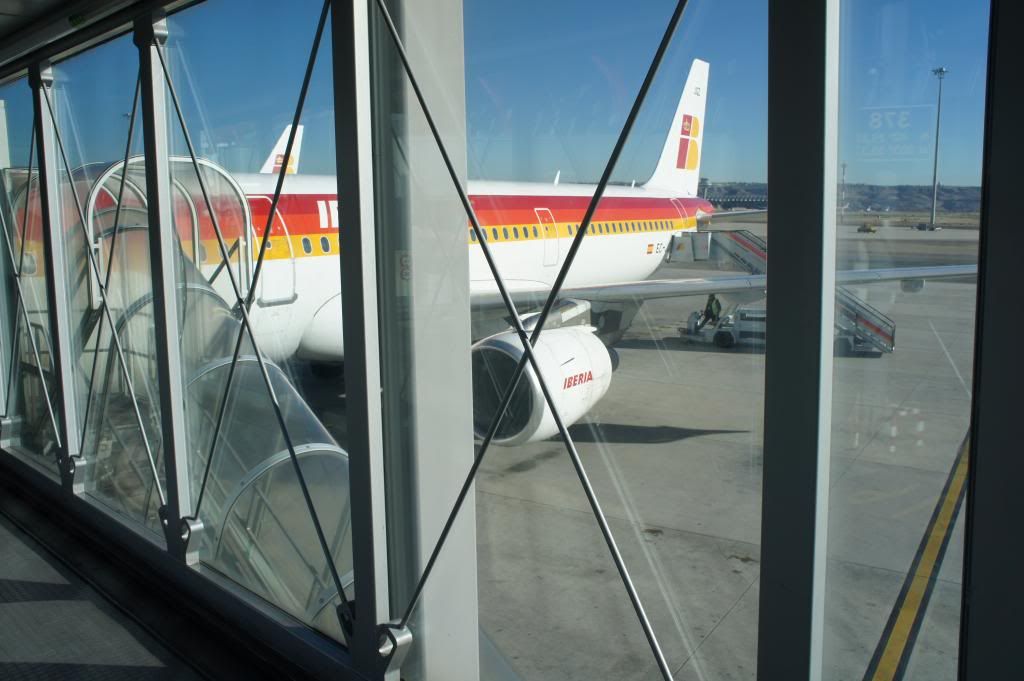 Clean and shiny, isn't she?
We were the last ones to board the plane, except for some connecting passengers from T4S that got on through the rear door. Then the doors were closed and the plane was ready to leave. Cabin was clean and in good condition, seats were comfortable and seat pitch was good for the length of the flight. The load was light so it was nice to have three seats for myself, something that rarely happens to me as I usually fly in high season. The purser made the usual announcements and apologized for the delay due to "communications failure in the British airspace". Safety demonstration was made and we pushed back 15 min before planned.
Sadly the neighbor wasn't as shiny as our plane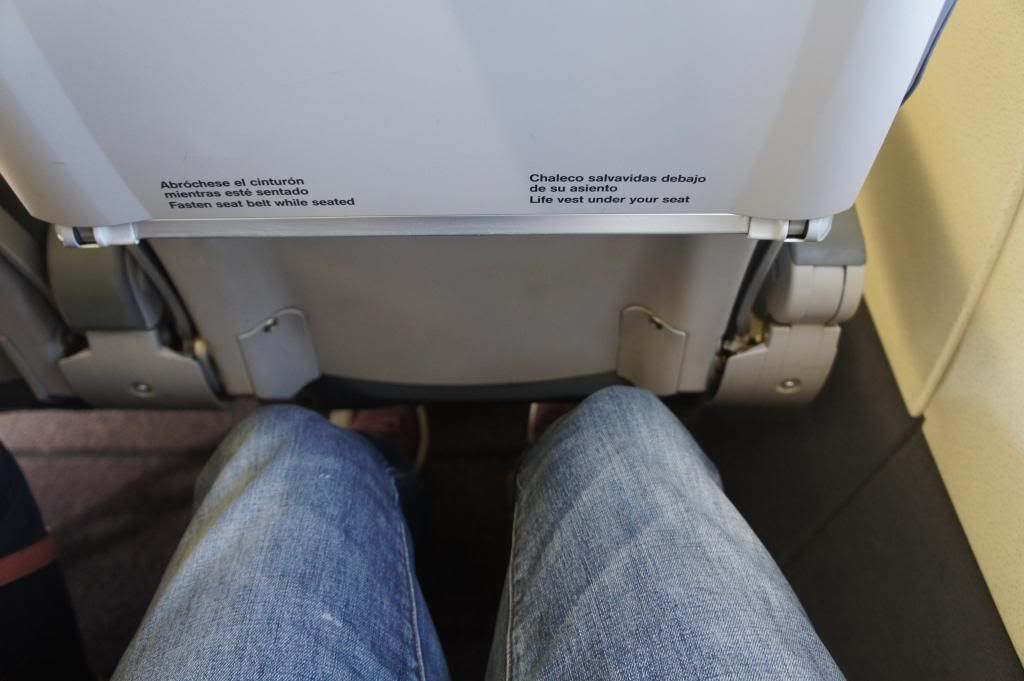 30" Pitch, I'm 183cm/6ft tall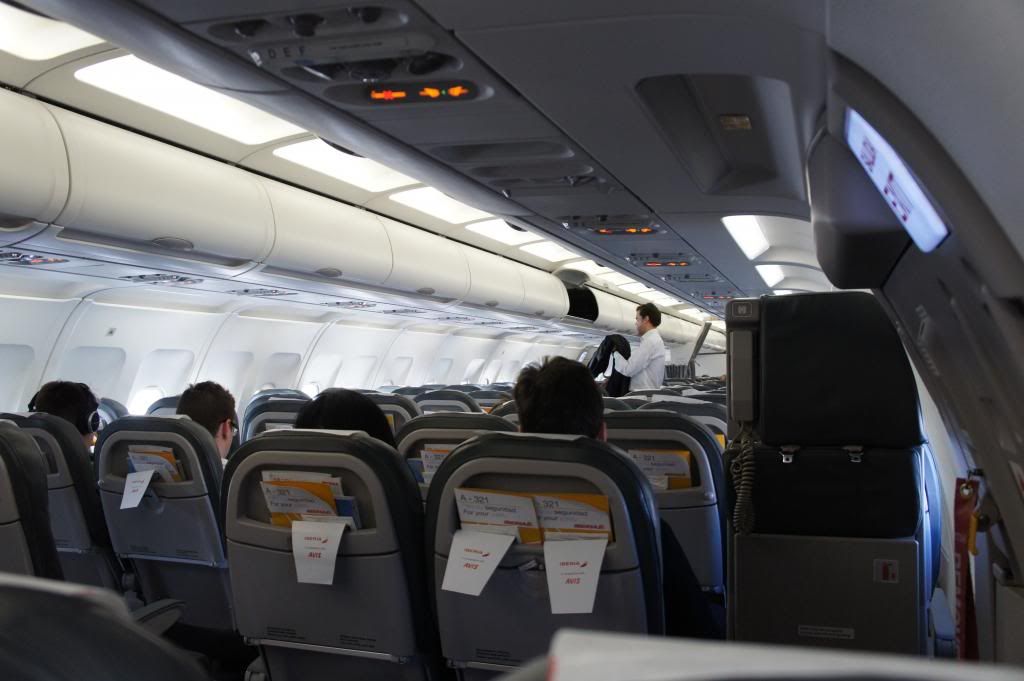 Cabin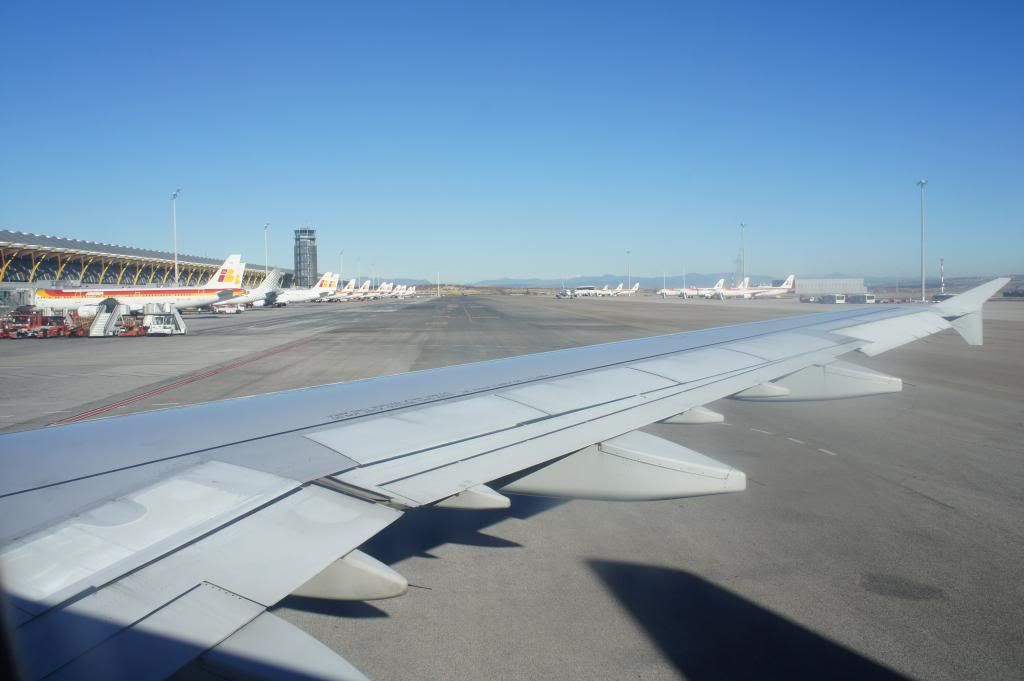 Pushing back
Air China A330
Iberia's heavies and an A319 preparing for their flights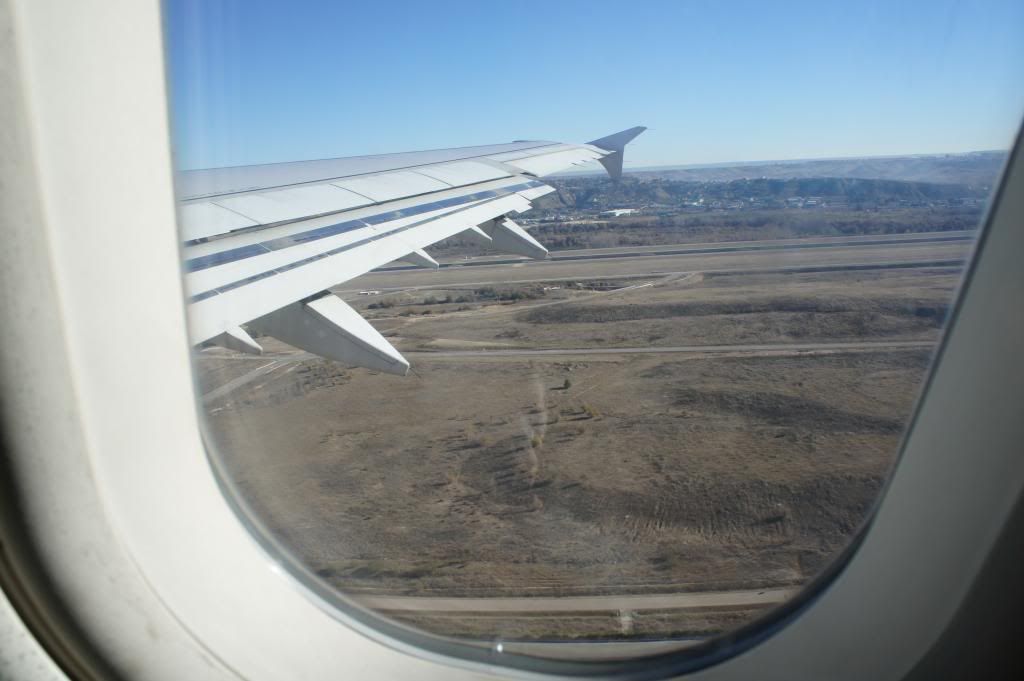 Up we go!
Once in the air the captain came over the PA and apologized again for the delay and gave some information about the flight. As you may know the Iberia's service is BOB, I asked for a Coke Zero and some chips. I also noticed that the crew served glasses of water for free under request, something I hadn't seen before on Iberia since the BOB service was implemented back in 2004. It's nice to see that they serve water at least for free.
Detail of the new logo, looks good!
Madrid's mountain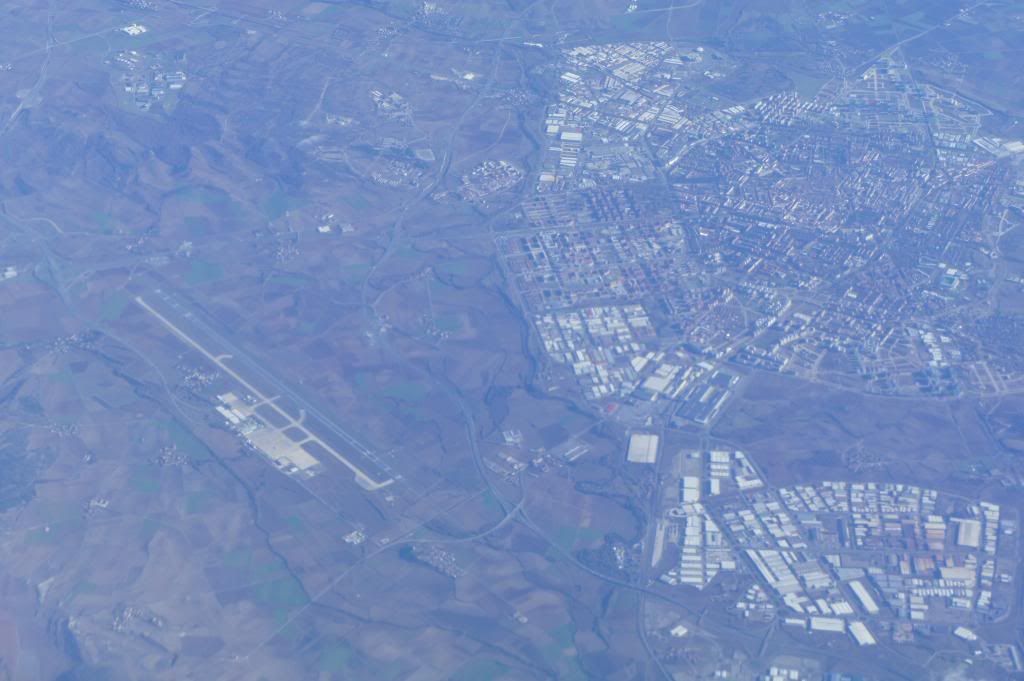 Vitoria Airport
Bye bye Spain!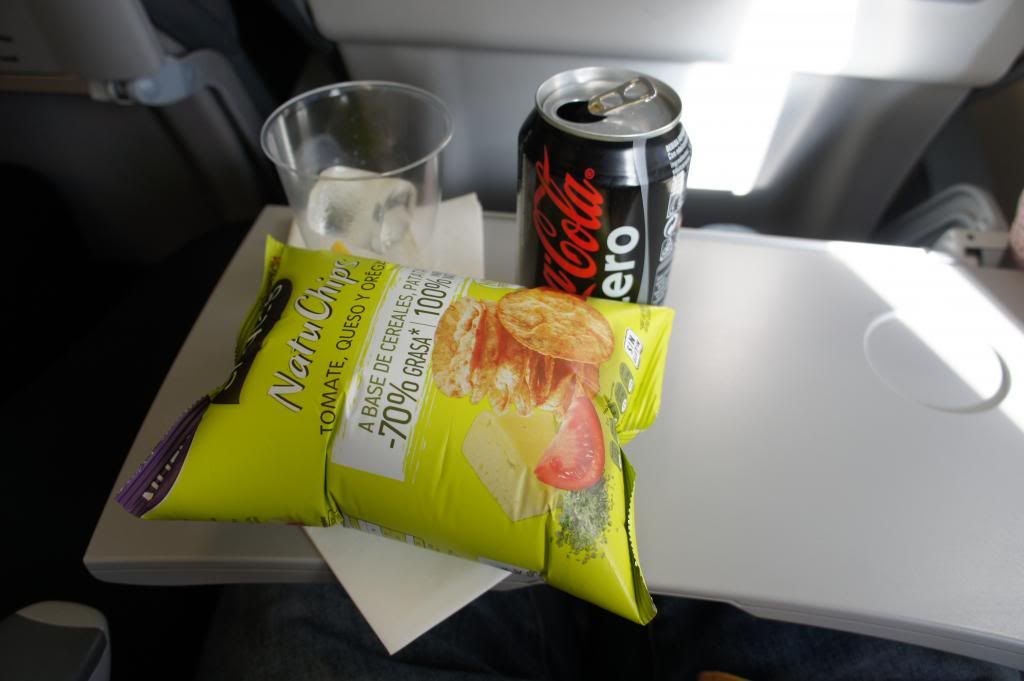 My purchase, the bag of chips was about to pop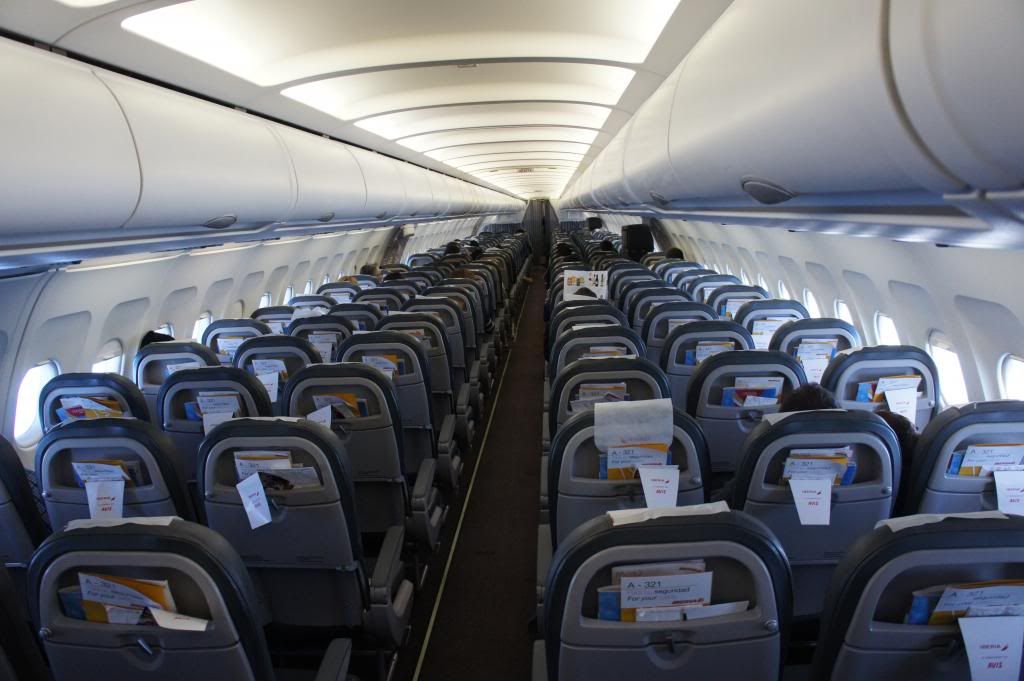 Cabin
The flight passed by quickly and in no time we started our descent. It seemed that we didn't entered any holding pattern as we make a more or less direct approach, the captain softly posed the plane on the ground and left the runway. Then we stopped at the taxiway and the captain announced that they we were waiting for British Airways to assign a gate for the plane. After ten minutes we moved again and finally we made it to the gate.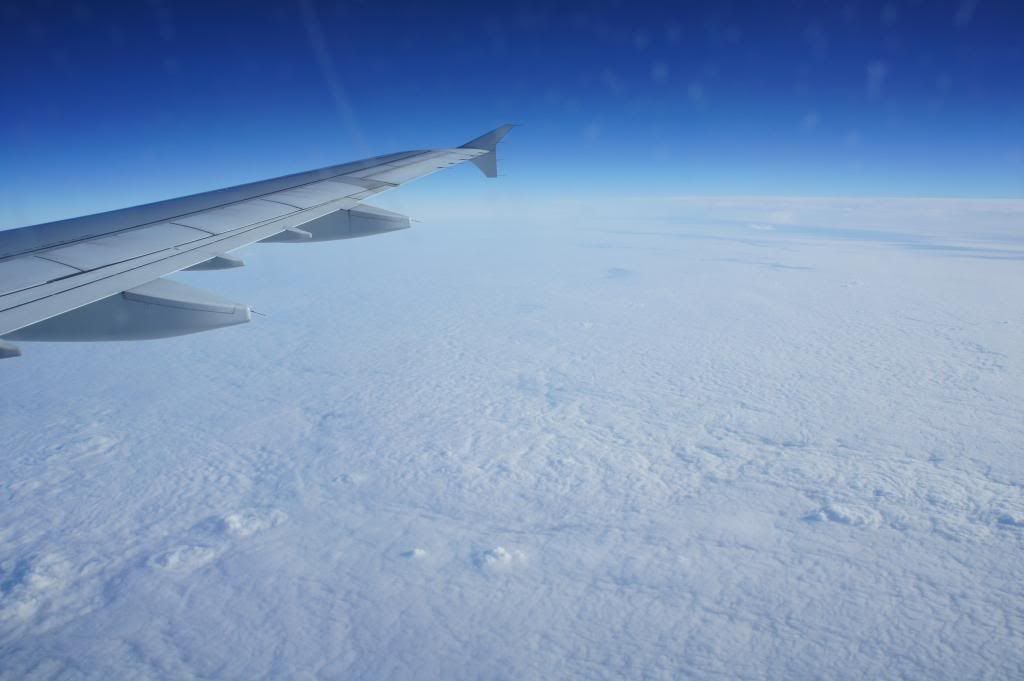 Arriving to England
Getting closer to the clouds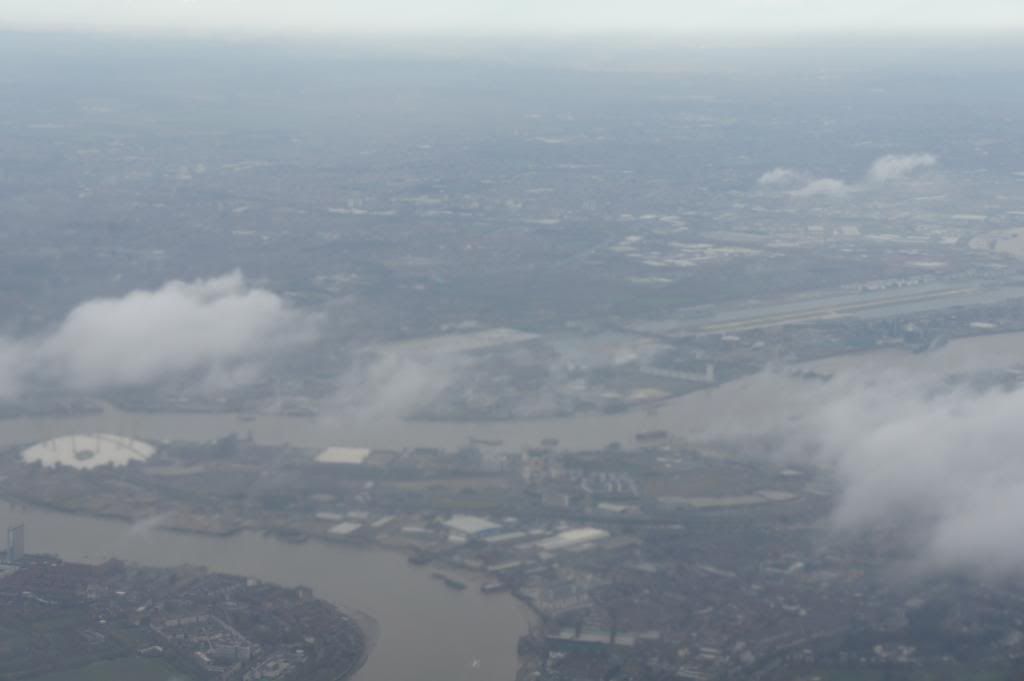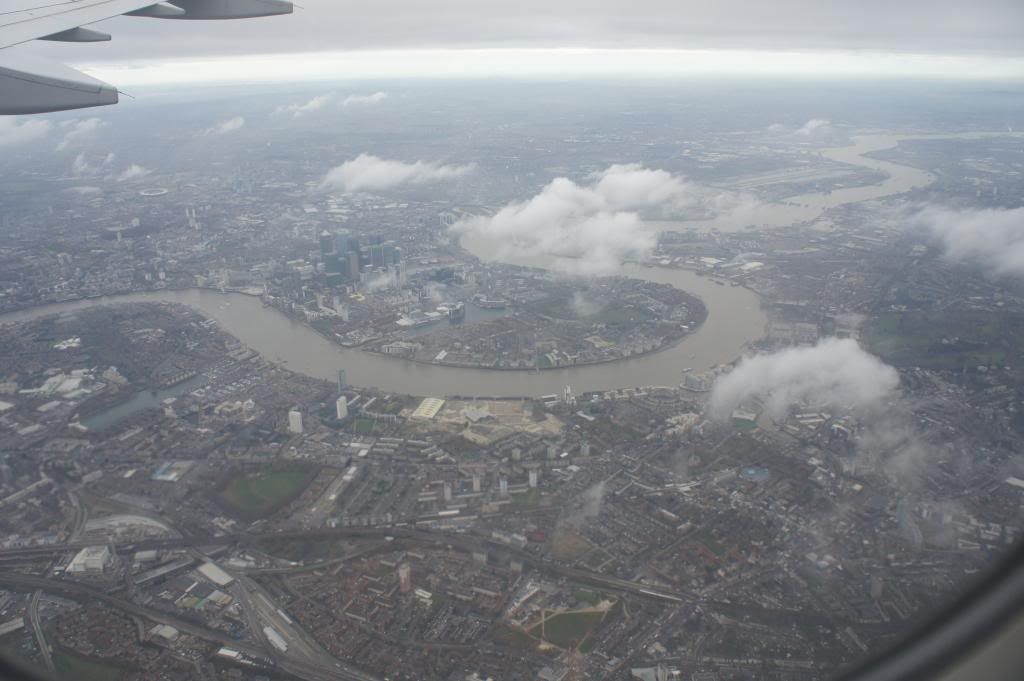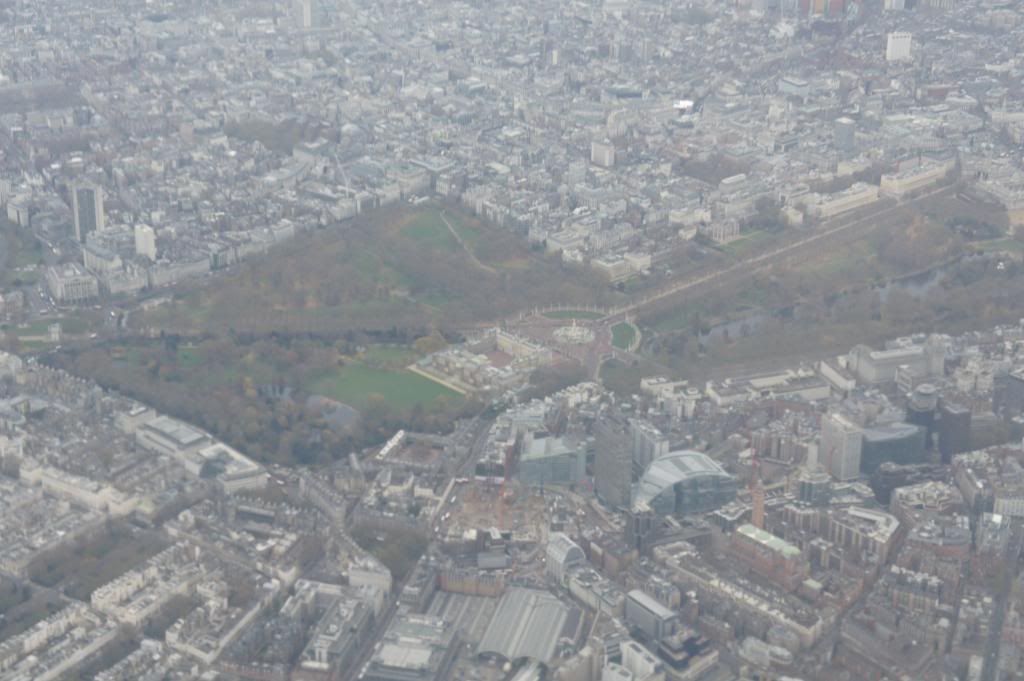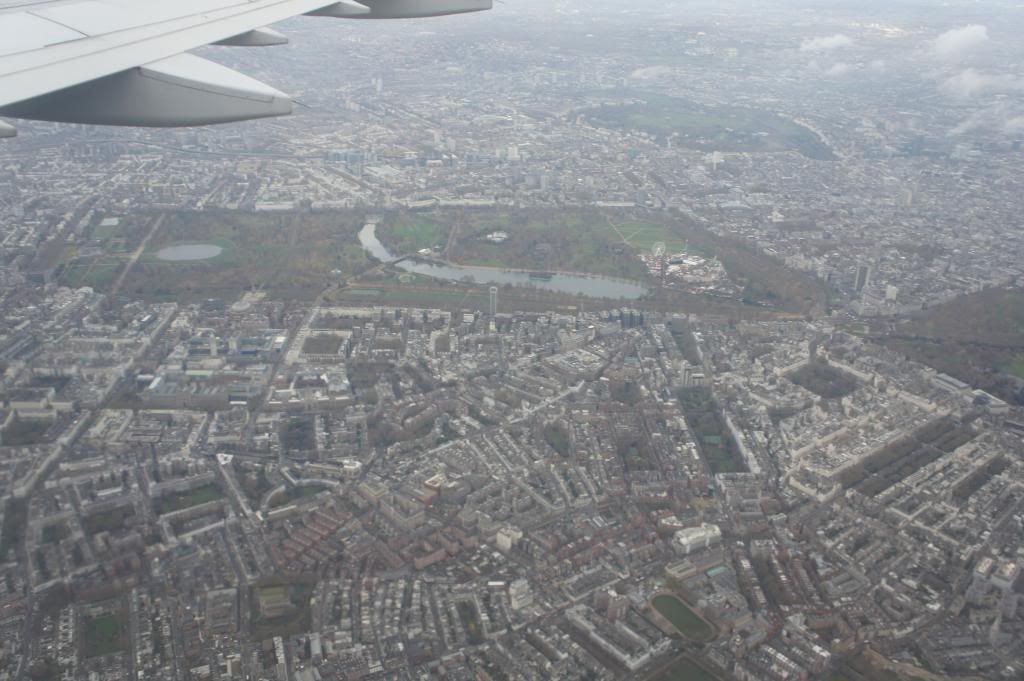 I love LHR's final approach, views are awesome!
Suburbs
Landing was soft
What's up guys!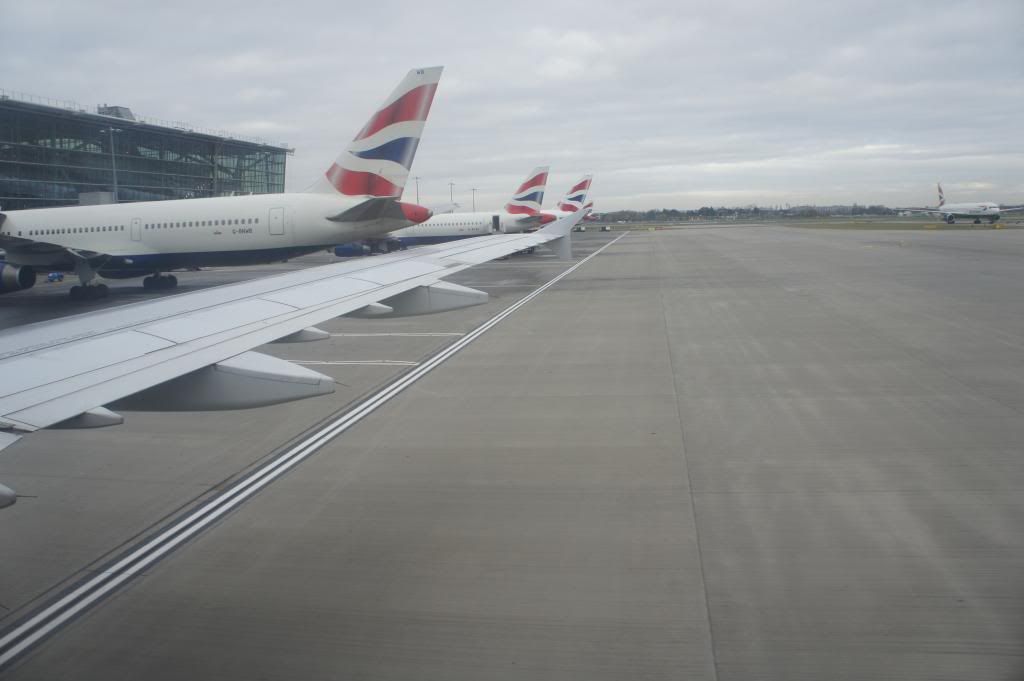 Given the light load disembarkation was quick and after a 15 min wait at immigration we went to collect our baggage. After a brief wait the bags came out on the belt and headed off to the tube.
Before passing the UK Border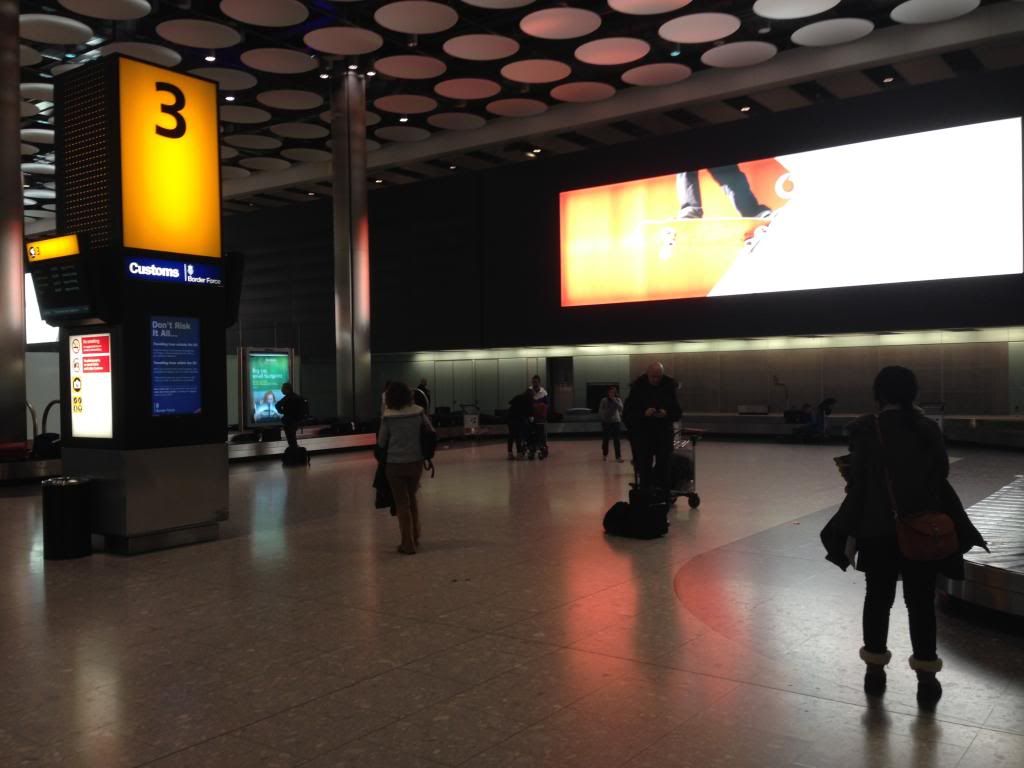 Baggage claim area
Return flight
We enjoyed a lot our visit to London, as the weather was fantastic, I guess we were lucky. The thing I liked most about London were the planes flying over the city, my sister and her boyfriend got tired of me saying "Wow! An Emirates A380!" "Look! That's an Air Canada 767" etc. They didn't understand how I am able to recognize planes in the distance.
After a long ride on the tube we arrived at T5 with lots of time to spare. I must say that although being designed by the same architect, T4 at MAD is much more beautiful than T5. Wooden ceiling and marble floors at T4 really make a difference. Check-in was a breeze but the same can't be said about security, which was a little busy. This time I was able to change seats for free at check-in online, the fare was the same as on the outbound flight, so it was strange, maybe there was a computer glitch when I checked-in for the previous flight. I noticed that there were no counters dedicated for Iberia. I wonder what happened to the former Iberia staff at LHR, I hope they didn't get fired. I also wonder the reason why BA has dedicated counters at Madrid Airport instead of Iberia taking over BA's check-in.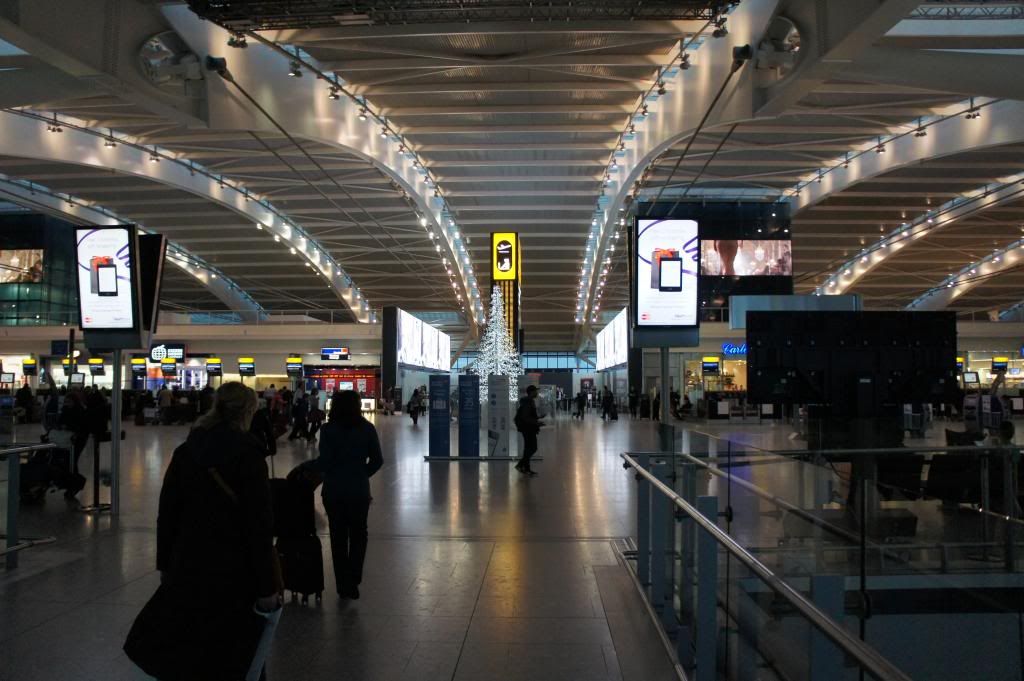 Terminal entrance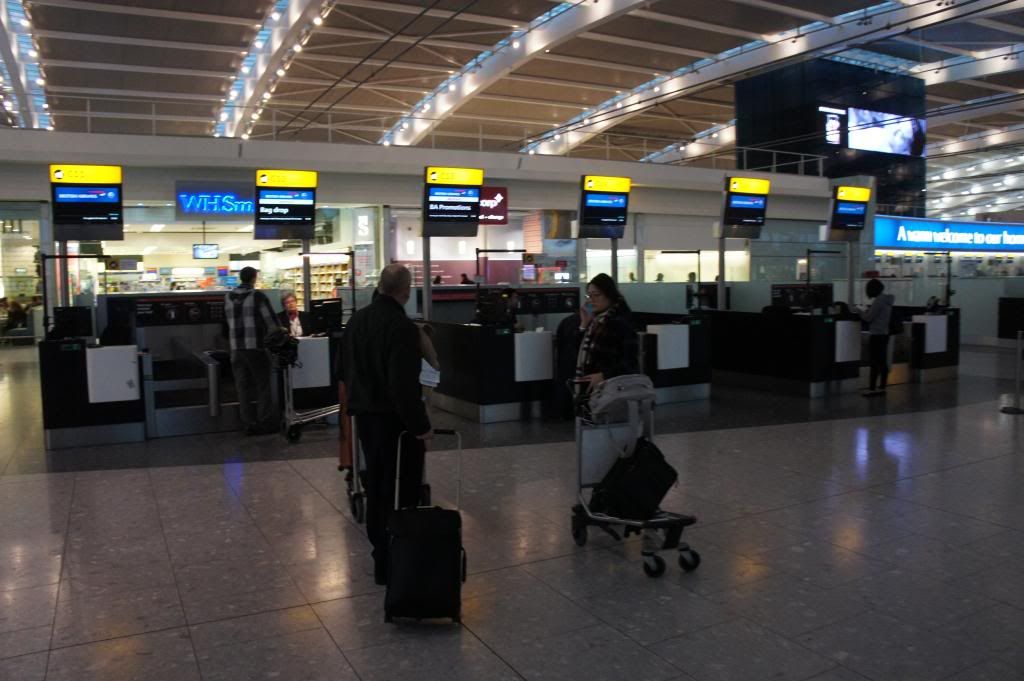 BA counters
Cheap BP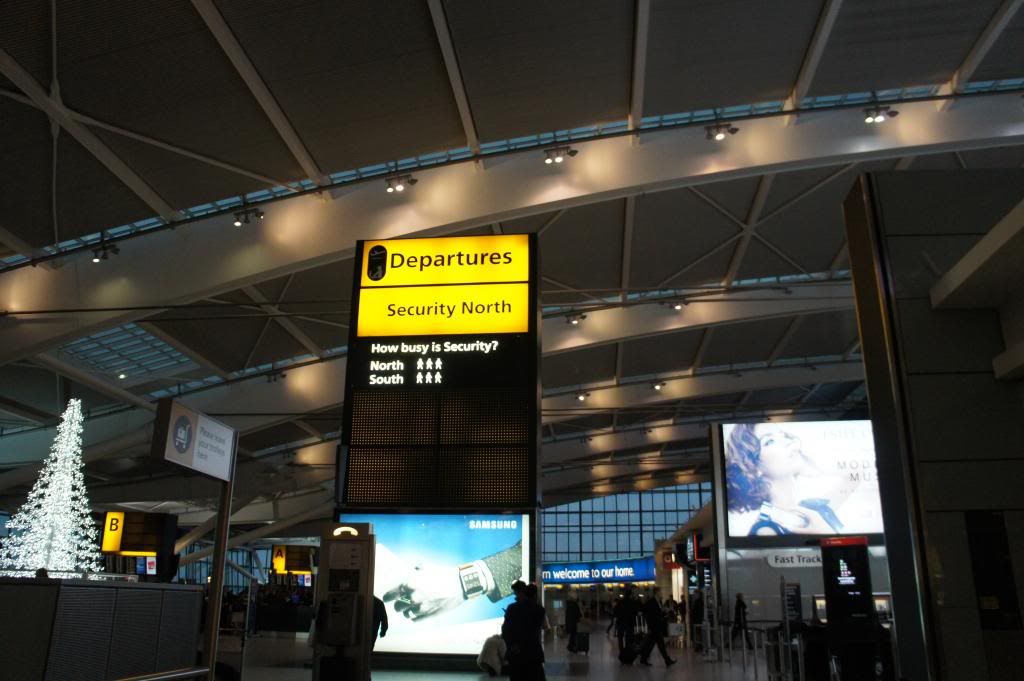 Useful information
Once in the airside of the Terminal we went to Starbucks to have something to eat while waiting for the gate to be announced. Boarding time was 18:00 and at 17:15 it hadn't been announced yet, so we went to BA info desk to ask about that. The charming lady at the desk said that it would be announced soon. At 17:30 the gate finally appeared on the FIDS, it was C53, so we went underground to take the APM to the C concourse.
Interesting FIDS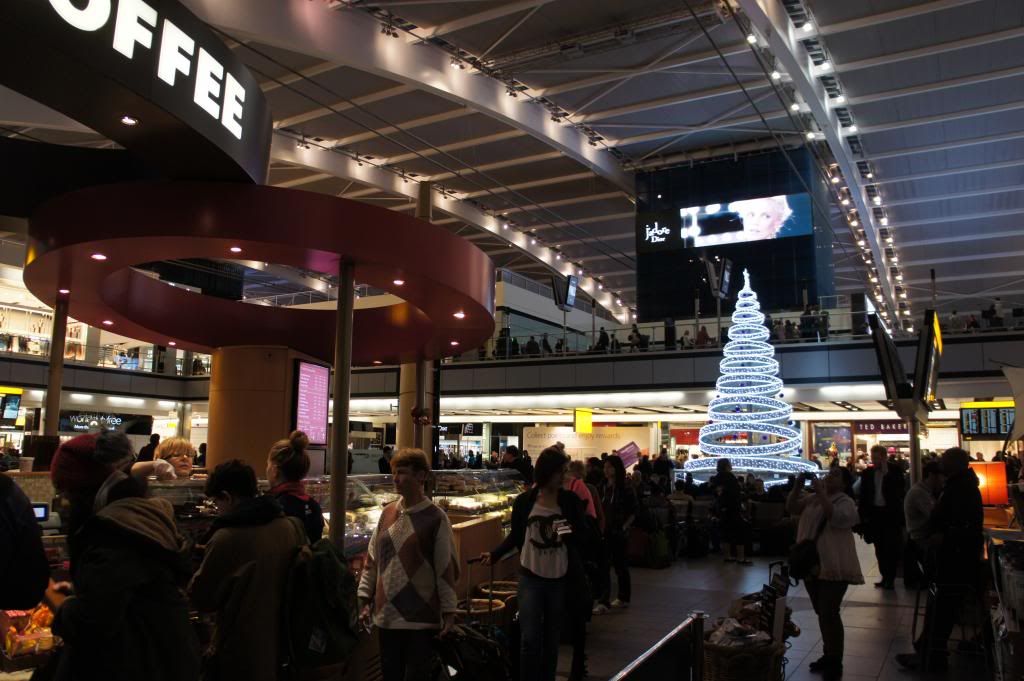 It was really crowded
Our gate finally shown on the FIDS
Going underground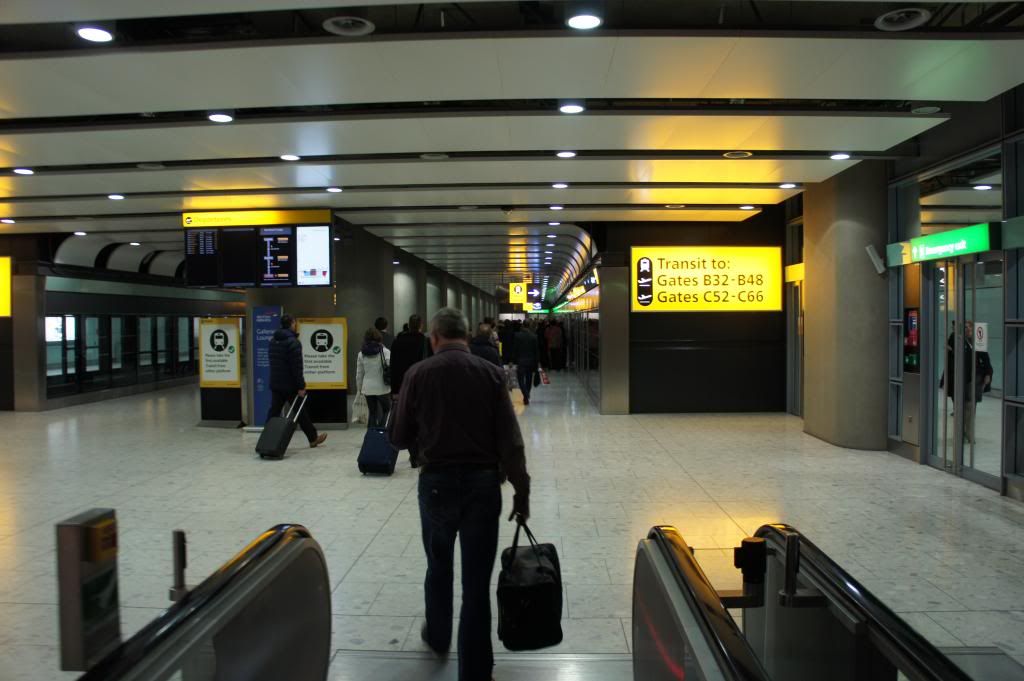 The APM station
The first sight of my plane, as you can see the spoilers were deployed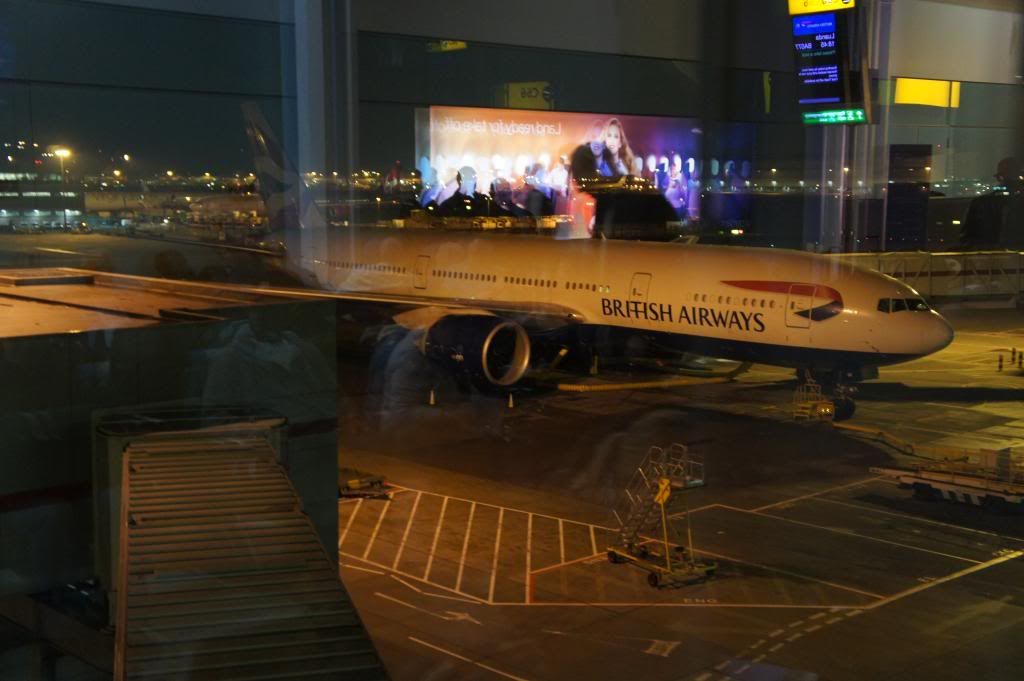 This one was heading to Luanda
This fatty to Hong Kong
Beatriz Galindo waiting for her next flight
Boarding was called at 18:00 as expected and it was a little chaotic, most passengers proceeded to the priority entrance and staff didn't seem to care, if I were flying Business Class I would have got a little upset, but this time was not the case. The load factor was again light so it didn't take long.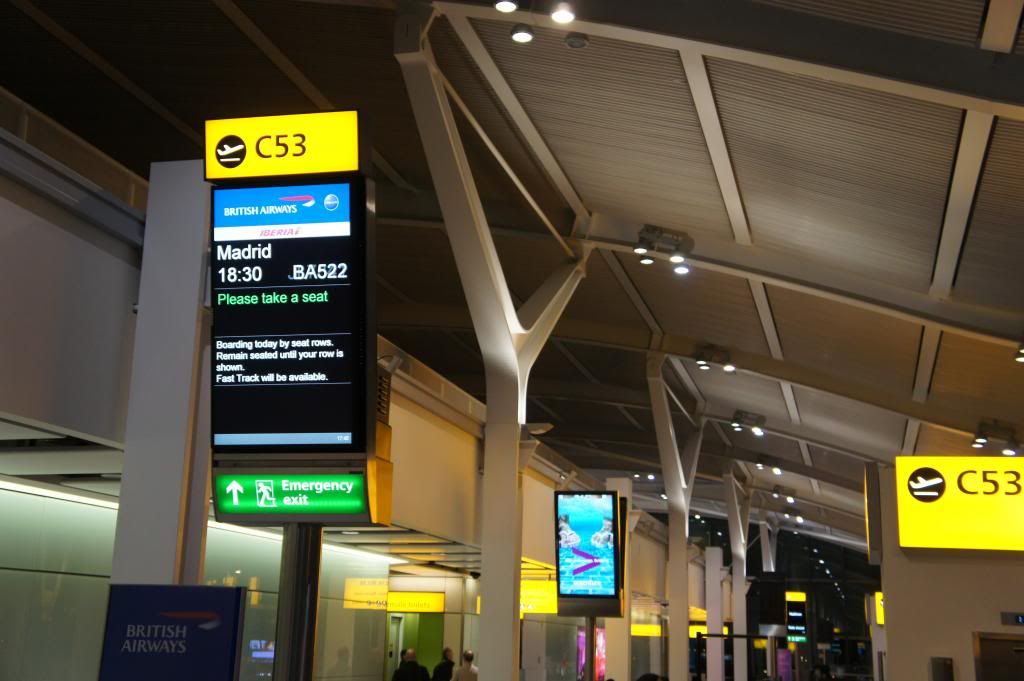 The gate
Flight details

Flight number: IB3167
Origin: LHR
Destination: MAD
Airplane: Airbus A340-313X
Registration: EC-GUQ
Airplane name: Beatriz Galindo
Age: 15.6 years

Seat: 34L (assigned, changed to 7L)
ETD/ATD: 18:30/18:50
ETA/ATA: 22:00/22:20
Load factors: 5/24 in J (21%) 53/265 in Y (20%)
The plane was what Iberia refers as "342", internally it is known as Caribbean configuration. Some years ago Iberia decided to change 7 A340s configuration from 36J 218Y to 24J 265Y, given that Business Class demand to some destinations as HAV, SJU, UIO, etc. was weak. Today Iberia doesn't fly to Caribbean destinations anymore but the configuration seems to suit well in the current network. There are 4 planes left in the fleet with this configuration, and they will be the 4 ones that will remain in the fleet after the A330 replacement. Business Class is the same that you may find in any other A340 of the fleet, except for the ones that have been refurbished with new interiors. Economy Class was improved though, the seats were replaced with new ones that have adjustable headrests and sockets, they don't have PTVs, but at least the sockets are useful for long flights. The central screens on the wall were replaced by 37" ones, and the old CRT retractable screens were replaced with LCD screens. I guess that a long haul flight would be bearable on that plane, and much better than on a plane with the old Economy Class, which is quite uncomfortable.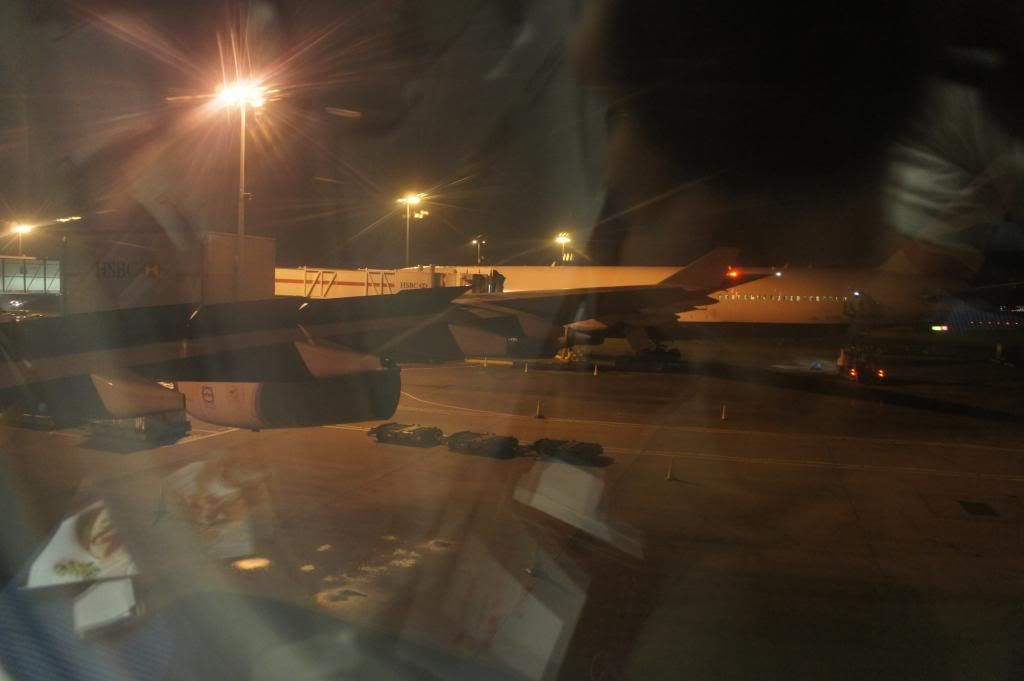 The view
31" pitch
Cabin view
The socket b