Background
My wife and I wanted a plan for our anniversary and looking at the dates, it seemed to be close to the Chinese New Year. From there on it was a no brainer that we were going to china, but the question was where.
Searching and researching, our final choices were either the Hainan islands or Guilin, given that its winter in china and the southern part would be our best bet. After much deliberation and discussion, Hainan it was.
After slightly more research decided on a trans island route starting from Haikou in the north making our way down to Sanya over 8 days in the island. So our trip itinerary looked like this - London to Haikou and the return from Sanya to London.
Looking at our options, our best options were either Cathay pacific or china southern given the transit times and prices. Finally decided on China southern given that it was nearly £200 cheaper than Cathay pacific, although the transit times via Cathay were slightly better. This would mean that if things go as planned, we would be on long haul CZ aircrafts in January and March (for our trip to Australasia).
Our flight itinerary was – leaving London on a Friday night (it was great as we could leave directly from work) reaching Guangzhou the following evening, followed by a 2 hour transit and then an hours flight into Haikou. Our return itinerary was an evening flight from Sanya, followed by an overnight transit in Guangzhou, followed by a morning departure landing in London in the afternoon.
Route Map, courtesy of gcmap.com
Booking process
Following on from my usual research, finally ended up booing with flight centre (UK). Flight Centre have a price better guarantee, they will beat any price you see for the same ticket/class. They are great to deal with and I have never had issues with them (so far). True to their promise, they did beat the best price I was getting after hours of researching. All in got both return tickets, inclusive of all taxes and charges for a net total of £1124. All in all, I thought it was a good deal, given that it was the Chinese New Year and a peak time for air travel to china.
During the booking process I gave Flight Centre our Sky Pearl membership numbers followed by our seat choices. Once again all seat until row 38 were al blocked and so were rows 41 (exit row) and row 51 and 52 (last 2 row 2-3-2 seats). So opted for row 39 a and b, hoping to have them changed at check in, preferably to row 51 or 52, so we have the 2 seats to ourselves.
As suffered previously, with china southern, their website is really non existent, truly awful. Their website is no more than a 1 page marketing advert for the airline – for an international passenger from London, nothing besides checking your flight status is really possible. For any further amendments, you would need to either email (though quite responsive) or call a Chinese call centre (24*7). Really quite inconvenient given the fact that I like to always be able to control my bookings online. As a starter, for any changes, you NEED to have a Chinese mobile number! Even if you want to become a member of their SkyPearl FF program, you need to make an international call, followed by an email to the concerned department.
It gives you a reality check to where carriers like BA and EK are with their website portal, compared to CZ – 15 years outdated. Is this a common theme with Sky team members? I have previously had issues with Air France UK website, which did not allow me to amend my seat selection, and had to call Air France customer care to get this resolved. But I can easily say that CZ website is one of the worst websites I have seen (MU is way better, in this regard) – even worse than websites of airlines like MU, Spring Airlines, in fact thinking of it, is THE worst airline website I have encountered (please let me know if any of you know of any other 'user un-friendly' websites). Being the Airline with the largest number of aircrafts in Asia, truly shocking!
So far have had numerous email/phone conversations with CZ customer support team to verify if my booking was entitled for a free accommodation during our 13 hour transit in CAN. Their website clearly states that we do, but from various emails I have received it looks like there is a caveat which they haven't bothered mentioning – the hotel accommodation is exempted for X and Z class booking. I am usually very reserved in passing harsh judgements, but CZ takes the biscuit when it comes to me reigning in my frustration. The only glimmer of hope at the end of this ordeal looks like, the chance to fly on a DreamLiner, hope it's worth it. 10/10 for flight centre, 2/10 for China southern.
China Southern CZ304 : LHR - CAN
Flight Reg: B-2735 ; delivered Dec 2013
Boeing 787-8 Dreamliner
Seat 52A
Departure time 22:30 (Actual 22:30)
Arrival 18:30 (Actual 17:35)
24 Jan 2014
Price: GBP 562 per head
Day of the flight
It was a routine drive to the airport. As always the M25 resembled more of a car park than a motorway. Used purple parking once again and were at the departure terminal of t4 with 3.5 hours to spare.
Check in
Check in for China southern starts 4 hours before departure. There was already a queue by the time we had arrived and was hoping to get the seats we wanted. Upon reaching the feel we were told that the last two rows were still blocked. But seeing my keenness (I had printed all the seat maps of all of their aircrafts) the check in agent spoke to the duty manager and 5 minutes later we were assigned 52 A and C. Result! However that doesn't deter from the fact that online check in isn't possible and seat selection is more of a game of black jack. 6/10
Self Check in at T4 – Where is CZ??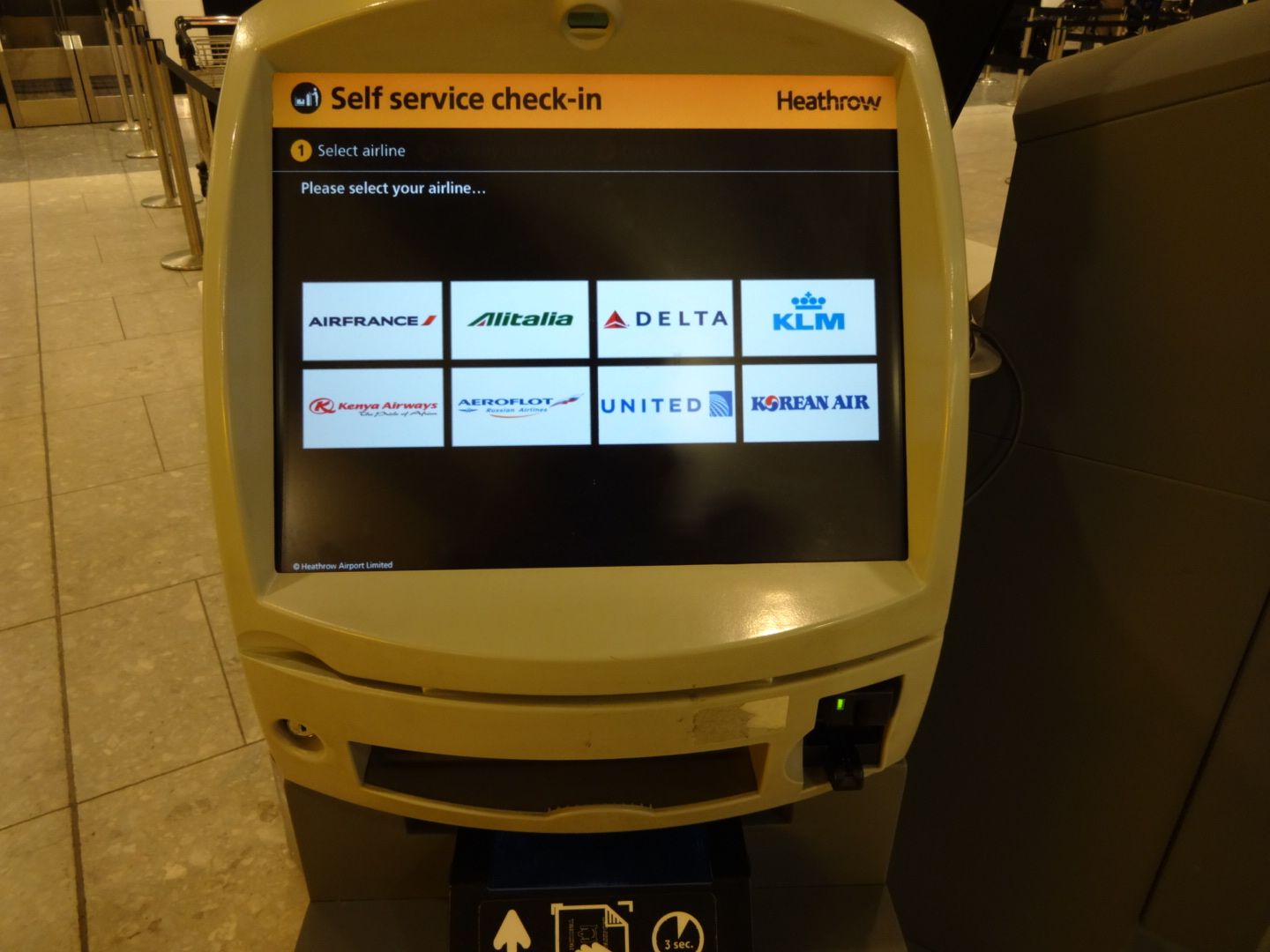 Lounge
Security did take a bit longer than usual. Around 15minutes in total. Once airside had few duty free items to buy for the family, and then decided to hit the lounge. This is when I realised that airport angle/priority pass did not have a lounge at t4. Our only option was the sky team lounge for a price of 25 GBP per head. Decided against it as we only had less than an hour to kill. Decided to take a few photographs of the DreamLiner, albeit in the dark, instead.
This is when i encountered Miss 'I Own BAA' prohibiting me to take photographs of the airplane threatening an arrest, at which point I asked when was this rule in place. She replied since 9/11and it was part of an anti terrorist act. This is when I got frustrated and asked for more information, to which she asked me to speak to a BAA security person, who I did speak to, almost smirked and asked me to go ahead with shooting any aircraft I wanted. A quick jaunt back brimming with confidence, alas the lady was nowhere to be seen, upon which I unleashed my trigger happy finger of taking as much snaps I wanted of the DreamLiner.
Boarding process
Boarding started exactly on time as stated on the boarding pass. It was quite orderly with the normal priority of family with kids, priority members etc all getting to board first, followed by economy and other passengers.
It was quite an exciting moment for me entering the aircraft. 9/10
Aircraft and seating
Our little beauty – taking us over to CAN – CZ Dreamliner B-2735, delivered Dec 2013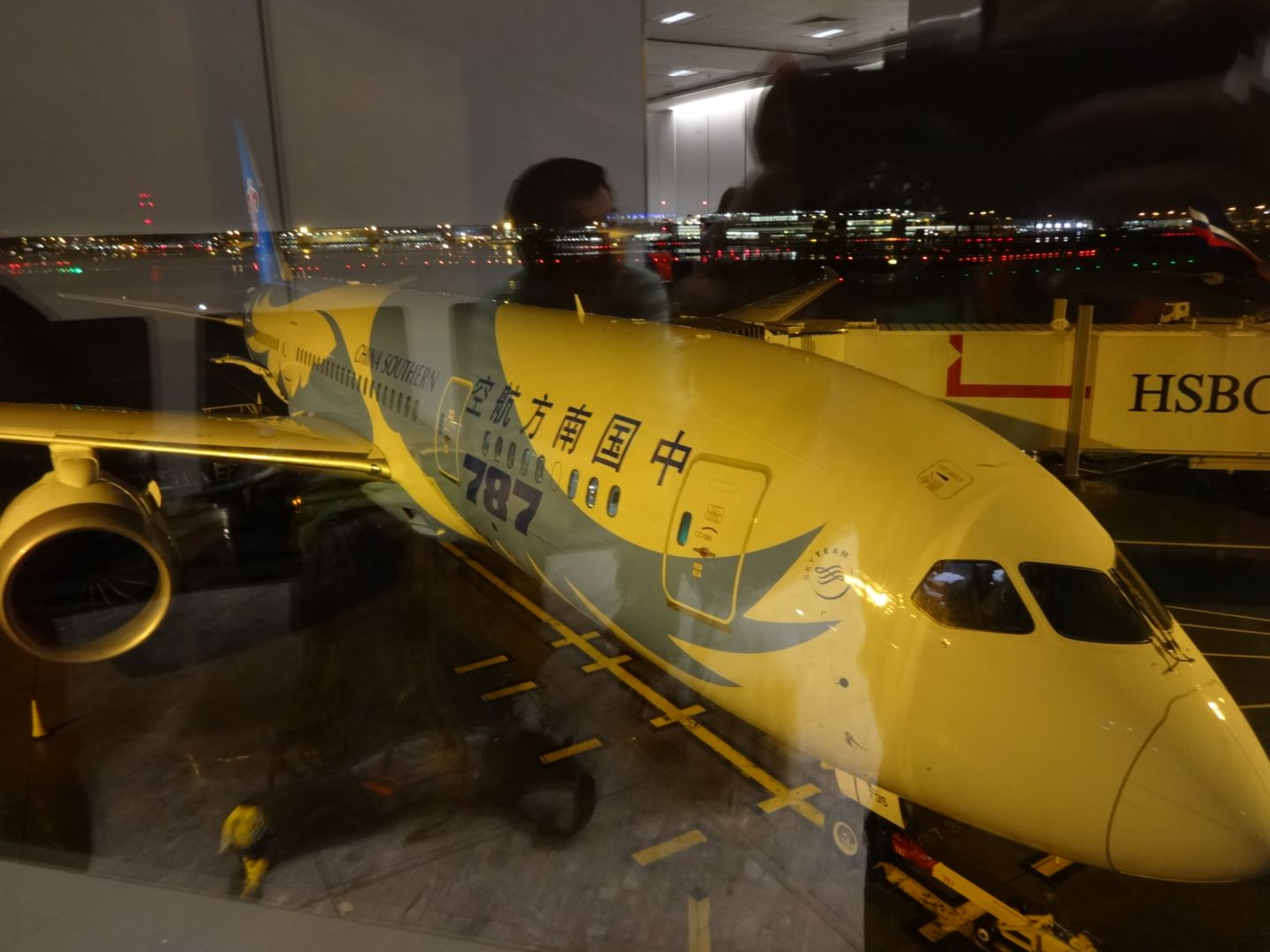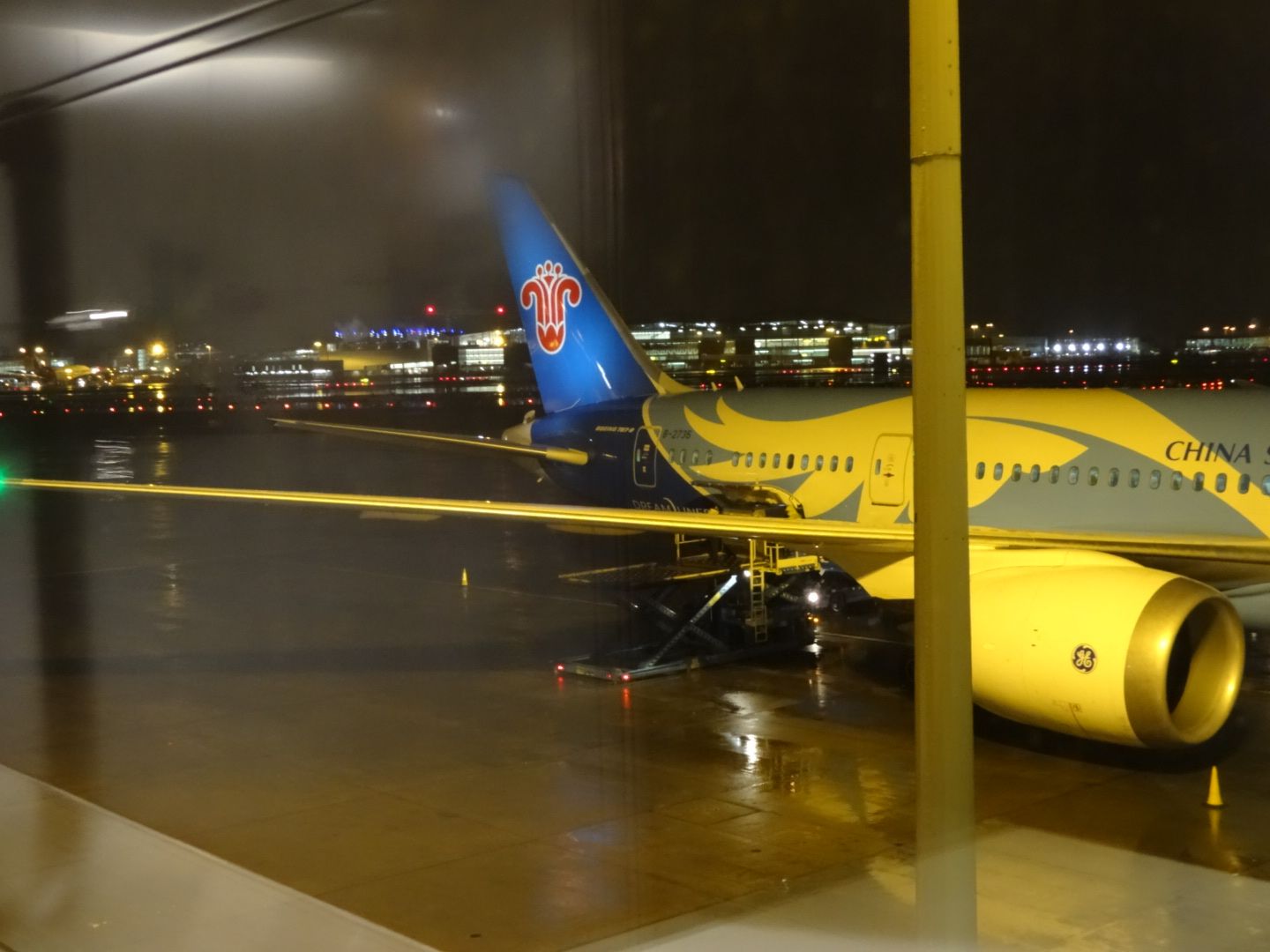 Our seats – Row 52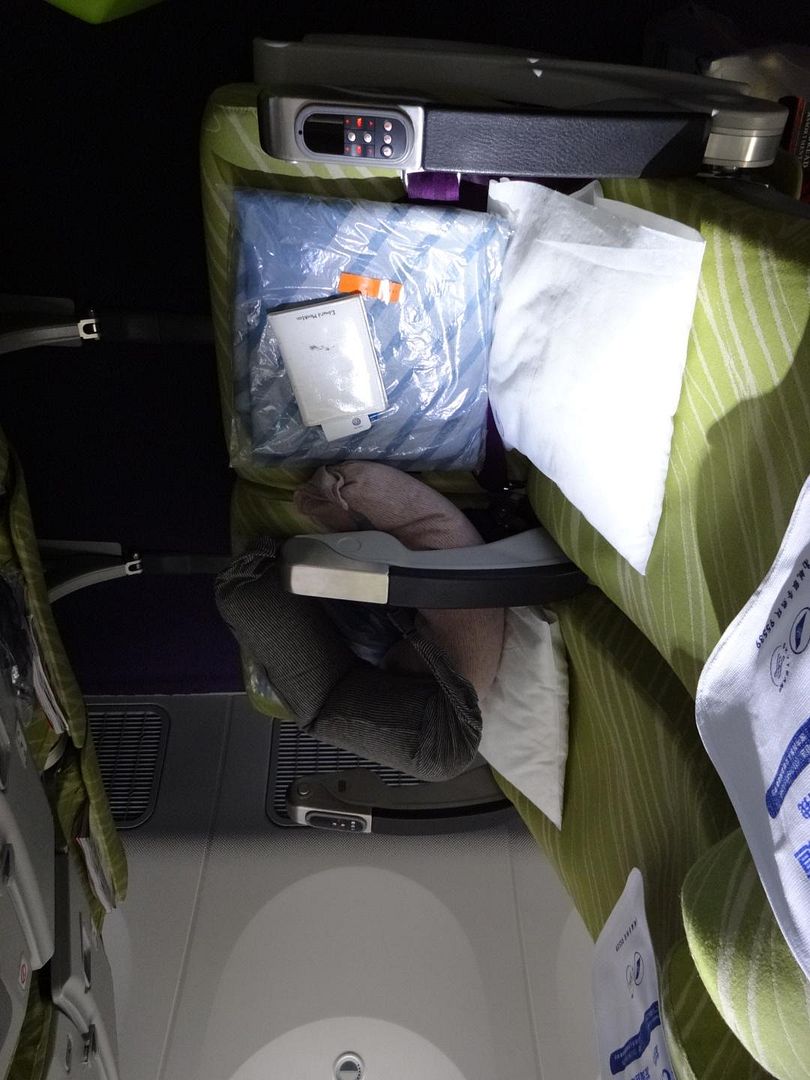 Side space available on the last two rows. Quite ideal.
787 Cabin with Sky lighting on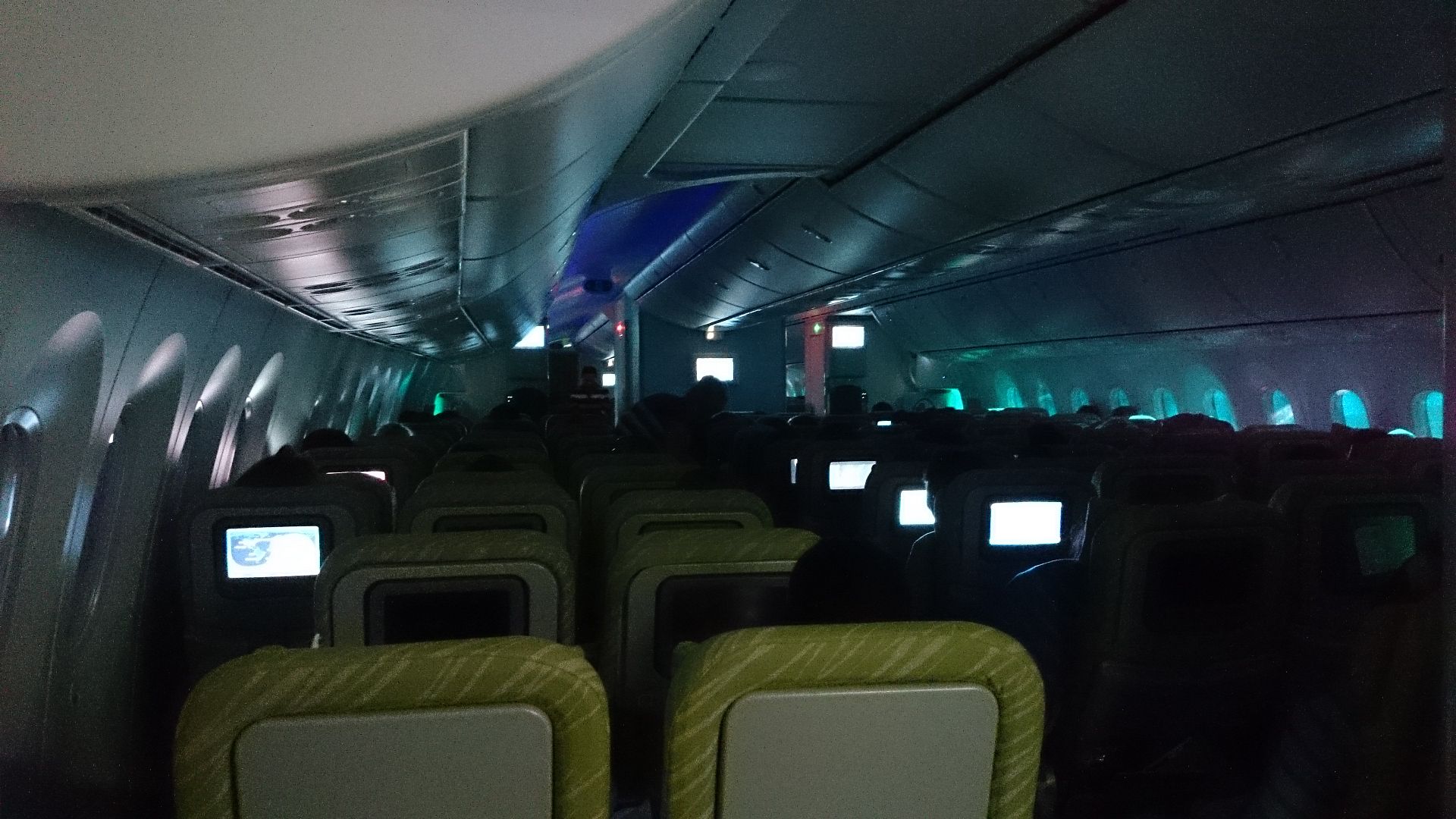 My first impression of the aircraft was as I'd imagined. It all looked brand new and spacious. Well at least the business class did.
Making our way through the well debated 3-3-3 layout in economy obviously did look a bit cramped. To make matters worse economy was at 100% load today thanks to the Chinese New year crowd.
Making our way to our seats, it looked like our early arrival to the airport trick had paid off. Even though the seat width was exactly the same. To be honest, since we both are fairly small (5'4" and 5'7", slim built) the 11 hour trip seemed alright, but for anyone taller/bigger built, it would be a struggle. So will it be a 787 3-3-3 or 777 3-4-3? Seat wise the 777 is marginally better but on the whole...
The 787 would win it (personally). More on this in the verdict section.
Load was full on economy. Business was 5 passengers. And one in first.
Had an option to upgrade to business at 500 GBP per head and 1270 GBP for a first class upgrade. I think this was a very good initiative and I am pretty certain that with a bit of persuasion thru would've got the price down even further. It did sound as though there was a scope for negotiation. They even gave me a tour of all the cabins. Must say the business class looked great and airy but the first class was a whole new ball game. Very niche and quiet. Very impressed. 7/10
Load wise, there were a lot of foreigners on the flight, which I found quite surprising. But later on at Guangzhou I did notice that a lot of them were at the international transfer counter, probably off towards Australia.
Massive Galley at the rear of the CZ 787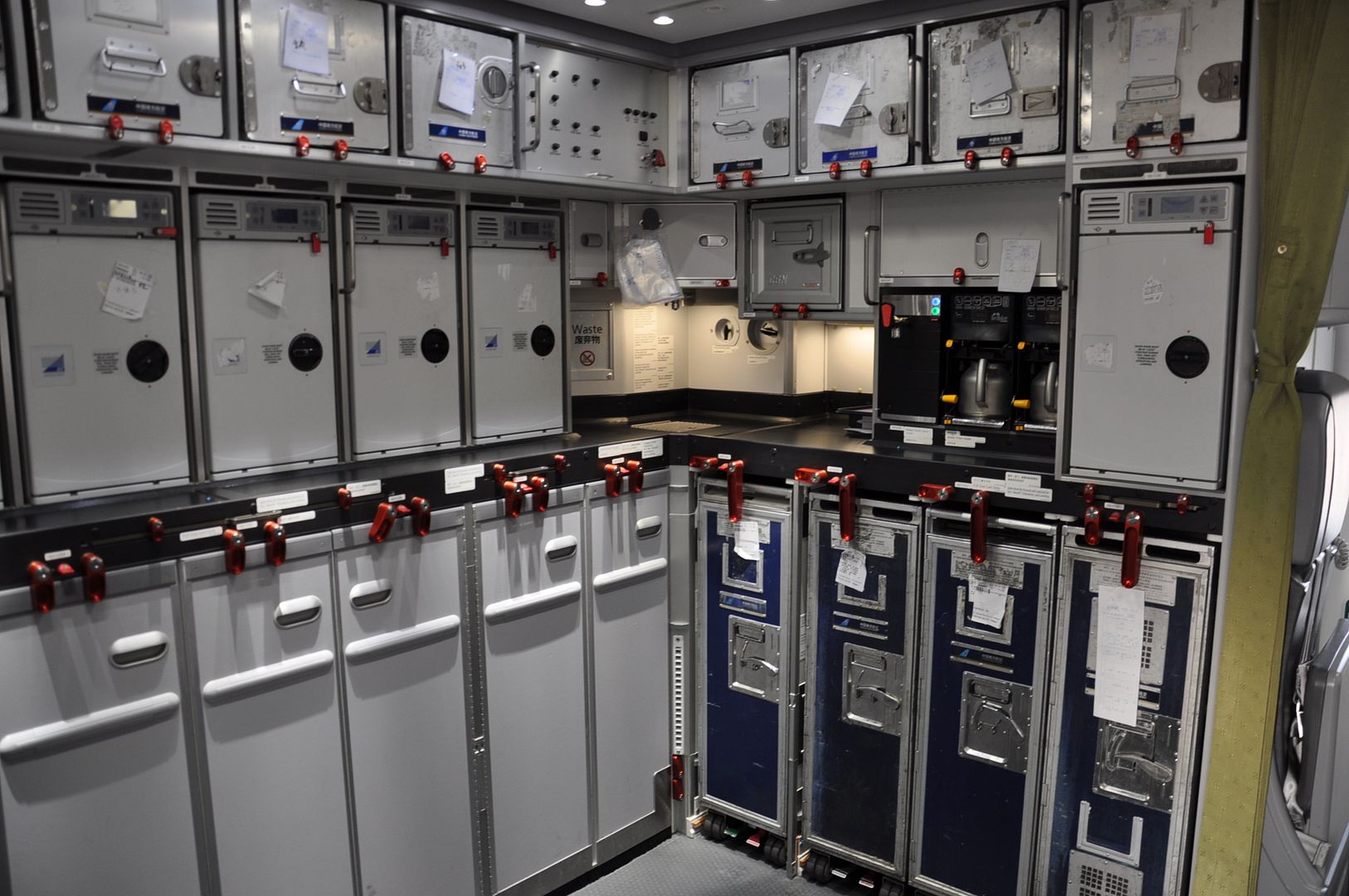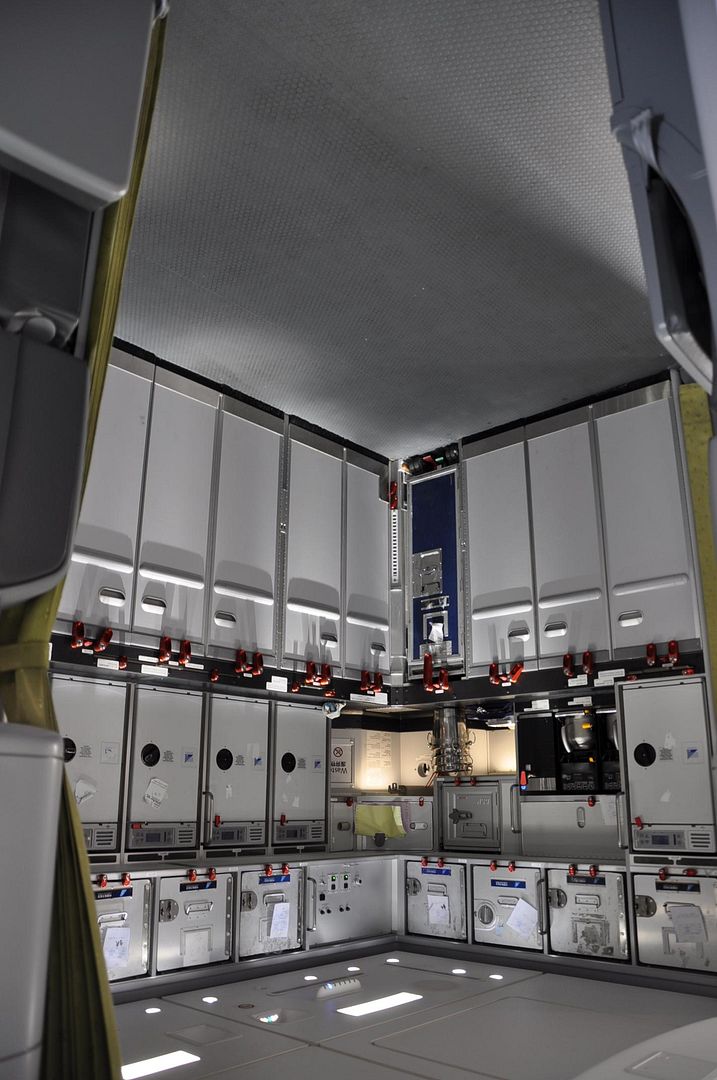 IFE
I wasn't expecting much but the IFE on the china southern DreamLiner is way better than I had expected. More than decent selection of movies and TV shows in a verity of different languages and their moving map was very informative too. Used my own Beats monster headphones and it worked very well with very good sound quality and no glitches. Only managed to watch a couple of movies as the 787 put me to sleep with ease as soon as dinner was served. Not as good as EK but much better than BA. 8.5/10
IFE on Board the CZ Dreamliner – decent size and worked seamlessly throughout the entire trip.
A wide verity of Indian movies on board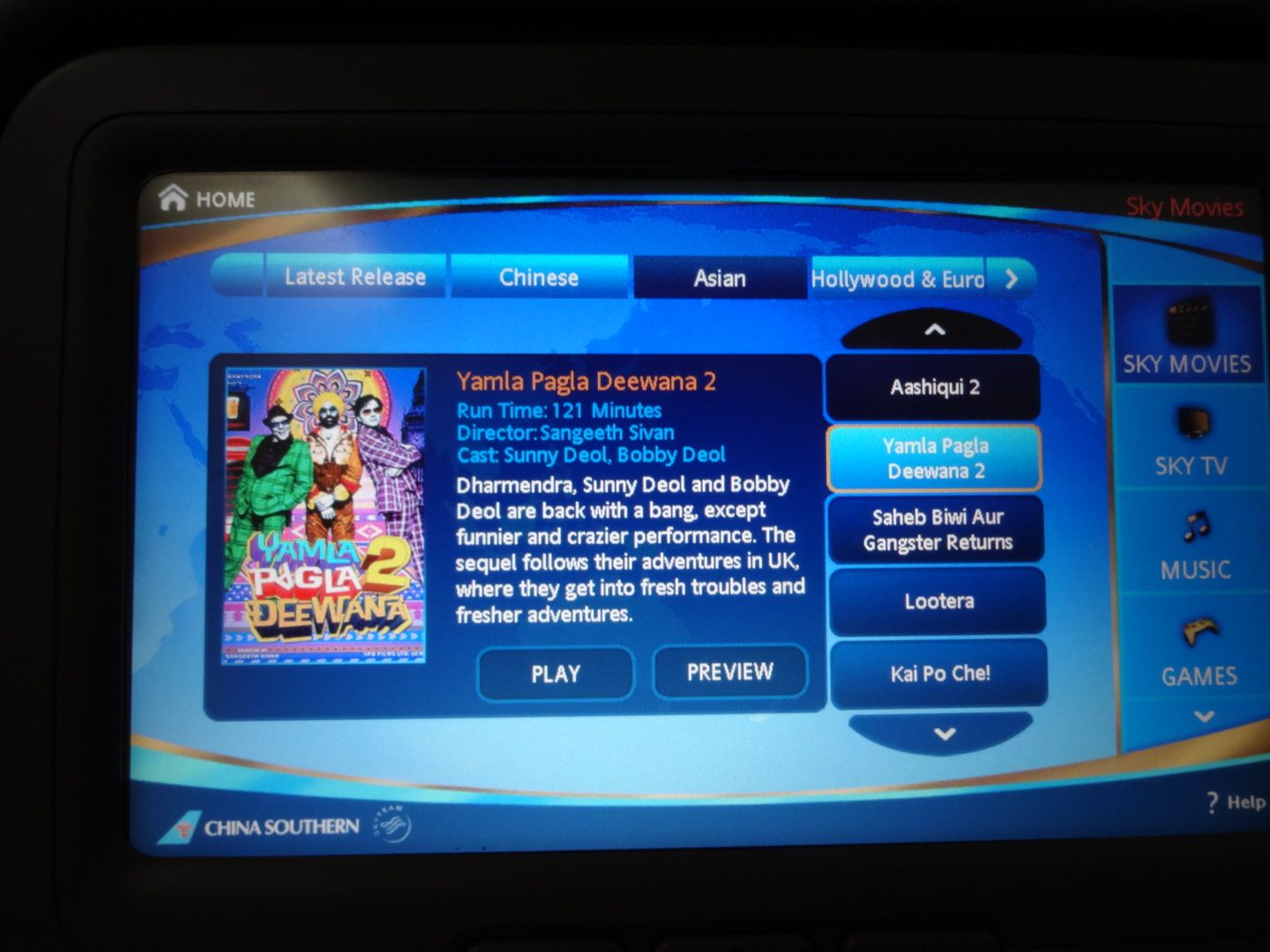 Catering
The Strange Noodles meal – tasty but less portion like any other meal aboard CZ flights.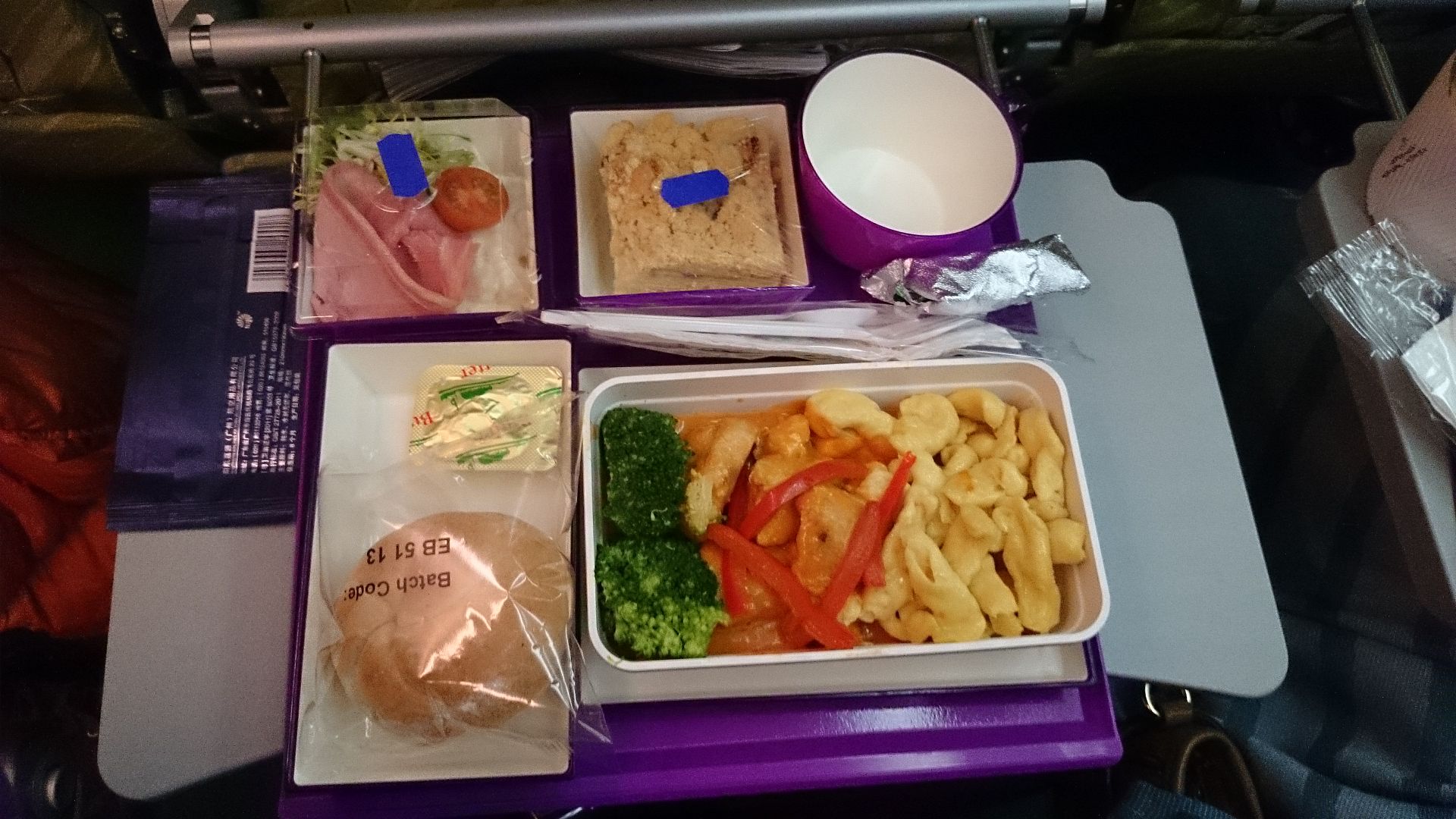 Post take off drinks – only Beer, Red and white wine available in the alcohol department, kind of a let down.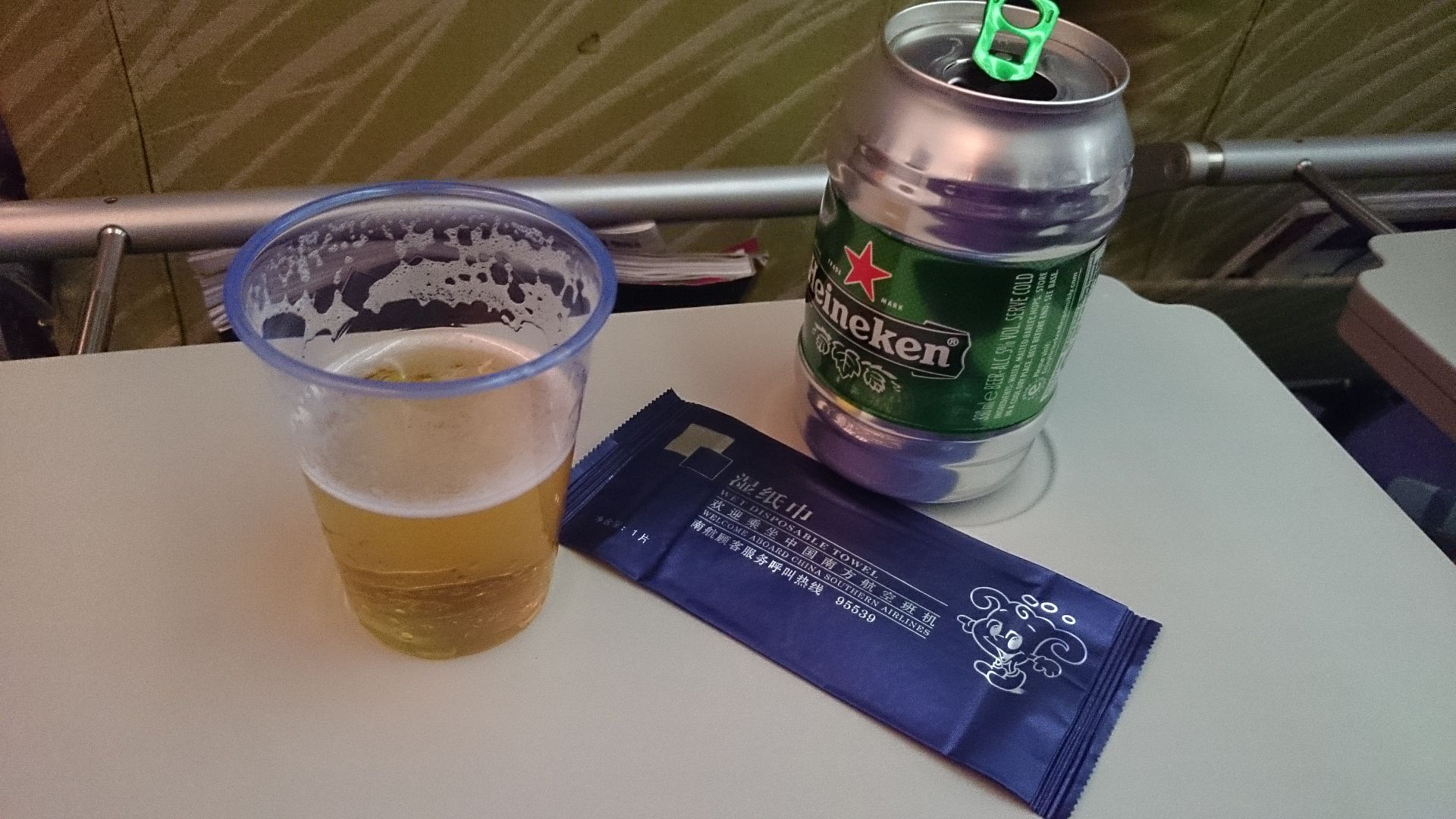 Omelette meal - with warm Croissants, a nice touch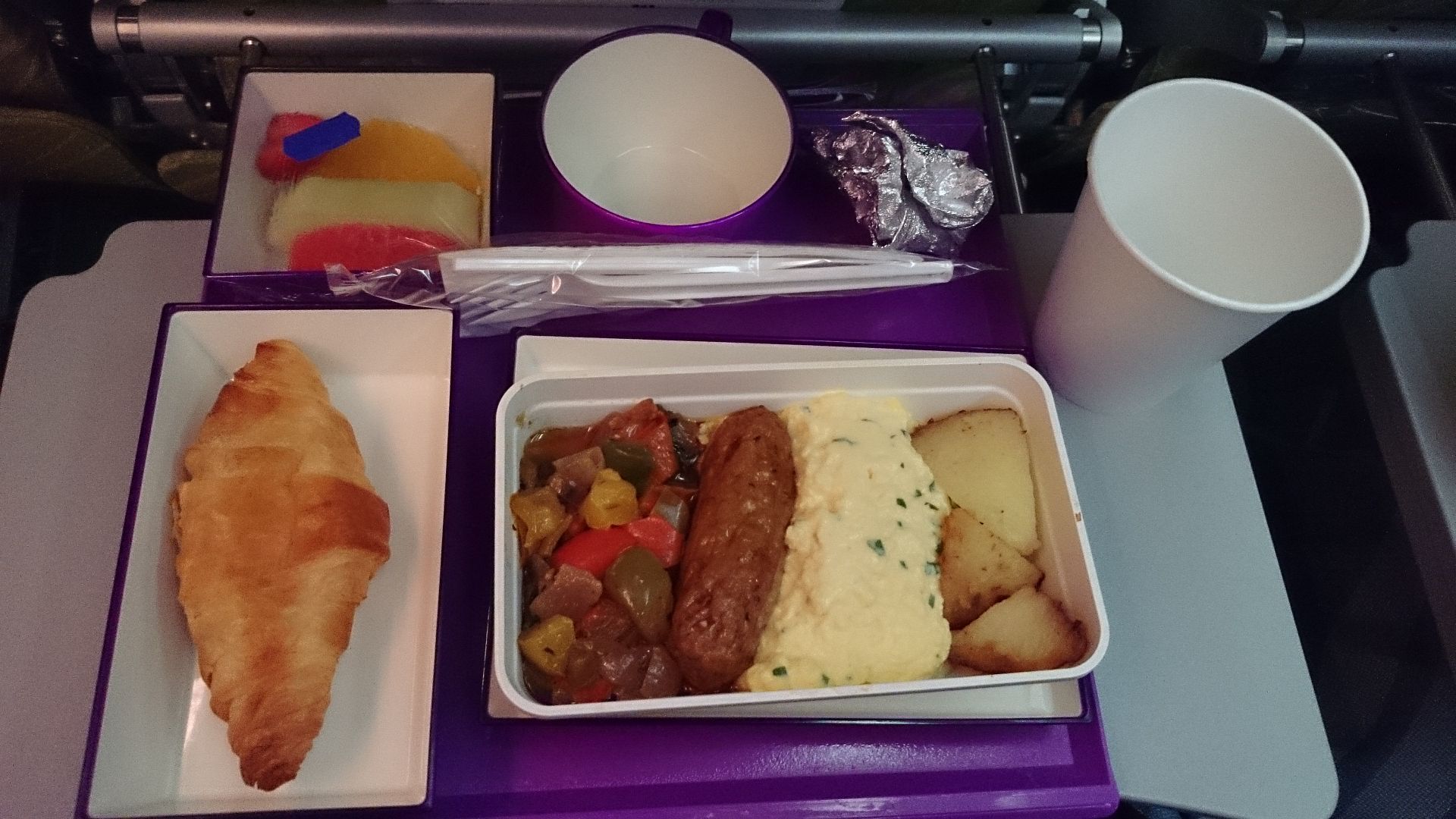 The dinner service started an hour after take off. The meal option consisted of either chicken noodles or beef with rice. Choose the chicken noodles option and it seemed to be the more popular one as they ran out of it after my wife ordered it. The food itself was tasty but I felt the portions were quite small. The Pièce de résistance was the dessert. It was a sponge cake with crumble. Finished mine within a jiffy and managed to steal my wife's share too.
This should be a good time to discuss the galley area of the CZ 787. The rear of the aircraft houses the huge airy galley. Note, there are no lavatories at the rear, which I think is a good thing for the last row passengers, although it does get a bit noisy before meal service. But personally I prefer this than having lavatories just behind you. There are a total of 5 lavatories for the economy class section, which felt slightly inadequate at times but nothing critical. As noted in previous reports, the new design of lavatory doors on the 787 does close with a bang. Although I quite liked the new design, space saving yet efficient, as pretty much everything else on the DreamLiner.
During the rest of the flight there were no other snack services available in the galley which I think is an opportunity missed, unlike BA who have a constant supply of snacks available (At least on the Asian routes). Although the crew do have a basket of goodies for themselves.
90 minutes before landing we were severed another meal which consisted of either an omelette option or another noodle option. Went in for the omelette option this time. Similar to the dinner, it tasted good except that the size of the portion was quite small once again. On the whole food was good but portions questionable. Drinks wise they only served beer and a few option of wine as alcohol in economy, which was a let down. Also please note they hardly have any duty free on board. On the whole in terms of F&B onboard I would rate it an average 610.
Crew
Like any other Chinese airline, Crew tried to speak as less as possible. Did their job efficiently, but nothing more. They continued to struggle with basic English and this is where my concern is during any safety issues. Apart from that they were robotic at best. Not rude but would not dare go the extra mile. All looked the part - neat crisp uniforms and professional, but no where close to any other Asian carriers (sq, Cathay, SQ) so a lot of scope for improvement in that regard. An even. 5/10 in my books.
Onboard safety.
As stated in other trip reports about Chinese flights, on this one, the safety belt sign was used appropriately. This is a good start. Apart from that, as stated above the lack of fluent English capability is quite a worry.
Landing
Landing was almost an hour ahead of schedule. Once Again the DreamLiner showed its true capabilities. Silky smooth landing, truly superb. Although Guangzhou airport looked a bit chaotic. By the time we were at our gates, bussed into the cramped bus, and reached the international terminal, it was nearly an hour since we had landed. And this is when chaos theory was in full bloom...
Landing at CAN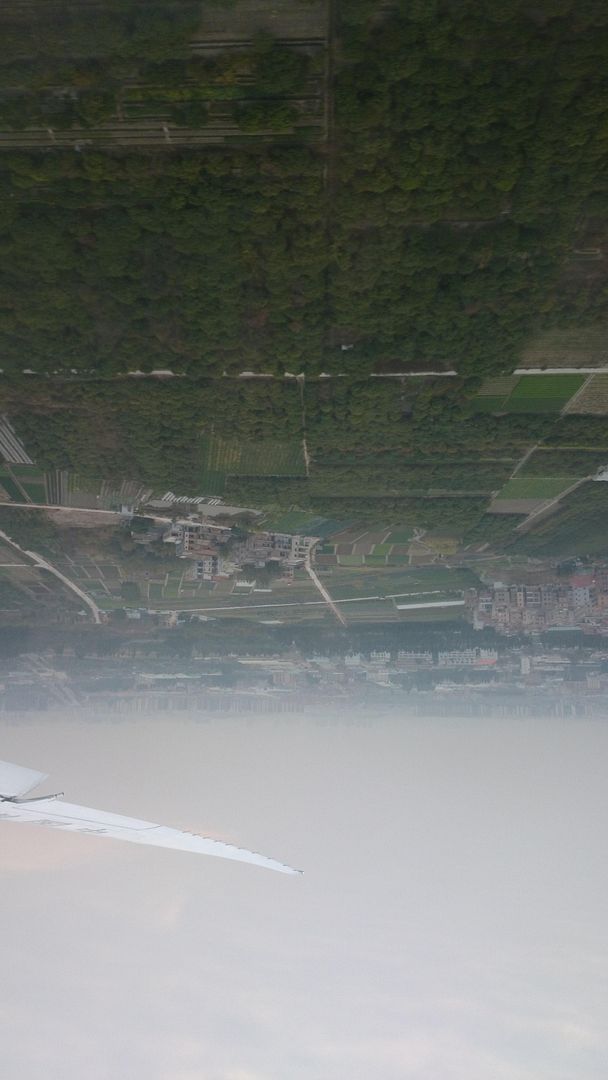 En-route to CAN
Peek-a-Boo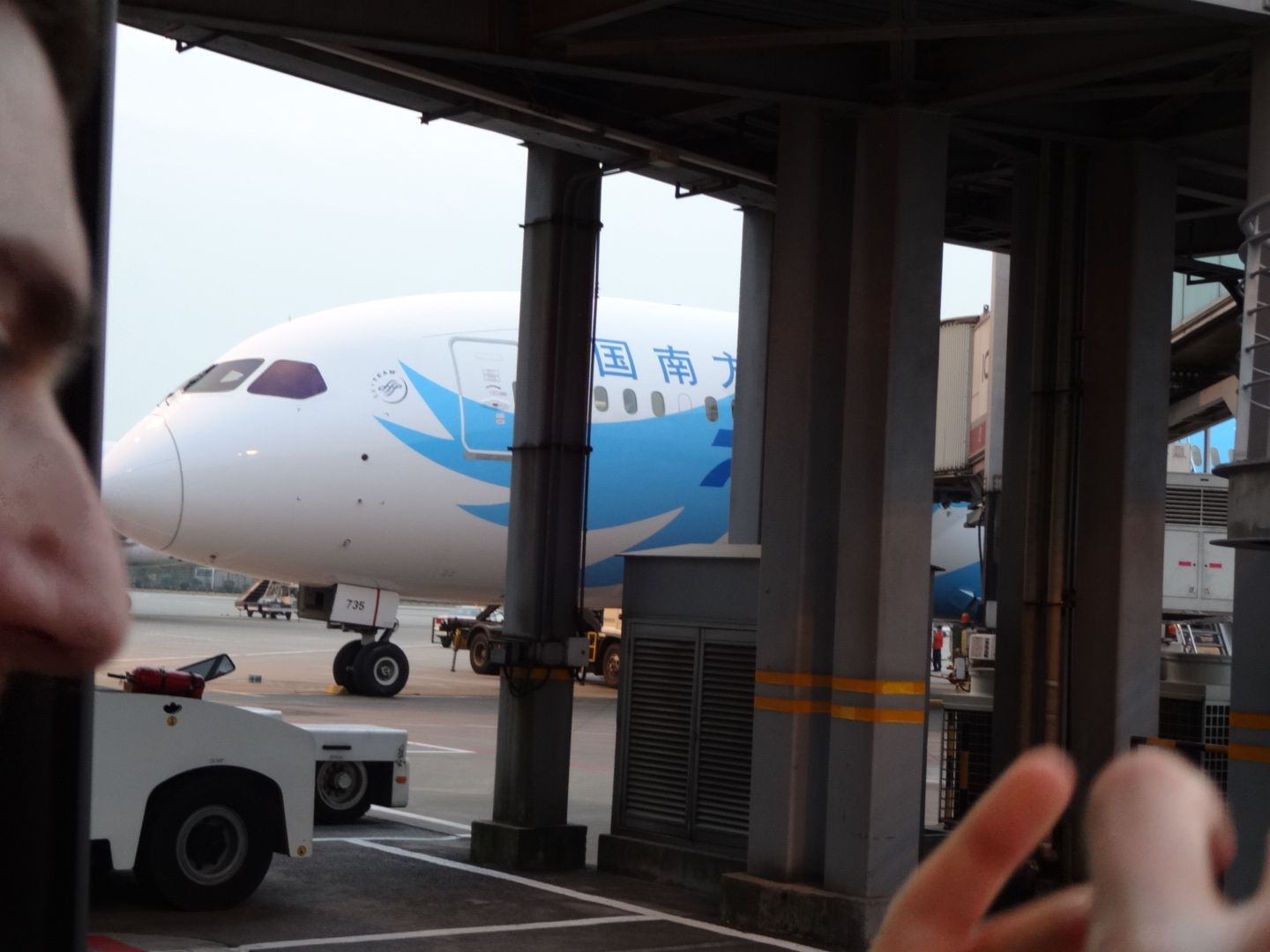 DreamLiner Cockpit – The pilot was kind enough to even drop down the high tech on screen display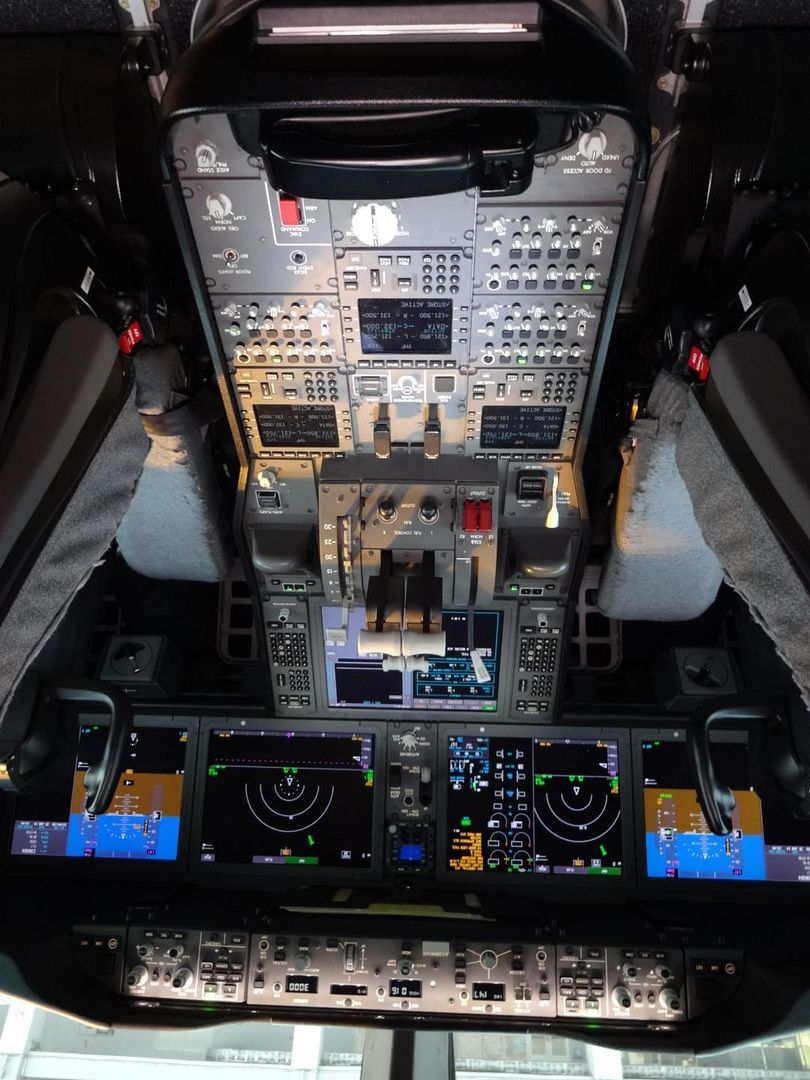 Guangzhou Baiyun International Airport
Domestic Terminal - CAN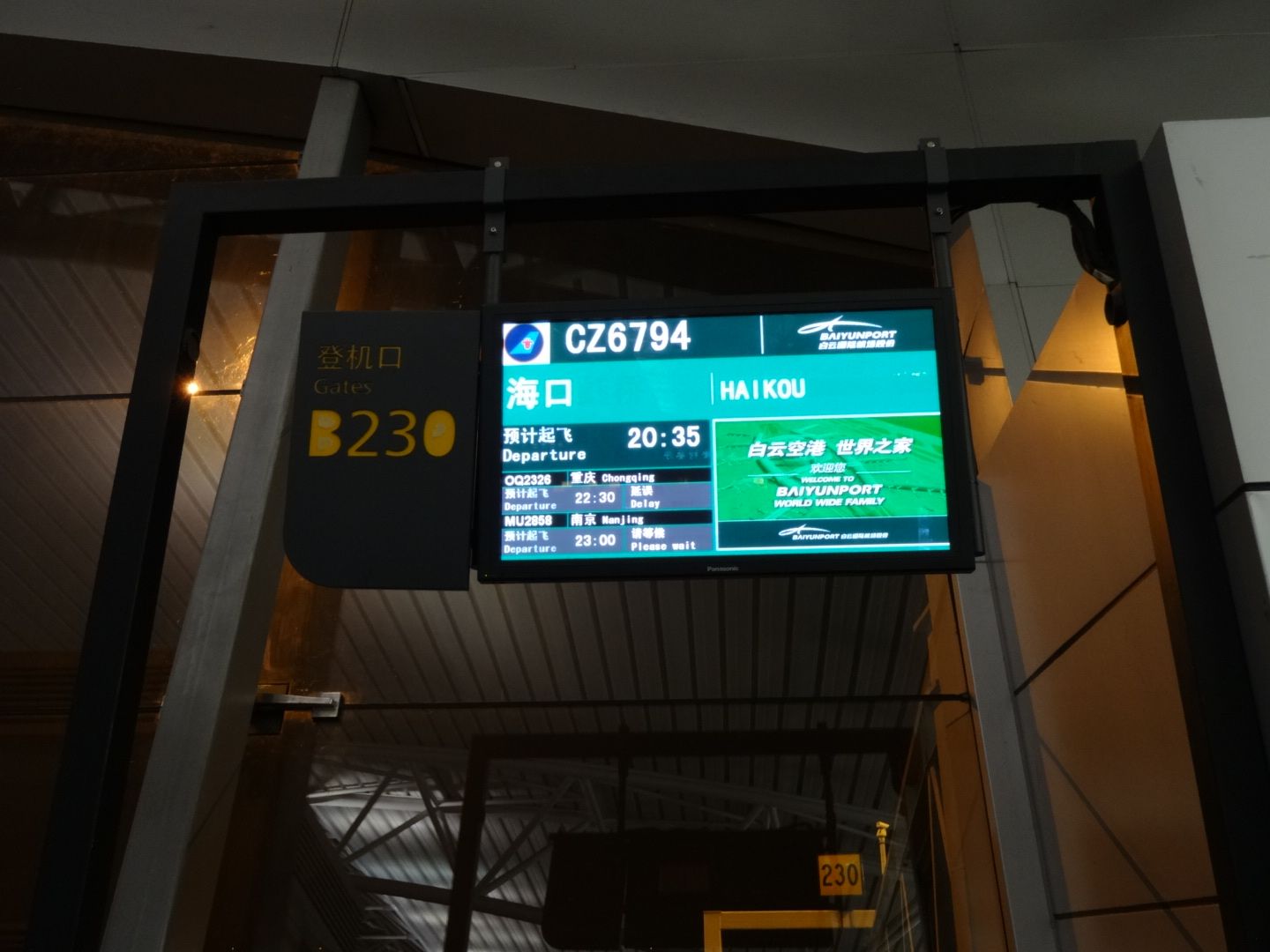 Deserted at night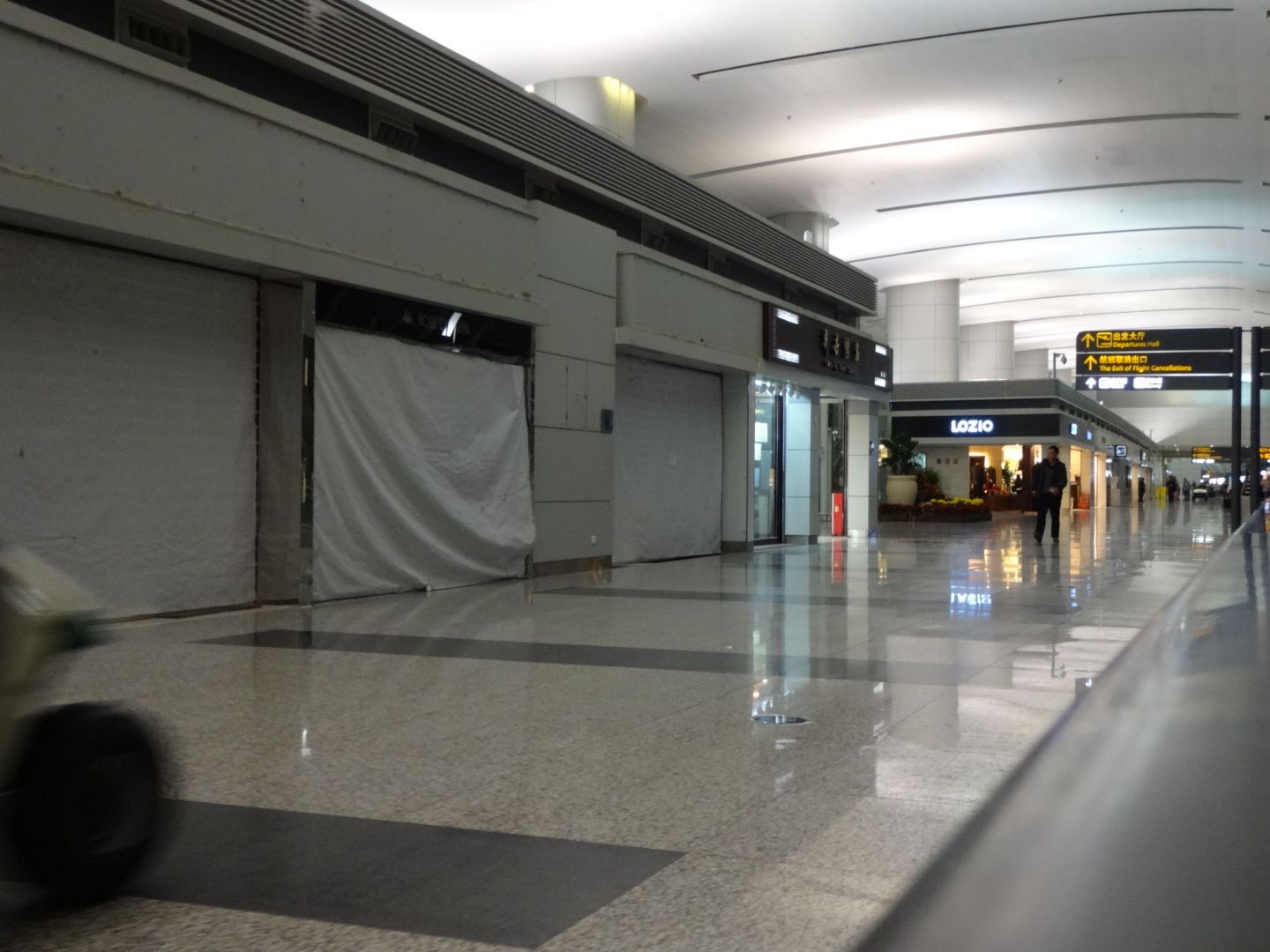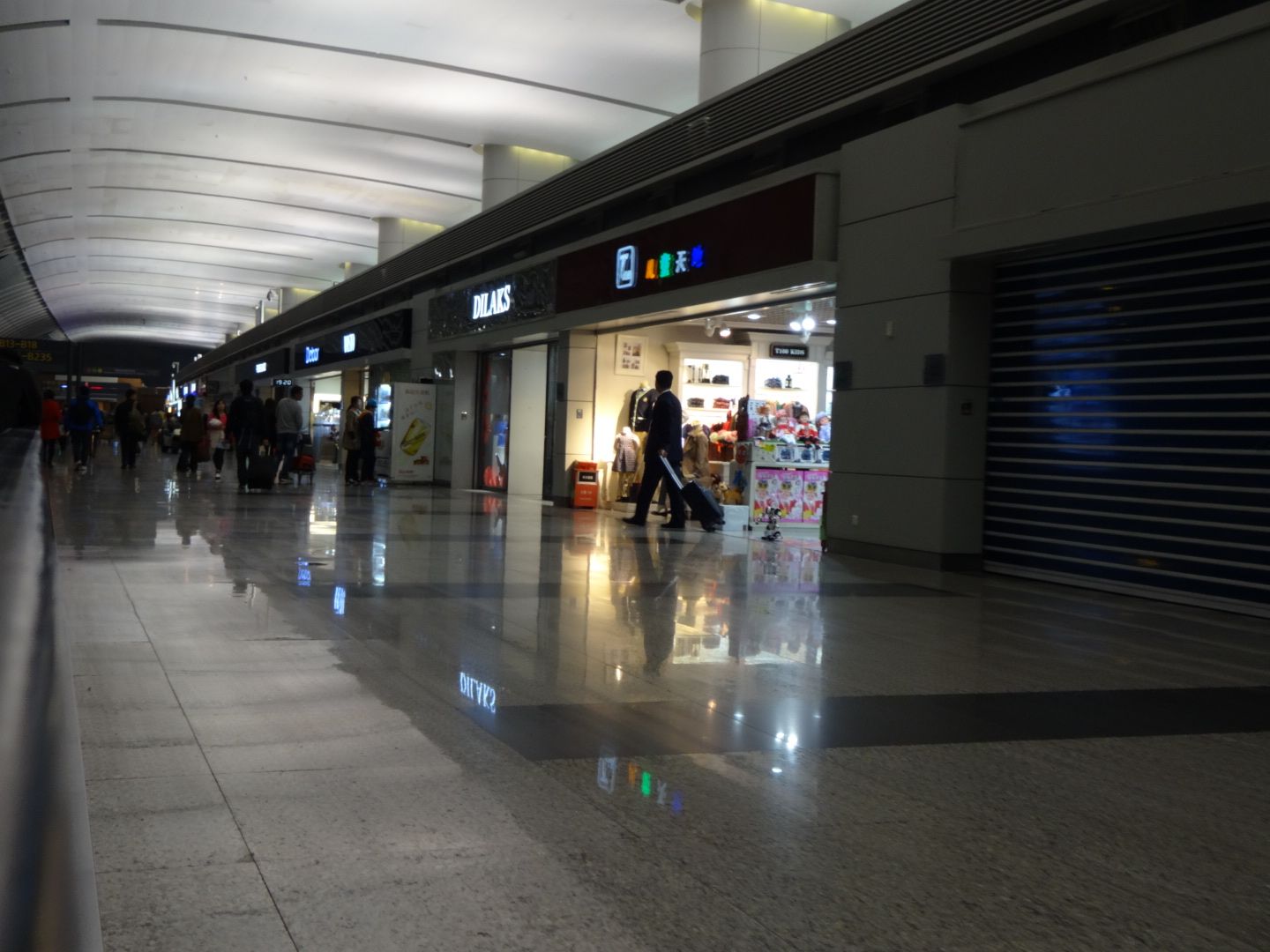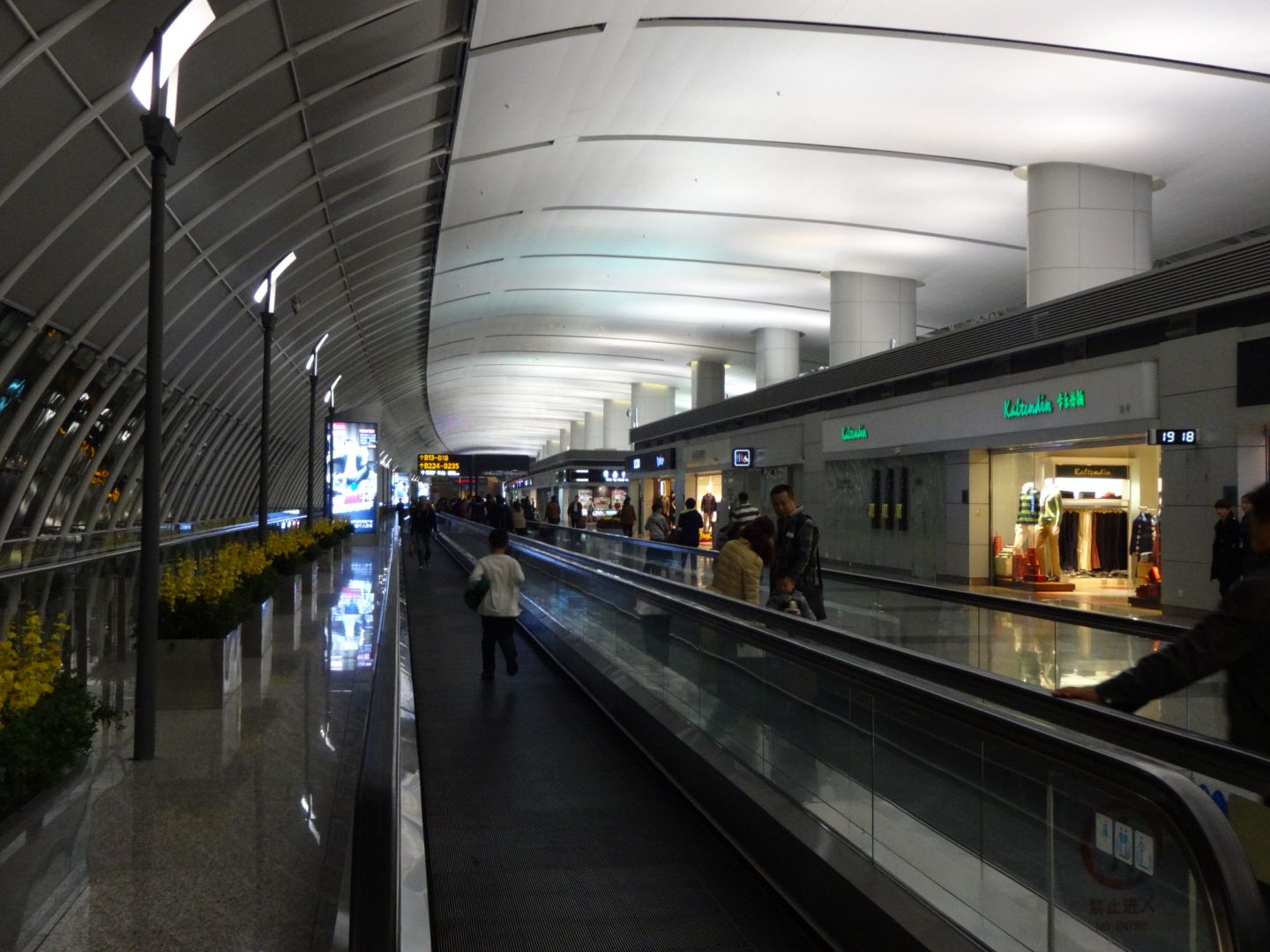 Spot any flights apart from CZ?
The airport seems to be over Crowded. Right from the time we landed the airport seemed to have more on its plate than it could handle.
Once we entered into the terminal building, we proceeded towards the immigration check. It was fairly quick at around 15 minutes. From here we followed signs towards domestic departure. En-route we confirmed with two airport staff (from CZ) and they informed us to proceed towards the domestic departure and our bags would arrive at the final destination.
We had arrived at the A terminal and had to make our way to the B terminal for our onward flight to Haikou. This included a 5 minute golf cart journey via an internal highway.
Guangzhou terminal 2 felt and looked like any other Chinese airport I'd been to - Decent amount of duty free shops, over priced restaurants, crowded. Flight was from gate 230, so made our way there and we had around 30 minutes before boarding would commence.
Transfer from Intl to Domestic terminal. The crowd at the end, looks like that is the place we needed to go with our checked in bags to pass through customs and then re-check it in. Still no clarity on what exactly is the procedure?
China Southern CZ6794 : CAN - HAK
Flight Reg: B-6737 ; delivered Feb 2011
Airbus Tianjin A-320-214 (Anyone knows what Airbus Tianjin is??)
Seat 39J
Departure time 20:35 (Actual 20:30)
Arrival 21:40 (Actual 21:45)
25 Jan 2014
Looking at the crowd next to the gate it looked like a full flight, and judging by the sizes of the hand luggage I chose to stand in line early enough to find space in the over head locker.
Boarding commenced on time. 25 minutes before the scheduled departure. It was done in an orderly manner. We were one of the first passengers on board the A320 taking us to Haikou.
Its been long since I had seen such headphones – aboard the A320 from CAN to HAK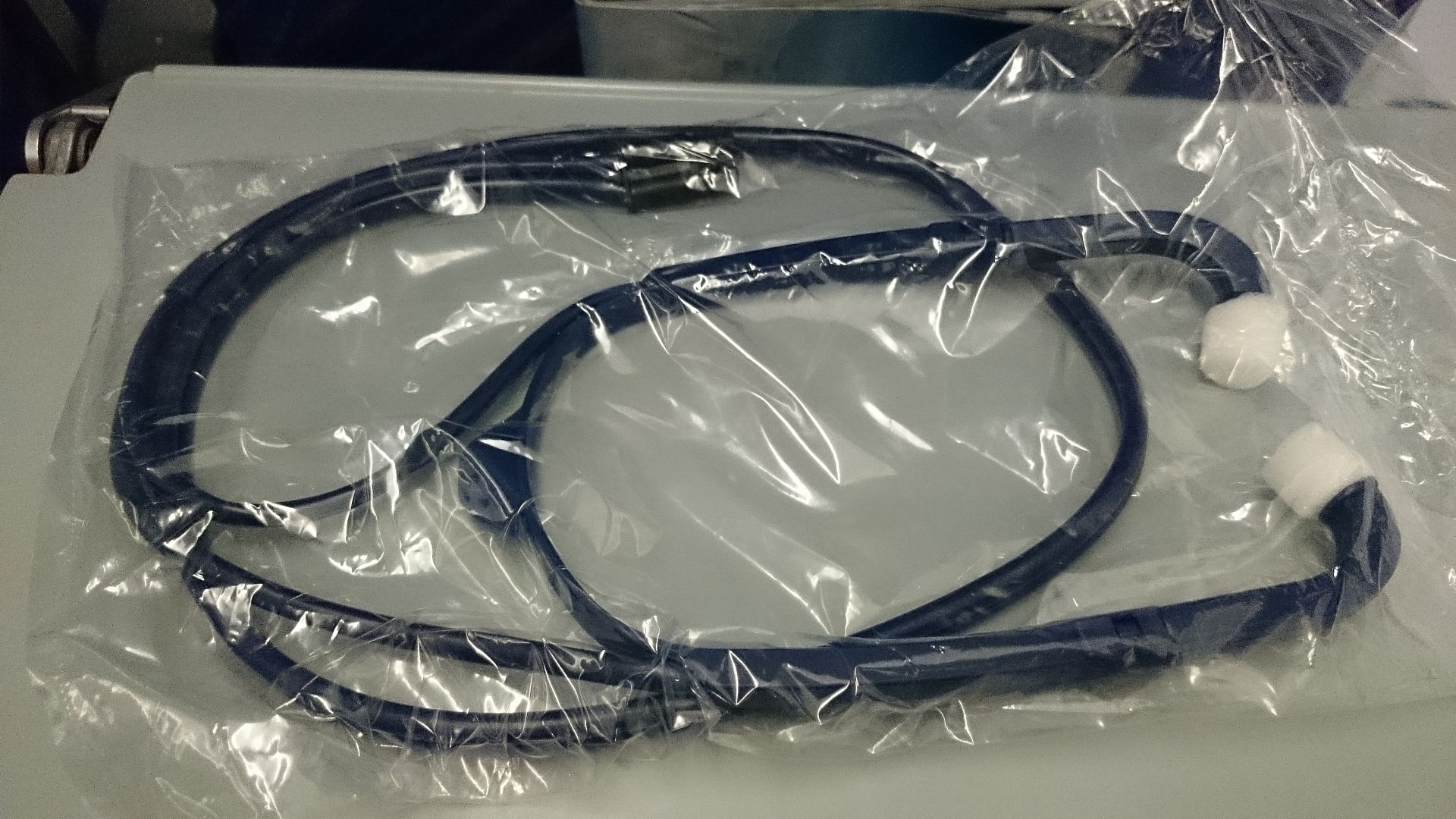 The aircraft looked old but seemed to be well maintained. Unfortunately, couldn't take any decent pictures as it was too dark. Standing early in line did pay off as by the time the flight filled up, there was hardly any place left for carry on luggage in the over head compartment. Flight departed the gate in time, followed by a brief safety demonstrating we were airborne in 10 minutes and en-route for Haikou with a flight time of just over an hour.
Water was served on this short hop. The rest of the flight was uneventful in a good way and I was quite tired so tried sleeping for a bit. An hour just flew by (see what I did there
) and we were in Haikou at 21:45, some ten minutes behind schedule. Being a small airport expected to get the luggage quickly and be out as soon as possible to hit the bed.
Baggage collection – HAK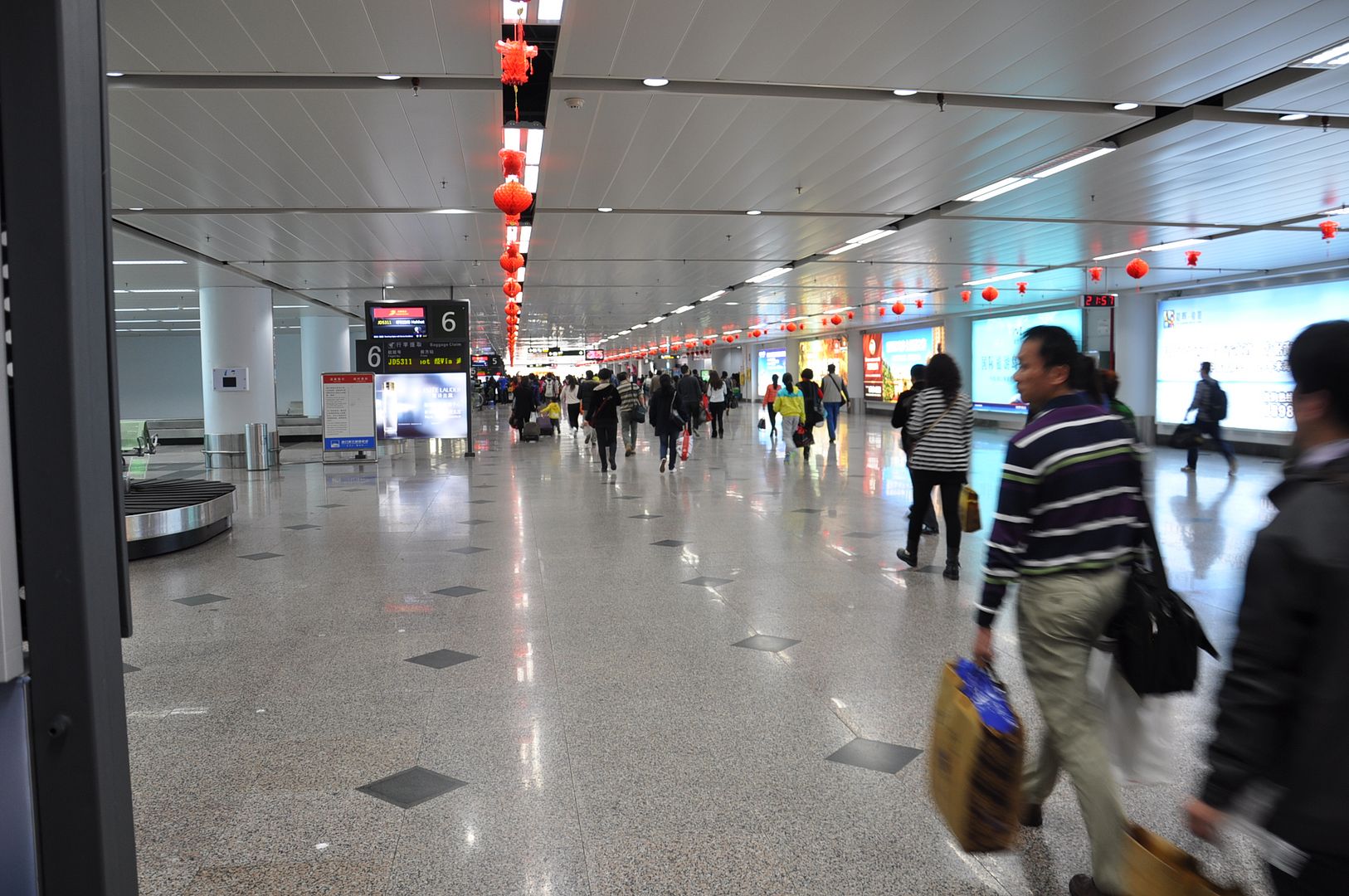 From here on it was anything but quick. We were at our designated conveyer belt and by the time it was around 22:30, our flight number was removed from the conveyor belt display. I smelt something fishy going on. During this while the only person who I knew who could speak Chinese (my better half) had already exited the arrival area hoping to grab some take away. I expected the worst so proceeded towards the baggage enquiry area. A lady barely able to speak English took a look at my baggage tags and asked me something in Chinese. I understood she was asking if whether we had passed our bags through custom at Guangzhou to which I replied no as we were instructed to move on to the domestic transfer. By this time she had exhausted her English capabilities and we had to get my wife back in (after a quick persuasion with the guards he let her in!) after a few minutes we were told and we realised that our bags are in Guangzhou stuck in custom and they would let us know by the next day 10:00 am about the status of our bags.
From the noise around us it seemed that they were a lot more bags missing. We were quite frankly tired and frustrated as there was three separate staff at CAN airport who had advised us to proceed and this happens. Apparently this is a very common mishap as the lady inadvertently admitted that the staffs at CAN were "crazy ". After a lot of deliberation and argument, a couple of forms filled with all our details, we finally agreed on a 500 RNB compensation and an assured call the next day before 10:00 am giving us information about our baggage.
My CZ rating just took a bungee jump with the cord being cut half way through. Complete mismanagement, lack of clear direction, chaos. Hailed a cab and we were out of there by 23:15.
45 minutes later we were at our hotel - HNA beach resort, a grand looking and we decorated hotel in light of the Chinese New year.
Upon check in we were given another surprise and told that CZ had called the hotel already and said our bags were on the flight to Haikou and they will drop our bags at the hotel that night itself. Did the bungee cord self repair and is my opinion about CZ on the way up?
Anyways did not want to hold my breath for it unless I saw the baggage.
Checked into our room, and within an hour (around 1:15 am now) we were called by the reception saying our bags were here! And Io and behold, it was delivered to us that night. Felt good being reunited with our bags, finally. So looks like the cord was fixed mid way and must comment on the quick fix by CZ on this occasion. From this experience we can only guess that the lady at Haikou was an Expert in creating customer paranoia. It looks like our bags just missed our connecting flight as it must've failed to pass internal customs on time, put on the next flight, and delivered to our door steps by CZ. Well done!
On the whole the experience with CZ had truly been a roller coaster ride. Firstly the horrible website booking process, followed by the superb DreamLiner, and then the bag nightmare followed by superb service dropping our bags to our rooms in the middle of the night. On the whole it has been pretty alright. Could've been much worse, although like any other Chinese carriers, has great potential but still some way to go. Looking forward to our return flight from Sanya, this time, which also includes an overnight stop at Guangzhou.
Return Journey:
China Southern CZ6745: SYX - CAN
Flight Reg: B-6826; delivered Dec 2011
Airbus Tianjin A-320-214
Seat 39A
Departure time 20:00 (Actual 20:25)
Arrival 21:25 (Actual 21:50)
02 Feb 2014
China Southern CZ303: CAN - LHR
Flight Reg: B-2726 ; delivered Dec 2013
Boeing 787-8 Dreamliner
Seat 53A
Departure time 09:30 (Actual 09:25)
Arrival 14:50 (Actual 14:45)
03 Feb 2014
Short hop – SYX - CAN
Checking in once again chaotic. The lady at the counter wasn't sure if we will get our checked in bags at can our will it be at the airport overnight and we only get our bags at London. After a few frantic calls she confirmed that we will only get our bags back in London. Which meant we had to re pack for the over night halt. 20 minutes later, checked in both our bags right through to London, in the midst of this confusion also managed to get the last row 2 seats on the DreamLiner back to London. Once again, our end goal was realised by CZ albeit a bit frantic / chaotic adding into the mix a sense of uncertainty and frustration.
Lady at check in could barely speak a sentence in English.
From here on proceeded to security and was at Airside in less than 5 minutes.
Sanya First Class lounge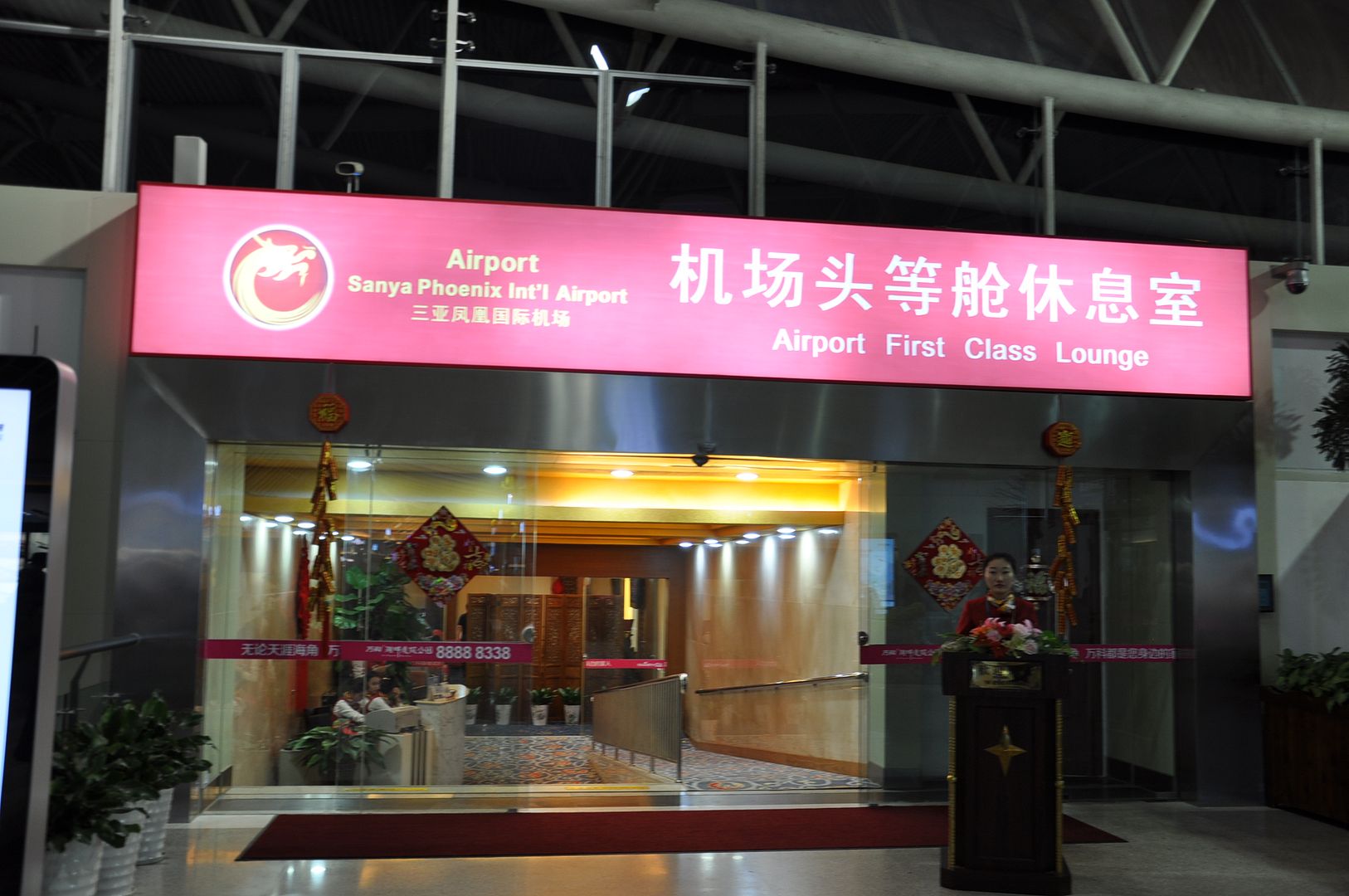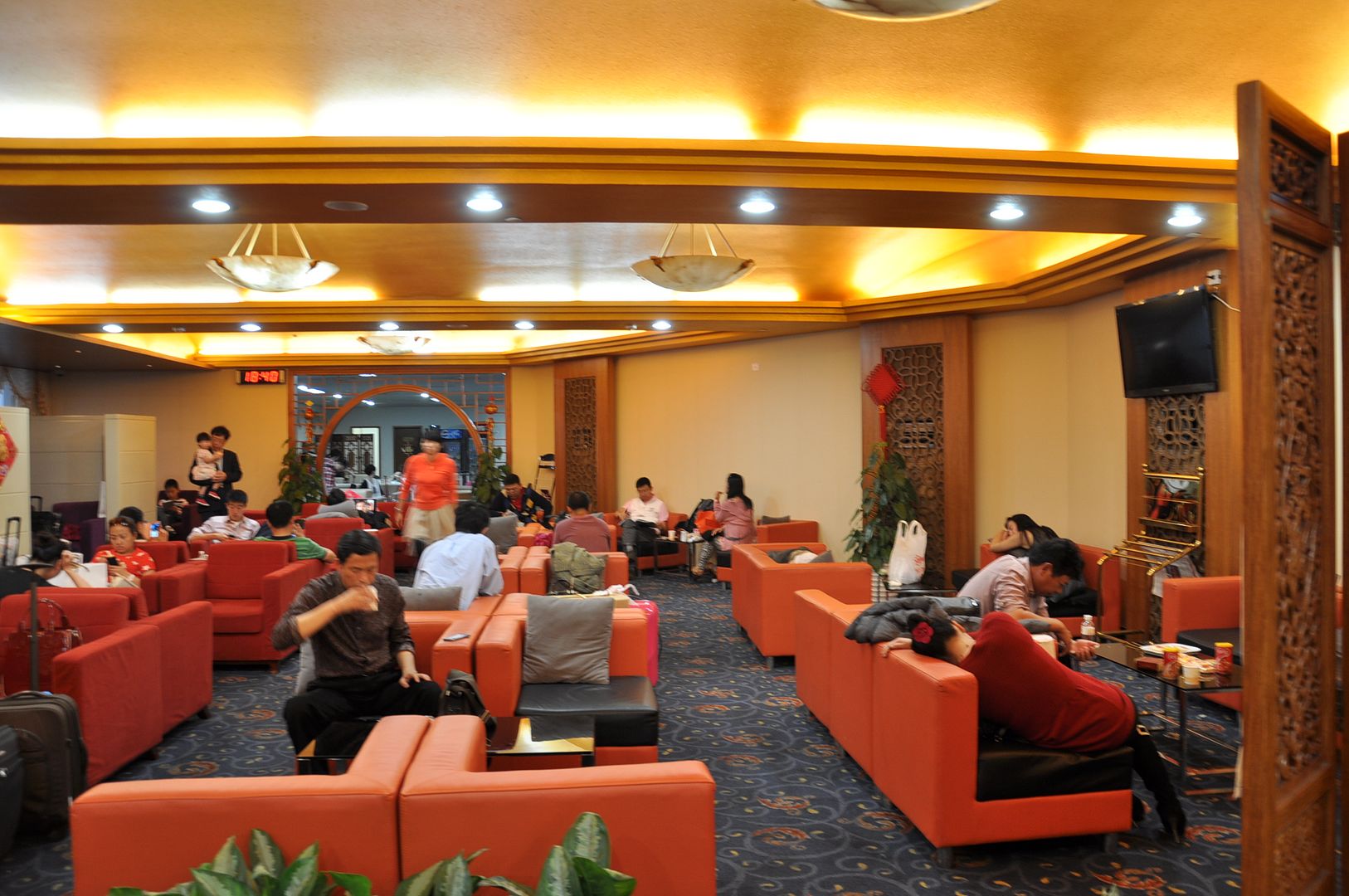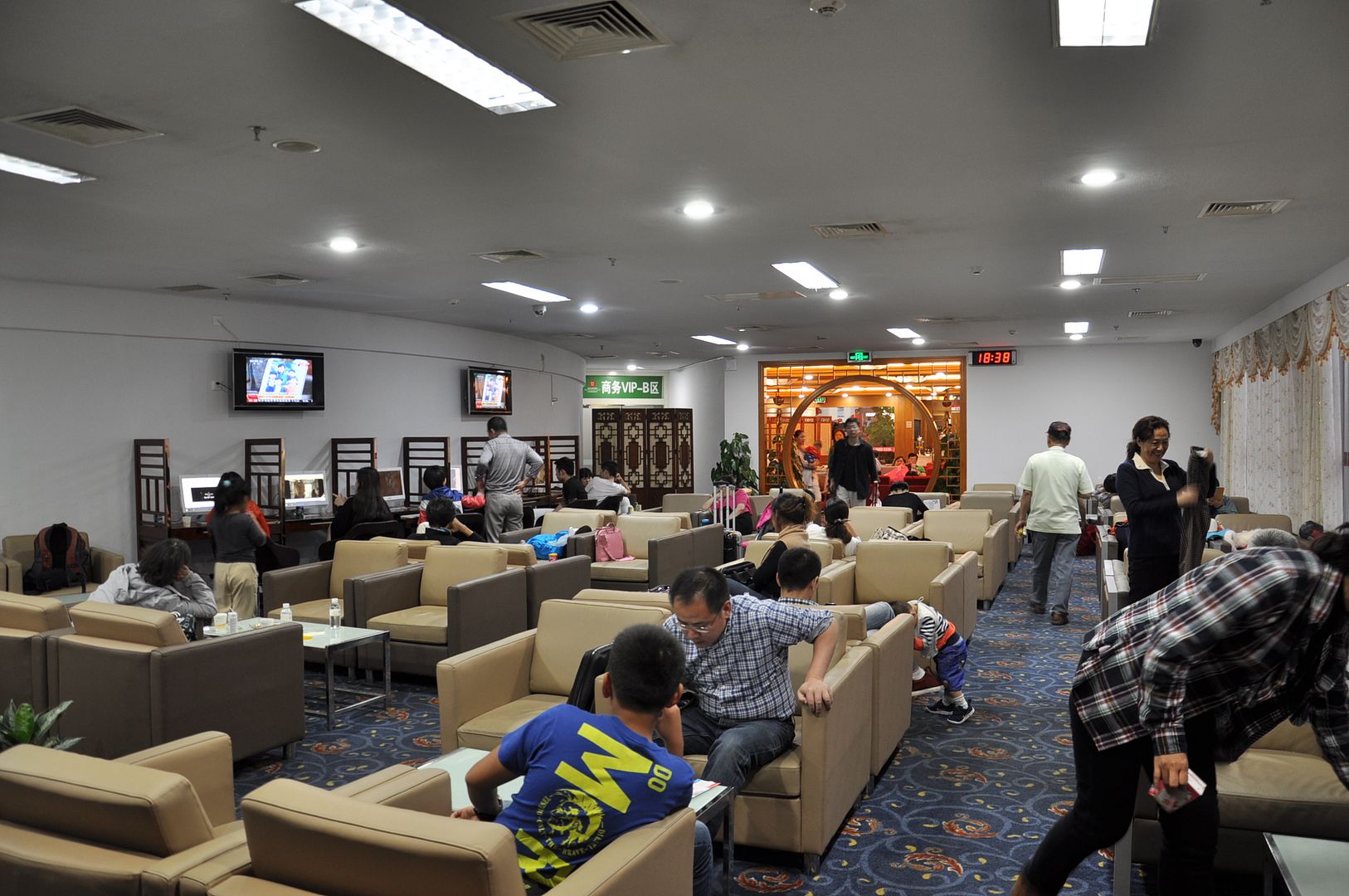 Since we had an hour to while away, decided on using the Sanya First class lunge, which was anything but first class. Priority pass/Airport Angel seems to work here although the lady at the reception spent almost 30 minutes to sort out the paper work, in the mean while we were ushered inside.
The lounge itself is very basic – looked more like a normal boarding gate area, with slightly better sofas, some refreshments and computer terminals. Apart from that there were pot noodles available, which I happily grabbed one (the spicy one!).
The lounge seemed completely packed. There are constant announcements made in the lounge, so if you have any plans of having a quiet time in the lounge, that may just not work.
Another interesting point was as and when a flight was ready to board, one of the staff members would walk around the lounge with a placard in hand and all the flight details, informing us that the flight was ready to board. Maybe bit of an overkill, given the constant announcements in any case. I would've preferred if there reduced the announcements and had one of the Lounge representative walk around with the placard before each boarding – would've been unique and a nice touch.
Looked like a busy day at Sanya phoenix airport that day. Loads of flights being delayed due to bad weather else where, causing a domino effect. Our flight was delayed by 20 minutes.
Boarding started at 19:50 and we were all aboard by 20:10. Done in an orderly manner.
We were held at the gate for quite a while. Perhaps due to congestion at the airport?
Load looked full in all classes.
ON board the A320 from SYX to CAN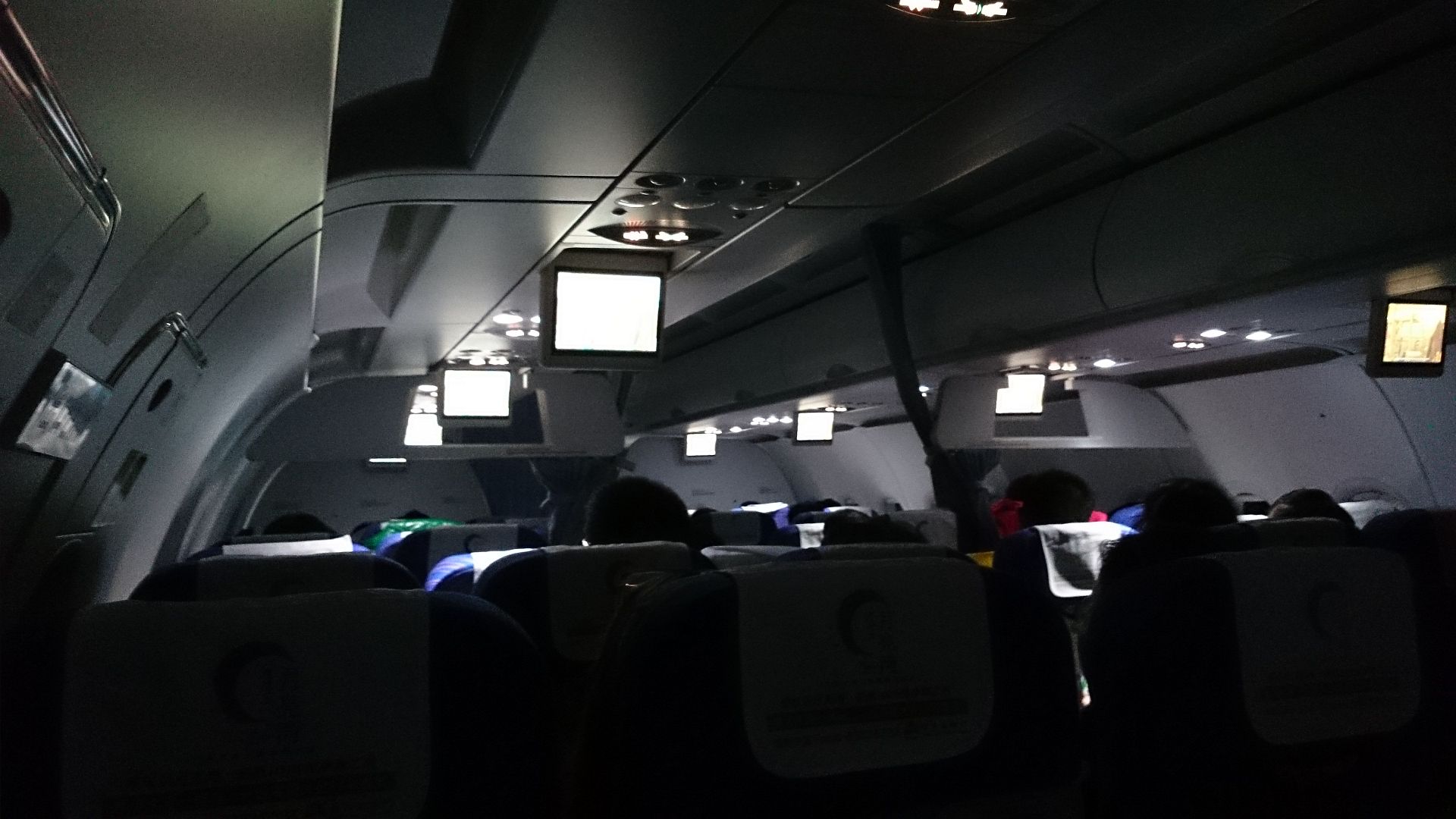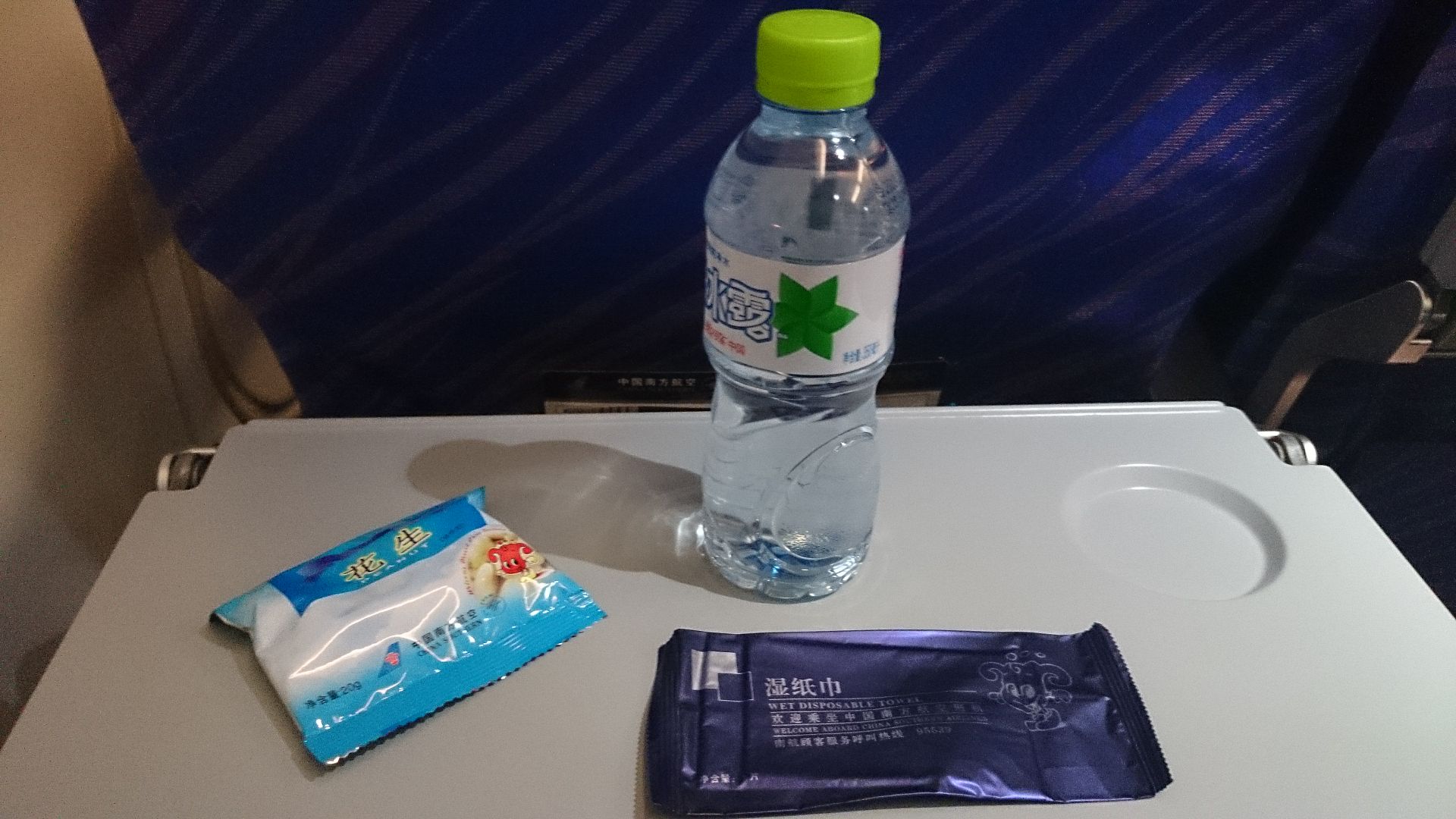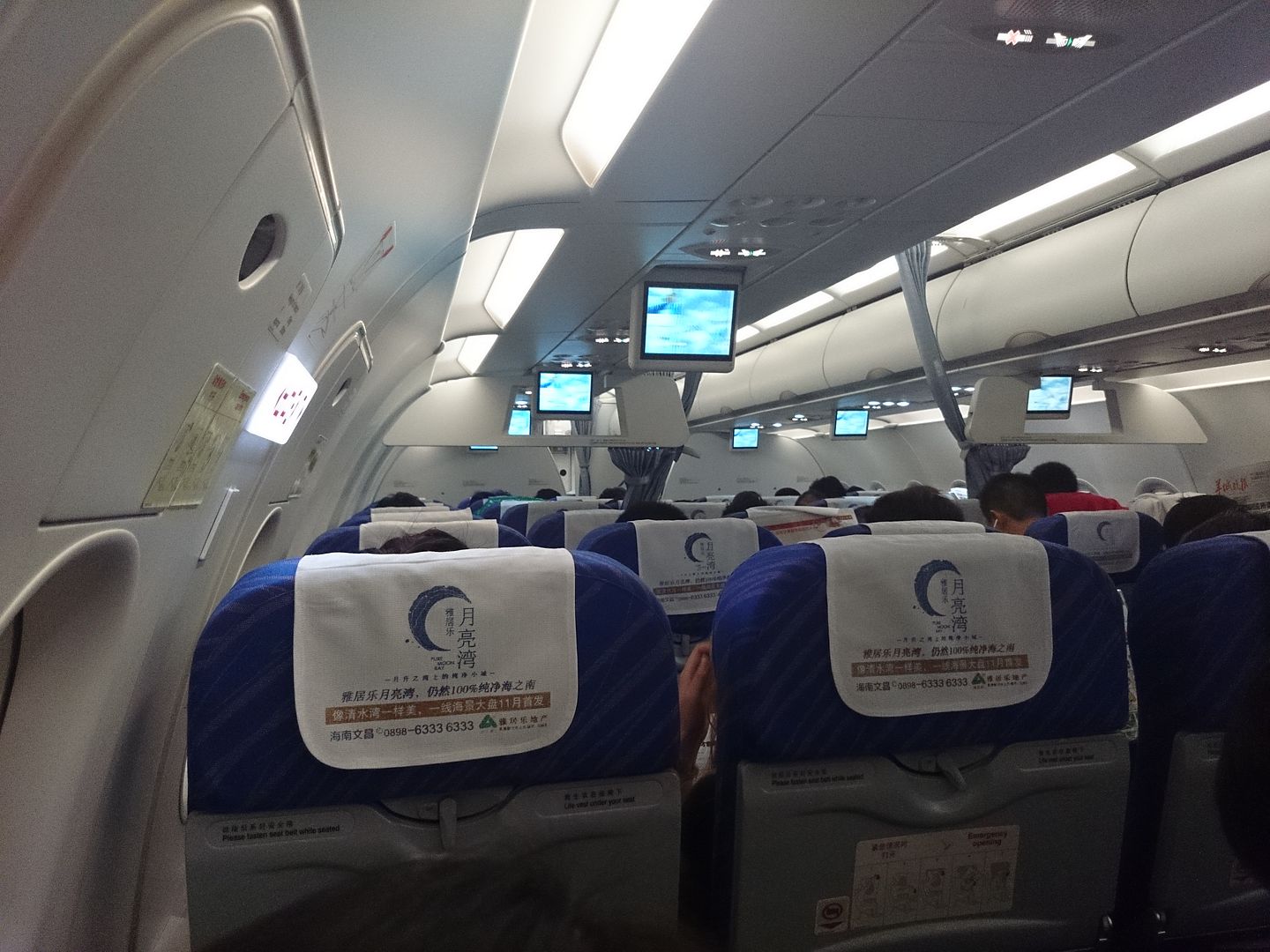 Decent leg space aboard the A320
Movie being shown. Some thing about mortals being immortal. Although that was stopped exactly after 5 minutes after take off. What was that all about??
Water and some peanuts served before take off. Latest edition of 'nihao' seemed to have a lot of very interesting articles on the Chinese New year. It was a very good read indeed.
Cz seem to have started using the seat belt sign appropriately which is the step in the right direction.
The rest of the flight was a breeze and landed into CAN slightly behind schedule (some 25 minutes). From here on we were unsure/wary about what was going to happen with our overnight stay at CAN, given our experience with CZ on this trip, thus far.
But we were surprisingly shocked (in a good way) in how the process just streamlined from here on.
At the end of the terminal there was a Transfer desk. Showed our boarding passes to the lady at the counter. She confirmed that our bags would indeed reach London directly, and no need to worry about it (where have I heard this before??), few moments later, printed out our hotel voucher and asked us to wait near the exit.
As instructed, we were picked up by the Hotel representative at the exit of the terminal and were whisked away in a coach to a nearby Hotel – Holiday Villa.
During our coach drive, we were expecting the worst, but were again quietly surprised as we approached the hotel. It looked much more than a decent hotel. Checking in was swift and around 45 minutes after landing at CAN, we were already at our hotel room.! Well done CZ on this occasion.
The Final Chapter – CZ 787 – CAN - LHR
A more than decent overnight stay provided by CZ at the Holiday Villa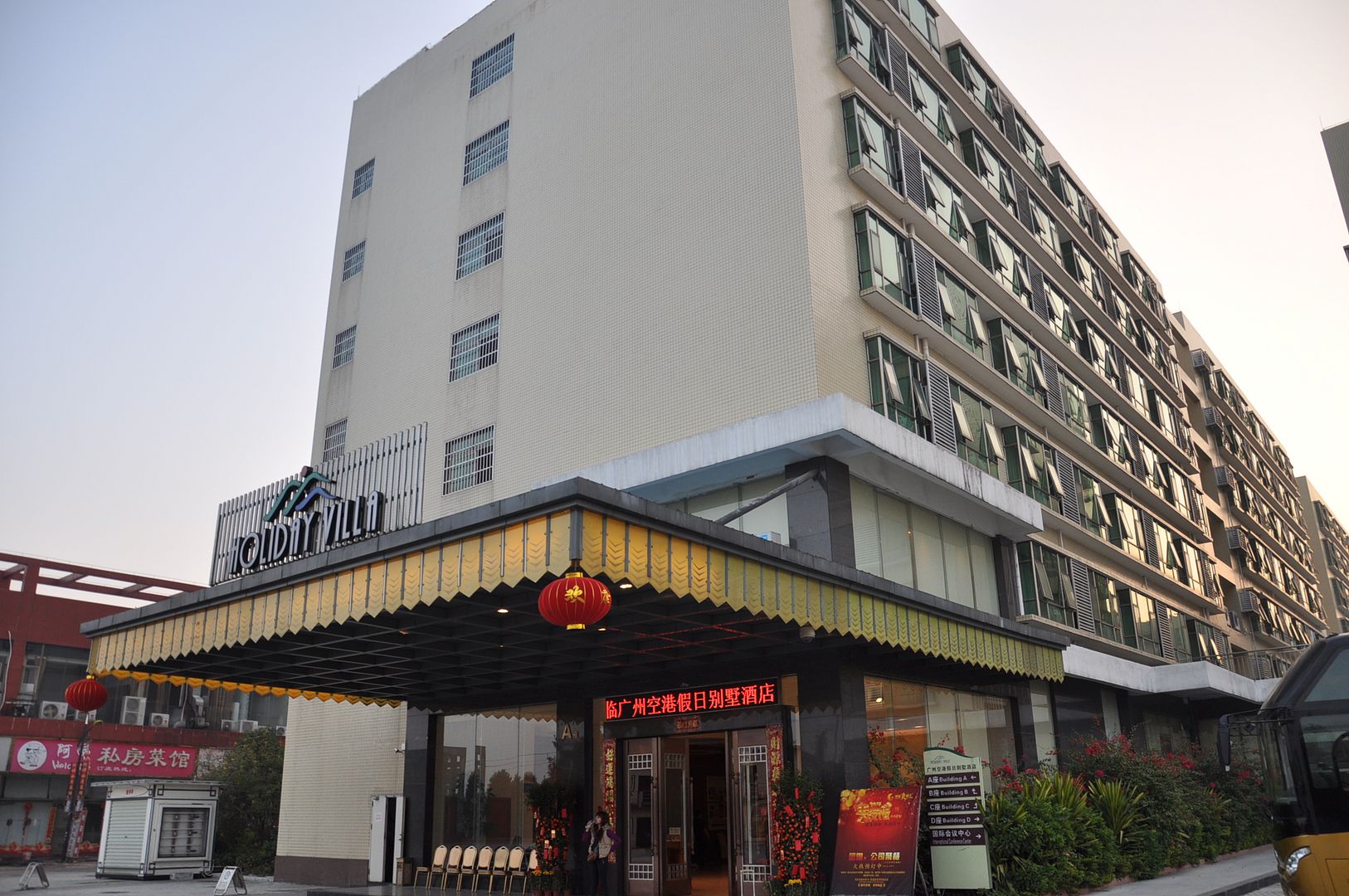 CZ Hub
Intl Terminal at CAN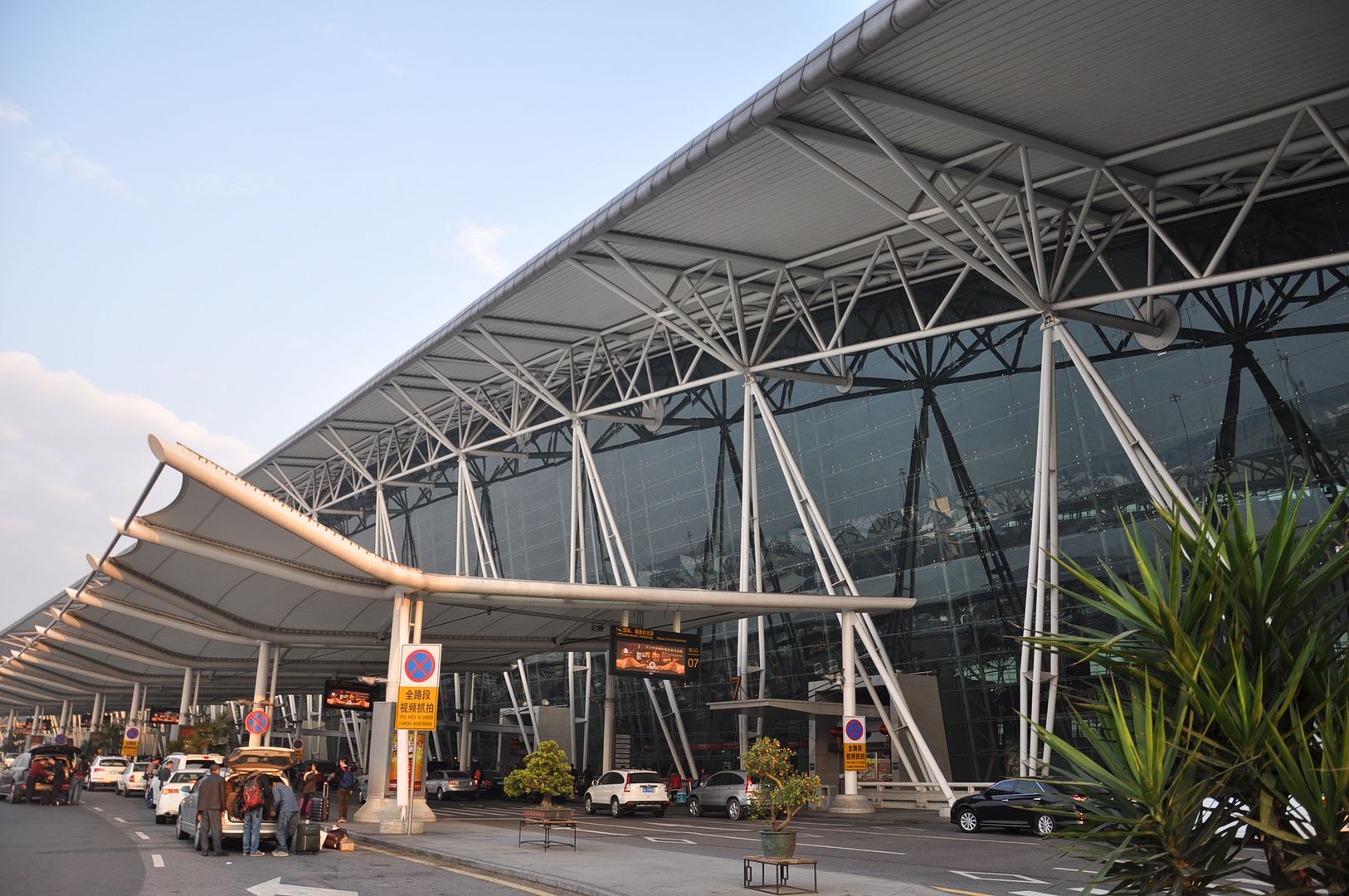 Automatic Check in kiosks that don't work!
FIDS at CZ Hub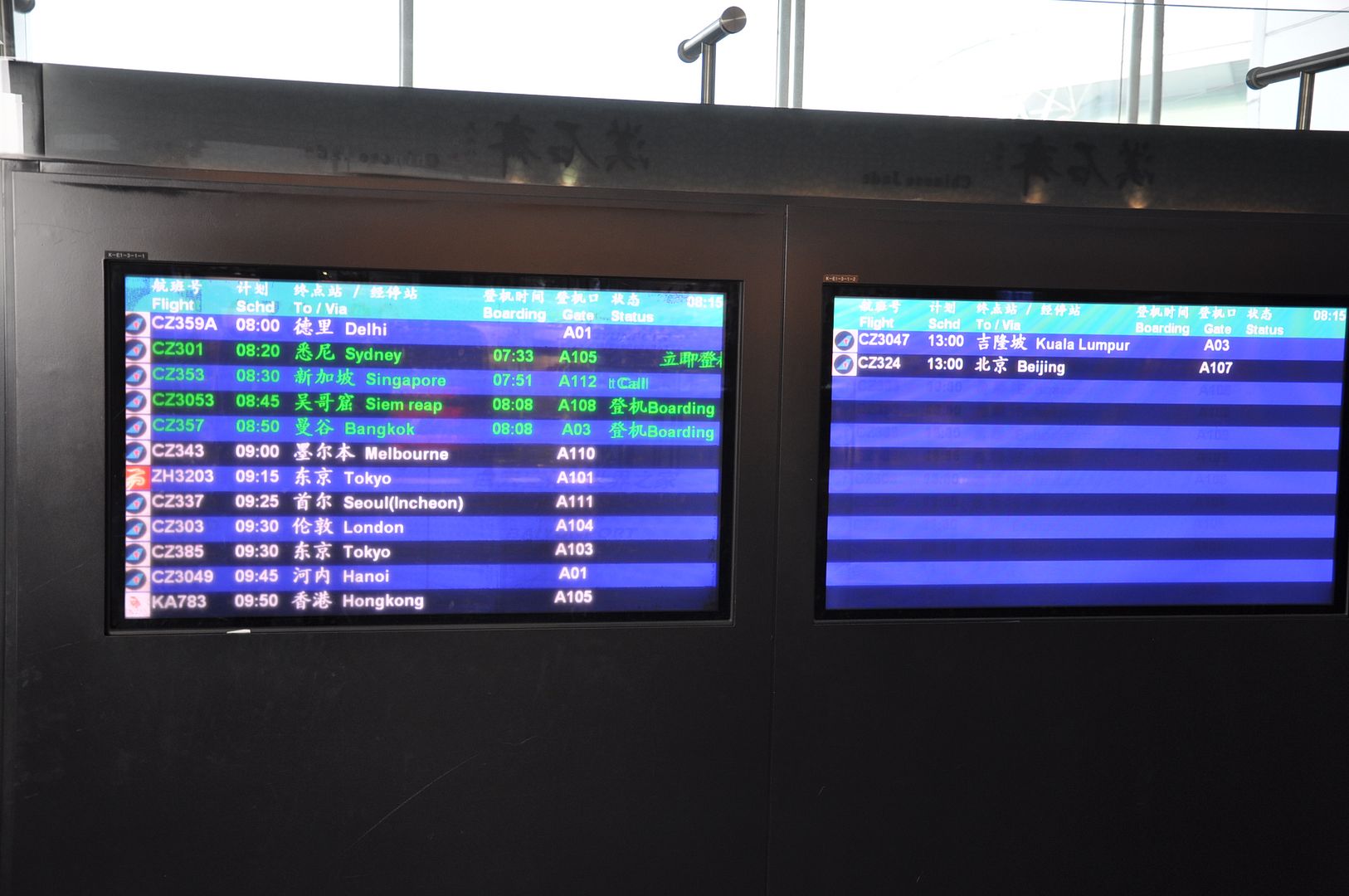 On the day of the flight, we were given a wake up call as instructed the previous night, right on time. We then hit the breakfast counter, which once again, we were mildly surprised at the spread available – live hot counter with eggs, noodles, hot buns, continental breakfast, and a verity of different types of congee and other Chinese breakfast items. On the whole it was a great way to start the day.
From here on it was a quick 5 min drive on the coach to the departure terminal, and since we did not have to check in our bags, I had some time to click some pictures of the terminal. Nothing spectacular, but nothing wrong either, just doesn't have the WOW factor of, say, Bejing T3.
Security and immigration was very quick and we were airside with over an hour to spare. There were a few CZ flights ready to depart and was a good opportunity to just wander around the airport and clicking few pictures. Duty free wise, they had a good collection, but nothing spectacular. I would be bored if I were at transit at CAN for more than a couple of hours. You also have to be wary about the prices they charge – 7.5GBP for a cup of Coffee latte! Nothing short of day light robbery..! Absolutely Ridiculous!
Coffee at the International Terminal A, CAN – 75 RNB! (GBP 7.5)
MEL bound – A330-300 – delivered July 2013, should be a comfortable ride to MEL
Boarding was called on time and once again was quite orderly, no panic, and no chaos. This time the crew look a bit more enthusiastic. Once again very neat and tidy aircraft. Looks like CZ is emphasising a lot on its DreamLiner and it seems to be in very good shape, although they're mostly all brand new.
Our boarding gate on the return flight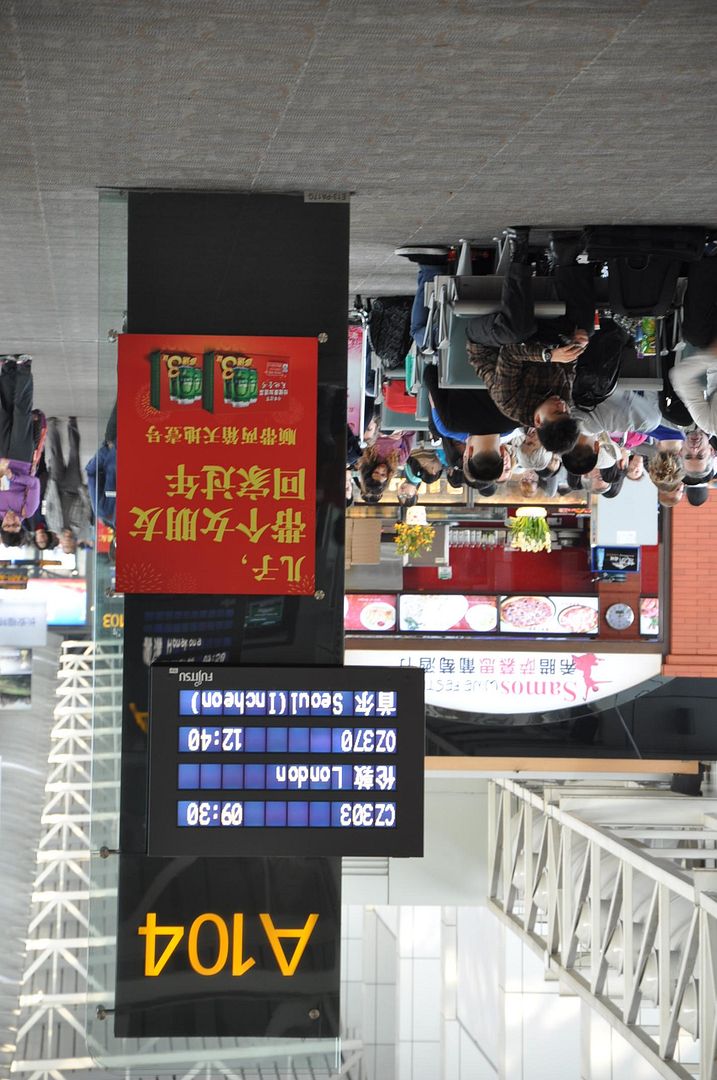 The raked wings – thing of beauty
The Beauty for our return flight – Delivered Dec 2013 – almost brand new.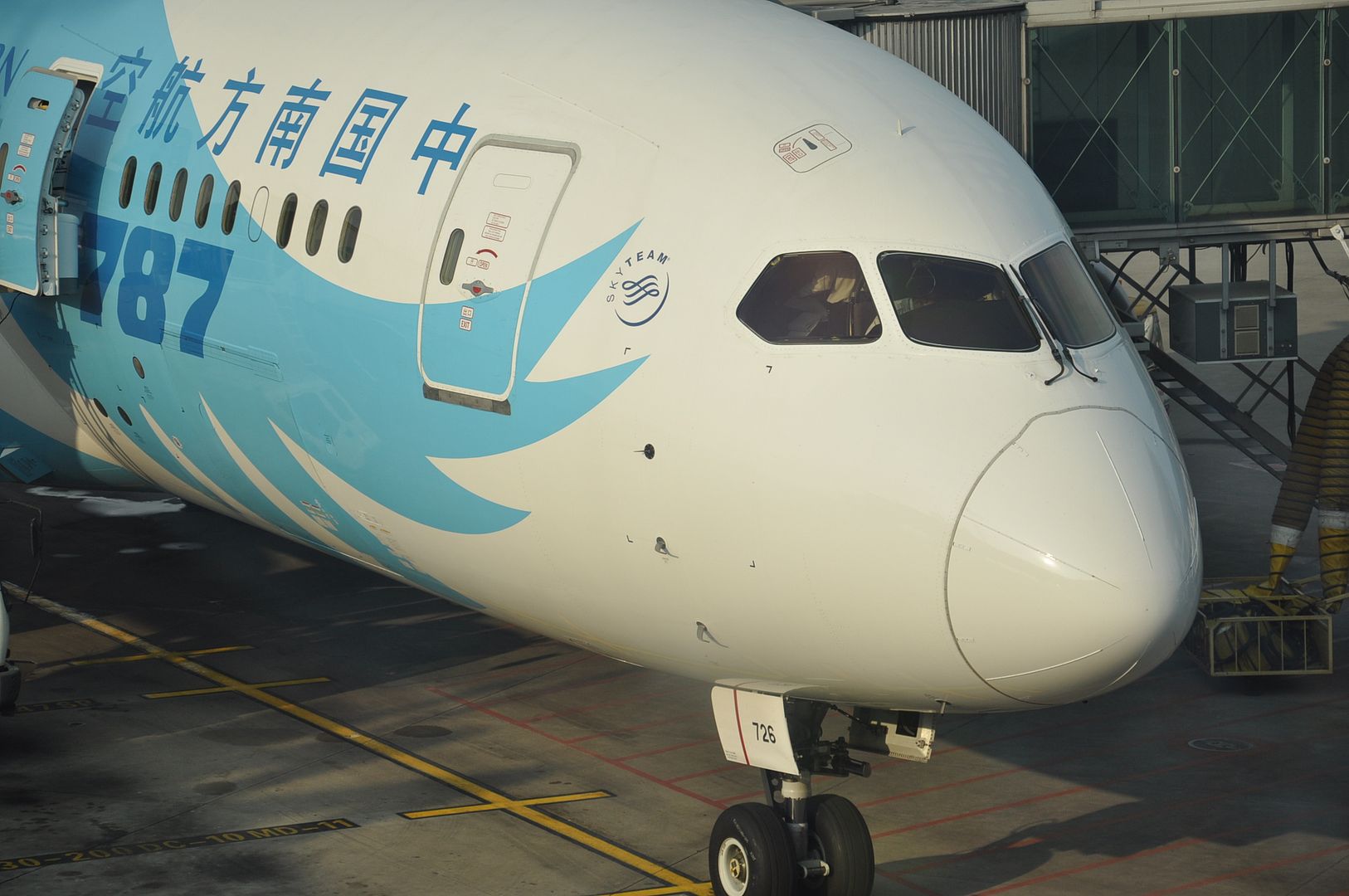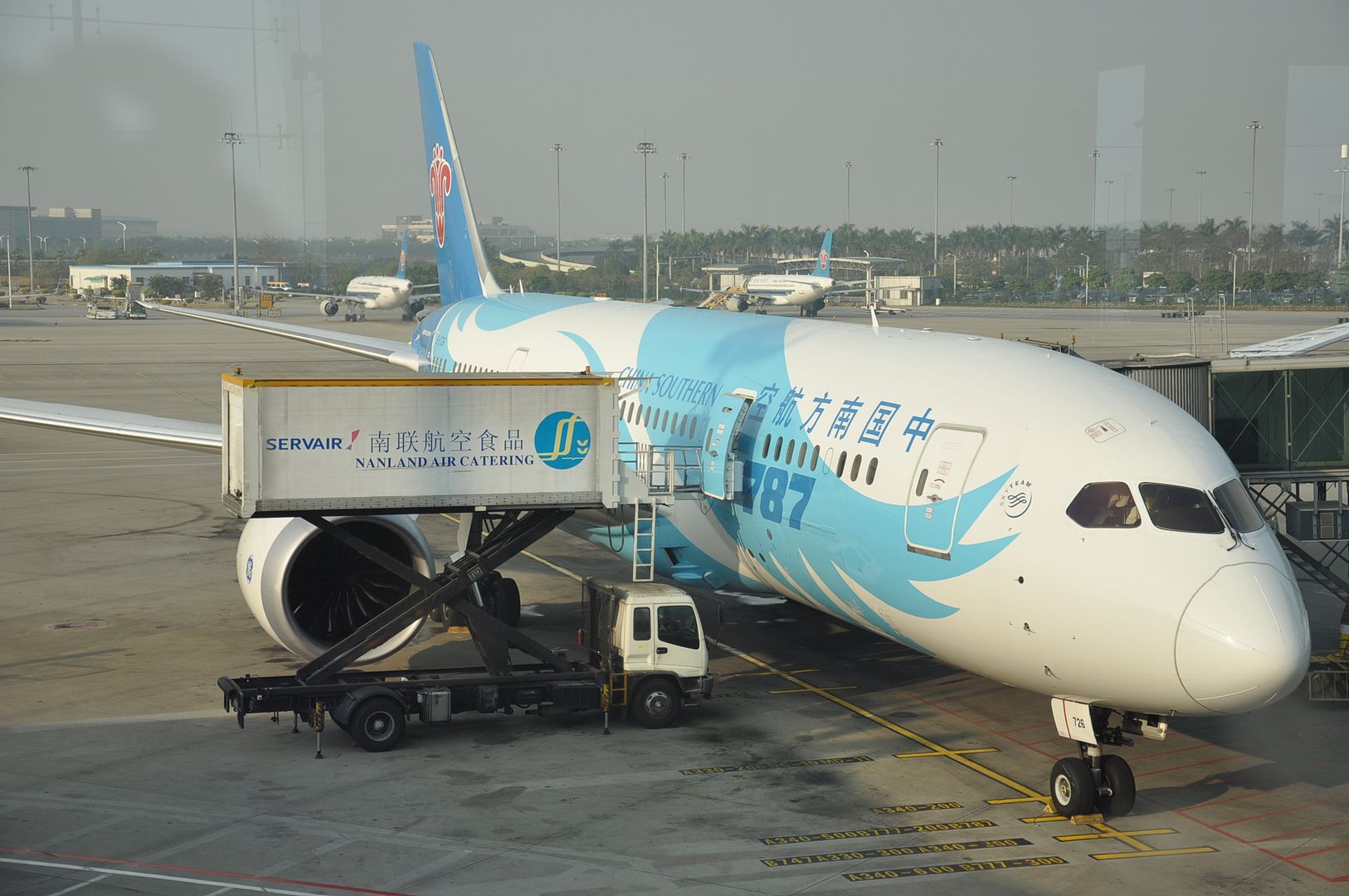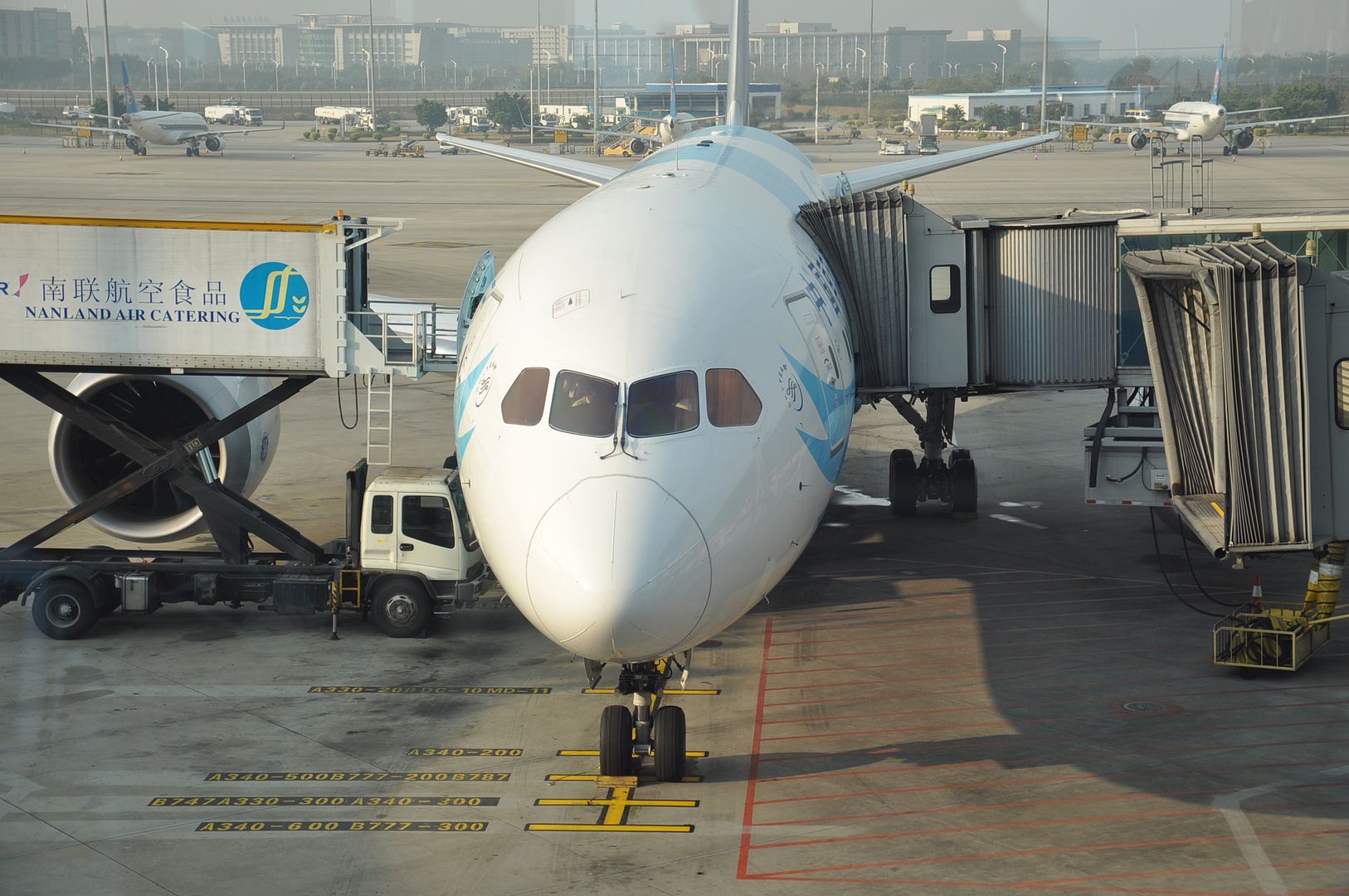 Full load on the way back – Slowly filling up. There was an entire Orchestra with us from the Guangzhou little angels Symphony orchestra.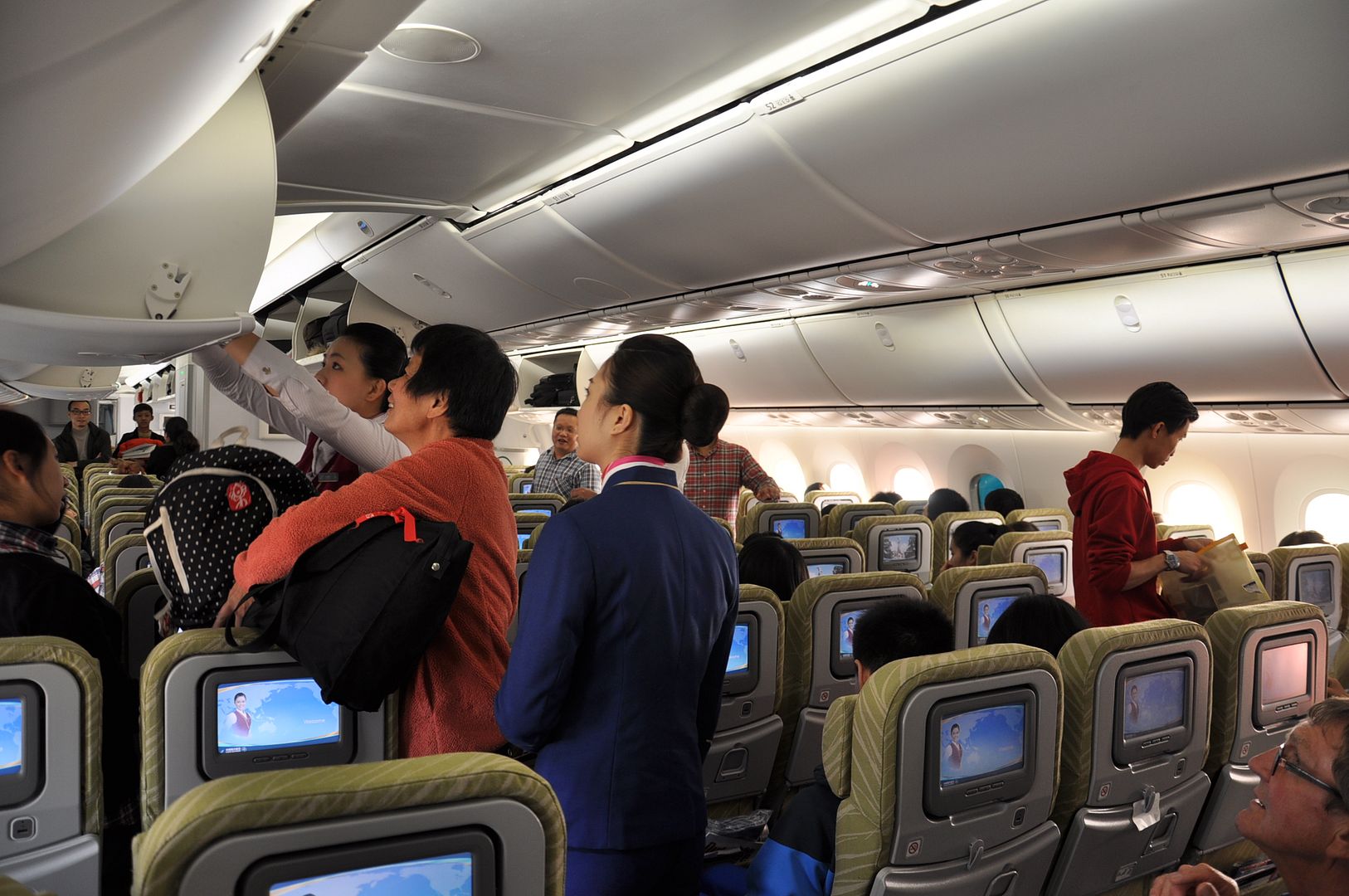 Our seat on the way back – 53 A – Last row on the 787
Can't get enough of this.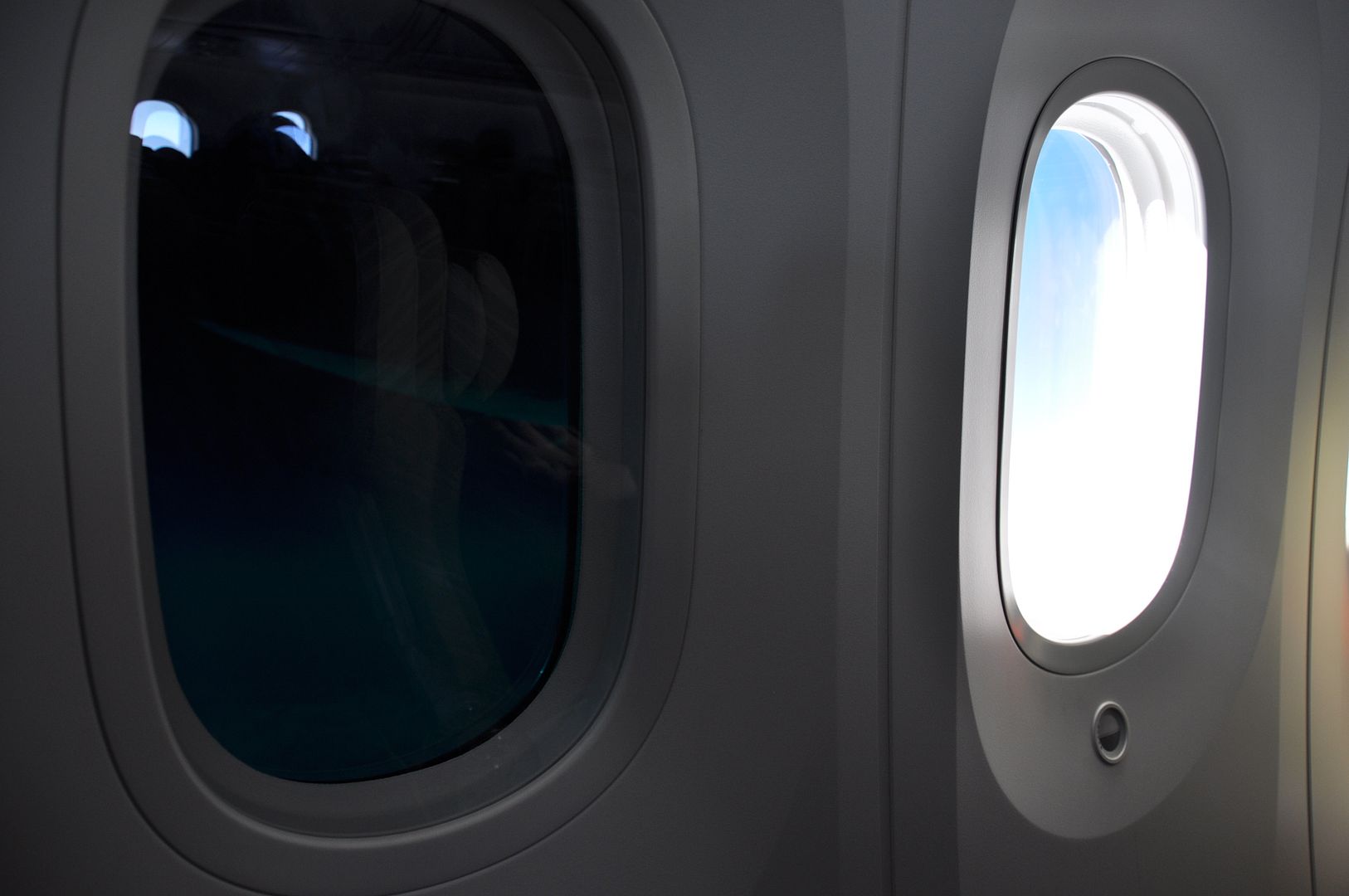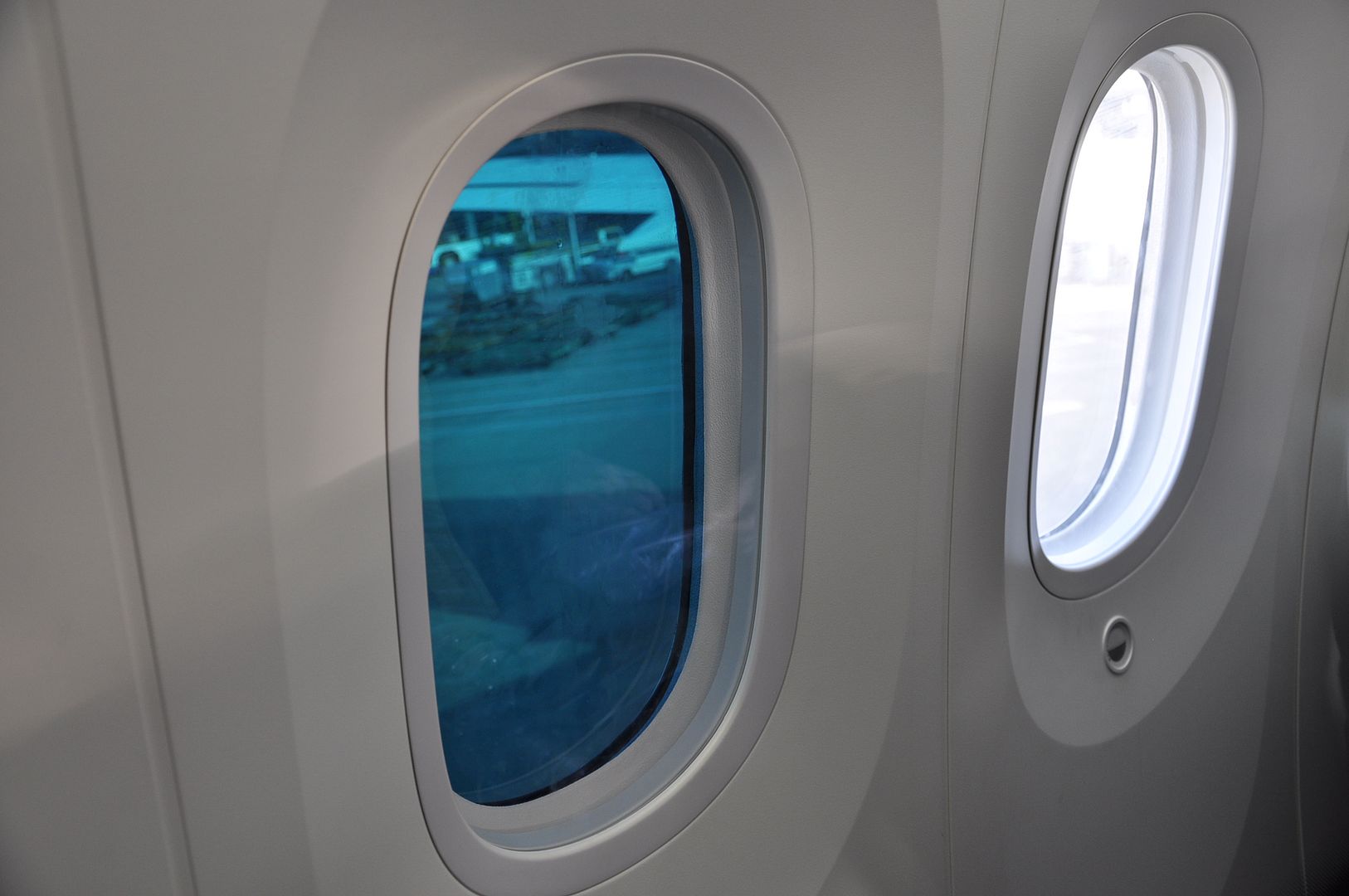 Recline? More like a dent in the seat.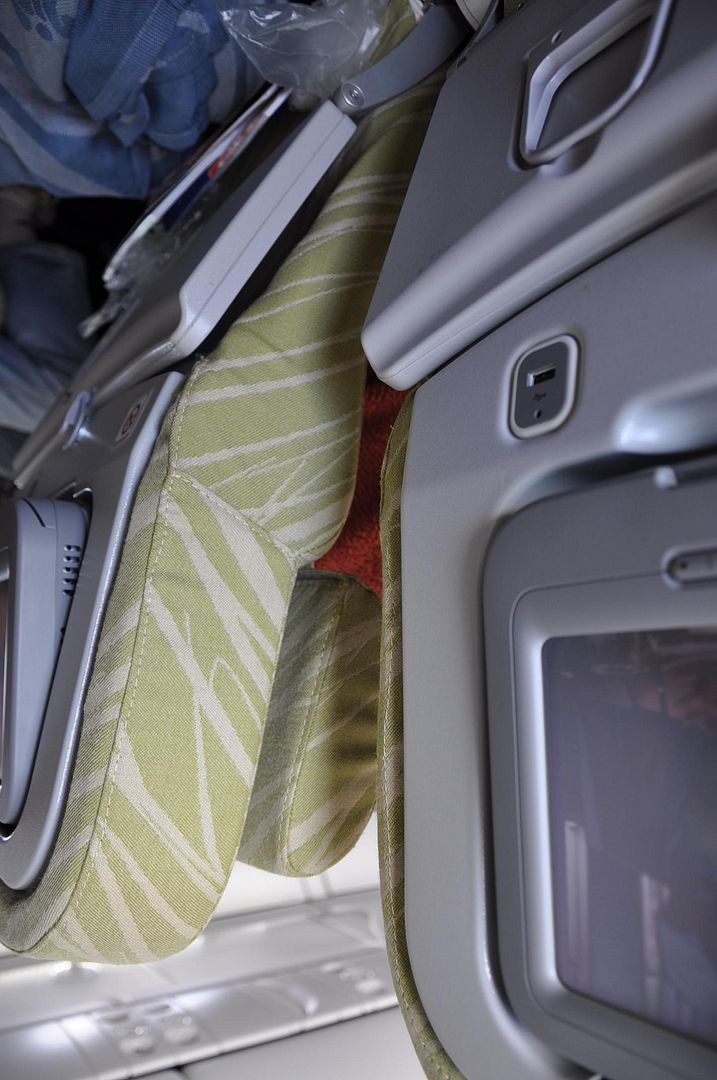 Like the
Top