Garuda-Style Domestic : CGK-SUB-CGK GA330/GA327
Posted: Wed Feb 12, 2014 4:08 pm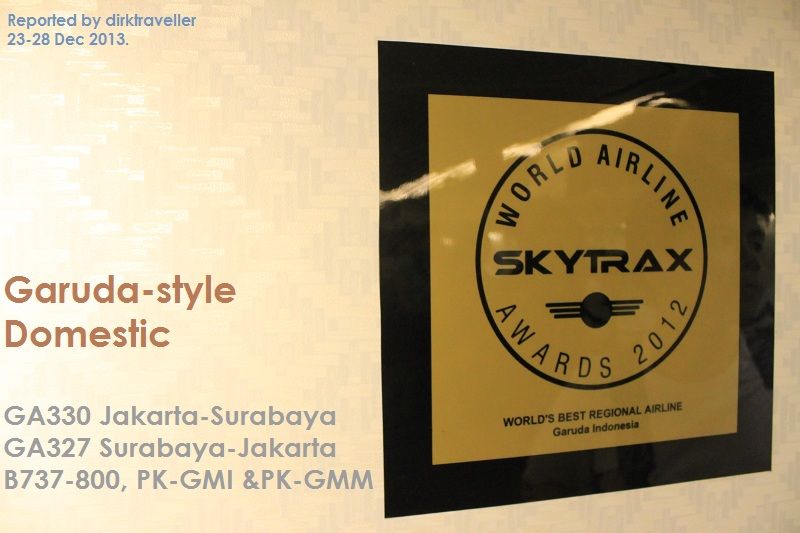 Hello everyone!
Welcome to another trip report of mine. Around two weeks before christmas last year, my family suddenly decided that we could be away from Jakarta during the Christmas break. So, as the man looking looking for possible destinations within the budget for this last-minute getaway, I began to look for airfares to Singapore, which was our initial preference. But flying CGK-SIN during the Christmas week end up cost us a lot, even if we were flying on LCC.
Then, when I was looking at Garuda's website I noticed they have a last-minute sale fares for domestic flights. Sale fares to Surabaya were within our budget, with the only 'catch' being the sale fares only available on the night flights only. Since we have relatives over there, seems we have found our destination to spend during the christmas break.
Since Garuda is being covered quite well in this forum, I was not planning on documenting this flight. But then I changed my mind as there were some interesting changes and things that happened on the flight. So, I hope you would enjoy joining me exploring
Garuda-style Domestic
from Jakarta to Surabaya.
Outbound flight : Garuda GA330
FLIGHT DETAILS :
Garuda Indonesia, GA 330
Jakarta (CGK) - Surabaya (SUB)
B 737-8U3, PK-GMI
Delivered 19/04/2010, msn 30143
Seat Number 27H
ETD : 2150 (Actual around 2245)
ETA : 2325 (Actual around 2355)
Check-in
I arrived in CGK Domestic Terminal 2F around two hours before the flight. Being a holiday season the airport were extremely crowded. As part of the annual Operation Candlelight mentioned in the local media, security were indeed tightened with armed members of the police and defence forces patrolling the terminal on a frequent basis.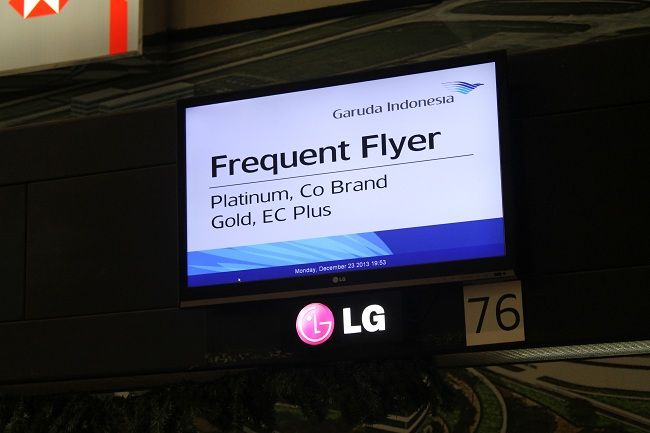 Check-in were crowded, but luckily there's designated Check-in area for frequent flyer members.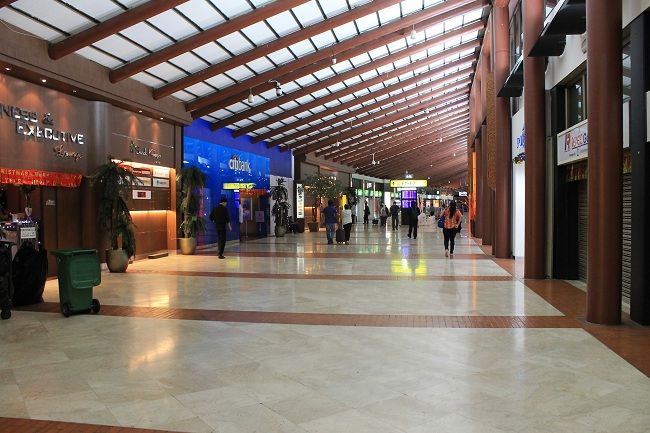 Post check-in area with a range of lounges (some can be accessed by paying a certain fee). I decided to look for dinner after check-in, but then I was left disappointed when I went to one of the local restaurant chain and being ignored after waiting for almost an hour.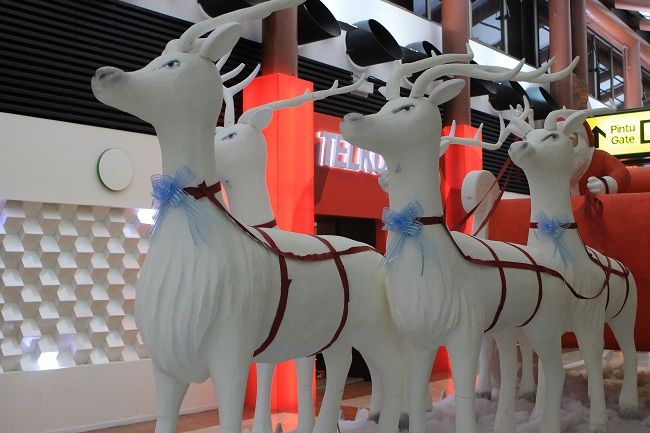 Some Christmas decoration in the terminal.
Thinking of a visit to the Garuda lounge, but then our membership wouldn't permit us all in this time.
Boarding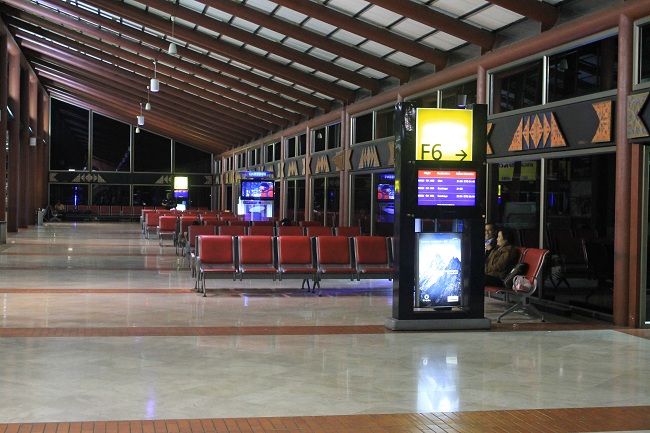 After a secondary security screening, I found myself in the gate area.
The gate were again, crowded as we shared our gate with a red-eye milk run flying CGK-DPS-DJJ-TIM.
Our boarding passes, noticed that after the upgrading of their booking system, strangely the Economy Class seating on the Garuda B738 starts from row 26..
Later on there was an announcement that our flight departure was delayed until around 2230hrs. The reason cited for the delay was its late arrival from PLM.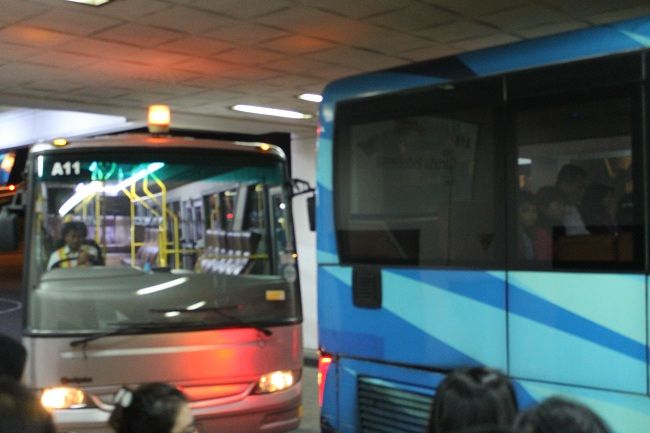 After waiting for around an hour, our flight was finally called for boarding. Despite the sticker posted on the boarding passes, this time they just let anyone flying Economy pass through, right after the J passengers and special assistance group boarded.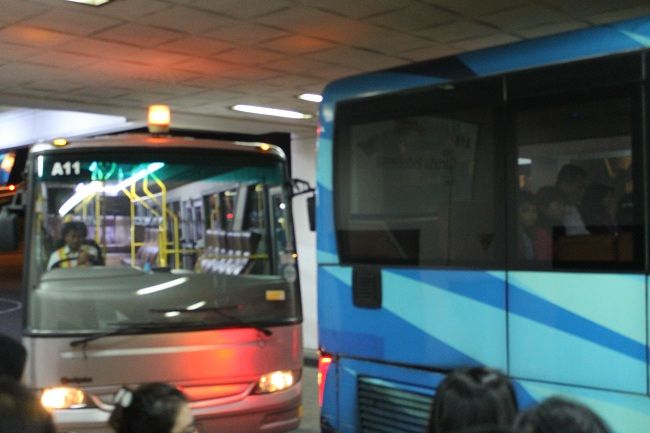 Apparently, our flight was parked at the remote stand (getting more commonplace after the airport is overcrowded). But well, not that I'm complaining for through stairs.
After a 10 minutes bus ride passing through other GA B738 and A332, we reached our assigned aircraft that night, 3.5 years old PK-GMI.
Two stairs were connected to the aircraft, and I boarded through the one connected to door L1. The In-flight supervisor and another GA flight-attendant in the green kebaya welcomed us aboard. Apparently he was really observant that I brought my camera in my hands.
" Good evening, Sir, Madam"
" Good evening to you too.."
" Didn't know we would be having a photographer in our flight!"
" Nah, I'm not a photographer, I'm still learning.."
(My mother jumped into the conversation)
" He actually like airplanes more (than photography), which is why he always carried the camera everytime we fly."
Learning that fact, the in-flight supervisor was a bit let down (not because I'm an enthusiast) but that there's not much things can be photographed in while we flew in the dark of night.
" I see, you guys should have taken the afternoon flight, the views outside are better"
" Haha, I've taken the afternoon flight before, and it was nice indeed.."
" Well, I hope you will enjoy the flight, and do let us know if there's anything we can help with."
That was one very great welcome, I was impressed.
Economy Class seating on GA B738. These seats were later occupied by other passengers.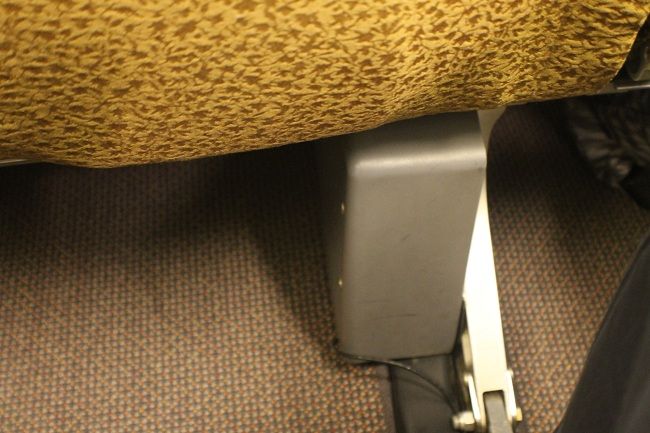 I was seated in the middle, the large IFE box on the middle seat wouldn't make sitting in the middle better!
As the doors were closed, the load were almost full in Y. There were some uniformed officers (assuming they are off duty) in our flight today. J class had a lighter load of less than 50 percent.
One of the pilots welcomed everyone aboard the flight through the PA and apologised for the delay, citing the same reason of late arrival from PLM. We were than off for a pushback, and followed with a short taxi to the runway, while the safety video was played (and ended with a GA signature welcome by the FAs in the aisle).
We took off around an hour behind the estimated departure, and the lights of Jakarta were able to be seen after take-off.
In-flight
View of the cabin on our short-flight
Right after the seatbelt signs were off, there was a PA announcing that a snack service would be commenced soon. Passengers are advised to use the lavatory within this first 15 minutes of the flight so that they would not be blocked by
meal carts on this rather short flight.
Lavatory looks clean and maintained.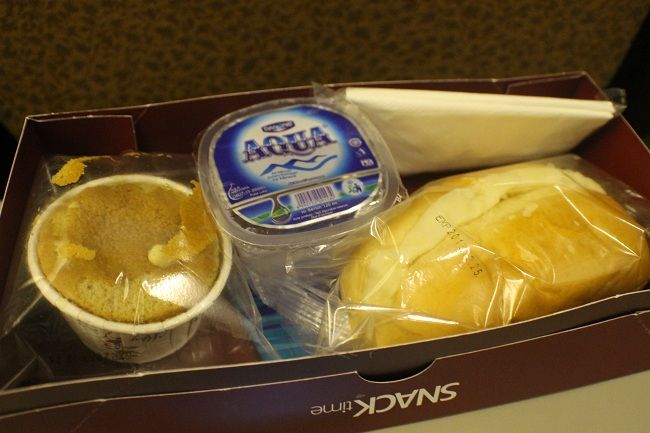 Snack boxes containing a bread, custard cake, and a mini cup-water was distributed.
The snack service also come with a choice of drink, which orange juice was my choice.
The in-flight entertainment activated on full-swing, even on this short 1 hour hop.
Headsets for everyone in Economy!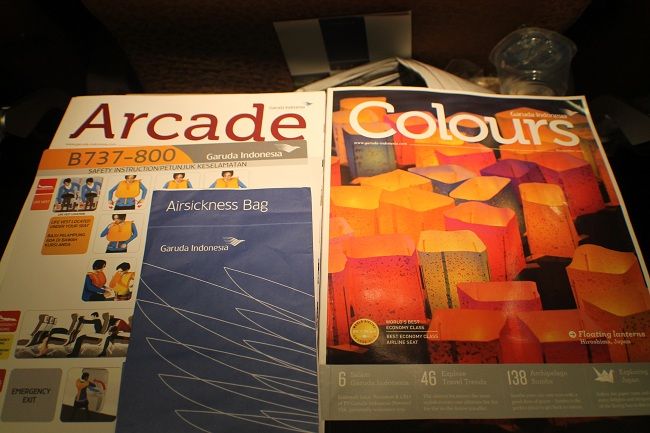 Seat-pocket contents : "Colours" in-flight magazine, "Arcade" duty free guide, safety card, and nice looking Airsickness bag.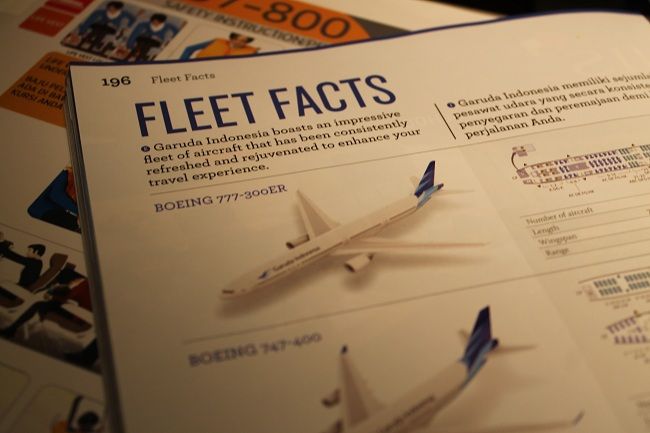 Seems the B77W have been included in the "Colours" Magazine fleet list. Looks like a great addition to the fleet.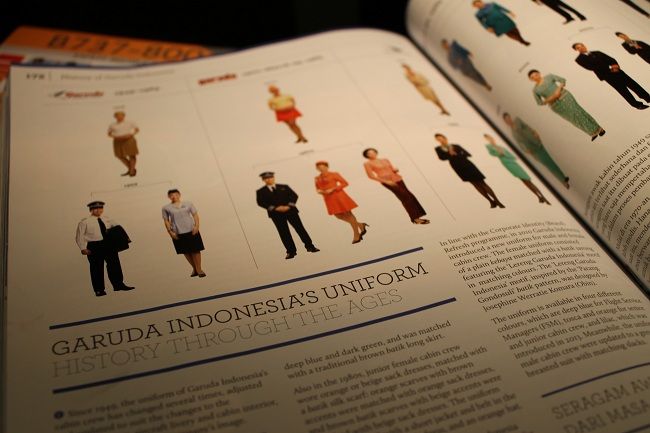 Or how about a history of GA crew uniforms featured on the same magazine??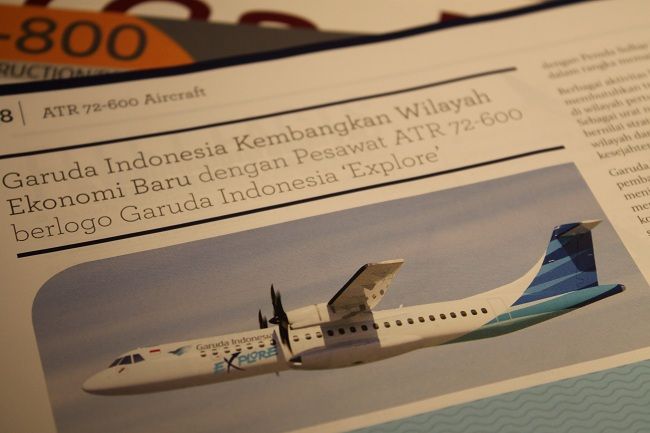 And did you know, that GA is building is own regional arm called "Explore"? The fleet of CRJ 1000s and ATR72-600s is set to join the fleet of this subsidiary serving regional parts of Indonesia.
Landing into Surabaya
Not long after the snack service was completed, there was a PA announcing the start of our descent into Surabaya, expecting everyone to prepare for landing.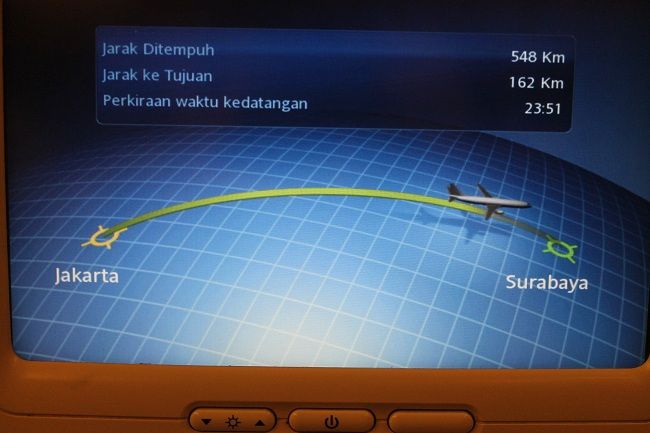 As short as it was estimated, our rather smooth flight soon coming to an end.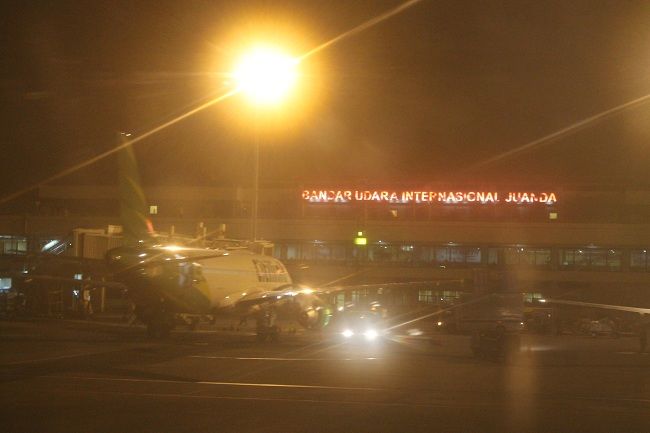 We landed in SUB a little less than five minutes before midnight, which was around 35 minutes behind scheduled arrival time.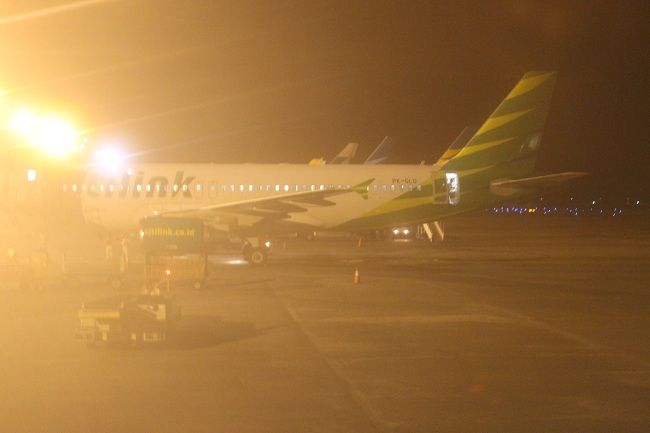 Parked beside a Citilink A320, PK-GLG.
After we reached our parking position, passengers began to stand up and prepare for disembarkation. Our turn came soon enough thanks to a light load in J class.
Passengers disembarking the aircraft. We were one of the last few to leave the aircraft.
Somebody is indeed really proud of their achievement, and GA is the first one I've ever seen putting a miniature of their award on their fleet, a unique touch I should say.
As I was making my way towards door L1, the In-flight supervisor asked me if I would like a visit to the flight deck.
" Sir, would you be interested for a visit to the cockpit?"
" Well, sure, if the pilots are fine with it.."
" Of course, I've asked them earlier and they are expecting you."
" Thank you!"
The in-flight supervisor then opened the flight deck door for me, and advised the crew of me coming in.
" Captain, your guest is here.."
I thanked again for the opportunity, and had a good conversation with the crew. The captain had flew different types of aircraft in the fleet since he started flying for Garuda 37 years ago. My flight was the third, and last leg for the day. They
would be flying another three legs on the next day after spending a night's layover in SUB.
The flight deck, with all the instrument lights still remained switched on for a nice picture. Thanks to both flight crew.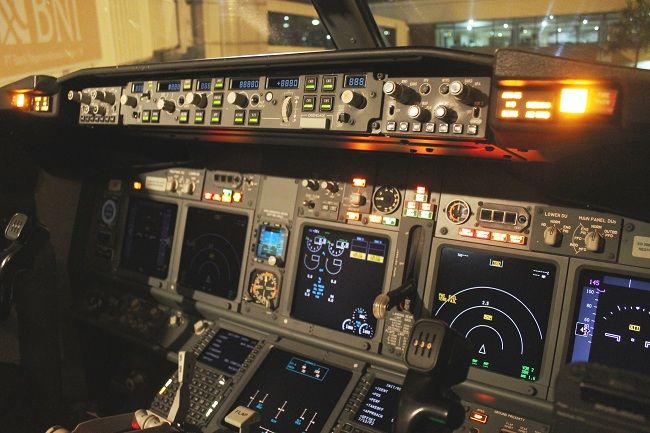 Closer look at the instruments of this "Next generation" B737 series.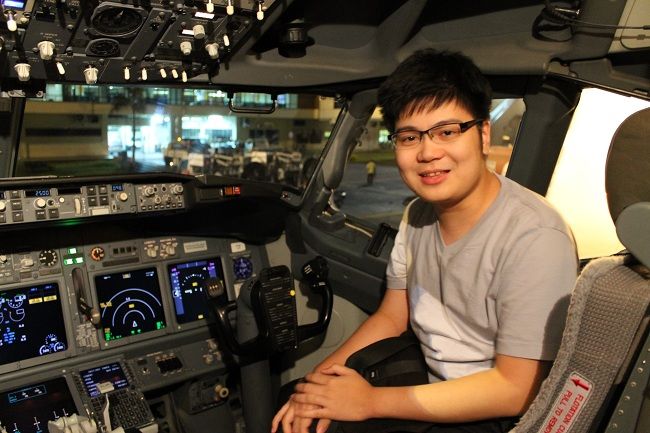 Thanks very much to the F/O who offered to take a picture of me on his side of the cockpit.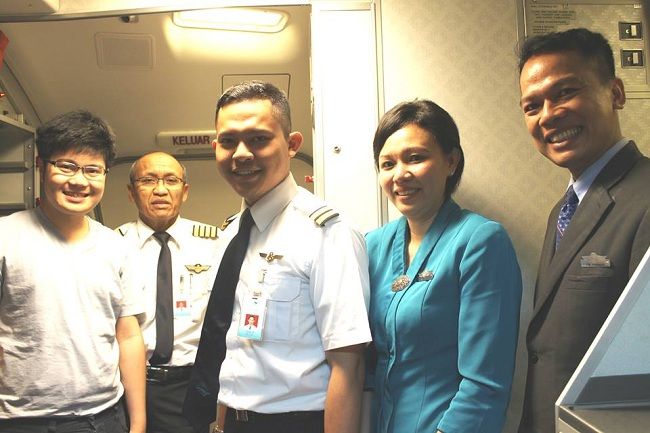 One last picture with the crew before I left the aircraft. Once again I thank them for their time to show me the flight deck, even though its their last flight and it was almost midnight.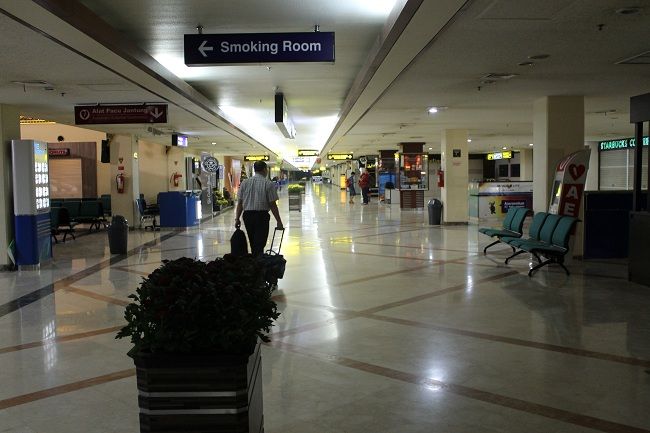 SUB Terminal was like a closed shopping centre with all of the shops closed, and with most electrical items like lights and air-conditioning facilities switched off.
Baggage claim area with most bags collected, as we were the last passenger to show up and take our luggage.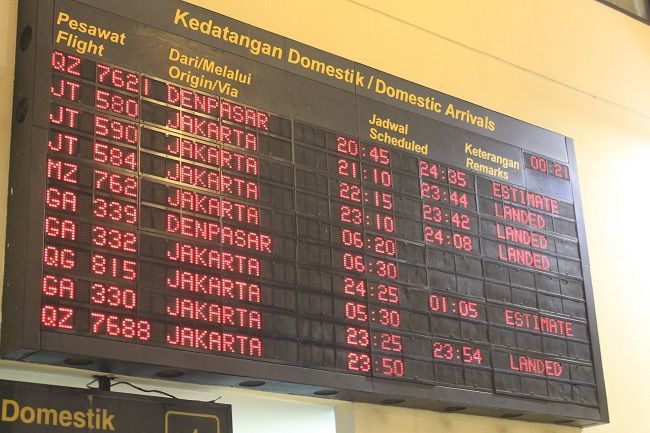 FIDS at SUB's Arrival hall, with our flight being the last GA flight to arrive that night.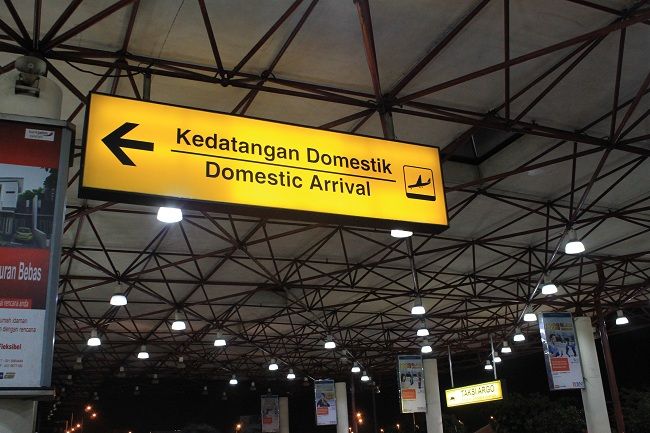 We found ourselves a taxi and head to the city, where the staff were very friendly on welcoming us to their hometown.
Sparkling Surabaya!
Some pictures throughout my five-days stay in the city of Surabaya. Being one of the largest city in Indonesia, I found it much cleaner and organised compared to other places in the country. Not to mention the locals that are friendly and more than willing to help. Thanks to my uncle, we did spend our time in the city that is dubbed as the "City of Heroes" really well, before returning to Jakarta.
A street in-front of the city's Submarine monument.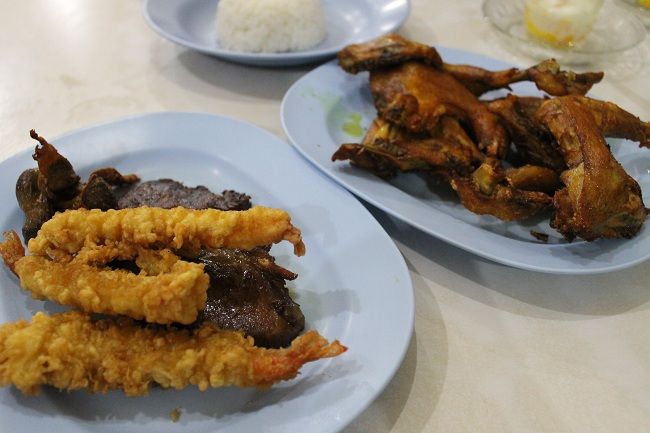 How about some of the local street food, anyone?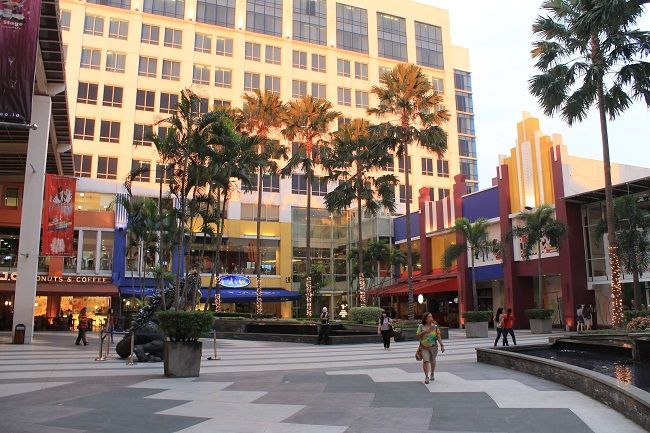 The Surabaya Town Square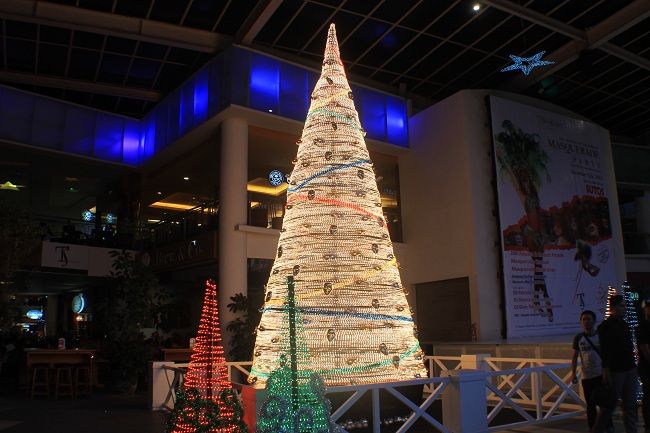 Merry christmas everyone!
Supposedly an old cinema in the heart of the city.
The Surabaya city hall.
A visit to the House of Sampoerna museum, which describes the emerging of one of the largest' cigarette producer in the country, till this day.
One of the 1972 Rolls Royce parked outside the Museum.
A nice view of the city from a roof-top cafe in the city's latest Shopping Centre, Ciputra World.
To be continued : Pictures from return flight, GA 327