**Dedicated to all those who lost their lives in the Tragic MH 370 crash. Heartfelt condolences to family and loved ones. Hope they find the strength and courage to take them through these tough times. God be with them**
Background
Background for this trip is a strange one. My wife and I had plans of an Aussie/New Zealand trip but had no idea when. One fine Thursday morning, I was having a bowl of cereals and thinking about just randomly checking for tickets in March and what did I find – a LHR-SYD-AKL-LHR return for £650.! That can't be true, can it? Yes it was. By Saturday after convincing my wife this was a good idea, the ticket was booked – a total of £660 including £10 American express card charges – China Southern via CAN, through eBookers
Booking Process
The sector booked via ebookers was LHR-CAN-SYD and return from AKL-CAN-LHR. Whilst booking I also entered my Air France Flying blue membership number. When I received the email confirmation from ebookers, I noticed that seats had also been assigned. The designated aircrafts were A330 on 3 sectors and an A380 on the CAN-SYD sector. I thought I would try and 'manage my booing' through China Southern's website directly. This is when I realised, for an aspiring airline like China southern they have one of the worst, user un-friendly website. I basically could do nothing via 'the manage my booking' session, not even log into my booking.
I finally gave up and called the 24X7 international number, based in Shanghai. The Call centre representative was barely able to speak English, but she was able to give me all the details I needed. Firstly, I was told that, to check my booking online, the name had to be in the SurnameFirstnameMr format (I should know that!). At least the ticket was a confirmed one.
Next surprise, a rather good one was that, the LHR-CAN, AKL-CAN and CAN-LHR sector were all going to be on the B787 rather than the A330! So was really excited about that prospect. Looks like China Southern is banking heavily on the Canton Route and sending in their heavies on this route – B787 and A380
Next with regards to seat, she was able to give me my seat numbers, that were automatically assigned, first row seats of economy. I tried looking at the seat map on china Southern website, whilst speaking to her, but was unable to find their B787 seat map, so agreed on 39 A and B which were first row economy seats. For their A380, from the website, I realised that they had economy seating on the upper deck, so quickly grabbed a couple of seats on the upper deck (1 window and an aisle seat) 74 A and C. So far quite happy with the seat selection, but time will tell.
Following on through my roller coaster ride of emotions with China southern (price – Happy, manage my booking – disappointed, seats and aircrafts choice – happy) I got to know that my Air France Flying blue member id has not been recorded (in spite of being part of Sky team) and also got to know that I WILL NOT be able to check in online 24 hours before, as it is currently only available for Chinese residents with a valid Chinese phone number (Maybe some Chinese rule that I am unaware of; Disappointed). So Off to the airport 3 hours in advance in the hope that all goes well.
All in all a mixed bag of emotions during the booking process, after all not much I can complain when the nearest option was via emirates which was £250 dearer, but off course with much better websites, booking process, flexibility, guarantee of a decent flight and the confidence that missing one flight, there will be another EK flight just round the corner! There is a long way for China southern to go, in order to compete with the likes of the big 3 ME and the old legacy EU carriers, or even the South East Asian Carriers, in terms of their website, which is the first point of contact for anyone trying to book a ticket online. As stated in my previous report (
China - The Low Cost Way - Spring Airlines - SJW-CTU
) if a LCC like Spring Airlines of China can have a more than decent website, I cannot fathom why CZ cannot. Over all booking experience a middle of the range 5/10
Casually checking China southern website, I noticed that the seat plan for their 787 had been uploaded on their website. However, there were no seat numbers attached in the picture!
I emailed the customer service and I promptly got a reply in an hour's time (very good..!) giving me details of the flight number and the associated seats. The representative gave me the live seat map for the flight showing that my seats 39A and B were actually in the middle of the first Economy section
The first row of economy on the 787 started form row 31. Upon enquiring (another few emails later) I inferred that all rows from 31-38, 42 (first row of the second section economy) and 52-53 (last 2 rows where the seat layout was 2-3-2) had been blocked off and only available on the day of the flight. And due to the irritating fact that I wont be able to check in online, my only hope was to see to it that there were no other influential people on board this aircraft and hope to get to the airport as early s possible to get the best possible seating. Fingers crossed.
My seating for the A380 had been retained – window and aisle seating on the upper Deck (74 A and C)
Sky Pearl – membership registration
I tried to get this done online, but apparently it is not possible for foreign nationals to do this. You need to have a local Chinese ID card and a local mobile number to get this done. Your only other alternative is to email Sky Pearl membership department with all the details and they will get back to you with the details. It involved around 20+ min of international call with to a Chinese call centre for me to get this resolved. It was done quite quickly, but the entire process is very convoluted and it is something, once again, which works against CZ and not in the right direction if they want to be perceived as a global airline.
GCMap for the entire trip
GCMaps for this section of the Trip Report:
China Southern CZ304: LHR - CAN
Flight Reg: B-2733 ; delivered July 2013
Boeing 787-8 DreamLiner
Seat 52A
Departure time 22:30 (Actual 22:20)
Arrival 18:30 (Actual 17:35)
07 March 2014
Price: GBP 660 per head for LHR – SYD, AKL – LHR return sector
Day of the flight - Check in
We arrived at the airport around 3 hours before departure. Upon reaching the check in counter, this time, we were not able to get the seats we desired (The last two rows of the 787 – 2-3-2 config). The check in agent gave us an excuse of weight balance. 150 out of 200 was the load factor in economy. Asked us to try at the boarding gate. Instead she gave us a windows seat and an aisle seat, predicting that nobody would opt for the single seat between us.
From here on it was a quick hop through security and airside within no time. An hour after wandering around the Duty free it was time to board.
FIDS at T4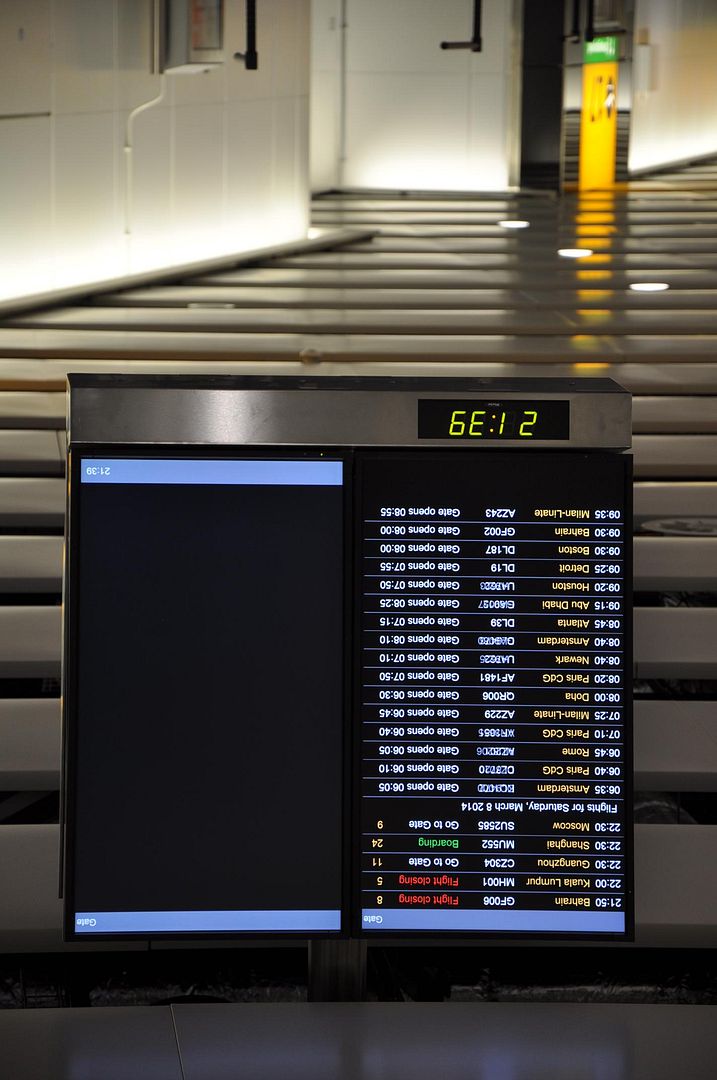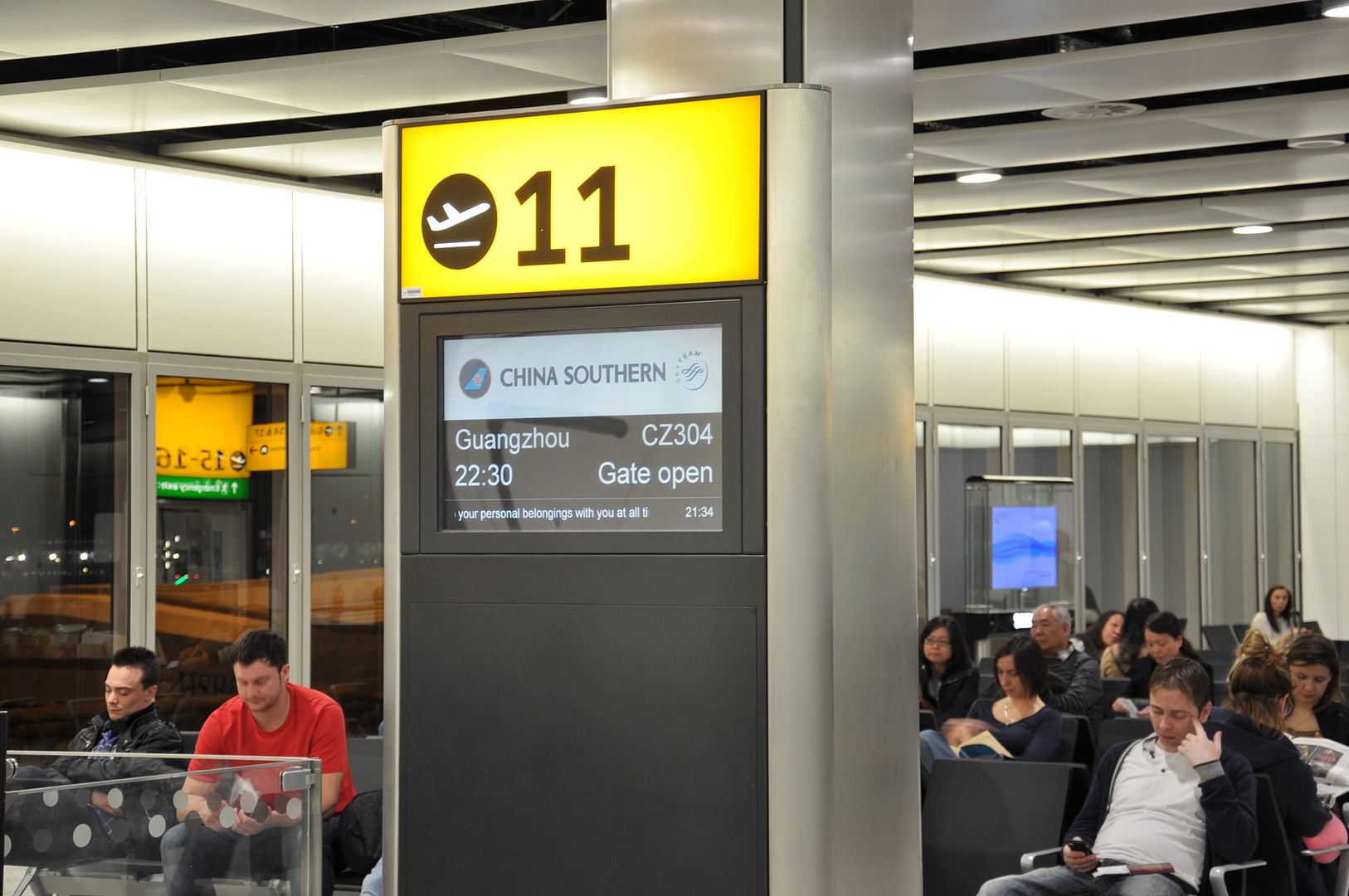 At the Boarding gates our seats were amended the seat to 53 A and C, thanks to the very helpful duty manager.
Boarding was quick. They were trying to be strict with hand luggage but it was proving to be more difficult than expected.
On board CZ DreamLiner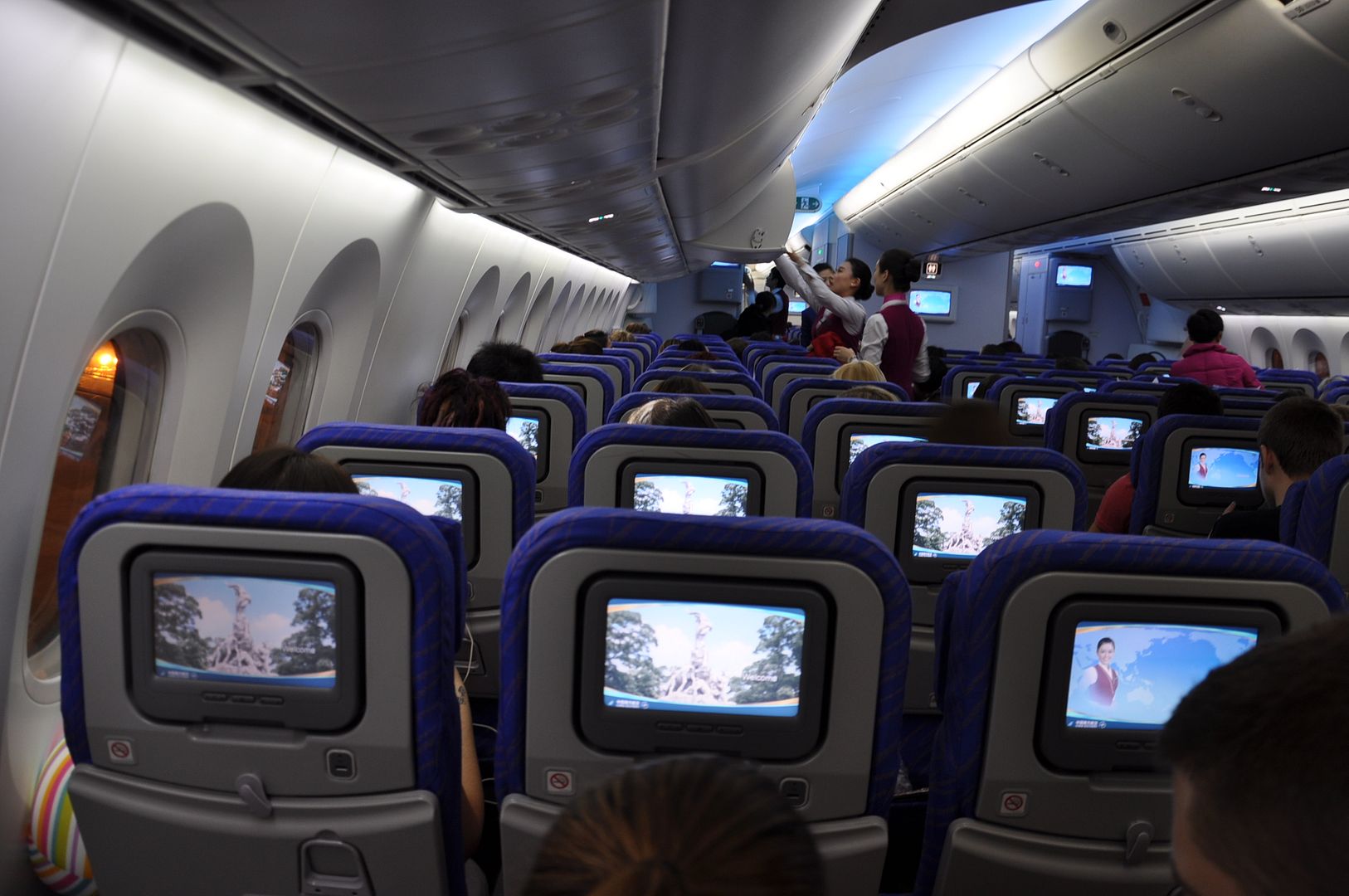 As always the aircraft was immaculate. Happy once again with our seat selection. Due to the number of excess hand luggage Allowed onboard, we had to keep our bag quite far away from us. The cabin crew noticed this and removed some of her items from above our seat to give us some space. Truly humbled by this gesture. Thank you.
Load was 0 in first. 6/24 in J and around 150-160 in Y. Once again rear heavy.
At check in we were told that exit row only for Chinese speaking passengers!! But on board saw a lot of foreign passengers in the exit row. Not sure what was going on there.
Take off was on time, just as my previous experience with China southern. Always been on Time.
Once again a silky smooth take off an into the London night skies.
The drinks and dinner round commenced with in 45 minutes of take off and was very efficient. Just like my previous experience, the Seat belt sign seemed to be in use appropriately, on this DreamLiner.
Dinner was chicken with mash potato or fish and rice. As normal, food tasted good but quantity was less.
Dinner onboard the DreamLiner – Chicken with Mash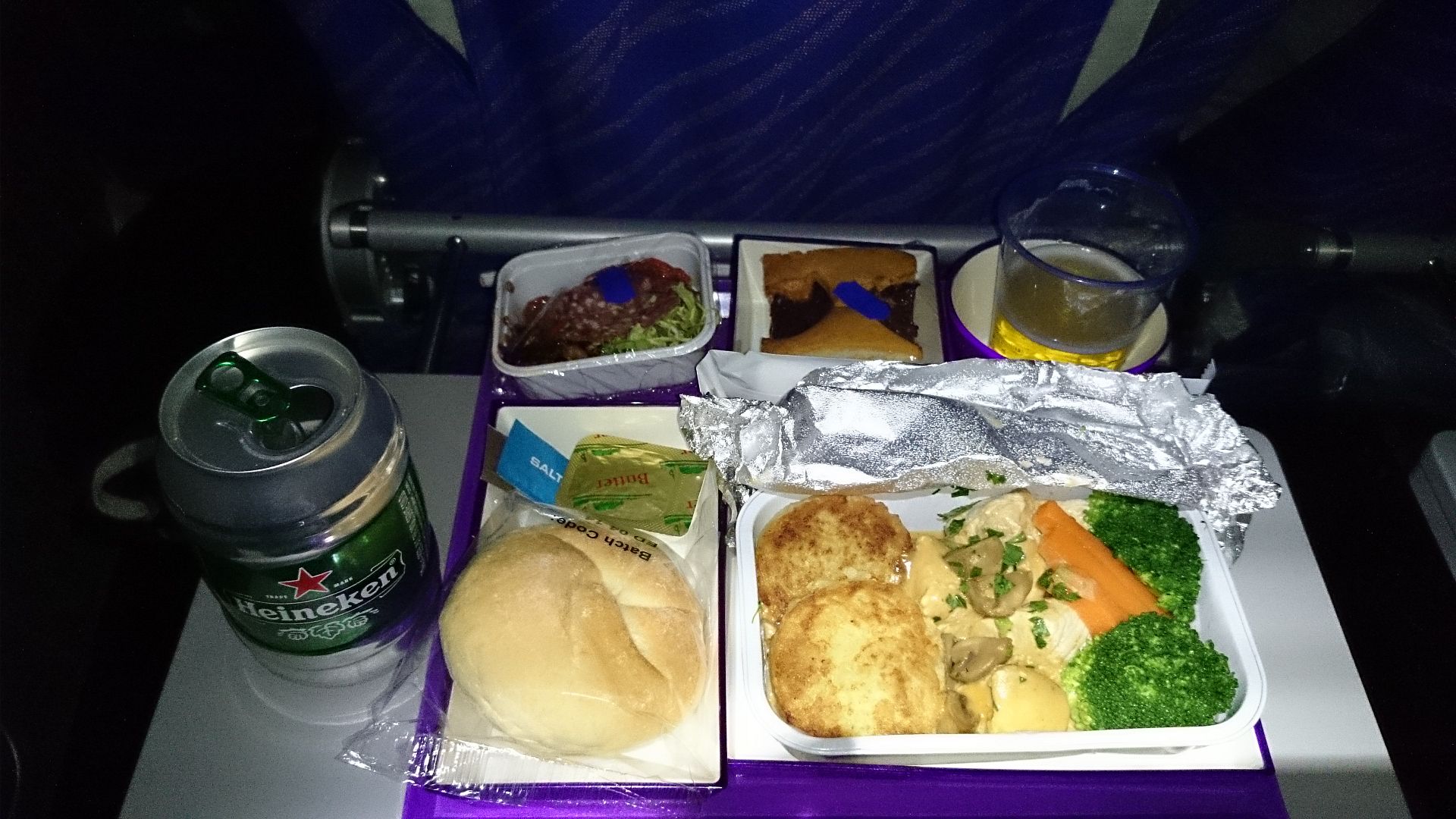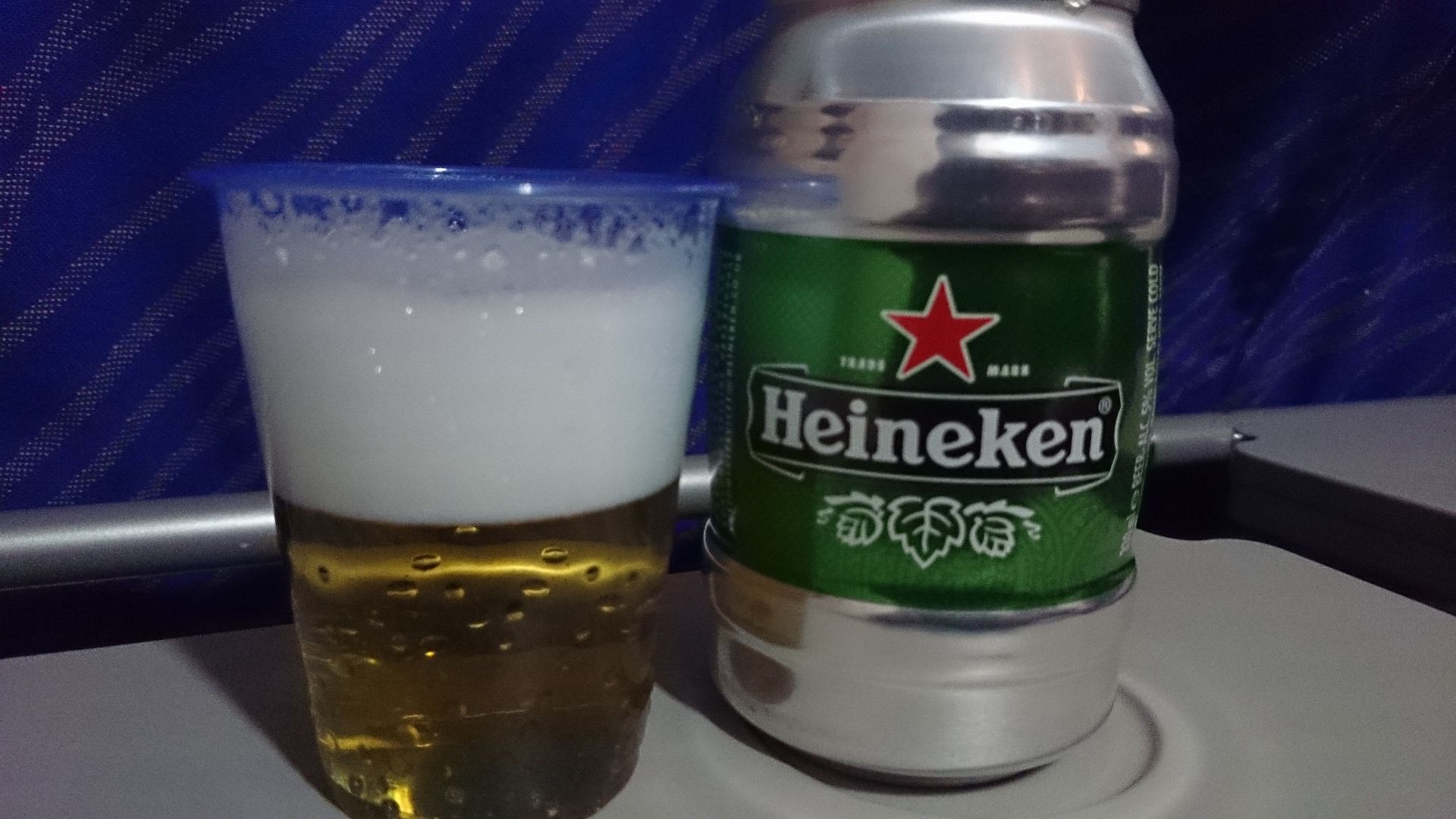 Water, juices, milk and sandwiches were served in the galley during the rest of the time of the fight.
Service seems to have improved since we were last on China southern. Cabin crew seem a lot more confident in their verbal English and the service was attentive through out the flight.
Once again a lot more foreigners than I had expected. Rest of the flight similar to my previous experience with China Southern DreamLiner (
DREAM(liner)ING Of Hainan - China Southern
). Uneventful in the nicest possible way. Didn't get to sleep much in this sector. Maybe due to the holiday excitement.
Enroute to Guangzhou
A couple of movies later and a few hours of kip, Breakfast round commenced some 2 hours before landing. Egg with bacon or Chicken noodles was the option for breakfast. Similar to the last flight during the Hainan trip.
Good choice of movies onboard any of the long haul CZ aircrafts – and almost all the time, the IFE worked flawlessly
A first for me - China Southern cabin crew engaged in a conversation with me! Very friendly and also had a chance to meet the captain. Gave them a very good feed back.
The Superb DreamLiner crew to Guangzhou onboard CZ304 – Thanks Team!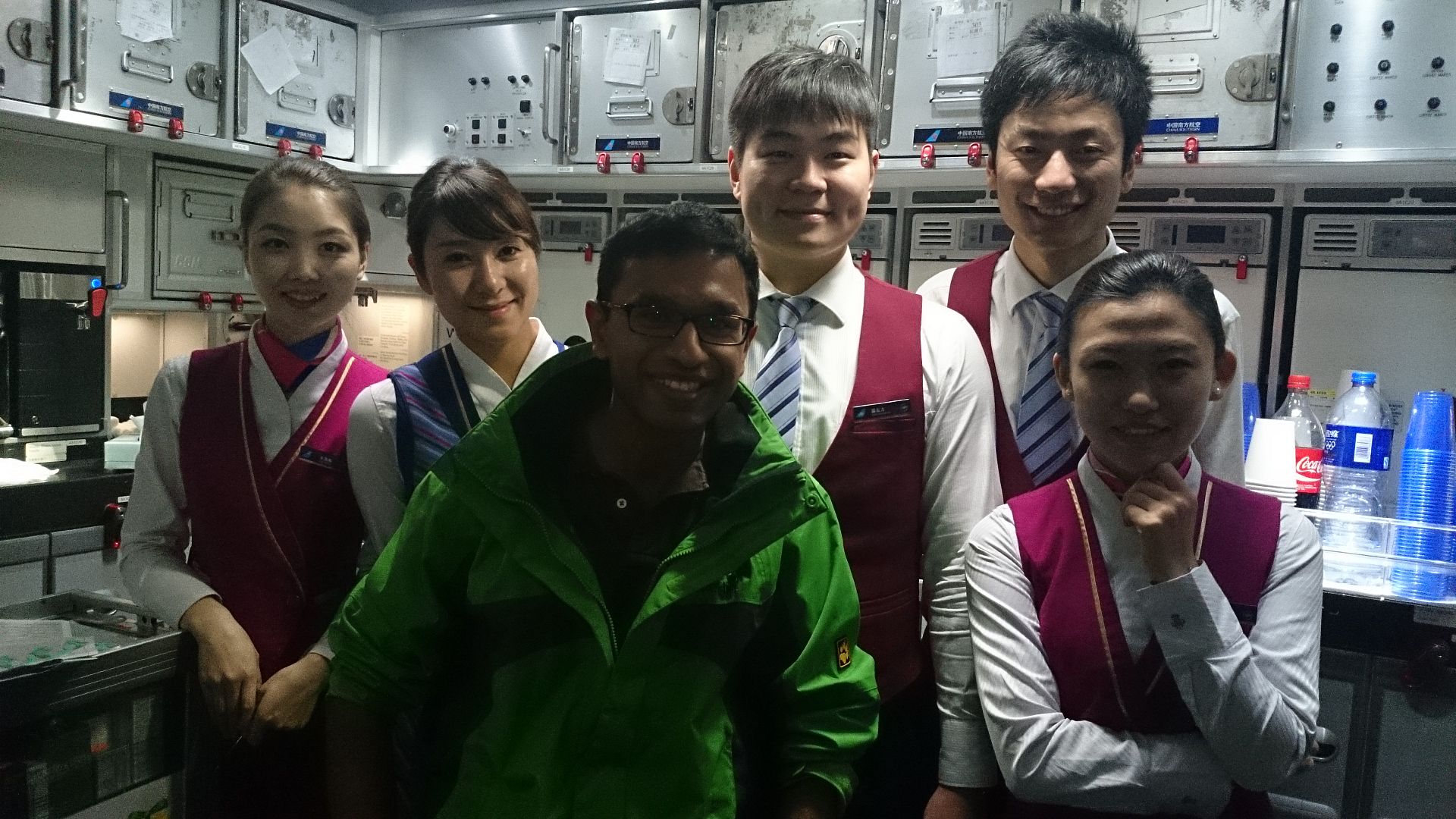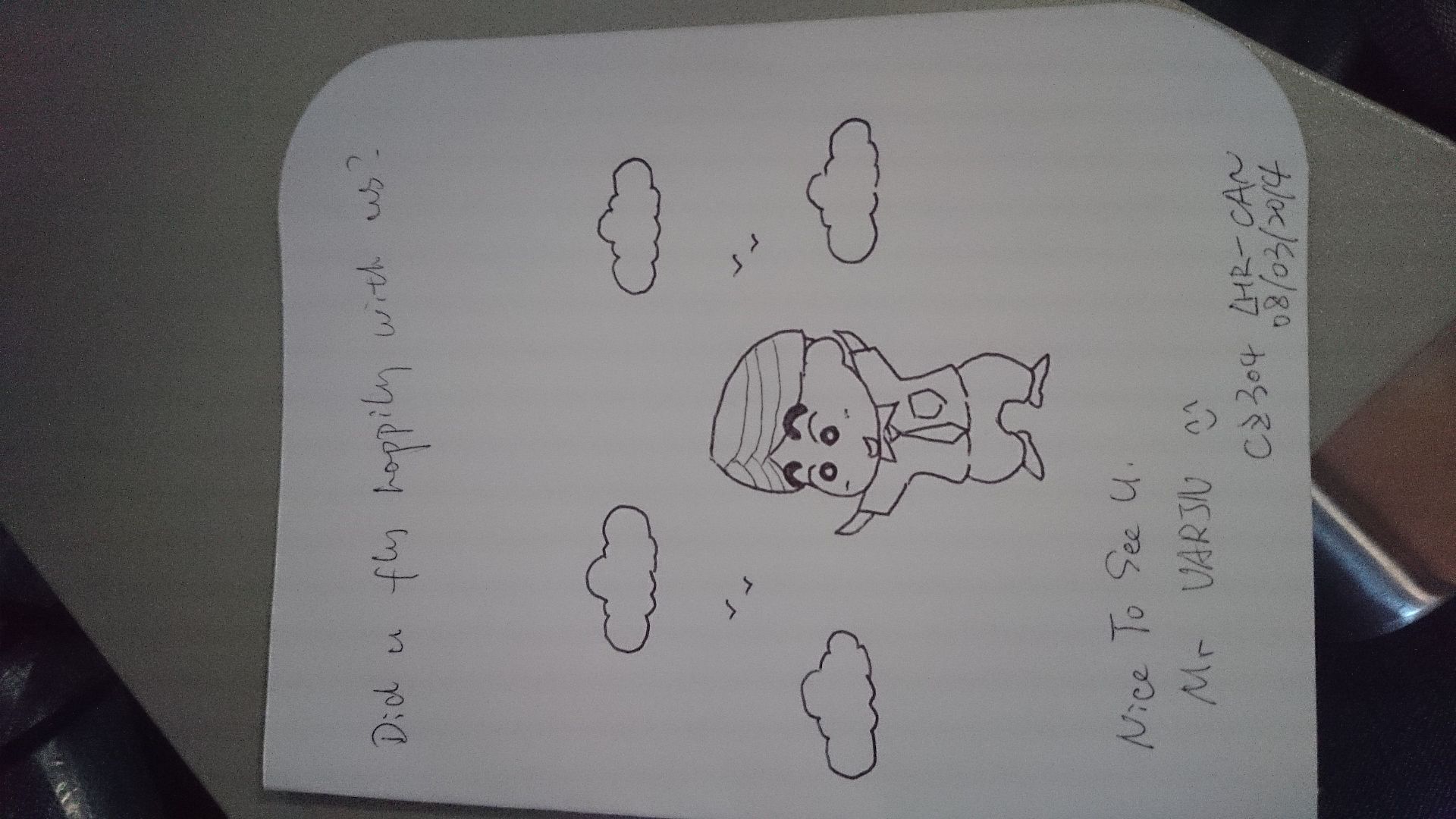 Wife slept for over 6 hours! Another first for her!
Overall this leg of the journey has been flawless! Even got a hand drawn card from the cabin crew.
Splendid!
Few complaints, no choice of alcohol except for beer and wines – Not a deal breaker, but probably a nice to have feature. More importantly, I thought, No announcements from the captain, although I did see one of the captain.
Landed nearly an hour before schedule. I have a feeling CZ tend to over estimate its block time, perhaps in a way a way to mitigate delays. In any case, it seems to work well.
We had a 3 and a half layover at CAN before our next long haul on the CZ A332 to SYD. Transit at Guangzhou is boring and expensive. Better to be prepared with some snacks.
The magnificent aircraft that bought us to CAN – B2733 – one of the first DreamLiner delivered to CZ – July 2013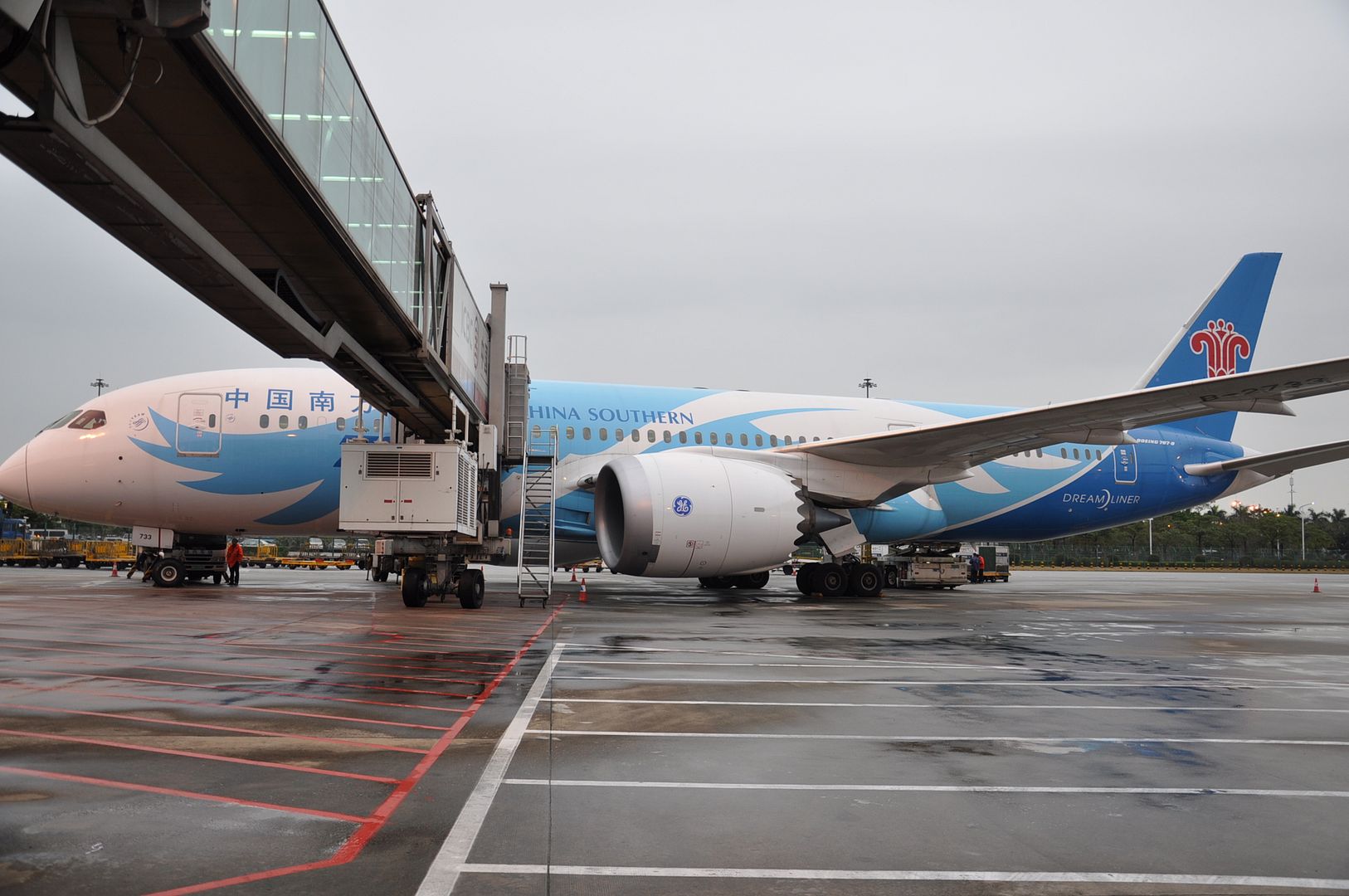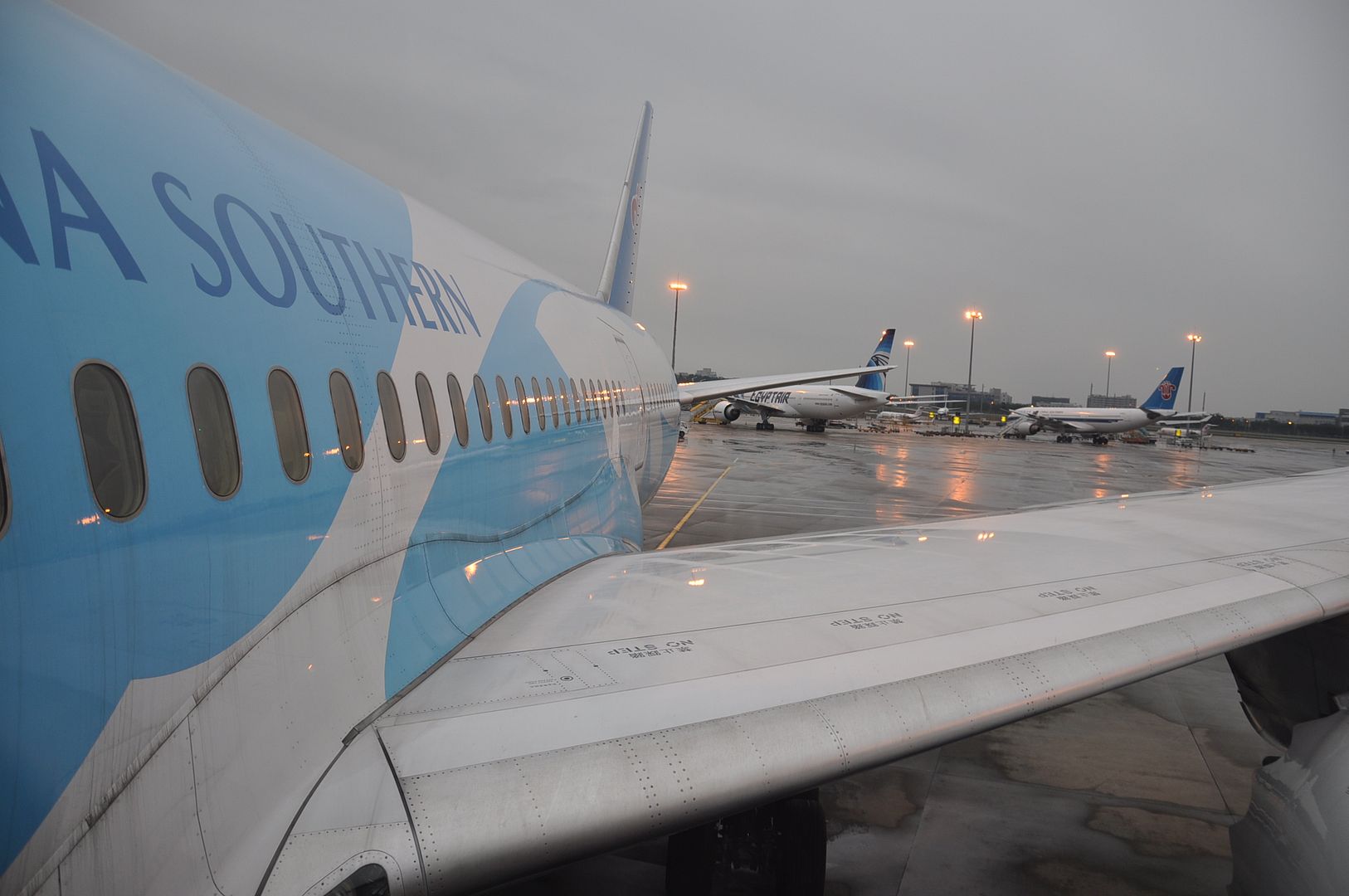 Plane spotting at CAN
CZ 787 – B2736 (delivered Oct 2013)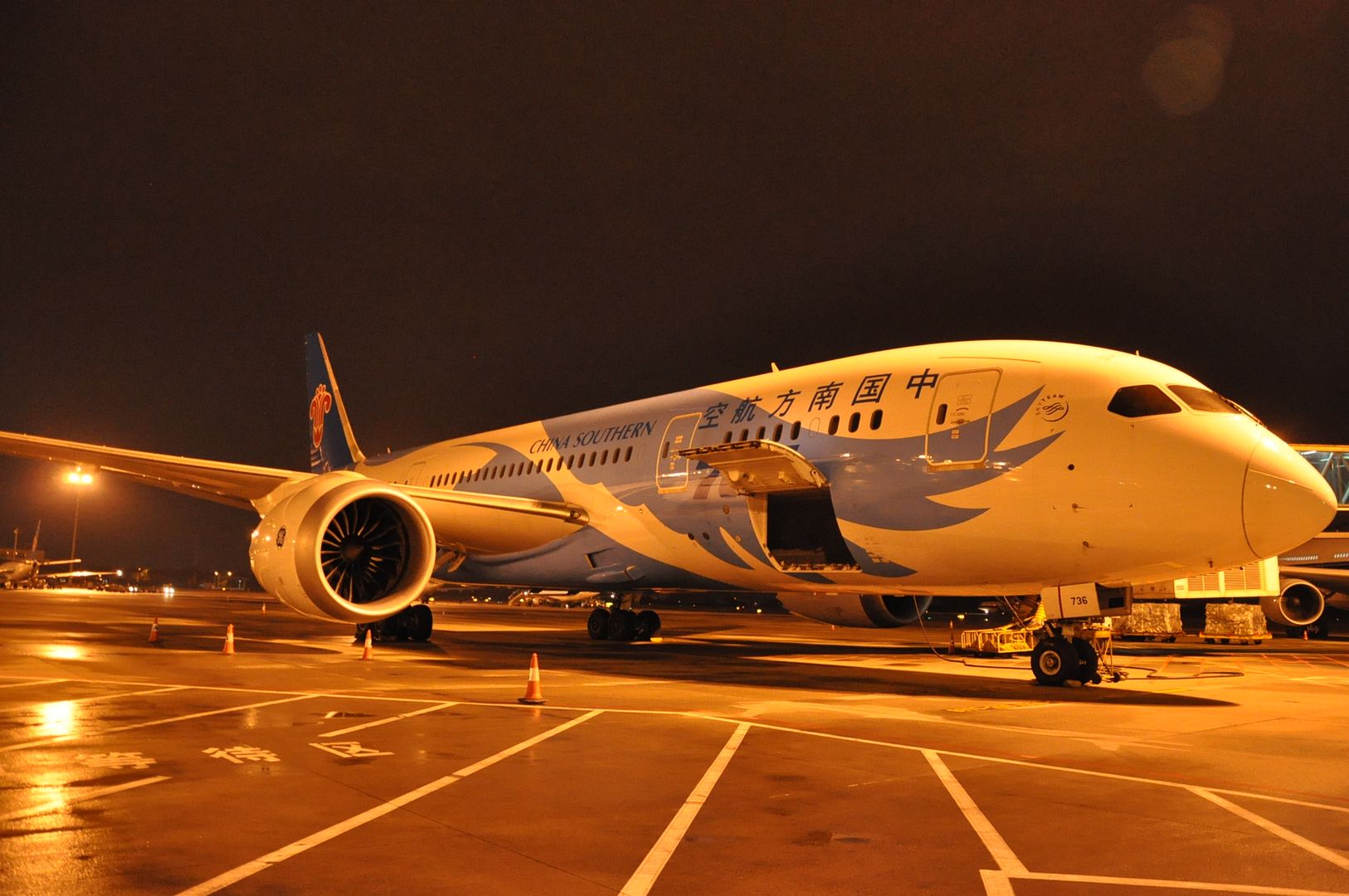 Air France B772 – F-GSPP (Delivered to Air France on Feb 2001)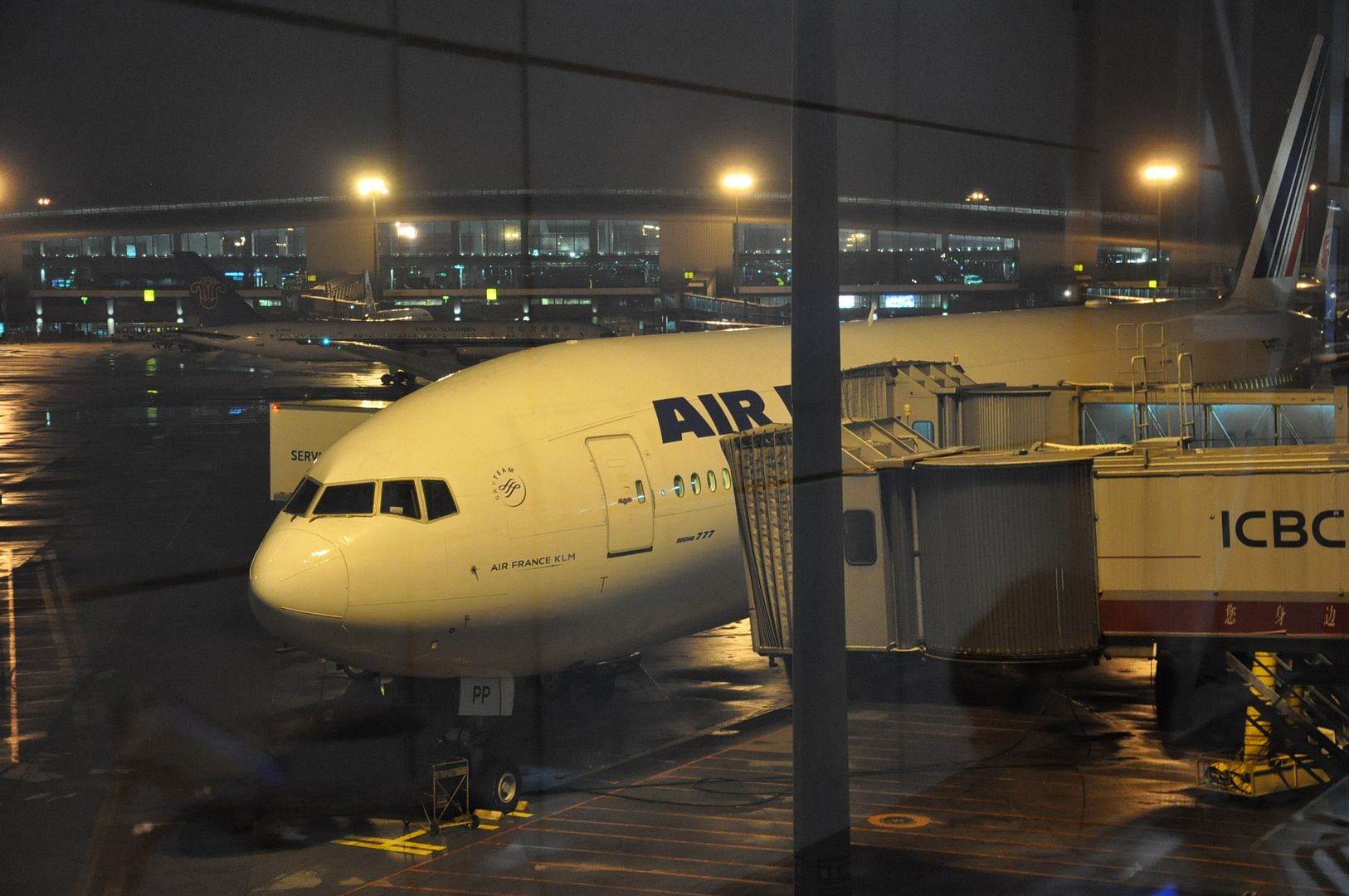 CZ Whale Jet – Jetting off to LAX
FIDS at CZ Central - CAN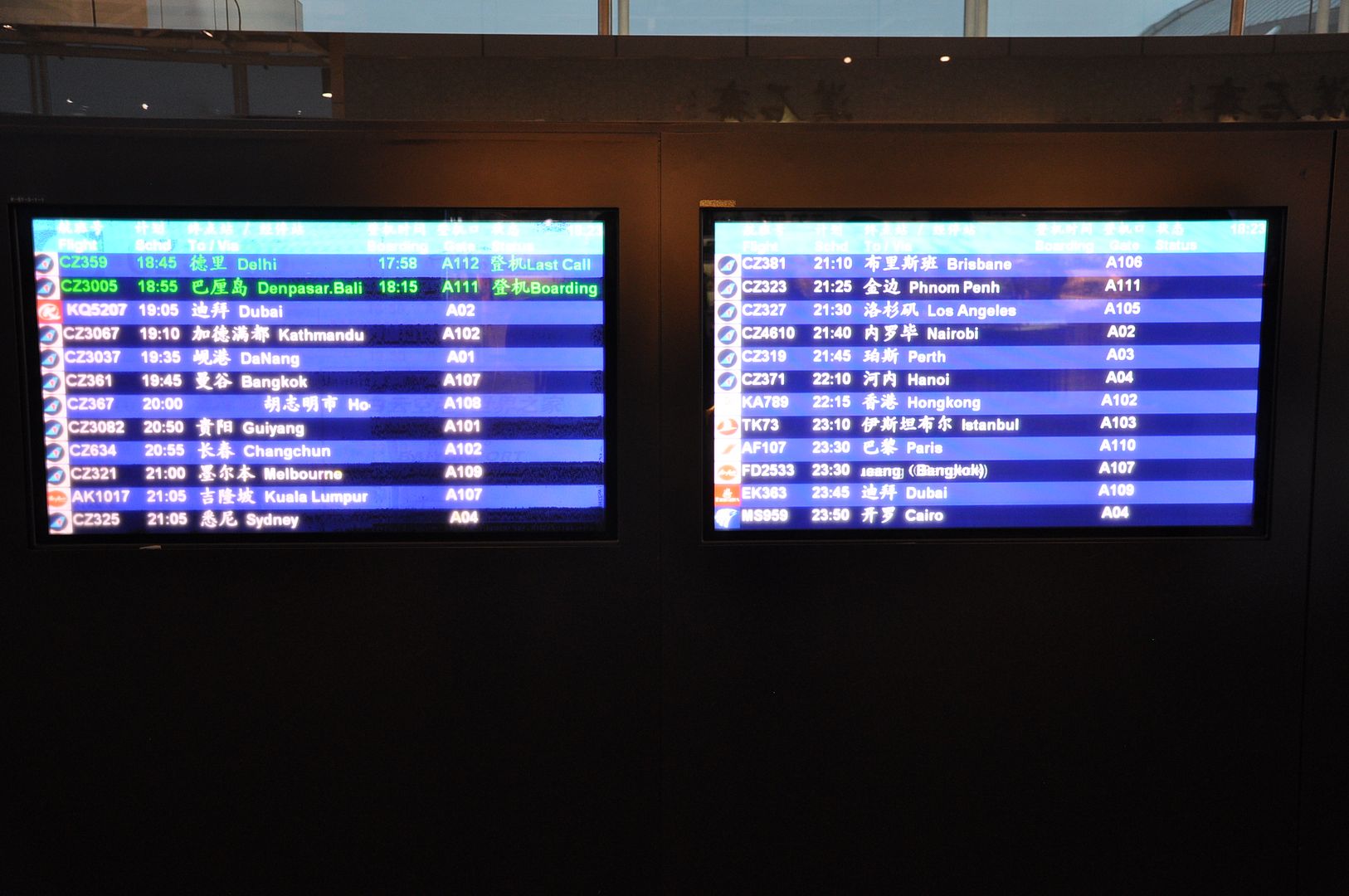 12 hours done, 9 more to go
China Southern CZ325: CAN - SYD
Flight Reg: B-6516 ; delivered June 2010
Airbus A-330-223
Seat 44K
Departure time 21:05 (Actual 21:07)
Arrival 09:05 (Actual 09:20)
08 March 2014
Price: GBP 660 per head for LHR – SYD, AKL – LHR return sector
As soon as we landed at CAN, we had heard the news of the Missing plane, but no further news.
Boarding was on time and bussed. Got some good views of the aircrafts on the tarmac.
Just before boarding at CAN to SYD
Our ride to SYD – CZ A330-200 – B6516 (delivered to China Southern on June 2010)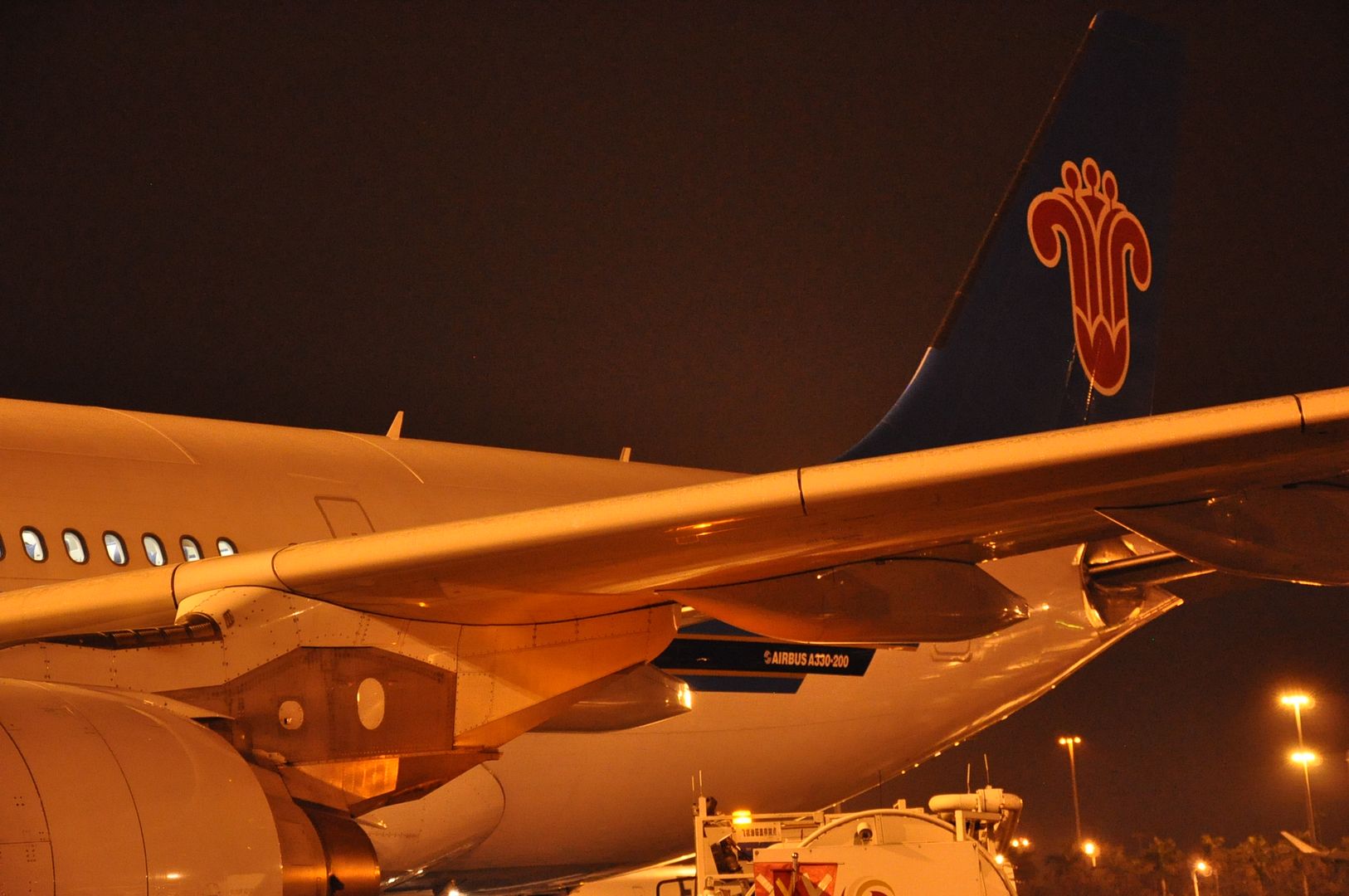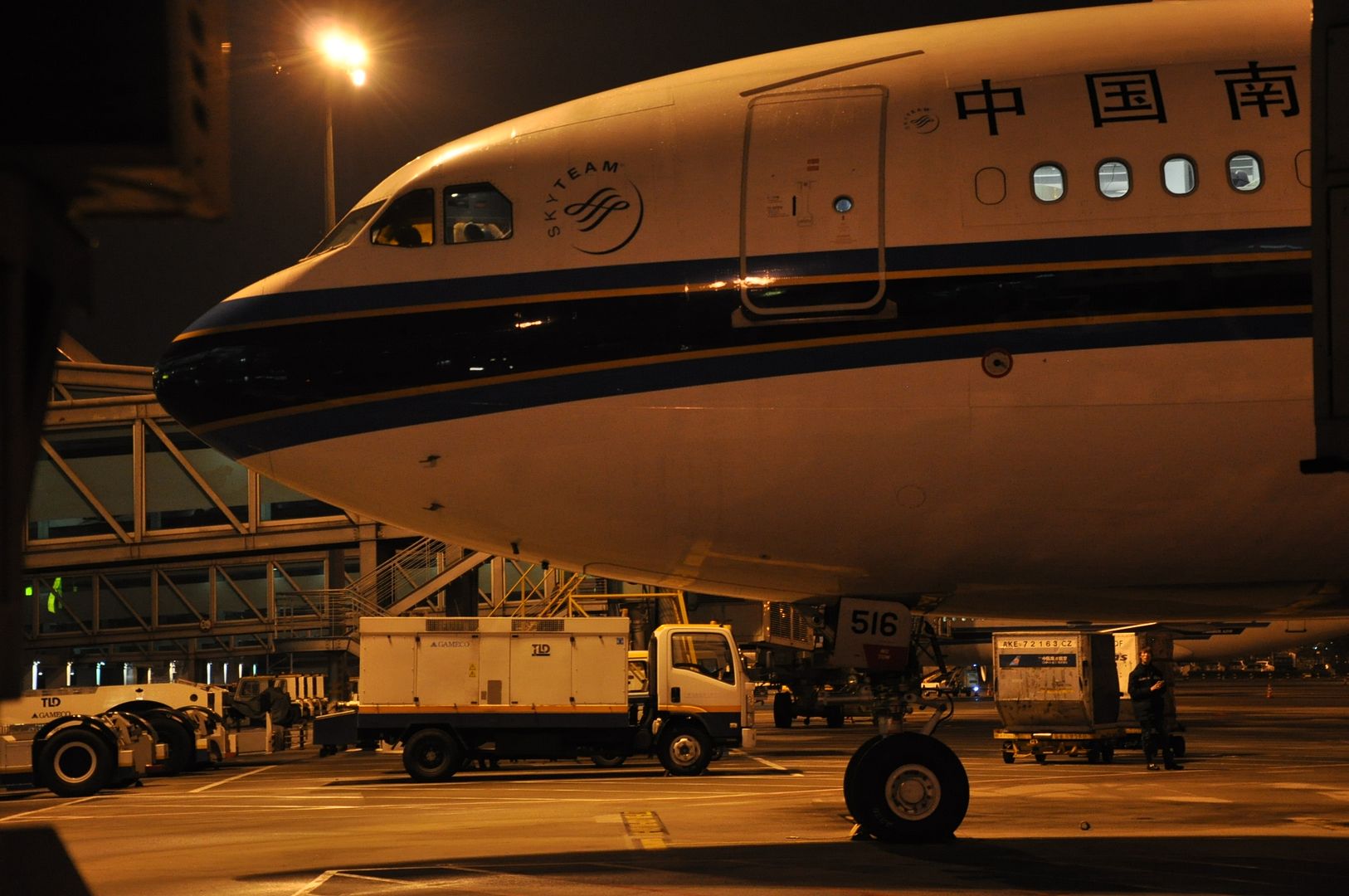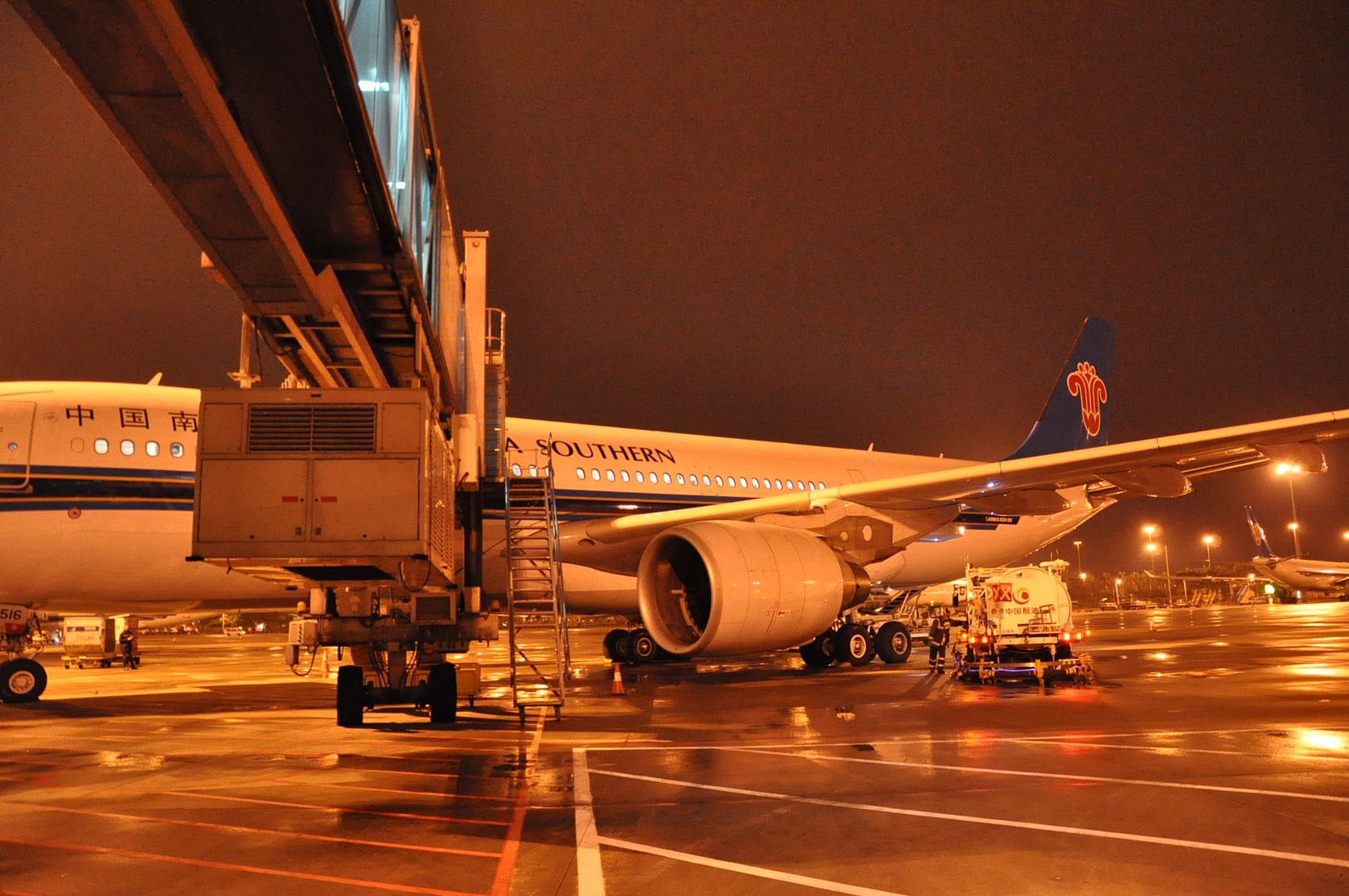 As always the CZ A332 looked Great and immaculate interiors. Load wise economy was full. Space available for business and first class and upgrade with cash was available.
Push back was pretty much on time, and within no time we had taken off into the smoggy skies of Guangzhou.
Good leg space onboard the A332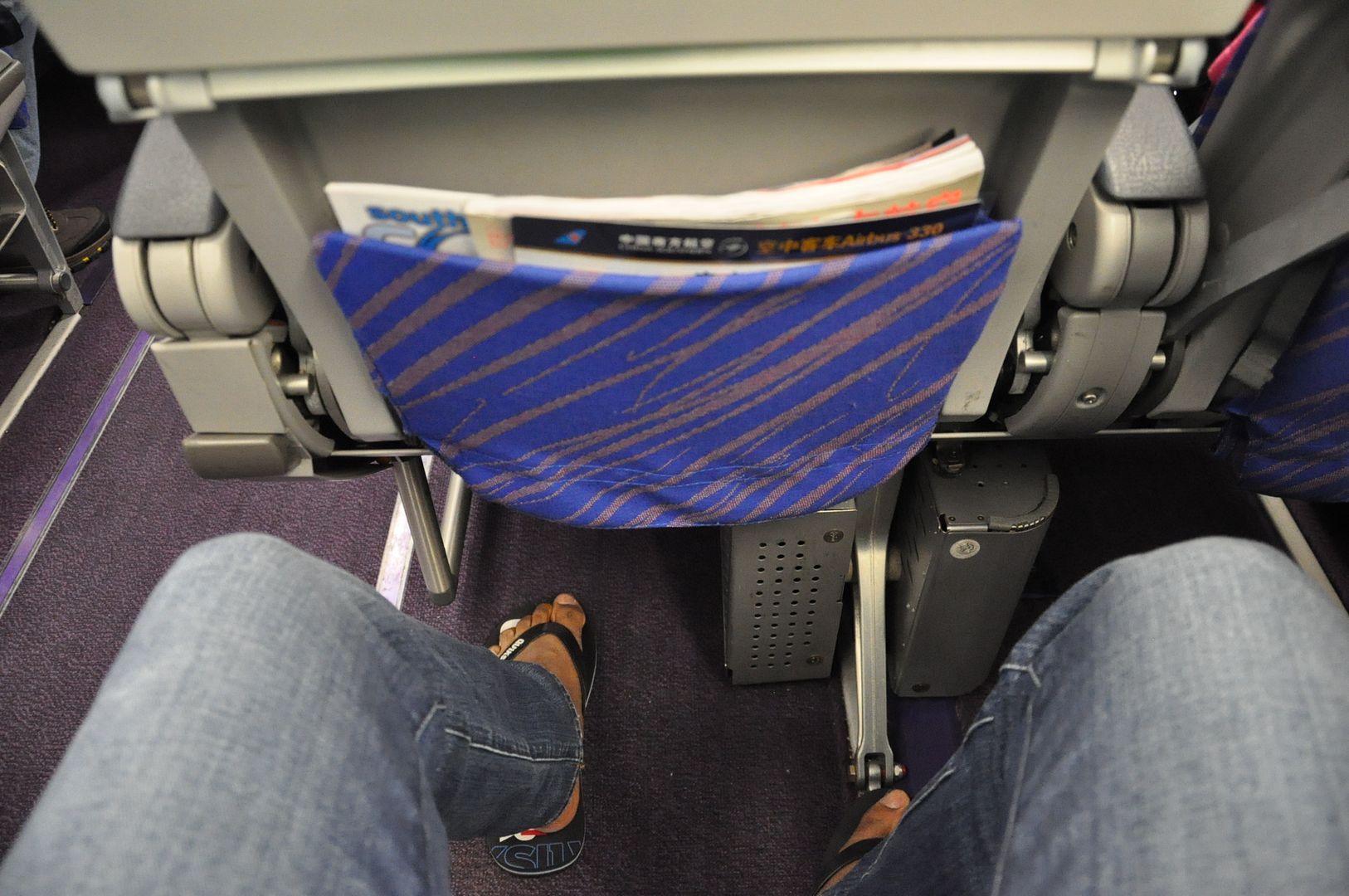 Load was mainly Chinese with a few foreigners. Within an hour after take off, the Dinner service had started.
Fish with potato or Chicken and rice was the options for dinner.
Chicken and rice dinner option en-route to Sydney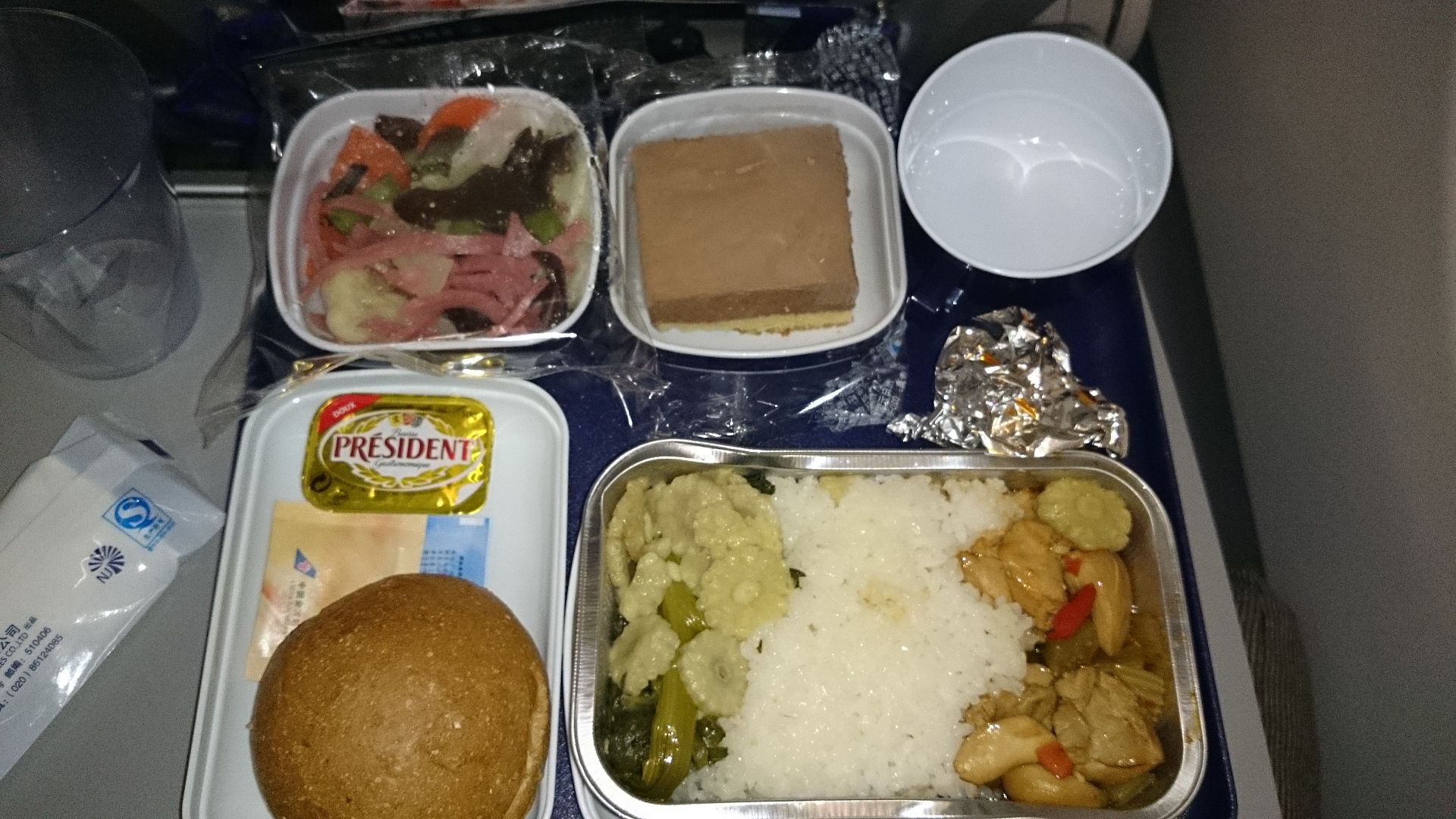 This time around the cabin crew were a bit robotic and cold. There was a noticeable difference between the crew on the 787 and on this A332. I later came to know that the 787 was CAN based where as this A332 was a Shenzen crew.
The leg space is fantastic on the A332 and the cabin, although not as new as the 787, is still very good and spacious. Caught up on few TV shows and then tried to sleep for a bit.
The rest of the flight was very calm and the next thing I knew, it was time for breakfast, 90 minutes before arriving at SYD.
Breakfast options were either omelette or dimpling option.
Yummy Dumpling breakfast onboard the A330 to Sydney
On the whole the flight was very good. But the crew felt like they wanted to be as far as possible away from where they were. Quite a contrast from our previous flight on the DreamLiner.
IFE was once again very good, albeit my touch screen wasn't working, but nothing I could not manage with the controller. Although on this flight, the Flight information and interactive maps were not working.
Unfortunately the moving maps were not available on board the A330 to SYD (was this perhaps a security issue in light of the missing MH jet just the day before?)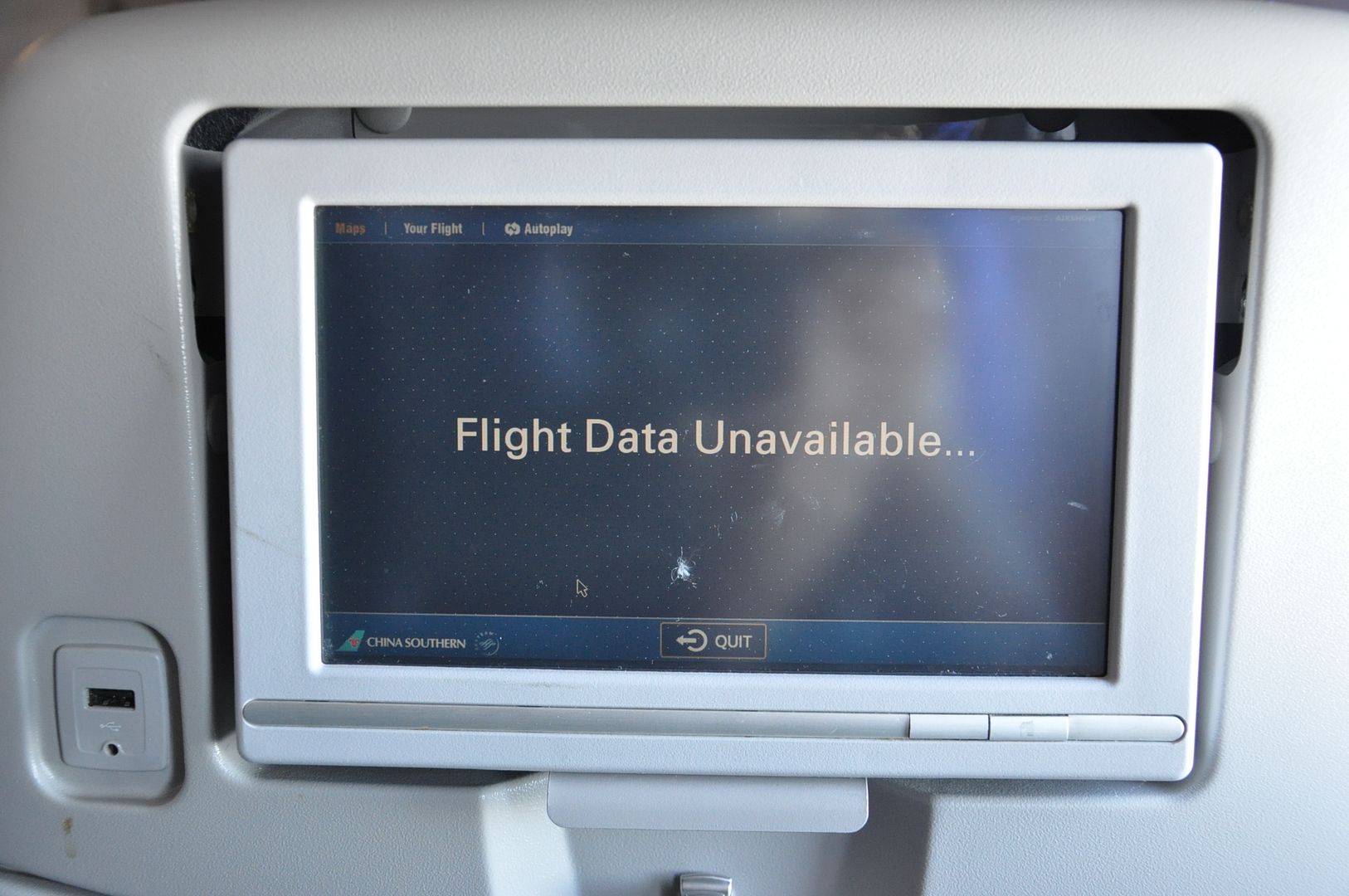 Two instances of strange behaviour
1. I had taken a photo of the interiors with my phone in flight mode during the flight. One of the cabin crew saw this and asked me to delete the photo and switch off the phone. Upon questioning him, he said I could take the same photo if I wanted with my DSLR. Which I did immediately as soon as I had deleted the photo from my phone. Odd!
Second time lucky – finally got to click the interiors of the A332
2. Later in the night I wanted some water. Went into the galley and was asked by the same cabin crew who seemed to be sleeping in the jump seat what I wanted quite sternly. To which I said I wanted water. Another female cabin crew politely obliged. After drinking, he asked if whether now I could get back to my seat, even before I had finished. I said I wanted another glass. As soon as I finished the second glass "now can you get back to your seat" was the stern response to which I said I wanted to stretch a bit. Perfect example of one bad apple spoiling the rest.
Once Again, like many other Chinese carriers, the seat belt sign was on through out the Flight. There seems to be a substantial difference in the soft product offered by china southern DreamLiner and their other aircrafts.
Onboard exercise video before landing at SYD – A super initative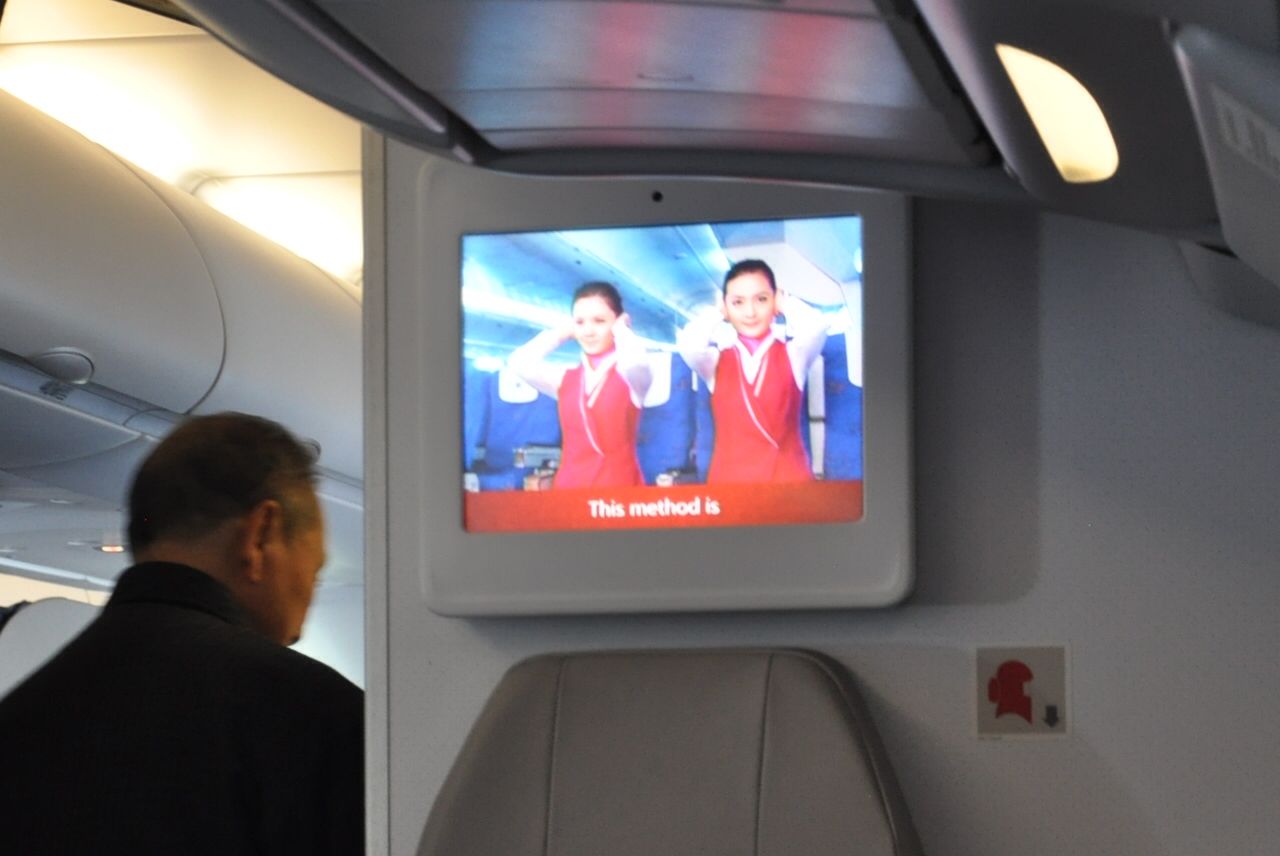 Landing at SYD – Gorgeous sun, blue skies; can't ask for more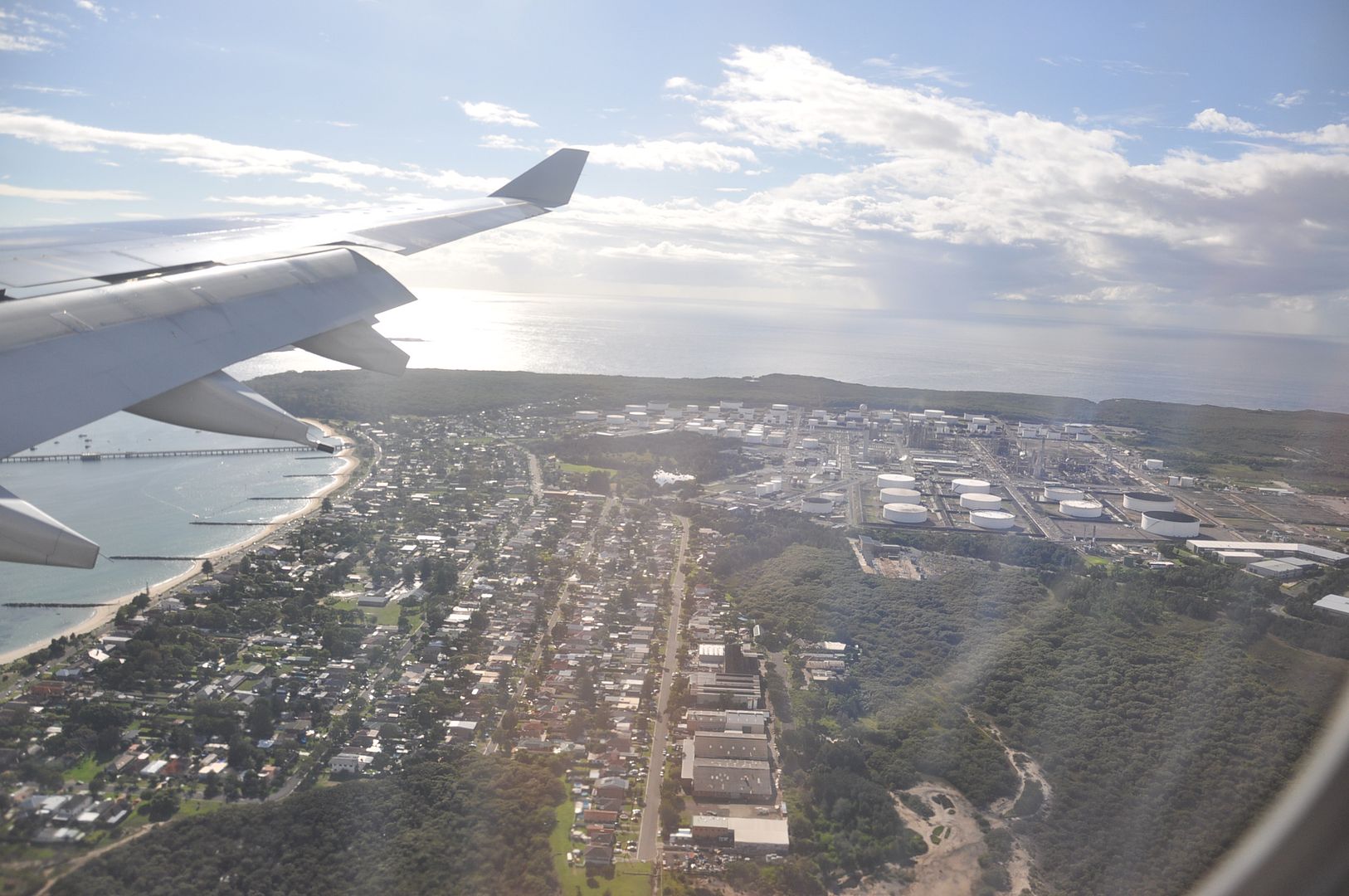 Baggage carousal at SYD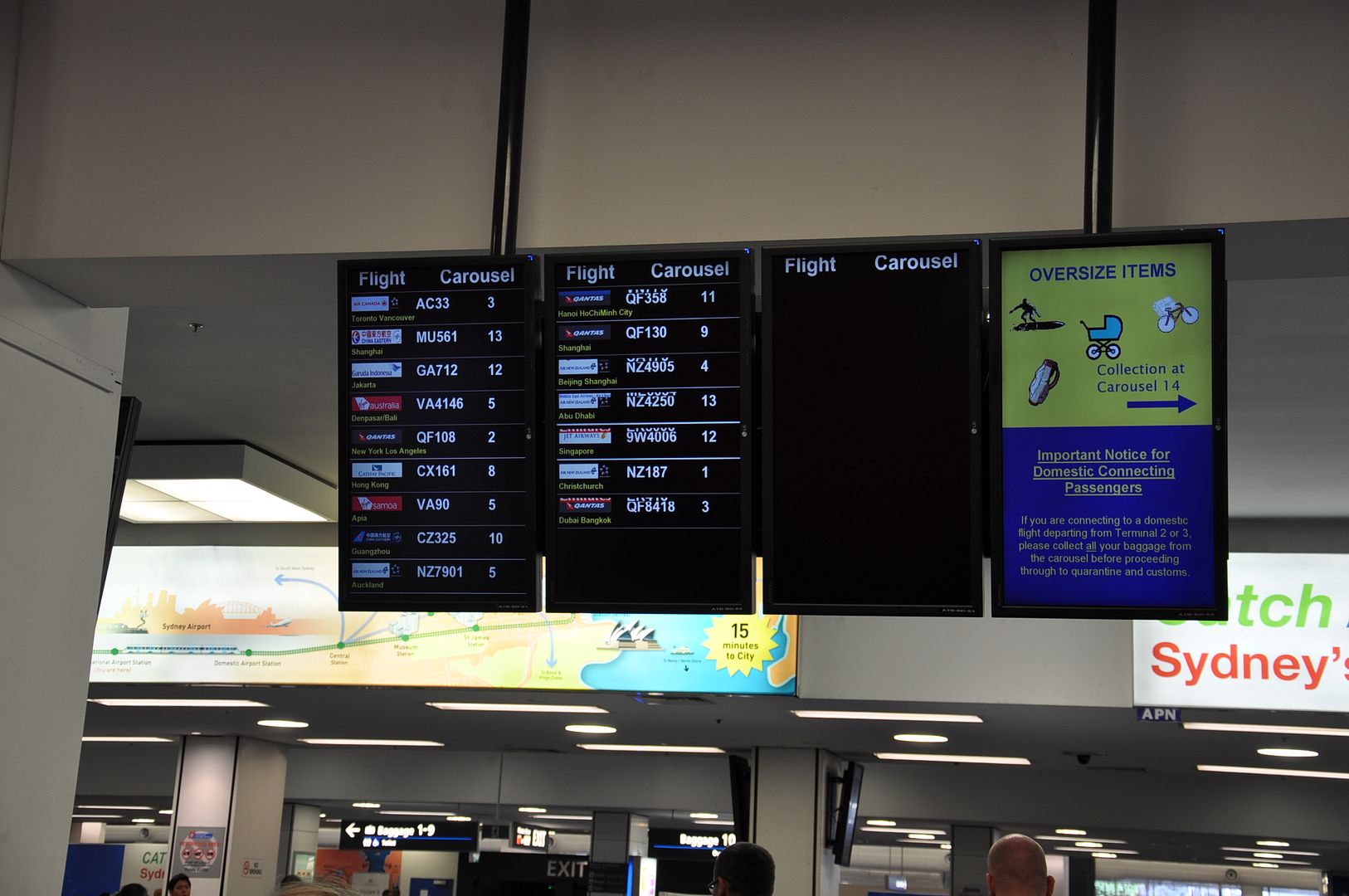 On the whole this was quite an enjoyable way to get to Sydney, from London. We had no issues and the entire sector was very professional, except for one cabin crew.
Sydney was looking great and couldn't wait to explore more of the city and the rest of our trip.
Hope you enjoyed this edition of the trip, more to follow, so watch this space.!
Safe travel.
Plane spotting at SYD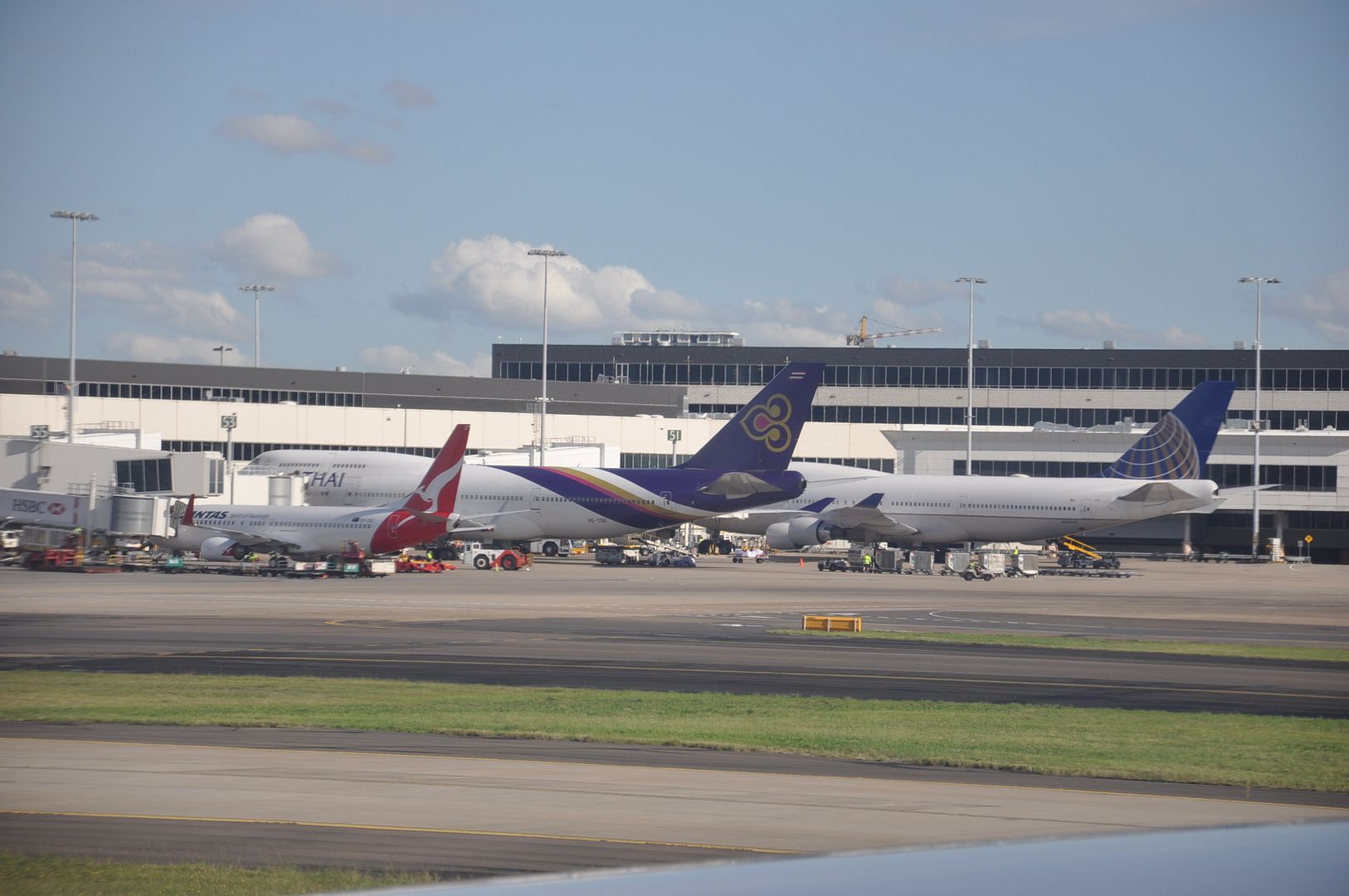 Previous trip reports:
DREAM(liner)ING Of Hainan - China Southern
Panda Calling - BA LHR To CTU - Club World
China - The Low Cost Way - Spring Airlines - SJW-CTU
China United Airlines (KN) - CTU - SJW - B737-700
Norwegian B737 - LGW-TOS-BGO-LGW
Jet Airways: LHR – COK
Barra Trip – that was not to be
LHR - KWI - BA 747 - Part 1 - Middle East - China
Part 5: PVG-LHR - BA - Economy - B777
Part 2: KWI-DXB - FlyDubai - Economy - B737
Part 4A&B - SHA-SJW-SHA - FM: Eco: B737
Part 3A&B : DXB-HKG-PVG: CX & KA :Eco: A333
Morocco Trip - LGW-RAK-TNG-LHR - EasyJet & Iberia
Dusseldorf Calling - BA & EZY - Club/Eco - A321
Sydney Highlights
Sydney by Night
Sydney Tower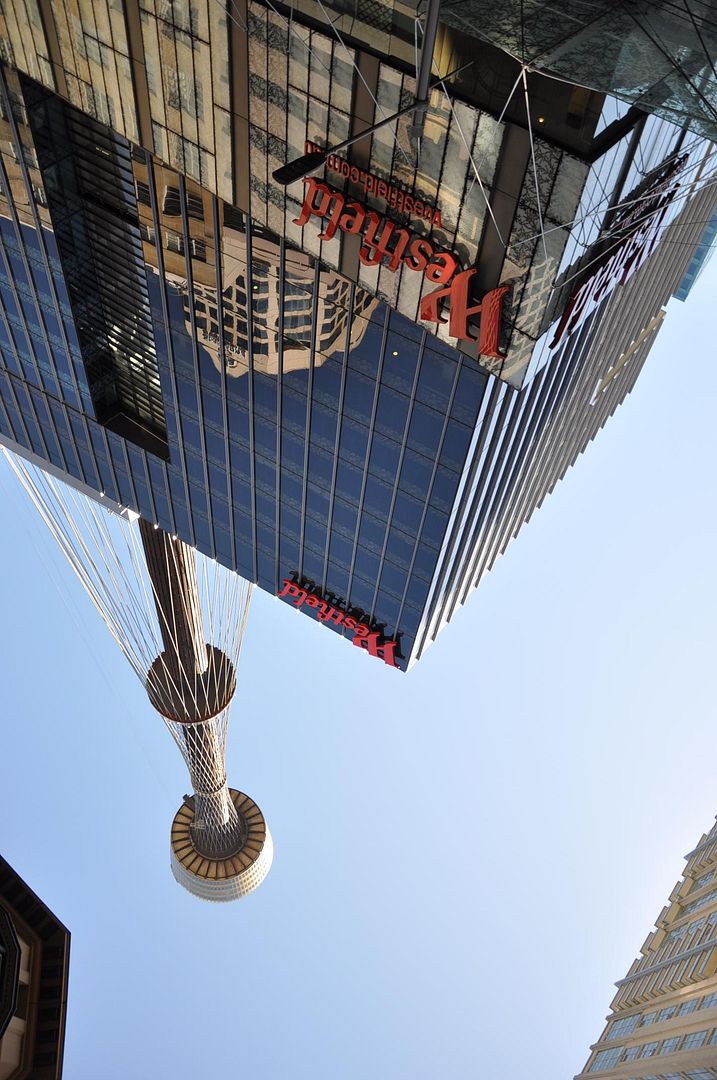 Panoramic Sydney Harbour view

Our Hotel in Sydney – Rydges Airport Hotel (excellent location, great staff and a dream view for an aviation junkie)
A room with a view! Rydges Sydney Airport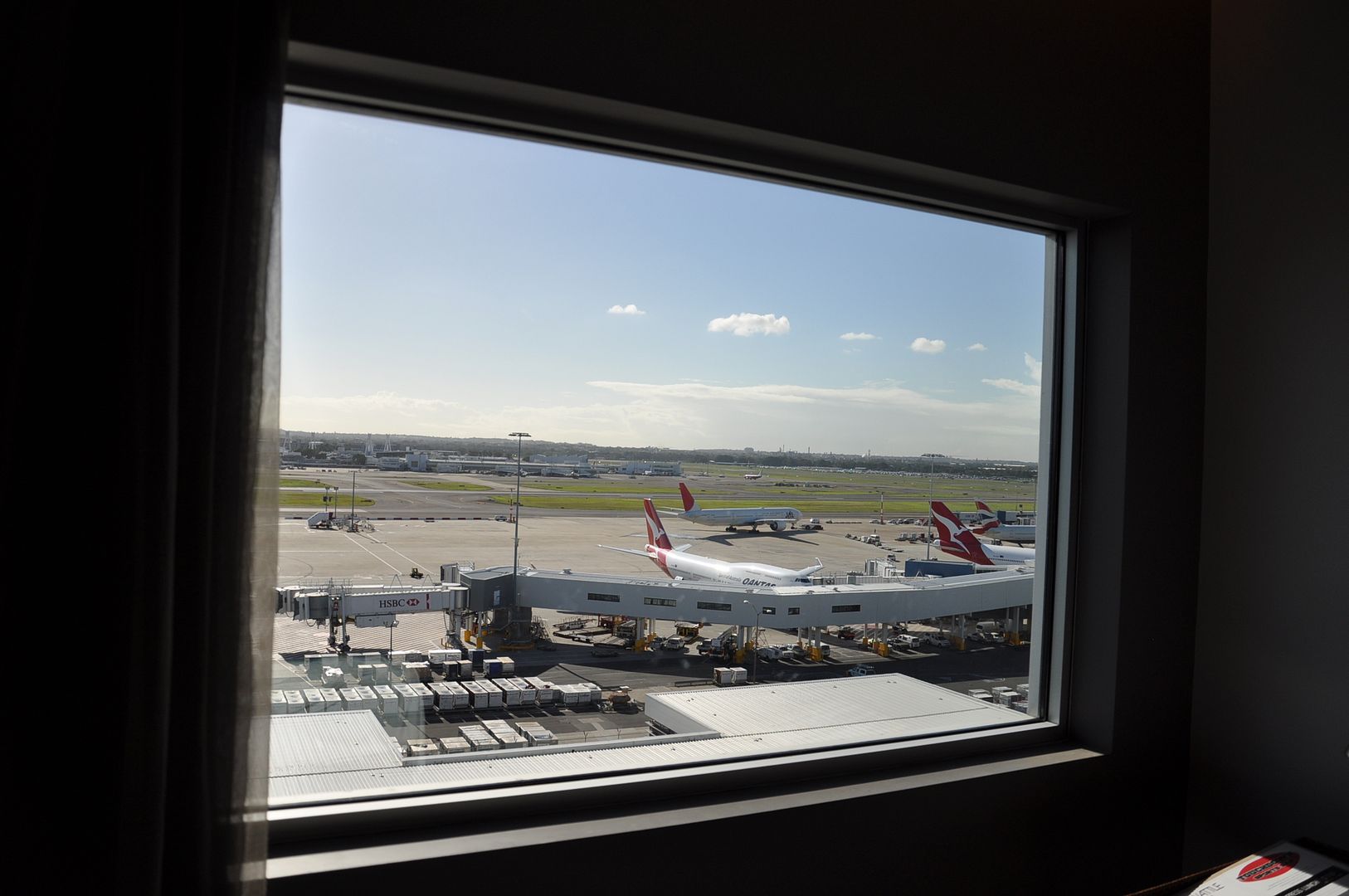 Heavies
A Heavy taking off from Sydney
Safety card collection at the Rydges Sydney Airport