**Dedicated to all those who lost their lives in the Tragic MH 370 crash. Heartfelt condolences to family and loved ones. Hope they find the strength and courage to take them through these tough times. God be with them**
This is the second leg of our trip. The first sector of this trips report can be found here:
Canton Route Part 1 - LON-SYD - CZ DreamLiner/A332
Background and Booking process
Looking at options to take us from Sydney to Cairns and our best bet seemed to be the evening flight with Virgin Australia, as this would give us an entire day time in Sydney followed by an evening flight to take us into Cairns for the night.
Researched a bit and found that the VA website had the best prices and a few minutes later it was all booked and done. Simples!
We would be on the VA 1429 from SYD to CNS.
VA website is a perfect example of how an airline website should be. Easy to navigate, concise, transparent, seat allocations, all the important bits we need to know highlighted, was a pleasure to book using the website! Kudos to the team..!
The booking showed we would be flying an Emberer 190, and looking at Airframes.org, it looked like most of these aircrafts were fairly new, which was a good thing.
AU$318 for two tickets including two check in baggage, I feel is a really good price given it was the perfect time that we wanted. I also like the E190, since I've always had a good experience on that aircraft.
At the end of the booking section it gave us an option to choose from various hire car options. Also gave us information about Sydney and Cairns airport (quite useful I though) and also gave us the time when we needed to be at the airport by, 30 min before flight for domestic, which I though was very good, since most of the other domestic flights push for a 60 minute cut off.
GCMap for the entire trip
GCMaps for this section of the Trip Report:
Virgin Australia VA1429 : SYD - CNS
Flight Reg: VH-ZPT ; delivered Aug 2011
EMBRAER ERJ-190AR (190-100IGW)
Seat 6D
Departure time 18:30 (Actual 18:30)
Arrival 20:35 (Actual 20:25)
11 March 2014
Price: AUD 318 for 2 passengers
Day of the flight – Check in
Check in was relatively quick, so was the security, and in no time was in the middle of the sprawling domestic terminal airside
Sydney domestic airside terminal was buzzing with people - loads of duty free shops and restaurants, albeit slightly expensive.
We had half an hour to board. So walked around a bit before grabbing some snacks and tea and ready to board
SYD Domestic Airport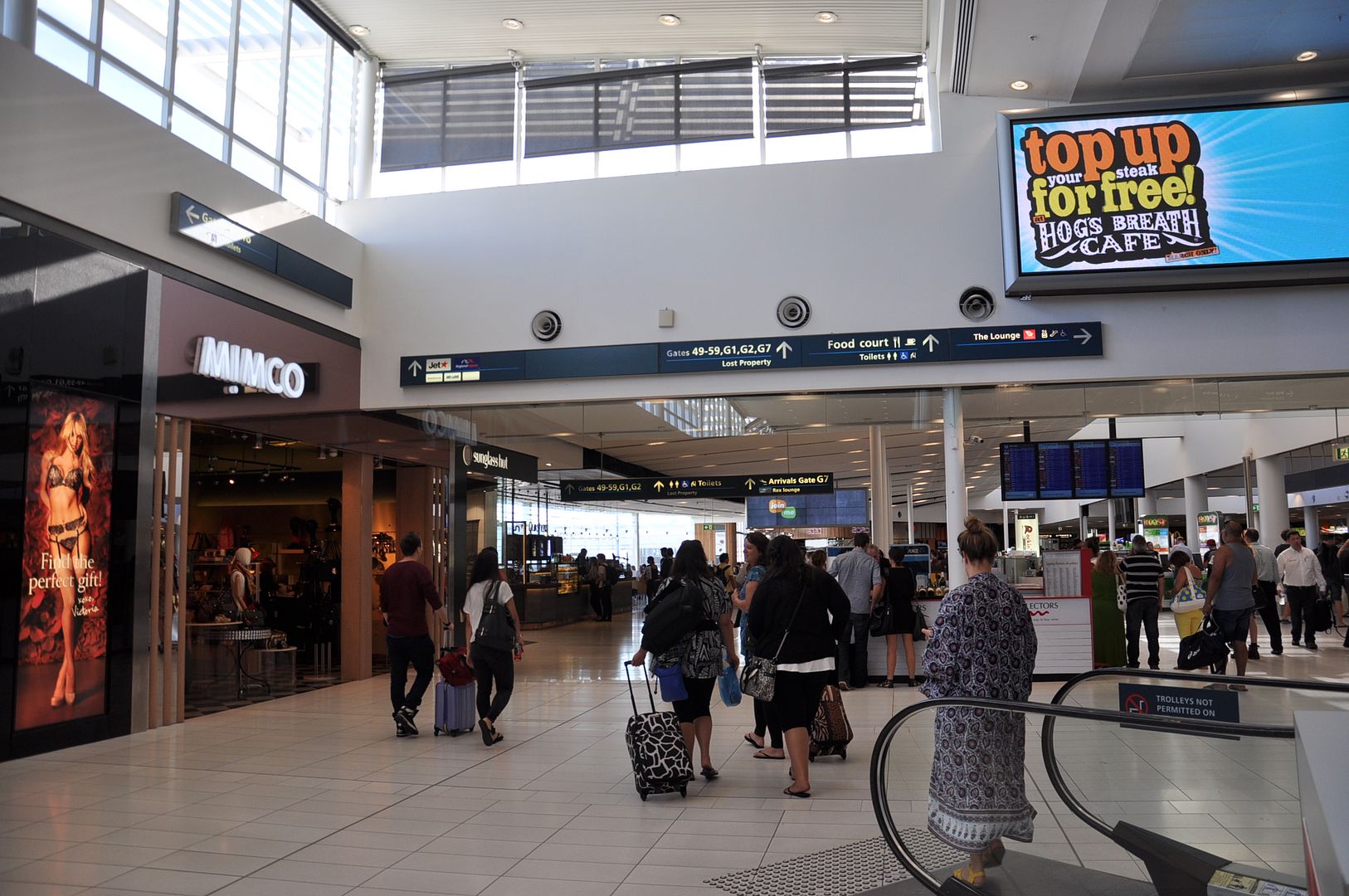 VA Check in counters at SYD Domestic
Boarding
Boarding commenced as scheduled thirty minutes before departure. Odd thing that warm drinks are not allowed during boarding. Had just bought a tea and had to throw it away.
On board, flight looked pretty neat, although not immaculate – few pieces of crumbs scattered near our seats.
Departure was on time. No IFE on this flight so spent time drafting this trip report. Complimentary water or tea or coffee was handed.
Boarding gate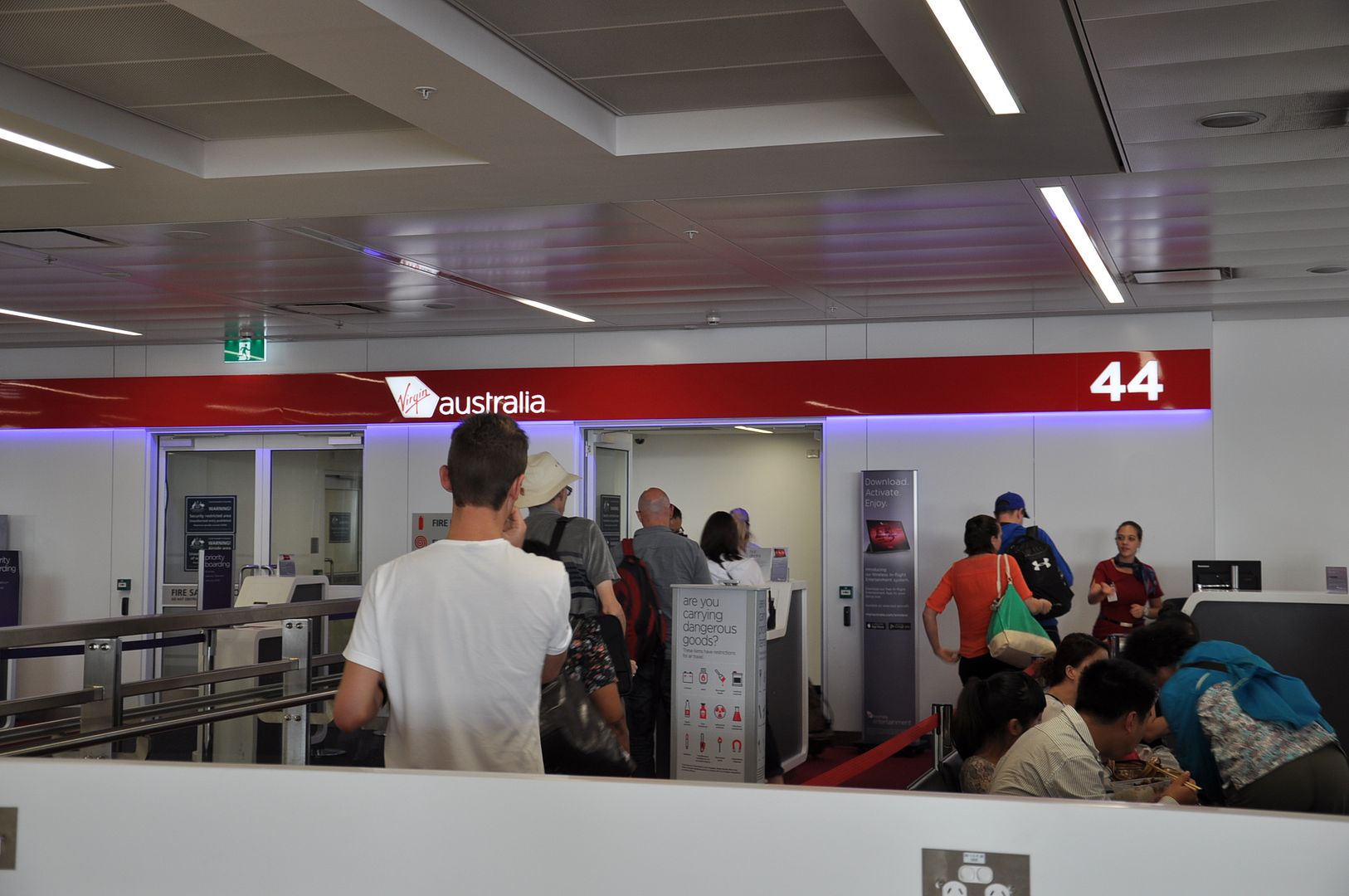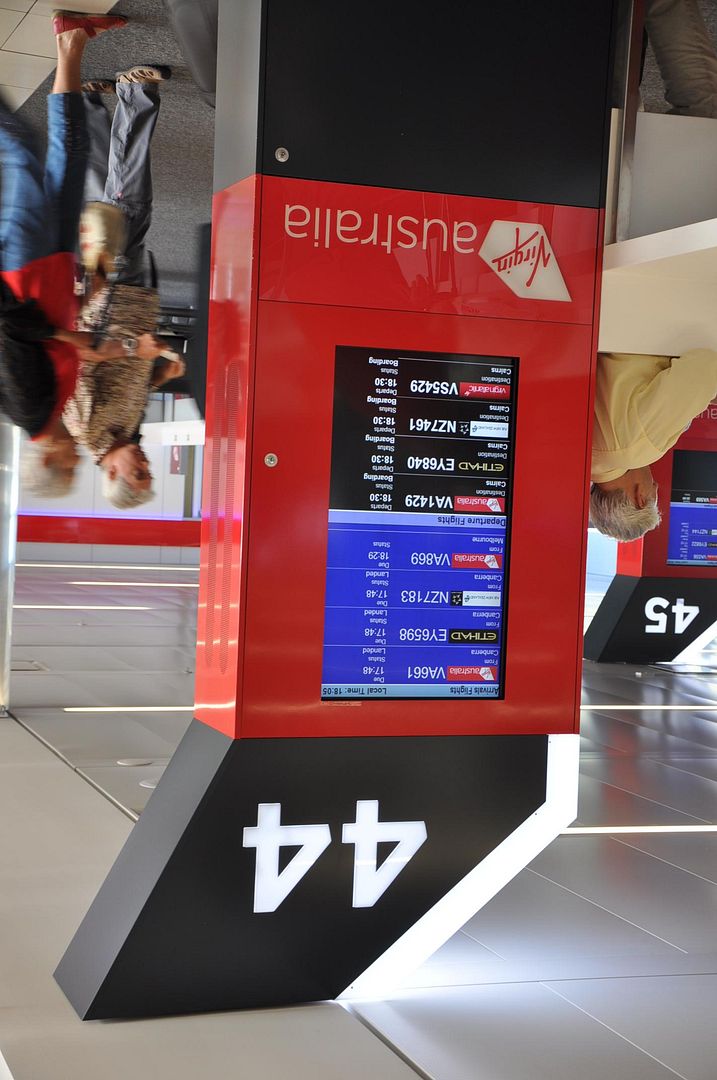 On Time!
Plane Spotting at SYD
VA A330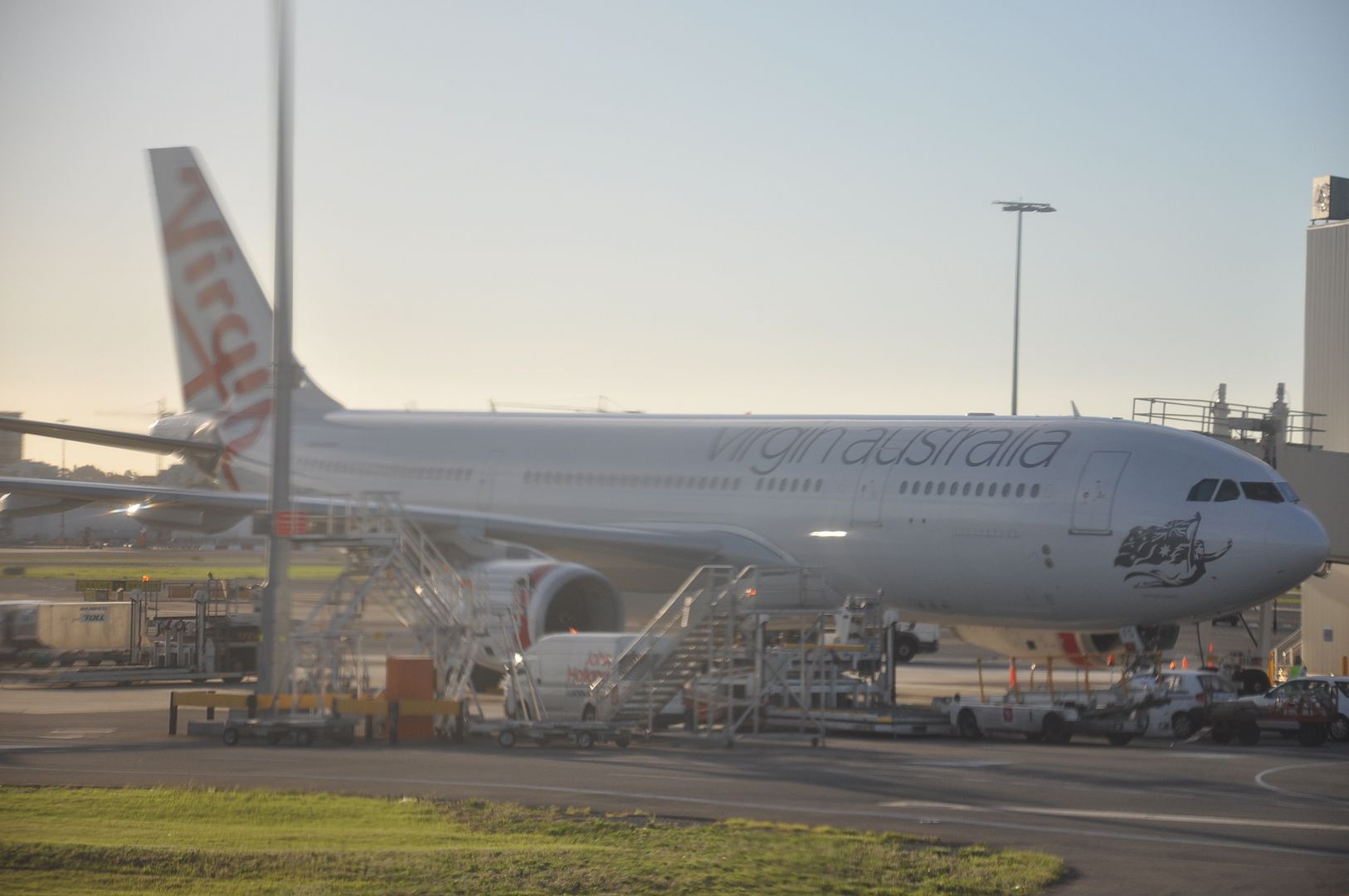 The VA Family –
VH-VUG (B737 registered as Virgin Blue delivered to VA on May 2006
) and VH-YIH (B737 delivered to VA on June 2012)
VH-FVY – ATR72-600 registered to SkyWest Airlines March 2013
Aircraft and seating
Seats on this e190 were comfortable with decent seat pitch although the aircraft did feel a bit cramped. I felt the windows were at an unusually high position and tiny, perhaps I'm spoilt by the DreamLiner.
Was told taking photographs on board was prohibited and 'Security reasons' was stated as the main reason. Not sure what the security breach was.
I felt the cabin crew on board were quite rude. There was a couple with a young child and he didn't seem too happy flying. The couple needed few extra cups of warm water, and once, I clearly noticed the make cabin attended utter curses as soon as he turned. Not a good sign. All this hype about Virgin "flying in the face of ordinary" seemed a bit far fetched.
Sneak peek - VH-ZPT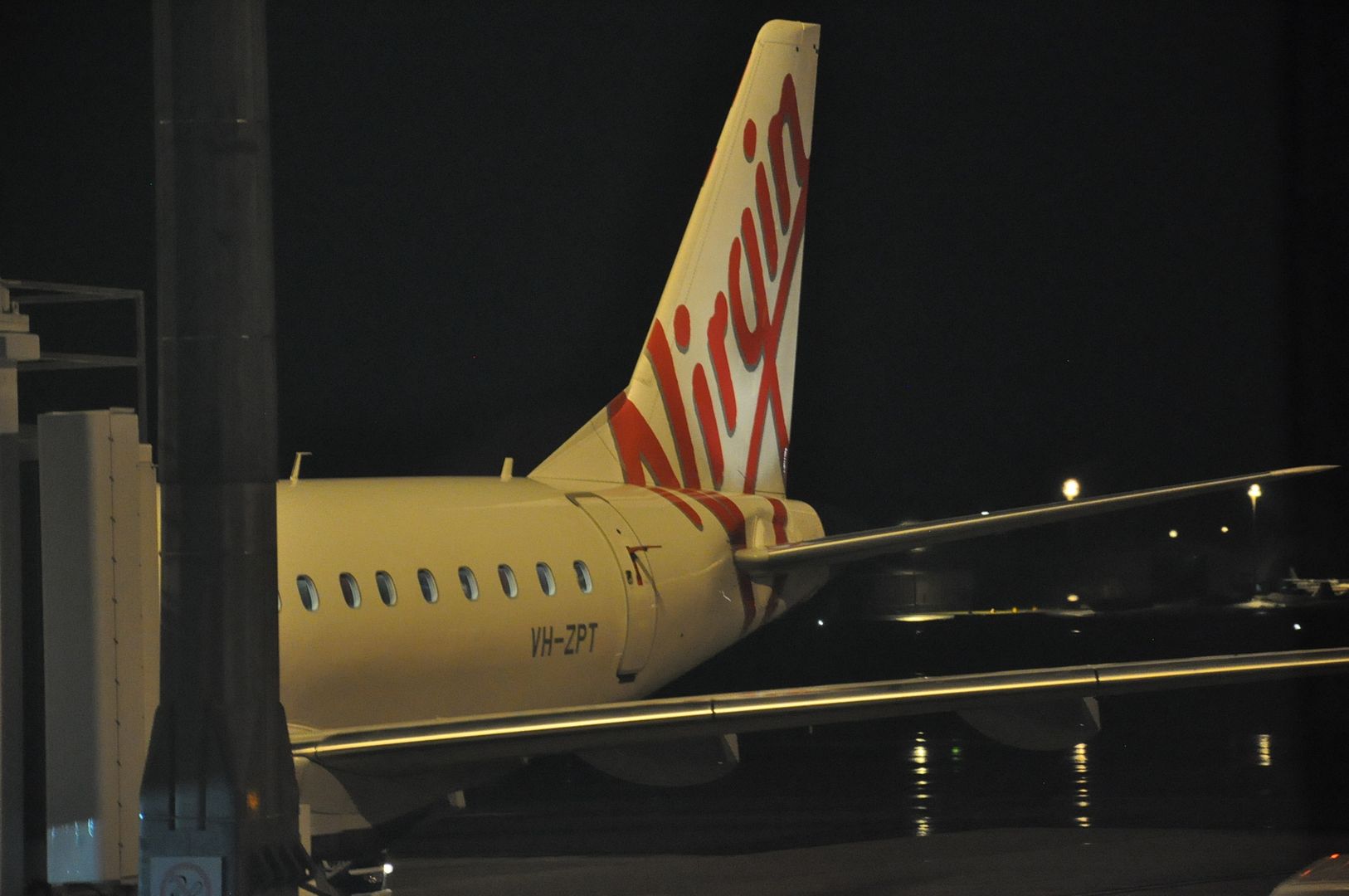 Smart interiors of the VA E190 – Note the Dog tail over head bins, quite unique (Shot this before I was told that no photography would be allowed on board)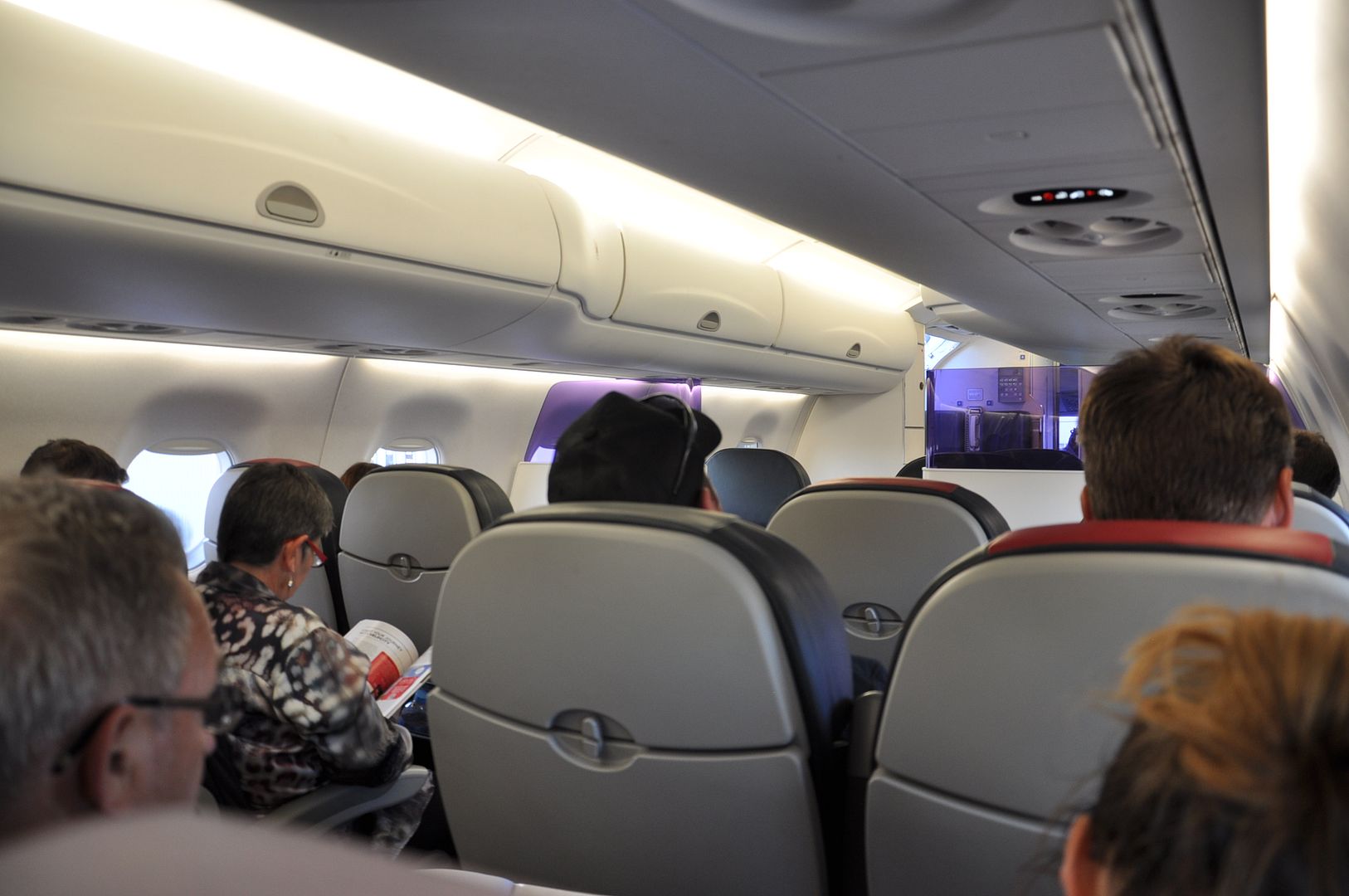 Slightly cramped interiors but manageable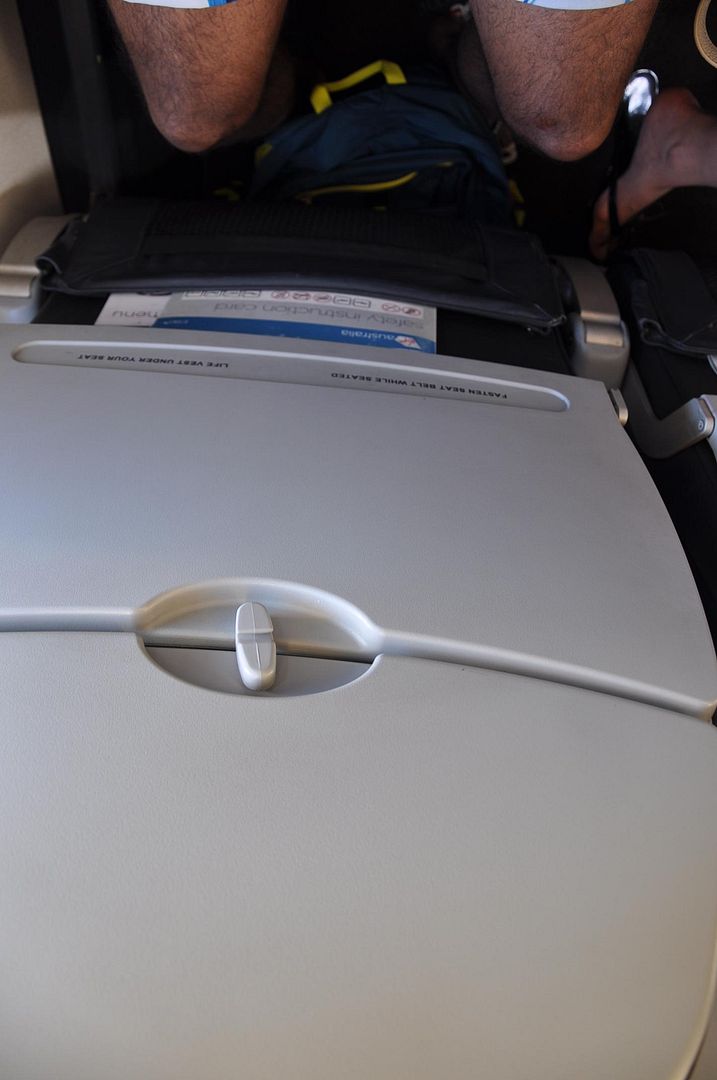 During the flight, I wandered over at the rear of the aircraft and the galley was really a very tight space. It clearly showed why the crew were unhappy to work in such a confined space. It felt that the aircraft choice was not the best one considering the flight was full and there was hardly any space to move around, let alone walk around with a trolley.
Already missing it – Departing from Sydney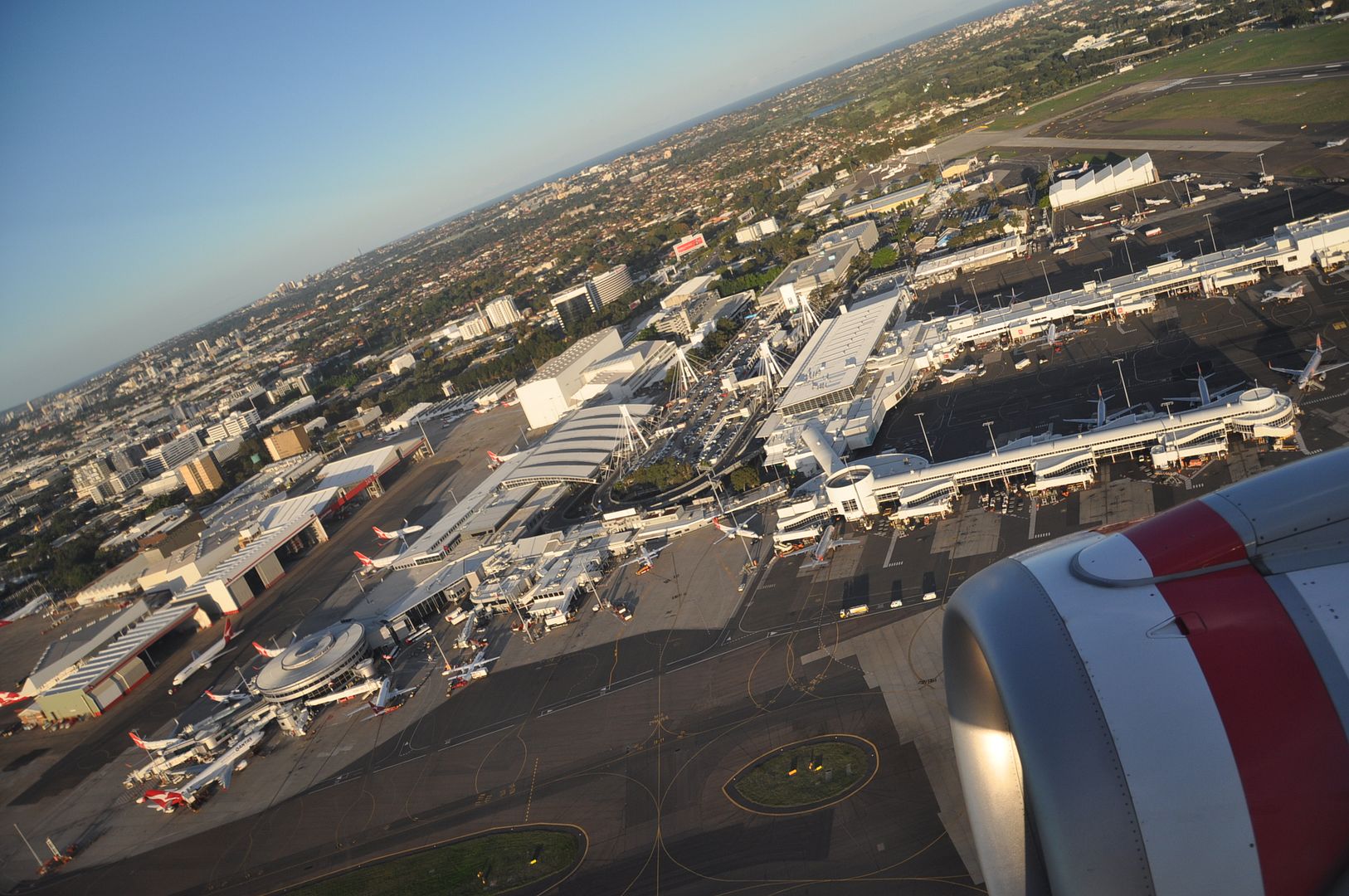 After a chat with the crew, he felt friendly enough, just that he seemed to up right about rule regulations security et al. Wasn't able to shoot the tight galley space as I was told "as long as I see it, I cannot allow you to shoot photos" by the crew.
Apparently this is the longest sector on the E190 that Virgin Australia flies. Not sure how far its true. The galley is a squeeze and a ratio of 92 passengers to a toilet didn't bode well.
Rest of the flight was uneventful and turbulent free.
The aircraft was very cold and there was no way in which the aircon could be reduced. There was cold air blowing through out the aircraft.
Although the E190 had OK'ish seats, I think it's not the right aircraft for this sector. The B737/A320 would be a better match.
In hindsight I think I took the humour of the cabin crew incorrectly. Towards the end we had a good rapport and the cabin crew joked about him not seeing me take a photo of the famous Virgin "dog leg" interior.
Landed 10 minutes ahead of schedule. Cairns airport is quite convenient, since, it being a small airport. Bags arrived within 10 minutes. However, my wife's suitcase was slightly damaged. We took the suitcase over to the baggage counter and were confronted by another unapologetic VA staff. She suggested that we claim Insurance, as Virgin would not compensate for slightly damaged suitcases, unless its beyond use.
I was trying to speak to her, and she cut me mid sentence to the passenger standing behind me.! Not the best way to deal with customers in my opinion. However, we had decided not to waste any more time there, and headed to collect our car from Sixt, where the customer service representative gave us a perfect example of how customer service should be done! Kudos!
Empty Cairns airport – common area for departures and arrivals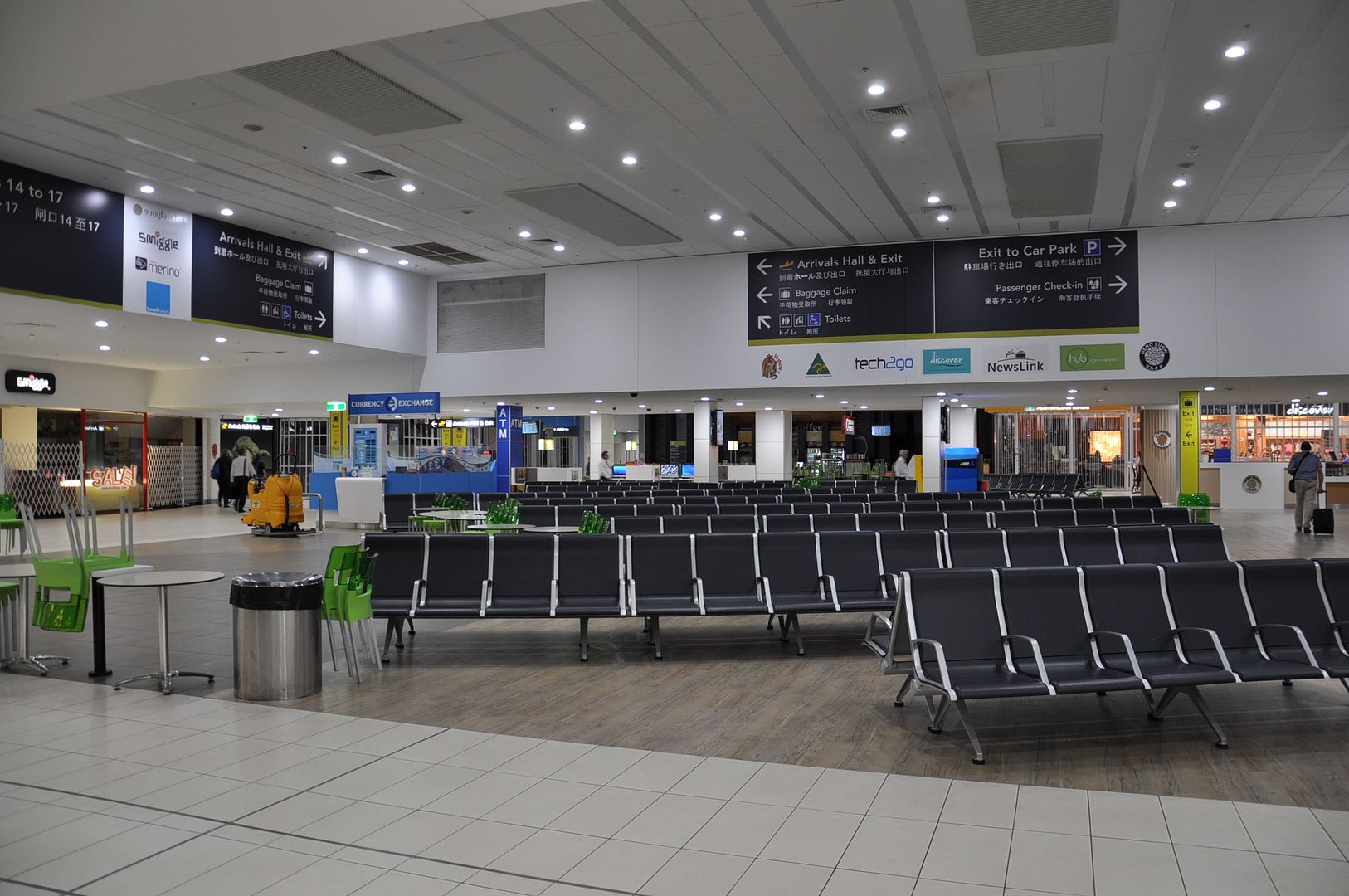 Last bags out of the carousal – and that too damaged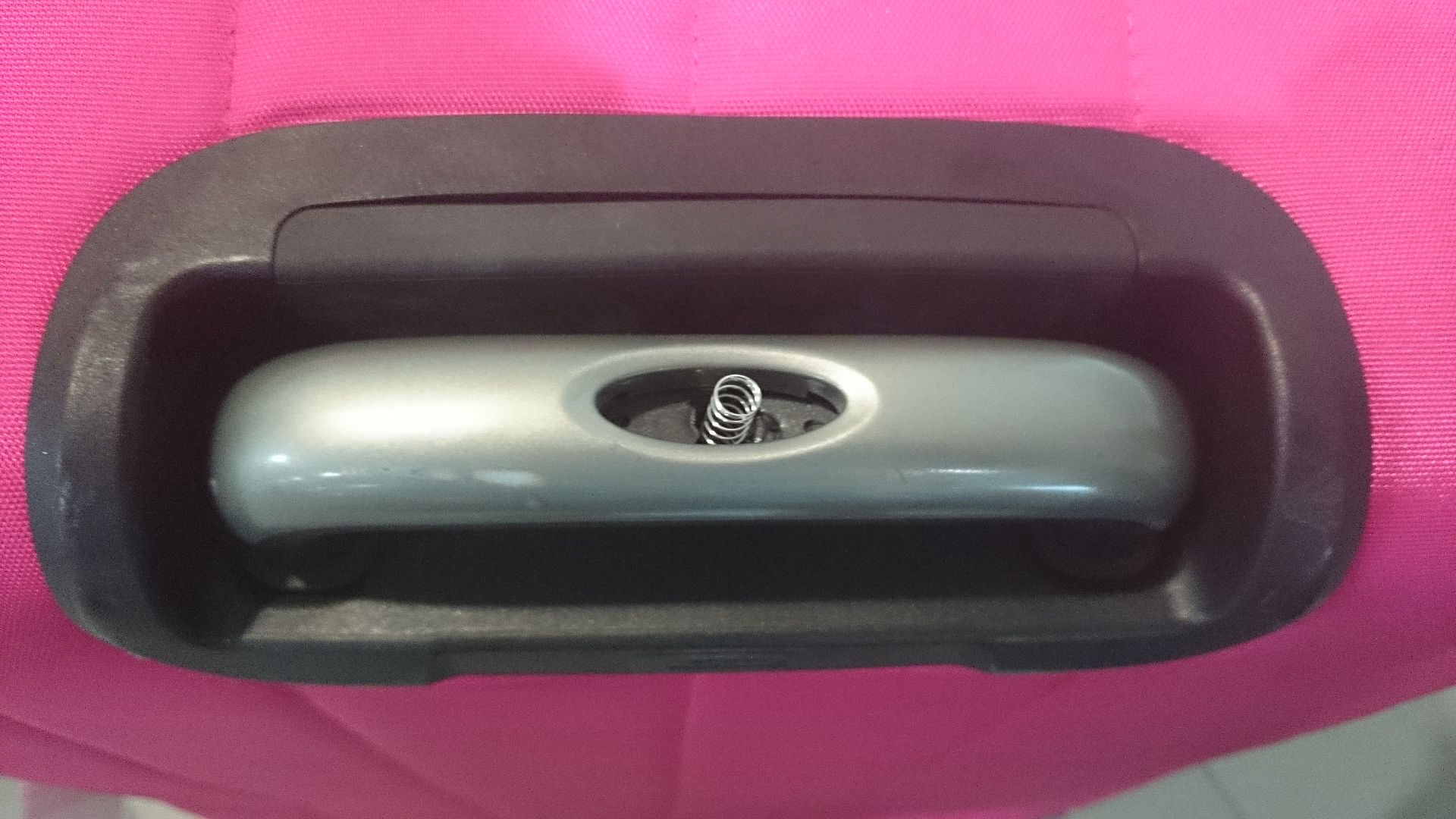 Verdict
My Experience with VA started off very well. One of the best websites in the business. But from there on, the actual product – both hard and soft, seemed to be lacking the shine that was prevalent on their website. It was just the little things that made my opinion about VA tend towards a 'Just Acceptable' remark. Perhaps I was on a one off day for the crew?
Poor choice of aircraft for the route, grumpy cabin crew, curt boarding agent and to top it all met by an indifferent baggage assistant and CNS.
On the whole, it was just an acceptable flight and no more. If given a choice, I would gladly book on a JetStar or Qantas, as illustrated in my next report.
Thanks for reading – as usual any comments/feedback/criticism welcome. Until then, happy and safe Flying.!
Previous Trip Reports
Canton Route Part 1 - LON-SYD - CZ DreamLiner/A332
DREAM(liner)ING Of Hainan - China Southern
Panda Calling - BA LHR To CTU - Club World
China - The Low Cost Way - Spring Airlines - SJW-CTU
China United Airlines (KN) - CTU - SJW - B737-700
Norwegian B737 - LGW-TOS-BGO-LGW
Jet Airways: LHR – COK
Barra Trip – that was not to be
LHR - KWI - BA 747 - Part 1 - Middle East - China
Part 5: PVG-LHR - BA - Economy - B777
Part 2: KWI-DXB - FlyDubai - Economy - B737
Part 4A&B - SHA-SJW-SHA - FM: Eco: B737
Part 3A&B : DXB-HKG-PVG: CX & KA :Eco: A333
Morocco Trip - LGW-RAK-TNG-LHR - EasyJet & Iberia
Dusseldorf Calling - BA & EZY - Club/Eco - A321
Sights and sounds around Cairns – Great Barrier Reef, The Zoo and Daintree Forest
Blue corals
Getting ready to Snorkel
Enchanting Mosman Gorge at Daintree
I just want to sleeeep!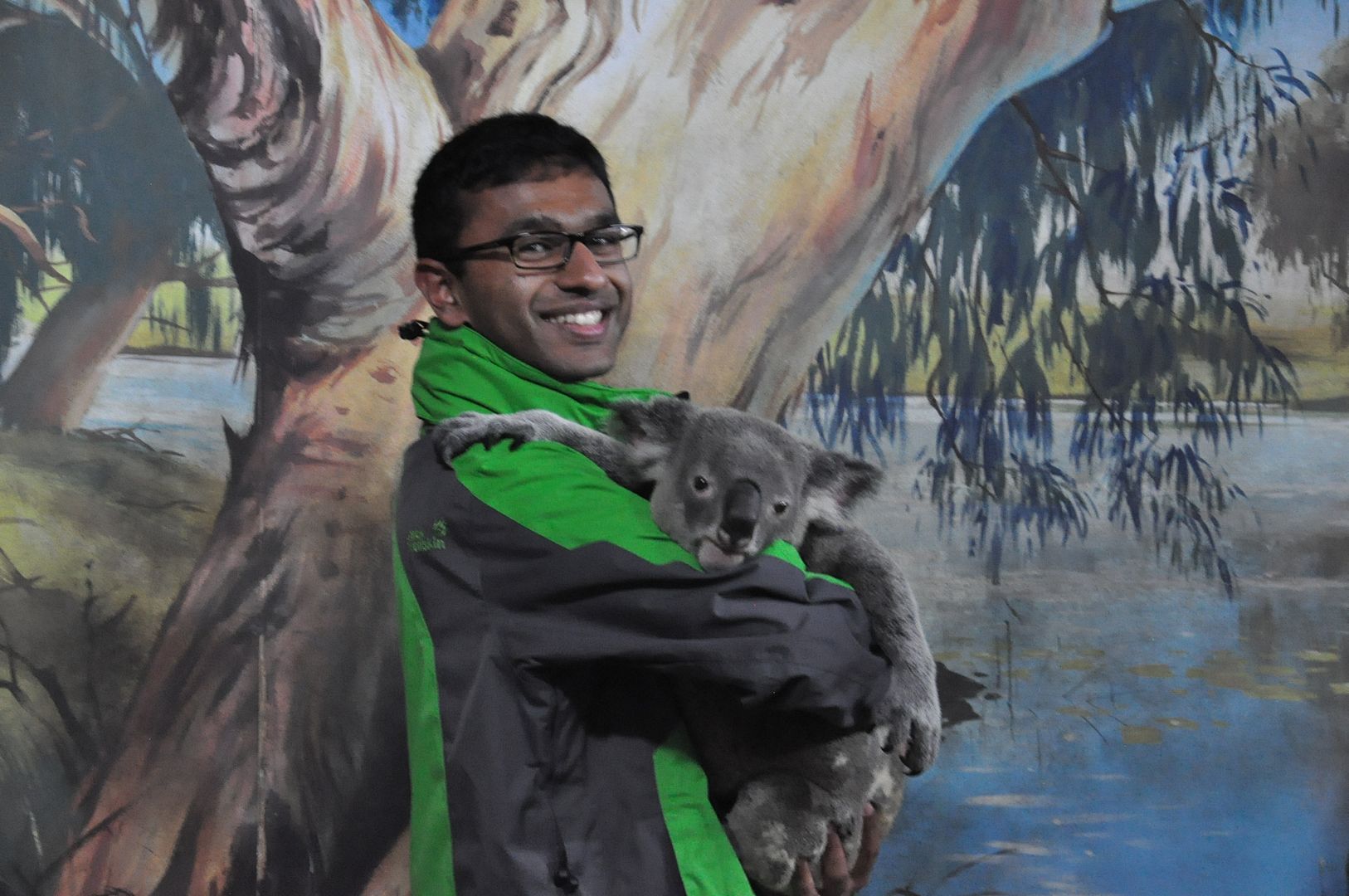 The Fantastic SeaStar and their crew
[Edited 2014-03-27 02:09:07]