** Heartfelt condolences to family and loved ones on board MH 370. Hope they find the strength and courage to take them through these tough times. God be with them**
This is the last and final leg of our trip.
The first sector Trip report can be found here:
Canton Route Part 1 - LON-SYD - CZ DreamLiner/A332
The second leg of our trip report found here:
Part 2 - SYD - CNS On Virgin Australia E190
The Third :
Part 3 - CNS-MEL On JetStar A321-200
Fourth leg of our trip:
Part 4 - MEL-AKL-ZQN On QA And NZ B738A320
And the Fifth leg here :
Part 5 - BHE-WLG-AKL On NZ Beech1900D And A320
It was that time of the trip – time to get back home. After an epic two weeks in Australia and New Zealand, it was now time to head homewards.
As per our scheduled itinerary, we would be on the CZ DreamLiner the entire distance – that means close to 24 hours (or thereabouts) on the 787. I remember last year, towards the end, I couldn't wait to get on any DreamLiner, 3 months this year, I would've already clocked over 60 hours (including this sector) on a DreamLiner. Talk about wanting something and it rains on you!
So far my experience on the DreamLiner has been very good and at times even excellent. As an aircraft it is simply magnificent. My only issue, like everyone else, is the way the Airlines have decide on configuring it. Even though all my reviews on the 787, thus far has been positive, I cant help feeling it would be otherwise, if we were to ever sit on any other seats apart from 52 or 53 (A,C,H,K)
On The day of the flight, we had the entire day in Auckland. Couple of hours roaming at Queen Street, a ferry ride to Davenport, it was then time to head to the airport.
Arrived at the airport with a lot of time to spare. We were the first to check in. Was given our preferred seats of 52a and c on both sectors without any hassle. Check in done in less than 5 min. Like everything else at Auckland airport - effortless, stress free and seamless. One of the best airport experiences I've had. Always have a relaxed feeling at the airport. A very good representation of the country as a whole.
Lovely AKL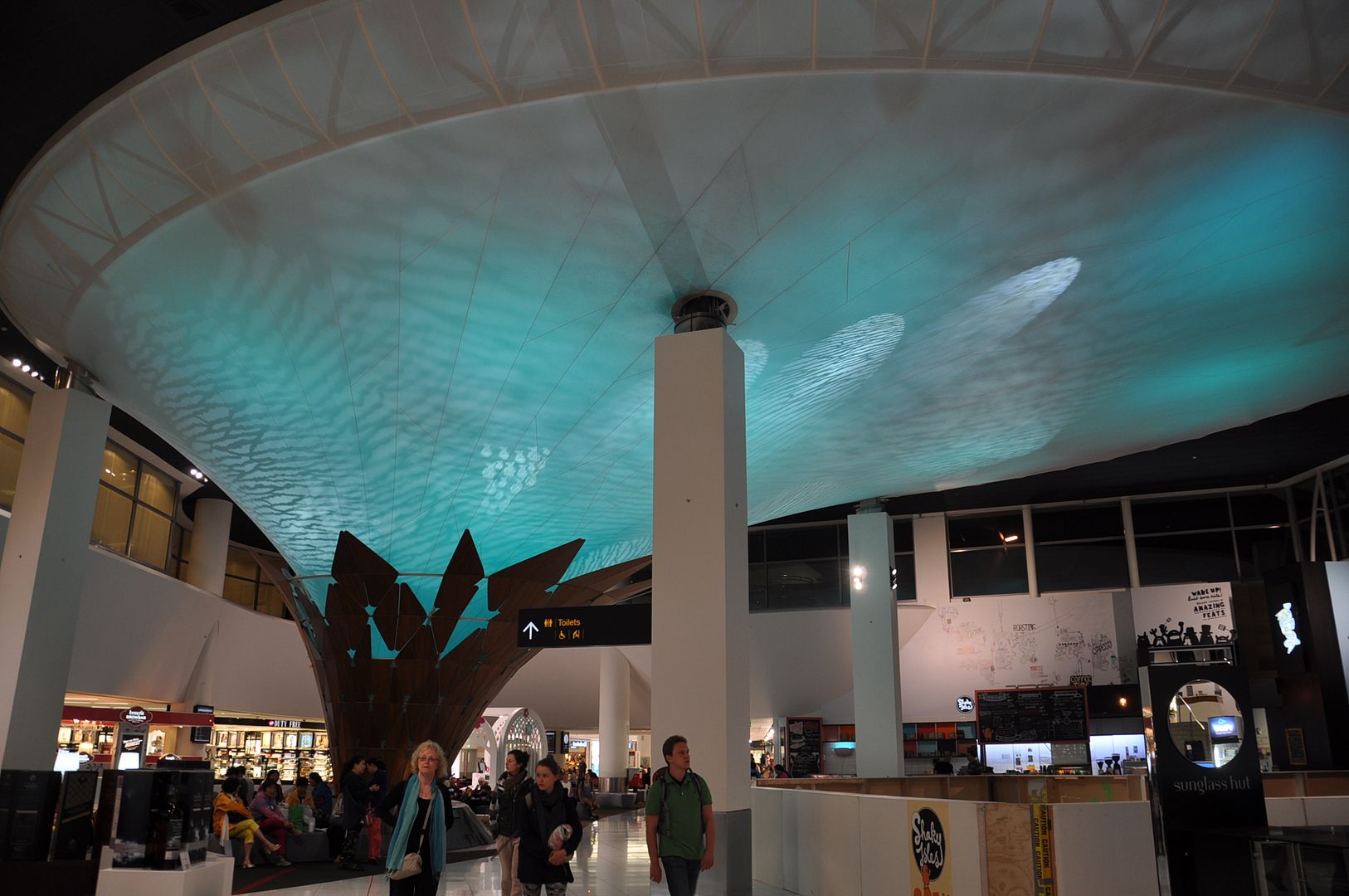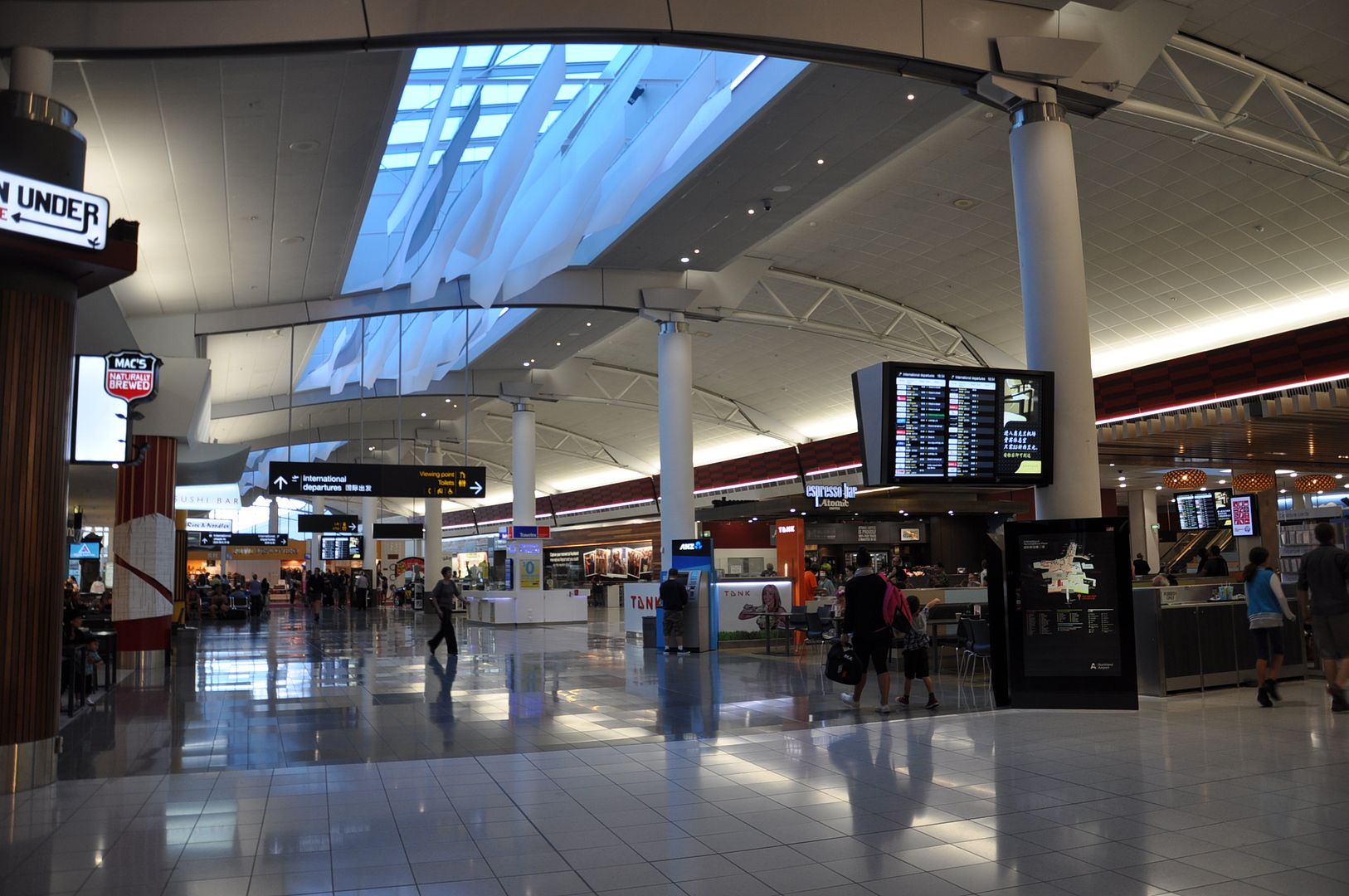 CZ Check in desks at AKL
Check in process was extremely efficient. Pretty sure this is Auckland airport ground staff that deserves the applause.
Immigration did take some time, but acceptable at around 10 minutes.
Departure gates at AKL
FIDS at AKL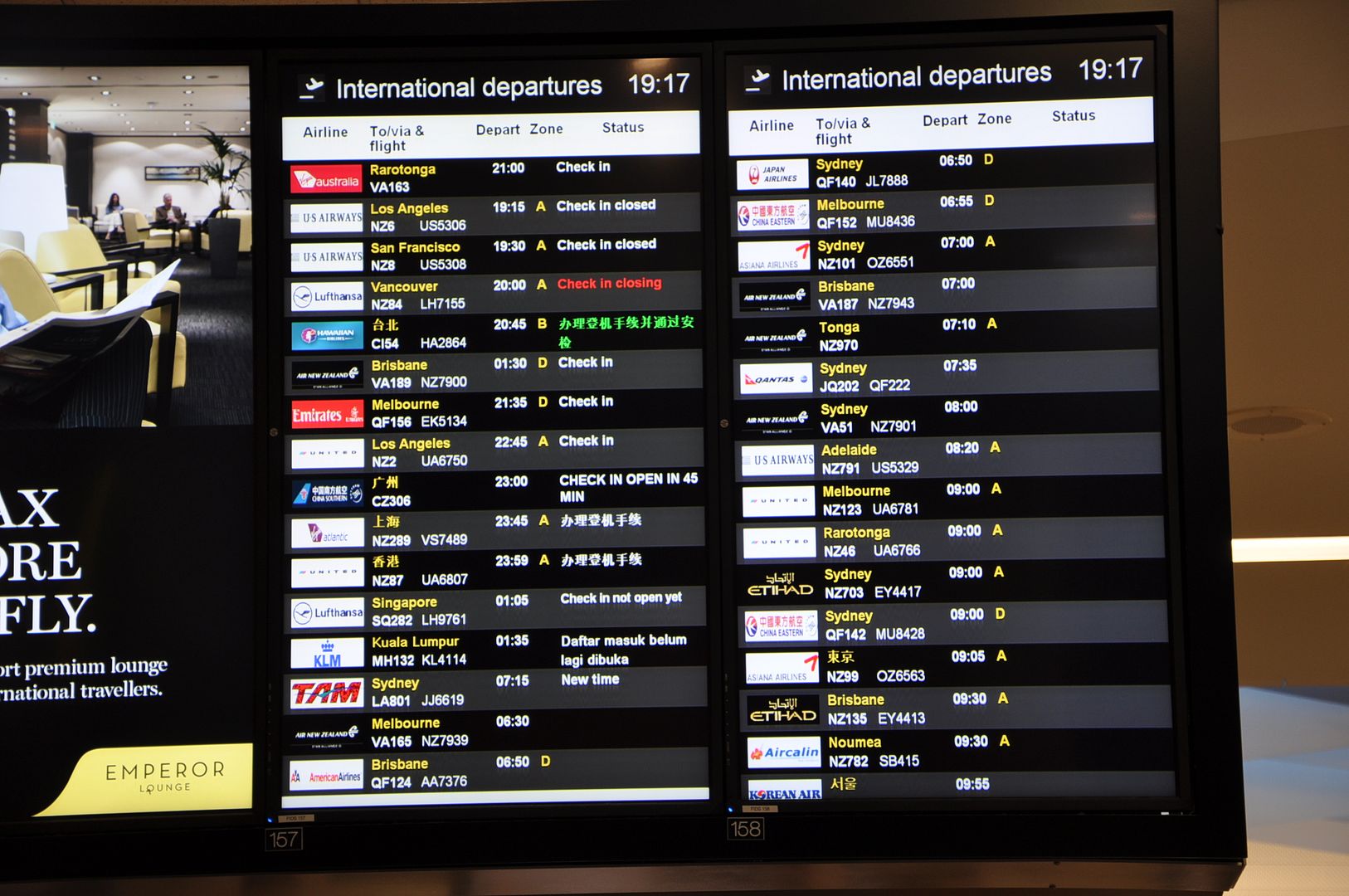 Once airside, we had around 2 hours to spare. I knew that the Emperor lounge at the airport accepted Priority Pass, so headed in that direction.
The Emperor lounge was excellent. It was Empty at that time and good choice of food and beverages. Perhaps a close second to Heathrow t3 lounge, amongst the lounges I've used. It was the perfect way to culminate our epic Aussie NewZea trip.
Perfect way to end the epic trip – chilling at the Emperor lounge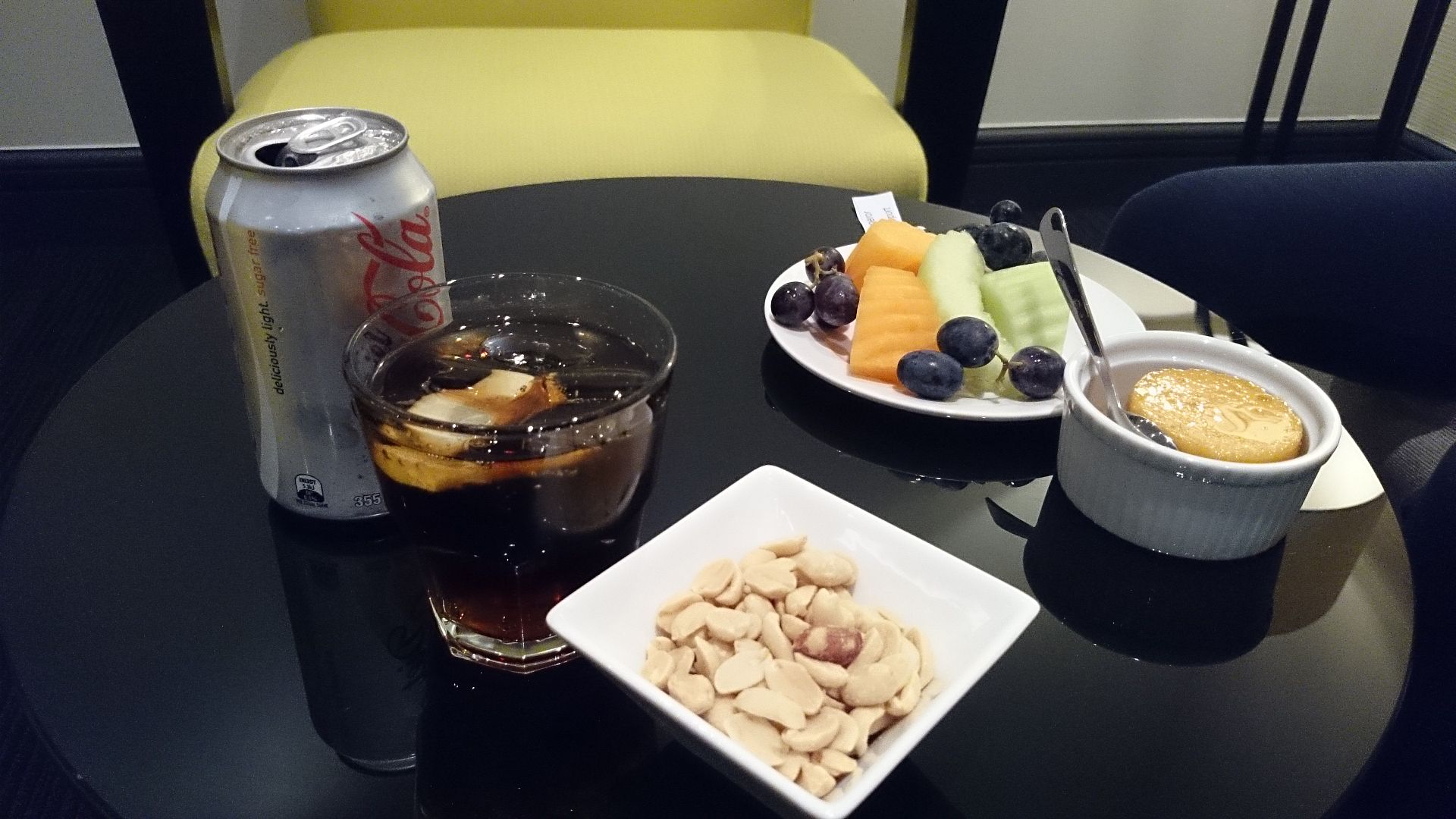 Watching my favourite cartoon at the Emperor Lounge at AKL – Johnny Bravo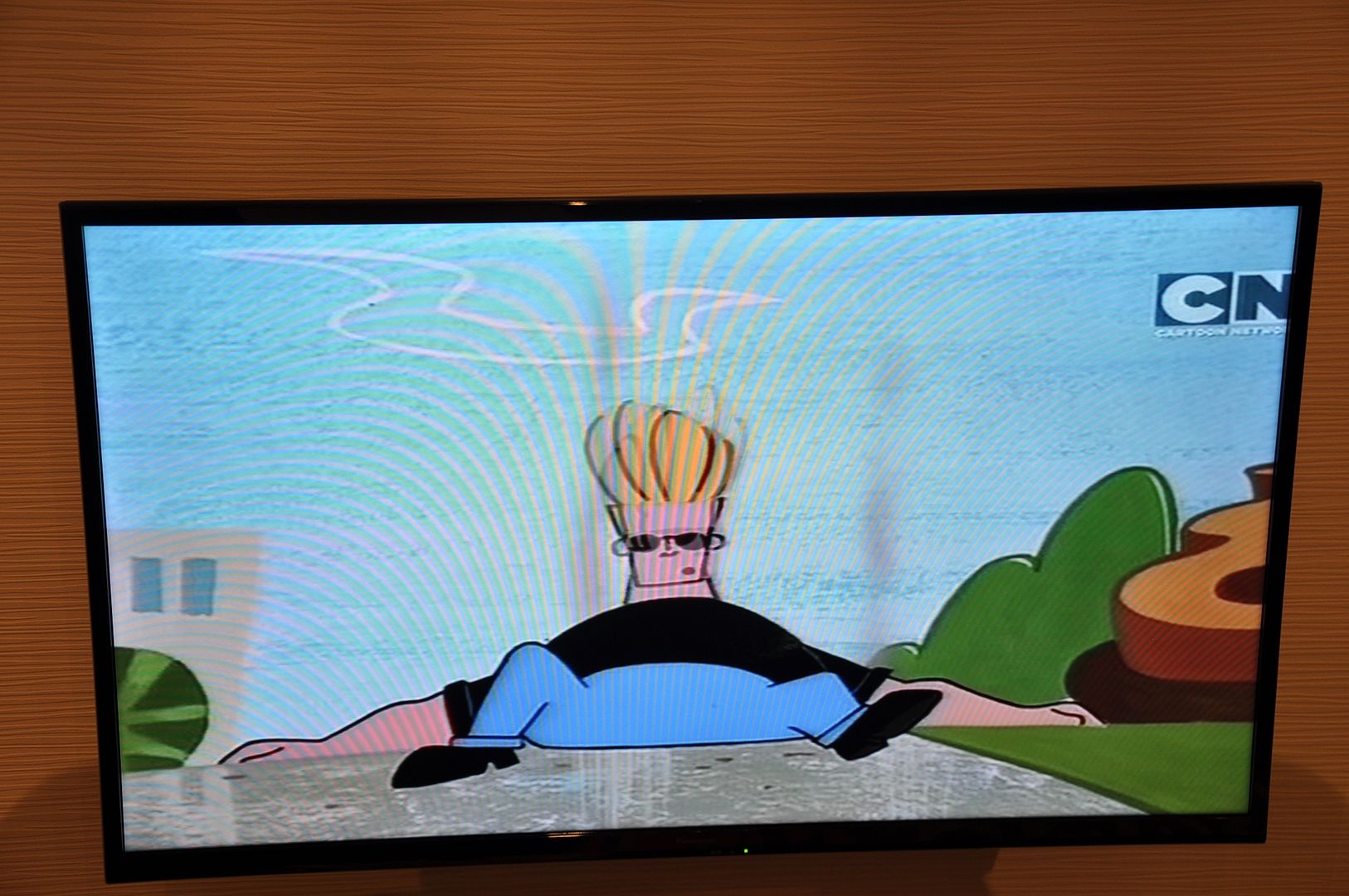 A more than decent spread at The Emperor Lounge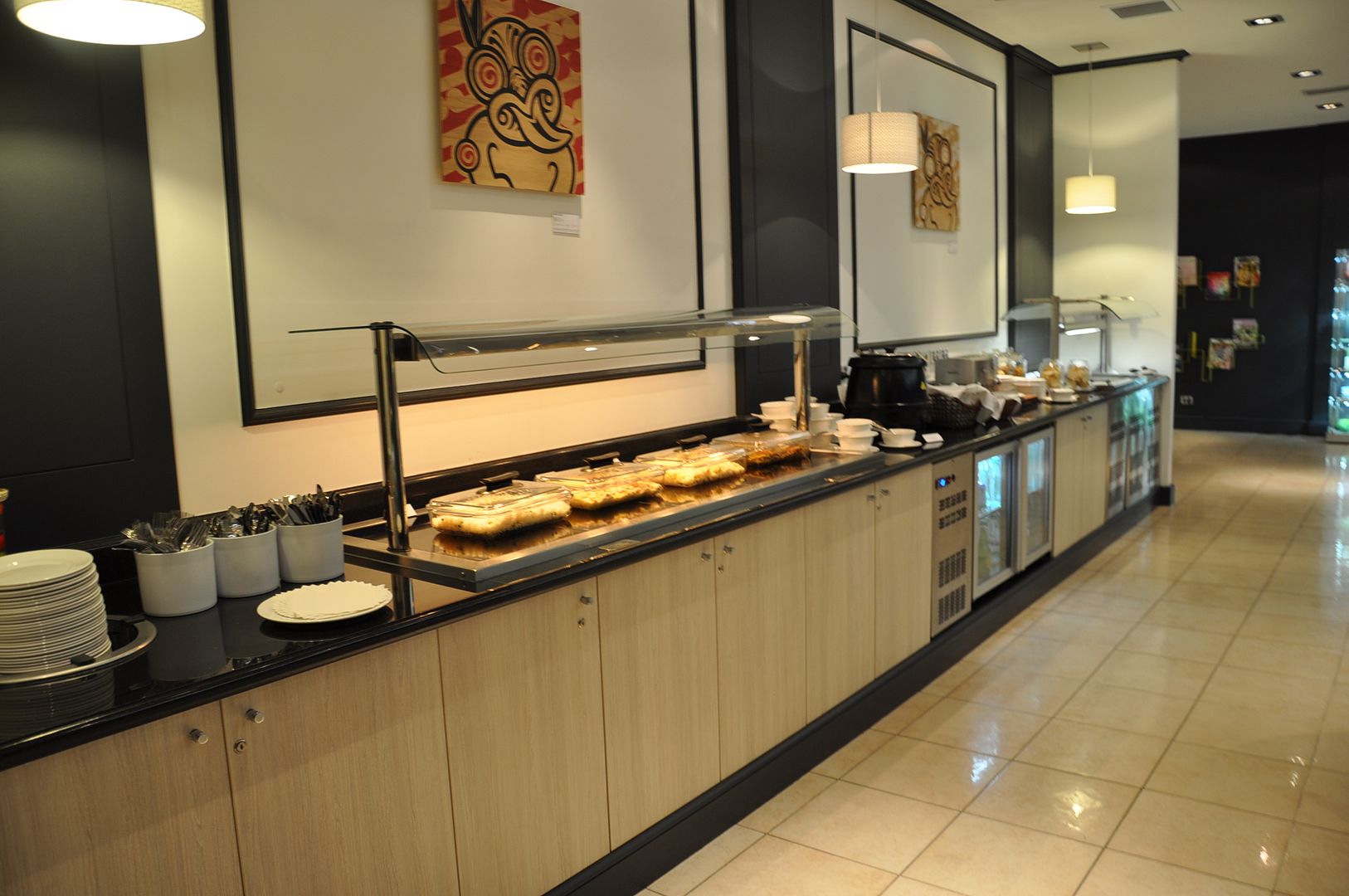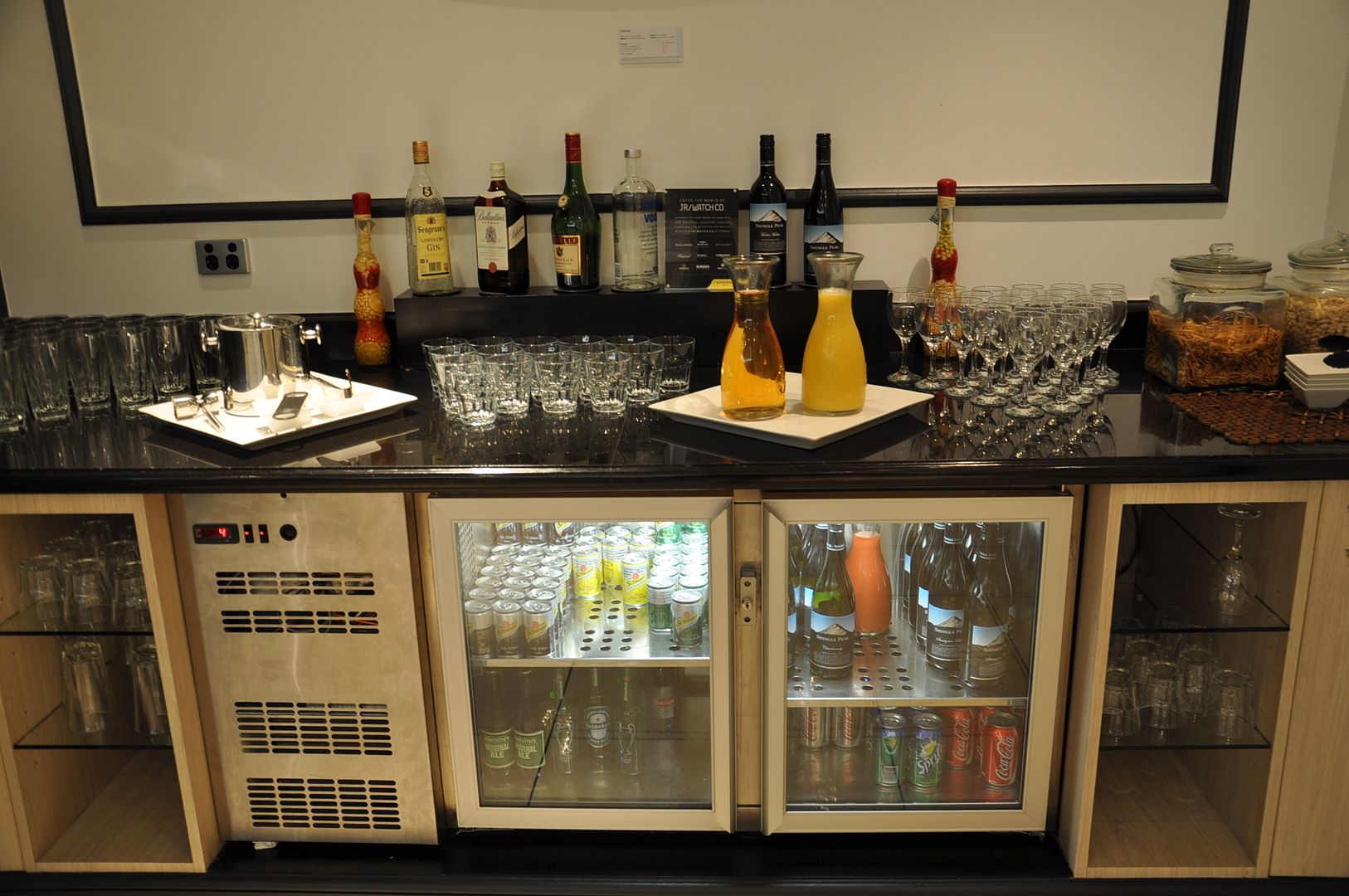 FIDS at the lounge – RELAX.!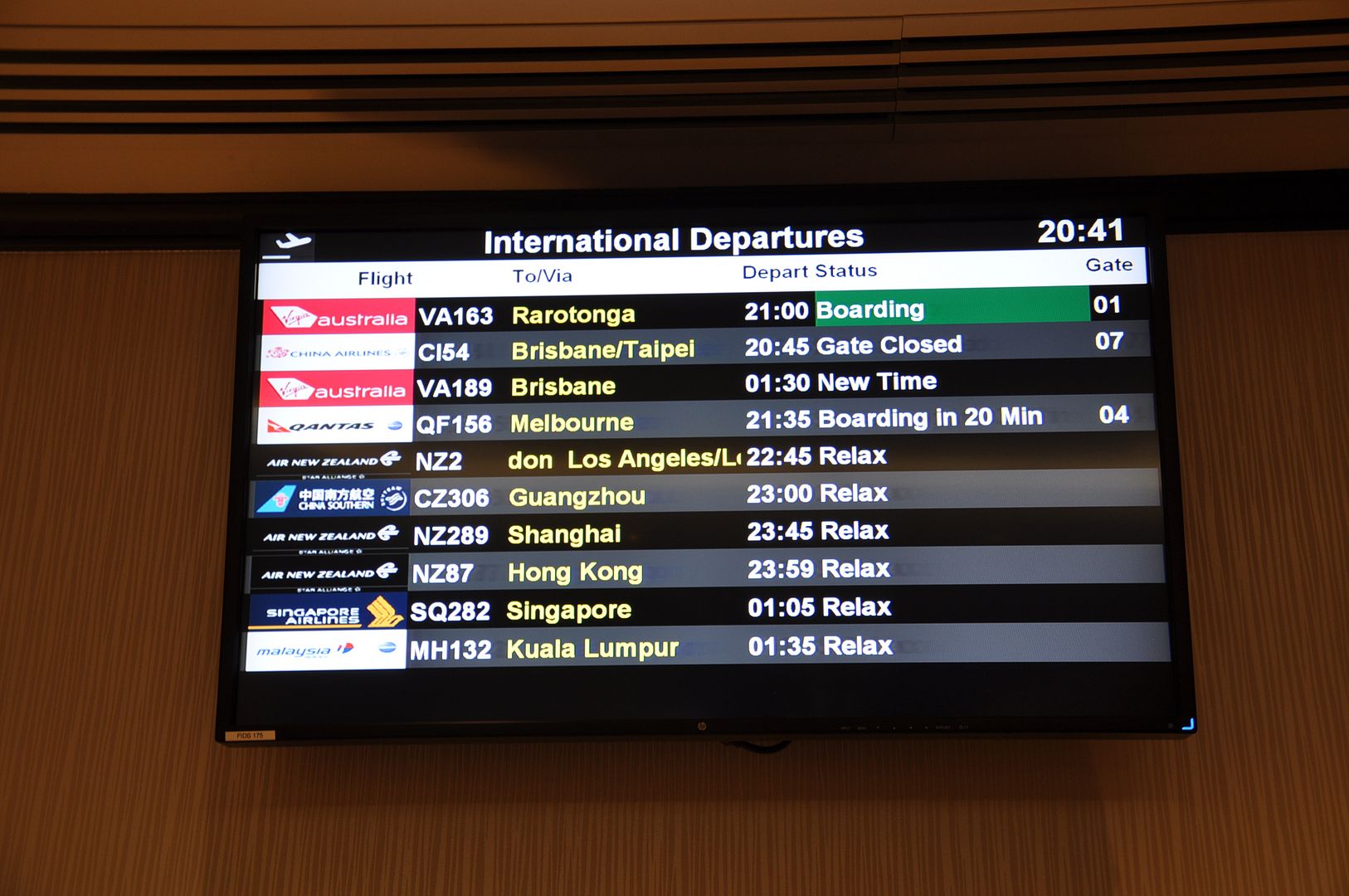 The slick Emperor Lounge at AKL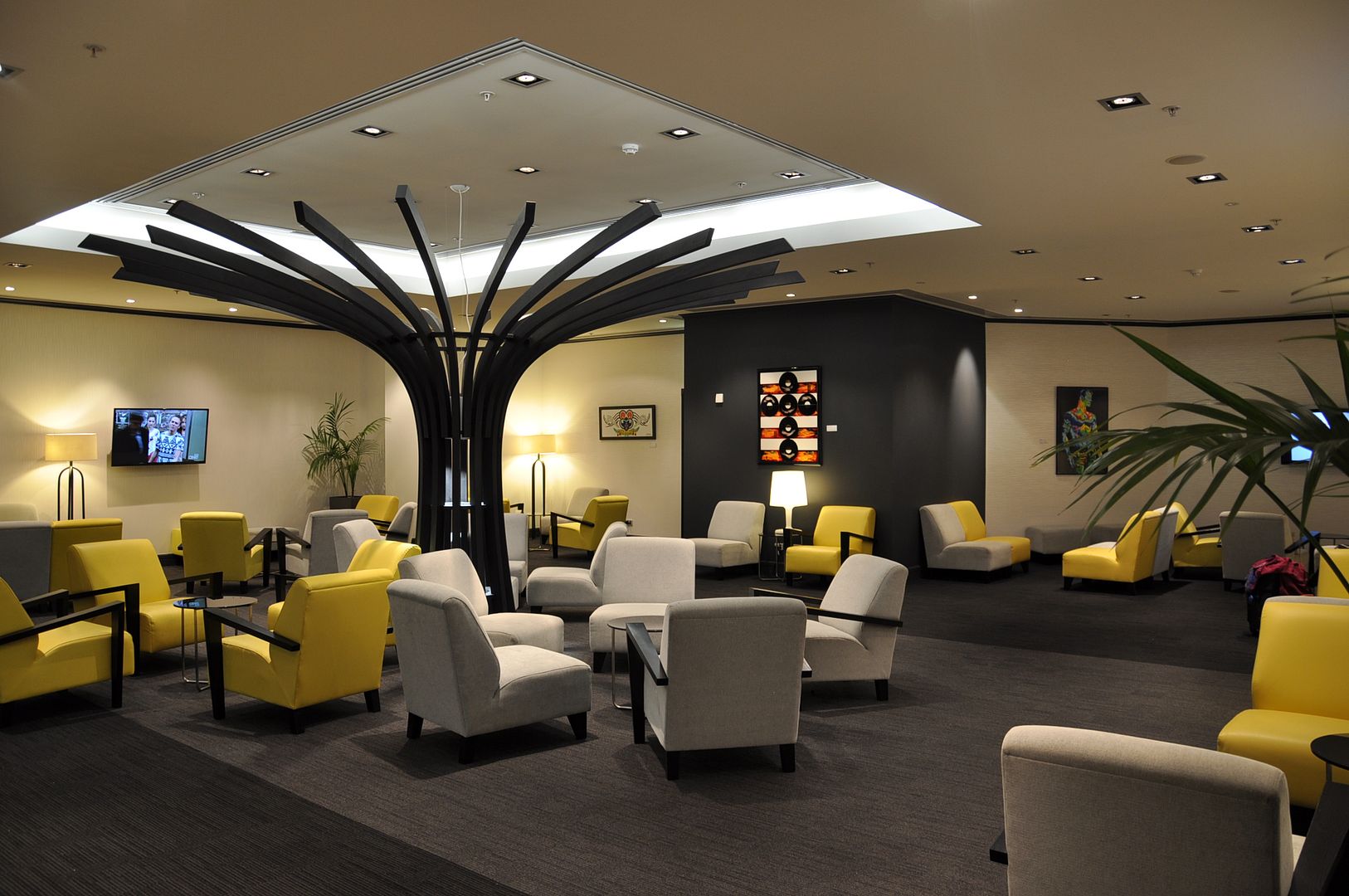 GCMap for the entire trip
GCMaps for this section of the Trip Report
Our Airline choice and airports we visit during this leg of the trip:
Flying With
From
To
And then onward to
China Southern CZ306 and CZ303: AKL – CAN – LHR
Flight Reg: [http://www.airframes.org/reg/b2727] B-2727 [/url]; delivered Oct 2013
Boeing 787-8 Dreamliner
Seat 52A and 52A
Departure time AKL: 22:50(Actual 19:50) CAN: 9:30 (Actual 9:30)
Arrival CAN: 06:00 (Actual 05:05) LHR: 14:30 (Actual 14:10)
21 and 22 March 2014
Price: GBP 660 per head for LHR – SYD, AKL – LHR return sector
Looking forward to travelling the dream on the DreamLiner for the next 24 hours, especially given the fact that we have secured, what in my opinion is the best couple seats in economy on the CZ 787, for the entire sector.
Plane spotting at AKL – NZ B77W – ZK-OKM – Delivered on Dec 2010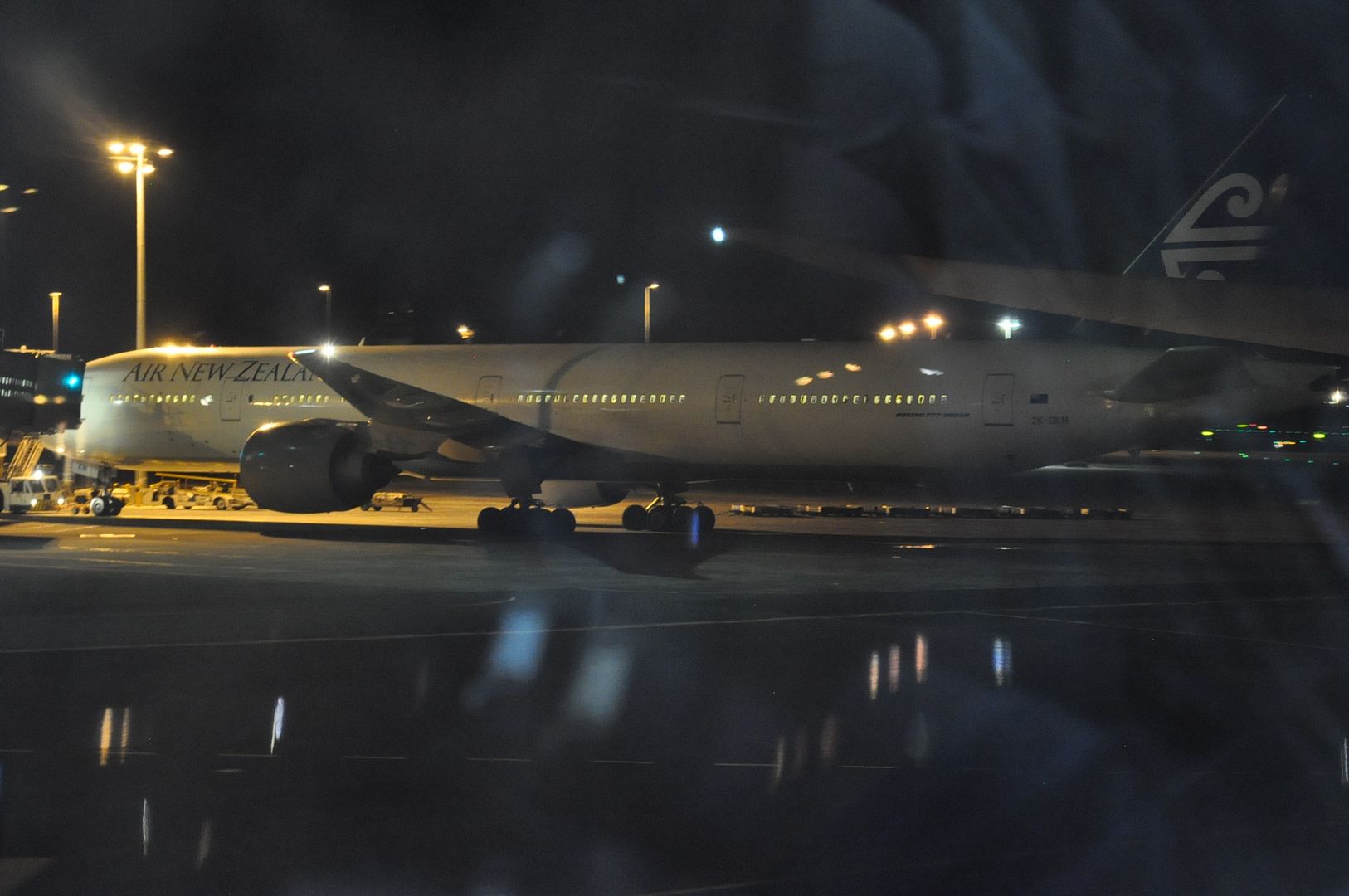 Boarding began on time and by the time we had left the lounge and onto the gates, we were the last to board, some 35 minutes before departure.
As always, on boarding the aircraft, it looked immaculate. And Again, as always, it was rear heavy. Economy was almost full.
Once again, the flight disembarked right on time and proceeded towards the runway. After a short taxi, we were ready to roar into the glistening Auckland sky.
My preferred Y seat onboard CZ 787 – 52A
Soon after take off, the meal and drinks service commenced – some 1 hour into the flight. Once again there was no sign of Australian crew on board, Nevertheless, so far our crew on the 787 always seem to be upto the task.
Our ride for 24 Hours – B-2727 – delivered to CZ on Oct 2013 (Are in different order to when the pictures were taken)
Looking fresh – on the first sector from AKL to CAN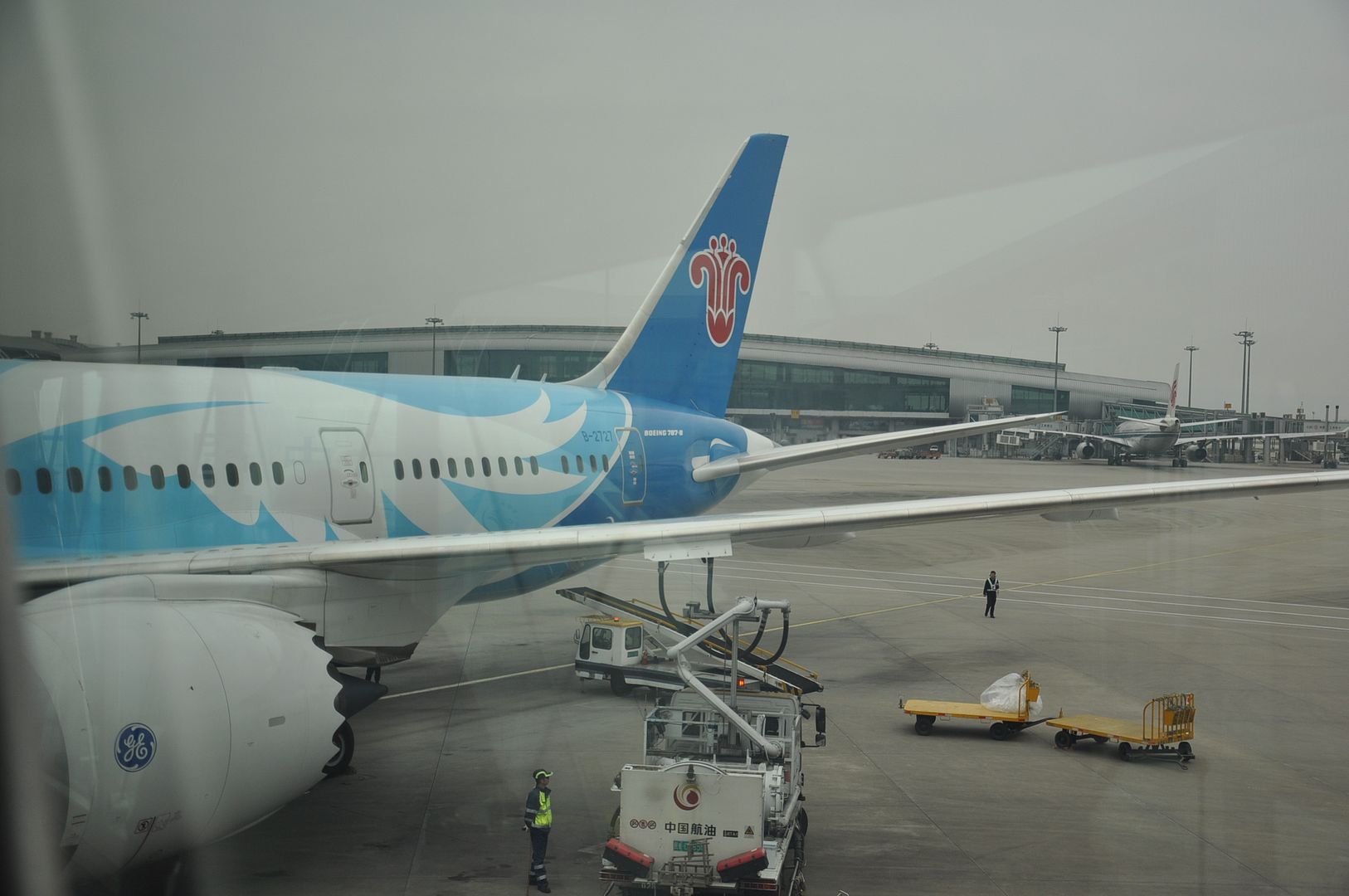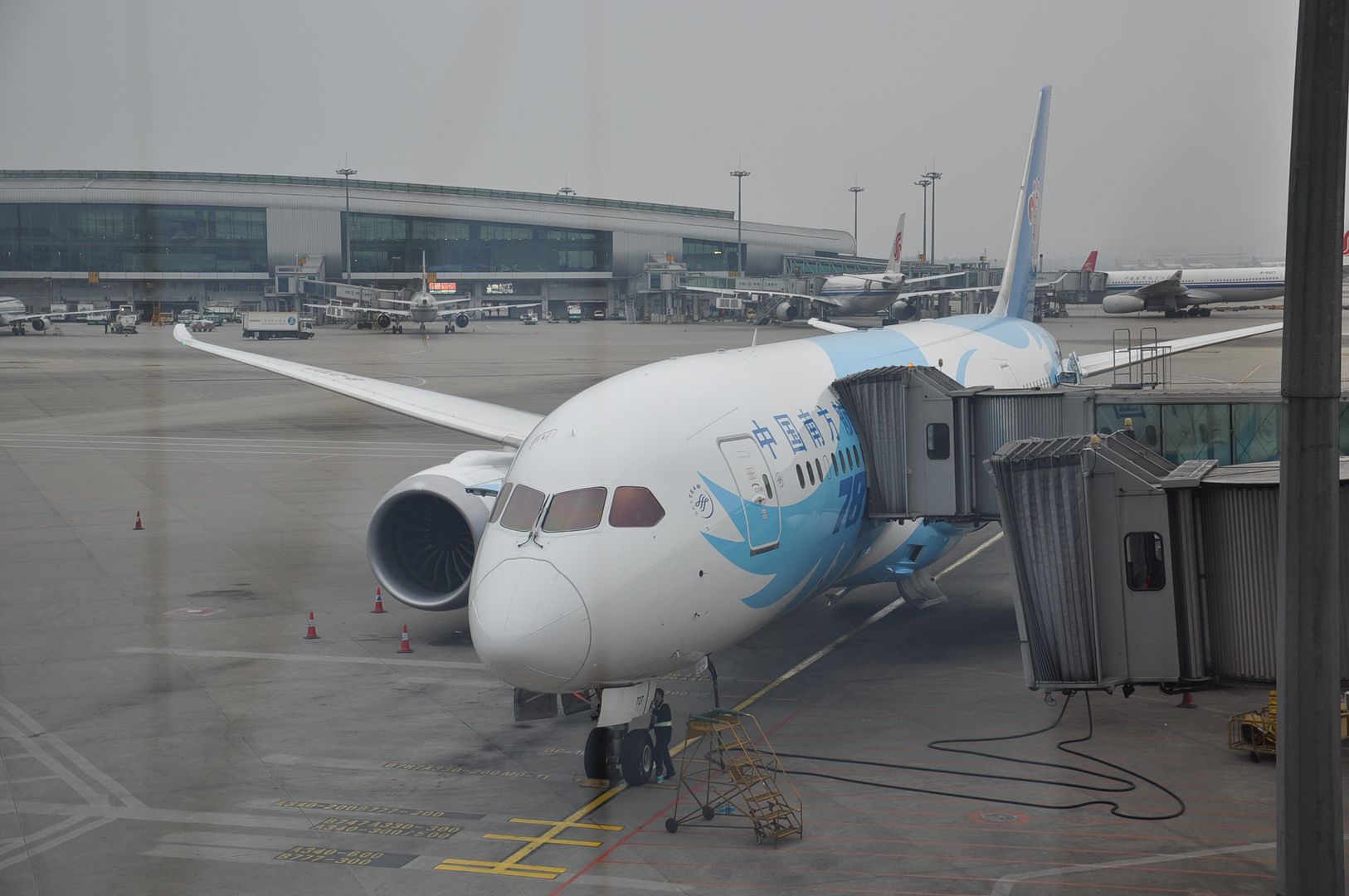 Looking smart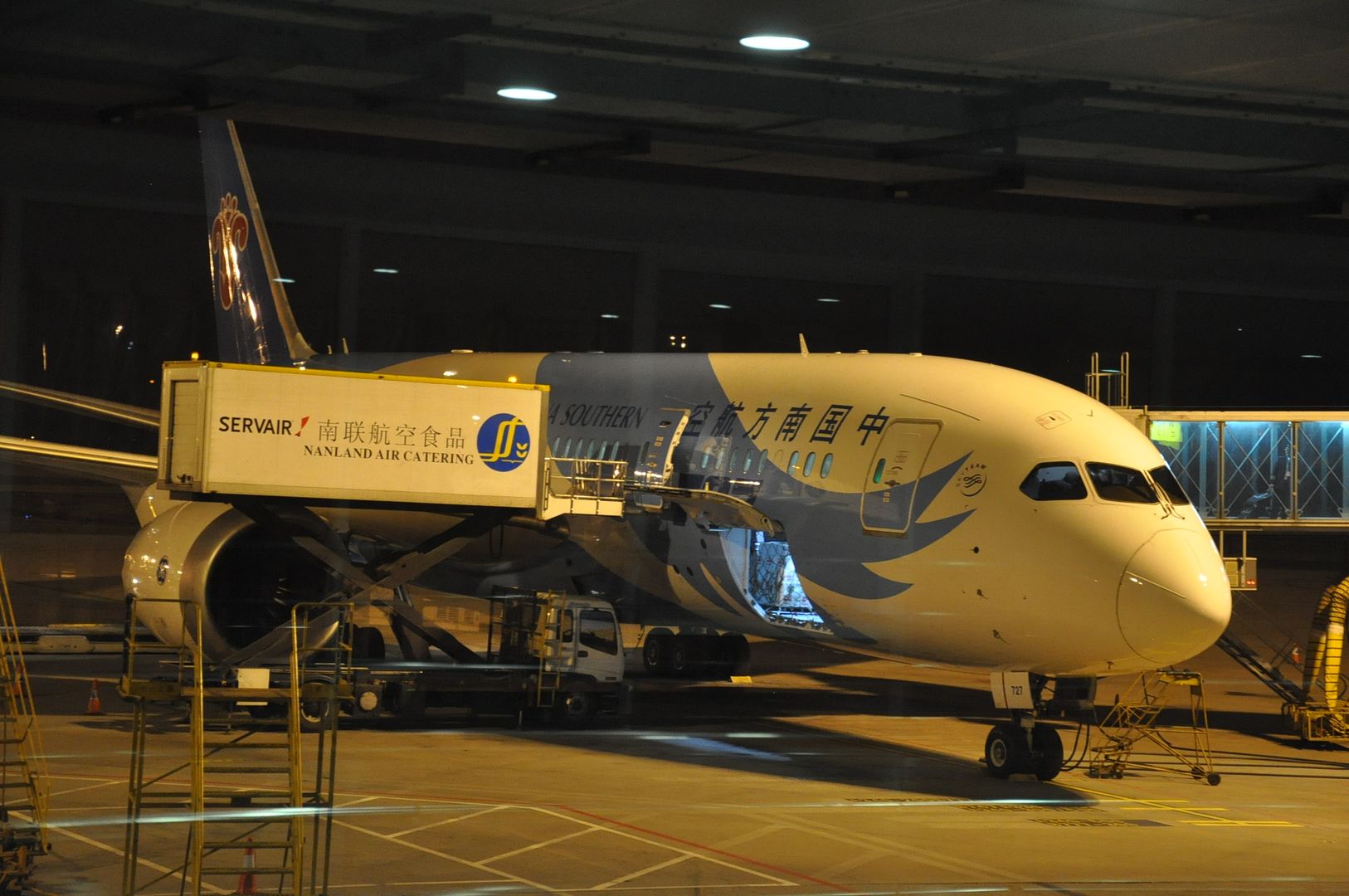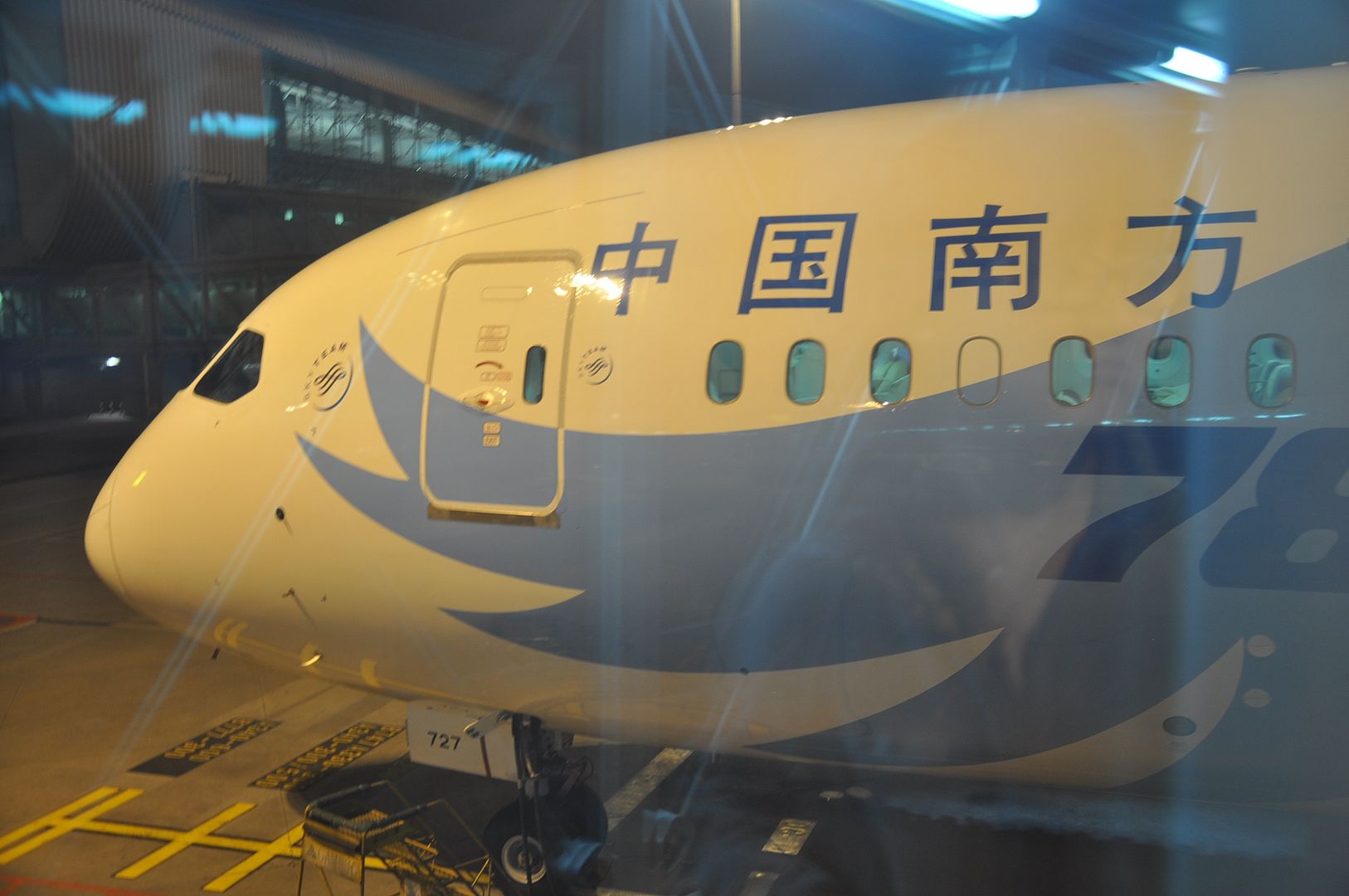 Night time interior shot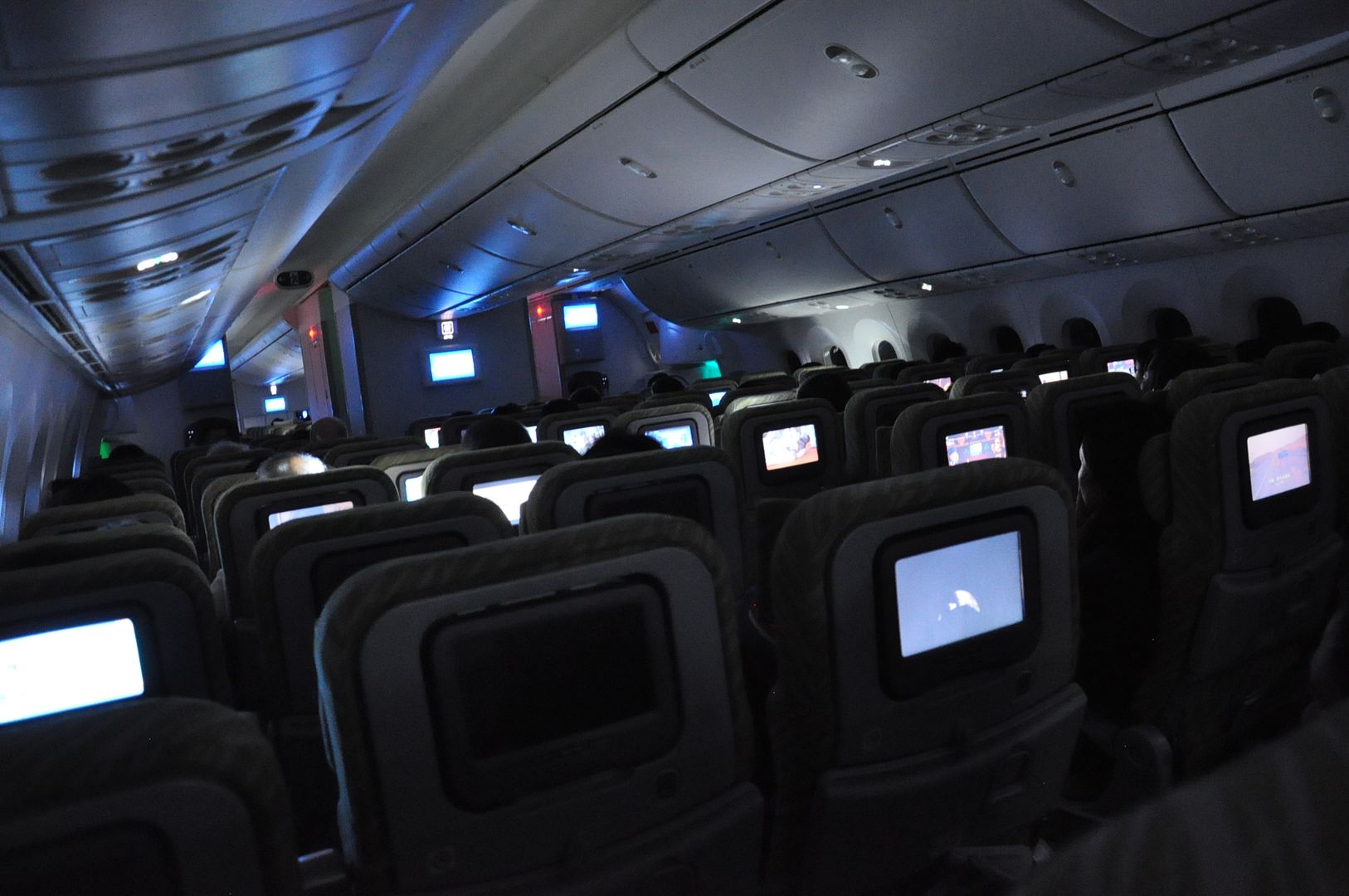 12 hours to CAN – Bye New Zealand, you'll be missed.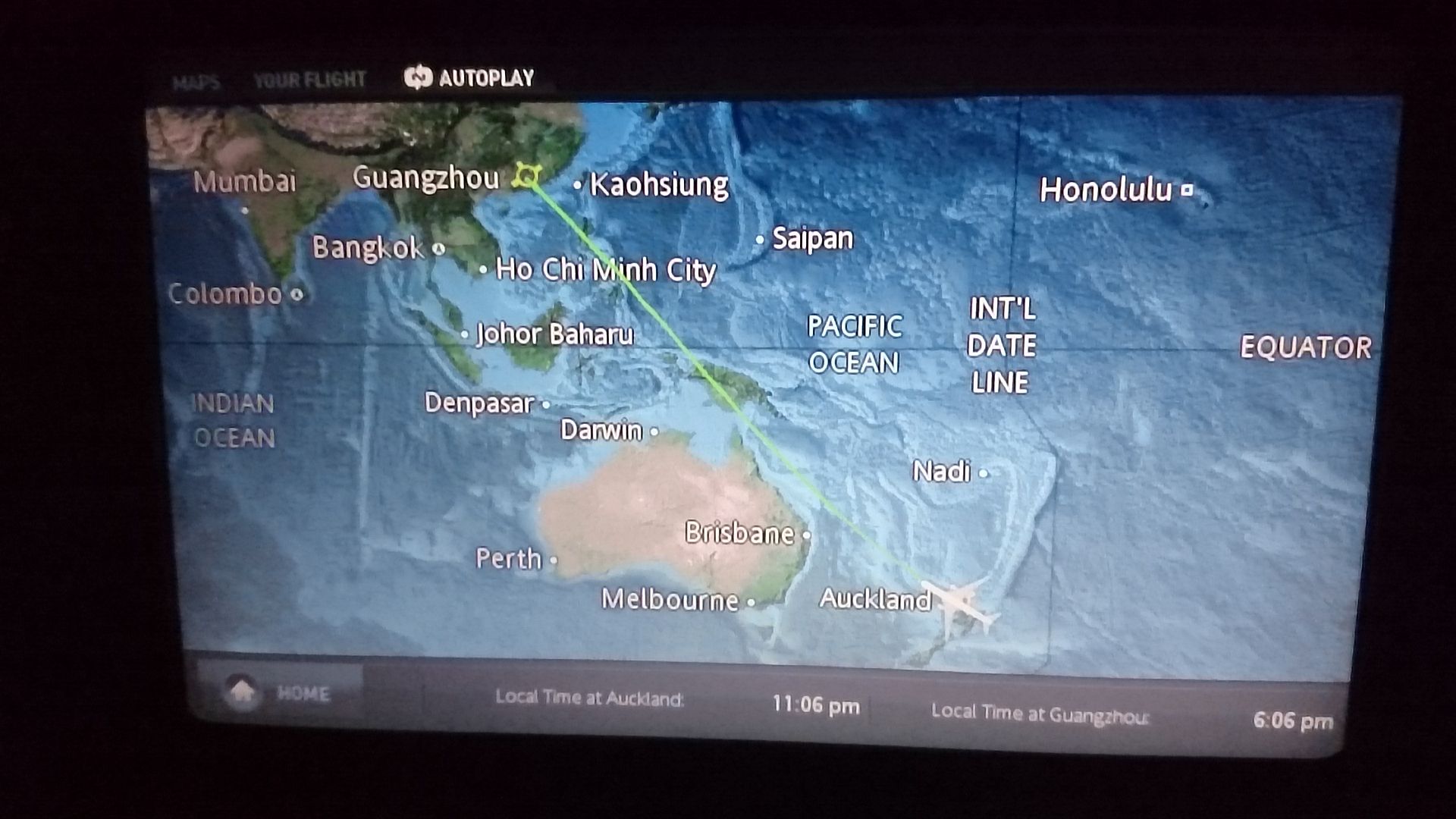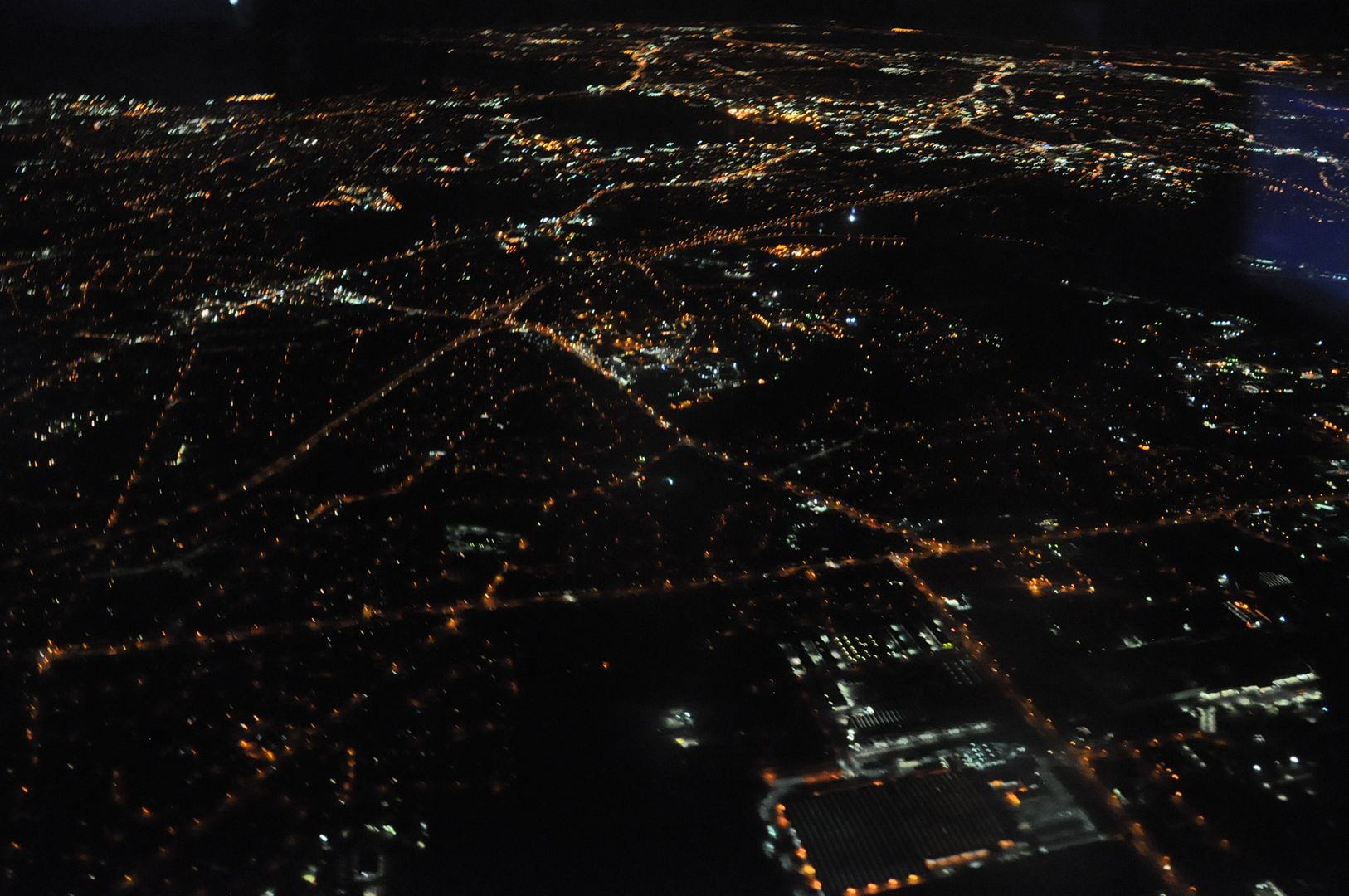 The dinner service consisted of Beef with potato or chicken and rice. The meal service was completed with military precision, and before we knew it, tea/coffee was served, trays cleared and the cabin set to dim lights for a good nights rest.
Dinner service to CAN – Chicken with rice
Lunch Service – Beef with potato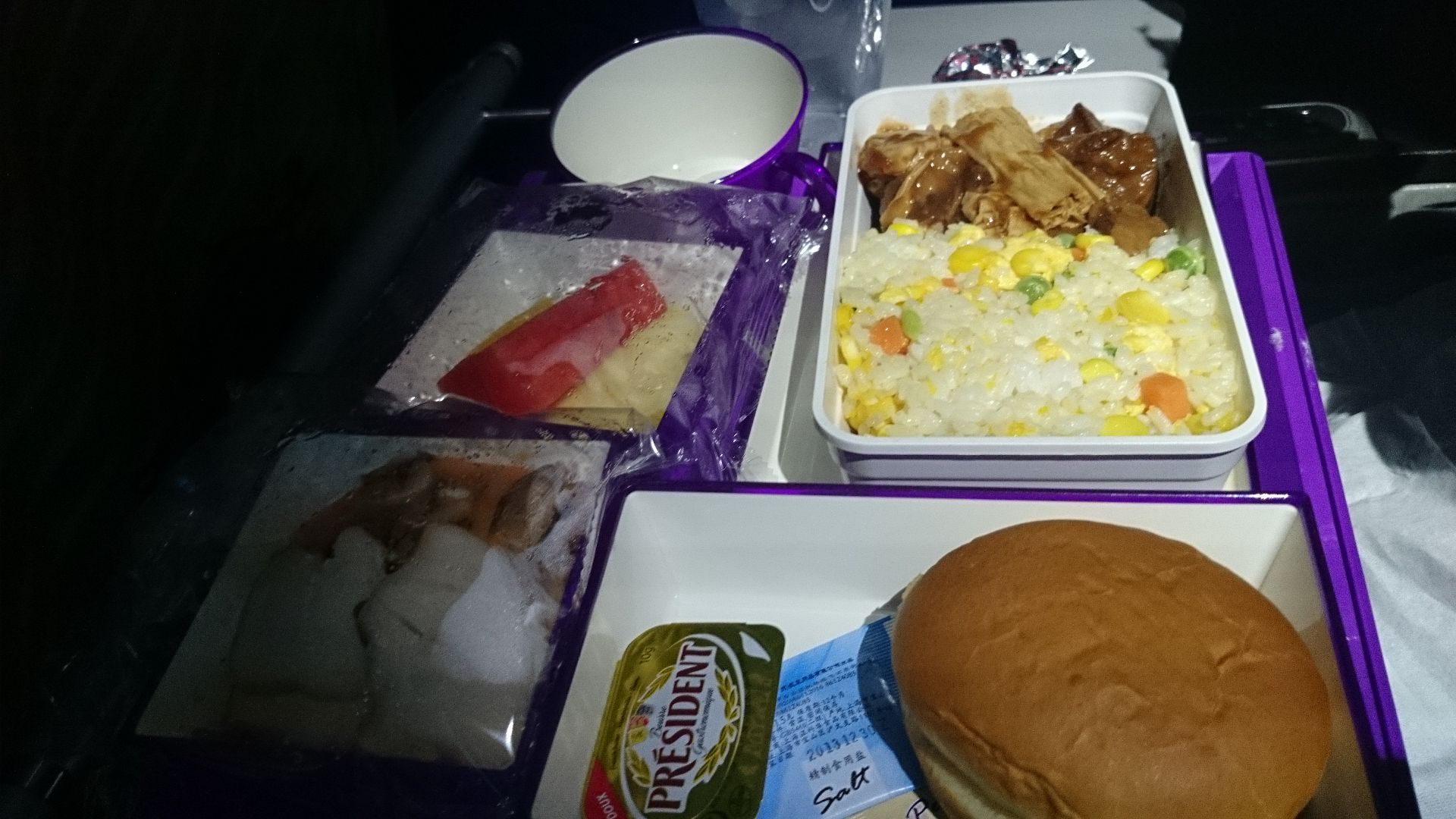 After meals settled into a few movies before I hit the sack, well, in my case reclined the seat by 10 degrees
Once again, as other CZ DreamLiner, they at least seem to be using the seat belt sign appropriately, which wasn't the case on the A332 to SYD.
Before take off – another first for me on a CZ mettle – An announcement from the flight deck from the captain himself! Finally good to hear some voice from the cockpit. Announced a fairly smooth ride with intermittent light turbulence and a flight time of around 11 hours.
Around 4 hours later was woken up with the cabin light set for breakfast preparation, some 2 hours before landing.
The breakfast service consisted of Omelette or Chicken noodle.
Spanish omelette
Breakfast service en-route to CAN – Chicken noodles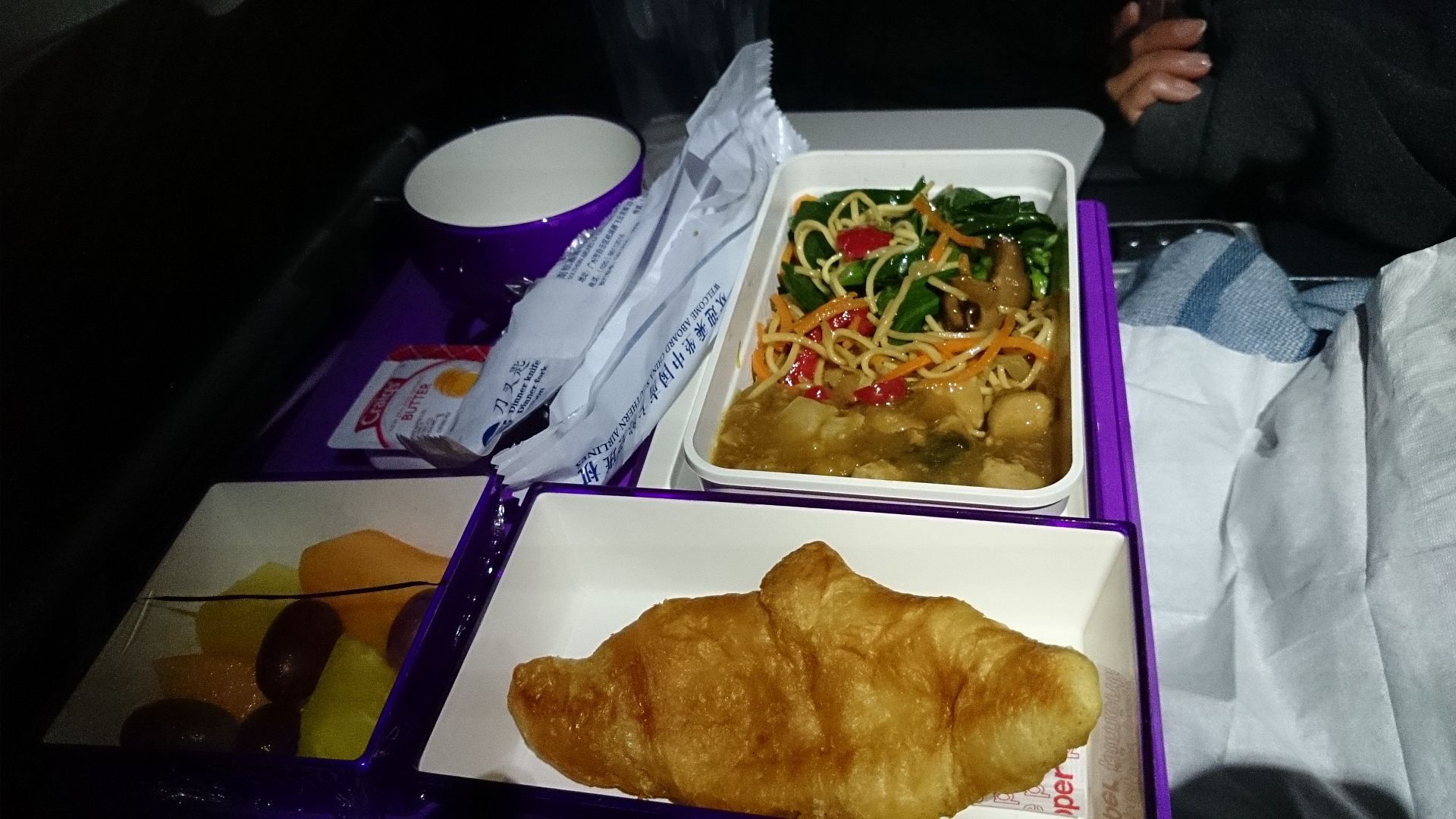 Almost reached CAN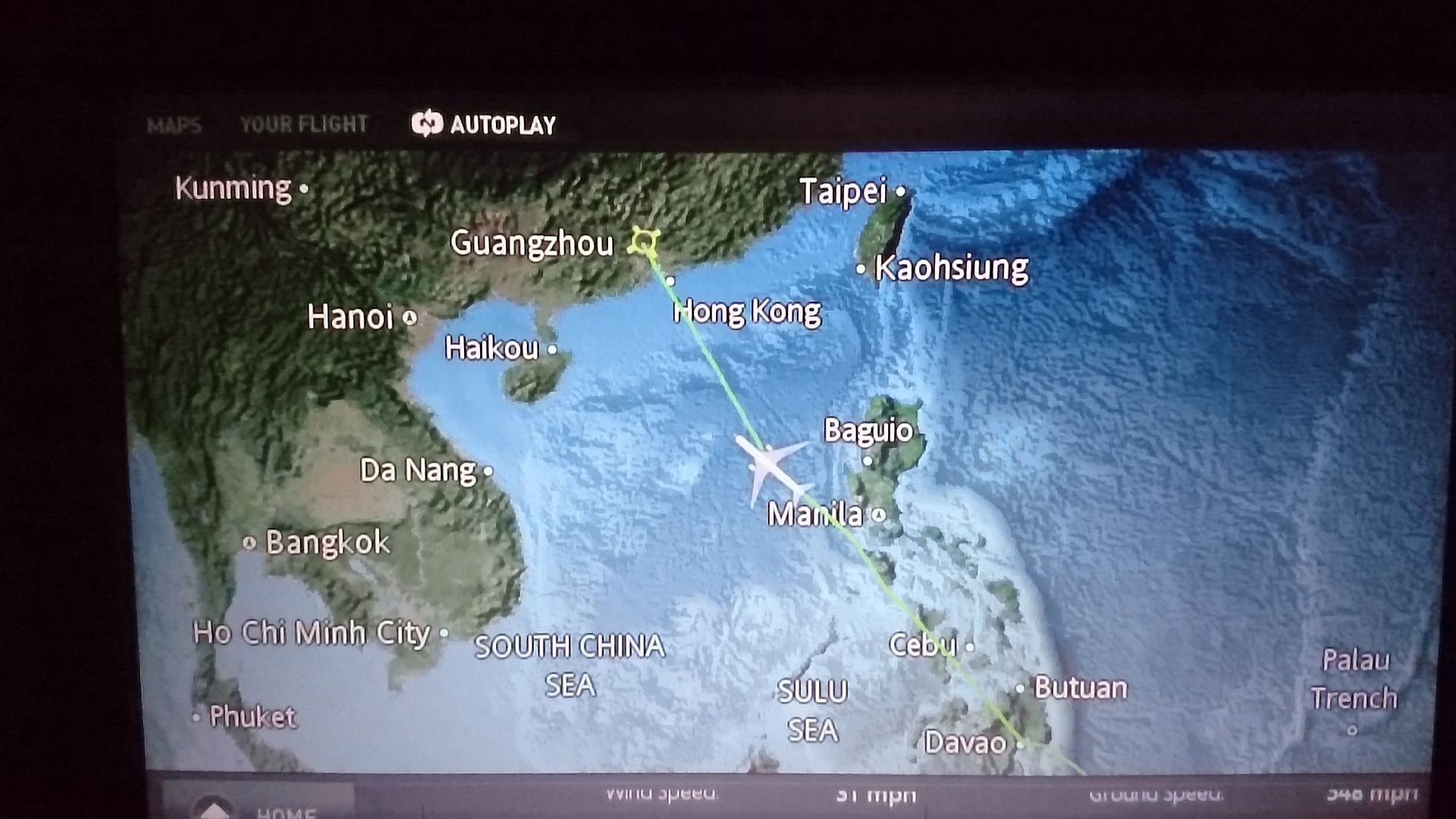 After this had a chat with the cabin crew and they seemed to be friendly enough. Once again, a marked difference in the attitude and feel of the crew between the 787 and the A332.
From here on it was a regulation descent into CAN and within no time we were at our gates.
Transfer at CAN and the Second Leg to LHR
Quiet CAN at 5:00 AM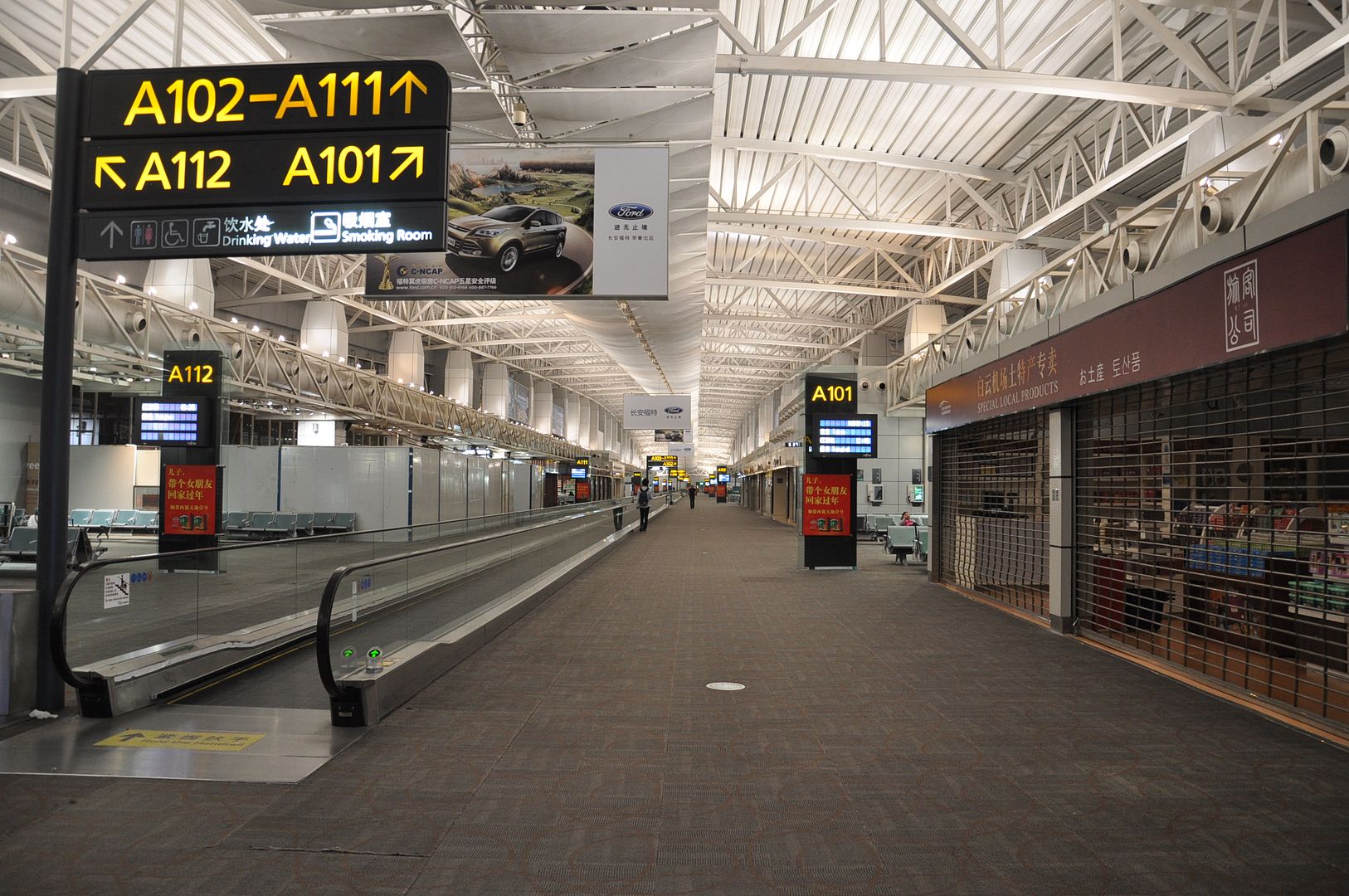 Transit at Guangzhou can't get more mundane. And it is especially worse, during that time in the morning. There are no shops opened and all you can do is sit on one of the seats. At least, there are a lot of seats and are pretty decent for a couple of hours.
Apart from that there is Nothing much to do. The F&B are completely Overpriced, especially warm/cold drinks. You know something is not right when a whole pot of noodle soup is priced the same as a regular latte!
Our original gate was assigned as 104 (similar to our trip from Hainan), and the assigned aircraft seemed to be the B-2733 which was going to be our ride to LHR.
2 and a bit hours from departure, this got changed to Gate 110. Heading over to 110, we see a familiar aircraft – The B-2727! Which would mean that we world be on the same seats of the same aircraft for 24 hours! This should be fun.
Same aircraft – same seat – different crew – different passengers – On board CZ 787 B-2727 from CAN to AKL
Our proposed ride from CAN to LHR, got changed in before boarding – CZ 787 (B-2733)
From here on, freshened up a bit, walked around the terminal, and by then it started getting busy. Unusually a lot of foreign tourists, which means that CZ seems to be doing the Canton route well (And Thailand – Europe route too), at least it seemed so.
Boarding was on time, and we were once again ready for an on time departure.
Plane Spotting at CAN – CZ A330
Once again, heard the captain speak to the passengers. Flight time of 12 hour 30 minutes announced.
Nothing much to comment on the interiors, except that it was dejavu.!
On time departure and as normal, meal service within an hour after departure. The brunch service consisted of Chicken with rice or fish with potato.
Breakfast/Brunch service – Chicken with rice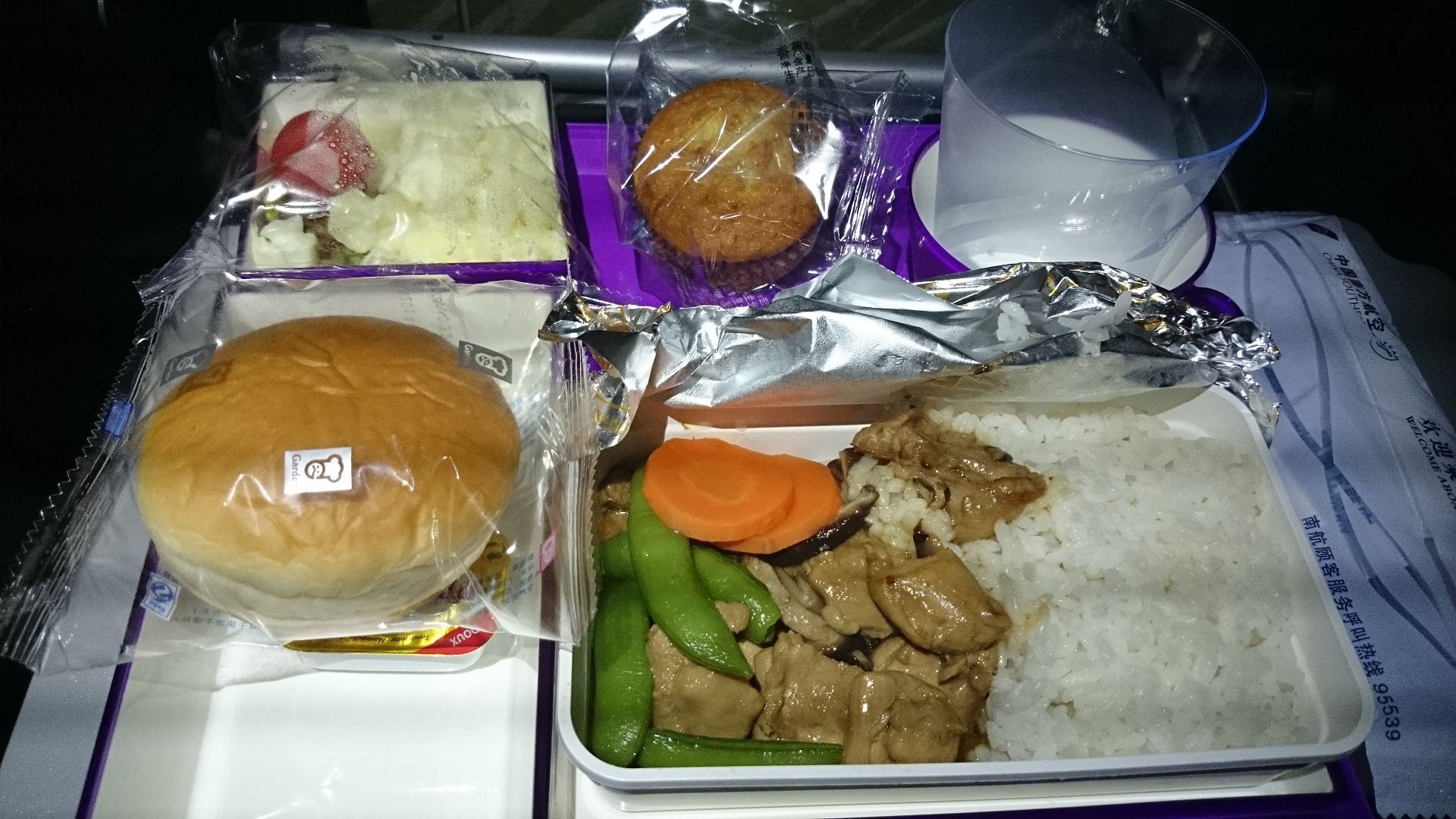 During flight, I noticed that all toilets were cleaned to and kept like sparkling new, to which I passed comments to the crew. They were really excited that I had commented on it and asked if I could fill in their feedback form to which I duly obliged. From there on I got anything I asked for, drinks, sandwiches, and snacks - anything! Ha. Great! Once again experienced superb service and my 'feedback form filling exercise' earned me some brownie points with the crew.
Had an enjoyable flight, with a couple (maybe more!) of beers, some movies, and within no time it was time for the second meal – pre landing lunch/meal.
This meal consisted of either Beef with rice or Chicken noodles. I chose the chicken noodles, which was near revolting. Ah well, I cant get everything can i?
Chicken noodles – this was quite poor. CZ see to it that at least one out of four meals is poor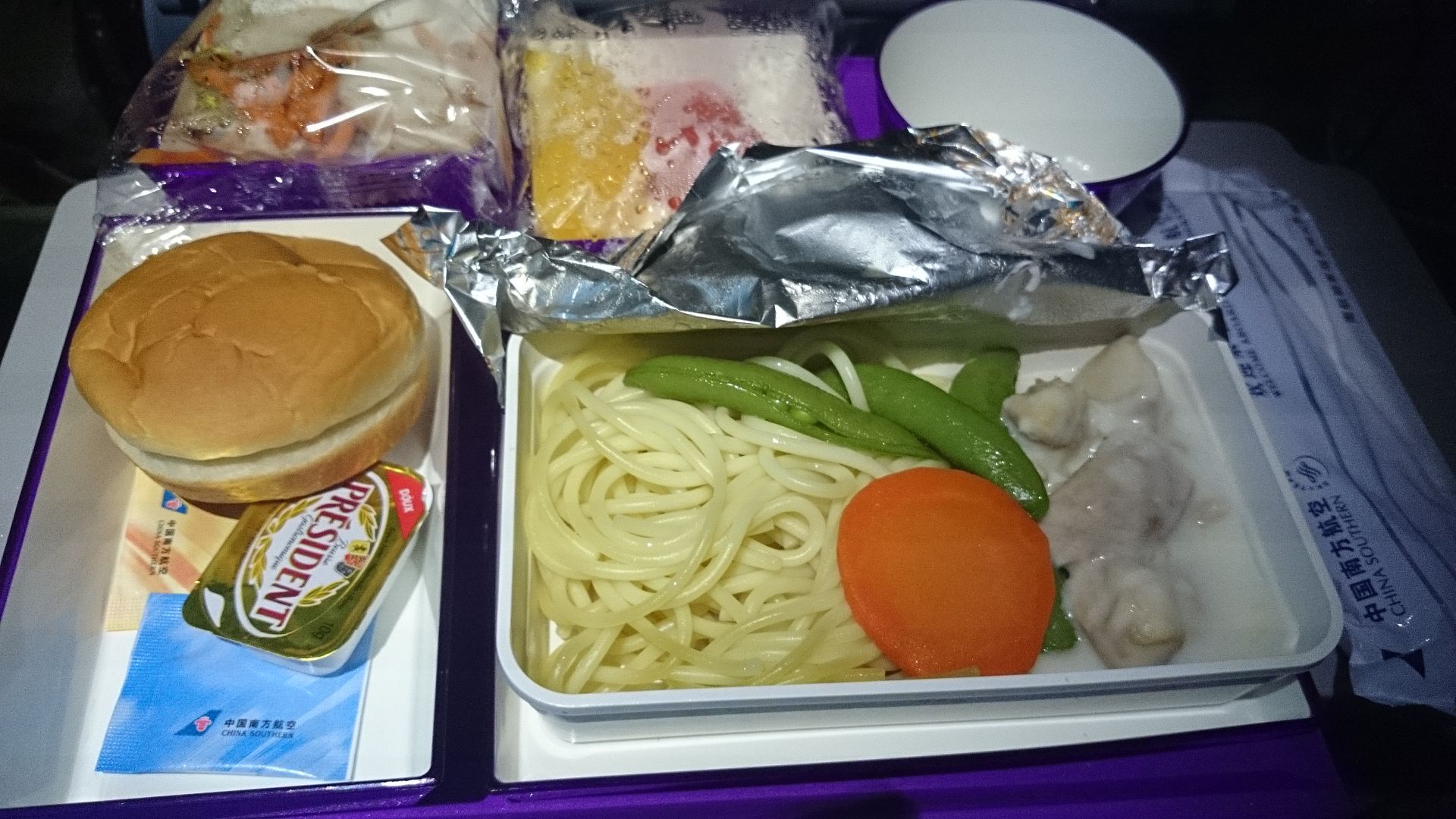 Looks like the 787 have a Guangzhou based crew, while the other aircrafts have a Mixture of Shenzhen and Guangzhou crew. There is a noticeable difference in the crews between Shenzhen and Guangzhou. All the 787 china southern I've flown in so far the crew have been excellent. Yes they may not have English proficiency but they do make it up with their effort with constant drinks run, clean toilets. Perhaps they get a rest area on the 787?
Almost There...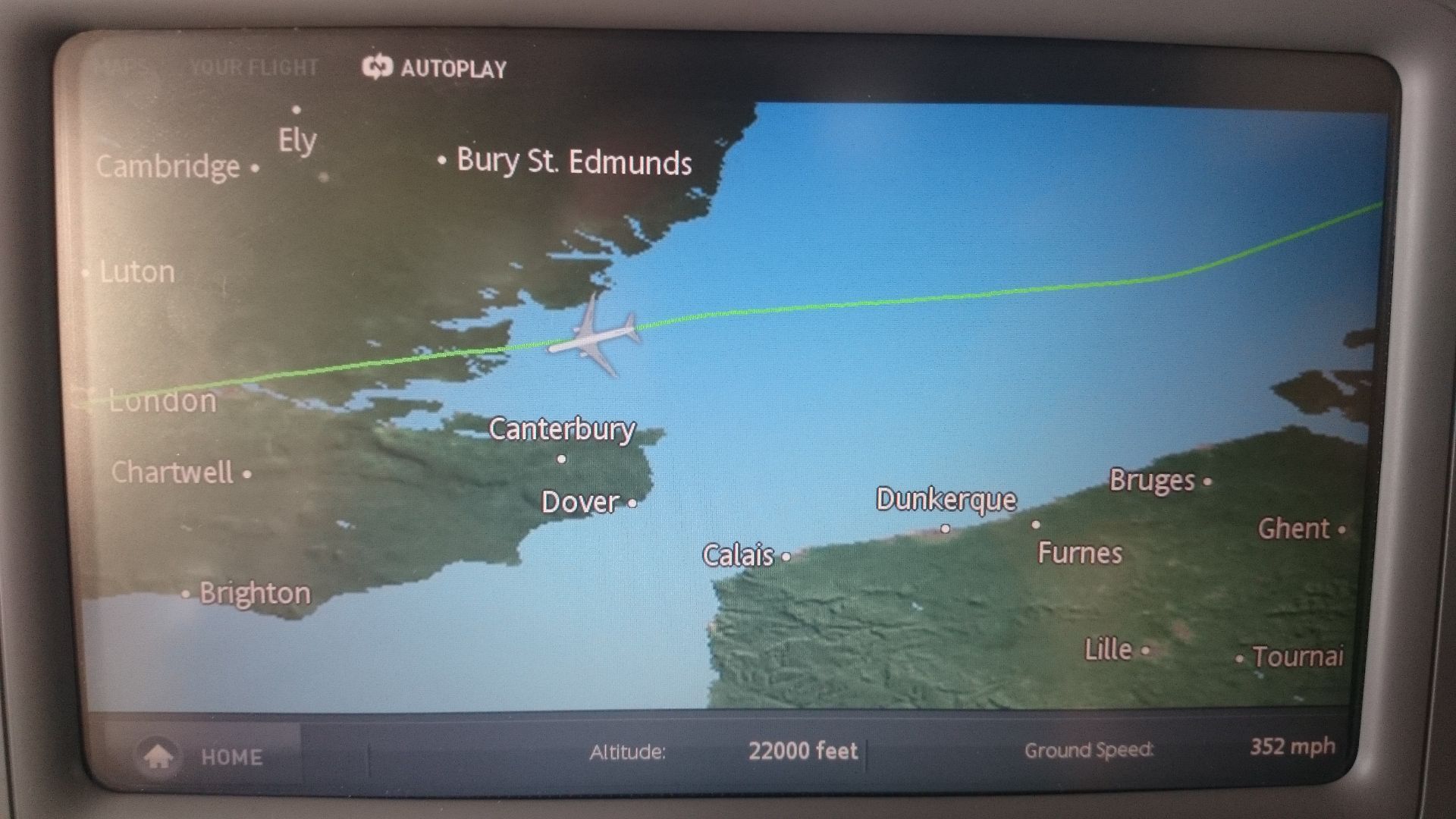 From here we had to circle over LHR once, and landed by 2:10 PM, some 20 minutes ahead of schedule. LHR T4 was very quiet at this time, immigration, bags collection and the walk to the exit lasted the whole of 40 minutes – very good for LHR in my opinion.
Plane spotting at LHR – BI 787-8 (V8-DLA – Delivered Oct 2013)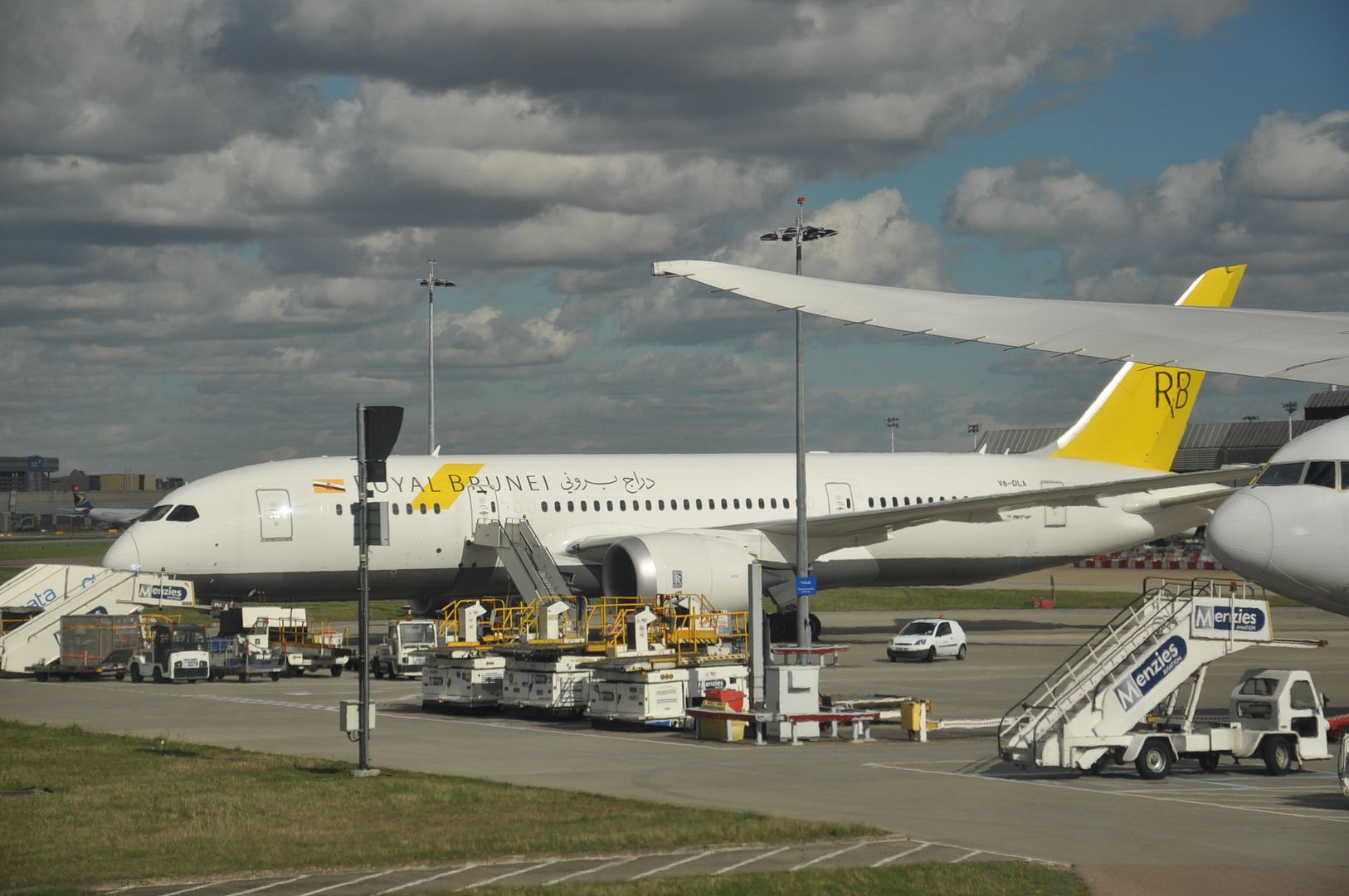 Never missed the 2 QF heavies at LHR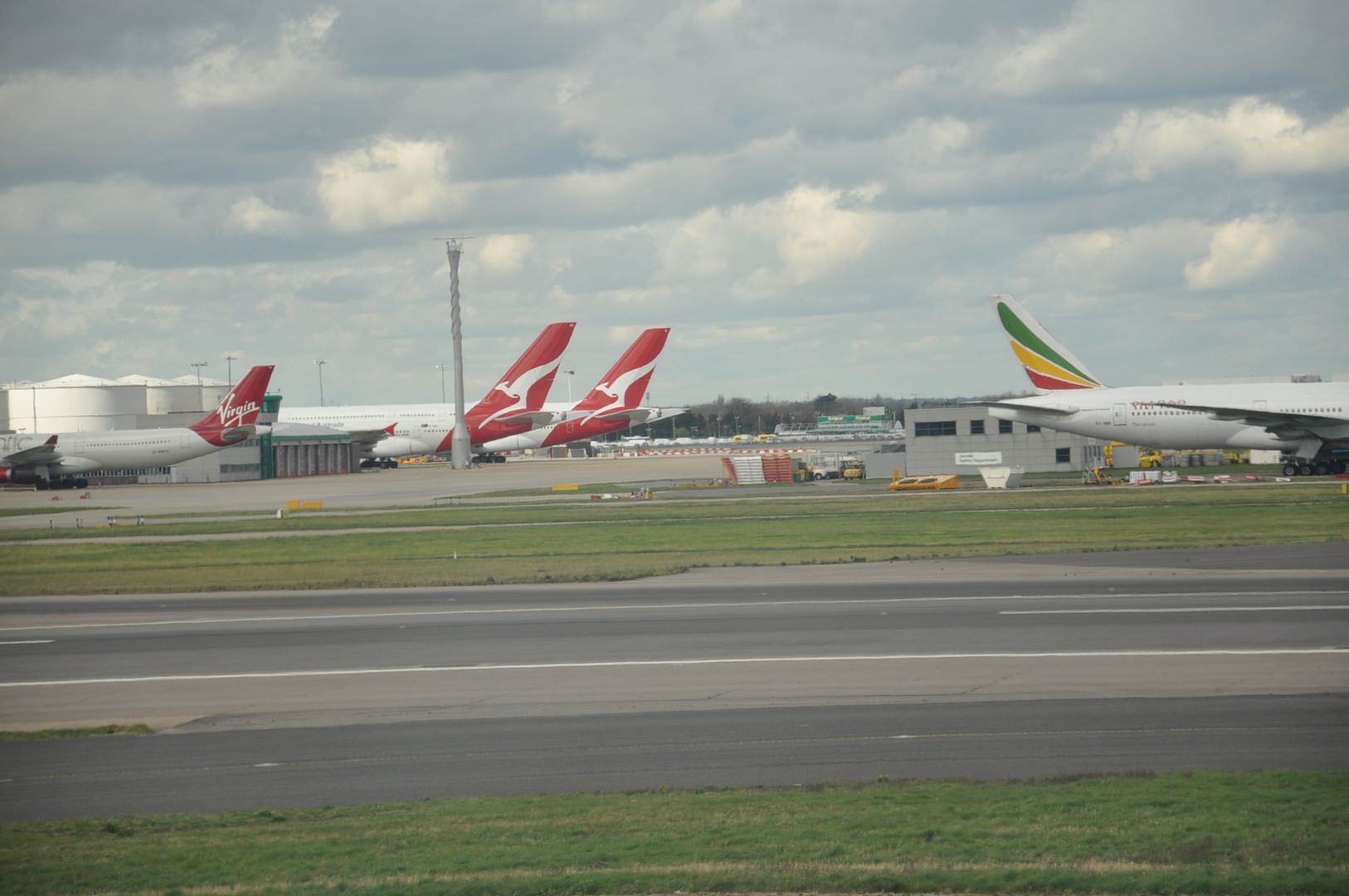 EK Cargo - B77L (A6-EFL – delivered Sep 2013)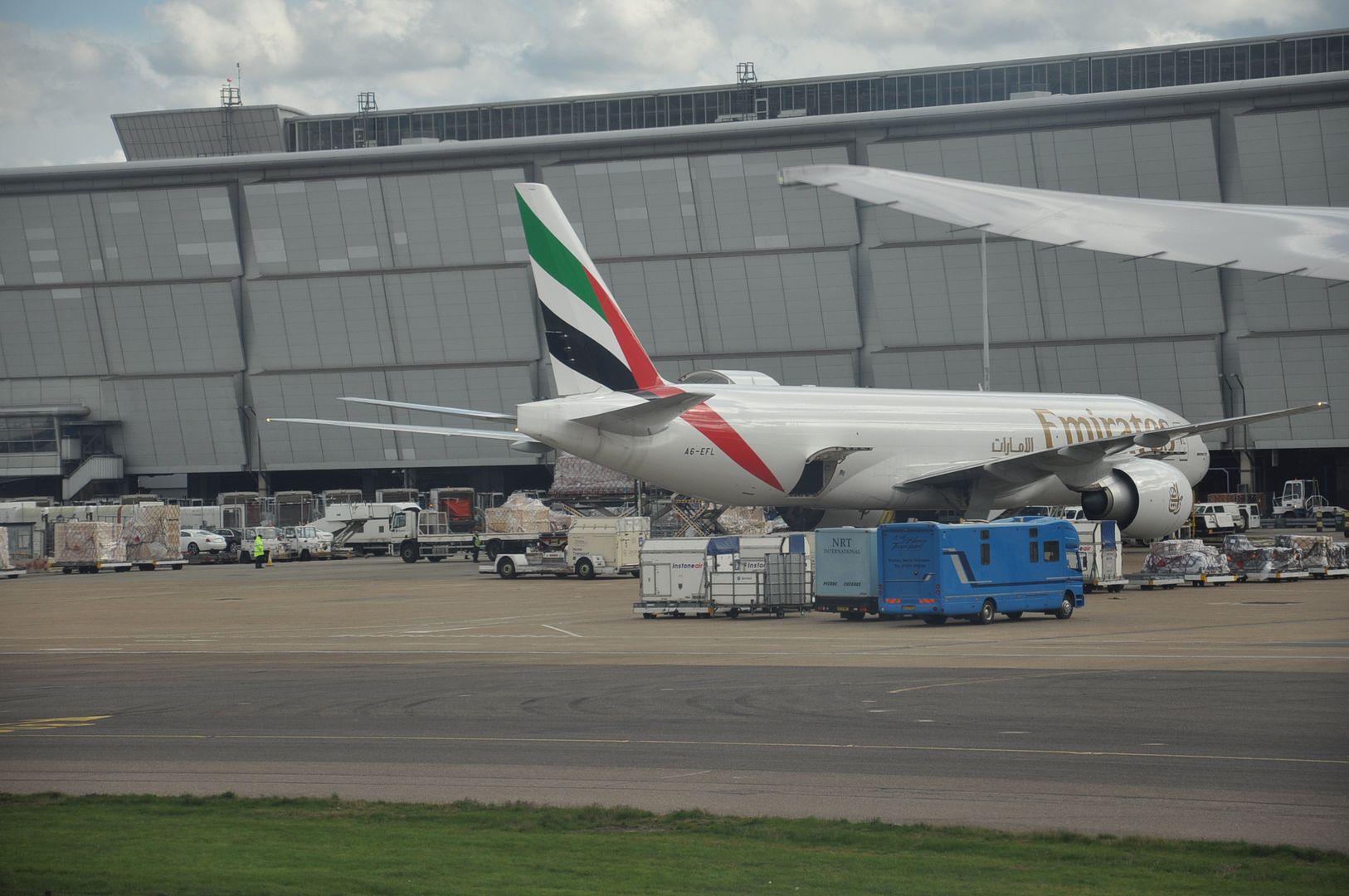 Verdict
Apart from undertaking a trip of a lifetime, it was somewhat marred by the MH disappearance, and any time we had Wi-Fi availability, that was the first news we used to check. Hopefully further investigations reveal what actually happened and how to avoid such a disaster in the future.
Having flown on 6 12Hour+ trips on CZ over the past 2 months, to be honest, I was very apprehensive about them before taking the first flight. But at this point, I would without a doubt choose their DreamLiner as I feel it is an excellent service (at least on Y) for the fare paid for. On the other sectors, as long as you don't expect too much, you should be alright. I think I've experience the entire gamut of airline issues, except missed and cancelled flights – over night transits, missed bags, long haul travel, and I can safely say that CZ passed all of them with flying colours.
It was slightly sad that the trip has come to an end, but as Nelly Furtado would say – all good things come to an end.
Hope you enjoyed the report and Until next time, safe and happy flying, Adios.!
Previous Trip Reports
Part 5 - BHE-WLG-AKL On NZ Beech1900D And A320
Part 4 - MEL-AKL-ZQN On QA And NZ B738A320
Part 3 - CNS-MEL On JetStar A321-200
Part 2 - SYD - CNS On Virgin Australia E190
Canton Route Part 1 - LON-SYD - CZ DreamLiner/A332
DREAM(liner)ING Of Hainan - China Southern
Panda Calling - BA LHR To CTU - Club World
China - The Low Cost Way - Spring Airlines - SJW-CTU
China United Airlines (KN) - CTU - SJW - B737-700
Norwegian B737 - LGW-TOS-BGO-LGW
Jet Airways: LHR – COK
Barra Trip – that was not to be
LHR - KWI - BA 747 - Part 1 - Middle East - China
Part 5: PVG-LHR - BA - Economy - B777
Part 2: KWI-DXB - FlyDubai - Economy - B737
Part 4A&B - SHA-SJW-SHA - FM: Eco: B737
Part 3A&B : DXB-HKG-PVG: CX & KA :Eco: A333
Morocco Trip - LGW-RAK-TNG-LHR - EasyJet & Iberia
Dusseldorf Calling - BA & EZY - Club/Eco - A321
Few departing pics from Auckland – beautiful city.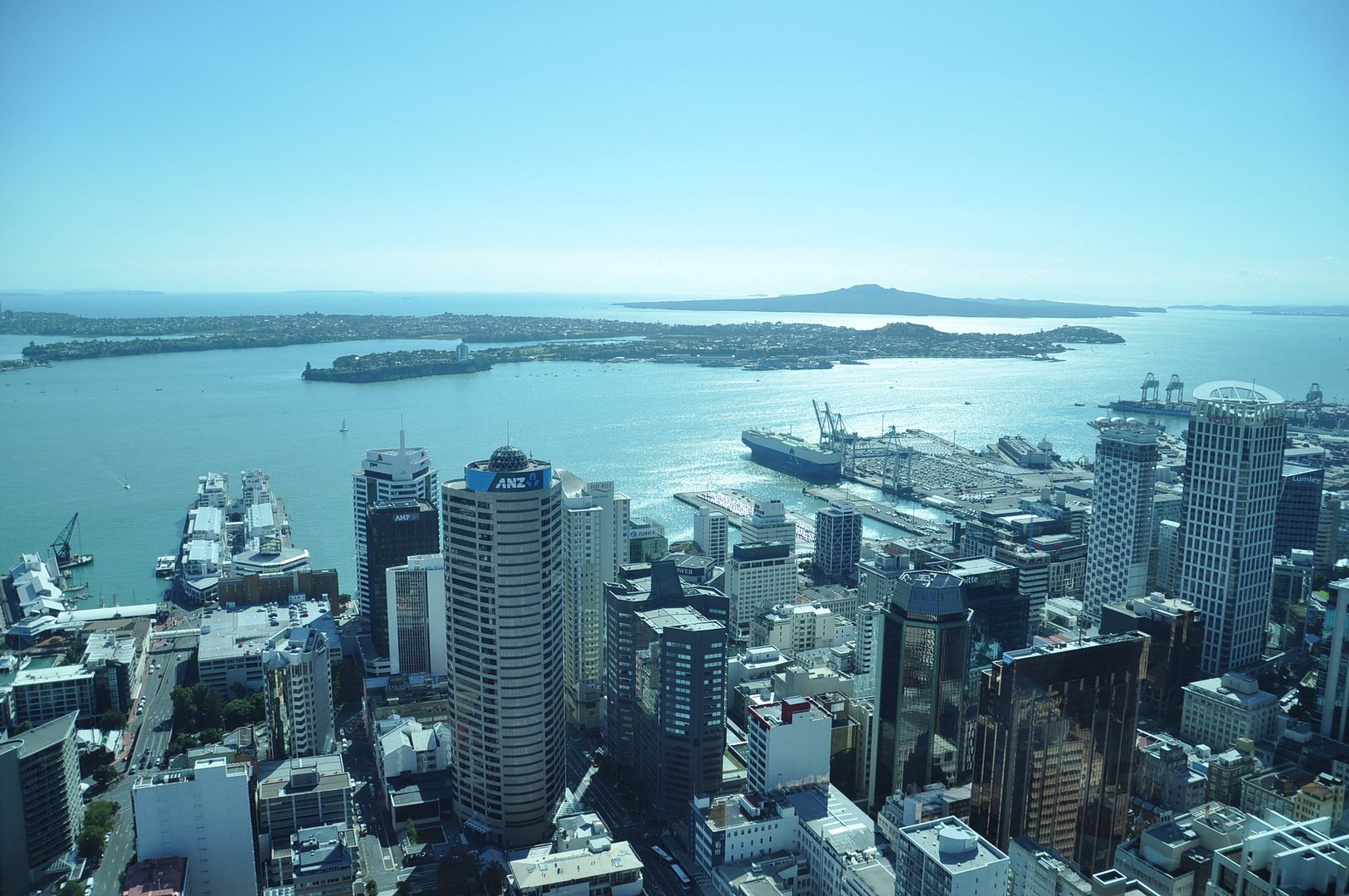 Our Ride in Auckland - surprisingly spacious inside.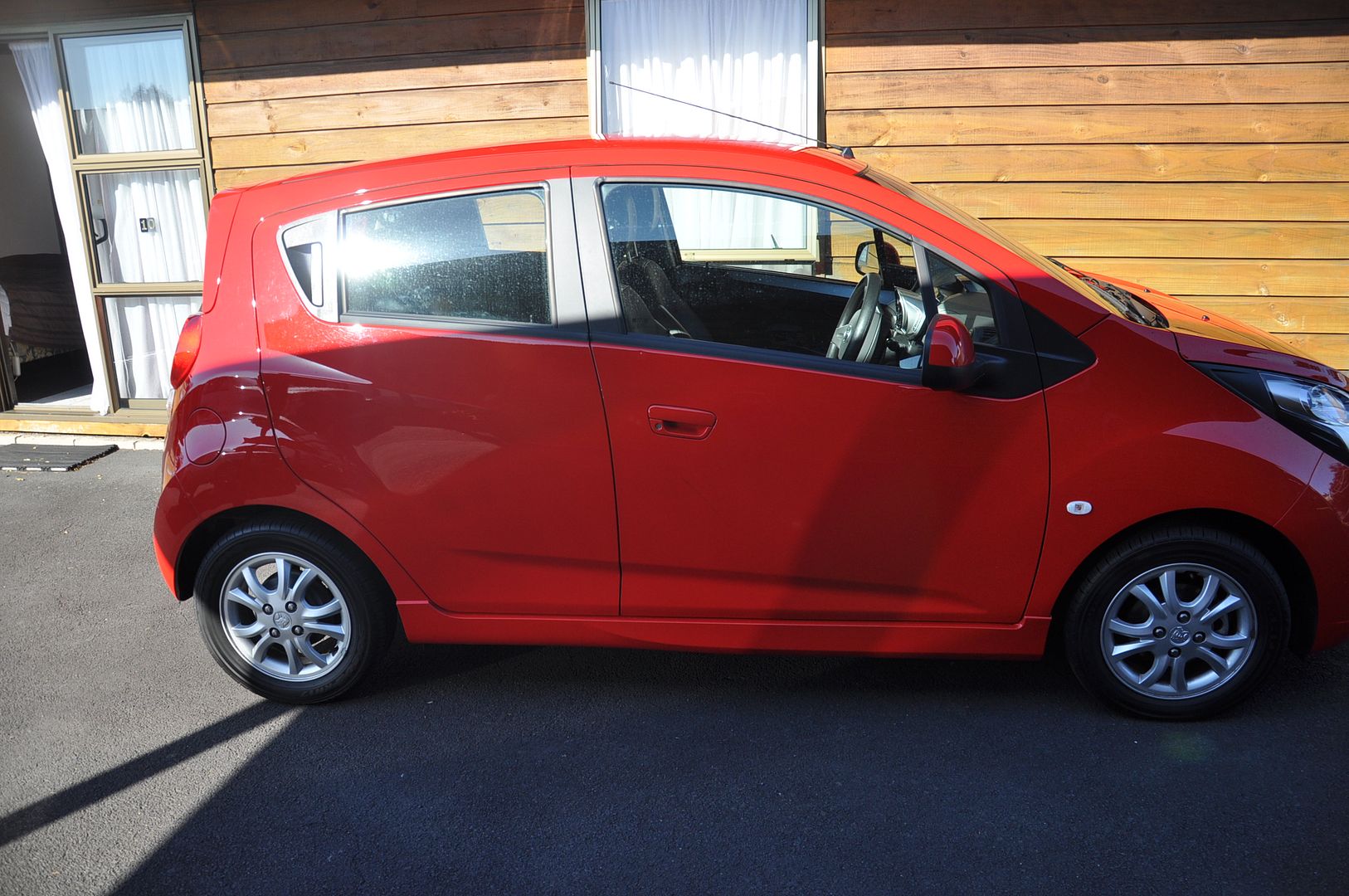 Scenic point outside AKL – they have a spot where cars can be parked to view flights – AMAZING.! Why can't all airports have this?
Seen over here a Beech 1900D with the EK WhaleJet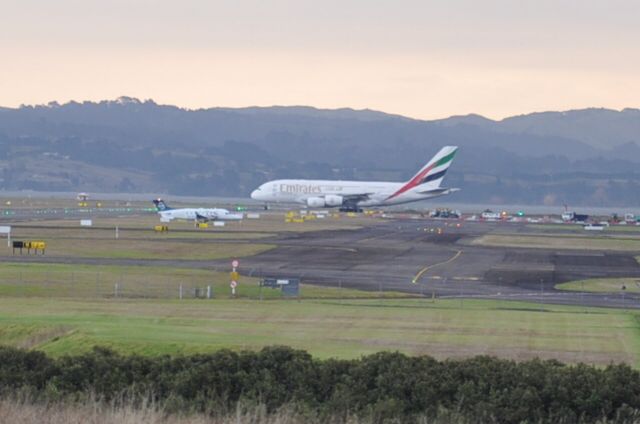 It's been a pleasure! Thanks CZ.