Hey a-netters! Welcome to my latest TR! This is a special one as it covers a very special experience. I hope you like it.
Introduction
I am in 5th grade of Aeronautical Engineering, the last year, so we decided to make an end-of-degree trip to celebrate the end of 5 years of hard studying. I went to Thailand with my family in 2007 and we loved the country, so I suggested going there. We were supposed to be a group of 12 people at a first stage, but we ended up being 6, as many friends backed out. The day before going to the Emirates office in Madrid to book our tickets, two girls decided to back out, so we ended up being 4 friends. I didn't mind since those 3 friends were very close ones, so we knew we were going to have a great time. Since we were two guys and two girls, many times we were treated like honeymooners, it was funny to explain that we were just friends, many people didn't seem to get that though.
We planned visiting Bangkok and Phuket. Thai Airways offered very good fares for their direct flight to Bangkok from Madrid, but Qatar Airways and Emirates offered better prices. There was no way I was flying QR again after my disappointing experience last year in Doha Airport, so we decided to go for Emirates. I flew with Emirates two years ago to Dubai and I really liked them, so I was happy to give them another try. For the BKK-HKT-BKK flight we chose Thai, they had very good fares and schedule, and flexible tickets were only a little more expensive than restricted ones, so we decided to buy flexible tickets. It turned out to be very useful as later we wanted to change the outbound flight, which was easily made contacting with Thai Reservation Center via e-mail.
We went to the Emirates Office in Madrid in order to get one ticket for all of us, being able to split the payment. The office was really nice and the agent was very helpful, she even offered us some dates that were delicious, we got our tickets and we were able to book our seats. After that we had to wait until the day of departure, which was the day after our last February exam.
Outbound flight
Since it was February, I expected a light load at least of the flights between Madrid and Dubai, so I was surprised when I saw lots of people lining up for check-in. Emirates has many desks open so the line went quick and we got our bags tagged and our BPs in no time.
Emirates counters
We went through security and then to the APM station given that the flight was leaving from the satellite building. A huge line was already formed when boarding was called, we were supposed to proceed by zones, but given the line formed we proceeded the Spanish way.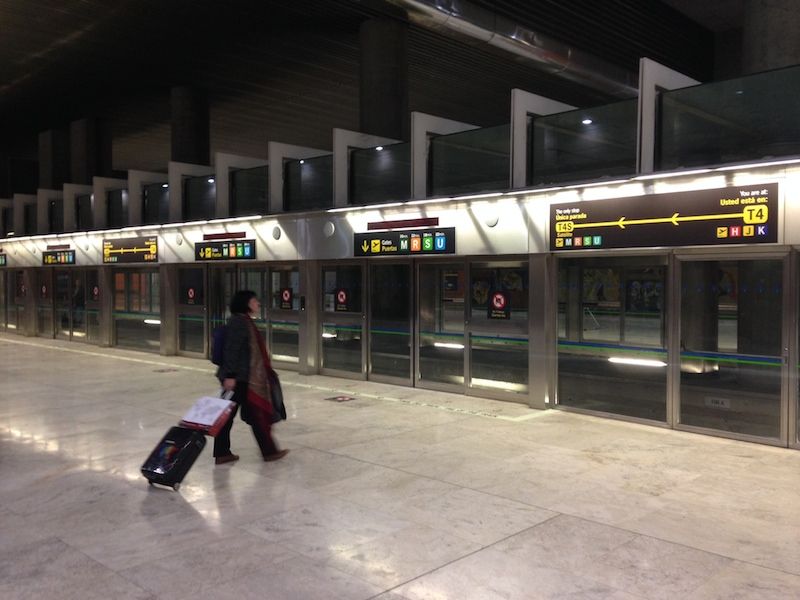 APM station
T4S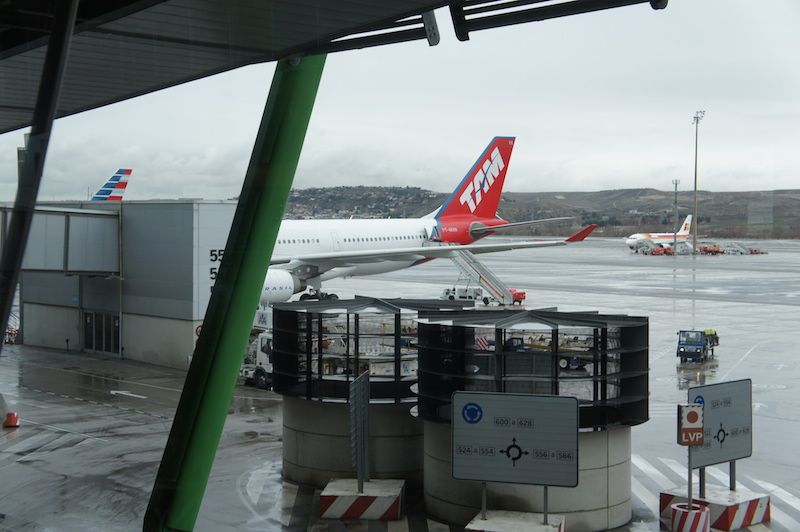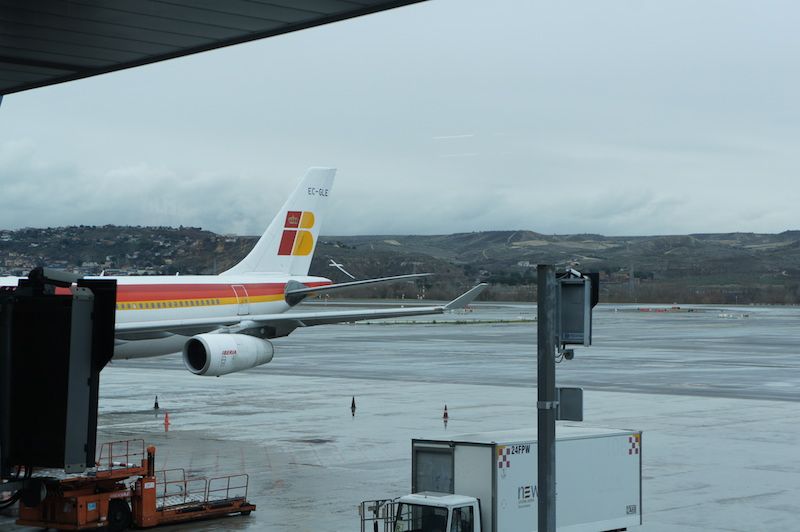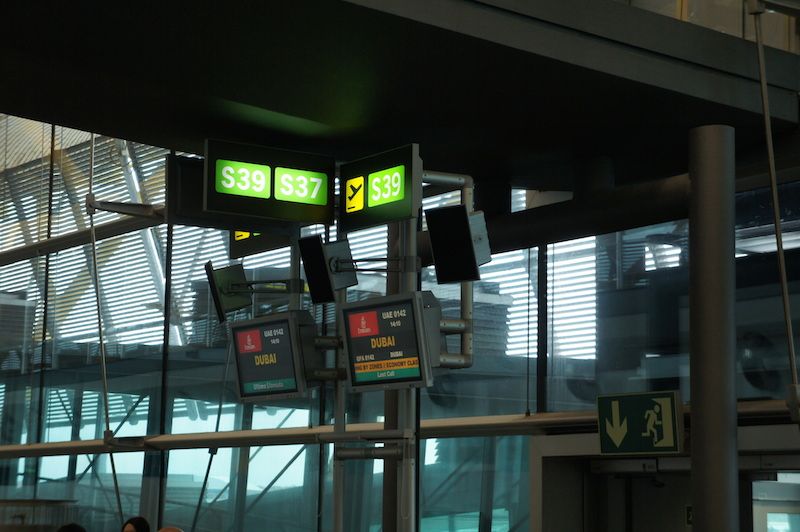 Boarding gate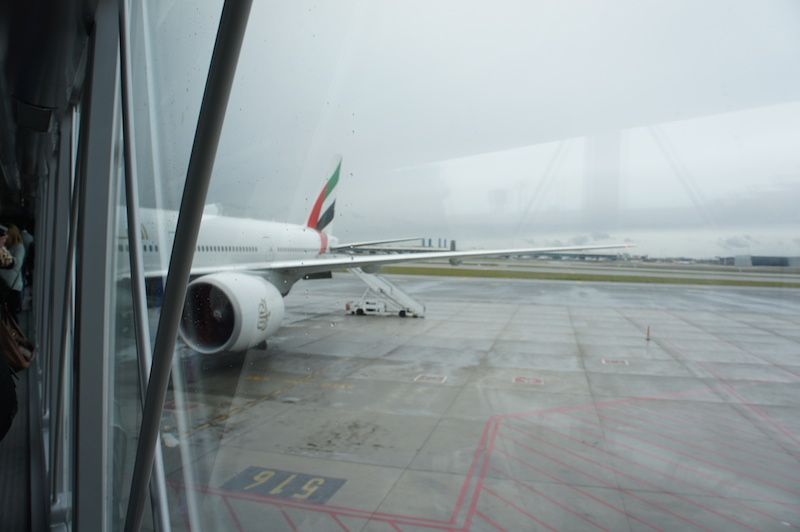 Flight details.
Flight Number: EK142
Origin: MAD
Destination: DXB
Airplane: Boeing 777-31HER
Reg: A6-EGP
Seat: 47K
ETD/ATD: 14:10/14:10
ETA/ATA: 00:15/23:53
Load factor: Pretty full in J and Y, I don't know about F.
I entered the plane and passed through the after Business Class section, it was packed, all seats were taken, Emirates seems to do well on Madrid flights.
The first thing I noticed when I entered the Economy cabin was that the plane had the latest ICE version, featuring HUGE screens.
HUGE
We got window seats in the first row of 2-4-2 at the back of the plane, the agent at Madrid office told us that they were one of the best in the cabin, and except for the noise from the engines, she was right. Legroom was OK for me (I'm 183cm tall) and well, the seats were very close to each other and given that my friend and I have wide shoulders, our arms were touching constantly. That didn't bother us as we know each other, but I imagine that going that way with a stranger would be uncomfortable. So I would try to travel with friends or family when flying Emirates in the future.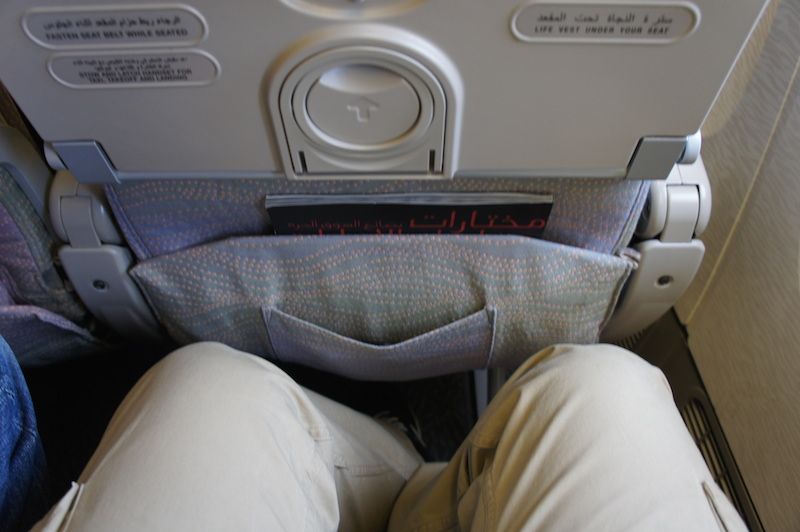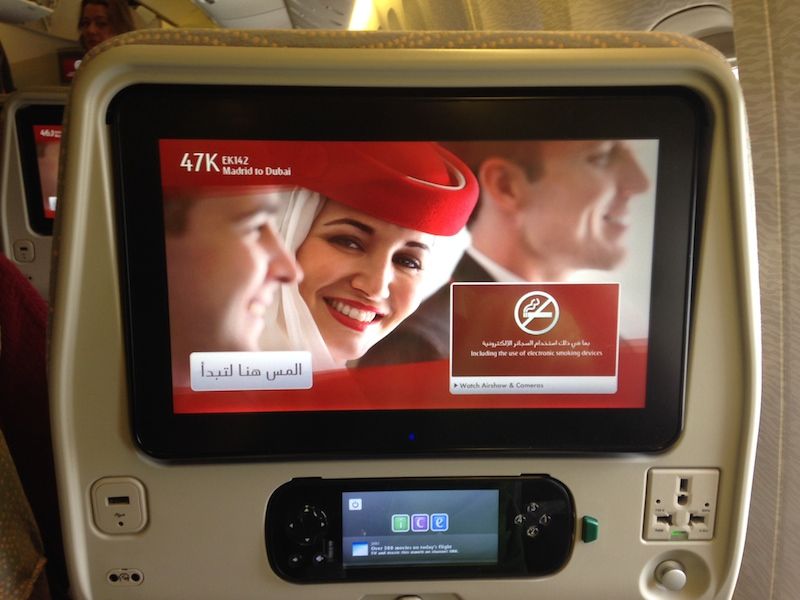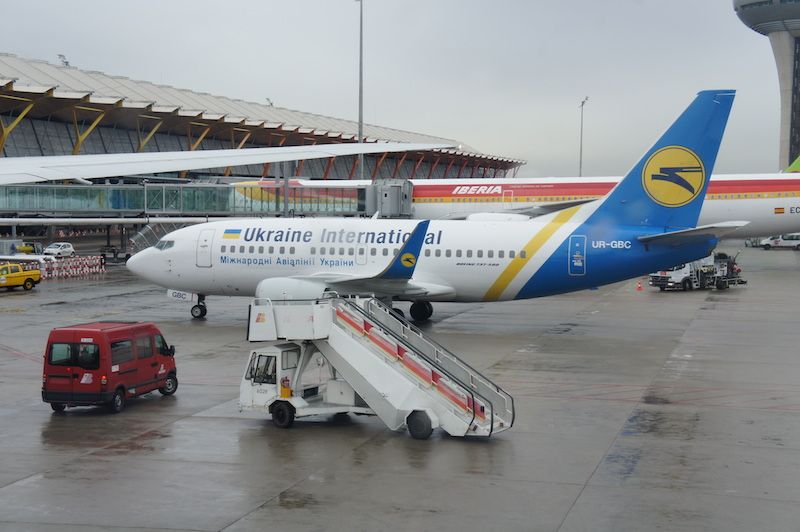 Many things have changed in that country since I took the photo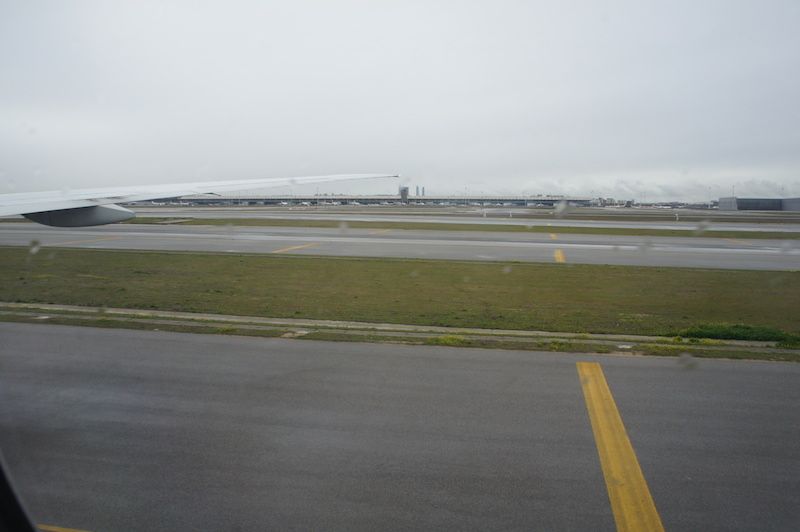 After push back
Runway ahead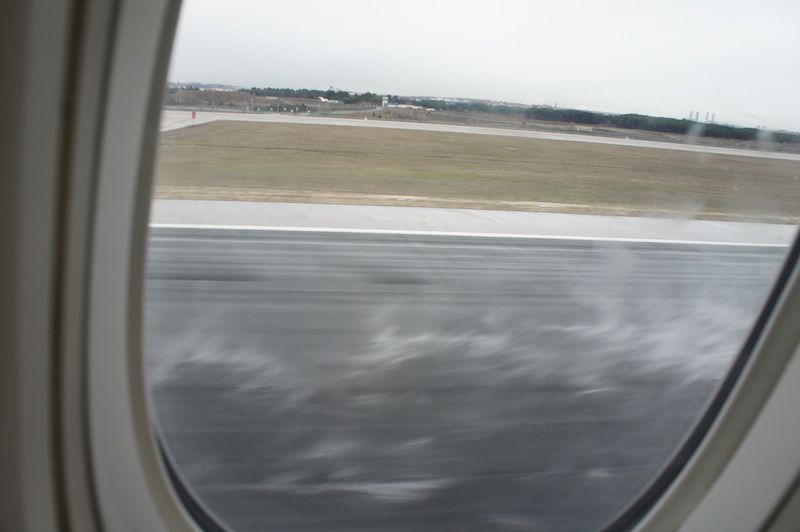 The mighty GE90s drying the runway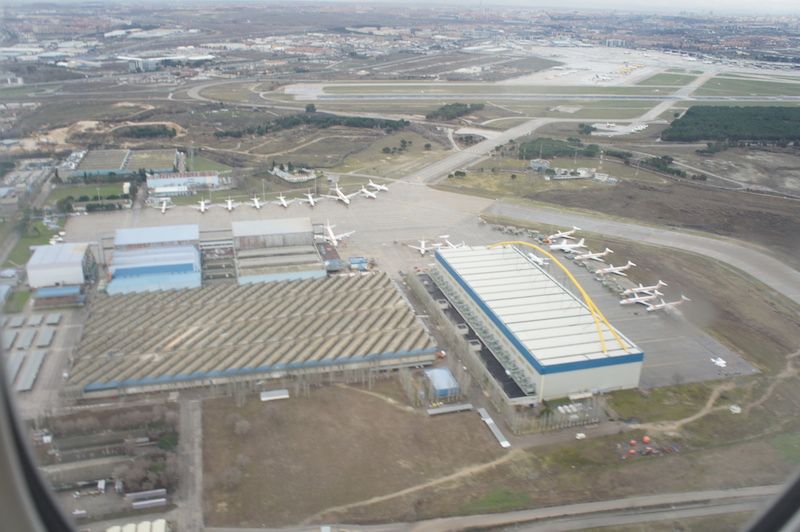 Iberia Maintenance facilities always offer interesting views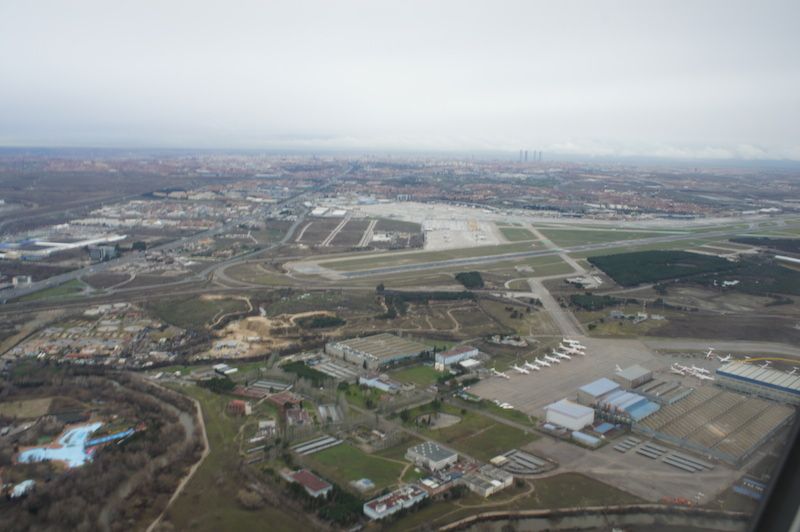 Good bye, Madrid!
We departed on time, towels and menus were distributed after take off. I must say that although Emirates IFE is amazing, their headsets are terrible, many of them didn't work and the sound quality was very bad. We used our own headsets and they worked perfectly.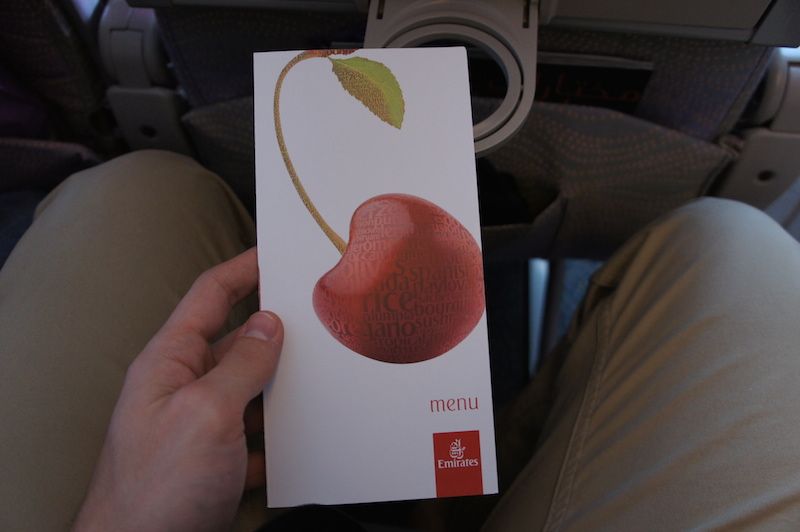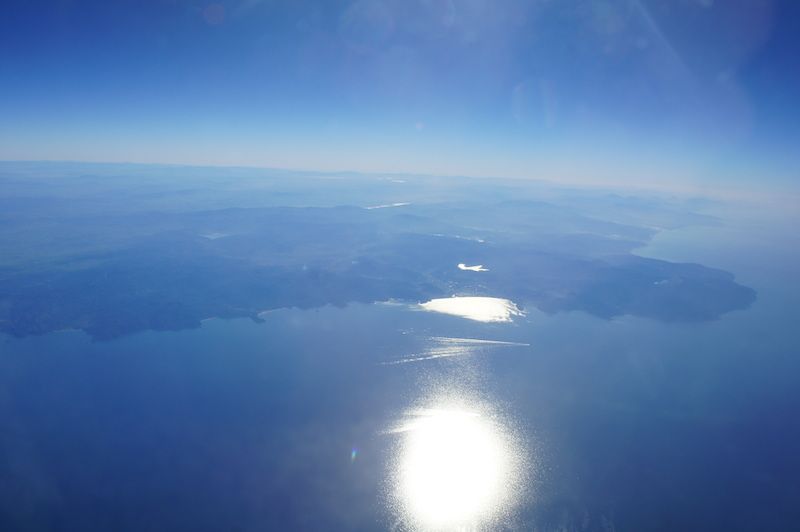 The coast of Algeria
The crew on this flight was fine, nothing special but they did their job with a good level of service. I liked the food, the quality was good and portions were generous, the second service (no pictures) consisted of drinks and biscuits.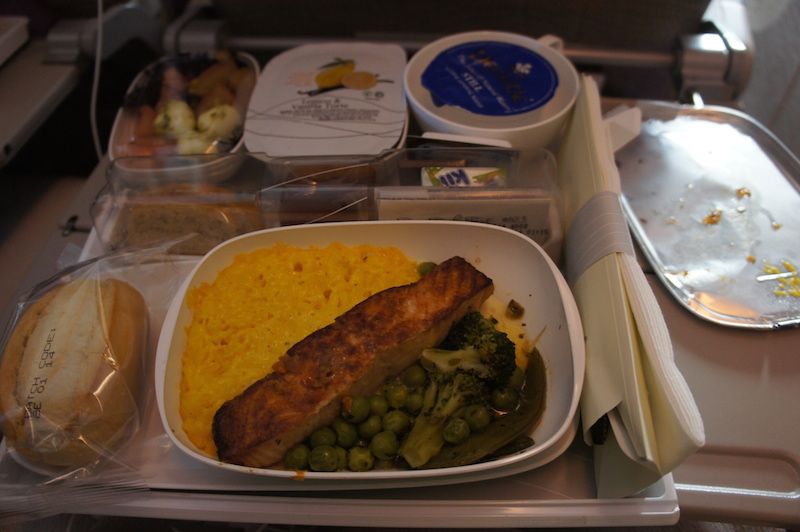 Salmon, it was smelly but tasted good!
I spent the flight watching films, enjoying the view of the sunset over Northern Africa and chatting with my friends, so the flight passed by very quickly.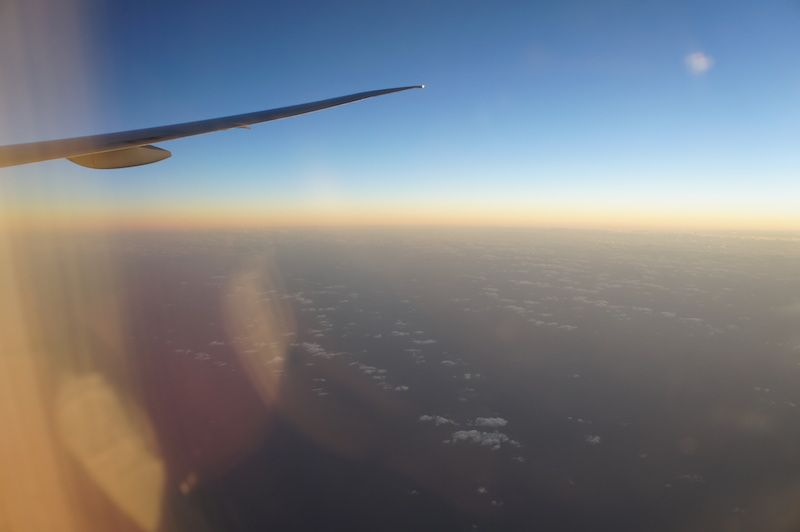 Sunset over Egypt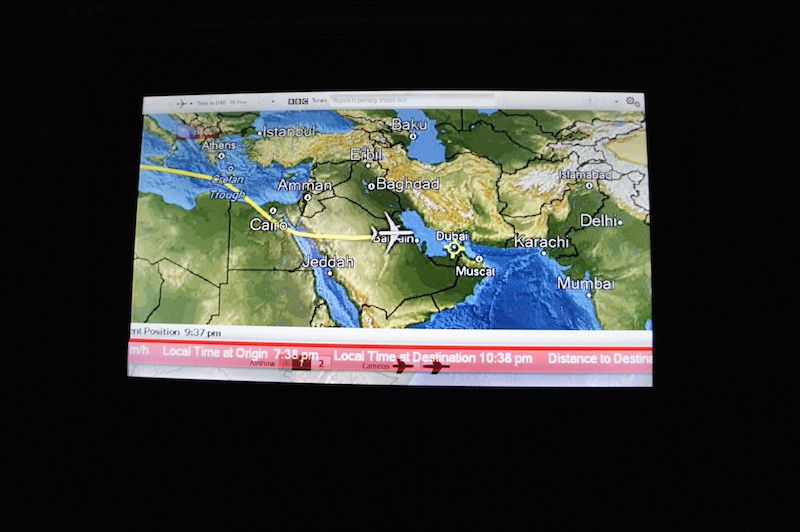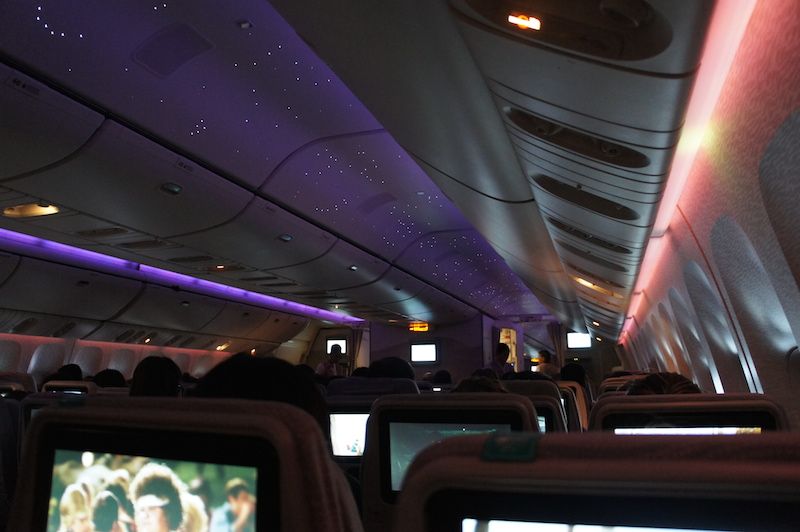 Love the ambience
I noticed that they didn't show the connecting flights information on the IFE, that would have been useful. We were put on a holding pattern for about 45 minutes as we had arrived very early to Dubai airspace.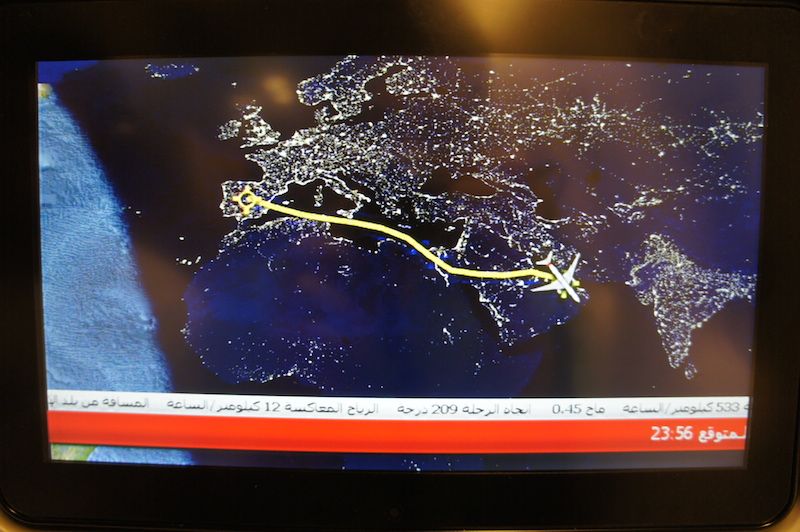 On the holding pattern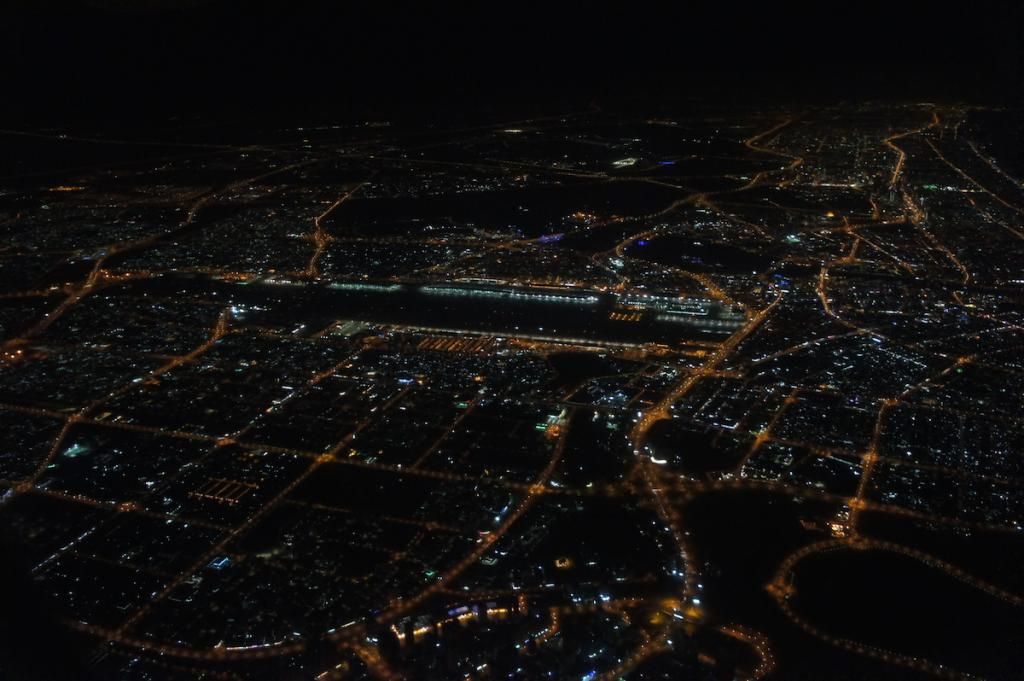 Hello again, Dubai!
Taxiing
On stand
The plane was docked at Concourse A, it was nice and I got the feeling that it was less packed that Concourse B. Our flight to Bangkok was departing from gate A1 so we didn't have to go to another terminal. Since we were hungry we decided to have some dinner in order to get some sleep on the plane.
Shops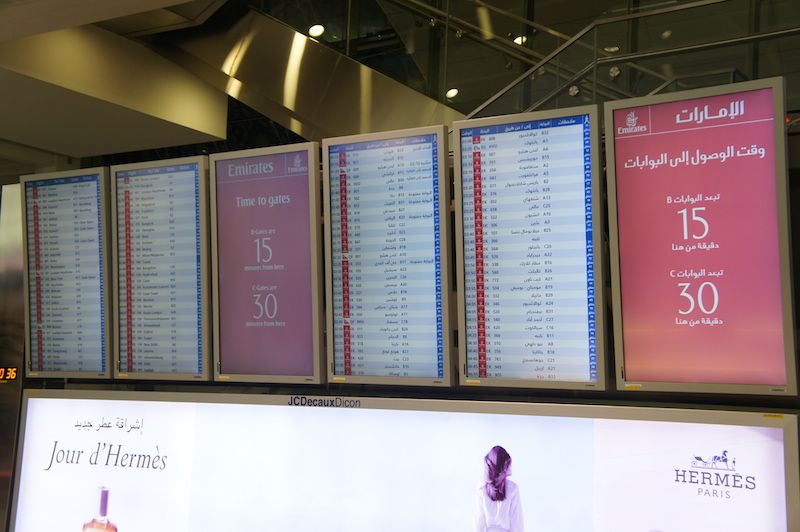 One of the most interesting FIDS you can see!
Our gate
The crowd
Flight details.
Flight Number: EK384
Origin: DXB
Destination: BKK
Airplane: Airbus A380-861
Reg: A6-EDT
Seat: 48F
ETD/ATD: 3:05/3:06
ETA/ATA: 12:05/11:43
Load factor: I don't know, lots of pax, my cabin was full
We were seated in the front cabin, the A380 is a wonderful aircraft, very spacious and really quiet, I love it. ICE was of an older generation but nice anyway. Call me crazy but I found the seats less comfortable than those on the 777… Crew on this flight was good again. I managed to get some sleep and the flight went by quickly again. We landed softly on BKK and after waiting for one hour in the immigration line we collected our bags and got a taxi to go to our hotel.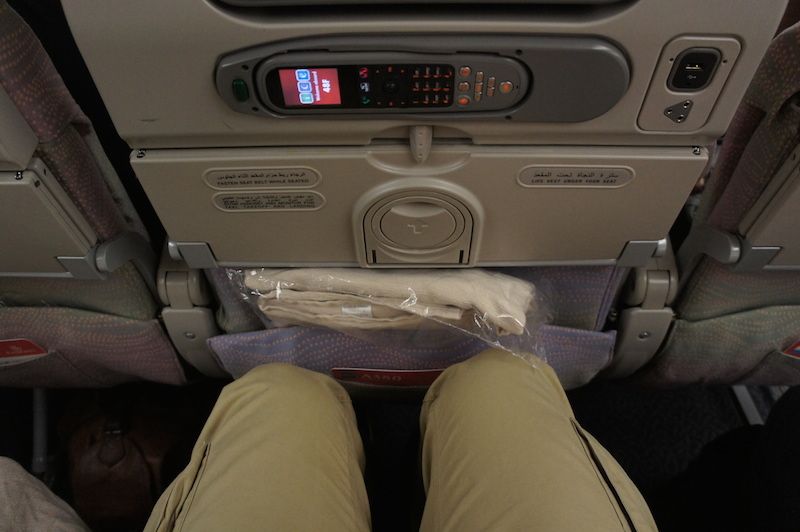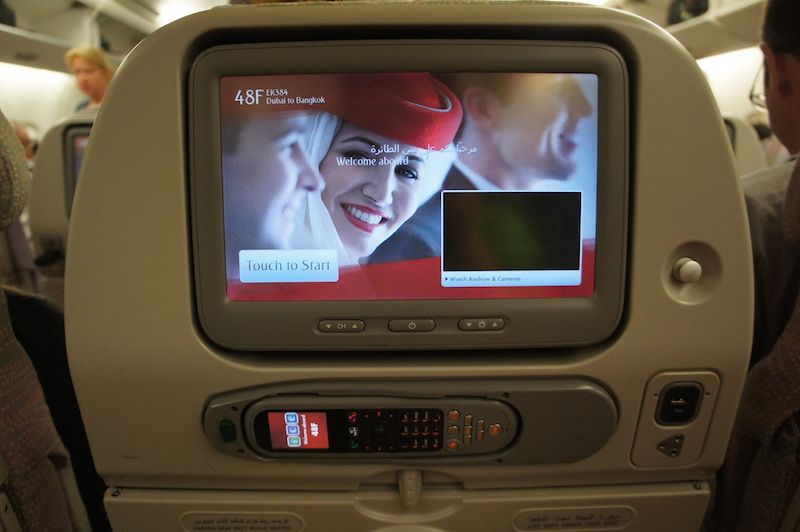 Older generation ICE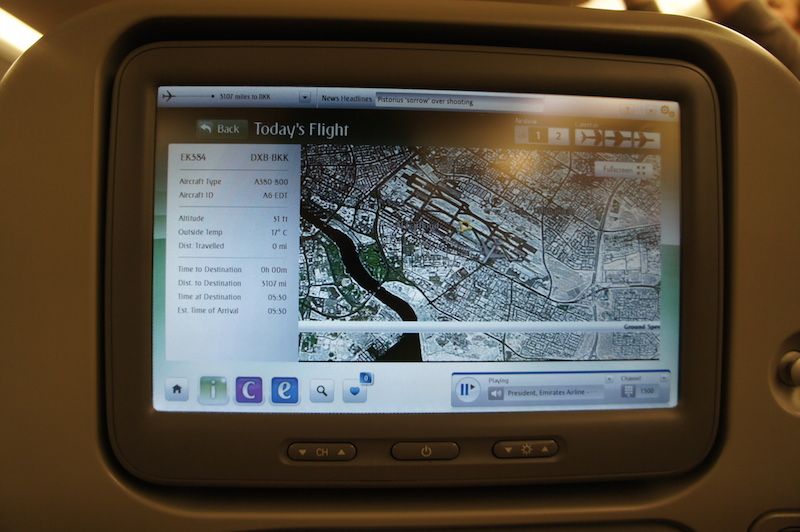 Flight details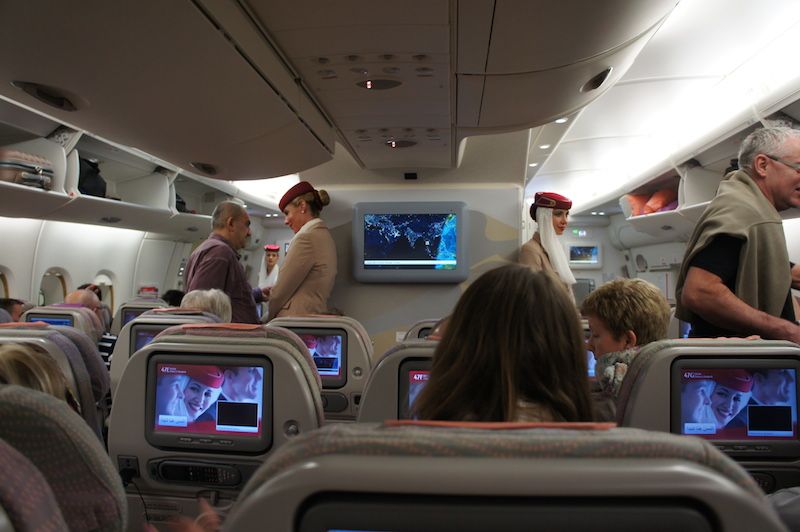 Waiting for everyone to board
Breakfast
Getting closer!
Thai flights
After 10 incredible days in Bangkok and Phuket, it was time to go back home. We flew Thai Airways between Bangkok and Phuket and they were really nice, but nothing special, I post the photos of those flights but with no text as the flights were uneventful:
BKK-HKT
Soon to be history
Our plane, one of the veterans A330s in the TG's fleet
Full flight again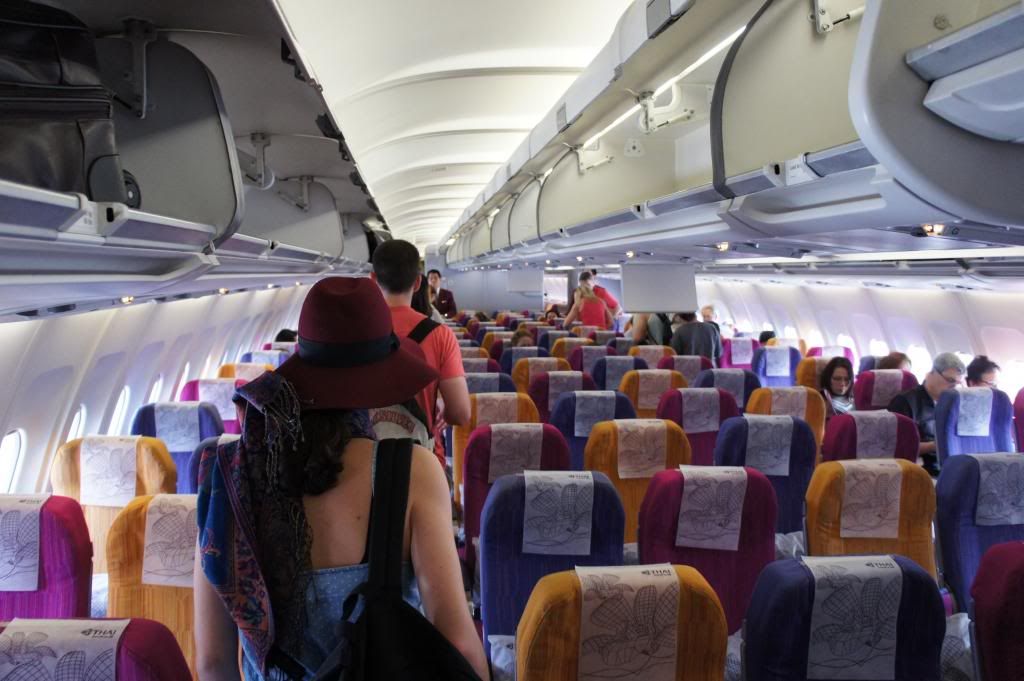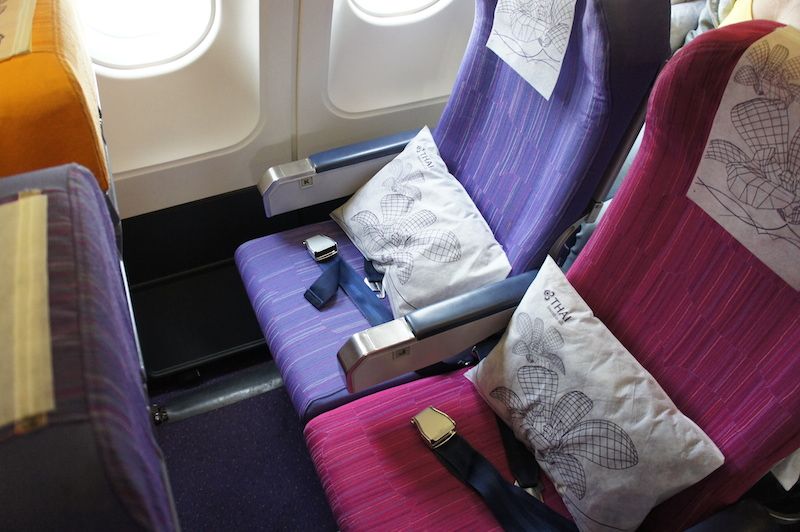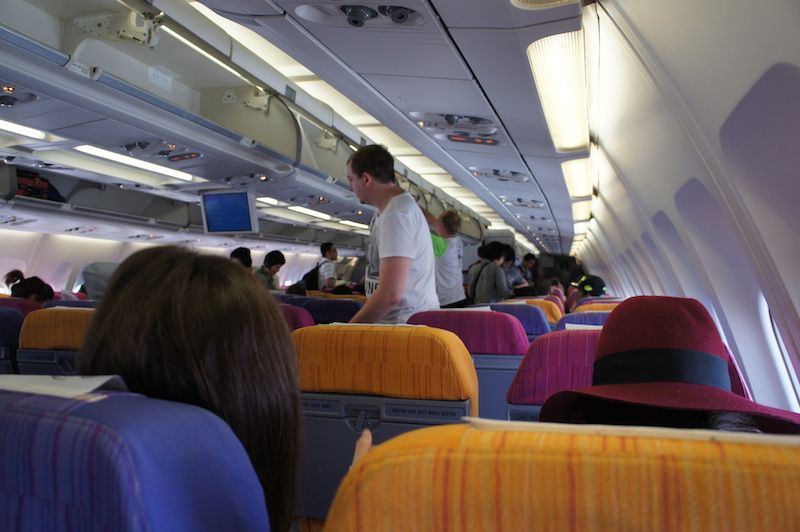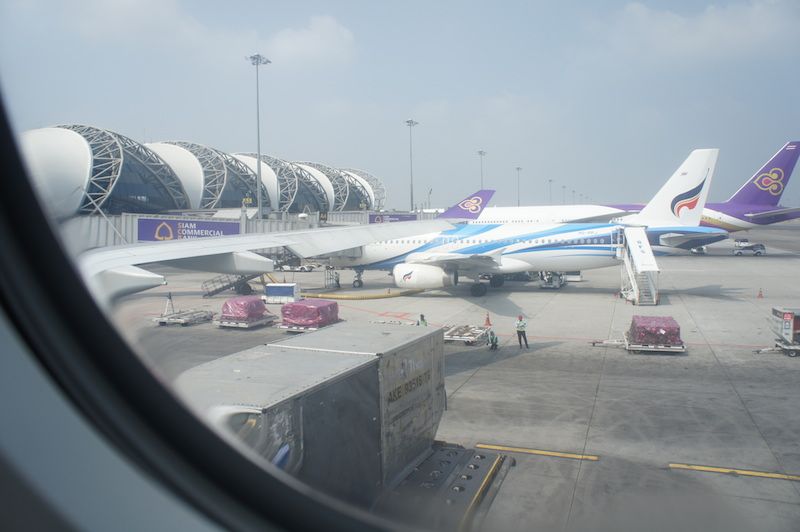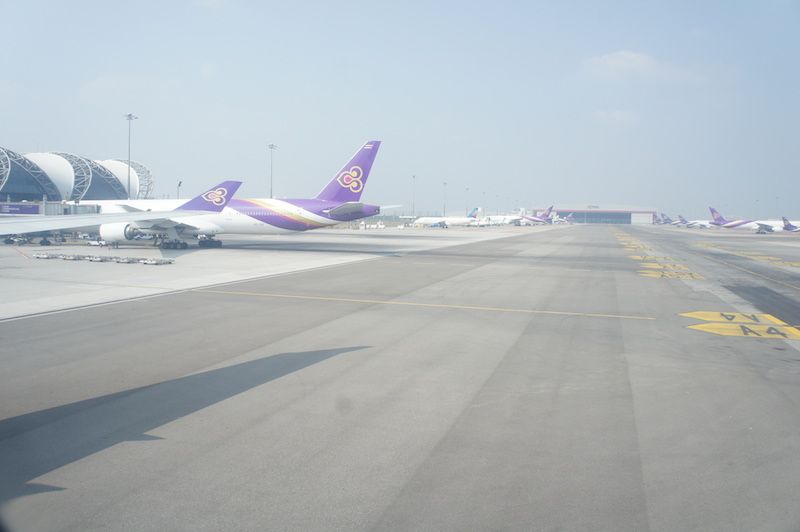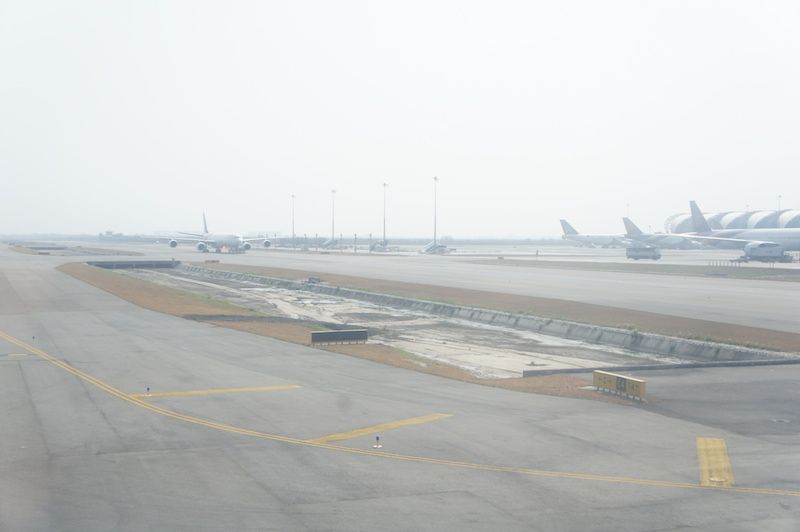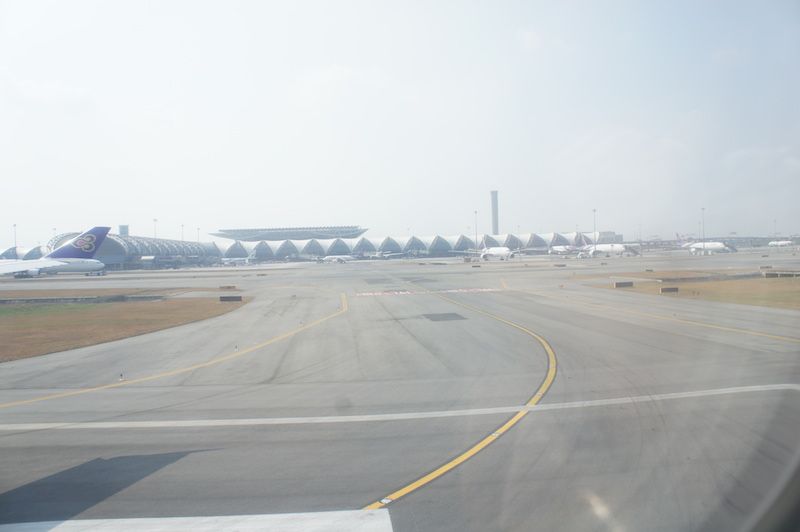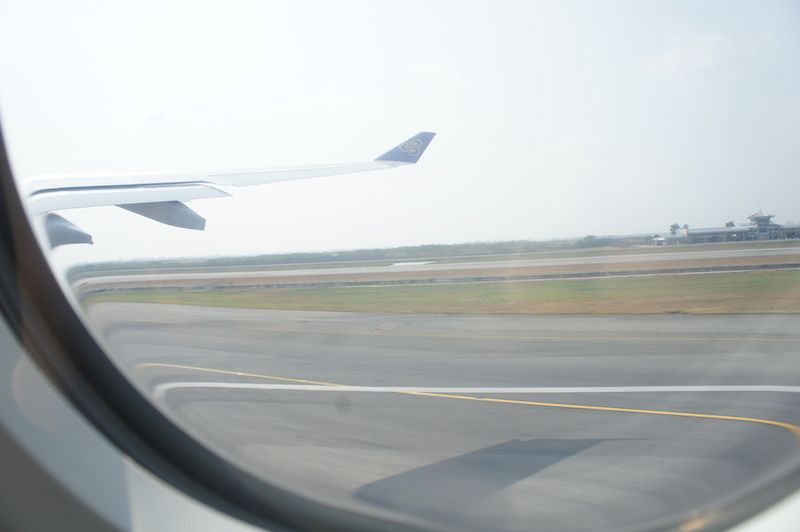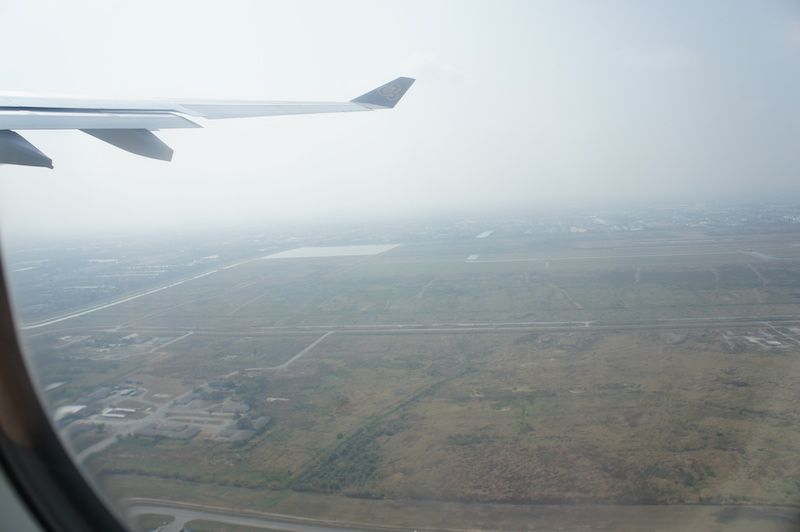 So, we beat on, boats against the current, borne back ceaselessly into the past