From Spain to Bolivia in a Jumbo in First Class
Flight: Aerosur 544
Route: Madrid (LEMD/MAD) – Santa Cruz de la Sierra (SLVR/VVI)
Date: February 9th, 2012
Scheduled: 2130-0300 (local time) Scheduled flight length: 10h30m
Real departing time: 2156 (close gates), 2216 (take off RWY 36R).
Real arrival time: 0403 (landing RWY 16), 0411 disembark, 0425 in my hotel
Aircraft: Boeing 747-400 CP-2603 "Super Torísimo".
Seat: 10A – Clase Torísima (First Class)
Welcome to my first report. I'm not a native English speaker so I beg your pardon with any mistakes. This report is in a defunct airline, Aerosur, returning home from Russia and Spain.
While in holidays in Europe, I visited Moscow for the 2nd time in a few months. Hours after arriving, I had an accident, and needed surgery. Spent 10 days in a moscovite hospital, flew to Barcelona and spent 3 weeks there with medical care also. After already 2 months away, it was time to return back home. The actual route was BCN-MAD-VVI-SLA, the first part in Air Europa, and last two in Aerosur, a now defunct Bolivian private airline.
I decided to stay in Madrid one night, and a friend of mine drove me to Barajas Airport. I arrived at 1800, quite early, as a few months earlier I took the same flight and I waited over two hours for checking in.
Farewell Madrid. Driving to the Airport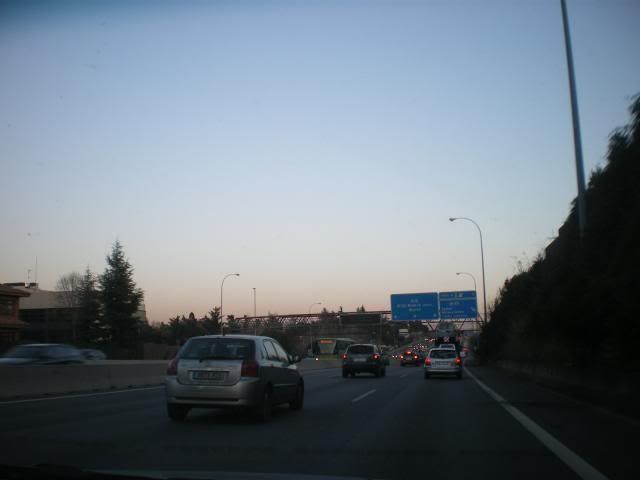 Supertorísimo (B744) en Barajas (Internet photo)
As I arrived to Terminal 1, I quickly found the Aerosur check in, in Sector A. There were few stands opened, but I quickly found one free and told them I was flying first class. I could send my luggage to Salta (in Northwestern Argentina), and I received both boarding passes. One was SEQ 003 and the other SEQ 001. They were already printed. I could send up to 100kg as checked luggage, and I almost had nothing (mostly were medical studies).
The check-in employee told me both flights were on time, and I had a 6 hours connection in Viru Viru Airport, in Santa Cruz, Bolivia's 2nd biggest city. I had prebooked a room in Enkama hotel in VVI airport. The employee was quite friendly and told me both registrations of the next flights. Great!
Somehow they used Iberia boarding passes
I went throught migrations and security check, and spent the next hour at the Business Lounge of terminal one. No photos from there. I saw a few abandoned lounges in Barajas Terminal 1A.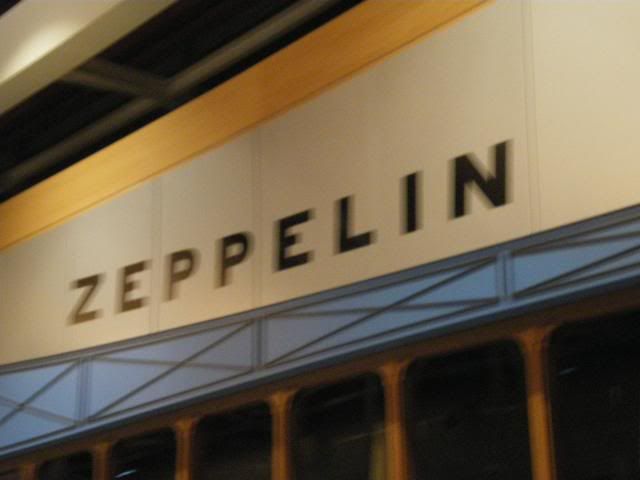 Boarding was chaotic, on Gate A14. Their flight (in all my experiences) was always FULL. I enjoyed much the place where I would spend the next 11 hours.
First Class on this aircraft is not in the upper deck, but in the lower deck, in the first rows. This was an aircraft leased to Virgin Atlantic, former G-VROM, built in 2001. There were 14 seats in first class, but just 3 passengers there.
I was given 10A.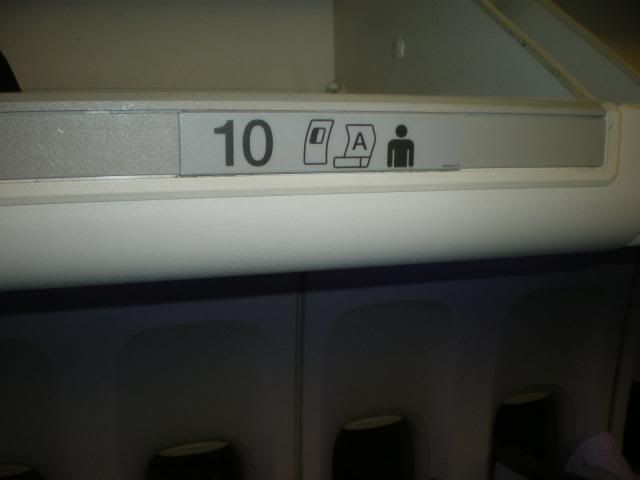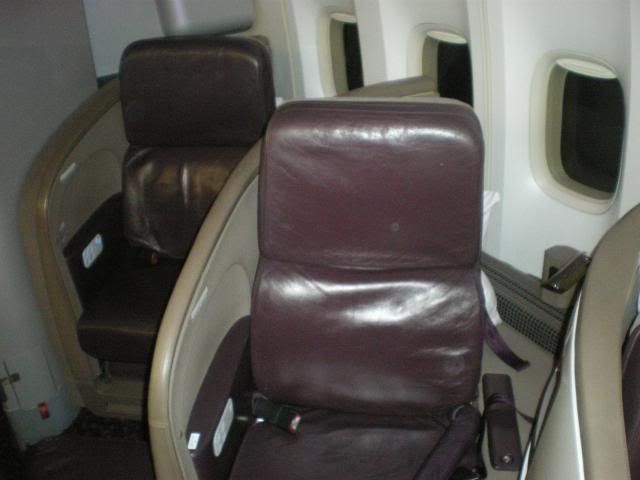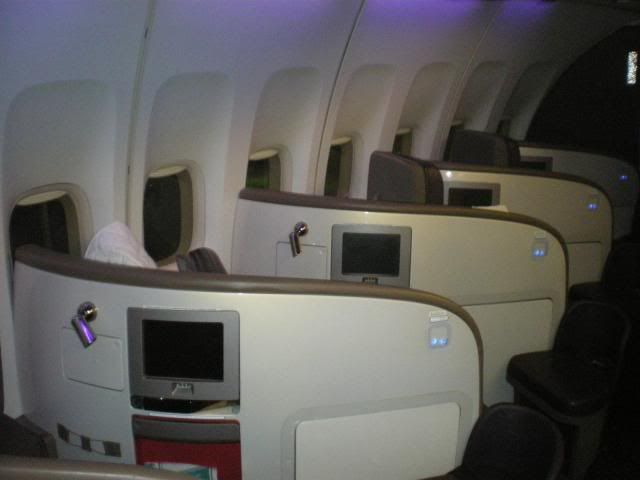 Short taxing to runway 36R which is 3.500m or 11.482ft long.
There was a cool bar there, with a flight attendant who could prepare drinks, and offered newspapers and magazines for reading. You could sit on the bar, or the flight attendant would bring it to your seat.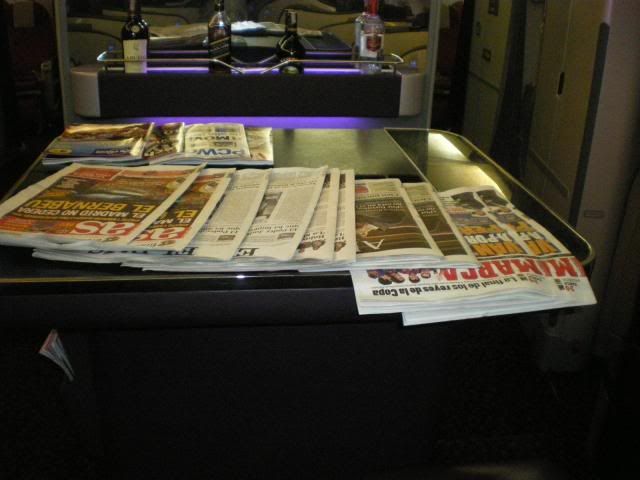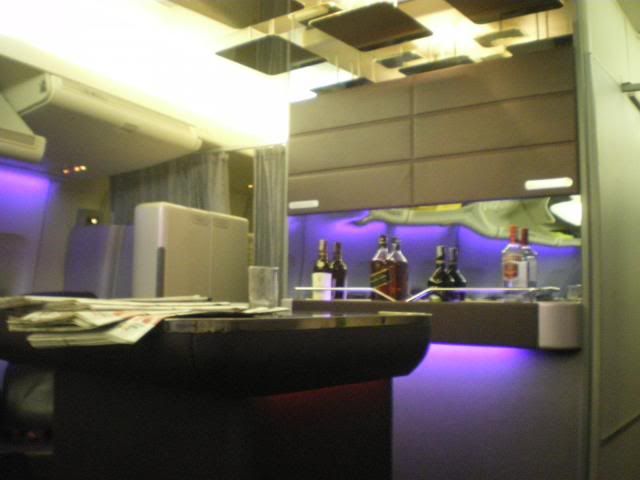 I had a bloody mary first, and later a Paceña beer, from Bolivia.
There is PTV but it doesn't work. You could read, and I had my Kindle and Computer.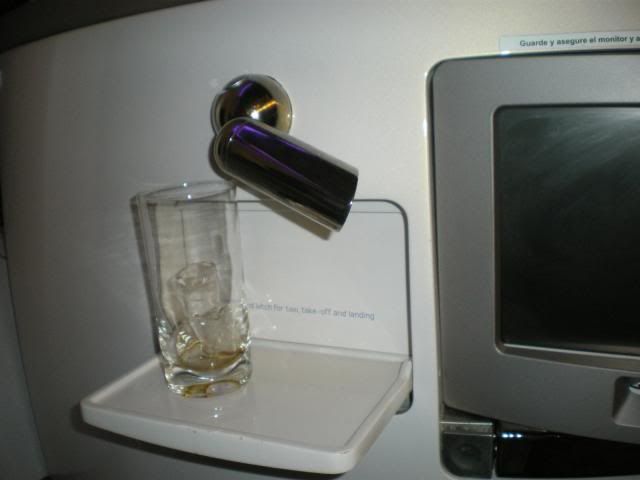 The thing I loved most from this flight was the comfortable seats for sleeping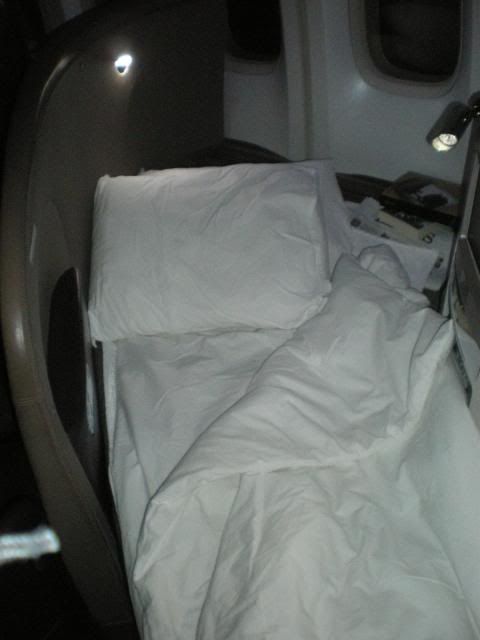 Food was also nice. In coach class it was really bad, and I used to take my own food on intercontinental flights as it was very bad quality, and they never had enough drinks, not even water!. Dinner was served soon after take off, with caviar, salmon, and bolivian stile meat. Well, all in all was nice. Desert was quite bad and too sweet.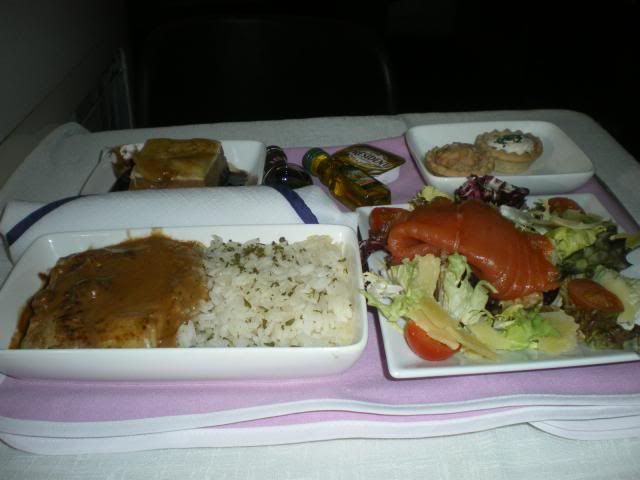 Breakfast (served at 1.30 am Bolivian time) was also nice. Fresh fruit, yogurt, a snack with cheese and strawberries, and some ham and cheese with figs.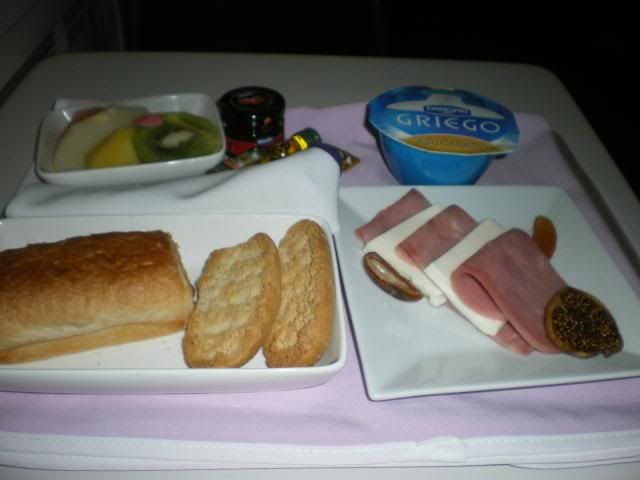 Flight was smooth and comfortable. Bathroom was always clean and flight attendants were very nice. They helped with my coat and my hand luggage. They even prepared my bed.
Soon we started seeing Bolivian lights, and the cabin was prepared for landing. It was the end of this nice flight. We touched down in Santa Cruz Airport, RWY 16 (also 3.500m/11.482ft long) at 4.03 am. One hour delayed. As I was a transit passenger leaving the transit zone (for my hotel) I was given a 8 hours transit card. A very nice system, avoiding the migration process in Bolivia. I went to the observation deck (free to all people) and took my last picture of the Super Torísimo. I knew certainly it was my last flight there, as I knew the aircraft was leaving the fleet soon, and the CP-2711 (former Aerolíneas Argentinas LV-ALJ) was replacing it.
Viru Viru was hot, and full of people. The Enkama hotel was quite strange, but at least fresh. The airport Aerosur lounge was quite bad, and they were not even bathrooms offered (showers would be a DREAM).
Aerosur bankrupted few week laters. I took 13 flights with them and I had very nice memories, and this was far the best of all.
Cheers
Eielef @TUC