Hi all and welcome to my latest edition of my rip report to the Highlands and back. I shall try and be less verbose this time and include a lot more pics, it's always more interesting and fun that way – who reads!
So it's the May bank holiday and we decided on visiting the highlands – Inverness and Skye, and looking at options it looked like Flying into and out of Aberdeen and then driving from there seemed the best fit in terms of pricing and timing.
Booked Virgin Little Red via website. Simple enough website and very easy to navigate. Booking process was easy and top marks for Virgin for their website design. As previously, first impressions of Virgin is always fantastic, upmarket, sophisticated. Now let's see how their service on their domestic run lives up to their claim or not.
Checked flights for the day and it looks like our ride is going to be the 11 year old EI-EZV – Tartan Lassie. Previously part of Eurofly, then Meridians, finally transferring over to Aer Lingus operating on behalf of Virgin Atlantic.
GCMap for the entire trip
Virgin Little Red VA 3025: LHR - ABZ
Flight Reg: EI-EZV; Built 2003, delivered April 2013
Airbus A320-200
Seat 2F
Departure time 20:15 (Actual 20:25)
Arrival 21:45 (Actual 21:44)
23 May 2014
Day 1
Reached the airport with lots of time to spare. Wandered around and got some good views of the new "Queens Terminal" – T2.
Heading into terminal 1 from the Tube station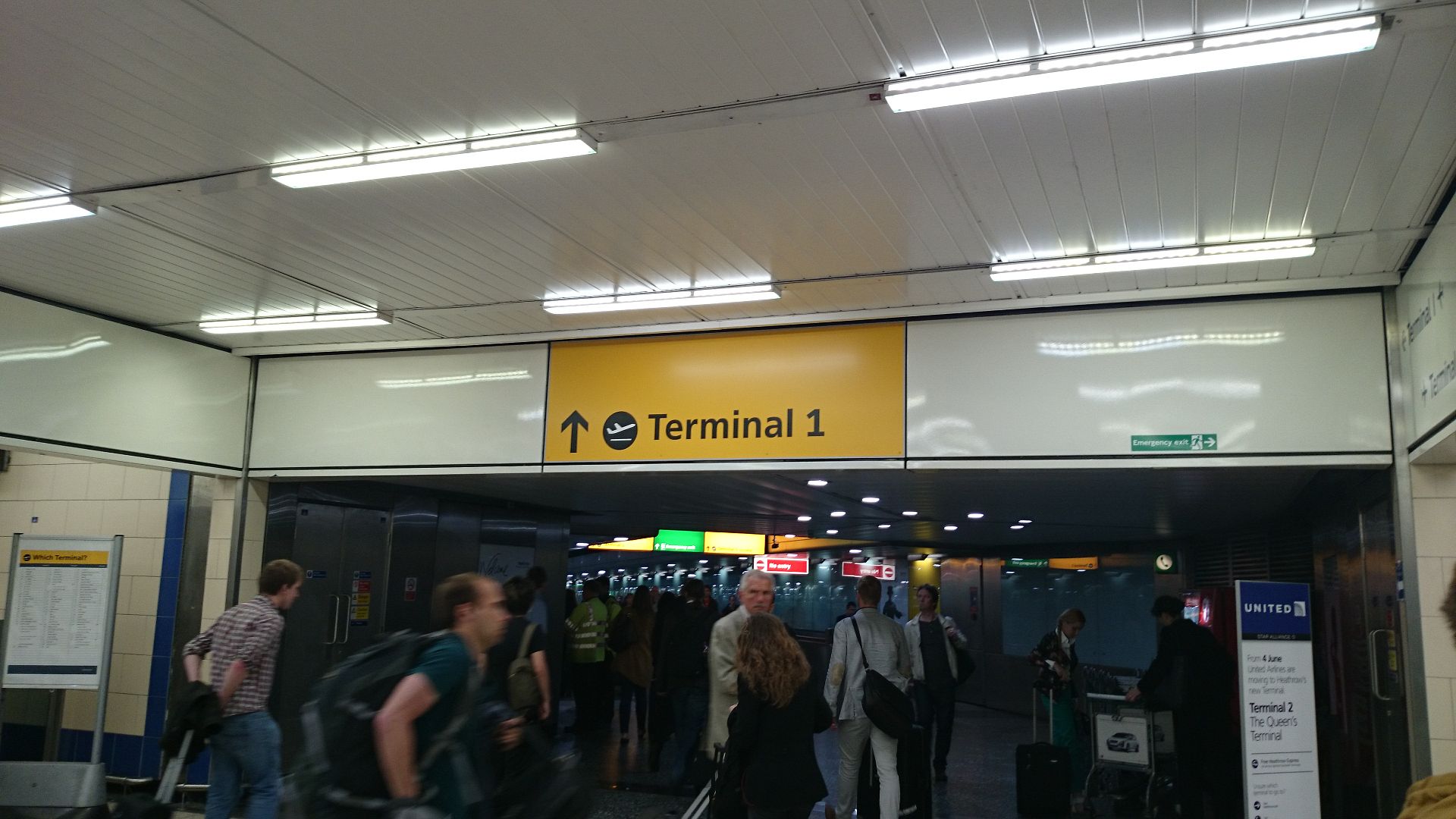 Brand new T2
The Dove – Rising above the Queens Terminal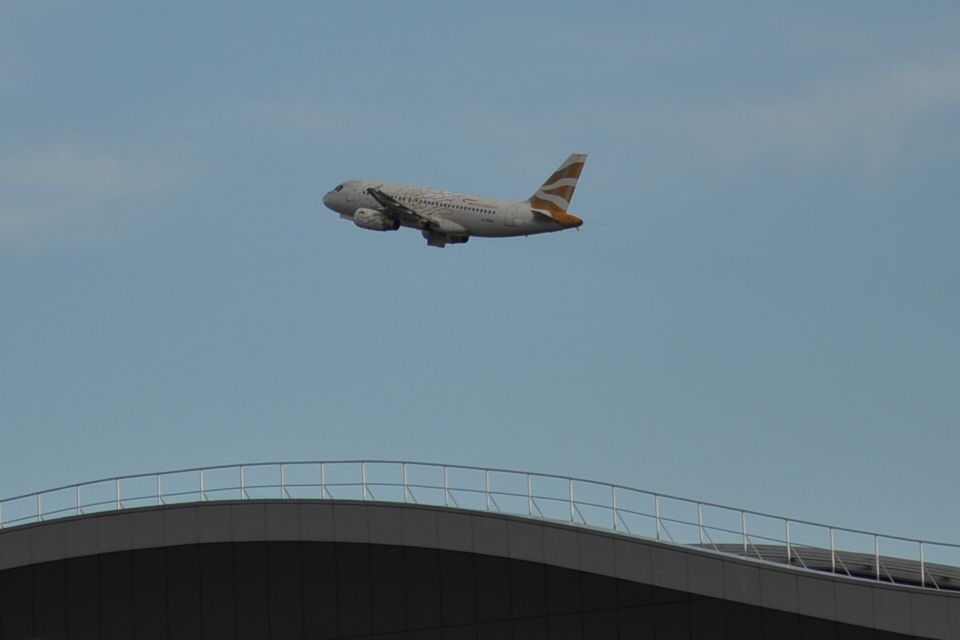 Fairly easy to use the self-check in kiosks, but there was a queue at the bag drop area. And akin to Murphy's law, the line we stood in just did not move for a good 10 minutes. Changed lines, and we were checked-in in no time.
Check in counters at LHR T1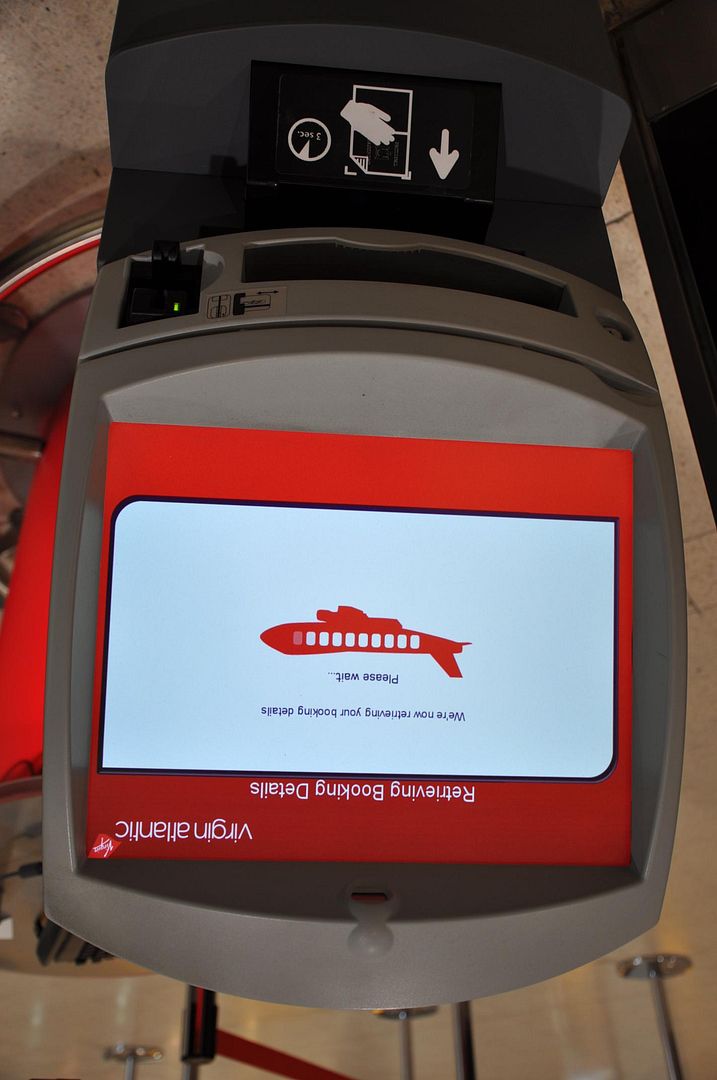 T1 before a bank holiday weekend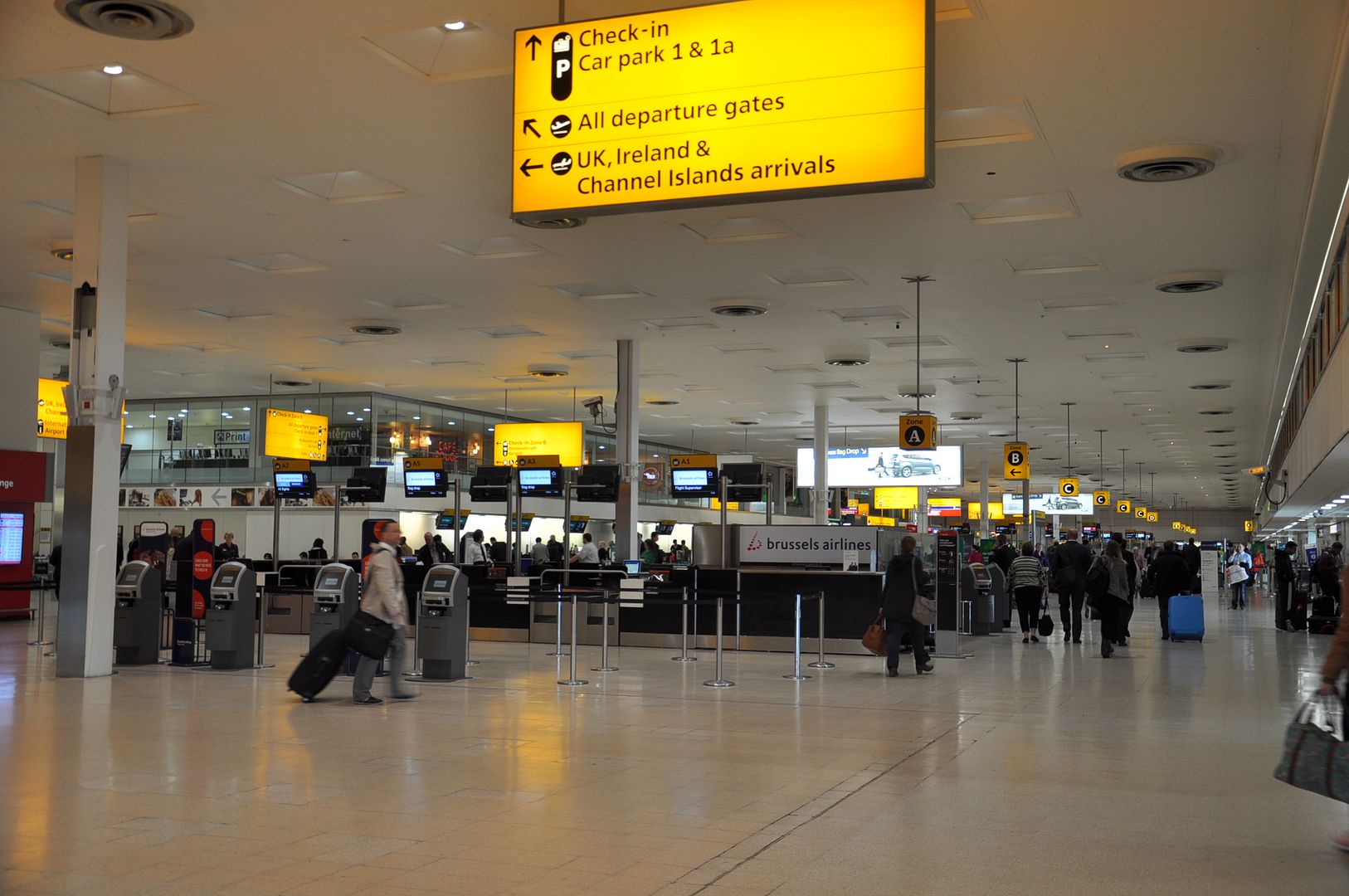 FIDS at T1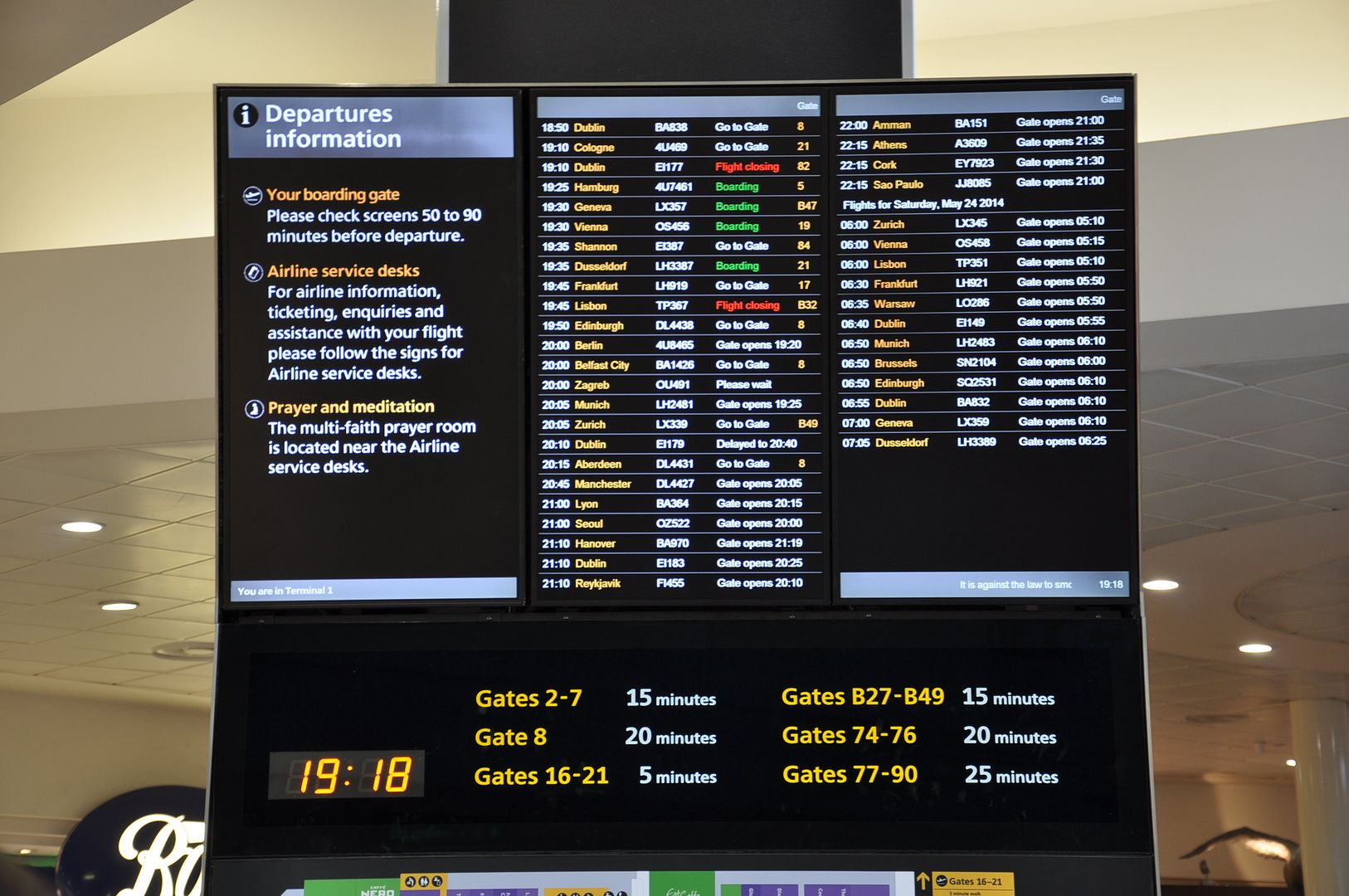 Quick hop through security and before you know it – another queue for domestic departures. Not sure why this queue was for, but I reckon perhaps connecting passengers?
Duty free at T1 – pretty quiet given it's a bank holiday weekend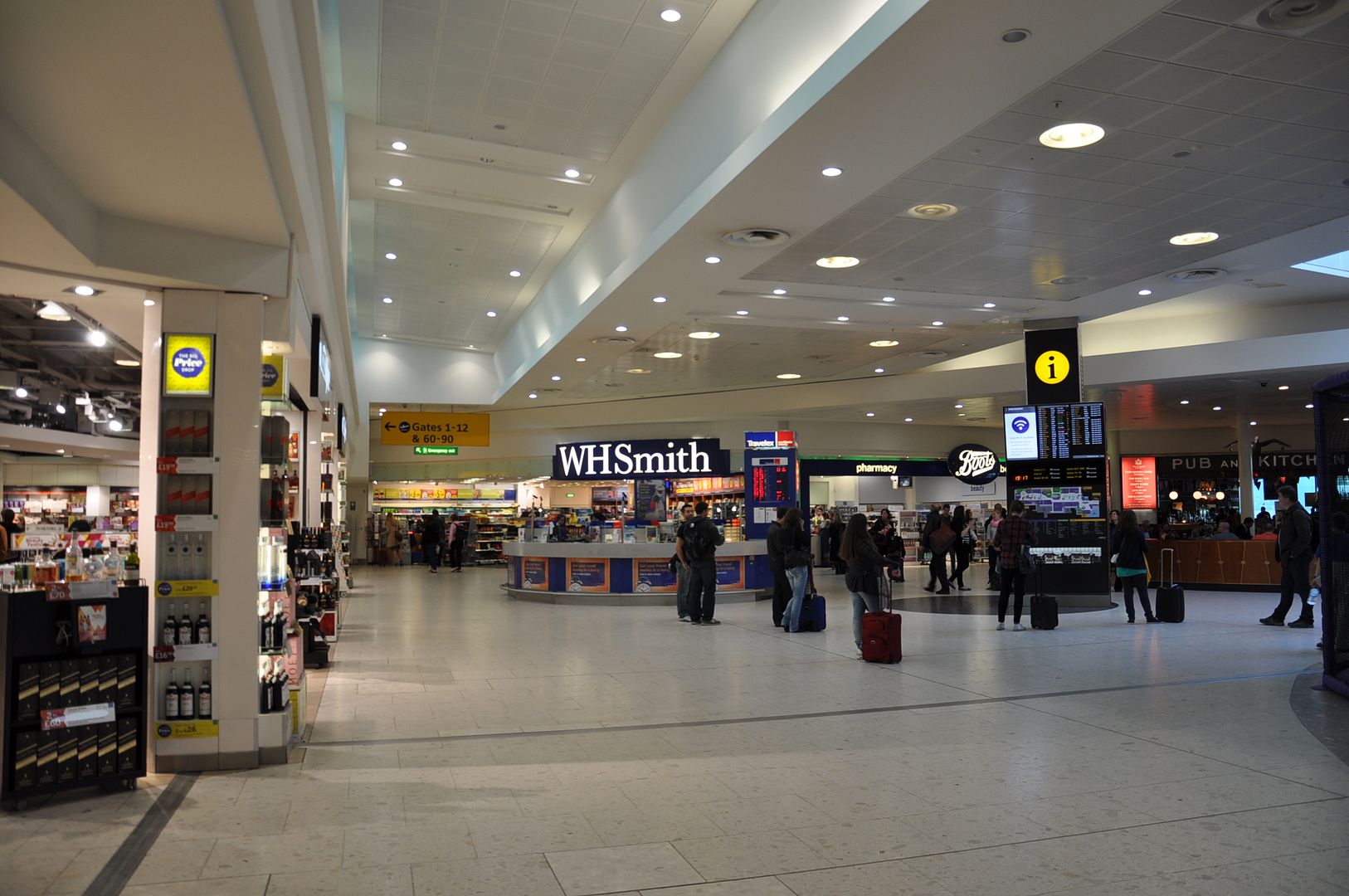 Nevertheless, we were airside with around 25 minutes to spare – great opportunities for plane spotting.
Fantastic Plane spotting opportunities from LHE Terminal 1 – Near the domestic departures
Croatian Airlines A319-100 (9A-CTL) in the foreground.
Our ride to ABZ – Tartan Lassie – Virgin Little Red (Operated by Aer Lingus) A320-200 - G-EZAT
Tartan Lassie
Boarding was orderly and we were all onboard in good time. The aircraft looked slightly grubby with few crumbs on my seat. But noting too drastic.
Boarding gate at LHR T1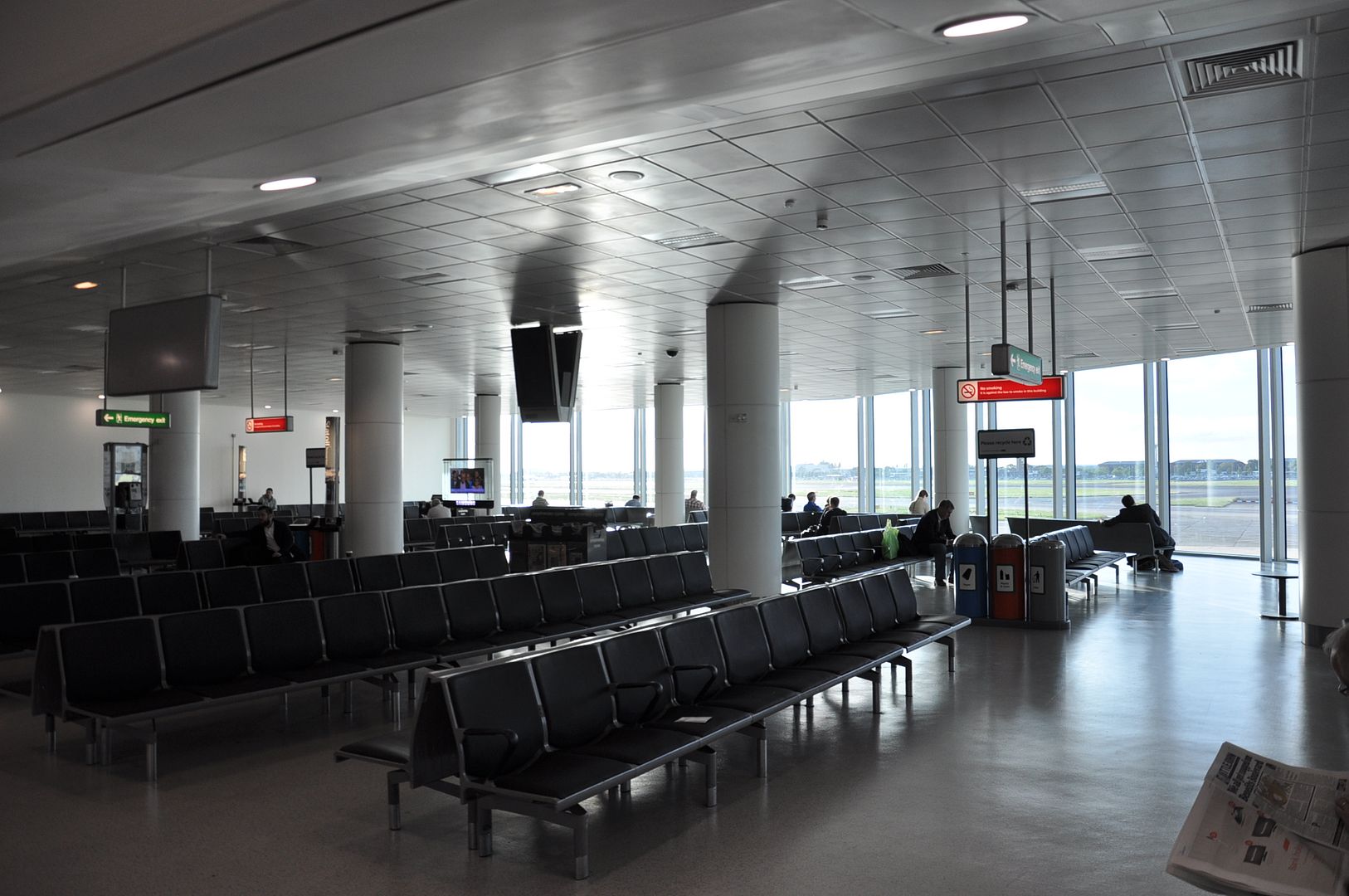 Smart.!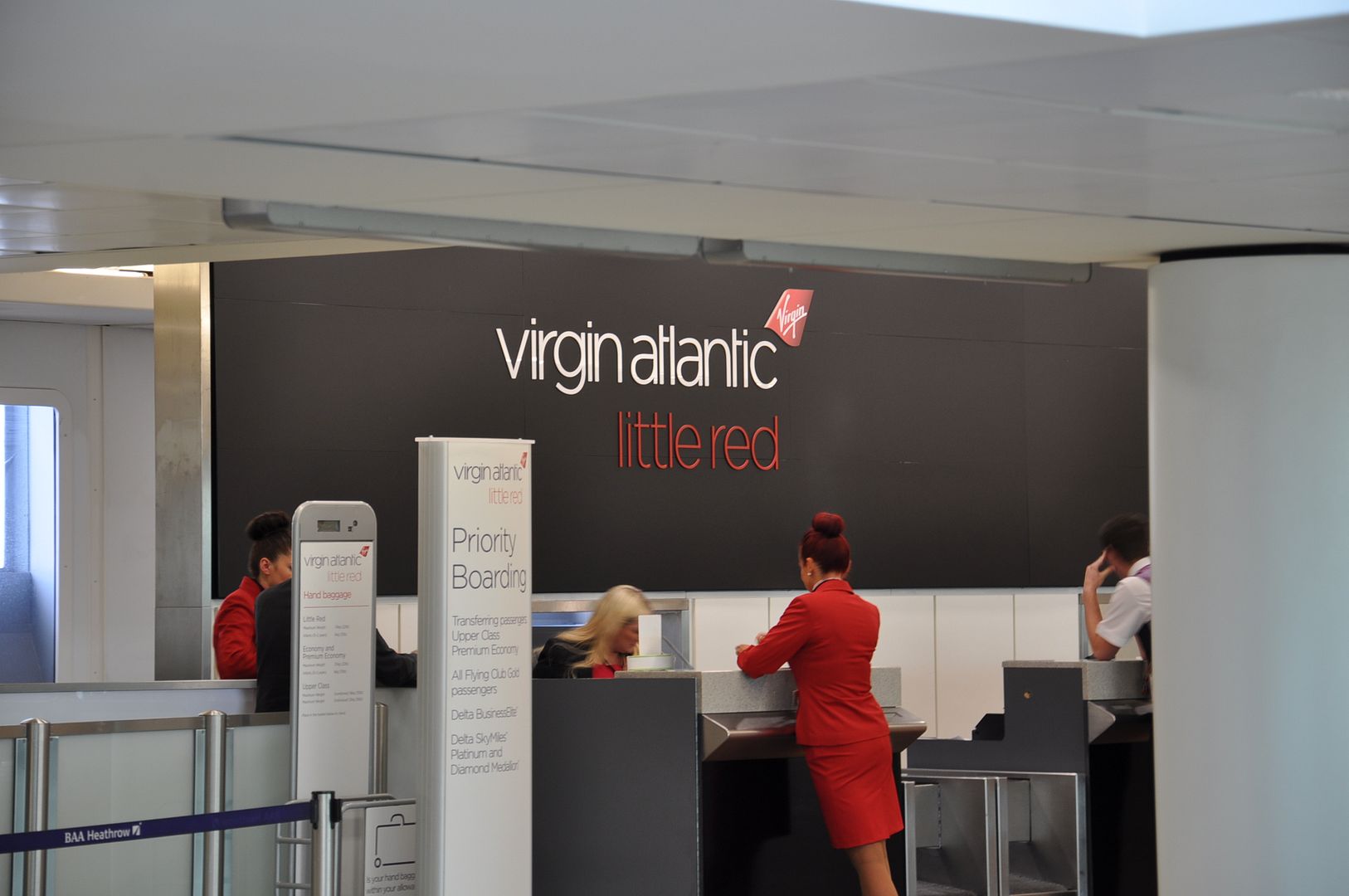 Out came the captains' superb announcement saying that we would be delayed by a bit due to late arrival of the Fuel tanker and wished us a good bank holiday weekend. Fight time of around an hour announced.
Rest of the flight I shall let my pictures do the talking. On the whole it was an excellent service and can't recommend it enough. For the price we paid (around GBP 55 per head) it was a bargain and well worth it – fantastic service, nice mood lighting interiors (although slightly dirty) and all in all a great experience.
Sea of BA Aircrafts
No trip from LHR is ever complete without the heavies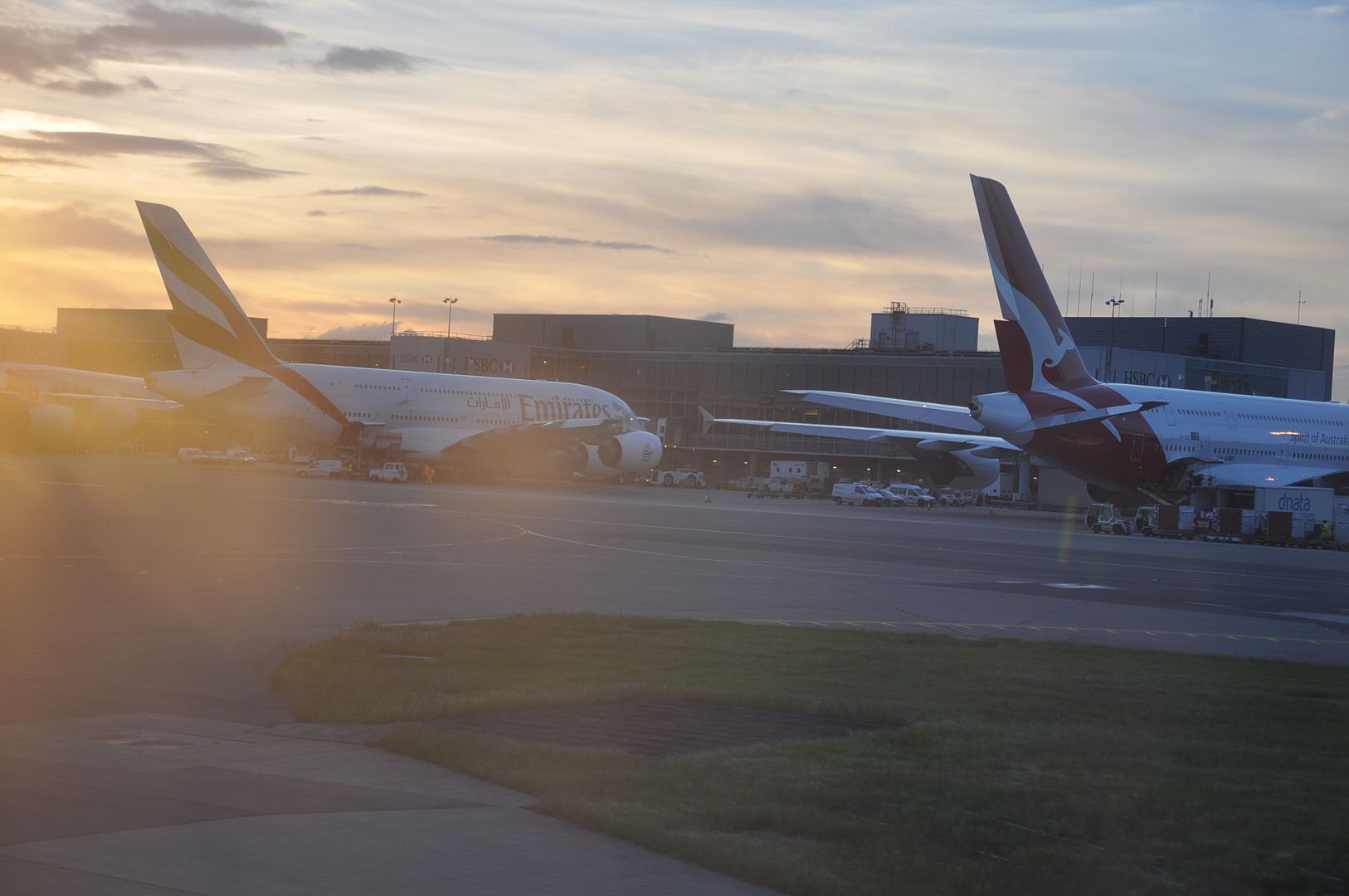 Our new friend – CZ Dreamliner, awaiting to take the next set of passengers to CAN and beyond.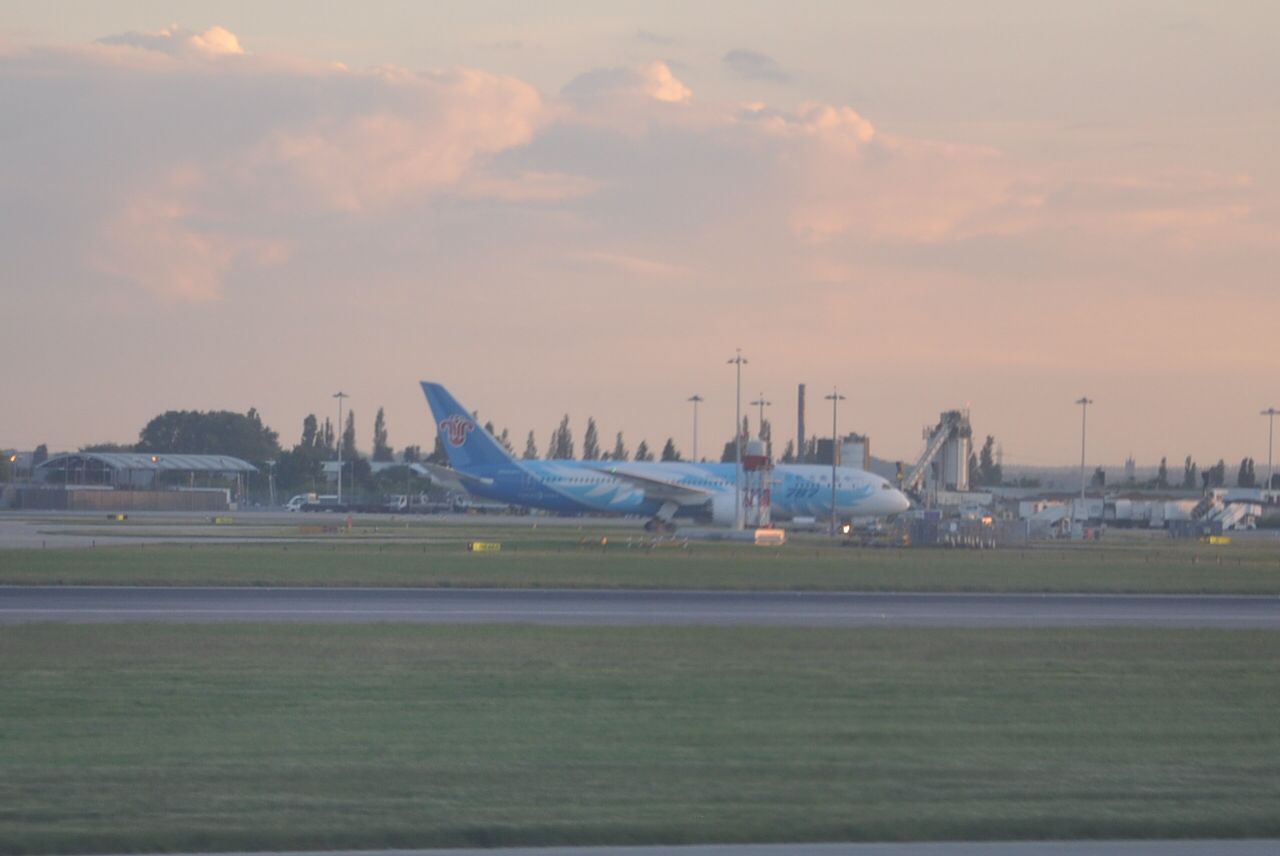 The Beauty – G-CIVT – Gracing the skies since 1998
Decent leg space onboard the Little Red A320
Fantastic interiors – on-board the Virgin Little Red A320-200 from LHR to ABZ
Great touches on the flight to ABZ – Fantastic Little Red
Snacks en-route
Upon landing, the baggage did take around 10 minutes to arrive. Not sure why the delay being a small airport. From there it was a quick hop in our car rental courtesy coach, picked up our ride for the weekend and off we went to Holiday Inn Express Aberdeen, our stop over for the night
Landing into ABZ
Lonely at ABZ – Baggage carousal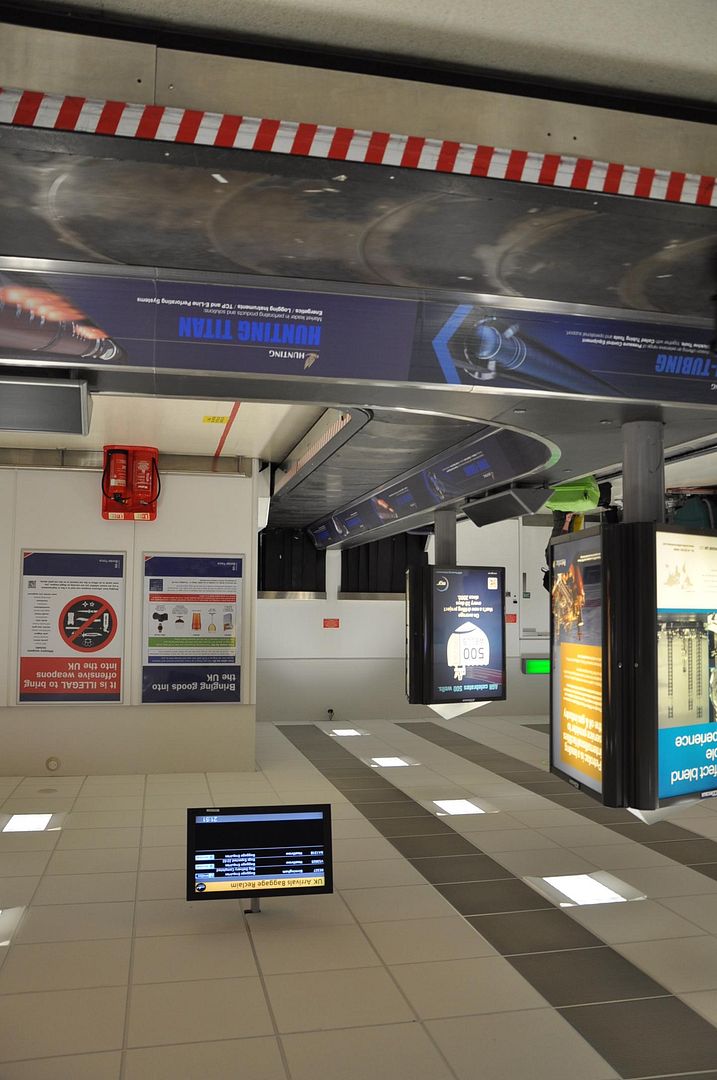 Night time arrival into ABZ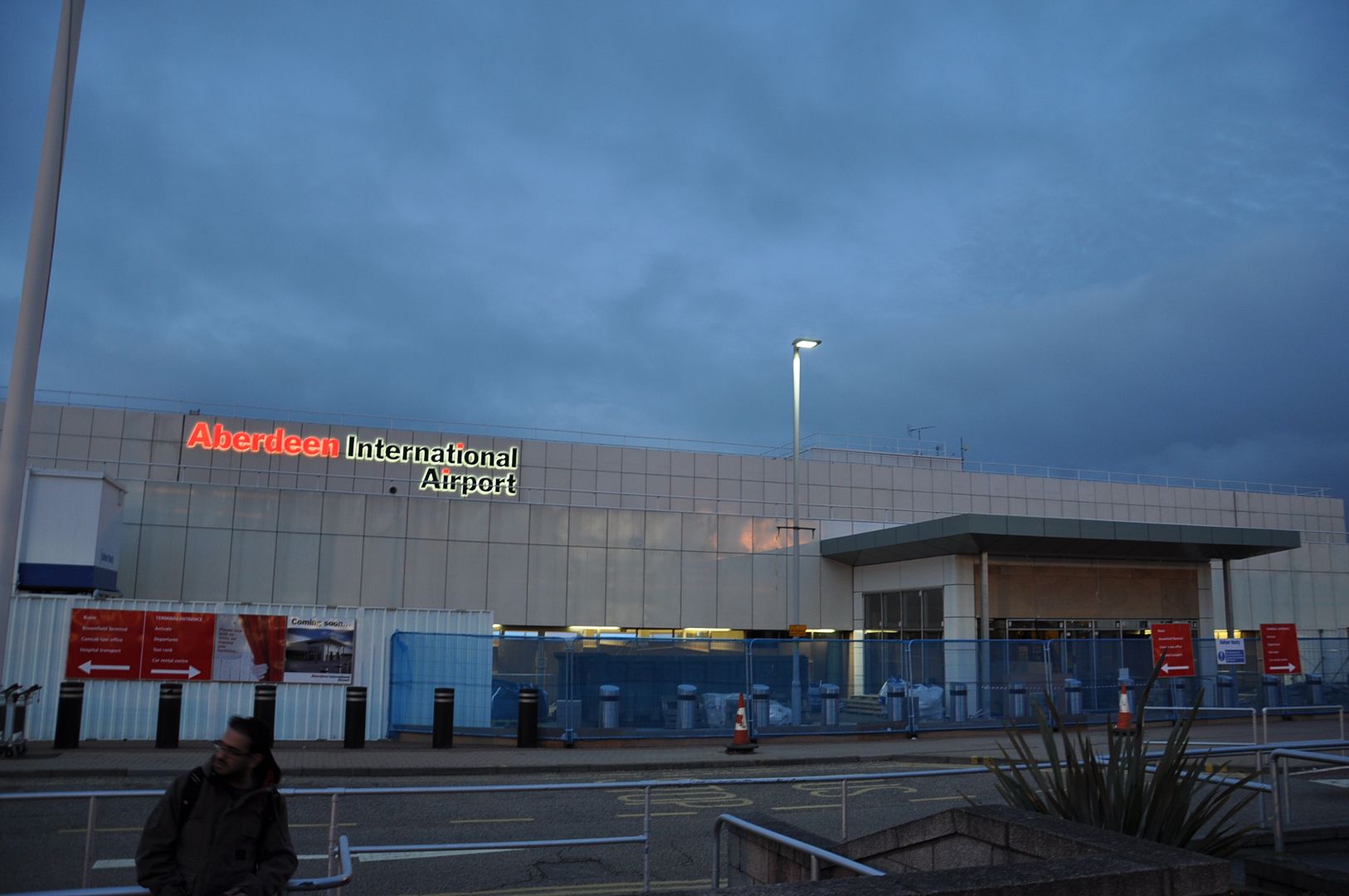 Our ride for the trip – Peugeot 308 – a fantastic little car.
Trip Stats: Avg Speed – 35 MPH, Total Distance – 510 Miles @ 65.6 MPG (23.22 Km/L)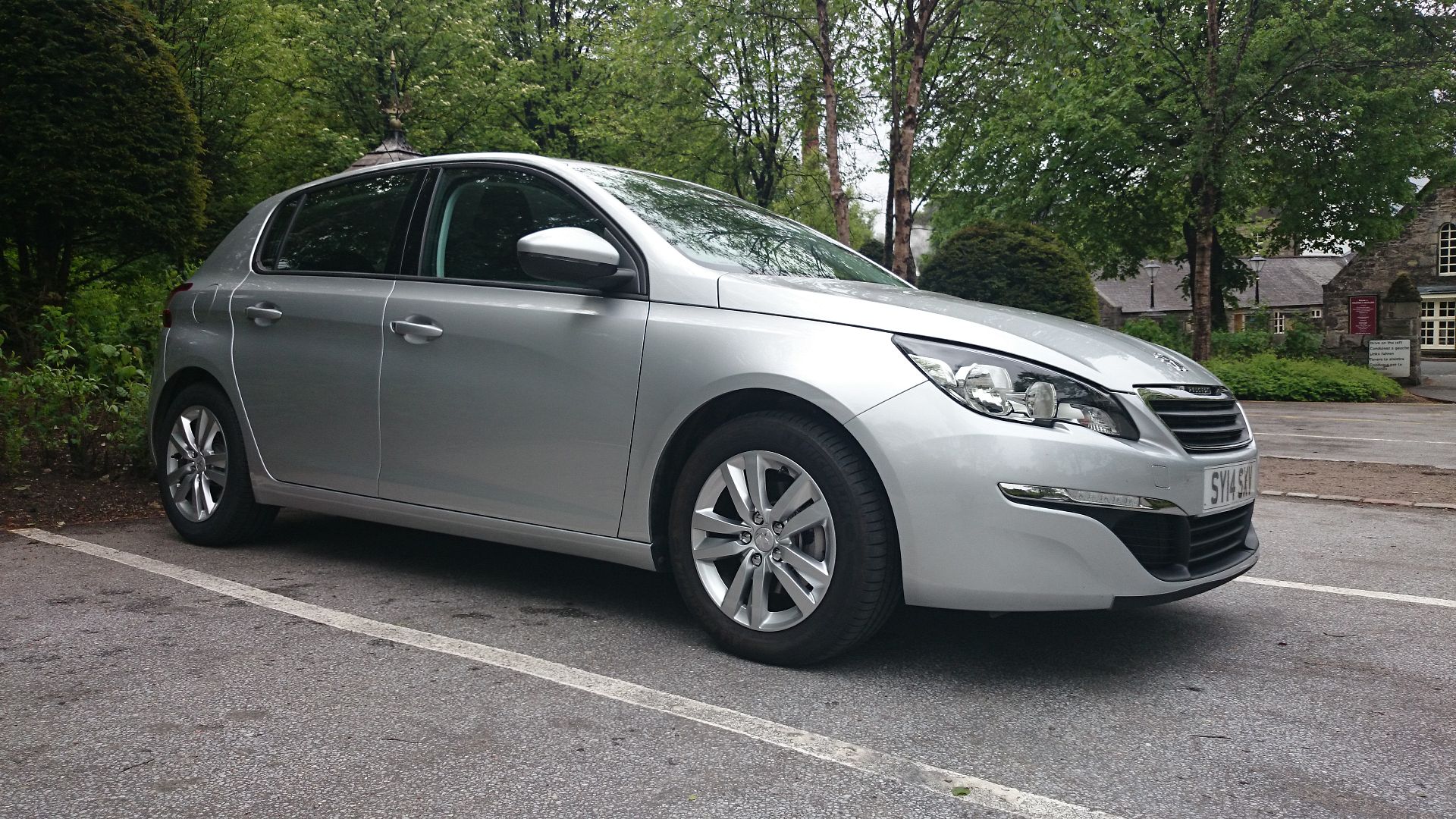 Day 2
The following day drove over to inverness, stopping en-route at Strathisla Distillery – A Chivas Brother Company. Had a fantastic tour of the distillery followed by some great tasting session.
Spent rest of the day driving towards Inverness and spending the evening at Inverness central.
Perfect way to start the day – Distellery hopping @ Strathisla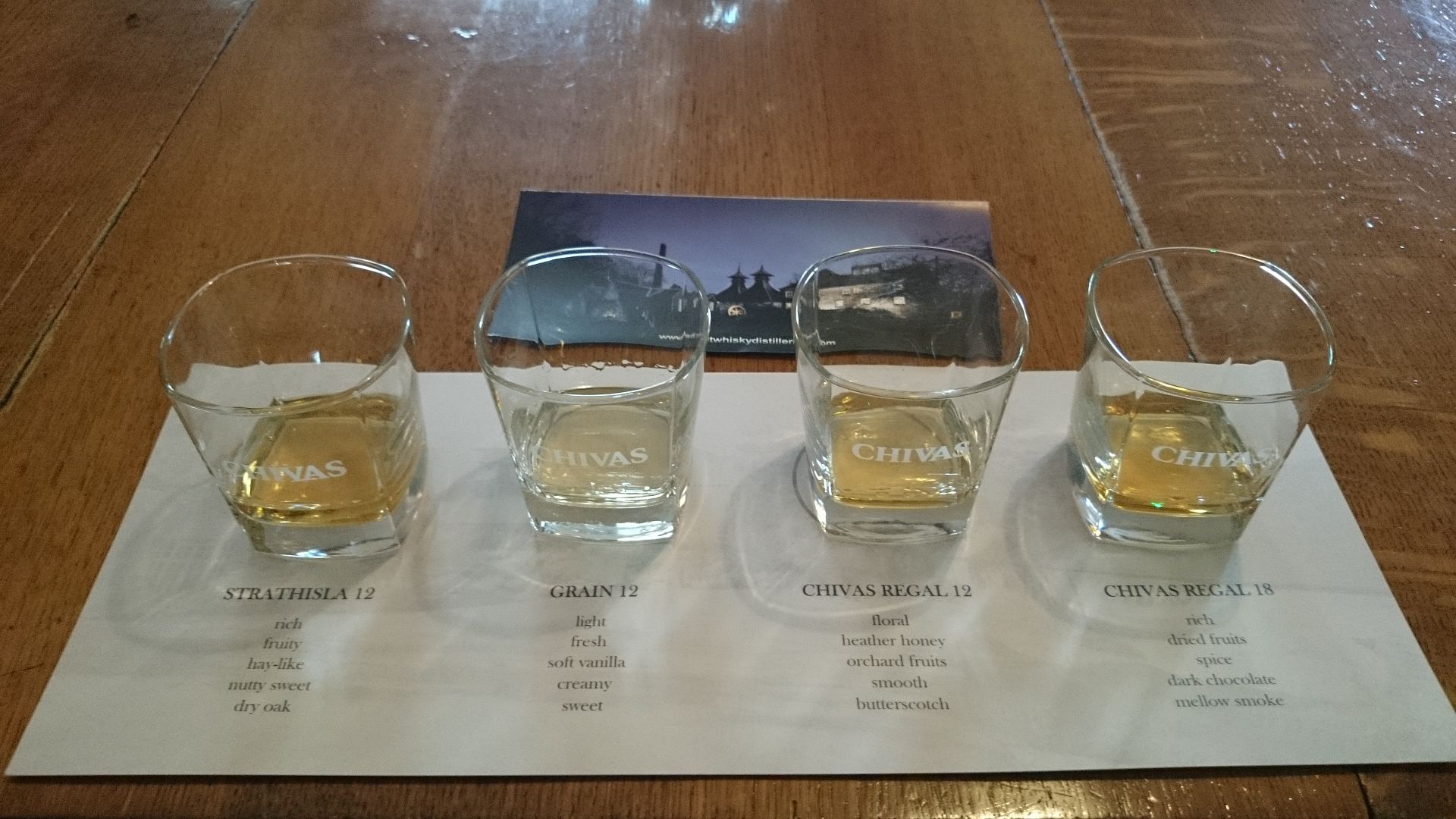 View from outside our lovely B&B –
Beach House Cottage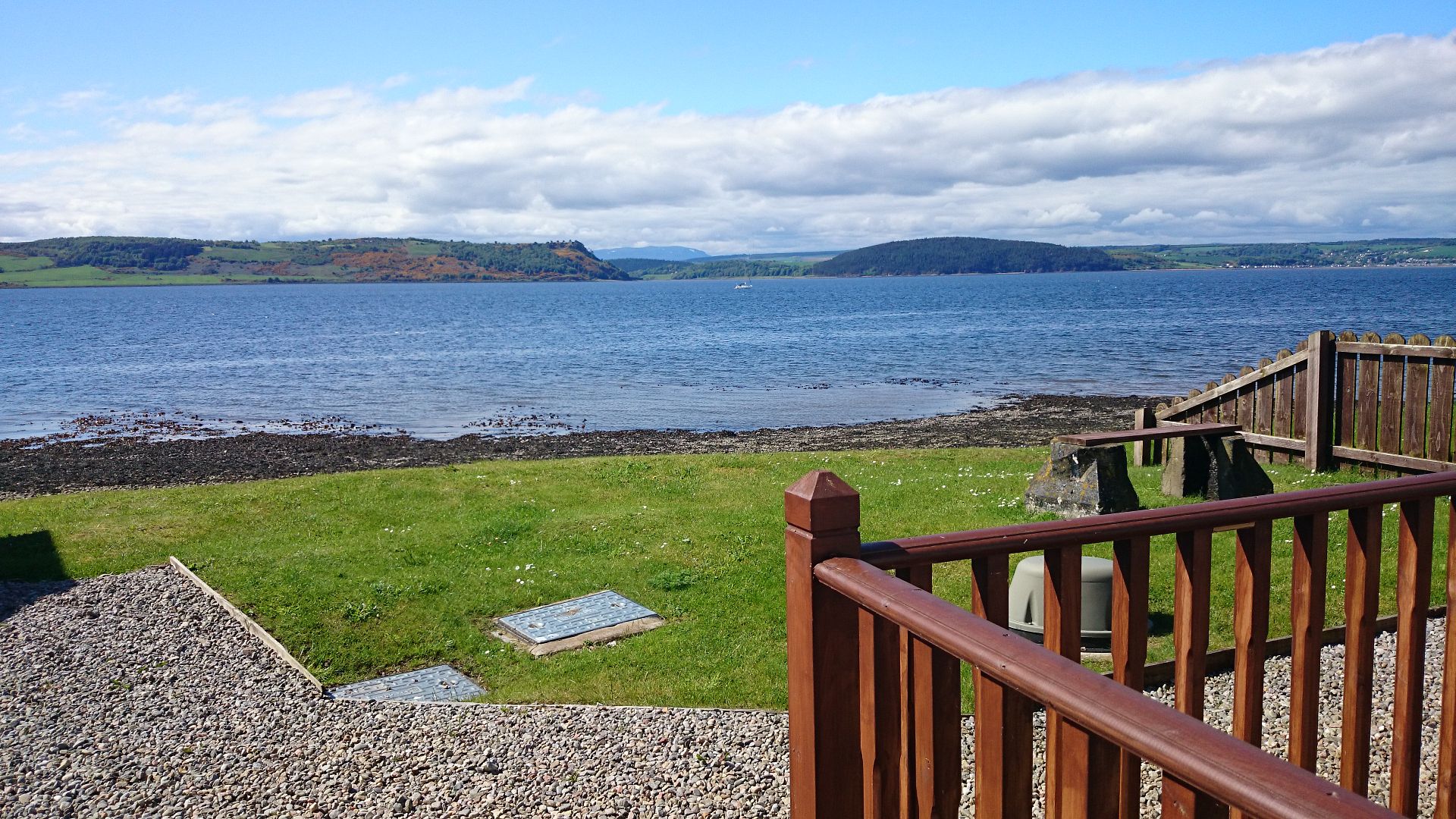 View from our Room
Bridge over River Ness - Inverness
Inverness Castle
Day 3
The next day was our trip to Isle of Skye, via Loch Ness. It was a bit cloudy today but upon reaching our trekking spot, it cleared a bit and we had a rain free trek for around 3 hours.
On our way back stopped over at Taliskar Distillery which was closed being a Sunday, so headed back into Inverness just in time for dinner at The Mustard Seed.
Views en-route to Isle of Skye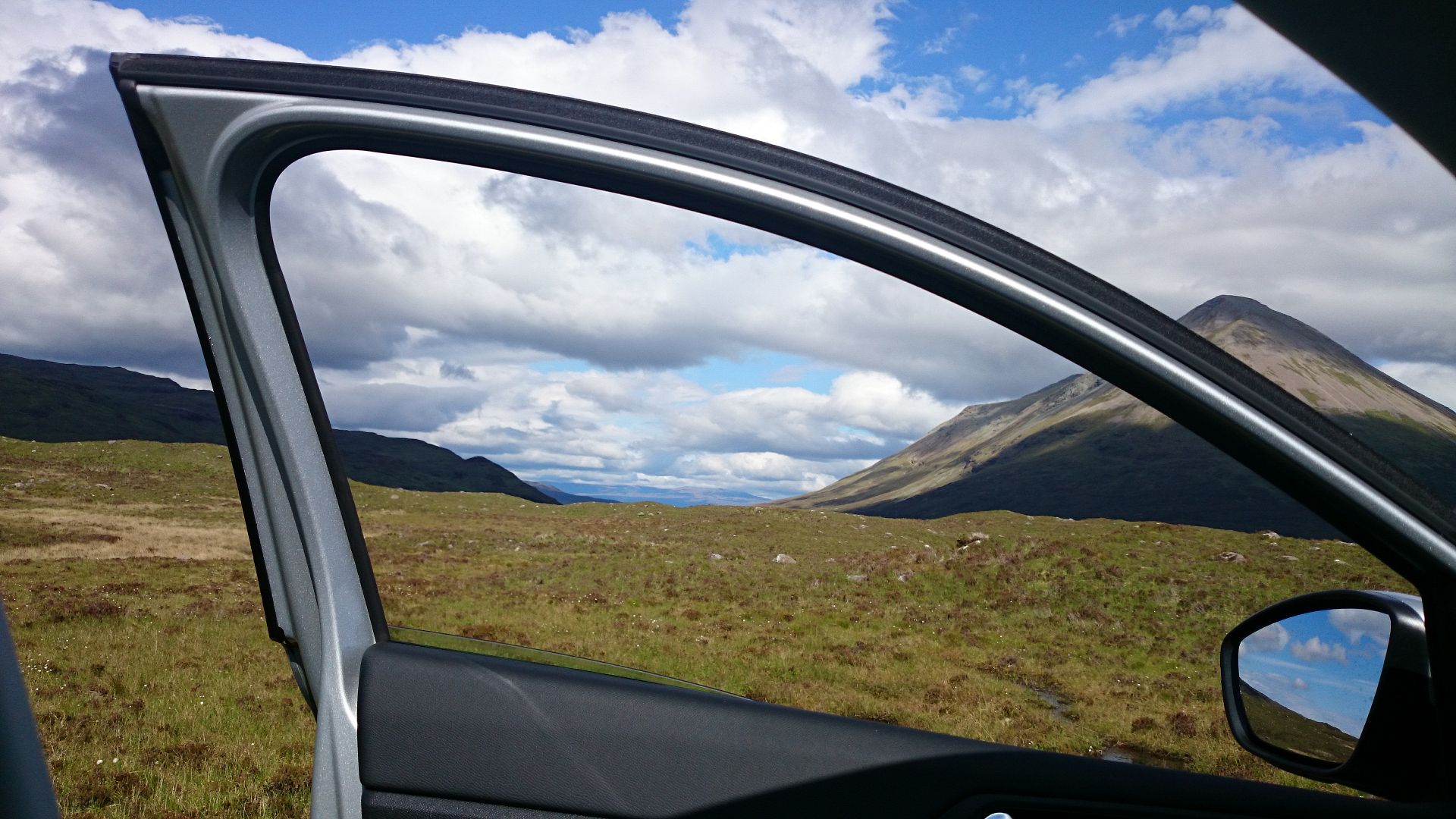 Distillery hopping – Taliskar at Isle of Skye, Shame it was closed though.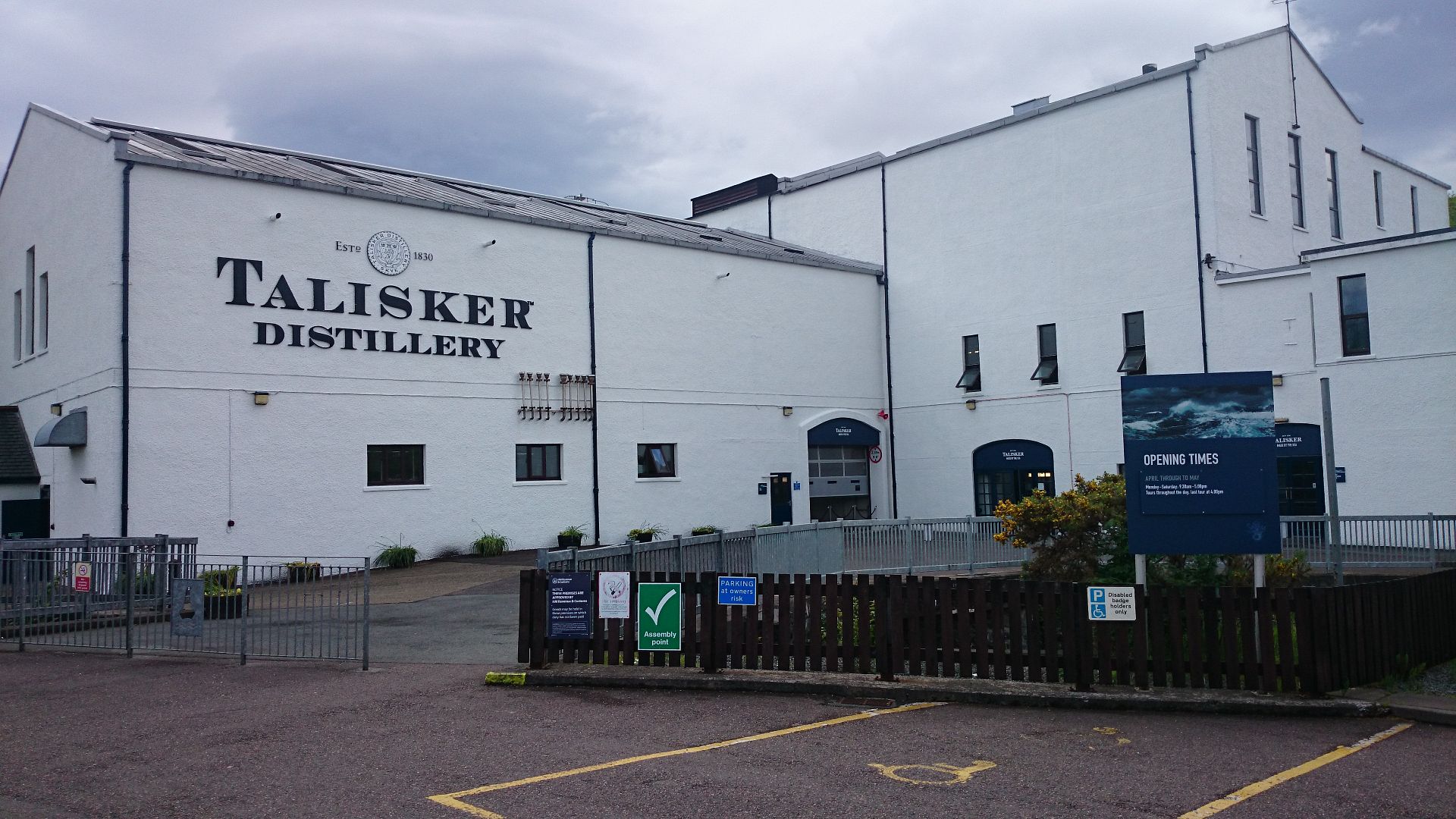 Day 4
On our final day left Aberdeen after a sumptuous breakfast and drove towards Glenlivet for another tour of the distillery followed by tasting session.
Glenlivet Distillery
They have some great walks around the distillery known as the Smugglers Route. We picked a 6 KM circular trek and it was well worth it.
From here it was a gentle drive to the city of Aberdeen, hoping to get some dinner.
The traffic was quite bad, hence did not have time to have dinner, and instead diverted to the Airport, with a lot of time to spare to grab some food before boarding.
EasyJet EZ 874 : ABZ - LGW
Flight Reg: G-EZAT; delivered June 2006
Airbus A319-100
Seat 10D
Departure time 20:30 (Actual 20:35)
Arrival 22:05 (Actual 22:04)
26 May 2014
And the return, Lovely weather at ABZ before leaving to LGW
Check in was quick and off we went to grab a bite.
The restaurant before the departure gates closes at 7:00 PM, so we made it in time. The food was very appetising and it was warmly accepted by us after a long day of trekking and whisky (Its Scotland so it's Whisky and not Whiskey) tasting.
Once airside, ABZ felt much smaller than it actually was. It looked like the bank holiday crowd were all heading back home.
Check in counters at ABZ – quick and efficient.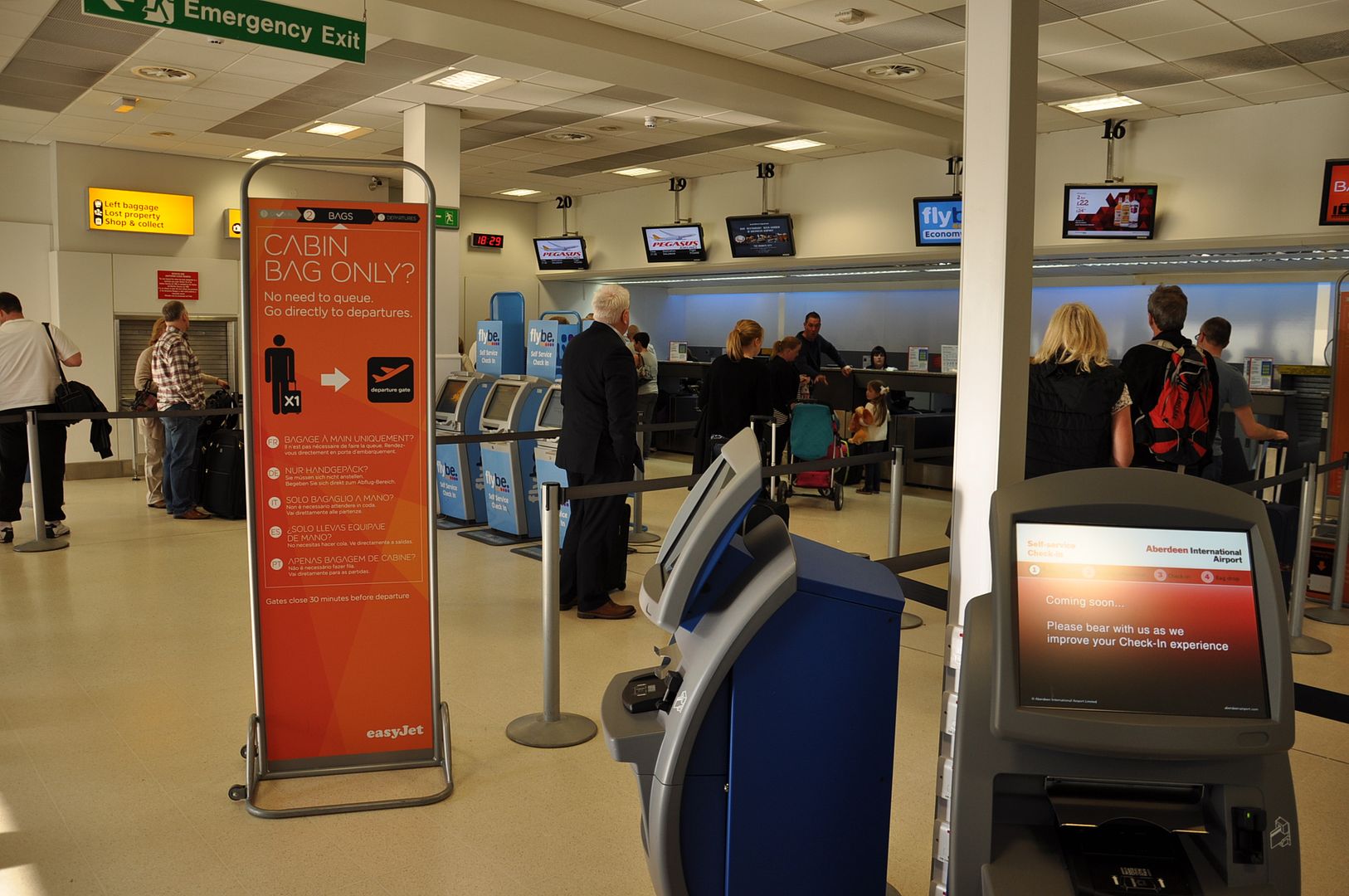 ABZ Airport – Interiors - FIDS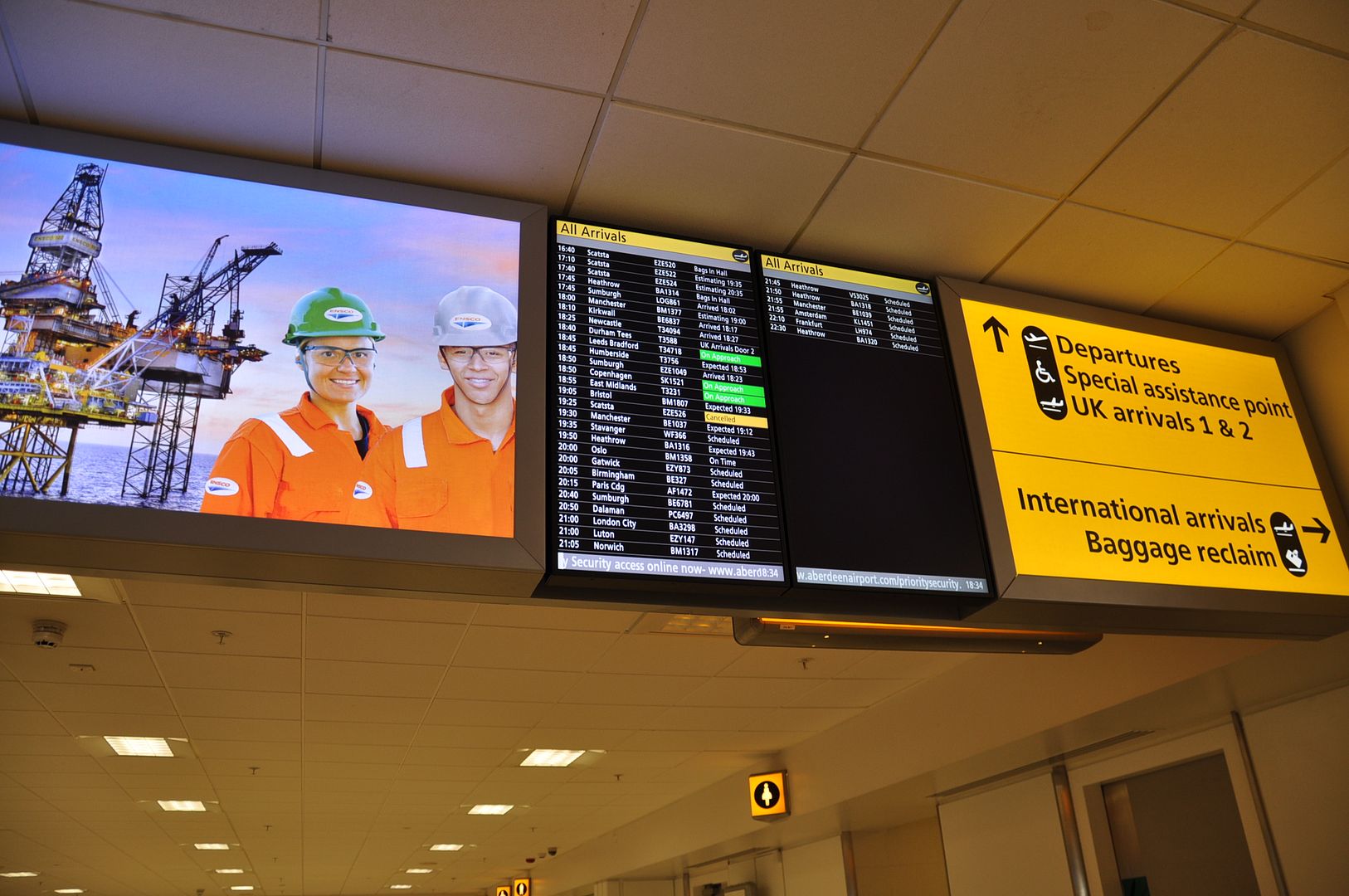 But, all that was negated when I heard that there was no limit on alcohol from the duty free on a domestic sector! Bliss!
No limit on alcohol on domestic routes from the Duty Free + plenty of scotch options = DANGEROUS!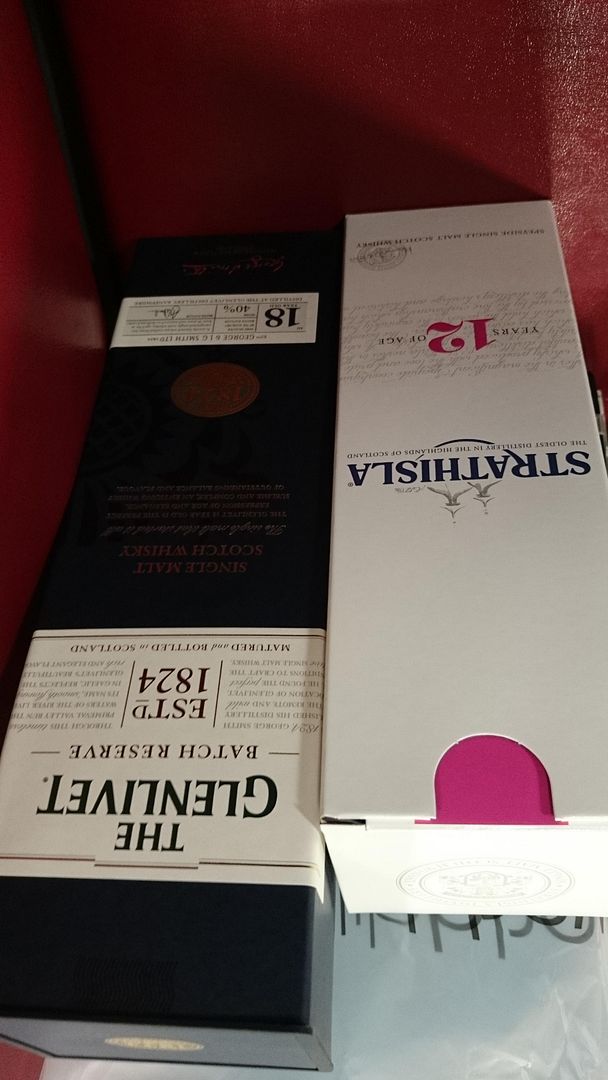 Our fight was scheduled to be on time and boarding started well in advance due to the flight being full. As expected, EasyJet were asking for volunteers to check in their bags for free, which we gladly did.
Good initiative, but they could've possibly initiated this during check in itself, similar to what had been done at Dusseldorf, the last time I was onboard an easy jet flight
Boarding was slightly chaotic, although it was much to do with the available space at ABZ than the actual boarding process itself.
Busy ABZ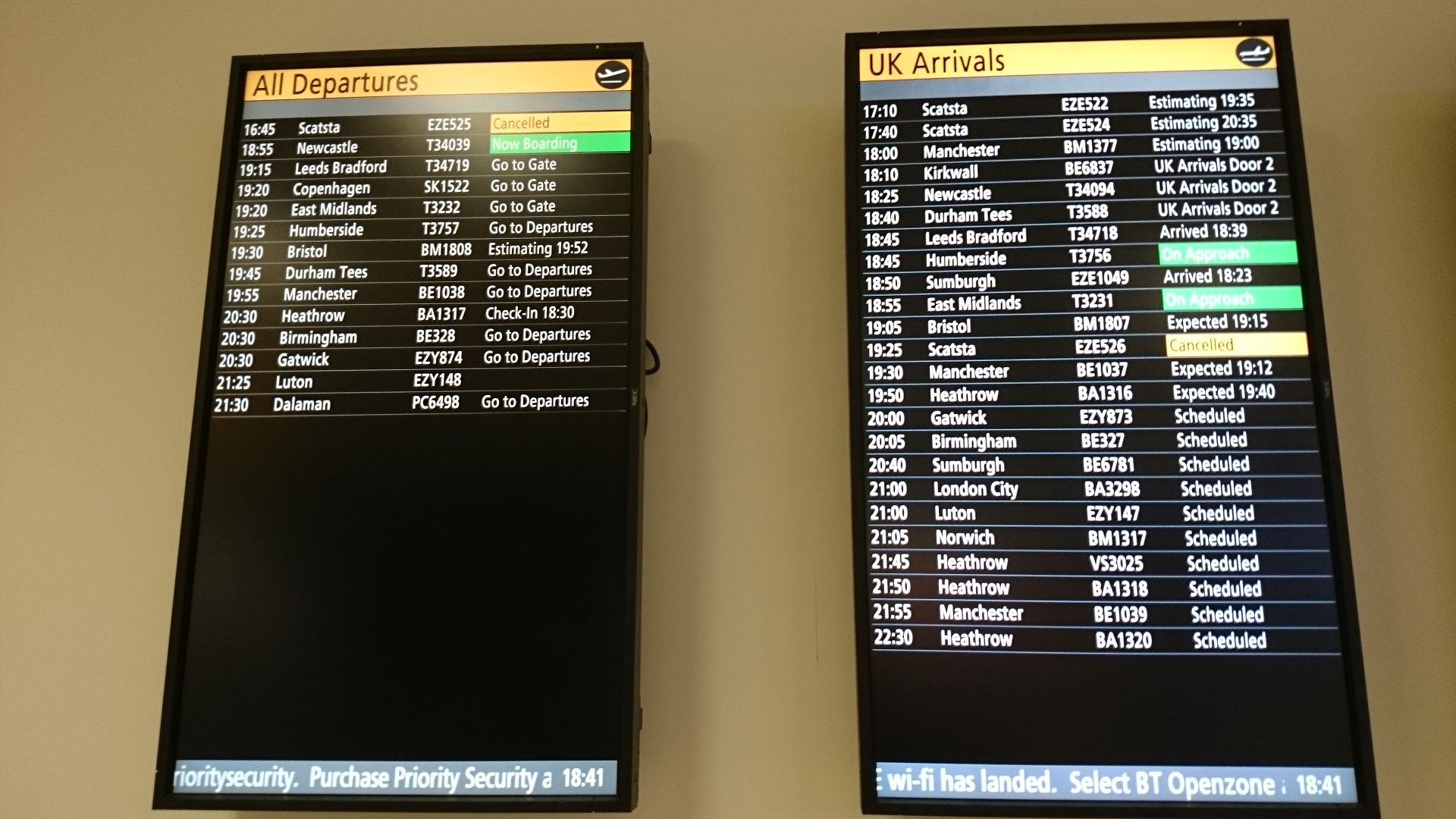 Boarding gate at ABZ
Asking the lovely lady at the boarding gate at ABZ, if I could take a photograph, all she said was "I'm not looking!" Result!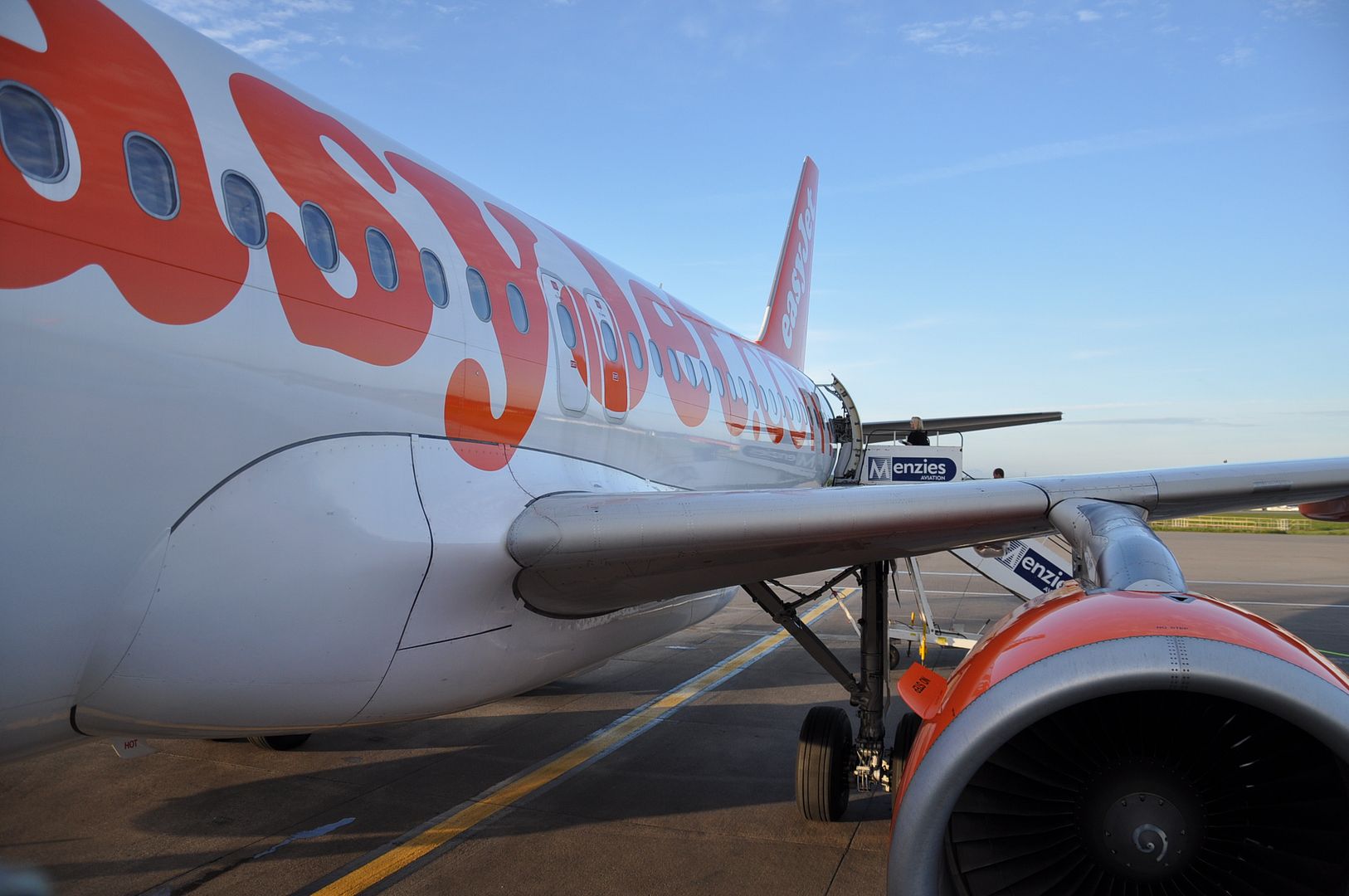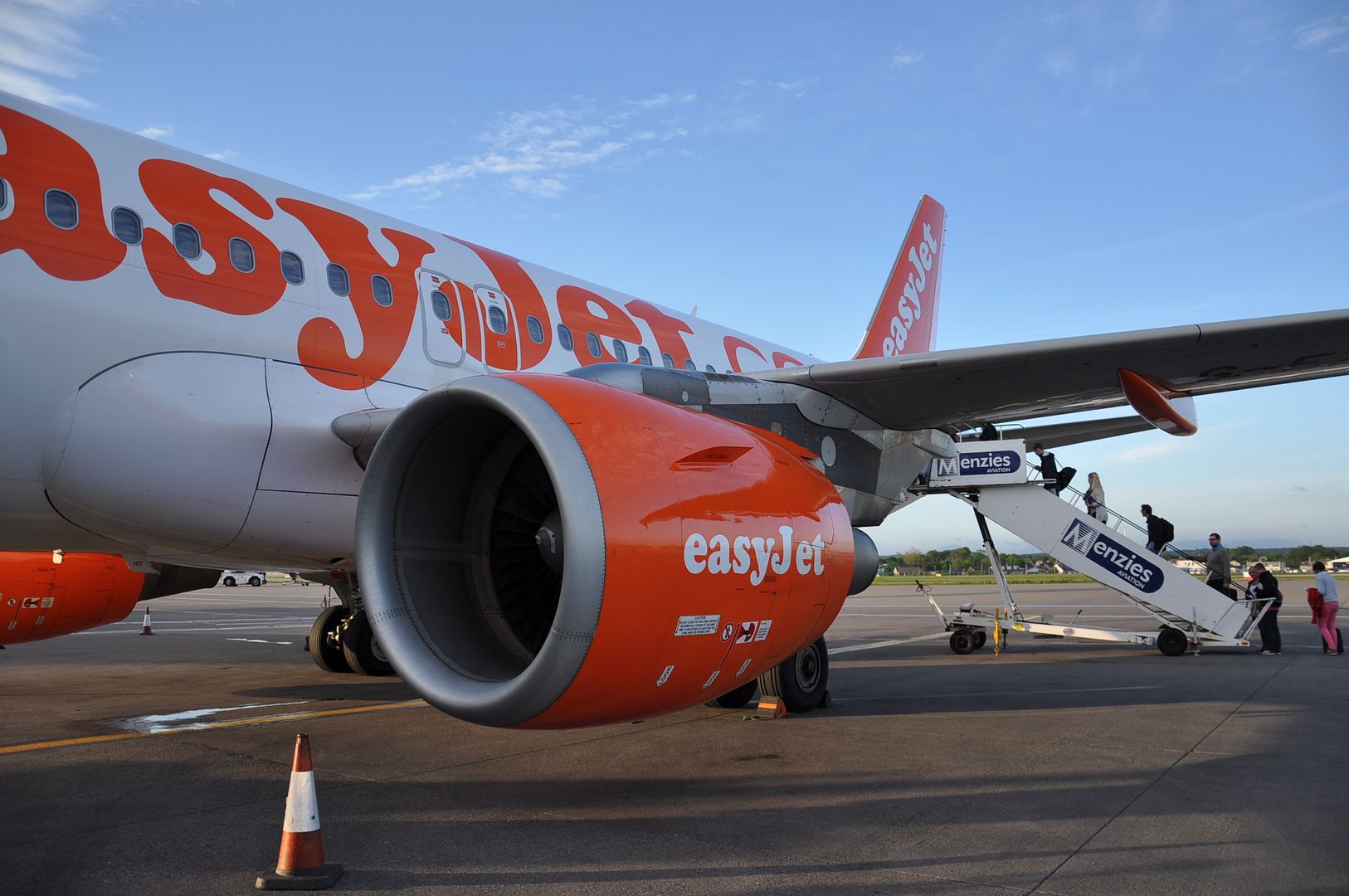 Onboard EasyJet to LGW – EZY 874, A319-100 – G-EZAT
Very good leg space, and by coincidence we got the exit row upon checking in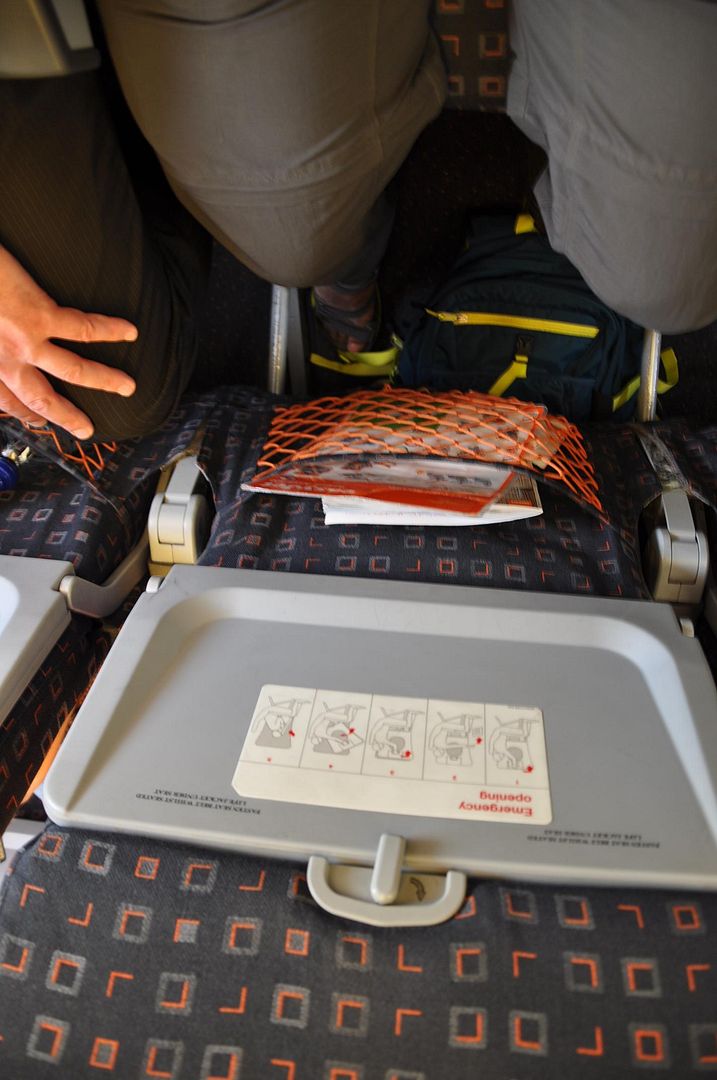 Boarding Chaos at ABZ – although in the end I think it was well handled and flight almost on time, except for the naughty fuel man.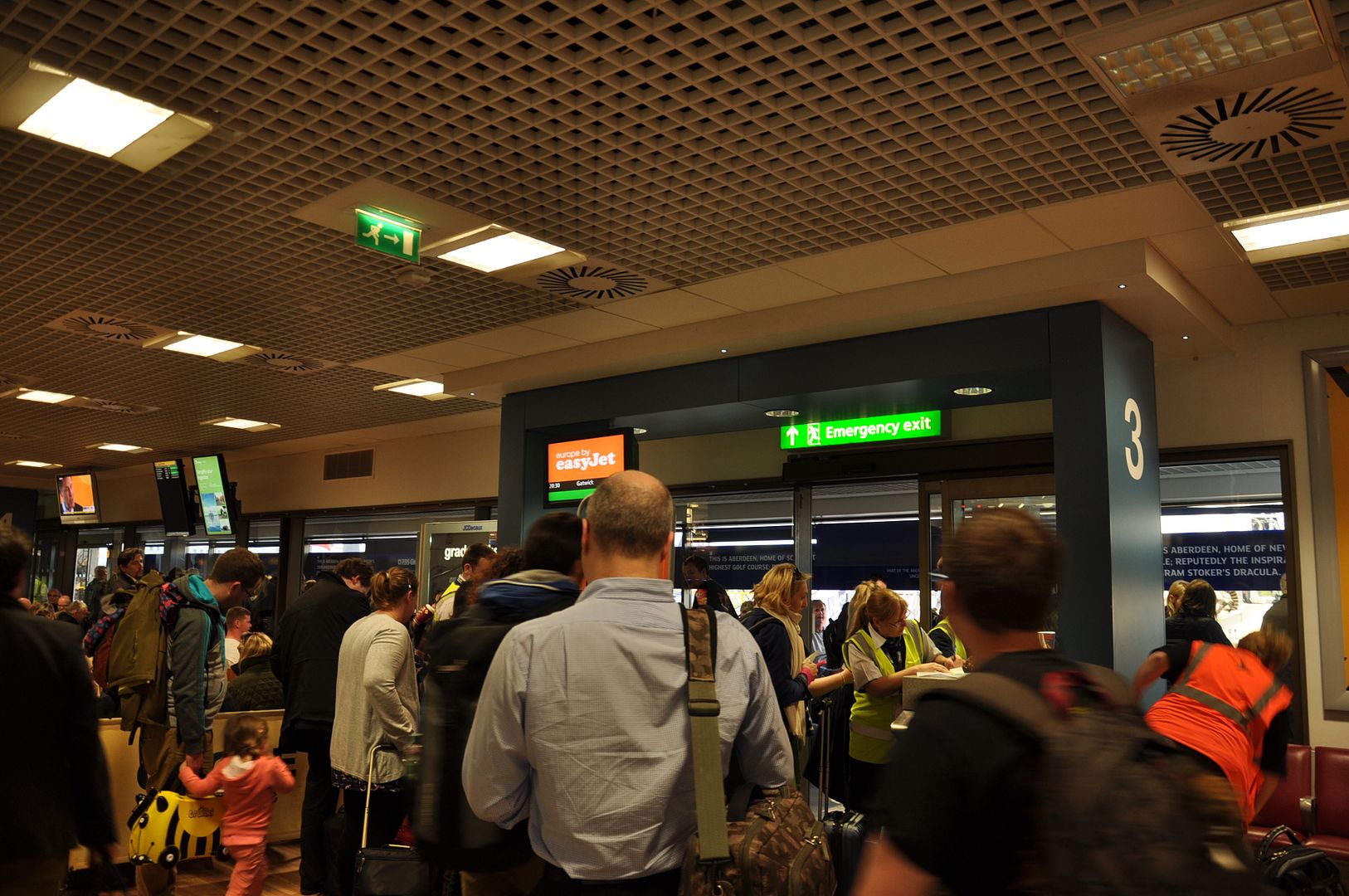 Once onboard a flight time of 1 hour and 30 minutes was announced.
The rest of the flight was uneventful in a good way. There were a lot of rounds made by the cabin crew for various duty free offers, food and beverages, etc.
Landed at LGW on time and were out of the airport in 20 minutes, onto our waiting cab and away we went.
Interesting point that I noted
: Virgin little red allow you to use all personal devices from the time of boarding right until you exit the aircraft. They only recommend that you do not use headphones during safety briefing. I like the fact that you are able to use personal devices, but not too chuffed about not enforcing paying more attention to the safety briefing.
On the other hand EasyJet, like most of the other airlines allow you to use your personal devices only when airborne, all except your laptop which has to be in the power off mode throughout the entirety of the flight.
Is there any known reasons why different airlines have different policies on using your personal devices? If it were for safety reason, shouldn't all airlines have a unified policy? It would be interesting to see/view feedback on this points from A'netters.
Hope you enjoyed this edition of my Trip Report. No further trips planned in the near future, hoping to do one soon. Until then safe flying and hope to see more Trip reports.
Adios.!
Previous Trip Reports
24 Hours On A 787! - Final Leg CZ - AKL-CAN-LHR
Part 5 - BHE-WLG-AKL On NZ Beech1900D And A320
Part 4 - MEL-AKL-ZQN On QA And NZ B738A320
Part 3 - CNS-MEL On JetStar A321-200
Part 2 - SYD - CNS On Virgin Australia E190
Canton Route Part 1 - LON-SYD - CZ DreamLiner/A332
DREAM(liner)ING Of Hainan - China Southern
Panda Calling - BA LHR To CTU - Club World
China - The Low Cost Way - Spring Airlines - SJW-CTU
China United Airlines (KN) - CTU - SJW - B737-700
Norwegian B737 - LGW-TOS-BGO-LGW
Jet Airways: LHR – COK
Barra Trip – that was not to be
LHR - KWI - BA 747 - Part 1 - Middle East - China
Part 5: PVG-LHR - BA - Economy - B777
Part 2: KWI-DXB - FlyDubai - Economy - B737
Part 4A&B - SHA-SJW-SHA - FM: Eco: B737
Part 3A&B : DXB-HKG-PVG: CX & KA :Eco: A333
Morocco Trip - LGW-RAK-TNG-LHR - EasyJet & Iberia
Dusseldorf Calling - BA & EZY - Club/Eco - A321