JetBlue Mint Inaugural Review
June 2014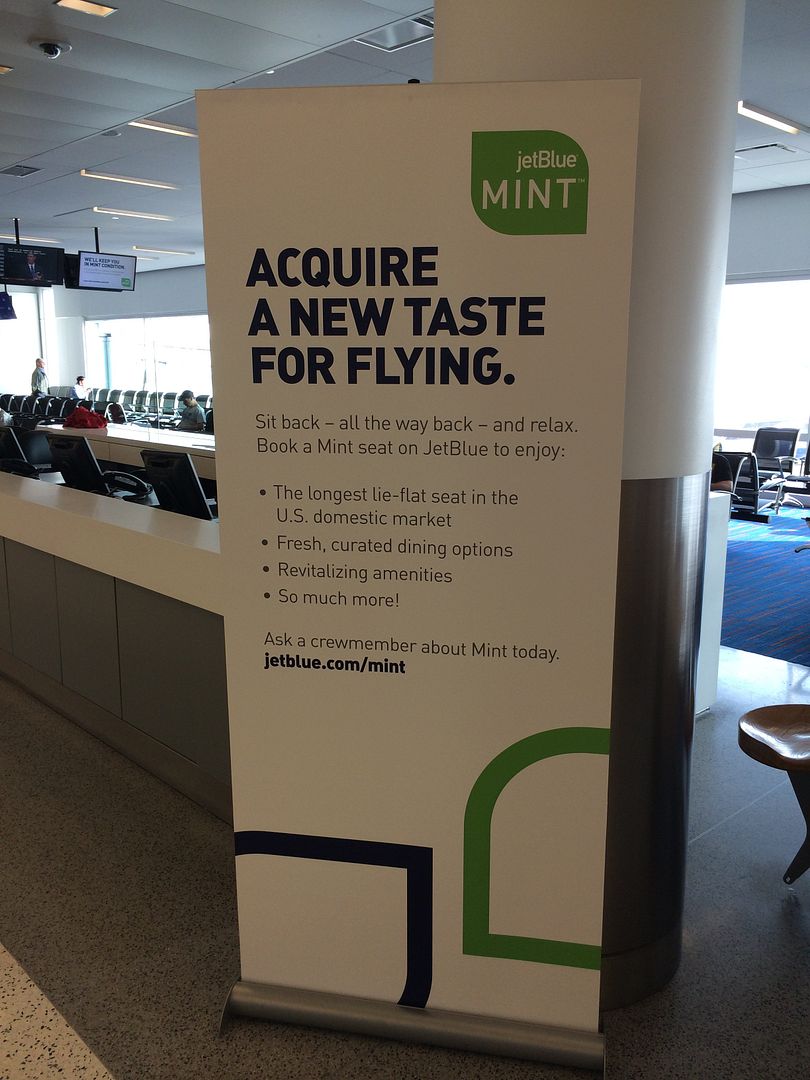 JetBlue IMHO has always been a different breed of airlines, and has definitely created a loyal following, as it has always branded itself as a unique airline and it is very generous when it comes to legroom and amenities, and one of the few airlines that allow passengers to check in one free piece of baggage. It also does not overbook (but I am not sure if this is still the case). To me the best part is always its customer service and many frontline employees, who are always enthusiastic and proud of the airline. High morale is always a key to good service or at least staffs feel more incentive to wish the airline to be successful. Innovation is always the principle that JetBlue follows. Sure the airline has its downfalls, especially its meltdowns of winter operations in the past winter and their JFK staffs are not always the friendliest, but in terms of US domestic flights, JetBlue is just about as good as it gets these days, especially in economy. When JetBlue announces the introduction of a premium product on its premium transcontinental market between JFK and LAX/SFO, I am really curious on whether JetBlue can pull off a major task without devaluing its coach product. When Mint was announced and put on sale, I could not help to book a flight on the inaugural service. Ideally, I would love to fly from JFK to LAX, but it was sold out within a few hours, and I was lucky to be able to grab a seat on the inaugural LAX to JFK – not to mention one of the suites. The schedule was a bit rush, as I literally just did the American Airlines inaugural DFW to HKG service. However I just managed to rush back to LA on Saturday night and got a good 24 hours rest before the late afternoon inaugural from LAX. My first impression of Mint is positive, and the Mint-configured A321 is just amazing. Mint is surely a work-in-progress but it definitely shows plenty of potentials. Its new core cabin looks smart and the new inflight marketplace will definitely set JetBlue's coach product apart from other airlines' transcontinental coach products. However, if you are expecting flagship American Airlines service, Mint is definitely not it, but for $599 one way, the product is more than adequate. My comments are based on the fact that JetBlue is still somewhat structured as a low-cost airline, not the traditional airline! When you read it, please keep in mind that some of the items might not be okay if I am paying $1100 one way. If JetBlue is reading it, please keep that perspective – a low cost airline premium product that is selling at $599 one way, and the more you raises the price, my expectation will be different. For those who don't want to read a long report, here is the link to the photo album. There are many pictures but you can zoom into the one you like!
Photo album link:
http://s1213.photobucket.com/user/Ca...eMintInauguralB6324LAXJFK06152014J
Flight information:
June 15, 2014
B6 324 LAX-JFK Lv1347 Arr2220
June 17, 2014
B6 223 JFK-LAX Lv0930 Arr1236
JetBlue's A321-200 Sharklet, N923JB "It's Mint to Be" flew both flights. N934JB is the second mint-configured plane and has been parking outside the JetBlue hangar, but I believe N923JB is the only Mint A321 being used now. N923JB was delivered to JetBlue on February 21, 2014. Maybe someone at JetBlue can answer my question regarding a spare mint A321 for now, and when the second Mint A321 will be ready. With only one daily rotation between LAX and JFK, one plane is fine and N923JB should be able to handle the daily roundtrip till July.
Pictures of the plane:
N923JB at LAX – poor shot due to location of Gate 33B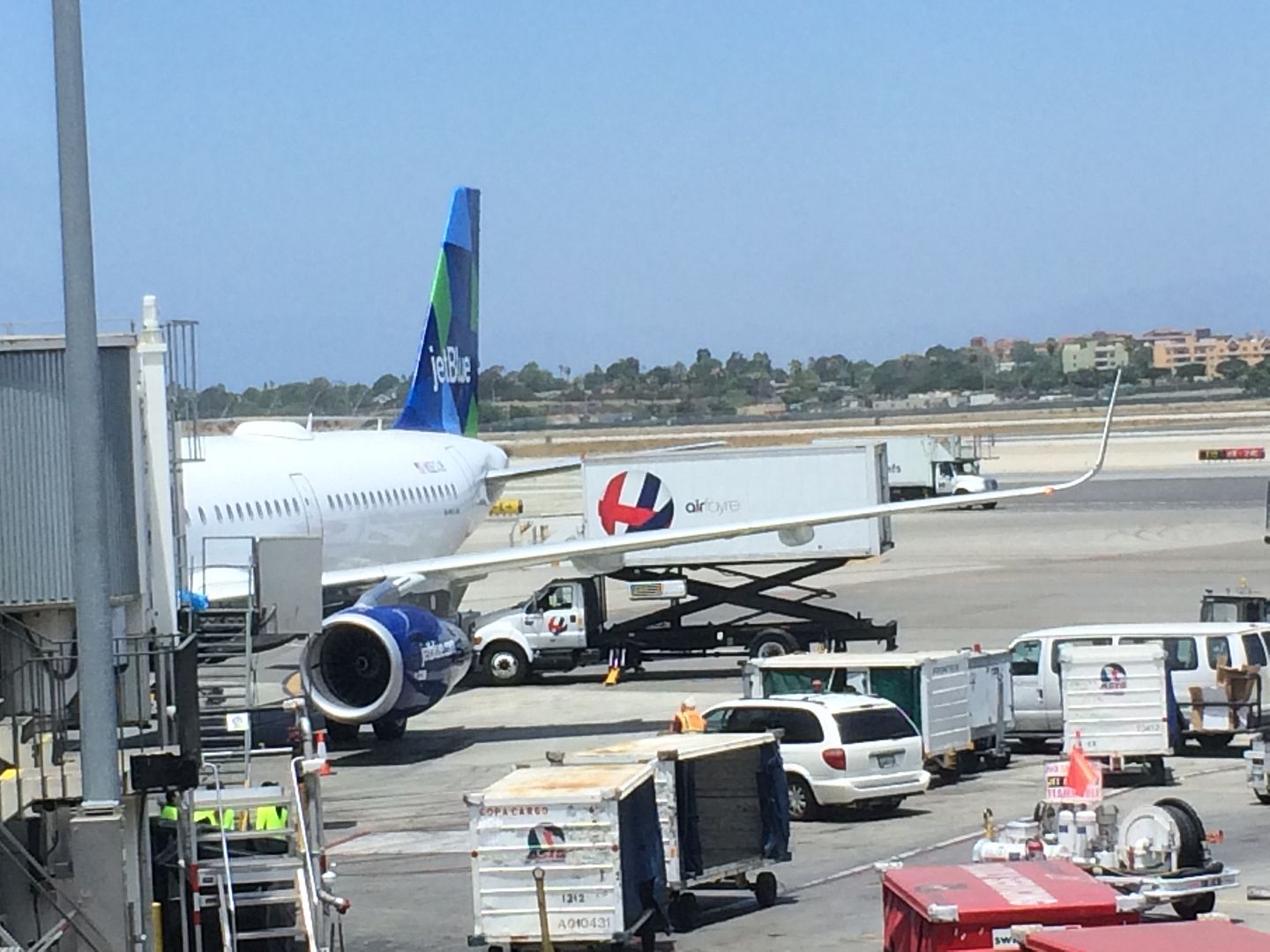 N923JB at JFK – better but sunlight was still not in my best advantage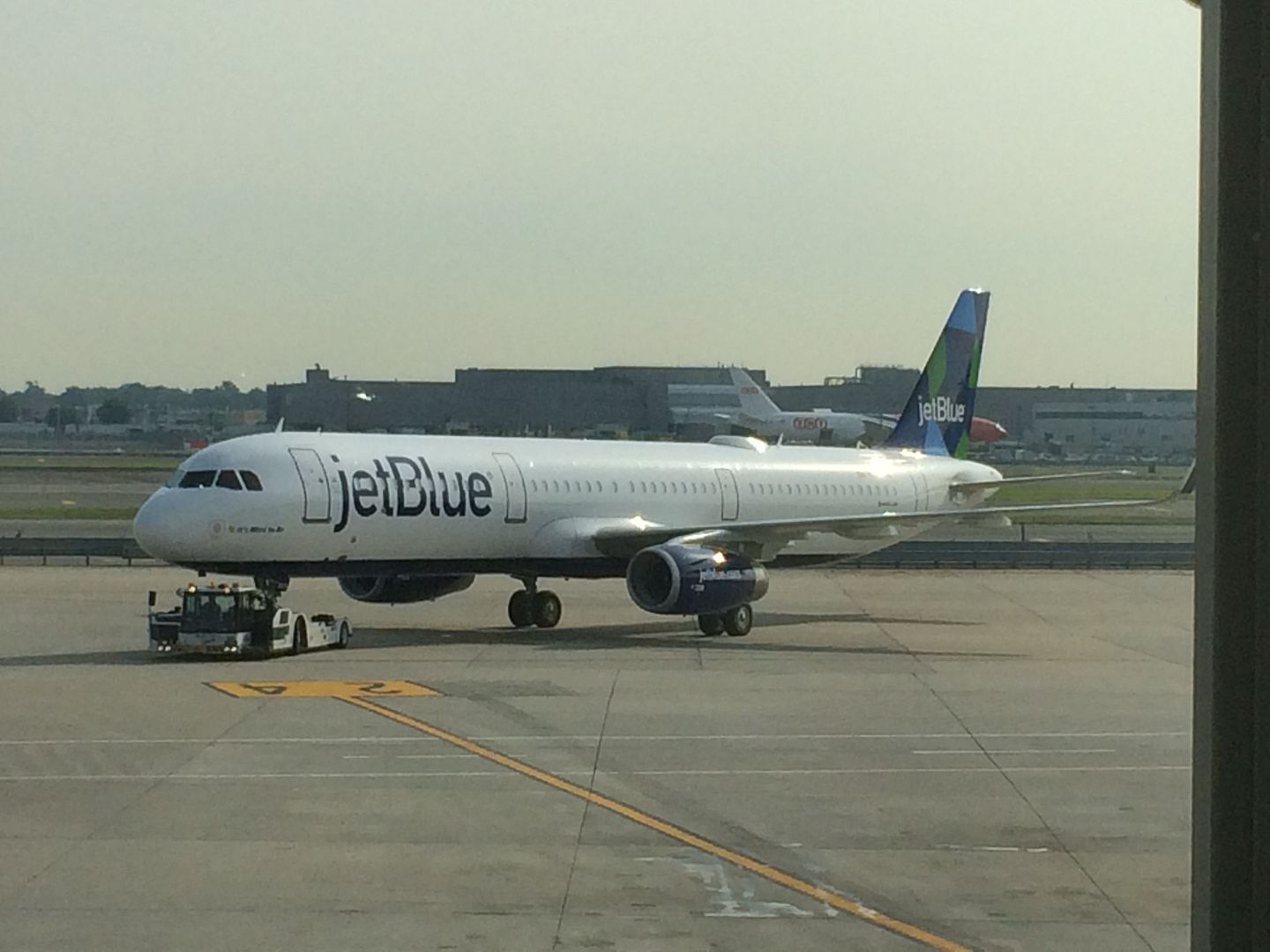 Let start from the ground service! Let's be honest that you can't really expect JetBlue to offer a lounge especially the price that it is charging. I can use my priority pass to access Virgin America's Loft anyway. However LAX's Terminal Three has definitely seen its better days, and JetBlue is given some rather undesirable gates. JetBlue has done some touchups by adding electrical outlet stations, but Terminal Three is just not a pleasant terminal to travel to and from. JFK's Terminal Five is of course on the other end of the spectrum, as it is a really nice terminal with high ceilings, lots of natural lights, and many eateries. It is a beauty.
I presume JetBlue will receive a few more gates soon in LAX, as its soon expanded Mint schedule will require a few more gates. For now, the sole A321 is using mostly gate 33B at LAX for now.
Given the tiny check-in space that JetBlue has, I am glad that they manage to squeeze out a Mint/Mosaic check-in lane with a greeter making sure passengers using the right lane. I felt that JetBlue provides a bit extra training for their priority agents or simply ask them to be nicer. Most of the agents tried to engage you in a bit of small talk and the message is definitely to be more personal, which is appreciated. If you check in bags, they will be tagged with a green colored priority tag. As a Mint passenger, you will also get "Even More Speed," so Mint passes the basic ground tests – priority check-in, baggage handling, and security line.
LAX Mosaic/Mint lane: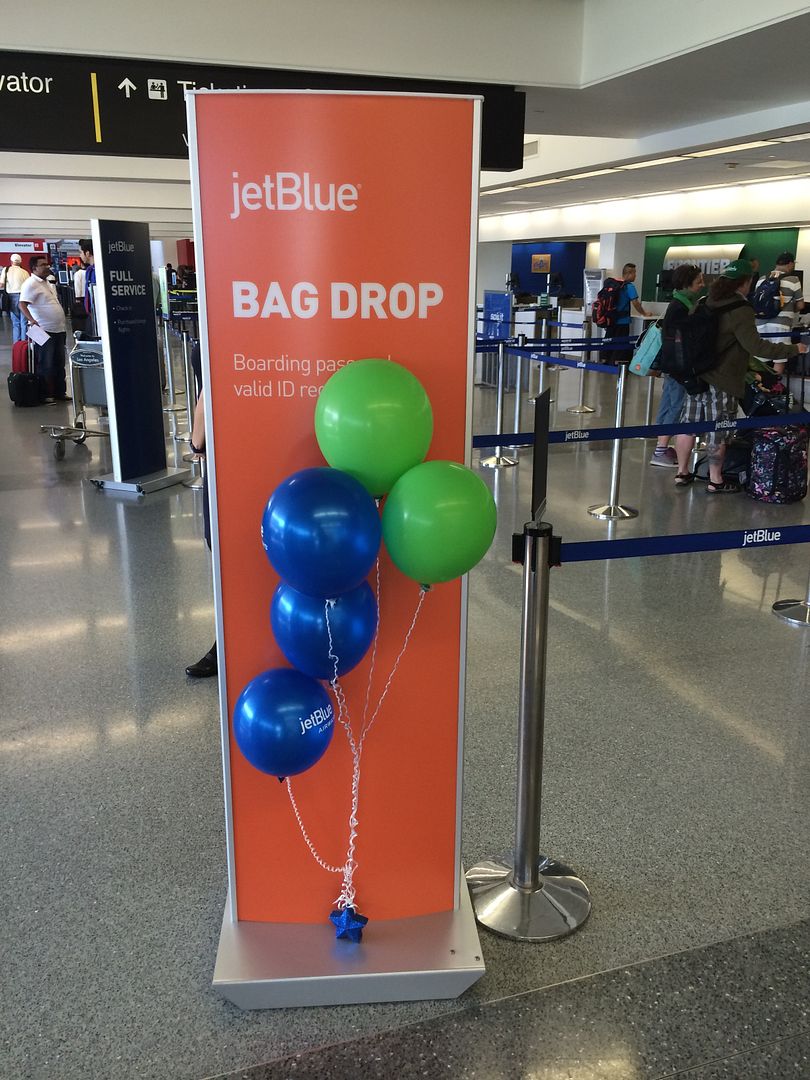 JFK of course has ample of spaces and Mint passengers are now simply invited to join the Mosaic lane for check-in. The mint logo is added to the signage now. With only one daily flight, the lane was not too busy and two agents were assigned to handling the priority check-in and taking extra passengers from the full service line, when there is no one at the priority lane. When Christina, the check-in agent, spotted me at the priority lane, she immediately waved me over. I had a nice chat with her, who was on one of those test flights for Mint (station test flights). I had to kindly remind her about the priority tag but everyone was new to the service. Just like a typical JetBlue's JFK experience, you have to roll your bag to the baggage belt and drop them off yourself. It will be nice if JetBlue can make one of the porters stationed close to the priority lane and it will make the check-in experience more premium.
JFK Mosaic/Mint lane:
Birch Box Promotion at JFK T-5
Priority security aka "Even More Speed" was available for all mint passengers, but as a TSA Pre-check candidate, I have priority access anyway. However, LAX's Terminal Three was somewhat crowded and they were doing flow control even for the priority lane. So you need to allow a bit more time, especially in the early morning and afternoon rush periods if you are traveling from LAX.
Lounge access:
None – but JetBlue has a PAID lounge called Airspace JFK located near gate 24/25. You can get free entry as an AMEX Platinum or Centurion member plus $10 dining credits. The only lounge at LAX T-3 is the Loft by Virgin America. You can receive free access if you have Priority Pass or Lounge Club membership.
Inaugural ceremony LAX
To my surprise, JetBlue had a little ceremony in gate 33B. The agents were guarding these cupcakes like high security items, but I felt that they passed them out too closed towards the boarding time. Anyway, it was still a nice gesture. Rachel McCarthy, the vice president of Inflight Experience, was present during the cutting ceremony and she was onboard on both inaugural flights, and thanked passengers towards the end of the flight.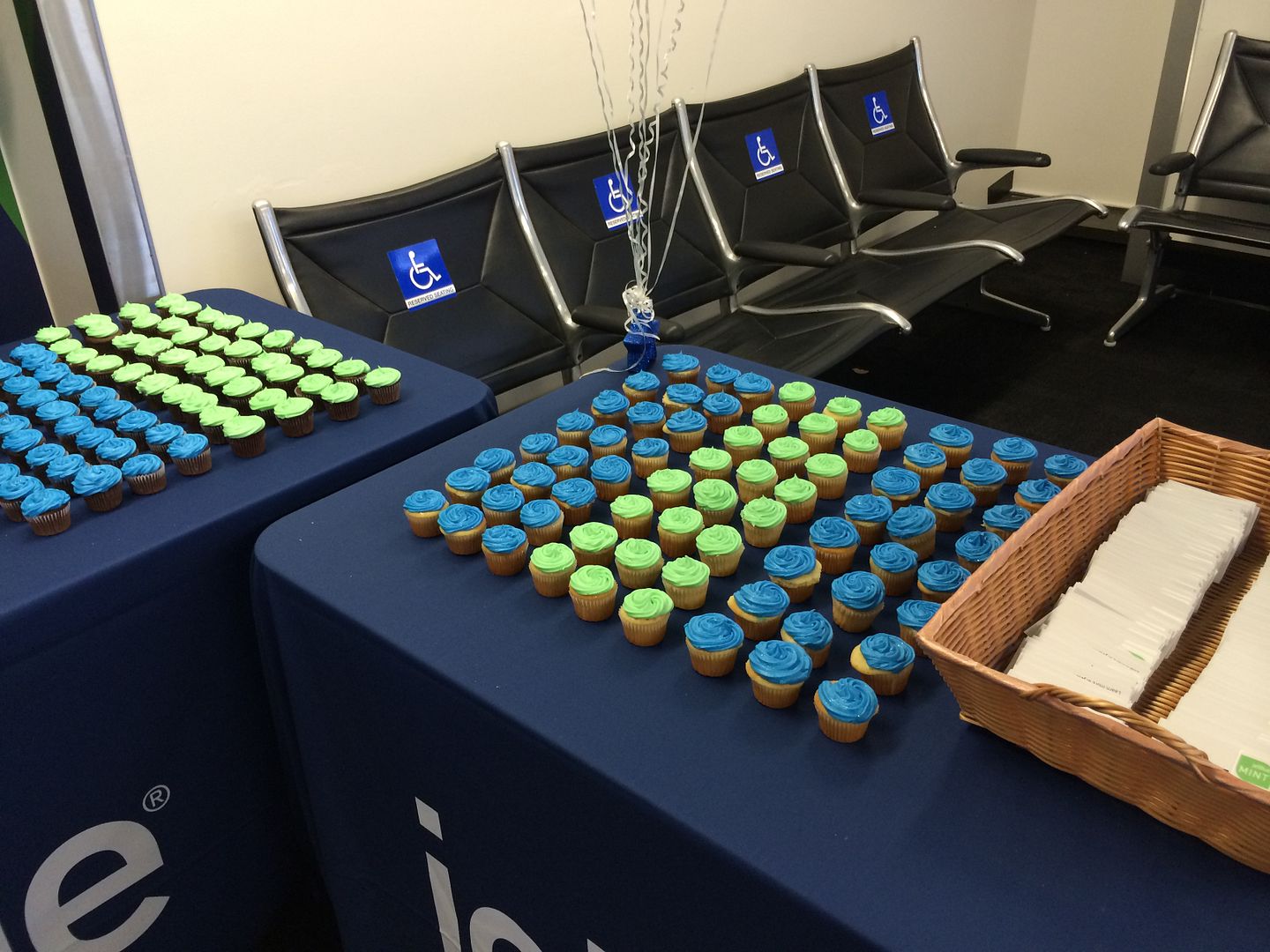 Boarding:
Unlike other JetBlue flights, boarding began a bit earlier for these A321 flights, especially they have to use door one. They start 40 minutes prior to takeoff. JetBlue has slightly updated its boarding procedures:
1. Passengers required extra help in boarding
2. Mint and Mosaic and Even More Speed passengers
3. Families boarding
4. Boarding according to rows
However they still have not set up a separate boarding lane, which is definitely needed especially in crowded spaces at LAX. It is easy to set up and you basically just need some new Mint/Mosaic signs.
So much excitement boarding the flight
Once I stepped on board the flight, the Mint F/As were there to greet passengers, and on the outbound flight, Michael and Jennel were there getting ready! Their smiles were good omen for the wonderful flight to come!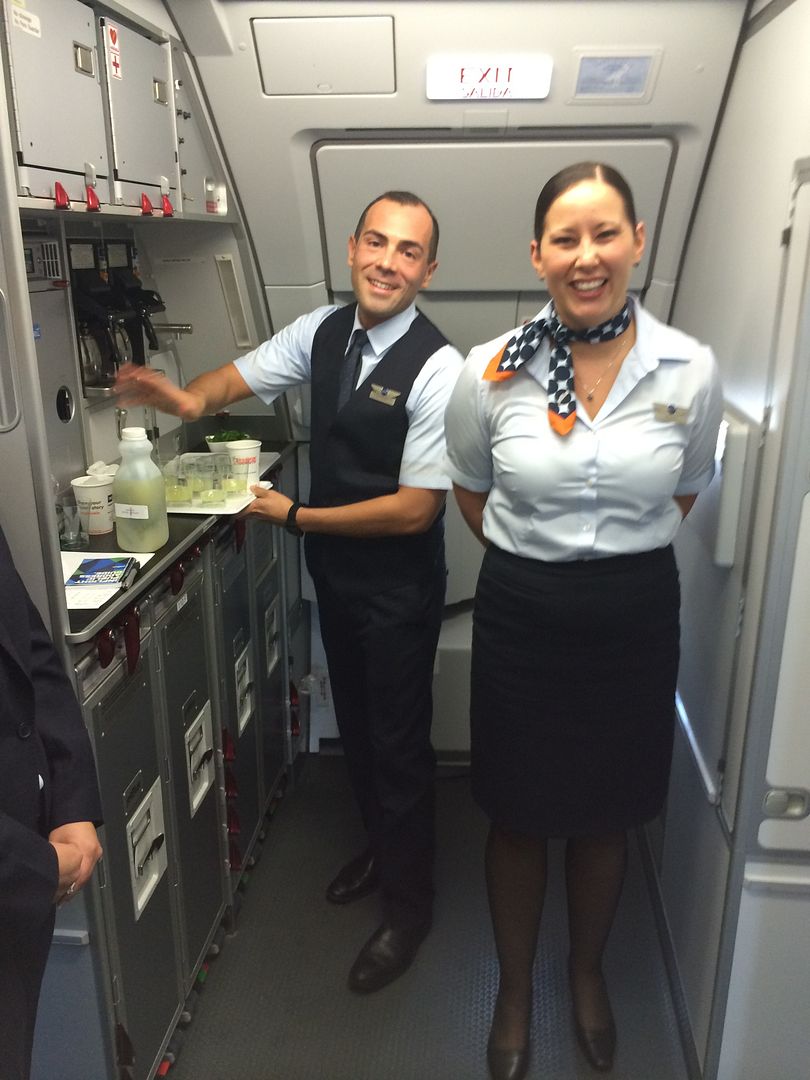 Cabin shot:
Of course the plane still has that new car smell and the new interior looks impressive. The Mint cabin looks smart
Here are some shots of the Mint cabin:
I had also taken advantage of the slowness of boarding and took a few pictures of the CORE cabin, aka economy class. I immediately notice the adjustable headrest, and will review its core product when I fly it next Wednesday.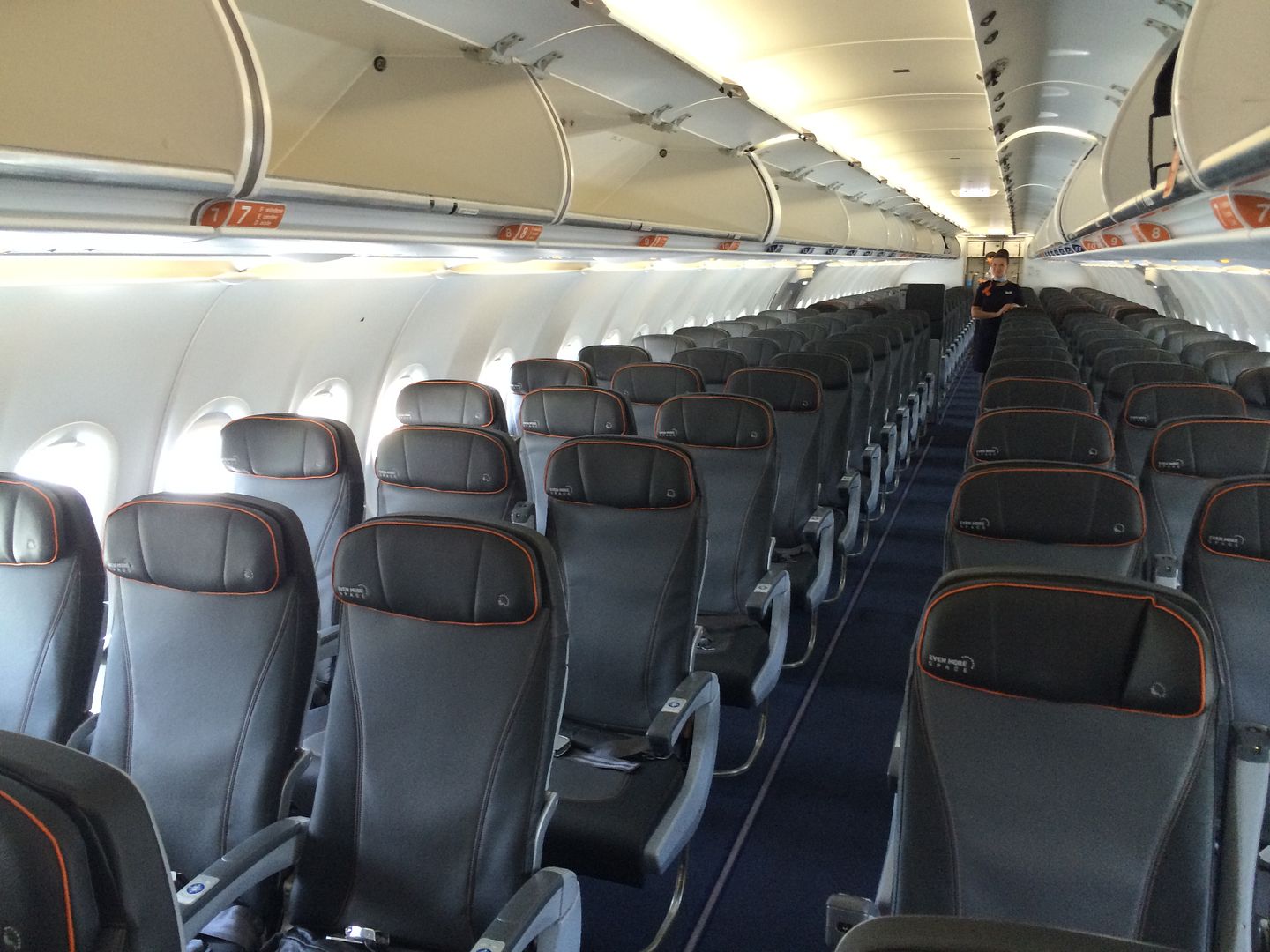 My seat 4A from LAX to JFK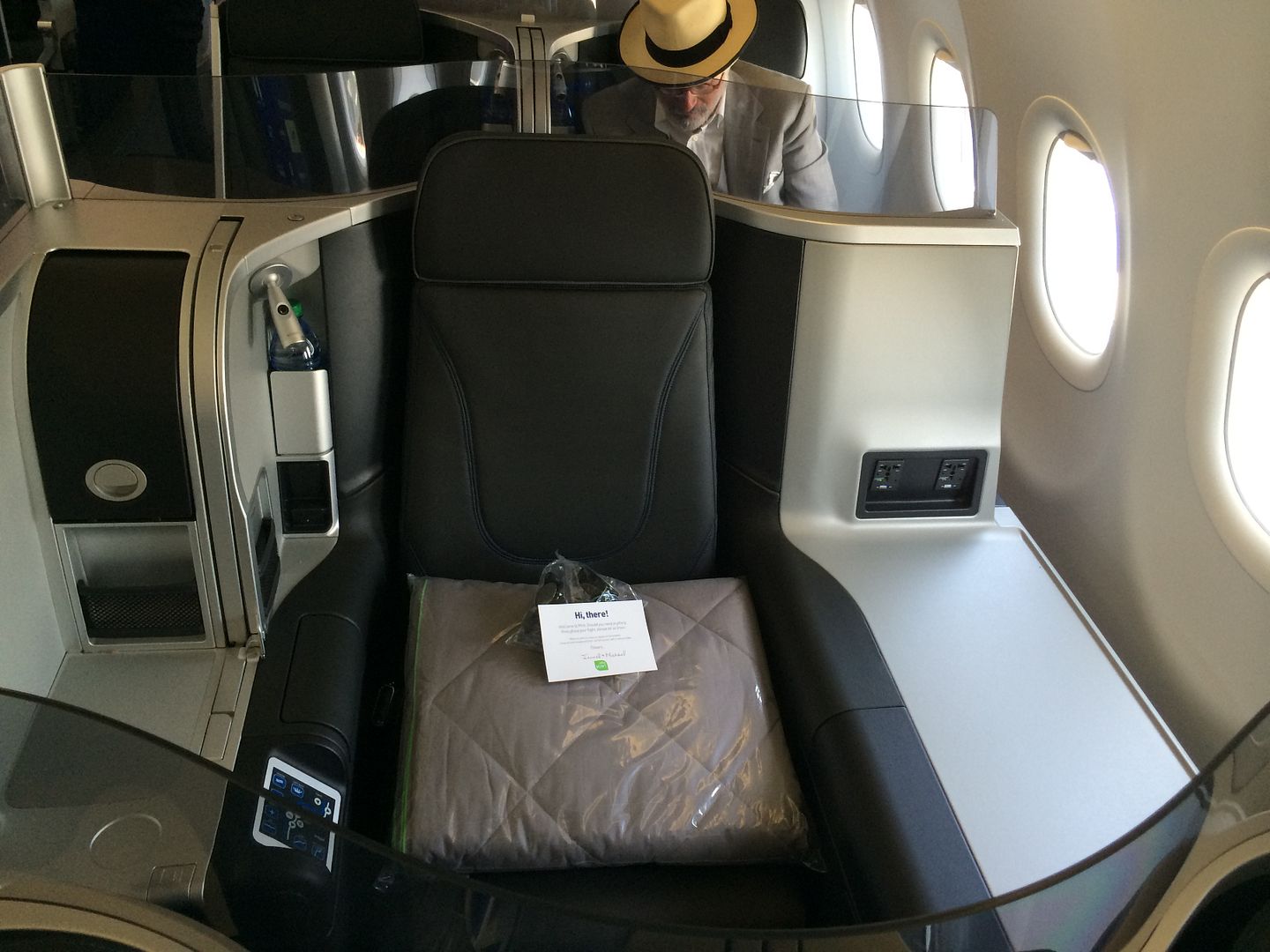 My seat 2A from JFK to LAX
At each seat, there is a welcome card signed by the F/As, as well as a pair of headset, a snooze kit (same as those passed out in coach on redeye flights), a pillow, and a duvet blanket.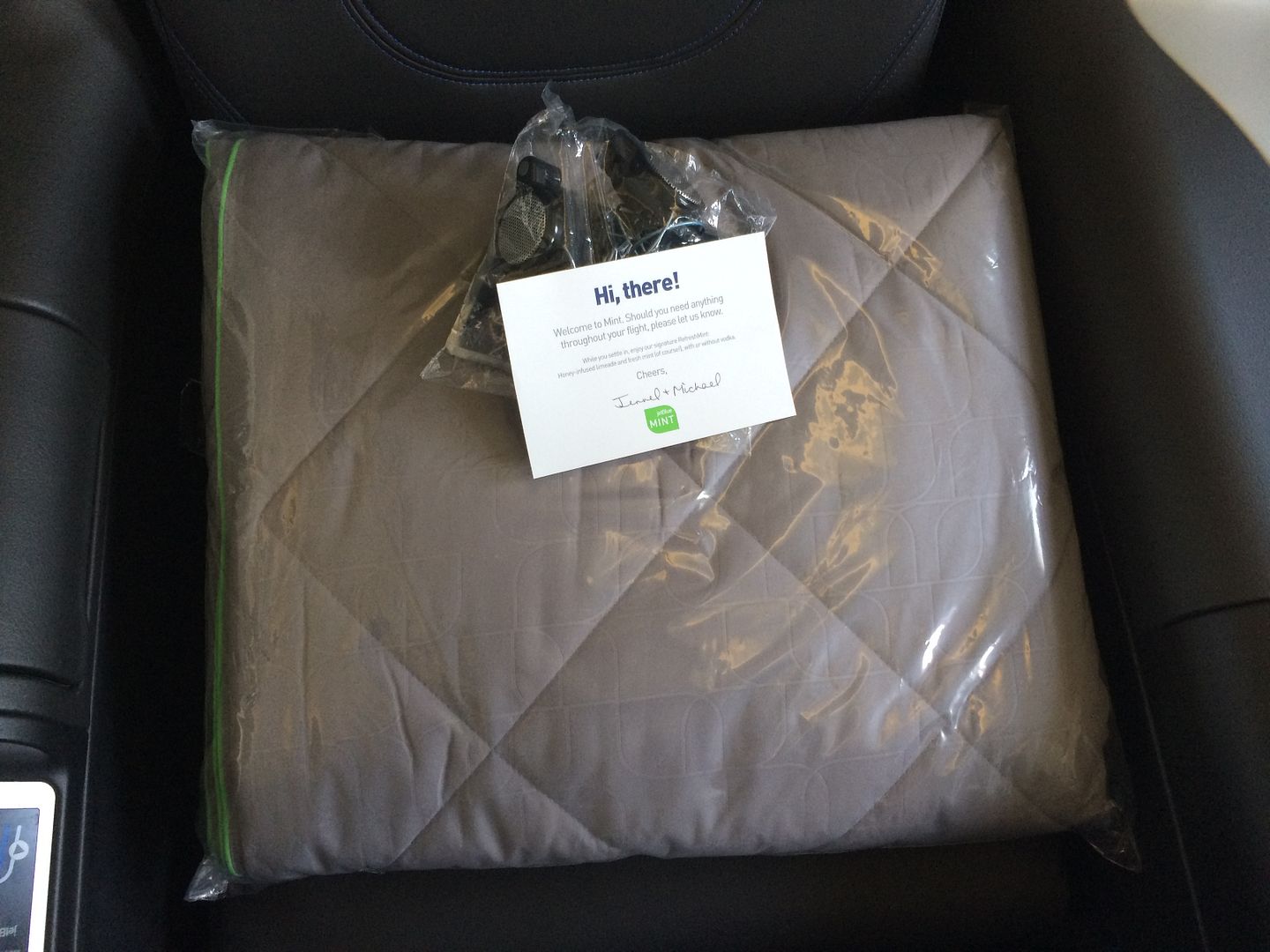 Zack & Sandra on the return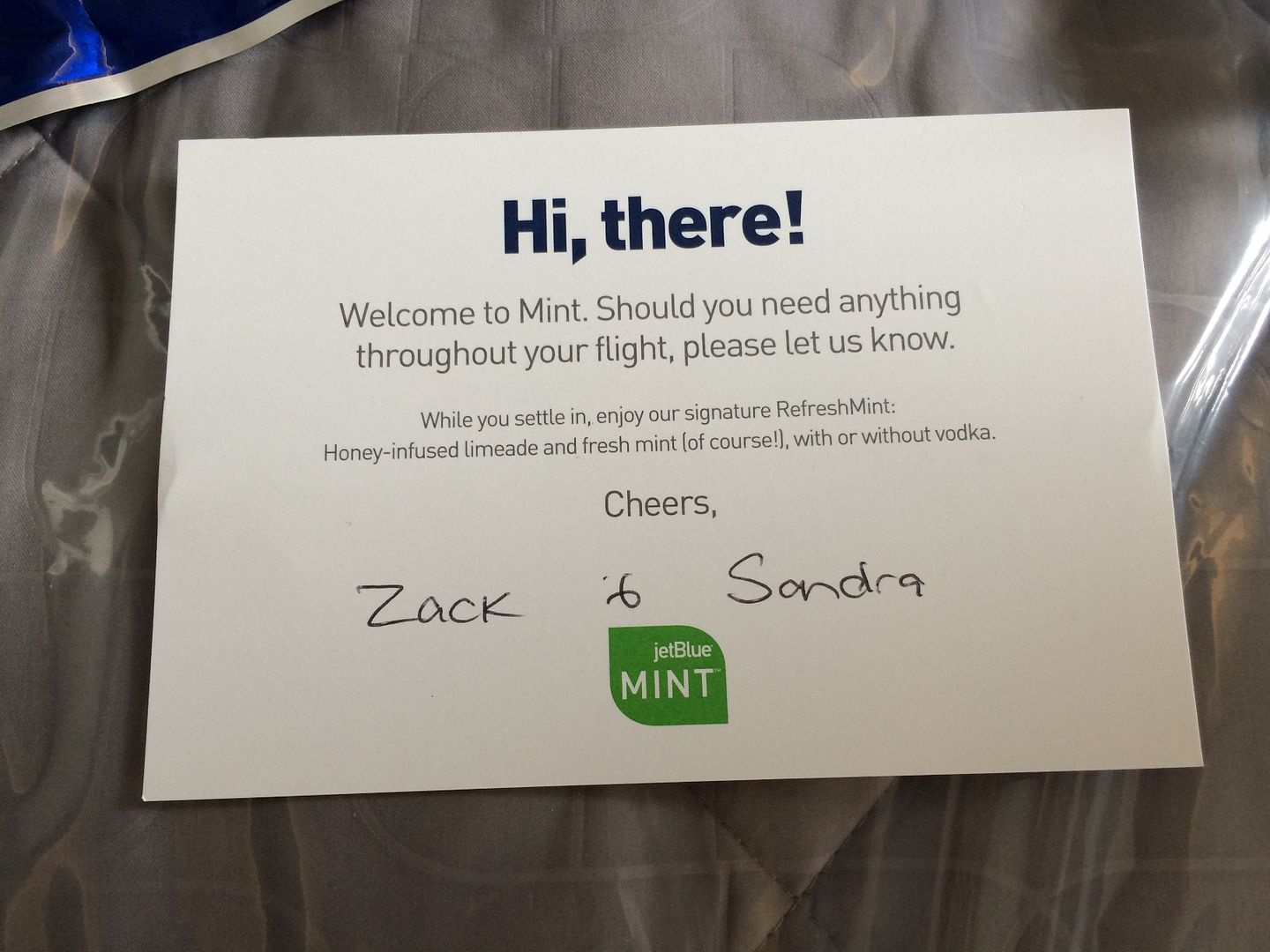 Detailed look into the new center/solo "suites"
Right side – there is a big cabinet that can hold a laptop and some small gadgets. There are two smaller storage pockets – one for headsets and one for cell phone. There is also a personal lamp, as well as a bottle water holder. Full sized bottled waters are provided in Mint.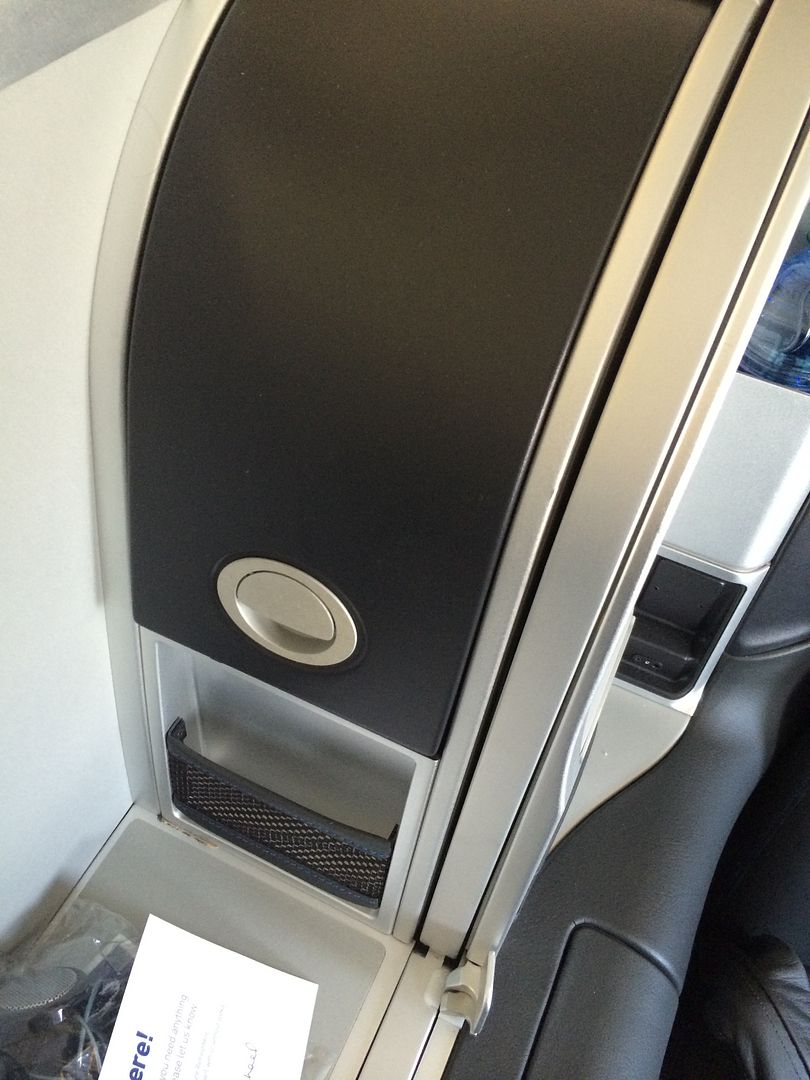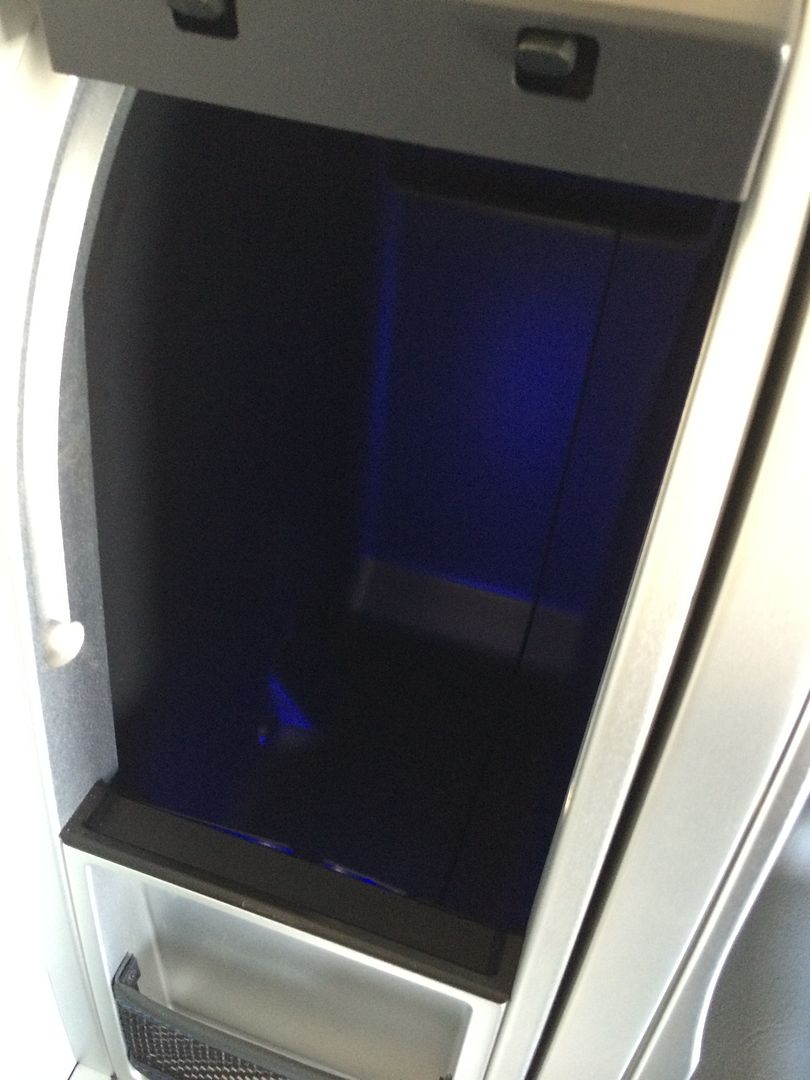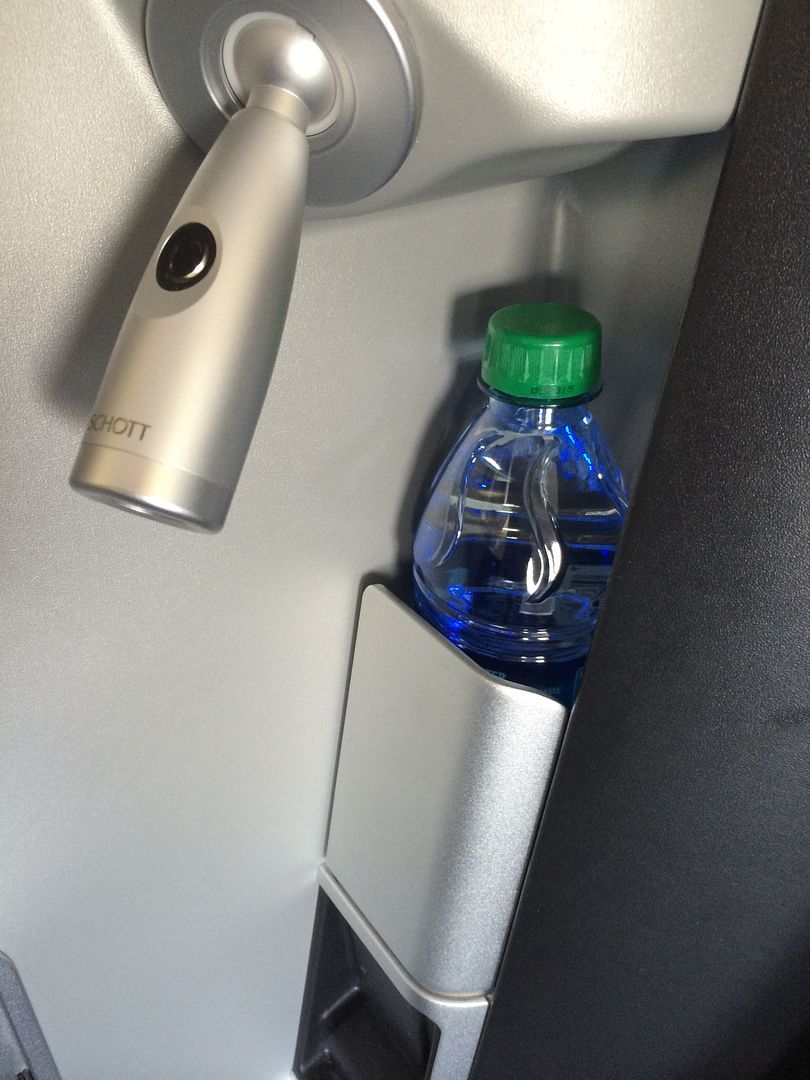 On the side panel, there is a seat control panel, as well as a covered entertainment control headset. No touch screen yet!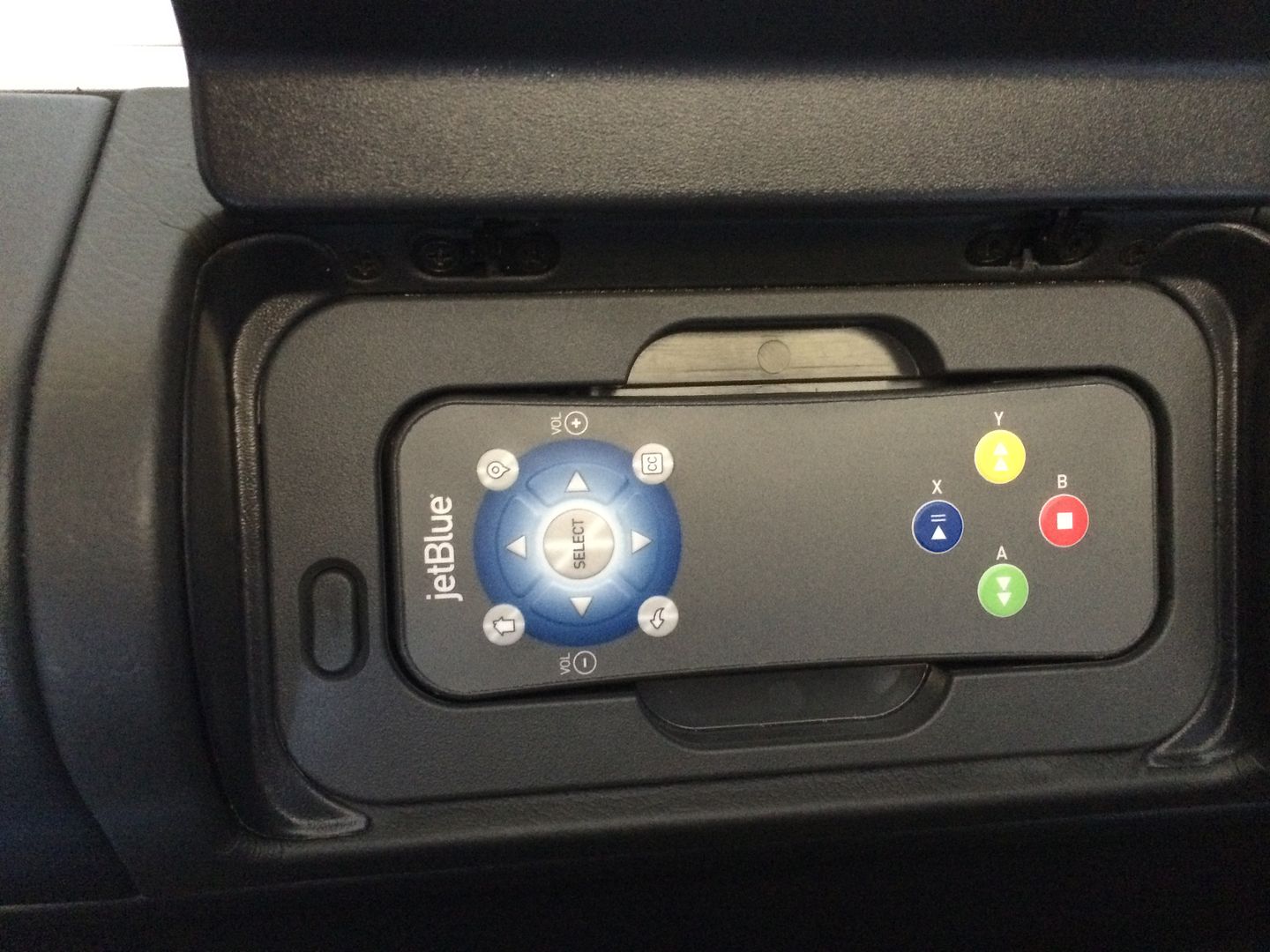 Magazine pocket – no inflight magazine and safety card and "FLYFI" instruction card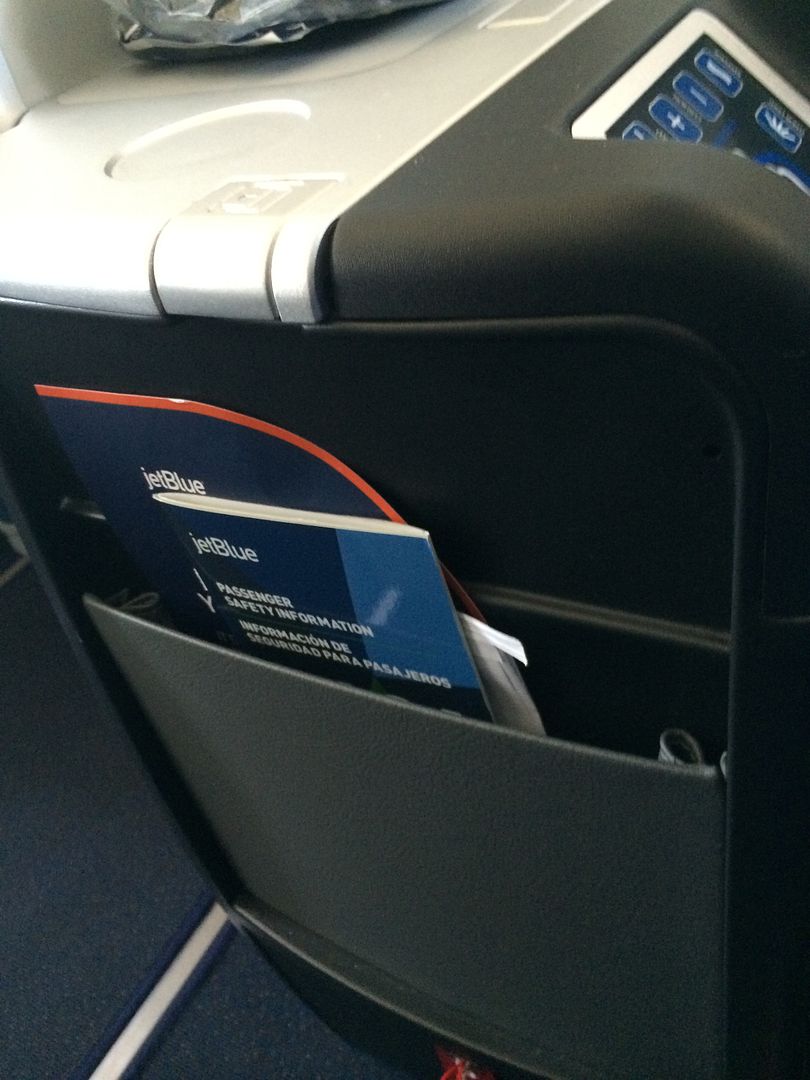 The Suite has this unique sliding door, but if you expect a fully enclosed suite like Emirates or Singapore Airlines, it is not like that at all. It is more like a gimmick to be honest and I personally care less about the sliding doors. I am actually concerned on how these doors will be maintained down the road, when the planes were used heavily. You can possibly tell from the pictures that anyone can look into the suites from outside, but the only good thing is that you will not stare into anyone when you are in a full flat position sleeping. You feel you have a bit more privacy.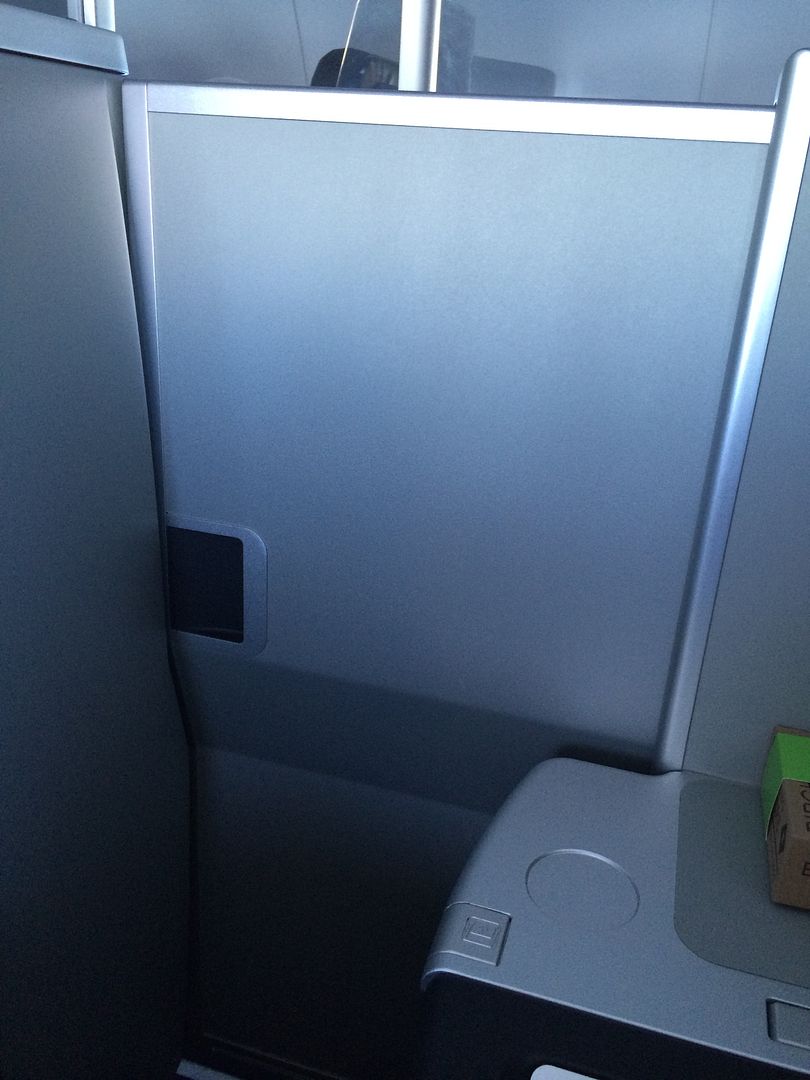 Tray Table – nicely stored on the side – and they are swiveling. It is a nice design and does not take up too much space!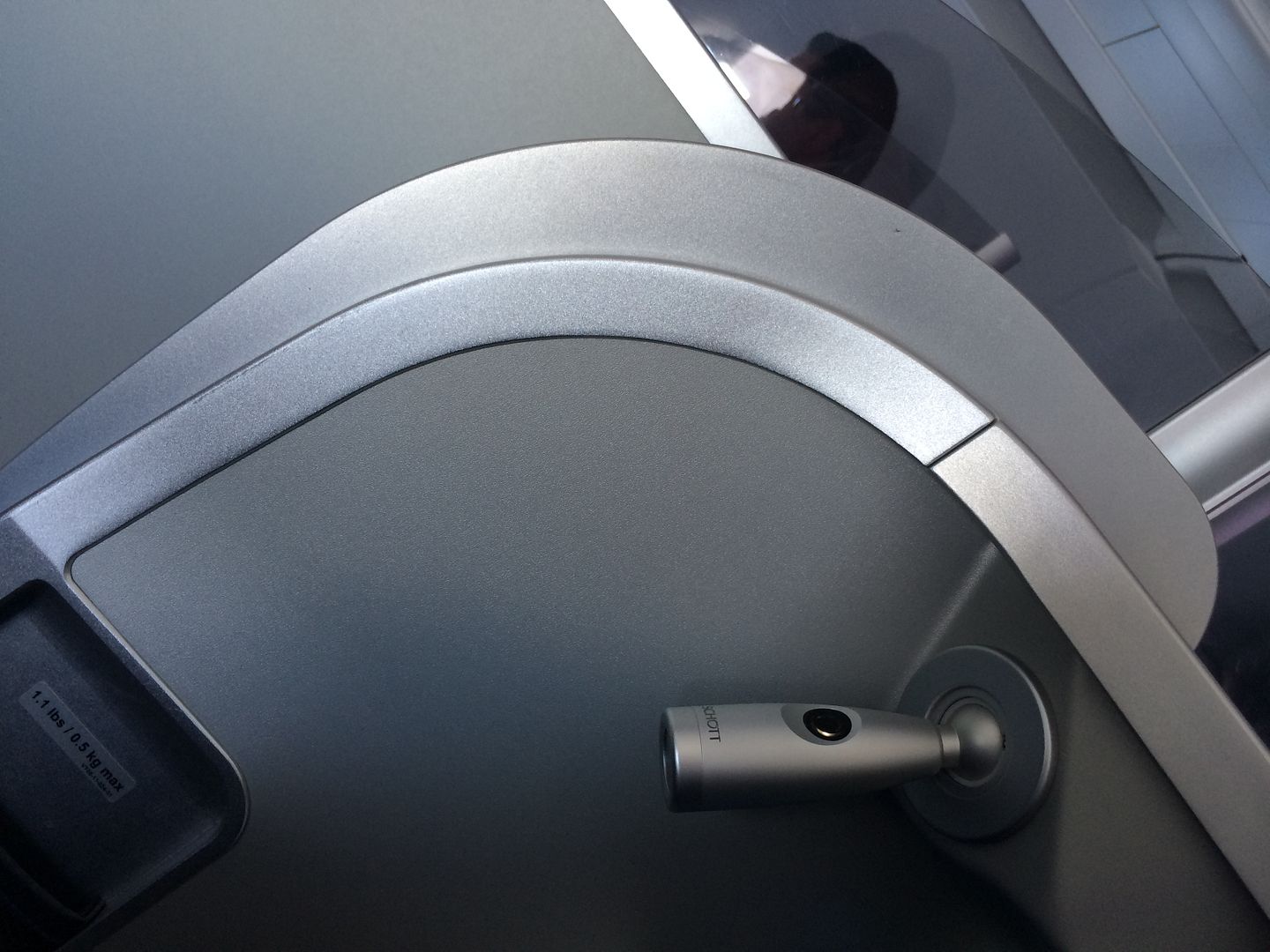 On the left side, there are the promised double power outlets!
Another cool feature of the seats (every seat has this button!) – service button.
If you want service, you can press the button and the F/A will wake you up for any meal/snack service. If you don't want service, just keep it off and the F/A will not wake you up!
Personal TV was on front, and there was another literature pocket below the TV
Shoe storage on the left side of the TV
Small space for feet – well the space is not as bad Delta's Boeing 767-400ERs or SN Brussels Airlines' Airbus A330-200s, but you possibly want to remove your shoes before doing the lie-flat positions.