This dedication goes to the people who created these stylish name. No A. Airline or B. Airways!
The trip in one word:
STYLISH
"Enough rain for me now, I need the sun!"
Ola, dear readers,
it´s February 2014, at least with this story and the travel month started with a trip to winter paradise:
Austria Sun Snow Peaks INN Approach
(by
FLIEGER67
Jun 8 2014 in Trip Reports)
The vids, please:
http://www.youtube.com/watch?v=w4ofZeolTlU
http://www.youtube.com/watch?v=GRfyk9ITs_M
http://www.youtube.com/watch?v=Ofc2jCKgk9E
And continued for Portugal:
Portugal A318 AirFrance MAD Lisboa
(by
FLIEGER67
Jun 25 2014 in Trip Reports)
With some more vids:
http://www.youtube.com/watch?v=AuqoqCgSjic
http://www.youtube.com/watch?v=VAyZOFDmEEA
http://www.youtube.com/watch?v=eME6jLVfGhI
Where we should fly just a little bit more today:
Thanx to, as usual:
http://www.gcmap.com/
Friday, 14.02.2014
.
The video:
http://www.youtube.com/watch?v=aP0g1tXe_iQ
.
.
.
.
Service AirEuropa UX 1152 operated by Privilege Style
Scheduled: 07.25 // 09.40
Here are the visited countries:
VISITED COUNTRIES
auf einer größeren Karte anzeigen
And the recorded plane types:
PLANE TYPES RECORDED
auf einer größeren Karte anzeigen
Privilege Style fit´s well with no. 178 and the checked airlines map:
AIRLINES CHECKED
auf einer größeren Karte anzeigen
Well, a short nights sleep at this nevertheless welcoming and nice place, the Tryp Lisboa Aeroporto Hotel.
For a first view out of the window, as expected blinded by the bright sun?.
No, it isn´t, but at least the rain is not that intense like yesterday evening.
Ok, it´s good to wear a jacket, also as a rain protection today and walk swiftly up for the terminal.
The ticket is fixed via Opodo and the seat is OLCI selected. The one-way fare is 70 Euro´s.
The necessary paper is swiftly collected, onwards for security, the priority line, ok there is close to no one else all around. It seems not the standard time with the people from Portugal to fly for somewhere else!.
Everything ok on the screen and a swift view for the Lisbon lounge short thereafter. Someone told me about not to forget the Nespresso machine!.
For the gate, the screen shows nothing special at 08A and a bus ride later we are here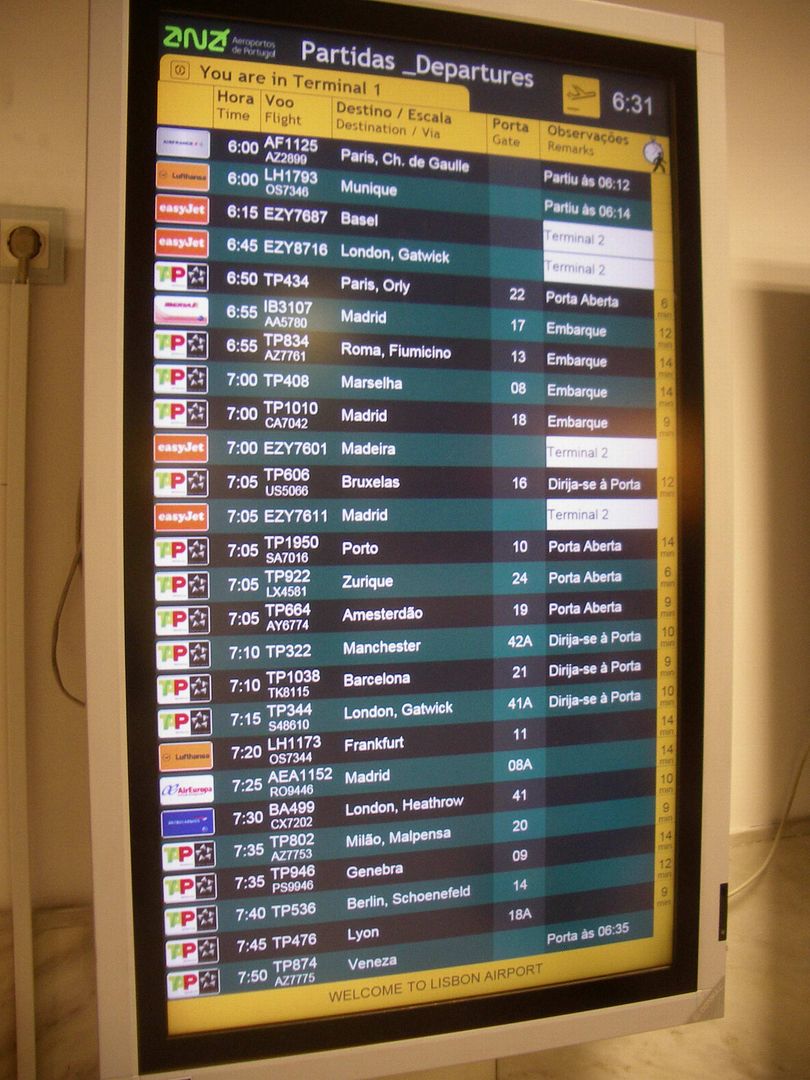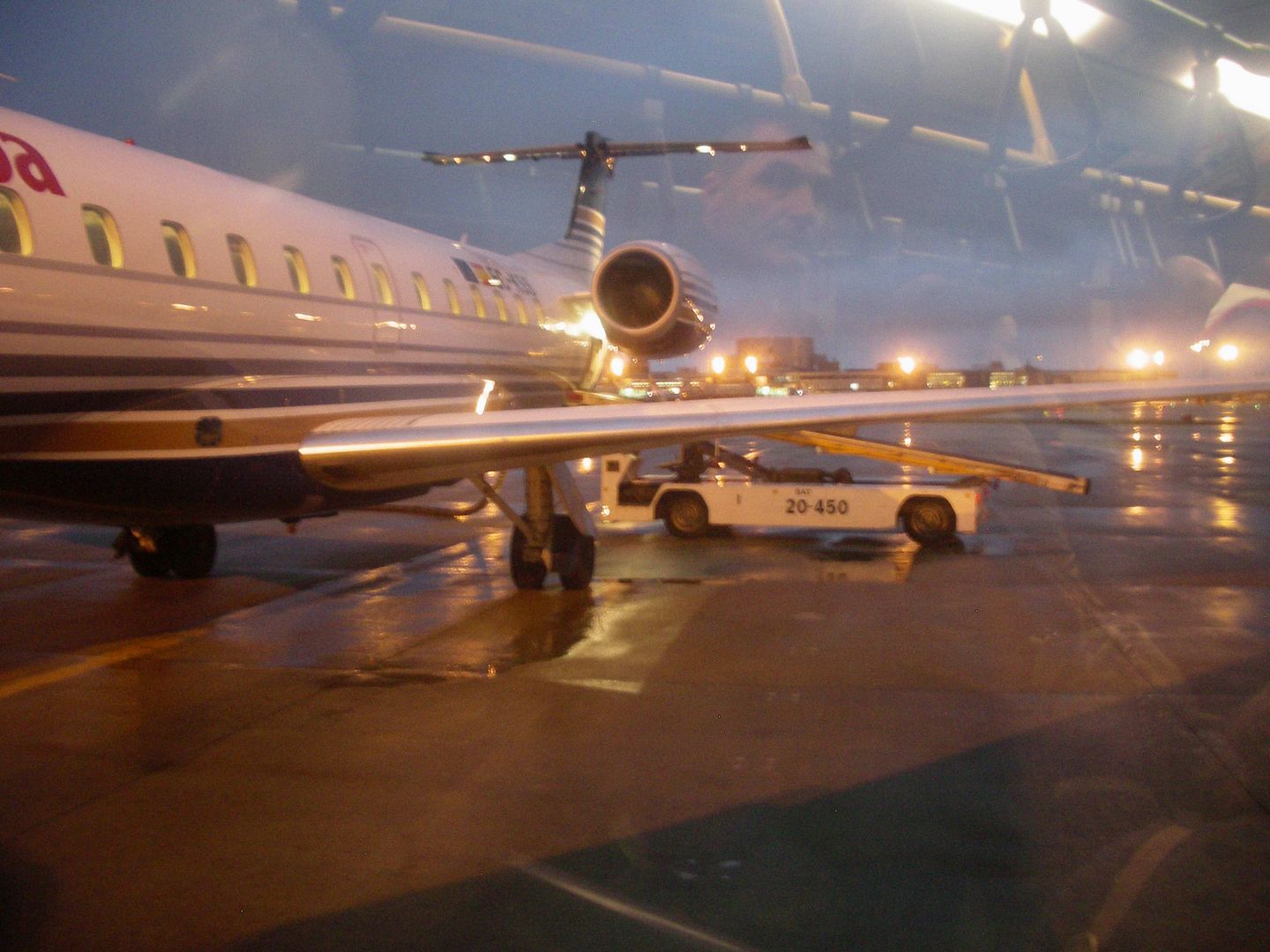 Target reached!.
This is the Embraer 145 like on schedule.
EC-KSS, I see a name on my pictures, "Trives", not sure yet.
In the air with Cirrus from Germany, Lagun Air, Air Europa and finally Privilege Style. It´s the one and only Embraer 145 in the fleet.
Leg no. 12 on type and a new entry to the log without any stories to show here
Something to fly in style
The one up there knows how to do the job and the rain stopped just good for a couple of more pictures
Finally boarded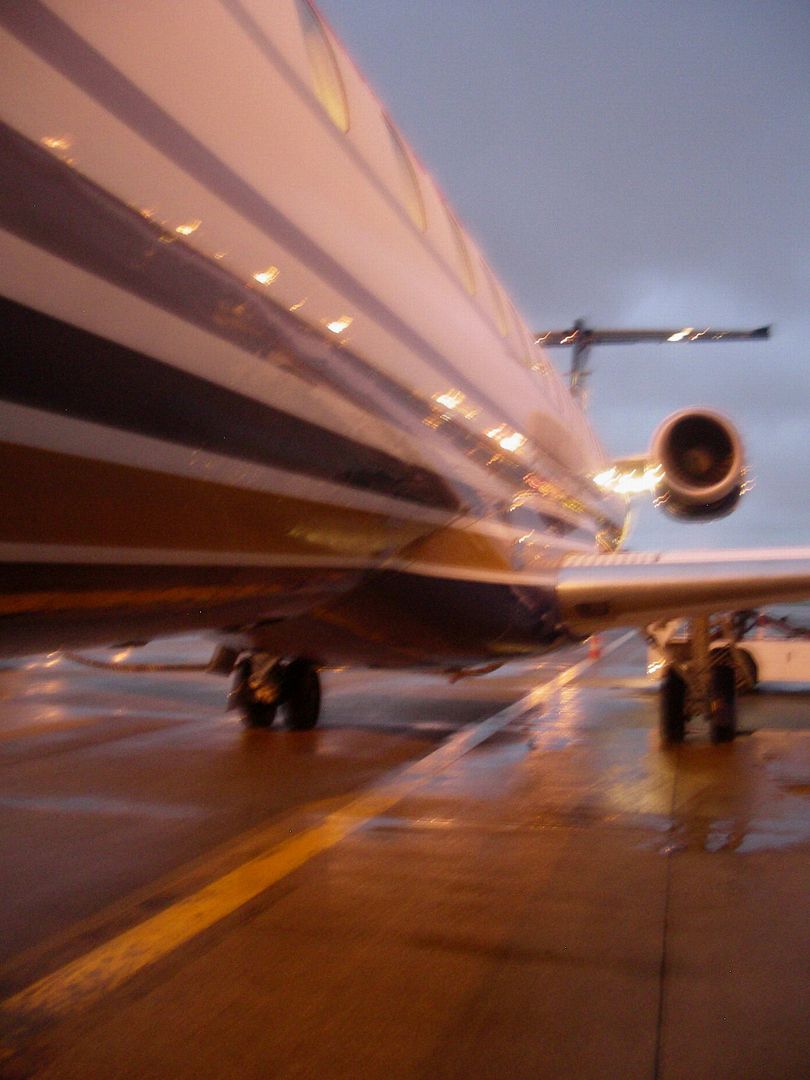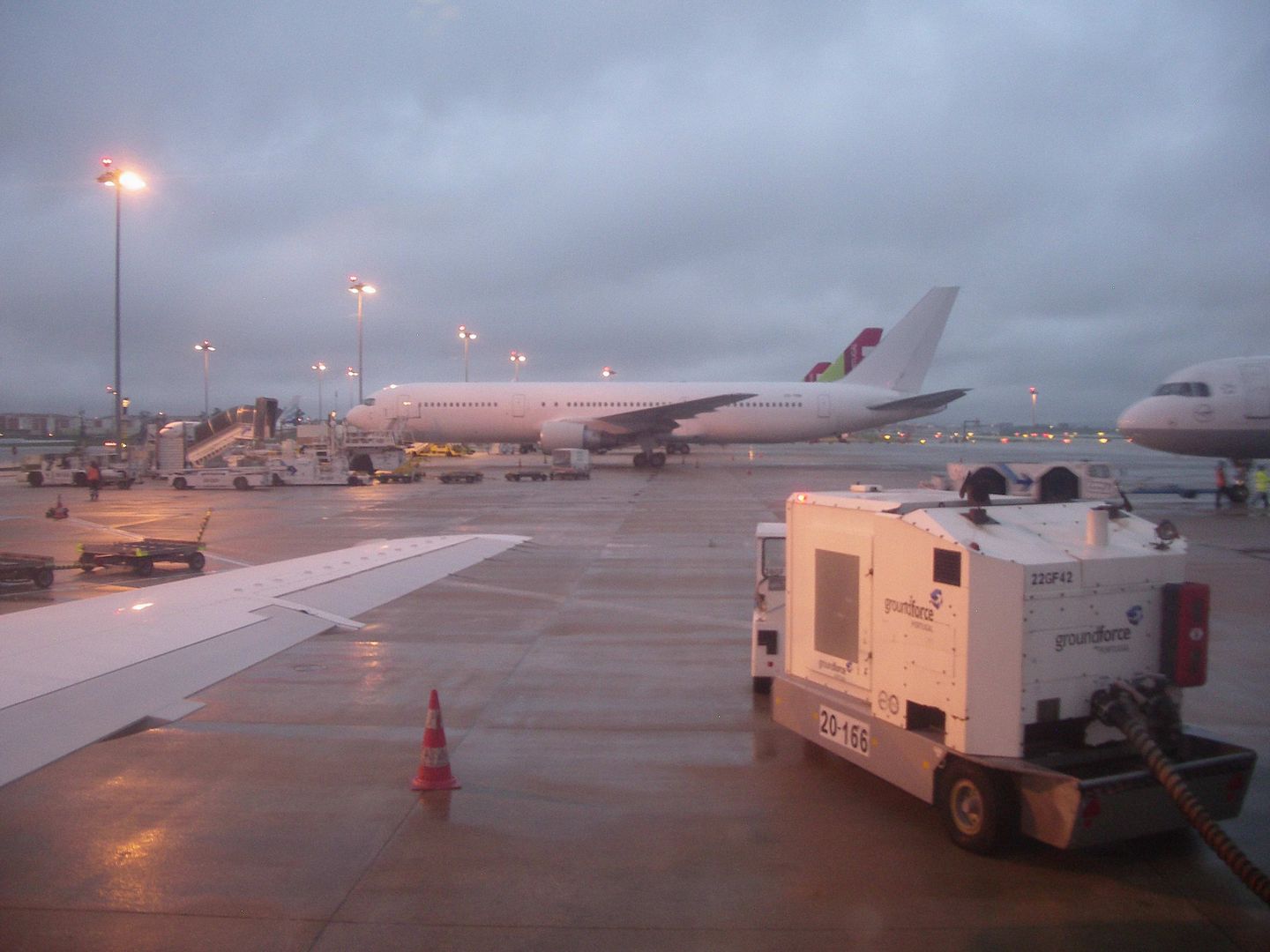 07.30 am, short after schedule "Privilege" is ready to leave the "Aeroporto da Portela" for 1.00 hour from the 3805 meters runway "Two-One". Wet and windy it is at 16 degrees.
The last row rule works perfectly this morning.
The load is around 60%, mostly biz people and I´am in row 19 with all three seats for me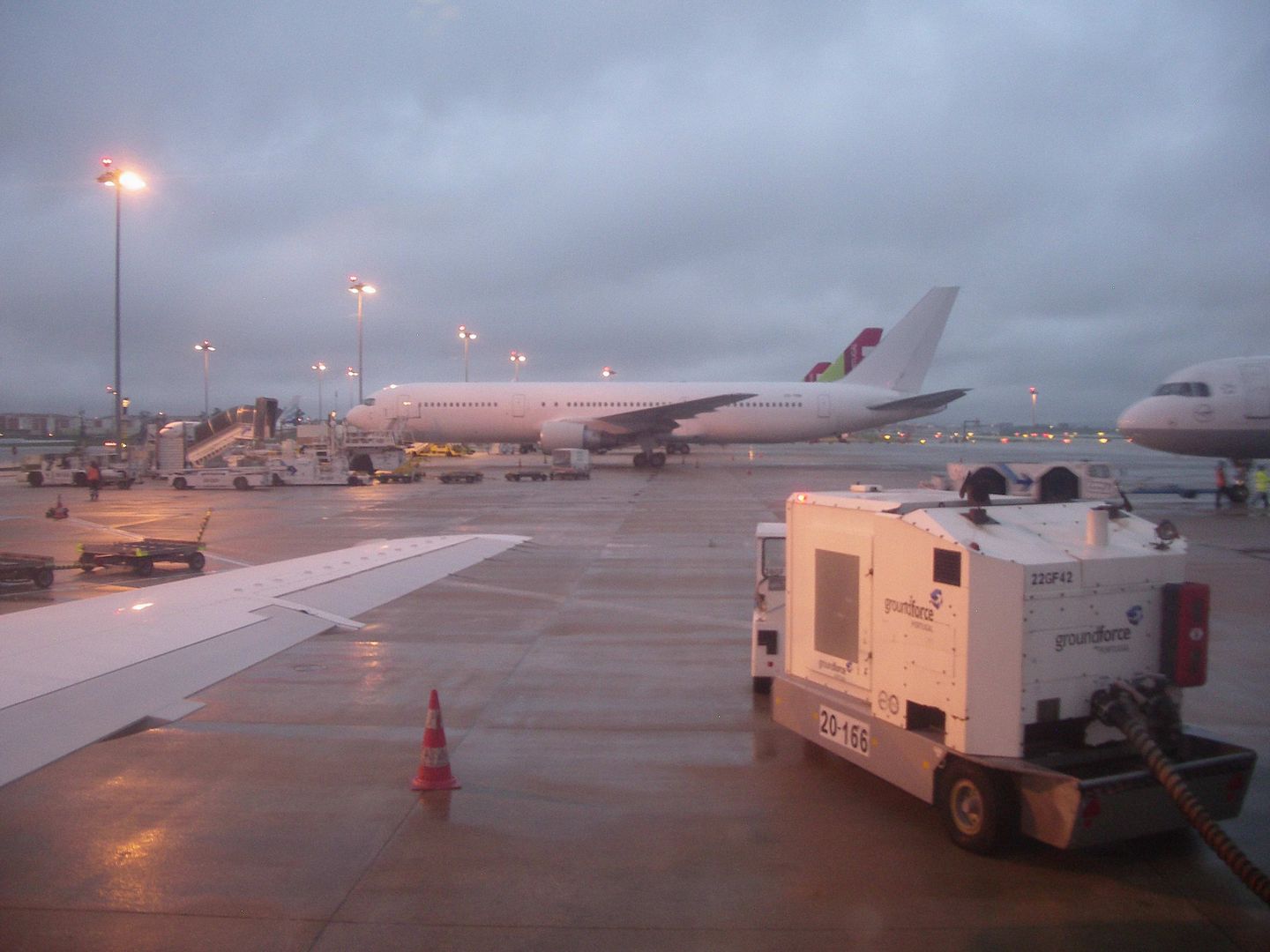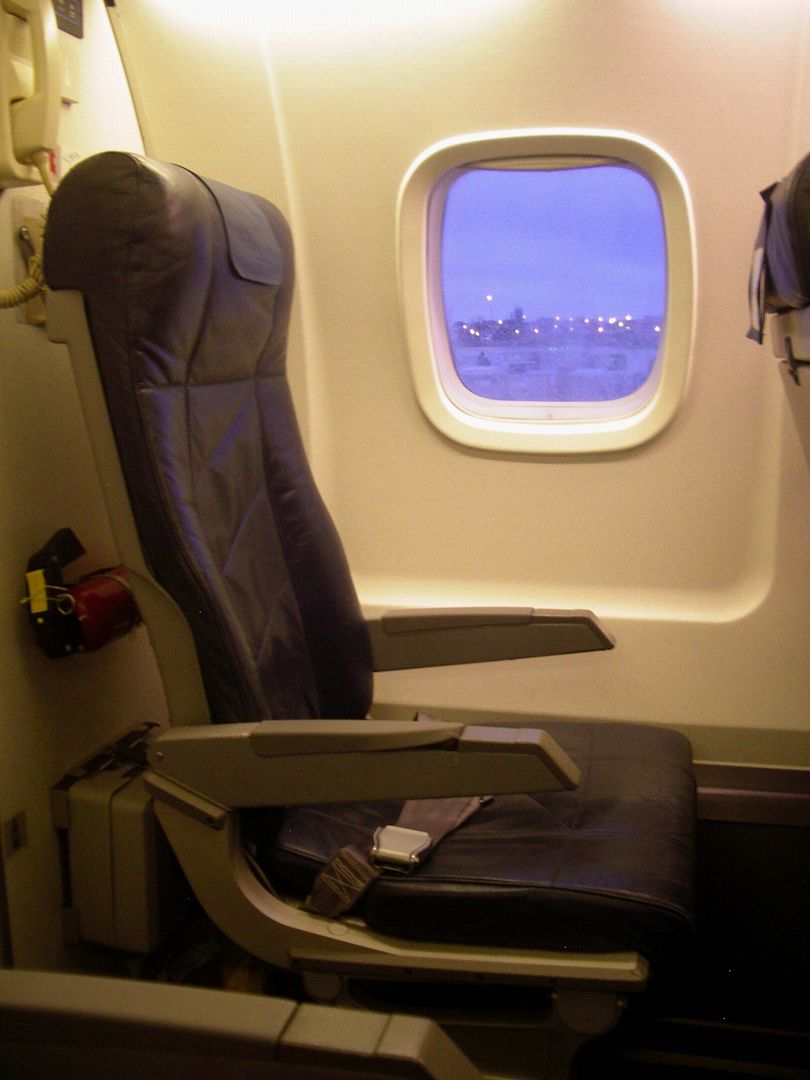 No, I like to fly in style, not in Europa!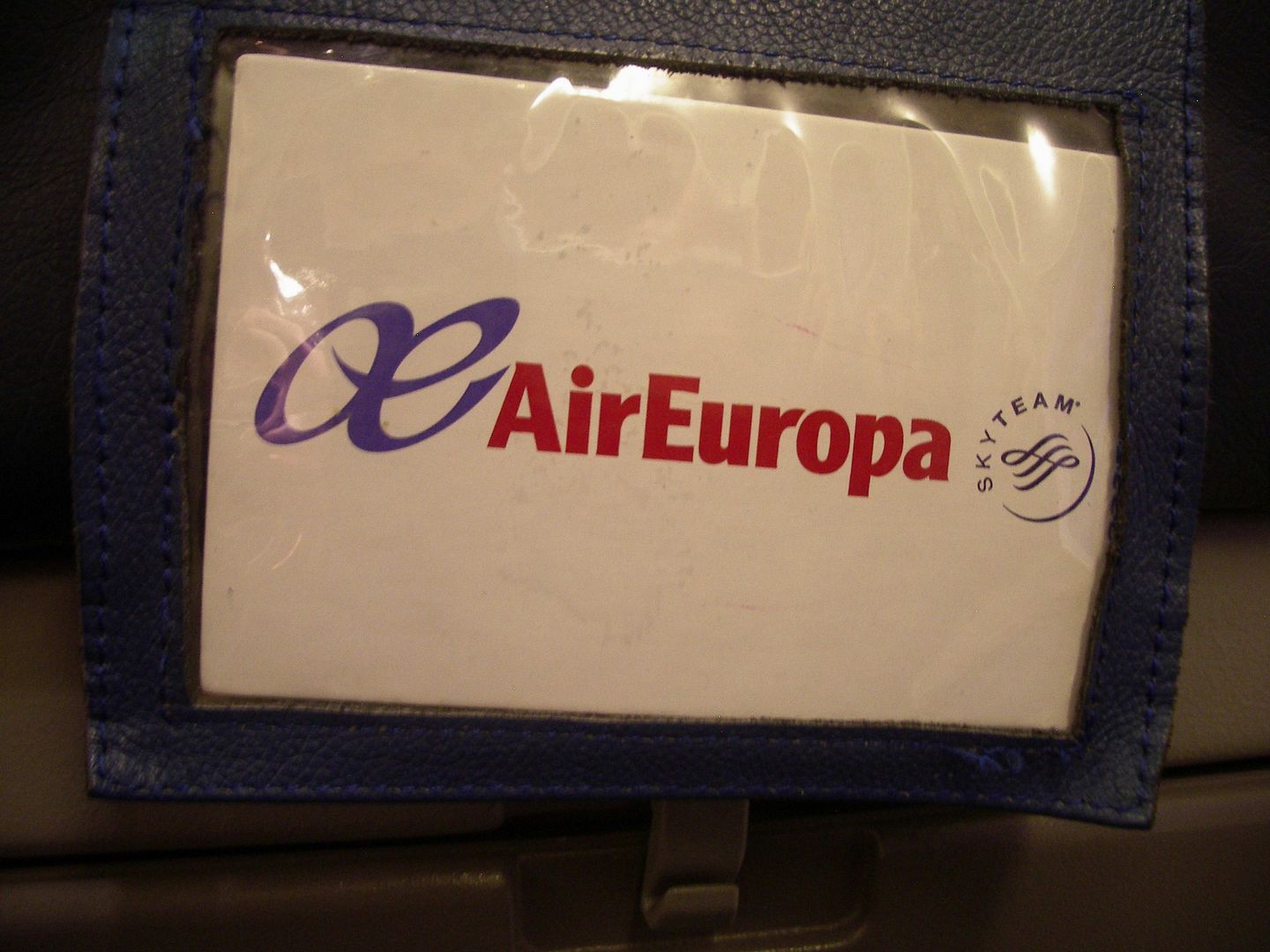 Well, that fit´s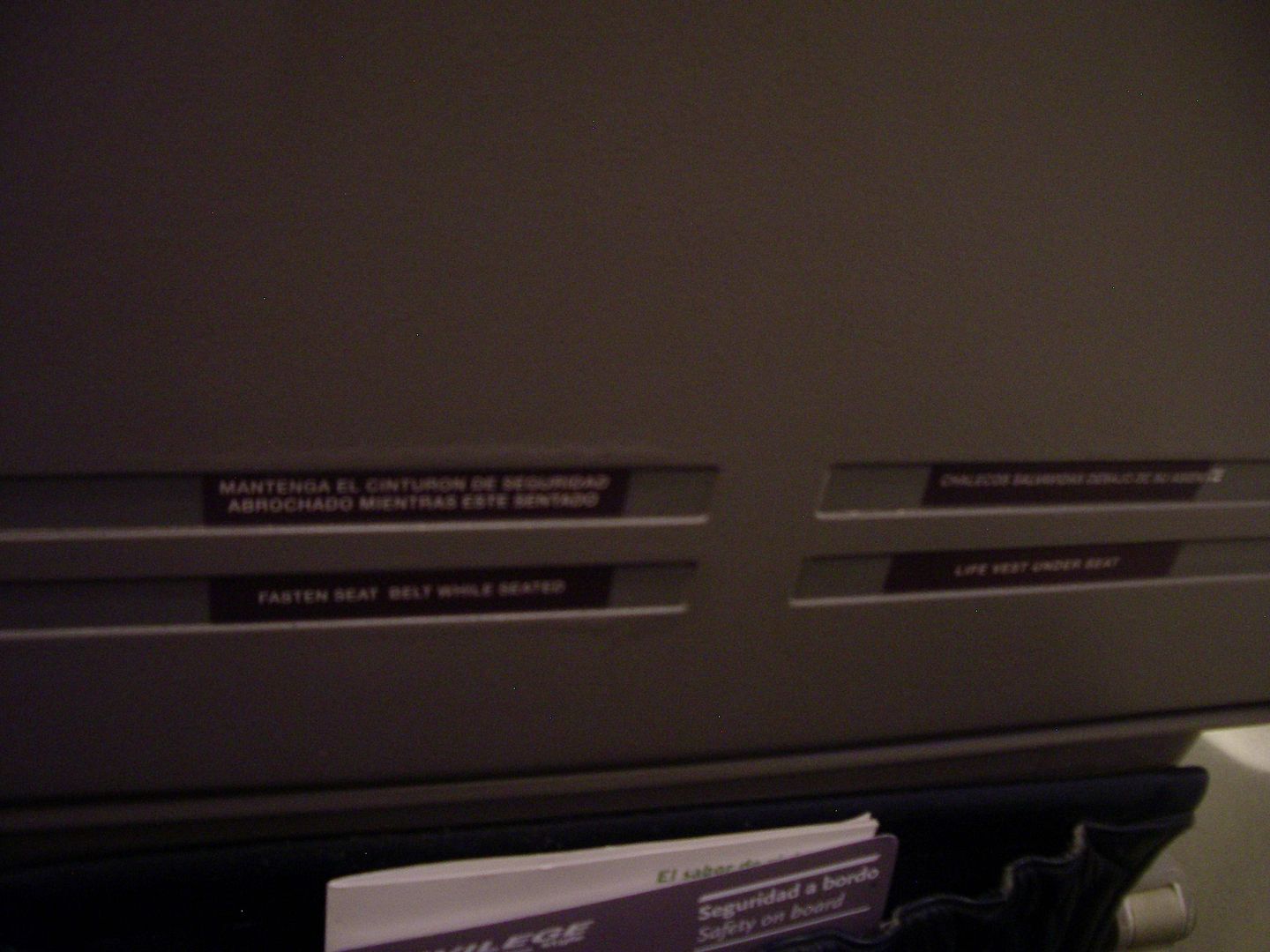 Sorry, no chance, also for any kind of celebrities, someone told me that the seat beside me in the last row is blocked anytime!
The offers while the rain started again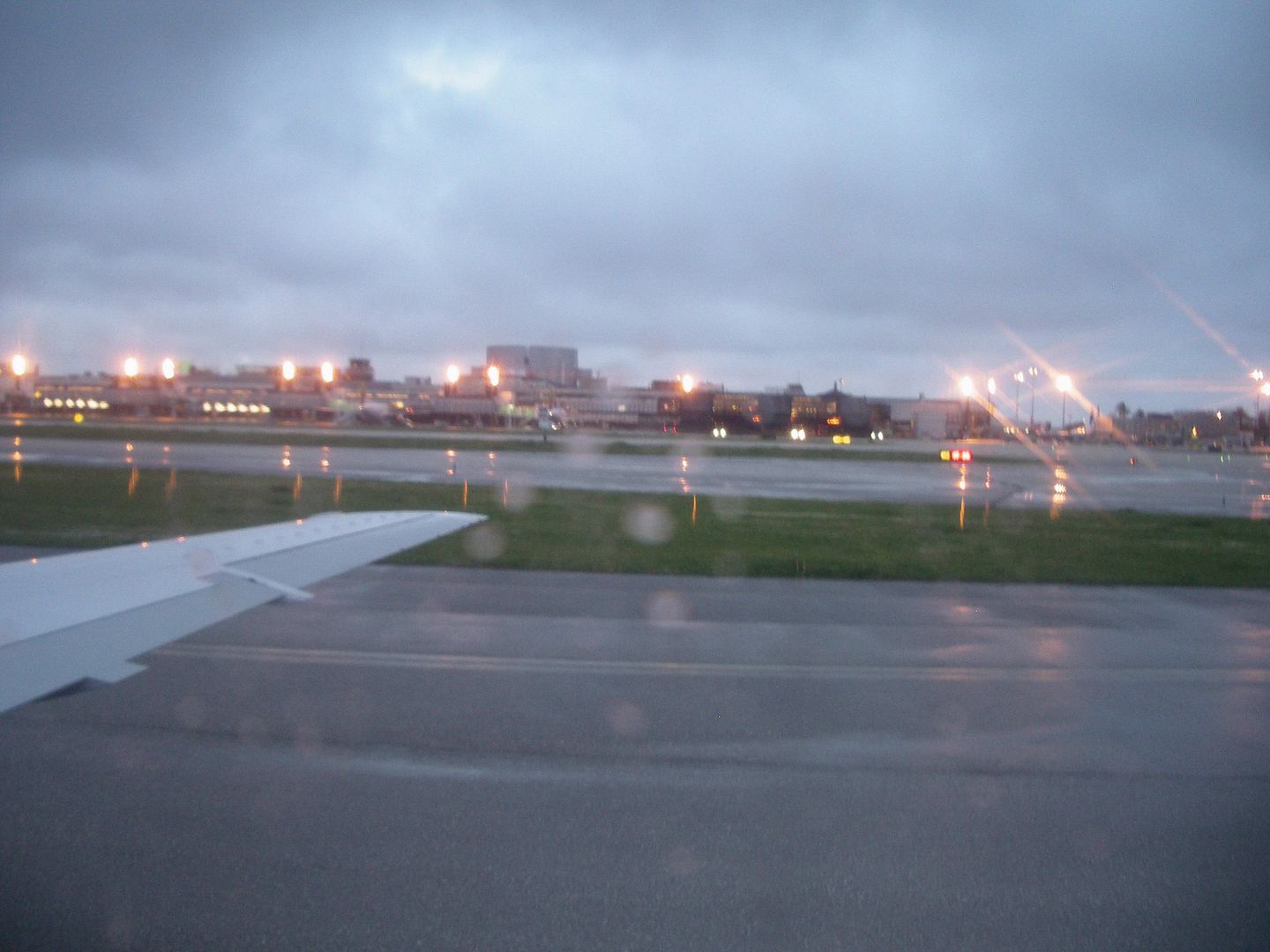 Me and the engine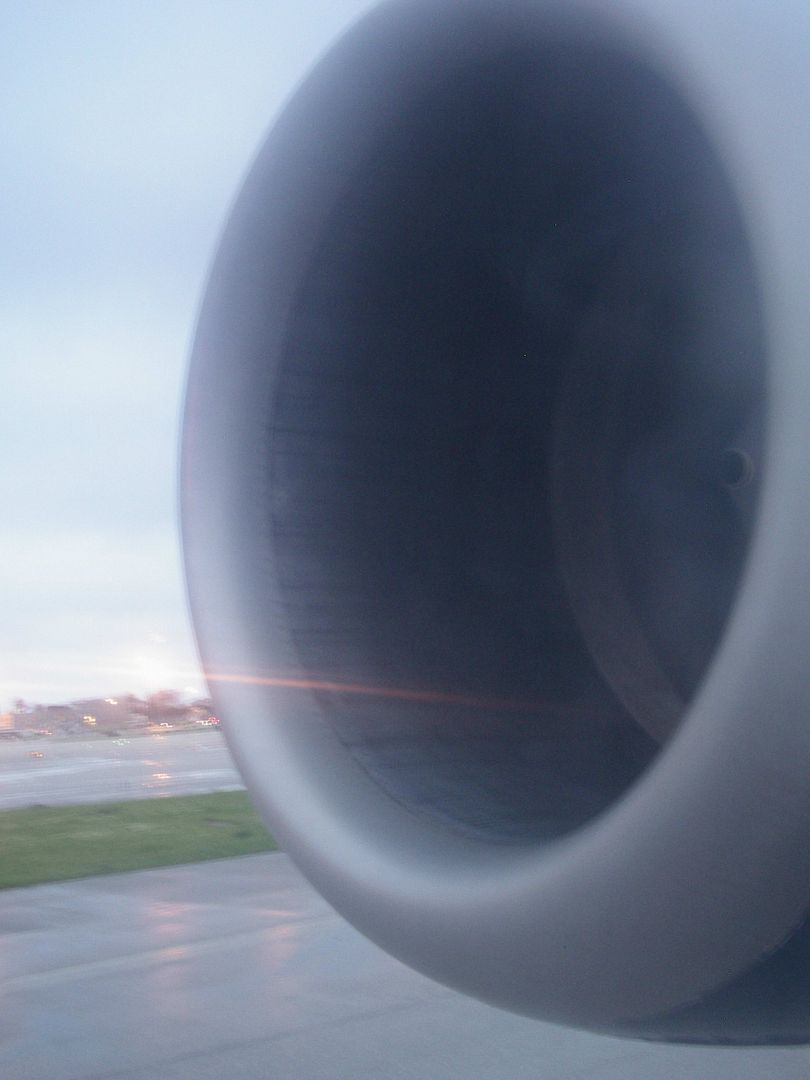 Now that´s a point of view for some more pictures!
Cockpit crew is from Espagna, so it seems.
"El Comandante" with a "Buen vuelo", that´s fairly enough during this time of the day, isn´t it?.
No route or flightlevel info.
Taxi where to?. Never been this way, on the runway
and further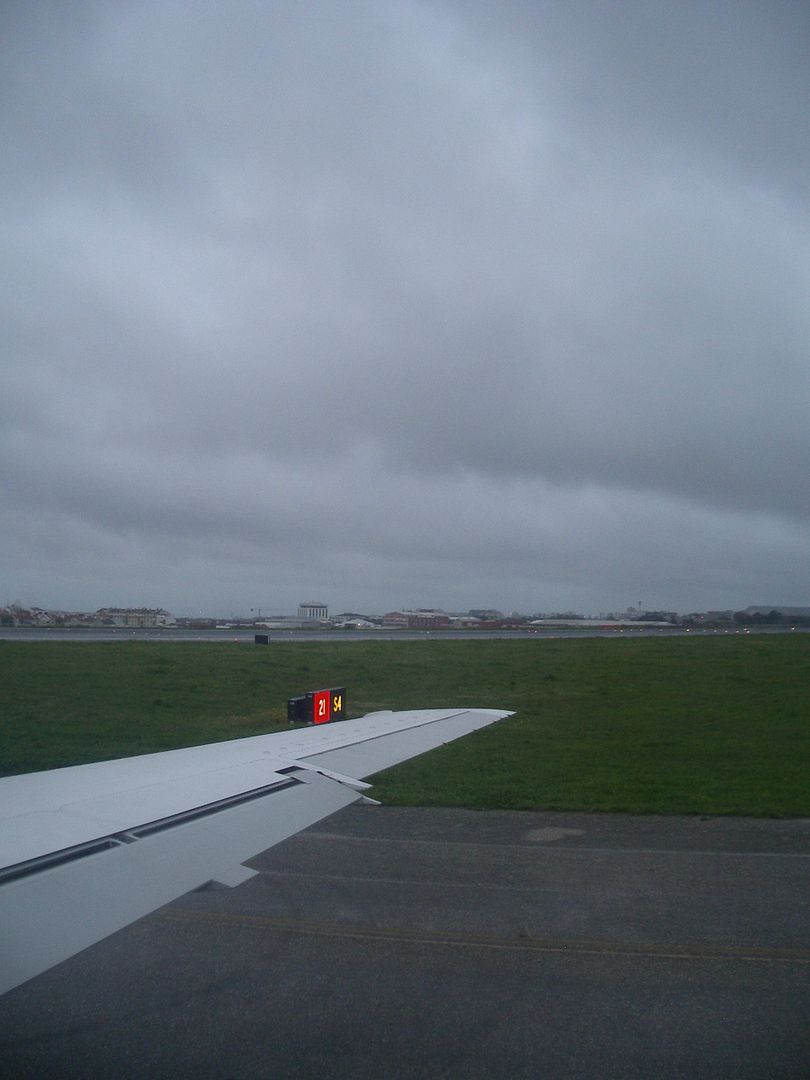 Cabin crew is one woman, middle aged, blonde, well built and nice. Service is BOB.
Up for the blue
The engine looks like also good up there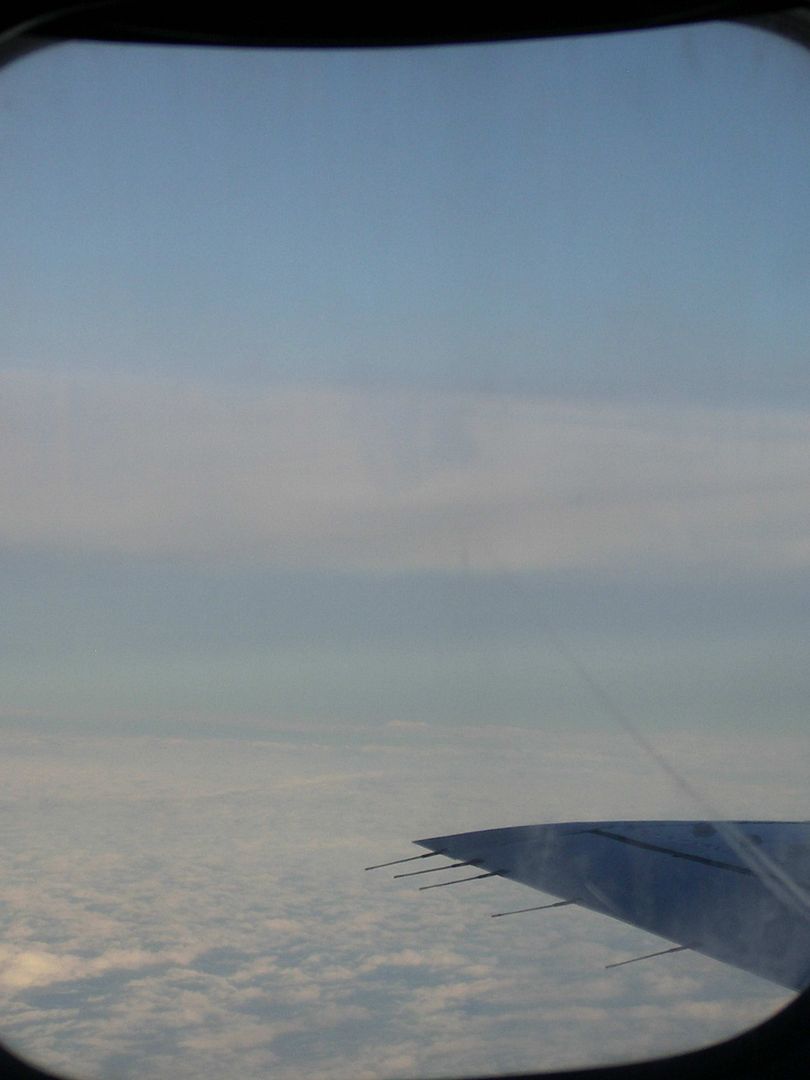 Legroom is good here with the dark blue oldfashioned well used leather seats and the cabin is clean so far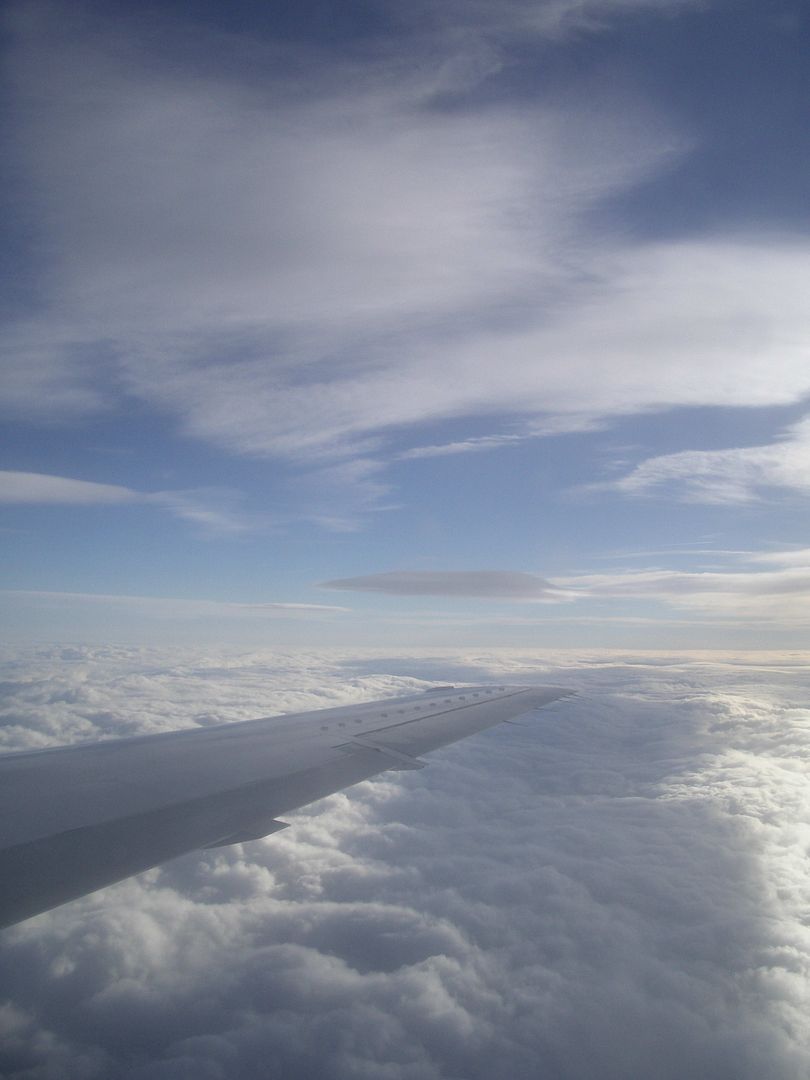 The "Aeropuerto Adolfo Suárez Madrid-Barajas" it is, touchdown at the 4100 meters "One-Four-Right". 09.45 am, short after schedule, 11 degrees, windy and partly cloudy.
Well, the weather is not that really better at MAD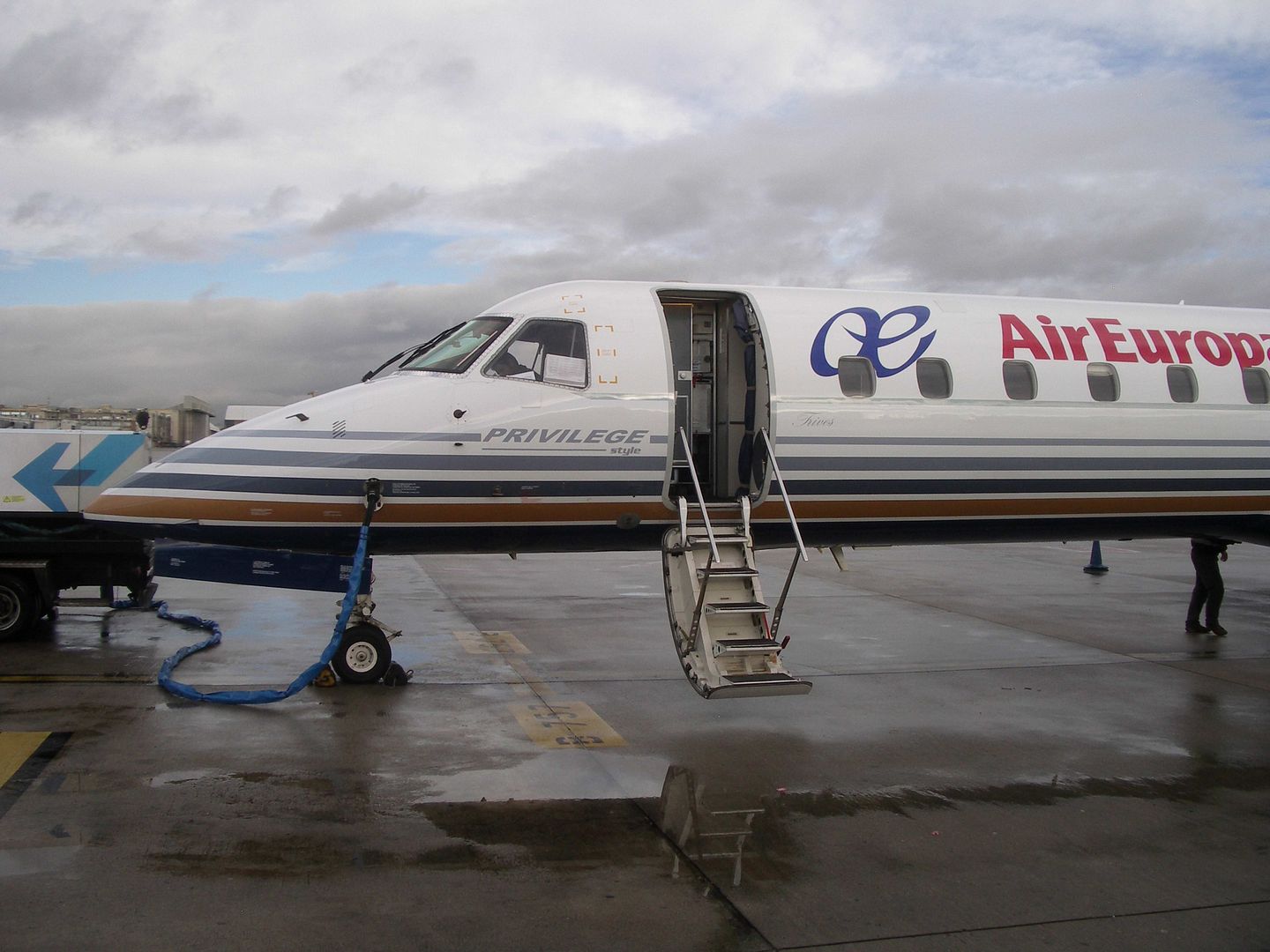 But good enough for some more pictures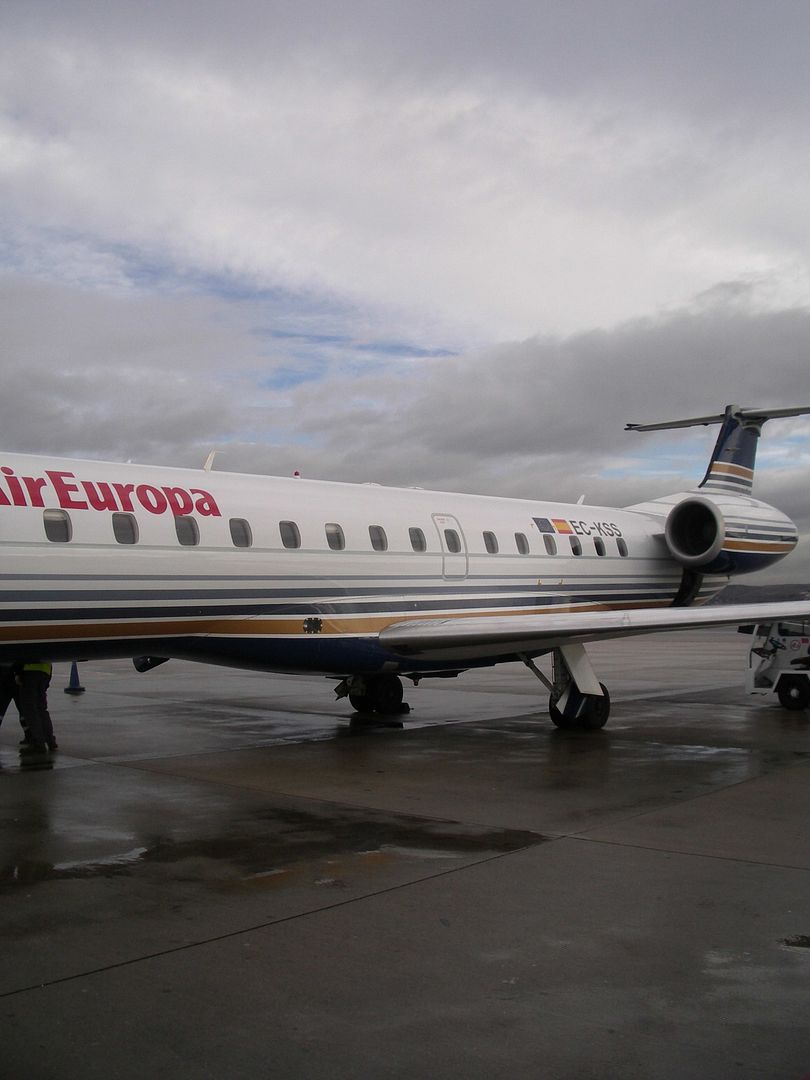 This way
Ok, ok, I should enter the bus right now
And after a very short turnaround the "K(I)SS" is on the way again!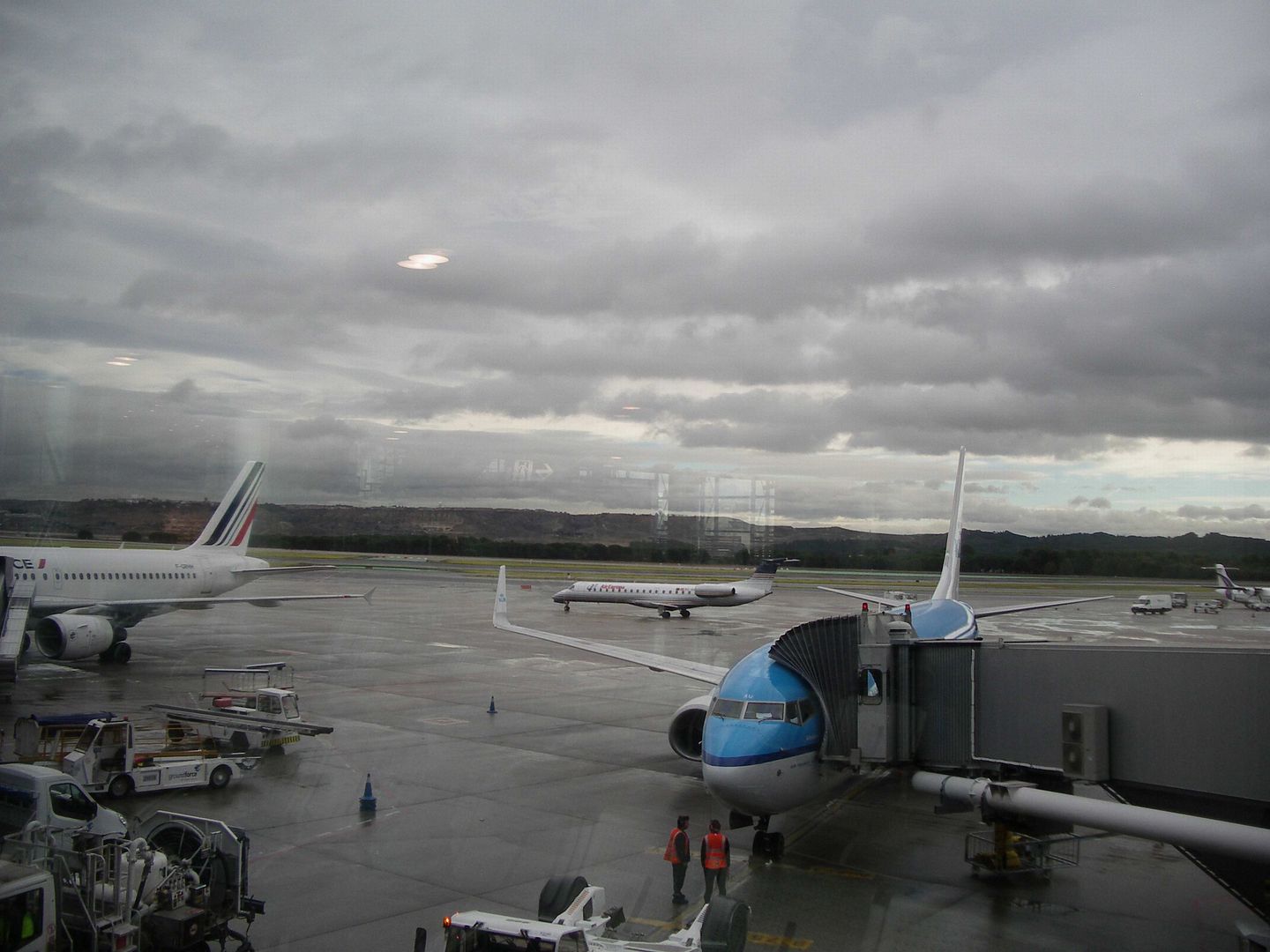 ----------CONTINUED BELOW-------------