Feedback always appreciated.
Airliners.Net is a beautiful place and I get to learn all kinds of things and "business theories" all the time. While those of us in the industry receive all kinds of informational emails, sometimes you need hard core fans to truly keep track of obscure stuff. On scanning recent news items, I was amused to hear from this post (https://www.airliners.net/aviation-forums/general_aviation/read.main/6108758) that Azal had announced an all premium 727 service on GVA-GYD operated by Silkway Airlines (ZP). Of course, I had to fly it ☺. A friend of mine would join me as he was bound to go to Delhi for work that Monday and was in EDI. We would both fly to GYD, and he would continue on, while I stayed back for a few days before heading to Australia.
This would be the first report on Azal's new all premium 727 service and since it is the first flight between the two cities, naturally, the first for the routing.
II > Pre-Flight:
a) Before Airport:
Azerbaijan Airlines is the flag carrier of Azerbaijan, and operates out of Baku's International Airport (GYD). It has an extremely "diverse" fleet of 25 aircraft including the 319, 320, 340, 752, 763, E70, and E90 … besides aircraft from Silkways, which include the 727. Using these aircraft, AZAL flies to several destinations in Central Asia, China, Western Asia, and Europe. The upcoming 788's are meant to link GYD with U.S. cities including potentials such as JFK, ORD, IAD, and IAH.
Interestingly, as perhaps because the flight is operated in conjunction with Silkways Travels, booking was not available on the AZAL Azerbaijan Airlines website … despite having banners that promoted the servce on both their site at
www.azal.az,
on the Baku airport website, AND on the Genevé airport website. In the end, I booked at my usual favourite website for obscuring airlines – the Indian site
www.cleartrip.com.
E-Tickets were immediately delivered to my inbox … though "shockingly", I could not make seat selections. Of course, I tried to book seats by calling them in Azerbaijan (no English) and even emailing their GSA in New York and London … again, no success. AZAL has quite a long way to go before it can be "global" of any sort and reminded me of my past AZAL experience of being very very "Soviet".
I arrived at GVA around 0930am after a great night out with my Swiss friend who now works for easyJet, and who gave me a great briefing on U2's plans for Switzerland. I couldn't help feel sorry for LX and their "old" practices. While the rest of Switzerland keeps voting bizarre, regressive, and even xenophobic legislations, I have always found GVA to be an "oasis" of internationalism, and usually enjoy my visit to the city. Anyways, at the airport, I looked up J2 on the FIDS and realized that SwissPort handled them and there was a common check-in counter for all SwissPort flights. There was a separate JCL counter and since there was no queue, I walked up to the man.
He was a little surprised and asked whether I was sure there was such an airline. Haha. I assured him of the same and told him that was the reason I came here. He couldn't believe it … as he had never heard of the same … after I left, he was clearly excited explaining the whole thing to his colleagues who shook their head at this absurd airline and route. Anyways, check-in was fun and he informed me that there was a whole 3 people on the entire aircraft! Now, with 50 JCL and 7 FCL seats, I knew I was going to have a premium experience … but this was just absurd! My sense of excitement grew as he joked which part of the aircraft I wanted. Haha. Further chat about my passport later, I wished him a smooth luck checking in the other 2.
After a quick security, I made myself to the common SwissPort lounge, which of course, did not have AZAL signage. I talked to a very kind woman with the introduction that I was JCL and flying a carrier they handled. This woman had heard of AZAL and even showed me the internal email. The lounge itself was basic – but I actually preferred it over the LX Senator Lounge (or, the Business Lounge) as it was less crowded and filled with less annoying people. Had a nice croissant and tea to get me going towards the flight.
40 minutes prior to departure, I made my way to the boarding lounge via Schengen controls. Geneva is mostly void of non-Schengen departure flights it seems as the extended C gates just had departures for LTN, MSQ, and our flight to GYD. There was definitely a sense of excitement as the gate agent announced our flight, and we were bused to the aircraft. The golden 727 stood out amidst the humdrum collection of 320's and I even caught the ground crew taking pictures of the plane with their cameras. Of course, they understood our desire to take pictures, etc. On board, a charming staff member welcomed us and asked us to choose any seat of our liking. Of course, I'd change seats several times during the flight. Boarding was quick, and I ended up talking to the Flight engineer about the history of this 727 – it had started life at Northwest Airlines, and had just come to Silkway via the President's fleet. It was really nice to have a crewmember who knew the history of his plane, and was proud of it.
With a load of less than 10%, the 727 roared off the runway with the 3 beautiful engines making pure magical noise …
Airport - External:
(GVA: Looking old and very 1970's)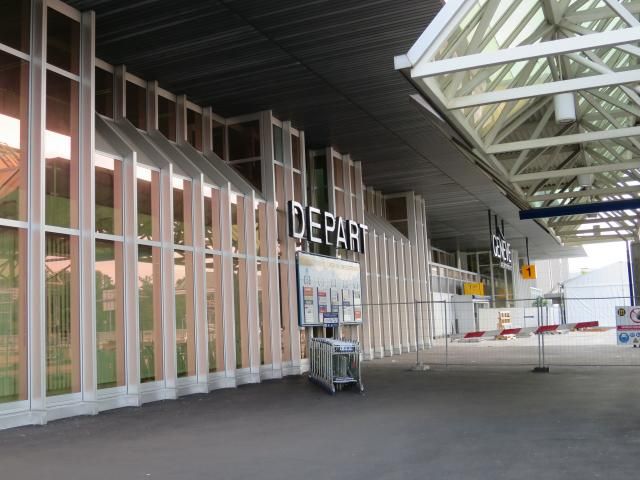 Check-in:


Airport - Internal:


(Pre-Security @GVA)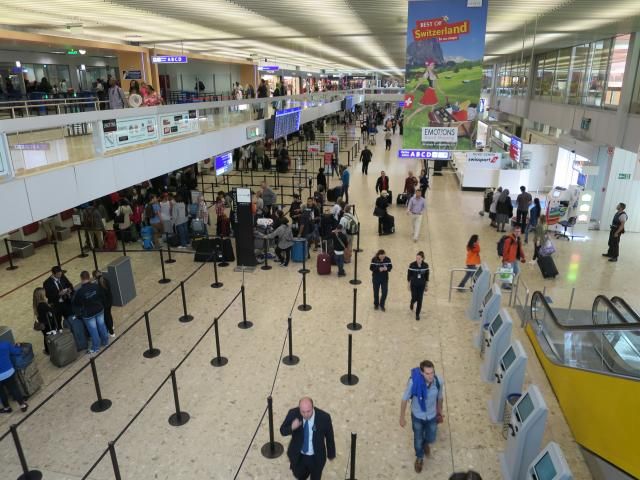 *



(FIDS)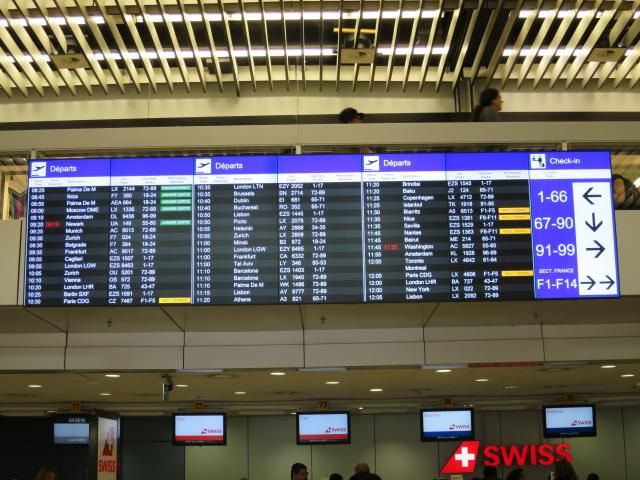 (Post-Security @GVA)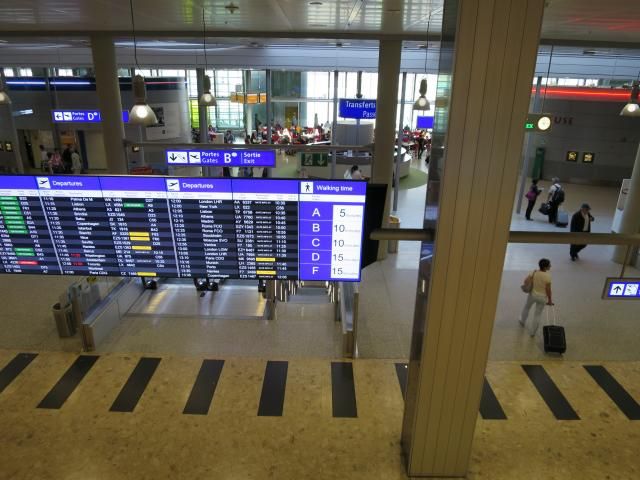 *


Scenes of the tarmac:


NONE


Lounge: NONE


Boarding & Gate Area:

III> In-Flight:
a) Service Schedule + Impressions:



By the way, the hot towel was probably the nicest one I had received in a long time. Airlines should seriously put effort in this!




(PS: I hope you like the new icon for service schedule, which has been inspired by KLM. Please let me know what your thoughts are on the same).

I don't like bling; and, usually gold denotes bling to me in its purest form. This golden 727 was different in many ways. It looked stunning parked at GVA's tarmac, and the winglets added an extra aura of "coolness". This was my first (potentially only?) winglet 727 and she was like a flying carpet.
This excitement only got enhanced as I stepped onboard the flight and was led by a crewmember past the VIP section, which is sold through select channels and via their direct channels … but only in Azerbaijan! The VIP section involved 2 couches facing each other separated by a nice little table on each side. It looked like a section from a fancy rail coach … or what travel used to be in the yesteryears.
Past this section, was the regular J class cabin, which was reminiscent of domestic U.S. First Class seats lined up in 2/2 fashion. Given the aircraft had only 50 seats, the entire aircraft felt very premium. It kind of reminded me of a version of ANA's BBJ that flies between NRT and BOM.
In terms of comfort, the seats were nothing extraordinary. While supremely comfortable in regular position, I found the recline to be very limited. Thankfully, the pitch was great, and I mostly occupied myself just smiling and looking out of the window reflecting on this special occasion.

Aircraft:


(@GVA)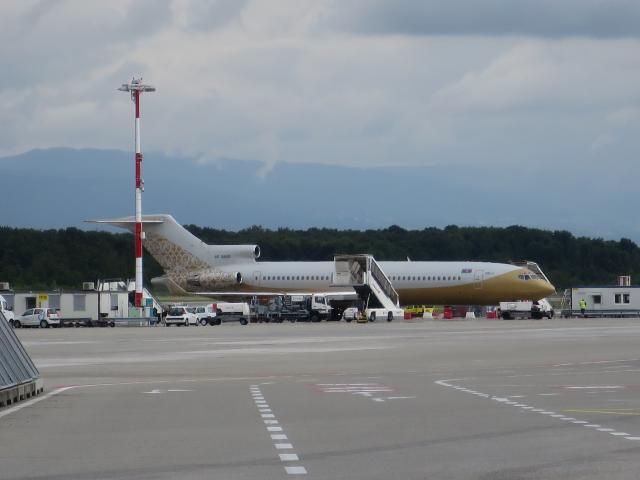 *


*


*


*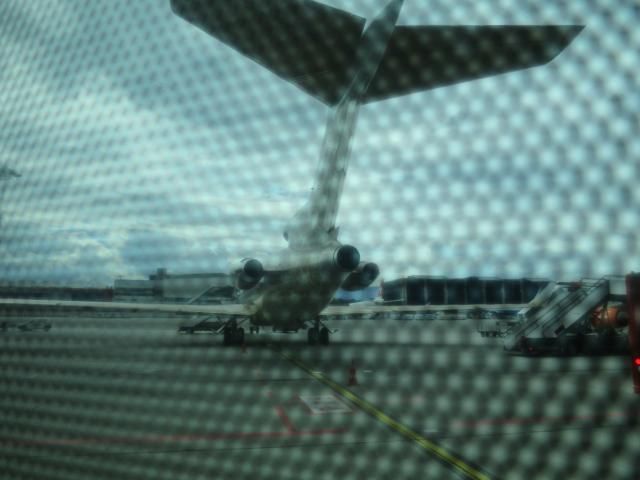 Views from Aircraft: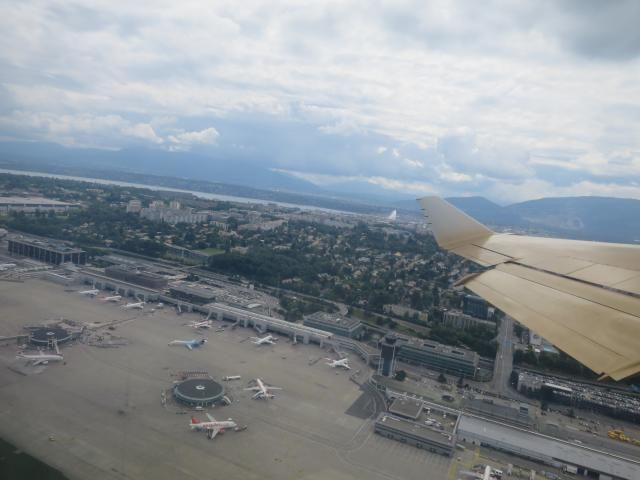 *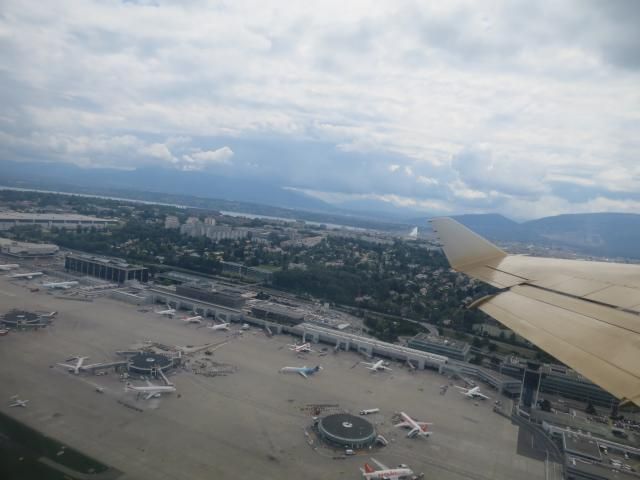 *


*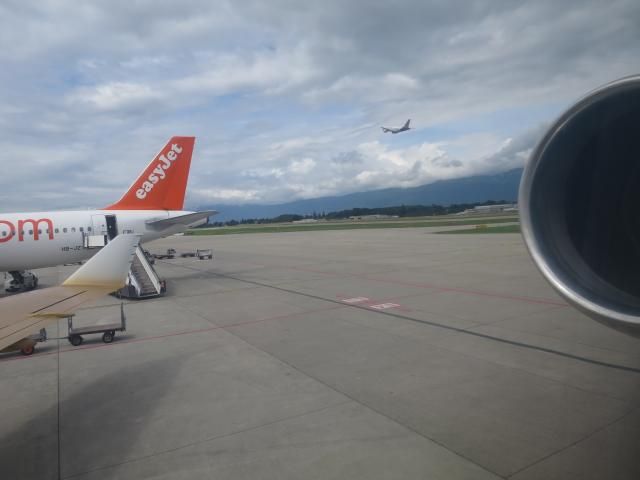 *


General Seat Views + Seat Legroom


(J Class)


(VIP Class)


(Legroom)


(Blanket)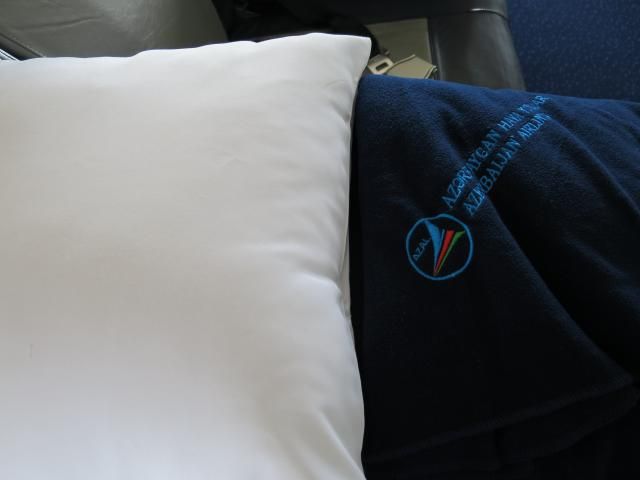 (Seat controls)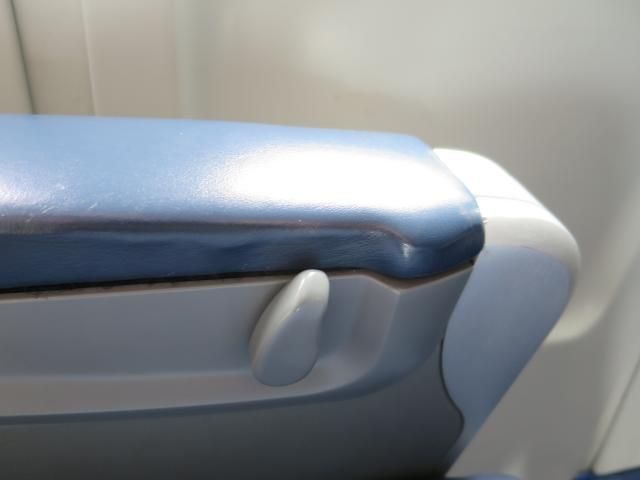 *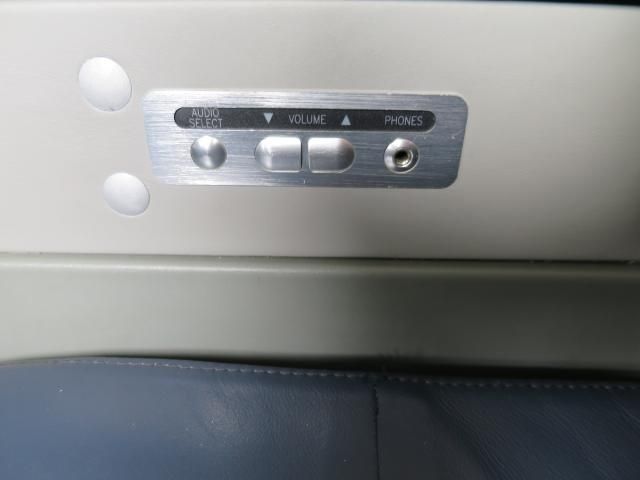 Seat Recline + Angle View:


(One shortfall … limited recline)



(Angle view)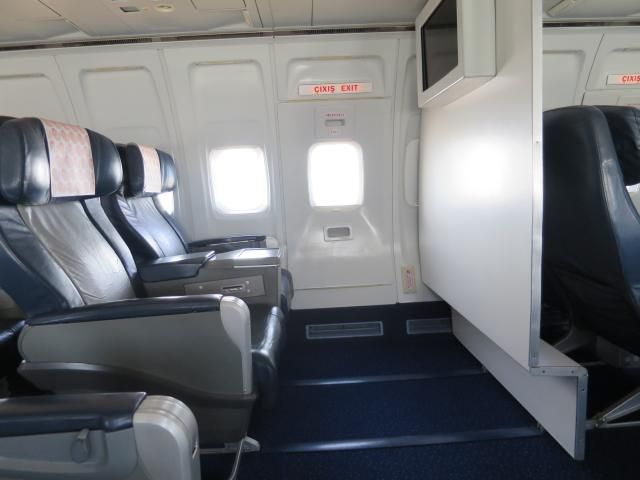 Cabin: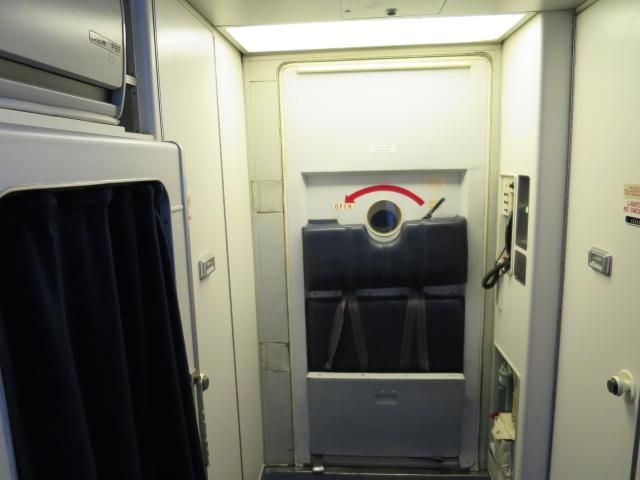 (Bathroom)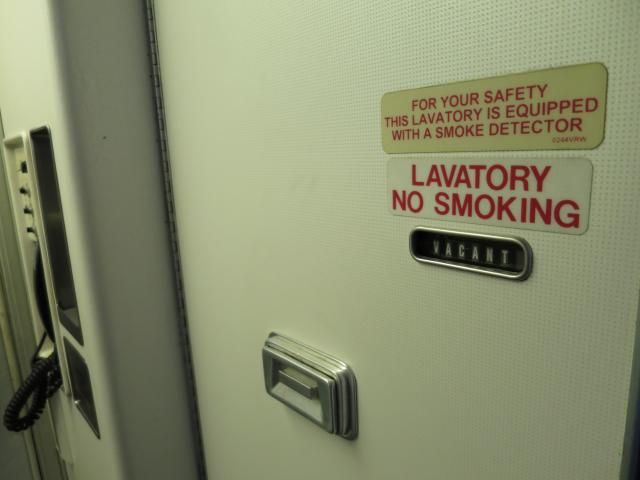 *


*

Lunch service began with a welcome drink, and I had a nice glass of Möet. This was accompanied by an assortment of fresh nuts. As I wanted to experience the VIP section, the crew had no problem in taking me to the VIP section to lounge and enjoy my champagne. After the champagne, I was brought the main tray, which included an assortment of cheese, fruit salad, and cold cuts. Except the paltry salad, the meal was excellent and I readied up for the main course. There was a selection of 4 (!) offerings and I decided to go with the traditional Vine Leaves Dolma, which was basically minced lamb wrapped up in vine leaves and offered with yoghurt. It was excellent and I ended up finishing the whole dish. And yes, I felt like a pig! Generous offering of bread was available, and post meal tea/café service included mint baklava dessert and a mint tart. Finally, fresh fruits were offered to end a truly memorable meal service.
Throughout the flight, there was drinks available and I ended up drinking a few glasses of Bailey's.
Finally, 40 minutes prior to landing, there was a tea/café service accompanied by yummy samosas. All in all, it was an excellent product and truly something that I recommend people to do.
(El Menu)
*
*
*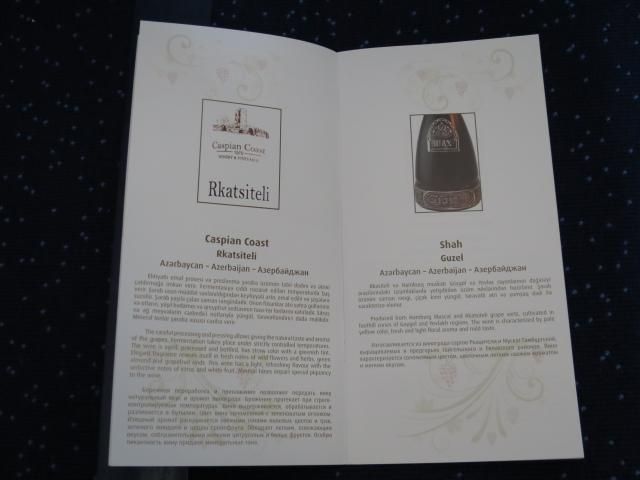 *
*
*
*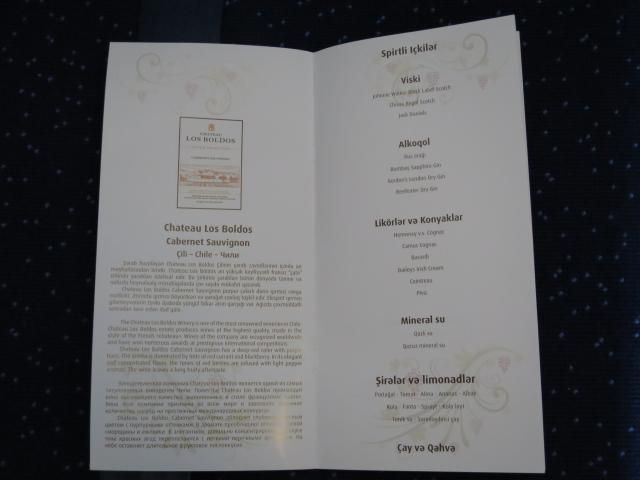 *
*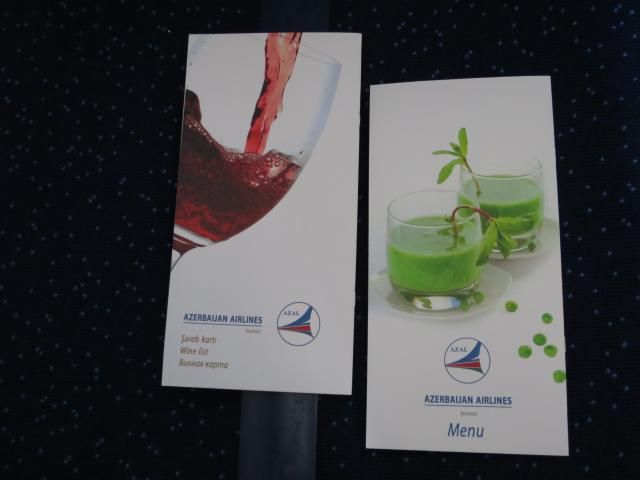 *
(@ Gate)

(Chilling in the VIP Lounge)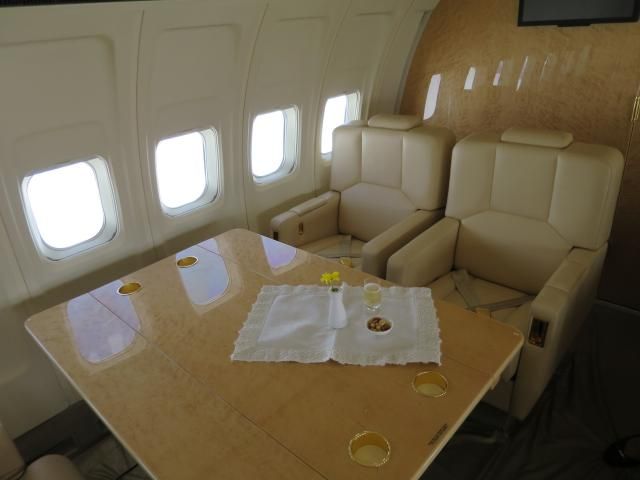 (Lunch)


*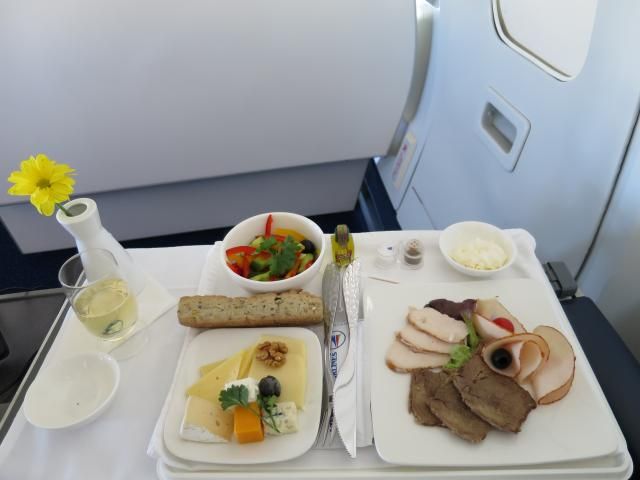 *


*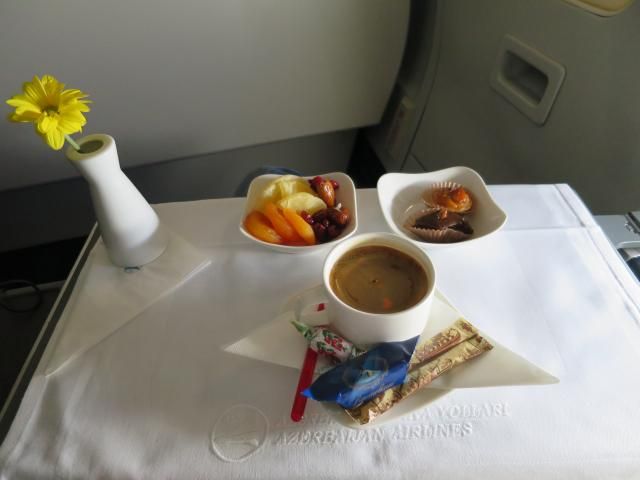 *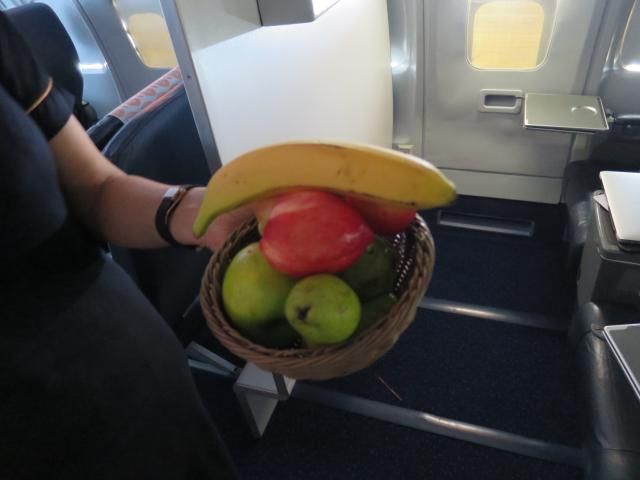 (Post Lunch Thirst)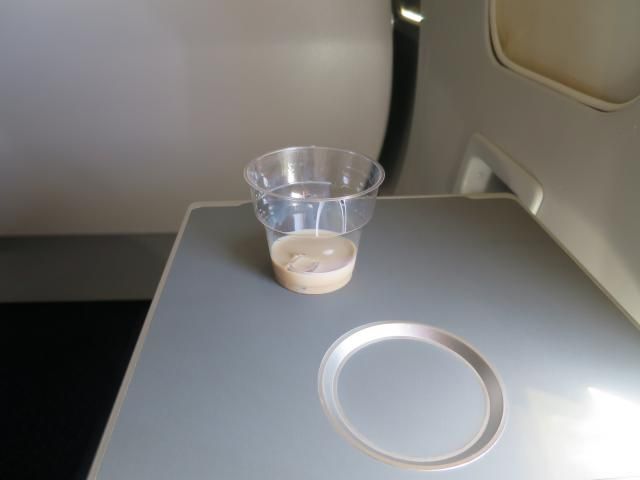 (Arrival Snack)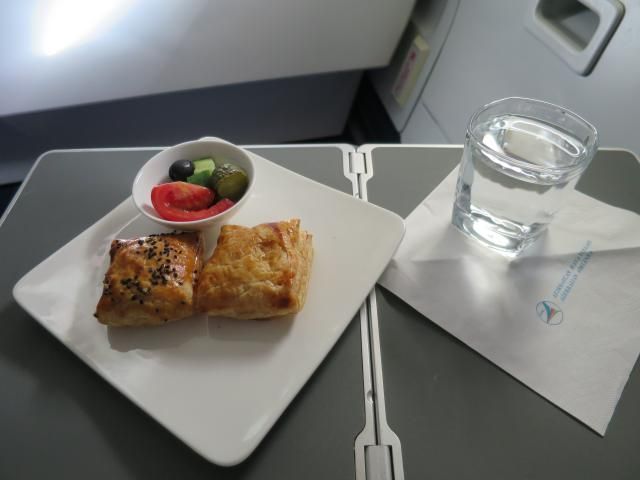 d) Inflight Entertainment:
IFE on these flights included 2 options – on the overhead monitors, there was some bizarre movie being played which I did not quite understand. It was an Azeri movie shot during the super Soviet times I think. You were also offered an individual video unit with a cheap version of a noise canceling headset. There was a limited amount of movies on display and I ended up watching "THE TOURIST".
Besides the audio/visual, we were offered several glossy magazines in Azeri, and their inflight magazine which was actually pretty impressive and contained many articles on the transformation that is happening due to oil in the country.
(Magazines + Newspapers)
NONE

(IFE)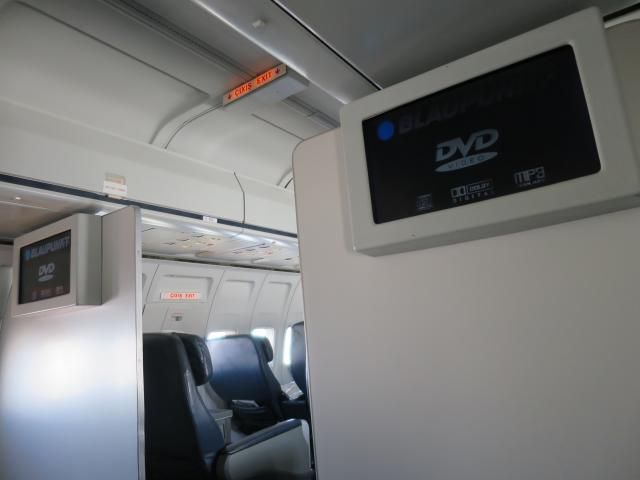 *


*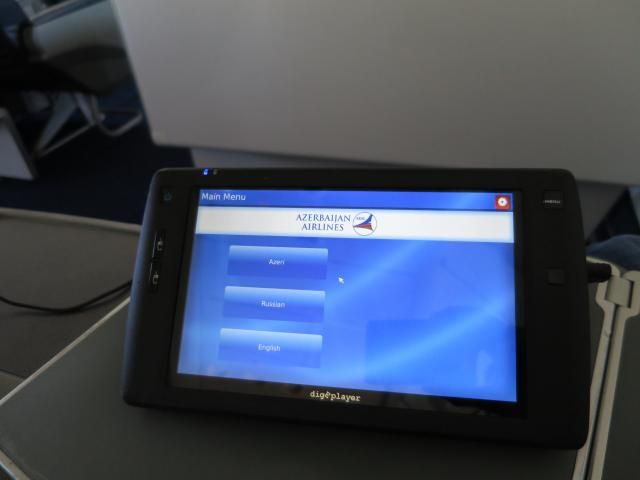 *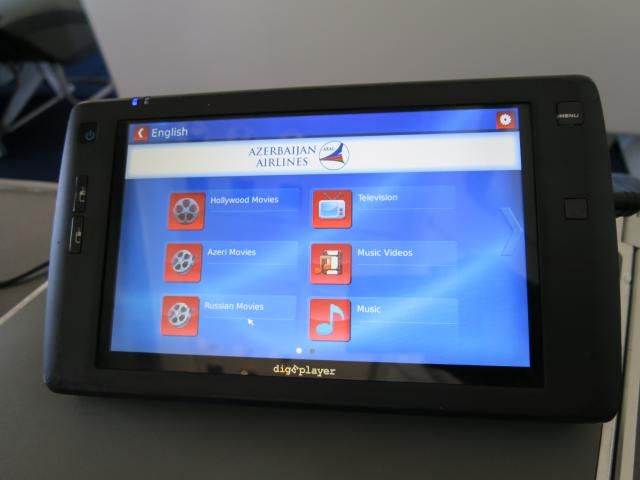 *


("In-flight magazines", Boarding Passes, etc.)

While the crew did not have the sophisticated charm of Singapore Airlines, or the precision "anticipation of needs" concept of ANA, they were absolutely fantastic offering service from the heart. They were genuinely excited for us to be onboard and went to do simple things like tell us about Azerbaijan, tell us of their experience working with Azal, and just being generous with their service. I did not feel like a passenger … more, I felt like being taken care at home. None of my request seemed too much, and in the end, I really ended up liking their unrefined qualities. Excellent work for sure.
We landed in the new GYD Terminal 2 which has to be one of the nicest new airports in the world. Arrival was on time, and we were whisked by a VIP escort, that took us through immigration and onto baggage claim. Classy act indeed.
(Arrivals Pics)
(Pics like this inspire me to know what's it; who works there; and the story …)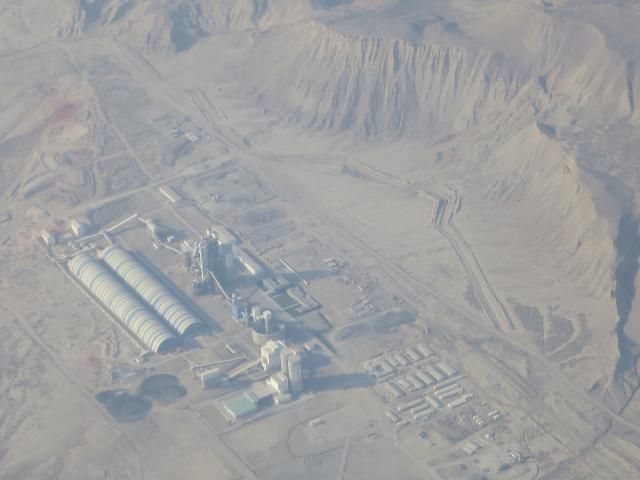 *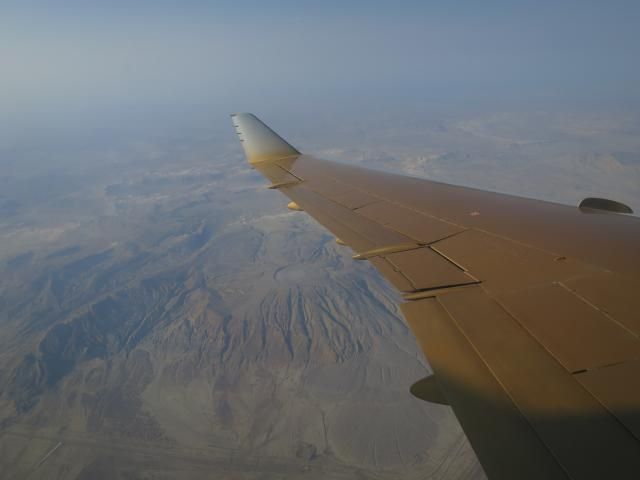 (Over Caspian Sea)
*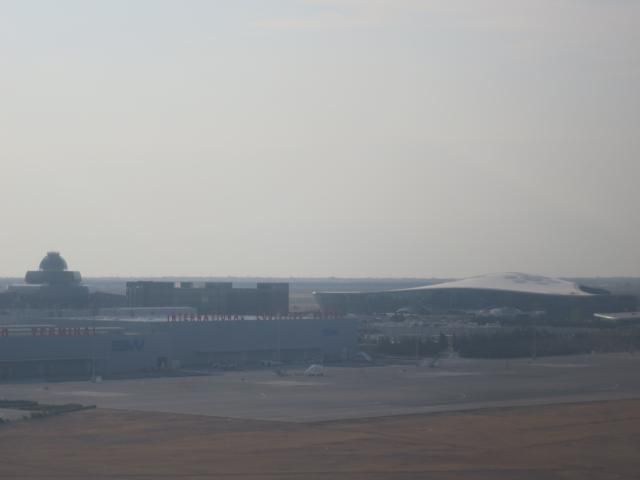 *
*
*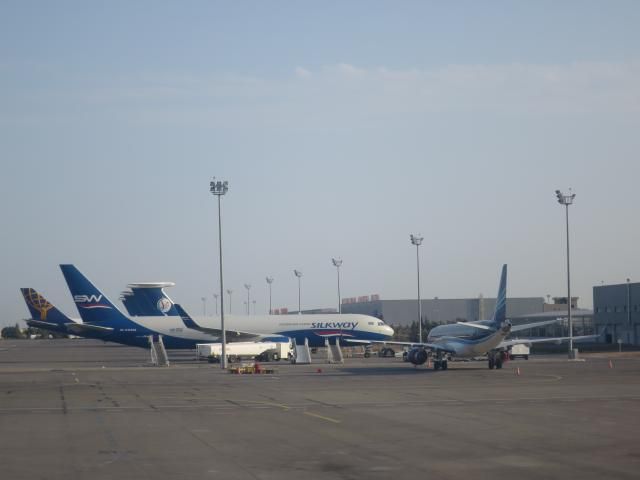 *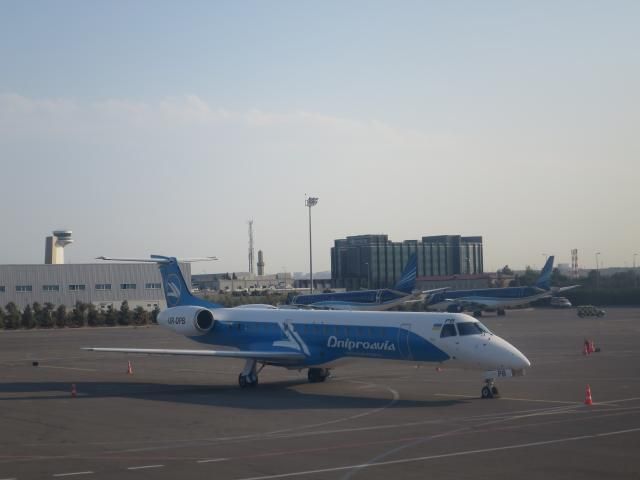 *
*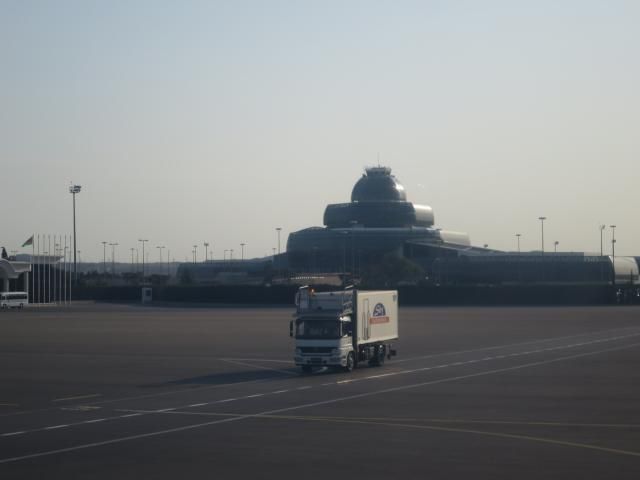 *
(The shiny new terminal – wonder why this hasn't be reviewed. It is nice.)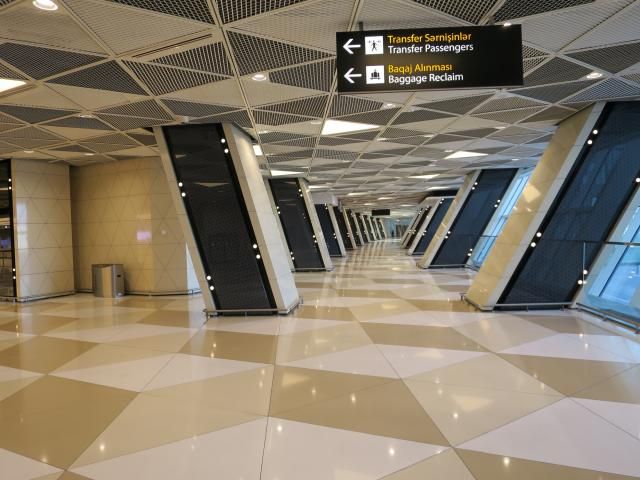 IV > Impressions + Scores:
Silkways operated 727 for AZAL was truly an incredible experience. With loads like this, I wonder how long the flight will sustain … but for now, it is a time-travel into how travel used to be. The all premium 727 added a layer of class that is very rare in today's world. AZAL did many things right. From having a decent lounge in GVA, to a strong welcome. On board, good seats, amazing food and drinks, a decent IFE, and finally great crew. Of course, nothing can beat all of this within the context of your own private jet … and that too, a 727!
I give this route a two thumbs up, and strongly would go out of my way to fly AZAL and their 727 … do you blame me?! Do this route now, as I don't think it will be staying for long.
So how did J2 stack up with the rest of the competition?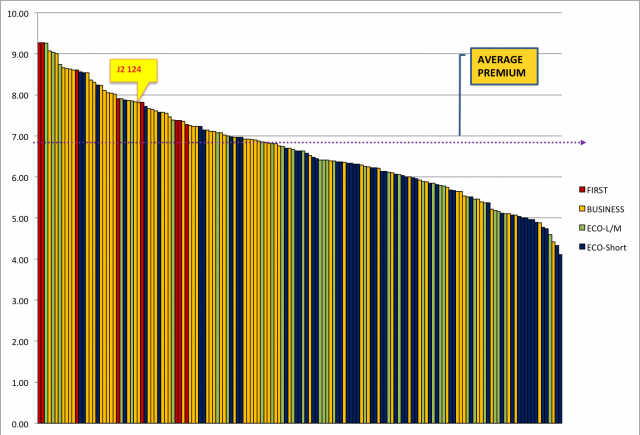 (Amenity kit – basic)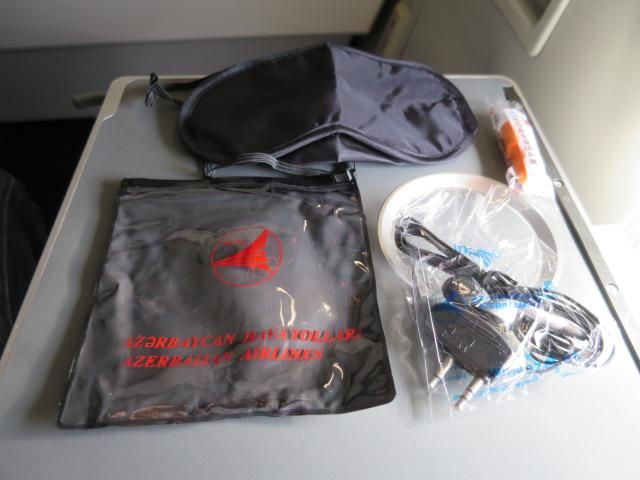 * Unbiased view on how an actual traveler may view the flight
* Not a professional photographer (so please keep in mind)
* Commitment that I won't identify myself to the airline as "reviewing them"