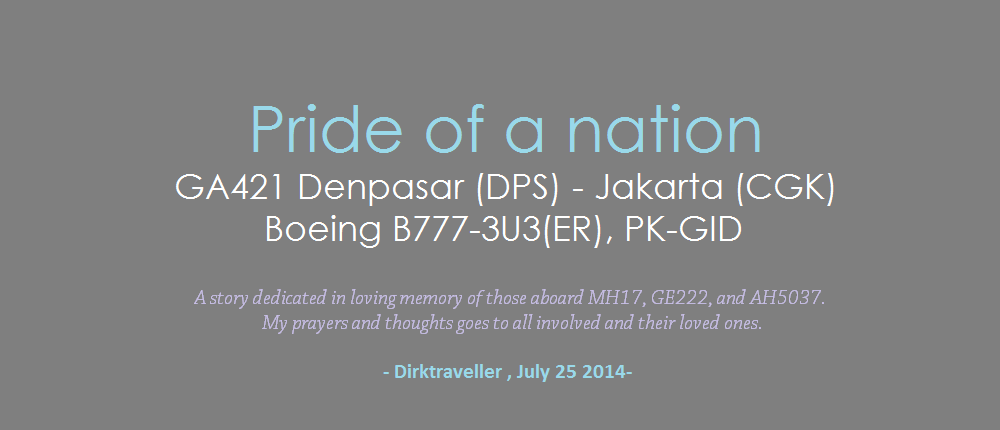 Hi everyone!
Don't we all have that flight we have been dreaming to take for a long time?? As an enthusiast, I was more than glad that I finally get the chance to take that flight. For me, that long-awaited flight is my first ride on a Garuda Indonesia B77W. This time, it is on a short two-hours domestic hop between Denpasar-Bali (DPS) and Jakarta (CGK).
The flight was booked through Garuda Indonesia's ticketing office in Jakarta's Senayan City mall, where helpful staff managed to process our booking smoothly, under the promotional airfare they have back then.
Before I proceed with the trip-report, I would like to express deep condolences to the tragedies involving flights MH17, GE222, and AH5037. During this moment of sorrow in aviation, I have decided to replace my usual TR covers with a gray background instead, should some of you be wondering.
Background
Had GA proceed with the B777-200ER we might see something like this... (Photo from Boeing's official website).
Back in 1996, Garuda Indonesia placed an order for 6x B777-200ER (B77E). This order of B77Es was expected to take over long-haul routes served by the DC10 and MD11s. Due to the financial crisis in 1997, Garuda was suffering straight years of losses and was forced to delay expansion plans, including the order for the 6x B777-200ERs. In 2005, it was announced that GA was converting those 77E orders into an order for 10x B787-8 Dreamliner.
Or.. we might see a GA Dreamliner fleet if the B787 was on schedule. (Photo by Joe Perez, aviationdesign.net)
However, as it was obvious the dreamliner was suffering from issues that indicates delay in deliveries, Garuda and Boeing agreed to once again convert the outstanding order into 10xB777-300ER (B77W) in February 2010.
In the meantime, the Quantum Leap turnaround program injects back optimism grows over Garuda's ability to reach its previous glory. In the past, Garuda has served destinations worldwide with a range of widebody fleet including the A300s, MD11s and B747s. It have been the pride of Indonesia, which unfortunately suffered from cost-cuttings and route cutbacks, in addition to the EU safety ban.
However, just like in every underdog story, Garuda exerts every effort to turn the airline back into its former glory. The Quantum Leap have been successful so far, where new-branding image along with improvised in-flight service did not only won back its customers, but also Skytrax awards in 2010 until present.
With the EU ban lifted in 2010, Garuda now has the chance to once again expand its wings across the globe, flying the pride of Indonesia once again to Europe and the US like what it used to be in the better days in 1980-1990s. But those dreams were to wait until July 2, 2013, the day Garuda has its B77W delivered from Boeing.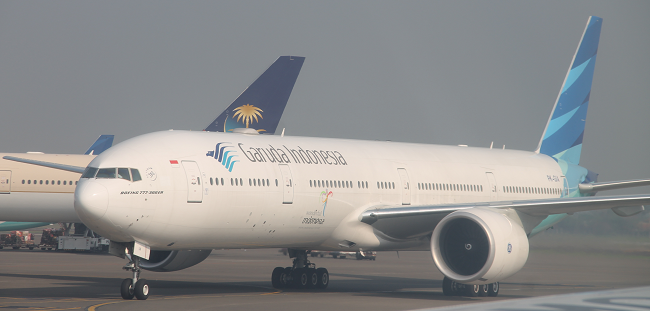 The B77W allows for non-stop flights to Europe to be resumed, but once again it has to wait due to issues with the runway in Jakarta's Airport. This B77W is that one last piece of the jigsaw which determines whether Garuda can achieve or even surpassed its former glory, bringing back the pride of Indonesia into the skies around the world.
Finally, after a long wait, the pride of Indonesia is ready to take-off. Therefore please join me on this trip aboard Garuda Indonesia's B77W between DPS and CGK.
Check-in and Lounge Experience
FLIGHT DETAILS
Garuda Indonesia, GA421
Denpasar Bali (DPS) - Jakarta (CGK)
Boeing B777-3U3(ER), PK-GID
Delivered to GA on 03/10/2013, msn 29146
ETD : 2105 (Actual around 2123)
ETA : 2200 (Actual around 2140)
Seat Number 11K
Time in DPS is GMT+8 while CGK is GMT+7
It was the end of our summer break. Our GA B77W journey began on the New DPS terminal, as my family and I had just arrived from another flight, and reported to GA Premium Check-in area three hours ahead of the flight.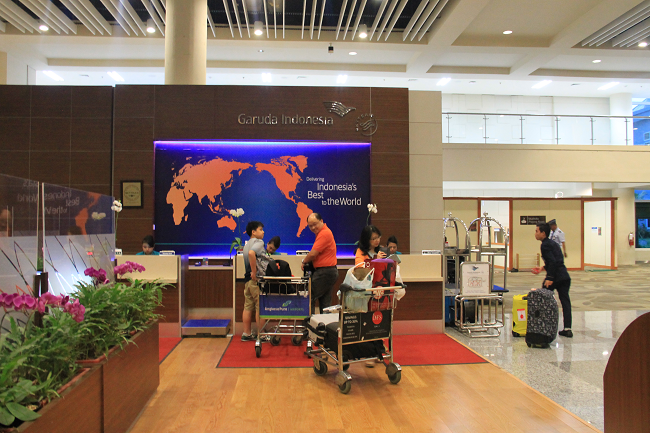 The staff was really courteous and helpful in processing our boarding pass (and lounge invitation). I enquired her about the F class seats which was not sold on this short sector. Unfortunately, she told me that the seats were indeed blocked and J class passengers were unable to be allocated seats on that section.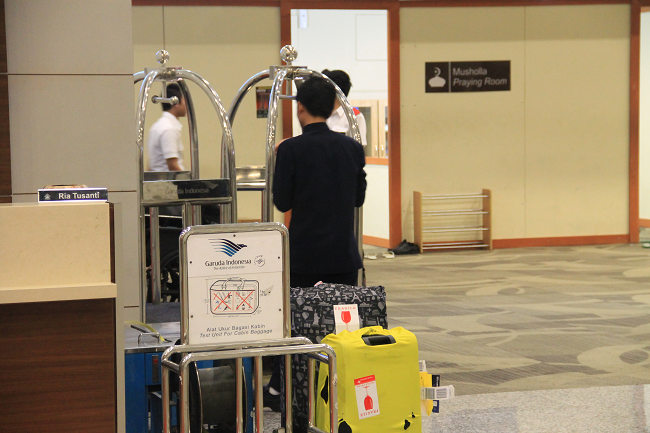 Rest assured you would not need to worry about your bags as a staff member picked up our luggage from the trolley and processed them to be loaded on our flight to Jakarta.
Apparently, the domestic J class lounge were allocated just beside, along with direct access from the premium check-in area. Given the distance between the two facilities, it kinda wonders me why do they need the invitation afterall.
Seating area with comfortable couches earlier filled with passengers staring at the TV listening closely to developments of flight MH17 tragedy.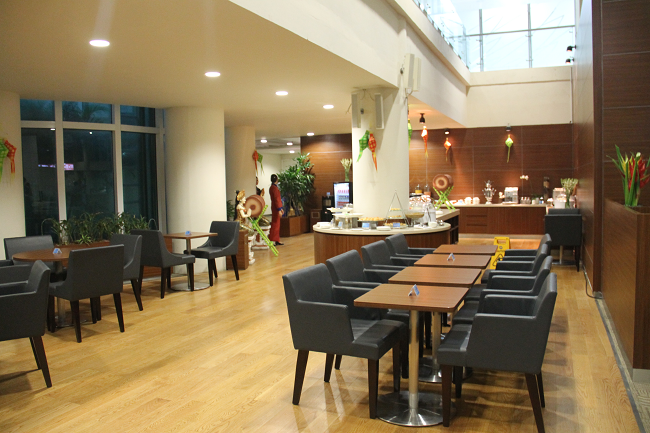 There are proper dining table and chairs to those of you who would like to enjoy dinner instead. That includes me, of course.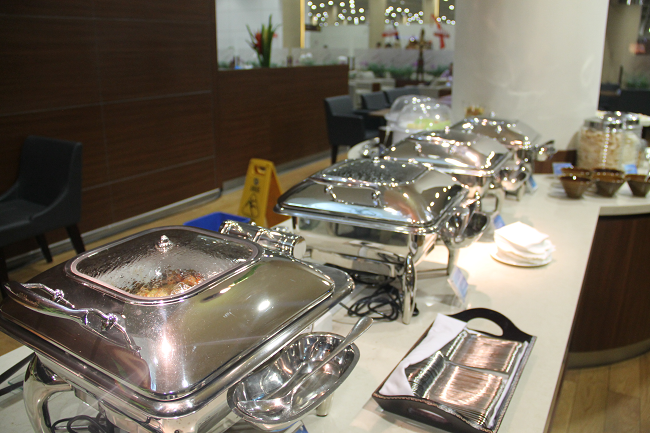 Starving me checking out the buffet spread... any guesses what's inside anyone? Surely one of them must be rice haha.
Main courses include Ayam rica (Spicy chicken) and Pesmol fish.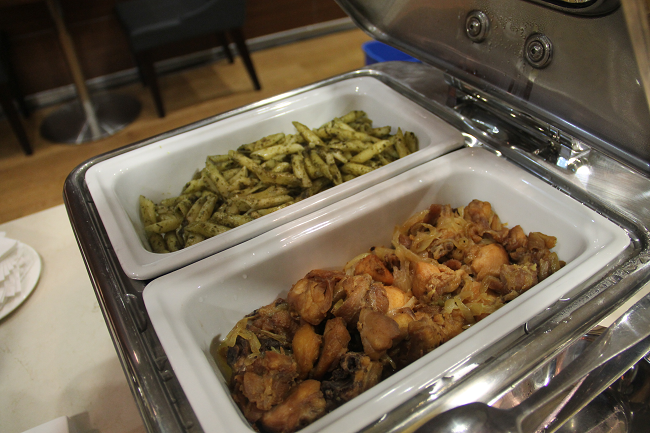 Or, Pasta and soya-sauced roasted chicken.
There was also a few types of krupuk to be added to my meal. Food wise it fared quite well compared to several other lounges I've visited in Indonesian airports.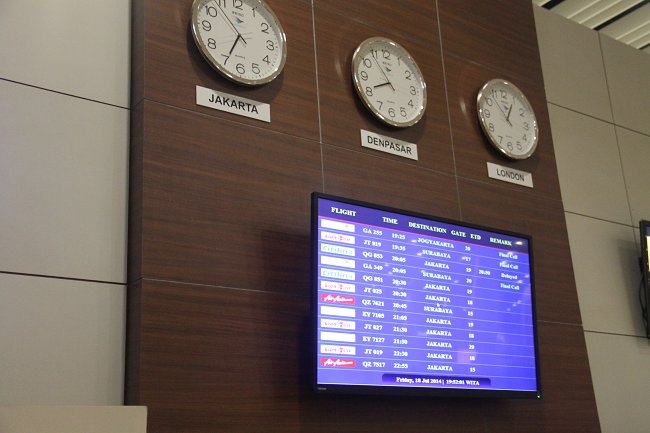 Clocks showing times of Jakarta, Denpasar, and London in case you are jet-lagged. Also a closer look at the FIDS on the lounge. According to the FIDS our flight GA421 would be leaving from Gate 19. Did you know that 12 years earlier there was a background heroic story on this same flight number?
How about some lighter bites anyone? There are variety of cakes to complete your appetite for dessert!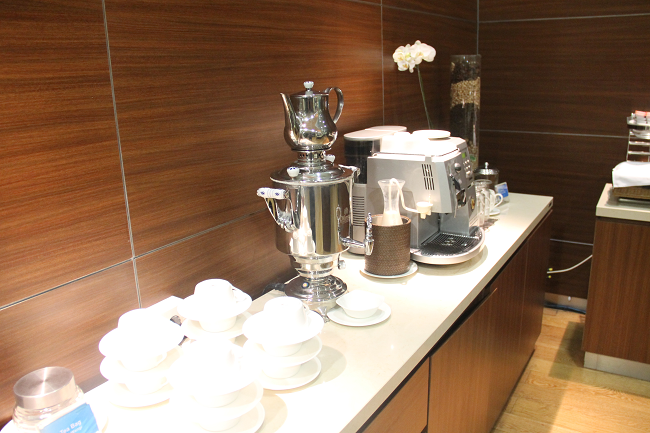 Self service hot beverages (coffee/tea/hot chocolate) counter.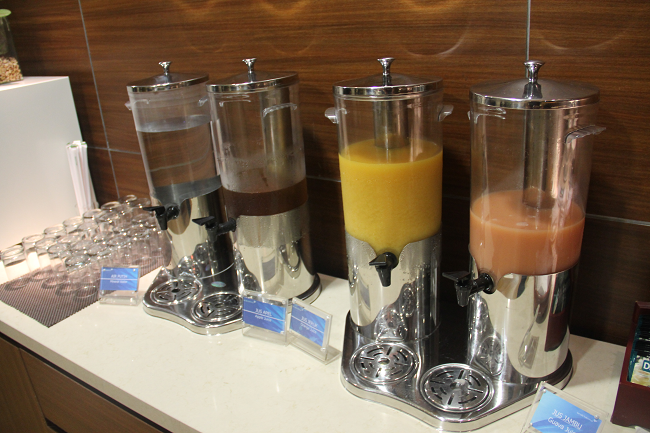 Despite not being a dry airline, no alcoholic beverages served on Garuda domestic flight (and their lounges too). But, there are apple, guava, and orange juices available.
Mini pastries section which I'd imagine being more crowded in the morning.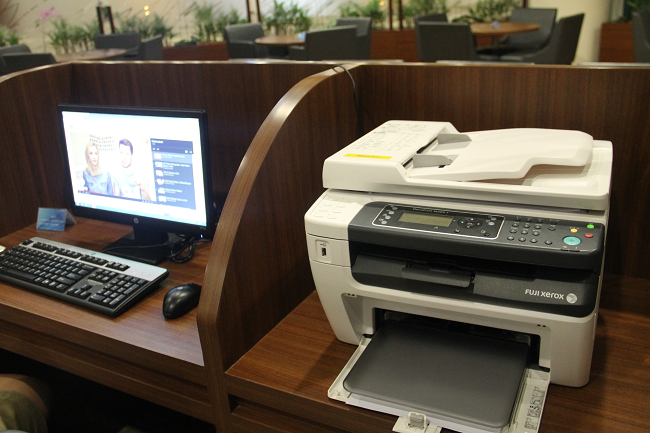 There were two computers with internet access and a multi-function fax & printer to those wishing to catch up work in between flights. The lounge also has a free wireless internet which works well enough for me to catch up with some social media and news I have missed after a day's flying.
Reading material which consists mostly of local newspapers in both English and Bahasa Indonesia, few other travel and lifestyle magazines (mostly in Bahasa Indonesia too) and Garuda's inflight magazine "Colours".
Overall impression, the lounge was really well equipped. However there are still some limitations for improvement. This includes the 'temporary' nature of this lounge, which means the lounge is only separated using a temporary partition which means you could still hear most noises within the terminal itself.
Plus, there is no dedicated toilet inside the lounge, therefore those who needs the toilet should make their way out of the lounge into the public toilet outside. The public toilet at DPS new terminal itself were unfortunately needs more work in terms of cleanliness.
After a nice wait on the Garuda DPS lounge, it was time to head to gate 19.
Boarding
On our way to the Boarding gate area from the lounge, we passed through the Check-in area at the new DPS terminal. Huge and spacious, there are check-in desks of most airlines serving domestic flights from DPS, including Lion, Sriwijaya, Garuda, and some other charter companies.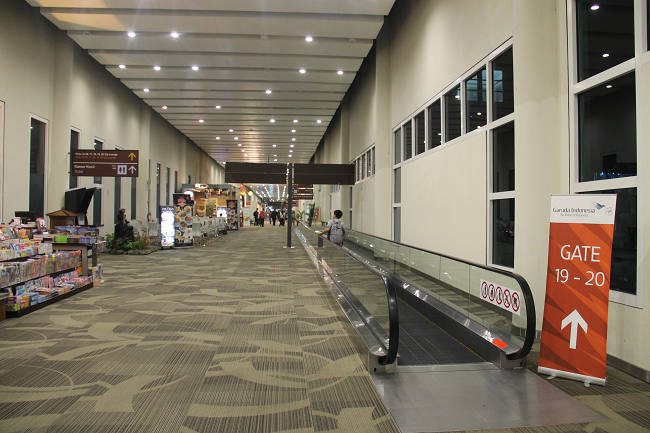 It was a long way using the travellators to reach Gate 19/20.
Our gate was situated at the end of the terminal. Obviously it was more packed with passengers compared to the other flights. Loads in Economy was filled approximately more than 80 percent, while in J class around 16 out of 38 seats (around 40 percent).
After 10 minutes of wait, boarding call was made. There was a dedicated line for Business Class and Gold/Platinum Garudamiles members. Also, as J class passengers our family was driven on this Garuda van to the aircraft.
That only means.. boarding through stairs for everyone yay!!
The short drive brought us in-front of the huge Boeing 777, which was a relieve for me knowing PK-GID operating my flight (instead of some last-minute sub to A330/B738). I have been waiting a long time for this moment!
Look at those mighty GE90 engines. My family was just as excited looking at this gigantic aircraft!
Saying Hello to PK-GID, as we boarded through the stair connected to door L2. Another stair was also connected at the back in door L5 to allow those seated at the back to board the aircraft more conveniently.
"Good evening Sir!, third seat to your right!", the purser welcomed us on the door.
Other FA standing nearby in the galley were also cheerfully greeting us as we made our way to our seats.
Another FA on the turquoise kebaya standing in the J class section then ushered us to the seat, and offerred us welcome drinks.
First glimpse of the J class section aboard GA B77W.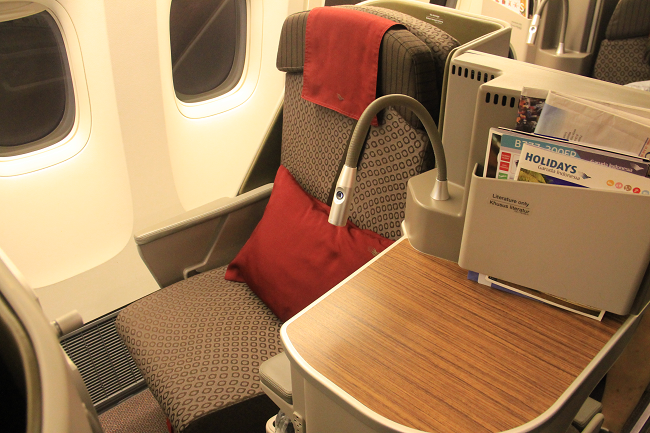 My window seat 11K which looks more than inviting for a short two-hours flight hahaha!
My IFE screen along with the tray table that is stowed neatly just beside.
Had my welcome drink of Orange juice along with the hot towel.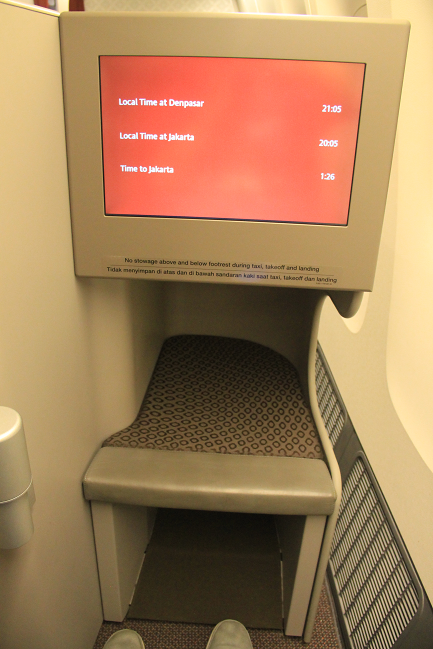 Legroom is spacious enough! And upon sitting on the real product it was not seen as claustrophobic as I might have seen in some other reports or advertisements.
Power up your gadgets in-flight into the USB plug or the adaptor below. It's a must on long-range flights these days.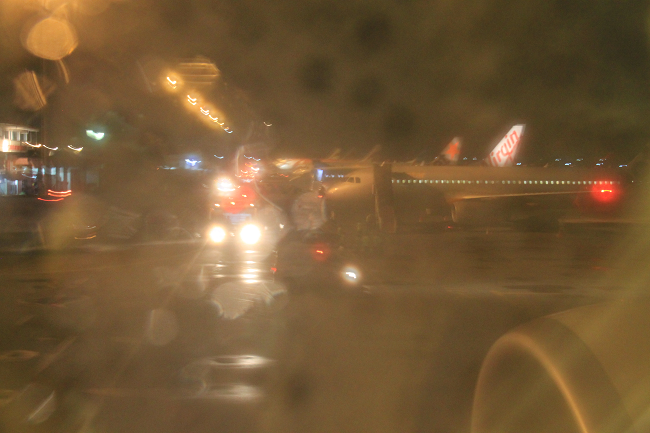 Pushed back from the parking stand, beside a JQ and VA aircraft. Apologies for the rather blur photo due to condensation on the window.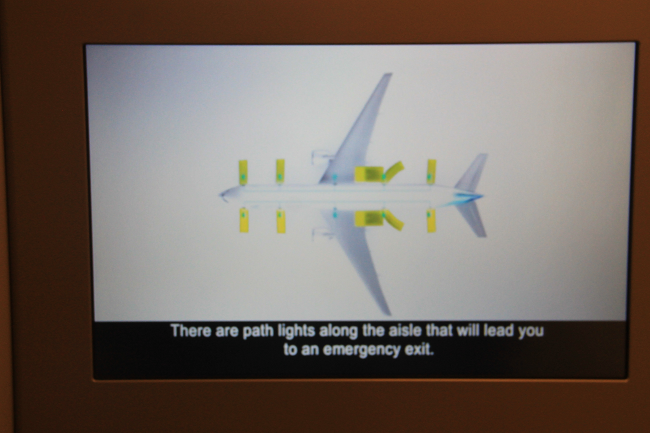 Safety video played upon taxiing. Remember that this aircraft has 5 doors on each side!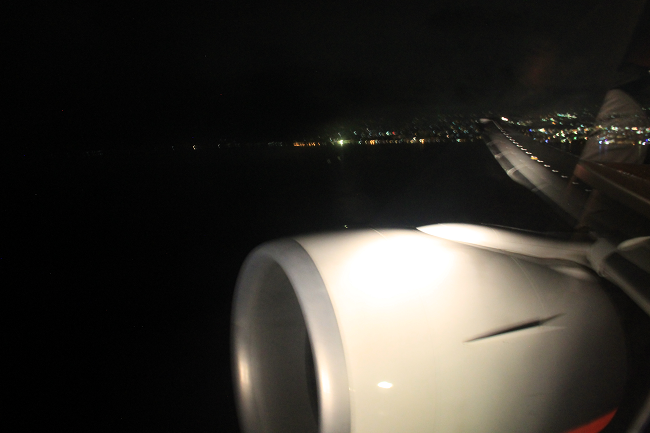 Take off was at around 2130hrs, and followed by a climb towards the west of Indonesia, away from DPS.
Goodbye Bali! See you again someday!
In-flight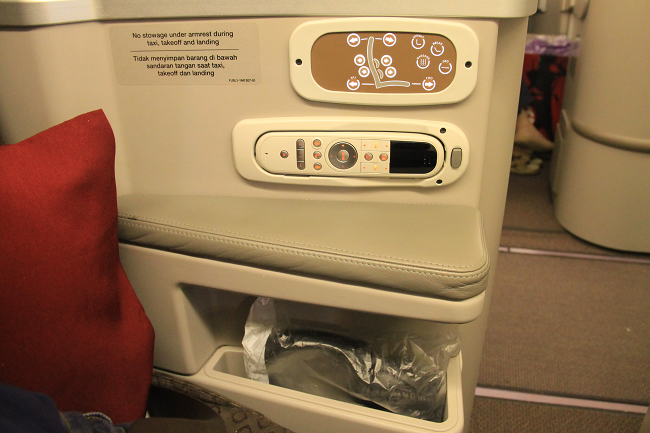 On the side of our seat, there's the seat controls (which includes a back-massage function), the IFE controls, and a compartment where the noise-cancelling headphone was stowed.
In-flight Entertainment Features on GA B77W
As soon as seatbelt signs were switched off, the IFE was activated in full swing.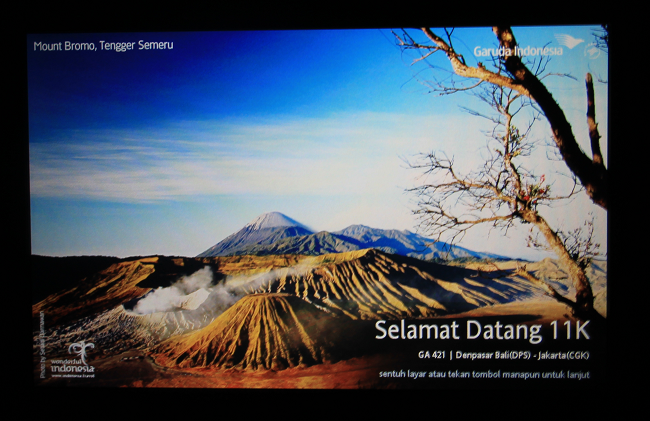 Selamat Datang (Welcome) to Garuda Indonesia's IFE system.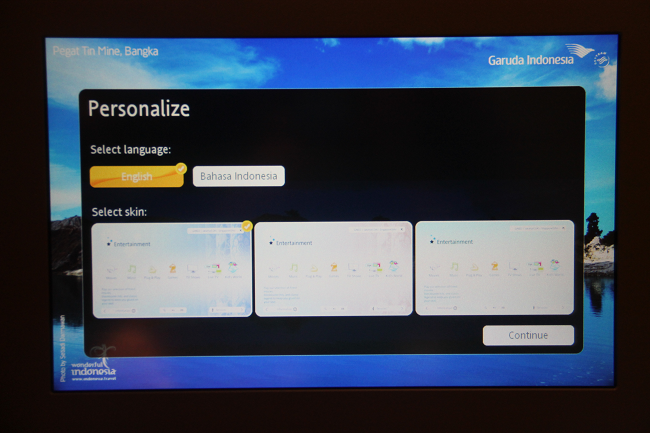 The IFE instructions can be delivered in either Bahasa Indonesia or English. You also have the luxury to choose the background colour of the IFE option screen.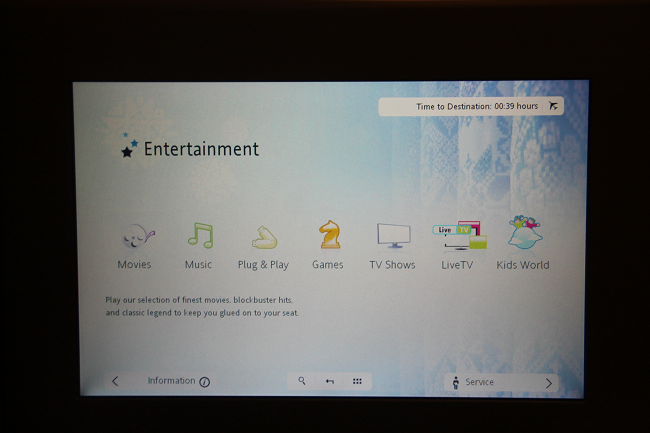 Entertainment features on this GA 77W IFE system. Moving map and other crucial information regarding the flight could be opened by clicking the "information" button on the bottom left of the screen.
The range of movies offered on this IFE system are of wider range of content compared to those on A330/B738. The system also responds faster than its B738/A330 counterparts.
The live TV does catch my attention however it does not seem to be working on this flight. Hopefully it does work on longer flights!
So, I return to my favorite feature on every IFE system, the moving map! We were flying above Surabaya at this moment!
The J class cabin with the mood-lighting on display.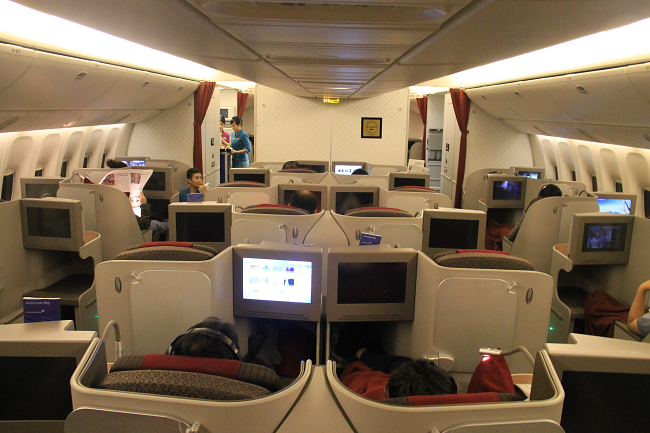 Now, the J class cabin without the mood lighting, as the cabin crews busy preparing the meal service.
My parents enjoying the B77W service, as the FA asking for meal preference, with the eye-level communication approach exercised (like in those airline ads). Been a long time since I've seen service delivered like that, even in F/J classes.. well done Garuda
.
Meal service
There were no menu offerred on this flight. However, the warm and friendly FA asked each passenger of their meal preference. An option of Fried rice with chicken, Fish and fried noodles, and beef pasta were the main course offered that night.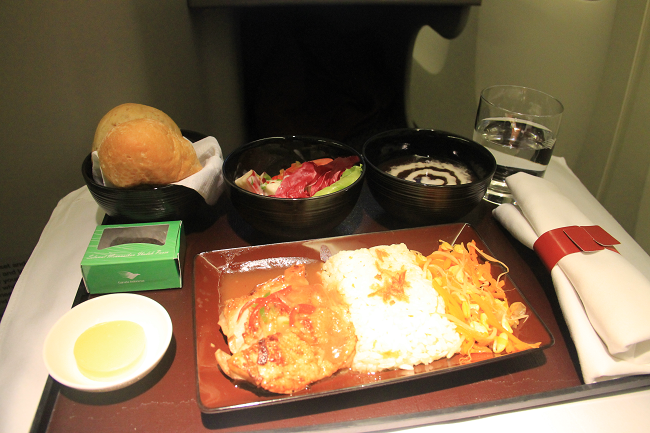 Anyone of you guessed I picked the fried rice?! You're right!
The tray also contained a bowl of salad, a warm red-bean dessert, and warm bread rolls. During the Ramadan period, Arabic dates were also placed on the meal tray.
Closer look at my fried rice meal. It was one of the best fried rice meals I had in-flight. The chicken was cooked perfectly, while presentation wise it was okay. Overall it looks like a good job done on this meal.
Throughout the meal service, the FA was going around with water bottle ready to refill any empty glass of water.
After each meal was cleared, a hot beverage service consisting of coffee or tea was offfered.
Seat Features
Garuda Indonesia Business Class on the B77W consists of 38 staggerred seats, arranged 1-2-1. Each seat has 73" pitch with a 15" IFE screen. The seating concept is similar to those found on TG A380 and EY J class seats.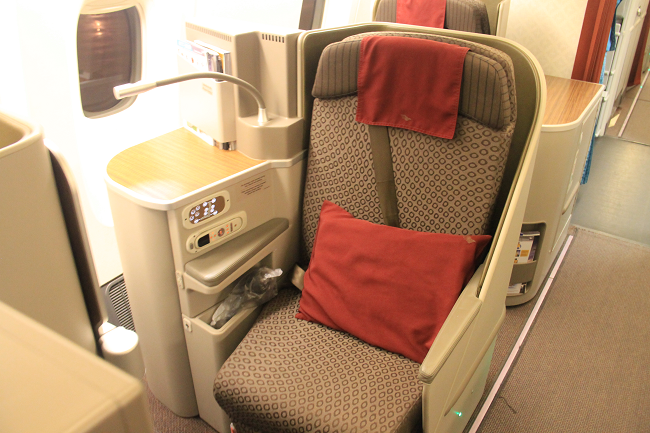 Either you can have a window seat like mine, or an aisle seat with the shelf separating your seat or the window.
Or else you can sit together, with the shelf facing the aisle. Btw the car-like seat-belts were cool!
My seat on relax mode...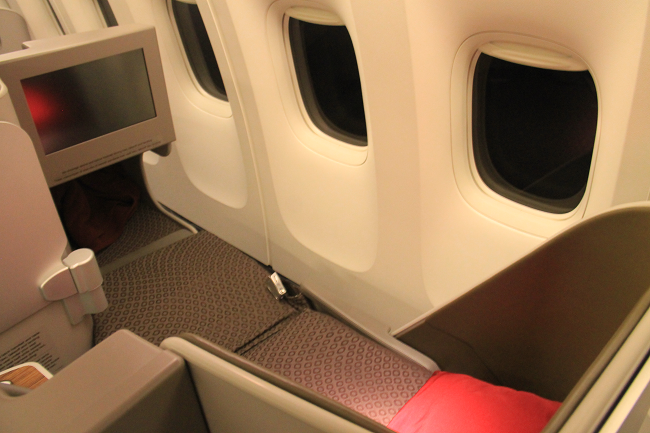 For each passenger's sleeping convenience, every J class seat on the B77W may turn a 180-degrees flat bed.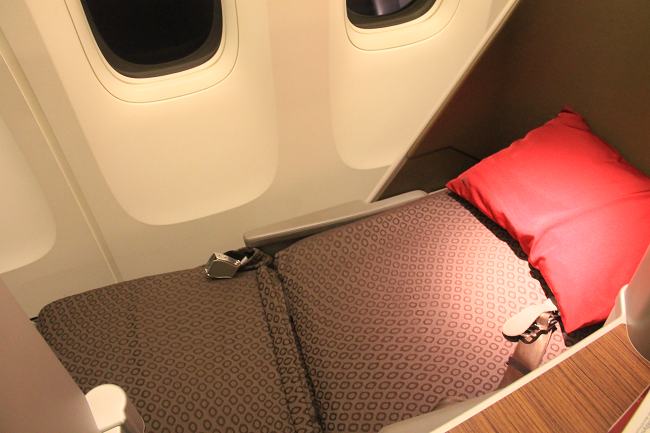 Another view of the seat in 'bed' mode. But I do wonder how passengers be able to sleep and use the seatbelts at the same time?
We were halfway to Jakarta! Oh man, this flight passed so quickly!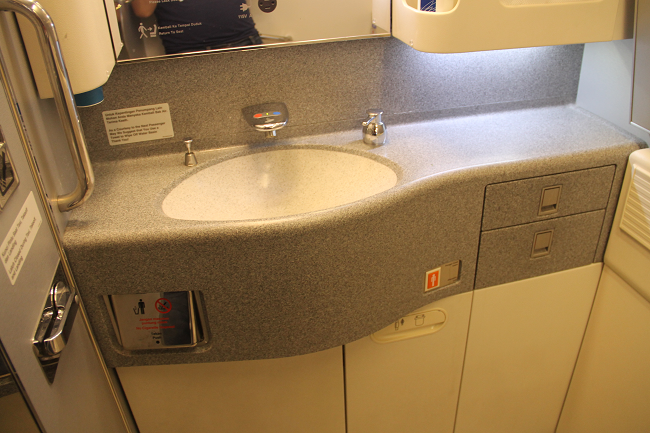 There were two lavatory allocated for J class passengers, right beside the galley on the R2/L2 door. It was spacious and had a nicely wooden texture floor.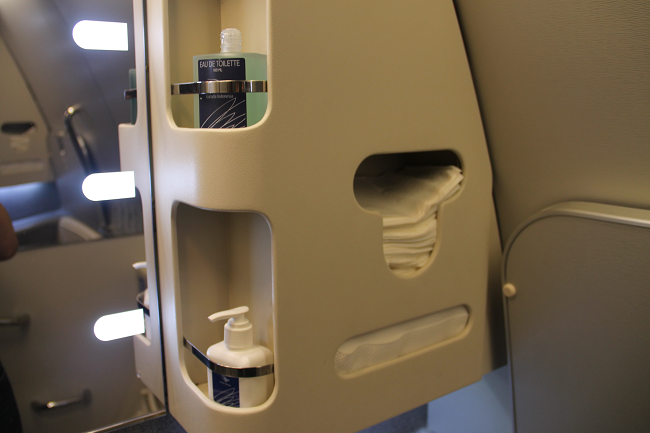 But amenity wise, it seems that it is quite empty for a J class toilet. Anyways, let's hope that this is not the same story when it comes to long-haul flights.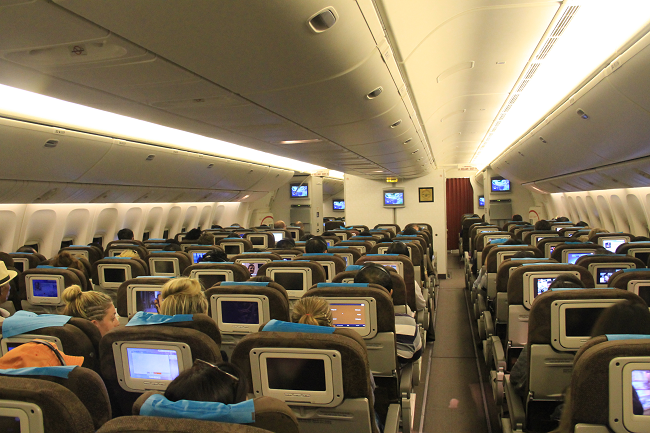 Had a quick snap on the Economy class section. There are 268 Economy seats in total, each feature a 32" seat pitch and a 9" IFE screen. The seats are arranged 3-3-3.
Do check a TR on GA 77W in Y, by fellow member The777Man:
Garuda Indonesia 77W CGK-NRT In Y
(by
The777Man
Sep 17 2013 in Trip Reports)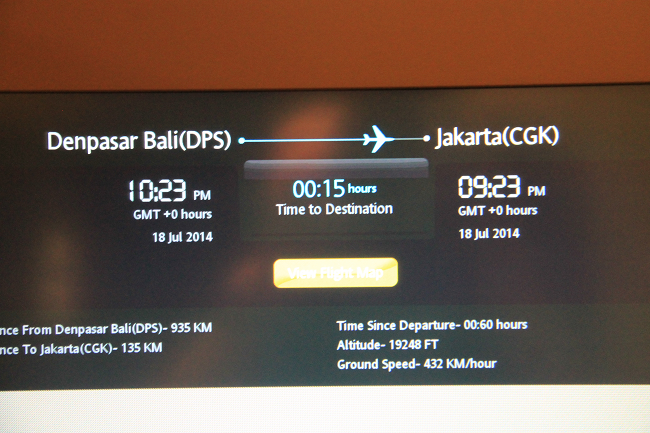 Preparations for landing began as we were 15 minutes away from arrival in CGK.
Landing into Jakarta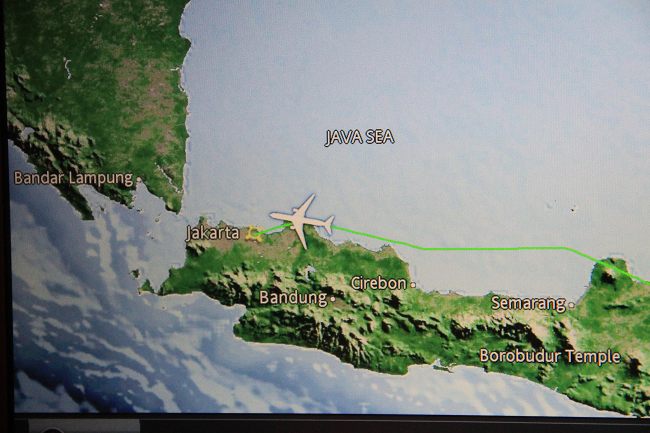 The Captain coming on the PA announcing we were on descent, followed by the FAs doing pre-landing checks ensuring everyone is ready for our arrival into Jakarta.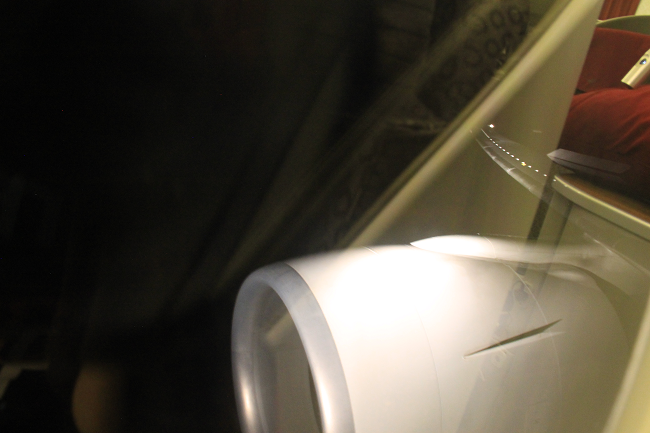 The wingflex of our B77W as we descended into the calm evening at CGK.
Cabin lights were slowly dimmed for landing. As lights were dimmed, there were the "stars" featured on the ceiling of our aircraft, similar to what I found on my EK B77W flight.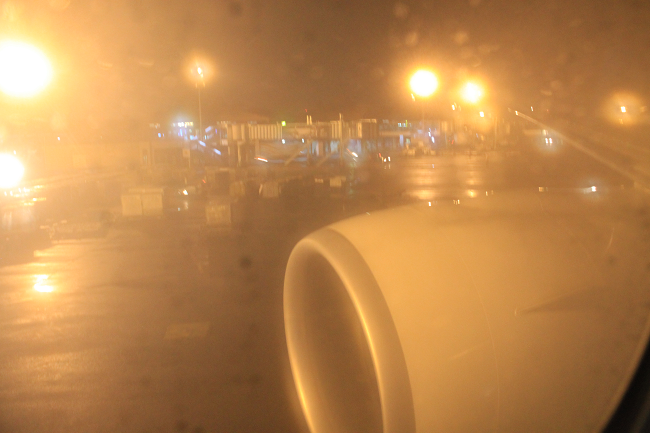 Touched down at the runway in CGK around 2145hrs local time. It took a short taxi passing other GA and KU aircraft parked before arriving at our parking stand.
See you again someday 11K! Too bad I only had less than two hours with you hehe.
Earlier on, I asked one of the FAs whether I could visit the flight deck after arrival in CGK. The FA told me to wait after our arrival in Jakarta as he need to confirm with the Captain.
Now that we had arrived, he told me to further wait as the pilots have not yet given any permission yet. But for the meantime, I was more than welcome to wait at the First Class section, which was right behind the cockpit. During our wait, I had a nice conversation with the FA and the purser.
First Class on GA B77W
There are 8 First Class suites on each Garuda Indonesia B77W. Each seat features a 82" pitch and 22" width. Arranged in a 1-2-1 manner, the F class seat can turn into flat-bed seats padded with mattress. This is the first time Garuda offering First Class product after a 18-years hiatus
Those curious with their F class service, do check a TR on GA F by fellow member GASQKL:
The First Class Experience With Garuda Indonesia
(by
GASQKL
Sep 11 2013 in Trip Reports)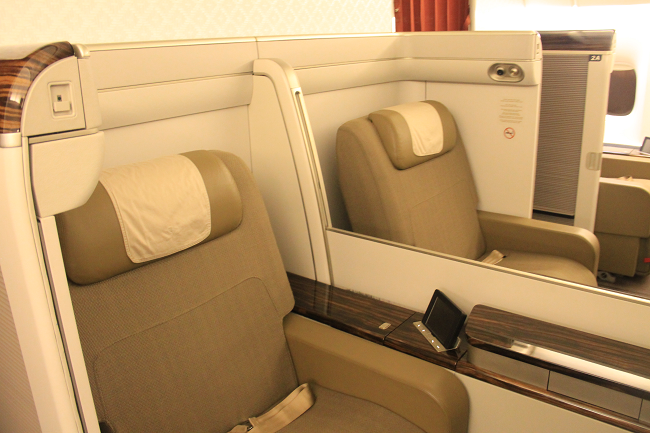 Comfortable GA first class seats in the middle section of the aircraft, preferrable if you're traveling with a partner.
Each seats also features a mini-wardrobe to store your coats/shoes.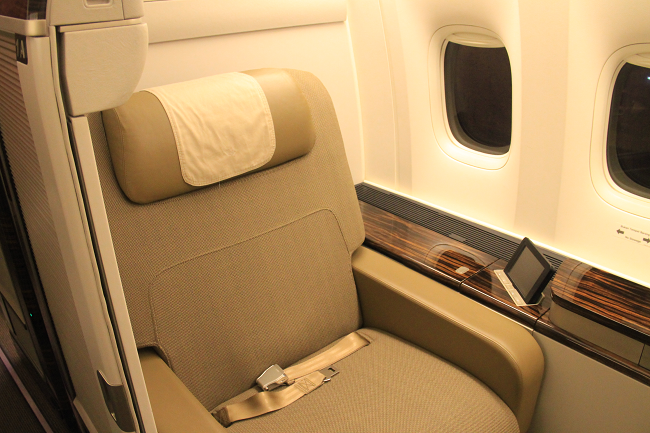 If you're traveling solo on GA F class, window seats should suit you better!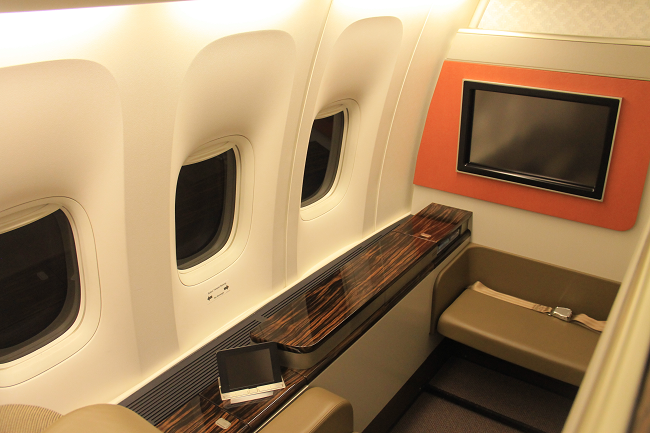 Each F class seat has a 22" IFE screen, and seat control using a touch-screen function.
1-2-1 seats on GA F class. There are overhead compartments on the middle section of the F class cabin, while none of them installed on each sides of the window.
To conclude my short F class tour, the FA offered to take a few picture of mine on the F class seat, which I gladly accept. I thank him before finally the purser arrived with a good news that the Captain now invites me to the flight deck.
Cockpit visit
Despite being occupied with some post-arrival activities to complete, the Captain warmly welcomed me onto his workspace. We had a short and nice conversation throughout. It appears that the same crew flew PK-GID as GA412 CGK-DPS earlier, and returning as our flight that night. Now I wondered where those two deadheading pilots who sat on J class seats behind my parents came from?
The flight deck of our B77W with all display lights on.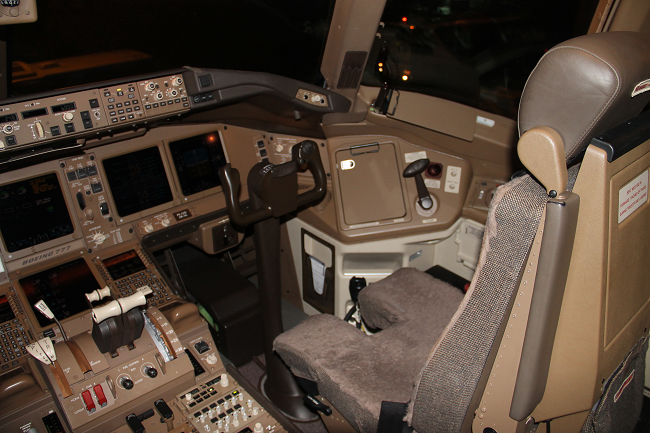 The F/O side of the controls, taken after the F/O left his seat.
Before it was time for me to leave, one of the FA who were also standing behind the cockpit offerred me to have my picture taken in the flight deck, again I gladly accepted his offer!
Well it was time now to end this wonderful trip aboard Garuda's B77W. I thank the FAs who brought me into an F class tour earlier, along with both pilots who had been accomodating to my request, before I left the aircraft through door L1.
Upon entering the terminal building, a ground staff ushered us into a door outside, where a bus had been waiting for us. This is a normal procedure in CGK where sometimes aircraft (usually widebodies) were parked at International side of ther terminal for its next flight, which means domestic passengers need to be bussed towards the domestic arrival side.
Thanks for the ride, PK-GID!!
One last picture of our aircraft, before I stepped inside the bus bound for Domestic Terminal.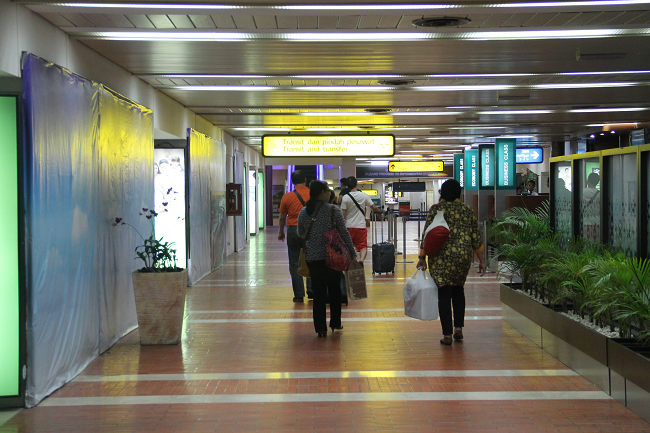 Back into CGK Domestic Terminal side where major renovation works are ongoing.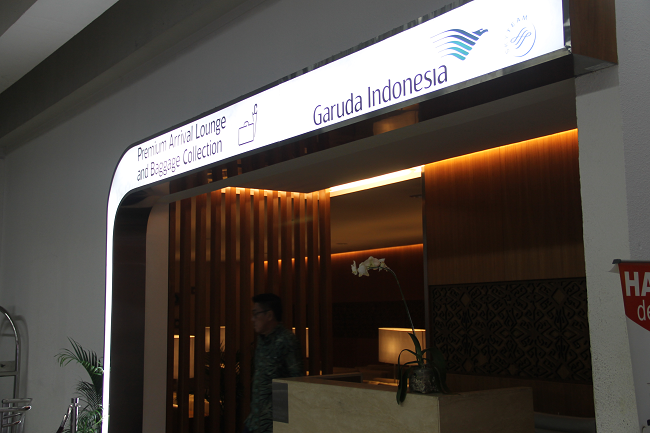 Remember I told you baggages in CGK can take long to appear? Do wait on GA Premium luggage collection area, where staff members would assist you on re-collecting your luggage while you can wait inside this 'lounge'.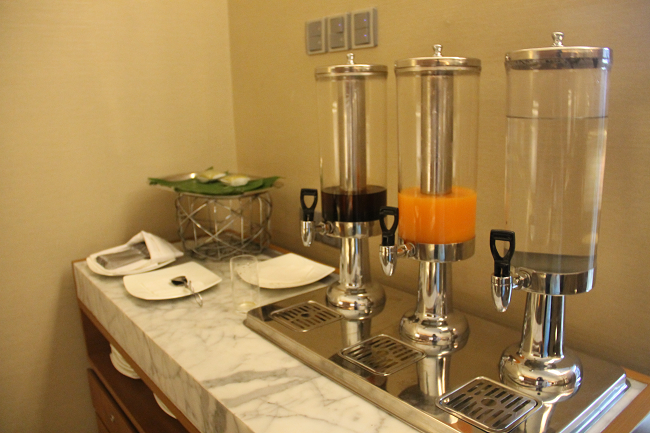 Seating area in this mini lounge at the baggage claim area.
Light snacks and drinks are on offer as you wait for your luggage. Thankfully my luggage had been collected and I can proceed outside in no time, since I take my time to disembark with all the flight deck and F class visit.
Making my way out to the arrival hall through the baggage claim area. My family was picked up by car and we headed for downtown Jakarta in less than 45 minutes, thanks to the smooth traffic condition at late night. That concludes the GA J class experience on the B77W that I have been waiting for a loooongg timee...
.
Final thoughts of the flight
I have been waiting for quite some time to seize the opportunity to fly on this GA B77W flight. As much as one would say, it better worth the wait!! So does it? Let's see...
The new J class seats on the GA B77W was definitely an advancement over the products on the A332/A333. The all aisle access was a nice feature, especially to those who like window seats like all of us here! The flat-bed seats should provide a good rest on long-haul flights, although some might argue that those seats in the A332 are wider.
Another impressive feature was the IFE on the B77W, which I feel had more variety of content compared to the A330/B738, and more responsive as well! The meals were well done, simply said.
But what make my first ever GA B77W experience to be very close to perfect was its crew. They were truly in their highest of spirit working on this flight, delivering in-flight service by the book, while keeping warmth and friendliness on every interaction with the passengers. It looks like someone may be as good as their Skytrax awards for "World's Best Cabin Staff" this year. Hopefully such high-spirit and enthusiasm can be consistently maintained. I would like to thank all the crew working on my flight for such a great flight!
In-flight experience wise, the B77W opens more possibility for GA to expand and be more competitive at same time. Definitely airlines in the region will be having a new tough competitor!
That being said, there are still areas to be improved, especially on the 'temporary' lounge on DPS airport. They urgently need a proper lounge with its own toilet and a proper wall to separate them from the terminal. The new DPS airport itself was supposed to be new-and-shining but some signs of wear have started showing at the same time! The airport management should closely look on how this airport is being maintained.
On the other hand, my parents and brother are equally excited with the B77W experience, which they were impressed with the seats compared to the maroon angled-flat seat A332 and recliner on the B738 (obviously!).
I certainly hope GA can maintain consistency on their level of service, and from what I have observed that day, the B77W is indeed the pride of the nation. As the flagship of GA It does not just allow Garuda to go a step closer, but even further from what its former glory might have achieved!
So, back to the main question... do you think the flight experience worth the wait?? Personally I would say it is..
Thanks a lot for reading, everyone!
Do leave a reply if you have any thoughts or questions.
Regards,
Dirktraveller