Hello fellow A.Netters, here is part 2 of my travels in 2012 part 1 can be found here
2012 - Asia Again - BA25 WTP Part 1
(by
ba319-131
Jan 21 2013 in Trip Reports)
,this also has the detail surrounding the reasons for this trip.
Apologies it has taken to long to post, I just did not seem to have any free time, and I think I just kind of lost interest in posting for a while, I guess because I seemed not to have much free time.
Having just arrived from London on BA25, I decide to head over to Terminal 2 and check-in for my flight to Bangkok early, this with a view of hopefully having a shower and freshen up in the TG lounge before hitting the F&B offerings.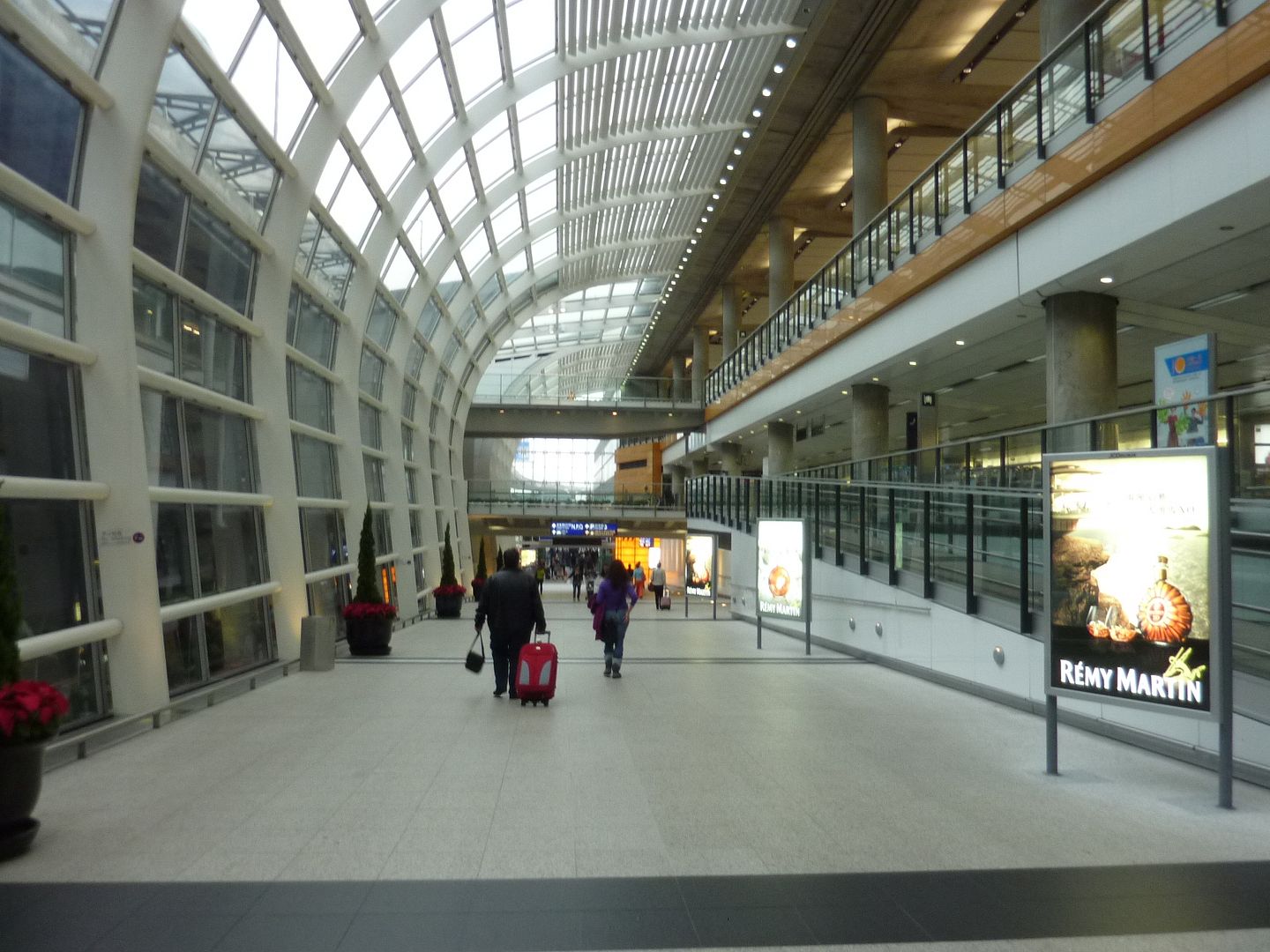 I have never seen this one in use
FIDS
The Thai check-in area is located in Terminal 2 zone Q, there was just one person ahead of me at the business class counter.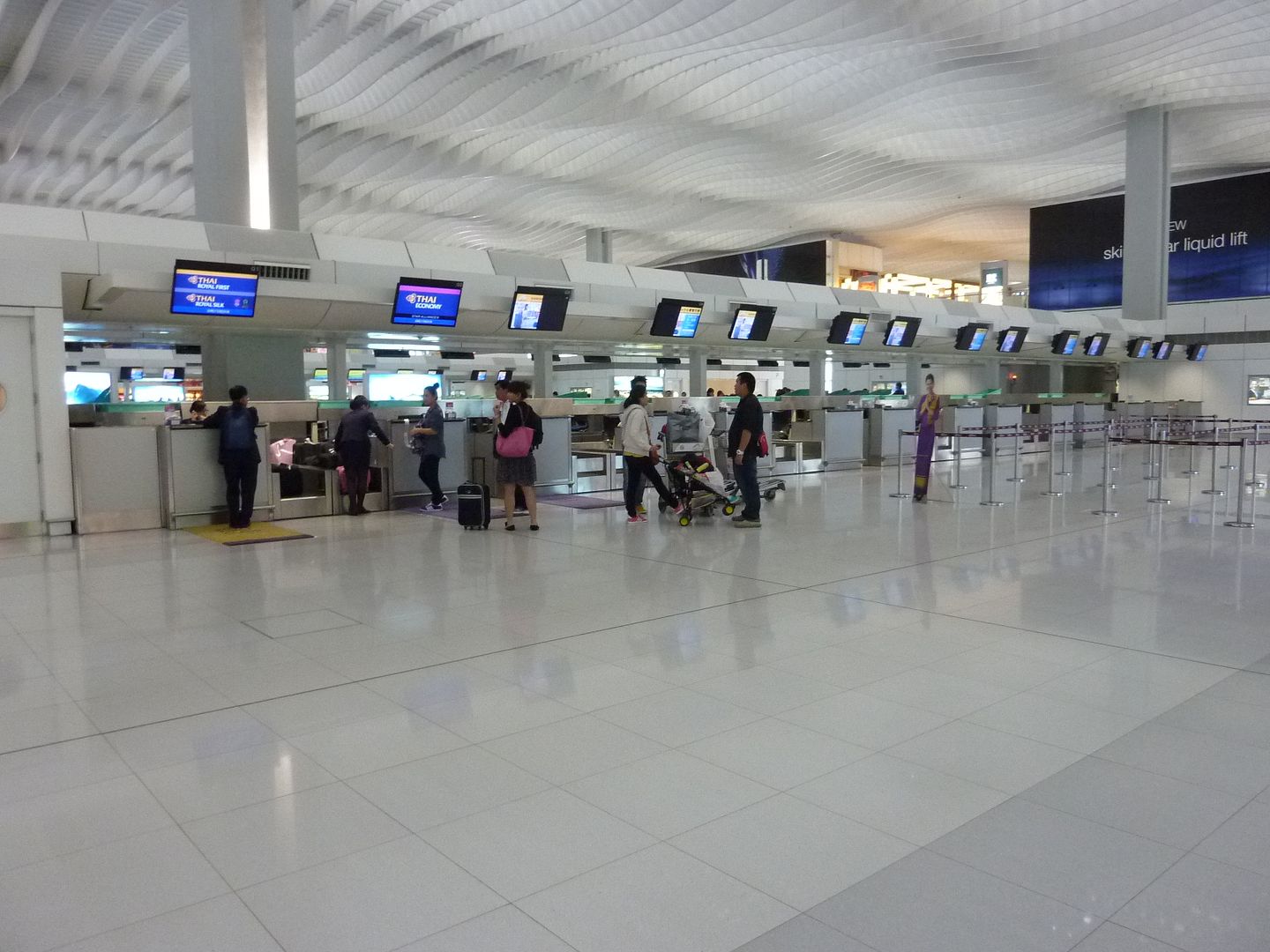 Once called forward check-in was smooth enough until the agent asked to see the credit card I made the booking with, I didn't think I had it with me, so few calls were made and she was allowed to check me in.
Check-in complete but a bit concerned about the next flights and possible issues. I found a seat and checked back to see which card I had used for the bookings, low and behold it was in my wallet after all, I thought I'd used a card I no longer use, phew!
Passport control and security was easy and quick with no queues, within no time I was waiting for the train to Terminal 1.
Once airside in T1 I decided to find a place to buy some toothpaste, since I forgot to pick any up at LHR.
Could I find any? - no, I found Tiffany, Cannel, Hermes and every other high end shop on the planet, no toothpaste anywhere, not even Relay sold it in their travel 'stuff'. What I should have done is bought some landslide, there is a good pharmacy located just outside arrivals.
Hot, sweaty and a little annoyed at the time wasted searching for toothpaste, I headed for gate 40 where the Thai lounge is situated.
View outside en-route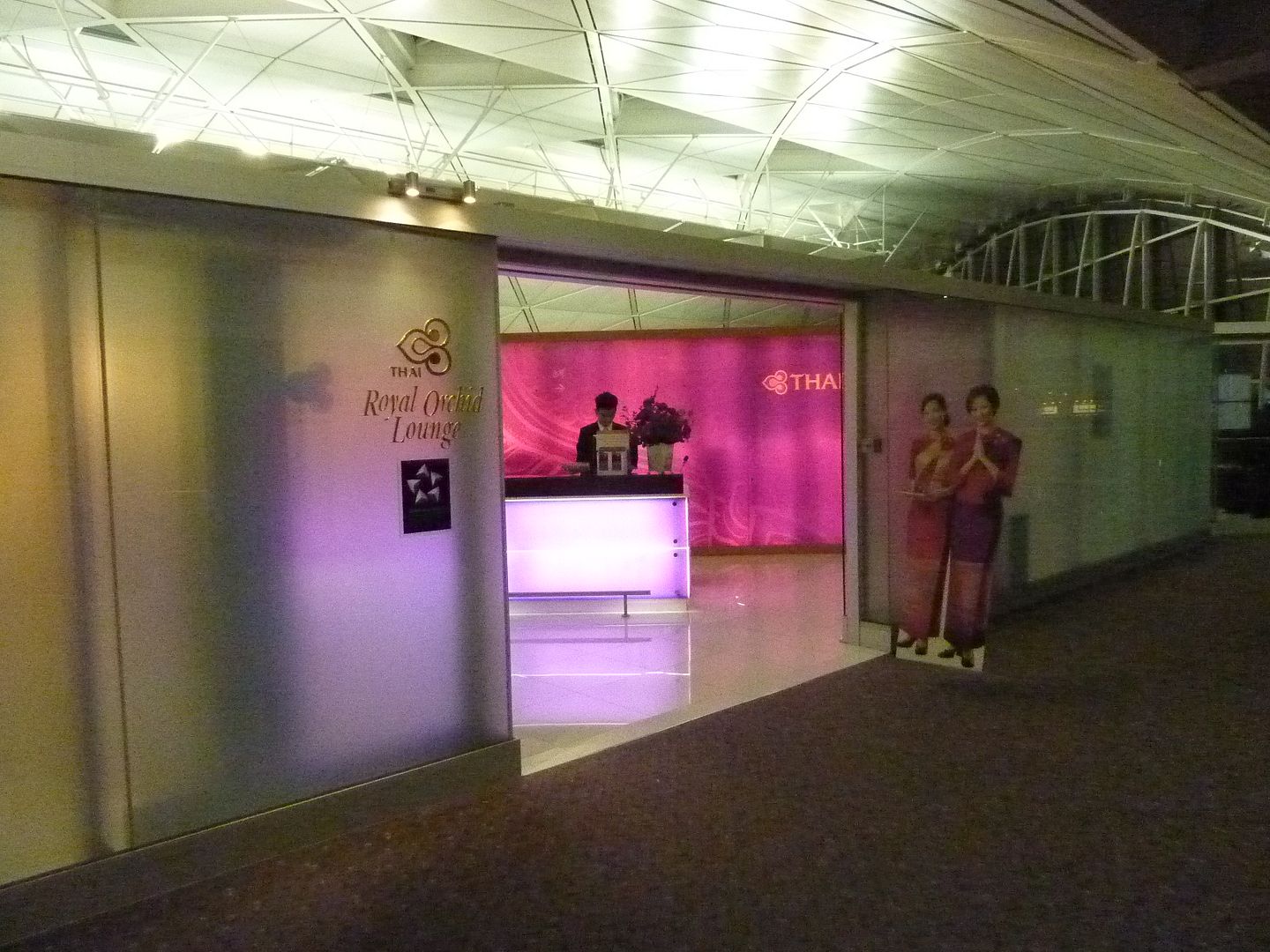 Greeted at the lounge by three pleasant staff, welcomed to the lounge and advised the rest room facilities were under refurbishment and therefore unavailable, I'd have to use the airport restroom facilities locate by gate 41 if I needed the facilities during my visit, bugger!
So, no shower, just a freshen up in the public lav!
Back in the lounge, it was relatively quiet, nobody was in the First Class section, as usual, all the window seats in the business class area were occupied by people with no interest in the goings on outside.
So, offerings? - Drinks were quite basic, interestingly no Singha beer, but the food was ok, sandwiches, salad and some hot items inc satay chicken, spring roll, dumplings and vegetable stir fry, oh and an abundance of chillies and chilli sauce, yummy!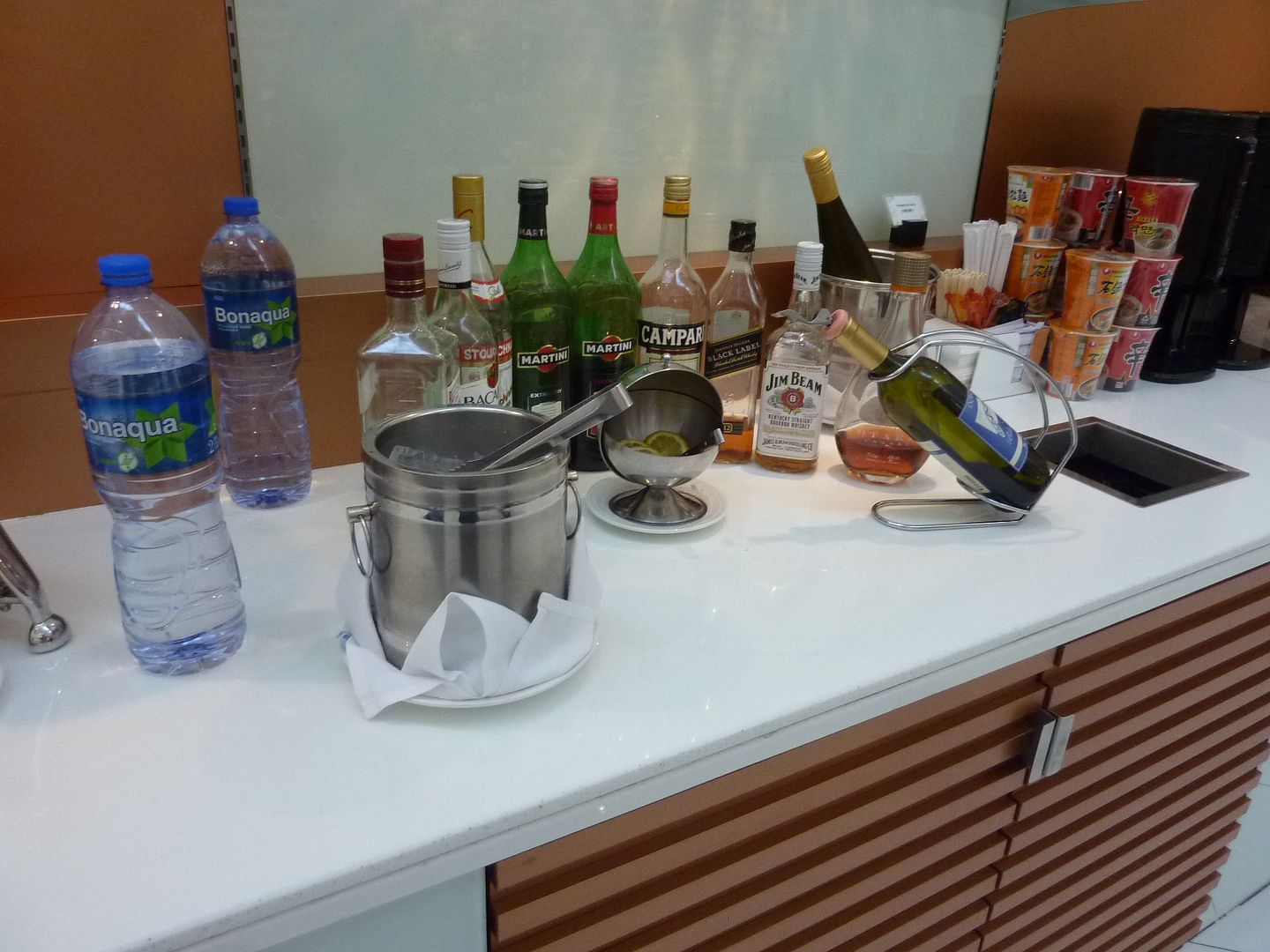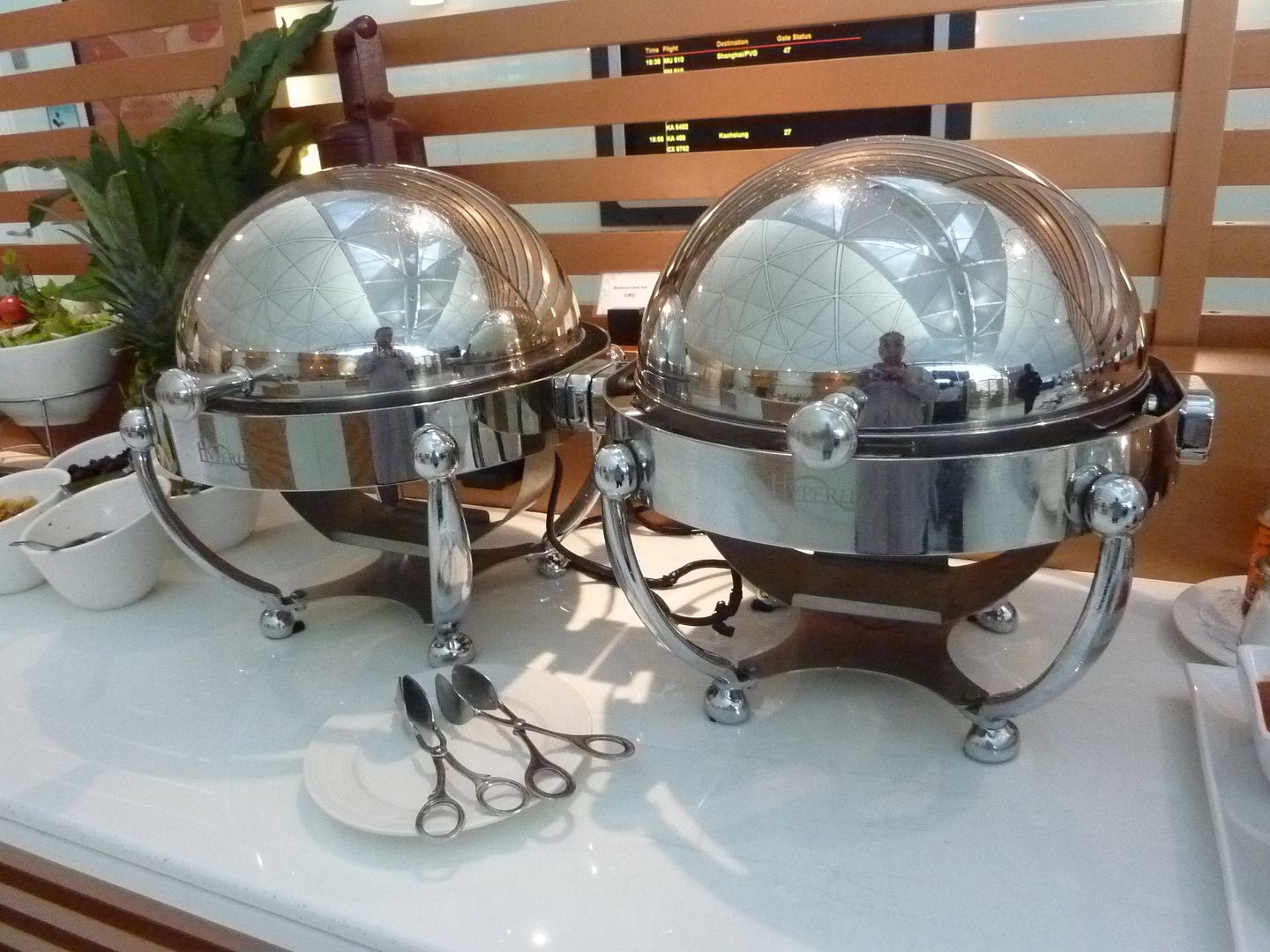 Some of my food and drink offerings.
Wifi is provided, access is via a password from the front reception desk, it's a bit patchy at best.
I passed my time eating, sorting work e-mails and following the planes on FR24, I made a few whilst I was in the lounge, though it does get dark early at this time of year which tends to bring the spotting to an early conclusion.
Figuring boarding would start soon I decided to head over to the 'public facilities' before joining the queue that was forming at the gate, 40 for those interested.
I took a quick shot of the plane before joining the queue, best I could manage in this light.
16-11-2012
TG639
HKG-BKK
A330-343 HS-TBD
Seat 15A Business Class
1st Flight on this aircraft, 8th A330-300 Flight and 17th A330 flight in total
Sch Dep 18:55 Sch Arr 20:40
Act Dep 18:56 Act Arr 20:44
Boarding started at 18:28, no boarding call though. Prior to boarding commencing, additional ground staff had combed the JCL queue checking boarding passes and passports, good move, speeds up the boarding process since the passports don't need to be looked at again when you reach the podium.
Down the jetway and greeted at the aircraft door with a bow by a beautiful Thai FA, a quick check of my boarding pass and I was directed to my seat, it's times like this when you know it will be an enjoyable flight.
The Thai A330 cabin is a wonderful mix of pinks, lavender and purple, quite a refreshing change from the usual blues and greys.
This particular A330 is one of their latest, JCL or a Royal Silk as Thai call it, is laid out in 6 rows the new Thai regional JCL product, its still in the industry standard 2-2-2 layout and looks very nice, however the earlier batch of P&W powered machines have 7 rows in the old regional business class, I suspect best to avoid these if possible as I don't think they are a patch on the these newer seats.
Here are the two layouts
It's all rather nice though there is no stowage allowed in the floor area which is a shame plus if your neighbour sets the seat in bed mode it's a tad difficult to get out of the window seat, though that's a common problem with many designs.
The PTV is huge!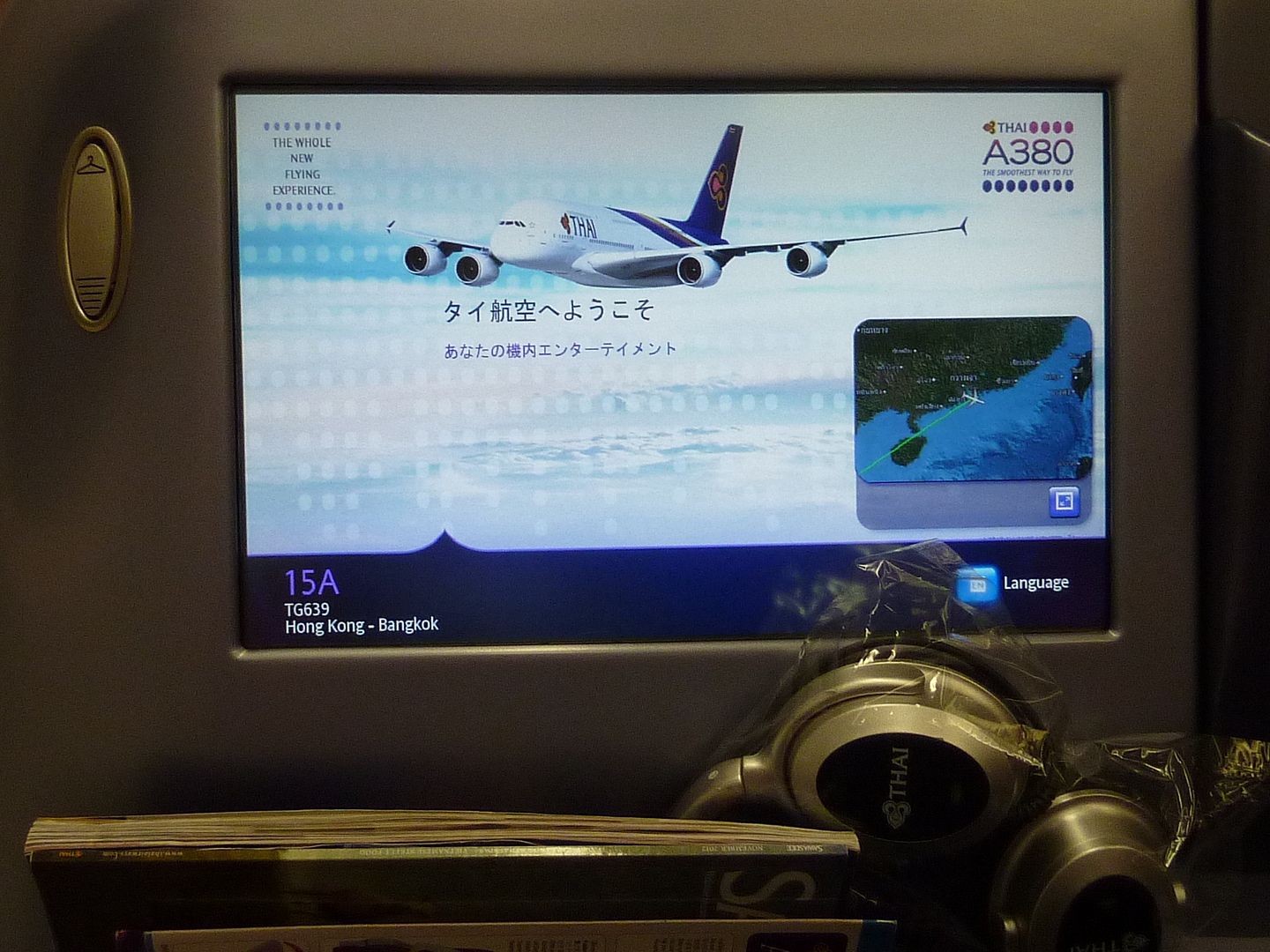 Plenty of power points
Pre departure drinks were offered, water, juice or champagne, I took the latter, this was closely followed by a hot towel, which was rather luke warm.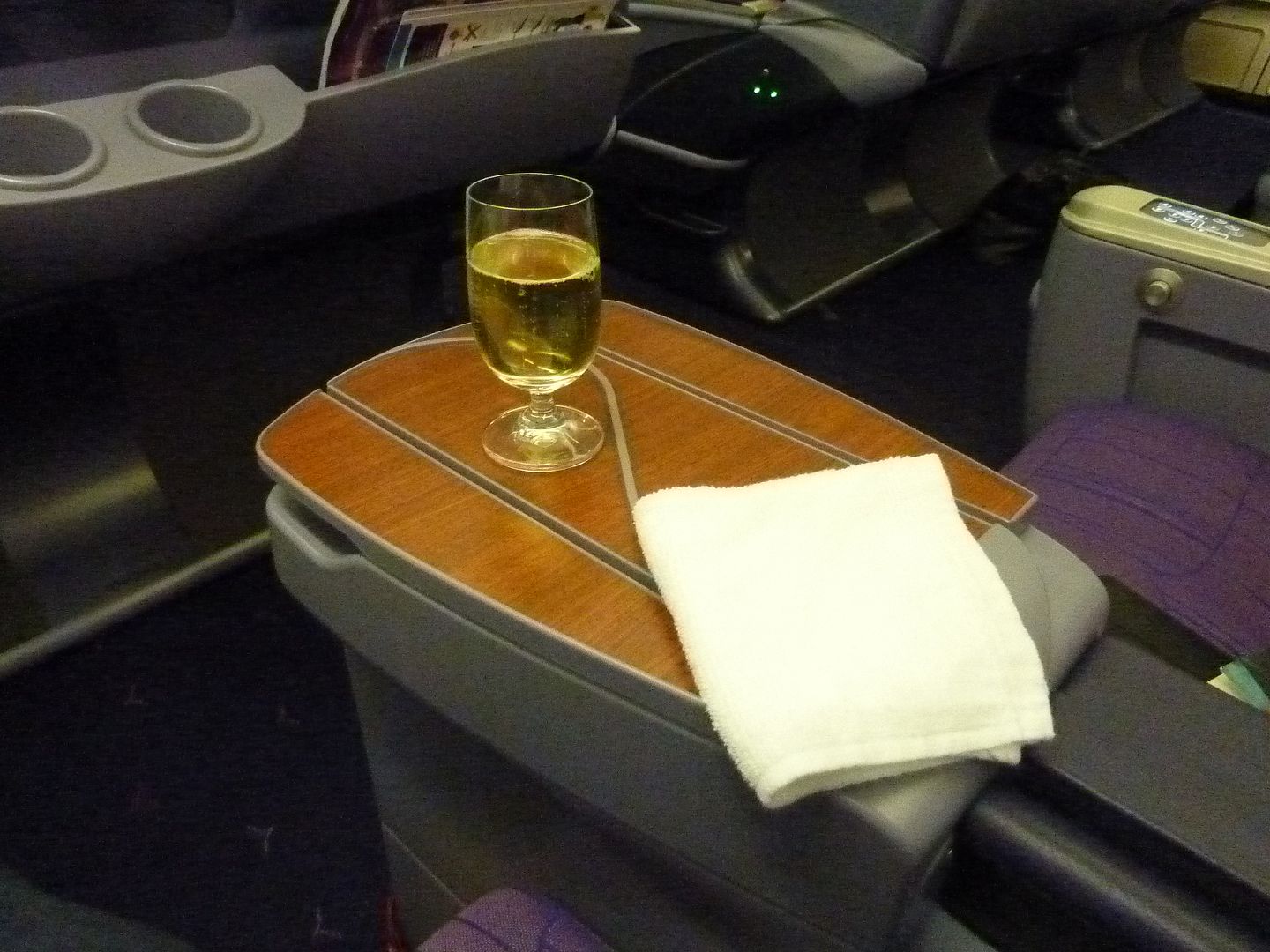 Menus were soon distributed, looking through there were 4 choices of main course tonight, impressive for such a short flight, I was beginning to wish this was a longer sector.
During final departure preparations meal orders were taken, I opted for the chicken curry tonight, hopefully nice and spicy!
Push back occurred at 18:56, this followed a fairly length taxi out to the active , 07R, holding only to allow a Cathay Pacific 744
to depart ahead of us
wheels up at 19:15 local time.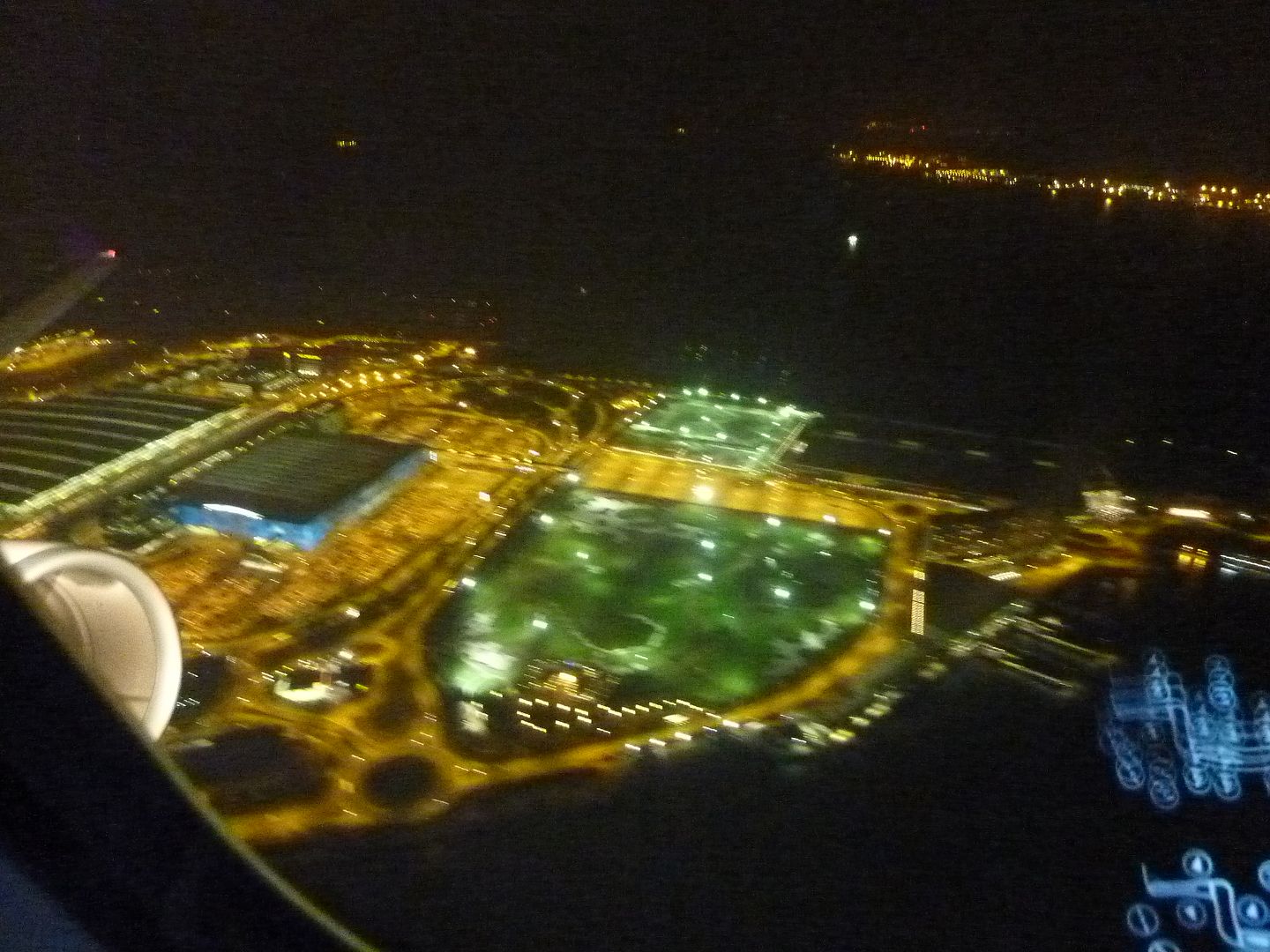 Climb was a little bumpy, the winds were still evident.
It seemed to take an age for the seat belts signs to go off, in fact it was only 15 minutes after departure but when you are sat in a darkish cabin wanting to visit the lavatory it sure seemed an age!
As soon as the seatbelt sign was extinguished I was up, apologised to my neighbour for disturbing him and headed to the loo, one of the crew was just unlocking it as I approached, so not unexpectedly it was immaculate when I entered.
Nice hand towels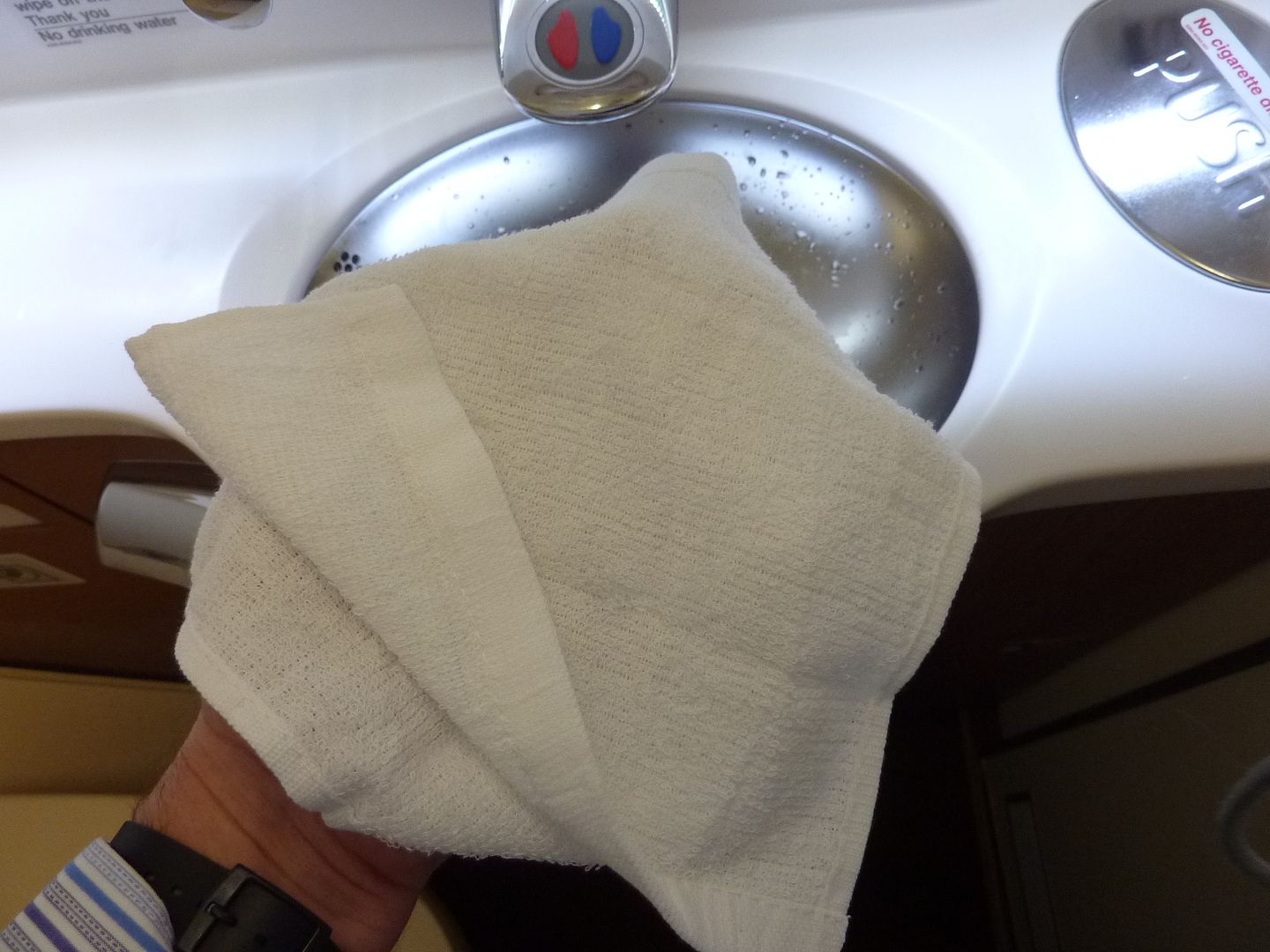 Upon my return, the cabin lights have been turned back on so I took this quick shot while all was calm.
Once back in my seat, I could smell the aroma of food being warmed, and the aroma had that decidedly Asian spicy hint to it, nice!
Pre-dinner drinks were soon offered from a trolly, I took a G&T, nice to see Bombay Sapphire on the trolly, a packet of almond nuts was also provided, in the background the aroma of garlic bread being warmed could be smelt, hmm, this was turning into one fine flight.
The meal service was staring, fresh linens were distributed first followed by starters, this being Salmon Gravlax, rather nice, washed down with a glass of champagne, I decided to stick to this as it was Laurent Perrier, one of my favourites though I know many don't rate it.
Route map
Bread and garlic bread were offered, I took 2 pieces of garlic bread, and another later when another round was offered.
Starters cleared the mains were dished up, the chicken curry looked good and tasted very nice, not too much coconut in it, I'm not keen on it but its used quite a lot in Thai cooking so sometimes you have to grin and bear it.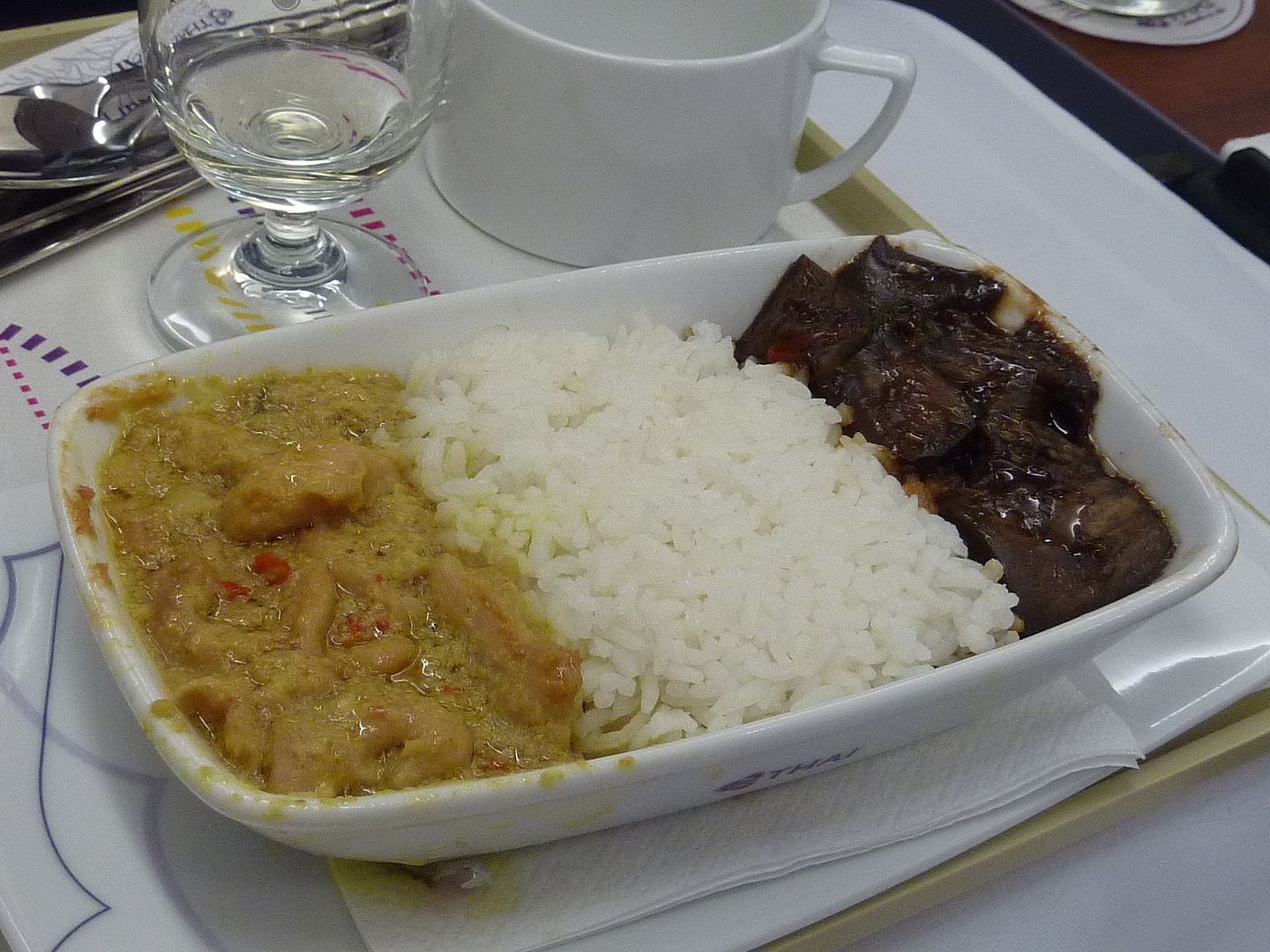 Additional drinks top ups of red and white wine were offered once everybody had their meal, but I got missed out, I think I was the only one on the champers, interestingly Chinese tea was offered during the main course, I took a cup as I quite enjoy it.
Mains cleared the cheese and fruits plate is served, a single slice of Brie, celery, carrot, apricot, grapes and a strawberry, very nice actually and I had a glass of port with it, I also got the champers topped up too.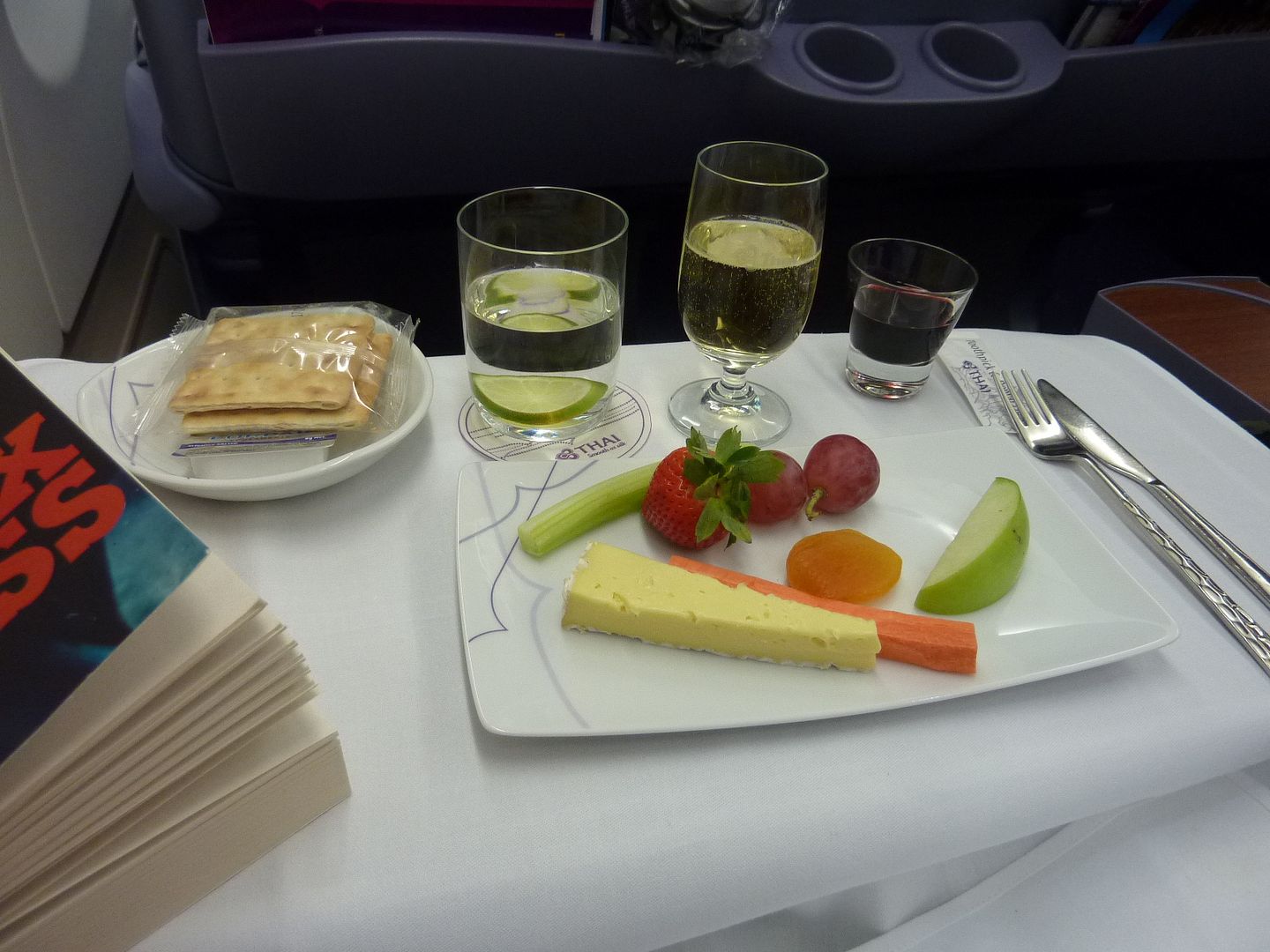 Following this course the desert was offered which I took along with a drop of Cognac and a coffee, the coffee was good, nice and strong.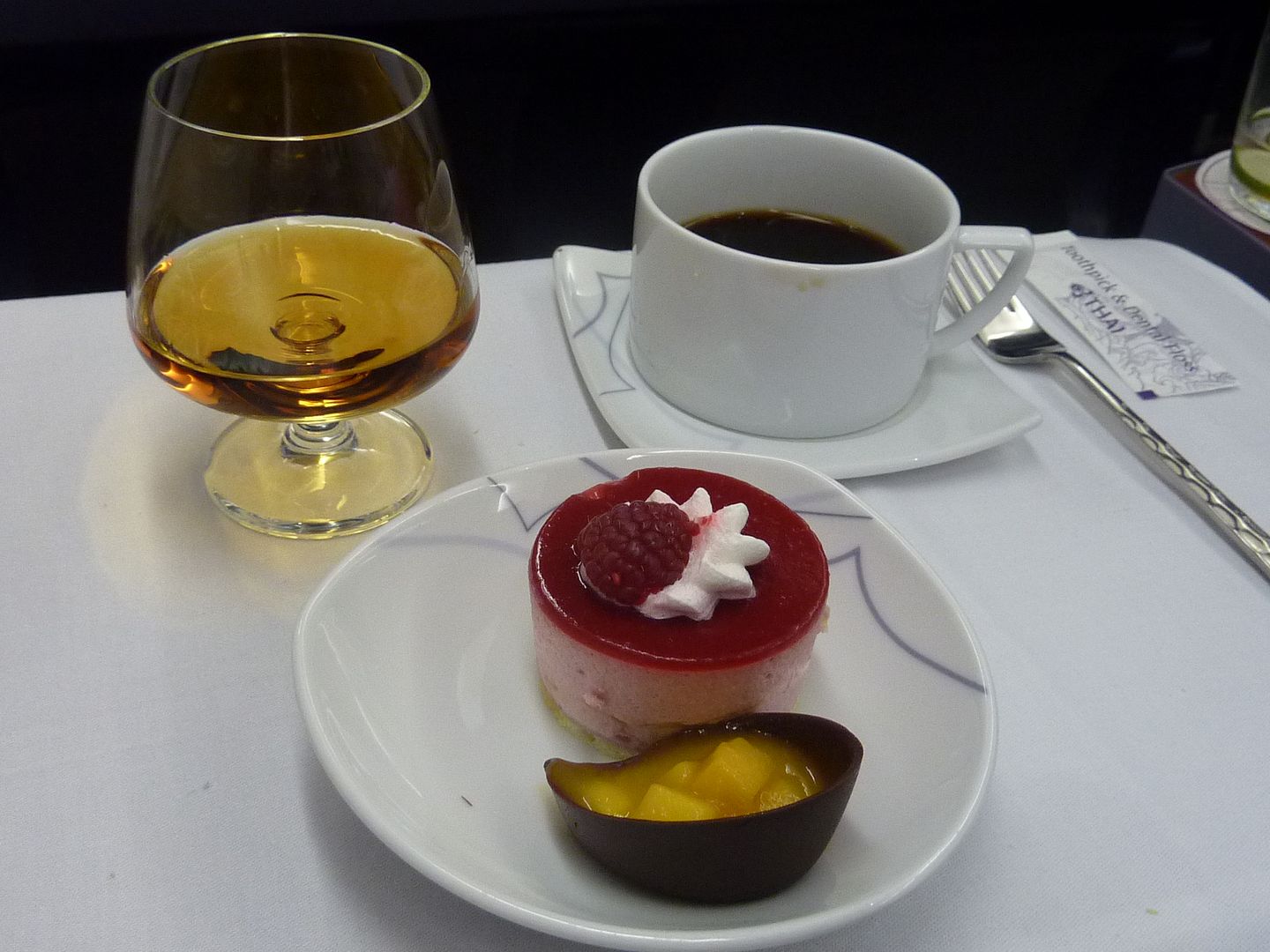 Route map
The cabin service through the flight was smooth and without rush, so much so that by the time service was complete we were only some 30 minutes away from BKK.
I finished the remained of the flight flicking between reading my book and watching the moving map, with the occasional glance out of the window, not that there was much to see, along with filling out the immigration card.
Approach was interesting, it got a little bumpy but the most interesting thing as the seatbelt signs not being turned on until about 10 minutes out, I thought that was quite good, most airlines like to tuck you in safely a bit earlier than that.
Three minutes out the crew were asked to take their seats for landing, wheels down @ 20:44, some 4 minutes behind schedule.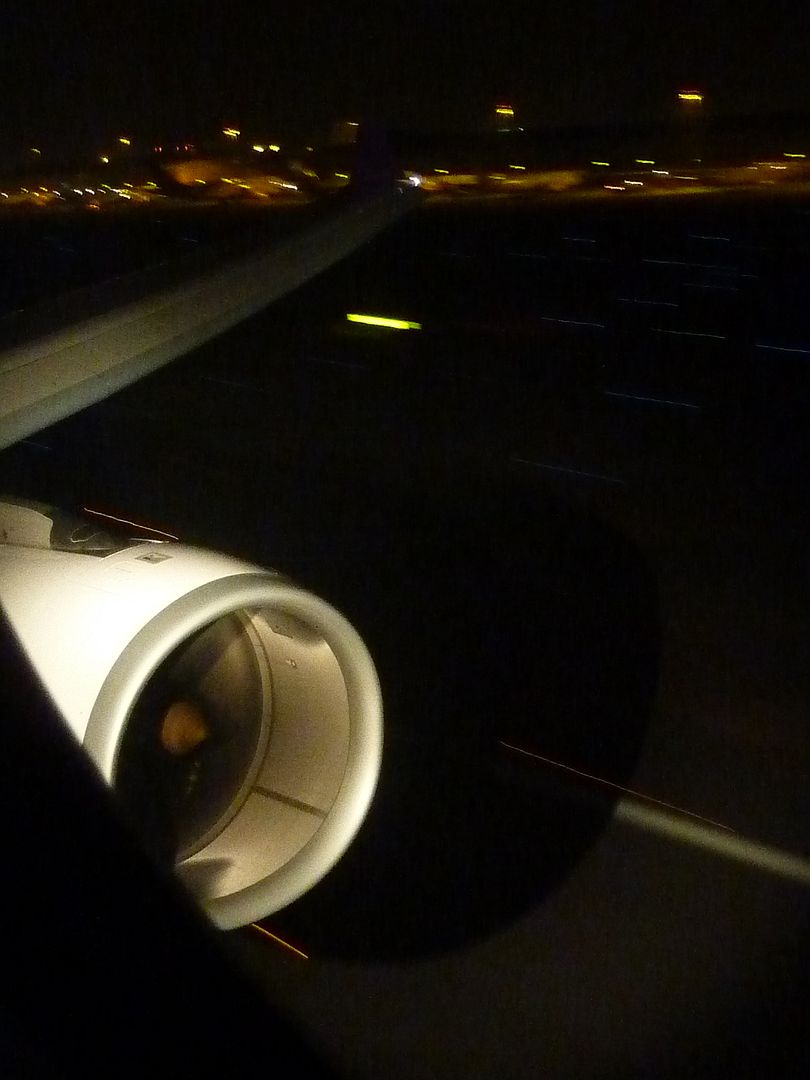 Taxi to the gate was quick as was deplaning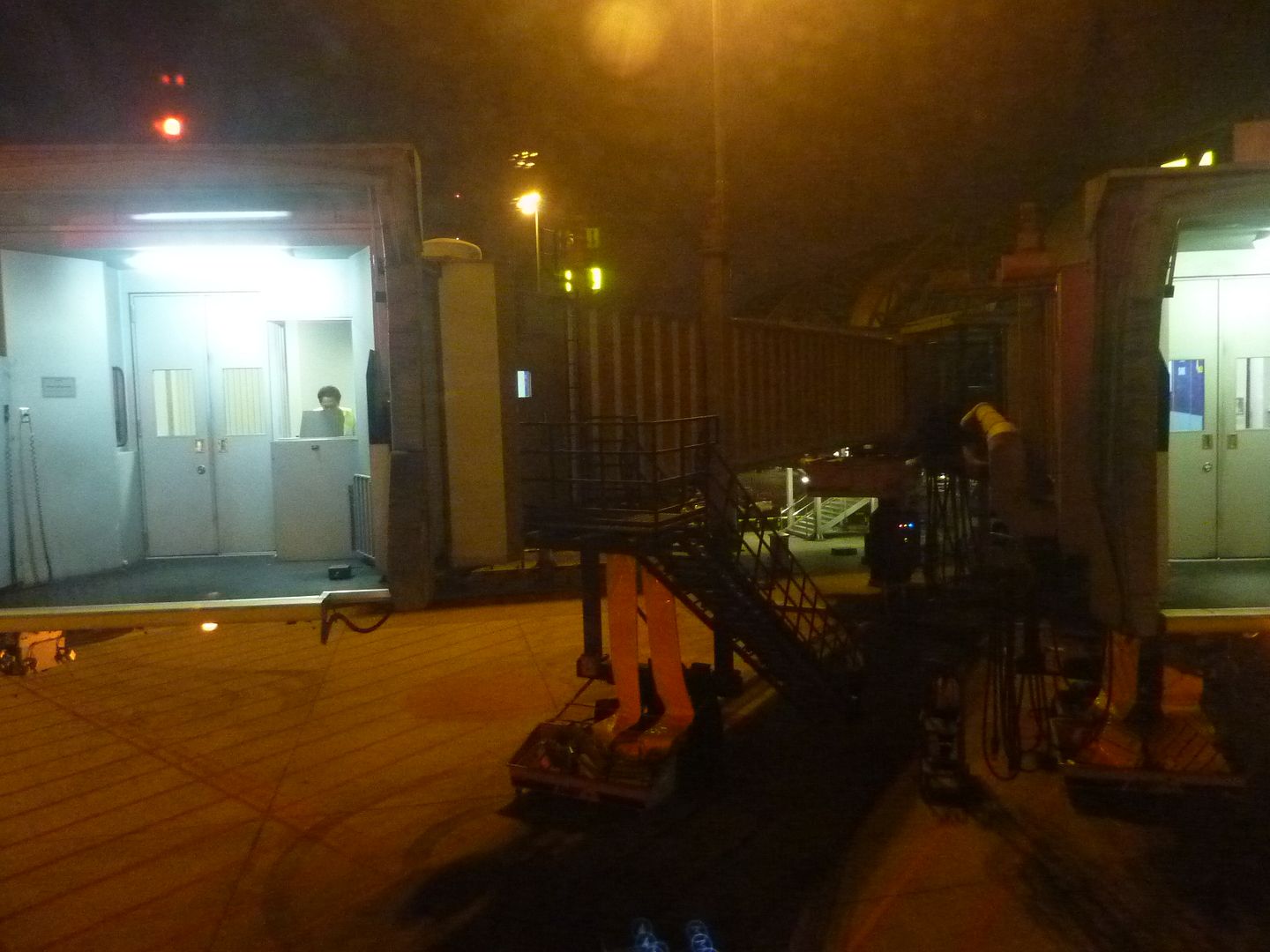 I don't think I've ever seen aircraft doors opened so quickly, I'd not even re-packed my crap I'd had around the seat during the flight.
Once off the plane it was a fast walk or march to the immigration desks
catch them at the wrong time and the queues can be huge, not tonight however, just one person in front of me.
Summary, well, what a great flight with TG, I'd love to take a longhaul flight with them, a real class act from the ground, to in the air.
Will they be as good tomorrow on my return to HKG? - let's see, stay tuned, next report to follow.
Thanks for reading, feel free to drop a line/comment/question, always nice to know some read this stuff, once again, apologies for it's lateness, I'll aim to get the next one up tomorrow.
Cheers
BA319-131 - AKA Mark