Introduction
Hi and welcome to my trip report of a recent flight from Sydney to Jakarta in Qantas' A330 business class. This is the first leg of a long-haul trip to Europe, which includes Kuala Lumpur, Abu Dhabi, Paris, Copenhagen, Barcelona and London.

I was originally booked to fly to Europe via South Africa - Sydney to Jo'burg premium economy on Qantas and then onto London Heathrow with Virgin Atlantic premium economy. Both flights were booked using points with the respective airline's frequent flyer programs. However plans changed at the last minute and I decided to re-route via Asia. I was able to cancel my Virgin Atlantic flight without any penalties, however my Qantas flight cost me 5,000 points to cancel. With only 4 weeks till departure, I knew it was going to be difficult to find reward flights especially in PE or business class. After an extensive search and several phone calls to Velocity (Virgin Australia's rewards program) I managed to find a flight from Kuala Lumpur to Paris (via Abu Dhabi) using 93,000 points plus $45 in taxes (business pearl class on Etihad). Now I just needed to get to KL from Sydney. After exhausting almost all QF options to Asia, I stumbled upon a reward ticket from Sydney to Jakarta - business class for 50,000 points plus $250 in taxes. Not bad. I then proceeded to book a fairly cheap ticket from Jakarta to KL on Malaysian Airlines (economy class). So using pretty much the same amount of points, I was now flying business class all the way to Europe via Asia instead of PE via Jo'burg - nice!
SYDNEY TO JAKARTA
Date: 25 June 2014
Flight: QF 41
Aircraft: Airbus A330-300
Depart: 14:20 Sydney (SYD)
Arrive: 18:30 Jakarta (CGK)
Class: Business
Class: Seat: 4K
Check-In
There was a separate, dedicated check-in line for Business Class passengers. There were about 4 people in the queue so it took about 10 mins to check-in. The friendly lady issued me my boarding pass and an express immigrations pass.
At immigration I used my express card to get through which was much appreciated as the line for economy passengers was very long. After clearing security, I had a brief browse through duty free and then made my way to the Qantas Club Lounge.
Qantas Club Lounge
The Qantas Club International Lounge is situated airside on level 3 in Terminal 1, next door to the Qantas First Class Lounge. I was greeted by a friendly attendant who scanned my boarding pass and welcomed me to the Qantas Club. This was my second time in the Sydney lounge.
The lounge was spacious with plenty of seating, which comprised small tables, couches and a sit-down bar area. There are two food areas to choose from which basically serve the same food. I found myself a table without much trouble. Lunch options were pretty good – both hot and cold. There's also a coffee machine and a good selection of alcoholic and non-alcoholic drinks, as well as a barista which is situated in the centre of the lounge and an ice cream bar - good job Qantas.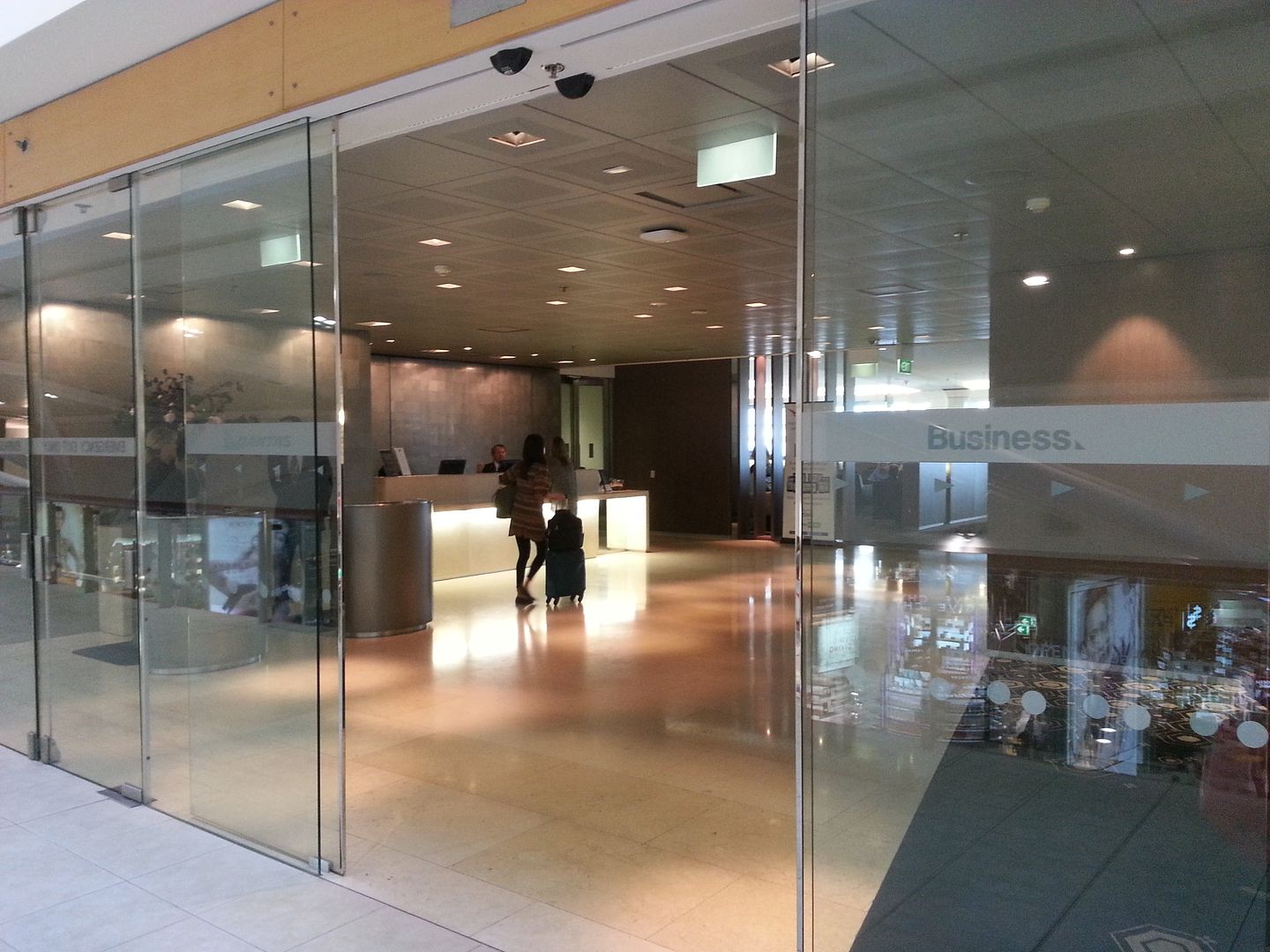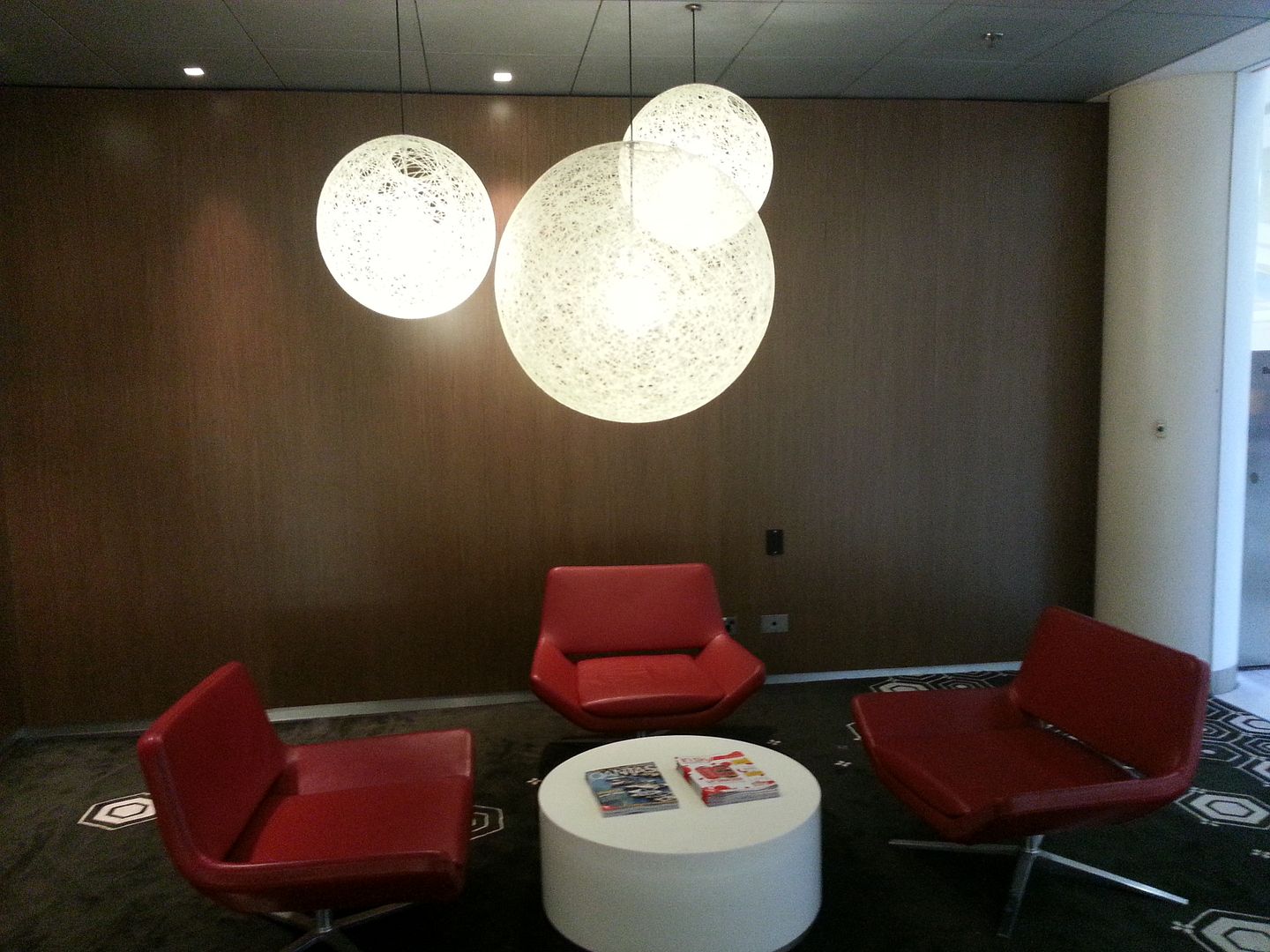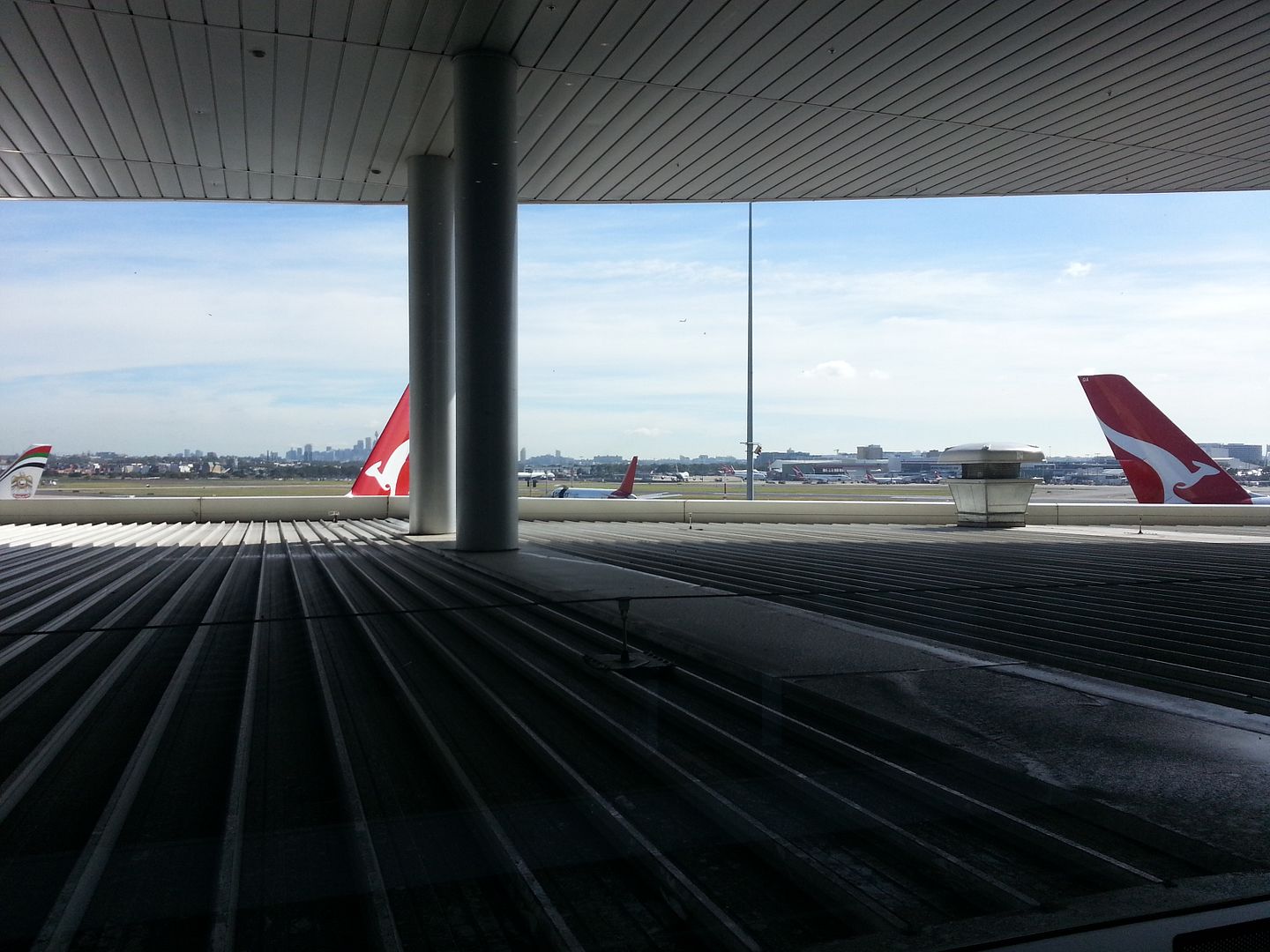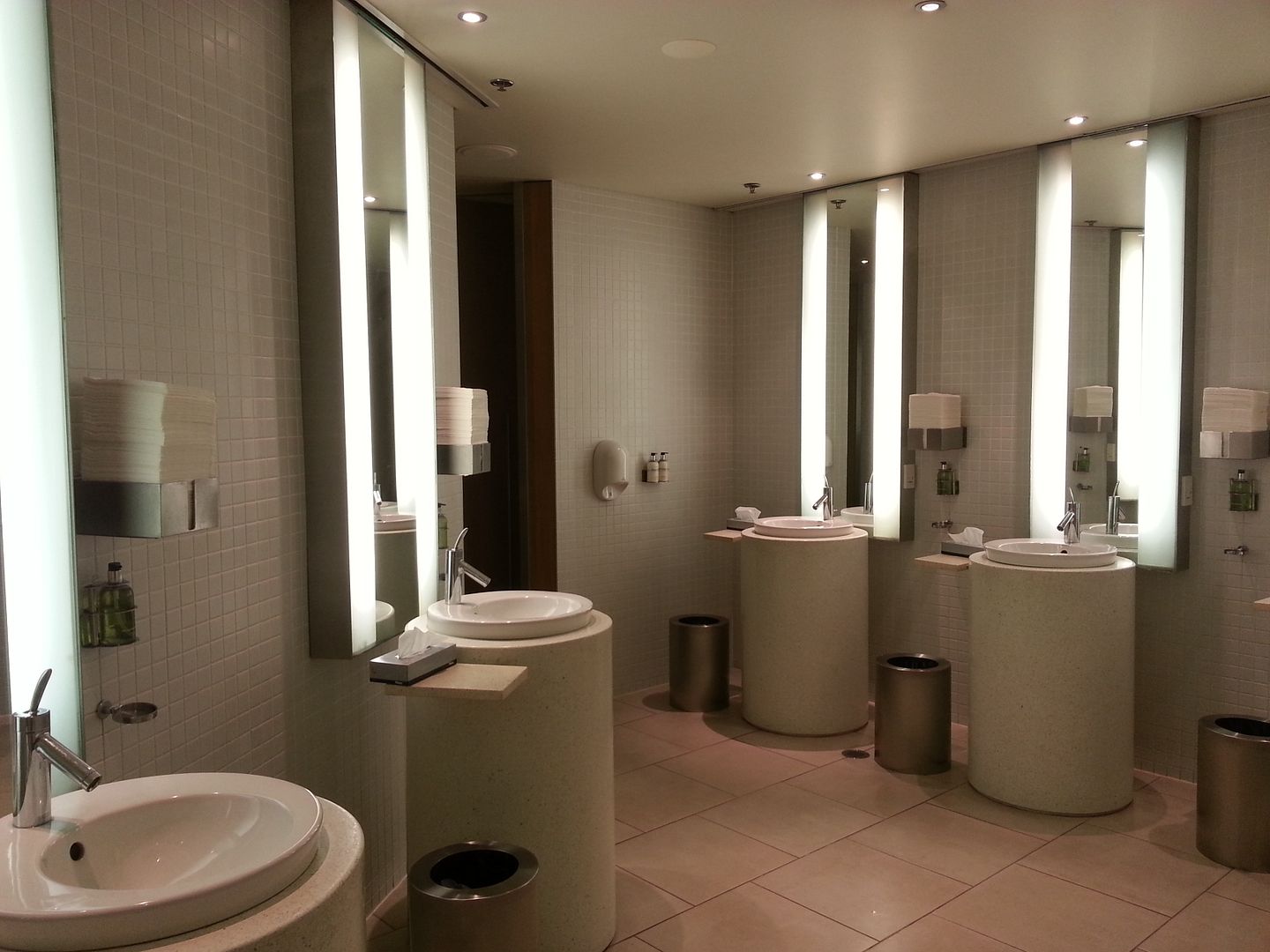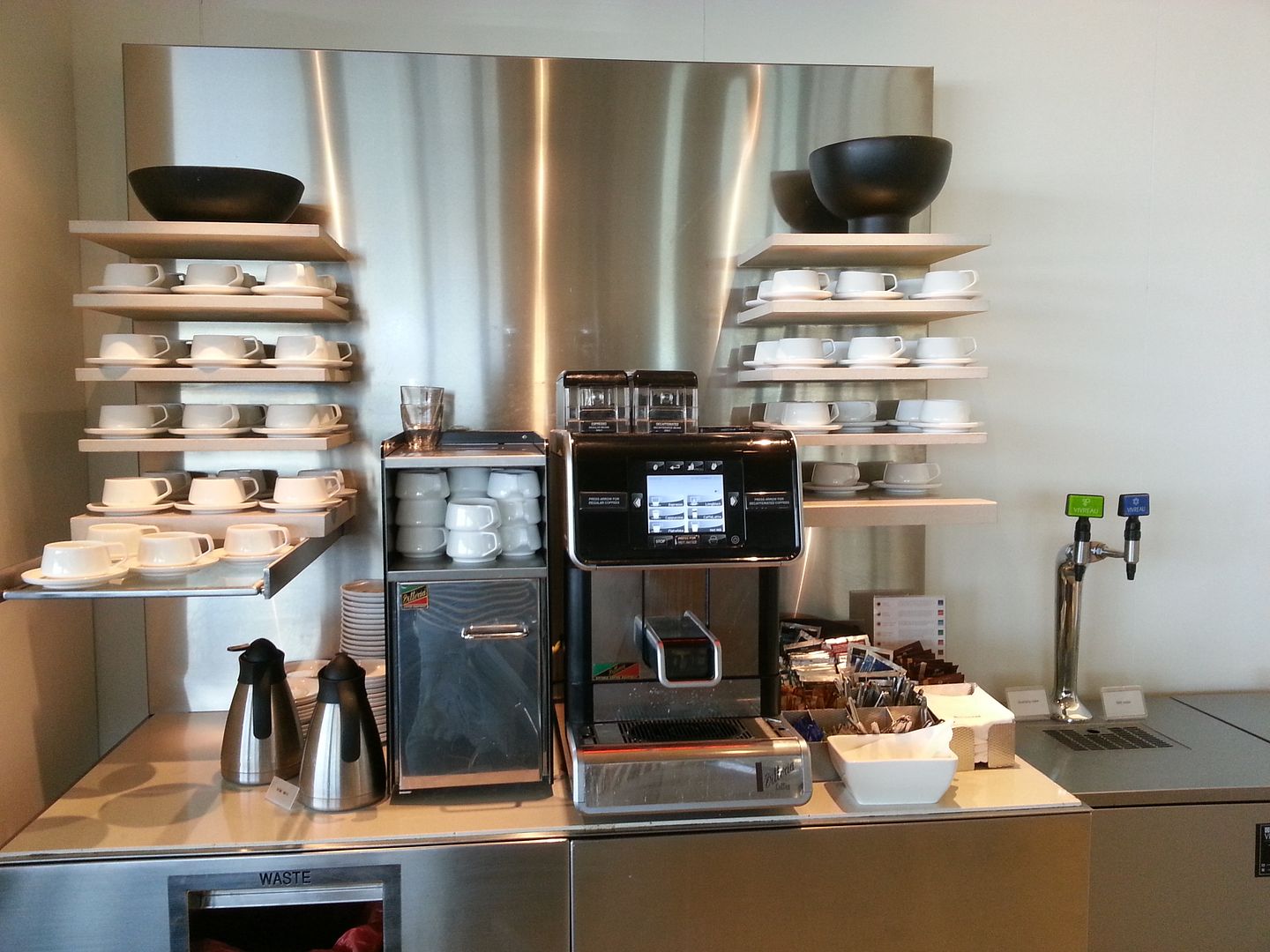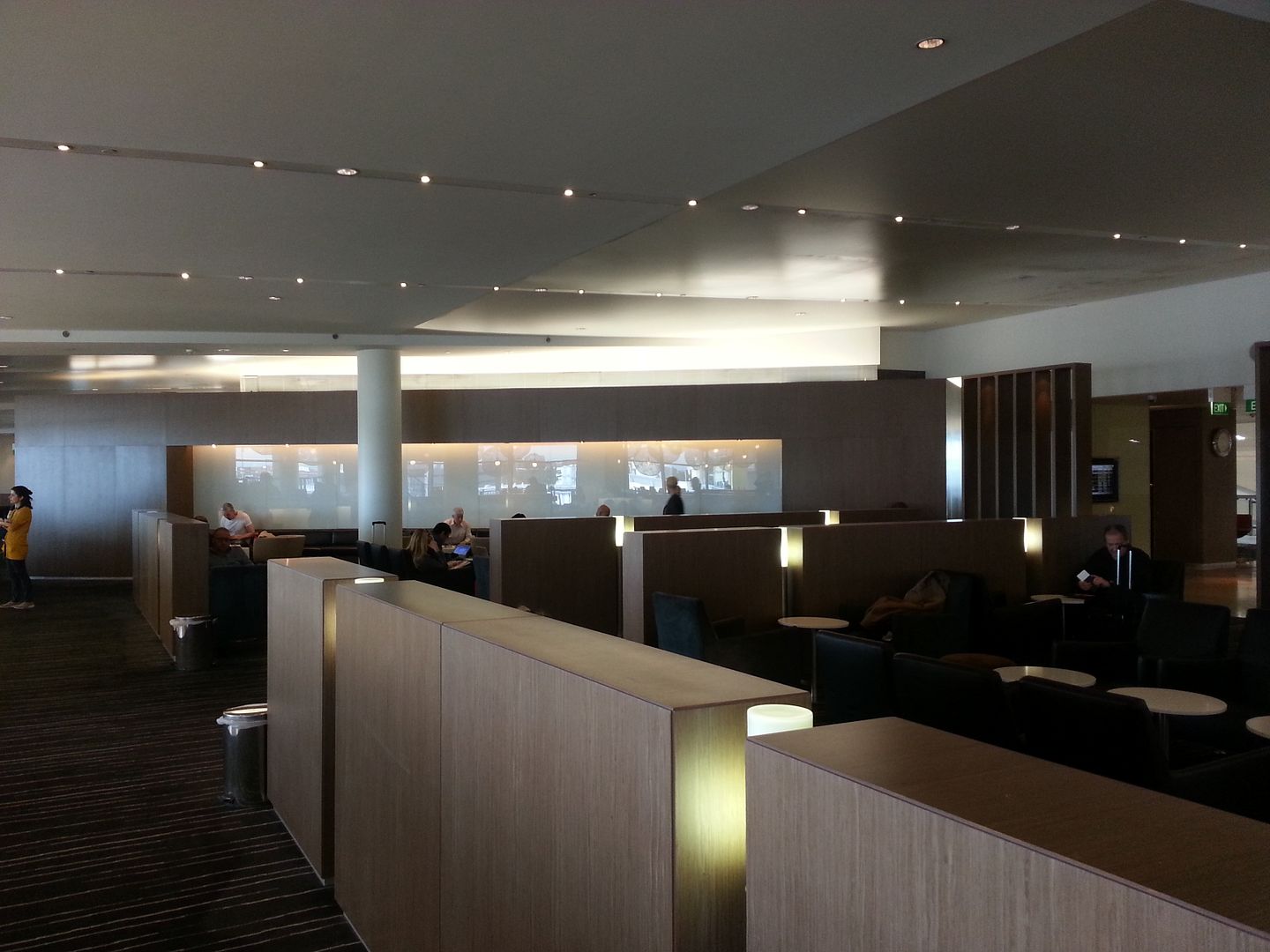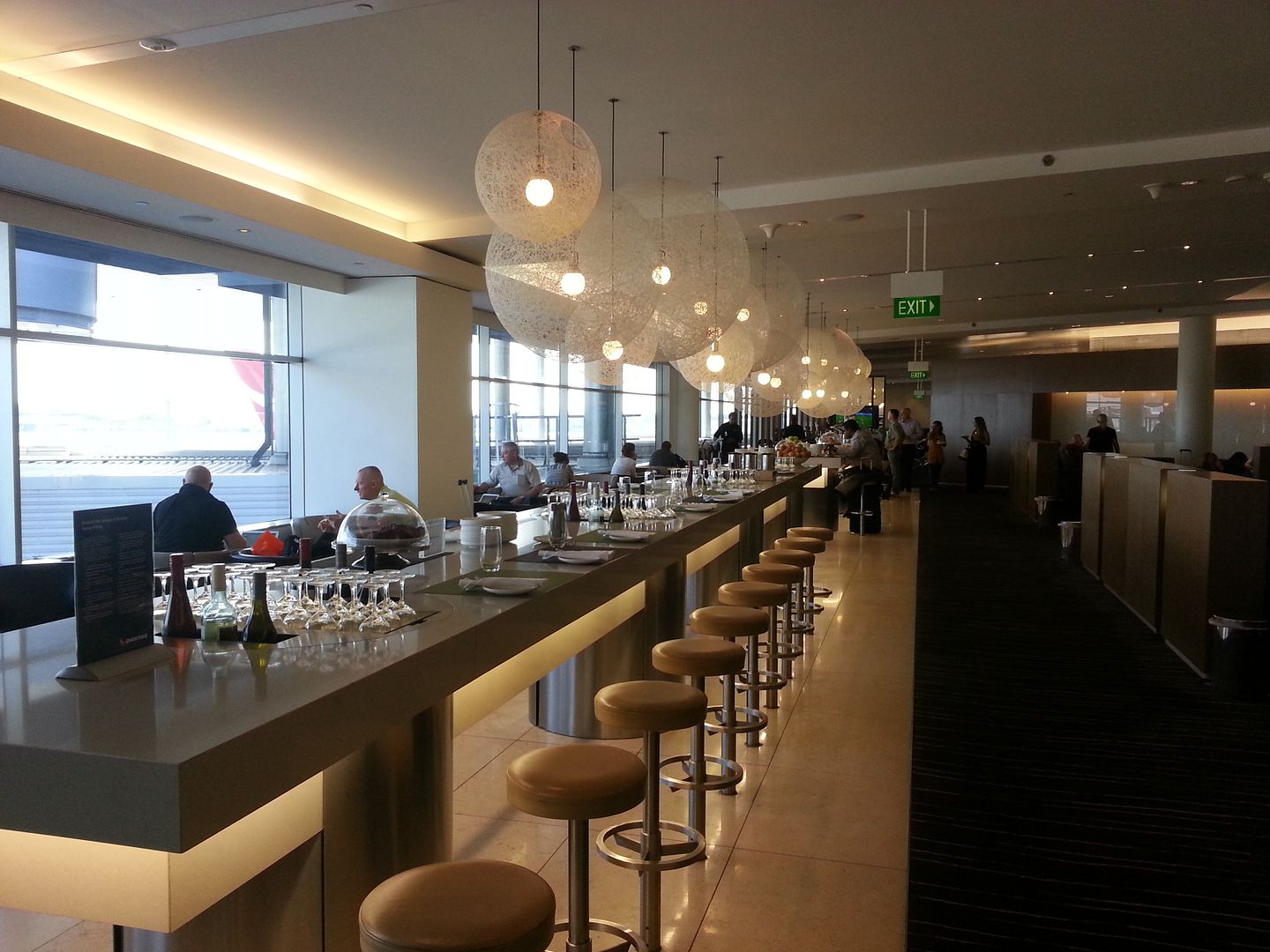 I helped myself to some pasta bolognese (very nice) and salad, with a coke zero to drink.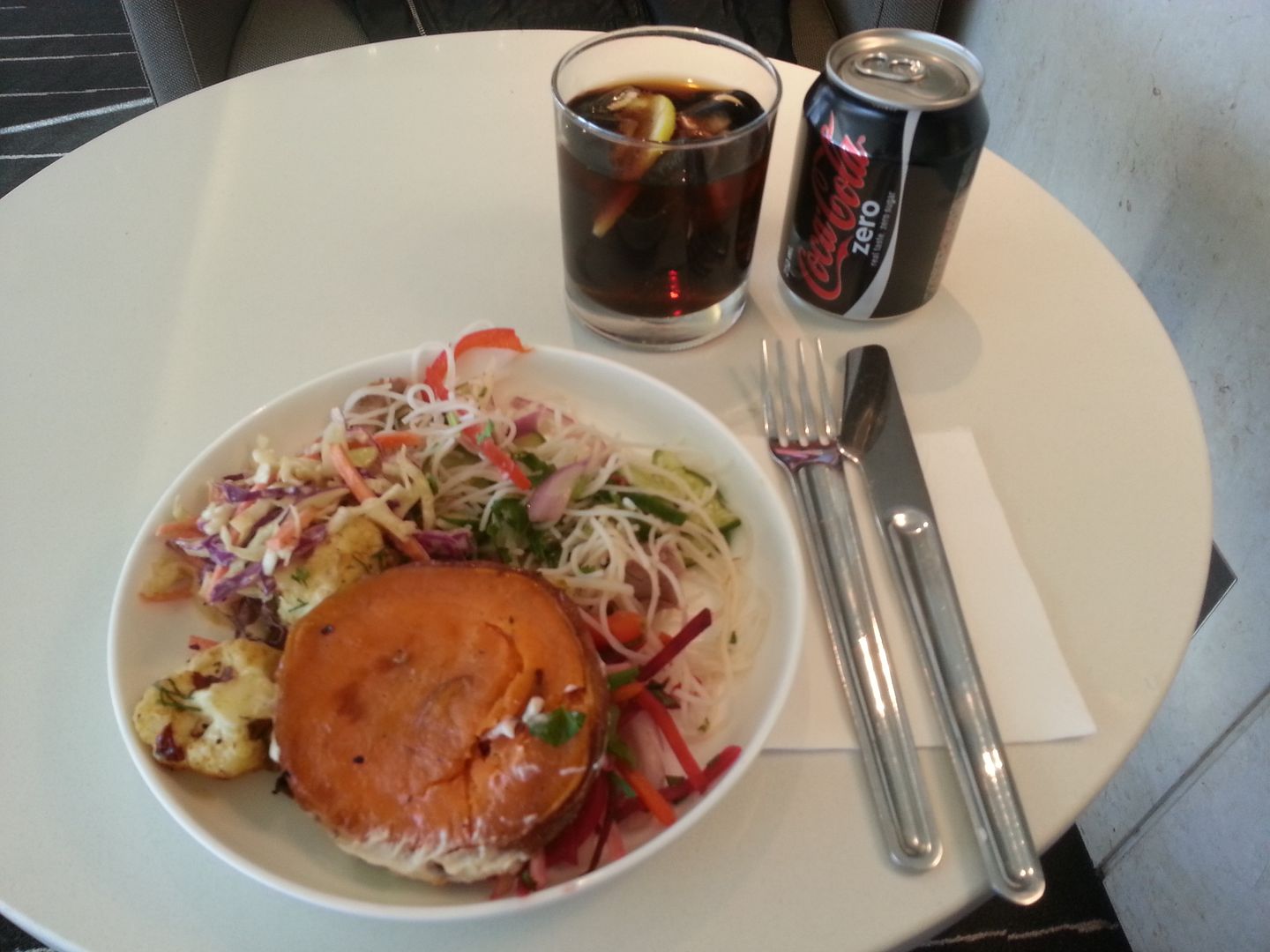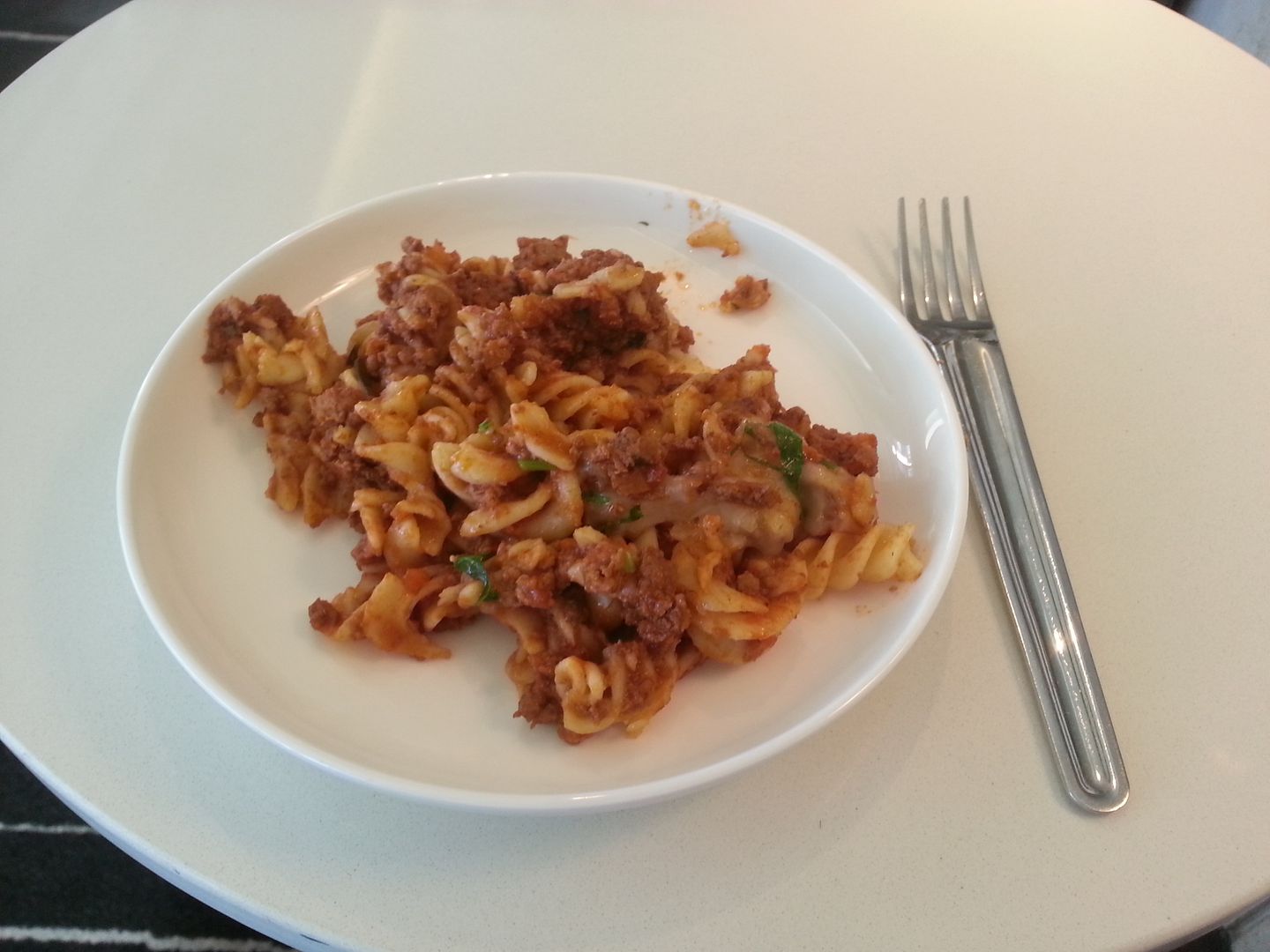 At about 13:30 I decided to make my way to the boarding gate. An announcement soon followed that the flight was delayed by 30 mins – departure time now 14:00. Not much you can do with delays so I went for a walk and did some plane spotting before boarding was finally called.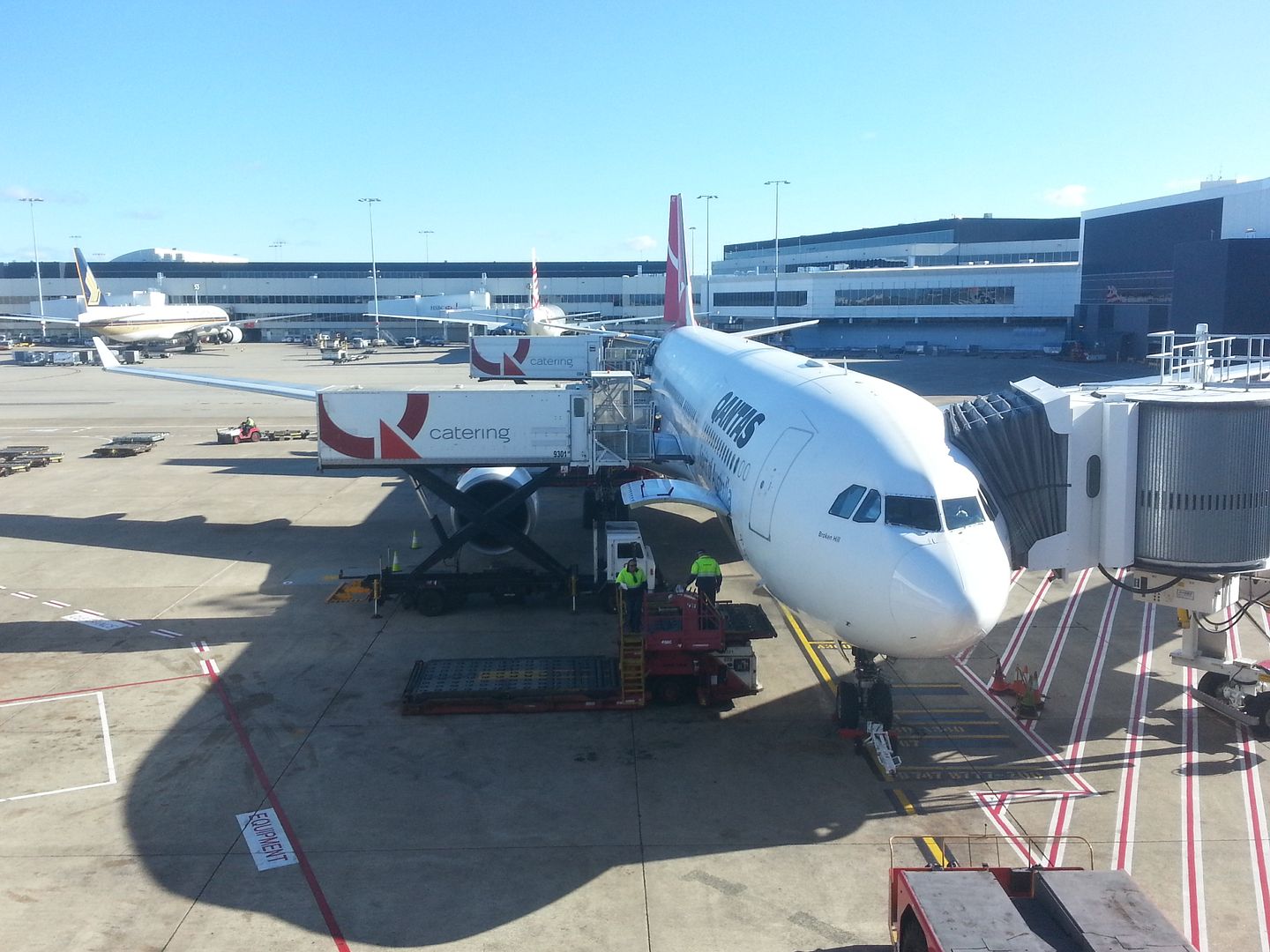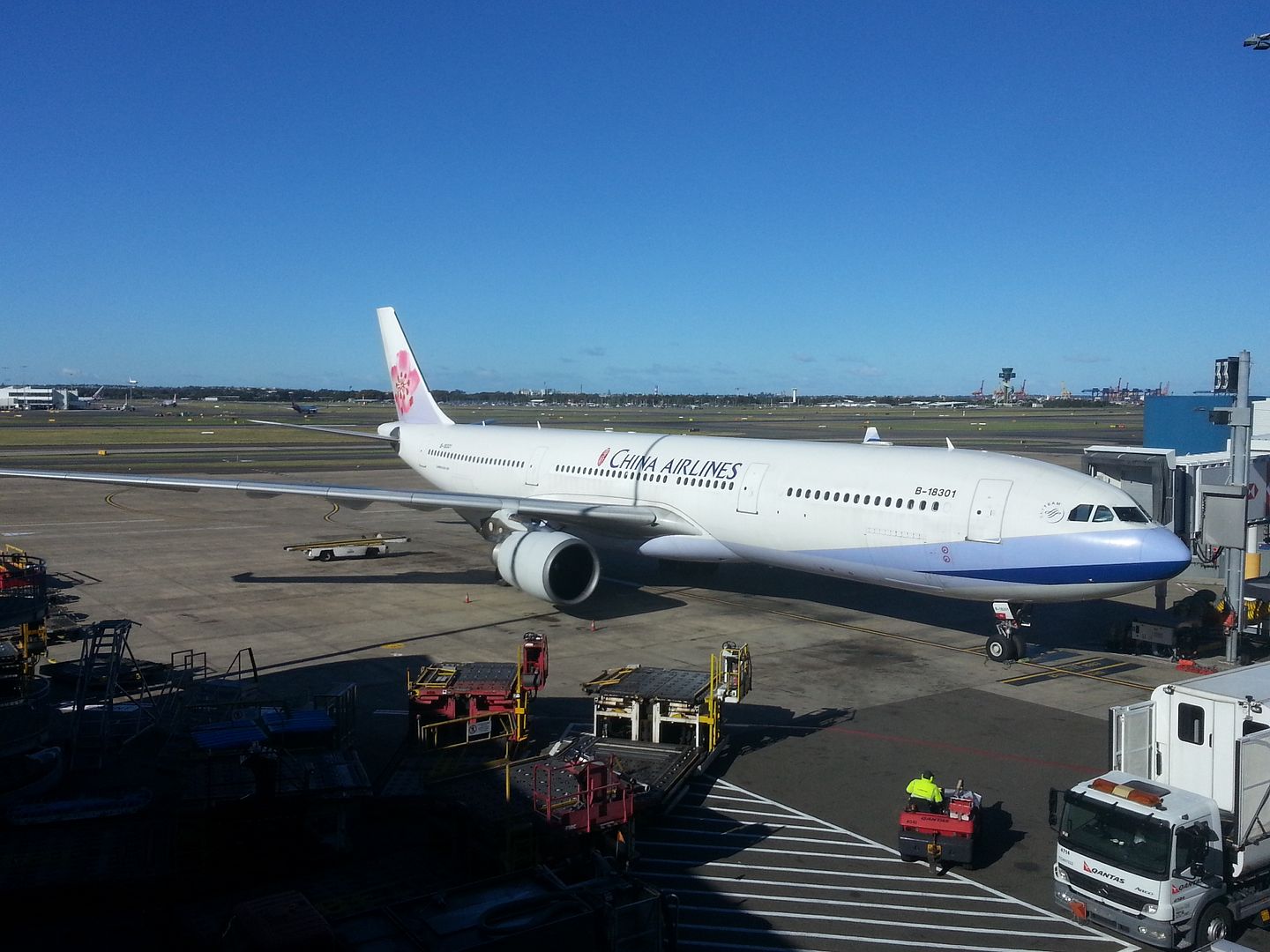 On Board
Upon boarding the aircraft, I was greeted by a friendly male flight attendant and directed to my seat at 4K. This was a few rows down to the right (window) - and I was right behind Guy Sebastian!
My first impressions of the cabin – fairly dated and dreary looking colours, fitted with the Skybed 1 pods (angled flat seat). The recently announced upgrades of the A330 business class cabins to include the new business suites cannot come sooner. This will help Qantas offer a (more) competitive J class product on it's Asian routes.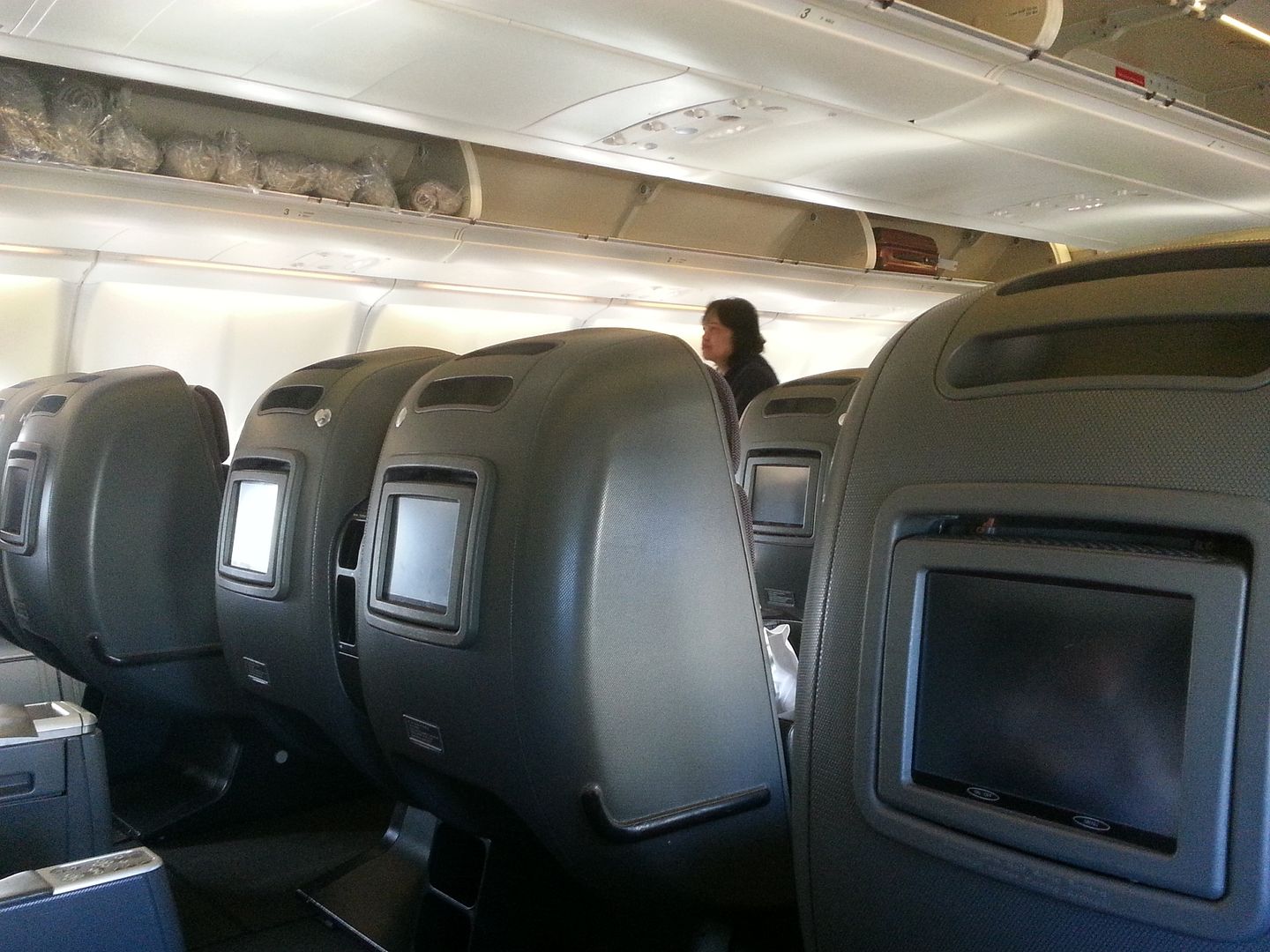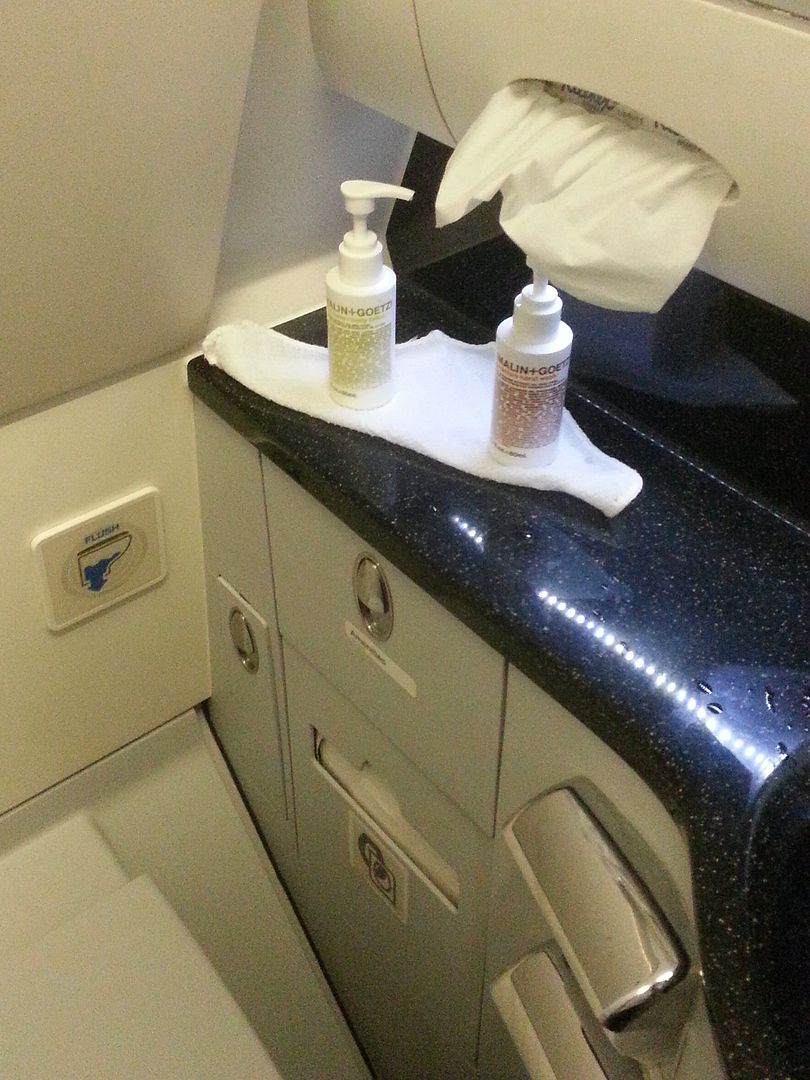 A glass of champagne or orange juice was offered. I went with the champagne - Duval-Leroy Brut from memory - which was nice. Hot towels and lunch menus were distributed, along with a nice amenity kit. This consisted of socks, eyeshades, toothbrush and toothpaste, moisturiser and lip balm.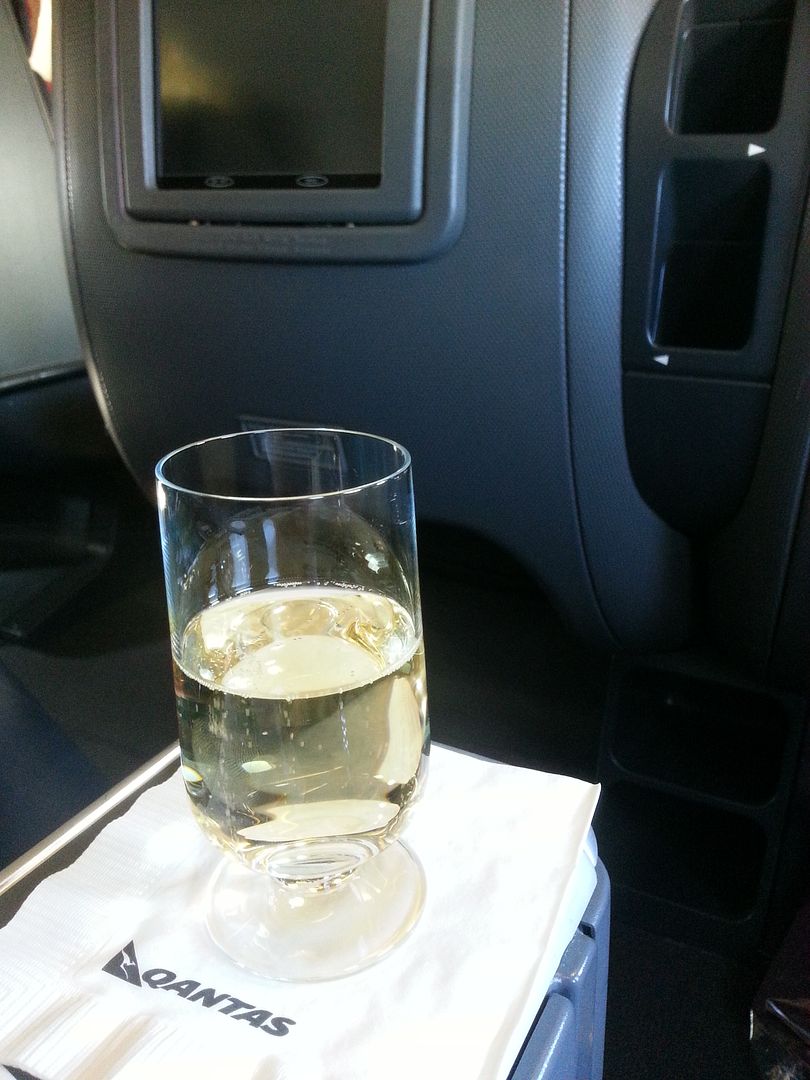 The flight attendant came to take my lunch and drink order. I had already pre-booked my main course so I just had to choose a starter. I had a quick glance around the cabin – about an 80% load today. Below is the menu for today: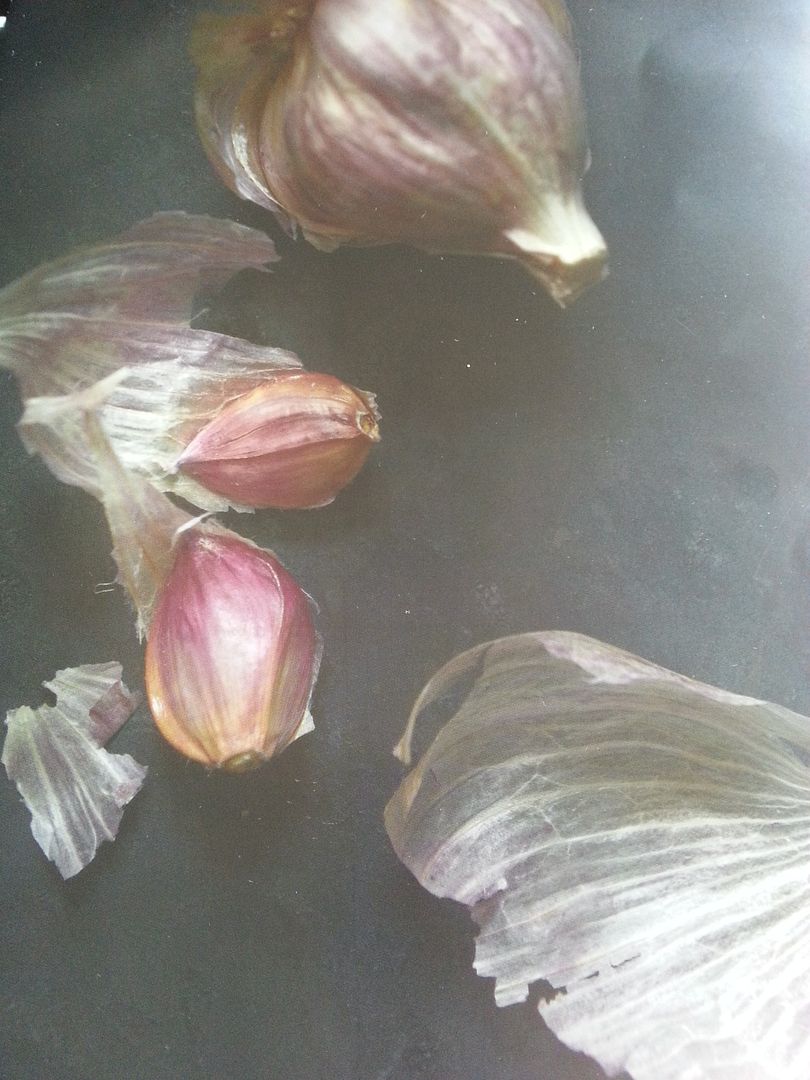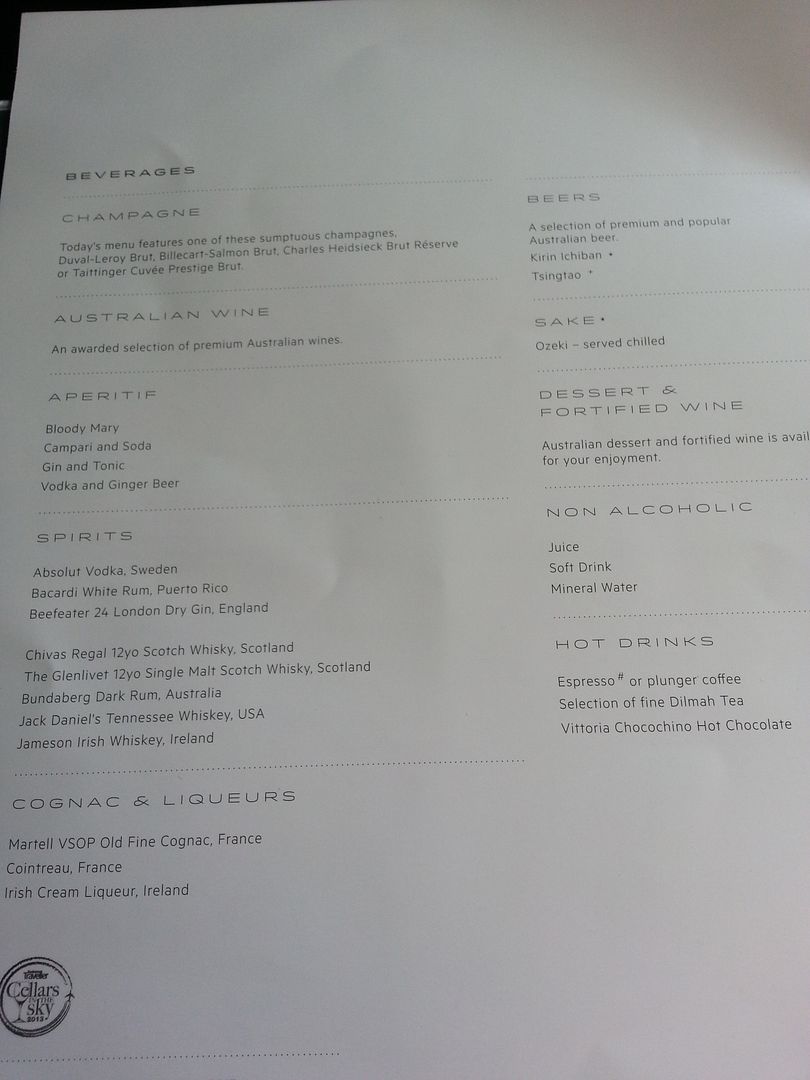 Take Off
We had a fairly long taxi given the heavy plane movements at the time. Here are some shots of the take-off – and views of Sydney: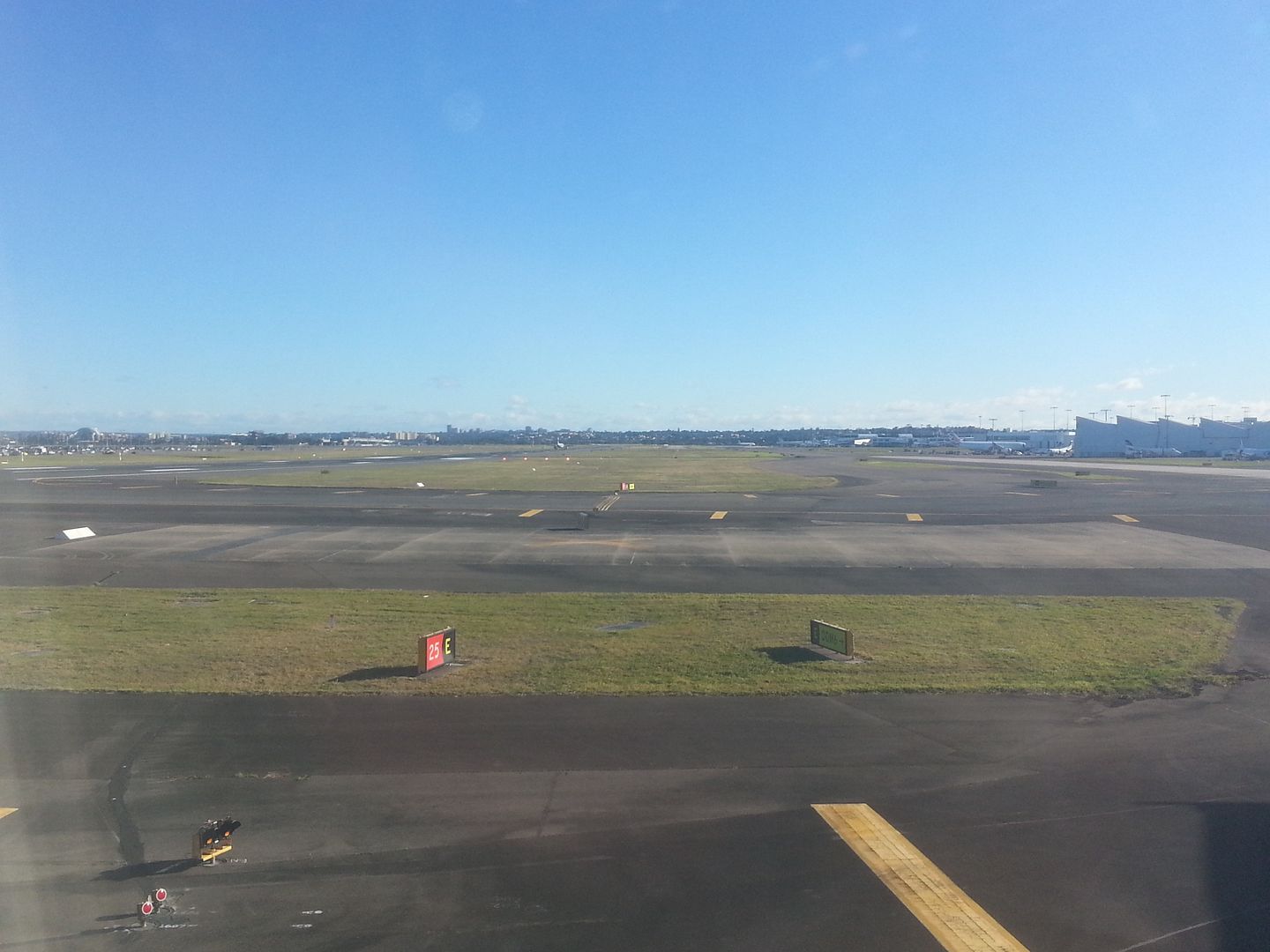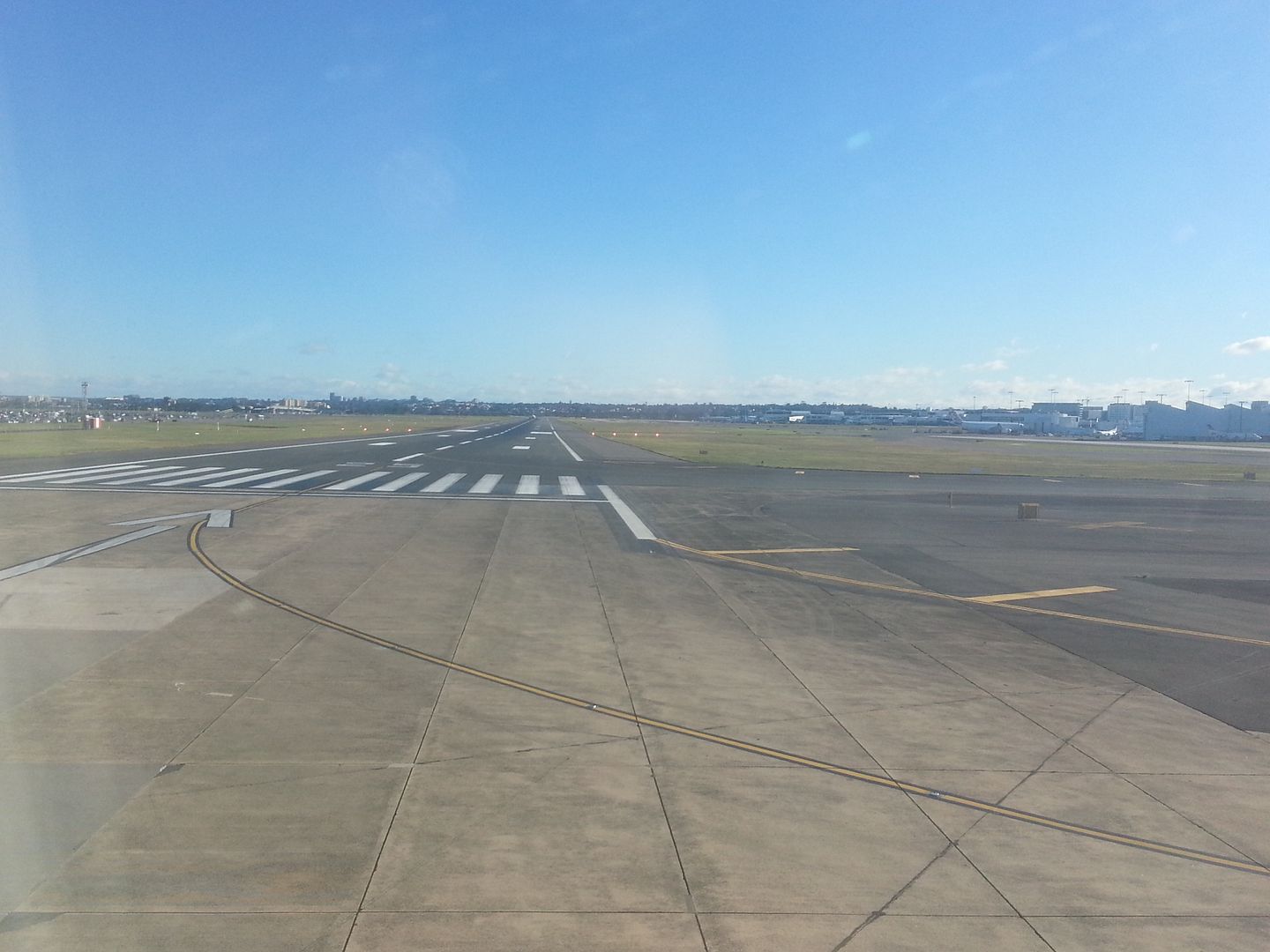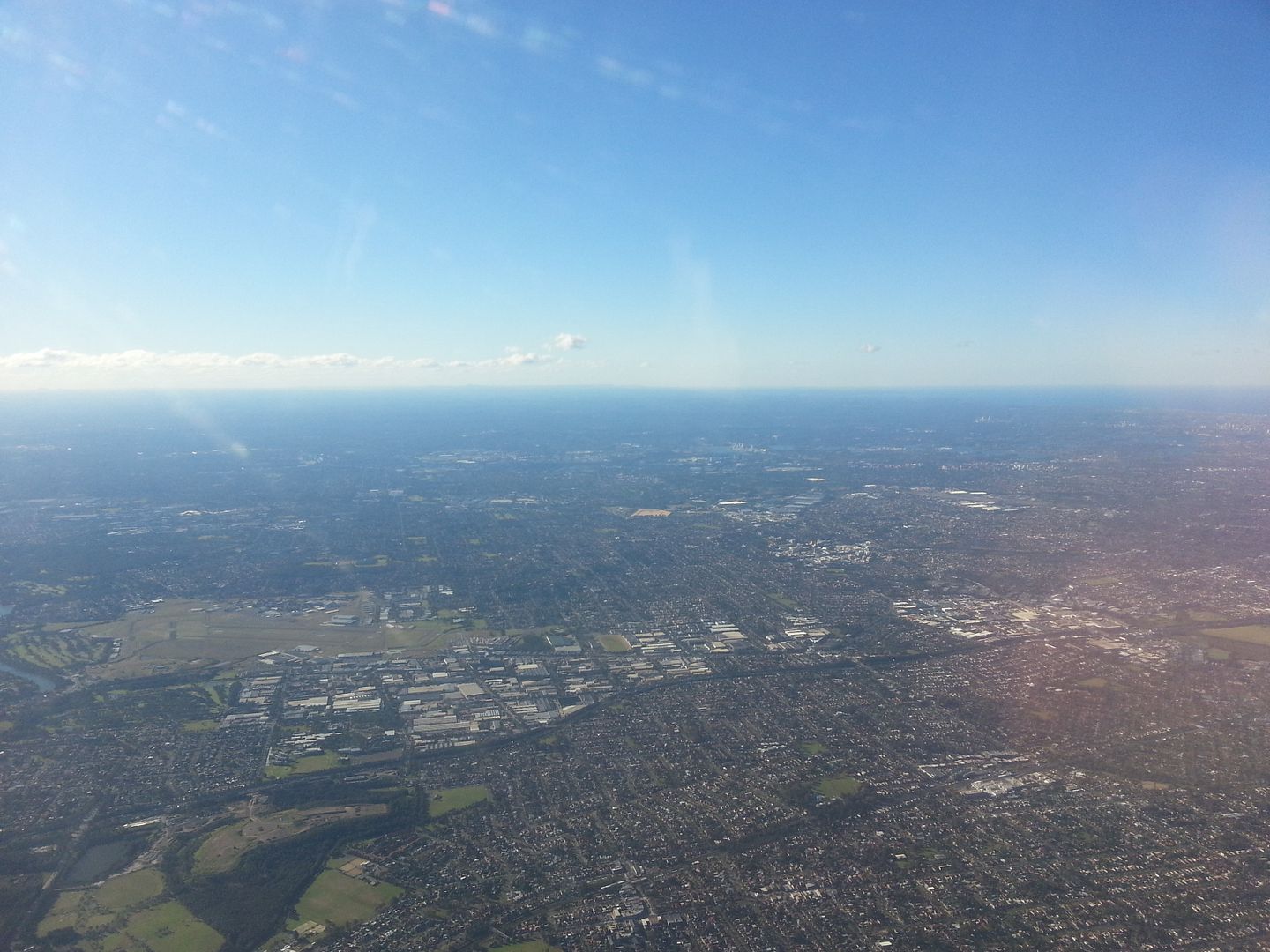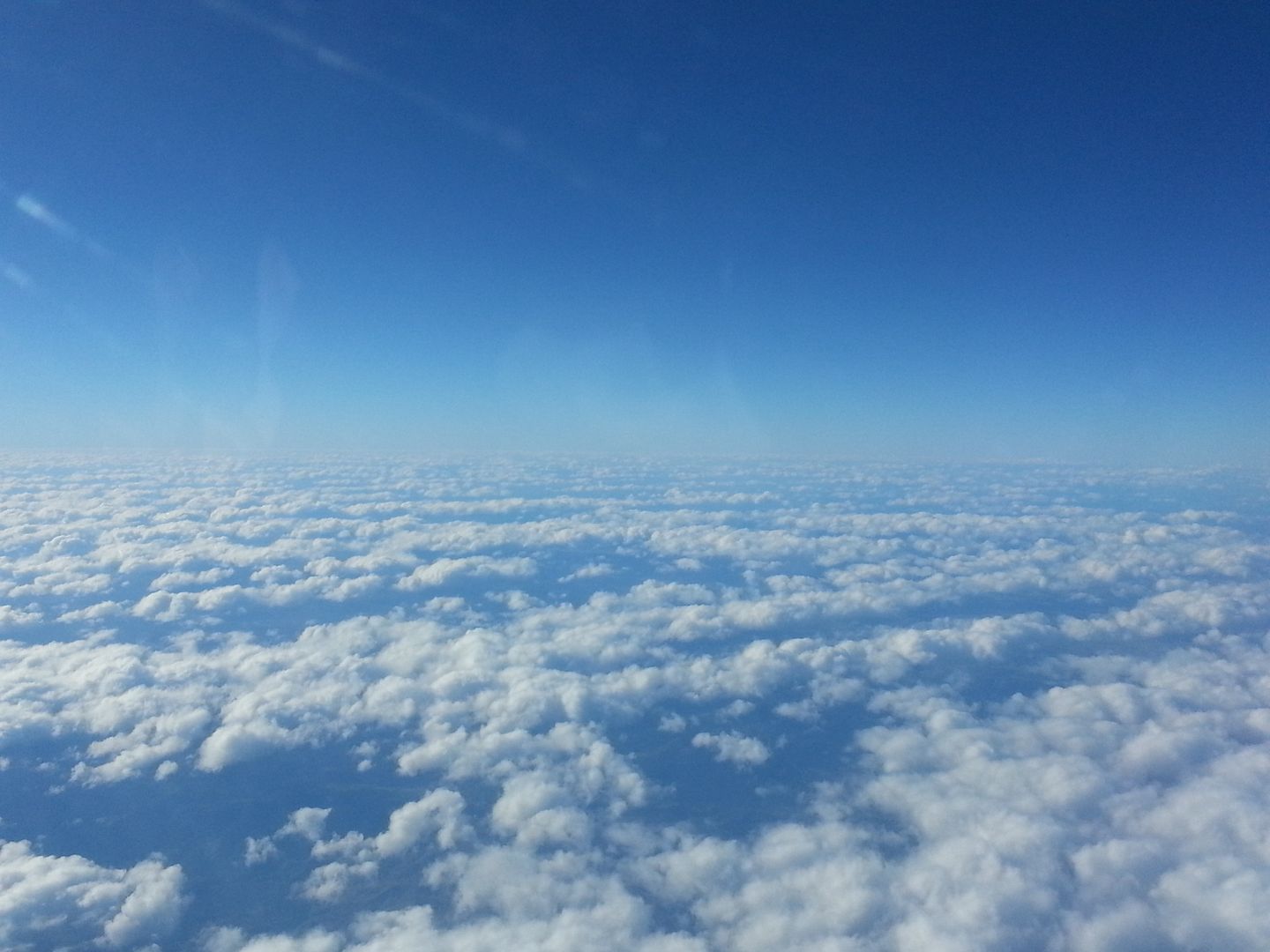 Lunch
Shortly after take-off my pre-ordered drink was served – I had more of the Duval-Leroy Champagne. My drink was accompanied by a packet of almond and soy rice crackers - would have been nice to be served in a small bowl though.
My table was then set with white linen. Bread was served - I chose the rye which was accompanied by salad. The rye tasted good with butter, however the salad was just a few bitter lettuce leaves.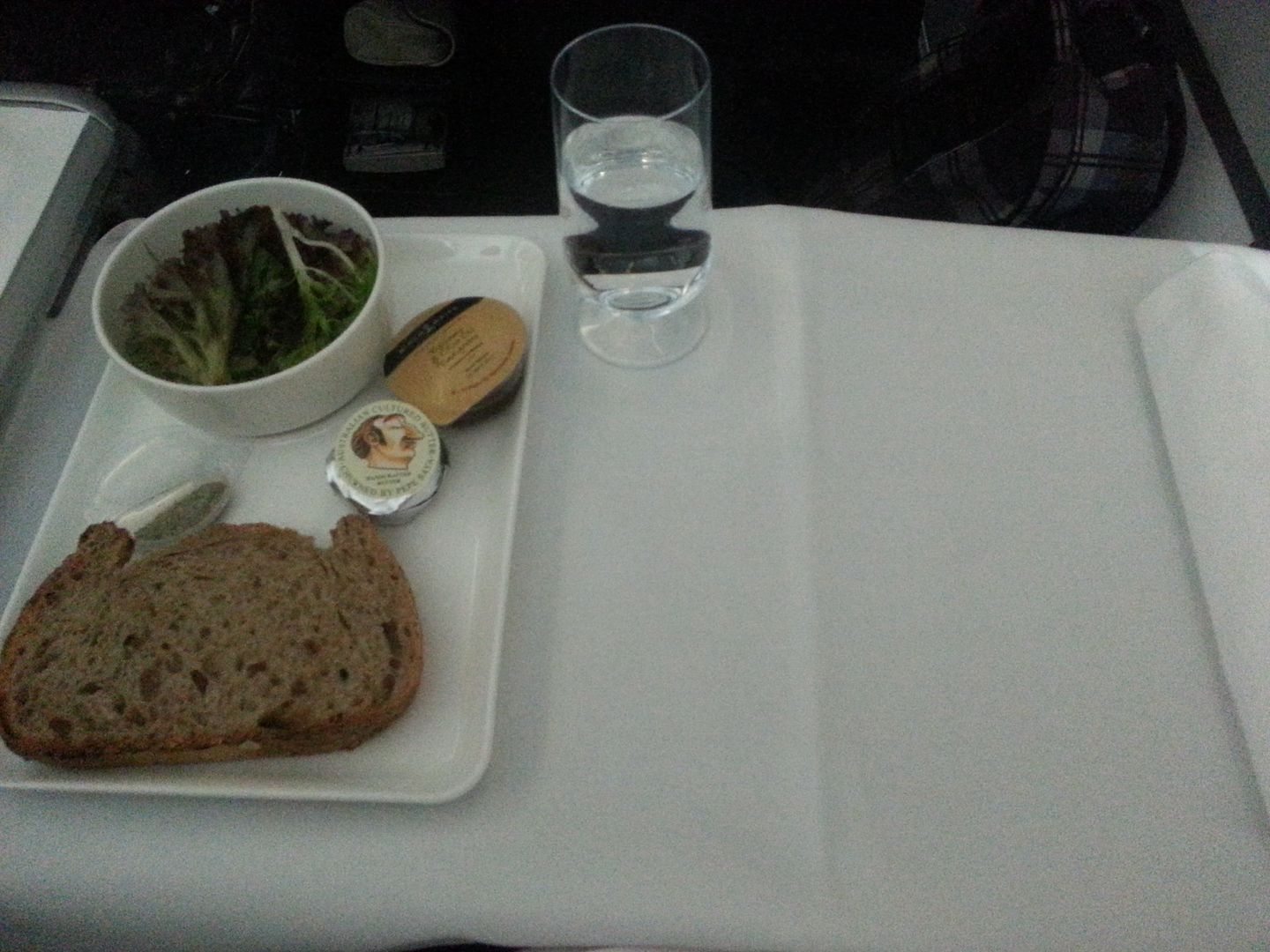 For starters I had the pastrami and grilled vegetable salad followed by my pre-ordered main of seared gem fish with lemon and herb butter, potato puree and green beans. The pastrami salad was OK however the fish was overcooked as were the beans. The presentation was also lacking. Pretty disappointing for international business class.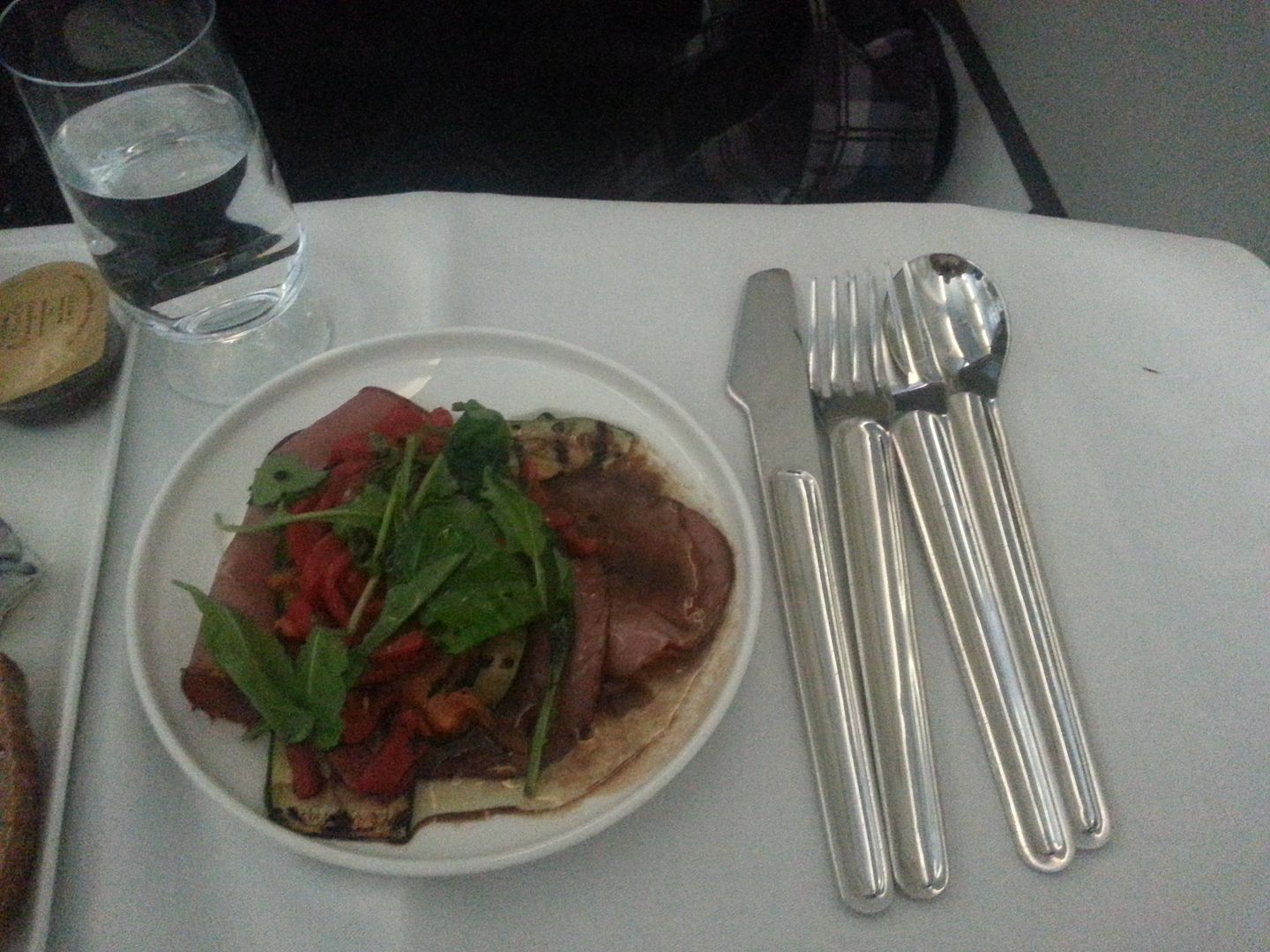 For dessert I had the baked apple and rhubarb shortcake with double cream, along with a glass of port. The dessert was pretty decent and the port was lovely.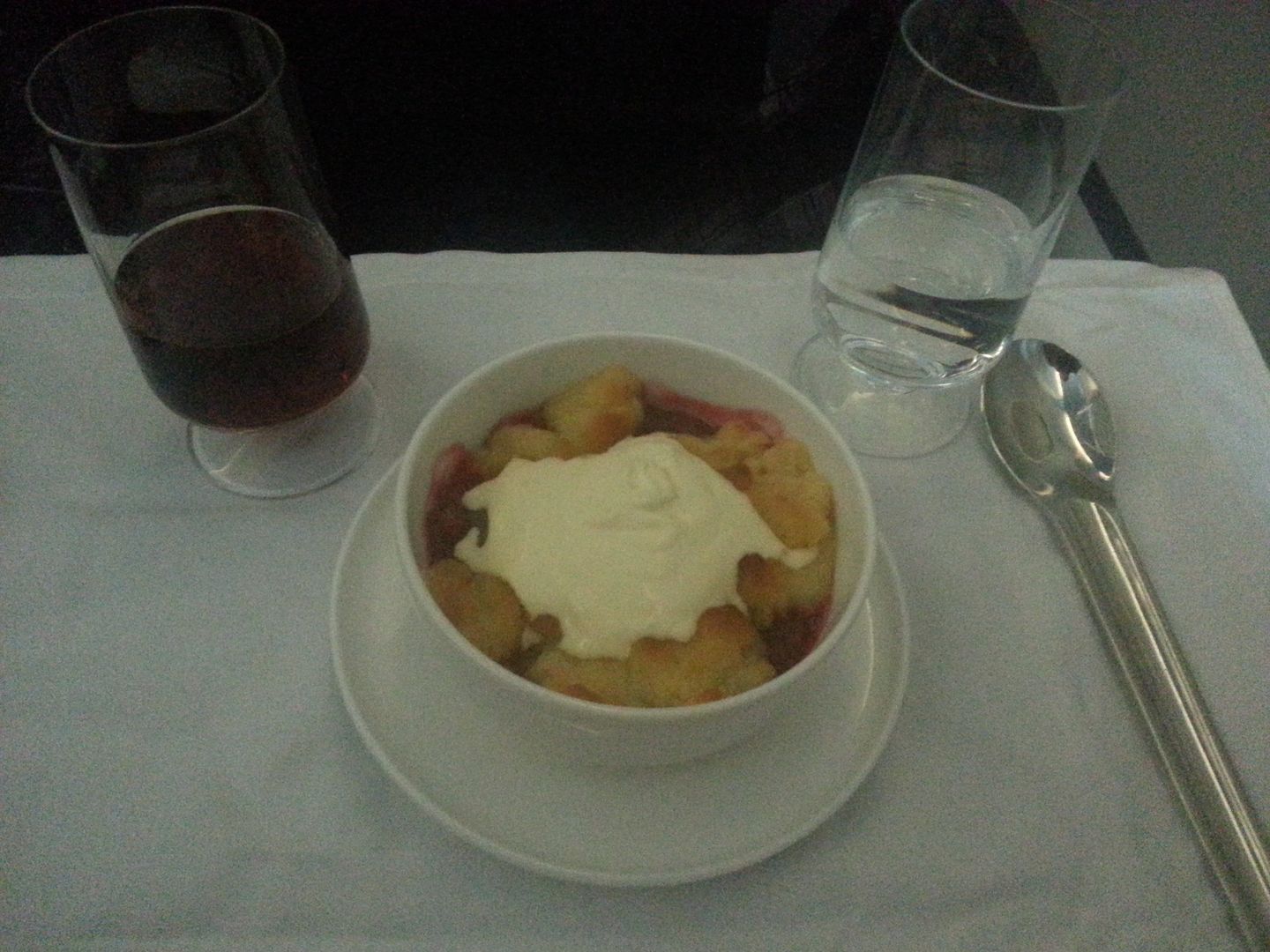 After dessert I was offered tea, coffee or hot chocolate – I ordered a tea but for some reason was given a decaf coffee - yuk! Second time lucky, the flight attendant brought me a nice English breakfast tea. This was accompanied with a biscuit wrapped in plastic. OK for economy, not for business.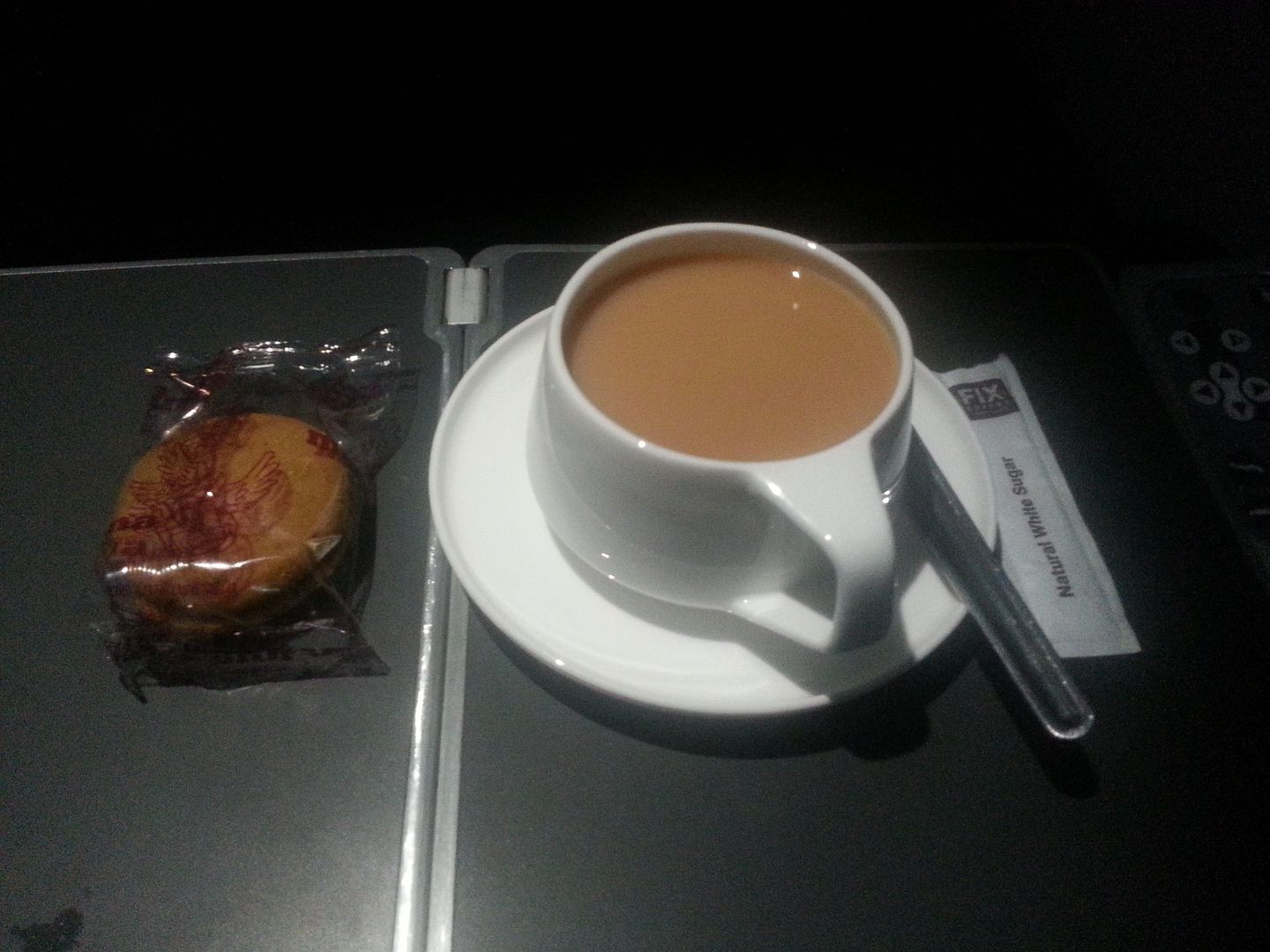 About an hour before landing, a refreshment was served. This consisted of mushroom and asparagus fried rice which was served in a takeaway box - it was OK but you'd expect more than street food in business class.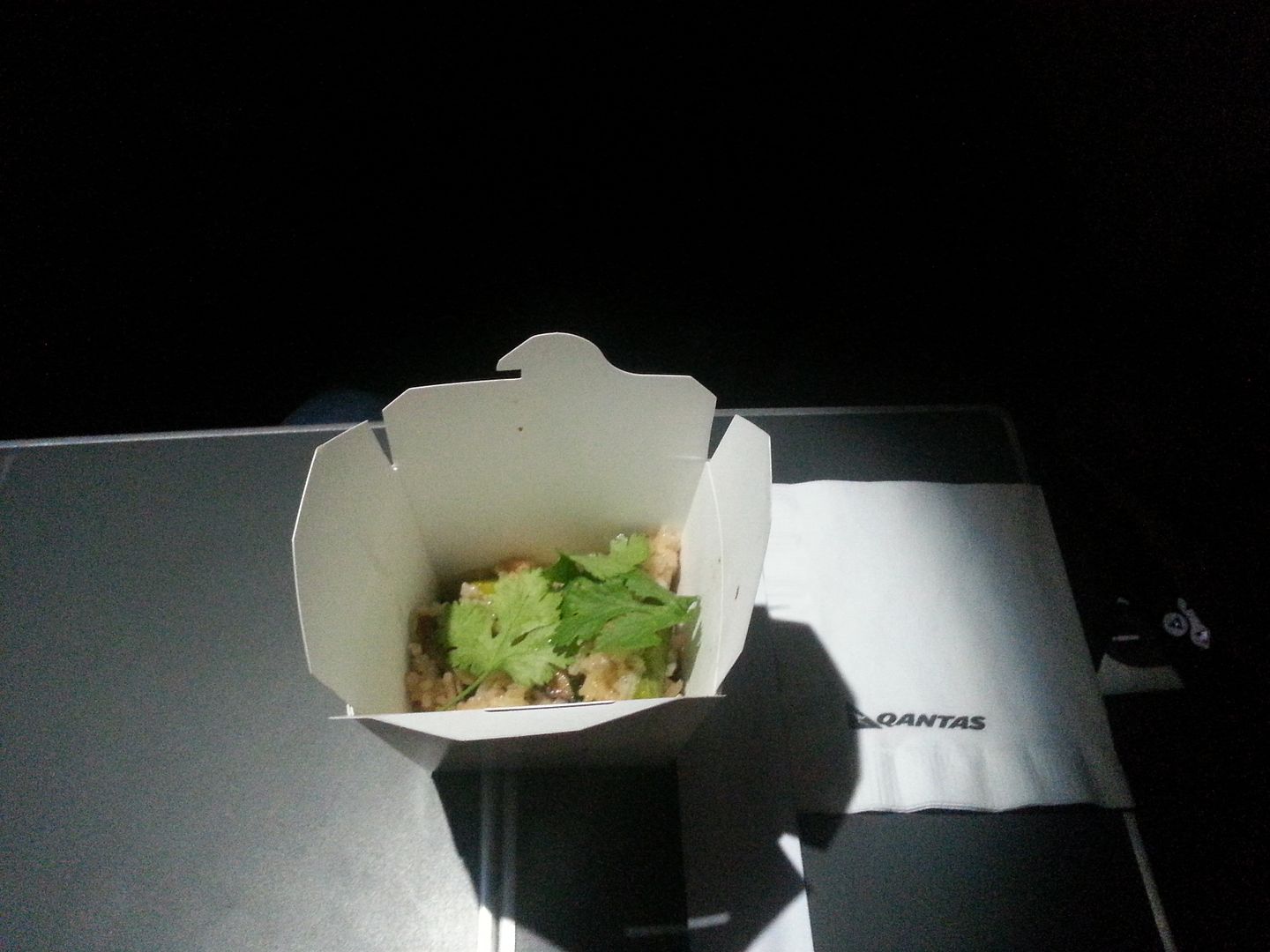 So, the food overall was pretty ordinary - more premium economy than business standard, at least compared to other carriers. The service was very good though - friendly, attentive, prompt.
Flight and Entertainment
Qantas offers a decent entertainment system. Small personal touch screens are located at the back of each seat (except for the bulkhead rows). Noise-cancelling headsets are given out but aren't that effective - I always use my own anyway. There is a good variety of entertainment options including new released movies, TV programs, multiple destination guides, radio channels, CD albums, moving maps and interactive games. There is also laptop power outlets and USB connectivity.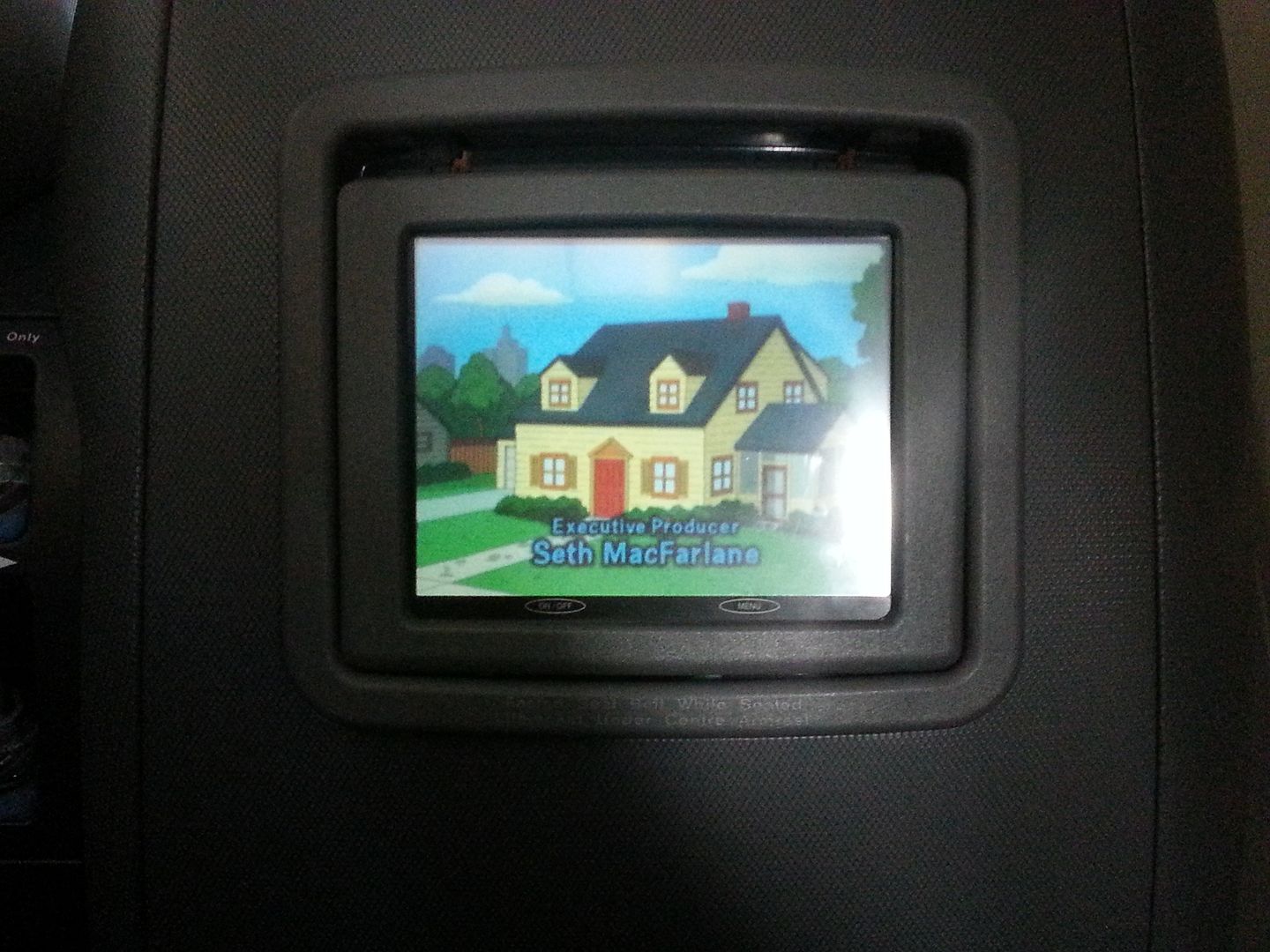 The Seat
There are 30 business class seats on Qantas' A330-300. The configuration is 2-2-2 over 5 rows which means all but the window seats have direct aisle access.
The A330 seat is the Skybed 1 (first generation) seat. Disappointingly in bed-mode it is angled-flat. This is not such an issue for a 7-8 hour day flight but would be a bit uncomfortable to sleep on a long-haul flight. The table is large and there are two lights – an overhead light and a dimming reading flight. There is a privacy panel in the middle for those who want a bit more seclusion during the flight. As mentioned previously, Qantas has recently announced that all it's A330 aircraft will be re-configured with the new business suites progressively throughout 2015. This cannot come sooner.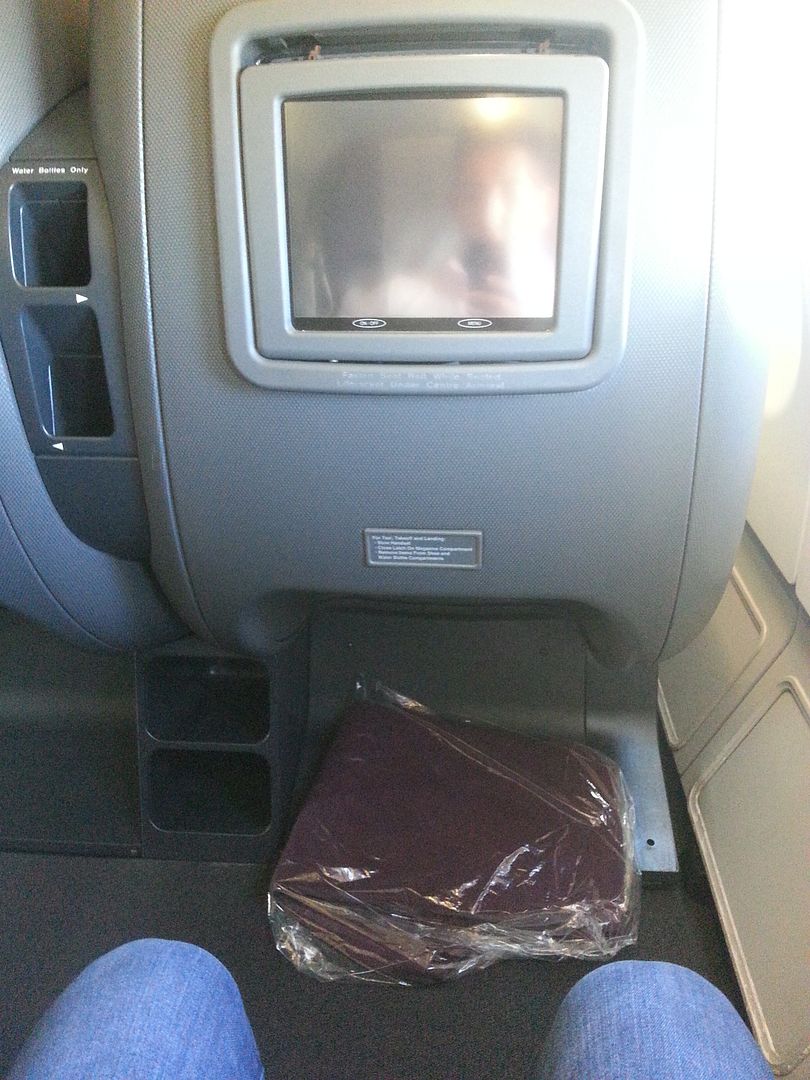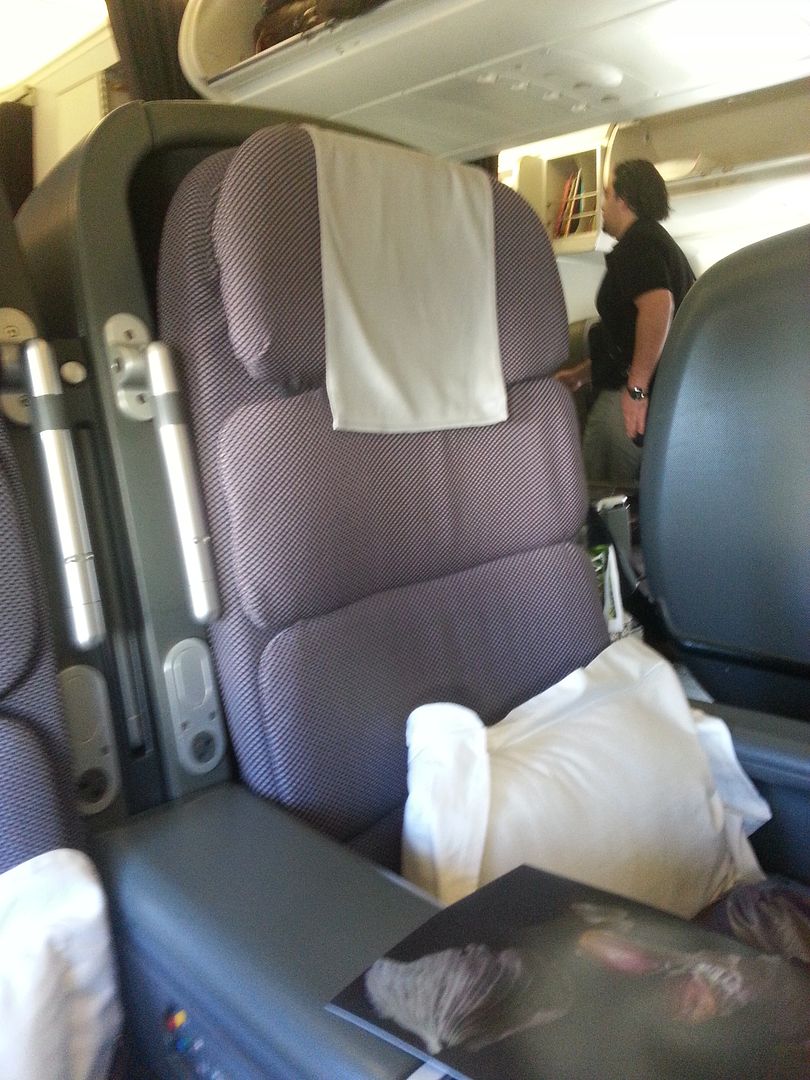 Landing
The descent into Jakarta was beautiful - here are some shots of the sky: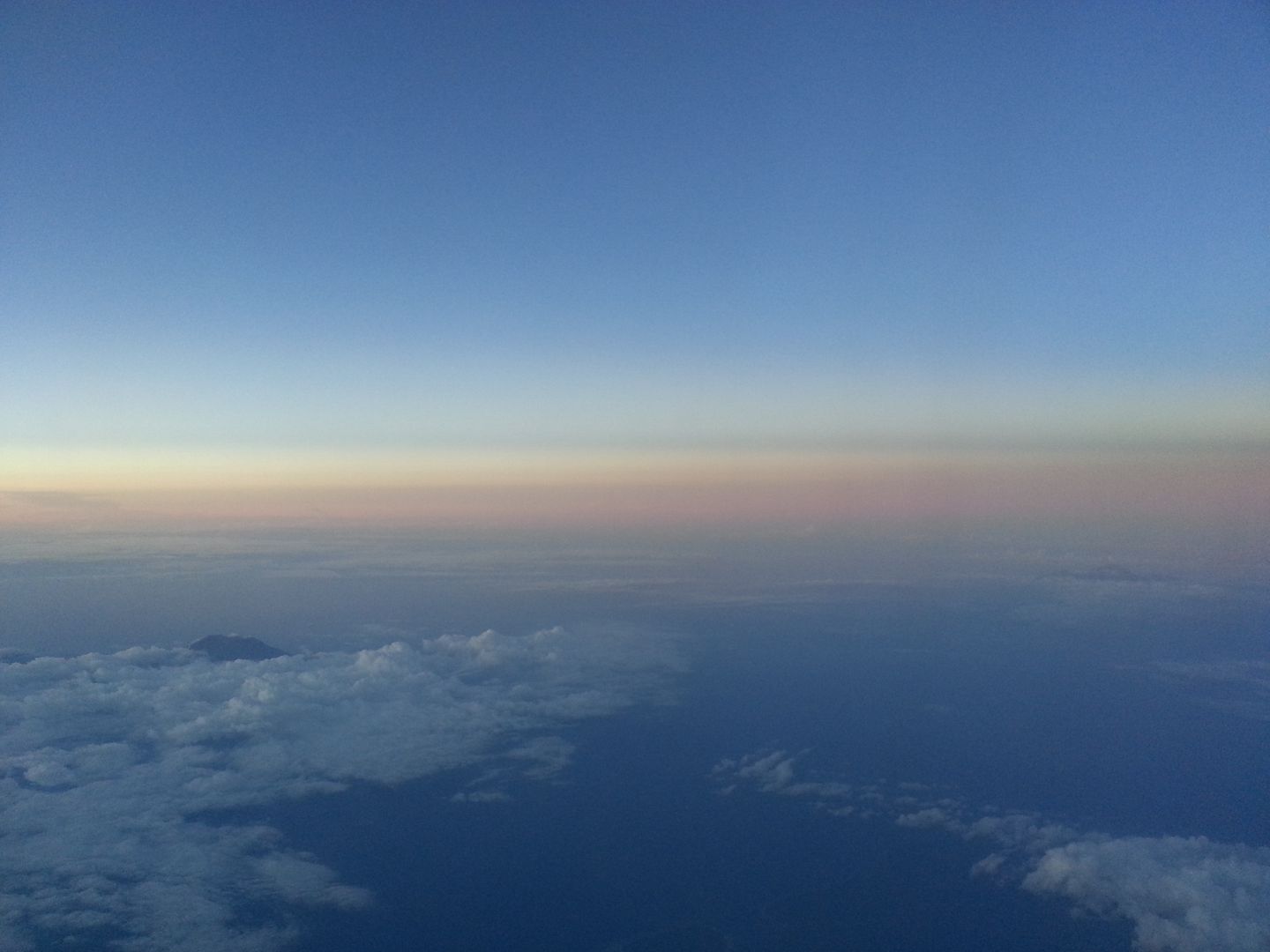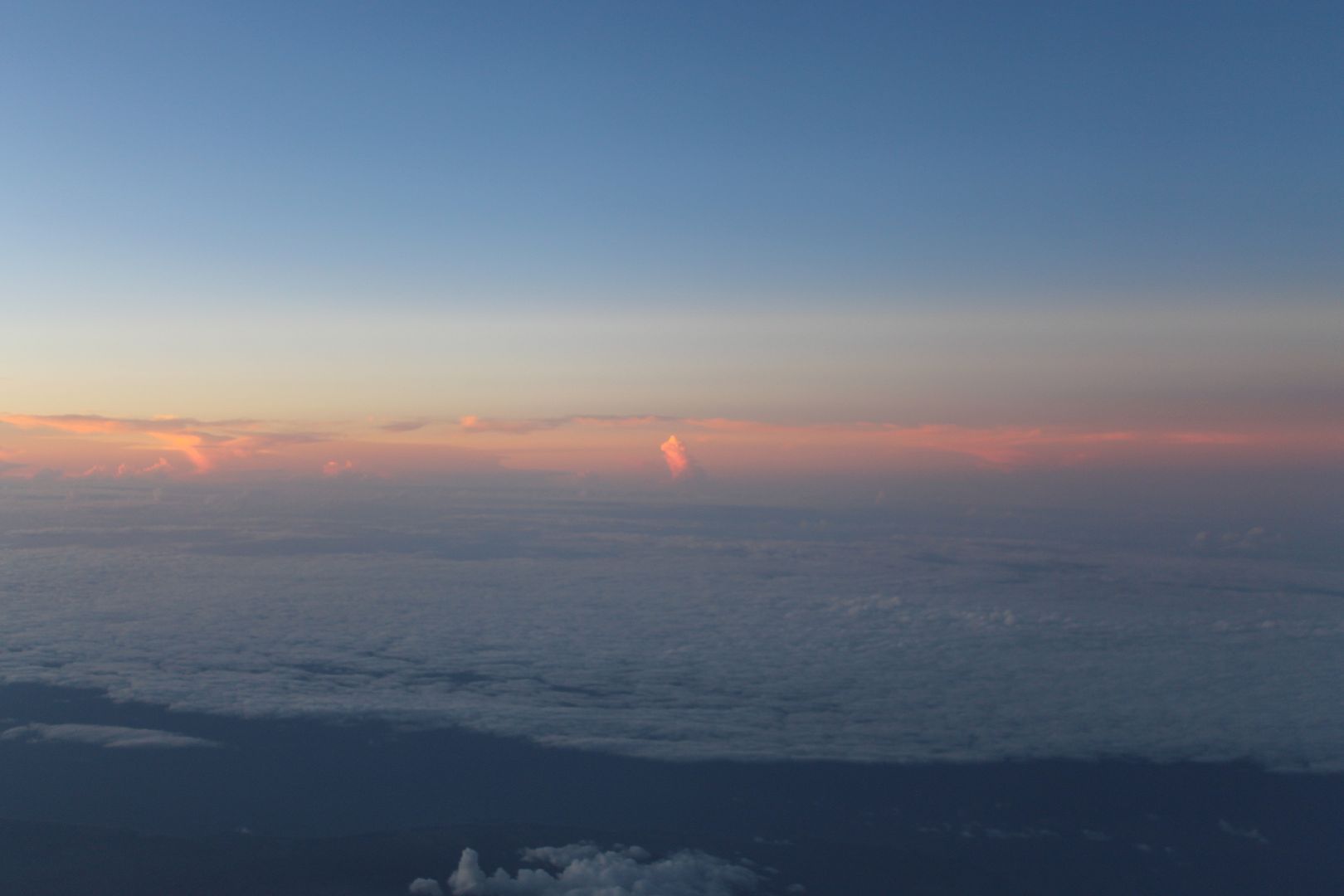 The landing was smooth and it didn't take long to reach the gate. It was a bit confusing after this - first we had to buy a VISA (only one line for over a hundred passengers). Then you had to get your passport stamped. Following this you were directed to the baggage area but on the way you passed another passport control - surely you didn't have to get your passport stamped twice!? Luckily I saw a Qantas crew member who pointed me in the right direction.
Once I collected my bags I proceeded to the arrivals hall and found my hotel's shuttle bus service. It took about 10 mins drive to the airport Sheraton Hotel - here I would stay a night before catching my connecting flight to KL.
CONCLUSION
The following provides some brief comments on the main aspects of the flights:
Cabin: dated, tired looking, but clean.
Seat: fairly comfortable in up right and relax mode, not so much in bed mode as you 'slide down'.
Food: very average, the only decent course was dessert. Drink offerings were good though especially the wines.
Service: attentive and friendly.
Value: I would have been disappointed if I had paid full fare for this flight.
Overall, Qantas' international business class (at least on the A330) is lagging behind its competitors. The cabin, seats and food are just not what you'd expect for a premium cabin. Having said that, the flight attendants were great - always smiling, willing to help and providing good service.