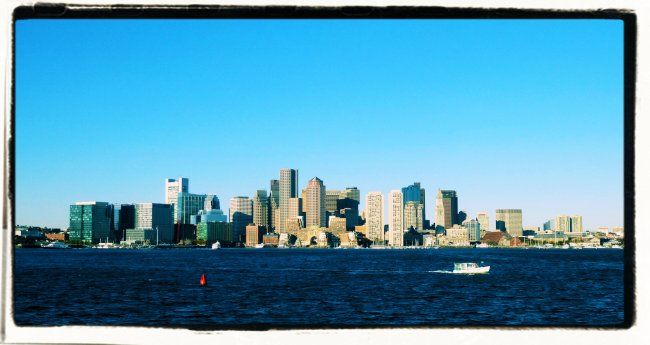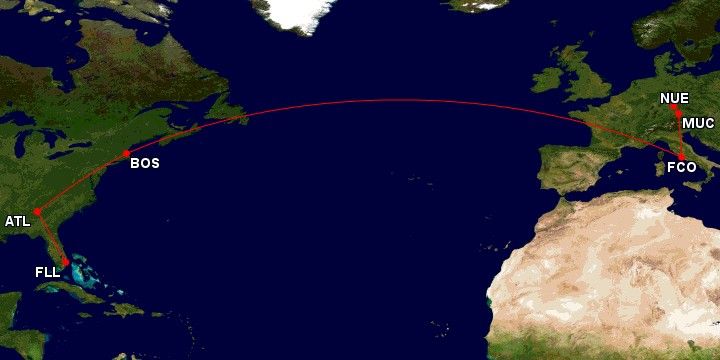 Map generated by the Great Circle Mapper - copyright © Karl L. Swartz
Intro
In early 2013, my wife and I decided to go on vacation to Miami Beach. The second half of October was our travel period of choice, just after the hurricane season. In order to ensure a relaxed outward journey, we burned some miles and booked
Nuremberg-Zurich-Miami
in
Swiss'
Business Class. I had already tried the carrier's great long-haul Business Class product on the A340-300, but not yet on the A330-300. The connecting flight would be operated by
Augsburg Airways
, just eleven days before its shutdown.
Homeward bound, we added a one-day stopover in Boston.
Alitalia
offered attractive one-way Economy Class fares and we decided to fly
Boston-Rome-Munich
(long-haul sector operated by an A330-200), complemented by
Munich-Nuremberg
on
Lufthansa CityLine
.
Delta
was the carrier of choice for the journey from Florida to Boston - mostly because it would operate the ever-exciting 757-200 on the
Fort Lauderdale-Atlanta
and
Atlanta-Boston
sectors. Flights from Miami were also more expensive.
Finally, we decided to make a daytrip to the Bahamas during our stay in Florida. Both Nassau and Freeport seemed to be attractive destinations - but in the end we booked
Fort Lauderdale-Freeport-Fort Lauderdale
because flying times were simply better and I would get two new airlines instead of one: Bahamasair and Silver Airways. All flights on the map:
Map generated by the Great Circle Mapper - copyright © Karl L. Swartz
Part III of my latest trip report series will feature the return journey on Delta and Alitalia as well as the short visit to Boston. Parts I & II can be found here:
Swiss A330 To Sunshine State: ZRH-MIA In Business
(by
PlaneHunter
Apr 21 2014 in Trip Reports)
Freeport Just For Fun: Bahamasair & Silver Airways
(by
PlaneHunter
Jun 15 2014 in Trip Reports)
[Edited 2014-08-11 08:35:44]