Previous part of this trips' trip report here:
Aloha! The United Way - B777-200 and B737-900
Thanks to gcmaps, our criss-cross trip route
This part of the Trip report
Stats (Since 2010, when I've been maintaining my flight reports):
First time on Delta.
3rd and 4th time on B767-300
Delta DL 612: HNL - LAX
Flight Reg: N156DL ; Ex Gulf Air - A4O-GR, delivered to DL on Jul 97; Built 1991
Boeing B767-300
Seat 17D
Departure time 12:04 (Actual 12:25)
Arrival 20:39 (Actual 20:25)
26 July 2014
Background and Booking process
After 3 days in Honolulu, it was now time to leave to the Big Apple. We were supposed to fly on the direct HA service to JFK, but the flight was full. Hence had to book ourselves on the DL flight to JFK via LAX. Nevertheless, a new airline that I could try.
After the tickets were booked, we could preselect seats for the LAX – JFK sector but not HNL – LAX sector, as the flight seemed full, so would be taking a chance during check in.
Looking forward to the 767 as the seat configuration looks great in economy.
Once again Delta's website was very easy to navigate and the website looks like a lot of thought had gone into designing the website.
Realised that there was a charge for check in baggage's that we will have to pay either at the counter or during online check in. AAArrgh!
I just don't get this concept – in the US, all flag carriers charge for check in baggage, whereas LCC (SouthWest, JetBlue) let us check in one baggage for free. What is going on here? Nevertheless, since it is my first time on a Delta flight, looking forward to the flight to New York.
Day before flight – Online check in
Checked in online the previous evening using mobile check in facilities and it worked a charm. Easy and efficient, and was checked in in less than 10 minutes. Both flight seemed full as we were unable to change seats, in the end settled for what we got.
Day of Flight
On the day of the flight the journey our hotel to the airport was pain free and was at the terminal within half and hour.
As soon as you enter the terminal the bright orange Muriel on the walls hit you. Reminds you that you are in Hawaii. Speaking to the friendly check in assistant, she confirms that the Muriel depicted lava from the volcanoes. Fantastic.
Lava theme at HNL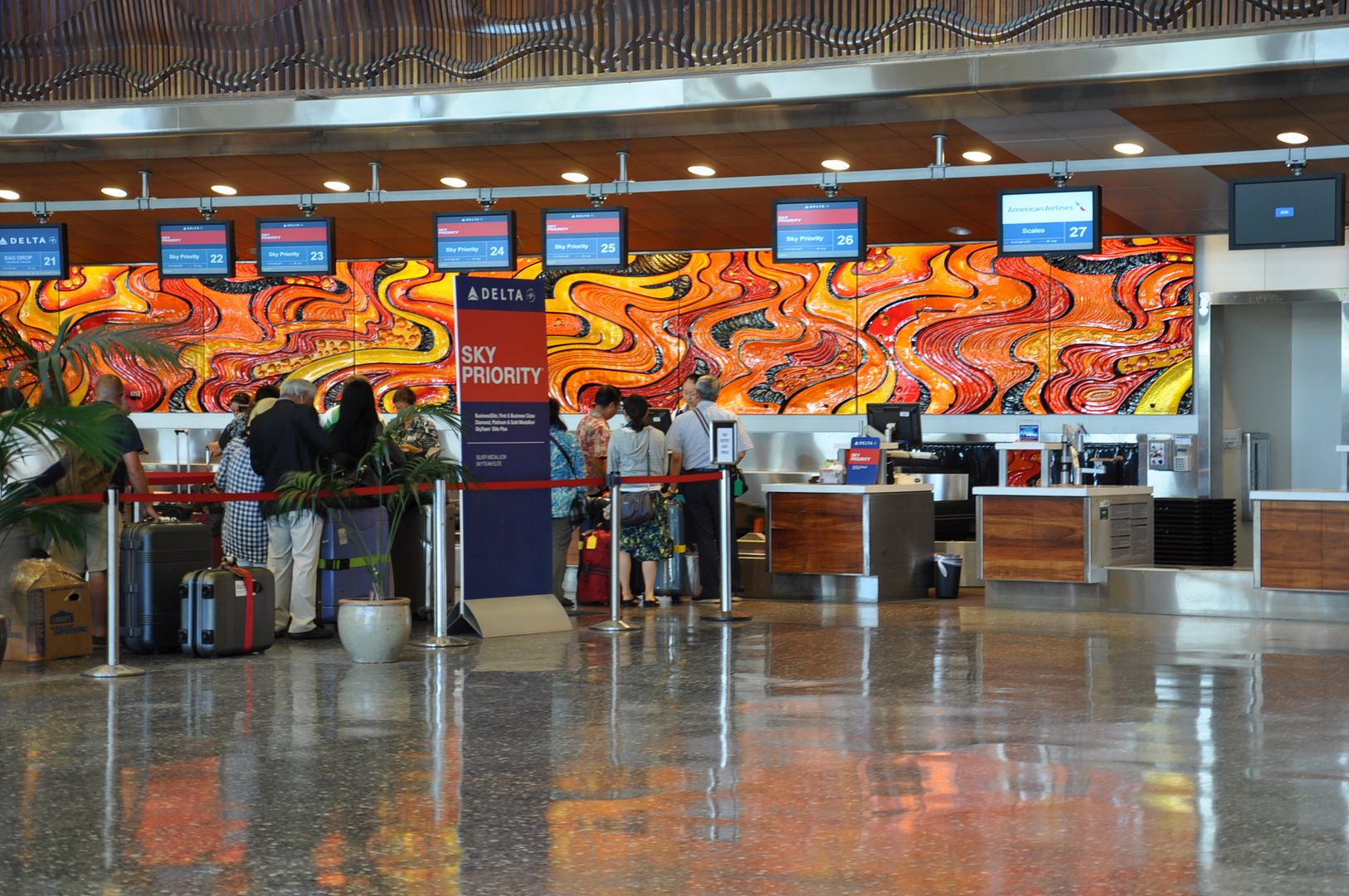 Check in was smooth and quick. Security took around 15 min. And as normal, I was chosen for a 'Random' search, Again.
Once airside, Honolulu airport is a completely different place to be. Very airy, and superb for those close up aircraft pictures.
A Host of Korean, JAL's amongst Delta's and Hawaiian.
Plane spotting at HNL – AS B737-900, UA, DL and JAL
AS – Proudly all Boeing
Didn't know that Korean had such a major presence at HNL. Is it so, or did any of their aircrafts go tech?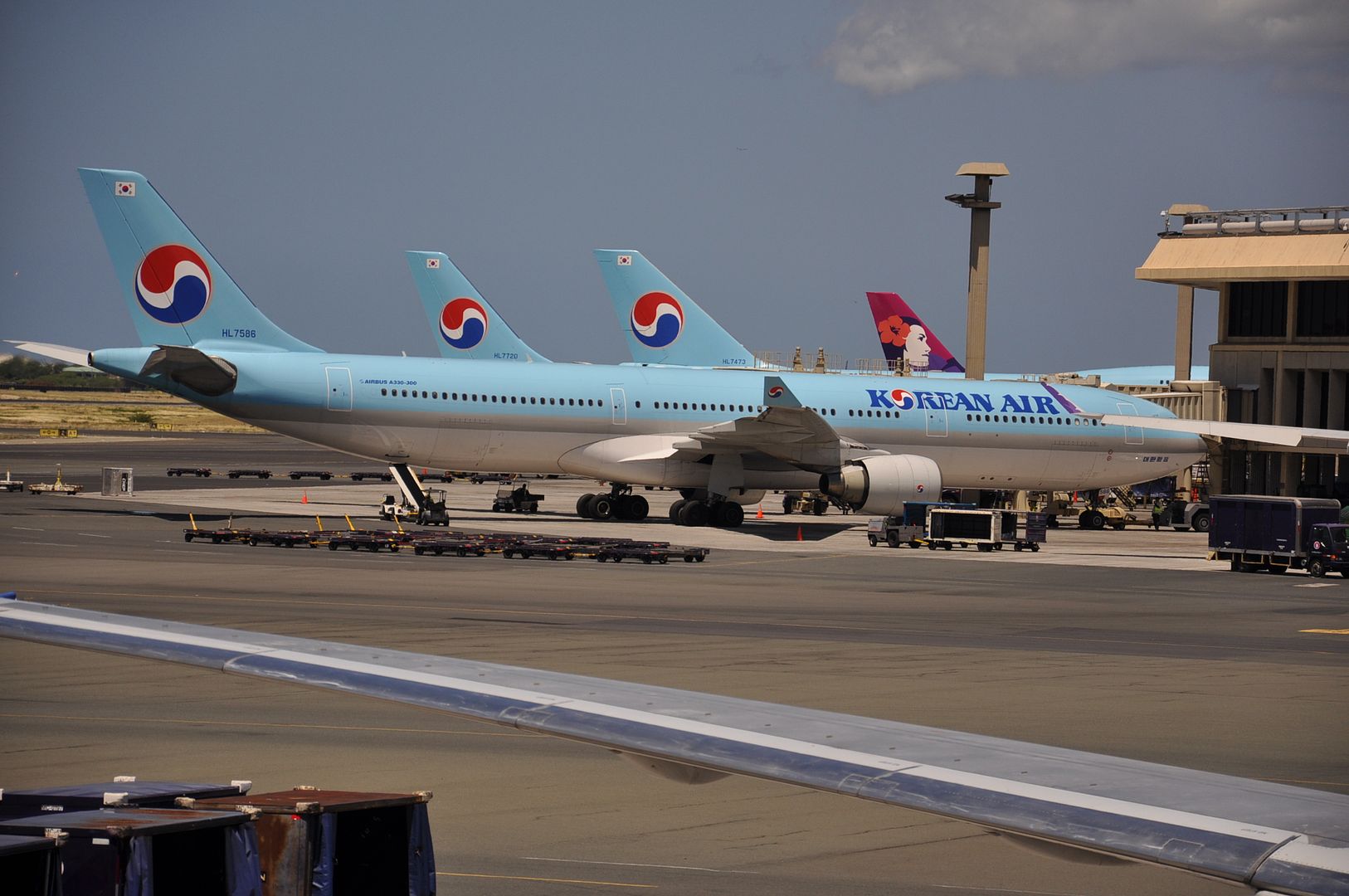 Beautiful HA tailfins – B767-300 in the foreground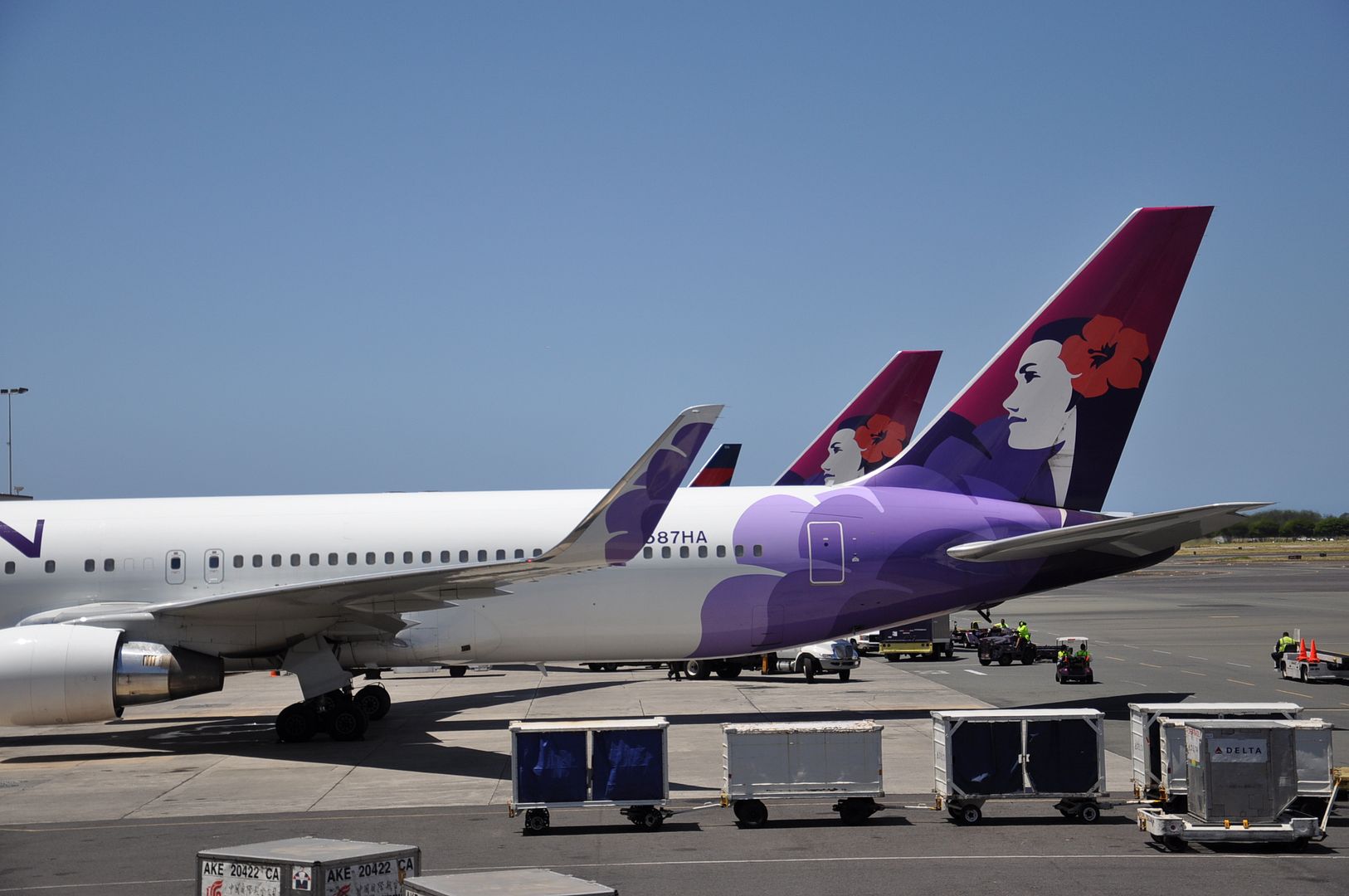 Japan Airlines triple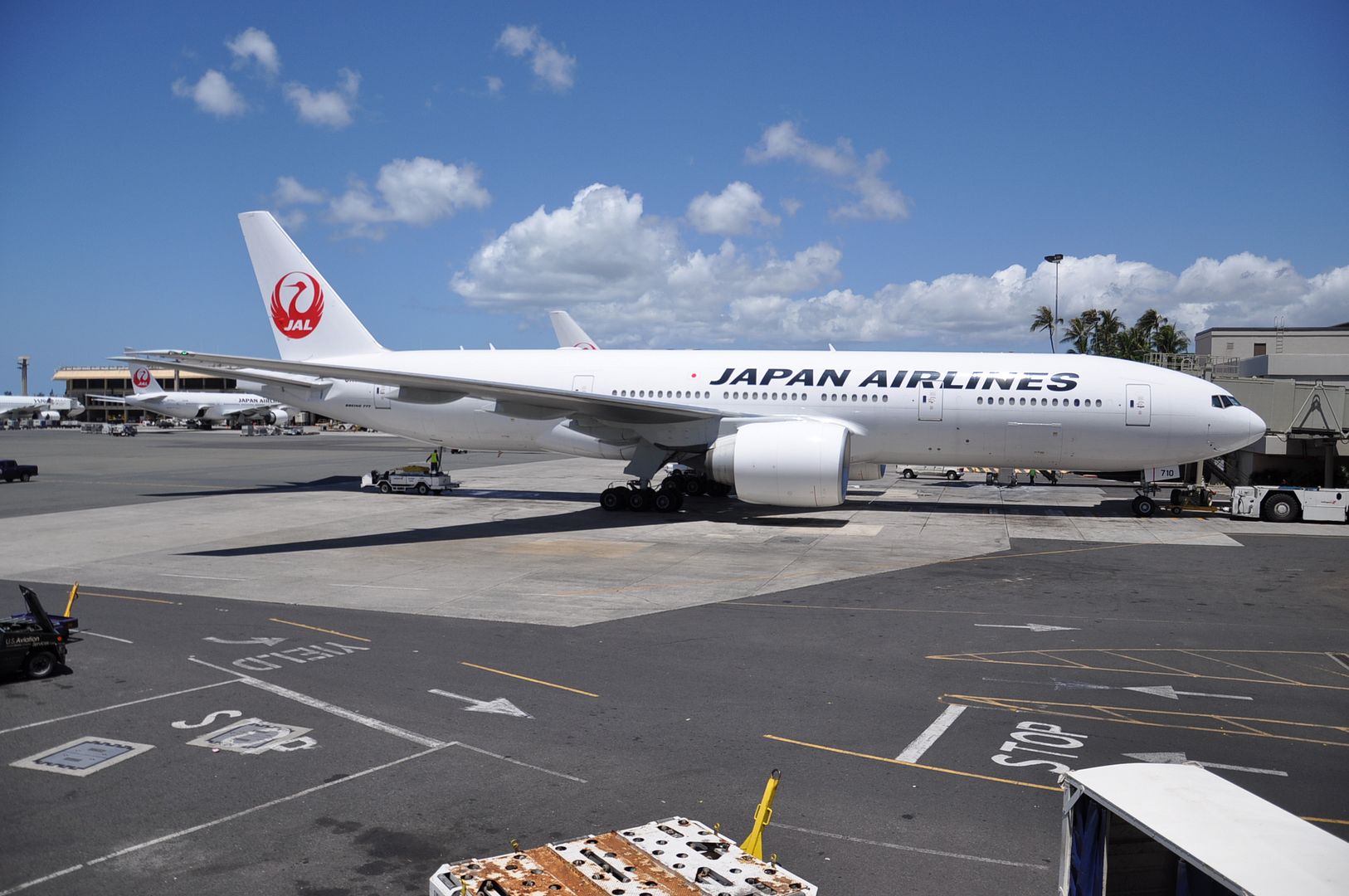 Stopped by a bar to grab a drink. Awesome bloody Mary.
Boarding was slightly delayed which subsequently delayed our flight by around 20 minutes. However, the captain announced that it would be a smooth ride into LAX today and we should be able to make it on time.
Before boarding I checked the flight reg. and noticed it was a 23 year old aircraft, but upon boarding, it didn't show its age at all. Very clean, neat, and crisp – really well maintained, seems to be.
Our ride to LAX – DL N156DL – B767-300 – The oldest aircraft I've flown in – 22 years and 7 months at the time of flying it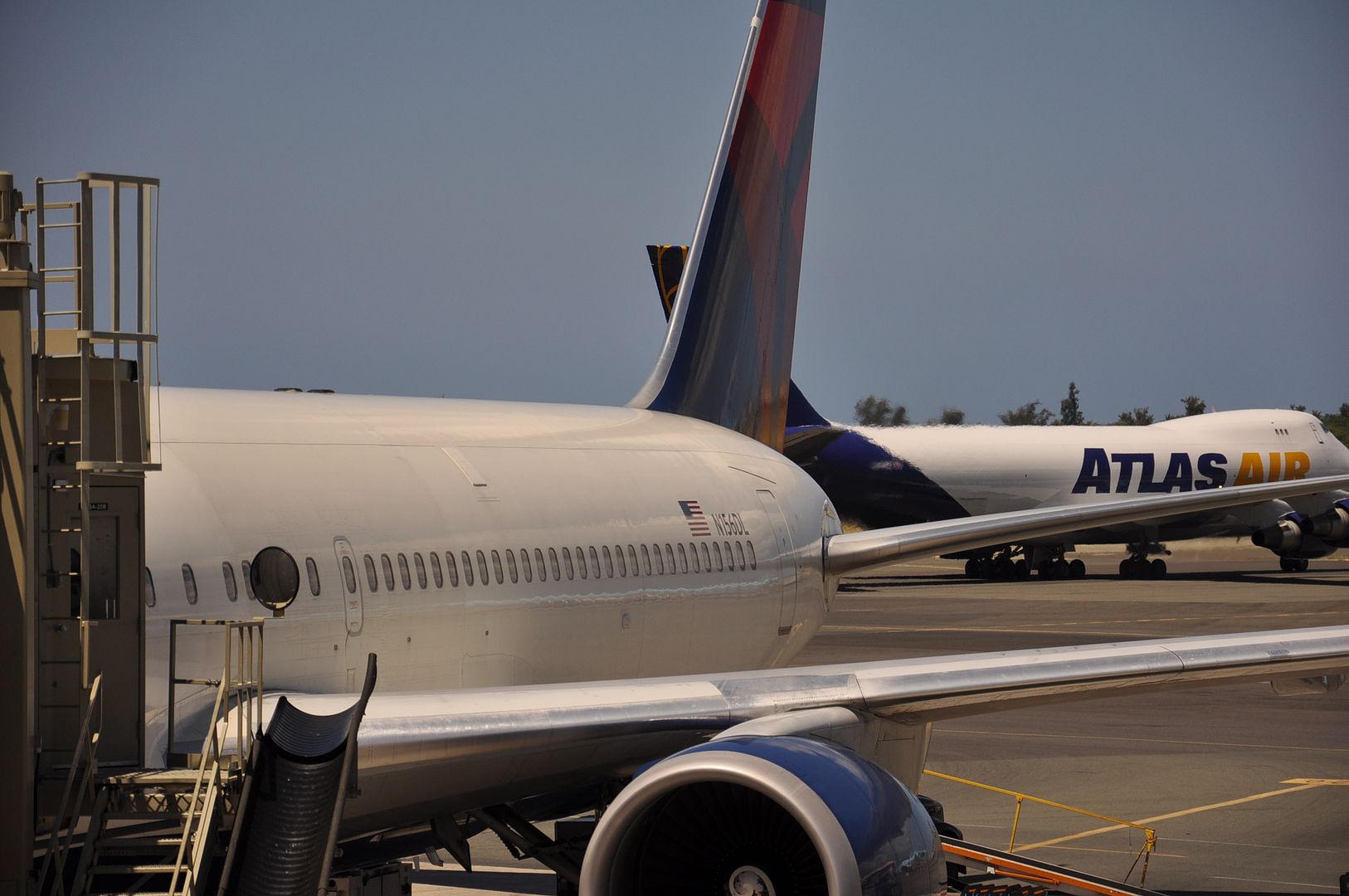 Boarding gate at HNL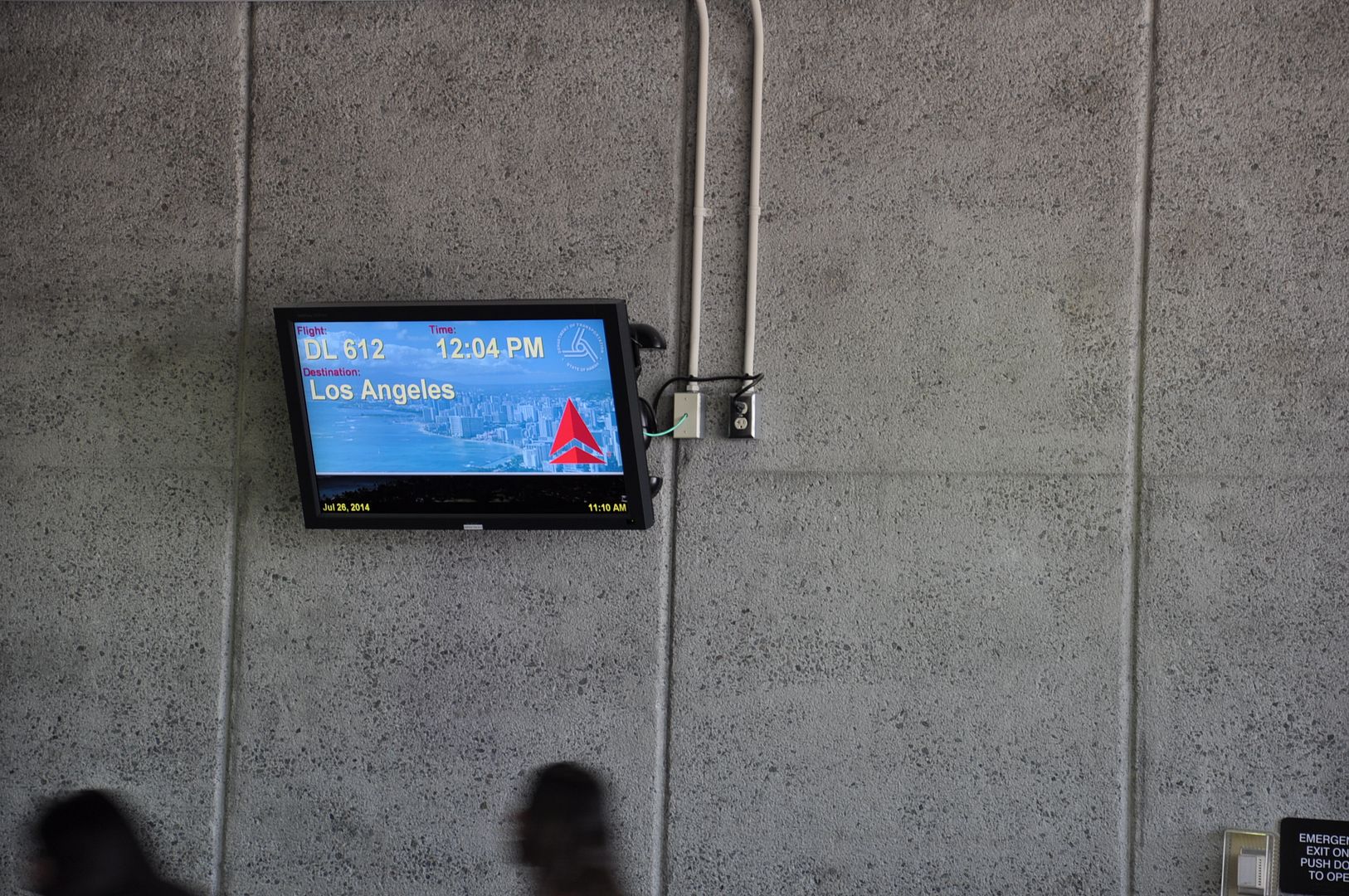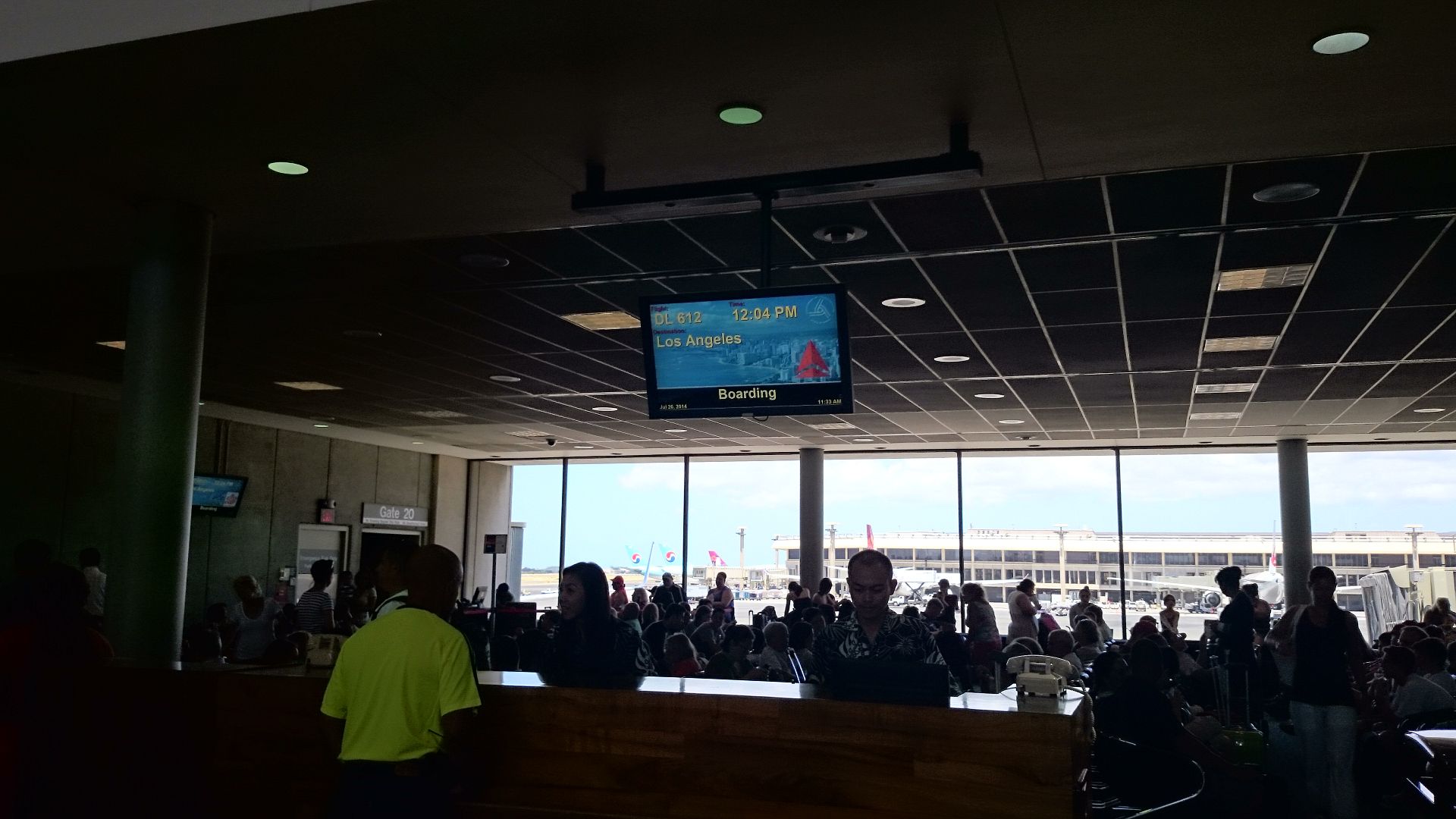 We were in the middle row and we settled well into our seats.
First impression of Delta was that they seemed to have very well maintained aircrafts, akin to United. The 767 is definitely one of the best Y cabins around. Only one slight drawback would perhaps be the lack of overhead storage space due to small size of the overhead bins. On the flip side, this makes the cabin looks very airy and spacious.
On board DL612 to LAX – B767-300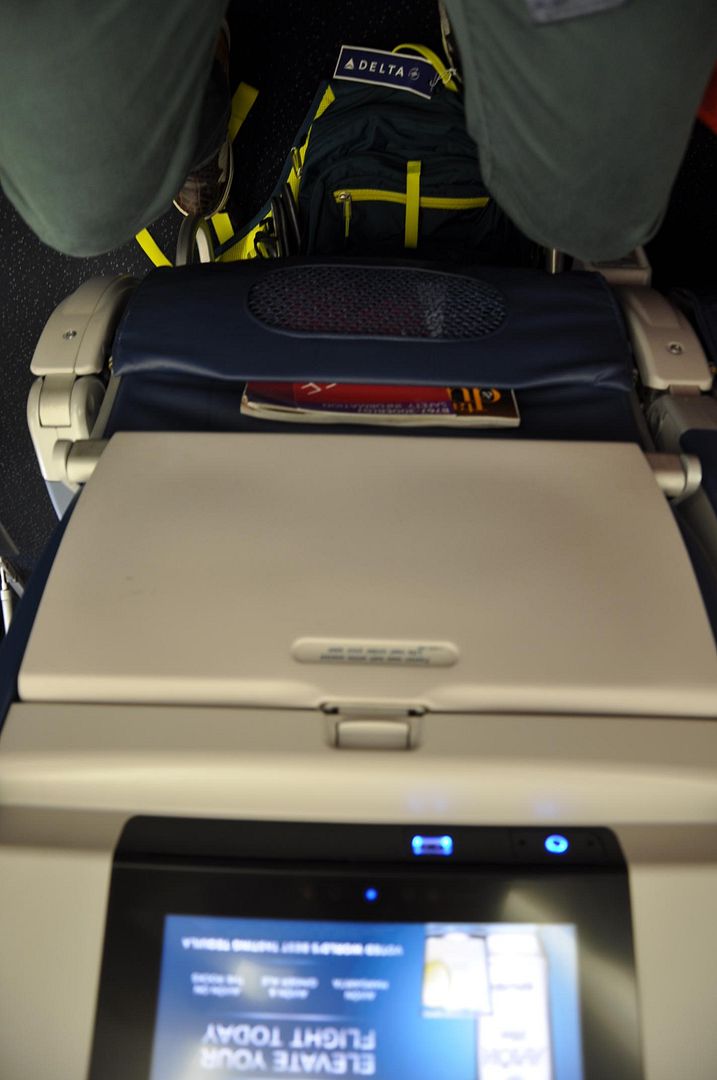 View of the cabin – not too shabby for a 22 year old aircraft.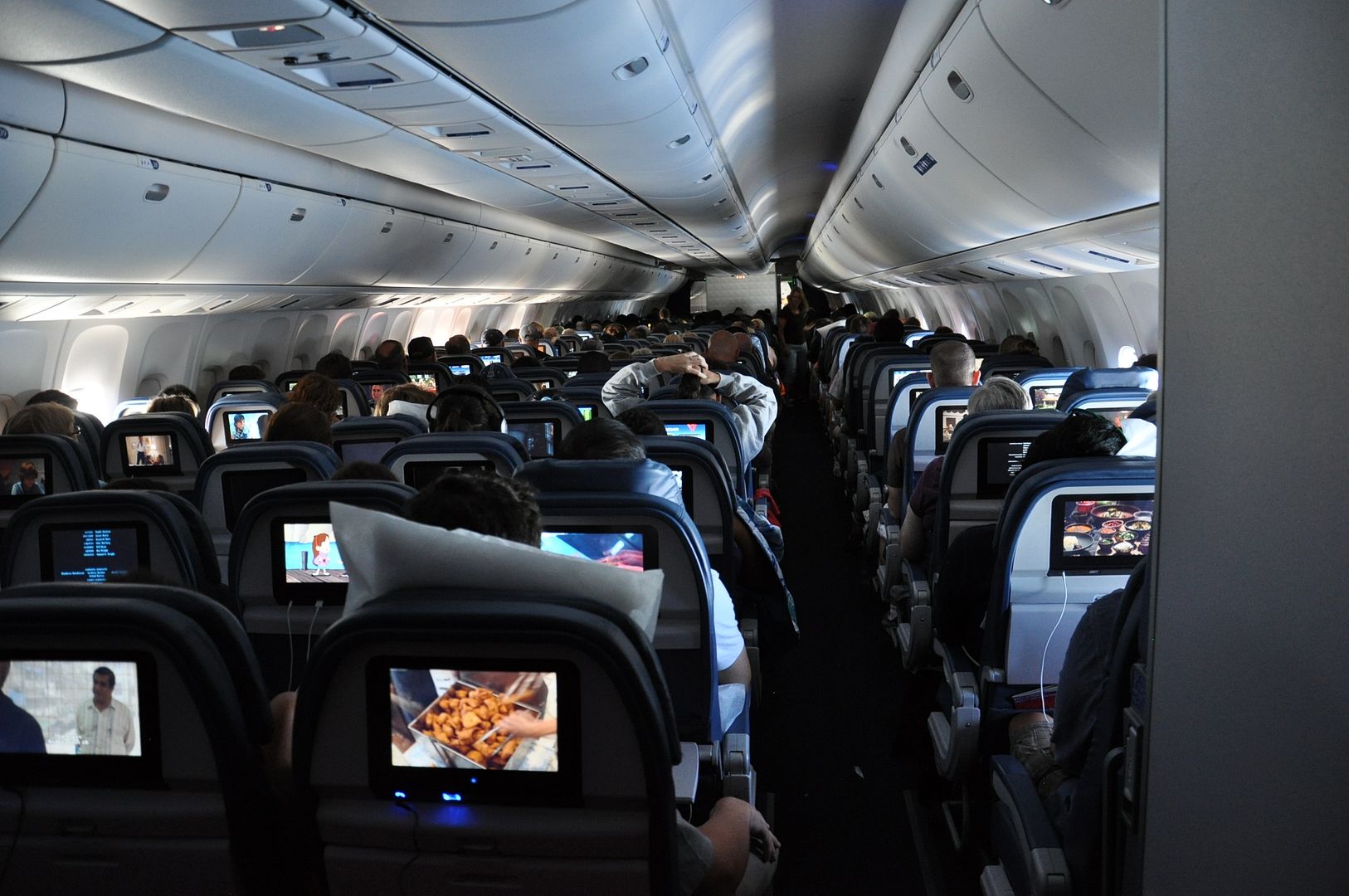 Would like to comment on the safety video of DL – Smart and a perfect mix of being serious and some fun bits added in. Not As good as Ait New Zealand, but definitely up there as one of the better and more interesting safety videos.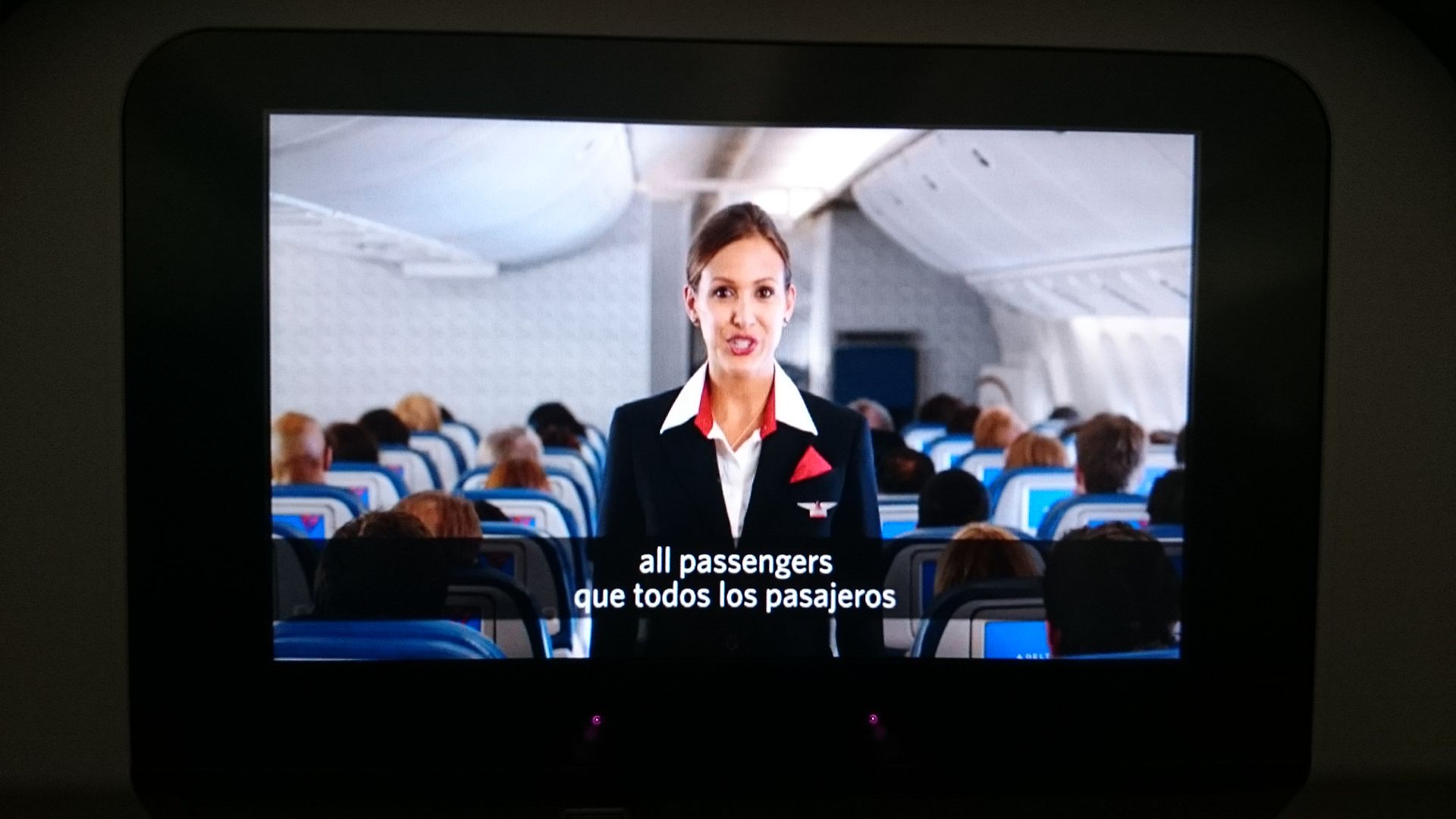 Speaking to the FA, he reckoned that the refurbishment happened a couple of years ago.
AVOD was fantastic. Love the touch screen controls for lights, FA, etc.
AVOD was free if you had your own headphones, or else it's a $4 charge for it. Great selection of movies, TV and music (they even had Tiesto, being a house fan, I was quietly surprised)
Free snacks (peanuts, pretzels) and soft drinks. Alcohol and hot food charged for. Just stuck to snacks on this flight.
Watched Wadjda. Had heard about it and it was such a great movie. Very well made and struck a chord with me, having spent my child hood in Kuwait (movie was based in Saudi Arabia).
Fantastic AVOD on DL – PIP available! First time I see this on board.
Full marks to the touch screen AVOD on DL. Everything just worked as it should, perfectly well, very responsive unit.
Thoroughly enjoyed this movie on board. Struck a chord with me as I've been living very close to Saudi, for the best part of 18 years of my childhood. Such a well-made movie.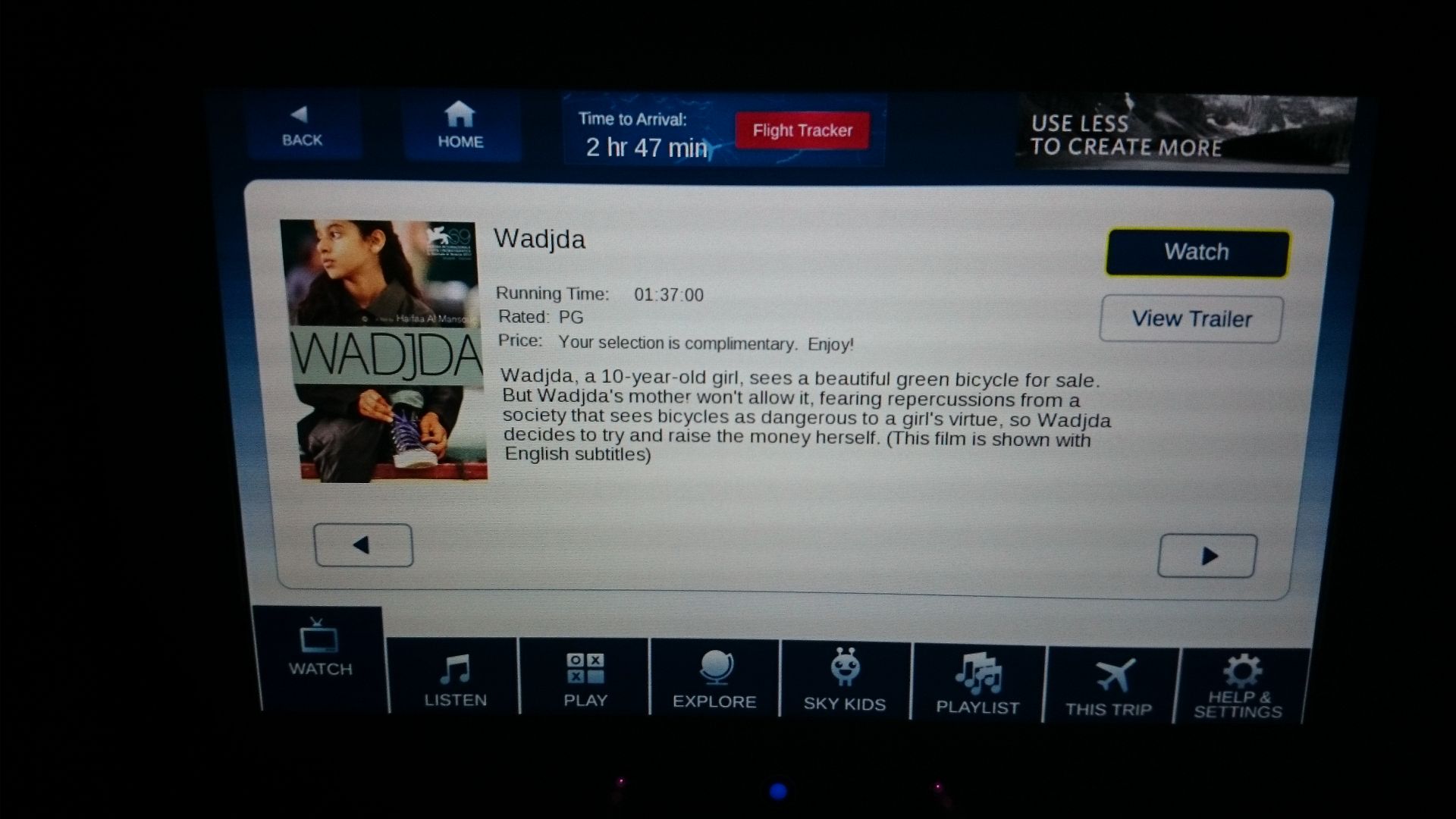 Another reason why I loved the AVOD on DL. I usually never bother with listening to the music on board, but Tiesto! Incredible! One of the biggest fan of EDM and having Tiesto on board just made my evening.
Seats – wide, spacious. Nothing like a 2-3-2 on Y, on the 767. Looking forward to the LAX-JFK sector too.
FA – In my opinion, not as good as United, but definitely passable. Numerous drinks (water) rounds. Did their job well, but nothing over it. On the whole very good, but they slightly lacked the edge of having a personal touch, that United FA demonstrated. This could be a one off either ways, but overall both the set of crews were very good.
The toilets on the 767 is great too. Very spacious, and definitely one of the largest sizes I've seen on board.
F&B on board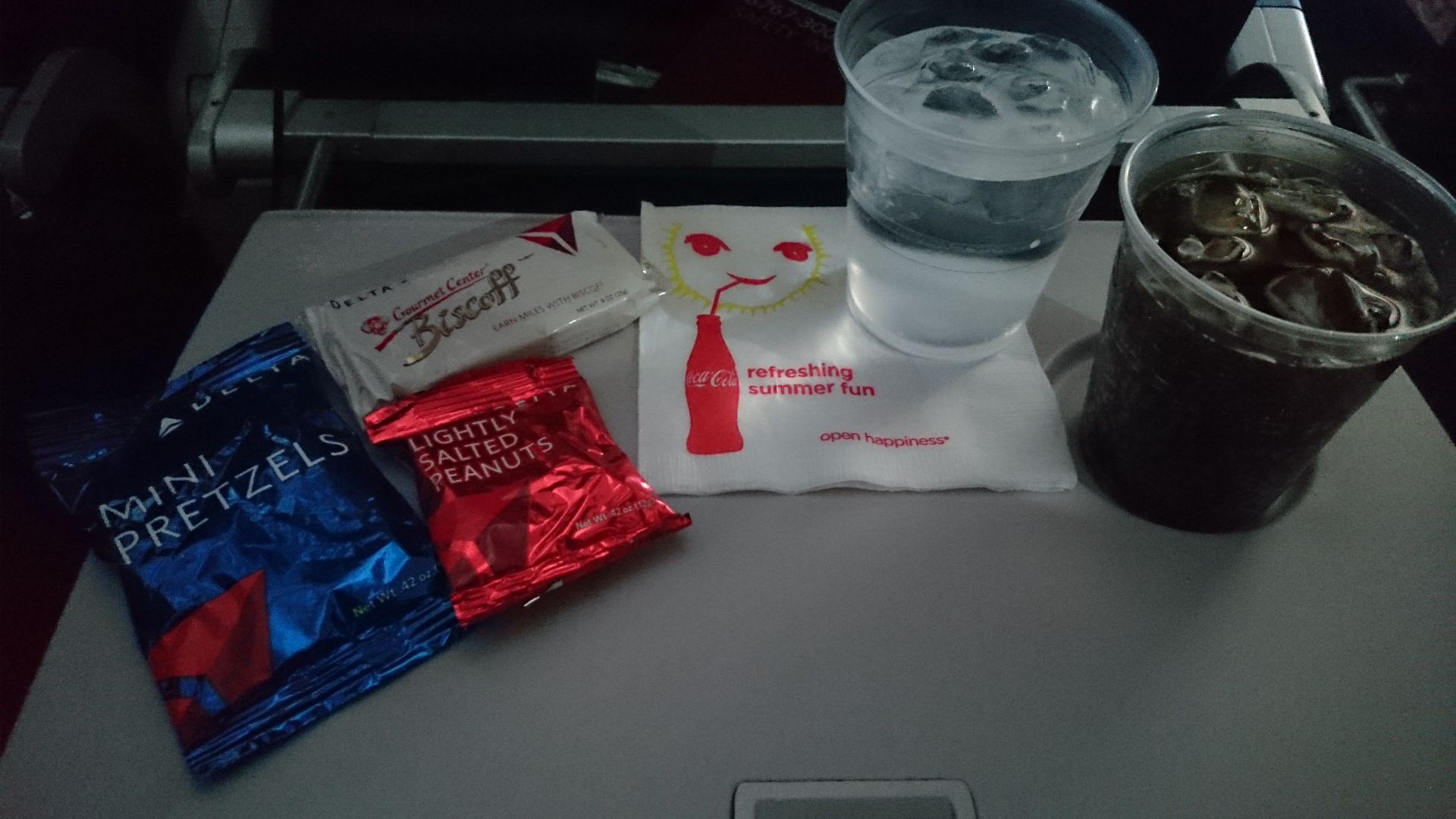 The rest of the flight was uneventful in the nicest possible way. Landed on time at a busy LAX and we were parked by United's terminal (T6) as T5 seemed to be full.
Almost back to LAX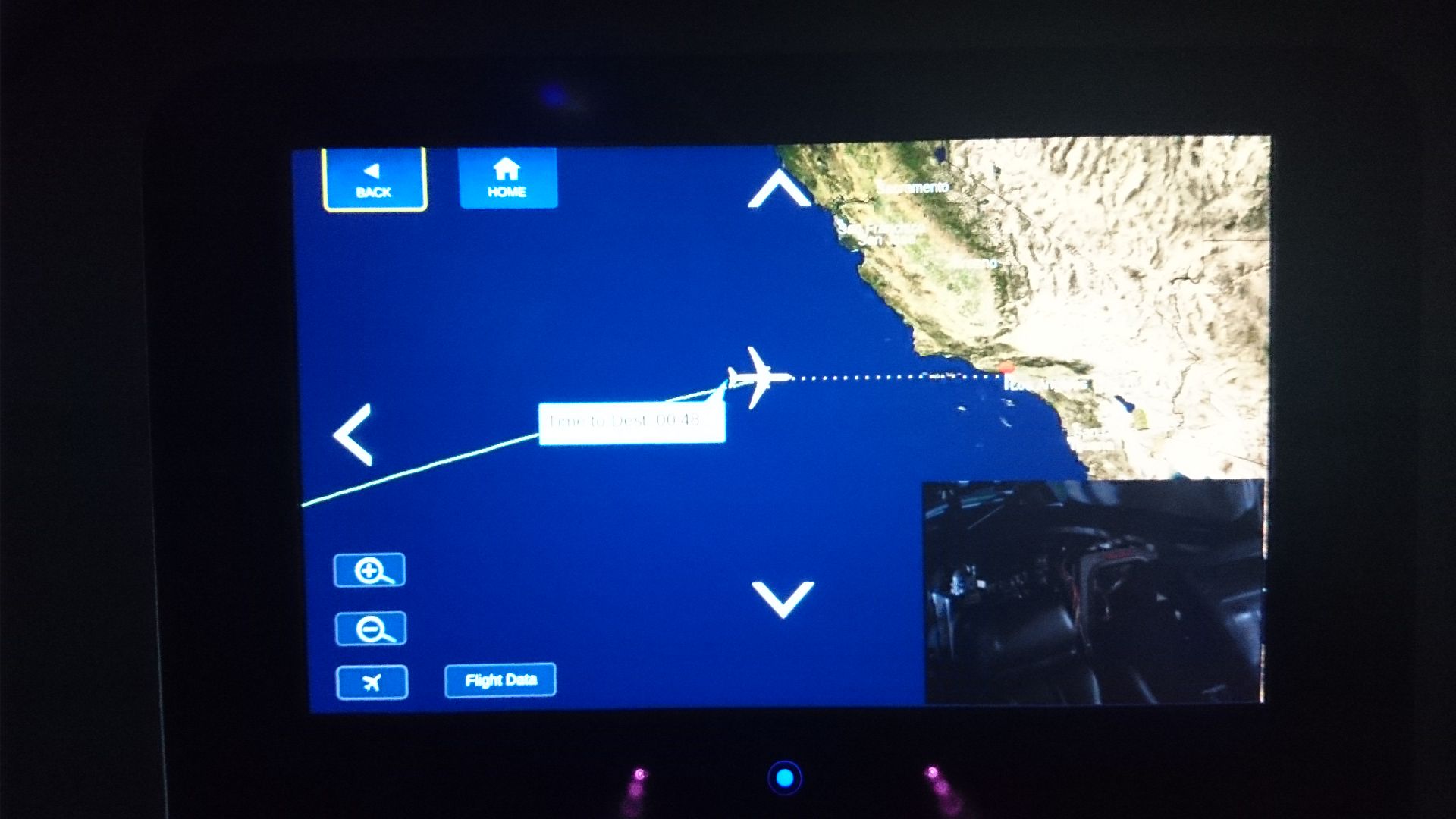 Delta DL 1262 : LAX - JFK
Flight Reg: N194DN ; delivered Sep 1997
Boeing B767-300
Seat 25G
Departure time 22:30 (Actual 23:10)
Arrival 06:50 (Actual 07:05)
26 July 2014
Back in LAX – back to mass departures; 6 screens and counting!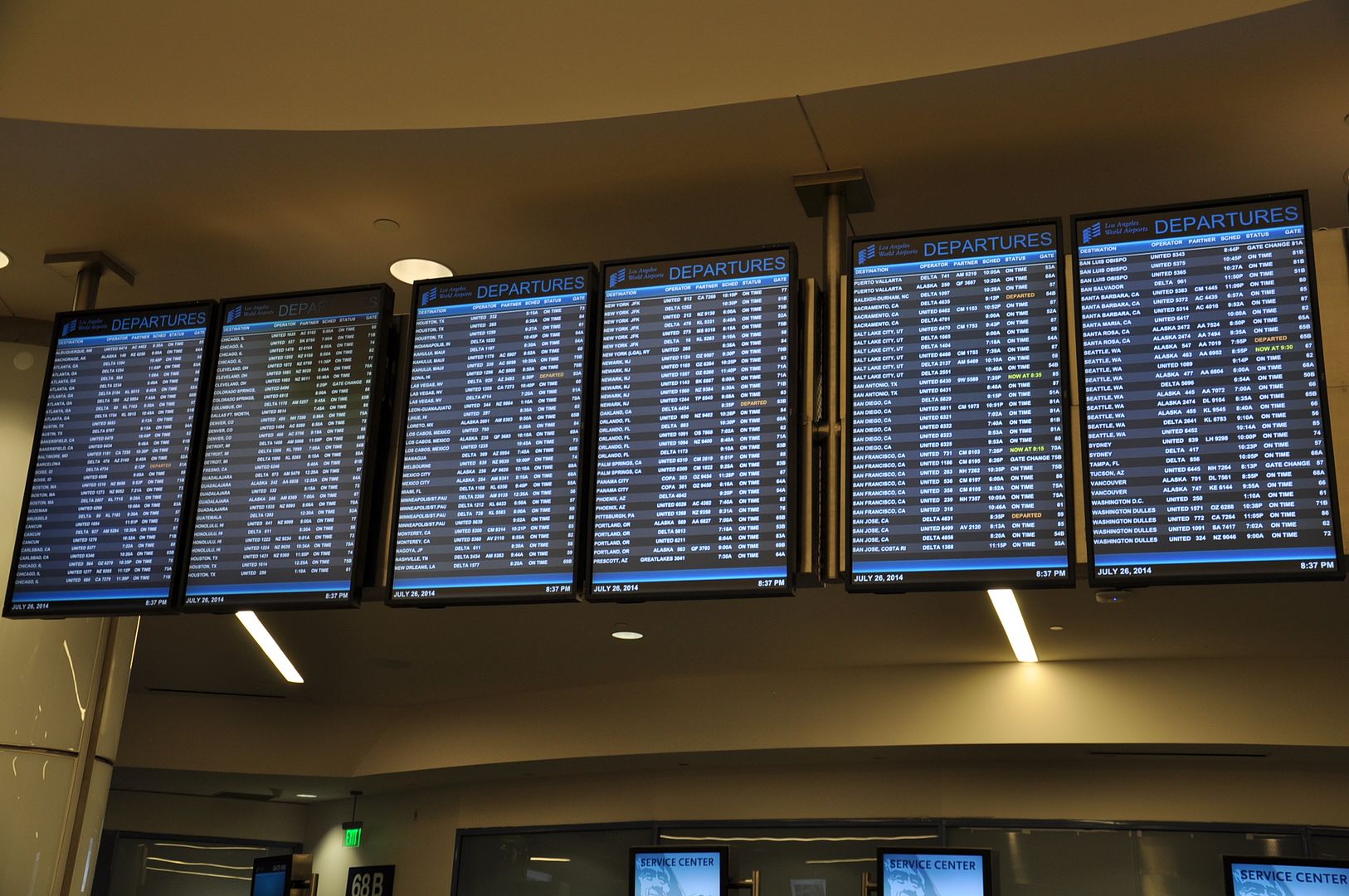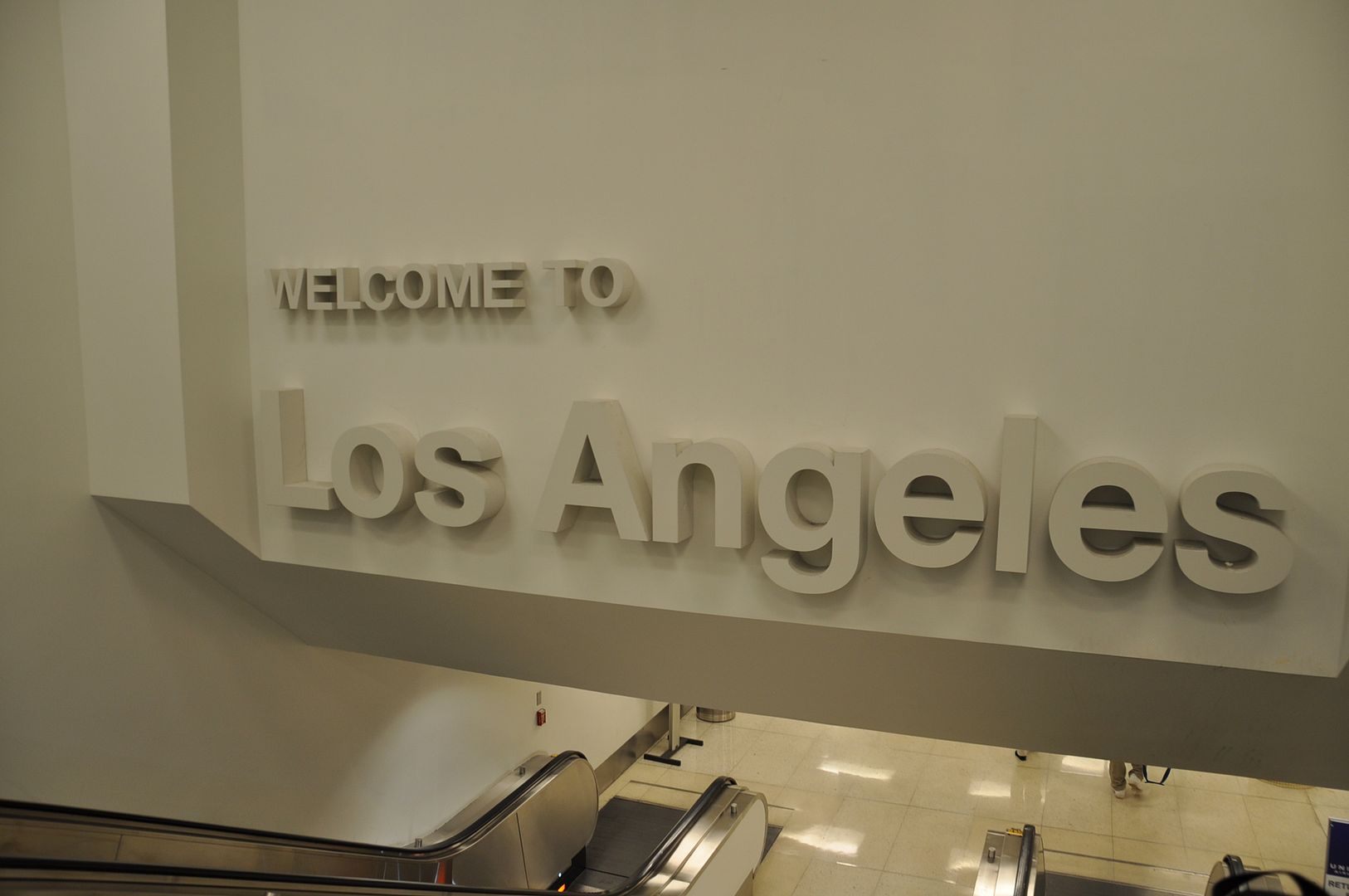 Delta terminal was chok-a-clock hence needed to park in United's terminal (T5) and we had to walk to Delta (T6) four connection to JFK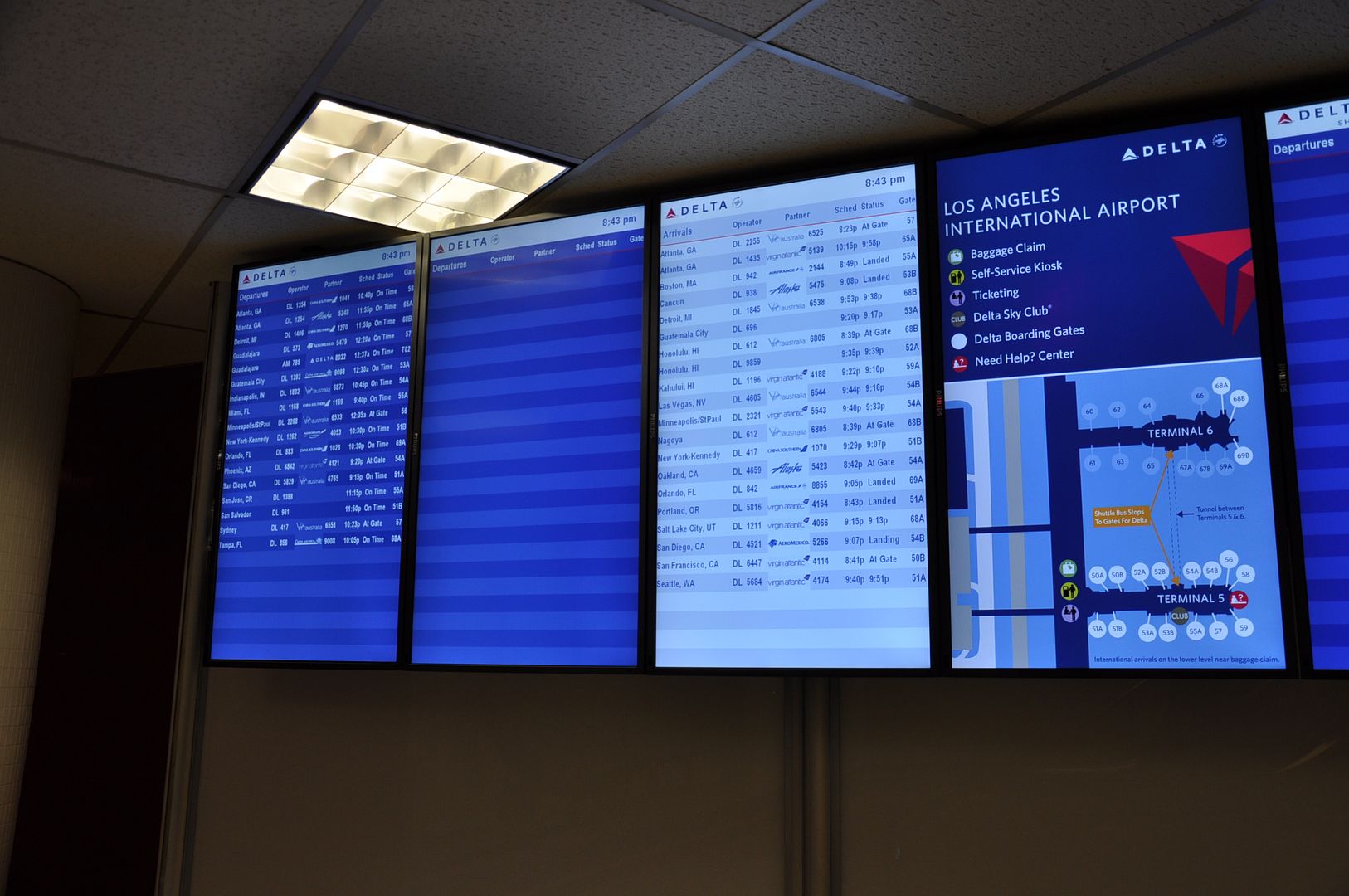 Made our way into T5 (delta) and settled in to have dinner at one of the numerous dinners at the terminal.
Flight seemed to be on time and boarding commenced as scheduled.
Boarding gate at T6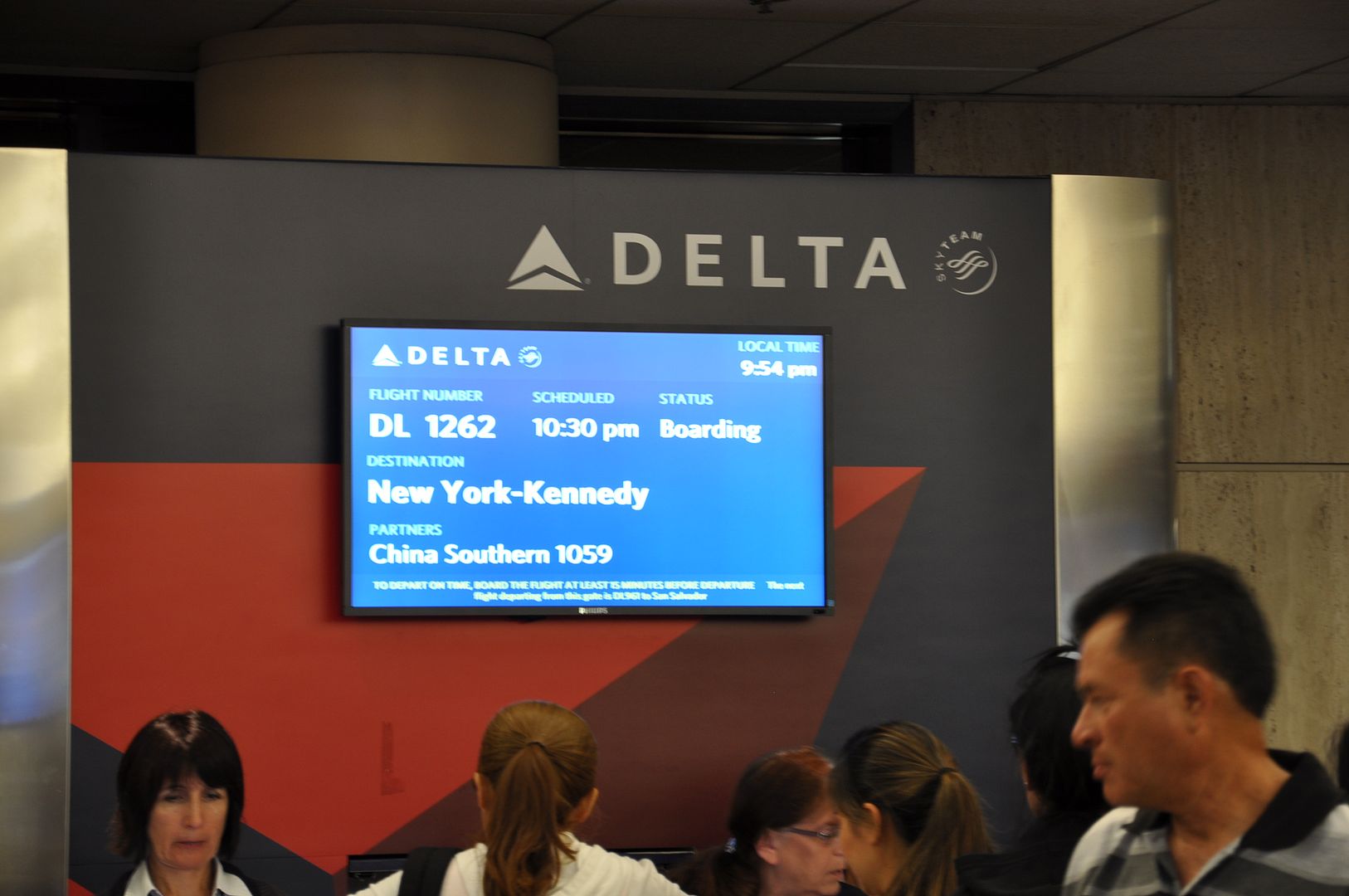 Slick! Even got a USB Charger. I later realised its prevalent in most of the US airports.
Our ride to JFK – DL N194DN – Another B767-300
Once on board, it was apparent that this 767 had a slightly different configuration.
The flight from HNL to LAX, had a common economy class which also included economy plus.
Whereas on DL 1262, it had a separate economy plus section which meant lesser seats in total, perhaps their trans-con configuration.
On-board DL1262 to JFK – DL B767-300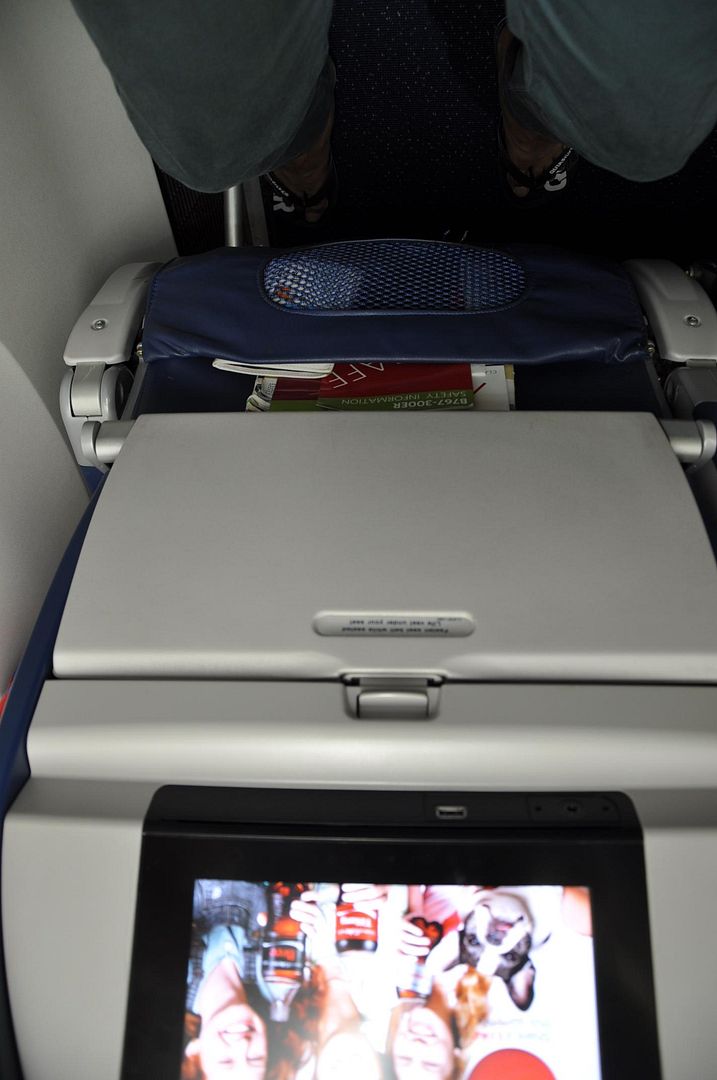 Few noticeable differences between the two sectors:
1. Wi-Fi available in 1262. Not in 612.
2. Headsets free on 1262. But not 612. Strange.
3. All the movies were not free on this flight compared to 612. So that's the catch. But they still did have quite a few complementary movies, just not the new releases.
F&B on board DL 1262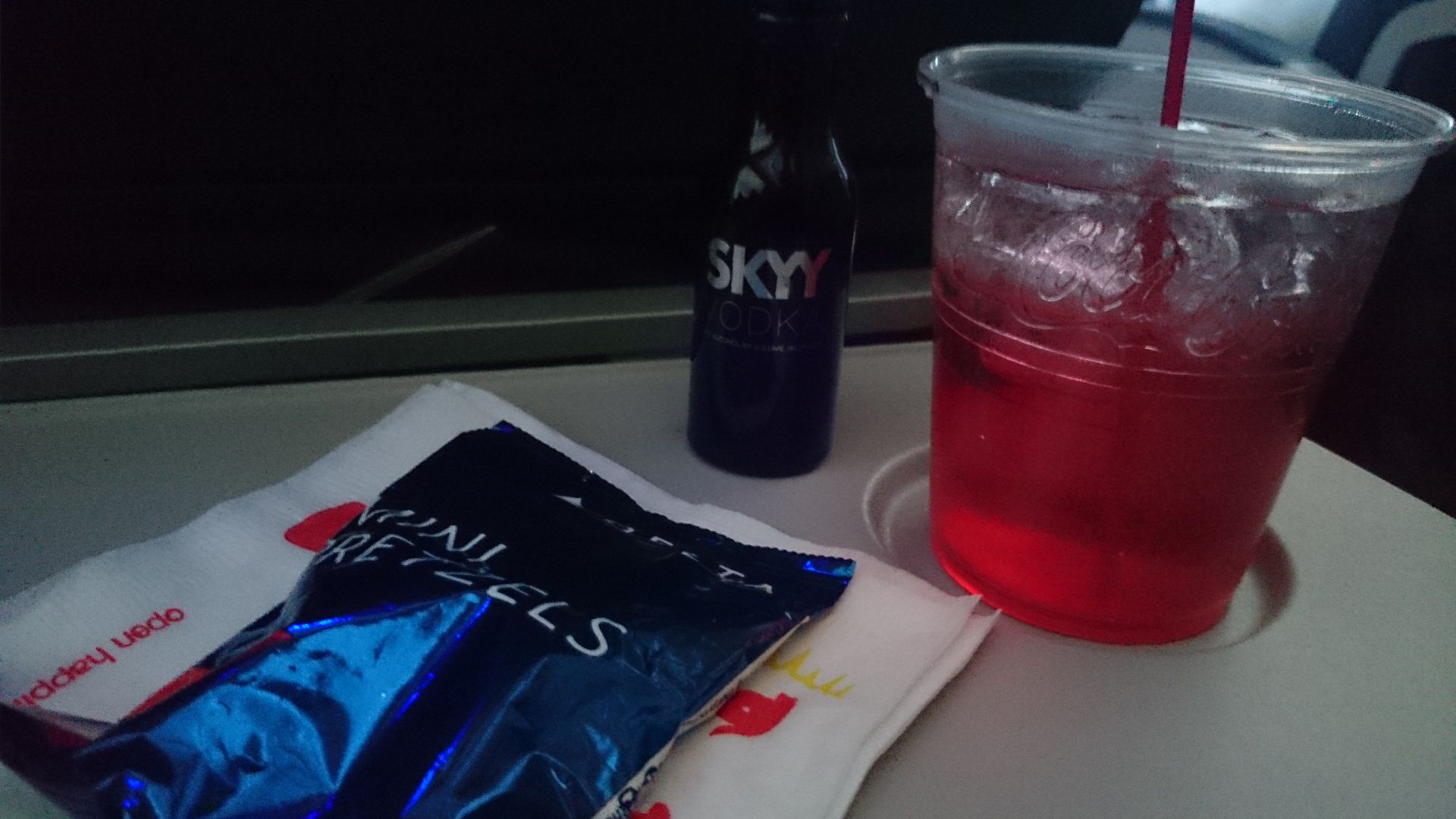 This time around we got the two seats by the window. This was our night time 'Catch some sleep' flight and this flight helped us do exactly that. Slept through the entire flight and the next thing I knew, we were descending and 20 minutes away from JFK.
Once again a great service from Delta. Not much more I can comment on this flight except that it was Comfortable, turbulent free, good interior temperature and on the whole a hassle free flight.
Verdict
First time on Delta and really enjoyed it.
Positives for me were the 767's, immaculate condition of the aircrafts, spacious toilets, great seats, one of the most modern AVOD systems, above average crew – some of the big positives.
On the flip side – Payment for baggage's not available during ticket booking... WHY? Why not enable the passengers to pay upon booking ticket, would that classify their service as a LCC? Could also improve on their food offering.
To end on a positive, if given a chance, I would definitely fly Delta again.
New York, New York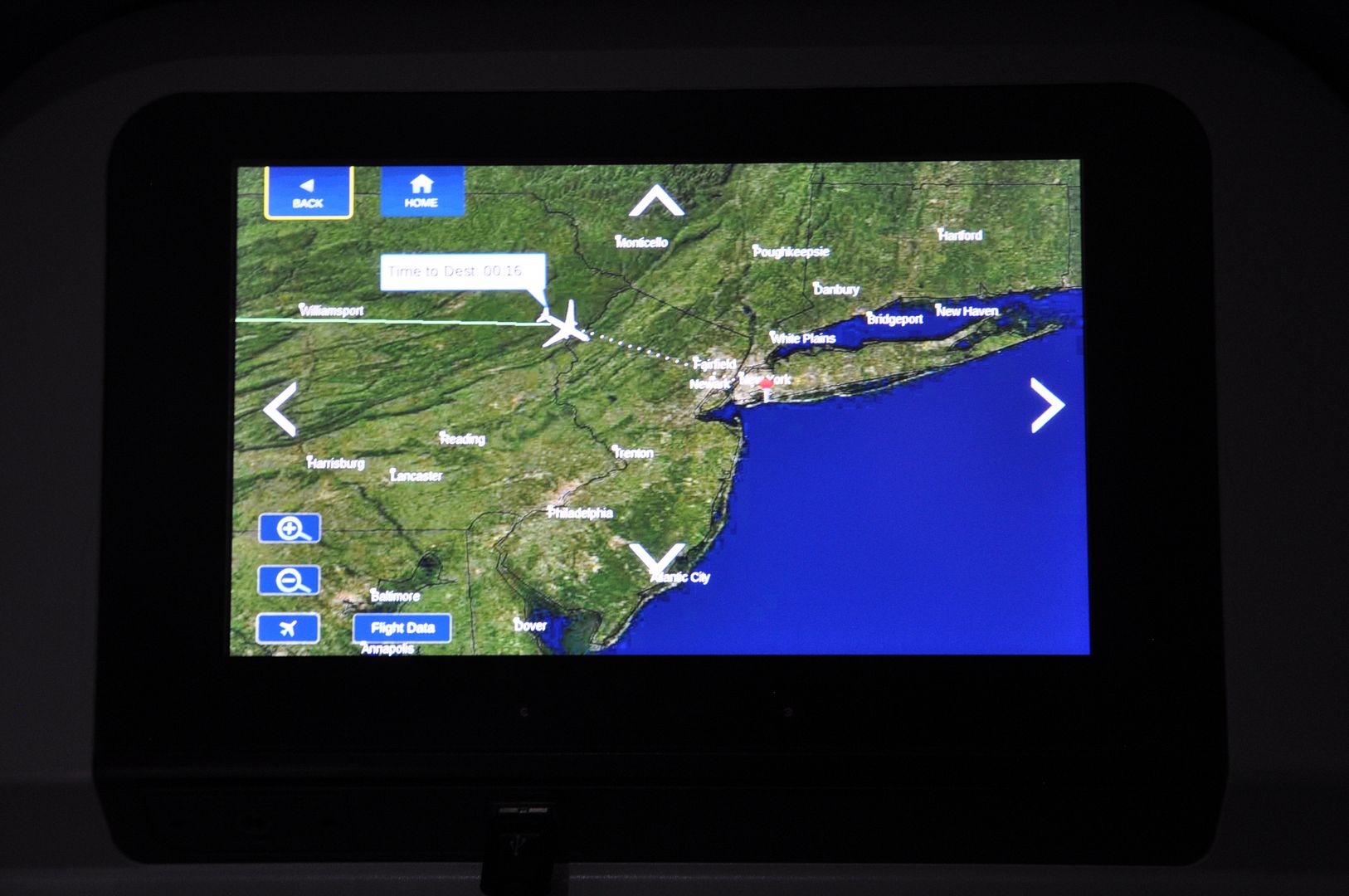 ….Still to come jetBlue service from BUF to LAS via BOS… Stay tuned…until then, safe and happy flying, Adios.!
Previous Trip Reports
VS Little Red To ABZ And EZY Return
24 Hours On A 787! - Final Leg CZ - AKL-CAN-LHR
Part 5 - BHE-WLG-AKL On NZ Beech1900D And A320
Part 4 - MEL-AKL-ZQN On QA And NZ B738A320
Part 3 - CNS-MEL On JetStar A321-200
Part 2 - SYD - CNS On Virgin Australia E190
Canton Route Part 1 - LON-SYD - CZ DreamLiner/A332
DREAM(liner)ING Of Hainan - China Southern
Panda Calling - BA LHR To CTU - Club World
China - The Low Cost Way - Spring Airlines - SJW-CTU
China United Airlines (KN) - CTU - SJW - B737-700
Norwegian B737 - LGW-TOS-BGO-LGW
Jet Airways: LHR – COK
Barra Trip – that was not to be
LHR - KWI - BA 747 - Part 1 - Middle East - China
Part 5: PVG-LHR - BA - Economy - B777
Part 2: KWI-DXB - FlyDubai - Economy - B737
Part 4A&B - SHA-SJW-SHA - FM: Eco: B737
Part 3A&B : DXB-HKG-PVG: CX & KA :Eco: A333
Morocco Trip - LGW-RAK-TNG-LHR - EasyJet & Iberia
Dusseldorf Calling - BA & EZY - Club/Eco - A321
Plane spotting at JFK.
El-Al B747-400. Have they replaced the SP on this route?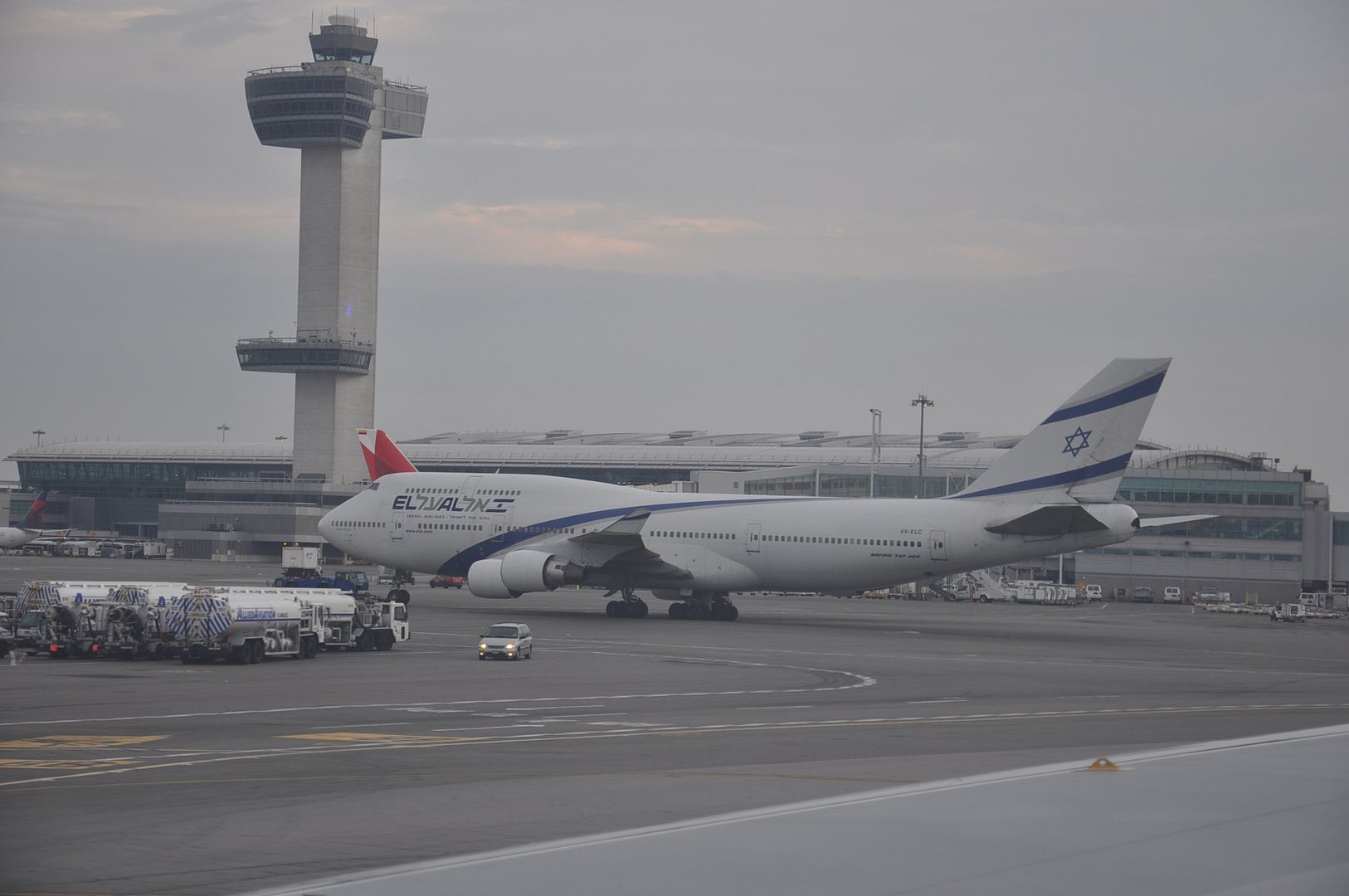 AI – B777-300 VT-ALU in the background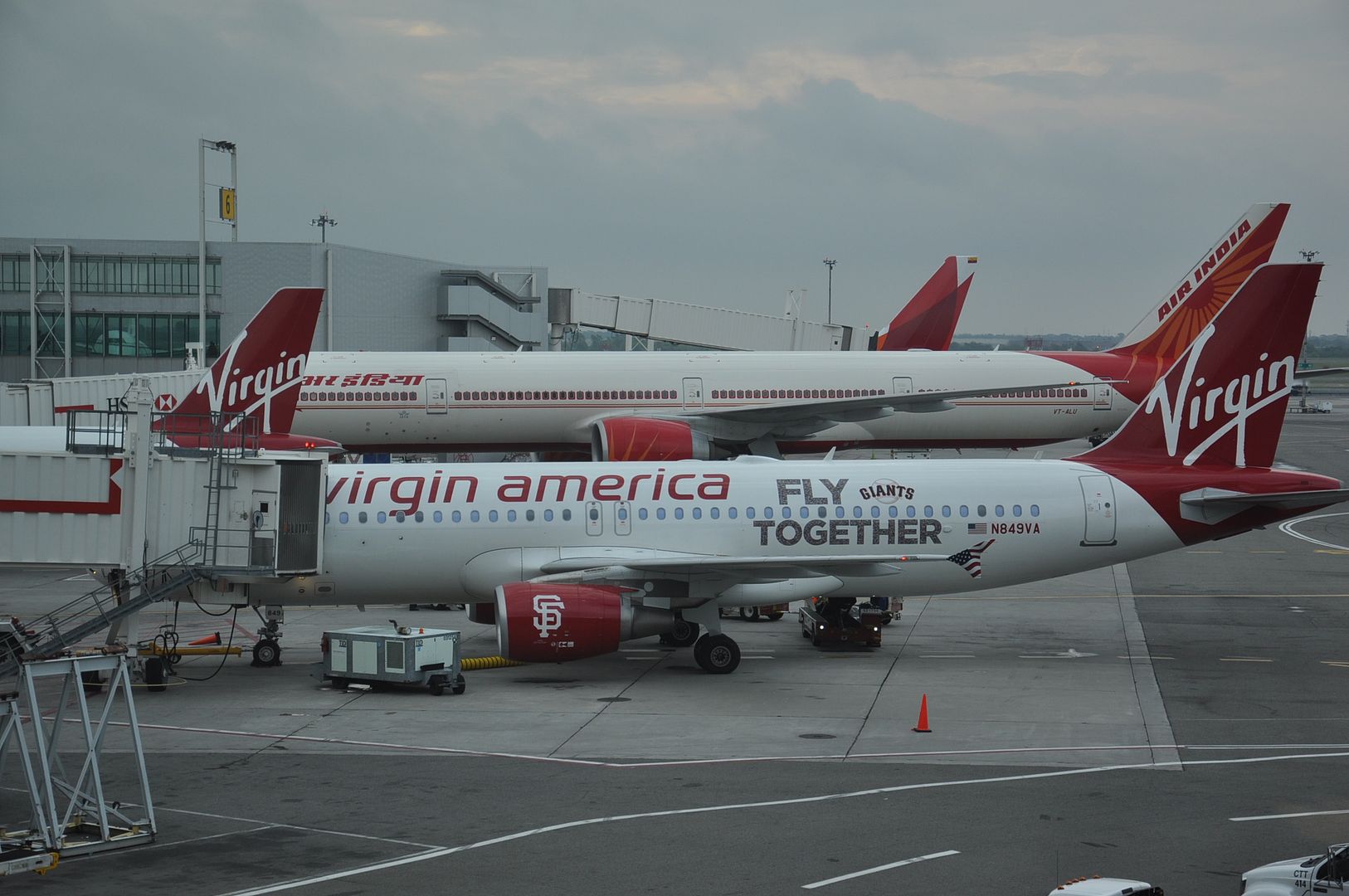 JFK T5