Previous part of this trips' trip report here:
Aloha! The United Way - B777-200 and B737-900
Mahalo Hawaii, Hello NYC - DL B767-300
Thanks to gcmaps, our criss-cross trip route
This part of the Trip report
Stats (Since 2010, when I've been maintaining my flight reports):
First time on JetBlue.
2nd time on E190 and 8th time on A320-200
JetBlue B6 1616: BUF - BOS
Flight Reg: N298JB ; delivered March 2009 – Cool Blue?
Embraer ERJ 190
Seat 9A
Departure time 16:15 (Actual 17:40)
Arrival 17:38 (Actual 18:55)
30 July 2014
Background
The next part of our trip would take us from Buffalo (after visiting the gorgeous and magnificent Niagara Falls) en-route to Las Vegas. For this part of the trip, the tour agency booked us all in Jet Blue's evening flight from Buffalo to Las Vegas via a 2 hour 40 min transit at Boston.
B6 website is very easy to use and I like the way they emphasise their USP's – Free first check in baggage, live TV in all seats, etc. In fact, so far all American airlines website that I've had to deal with on this trip have been excellent, and I would expect no less from the country that has the Silicon Valley and one of the original pioneers of computers and computer technology. It gave me all my flight details, was able to select seats beforehand. The only thing I wasn't able to do was to add my Emirates Skywards number, which I reckon I should be able to do it upon check in.
The first leg was a short hop of around 1 hr 20 min from BUF to BOS, followed by a 2 and half hour wait at BOS, before a 5 hour flight to LAS.
Online Check in and Day of Flight
Checked in online the previous day and wasn't given an assigned seat for the BOS-LAS sector. But check in was easy enough.
Check In counters for jetBlue at BUF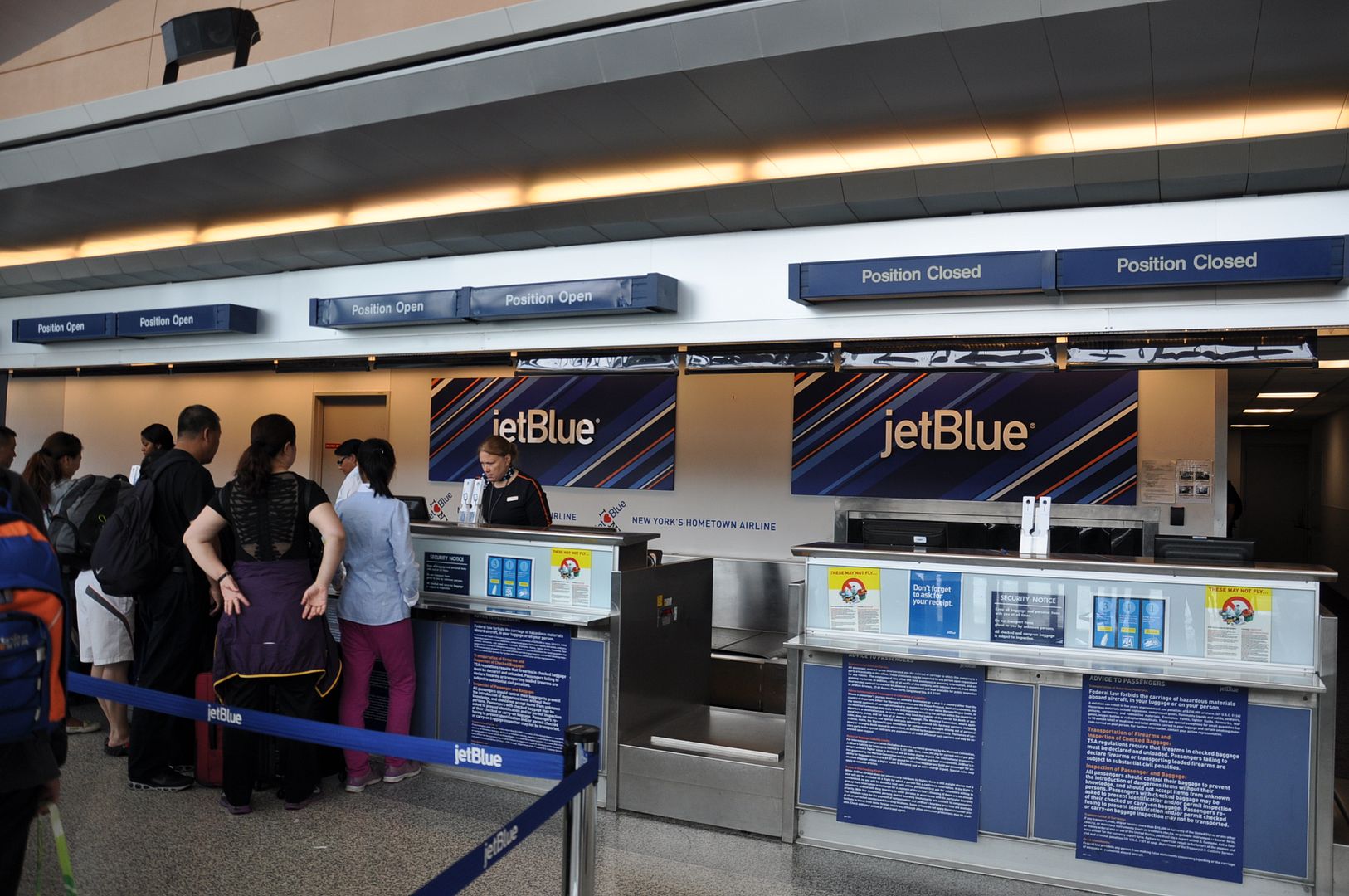 Reached the airport well in advance since we were part of a tour group. We were one of the first groups to check in. During check in we were also assigned seats for our Boston to Las Vegas flight.
Seamless and quick. Was also able to enter my emirates skywards membership number.
During check in we were also told that our flight to Boston was delayed, but we would be able to make our onward connection.
Security was quick and was airside in around 10 minutes.
BUF airside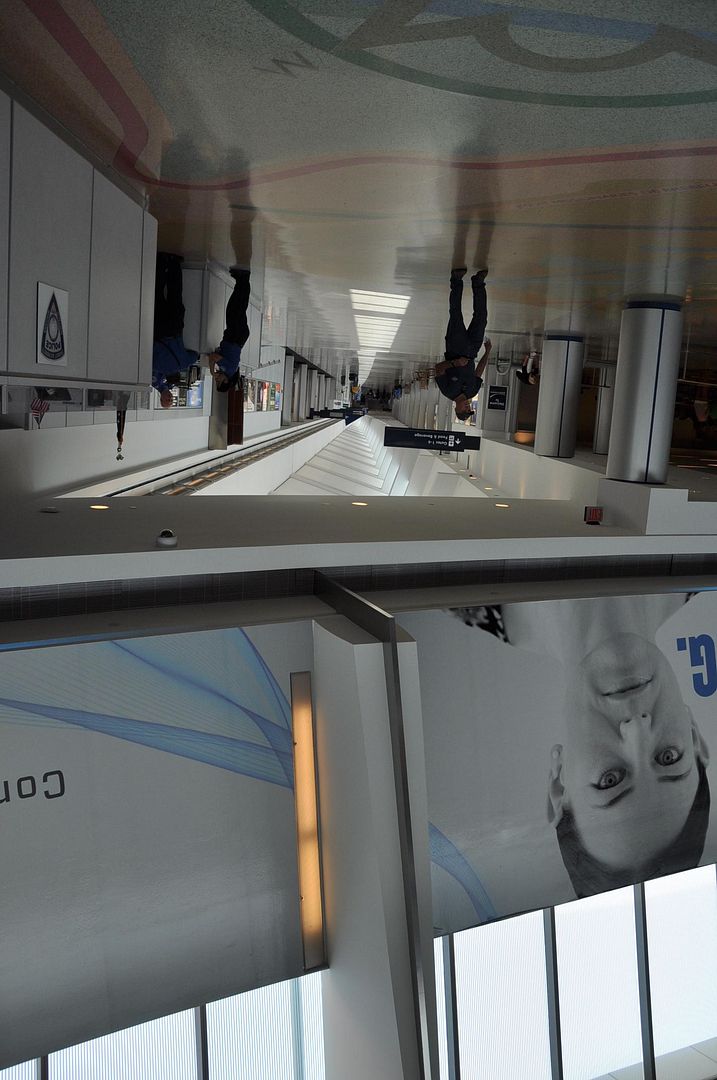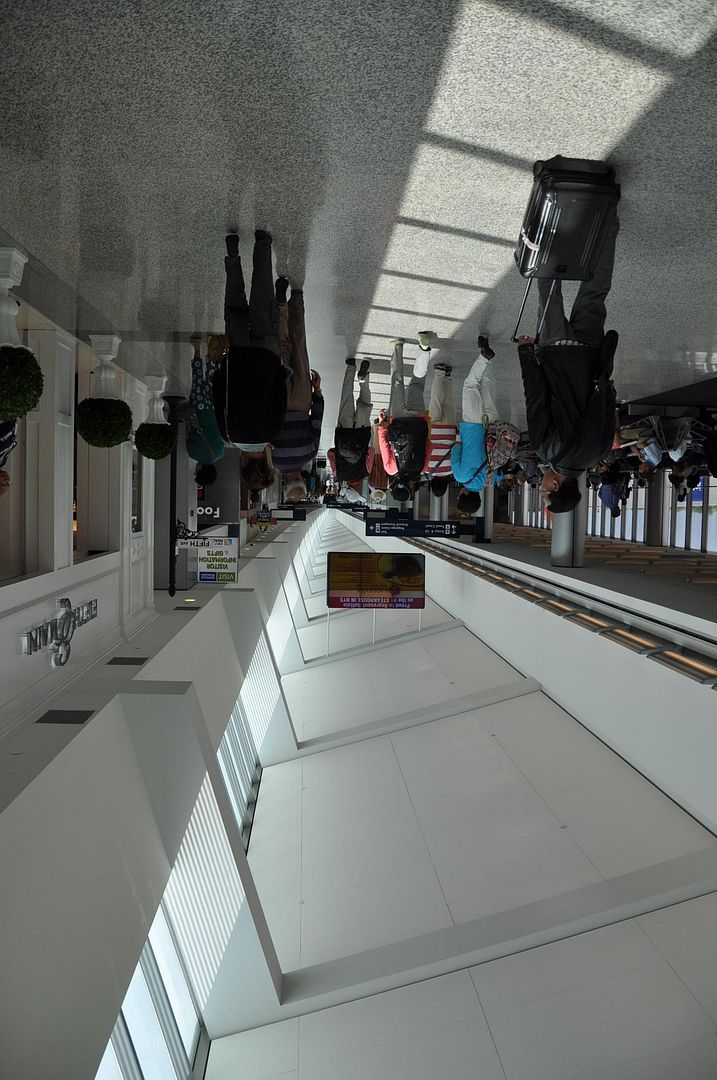 Easy to navigate BUF
The next 3 hours was spent by drinking few local beers, catching up with school friends and general plane spotting. Pretty decent for a small Airport, BUF is. Not much to do, but some great bars, and specifically like the rocking chair
FIDS – Hmm… B6 1616 to BOS delayed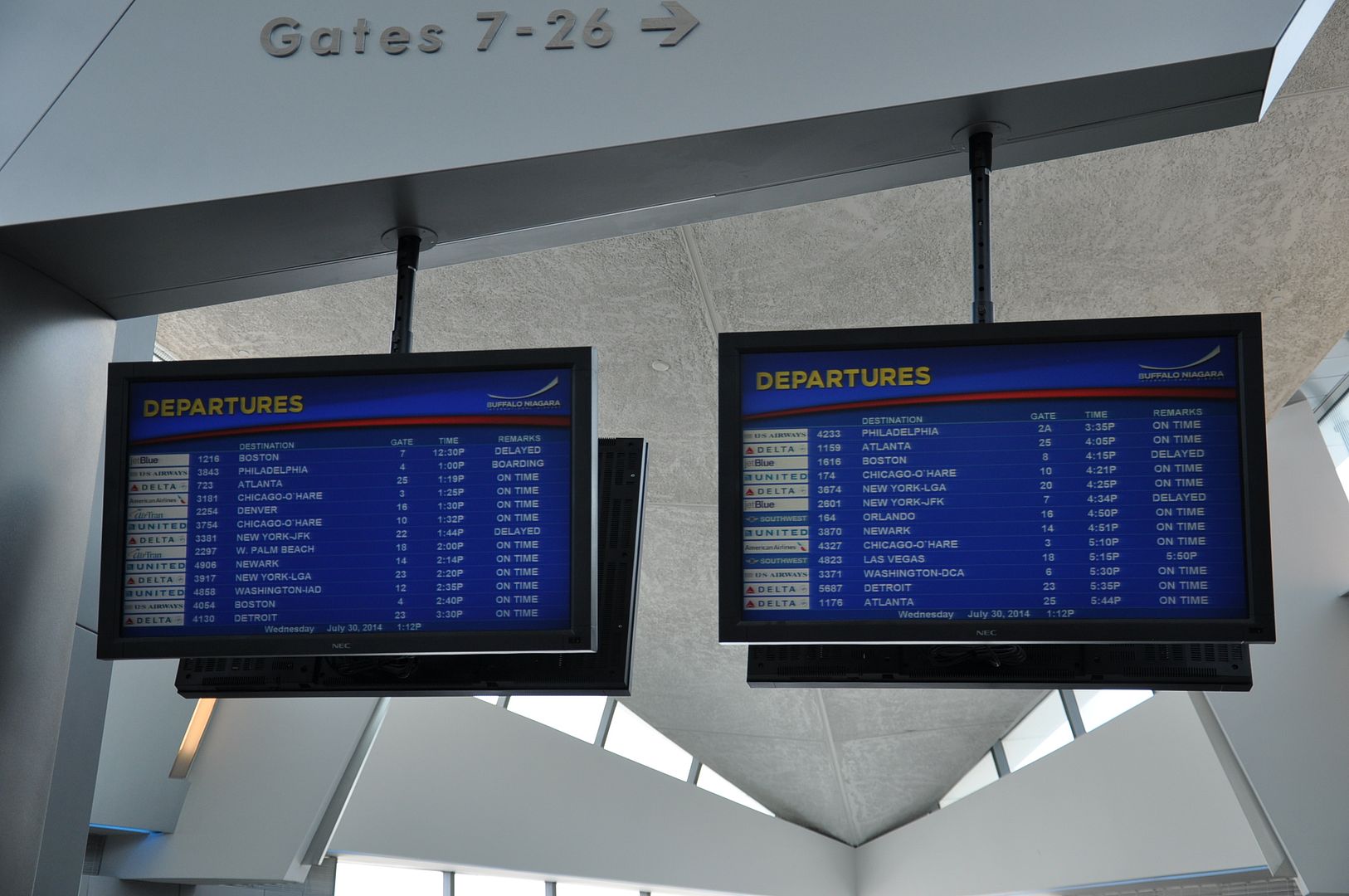 Quite a few delays today…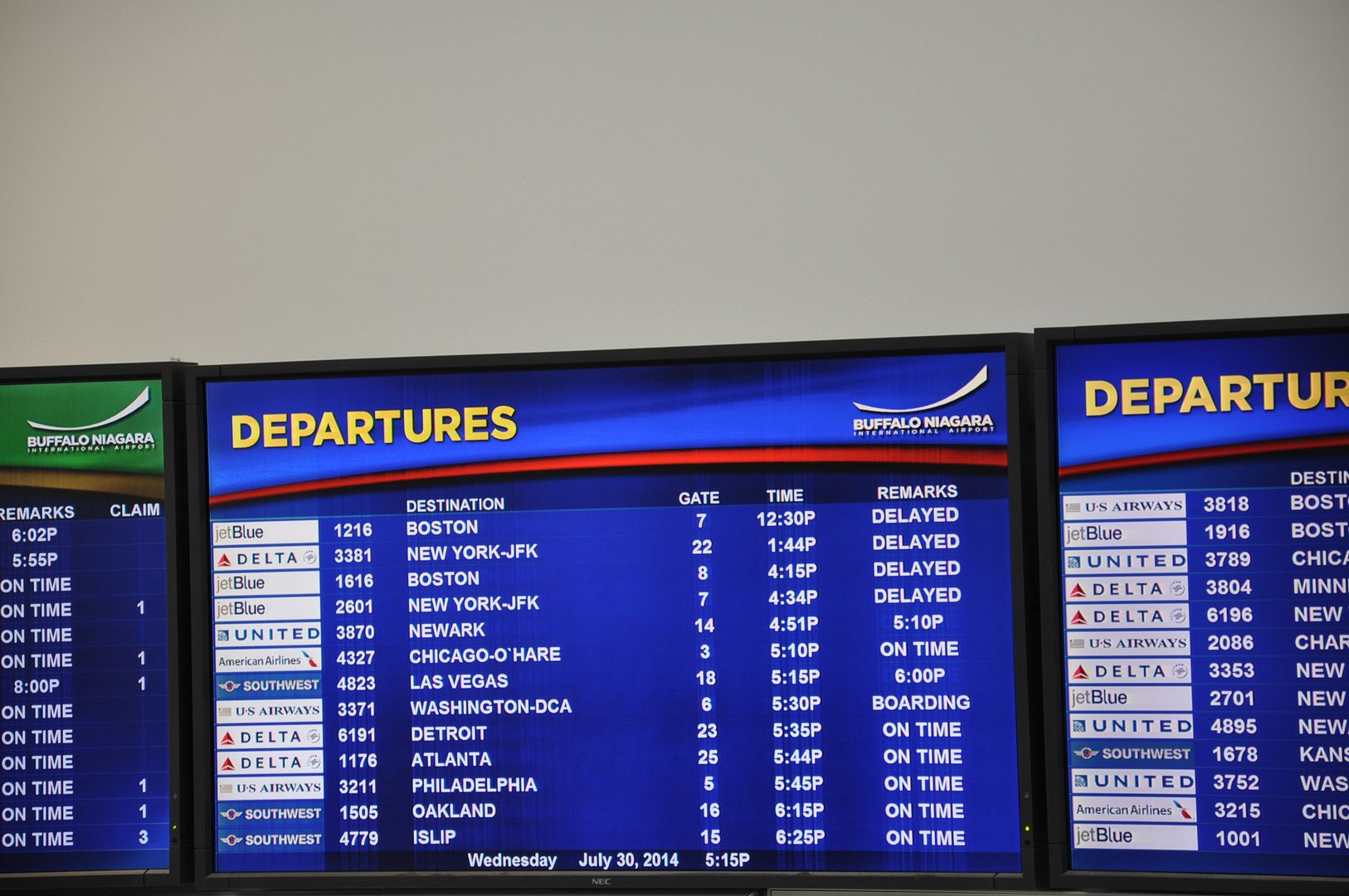 Anyone for a game of basketball?
The flight finally arrived, some one hour a bit delayed. The reason for the delay was the late arrival of the aircraft from New York.
Finally our ride to BOS arrives, delayed from JFK – B6 1616 Embraer E190 "Cool Blue"
Boarding started within 20 minutes of the flights arrival and was done very orderly. We finally boarded and disembarked around 17:45. An hour and 15 minutes late.
Upon boarding, the flight looked neat. As stated in my previous reports, I'm a big fan of the E-190 for any distance less than 2 hours. And this fit the route perfectly well.
The seat pitch and width on the B6 E190 was generous. Very comfortable seats for a short one hour hop.
The flight also included free (if you have your own headphones, or else $3 to buy one) TV channels (Direct TV) and was more than sufficient for a short hop.
15 minutes within take off water and snacks (pretzels or cookies) were served.
On board B6 1616. Very good seat pitch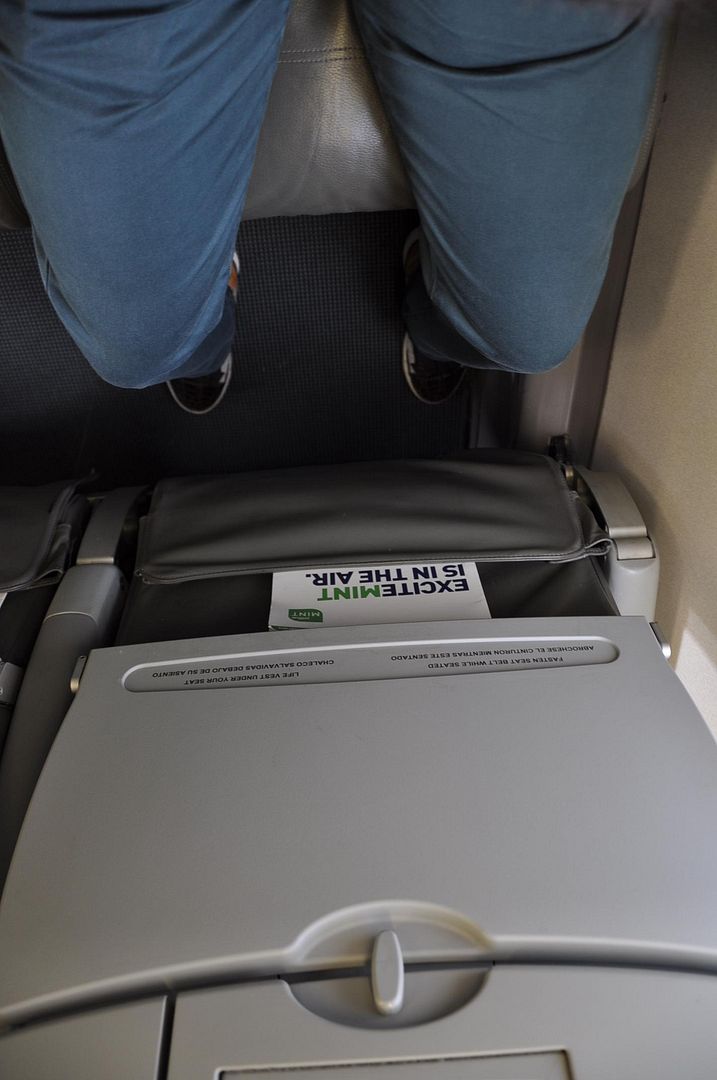 I wasn't allowed to shoot photos on-board. Not sure why and wasn't given a reason. One of my pet peeves – crew members thinking they own the aircraft. It's just a random pick of saying yes or no, as you can see in my next part of this report, on the onward flight to LAS, I was allowed to shoot pictures on board... AArrgh!
The crew were less enthusiastic than the others I've met on this trip. Looked like they preferred being elsewhere than on this flight.
Rest of the flight was uneventful. Looks like jetBlue have their hard product sorted. Need to sort out their soft product now.
Almost at BOS
Before landing at BOS
Let's see how the next hop fares in comparison to this one.
Plane spotting at BOS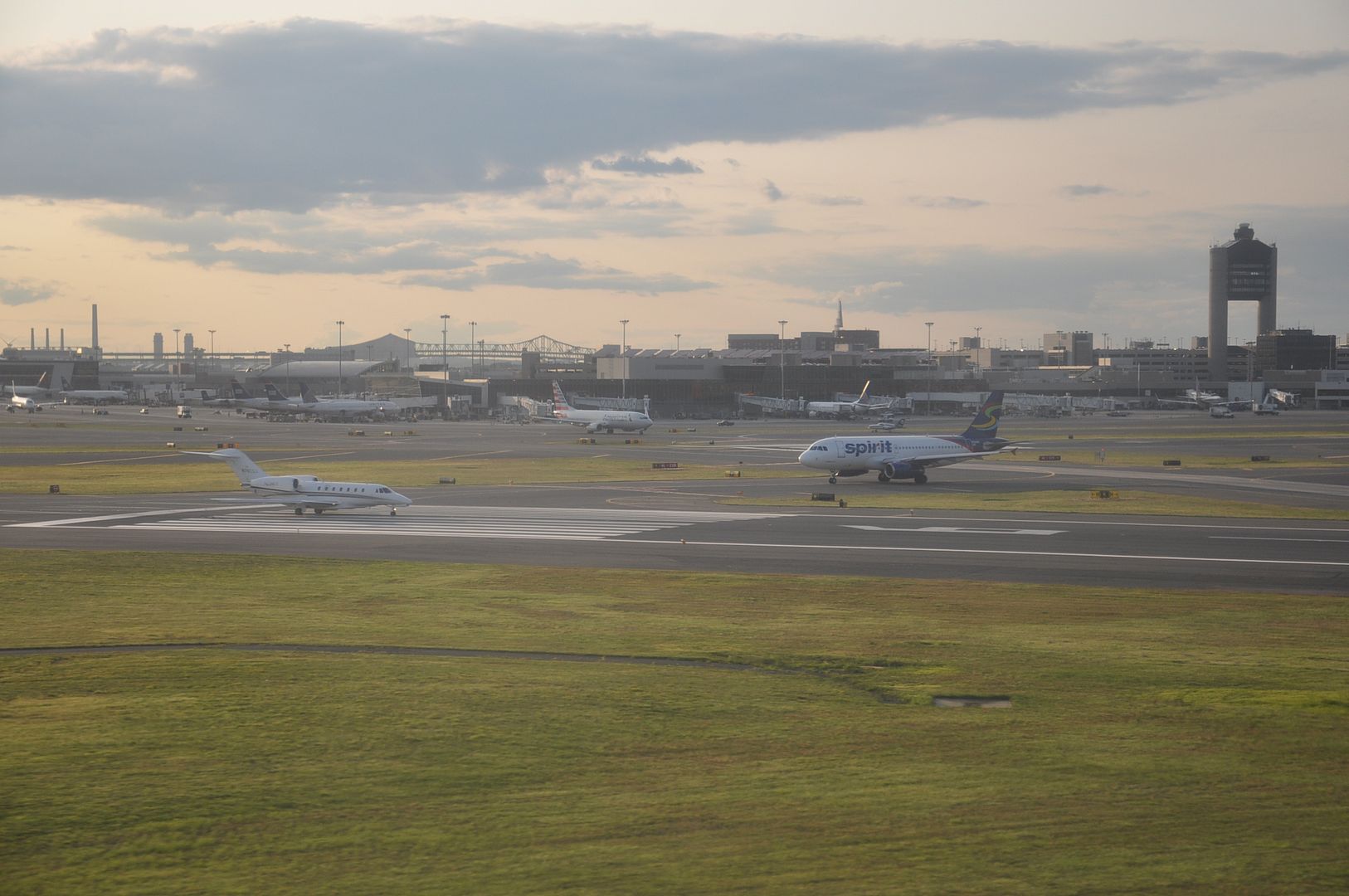 Blue Gateways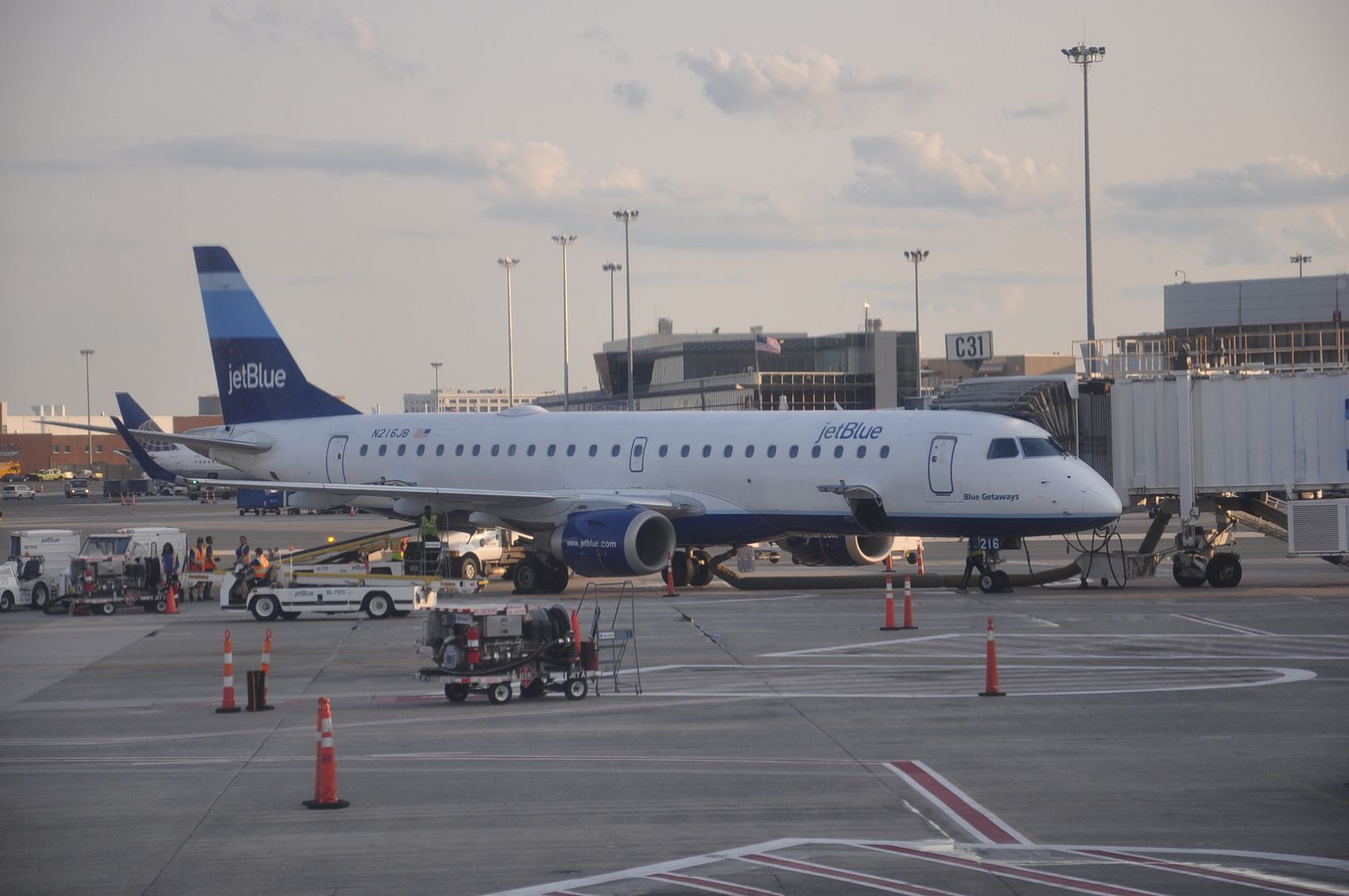 'The name is Blue, jetBlue' – Love it!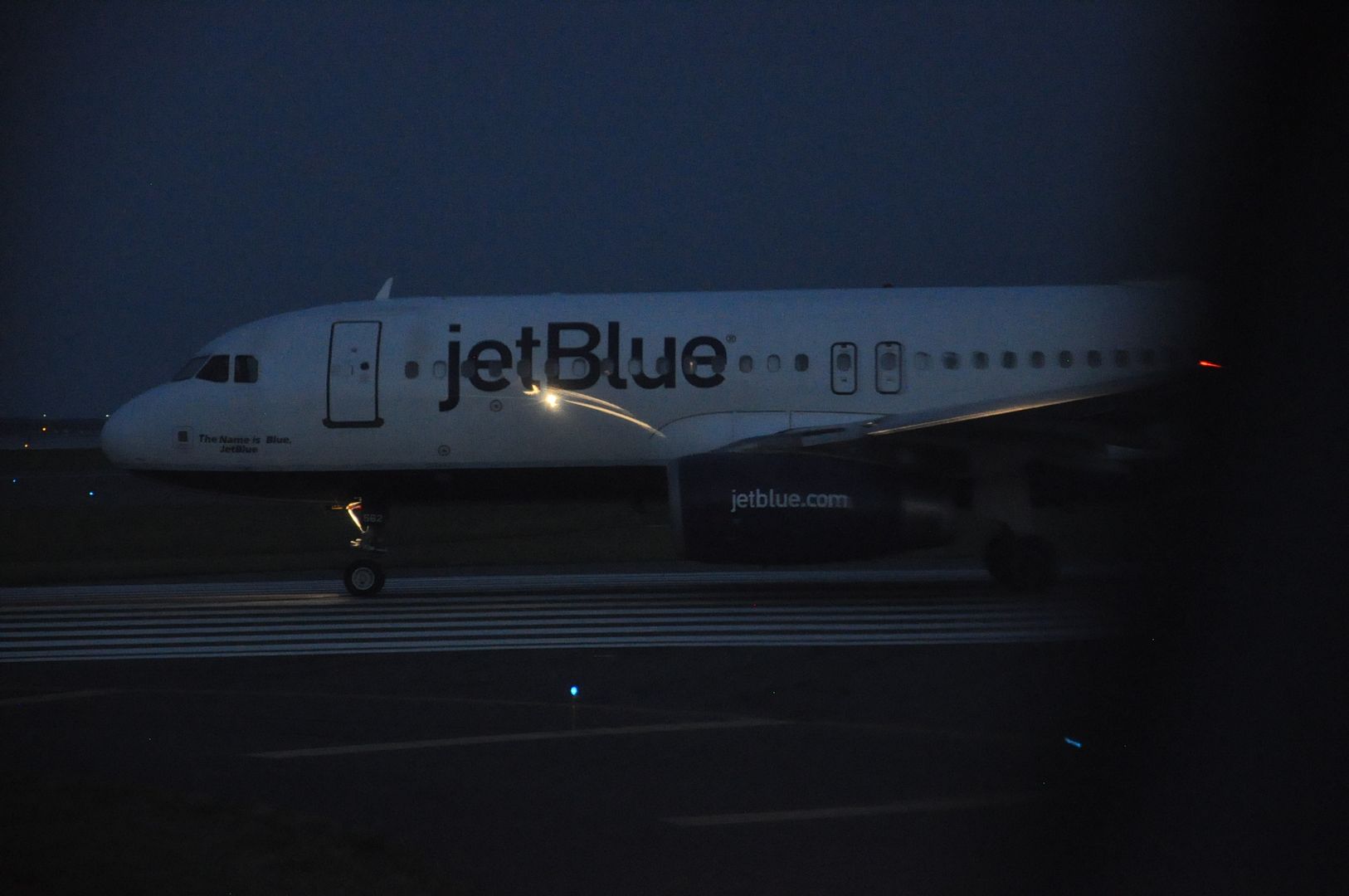 JetBlue B6 777: BOS - LAS
Flight Reg: N804JB ; delivered May 2012 – Got Blue?
Airbus A320-200
Seat 6A
Departure time 20:18 (Actual 20:15)
Arrival 23:01 (Actual 22:45)
30 July 2014
We exited at terminal C, and it looked like a jetBlue terminal. Our connecting flight was from just two gates away.
Had an hour to spend. Walked around for a bit, had an Oreo shake from Dunkin Doughnuts (Yumm!), few planes spotting later, And it was time to board 'Go Blue', which was going to be our ride to LAS - A two year old A320-200.
FIDS at BOS – Our flight B6 777 seems to be on time. (Flight number '777' to LAS, this has to be pre planned!)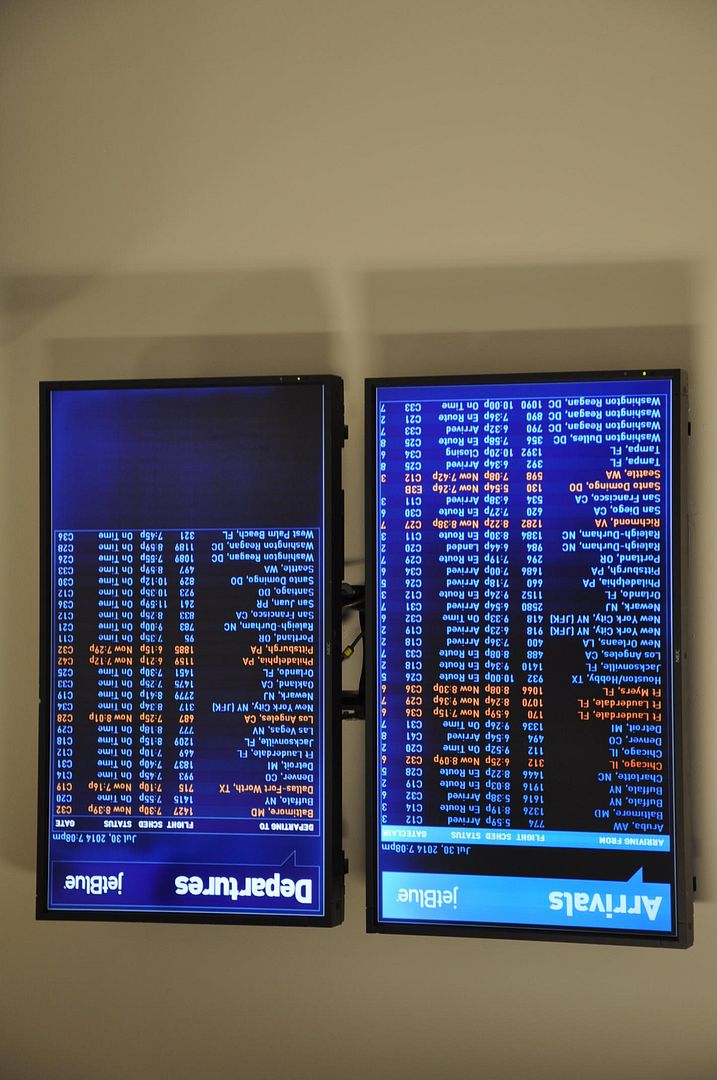 Boarding was very orderly, once again and this time right on time too.
Boarding gate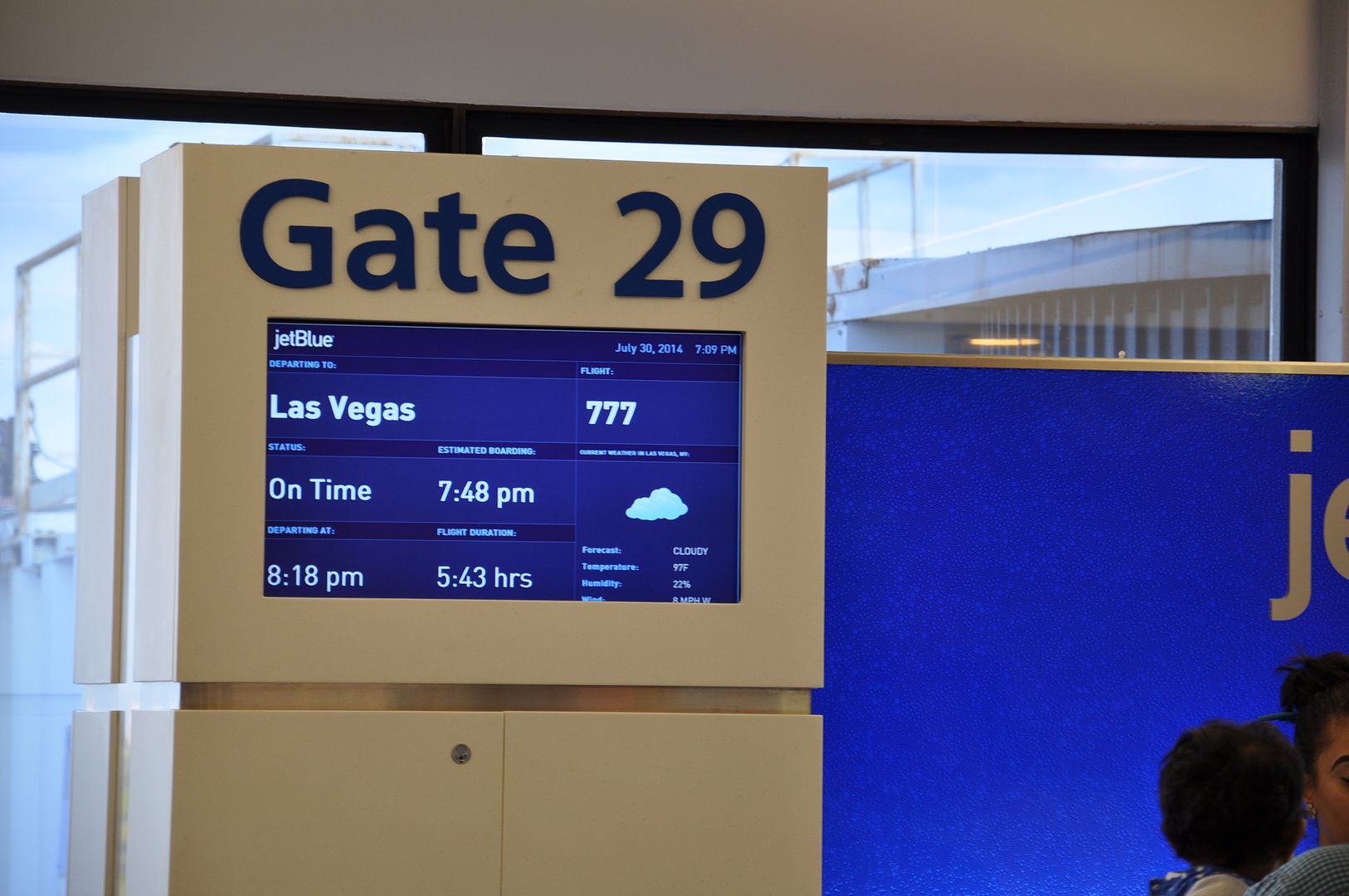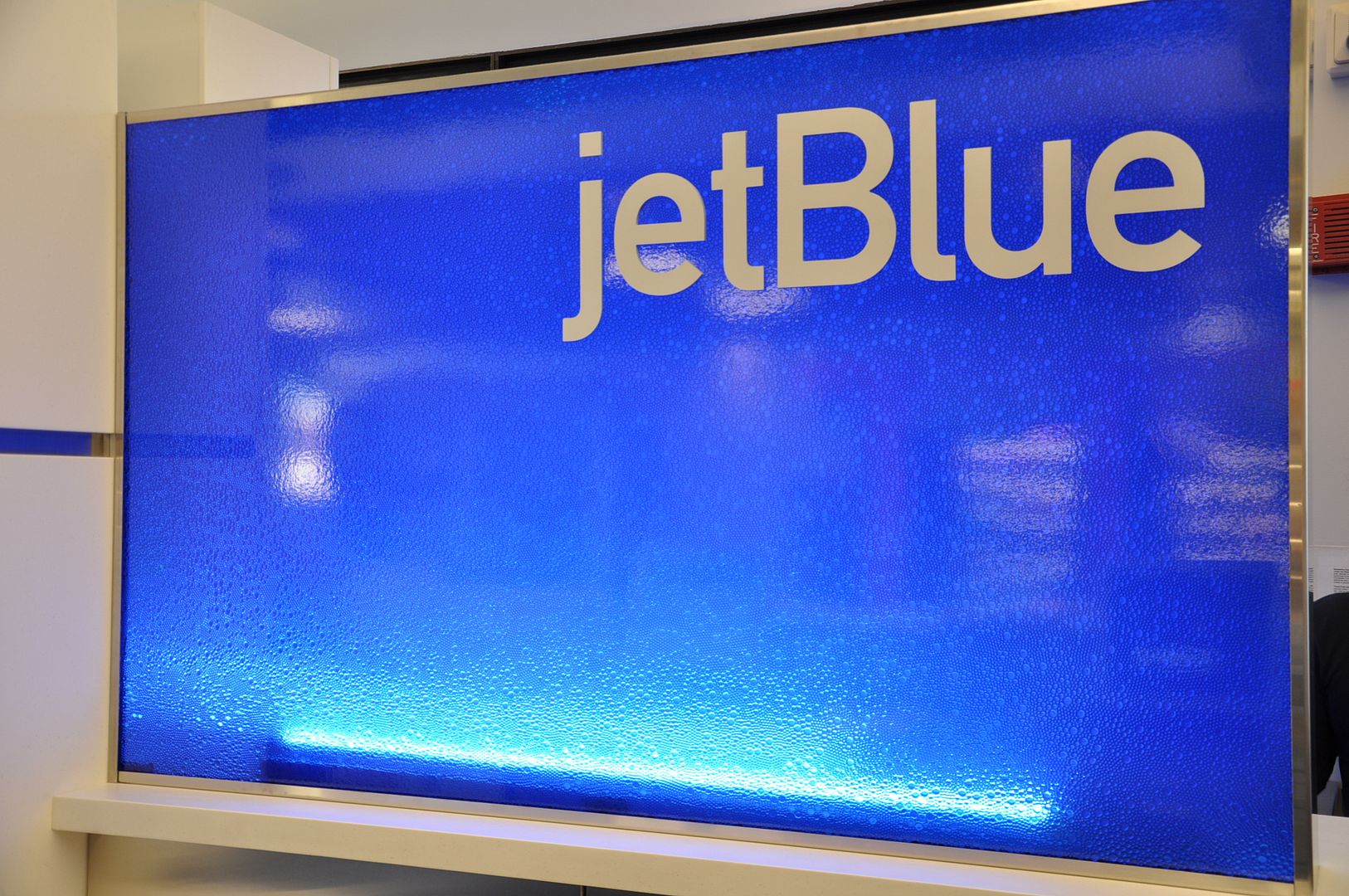 Our ride to LAS – B6 777 A320-200 - delivered May 2012 – Got Blue?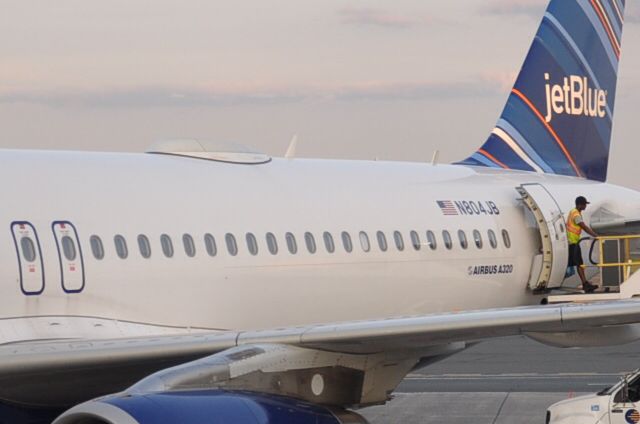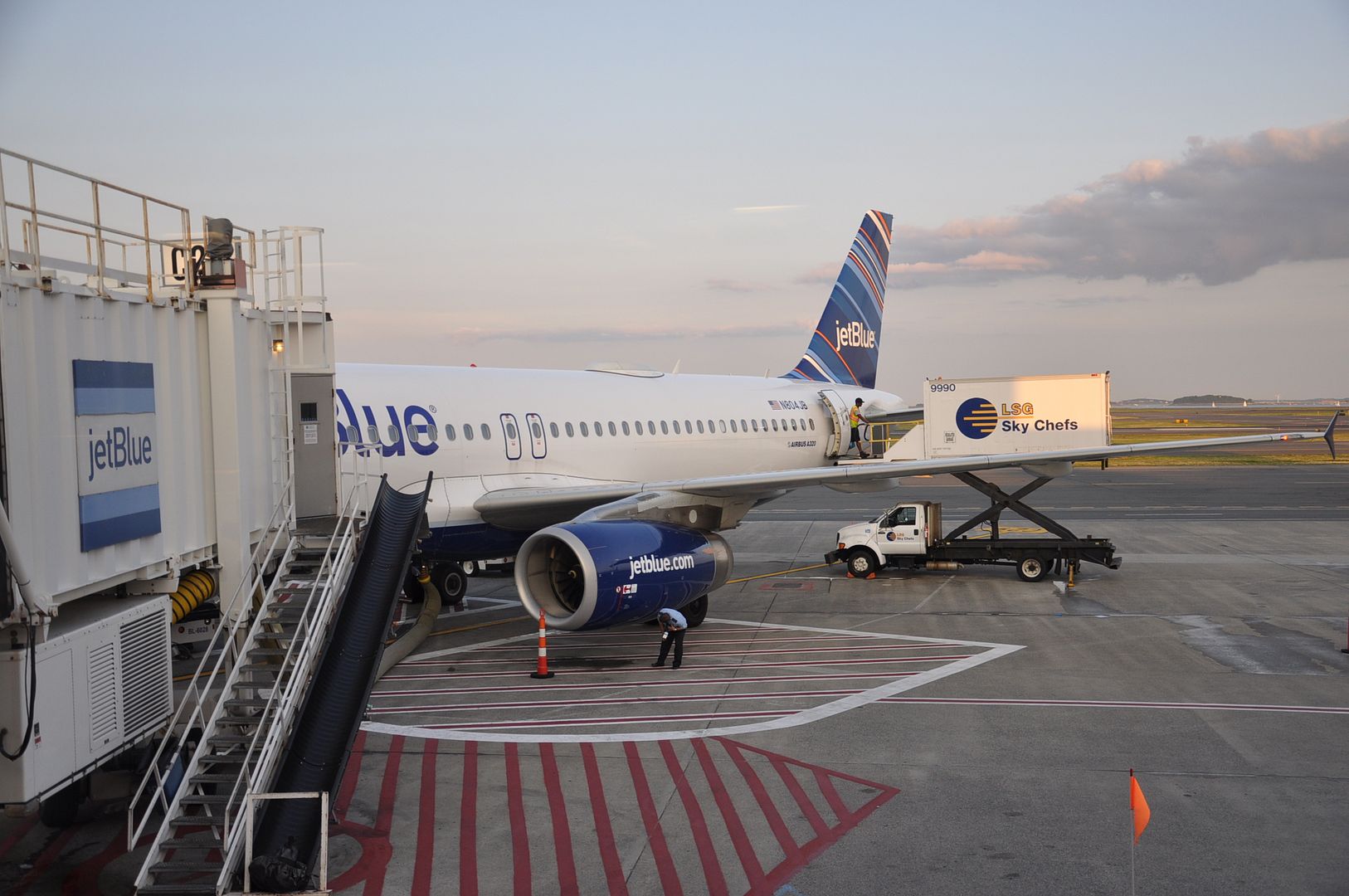 Once on-board the aircraft looked a bit scruffy in spite of being relatively new.
Apart from that flight was on time. The on-board Wi-Fi worked splendidly well throughout the flight.
Service was top notch. A lot of water and snack runs. The crew were chatty and one of the best we have encountered so far on this trip. The other end of the spectrum from our previous jetBlue experience just an hour ago.
On board B6 777 – A320-200. Decent seat pitch once again. But felt a bit cramped on the 5Hr+ sector from BOS to LAS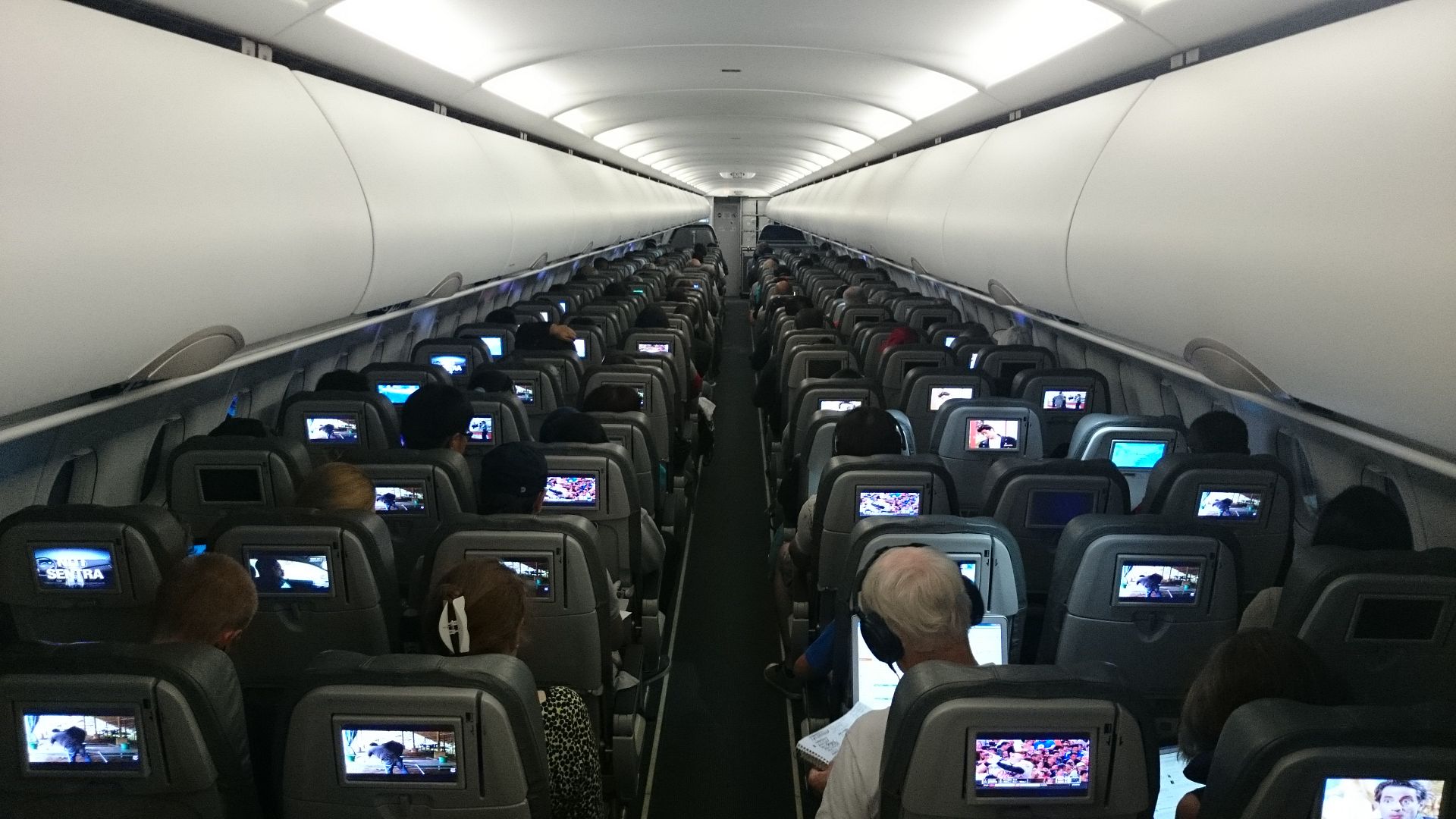 F&B on board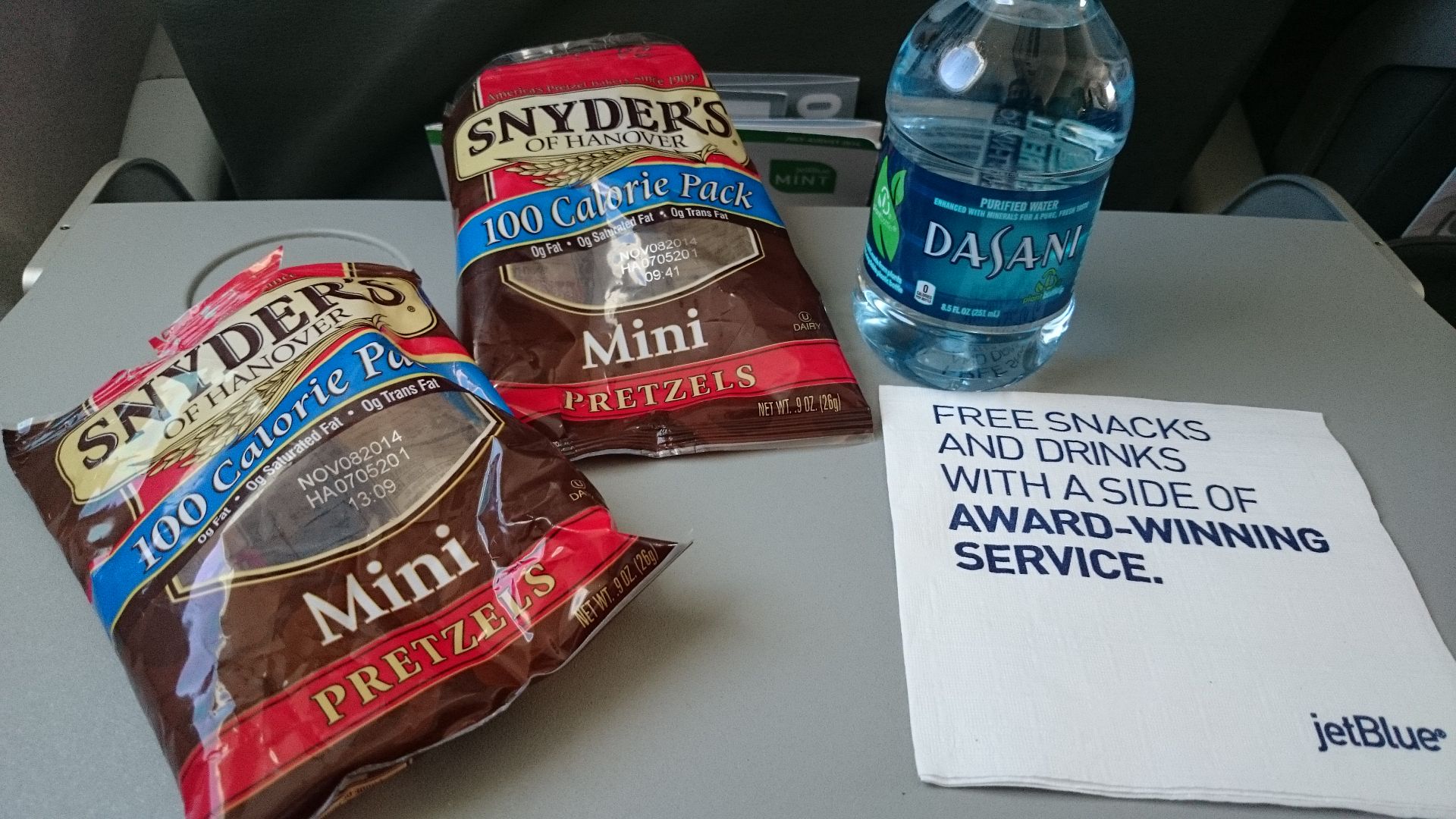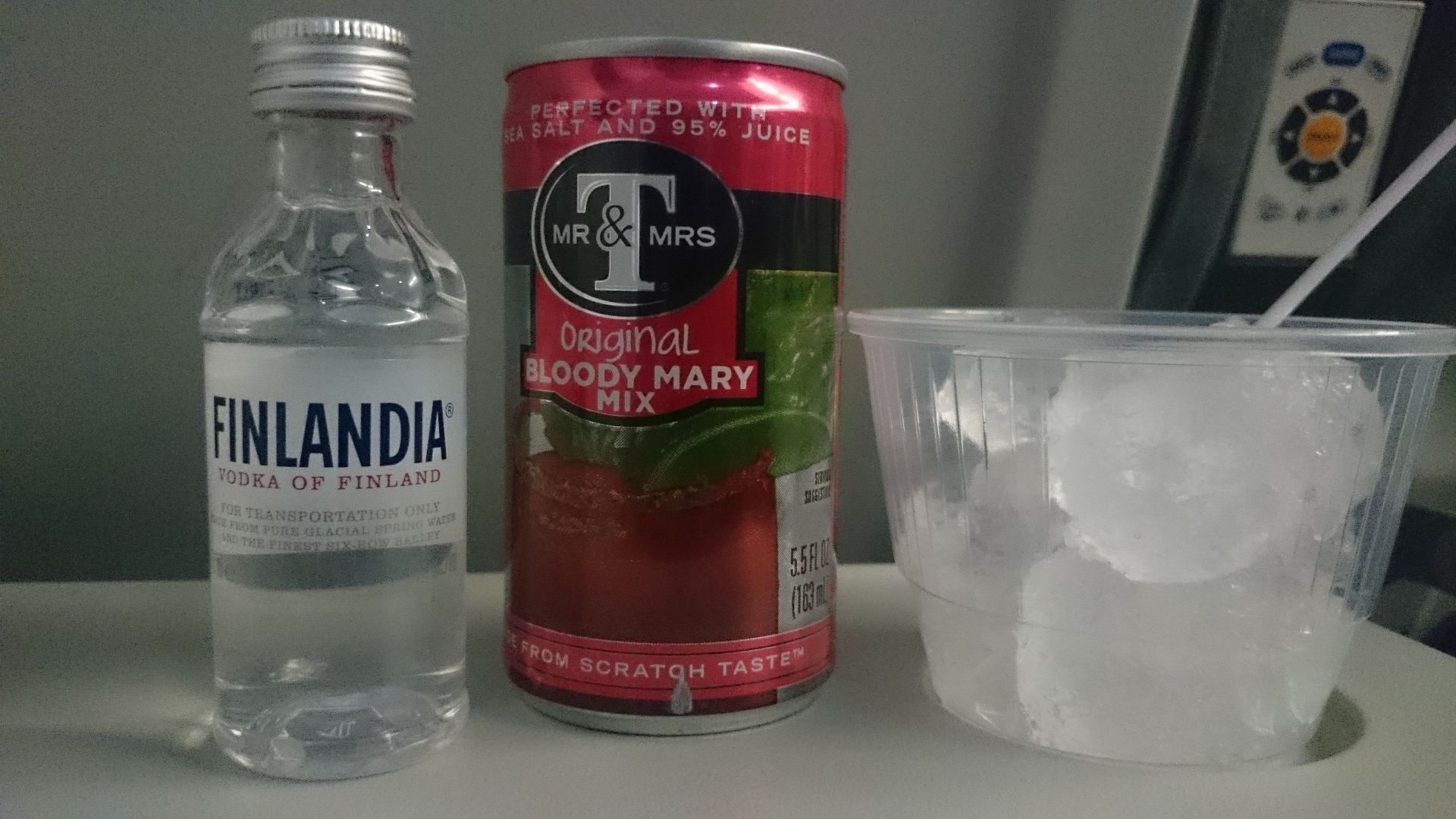 Wi-Fi on board. Worked quite well.
AVOD options on board B6 777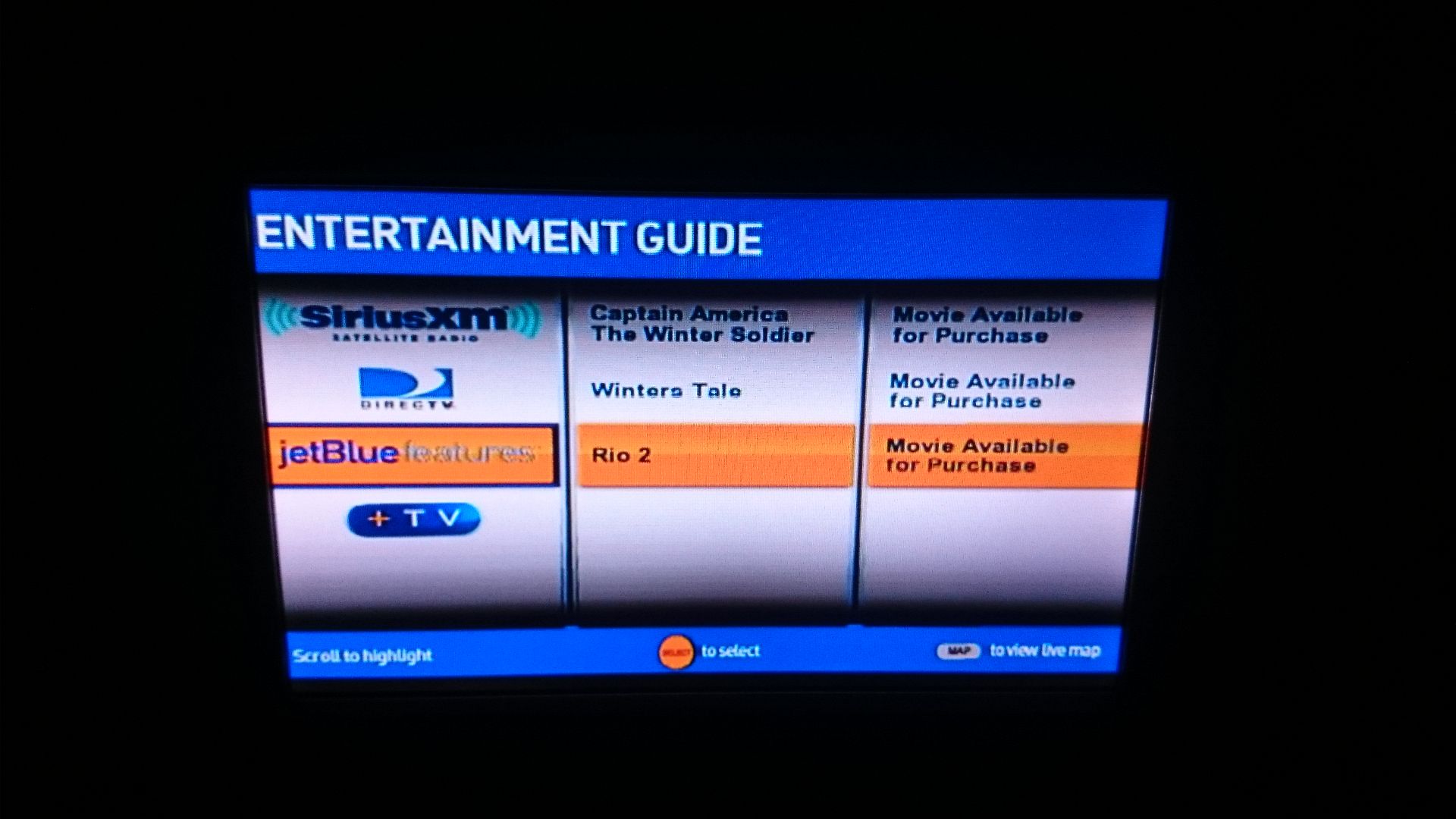 The Direct TV was great too. A lot of channel options and worked seamlessly. Wet towels towards the end of the flight too! This is in no way an LCC according to me. Great overall experience on this sector on JetBlue.
Rest of the flight was uneventful in the nicest possible way. Slept for a bit to make up for the tiring day ahead of us the following day.
Landing in LAS is a great spectacle and The Strip from above looks even better than on the ground.
Almost there - LAS
Landing at LAS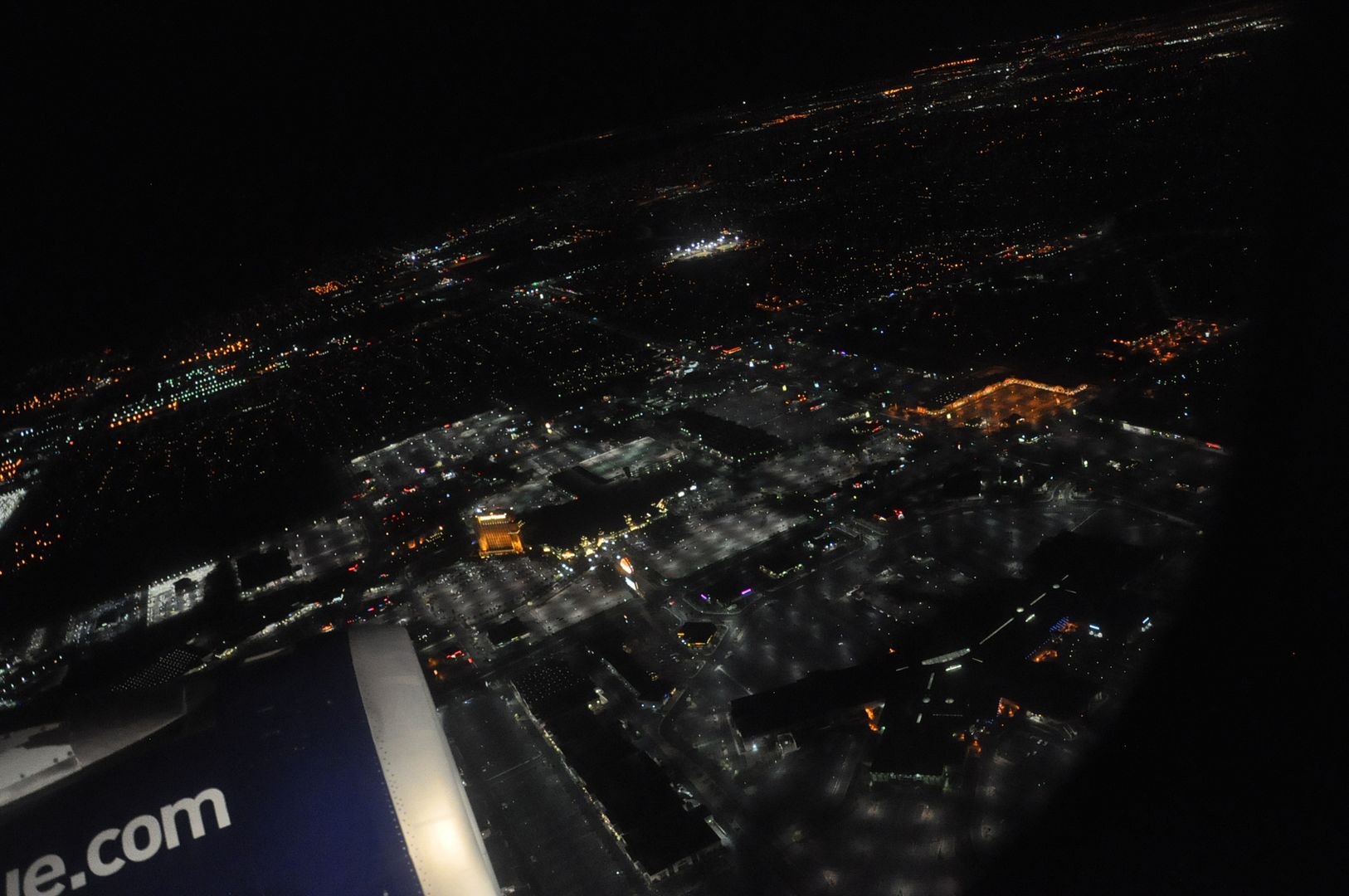 Once landed, baggage collection was quick and we were out of the airport into the scorching desert heat (36 Degrees Celsius at 11:00 PM…!) of Las Vegas, but neverhtless as I was getting to drive the Bumble Bee the next day to Grand Canyon
American Muscle Car – Check
Driving in the US – Check
Grand Canyon – Check
Las Vegas – Check!
Welcome to LAS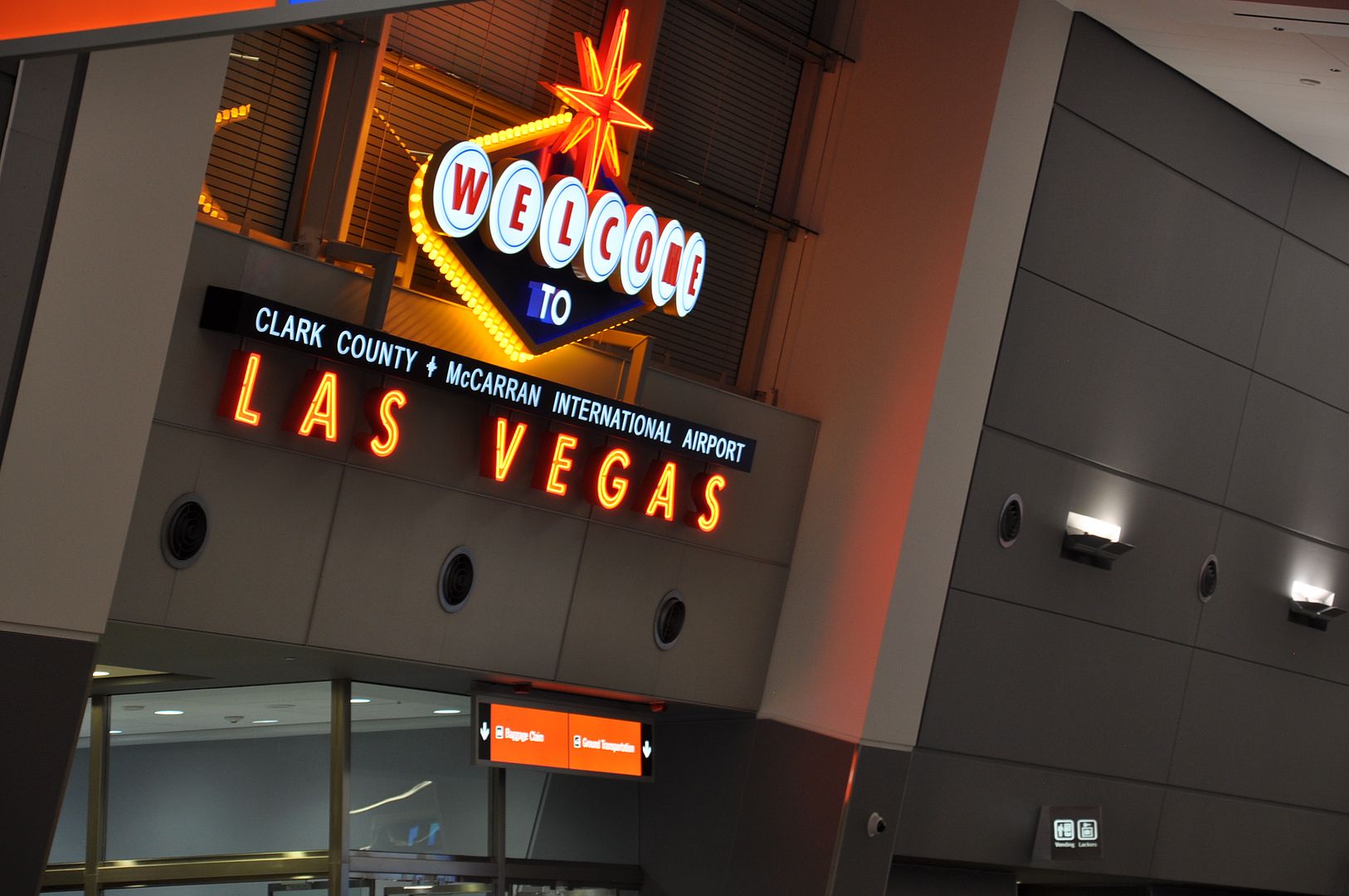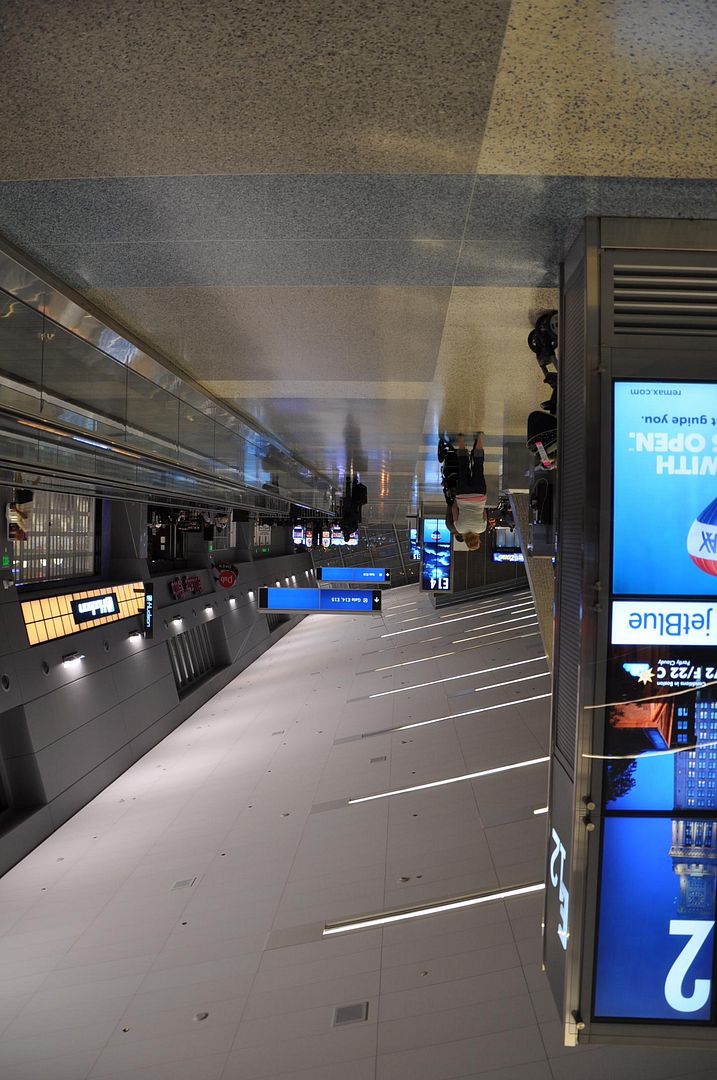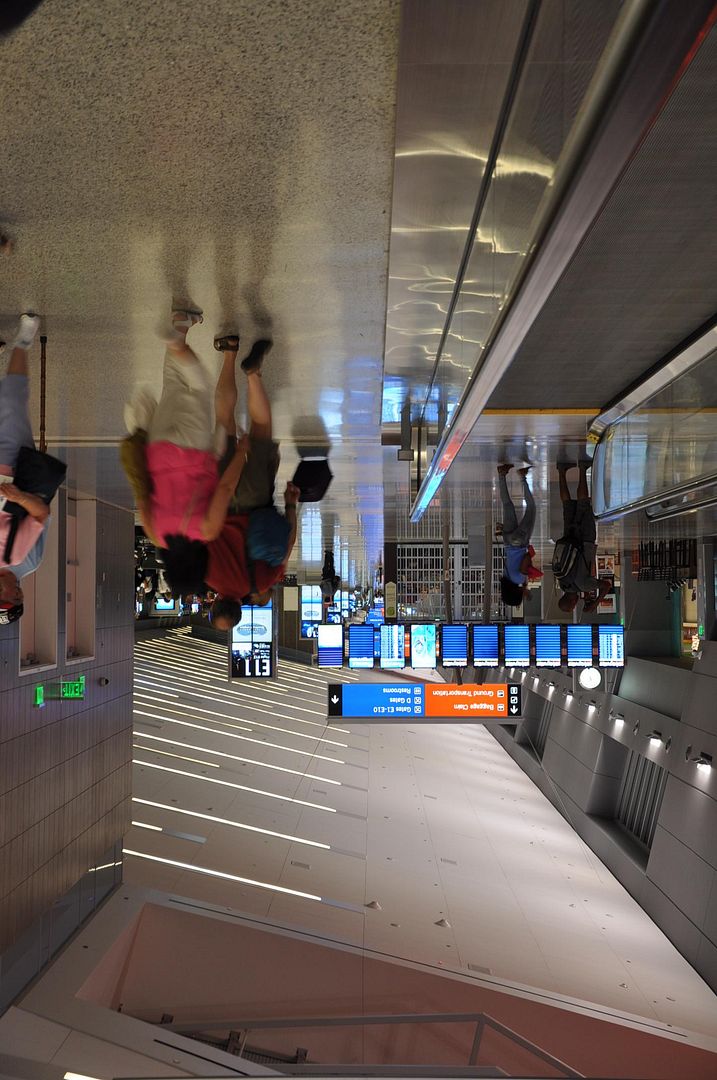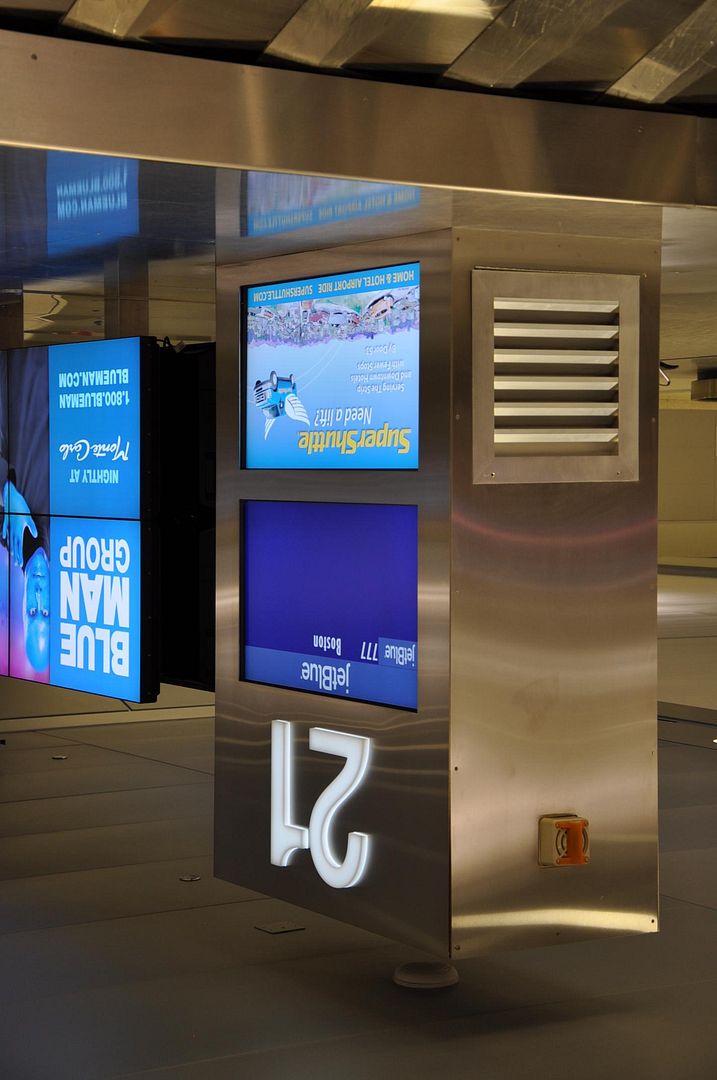 Verdict
Hard product wise, B6 was very consistent between both the sectors – good seat pitch, comfortable seats, and relatively newer aircrafts, well maintained and love the names!
Their soft product seems to be a bit hit-and-miss – from disinterested (anti-photographic) crew to a very eager and enthusiastic crew on the very next flight.
On the whole it was a really good first experience on jetBlue and looking forward to more trips on their 'Blue' aircrafts.
This concludes our US chapter... Hope you enjoyed reading it. Comments (and criticisms) welcome. Until then, happy and safe flying, adios..!
Previous Trip Reports
VS Little Red To ABZ And EZY Return
24 Hours On A 787! - Final Leg CZ - AKL-CAN-LHR
Part 5 - BHE-WLG-AKL On NZ Beech1900D And A320
Part 4 - MEL-AKL-ZQN On QA And NZ B738A320
Part 3 - CNS-MEL On JetStar A321-200
Part 2 - SYD - CNS On Virgin Australia E190
Canton Route Part 1 - LON-SYD - CZ DreamLiner/A332
DREAM(liner)ING Of Hainan - China Southern
Panda Calling - BA LHR To CTU - Club World
China - The Low Cost Way - Spring Airlines - SJW-CTU
China United Airlines (KN) - CTU - SJW - B737-700
Norwegian B737 - LGW-TOS-BGO-LGW
Jet Airways: LHR – COK
Barra Trip – that was not to be
LHR - KWI - BA 747 - Part 1 - Middle East - China
Part 5: PVG-LHR - BA - Economy - B777
Part 2: KWI-DXB - FlyDubai - Economy - B737
Part 4A&B - SHA-SJW-SHA - FM: Eco: B737
Part 3A&B : DXB-HKG-PVG: CX & KA :Eco: A333
Morocco Trip - LGW-RAK-TNG-LHR - EasyJet & Iberia
Dusseldorf Calling - BA & EZY - Club/Eco - A321
Few snapshots from New York, D.C, Niagara, Las Vegas and LA
Our ride in Vegas – Bumble bee gone bad...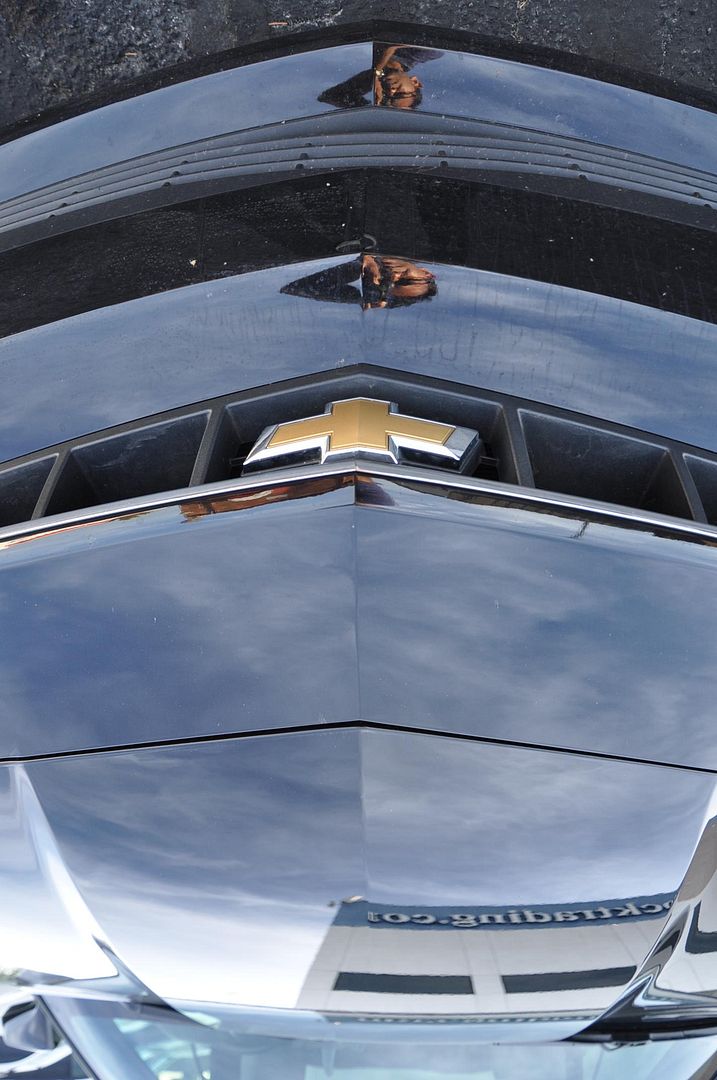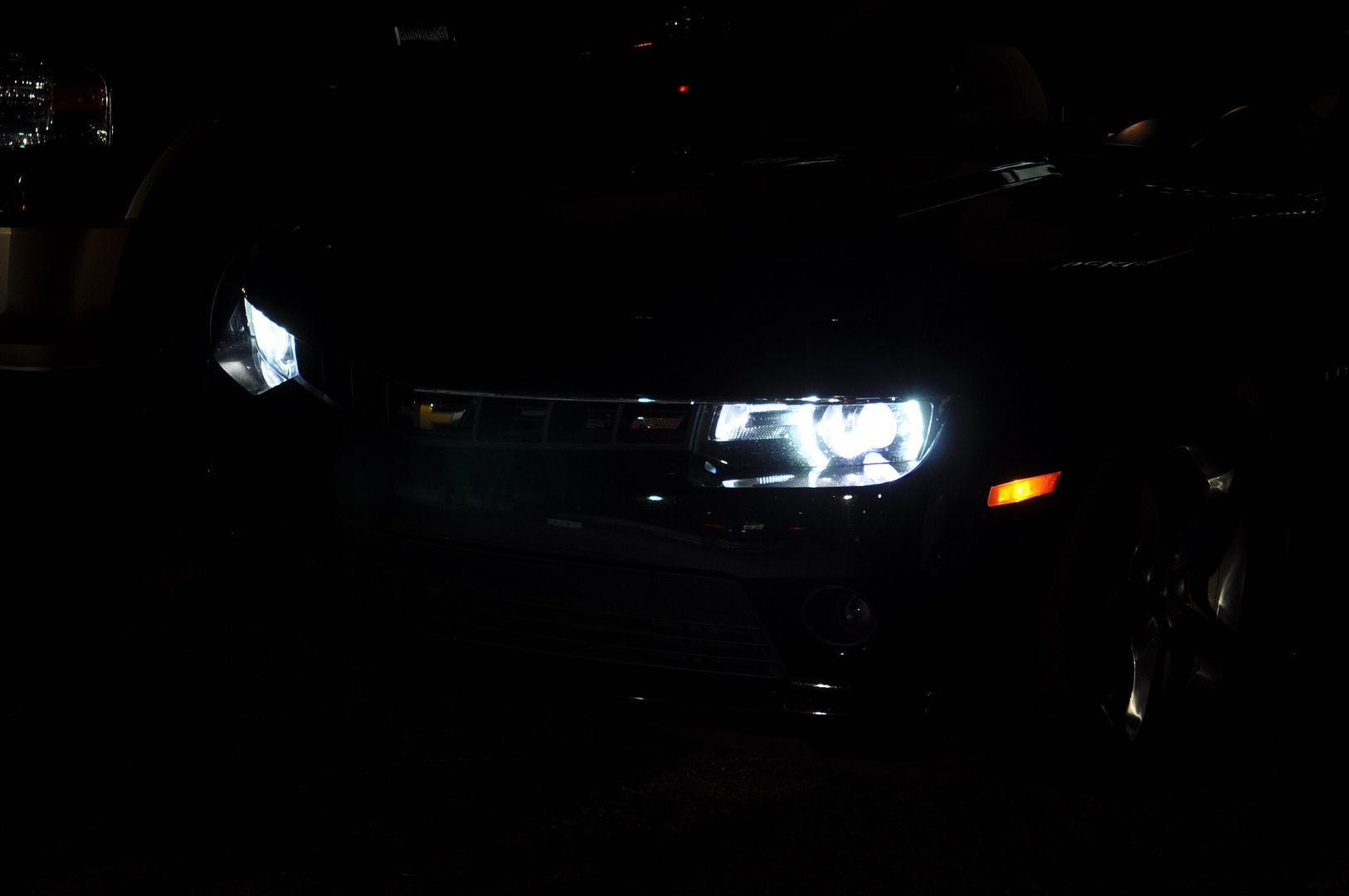 Our ride in LA – Dodge Avenger – The last of its kind as it is soon going to be superseded by the Chrysler 200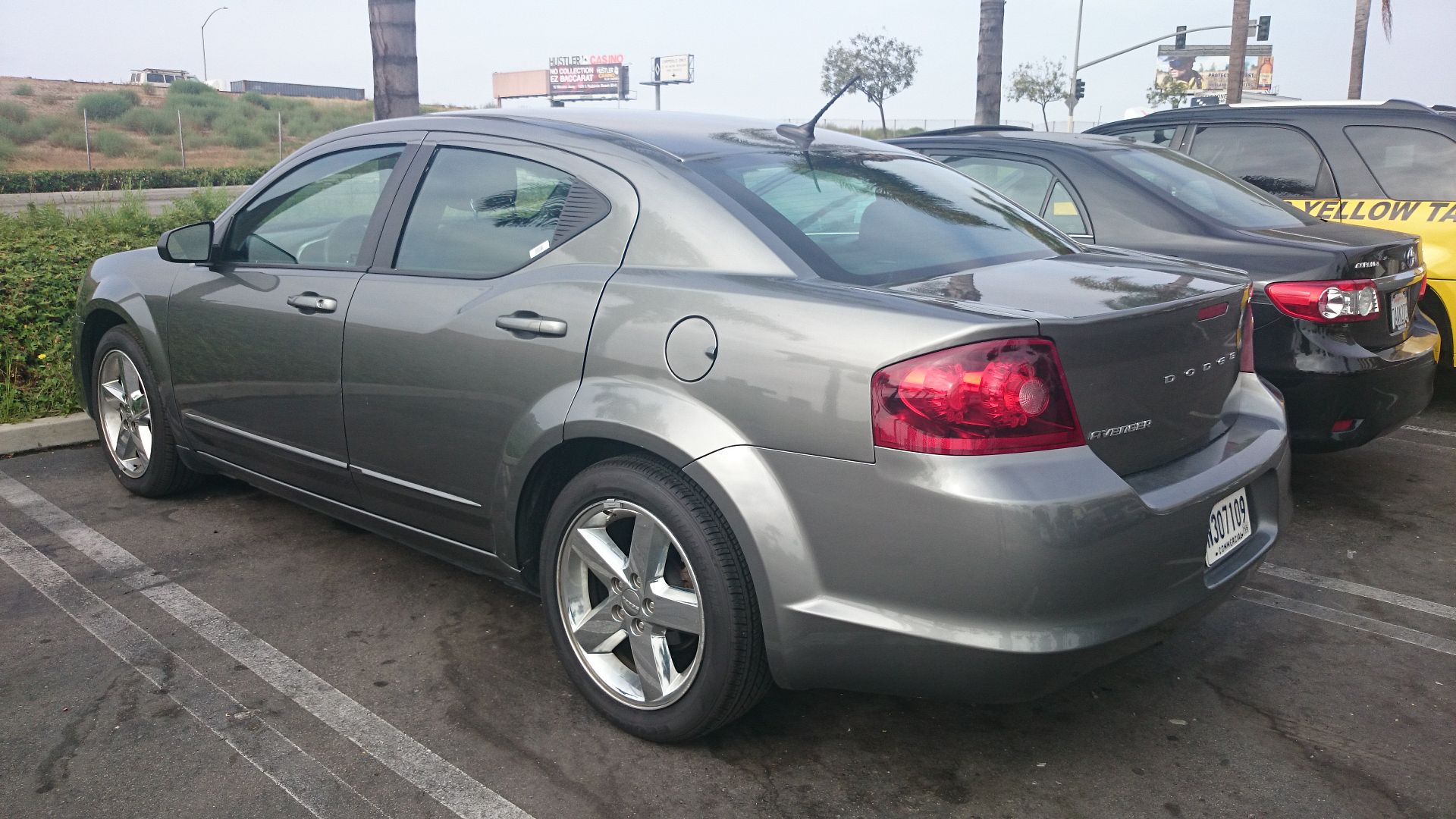 New York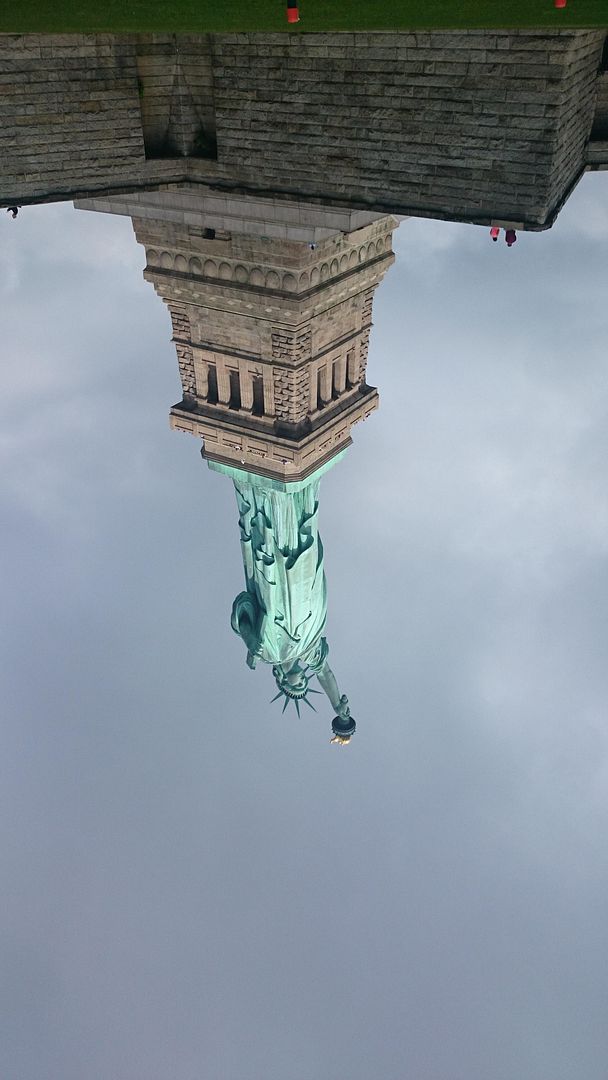 Liberty Bell at Philadelphia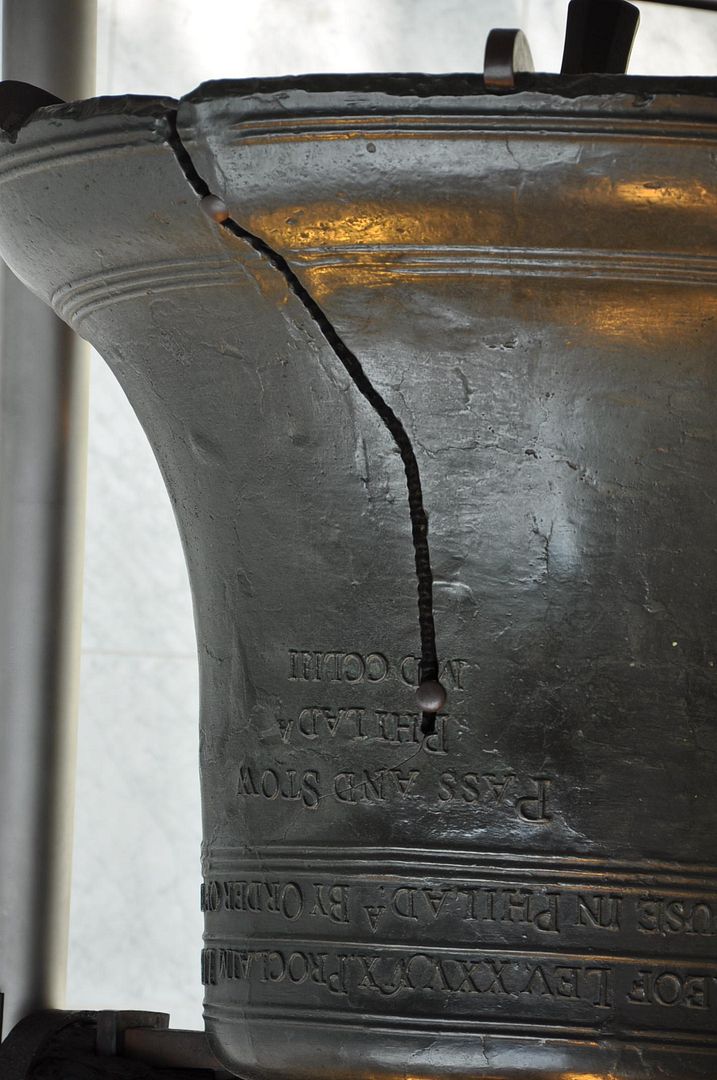 D.C.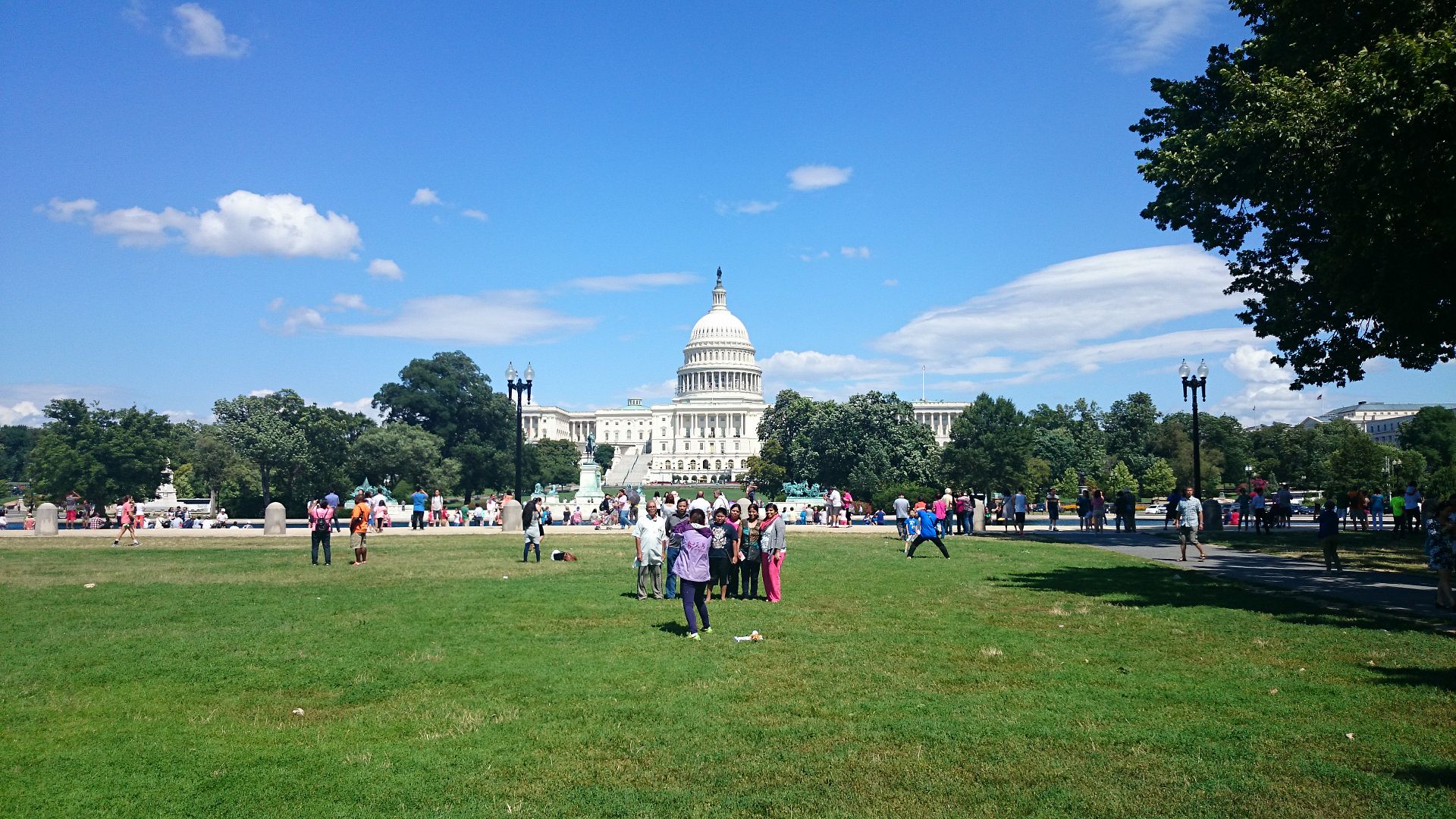 Niagara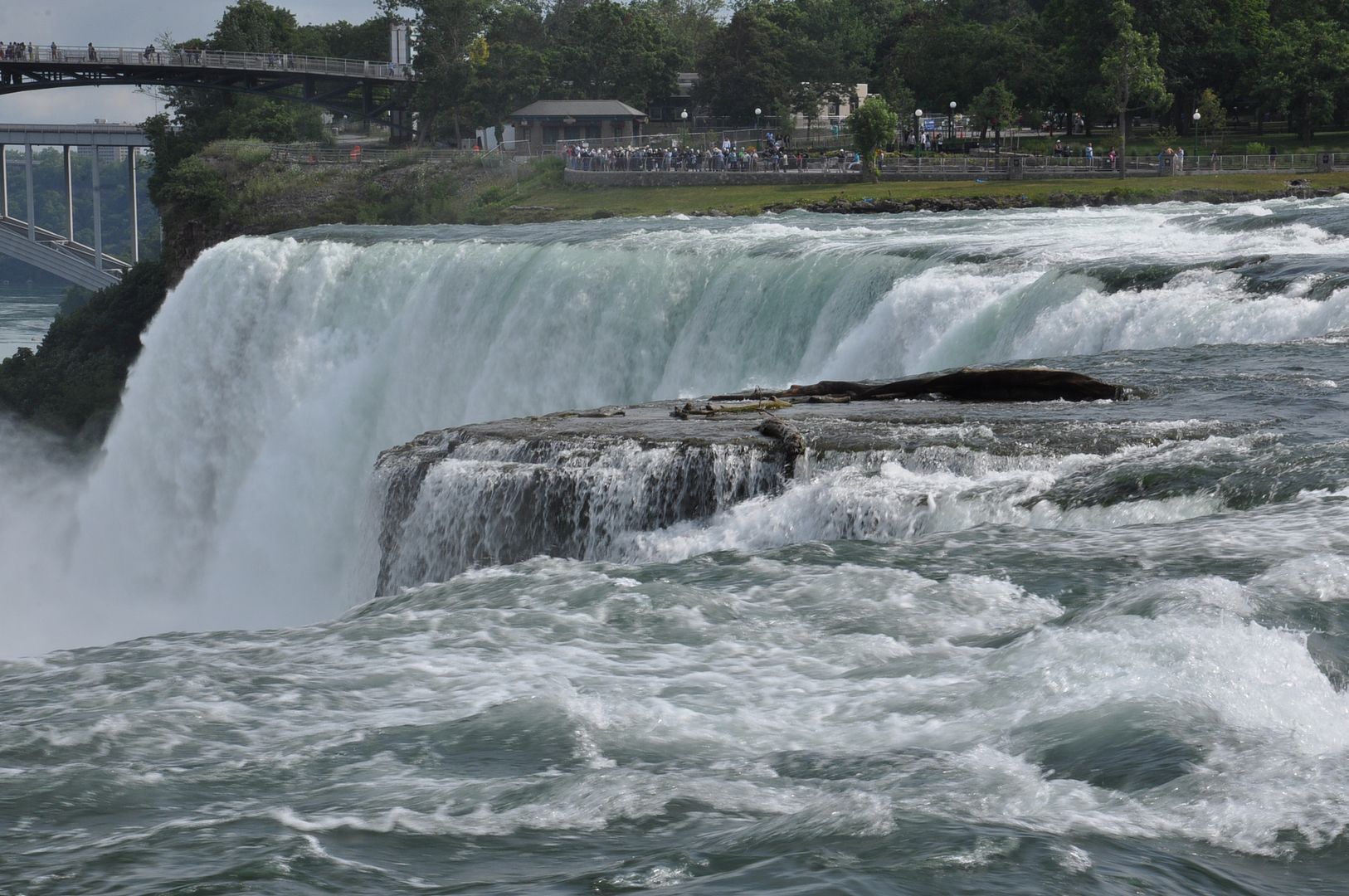 Niagara at Night with lights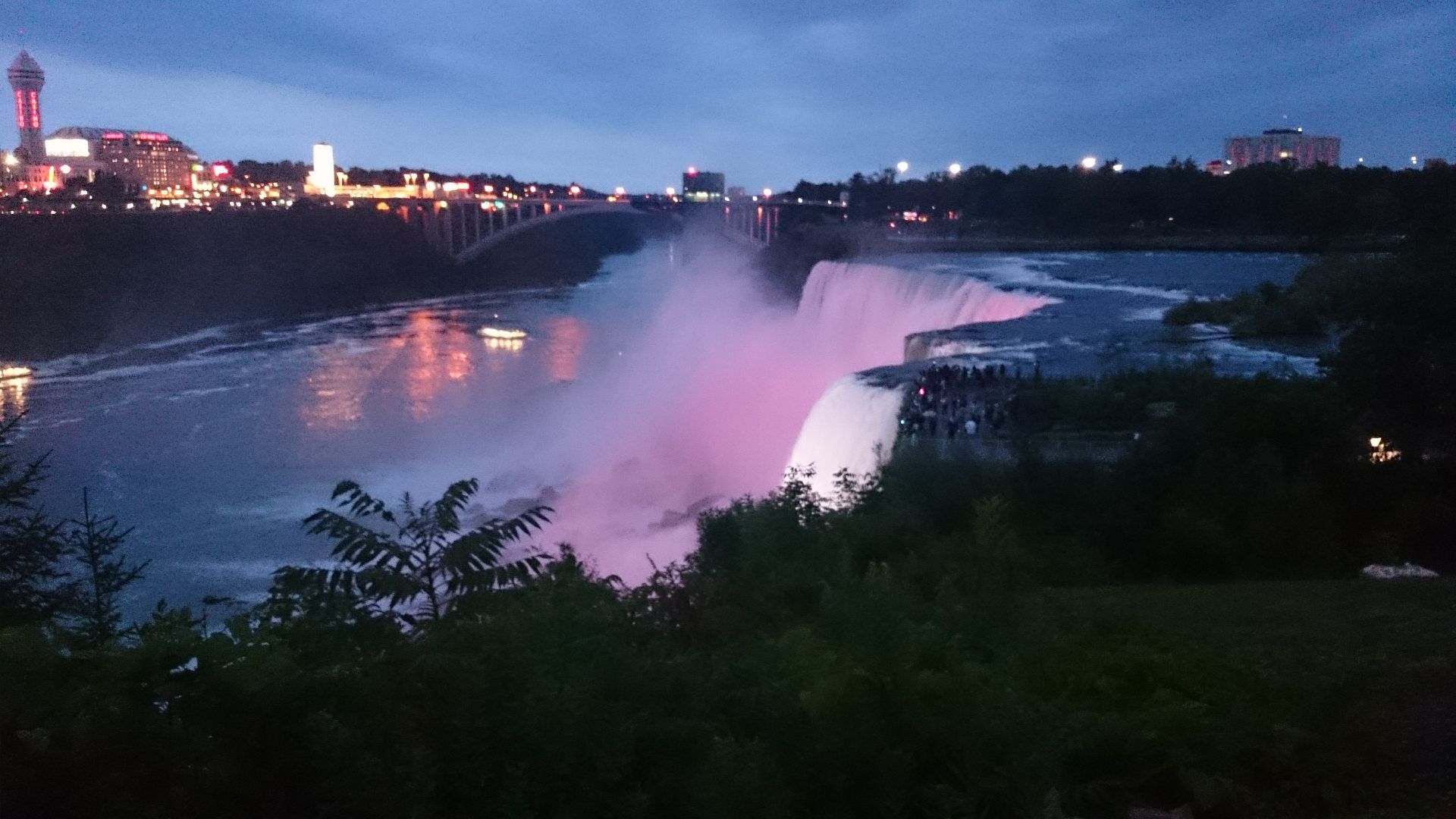 Vegas..!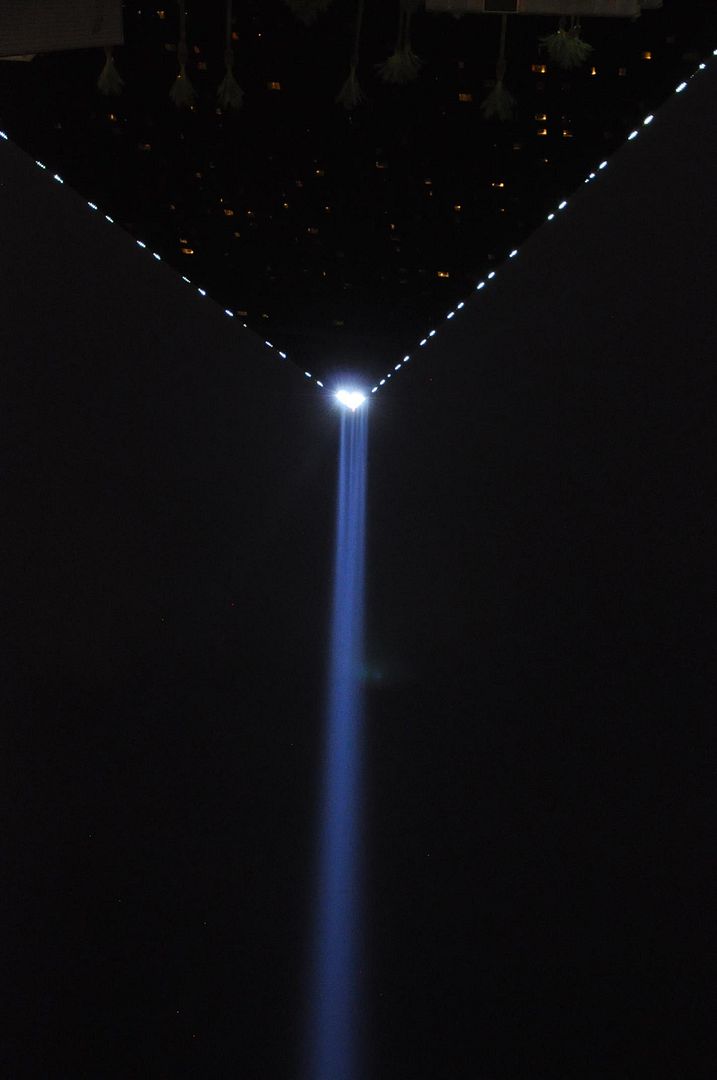 On the streets of LA – Rodeo Drive – McLaren MP4-12C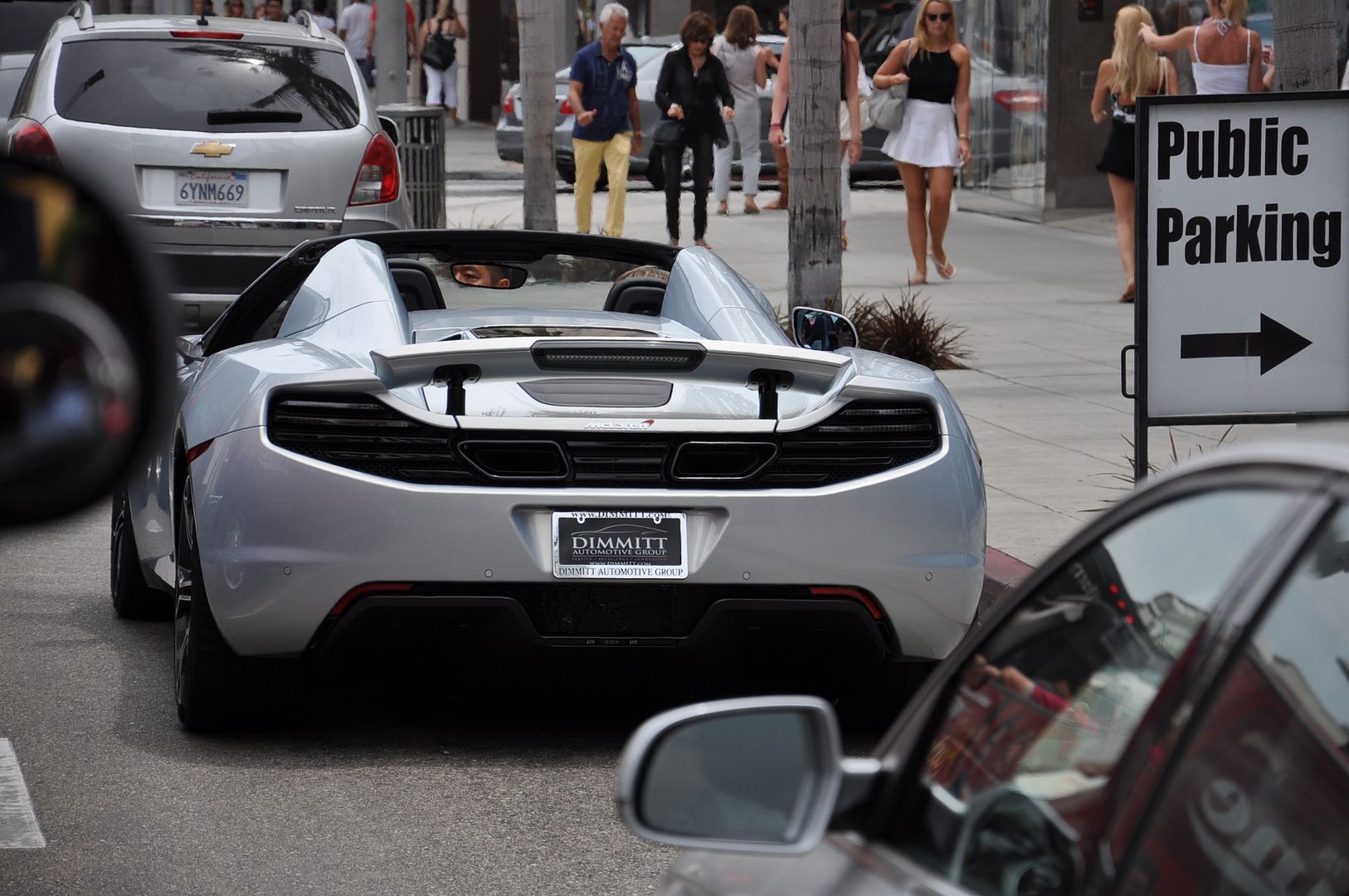 Lambo Aventedor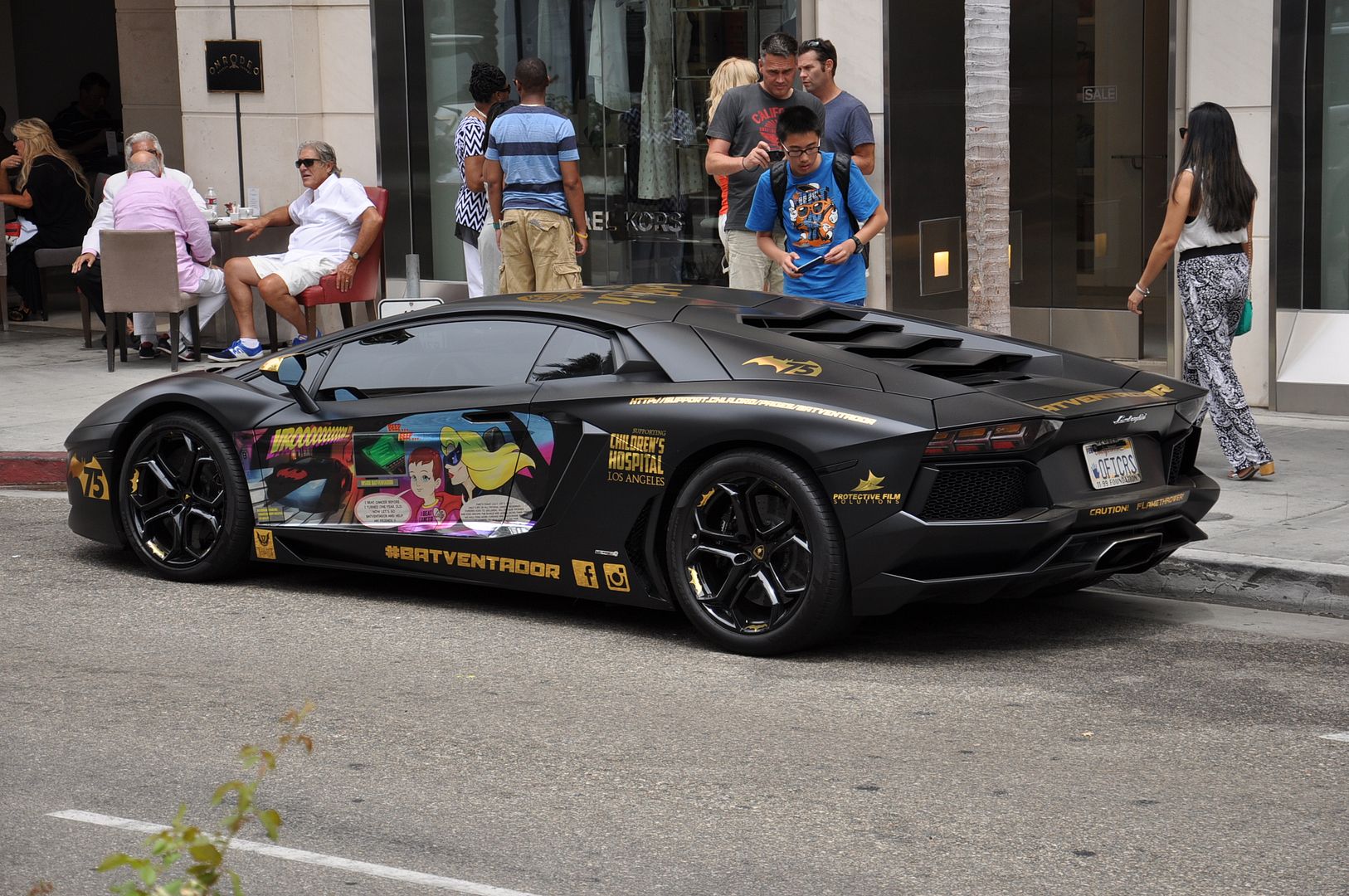 Pagani Huyera on Rodeo drive