Introduction
Hi and welcome to my trip report of a recent flight from Kuala Lumpur to Paris (via Abu Dhabi) in Etihad's A330 pearl business class. This is the third leg of a long-haul trip to Europe which includes Jakarta, Kuala Lumpur, Abu Dhabi, Paris, Copenhagen, Barcelona and London.
SYD-CGK Qantas Business Class A330

I was originally booked to fly to Europe via South Africa – Sydney to Jo'burg premium economy on Qantas and then onto London Heathrow with Virgin Atlantic premium economy. Both flights were booked using points with the respective airline's frequent flyer programs. However plans changed at the last minute and I decided to re-route via Asia. I was able to cancel my Virgin Atlantic flight without any penalties, however my Qantas flight cost me 5,000 points to cancel. With only 4 weeks till departure, I knew it was going to be difficult to find reward flights especially in PE or business class. After an extensive search and several phone calls to Velocity (Virgin Australia's rewards program) I managed to find a flight from Kuala Lumpur to Paris (via Abu Dhabi) using 93,000 points plus $45 in taxes (business pearl class on Etihad). Now I just needed to get to KL from Sydney. After exhausting almost all QF options to Asia, I stumbled upon a reward ticket from Sydney to Jakarta – business class for 50,000 points plus $250 in taxes. Not bad. I then proceeded to book a fairly cheap ticket from Jakarta to KL on Malaysian Airlines (economy class). So using pretty much the same amount of points, I was now flying business class all the way to Europe via Asia instead of PE via Jo'burg – nice!
Kuala Lumpur to Abu Dhabi
Date: 26 June 2014
Flight: EY 411
Aircraft: Airbus A330
Flight Time: 7 hours
Depart: 20:35
Arrive: 23:40
Class: Pearl Business
Seat: 7K
At the Airport
The day before I had flown Sydney to Jakarta on Qantas and stayed the night at the airport Sheraton. The following morning I flew onto Kuala Lumpur and had a lengthy layover (about 6 hours). I was tempted to catch a train into the city and have a browse around but in the end decided to stay at the airport. Check-in was only 3 hours before departure so I had a good 2.5 hours to kill. After walking around the pre-departure area I headed over to a large TV screen where they were broadcasting the football world cup - perfect way to relax until check-in opened.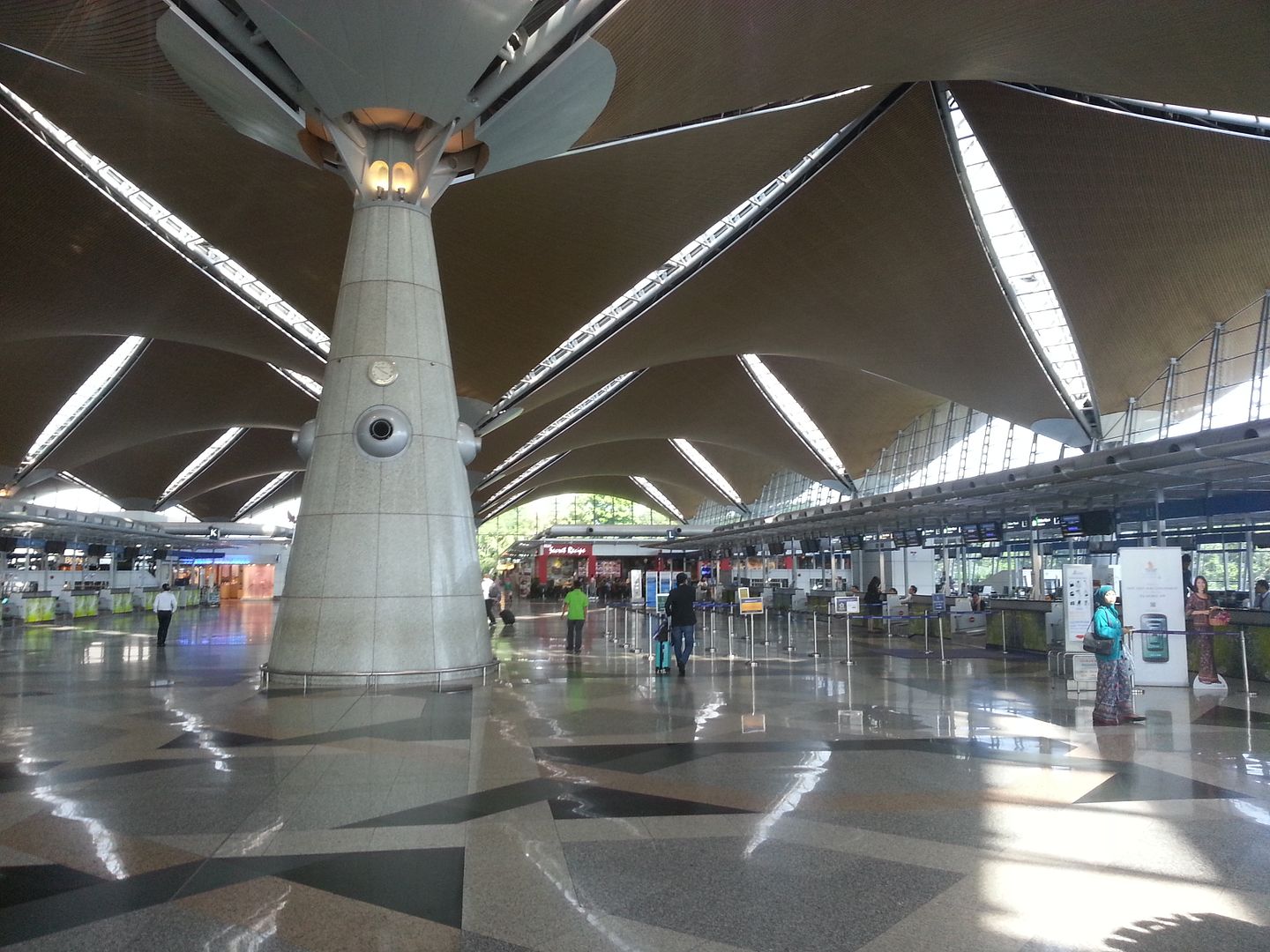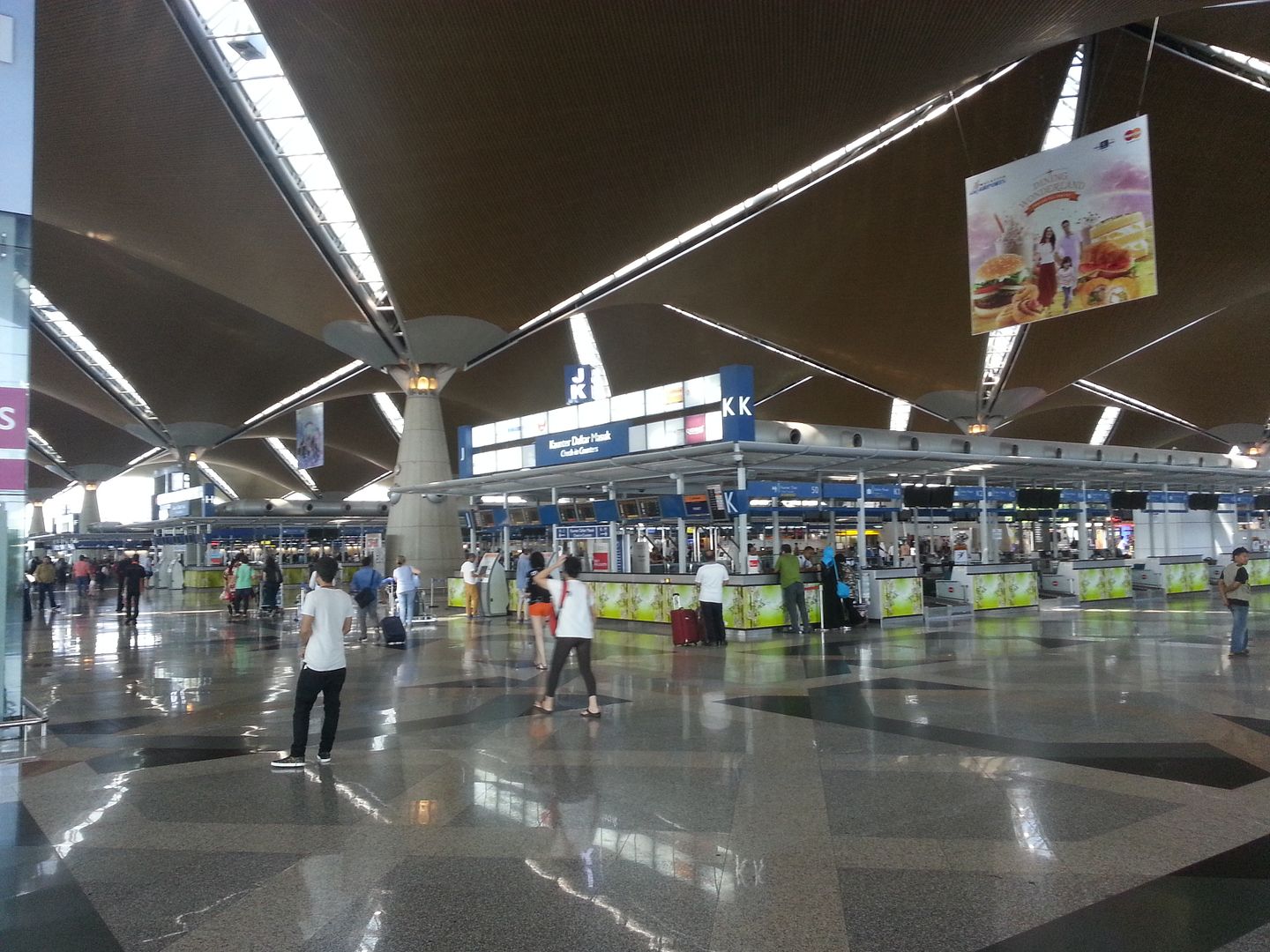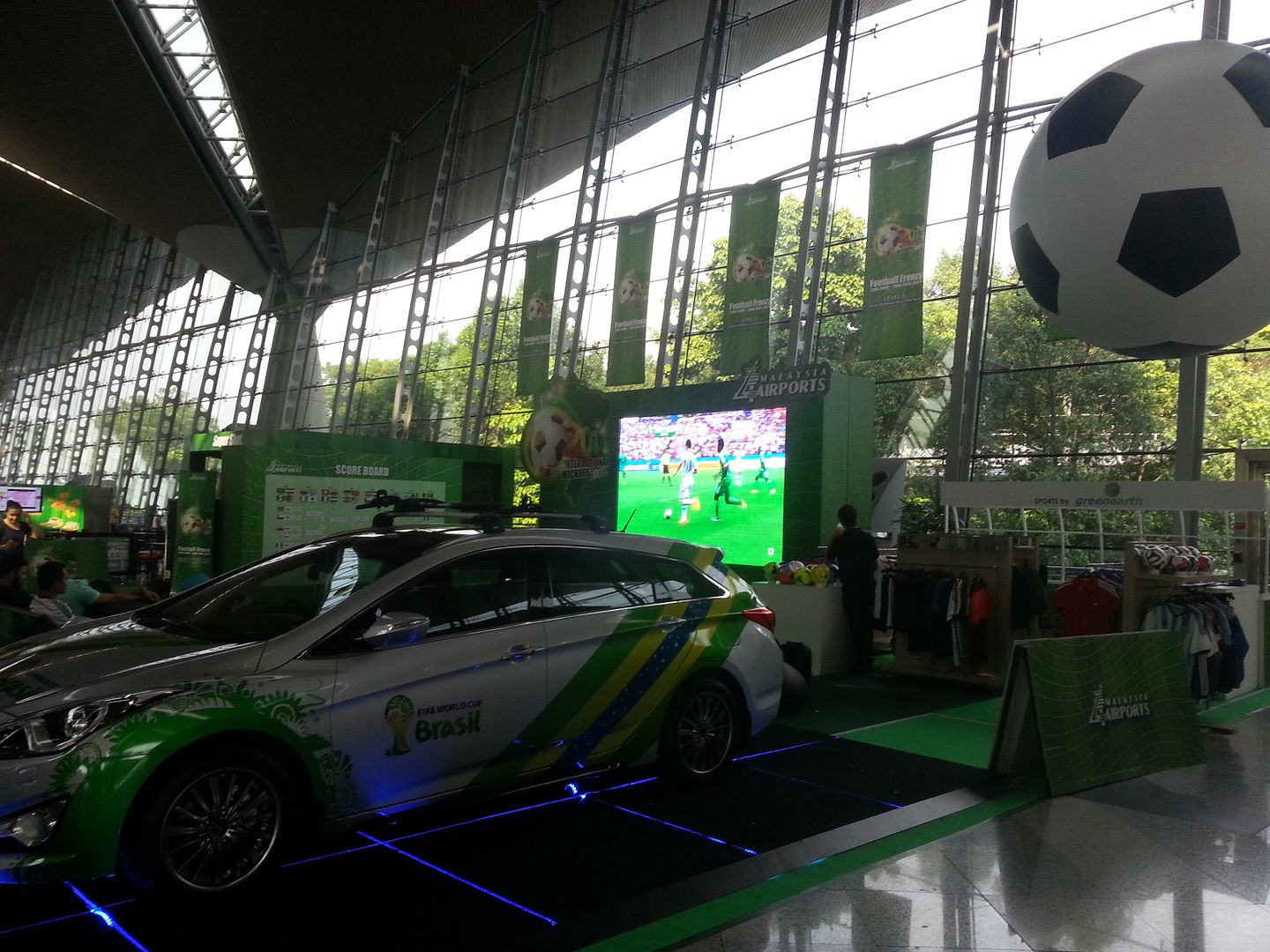 Pre-Boarding
After watching some good football I made my way to the Etihad check-in. There was a dedicated line for Pearl Business. The check-in staff were friendly and efficient, handing me my boarding pass and lounge invitation within a few minutes. I made my way to security and then through passport control - this took around 20 minutes. I then caught the train to the other terminal where my flight was departing from.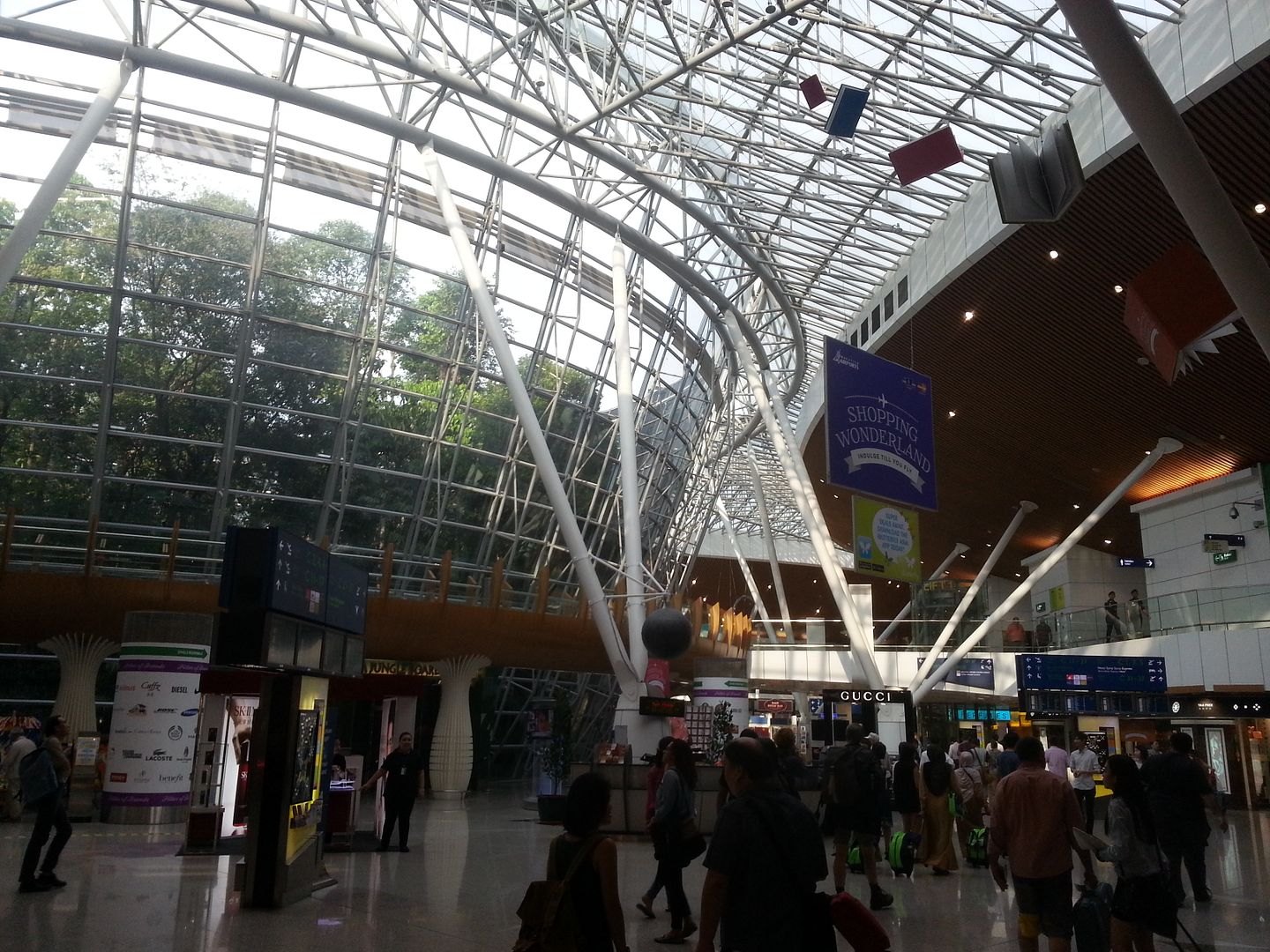 After browsing through the many shops I decided to check out the Malaysian Airlines Golden Lounge which Etihad customers use, along with One World airlines. The lounge is large with a fairly decent selection of food and drinks. There was plenty of seating space both at tables and lounges.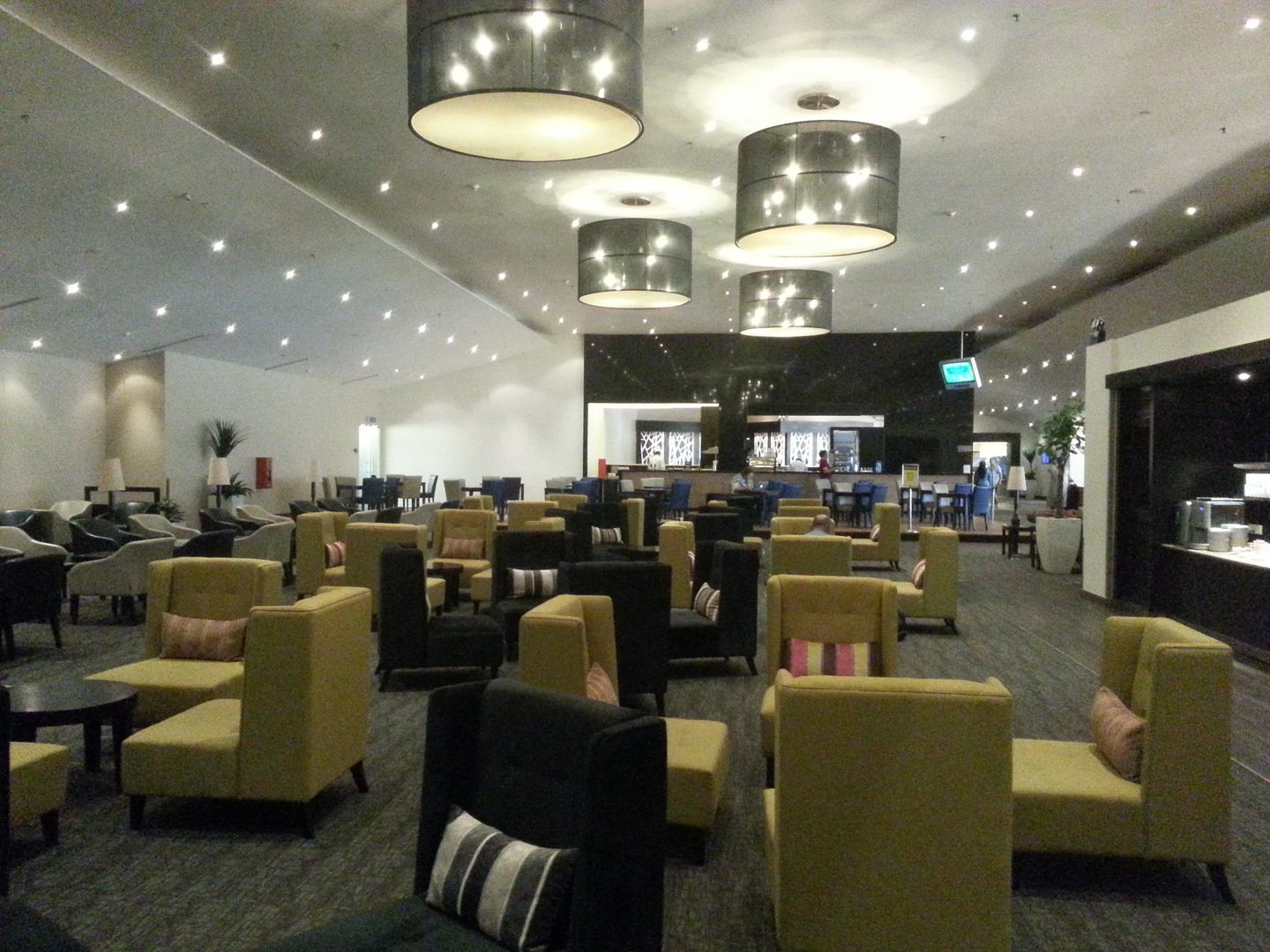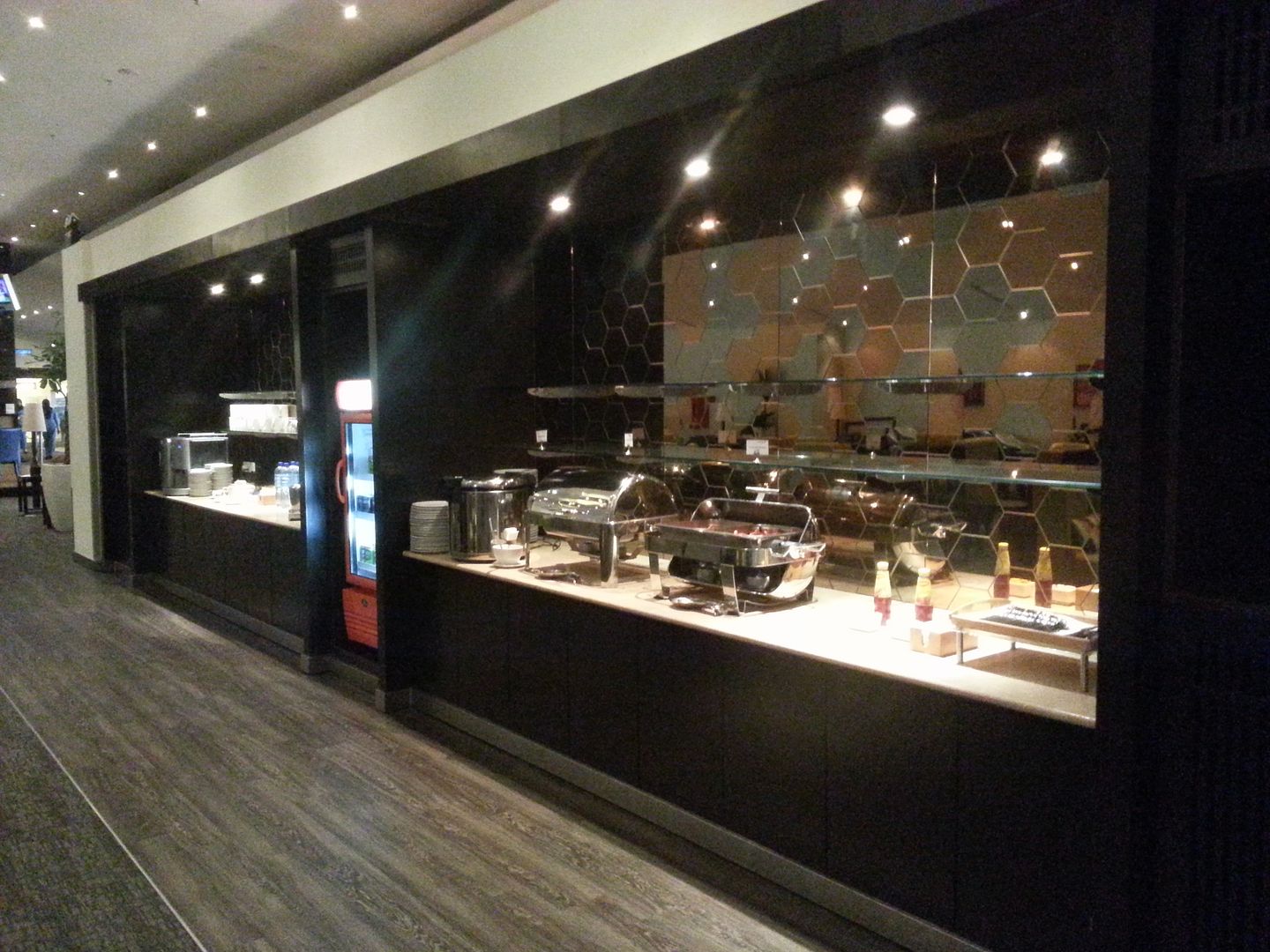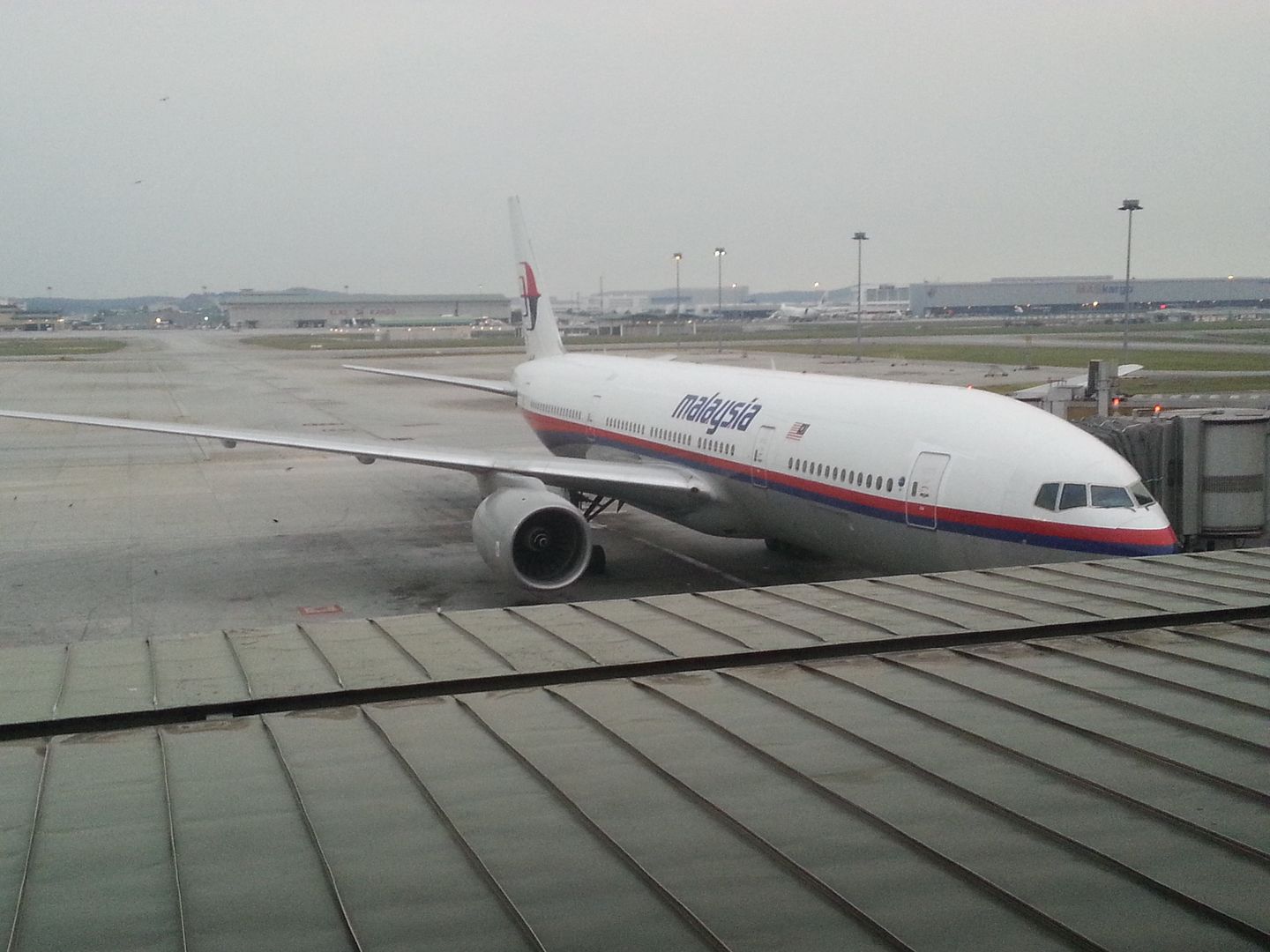 I made my way to the showers and was given a fresh towel and toiletries. The shower itself was pretty nice, good water pressure and plenty of hot water. The changing area adjoining the shower was a bit cramped though.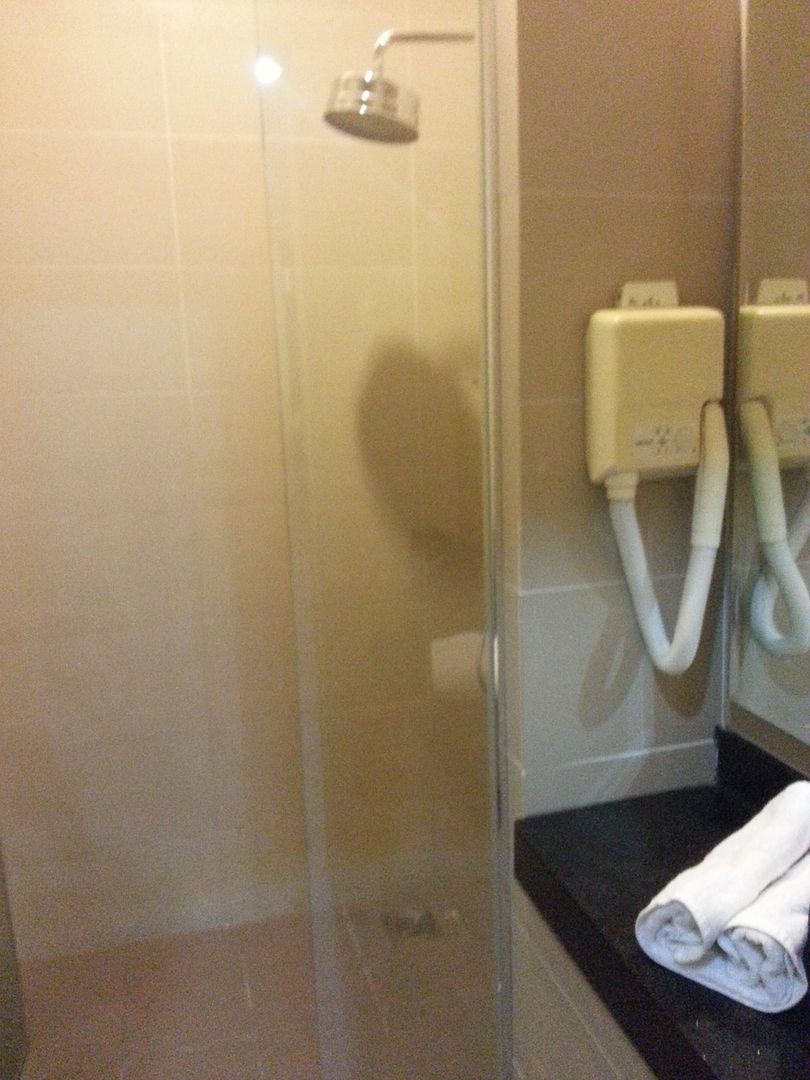 Still having over an hour till boarding I decided to check out the spa centre in the lounge. Here you can get a variety of massages. I went with the leg massage for 30 mins. Quite pricey but definitely a nice experience before boarding a long flight.
I finally made my way to the gate for boarding. Here there was a security check - metal detectors and x-ray machine for carry-on luggage. After about 10 minutes priority boarding was called - including passengers flying business class. Walking on the plane I noticed the aircraft was in a special livery - decked out in the Manchester City football club's colours - nice!
On Board (Pre-Takeoff)
I was greeted by a friendly English stewardess and shown to my seat in 8K - this was on the window and had maximum privacy (aisle access too). A basic amenity kit was provided which included toothbrush and toothpaste and sleep mask (there was a good range of creams and perfumes in the bathrooms). A very soft and lush blanket was provided along with socks. The cabin feels roomy and the seat is great (it was the new colour scheme as opposed to the old light blue version).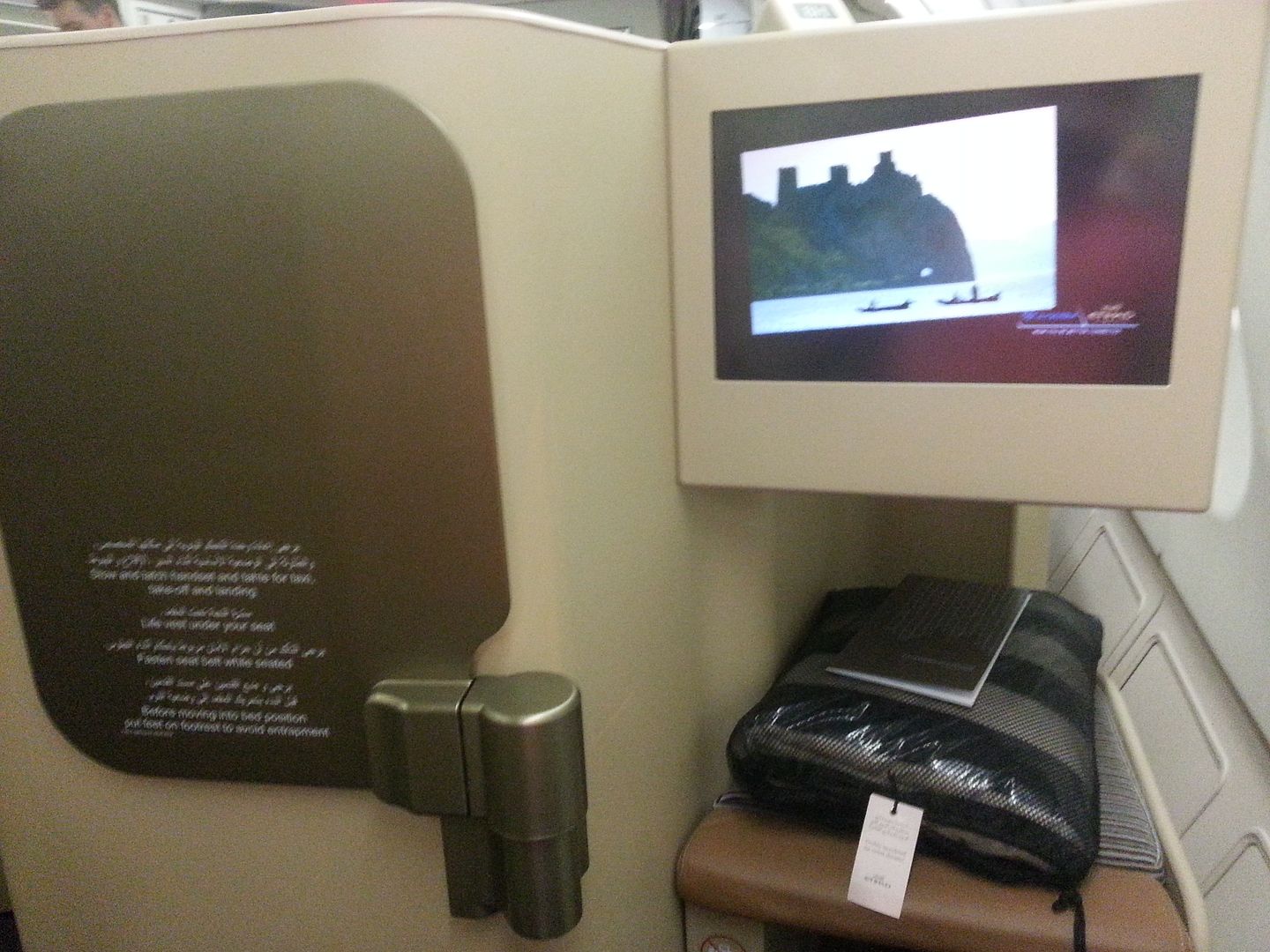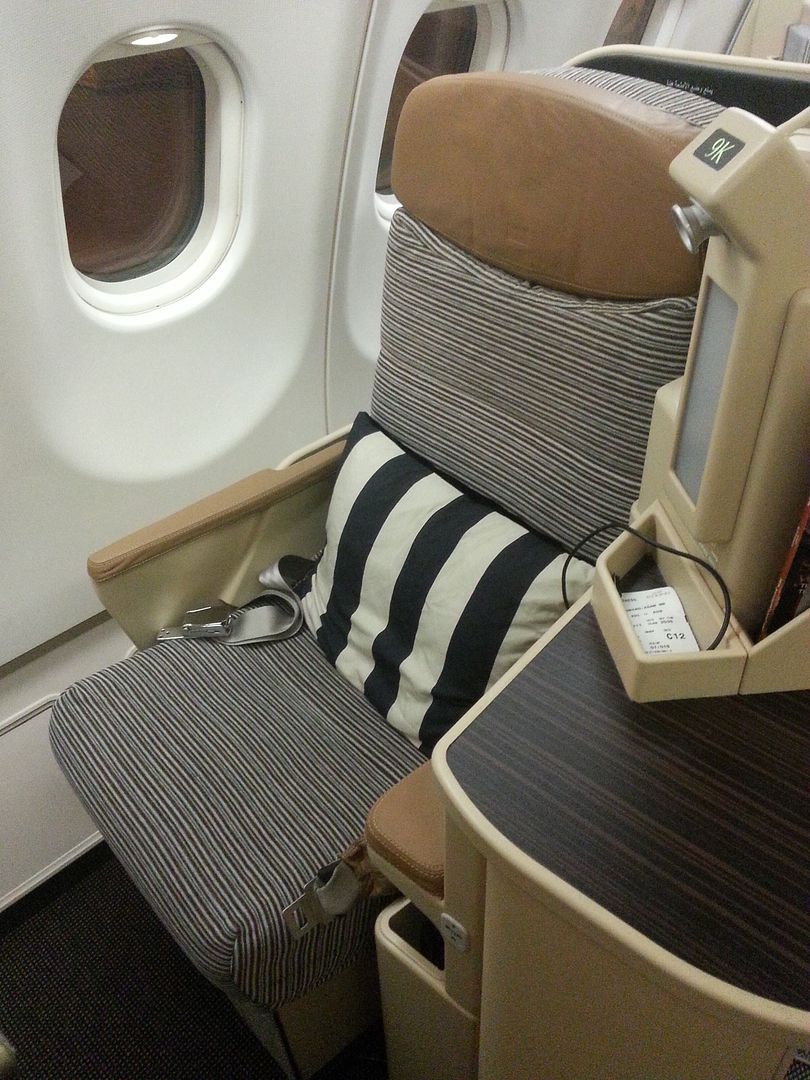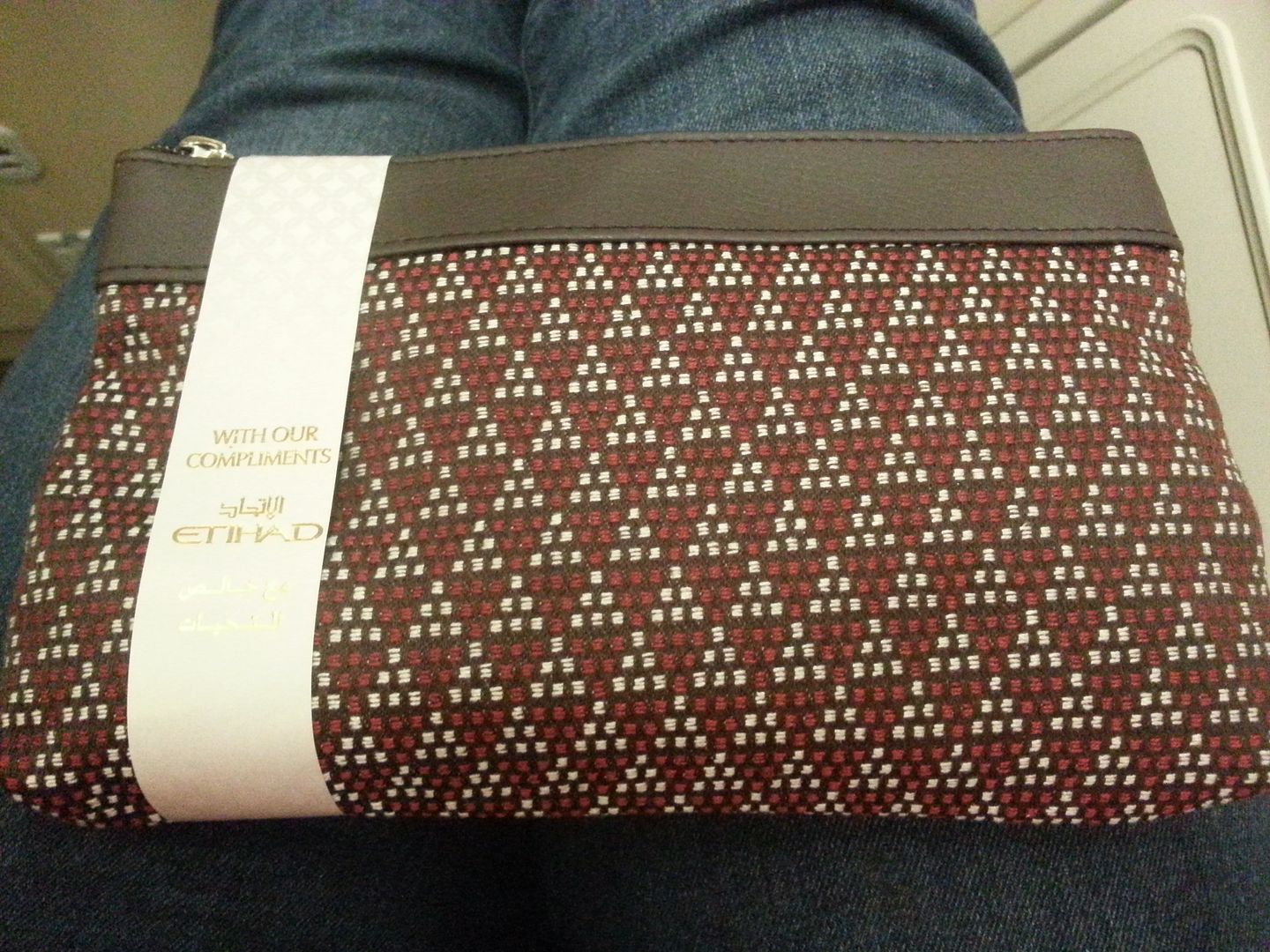 I was offered a welcome drink (I went with the Lanson Black Label champagne - very nice). A warm towel was handed out and soon after my drink and dinner order was taken for after takeoff.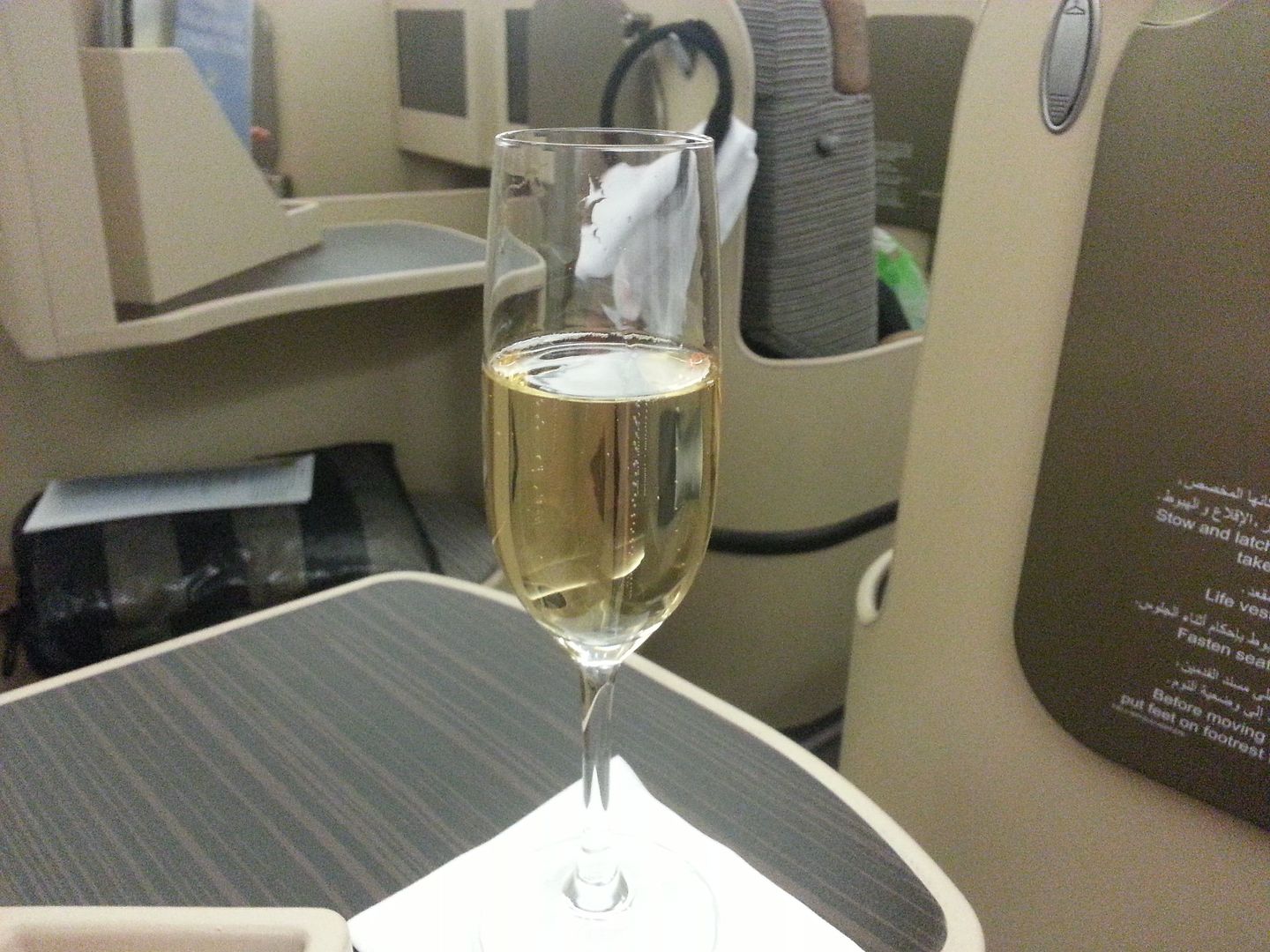 Just before takeoff the cabin dimmed with mood lighting.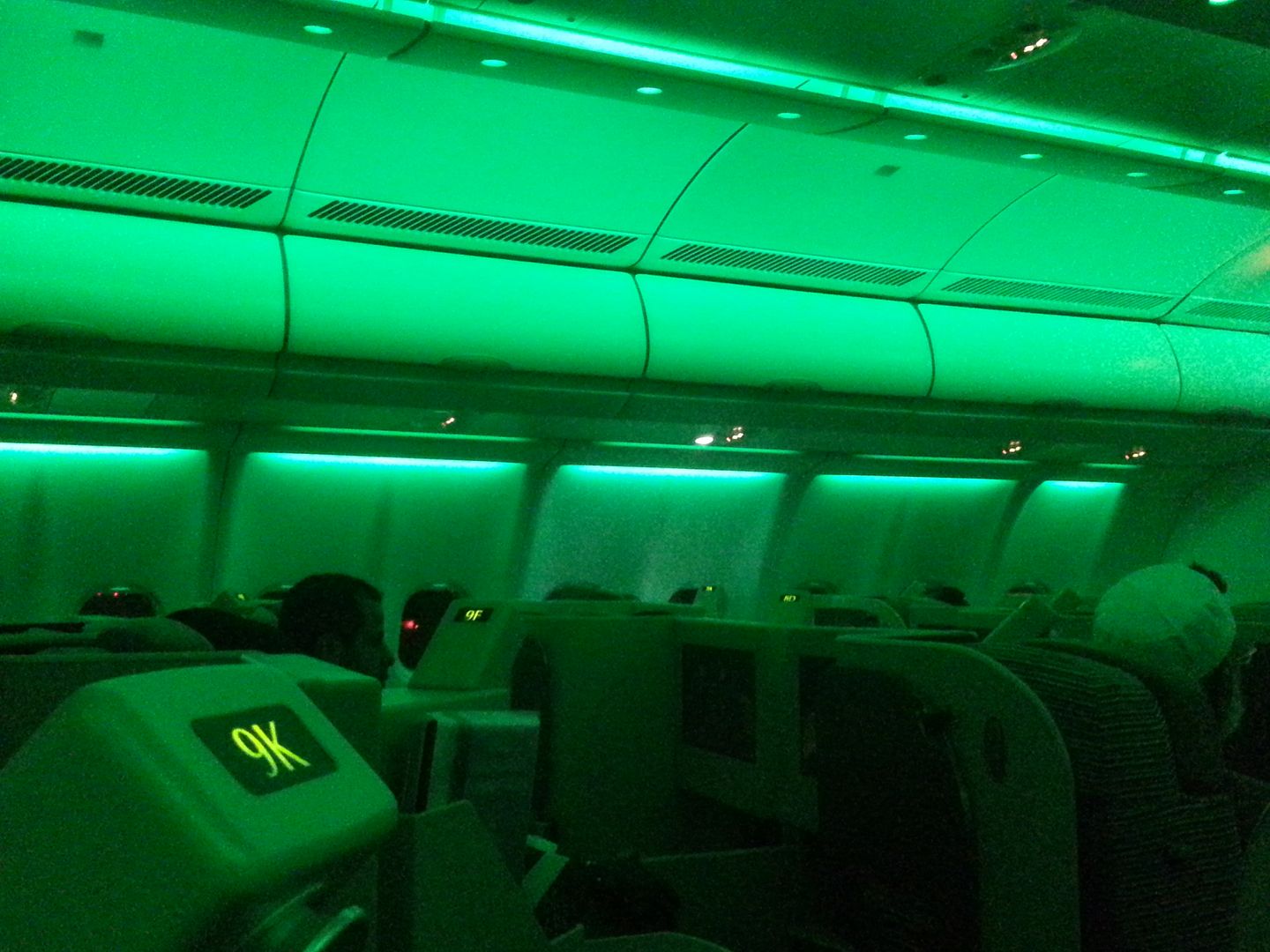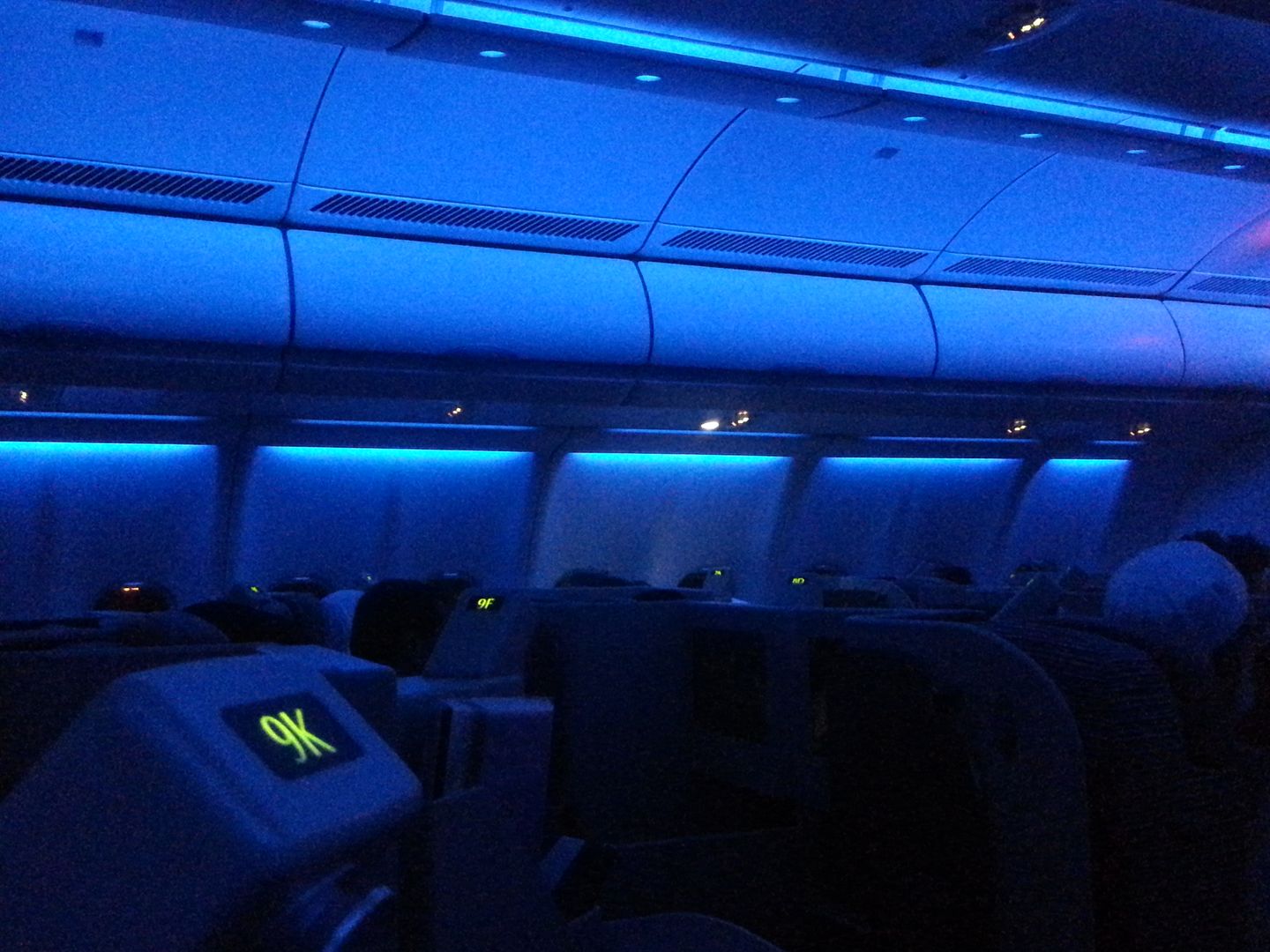 Dinner
Soon after takeoff my drink was served - Glenlivet scotch whiskey on the rocks, which was accompanied by some very nice warm nuts.
Here is the menu for the flight: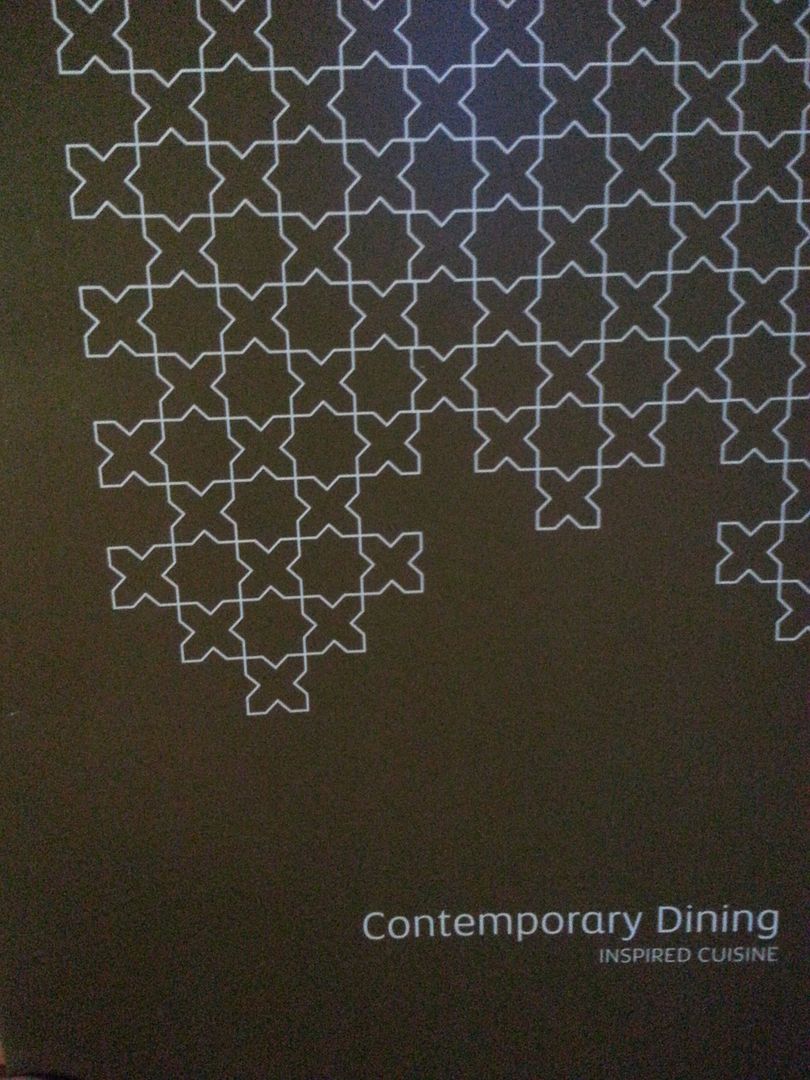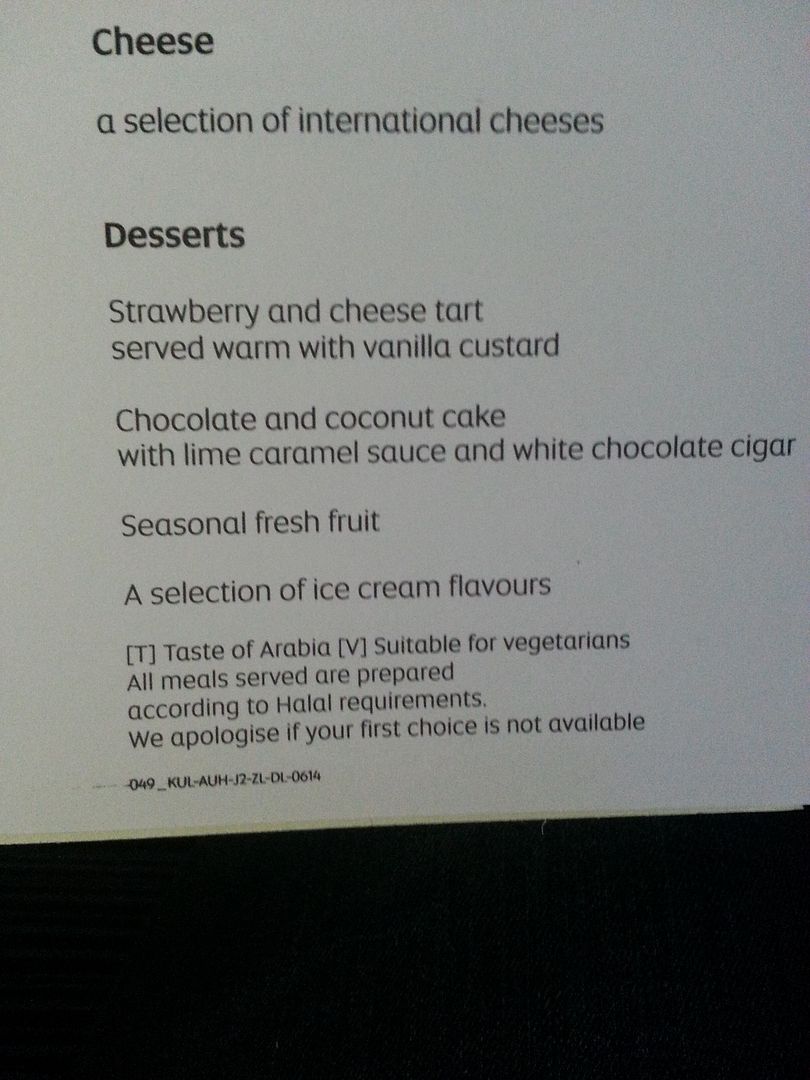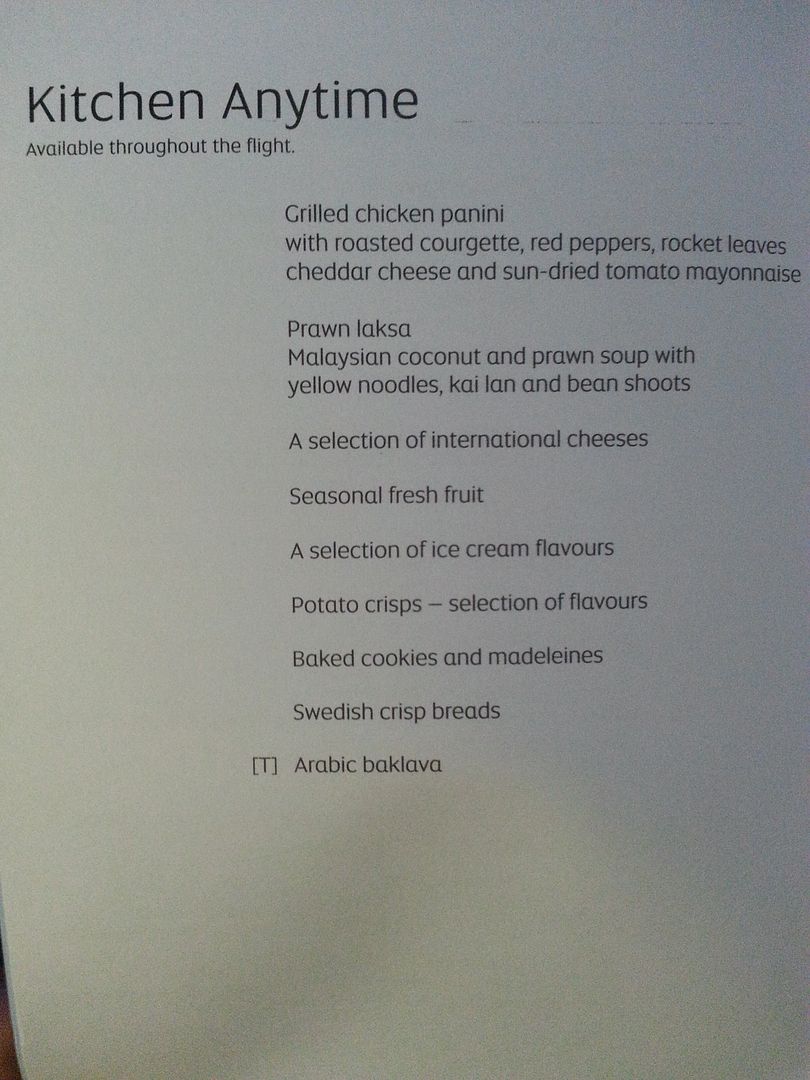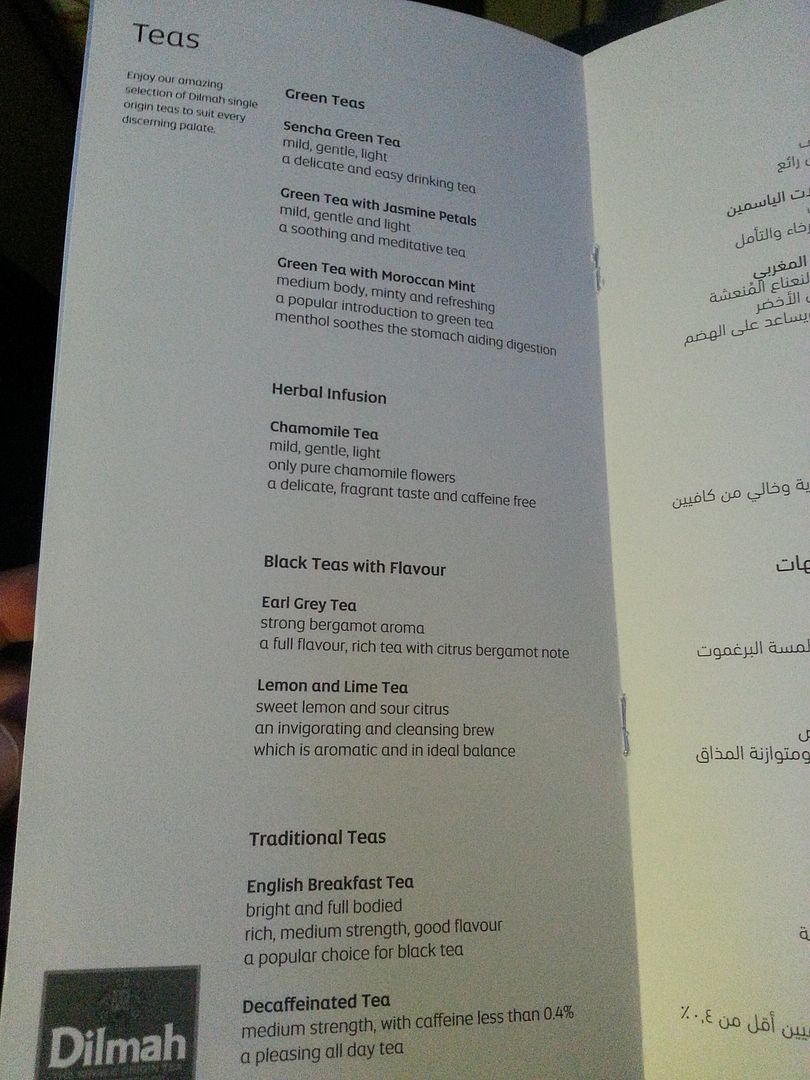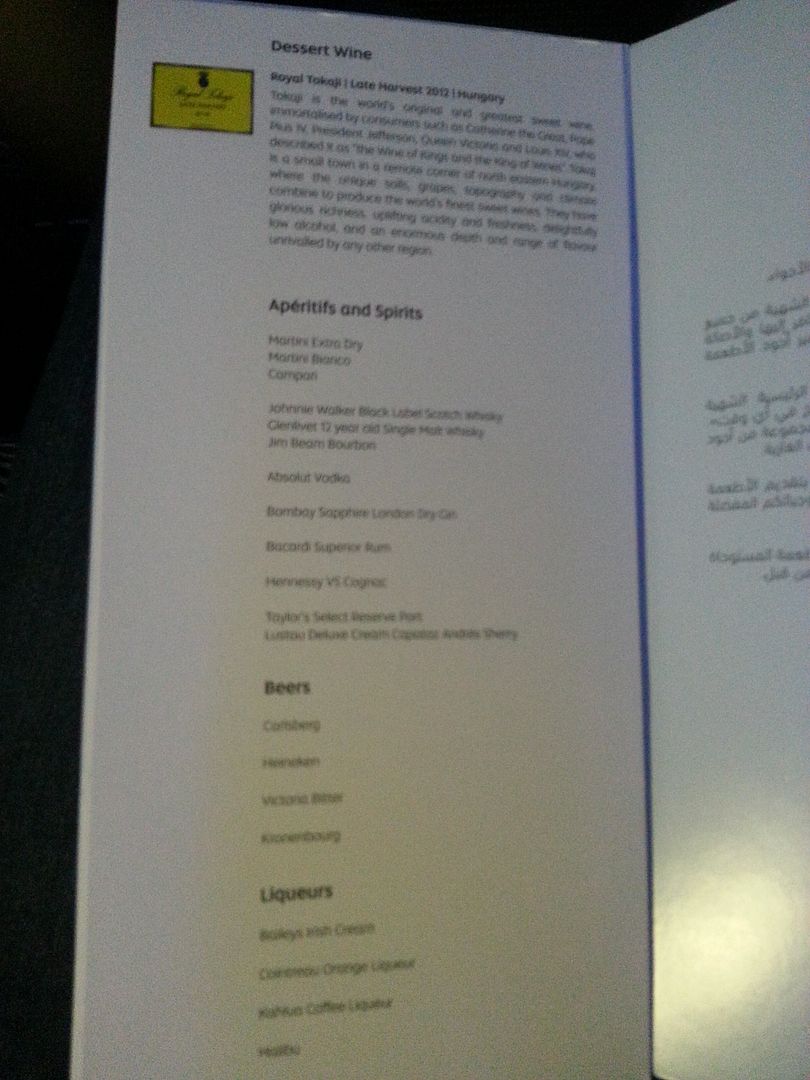 About 15 minutes after my scotch was served, the dinner service commenced. This was my selection:
Bread: Country style with house butter, extra virgin olive oil and balsamic vinaigrette.
Starter: Avocado and seafood salad, which included marinated grilled prawns and scallops with avocado timbale and roasted sesame seed dressing.
Main: Grass-fed fillet of beef, mushroom sauce, roasted new potatoes, carrots and asparagus spears.
Dessert: Strawberry and cheese tart served with warm custard.
Wine: Langhorne Creek Reserve Shiraz 2012.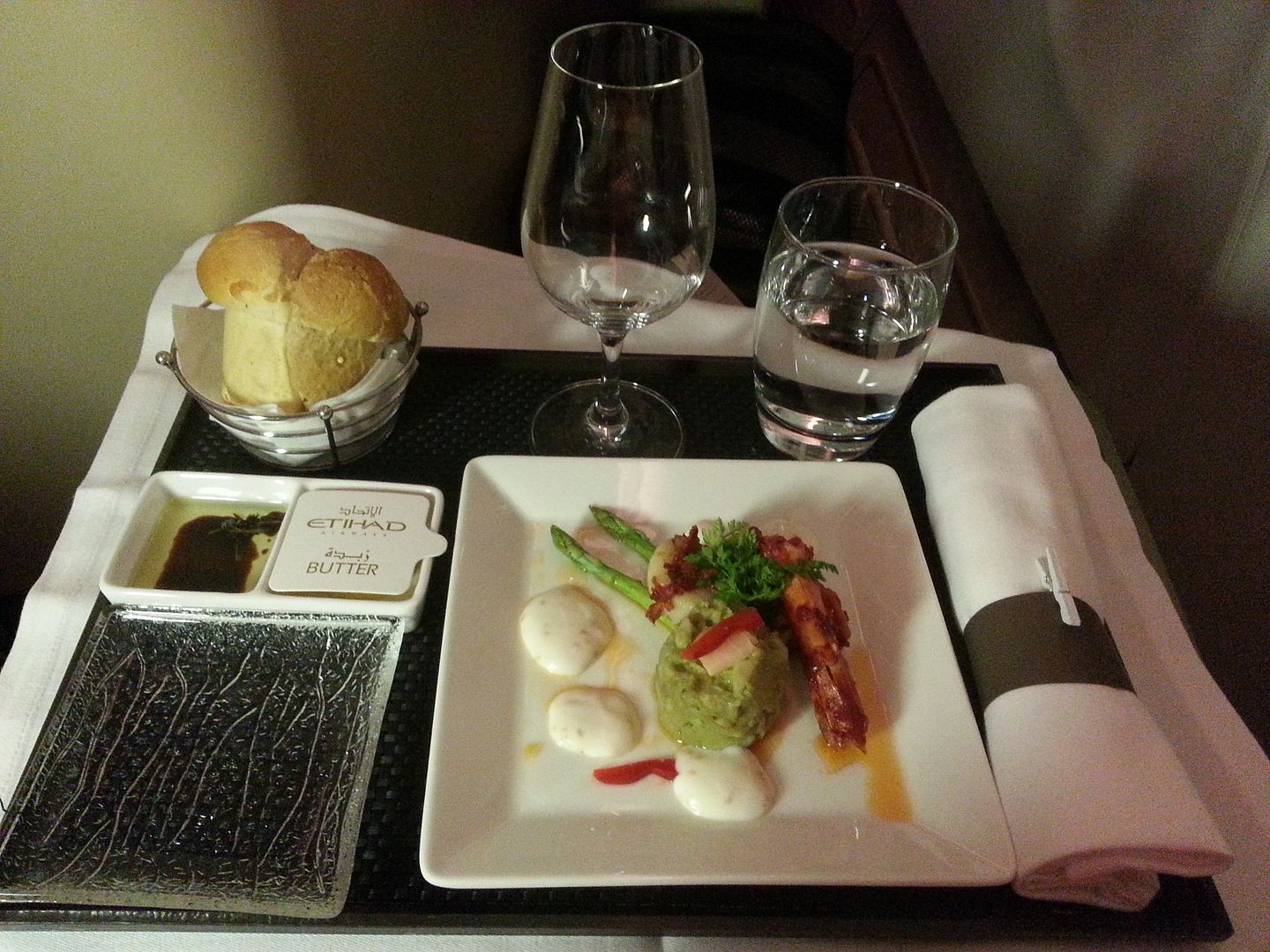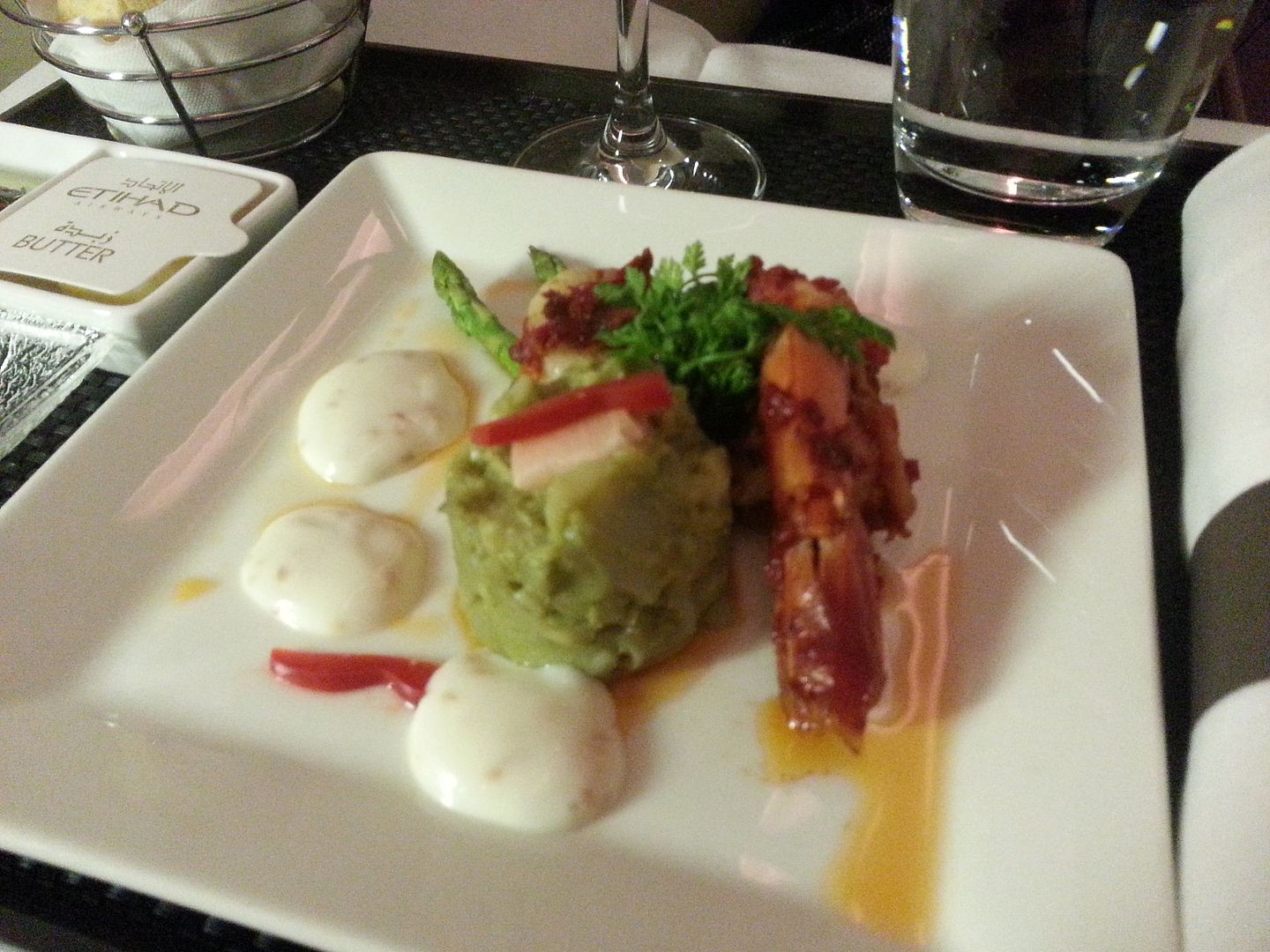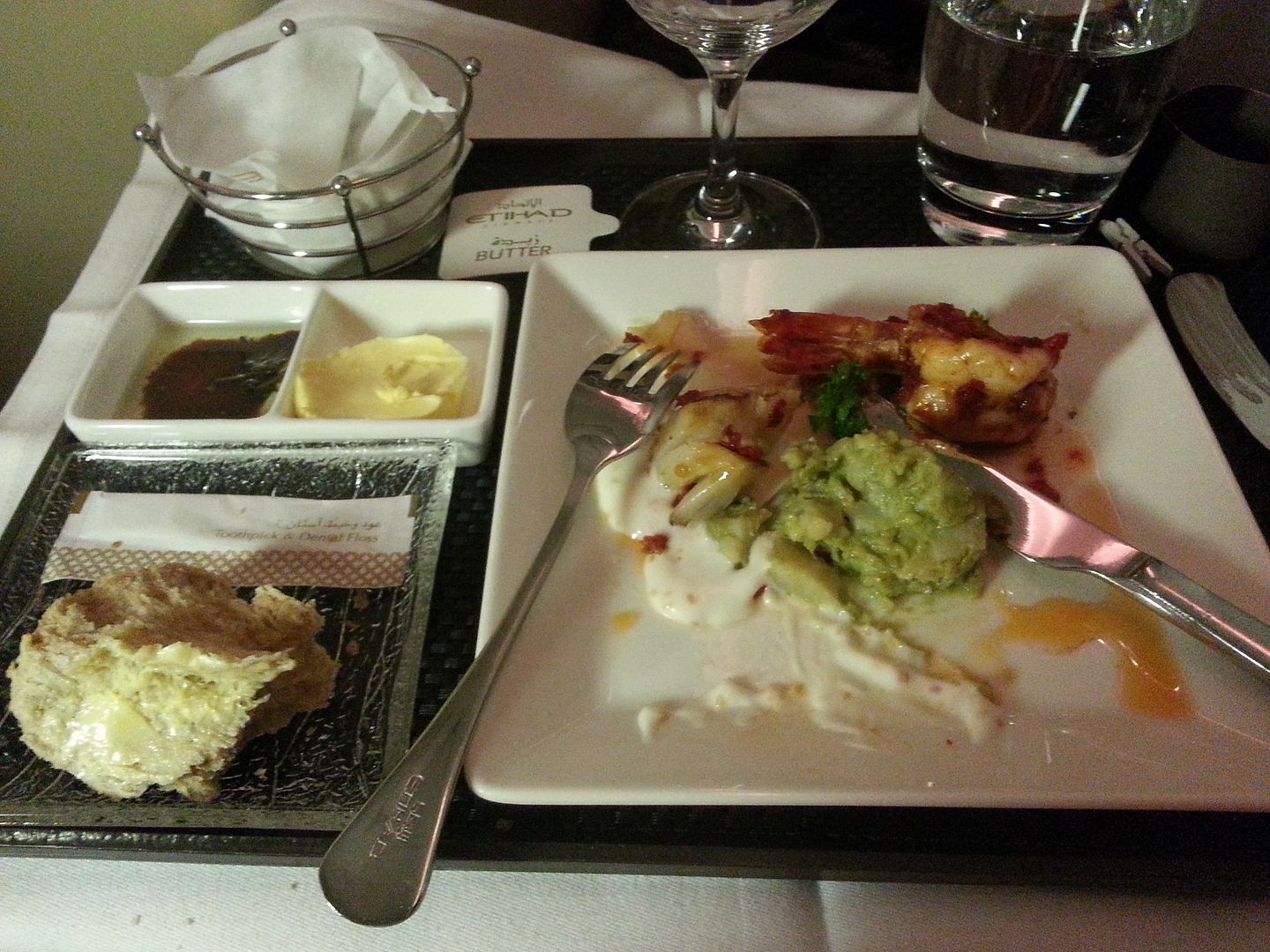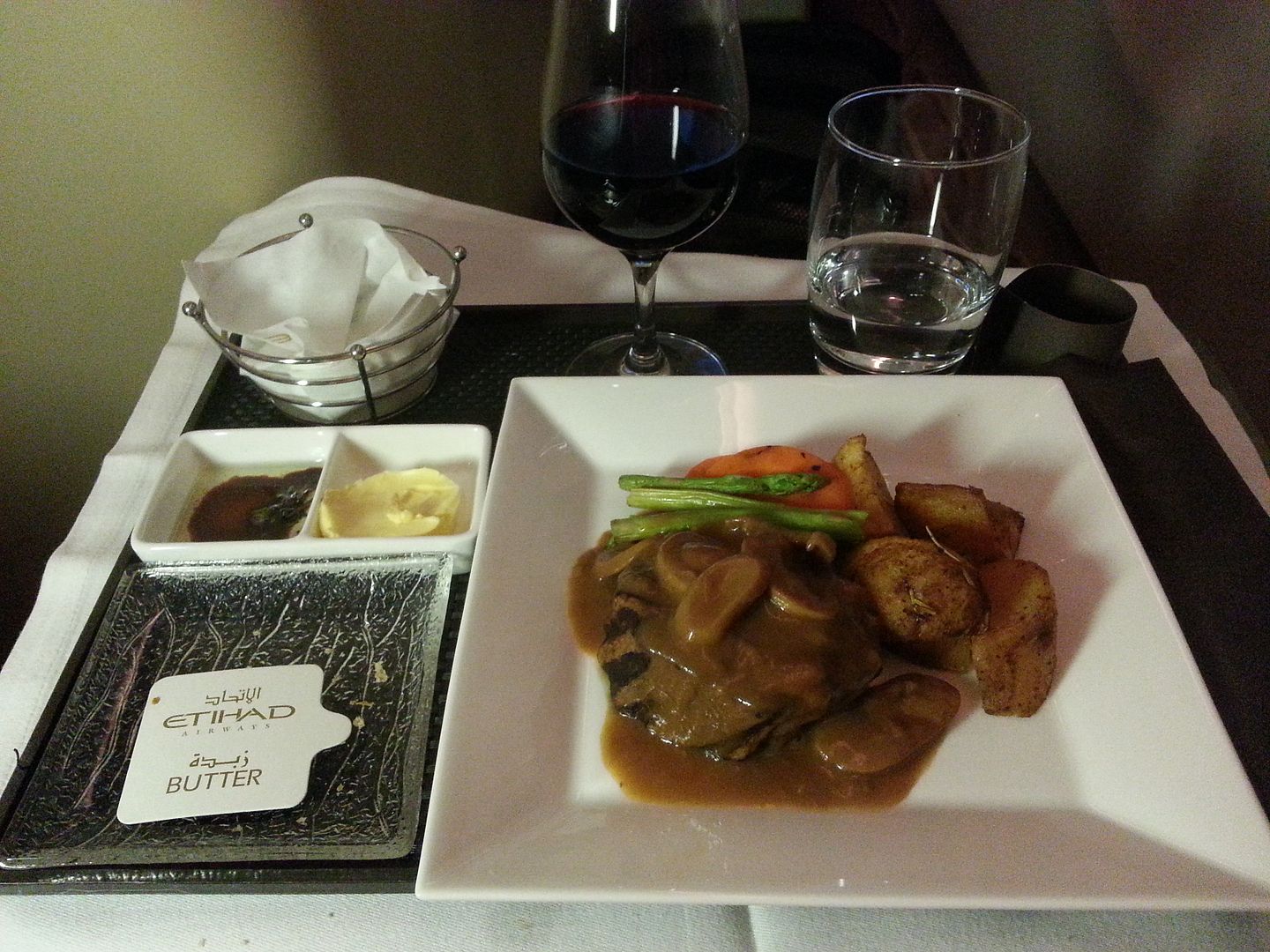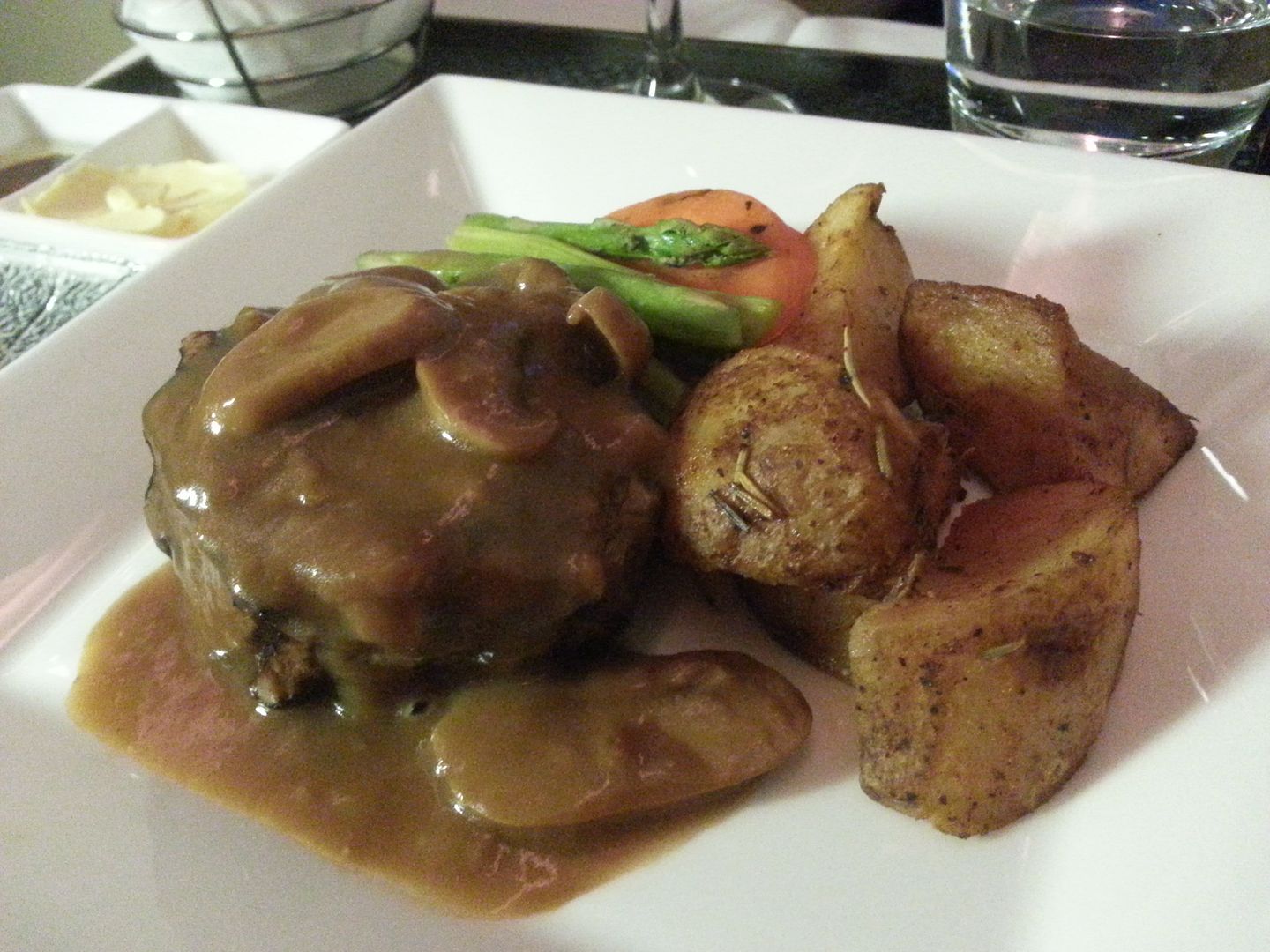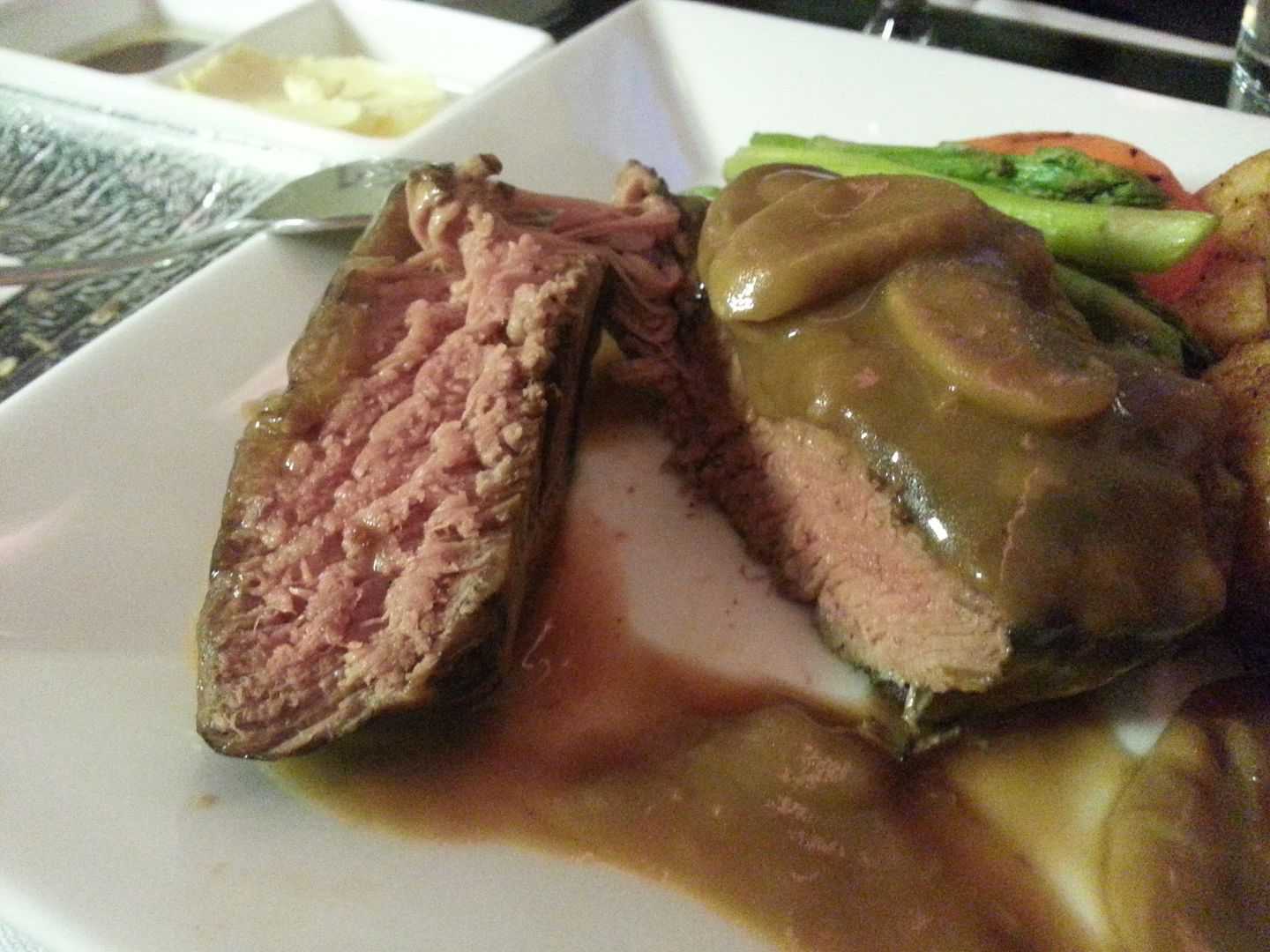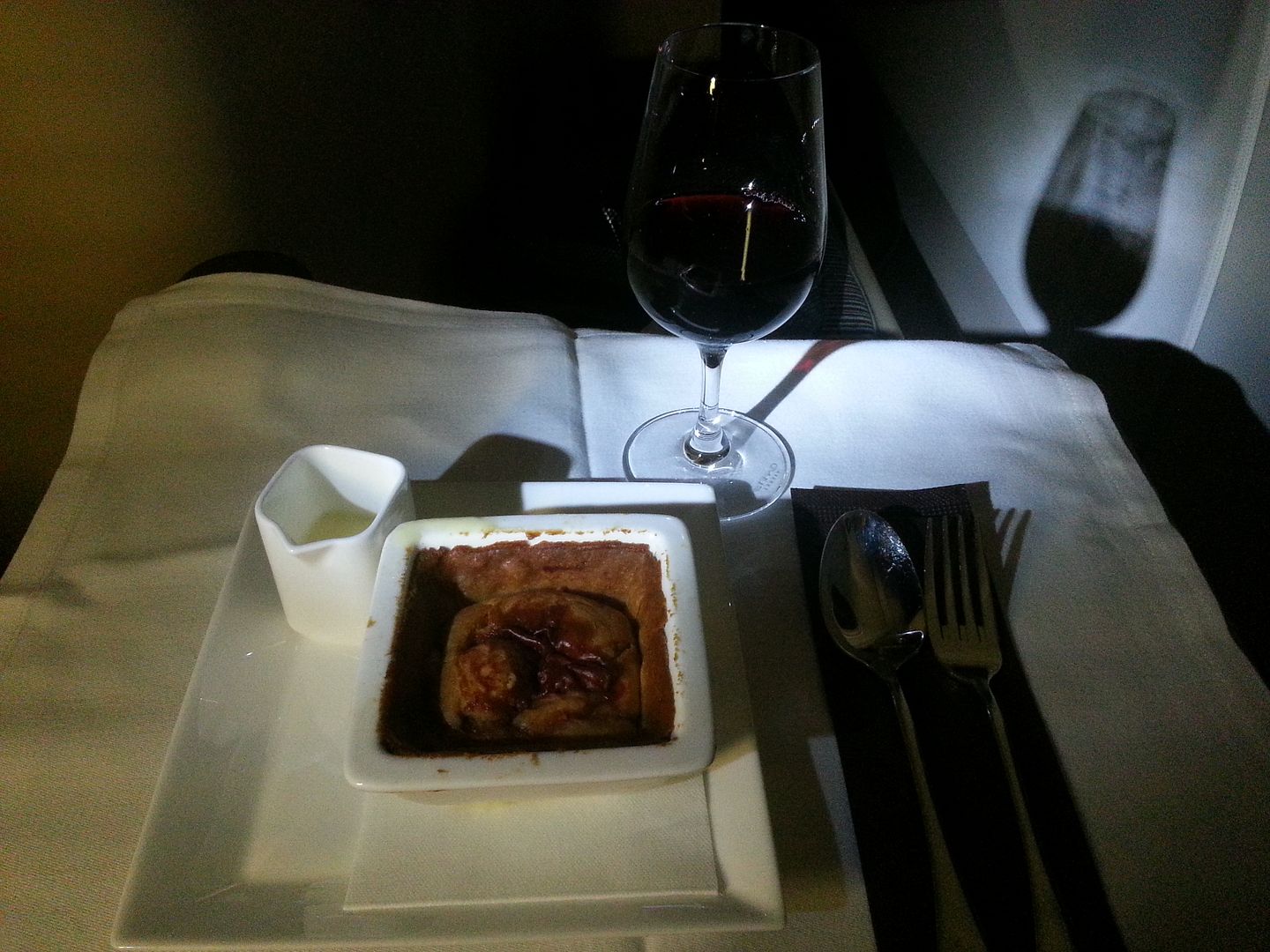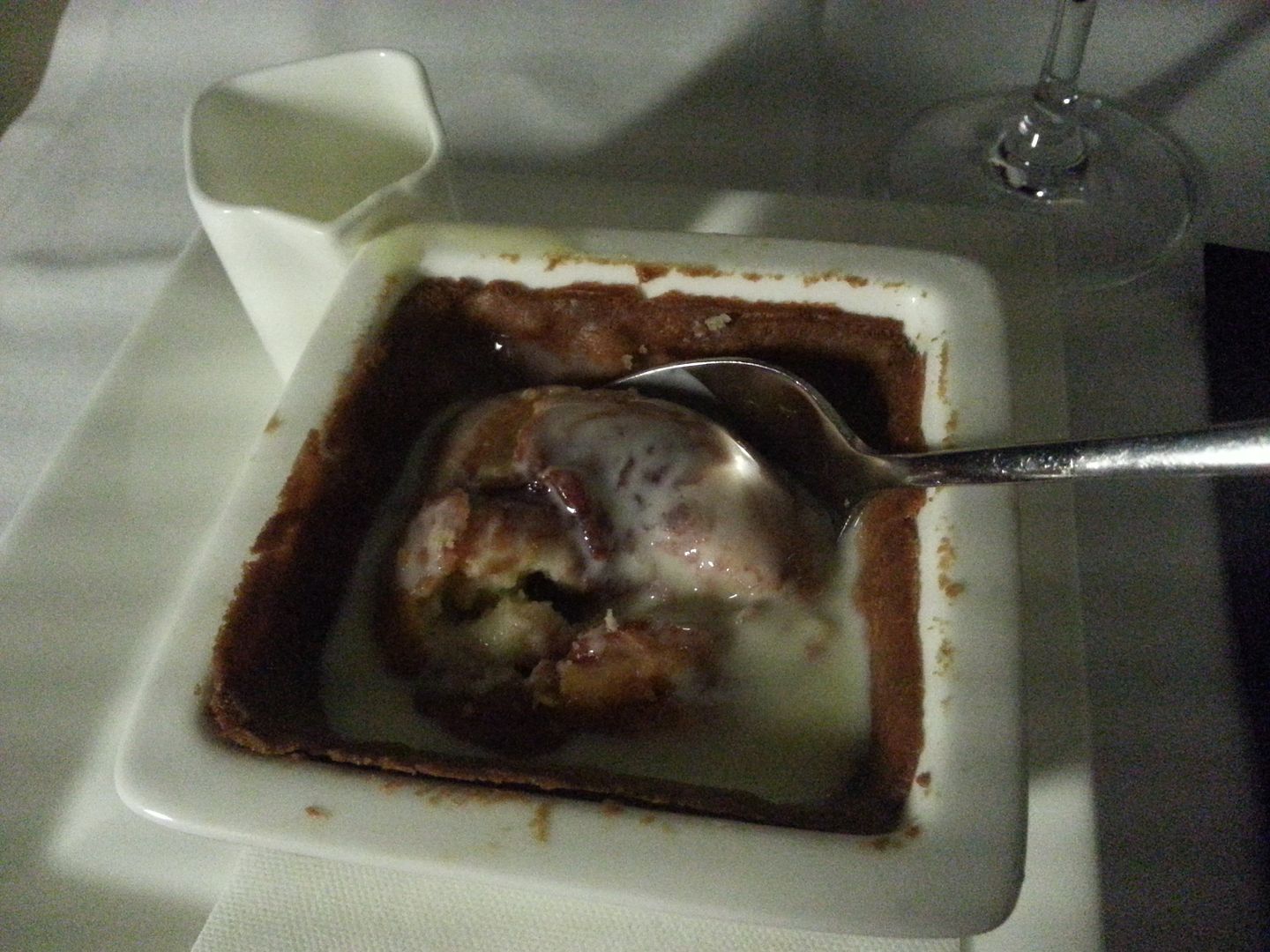 A few comments about the meal. The bread was amazing - it felt like it had just come out of a bakery - and it went well with the butter (served room temperature) and extra virgin olive oil. The starter was delicious - avocado and prawns are one of my favourite combinations. The main was definitey the highlight. I am always cautious about ordering beef or steak on a place. However the fillet was tender, flavoursome and not over done at all - still pink in the middle. My Australian shiraz was topped up throughout my meal, and I was impressed by the steward's knowledge of wines - we were having a friendly banter about French versus Aussie wines. The dessert was nice - not too sweet - and went well with a glass of port (can't remember the name of the wine though). Overall, Etihad surely excels in the catering department - top marks.
After dinner I reclined the seat to relax mode and settled down to watch some live Wimbledon, falling asleep at some point and resting for a good few hours before landing.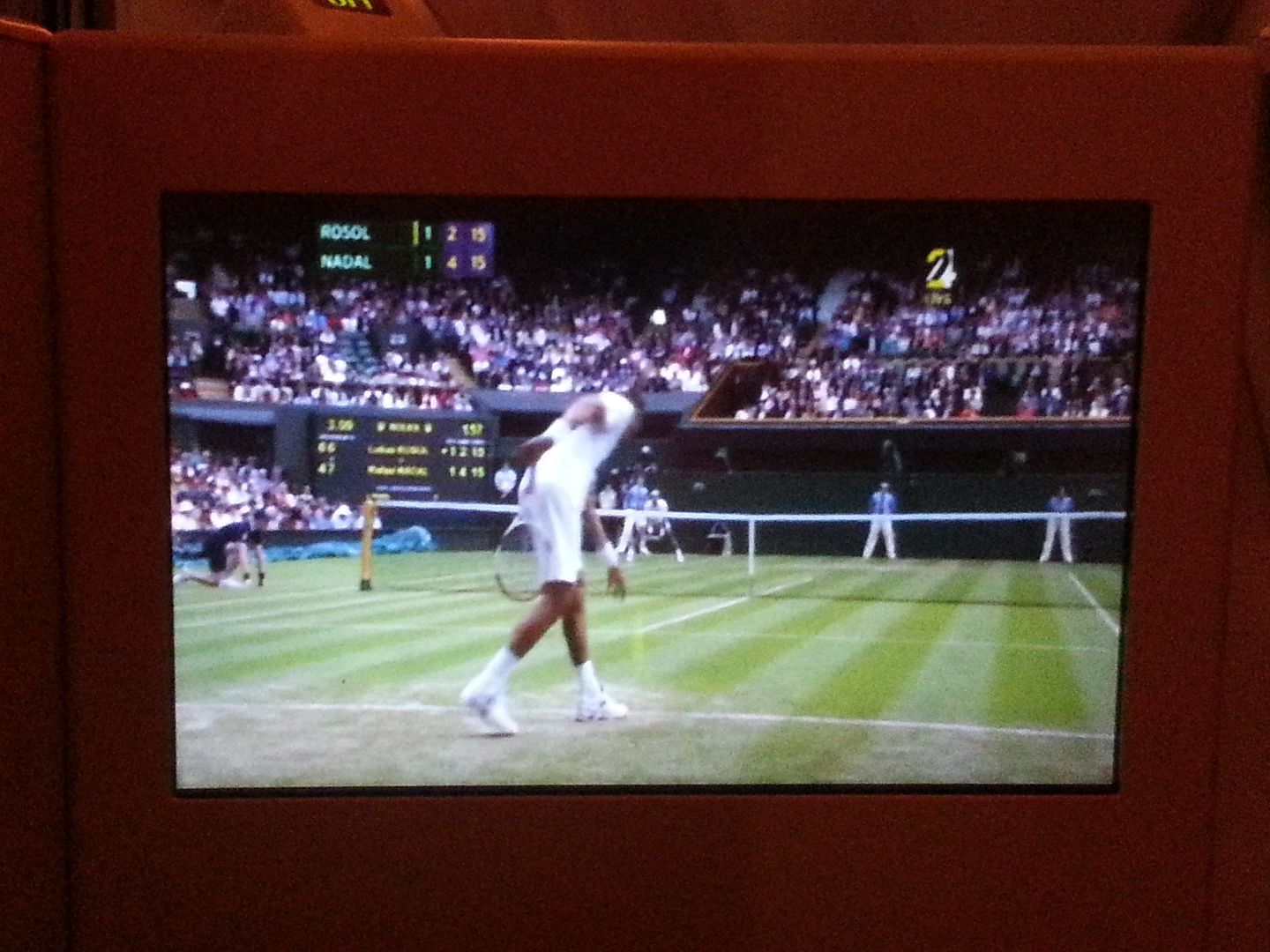 Landing
I always enjoy the descent into Abu Dhabi. The urban patterns of the city and it's sprawling suburbs are highlighted when illuminated at night. After an uneventful touch down I took some pictures of the special livery of the A330.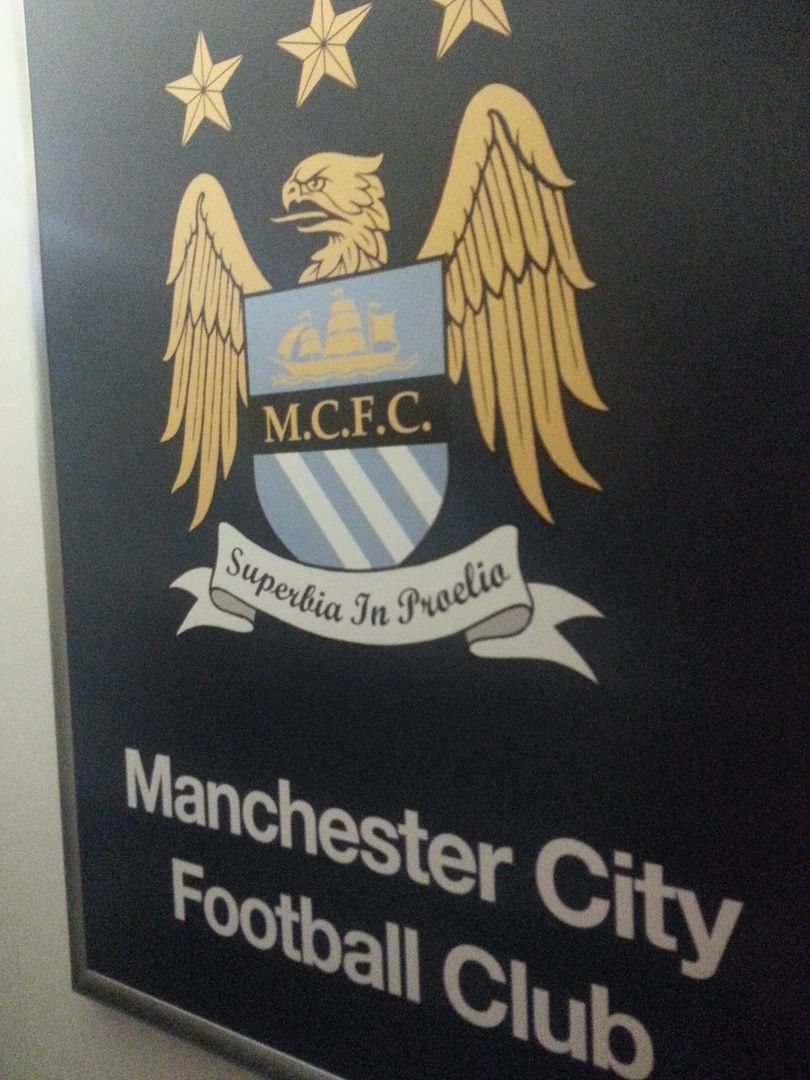 Abu Dhabi Airport
I had a 2.5 hour stopover in Abu Dhabi. After doing a bit of browsing at the duty free stores I made my way to the Etihad Business Class Lounge. It was a bit tricky to find but finally got there.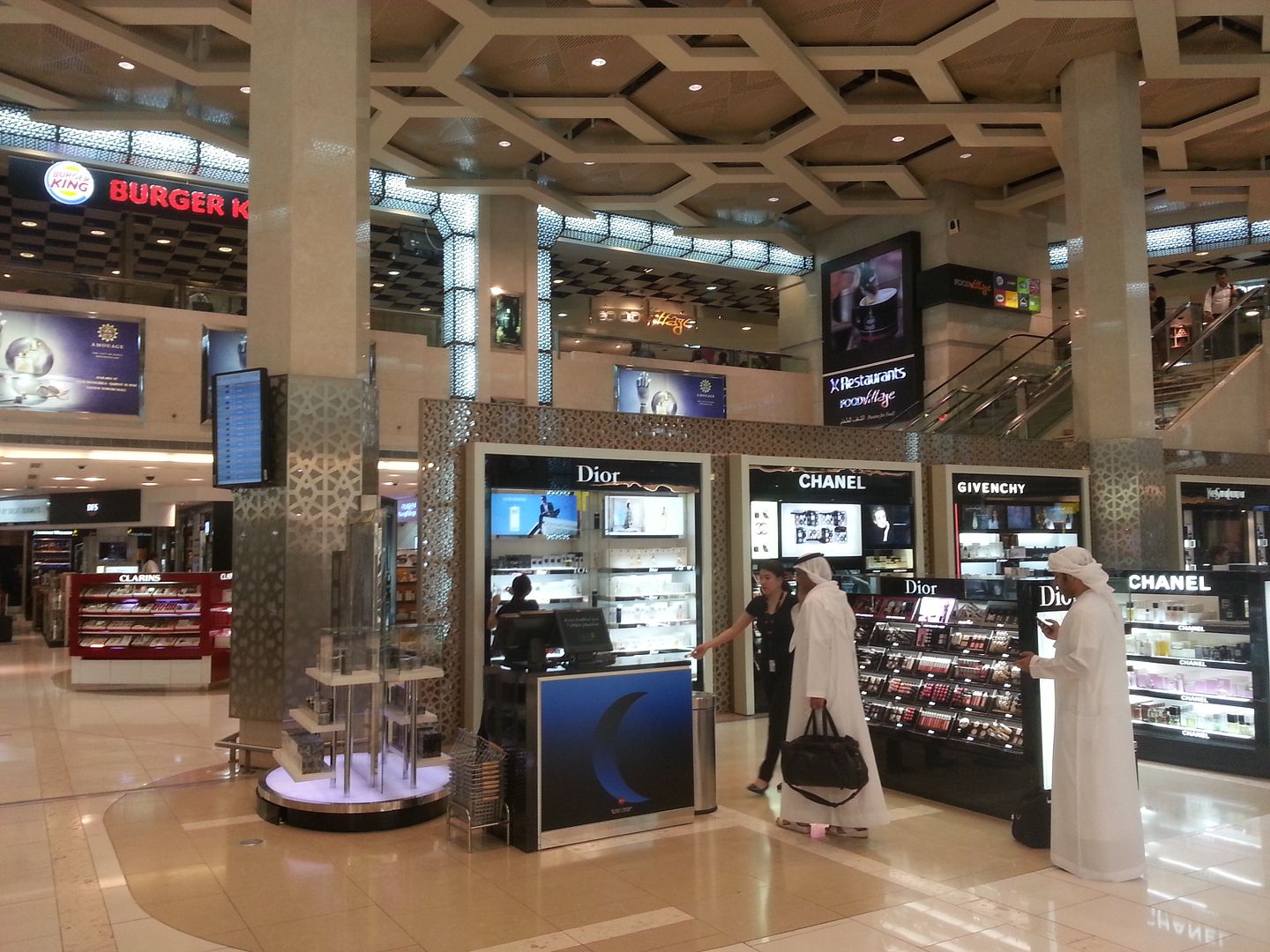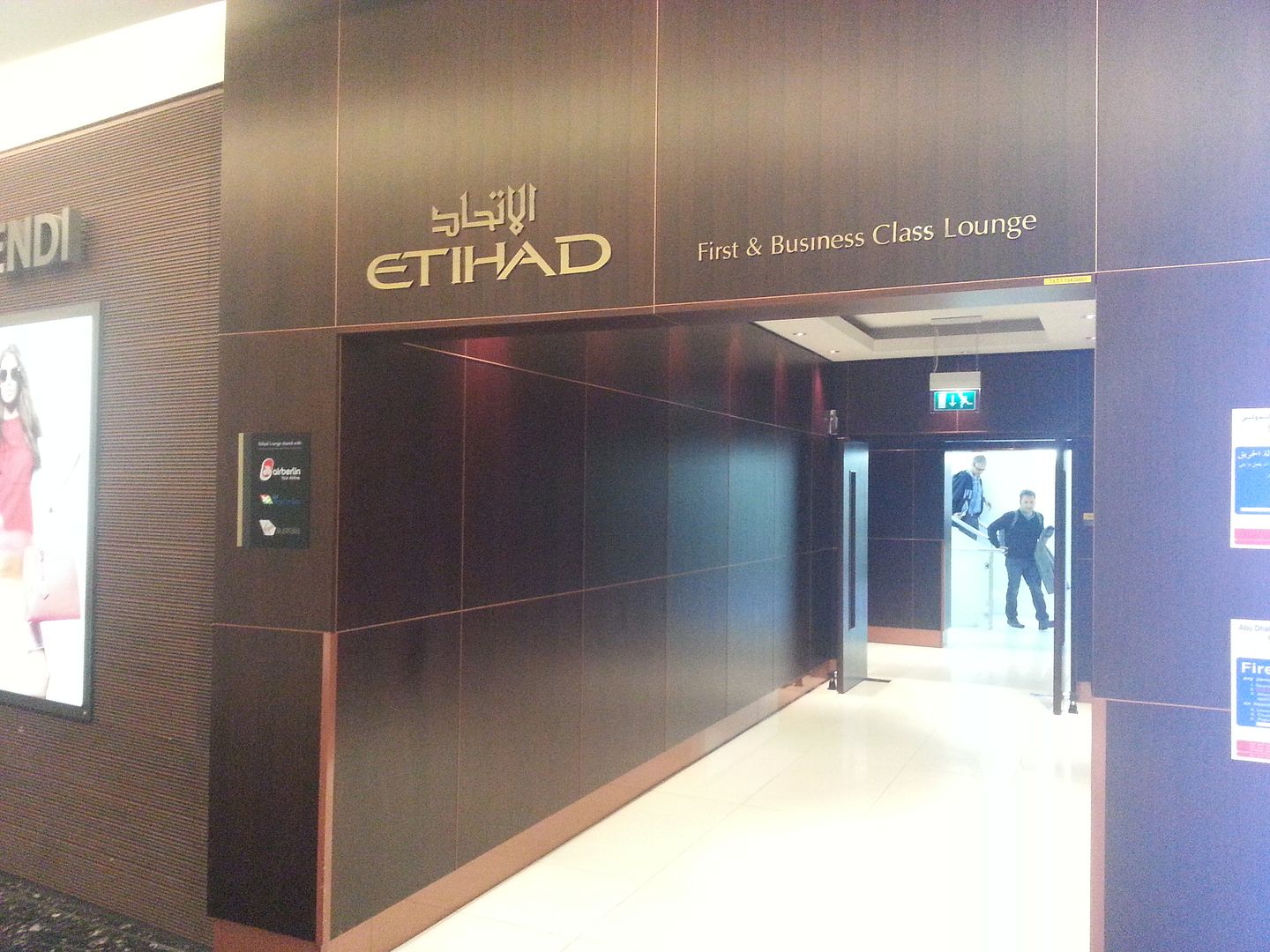 I showed my boarding pass and was welcomed into the lounge. I was astonished at how busy the lounge was - and this was at midnight. There were no spare seats and you could see people standing around waiting for somewhere to sit - either carrying luggage or with plates of food in their hand. The lounge staff were doing their best to accommodate everyone but it was quite disappointing having limited seating capacity. Surely at Etihad's home airport you'd expect a 'flagship' lounge with ample seating and facilities? After a 10 minute wait a staff member escorted me to a spare seat. I made my way to the buffet which had an impressive selection of hot and cold food. The bar was also well stocked and I could see passengers enjoying cocktails and made-to-order drinks. I didn't check out the showers or spa but from previous visits they were clean and sufficient for a quick freshen up.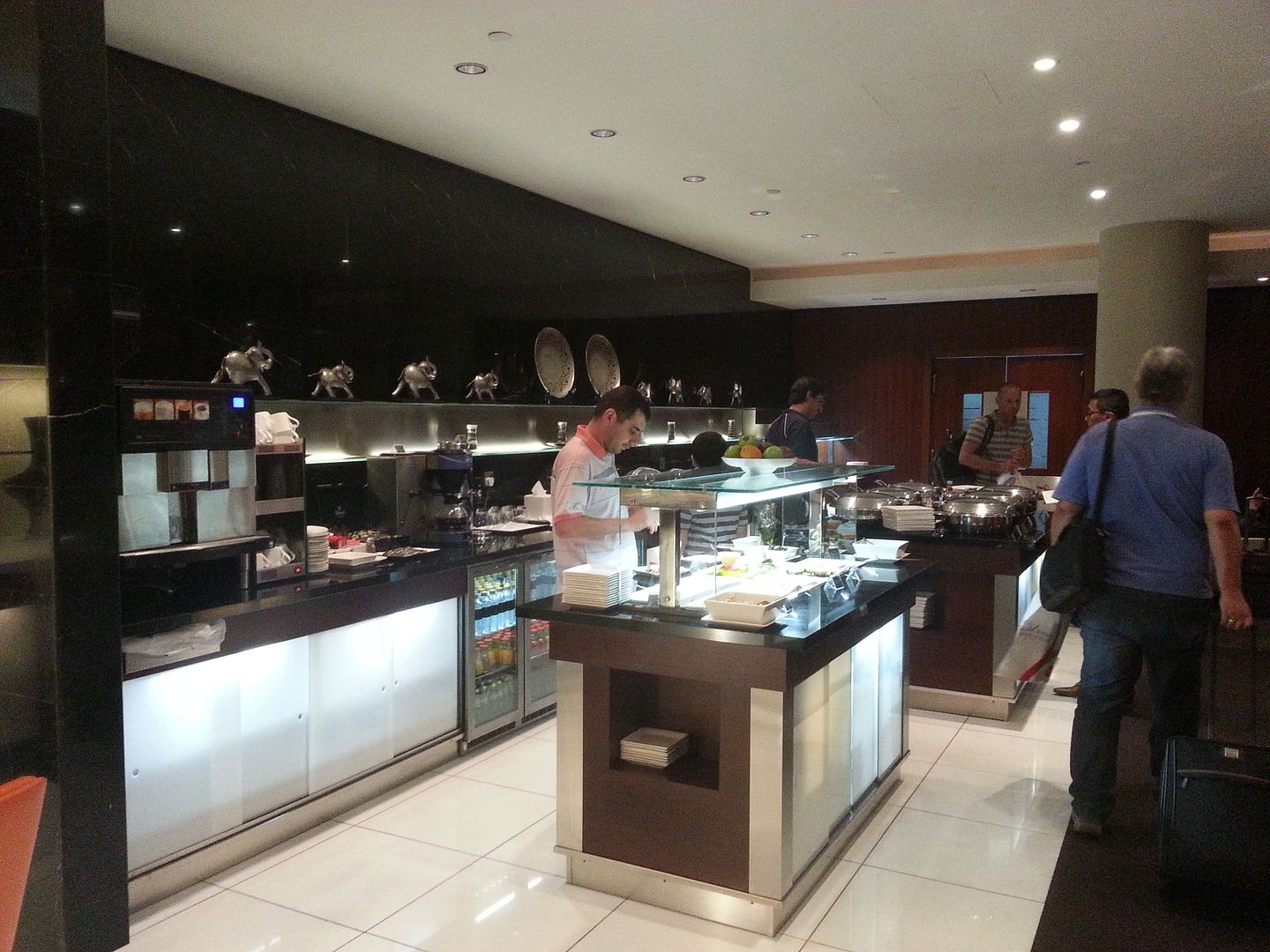 About 30 minutes before boarding I decided to check out more of the airport and make my way to the gate. There was a priority lane for business class passengers and a cordoned off area next to the gate.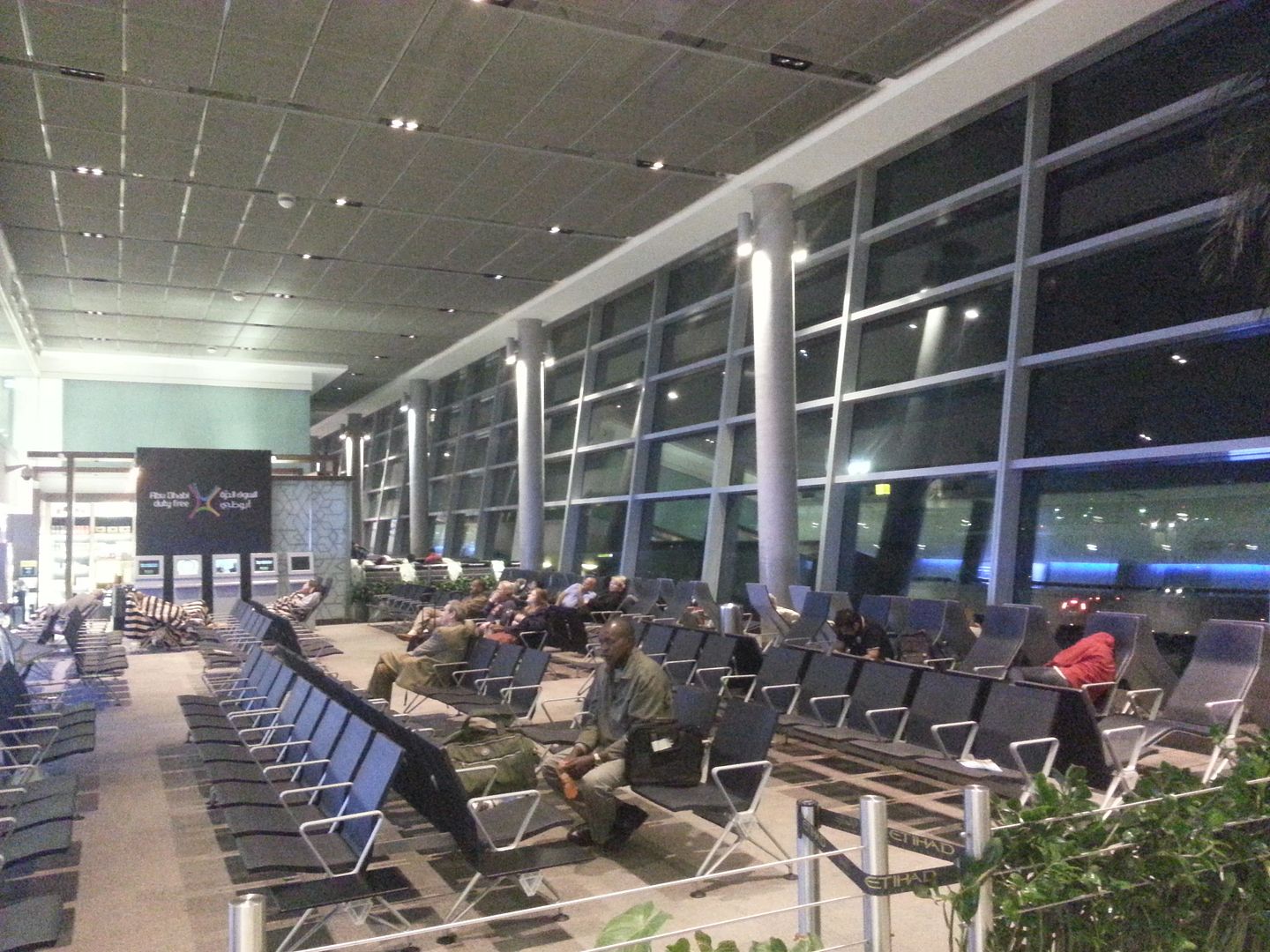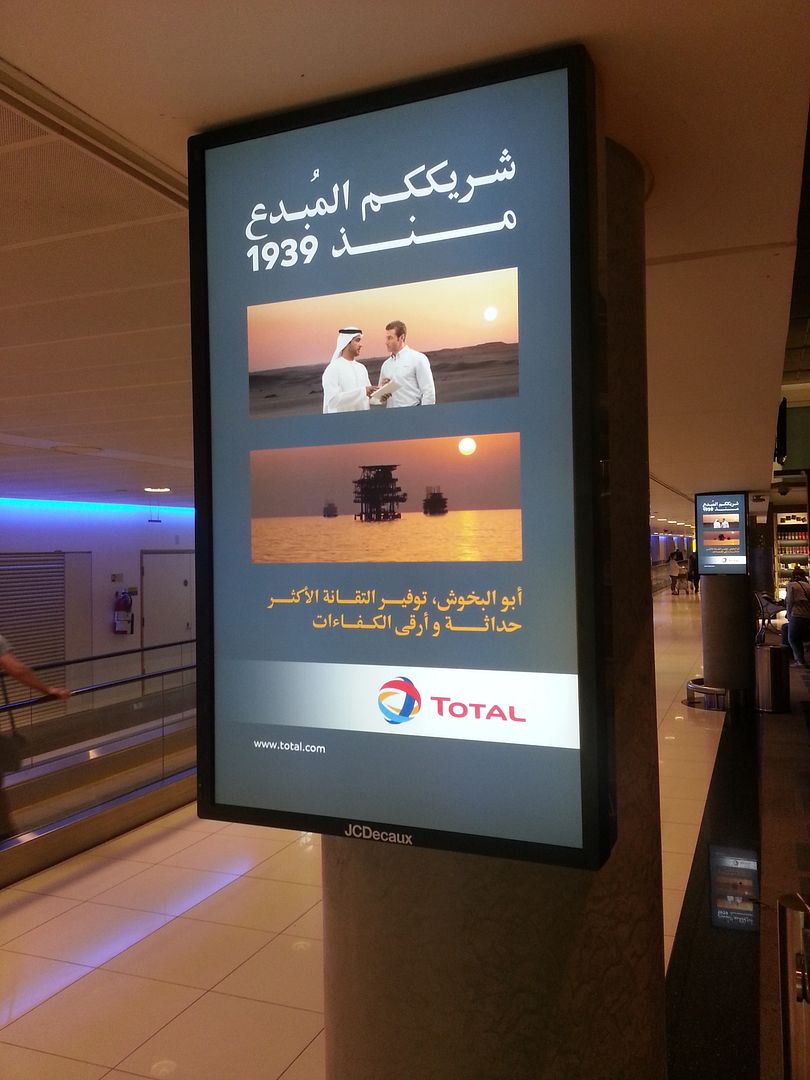 Second Leg - Abu Dhabi to Paris
Date: 27 June 2014
Flight: EY 31
Aircraft: Airbus A330-200
Route: Abu Dhabi to Frankfurt
Flight Time: 6 hr 30 min
Depart: 02:10
Arrive: 07:35
Class: Pearl Business
Seat: 7K
On Board (Pre-Takeoff)
The business cabin was full on this flight - I settled into my seat at 7K, again by the window which maximises privacy for single travellers.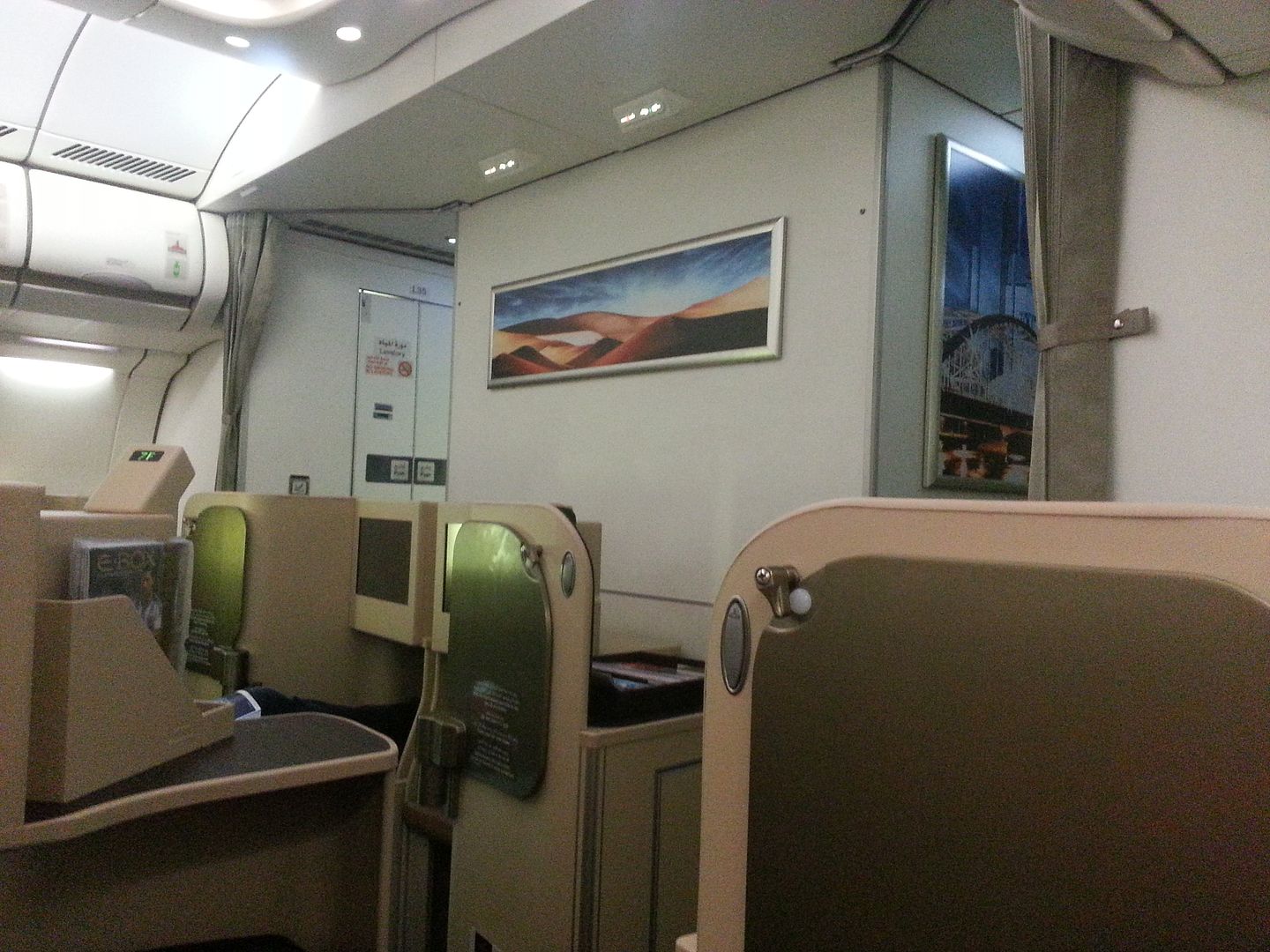 I was offered champagne or juice - I opted for the juice which was very refreshing (from memory it was lemon, lime and mint).
Light dinner and breakfast orders were taken - like most of the cabin I skipped dinner and just ordered breakfast - I wanted to maximise my sleep time. Here is the menu for the flight: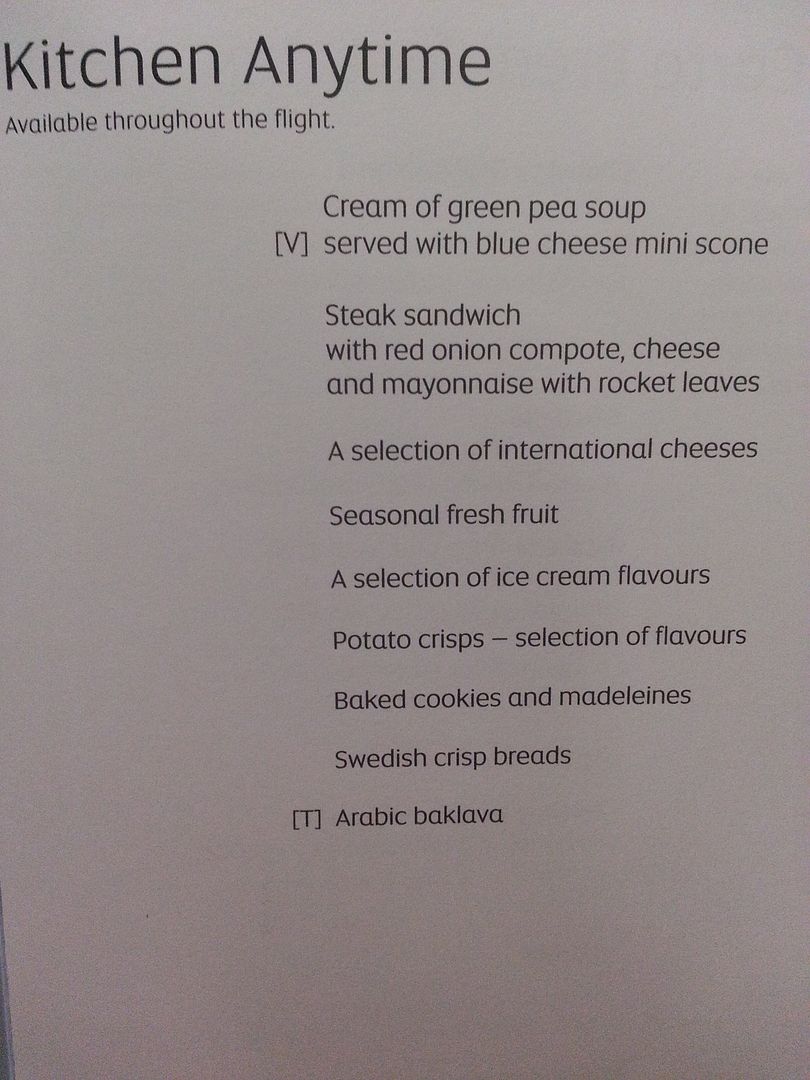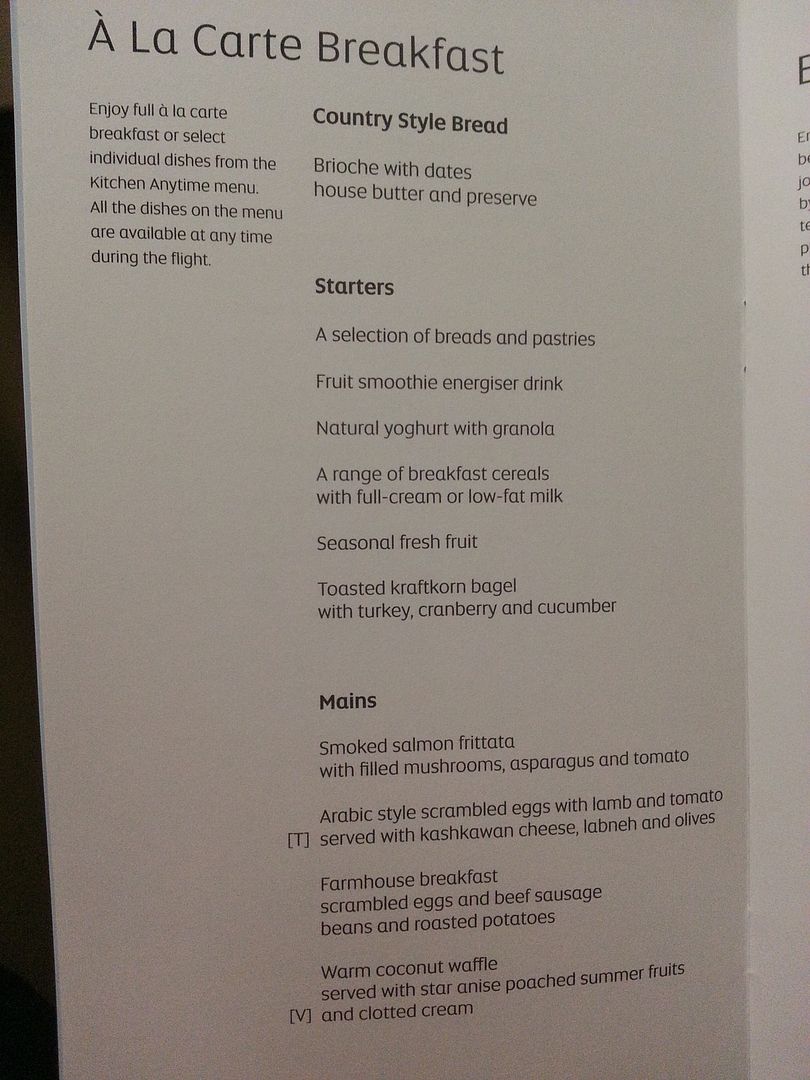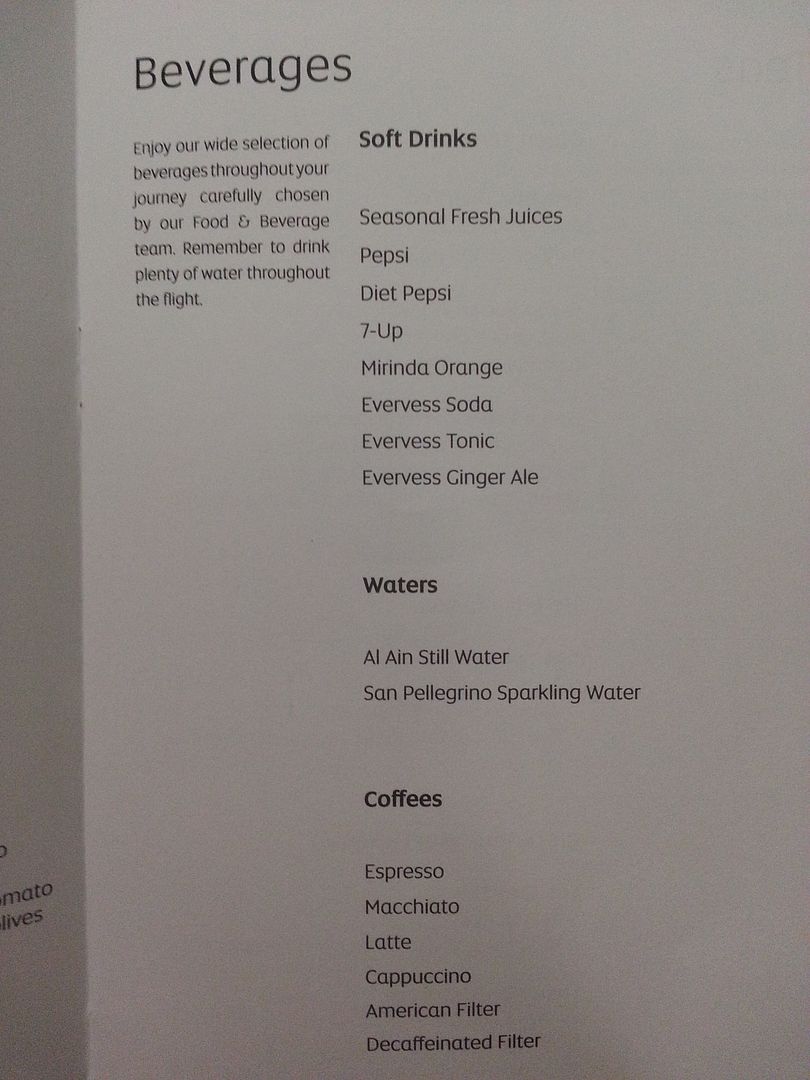 Flight
After takeoff I watched a bit of the football and then reclined by seat to bed mode and slept for a good 5 hours. The 180 degree bed along with the thick blanket and soft pillow is comfortable for sleeping. At times the bed did feel narrow and it would have been better if a mattress was provided (like on Qantas).
Breakfast
Breakfast was served about 1 hour before landing. To start I had fresh fruit, a fruit smoothie and natural yoghurt with granola. For main I had Arabic style scrambled eggs with lamb and tomato, served with a selection of bread and toast. I also ordered a nice cup of tea (Ceylon). Overall the food was good - the only downside was the toast which was extremely hard.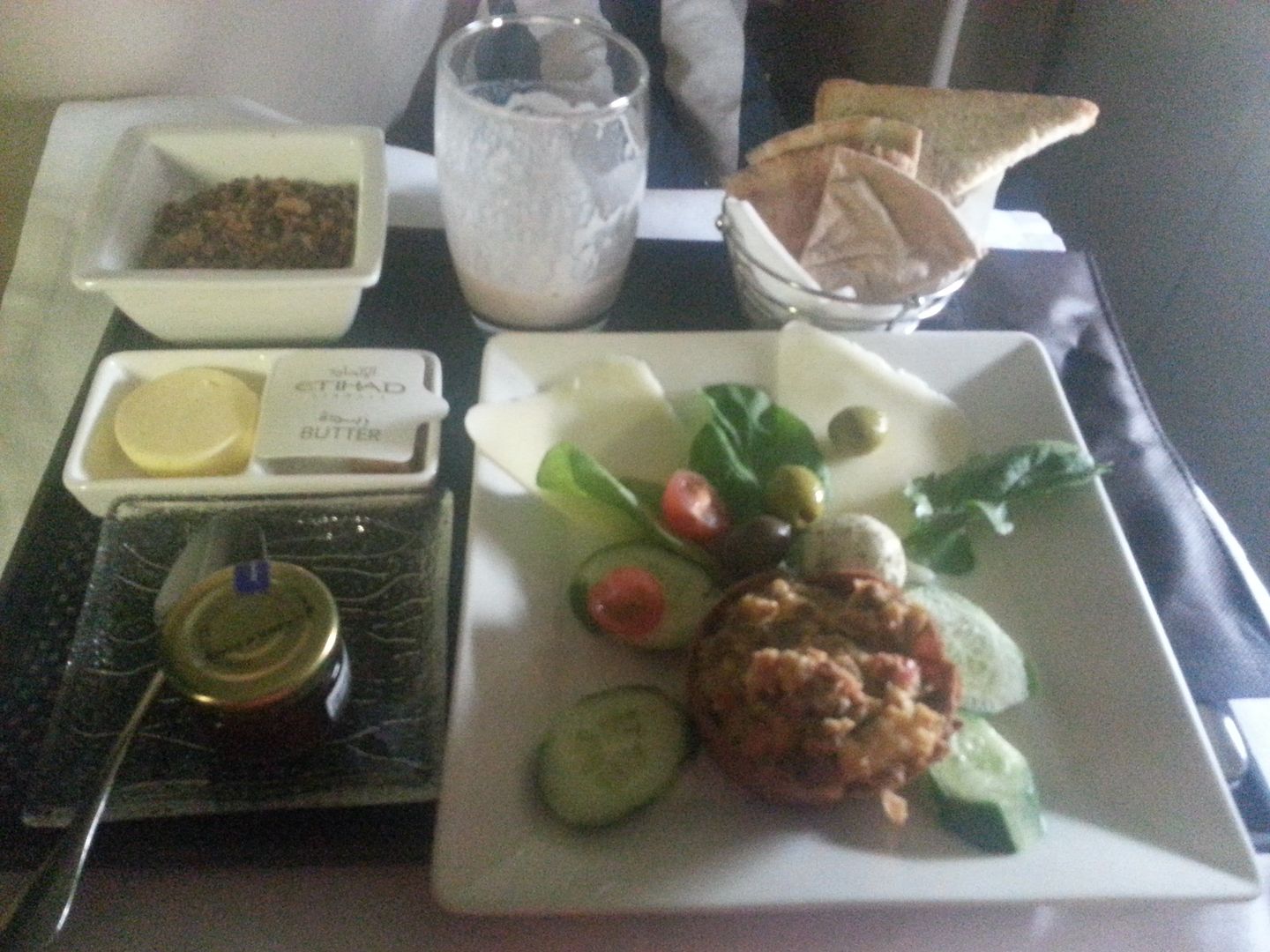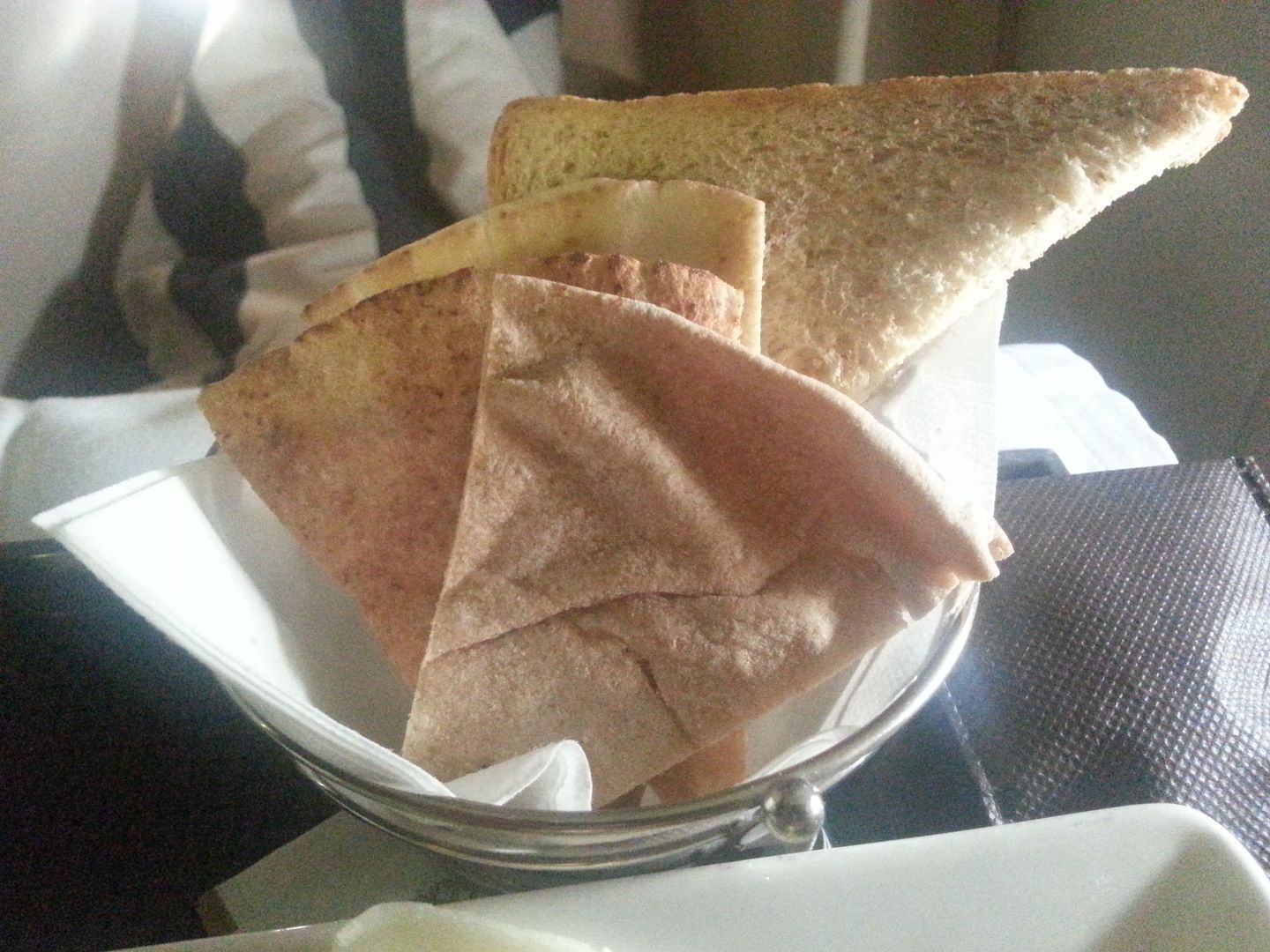 Landing
Here are some shots of the landing into Paris and taxiing to the gate at CDG: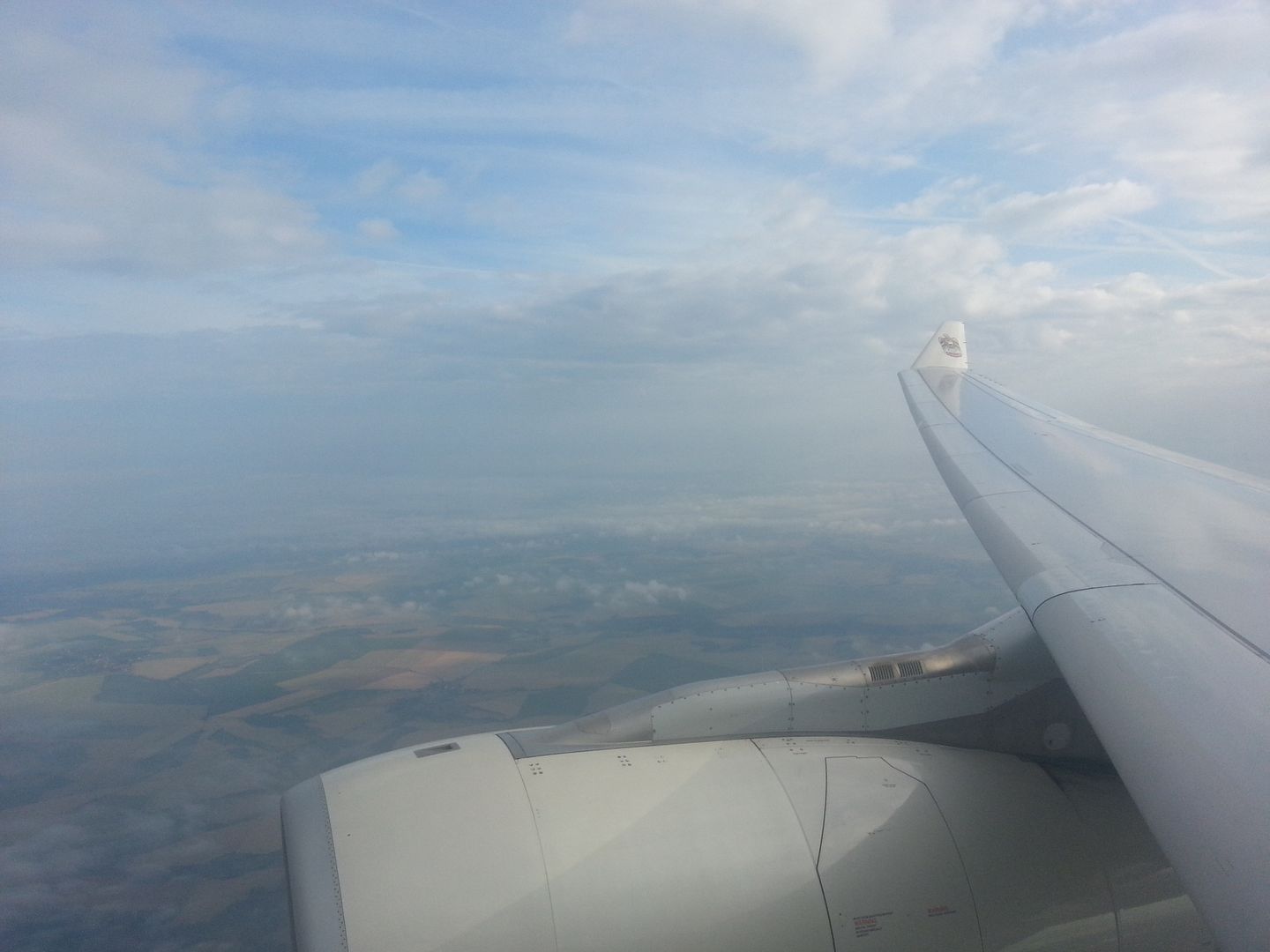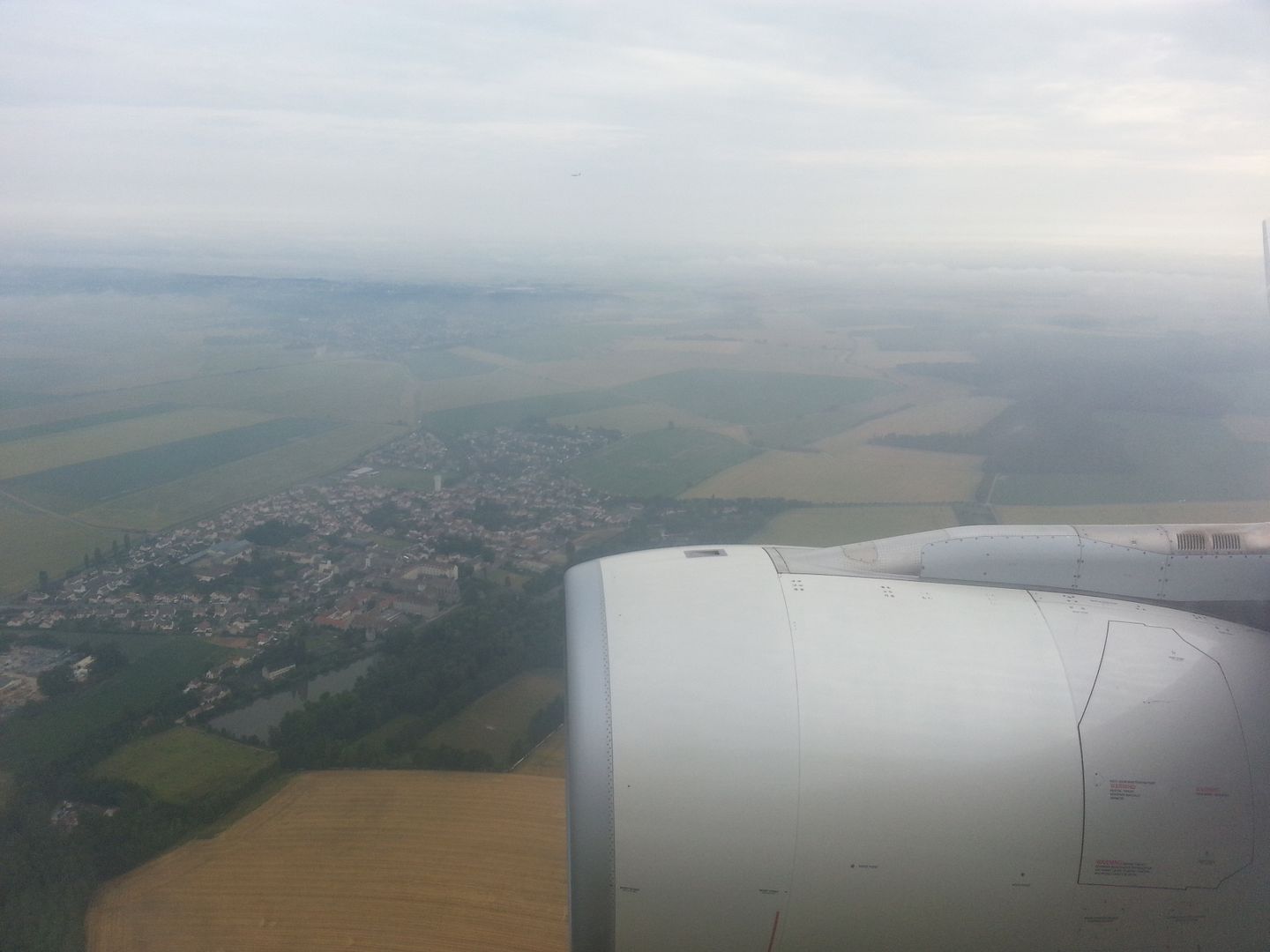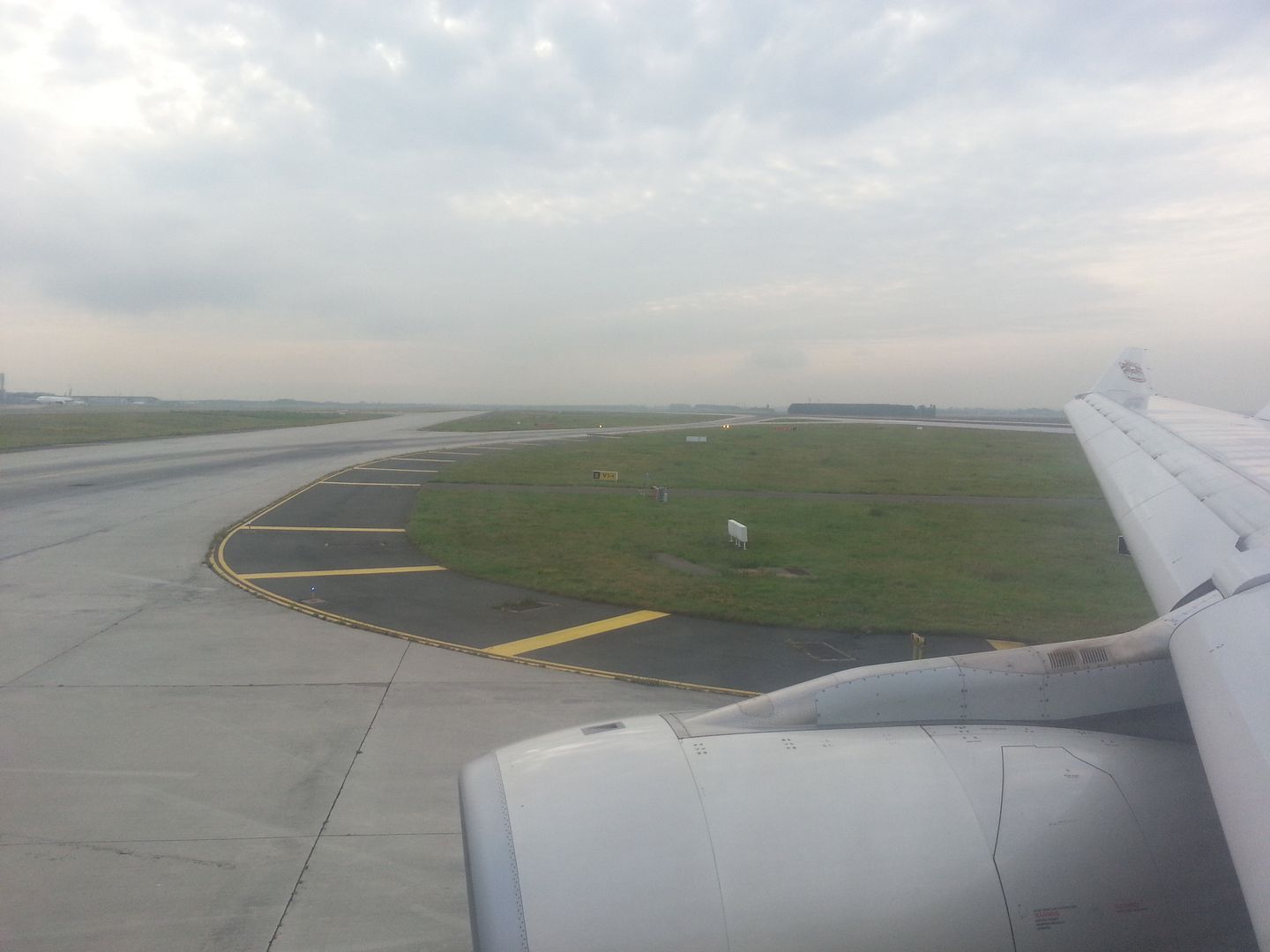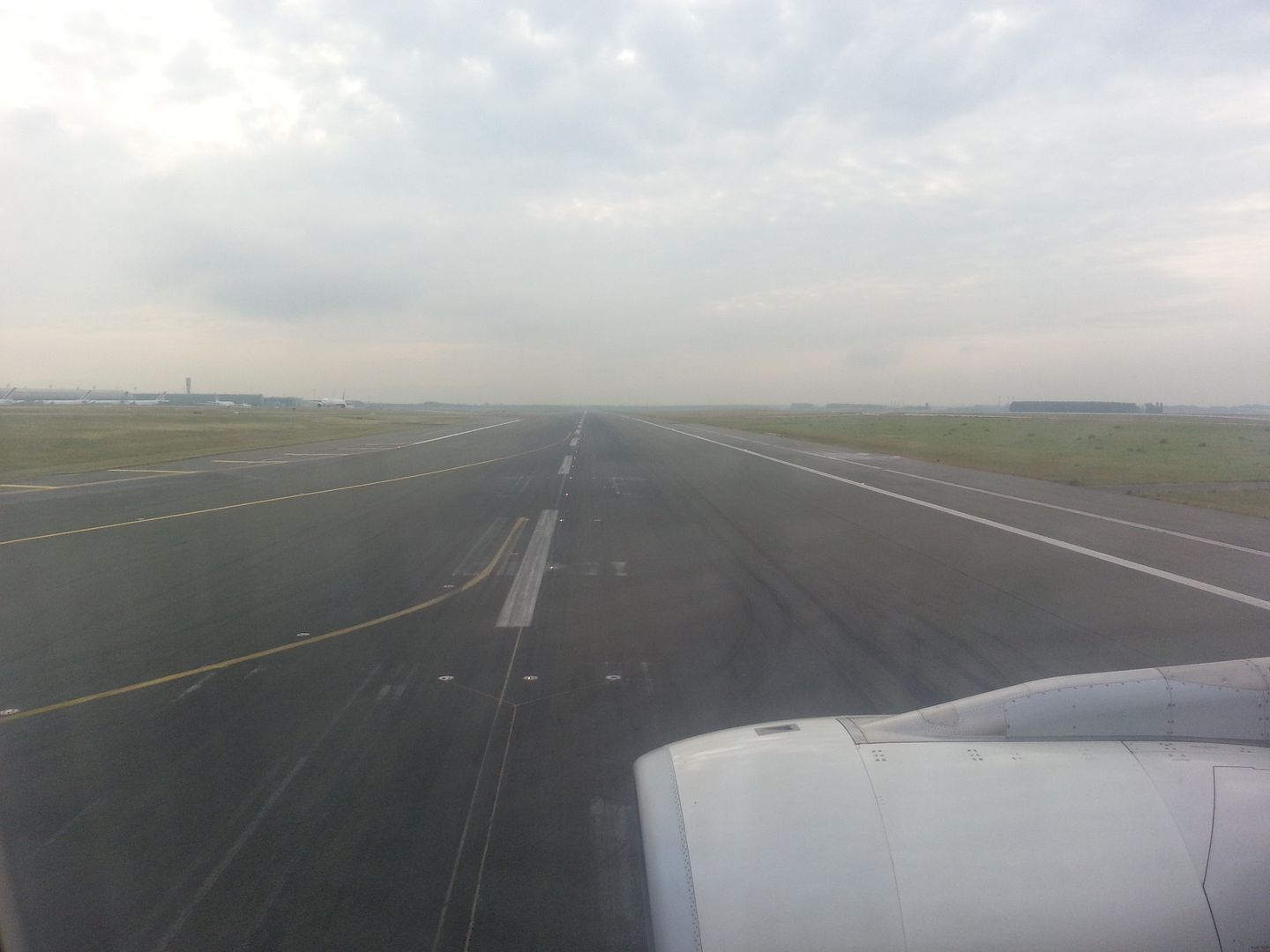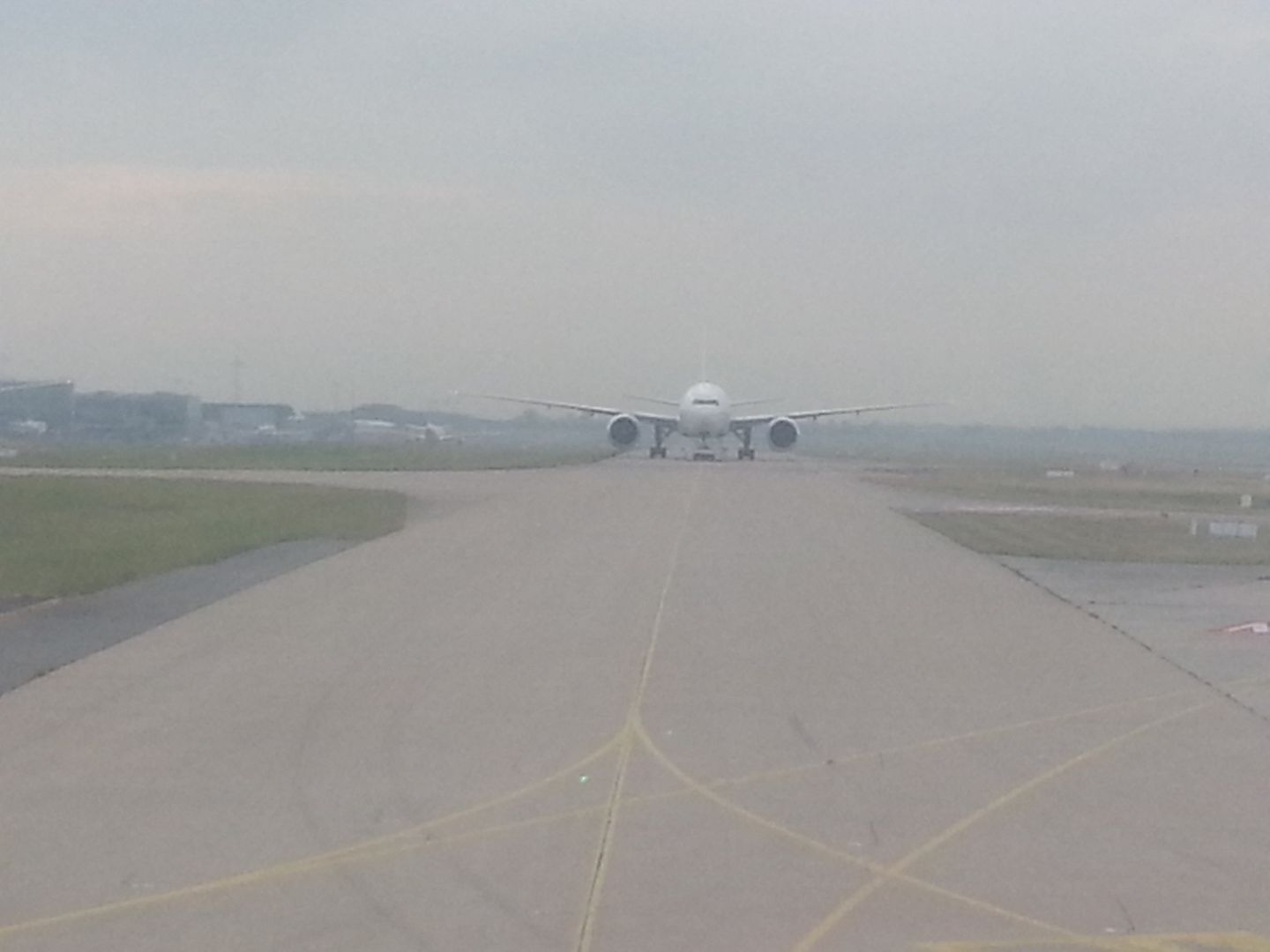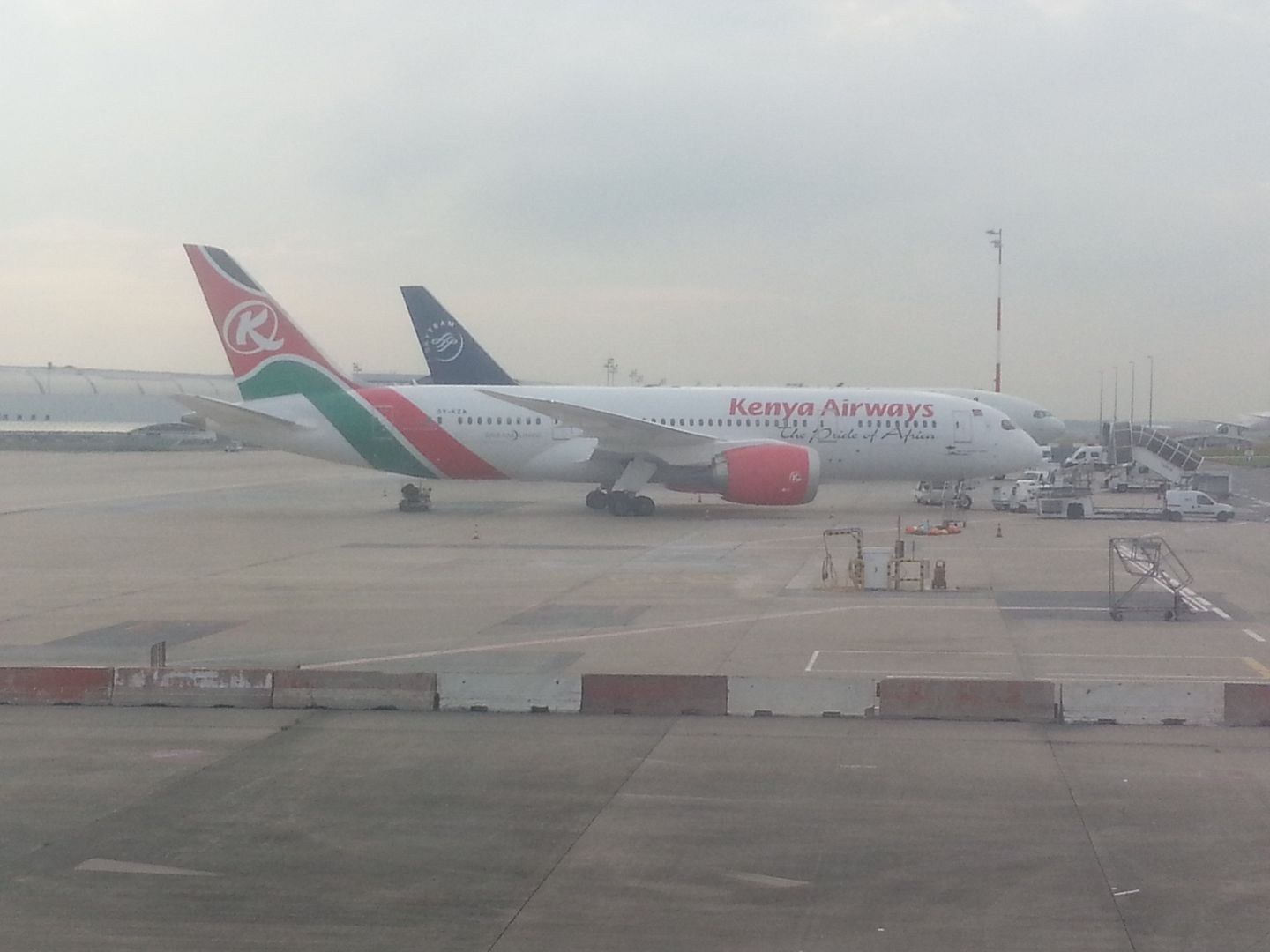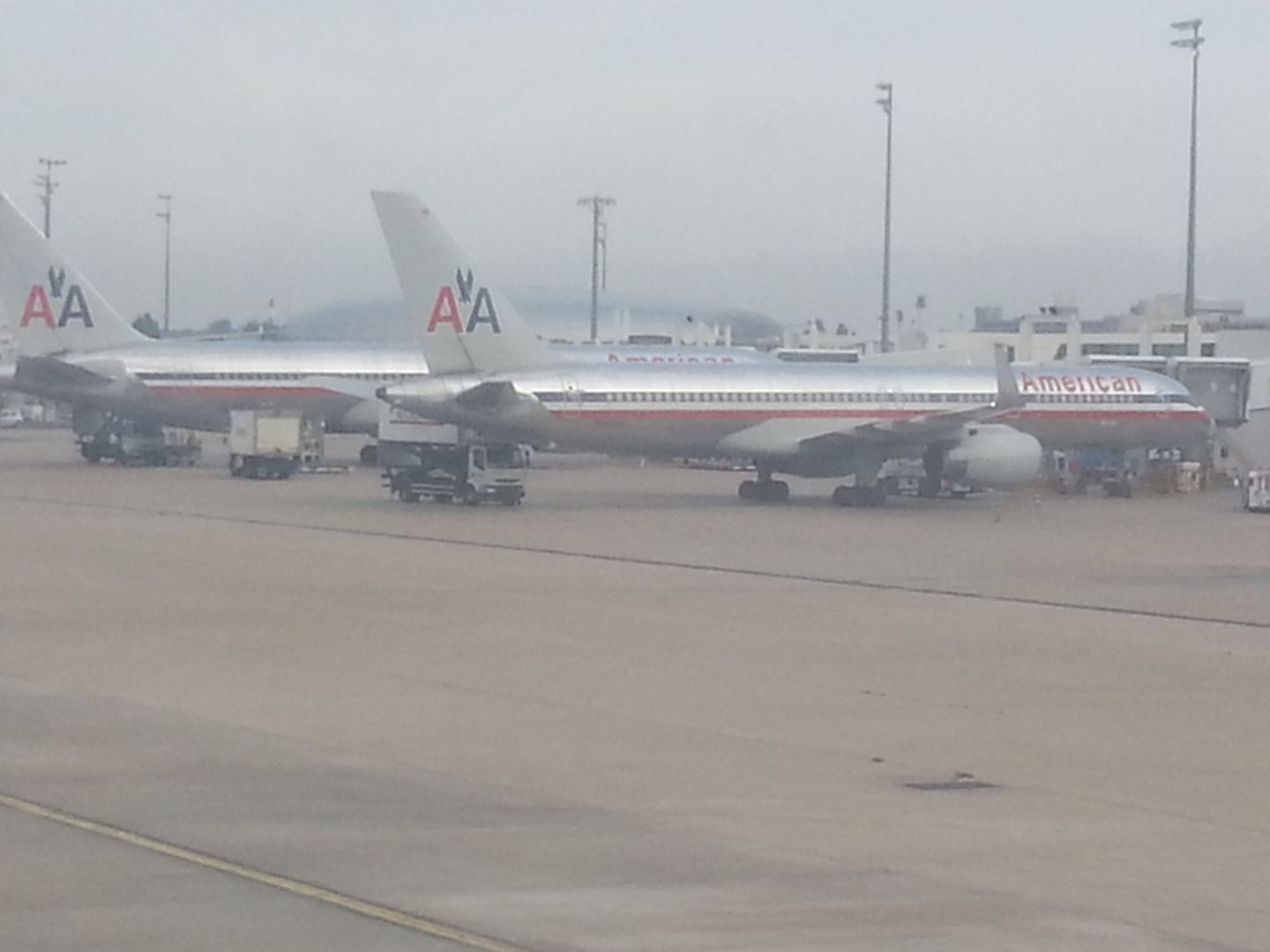 When disembarking the aircraft I took a photo of the my seat and the galley (coffee machines):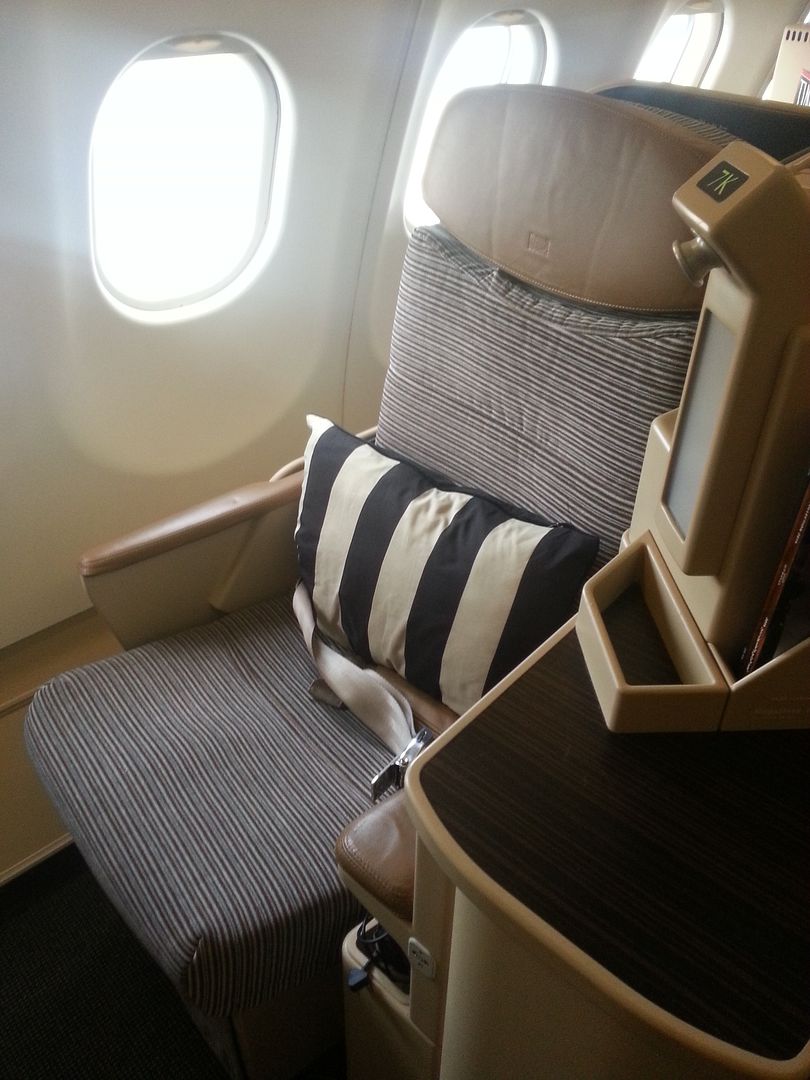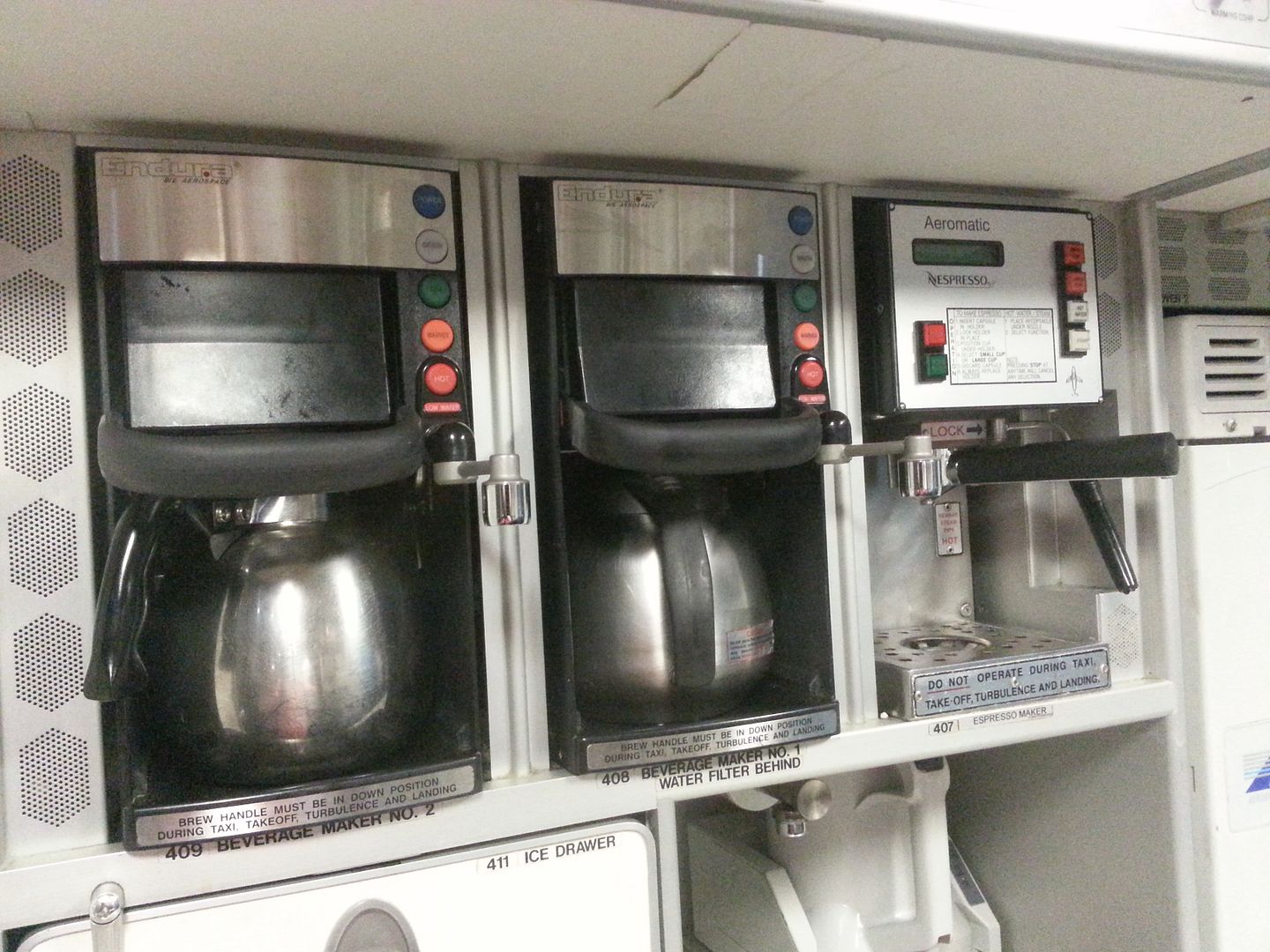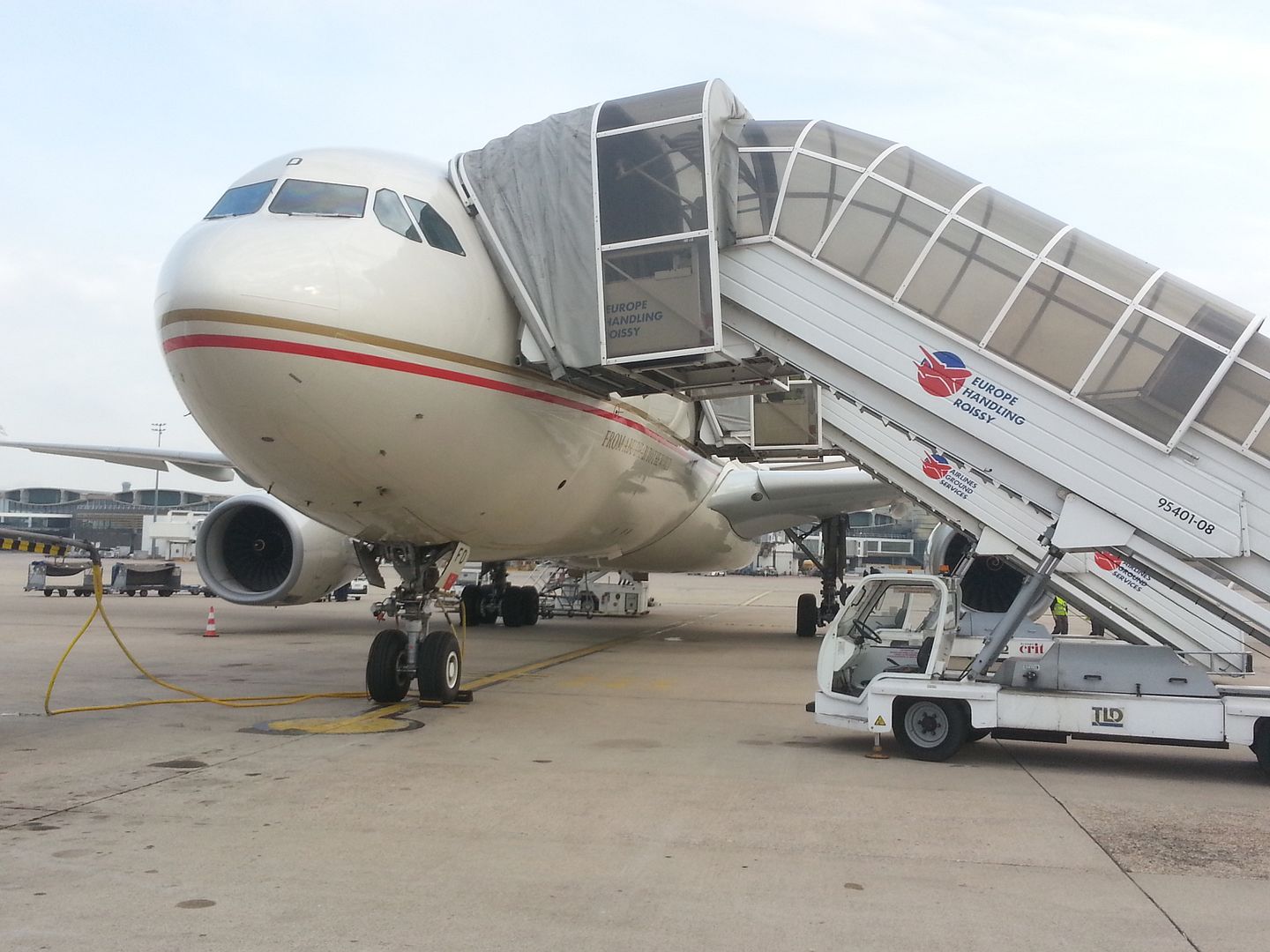 Airport Transfer
As I was flying business class I booked the Etihad chauffeur service. This was great as after a long flight I had a driver waiting for me in the arrivals hall. I was driven in a brand new BMW 7-series stretched sedan which was a very comfortable journey into the city. Top marks again Etihad!
Conclusion
The following provides some brief comments on the main aspects of the flights:
Cabin: clean, roomy, soft colours.
Seat: very comfortable in all three modes (up right, relax and lie flat).
Food: restaurant quality, especially the dinner served out of KL.
Service: attentive but not intrusive. Excellent knowledge of the wines. Loved the chauffeur service.
Overall I had two enjoyable flights on Etihad. This was my fourth time travelling business class with the airline in the past 2 years and the standards have remained very high. I look forward to flying them again soon!