Hello fellow A.netters!
This a long overdue trip report on NZ's first 787-9 revenue service back in August. It's been quite awhile since I've written one of these, so please excuse the rustiness. I currently reside in Melbourne and when I read that NZ was planning to inaugurate the 787-9 on Aug 9 between Auckland and Sydney, I decided spur-of-the-moment to try and get myself on the flight. Of course by the 9th, NH would have already commenced domestic services with the 787-9. Nonetheless, I was not going to pass up to the opportunity to get on an inaugural service.
My initial plan was to fly only the return NZ104 SYD-AKL, thus giving myself some time in AKL, which I haven't visited for more than a decade. However, because I only read about the inaugural a few days prior, trying to get myself from Melbourne to Sydney was proving difficult. Ticket prices MEL-SYD were astronomical, unsurprising given the short notice and the fact that it was a weekend. Thus, I decided to forego a stay in Auckland and catch the real inaugural NZ103 AKL-SYD instead. My final travel plan worked out to be MEL-AKL on Friday (8th) evening on QF/Jetconnect (booked with Emirates Skywards miles), AKL-SYD on the 789, then Virgin Australia back to MEL on 9th evening.
NZ has 4 levels of economy product for trans-tasman services. On services operated by widebody aircraft, business is also available. The 4 levels of product are Seat, Seat+bag, Works and Works Deluxe. Works is similar to a normal long haul economy service, while Works Deluxe also gives premium check-in, lounge access, higher baggage allowance and extra space. On the 777 & 787, this translates to seating in the premium economy section. Works Deluxe was my choice for the flight, as I wanted to try the new premium economy seat on the 787. Another consequence of booking so last minute was that I was unable to secure a window seat and had to settle for an aisle seat. This would be my 1st flight on Air New Zealand and 3rd flight on a 787, having flown JQ's 788 twice in Nov last year.
The Flight
NZ 103
B787-9 ZK-NZE
STD: 0900
STA: 1030
Seat 26J
Having arrived from Melbourne the night before and with a morning departure to Sydney, I opted to stay at the ibis budget near the airport. It was clean and comfortable, which was all I needed for one night of sleep. I checked out at 6.45 in the morning and took a 15min stroll to the airport. There is an airport shuttle, but it costs NZD5 which I didn't feel necessary to spend. With a Works deluxe fare, I was able to skip the large crowd at the NZ check-in desks and use the premium check-in area beside. Premium check-in is available to NZ Business class, premium economy and works deluxe, as well as status holders of NZ, Star Alliance and Virgin Australia's Velocity program, flying on NZ operated flights. This was pretty crowded as well, but since I only had a carry-on, I quickly checked in using the self-check-in machines. Besides the self-service kiosks, there are also a small number of regular counters. There is a bag drop for passengers who use the self-service kiosks, on that morning there was a queue and it seemed understaffed.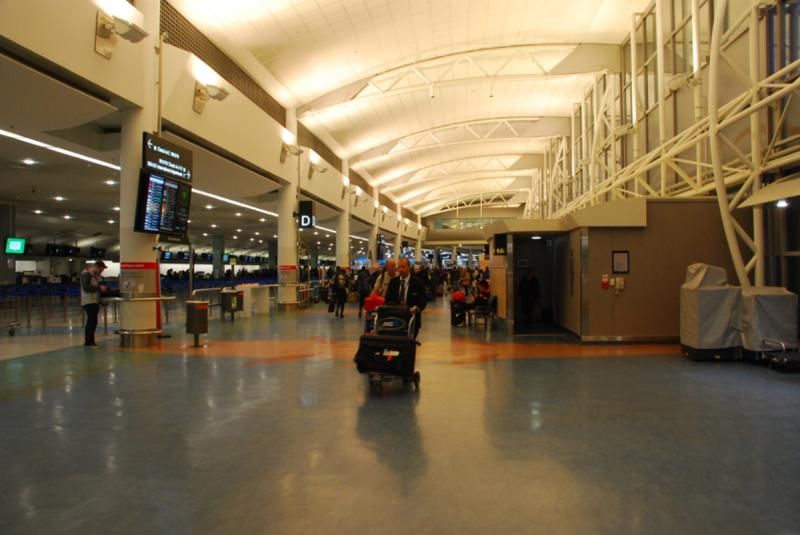 Terminal early in the morning
Departure board at AKL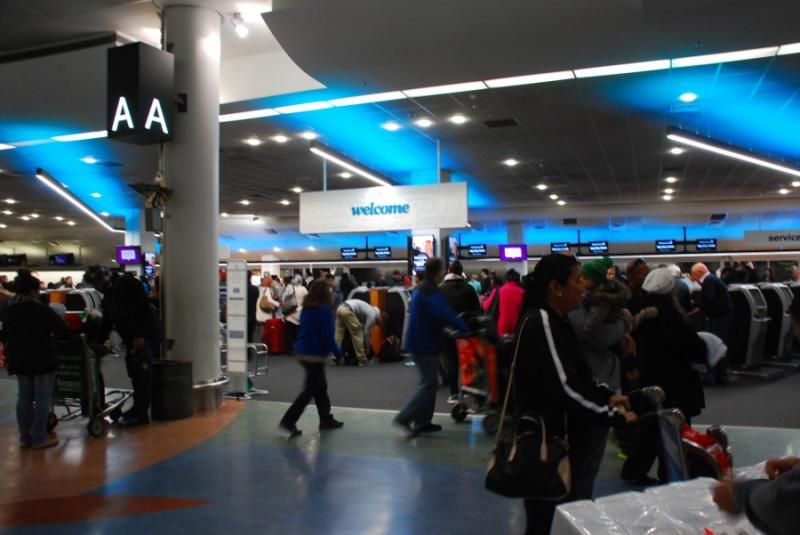 Part of main check-in area
Premium check-in entrance
After checking in, I took the private lift up from within the premium area, which opens directly to a separate immigration counter. There was no queue here and I made my way to security, which was completed with minimal delay as well.
After clearing security
Once through security and the main duty free shop, my eyes were greeted by a stunning black sight filling the window ahead - NZ's first 789 ZK-NZE sitting at the gate waiting for its first load of fare paying passengers.
After snapping that photo, I attempted to spend the little NZ$ I had in the duty free area, then made my way to the lounge. Besides NZ, both QF and EK also have lounges at AKL. The lounge was crowded and unfortunately offered no good view of the tarmac. I found a place to sit and then grabbed some breakfast. There was a small selection of hot food available - scrambled eggs, sausages plus some other items that I can't recall, as well as a pancake machine. There were also cereals and some cold items available. Near the main food area, there is a counter serving barista coffee. Free Wi-Fi is available, the password can be found at the service desk near the buffet area. Because the lounge is also used by all other *A carriers including SQ, I was delighted to be able to pick up a copy of The Straits Times (Singapore's main newspaper) in the lounge, although it was from two days prior.
Lounge entrance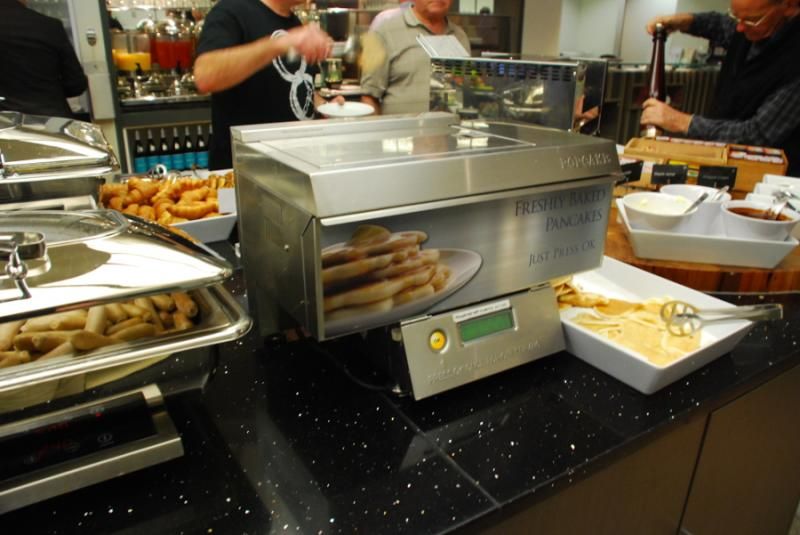 Pancake machine
Barista counter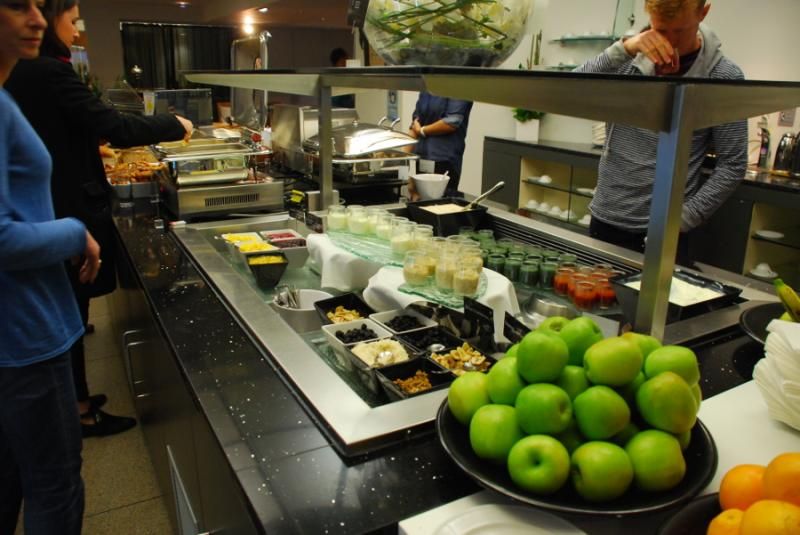 Buffet area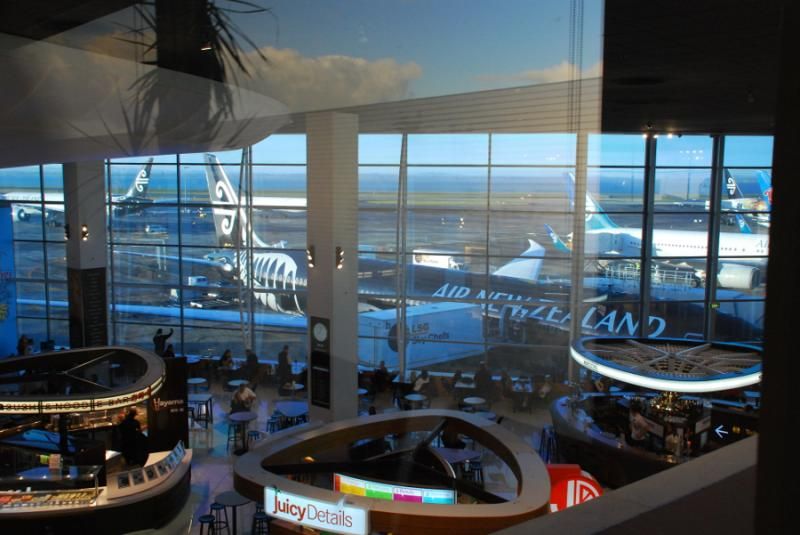 View of ZK-NZE from the lounge
While in the lounge, I met and chatted with a fellow passenger on NZ103, who was in Business Premier. He told how he had initially booked to fly BP on the 789's 'official debut' AKL-PER on Oct 15, but when he found out about the SYD services he had done some rebooking to get himself on NZ103 and 104, as well as the PER flight, although he had to settle for cattle class on the other flights. We had a good chat about all things aviation, before a boarding announcement was made at about 8.30. I then made my way to gate 2, where it turned out that boarding had not actually commenced, which gave me the opportunity to snap a few more pics of the beautiful -NZE. Unfortunately, there was no fanfare whatsoever at the gate, which was disappointing.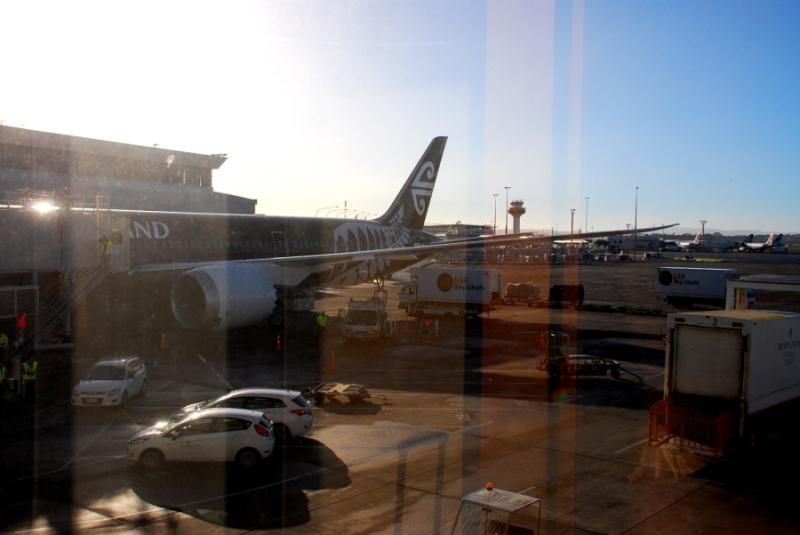 Finally after a further 5min wait, boarding was called for Business, Works deluxe and status holders, which was strictly adhered to. A short queue formed but moved quickly. With a beep of the machine and a pleasant "have a safe flight Mr Sim" from the gate staff, I was making down the jetway for the first international service of a B789. Boarding was done through door 2L only, and after being greeted at the door, I was asked to go across and turn left for the premium economy cabin.
At the seat, I found a cushion, bottle of water, a newspaper and 3(!) sets of headphones. A black pair on the seat, and 2 larger, better white ones - similar to what is offered in BP (I think) - in the seat pocket. My seatmate was already on board, but he was standing up taking photos of the cabin. As it turned out, he was a fellow enthusiast who resides in Melbourne as well. Like me, he had flown in the night before and stayed at the ibis. He was also flying back to MEL later in the day.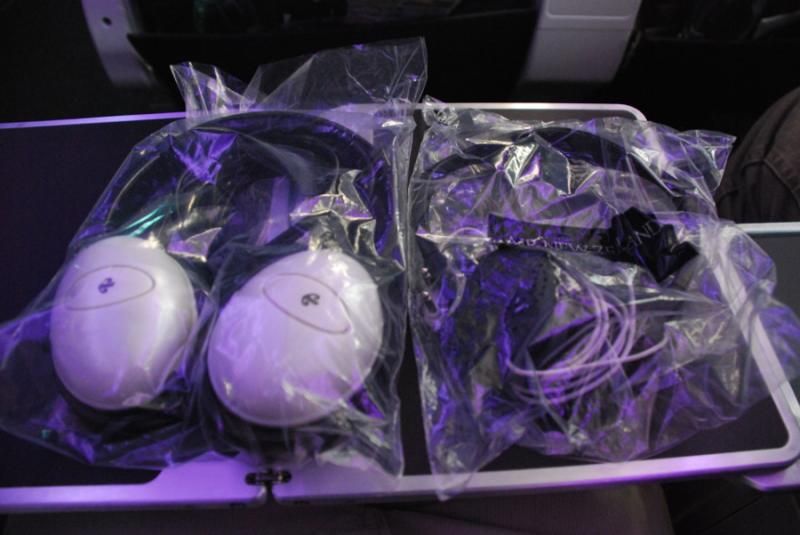 2 types of headphones
Once we settled down into our seats, I got a chance to explore the seat. The premium economy product on the 787 is a new seat different from that offered on the 77W (which I have never actually tried). This a more conventional recliner seat. I believe it is the same seat as offered by CX (haven't tried that either), just with a legrest for all seats not just bulkhead and upholstered in leather rather than fabric. Pitch is pretty generous at 41in, with a seat width of 19. Certainly for me, it was more than enough legroom (I'm 1.7m). However, when the legrest is extended, even with the generous legroom it can still be somewhat difficult for the passengers not seated at the aisle to cross the aisle seat to get in and out. Furthermore, the mechanism of the legrest is such that it springs up, which might make retracting it a tad irritating when trying to let your fellow passenger in and out. I certainly took awhile before I could 'control' it to make it a smooth process. I also found that legrest doesn't extend far enough for my liking, although that may have also been due to my unfamiliarity with the seat.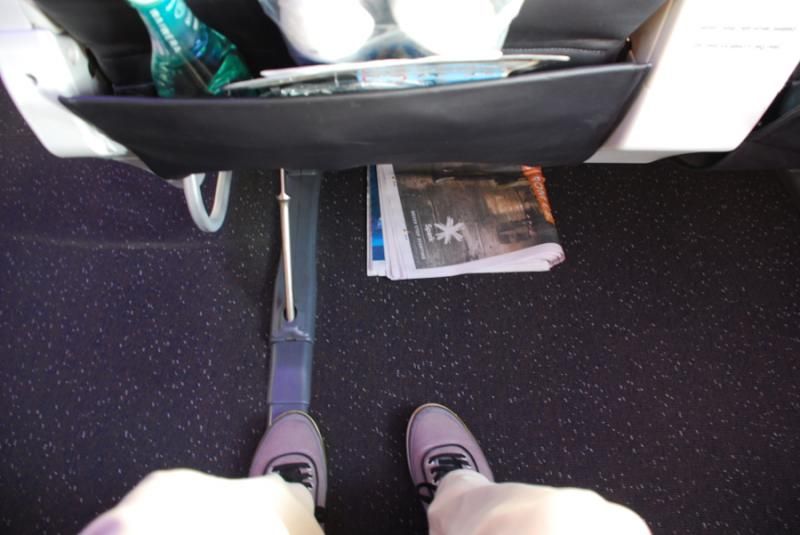 Obligatory legroom shot
The IFE controller is located facing the passenger, at the armrests between the seats, while the power socket is located at the front of those armrests. The tray table is also stored between the seats. The headphone jack is just above the IFE controller.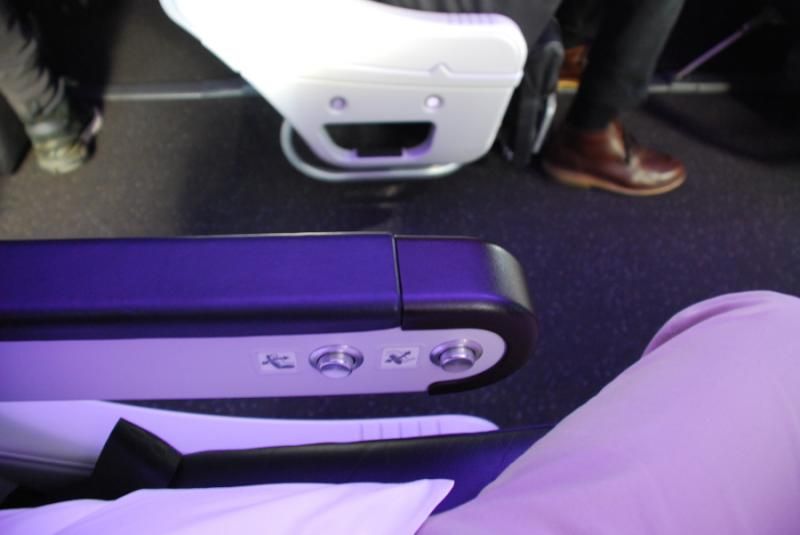 Buttons to adjust the seat
IFE controller
Tray table stored
Half open
Fully opened
Safety card
The cabin is configured in 3 rows of 2-3-2 in premium economy, 6 rows of 1-1-1 in BP and 3-3-3 in Y.
At about 0900, one of the captains (there were 4) came on the PA to welcome us on board and provide some details of the flight. 10mins later, we push back and start up. From where I was the seated, the engine start was really loud, arguably louder than a 77W even. It was much louder than I remember on JQ's 788s, so maybe the RR Trents are louder than the GEnx on start up? As we began to taxi, the safety video was played. I have heard a lot about NZ's creative safety videos, but have never actually seen one, so this was an interesting experience for me. The video played was one featuring Bear Grylls, definitely more entertaining than a standard safety video.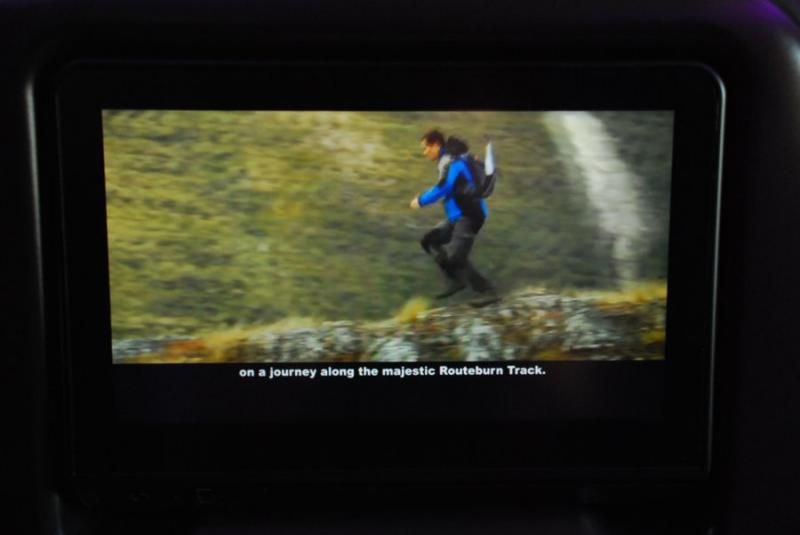 Safety video
Passing ZK-OKP while taxiing
We make our way to 23L and hold for awhile before entering the runway. A pause, then the engines are ever so gradually spooled up. Like most other Trents, the engines are relatively quieter but sound whinier with the usual buzzsaw note. The aircraft powered down the runway and just before 0925, the first commercial NZ B787 flight becomes airborne!
Shortly after, one of the crew announces that we have all become part of Air New Zealand's history by being on the airline's first commercial 787-9 flight, to which the passengers respond with loud applause. Following that, the standard Australian pre-arrival announcement about health and quarantine is made.
Once the seatbelt sign was turned off, I started to explore the aircraft. First stop of course, was the lavatory. The PE cabin has only one dedicated lavatory, which at times caused a queue to form. Part of the problem on this flight was because everything aft of business was sold as economy, thus passengers in the main Y cabin were using this toilet as well. Presumably on a longer sector with proper PE service, the single lav might be less of an issue. I should also note that the lavatory seemed rather more cramp than normal.
Wall design in the PE lavatory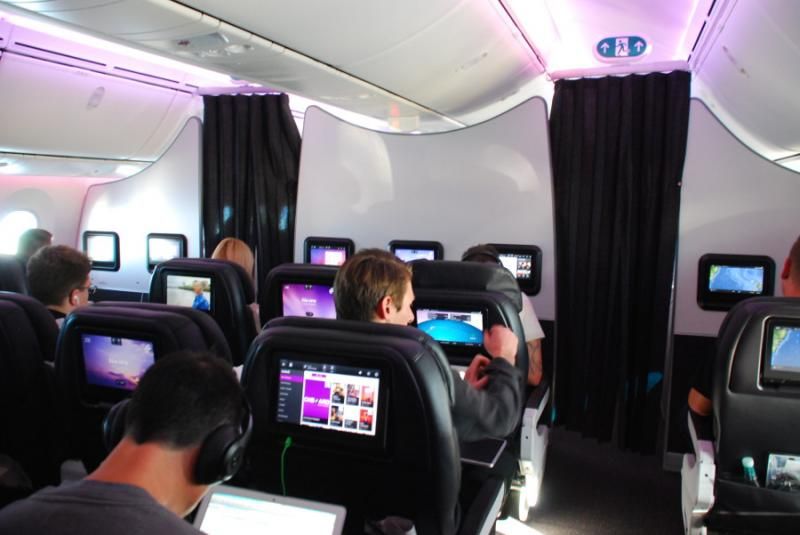 PE cabin
I then made my way through the main economy cabin. I did not try the economy seat, but the one thing I noticed while walking through the main Y cabin was how narrow the aisle was. I don't know the measurements, but it feels tighter than a 10 abreast 777.
Shots of the Y cabin: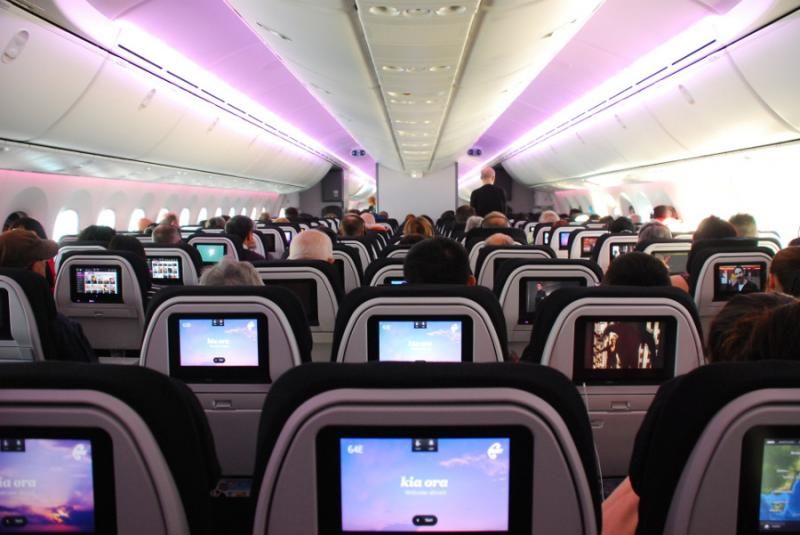 Eventually I return to my seat and explore the IFE. First impressions of the system were really good. The touchscreen is excellent and feels better than other new touchscreen systems I've used on SQ's newer 77W and JQ 788. The IFE also has some interesting features. There is a search bar to search for content using keywords and the ability to browse by genre across mediums e.g. a search for comedy will bring up comedy movies and TV shows. There is also a feature to communicate with the crew, whether to order a snack or drink, or to ask the crew a question. The variety of content was also quite large, though of course not quite ICE-like. In my opinion, the IFE was a really solid, new generation offering. The interface is really simple and smooth.
Seat tutorial on the IFE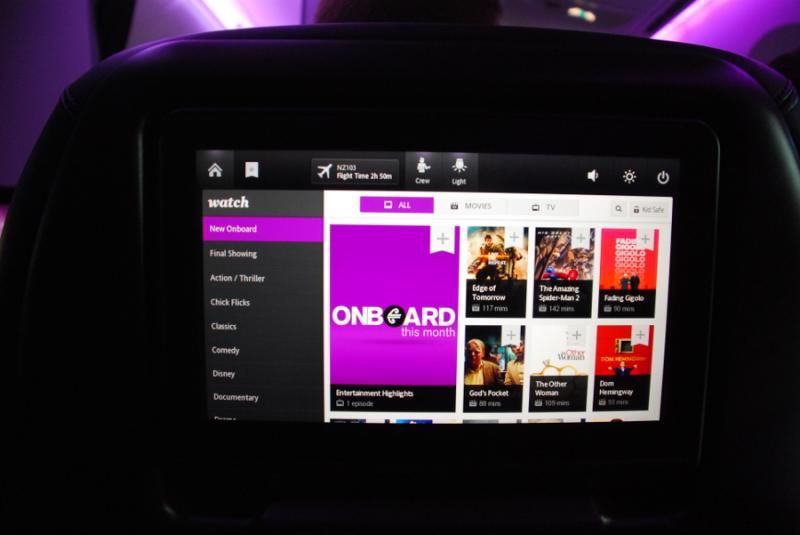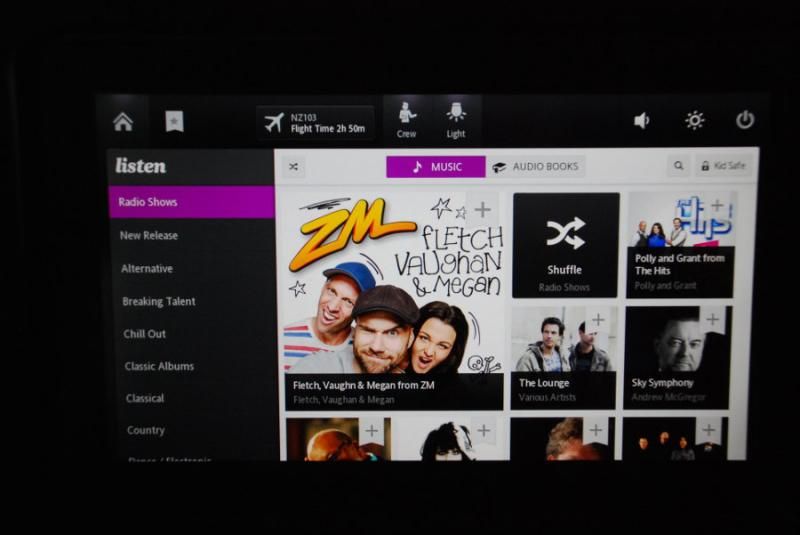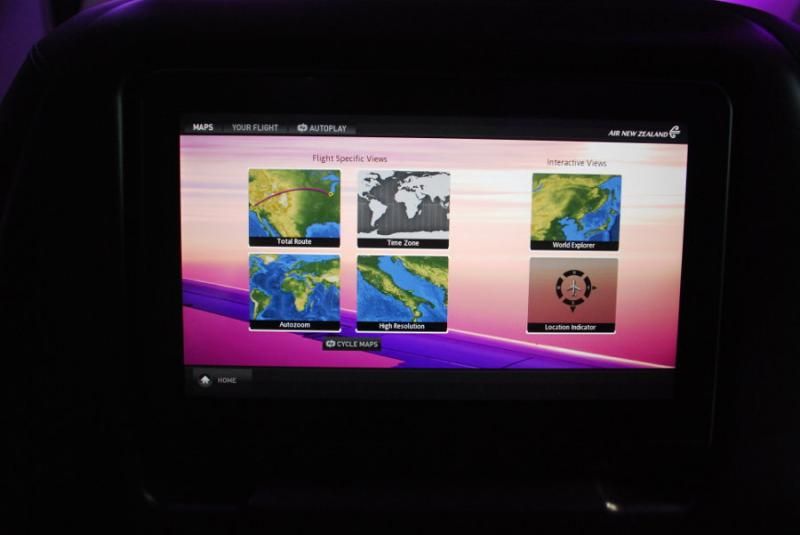 During this time, the crew also came around offering water, I don't recall there being a proper drinks service prior to breakfast being served. 50mins after take-off, an announcement was made that breakfast would be served for passengers on works and deluxe fares. Other passengers could purchase from the snack menu. There was a choice of a hot option - scrambled eggs with sausage, baked beans and potato - or a continental breakfast. Although I'd filled up on more than enough scrambled eggs and sausages in the lounge and I generally avoid eggs on planes, I still went with that as I dislike continental breakfasts even more. A choice of drink was offered with breakfast, I went for orange juice. Along with the main item, there was also a small muffin and a bowl of fruits. The food was tasty and satisfying and the portion size reasonable. More coffee and tea was offered after the initial service, which I declined. Melbourne coffee has totally spoiled me and I can't drink the drain water served on planes!
After breakfast was cleared away, my seat mate and I spent quite a bit of time chatting, discussing various things about aviation and life in Melbourne. I then decided to take a short nap, in anticipation of running around town later in Sydney and having only slept 5h the night before. Alas, my nap was interrupted by my friend from the lounge. He invited me up to try his seat in Business Premier, which I gratefully accepted. It was my first time seating in a herringbone layout and I disliked it instantly. The idea of facing away from the window is unacceptable for me. I personally found the seat to be rather narrow and somewhat claustrophobic. Frankly, I'm surprised NZ chose not to update the BP product for the new 787, considering the seat is essentially over a decade old. Having said that, I think the seat itself is fairly comfortable, except for the width (not that I'm wide girthed or anything, quite the opposite actually). As it turned out, seated beside was an NZ executive, I think it was Chief Strategy, Networks and Alliance Officer, Stephen Jones (not sure though) . I took the opportunity to have a quick chat with him about the EIS and plans for the 787, as well as lamenting the lack of fanfare around this inaugural service.
Some shots from Business Premier:
My friend and I then headed back aft, for him to have a try of the PE seat. My seatmate then mentioned that he'd just been to the aft crew rest and the crew were letting pax in to have a look. I then headed that way, where one of the crew (I forgot her name) was happy to oblige. After visiting the crew rest, I then chatted briefly with the same crew member, who mentioned that she had actually been the first flight attendant in the world to have been certified on the 787-9. She also outlined their training programme for cabin crew and how they planned to gradually build up the pool of 787 trained cabin crew over the following months.
Aft crew rest
When I got back to my seat, I noticed our arrival time and time to destination had jumped. We now had an ETA of 1045 rather than 1015. I knew this meant we would be holding for some reason. Sure enough, one of the captains announced that due to fog earlier in the morning and a subsequent backlog of arrivals, we would have to hold for about 20mins. He also thanked the passengers once again for being part of a historical event for Air New Zealand, especially those (like me!) who had made plans specifically to catch this flight. We began our descent just before 1000. One thing I've found great about the 787 is the lessened effect of pressure changes during descent. On this occasion, I didn't feel any pressure build up in my ears at all. As we gradually descended and circled, the crew came round offering some sweets. After holding for about 10min, the captain announced that we'd been moved up the queue with arrival on runway 34R, which meant we would touch down about on time at 1030.
At 1035 we made a nice smooth touchdown on 34R, the shorter of the two parallel runways. The landing roll continued till the end of the runway, no surprise of course since the terminals are located further up. We had to wait for traffic before crossing one of the other runways, finally docking at the gate about 5min after touchdown. This was when the only technical hiccup occurred. The plan had been to connect door 2L, but issues with the jetbridge rendered this impossible. The captain then mentioned that they would try for 1L instead. I did not mind of course, since I was in no hurry to get off the aircraft. While waiting for ground staff to sort out the matter, I ventured forward to visit the cockpit, which the cabin crew had earlier kindly informed us would be possible after landing.
No mistaking what cockpit this is!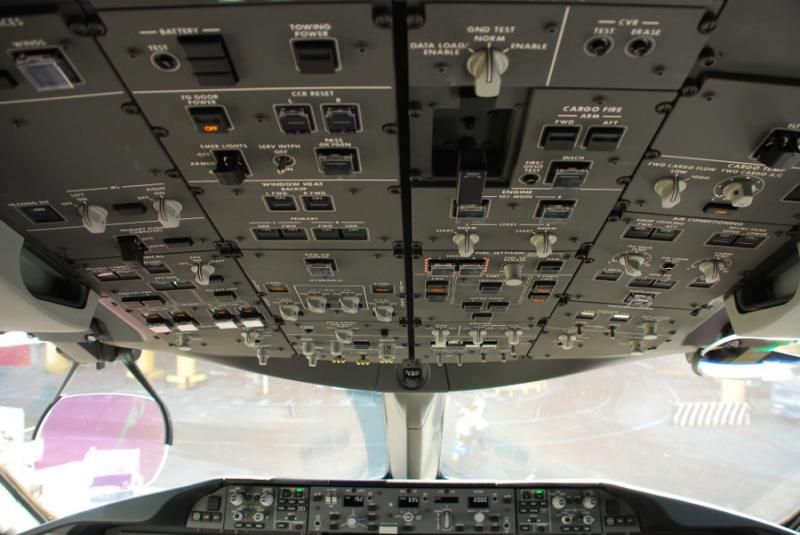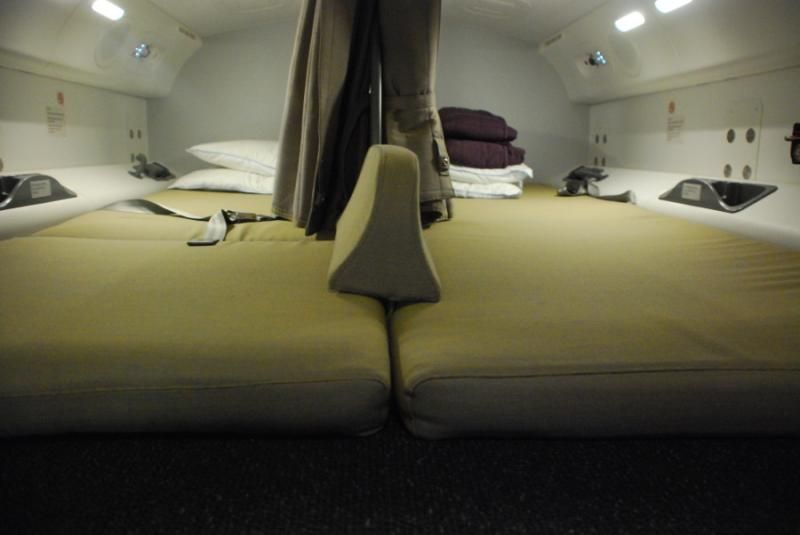 Forward crew rest
I then chatted with one of the pilots, who was actually from Boeing working with airlines on 787 EIS. At this point, there was a knock from outside at door 1L. They had finally managed to move the bridge into place. Unfortunately, this left me stuck awkwardly at 1R talking to the Boeing pilot, as I was unable to make my way through the oncoming wave of deplaning passengers back to my seat to retrieve my bag. After waiting patiently for pretty much the entire load of passengers to walk by, I managed to retrieve my bag, bade my goodbyes to the crew and stepped off ZK-NZE.
Goodbye ZK-NZE!
Coincidentally, the last time I arrived at the international terminal in SYD was on another inaugural service, SQ380 nearly 7 years ago.
It was a short walk to immigration, where thankfully there was not a very large crowd, since it wasn't really peak hour. As a Singapore ePassport holder, I could use the SmartGate automated clearance. As had happened the first time I tried it in MEL a month prior, the facial recognition didn't work for me. At MEL, the staff asked me to just scan my passport again and get a new ticket, but this time I was sent to the assistance desk, which is basically a standard manned counter at the end of the row of counters. In my opinion, for eligible foreigners, when faced with a ridiculously long regular queue at peak hour, even having the SmartGate not work would still be faster, as long you are sent to the assistance desk and not to the back of the regular queue! With no checked bags and nothing to declare, I was swiftly out into the arrivals area. It was then off to town to spend my badly planned 9h transit before my flight back to Melbourne. (I actually got the arrival time in SYD mixed up, thus I had built in a longer than necessary transit)
Conclusion
For my first flight on Air New Zealand, I was thoroughly impressed. The crew were fantastic and extremely accommodating.
As for the hard product, I would say it is very good. The IFE is user friendly with a large amount of content. Considering I spent most of the flight out of my seat, it's difficult for me to give a proper opinion. But from the time I did spend sitting down, I think it should be sufficiently comfortable for most passengers, though probably still not good enough for proper sleep on a long overnight flight. My main gripe with the seat is how far the legrest extends, or lack thereof.
If there is one thing that really disappointed me from the flight, it was the lack of occasion. It was very much a regular trans-Tasman flight, no ceremony or souvenirs. Of course, for the majority of passengers that day, that's exactly what it was - a normal flight. I hope NZ has something planned for the aircraft's 'official' debut on Oct 15, when it officially begins AKL-PER service. Overall, it was a thoroughly enjoyable flight, but as an enthusiast the lack of fanfare was a letdown.
A couple more shots of the aircraft and the premium economy seat: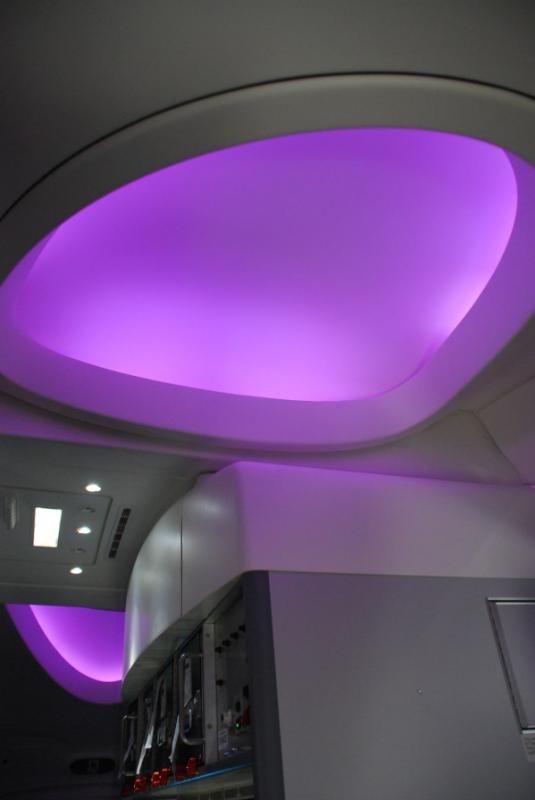 Ceiling at door 2
Galley at door 2
Seat legrest
Fully reclined vs upright
Thank you for reading. As always, feedback, comments and questions are welcome!
Joel