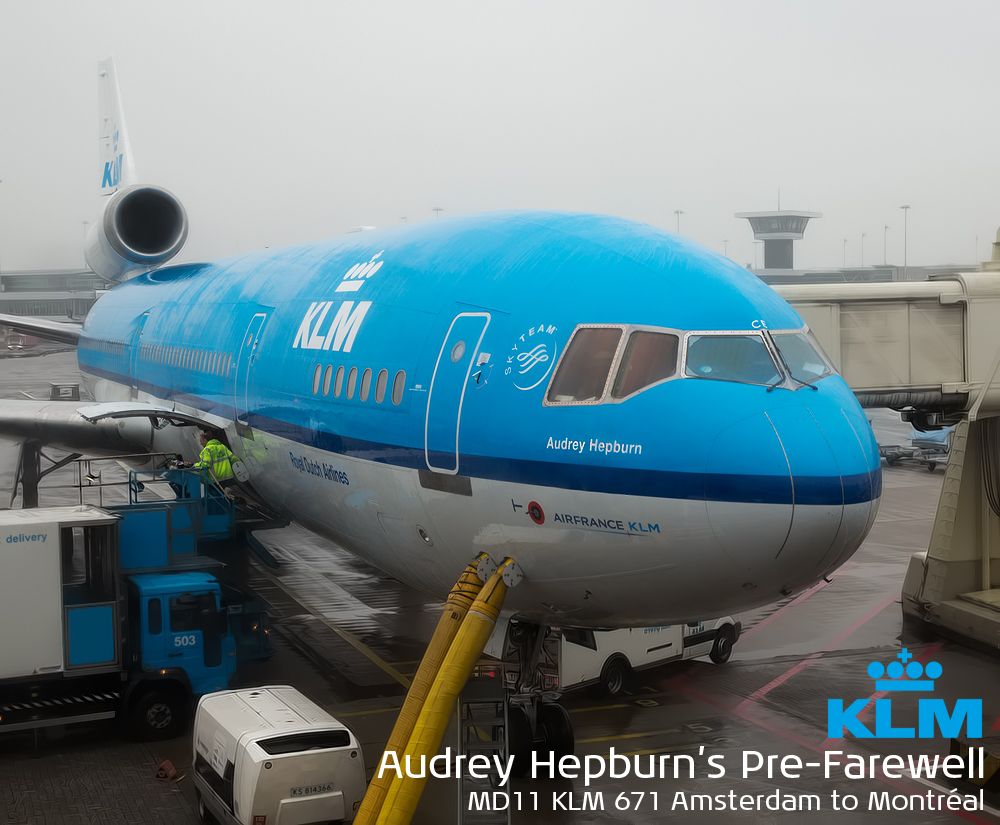 I N T R O D U C T I O N
A gorgeous tri-holer that needs no introduction. With KLM, the MD11 served its purpose -and then some- since 1993, mostly covering flights across the pond to North America and the Caribbean.
Today as I type this, there are no more passenger services on this aircraft, which means its farewell not only marks the end of the MD11, but the closing of the 'tri-holer' chapter. As today's aviation becomes more and more mainstream, this farewell is perhaps my most sentimental to date.
For KLM, this also concluded a relationship with the 'Douglas' aircraft family that lasted almost a century. As one of the world's oldest airlines, KLM is the only airline to have operated Douglas / McDonnell Douglas's entire passenger product line ranging from anything from and in between DC 2's, 8's , 10's and the MD11; you name it, KLM had it!
For me, the KLM MD11 was a special aircraft that took me places back in the day. Apart from one Swissair flight, the rest of my MD11 flying was on KLM, and it was mainly between Amsterdam and Memphis/Atlanta. As enthusiasts, we looked up to the MD11 as her legacy sister -the DC10's- heir to the tri-holer throne, but she also was a uniquely beautiful aircraft to admire on its very own.
As with other three-engine widebody aircraft like the TriStar and the DC10, the MD11 was equally ahead of its time, and deserved a little more life to it. But sadly, when economies come to play, they dictate what remains on stage.
Join me on a quick trip I deemed necessary to commemorate the end of the tri-holder era. While it was not the official farewell (nor the upcoming pleasure flights on 11 November 2014), this was the beginning of the end for at least one more in the fleet; luckily for me it was my favorite lady, Audrey Hepburn!
WELCOME TO MY 48th TRIP REPORT
This report covers my KLM MD11 flight -a few days before the final passenger service- between Amsterdam and Montreal, in Economy Class.
FLY RONI
This report will also be available on my website -
www.flyroni.aero
- along with the rest of my previous work. The main focusas always will be on trip reporting, but photos and videos are also available! All non-commercial, and purely for enthusiasm. No attitude, and no pretense; everyone is welcome!
Please take a look, and do follow me on
Twitter
and
Facebook
if you like, to keep current with all updates!
B A C K G R O U N D
This was a last-minute trip I put together after contemplating whether or not I should snag one more MD11 flight before it retired. My previous attempt at this was when KLM briefly operated the tri-holer into Dubai towards the end of last year. But boy was I glad those plans did not materialize as the outcome of this trip was of much greater value.
Tickets were easily purchased through KLMs website with no major issues. My seat on the MD11 was specifically selected in the Economy Comfort cabin, not because of the additional legroom, but because I wanted to sit close to the engine, and 11J was the closest one available.
While the Manage my Booking feature on the website was fairly straightforward and relatively typical, I faced some problems when checking in for my flight the night before. But while KLM had its temporary issues, I hopped over to Air France's website which checked me in just fine.
Online check in at Air France's website
Air France branded boarding pass
And finally, a KLM branded one after several attempts
BRIEFLY FROM ABU DHABI
My trip originated from Abu Dhabi, and I will post a few pictures here to summarize the overall journey to Amsterdam on PH-AOA, an A330-200 that I am all too familiar with on the AMS-AUH-BAH rotation.
KLM check-in signage at AUH Terminal 1
Boarding passes issued all the way to Montreal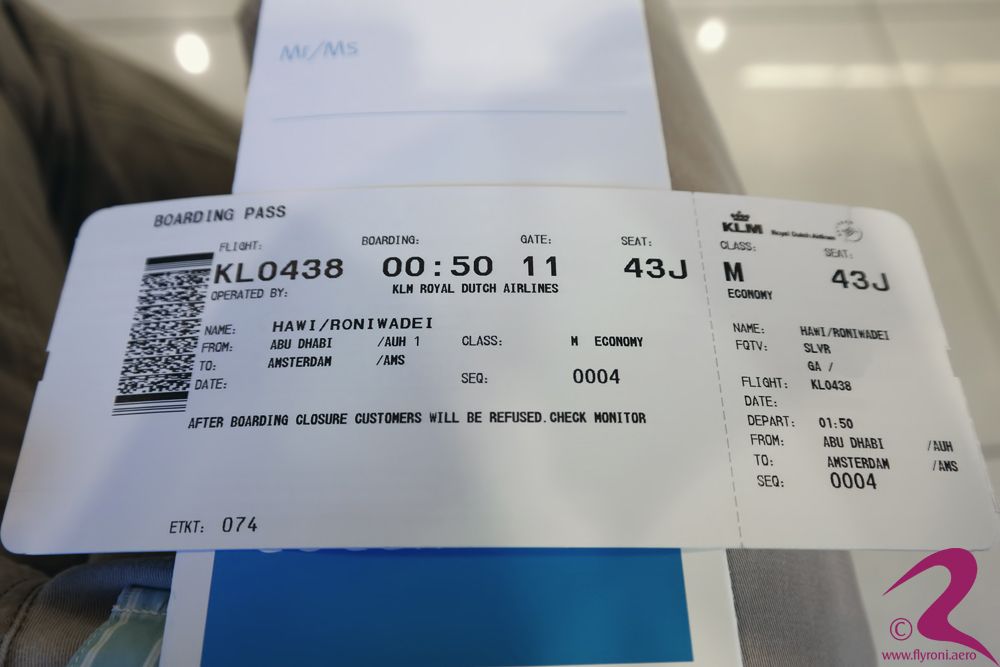 Travel document pouch
The beautiful blue that lights up the AUH tarmac every night!
Service on board was typically KLM with smiling crew professionally attending to passenger needs. A quick drink/sandwich service was offered after takeoff, and the crew gladly offered me a second sandwich when I requested it.
Cheese sandwich after takeoff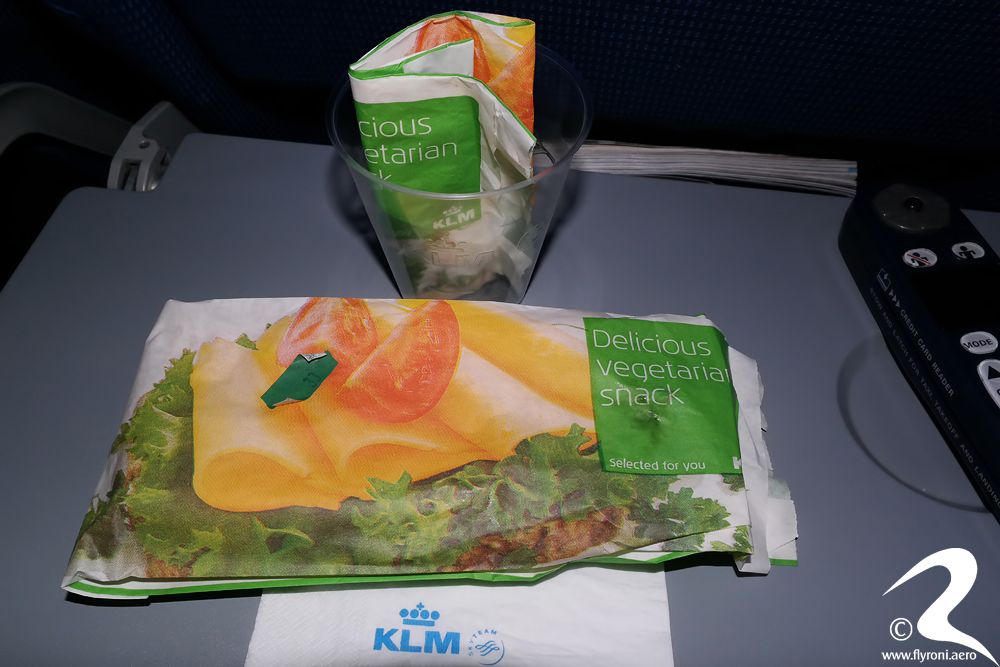 Breakfast service commenced shortly before arrival
My choice of omelet over the pancakes for breakfast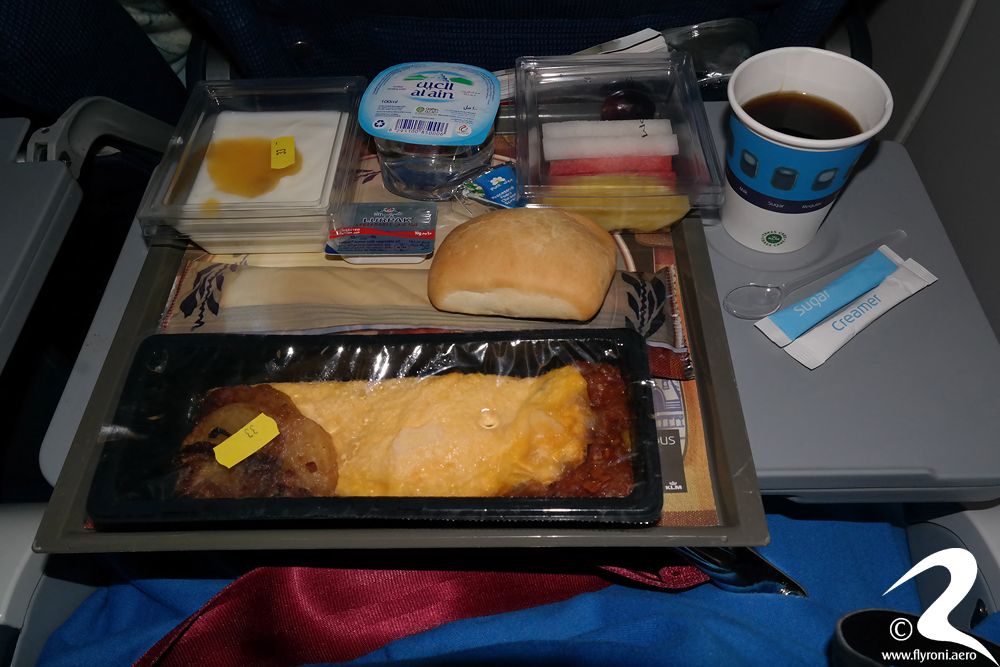 And here is PH-AOA peeking its nose at Schiphol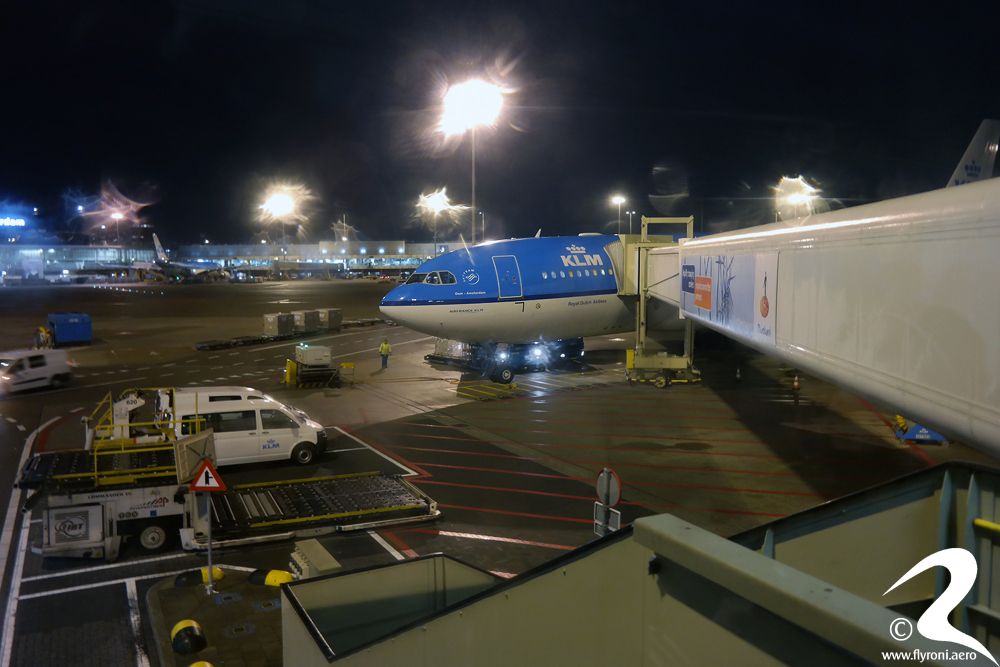 THE MD11 PRE-FAREWELL
I cannot remember how I spent my 8 hours at Schiphol, but it surely was not at any lounge. It was quite a rainy day and taking photos outside was too much effort. Instead, I spent it walking around the terminal and inhaling the slightly-sterile surroundings that I love about this airport. However, Schiphol was undergoing some terminal renovation works throughout the airport but it was set up in a fairly organized manner that at least did not affect me much.
FIDS
Terminal view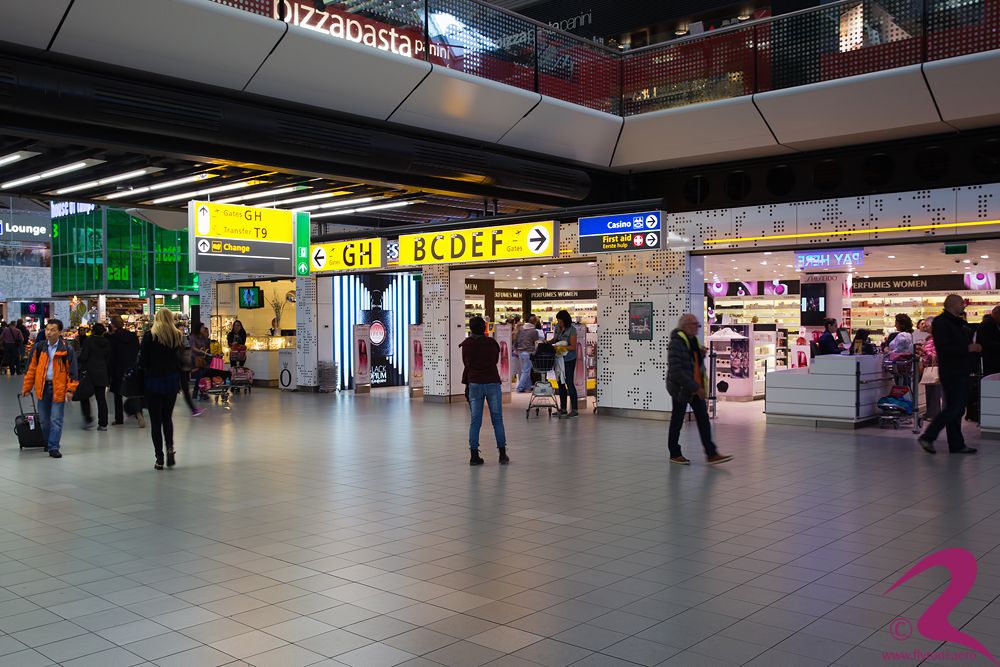 After a quick shower at Mercure Hotel's shower facilities, I headed over to Gate E6 where a long queue was already formed ahead of a quick document check station.
At Gate E6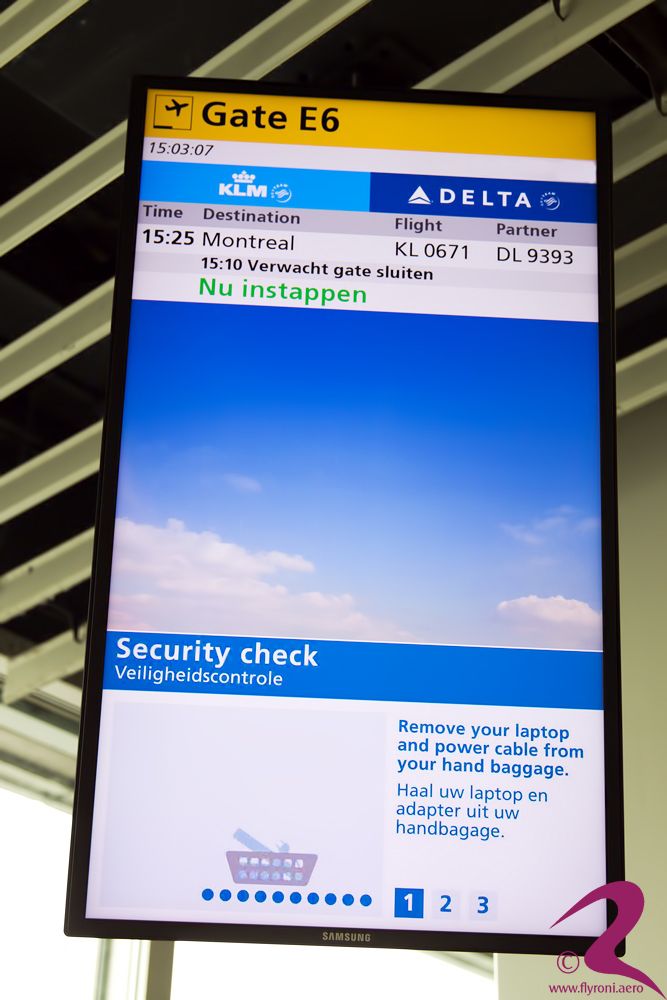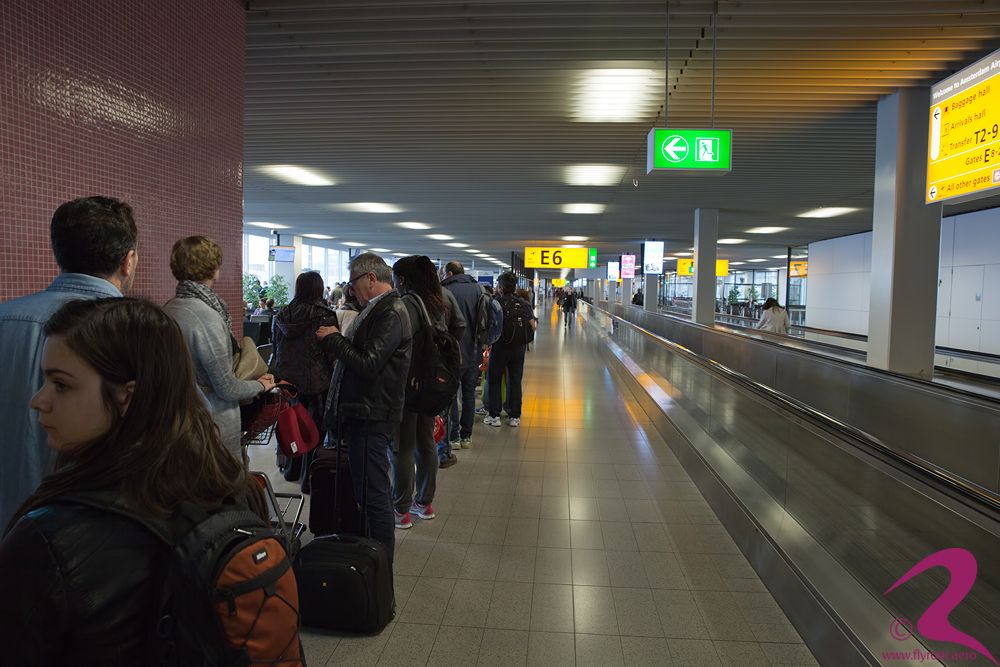 It's general boarding for me today!
And here is Audrey Hepburn getting ready for our journey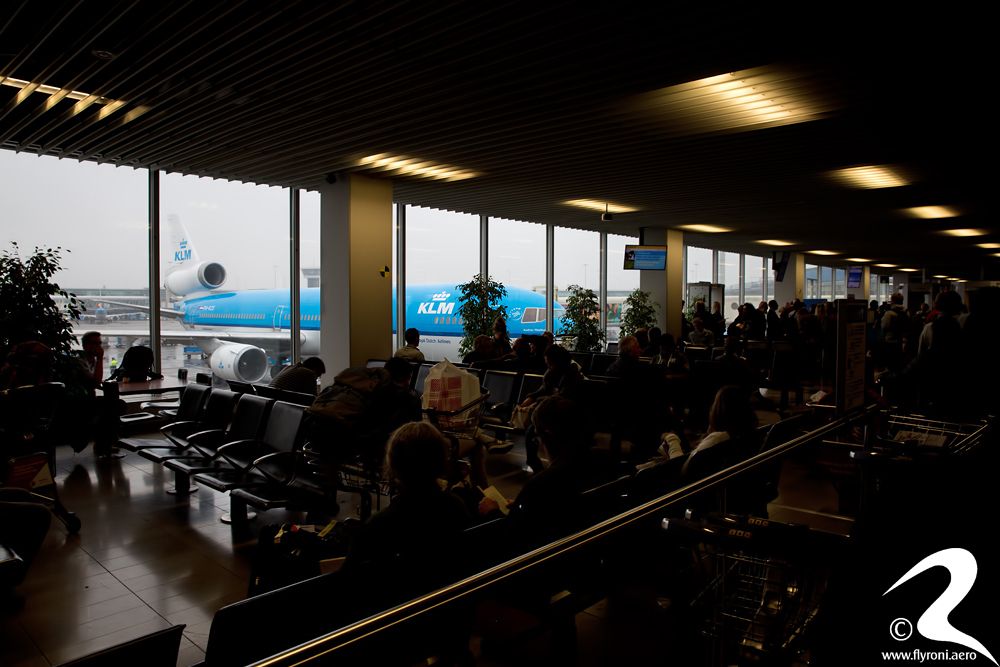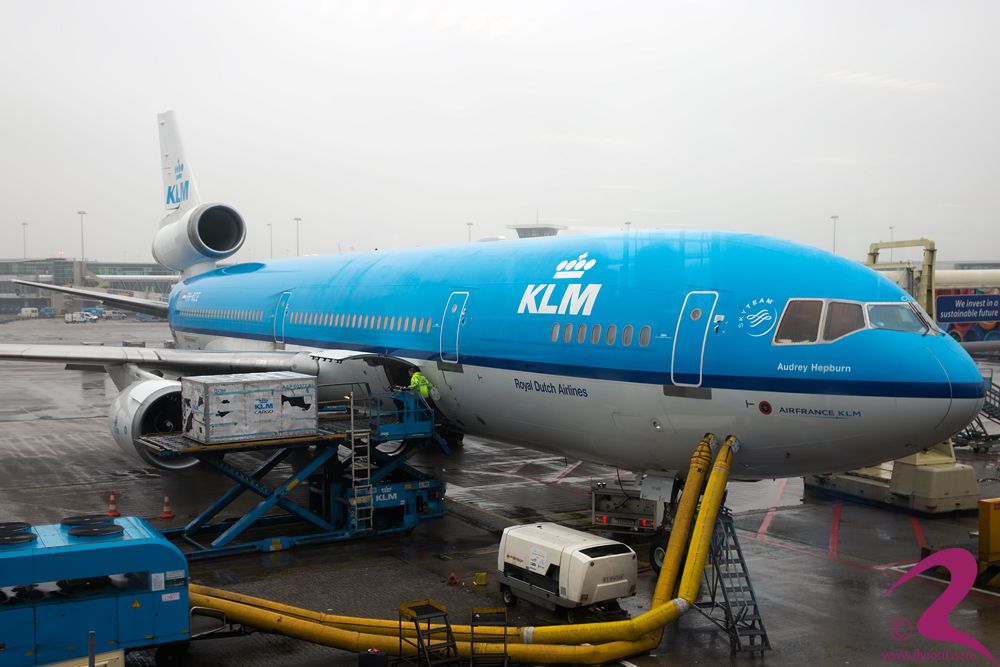 Approaching the security screening and document checkpoint before the holding area, one of the security staff that was attending to the passenger's baggage as they entered the screening machine yelled out for everyone's attention. Initially I thought it was for some typical security announcement like 'no liquids' blah blah blah, but instead, it was about the MD11!
"Everyone, if you understand English may I have your attention please?"
"You see this plane out there? This is the one you are flying on to Montreal today"
"And it is this plane's last flight, before it gets retired"
"If this interests you at all, I hope you will cherish the last few moments and enjoy your flight"
Apart from me where in two moments I switched from sleepy to wide-eyed, everyone disregarded this man's mini-speech as quite passé, which somewhat annoyed me. While it wasn't Audrey's very last rotation as he pointed out, it still was the beginning of the end.
Documents checked, and security screened, I was sterile enough to proceed. Through the aerobridge, the queue gradually moved towards Door 2L of the aircraft. What a nice sight it used to be seeing a 'door-less door' during boarding, thanks to the upwards sliding door mechanism that was prevalent on tri-jets (it then became a norm on 767's as well, but it wasn't as fun).
At the door, and with my KLM branded t-shirt, a big black camera bouncing off my belly, and the cheesiest smile ever, the crew's eyes all lit up with happiness at what just strolled into their MD11.
"Ah, finally. There is our fan!"
"Yes indeed. I flew from Abu Dhabi to be here"
"Are you joining us for the farewell on Sunday?"
"Unfortunately not as I have to fly back to Abu Dhabi tonight"
"Oh wow! Thank you for your commitment, it is an absolute pleasure to have you on board sir"
There were 6 crew members at the door during boarding, and each one of them warmly greeted me and shook my hand as a form of gratitude. It was at this moment when I thought my typical flight was going to be a tad more special because we were all on the same page of sentiment.
CONTINUED BELOW