It's another AznWrldTrvlr travel extravaganza for my 38th birthday. As much as I wanted to do another speedy round-the-world trip, in the end I got to spend some quality time in 3 great world-class European cities!
Last year I used a good chunk of my UA miles for a trip of extravagance! For this trip, I used the remaining miles, especially before UA increased mileage values and then devalued their program. UA advertises generous mileage spending with the airline and some fellow Star Alliance members. To get those fellow Star Alliance members you always have to check to see if anything pops up because it's random when a ticket from a particular member shows up. I found it's easier on UA's site to book one-ways than in round trips to try and get the ideal flights and give you a bit more flexibility if you don't mind how many flights or how to get there.
Similar to my round-the-world trip, I continued to piece up the itinerary up to the day before I was to leave. The initial itinerary looked nothing like what I had planned. I had a couple of at one point I had an itinerary of HOU-BOS-ZRH-SIN-BKK-PVG-AKL-PVG-HND-YYZ-IAH flying on a mix of B6, LX, TG, NZ, AC, and UA. But certain aspect of the flight left me a bit questionable, especially the PVG-AKL-PVG portion where the connection times were iffy and the whole process of changing from TG to NZ for BKK-PVG-AKL and then changing from NZ to NH for AKL-PVG-HND where both connections were under 3hrs each.
I nixed that whole trip and started over, pinpointing where I really wanted to go. While I had always wanted to visit New Zealand and also fly NZ, the options weren't as many. I would later get a special present to discover NZ just weeks after this trip. Stay tuned!
I also wanted to have visited Turkey, a place I wish I visited last year, but decided against it because of demonstrations. Added my parents recently flew IAH-IST-TLV on TK and really liked TK especially the food. Their fellow passengers, that was not the fault of the airline, just what my parents considered their savage upbringing, as harsh as it sounded. Since the flight was brand new last year, UA offered mileage redemption for the IAH nonstop. This year, the only TK options open from North America were from YYZ. Now YYZ is an interesting option as I had never tried connecting from YYZ.
For a few weeks I had an IAH-YYZ-IST segment confirmed on UA/TK. I ended up changing it because a dream flight for me opened up: the chance to do ORD-ZRH on LX in J, that segment I had to do. To get there, I had to fly UA to do IAH-ORD.
On 05Aug14, I was ready to go, but still had less than 24hrs to go before taking my first flight on this trip. Because I used UA miles and boarding a UA flight to start off with, I was able to check-in less than 24hrs before my scheduled flight.
Passbook Boarding Pass for UA 1585
After an early birthday dinner at a Korean restaurant, it was time to countdown the hours till I would head to the airport and be on a plane again.
I barely slept that night as I packed, repacked, and then repacked one more time to make sure I had enough. The goal was to actually have more space for stuff on my way home as I decided to bring some older clothes to wear and when I'm done either throw them away or get them donated or leave them for housekeeping to do as they choose.
Now this flight I used a standard award for a one-way in F because I did not want to pay the checked-bag fee and I wanted to check in my hand-carry suitcase rather than wheel it around with me at IAH.
I had my parents stay over and they brought me to the airport. At that early in the morning it took 35min going against morning traffic. They would be able to utilize the carpool lane on their way to work.
I decided to check in at the priority counters in Terminal C. With bags checked in to ORD, I waved them good bye and headed to security. The agents this morning seemed to be in a happy mood. The agent checking my documents wished me an early Happy Birthday. I thanked her and wished her a great day! Security did not take very long during this rather slow morning.
I decide to hop onto TerminaLink to see if I could spot the KE flight from ICN. I wish this flight had been around when CO was part of SkyTeam. While wandering around I couldn't find the plane but noticed the return flight listed.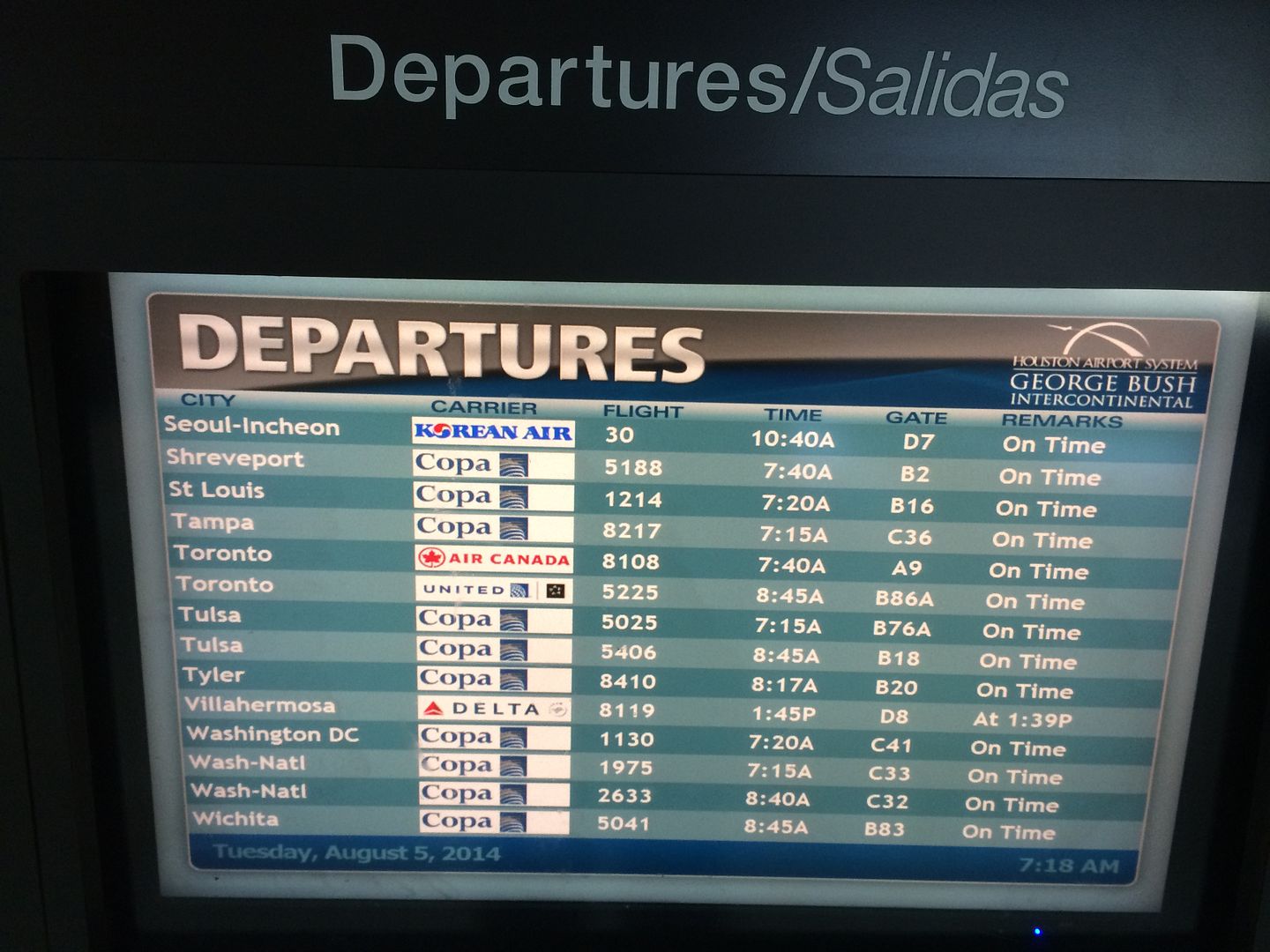 KE 30 IAH-ICN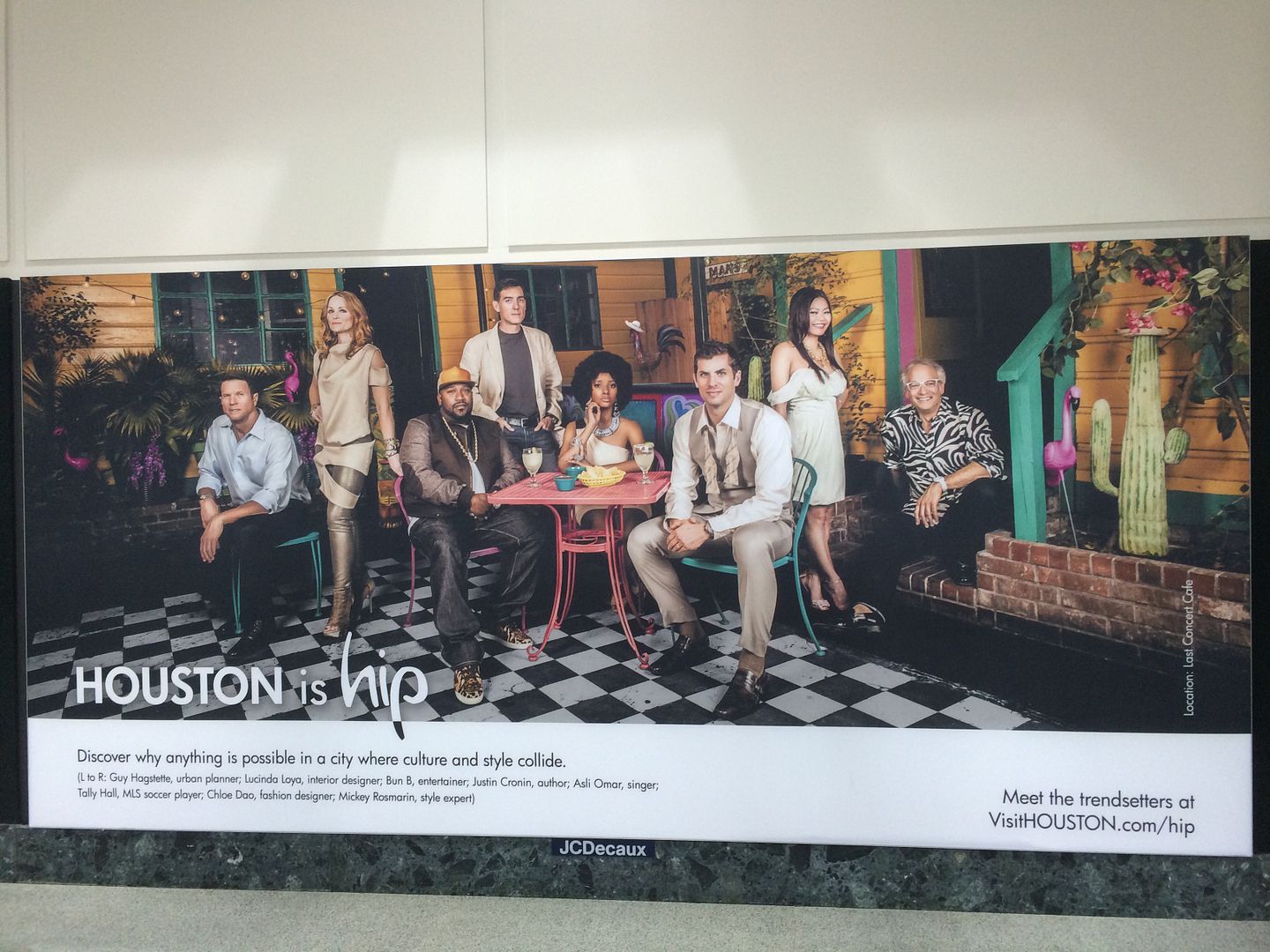 Houston is Hip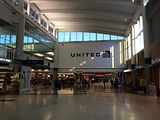 Heading towards lower E gates.
E4, the only self-boarding gate at IAH. I wonder if they are going to expand the program.
FIDS with my flight listed. Guess I should head to the gate.
IAH-ORD
05 August 2014
UA 1585
737-800
ETD: 08:22
ATD: 08:55
ETA: 11:00
ATA: 11:33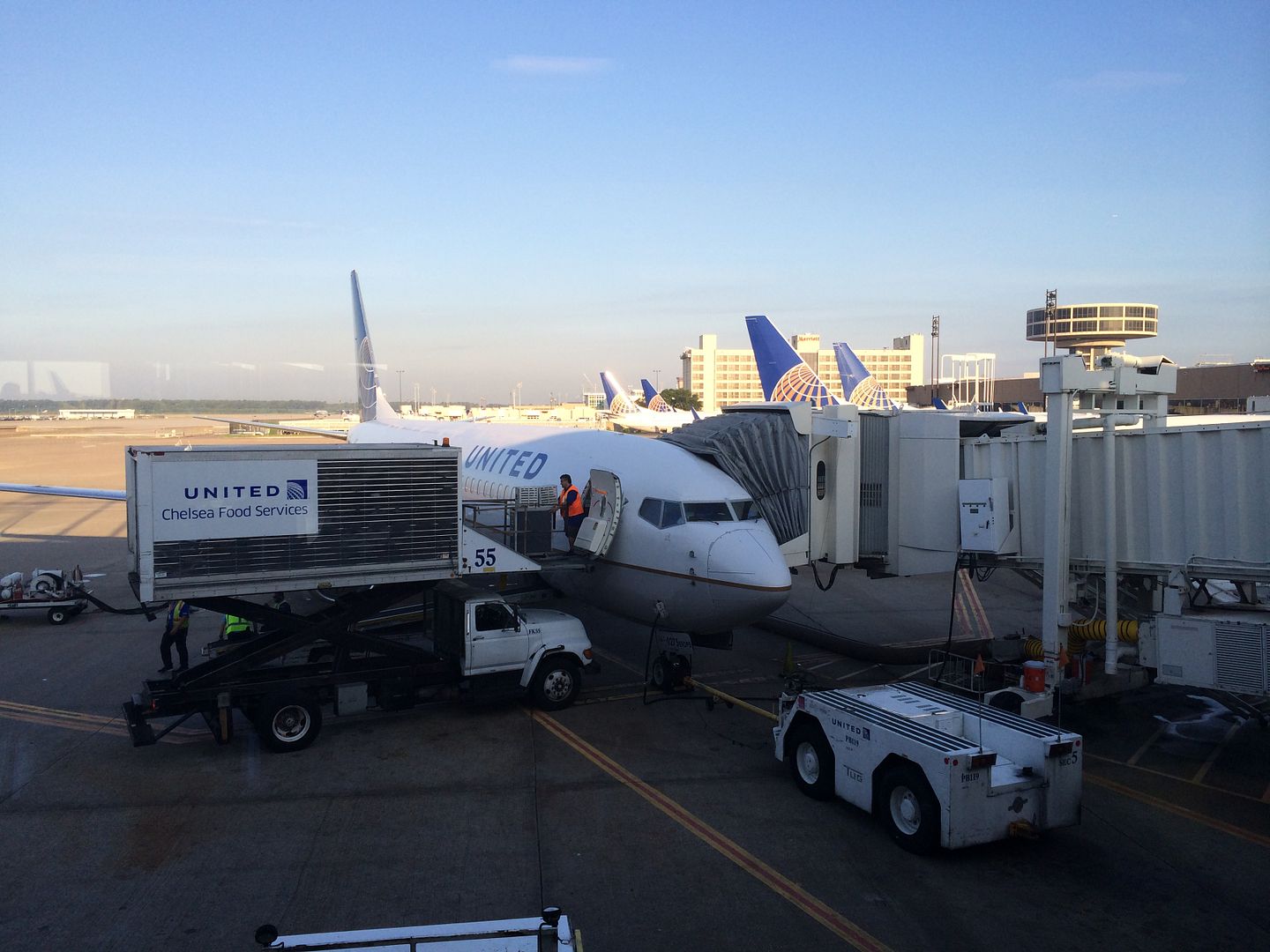 My plane #3275 getting serviced before we head to ORD.
By 07:50 I make it to C34 where I hear they will start general boarding soon and calling all Global services to pre-board. I guess no one showed up, they called up a couple if names and three people showed up before being escorted down the jetway. Three minutes later I join the queue for Group 1 and get excited to get this trip started!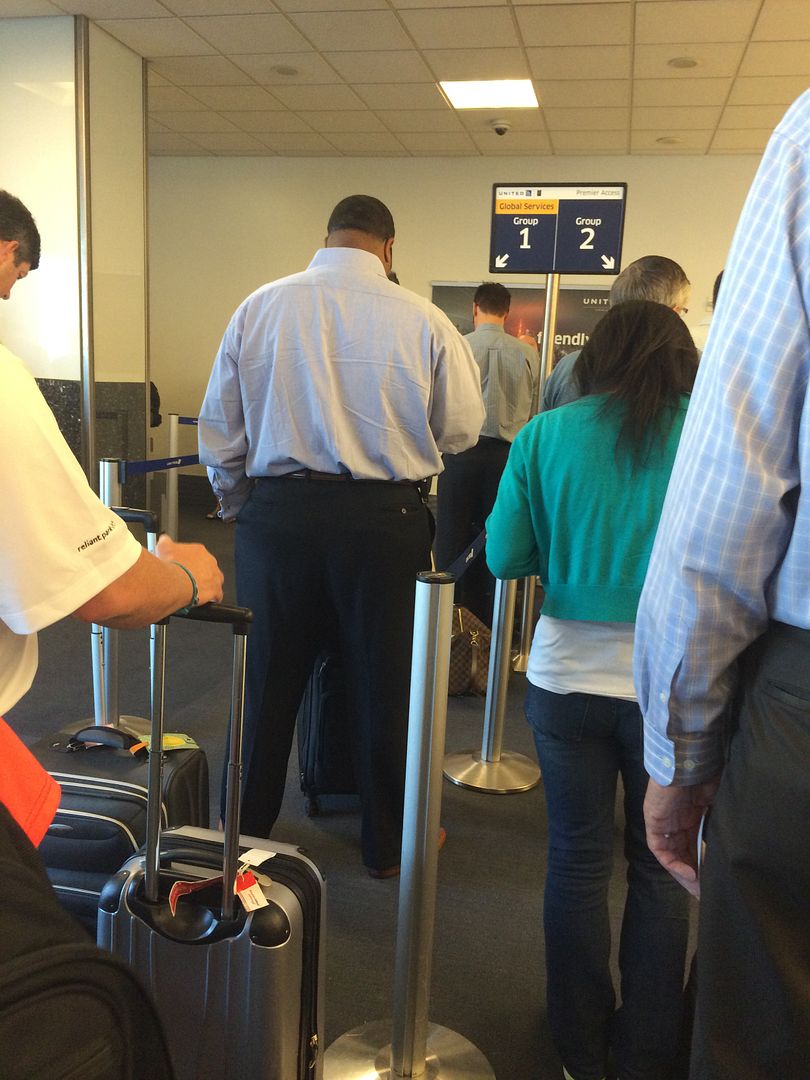 Joining Group 1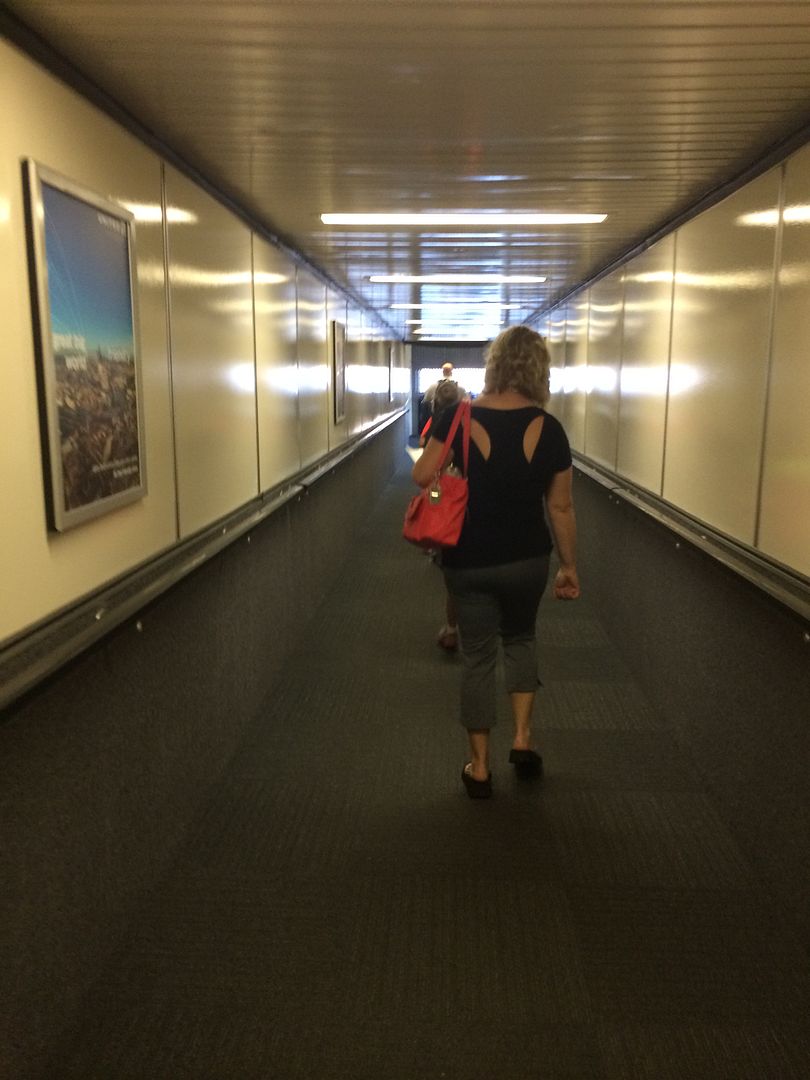 Fashion Police ... Please help this poor soul!
One on board, we are welcomed by today's lead FA. Everyone other than my fellow passengers seems to be in a good mood and that puts me in a good mood! I great her "good morning" and then make that quick turn right to my seat 1A.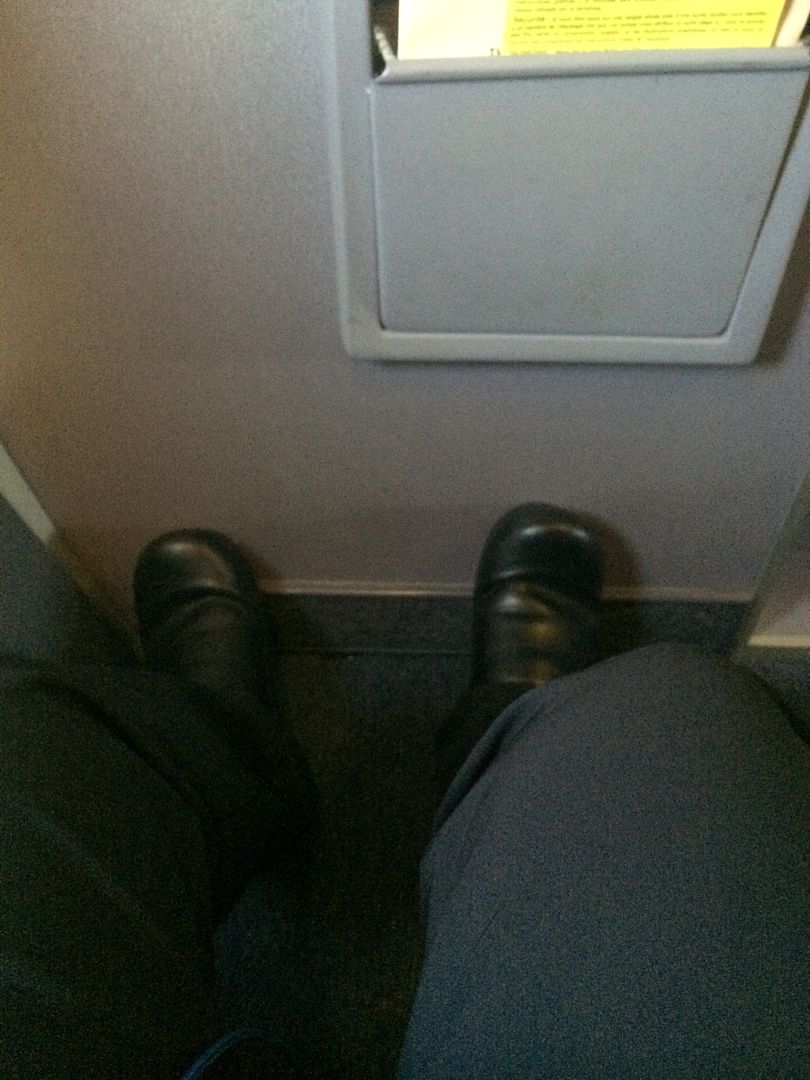 Requisite pitch seat along with "what shoes are you a eating today?"
I happen to have boarded a 738 that had not and not sure if will get LiveTV installed. For this full flight up to ORD, everyone seemed to have boarded in a timely fashion and the plane ready before scheduled departure time. However, when the pilot welcomed us on board, he said there would be a slight delay as an oxygen tank needed to be replaced and should not take too long. Usually I hear about loading or removing any last minute bags, the need to change an oxygen tank especially since the plane had done an overnight at IAH, was slightly annoying. But for me I did not care because things happen by chance; the older working lady sitting next to me had some choice words. At one point I turned to face her and had to laugh!
What should have been a minor ten minute delay turned to over twenty minute delay because registration numbers of the leaving tank needed to be double-checked with the plane's log book and then new tank needed to be verified from a central facility. Better safe than sorry.
Once completed, doors closed and jetway retracted at 08:50, 30min behind schedule. With that they had started the inflight safety video only to be stopped again. At first we thought it was another delay and could hear the some people whine in F. Instead, just days before this flight, UA had put out a brand new safety video that tries to be a bit entertaining, similar to NZ. The lead apparently changed out the old video and showed the new one, which can be seen here:
Safety is Global
I had seen the new safety video before and I like it, but I miss the old CO ones with the catchy tune I used to whistle with.
Once safety video had finished, we were off to 26L for our departure to ORD.
*A logo plane getting ready for flight to NRT.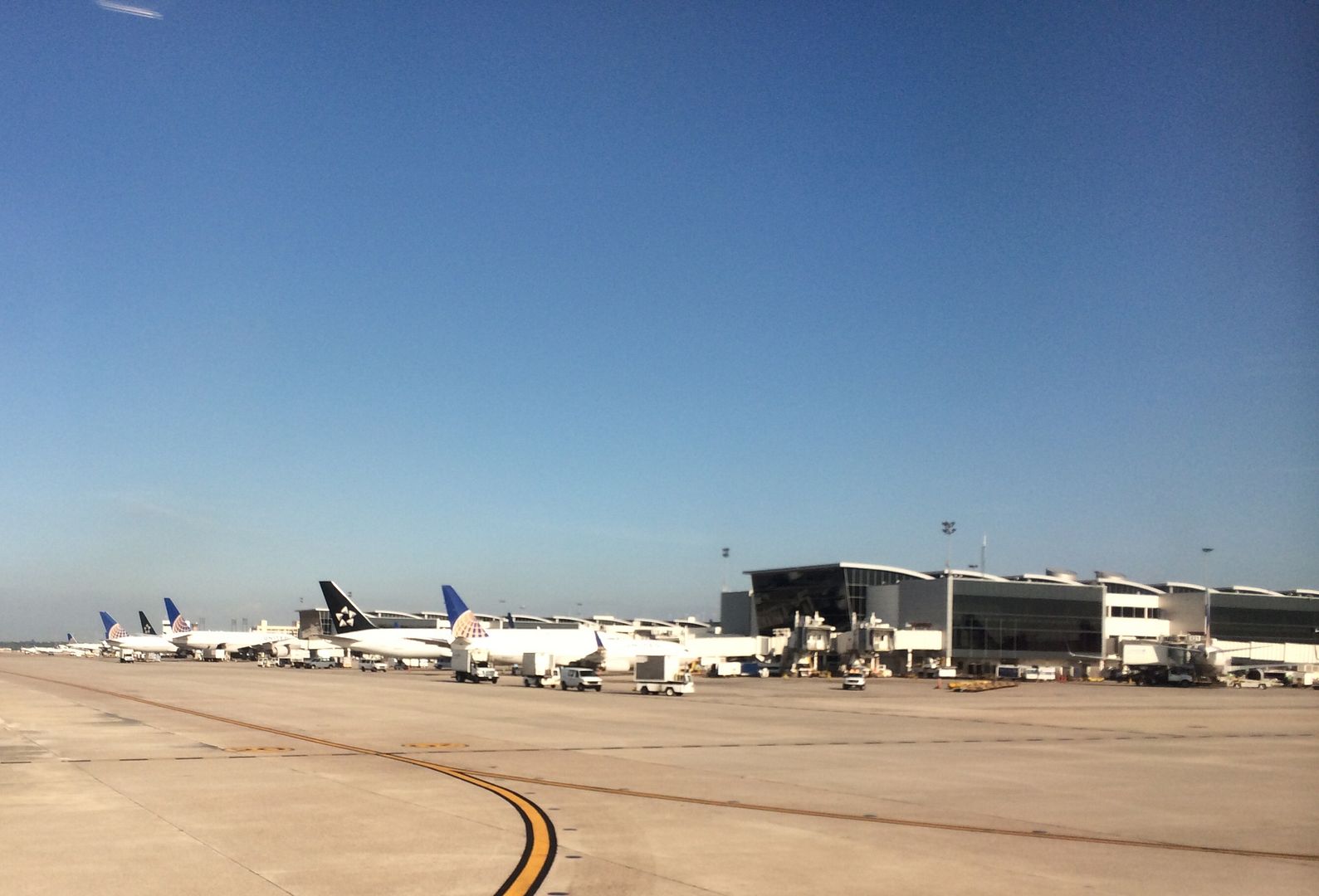 A busy Terminal E this morning, which included another *A logo plane, a 763.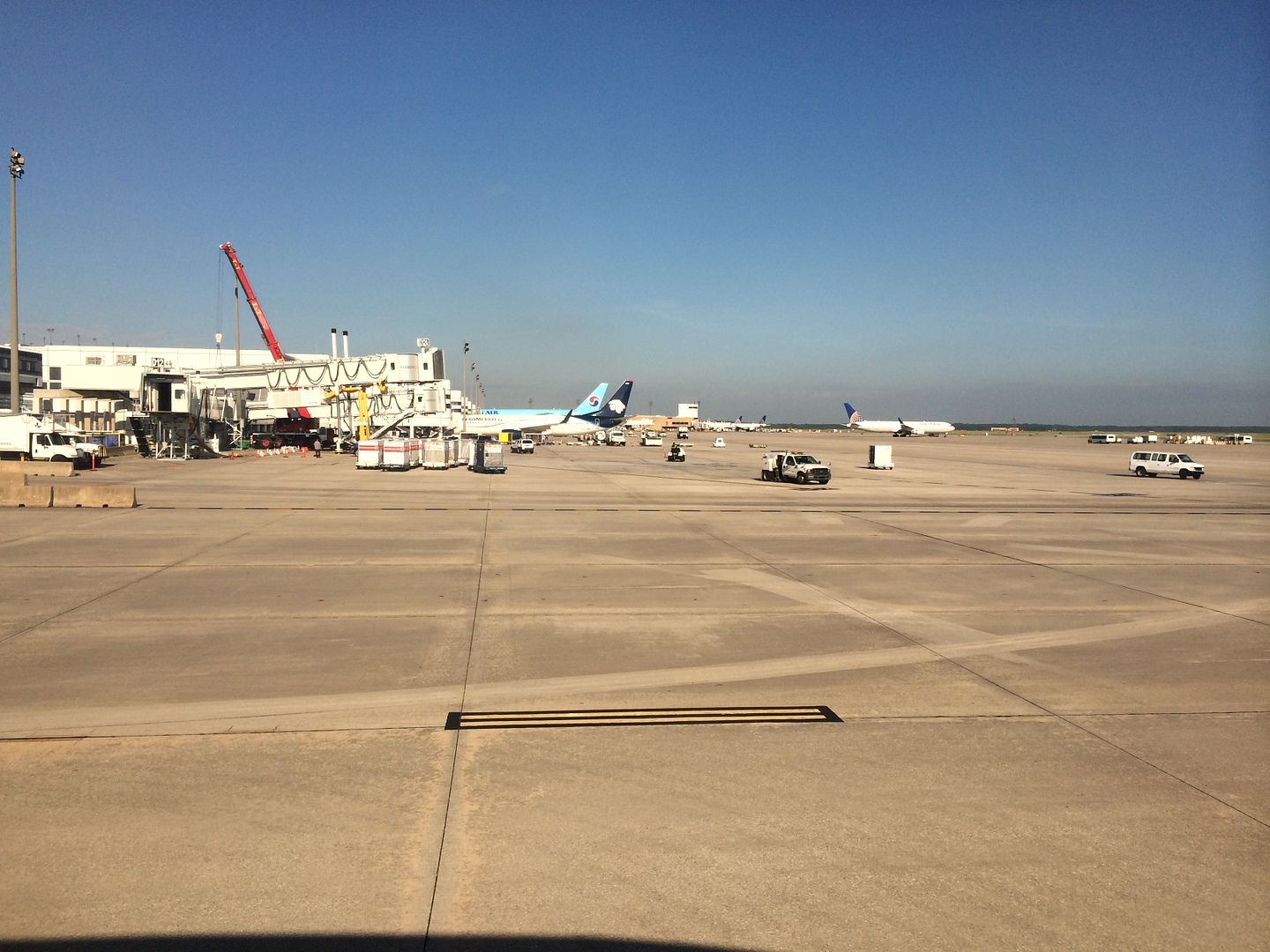 Terminal D with D11 as the current A380 gate, the crane over at D9 for the new A380 gate that EK will be using, AM and KE planes as SkyTeam morning visitors.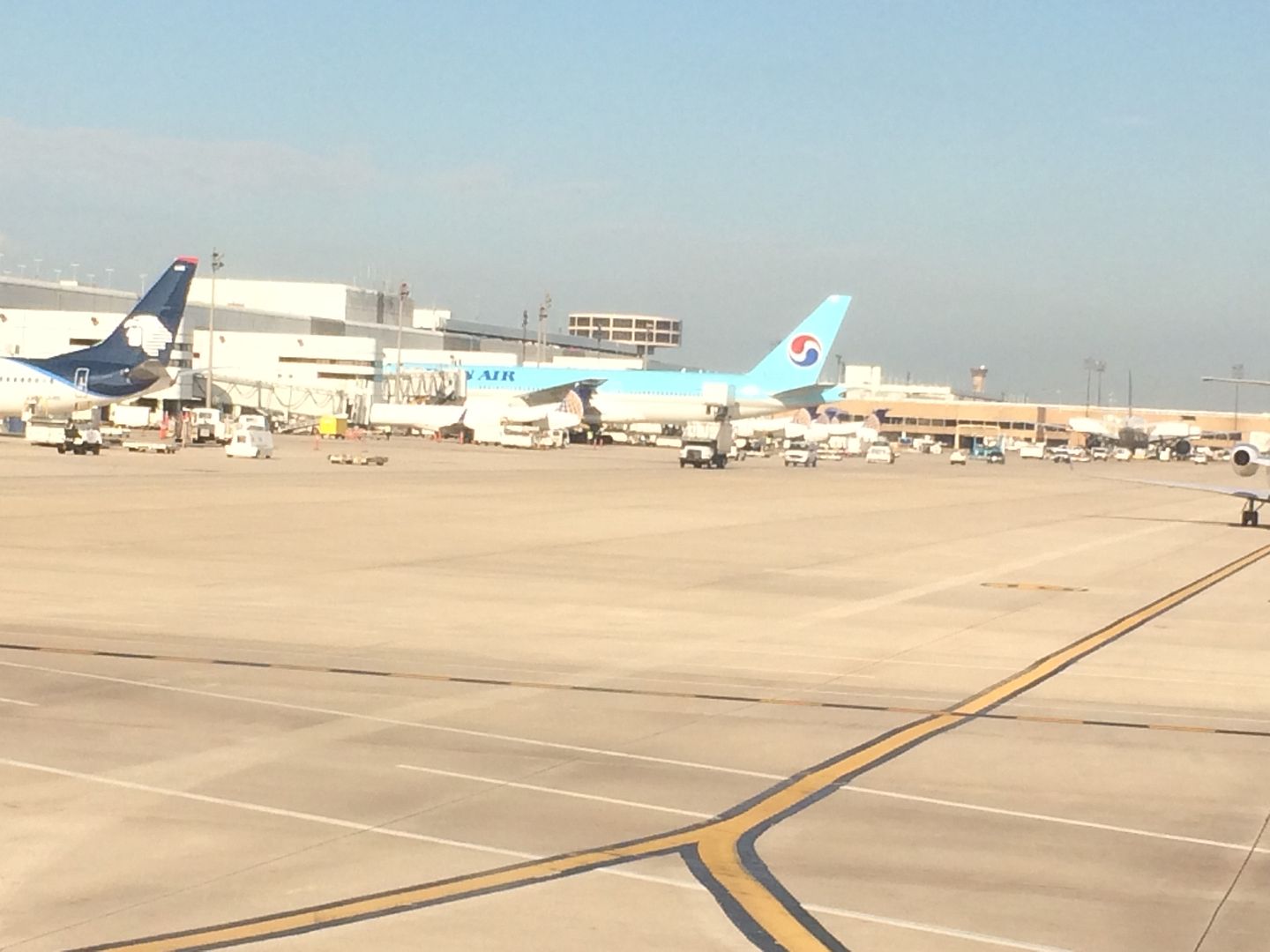 Still odd to see KE at IAH.
I captured the take off and can be seen from this link
UA 1585 Departure
By 09:04 we were airborne. Once at a comfortable level, the Lead gave her welcome. Flight time would be 2h 17m and should be fairly smooth up to Houston. She wished us a pleasant flight as the FAs sprung into action and started to prepare for a service. A couple minutes later, the First Officer gave his welcome and apologized for the delay. He also notes the 2h 17m flight time. With that he wishes is a pleasant flight.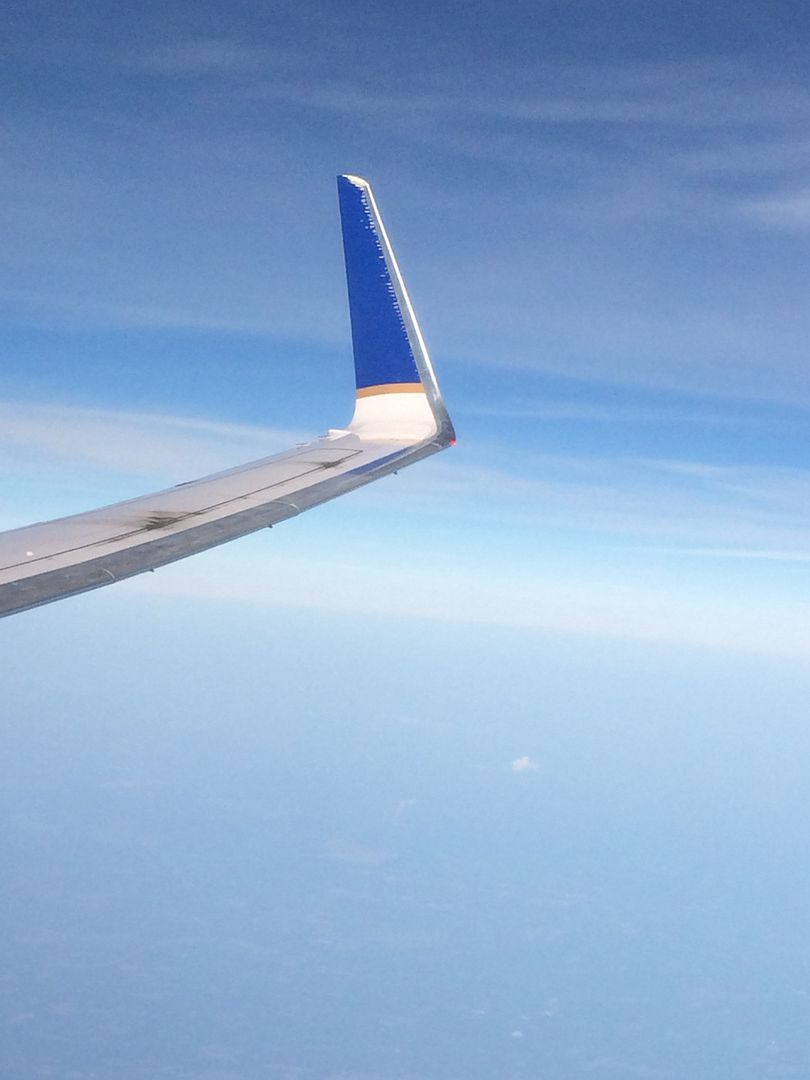 While the plane did not have LiveTV installed on seatbacks, it did have the drop down monitors. I don't remember the movie shown, but they did have a couple of shows and clips on hand. While that started up, one of the FA's took breakfast orders for those who wanted. Today's options included a hot meal consisting of ham-egg-cheese croissant or the cold meal consisting of corn chex. I opted for the hot meal which was ok. After that, the FA offered oshibori.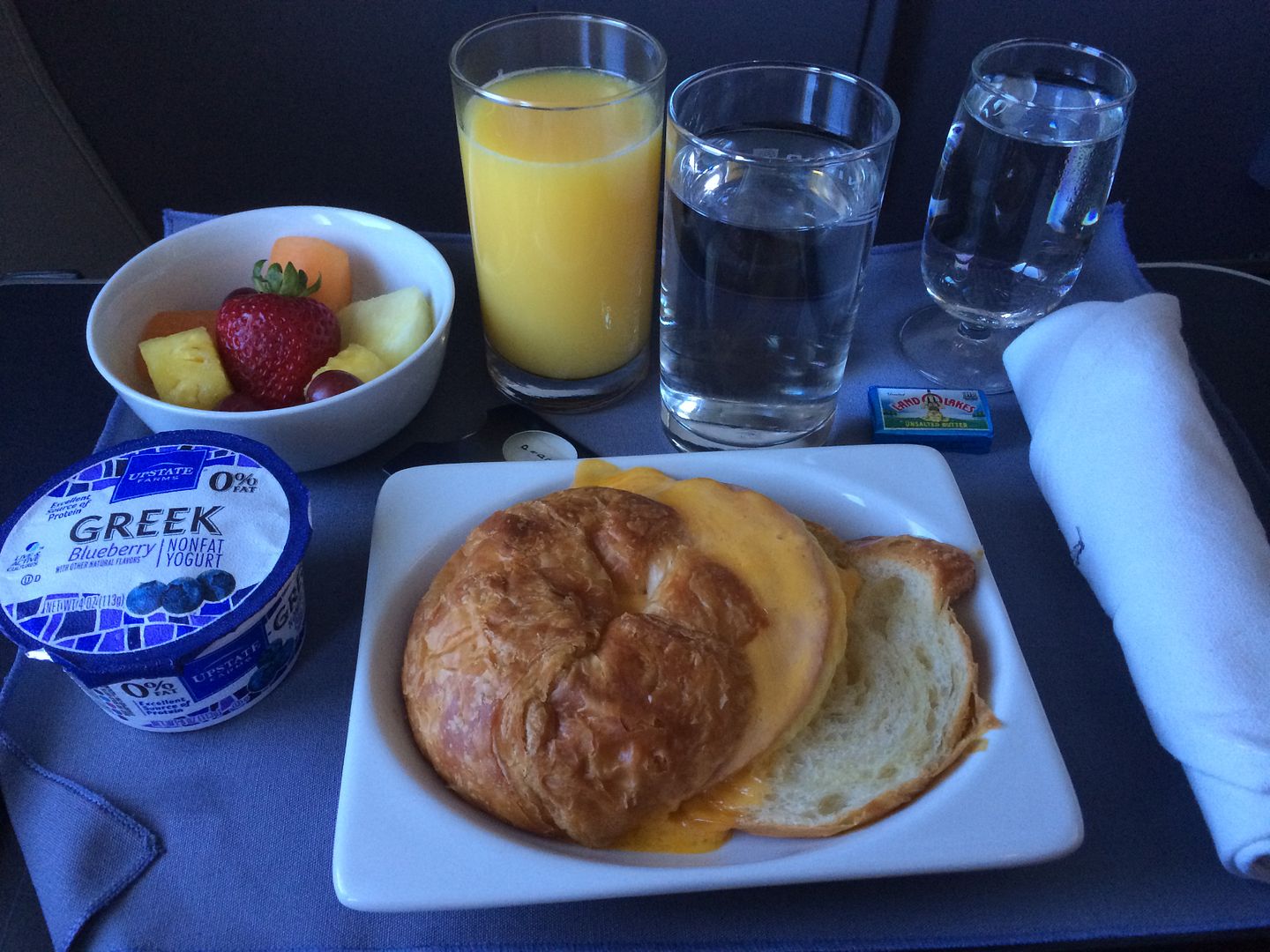 Ham-Egg-Cheese Croissant Breakfast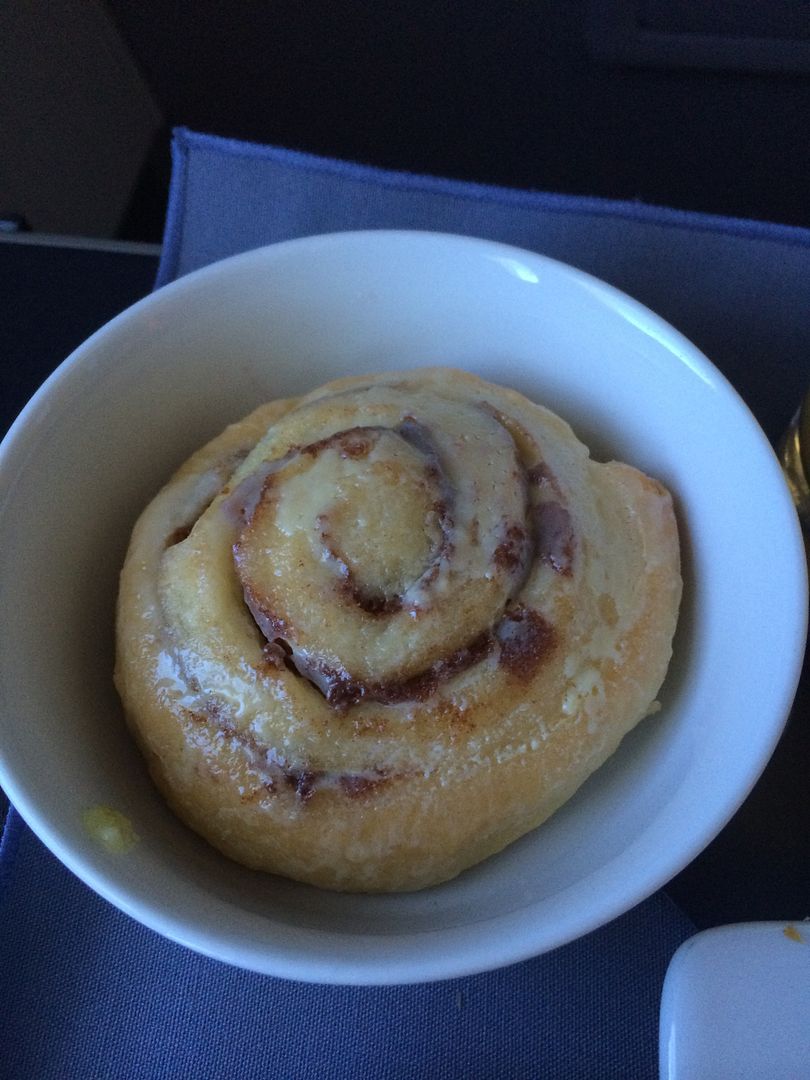 The infamous Cinnamon Roll
After they brought the meal on a tray, they would go back and offer bread. One thing I used to love, especially taking morning flights on CO were the cinnamon rolls. Somehow, even with the same catering company, the cinnamon roll is different, probably using a different vendor. It just did not taste right, but by the time I had finished everything else, I was stuffed and not sure if I could handle the cinnamon roll.
With breakfast complete, it was time to relax and calm myself down for my next flight!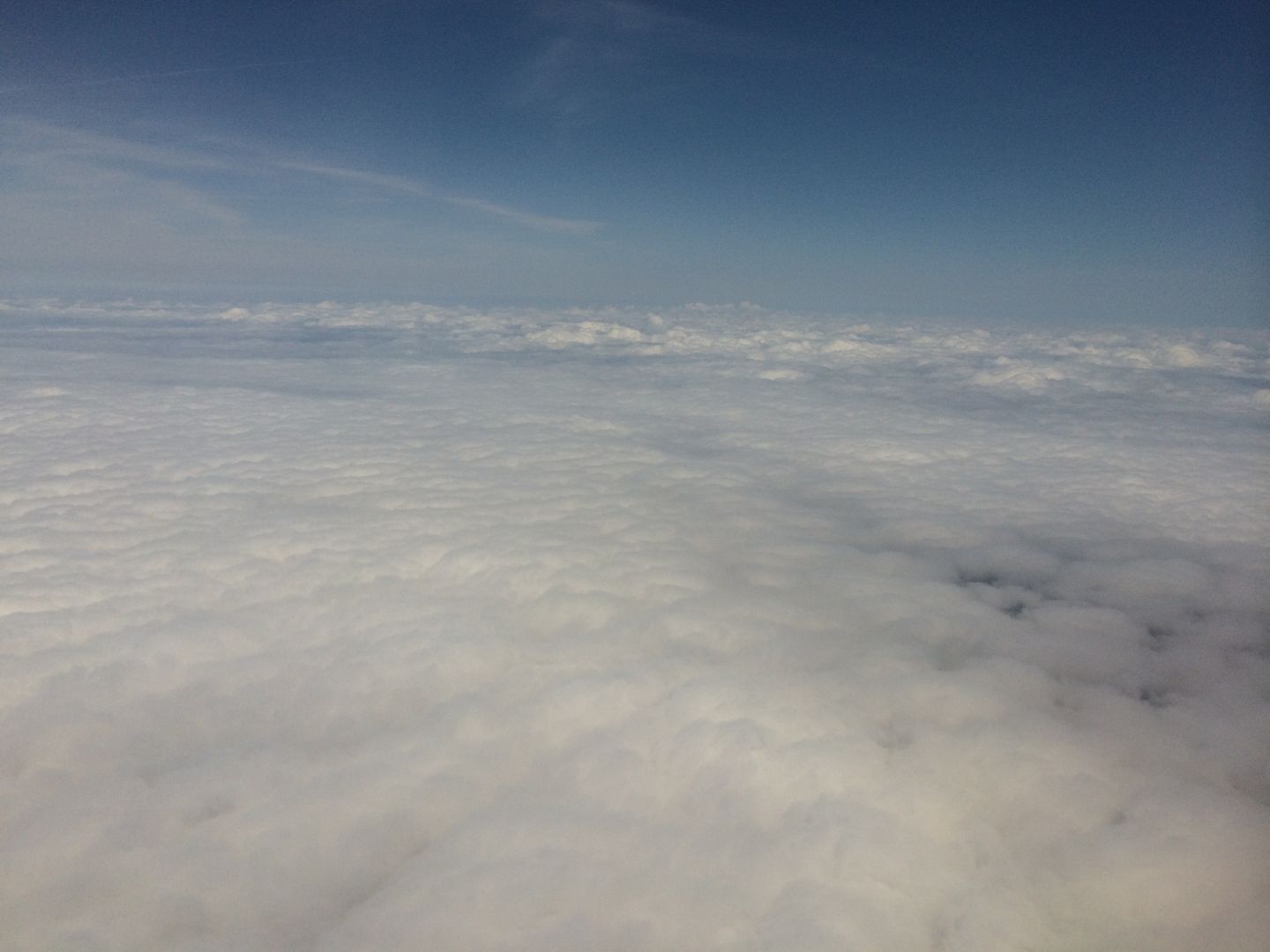 A blanket of clouds somewhere over Missouri, probably.
I take a quick little snooze and all of a suddenly with had started our descent into ORD. We were now over Lake Michigan.
Should note as I watched the FAs go up and down the aisle, there were 4 female and one male, an East Asian guy who looked like an Asian version of Mr. Bean.
At 11:25 we touched down I believe on 22R and taxied to B2. The landing can be viewed here:
UA 1585 Arrival
UA lineup at Concourse C.
By 11:30 we had safely docked at the gate, just 30min behind schedule.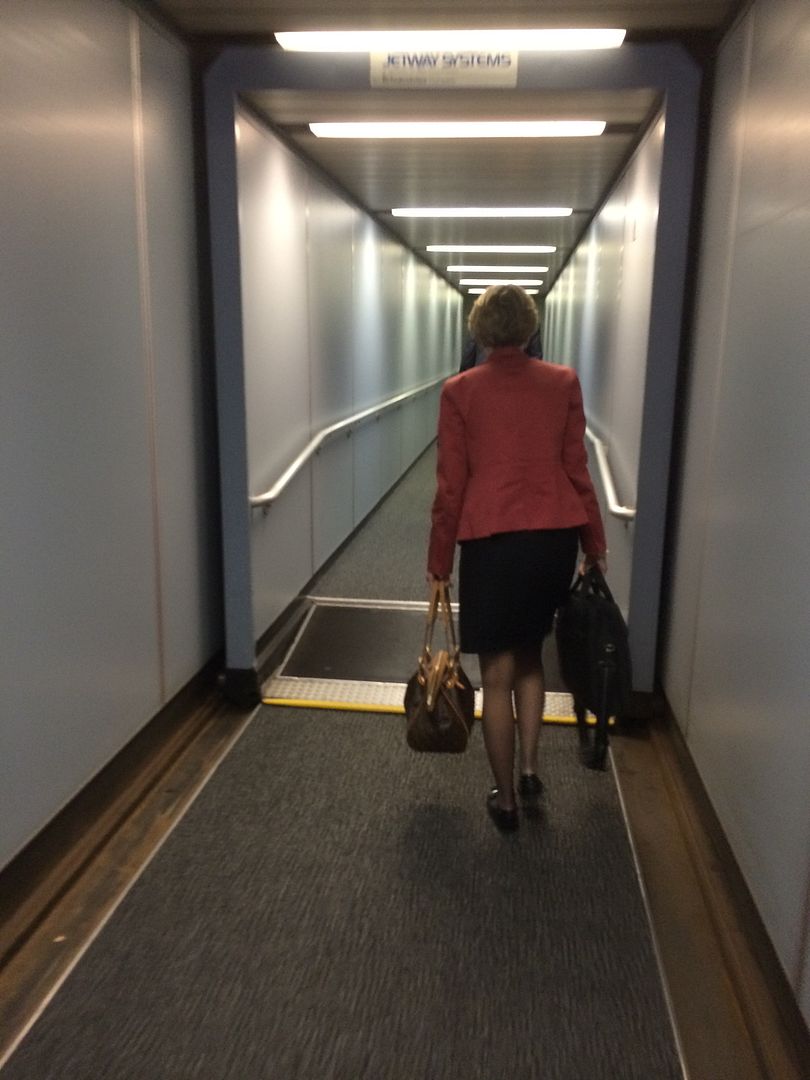 My tired, old, cranky neighbor.
Since we were close to the exit for baggage claim, I figured I had enough time before they unloaded the bags to stop by and gather a snack from Garrett's.
A busy Concourse B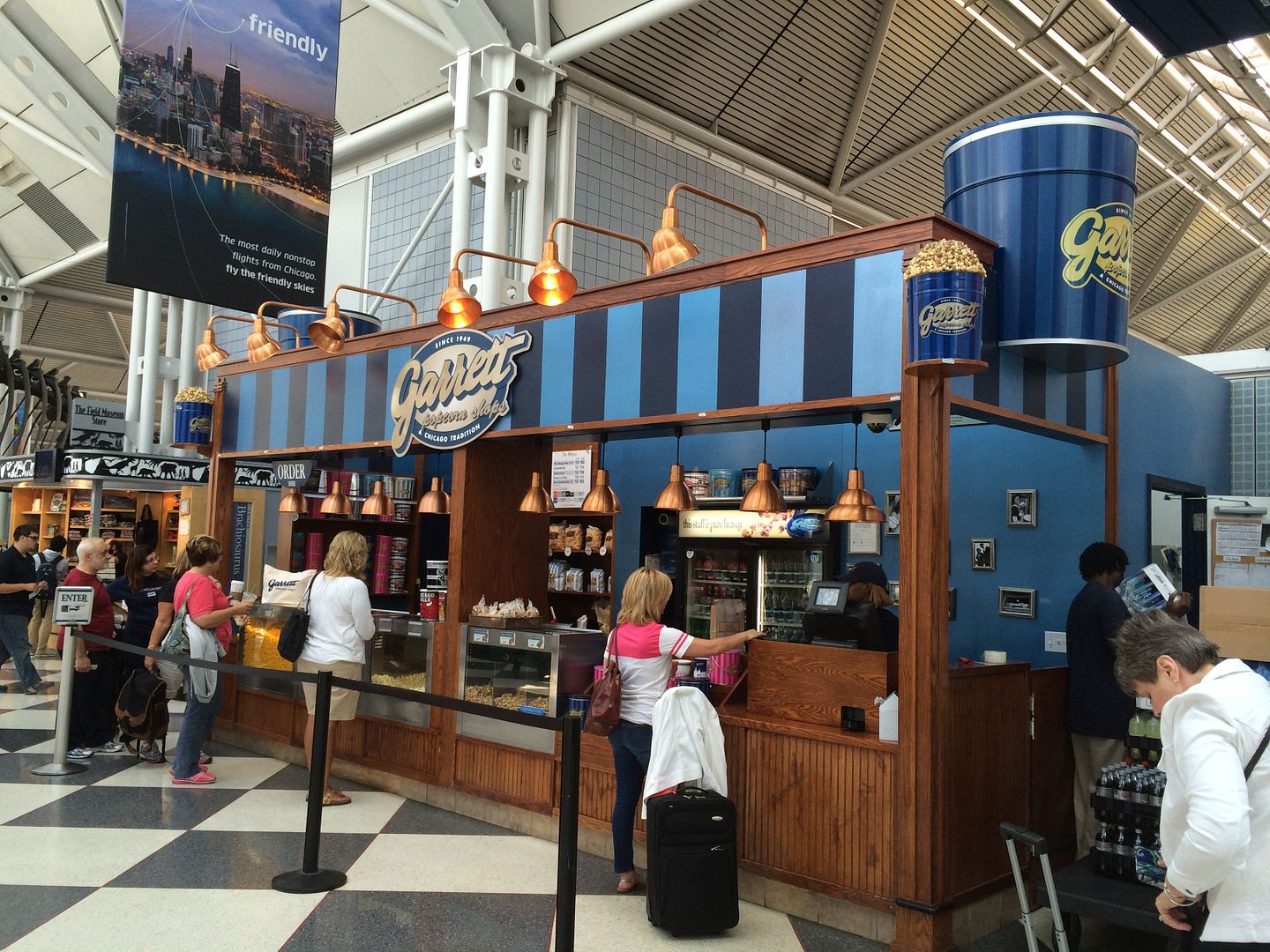 Garrett's Popcorn in Concourse B
By 11:55 with a Chicago Mix in hand, I made it to Belt 2 where I saw my bags riding around the belt. I picked those up and then I made my way to Terminal 5 for the next flight of my journey!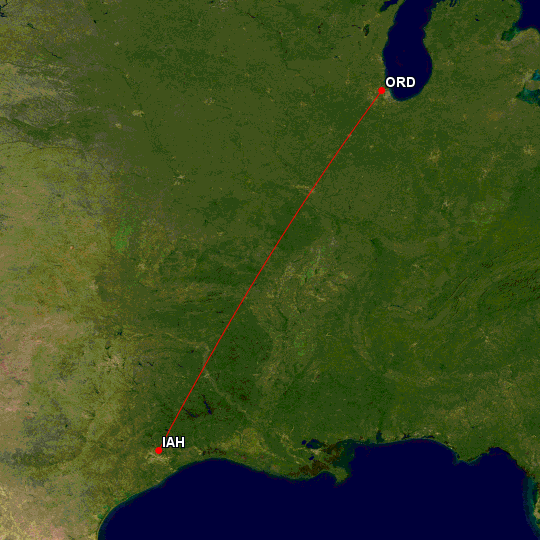 UA 1585 IAH-ORD
Service levels have been mediocre on UA. The fun of traveling with them is gone and continue to use them out of necessity since they are now the only Star Alliance members in the US.
My routing so far, from gcmaps.com
Thanks for reading the start of this latest chapter in my travels. Please stay tuned for more!
For those who are joining us today and have not checked out my other reports of this trip, feel free to check among the following: