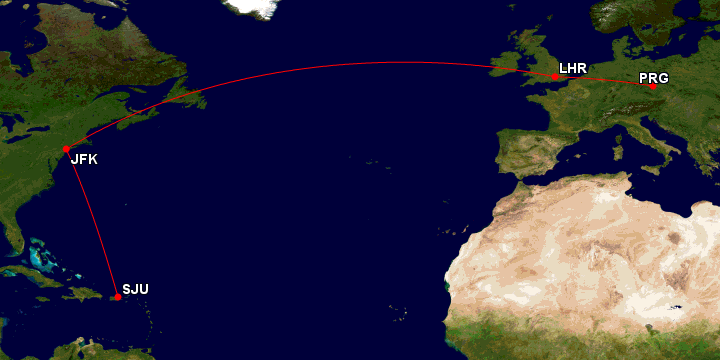 Map generated by the Great Circle Mapper - copyright © Karl L. Swartz
Intro
Let's go cruising! That's what my wife and I decided in early 2014. We had never been attracted to a cruise ship vacation, but somehow we changed our minds after reading some exciting itineraries. We checked various options and finally selected an Eastern Caribbean cruise on the
Carnival Valor
which would include
Puerto Rico
,
St. Thomas
,
Barbados
,
St. Lucia
,
St. Kitts
and
St. Maarten
. Here's the routing: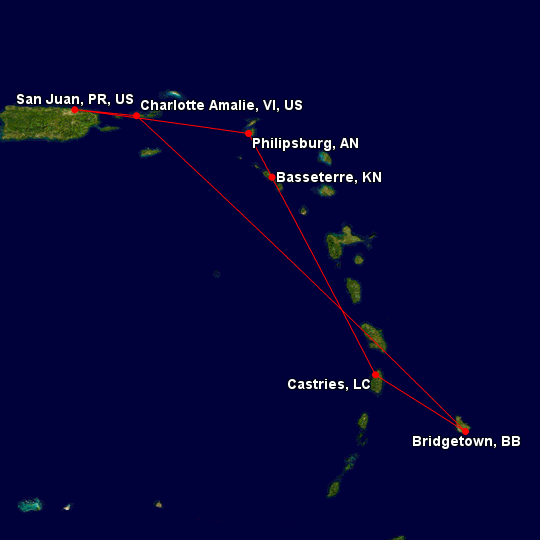 Map generated by the Great Circle Mapper - copyright © Karl L. Swartz
After booking the 7-day cruise, we had to find flights to and from
San Juan
. Fares were quite affordable, but the cheapest options, mostly offered by Air France/KLM and Delta, couldn't attract me due to a number of reasons (timing, aircraft types, onboard products etc). Finally, we found a combo on
STA Travel
which would get us on a
British Airways 747-400
and an
American Airlines 777-300ER
between
London
(LHR) and
New York
(JFK) as well as on
American 757-200s
between
New York
and
San Juan
. Flying from
Munich
would have been significantly more expensive than flying from
Prague
, so we decided to head to the Czech Republic this time to start our journey (
British Airways A320
on schedule twice). What we found most convenient were the late departure time from Prague and a night stop at JFK on the outbound journey. In order to be on the safe side, we also decided to spend one additional night in San Juan before and after the cruise.
Part I of my new trip report series will focus on the outbound flights between London and San Juan as well as the cruise ship and most destinations. The visit to St. Maarten and the return flights will be featured in part II.
[Edited 2014-12-13 00:54:03]