Company: China Airlines
Date: January 10, 2015
Flight: CI 008
Route: TPE-LAX
Plane: 777-36N/ER B-18052
Class: Premium Business Class
Seat: 21A
Flight Time: 10 Hours and 30 Minutes
As a longtime China Airlines flyer, I have been eagerly awaiting the arrival of their 77W fleet since the airline's announced their order for 10 77W. Starting in April 2014, CI began releasing images of their interiors for the new plane and when I saw what was in store, I was simply amazed. CI asked internationally acclaimed Taiwanese interior designer Ray Chen to help the airline rebrand and upgrade its products. His intention in both the cabin and new lounge design (currently only the TPE Terminal 1 has been renovated), was to bring Taiwanese culture, art and history to the world by infusing traditional design with Sung Dynasty features and modern Taiwanese artistry. The design evokes some of his prior works such as that of the Eslite bookstores in Taiwan and the Palais De Chine Hotel Taipei, and the idea was to create a sophisticated, calming and serene space onboard.
Unfortunately I was unable to fly the first flight out of TPE to HKG as I was still in the U.S, but I made sure to book my return flight to the states on a 77W (I flew CX via HKG on my December return to Taiwan). I booked Y+ and used some mileage to upgrade to J. The new CI J is a customized B/E Aerospace Super Diamond reverse herringbone seat, much like that of QR and AC.
Check-in was smooth and I quickly went through Taipei's rather efficient security check and passed immigration. I headed for the Terminal 2 general lounge (CI has two lounges in Terminal 2): one for Emerald Card/ Paragon Card and first class passengers, the other for Gold card and above and J/F passengers), which unfortunately has yet to be renovated to the new standards of the lounge in Terminal 1 (which I have yet to visit). The lounge was packed with those departing to SYD, AKL, CHC, LAX and SFO. CI's lounge has always been mediocre in terms of amenity and food offerings, but the dim sum and noodle bar always hits the spot for me.
Boarding was delayed by a few short minutes due to ground work, but we soon commenced boarding at around 11:25PM.
I was in much awe the moment I stepped aboard. The 787-esque curved ceiling was a welcoming touch. The wood paneling throughout the plane didnt feel awkward or out of place, especially in J. I was seated in 21A, 1 of 4 rows in the smaller J cabin, the larger 6 row cabin was in front. Boarding was thus made a little more hectic as the Y+ and Y passengers filed through. As such I rushed to go to the back to take some photos of the other cabins and failed to take decent pre-takeoff J cabin photos (I didnt want to stay aboard in LAX as immigration lines at TBIT get insane).
Seat 21A. with the 18" personal touchscreen, touchscreen AVOD controls, touchscreen seat controls, folded and stowed tray table and 1/3 storage bins.
Touchscreen seat controls.
2/3 storage bins, one shallow one for things like phones/ ipads, one deeper one where the AVOD controls, power outlets, headphone socket and USB connectors are; in the middle seats these act as privacy dividers.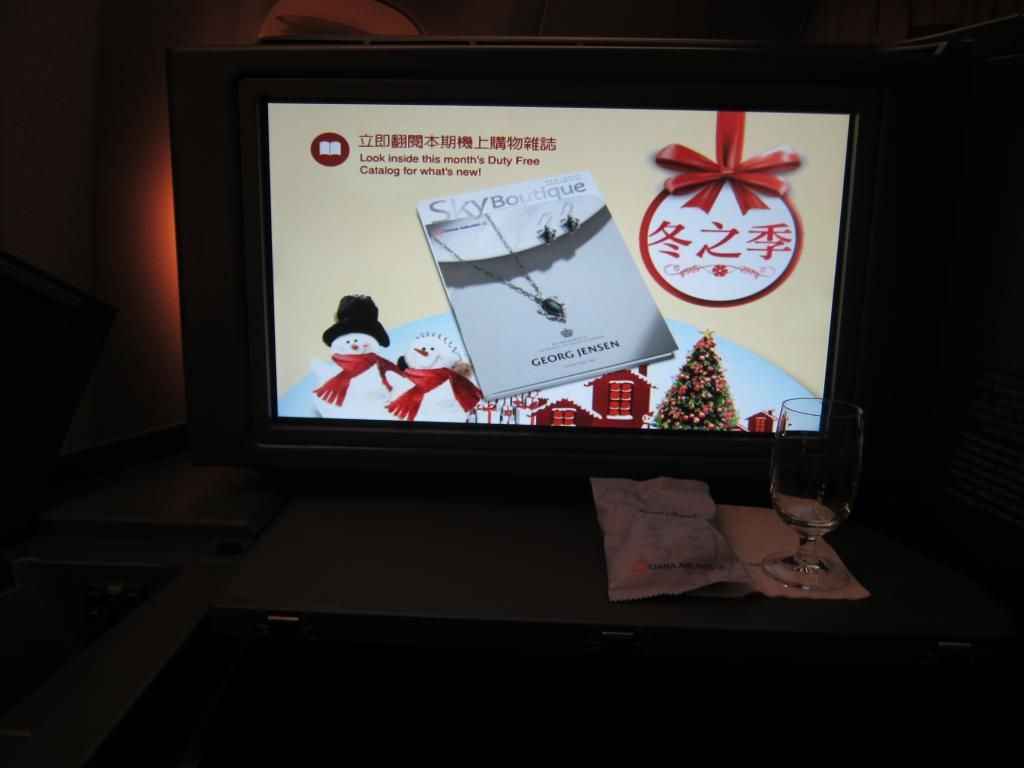 Welcome drink and mixed nuts. Only water, apple juice, and orange juice is offered as welcome drinks, CI has never offered champagne or otherwise for welcome drinks, I think it has to do with the fact that the majority of CI flyers dont really drink alcoholic beverages unless paired with their meal.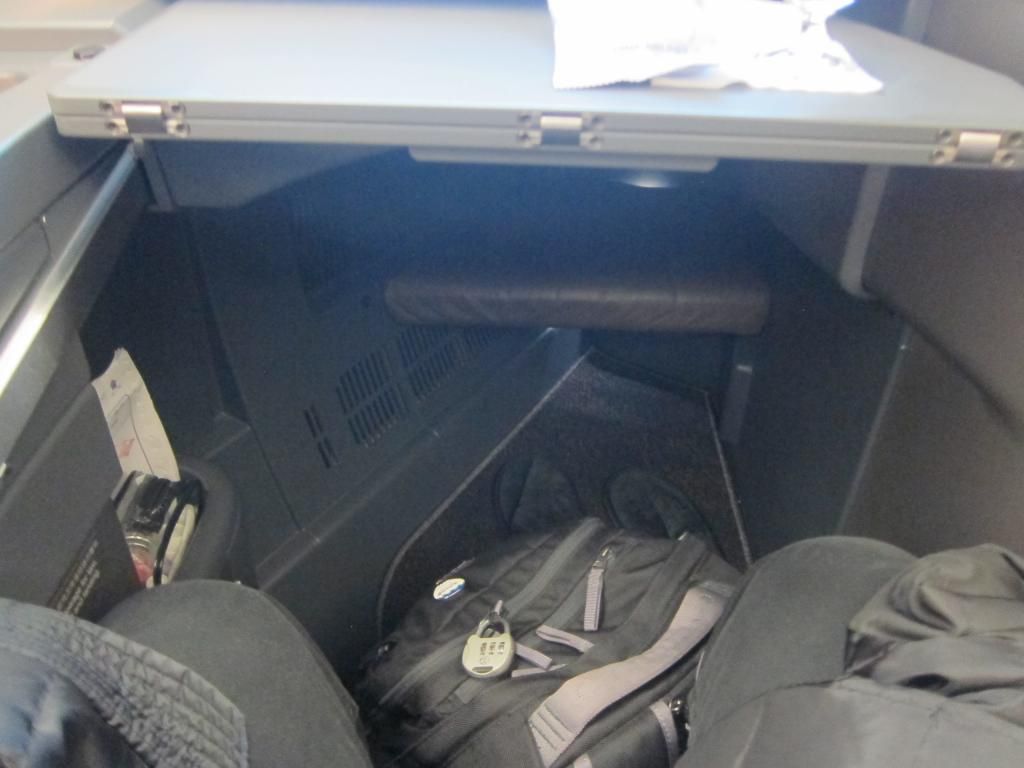 Apologies for the blurry shot, legroom shot with the ottoman, and 3/3 side storage bins.
The retractable armrest, when opened it features a "mini bar," though the crew use it to store your water bottle and amenity kit.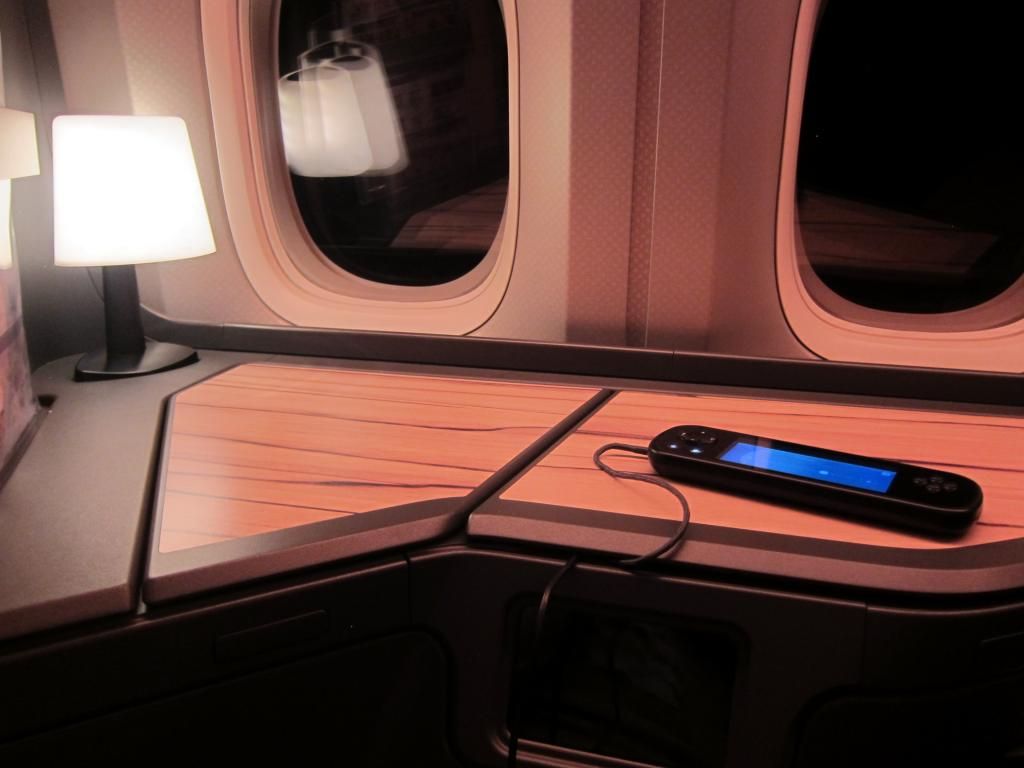 The storage bins when closed feature the wood paneling and more space to place items during the flight, also featuring the small lamp (this is in addition to a reading light), the lamp can be turned on and off as you please, its a very nice addition in my opinion.
The reading light, it has two brightness levels and can be adjusted into 2-3 positions.
First meal service. Showing CI's completely new china, absolutely beautiful, except for the plastic used for the salad and fruits (looks good but it'd be nicer if it was real china like the rest of it). China Airlines has never served soup in J until now, and in a very nice bowl too, the soup is supposed to be the "lake" in the traditional Chinese landscape painting that is featured. Also a nice upgraded and enlarged water glass featuring a small China Airlines seal on it instead of "China Airlines" in writing.
CI also now serves their wine and champagne in proper wine/champagne glassware. A nice glass of Bordeaux.
My main course, Braised pork ribs with Yi-Lan spring onion Stir- fried vegetables and steamed rice. Presentation much improved than previous CI, mind you I already took a bite of rice before I realized I hadnt taken a photo.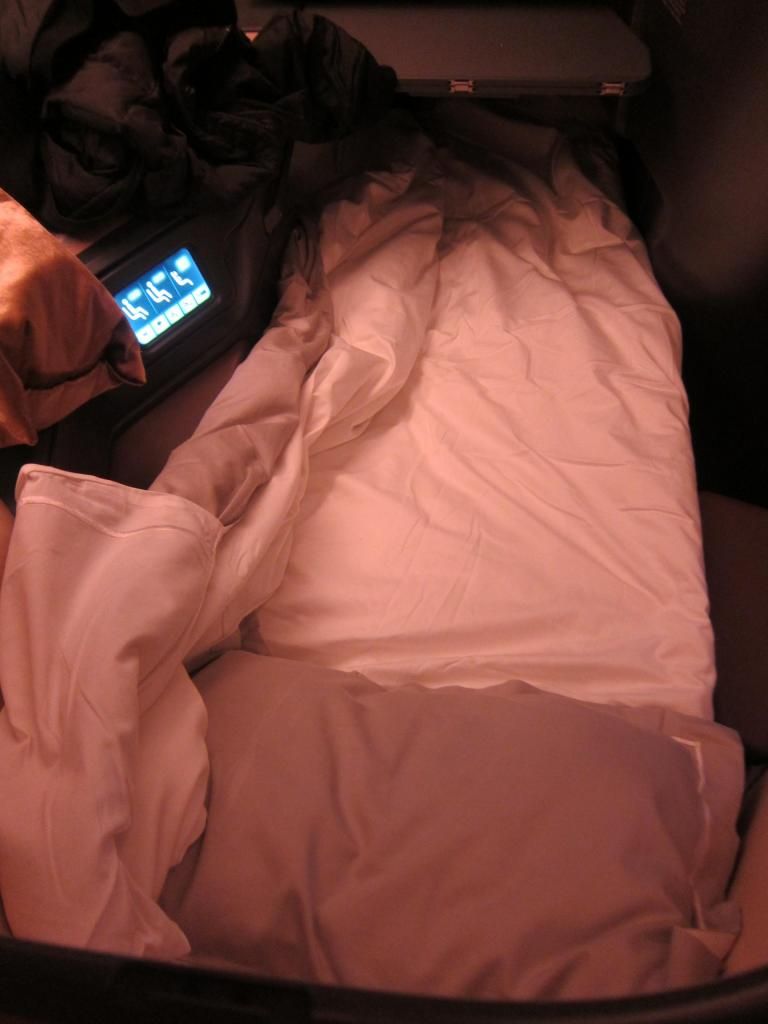 I was rather impressed that CI introduced turn down service for J, they did have it in F in the past, but never in J. It was quite comfortable, though for someone with a larger body like mine, there wasnt quite enough quilt to fully wrap around me as a blanket, but I didnt mind, there was already a fleece blanket and I get hot on planes anyways.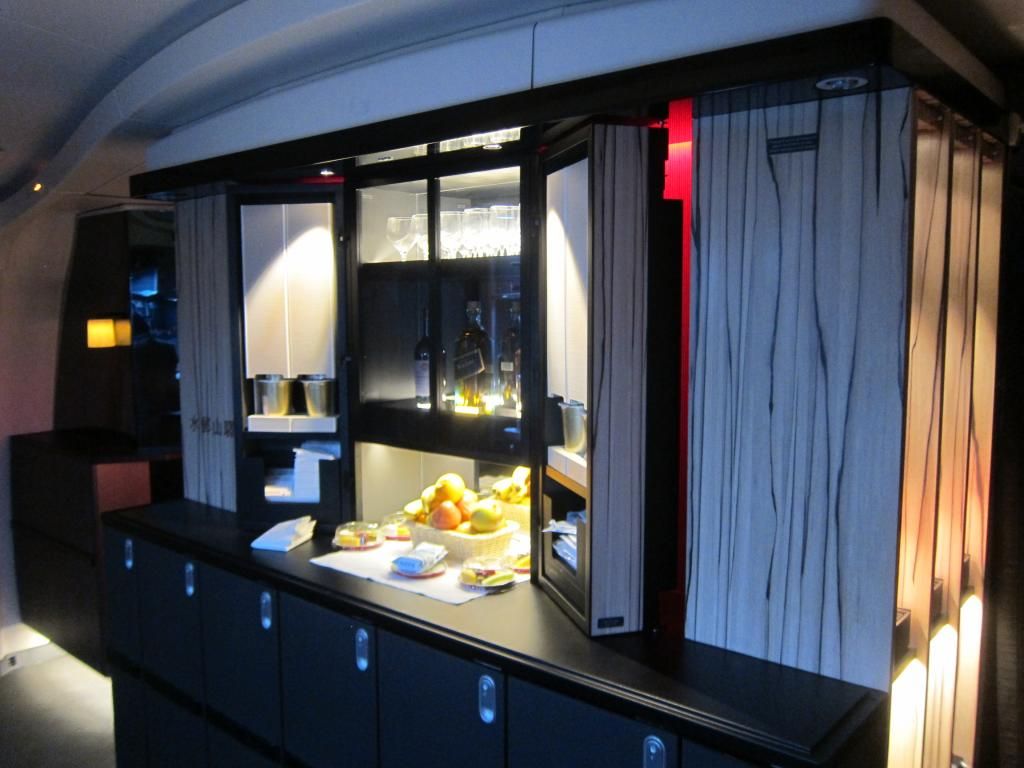 One of the nicer features of the new 77W, the walk up Sky Lounge bar. The center features exclusively made cup noodles for CI (2 flavors), selection of liquor and wine (the FA said she puts out more during the daytime flight to/from LAX than the overnight as most CI passengers prefer to sleep than to congregate and use the space). Some small snacks. fruits, and cheeses and napkins/wet wipes.
The right hand side of the main bar features a selection of 6 Taiwanese teas and snacks that pair well with teas, and Chinese literature. The packaging is also exclusively designed for CI
Detailed shot of 2 out of 6 tea selections.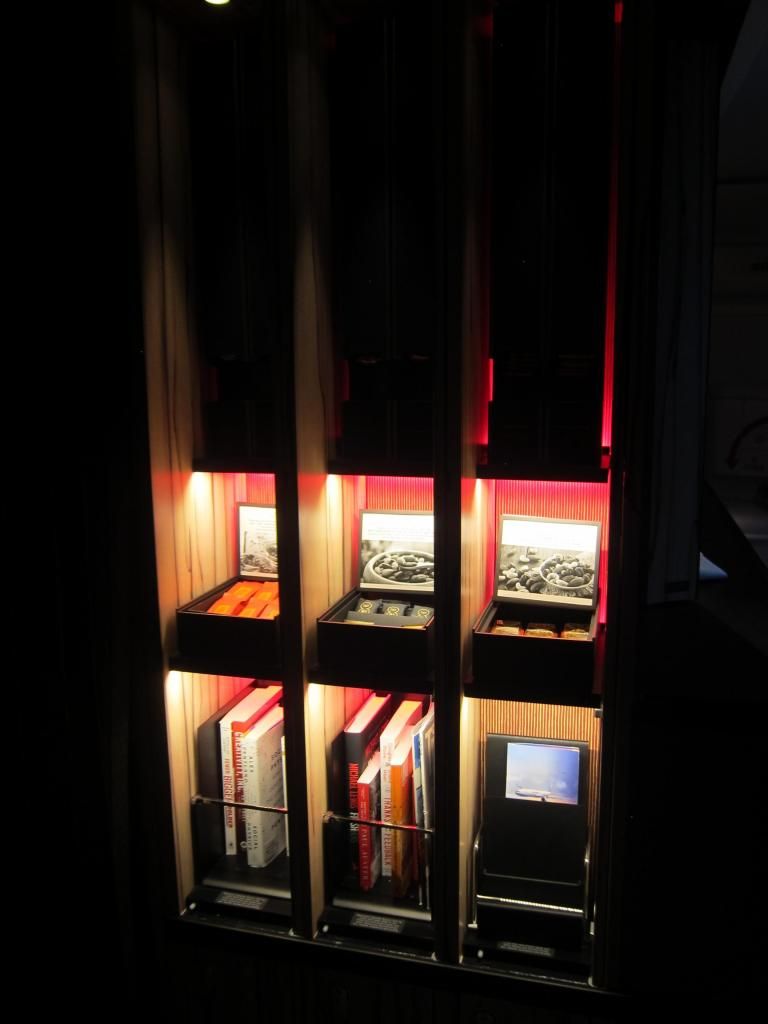 The left side features a selection of 4 Nespresso coffees and 2 Taiwanese coffees with snacks that pair well with coffee as well as some English literature.
A close up of the 2 Taiwanese coffee blends.
On either far side by the doors, there are lamps and small counter spaces. On the right side is a Chinese poem and on the left wall is a travel quote by Marcel Proust (though these quotes are hard to read in the dark). It was very hard to get a good shot of the quotes using a canon point and shoot. "The real voyage of discovery consists not in seeking new landscapes but in seeking new eyes" -Marcel Proust.
I spent quite a while in the Sky Lounge, taking full advantage of it, to the right of the lounge is the galley, so I chatted with the FA who offered to make me any of the teas or coffees from the lounge. I tried 3 teas and the dark Nespresso blend. All of which tasted great. The FA explained to me some of the guest feedback on the new plane and seats, most of which were positive but that older passengers had a large learning curve with the new technology. She also said that most passengers dont actually utilize the sky lounge, or even realize it exists (its mainly those who sit in the smaller J section who see if on their way to/from the lavatory). I think most Taiwanese fliers arent used to the idea of a bar or congregation area on the plane.
The lavatories feature a window as well as a Chinese landscape painting wallpaper. Quite a nice touch to the bathroom.
Mid-Flight snack: Taiwanese braised pork belly over rice with boiled egg and tofu and veggies. Something I havent seen onboard CI J Class in years.
Breakfast served 2 hours prior to arrival: stir-fried bamboo shoot with mushroom, Stir-fried pork and green beans with soy sauce, Tofu and eggplant with garlic soy paste, Bean sprouts salad, salty fermented egg, plain congee, Steamed bun. Always my favorite meal onboard CI transpacific flights.
The front J cabin upon disembarking. We arrived at 6:45PM, just around 30 minutes ahead of schedule.
A look at the middle seats.
The new CI amenity kit. One thing that CI has always lacked and still sort of does lack in, a good amenity kit. BR's Bvlgari/ Rimowa kit is much better.
CONCLUSION:
I slept extremely well on the flight, better than the night after in my hotel in LA. I am simply in awe at what China Airlines has done to step up its game. I never would have imagined this product on a CI plane, even though I knew they were going to introduce a lie flat bed in J, I never expected this. The added turn down service, improved china and display of meals, the Sky Lounge, and much improved service from the already great CI crews, made this one of the most memorable flights I have ever had. It was probably the first time I didnt want to leave the plane on arrival!
I cannot speak directly on how this compares to BR's Royal Laurel Class or CX's J class, but having observed and known many who have flown on those J cabins, I can say the CI's seat itself exceeds that of BR's and is on par with CX, but CX still has better catering and service. I cannot wait to fly this again on JFK-TPE nonstop in May.
CI is not perfect, and the level of service and amenities is still behind those of SQ and CX, but the changes and investments made are taking CI to new levels that I never thought was possible. Having given up hope on CI, I was ready to switch my loyalties to CX (I'm also a Oneworld flyer), when CI announced their cabin products on the 77W. I have since decided to keep my loyalties to CI, especially after they renewed my Gold card even though I was nowhere near the required mileage this time around.
CI is deploying the 77W on both LAX flights, will being roundtrip nonstop to JFK in February, and in August begin SFO, followed by one of their European destinations, either FRA or AMS from my understanding.
Below are some pics of the Y and Y+ cabins. Y features 10 rows on the left aisle of "Family Couch" seats, aka the sky couch introduced by NZ.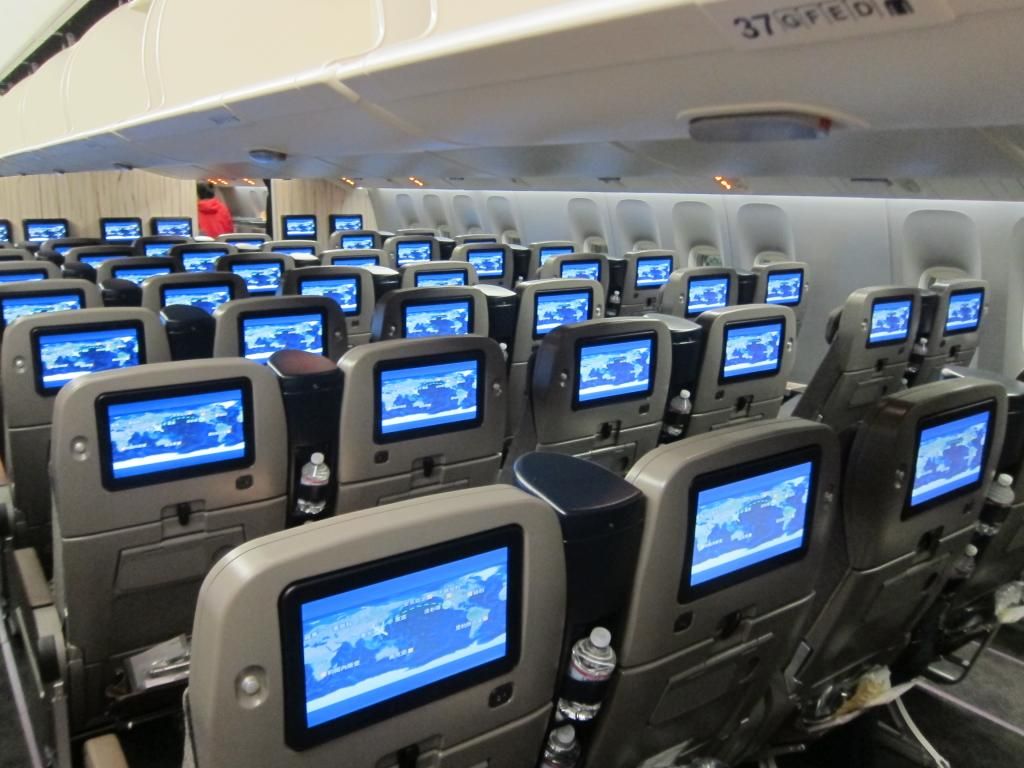 Premium Economy class, similar to that of JL.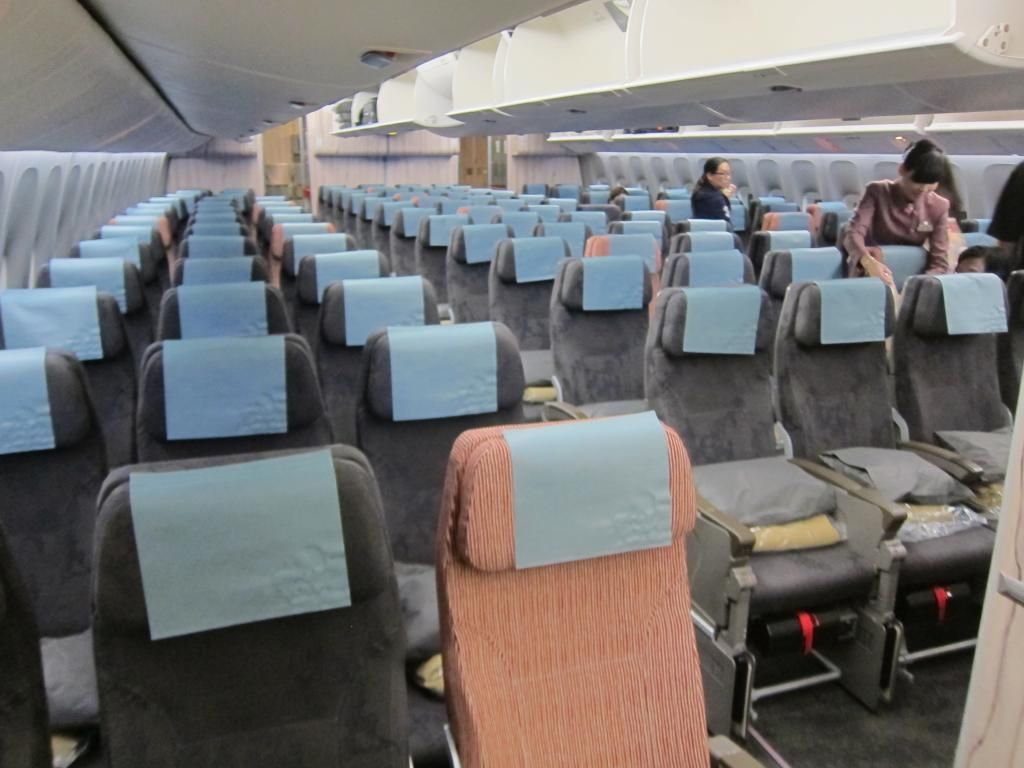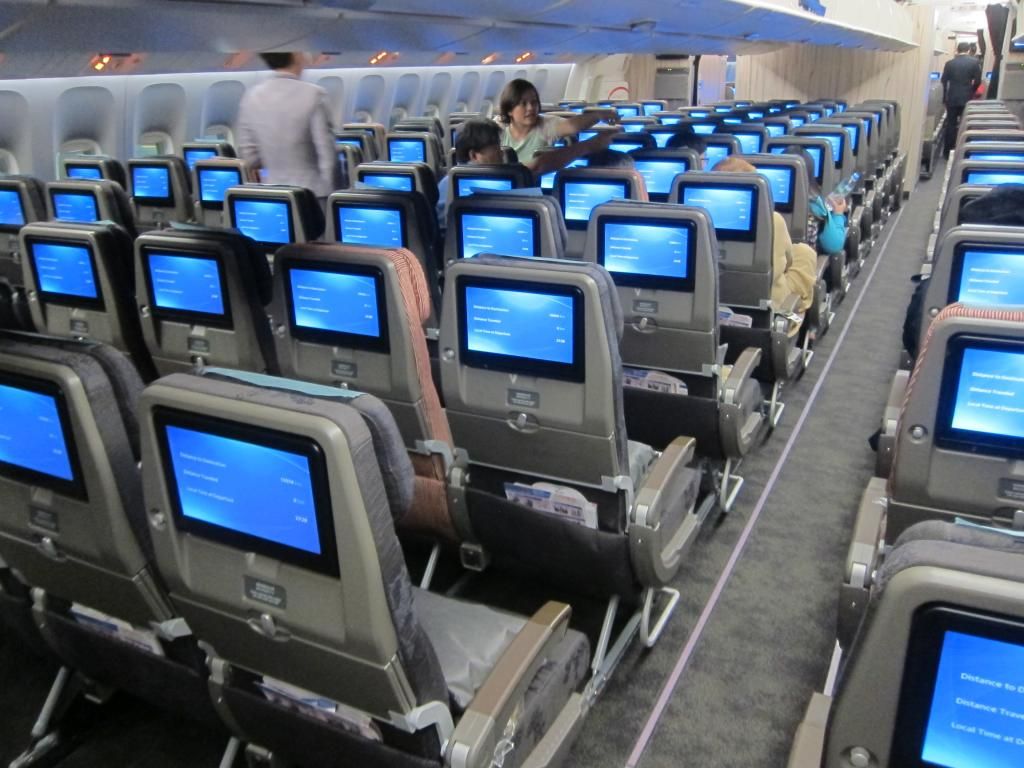 Economy class, featureing 3-4-3 10 abreast seating, walking down the aisle didnt feel as cramped as I had imagined for a 3-4-3 layout, but I still have yet to flown in a 3-4-3 777 economy layout, so cant really say for sure how it feels.
Thank you for taking the time to read this trip report (my very first on A.Net).
Questions, comments, feedback all welcome and appreciated!
Best,
Fanofariliners
[Edited 2015-01-12 18:29:09]
[Edited 2015-01-12 18:42:52]
[Edited 2015-01-12 19:07:13]