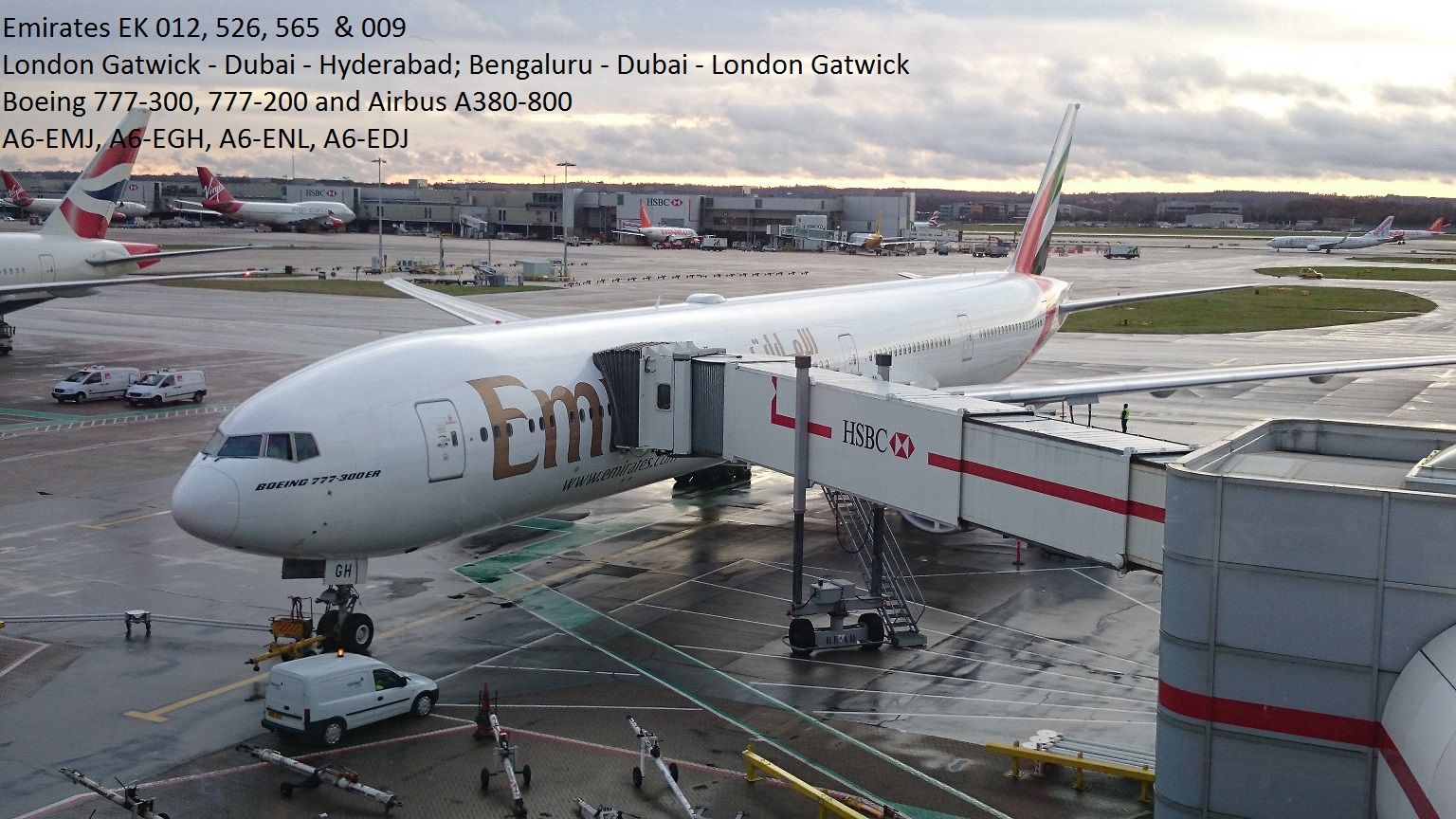 Background
The background to this trip was that I had a week of excess leave and needed to take some time off in January. A quick trip to India via Dubai ensued.
GCMaps of this leg of the trip and the entire trip
Stats (Since 2010, when I started maintaining my flight reports):
5th, 6th, 7th and 8th time on Emirates
6th time on Boeing 777-200; 4th and 5th time on Boeing 777-300; 4th time on Airbus A380-800
Video Reports of this leg of the trip
EK 012 - LGW to DXB
EK 526 – DXB to HYD
EK 565 – BLR to DXB
EK 009 – DXB to LGW
1st leg of this trip report - EK 012 from London Gatwick to Dubai (DXB)
Emirates Airlines – EK 012 – LGW-DXB
Flight Reg: A6-EGH ; Delivered October 2011
Boeing 777-300
Seat 46A
Flight time: 9:40 – 20:30 (09:40 – 20:20)
9th January 2015
London Gatwick (LGW) on a Friday Morning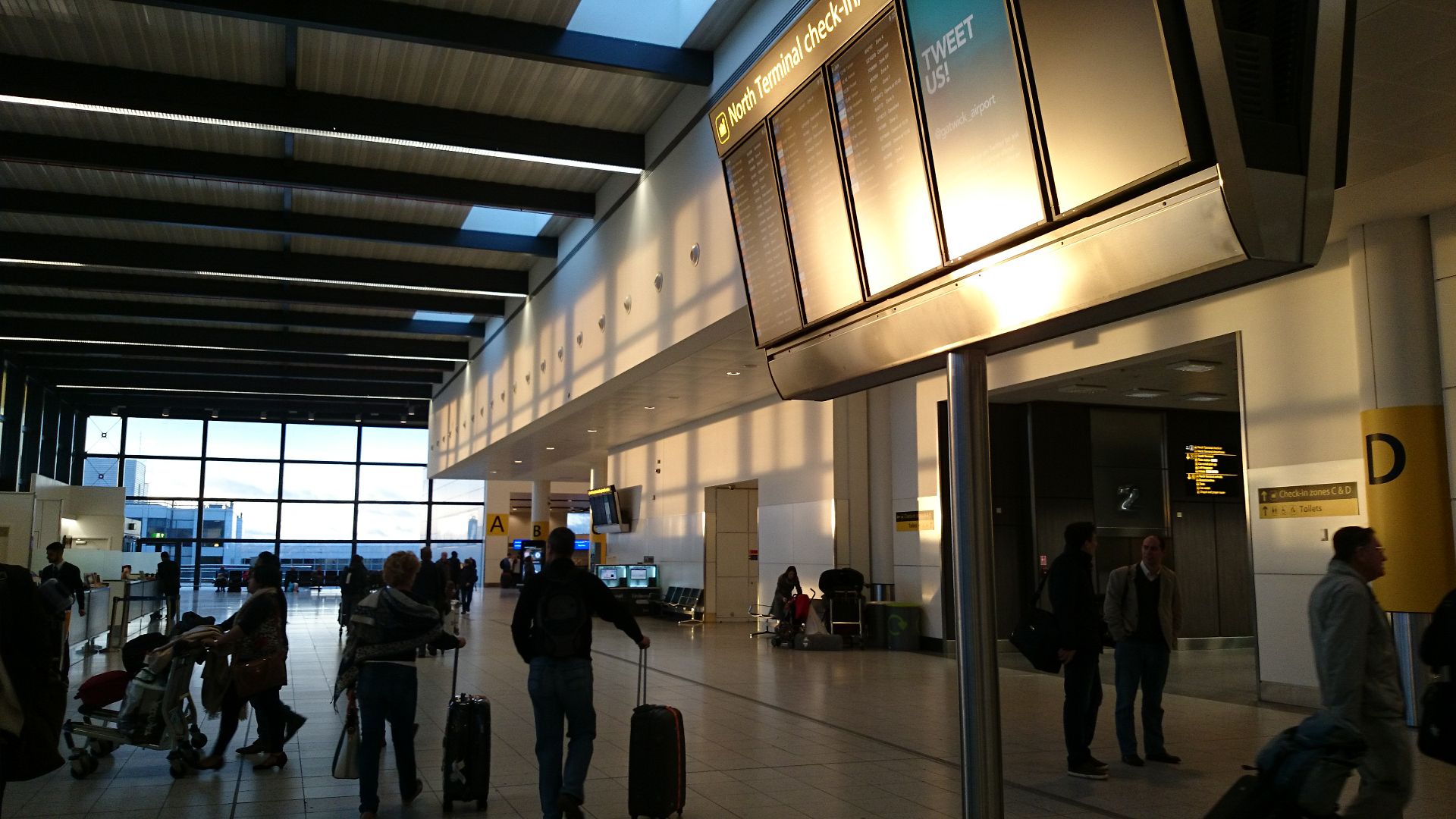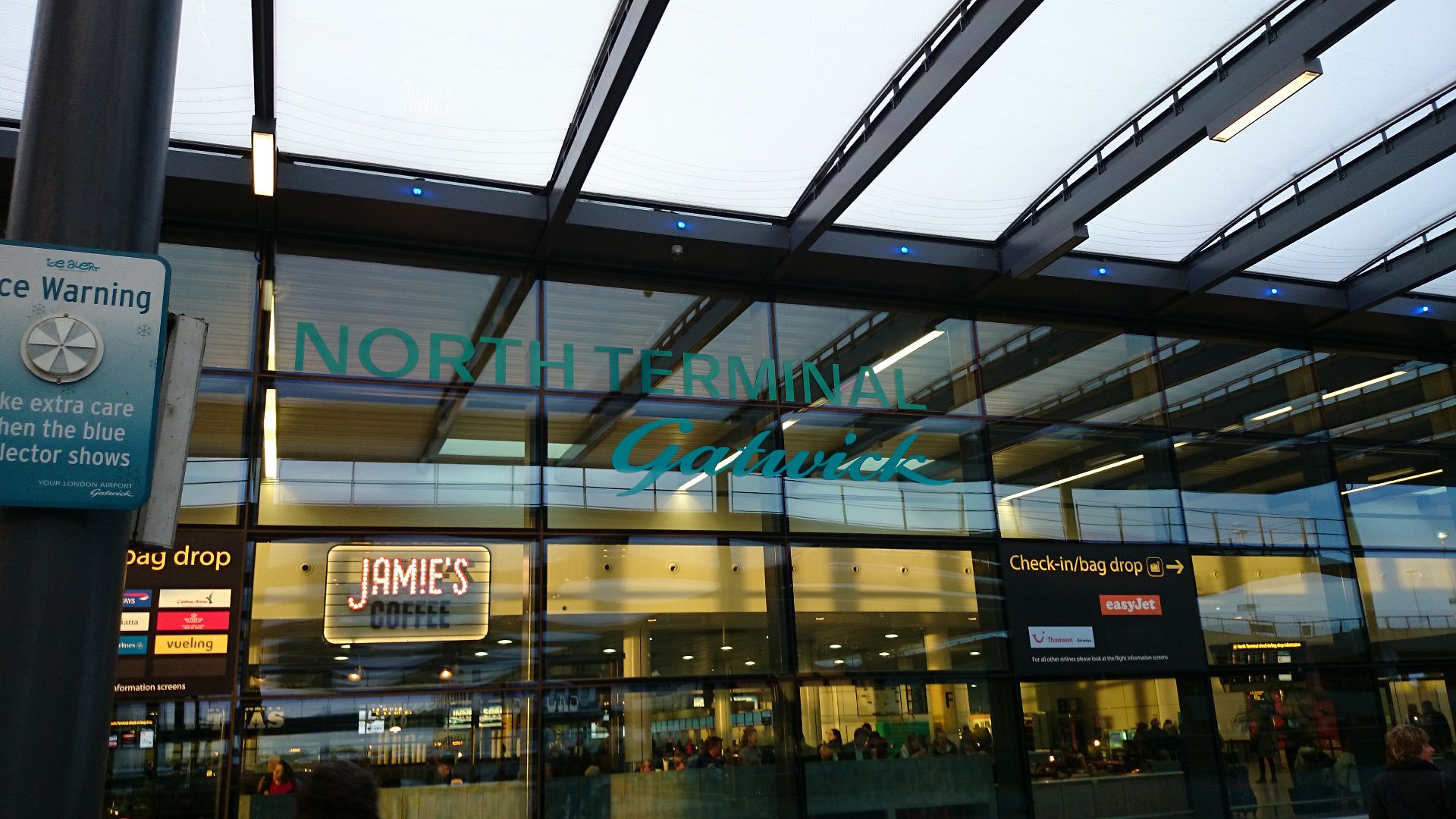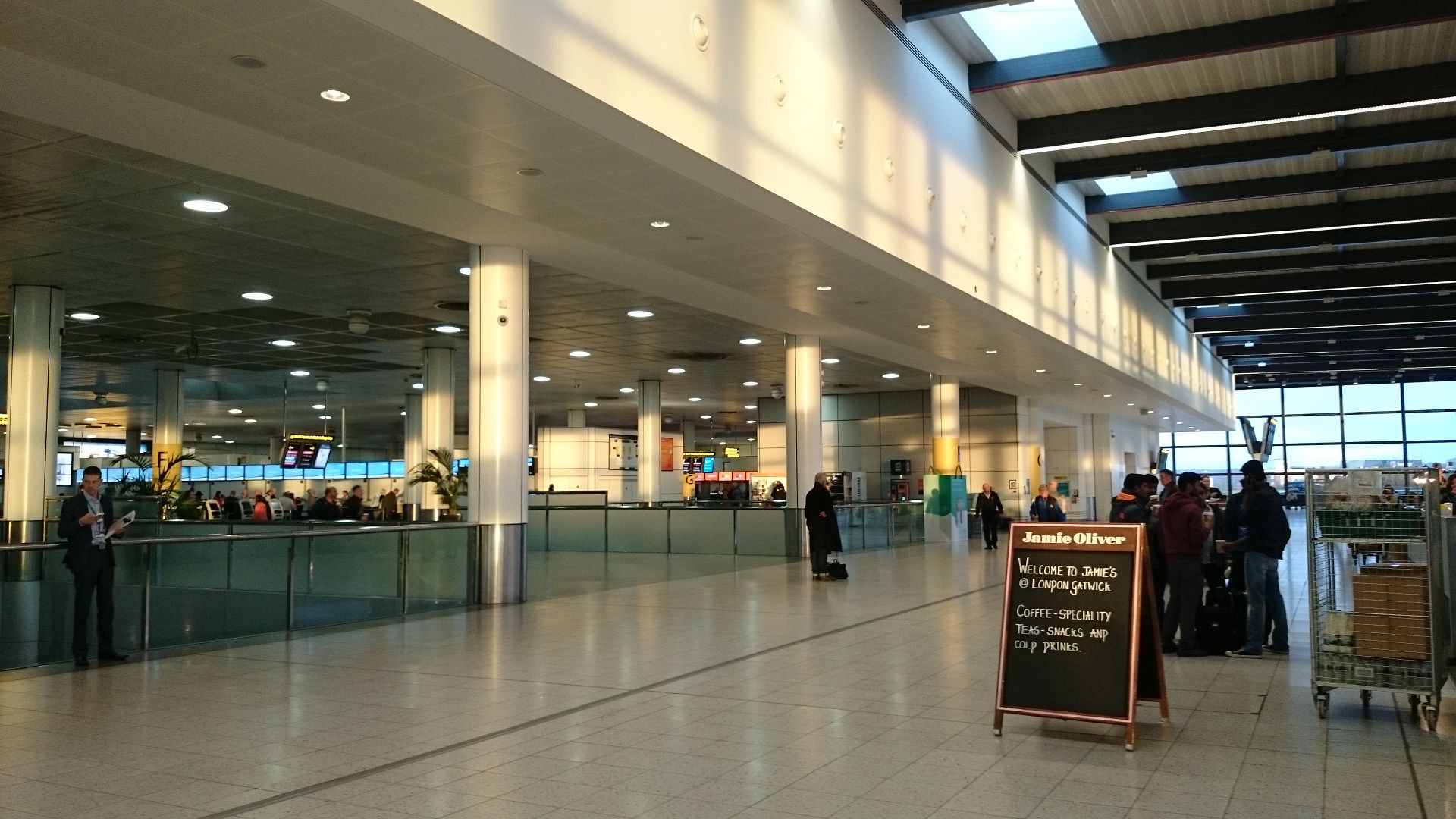 Check in Desks for EK at LGW
On the day of the flight it was a Quick drive to the airport. Parked the car in the South terminal parking and then it was a quick 5 minute Transfer from to the north terminal. Not a big hassle at all. Except that Gatwick now charge a refundable amount for trolleys. Booo..
Check in was superb. Checked in by 7:40. Check in agent was super friendly and he assumed I was a spotter since I had asked him the aircraft reg.
There were Separate counters for online check in which quickened the process.
From there I had to get back to my car to collect something I had forgotten (which in the end I had realised it was with me all the while… oopsies..!). The journey from North -> South -> car park and the return was in 30 minutes.
LGW Airside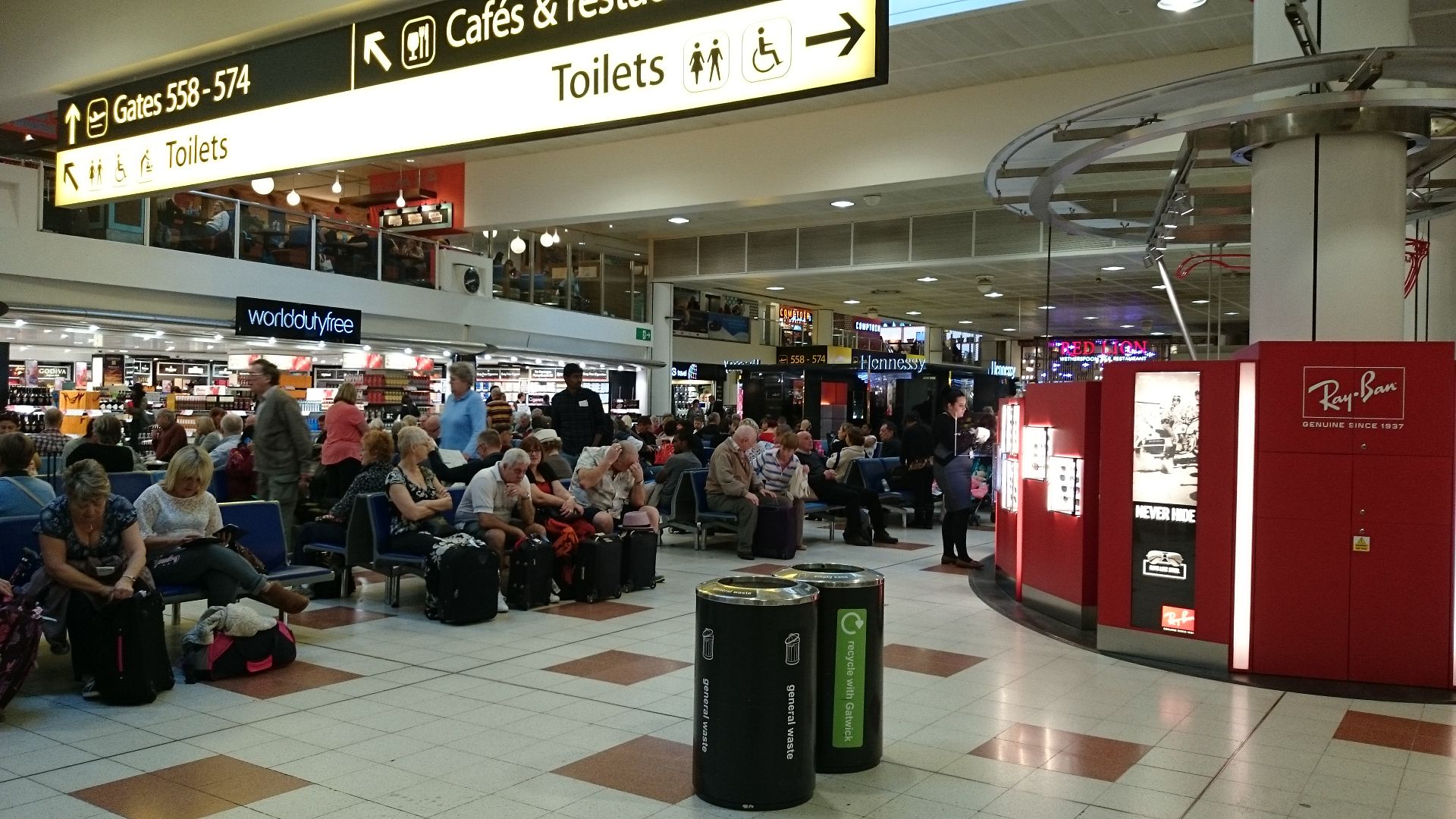 Massive FIDS at LGW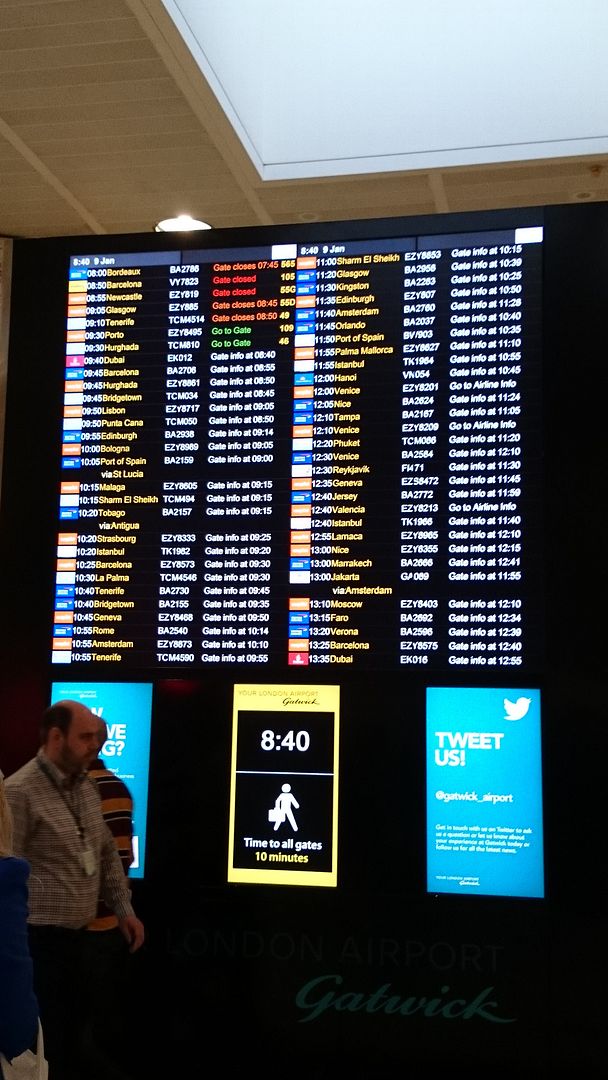 Security check was around 20 minutes and was airside by 8:30. Just in time for a quick pint before making my way to gate 52.
Boarding was on time and done in different zones. Very well organised. Flight boarded on time and on time departure and eventually we were Airborne by 9:55.
Our ride to DXB - EK B777-300 (A6-EGH)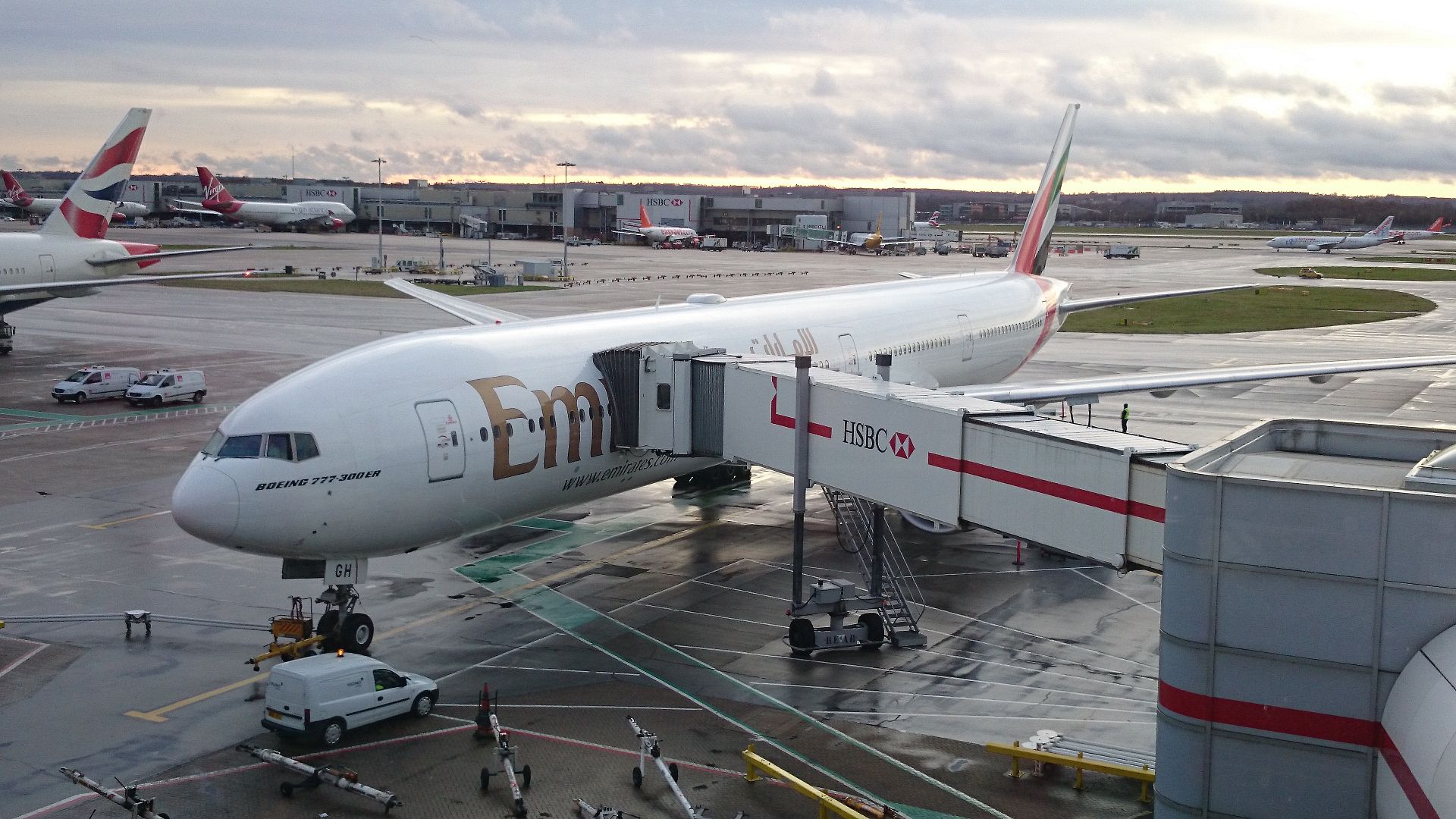 Once on board we were given information that the Cabin crew from 14 nationalities and speak 10 languages. Good one.
On-board the aircraft looked the part what EK are famous for. Neat and tidy with Cabin crew eager to help out.
On board EK B777-300 (A6-EGH)
Business class - 2-3-2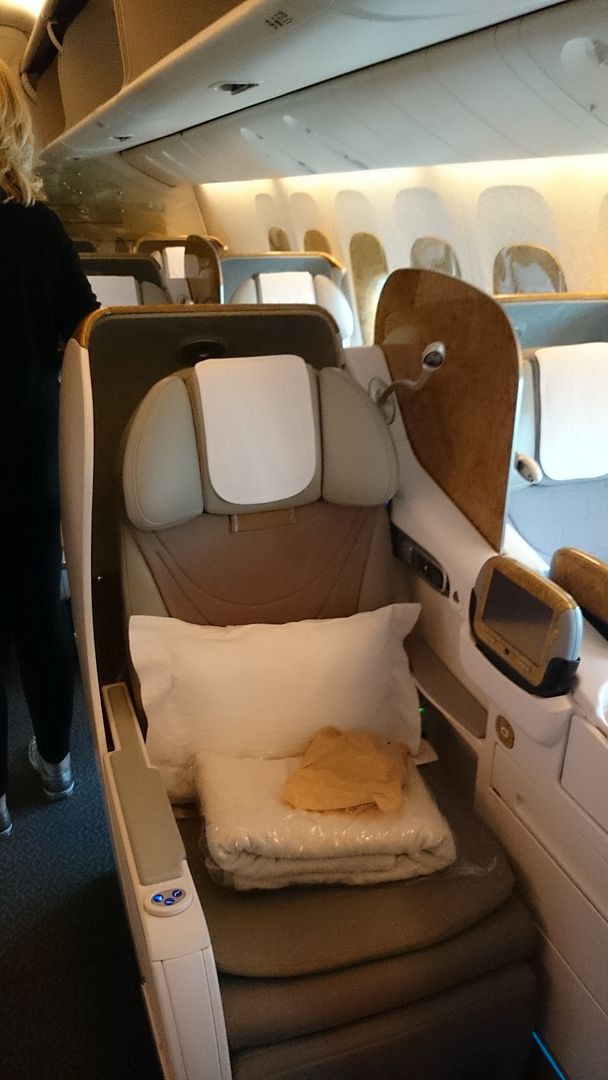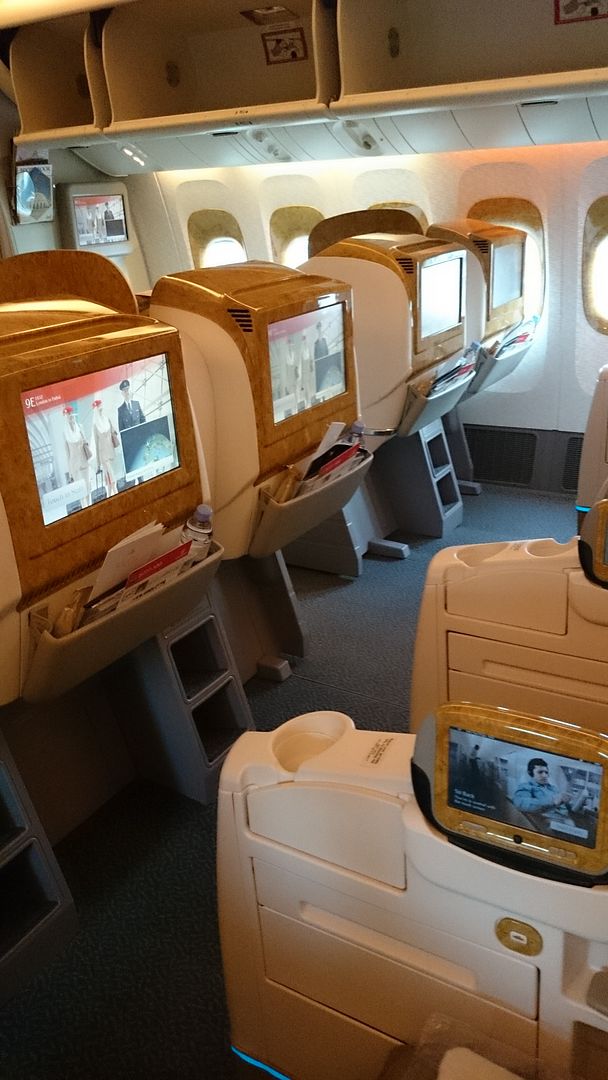 My seat - 46A - 2-4-2 rear of the eco cabin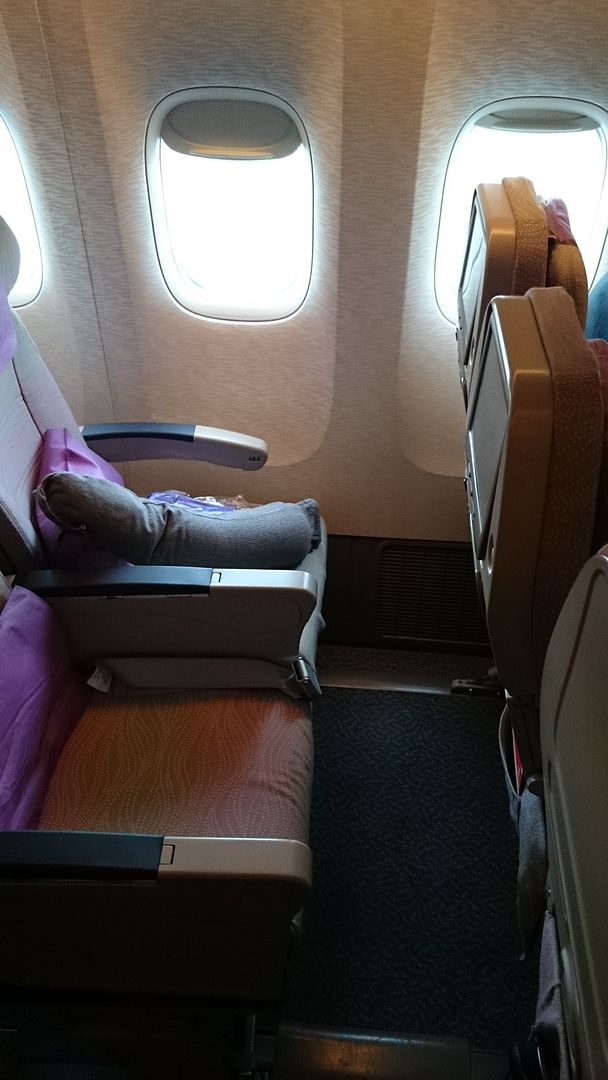 Leg space and ICE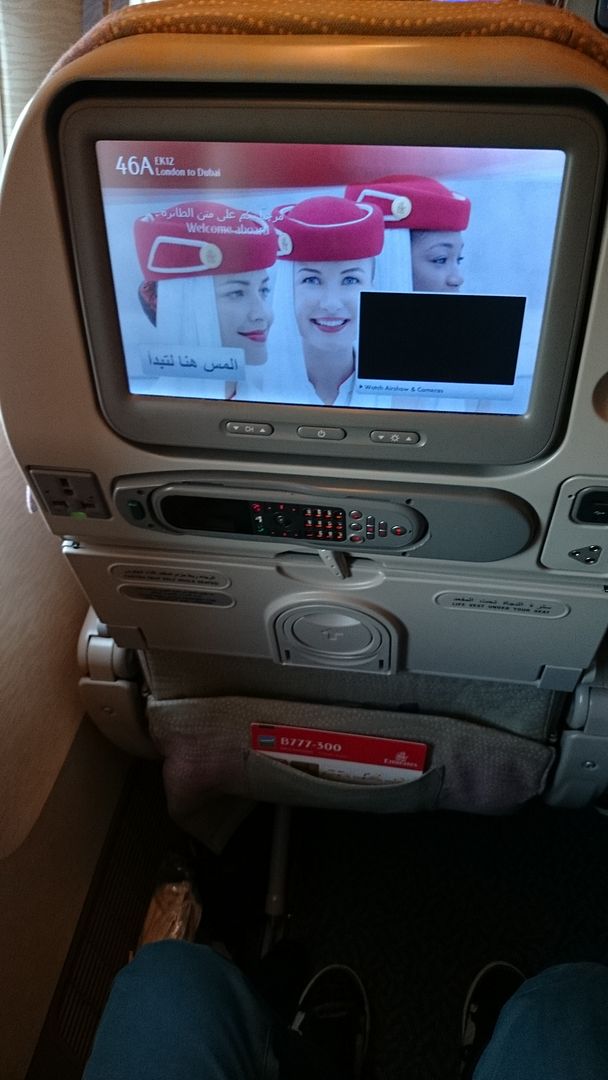 Very nICE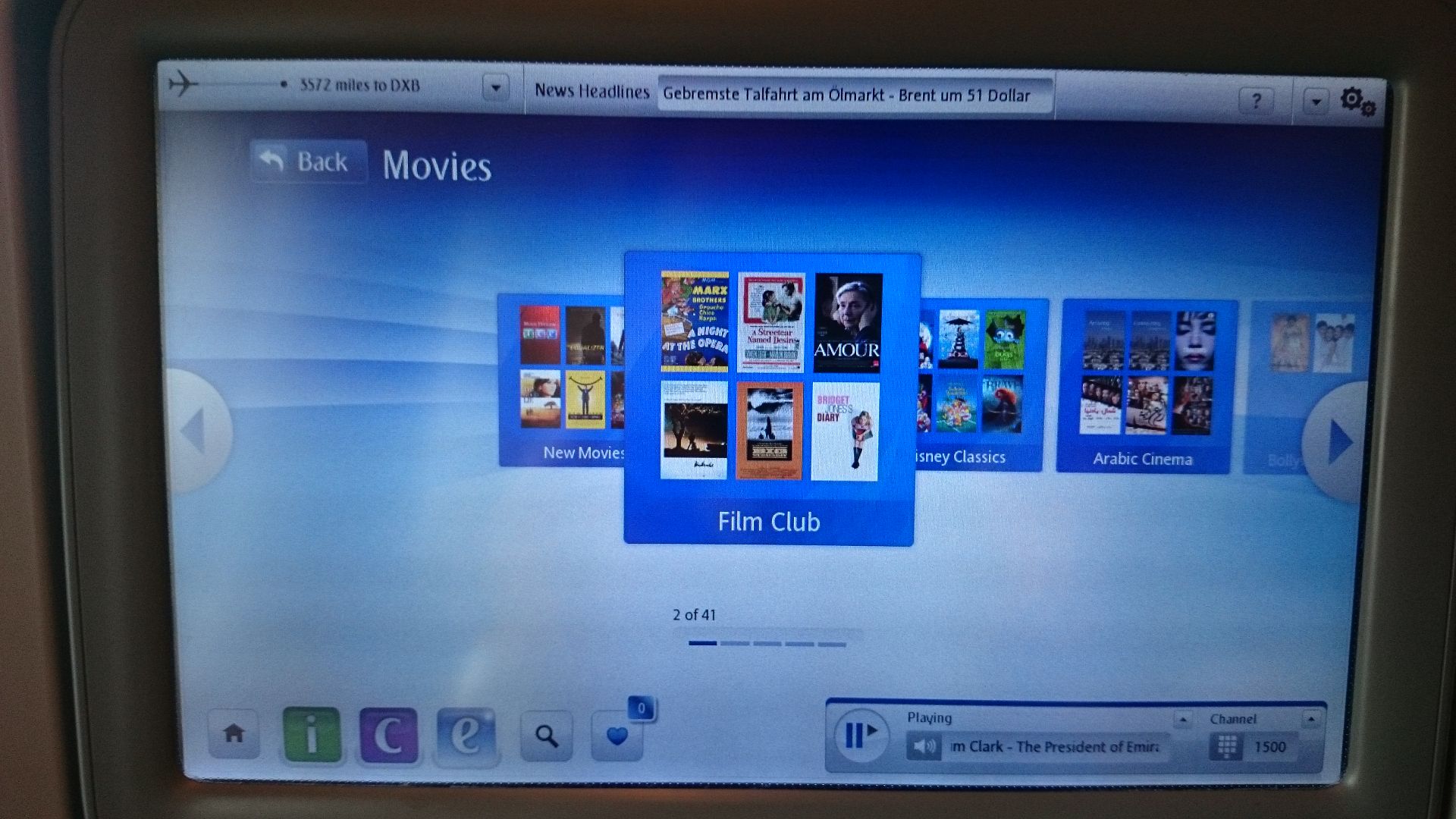 Class leading for sure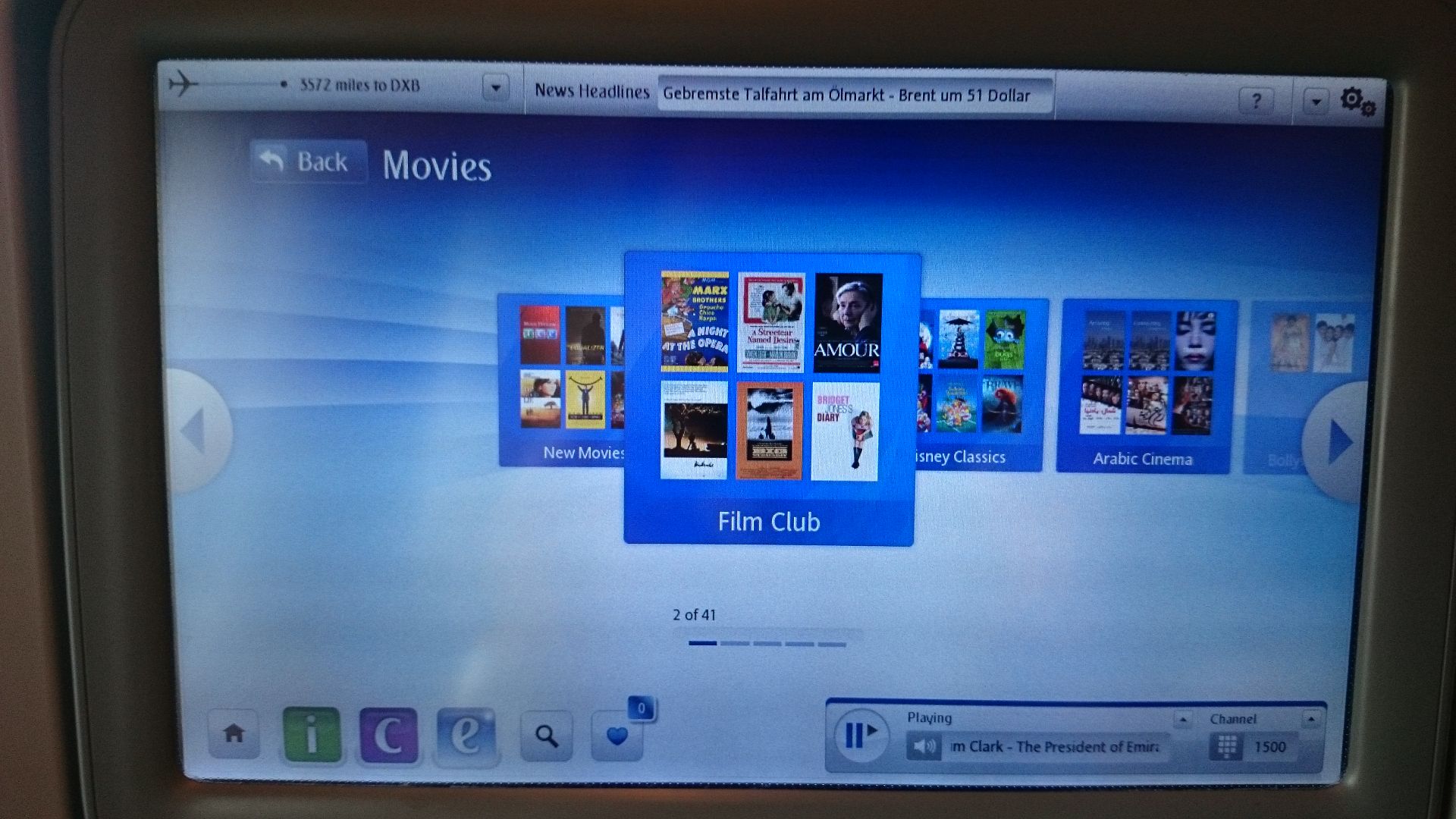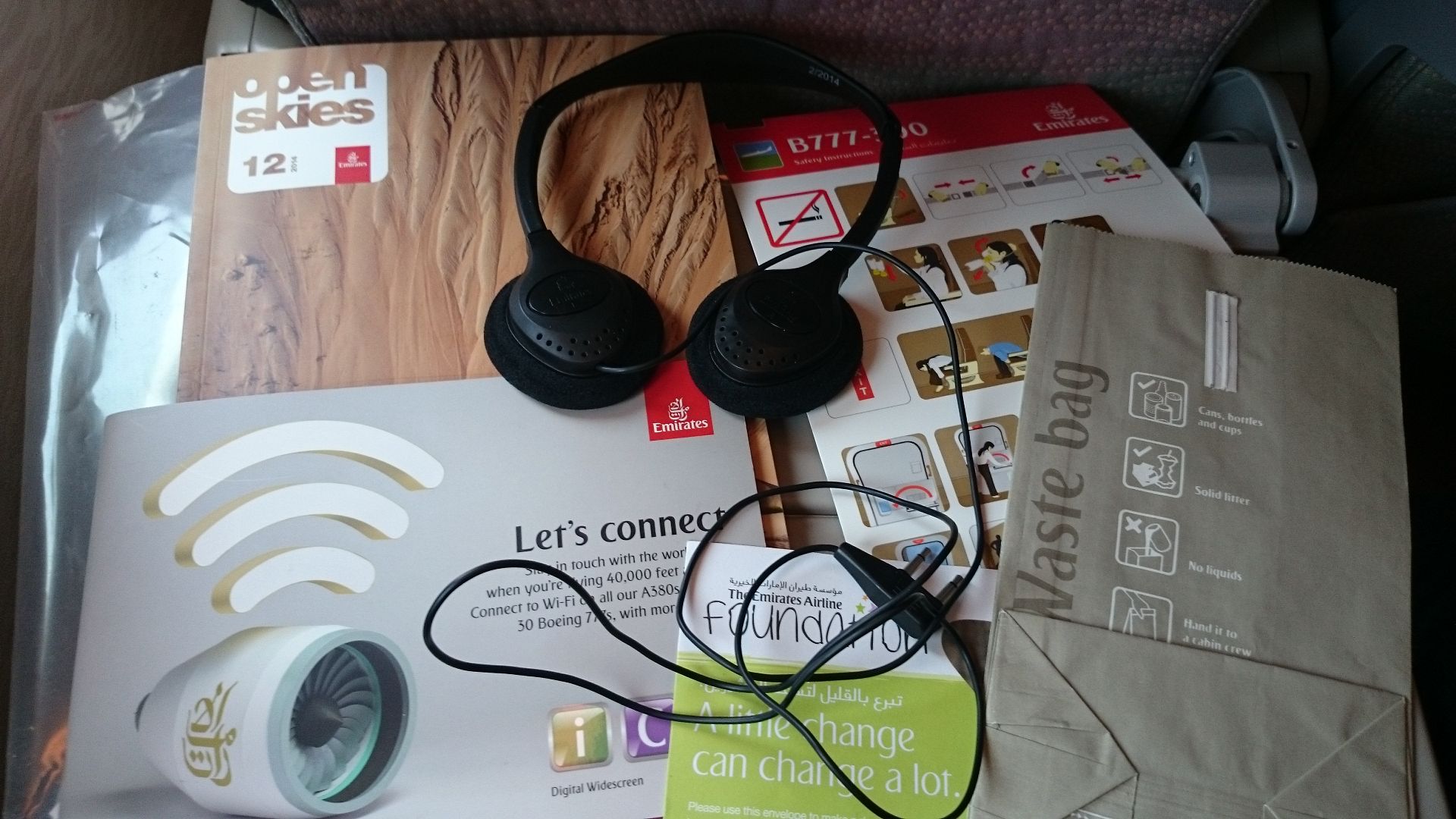 Yes, the 777 is a bit cramped, but it makes it up for the generous leg space in economy. So seat felt more than comfortable enough for a quick 6hr (and a bit) hop to Dubai. I can see myself on a 10 hour flight quite comfortably on this aircraft. Any more than that would be questionable.
As been mentioned before on a numerous occasions, EK entertainment is class leading if not the best. We are for sure spoilt for choices and this flight was no different. Seamless touch screen that worked well. Universal power adapter, USB ports and headphone jacks complete the entire entertainment unit.
Flight time of 6 hr and 20 minutes announced from the flight deck.
Plane spotting at LGW
Vietnamese Airlines - VN-A142, an 11 year old B777-200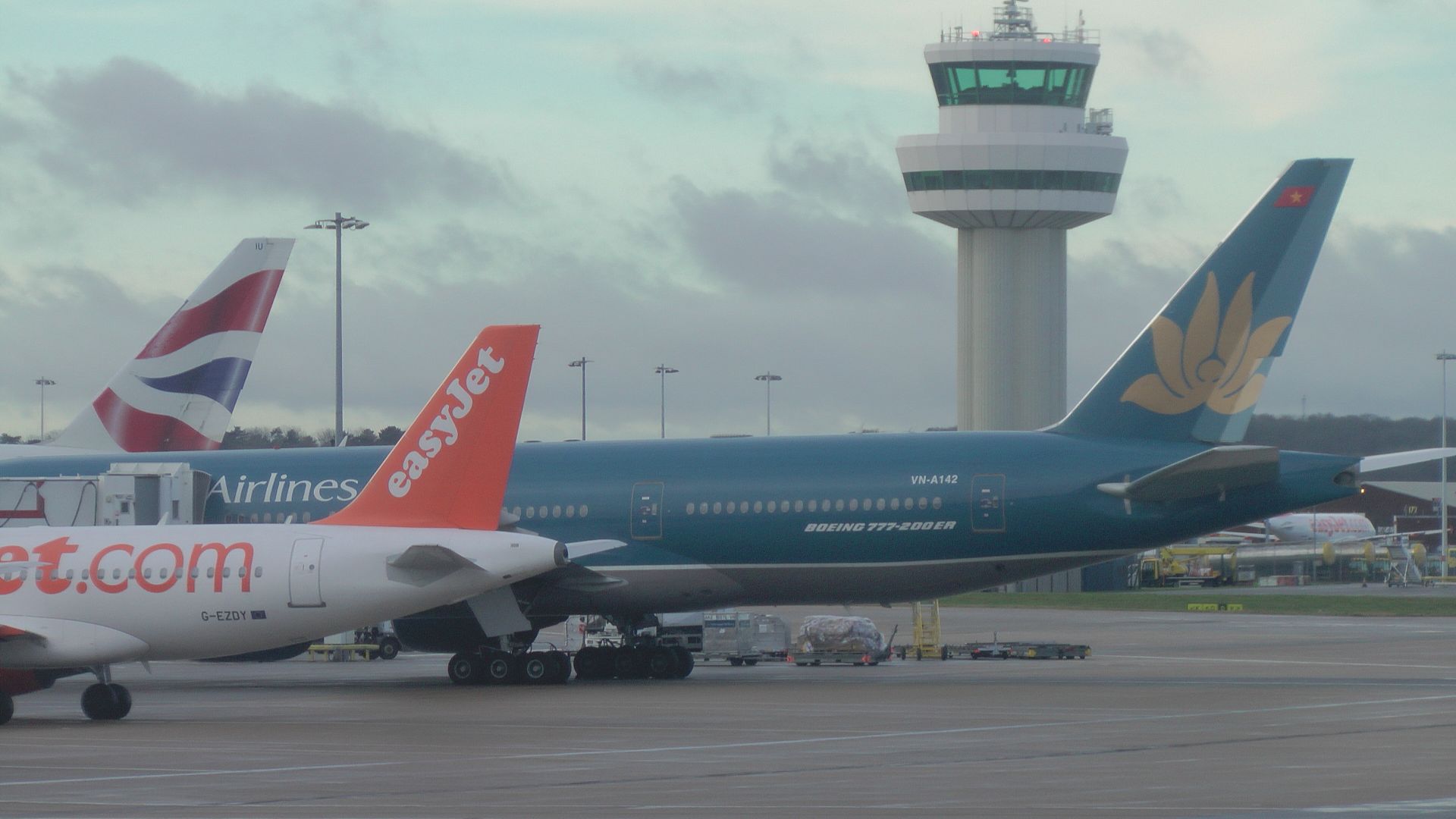 TK B737-900 - (TC-JYA) - named "Amasya"
The Thomson Dreamliner - The one year old G-TUIC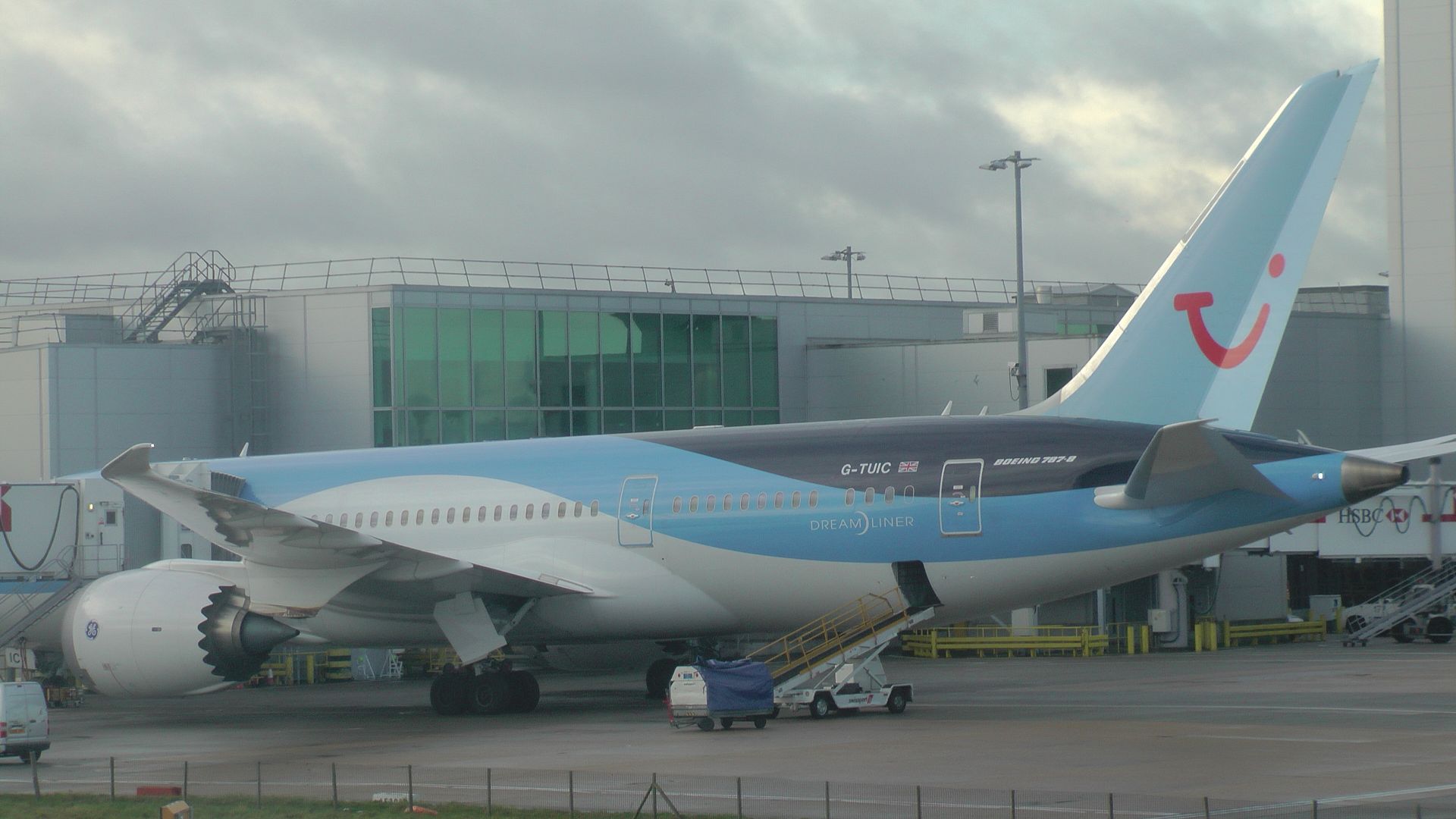 Exotic! Caribbean Airlines - 9Y-LHR, previously a LAN Airlines B767-300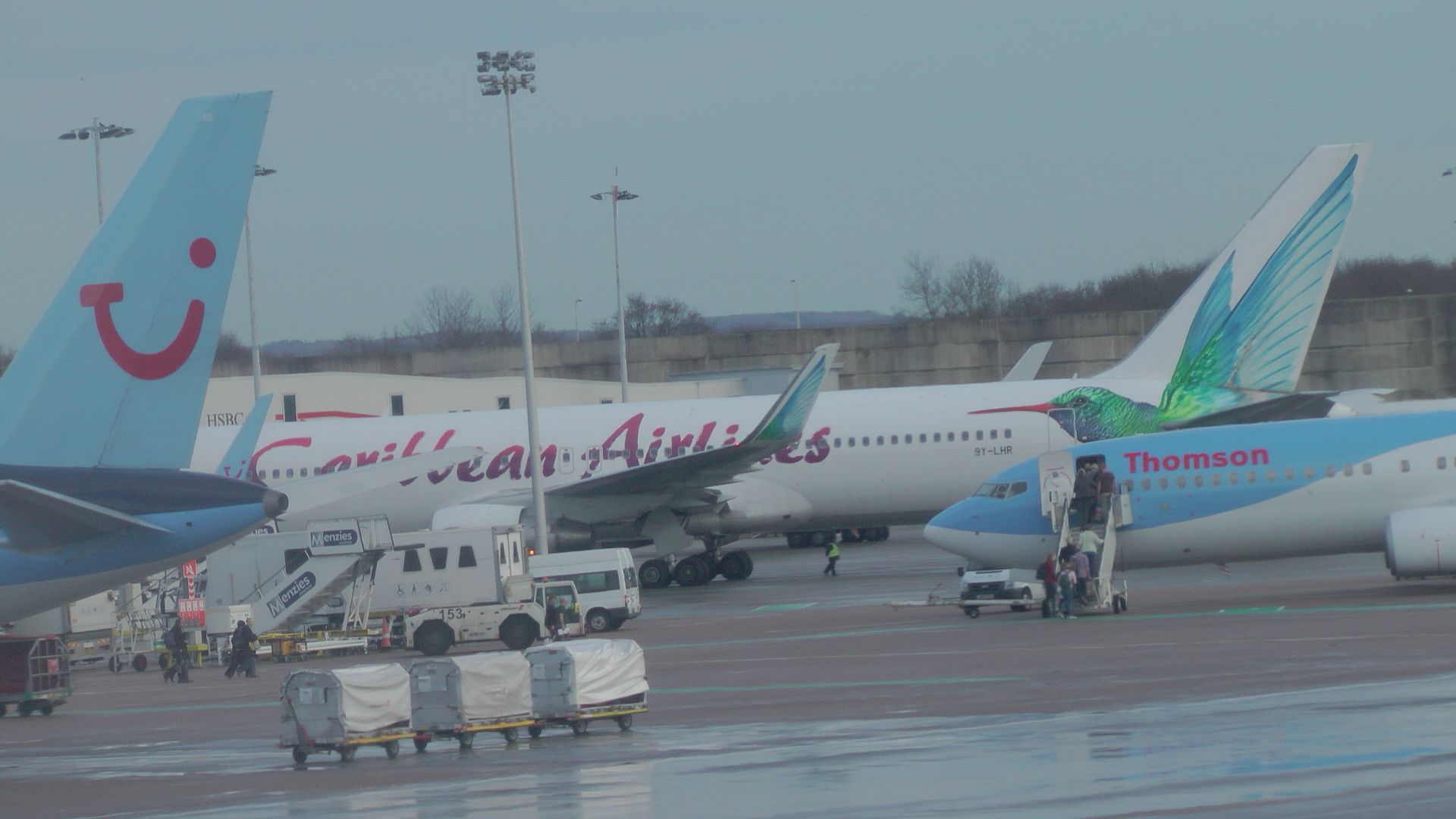 Soon after take-off drinks were served. As usual a fantastic variety of drinks available. Went in for my new favourite drink on board. The Bloody Mary.
We then hit a bad patch of turbulence over Belgium for over 45 minutes which in turn delayed the lunch service.
F&B on board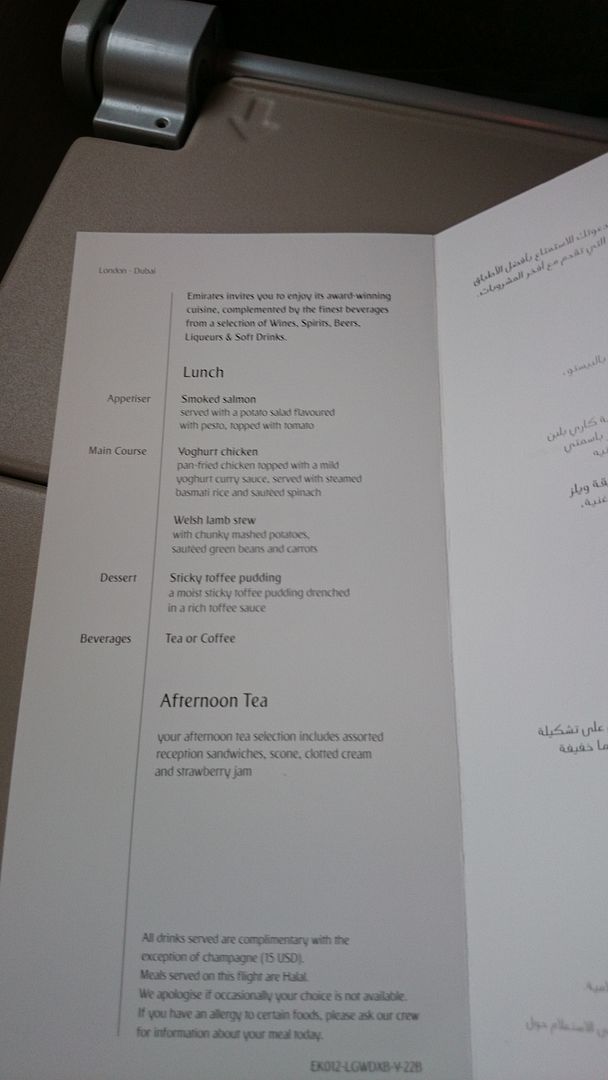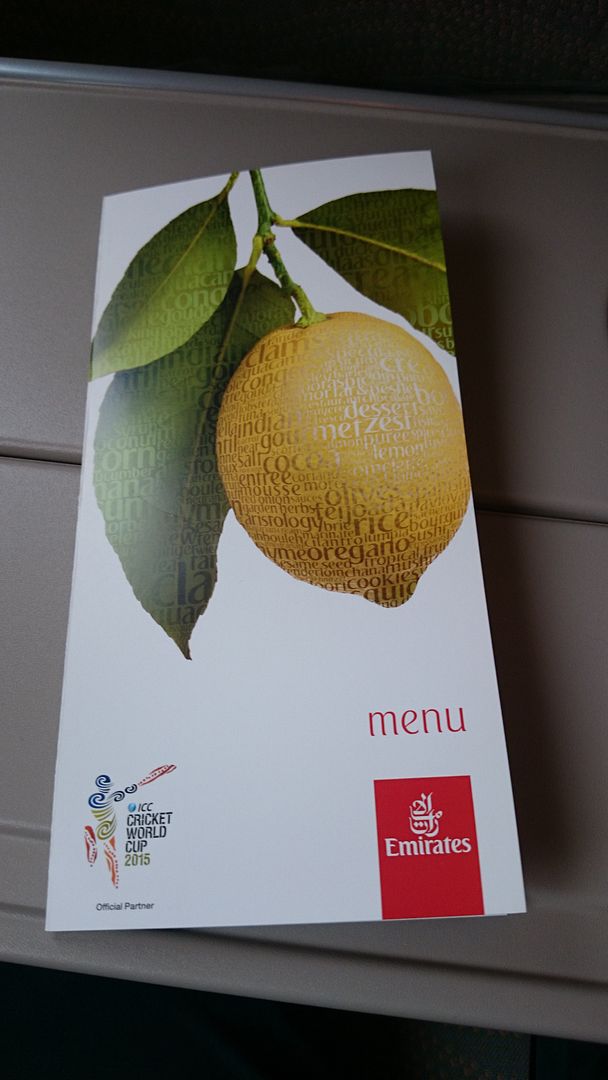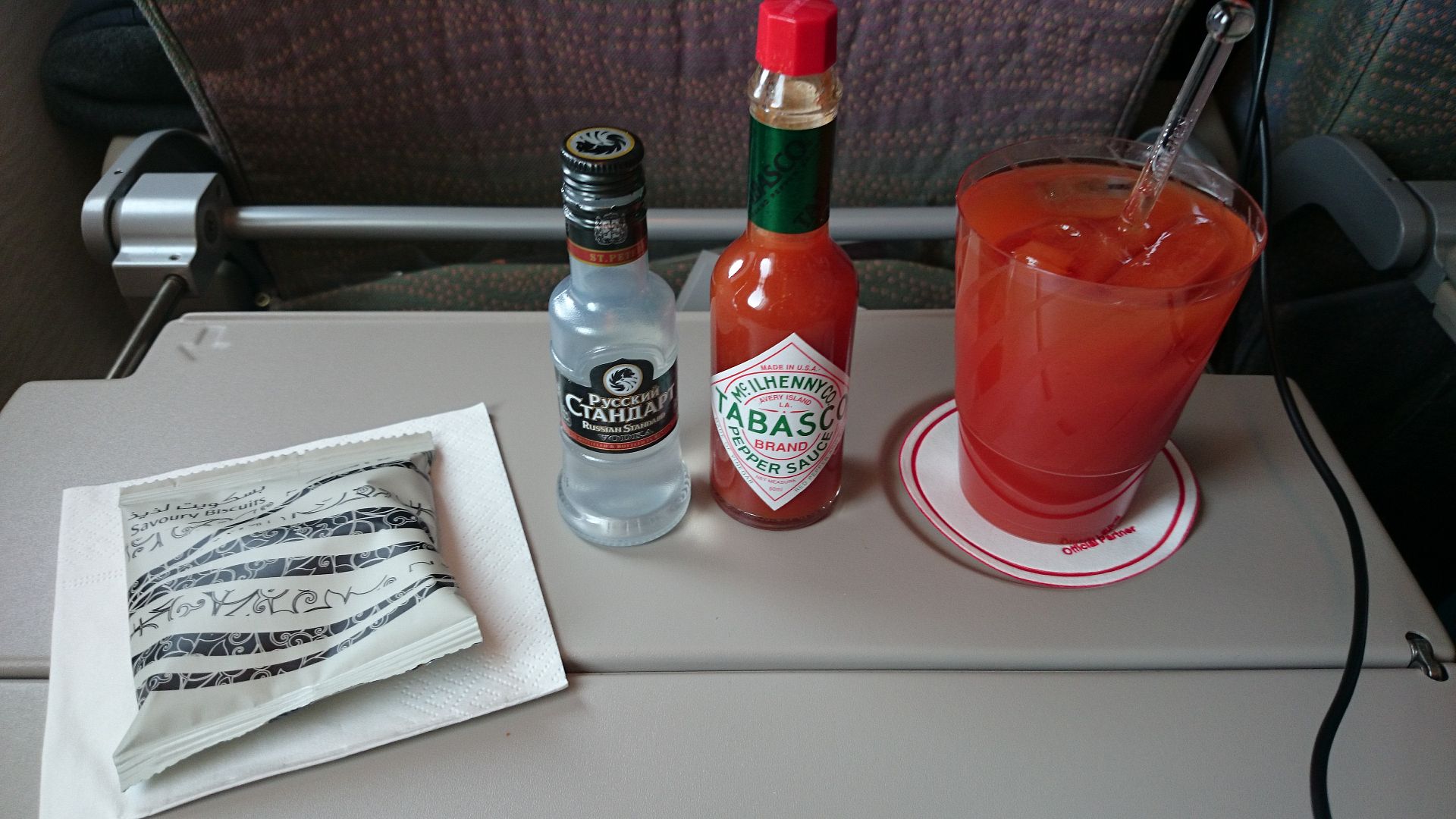 Tasted as good as it looked - sumptuous and adequate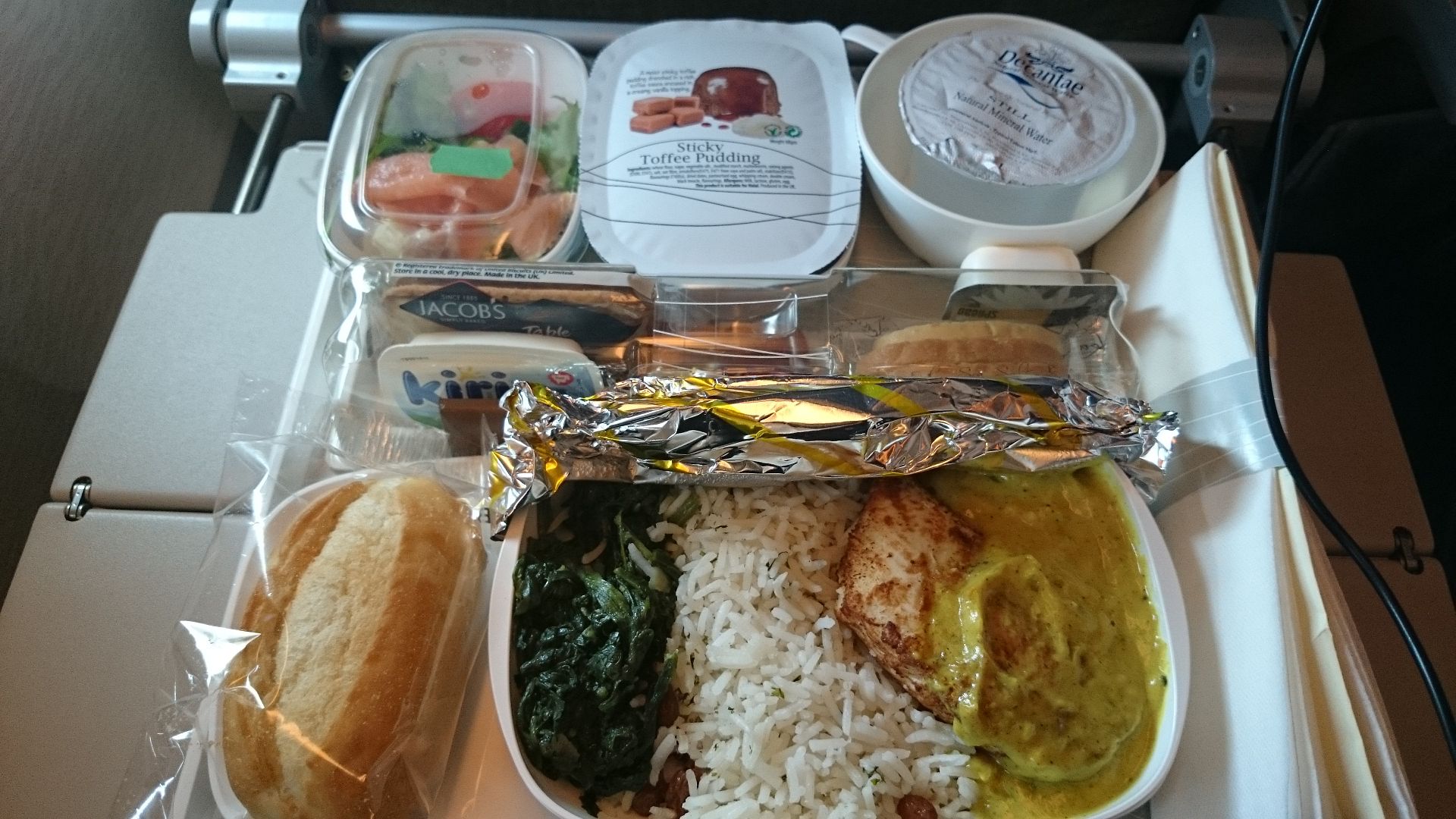 Once above 35k feet some beautiful shots of the morning sky over Europe. Busy airspace for sure. Got some videos of aircrafts in the vicinity.
Lunch was served 2 hours after take-off and about time as I was famished by now.
Chose the chicken option for lunch and wasn't disappointed at all. The meal as a whole was tasteful and excellent. Probably the only slight criticism would be the overly sweet desert. But on the whole top notch.
I used to always support the underdog, but Emirates in economy, when things go right is in a class of their own. It just felt good being in the cabin of an EK 777. Cabin crew, on this flight particularly (Please note the emphasis on THIS flight), were splendid! Top marks to them. Neat uniforms and no request was too difficult for them.
Of the 4 sectors on EK on this trip, by far the best and most fun crew. Thanks guys!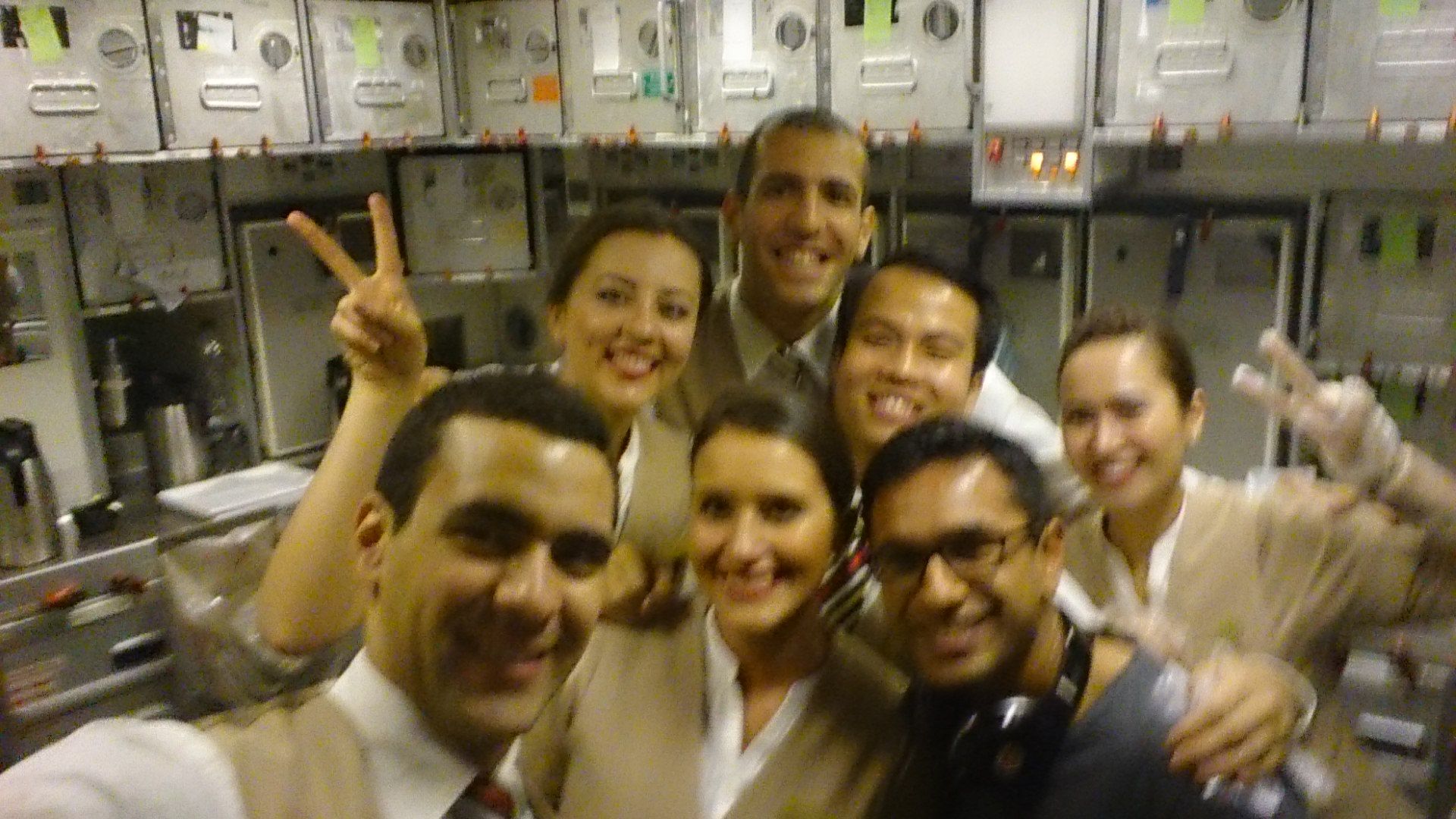 Perhaps a slight criticism was it took a while to clear the food trays. And in the end they did it one by one. Without the use of a trolley. Strange!
Apparently this wasn't a well-coordinated effort. One of the cabin crew owned up to it when I quizzed him.
Another drinks and snacks round followed which completed the food and drinks round.
Extremely hard working crew, and even managed to take a photograph with the crew and myself on a Polaroid camera.
En-route over Turkey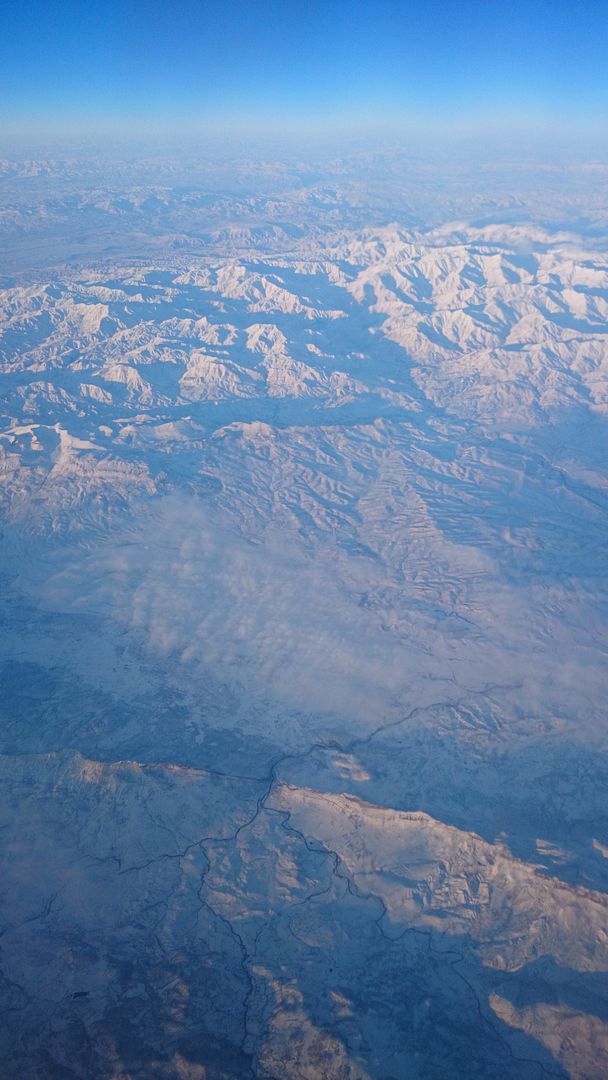 Almost there - Landing at Dubai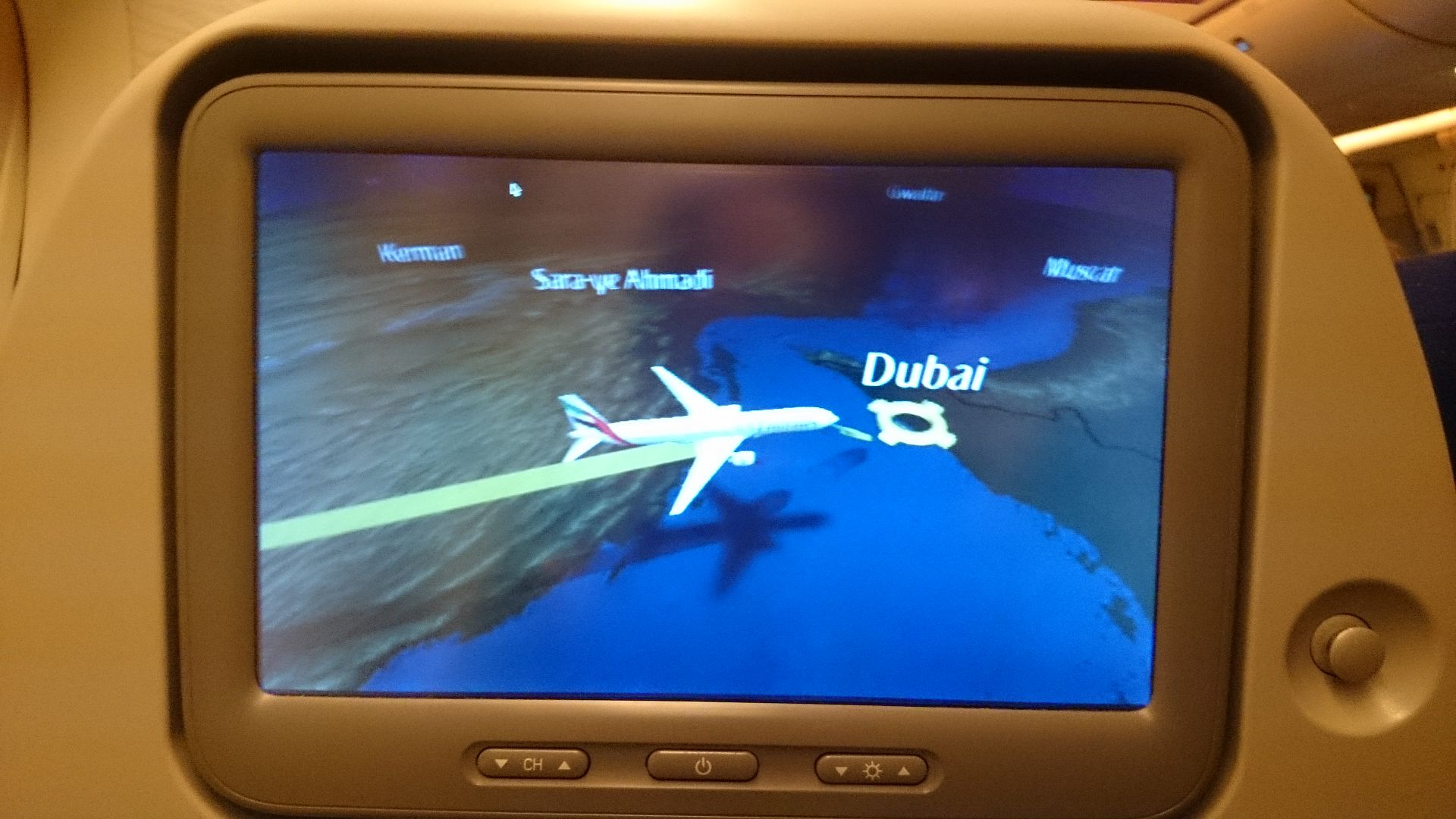 The flight Landed at 8:20 pm, 10 minute ahead of schedule.
Apart from the turbulence along northern Europe, the rest of the flight is one of the best I've had in economy class. And all thanks to phenomenal cabin crew. On the whole an easy 10/10 – could not ask for anything more.
Note that on a 777-300, the last rows of two seat economy section, the centre arm rest is not movable.
2nd leg of this trip report - EK 526 from Dubai (DXB) to Hyderabad (HYD)
Emirates Airlines – EK 526 – DXB-HYD
Flight Reg: A6-EMJ ; Delivered September 1997
Boeing 777-200
Seat 38A
Flight time: 03:45 – 08:40 (03:55 – 08:50)
10th January 2015
I had around 7 hours to spend in Dubai. Using the power of my newly acquired British passport, along with
the highly recommended Ahlan service
I was out of the airport in literally 5 minutes.
Had a great time catching up with friends in Dubai. I was then dropped back at T3 at around 2:00 for a 3:45 flight.
Entry into T3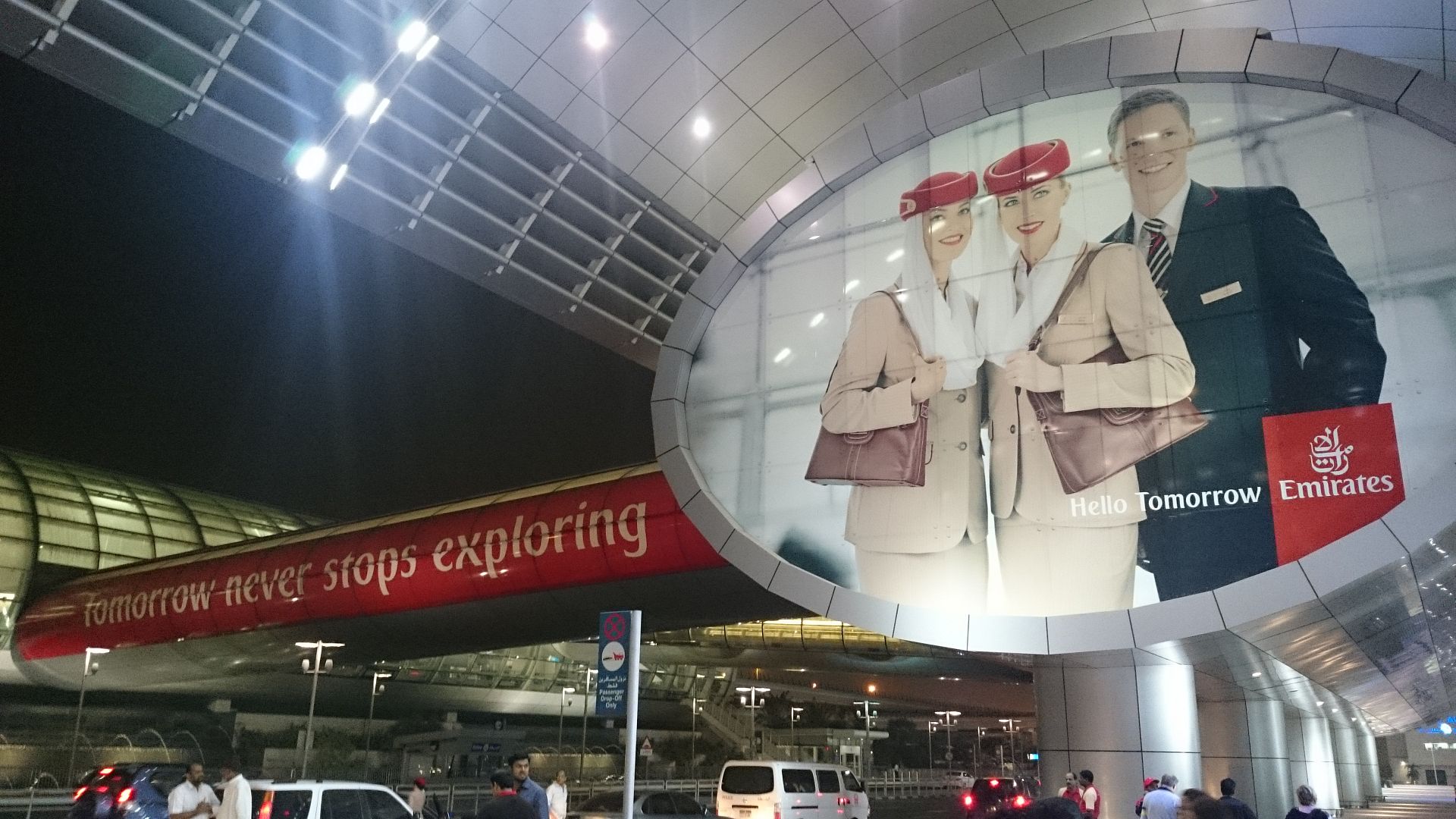 Security fairly quick at the glaring T3 Dubai terminal. Boarding was supposed to commence from gate B6.
Dubai airport as always was bustling with people. Travelling all over the world. It is quite an interesting mix here and it feels like a city within itself.
Boarding was on time and once again quite an orderly manner.
Planet EK at DXB
DXB Shopping mall - also known as T3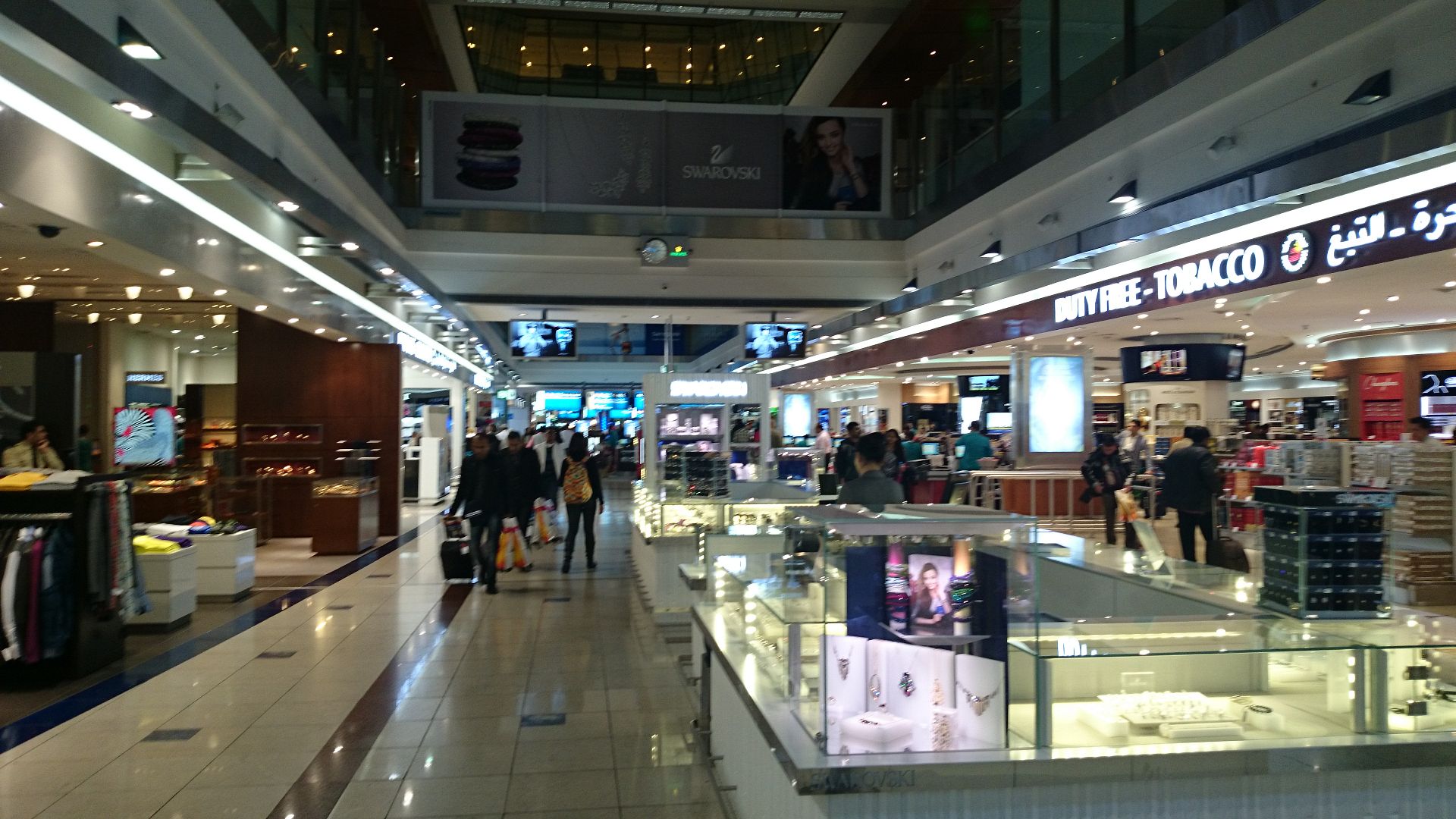 Boarding gate for EK 526 to HYD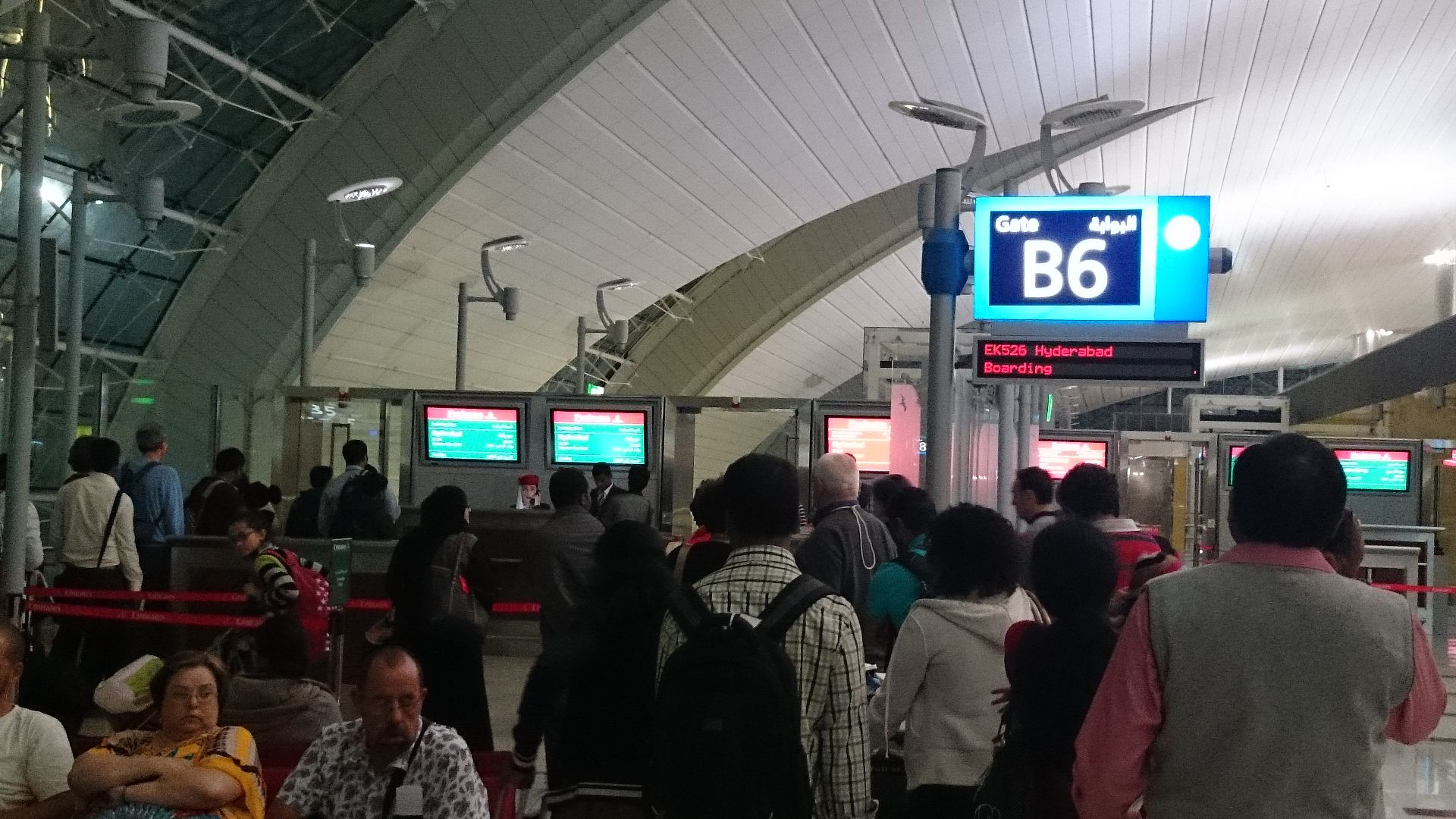 Decisions...decisions..??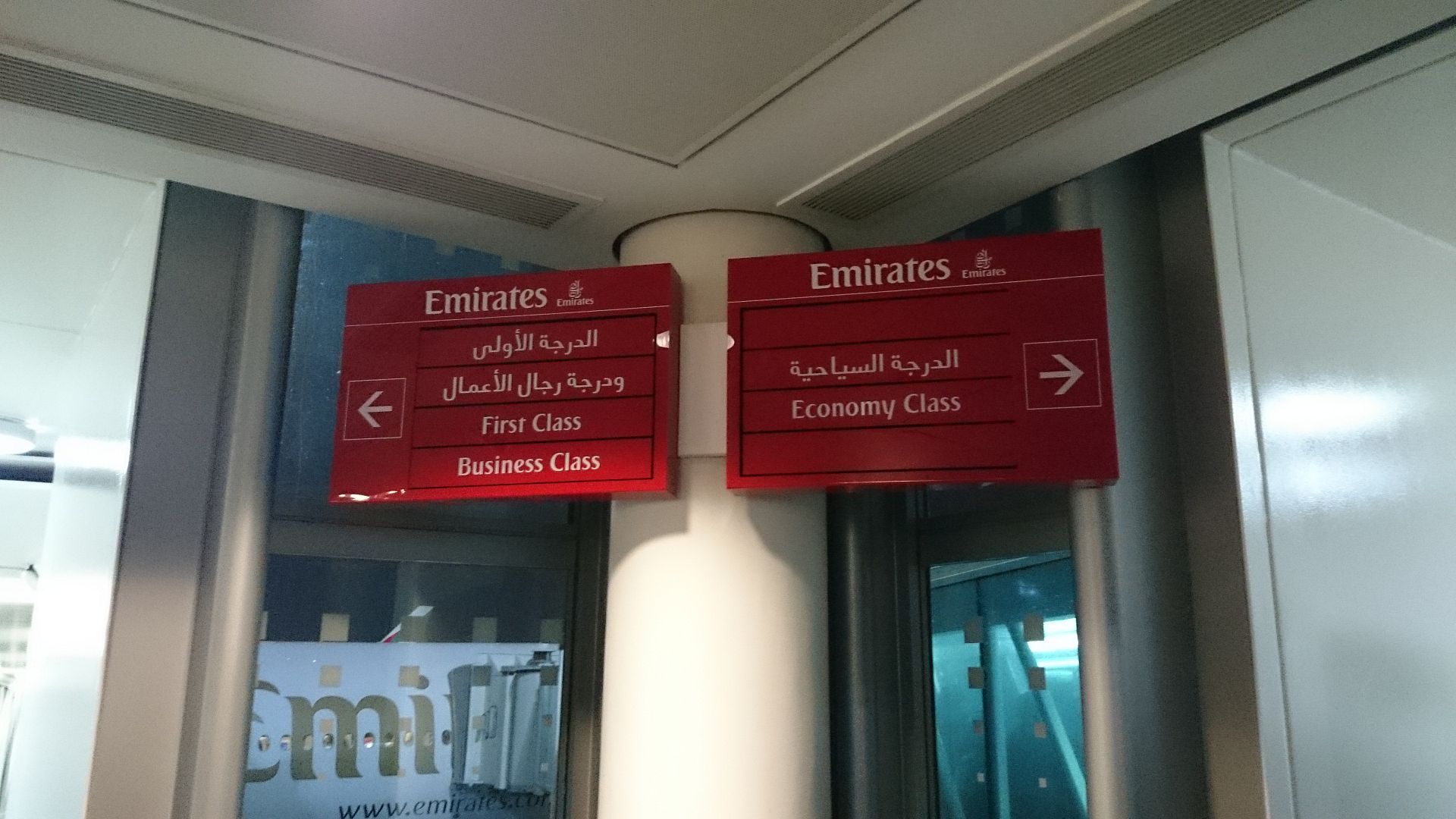 Our ride to HYD - 17 year old EK B777-200 (A6-EMJ)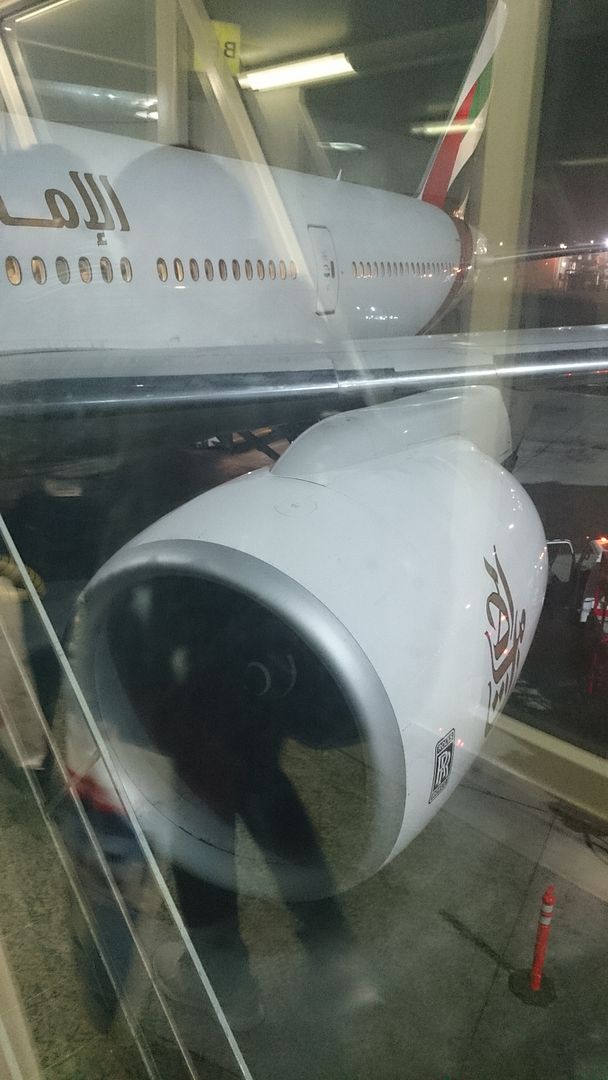 Upon boarding, this aircraft did feel a lot older than the one from Heathrow and the Flight seemed to be full in all classes.
The entertainment also seemed a bit mundane compared to the more advanced ICE system on the flight over to Dubai.
On-board A6-EMJ
Older version of ICE on board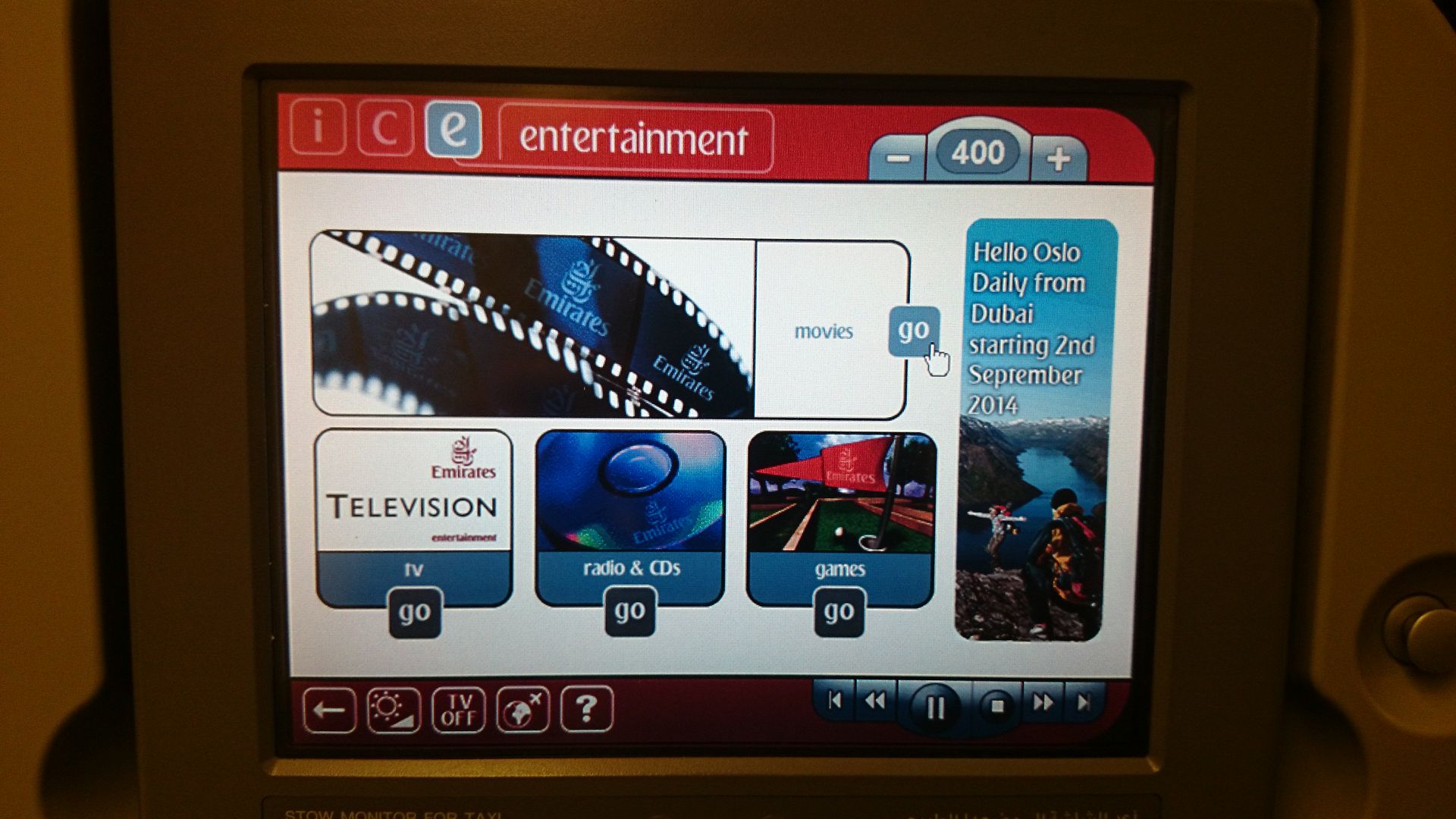 A flight time of 3hr and 10 minutes confirmed from the flight deck.
There was a slight delay as some Passengers had not reached the gates on time and hence needed to offload their baggage.
Disembarked 10 minutes late at 3:55 am, a short taxi later we were airborne by 4:15.
The aircraft did feel a bit shabby and there was a particular smell wafting in the air. Not particularly pleasing TBH.
Breakfast was served an hour into the flight. The breakfast was in fact one of the best meals I have on board an aircraft. The chicken tikka masala omelette was not only unique and creative but also tasted really good.
F&B on board - this tasted much better than it looks - Chicken Tikka masala omelette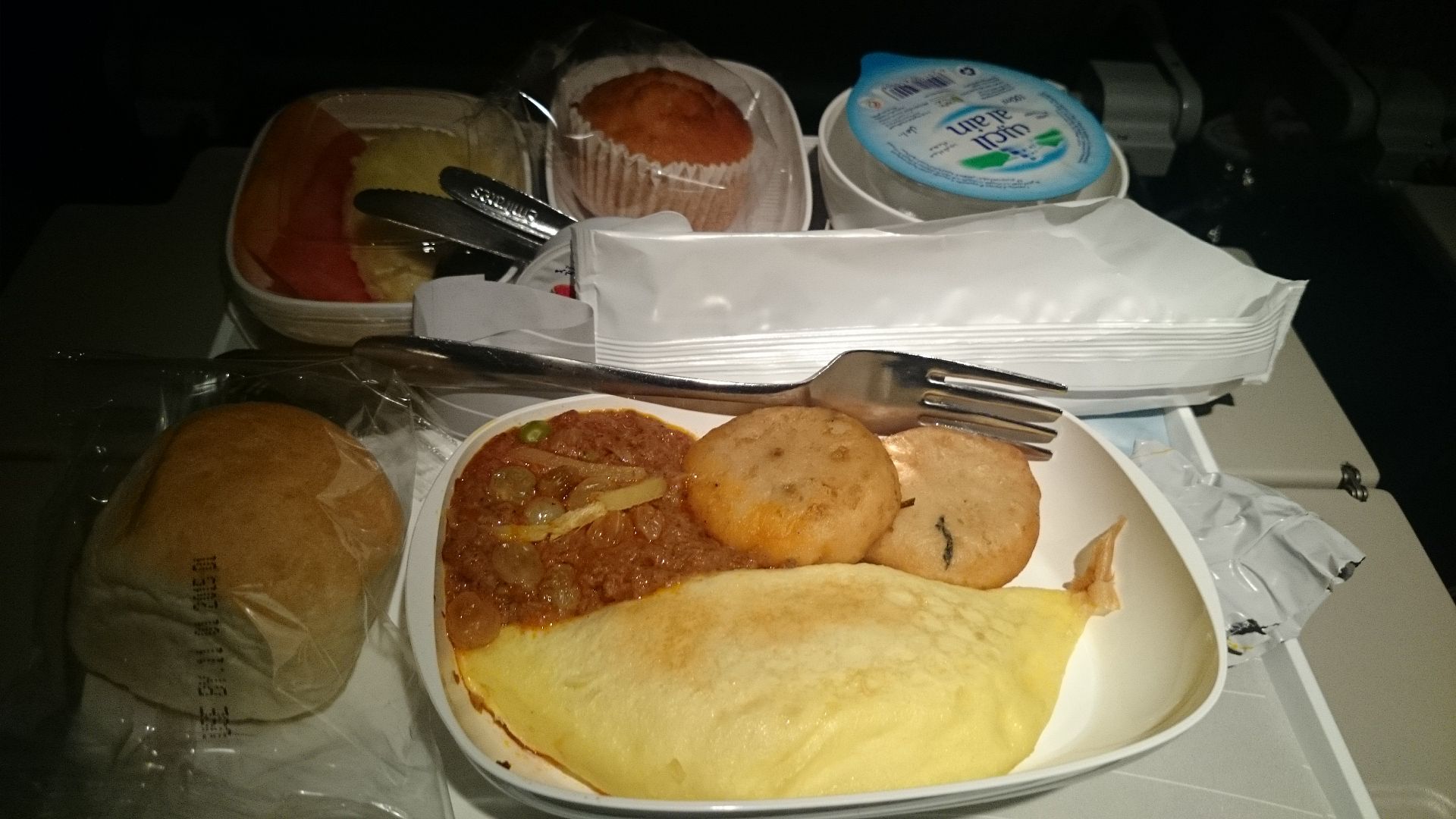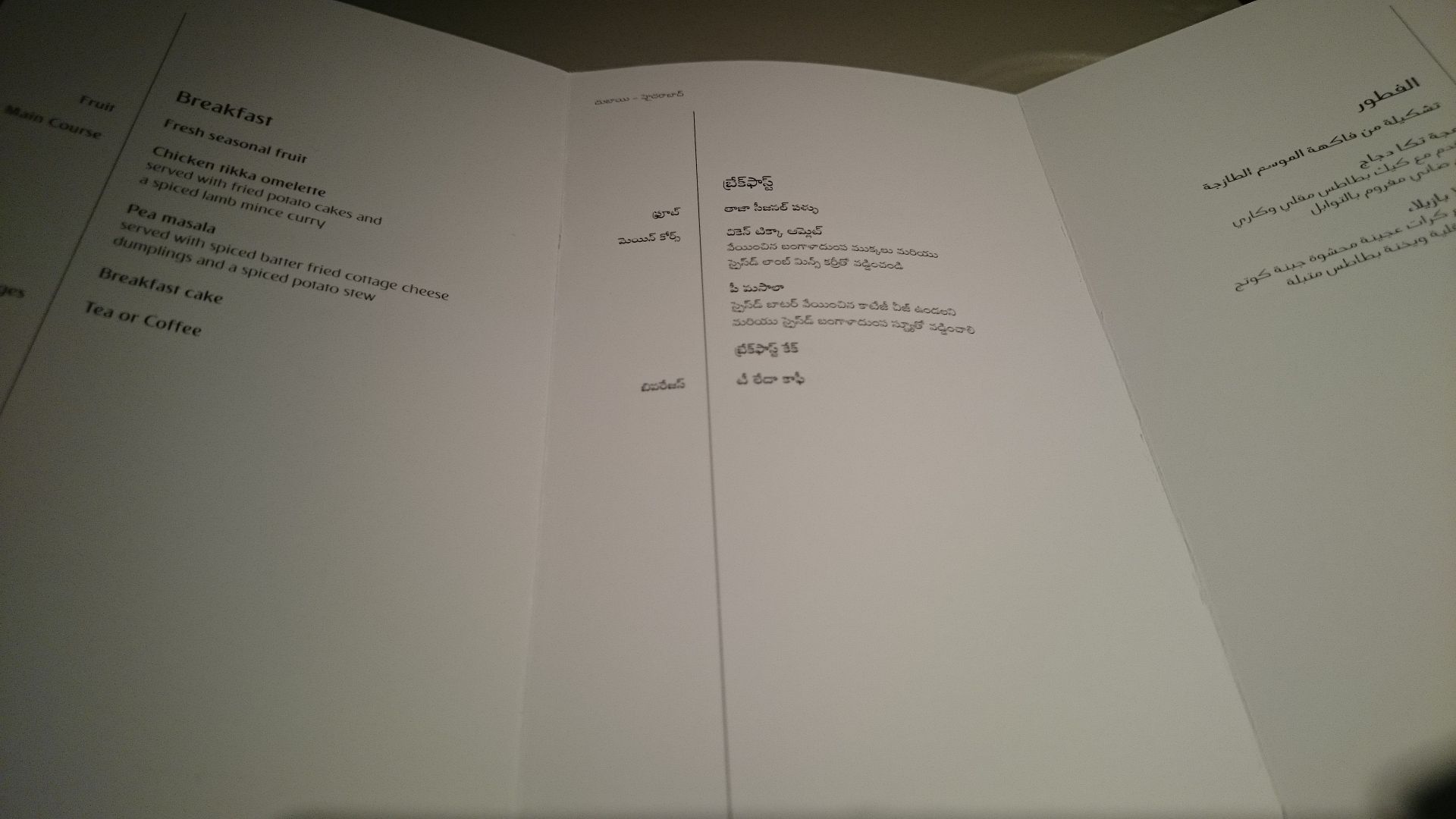 Rest of the flight was uneventful in a nice way, and a few Big bang theory episodes later it was time to land at HYD. We finally landed 10 min late at 8:50 am.
Note that on a 777-200, the last rows of two seat economy section, the centre arm rest is movable, as opposed to the B777-300 which I not movable.
Hyderabad airport
– very slow. Had a check for Ebola screening, followed by a lethargic immigration and then another baggage screening, with only one x-ray machine! The flip side was by the time we passed through the rigorous checks, the baggage were waiting for us in the conveyer belt.
Ebola screening at HYD
Out of the airport in an hour after landing. Pretty slow given that this was the only international aircraft at that time. Gives me shivers if this was a Whale Jet.
On the whole there was a marked difference in the hard and soft product on this leg of the journey. As described by others on this forum, consistency is one aspect where EK seems to be lacking. This flight felt like any other, as compared to EK 012, which did feel rather special. Yes, the food was indeed very good, but the hard product did feel a bit out of date and the cabin crew did no more than what they were supposed to do. I would rate this sector a 'play it safe' 6.5/10.
3rd leg of this trip report - EK 565 from Bengaluru (BLR) to Dubai (DXB)
Emirates Airlines – EK 565 – BLR-DXB
Flight Reg: A6-ENL ; Delivered August 2013
Boeing 777-300
Seat 46A
Flight time: 10:25 – 13:00 (10:20 – 12:45)
17th January 2015
After a week of fun and frolic, it was now time to head back to reality. This time I was boarding the flight from BLR to LGW, via an hour and 45 minute transit at DXB.
BLR Airport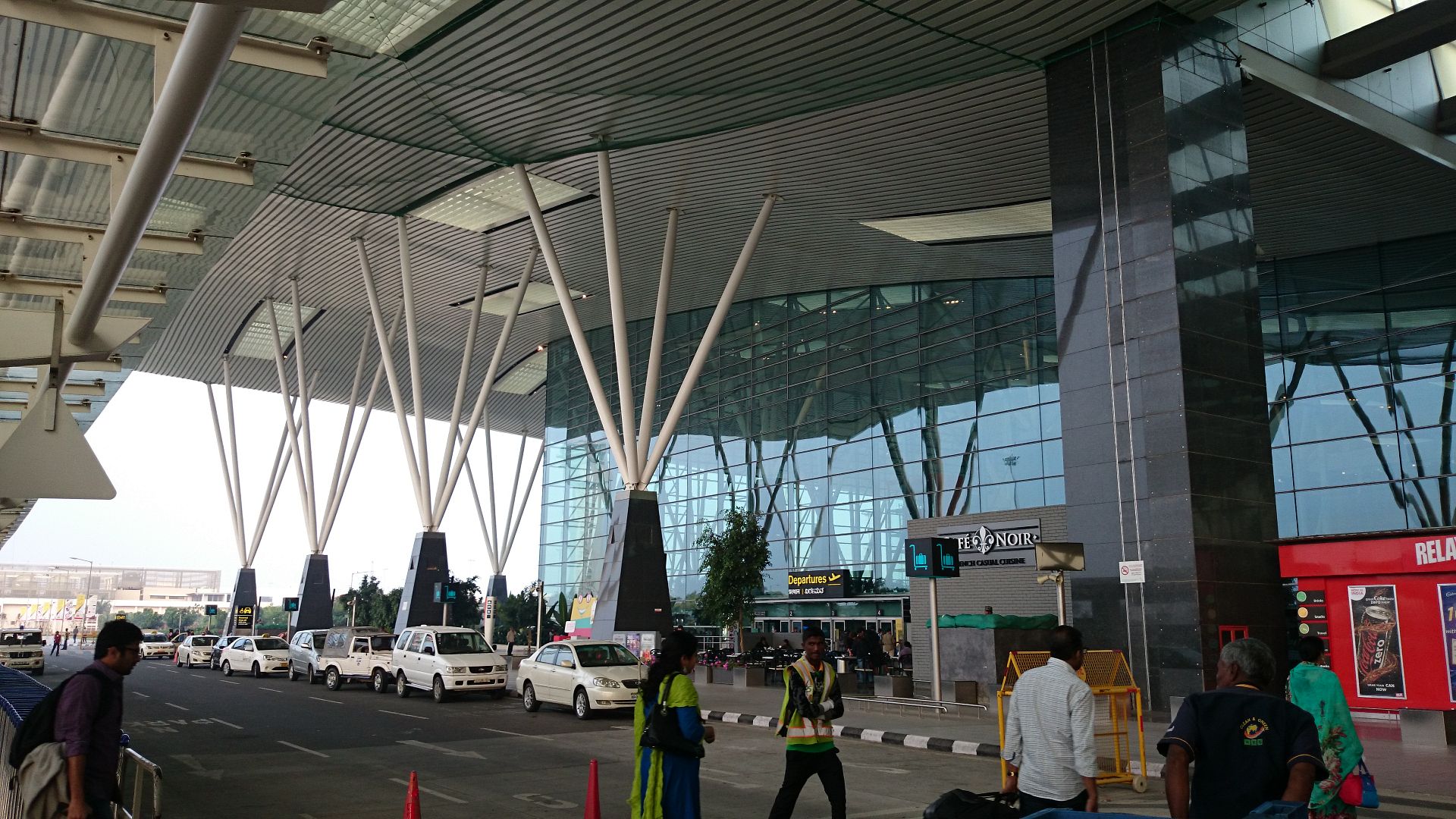 Checked in online the previous day and as we all know, the EK website was a breeze to navigate through.
On the day of the flight had a fairly quick drive to the airport. Check in counters was quick. Checked in in 10 minutes, as they had separate counters for Online check in passengers.
Check in desks at BLR for EK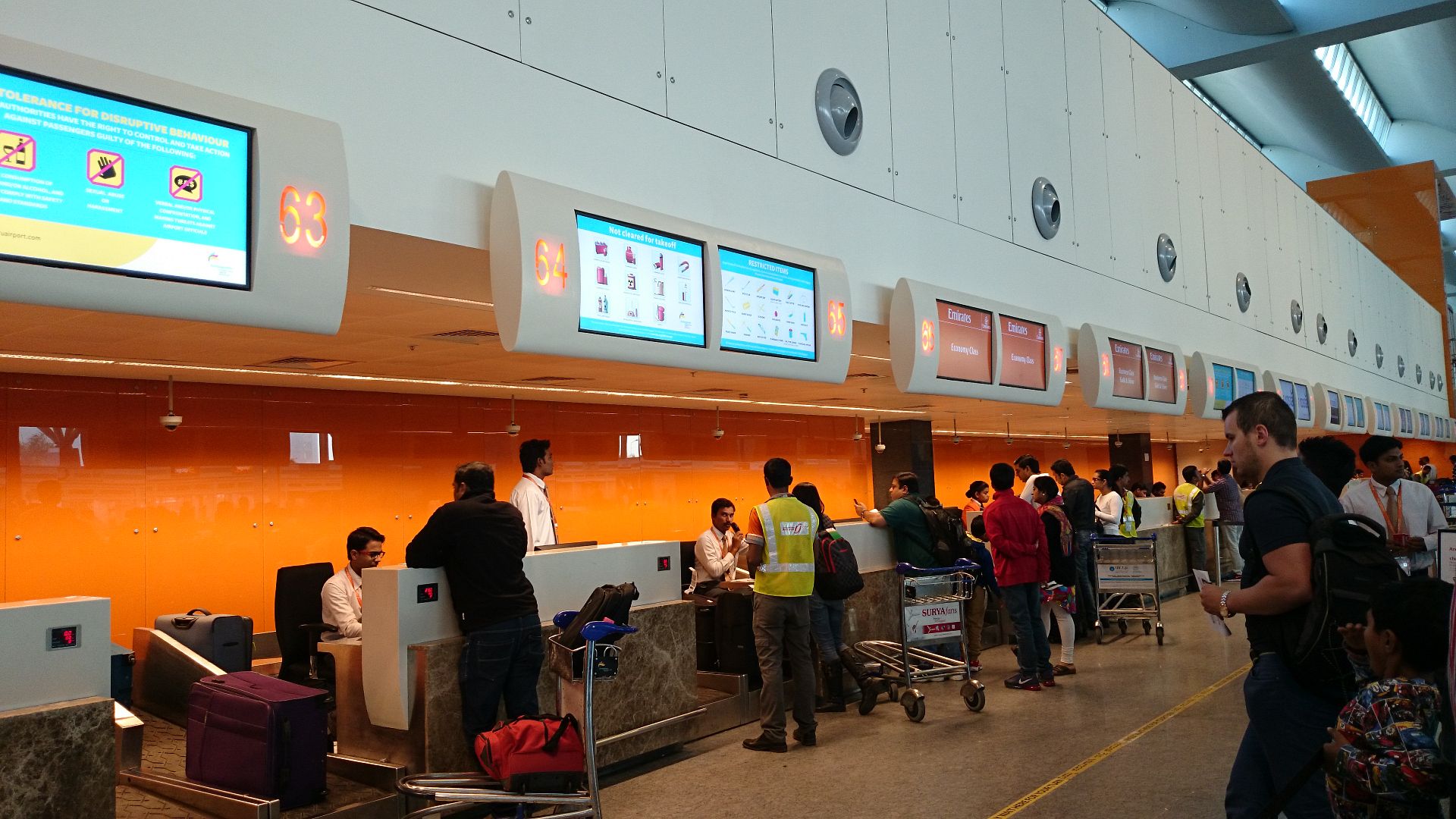 Immigration and security was a breeze and was airside in 15 minutes. A drastic difference from the experience I had at HYD just over a week ago. Good one BLR airport..!
Bangalore airport was really quiet at this point of time. Only an Emirates and a Singapore Airlines (SilkAir) flight that were imminent.
BLR Airside
FIDS @ BLR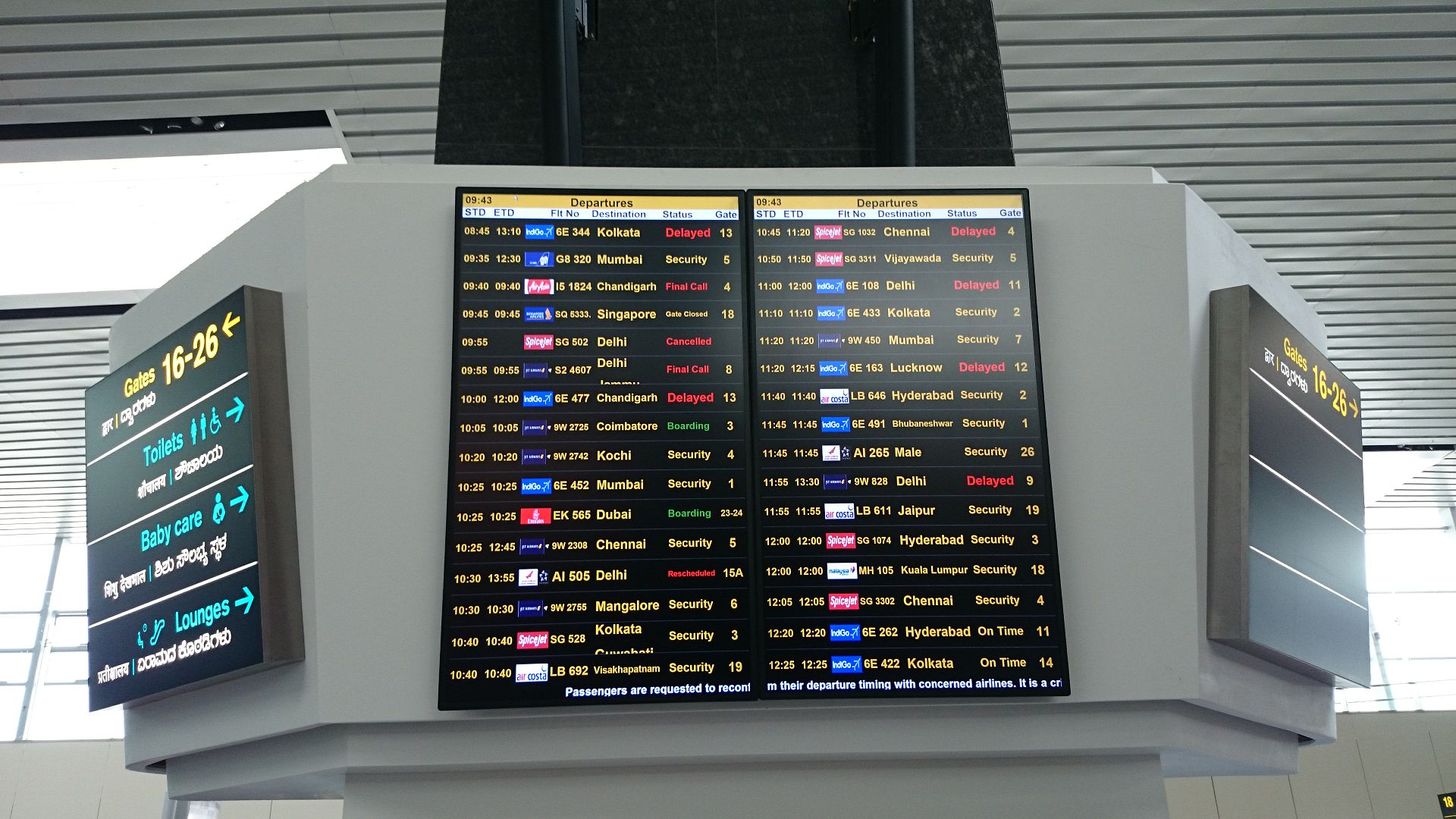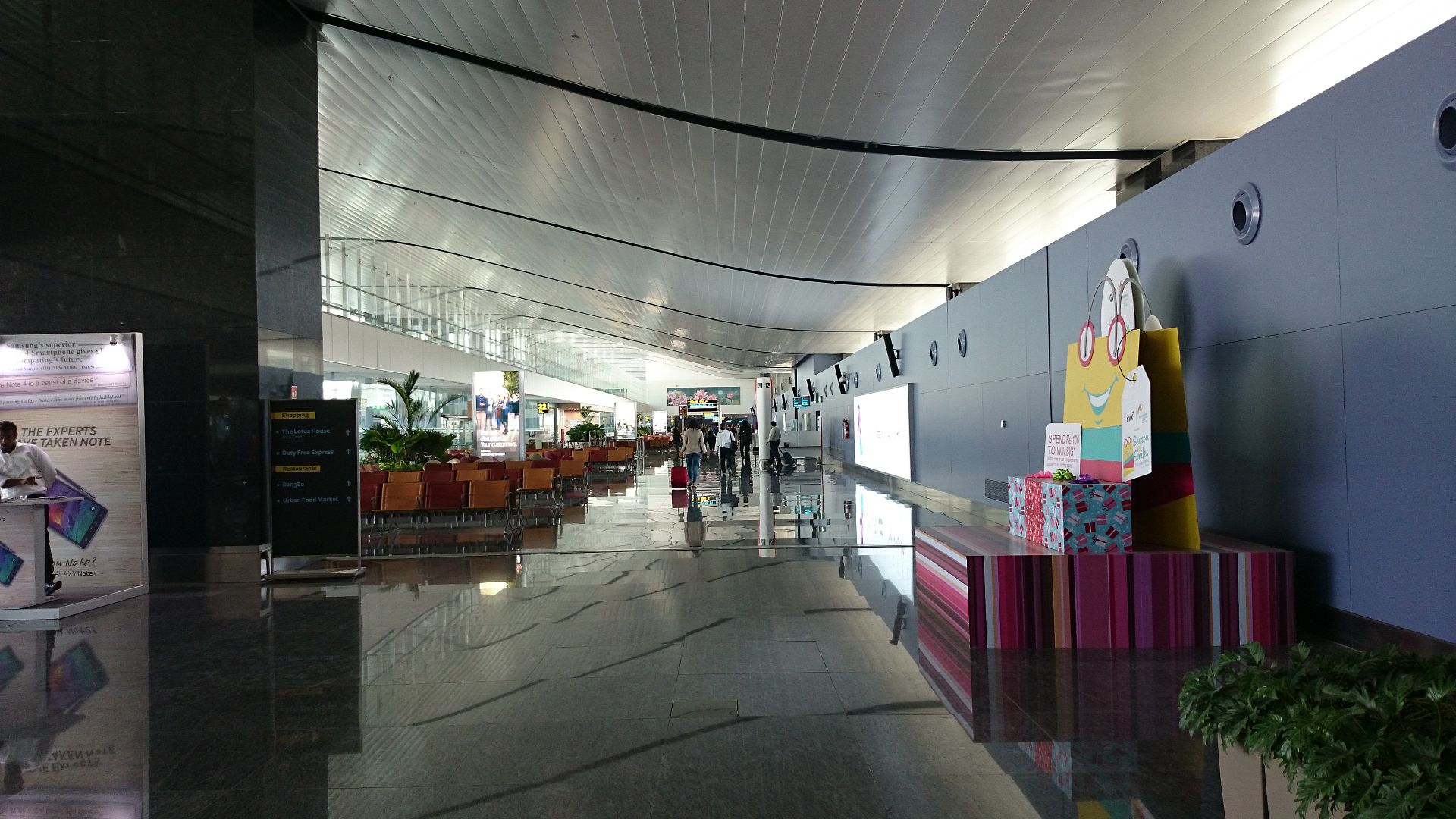 Used the premium plaza lounge. A very well equipped lounge with a lot of food options. Indian dosa, eggs, pasta etc. as hot food apart from the usual continental breakfast. There was also a lot of drinks options. One of the better lounges I've been to. Looks like this is a common lounge for a lot of airlines.
Ample seating spaces and the entire area felt airy.
Plaza Premium lounge at BLR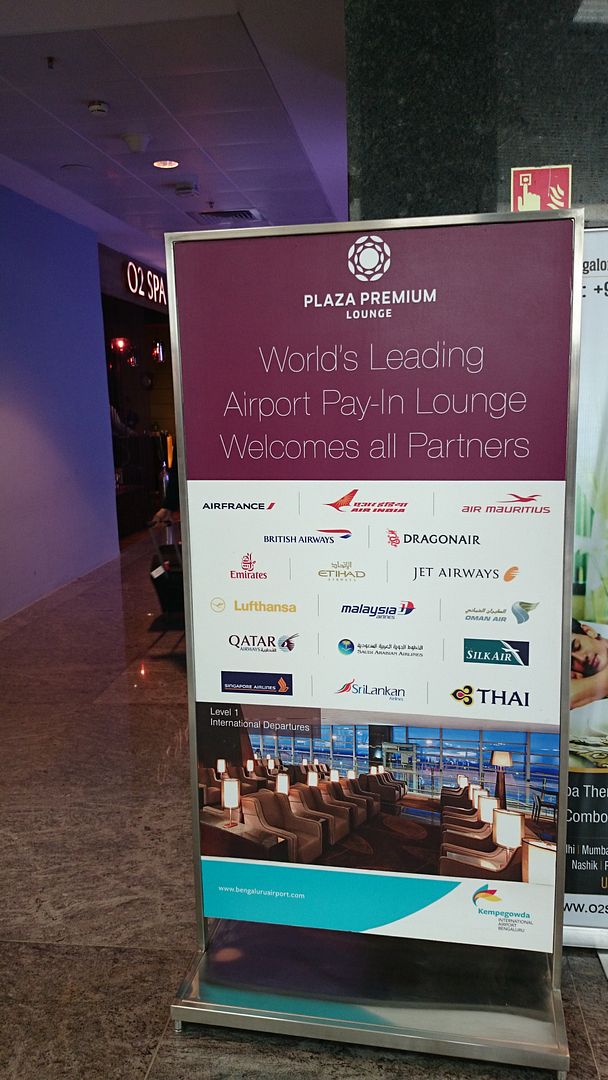 Copious amounts of F&B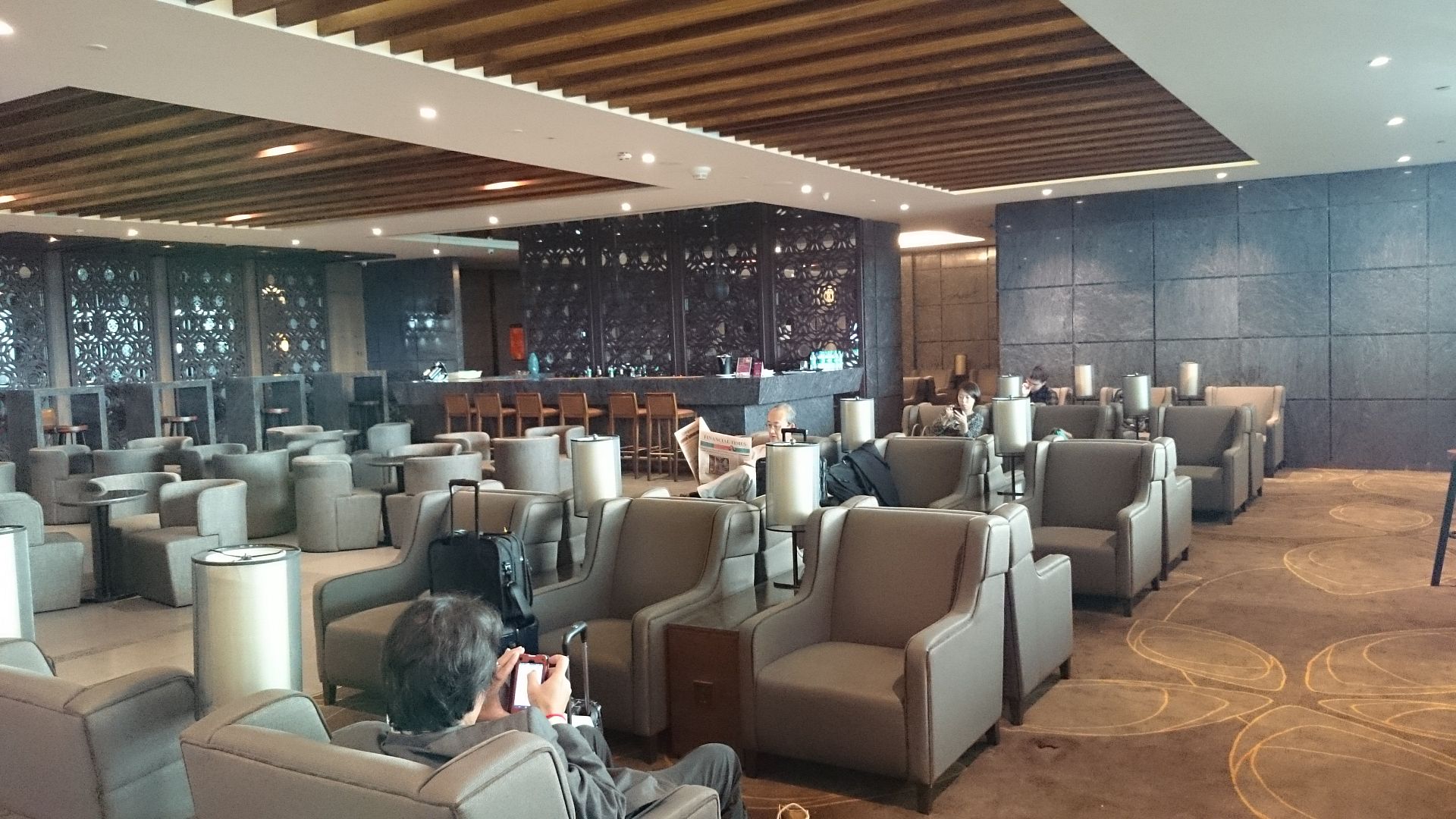 Bangalore airport is very well equipped and especially comfortable to go through in the mornings. It's a great looking building and perfectly fit for purpose. Haven't been to the new T2 at BOM, but I think apart from that, BLR is definitely one of the better airports in India.
Boarding was done through two gates and on time, once again, it's beginning to get synonymous with EK – perfect boarding procedures and very orderly.
Boarding gates at BLR
Our ride to Dubai from BLR - a 1.5 year old B777-300 (A6-ENL)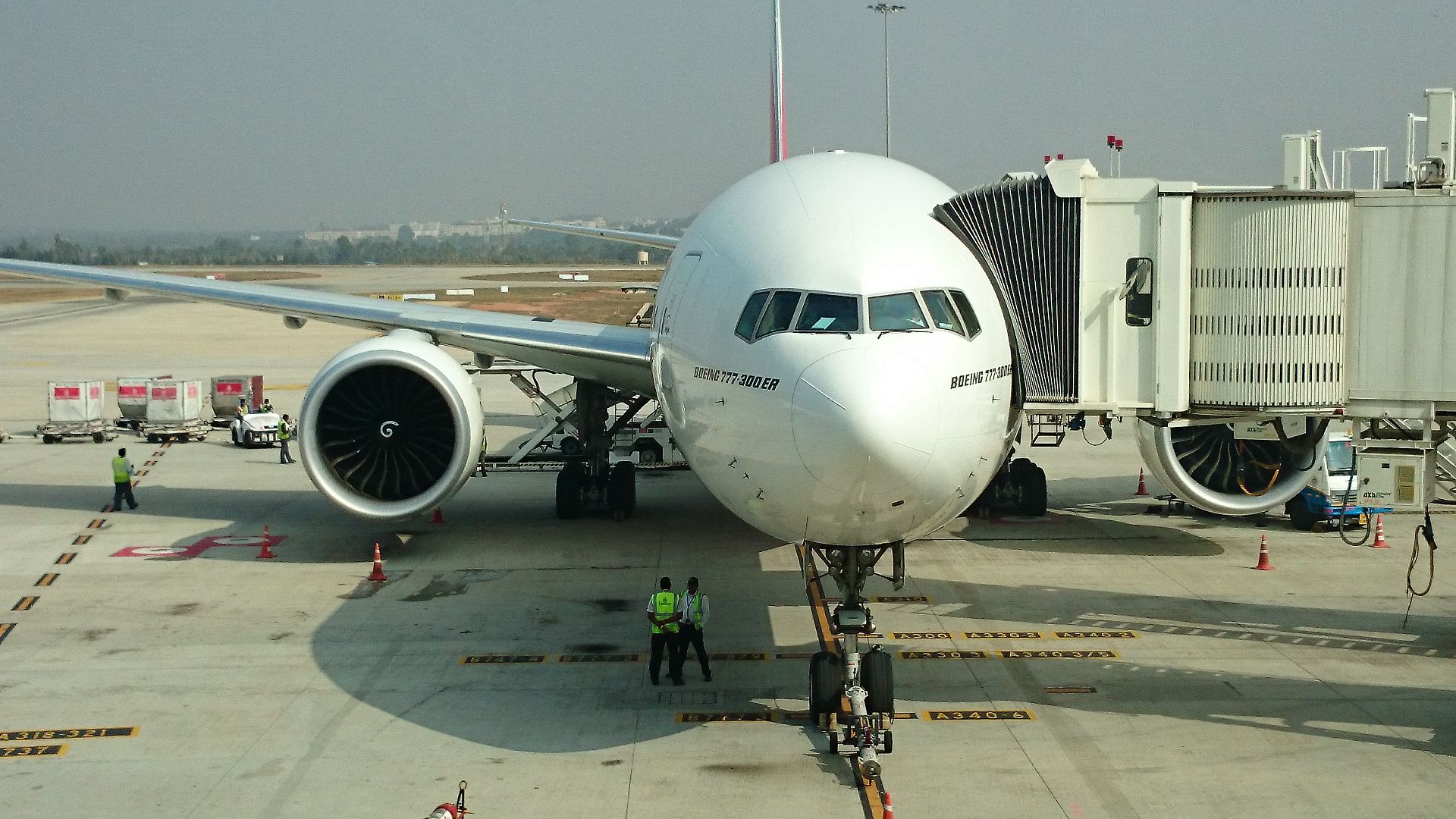 Once on-board, As usual the aircrafts were well kept and it was super clean. Nothing more to add to the plethora of trip reports on the EK 777W here.
Boarding was complete on time and disembarked 5 minutes before schedule.
My seat - Once again 46A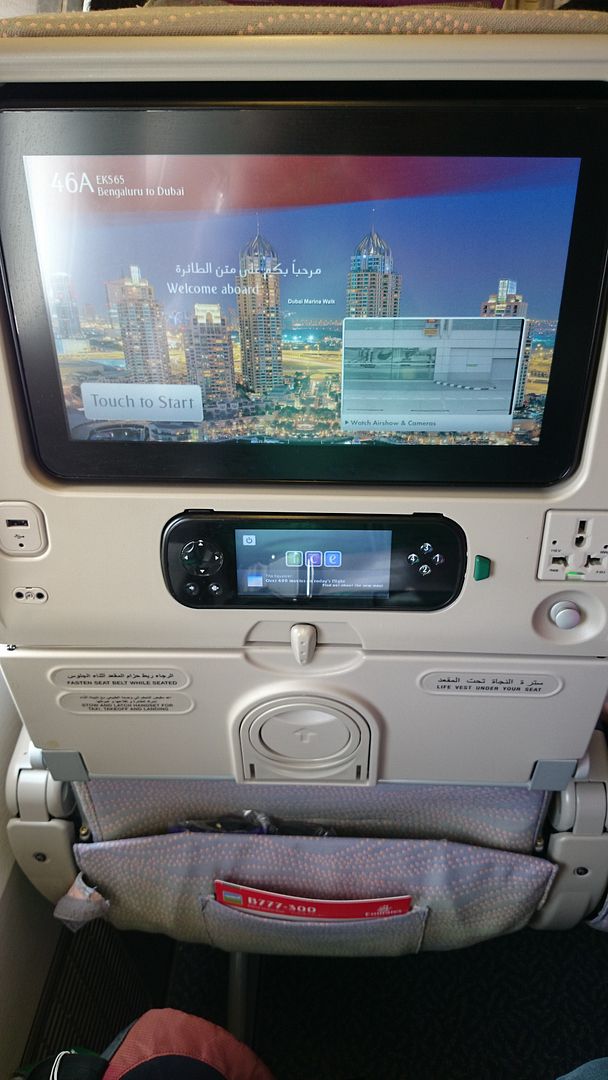 Menu on board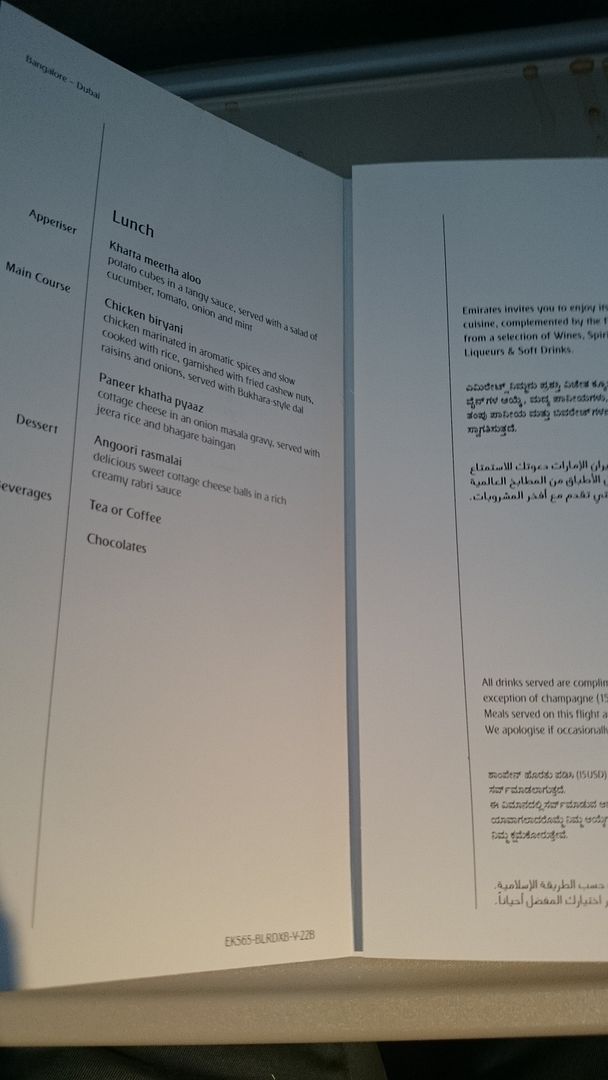 Cabin crew was a mixed bag. There was one crew who was particularly helpful. At the other end there were crew members that were cold and disinterested (especially the cabin manager). On the whole it was acceptable on this full (nearly) flight to Dubai. Nothing to shout about.
A flight time of 3 hr and 45 minutes announced from the cockpit.
This flight was my 'sleep catch up' flight as I had partied the entire night and had come directly to the airport, sleep deprived. So skipped the lunch service. It did smell good though, particularly the biryani.
It was a turbulent flight throughout. Nothing catastrophic, but it was constantly bumpy nevertheless. We finally landed at 12:45, 15 minutes ahead of schedule.
En-route to DXB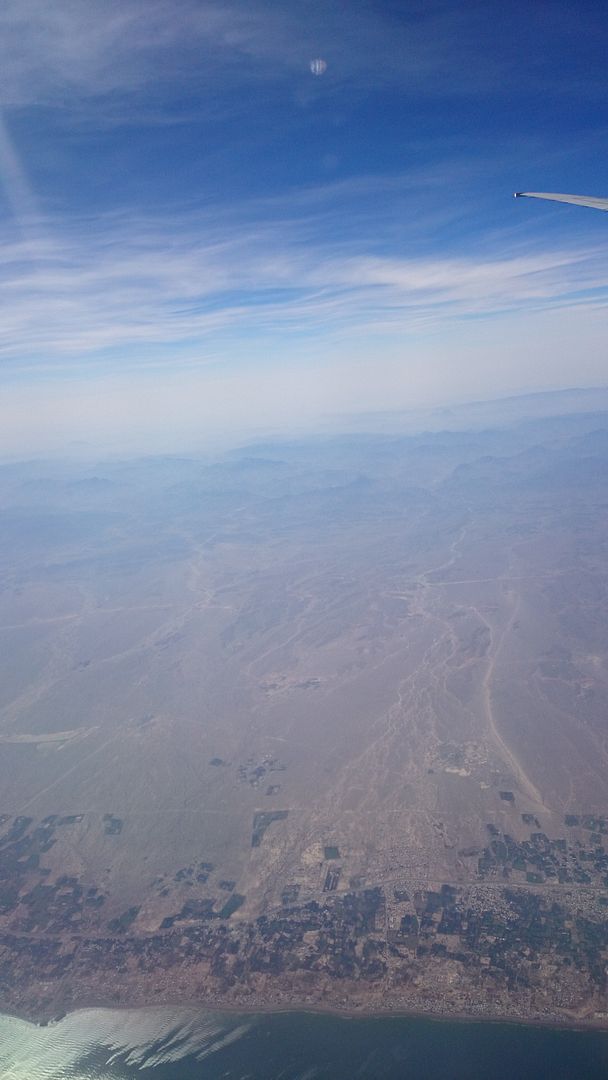 Very handy - Flight connection gates on board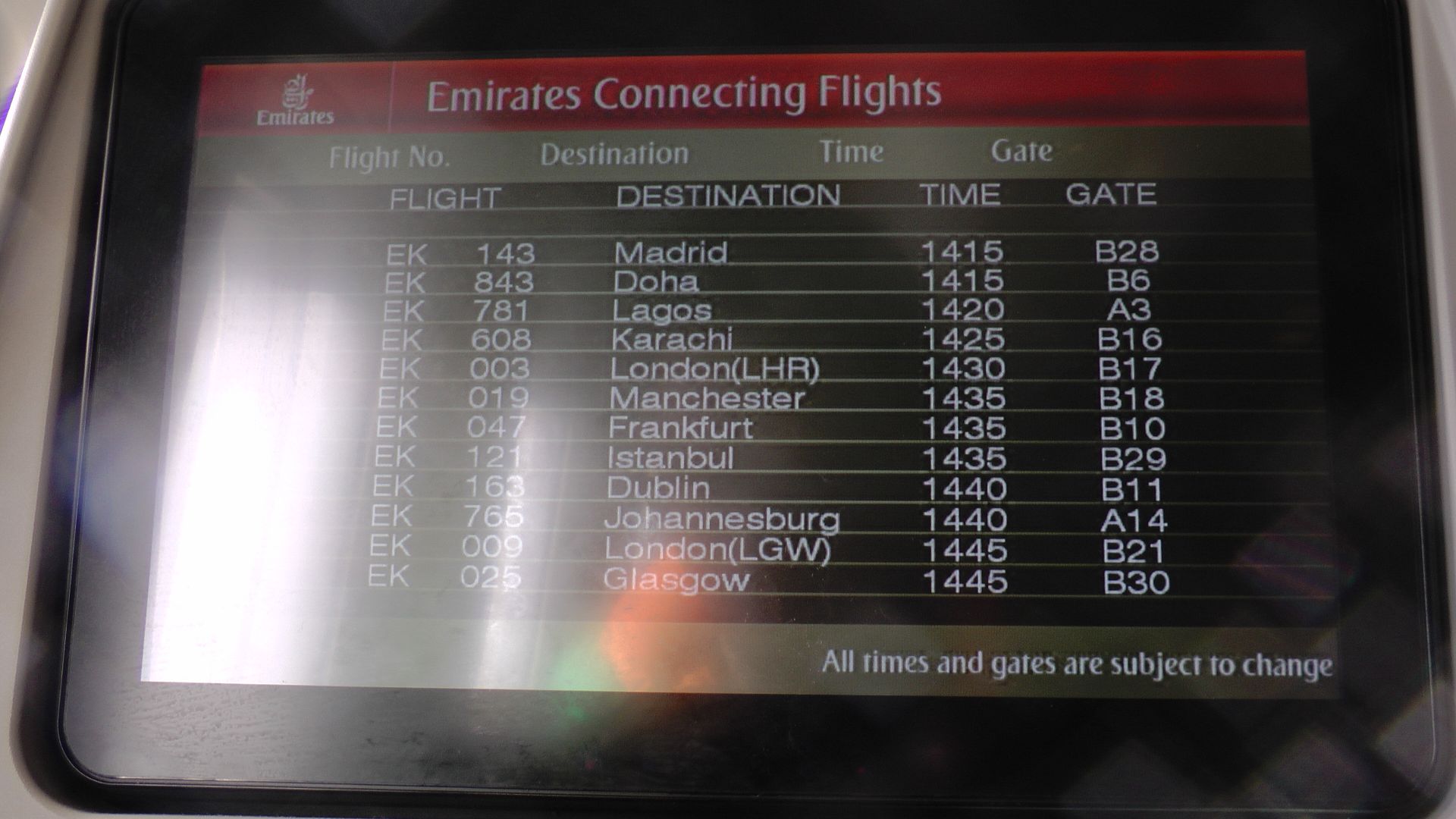 On the whole this was a much better flight than the one from Dubai to HYD. The hard product was top notch and had the latest ICE systems on board. Slightly let down by the mixed bag crew though. In the end it was fit for purpose, as it enabled me to catch up on some overdue sleep. A worthy 8/10 for this leg of the trip.
4th and final leg of this trip report - EK 009 from Dubai (DXB) to London Gatwick (LGW)
Emirates Airlines – EK 009 – DXB-LGW
Flight Reg: A6-EDJ ; Delivered June 2010
Airbus A380-800
Seat 45A
Flight time: 14:45 – 18:25 (15:03 – 18:50)
17th January 2015
Transiting at Dubai seems to have changed a bit now. Every transit passenger is now required to go through security check which makes the entire transit process a bit more cumbersome.
Transferring at DXB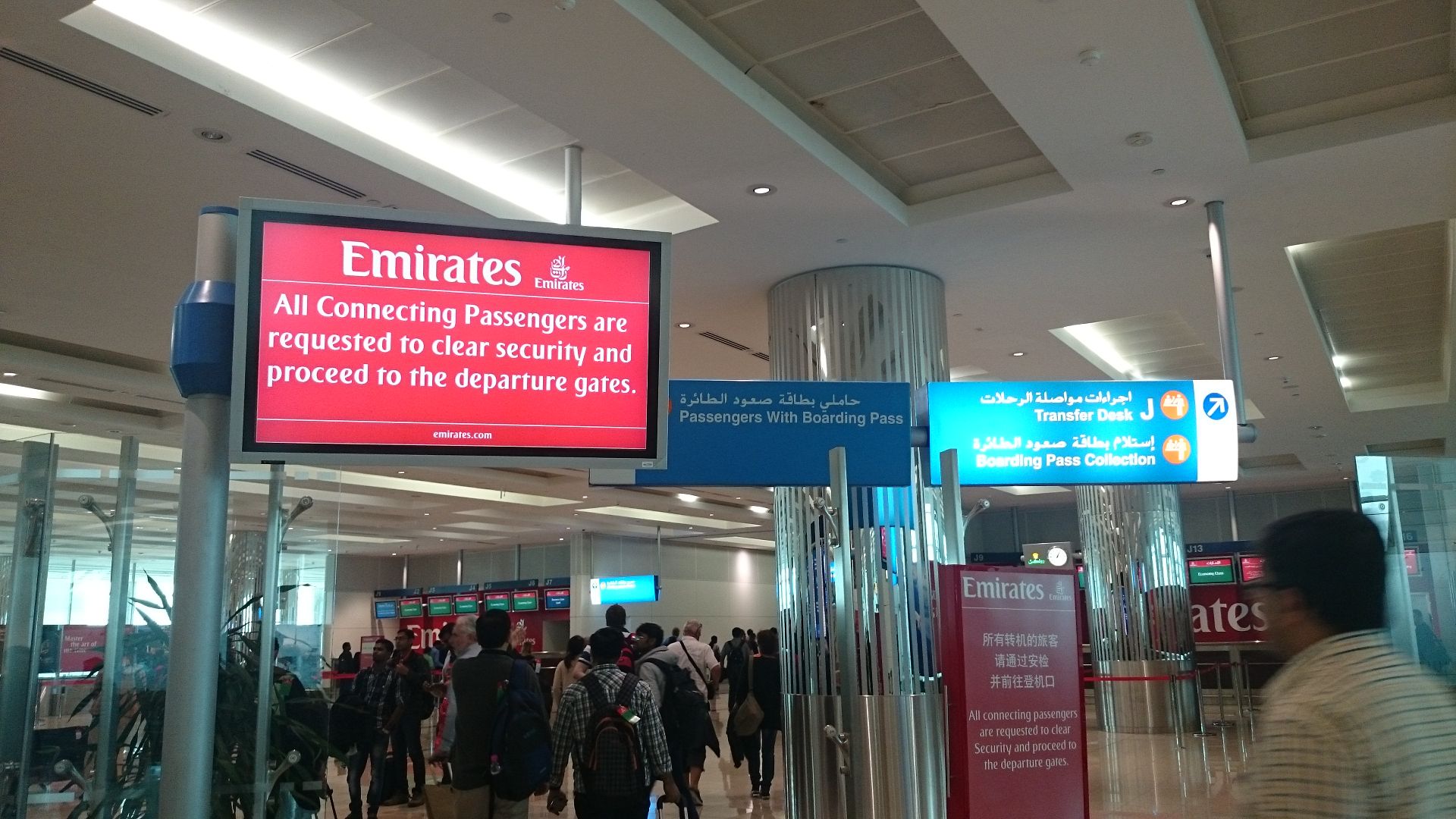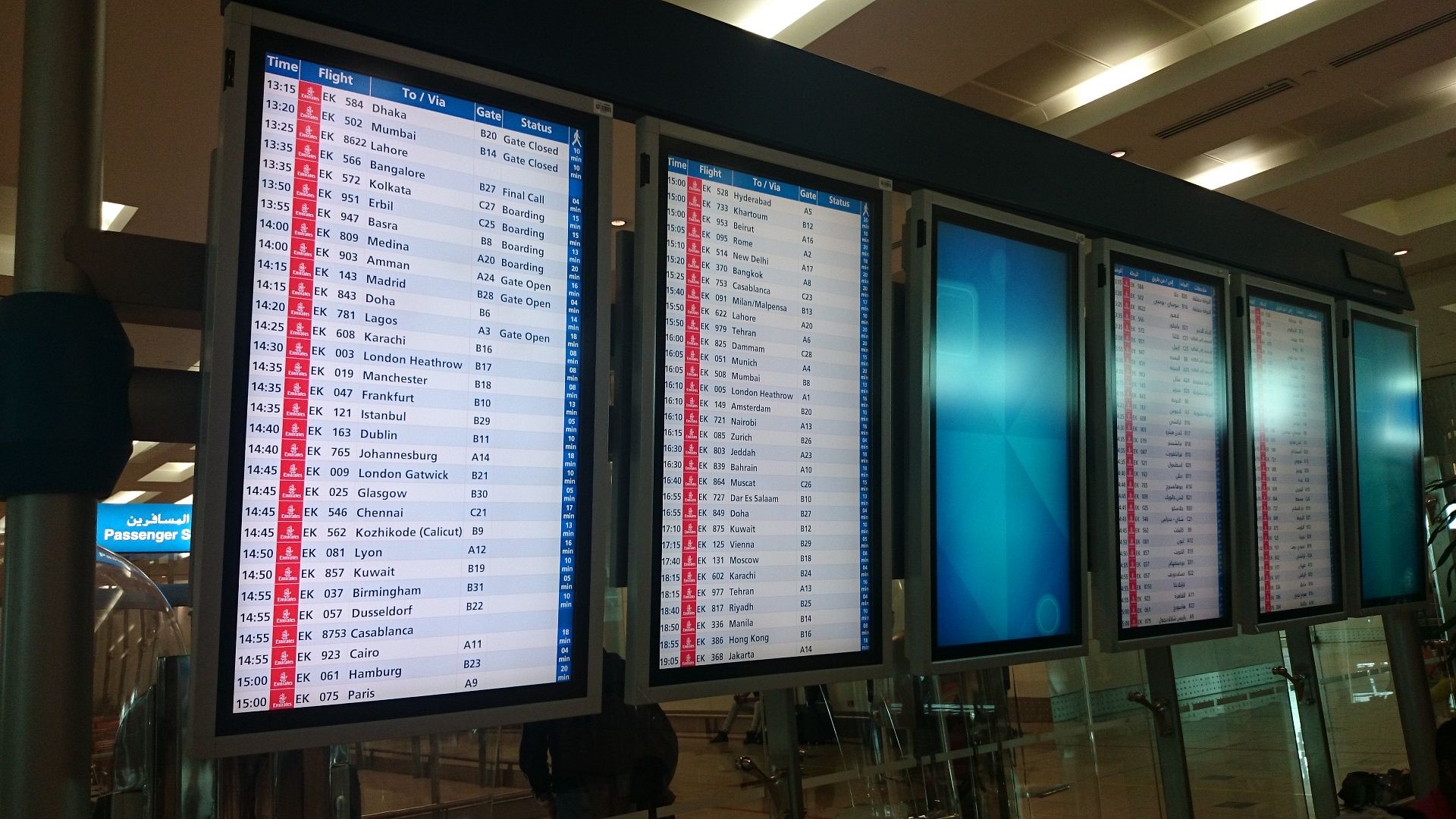 I passed though security and was in the main concourse of T3 Duty free within 45 minutes after landing. This got me in exact time to board the next flight. Since it was the WhaleJet, the gate was opened an hour before scheduled departure and boarding commenced well before 45 minutes before departure, from gate B21.
Dubai airport great for shopping not so great for photo shooting due to the UV protection film all across the concourse.
Our ride to LGW - an 8 year old A380-800 (A6-EDJ) - although it was delivered to EK only in 2010 (1st A-380 with GP7200 engines, frd to ADD for high altitude and hot flight tests 2006-10-16, frd to YFB 2007-01-10, LBG display 2007-06-18, for Etihad Airways 2008)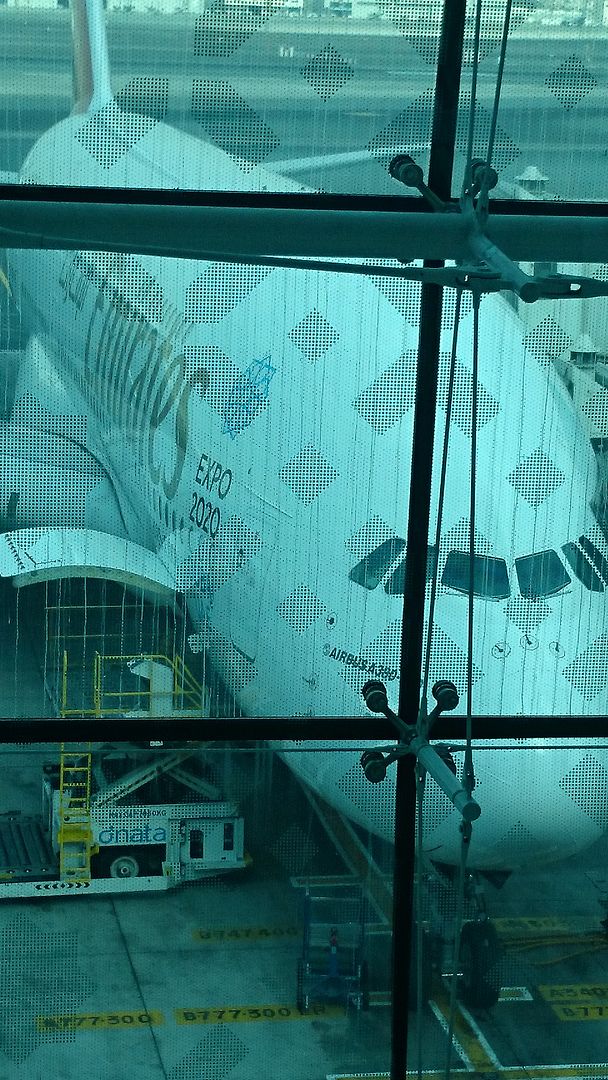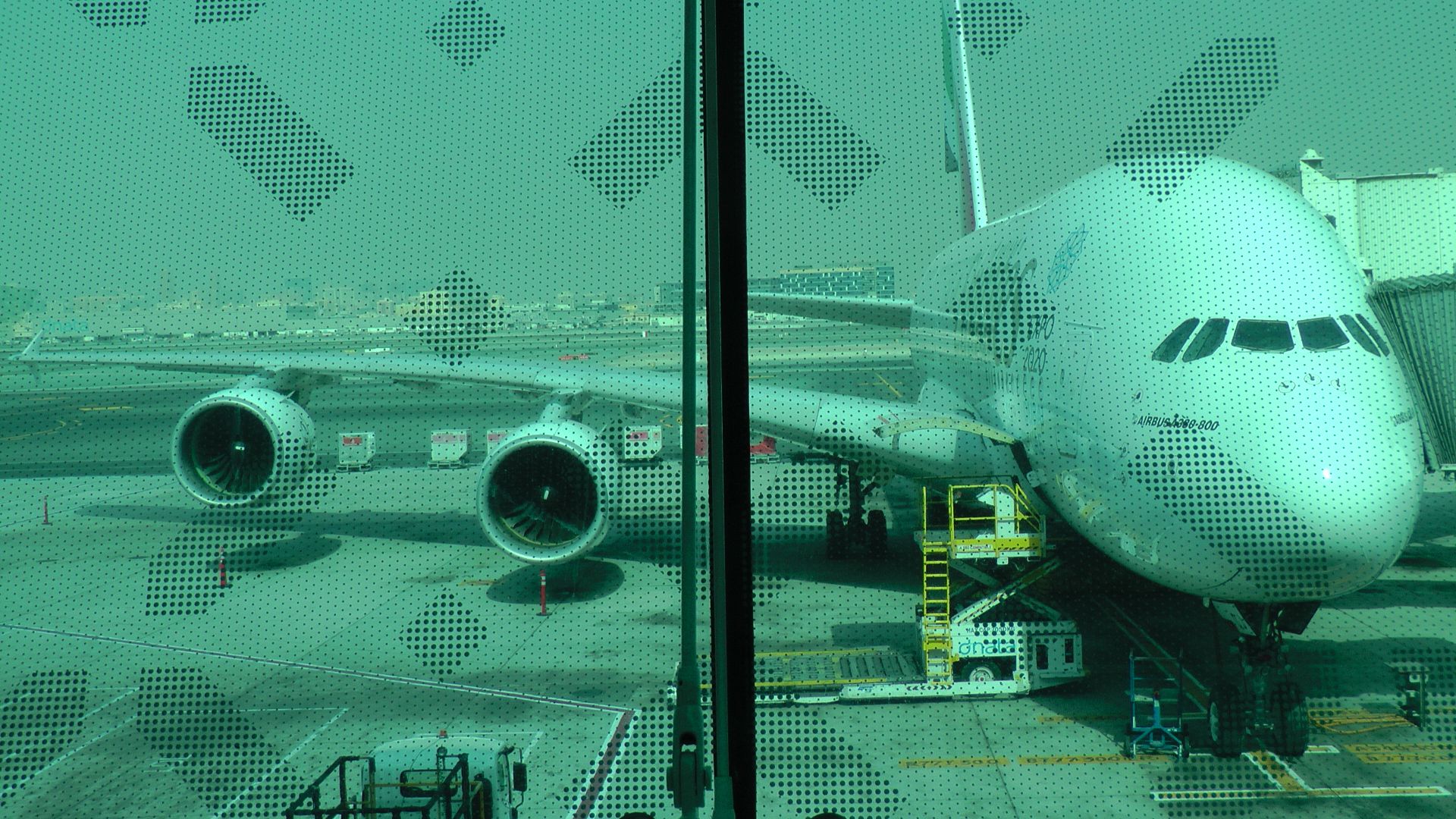 As always, EK have mastered the zonal boarding process. Everything seems well organised and well-paced.
Once on board, the front of the A380 economy cabin looks like an excellent place to be. There are a lot of airlines that use this space as First class seating and it shows why – super quiet, to a point that it is eerily quiet.
The captain welcomed us and announced Flight time of 7 hours to London Gatwick. Entertainment once again is class leading although not as new as the one on the 777-300. We were also infirmed that the crew were from 27 different nationalities.
On board the WhaleJet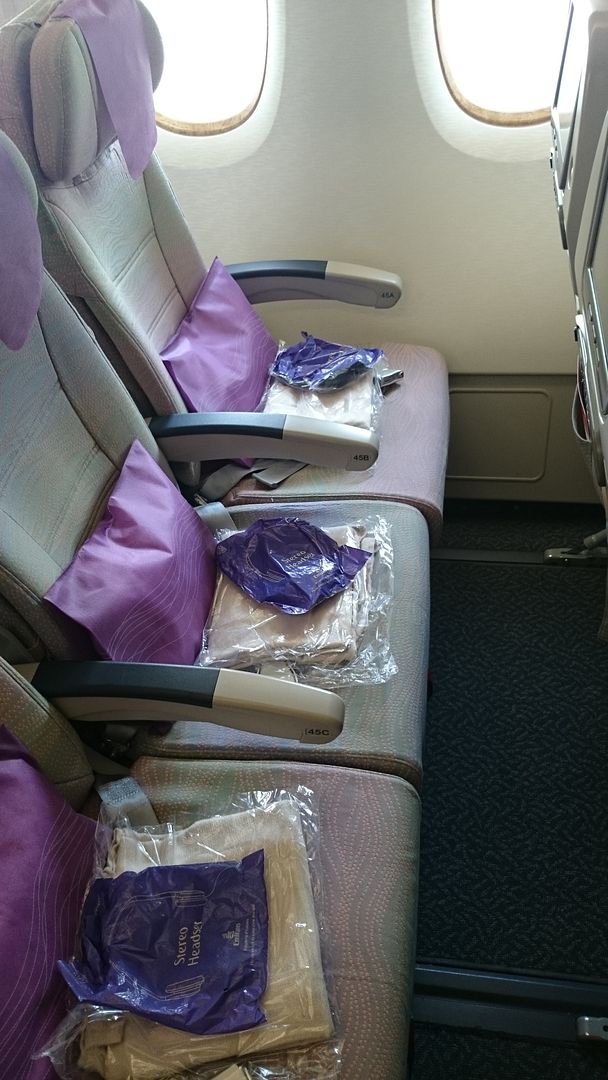 A newer ICE, but not as new as the B777-300s
Lovely cabin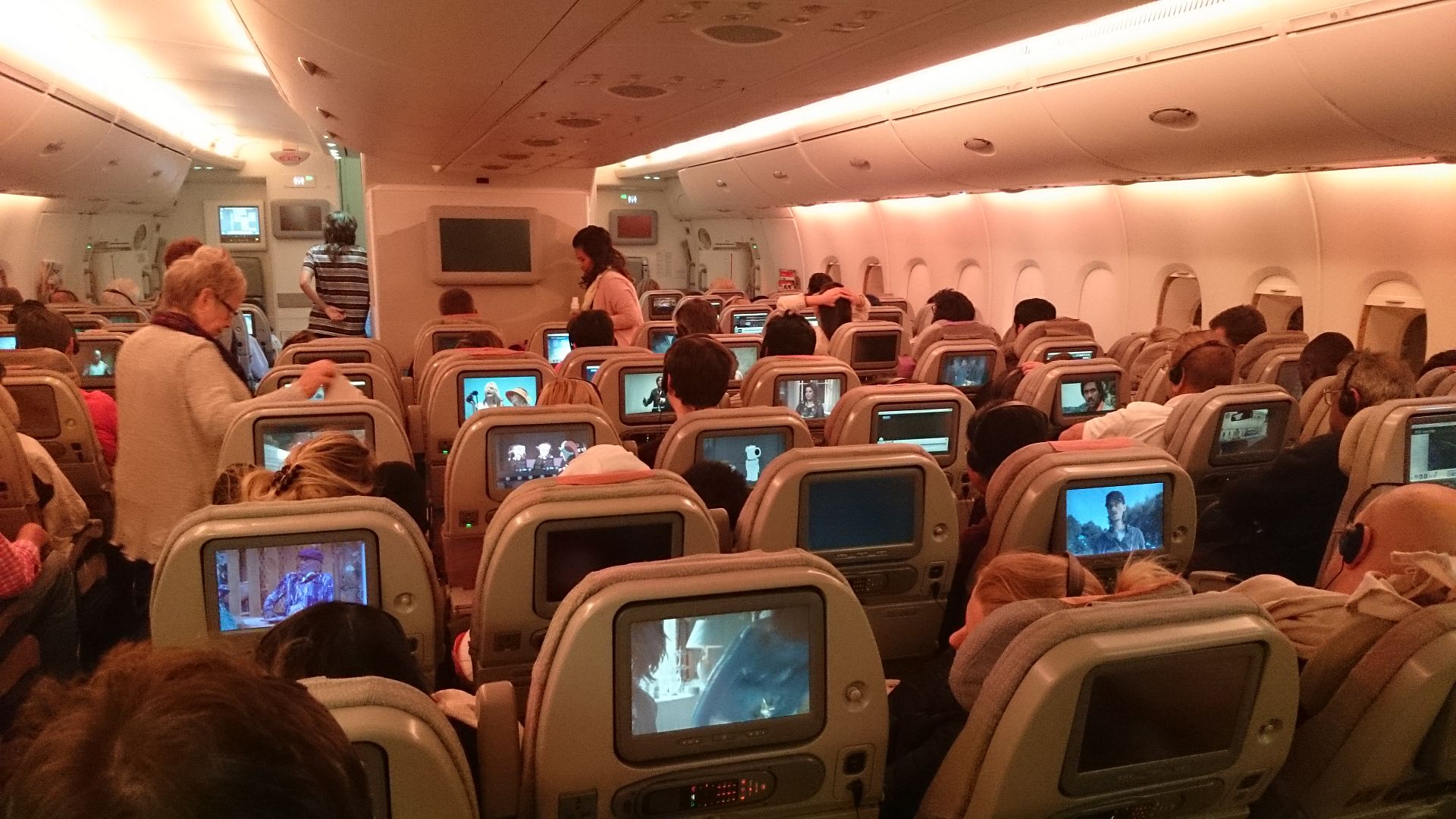 Seating wise it feels quite similar to the 777. We missed our departure slot and finally disembarked at 15:03. Since we missed the slot, it meant we were pushed right to the back of the pile and we were finally airborne only at 15:45, an hour behind schedule.
Plane spotting at DXB whilst the long taxi before departure
A sea of EK's
TNT' new livery - 3 year old B777-F (OO-TSC)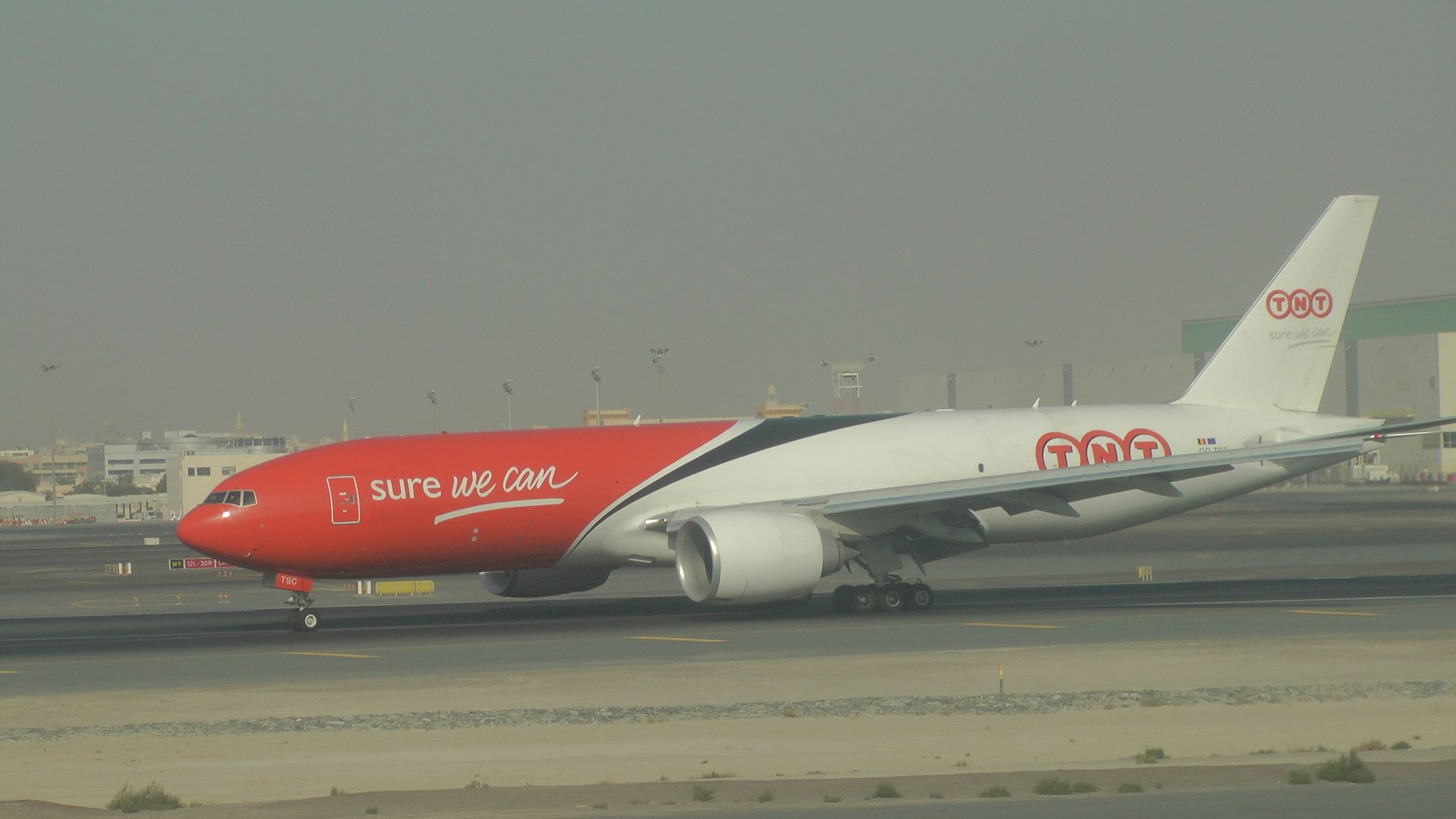 Just back from Muscat Oman Air B737-800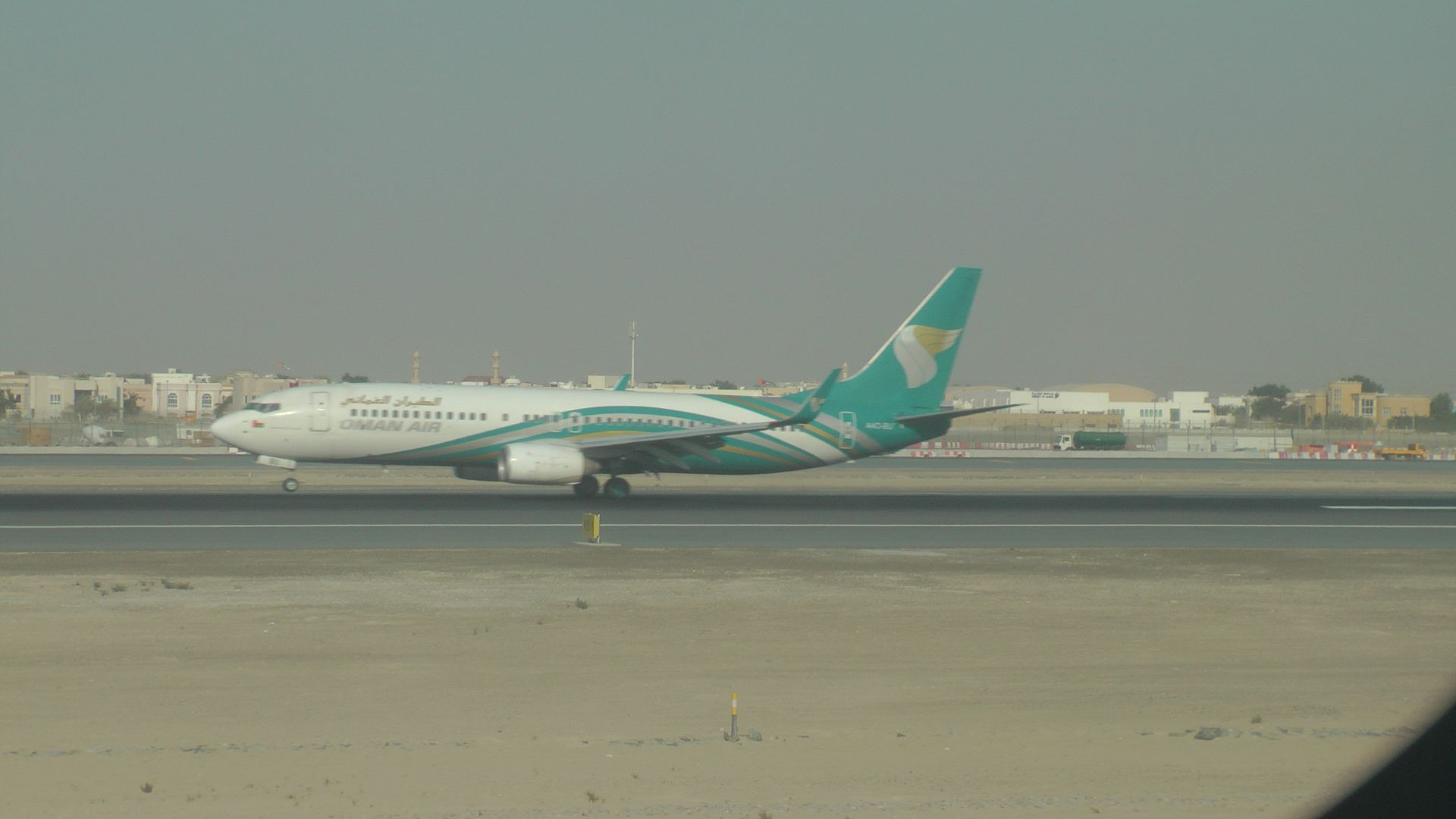 Dubai, we have touch down...
A 2 year old B737-800 A6-FDZ - Fly Dubai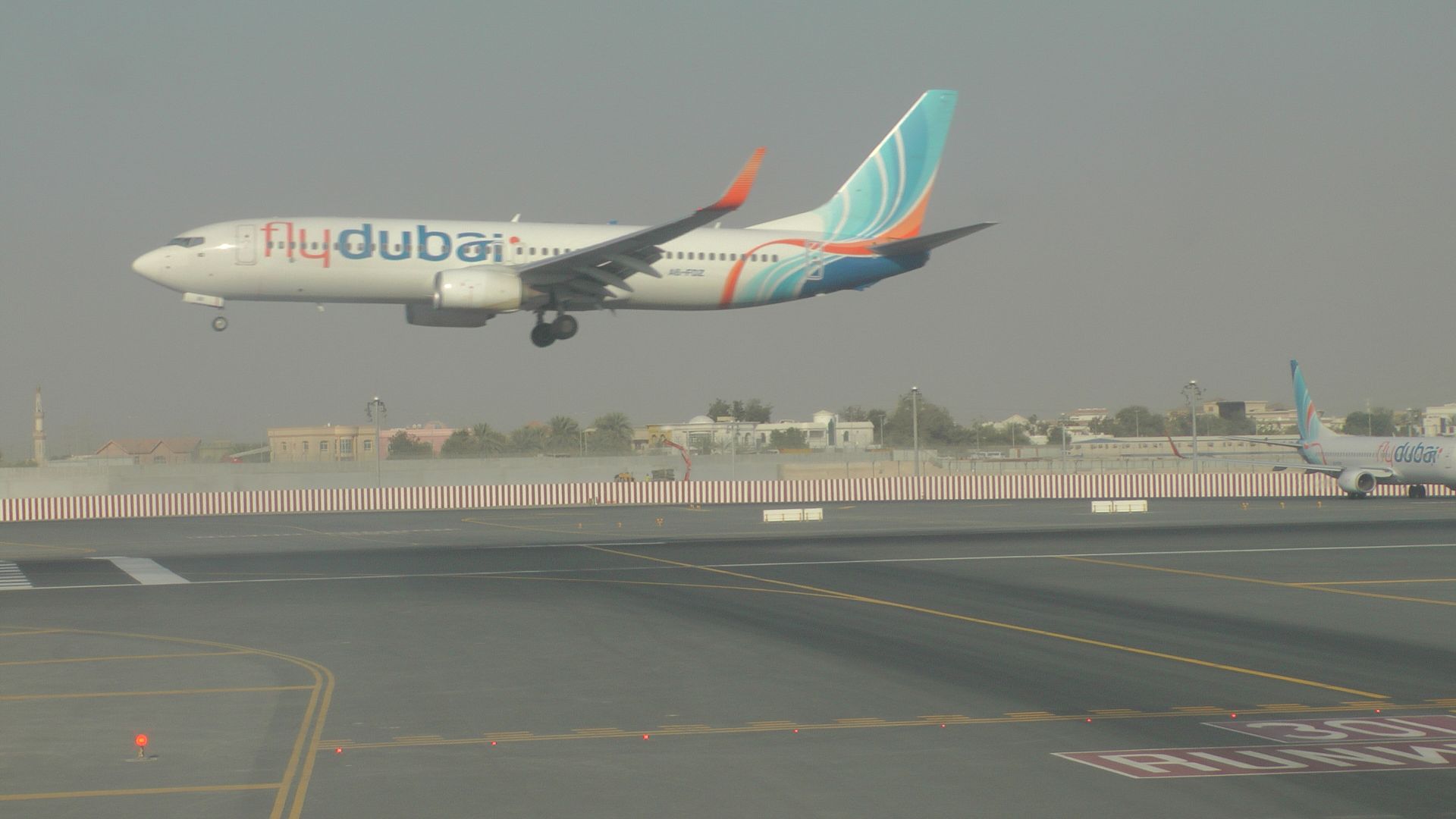 Traffic jam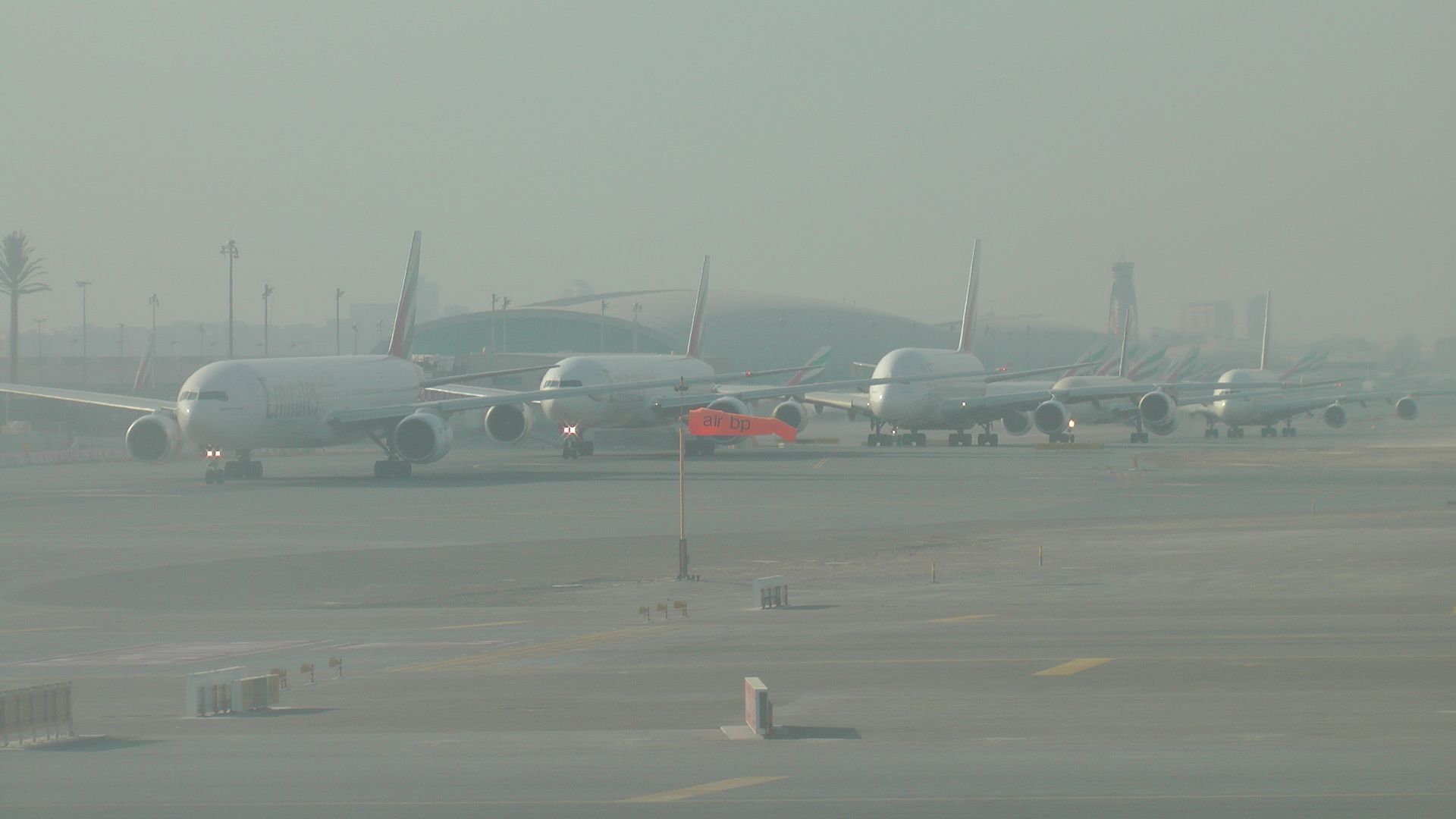 It was during take-off that my loyalties to the B747-400/8 were being questioned. I have never experienced anything take off this gently and seamlessly, and the silence was deafening.
Rest of the flight was uneventful. The A380 makes up for its performance where it loses out on its looks. It indeed is the quietest planes in the skies. Really enjoyed the up-front economy cabin on this EK WhaleJet.
F&B On board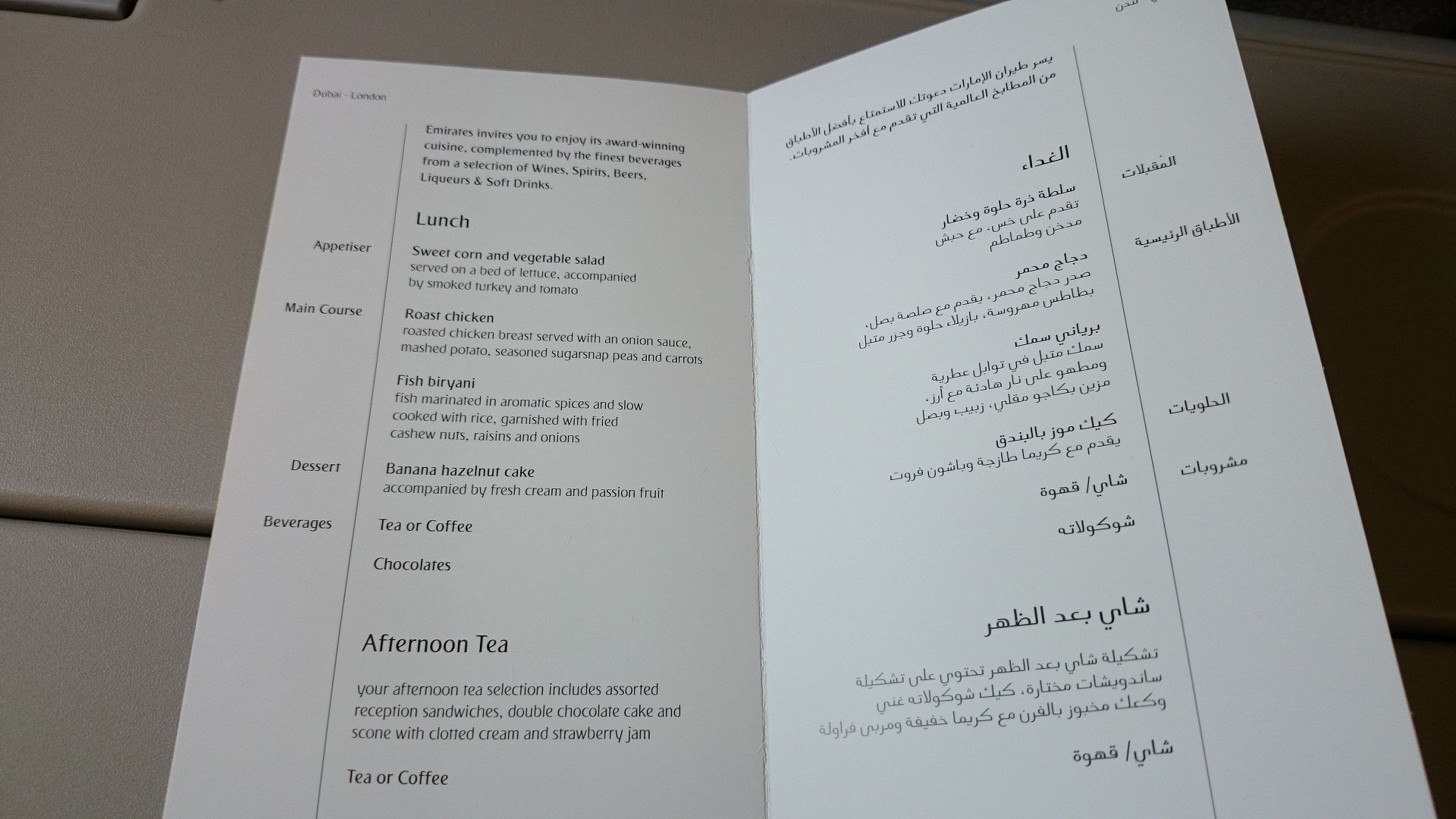 Avoidable...
Once again the crew on this flight was a bit of hit and miss. Were adequate and no more. Perhaps it was a full flight, but not sure.
Since we disembarked late, in spite of making up some time we landed, we landed around 20 minutes late at 18:50.
The walk from the Whale Jet Bridge to the immigration is quite a walk. Nevertheless, it was fairly empty and was at the baggage carousel in under 20 minutes (e-gate worked a charm).
A bit of an odd situation with the baggage. It was split between 2 belts. This made it slightly cumbersome to keep an eye out towards both the belts. Makes it even trickier if you are travelling alone.
Definitely a 9/10, simply because of the sublime forward cabin on the A380. Stupendous!
Back at LGW - 2 conveyer belts in use for the Whalejet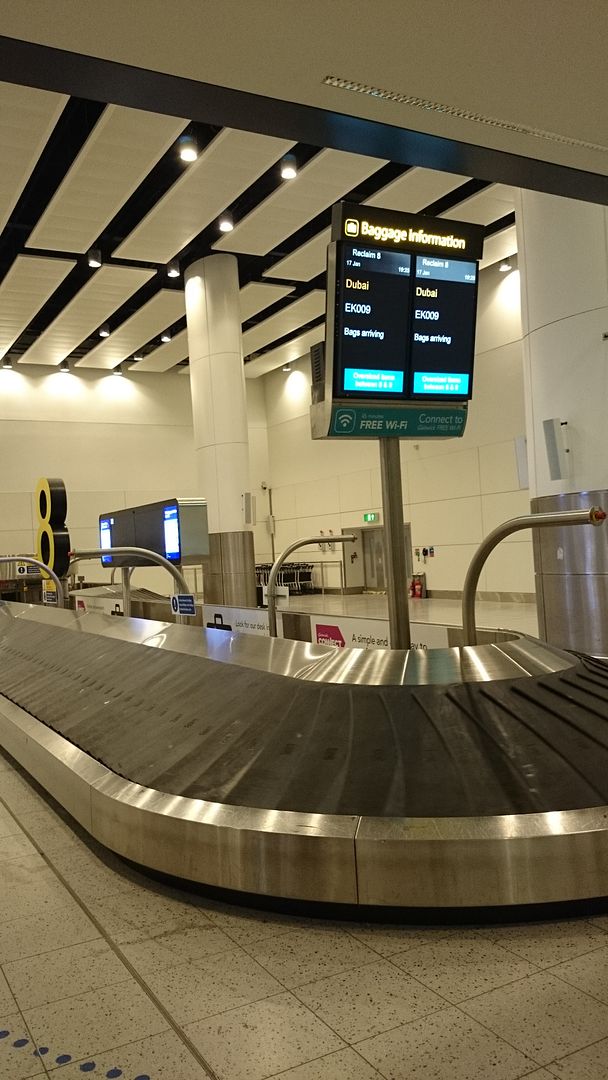 Verdict
The Hard Product
- Emirates are very good in this aspect. More or less, at least in economy, you get a more than better product, compared to the competition. I had no major disasters on my 4 sectors on this trip, of any note, and more often than not it was very good to excellent.
The Crew
– This area is one that could be improved or at least be a bit more consistent. My first sector raised he benchmark too high, perhaps, which made me feel a bit underw