Hello again!
Welcome to another one of my trip reports. This report will cover a couple of flights I took just before Christmas 2014: MEL-SYD on a QF 767 in Y and SYD-SIN in SQ's 'Next Generation' business class.
In December, I had to travel back down to Melbourne for my sister's graduation, which I did with a direct SIN-MEL redemption on SQ. Why did I choose such a complicated routing home to SIN then? Firstly, the introduction of the new 77Ws (77WN) on the Sydney SQ231/222 rotation in Dec caught my eye. There were only 4 aircraft then with the new products that was introduced in Sept 2013, which operate to London (SQ318/319), Tokyo (637/638) and Sydney, although they have popped up to other destinations occasionally. I had already experienced the new economy product from London last year and have been hoping to try the 'next gen' business ever since. As we were redeeming business saver awards anyway and I was waitlisted on SQ228 from MEL, I decided to waitlist on SQ222 as well.
My other reason for going through Sydney? It gave me a last opportunity to fly on a QF 767 before their retirement. Although I have only ever flown a QF 767 twice, it is a very special aircraft to me. Back in 1998, my first ever business class flight was on a QF 767 SIN-DRW-CNS. My only other flight on the 767 occurred on the return from that holiday, flying BNE-DPS-SIN. That leg was in economy and I loved the 2-3-2 configuration. For these 2 very simple reasons, the QF 767 became a special aircraft type for me and I was hoping to get a last flight on one.
For the longest time, it looked like this roundabout route was not going to happen. It took multiple calls to SQ and it was less than 24h to my preferred travel date when SQ finally agreed to release a saver award. This left me scrambling to find a suitable MEL-SYD flight operated by a 767. Finally with 22hrs to go, I was booked and all set to go.
Enough of the long introduction, please enjoy this report. Apologies for the low quality of some of the photos. As always, feedback, comments and questions are welcome.
22nd Dec 2014
QF428
VH-OGO Boeing 767-300ER
Seat: 37K
STD: 1130
STA: 1255
The day started by going online to check that no equipment changes had occurred; QF was still showing a 763 and FR24 told me that 9V-SWY was enroute to SYD. So far, so good.
Arrived at Tullamarine just after 10, where I handed the car over to my parents. They would be back at the airport in the afternoon as my dad was catching SQ228 home, which was scheduled to arrive 5 minutes after my SQ222 from Sydney.
Decided to use the self-check-in kiosks and self-bag drop., which took some getting familiar with. Had a little problem at the bag drop as my suitcase was a little over the limit, but shifting one item to my carry-on brought the suitcase to exactly 23kg and off it went to find its way through the airport. Security was quick despite a queue and I was airside by 1030. I headed straight over to gate 1 which surprisingly was already almost full. Unfortunately, the display at the gate showed a delayed arrival for the aircraft, so it looked like we would probably depart late as well. With hardly any free seats and no view from gate 1, I walked over to gate 3 instead to wait. Just before 11, VH-OGO came taxiing in and I assumed correctly that it was parking at gate 1 to turn around as QF428.
VH-OGO coming in
Boarding finally commenced about 1130 but the queue moved painfully slow initially. The flight looked full today, no surprise given the season and probably due to some passengers getting shifted to this flight from the cancelled QF430 which was the next MEL-SYD flight.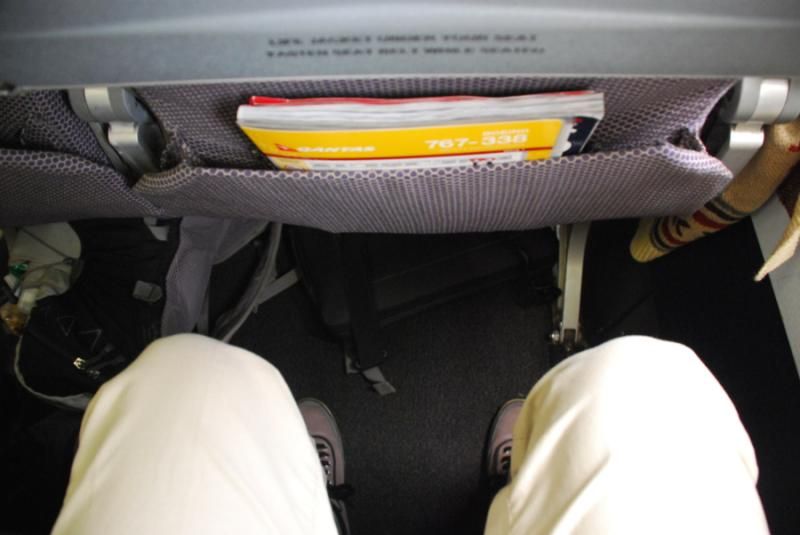 Obligatory legroom shot
Magazine and safety card
Old style overhead panel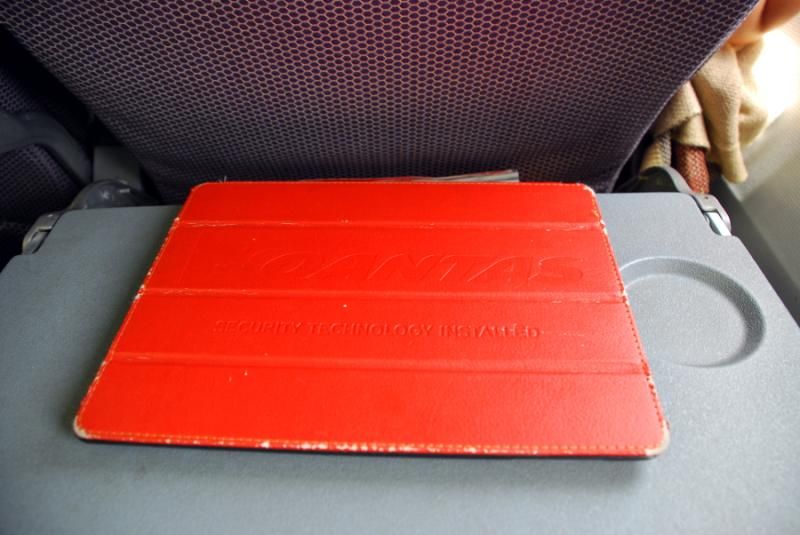 Q Streaming iPad
Captain came on the PA just before 12, announcing a flight time of 55min and also that due to the APU being inop, we would be making an 'unusual' departure out of the gate area. The pushback did seem rather unusual and we appeared to be towed clear of all the gates, before commencing engine start up. Eventually, we made the short taxi to runway 27. We were airborne by 1215.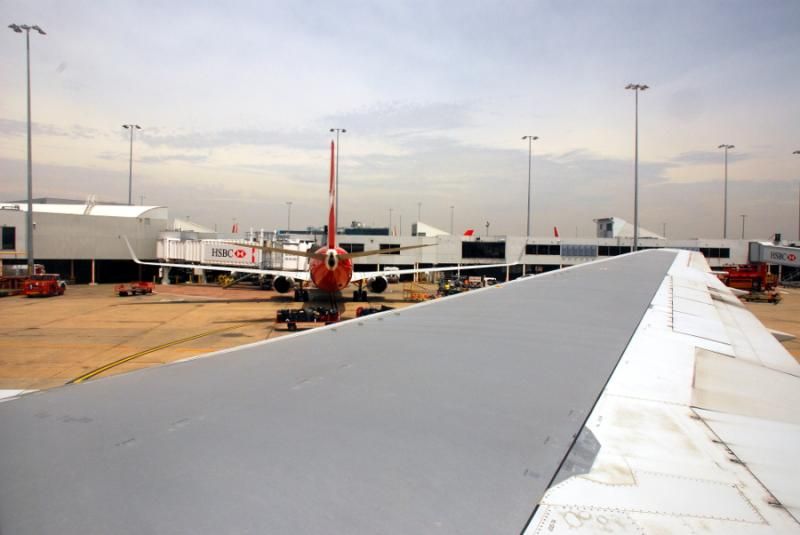 Getting towed out of the gate areas
Climbing out
The climb out was slightly bumpy and it took awhile before the seatbelt sign was extinguished. Service then commenced with a refreshment and drinks. There were iPads available in the seat pockets as IFE through Q Streaming.
Browsing the music selection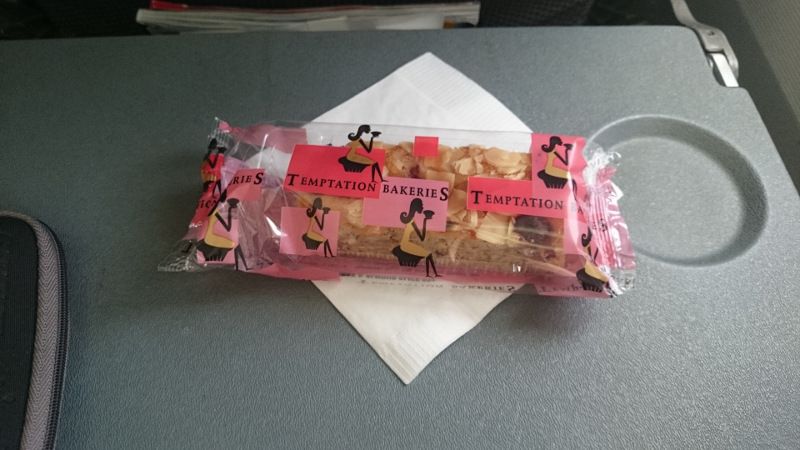 Refreshment
The crew were only about 3/4 way down the Y cabin when the announcement to prepare the aircraft for arrival was made. The seatbelt sign was switched on soon after. The purser apologised for this and said it was a precaution due to the anticipated bumpy descent into Sydney.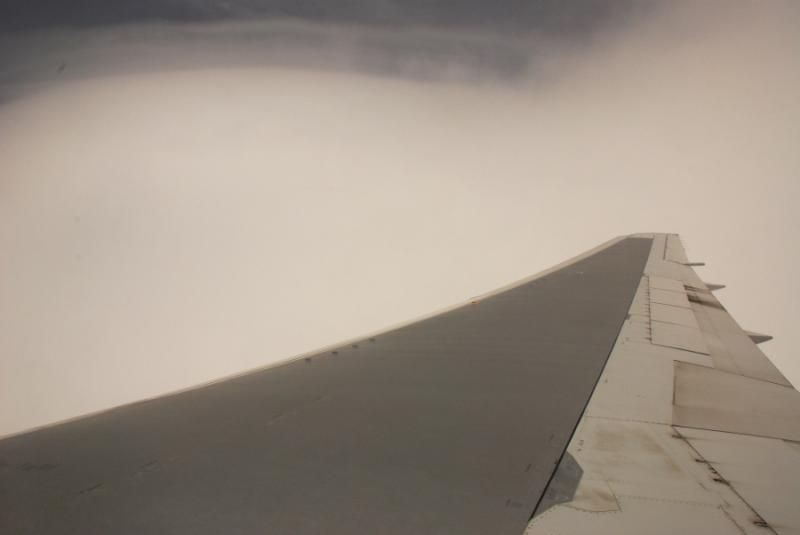 Going through the thick cloud cover
After getting roughed about a bit from the strong winds and thick cloud cover, we touched down on runway 34L at 1315.
Final approach for 34L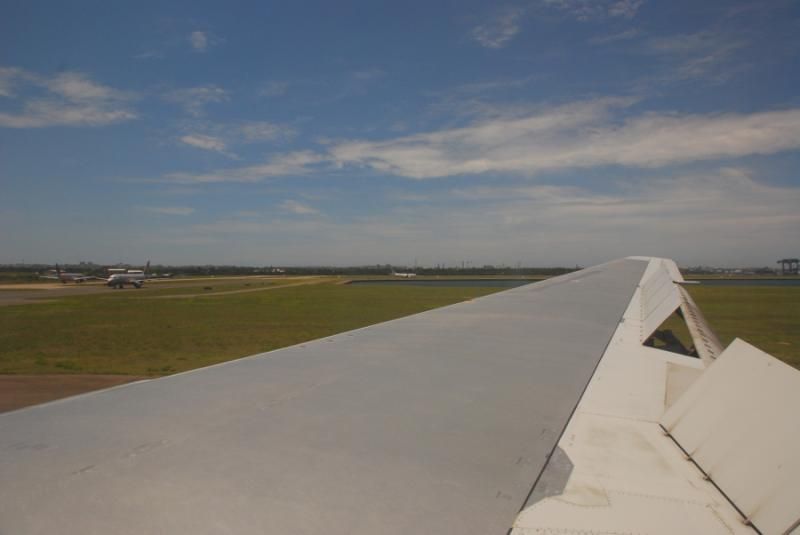 Slowing down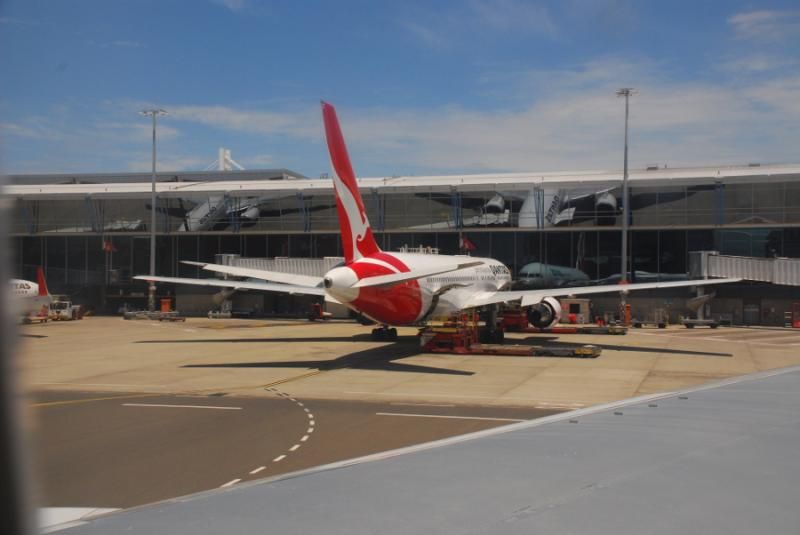 Passing a sister 767 VH-OGT
We taxied to the QF domestic terminal and I was out of the aircraft by 1330. It was a rather sad moment for me as I said goodbye to VH-OGO and indeed, the QF 767 fleet.
However, I didn't have time to dwell on that sentiment, as I had to quickly retrieve my bag and run an errand before checking in for my next flight. Thankfully, bags were out quickly and mine was the 3rd one on the belt.
I grabbed a cab and headed to Alexandria, to pick up some items for friends back home in Singapore. As it turned out, the cab driver was in an even bigger hurry than me, as he didn't want to have to re-join the queue right at the back.
SQ222
9V-SWY Boeing 777-300ER
Seat: 11A
STD: 1610
STA: 2120
Within 20min, I was back at the airport but at internationals this time. The cabbie was good and dropped me off right at the end of the terminal, where SQ's counters are located. Surprisingly, I didn't see many pax checking in. I was quickly checked in by the friendly ground staff and given directions to the SilverKris lounge. I was surprised to be handed an express card labelled 'Arrivals', but the agent explained that they didn't have any 'Departure' cards on hand, which I found odd since the cards are collected at the security queue. It was a long walk to immigration and security where again, I was surprised at the lack of crowd.
Boarding pass, express card and passenger departure card
There was a slight problem at immigration scanning my passport but this was resolved without any issues eventually. Once I was past security, I headed straight for the lounge, which is located at the far end of the terminal right above gate 58 where we would be departing from today. The Sydney lounge was renovated fairly recently and IMO, is vastly superior to its sibling in MEL. Of course, the MEL lounge suffers from a terrible location with no exterior windows. The food selection here was decent, with a number of hot items and the usual drink selections seen in most SQ lounges. I grabbed some food to eat since I hadn't had lunch yet, after which I spent the rest of the time spotting.
A few shots of the items in the lounge: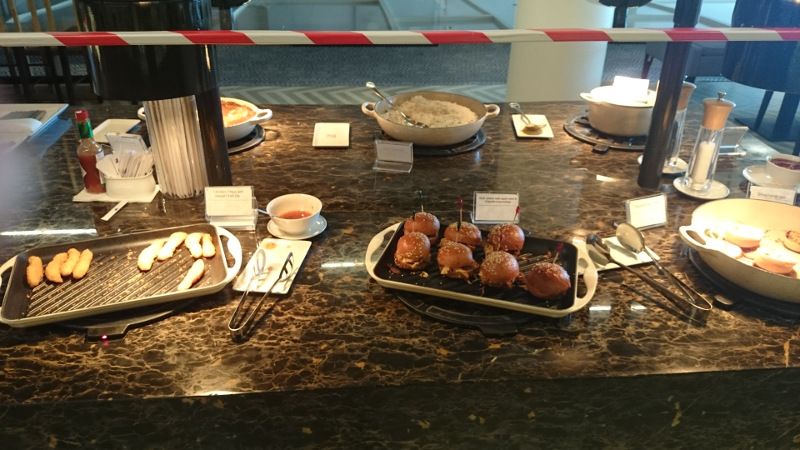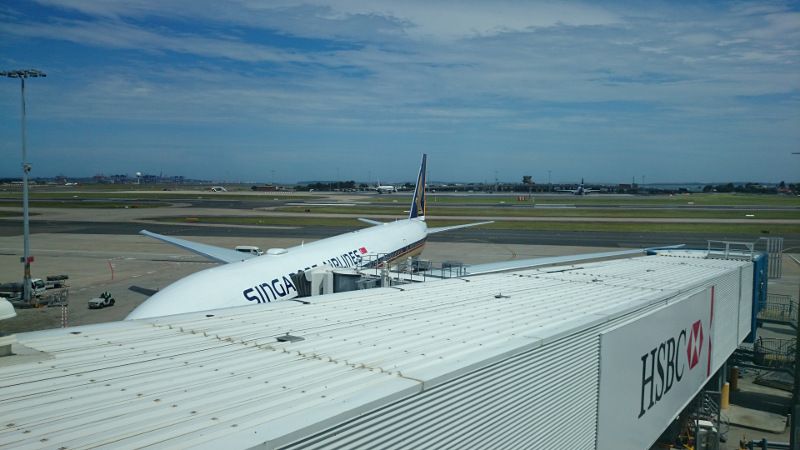 View of 9V-SWY from the lounge
A boarding announcement was made in the lounge at 1555. When I got to gate 58, it seemed most pax had already boarded as there was hardly anyone queueing to board,
Another shot of SWY while walking down the jet bridge
Boarding was done through door 2L only. Upon entering the aircraft, I turned left into the mini J cabin between first class and door 2. Row 11 is the first row of J class and is considered the best place to be when flying in business on the 77W. As it is a bulkhead row, one can sit and sleep (depending on how tall you are) straight rather than at an angle. The mini cabin also feels more exclusive, with only two rows of seats. Row 12 may be too close to the galley and is pretty much a standard seat, hence not considered as good as row 11.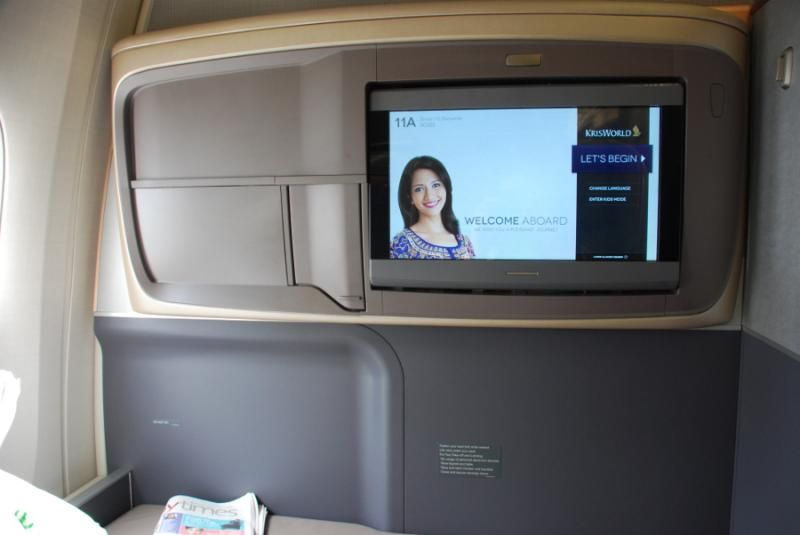 IFE welcome screen
Newspapers, magazines and a welcome drink was offered, to which I chose the Straits Times, Top Gear and a glass of champagne respectively. Hot towels were also offered once doors were close.
Back in Sept SQ had switched, with much fanfare, to Tattinger in J class. I personally did not find it much of an improvement over the Bollinger previously served, but I'm no expert on champagnes. Also, I would preferred it chilled a little more than it was on this occasion.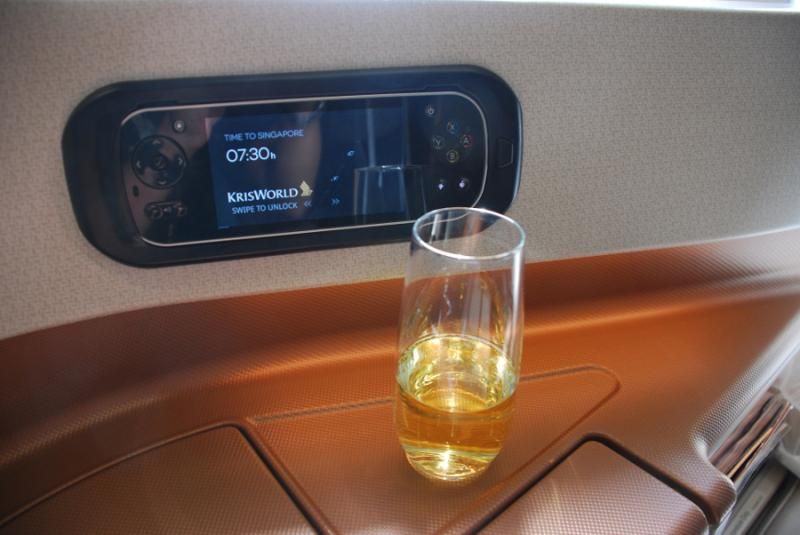 Welcome glass of Tattinger and the new touchscreen IFE controller behind it
I then started to explore the 'Next Generation' seat. To keep up with today's modern traveller, the new seat has more storage than the old long haul seat, which had virtually none. There is a storage compartment in the side console/armrest, where the headphones were placed. There is also a rack at about chest level on the side, which is useful for storing an iPad or laptop. While the addition of the side console and storage spaces have decreased the width of the space for seating, in my opinion the older seat was unnecessarily wide anyway. I'll describe more about the seat a little further down.
Legroom shot
Storage shelf
Storage compartment where the headphones were placed and the tray table in stowed position
Seat controls
Usual SQ Christmas decoration
We pushed back more or less on time, taxiing towards 34L for takeoff. We had to hold for a QF A330 to land, before the mighty GE90s could get to work. With the A330 out of the way, we sped down 34L and were airborne at 1624.
Ready to taxi
Reached the beginning of 34L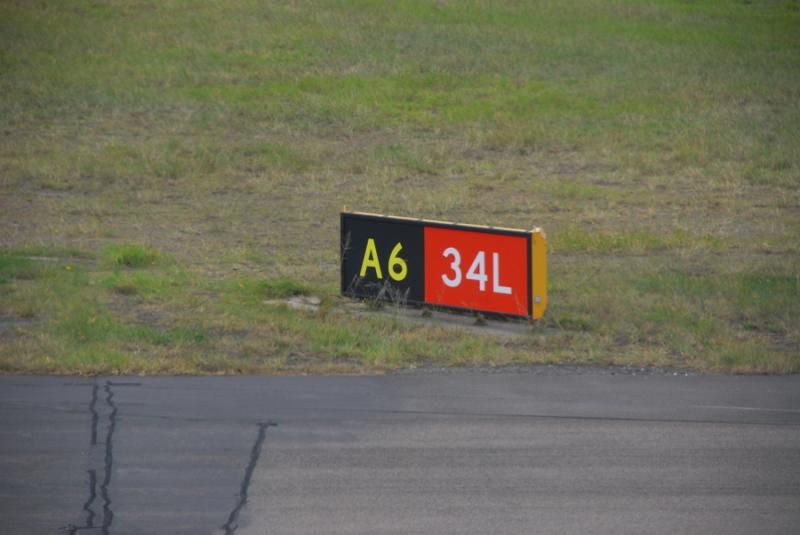 No mistaking which runway
QF A332 coming in to land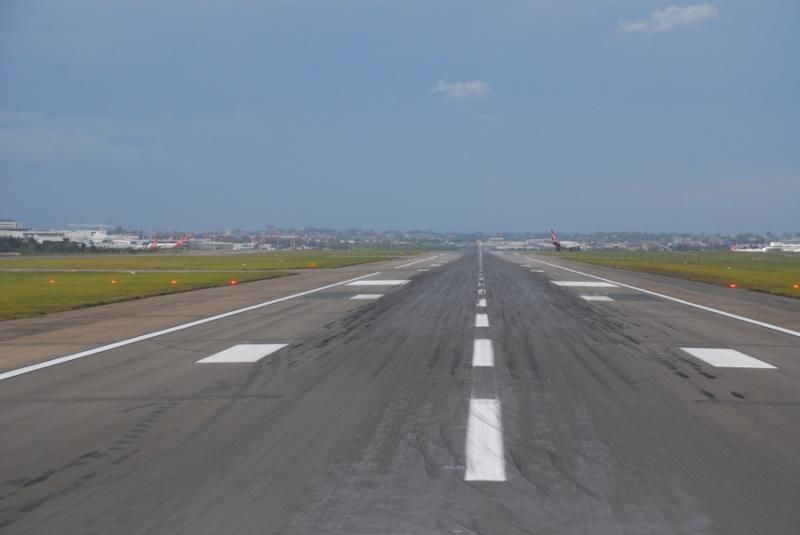 Our turn now with the A332 out of the way
Airborne
Climbing out of SYD
Once the seatbelt sign was turned off, I started to play around with the seat. One very welcome improvement over the older design is that the next gen seat reclines further in the seat mode. Another improvement (or at least I think this a new feature) is that the legrest can be raised to a horizontal position, to form a fully horizontal surface from the seat bench to the foot well, or in the case of the bulkhead row the bench for feet. This is an advantage over the older design as there's support for the calves when resting one's feet in the foot well while in seat mode.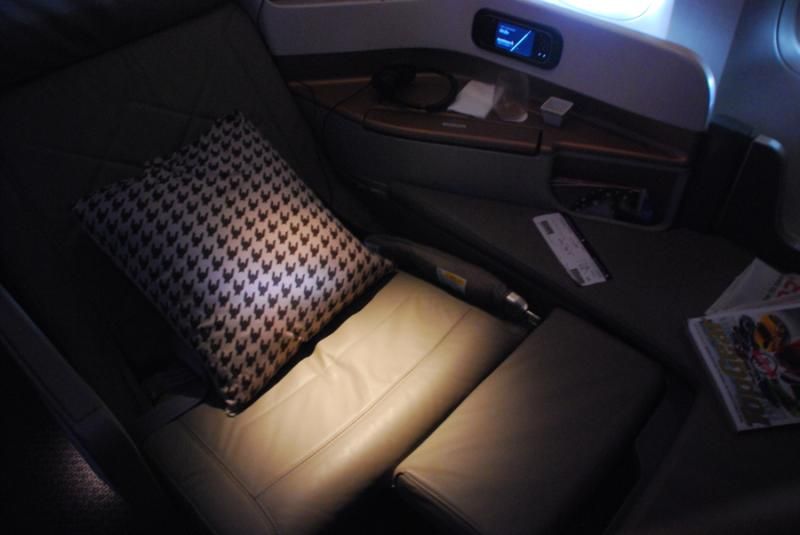 My seat with the legrest fully raised
Sit in fully upright position. This was taken in the mostly empty main cabin. Note the 2 different colour schemes between these 2 photos.
Besides the seat, the newer 77Ws also have the latest Krisworld entertainment. Personally, I find the new system rather frustrating. For example, when I browse music albums and go into an album to pick songs for my playlist, closing the album sub-window sends me back several selection menus. The navigation is also a little difficult to manage initially and I usually ended scrolling through to another section rather than selecting the control bar. A good aspect of the new IFE is the new touchscreen controller. In economy, the main screen is also a touchscreen, but not in J or F. The new Krisworld does have a fresher look to it though. Overall, I still don't enjoy using the new Krisworld much for now.
I made the usual obligatory trip to the lavatory after takeoff. The colour scheme seems to have changed to match the new colours of the cabin.
Lavatory floor
My post take off drink of iced Milo was delivered soon after, though the bowl of nuts took awhile to arrive, while the passenger across the aisle got his with his drink. The crew also came round recording meal choices about this time.
Post takeoff drink and nuts
Festive menu design
Dinner menu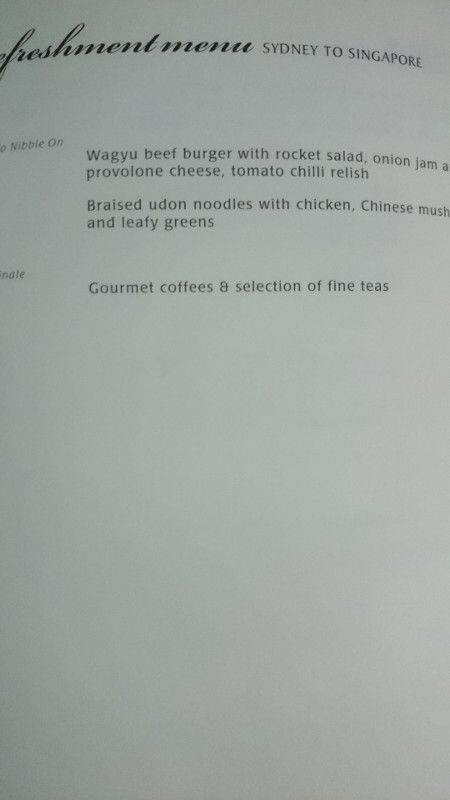 Refreshment menu
Dinner service began about an hour after takeoff. Disappointingly, SQ does not seem to serve satay as an appetiser on Australian routes anymore. I used to look forward to the satay on occasions when I've been lucky enough to fly J. Today's starter was an Asian glass noodle duck salad, which was refreshing and not too spicy. A crew member brought the bread basket after my starter was delivered, from which I selected my favourite garlic bread. I only recall one round of bread being offered. My choice for the main was the lamb, a Matt Moran created dish. I didn't have high expectations of it, as my last Matt Moran dish on SQ J out of MEL in June had been rather poor. In fact, in general I feel the quality of SQ's catering has dropped substantially. On this occasion, I was pleasantly surprised. The lamb was tender and not overcooked, with good flavour. The only odd thing about the main course was probably the burnt gnocchi. For dessert, in keeping with the season I chose the Christmas pudding, which was not really to my liking. Cheese and fruit were offered after dessert, both of which I had a little. I rounded off the meal with a mug of mint tea. A hot towel run was done after the entire dinner service was completed. Dinner service took about an hour in total to complete.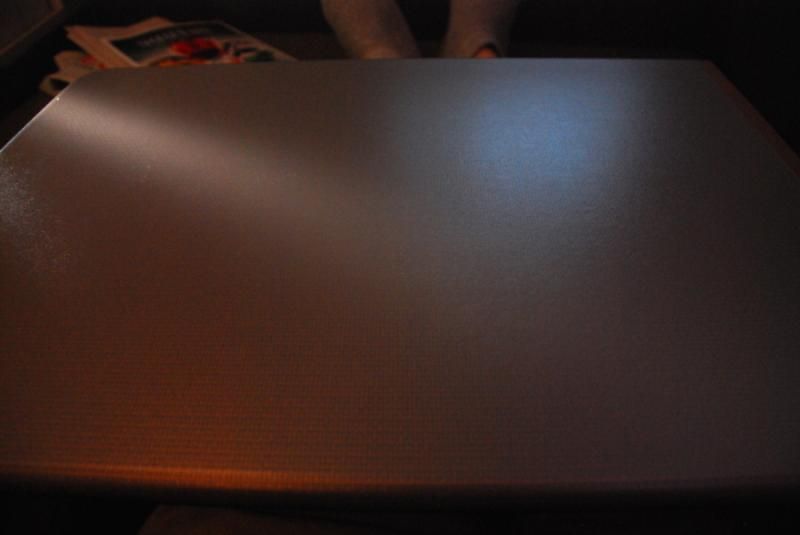 Tray table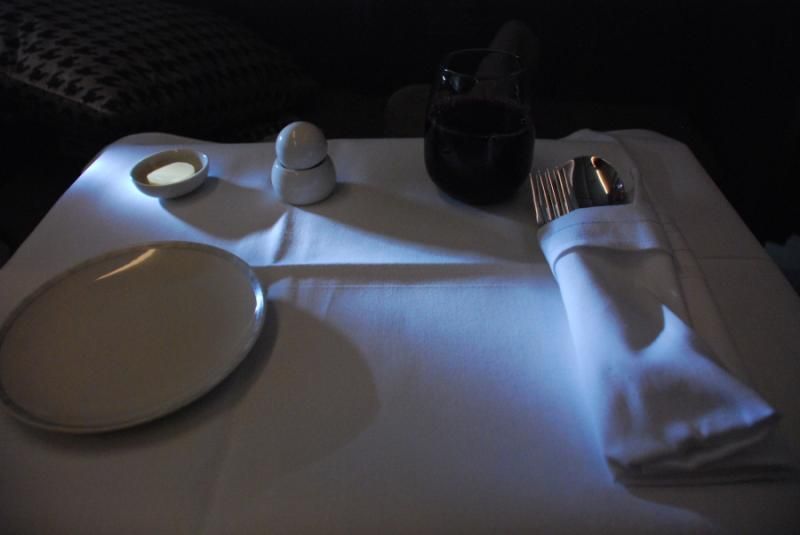 Table set up for dinner service
Duck glass noodle salad starter
Lamb main course
Quite well cooked, in my opinion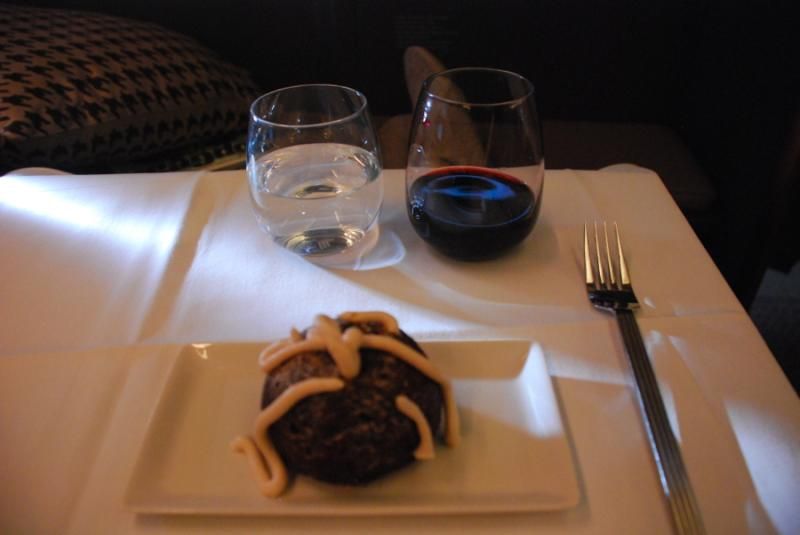 Christmas pudding dessert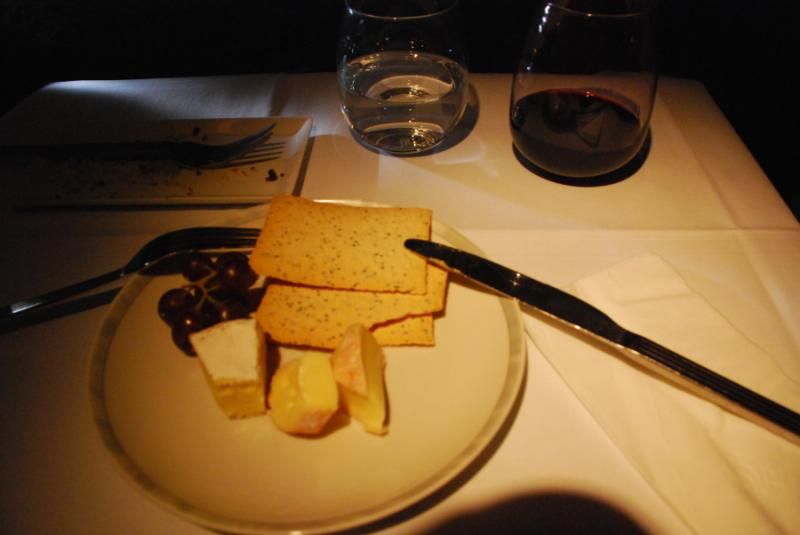 A bit of cheese and grapes to end the meal. Can't remember what cheeses were on offer, but I recall a blue cheese being offered as which I didn't take.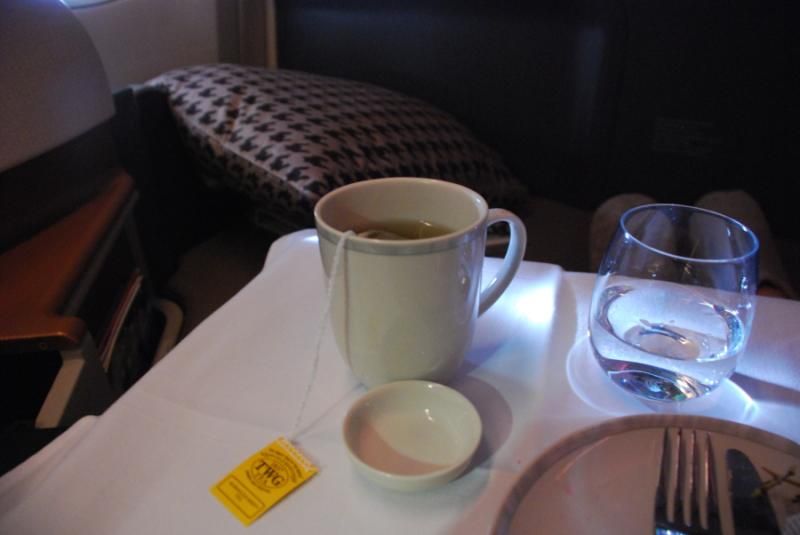 Moroccan mint tea by TWG to wash it all down
After letting the food digest a little, I requested for the bed to be prepared. As with the older seat, this requires the seat back to be folded down. One design improvement is that the hump beside the head when lying down, which is the foot well for the passenger behind, is now a lot smaller. This might help reduce the sense of narrowness around the head. As mentioned, being in the bulkhead row made it possible to slip facing straight ahead, although it isn't for the giants among us. In any case, the 'reverse herringbone' angle of sleeping somehow felt a more natural position anyway.
In my opinion and based on my limited business class experience, the SQ long haul J seat is still the best business class seat to sleep in. This next gen seat has partially solved one of the biggest issues which was the foot well hump. The SQ long haul J is still the only seat that I can comfortably sleep on my back. The bulkhead row is absolutely the best, with acres of space for one's feet.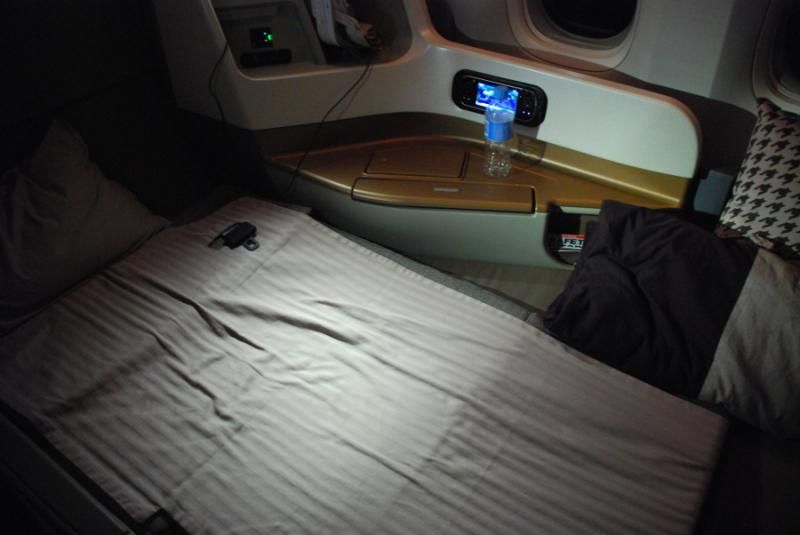 Seat in bed mode. Not much difference in this mode from the older long haul seat.
I managed a couple hours of sleep being the lights were gradually turned back on to for the light meal service. At this point, we were just under 2hrs out of Singapore. Hot towels were offered to freshen up. I chose the braised udon, which was rather disappointing. The dish was too salty and lacked balance overall. I noticed the passenger across the aisle in 11D ordered the same and did not finish his. To counter the taste of the noodles, I washed it down with a glass of coke.
Table set up for refreshment service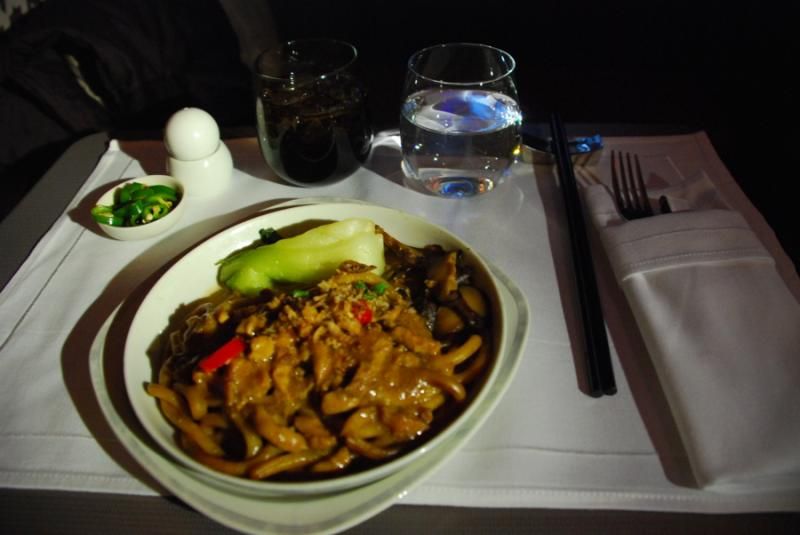 Braised udon. Not great
Half an hour out, the usual preparations for arrival began. Rather annoyingly, 11D changed out of his pyjamas right there at his seat. Hardly the most welcome sight.
Approach was from the south, overflying Batam and the Singapore Strait. The bright lights of downtown were visible on the left as we made our final approach for runway 02L.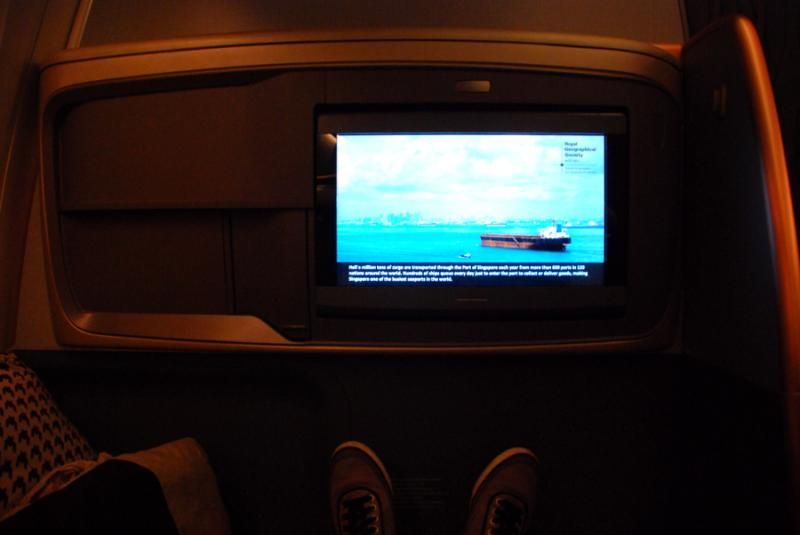 A feature of the flight path mode on the new Krisworld is the little snippets of information about places along the route as the aircraft flies over. This was a collaboration with National Geographic. This one is about the port of Singapore as we descend into Singapore.
We touched down early, at 2055. We then taxied around terminal 1, docking at gate E22. Given that the new 77Ws are scheduled for destinations that depart from T3, I guessed correctly that SWY would be towed to a remote stand near the E pier to park overnight before operating SQ318 to LHR the next day.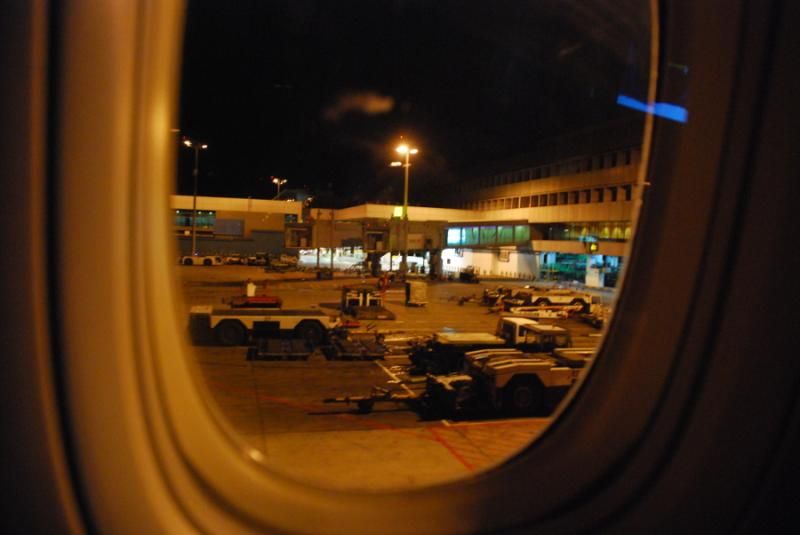 Turning into gate E22
Parked at E22
I was out of the aircraft and through immigration pretty quickly. In fact, I was the first passenger at the belt. Had to wait a few minutes before bags started appearing, but with priority tags my bag was among the first few out. My brother was there to meet me and we both proceeded to T3 where my dad had arrived on SQ228 25mins after I did.
Final thoughts
I was glad to have been able to catch one last ride on a QF 767. It was an ordinary domestic hop, but I felt a sense of satisfaction in being able to say my last goodbye.
As for the new SQ business class seat, I feel it's a good evolution from the existing design. The biggest issue I personally had with the old seat – the limited recline – has been improved quite a bit. The increased amount of storage space is welcome as well. The most annoying part of the 'next generation' experience has definitely got to be the Krisworld. After 2 flights with a combined flight time of nearly 20h on the new product, I have still not fully grasped the new layout and interface.
I hope you enjoyed reading this report and again, comments and questions are most welcome.
Joel