Hi Guys!
In December I got a chance to try Qatar Airways Business Class OSL-DOH-BKK one way on B788 and A380. That was my first time on QR and 788, a long planned experience. The journey back included two more ordinary flights, first Thai Air Asia A320 Bangkok-Krabi and then Finnair A343 (Y) Krabi-Helsinki. But first I needed to get to OSL.
17 December 2014
AY 655 HEL-OSL
12:10 - 12:40
(1h 30min)
Airbus A319-112
Seat 7F
Economy Class
To get my luggage tagged all the way to BKK I needed an oneworld carrier to OSL so it was AY for me. My separate tickets HEL-OSL and OSL-DOH-BKK made the AY agent first go "hmmmm..." but the luggage got the needed tag, she also printed the QR boarding passes for me. Most importantly, the HEL-OSL flight was not delayed, that was my biggest fear.
A rather comfy seat on A319 and a decent legroom. The cabin was very clean.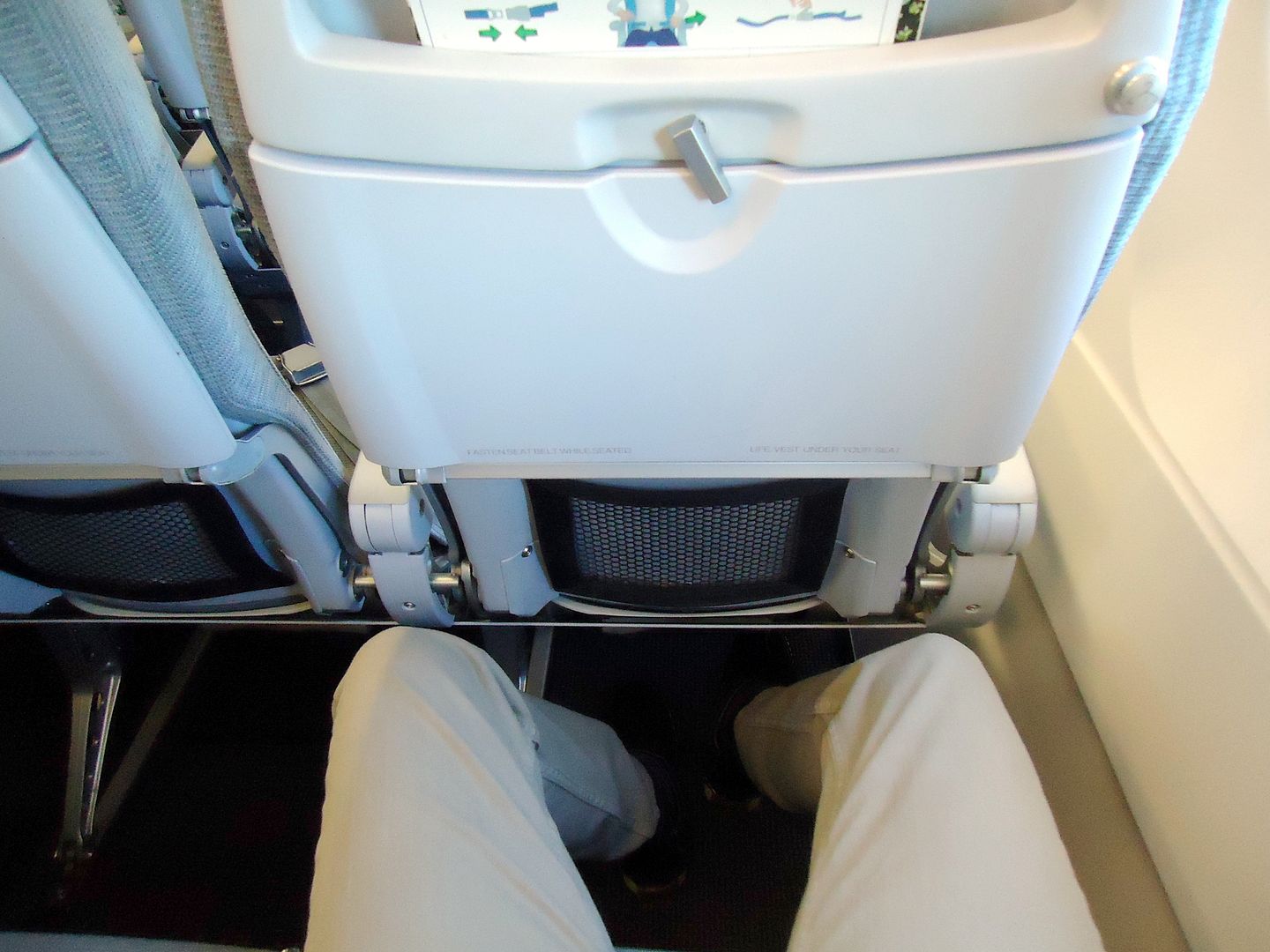 The AY version of 50 Shades of Grey...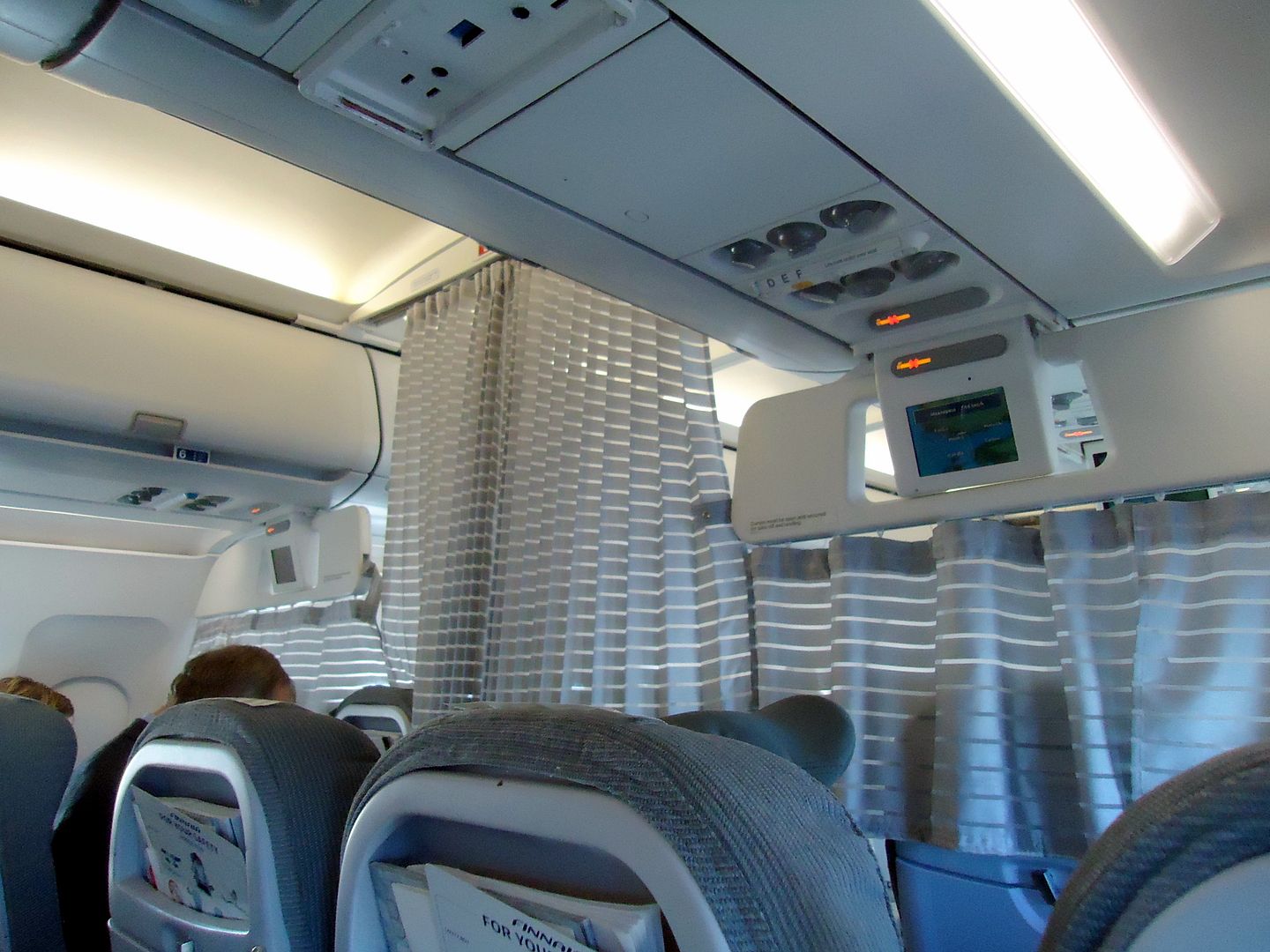 Not that cold day but some deicing needed first and then up we go.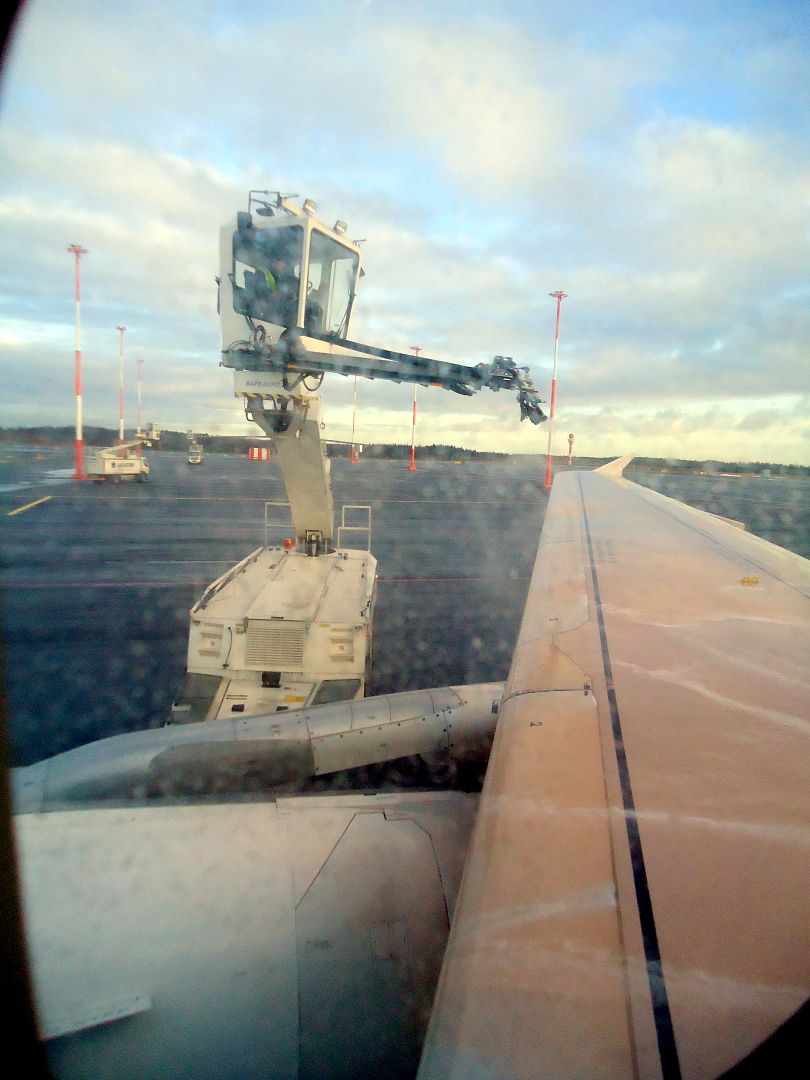 This much was served free on this 1h+ flight, blueberry juice and coffee.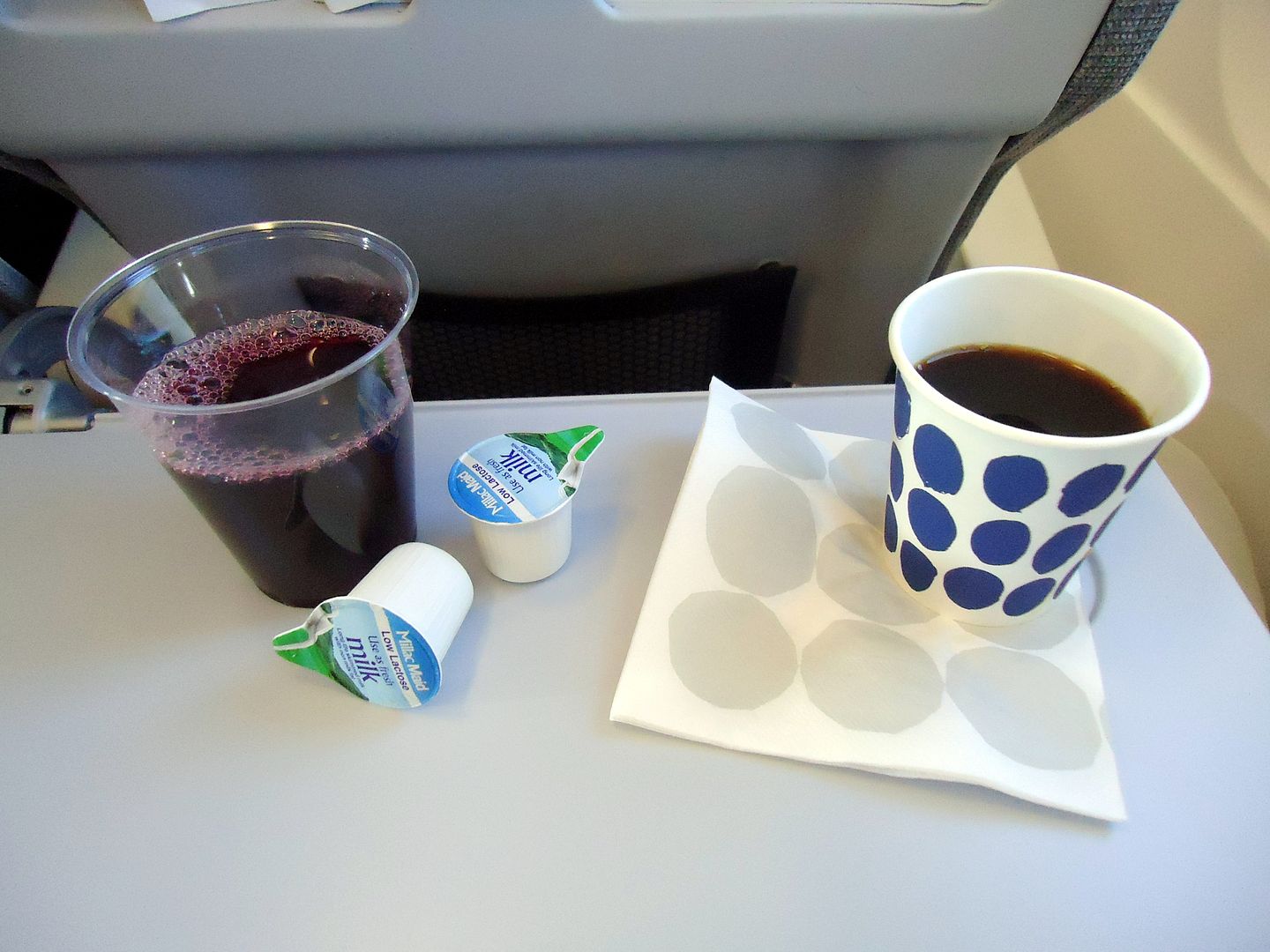 Not 11 but 19 x A350 ordered, what I've heard PVG will get the first one in October, before that some crew training on HEL-LHR route.
The short hop was over soon, no complaints, except the overdose of grey color. I have to say OSL is not my favourite transit airport, it's often very crowded (expanding in process?) and feels it's not well designed for transit passengers. But the staff is always friendly. I escaped the crowds to the OSL Lounge used by QR and many others, even Norwegian it seems.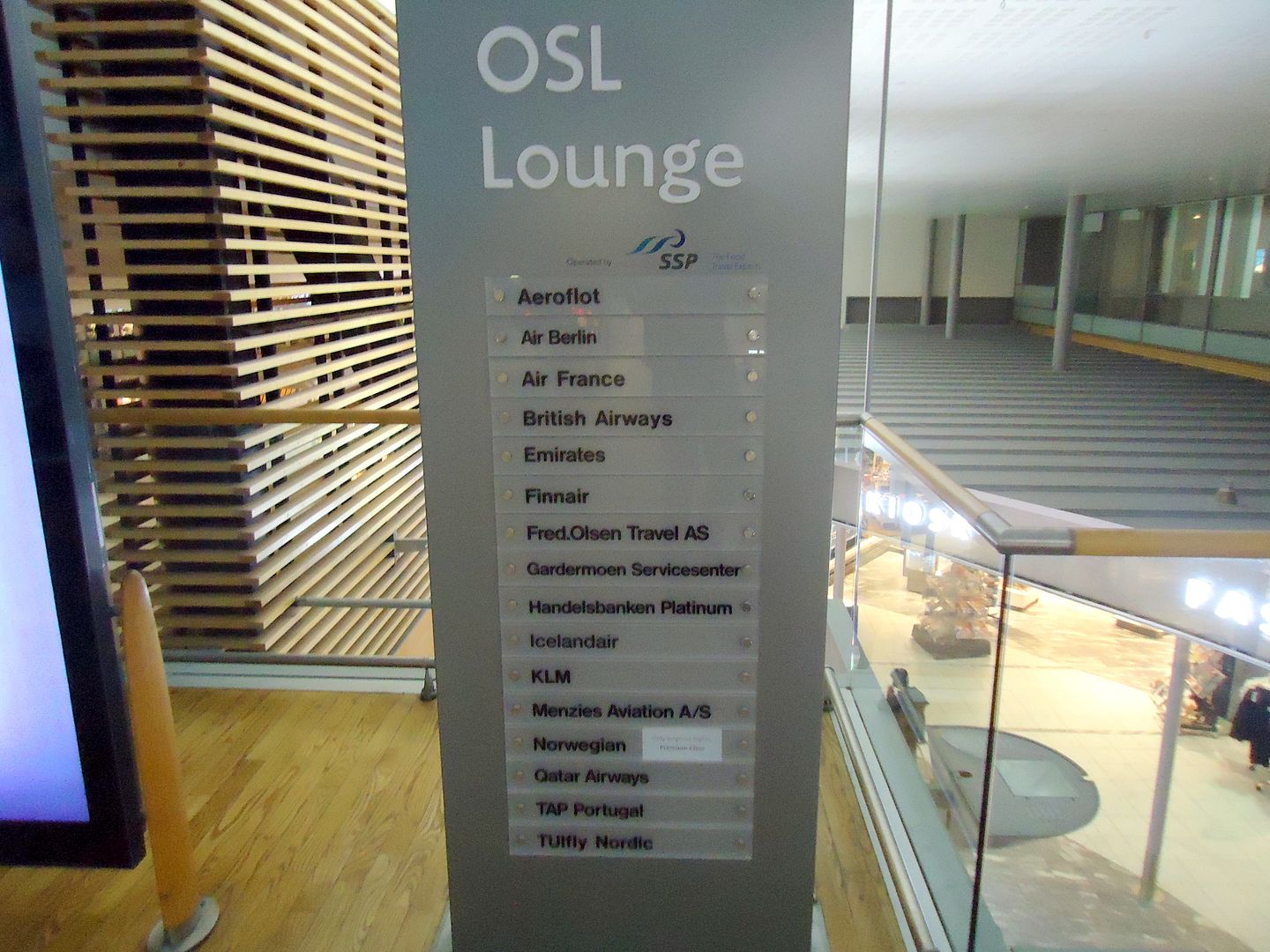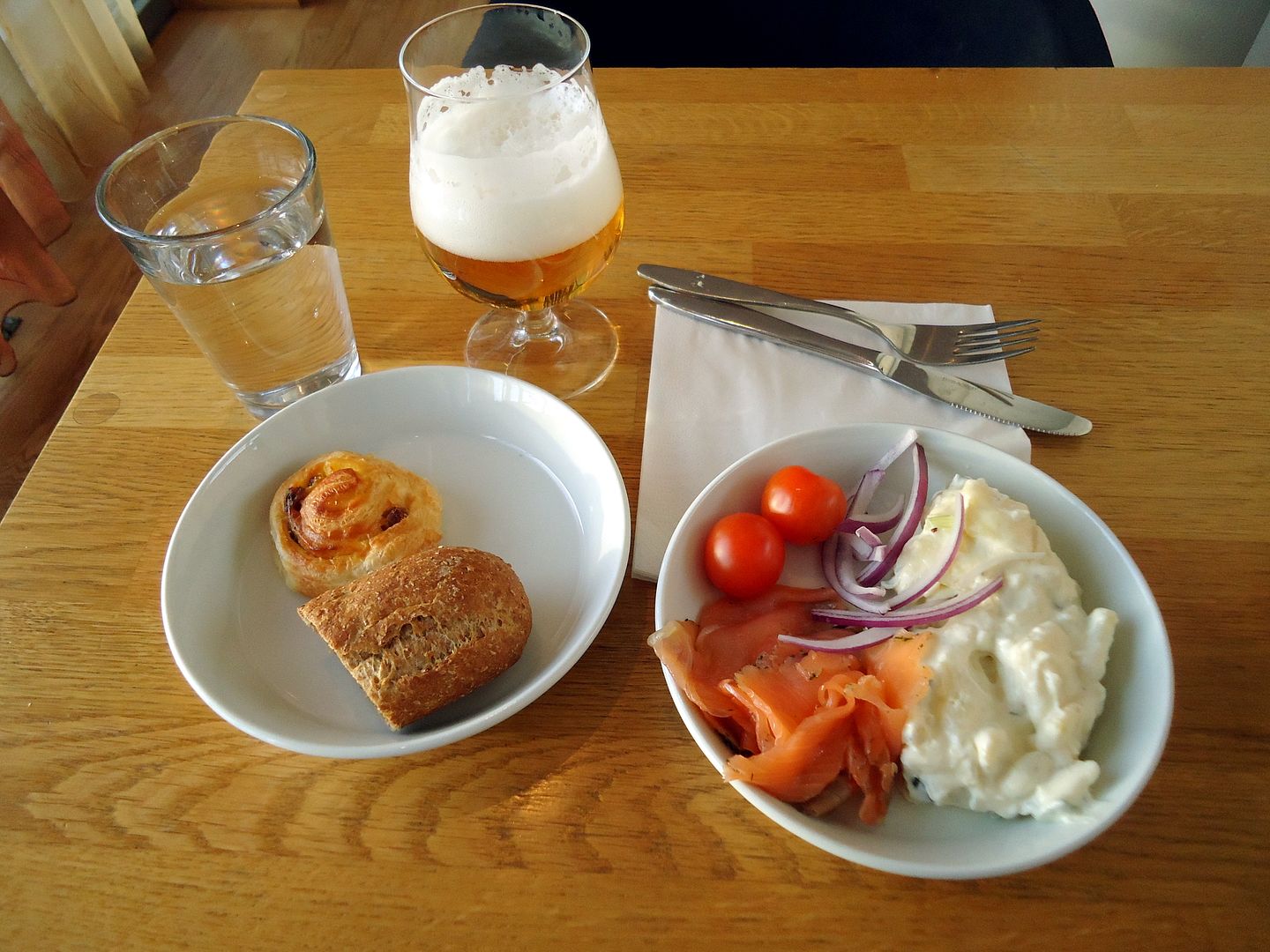 My Nordic lounge lunch: potato salad, salmon, local lager. Thinking the smallish lounge is used by Qatar and Emirates I expected a bit more, more space and better food choices. Anyway the atmosphere was relaxed and cozy.
17 December 2014
QR 176 OSL-DOH
14:55 - 23:10
(6h 15min)
Boeing 787-8 Dreamliner
Seat 1K
Business Class
It was time to get to my gate 51, first through the efficient security check, then to the unpleasantly packed gate area. I was pleased I didn't have stay there too long. My boarding pass printed by AY surprised the agent totally ("Finnair? No no...ah oh yes, sorry") I was told I needed new ones, after a couple of minutes I was handed the QR boarding passes and I could walk to the plane. I love the glass bridges!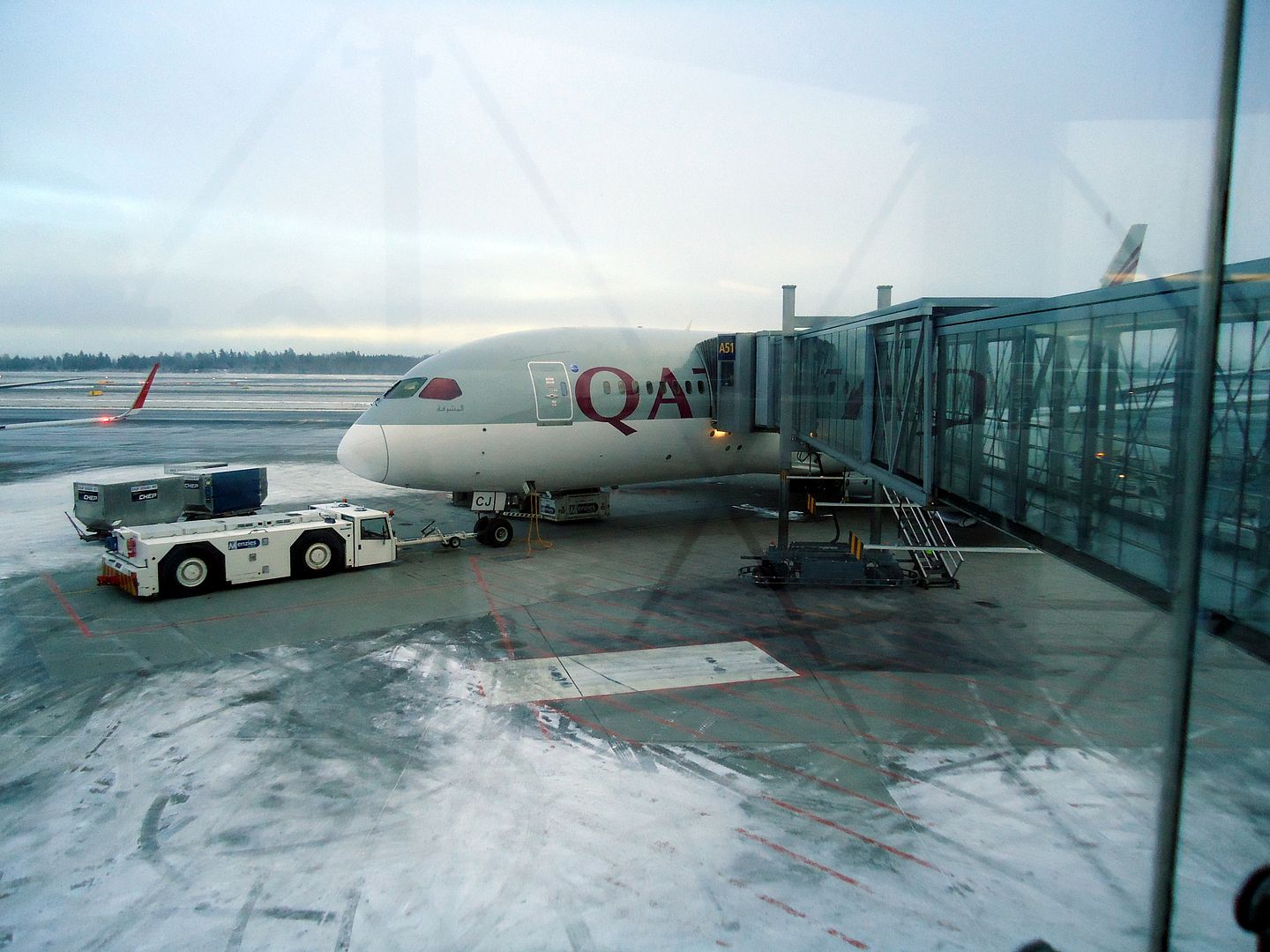 I was greeted by a stylish looking f/a, when I turned left my first though was wow this cabin looks good! The colors, the seats, everything.
There were only a couple of seats left when I made the booking, the 1K was the only free window seat left. I thought it would be a bit too close to the galley and toilet but the seat itself was so great I soon forgot these minor things.
I was served by a smart looking male f/a who brought me a glass of Billegart-Salmon champagne, rose champagne Henriot was available too. The welcoming drink came with a hot or cool towel. The 17" IFE screen was great, I only checked the flight maps but the Oryx system sure has a lots of everything.
A locker for a water bottle and headphones, the seat control with lots of fuctions.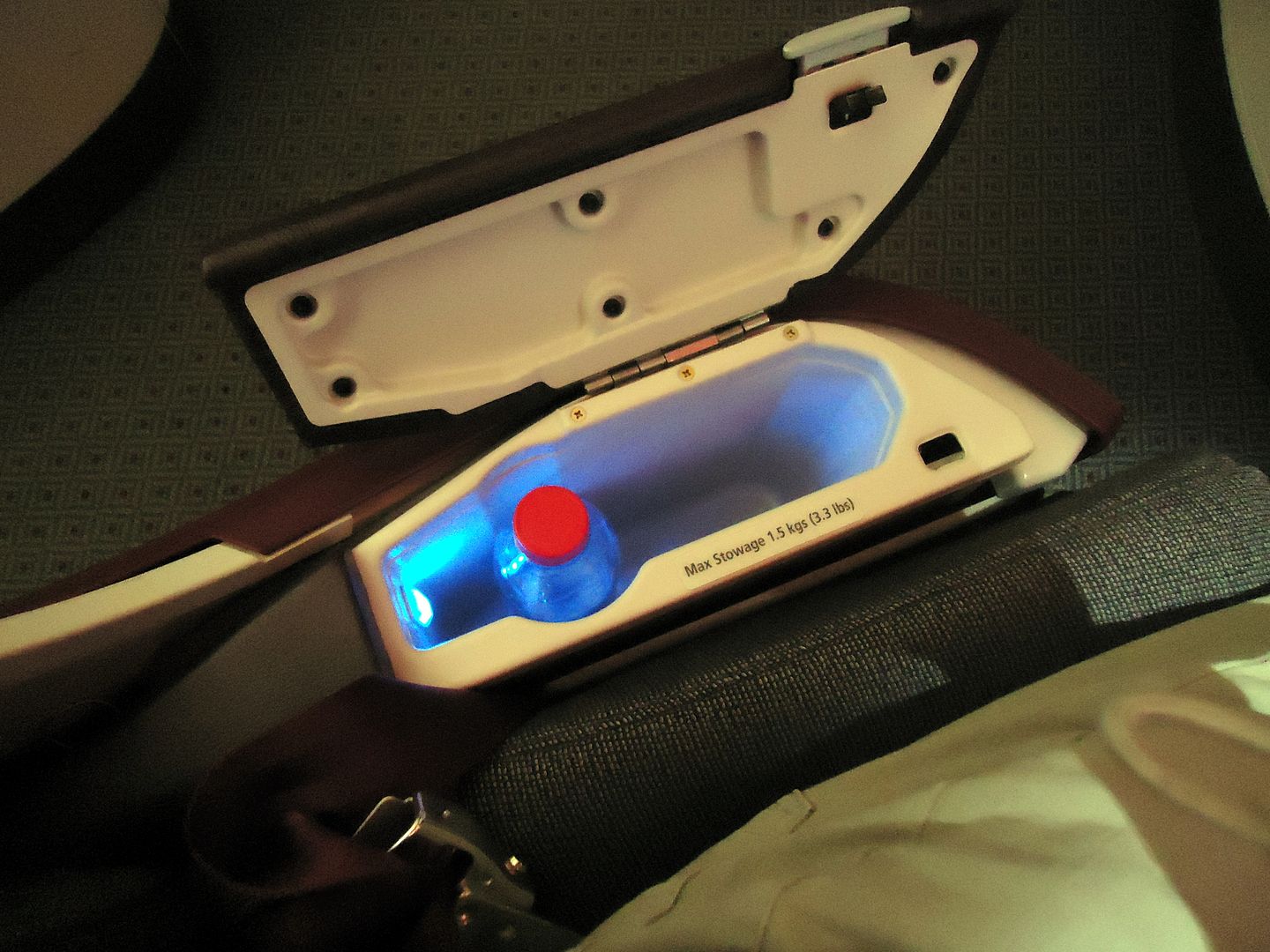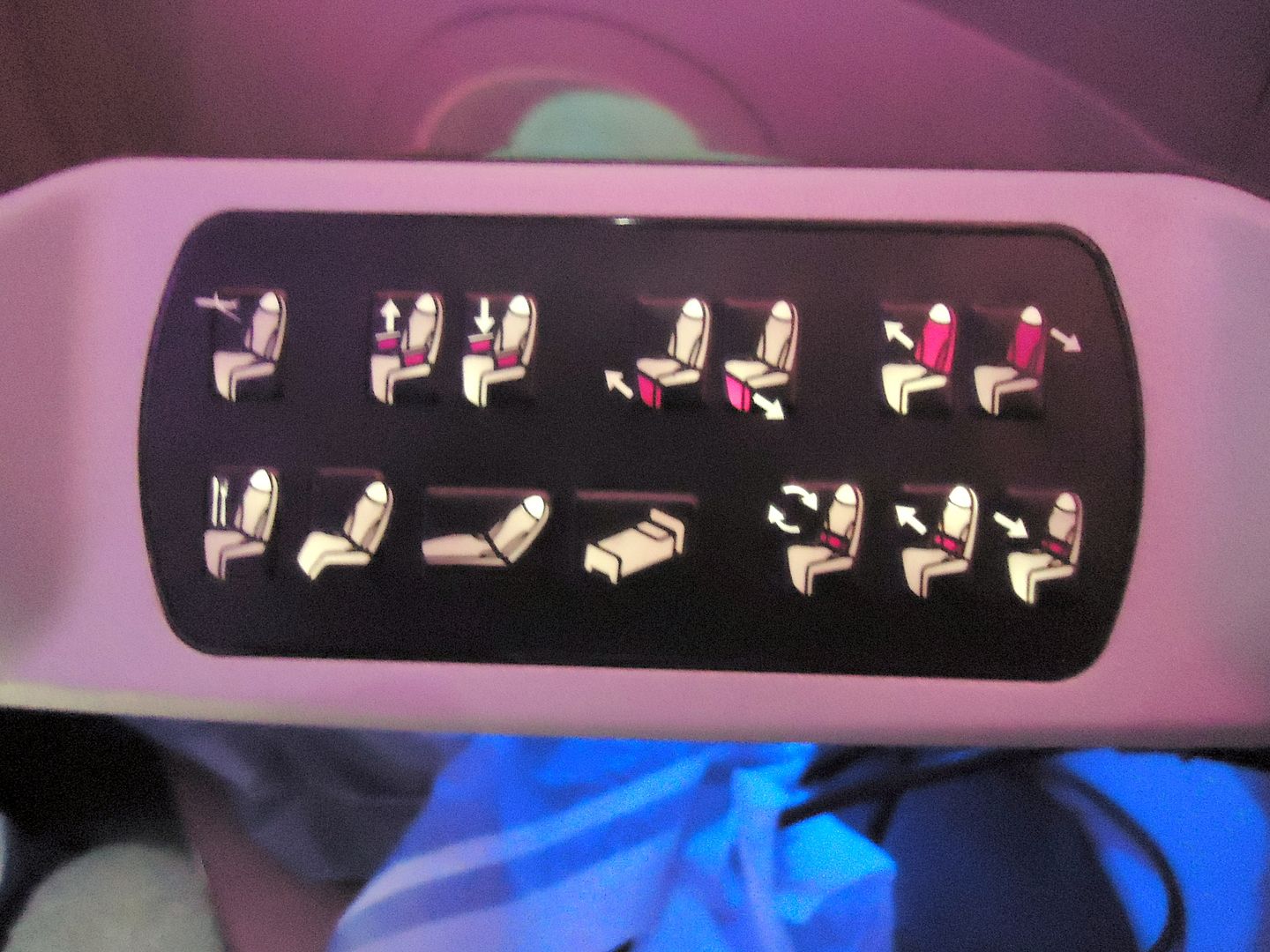 The amenity kit with Salvatore Ferragamo products, the Godiva chocolate box came with the coffee after the dinner.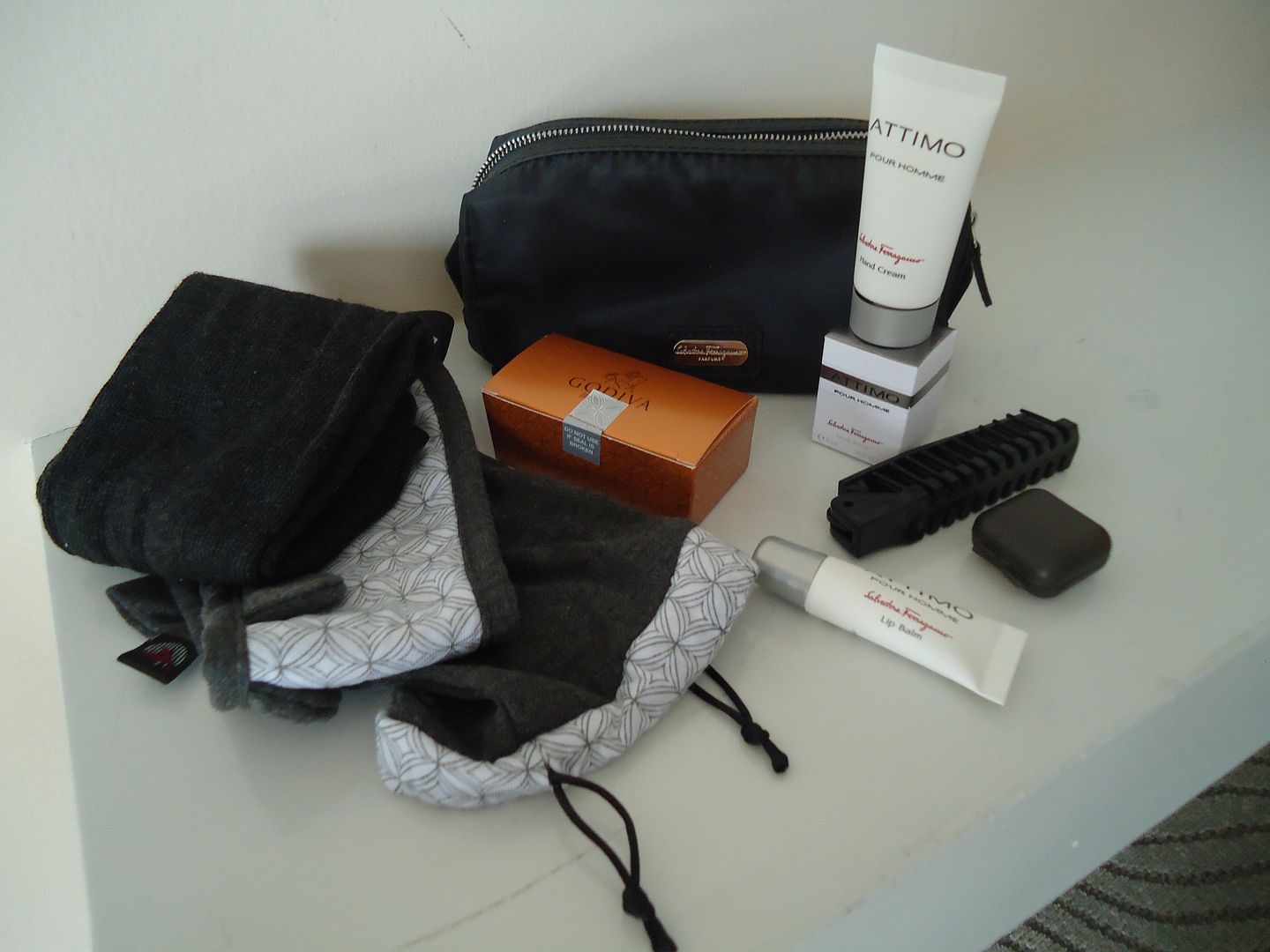 Flying over Sweden again so the moment needed some ABBA. Qatar Airways, Lay All Your Love On Me!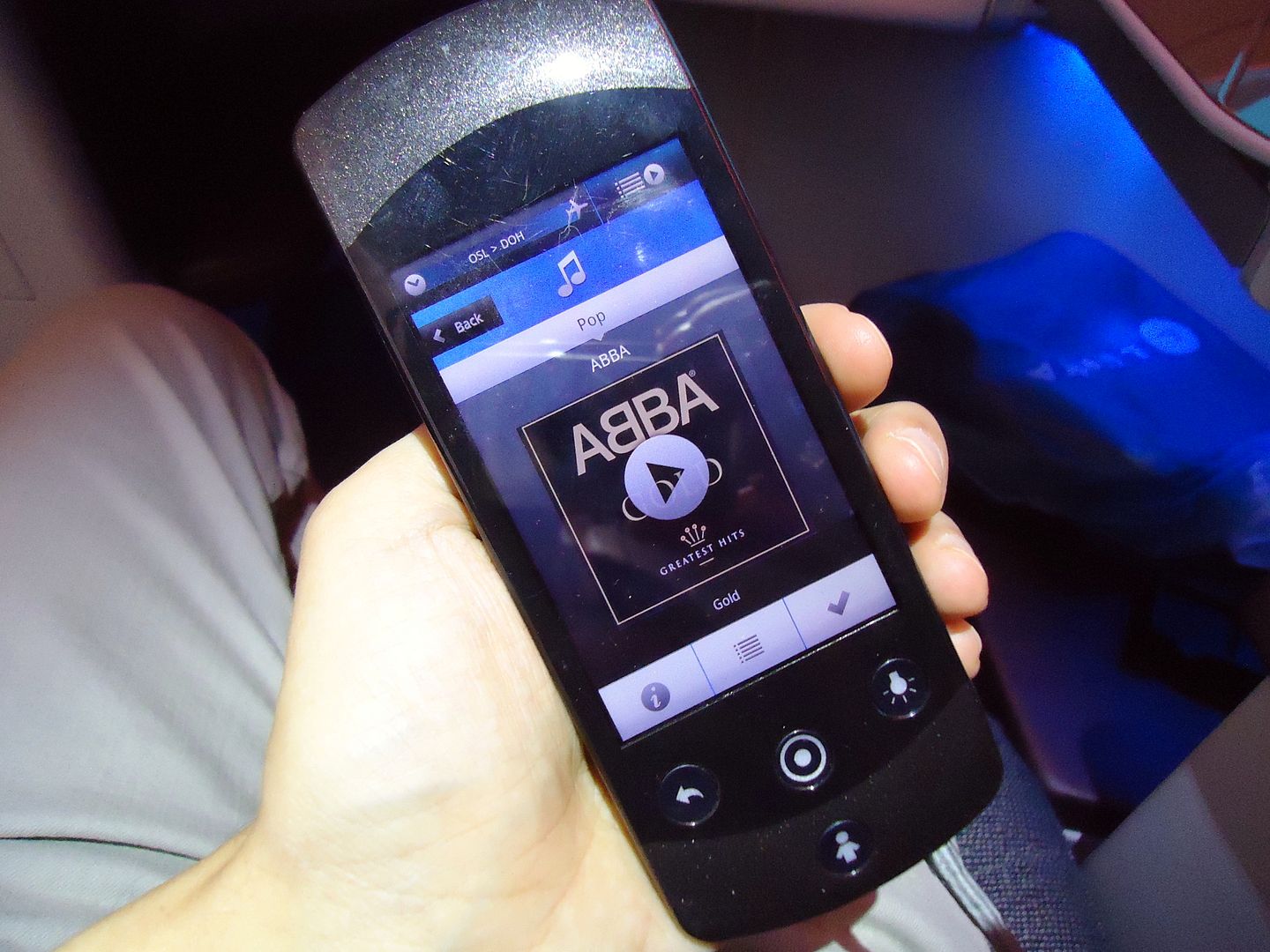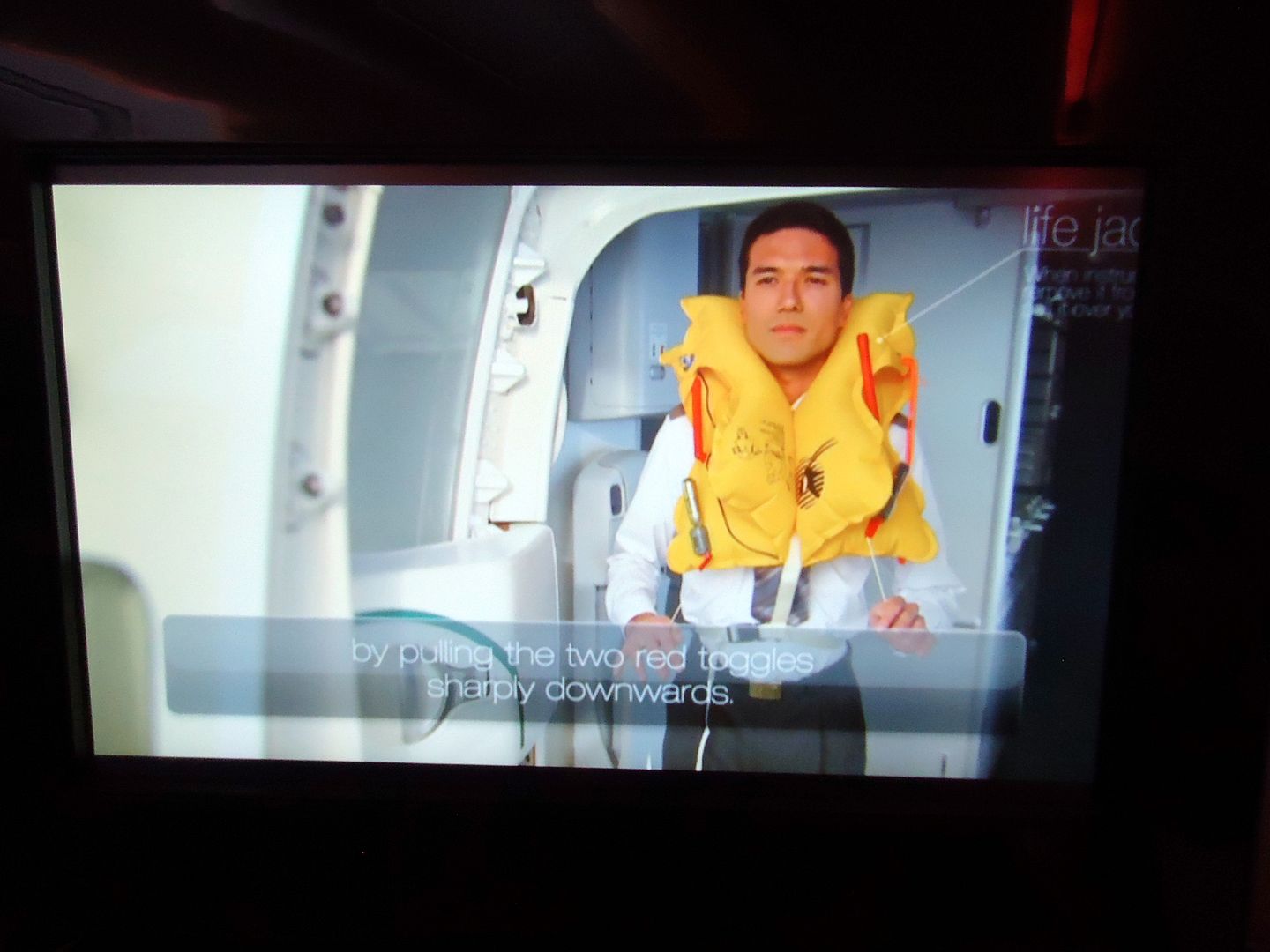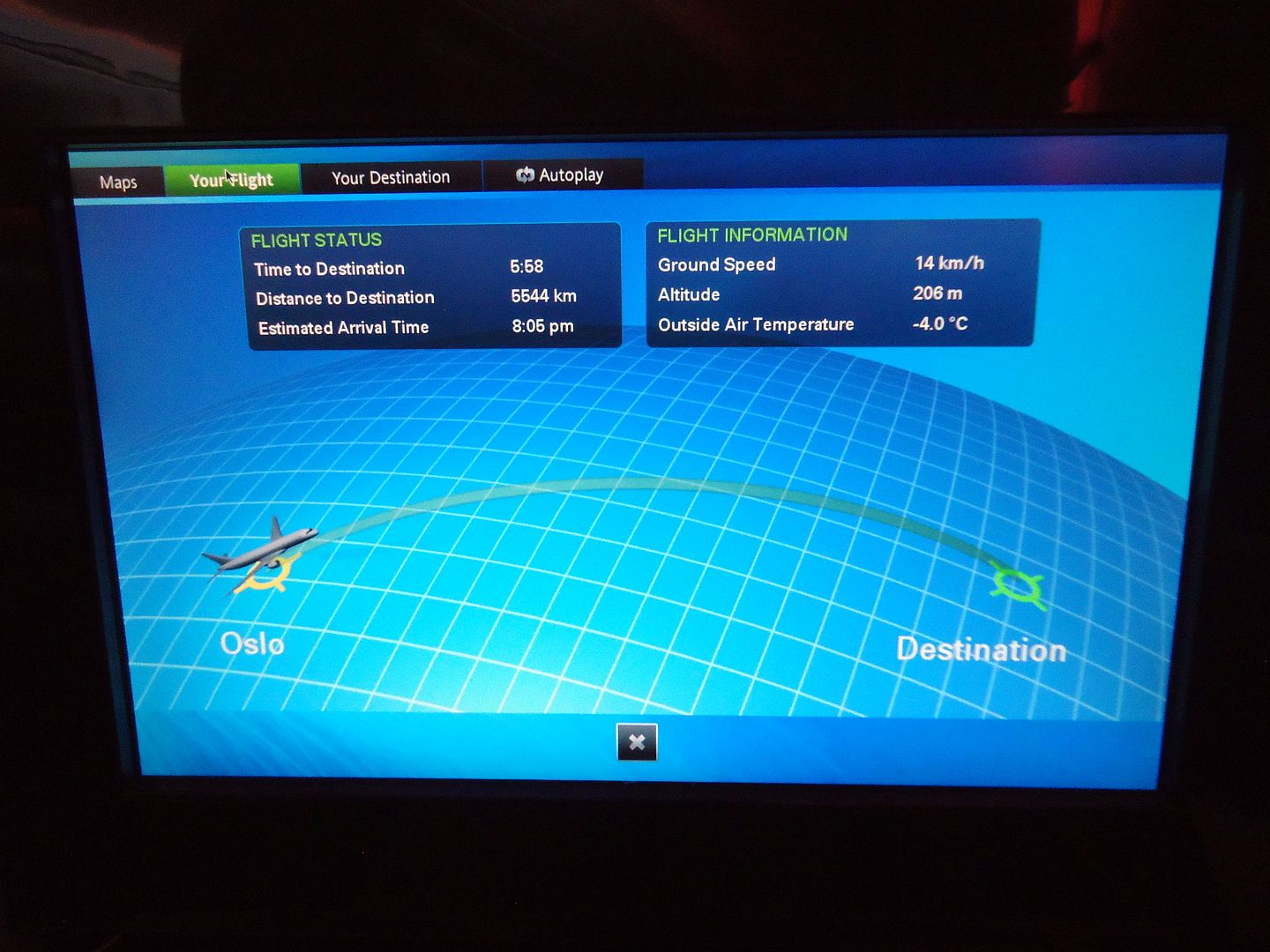 Time to take off, six comfortable hours to Doha ahead. Our neighbour was a PIA B777 to Pakistan.
Soon after the take off a "Palate pleaser" was served, gravlax on ryebread with mustard dressing. It tasted just perfect but I was hoping something less homely, for me gravlax means a quick lunch at work.
The menu looked promising, my meal choice was arabic mezze, chicken Tikka and a lemon tart. The mezze and chicken were delicious, the tart was a bit bland, the lemon was lost somewhere. I didn't try any wines, was happy with champagne and mineral water.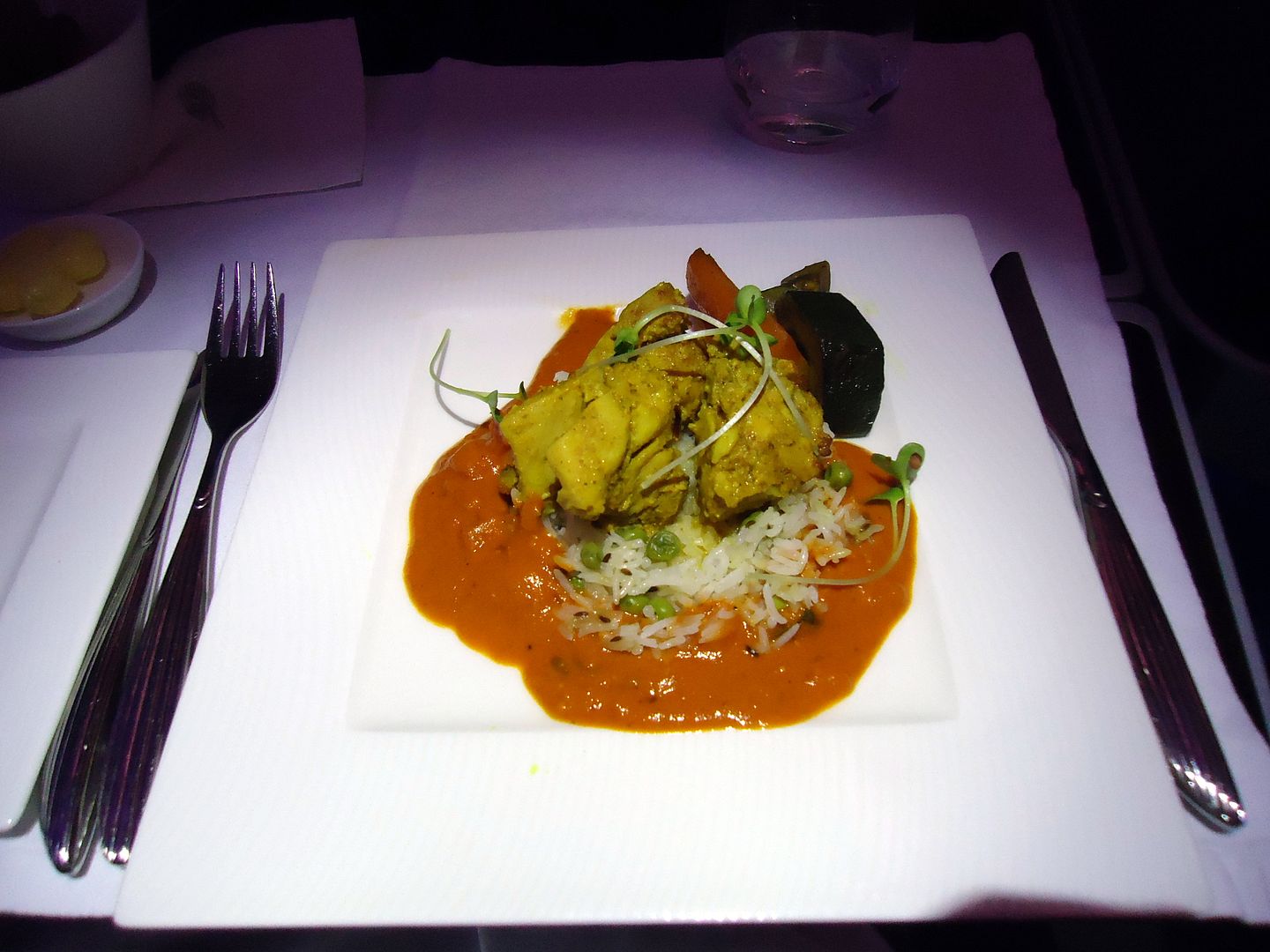 The male f/a serving me was a true professional, I really couldn't hope for more. It was just a bit confusing how he often kept his hand on my shoulder when he talked to me. There wasn't anything improper with that, just a minor culture clash when my inner Finn was shouting: Please don't touch me, I need my personal space!
After the meal I checked the toilet, the seat pair 6E/F in the back looked a bit lonely. There are just 22 Business seats on QR 788, the cabin felt so peaceful and yes the air is better on 787, my nose could tell that.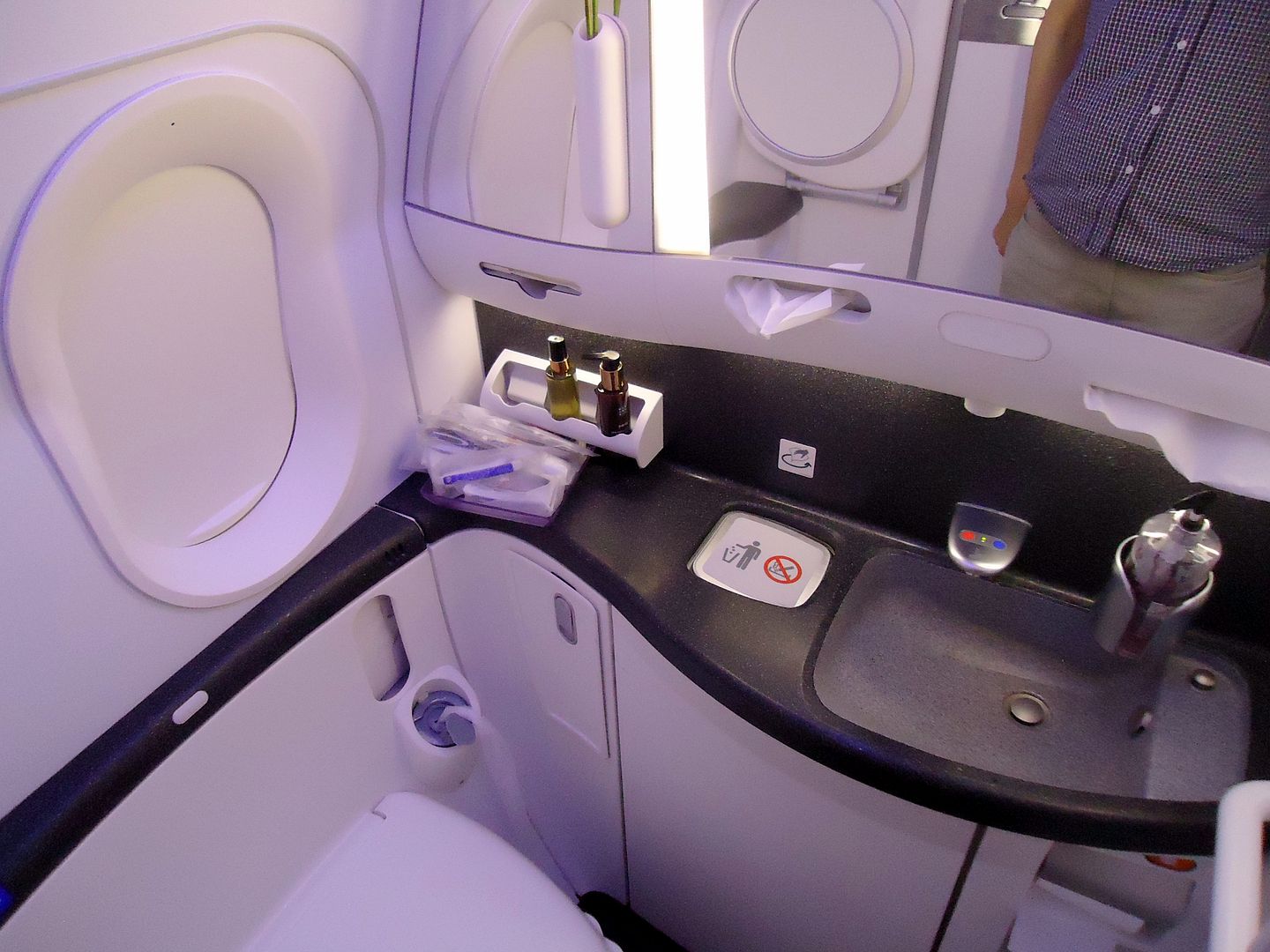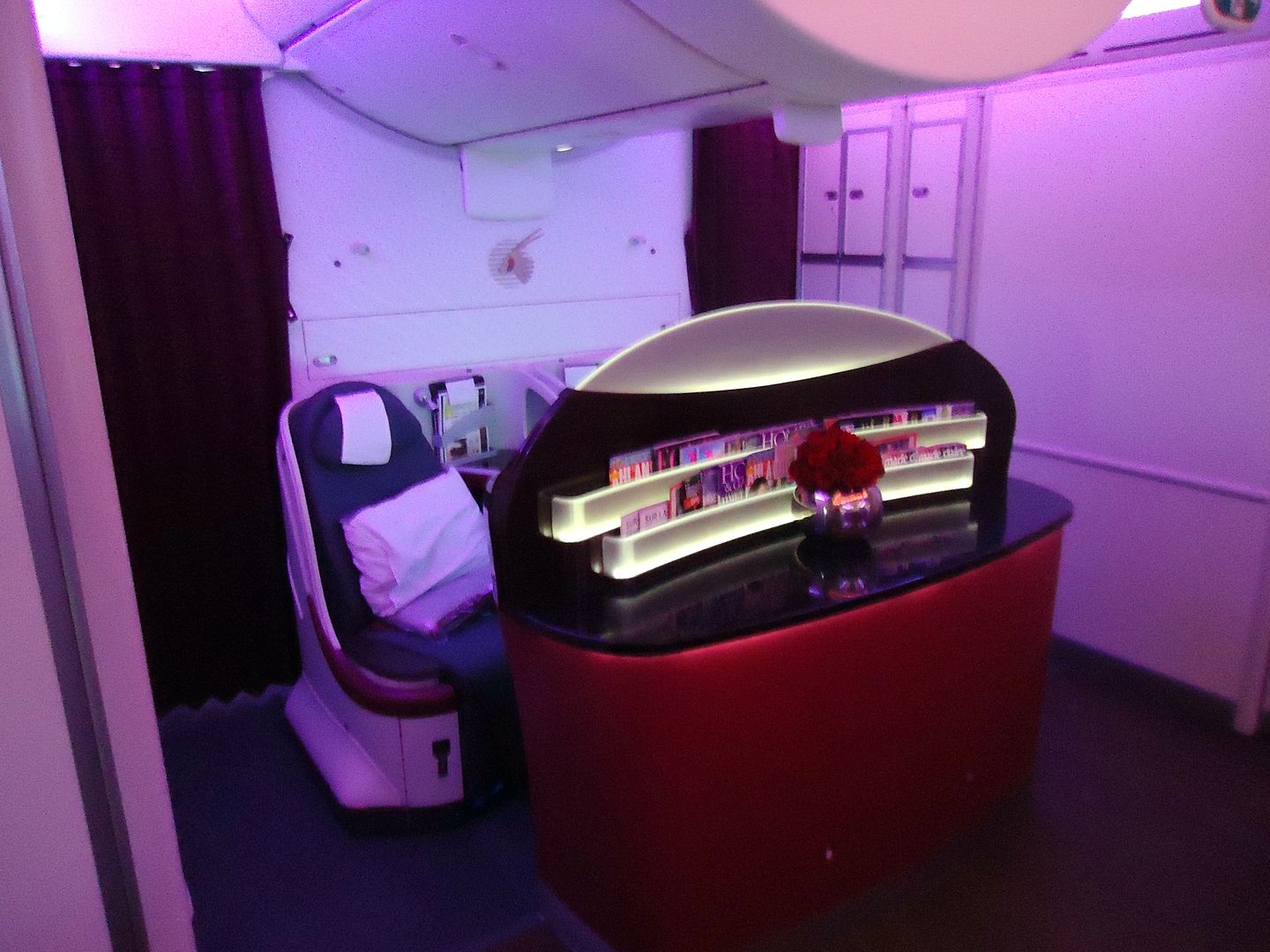 This was one of those flights feeling much too short... We were approaching DOH, slightly behind the schedule.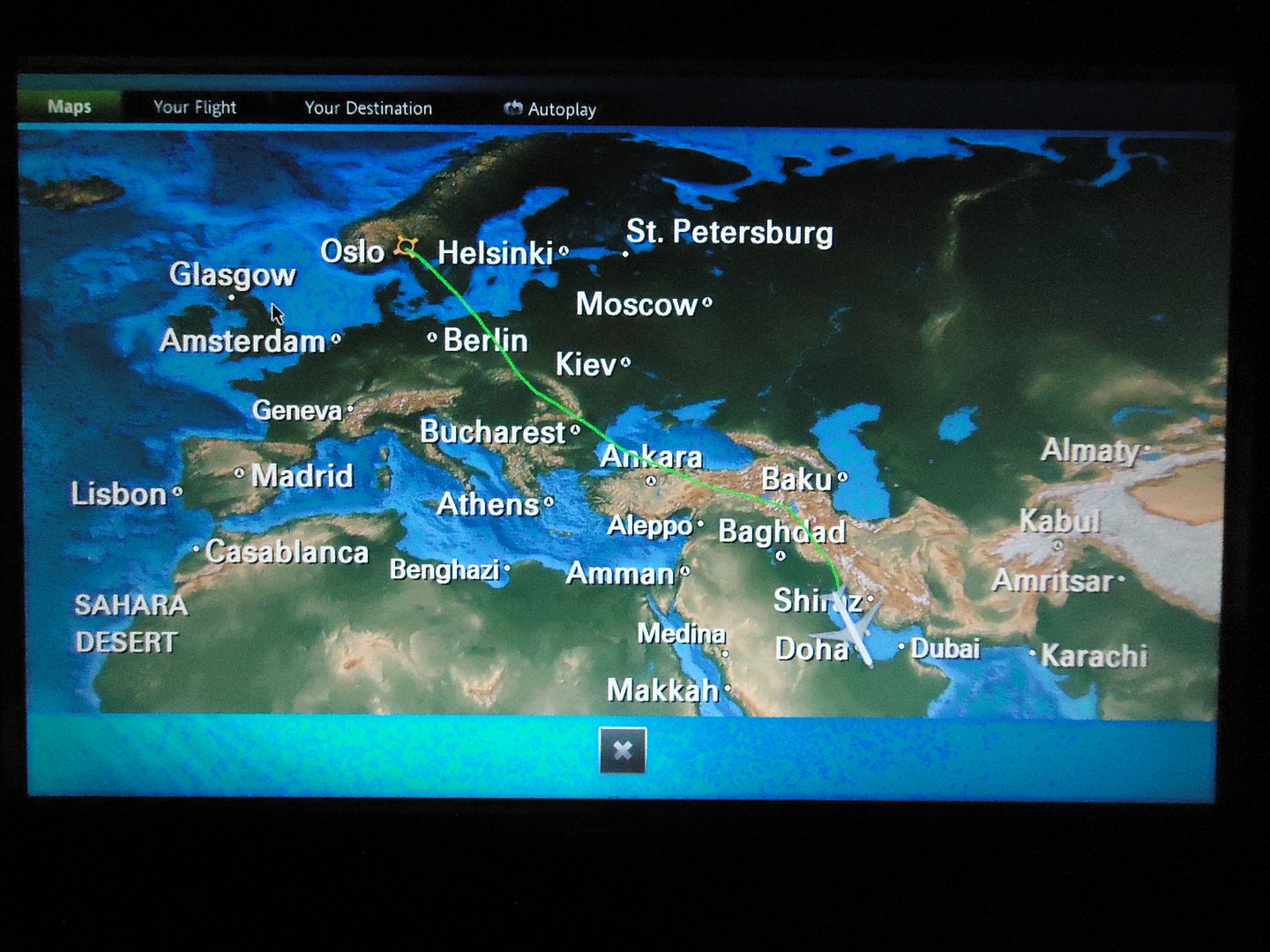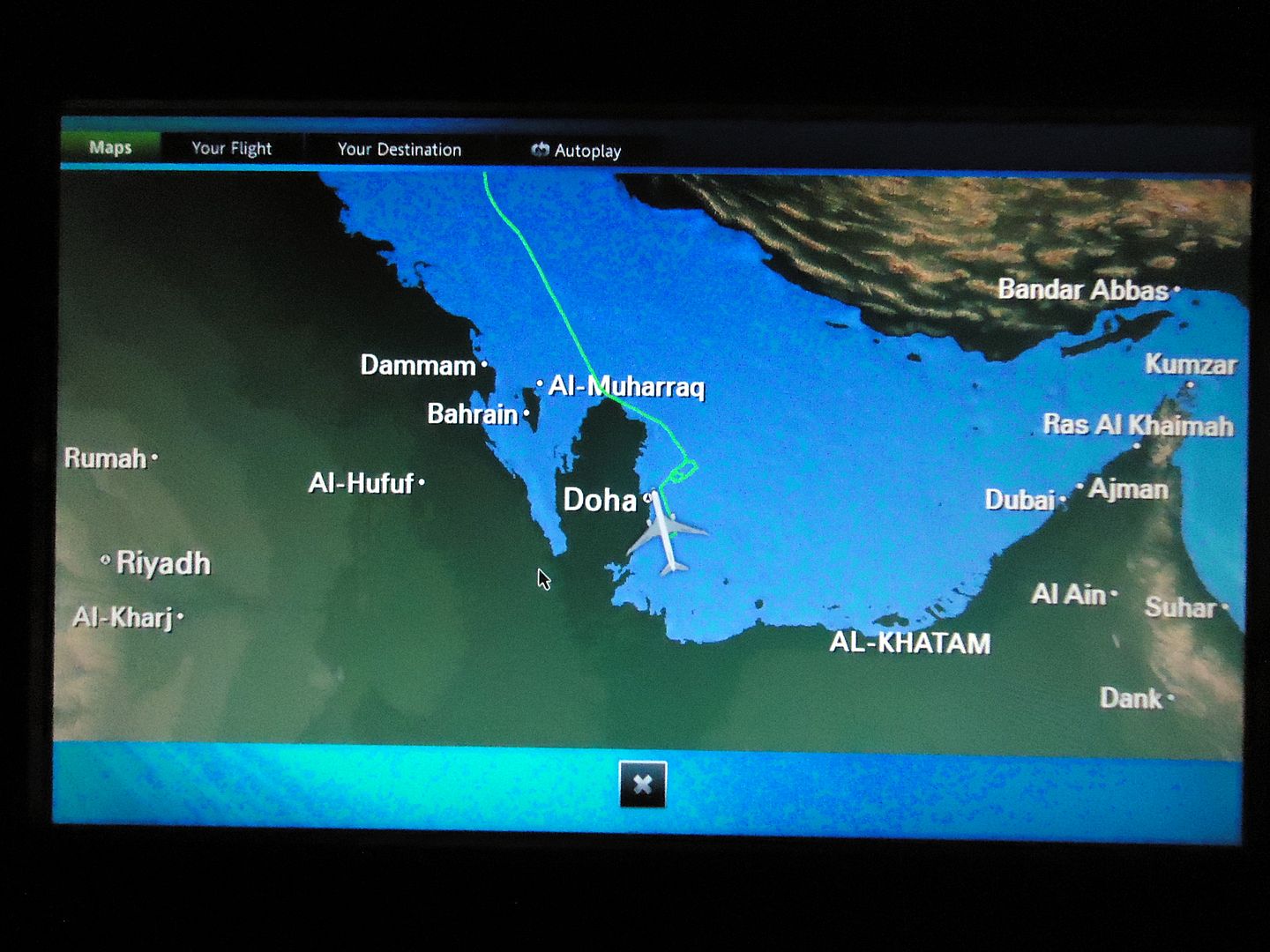 Bye 1K and thank you QR 788 for the wonderful ride!