Dear readers,
Thanks for clicking on my latest trip report, it's been a while since the last one! Even though it's now a year since I did this trip, I still hope you'll enjoy reading about it.
Shortly before Christmas 2013, Monarch announced that they would be organising a farewell flight between London Gatwick-Birmingham for their last remaining A300. It was possible for book tickets online for a short time, but due to various problems it was then phone only. As I'd never flown on Monarch or an A300, I sacrificed most of my lunchbreak to call the hotline and after a good 15 minutes got through and was able to book.
So, the difficult part was done, or so I thought. The mid-afternoon departure of the Monarch flight meant a daytrip was quite easy, but I hadn't stopped to think that it was school holidays and all the flights were expensive. Flying back from Birmingham was easy enough, I burned some LX miles and booked the evening flight into ZRH. However, getting to London was trickier than I thought. After much debating and comparing, the most reasonably priced option was as an open jaw flying MAN-ZRH in January in combination with another trip, then ZRH-FRA-LHR. National Express would fill the gap and connect LHR-LGW. No sooner had I hit the "book" button than I slowly began to regret the tight 45 minute connection in Frankfurt. Despite there being numerous connections onto LHR, I was worried about missing this special flight out of Gatwick.
Well Lufthansa came to my rescue. My ZRH-FRA flight was put back by 10 minutes, meaning my connection is FRA was no longer possible and I was rebooked onto a later flight. As this didn't suit me, I went about contacting LH. I got nowhere at the Star Alliance ticket desk at ZRH, they were completely unhelpful, so the call centre it was. After a fairly lengthy discussion, I was rebooked onto the direct ZRH-LHR Swiss service, which had been considerably more expensive at the time of booking.
OLCI wasn't possible for Monarch, everyone had assigned seats anyway. The LX flight to LHR worked fine, but the BHX-ZRH didn't work, this seems to be the norm with mileage tickets and not-so friendly guy at the Swiss helpdesk couldn't really offer any assistance either.
Sunday 13th April
A long day today and an early start was necessary. Well, my car doesn't object, no different to going to work really! On such a special trip it's nice to have like-minded company, isn't it? Fellow A.netter Flieger67 would join me today and our meeting point is the multi-story car park.
After stocking up on the usual purchases from the airport bakery it's through security and passport control on to gate D34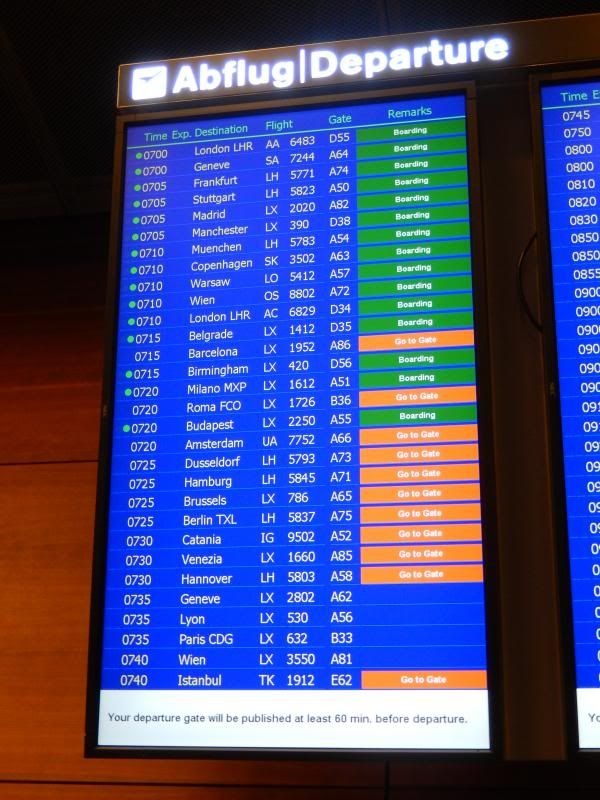 ZRH-LHR
LX316
HB-IOD A320
Seat 29E
STD 07:10 / ATD 07:23
STA 08:00/ ATA 07:53
My 65th flight on the A320 & 1st on this aircraft
Boarding starts ontime at 06:45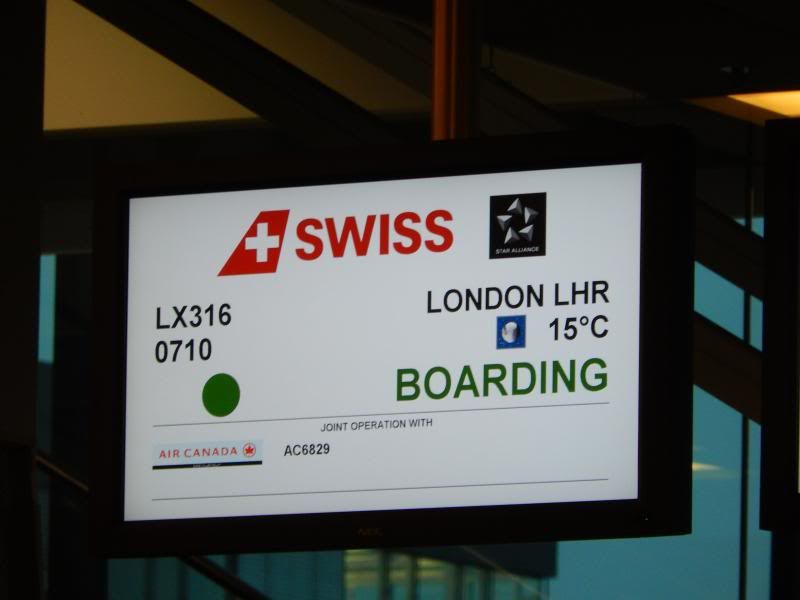 HB-IJO, a new A320 for me
Pushback is at 07:15 and take off just a few minutes later from runway 28. Flying time will be 1h25.
Swiss everywhere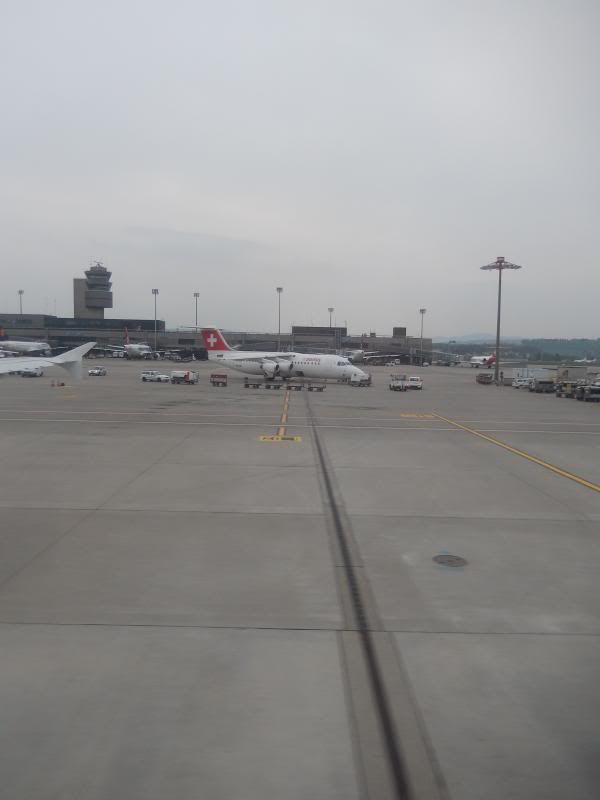 Leaving Zurich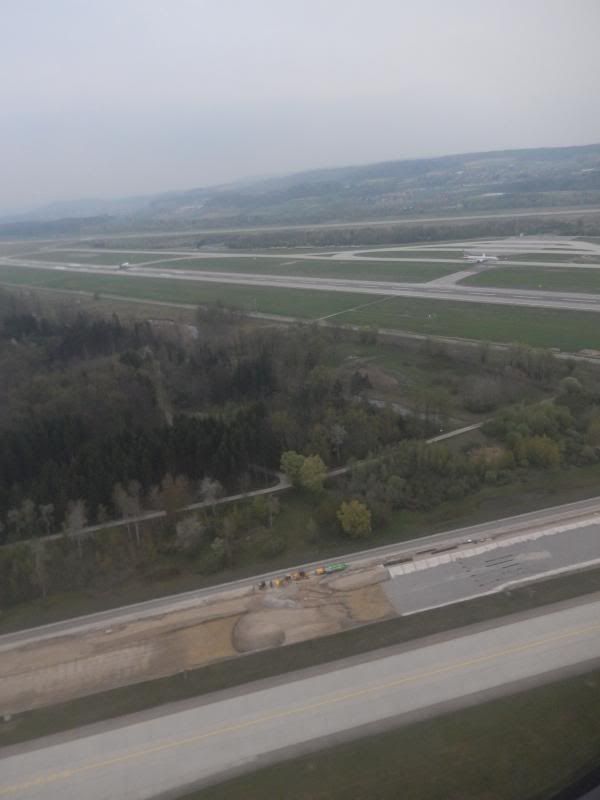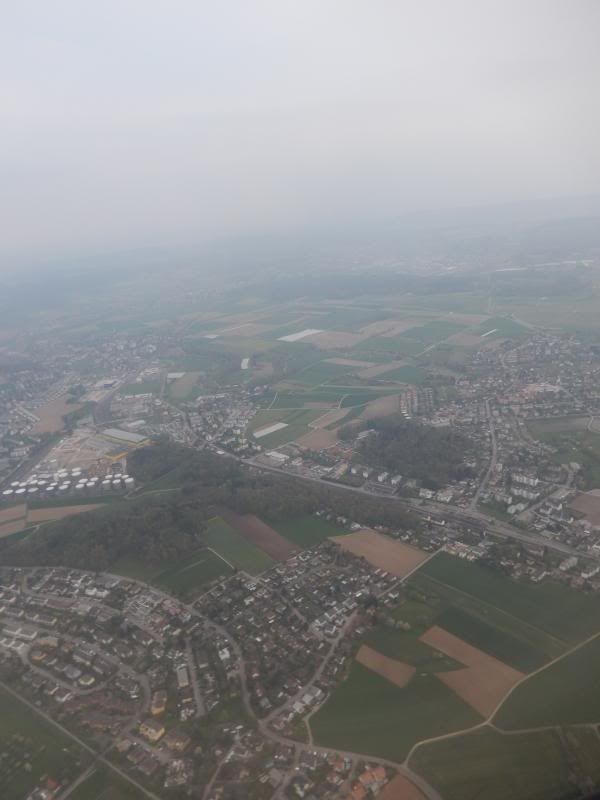 Above the clouds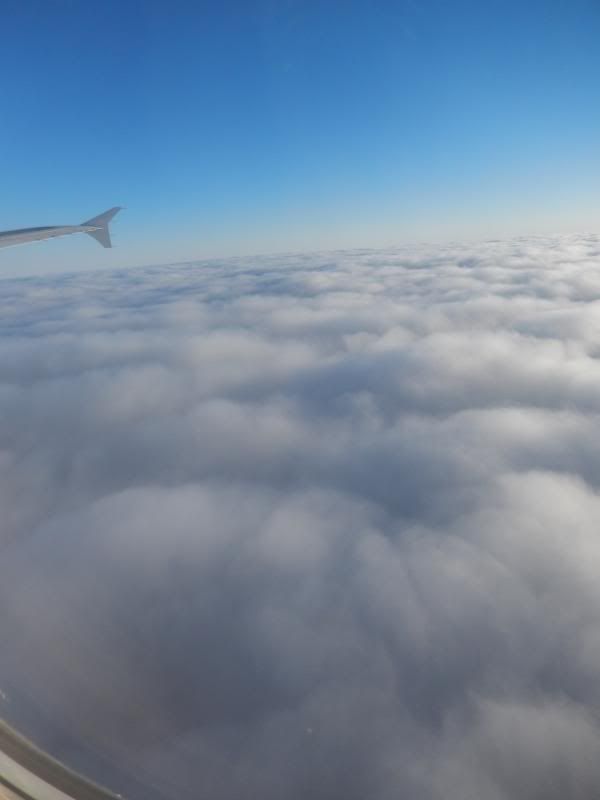 Today's flight to London is virtually full, we are lucky enough to have an empty seat on the last row.
The crossaints that Swiss serve on the early morning flights are not at all to my liking so I decline and just have a drink, or two.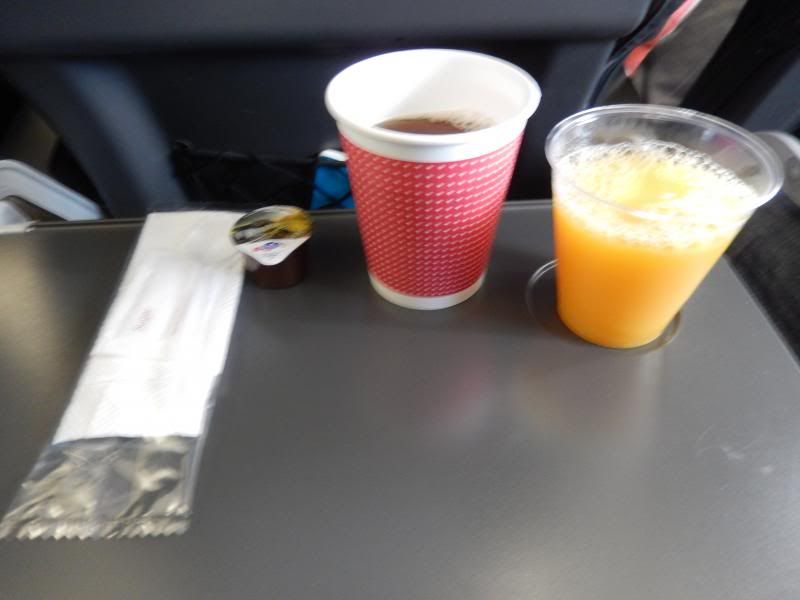 The sun is out in London and we have some super views on approach
So English, isn't it?
We land early, just before 8am and have a relatively short taxi to our gate
An exotic neighbour…or two
Terminal 1 is showing its age and the toilets aren't the most modern. Still, immigration is pretty speedy thanks to the E-Gates, well it is for some people, the machine decides to think about letting me enter the country for a while!
One through, we head straight to the bus station. There were various options of how to transfer to Gatwick, but we settled on National Express. As it was a Sunday, the chances of the roads being congested were slim. The ticket was purchased online for £26 and journey time was scheduled to be just over an hour. It was no problem to take an earlier bus than booked.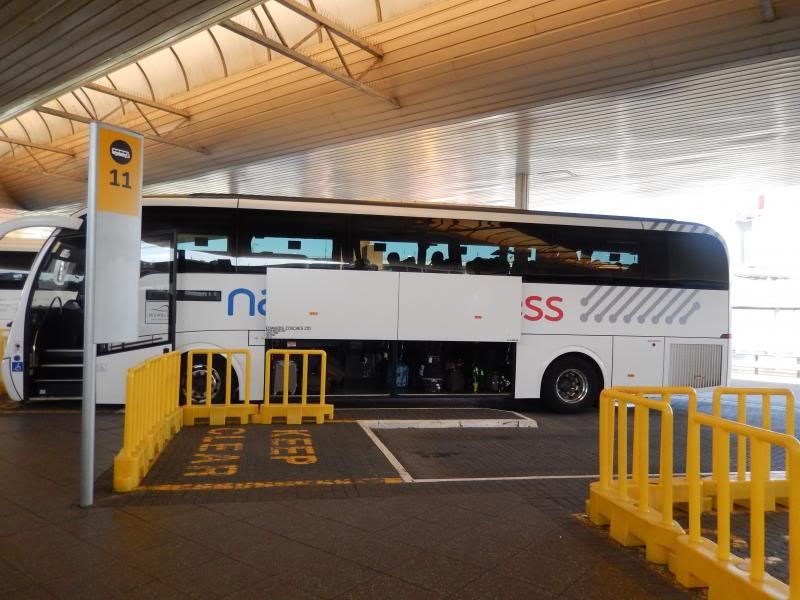 At Gatwick South it's busy as the school holidays have just begun
There's plenty of time to spare at Gatwick and it's a picture book spring day, so after buying a cup of tea from Costa we decide to soak up the sun outside at the bus stop. Well, it made for great people watching! After that, a quick visit to M&S is necessary. I have to take the opportunity of stocking up on some essentials, don't I?
Check-in for the flight was at dedicated desks, separate from the regular Monarch ones. All passengers were under strict instructions not to use OLCI. I didn't mind, it meant a nice proper boarding pass.
Check-in
Security was pretty quick despite the large number of holidaymakers out and about today
Departures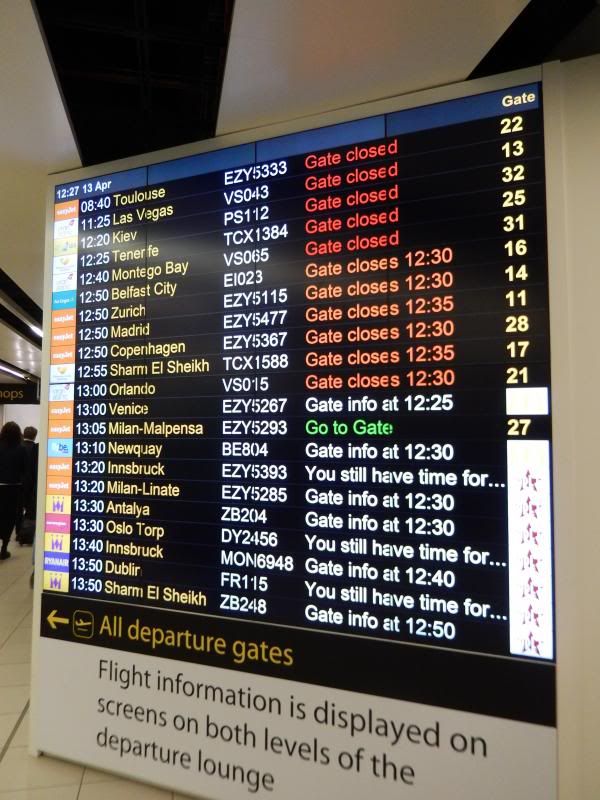 Despite the fact it's a domestic flight, I'm able to stock up on some duty free (which wouldn't be possible in Switzerland).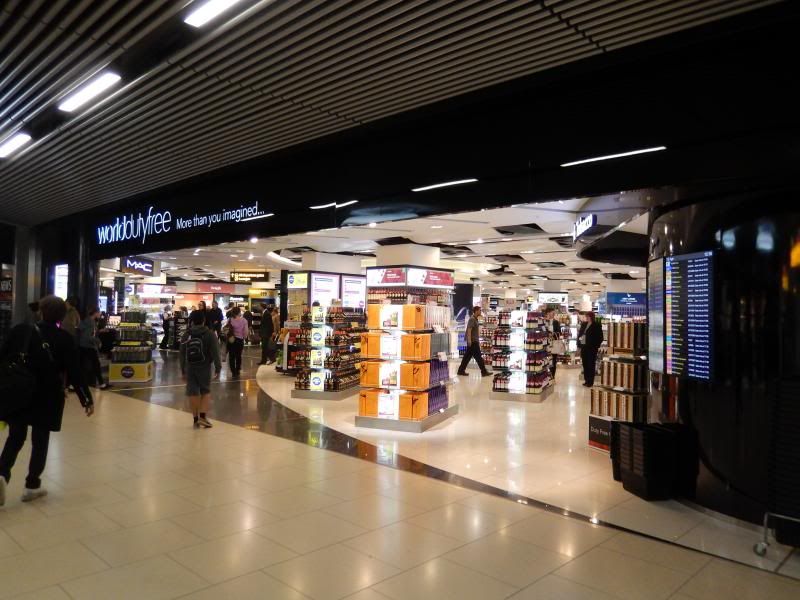 Looks quite exotic, doesn't it? A domestic flight to Birmingham on Monarch
Unlucky for some?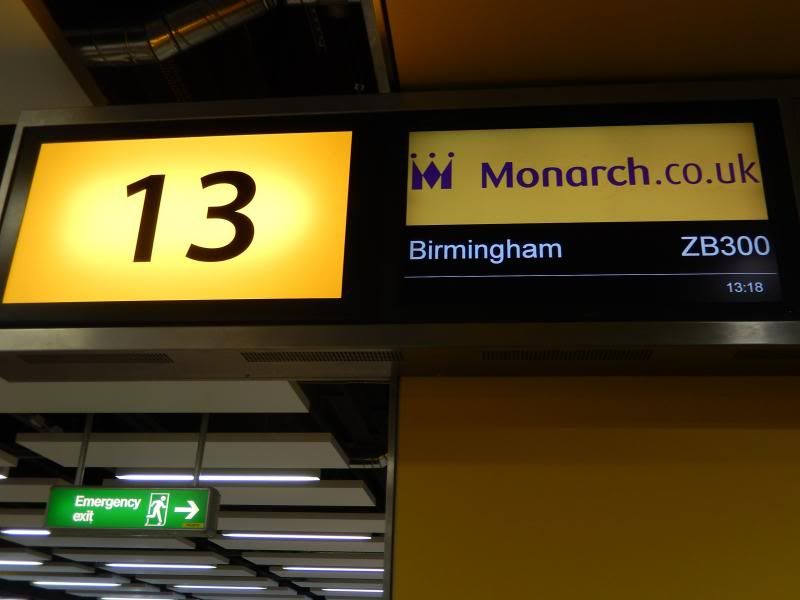 Once at gate 13 boarding is still a long way off, but it gives us a chance to catch up with fellow A.netters ba319-131, Brewox and MEA-707, who are also booked on this special flight.
The first glimpse of our chariot which arrived from Friedrichshafen. Actually, why didn't I think of flying into London that way?!