"MUC to MAN not on the standard equipment is worth a dedication, isn´t it?"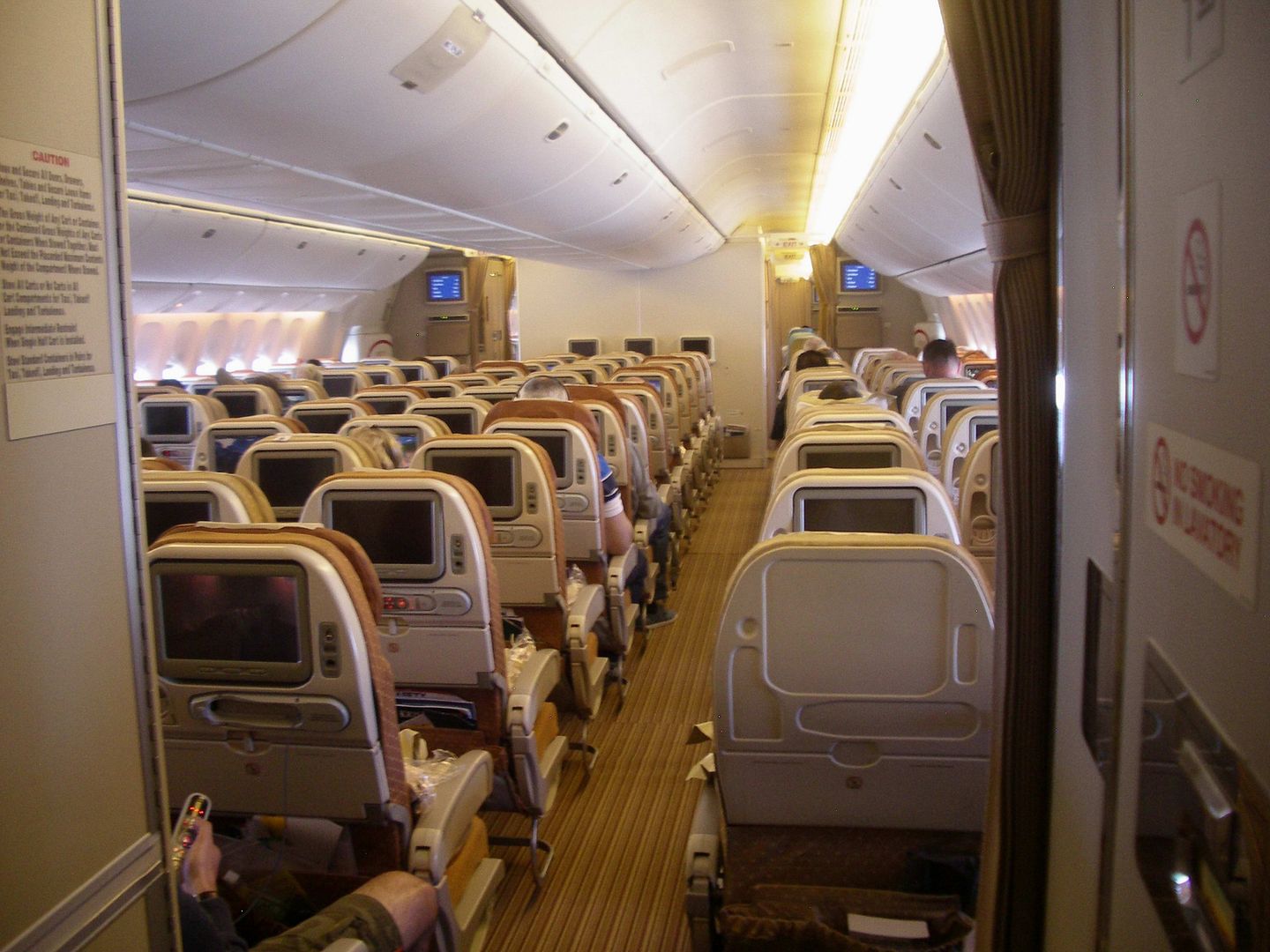 The trip in one word:
"CHANGES"
A good day dear readers,
there are a couple of flights done recently like this way:
Germany Bavaria AllgäuAirport Memmingen
(by
FLIEGER67
Mar 19 2015 in Trip Reports)
The vids, please:
http://www.youtube.com/watch?v=SQyqvNiSCmM
http://www.youtube.com/watch?v=TT55mamOUT4
So it seems there is an immediate need to fly out again and maybe on something just a little bit larger than the usual standard here.
The one I´am talking about leaves these southern german station pretty early in the morning, much to early for any inbound connecting flight.
And therefore a night on the road or maybe better at a hotel close to it is necessary.
One day prior opens a wide variety of options, nonstop like the usual traveller prefer, certainly!. Or maybe with a short detour on absolutely standard material, definitely or maybe to do everything possible to avoid flying on the very same route a thousand times?.
Or well, the Tripreporter way starting the trip just a stone's throw away but what should you do when the stone goes in the wrong direction?:
Thanx to once more:
http://www.gcmap.com/
A warm welcome to another one, just by surprise, of these sunny german spring days.
Parked the car at the Aeroporto well appropriate to tomorrows scheduled arrival, heading down by the sub for the main train station and here we are, trust me, this is a remote part of Stuttgart´s main train station. And not in any case, never, that I´ve spend some time in dreamland on this subtype of transport!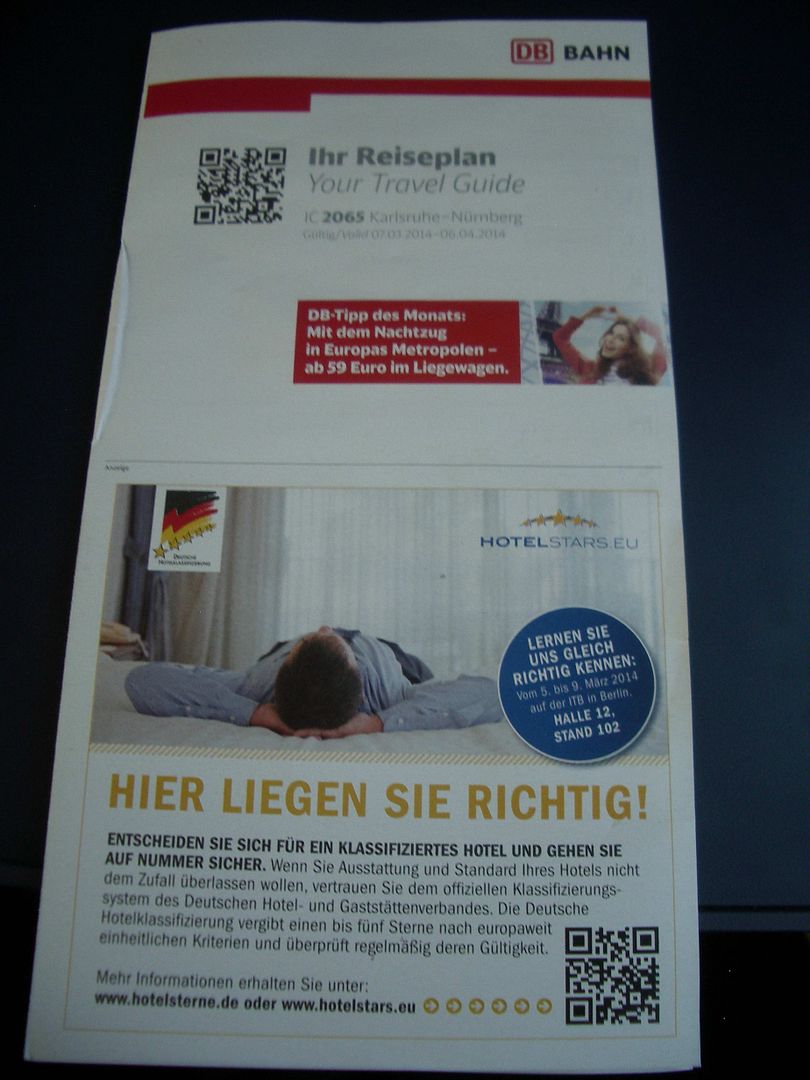 Just 19.00 Euro´s is the fare, we are calling at Schwäbisch Gmünd, Aalen, Ellwangen, Crailsheim, Ansbach and lucky me, reaching the final station Nuremberg pretty well ontime.
Everything else might be a high risk that I missed a stop in dreamland!. With one more short ride on the local sub for the
"Dokumentationszentrum Reichsparteitagsgelände"
I´ve been to Nuremberg before, but not to this part of the city. A real special part from my point of view, really mixed emotions with this horrible history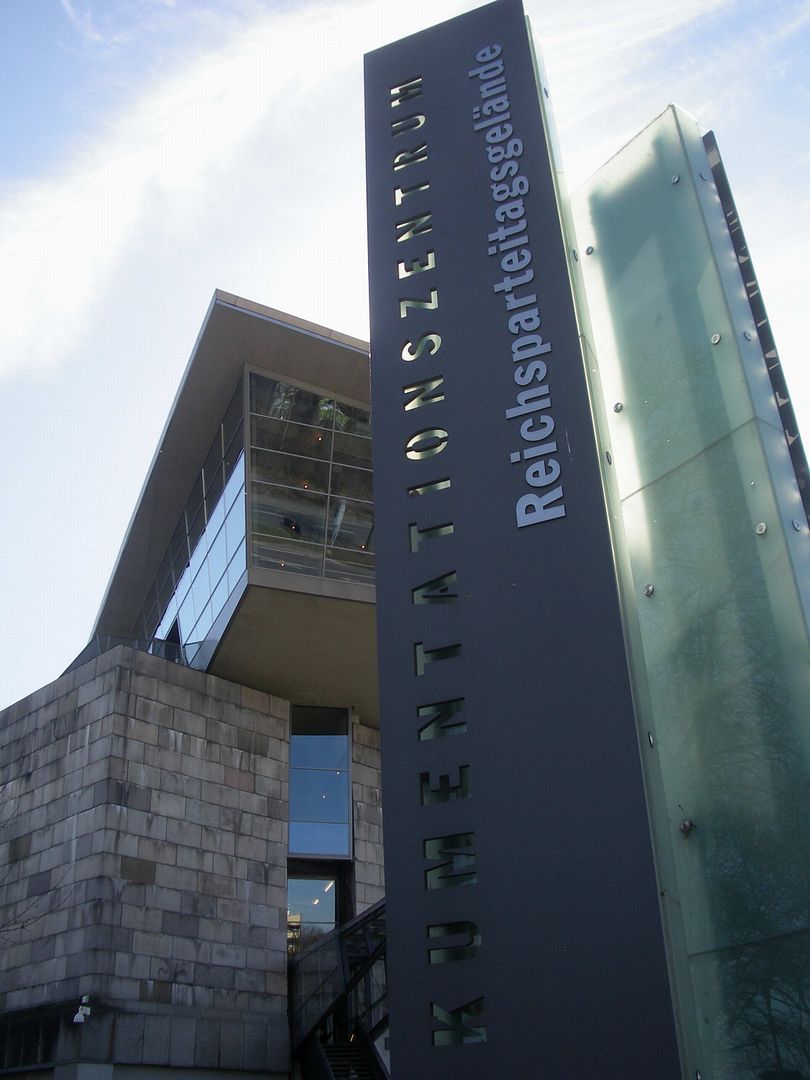 This is the former Center of power of the Third Reich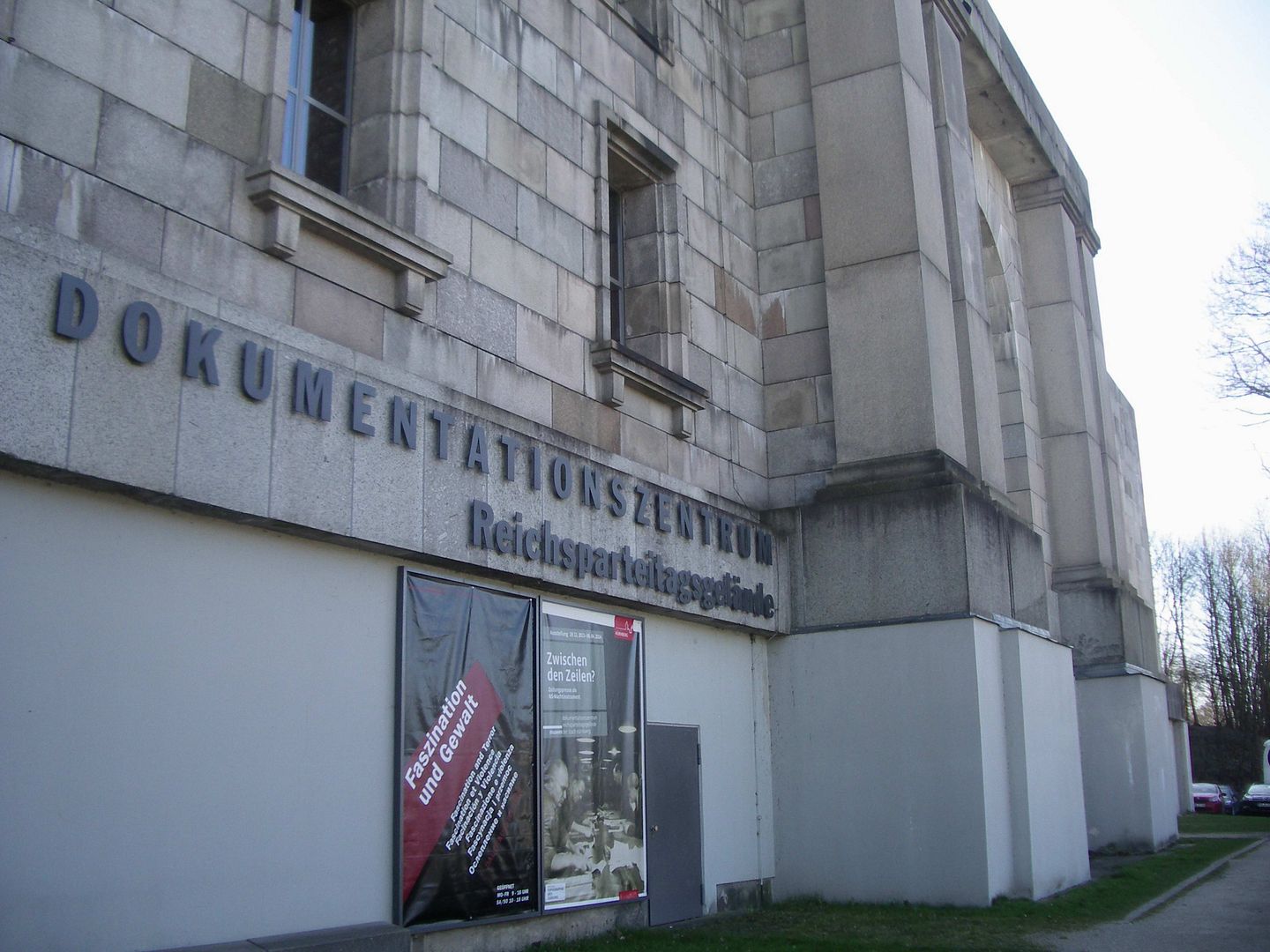 For sure also special architecture here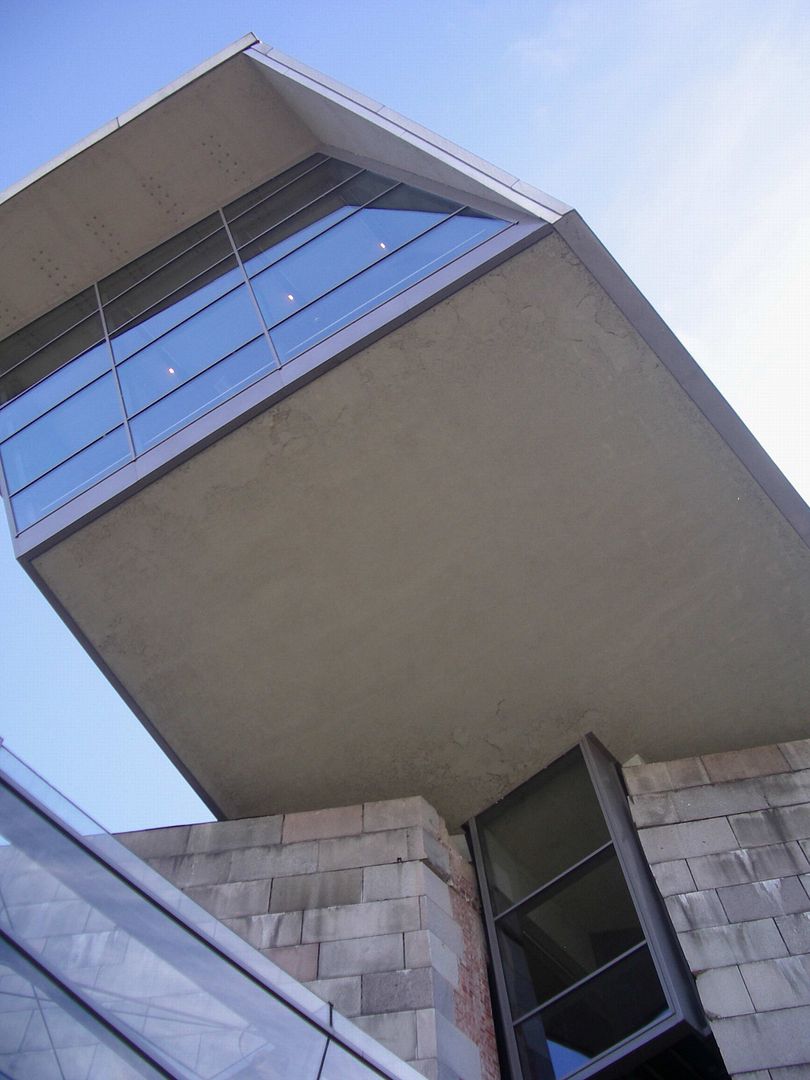 And lots of mainly young people around
Bye now, heading for the airport, I should fly for somewhere else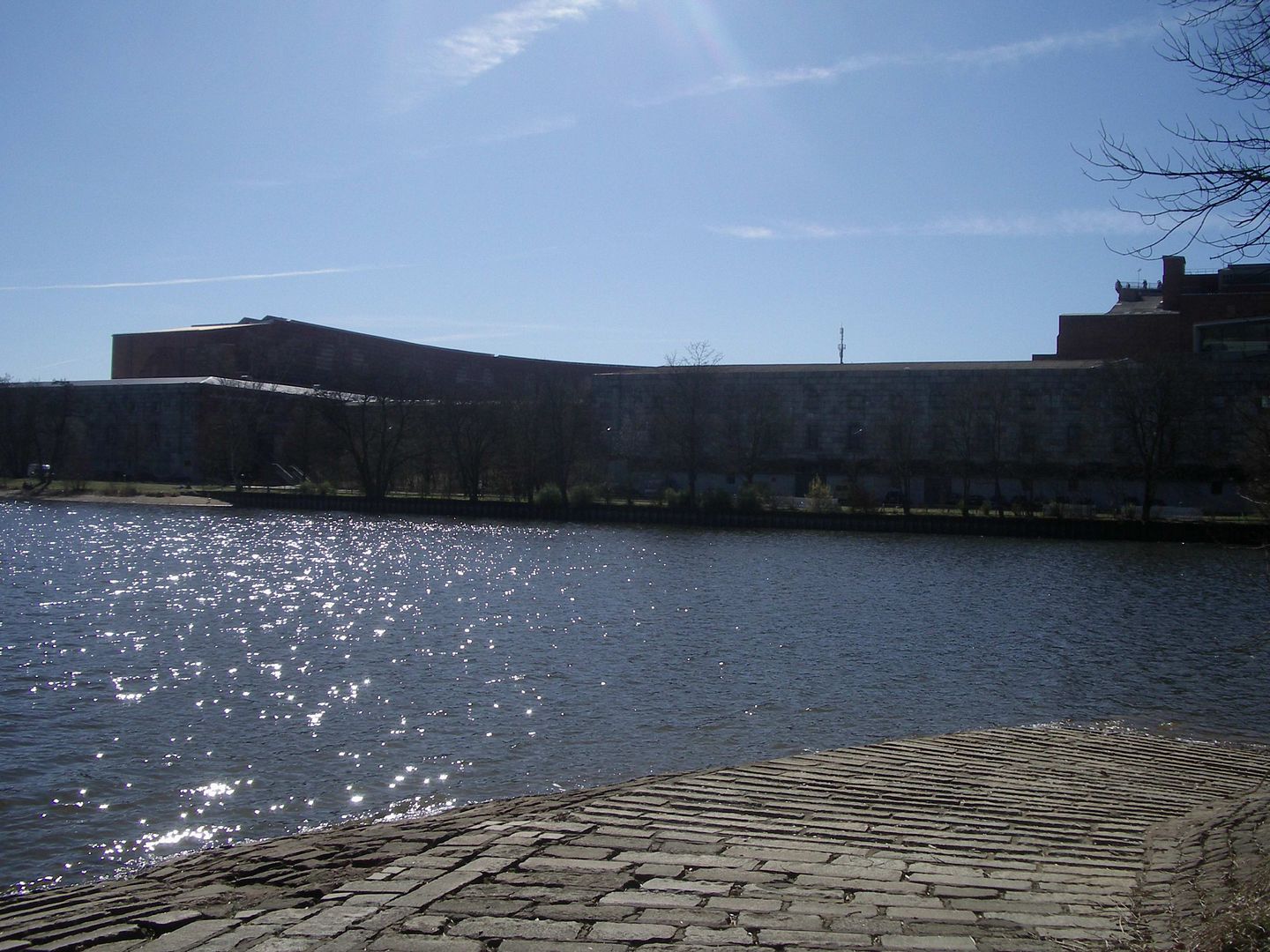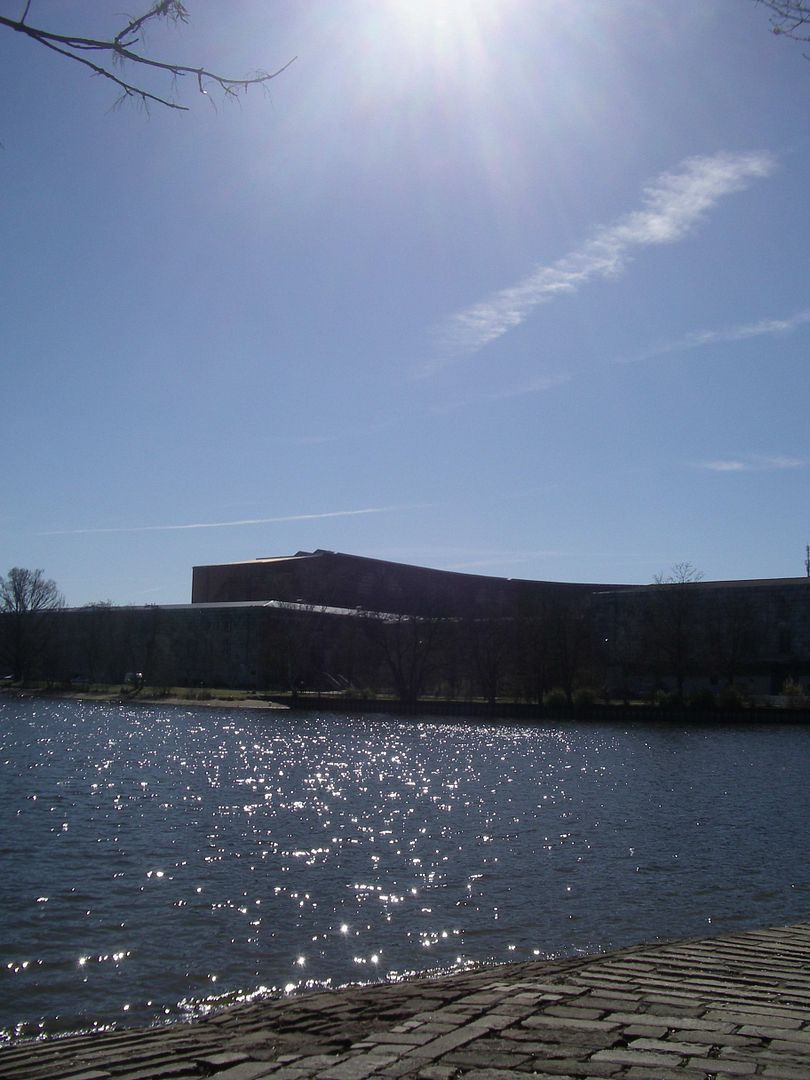 Ah, that looks like the right way
Riding fast through the tunnels but, ahem, isn´t there something missing here?.
There is no driver at all!. Are you sure that I´am not trapped in a horror movie or something like this?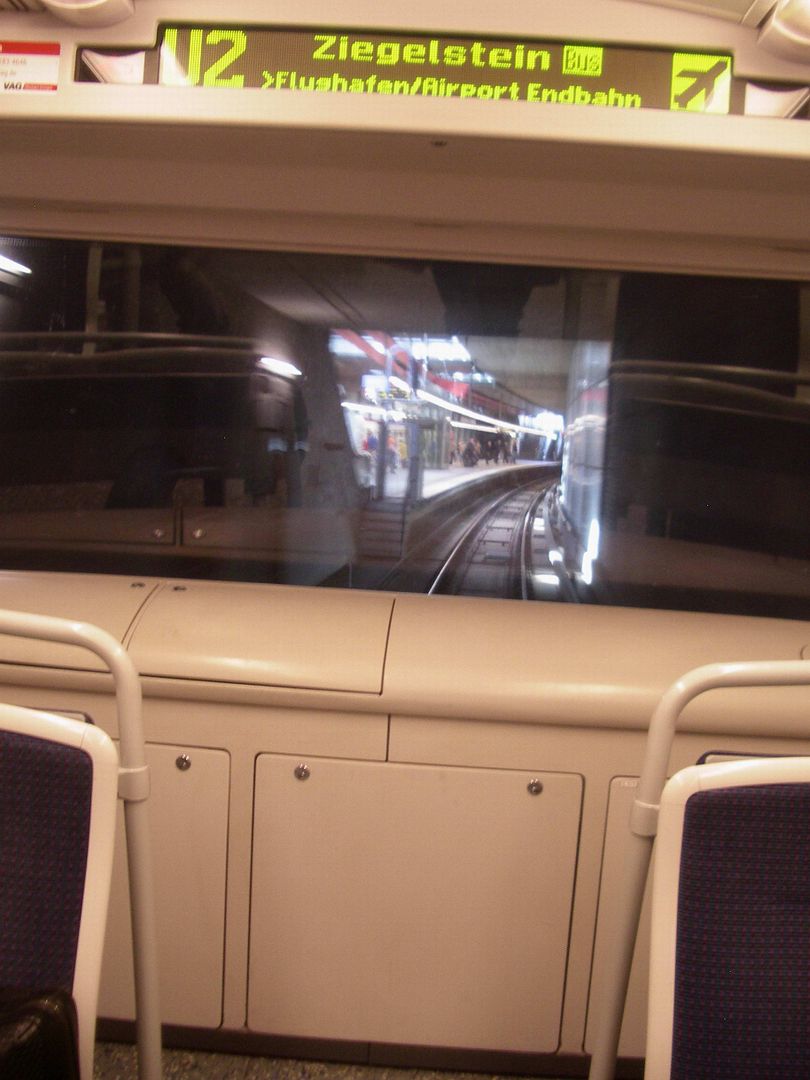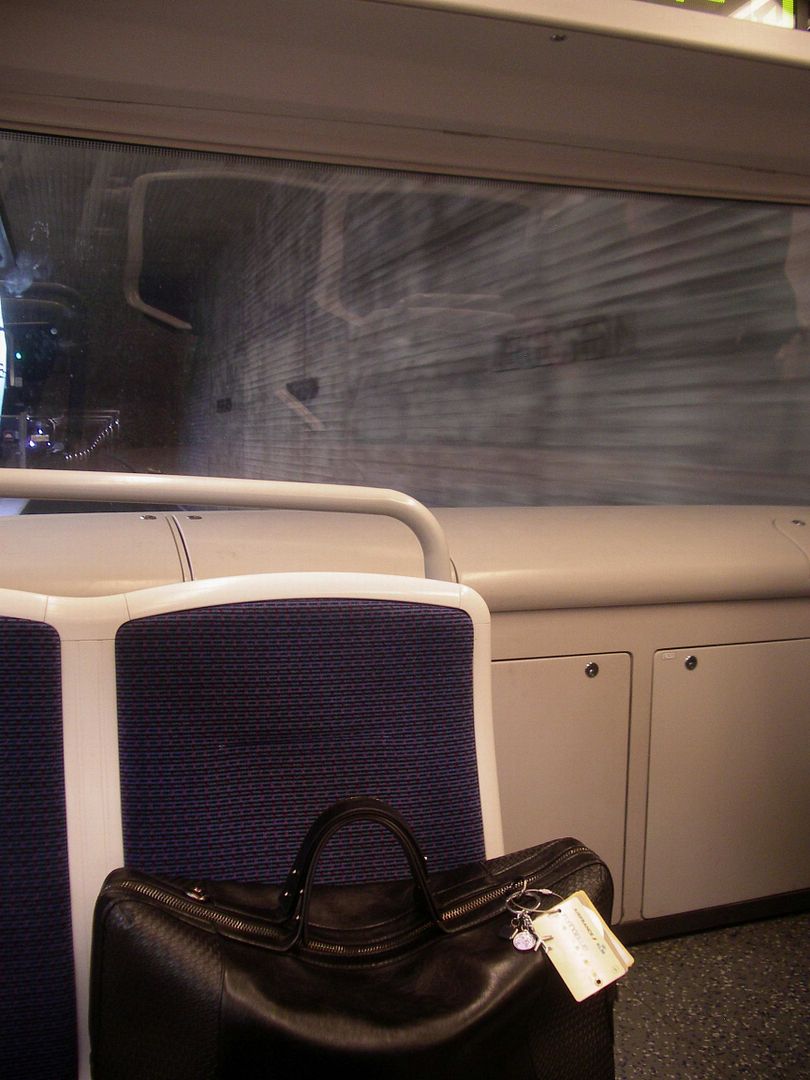 Survived, this looks like an airport!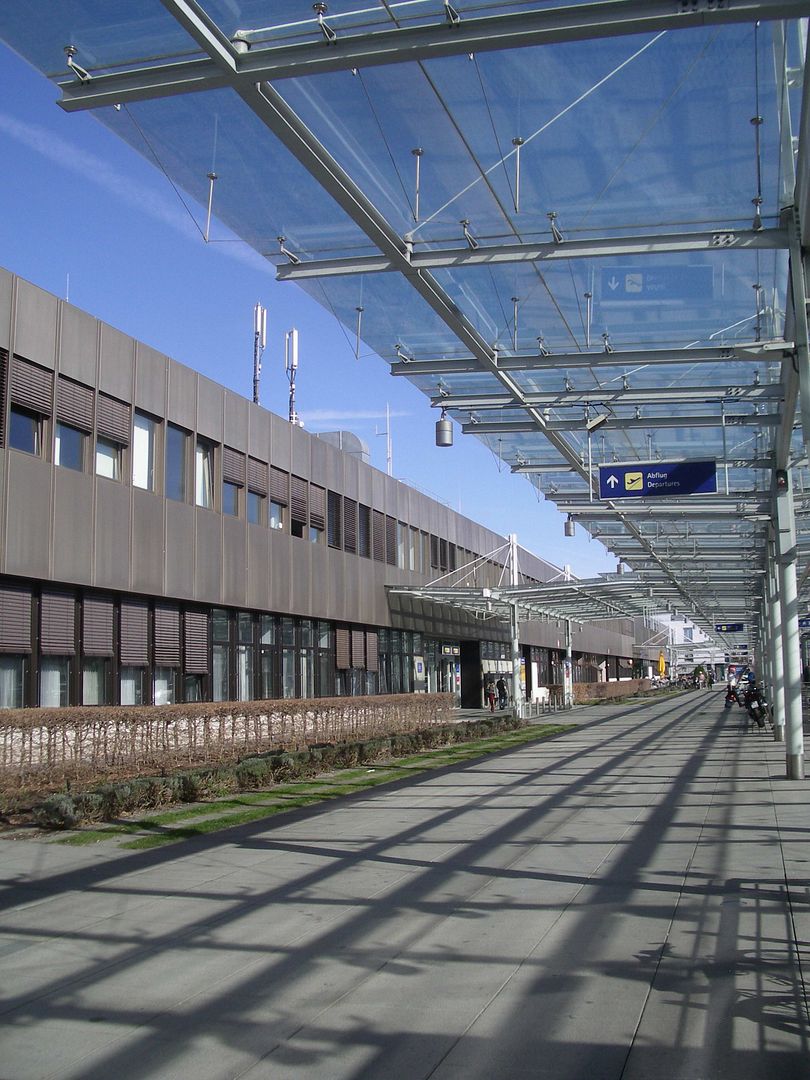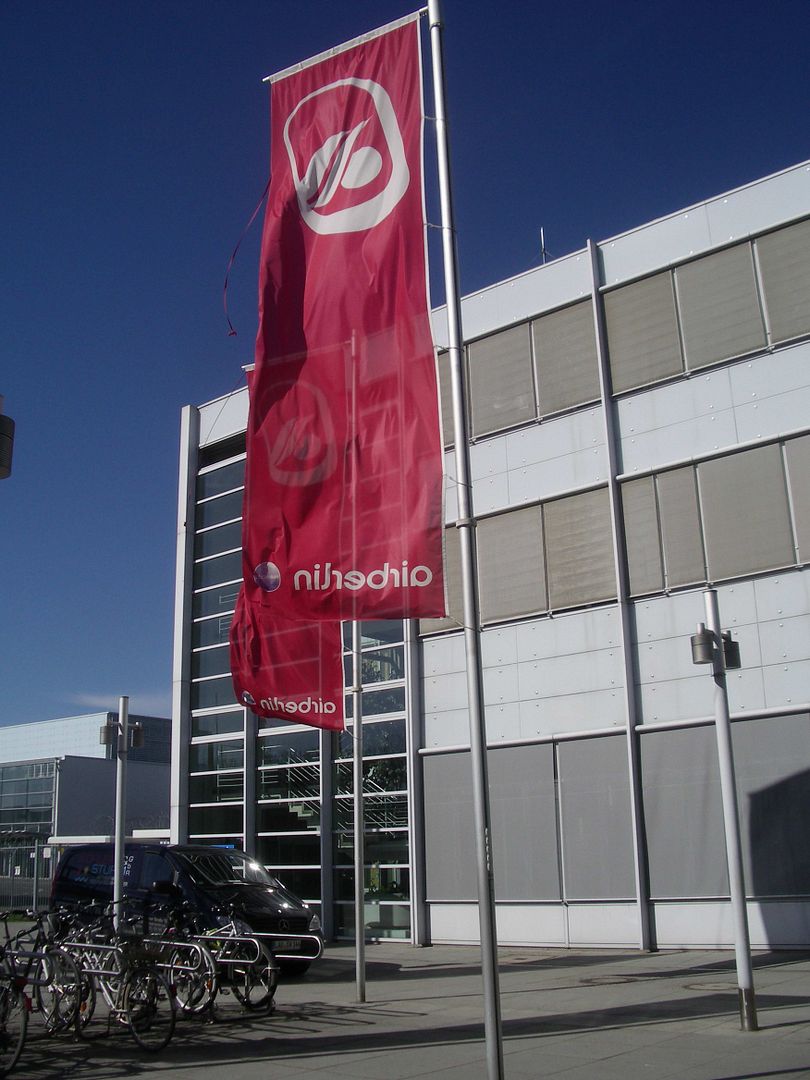 Thursday, 20 MAR 2014
.
The vid:
http://www.youtube.com/watch?v=b3RCWhNhedo
.
.
.
.
Service Air Berlin AB 6777 operated by LGW Luftfahrtgesellschaft Walter
Scheduled: 15.00 // 16.05
And here we are with the maps, maybe all the
flights back in 2013?:
TRIPREPORTER 2013
auf einer größeren Karte anzeigen
And this was 2014:
TRIPREPORTER 2014
auf einer größeren Karte anzeigen
And this is reality, really, 2015!:
Well, are you sure, this is my plane, really?.
No, not today, the example at A13 it is, where I´ve arrived after the 3th last and final call with great thanx to the long, long queue at security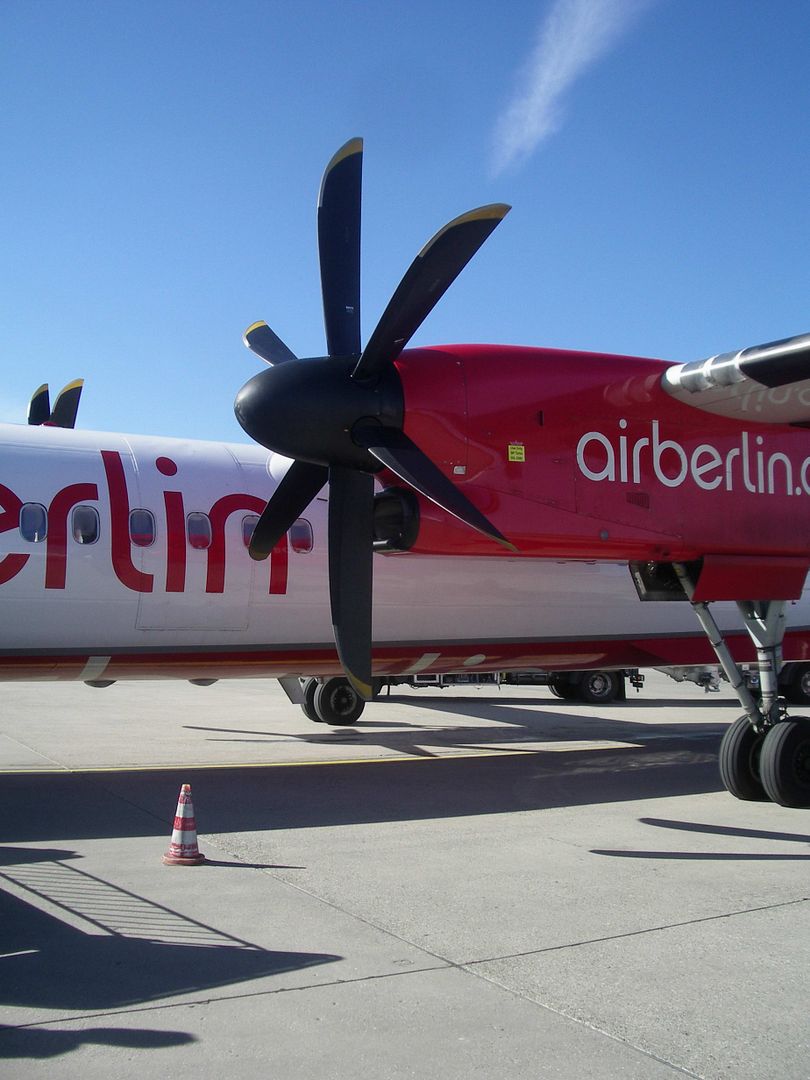 The fare is 60.00 Euro´s managed by Opodo.de.
Yeah, the Dash for me. Don´t get me wrong, this is nothing really special but after the detour here and with an ´19 waiting at the gate, no!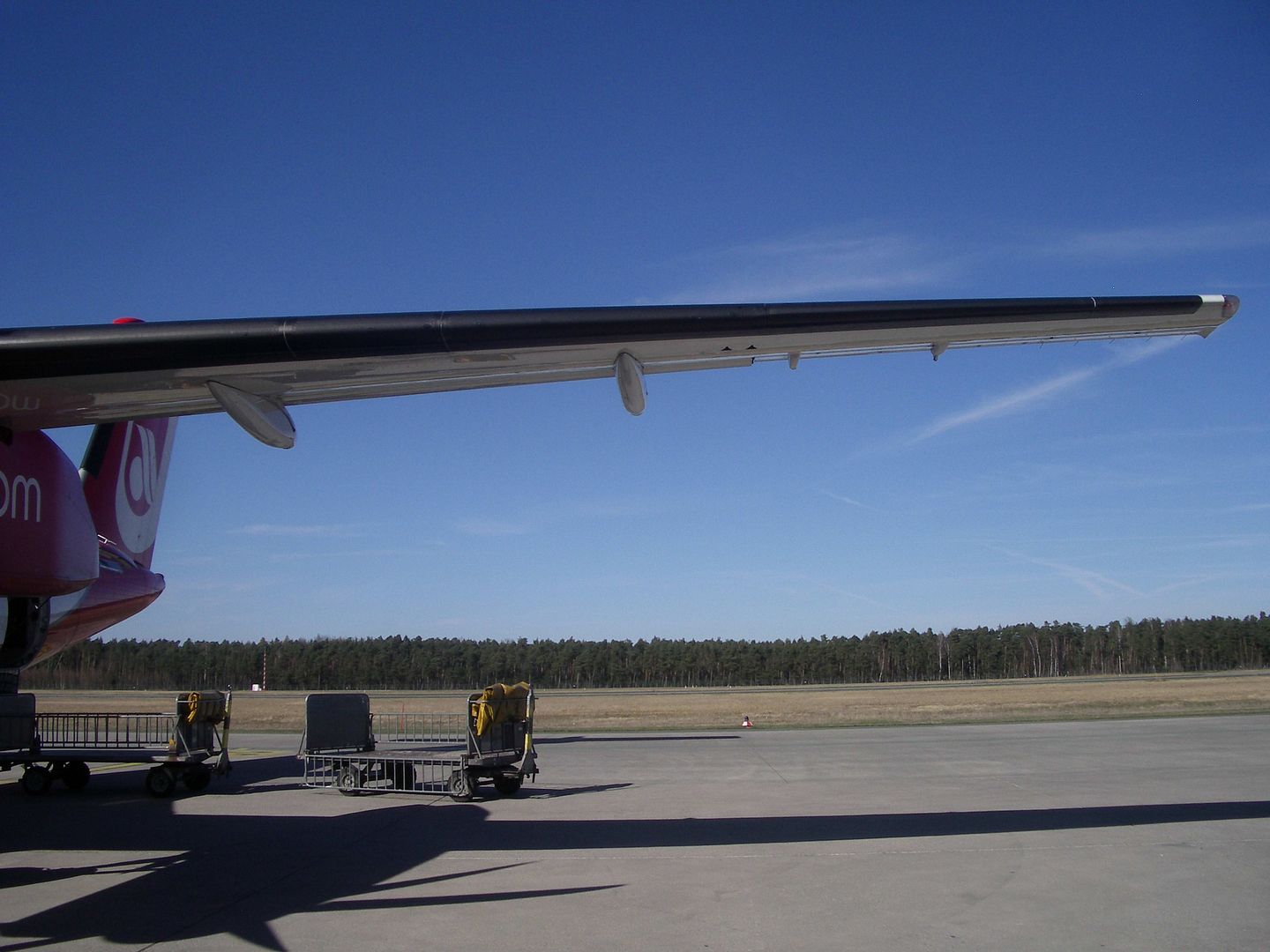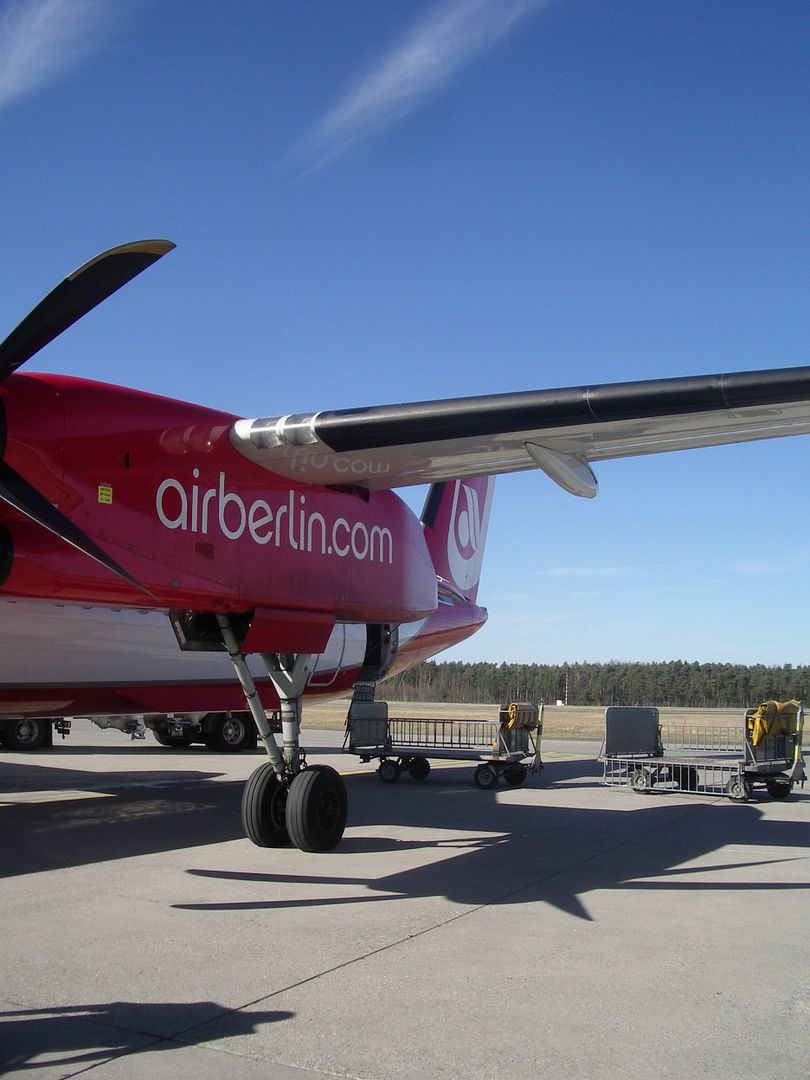 Well, this reg fit´s, especially during these days, CNX in airport speech means cancelled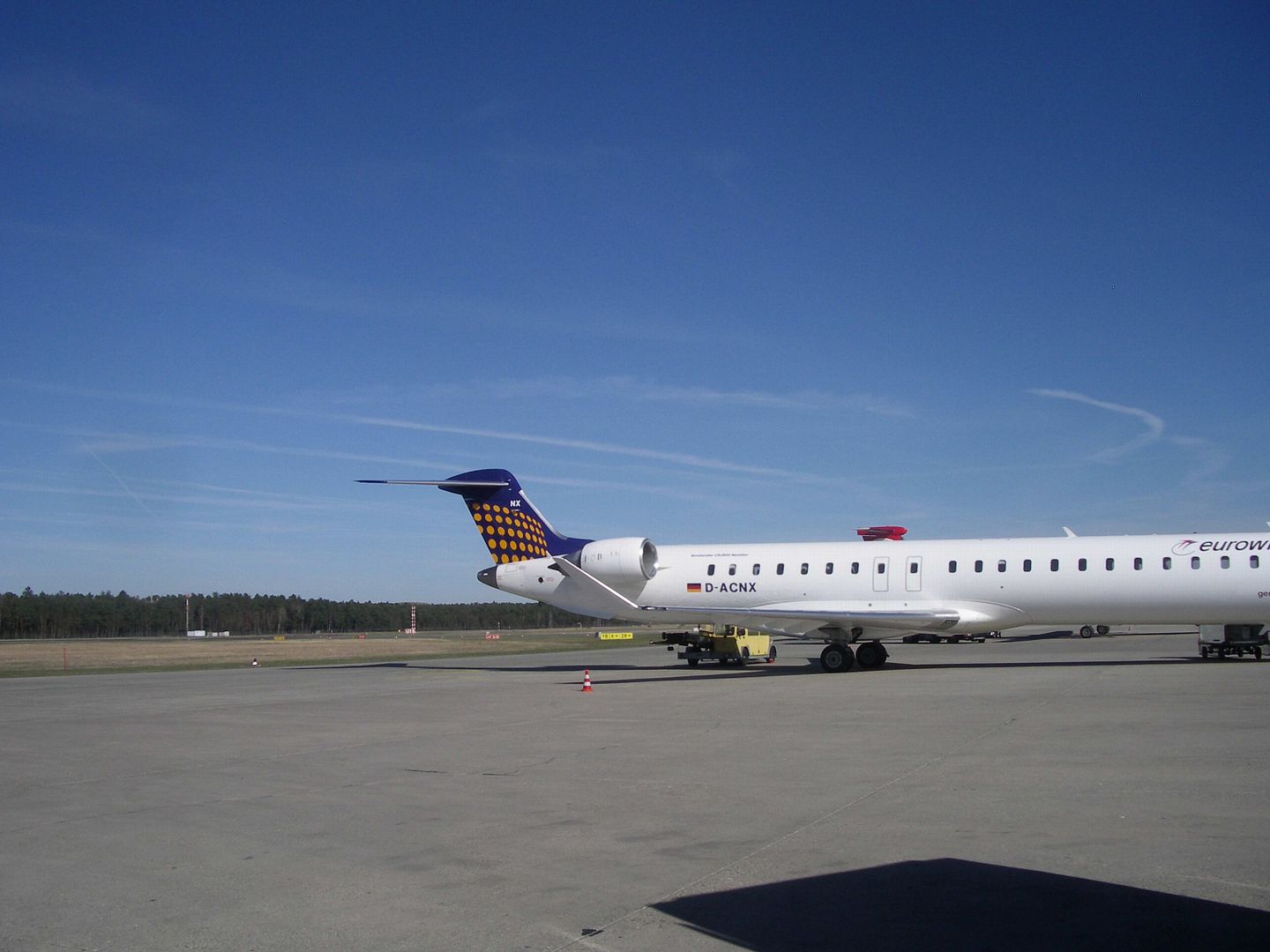 But not the Dash, at least not today on this service!
And btw. no lounge for me today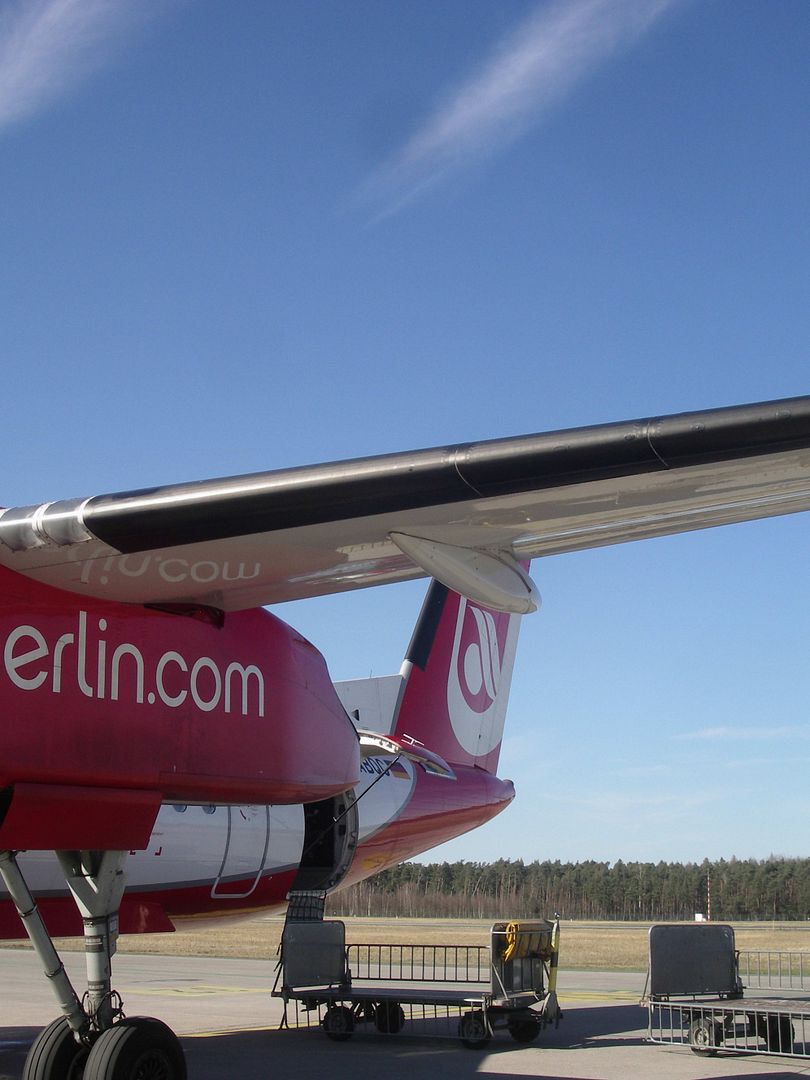 A nice welcome on the ground from the front office and the "Kapitän", german staffed it is, some baggage issues fixed and now we are ready to go above FRA, no flightlevel info.
3.00 pm, 50 minutes by "Walter", departure ex 2700 meters runway "One-Zero".The temperature here at "Flughafen Nürnberg Albrecht Dürer" is, trust me, 22 degrees, superb sunny sky, more than we see during weeks long in real summertime.
D-ABQC it is, just the one without an individual name, ok old joke!. An Dash 8-400, done on DUS-SZG previously and also leg no. 40 on type. In the air with LGW since 28.01.2009 and there are still 17 active examples in the fleet. Also interesting to follow this way:
http://avherald.com/h?article=4378df69&opt=0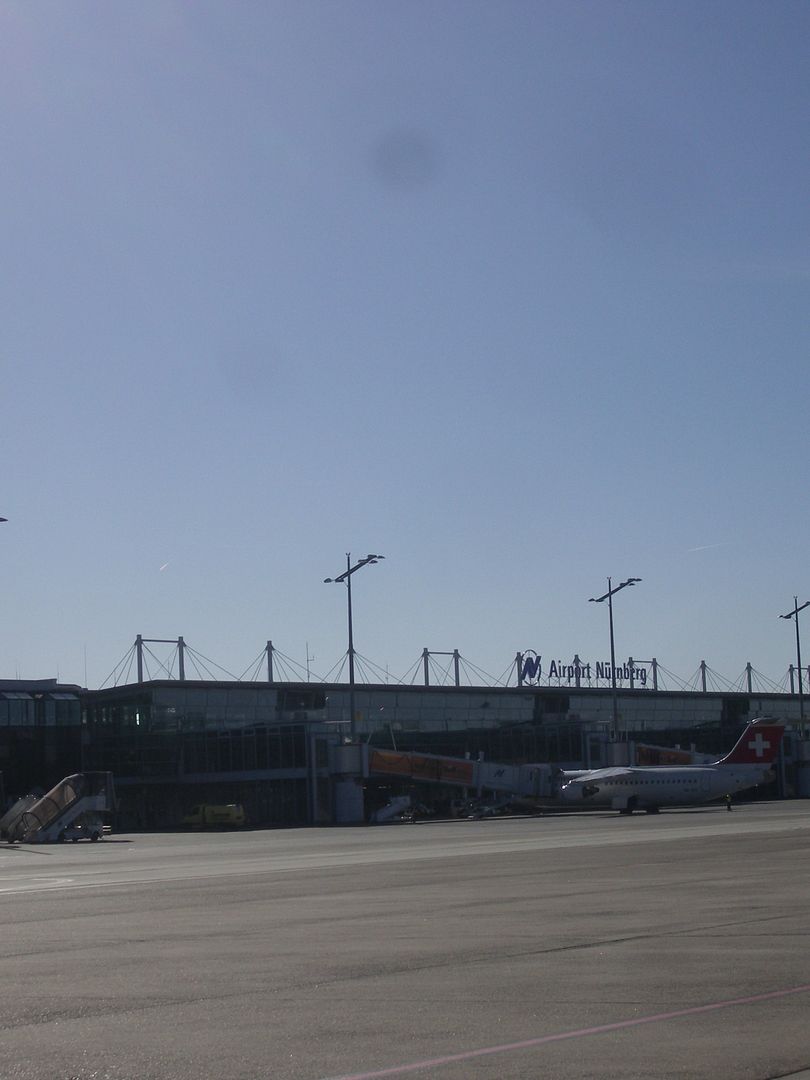 My friend, the prop and me!
Is running!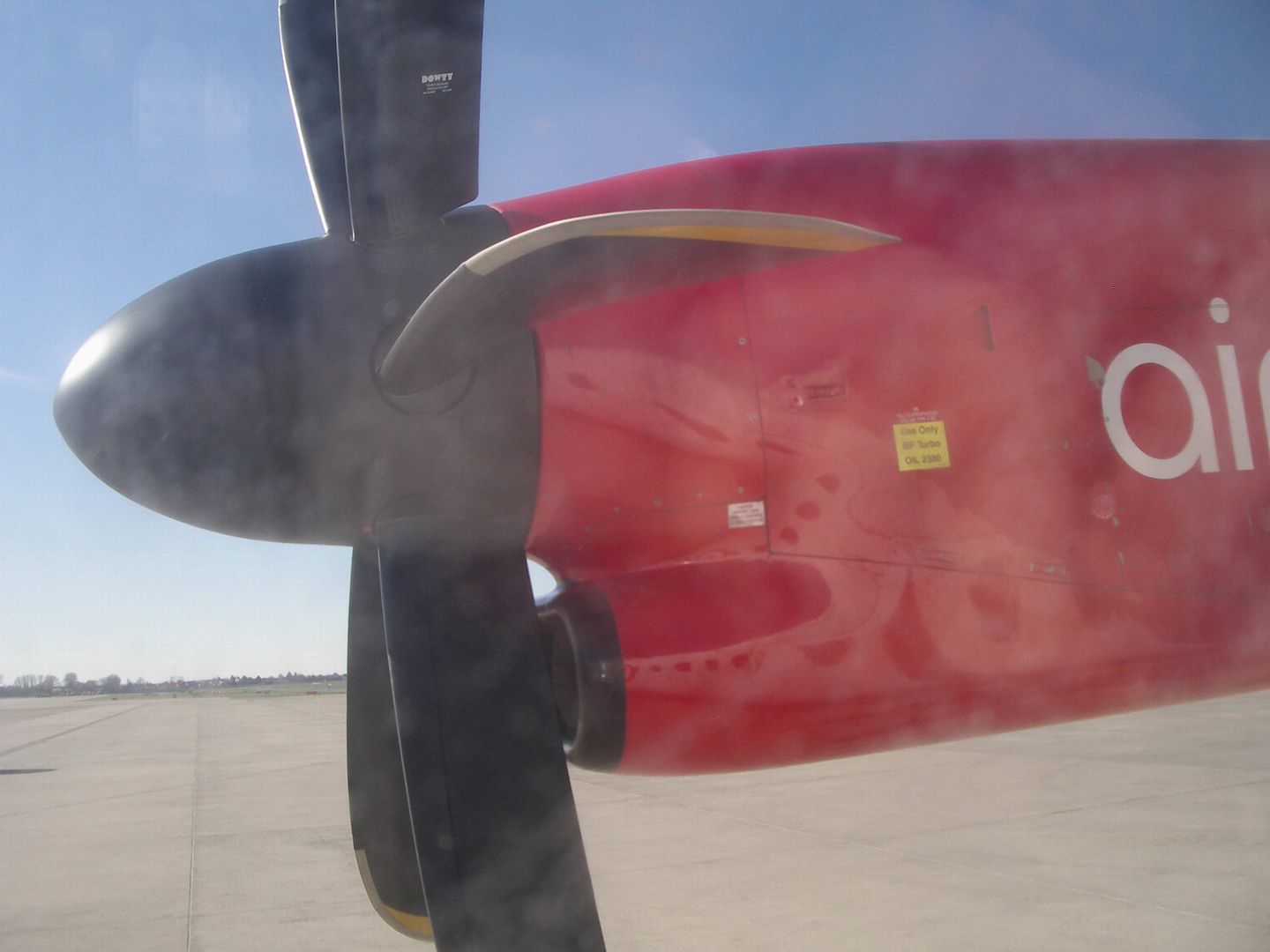 And up we go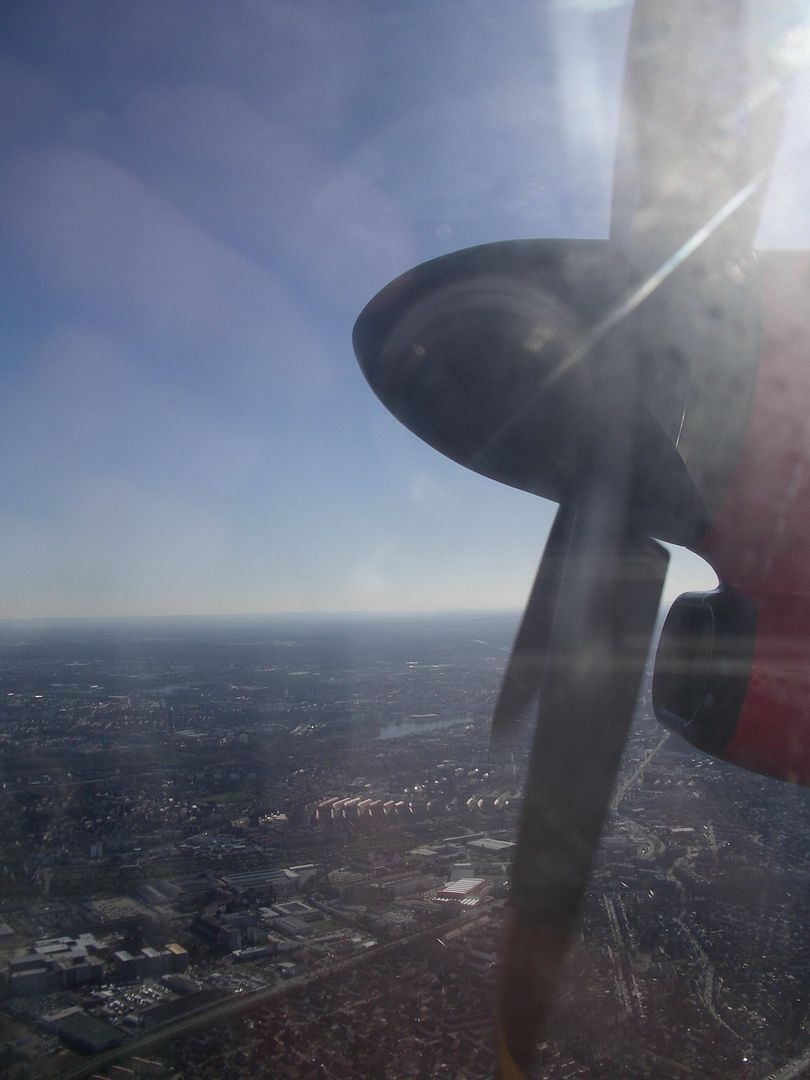 Cabin crew is one ok male FA and a well built, long blonde hair, nice woman.
Clear blue sky all around
Grey leather seats in the cabin, somewhat well used it is and the legroom is ok with a 80% close to all biz load.
For the classic legroom shot, 7F and two for me, late boarding, you know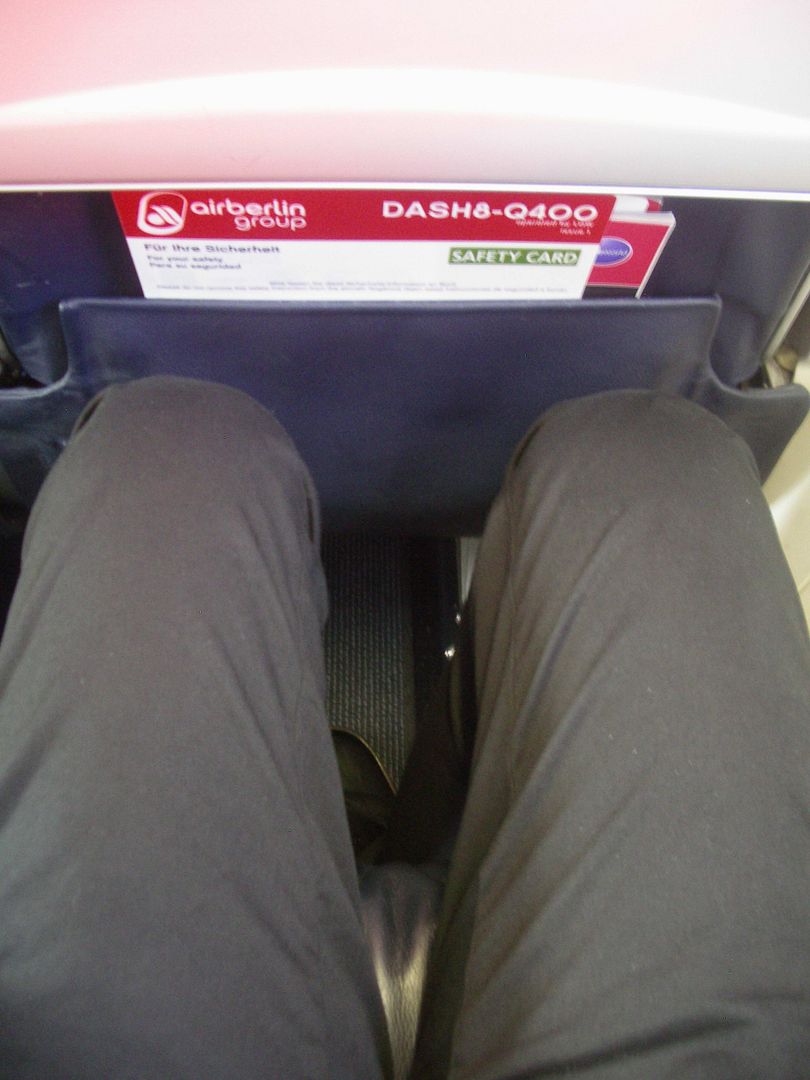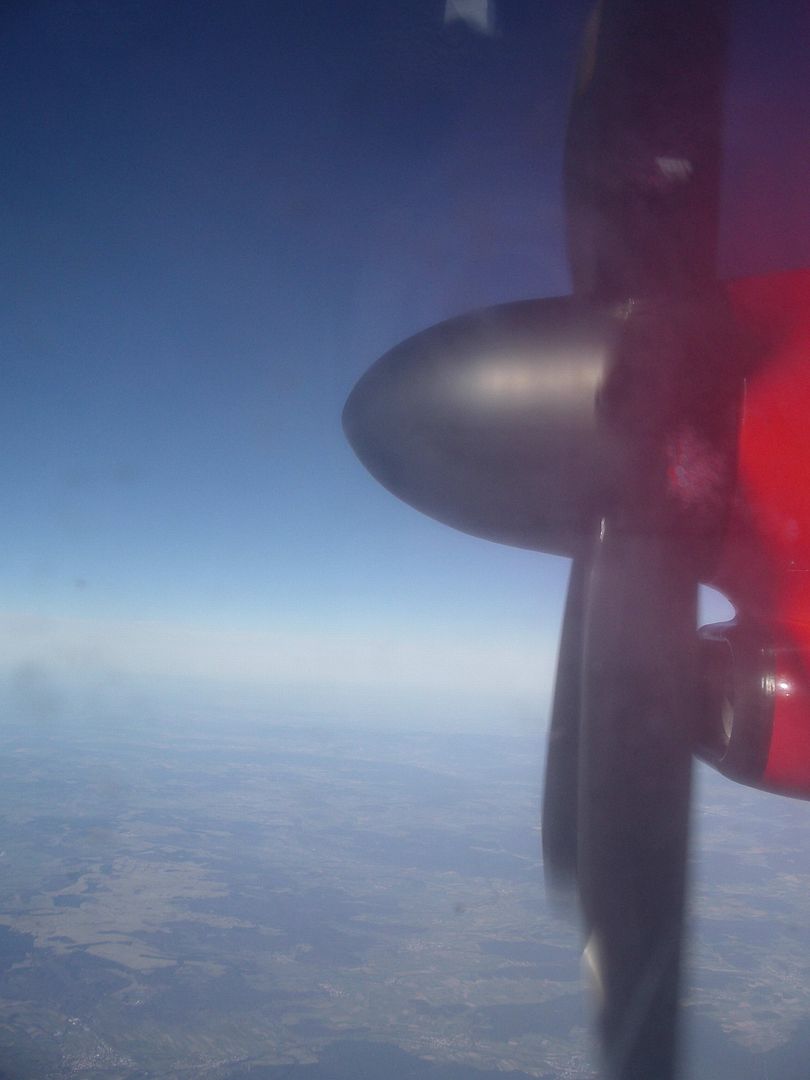 Use only BP turbo oil, I hope it helps this way
This mag is never seen before!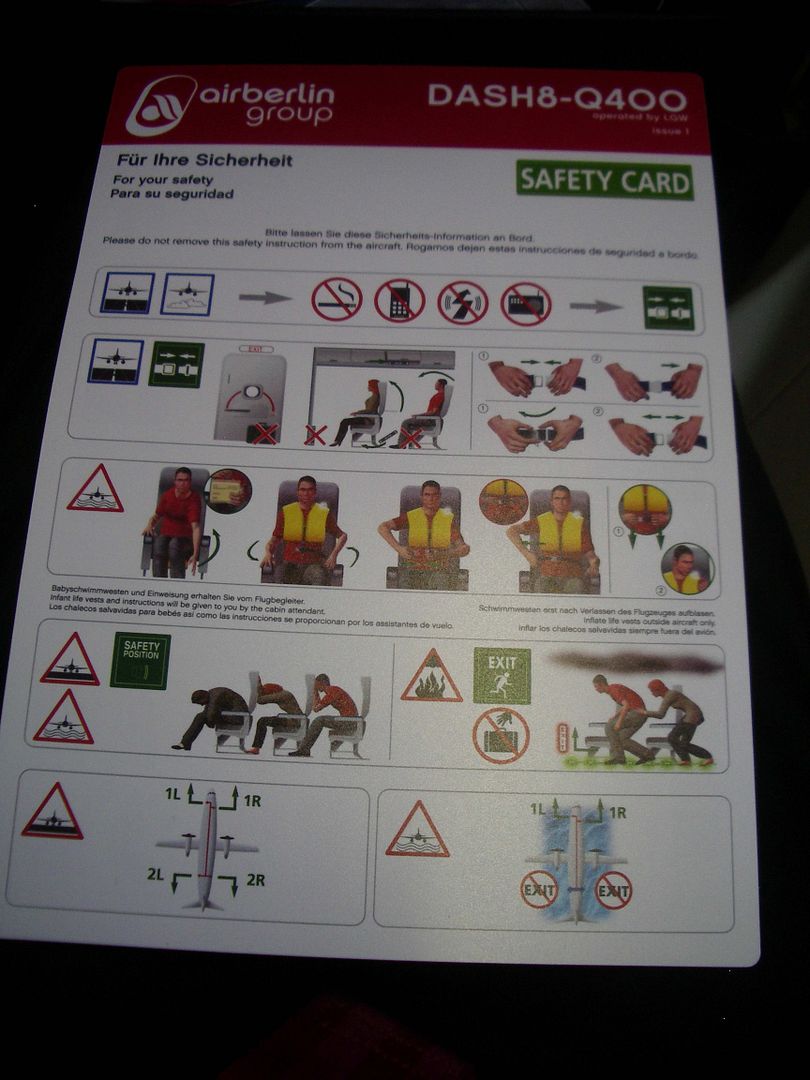 Service, snacks and free drinks, nothing out of the ordinary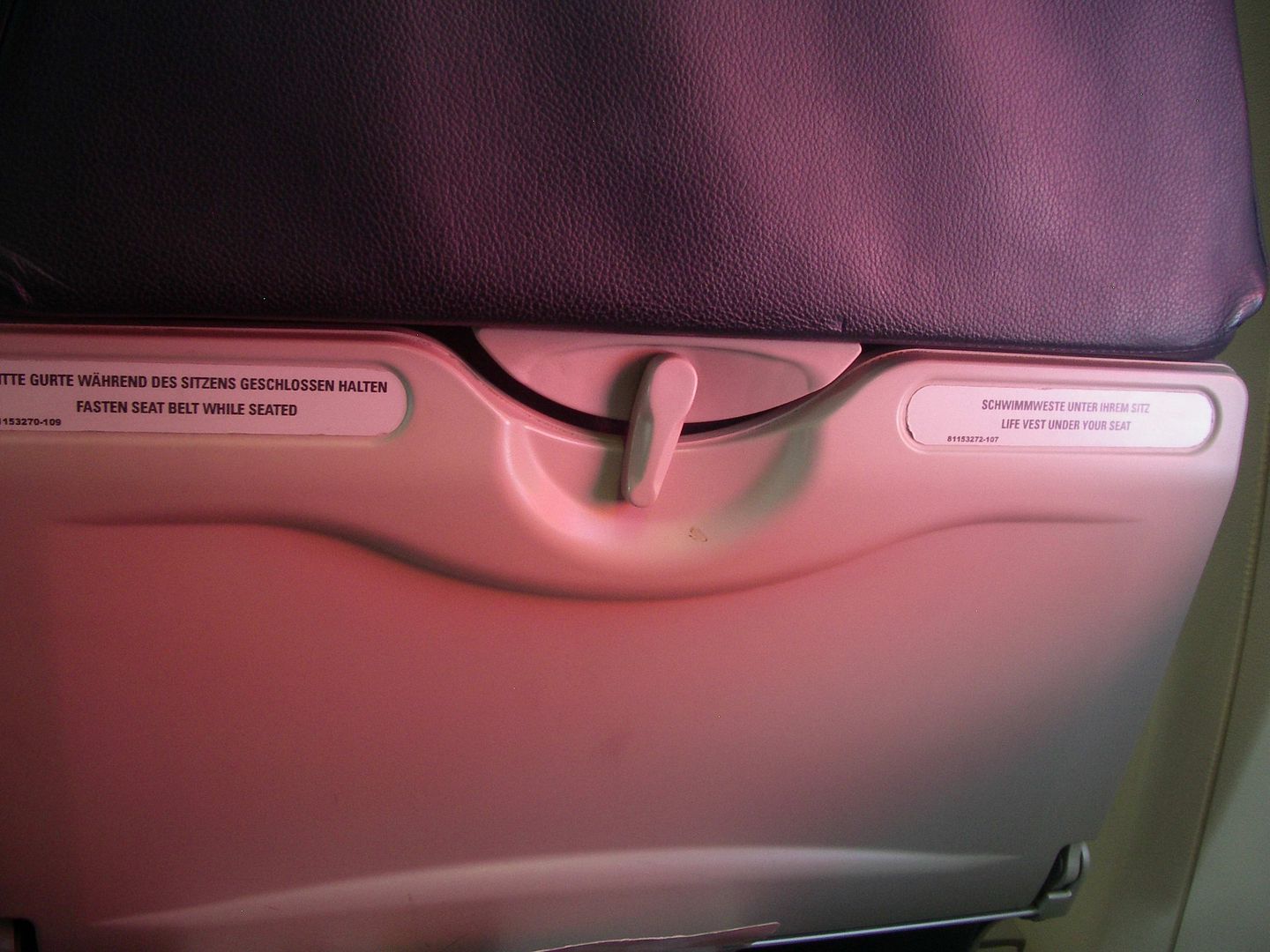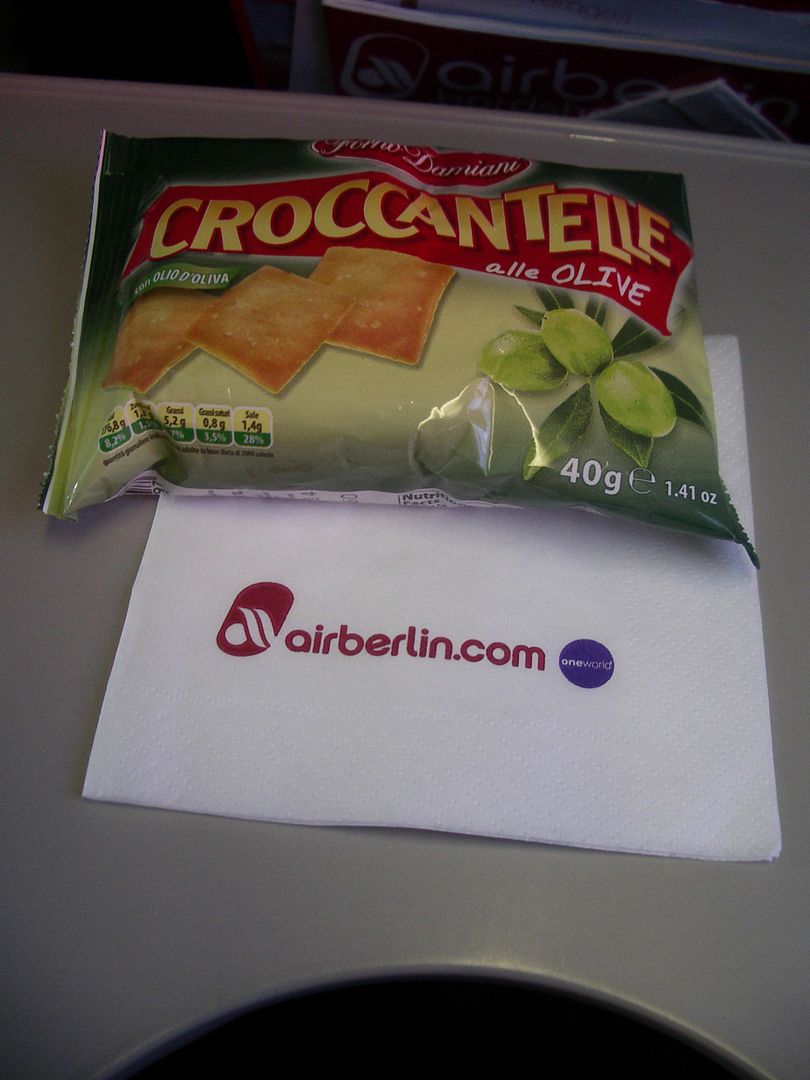 Ah, thanx to BP´s turbo oil, what else?. Here we are at
"Düsseldorf Airport"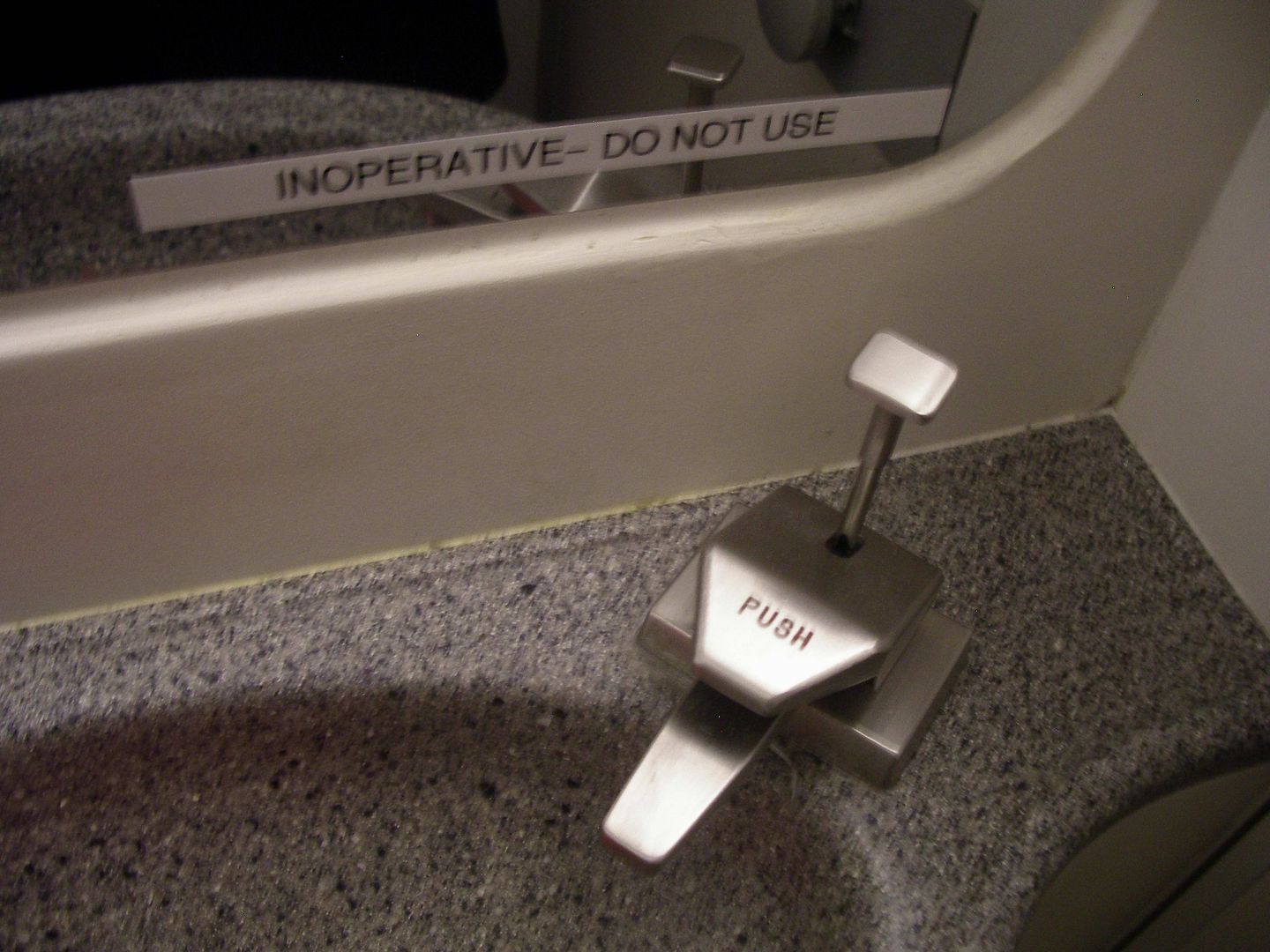 Touchdown at the 3000 meters "Two-Three-Left", 5.55 pm, ten minutes ahead to schedule at 20 sunny degrees, superb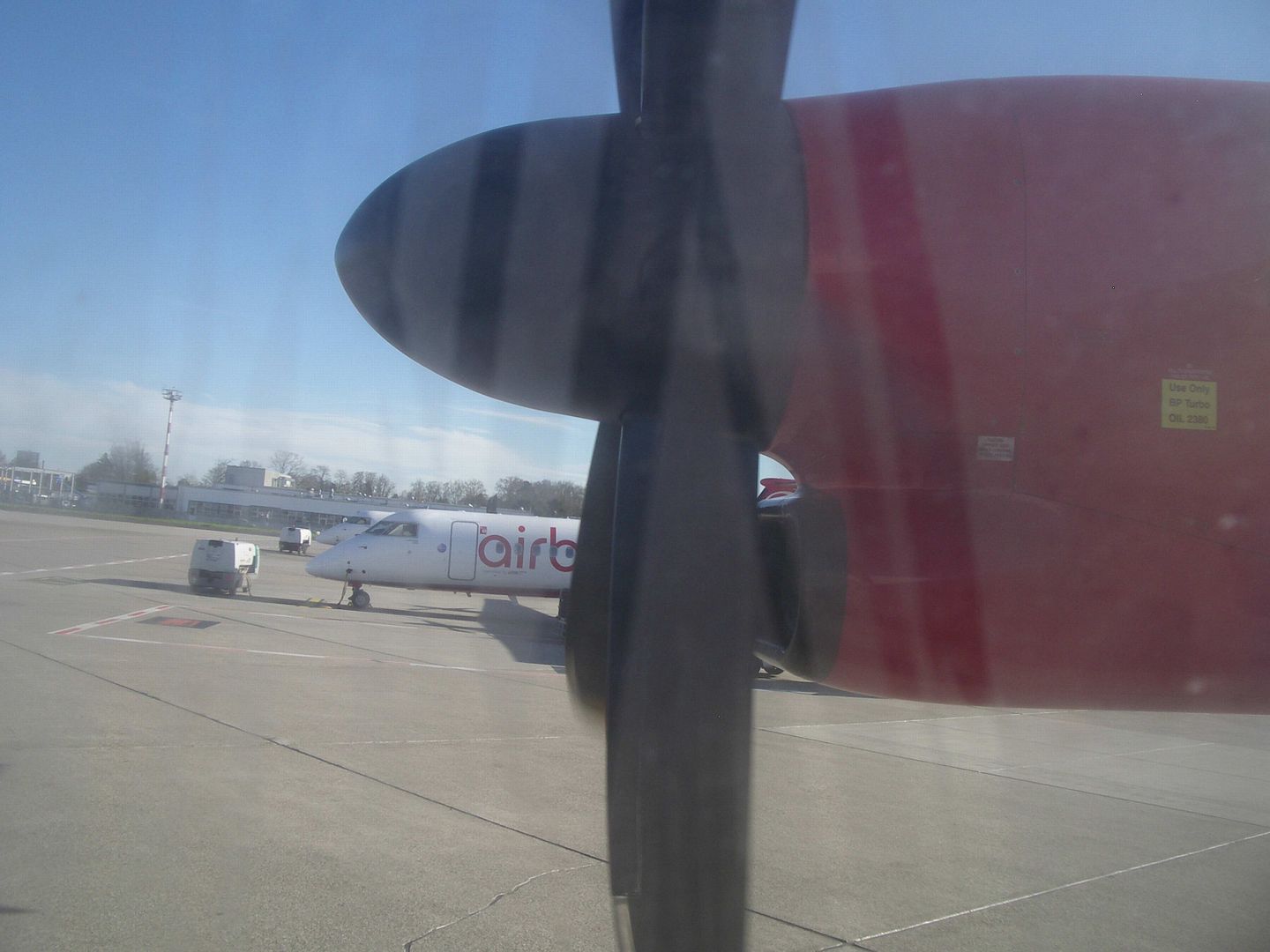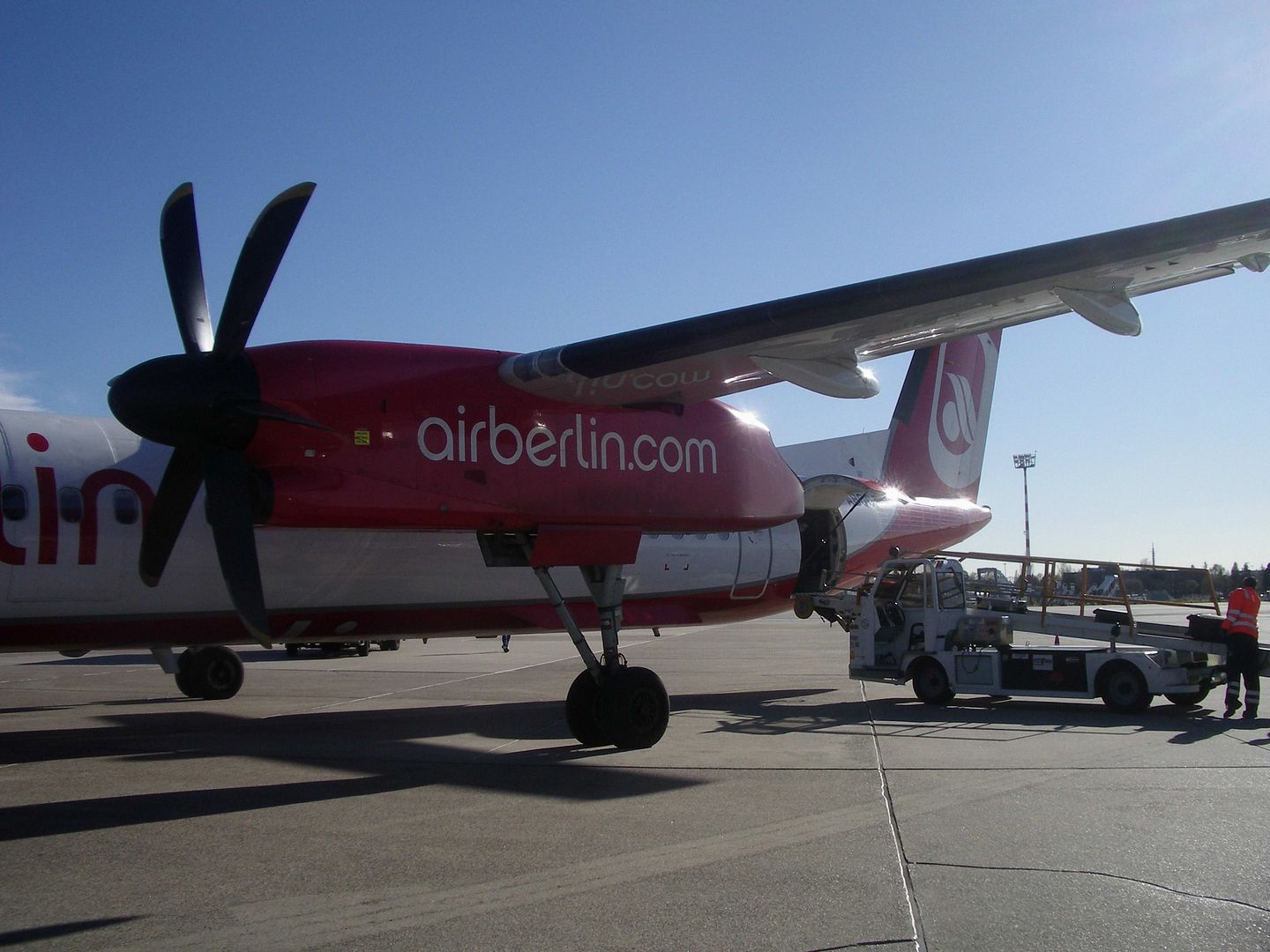 There is the one and only pax for connections, all the others heading for the exit, but well, that´s nothing really new to me!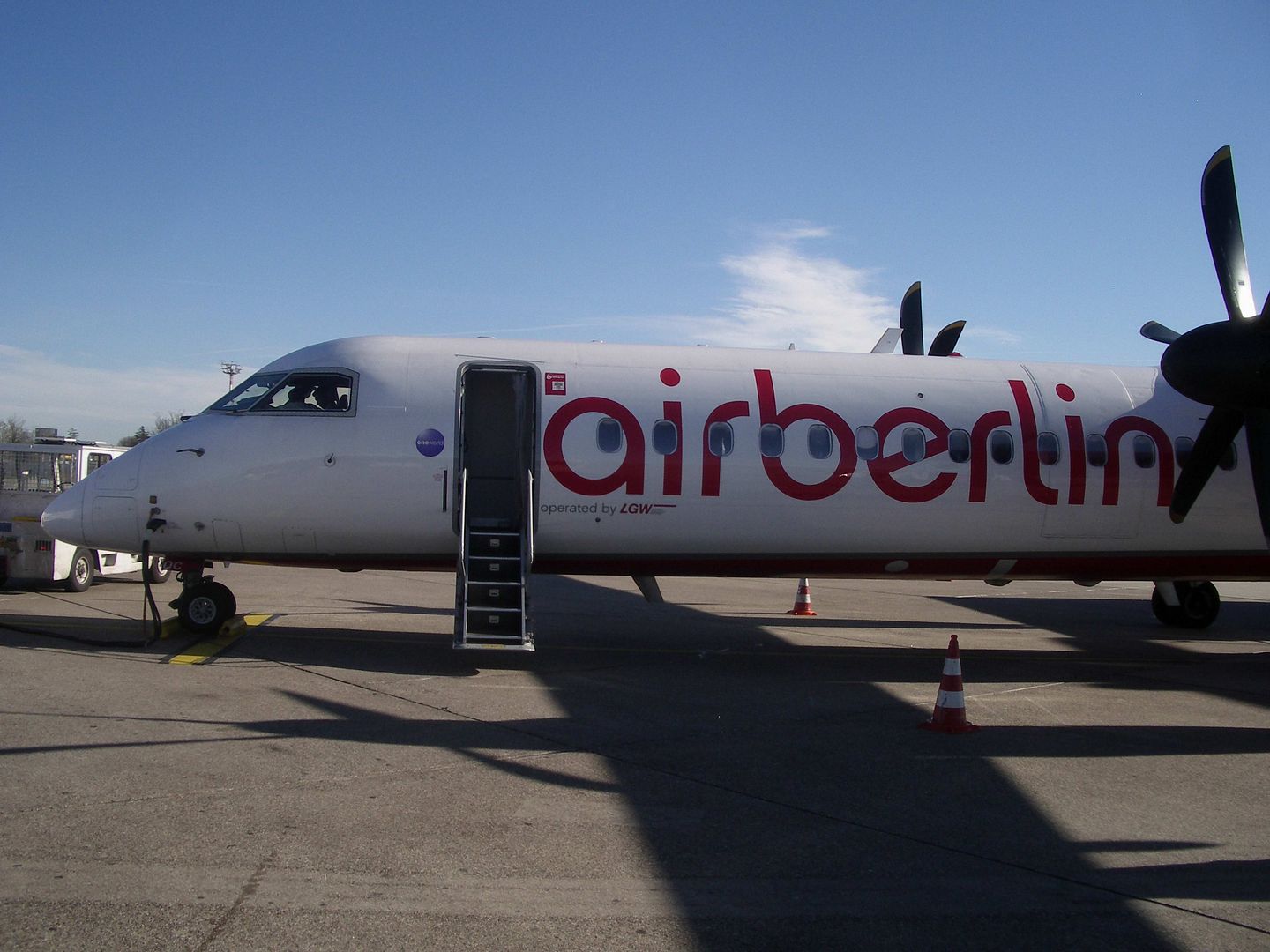 ---CONTINUED BELOW---