Background
Always wanted to venture around the Eastern European region, but never had the opportunity, until now. We had decided to travel around the Baltics over 10 days during the May bank holiday. Below is the trip report comprising three countries, 4 flights and a lot of fun!
Thanks to GCMaps for the map illustrations below:
Stats (Since 2010, when I started maintaining my flight reports):
1st and 2nd time on Wizz Air (hopefully the last time)
1st time on Air Baltic and Estonian Air
1st time on ERJ170 and Dash 8; 11th and 12th time on A320-200
Video report to follow soon…watch this space, well, essentially, the comments sections…
Wizz Air – W6 8006 – LTN - VNO

Flight Reg: HA-LWZ ; Delivered brand new to Wizz Air on May 2014
Airbus A320-200
Seat 8F
Flight time: 19:55 – 00:35 (19:58 – 00:30)
01st May 2015
On the day of the flight, we had decided to drive and park at the long term parking at Luton. This turned out to be a bad idea as we hit parking lot traffic over the M25. We made it in time, but it was a stressful situation to be in.
Nevertheless check in was quick and we were airside in time to board the aircraft. This is where Luton let us down again. Air side, duty free area was heaving with holiday makers. Had no time and had to rush to the boarding gates.
Already a long queue in front of gate 17. It's one of the most precariously positioned gates. A narrow door with stairs going down followed by a sharp U-turn towards the boarding card check. Marvellously horrible design.
Finally reached LTN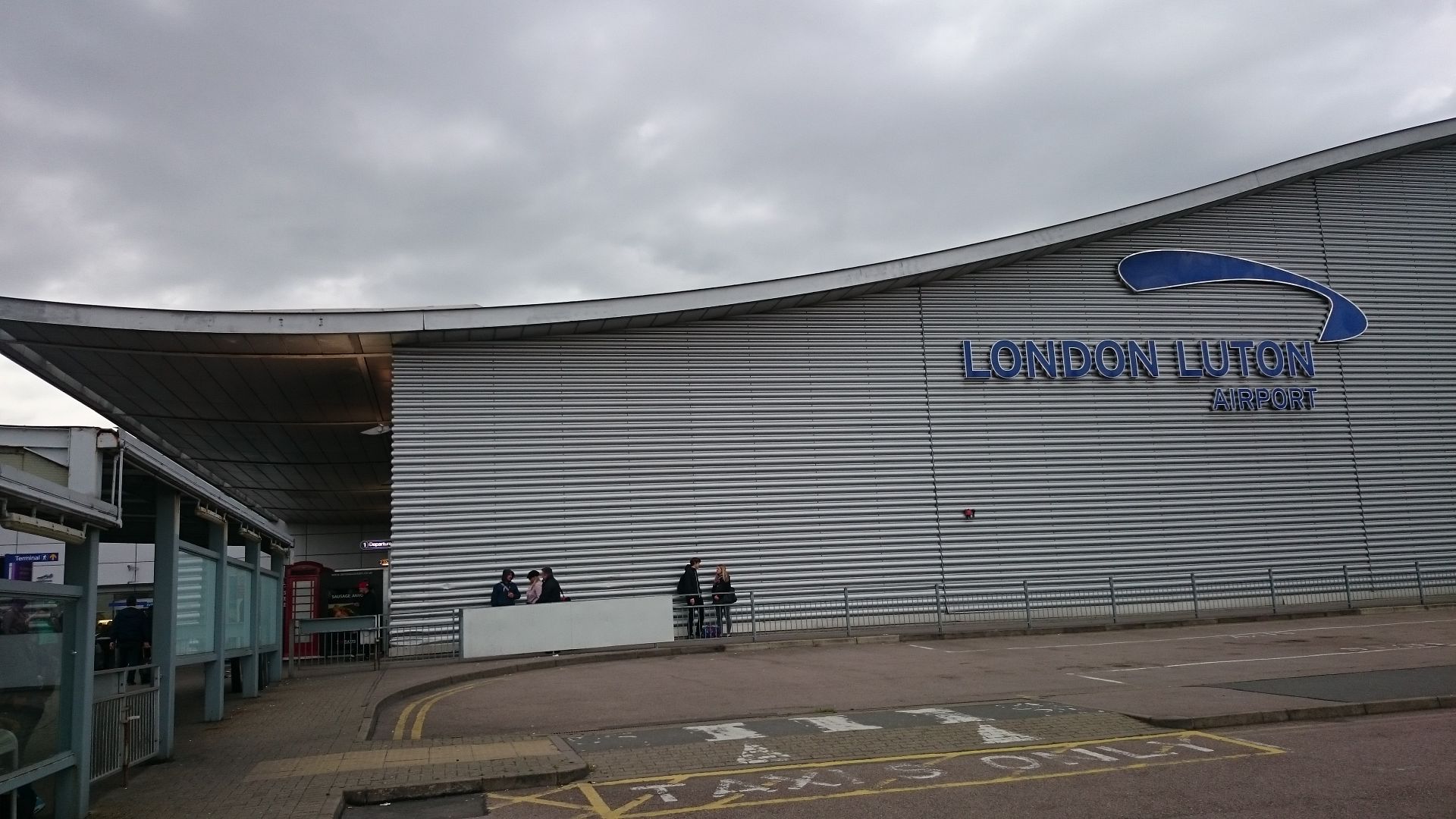 Luton Airport - Check in area - deceivingly quiet
Busy FIDS at LTN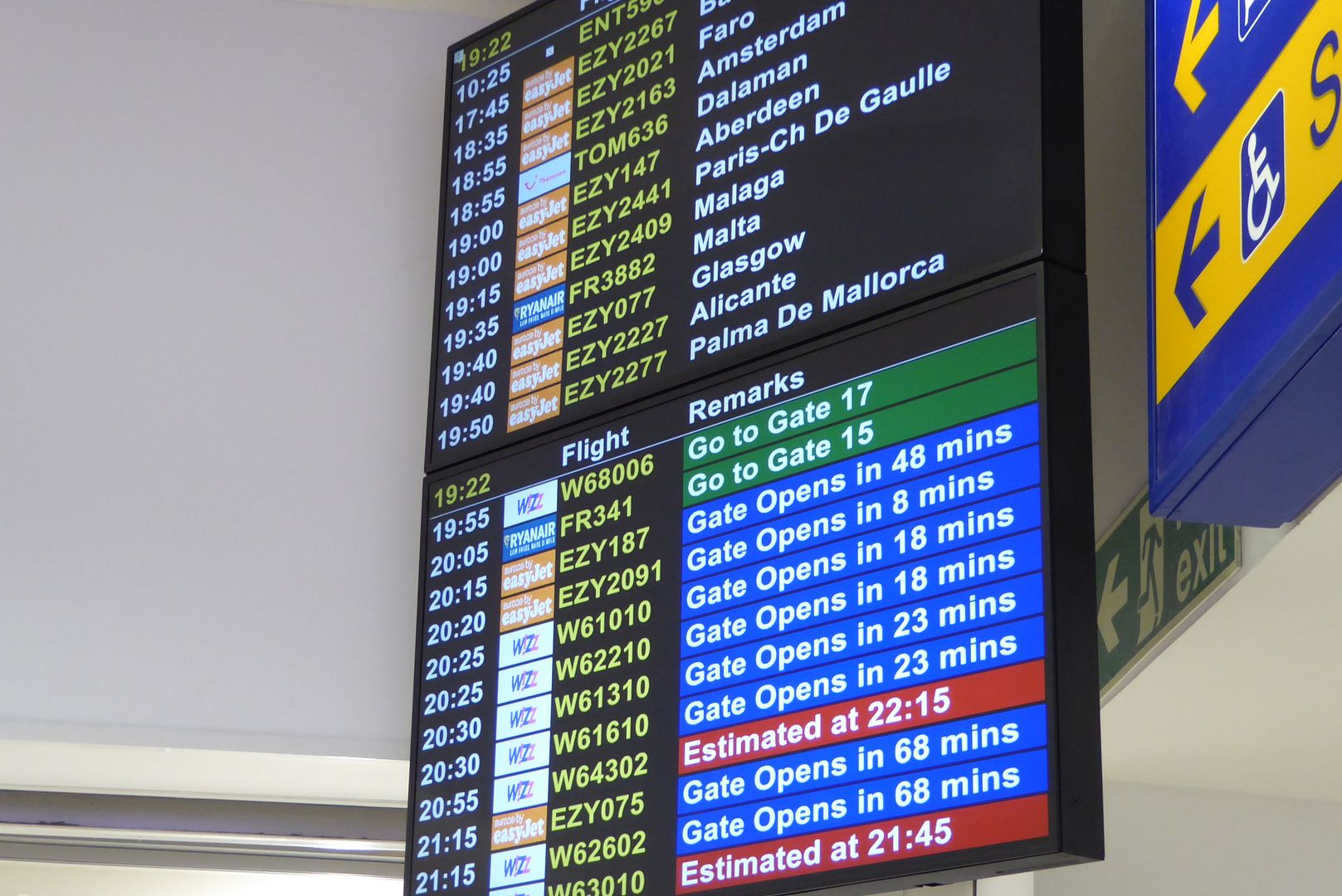 Boarding was a complete nightmare. One of the worst boarding ever. Paid extra for priority boarding but no announcement for a separate queue. Only when we reached the end we realised that there was a separate queue.
LTN Airside
Disorganised queue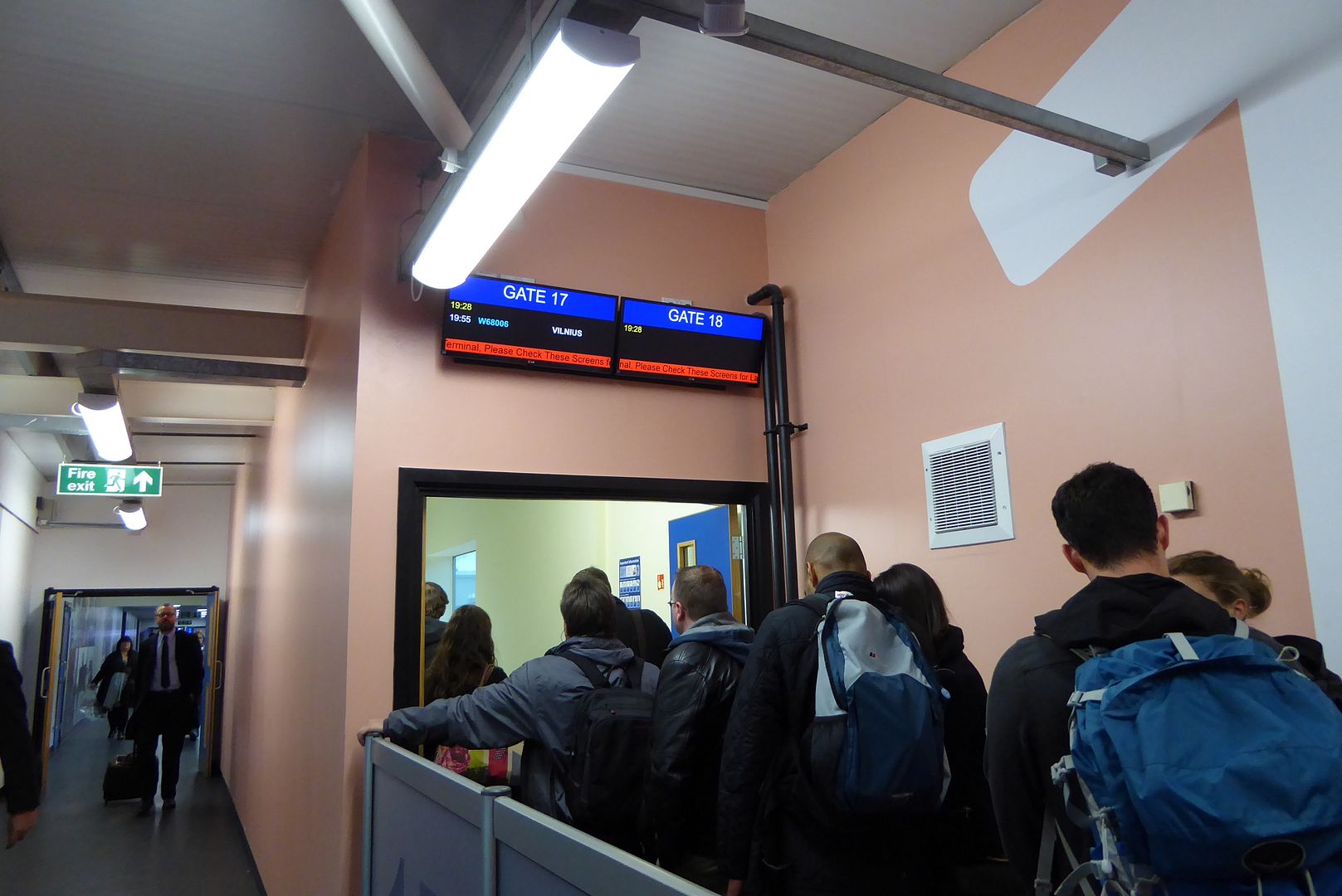 After boarding card check there were again two queues. As soon as we reached the priority boarding queue, they let the flood gates open. It was a mad scramble. But thankfully the priority boarding was useful. Just about.
Luton airport. It cannot be deemed as a London airport. It's FAR FAR AWAY FROM LONDON. Thanks to the start of the bank holidays the traffic was maddening and took is over 2hr 15 min to reach the airport.
All in all one of the most stressful 3 hours. Luton airport was a complete mess on that given day.
Too Pink? Less Euro White?
Blurred photo, due to a dash to find good seats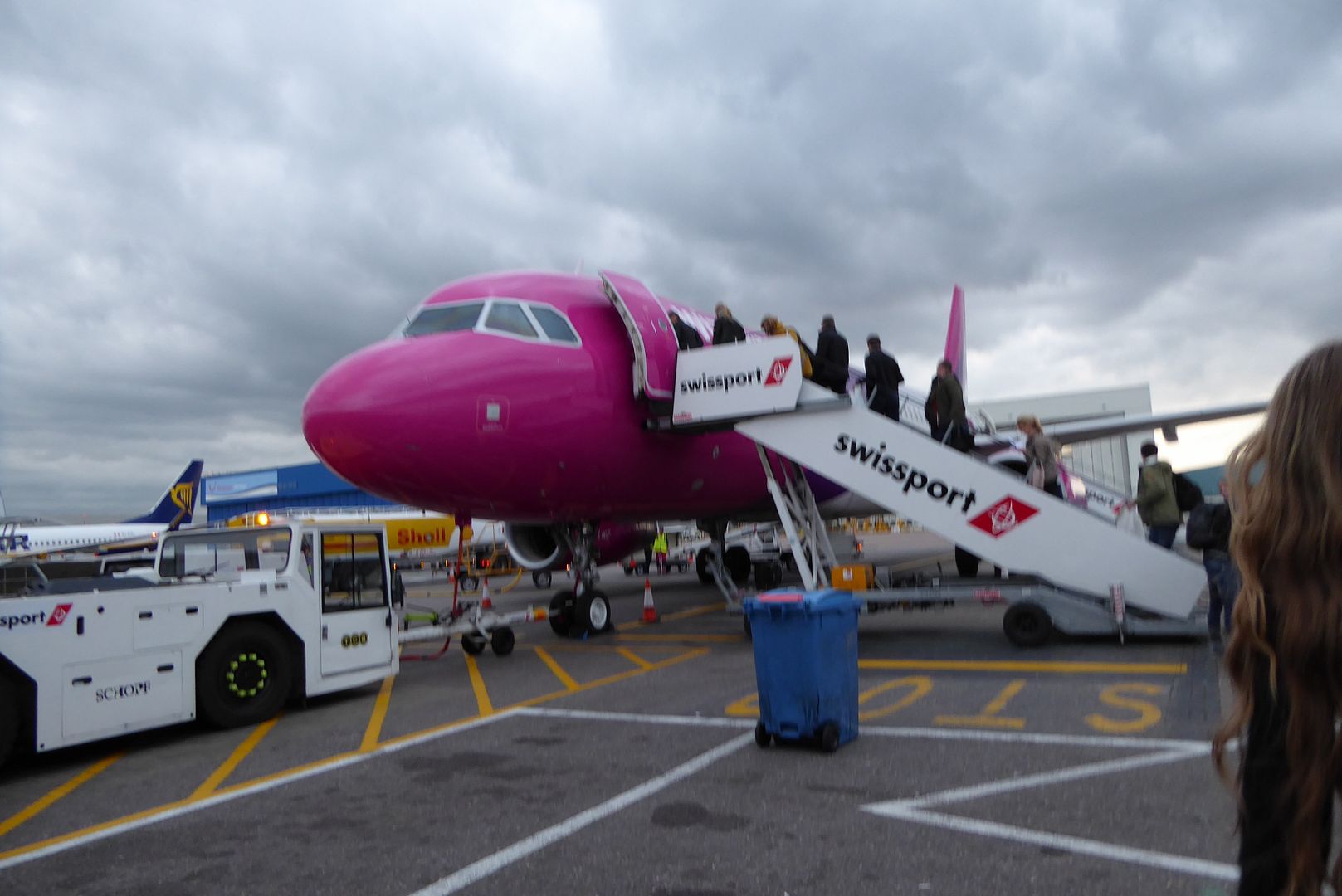 Apart from the boarding situation, so far, the aircraft looked neat. The leg space is tight. Anyone over 5ft 7in will struggle on this aircraft. The seats don't recline.
Departed the gate on time and take off in 15 minutes. Soon after take-off a round of paid food and drinks service commenced.
On-board Wizz Air A320-200
Tight seating, but manageable
Neighbours at LTN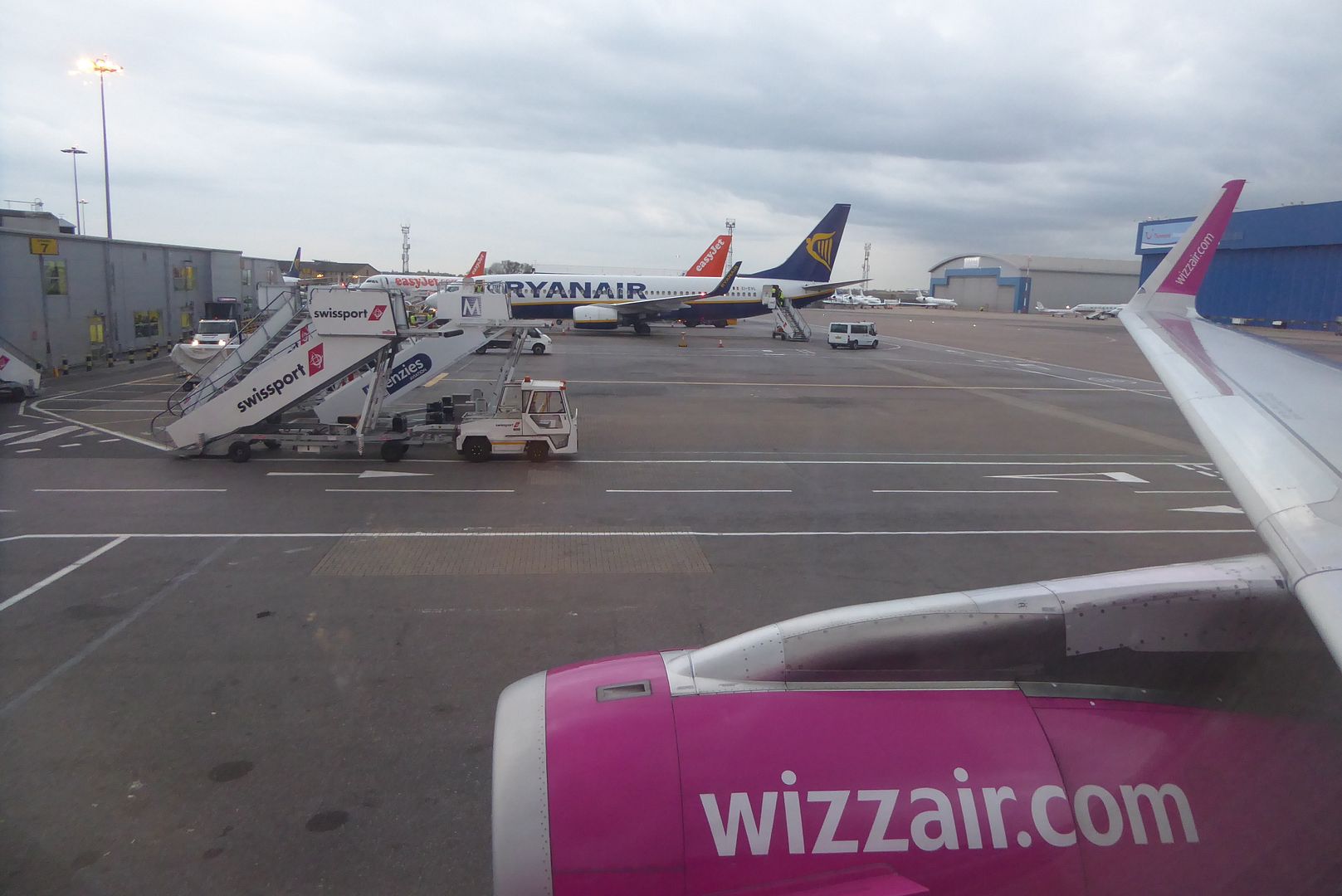 Anyone know what this is used for?
So far the Seats felt very upright. Fairly comfortable, but very apparent that Wizz air wanted to cram in the maximum amount of seats on the a320. It was a fully loaded flight.
Now the next issue with Wizz Air – Few of its passengers. Extremely drunk passengers in front of us. The cabin crew kept serving them alcohol. Ridiculous. Upon asking the limit, they said they had no fixed limit and it was based on their 'gut feel' of the passenger. There were many a times an incident could've occurred, but it looks like the passengers around our area are aware of such issues and turned a blind eye to them. Almost spoilt the flight for us. Was always on the lookout if he was about to anything untoward.
Are sewing kits allowed in the aircraft?
A fully packed Wizz Air to VNO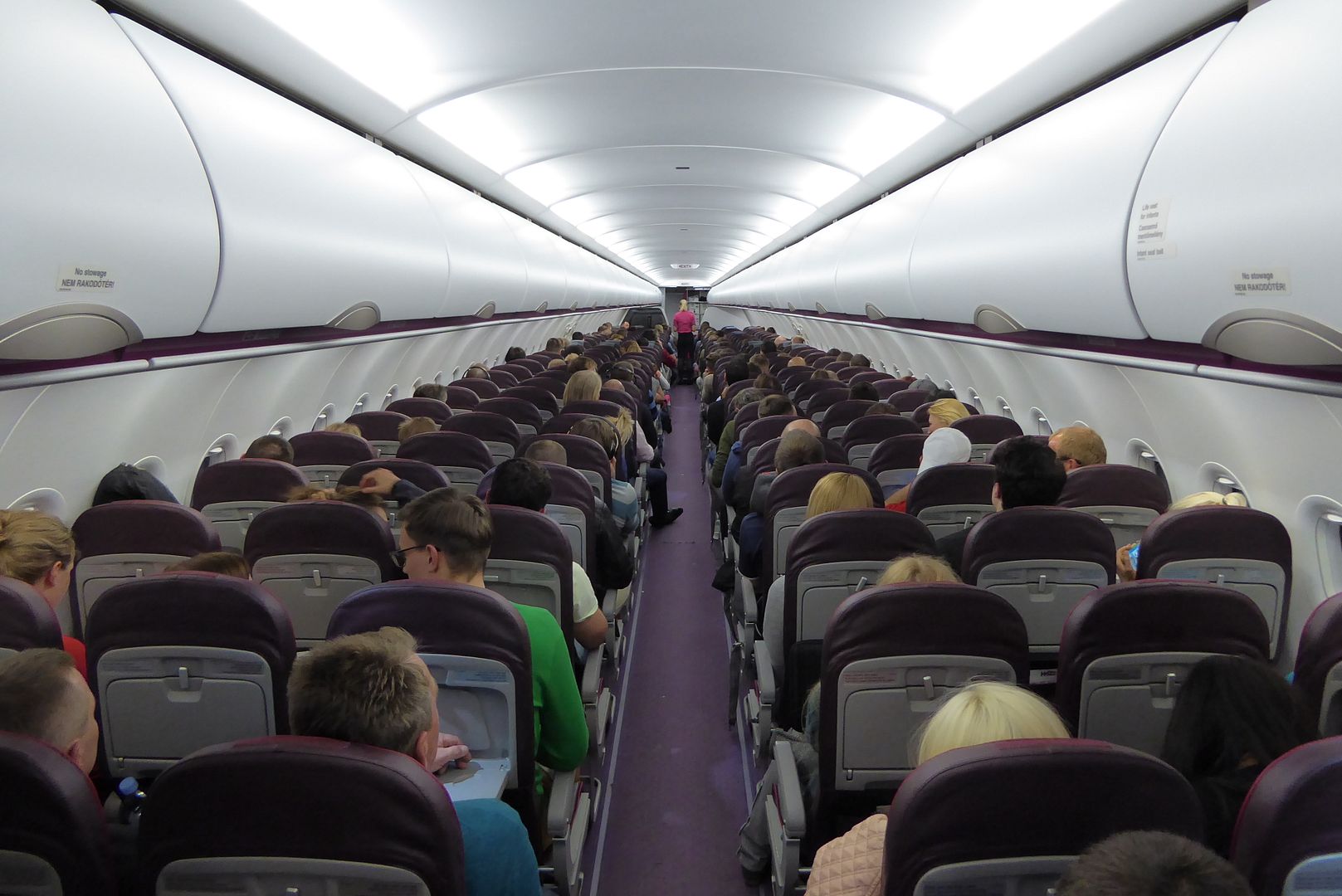 My AVOD and Dinner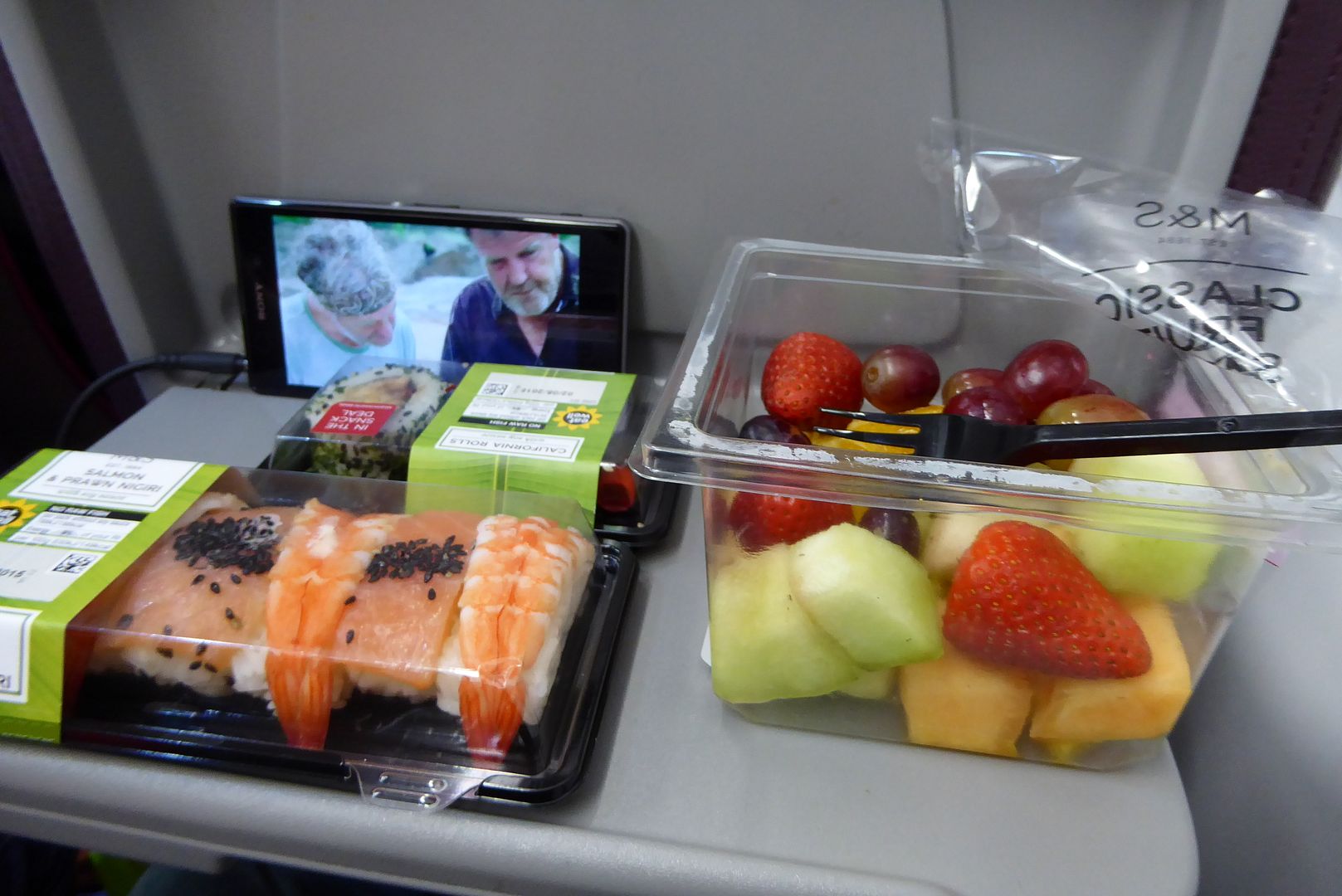 En-route to VNO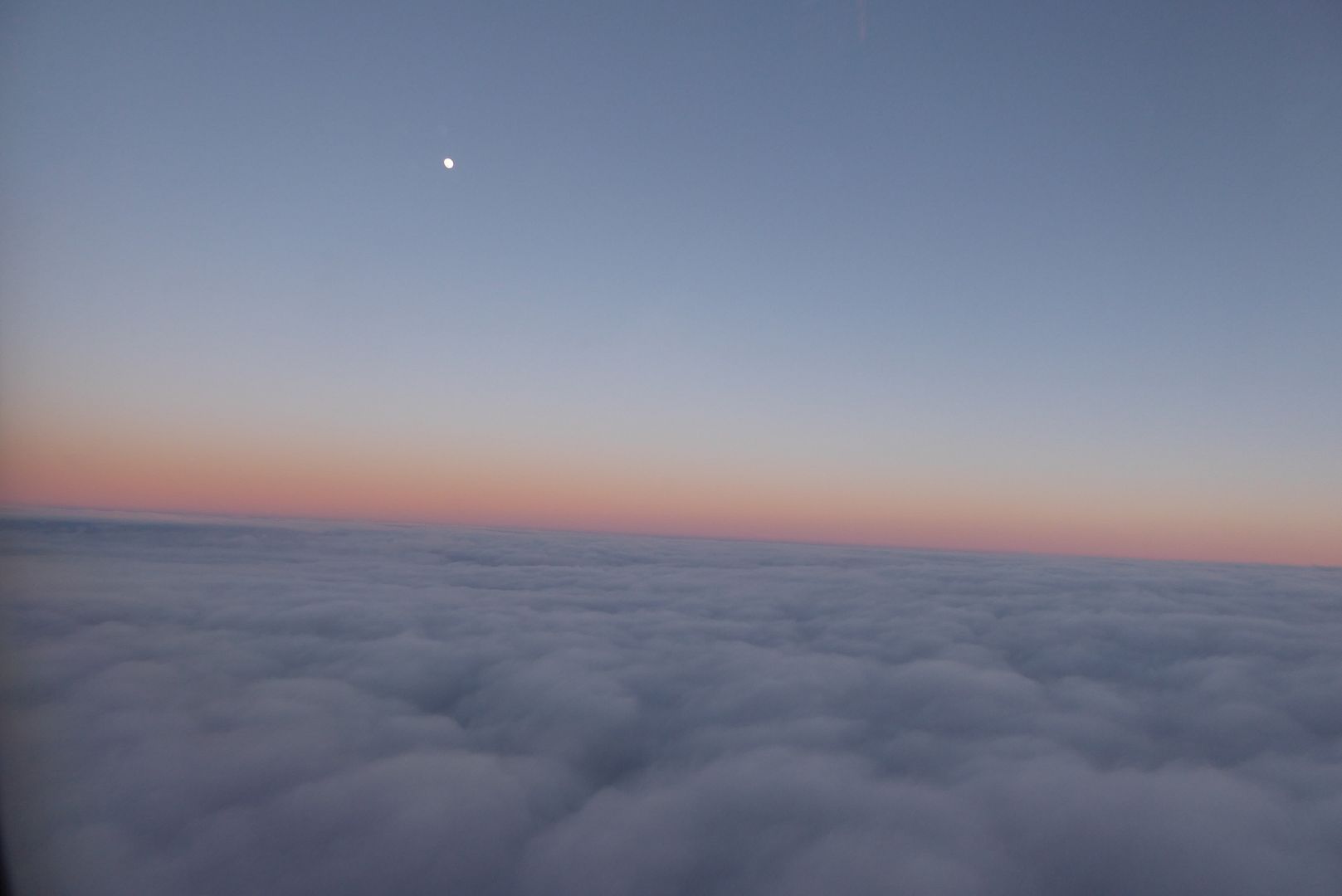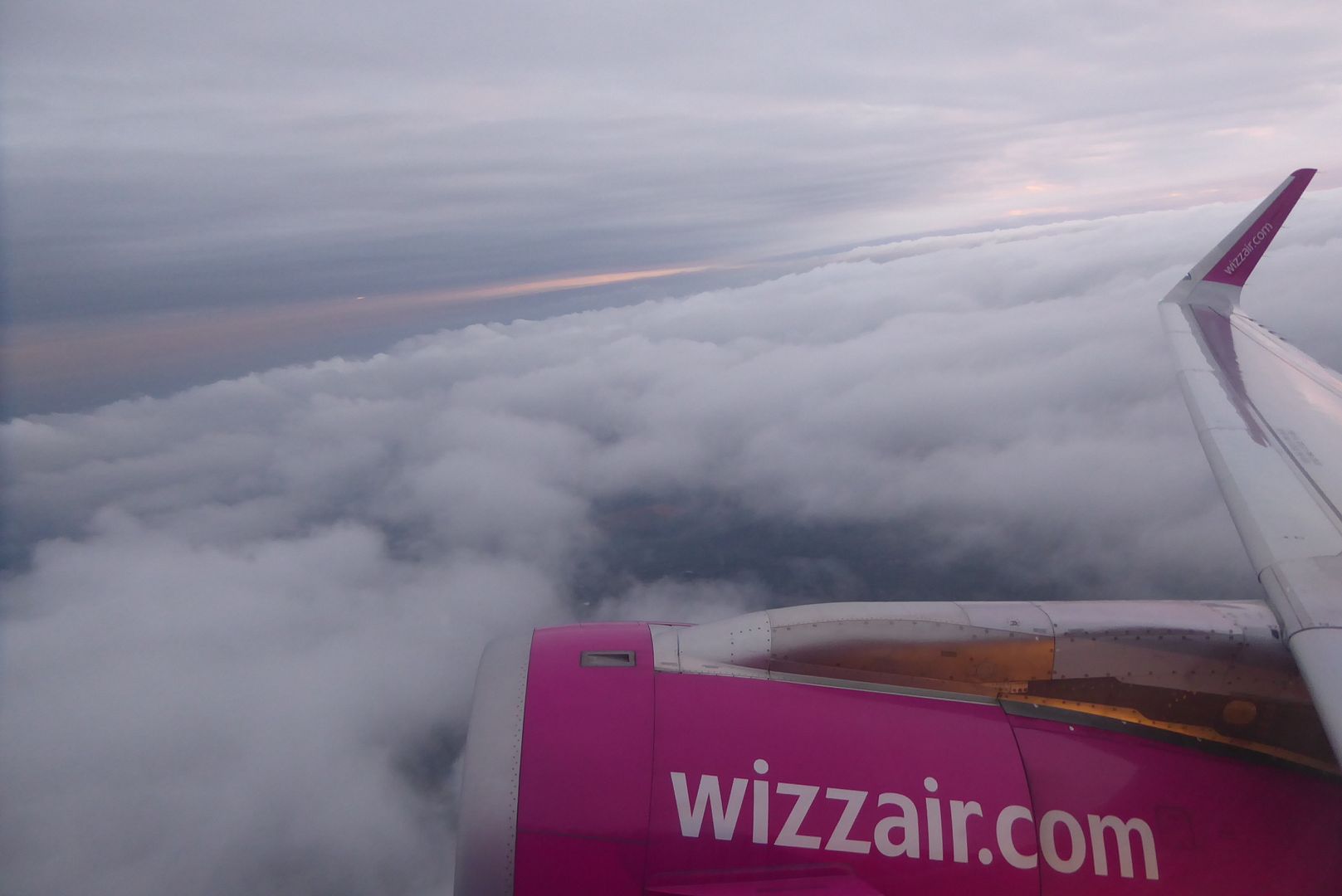 Rest of the flight was thankfully uneventful. We landed on time. At Vilnius Airport, No aero bridges. So had to walk a few meters in the rain to the airport terminal. Decent airport. Looks a bit dated though. That being said, immigration and baggage was quick. Out of the airport in 15 min. took a taxi waiting outside to our hotel - Comfort hotel Lithuania.
Beware of taxis. We literally got taken for a ride. So basically a 10 euro trip was charged at 20 euro! Albeit it was 1:00 am at night. Not the most auspicious start to our holidays so far… but hey ho, hopefully it's all up hill from here on..!
Finally, at VNO
Estonian Air – OV 352 – VNO - TLL

Flight Reg: ES-AED ; Delivered to Finn Air on Dec 2005 and then to Estonian Air in 2011
Embraer ERJ 170
Seat 13D
Flight time: 08:40 – 09:45 (08:31 – 9:36)
05th May 2015
After 4 fantastic days in Lithuania, it was now time for our next stop -Tallinn and travelling around Estonia.
Our flight was supposed to be the previous day evening, but it was cancelled and we were put on the next flight to Tallinn which was this morning (5th May)
Checked in the previous day using a mobile device. Fantastic check in service. Easy to use. Seats selectable. Done in less than 5 minutes. Seconds later got a text message with the boarding pass. Superb!
Reached Vilnius airport with a lot of spare time, determined not to repeat the Luton fiasco three days ago.
VNO
VNO Departure area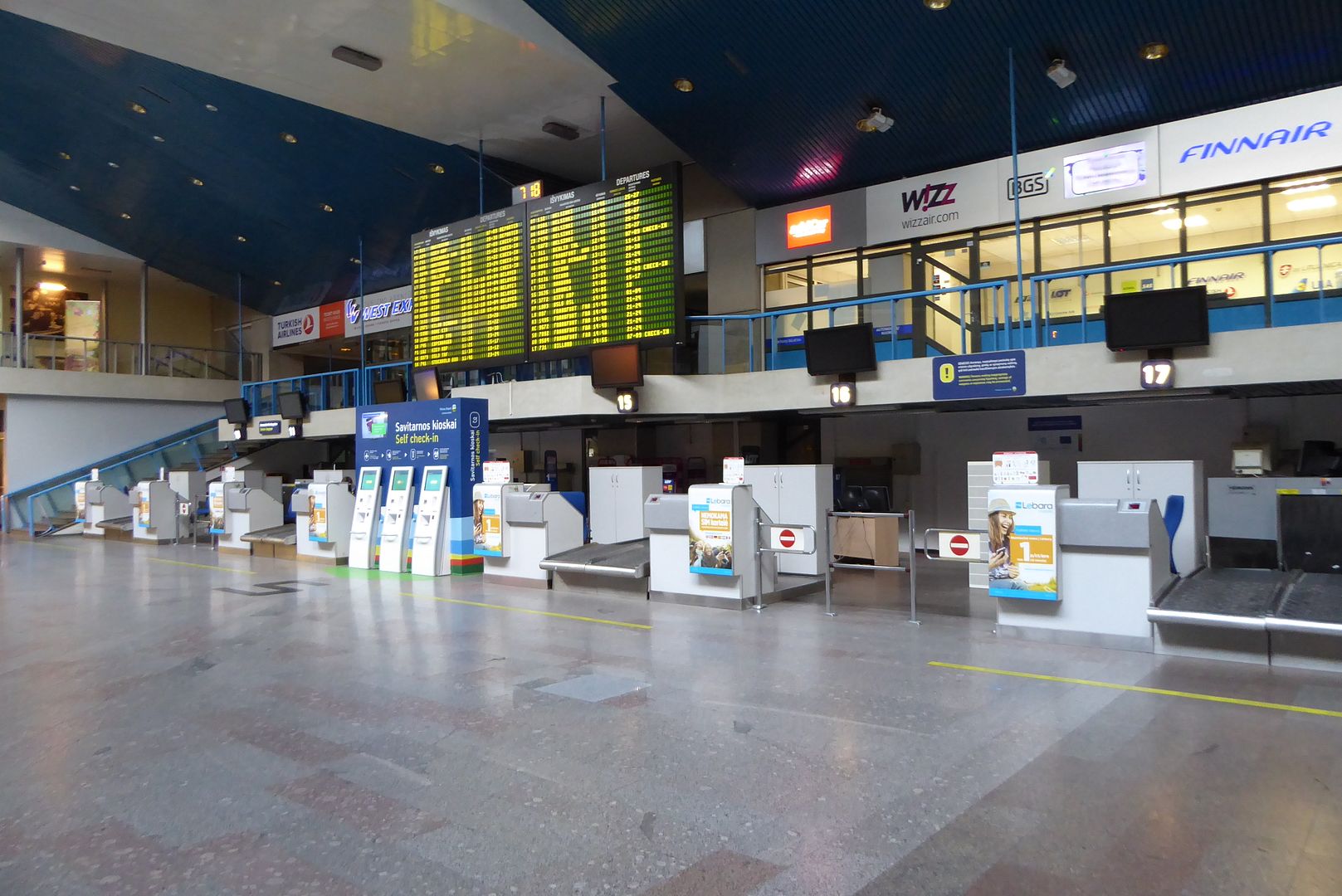 VNO Arrivals
Vilnius airport is a calm place to be in the morning. Check in and security done in 10 minutes. Wandered around the scattered duty free shops. On the whole a pretty decent airport considering the number of flights it handles.
Check-in desks at VNO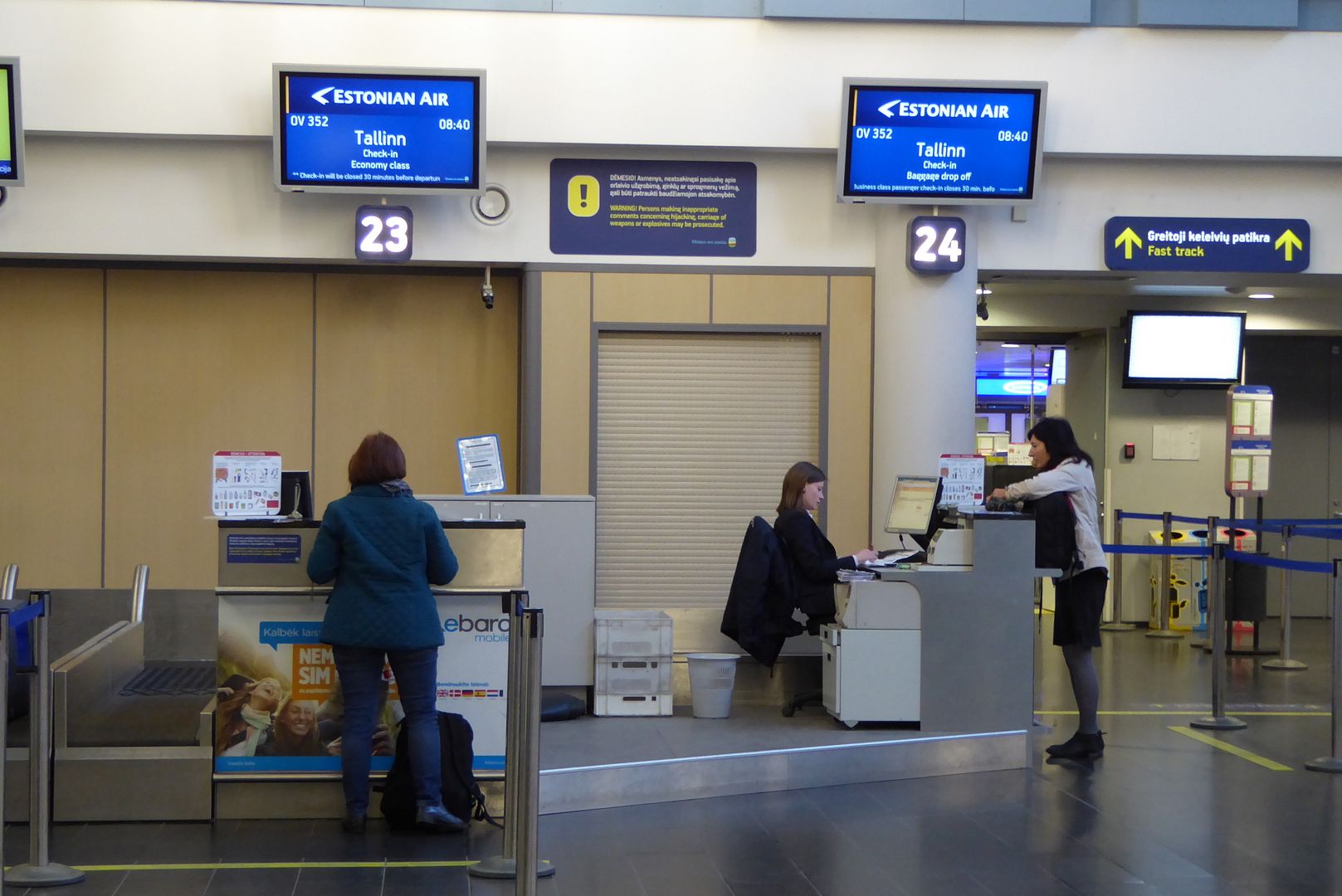 FIDS at VNO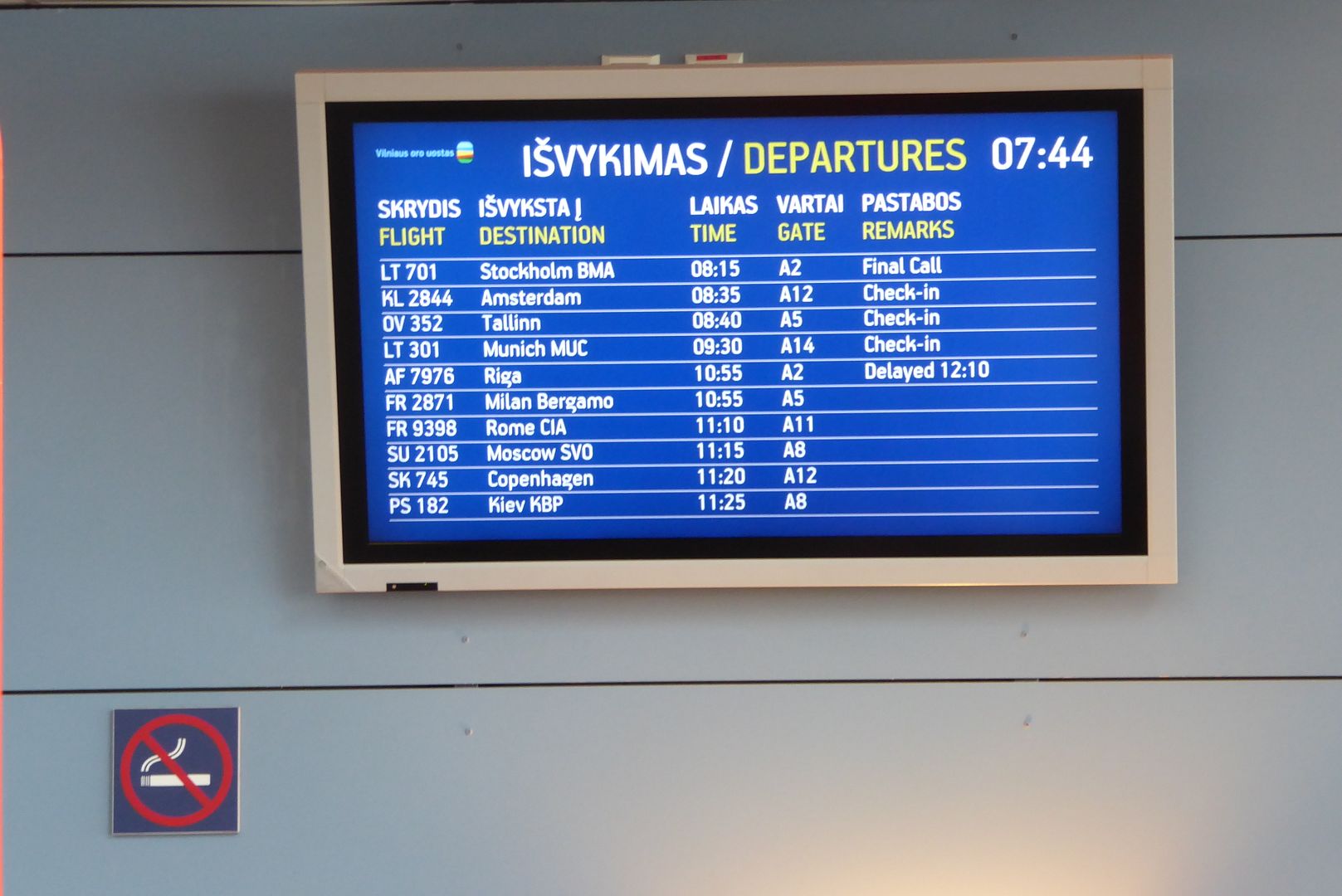 VNO Airside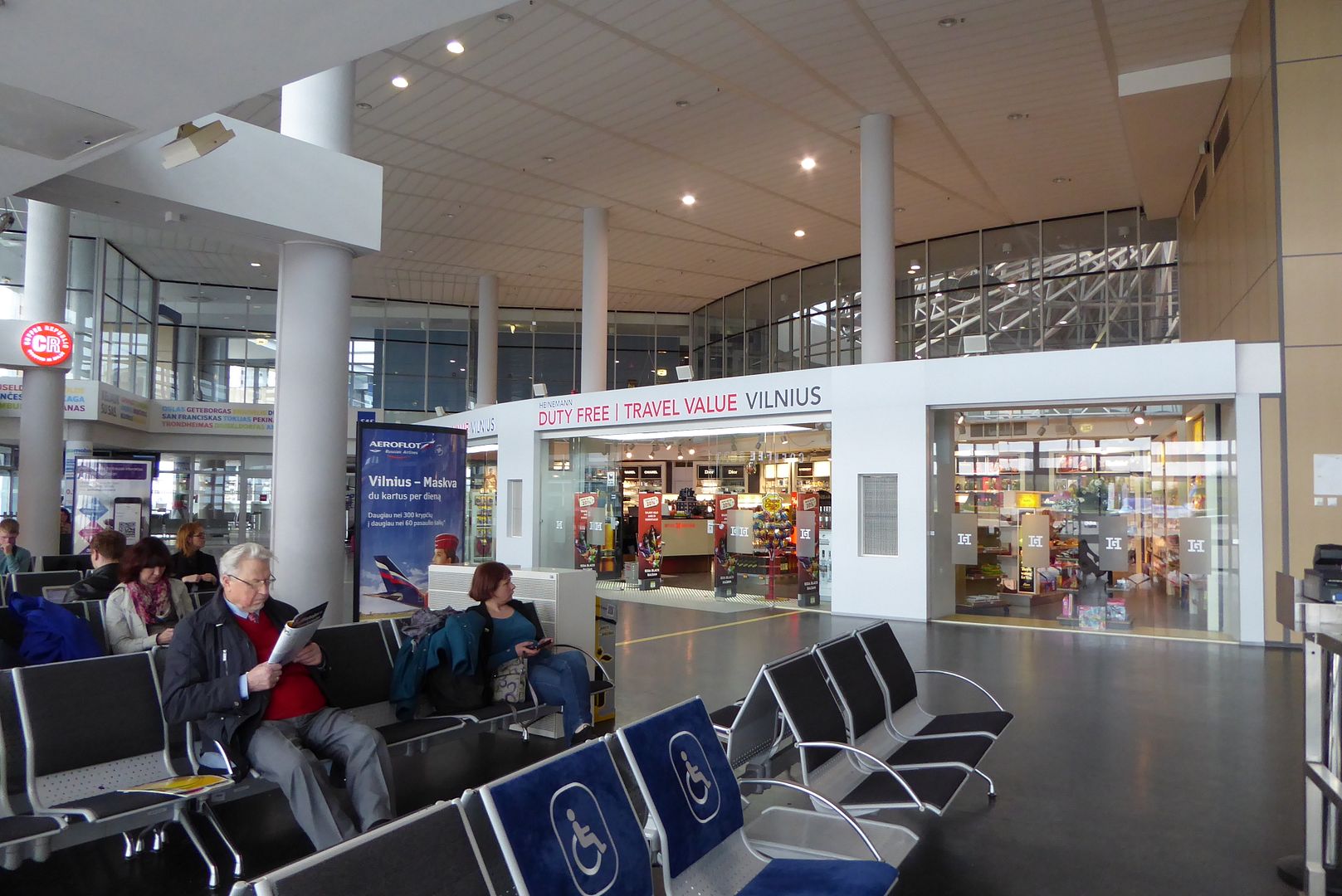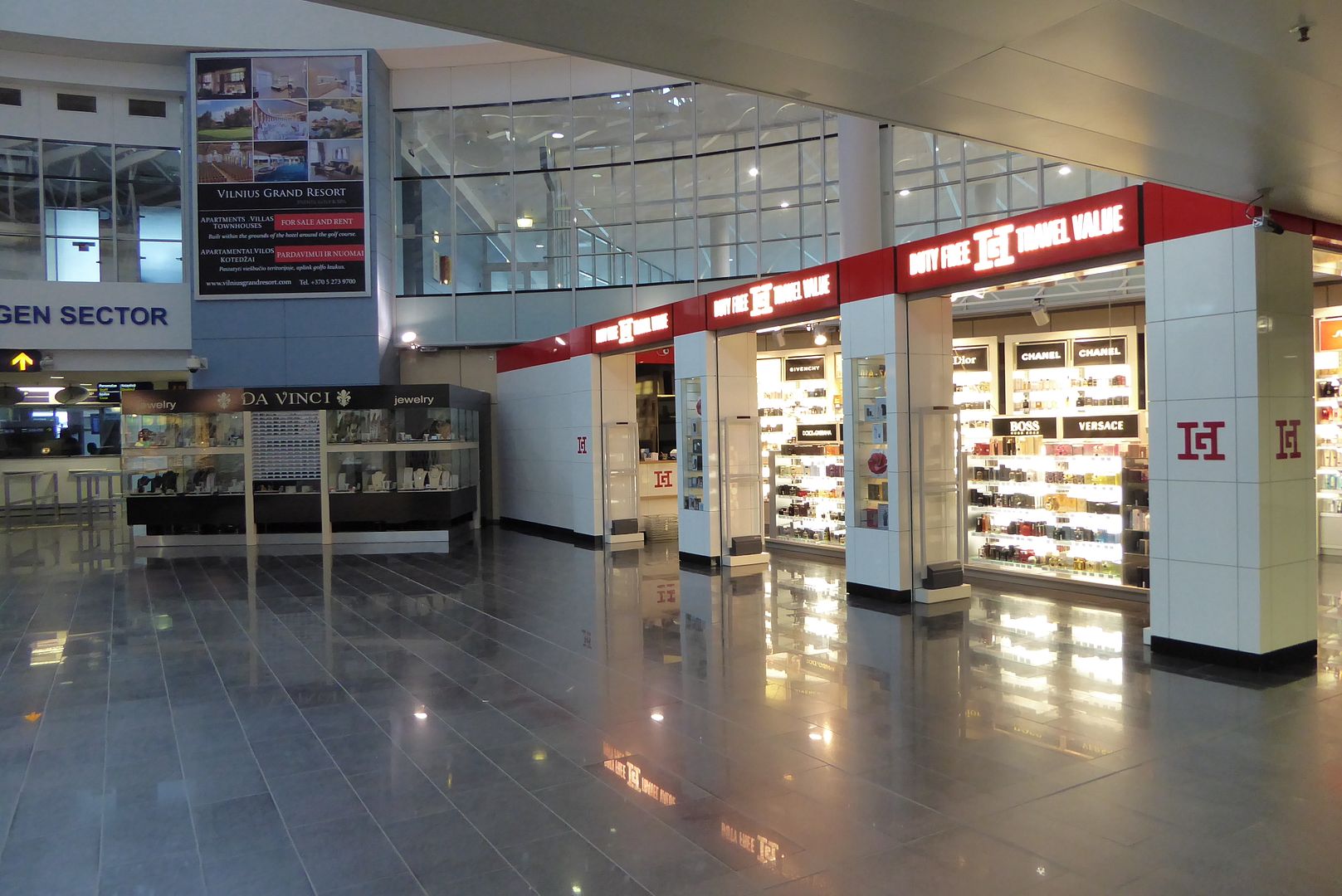 Contact lens dispenser at VNO - neat, but I wonder about the health and safety aspects behind it and would be interested to know about the legal clauses behind using it
Anyone for a beer?
No airport complete without a TK advert - @VNO
Plane spotting at VNO
A Swift AIR B737-400F in the foreground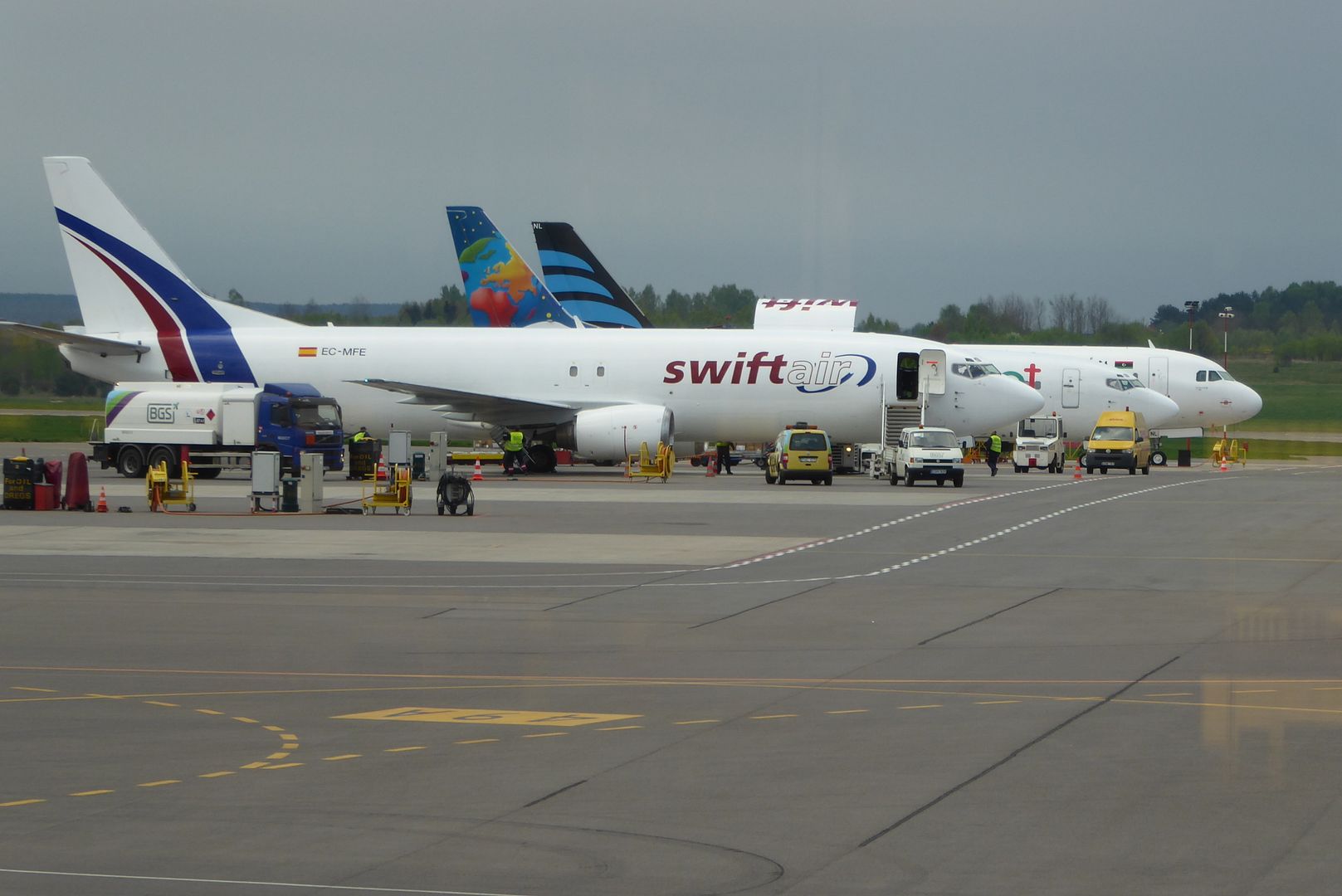 An eclectic mix of aircrafts @VNO - A LearJet 410, Hawker 750, Hawker 800, Dassault Falcon 2000S, A320-200, B737-800 and a CRJ 200
A Small Planet Airline - B737-300
Our ride to TLL - a 9.5 year old, Ex-Finnair, Embraer ERJ 170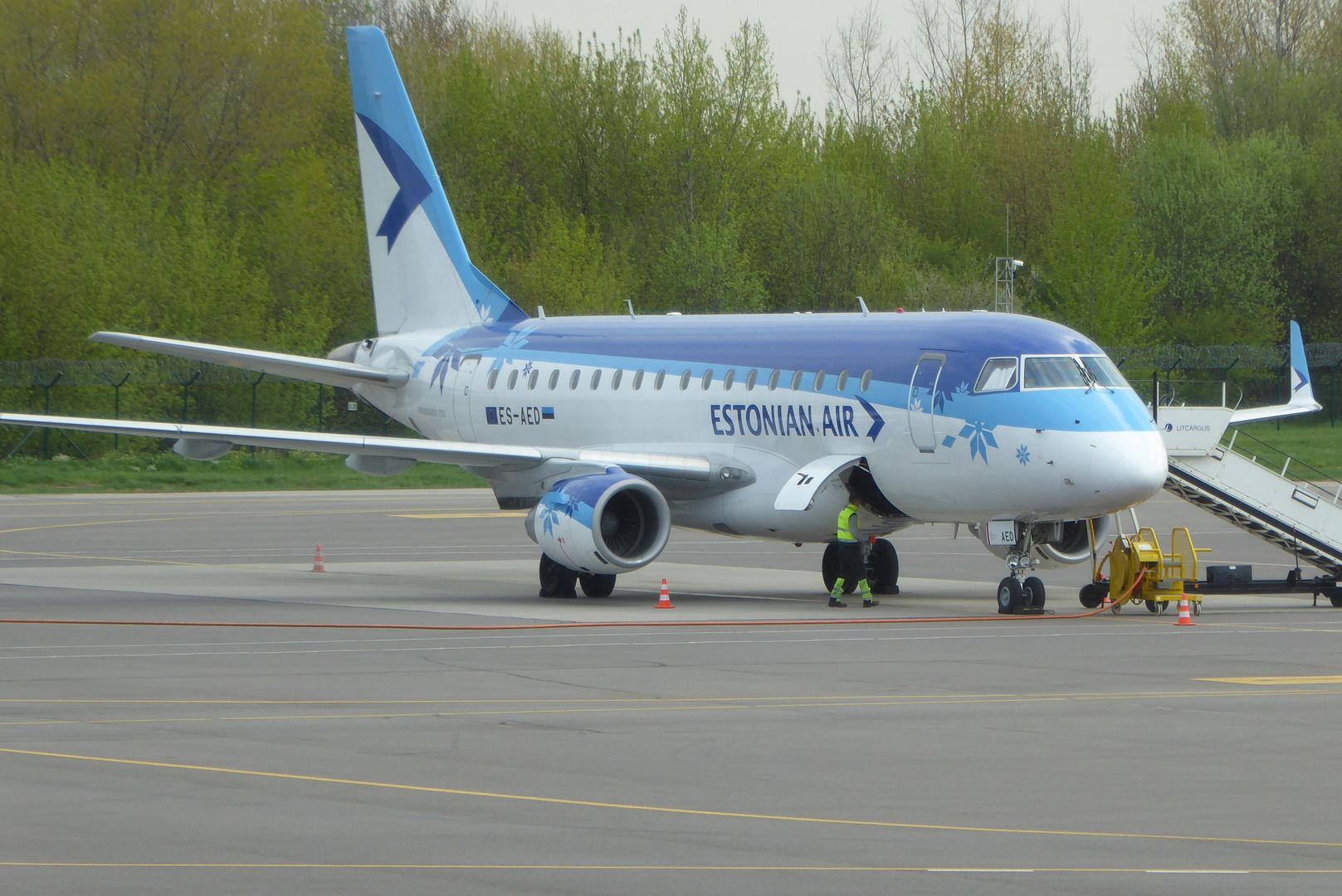 Checked the previous night and i knew our aircraft for today was an ex-Finnair 10 year old Embraer ERJ170. Not sure if keeping an aircraft in a foreign airport overnight for over 12 hours is the best use of their resources. But I guess OV would know better.
Boarding on time. We were bussed. Boarding complete 15 minutes before scheduled departure. Flight was around 75% full. Aircraft was neat although showing its age a bit.
About to board at VNO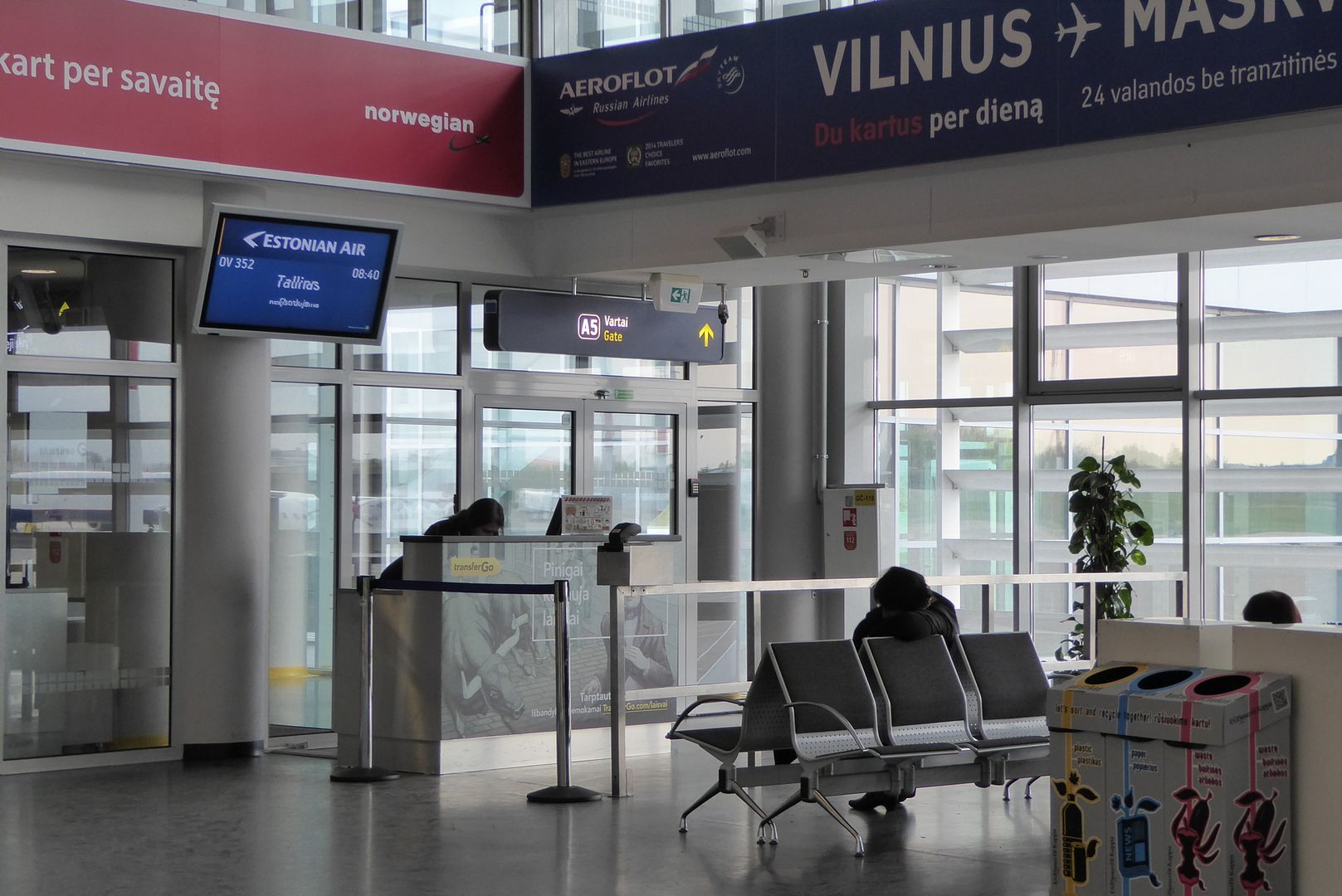 Bus'ing at VNO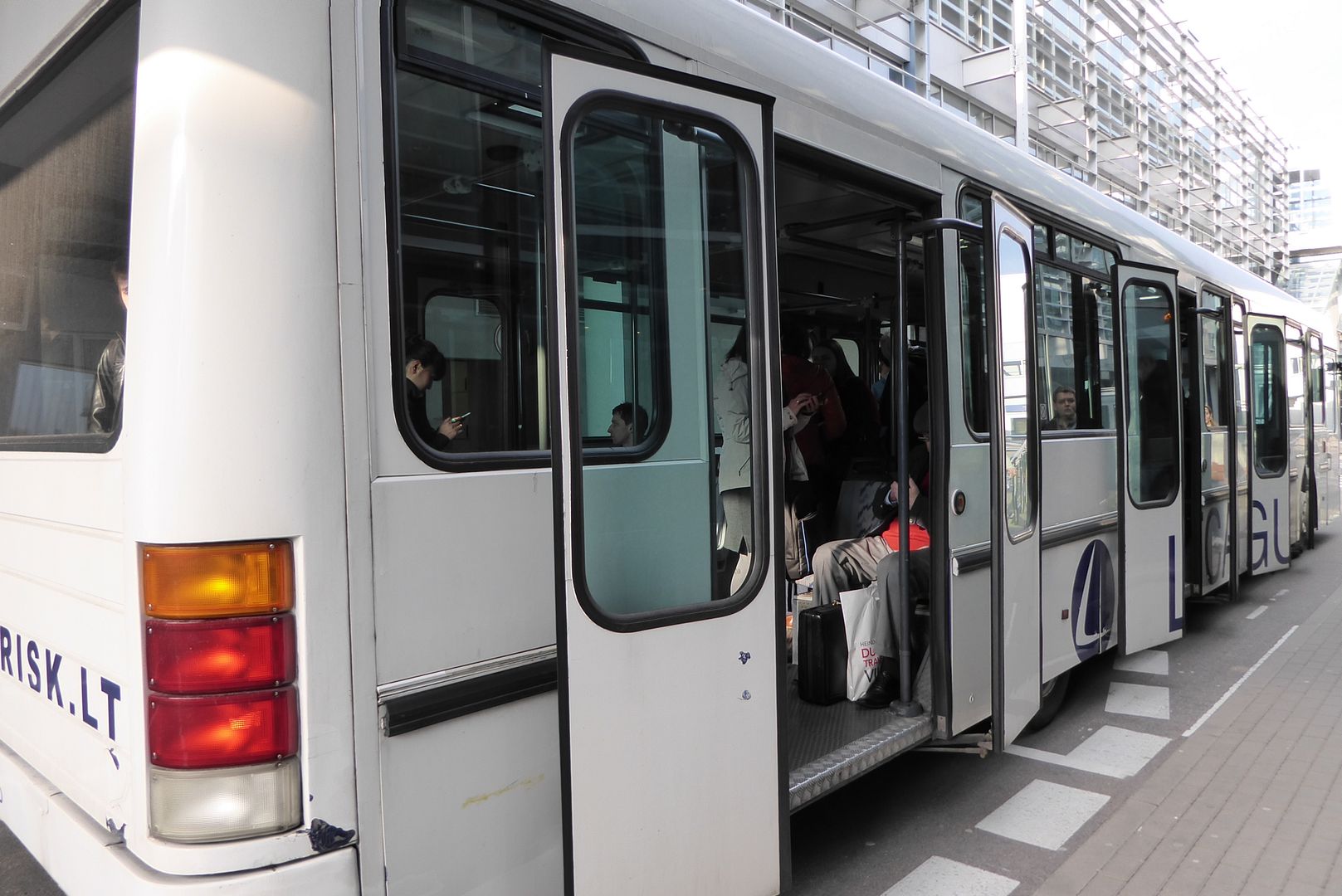 Seats were comfortable and quite wide. Very good amount of leg space. Departed the gates 10 min ahead of schedule and airborne in 5 minutes. Flight time of an hour announced by the captain.
On-board OV 352 - Estonian Air, ex-Finnair, ERJ170
Slightly too reclined seating - not complaining, just observing.
After take-off, there was something called Air-FI on board which allowed us to use a kind of an intranet Portal accessing Estonian air website. The chat facility was interesting but not too much of use. We could chat between passengers.
Chat facility on board Estonian Air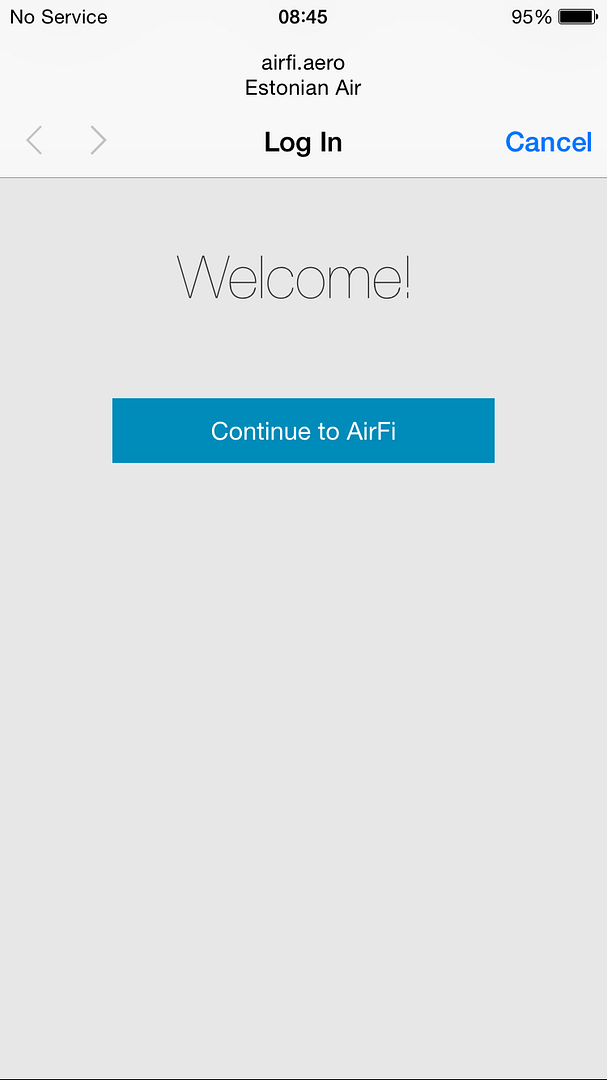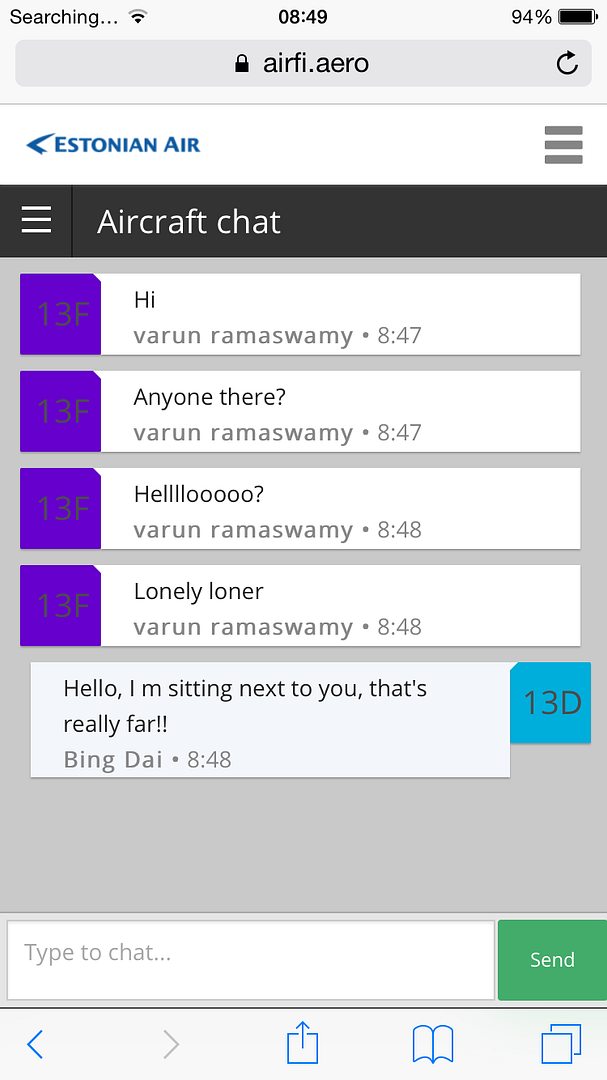 Rest of the flight was uneventful and landed in Tallinn on time. Looking forward to the rest of the trip now.
Thank you OV for a great flight to TLL
Air Baltic – BT 318 – TLL - RIX

Flight Reg: YL-BAQ ; Delivered on Dec 2010
Bombardier DASH 8
Seat 6C
Flight time: 21:25 – 22:15 (21:33 – 22:25)
7th May 2015
After 3 days in Tallinn and driving around Estonia, it was now time to visit the last country in our itinerary – Riga.
Tallinn airport is a very useful airport. Not too big, yet the right size for its use. Check in and security was a swift 10 minutes. Which leads us directly into the duty free area. They have a great verity of duty free shops. It's a shame that there are not too many flights to Tallinn from the rest of Europe. Felt the same way about a lot of things in Estonia. The infrastructure and the facilities seem to be way better than expectations and only a very few amount of people to make use of them.
TLL Airport - Something very Helsinki'ish about this airport
Check in desks for BT at TLL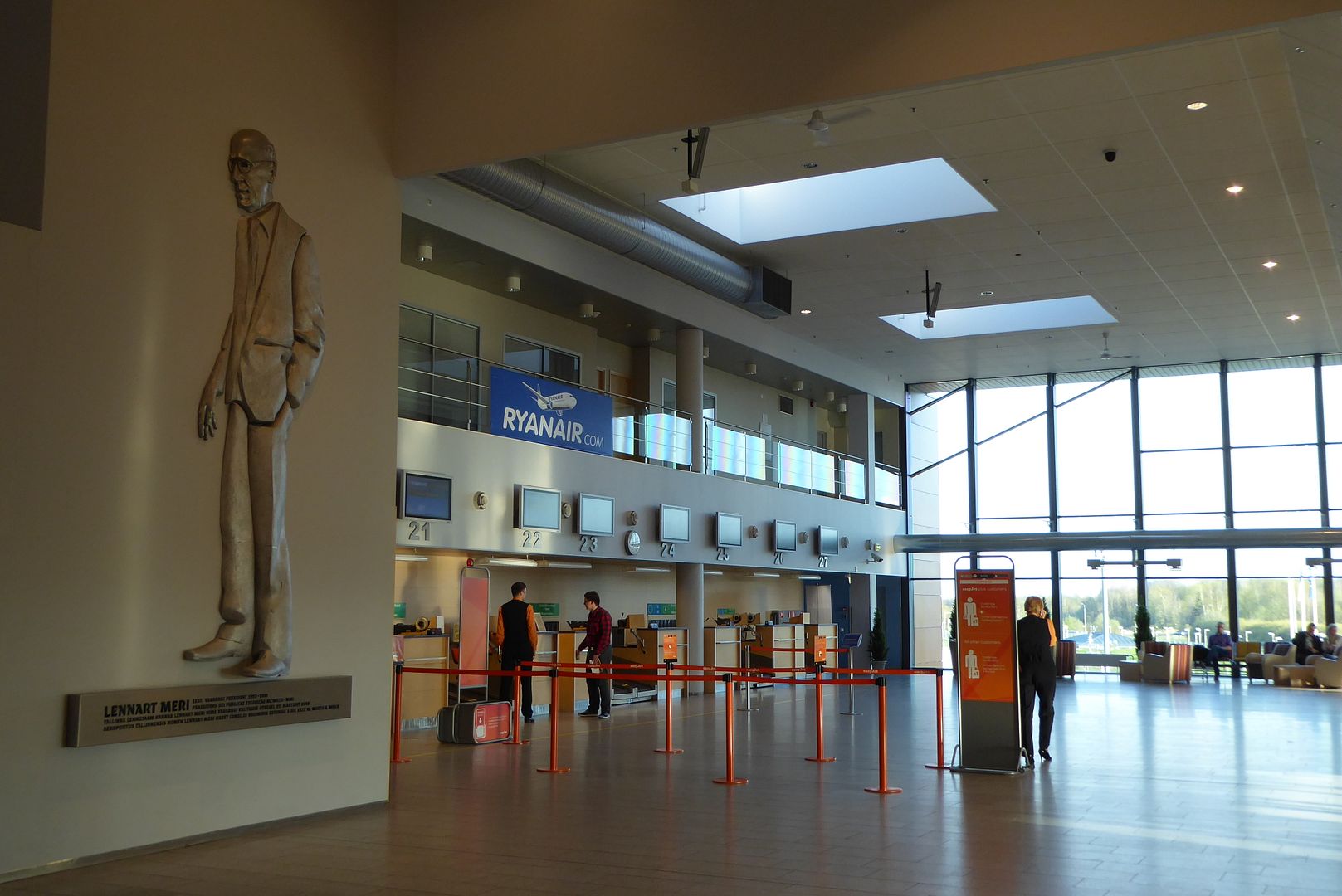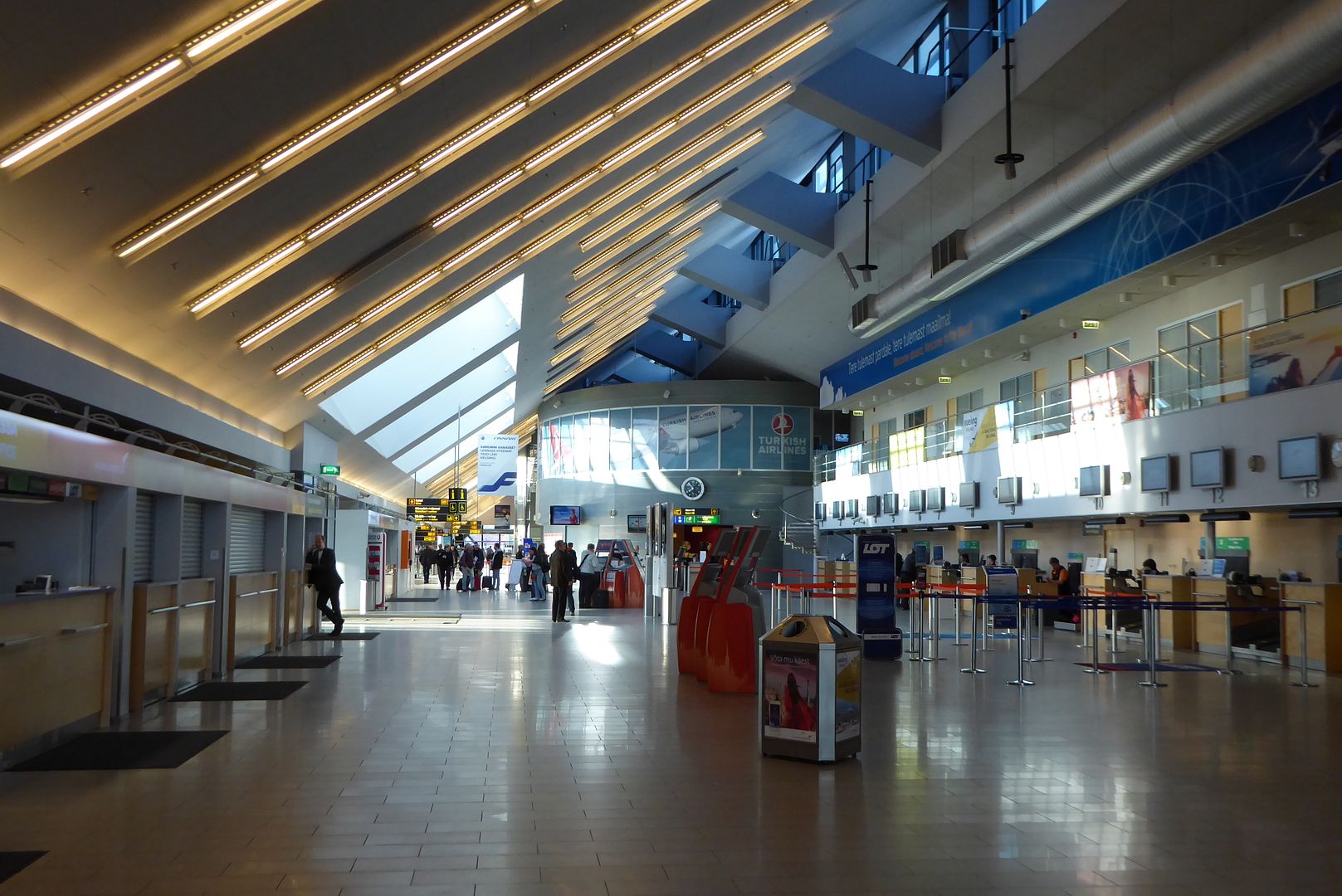 You can't find many European airports these days without an advert for TK, and TLL is no exception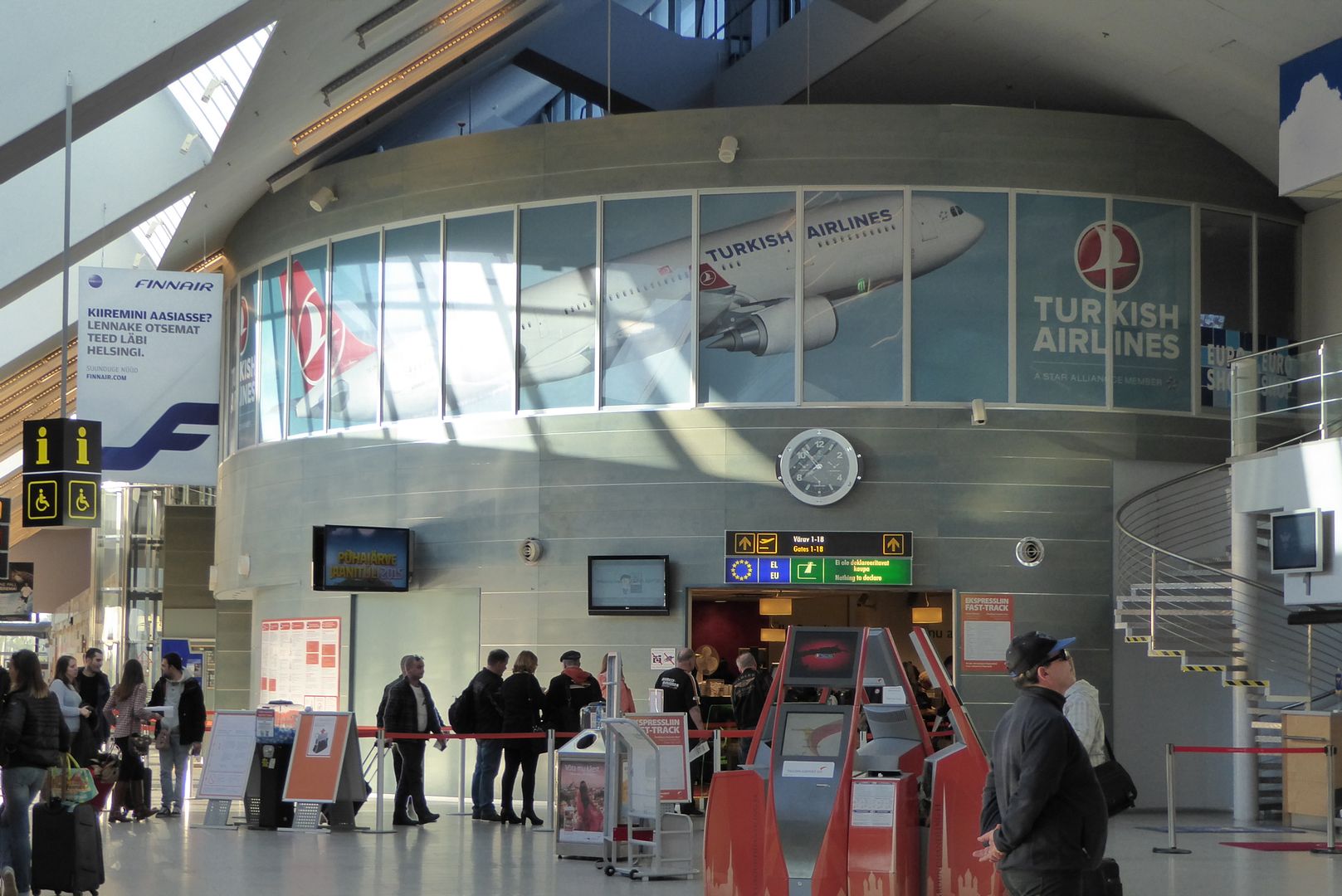 FIDS at TLL
Used the Nordea lounge after. It's a common lounge for all airlines. A useful space to be. Food options aren't many though. Only snacks. But a good options for drinks. They have a shower facility too. Lounge looked neat and well kept. The best part had to be the outdoor terrace area. Great for photo shooting, unfortunately not too many aircrafts to shoot pictures of. Overall a more than acceptable place to be.
Boarding was complete 20 minutes before departure and we were the last two to board.
Nordea Business Lounge at TLL - one of the better lounges used, especially with the outdoor seating. A very novel idea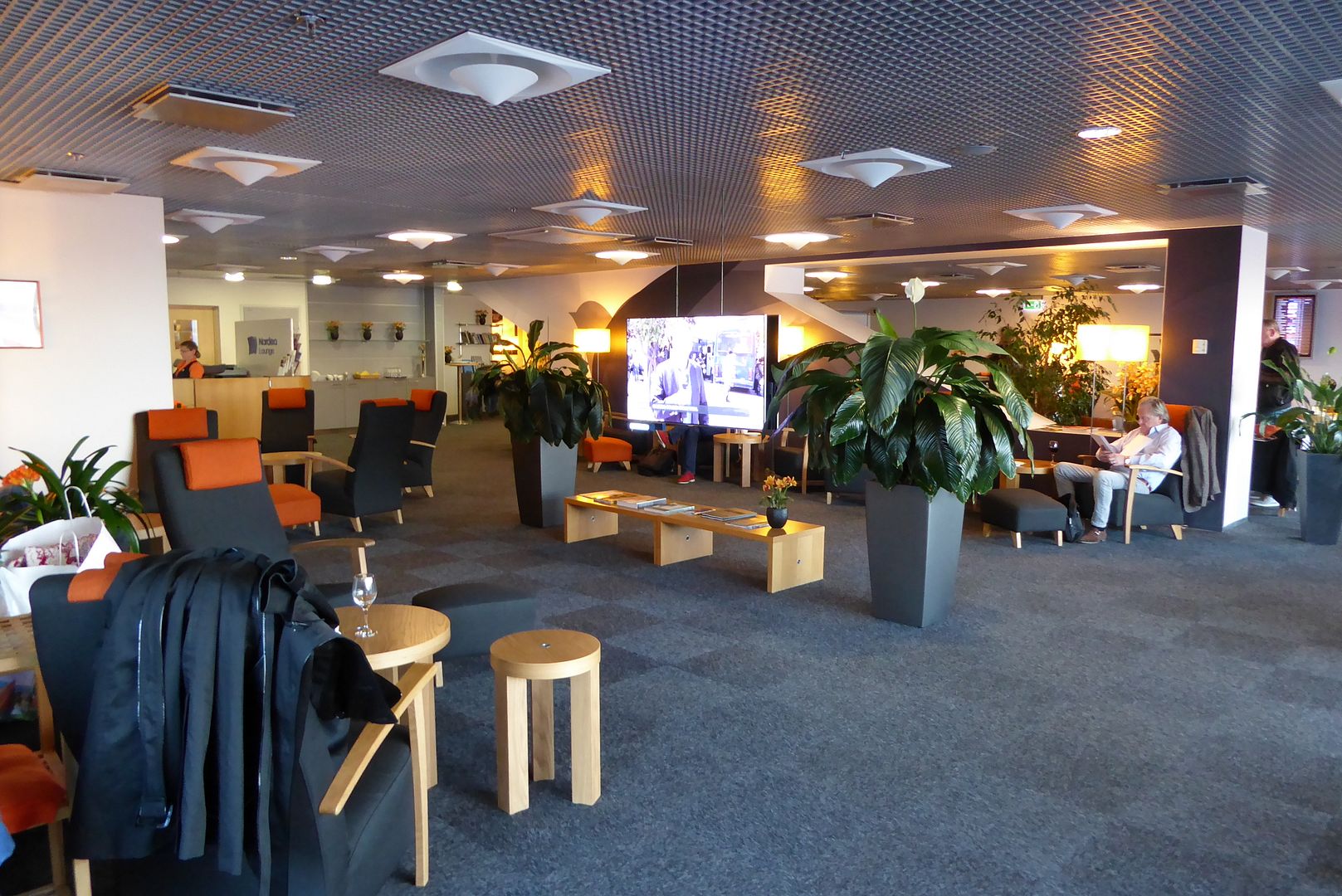 Our ride From TLL to RIX - A 4.5 year old Dash 8 - YL-BAQ
On-board YL-BAQ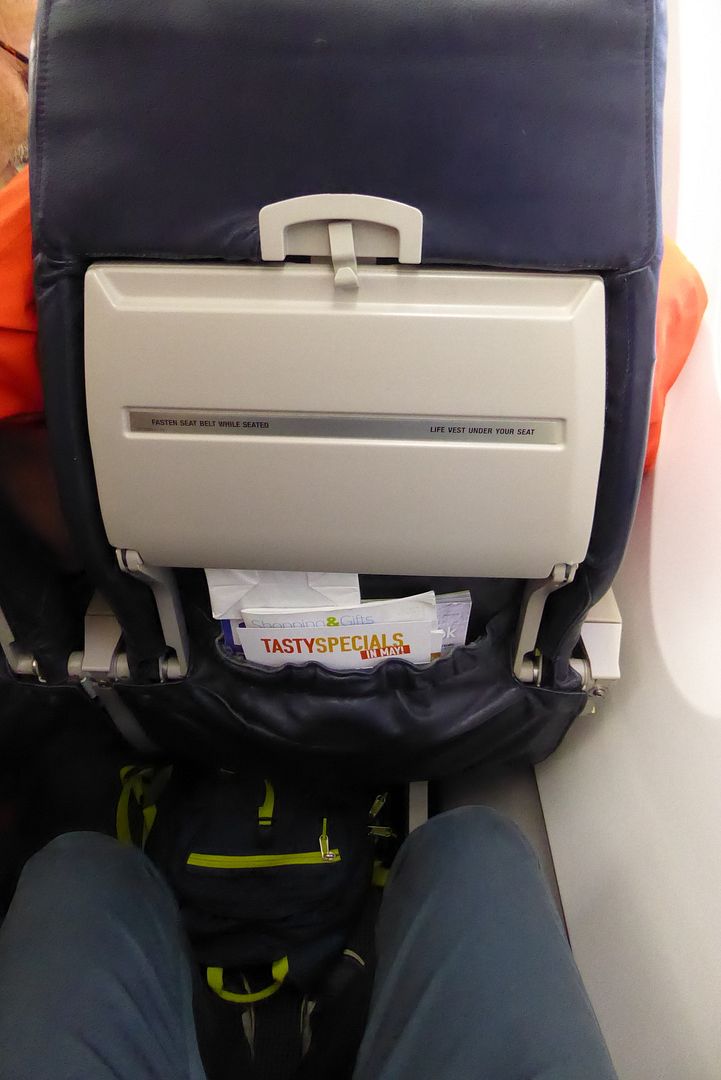 Plane Spotting at TLL
TNT B737-400F - Built in 1998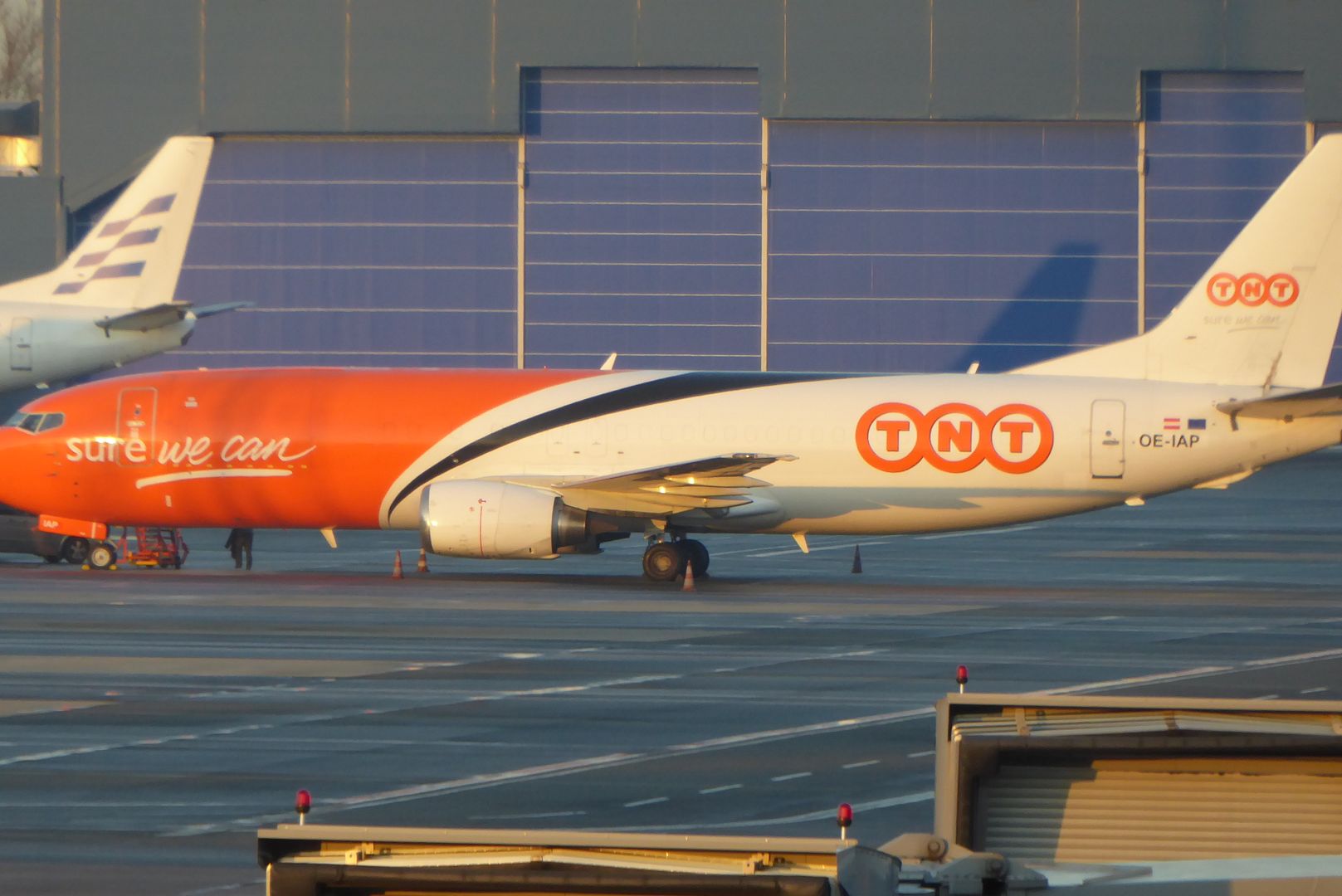 An ex-Finnair ERJ170, now with Estonian Air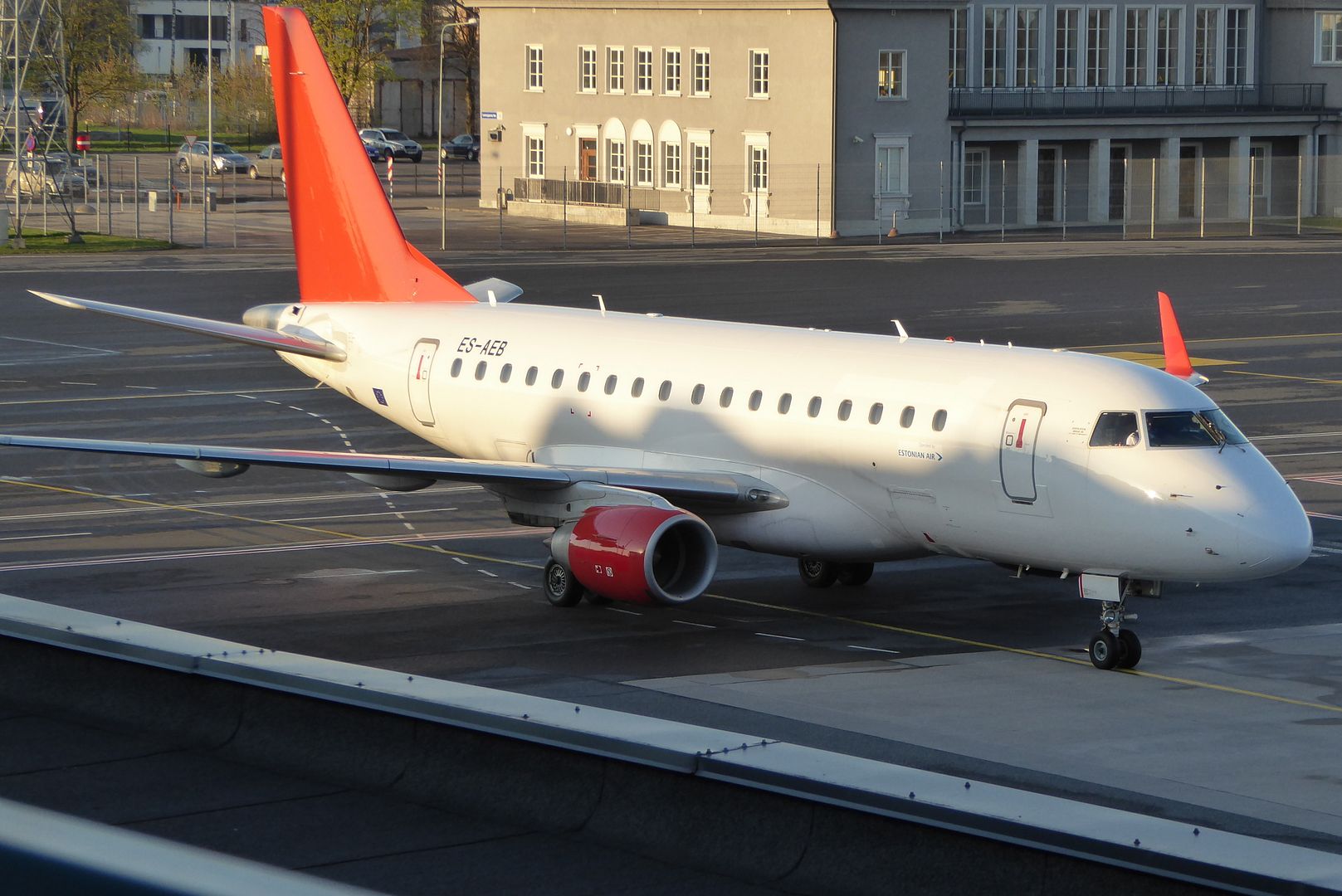 DHL's 1987 B757-200F - This is perhaps the oldest aircraft I have noticed/photoshoot.
Boarding was on time and completed soon. The Dash 8 was around 60% full. We were warmly welcomed and the aircraft looked neat and tidy. The Dash 8 is a good looking bird. Very crisp and curt announcement made by the captain. A 45 minute scheduled flight announced.
Bar service commenced 10 minutes after take-off. Water and warm drinks were complementary. Rest of the food item was for purchase.Rest of the short flight was uneventful. Landed 5 minutes before schedule and was out of the airport 10 minutes after. Splendid! Riga, here we come…
Our neighbour at RIX
Final shot of YL-BAQ before getting onto the bus to RIX
The lonely three bags to de-board at RIX (Two of which were ours). Looks like most of the passengers' had onward connection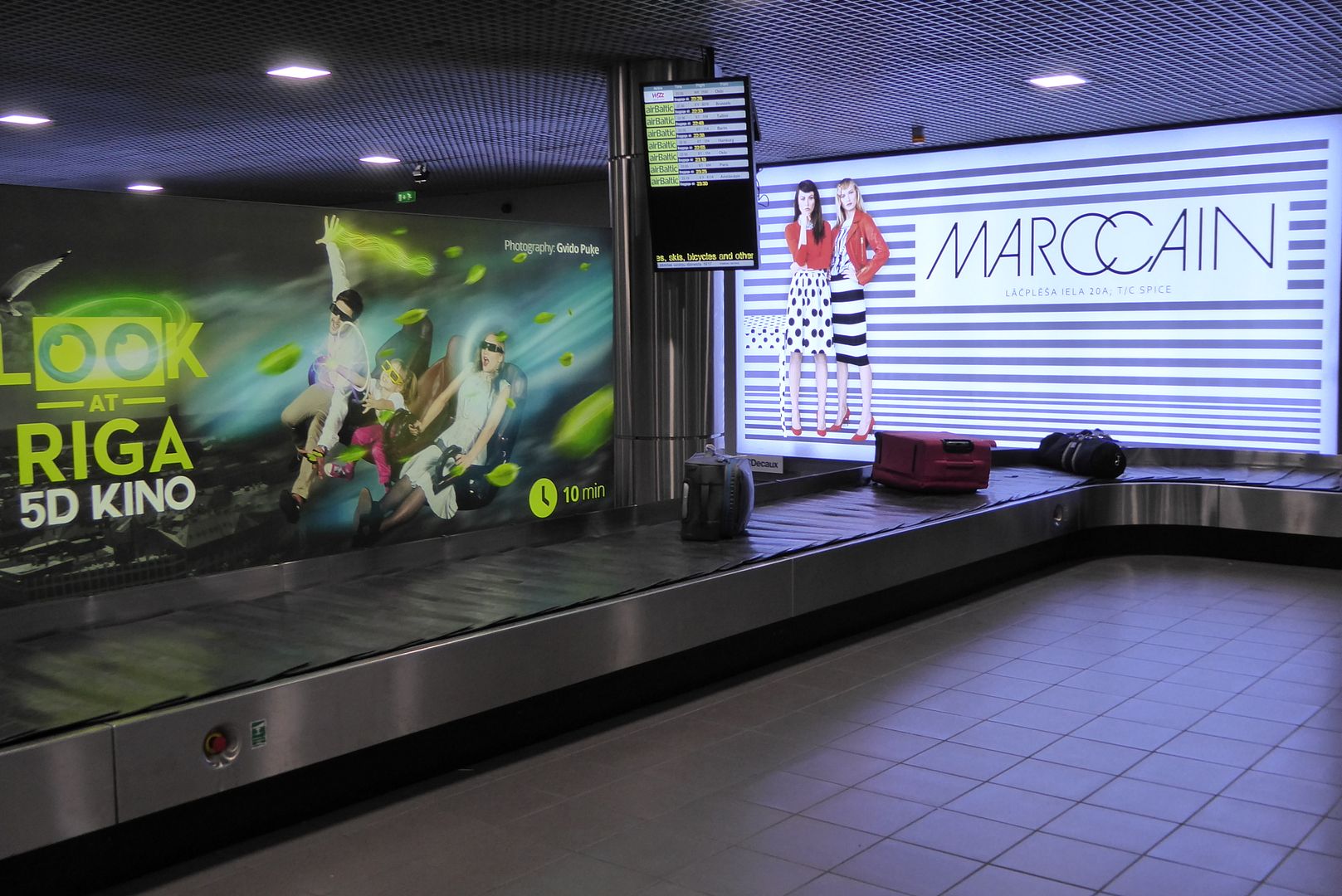 Wizz Air – W6 2503 – RIX - LTN

Flight Reg: HA-LYJ ; Delivered on Dec 2014
Airbus A320-200
Seat 10F
Flight time: 19:15 – 20:00 (22:15 – 22:55)
10th May 2015
Riga Airport
This was it. It was time to head back to London, even though we were against that notion. After 10 days of eating great food, driving around picturesque country sides, trekking along uninhabited paths, it was now, Time to get back to reality.
Reached the airport way in advance this time around. Expecting some delays for the car hire, but it was quick as. The check in gates had not opened yet. Once the gate opened, two hours prior to departure, it was quick and we were airside by 17:30 for a 19:15 flight.
Check in desks at RIX
Airside at RIX - Departure Hall C - Boring and not much you can do in the holding area
FIDS at RIX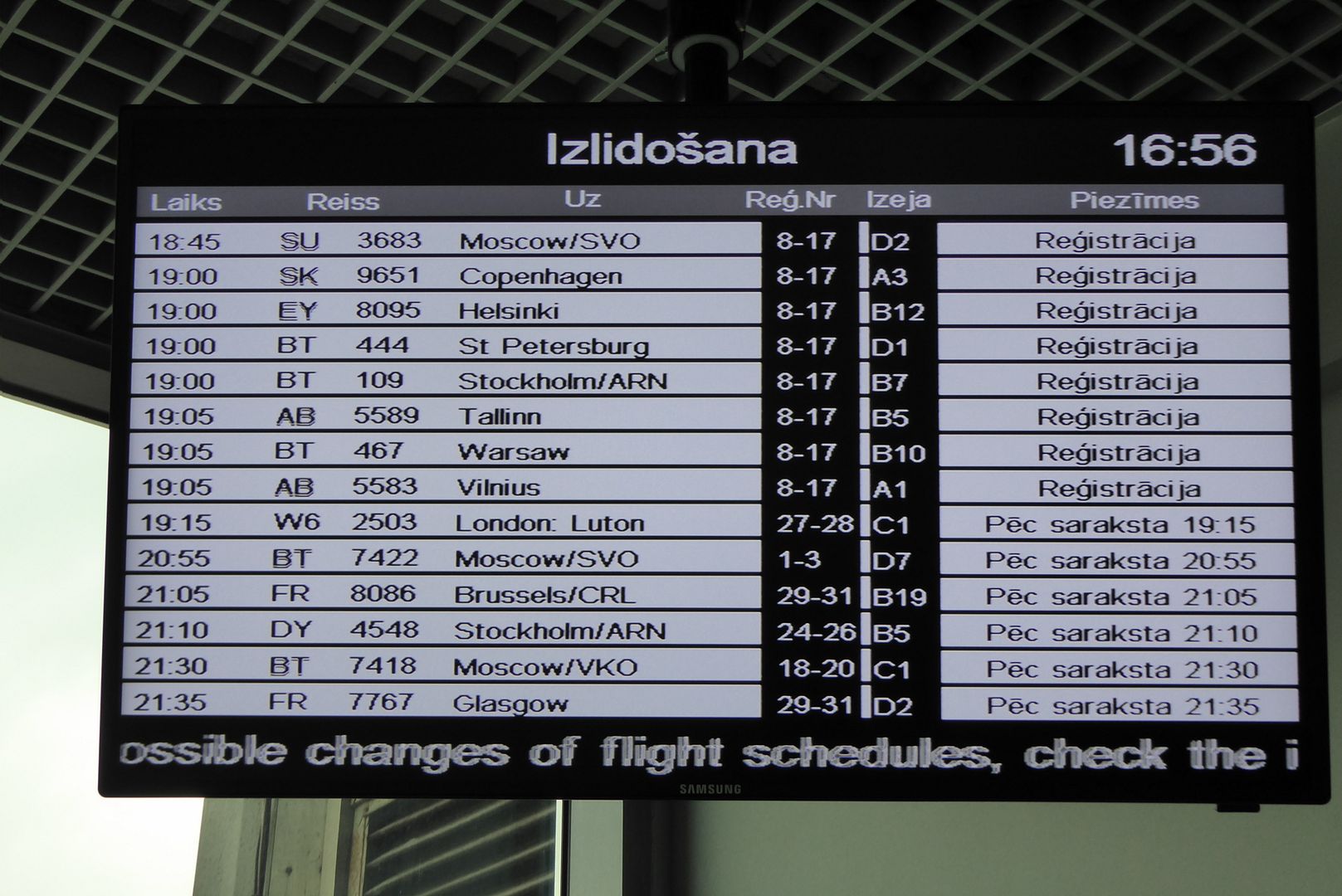 Riga airport is a bit cramped (A bit like BER). We were boarding from the C gates which was in a separate area. A tiny duty free and a cafe was all we had to spend an hour. Will probably give Luton a run for its money in being the dingiest airport visited over the past one week.
Fids indicates flight delayed by 10 minutes. The boarding area was a bit basic – few seats and a vending machine to while away our time.
At least the priority boarding worked a charm at Riga. Separate queue strictly enforced and a separate bus too. Splendid! Late arrival of the flight meant late departure.
Priority Boarding been enforced at Riga, albeit, it did not work the second time around, when it was every man,woman and children for themselves.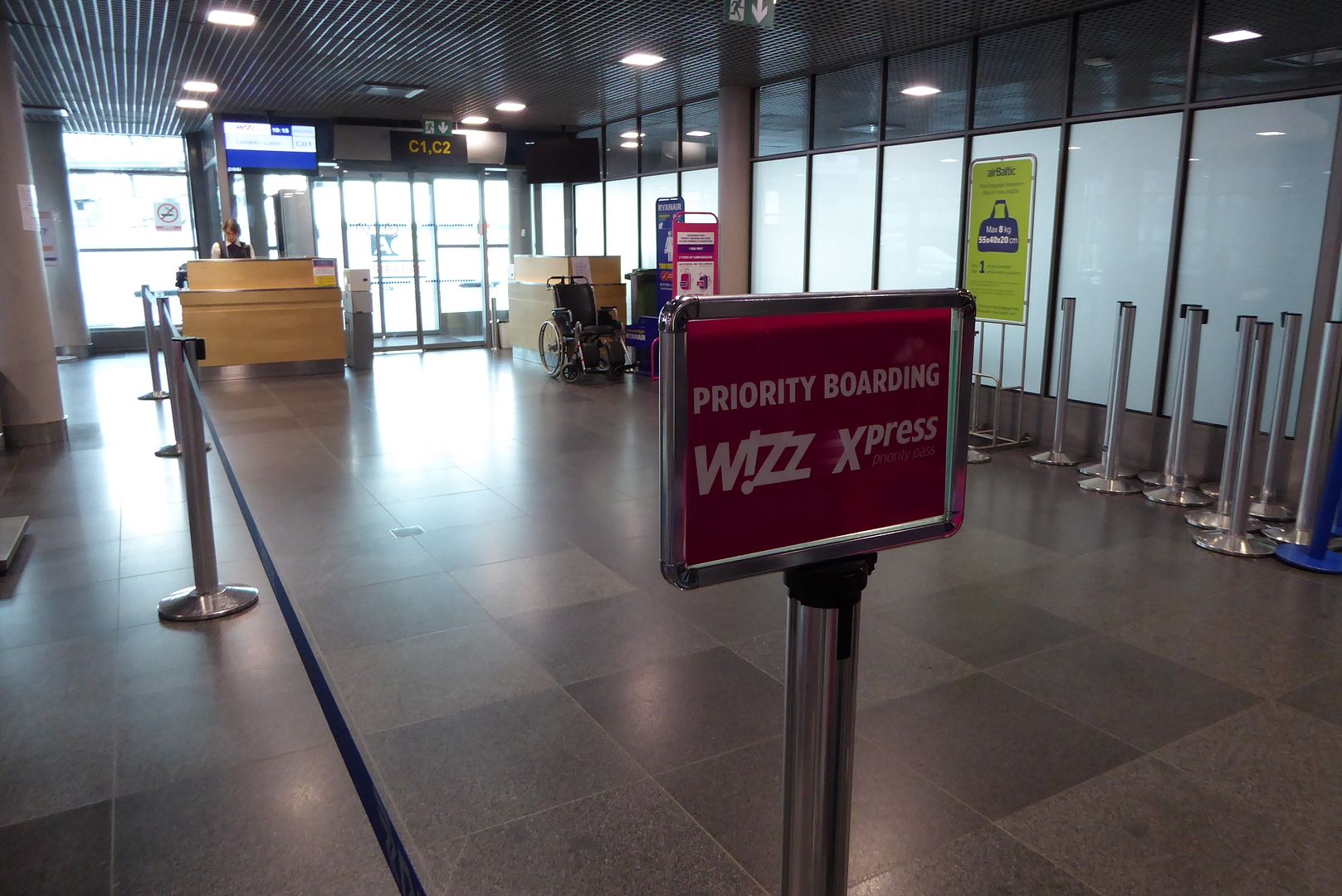 Our 1 of 3 bus rides for the day at RIX
Our ride to London Luton - A 6 month old Airbus A320-200 (HA-LYJ)
As previously, neat and clear aircraft, albeit, this time they had a technical issue (with a 6 month old aircraft)
Rainy day at RIX
Boarding completed at 19:30. We then get an announcement from the flight deck stating that some issue with one of the engines which would mean a further delay of a minimum of an hour. Great!
Onbaord HA-LYJ, a 5 month old A320-200 with Sharkletes/winglets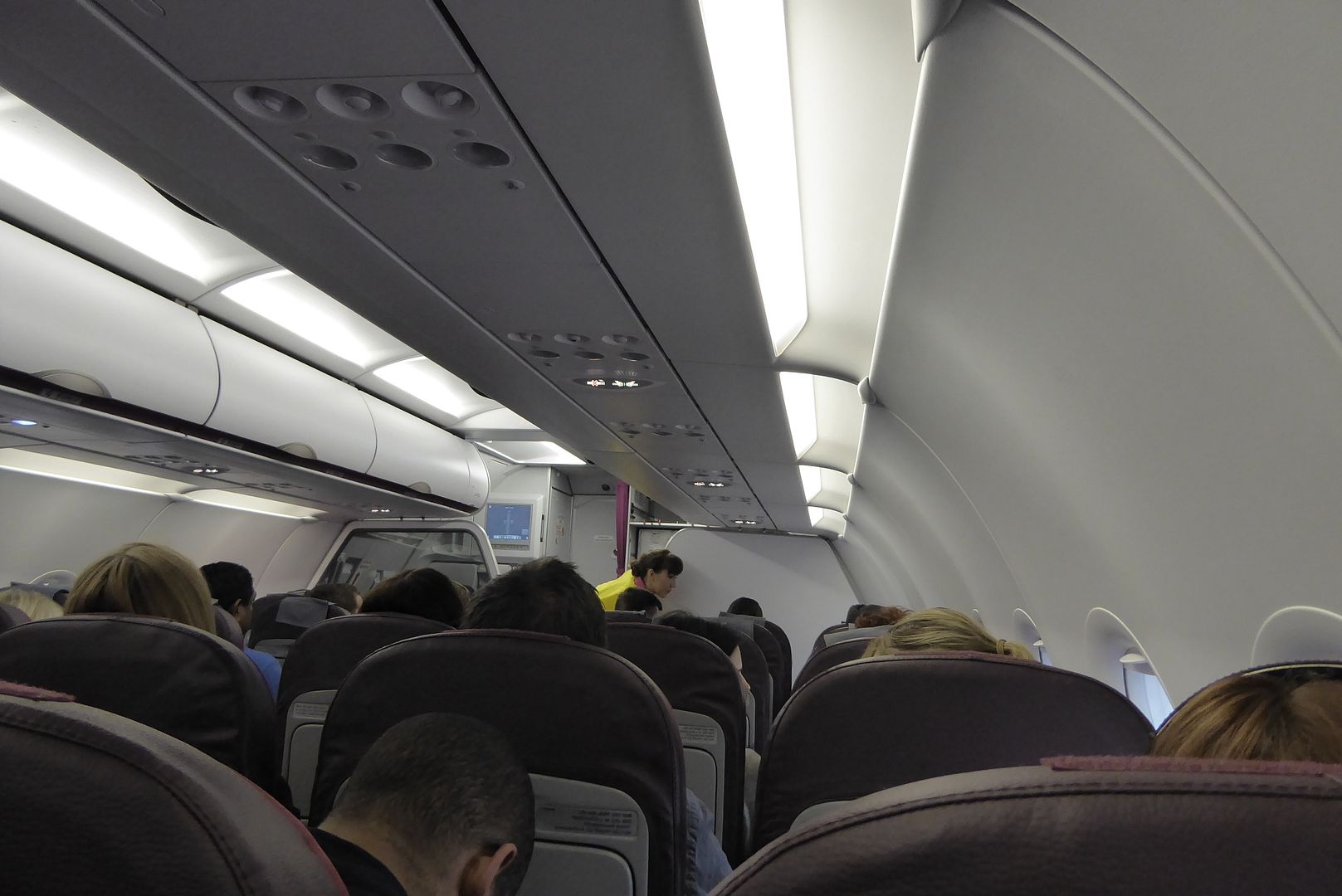 We were allowed to disembark and taken back to the terminal. We were then asked to re board at around 9:30 pm. Software malfunction on one of the engines mentioned, by the captain from the flight deck. Technician did a full reset to successfully eradicate the issue.
No food vouchers given. When we returned to the aircraft the seats were once again free for all negating the priority boarding. Aargh! We were lucky to find decent seats, but others were not so. There was a couple with a young baby who got stuck with some stag party crowd. The steward couldn't control the crowd hence allowed them to sit in the front reserved seats. Good on them, but can't understand what's the level of intoxication before a passenger is not let on board.
When asked if we would be offered free food because of the delay, the FA was apologetic and said that Riga airport had to sort something out and he was surprised that we did not get any food vouchers. Seemed like a case of passing the buck. Should've known better before booking Wizz Air. Anyway, did not bother much with the F&B as we were lucky enough to get some of the last morsel of food from the one and only café in the departure lounge. Slept for an hour and a half and the rest of the flight seemed uneventful.
Second try on board HA-LYJ, fingers crossed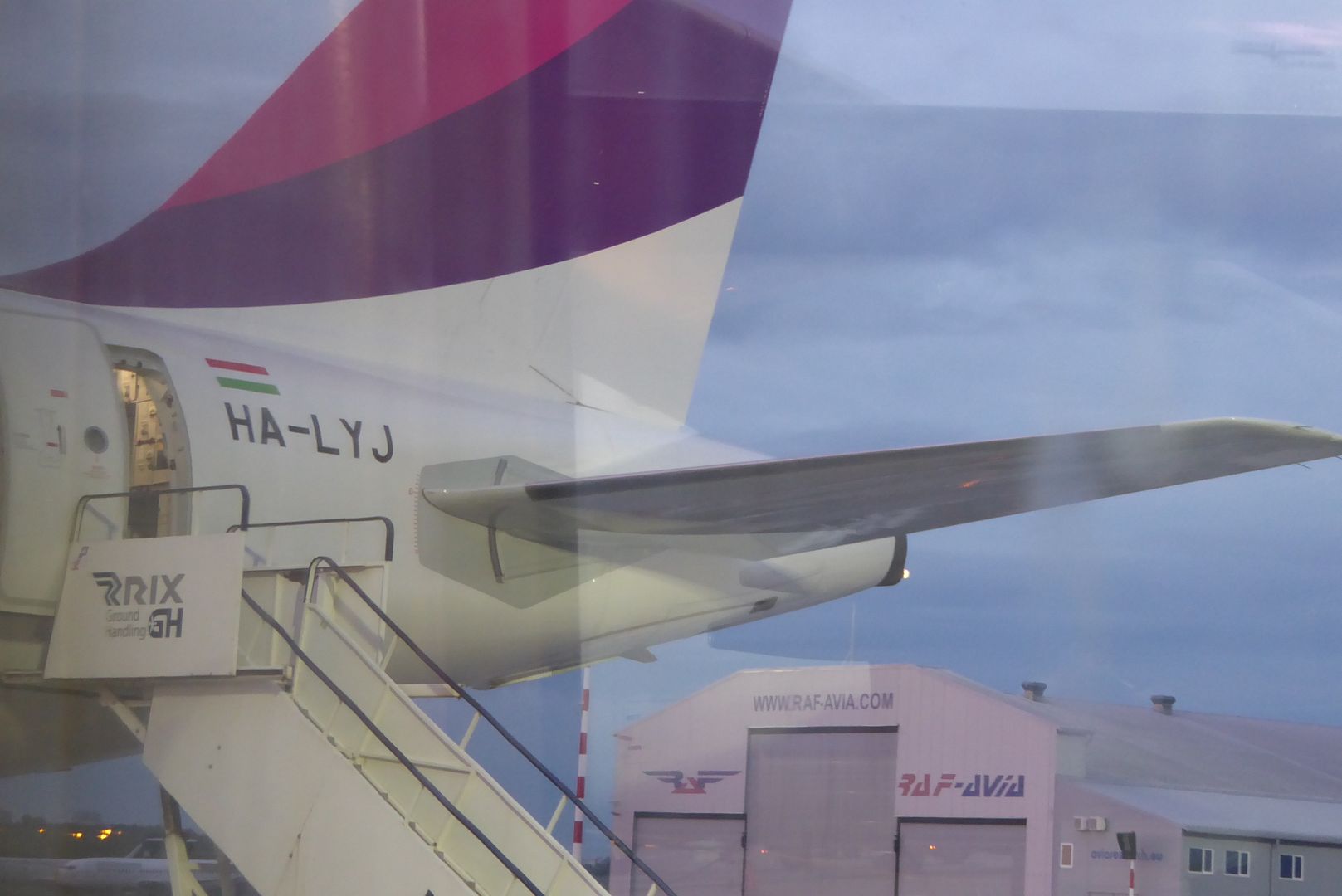 Plane spotting at RIX
What plane is this?
Verdict:
1. Wizz Air
Nothing much to write home about. Don't really buy the 'Low Cost' analogy for Wizz Air, because once you pay for all the ancillary charges, you wonder where the Low cost was. On the positives, they fly to a lot of locations and lack competitors on a lot of routes from London. New aircrafts, although given the tech delay on the return, their maintenance seems a bit suspect. Clean interiors.
On the flip side, of all my travels, never had to experience unruly behaviour, one of the main reasons being the uncontrolled selling of alcohol on board. The key being it's been sold, hence profits for the aircrafts.
Given a choice, in the future, I would be opting for a one stop with one of the legacy carriers or perhaps an EasyJet or Norwegian. Would be flying Wizz Air only if I had no other option. A close second to RyanAir, which I DO NOT fly no matter what happens. A pitiful 3/10
2. Air Baltic
We were on a very short hop with them. In terms of service, hard and soft product they were more than adequate. Very good service on board and a vast improvement from Wizz Air.
The only negative is the sharp pricing structure for check in baggage. £24 for a one way check in bag, for a 45 minute flight. This drops the my rating of Air Baltic to 6/10
3. Estonian Air
This was the best of our Baltic escapades. Neat and clean aircrafts, on time and good service on board. Their internet was a bit of a gimmick, but they at least tried.
A worthy score of 8/10.
Hope you enjoyed this edition o my trip report. As always comments and feedback welcome. Until next time, happy and safe flying, Adios!
Sights and sounds of our trip
Rides for our trip - Lithuania - Toyota Yaris
Rides for our trip - Estonia - VW Golf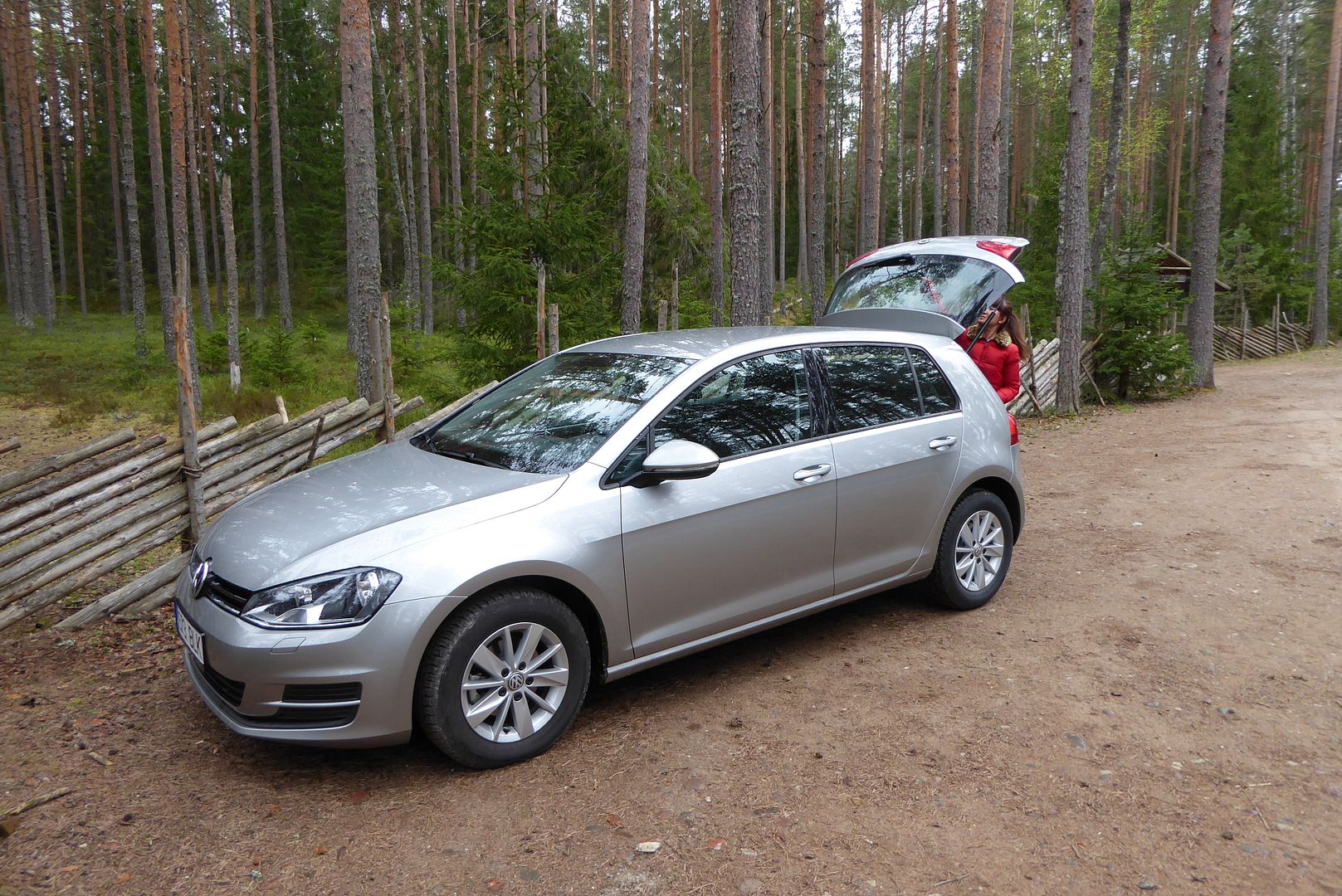 Rides for our trip - Latvia- VW Polo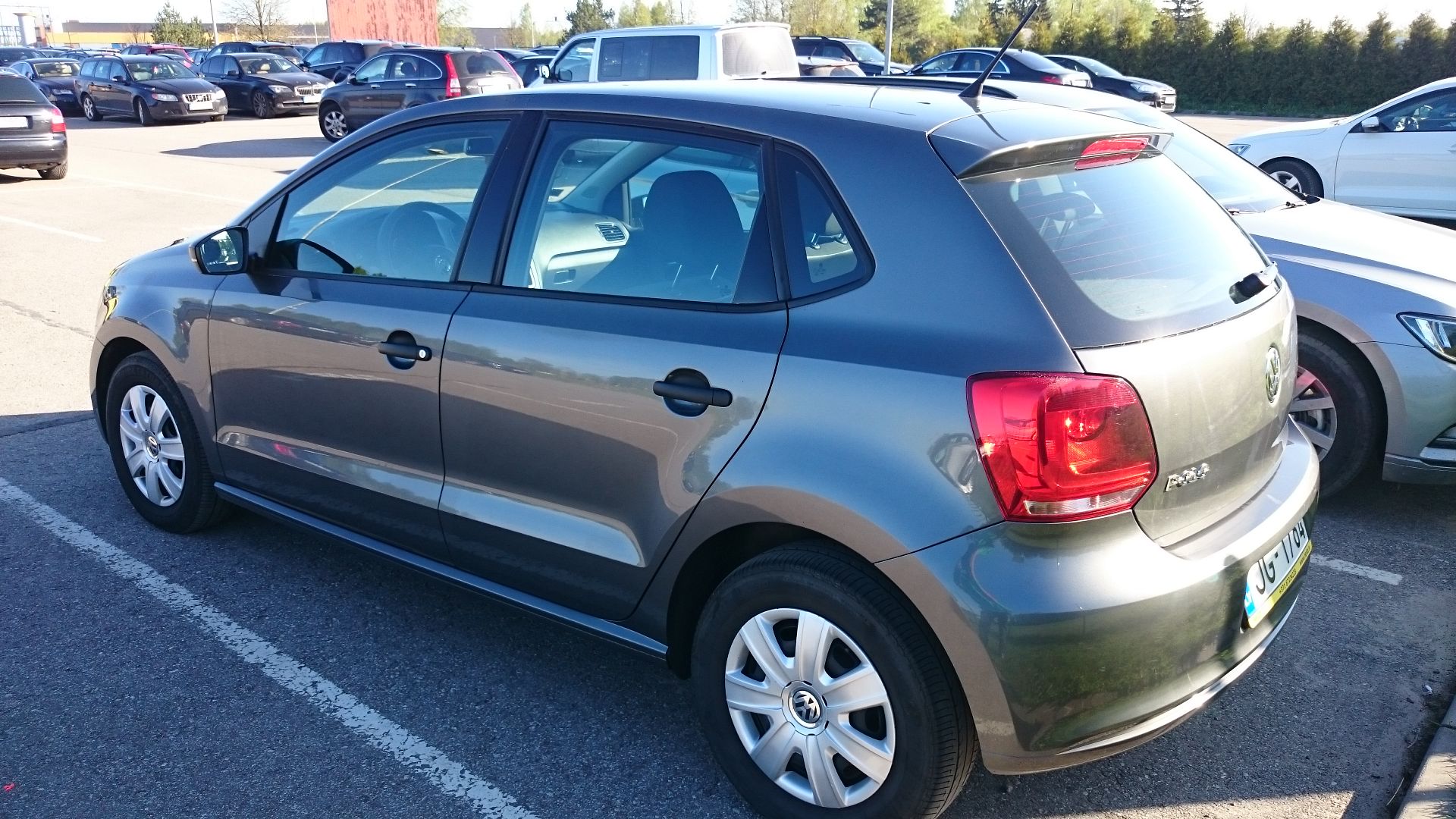 Lithuania
National Park in Lithuania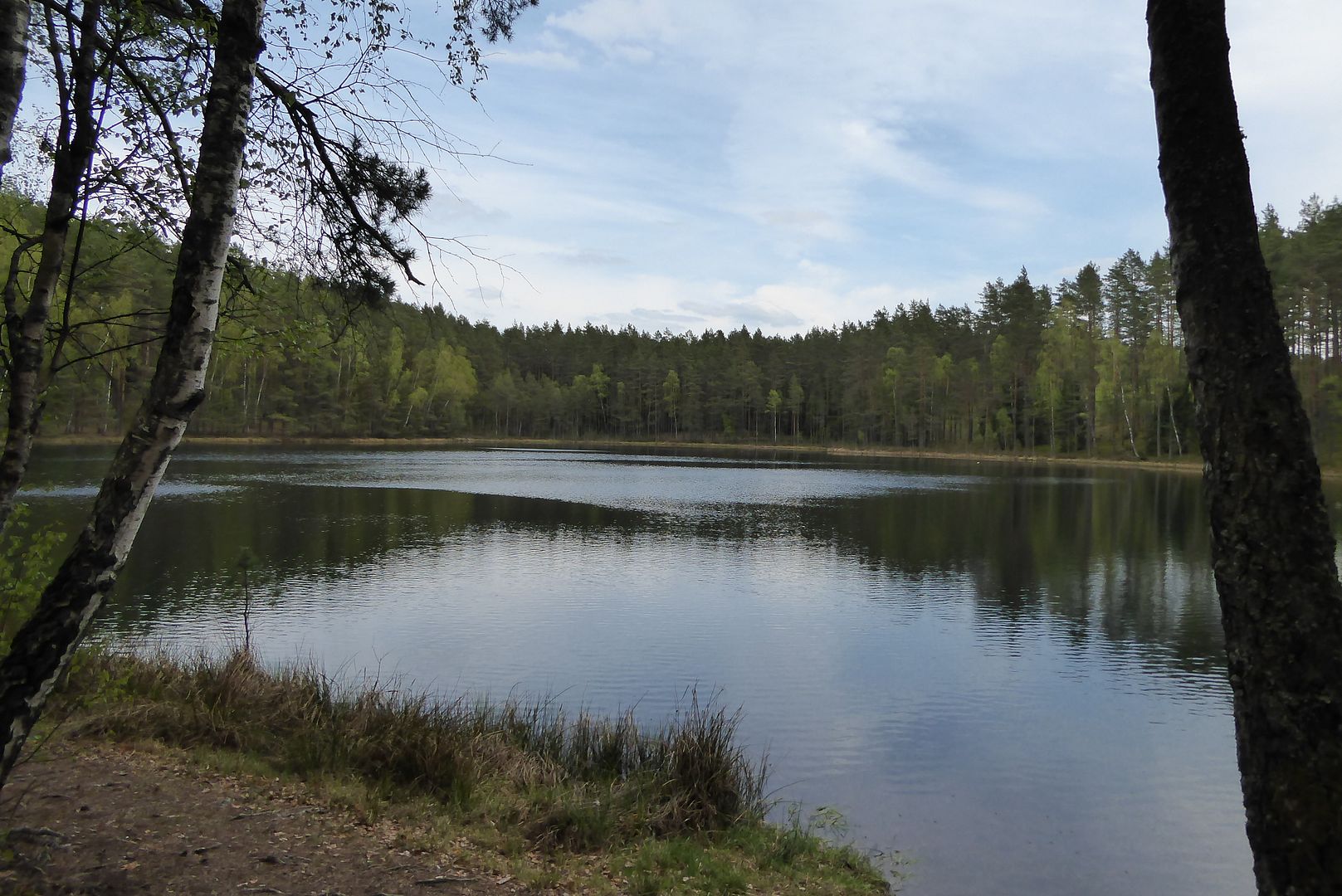 Trakai Castle
Kaunas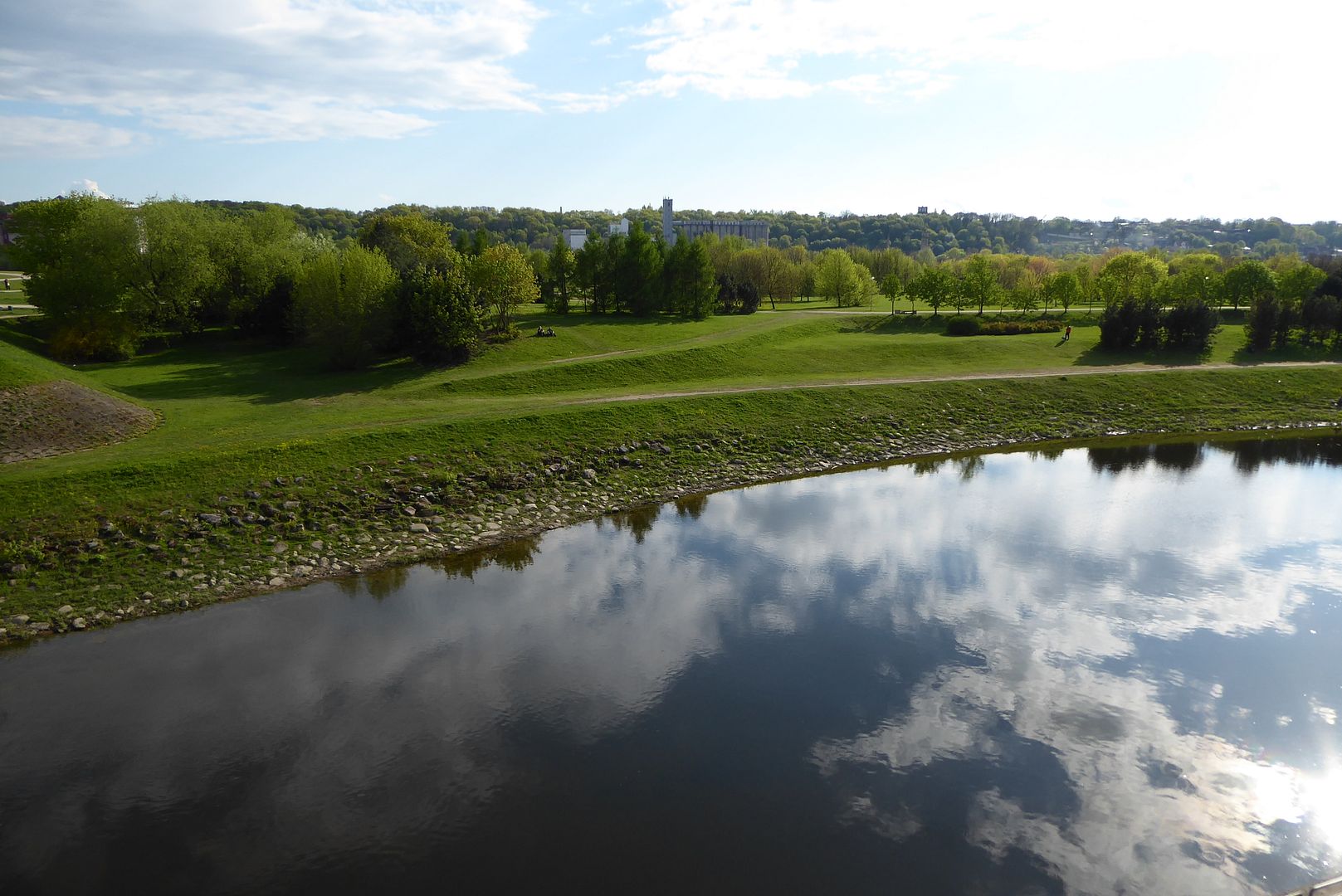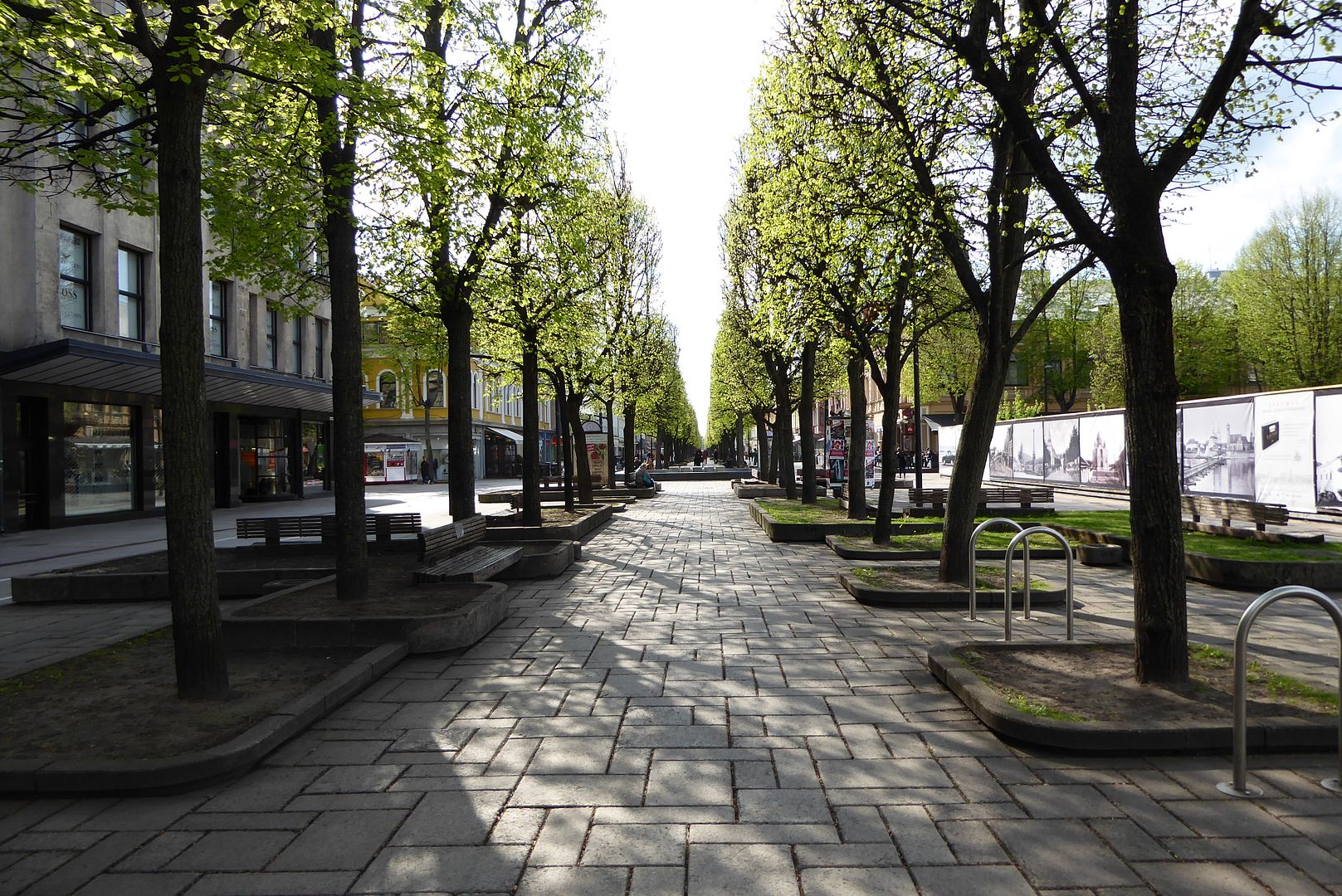 Hill of Crosses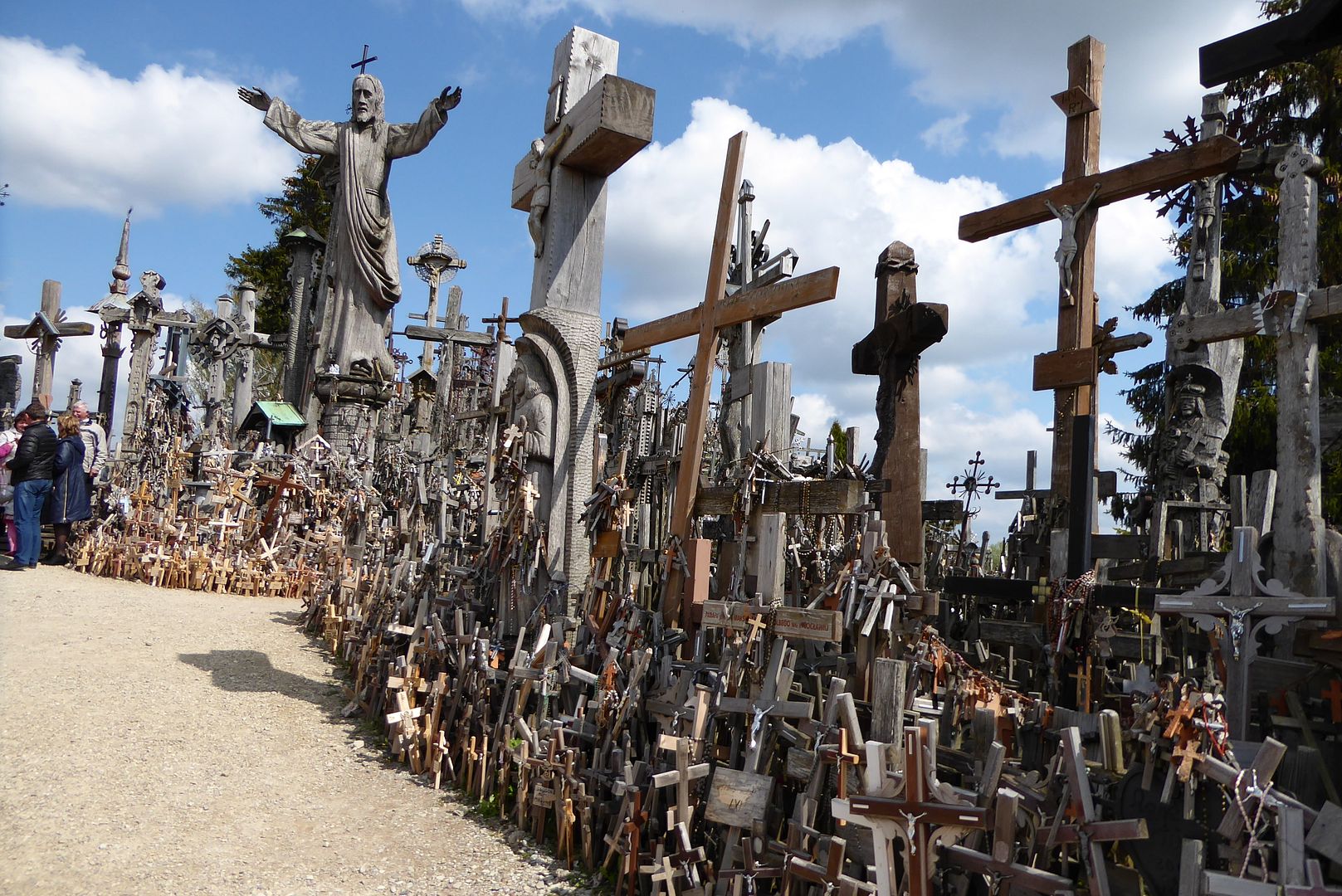 Street Art in Vilnius
Chlling in Vilni
Vilnius view from the 3 cross Hill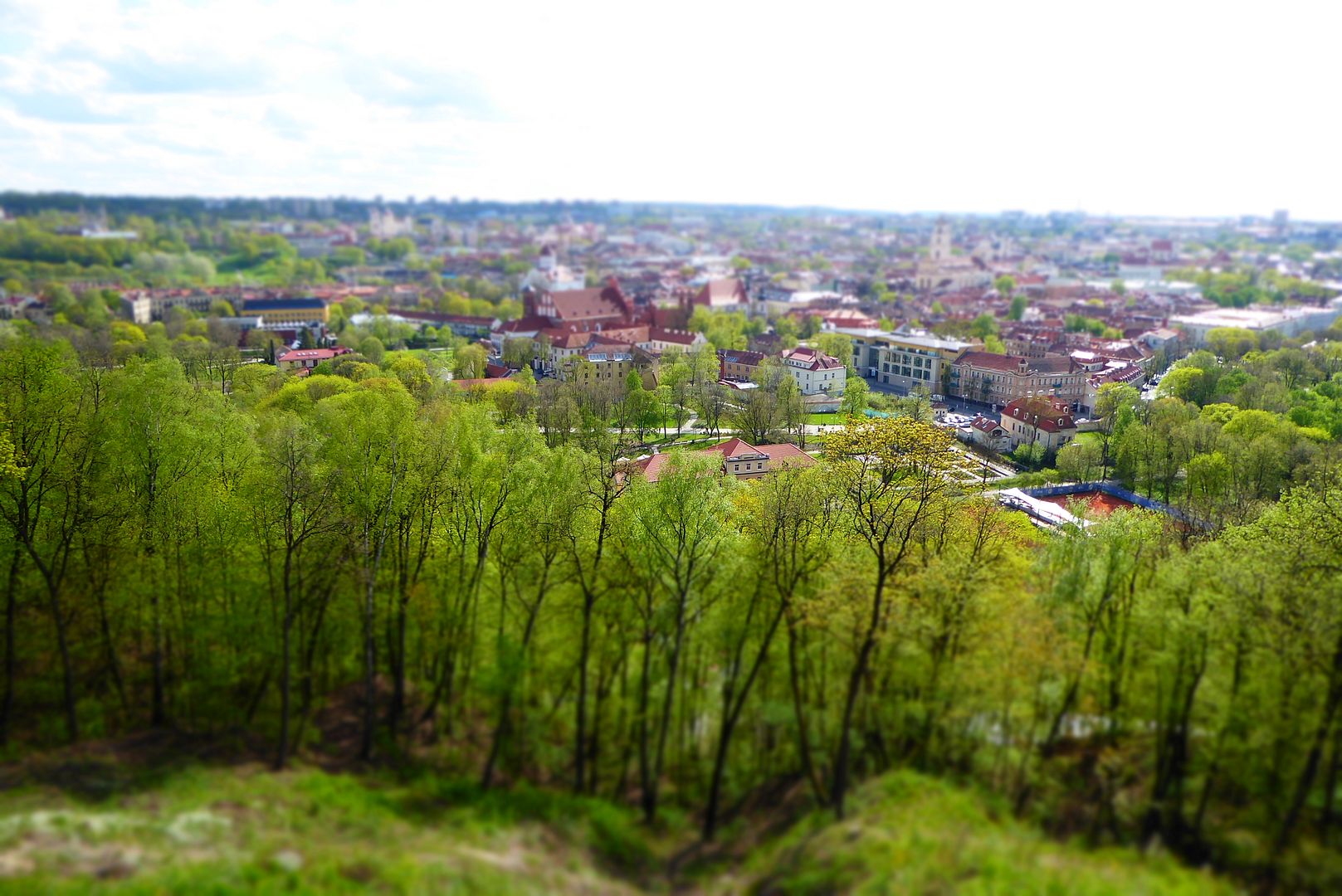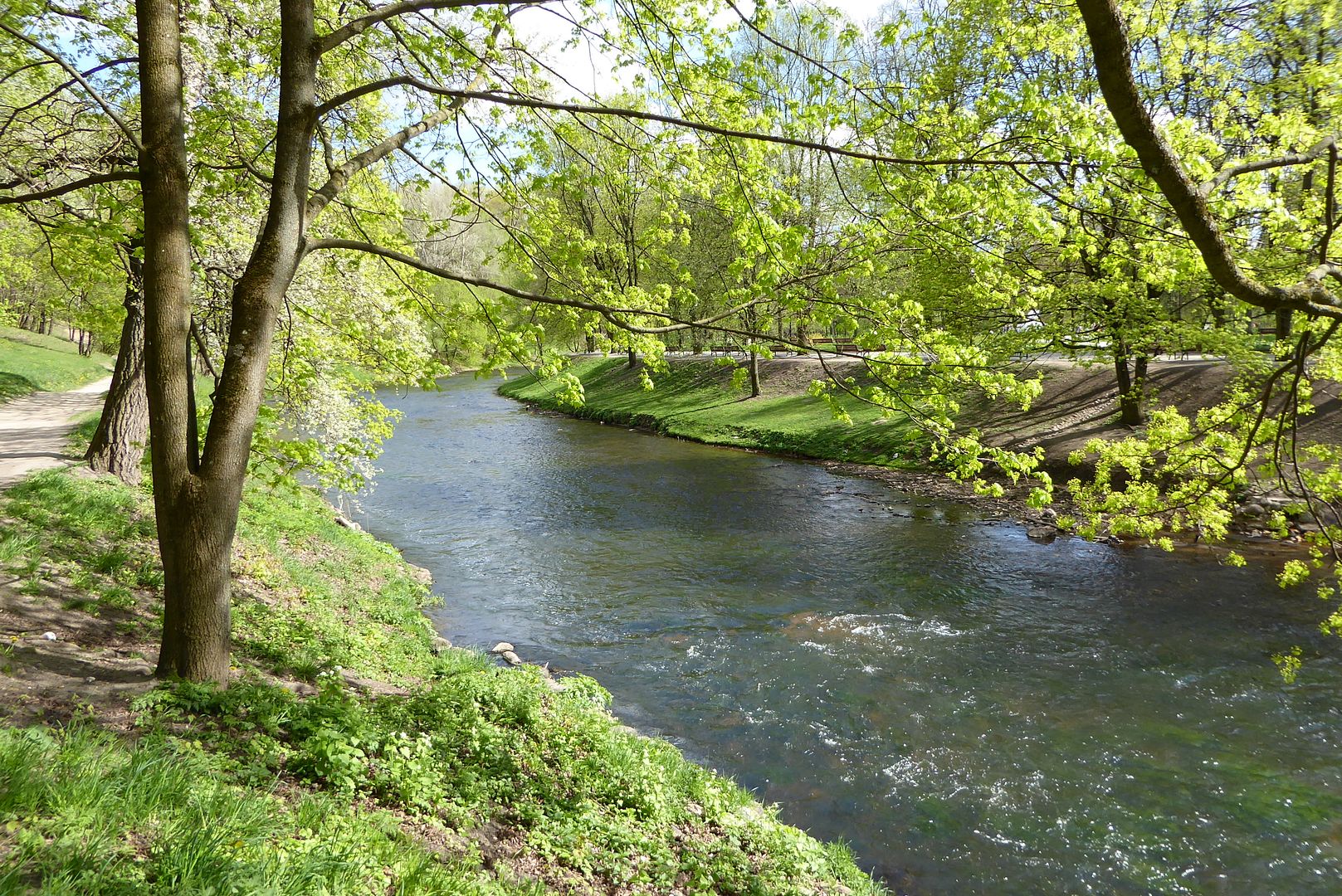 St Anns Church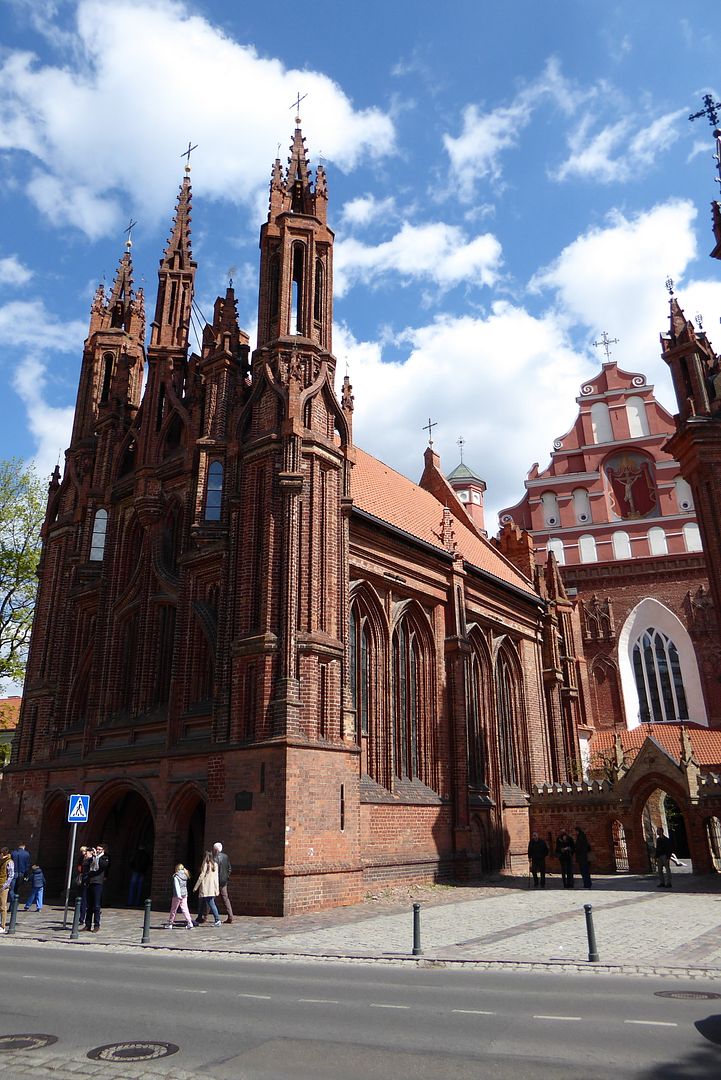 Vilnius old town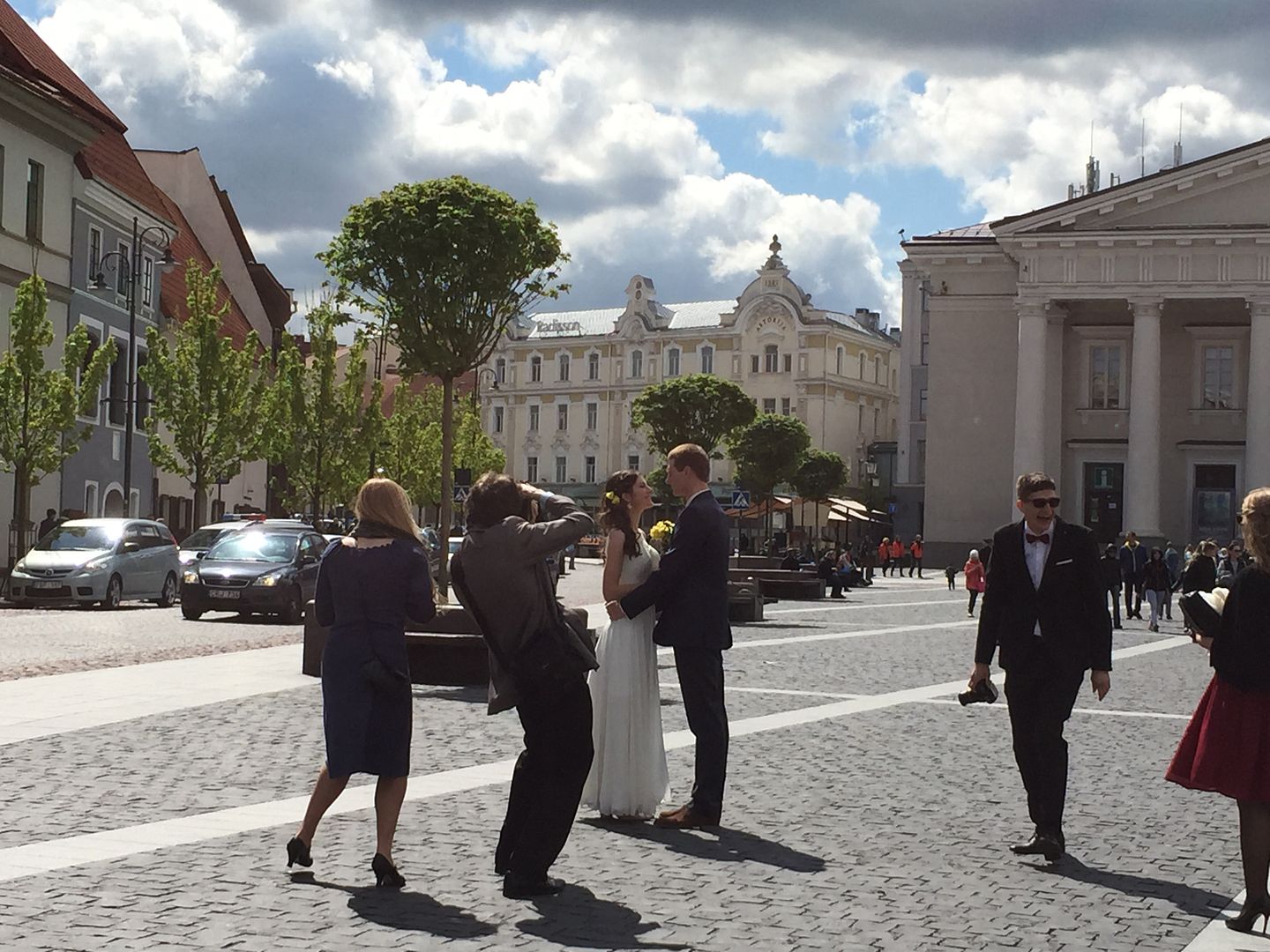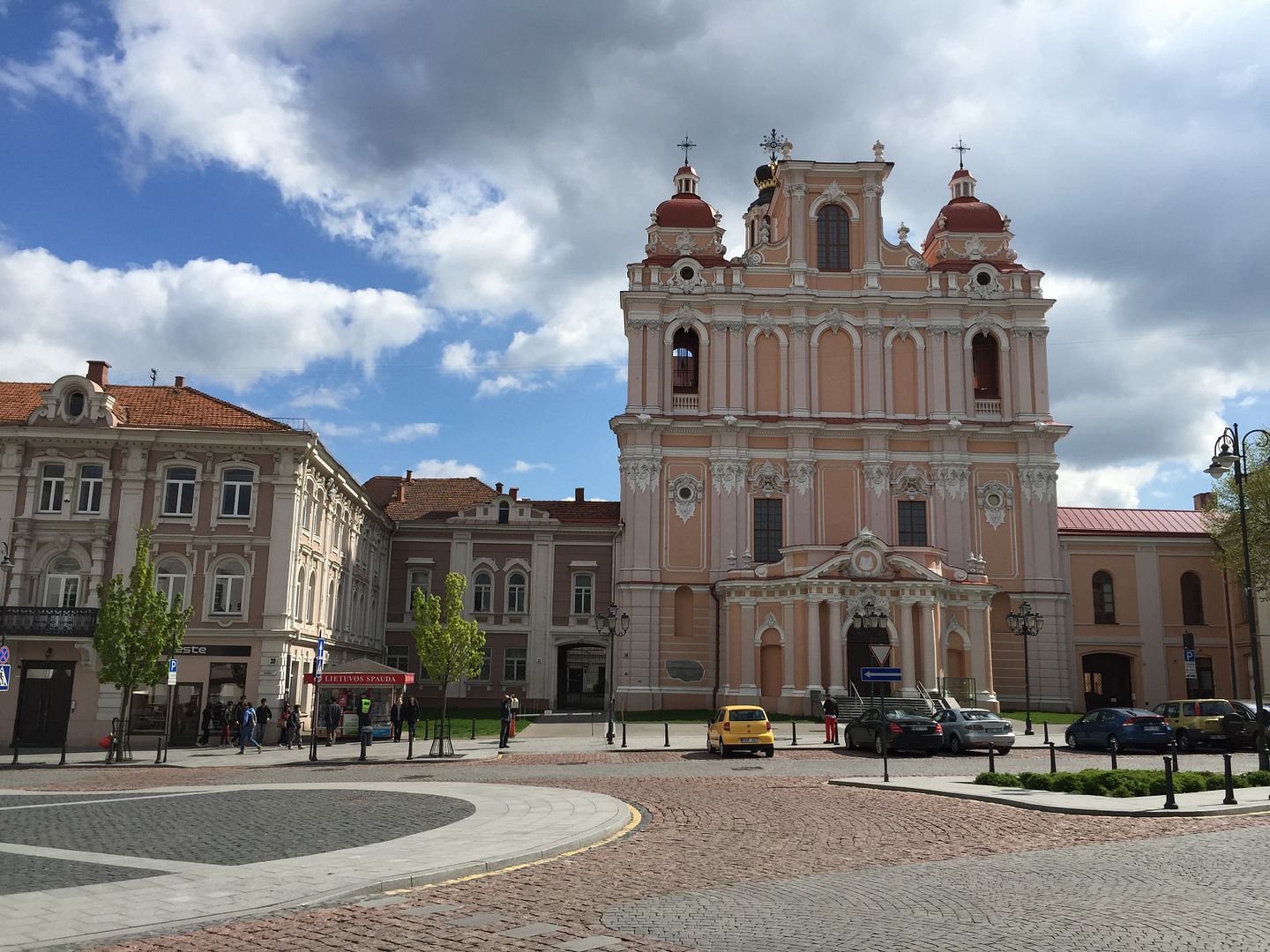 Latvia
Rundale Castle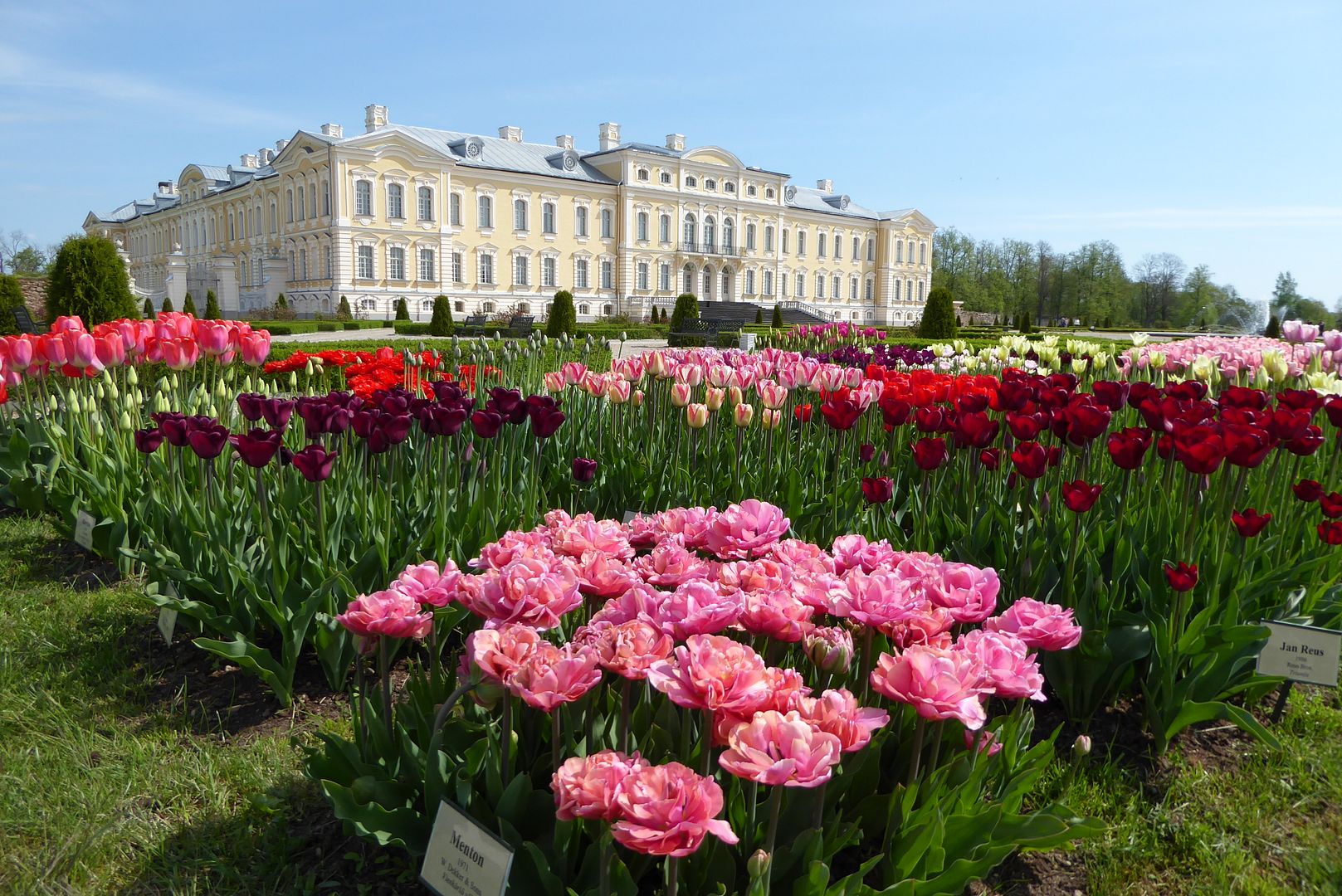 Cesis - Ski resort and nature trail
Riga skyline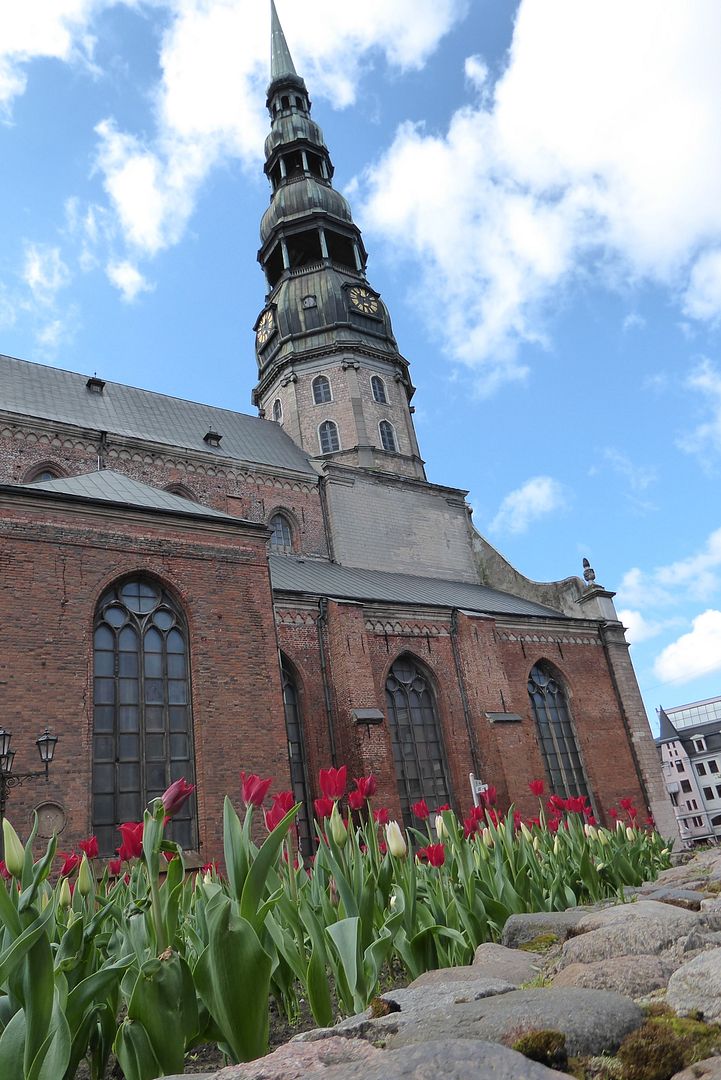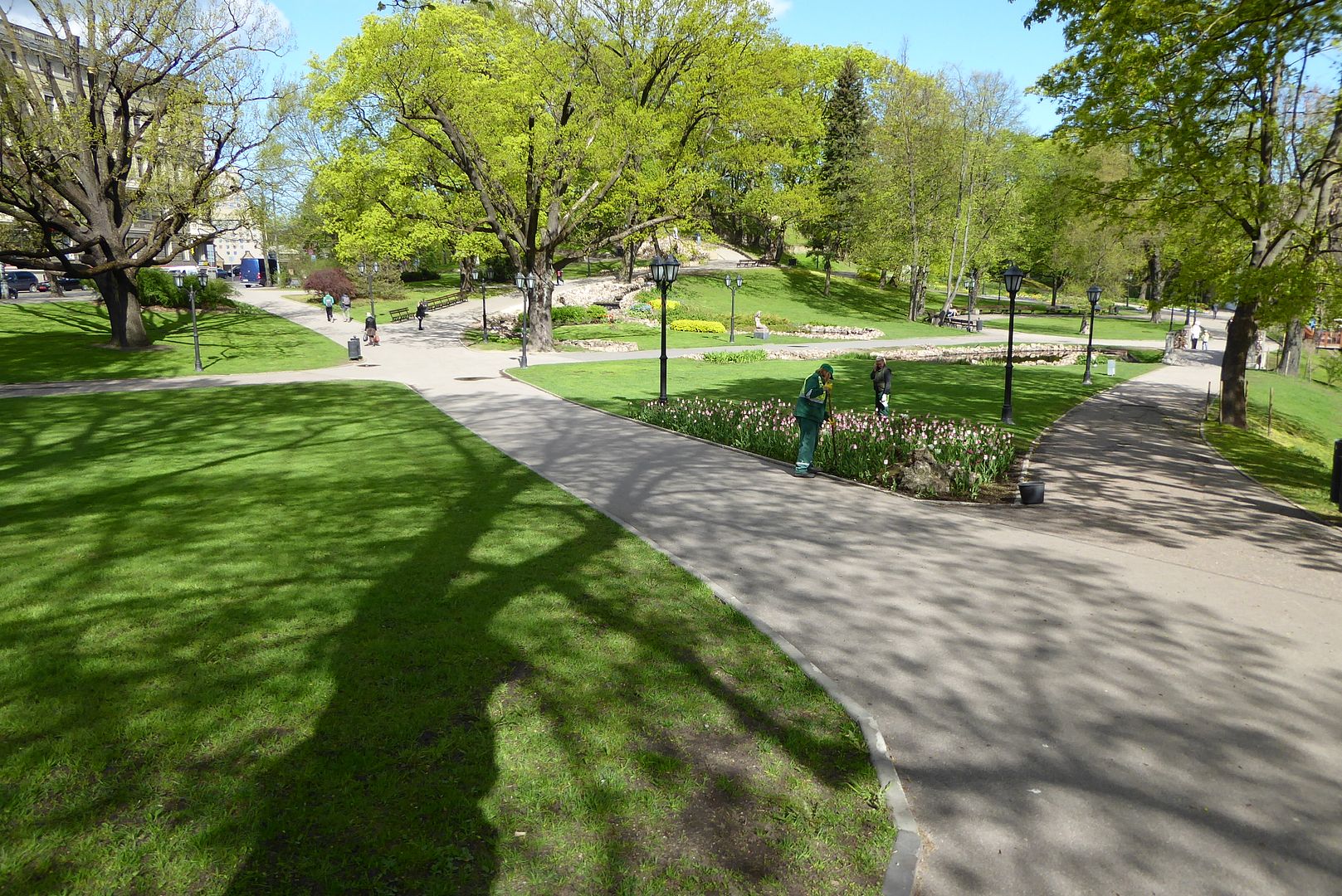 Estonia
Tallinn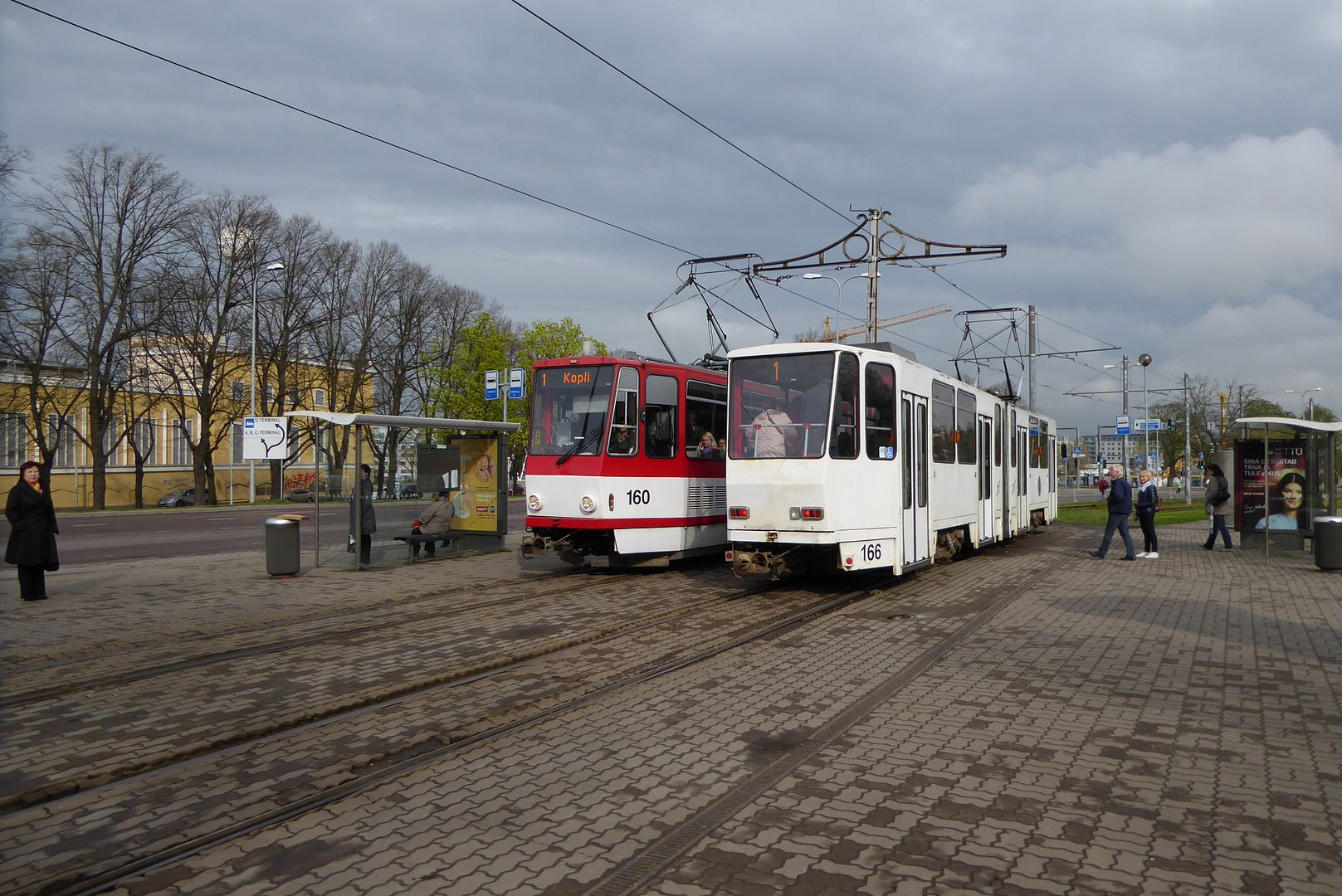 Top