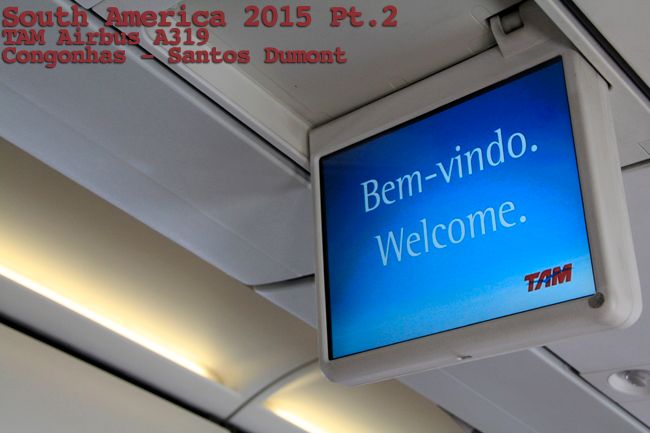 .


.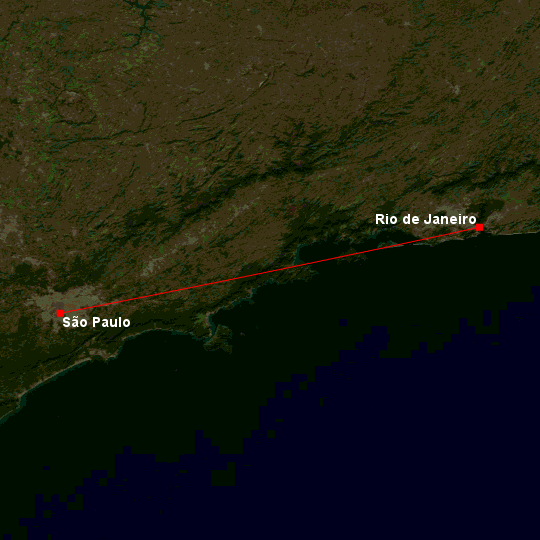 Maps generated by theGreat Circle Mapper -copyright © Karl L. Swartz.
Videos related to this report
TAM Brasil | A319 | CGH-SDU | Economy:
http://youtu.be/L923cwky9bk
Hi there, thanks for clicking on the second part of my journey through South America that took place in April 2015. The first part saw me fly from London to São Paulo with British Airways and can be seen here:
S.America 1: British Airways 744 In F To Brazil
(by
jwhite9185
May 25 2015 in Trip Reports)
So after arriving in São Paulo I ventured out to see what was around. There's not a huge amount in the way of tourist attractions so I spent a lot of my time walking in the cities many parks.

.


.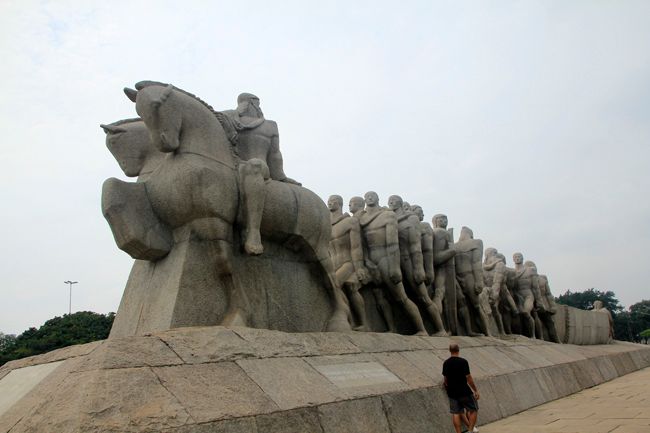 .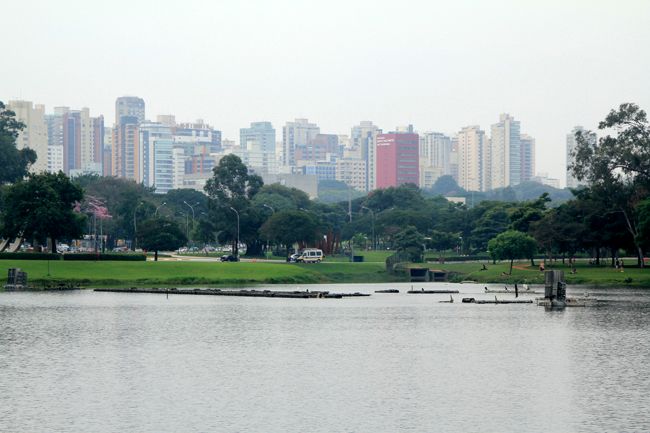 .


.


.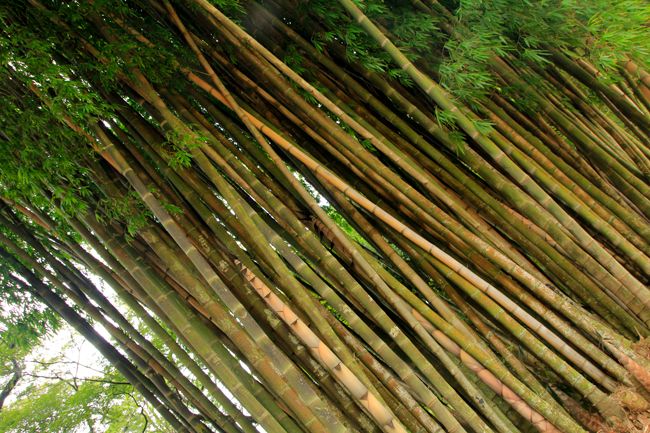 .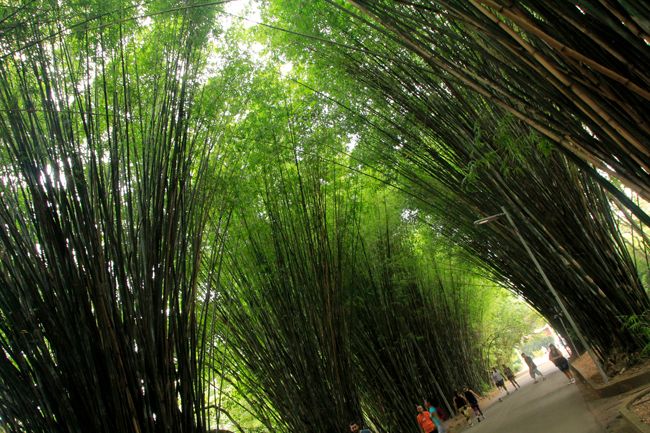 .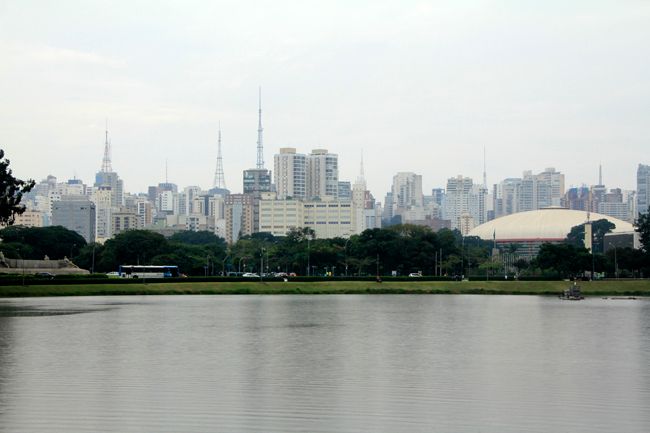 And of course, as I was on Paulista Avenue, I spent quite a bit of time there too.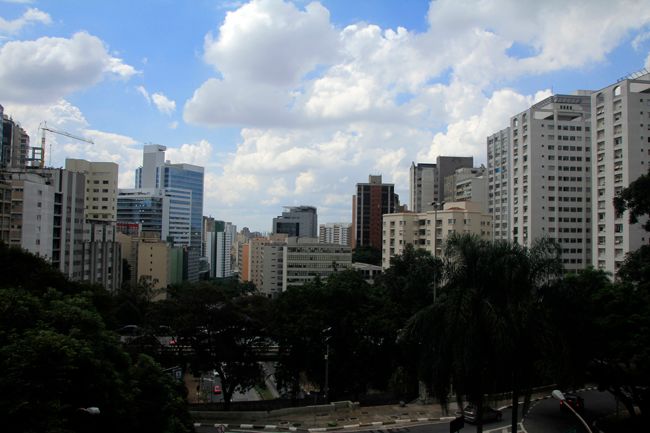 .


.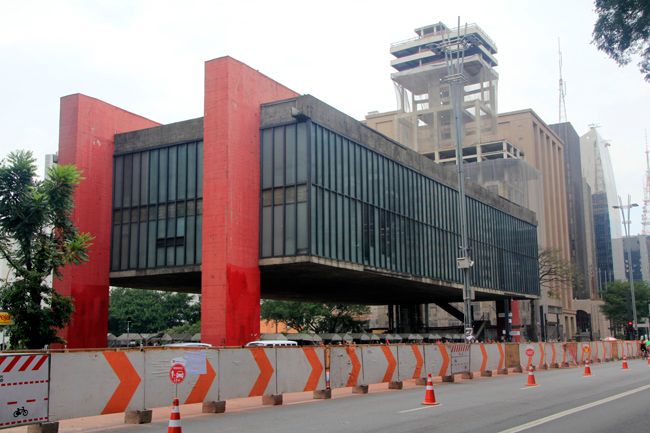 The famous Museum of art.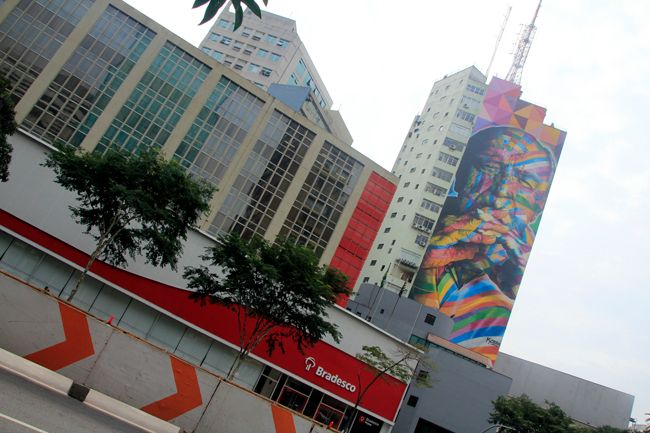 When it was time to move on, I turned to Brazil's major carrier, TAM, for the short flight over to Rio. Prices were very decent due to the massive number of flights between the two cities (virtually every thirty minutes at peak times - and thats just TAM) and included free seat selection and baggage. Another bonus was that I'd also get to log both São Paulo's and Rio's downtown airports.

.

I found that São Paulo's Congonhas airport wasn't brilliantly connected to the city, so rather than mess about with public transport and two bags, I decided to fork out for a taxi instead. There was a bit of a wait in the cities famous traffic, but it wasn't too bad due to the driver taking a few shortcuts along the way.
I arrived around thirty minutes later. I was somewhat surprised to see that the main entrance was more or less on the side of the dual carriageway!
I headed inside and made my way to the TAM desks. I hadn't been able to check in online, but everything seemed in order. I was handed a very cheap and nasty looking receipt style boarding pass and sent on my way.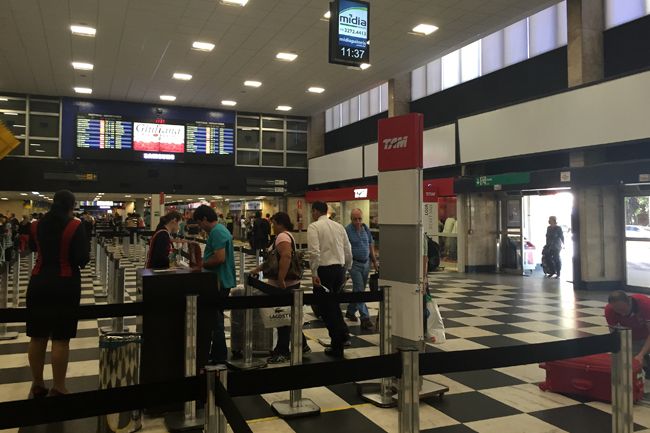 .

The terminal was pretty retro looking - which made a nice change from the bland concrete boxes that most airports are.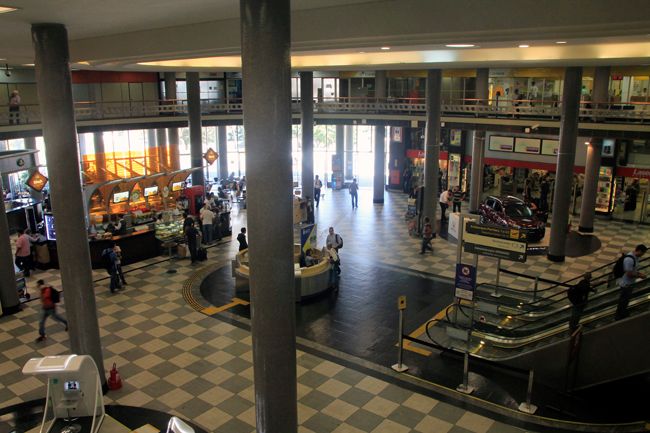 There were no lounges that I could use here, the only two being an HSBC lounge or AmEx centurion lounge.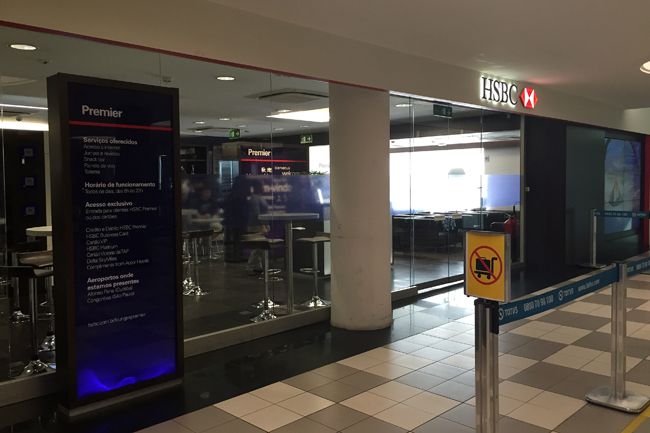 .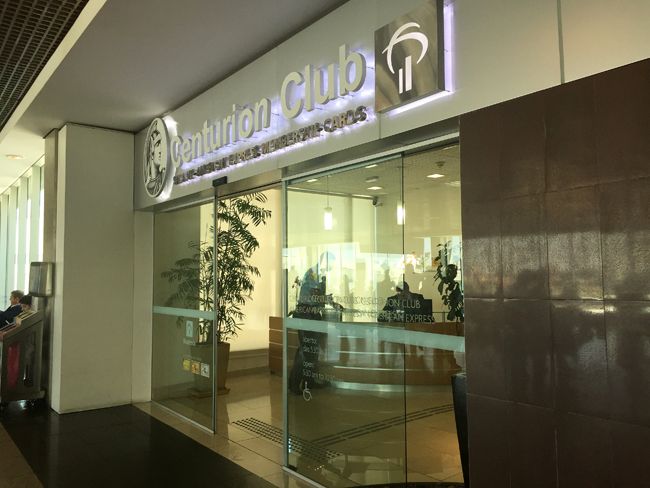 Therefore I grabbed a tasty lunch from one of the landside stalls before heading through a very easy security - which was guarded by a pretty big FID.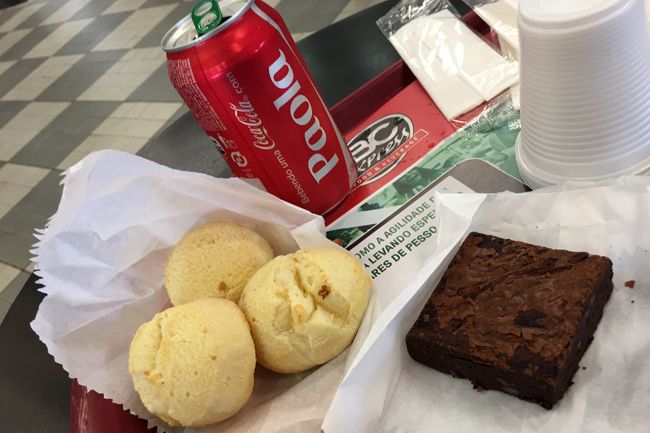 I couldn't get enough Pão de Quejo during my time in Brazil!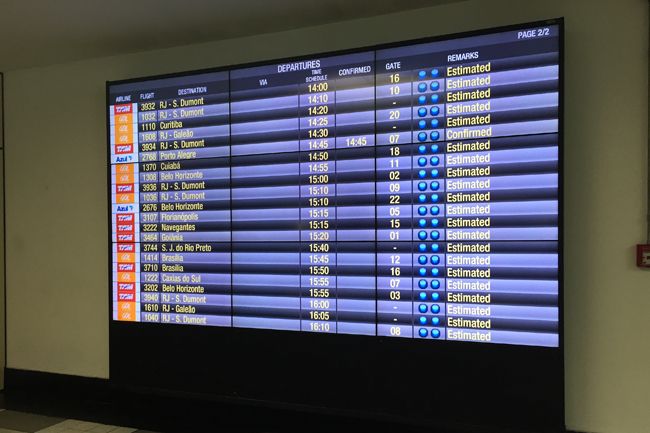 .

I then took a walk of the basic (and very warm) terminal to see what was around.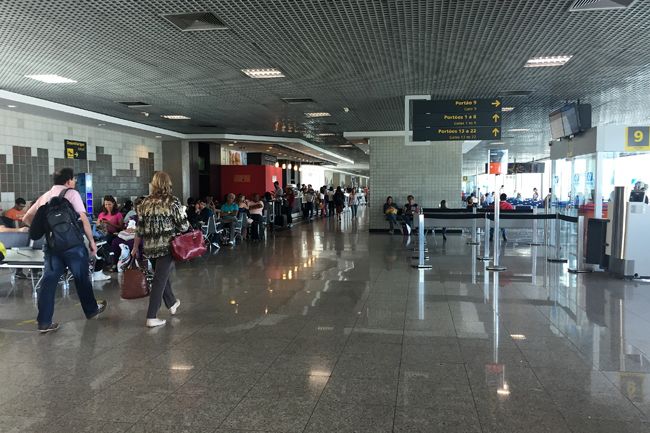 It was actually quite a busy little airport, but there wasn't much in the way of variety - a line of TAM A319's.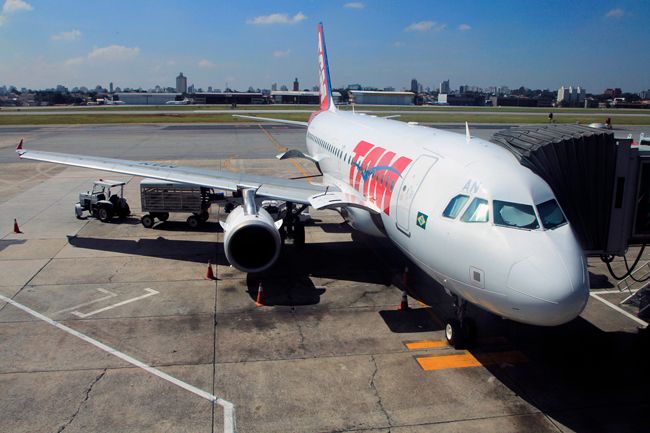 .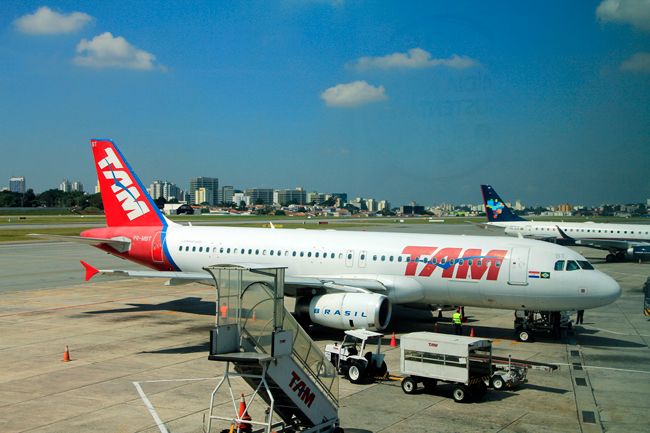 .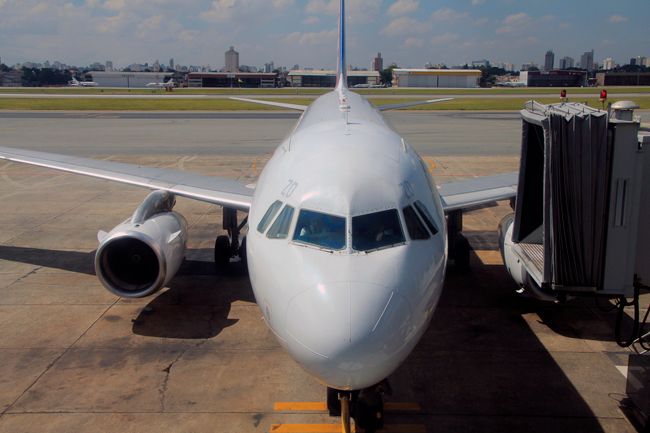 Followed by a line of a GOL 737's.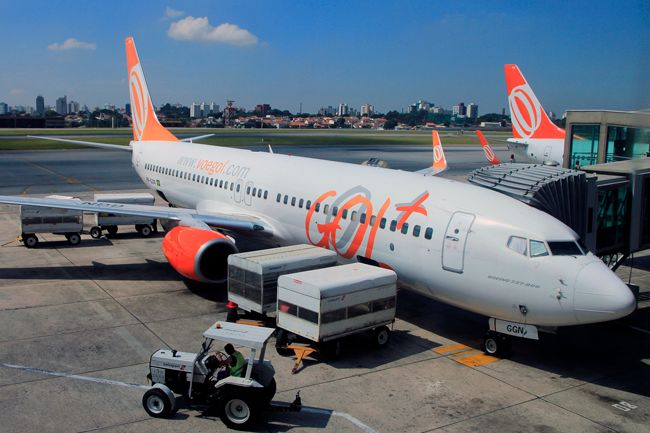 Broken up by a single Avianca Brasil A319.
There wasn't any free wifi on offer either, so I perched myself next to the window to watch the movements. It was actually pretty good due to the runway being very close to the terminal and everything going past at full throttle.

.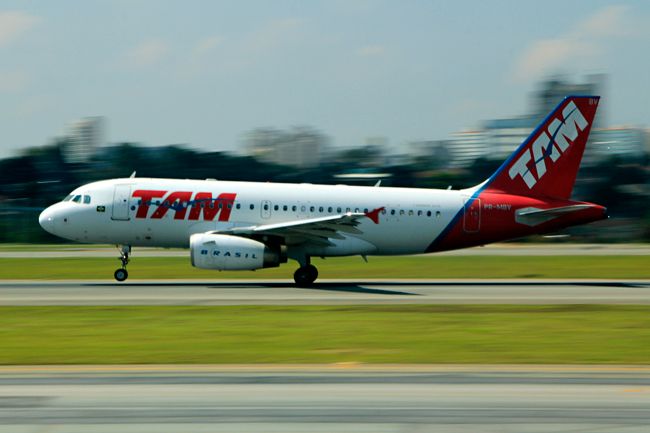 .

Surprisingly busy for an airport similar in size to LCY.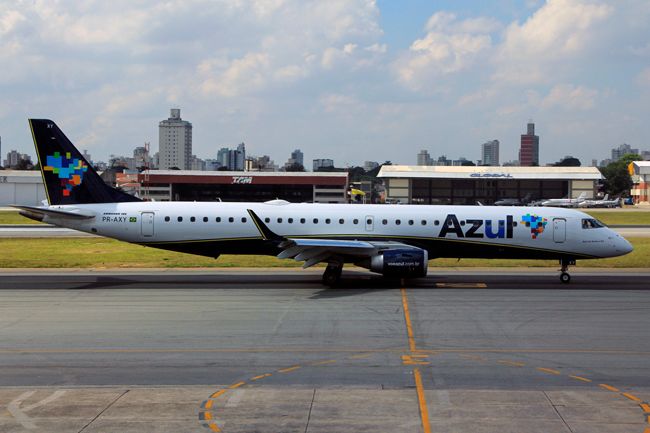 A few moments later, a TAM A319 landed, and I noticed it had titles on the side stating it was the 4000th A32x series built.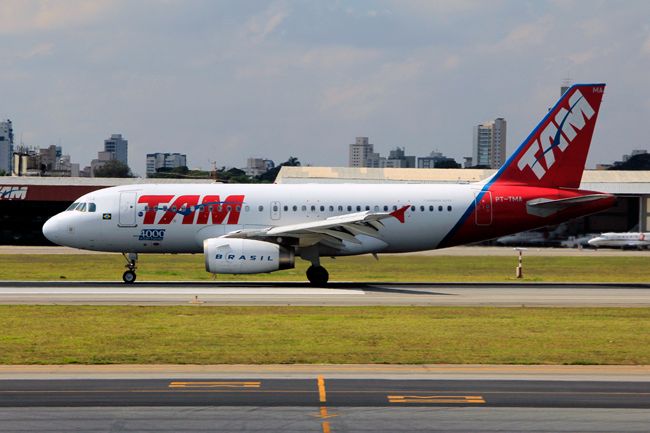 .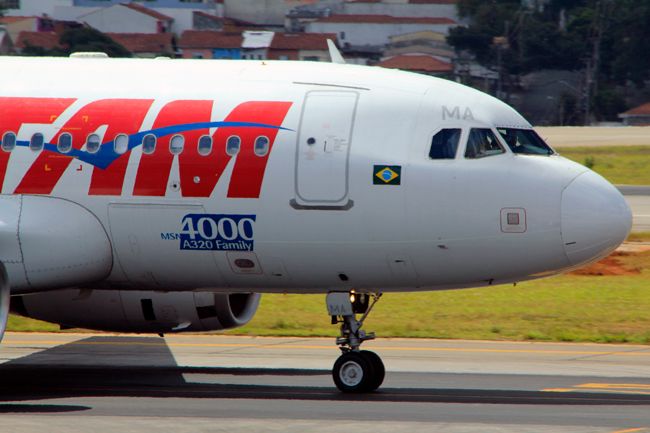 I had hoped this would be my jet, but it passed by and went to another stand. My disappointment was short lived however, as I checked the FID to see the gate had been changed - and that I would indeed be on this one.
So I moved along and waited at gate 4 instead. Although there wasn't any view to be had from here.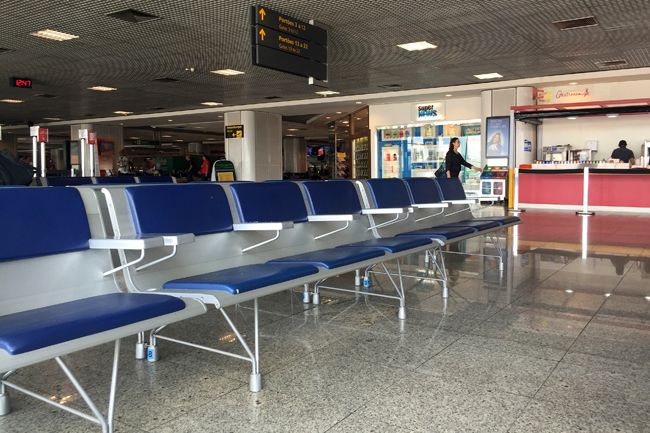 Boarding commenced soon after, and I was surprised to see a priority lane in use - although looking at the amount of symbols on there, it would appear that pretty much most have some sort of priority.

.


.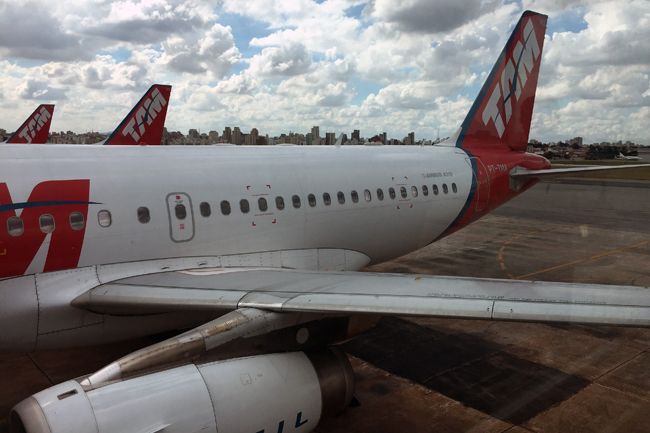 .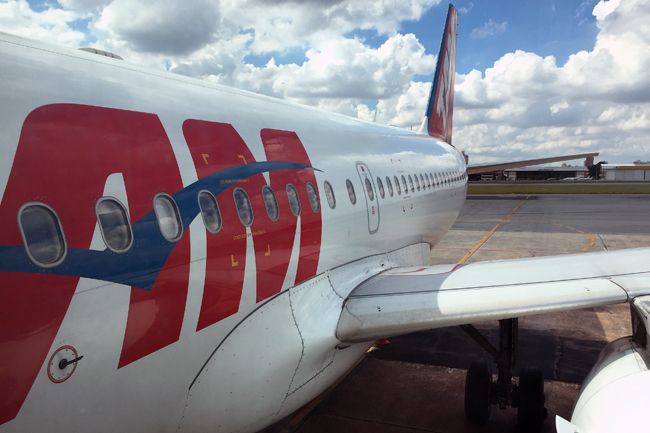 JJ3932
CGH-SDU
April 2015
Airbus A319 / PT-TMA
Seat: 16F / Economy
Scheduled: 14:00/15:00
Off Stand: 13:54
On Stand: 14:39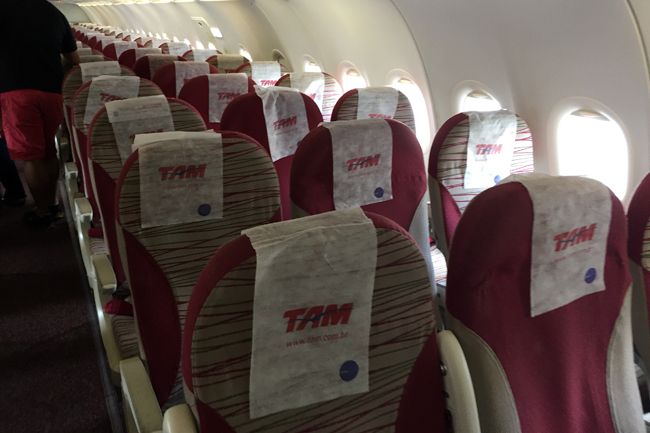 .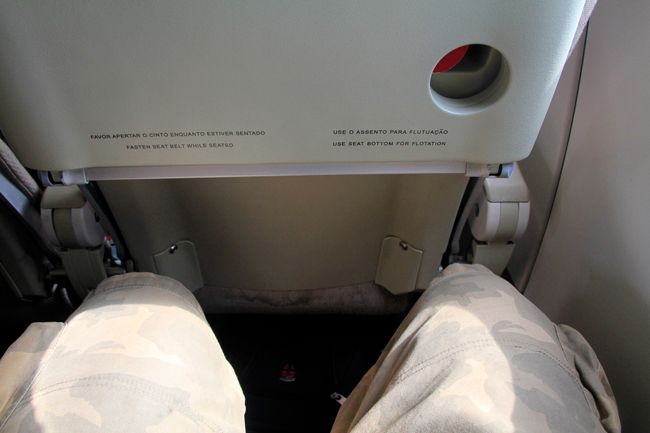 .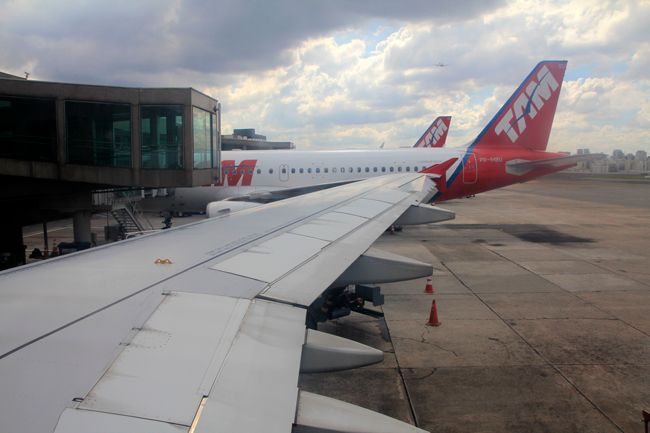 Boarding was completed pretty quickly and it turned out to be a pretty quiet flight. I had the entire row to myself.
Annoyingly, there were pretty big IFE boxes under the seats, despite there being very basic audio only IFE on board.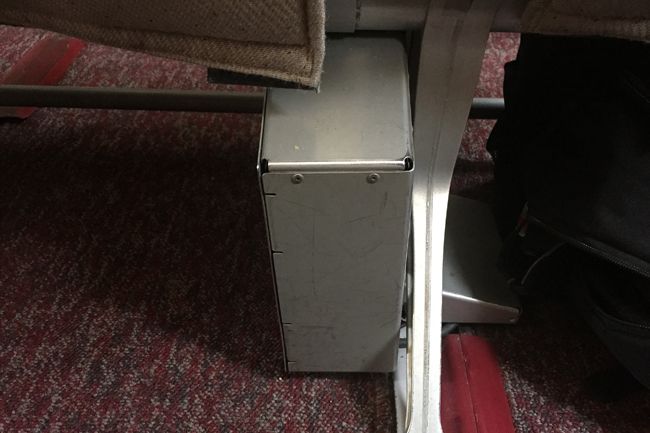 The safety briefing was completed in Portuguese with English subtitles and we made our way over to the active.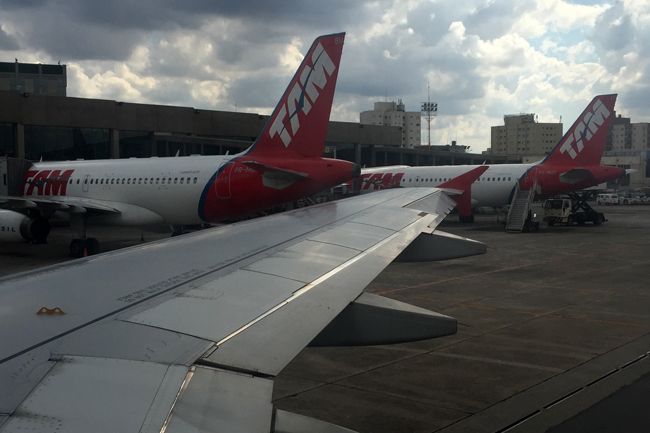 .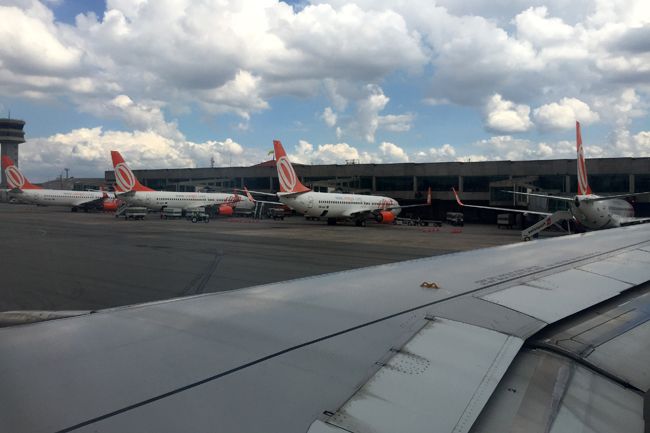 .

Once there, it appeared that we had already taken off, as our wing appeared to be hanging over the streets below us.
We took our position on the runway and made a powerful departure over the endless metropolis of São Paulo more or less exactly on schedule.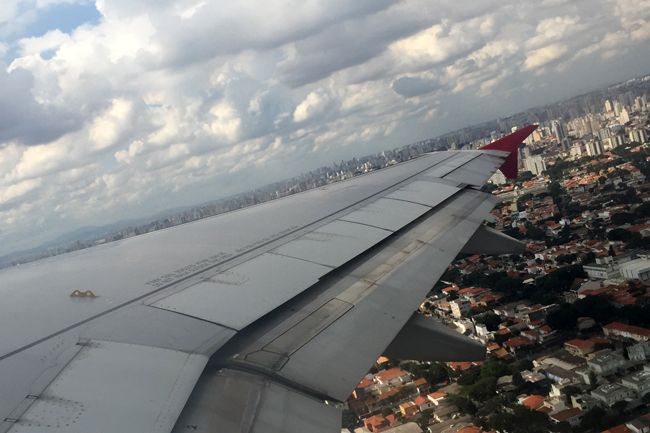 .


.

Although it wasn't long before we were into cloud and then making the short journey across to Rio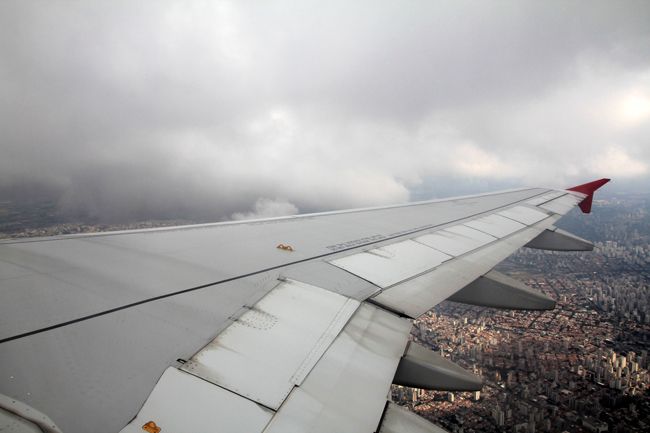 .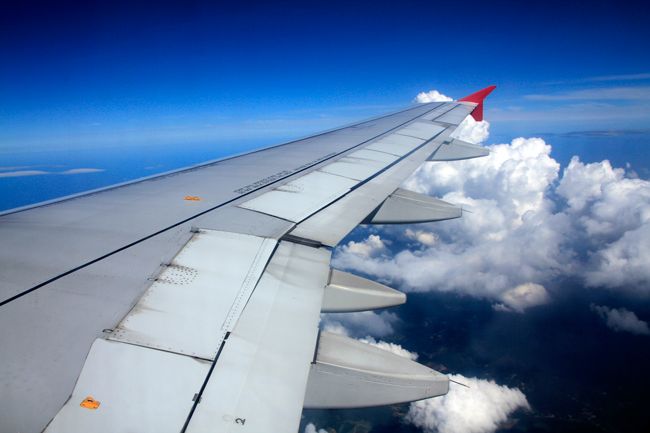 .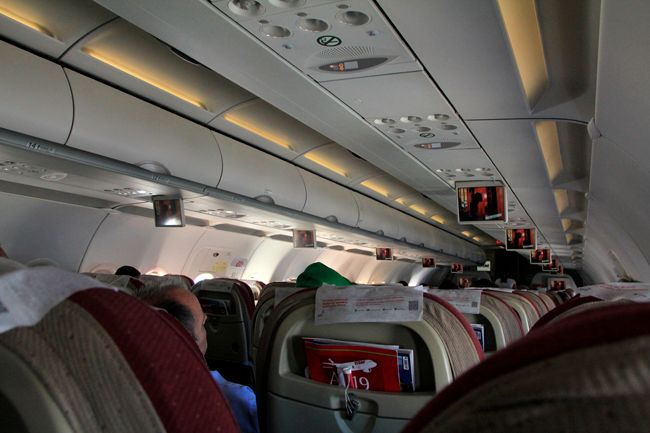 Shortly after departure, the crew started the on board service - two crew members with a trolley from the front and a lone crew member serving from the rear. To my surprise snacks were also handed out in the form of a fresh turkey and cheese sandwich. I was expecting nothing at all to be honest, so this was a pleasant surprise.

.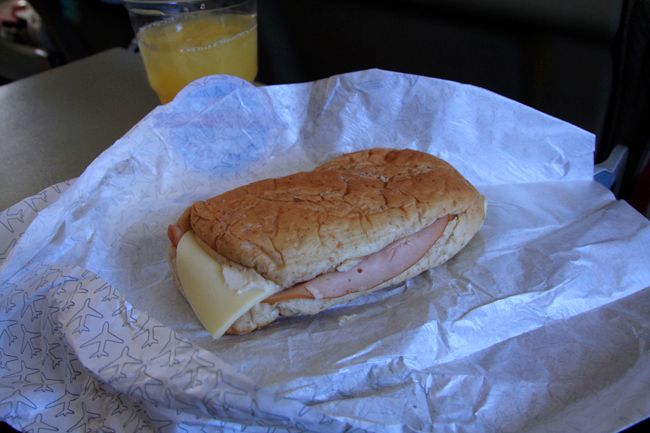 During this time, the flight deck came over the PA - although they only spoke in Portuguese so no idea what was being said. I'm assuming it was something to do with the fact we had started our descent.
We passed by quite a few of the sights in Rio before heading out over the sea and swinging around on to finals.

.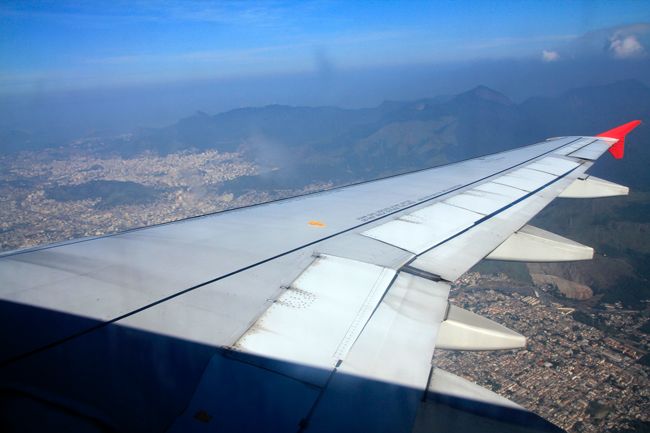 .


.


.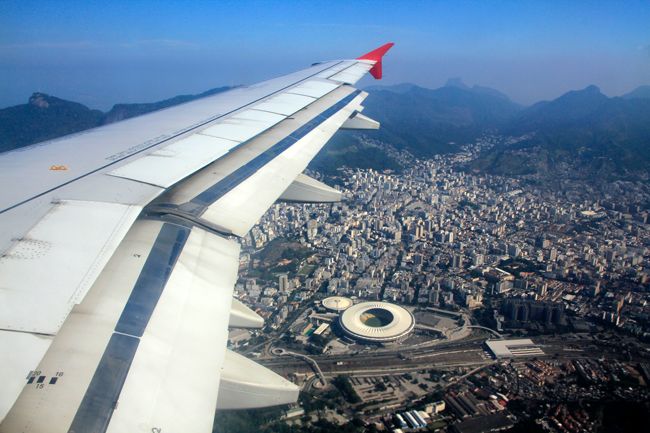 .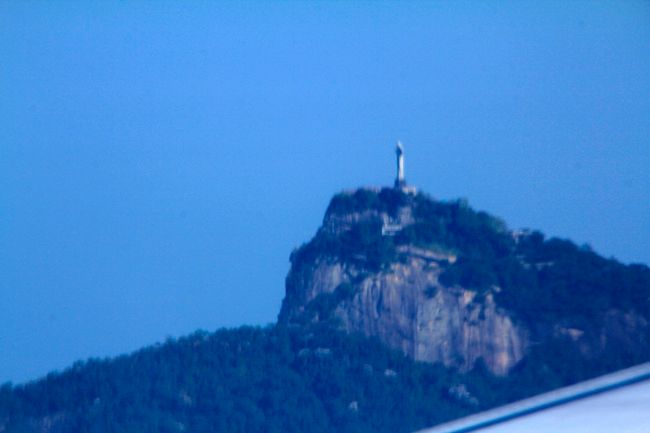 Being watched over by Christ the Redeemer.
It was a lot like flying into LCY but with a low altitude U turn thrown into the mix.

.


.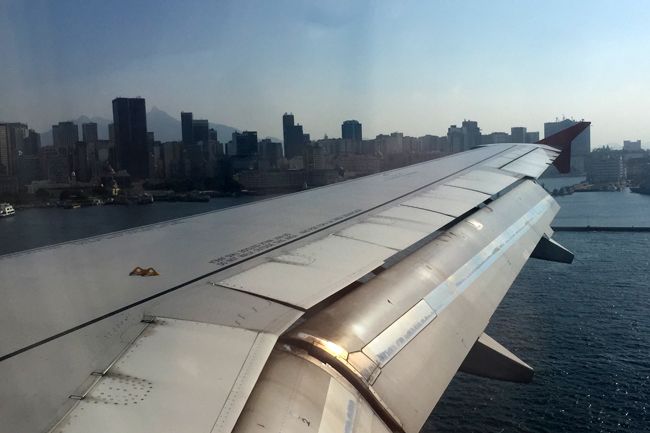 One thing to note was that the seatbelt sign wasn't turned on until very late in the proceedings. Well after the landing gear had gone down and probably around two minutes until touchdown.
We made a short taxi on to stand and then sat there with our engines running for a good minute or two before they were finally shut down. This didn't stop pretty much everybody grabbing their bags and heading for the door whilst the seat belt sign was still on though.

.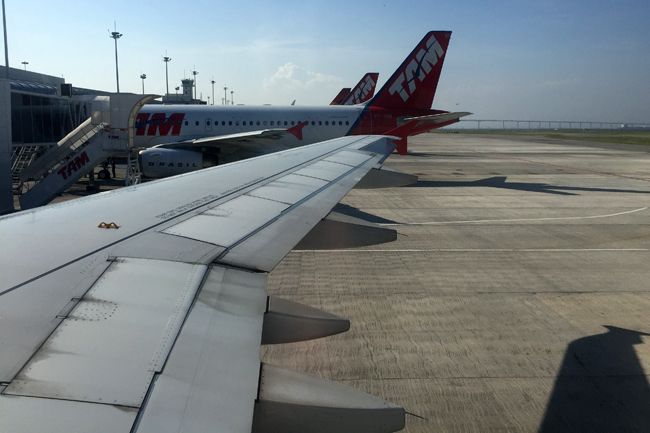 As we were on a remote stand it was on to a very slow bus to the terminal.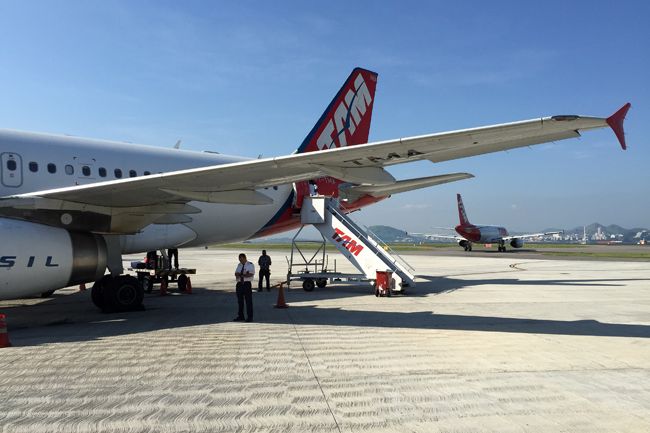 It was then over to baggage reclaim for our flight. After five minutes or so a ground worker muttered something in Portuguese and everybody headed over to another carousel. I followed suit and saw my bag going around the belt that had been put aside for the flight from Vitoria. I guess it was a case of just shoving the bags anywhere.
Never mind. It was then outside to find a way to the Copacabana area. A bus taking around twenty minutes did the job.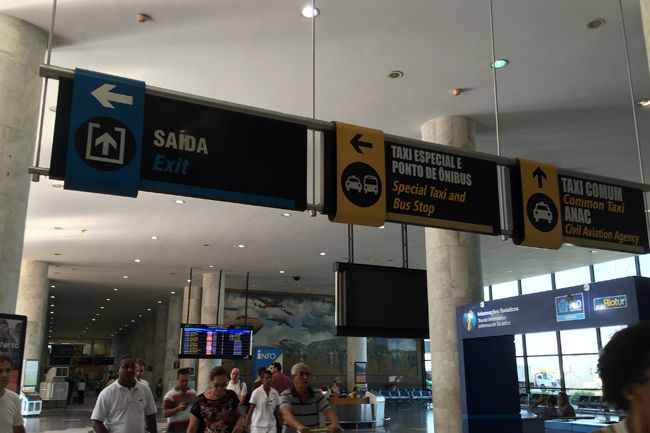 .

Once there, it was a short walk to my hotel, The Windsor Palace. Not bad, but I think calling it a Palace was a bit much, at least from external appearances.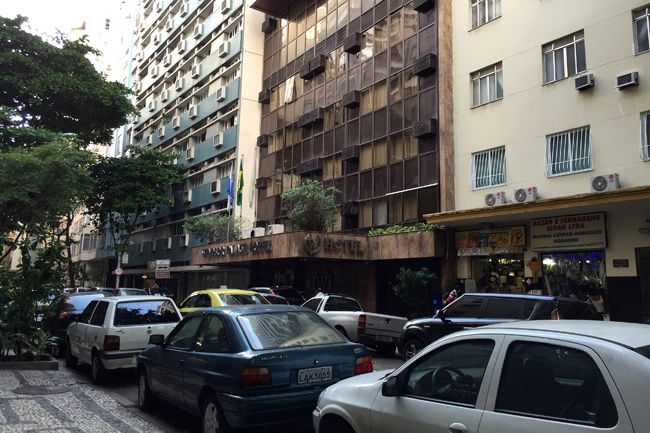 The room itself was decent enough though.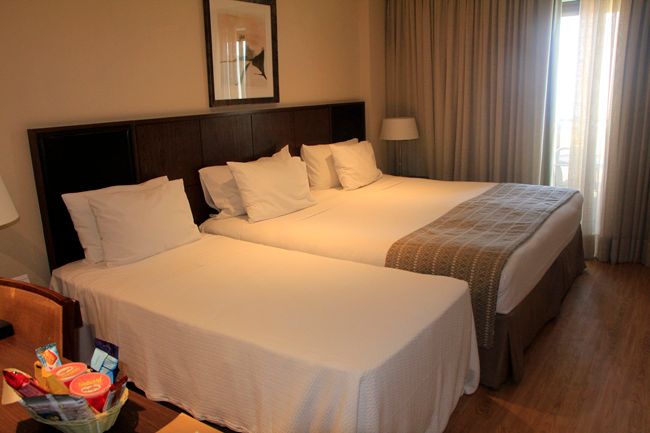 As was the view from my balcony.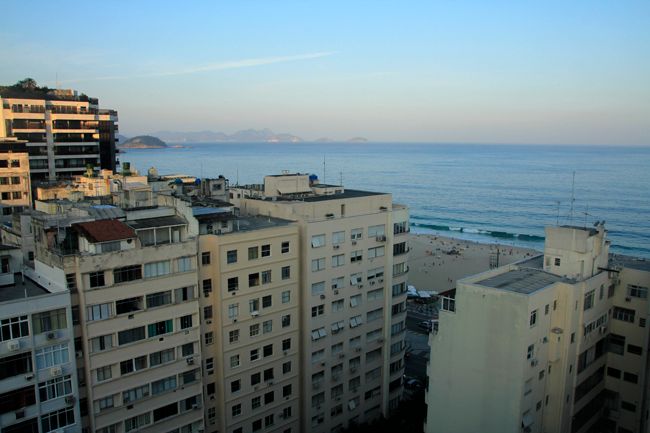 .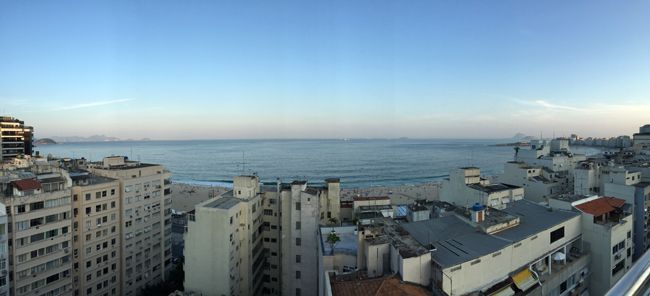 And with that, I'll bring this part to a close.
TAM
were a pleasant surprise. I was expecting a bit of a LCC experience - especially considering the price I paid. But it turns out I got a few frills for the price, including a free seat selection, checked bag and food and drink on board. Just a shame about the lack of a lounge but as they don't appear to offer a business product on flights out of Congonhas I guess theres not a huge incentive for them to offer one.
Look out for part three in the series featuring a few pics from my time in Rio, followed by my flight with Emirates to Argentina.
Previous trip reports
S.America 1: British Airways 744 In F To Brazil
(by
jwhite9185
May 25 2015 in Trip Reports)
SunAir & Air Baltic To Latvia. LCY-BLL-OSL-RIX-LGW
(by
jwhite9185
Apr 17 2015 in Trip Reports)
A Swiss Bargain: LGW-GVA-CPH-LHR In J/Y, Jan 15
(by
jwhite9185
Mar 28 2015 in Trip Reports)
Oh Canada! Upgrades W/BA, YUL W/AC And PD, Dec 14
(by
jwhite9185
Feb 27 2015 in Trip Reports)
Chasing Gold: BA LGW-MLA 734 / LHR-ZAG A319
(by
jwhite9185
Jan 23 2015 in Trip Reports)
#3: AA First, BA WTP. LAS-LAX-LHR, 738/A380
(by
jwhite9185
Dec 26 2014 in Trip Reports)
#2: Retro AA First Class: SXM-MIA-DFW-LAS Sep 14
(by
jwhite9185
Dec 13 2014 in Trip Reports)
#1: Speedbird 787 LHR-PHL, AA/US PHL-TPA-MIA-SXM
(by
jwhite9185
Nov 28 2014 in Trip Reports)
Belgium Jun.14: LCY-ANR-BRU-LHR WX F50, SN RJ100
(by
jwhite9185
Nov 13 2014 in Trip Reports)
Hello Daytrip. British Airways A319, LHR-DUB-LHR
(by
jwhite9185
Oct 30 2014 in Trip Reports)
Amsterdam A.net Meet With SI, BA And WX. May 2014
(by
jwhite9185
Oct 14 2014 in Trip Reports)
Oz 2014 9: The Finale. TK A320/BA 767 TXL-IST-LHR
(by
jwhite9185
Sep 27 2014 in Trip Reports)
Oz 2014 8: TXL Via BCN. QR J/AB Y SIN-DOH-BCN-TXL
(by
jwhite9185
Sep 14 2014 in Trip Reports)
Oz 2014 7: A Failed Attempt At CX First, HKG-SIN
(by
jwhite9185
Aug 29 2014 in Trip Reports)
Oz 2014 6: Back To Asia: VS A346 Upper Class SYD-HKG
(by
jwhite9185
Aug 1 2014 in Trip Reports)
Oz 2014 5: A Qantas Widebody To SYD. 763 BNE-SYD
(by
jwhite9185
Jul 22 2014 in Trip Reports)
Oz 2014 4: Oz Domestic, VA MEL-SYD-BNE 738/E190
(by
jwhite9185
Jul 7 2014 in Trip Reports)
Oz 2014 3: Heading Down Under With MH 737/A333
(by
jwhite9185
Jun 26 2014 in Trip Reports)
Oz 2014 2: Qatar Business BCN-DOH-SIN A333/77W
(by
jwhite9185
Jun 10 2014 in Trip Reports)
Oz 2014 1: Positioning LGW-BCN With EasyJet
(by
jwhite9185
May 26 2014 in Trip Reports)
Salzburg With BA In Club On The 737-400.March 2014
(by
jwhite9185
May 11 2014 in Trip Reports)
The Red Nosed Way To Faro. LGW-OSL-FAO-LGW DY/BA
(by
jwhite9185
Apr 28 2014 in Trip Reports)
New Year, New AA: LHR-ORD-BOS-JFK-LHR 772/738/77W
(by
jwhite9185
Apr 1 2014 in Trip Reports)
To Fly, To Serve: BA LGW-VCE-LCY 737/E170 Dec.13
(by
jwhite9185
Mar 22 2014 in Trip Reports)
Alicante With BA In J: LHR-ALC-LGW A319/734 Nov.13
(by
jwhite9185
Mar 16 2014 in Trip Reports)
The EZY Way To Catch A LAN 787 LGW-MAD-FRA-ARN-LHR
(by
jwhite9185
Feb 21 2014 in Trip Reports)
Trains, Planes And… Boats? ZRH A.net Meet
(by
jwhite9185
Feb 5 2014 in Trip Reports)
Asia 4: Heading Home On An A380 KUL-LHR
(by
jwhite9185
Jan 20 2014 in Trip Reports)
Asia 3: JAL 767 To Kuala Lumpur NRT-KUL
(by
jwhite9185
Jan 10 2014 in Trip Reports)
Asia 2:Catching A Cathay Pacific 747 To Tokyo In F
(by
jwhite9185
Dec 22 2013 in Trip Reports)
Asia 1: A Journey Of Epic Proportions LHR-KUL-HKG
(by
jwhite9185
Dec 8 2013 in Trip Reports)
Comparing The Competition Again: VS/BA LHR-ABZ-LHR
(by
jwhite9185
Nov 24 2013 in Trip Reports)
Across The UK With Flybe SOU-EDI-MAN-SOU E195/Q400
(by
jwhite9185
Nov 5 2013 in Trip Reports)
An Impulse Buy To Catch BA's 787 In C LHR-ARN-LHR
(by
jwhite9185
Oct 18 2013 in Trip Reports)
BA,The DB, AB And A Bit Of DAT LHR-STR-NUE-DUS-STR
(by
jwhite9185
Oct 6 2013 in Trip Reports)
Jettime To Scandinavia: LHR-CPH-BHX 733/SAS CR9
(by
jwhite9185
Sep 28 2013 in Trip Reports)
Arabia & Thailand 2013 5: Catching A Whale To LHR
(by
jwhite9185
Sep 3 2013 in Trip Reports)
Arabia & Thailand 2013 4:Back To DXB With Oman Air
(by
jwhite9185
Aug 20 2013 in Trip Reports)
Arabia & Thailand 2013 3: BKK-DXB-MCT With EK/WY
(by
jwhite9185
Aug 6 2013 in Trip Reports)
Arabia & Thailand 2013 2: Two TG Classic's To HKT
(by
jwhite9185
Jul 20 2013 in Trip Reports)
Arabia & Thailand 2013 1: LHR-DXB-BKK EK A380/77W
(by
jwhite9185
Jul 9 2013 in Trip Reports)
USA 2013 Pt 5: AA & BA's New WTP MCO-MIA-ATL-LHR
(by
jwhite9185
Jun 25 2013 in Trip Reports)
USA 2013 Pt 4: Heading South On A Mad Dog ORD-MCO
(by
jwhite9185
Jun 13 2013 in Trip Reports)
USA 2013 Pt 3: Almost A Disaster With AA DCA-ORD
(by
jwhite9185
May 29 2013 in Trip Reports)
USA 2013 Pt 2: BA A320/744 WTP CDG-LHR-IAD
(by
jwhite9185
May 14 2013 in Trip Reports)
USA 2013 Pt 1: The Beginning BA LHR-ORY
(by
jwhite9185
Apr 20 2013 in Trip Reports)
Comparing The Competition: BA/VS Inaugural MAN-LHR
(by
jwhite9185
Mar 31 2013 in Trip Reports)
Taking TAP To Portugal: LGW-OPO-LIS-LHR Feb. 2013
(by
jwhite9185
Mar 10 2013 in Trip Reports)
Poland On The Dream)liner - LOT LHR-WAW-LHR In C/Y
(by
jwhite9185
Jan 1 2013 in Trip Reports)
A Speedbird & Titan 767 – LHR-LCA-LHR In C…ish
(by
jwhite9185
Feb 1 2013 in Trip Reports)
British Airways LGW-AGP-LCY 737/E190 Nov. 2012
(by
jwhite9185
Dec 1 2012 in Trip Reports)
Part 2: 5 Flights 3 Airlines MXP-ZRH-DUS-LHR LX/LH
(by
jwhite9185
Nov 14 2012 in Trip Reports)
Part 1: 5 Flights 3 Airlines LHR-BRU-MXP In Theory
(by
jwhite9185
Oct 29 2012 in Trip Reports)
Cancellations, Widebodies And Iberia LHR-MAD-LHR
(by
jwhite9185
Oct 17 2012 in Trip Reports)
Virgin Atlantic's New A330 LHR-JFK-LHR
(by
jwhite9185
Sep 21 2012 in Trip Reports)
A Night In Amsterdam - KLM F70/738 LHR-AMS-LHR
(by
jwhite9185
Aug 28 2012 in Trip Reports)
Trying Out Flybe - LGW-BHD-GLA-BHD-LGW
(by
jwhite9185
Jul 11 2012 in Trip Reports)
A Day Trip To MAN
(by
jwhite9185
Jun 21 2012 in Trip Reports)
Nice, Monaco And The Great British Lounge With BMI
(by
jwhite9185
May 13 2012 in Trip Reports)
EI237/182 LGW-DUB-LHR And 2 Lounges
(by
jwhite9185
Apr 18 2012 in Trip Reports)
LGW-FRA-BRU-LHR With LH And SN
(by
jwhite9185
Mar 27 2012 in Trip Reports)
BA906/8735 LHR-FRA-LCY
(by
jwhite9185
Mar 13 2012 in Trip Reports)
VS015/016 LGW-MCO-LGW June 2010
(by
jwhite9185
Jan 20 2012 in Trip Reports)
VS006 MIA-LHR A340-642 June 2008
(by
jwhite9185
Feb 10 2012 in Trip Reports)
Virgin Atlantic 747 To BGI - October 2007
(by
jwhite9185
Aug 3 2012 in Trip Reports)