Introduction: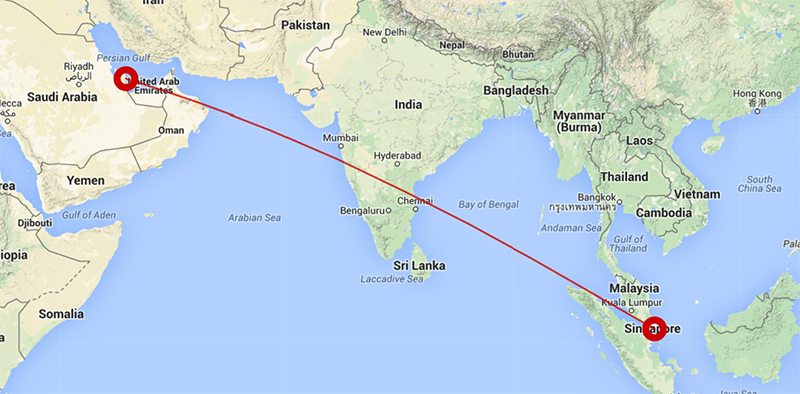 Europe is a dream destination for many and not without good reason. The architectural consistency, abundant street-side cafes, cleanliness, and cultural history are nearly impossible to beat. On perhaps a more subconscious level, the region also falls within the comfort zone of many Westerners. The history is easy to comprehend, English is fairly universal, you've heard your friends brag about their Euro adventures, and there are low chances of some coup or uprising breaking out.
But what's the fun in life if you don't push yourself to do things you aren't completely at ease with? That's what traveling is really all about, right? After spending 11 days of sightseeing and heavy drinking in a few iconic European cities, it was time to take the trip in another direction. The timing was perfect, as my travel mates were just beginning to annoy me. Southeast Asia was up next with a fresh group of friends, and I was ready to see what the whole "backpacking" experience was all about. First up was Singapore, followed by Bangkok, then Laos, and concluding with Myanmar. We made sure to increase the unfamiliarity a few notches as the trip progressed.
Having only traveled with Emirates many years ago, my personal exposure to the Middle Eastern carriers (or "ME3" as some people like to call them) has been fairly limited. This was the perfect chance to expand my horizons, and the constant bickering over these Middle Eastern carriers only fueled my curiosity. This time, my sights were on Qatar Airways or Etihad. I couldn't make EY work, so it looked like I was stuck with QR. Poor me.
The QR website belonged in 2005. The interface was somewhat archaic, and there was an inability to modify your seat selection after originally picking a seat. The website did have online check-in, making the website's functionality sufficient enough, but certainly not top notch.
Transit via Hamad International (DOH):
I had flown into DOH nonstop from TXL on a QR A330-200, and walked into the airport terminal in a phenomenal mood after a very enjoyable flight.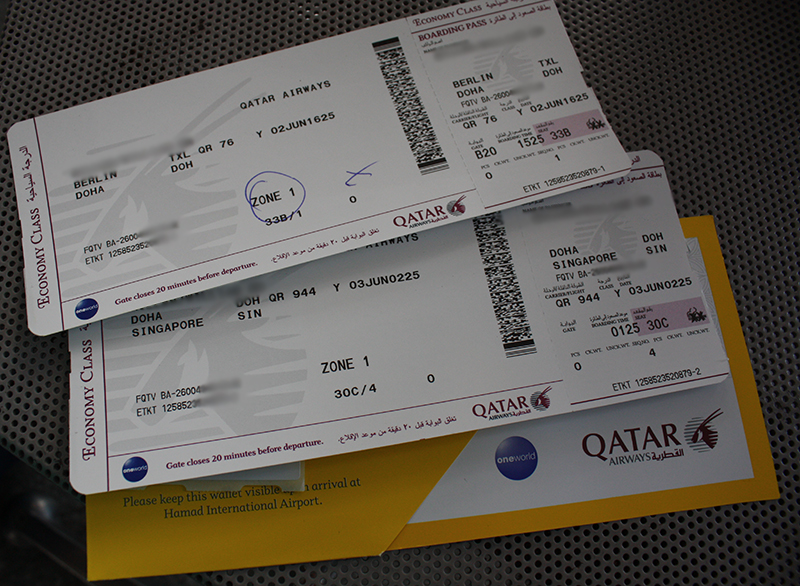 All transit passengers traveling through DOH are required to re-clear security before entering the airside area of the airport. The security process was efficiently executed, taking no more than five minutes.
I have traveled through HKG, ICN, DXB, SIN, AMS, YVR, etc. you get the picture, but I think Hamad International takes the cake. We are all aware of Qatar's balance sheet and possibly immoral spending habits, but there was more to this airport than just another infrastructure project with $,$$$,$$$,$$$ thrown at it. There was an immaculate attention to detail with all aspects of the airport like nothing I had seen before. I was greatly impressed by the airport's architecture, interior design (although I didn't get the giant teddy bear), layout, duty free offering, and restaurant choices. I explored the airport in search of some sort of fault, but came out empty handed. If you find anything, please let me know.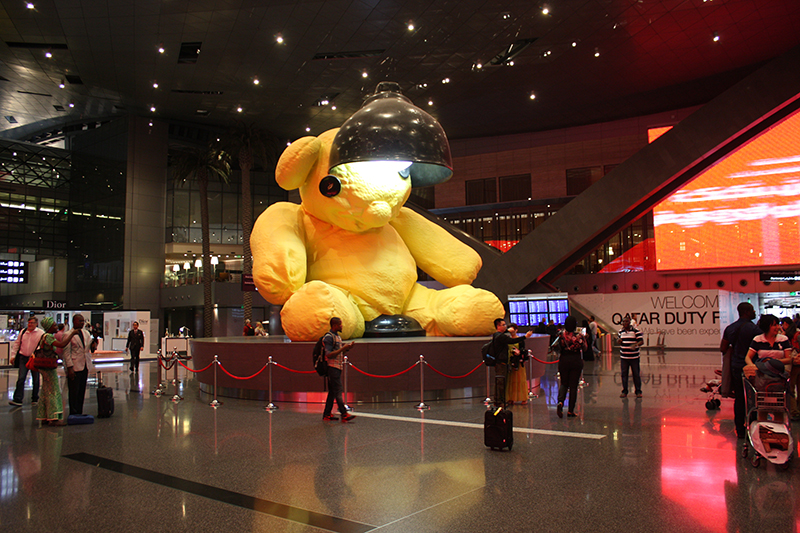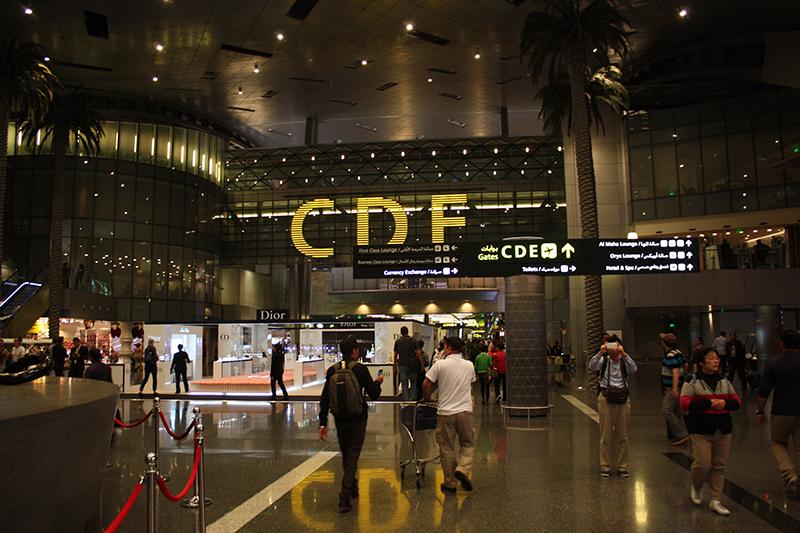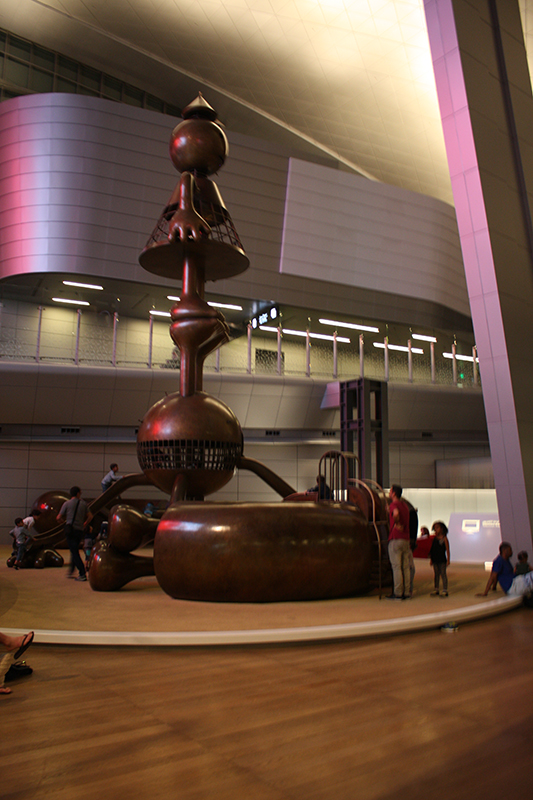 The attention to detail didn't end with the airport's physical attributes. I must have looked lost while standing in the middle of the concourse near the giant bear, and an airport staff member approached me unsolicited and kindly asked if I needed any directional assistance.
In fact, the effort among airport staff may have even been a little too extreme. I dined at the Qataf restaurant, where the server insisted on beginning and ending each conversation with "sir." "Sir what would you like to eat? Thank you sir." "Sir, here is your check. Thank you for coming, sir." It almost appeared as though he was being watched by a superior behind a one-way mirror, or maybe I've just been reading this forum too much.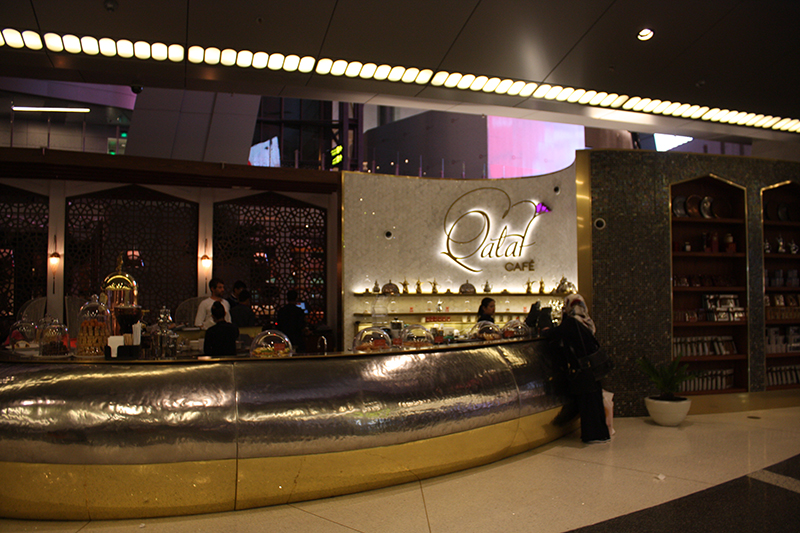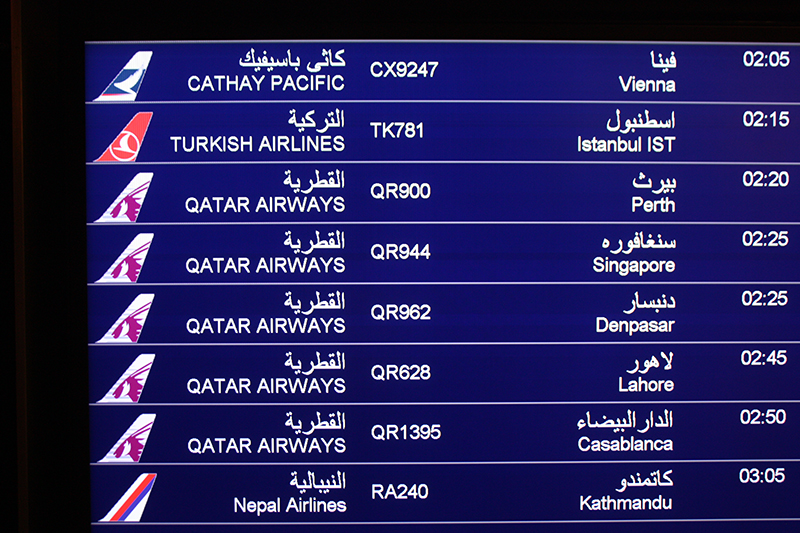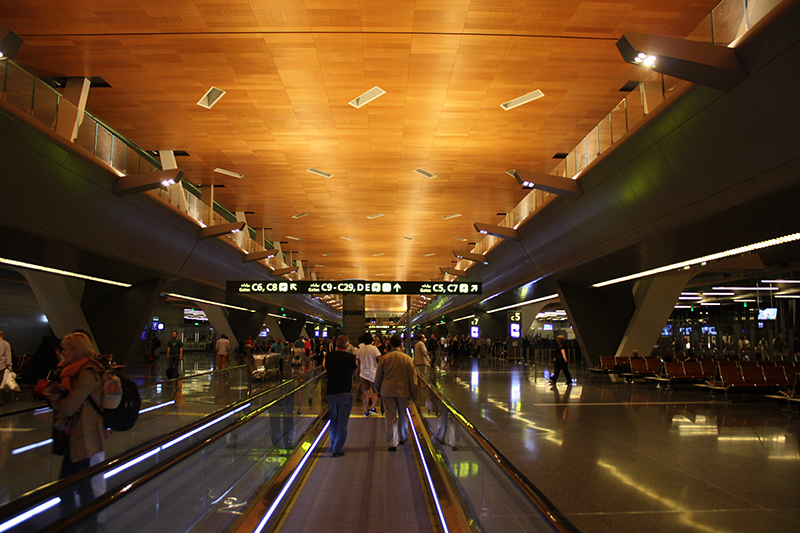 Alright, even the best airport has its fault. As I followed signs towards the allotted gate for my flight to SIN, my stomach clenched as I descended a set of stairs towards the ground floor of the airport. The bottom floor of an airport can only mean one thing: bus gate. One of my mortal enemies. How could that be? $17 billion spent on an airport and flights are still utilizing hard stands? I guess something had to give to build the teddy bear.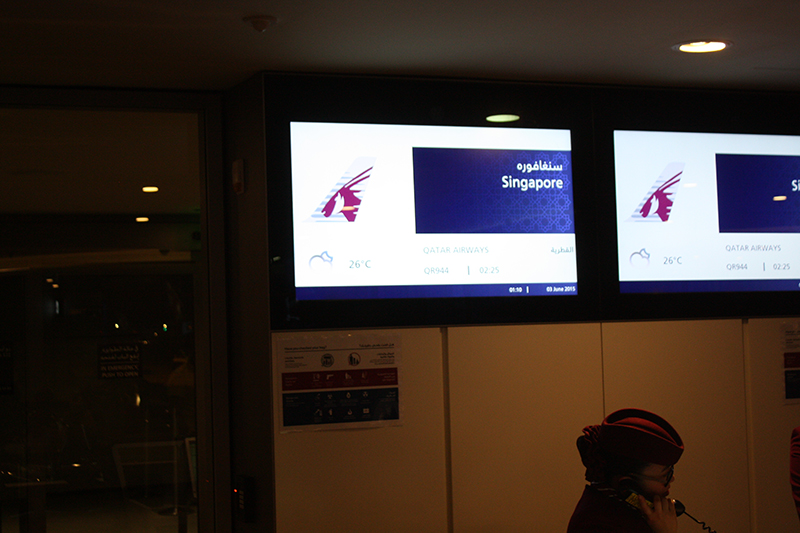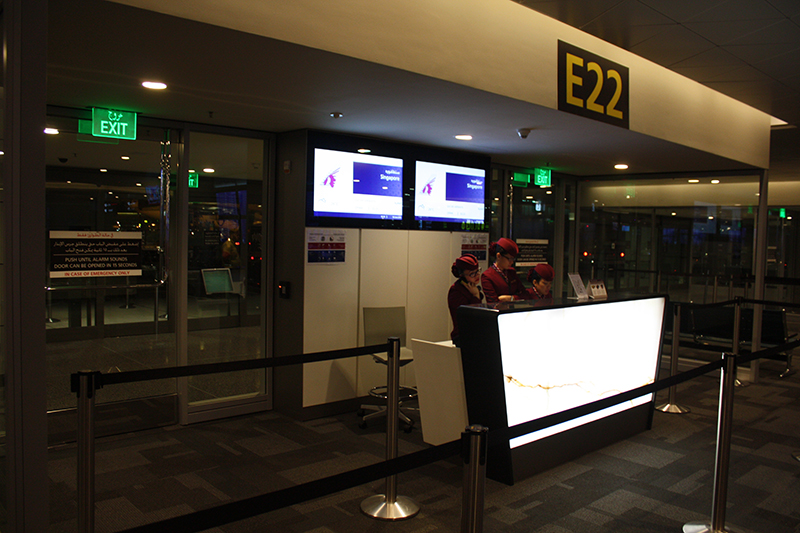 I approached a gate agent to ask about switching to the bulkhead row of the aircraft. She mentioned the row was full, but gave me several other seating options. After deciding to remain with my original seat, she mentioned that I would easily be able to pick a seat of my choice after takeoff, since the flight was fairly empty.
Boarding began on-time at about 1 hr before the scheduled departure time. I approached the agent, to which she replied, "Have a good flight, Mr. ***," as she scanned my boarding pass with a smile.
Onto the bus I went!
Qatar Airways flight QR 944:
Date:
3 June 2015
Airline:
Qatar Airways
Flight:
QR 944
Aircraft:
Boeing 787-8
Aircraft Reg:
A7-BCR
Departure City:
Doha, Qatar
Departure Airport:
Hamad International Airport (DOH / OTHH)
Arrival City:
Singapore, Singapore
Arrival Airport:
Singapore Changi Airport (SIN / WSSS)
Scheduled Departure Time:
2:25 AM
Actual Departure Time:
2:17 AM (departed gate 8 minutes early)
Scheduled Arrival Time:
3:15 PM
Actual Arrival Time:
3:19 PM (arrived gate 4 minutes late)
Class:
Economy
Estimated Load Factor:
40%
Despite my personal unpleasant experiences with bus gates, I'll confess of two benefits associated with them. First, you given a free tour of the ramp. Second, you have the opportunity to board an aircraft via airstairs. That isn't too interesting for a puddle jumper, but climbing the stairs to a widebody aircraft is a unique experience that rarely happens in the United States. Being my first 787 flight, the bus gate may have really been a blessing.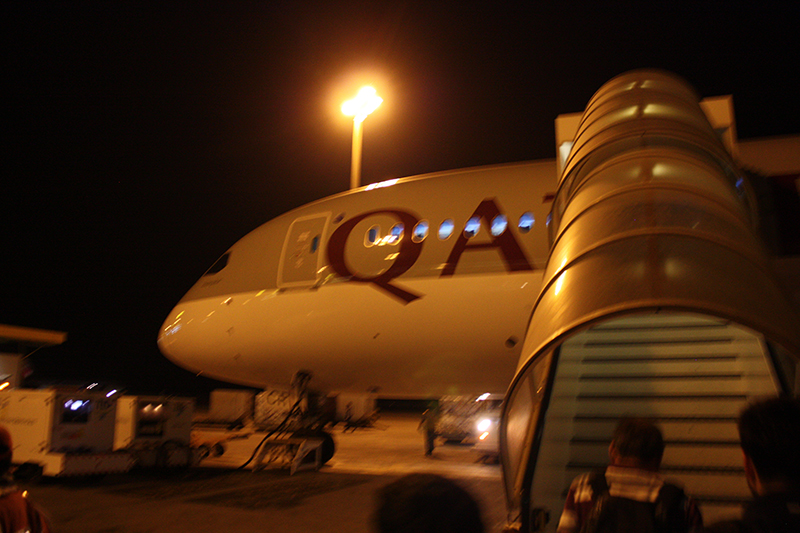 I was welcomed aboard by a smiling flight attendant, who directed me to my seat. Each passing cabin crew member extended a friendly welcome aboard as I walked towards my row. This aircraft felt brand new, and that feeling was not inaccurate. Delivered in November 2014, this aircraft was not even a year old.
Having skimmed a few online reviews of QR's 787 economy class seating, I was prepared for a flight from h*ll. According to some, QR's 787 was one of the most uncomfortable and cramped aircraft they had flown. I can confirm that the legroom is limited, but the seat itself was ergonomically well-designed like most Recaro seats. There was no back / neck discomfort, which I typically experience in most economy class seats. With that said, my flight was only about 40% full. Overall though, I thought the online comments were a little dramatic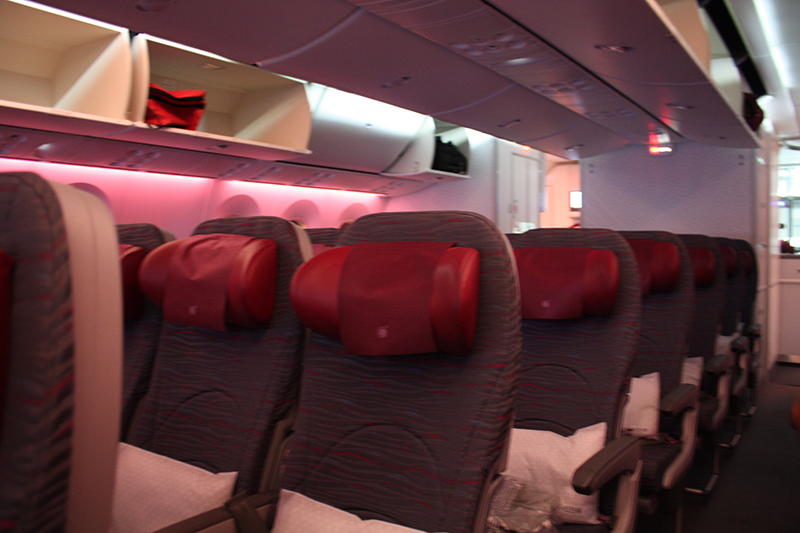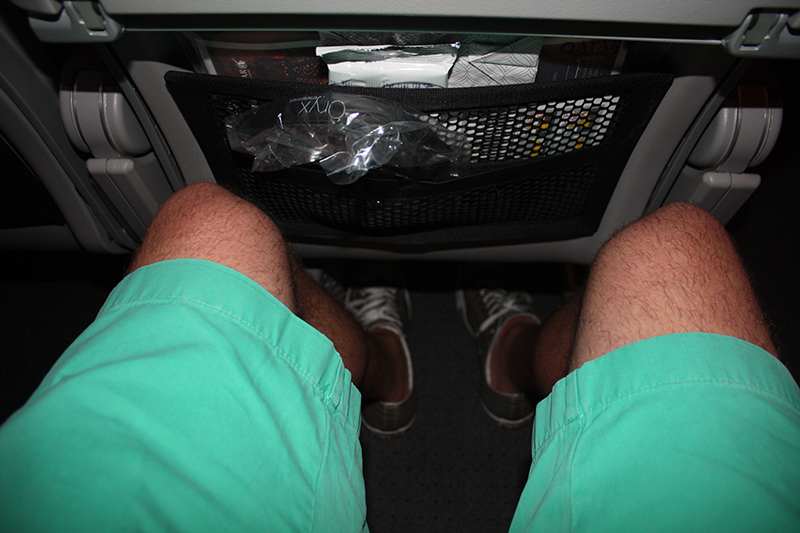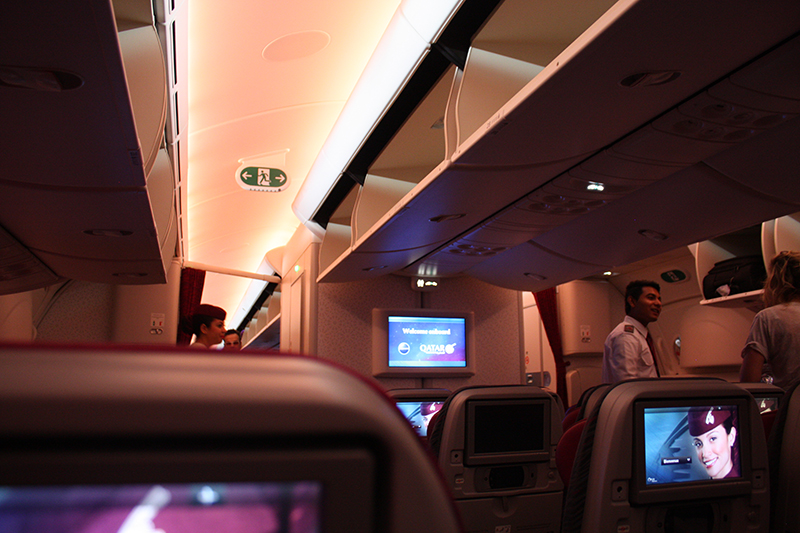 Amenity kits were placed in each seat before passengers boarded the aircraft, consisting of an eye shield, slippers, socks, and a toothbrush with toothpaste. Moist cleansing towels were handed out to passengers after the doors had closed. I promptly moved to a center row where there were three open seats available to sprawl across. Things were off to a terrible start.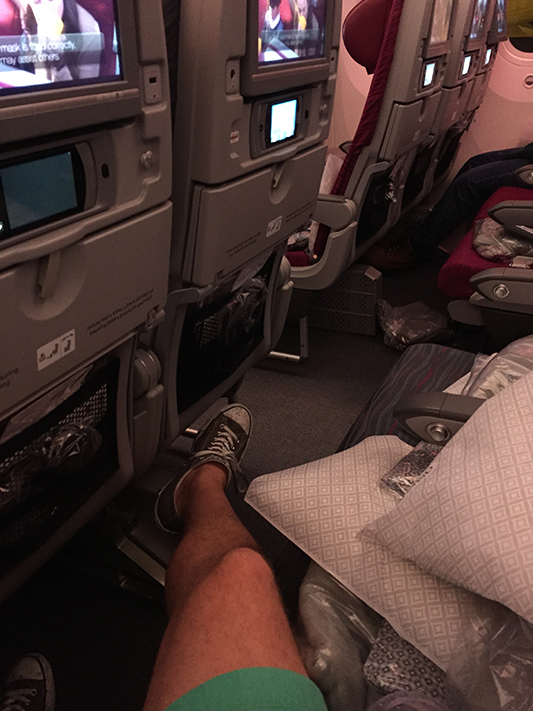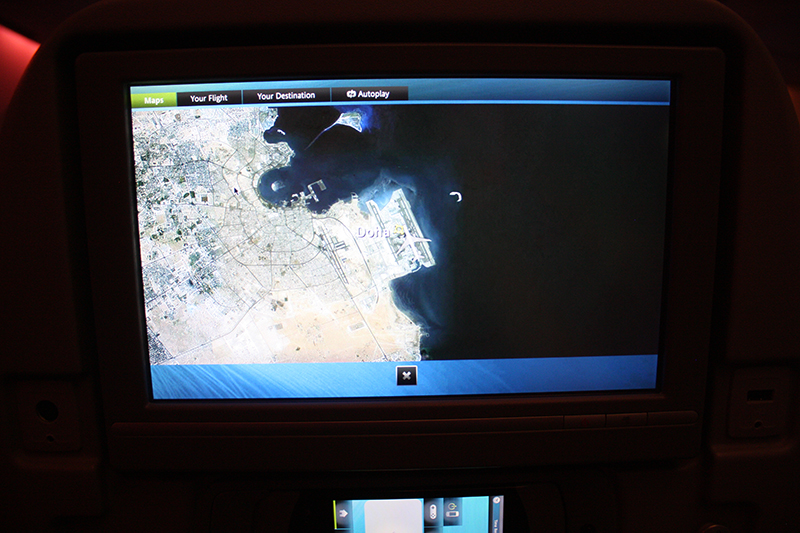 The captain welcomed us aboard with a clear and detailed announcement about our flight today, and thanked us for flying Qatar Airways. Boarding was completed very early, and we pushed back from the stand 8 minutes early.
The 787 engine start sounded rather unusual compared to other aircraft, with somewhat of an "electric" sound.
After takeoff, the cabin crew promptly served snack boxes. I unfortunately did not retain the menu and cannot recall precisely what was served, but it was similar to a warm wrap with chicken or lamb inside. It was tasty and unique. A full drink service was conducted with the meal service, and QR cut no corners with their drink offerings. Along with a liberal choice of liquor, there were multiple wine options. A French wine was recommended to me, and it did not disappoint. Qatar Airways alcohol policy: read the alcohol laws governing most Qatari citizens and do the exact opposite. No complaints from me!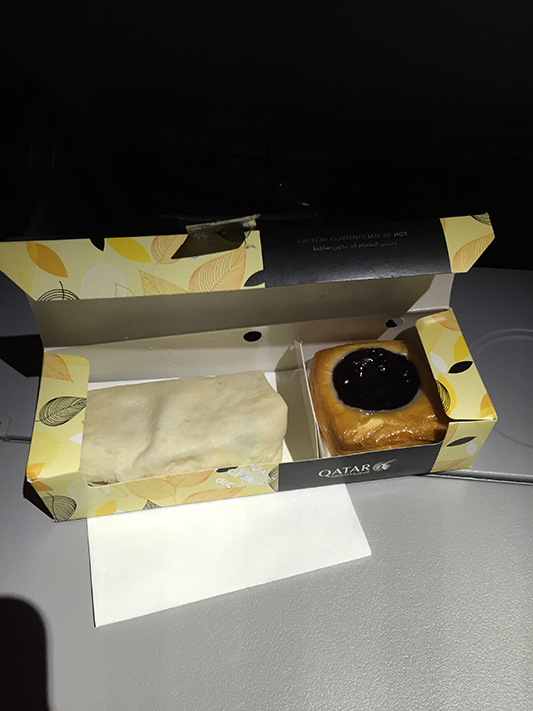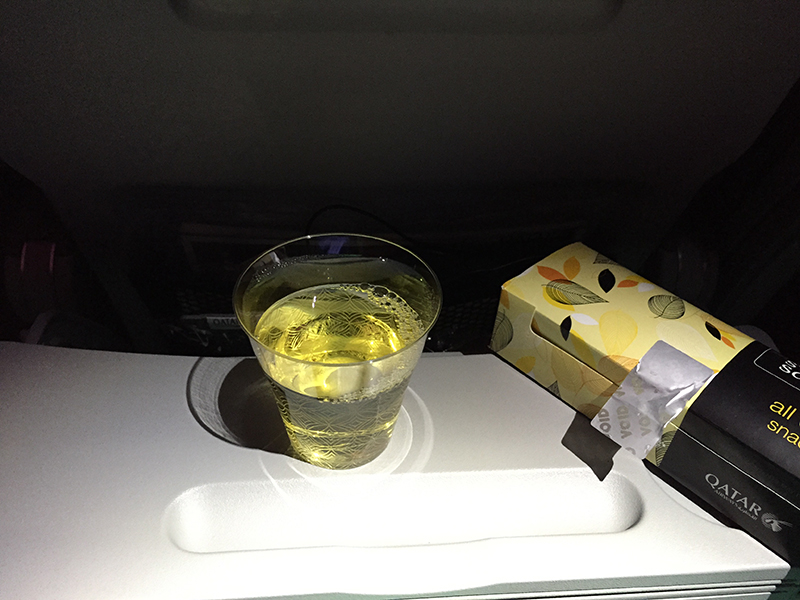 I popped a Nyquil with my drink, and dozed off across the middle row of seats for a few hours.

I eventually awoke with a few hours remaining. As the effects of the Nyquil continued to linger, I had an internal debate about whether I was a bad person for taking a Qatar Airways flight. Was I effectively supporting whatever evil deeds people have accused the country and airline of? I couldn't really reach a conclusion, but I think it is asking a lot from consumers to only make purchases from perfectly-behaving organizations. Do those even exist? I think corruption and immorality exist in nearly every corporation and government, but where do you draw the line? Is buying an iPhone really better than boarding a QR flight? Tough call, and it's probably something you could debate about for days on end. Then I remembered I was traveling on an award ticket. If anything, I was actually sucking away resources from Qatar Airways, making my internal struggle somewhat pointless.

Moving on, I thought QR's IFE system, Oryx, was top notch with plenty of options for a long flight. I particularly enjoyed the HD IFE screen, however, the system did freeze up a bit from time to time.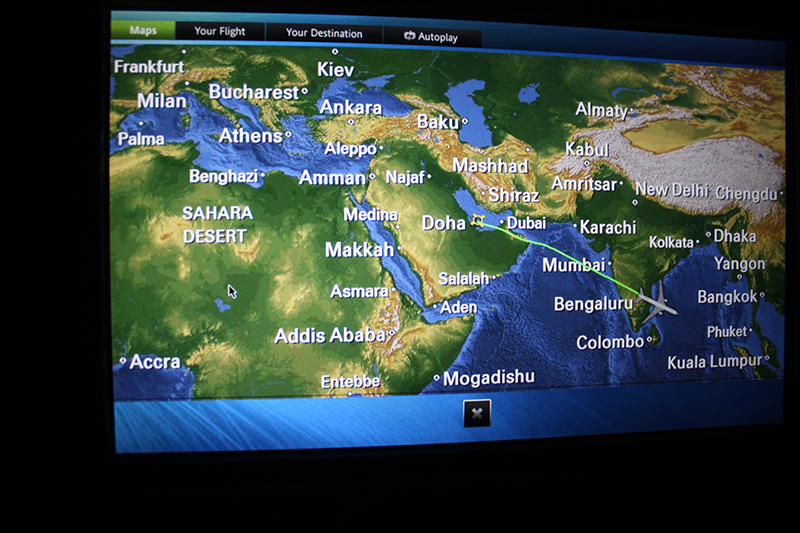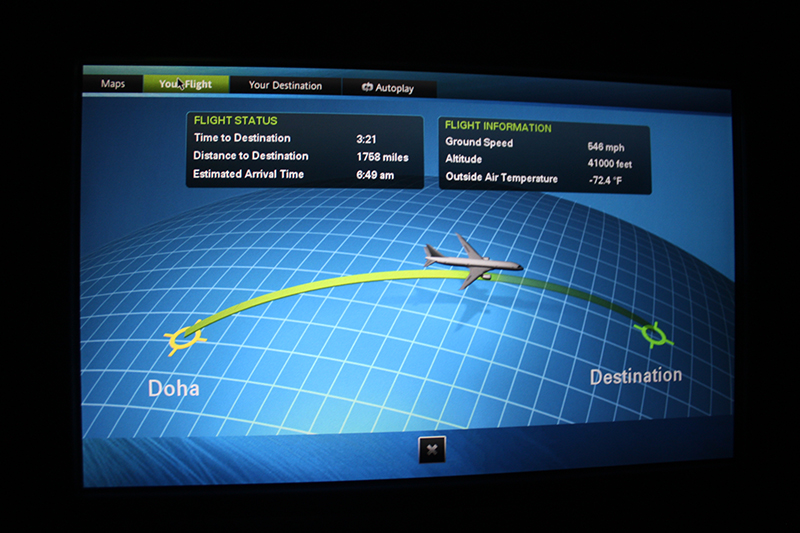 QR cabin crew seemed to offer the best of both Asian and Western standards. Perhaps some of the best-groomed cabin crew I've seen, they embraced the professionalism and high service standards of any Eastern Asian carrier such as SQ or CX. However, my QR crew seemed to be genuinely enjoying their jobs. While you may sometimes feel like an unwanted pariah in an aircraft galley, I was pleasantly surprised to be greeted with a smile and asked if I needed anything as I traversed into the cabin crew lair on this flight. These crew members appeared well-trained and well-rehearsed with passenger interactions, but also managed to conduct themselves in a natural and relaxed manner.

Of the three options for the main meal service, I chose the chicken. While it wasn't quite as good as the main meal on my TXL-DOH flight, it still ranked among the better Y class meals I've had. However, I am unsure why plastic utensils were used on this flight, while metal utensils were used on my TXL-DOH flight.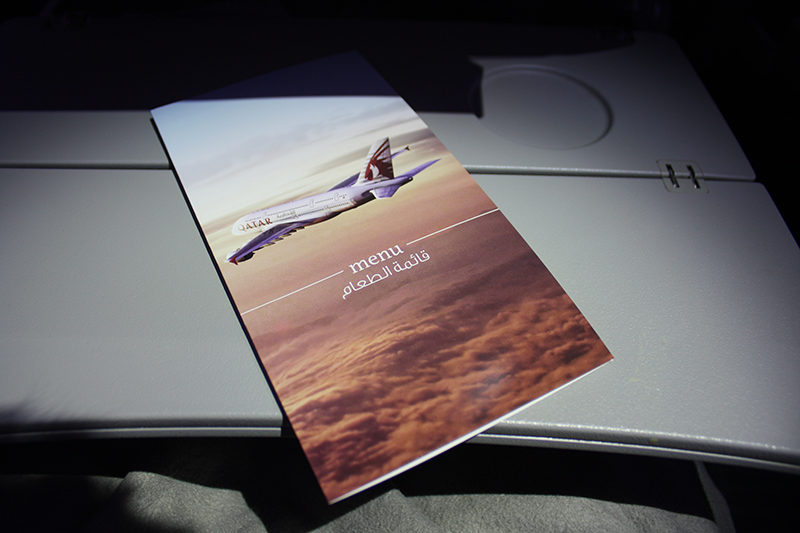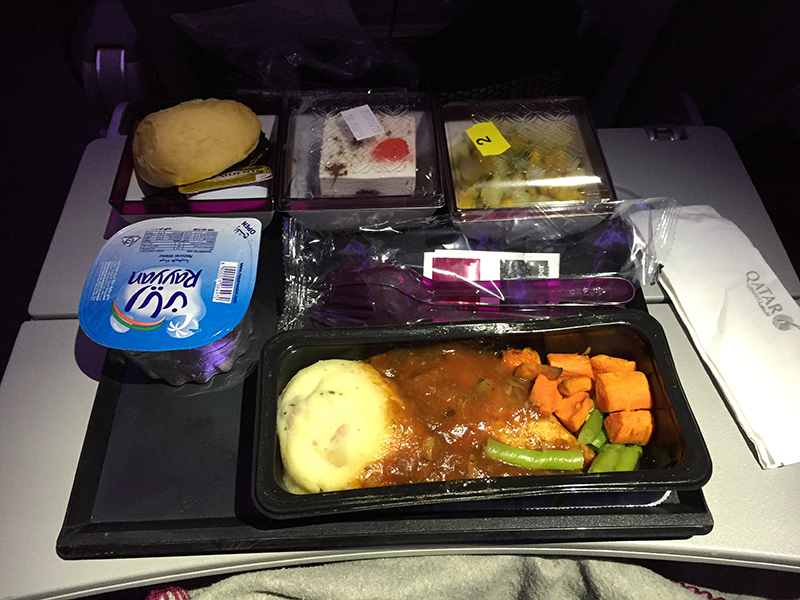 It was time to load up on caffeine.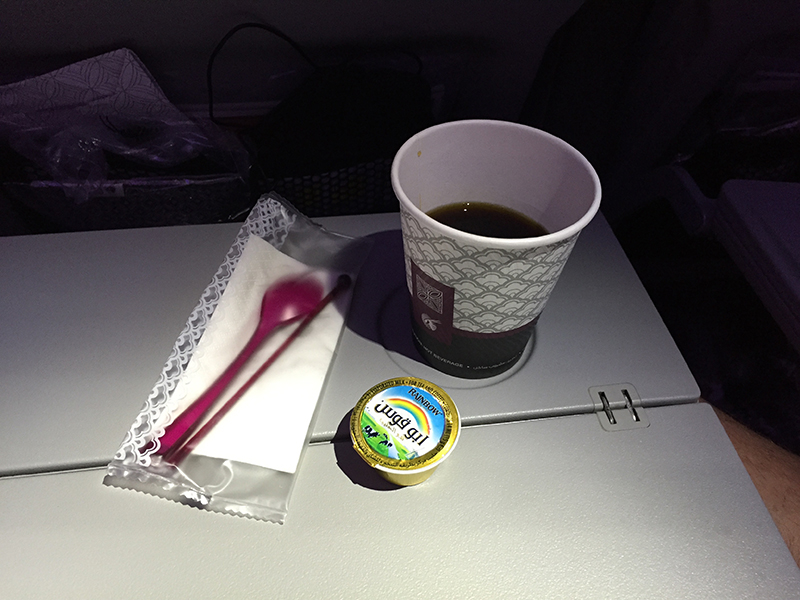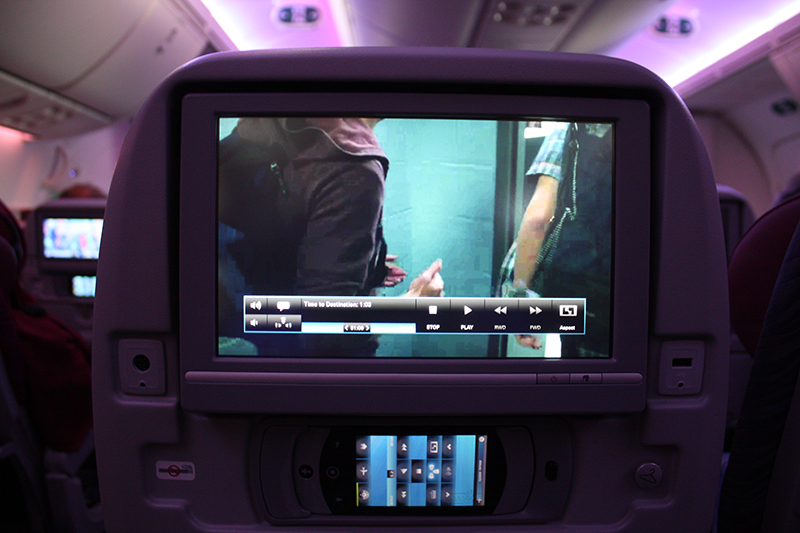 Decent into SIN was slightly odd, as we appeared to enter a holding pattern or two. We touched down smoothly on runway 2R, arriving a few minutes late despite departing DOH early.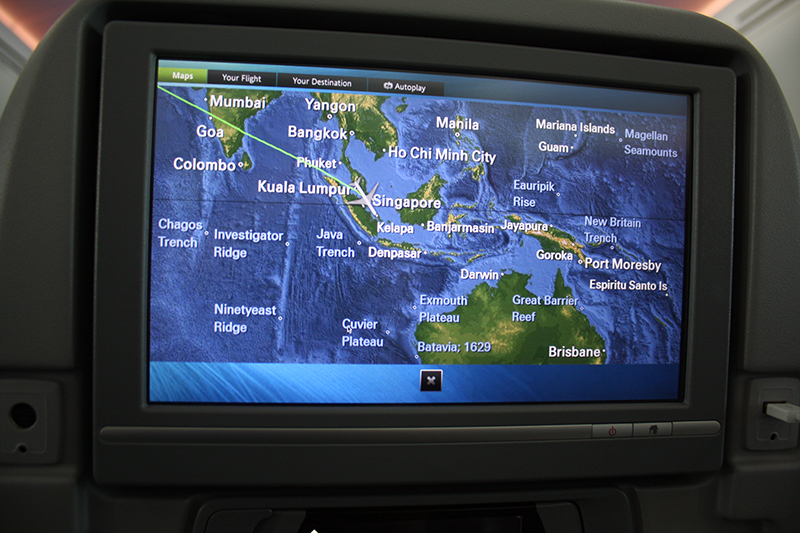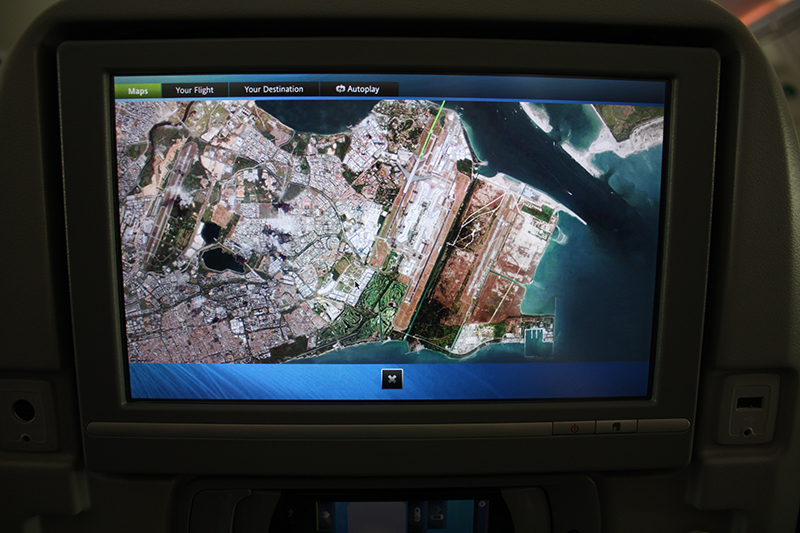 Disembarkation went smoothly, and I was curbside within 20 minutes of arriving at the gate. As expected, SIN was a pleasant airport experience. I appreciated the interactive survey touch screens throughout the airport that allow travelers to give real time feedback.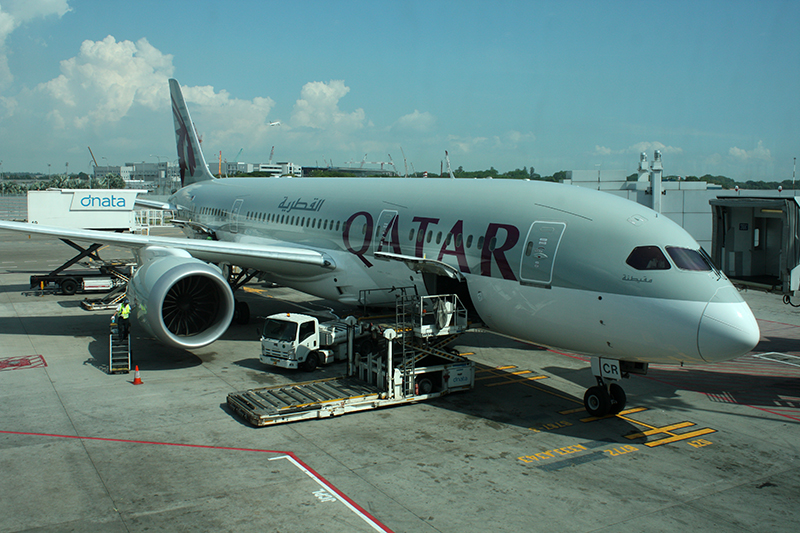 Conclusion:



Attention to detail seemed to be the Qatar Airways mantra on my journey. The airline left no stone unturned with the airport experience, its hard product, or its soft product. There was a clear commitment towards providing a top-notch travel experience from start to finish. This airline has helped increase the international standard, especially since the opening of Hamad International Airport. But was everything 100% faultless? Certainly not. The website could have been better and I would have enjoyed more legroom. With that said, this flight was my most pleasant long-haul economy class experience to date, and I will make an effort and pay a premium to fly with Qatar Airways again.

In addition to this being my first Qatar Airways flight, this was also my first Dreamliner experience. It felt more modern than any other aircraft I've flown, largely as a result of the large windows with automated window tint and mood lighting. The 3-3-3 configuration was not ideal, but I did not feel it was much different than a 3-4-3 configuration on a 777. Overall, it did not disappoint, and I will have a hard time choosing between the 787 and A380 for future flights.