The MAD Quad to LHR (BCN-MAD-LHR)
Hola Amigos!
Welcome to this report depicting my recent adventure on board IB A340 from Madrid to Heathrow.
The IB A340 flight between Madrid and London Heathrow is well known amongst us a.nutters, and it has been covered a few times, but it is always good to hear different stories.
Right, this trip came about a few months ago, I was talking to a friend of mine in the UK and he told me he had some BA points left that he wanted to get rid of since he only flies star alliance, I suggested we could take the IB A340 flight together since I was looking at doing it, he said it would be a good idea, and would also mean we could catch up after 5 years.
We agreed on a date that worked for both of us, and off I went to search for fares, at the beginning they were quoting 120€ which I thought was reasonable, a few days later, when I decided to book, it had suddenly shot up to 180€. Scratching my chin I did a bit of tinkering and for some strange reason if I booked this flight as a multi-city the price would then be 86€, but when I clicked the Buy Now button a ¨we are sorry but we cannot find a fare for your selection¨ kept coming up. I tried again and again with no luck, there was no way I was gonna pay 180€ for this flight, so I was about to give up…
But I didn´t… the following day, I tried again, the same 86€ fare came up, clicked book now, and voila! I was taken to the payment page, RESULT!
Booking was completed on the IB website, and the total fare was 96€ after the 10€ I paid to select a seat on the MAD-LHR sector (strangely seat selection for theBCN-MAD leg was free)
For the return home, I booked a one way LGW-BCN on VY
So the itinerary ended up like this:
-BCN-MAD IB2731 A321
-MAD-LHR IB3164 A343
-LGW-BCN VY7825 A320 (not covered on this TR)
On the day of departure, I left the office early (only had to work 2 hours hehe) and made my way to Plaça Espanya to catch the Aerobus to T1, the journey was uneventful and arrived in around 20 minutes.
I cleared security in no time and went to the restaurant area to get something to eat, followed by a quick stroll to see what was going on.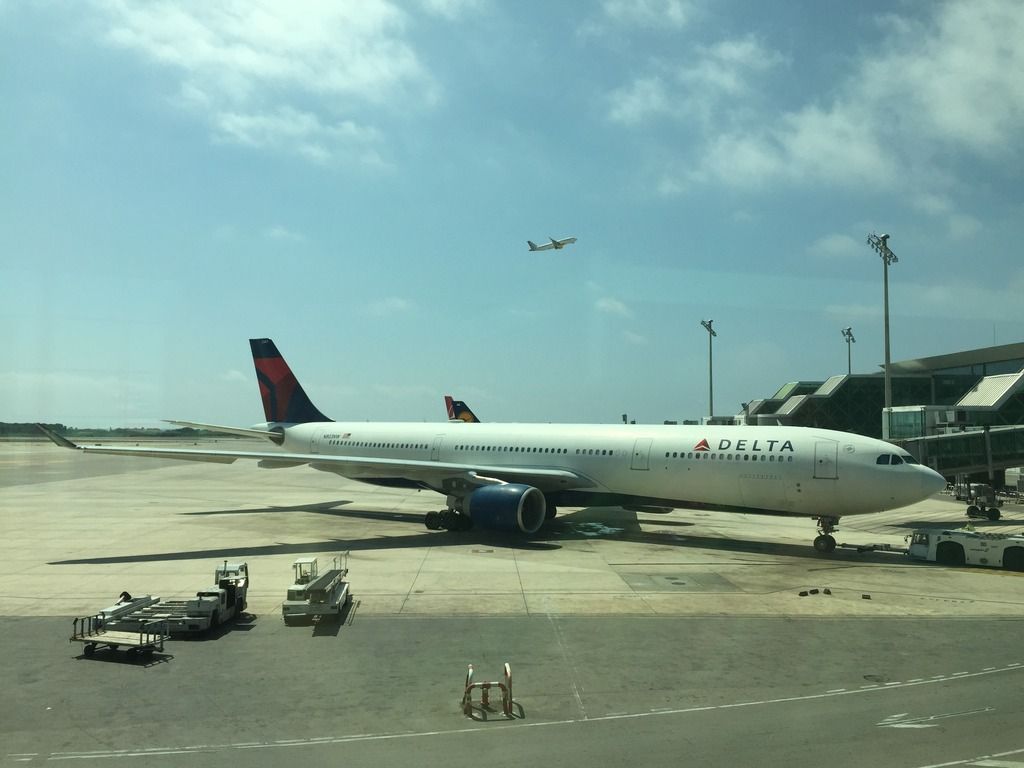 DL A330 about to push back for her flight back to ¨Murica! (a VY A320 whizzes overhead)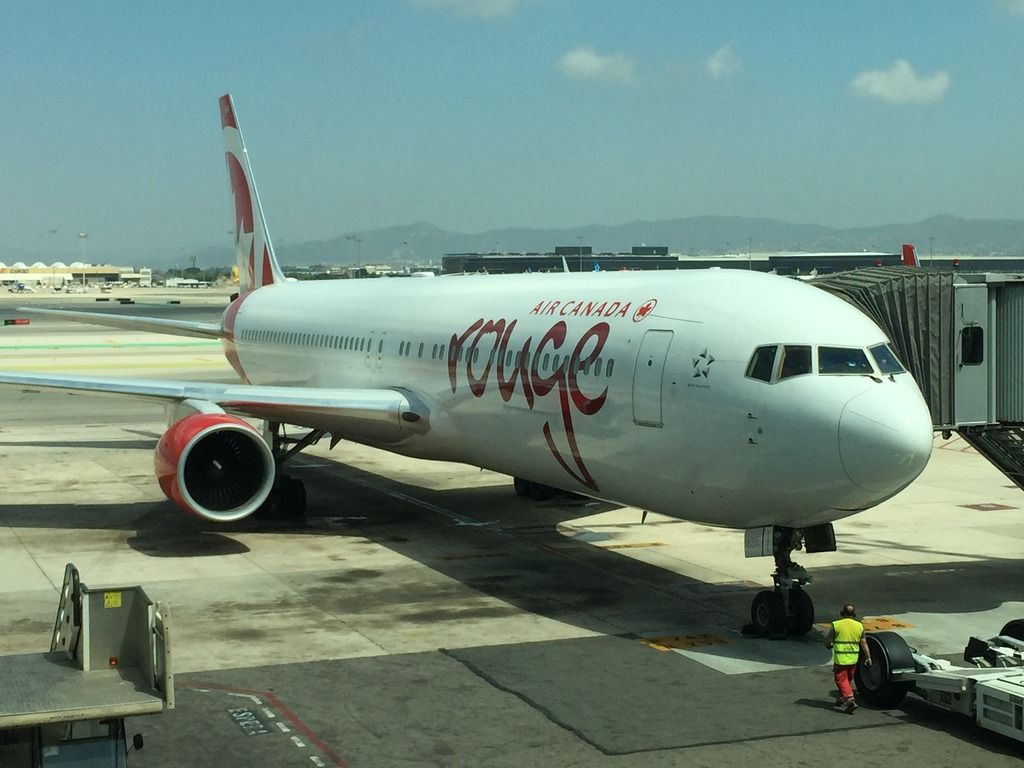 Air Canada Rouge 767W to Canada.
I then made my way to my gate, which was located at the far end of the A gates and is reserved for the ¨Puente Aereo¨ (MAD-BCN Shuttle)
Shortly our A321 arrived from MAD sporting the classic (but faded) IB livery, and this being Spain, my fellow PAX formed a queue even before the chocks where put on the plane.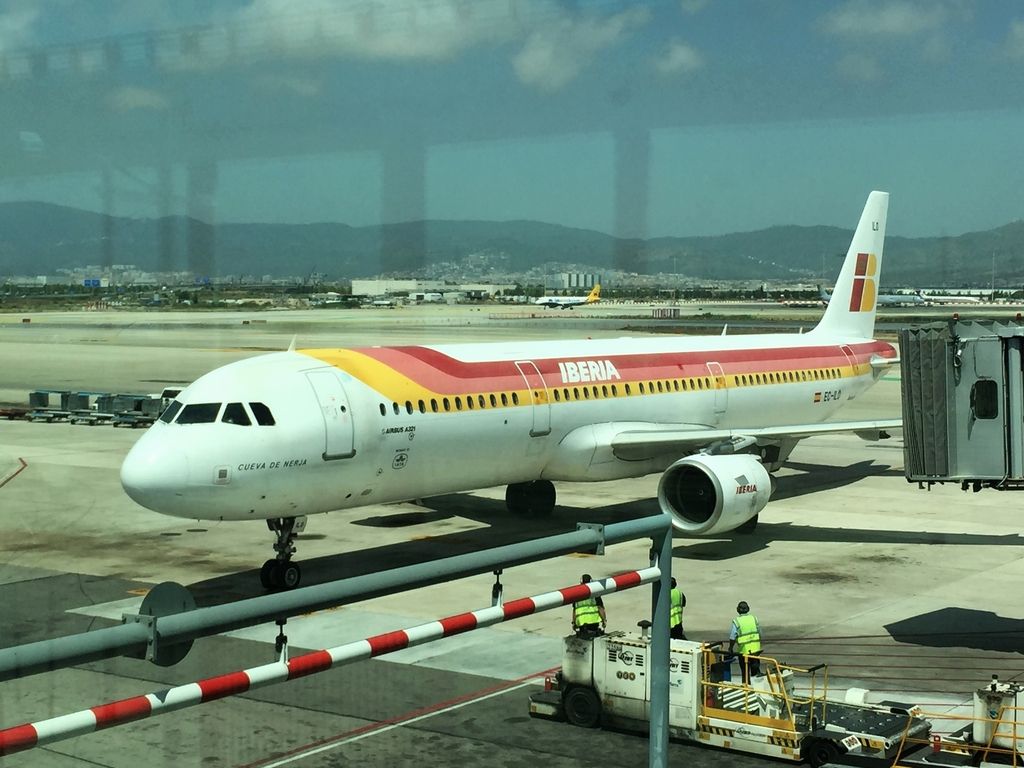 Our tired looking A321 arriving.

Friday 10th of July 2015
IB2731 Barcelona El Prat (LEBL) to Madrid Barajas Adolfo Suarez (LEMD)
Departure 13:15 ATD 13:20
Arrival 14:45 ATD 14:50
Airbus A321-211 EC-ILO ¨Cueva de Nerja¨ Delivered in 2003
Seat 21A Economy
Back in 2003 this plane carried a very special passenger, The Pope!
View Large
View Medium


Photo © Jose Ramon Valero - Iberian Spotters
Boarding was called at around 12:50 first for PAX travelling with children or requiring assitance, then PAX travelling in Business or with Status, then by Groups A, B, etc... my boarding pass said Group 2, so I don´t know when I was supposed to board.
I joined the queue and after scanning my boarding pass, I was allowed to get on the jet bridge,
Upon entering the cabin I was greeted by the crew, the cabin at first impression was obviously showing its age, the seats are similar to those used by VY (Recaro slimline with grey leather covers) I made my way to my seat where my seatmate was already there snoozing away, a petite Japanese man who really looked like Mr Miyagi lol.
View from the window.
Cabin.
The rest of the PAX trickled in, and we were soon ready for departure, doors where closed and armed, and a manual safety demo was performed, then I could see the jetbridge being brought back to the plane, doors where opened and after about 5 minutes, it was retracted and this time we pushed back and made the lengthy taxi to 25L
We held for departing traffic and after about 5 minutes we were ready to go, no wasting time as we did a rolling takeoff and soon we were on our way to Madrid.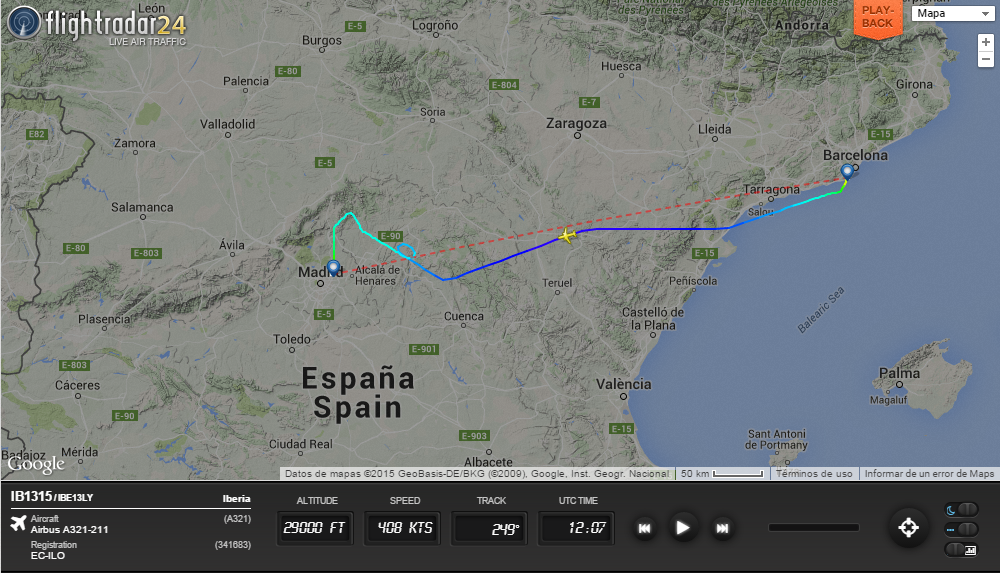 The route taken.
During the climbout, I noticed something peculiar on the wing...
Hmm... better not let the Daily Fail see this.
We continued making our way towards Madrid, passing through the typical Spanish landscape.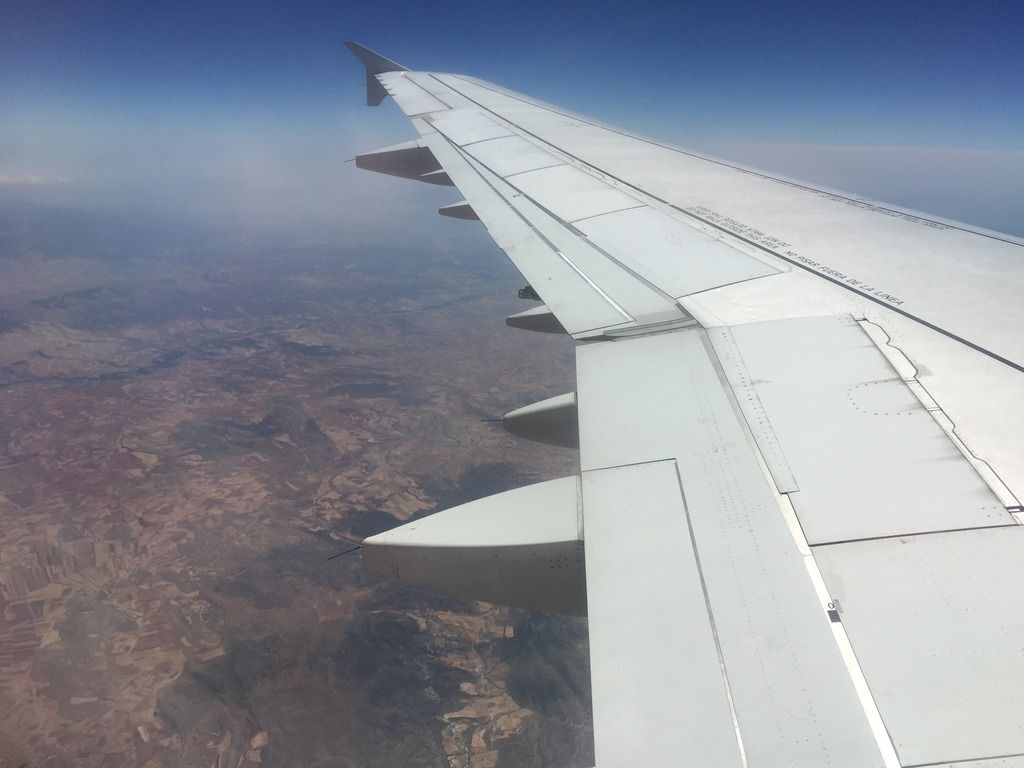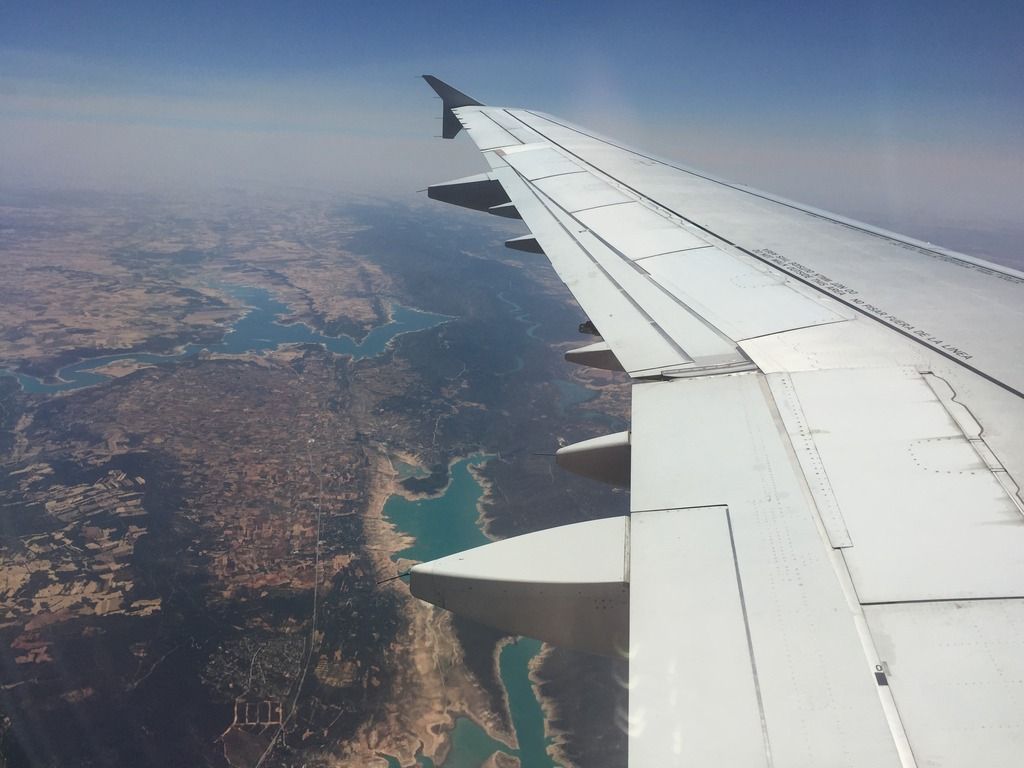 Embalse de Entrepeñas y Pantano de Buendia
The flight went by uneventful, the crew did a quick BOB run but nobody was interested, and soon enough the captain made an announcement about our inminent descent, the weather conditions in Madrid and that he expected us to land at 14:40 and park at the gate 10 minutes later.
He also apologized for the late departure; he blamed it on himself saying he called for the doors to be closed before receiving some maintenance paperwork, therefore the jetway was brought back so they could finish the procedure.
As you can see on the route plan, we had to do a lap of a holding circuit, the captain then asked for the crew to prepare for landing, followed by a jet-fighter like approach into MAD, we overflew some mountainous terrain which, together with some strong winds made for a bumpy and fun approach.
We touched down on 36L followed by a slow and long taxi over to our gate in T4, In the end we landed at 14:55 and my next flight was due to commence boarding at 15:45 I started to slightly panic about the short connection time (but knew I had time to make it) the IB onboard magazine says it takes 25 minutes to get to the RSU gates which I think it´s a bit too much.
We finally pulled into our gate and everyone jumped at once to be first off the line.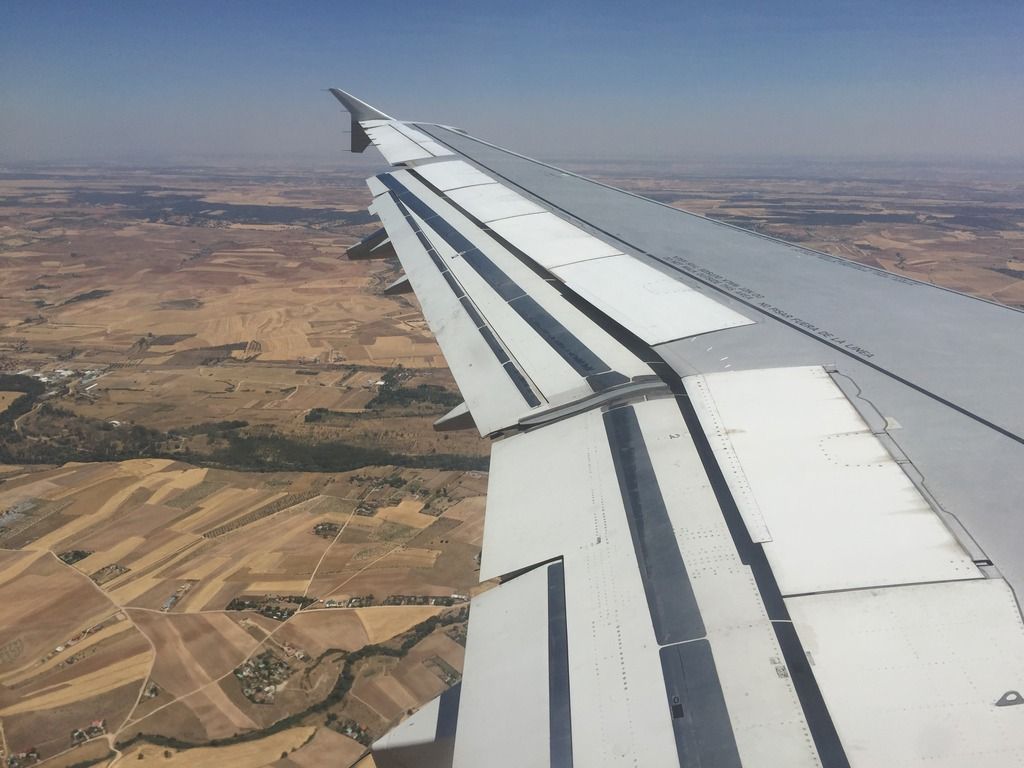 Bump, bump, up, down, left, right, jerk, bump, rattle, rattle...
Of course when you are in a hurry, everyone in front of you suddenly become turtles, so it took a while to deboard, I then made a mad dash throught the terminal followint the signs for the RSU gates, down some escalators and onto the Automated People Mover for the short ride to T4S.
Once there, it was up the stairs to clear passport control, a quick stop at the duty free shop to get some wine for my cousin, and then it was off to the lounge to meet my friend (he was flying Business) he tried to persuade the lounge dragon to allow me entrance, but she didn´t budge… no status, no lounge.
I´ll be back in MAD in August and this time I WILL enter the lounge hehehe.
Anyways, I wouldn´t have had much time to enjoy the lounge since boarding time was soon approaching, I therefore agreed to meet my friend back at the gate for boarding, he would smuggle some food items to keep me alive during the service-less IB flight.
I did a quick lap of the terminal to catch a glimpse of 2 beautiful Avianca Dreamliners being readied for their flights to BOG and CLO.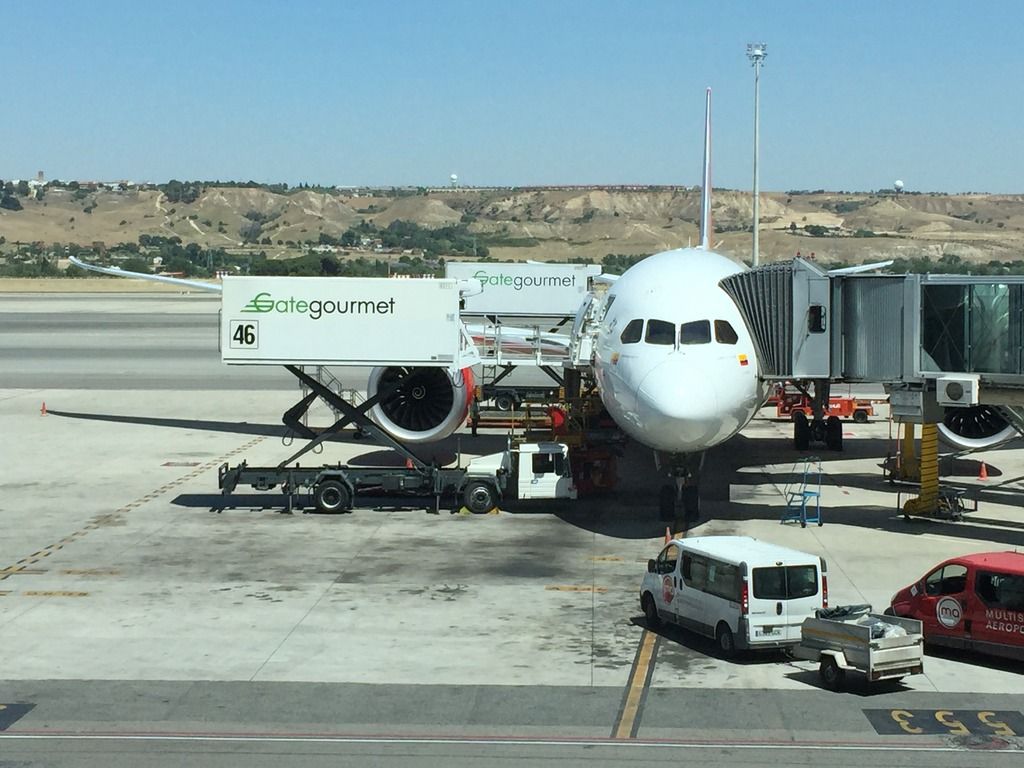 It´ll be nice if AV did some 5th freedom flights within Europe on the 787
Then I went back to our gate to see if we would be flying on an A340-300 or an A340-600, to my ¨dissapointment¨ it was an A343.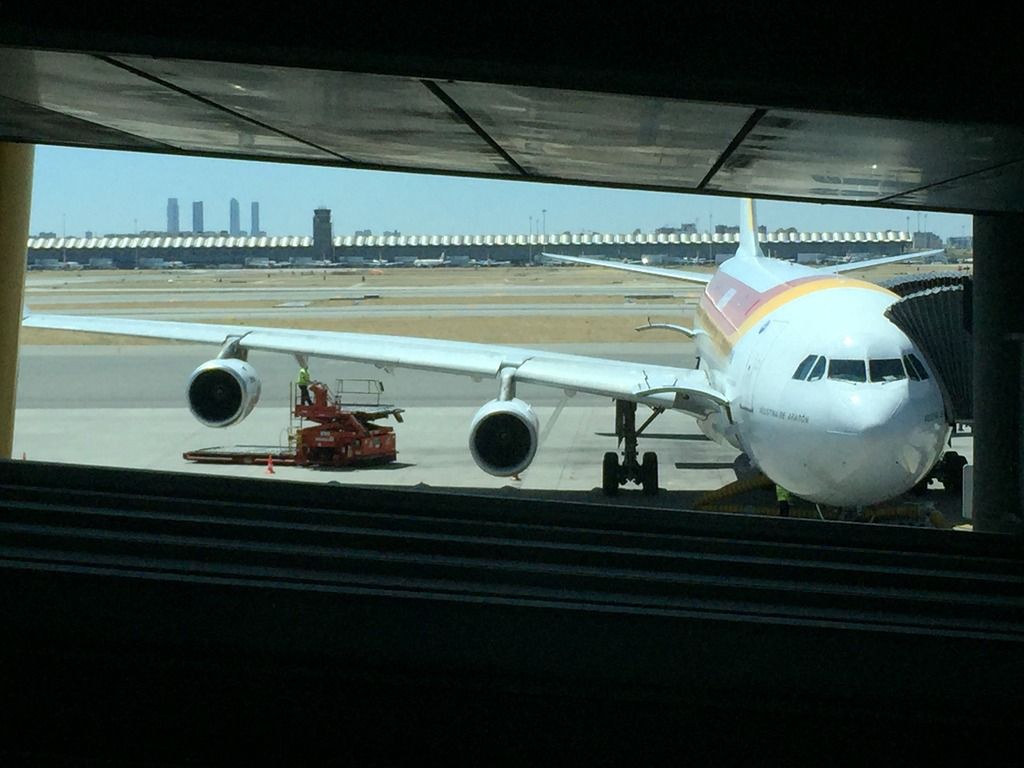 Best I could manage, at least you can see the famous Madrid 4 Towers.

Friday 10th of July 2015
IB3164 Madrid Barajas Adolfo Suarez (LEMD) to London Heathrow (EGLL)
Departure 16:25 ATD
Arrival 17:25 ATD
Airbus A340-313 EC-GUP ¨Agustina de Aragon¨ Delivered in 1998
Seat 35L Economy
Boarding was already underway in a relaxed fashion, my friend boarded using the Business Class and priority lane, while I used the El-Cheapo one, my BP was scanned and I made my way down the jetway to the aircraft.
I was greeted at the door by a crewmember who pointed me in the direction of my seat.
I made my way to the rear of the cabin where I was seated today, at first impressions the cabin looked very tired and in need of a total makeover, something that will not happen since these birds are scheduled to leave the fleet shortly, my seatmate was already there, I stowed my backpack and took my seat.
El Asiento horrifico!
Boy are these seats horrible, the backrest design made you feel as if you were seated more upright than other seats,
legroom was sufficient for the missions these birds do, but have no PTV´s, only overhead monitors. I do like my comforts so I don´t think I would be very happy on a long flight to South America onboard these things.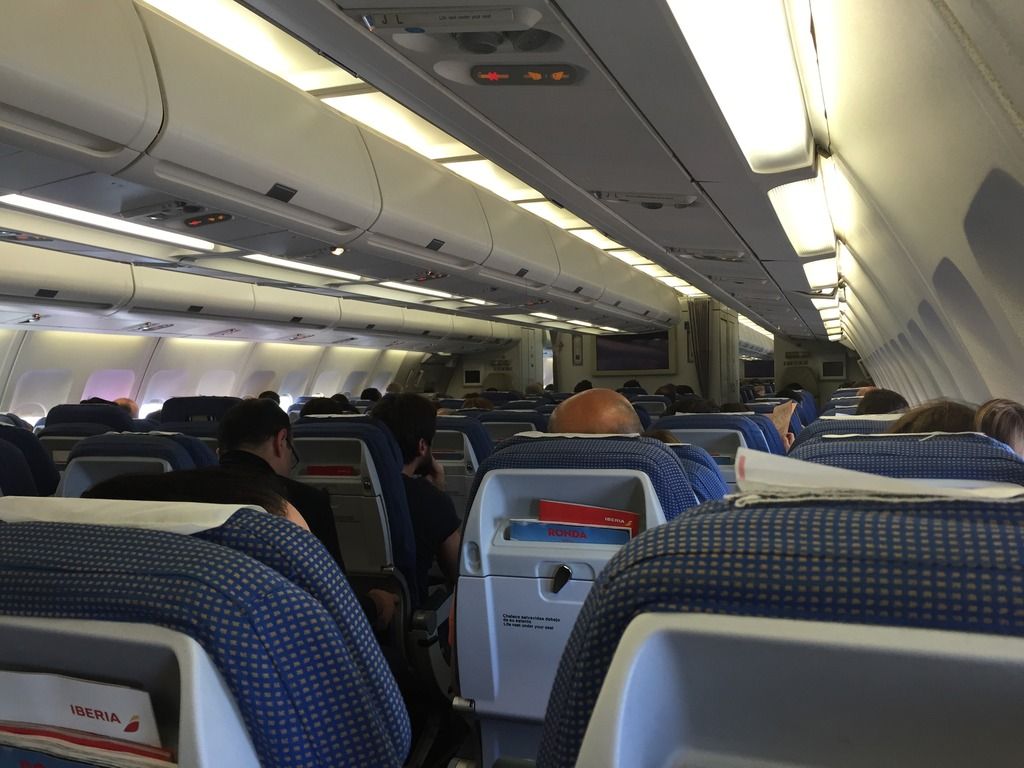 Cabin.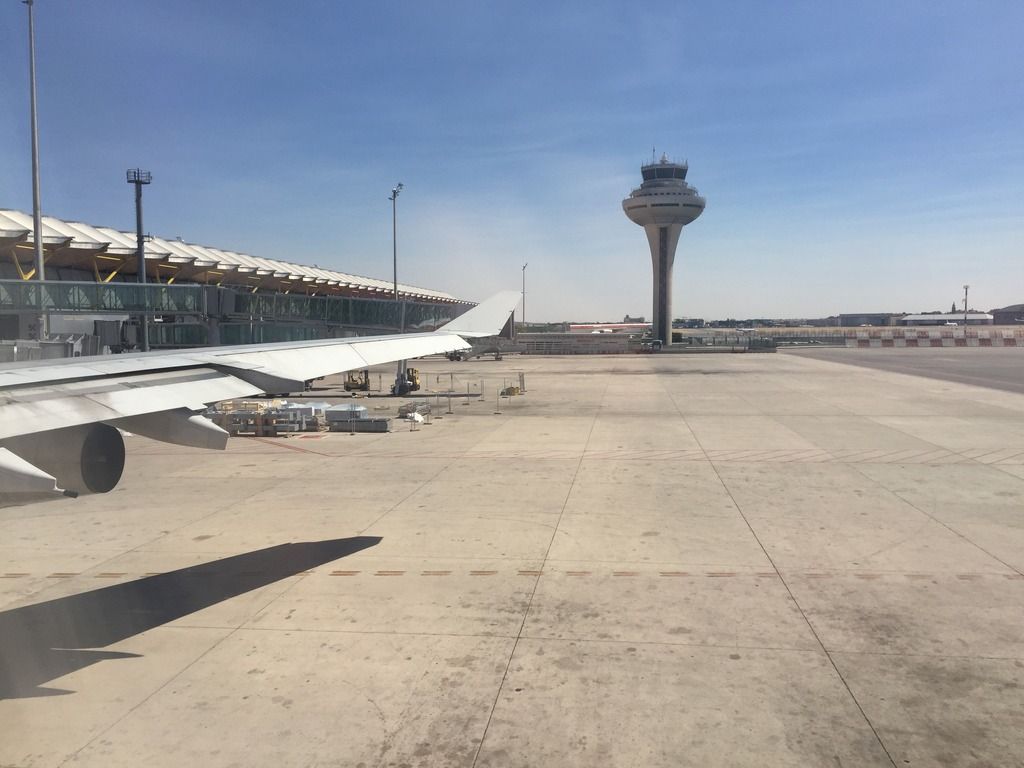 Wing view, note the adjacent gate which has been made A380 ready, EK will start flying the whale to MAD on the 1st of August.
Boarding took a while to complete, and at the end it was a completely full flight, the crew did a few announcements in Spanish and some sort of English followed by a pre-recorded safety demo, we pushed back more or less on time and taxied over to 16L for departure it must be noted that during the entire taxi, some loud music was played, I know some airlines have boarding and taxi music which is kept at a low volume, but on IB it was on almost full blast lol (and the music was kind of weird anyway) we finally got to the threshold and waited for an UX A330 to depart, then it was our turn, with the hairdryers set to MAX we slowly started our takeoff roll, eventually lifting off somewhere near Toledo. A lazy left turn followed and we set course towards the UK.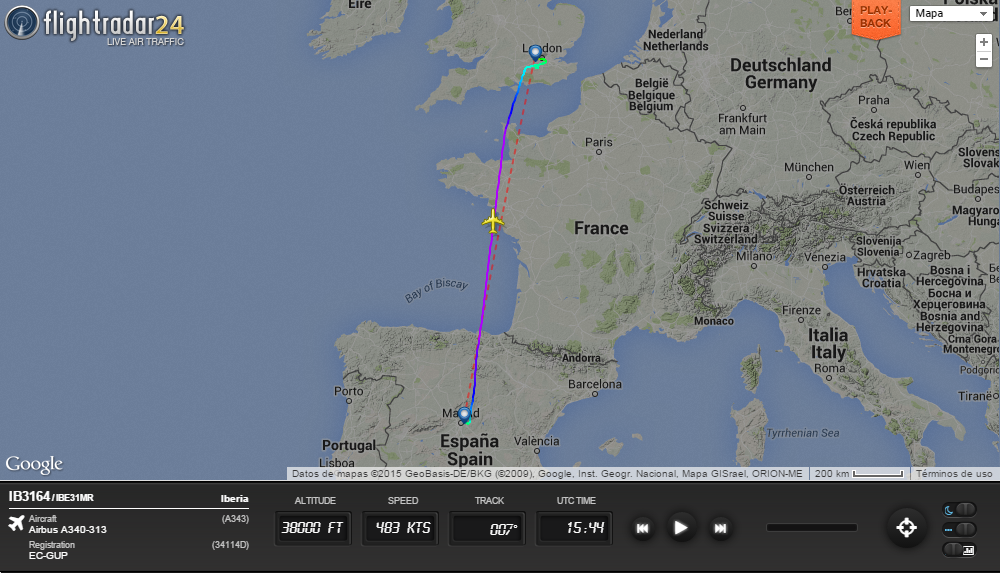 Our route.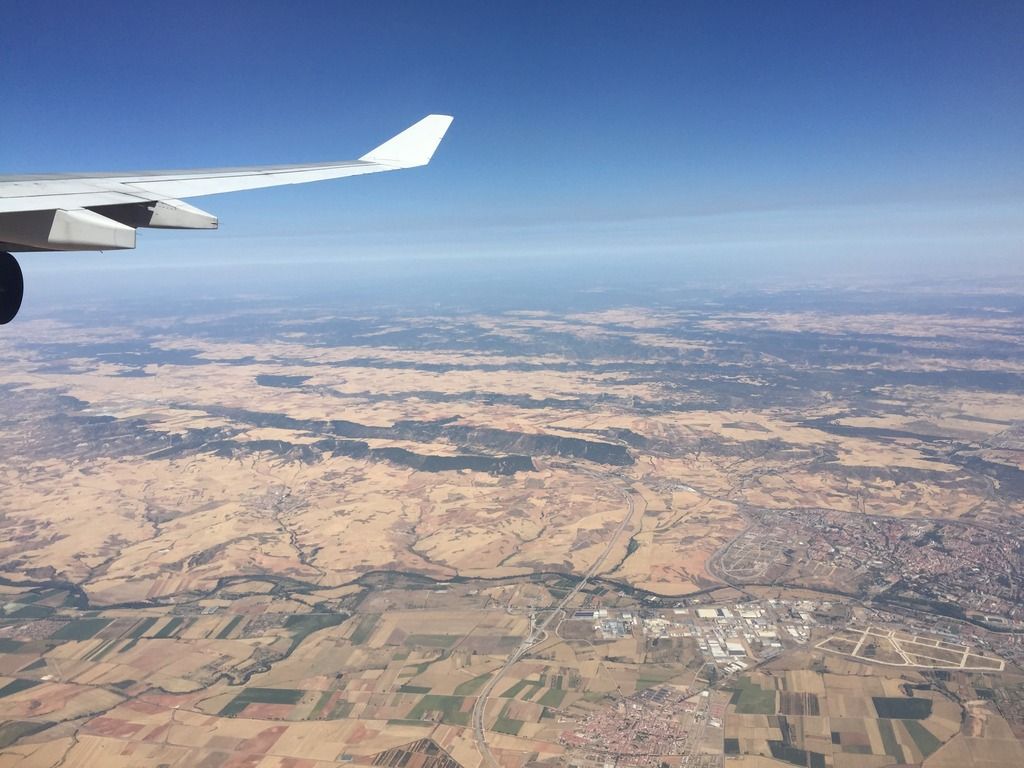 25 minutes after takeoff, must be passing FL130 (just kidding, maybe FL50)
Once cruise altitude was reached, I guess the cabin crew started the BOB service, but it took so long that by the time they got to my seating area, we were already on descent into LHR (No kidding)
There were some bumps during the climb but as we got higher, it got quieter, I retrieved my iPad and the food smuggled from the lounge by my friend and fired up a film to pass the time.
Flight was uneventful with nice views out of the window.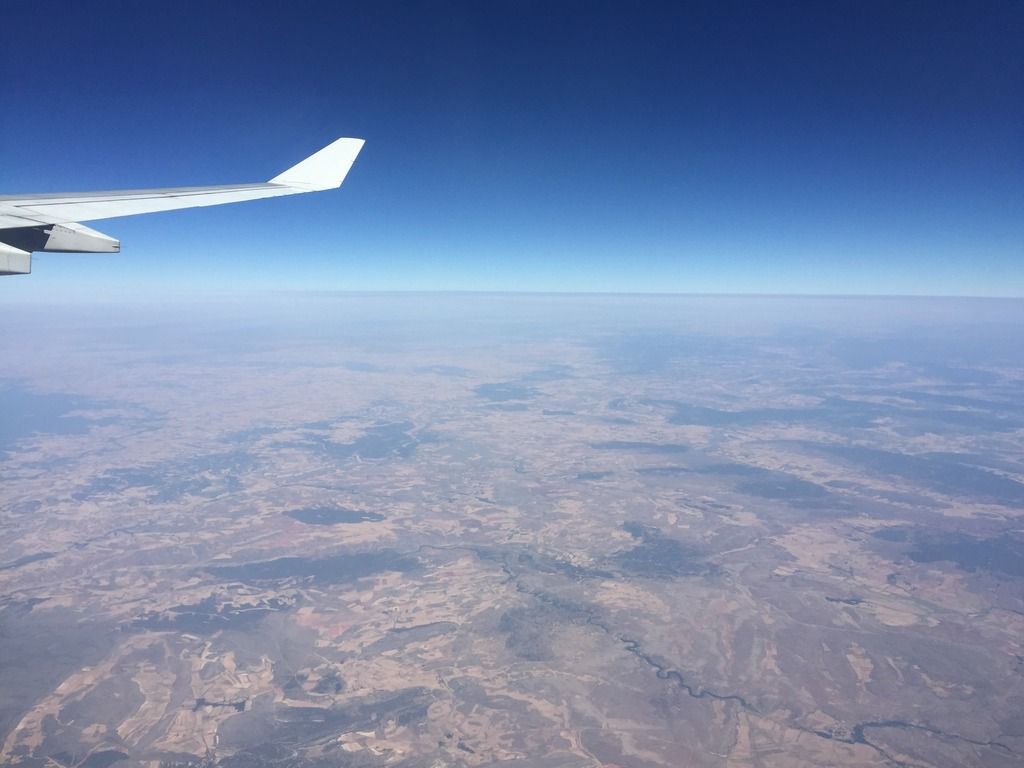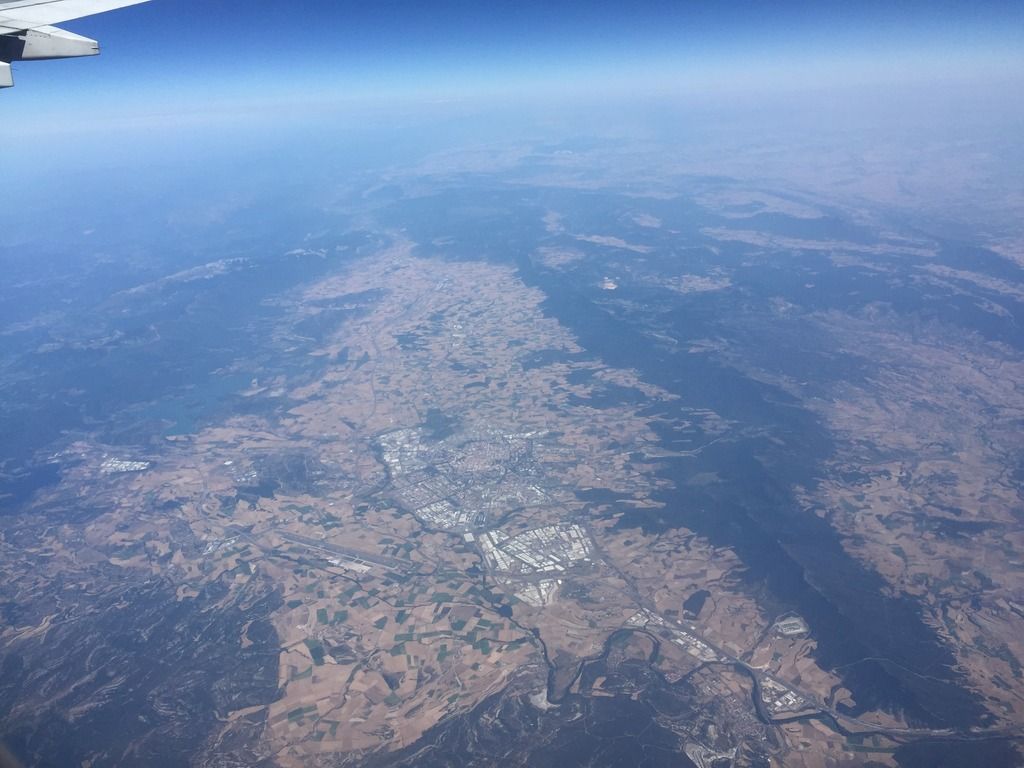 Passing by Vitoria-Gasteiz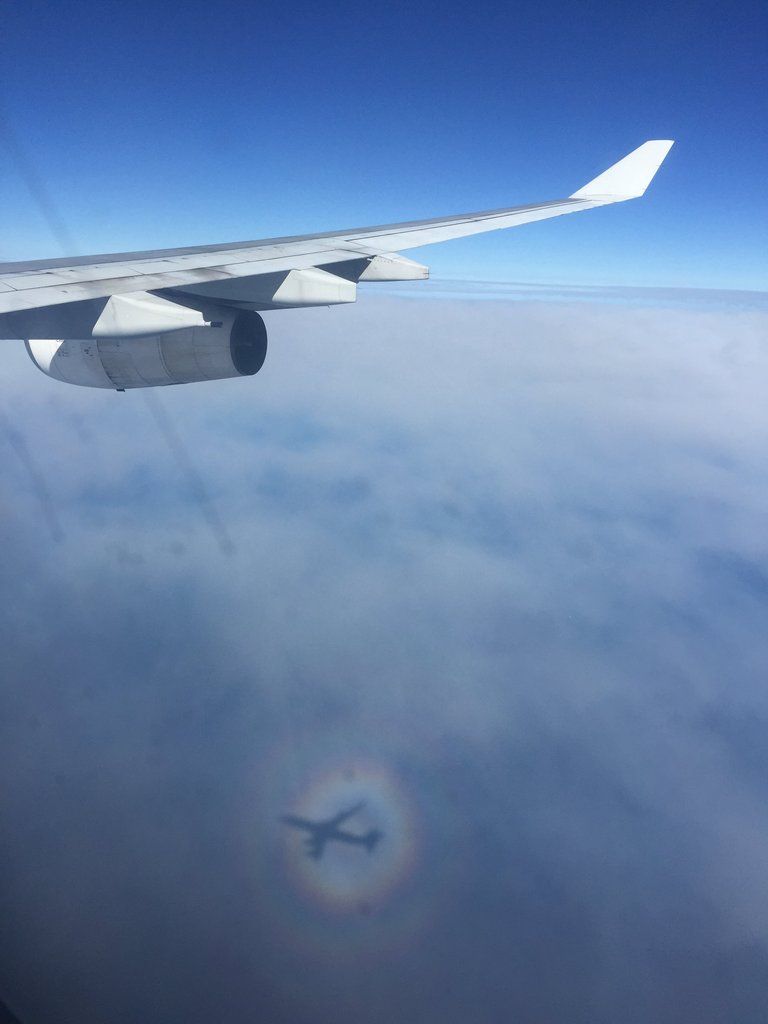 Chasing our shadow, the A340 does have some sexy lines.
The British Isles soon came into view and descent started shortly, the captain called for the cabin to be secured but the BOB service was still in full swing we got lower and lower, did a lap of the holding pattern and continued on our approach, I spotted LGW in the distance as well as the usual traffic circling around, we then turned towards London and came out next to LCY and followed the usual route to 27R where we landed smoothly but a bit sideways or so it felt.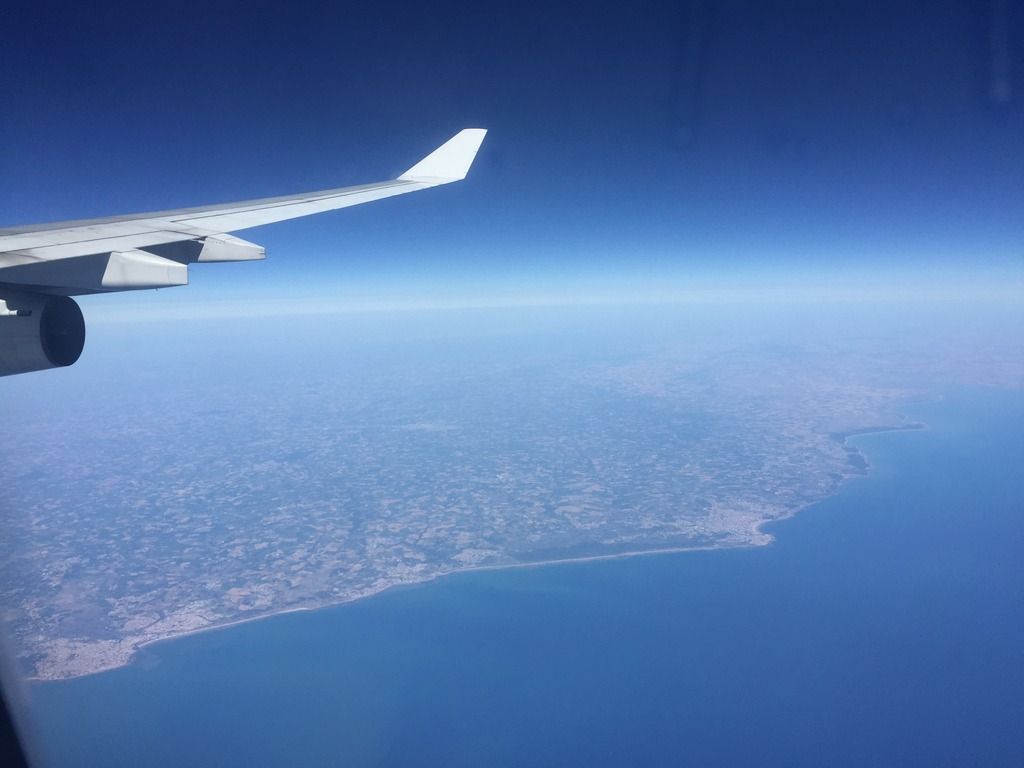 Blighty!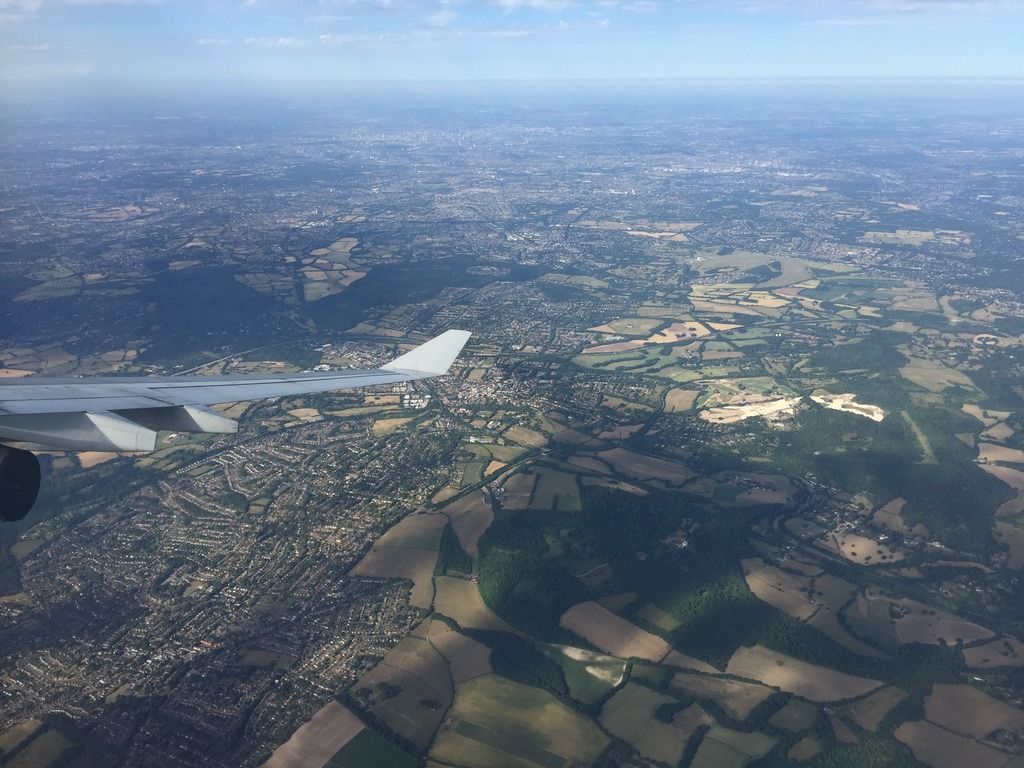 TRAFFIC, TRAFFIC, TRAFFIC!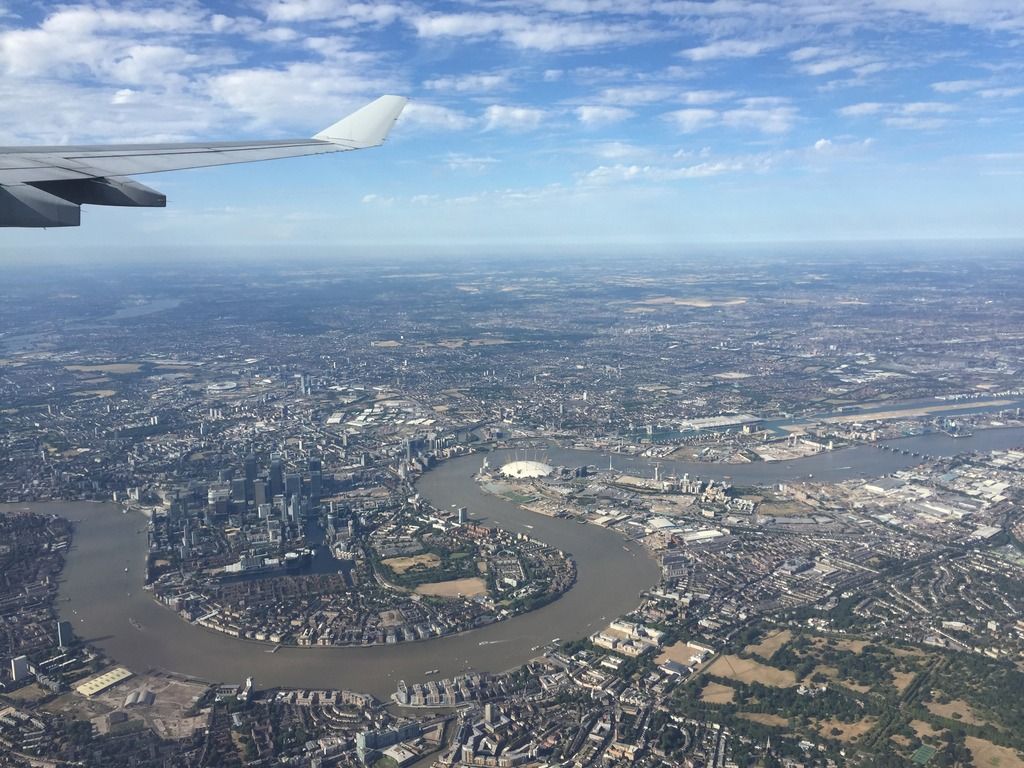 Beautiful summer´s day in London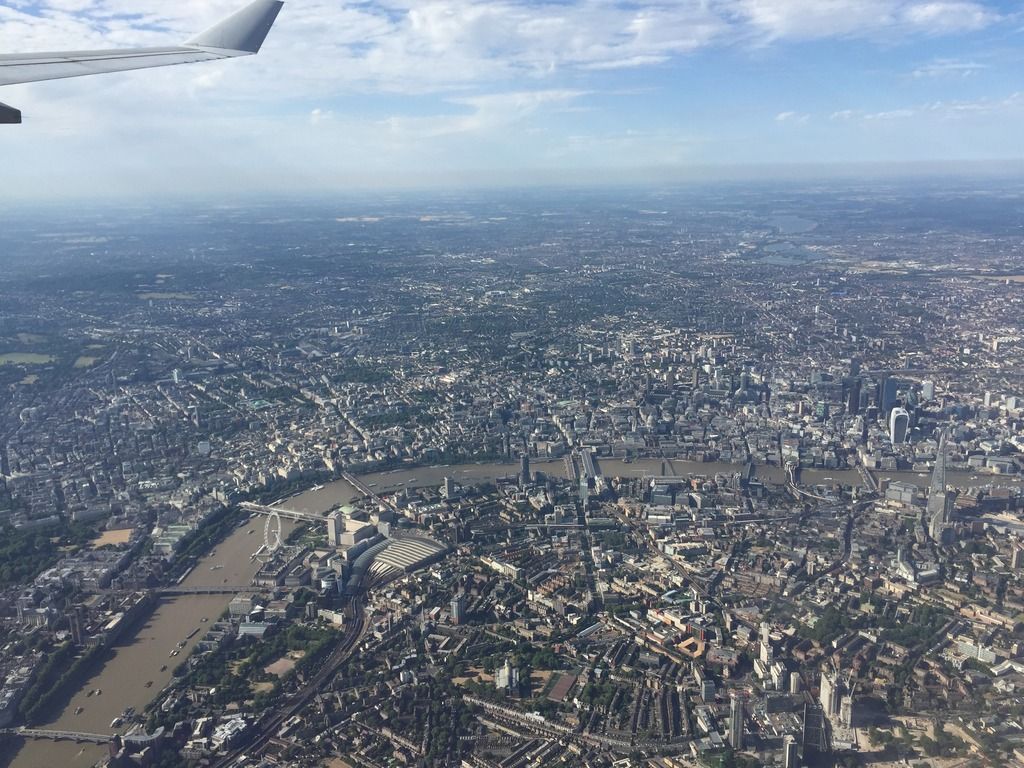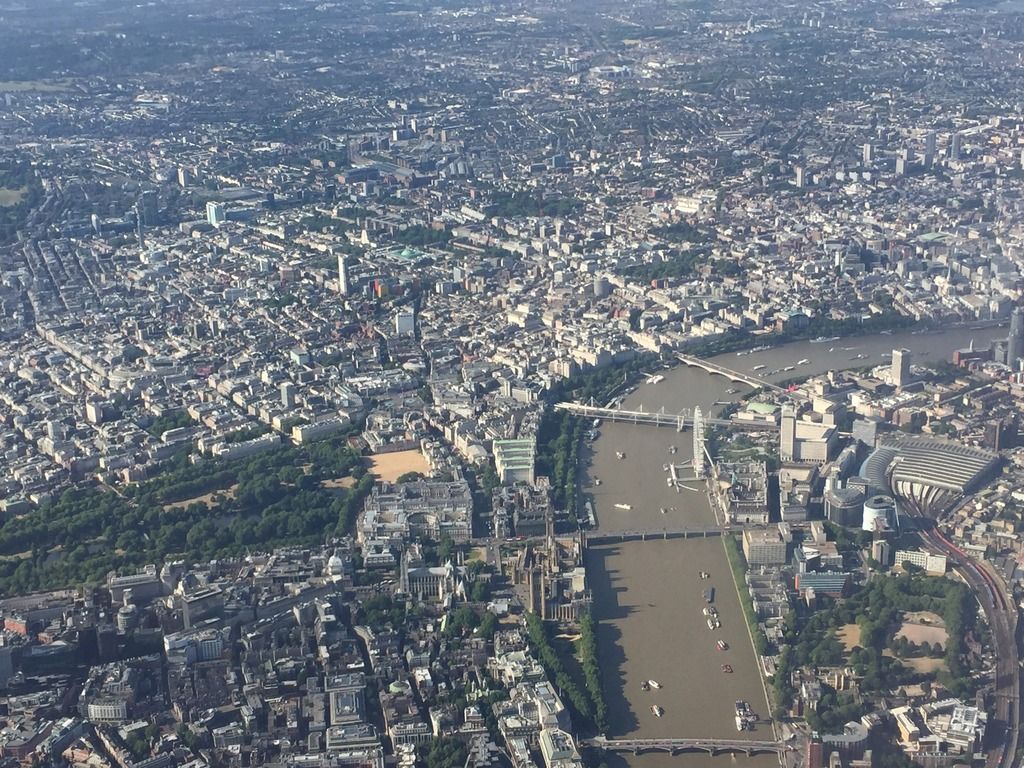 Many famous London landmarks visible.
We then slowly taxied over to our stand in T5C parking next to a beautiful BA A380
Parking brakes set, engines off, shutdown checklist please.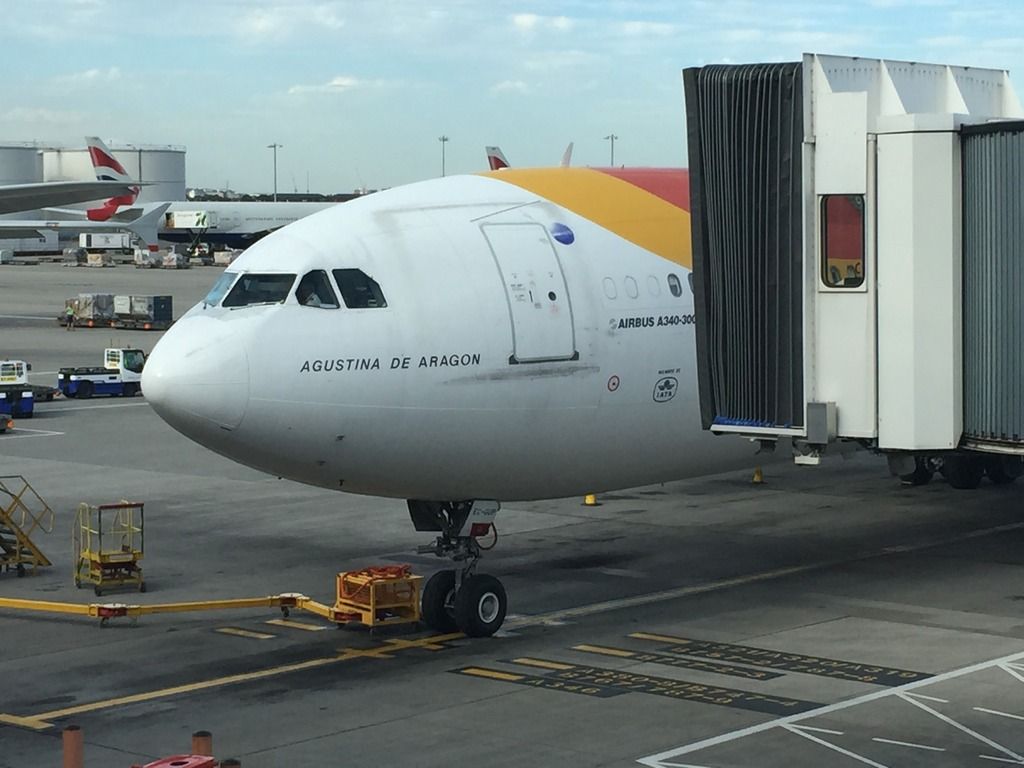 Gracias Señora Agustina de Aragon!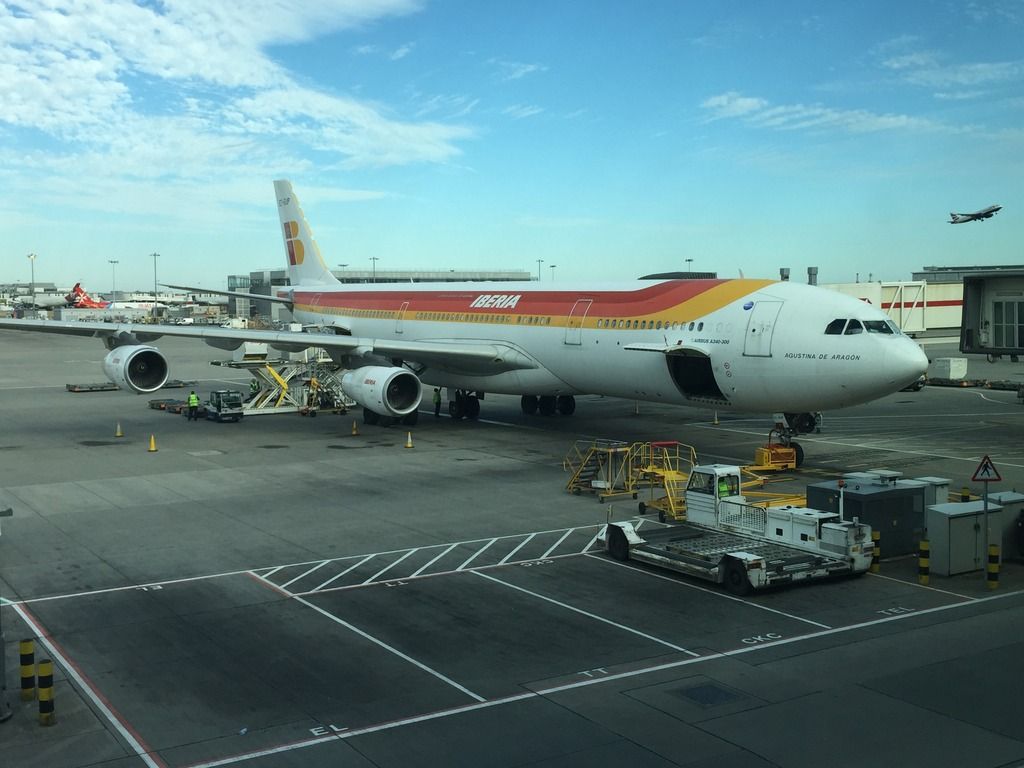 Adios!
Deplaning took a while, I met with my friend at the gate and took the APM to T5 to clear passport control which had massive queues but moved fairly quickly, then it was off to find the shuttle to the carpark to retrieve my friend´s car and then it was off to Bournemouth.
Conclusions.
IB. Offered an OK service, nothing to write home about, but they should really invest some more on their cabins, they are really old fashioned and tired.
Other than that... an average flight, but still a nice cheap way to enjoy a intra-europe wide body flight.
For the return flight (LGW-BCN) it was just a run off the mill Vueling flight so I won´t go into details, during check-in I noticed an unusual seating arrangement meaning I would be flying on their brand new A321s, but on the day of the flight an A320 showed up, at least it had sharklets and the cabin was nice and clean, and even had decent legroom!
Their A321s are still parked in BCN.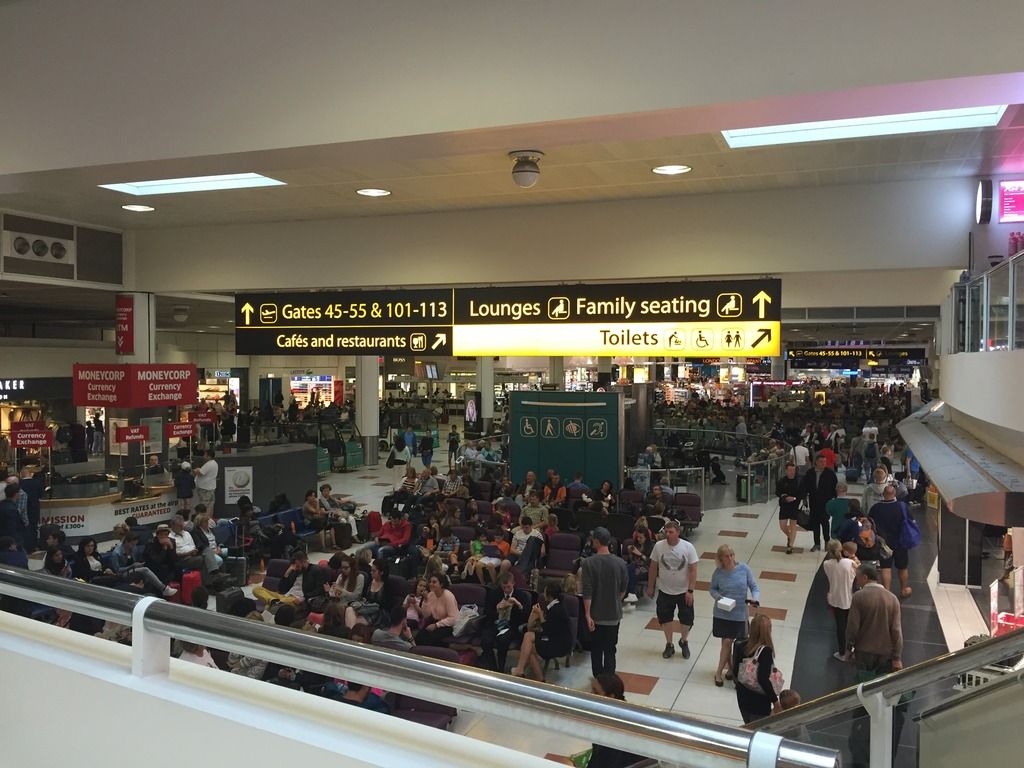 LGW´s North Terminal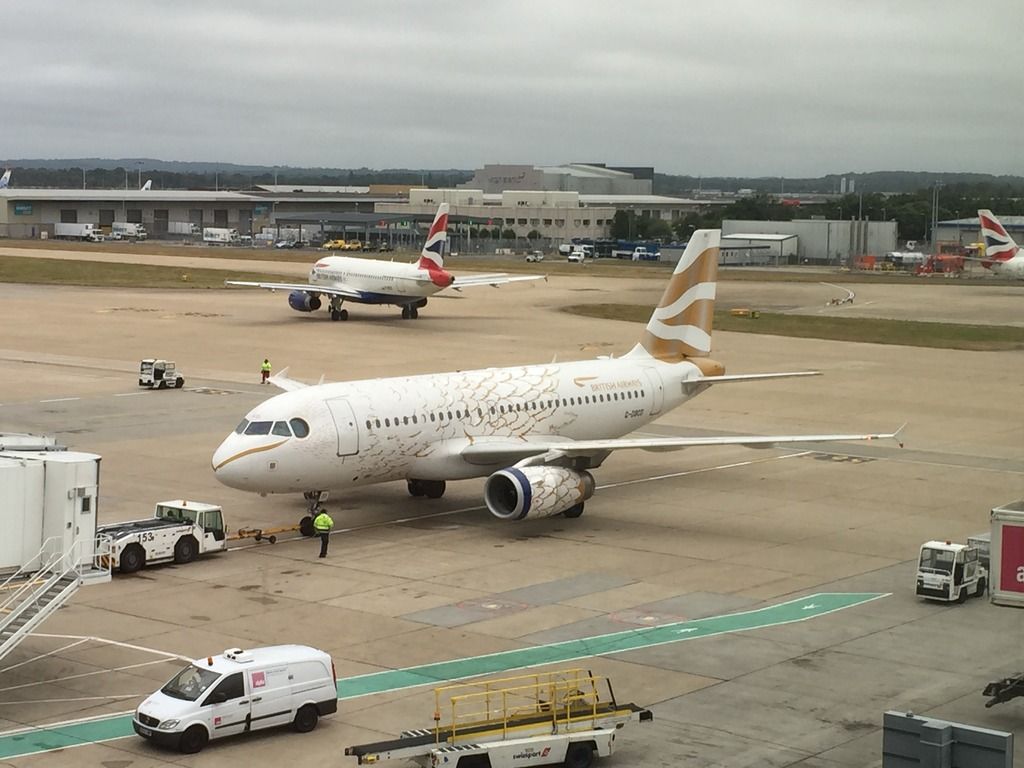 I´ll take it this pigeon doesn´t crap all over the ramp.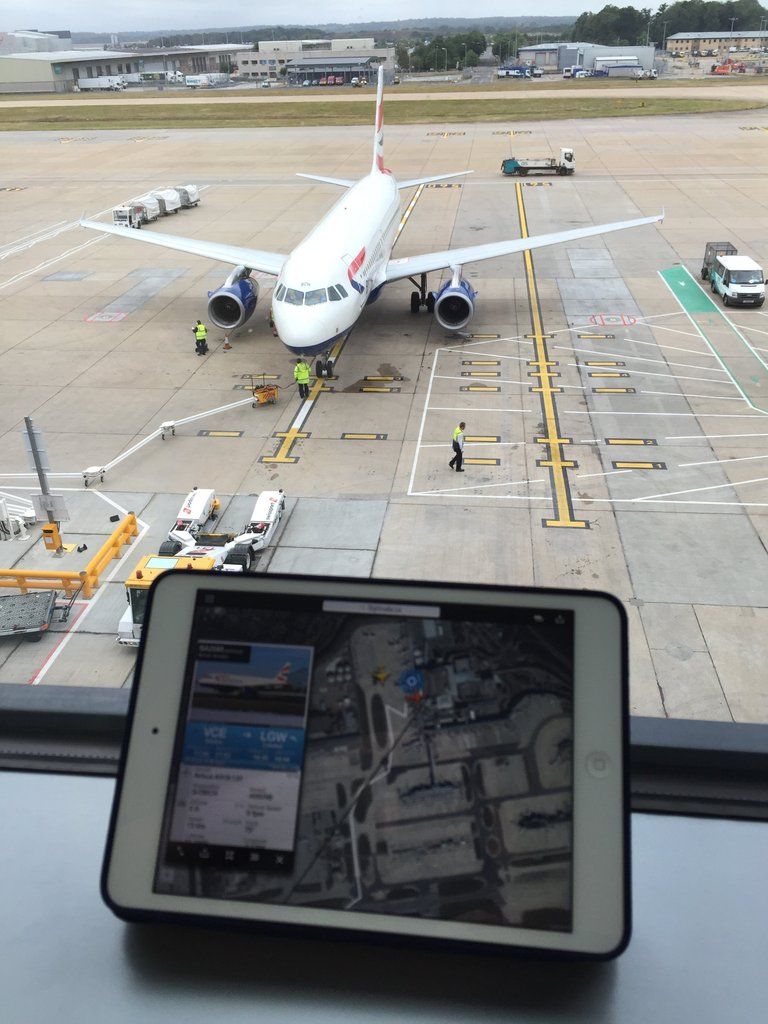 Spotting like a boss.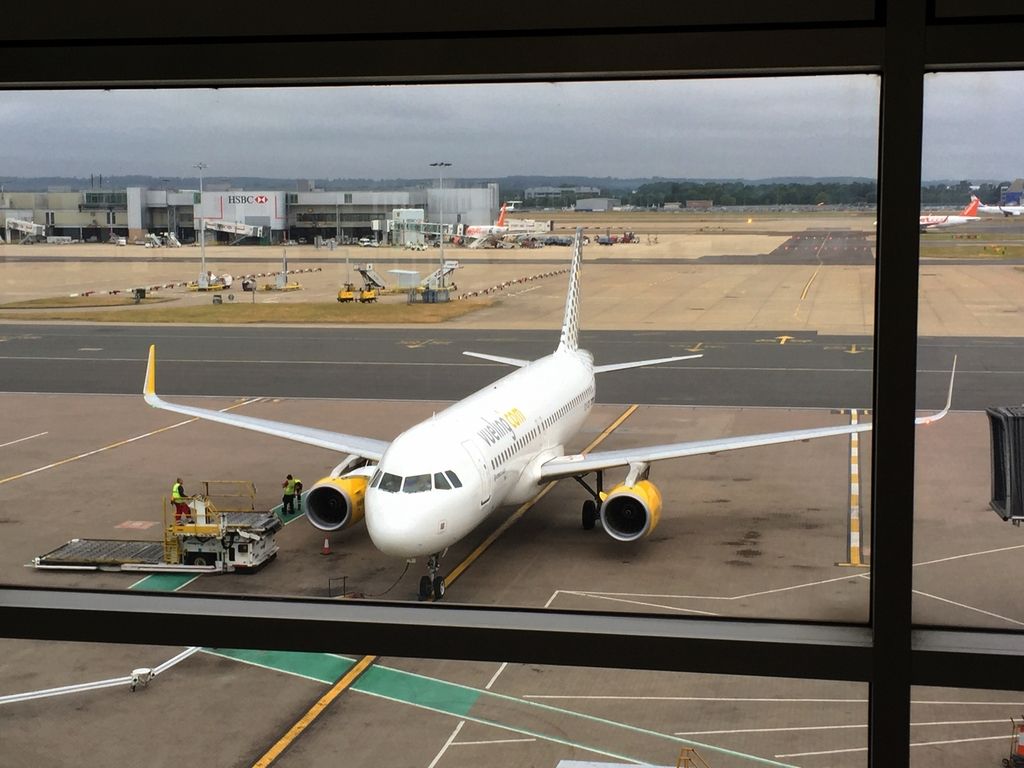 My bird to BCN EC-LZE
Sharkie, no Sharkie...
New EZY livery, I like it.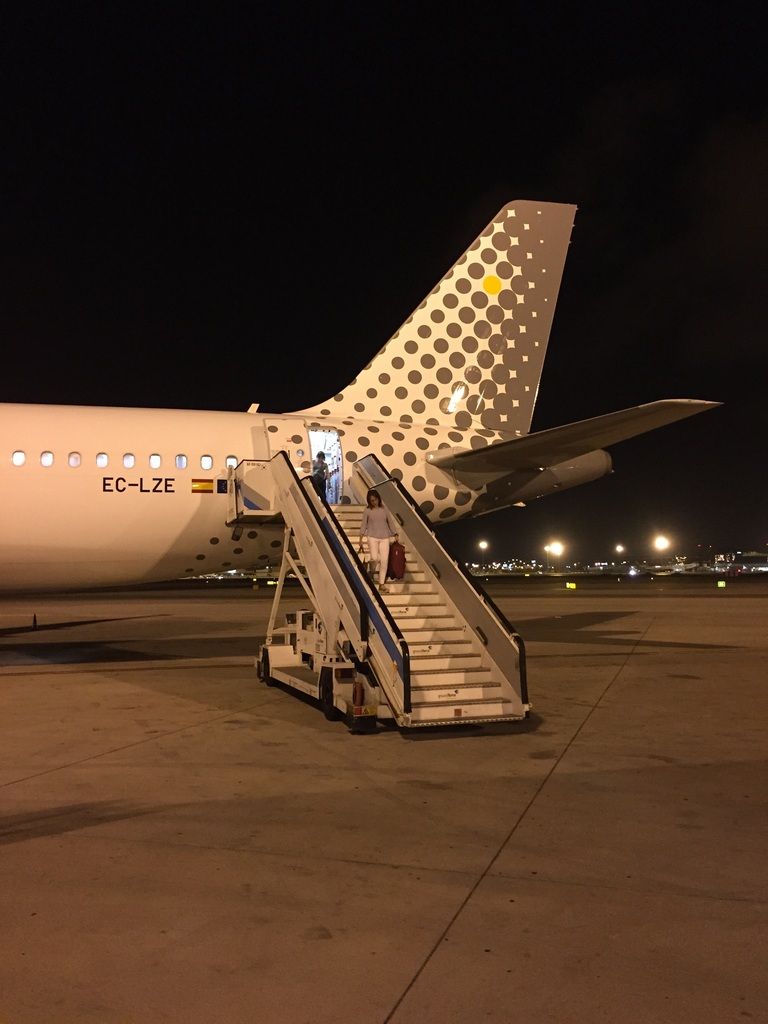 We landed on-time and parked on a remote stand, even though there were hundreds of empty fingers, but it was cool because an EK 77W was pushing back and starting her massive GE´s hmmmm hmmm sweet noise!
Those sharklets are HUGE!
I hope you have enjoyed this brief report, comments and complaints are always welcomed
Thanks for reading.
MIAspotter.