BA001 - LCY-SNN-JFK
16 July 2015
Airbus 318-112 - G-EUNB
Seat: Club World 1A
Departure LCY: 09:45 Arrival SNN: 11:00
Departure SNN: 11:50 Arrival JFK: 13:55
View Large
View Medium


Photo © Sergey Kustov
I should have titled the report, "Why would you cross the Atlantic any other way?" as this was a great experience! I'm definitely a convert and you will see why in this report. Let's get straight into it then, shall we?
I planned to see friends in Washington D.C. in 2015 and was debating which flights to choose. After a Facebook status update debating some options, I had some advice from a BA crew member who told me that I'd be mad not to give the Club World London City service a try. The British Airways web page for the service definitely had me tempted.
http://www.britishairways.com/en-gb/...es/business/club-world-london-city
32 seats? Stopover in Shannon? It all sounded good to me. Noodling around online with flights made me realise that the price was the same, only I would be out an overnight hotel stay in London as the BA001 left too early for a connecting flight. I decided to do it! I would be travelling on an aircraft roughly the same size as a De Havilland Comet 1 (the world's first passenger jet) with roughly the same amount of seats. There was the bonus of a fuel stop in Shannon (how 1950s!) - so it all promised to be a throwback to yesteryear with a modern twist.
I flew over the night before from Dublin to London City, overnighted at a yacht hotel (Sunborn London) and headed from there to London City Airport in the morning.
Check-in was a breeze as there is a dedicated desk for the service to New York. In actual fact, the check-in hall was heaving with people and the only desk without a queue was my one, so I checked in quite swiftly. Once done, it was up the escalators and to security. There is no Fast-Track so it was join the fairly large queue or nothing. However, the queue moved fast enough and off to the gate I went. On the way, I caught sight of my babybus waiting for me.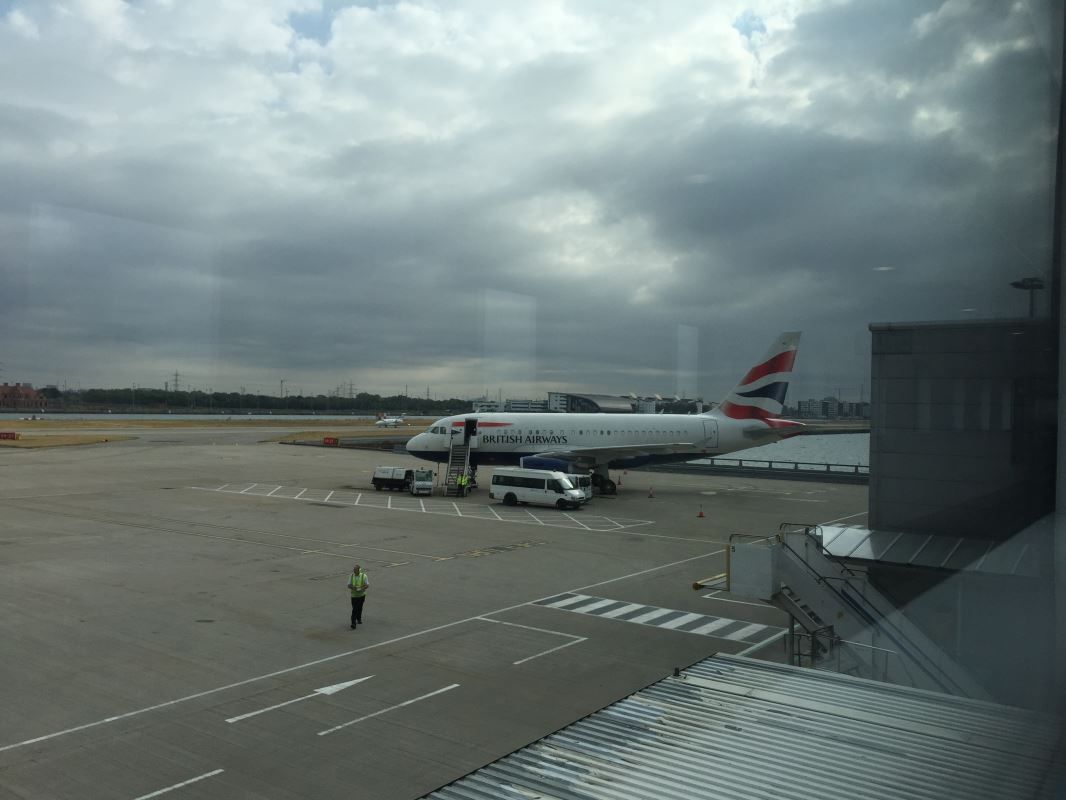 The gate is dedicated to this service and has a lounge.
The lounge has 32 seats exactly. It promised to be a busy flight as the lounge was almost full. Several BA passengers not on the BA001 attempted to use the lounge, however they were turned back at the entrance. While waiting, I had a champagne, a banana smoothie and some fruit.
A couple of people and I got chatting together - one was a FlyerTalk veteran who was on his way to Honolulu on a mileage run and had taken the BA001 many times. It was a friendly atmosphere and it seemed a lot of the people were heading on holiday.
Boarding was called about 10 minutes before departure and it was up the front steps and into the aircraft. The cabin crew were in a great mood and welcomed us on board. This is what row 1 looks like.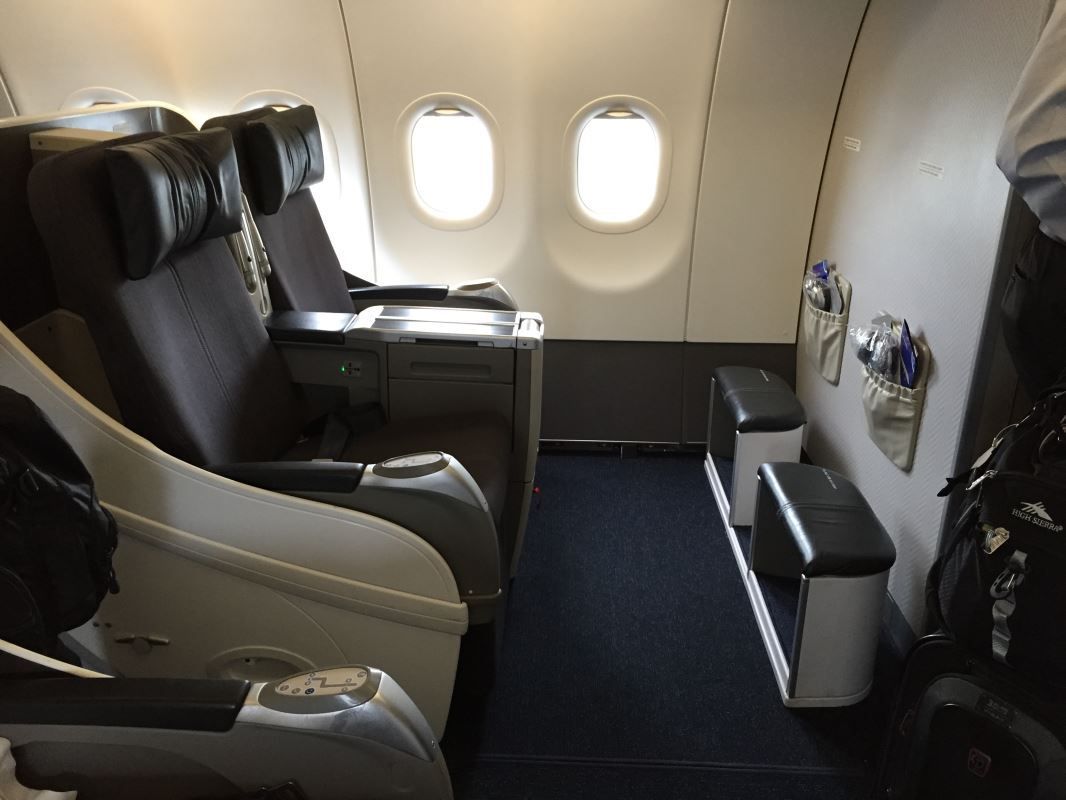 Legroom was ample.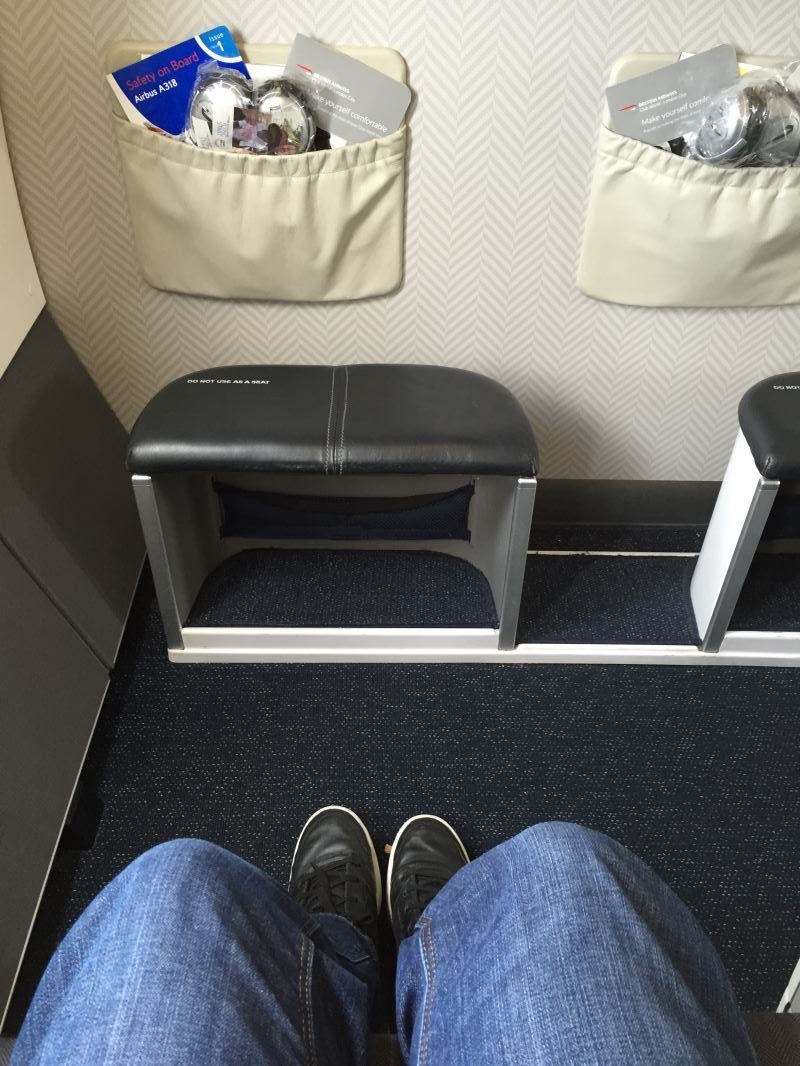 I was lucky enough to have no-one sitting beside me, which was a great bonus. The manual safety demonstration was given and it was followed by a very sprightly take off. Once airborne, the service began and on this leg from London City to Shannon it the Canapes course.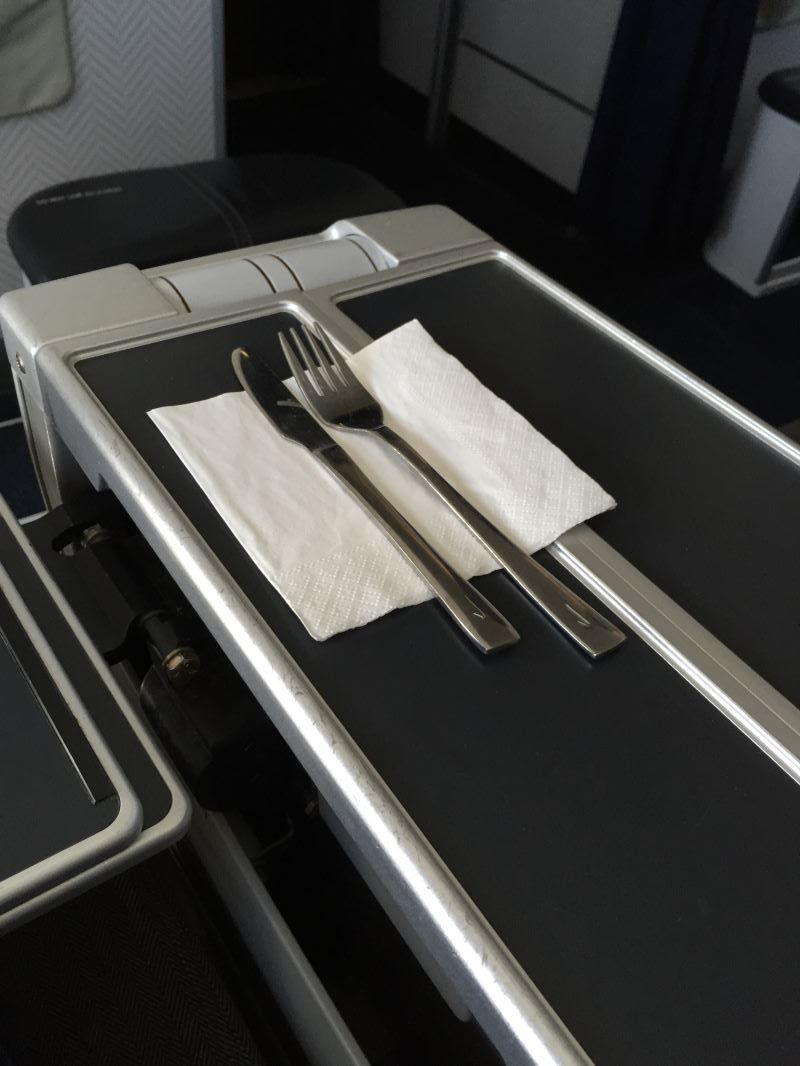 Of course, this is with a drink - Champagne for me, please!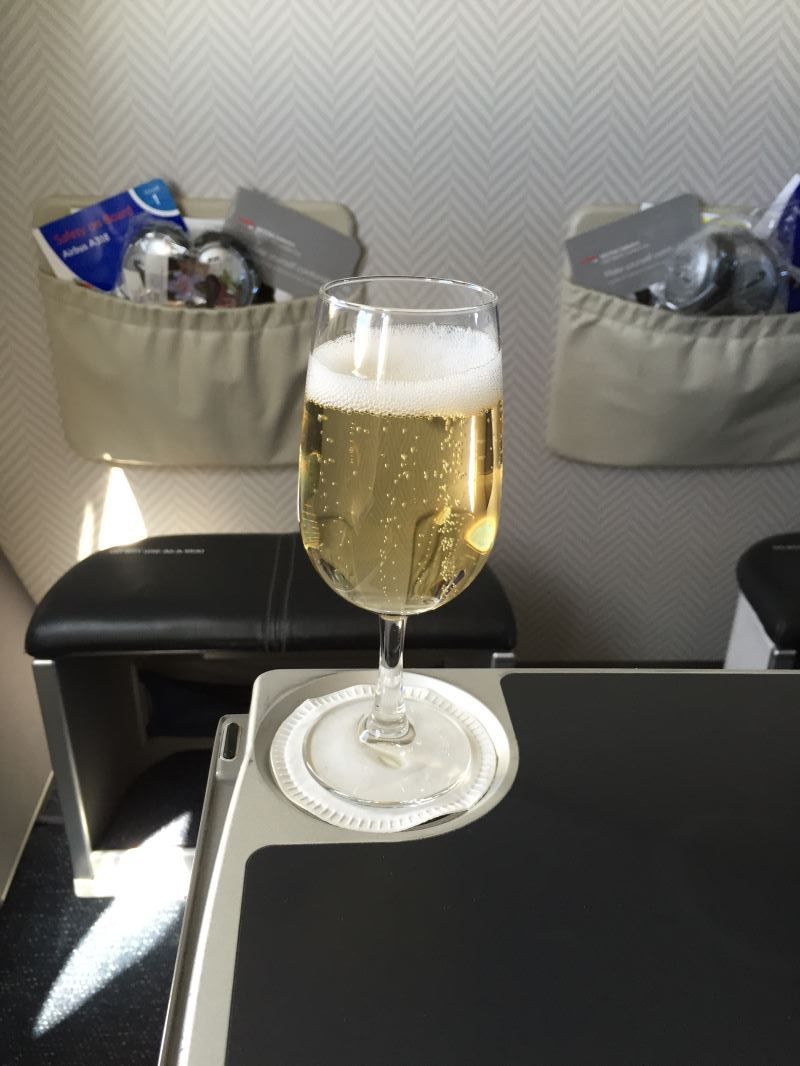 The canapes were quite delicious, but I couldn't tell you what each one was because the one thing I left on board was the menu!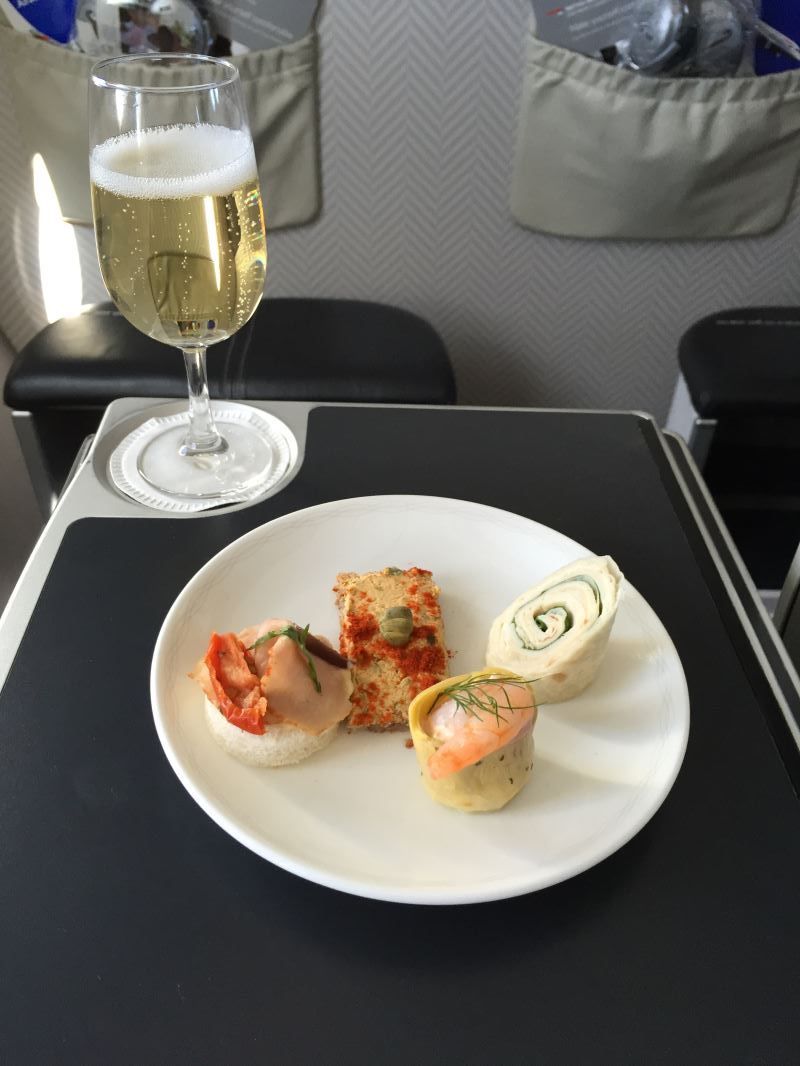 It was a great day for flying and here's the view from 1A.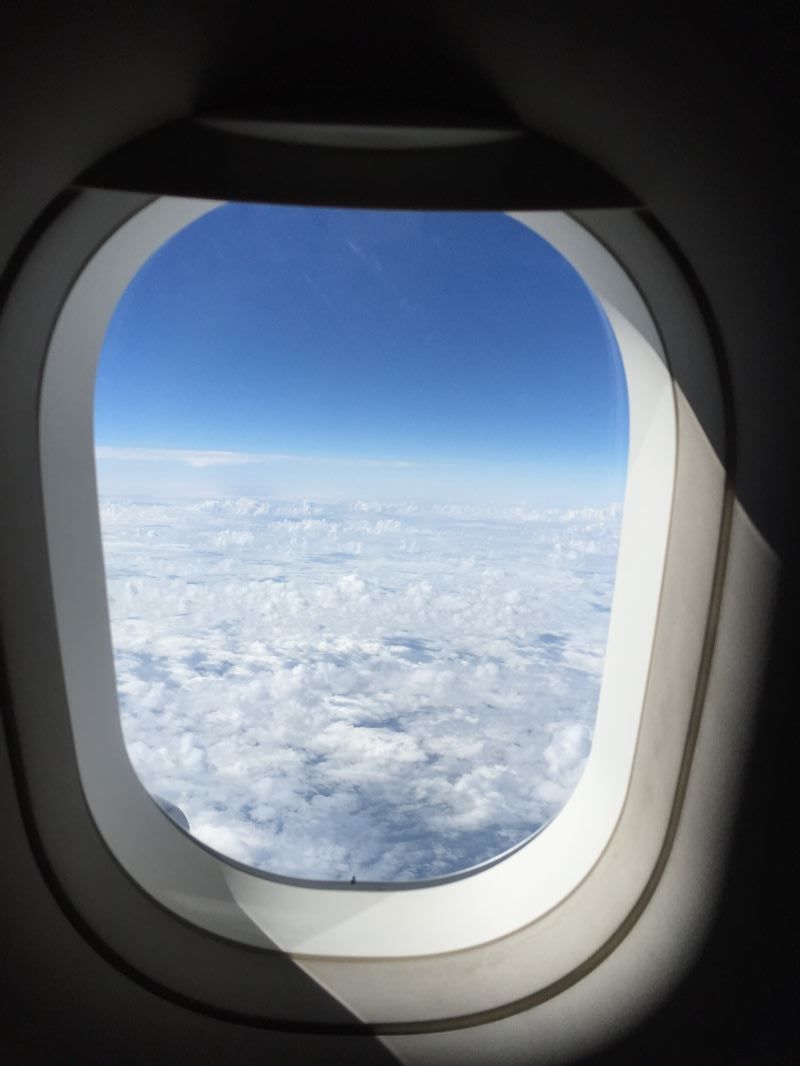 It's only an hour or so to Shannon and soon we were descending and landing in Ireland.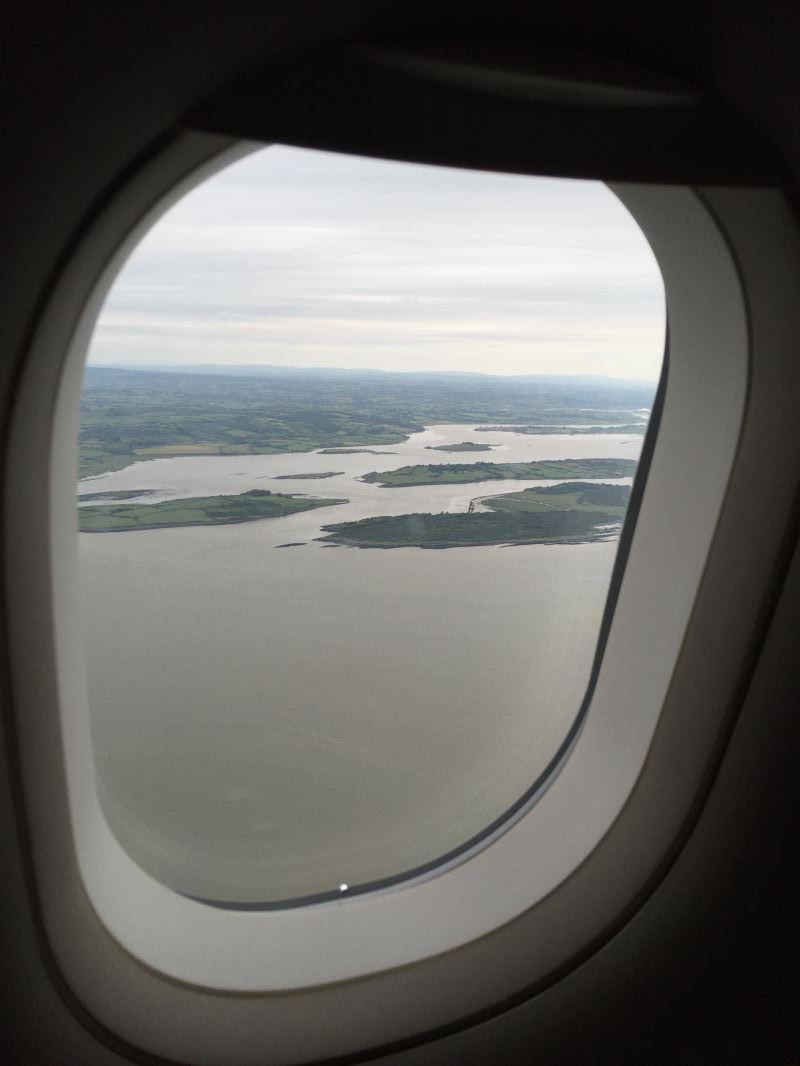 We were advised that once we landed that passengers with hand luggage could go straight through pre-clearance. The rest of us would wait until we were called. About half the people went straight through and half waited in the BA holding pen.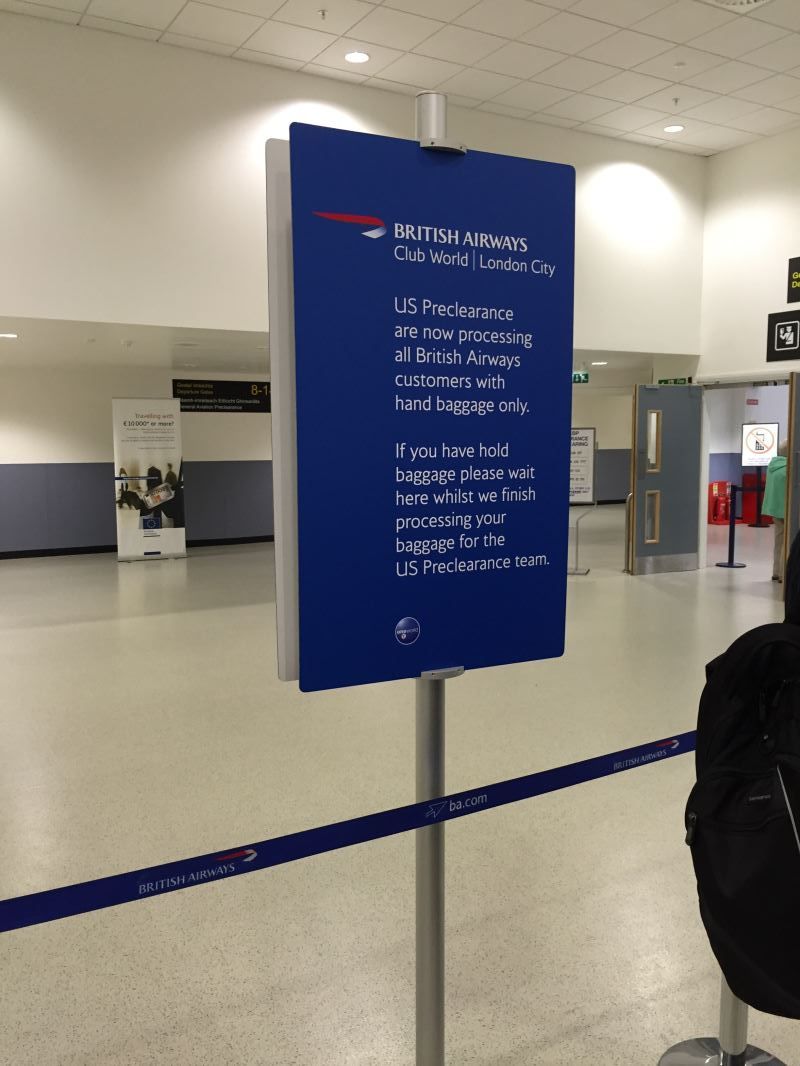 Of course, we were waiting for it to say this instead.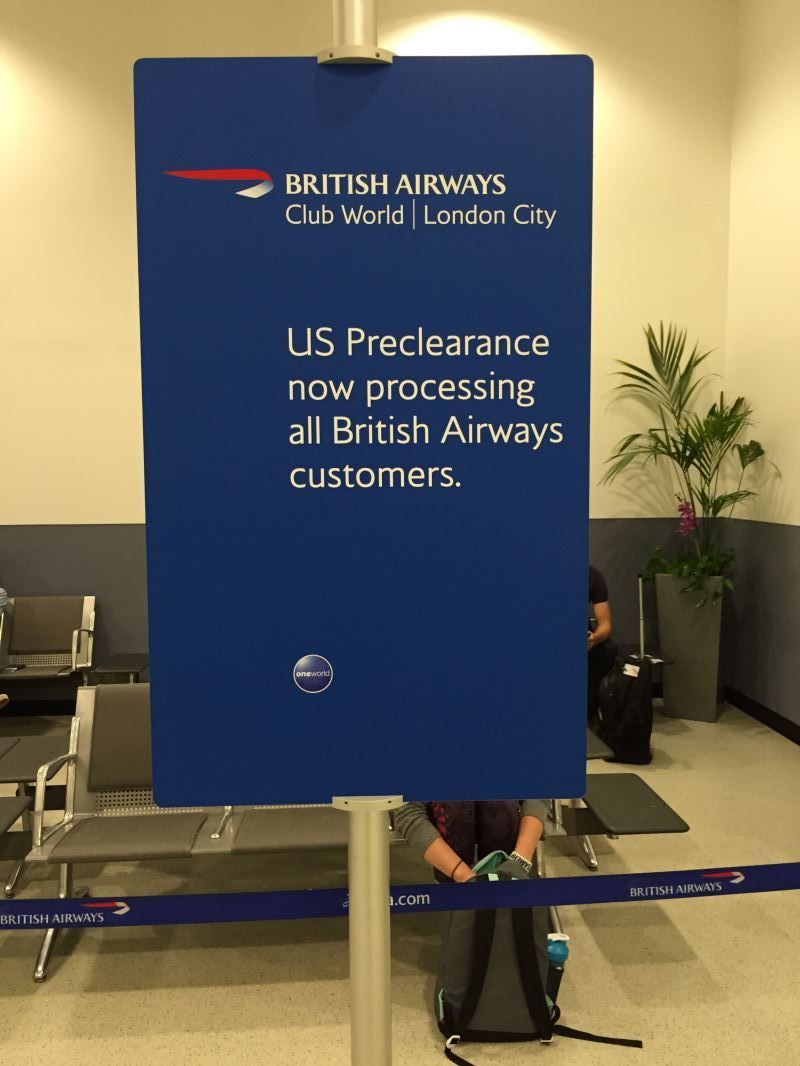 It didn't really matter because a guy came by and told us when it was time to go through.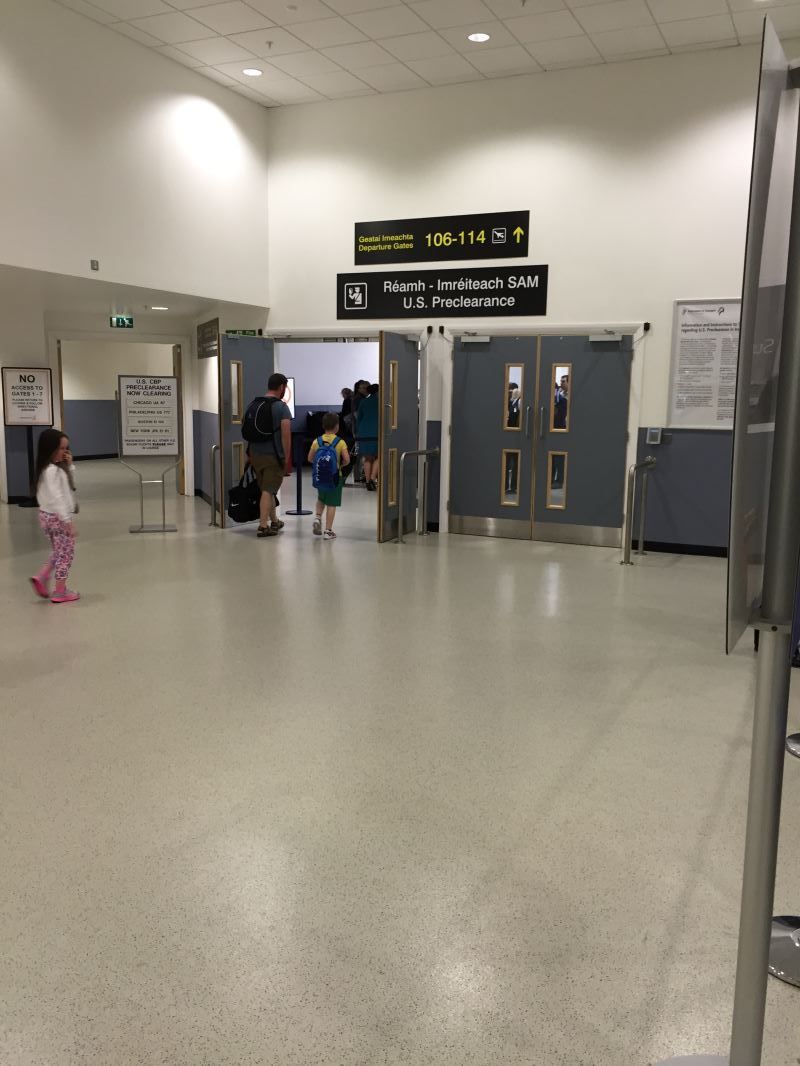 As is typical with US style security, we were screened again with the benefit of including removing our shoes and joined the general queue. It didn't take long to get to the front (there's no rush!) and as usual I was finger printed and had some chit chat with the officer before being allowed through. The only difference is that they have taken a photo of your hold luggage and you need to confirm that it is yours on the screen.
The aircraft was docked at a gate virtually right outside the pre-clearance exit, so we were told we were allowed to go straight back on board and so I did. It was raining a bit by this time.
Soon everyone was on board and it was a much longer take-off run this time to get us airborne and out into the Atlantic. We were provided with the standard British Airways amenity kit.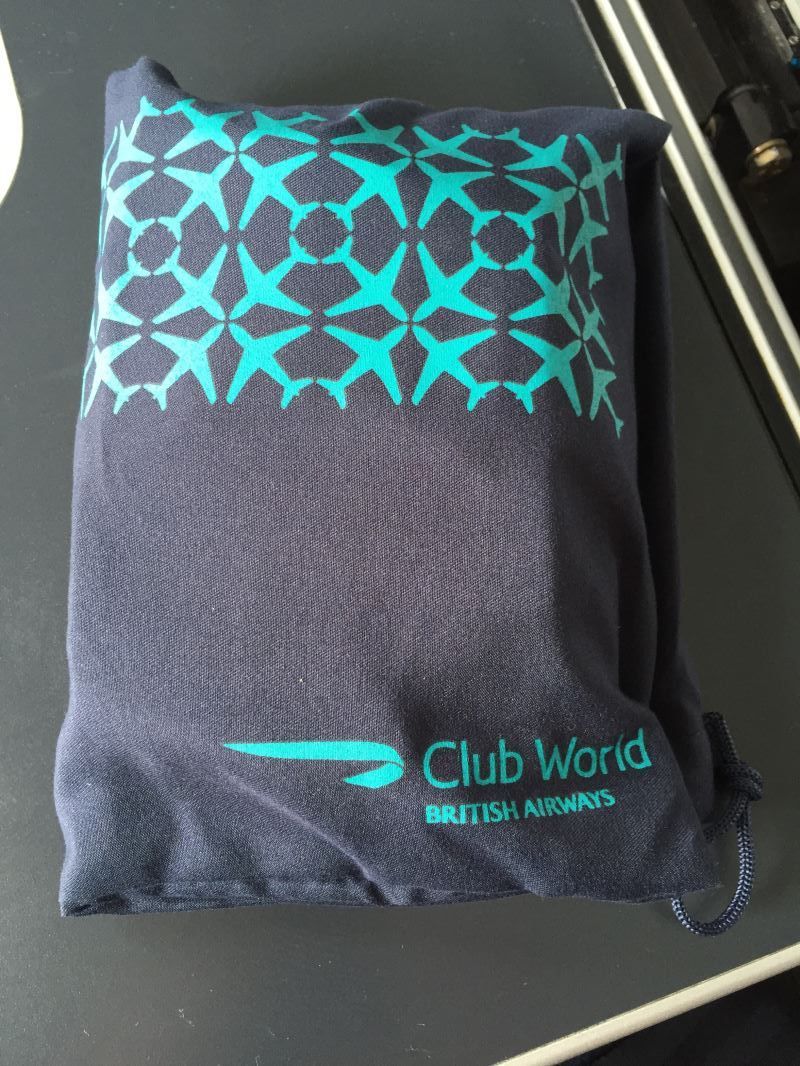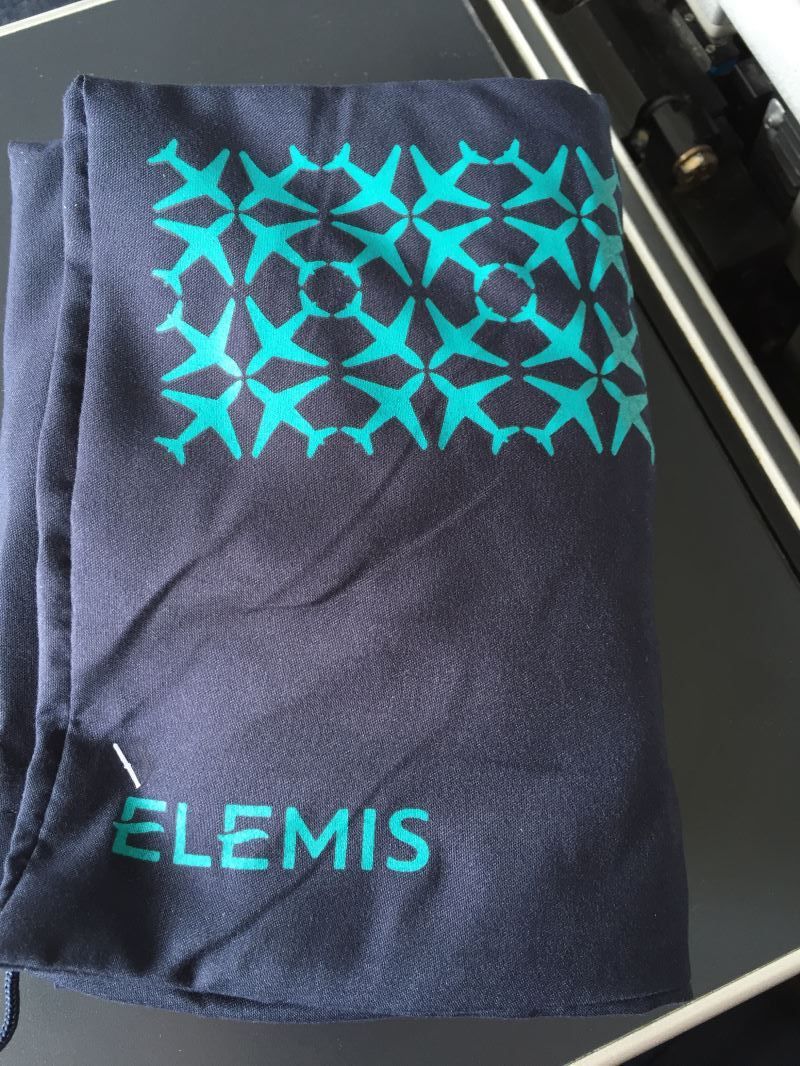 We were offered post depature drinks and this time I went with a Kir Royale and a sparking water. Nuts, as usual, were provided.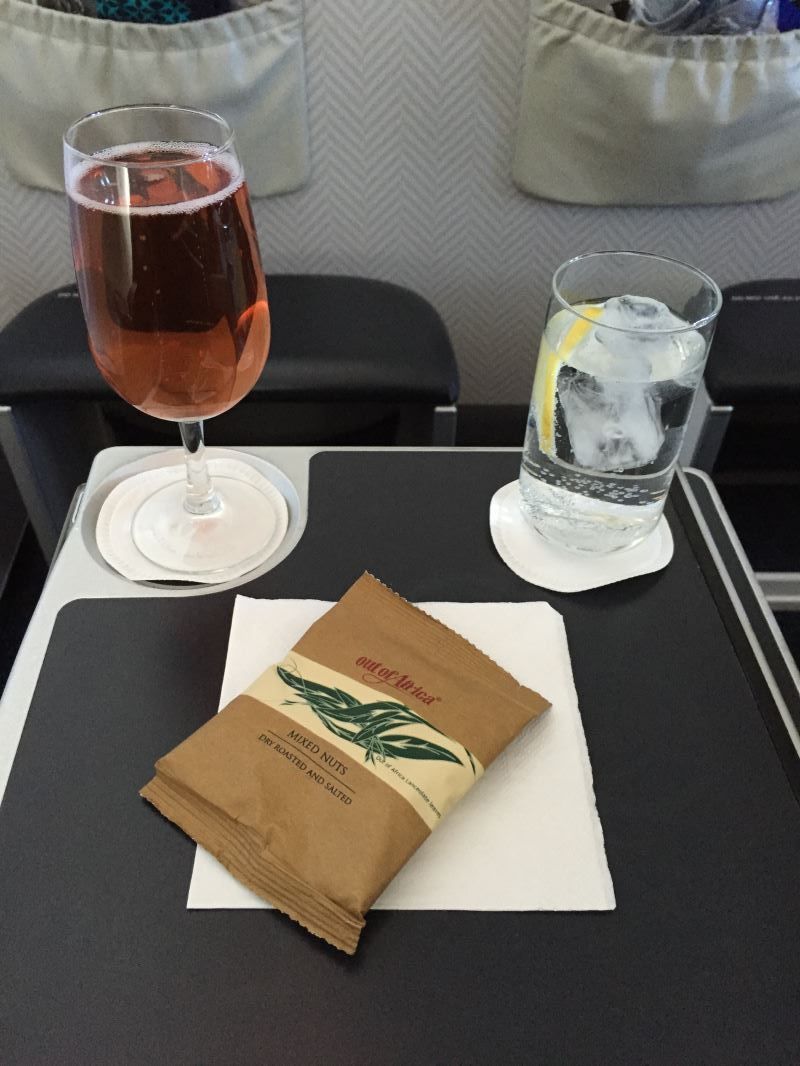 Everything was nice and leisurely and after gazing out the window thoroughly enjoying the experience, it was time to eat lunch.
The tray appeared like this.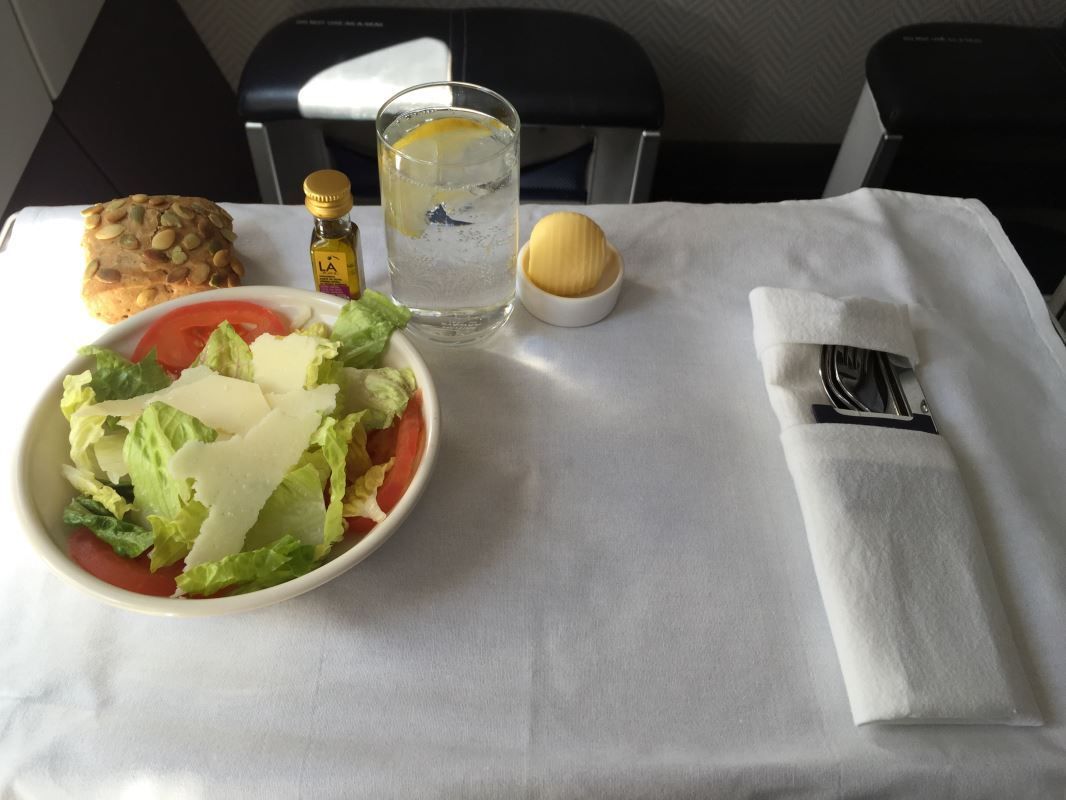 A close up of the salad and various other pieces - butter, vinaigrette and the bread I selected from the basket.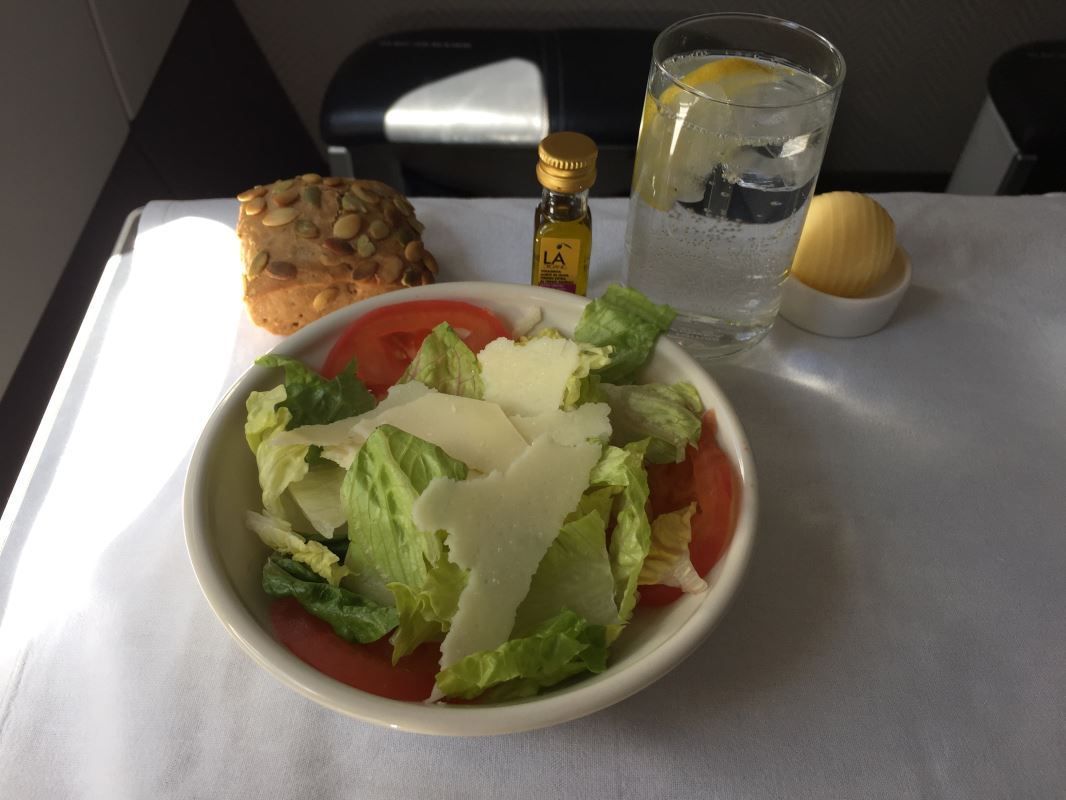 There were four selections for main course - I believe it was beef, chicken, fish and something vegetarian. It irks me still that I left the menu on board! I chose the chicken on this flight and it was okay - a trifle dry, and probably the only thing about this whole trip that was slightly disappointing.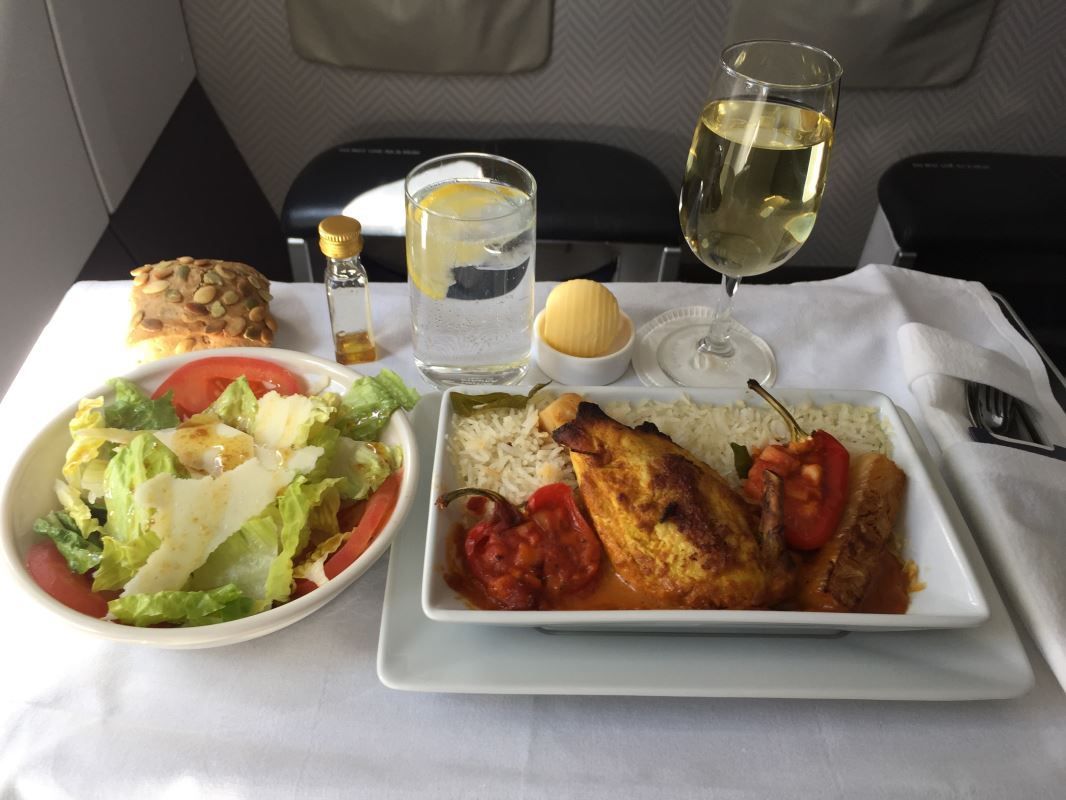 I had a white wine to go with it and as you can see, more sparking water.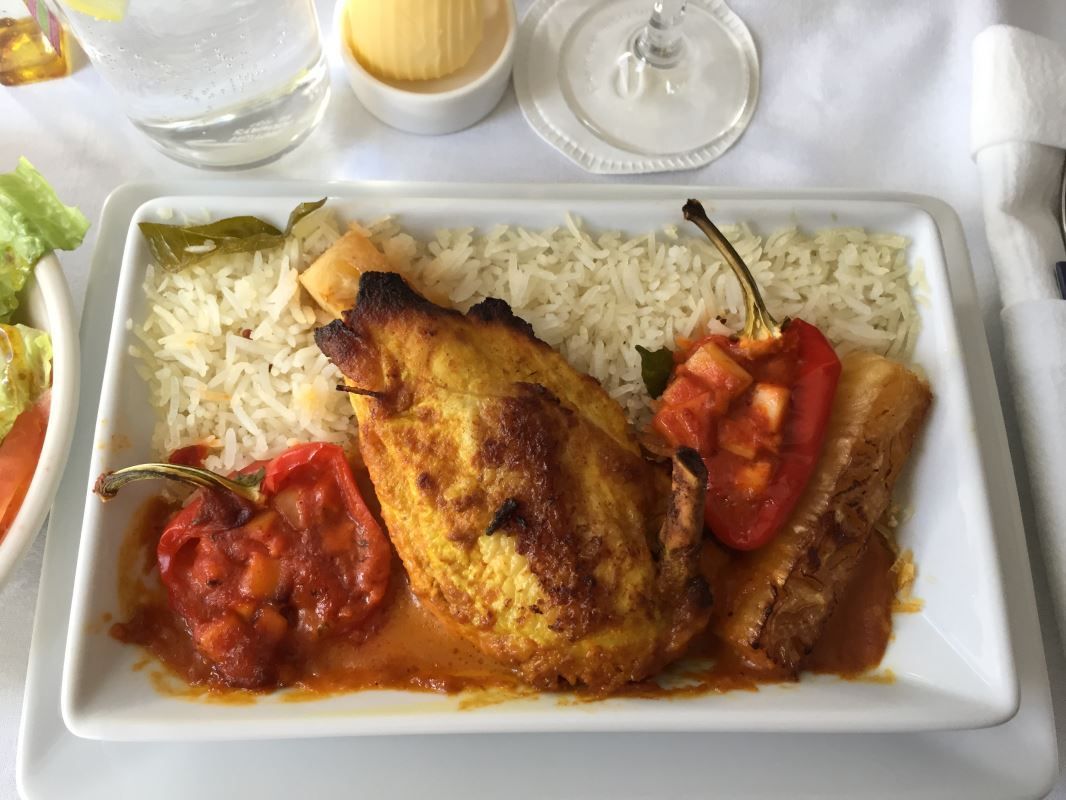 It wasn't bad at all, and I ate all of it of course. I do like my food!
Dessert on the other hand was stunning. For this chocolate and banana extravaganza, I had a glass of red wine.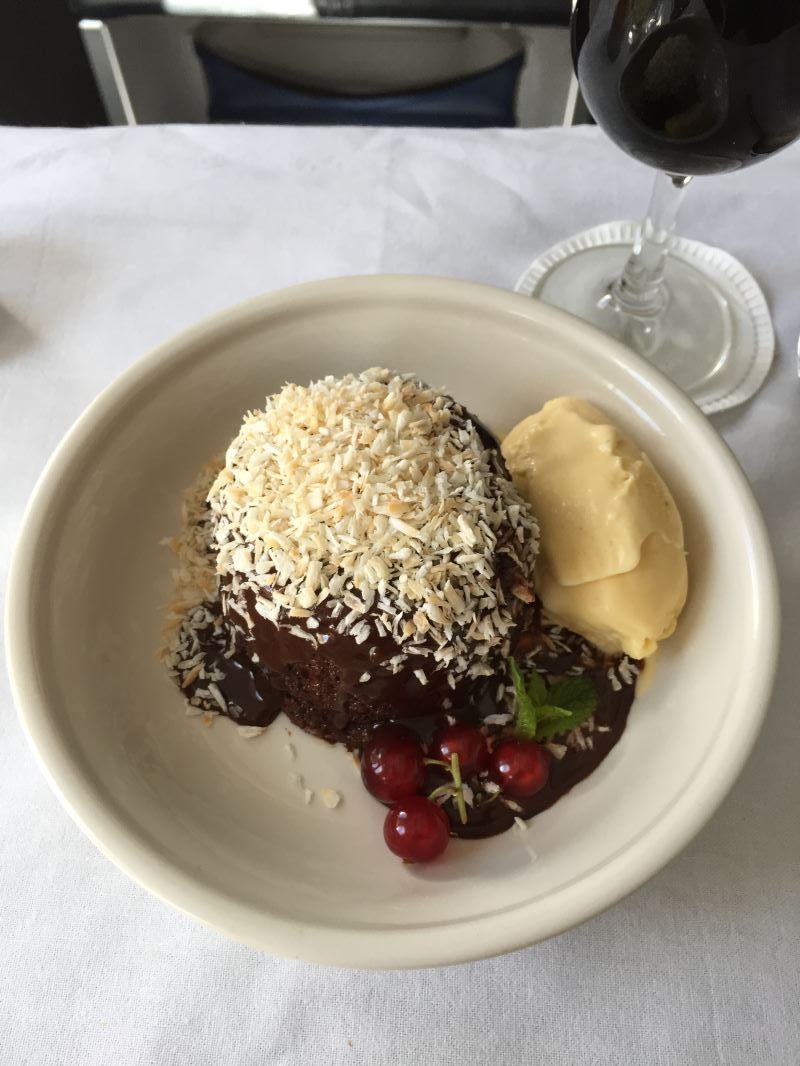 It was so good that I stopped half way to get a picture of the inside of it!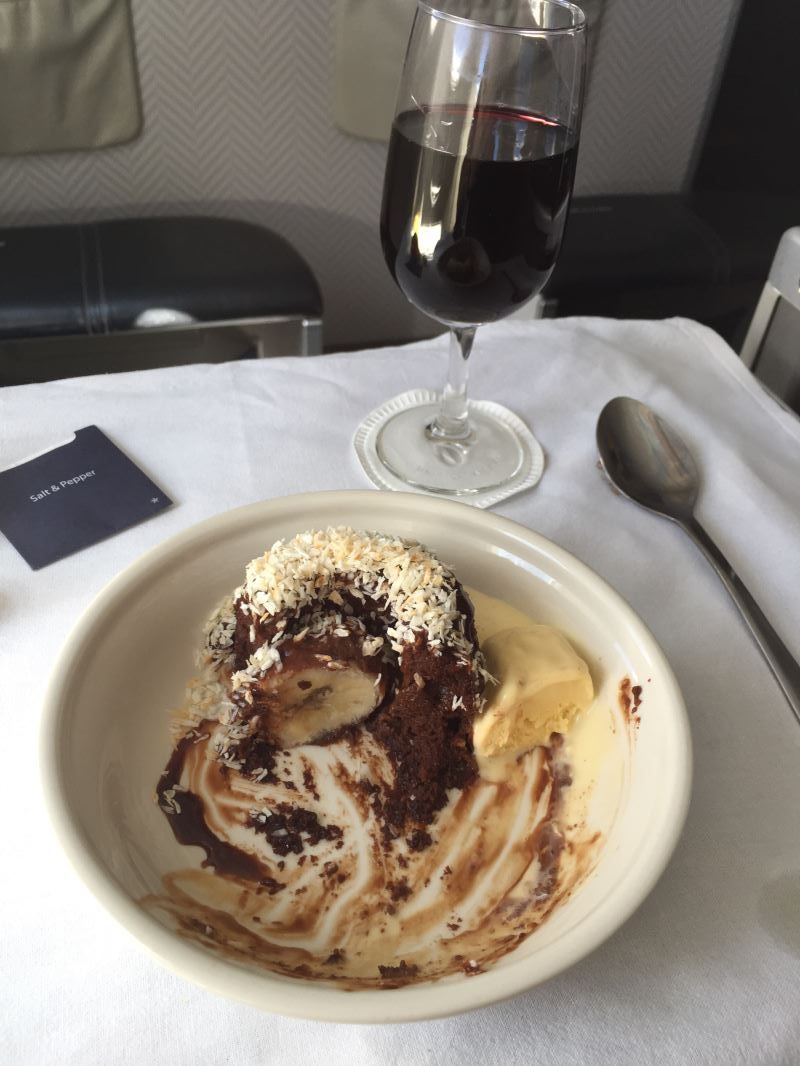 By now I was pleasantly tipsy and was struck at how nice the colour of the wine was in the sunlight coming through the window.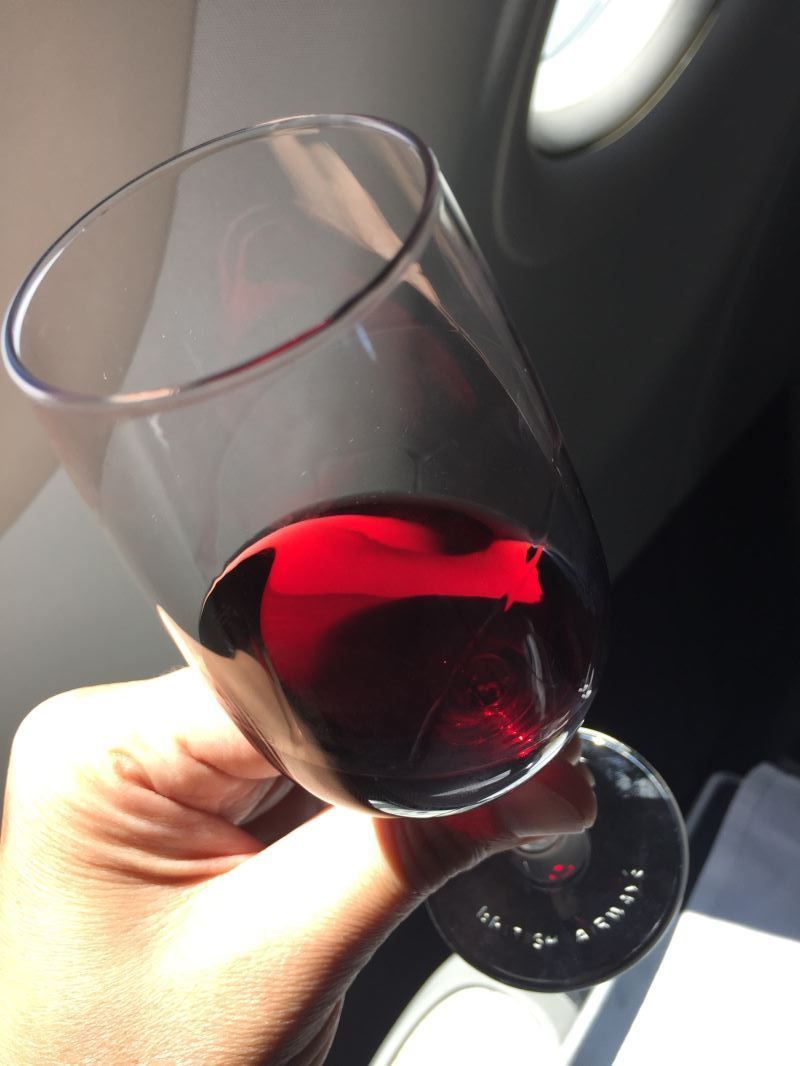 The in flight entertainment on board is via iPads handed to any passenger who wishes to use one. I was wondering how this would be, and it turned out to be very acceptable all round.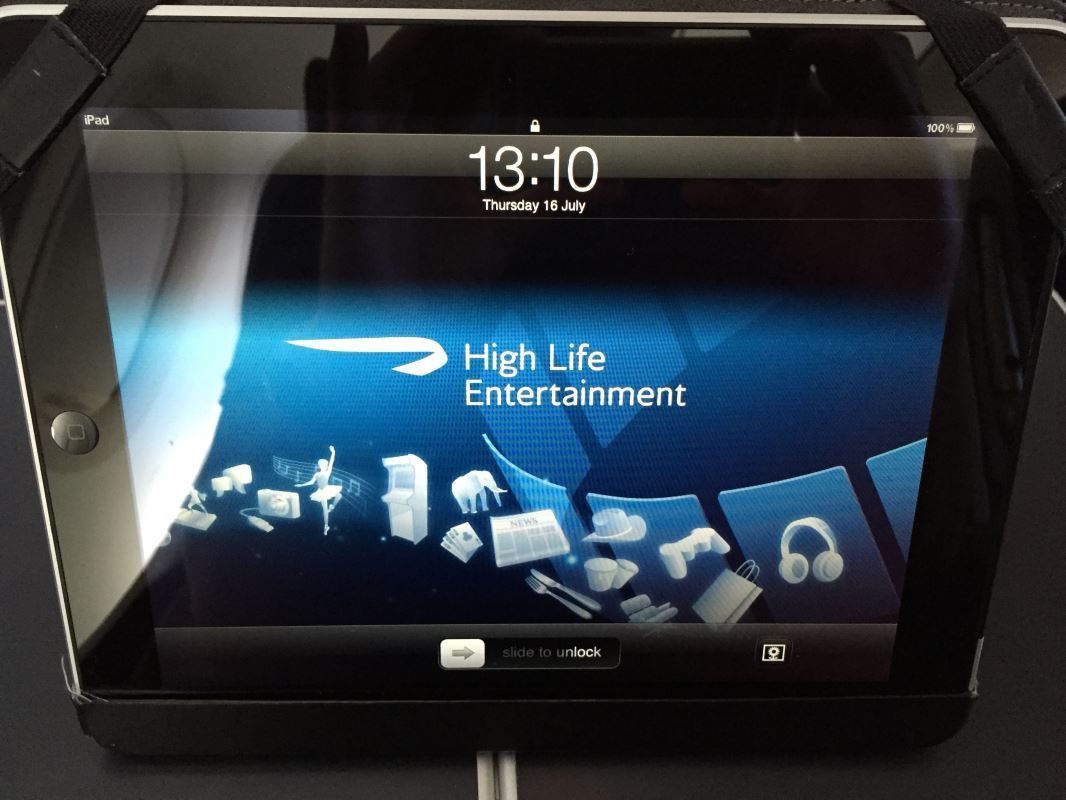 I picked 3 movies I'd like to see, and settled for The Second Best Exotic Marigold Hotel. I probably got through about 45 minutes of the film, when the guy from FlyerTalk popped by for a chat. As I had a seat free, I invited him to have a seat. We chatted, we drank, other people passed by and said hello and chatted... it was a bit of a party flight up where we were. The Captain said hello and we asked her a few questions when she took a short break - I never got back to the movie, let's put it that way.
At various points I did remember I had a Trip Report to write, so I did get some other photos. The bulkhead pattern in front of row 1.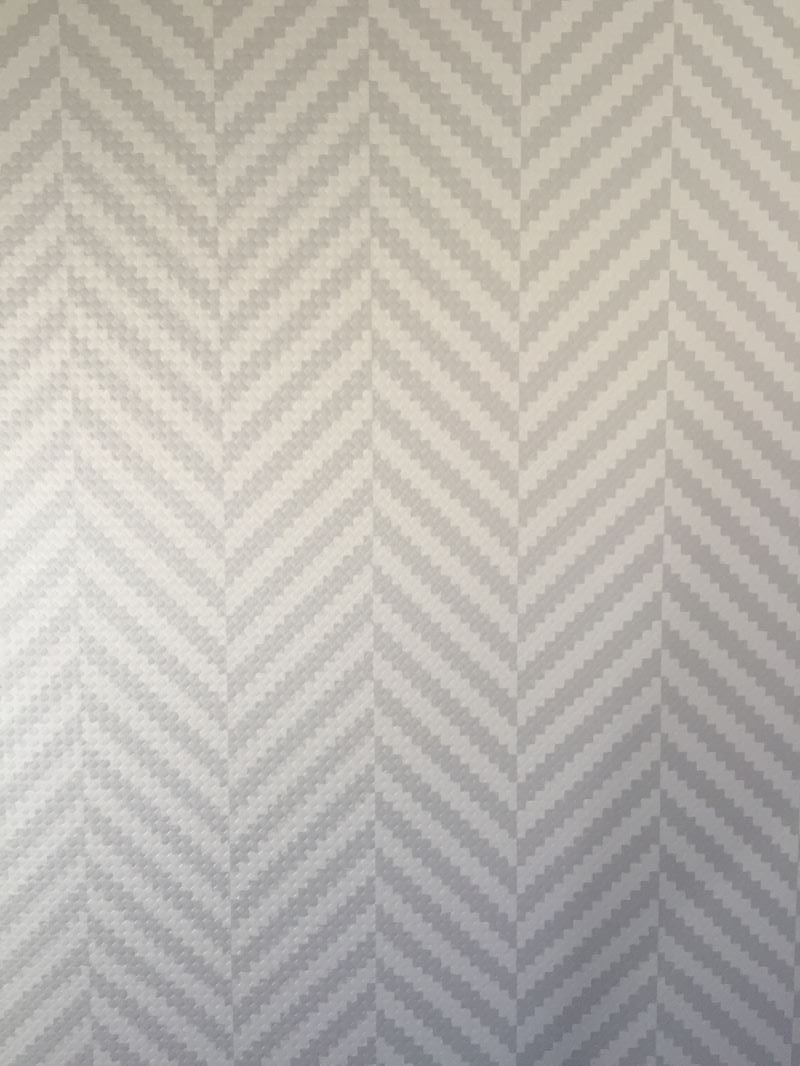 Chocolates appeared at one point and I took a picture of those on the foot rest, killing two birds with one stone.
Macaroons were delivered in little boxes.
As is usual on the BA001, there is afternoon tea served before landing.
As you can see by the angle, I was three sheets to the wind by this stage and didn't get a photo of the scones or a close up shot. As I'm a huge fan of scones, I most likely was too busy eating them all.
We landed into New York JFK, disembarked and I headed off to change terminals and to join my connecting American Airlines flight to Washington D.C. I had a superb flight all round and would do it again with no hesitation!
BA004 - JFK-LCY
27 July 2015
Airbus 318-112 - G-EUNB
Seat: Club World 7K
Departure: 21:45 Arrival: 10:15 (scheduled) 09:30 (actual)
View Large
View Medium


Photo © Don Brunjes
After a long weekend in D.C, followed by five days in Savannah and another weekend in D.C. it was time to go home. I had originally been booked on the BA002 however this was cancelled a number of weeks before departure and I was moved to BA004 instead. The reason for this was that the other Airbus 318 was gone for maintenance and the schedule had been reduced from twice daily to once daily for a period of time to accommodate this. It was no real issue, apart from the 4 hours I would have to kill in London while waiting for my connection to Dublin. I could have transferred to a service to Heathrow, but that was never going to be an option for me. I did get a phone call from British Airways to inform me of the change, so that was some very proactive customer service right there.
My American Airlines flight arrived on time and I transferred from Terminal 8 to Terminal 7 and checked in. I was advised by British Airways that if I wanted to avail of the arrivals service at London City, that I could tell the people at check-in. The person I had did not know what I was talking about, but one of the staff passing by did and told him what to do and what to enter into the computer so that it would be booked at the other end. Disaster averted!
After this, I went through security and into the lounge. I had been in the British Airways Galleries Club lounge in New York before, but I had forgotten how enormous it is. My first stop was to go to the Elemis people to see if there were any vacancies for a spa treatment. There was - at 9:20pm. As my flight was leaving at 9:45pm, that was not an option, so instead I went to try out the Pre-Flight Supper for the first time.
British Airways has Sleeper Service flights where you eat in the lounge and then can go straight to sleep on board and BA004 is one of those. I wasn't sure I'd like the concept, but, inevitably, I was impressed. The dining area is segregated from the rest of the lounge and you have your boarding pass scanned to be allowed in.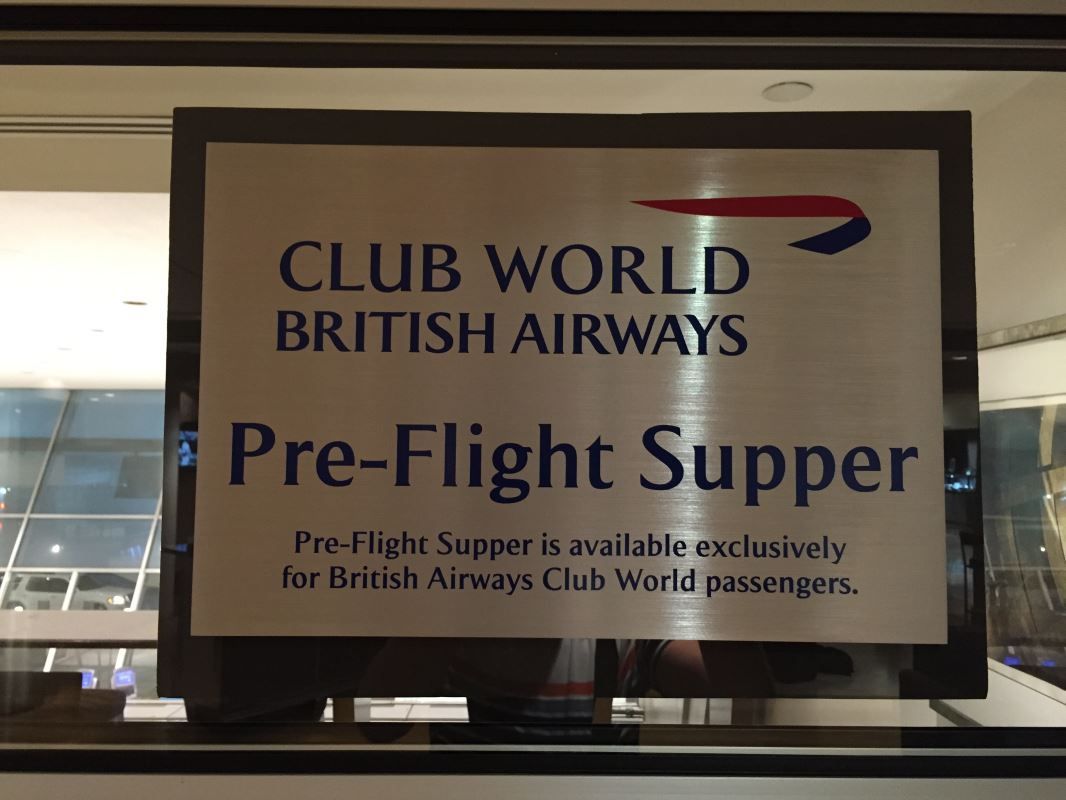 The place was very busy when I arrived but I had no trouble finding a table. The pictures of the seating were taken when most people had left and below are the tables in front of the buffet.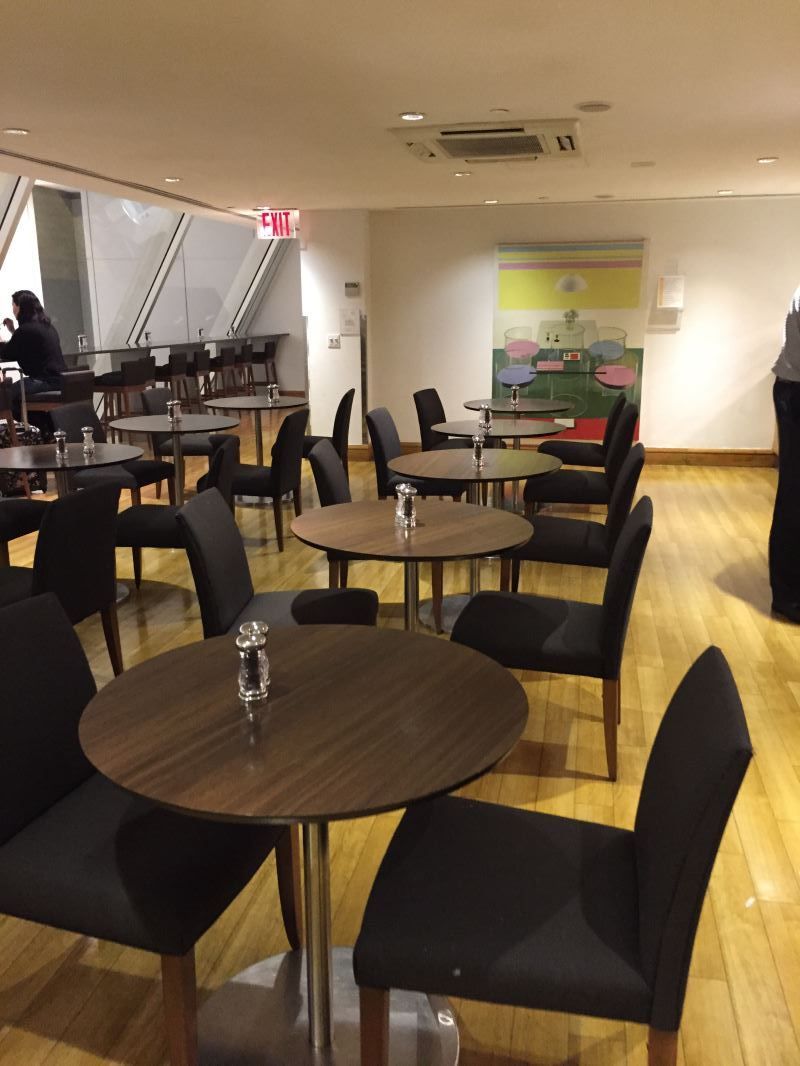 Where the drinks and dessert are off to the side is an area with a curved wall, which is where I sat.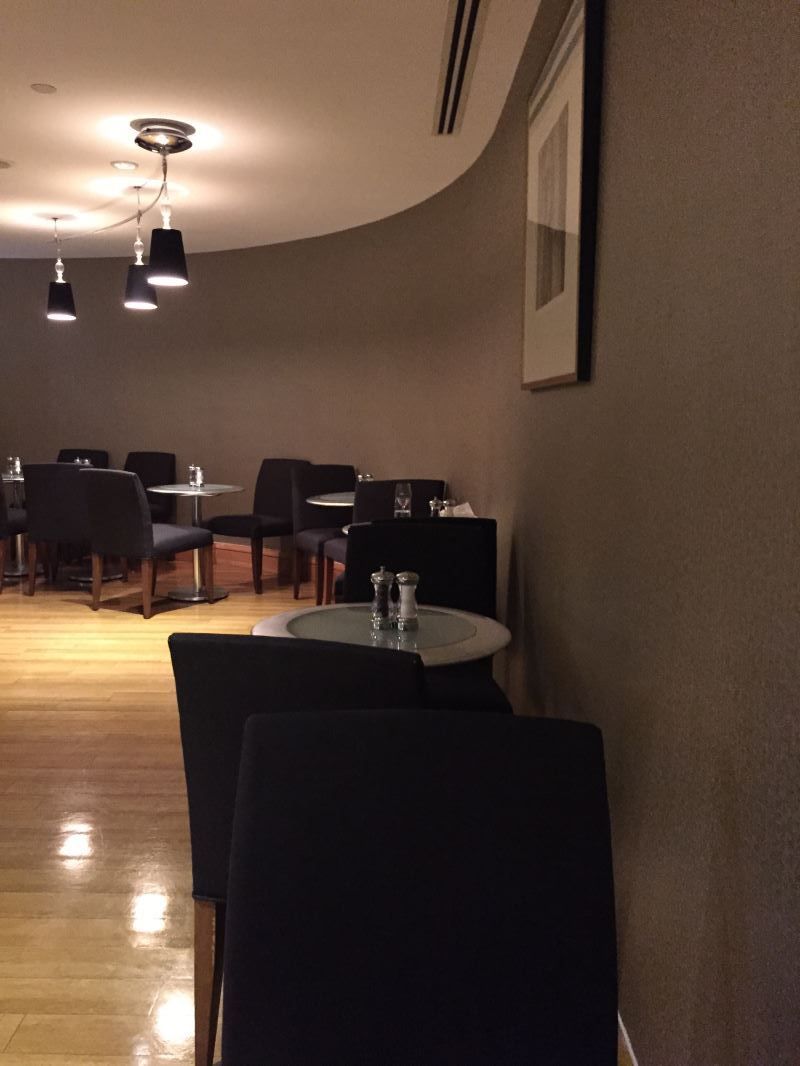 Signage was great, as was the selection. Here is the one for the soup and salads.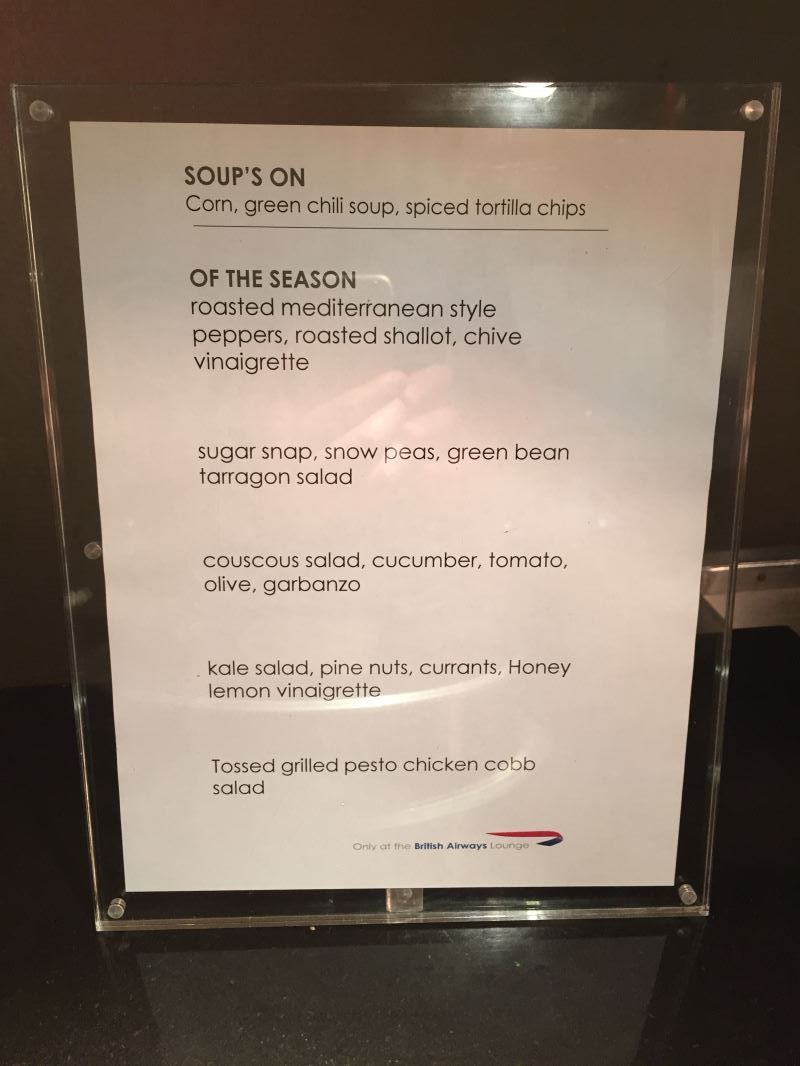 Here are the aforementioned salads.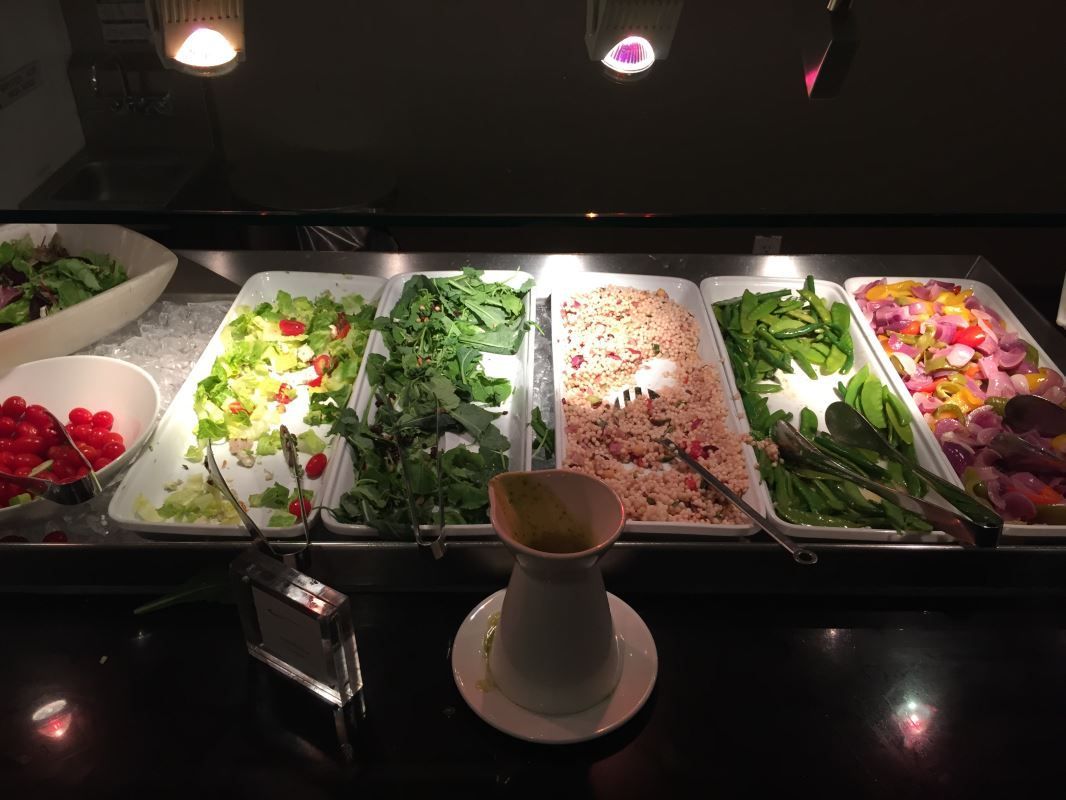 The salad dressings...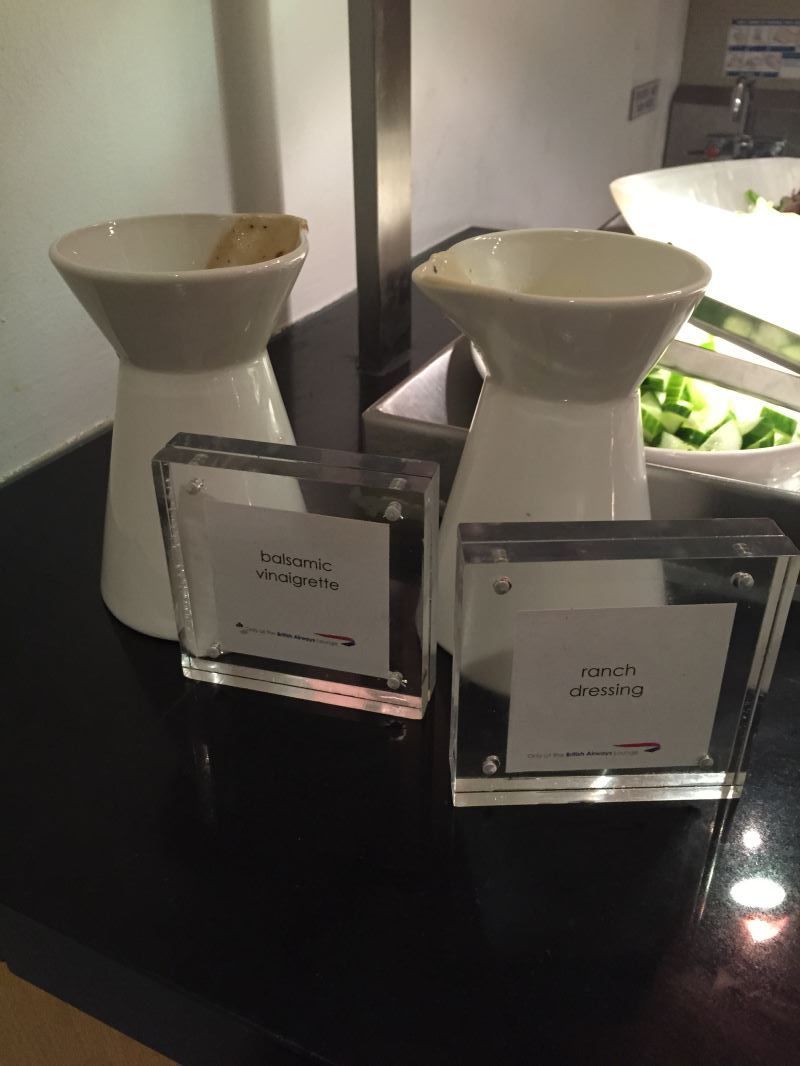 Not forgetting the soup!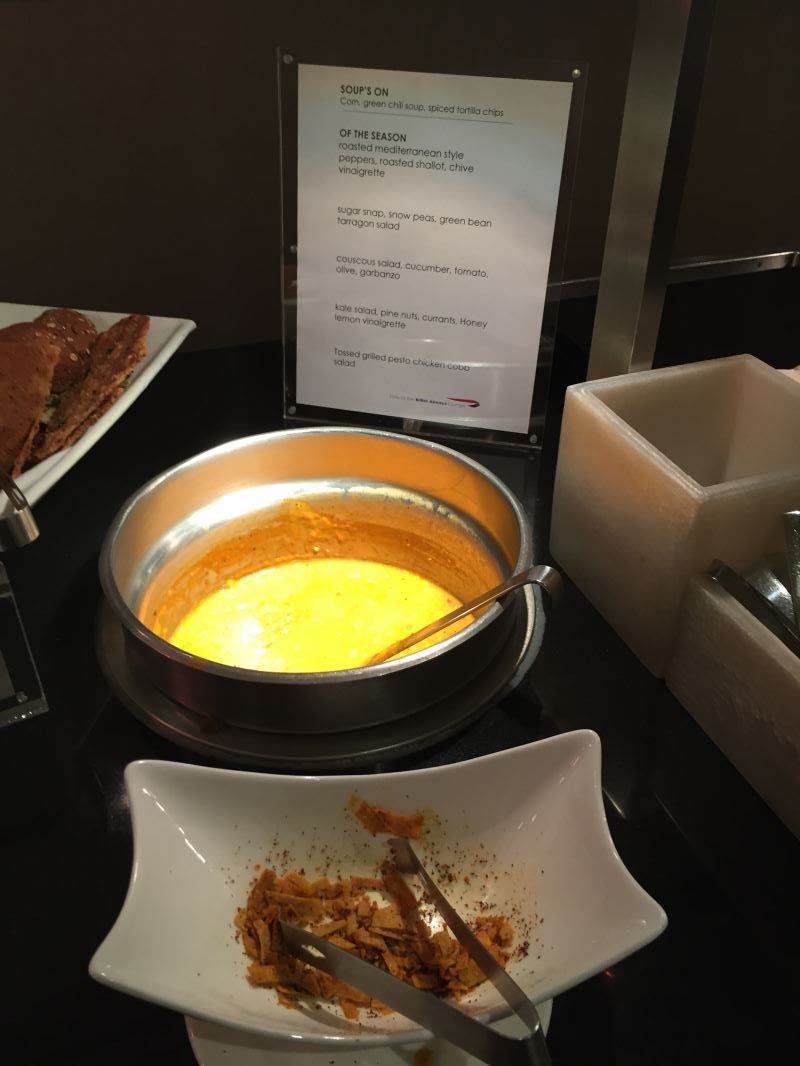 The Indian Curry sign...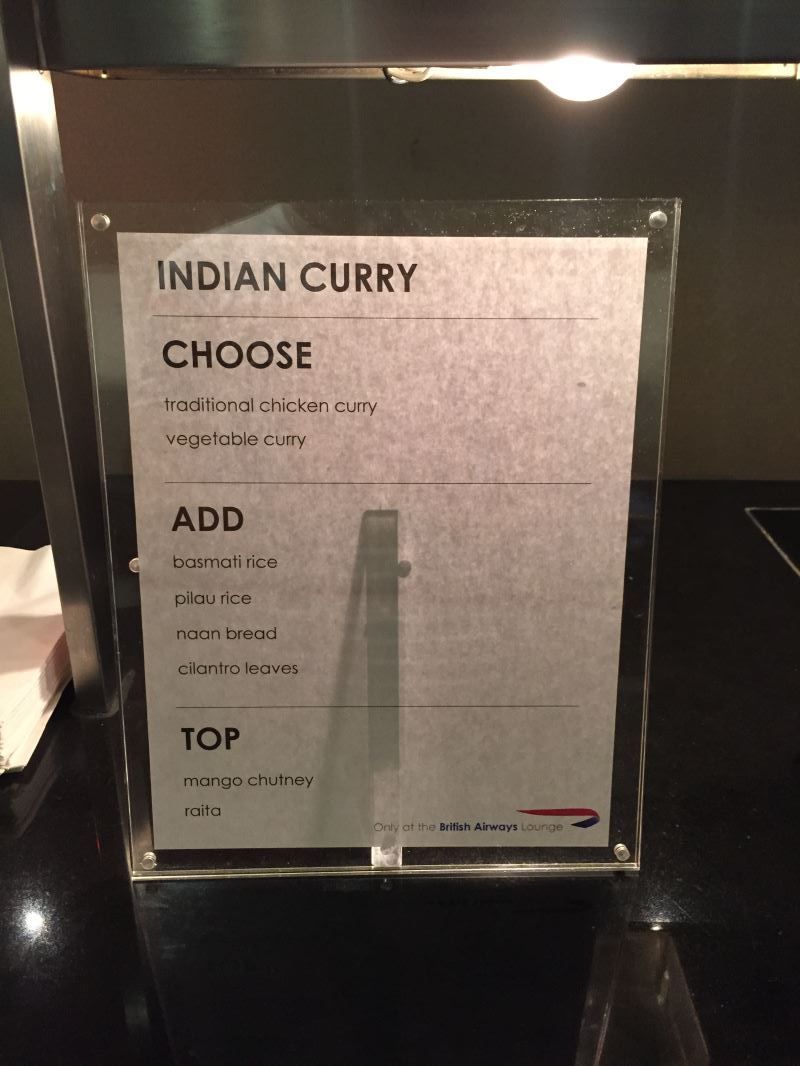 The food itself...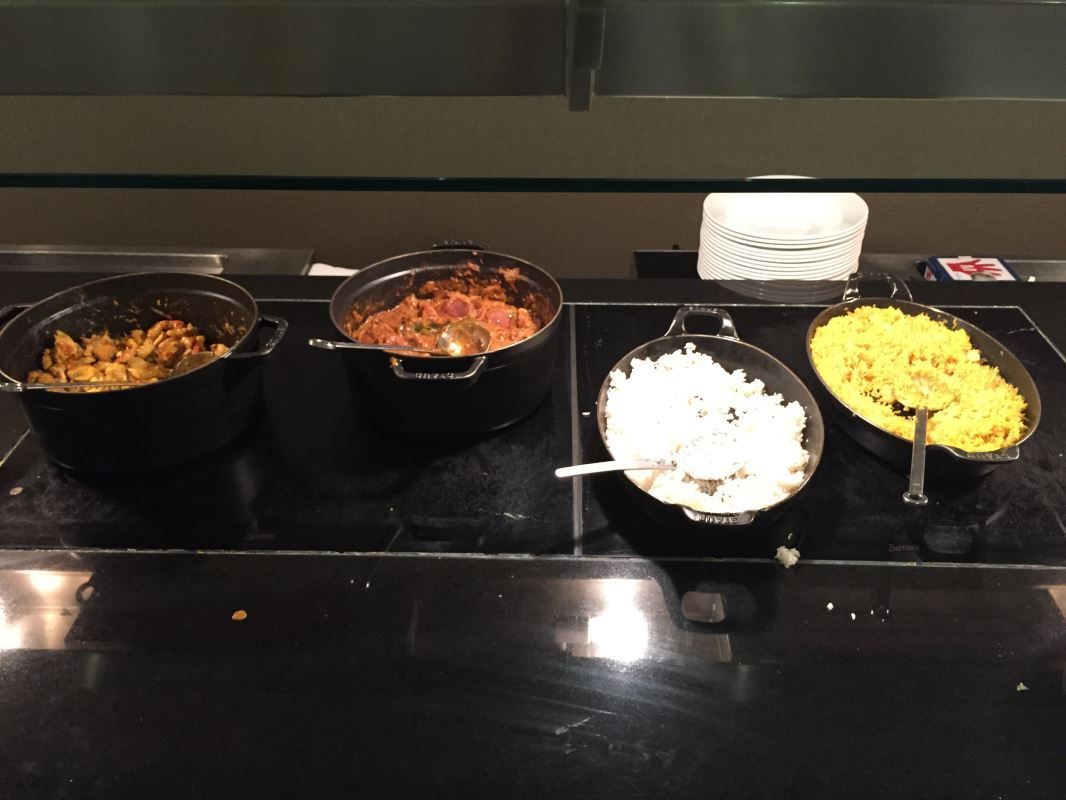 Below are the following -
Meatballs, tomato basil sauce
Rigatoni
Baked atlantic cod, fennel, orange vinaigrette
Leek, spinach tart, herb greek yoghuty sauce
Looks great, doesn't it? But wait, there's more. Below we have the following -
Roasted new potatoes
Roasted carrots
Local corn, pepper summer succotash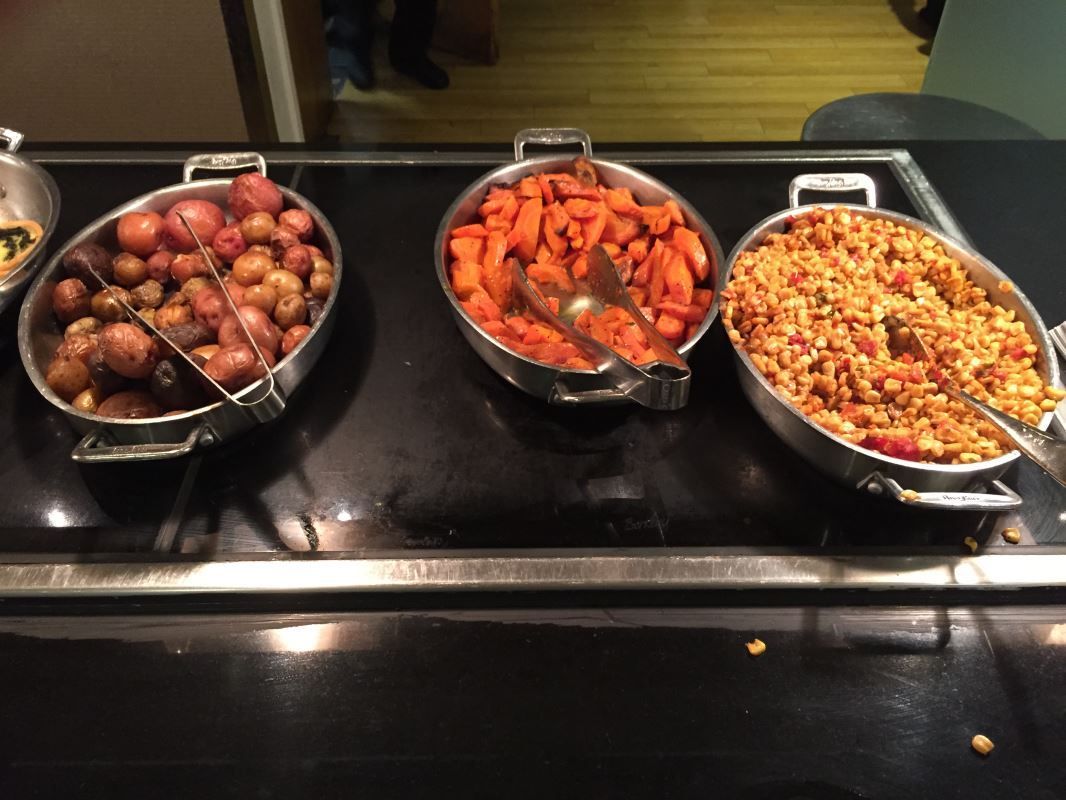 For dessert, you could have fruit and cheese.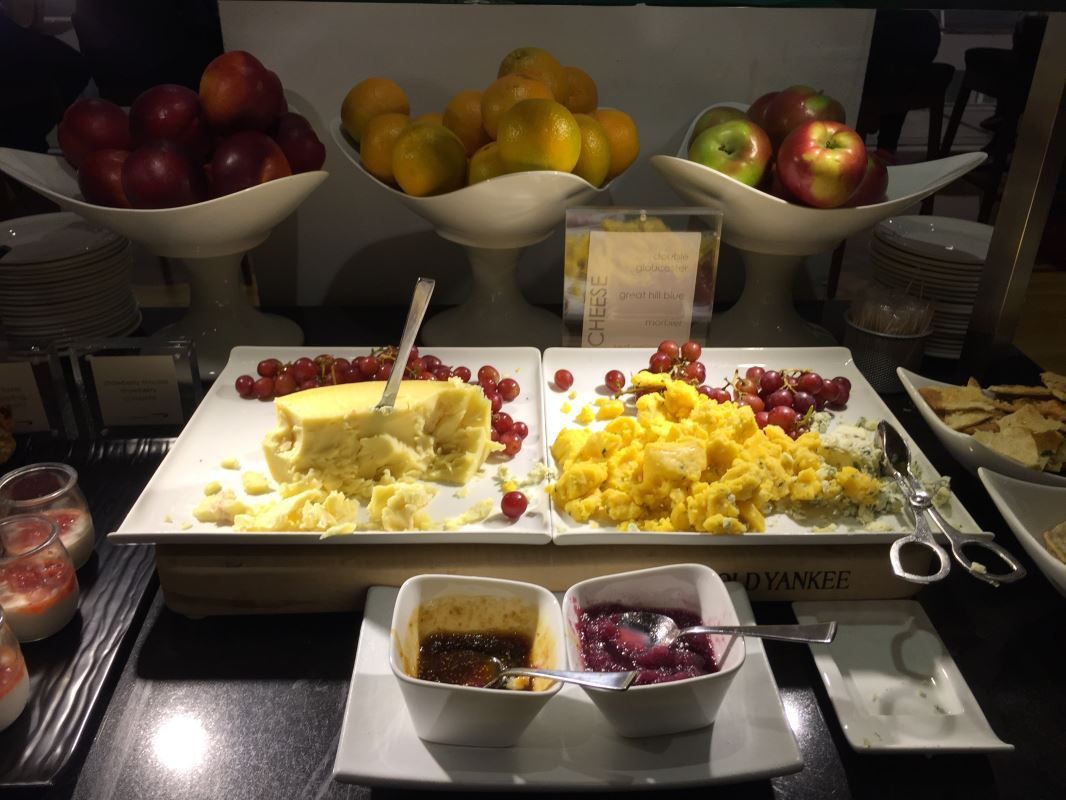 Or you could indulge in the below -
Strawberry mousse, strawberry compote
Banana foster bread pudding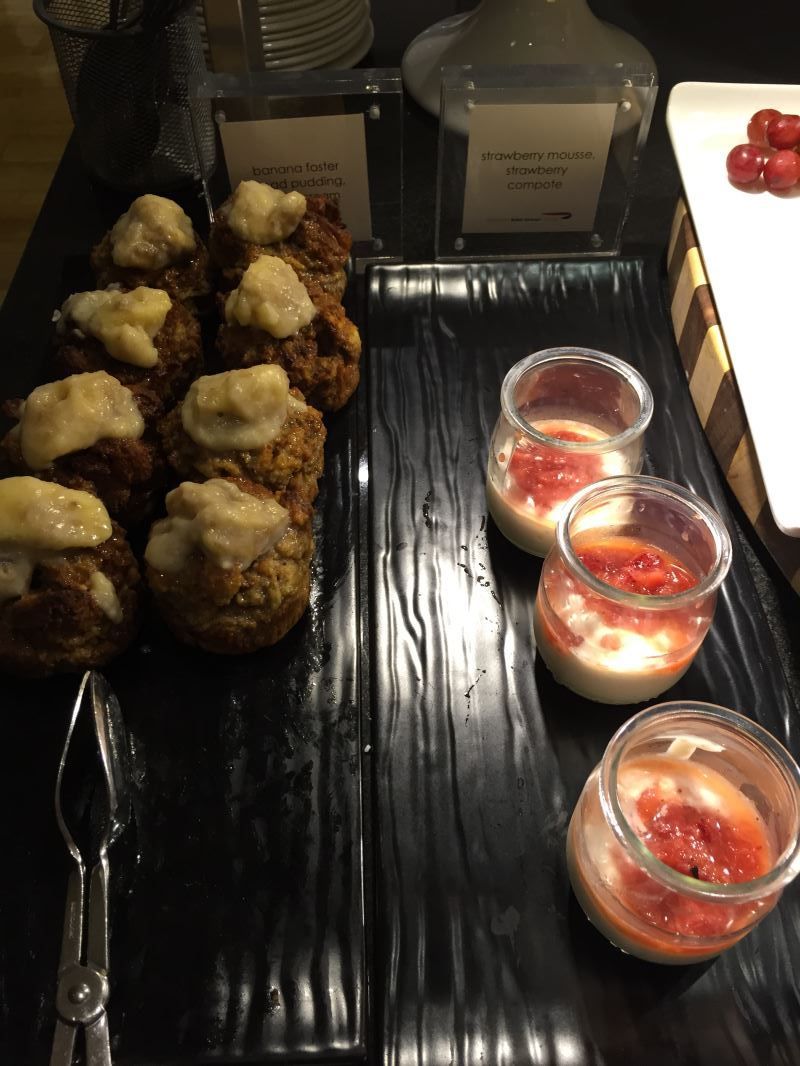 Naturally you could help yourself to Wine and Champagne.
Also available was still and sparkling water.
After all that, you might be wondering what I went for. Being the shy sort, I skipped the soup course, the fish, and the cheese. Otherwise, I tried every single thing on the menu by having a little bit of everything. The stand out was easily the Meatballs - I had two and decided I could squeeze in two more. Along the way I had a glass of Champagne and a glass of water. Both dessert pots were delicious too! It was just a party in my mouth with this food. Really, I was impressed. The only downside is that I really had to hustle to get it all done as I arrived in to the lounge about 8:45pm.
By now it was time to go to my gate and board, and it's unusual to feel like you're the only one boarding a flight. The flight was just over half full, with virtually everyone having the seat next to them free - except me and I think one or two others. The guy next to me slept the entire time anyway which was expected so all was well.
This is a view of Row 7 from my seat. Bottled water already set out for later.
Another view - this time you can see the cabin lighting properly. I really like the lighted blue strip along where the seat numbers are. It looks very classy!
Here is the divider which is not really much of a divider compared to standard Club World. Poking out is the individual seat light, which is much less strong than the personal light above you. It's much less disturbing to other passengers to use this in the middle of the night though.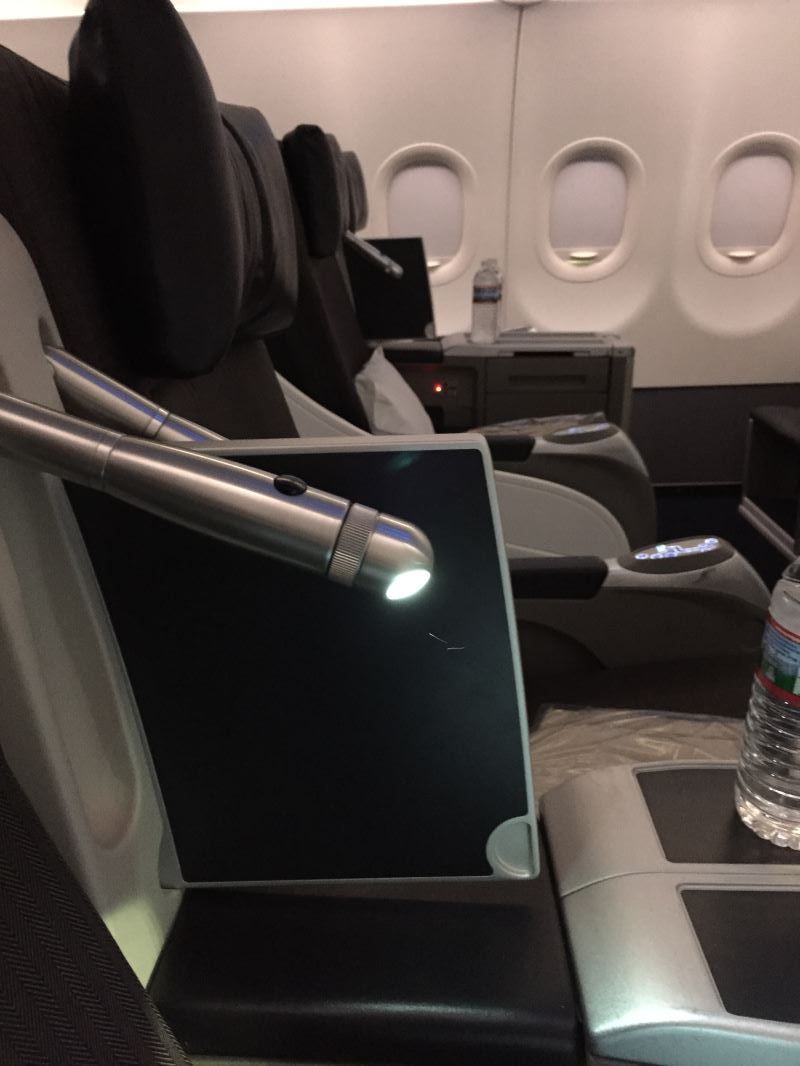 Champagne was delivered and here you can see the handle of the pull out tray which is stored in the arm rest when not in use.
The seat controls look like this. There is no massage function or anything like that, but considering how comfortable the seats are, is there really any need for one?
On boarding this service (and BA001) there are coat hangers waiting in front of you if you have anything to hang. The crew collect these at take-off and put them in a closet before they are returned to you prior to landing.
Leg room in 7K.
A close up of the seat pocket which has a seating guide, a safety card, the usual BA magazine and the headphones for the iPad.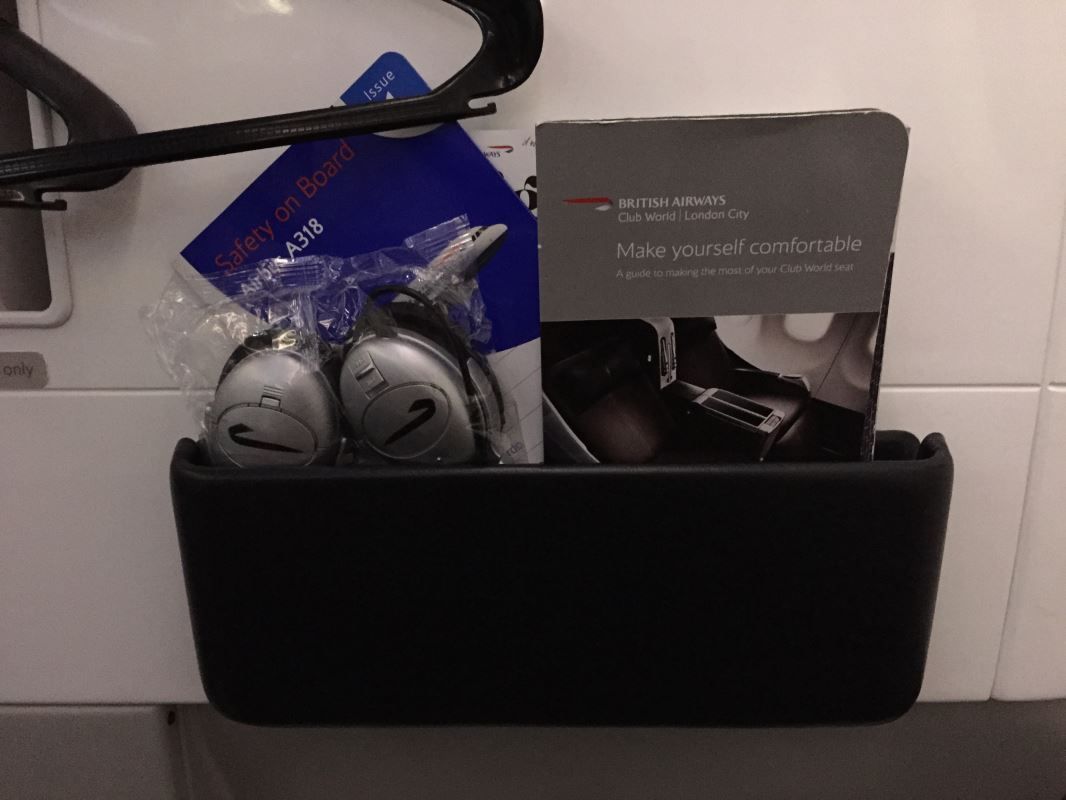 Overhead are signs for no electronic devices, no smoking and fasten seat belts.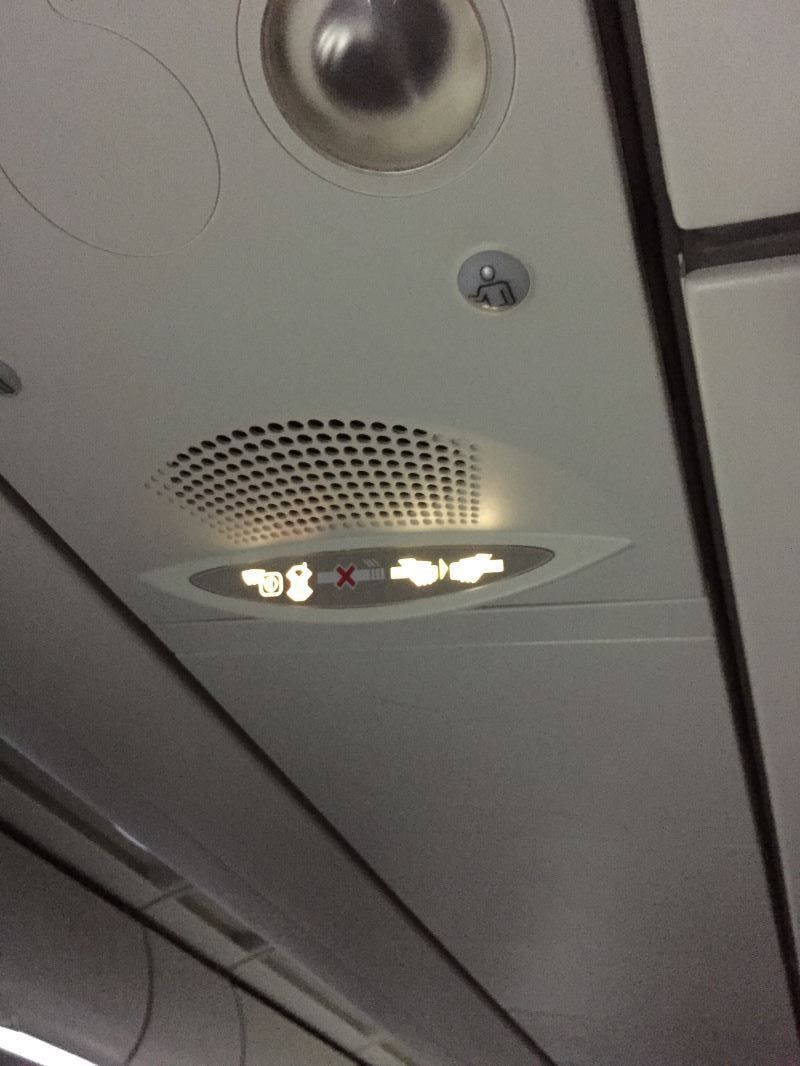 The view from 7K included a United aircraft which I still automatically think of as Continental due to the livery.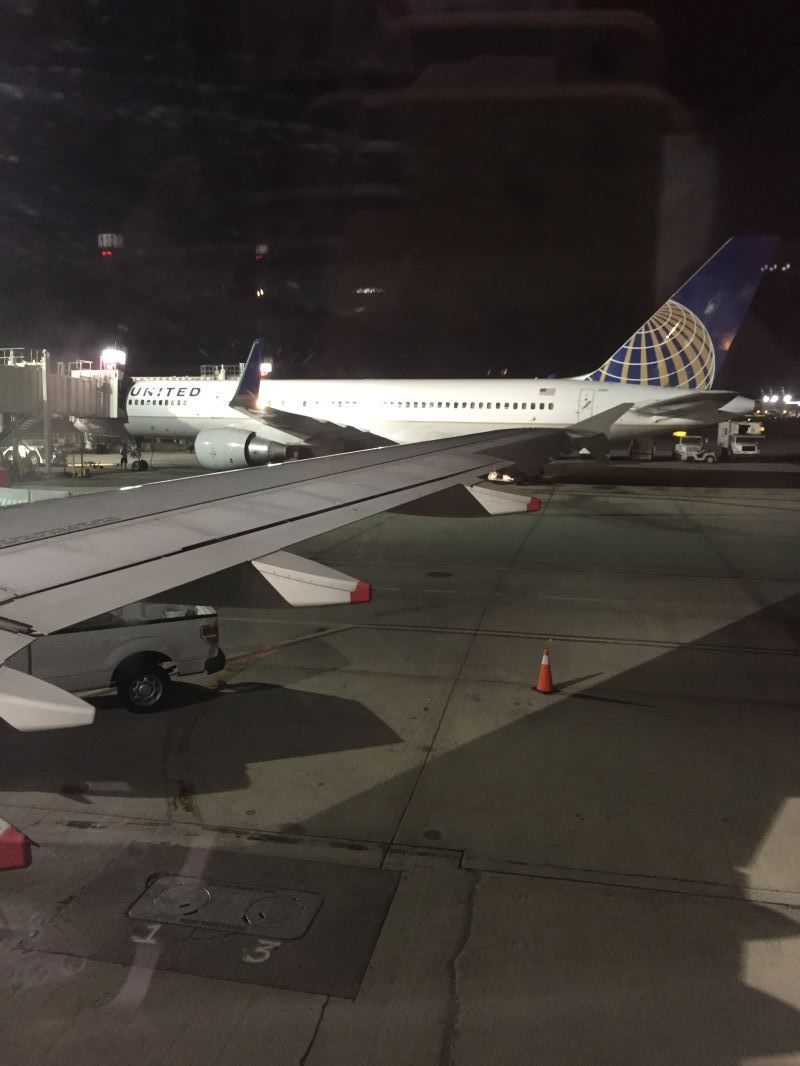 Here's a view of the cabin from down the back, before take off. I love the blue stripe of the seat numbers heading into the distance - it looks very cool.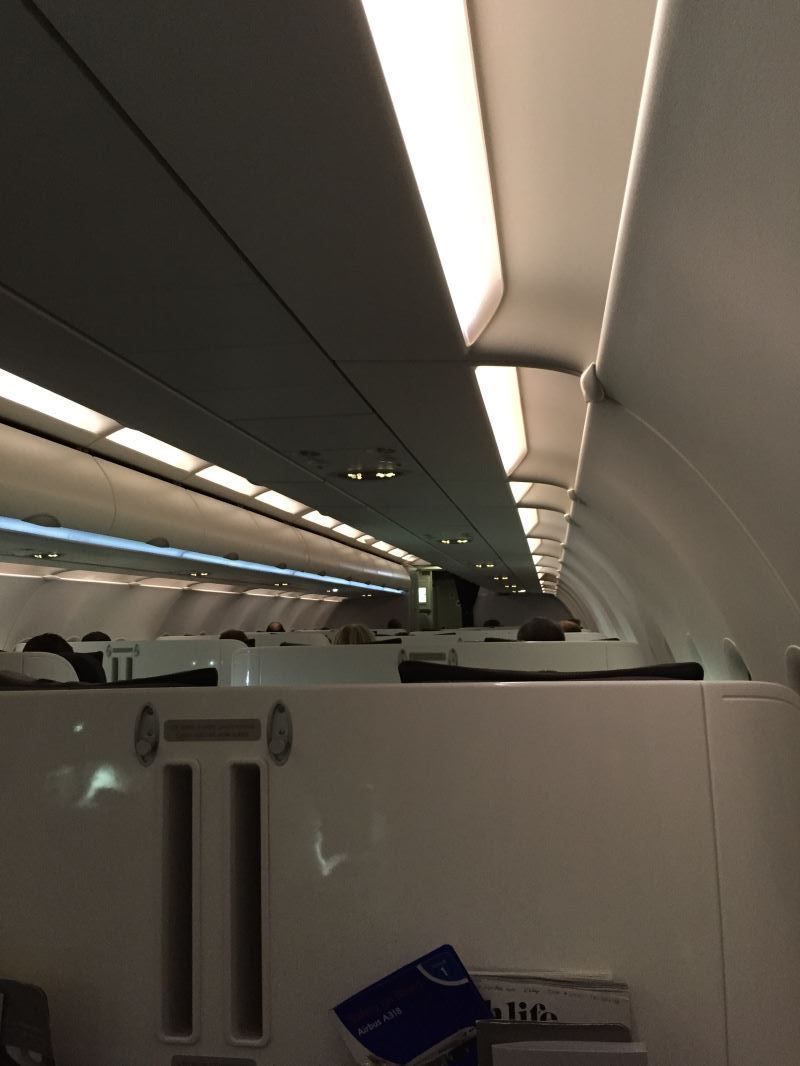 Our glasses were collected, we had the safety demonstration and after a little bit of a journey around JFK we took to the sky. The cabin was dimmer for the occasion.
Outside, it was a beautiful clear night for flying.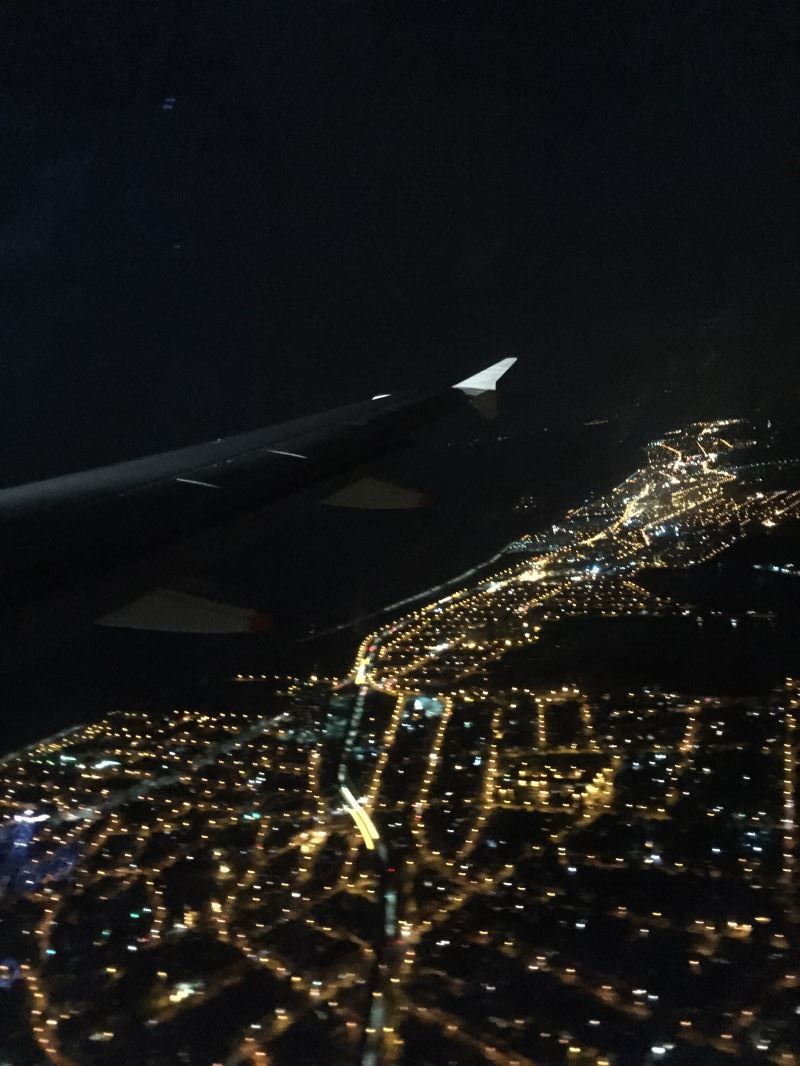 The moon was providing plenty of light - it's just a shame that a phone camera renders it so badly.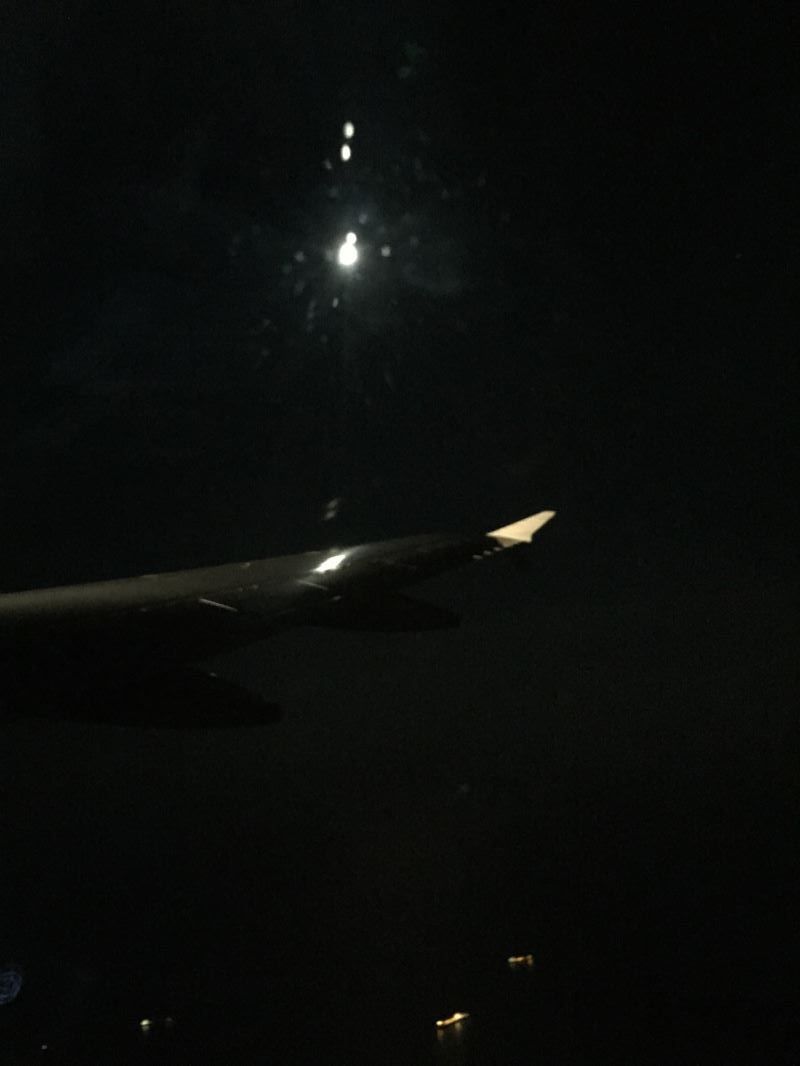 After take off, it was time to visit the loo. This is standard British Airways, down to the floor pattern and Elemis products for your hands.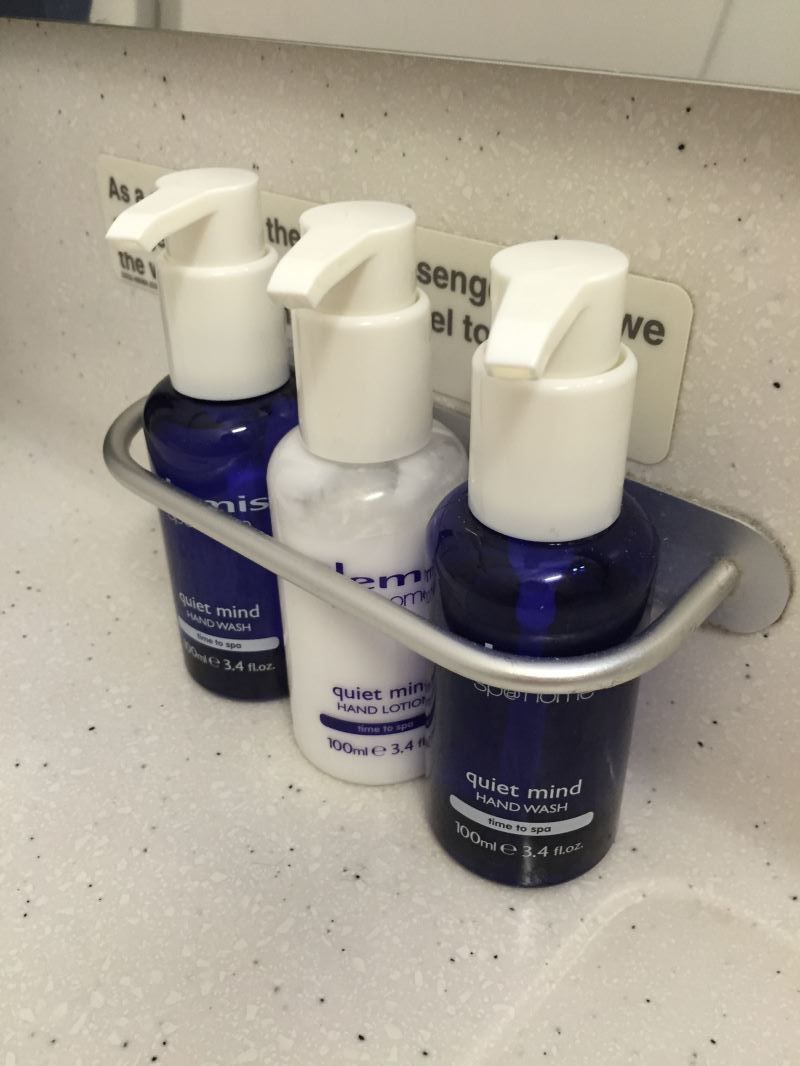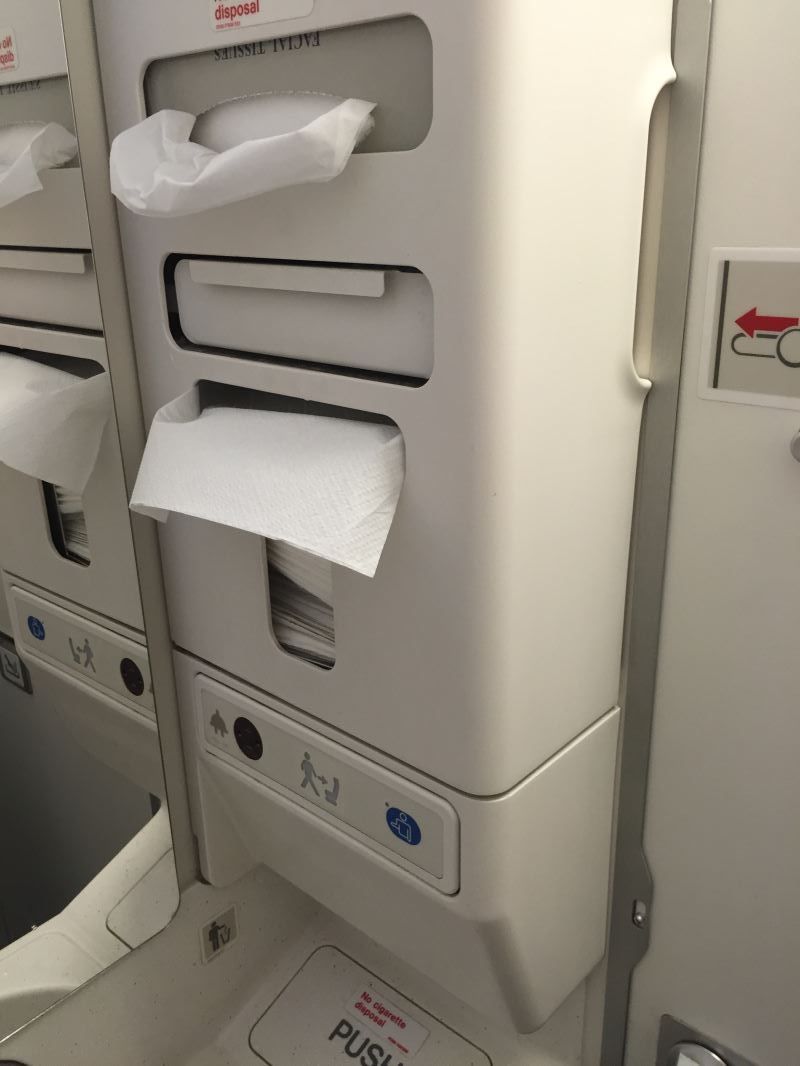 Of course, things aren't complete without a bit of signage.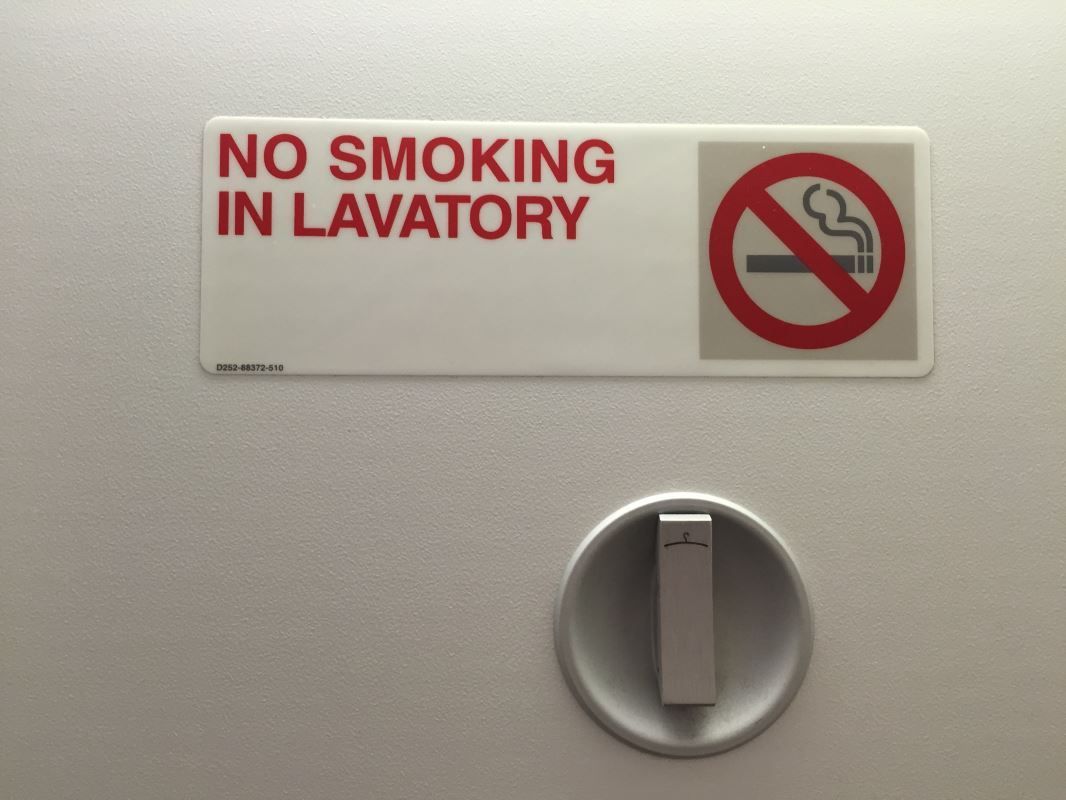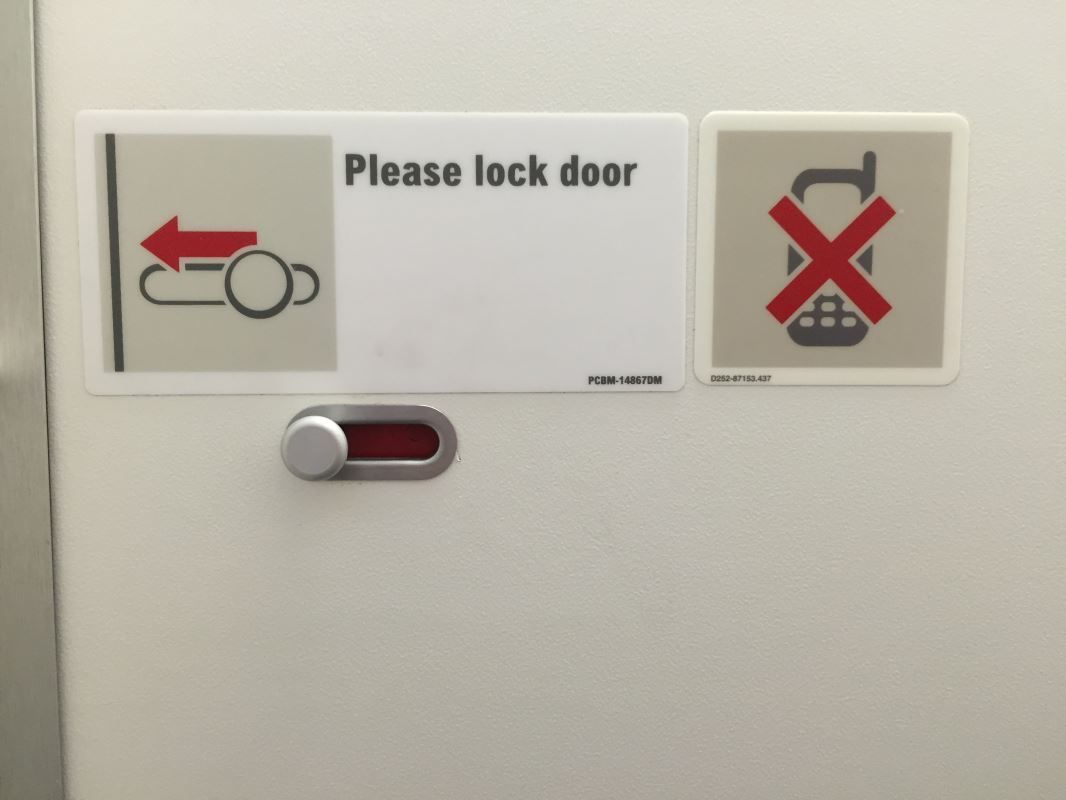 The crew, who did a remarkable job of speaking quietly throughout the flight (really!), came by and asked if I wanted an iPad. Of course I did - I had the rest of the Second Best Exotic Marigold Hotel to watch!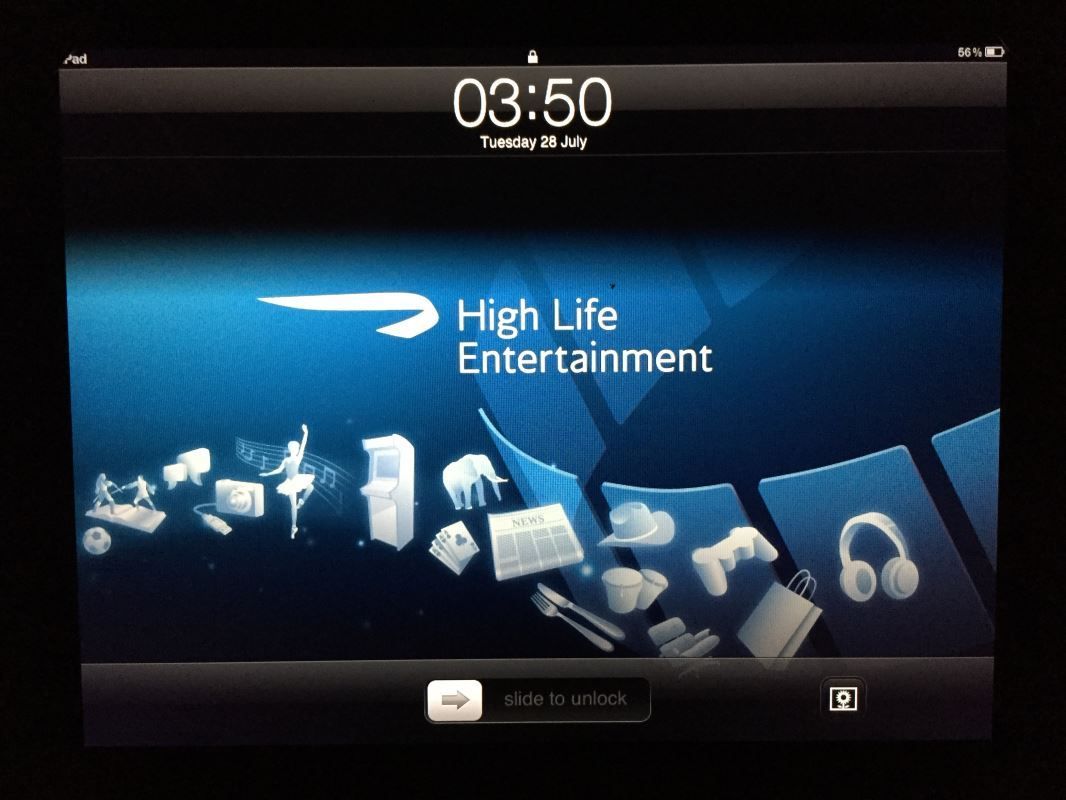 Interestingly, you could iPad in French if you wished. Something to do with OpenSkies perhaps?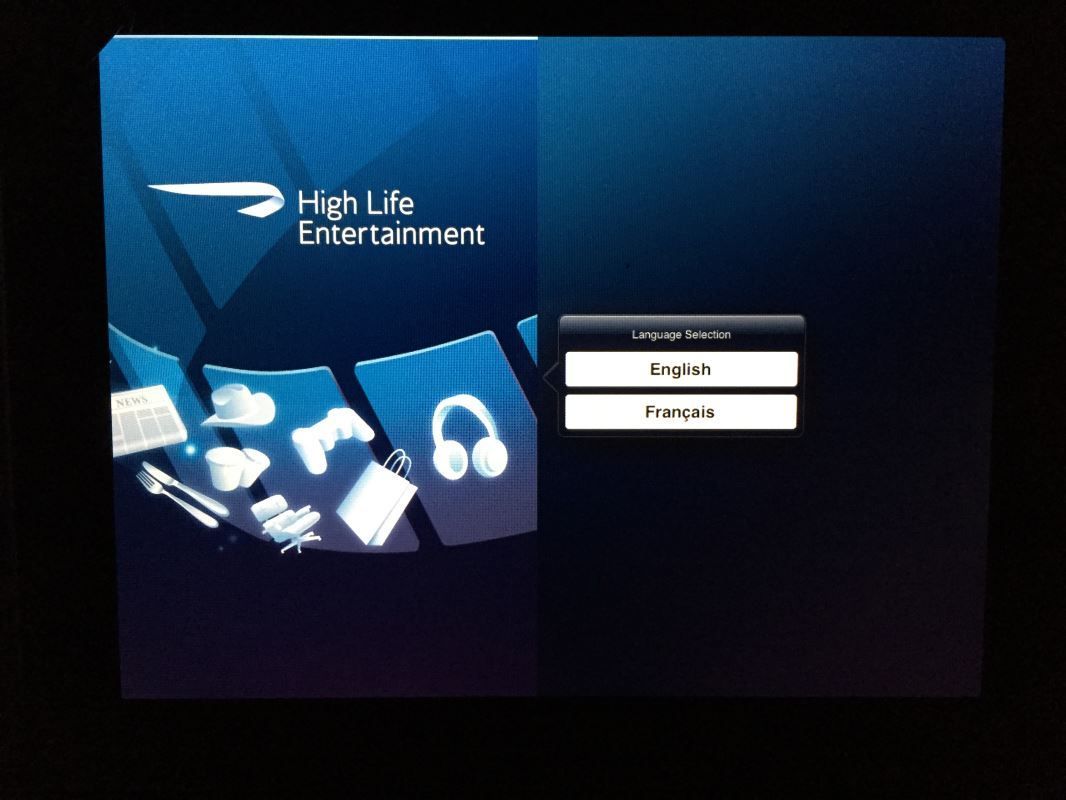 In the menu, the meal is billed as a Champagne Supper. Of course, I took a glass of the Champagne, which on both legs was Taittinger Brut Reserve NV. It sure beats the Monopole they serve in Club Europe (that tastes a bit like you're drinking poison sometimes!).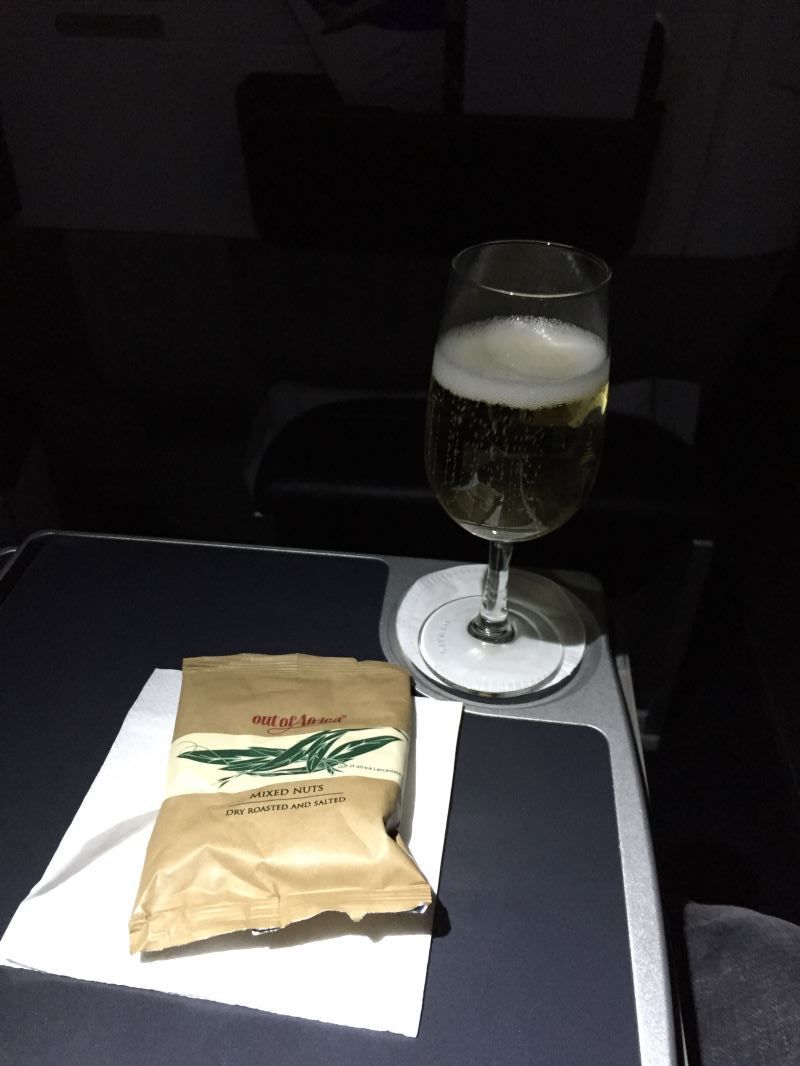 There were three options for Main Course for the Champagne Supper -
Toasted panini with pulled pork and Cheddar cheese
Rigatoni pasta with sauteed aubergine, black olives and a cherry tomato sauce
Or my choice, which was Tapas plate featuring salmon tartate, asparagus with prosciutto and Parmesan and beef tataki on a peperonata.
Quite frankly I was still pretty stuffed from my gorging in the lounge, which is why I chose the lightest option.
It all looked and tasted great!
For dessert, there were also three options -
Chocolate
A selection of fruit
Or my choice, which was Kilchum Krystal Cheddar and Wisconsin Mountain Blue cheese with quince paste.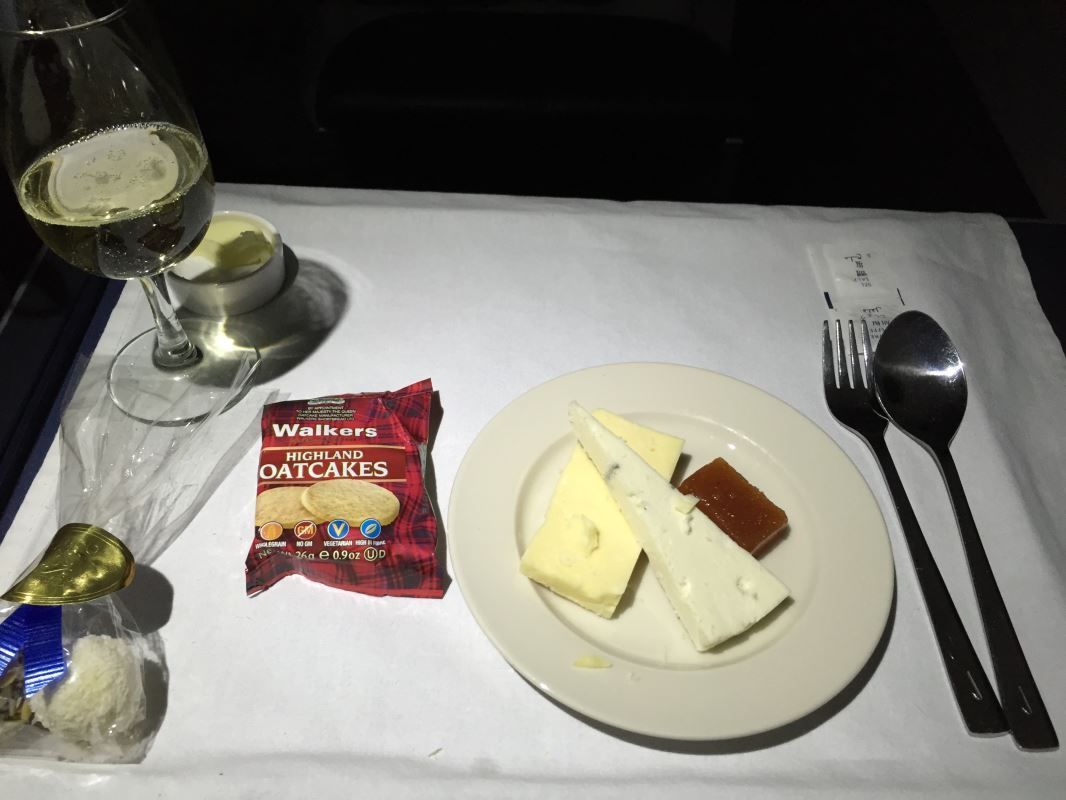 The crew noticed I kept putting on the big bright light and one of them reminded me of the small light in the seat beside me in a very polite way. Of course, I needed the big light to get any kind of decent picture, but I was good at turning it straight off and eating in the dim. This was how the cabin looks in flight. It's very dark and both galleys have two sets of curtains to deaden sound and light. Very effective!
I do enjoy a spot of flying, especially when it's not in economy!