This is the fourth installment in what is a series of trip reports from long ago.
The data is from my log trip logs and is what I recorded at the time and dim recollections.
Pictures are scanned from slides and quality varies, but hopefully some are interesting.
Background:
This would be my first trip to Europe, and I planned to get in as much as I could in a week before I had
to return to college. I had worked as an intern at Pan Am for the summer and would be working as a
part time Sales Rep. at the school I was attending and a few others in the area.
For this I was given a pass to anywhere they flew.
Yes, I know, if I had the time and money I would have gone to many more and probably more exotic places, but would give me the most places I wanted to see and within my budget.
September 5, 1968
New York (JFK) to ROME (ROM) (yes it was not FCO at the time)
September 5, 1968
Airline: PAN AM
Flight: 110
Aircraft type: 707-321B
Aircraft Registration: N435PA Delivered 10/13/67 to KE in 1978 and b/u about 2004
Seating Configuration: 16F/127Y Load: 15/127 SEAT:1A
Scheduled Departure: 1830 Actual Departure: 1835
Departure Gate: 7A
Takeoff Time: 1846 Takeoff Runway: 13R
Cruise Altitude: 29,000-33,000
Landing Time: 0833 Landing Runway: 16 (now 16L I think)
Flight Time: 7hr 47min
Scheduled Arrival:0830 Actual Arrival: 0835
Arrival Gate: 14
Captain: Crist
Notes: Unfortunately I don't have any pictures at JFK or the Departure.
Remember this was log before digital and I was limited to 36 pictures per roll,
that were expensive to purchase and process. I addition, I didn't want to run
out of film anywhere on the trip.
The check-in was at the iconic Pan Am terminal with entry through the
"Air Door" and into the Umbrella terminal building. The departure was at
gate 7A which was at the end of the terminal with a Jetway (really enjoyed
boarding under the roof..very 60's cool.
View Large
View Medium


Photo © John F. Ciesla
In the picture above it is the gates outside on the left.
I knew it was going to be tight getting on, and was amazed that in addition to getting on, I was in 1A!
Departure was just about on time, and after just an 11 min. taxi (I assume that is
correct, seems very quick even for then) we were off from 13R.
The routing was over AND Akron / Canton - Regional (ACK / KCAK), USA - Ohio">ACK then via 49N, over NCE and into ROME (best I can do, there was no SKYVECTOR back then)
.
The flight itself was pretty uneventful, and I remember the meal being fantastic, as you would expect from First Class on PAN AM in 1968. Dinner was followed by some kind of Cherry dessert (cherries jubilee?), that I promptly spilled on my shirt! (Rookie mistake)
We were over NICE at 0750, and did one 360 on approaches for runway 16 landing at 0833 for 7:47 flight time, in a clear and warm Rome.
Again I show 2 min. to parking at gate 14 (end of pier), that would be fast at any airport, so I suspect that was a after arrival.
Below are some shots I took on the flight and upon arrival.
First Light over the Atlantic. This was very cool then, now..it just wakes me up!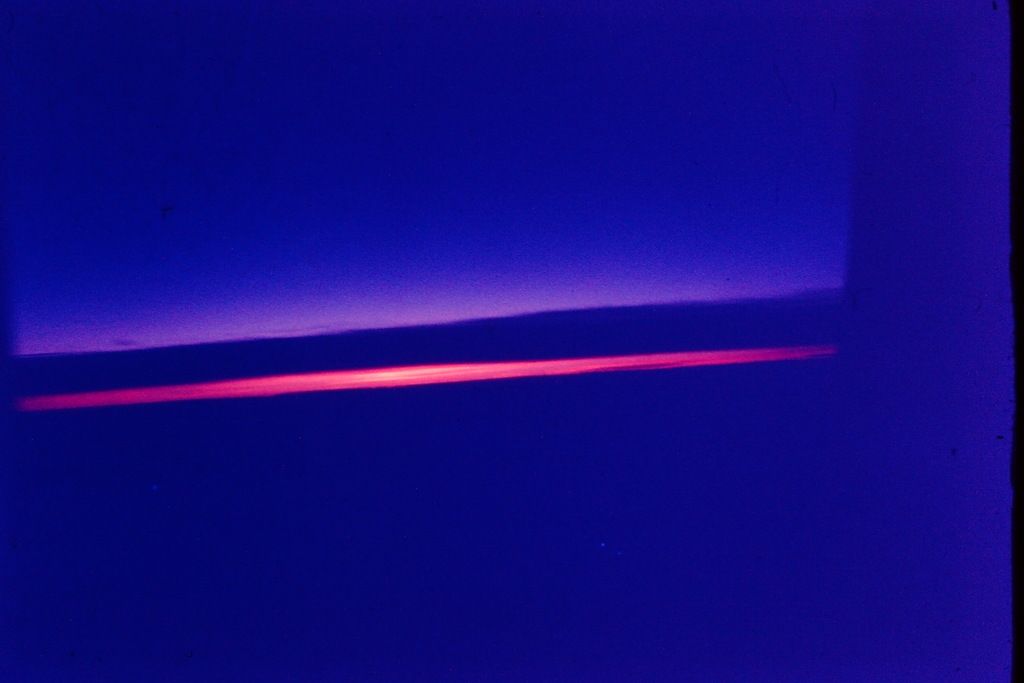 Over Southern France (I guess)
There they are..the JT3D's over some kind of structure (anyone ident)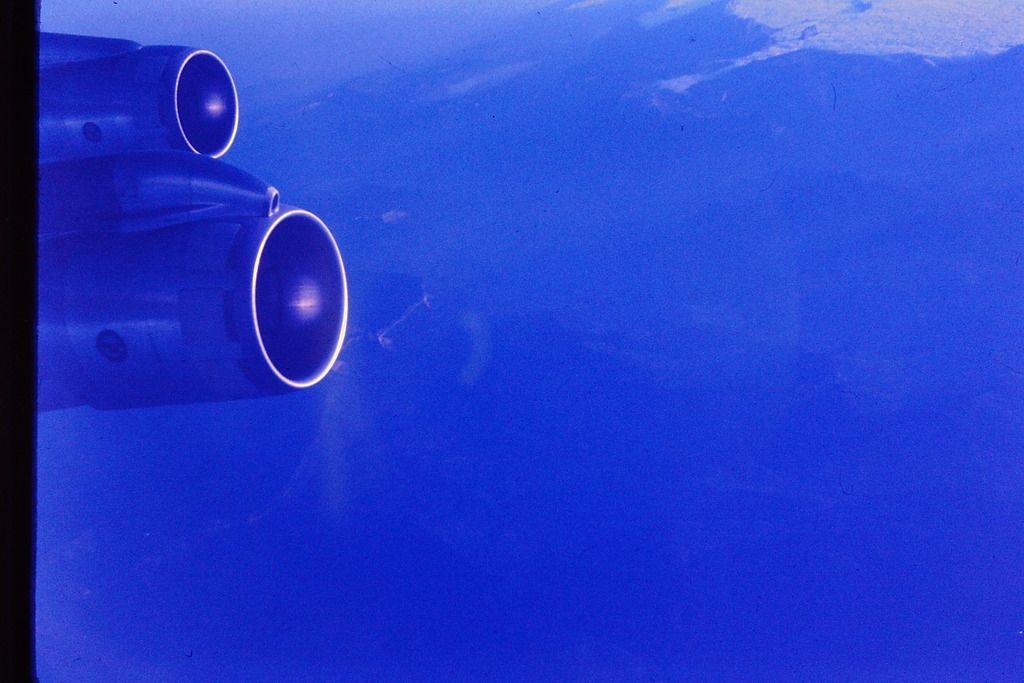 Alps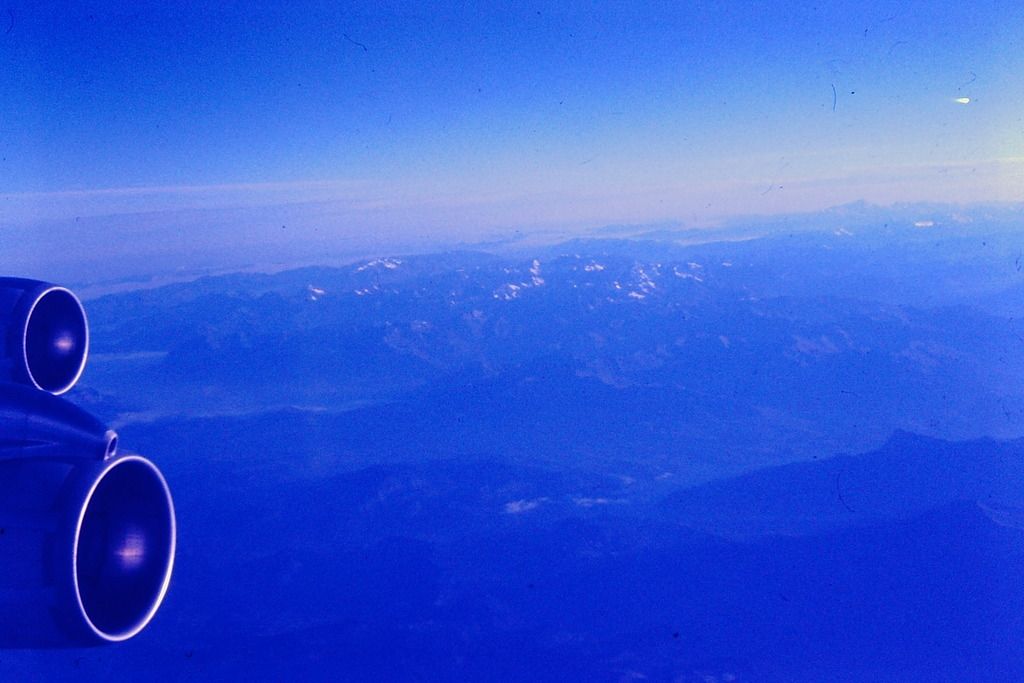 More Alps (MT BLANC?)
Over Corsica
At the Gate: Transavia 707-355C PH-TRF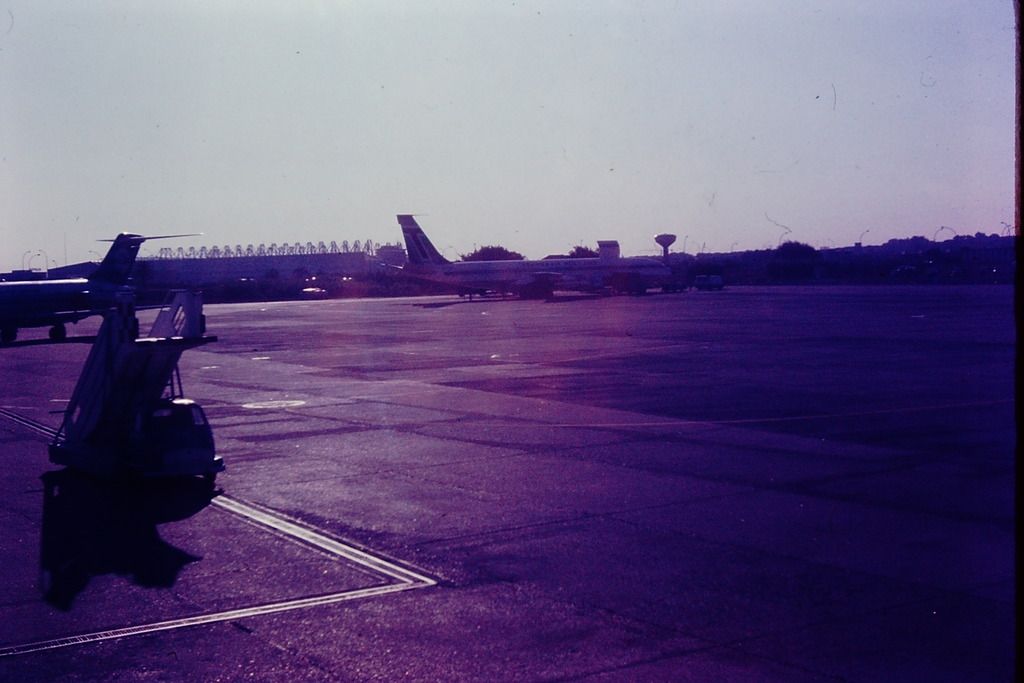 Ghana Airways VC-10 at the gate (on the way to LHR)
One picture from Rome: There are plenty out there (it still looked like this last year when I was there).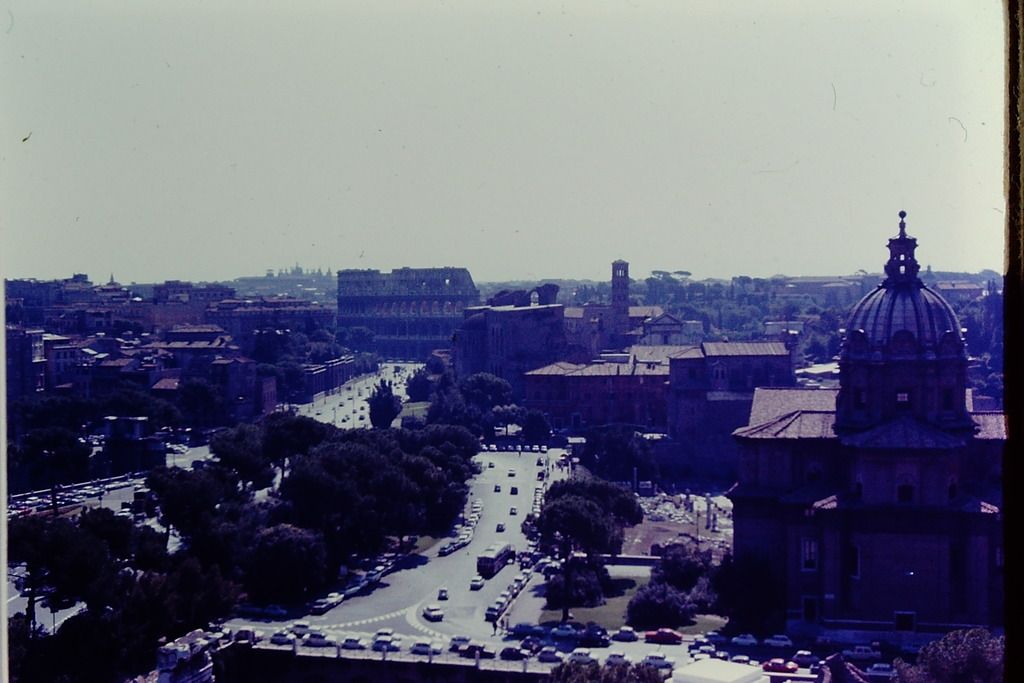 ROME (ROM) TO MUNICH (AND OLD: Munich - Riem (MUC / EDDM) (closed), Germany">MUC) Reim Airport
September 8, 1968
Airline: Alitalia
Flight: 438
Aircraft type: Sud Caravelle VI-N
Aircraft Registration: I-DABS
Seating Configuration: 10/65 Load: 30-40 (seating over wing)
Scheduled Departure: 0915 Actual Departure: 0915
Departure Gate: 2
Takeoff Time: 0920 Takeoff Runway: 25
Cruise Altitude: 24,000
Landing Time: 1032 Landing Runway: 25
Flight Time: 1hr 12 min
Scheduled Arrival:0940 Actual Arrival: 0934
Arrival Gate: AREA B
Captain: Franchosi
View Large
View Medium


Photo © Eduard Marmet
Notes:
After 2 very busy days in Rome (staying at a small hotel, that I used again last year,
naturally it has been re-furbished, and is a great location, and even better after 40+ years, it
was time to head for Munich.
There was no train at this time to the airport, at least that I could tell, so I took a bus
from Termini that worked just fine.
Old fashioned manual check-in and no security and I was free to roam the airport.l
I did manage a few pictures at FCO.
The aircraft was remote parked and we took another of those funny trailers out to
the plane.
Just before departure there was a need to move 4 people to the front for
weight and balance, and naturally even then there was an "ugly American" that did
not feel this applied to him and did not want to move. I don't know how it was resolved,
but he did move and we were off.
The captain was very chatty and gave our route, altitude and information before takeoff
and en-route in English/Italian and German, very impressive.
After what I thought was a long takeoff (I always felt the Caravelle was under powered).
The flight itself was un-eventful until descent into the heavy clouds over southern Germany.
The final was all in clouds and we broke out at about 500ft with 1mi forward visibility in
fog and drizzle.
Picutures from FCO and to AND OLD: Munich - Riem (MUC / EDDM) (closed), Germany">MUC:
I-DABV with KL DC-8- in the background (Running a little late from BEY-to FRA-AMS)
Looking down the flight line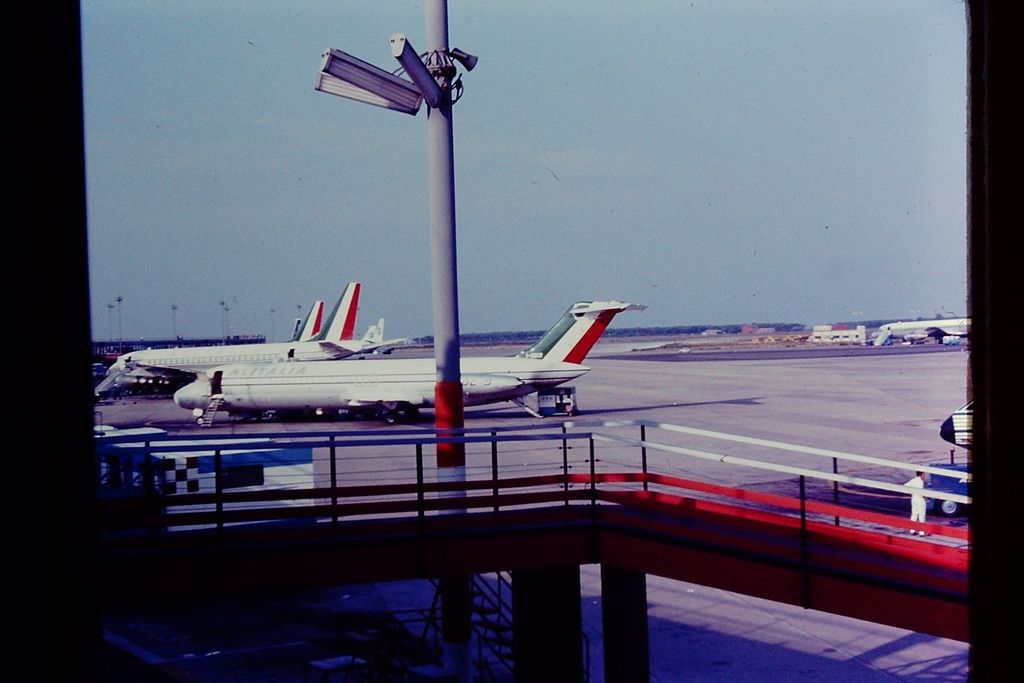 On board to AND OLD: Munich - Riem (MUC / EDDM) (closed), Germany">MUC. PA 155 on the way out to 25 DC-8-32 to NCE/BCN/LIS/JFK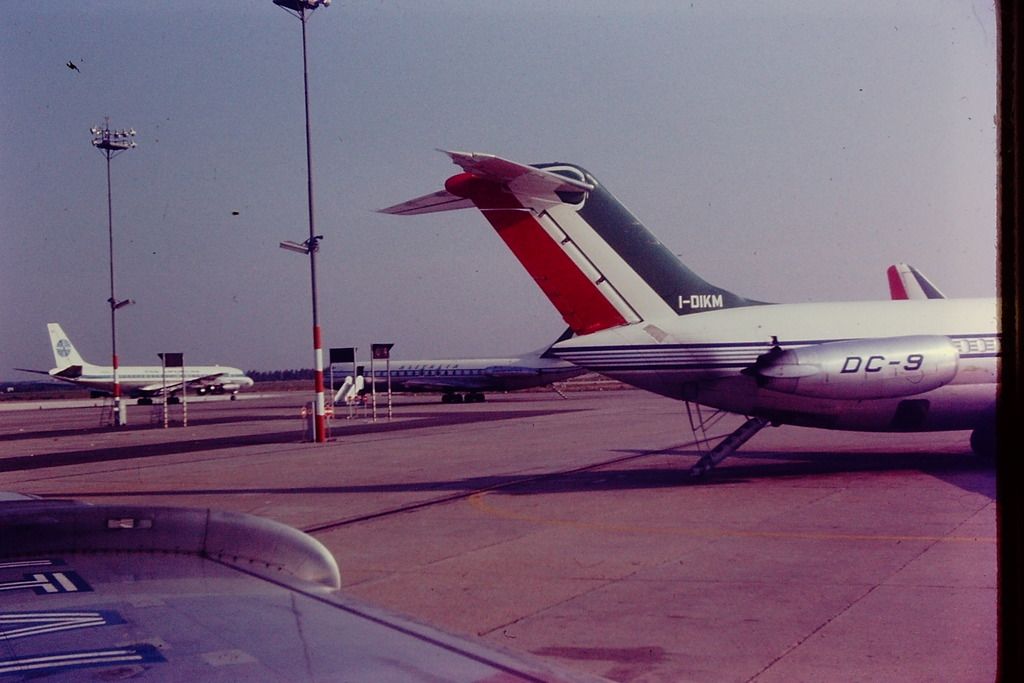 Here we go on 25 (Yellow Paint?)
Lifting Off:
Here is a Video of a takeoff a few years ago on 25 (BA 321)
https://www.youtube.com/watch?v=oFSHhgcxbOM
Or last year, same Airline/Plane type/flight number
https://www.youtube.com/watch?v=JKIzZbDMEXU
At top of climb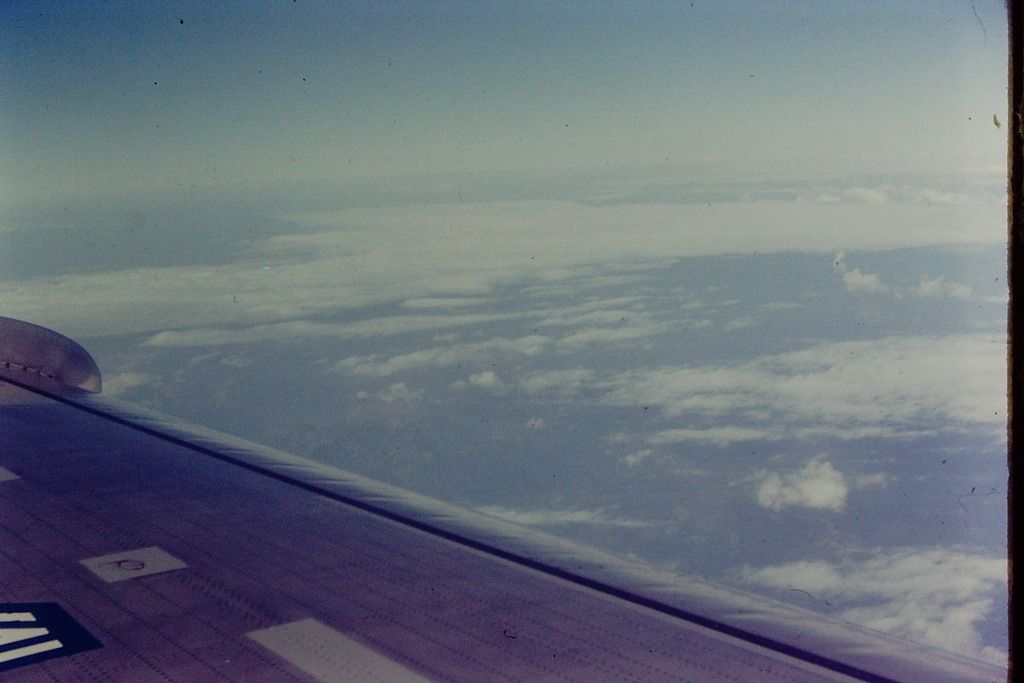 Alps (again)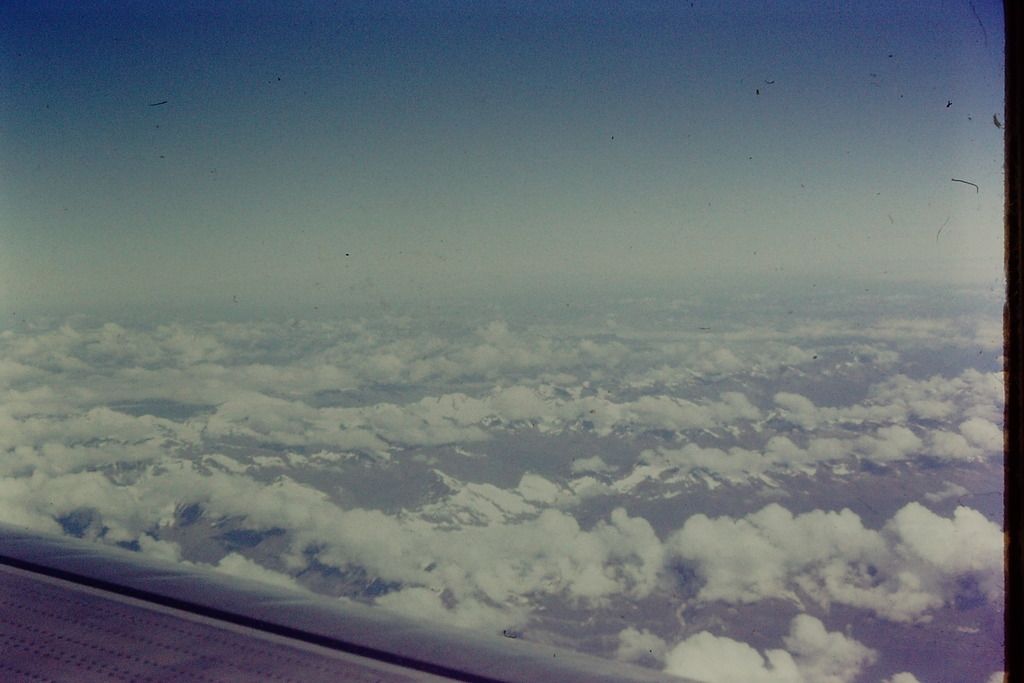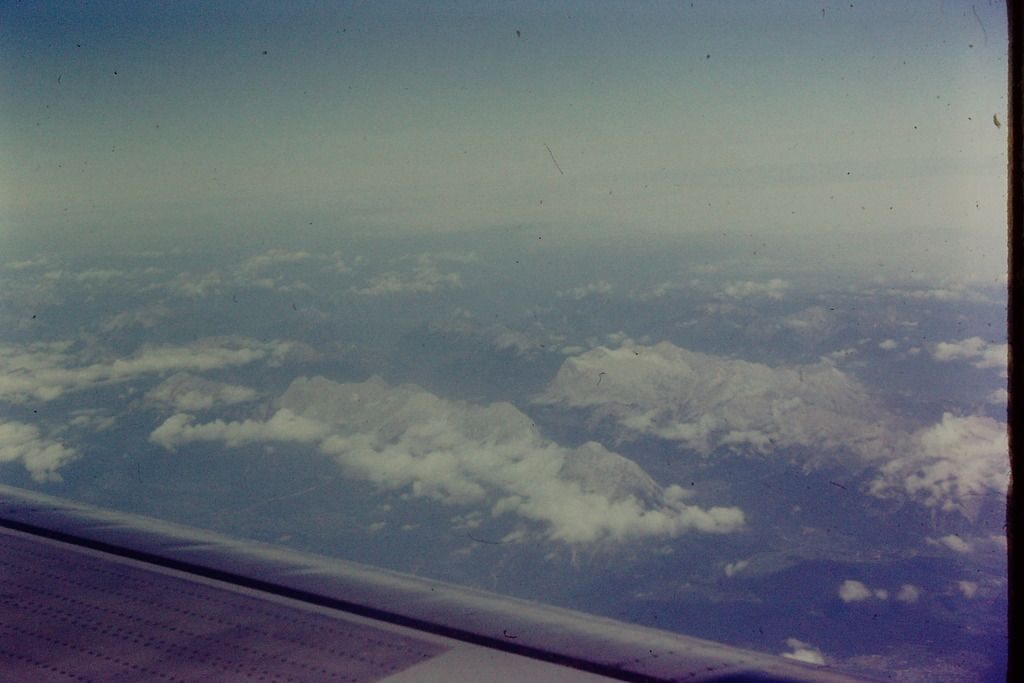 Starting down (Worlds smallest speed brakes)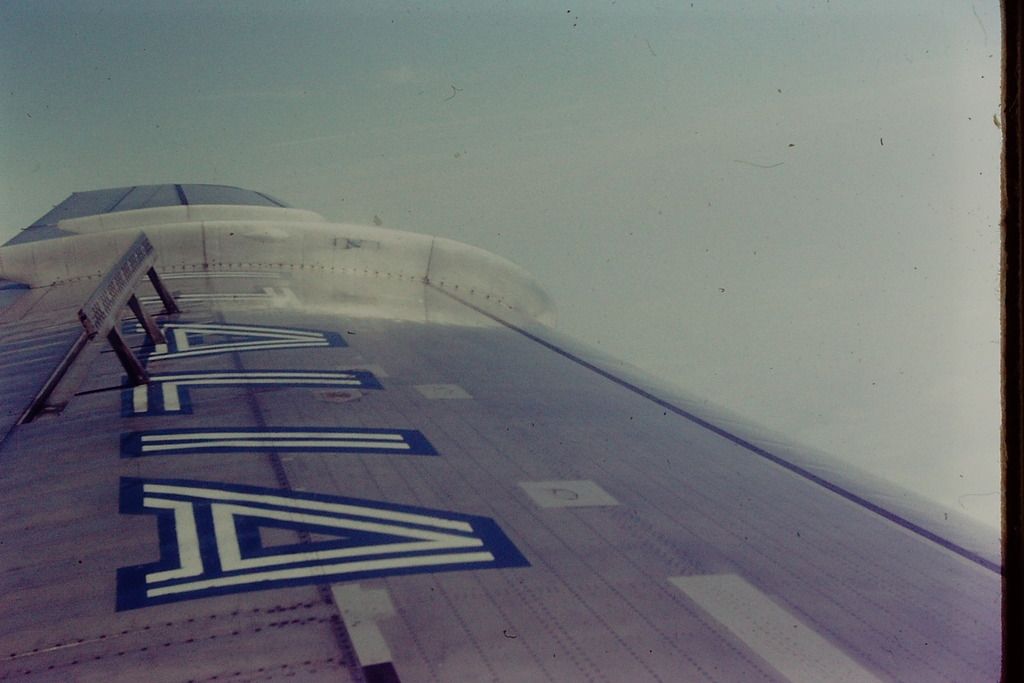 In MUNICH : Marienplatz (under construction)
MUNICH (AND OLD: Munich - Riem (MUC / EDDM) (closed), Germany">MUC) Reim Airport-to Berlin (BER) Templehof
September 9, 1968
Airline: PAN AM
Flight: 740
Aircraft type: 727-21
Aircraft Registration: N319PA (Delivery 2/28/66-later to AV and BU in Shelton, WA)
Seating Configuration: 0/128 Load: 75 Seat: Just behind mid-galley on right.
Scheduled Departure: 0845 Actual Departure: 0842
Departure Gate: B9
Takeoff Time: 0846 Takeoff Runway: 25
Cruise Altitude: 220 to South corridor, 9,000 in corridor
Landing Time: 0940 Landing Runway: 9R
Flight Time: 54 min.
Scheduled Arrival:0955 Actual Arrival: 0945
Arrival Gate: B7
Captain: Rashing
Here is N319PA landing at Templehof.
View Large
View Medium


Photo © Jürgen Lutz
Notes:
A quick one day in Munich in the middle of the u-bahn construction, but I did
make it to the Deutsches Museum of Science and Technology, I have been there 3 times now, and it's always worth seeing if you have the time.
After climbing to 220 for just a few minutes we started back down and crossed into
what was then East Germany. It was very cool to be there (this was during the cold war remember), however due to very heavy haze and some fog it was hard to see the ground at all, even from 9,000 ft.
Finally the approach between the buildings that I had seen in so many stories about
the Berlin Airlift was as thrilling as I expected, followed by parking under the roof.
Here are a few shots starting with the departure from Munich up to leaving Berlin.
Early Morning Sabena Caravelle to BRU and KLM Electra to AMS
REIM
NEW: SN Brussels Airlines (Belgium)">SN AND KL again
Lufthansa Viscount, and IL-18 and another Caravelle (AF?)
My PA 727 to Berlin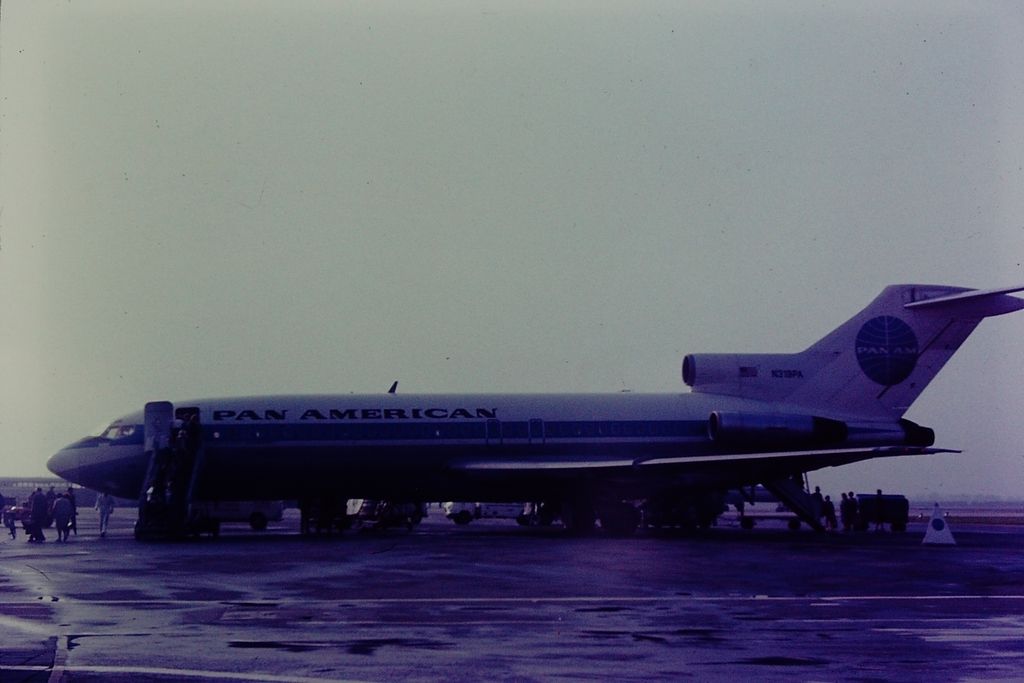 Ready for Takeoff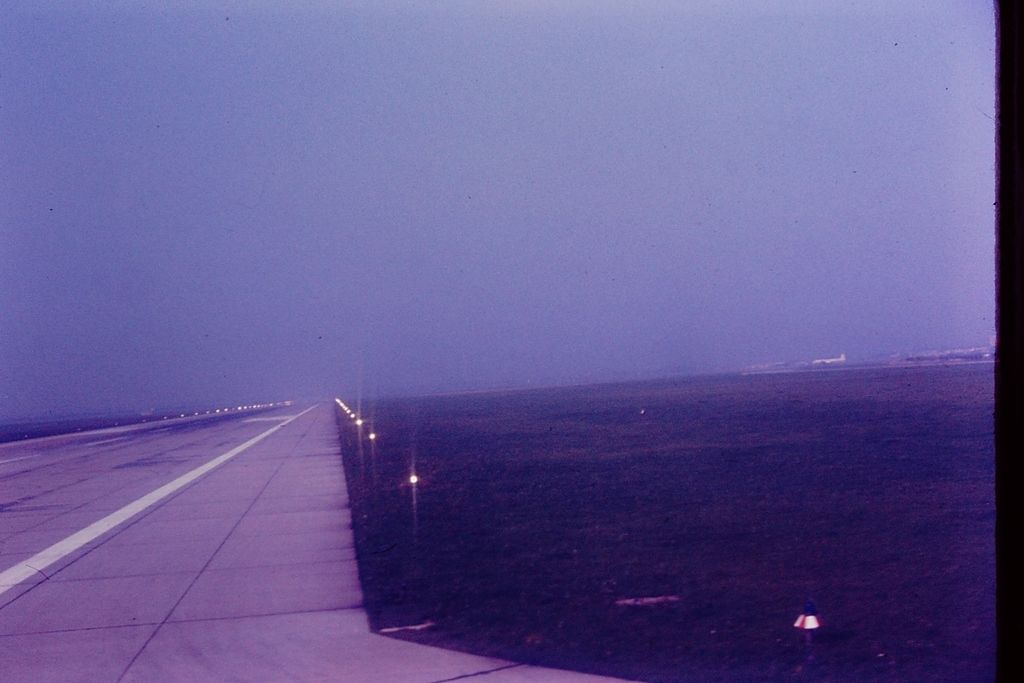 Tiny AND OLD: Munich - Riem (MUC / EDDM) (closed), Germany">MUC in 1968 just after liftoff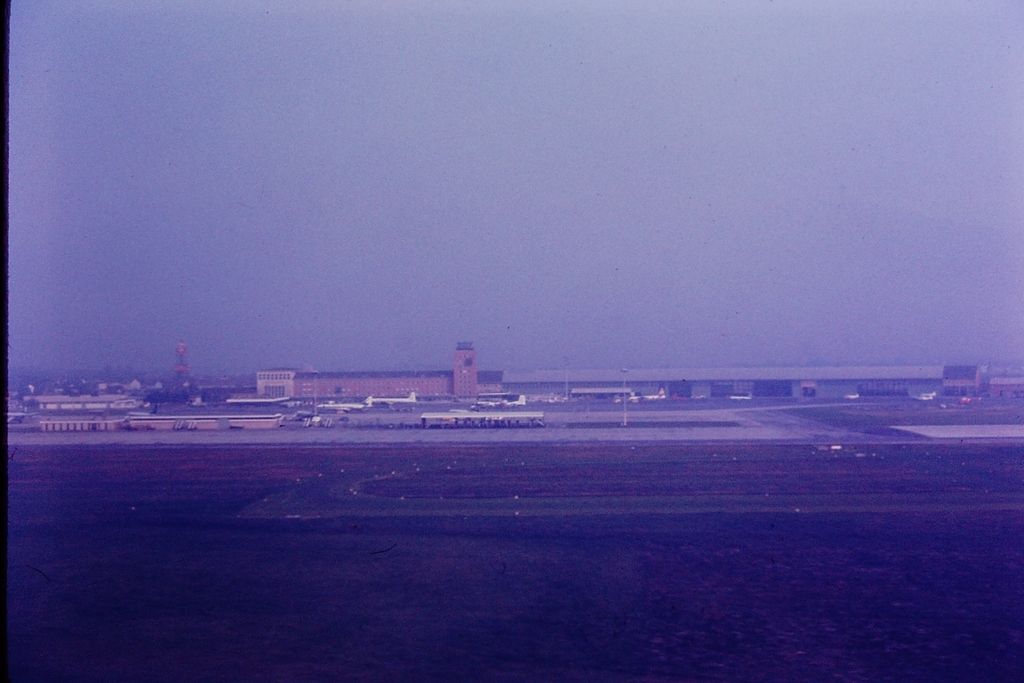 First View of Berlin (TV tower in the distance)
On Final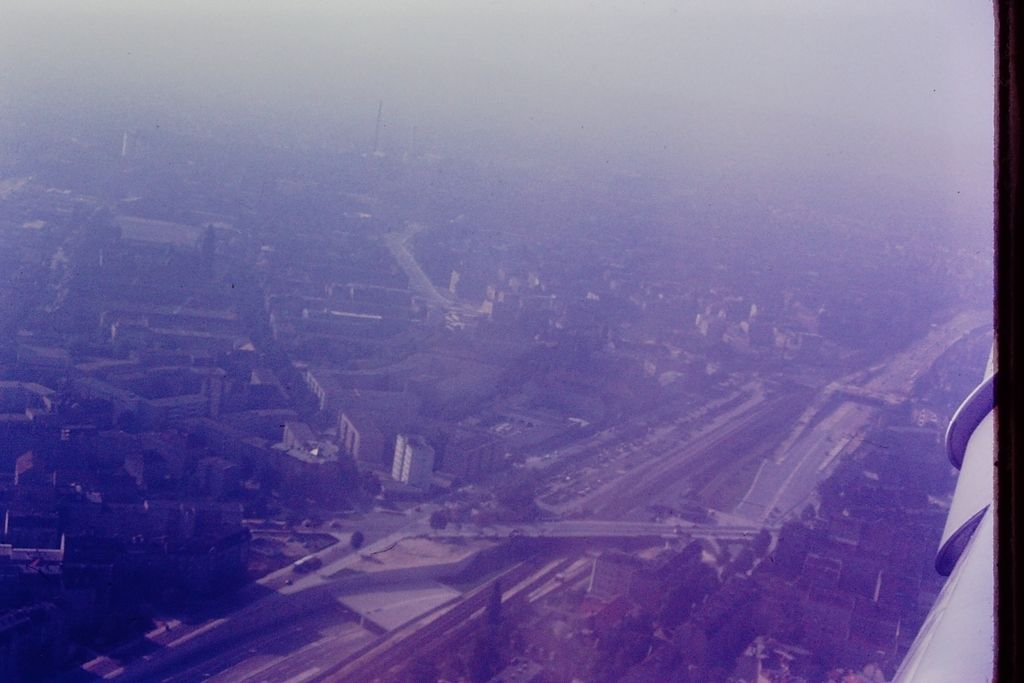 Almost there:
Short final: THE shot at THF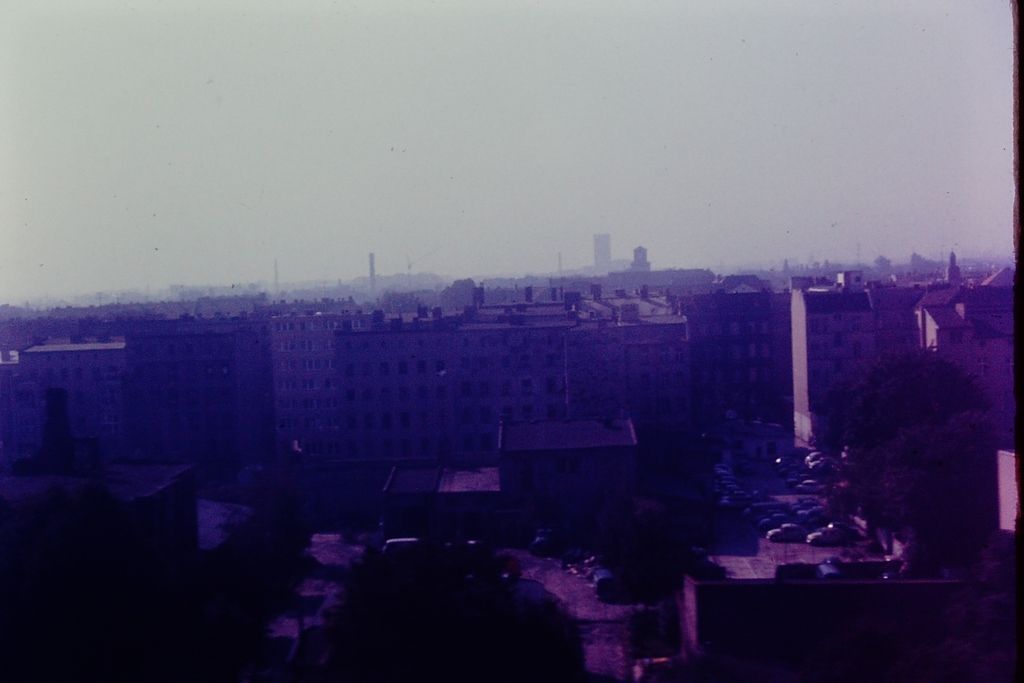 Turning off the runway
Approaching the terminal Viscount/Comet/C-47...all I can say is WOW.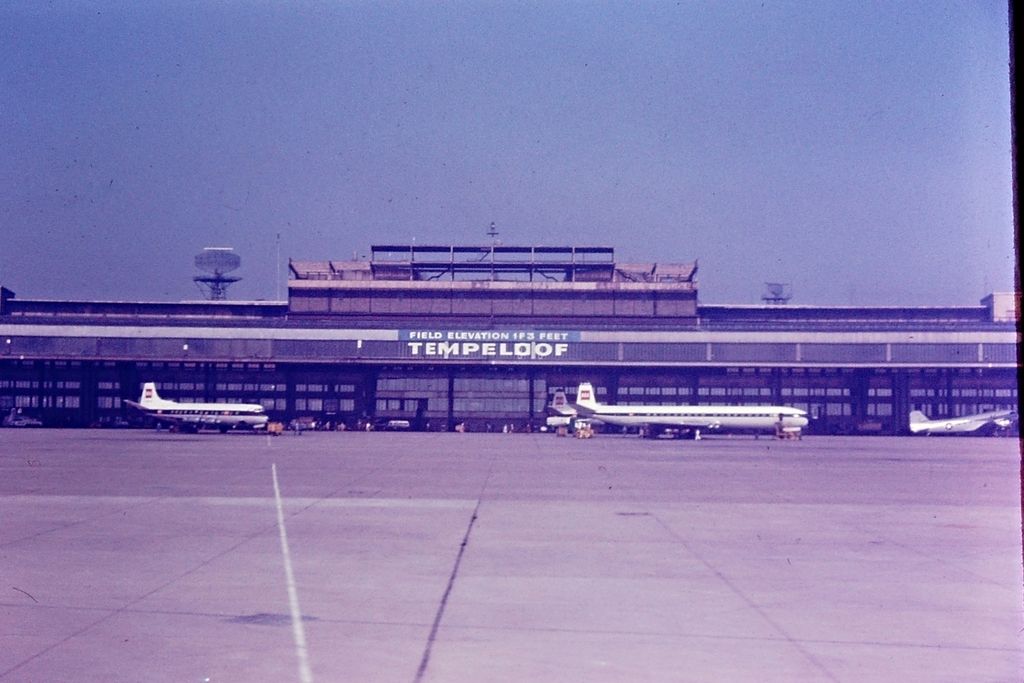 My short walk out front: Luftbrückendenkmal
BEA Comet on the way out: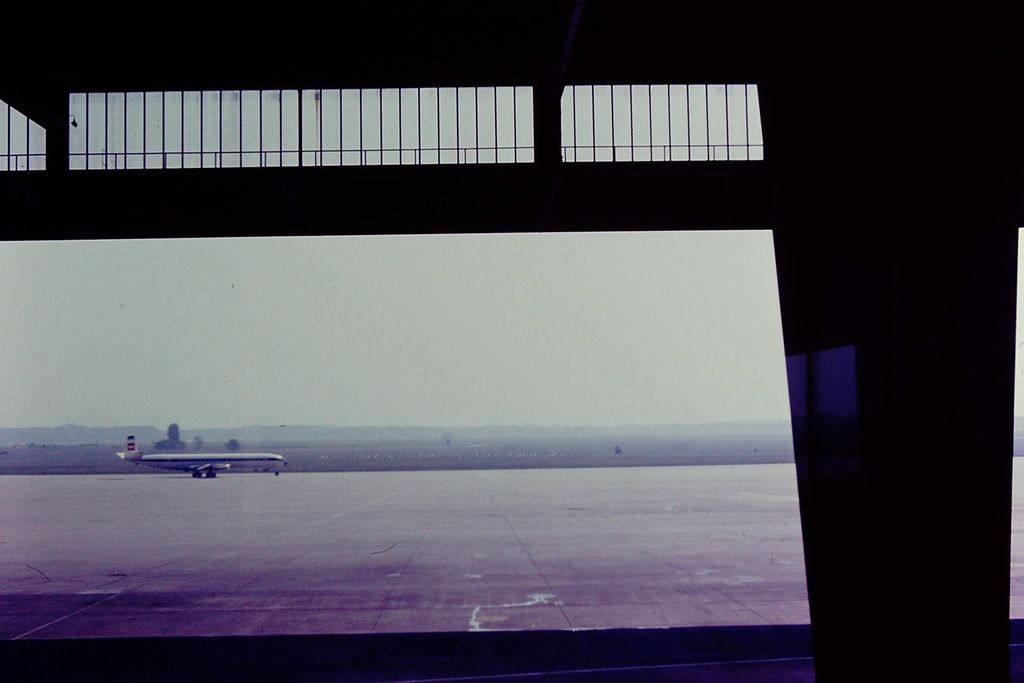 BEA BAC-111-500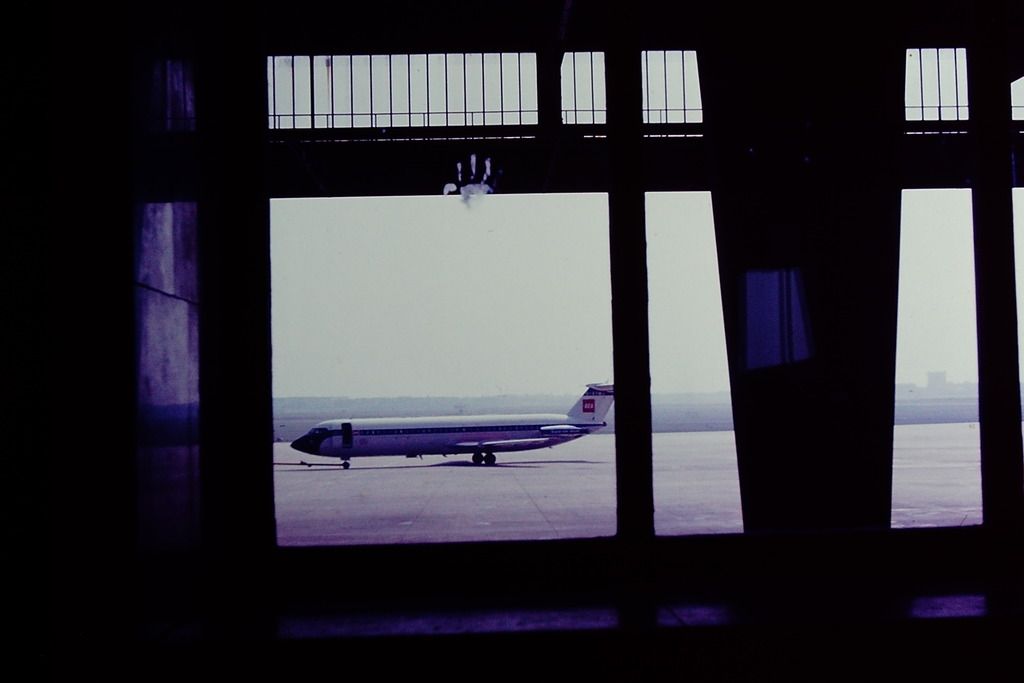 N324PA ready to go to FRA (under the roof)
Berlin (BER) Templehof to Frankfurt (FRA)
September 9, 1968
Airline: PAN AM
Flight: 687
Aircraft type: 727-21
Aircraft Registration: N324PA (Delivery 5/5/66-later to AS still in service as a private aircraft in the mid-east)
Seating Configuration: 0/128 Load: 130 Seat: Jump-seat on the rear door.
Scheduled Departure: 1135 Actual Departure: 1135
Departure Gate: B6
Takeoff Time: 1140 Takeoff Runway: 9R
Cruise Altitude: 10, 000
Landing Time: 1223 Landing Runway: 7R
Flight Time: 43 min.
Scheduled Arrival:1230 Actual Arrival: 1230
Arrival Gate: None A very crowded ramp area
Captain: Ferenzen
Notes:
Now the fun began.
I had planned to spend the day in Berlin and take the last
flight out to FRA that evening. However, when I came out into the terminal that looks like
a train station:
View Large
View Medium


Photo © Christian Waser
,
There was a gigantic mob of people at the PA check-in counter!
I figured I had better see how it looked on the later flights. After making my way to the front, the agent kind
of laughed at my pass, and then said that they are getting 2 non-revs out on each flight (I think he said 2),
and if I wanted to go to FRA today there was 1 left on the next flight and my pass status would
get me on it.
So I took it, jumpseat!! I was allotted the back jumpseat with a F/A on the door at
the back (the one that opens to the airstair). So I had to wait until boarding was done to sit down.
I don't know if the other was in the cockpit or some other jumpseat, but was glad to get it.
After walking around the local neighborhood for a few minutes I returned for the flight at 1135, you
sure don't want to miss it.
Boarding was direct to the plane under the roof, and we left right on time, and takeoff from
the 5200ft runway was quick despite the heat (it was 80 or so).
Since I had no view, there were no pictures, and I could not tell what was going on. I know we climbed to 10,000 ft. for the flight through the central corridor.
During the 43 min flight, the crew serviced some kind of snack and drinks to all 130 passengers including me, which entailed eating it on my lap as people entered the lav.
Approach to FRA included a lot of turns it seemed, but landing was very smooth and we parked in a crowded ramp in front of the old small terminal. The current terminal was under construction at the time.
There are no pictures from this after leaving THF, so on to the next leg.
Arrival FRA: JAT Caravelle , SABENA DC-6? , and a bit of OS Viscount.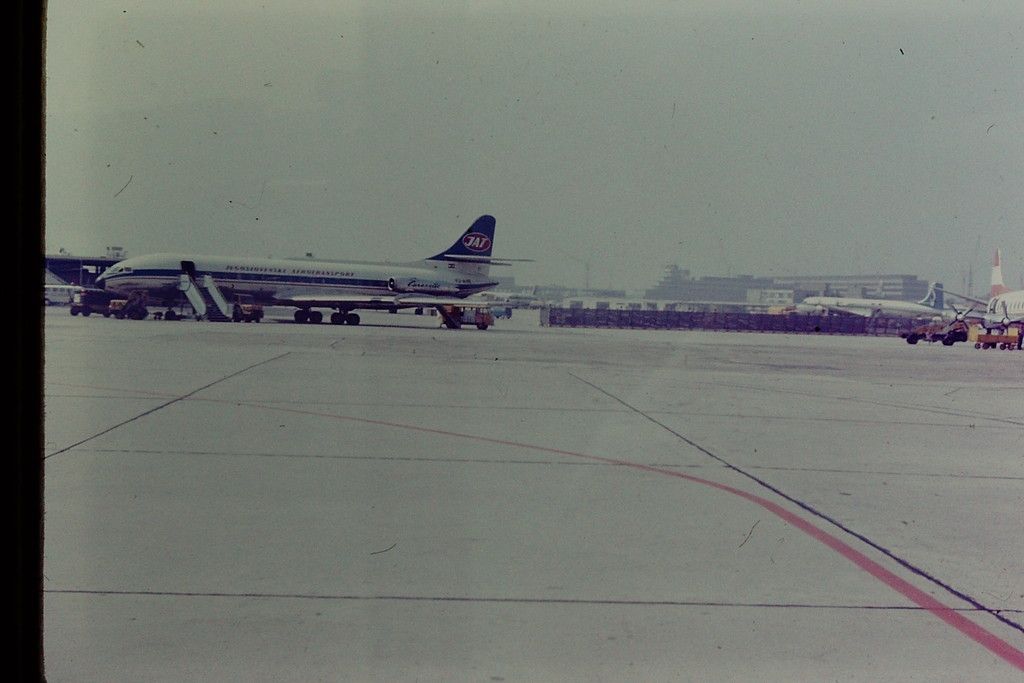 River View Frankfurt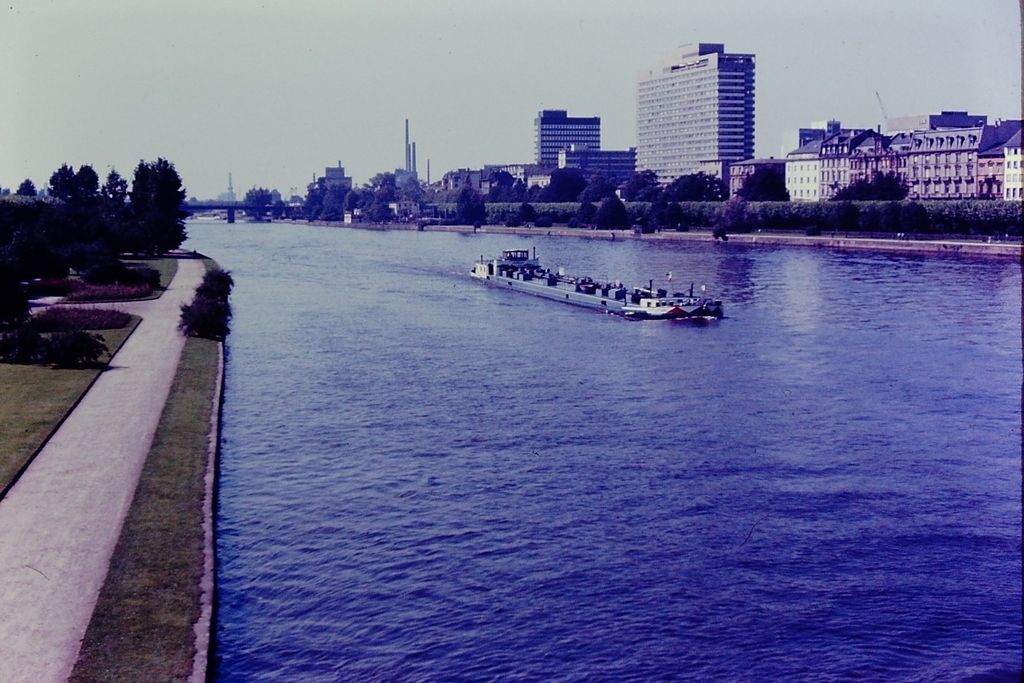 Frankfurt (FRA) to London (LHR)
September 11, 1968
Airline: PAN AM
Flight: 59
Aircraft type: 707-321B
Aircraft Registration: N410PA (Delivery 4/ 7/67-later to LAP and may still be preserved in Paraguay)
Seating Configuration: 16/127 Load: 5/20 Seat: Unknown F
Scheduled Departure: 1200 Actual Departure: 1159
Departure Gate: A28
Takeoff Time: 1205 Takeoff Runway: 25R
Cruise Altitude: 23,000
Landing Time: 1308 Landing Runway: 28R
Flight Time: 1hr 3 min
Scheduled Arrival:1320 Actual Arrival: 1310 (again I don't think it took 2min to get to the gate at LHR)
Arrival Gate: 23
Captain: McKenzie
View Large
View Medium


Photo © J Allen King
Notes:
One full day in Frankfurt and I was finally feeling a little less jet-lagged, so I didn't even try for
the early flight to LHR. PA had 4 flights FRA-LHR at the time 845/1200/1215/1500
(Flight 1 the round –the world flight I was told was usually full).
I wish I had taken the 1215 flight as it was a DC-8, but that was not important to me at the time, and both flights were empty. However, it turned out for the best as you will see soon.
This was a pretty uneventful fight as after a quick takeoff we were in clouds about 10min after takeoff
until breaking out on descent over the English coast. The Captain announced over Claxton at 1250 and
we came straight in via the scenic route past the London for 28R.
Here is a link to a video of this (taken a few years later), from a 777 not a 707.
Upon arrive at what I guess was T1 I was waiting in line at Immigration when I heard someone calling my
name. That could not be right; I didn't know anyone in the UK then.
However, it was some of the folks I worked with at PA who had just arrived from Paris on the PA flight,
and would have missed them had I taken the flight 15min later. They were on the same kind of trip I was on
after visiting Beirut, Rome and Paris. It worked out great, since we split the hotel room and had a great time in London.
Here are the pictures from FRA and arrival into London:
What's this EASTERN AIRLINES DC-8-61? Military Charter..good old Eastern where I spent 18 Years.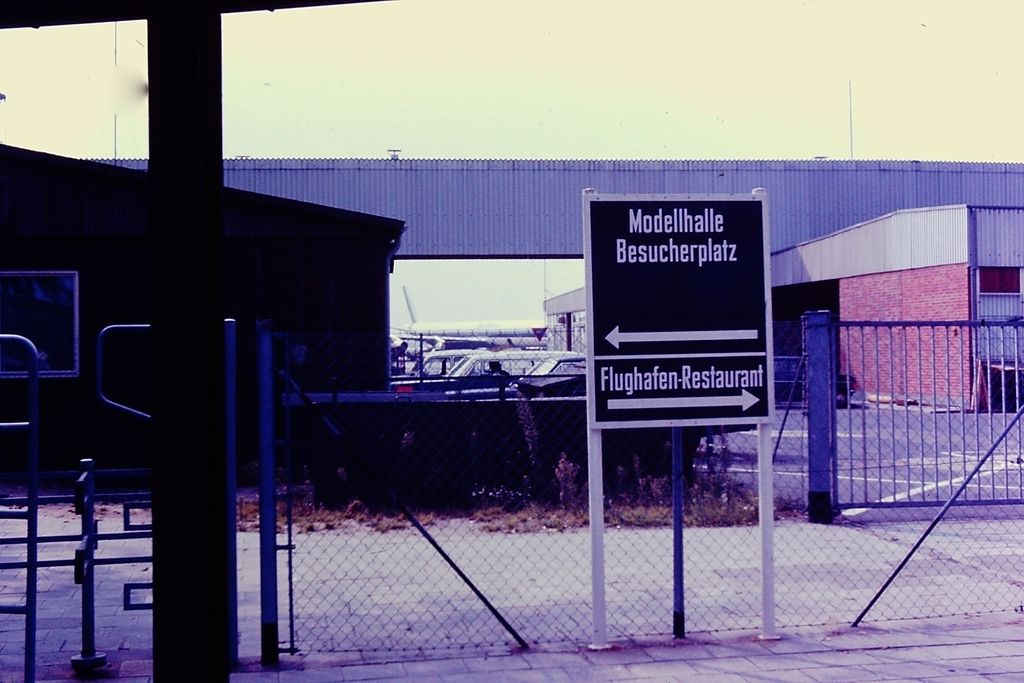 Boarding Gate: PA 707 and AF Caravelle.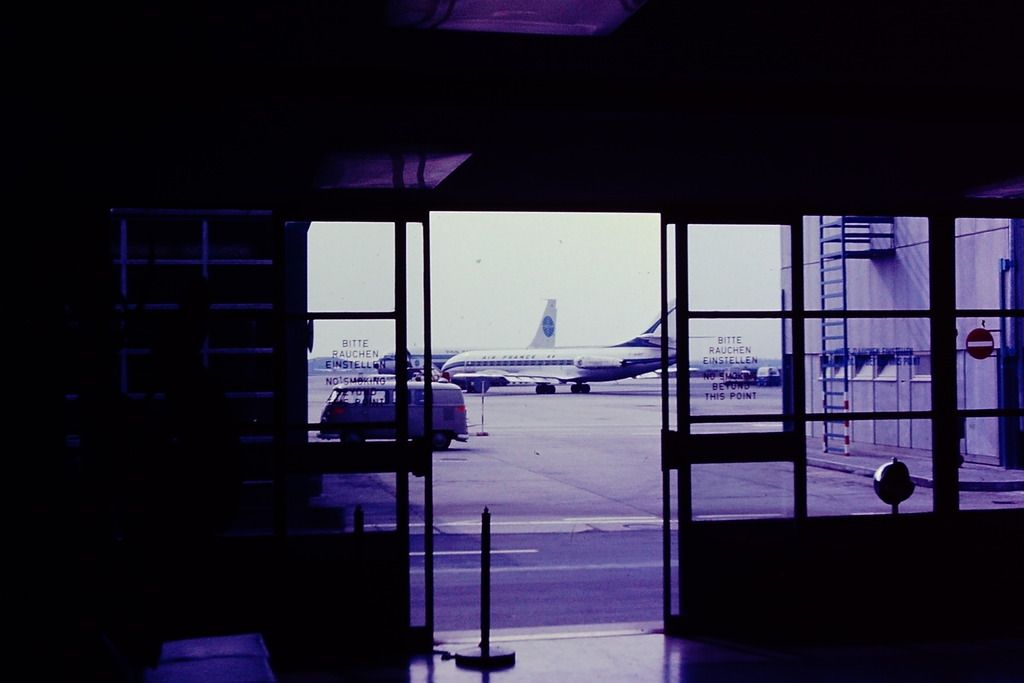 On the way to Runway: MEA Comet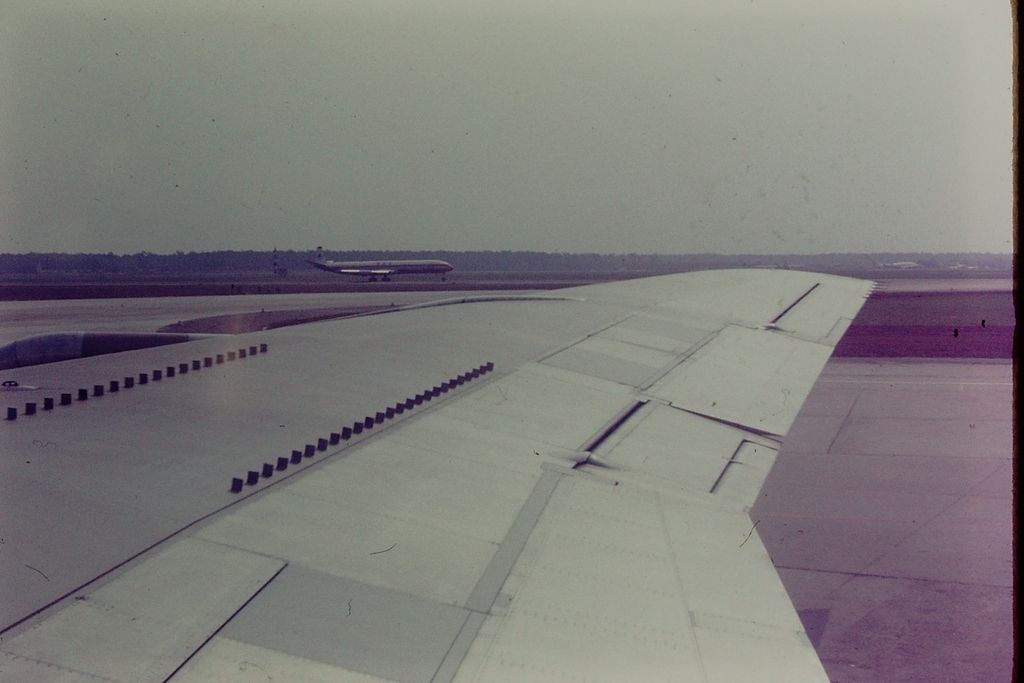 LH 737-130 (I actually flew on one of these with CO)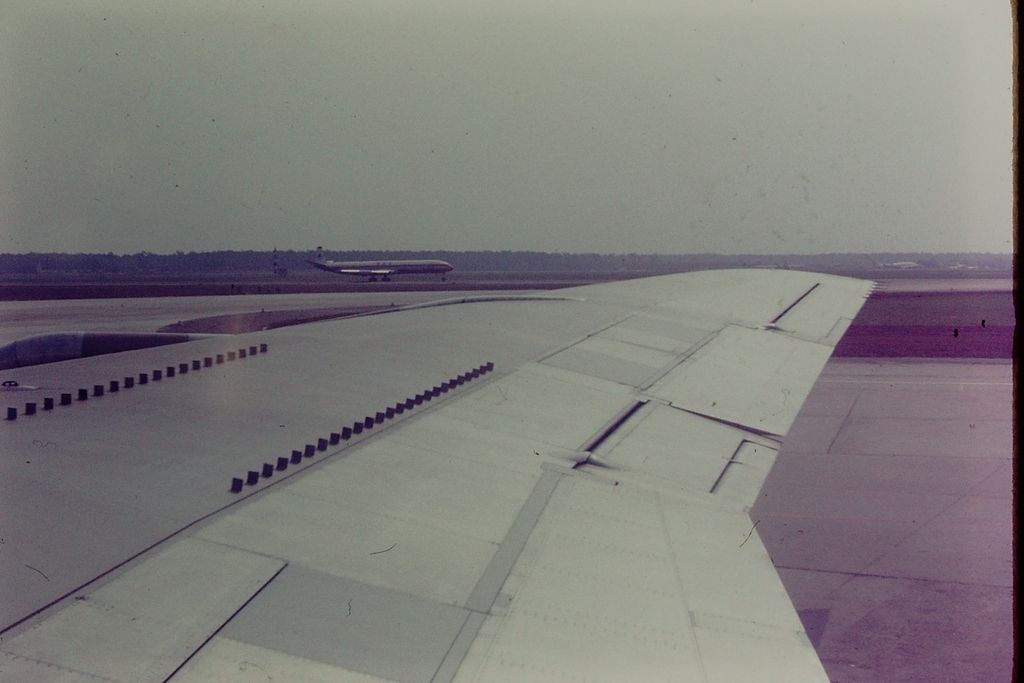 LH 727-30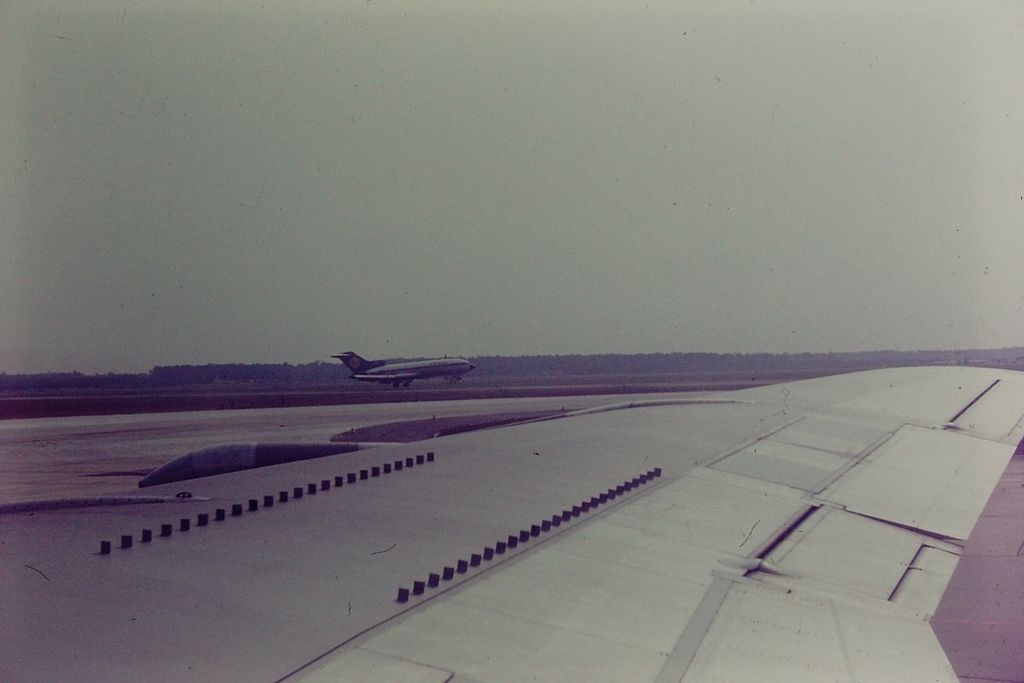 TK DC-9 (Seems like a long flight in a DC-9)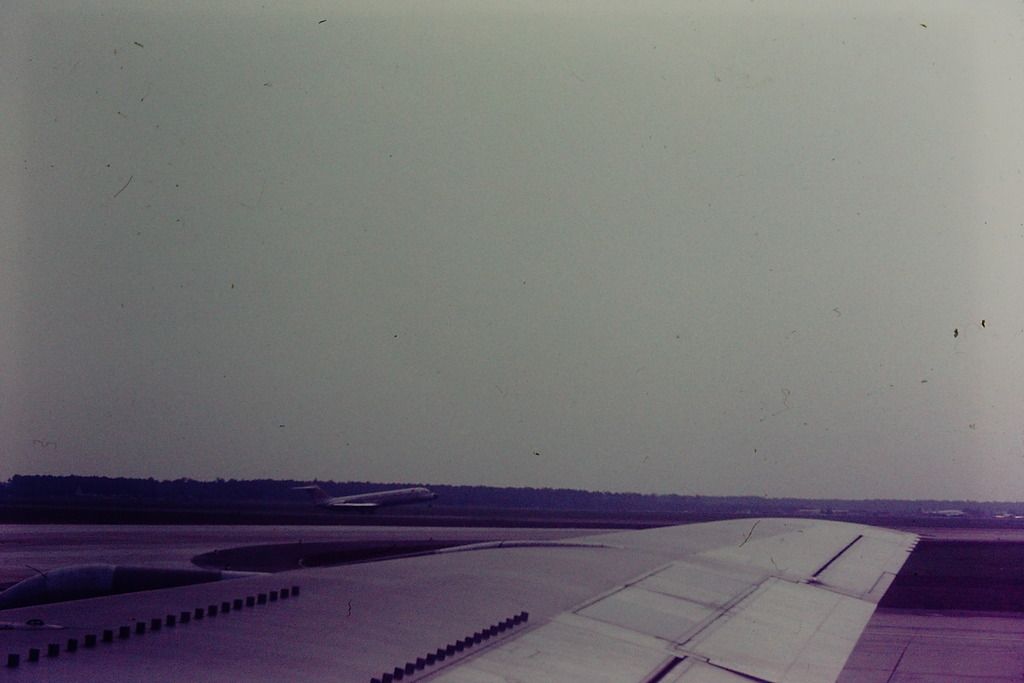 TK DC-9 again
OK who has this DC-8-60 here now..even more strange than Eastern (I know but let's see who is really reading this).
Some other DC-9s and the DC-8 I did not take in the background.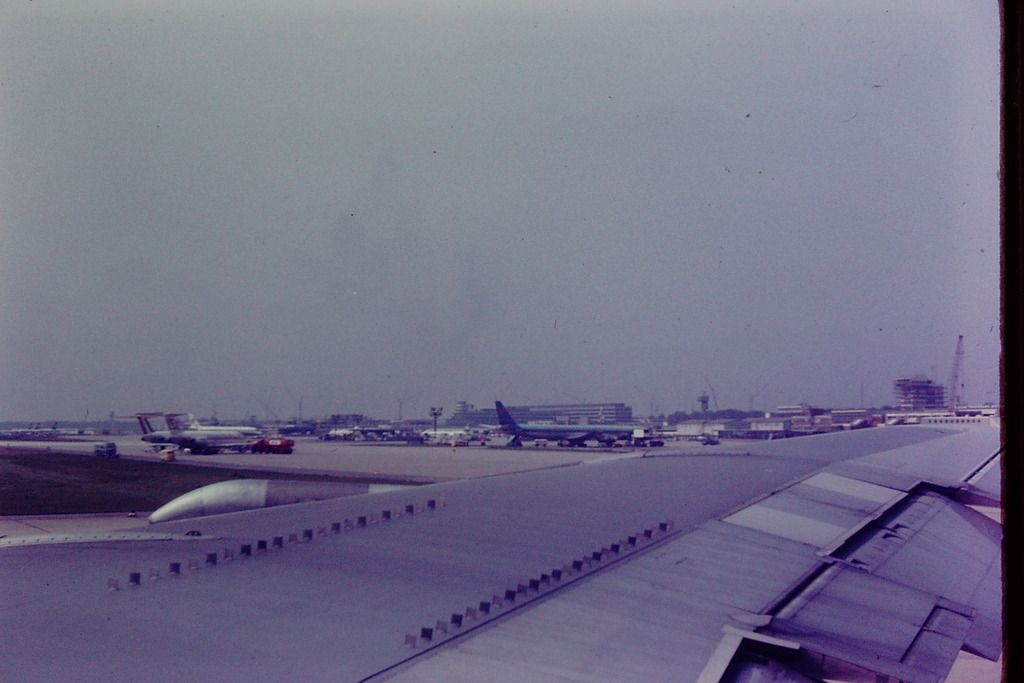 EI BAC-111 and an Unknown DC-4 (or is it a DC-6?)
Ready to go 25R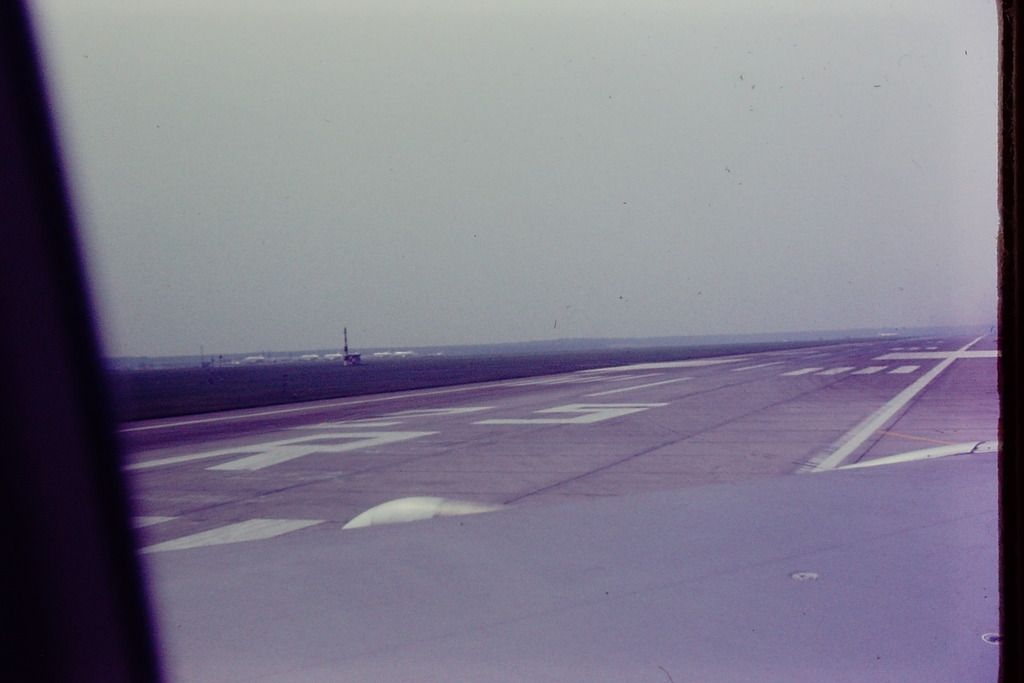 Rolling: "new" terminal under construction 40+ years later I would be doing work there!!
Starting down to LHR: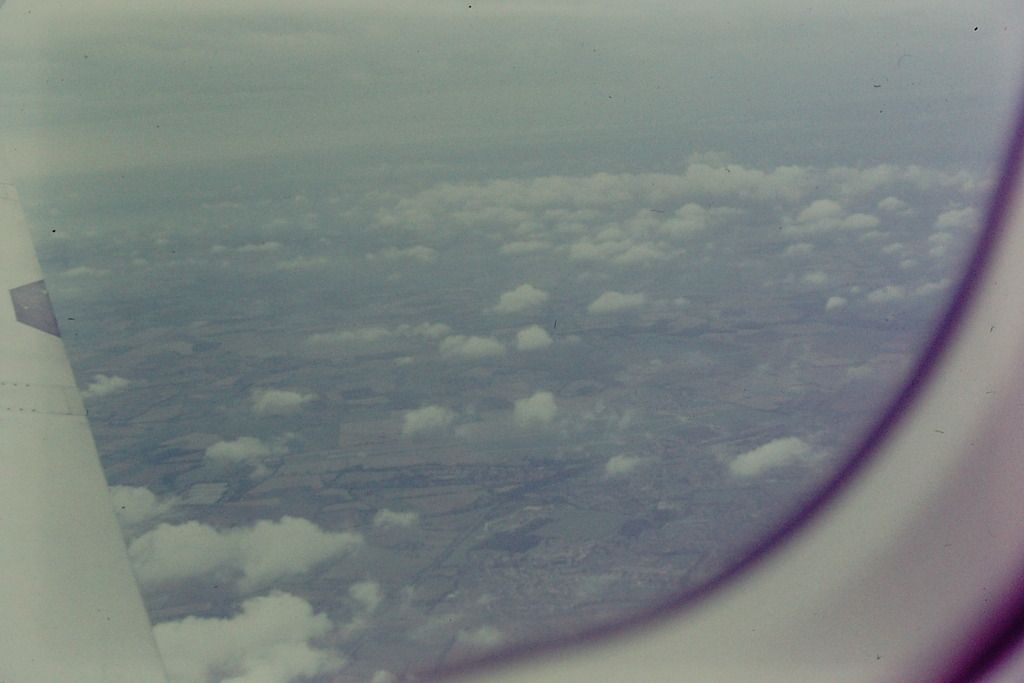 First View of London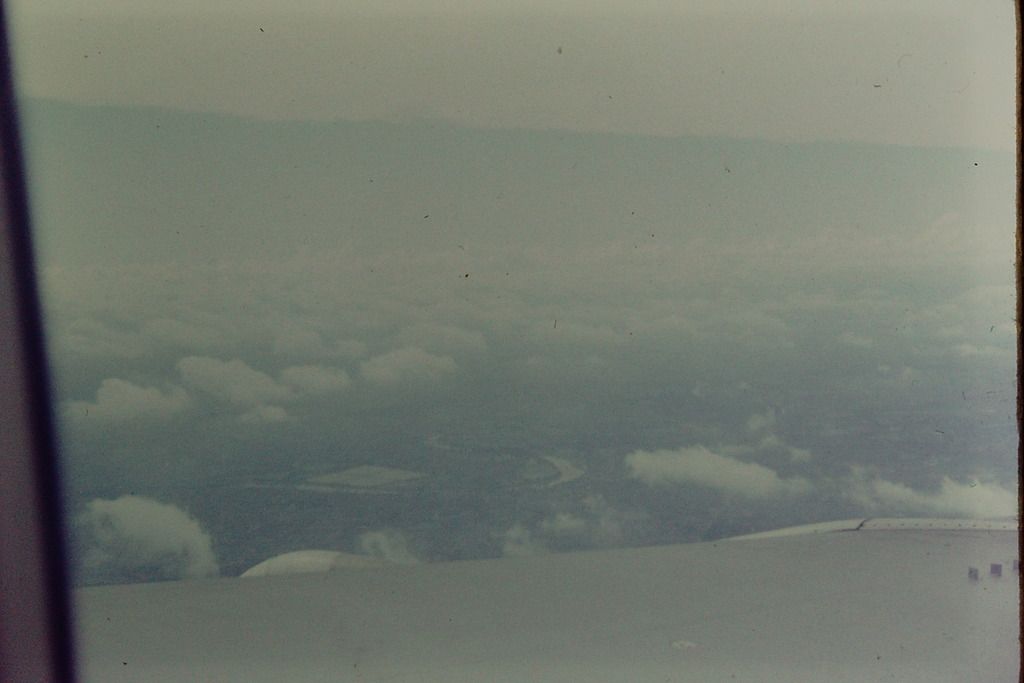 On Approach: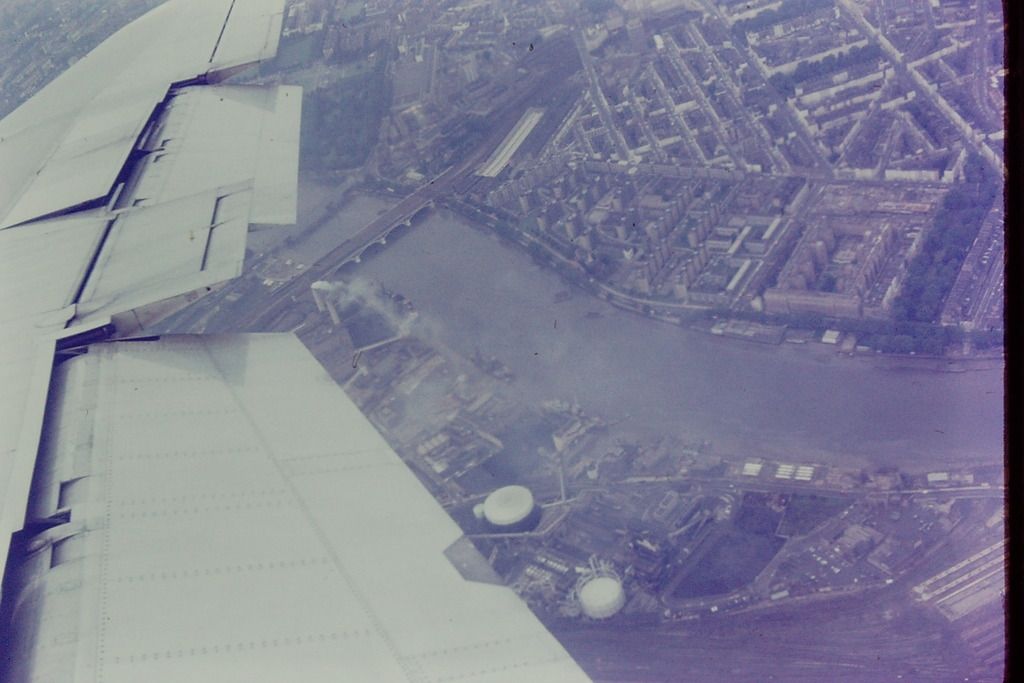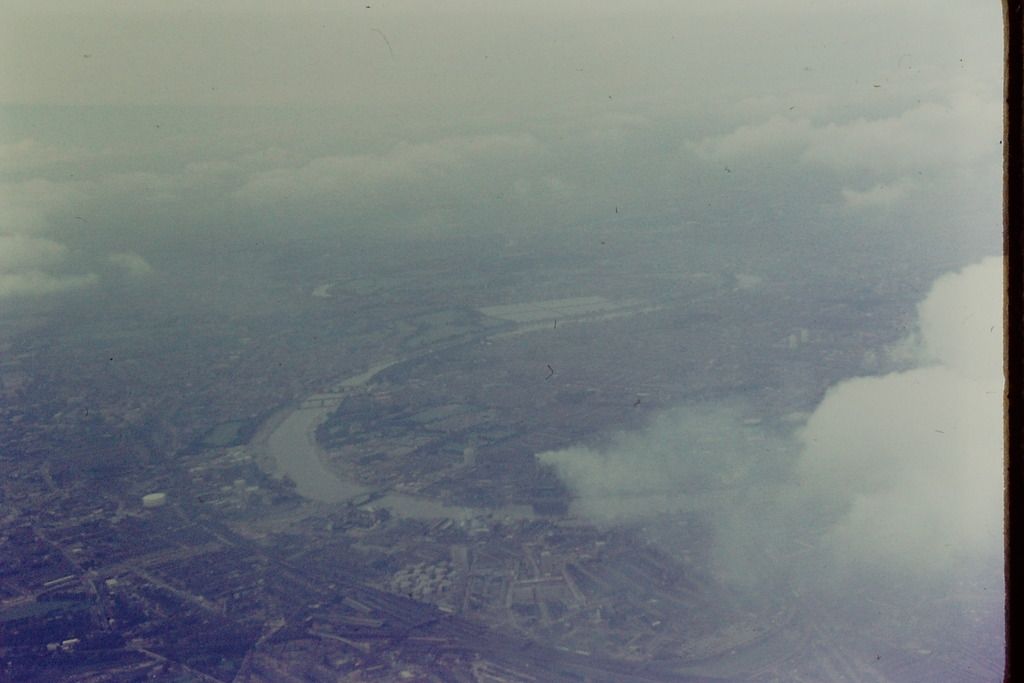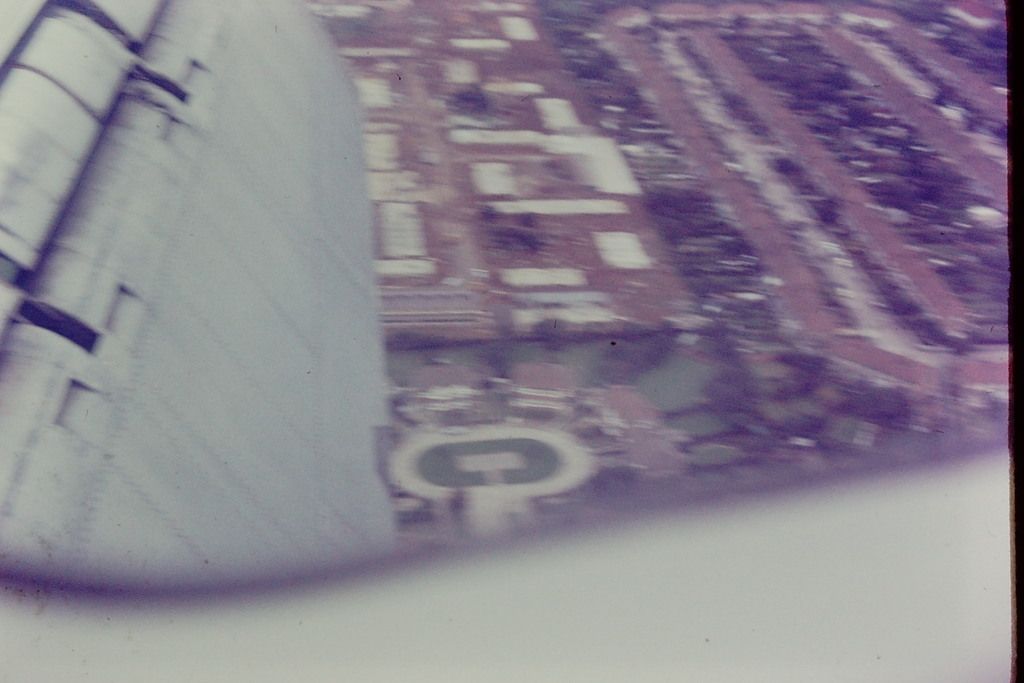 Here is the same approach only on a 777 many years later:
https://www.youtube.com/watch?v=DRjHJ8oBpuA
Arrival at gate LHR (World Airways 727-173, must have been on a charter or lease)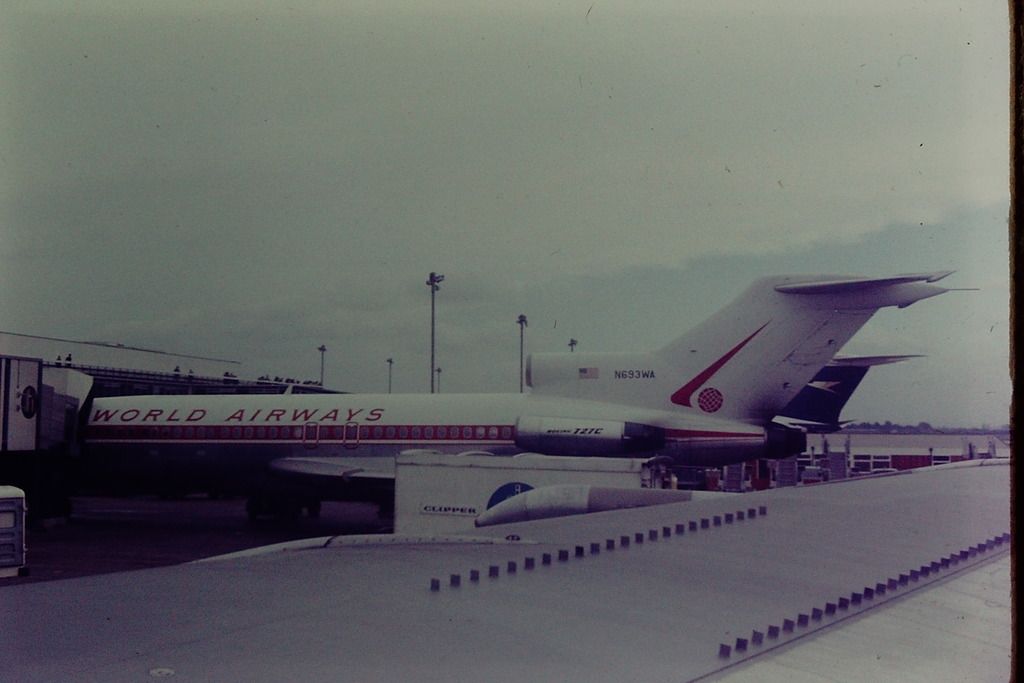 SAA 707-320 (Looks like a -344B, not 344 with the RR Conways).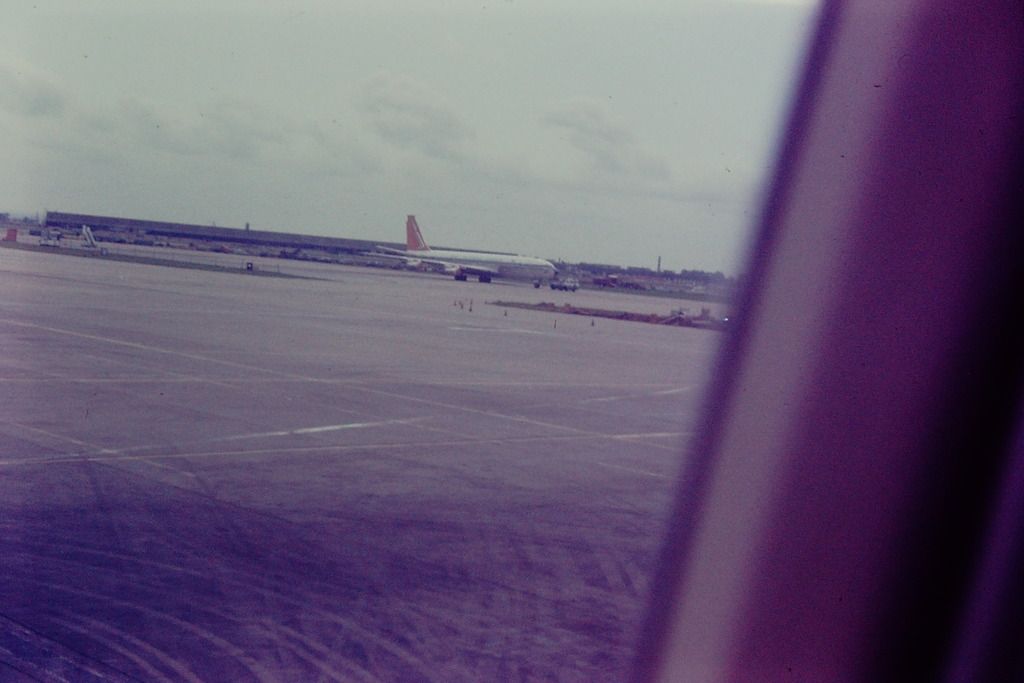 Classic London Picture.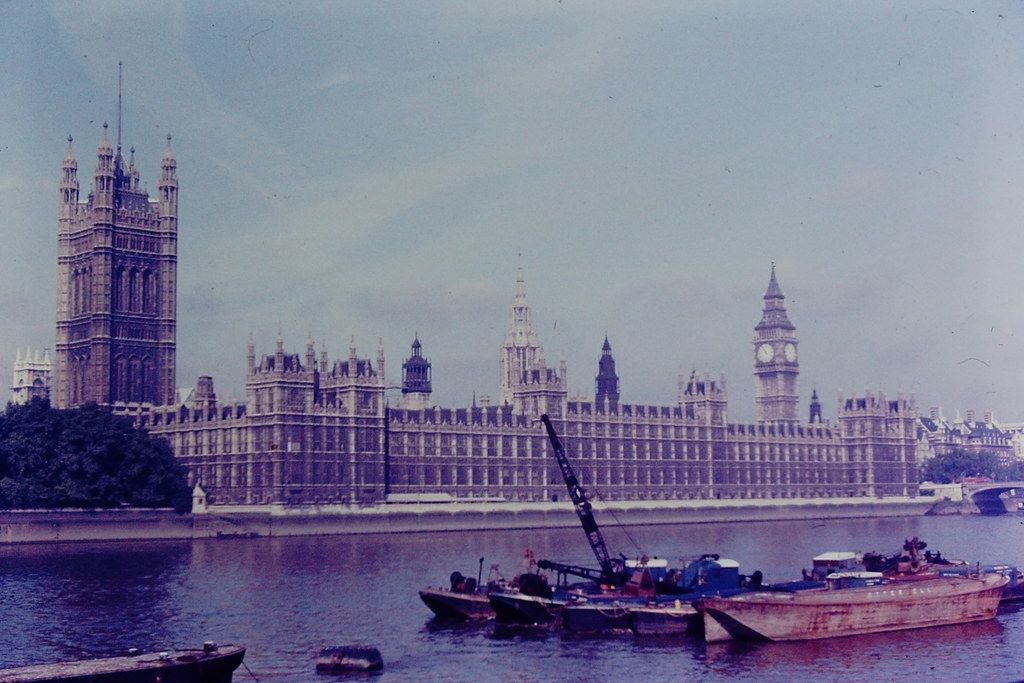 LONDON (LHR) TO NEW YORK (JFK)
September 14, 1968
Airline: PAN AM
Flight: 101
Aircraft type: 707-321B
Aircraft Registration: N453PA (Delivery 12/19/67-after a short least to BN, in 1978, this went to Chile with LAN/LADECO and later the Air Force, and finally to ANGOLA as an AWACS plane.)
Seating Configuration: 32/106 Load:32/100 Seat: 14E Y
Scheduled Departure: 1100 Actual Departure: 1123
Departure Gate: 24
Takeoff Time: 1132 Takeoff Runway: 10R
Cruise Altitude: 33000
Landing Time: 1329 Landing Runway: 4R
Flight Time: 6hr 57min
Scheduled Arrival:1340 Actual Arrival:1340
Arrival Gate: 25 at IAB
Captain: unk
View Large
View Medium


Photo © Jose G. Ocando
Notes:
After touring London for 2 days, it was time to make my way back to LHR to go home.
I knew the flights to JFK were pretty full, so I chose to start with the first one of the day,
and the weather was poor, low ceilings with intermittent heavy showers.
Again, I wish I had waited with my friends as they took the flight 140p that was a DC-8
and was wide open, but the non-rev's motto to this day is, don't let an empty seat leave
without you in it.
It's truer today since non-rev is MUCH more difficult these days.
Since I was in the middle, there were few pictures, just a few before boarding.
My notes indicate a very long 50 second takeoff into heavy rain, must have been exciting.
Here is a little quicker takeoff, and I am sure LHR looks different now…this was on a 787
Link to Video:
https://www.youtube.com/watch?v=QIimuRZrehk
JFK weather was fine and sunny and after a rapid descent we finally arrived back on time.
East African Super VC-10 and QF 707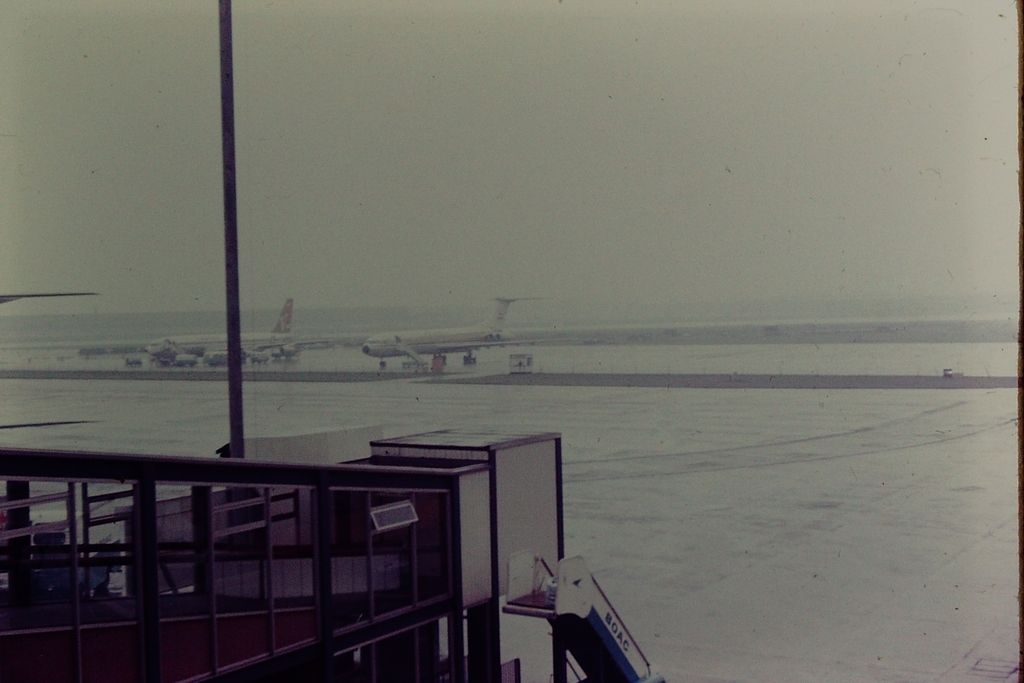 Downwind (sort of ) for 4R at JFK
Short Final:
Bonus: My car in 1968..wish I still had that car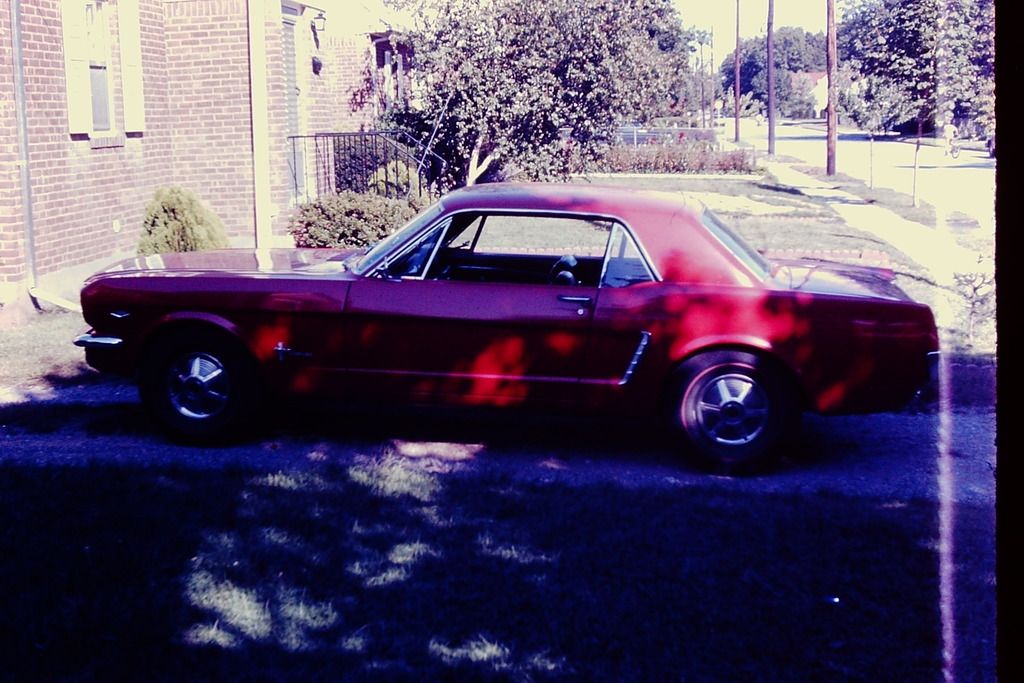 Thanks for reading, comments welcome.
Here are the links to my previous reports:
PAN Am Boeing 707 Miami New YORK-JFK 1972
(by
WINGSOFMAN72
Mar 1 2015 in Trip Reports)
Part 1-1971-MIA-IAH-MSY-TPA-MLB-MIA DL And NA
(by
WINGSOFMAN72
Apr 18 2015 in Trip Reports)
Part 2-1971-MIA-IAH-MSY-TPA-MLB-MIA DL And NA
(by
WINGSOFMAN72
Apr 18 2015 in Trip Reports)
1969- LGA-BOS-LGA -Northeast Airlines And AA
(by
wingsofman72
Jun 21 2015 in Trip Reports)
5-4-68 JFK-IAD-JFK PAN Am 707/BRANIFF 727
(by
WINGSOFMAN72
May 30 2015 in Trip Reports)