After a 3 yr break decided to go back to Florida and spot any changes.
My flight was with BA out of LGW, BA2037 B777 G-VIIO 16yrs old.
I am lucky enough to only fly Club or First these days due to a late aunty who left me well covered.
The chauffeur picked me up from SW London and I was at Gatwick in under the hour.
This was a mid week flight but found the North Terminal none too crowded, security was
quick and into the BA Terraces lounge for a coffee and snack before boarding which was in 40 minutes.
Down at the gate I meet an old friend who was now working at the airport airside doing security, we talked for about five minutes and then he had another member of staff check me over so that there was no bias, very professional I thought. He wishes me a good trip and I boarded my plane.
Seat 4A.
This is the last row of the forward cabin, offers direct isle access and is very private I think.
Newspapers, Menus and amenity kits were offered before push back along with 2 rounds of drinks, We pushed back about 5 minutes late.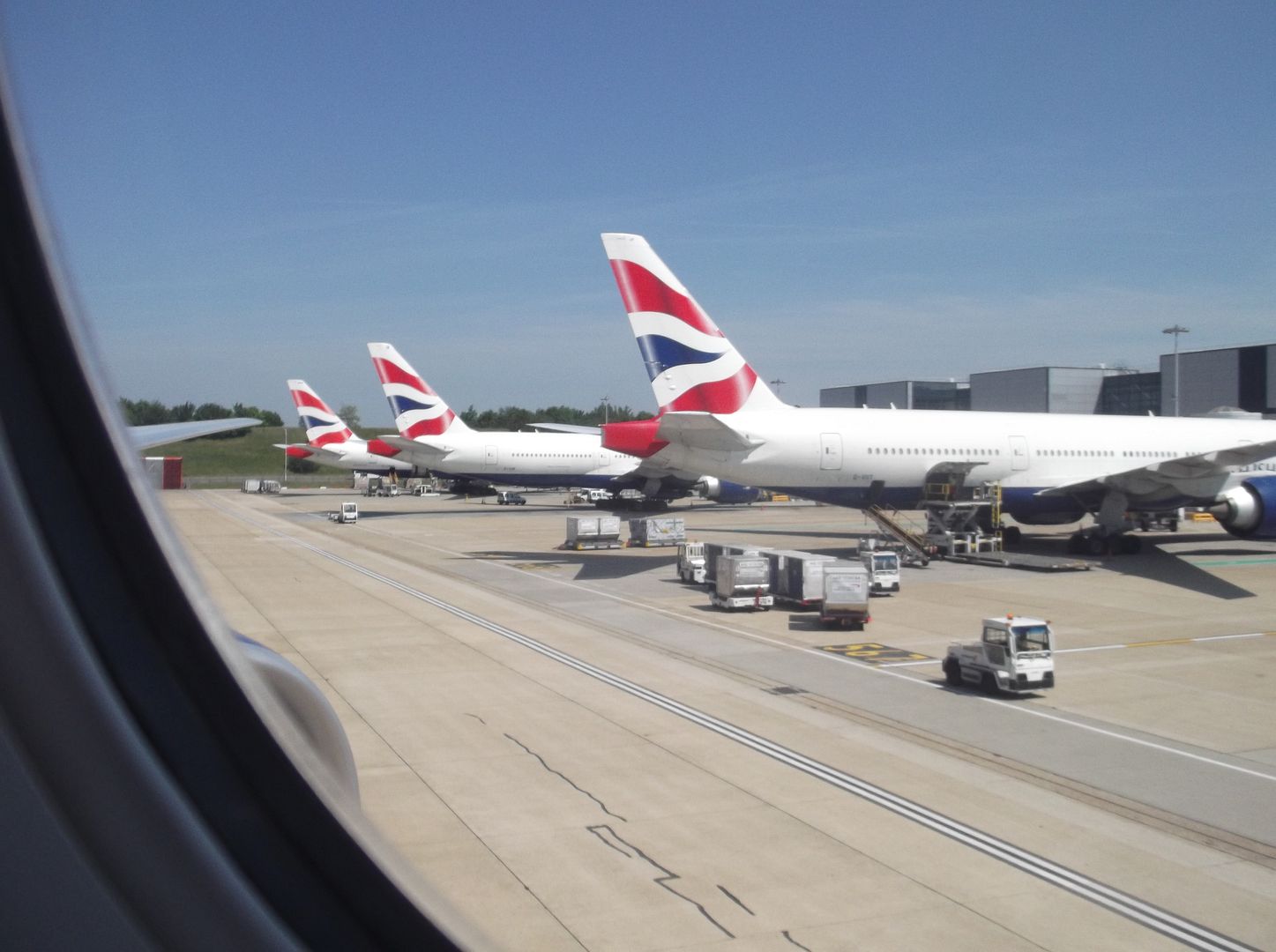 Not a long line at the runway and we were soon off to the West on a bright and sunny day.
Nice view of the Isle of Wight.
About 40 minutes into this smooth flight the first drinks run appeared, I went with the white wine for the trip, the Sauvignon Blanc.
And now the choice for Lunch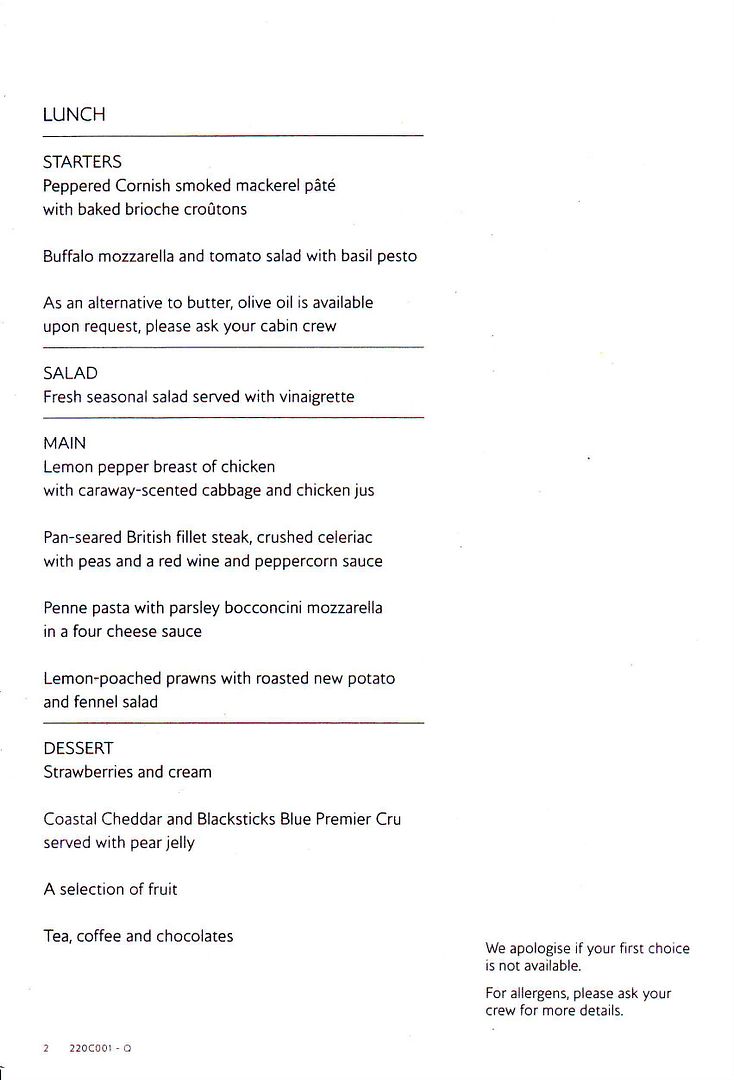 A decent selection I thought.
So to start the smoked mackerel Pate.
Nice flavours.
And then the chicken.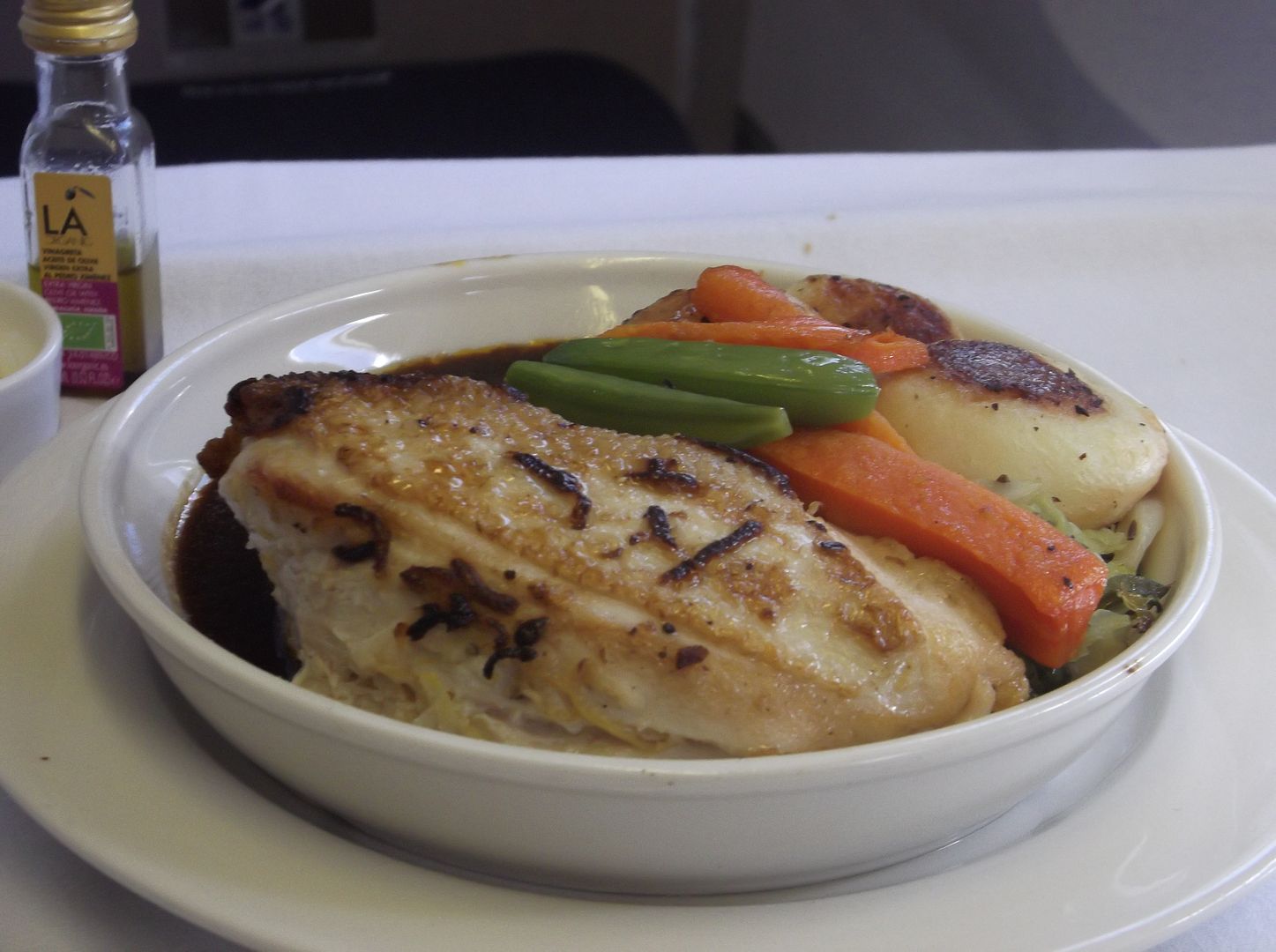 The chicken was moist not over cooked and bags of flavour, went down well.
Dessert was good as well.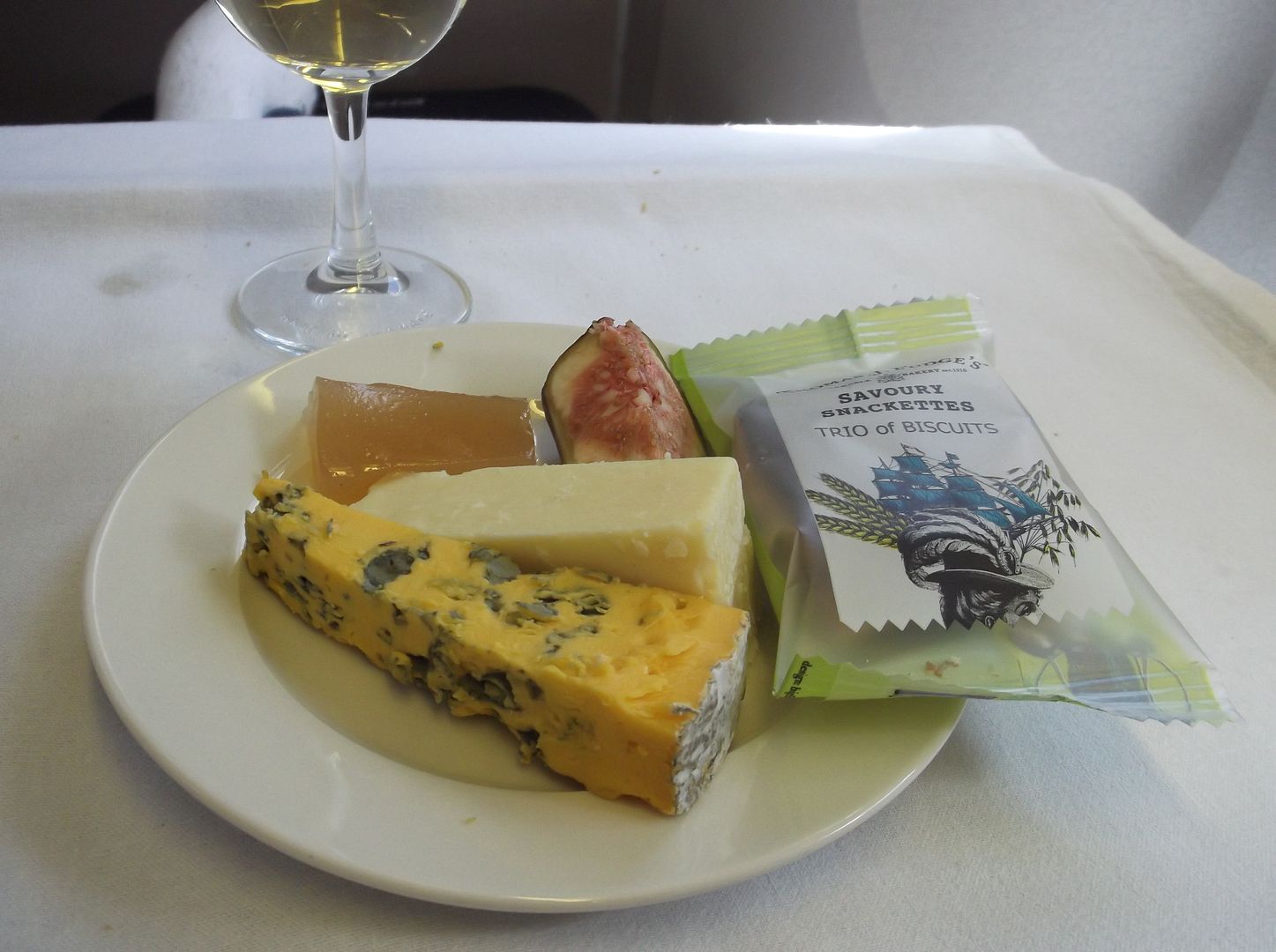 And then a couple of very attractive chocolates.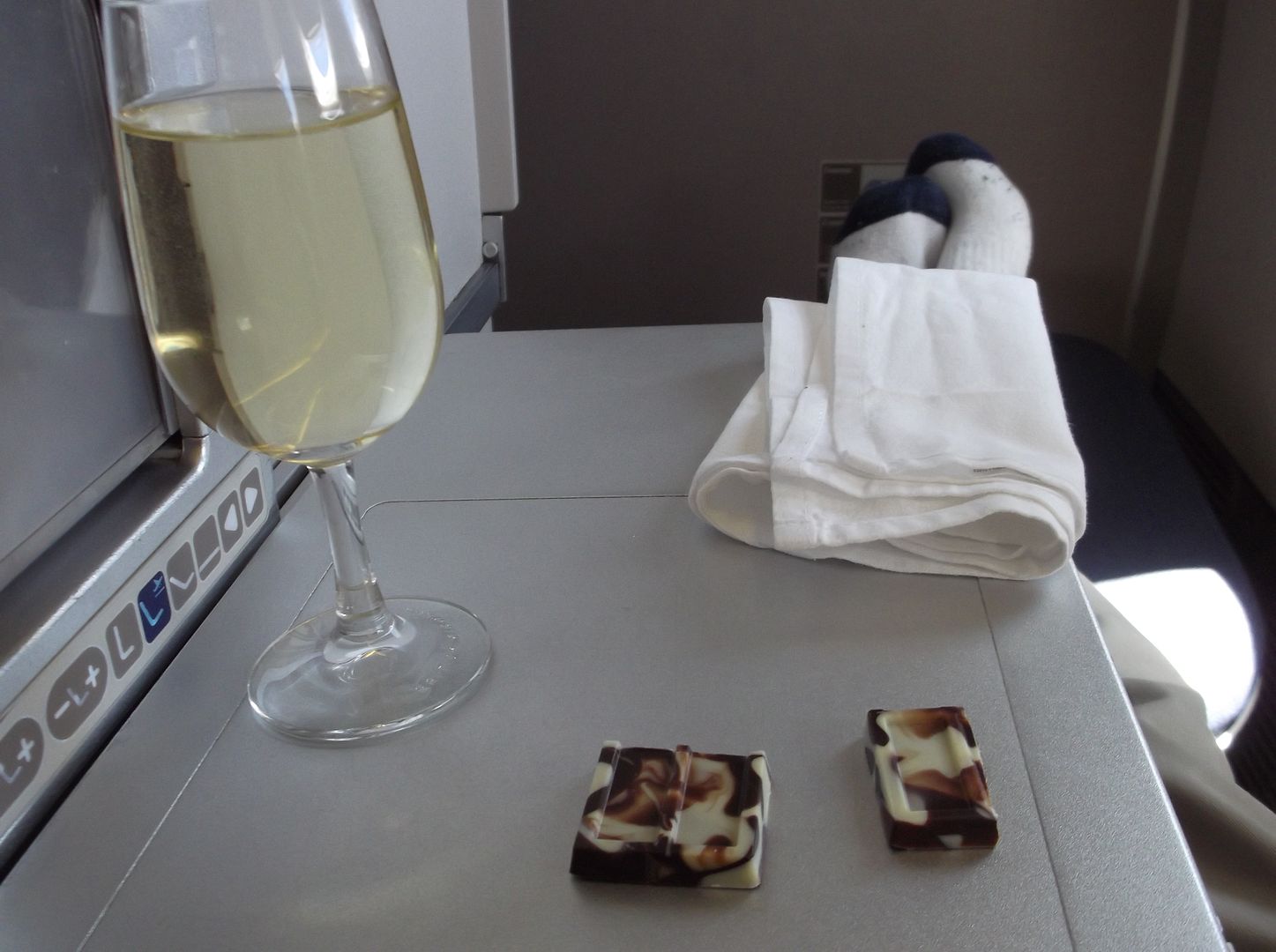 By now we are over the Atlantic and about 2hrs into the 9hr flight, good weather and a smooth flight.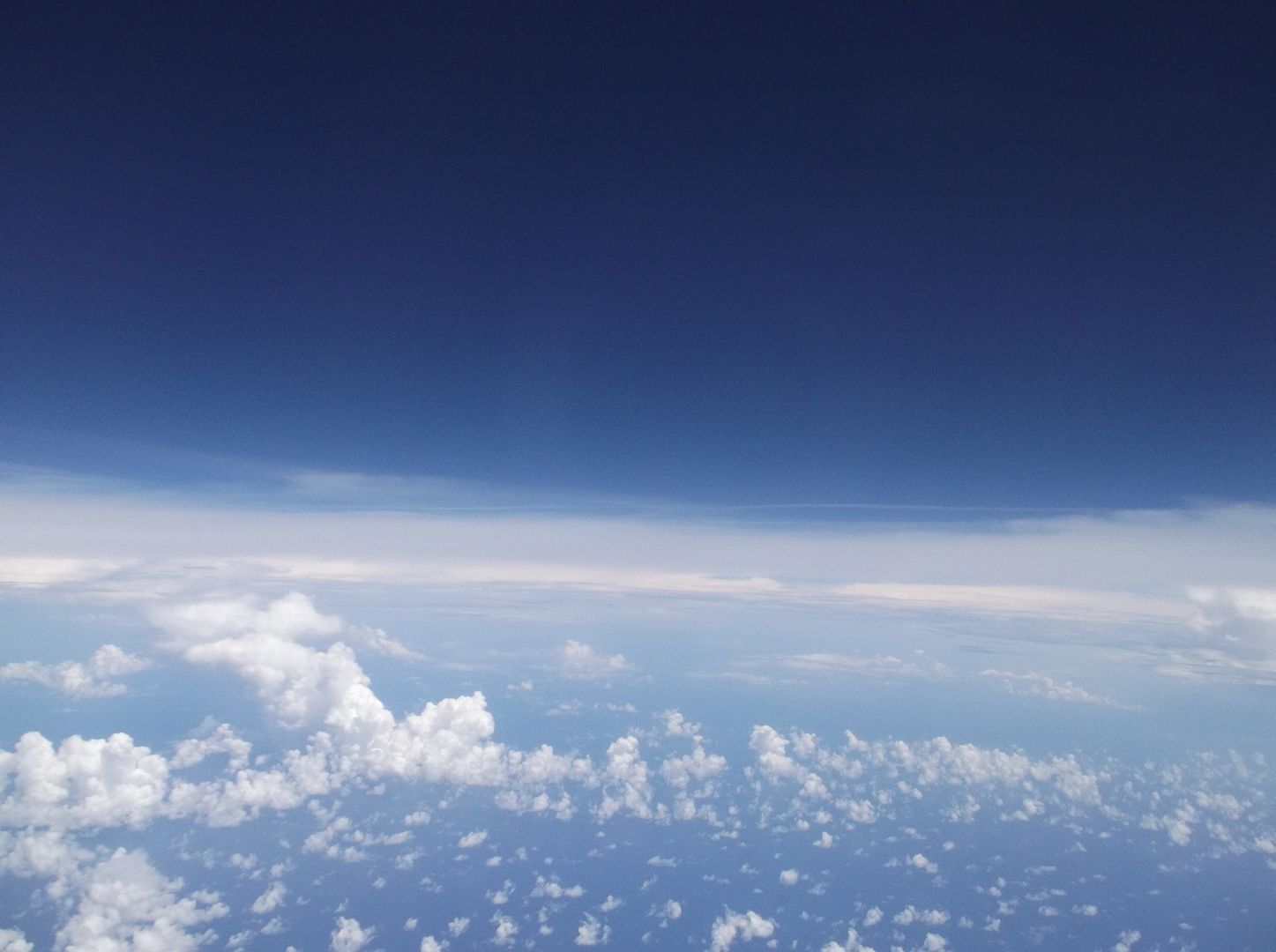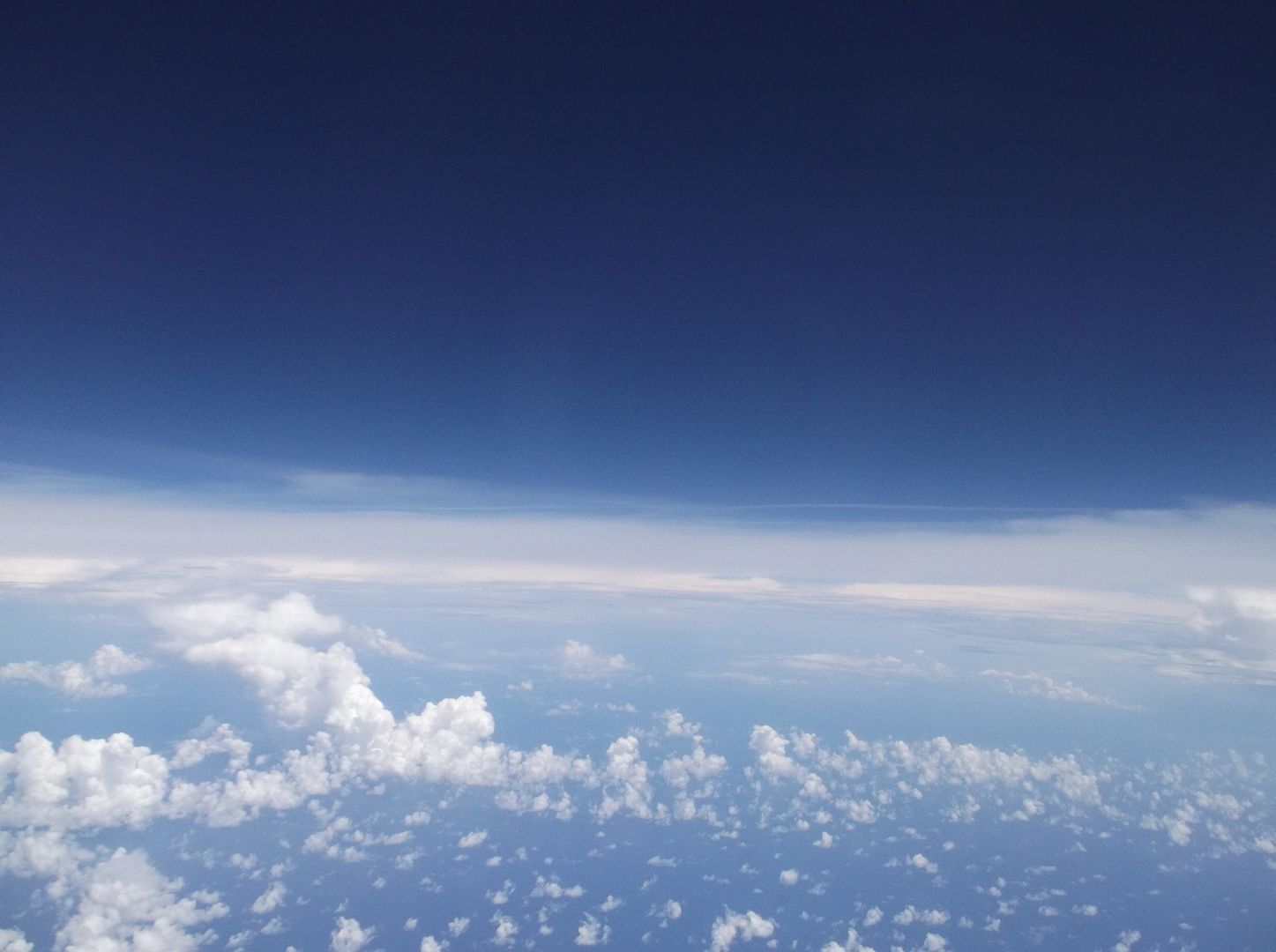 I thought I would walk up the back to check the loads before settling down to watch a movie.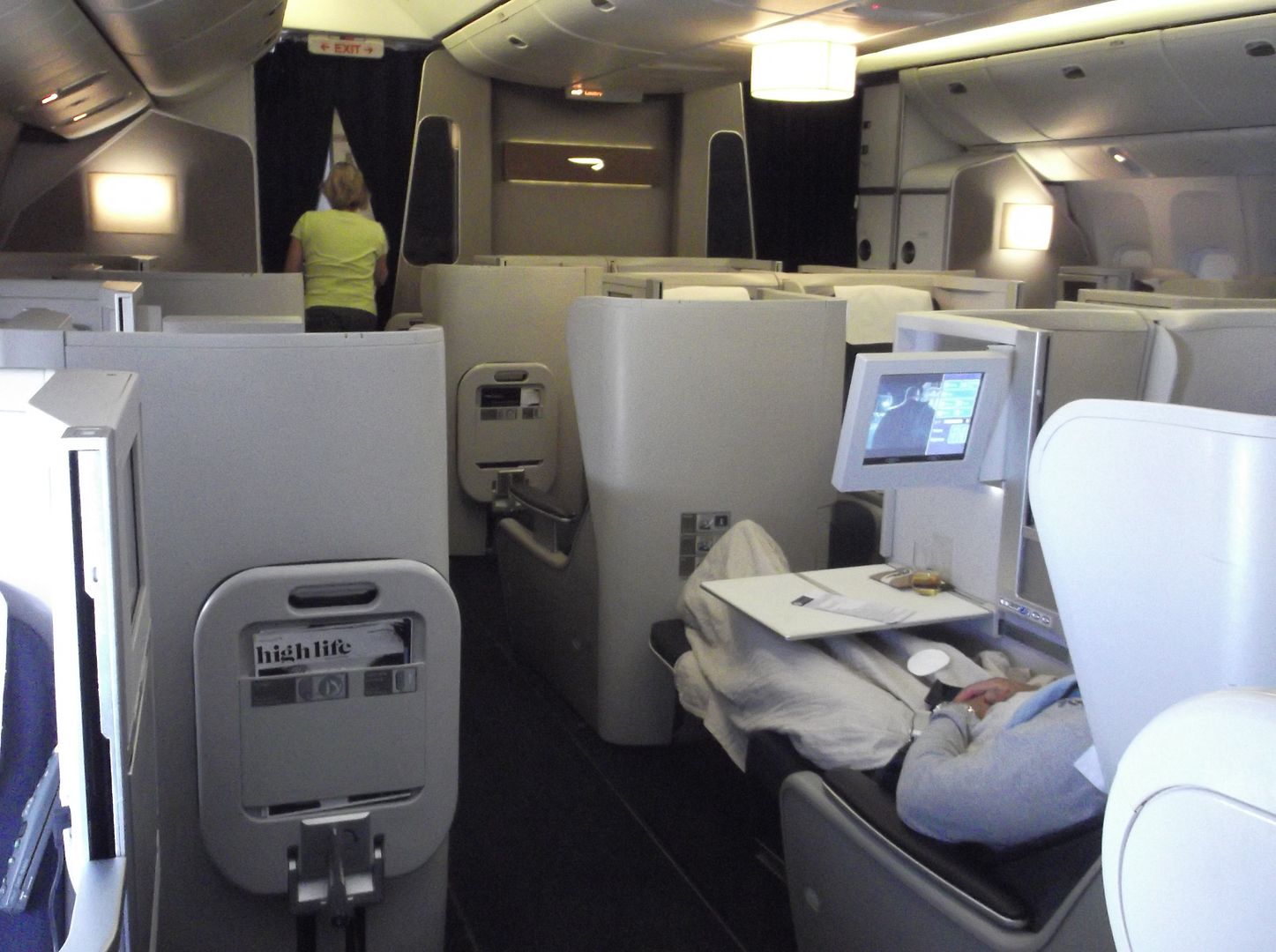 Our forward cabin was very light, less than 50% which is very unusual on this route, made for a peaceful trip. World Traveller Plus was full and I would say Y was 95% full.
Don't know how they can do 9hrs in those small seat, I salute them.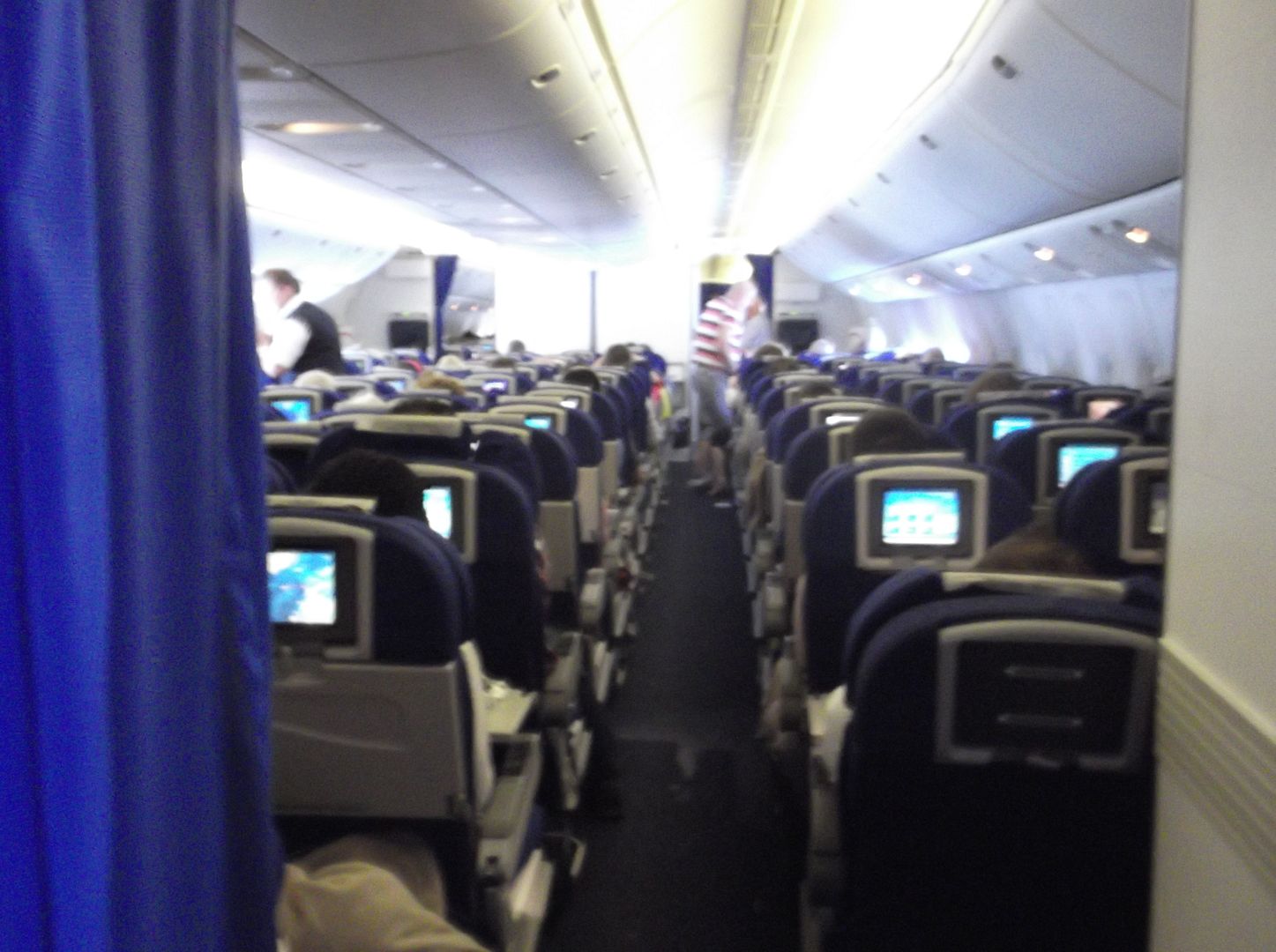 Empty galley and the Club Kitchen, help yourself.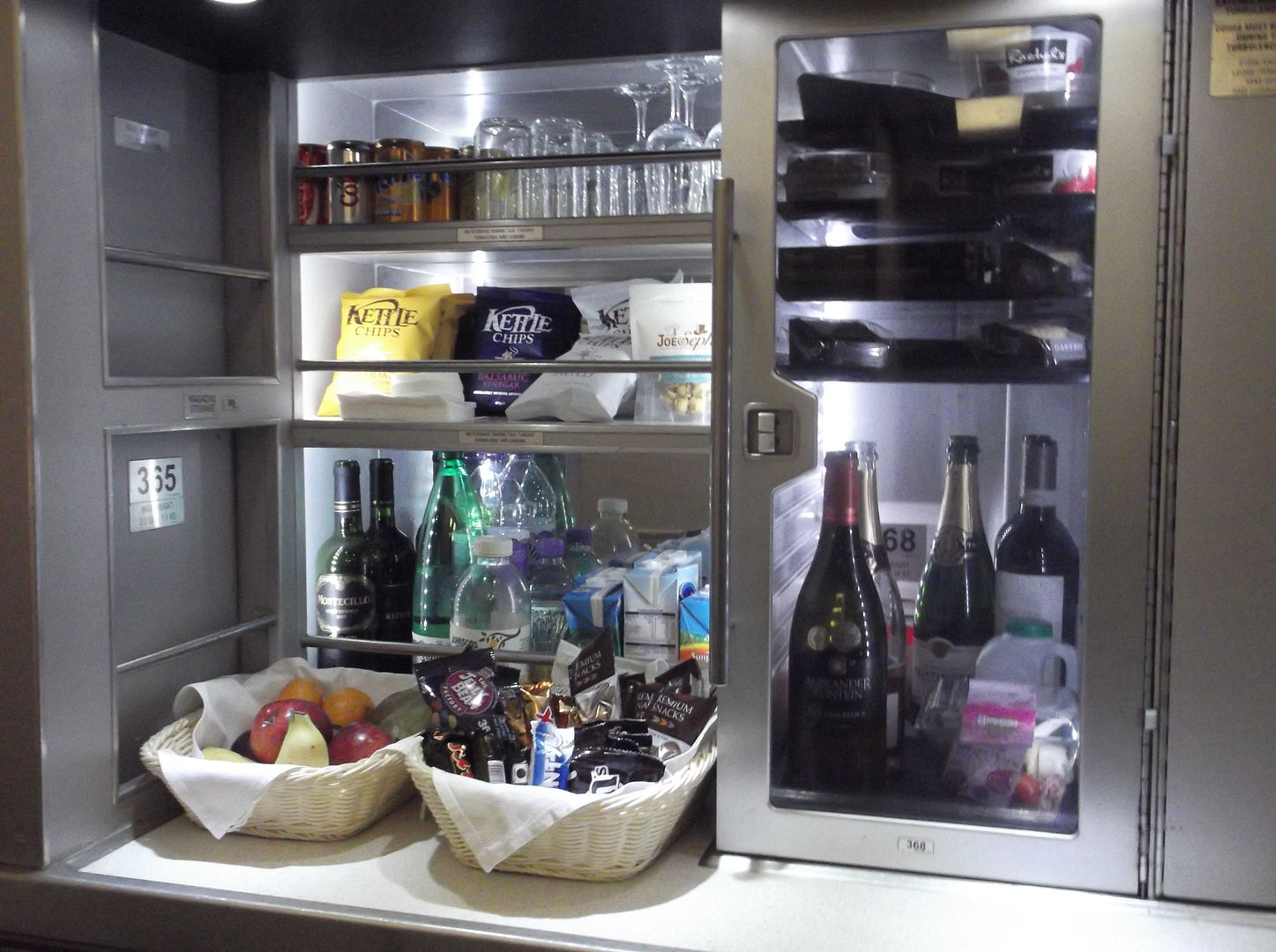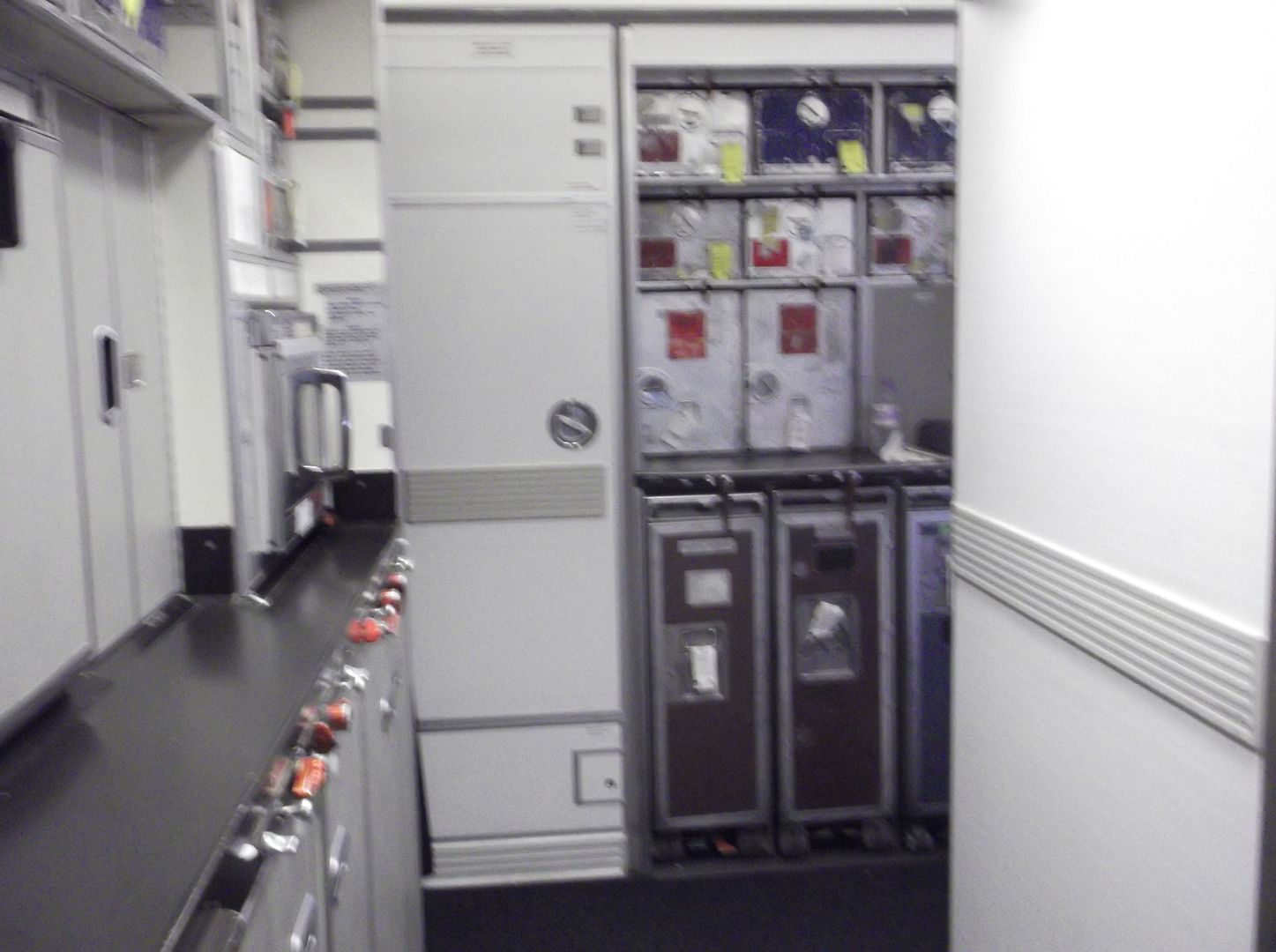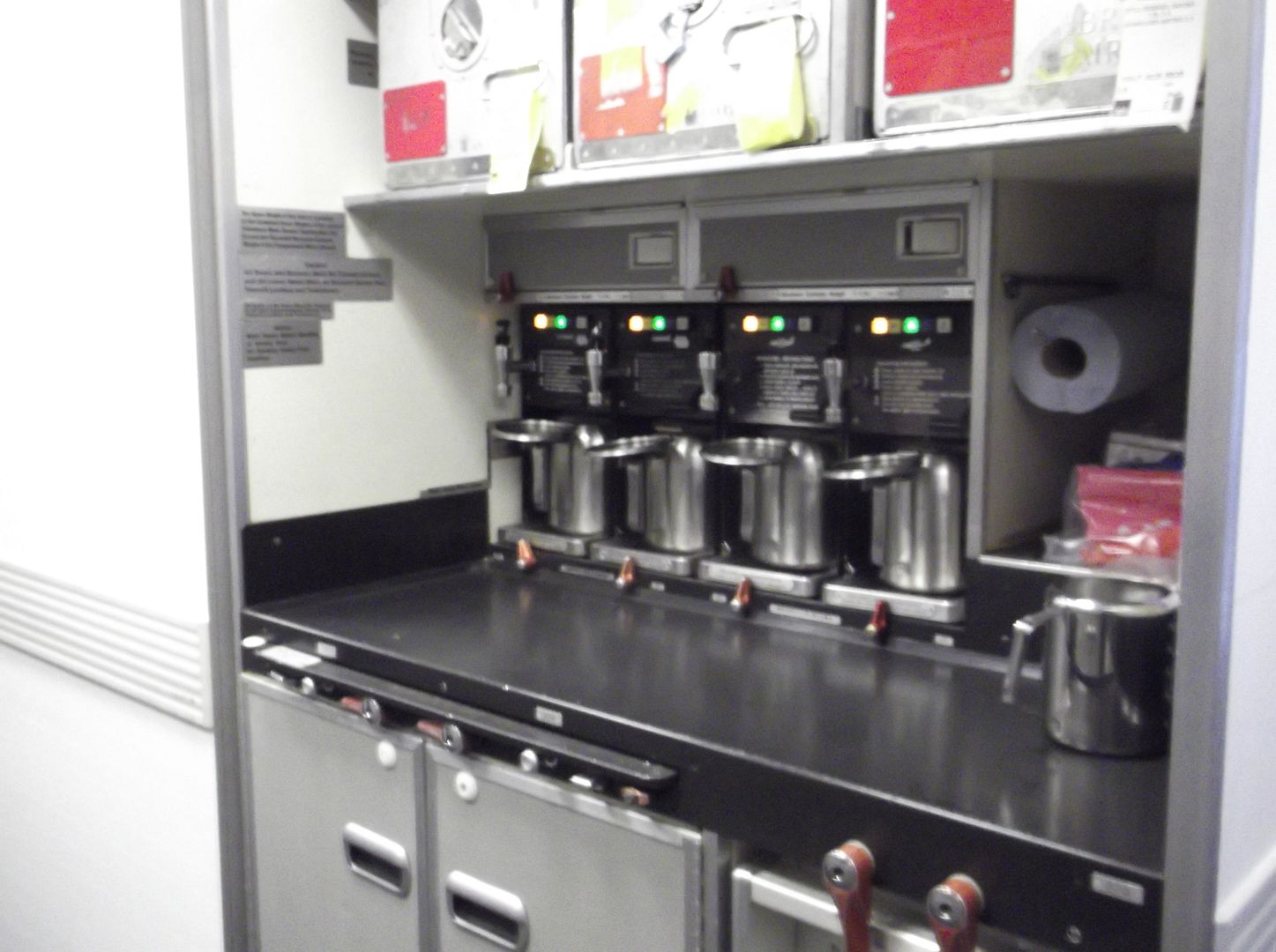 Back to my seat, and the space above it.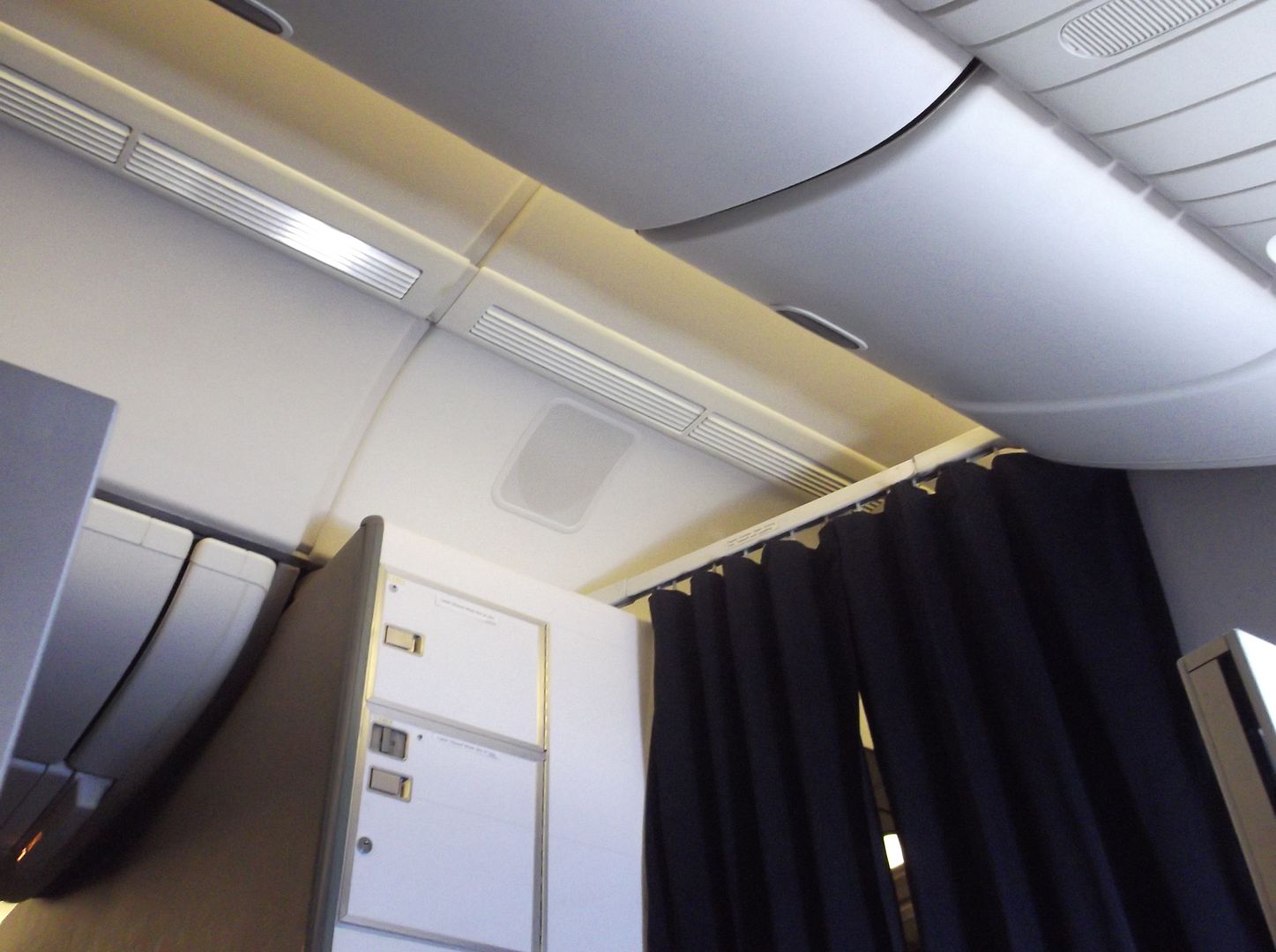 The IFE work fine the whole time, good selection of Movies & TV Music to pass the time.
The Five Armies.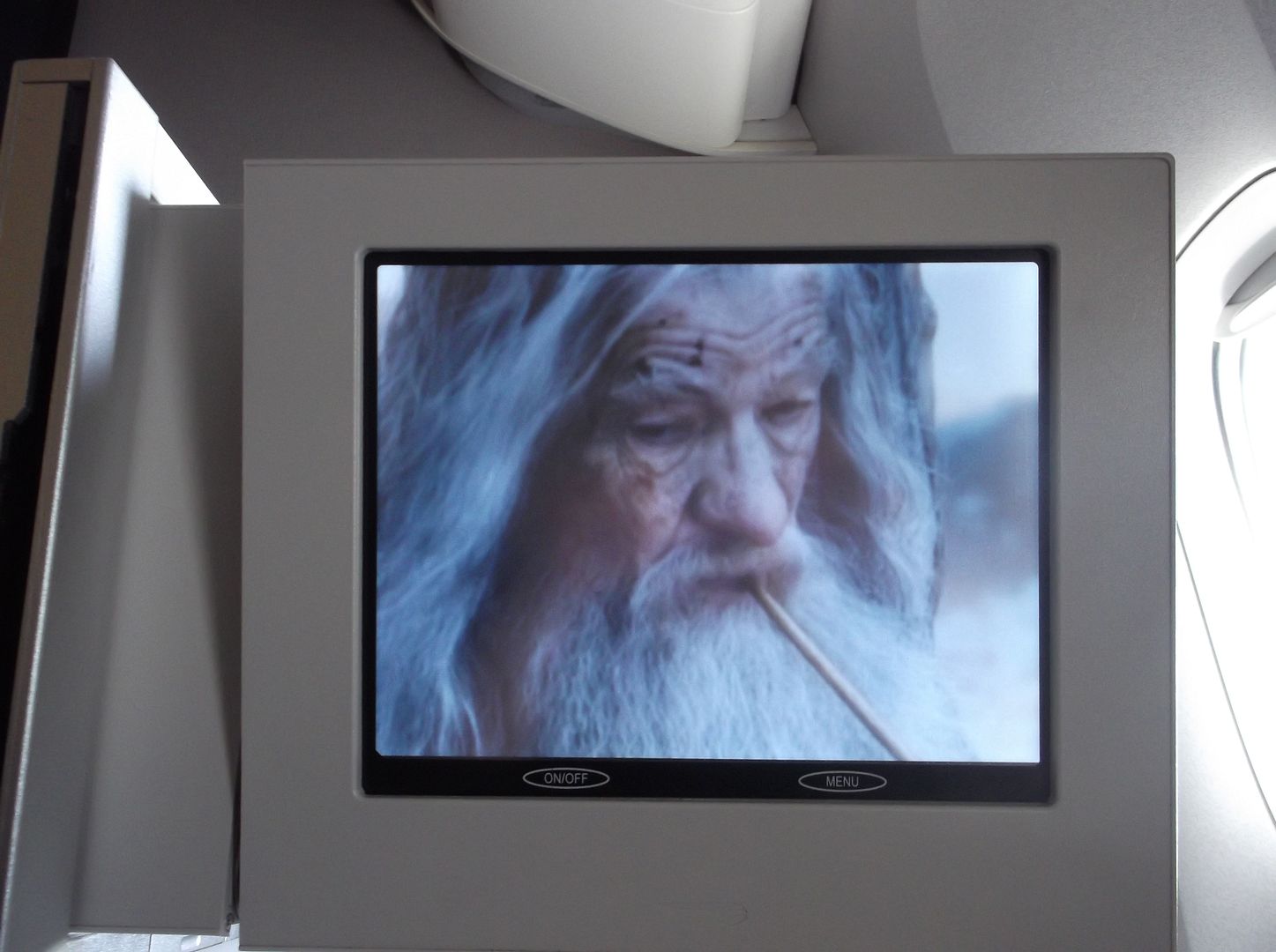 After the movie it was nap time
Then woke up here.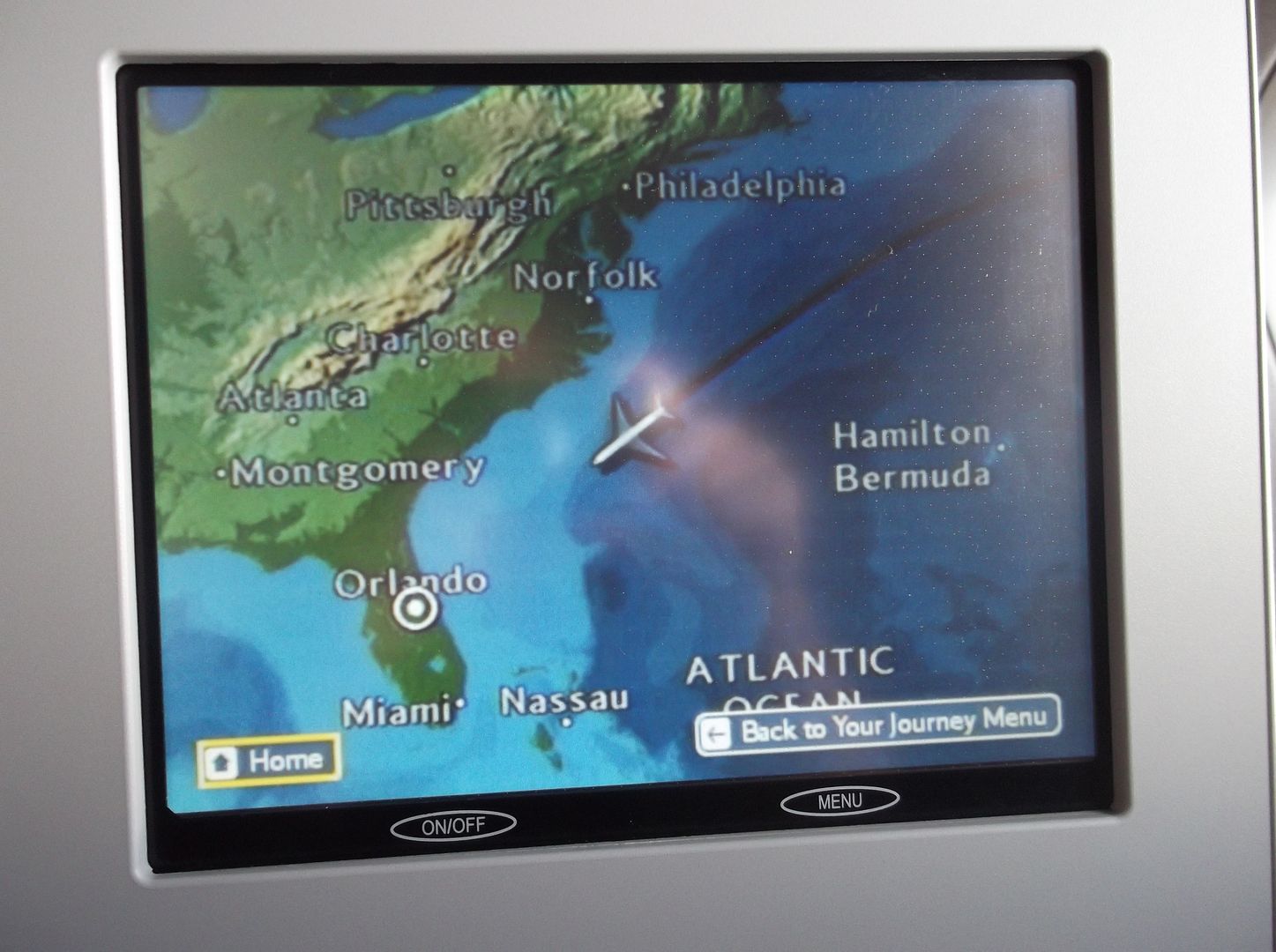 Soon time for one of the nicest things on the flight, Afternoon Tea.
Warm scones with cream and jam, soooo nice.
With 15 minutes to go we arrive at the coastline.
We were soon on the ground and then at the gate, as my seat is next to the door I was in pole position, the cabin crew who had been excellent on this trip then let us into some bad news, we had landed behind a Virgin 747 and a Thomas Cook jet, and there was going to be quite a line at boarder control. Well they were spot on, awful, I have had shorter lines at EWR.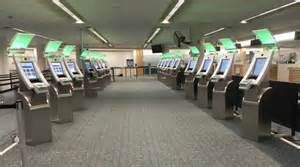 The line took almost 1hr to get to a booth. Anyway I reminded myself while I was waiting of the treat I had given myself for this holiday week, one of my favourite cars.
The 2015 Chevrolet Corvette Stingray. This was my car for the next 7 days.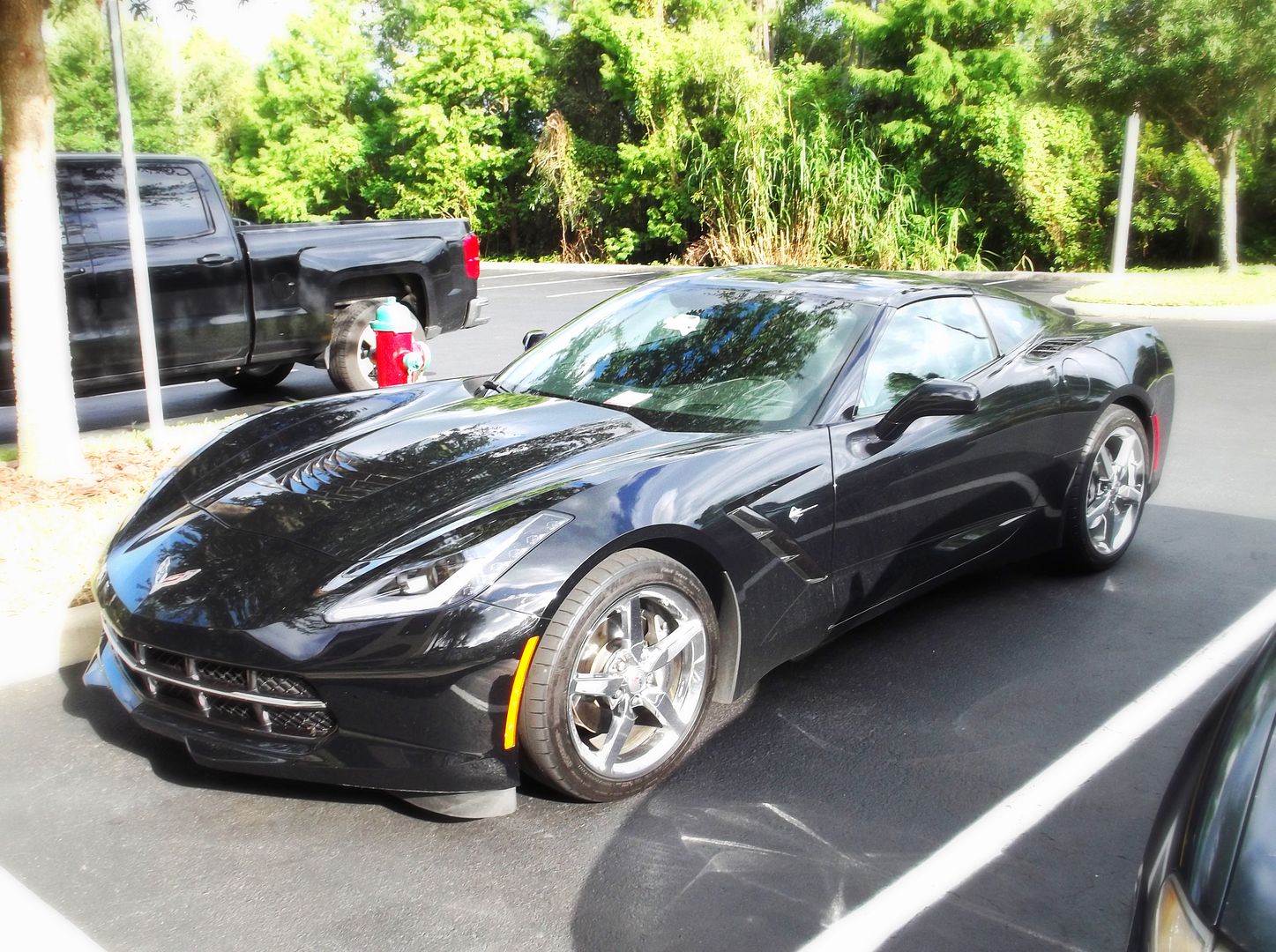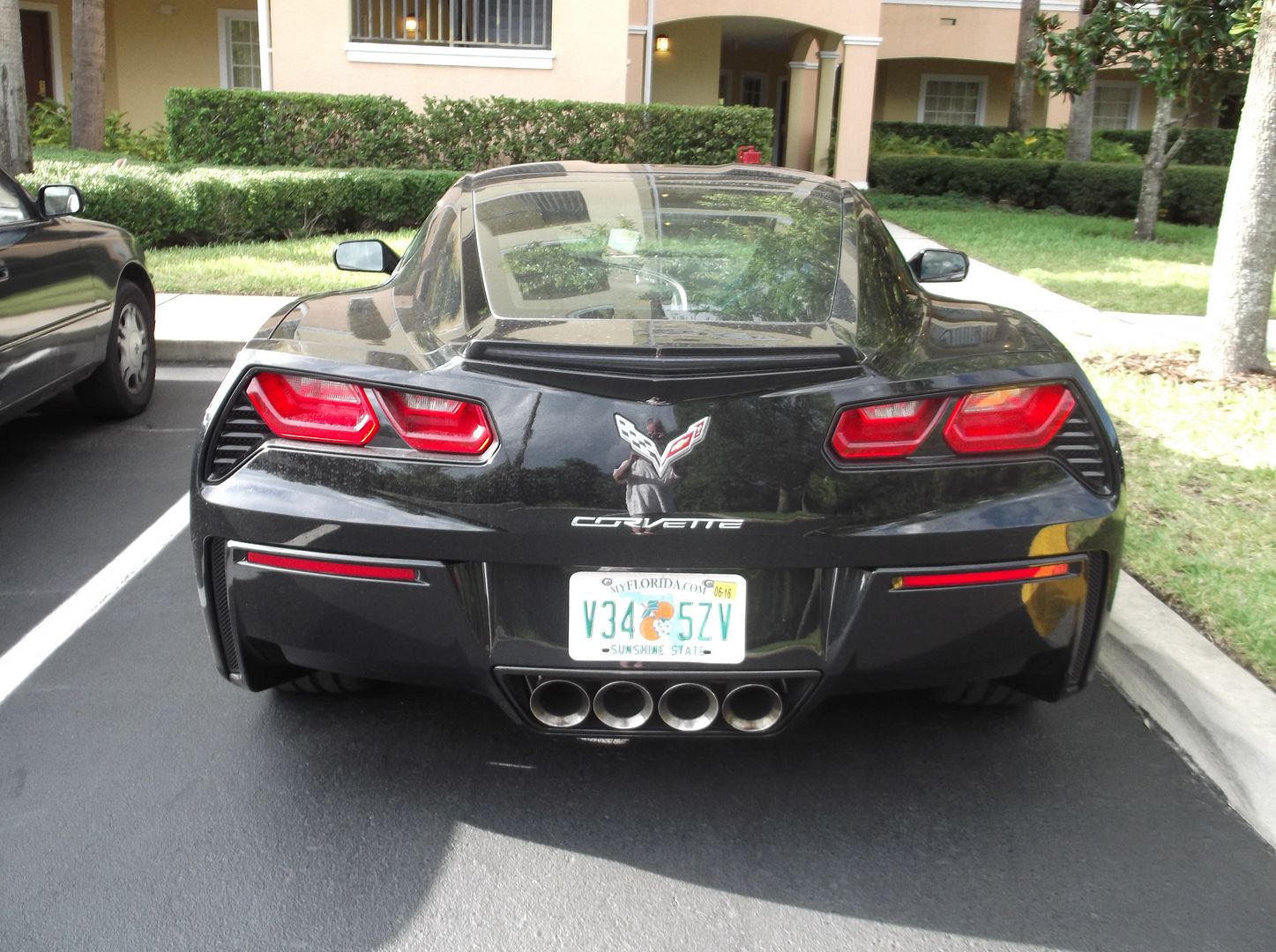 It was truly amazing car to drive, 7 speed paddle F1 gears, 6 litre engine and an amazing sound.
It got a lot of attention where ever I stopped and even got me "stopped" a couple of times by police
officers who I think just wanted a look around as I never got a ticket.
I stayed at my usual apartment, WorldQuest Resort, glad to see nothing much had changed and that the standards were still as high. A quick trip to the local Publix store and I was set for morning, the flight arrived around 4pm so after the drive from the airport, check-in and some food shopping it is 7pm and time for dinner. About 10 minutes away is a Red Lobster establishment and as a sea food lover this was perfect for me. This was my dinner that evening.
Really hit the spot, short drive home and sleep ready to the next day of fun.
The weather forecast for the week was hot, afternoon thunderstorms and temps up in the 90's, just a usual Florida summer I guess. So for day one I head off to Universal Studios, a lot of fun, here is a selections of pictures.
This is the New "AVITAR" ride which is due to open in 2016.
Some pictures of what is planned inside.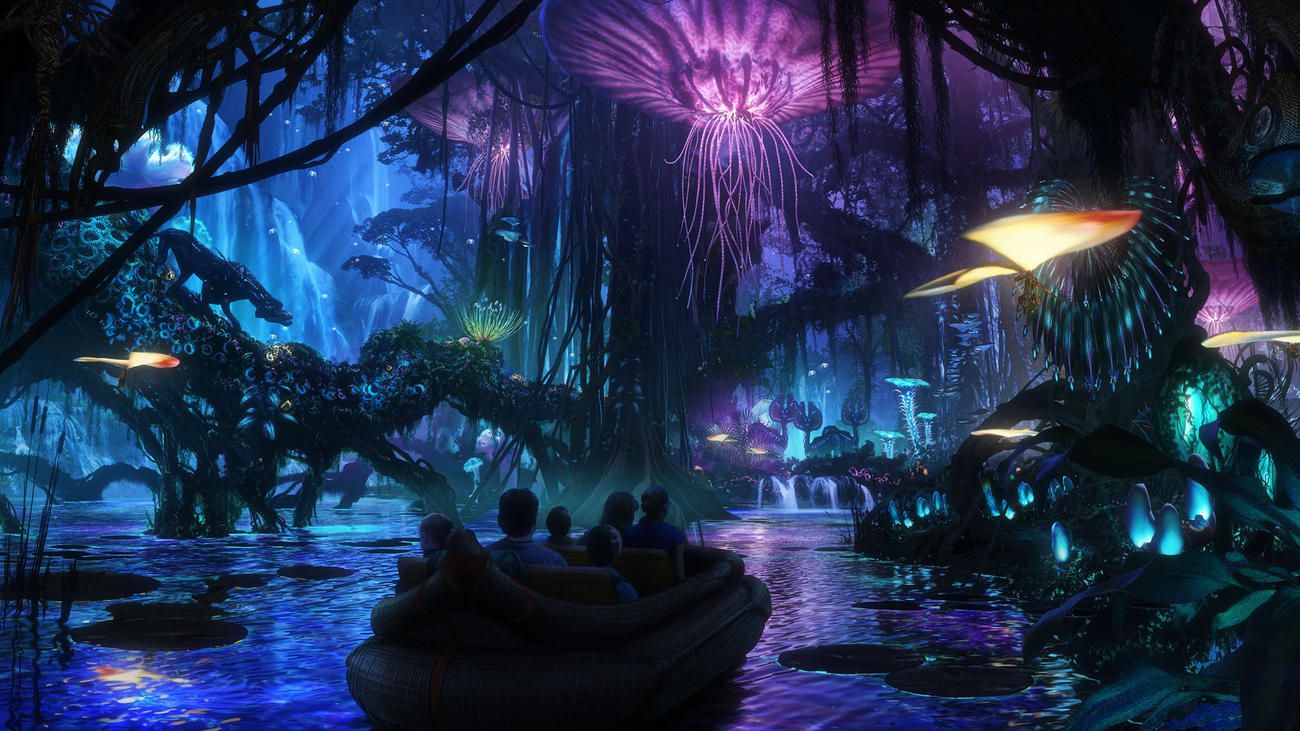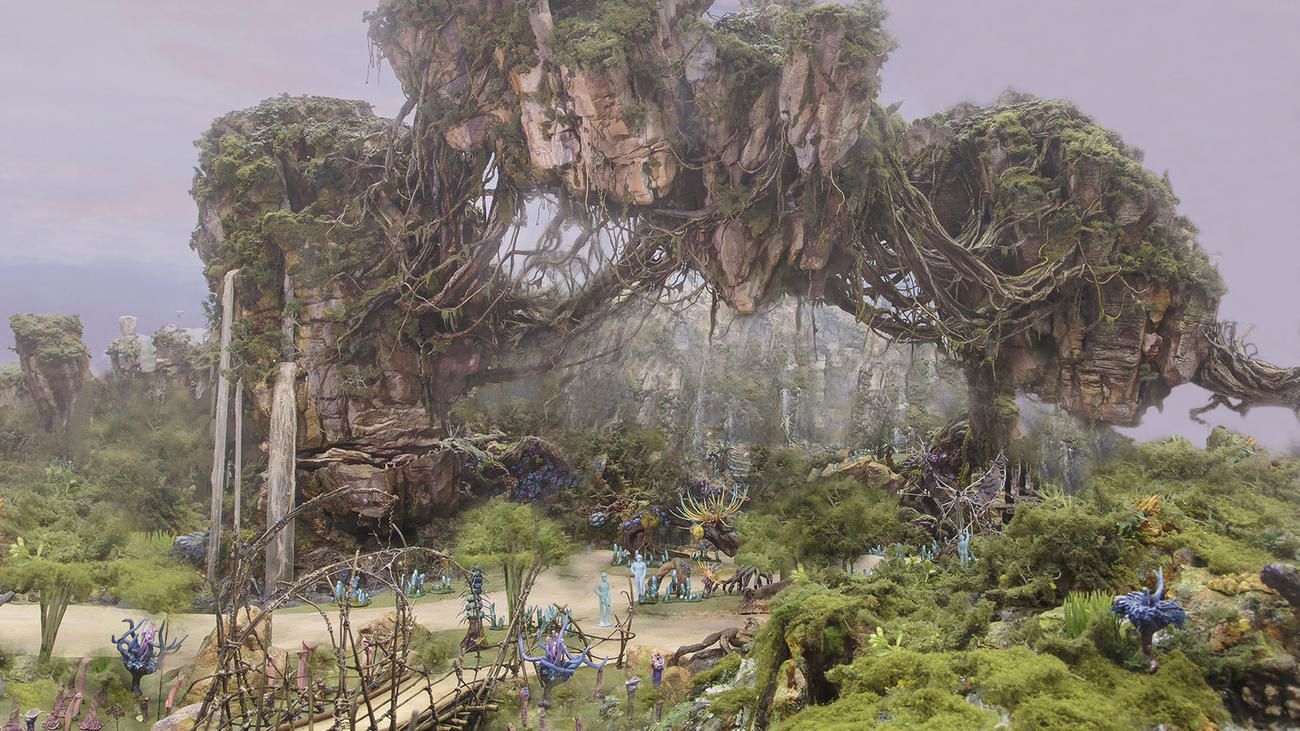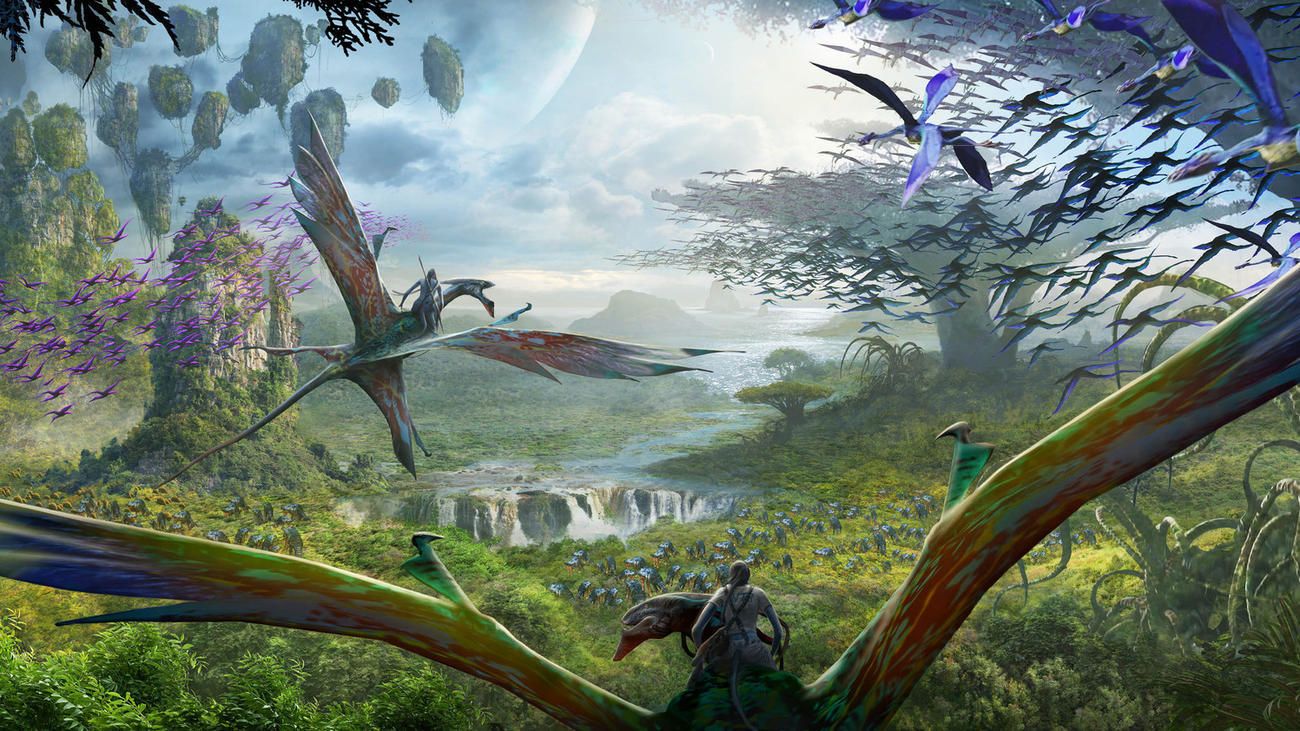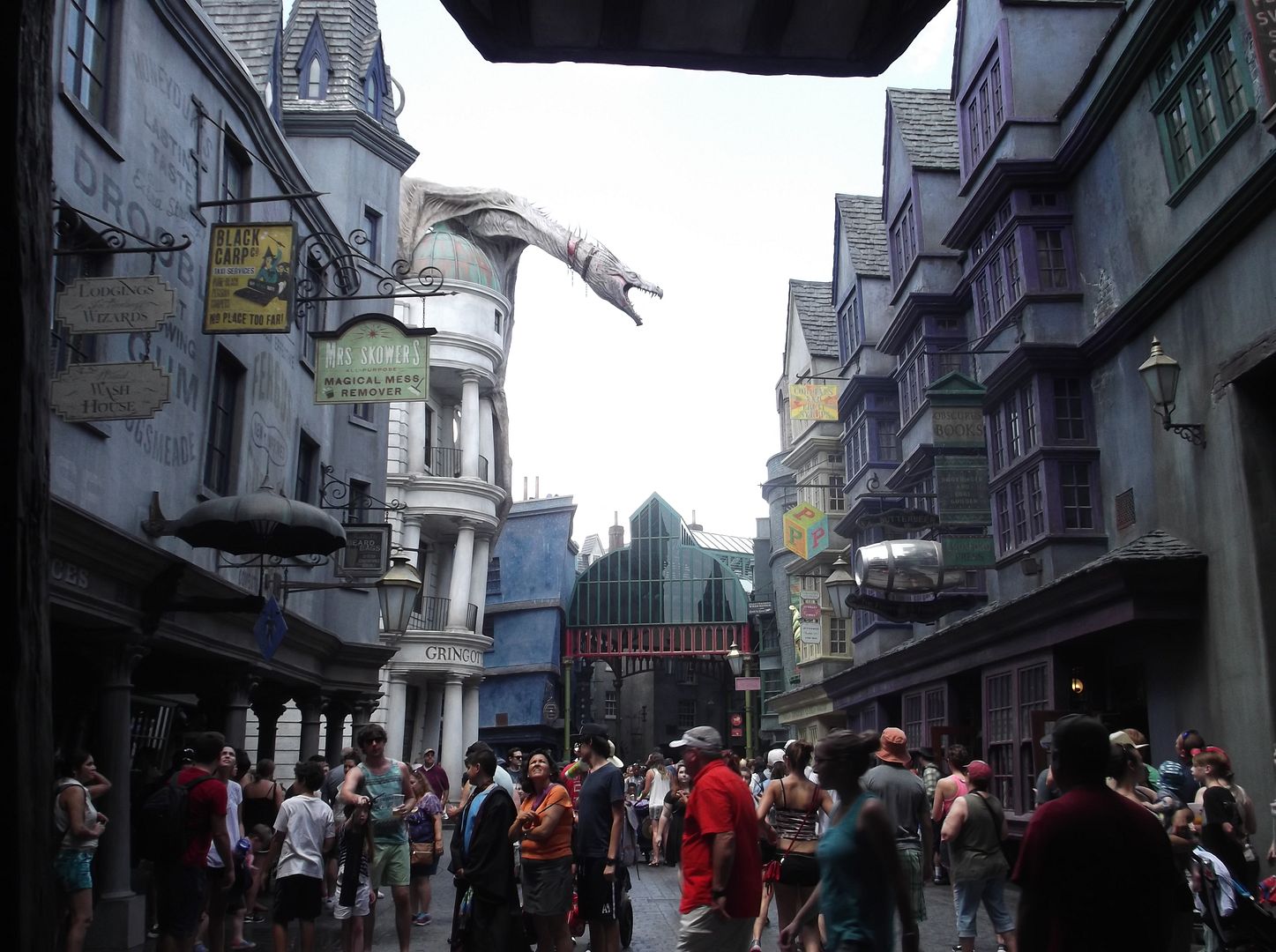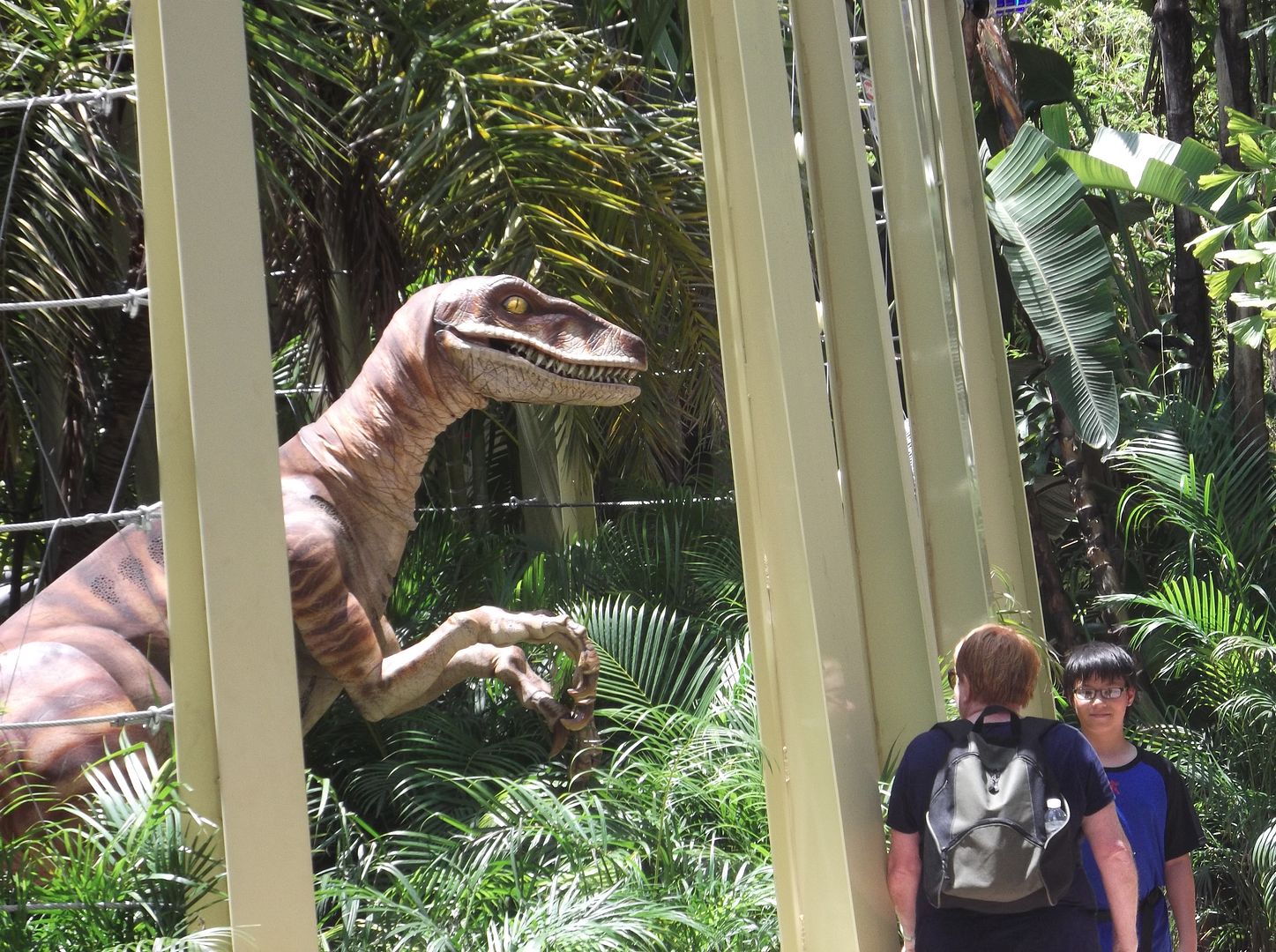 That evening there was a wonderful storm just after sunset, this was the build up to it.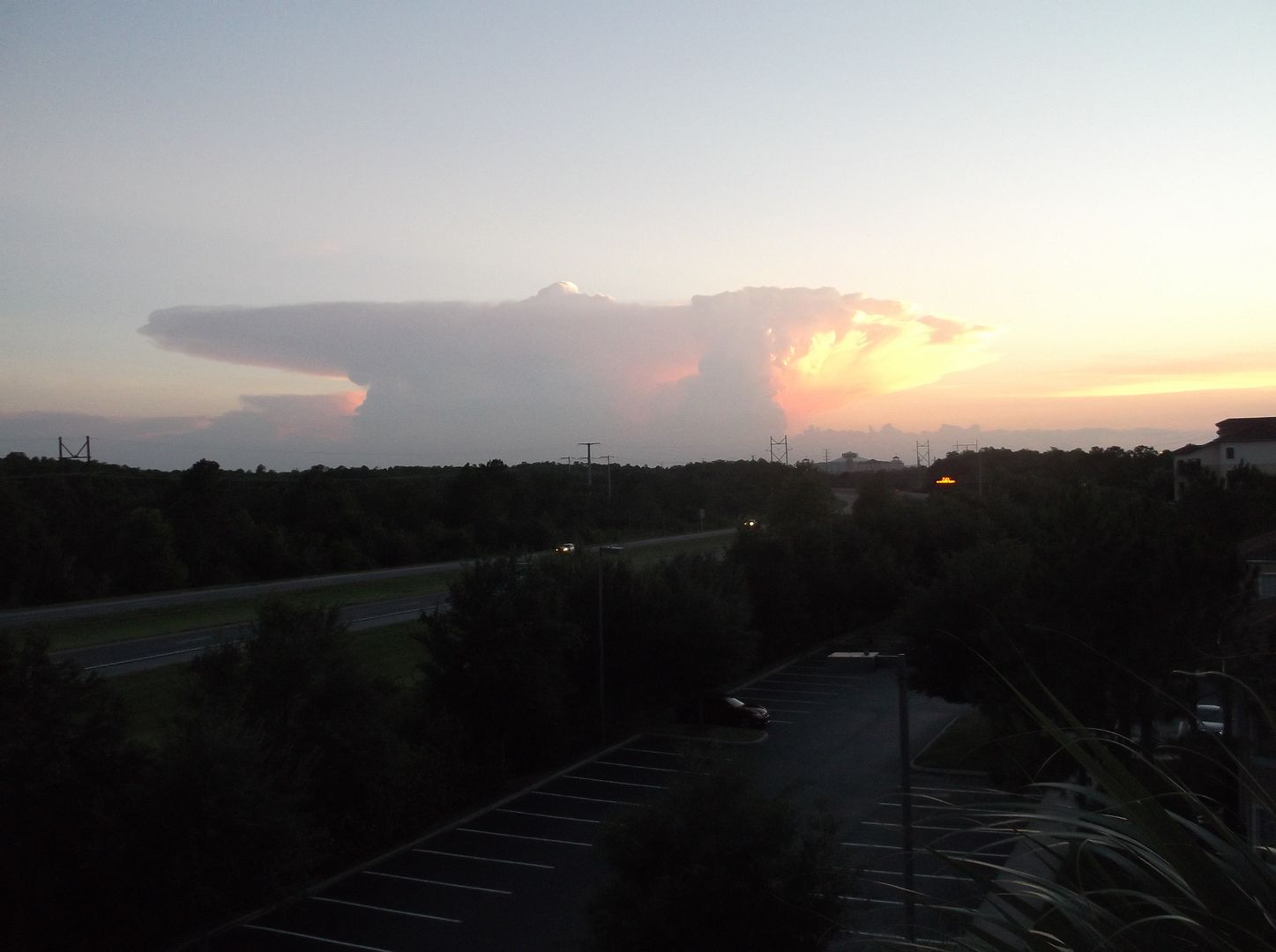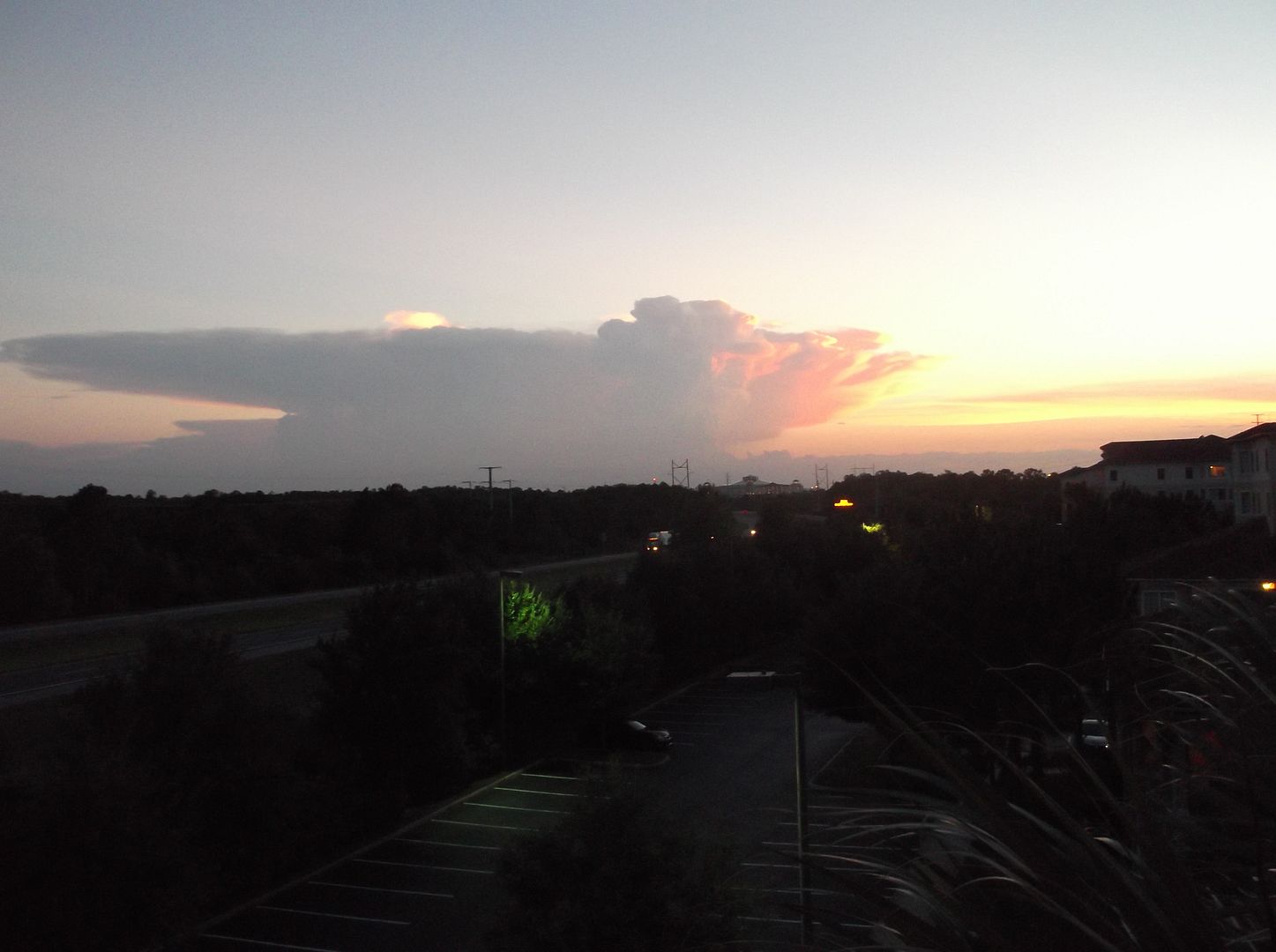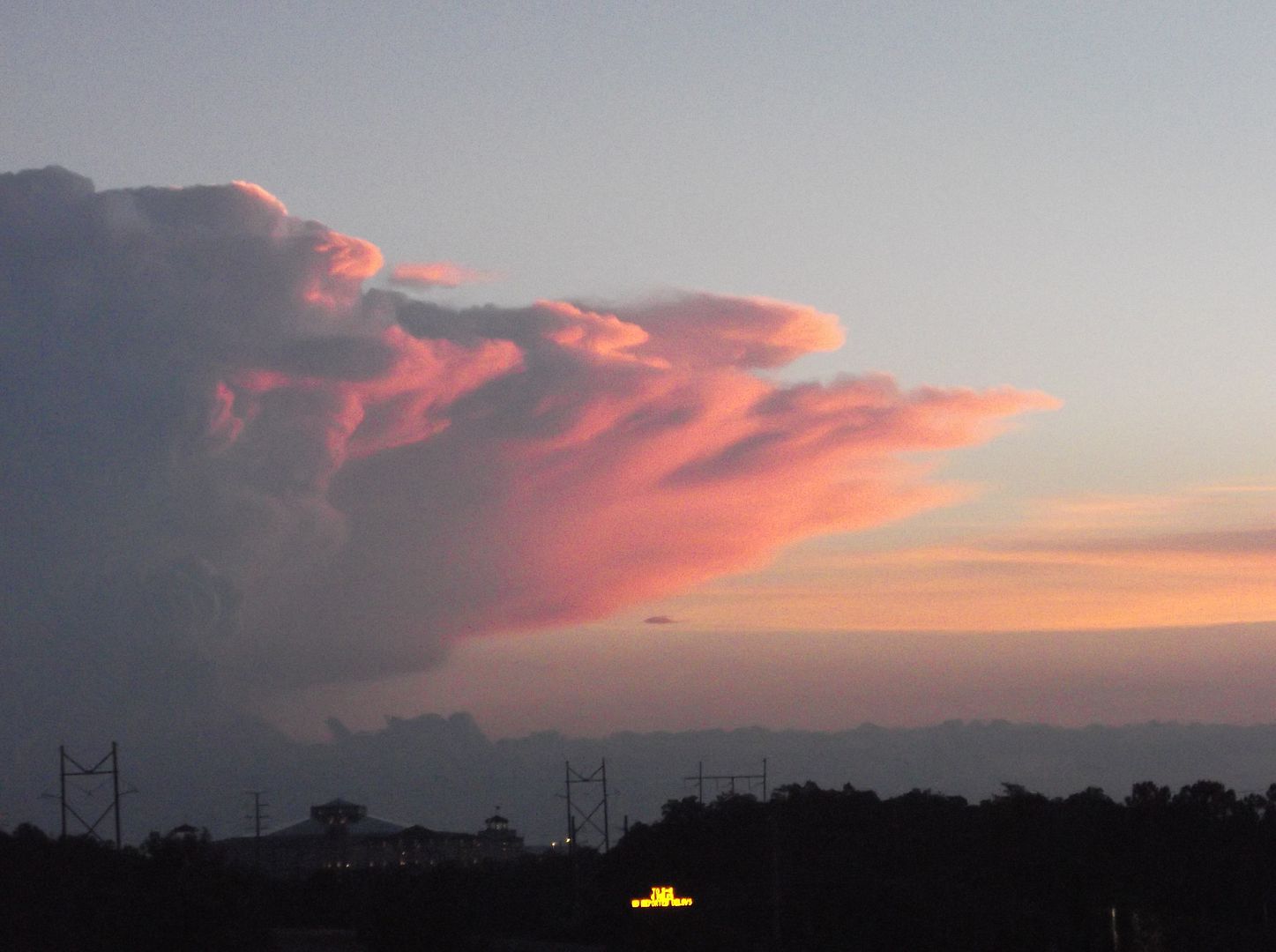 You can see how it gets the name Anvil thunder cloud.
Next day was a Disney one, quick trip around the 4 different parks.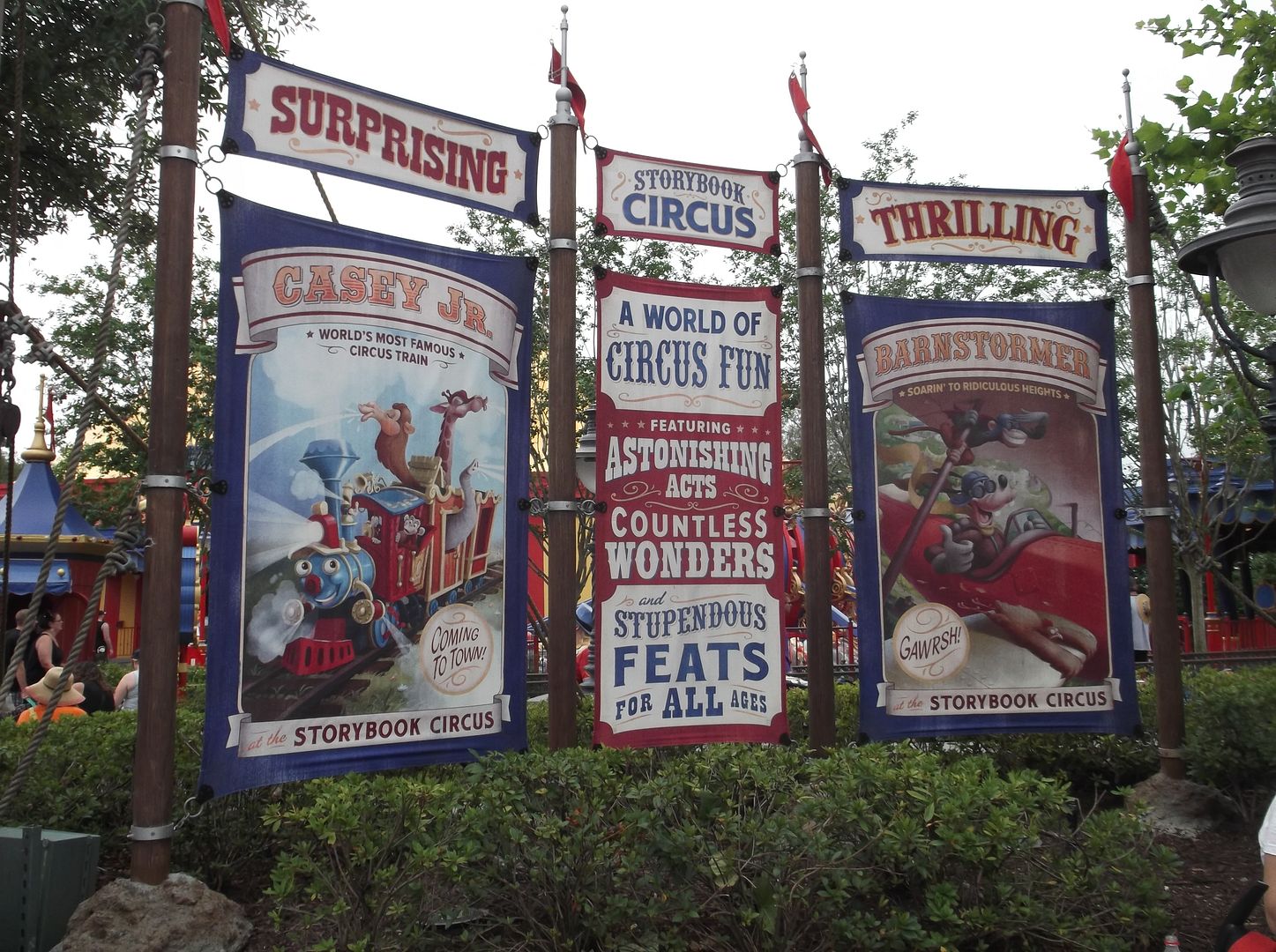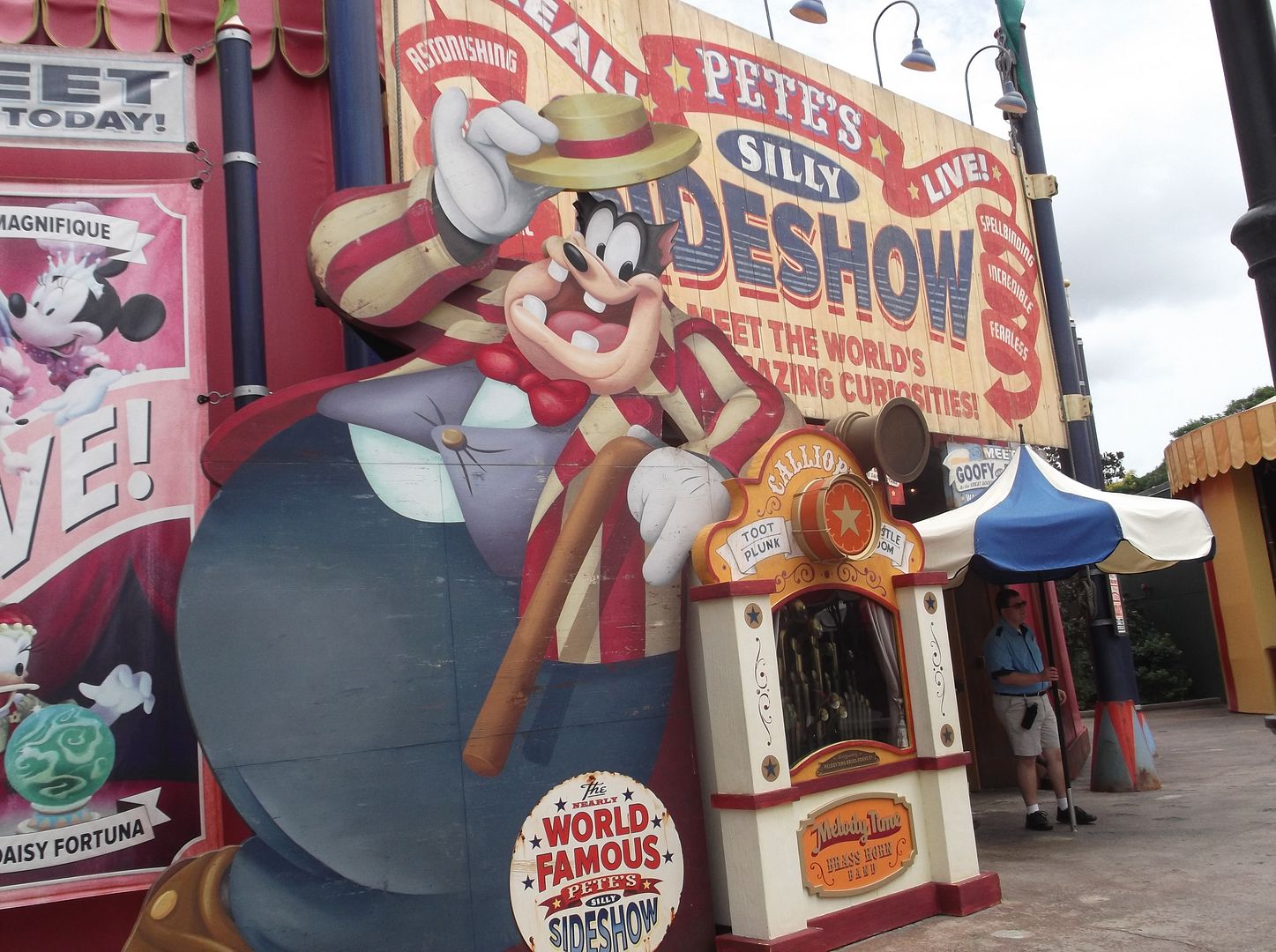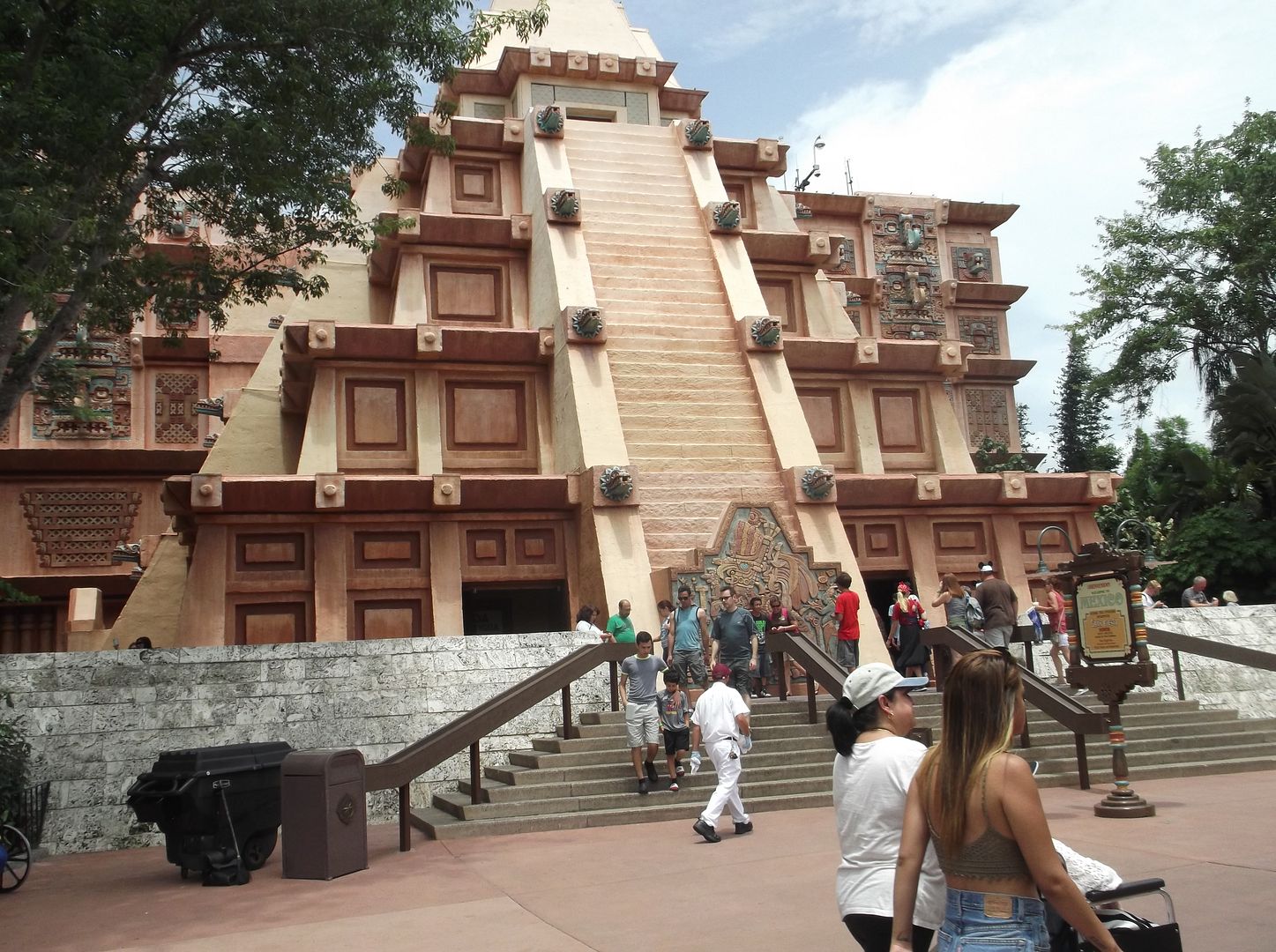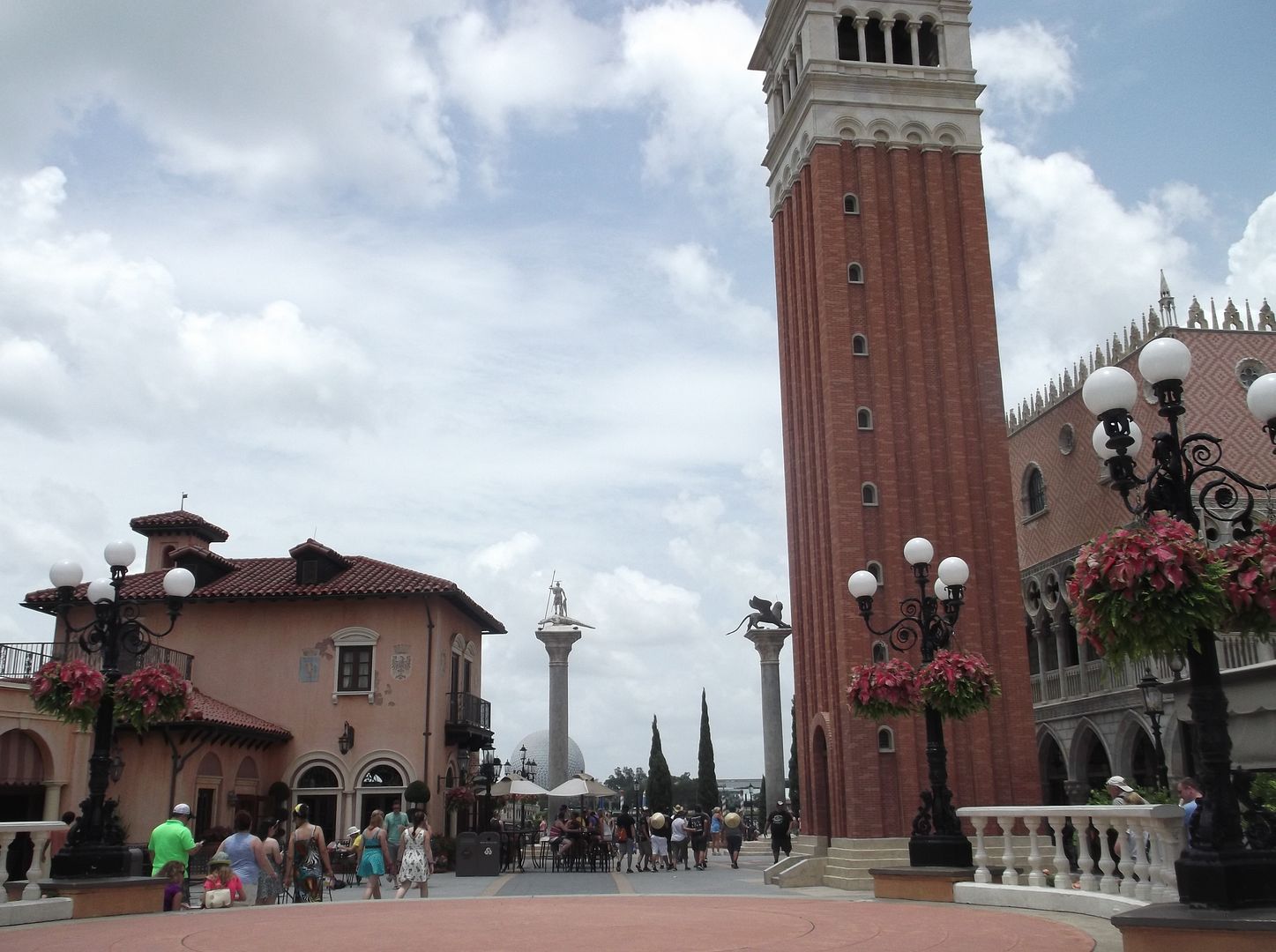 And this is planned for Hollywood Studios next year.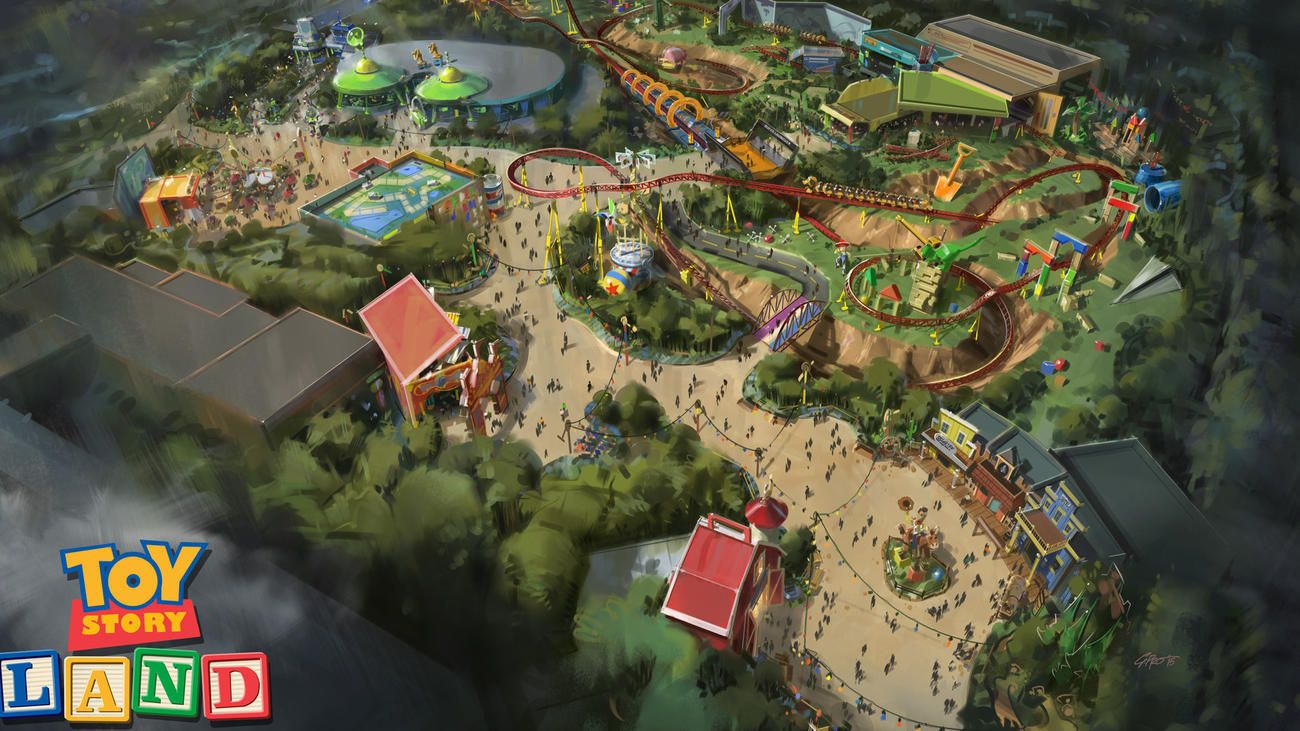 The holiday did not seem to last long enough, they never do and soon it was time to get back on the plane. Really impressed by the MCO control tower, very high.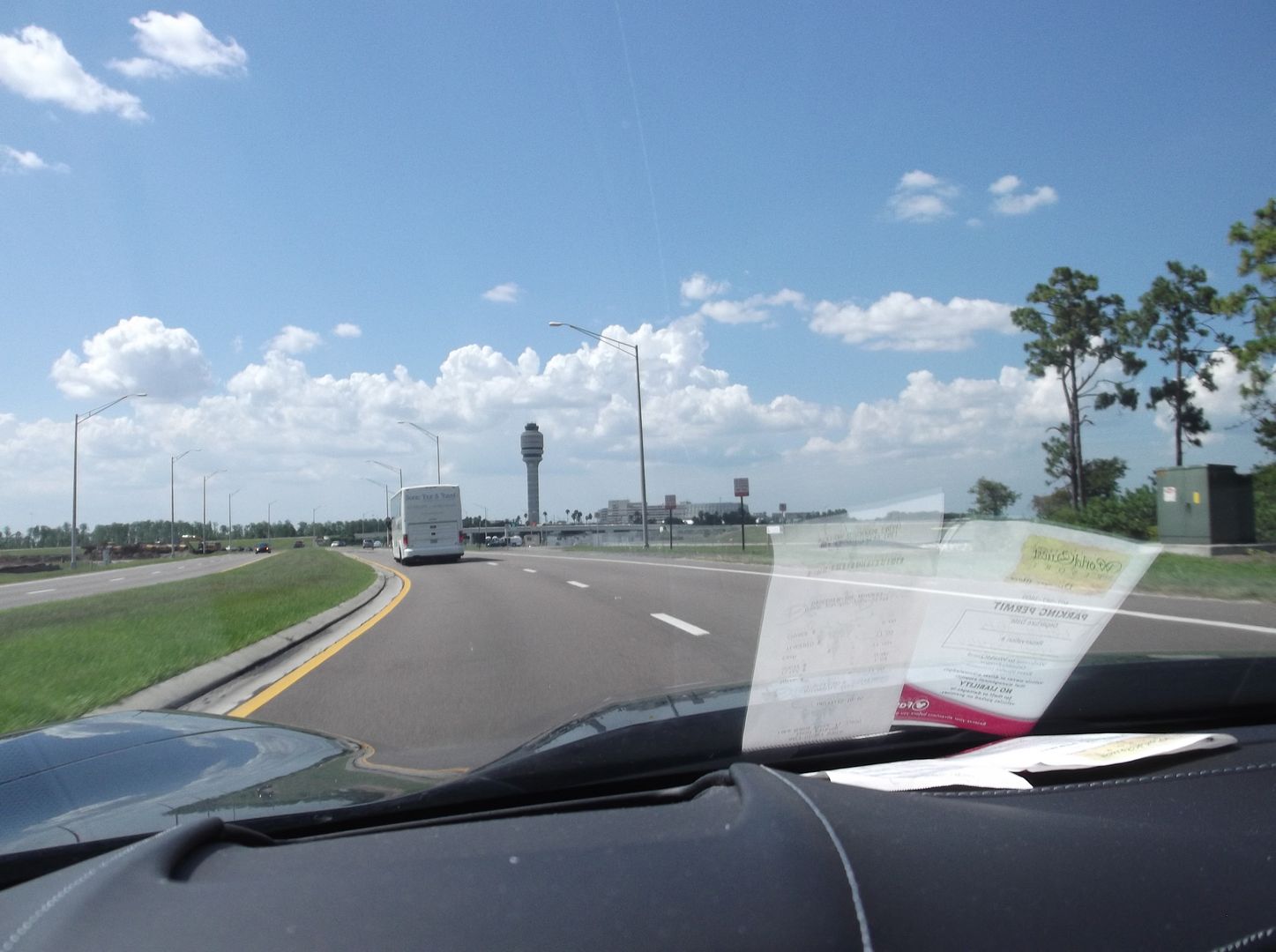 Departure from Orlando is around 5:30pm usually 15 minutes later as it was today. Club World passengers have the use of the Delta Crown lounge pre-takeoff, not much on offer here, a glass of wine before boarding,20minutes is long enough.
The load in J tonight was around 80%. A nice Delta 757 pulled up next to us just before we departed.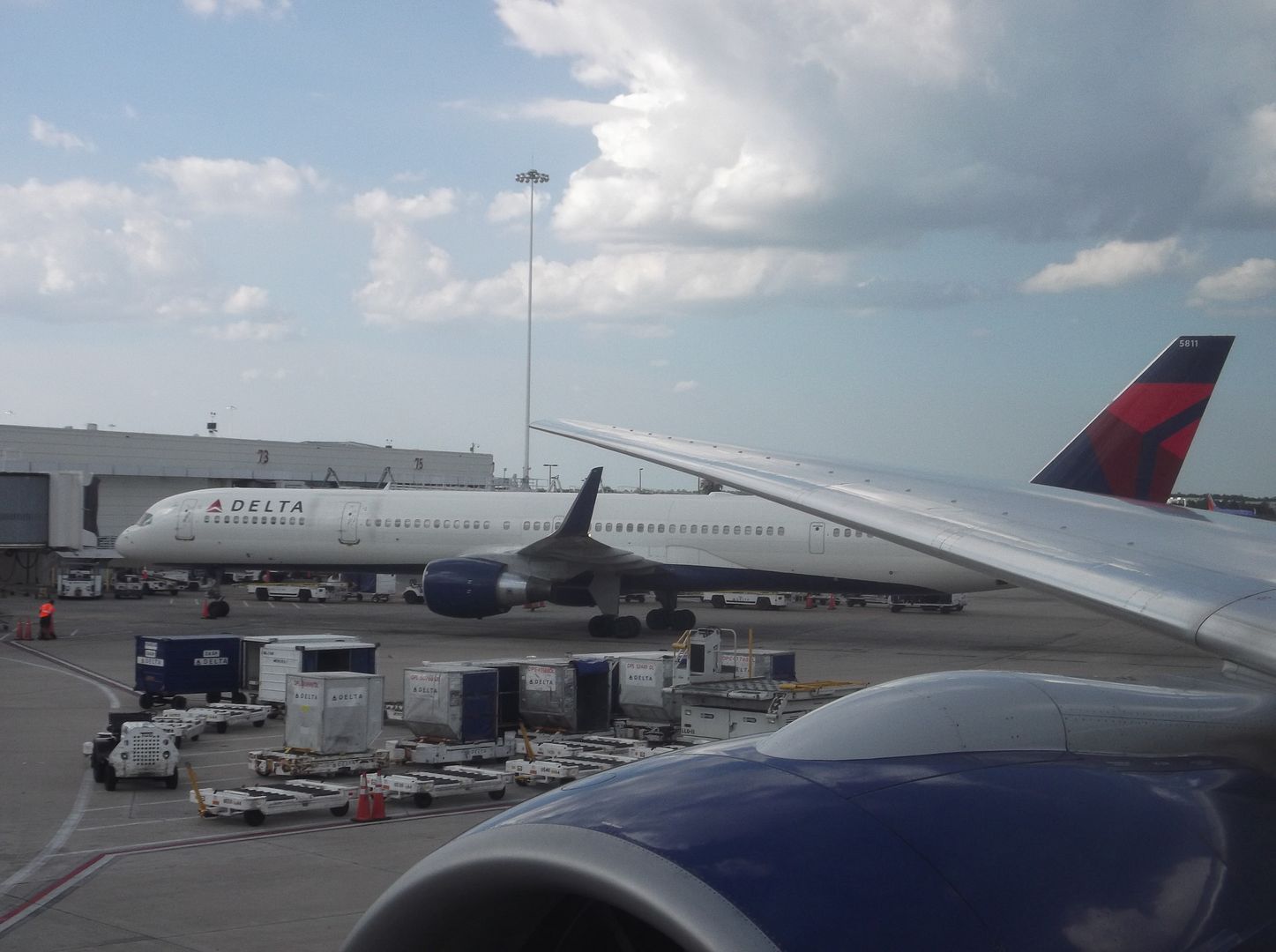 Departure was to the south tonight and was not a long taxi.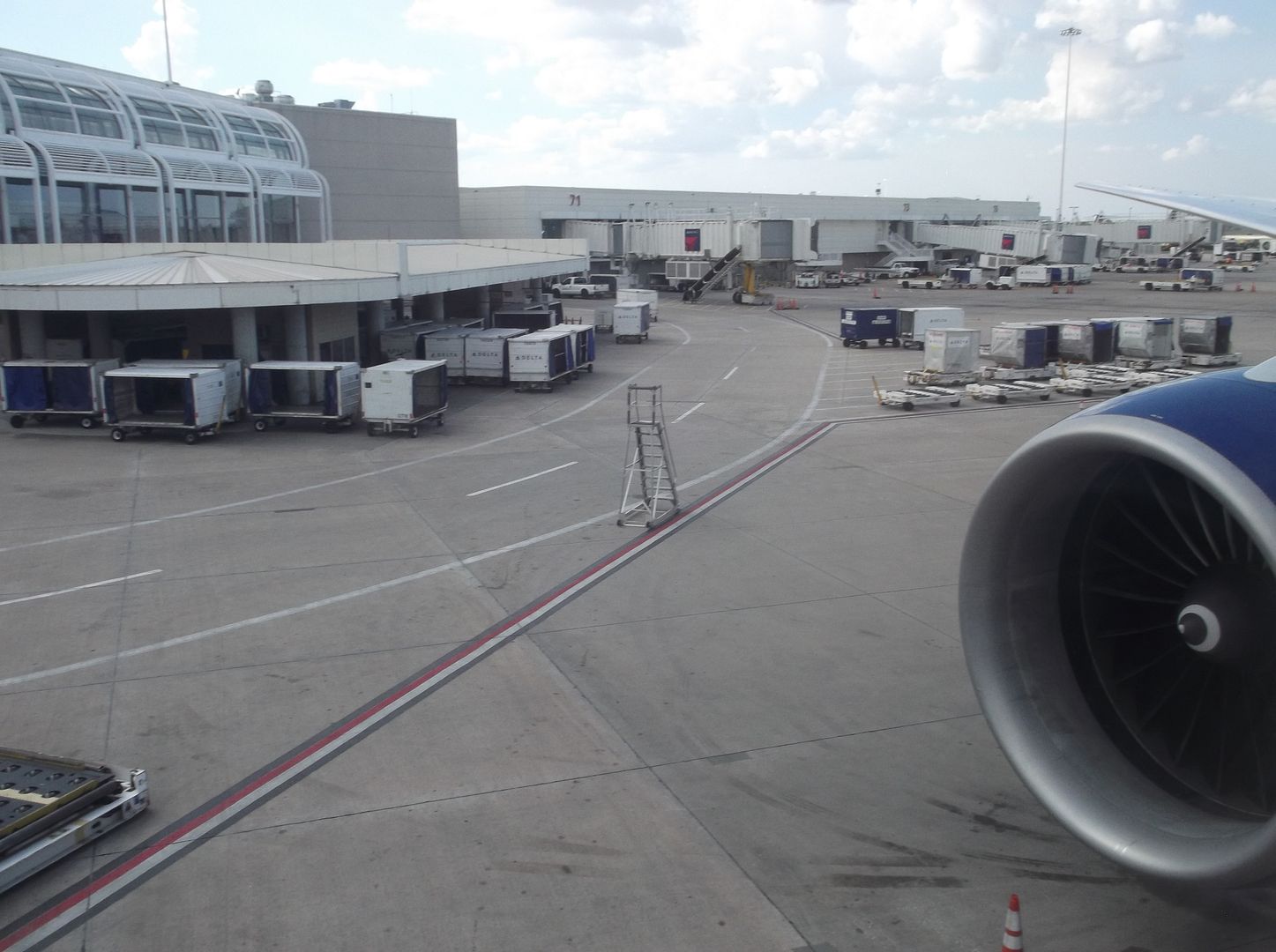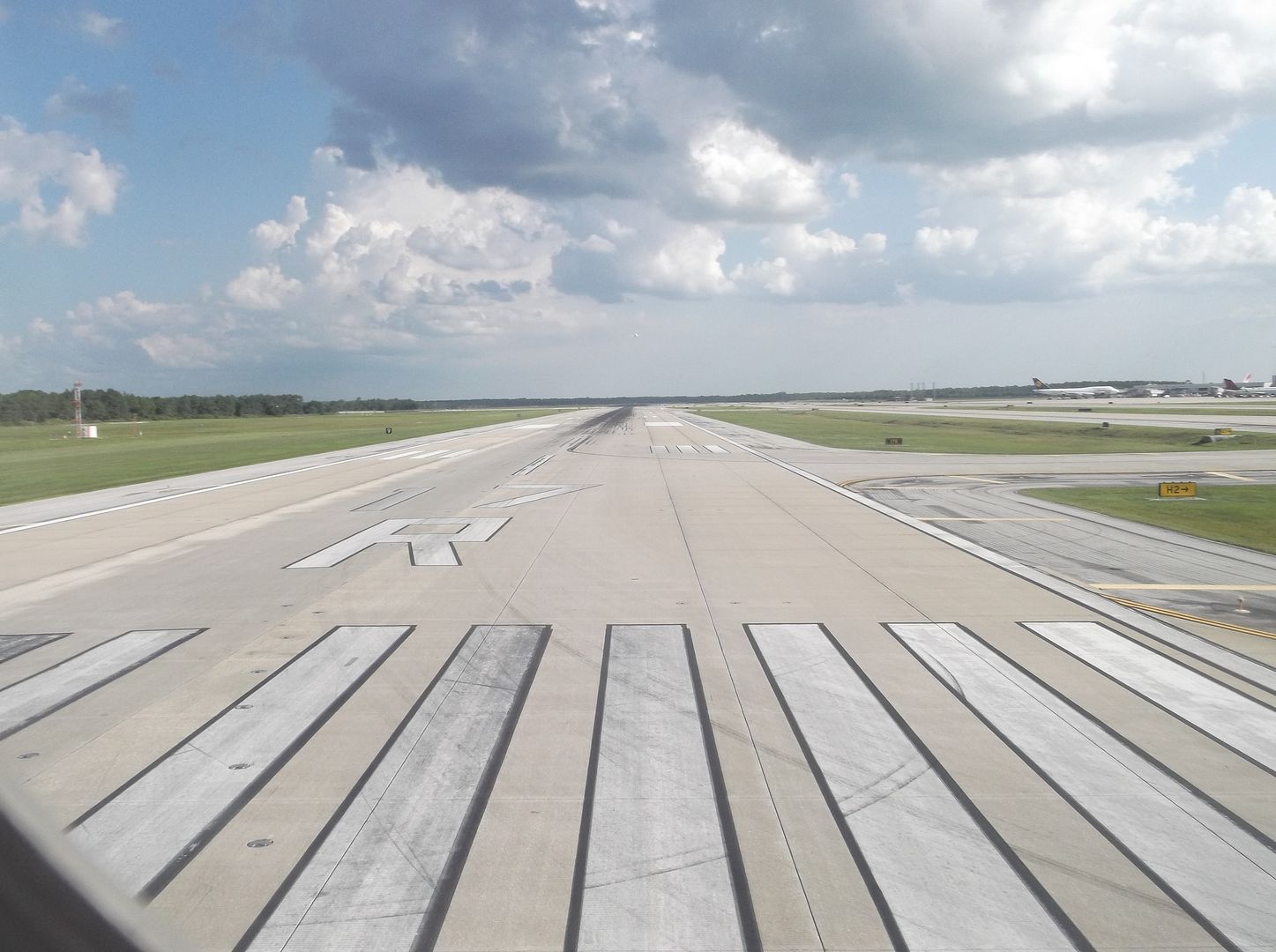 Bye Bye Orlando
The captain said we were expecting a smooth flight until we got to the Boston area where we might pick up a bit of chop and then plane sailing over the Atlantic.
The Dinner menu was very similar to the Outbound so this time I had the steak, which turned out to be a good one, not dry and good flavour, a large portion I thought.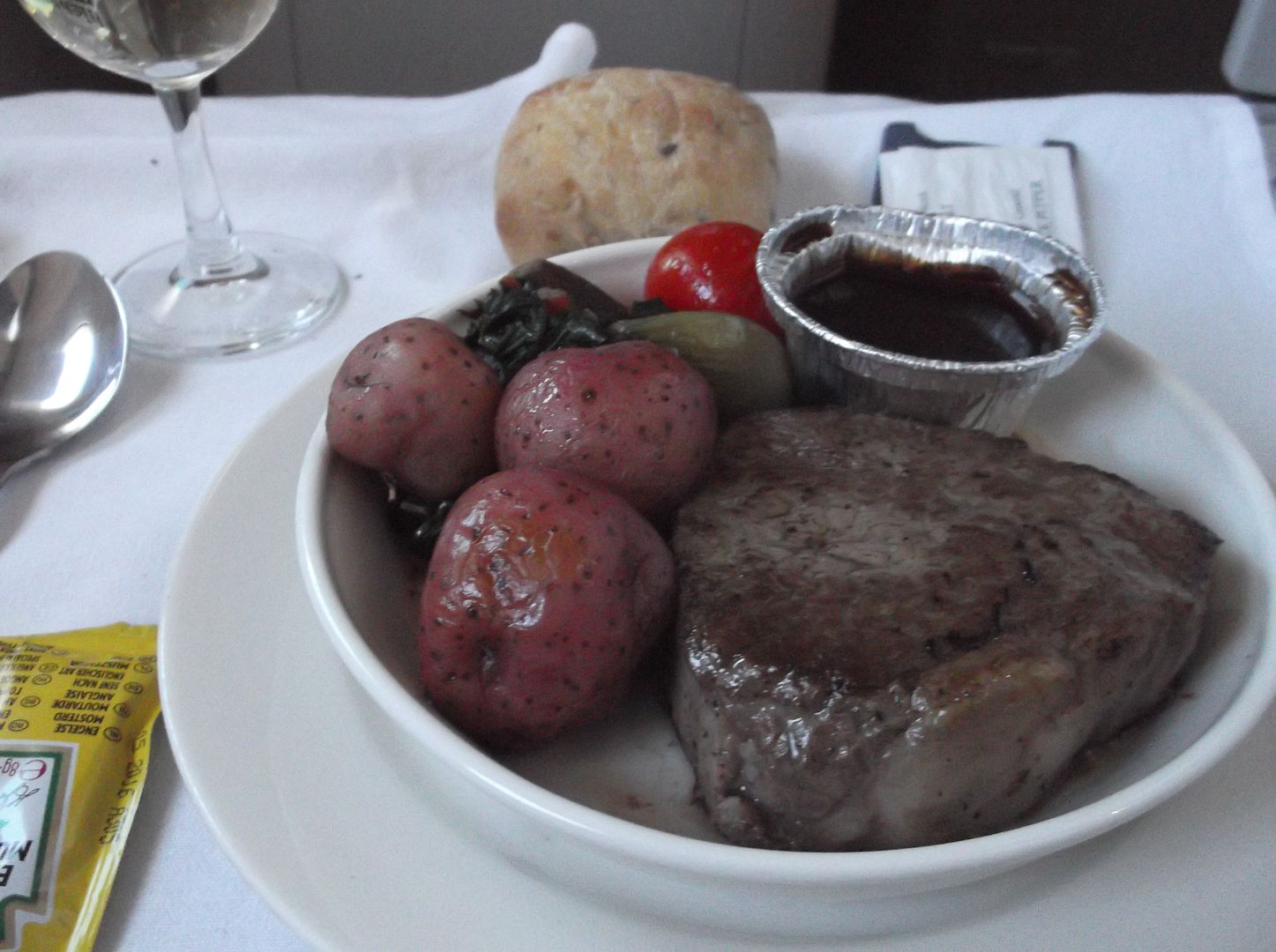 After dinner was cleared away I settled down with a movie and the moving map. As we got to the Boston area our aircraft turned left and started heading in land, this flight path lasted 10 minutes before we slowly turned east again and looking out the window the reason way became clear.
As I took the photo the captain came on the PA to tell us about the detour due to storm clouds.
That's a bit of a monster.
Back on track for the evening crossing and an on time arrival at Gatwick.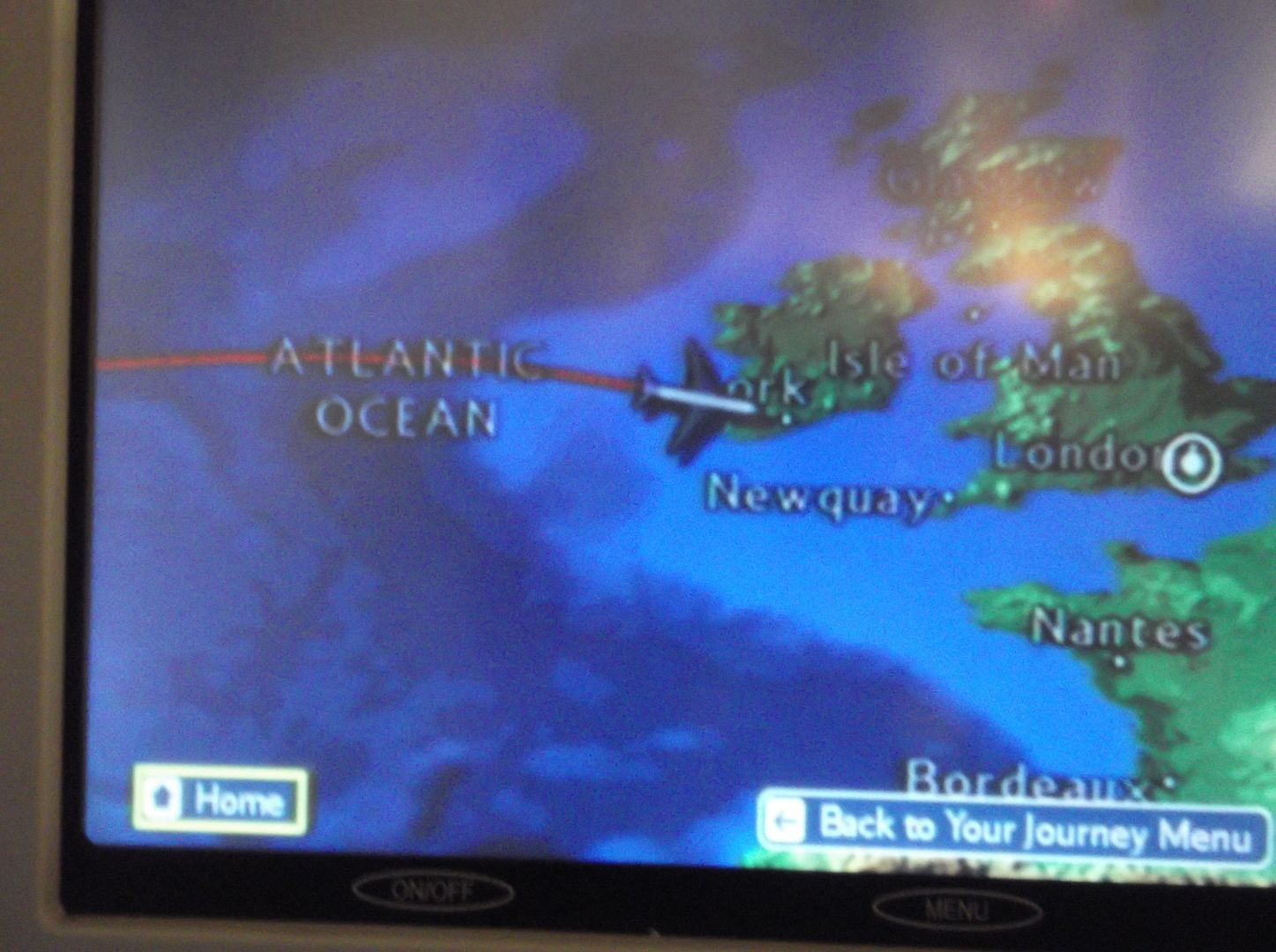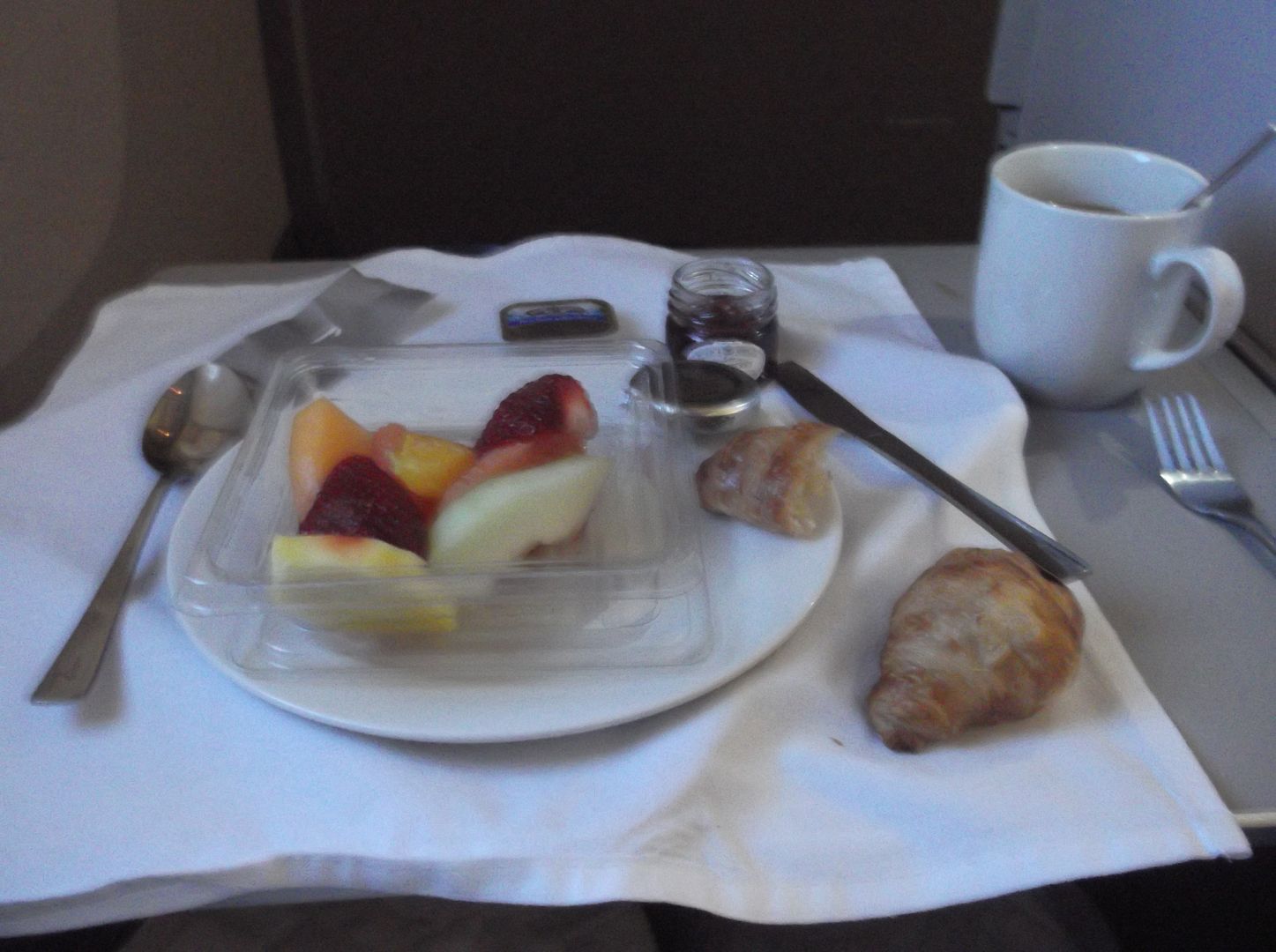 In the morning breakfast is offered 1 hour before arrival, I picked the fruit plate
as the usual Bacon roll effort is quite dull, why you are not offered a full English after
an eight hour flight heaven knows, I get that on a one hour hop to AMS.
We soon begin our decent and set up for a 26L landing.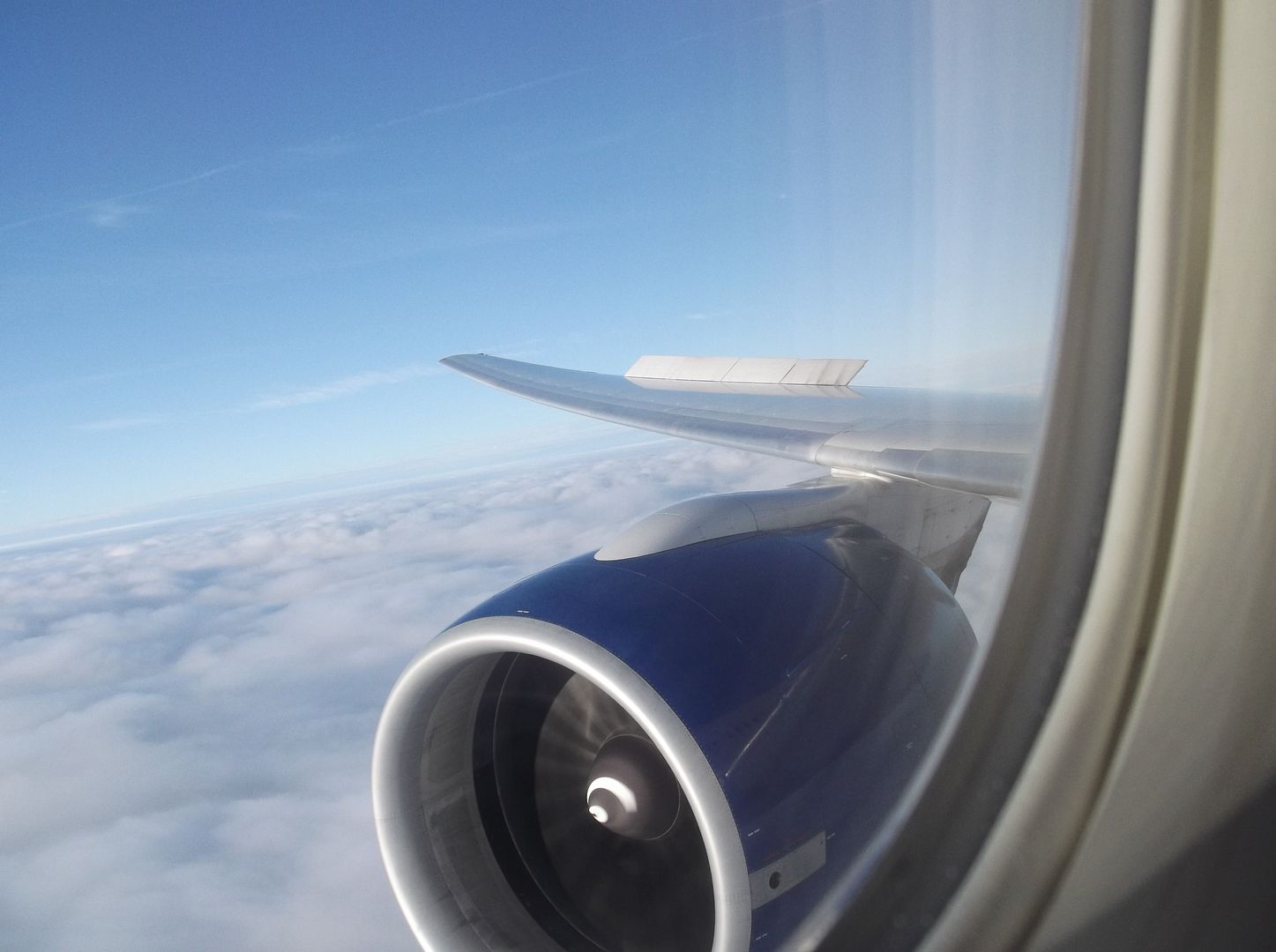 M23 looking okay for the morning ride home.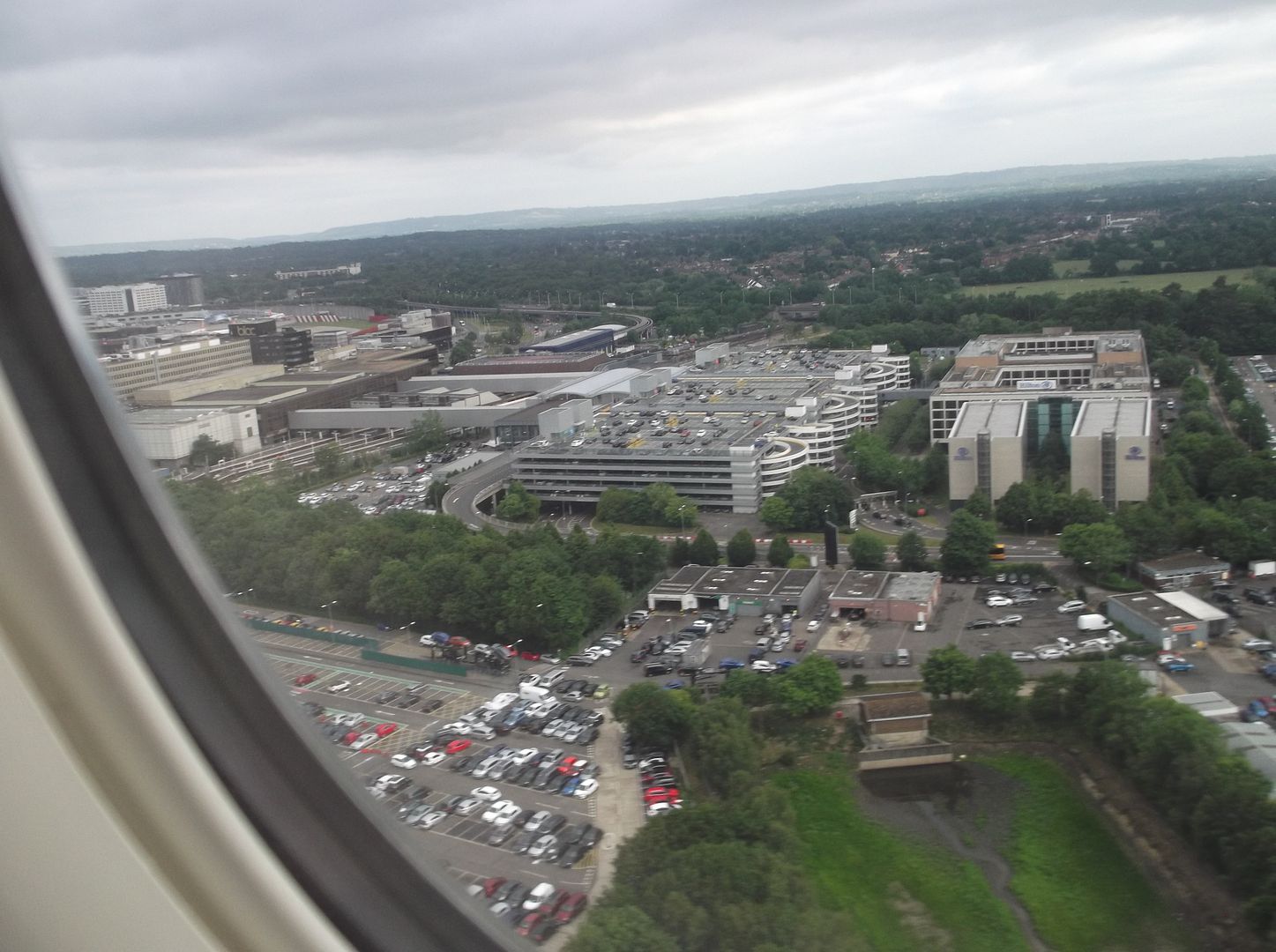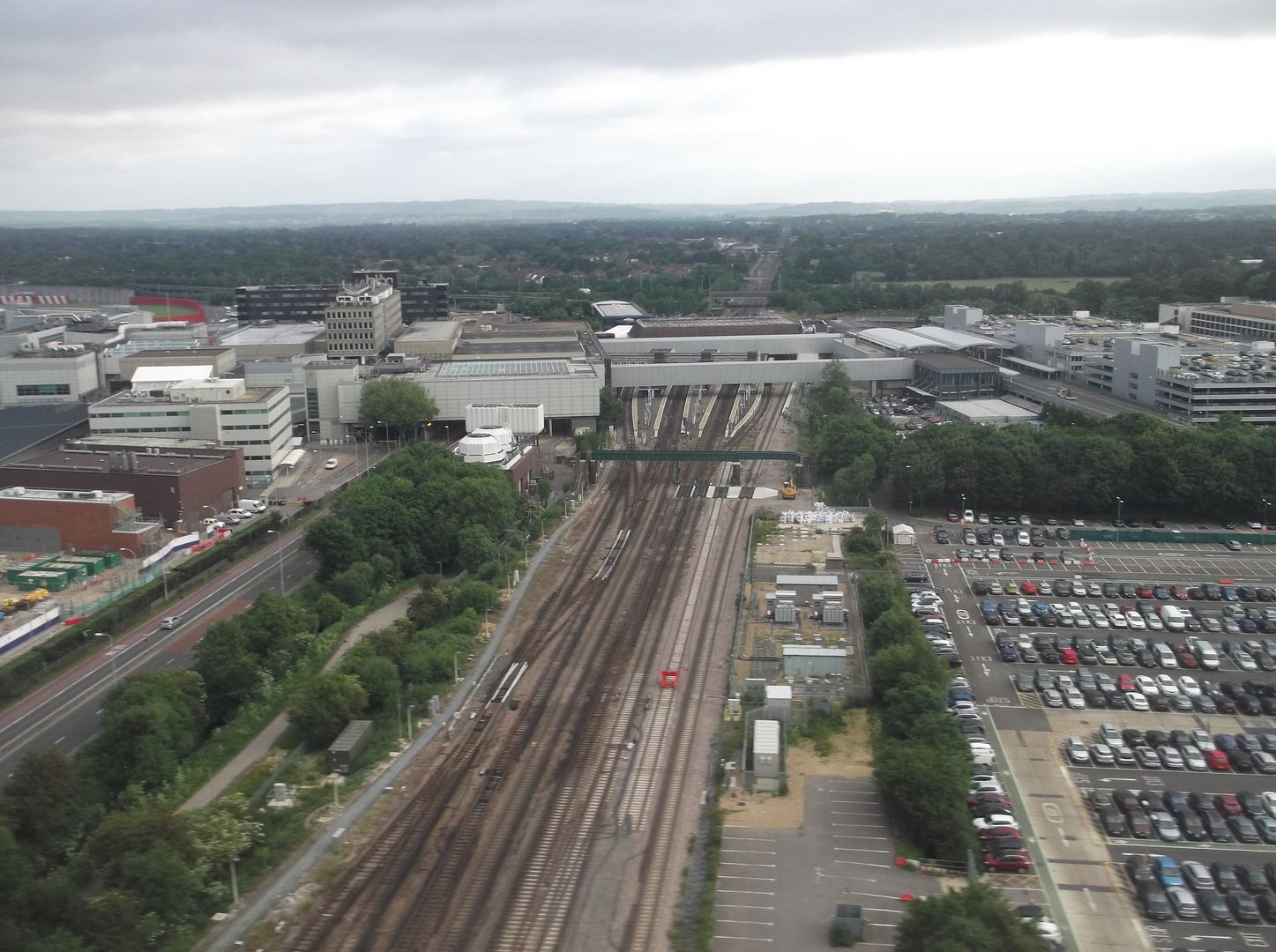 Railway Station.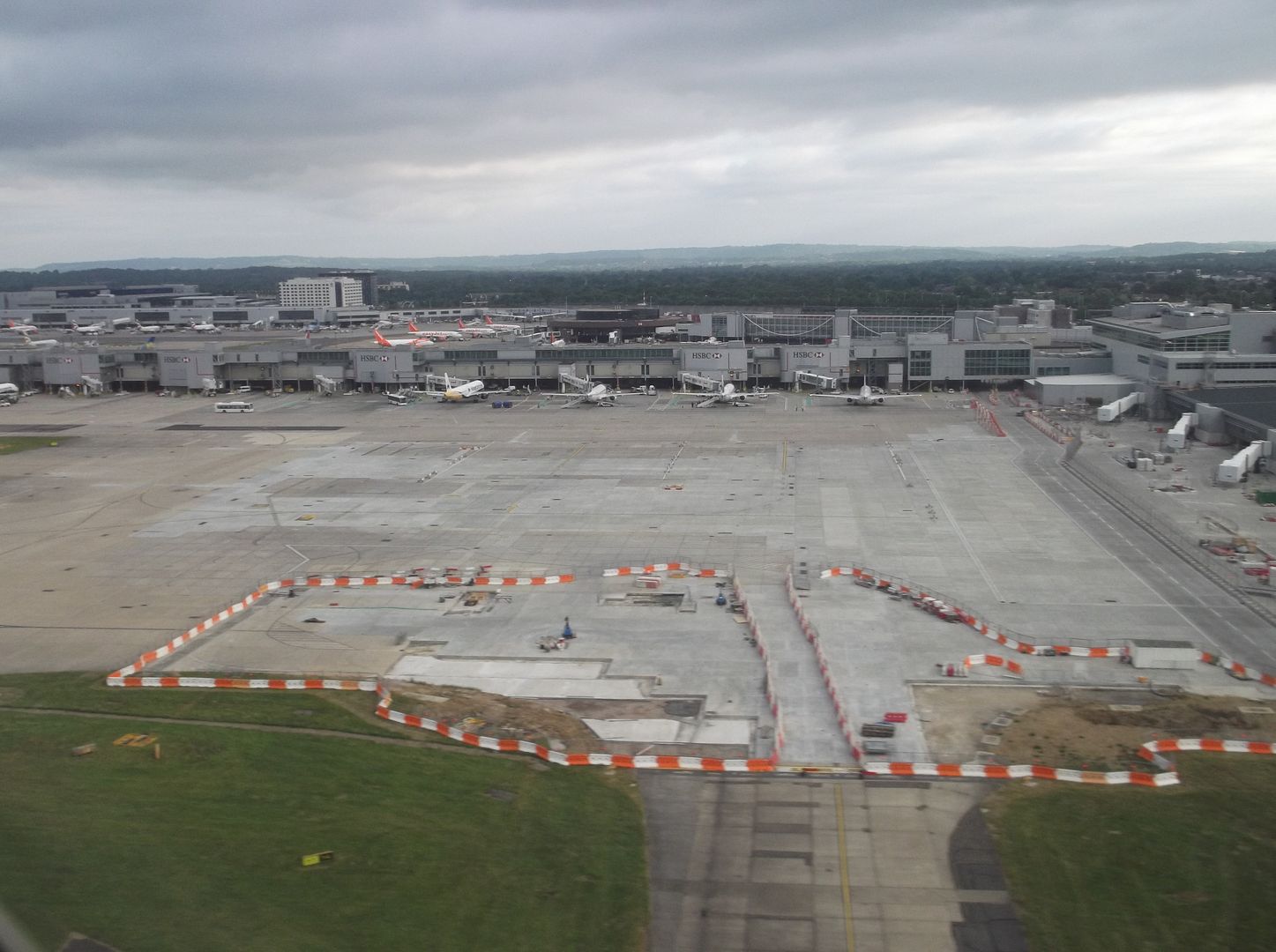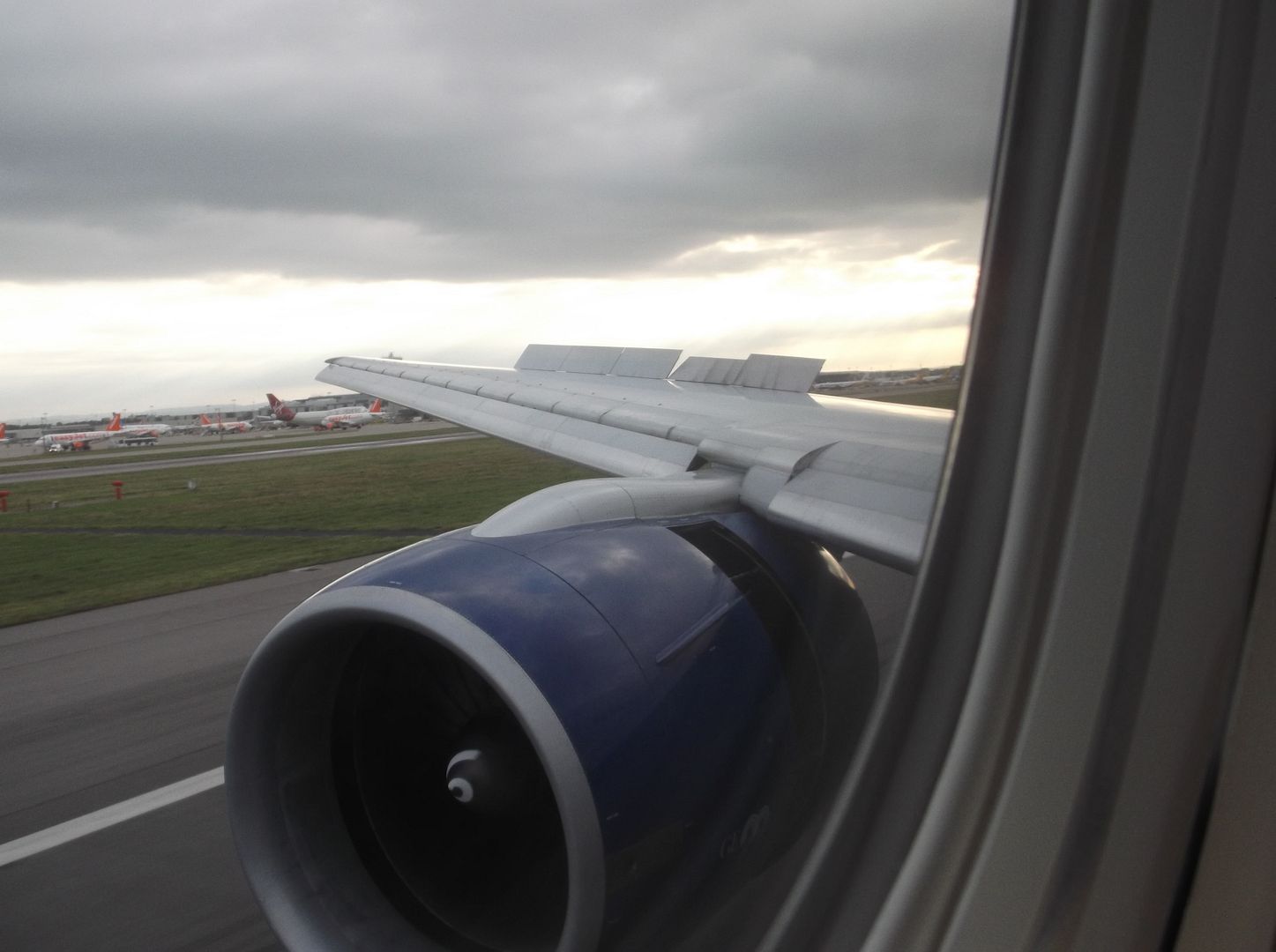 Touch down and braking.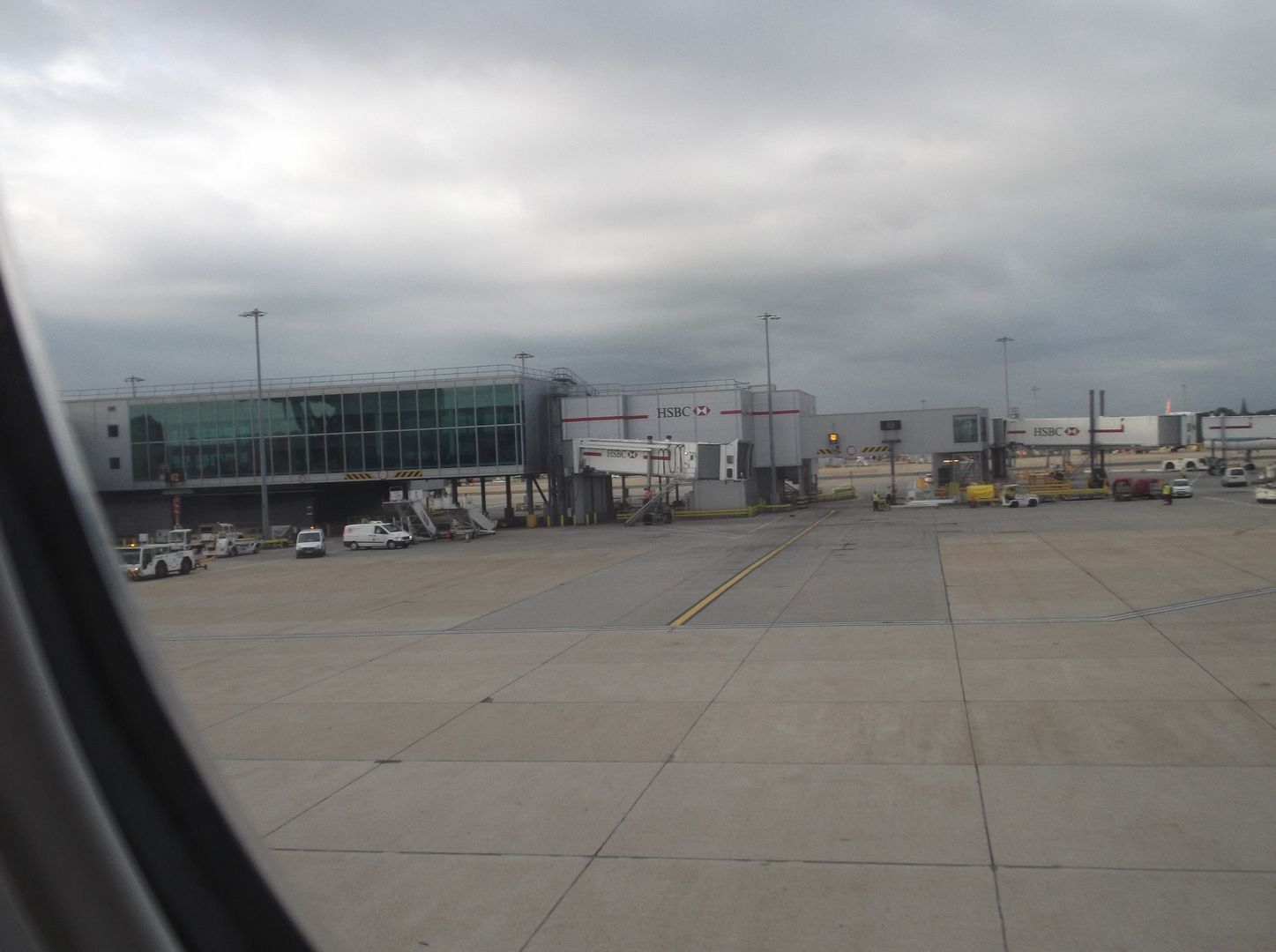 And oh dear, I am going to take "the long walk" over the jet bridge back to the terminal.
Well that's it, enjoyed the flight both ways, good crew, very tasty food. Great weather, fun days out and that fabulous car, a really good holiday break.
Thanks for taking the time to read the report.
Bob.