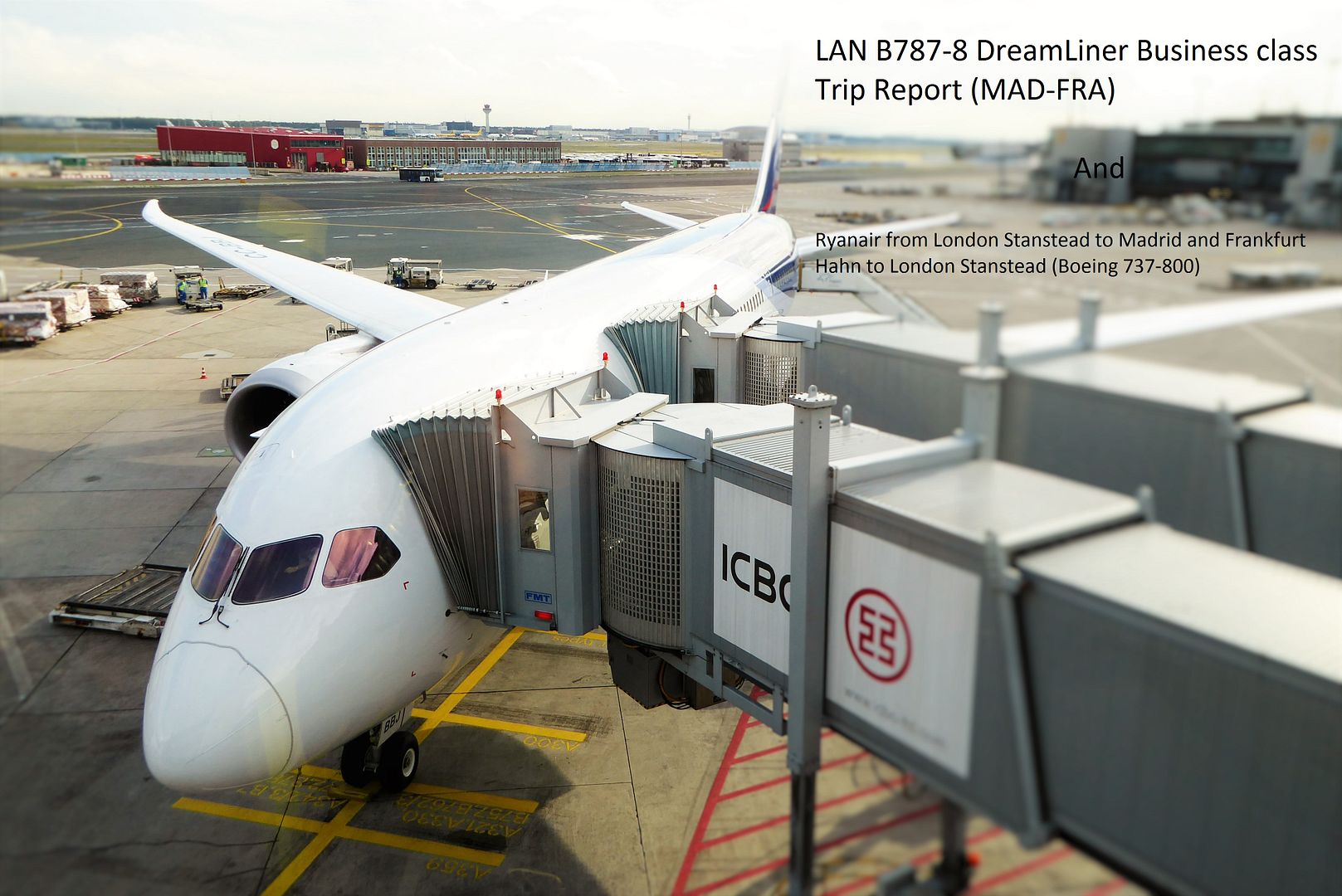 Background:
Hello ANetter's hope you're all well. I have been looking forward to this day since way back in June. There are a lot of elements that could go wrong with this trip, and each one of them will affect my trip drastically, but hey ho, no time for negative thinking right now – it's onward and upward.
Back in June I stumbled upon a blog indicating that there were cheap (Very!) business class tickets available in LAN's new Dreamliner's from MAD to FRA. It took some convincing my misses, she thought I was a bit crazy, but here goes, one fine evening, sat and booked the entire trip. The entire purpose of the trip being to experience the Business class on LAN's Dreamliner, and the plan was to do the entire trip within a day! I booked the ticket for the last day when this discounted deal was available for – 28th August 2015.
If things go as planned, the below trip report should comprise of this rough itinerary:
04:30 Wake up
05:30 Drive to Airport
08:25 Flight to MAD
12:00 Arrive At MAD T1
15:25 LAN Flight to FRA from T4
17:55 Arriving at FRA
18:30 Collect rental car to drive to Hahn
22:45 Depart from Hahn
23:05 Arrive back at Stansted
00:30 Back home
For reference, the total cost of this trip as follows:
£59.90 LAN Business class
£54.04 RyanAir to MAD
£24.74 RyanAir from HHN
£34.84 Car Parking at STN
£16.00 Car Rental at FRA (Using points with hertz)
-£20.00 Cash back from Ryan Air
£169.52 TOTAL
Tickets booked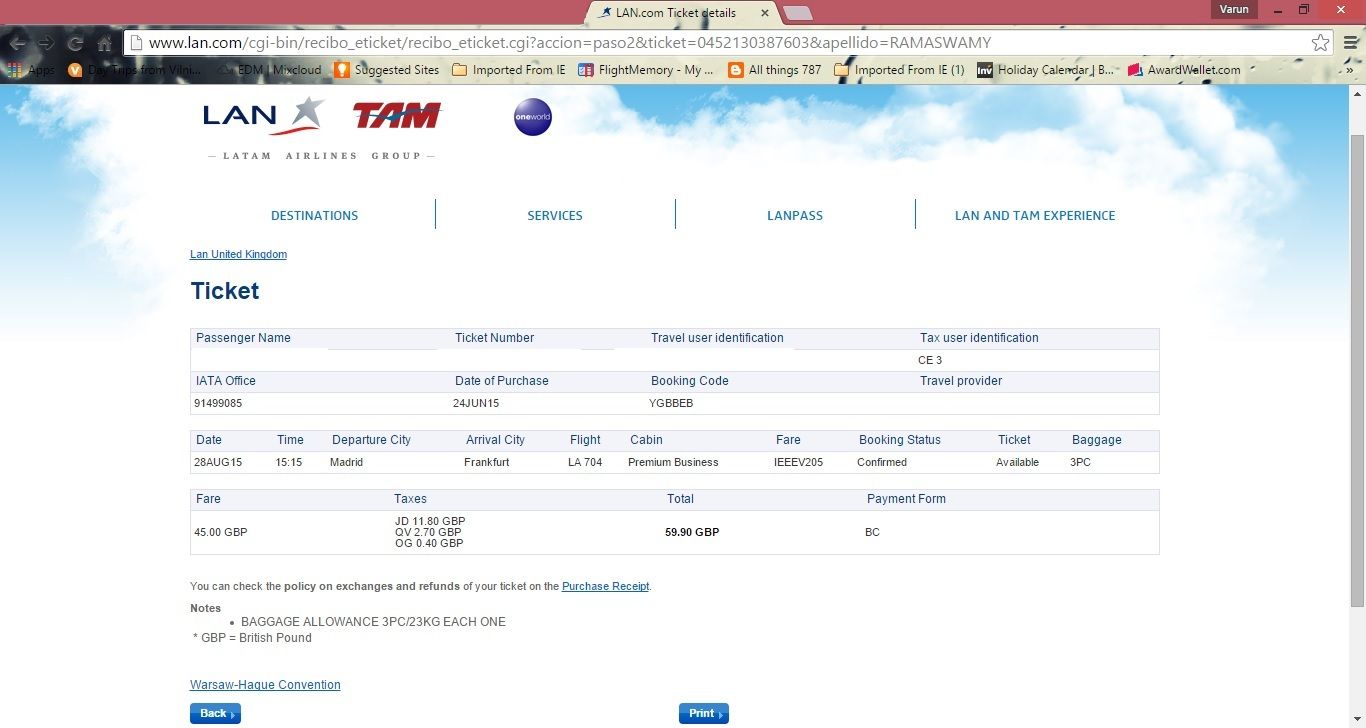 Thanks to GCMaps for the map illustrations below:
Stats (Since 2010, when I started maintaining my flight reports):
1st time on Ryanair and LAN
15th time on Boeing 737-800; 8th time on a Dreamliner, although only my second carrier, after CZ and first time on a Business class Dreamliner.
Video Reports of this leg of the trip
LAN Business call Video report
I plan to break up this trip report into an episode of '24'.
04:00
So finally the day arrives. Woke up excited and rearing to go at 4:30 AM.
05:00
A quick wash up, last minute packing, and was in the car by 5:30 AM.
06:00
Reached the Orange short term parking at Stansted at around 6:45. No hassle in reaching the airport, and the morning drive set me up for the trip.
07:00
This is one of the busiest time at Stansted. A lot of flights from Billund to Chania, from Belfast to Kaunas. It was even busier today due to the long bank holiday weekend in the UK. Nevertheless, since I did not have any bags to check in, I was airside by 07:20. Strolled around the duty free area for a bit. The boarding gate (58) was announced as expected by 7:45. So started to make my way to the gate. There were a lot of people running around. I guess reaching Stansted in the morning, unless you have given sufficient time, is not the best idea. As few of the gates require a shuttle train, and could take a minimum of 20 minutes. No such train ride for me this morning. Just a 15 minute walk towards the RyanAir Terminal (not a real thing, but they have pretty much all RyanAir flights from these gates)
At Stansted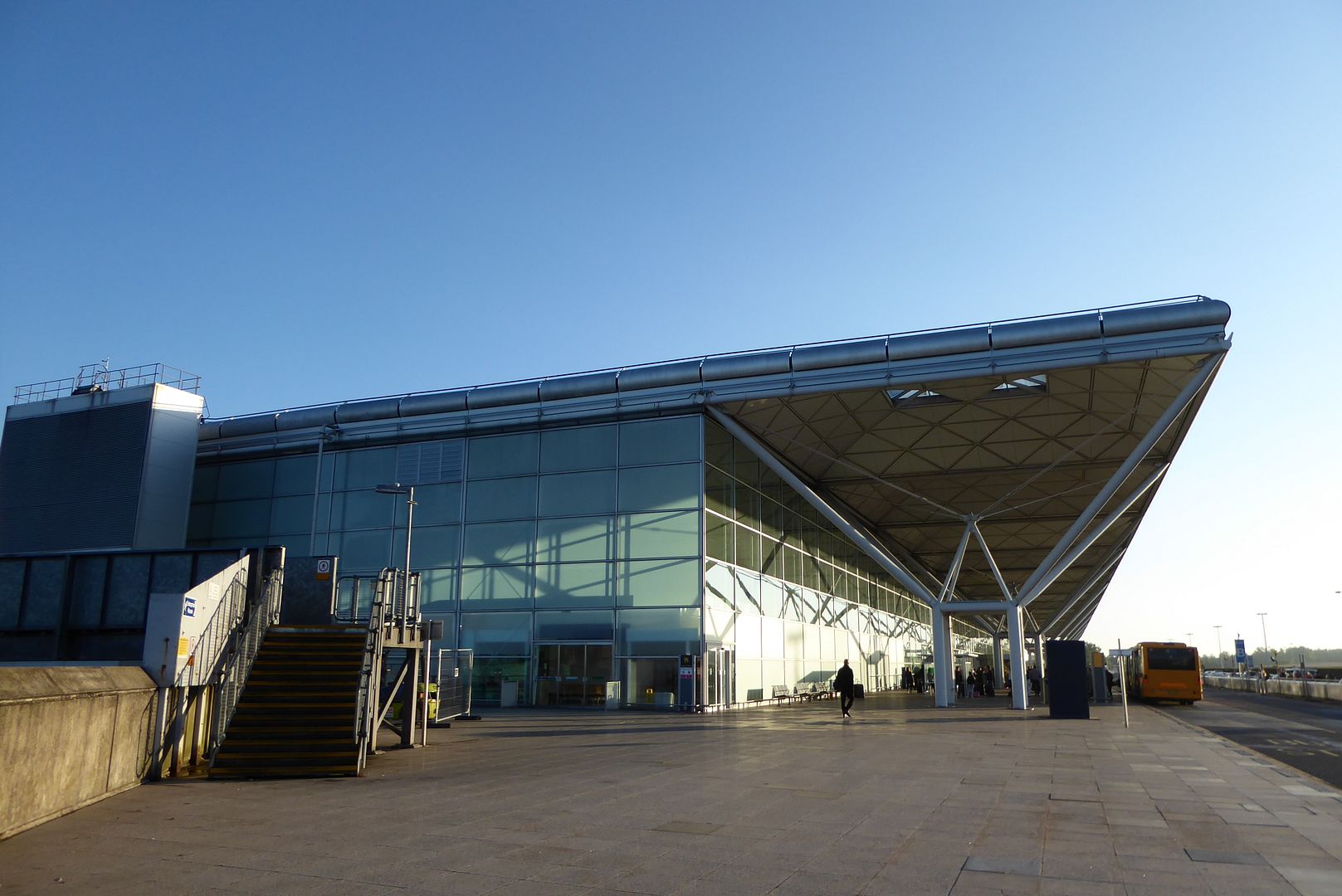 Lovely rays of the sun - ineriors of STN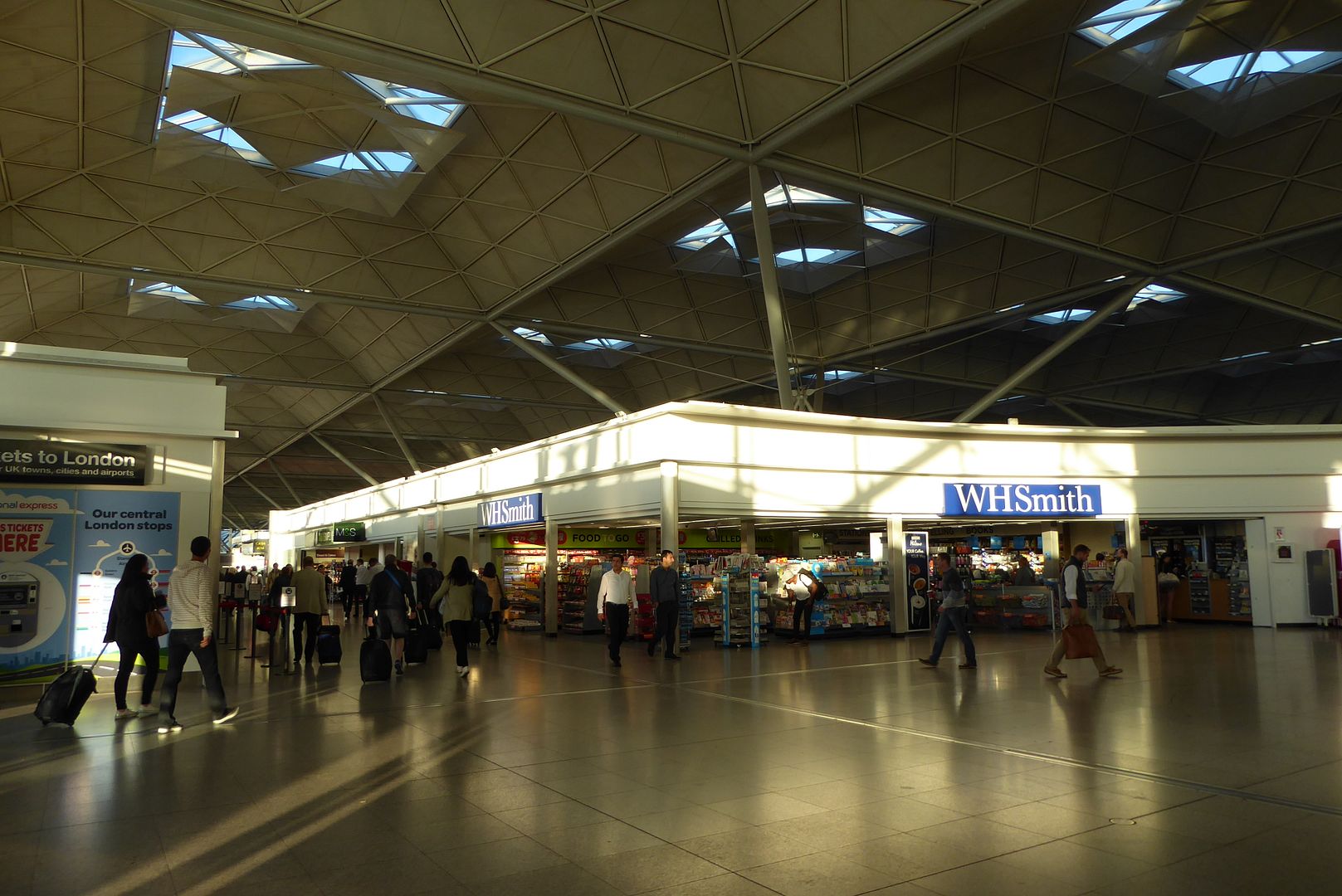 Busy time at STN - flights to everywhere
Yes, Yes and Yes - Away we go.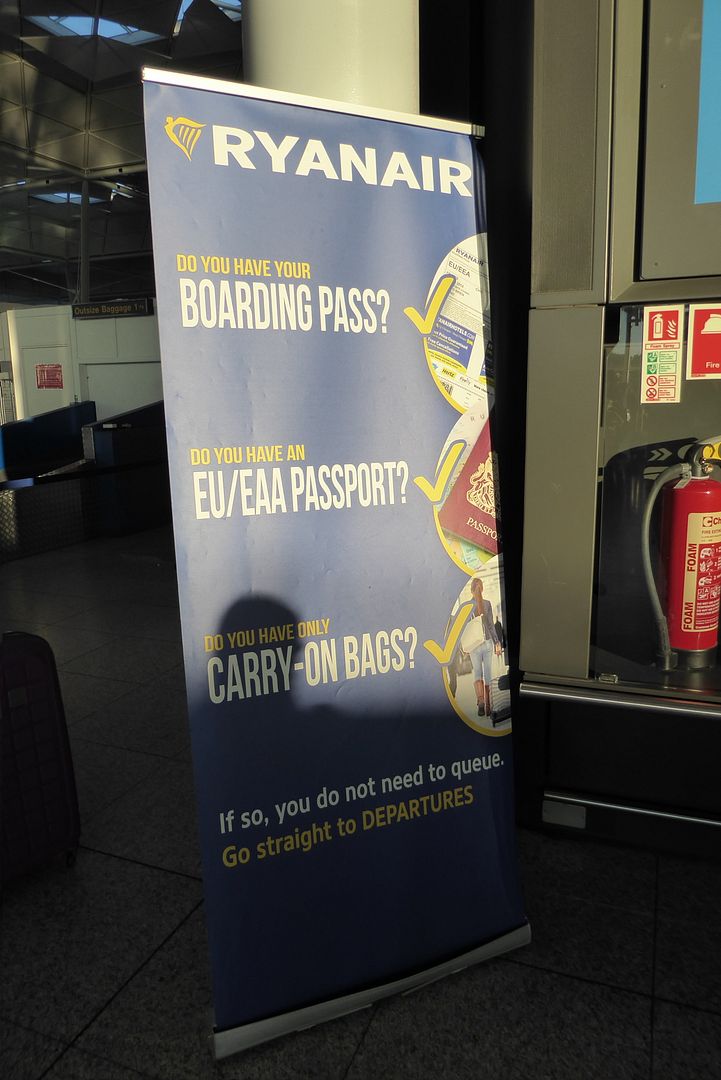 Well manned Check in desks for FR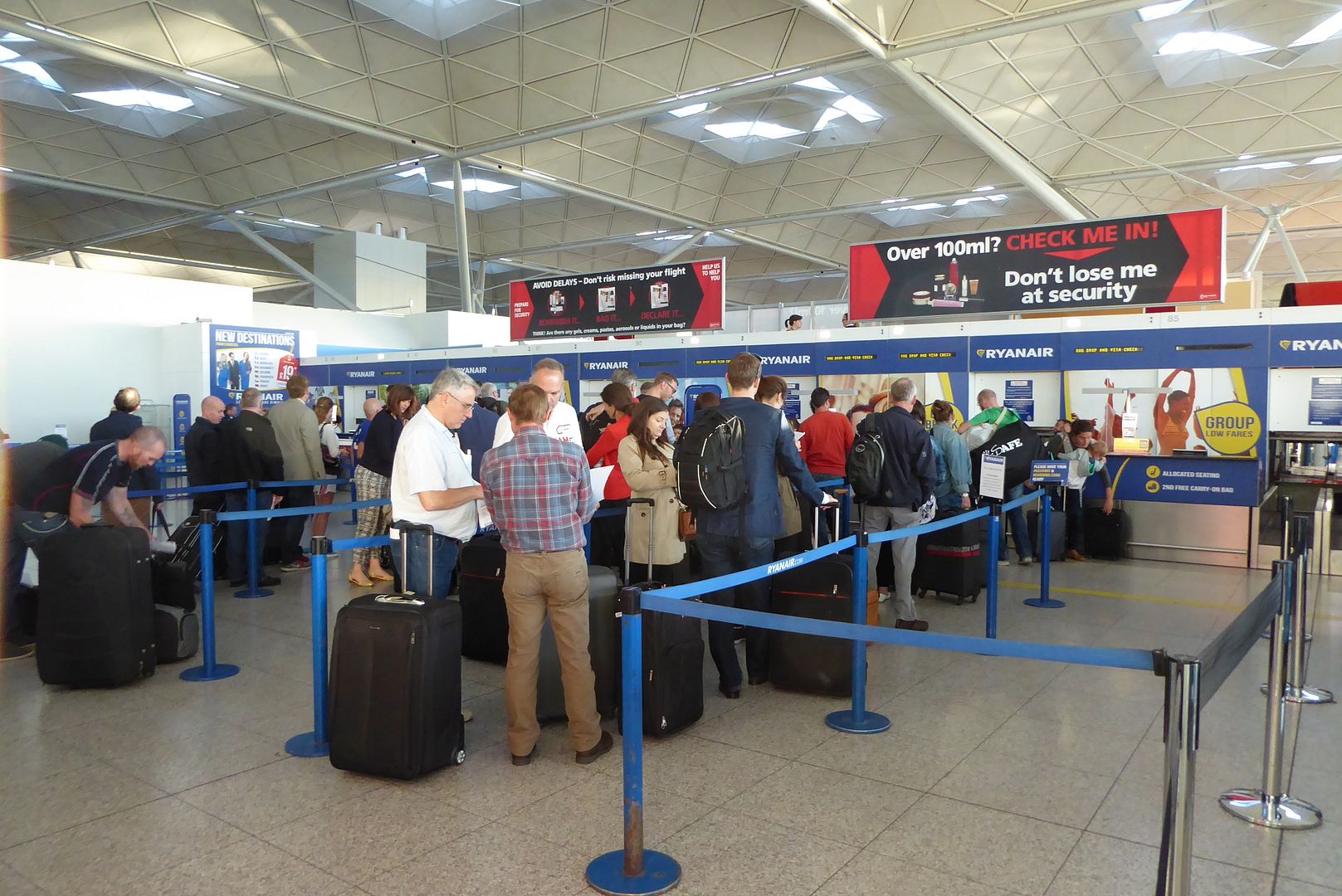 Busy busy security check - but well done to the team for processing us quickly
08:00
My first time on a Ryanair flight after 6 years. With all the talk about improving customer service in the news lately, has Ryanair actually improved. We shall soon find out.
Ryanair – FR 5994 – STN – MAD (T1)
Flight Reg: EI-DAM ; Delivered April 2003 (One of the oldest FR Boeings around)
Boeing 737-800
Seat 8F
Flight time: 08:25 – 12:00 (08:30 – 11:56)
28th August 2015
Quick and efficient boarding. Much more orderly, with the preassigned seats, than the previous trip with another LCC (Wizz air). A lot of bags were being checked in for free at the boarding gate, similar to EasyJet. It also looked like, contrary to urban myth, Ryanair were quite lenient with the baggage sizes. Good news for some but not the best news for light travellers.
Once on-board it was a typical LCC. Quite cramped, yet comfortable seating. The cleanliness was alright. Slightly stained seats but nothing too disgusting. Once boarding was complete, it was a fully loaded flight. Boarding completed on time and we pushed from the gates 3 minutes behind schedule. To give Ryanair where credit is due, their operation is slick. No denying that. Nothing exciting about the cabin crew. They seemed to be there merely to guide us and for safety reasons. Isn't that good enough?
A quick taxi and away we went. Reached cruising altitude in around 15 minutes and immediately a food and drinks round commenced. This was followed by another beverage round. Thus far Ryanair seems to be getting it spot on.
Not much announcement from the cockpit though. And the safety briefing was rushed and almost inaudible.
Airside at STN
Off we go to gate 58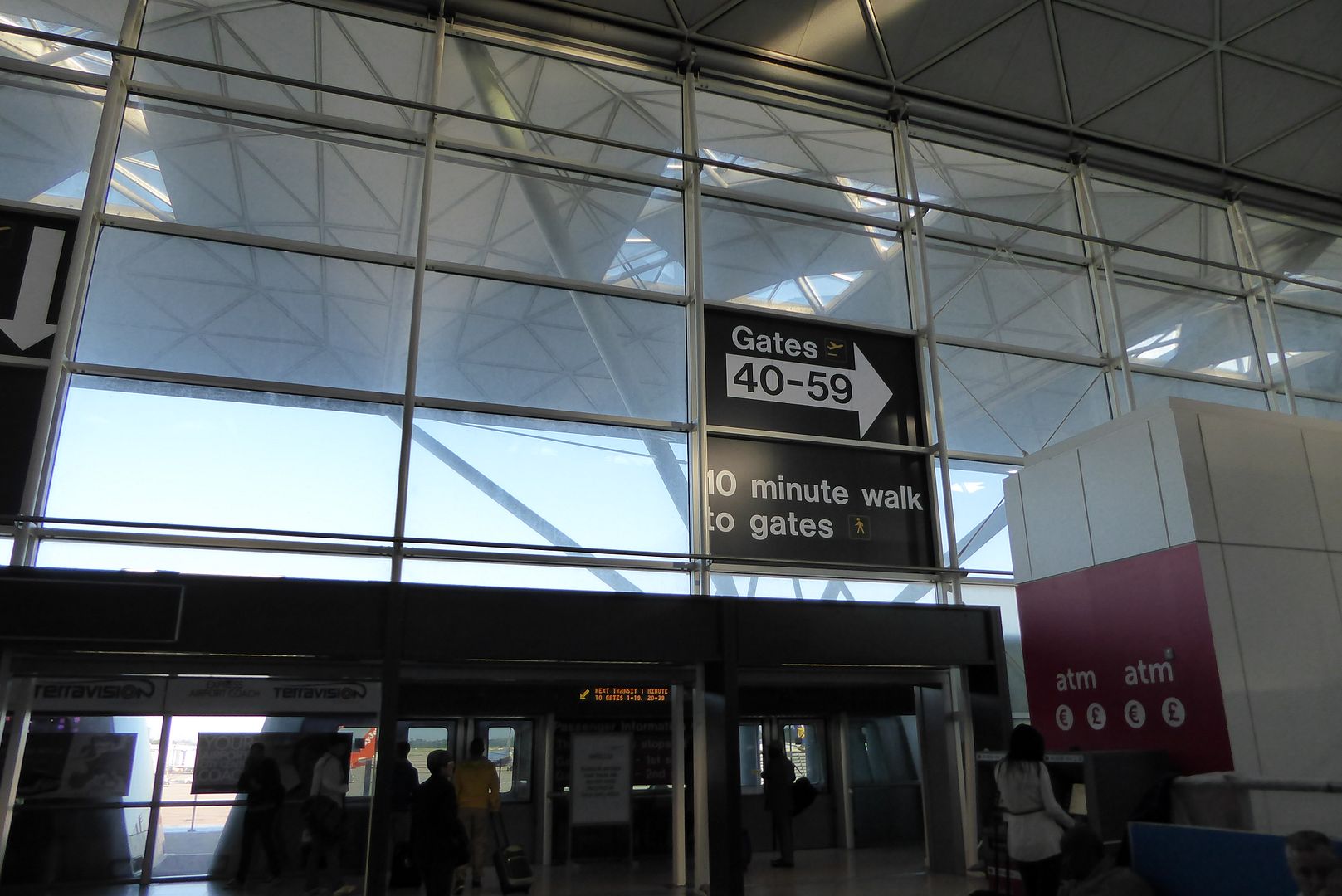 Ryanair sharks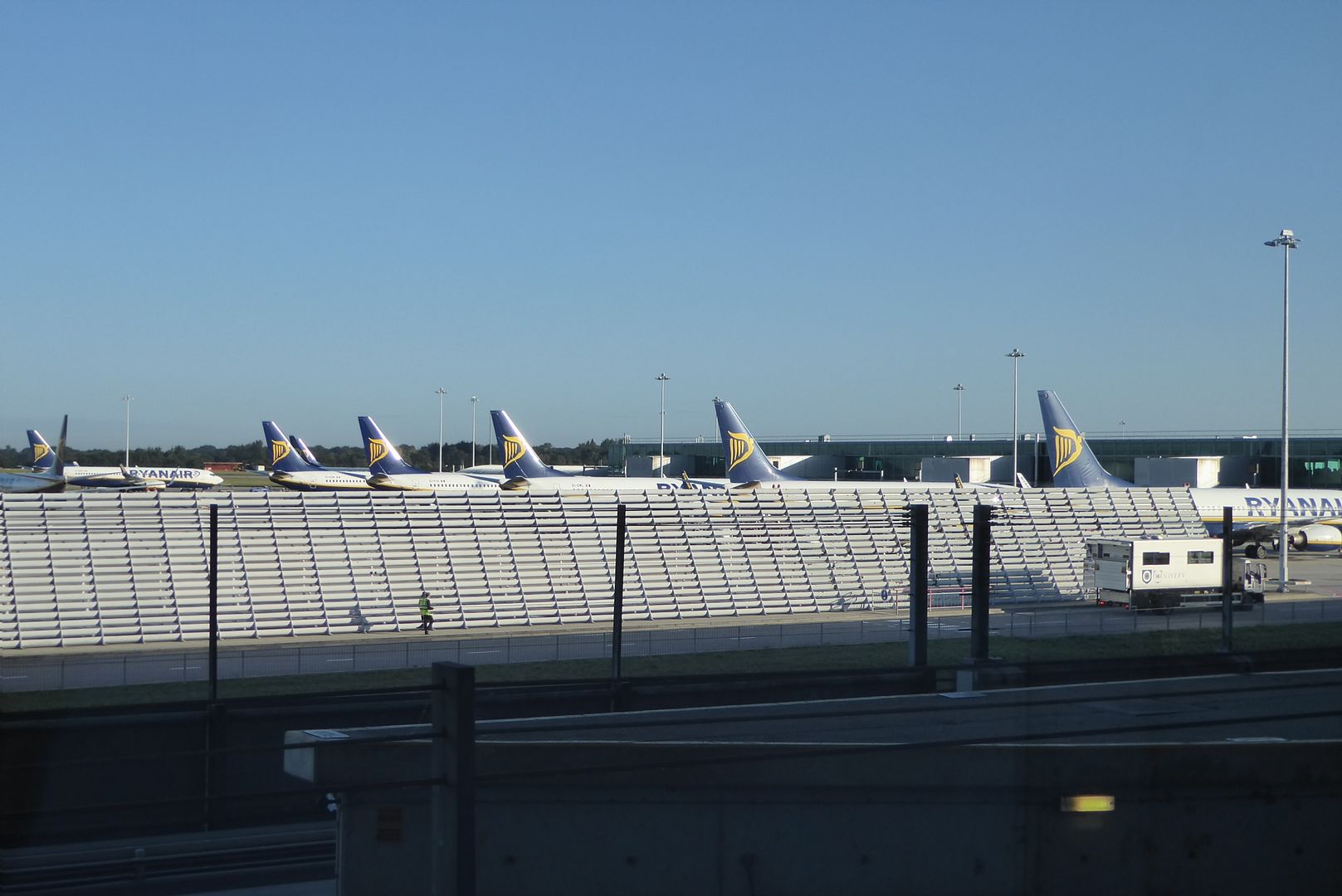 'Ryanair' terminal. They at least seem to have a help desk which is useful.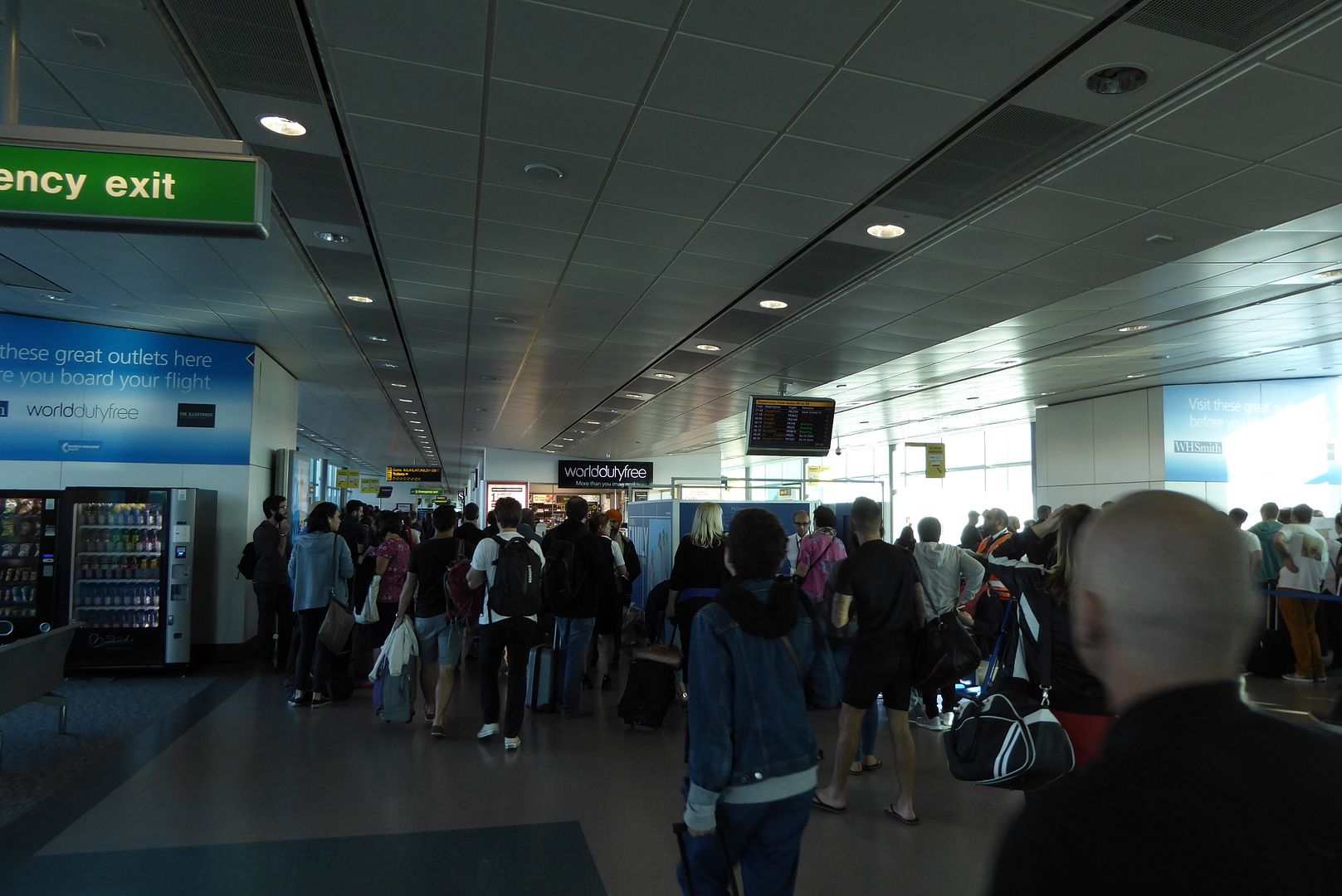 Boarding time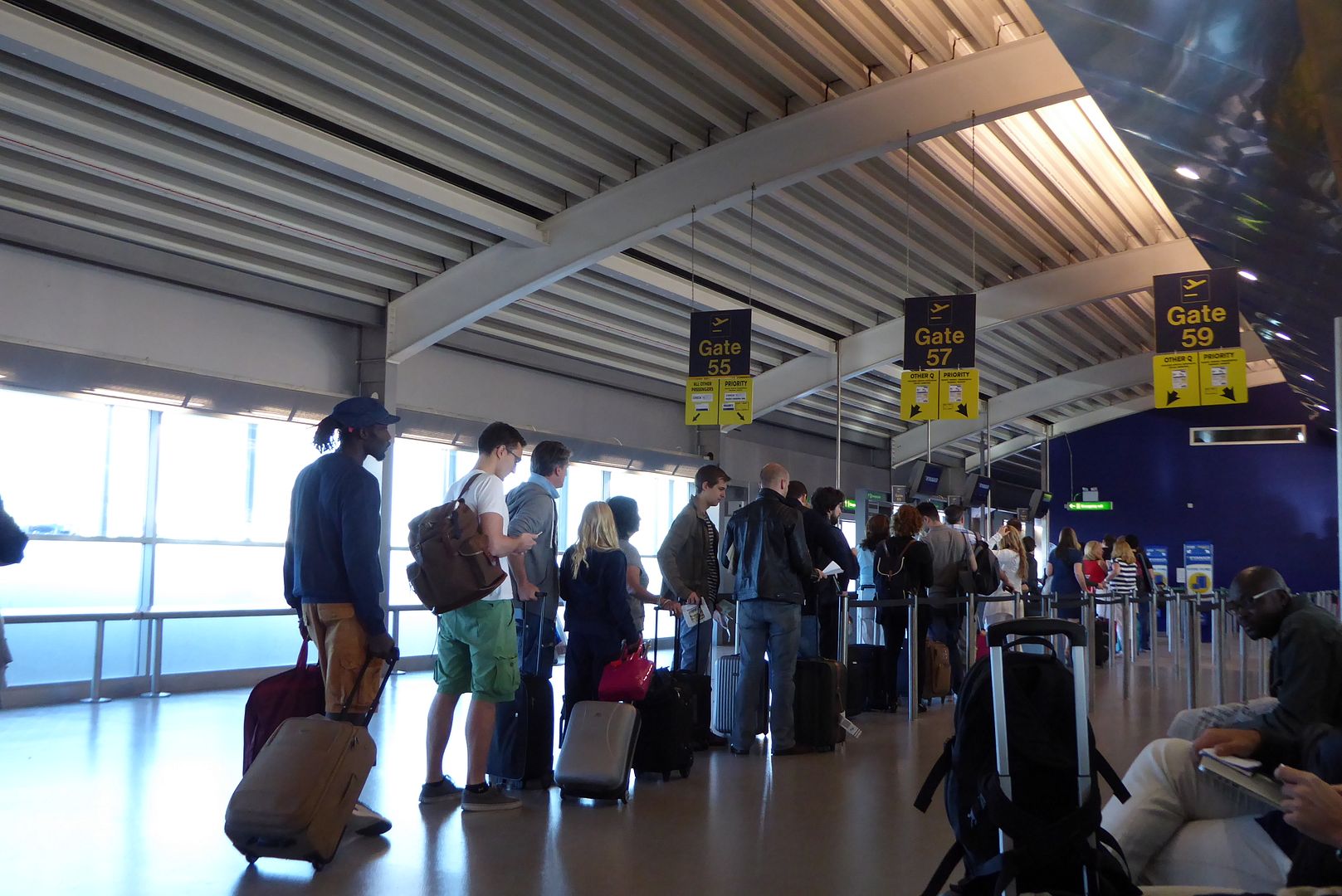 Ride to MAD - EI-DAM - One of the oldest aircrafts for FR
Ah, space saving/cost cutting at its best
Neighbours at STN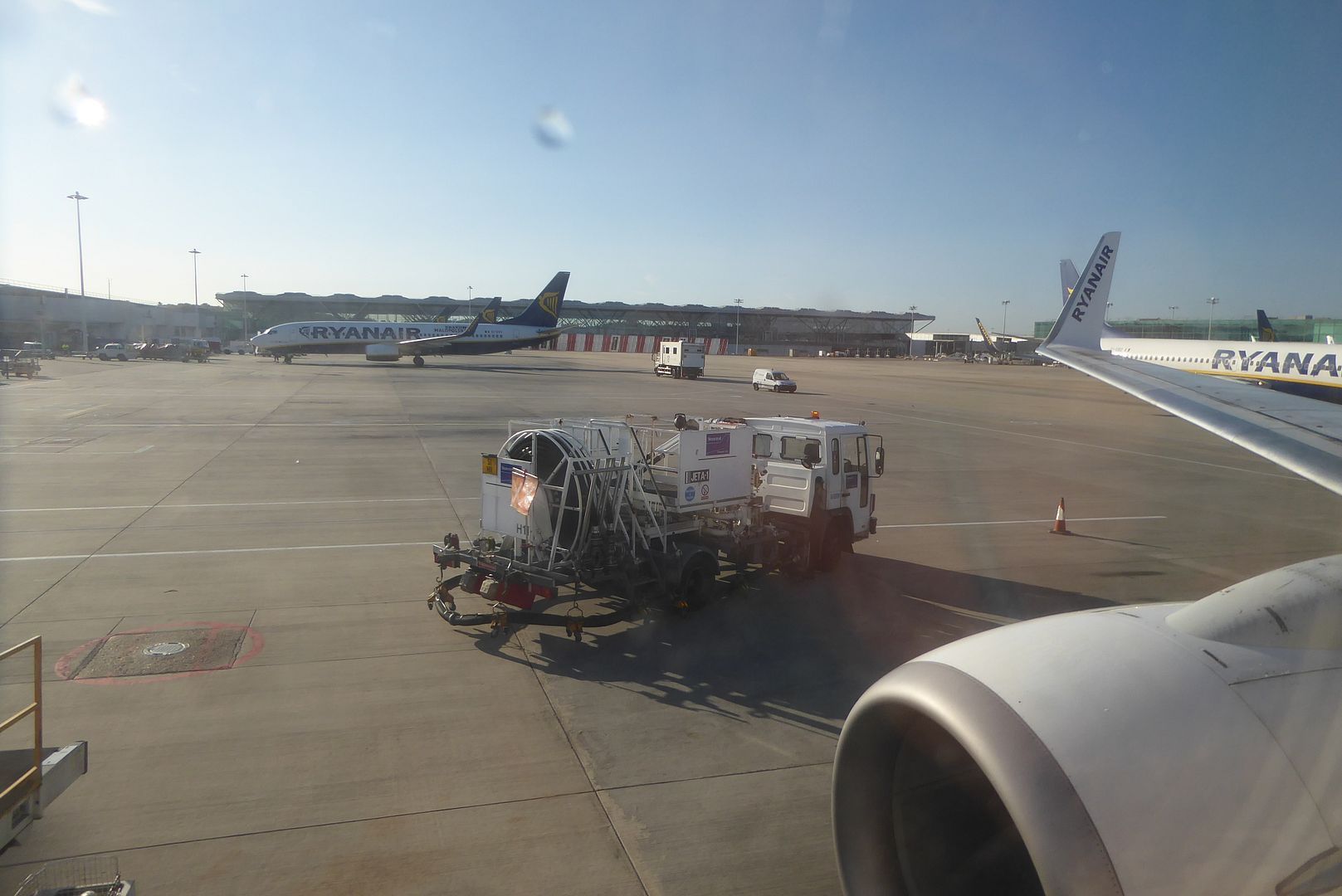 Take off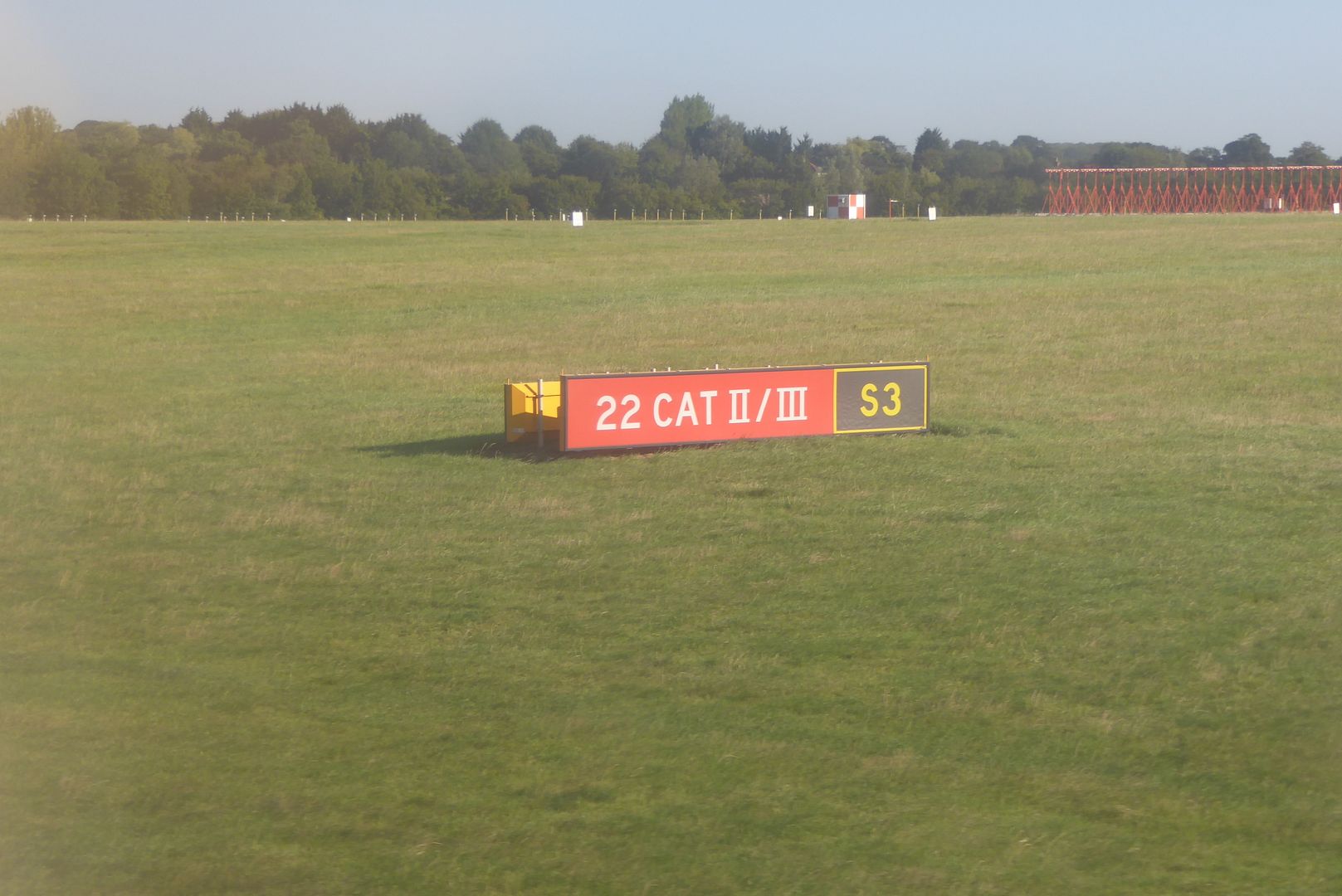 10:00
Skipped an hour due to time zone difference.
Is that a catchy menu or what?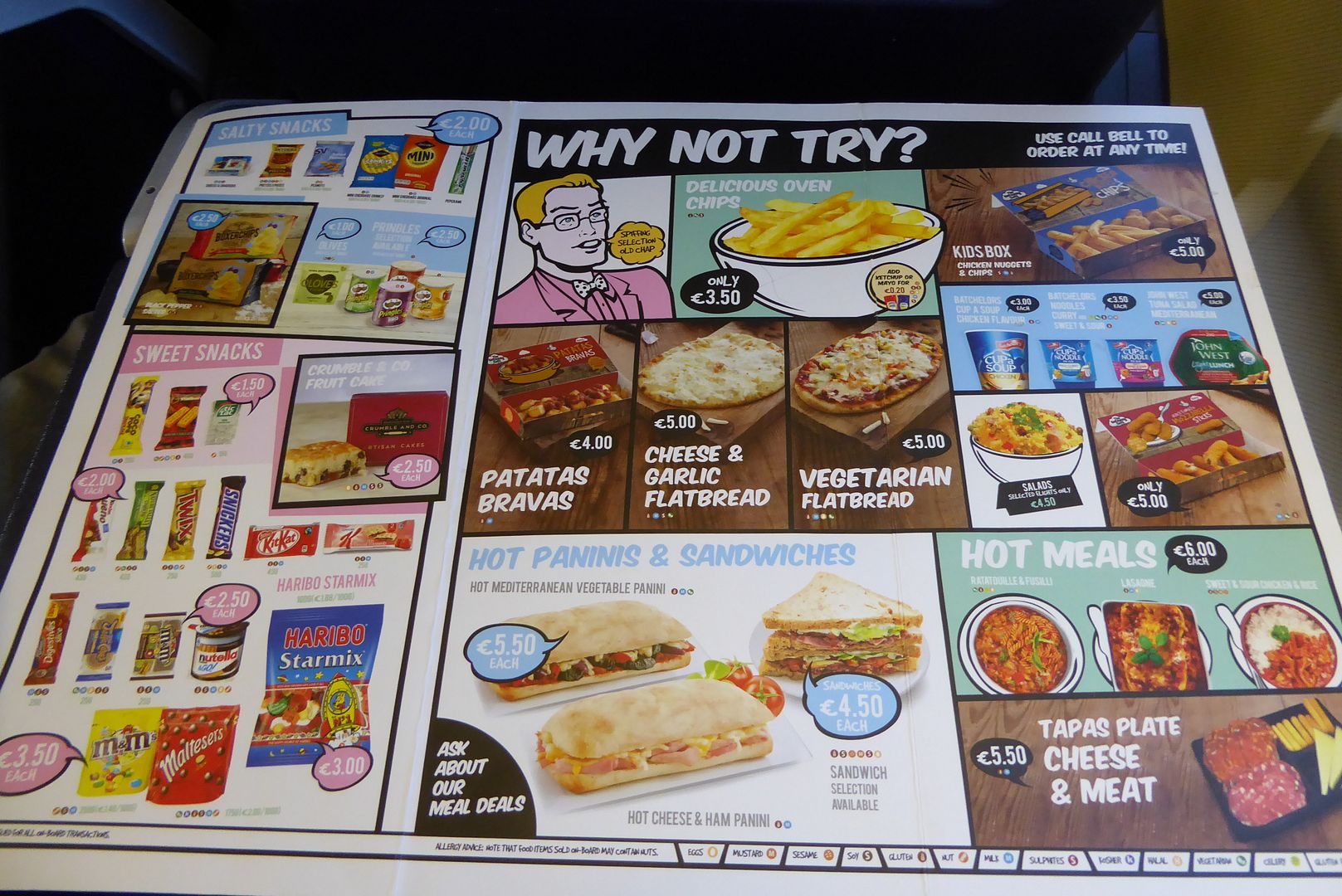 Ryanair interiors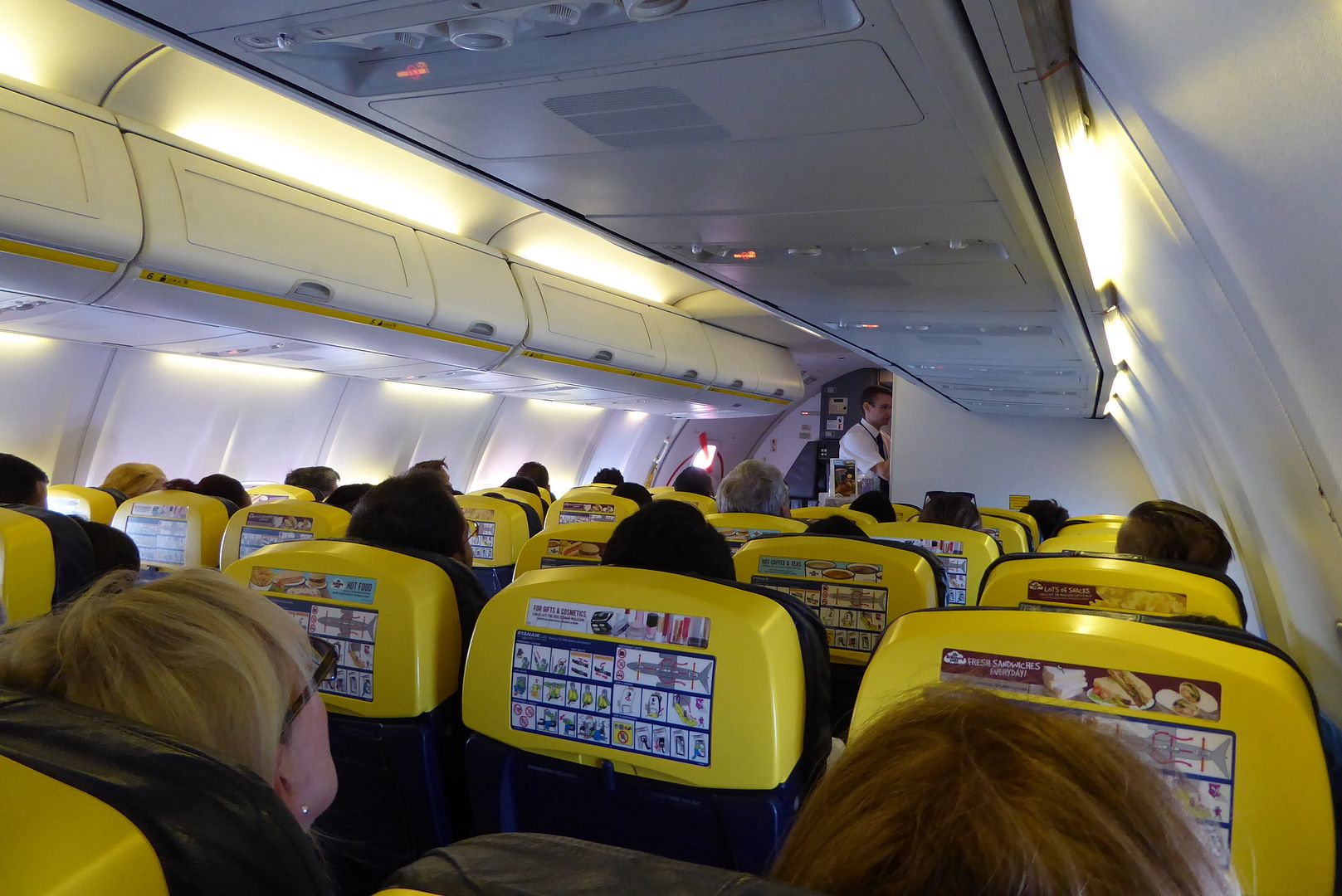 Scratch cards anyone?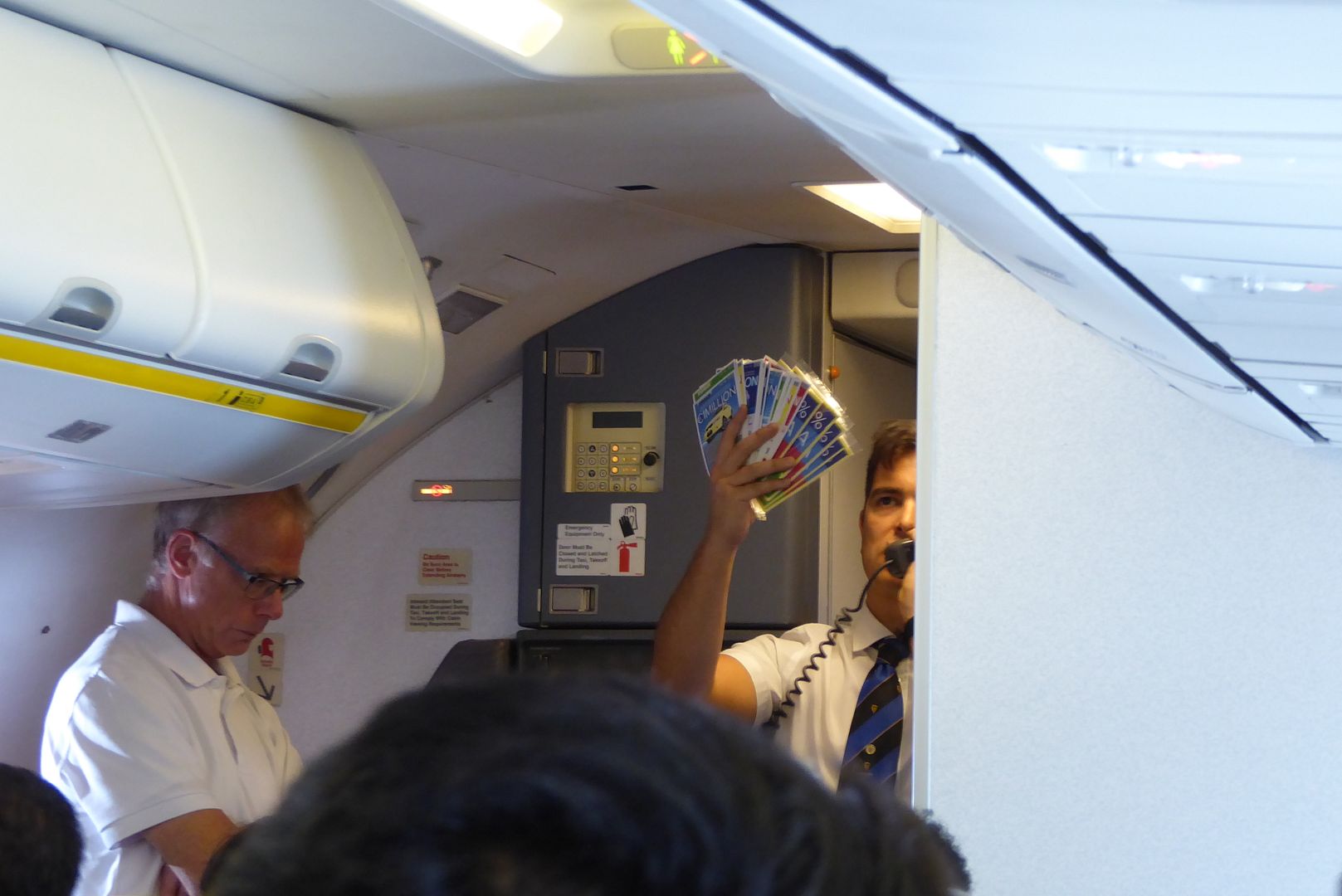 11:00
But rest of the flight was uneventful in the nicest possible way. Have Ryanair actually turned a new leaf? We still have one more flight today. So let's not jump to conclusion just yet. But so far Ryanair seem to have been successful in changing my opinion.
Over Spain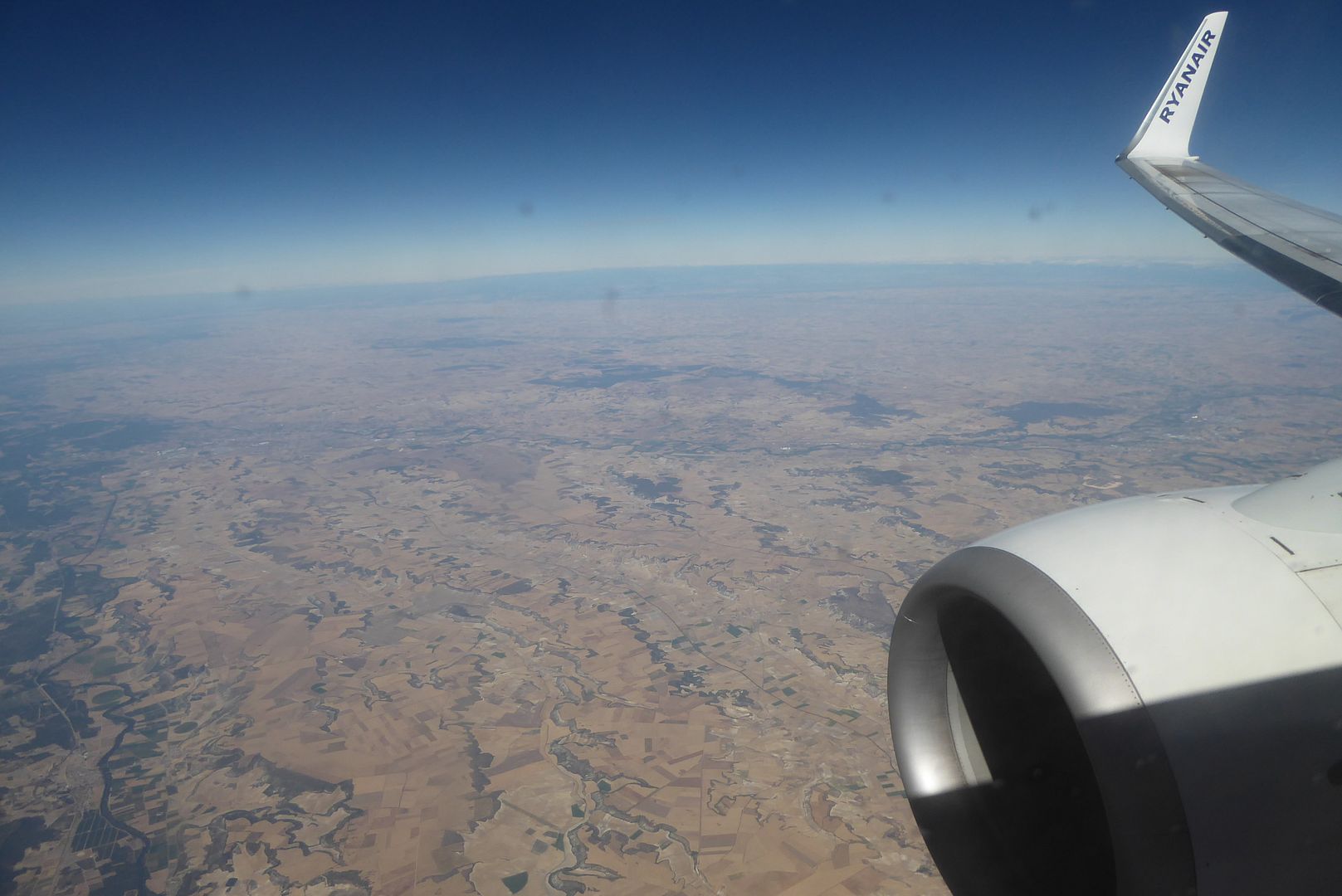 Amazing infrastructure - but does anyone use them?
Landing at MAD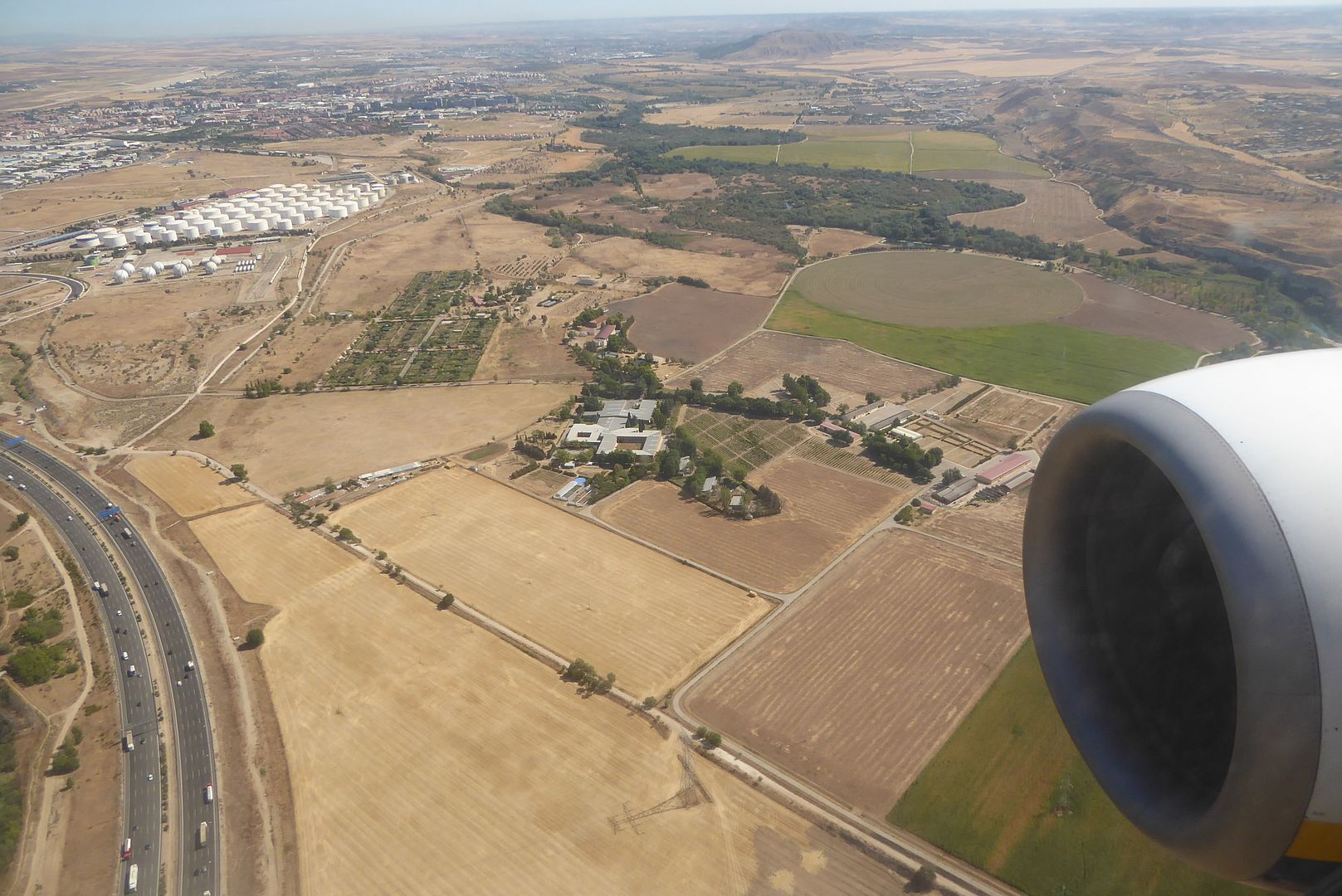 Plane spotting at MAD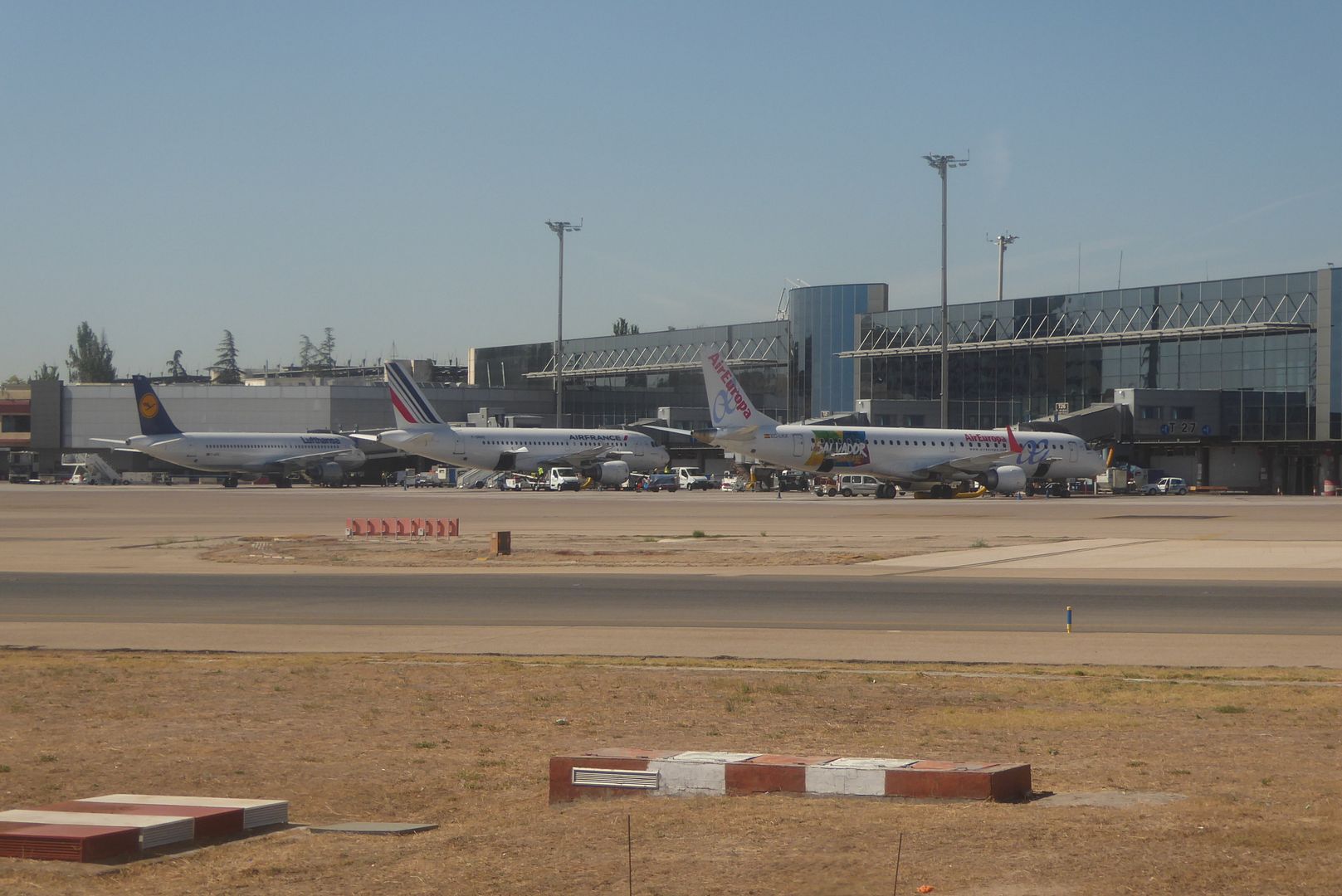 Empty MAD T1
Feeling hot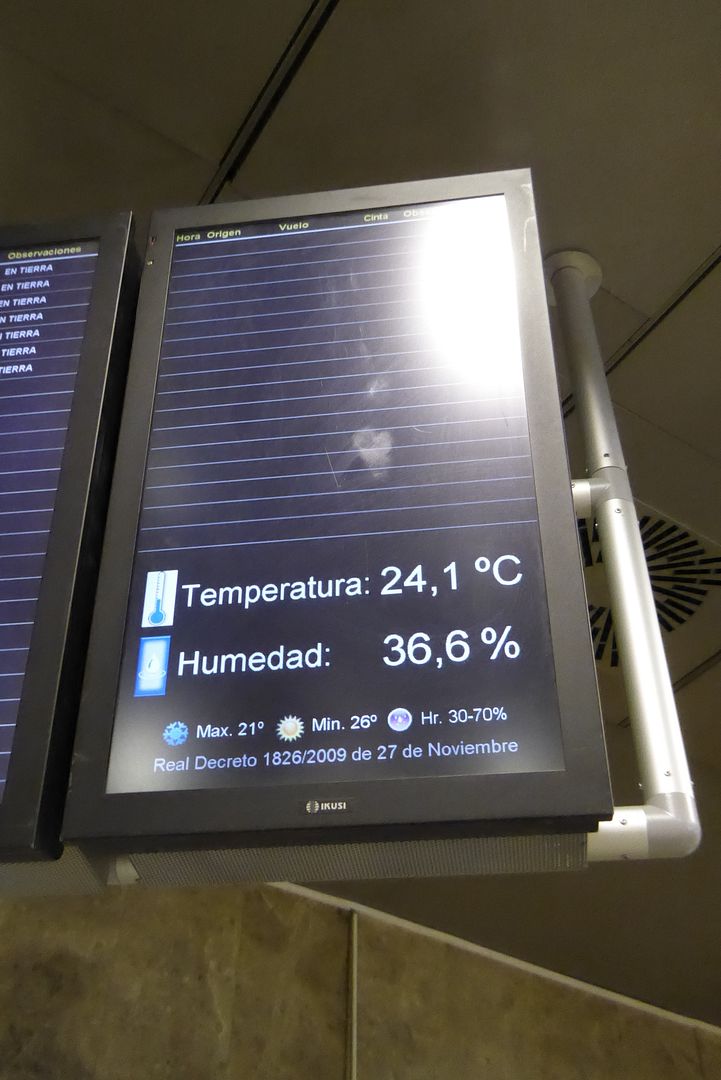 12:00
Out of the airport terminal T1 in no time. The transfer was fairly quick and I was transported to the magnificent terminal T4. The free shuttle was just outside the terminal, and the transfer took around 10 minutes. Reached T4 at 12:20, giving me ample time to experience the lounge at T4S.
My ride to T4
The beautiful T4 (there are a lot pf pics, but it just looked good in every angle)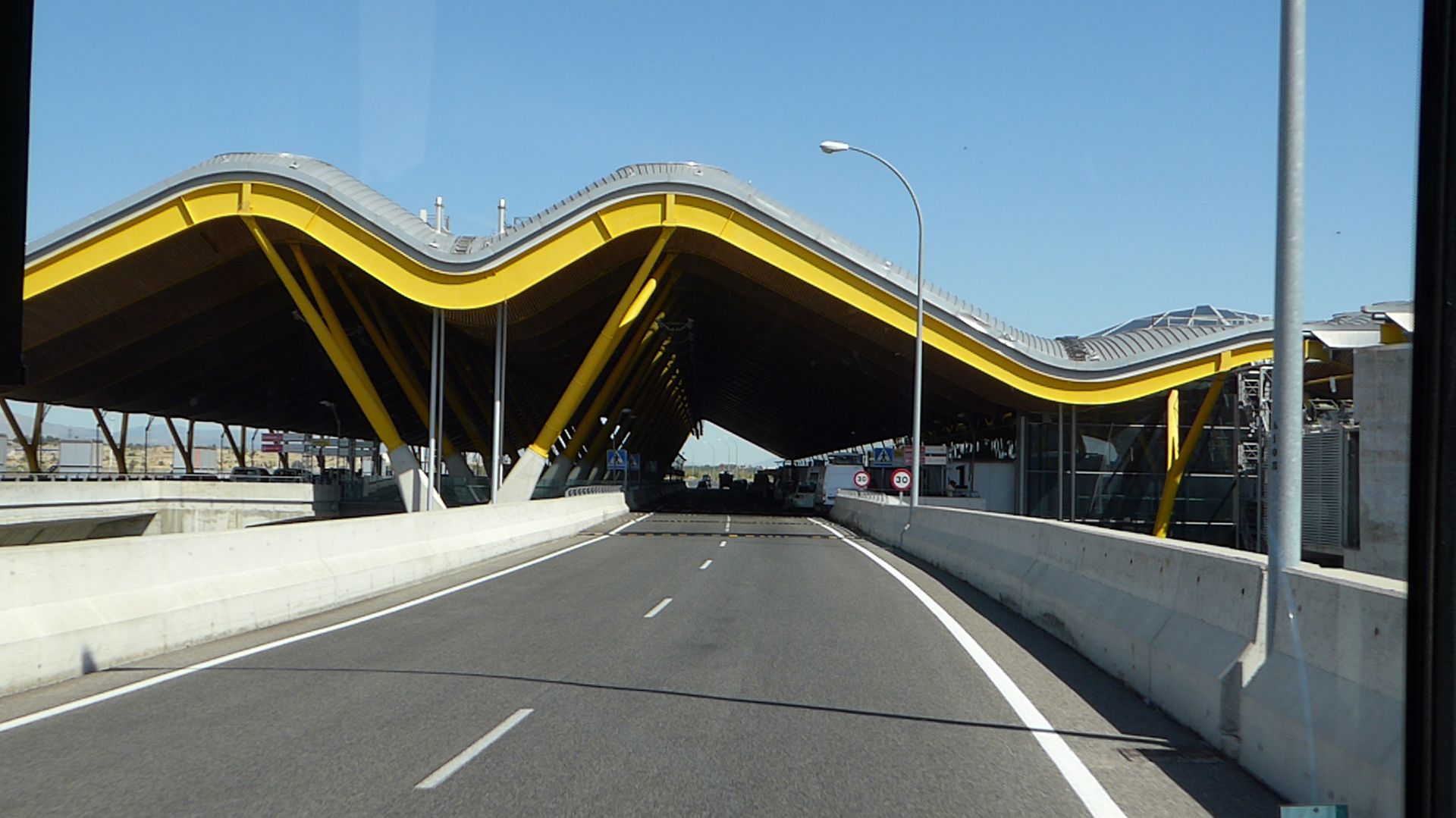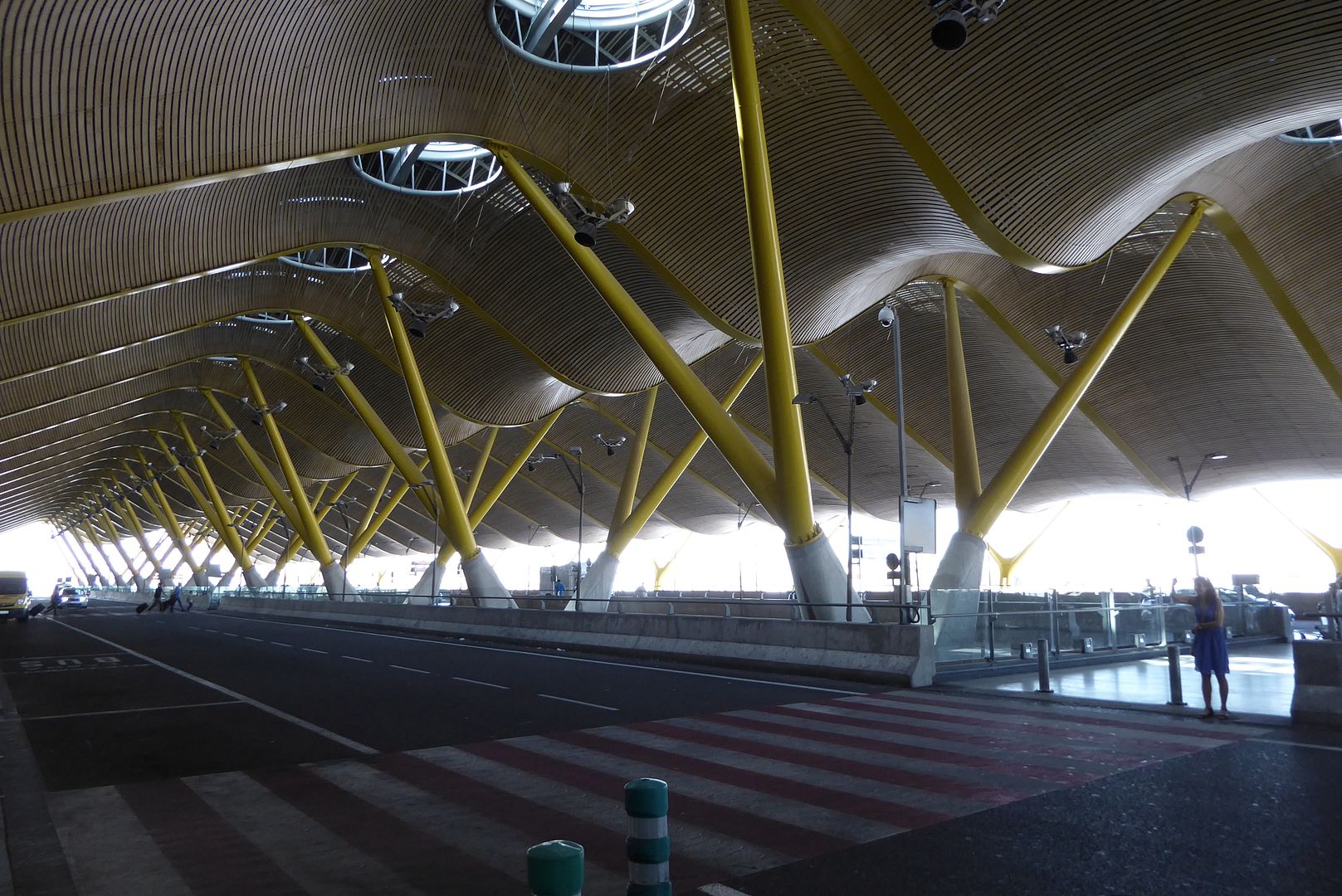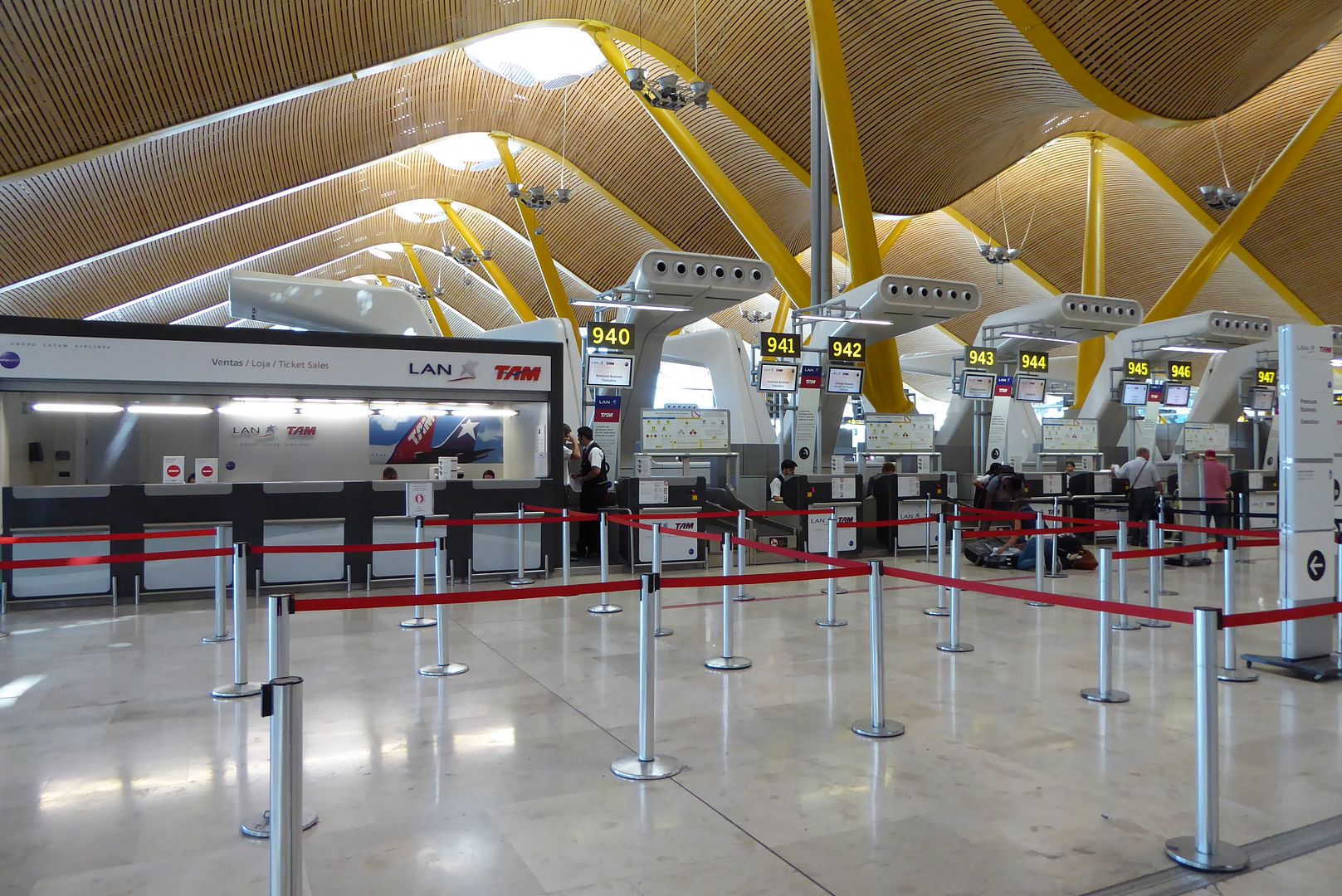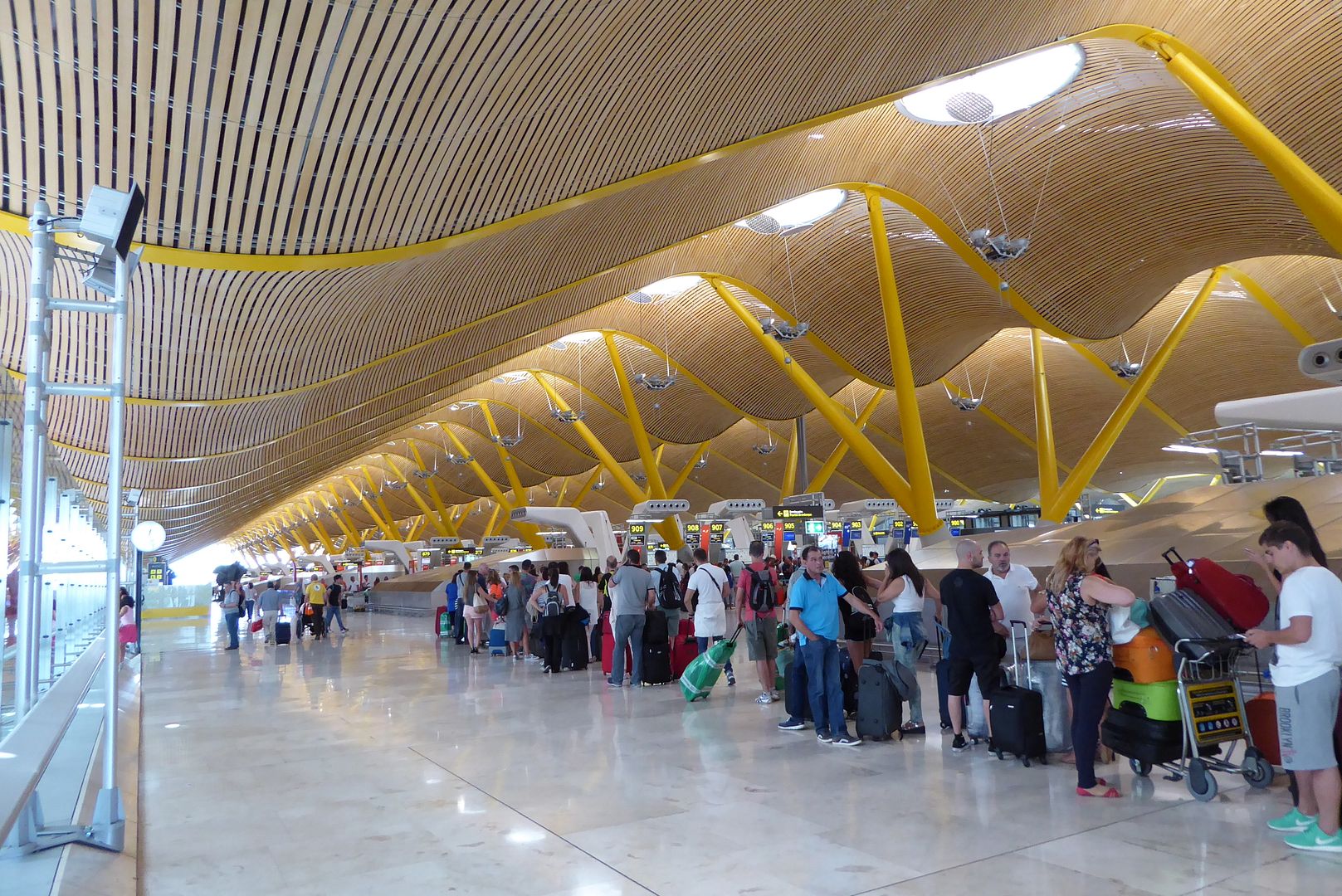 FIDS at T4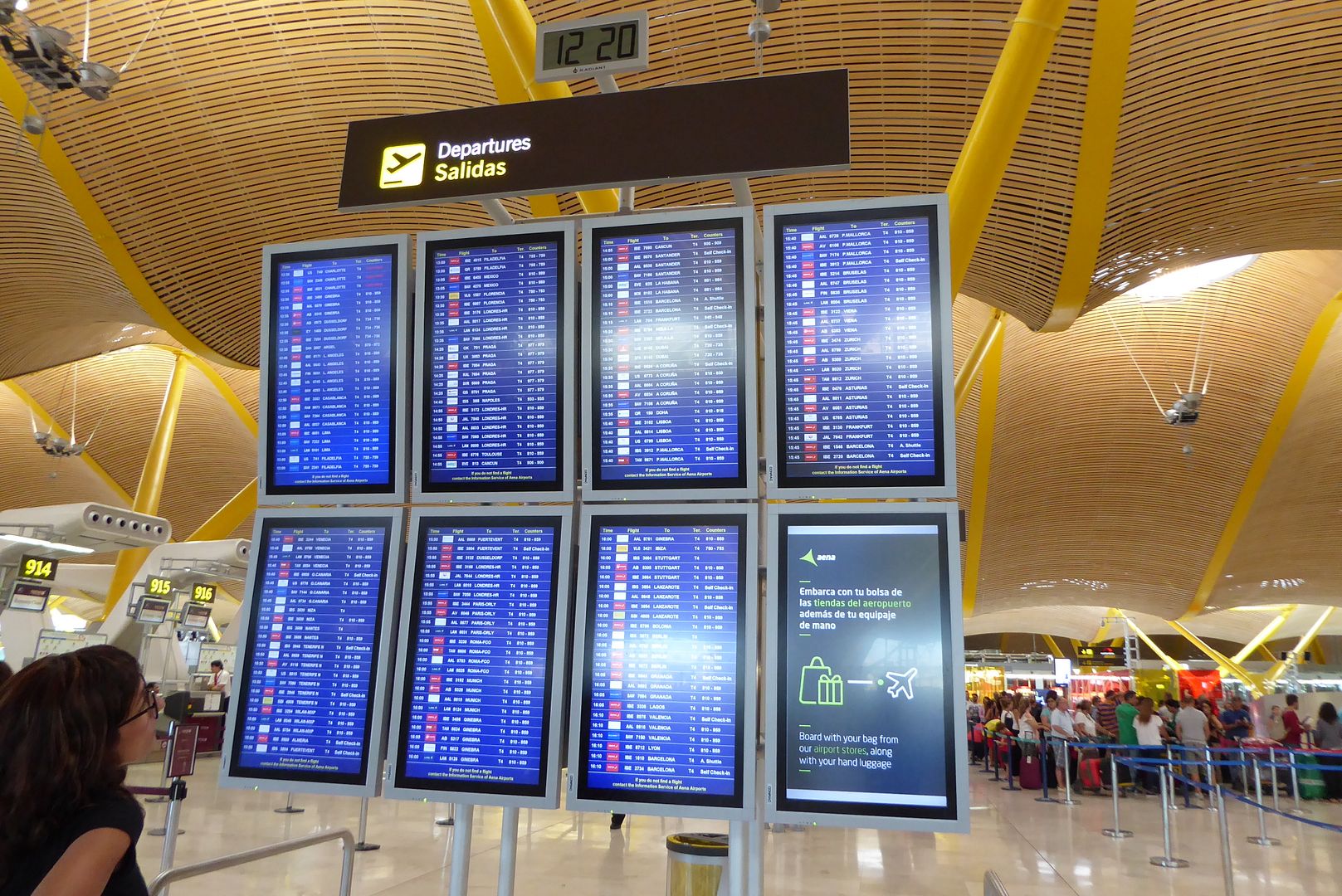 Yes please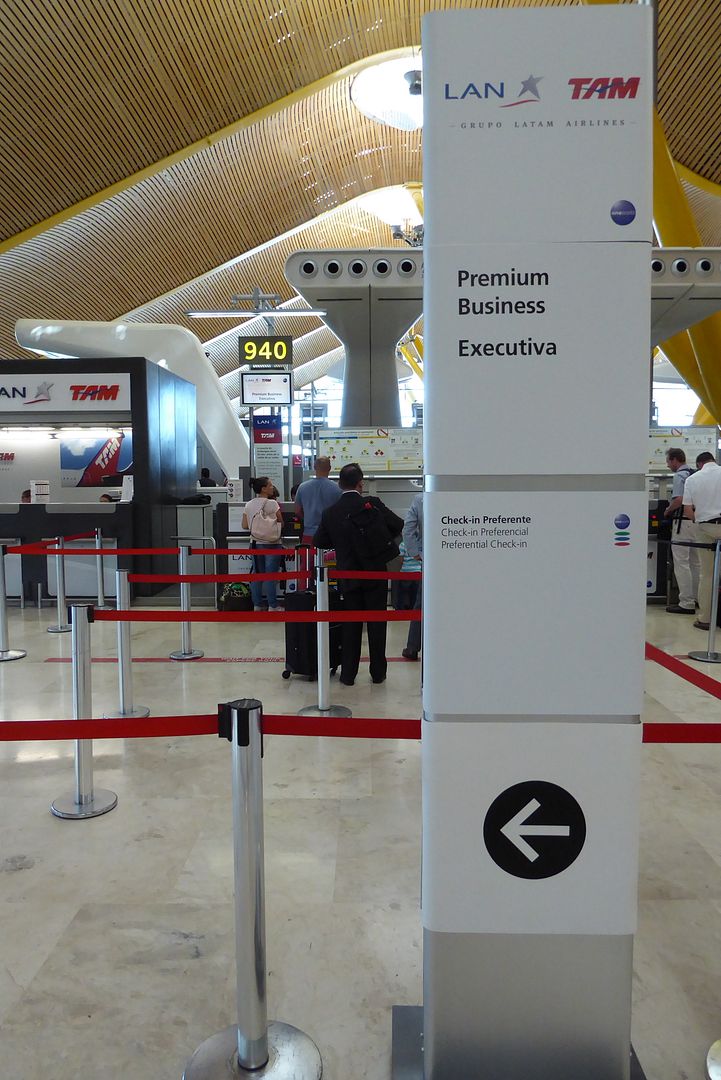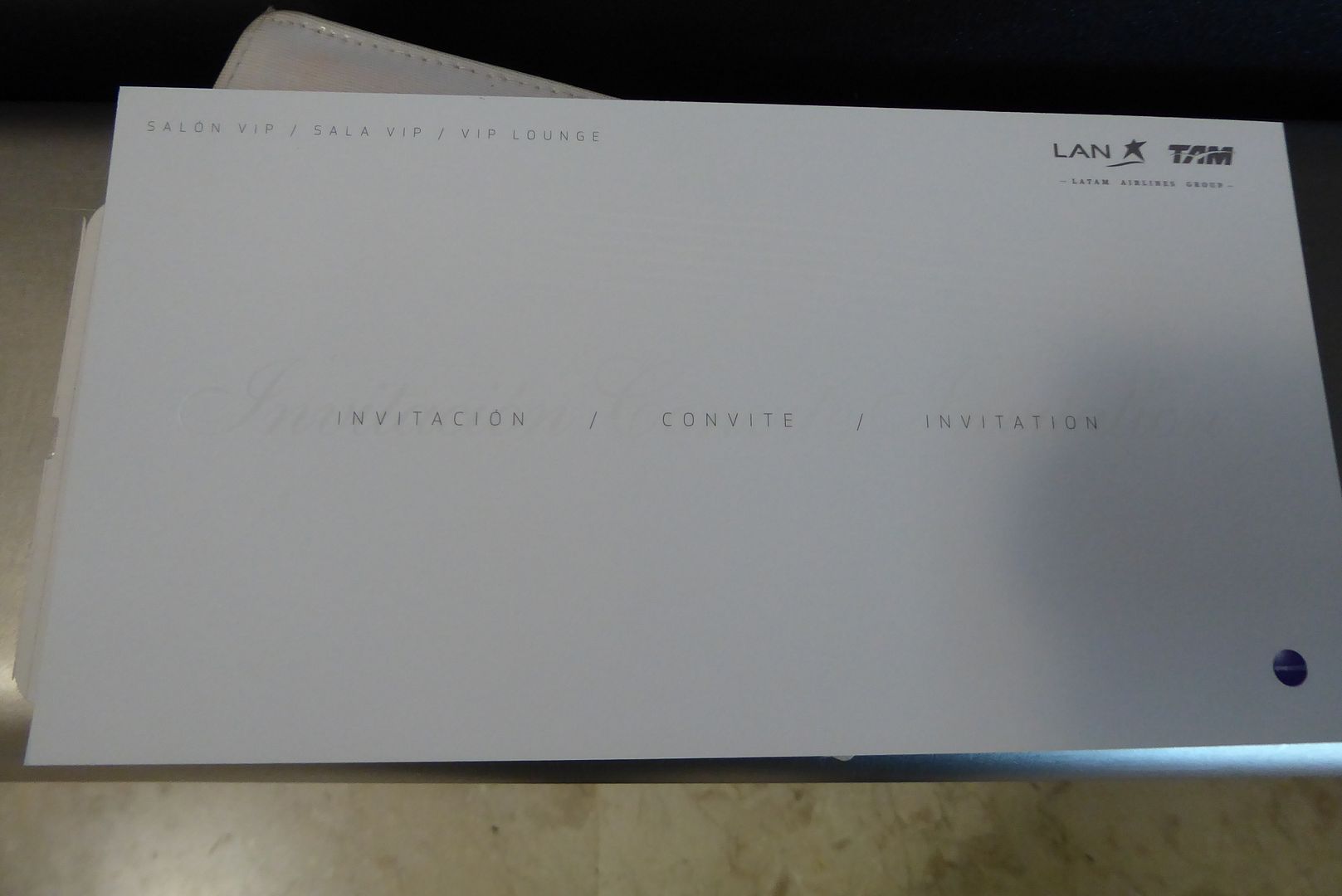 Train ride to T4S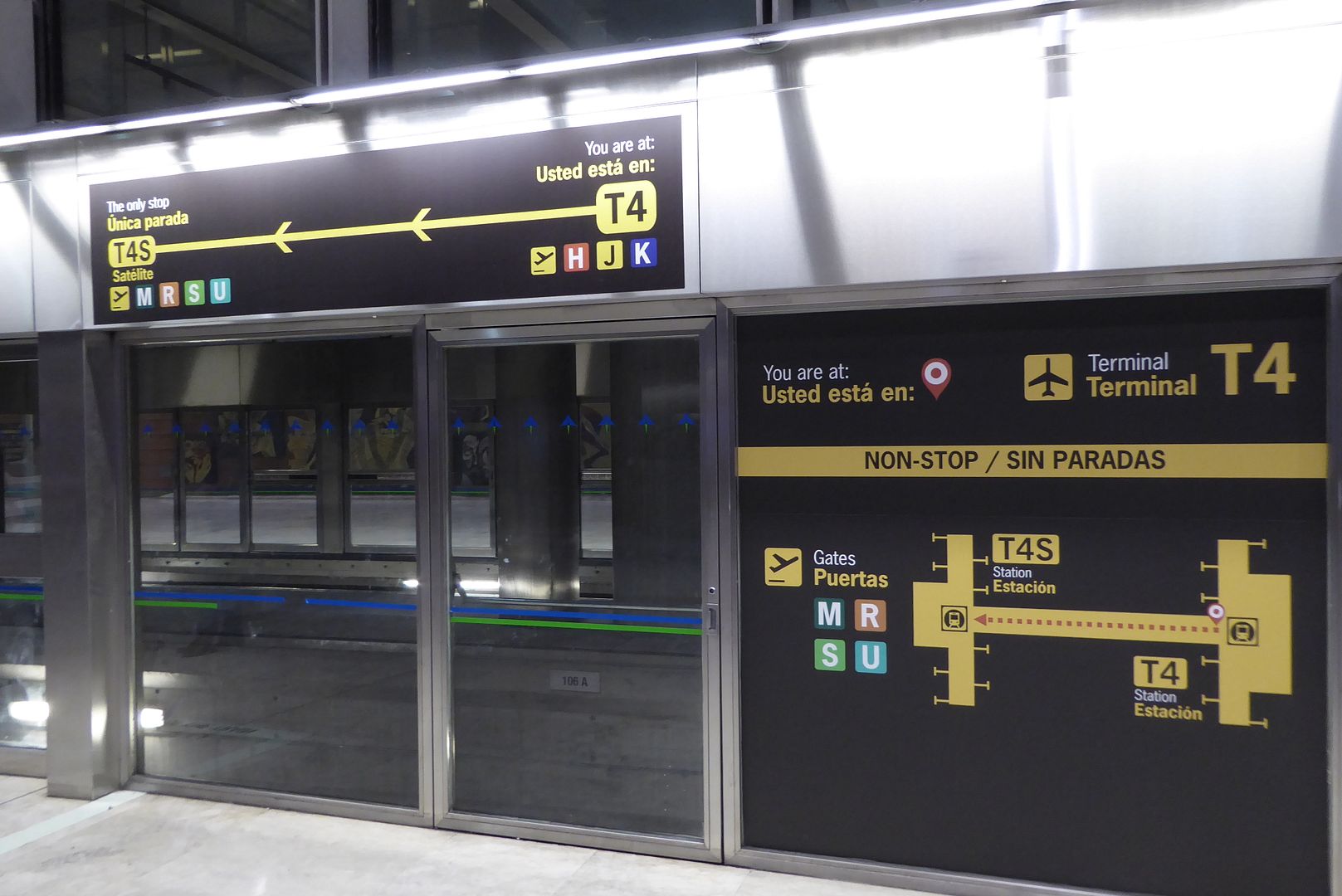 Check in was quick and courteous. I was given the access to lounge pass. But there wasn't a fast track for Business class passengers, instead they had a VIP access, which looks like was limited to gold/platinum tier members and perhaps first class too. Wasn't a problem today as security took the whole of 3 minutes.
I had to then make my way to Terminal T4 (RSU), which meant an intra terminal train ride. All said and done, I was at the duty free of T4S at 1:00 PM.
13:00
The lounge for all one world flights (operated by Melia) is in the middle of the duty free area in T4S. Very convenient. The lounge was fantastic. The welcome was warm and very personal. The person at the counter knew what he was doing. Very chatty yet professional. Top marks! The lounge was very airy and quiet at the time I was there. They had a very good selection of food and drinks and had two of each sections (drinks bar, soft drinks and food counters) at either end of the lounge. Complete with a meeting room, play area and showers, not much else I could ask of it. Excellent views of the taxi way too. As I entered the lounge, I could see CC-BBJ (a 9 month old Dreamliner) just entering the designated gate, S40. Exciting!
The beautiful Iberia Lounge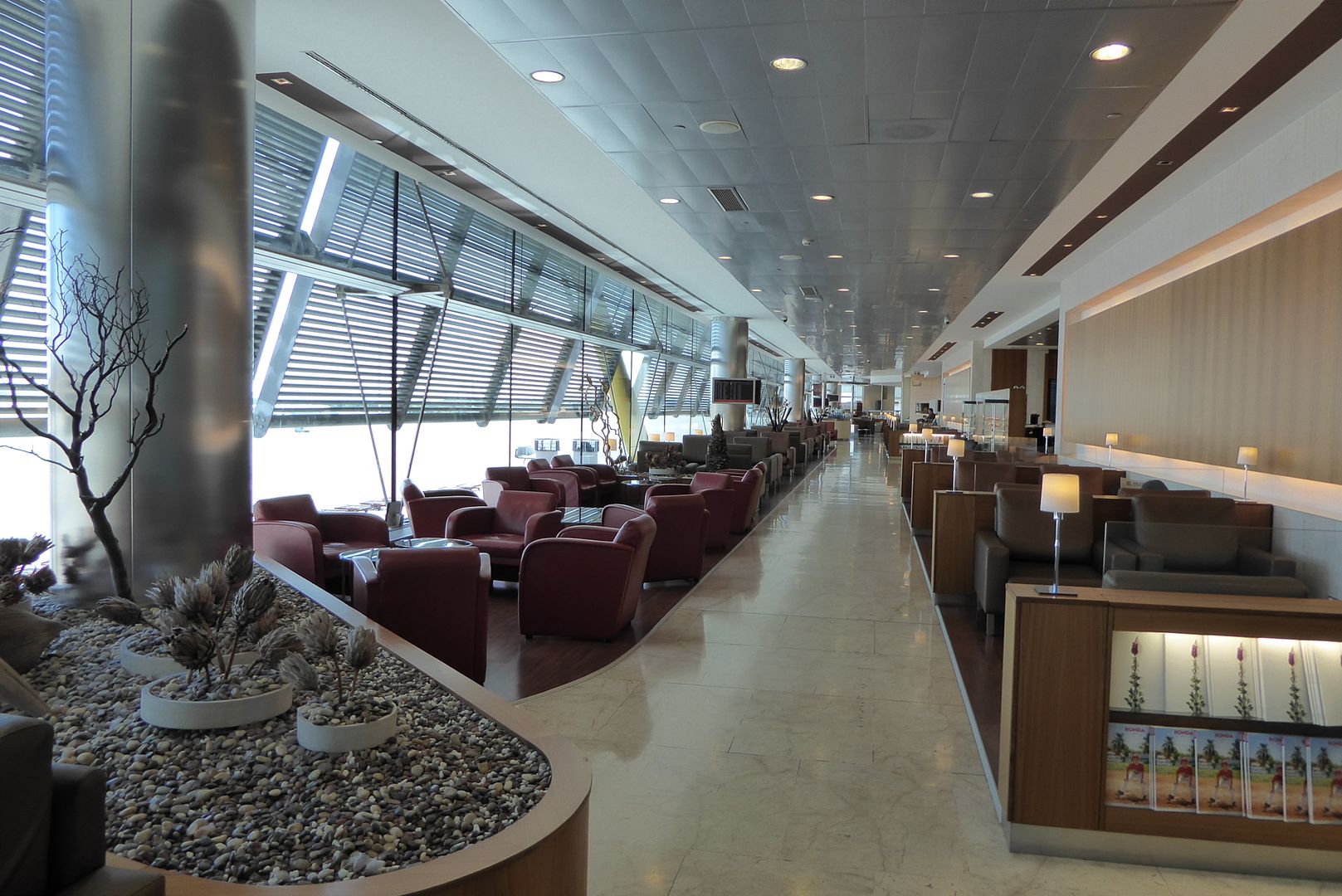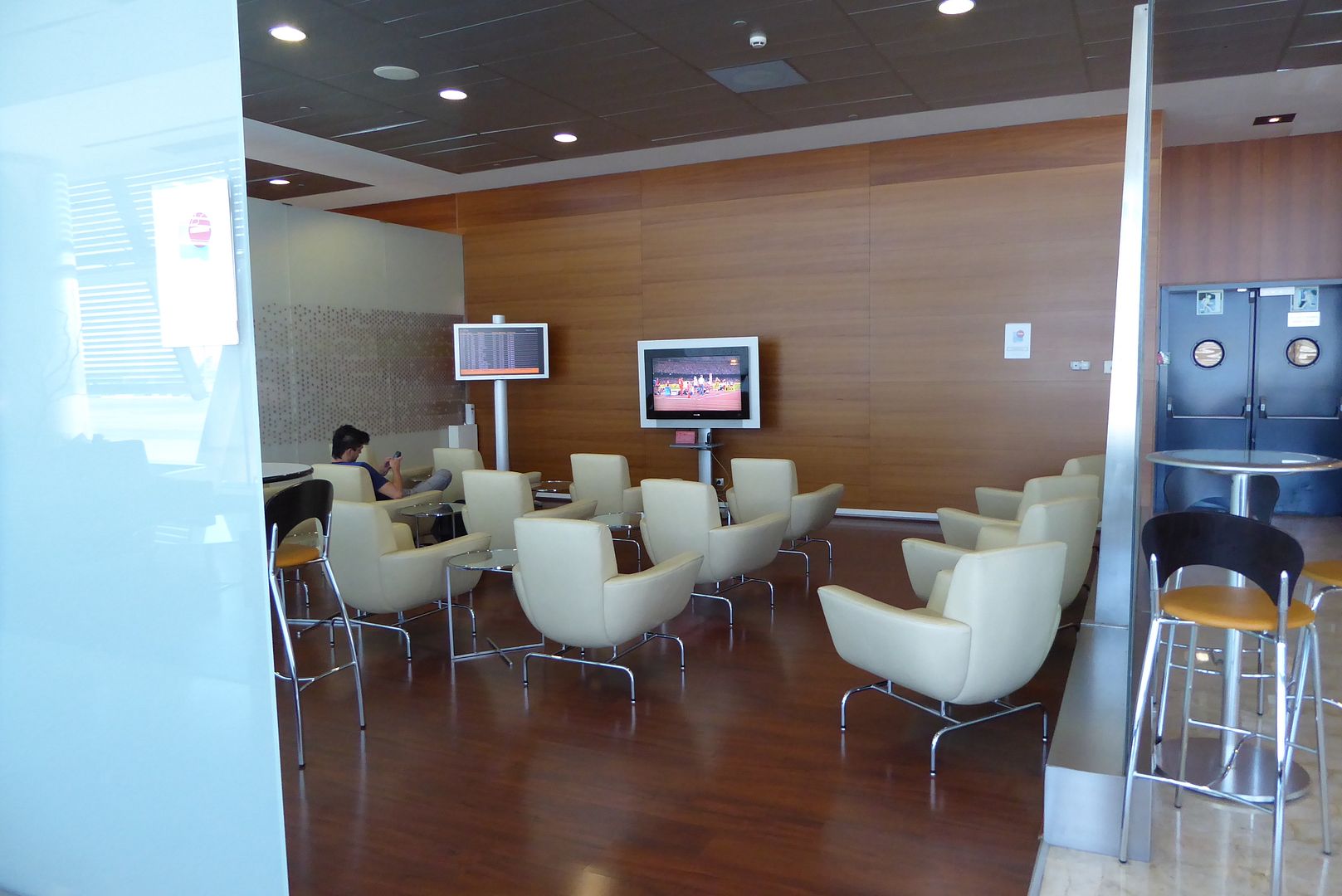 Wine anyone?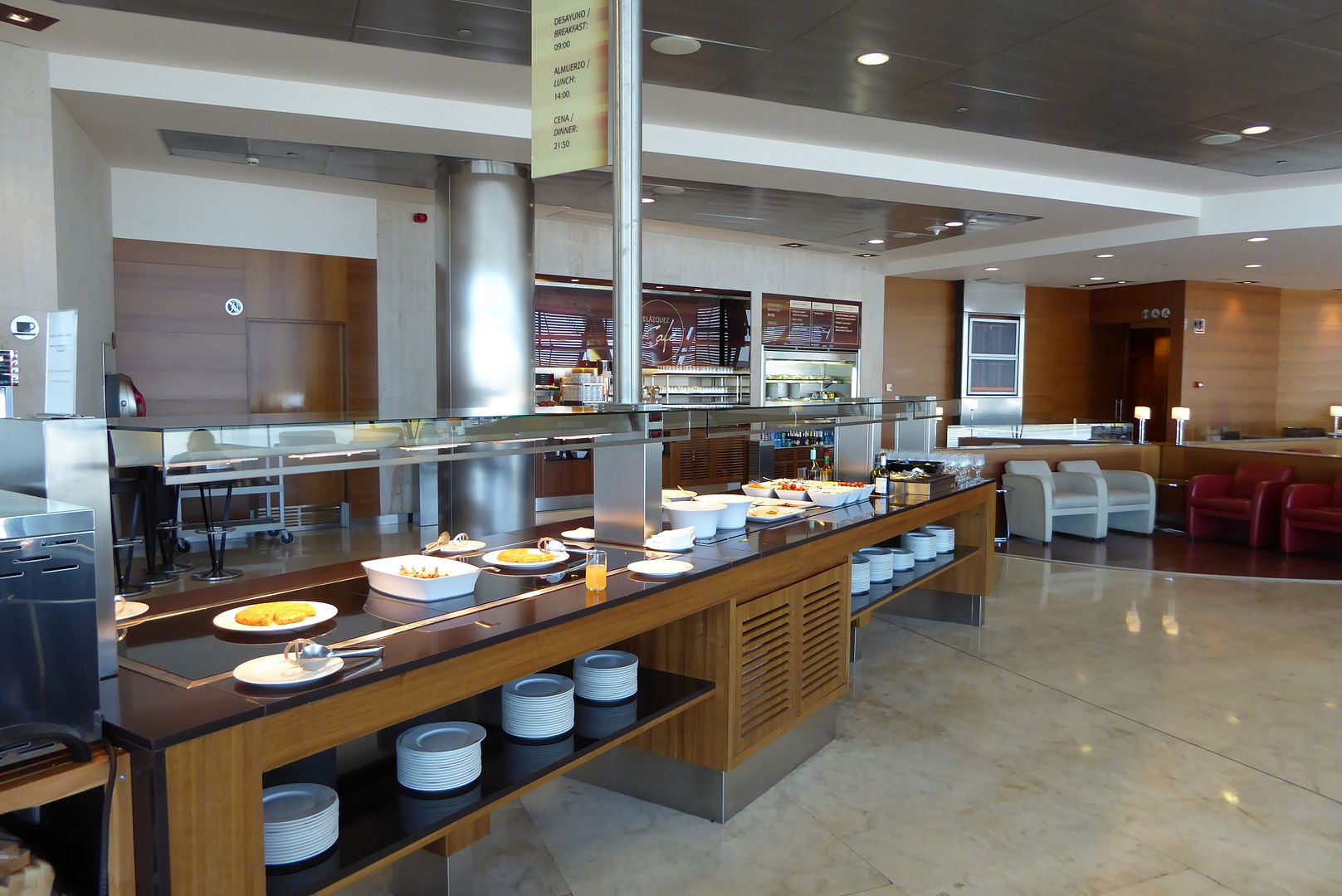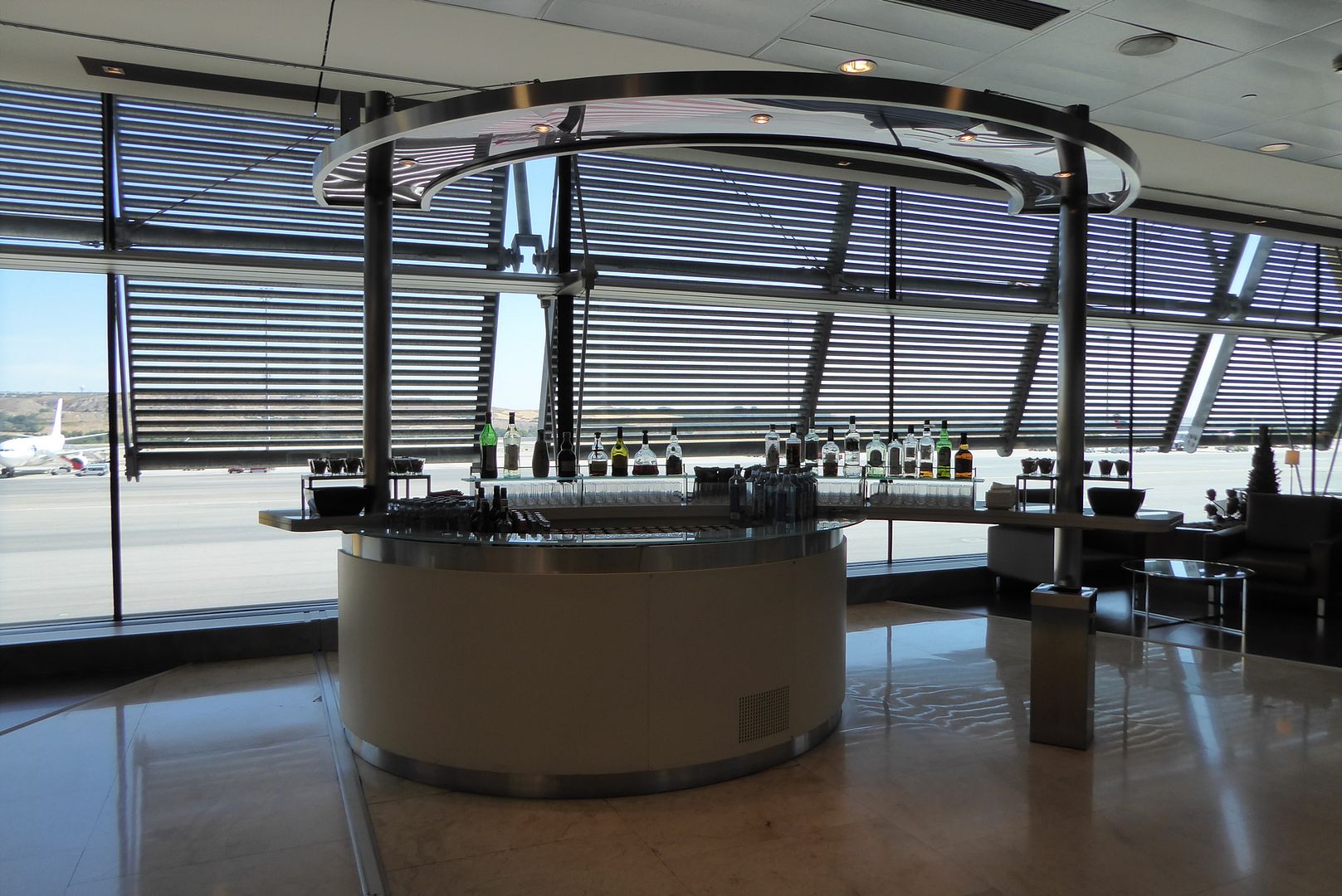 Lunch - just finished
Last shot before I left the lounge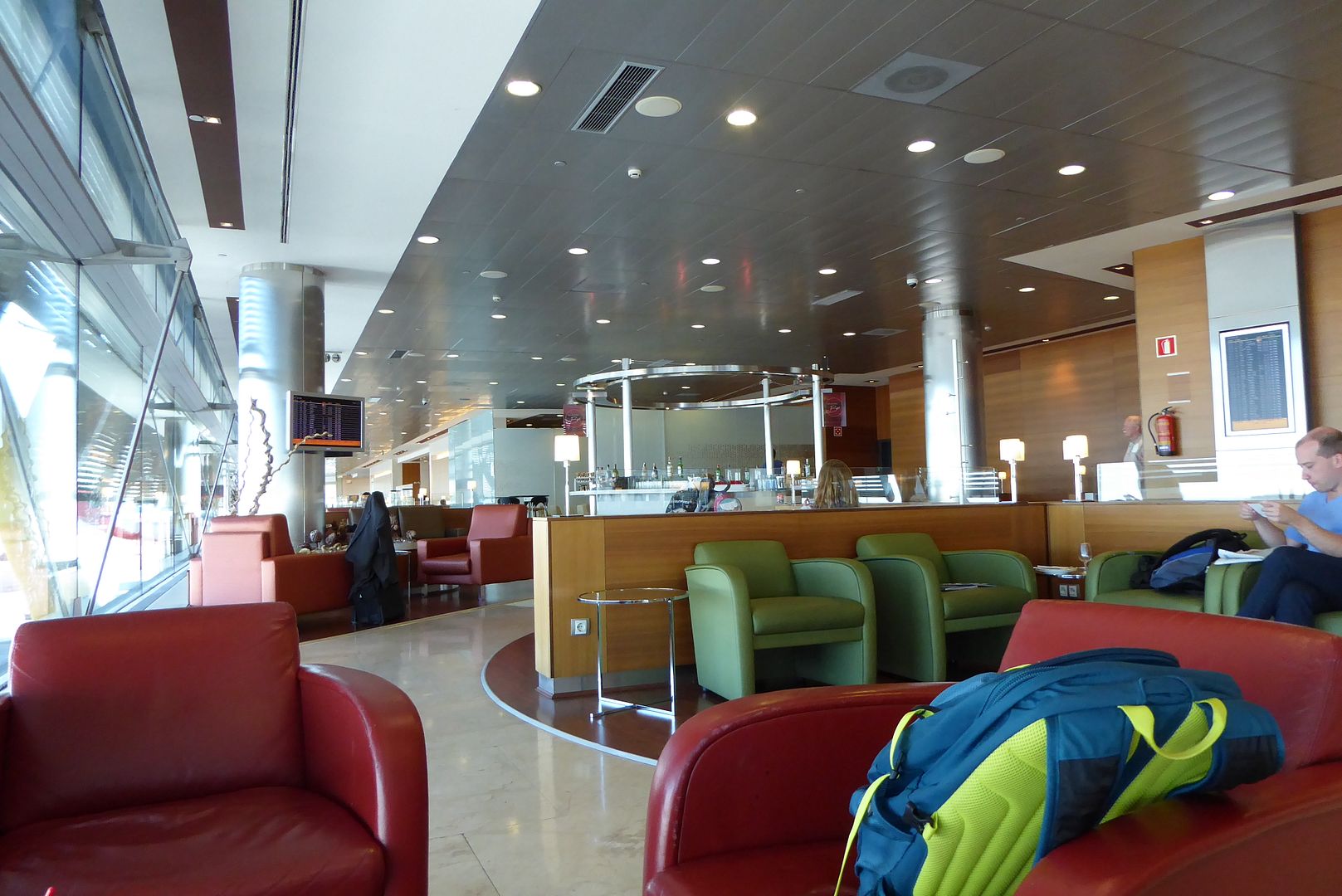 Plane spotting at MAD from the lounge
AA B767-300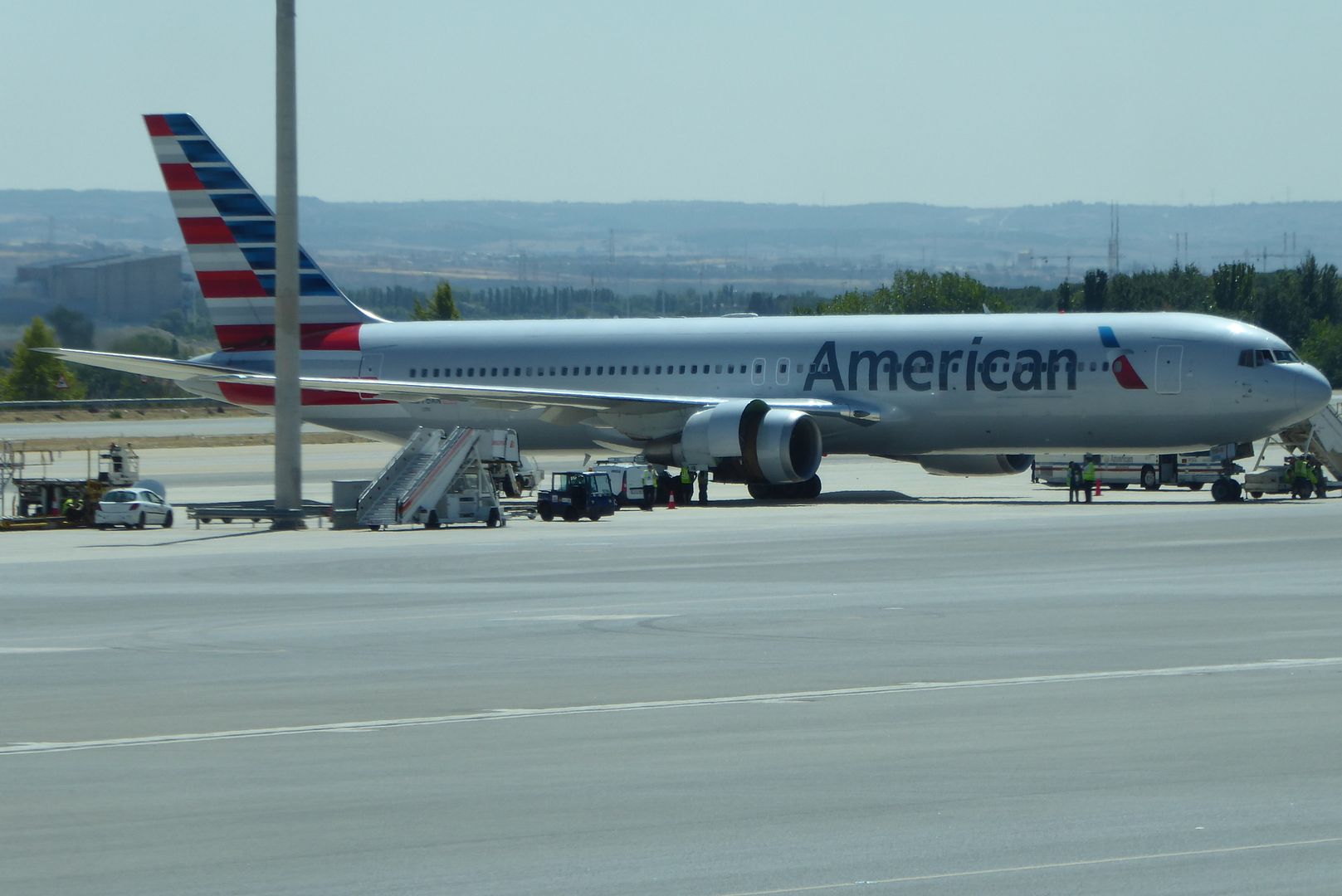 QR, just landed from Doha - Another Dreamliner at MAD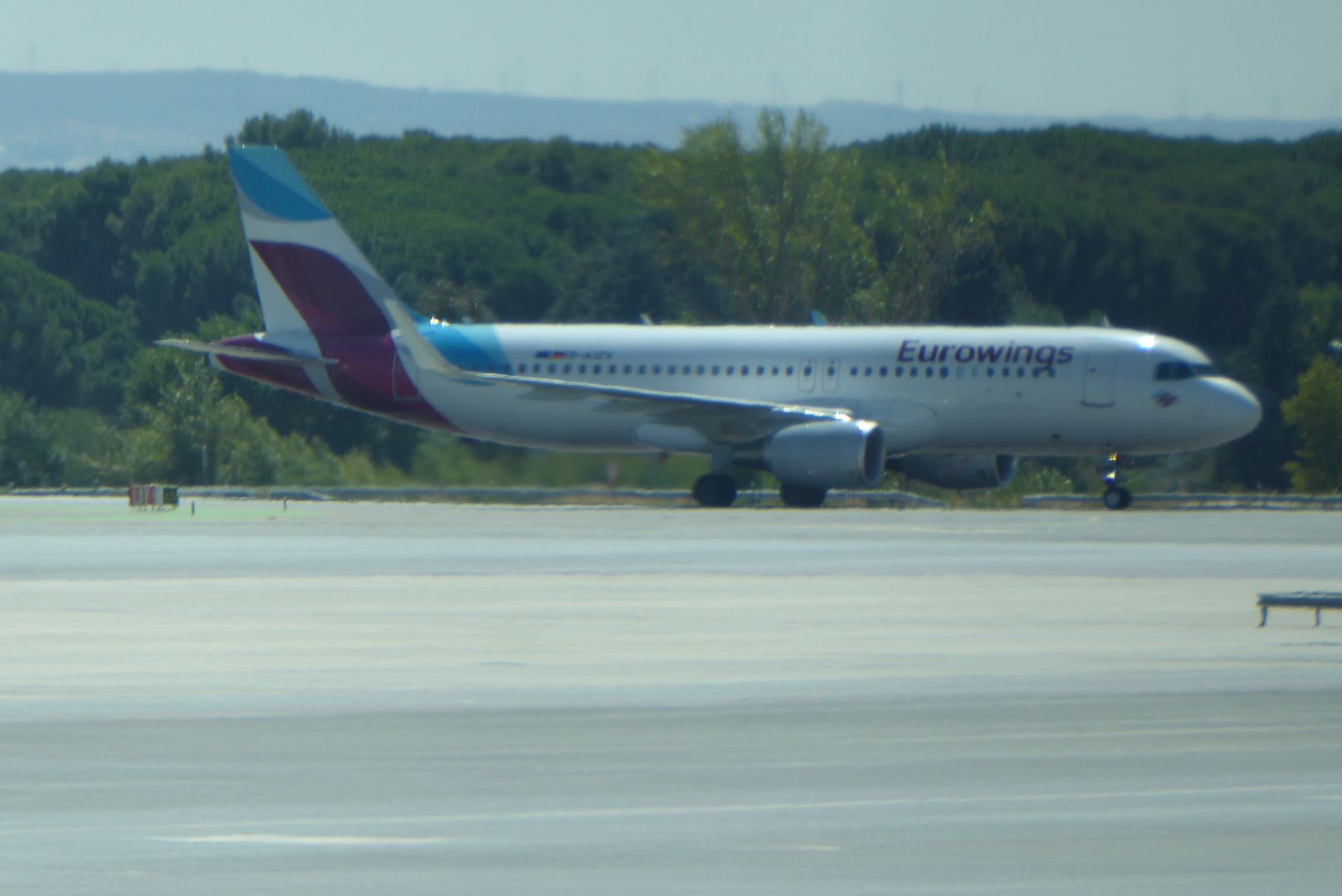 Just landed from Lima - LAN B767-300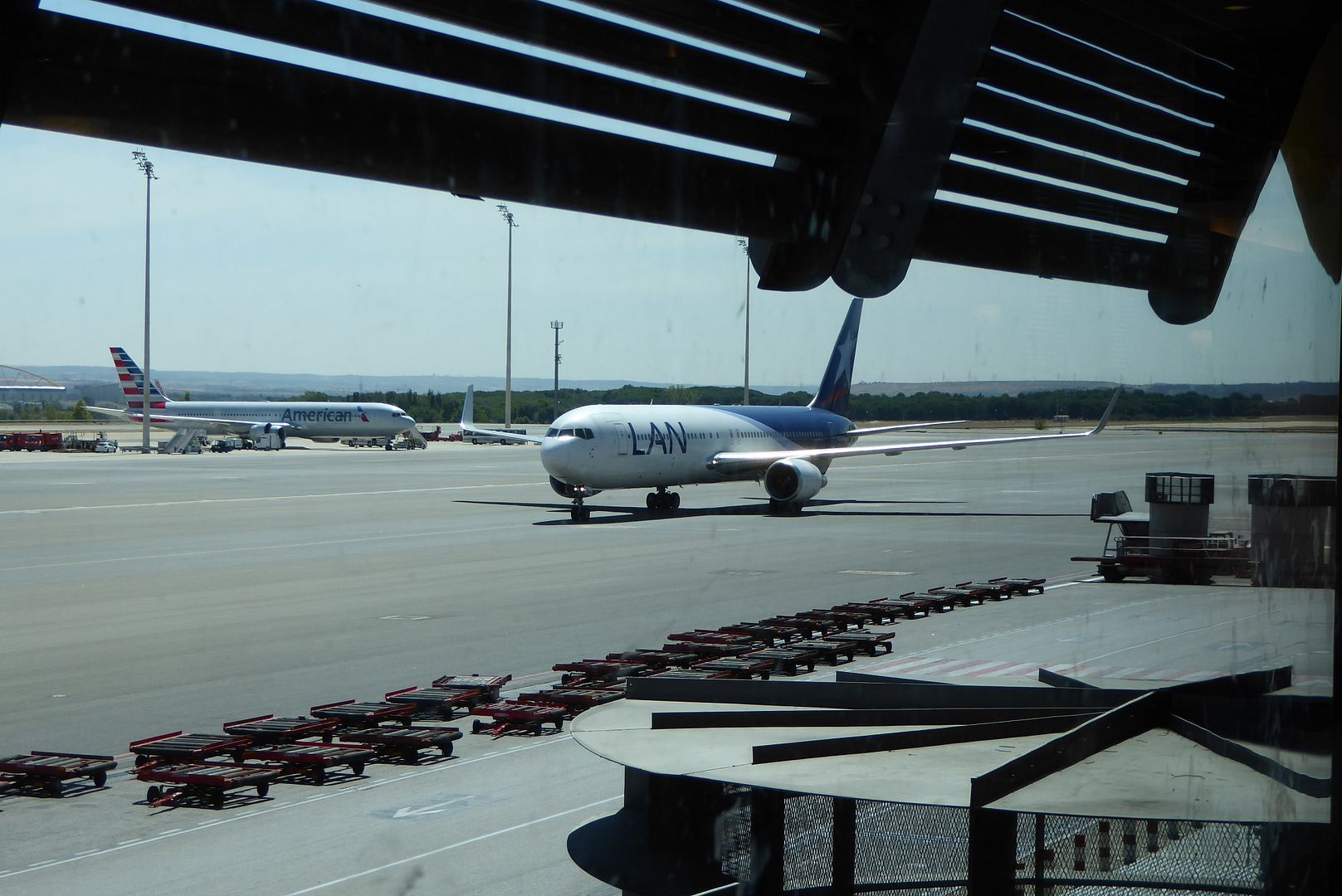 On the way to Cairo - Egypt Air B737-800
Just in from Bogota - AV Dreamliner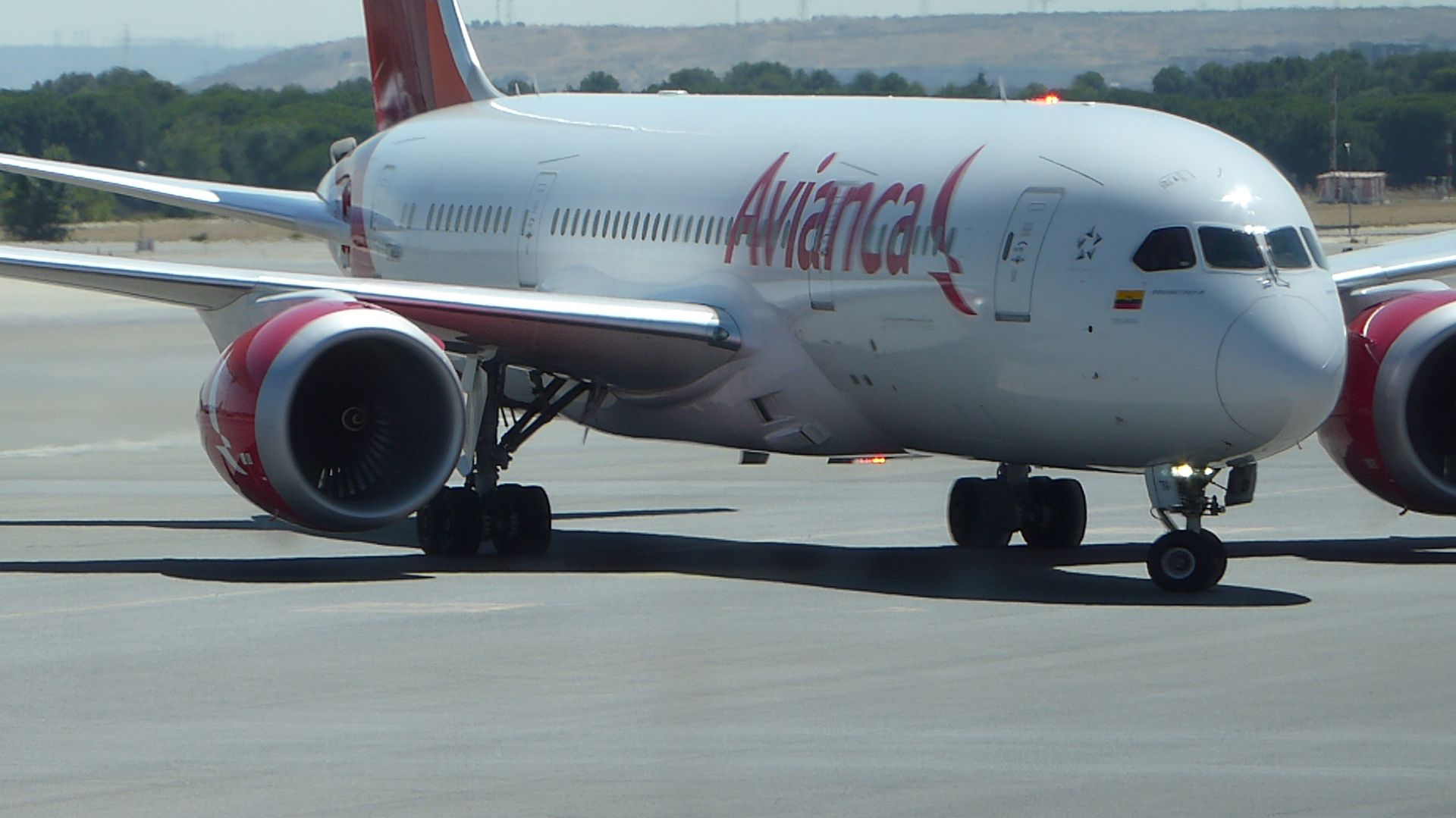 There she is..lo and behold.
14:00
Spent the next hour and a half at this well stocked and well catered lounge. There was always fresh supply of cooked food in the counter, and had lunch and dinner options at specific times of the day (lunch was at 14:00). Ate to my fill and a couple of Bloody Mary's and I was all set to experience LAN Dreamliner experience.
Boarding Gate
LAN – LA 704 – MAD (T4S) - FRA
Flight Reg: CC-BBJ ; Delivered brand new to LAN in November 2014
Boeing 787-8 Dreamliner
Seat 2L
Flight time: 15:15 – 17:45 (15:15 – 17:45)
28th August 2015
Boarding was called at 14:30. Wandered around the duty free for a bit and made my way to the gate at 14:40. The main reason of the trip. The flight time to Frankfurt was approaching and the excitement was building. I was one of the first to board the aircraft. As expected, the entry into the DreamLiner is magnificent. Airy and open. Warm welcome and was guided to my seat. First impression of the LAN DreamLiner was it looked new and crisp. Walking across to my seat 2L the cabin felt and smelt new. Was welcomed with drinks. I chose the pisco sour. Tasted really good and I was set for the flight. The seat felt very comfortable and comparing with BA club world, this felt more spacious. There were a lot of storage space and the entire seat area felt well thought of.
We were all boarded by 14:50and the flight was expected to take 2 Hr and 16 min and was on time.
On board LAN's pride and joy - Boeing 787-8 Dreamliner (CC-BBJ)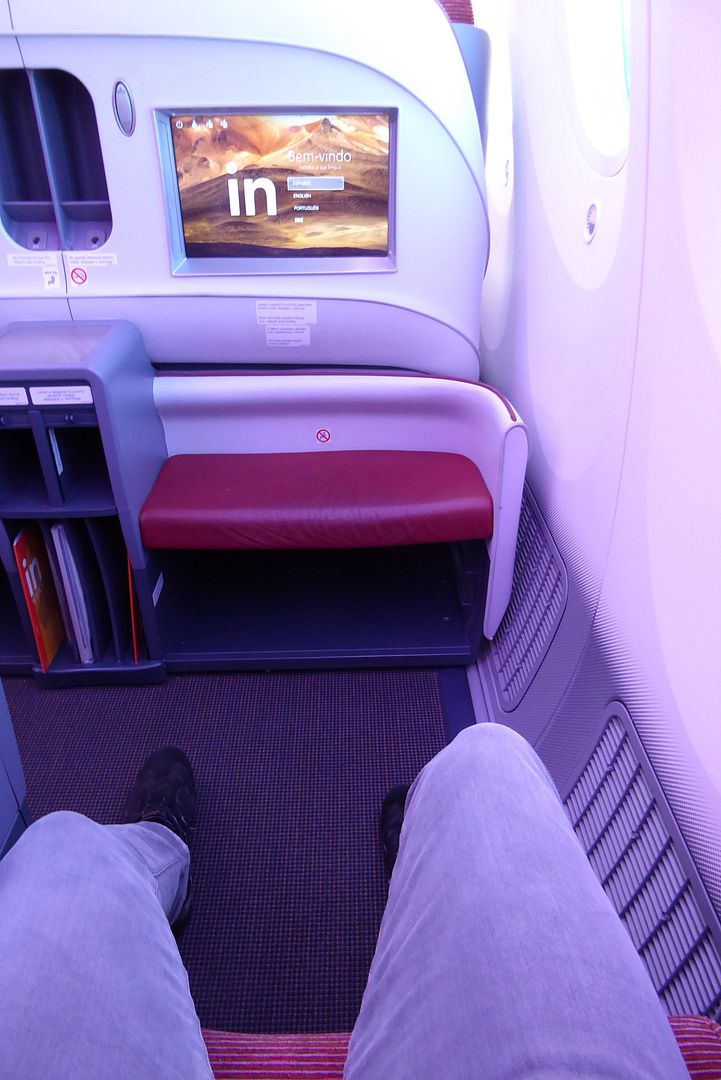 When pictures speak bigger than words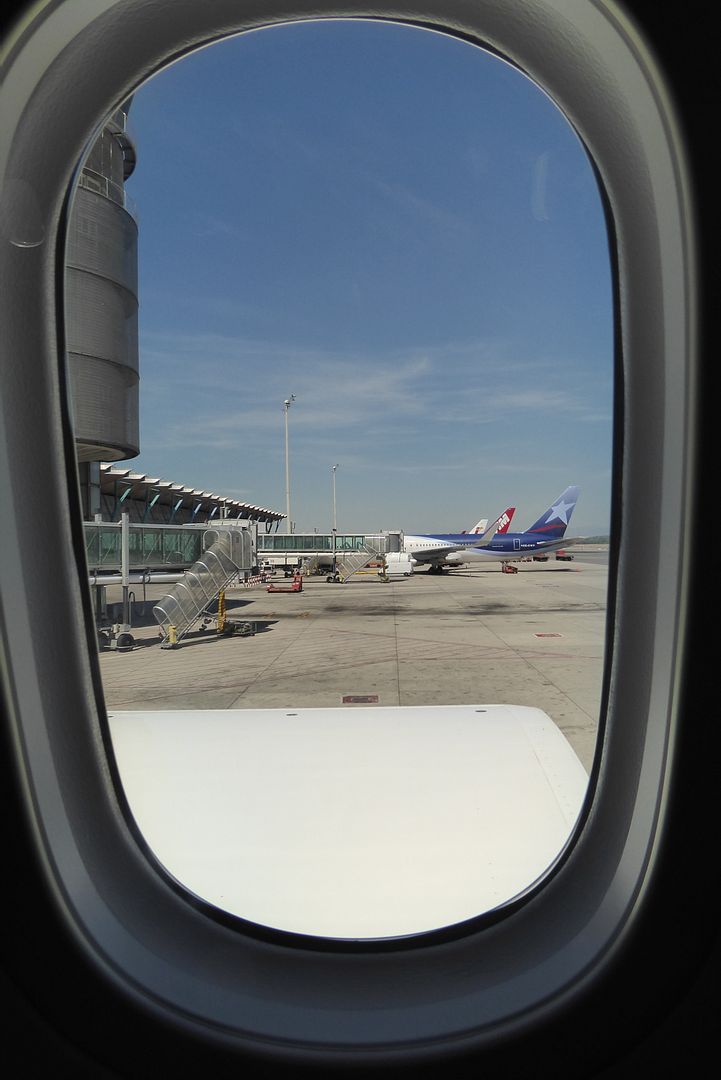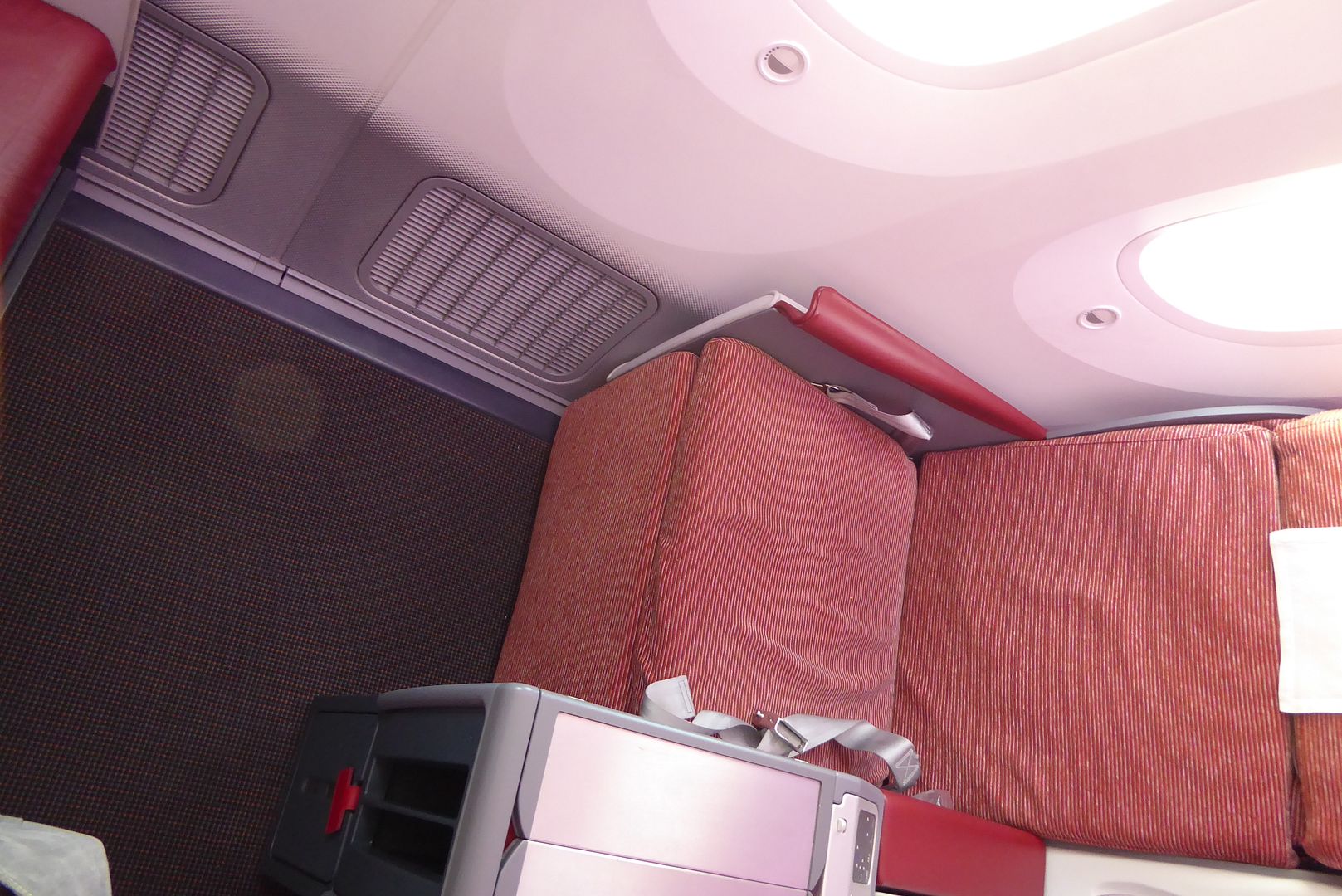 Welcome drink and warm peanuts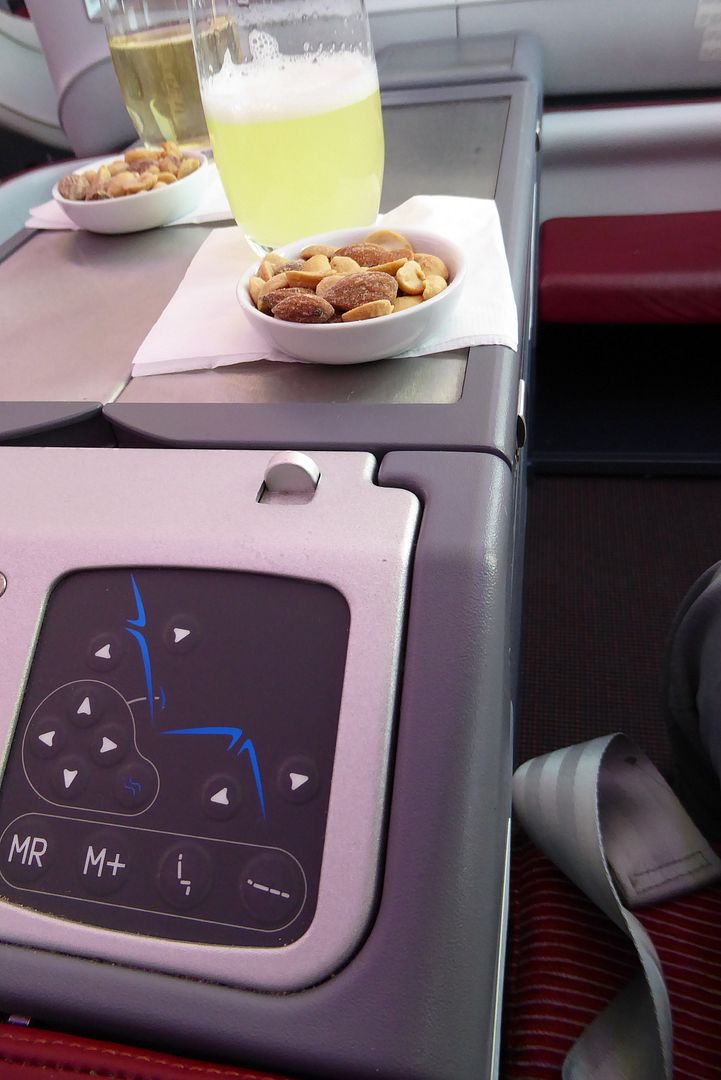 Our neighbours at MAD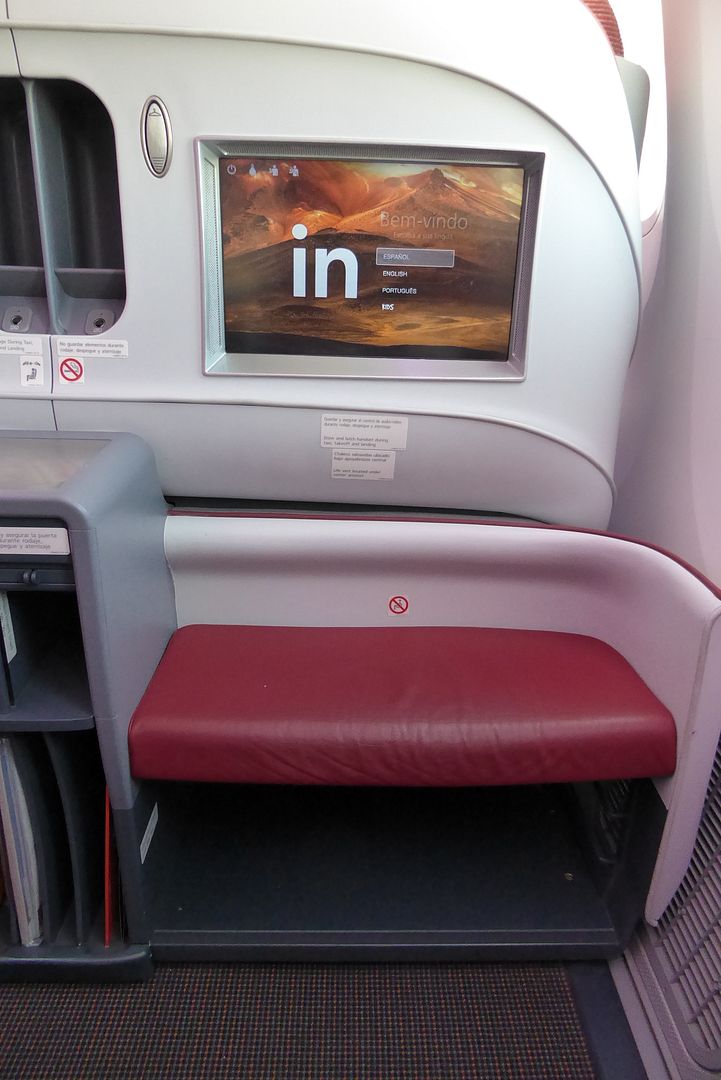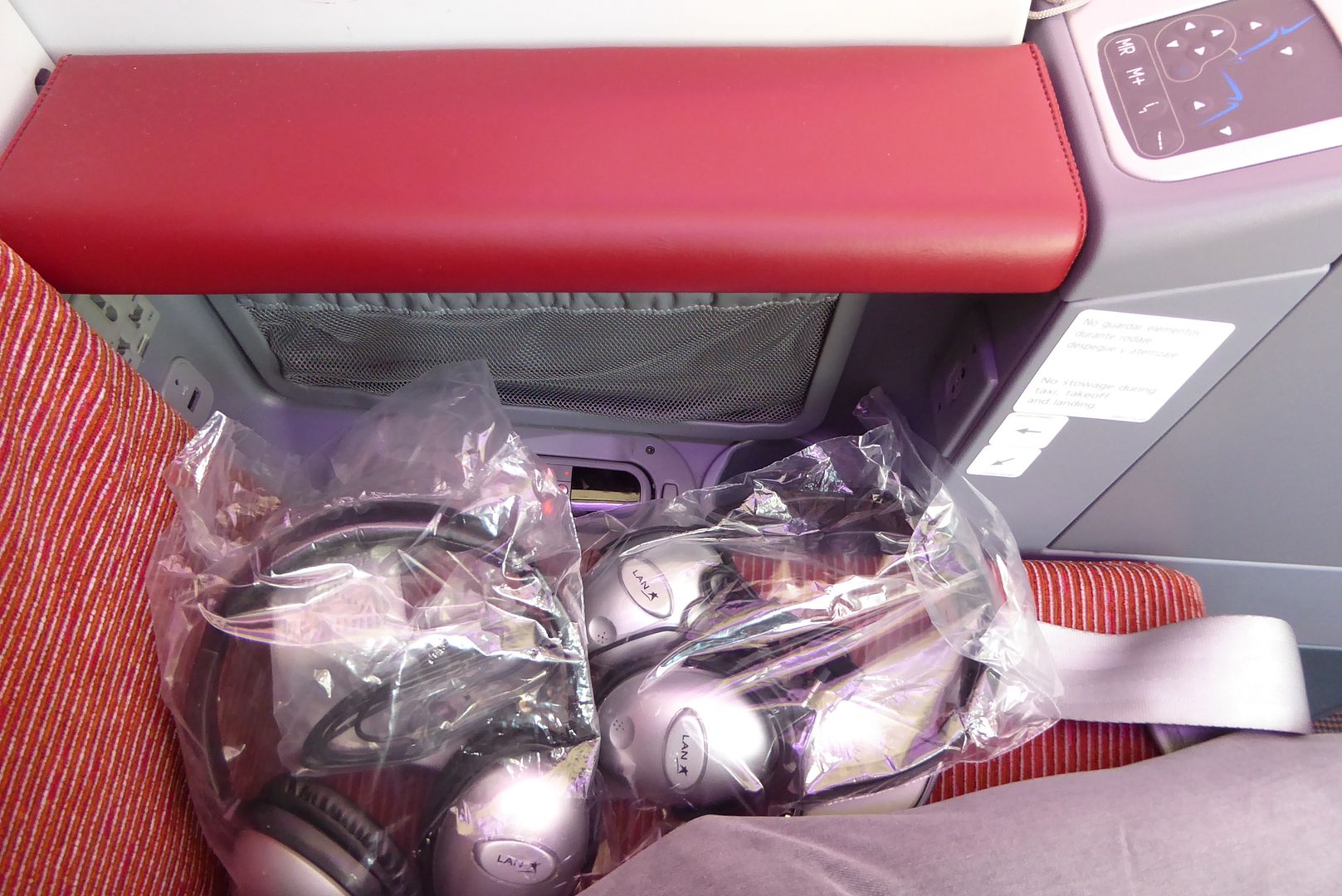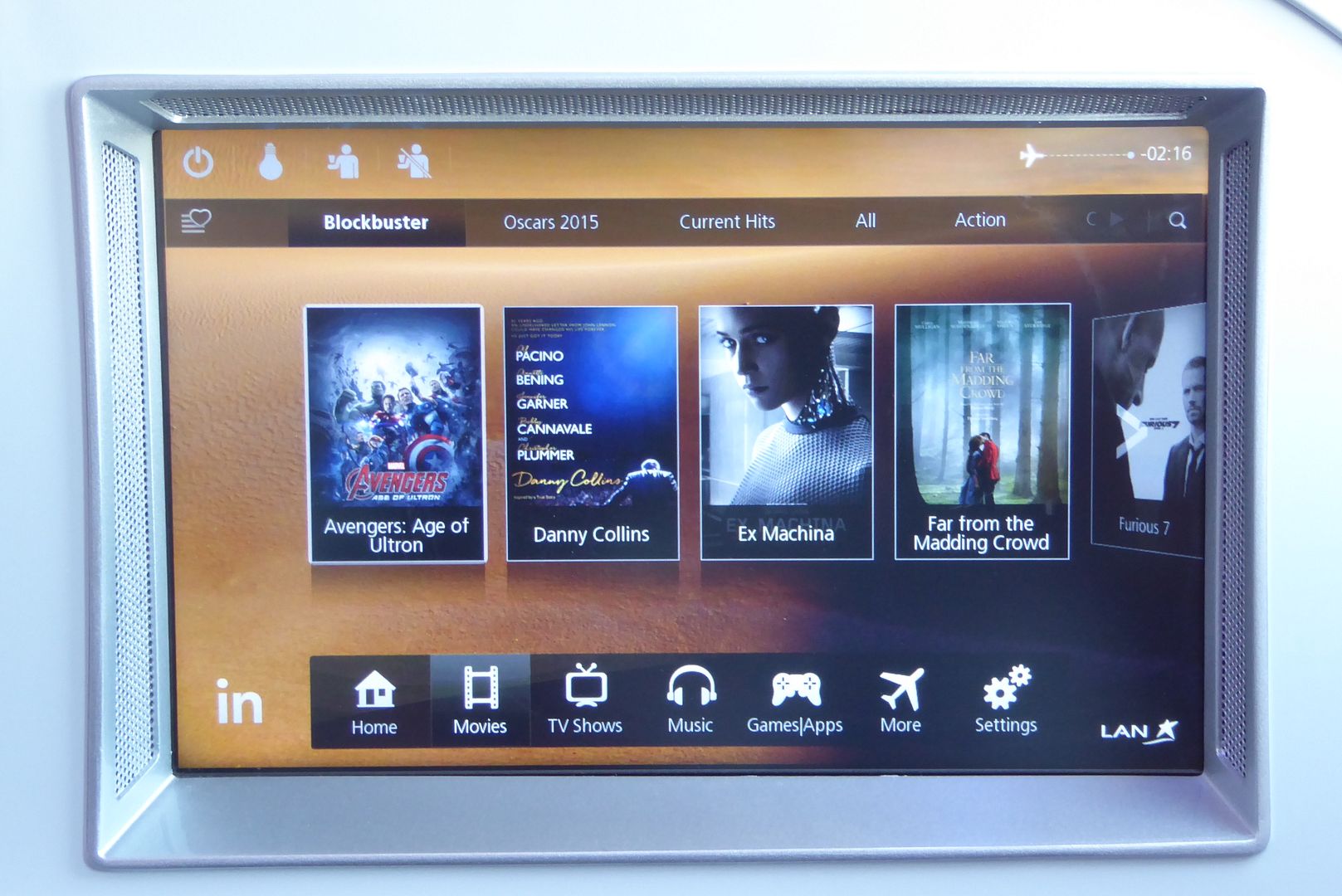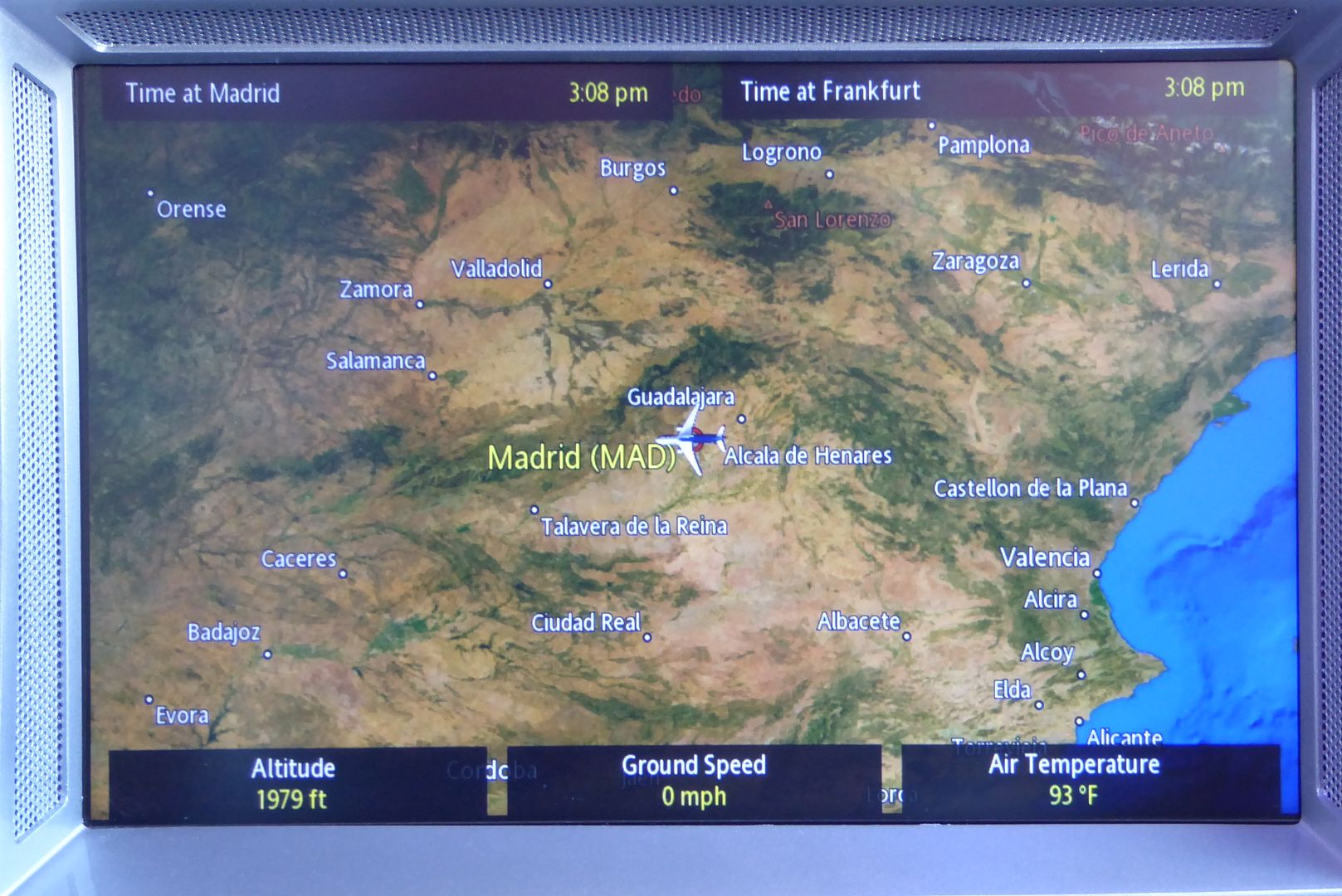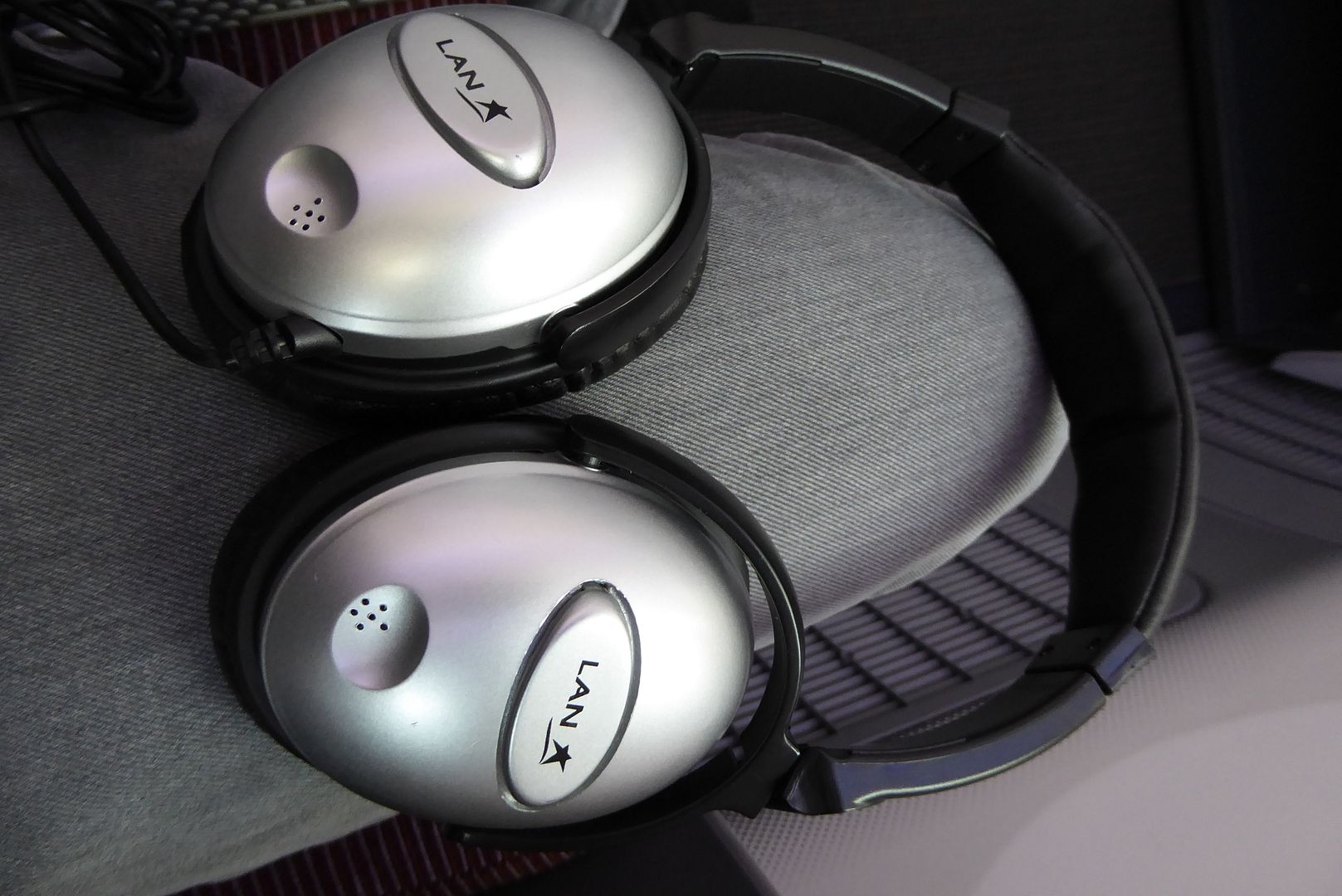 15:00
The business class cabin was full to Frankfurt. My co passenger tells me he is a frequent flyer to Frankfurt as he works in Madrid and Frankfurt and this is the best way to get back and forth. Almost always on time. That being said, I was unaware of how many passengers were travelling all the way from Santiago to Frankfurt, and the number of passengers that boarded at Madrid. The business class cabin was empty when I boarded, so not sure if passengers are allowed to disembark in Madrid, or there were indeed no passengers from Santiago to all the way to Frankfurt.
Departed the gate on time but there was a bit of traffic in front of us, meant that we were airborne only by 15:35.
Take off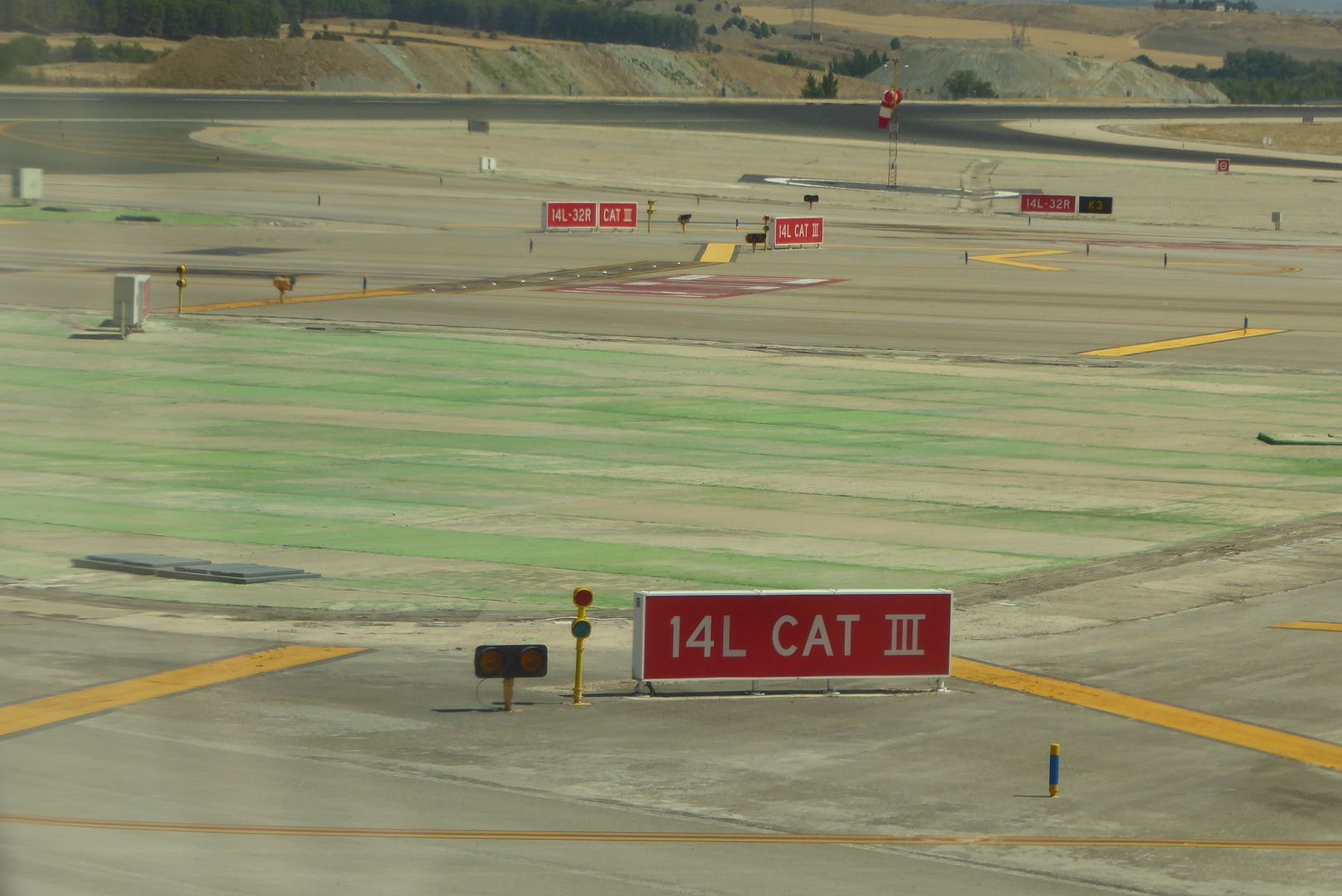 Just before take-off - that's a quick turnaround time!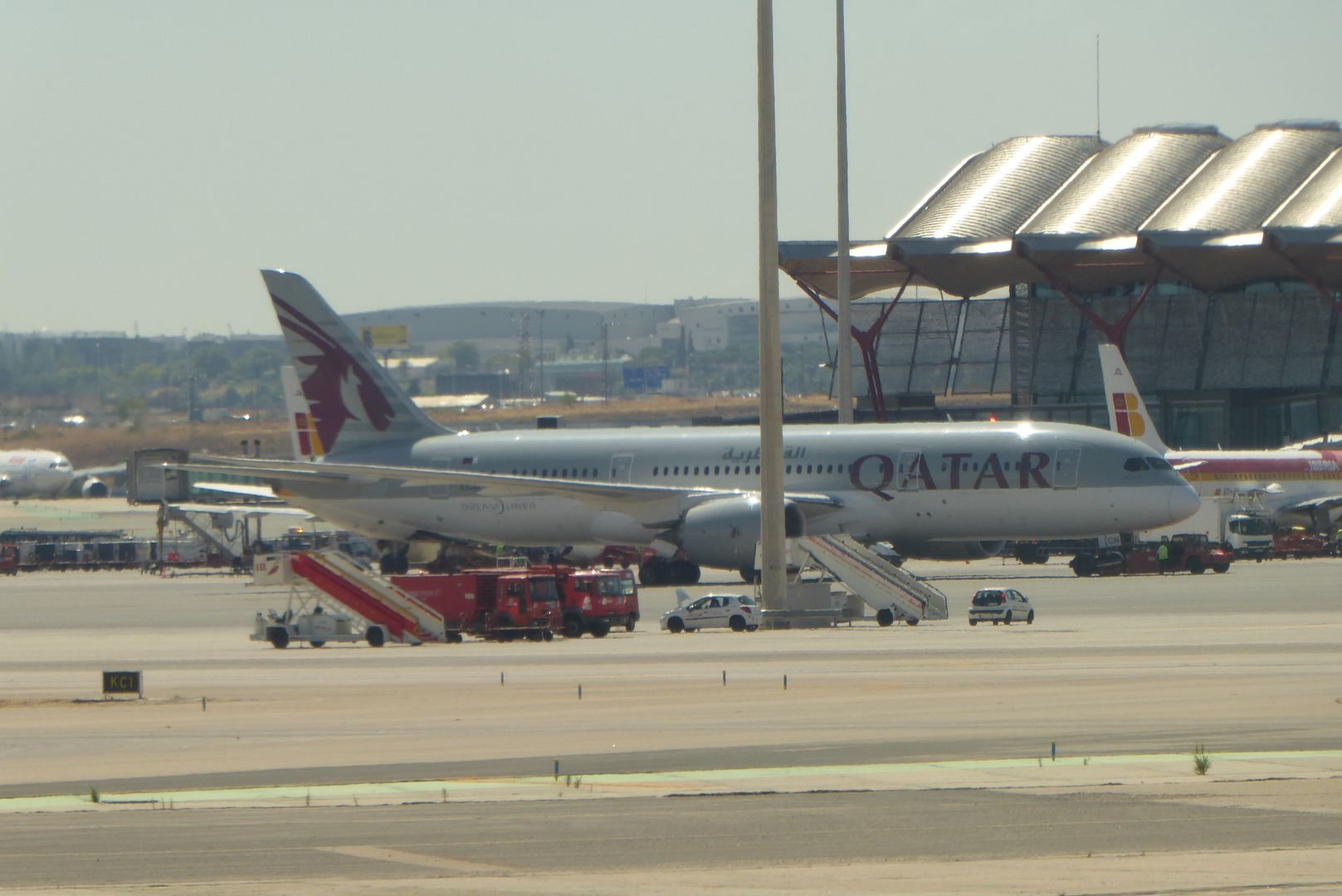 16:00
As soon as we had reached cruising altitude, the cabin crew sprang into action. None of it was hurried, but just the right speed of service.
Fantastic course of chicken salad with accompaniment served with it. Tasted fresh and refreshing. Try getting this level of service on any other intra Europe business class seat. Second to none. Played around with the seat setting and I can comfortably say I could be here all day.
After take-off, relaxing!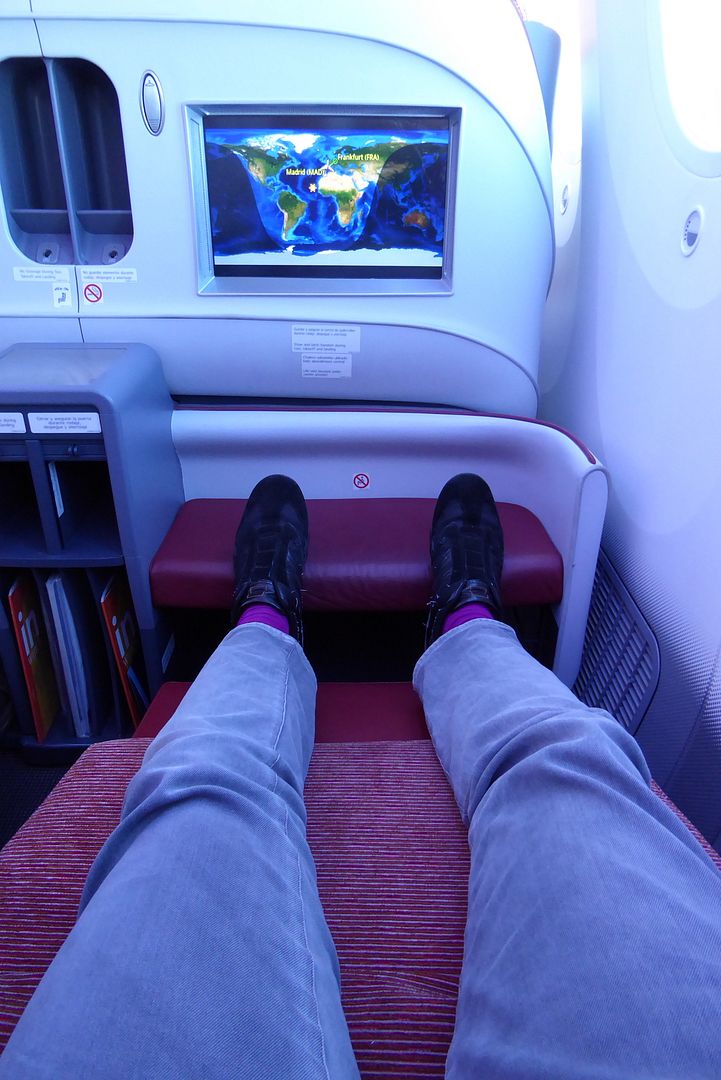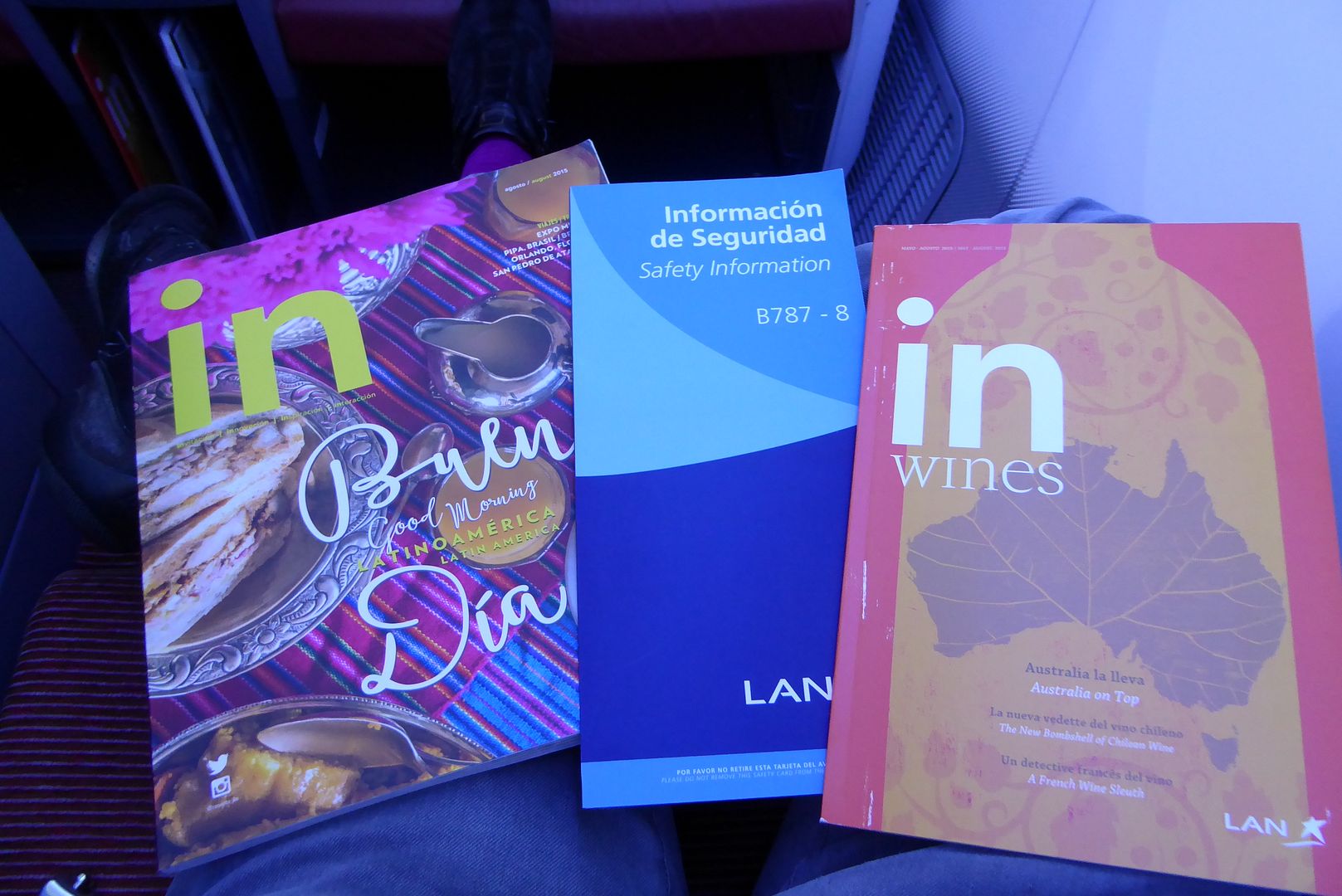 Delicious!
En-route to FRA
17:00
Cabin crew were fantastic for this sector. Always smiling and eager. Before introducing they asked if we spoke English or Spanish. Perhaps the only thing missing maybe the availability of Wi-Fi. But not a big deal. Their entertainment system can also be enhanced in terms of movie choices. The AVOD system itself is extremely slick and very responsive, easy to use, and a good size screen. The quality of audio and video was fantastic. Another thing missing was an amenity kit. Not a big deal for a 2.5 hour flight. Not sure if they missed it or it is unavailable for this sector.
Rest of the flight went quicker than I would've wanted. Did not have a chance to chat with the crew as I was basking in the comfort of my seat.
On the whole it was a great experience, and at £59 this was an unmissable deal.
Landed at FRA at exactly 17:45. Frankfurt is great for the 747-8 spotters. Apart from the LH ones, also spotted a few other queen of the skies 747-400. Great scenes whilst taxiing to our gate.
Disembarkation was orderly and while exiting, I was thinking to myself, I wouldn't mind a lot more of such service /experience. It was brilliant while it lasted.
Is that Thames? (River Main)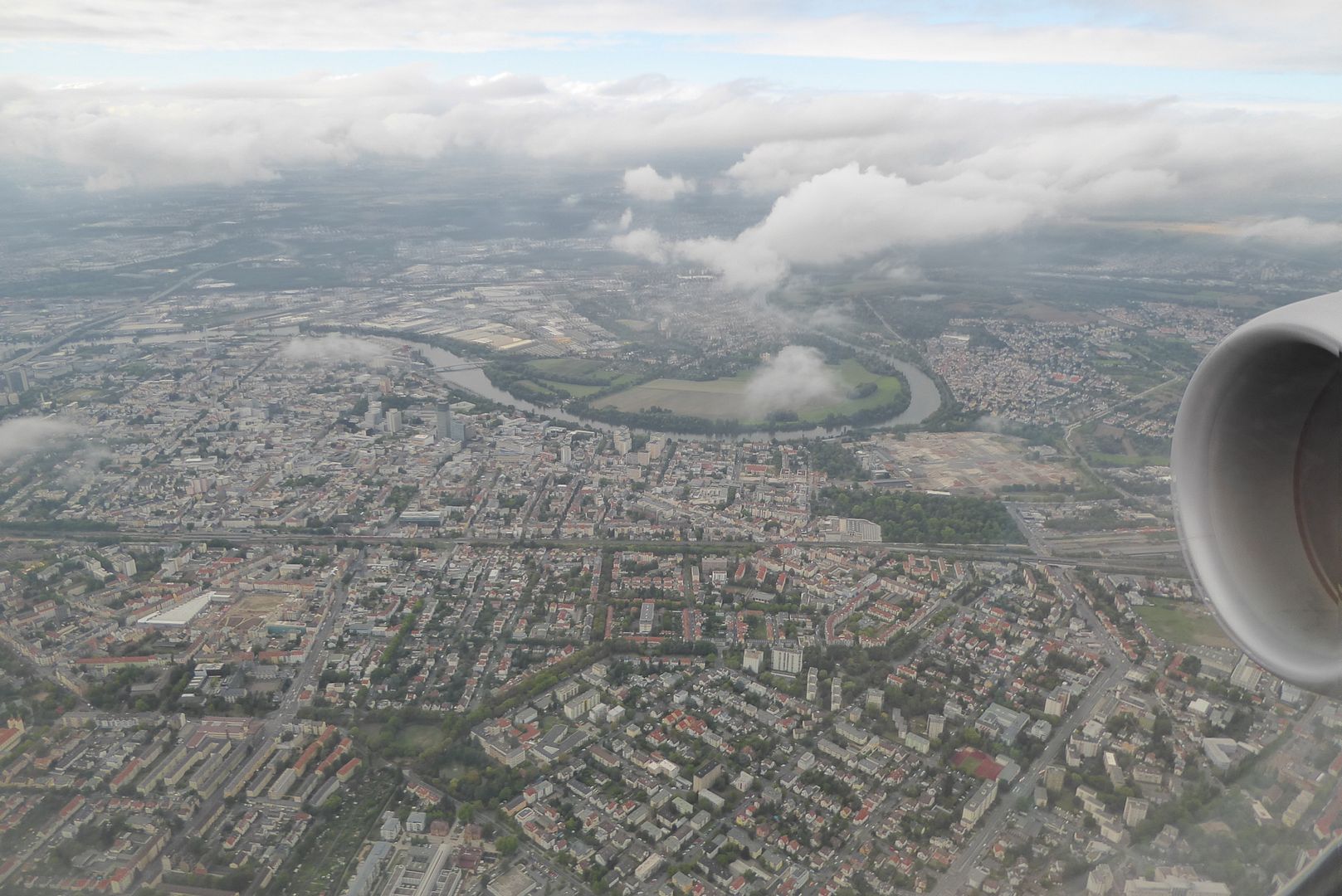 ECB Headquarters
Commercebank arena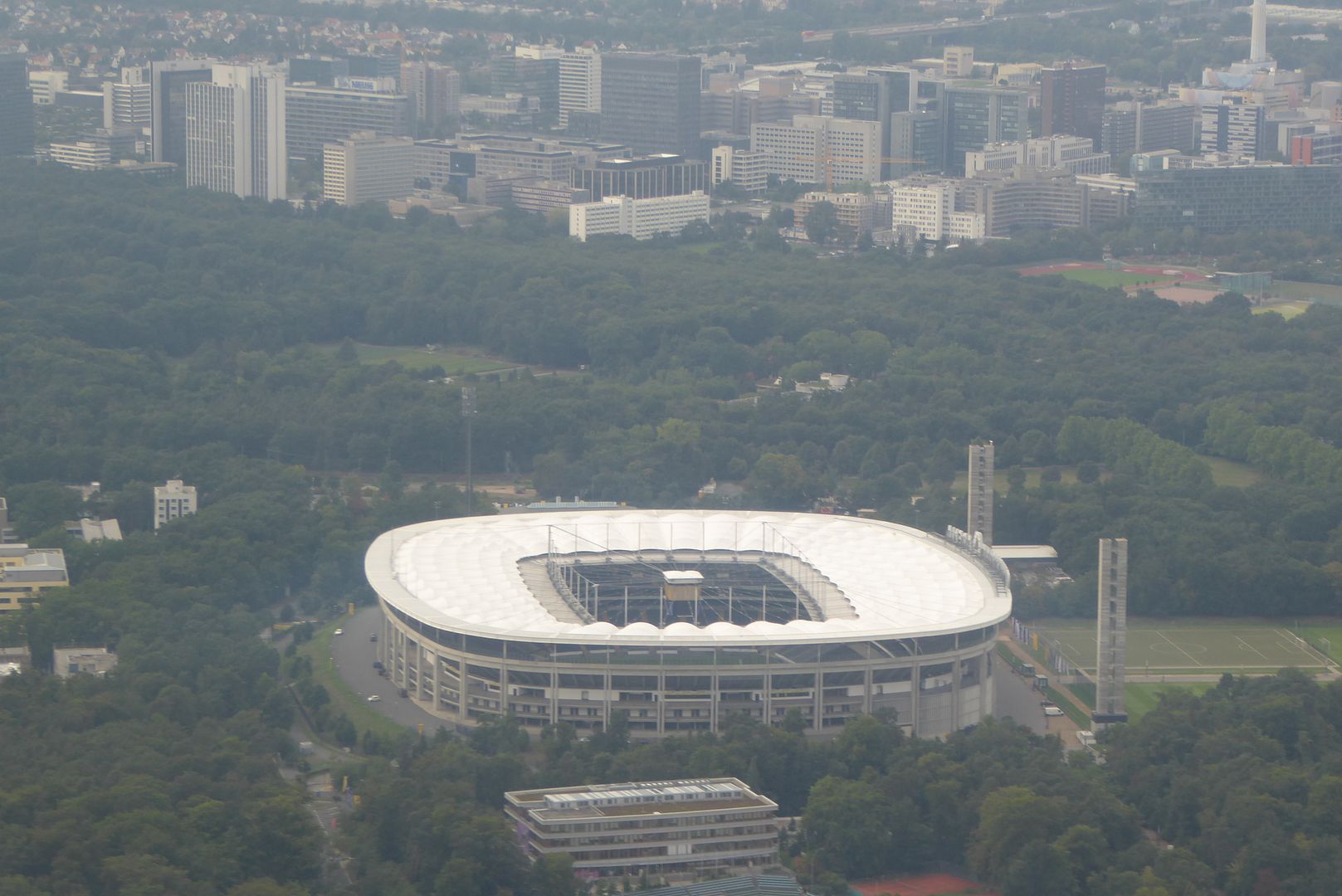 Plane spotting at FRA
Boeing 747 paradise at FRA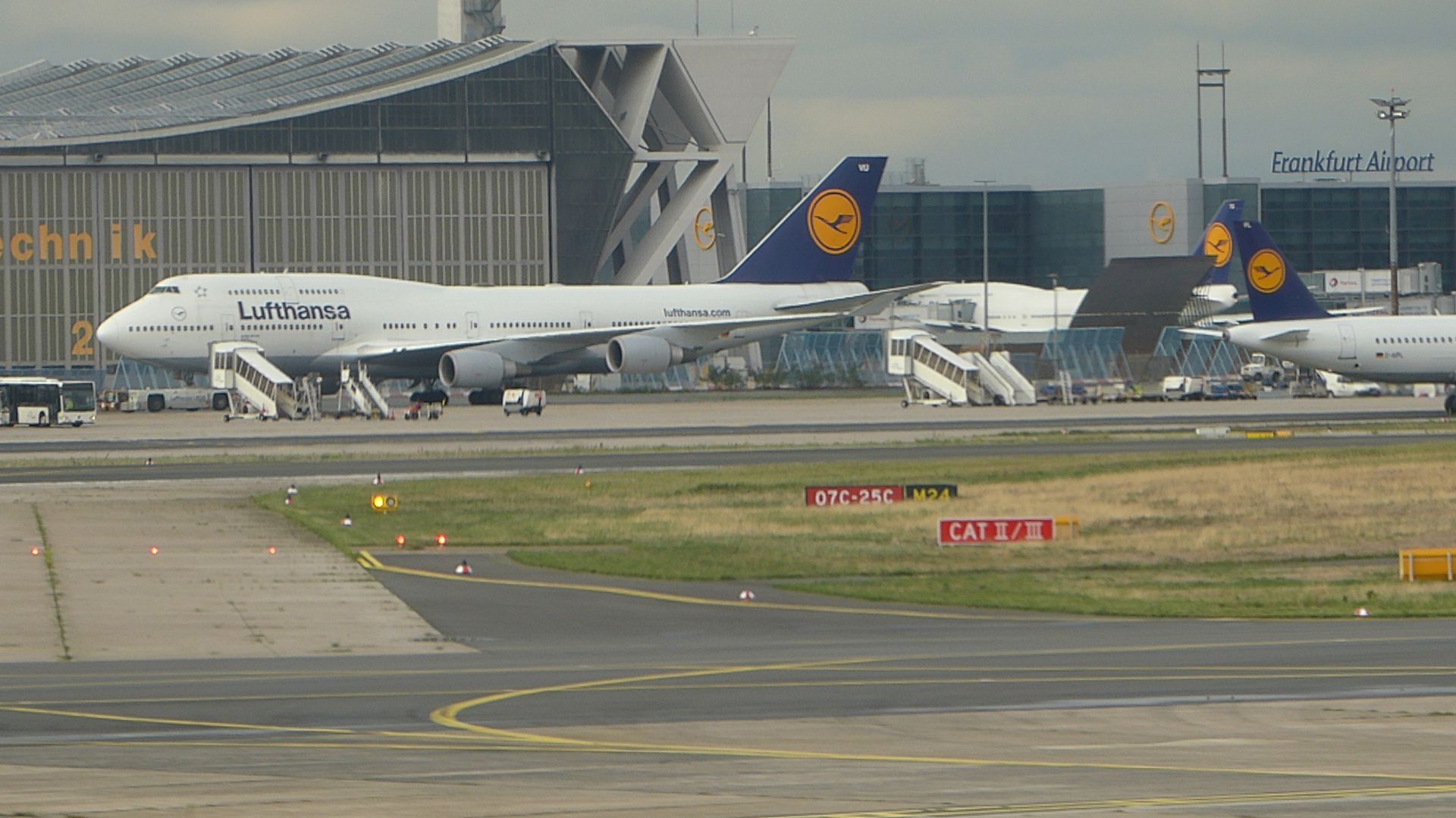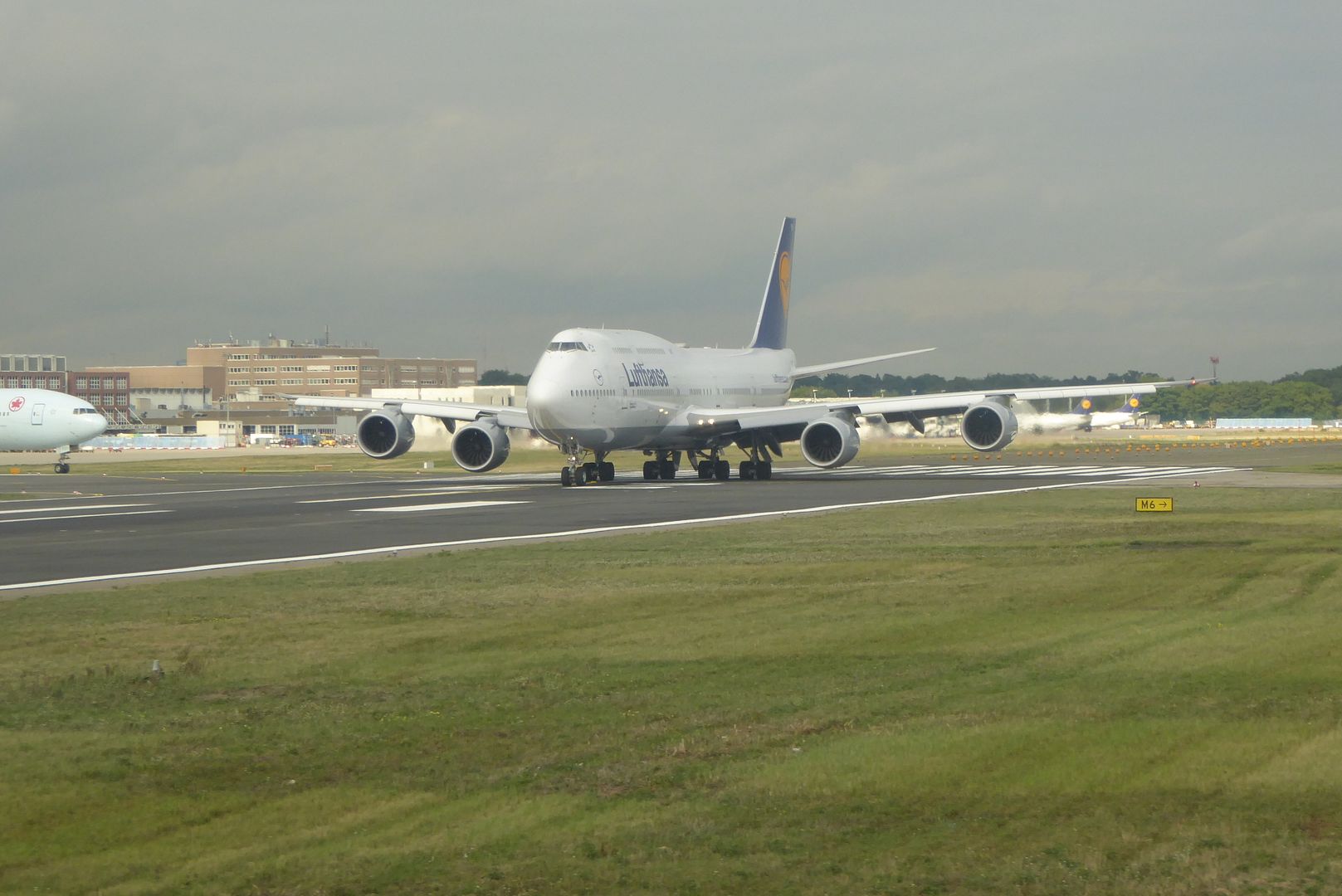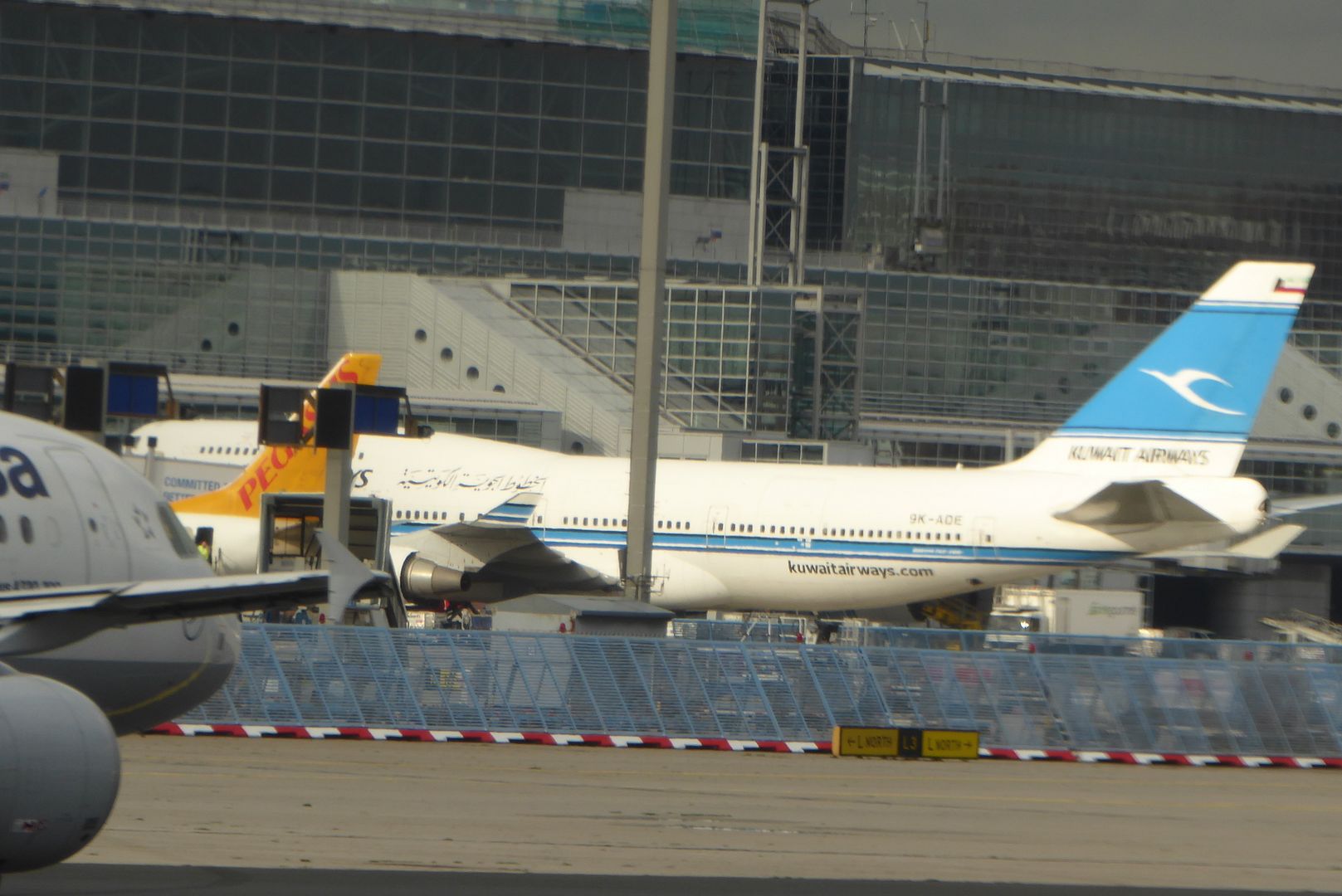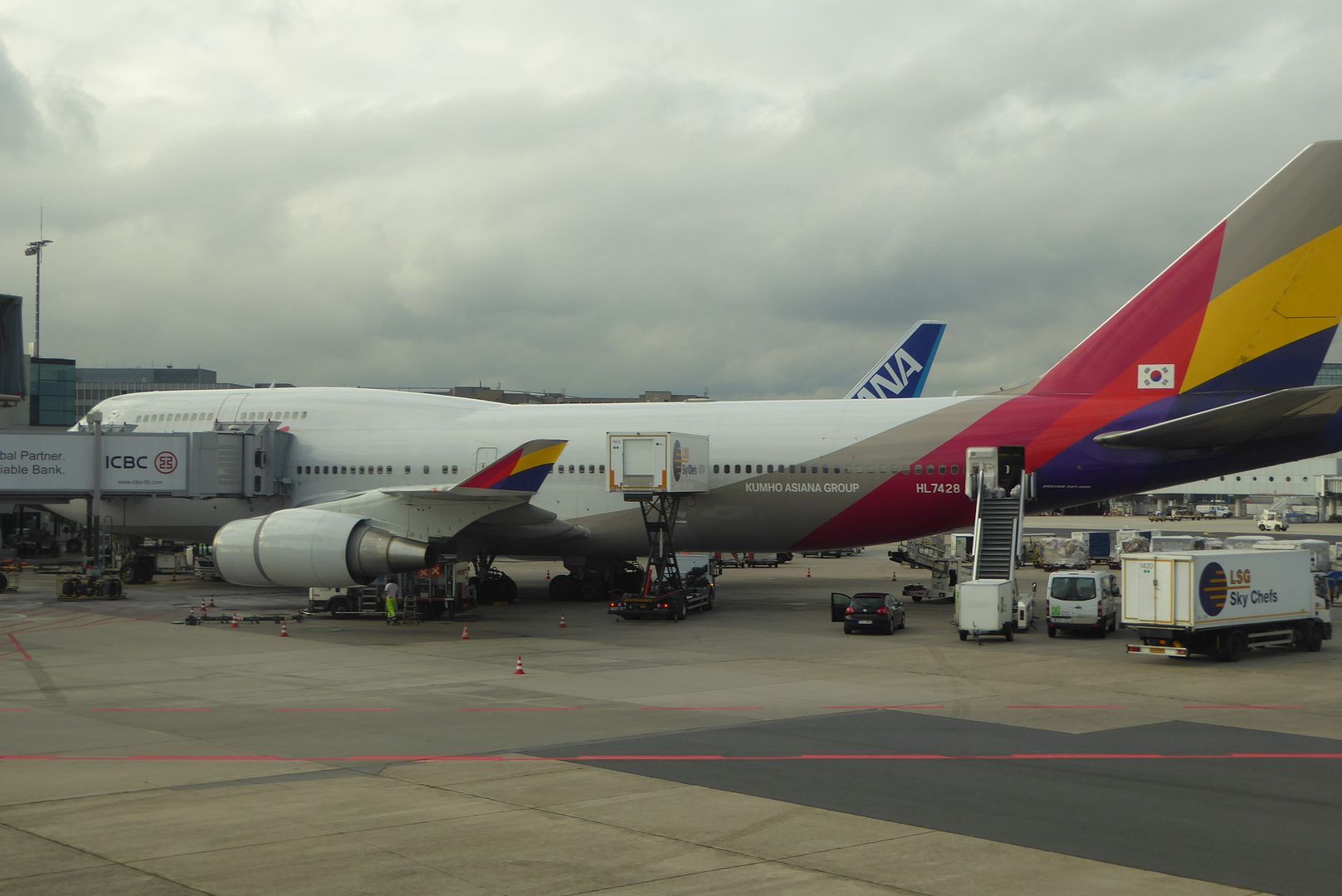 LH Whalejet
Rare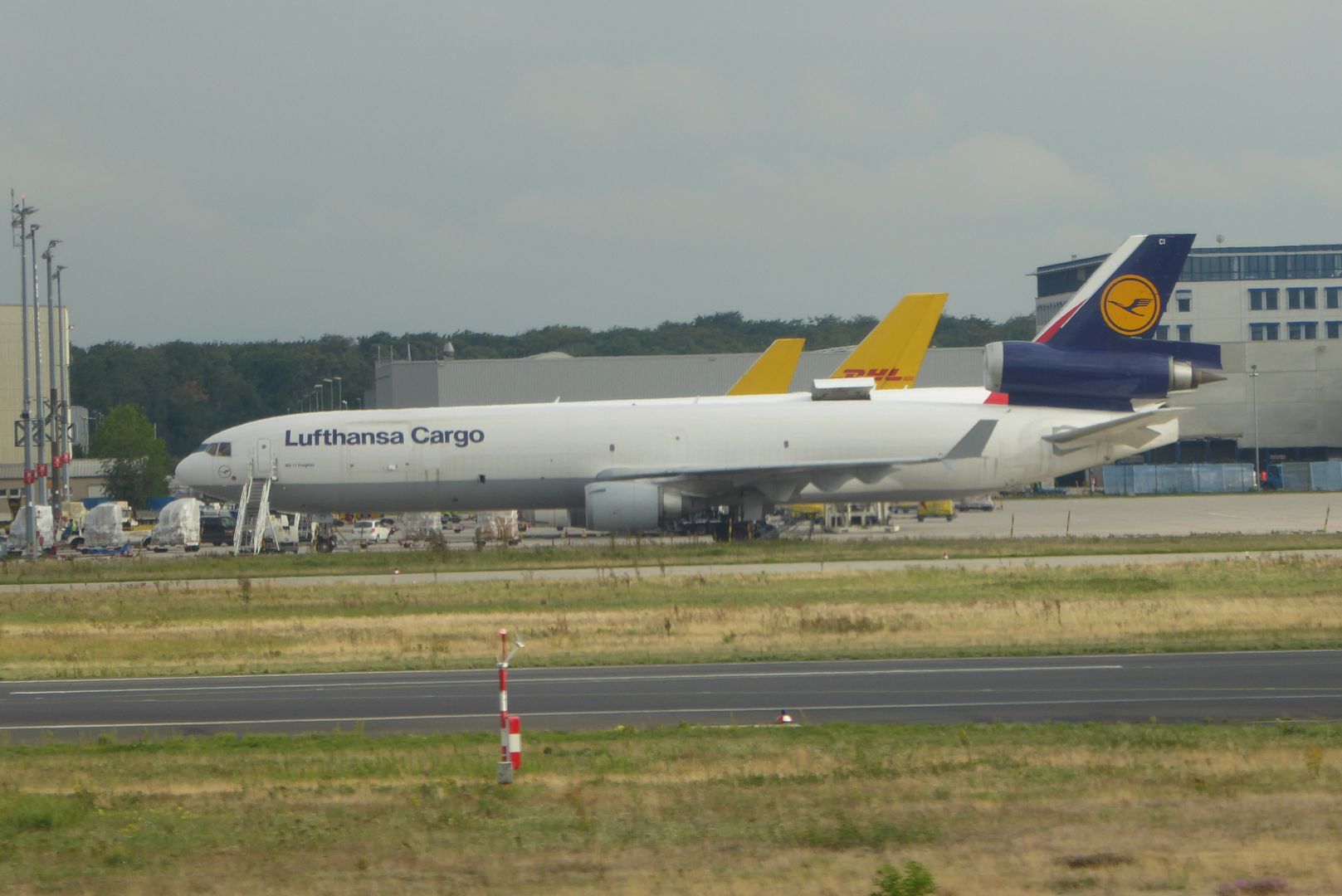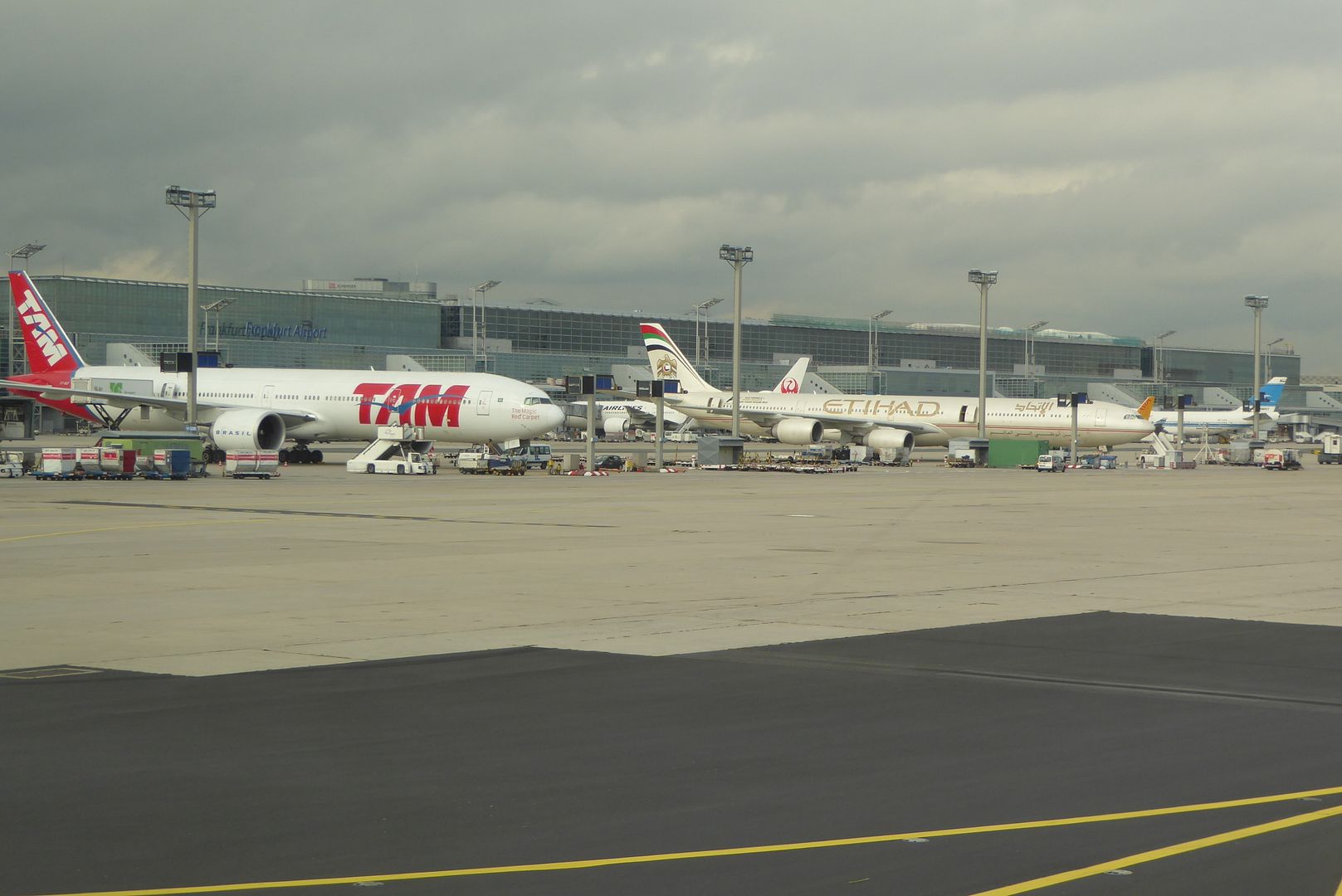 Disembarkation gate at FRA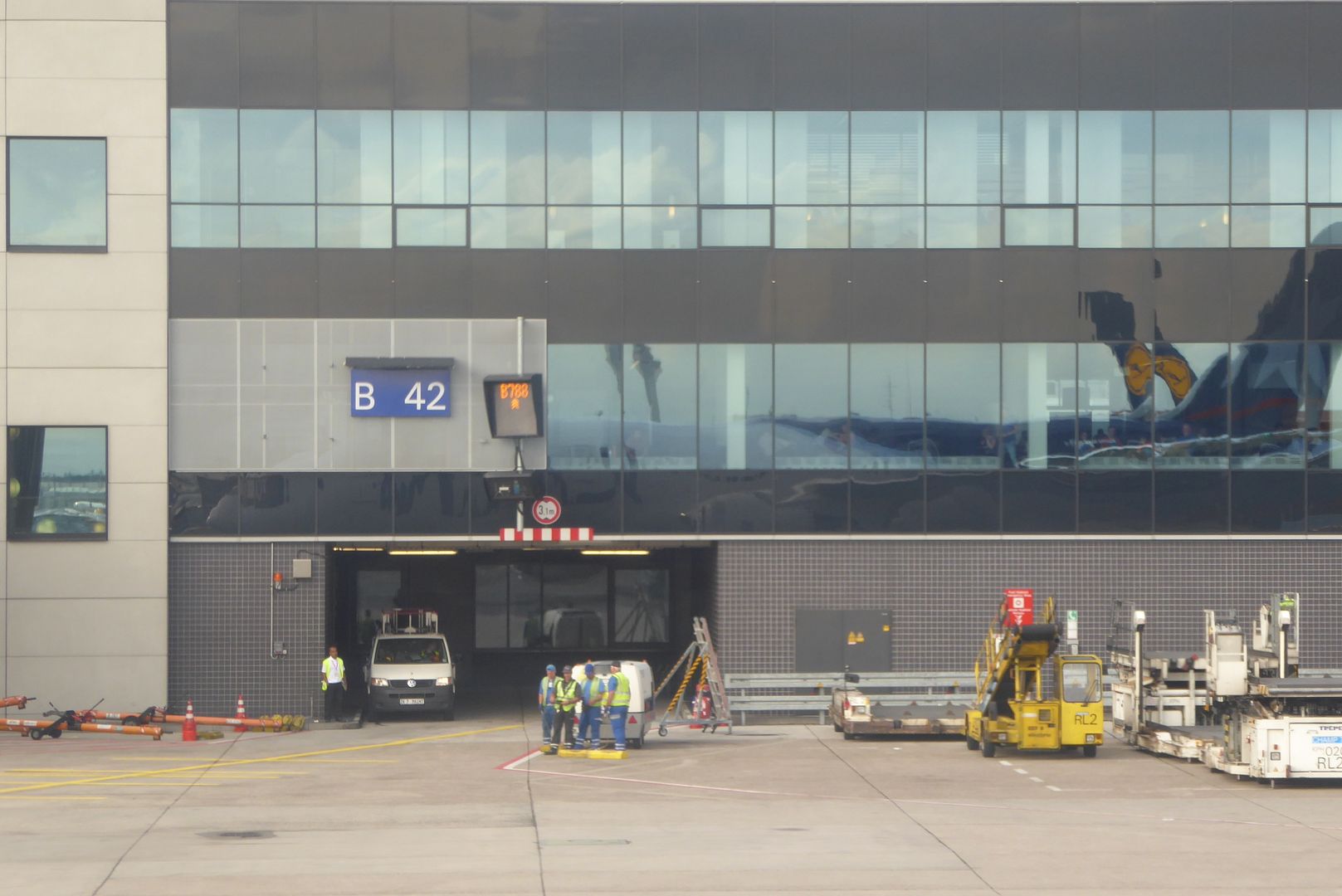 One final Glimpse of the cabin - Thanks LAN and team, for making this day special!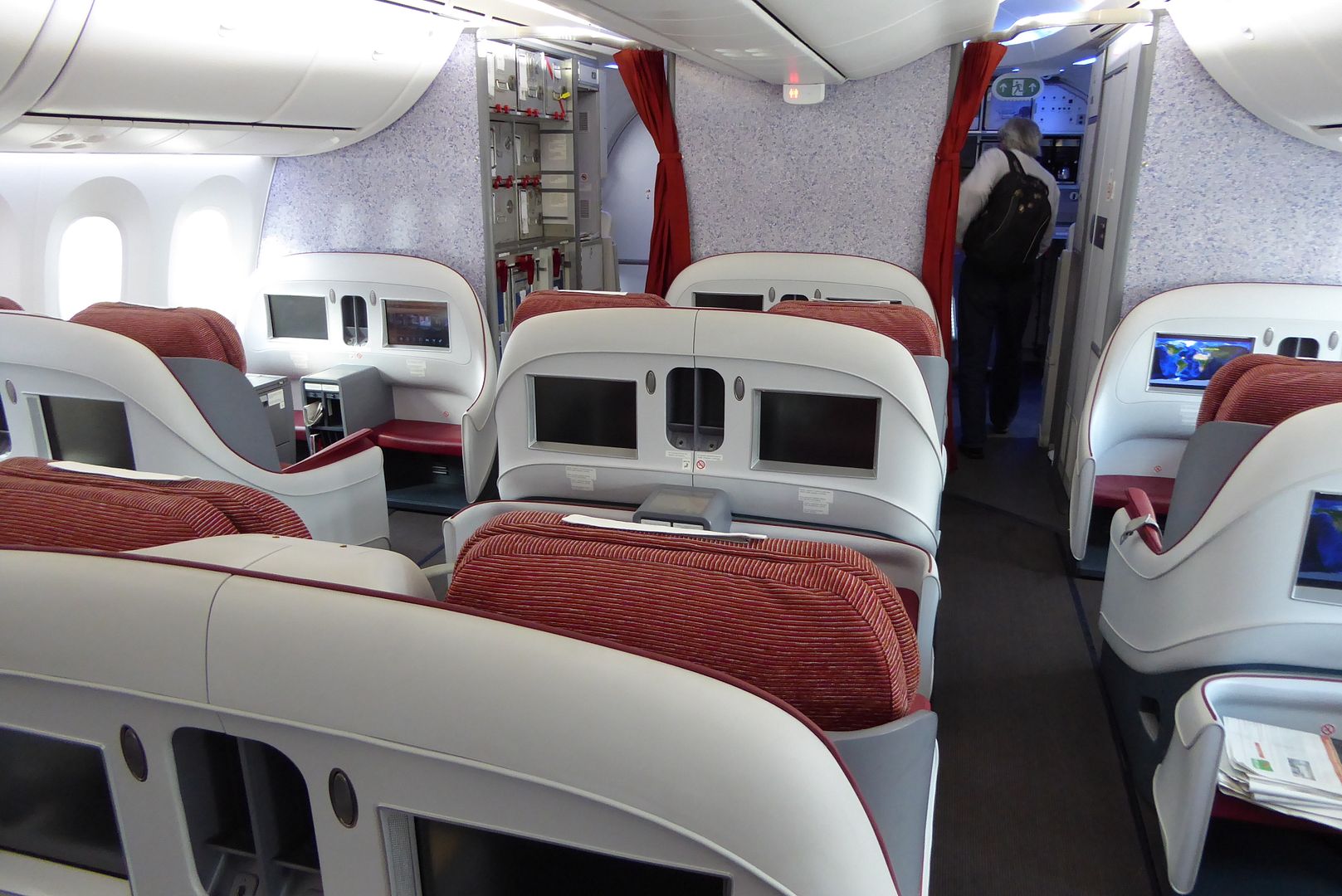 FRA airport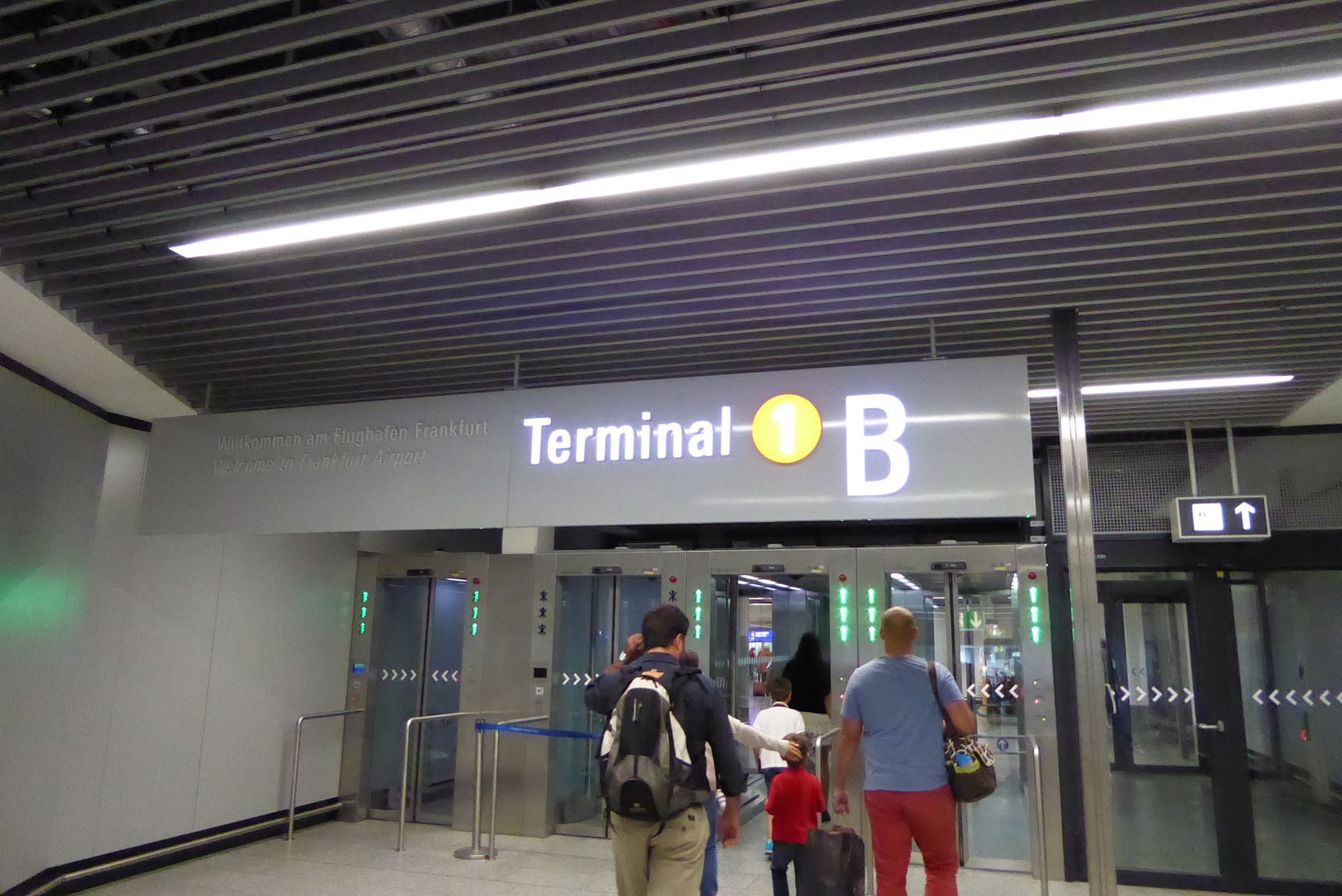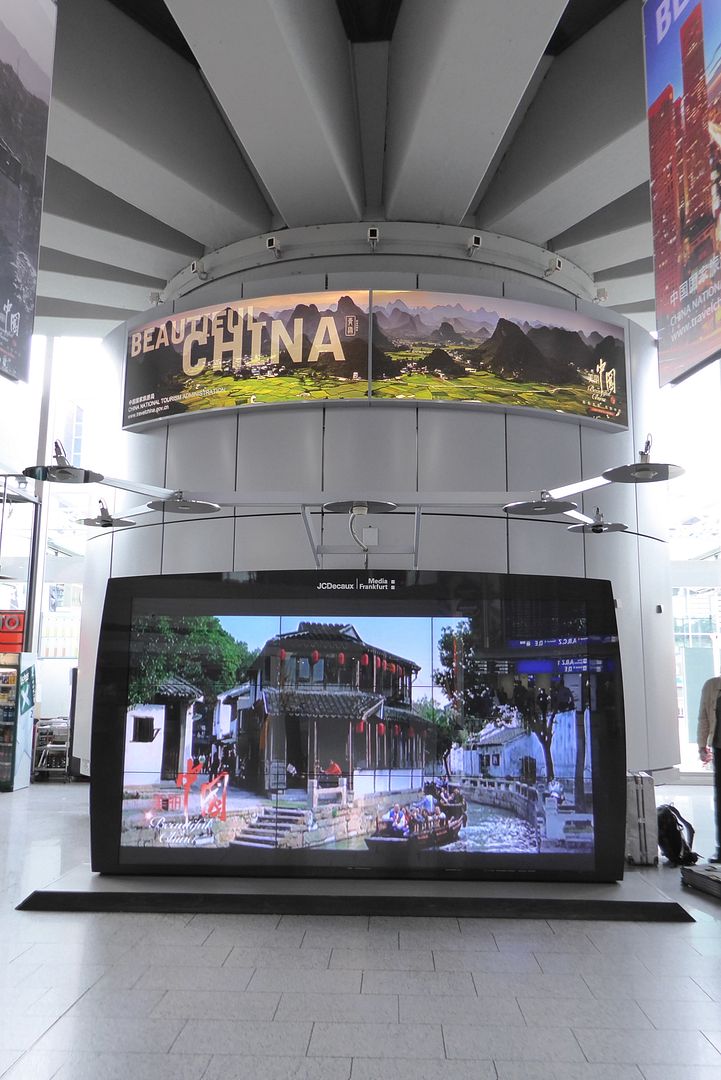 18:00
Frankfurt airport looked like a bigger version of Heathrow terminal 1. Looked a bit dated but utilitarian. A drastic change from the glamorous Madrid t4. Exiting was quick, but the walk to the car hire was a stretch. Hertz in the meanwhile had already sent me an email with the car details and parking bay number. So off I went directly to the parking area.
Settled into the car and was away by 18:30.
My ride to Hahn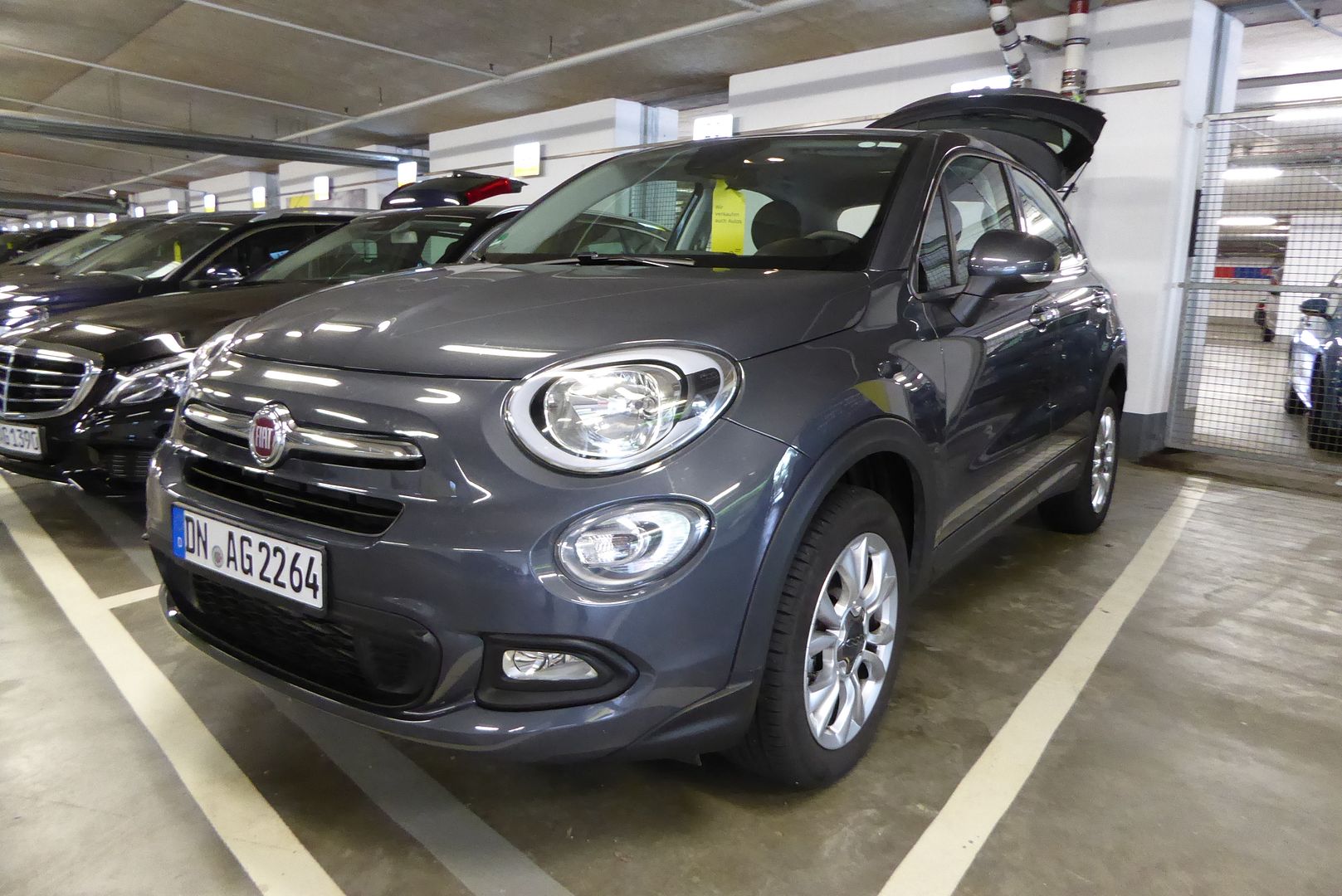 19:00
A great drive along few autobahns. Still have to see my satnav for a second glance, when the indicated maximum speed limit disappears from the monitor.
20:00
Reached Hahn at around 20:00, but took me a good 15 minute to find the Hertz drop off location. The entire area was desolate and hardly anyone around. Dropped off the keys onto a rusty box and walked to the terminal.
Frankfurt Hahn is in the middle of nowhere. Hahn airport itself is useful, felt a bit like Berlin Tegel. There wasn't any other flight apart from ours during this time, so security check was a breeze. Once air side, there's a duty free and a couple of restaurant before passport check.
At Hahn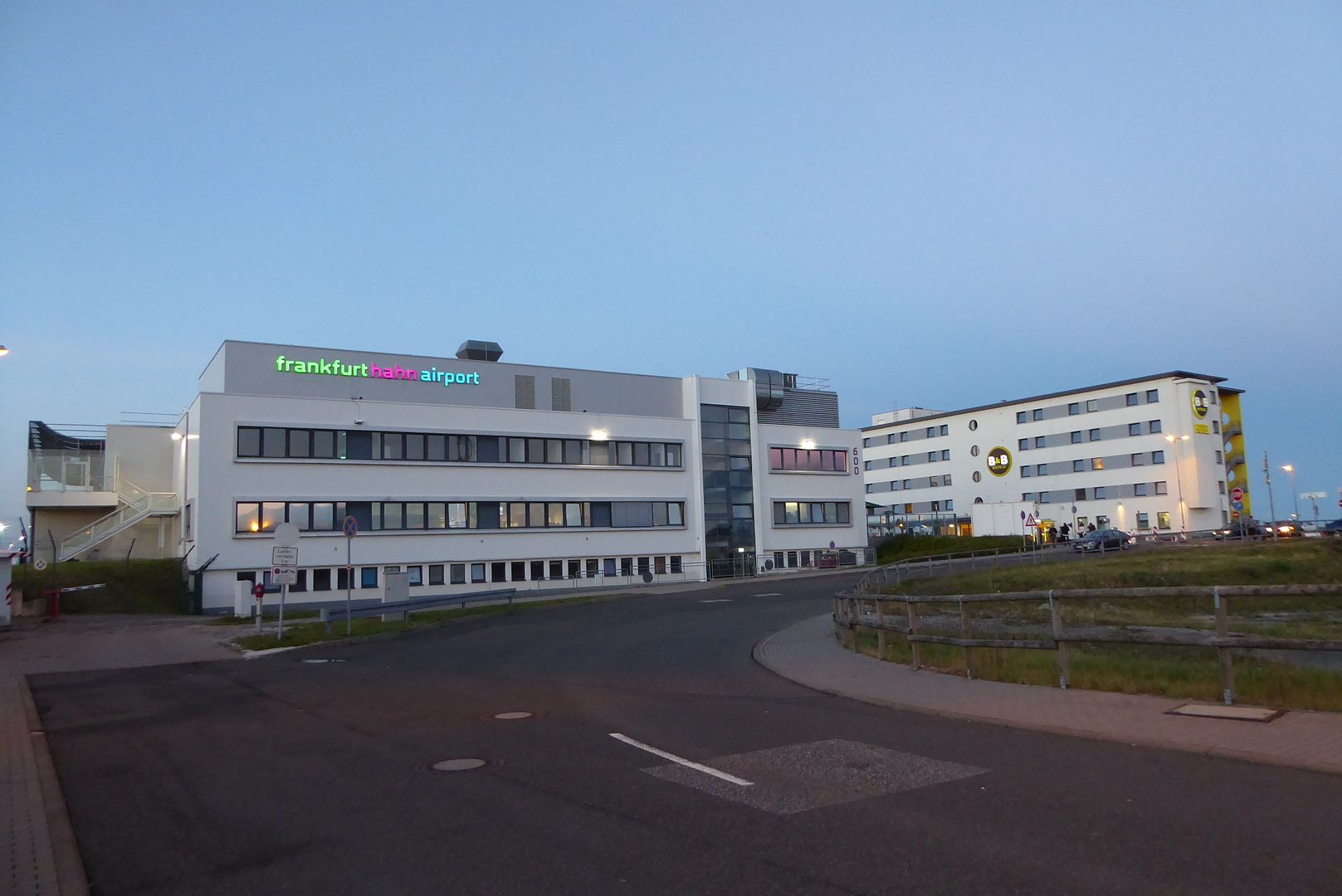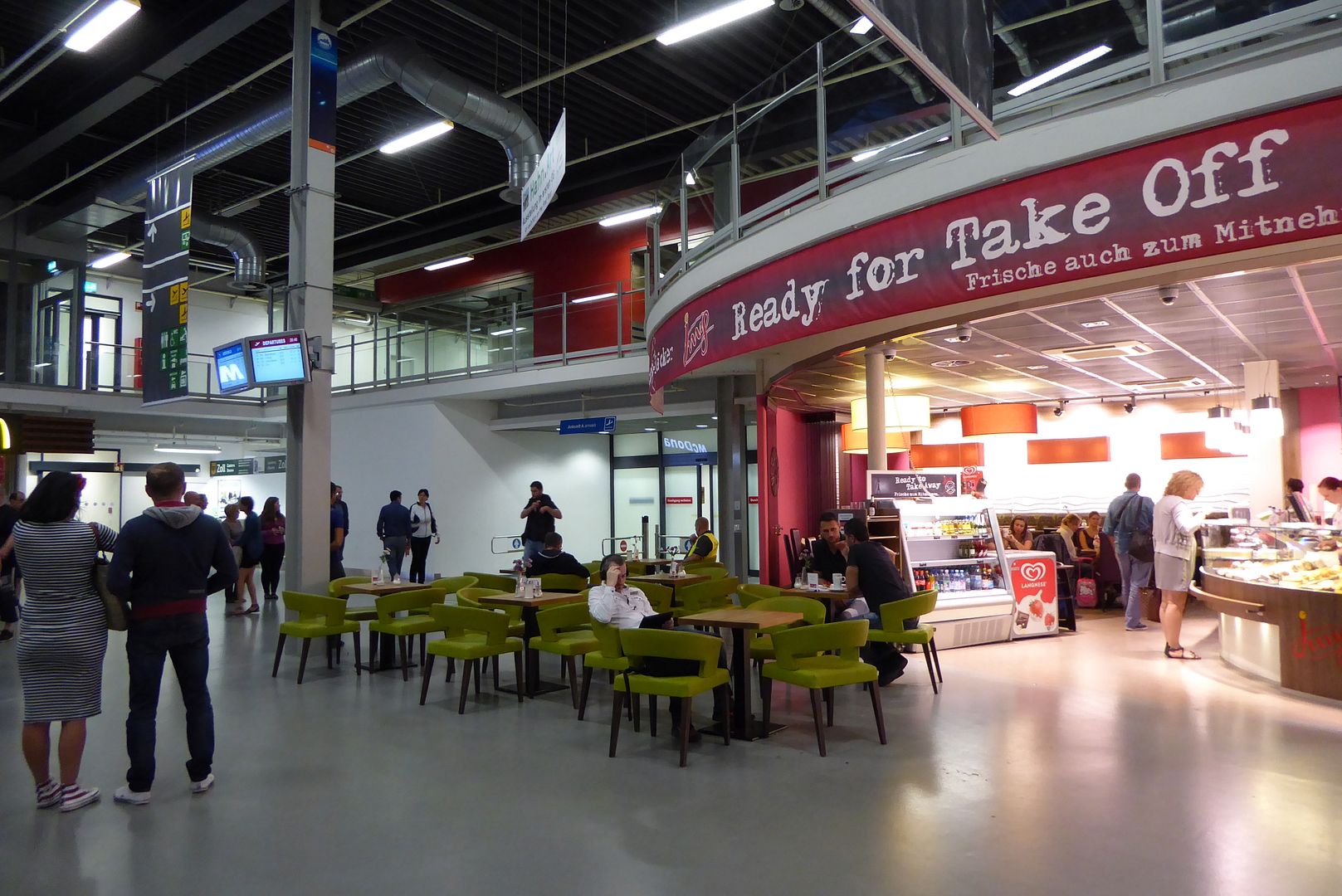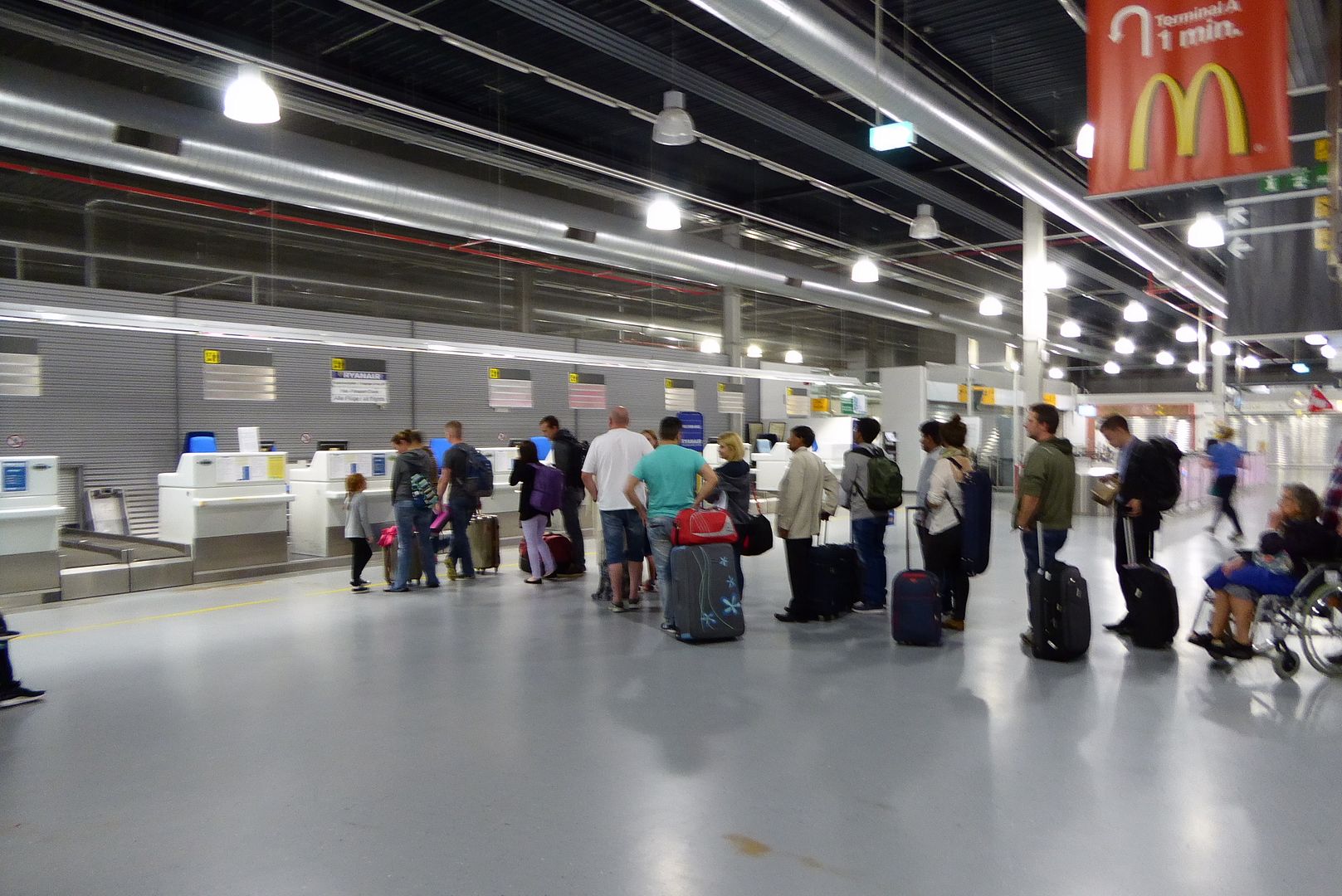 Airside
21:00
I settled in nicely and started to script the trip report. Wrote for a while and then spent the rest of the time watching some MasterChef Australia that I had stored on my laptop.
22:00
Boarding time
Boarding through gate 5 was on time and boarding compete 20 minutes prior to scheduled departure. And once again, a lot of bags were checked in for free at the gates.
Ryanair – FR 761 – HHN - STN
Flight Reg: EI-EMB ; Delivered in April 2010
Boeing 737-800
Seat 9A
Flight time: 22:45 – 23:05 (22:40 – 22:42)
28th August 2015
Once again, the aircraft was a typical Ryanair experience. No surprises there. Cabin crew a bit chirpier on this sector. Perhaps they know it's their last shift for the day and happy to get back. For the second time today, Ryanair air has surprised me. Acceptable aircrafts, comfy enough for a couple of hours, decent crowd, chirpy crew, on time. Does what it says on the tin. No frills! It's no Norwegian, but seems to be on par with EasyJet now. Good on them.
Our ride to STN - a 5 year old B737-800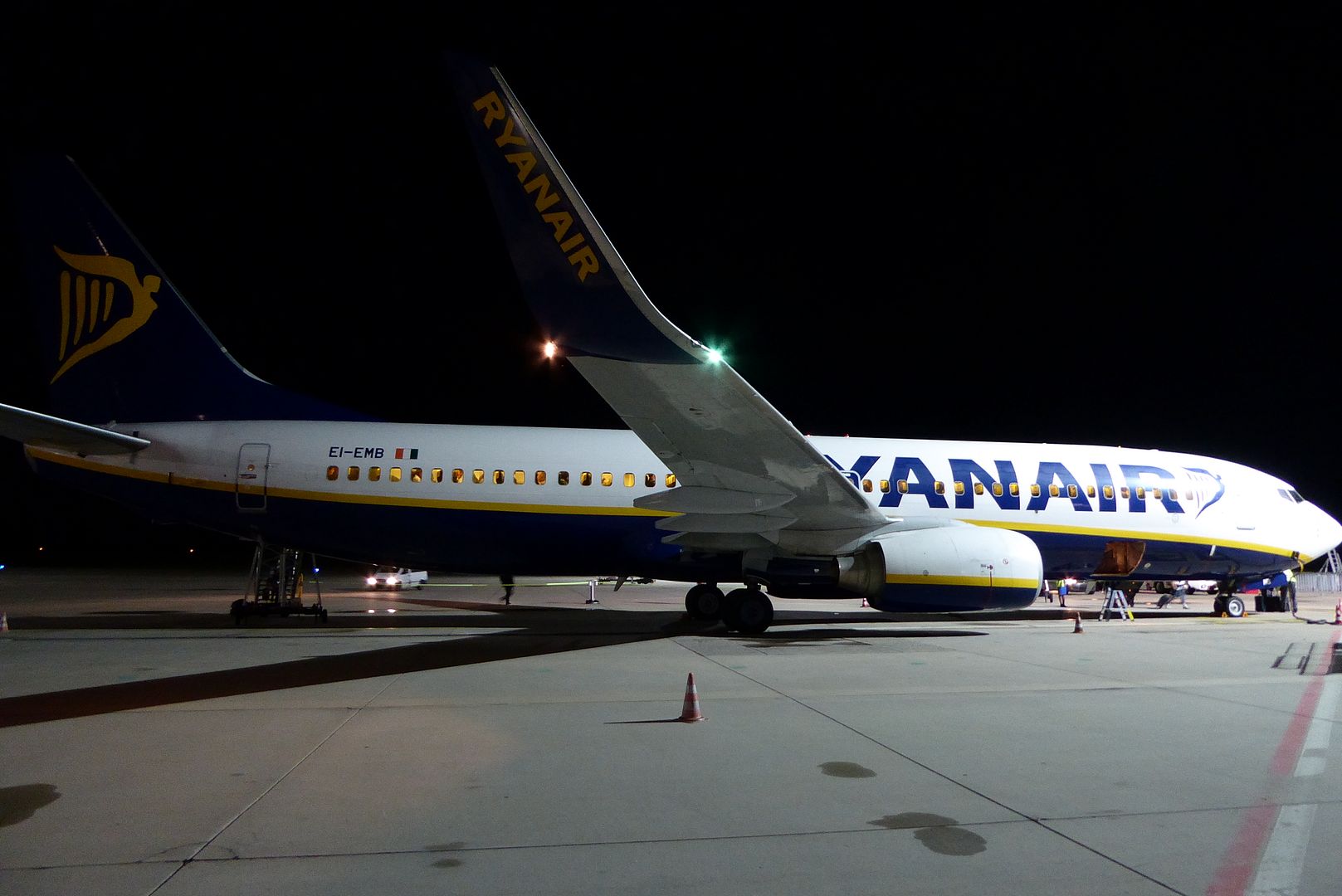 Landed way ahead of time and was out of the airport before 23:00
23:00
It took me a while to walk to the car and setup my satnav. Started from Stansted at around 23:20.
00:00
Back home by 00:30. What a day!
Verdict
Ryanair
Ok, I have to admit I am now converted. Ryanair provided to be a perfect supporting cast for the hero of the film. Without whom, my trip would not have been possible. It did what it was supposed to extremely well with the least amount of fuss. Well cone Ryanair. A worthy 9/10.
LAN
A very good experience and in spite of having a very high exception, LAN managed to not only match it, but exceed it in certain aspects (comfortable seats, superb catering, great choice of alcohol, great service). In the end, it was a very tiring long day, but well worth in every aspect. Thank you LAN for a great experience and hope to be in your long haul sector one day. For giving me this wonderful opportunity, a worthy 10/10!
And it looks like there are a few more A'netters have done a similar routing. Some fantastic pics here:
LAN Chile B788 MAD > FRA (J) Class
(by
theobcman
Jul 24 2015 in Trip Reports)
Hope you enjoyed by '24' style report. Until next time, happy and safe flying, Adios!
Previous Trip Reports
Baltic Escapades - VNO/TLL/RIX On W6,BT And OV
South France - EasyJet A320 BA A319
UK To India - The EK Way - B777-200/300 & A380
India Domestic–Jet Airways And Indigo–A320/ATR 72
BA A320/321 - LHR To Berlin TXL - Christmas Day
China Southern - LHR-CAN-HKT - B787/A321
Aloha! The United Way - B777-200 And B737-900
Mahalo Hawaii, Hello NYC - DL B767-300
Cool Blue To BOS And Got Blue? To LAS - E190 A320
VS Little Red To ABZ And EZY Return
Top