Mini Open Skies Biz Bed Review
Here is a series of rather short reports on some interesting flights I have taken in the past few weeks and I will start with a relatively short review on Open Skies' Biz Bed sleeper service from JFK to Paris Orly airport. I have flown Open Skies for a few times and indeed have flown all three 757s that it currently operates. I have always flown its Premium Plus, aka Premium Economy, product and have quite happy with it. Paris Orly airport is a breeze to fly through, especially arriving on this flight. As a disclaimer, I have never been a big fan of British Airways' Club World seat, and can never quite get over the part that I have to stare into my neighbor during takeoff and landing, and the lack of storage spaces. However, Open Skies, in its website, offers seemingly an upgraded experience. Quoting from its website, "once onboard, stretch out in absolute comfort in your fully flat bed with Egyptian cotton duvet, soft under-mattress, full-size pillow and pajamas." I am actually quite looking forward to the experience, but of course…
September 14, 2015
BA 8006 JFK-ORY Lv2130 Arr1105+1 Boeing 757-200ER Winglet F-GPEK "Lauren"
http://s1213.photobucket.com/user/Ca...%20September%20to%20October%202015
Spotting "Lauren" arriving from Paris…
Check-in:
My flight was originated from LAX, so my baggage was checked through to Paris, and with a little less than three hours connection and an early arrival into JFK, I had plenty of time to go to Terminal Seven, and even stopped by the premium check in desk to make sure that my bag was checked through. The agent was friendly enough and I was soon inside British Airways Terraces lounge.
My first minor complain is that no one "reminded" me that Open Skies Biz Bed passengers are entitled to pre-flight dining and a couple online reviews share that "new" Open Skies Biz Bed passengers are shocked that there is no full dinner service onboard. British Airways has not fixed this issue and neither the check-in agent or lounge agent reminds me that I can use pre-flight dining. Maybe BA should just print give out little information cards to all Open Skies Biz bed passengers. Of course I did my homework, and just went to the dining area 60 minutes prior to boarding. There was a staff in the entrance checking boarding passes and the dining area was very busy but I managed to find a seat. The food was honestly pretty disappointing. Entrées were limited to beef brisket (not to mention few pieces left – obviously the most popular dish here), salmon, and a strange rice stations with random toppings and random Asian-influenced sauces that are definitely not authentic. The staffs were helpful, but the food was just pretty bad. I even wrote a comment on one of those iPad stations. But I honestly wasn't too hungry. I just had a few bowl of minestrone soups and then headed to the boarding area.
Boarding:
Honestly it was rather disorganized, as people were crowding the gates. Fortunately the gate agents forcefully enforced the boarding order and I was able to boarding among other Biz Bed passengers. The purser was greeting passengers in the jetway. Amenity kit, headsets and bottled waters were already pre-placed in each seat, and the F/As later did a quite pre-takeoff beverage round (OJ or champagne), and then newspapers trolley.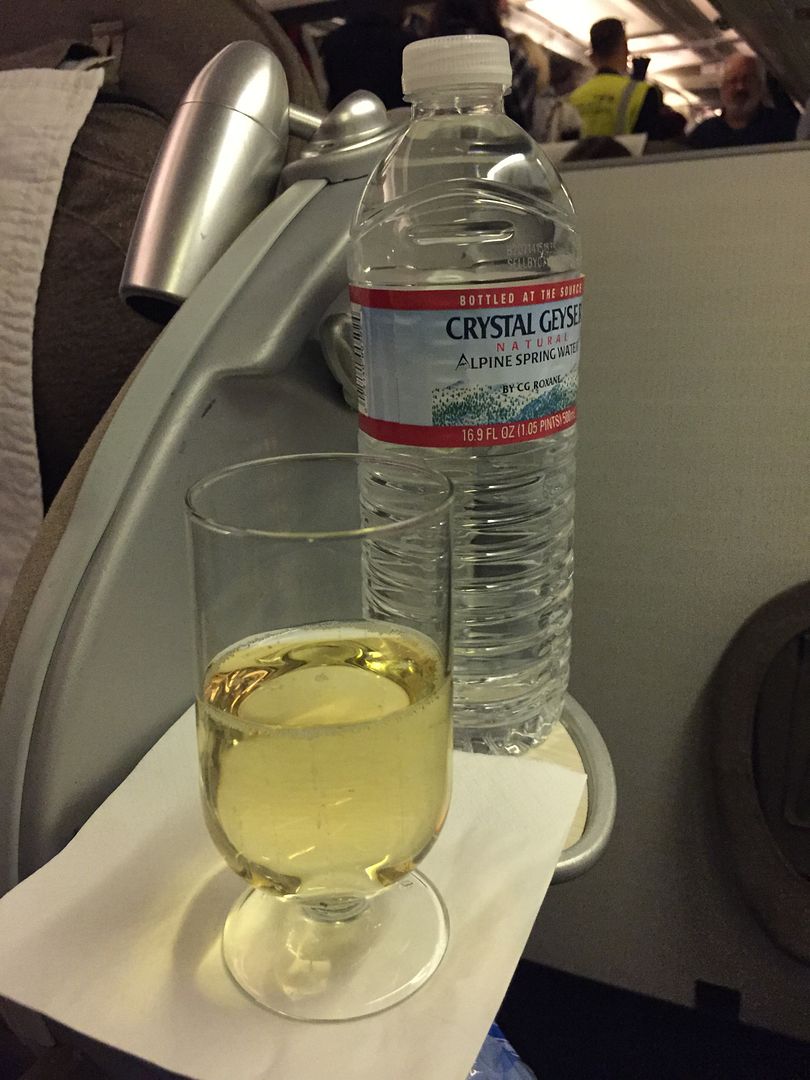 There are five rows of Biz Bed seats divided into two sections. The first section was full, but the second section had three empty seats, but unfortunately, not the one next to me. However I picked 5A because it allowed me direct aisle access without climbing over stools of my neighbor passenger.
Seat:
Biz Bed uses the original Club World seat with a cosmetic refresh. It does not feature the same additional enhancements on the new generation of Club World seats. The lack of storage for small items is clear, and there is no additional laptop sized storage space. The divider is the butterfly style, not a completely sealed one. The seats are also showing signs of wear and tear. But it is fairly comfortable, and it goes completely full flat, despite a bit narrow. I really hope that Open Skies is thinking a new fleet soon.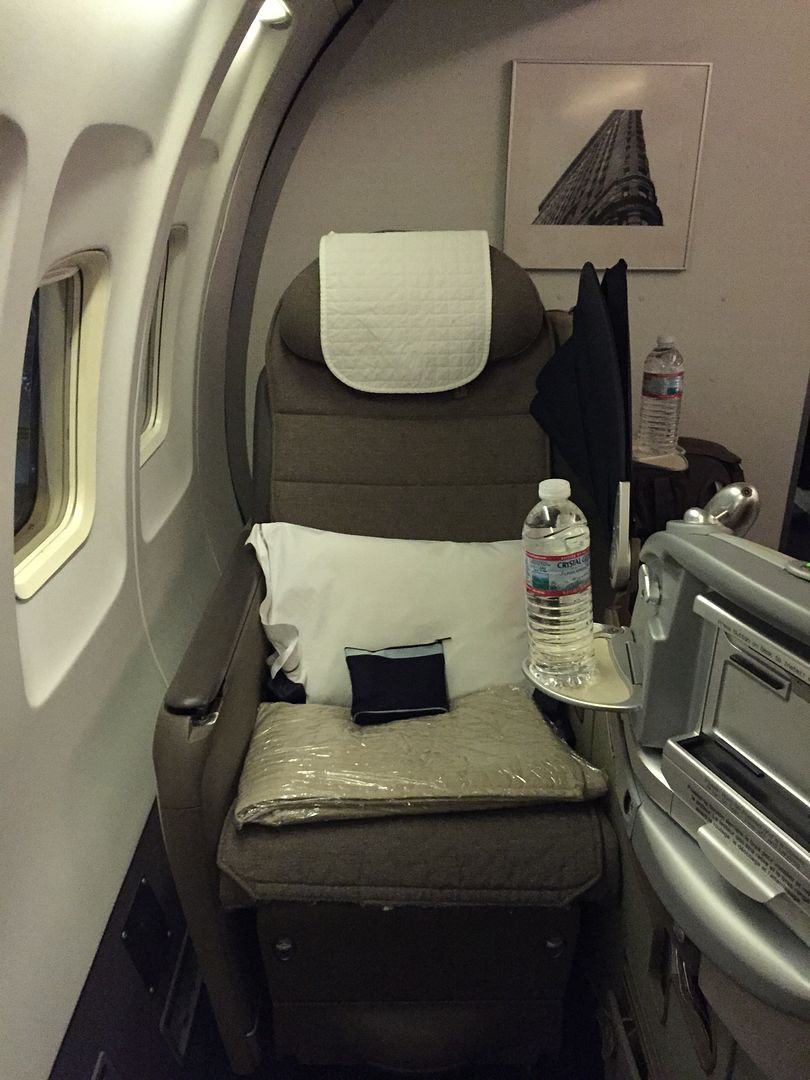 Flight information:
Door was closed on time at 9:30pm, and other than the three empty seats in Biz Bed, the rest of the plane was pretty full in both Prem + and economy section. We pushed backed six minutes later. Things were fairly busy at JFK and we did not take off till 10:09pm from R/W31L.
Flying time was six hours and forty-three minutes, and our routing took us towards Montauk and New Shoreham first, as we climbed to 35,000feet. Then we crossed Cape Cod, Lunenburg, Sydney, Harbor Breton and Clarenville before climbing further to 38,000feet and crossing the Atlantic Ocean. We did not see land till we approach the French Coast. We passed Lorient, Redon and then onto Orly.
Catering:
Transcript of menu and wine list:
Biz bed Sleeper Service: now you can be ready for bed as soon as you take off.
Introducing the "Sleeper Service," a new service in Biz Bed on overnight flights, created to provide you with longer, undisturbed time to sleep on-board.
Your evening begins with a "Pre-flight Supper" in the Galleries Lounges. You can enjoy a gourmet dinner with a wide range of entrées, soups, salads and desserts for all appetizers and tastes. So, once you arrive on board, you can settle down straight away and sleep longer, leaving you properly rested and energized for your day ahead.
If you have not had time to dine in the lounge before departure, we have designed an express menu with both light and indulgent selections to help you settle down as quickly as possible for a good night's sleep.
Of course you may find yourself sleeping so soundly that you'll appreciate a wake-up call upon arrival. Our cabin crew will ask you at the beginning of the flight if you'd like to be woken for breakfast before landing. You can enjoy Breakfast in Bed up to 40 minutes prior to landing, so that you can maximize your sleep or you can even take your breakfast with you.
The Sleeper Service: read for bed, ready to sleep.
Sleeper Service Express Dinner
Main
Smoked Eggplant and hummus crème fraiche served with a warm chicken brochette
Or
Garganelli with wild mushrooms, pumpkin cubes, creamy Parmesan sauce and Spinach
Dessert
Dulce caramel mousse
Night Cap
Warm 'homemade' vanilla apricot cookies accompanied by a mug of hot chocolate
Wine List
Champagne
Billecart-Salmon Brut
Red
Chateau Baret, 2004, Pessac-Leognan, Merlot, Cabernet Sauvignon
Moulin a Vent, Georges Duboeuf, 2011, Cuvee Prestige, Bourgogne, Gamay
White
Domaine du Val Lamartinien, Saint-Veran, Georges Duboeuf, 2014, Bourgogne, Chardonnay
Le Versant, Vignobles Foncalieu, 2014, Pays d'Oc, Sauvignon
15 SEP
BA 8006 JFK-ORY OS
211C003-ROT3 1
It is clear that the service is designed to maximize sleep but the whole supper service, which is basically a one-tray meal service with beverage, took almost 80 minutes to complete. Menus were passed out prior to takeoff and iPads were first passed out, but it took a while before the purser taking meal order. While iPads were passed out, the F/A, who was serving the back, also helped out by passing me the comforter and mattresses for the turndown service. I felt that the purser should have taken all beverage and meal orders during our 33 minutes waiting in queue for takeoff. There were only 17 passengers. It is also clear that the cabin is really under-staffed. There is no initial beverage service and the purser is the only one, who prepares the beverages and meals. Finally at 10:52pm, the only hot towel service was performed, and then meals were delivered at 11pm. I did not expect much, but the cold supper was pretty tasty and at least better than the cafeteria food offered in the lounge. At 11:25pm, lights were switched off.
Entertainment and Power outlets:
Power outlets are available in Biz Bed cabin, and there is no mainscreen television monitors. The iPads are pretty good with a good choice of TVs and movies and games. However they collected the iPads really early, and I definitely prefer a built-in entertainment option, which I hope the next generation of Open Skies narrowbody planes will feature.
Turndown service:
One of the highlights of the Open Skies overnight service is the availability of mattresses, comforter and pajamas, but sadly, pajamas are no longer offered to passengers. After supper, I made up my own bed, and the full-sized pillow, mattresses and comforter made an improved sleeping experience, and I was able to sleep a few hours. However, Open Skies should really update its website and it is sad that they can't even offer pajamas.
I made my own bed, so I hope I did a good job making it up!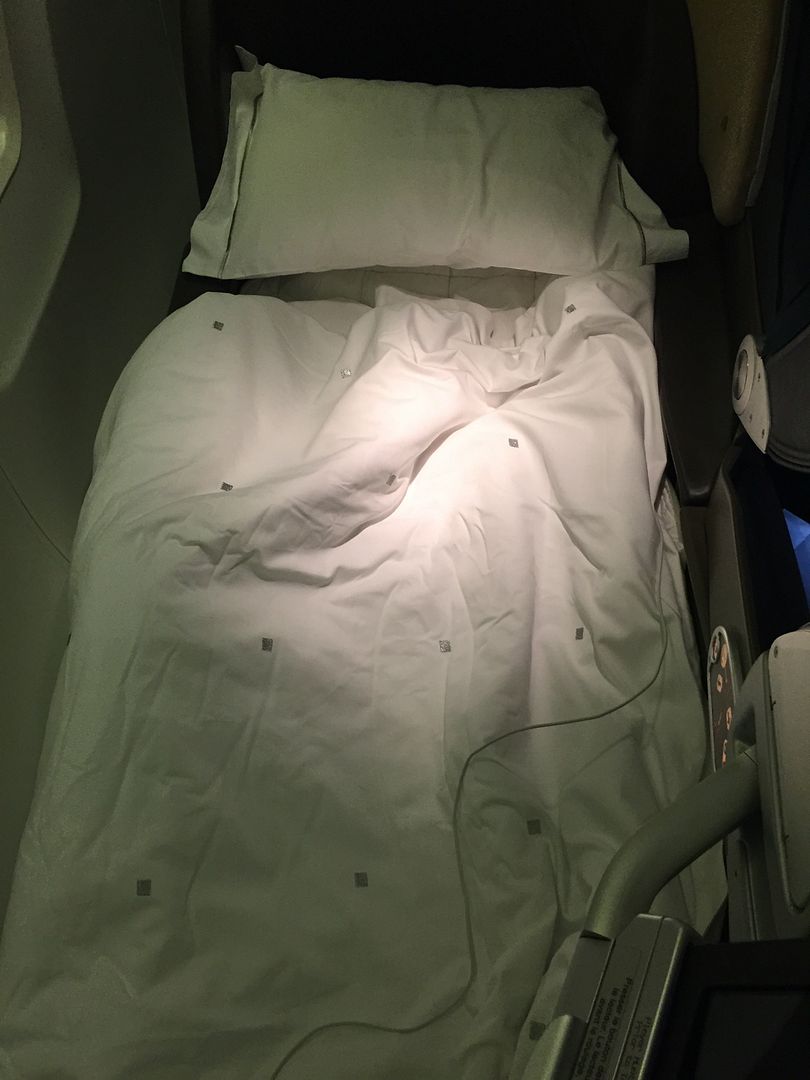 Breakfast service:
Breakfast
Freshly squeezed orange juice
Seasonal Fruits
Yoghurt
Bakery
Butter croissant with Bonne Maman preserves, honey and butter
Sliced Swiss cheese and turkey breast on a warm croissant
Danish
City Breakfast
A bagful of healthy breakfast items that you can enjoy onboard or take away with your!
Fresh orange juice, Activia yogurt, chocolate muffin
(Basically the Premium Plus breakfast bag)
Unlike BA F/As, who shut down all the window shades before takeoff and I considered a pretty bad thing to do for safety reason, Open Skies F/As do the opposite. No one asked passengers to close the blinds, but I guess since the night was short anyway, it makes waking up more natural. At 3:18am (9:18am Paris time), the purser began the breakfast service, which was basically a continental breakfast try with a few hot breakfast pastries. I chose the turkey croissant sandwich and the Danish twist. The usual morning beverage was offered, but sadly no smoothie like BA. The whole breakfast service was completed within twenty-two minutes. There was one thing that I really give United credits, which is serving the pre-arrival meal till the latest possible time. This breakfast can easily be served sixty minute prior to landing. It is a really short flight.
Flight attendants:
I think the ultimate issue is really the lack of manpower. There are only four F/As working, and I am actually curious on how the return flight will be. There will be a full meal service in all three cabins. The F/As honestly are mostly young and well groomed, but they are also very indifferent. They are cordial, but not overly warm. In the morning, one of the F/As was bringing the iPad cart back to the mid galley. Instead of facing forward, he was going backward. He literally slammed the cart into me, but did not even say sorry. It was almost that I was inconveniencing him. This really left a pretty bad impression.
Arrival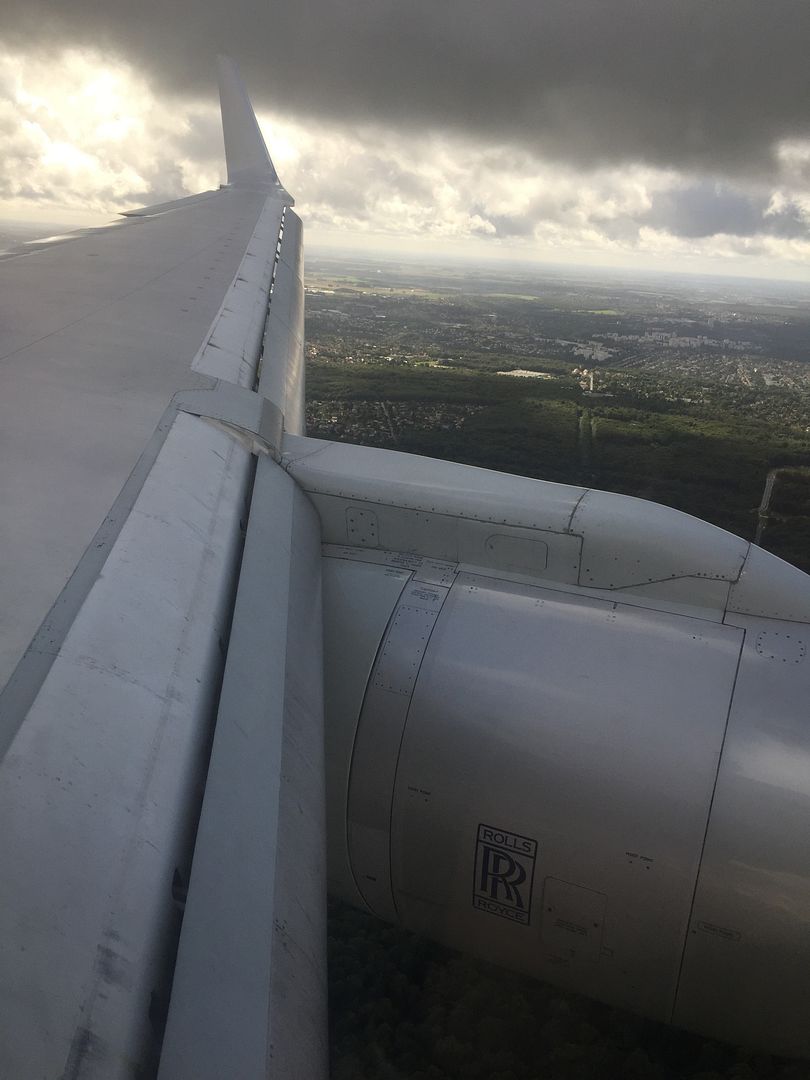 We landed in R/W26 at 10:52am and parked at stand 132 eight minutes later.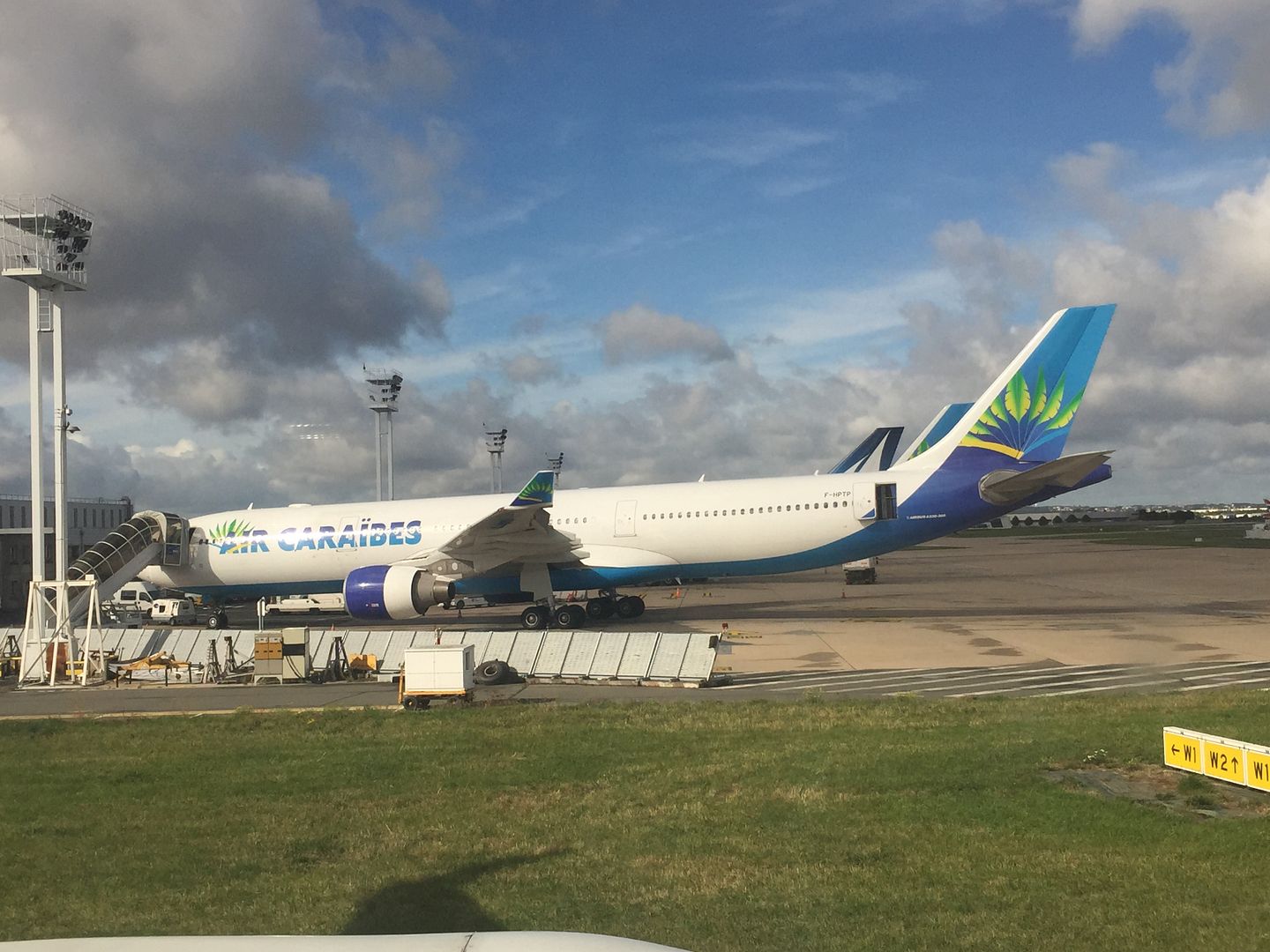 The first bag showed up in the belt at 11:11am, but sadly, my bag did not make it on the flight. I had almost three hours in JFK, but my bag still failed to make it. I should have told AA to just check it to JFK first, and then I will personally check it again in JFK again. The baggage agent at Orly was friendly enough, and since I am connecting onto Lisbon, he was able to redirect the bag to Lisbon. I eventually saw my bag in the hotel room the next day, but sadly some items were missing. Nothing expensive! They are mostly sentimental items, and as a positive person, TSA possibly opened my suitcase but did not repack them correctly. But I learned my lessons that I could not even trust BA with a pile of sympathy cards in my check in bag. BA twitter team helped a bit with theft, but I did not hear much from Open Skies anymore afterward, in terms of email. It is a very disappointing experience in general.
I am flying the return in October, and hope that it will be a better experience, and nothing will be missing from my suitcase! Maybe I should stick with Prem Plus in the future. Biz Bed can be a superior product, but ultimately fall short nearly in all departments.
Carfield
PS. I am not sure if I will write a report for the return flight, but will add pictures to the album. If you are interested in Open Skies' daytime catering, please check back the album after October 15.