SATA A310 Trip Report
Photo album:
http://s1213.photobucket.com/user/Ca...A%20Plus%20A310%20September%202015
I have been trying very hard to get an A310 flight for the past few years. I remembered that I might have flown an A310 before from Los Angeles to San Francisco on Pan Am, when I was very young. But it was just so long ago that I did not have any information anymore. About a few years ago, I booked a Royal Jordanian flight from the US to Colombo via Amman, as RJ was using A310 on the AMM-CMB flight. Unfortunately there was a last minute plane change, and I got an Airbus A340, instead of A310. In 2015, there were only a few A310 operators left. My first choice was Air Transat, which runs many flights between Florida and Canada using A310, but it never works out. When I was invited to a wedding in Portugal, SATA immediately came to my mind. The reviews of SATA are pretty unflattering, and while there was many cheap PLUS (business class) fares between Boston and Portugal, I decided to stick with the shorter Azores to Lisbon flight. SATA has been running its Boston and Toronto flights to Lisbon via Ponta Delgada using its A310s, so I just decide to finally fly a PLUS flight from PDL to Lisbon.
I arrived at PDL via Ryanair the day before from Porto, and while I did not spot the A310 in the afternoon hour, I spotted plenty of SATA's Dash 8-400s. They looked beautiful. I loved the open apron here at PDL and nobody shout at me for taking so many pictures.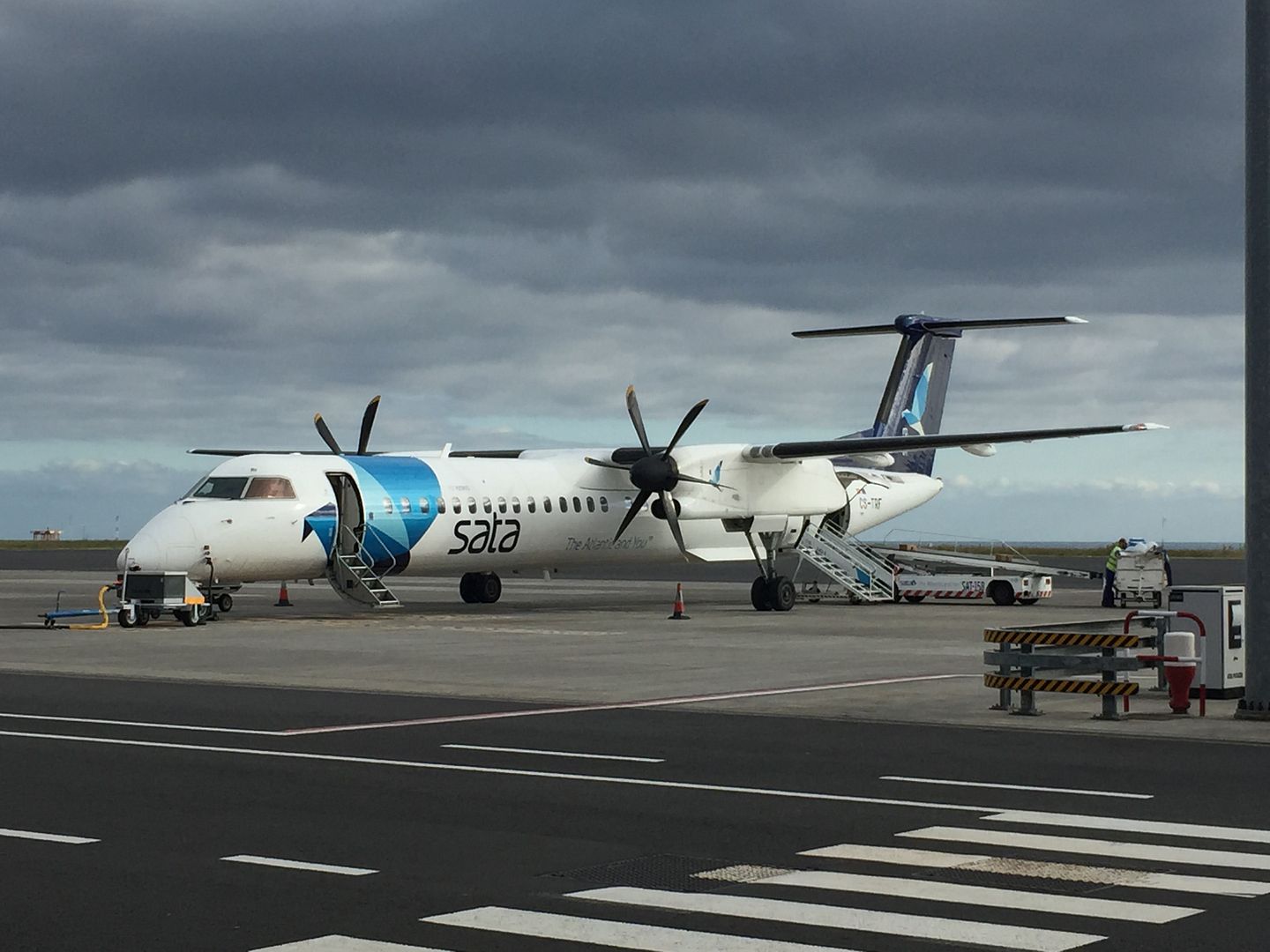 September 23, 2015
S4 220 PDL-LIS Lv0825 Arr1130 Airbus A310-300 CS-TKN "Macaroneisa"
Booking:
SATA's website is pretty user friendly and I was even able to use my HK credit card to pay for the ticket. I got an e-ticket and was able to get a seat assignment online.
Check-in:
Ponta Delgada Joao Paulo II international airport is actually a pretty nice modern airport. It is a small compact airport, but the terminal is pretty up to modern standard.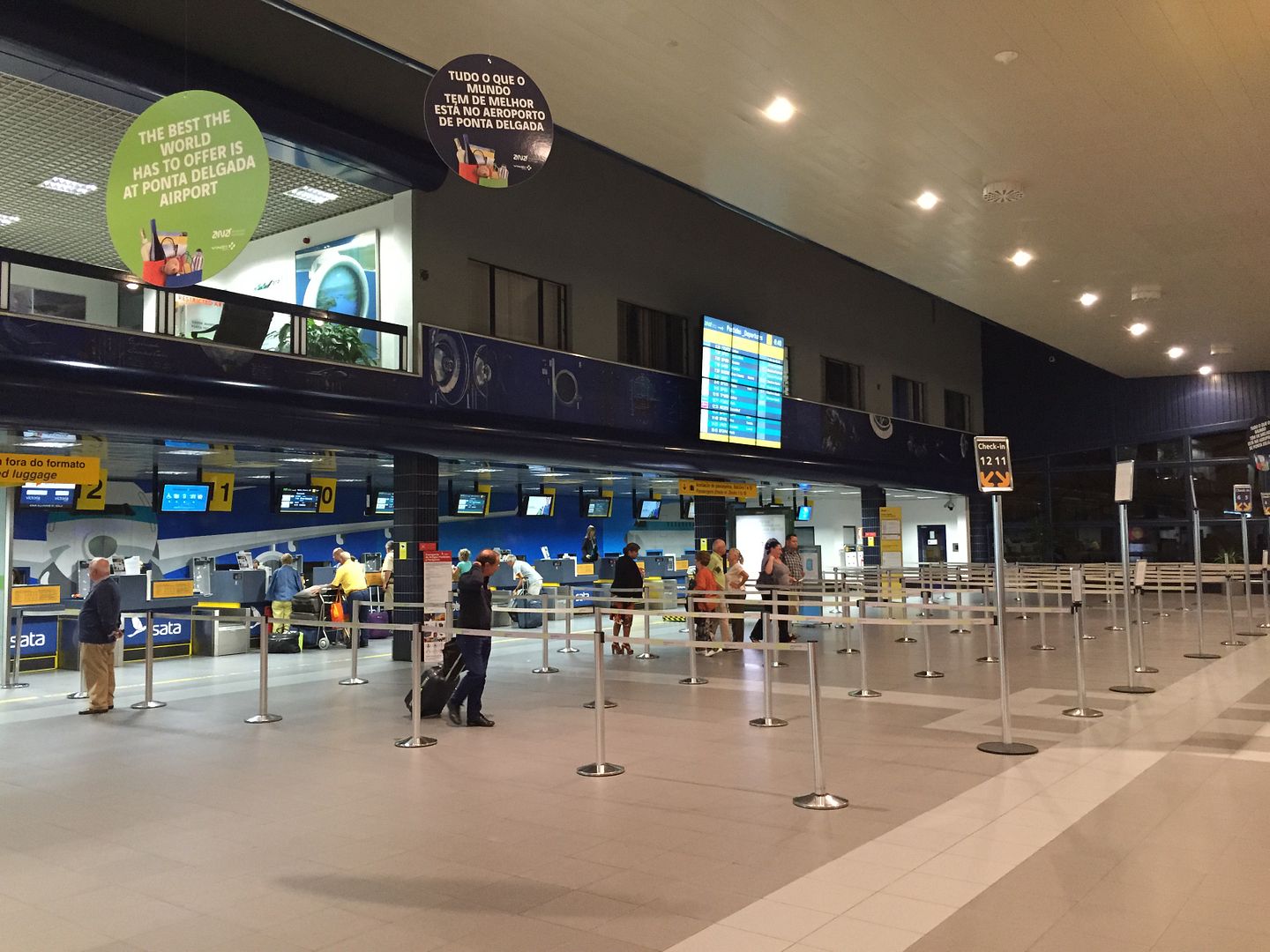 SATA is the main airline operating here at PDL. I arrived at the airport about two hours prior to departure, and PDL was fairly quiet, as there were only a few flights operating in the morning.
There was a PLUS check-in counter, but queues were minimal this morning. The agent was pretty friendly and thanked me for my business. She tagged my bags with priority tags, handed me my boarding pass, told me where the lounge was, and thanked me for my business. It was not as bad as other reviewers said, but sadly the friendliness would end soon.
Some pictures of the airport terminal: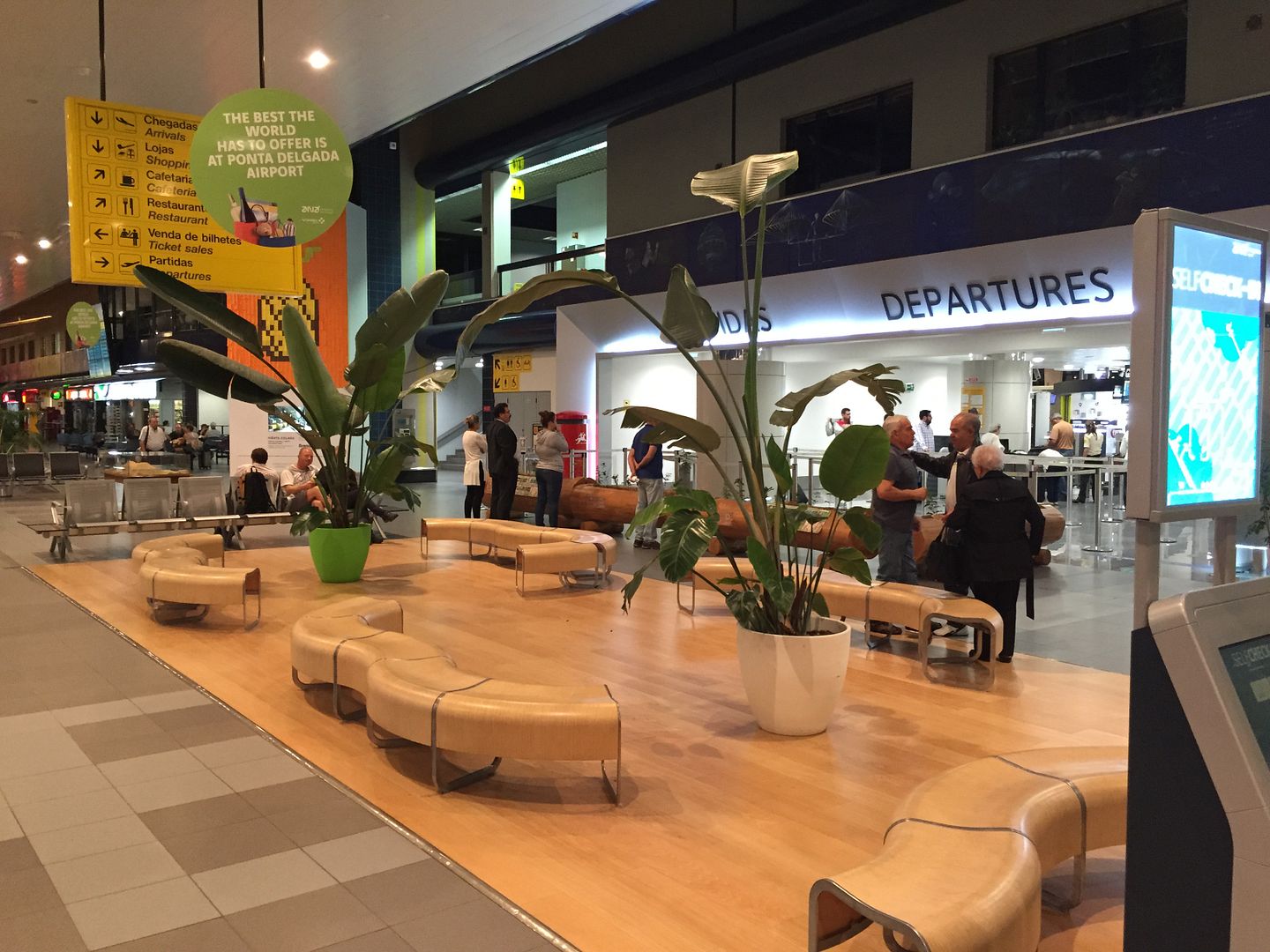 SATA counter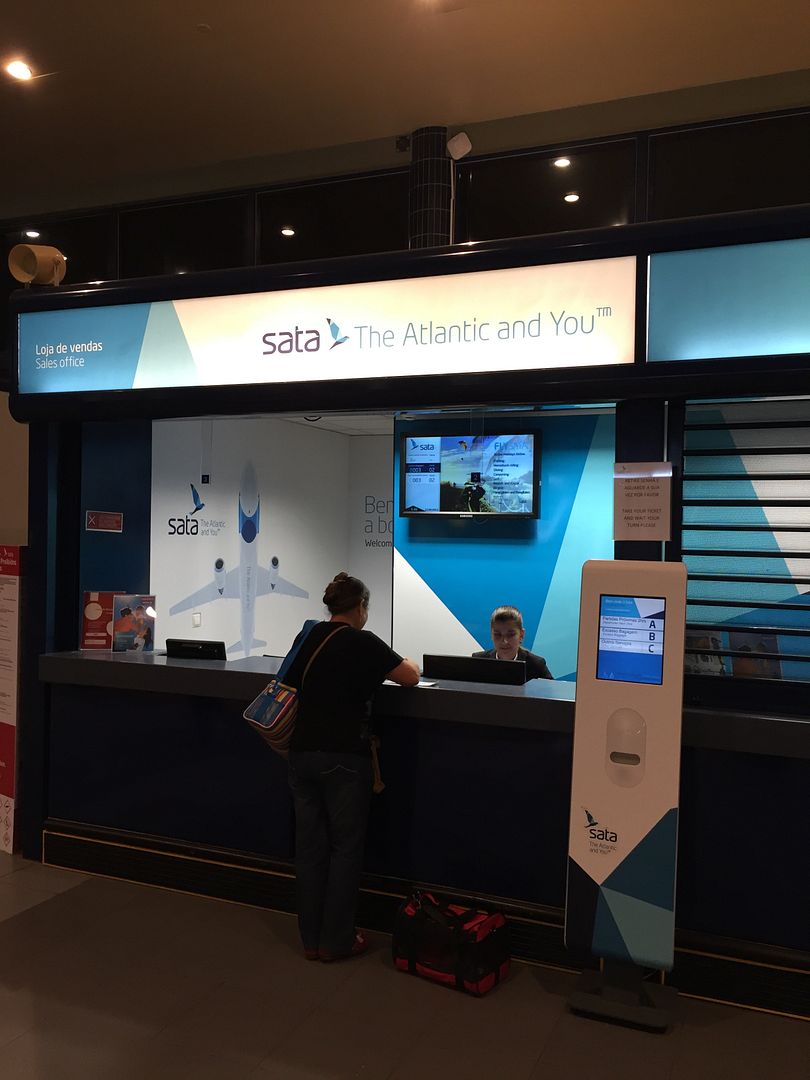 Arrival Area
Security was an easy business, and I immediately went to the SATA lounge. The lounge looked pretty nice, but offering was sparse with limited beverages and packaged snacks. There were only three kinds of snacks – SATA packaged snack mix, cookies, and saltine crackers. The lounge was initially slightly busy but soon became quiet again after the Frankfurt flight and couple intra-Azores flight left. The agents were fairly nice, and I was even given the remote control to the TV after everyone left. So SATA was still pretty good, as of this point.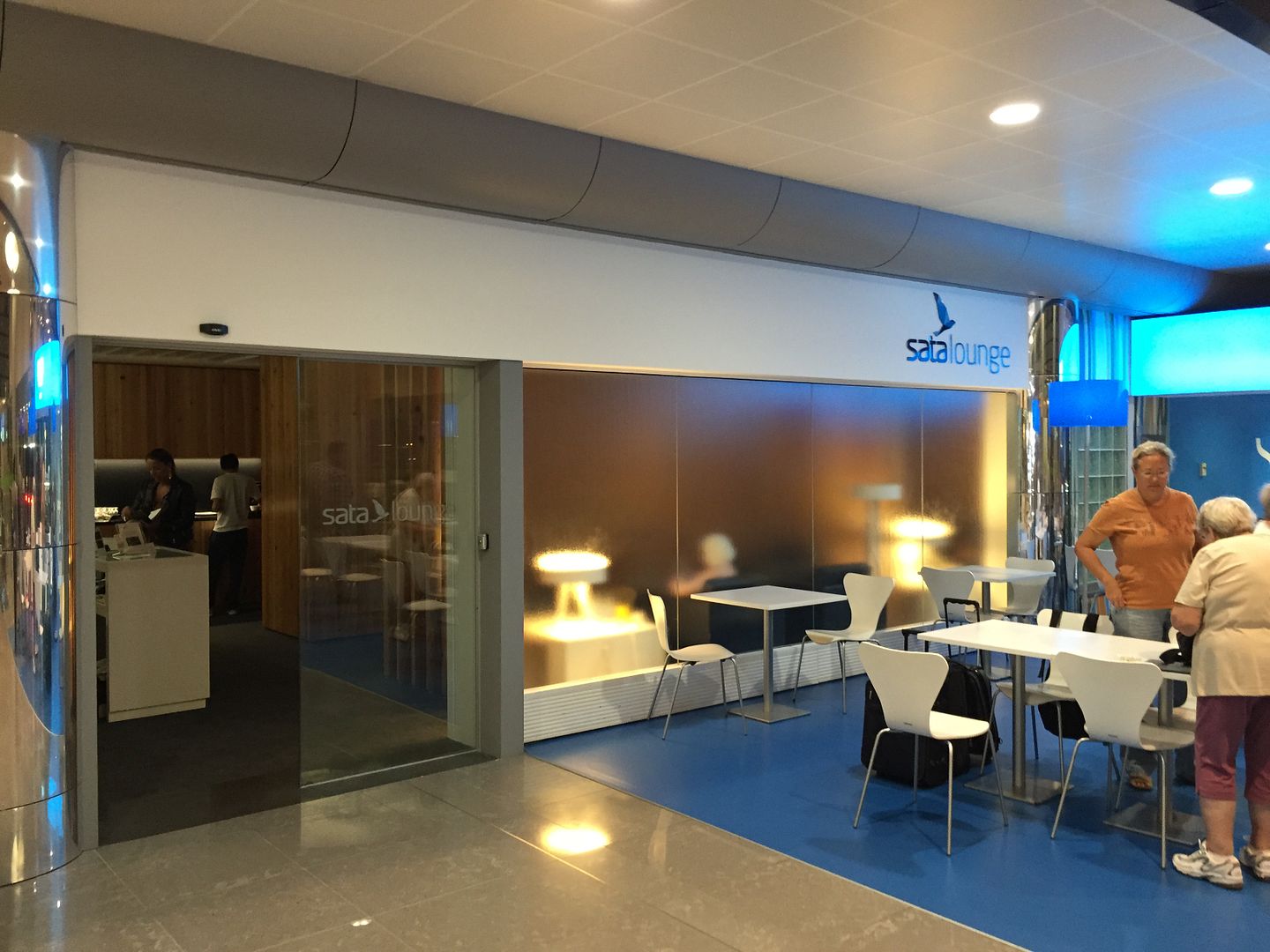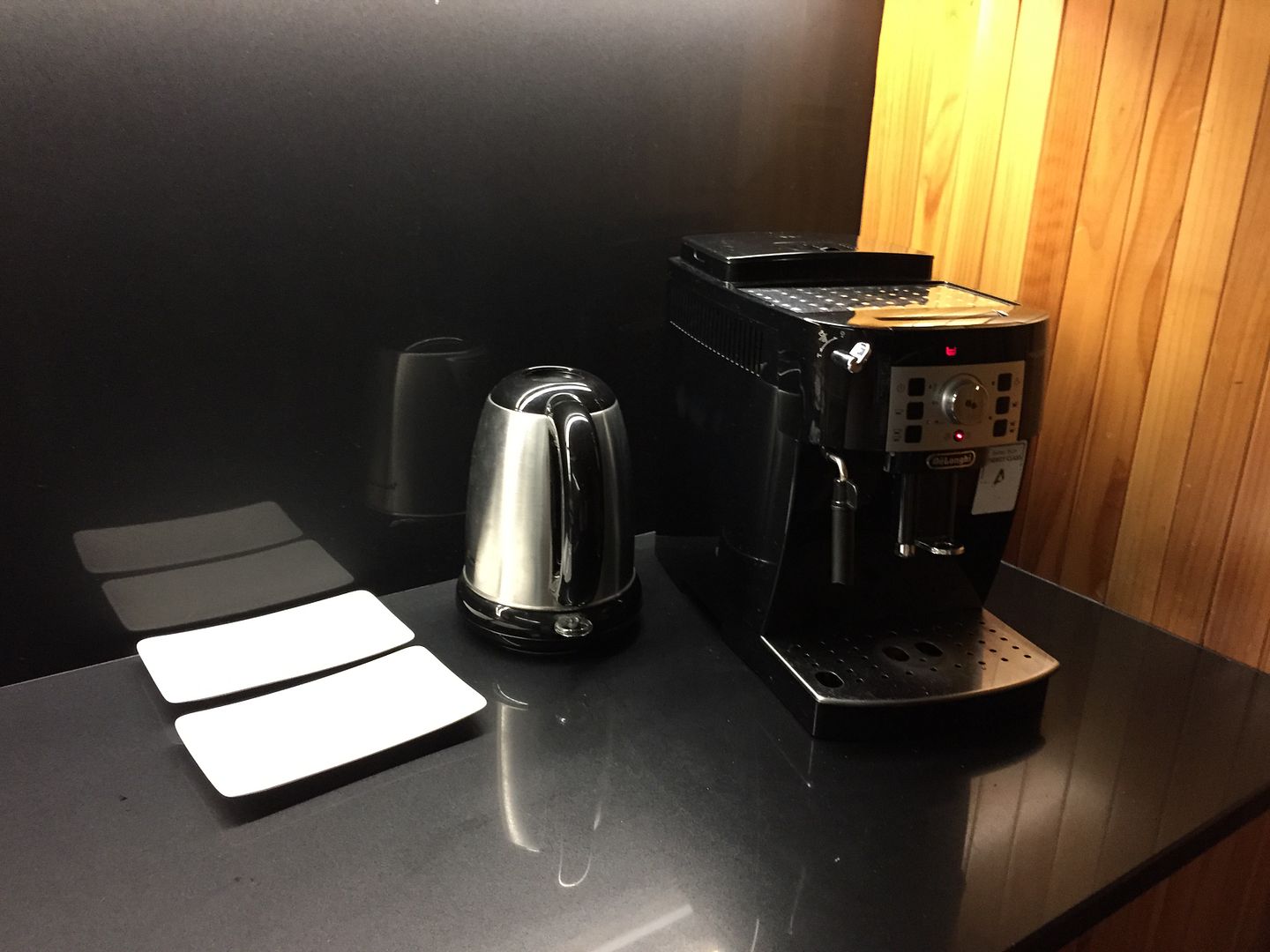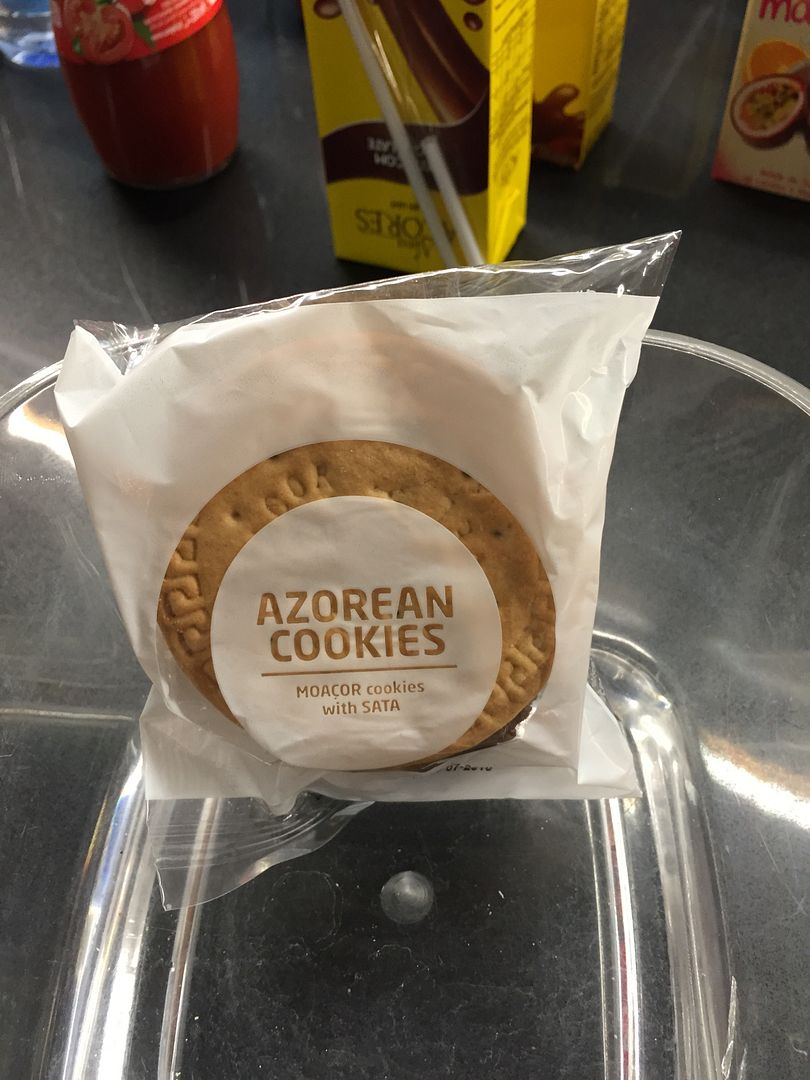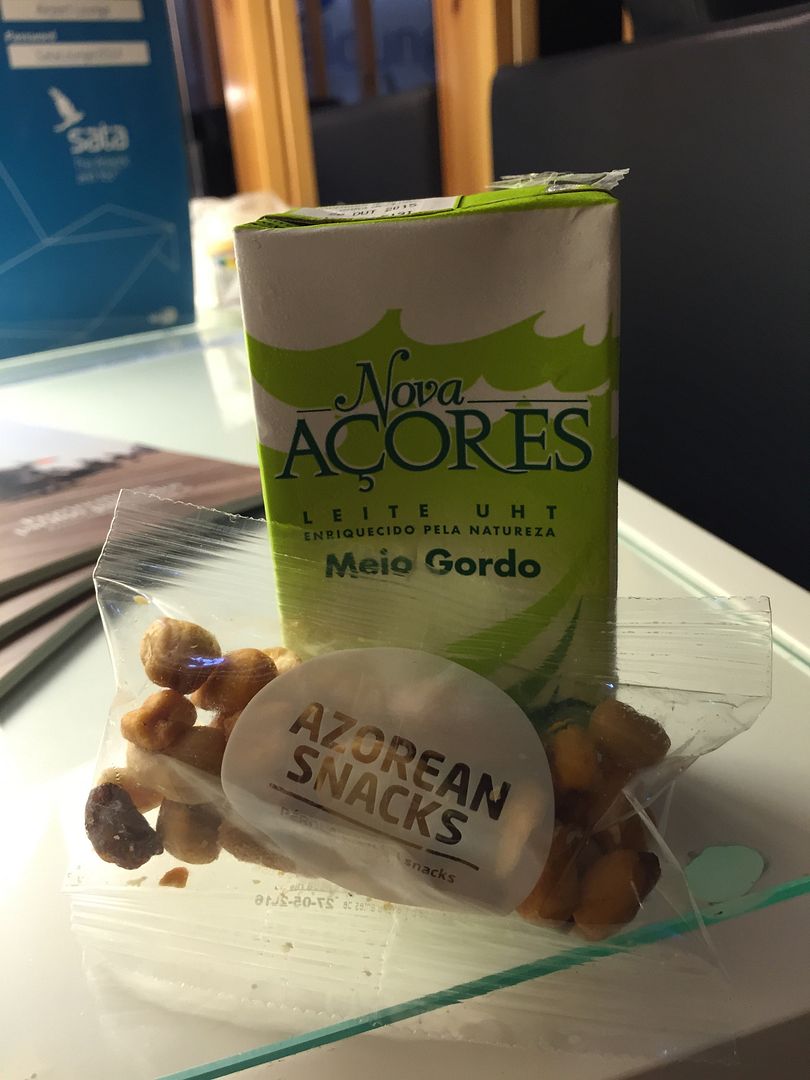 Boarding was quite a mess, and to my surprise, I had to go through immigration to board this "domestic" flight to Lisbon. The check-in agent just asked me a few precursory questions, and let me into Gate 3. The flight was fairly busy, and all the sudden, boarding began at 7:50am. There was no priority boarding and everyone was just rushed to the gate.
Finally the apron again…
More SATA Dash 8
Finally the prize of the day – SATA's A310-300
CS-TKN was built in 1992 and was originally delivered to Austrian Airlines as "City of Chicago" in 1992. It has gone through many operators, and was finally delivered to SATA in April 2007, after a short stint with Air India.
The plane actually arrived early from Boston this morning, and despite its age, it still looked pretty good.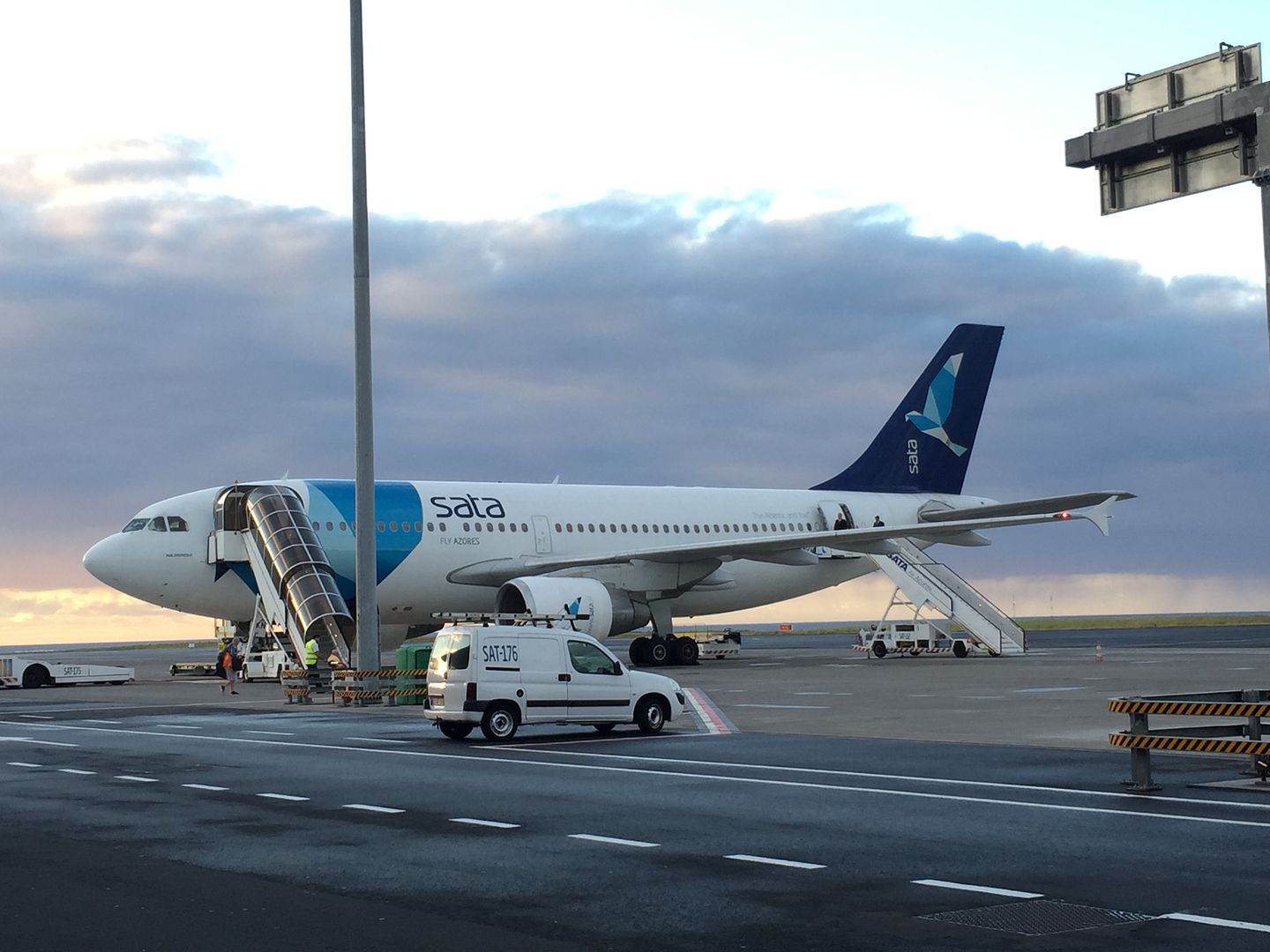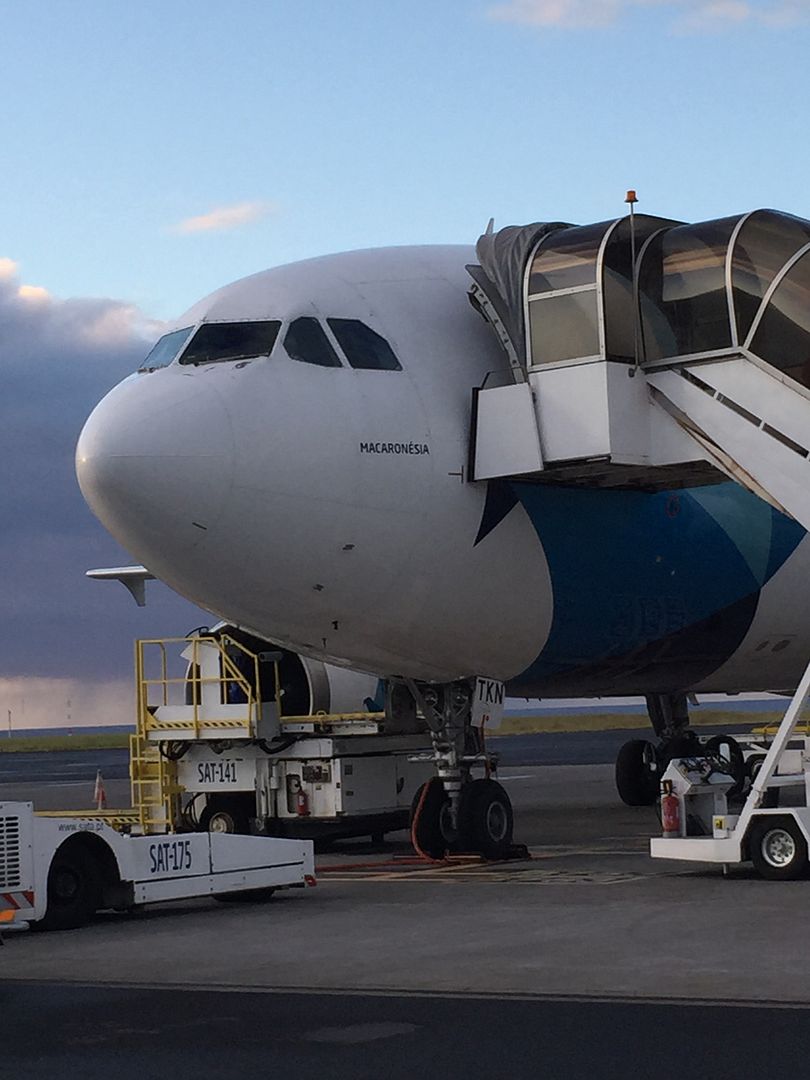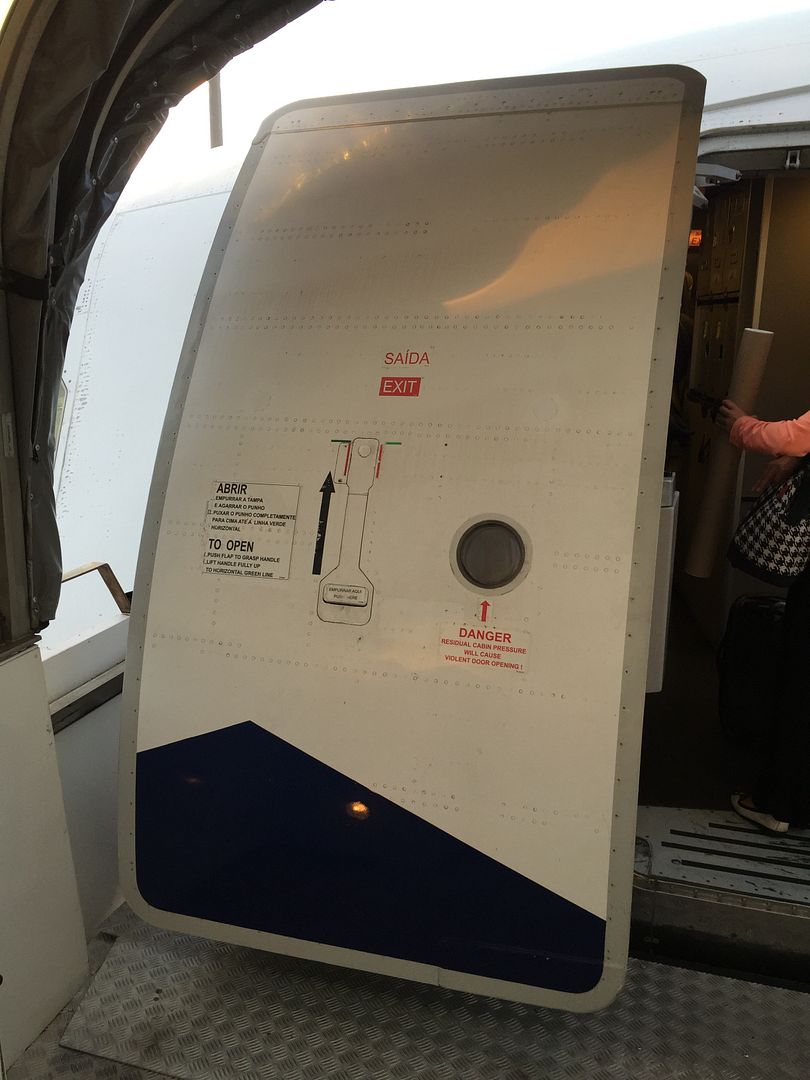 I entered through the front stair, and the purser was welcoming passengers and checking boarding passes. Business class was still relatively empty, and I wanted to take the opportunities to snap a few pictures.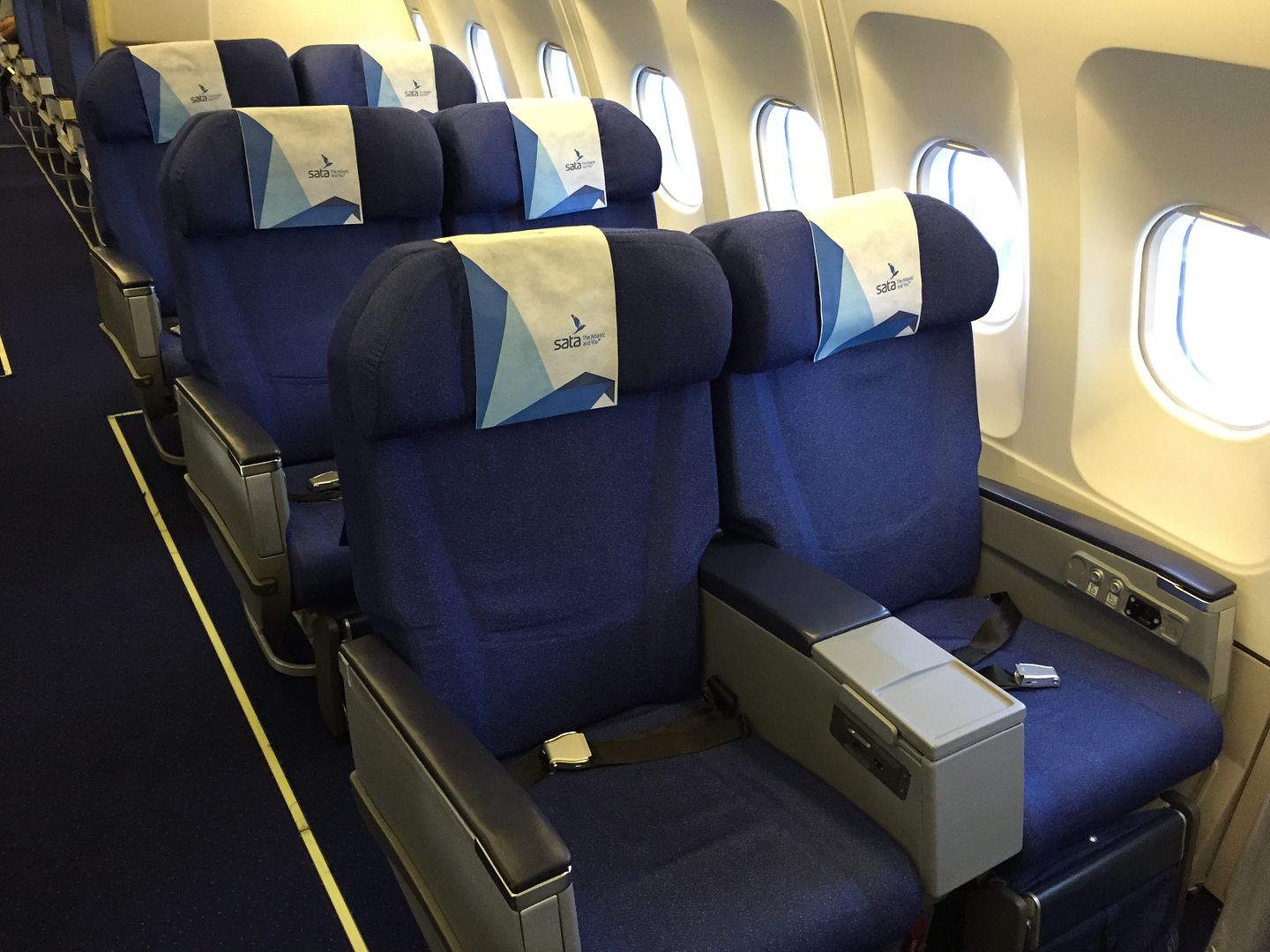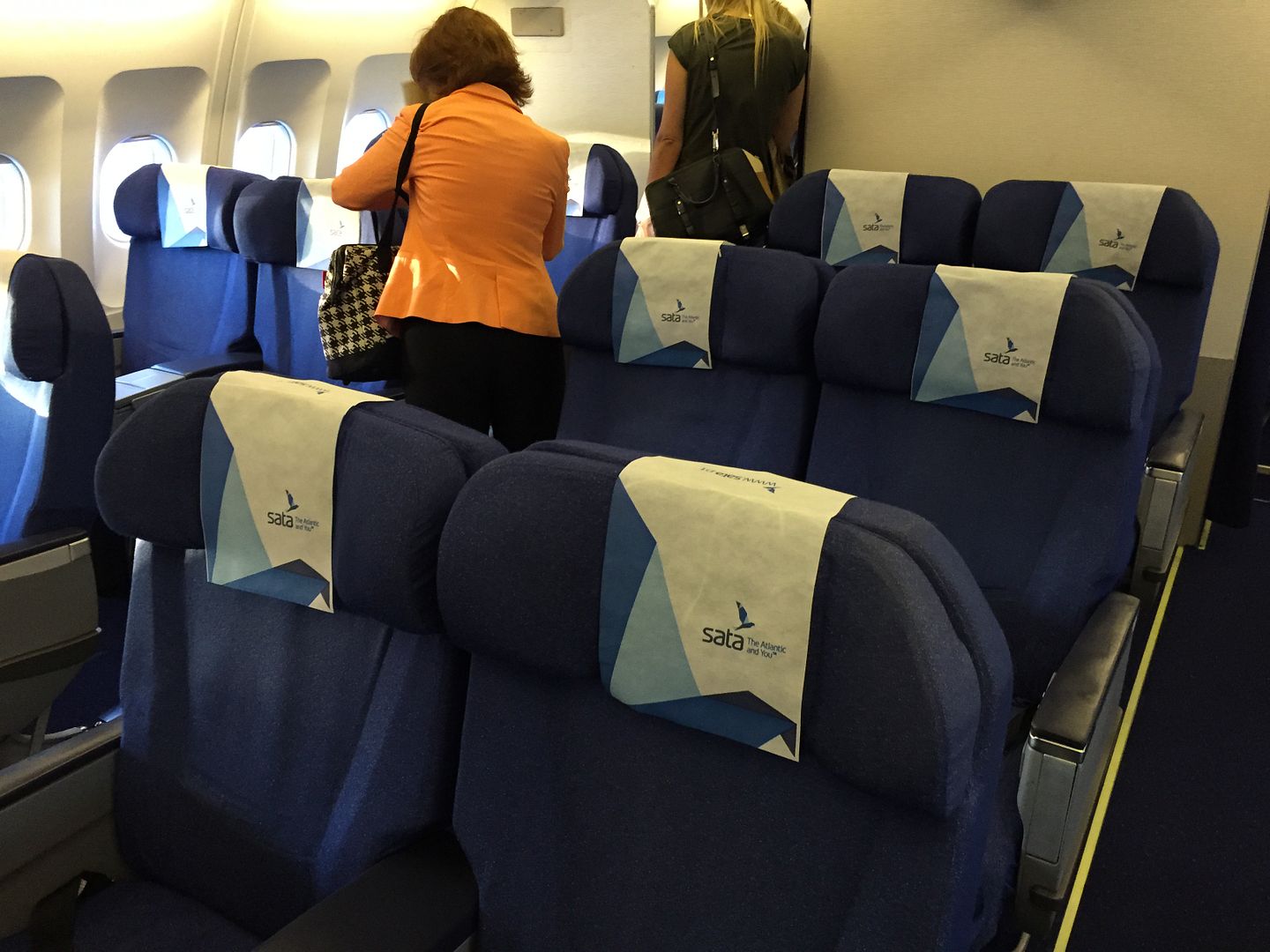 Unfortunately my cabin shot was very limited, as the purser immediately approached me and asked me to stop taking pictures of the cabin. I asked "why," and she just told me that the airline did not want other passengers to be photographed. That was the only reason why she had to stop me. Given the empty business cabin, that comment was almost redundant. No wonder SATA got such a bad rap. Well I stopped taking cabin photos. Economy cabin looked fairly cramped with a 2-4-2 seating and I am fairly happy that I decide to go with PLUS.
Inside the seat pocket, only safety card and a disposal bag are available. While I saw the inflight magazines in the lounge, they were not replenished in the plane. I found it pretty shocking that the cleaners would not at least make sure that each J seat has an inflight magazine.
The flight began to fill up and soon employees filled up the rest of the business class cabin. Don't ask me why I knew, but those SATA tagged bags were major clues, as well as obviously friendly chats among the occupants. However the service did not improve. Smiles were in relatively short supply. I believe that these crews might be actually based in Lisbon, and had worked the overnight flight from Boston, so they looked like they were fairly tired. I would give them some slacks.
Door was closed at 8:22am, and there was no pre-takeoff beverage service. The F/As then passed out newspapers and only Portuguese newspapers are available.
We pushed back five minutes later.
Goodbye PDL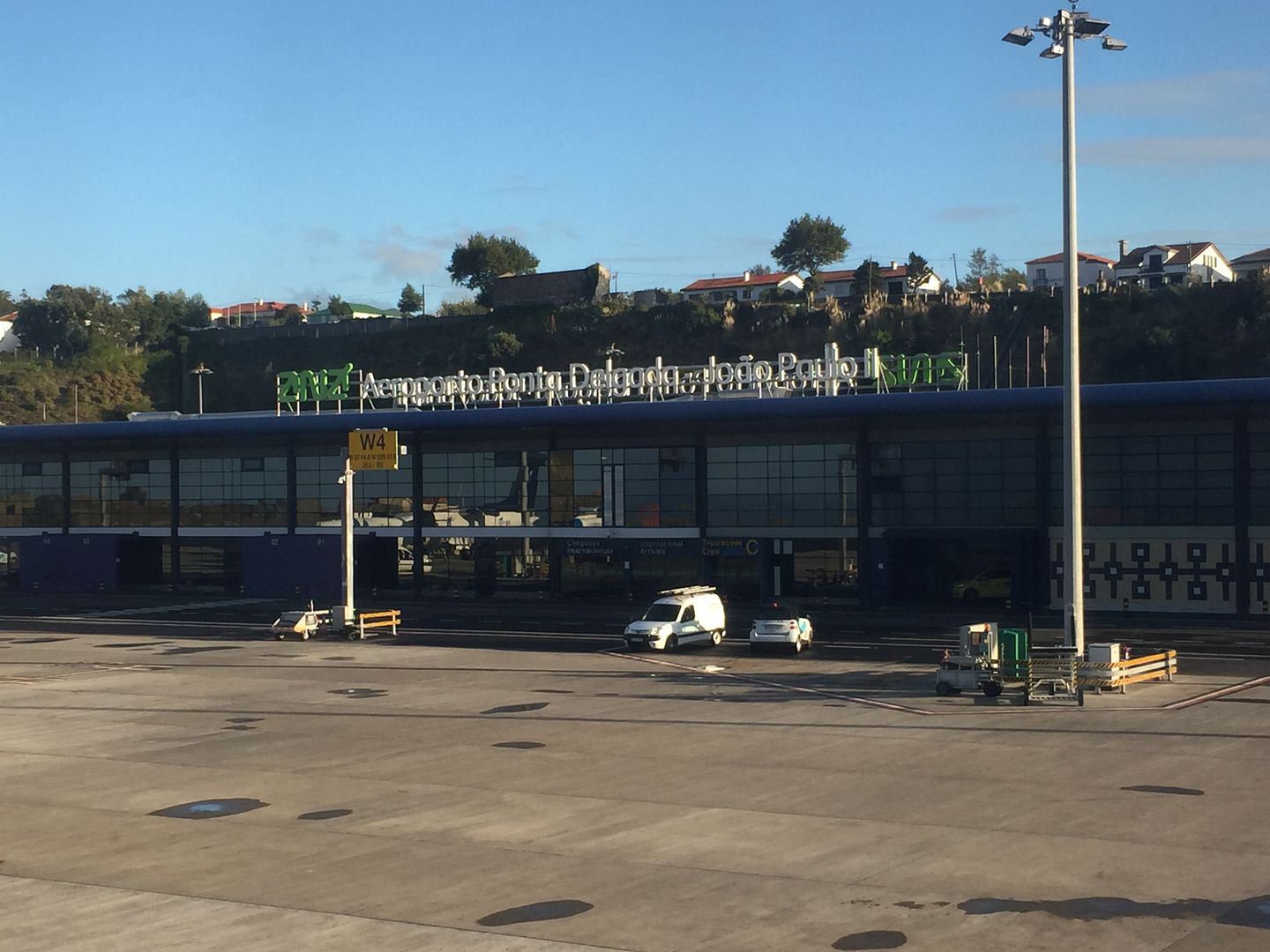 One thing that I loved about PDL was its short taxi time. With no plane ahead of us, we took off from R/W12 at 8:33am. Flying time was an hour and fifty-three minutes, and it was a mostly over water flight. We stayed at 36,000feet throughout the flight.
Beautiful morning here at the Azores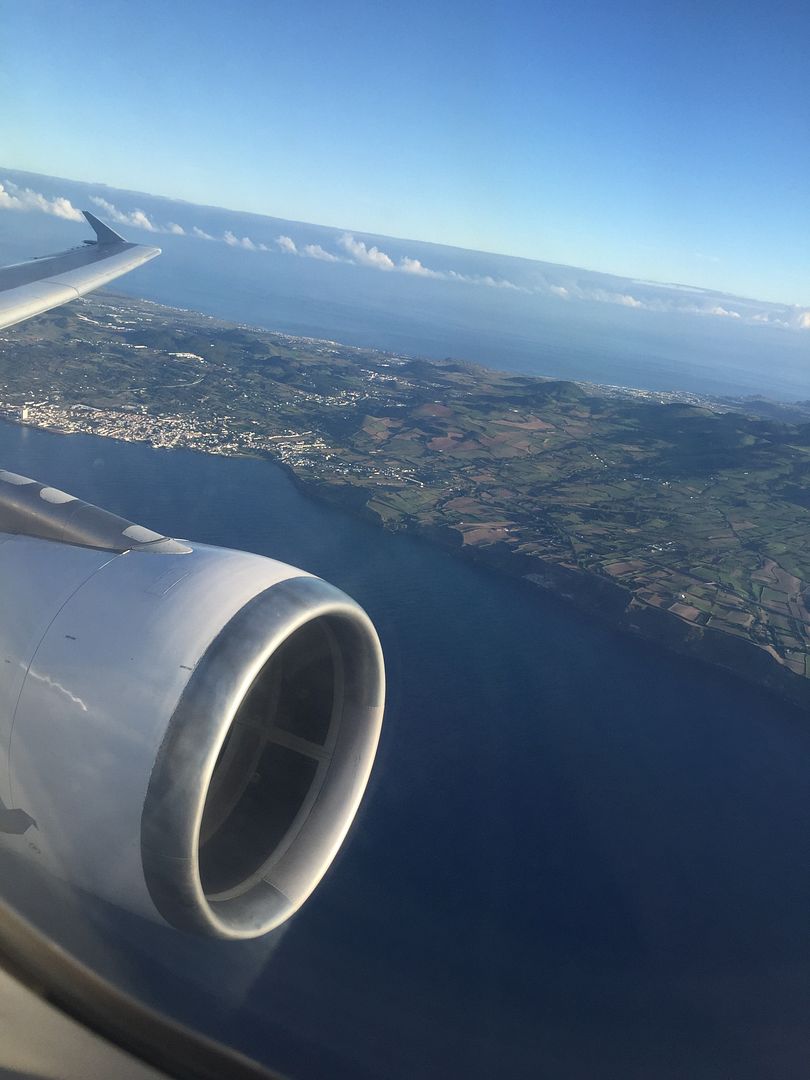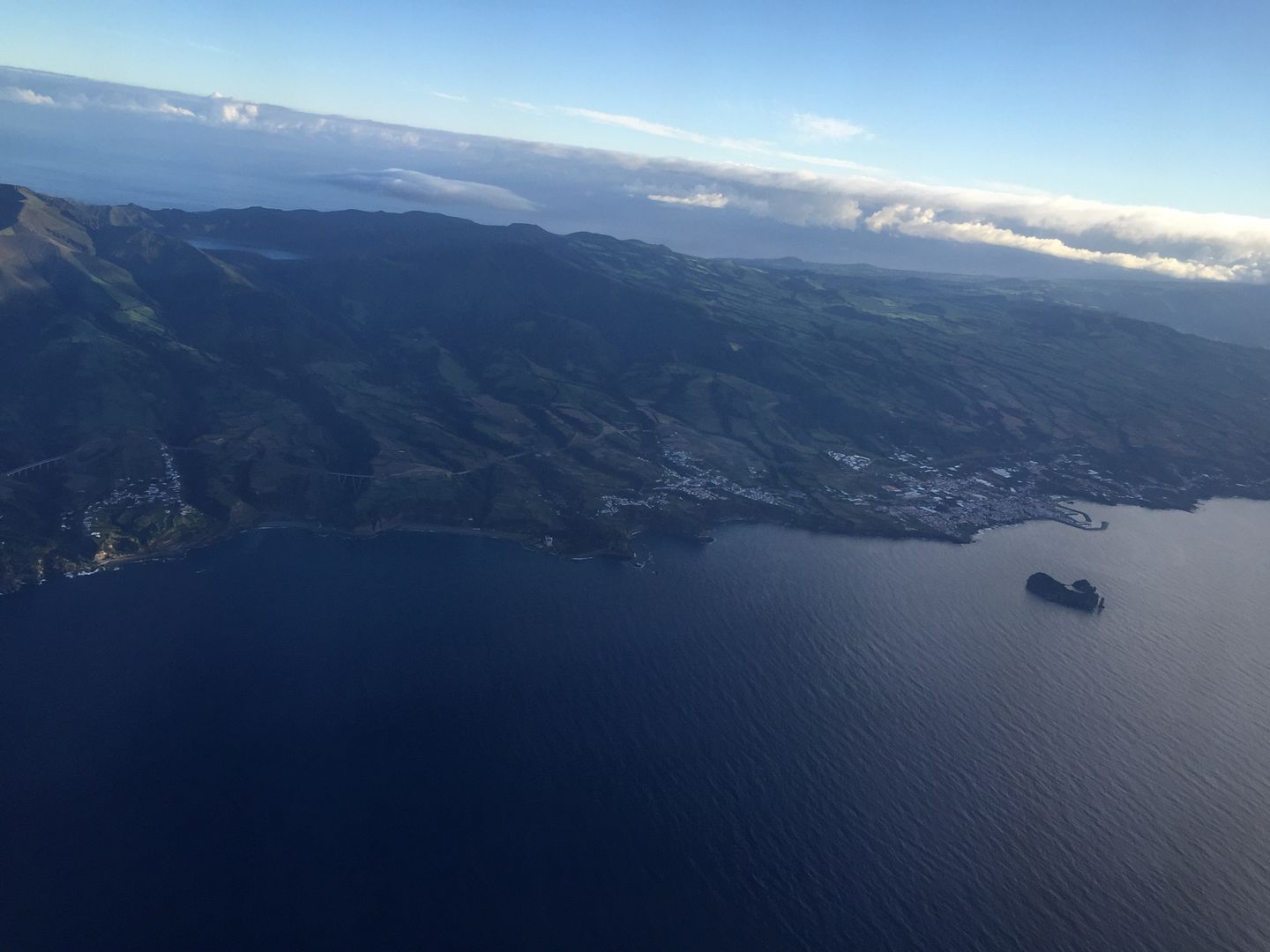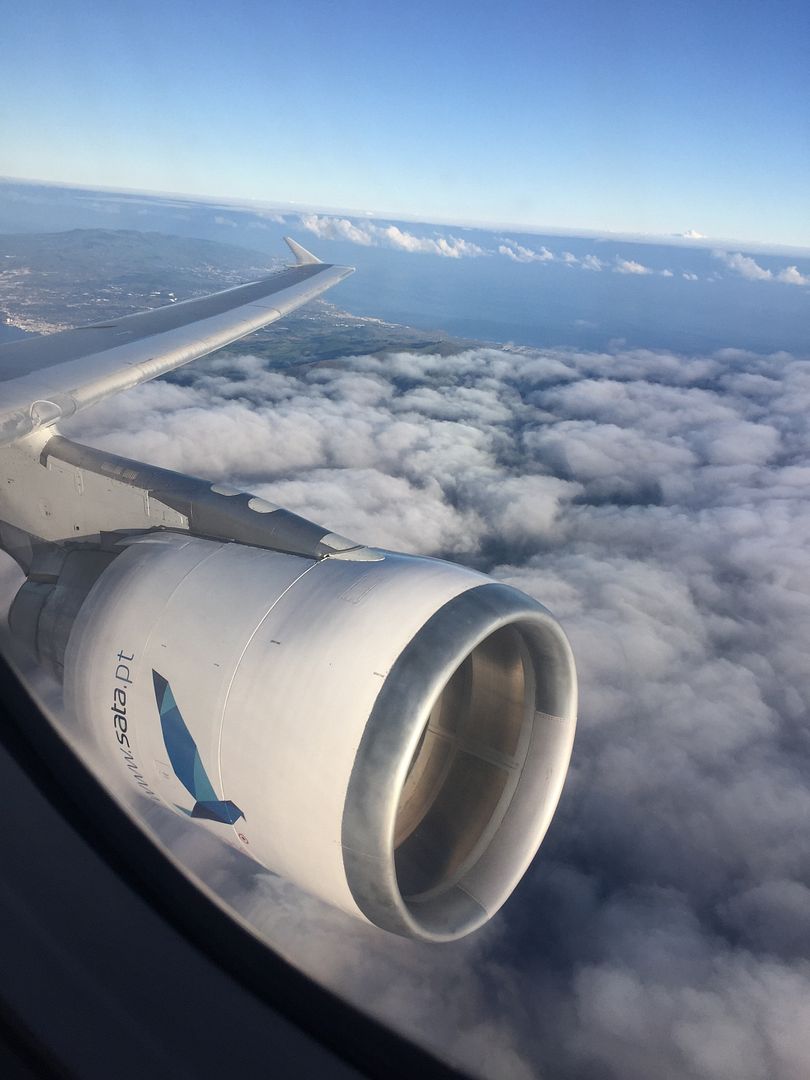 As expected, there are no fancy power outlets or any individual entertainment units. On longer flights to North America, they passed out iPads for J passengers. Y passengers were stuck with the mainscreen television programming. On these short flights to Lisbon, only infomercials were shown and no headsets were ever passed out. There was breakfast service in PLUS cabin, and I believe a hot breakfast sandwich in economy. The F/As passed out these packaged refreshing towels first, and then they disappeared for twenty minutes before rolling out the breakfast cart. There was no separate beverage service.
Today's breakfast features an omelet filled with tomato and bacon, served with a bowl of fruit and a slice of pound cake. Breadbaskets feature Portuguese or multi-grain rolls. Juices and water were also offered. Then the F/As came out with coffee and tea. Trays were recollected at 9:38am.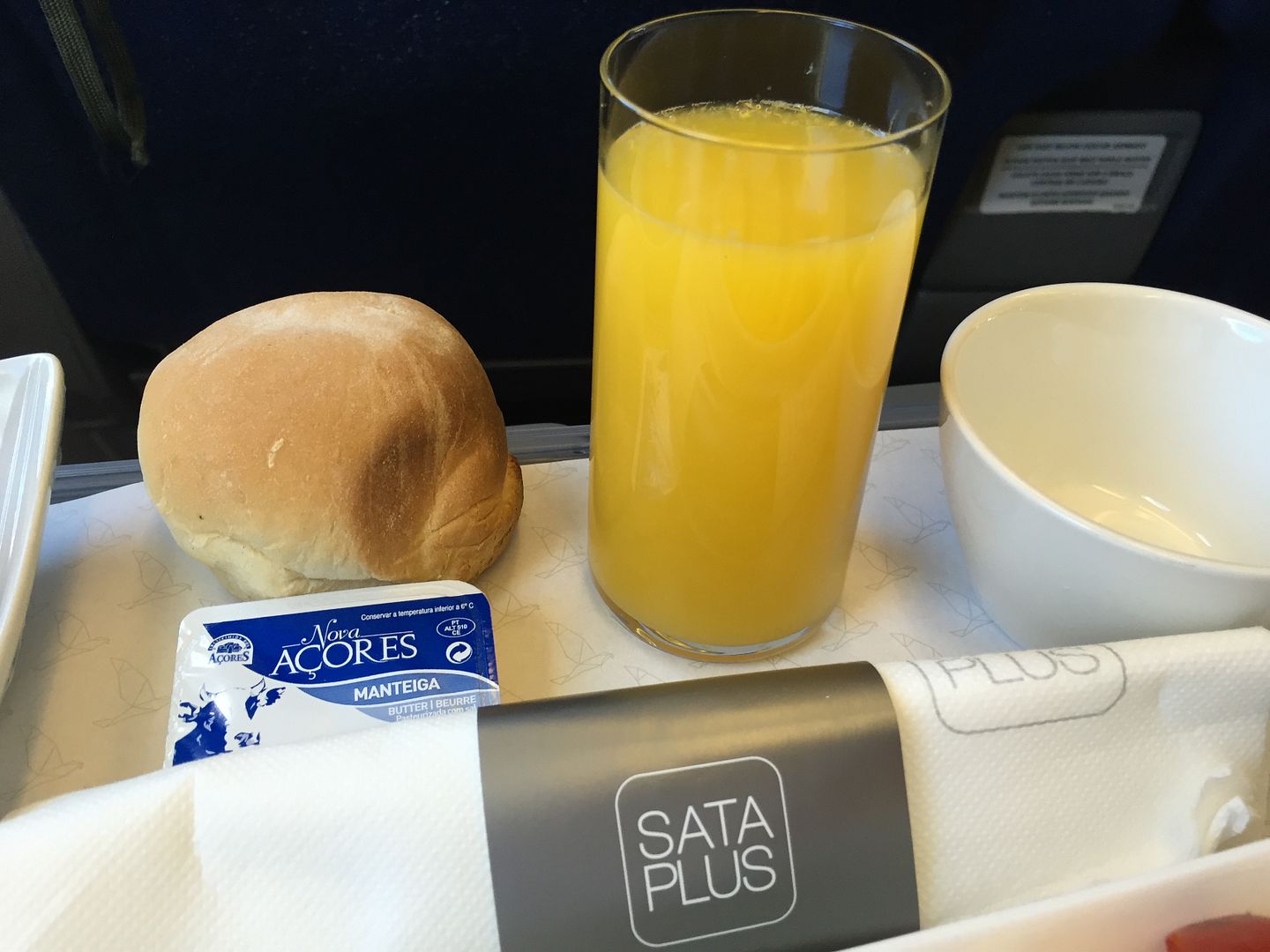 The F/As then disappeared and stayed in the galley till descent.
My neighbor used the facility and took the opportunity to snap a picture of the seat in full recline mode. It is actually okay and even for Boston to Lisbon, it is fine, but for the Oakland to Toronto to PDL flight, it is not okay. Anyway, they are cheap – almost like a PE fare, but if I am buying a TAP fare especially on the Boston to Lisbon, I might not be too happy.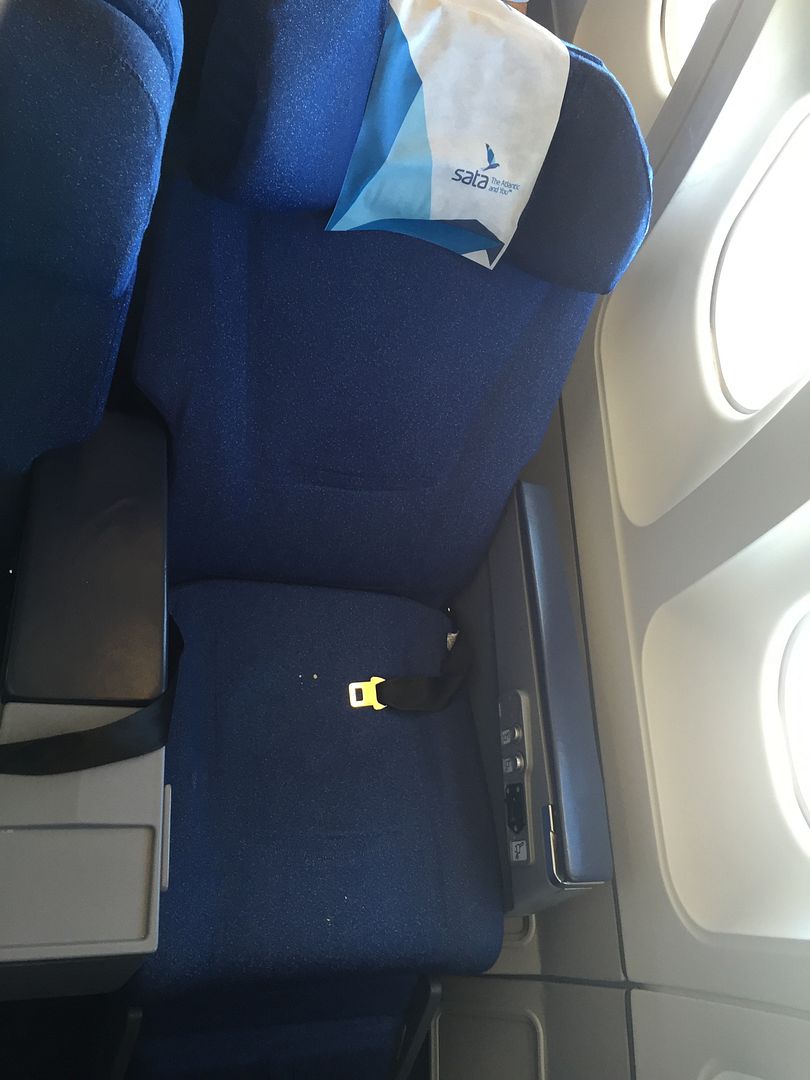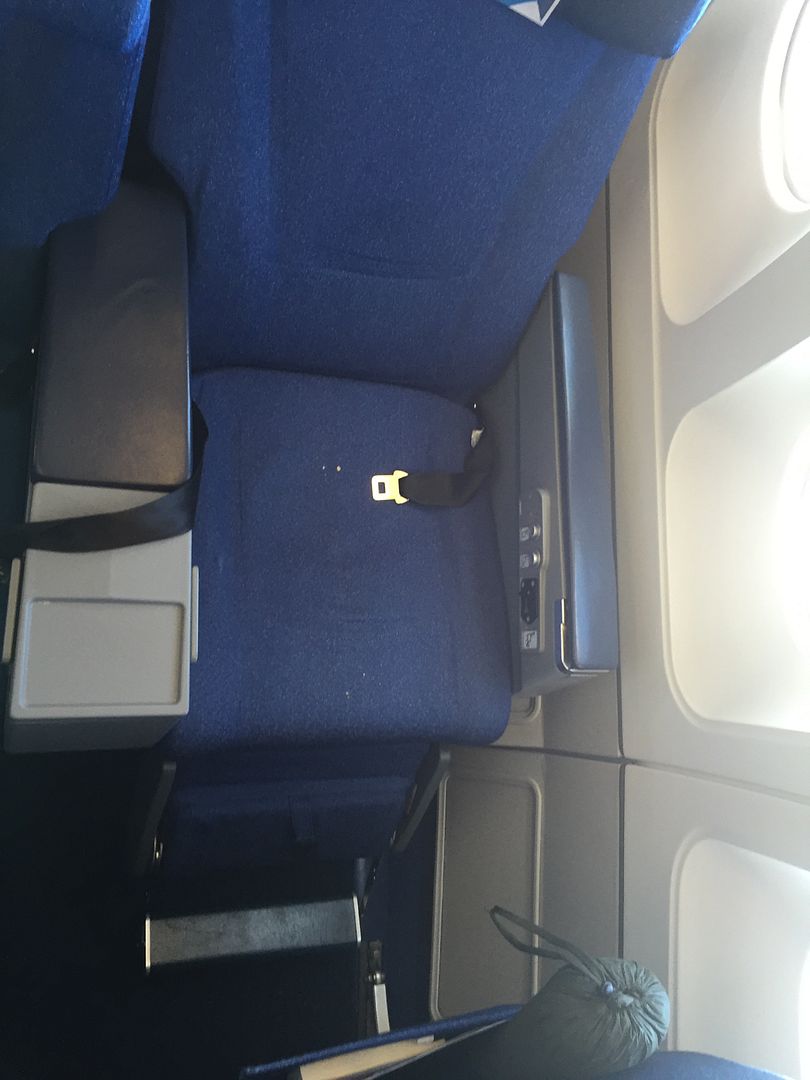 The bathroom was so cool that I could not resist taking more pictures.
Descent soon began at 11:04am Lisbon local time (an hour ahead of PDL).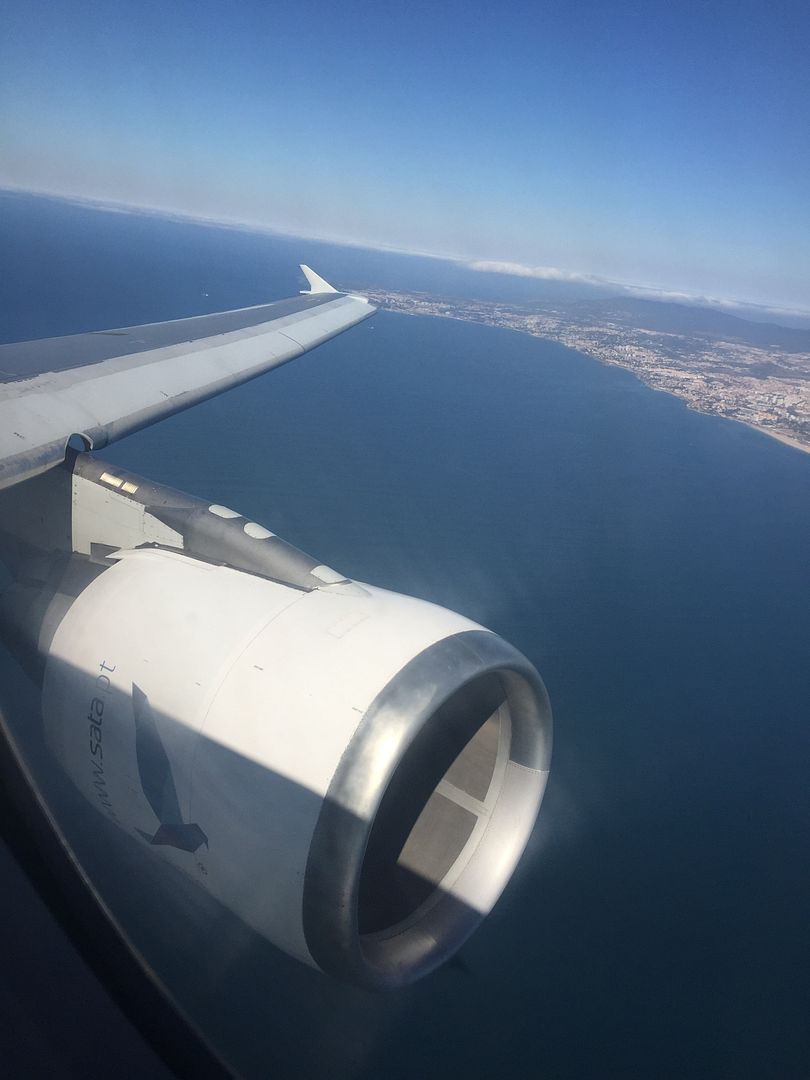 We landed on R/W03 at 11:26am and parked at gate 41 three minutes later.
Apron view – maybe one day I will fly TAP A330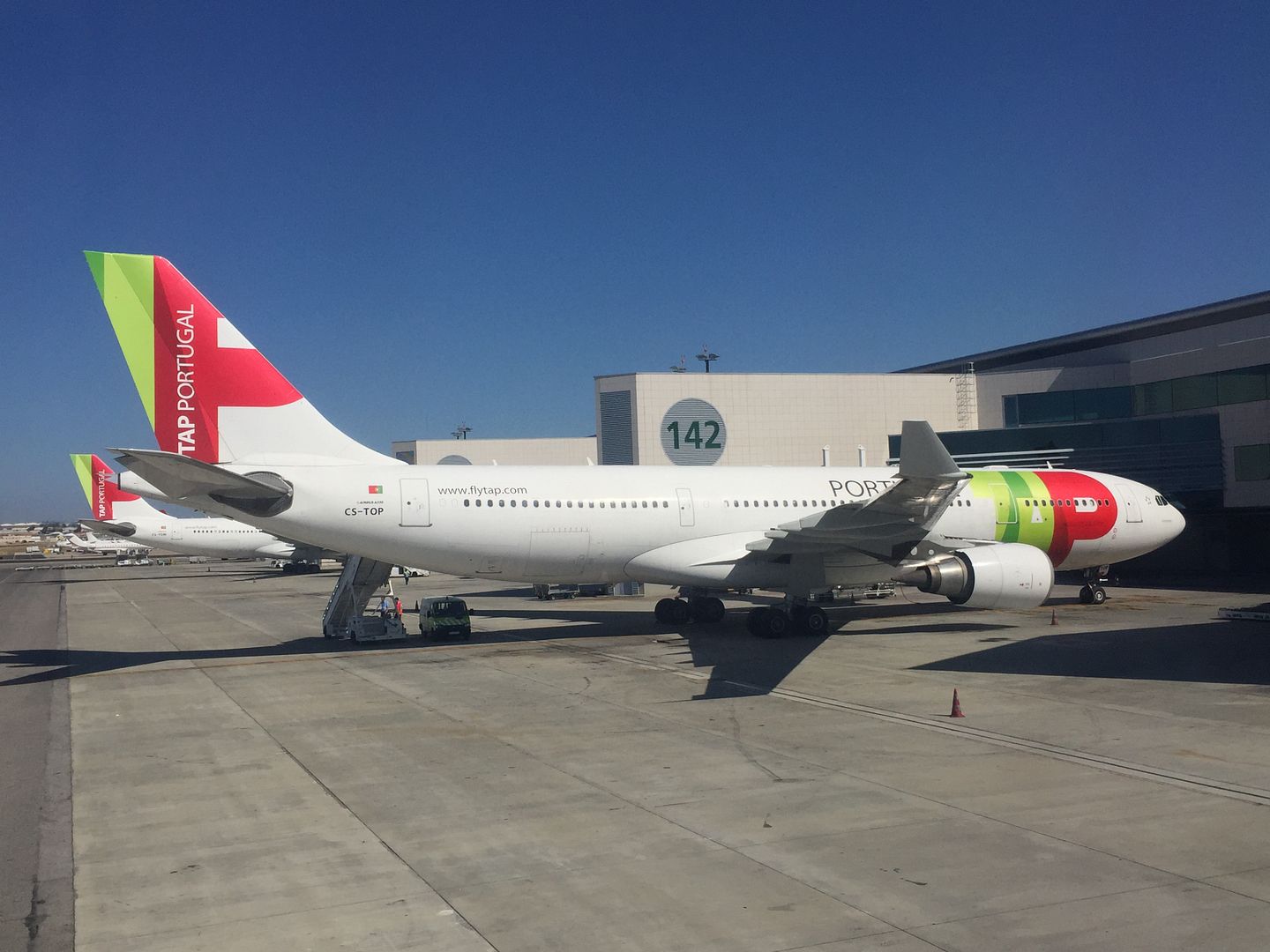 To my surprise, the flight was treated as an international flight, as many passengers were actually flown all the way from Boston. The immigration officer just asked if I came from Boston or the Azores, and since I came from Azores, I was waved through.
The most disappointing part of the flight was actually the really LONG wait for the baggage. The first bag did not appear on the carousel until 12:01pm – more than 33 minutes after we parked in the stand. Thankfully my priority bags meant something here in Lisbon.
In conclusion, I am pretty happy to finally get to fly A310, which is a lovely plane despite its age. I still might prefer Air Transat to SATA, but at least I did not fly it all the way from Boston. SATA will be moving towards an all A330 flight soon, and I hope they will take the opportunity to introduce a more up to date business class cabin. I don't expect fancy stuffs, but at least installed PTV, power outlets and a few modern gadgets. Service wise, it really needs help but given its relatively monopoly situation in the Azores, I don't expect change. I am a bit surprised that I find the F/As on my Ryanair flight friendlier than this SATA flight. The only time I see them smile was at the baggage claim.
SATA A310 – resting here before flying back nonstop to Boston later in the day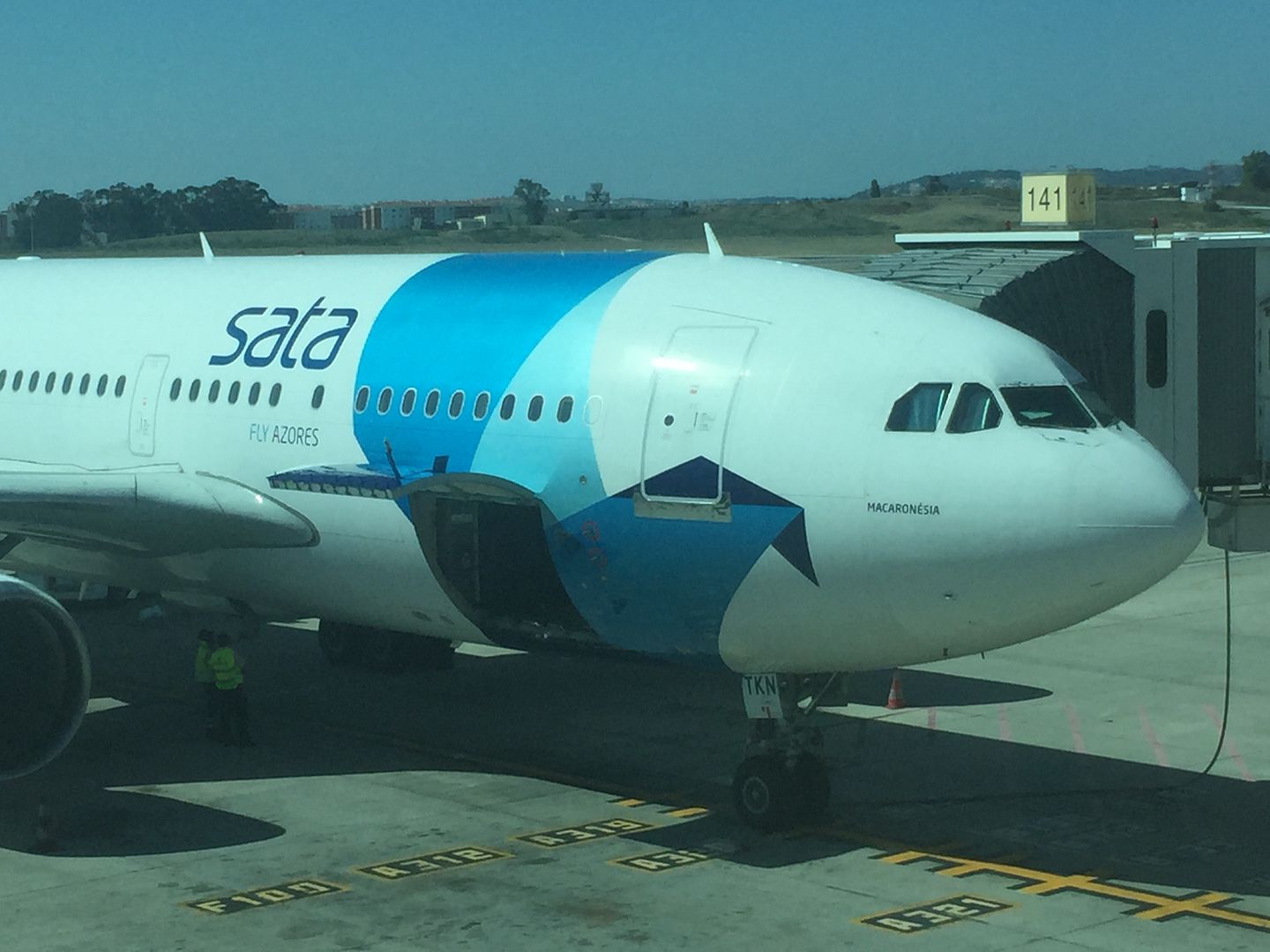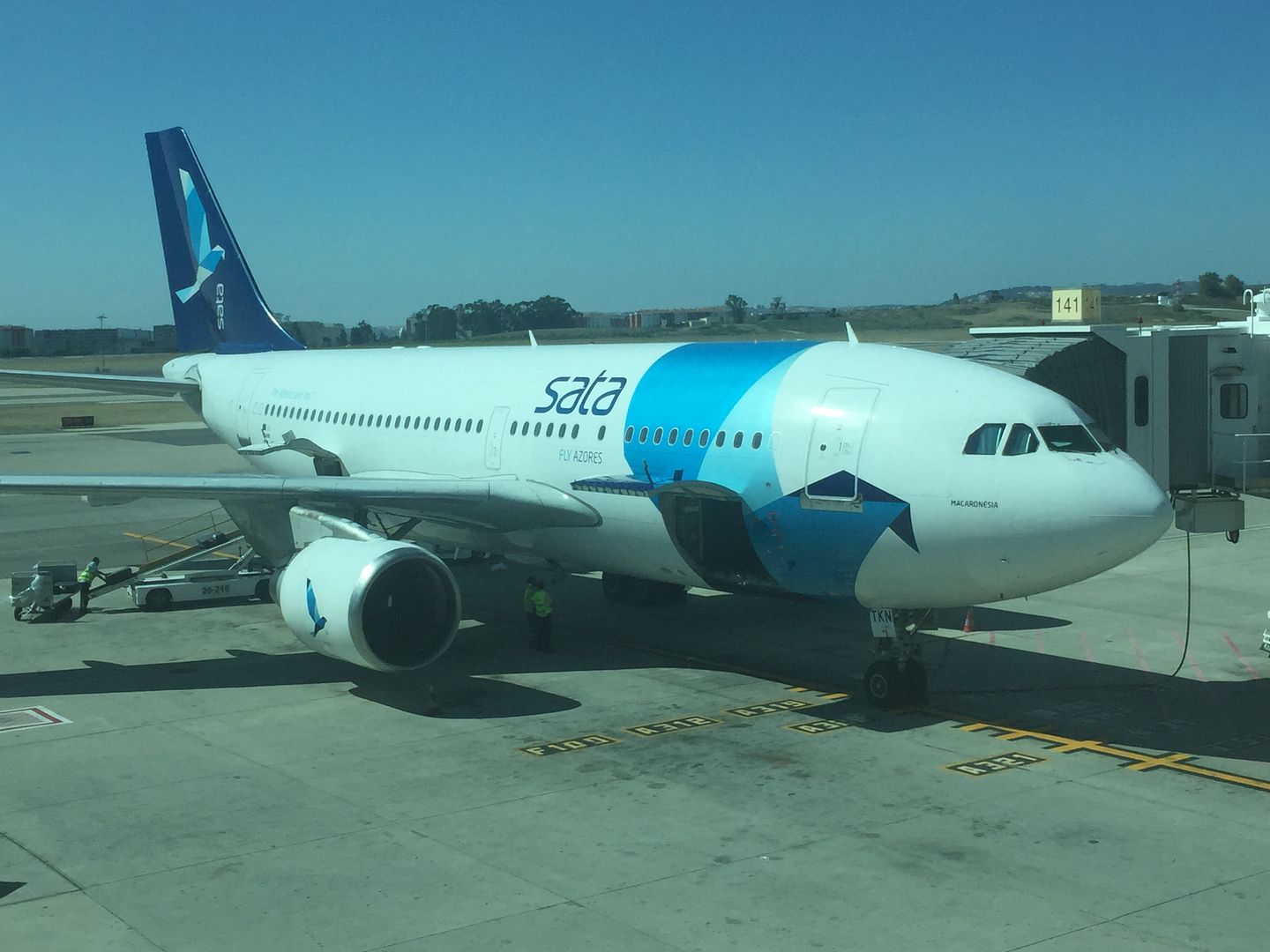 I hope you enjoy this little short trip report!
Carfield