Having read a couple of reports about bargains to be had on LAN's Madrid to Frankfurt service in Business Class, I decided to have a look for myself. The 2h15min flight was priced at £65 + taxes, so came in at about £80, which I thought was a bargain. It was especially gratifying to see that the price had gone up to £284 about 2 weeks before I flew, which is more comparable with other intra-Europe J class fares. The joy of this flight, of course, was that you get an inter-continental J class seat, as opposed to the what European airlines have the audacity to call a business class product, when, in fact, all you get is an economy seat with the seat next to you blocked out. LAN's seat on this route is the real deal, and the service was superb. The other huge draw for me was that I had not experienced the Dreamliner before, so three firsts here – LAN, the B787 and my first visit to Madrid.
The bargain price of the MAD-FRA flight was, of course, off-set somewhat by having to get down to Madrid first and then back from Frankfurt, which also meant hotel stays in Madrid and Frankfurt, but it was worth it.
The full routing was BRS-MAD on easyJet; MAD-FRA on LAN; FRA-BRS on BMI Regional.
This is what it was all about:
Bristol Airport has been undergoing a series of renovations and expansions over the past couple of years, and it seems as if they are coming to an end. What they have done so far is quite impressive, with some tasteful, modern design choices. Particularly good is the new Roof Terrace, although it is a pity the runway is not viewable. There are some new retail outlets already open, including "Traveller" which is trying to flog over-priced brands such as Barbour and Hugo Boss. Starbucks has moved from the centre of the concourse to the edge, but it would appear that their staff lost their cleaning equipment in the move.
This new ceiling feature works well within the redesigned terminal.
New spacious seating area with some funky seats.
Newly opened roof terrace is going to be especially popular in the summer, when I suspect it is going to get quite crowded.
Smokers are probably disappointed they're not allowed out there though.
Semi alfresco dining. A summer thing I would imagine.
FID boards outside too (there are no flight announcements at BRS)
Still lots of work going on inside the terminal – not sure what's going in the space that Starbucks used to occupy.
They've done a nice job with the terminal upgrade so far though.
Seating with free USB charging ports.
I haven't included any details about the easyJet flight down to Madrid. I am, though, a fan of easyJet; they seem to get it right every time in a way that Ryanair can't quite seem to manage, despite the fact that their products are, on the face of it, very similar.
This was my first visit to Madrid, and since I had a few hours to kill before the 15.15 departure to Frankfurt, I took the metro into the city centre.
Puerta del Sol, a zone that one imagines is pedestrianised until white vans appear from all sorts of directions heading straight for you.
Madrid's central square, with a Metro station now named "Vodafone Sol" – that is sponsoring gone mad IMHO.
It was a rainy morning in Madrid, and so I opted for a spot of shopping. Now, a bit off-topic, but I do have a gripe here. Some advice, though surely it shouldn't be needed, to the staff of Madrid's flagship branch of El Corte Ingles...If a gentleman clearly in his late 30's at least (greying beard etc) asks you where to find "moda hombre", don't send him to the 5th floor, which is youth fashion. Moreover, it would be helpful if the mannequins (and, indeed, fashions) on said floor were less androgynous, and if areas were clearly delineated. This would obviate the need for a clearly embarrassed shop assistant to approach a hitherto blissfully unaware Englishman to explain to him that the tops he has been mulling over may not suit/fit, and that he might like to consider men's clothing just yonder. At least I imagine that was the message. My Spanish is a bit hit and miss. As, apparently, is my gender awareness. For future reference, "moda hombre" is on the 3rd floor and can be clearly identified by a bloody great sign with the words "moda hombre" on it.
Following my disappointing shopping trip I headed back to the airport on the metro and arrived at Madrid's Terminal 4 about 3 hours before my flight.
Famous ceiling of Madrid's Terminal 4 – the yellow struts are green in the satellite terminal.
Another view – it is very impressive.
Iberia's lounge in Terminal 4 satellite building – it has great views of tarmac.
Spacious and light – the facilities are basically duplicated at either end of the lounge, although there is a bistro restaurant at one end that is open for evening flights for, I guess, a dine-before-you-fly service.
A fairly standard fare of hot and cold snacks with the normal range of drinks.
Almost missed the Häagen-Dazs freezer!
Decently equipped bathroom.
Here comes the aircraft arriving from Santiago.
Nice looking piece of equipment.
A rather small children's area in the lounge.
The wine bar dwarfs the children's play area!
LAN B767 in the foreground with our 787 lined up further down.
Some more spotting shots.
Including an Iberia in retro-livery.
Never heard of this airline.
Note the green ceiling support struts here; also good to see an indoor play area at the gates for bored children.
A good South American presence at Madrid this afternoon.
This is what it was all about – my first ride on a B787, and a chance to check out LAN's J cabin for a rock-bottom price. First impressions were very favourable.
The Business Class cabin is divided into two sections – 3 rows of 2-2-2 in front, then 2 rows of 2-2-2 behind.
Row 3 only gets two windows; both are controlled by the button nearest the seat. I thought the electronic shading interesting, but it was slower than I had anticipated, both to darken fully and to clear. I don't know if there is a weight benefit of these windows, but apart from that I don't see the great advantage of them, apart from it's not all-or-nothing.
Forward J cabin before departure.
J class headphones.
I think the biggest disadvantage of these seats (apart from not having direct aisle access from the window seat) was the lack of storage space for small items; there is a small net pouch under the armrest (which lifts up), and a bottle holder, and there is a small cubby-hole next to the ottoman, but little within easy reach. First world problem, I know.
Seat controls. Slightly old-fashioned looking?
Content of magazine rack.
Pre-departure drinks and nuts were served – Champagne, some cocktail that is LAN's signature drink, but the only non-alcoholic option was water.
Decent sized screen, but far enough away for me to have to put my glasses on!
Place for cocktails...
...opens up for a bit more space.
There was a privacy screen between the paired seats, but I couldn't work out how to operate it; it may have been broken, I think.
Moving map was good, but not the latest technology.
Windows darkening.
Window control on dark setting.
Not much to say about the leg-room.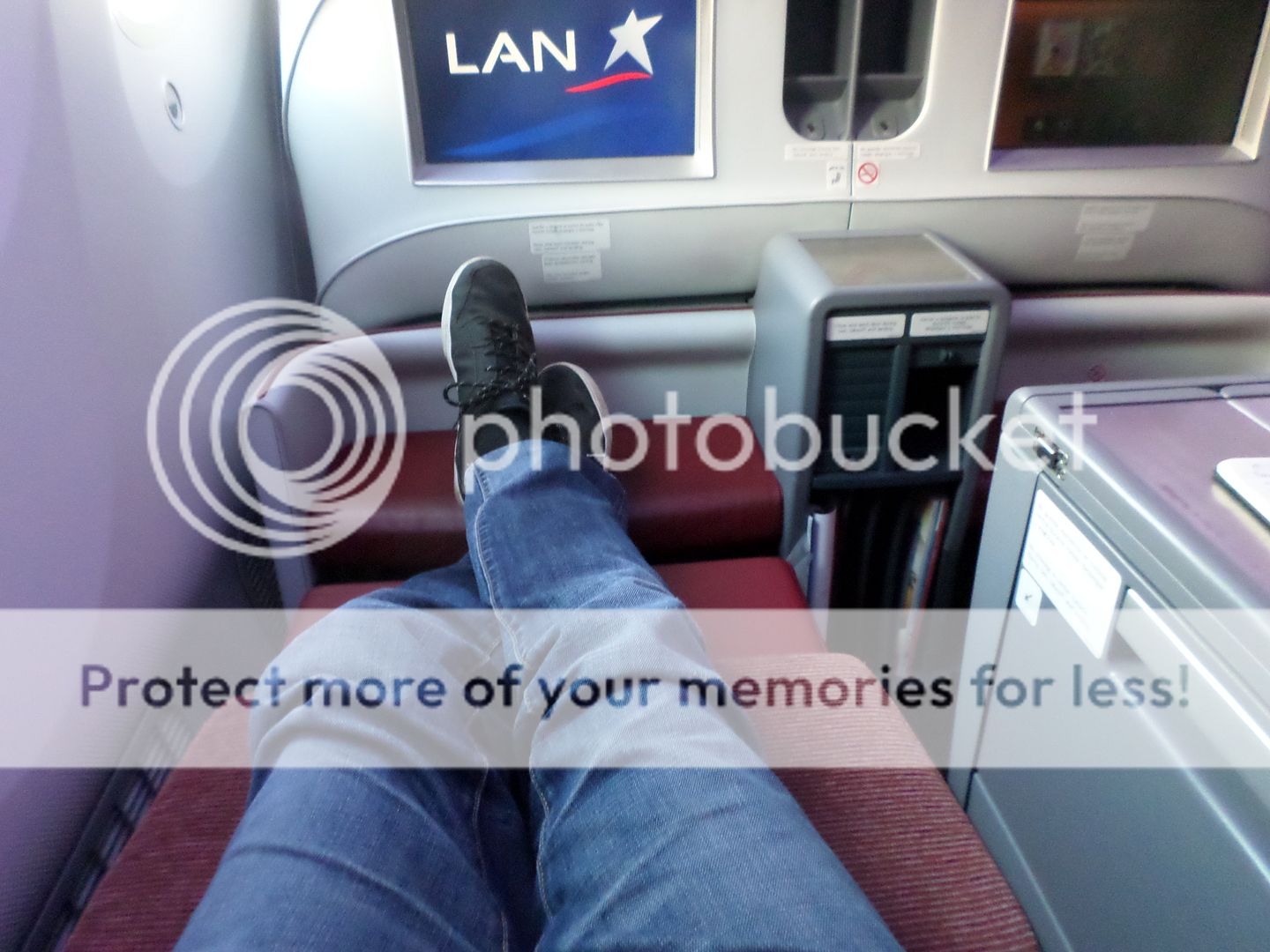 Love Moleskine notebooks!
Large tray table.
Episode of Modern Family, but even with windows fully dimmed there is still a blue glare over screen.
The bathroom was as small as any you would find on easyJet or similar – a bit disappointing for the J cabin. No fancy products on this short trip, but they may have been removed after the transatlantic leg.
Hot towel service before the meal.
One tray cold meal served on this intra-Europe hop. Choice of bread roll, fresh salad and fruit, chicken roulade, stuffed with mozzarella, red pepper and asparagus. Lindt chocolate to finish. A couple of rounds of drinks, and more if one asked. Crew were also happy to serve more bread if requested.
Nice to have ceramic salt and pepper shakers, which have disappeared from other premium cabins. I wonder how long before passengers have pocketed all of LAN's supply.
Good quality branded silverware.
And a decent sized cup of coffee.
Much to my seat neighbour's bemusement, I went into bed-mode to check out the length; it was, I think, just a bit too short for someone of my height (about 1m80), as my head was touching the seat back, and my feet were up against the wall at the other end. Another one of those first world problems.
This I loved – this is where we boarded the plane – so much more spacious than on conventional aircraft.
Engine and wing. (My nephew, Thomas, needs these things pointed out to him, otherwise he gets confused).
All over too soon – would like to fly long distance in this cabin. It doesn't equal the product you get on the likes of EK, EY or CX, but it was comfortable and the crew and service certainly surpassed my last experience of CX Business Class.
Final leg of the quick Euro-jaunt was Frankfurt back to Bristol on BMI Regional. This is the famous FRA retro FID board.
Great spotting opportunities from Frankfurt's Terminal 1.
Not sure who this one belongs to – any ideas?
Just beautiful.
A bit blurry (well, very blurry), but another retro livery, this time LH.
Another shot of one of LH's 747-8's.
Nice advertising.
Qatar in its One World livery.
Another blurry one (we were in the transit bus afterall), but another airline I've never heard of.
Our little plane to take us back to Bristol. There were only 18 passengers on this flight, so plenty of room for us all.
Onboard.
Total fleet size is just 18 aircraft now for BMI Regional.
Lining up for take-off.
Drinks and snack service included. Warm cheese Panini, and choice of drinks, including beer (possibly wine, not sure as I didn't ask).
And back to Bristol.
Next trip is going to be at Christmas on Malaysian down to Adelaide via KL in Economy. Hope you have enjoyed this one.