Hello fellow A.netters!
I recently took a short holiday to Perth, and had the pleasure of flying on Virgin Australia's new Business Suite on their A330-200s and their new domestic pier at Perth Terminal 1, so I thought I'd share my experiences.
A little background to this trip, I had booked my tickets back in September with the main intention of attempting to try the new VA business product. My chosen flights were VA677 departing Melbourne at 7.15am on 23rd, returning on VA694 at 5.15pm on 25th Nov.
The normal retail price of a return transcon business class is out of my reach, so I utilised VA's UpgradeMe cash auction upgrades. I booked myself on the cheapest economy saver fare during a sale, then immediately went on the UpgradeMe site to put in my bids. The minimum bid was AUD300 for each sector, which was what I bid. For the next 2 months, I kept an eye on the loads in business for my flights. At one point, I went back to review my bids and found the minimum had gone to $390, but my bids were still valid so I didn't bother to top up.
The results of UpgradeMe bids are emailed any time between 72-24h before departure, and sure enough, on Friday the 20th I woke up this email:
I immediately went online to manage my booking and found I had been allocated the last window seat, the bulkhead 1K. On Sunday night, again roughly 70h before the return flight, I received another email congratulating me on 'winning' my bid for that flight. I went online to select my seat for VA694, this time opting for 5A, the last row of business class.
Seat selection for VA677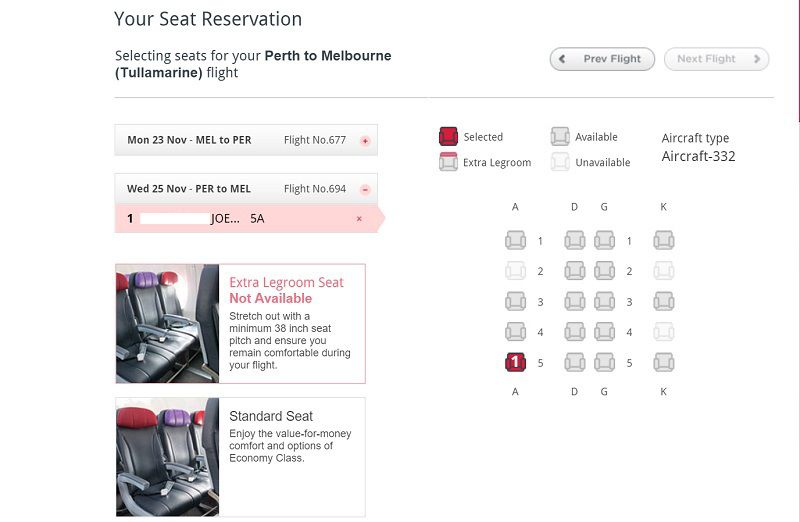 VA694. Load turned out to be higher, 13/20 seats taken.
As an added bonus, in late Oct/early Nov VA announced they would commence operations from their new Perth T1 domestic pier on 22nd, which meant I would be flying in on day 2 of operations. With upgrades confirmed and a new terminal to look forward to, this trip was starting off very well.
23rd November 2015
VA677
Airbus A330-200 VH-XFJ
Scheduled dep time: 7.15am
Scheduled arr time: 8.30am
Seat: 1K
I usually don't sleep well before early morning flights and Sunday night was no exception, no doubt my excitement at flying a new product played a part in the lack of sleep. I reached the long-term carpark at Tullamarine at 6am and was at the Virgin terminal shortly after. I headed up to departures where there was a slightly long queue for priority check-in. Nonetheless, check-in moved fast and after a friendly chat with the agent about the new product, my bag was priority tagged, boarding pass issued, and I was off to the lounge in about 10min.
Boarding pass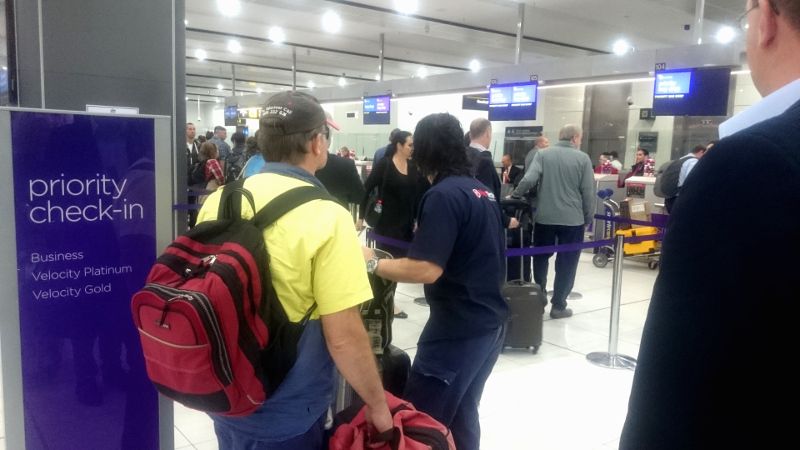 Priority check-in at Melbourne
Busy lounge entrance
The lounge was crowded, being a Monday morning, but I found myself a seat by the window. I had just used the lounge when flying to Sydney the week prior, so I was familiar with the offerings, There was an assortment of cereals, pancake machine, toastie station and a couple of hot items. For drinks, there was a barista station and various juices.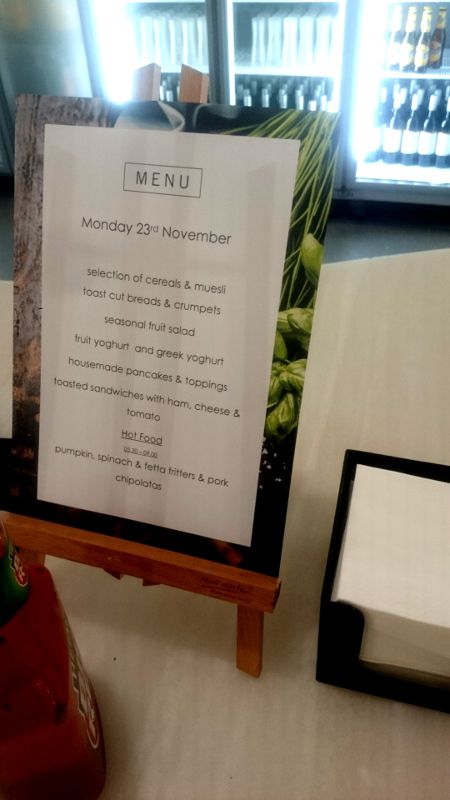 Breakfast menu in the lounge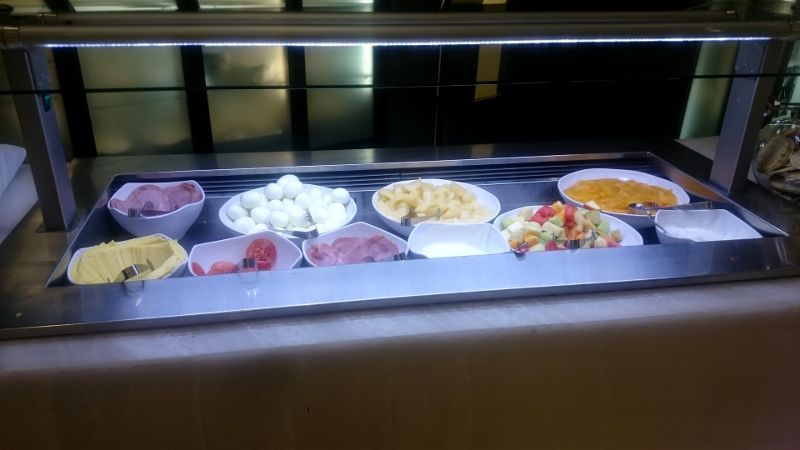 Fruits and various items to make a sandwich
Toastie machine
Pancake machine
I decided to grab a couple of pancakes and almost the same moment that the machine finally spat out my pancakes, a boarding announcement for VA677 was made, at about 6.35. I ate quickly, grabbed some photos around the lounge and made my way to the 'premium exit'. The VA lounge in Melbourne is pre-security, so for flights departing from gates 1-10, there is an exit with a dedicated security area.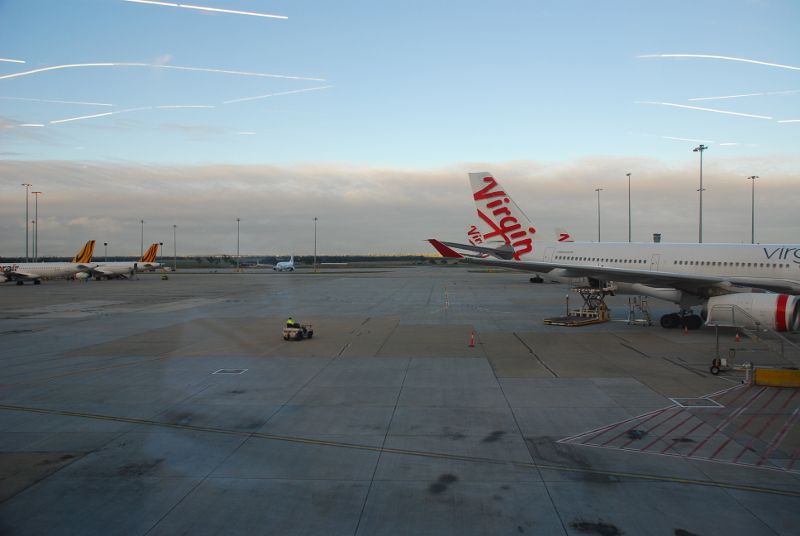 View from the lounge. The A330 in the foreground will operate VA811 to SYD, while the second A330 in the background is VA694
Premium exit to dedicated security screening area
VA677 was boarding from gate 8 this morning, and when I got there general boarding was well underway.
VH-XFJ
I used the empty priority lane, but with only door 1L in use, the queue to board had backed up halfway down the aerobridge anyway. At the door, I was greeted by a smiling crew member, "Welcome to business class". A quick stride across the galley and I was at my seat.
With passengers still boarding, I couldn't get a photo of my seat but took one after we got airborne.
My seat 1K
First impressions of the seat were good; I like the colour palette that VA has gone for, rather elegant in my opinion. I did notice that the aisle-side panels of the seat do pick up scratches and scuffs from the knocking of bags rolling by.
The first thing that struck me about the seat when sitting down, was the enormously deep footwell. VA (if I recall correctly) boasts that the new suite - based on the BE Super Diamond - is the longest business class bed in the sky. I wouldn't argue with that given how deep the footwell stretches.
The rather long footwell
The seat has a number of storage spaces, all neatly hidden away under various panels. The IFE controller is also tucked away under one of these panels. The various outlets, USB, power, headphone jack are all located in the storage compartment, and there is a gap for wires to pass under the panel when closed.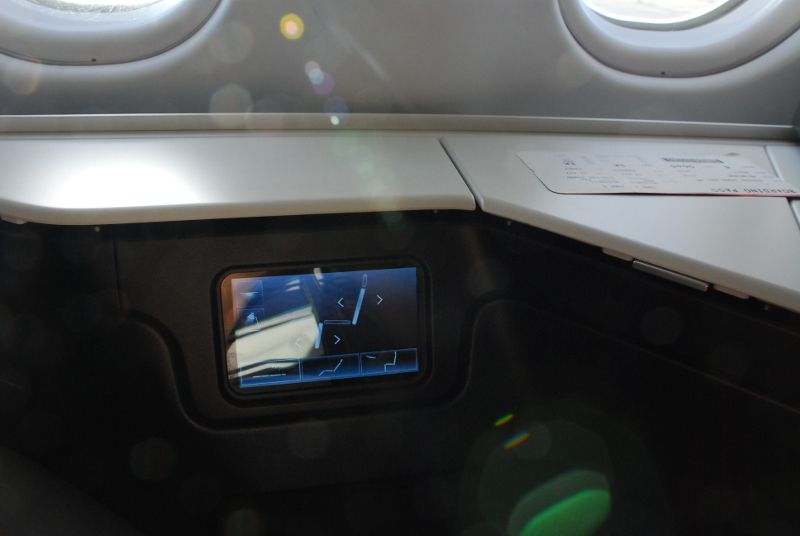 Side panels
Seat controls, IFE controller with side panels open
Storage space and various ports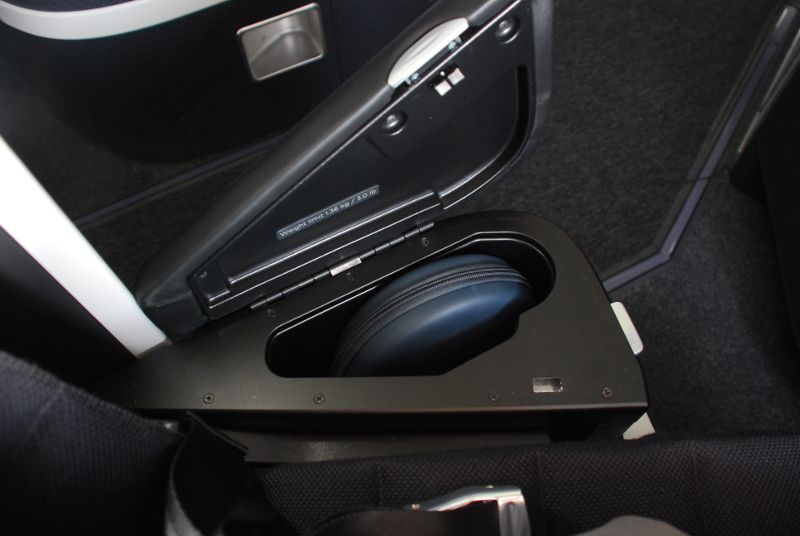 Headphones stored in the aisle-side armrest
The literature pocket is at head-level, along with an adjustable reading light.
Literature pocket
The seat control panel is touchscreen and easy to use. There's presets for take-off/landing, lounging and full flat. Of course, the angle of recline and legrest can be individually adjusted as well.
The one thing I like about the Super Diamond compared to the similar reverse herringbone Zodiac Cirrus, is that the PTV is fixed directly in front, no need to stow for take-off and landing. The screen is a big 16in touchscreen. I found the touchscreen reasonable responsive and the interface easy to use. On both my flights, I don't think I used the handset at all. The screen is sharp and didn't suffer from glare.
PTV and tray table
The volume of entertainment options isn't the most extensive, but should suffice given the A330s pretty much just do transcon runs. A slightly irritation is that episodes of TV series are not organised by series, rather each episode is listed one-by-one within each genre (Comedy, Drama etc.). Music selection is okay, with emphasis on Australian artists. The only movie that interested me was the latest Mission Impossible, so that's what I put on.
Picture quality is quite good
Not the best quality headphones around
As I was settling in, a crew member came over to enquire if I would like a pre-departure beverage of juice or water. My recent experience of VA business is that pre-departure drinks are not served from a tray, rather the crew member serving would introduce himself or herself, take an order and then bring the drink out. This had not been the case on my first VA business experience in April though. In any case, a glass of orange juice was promptly brought over, along with the menu. She also asked if I had flown in the new suites before, and proceeded to describe the various features of the seat when I replied in the negative.
We push back right on time, taxiing past the international and Qantas terminals on our way to runway 27. Despite it being peak hour, we didn't hold for long and were airborne by 7.25.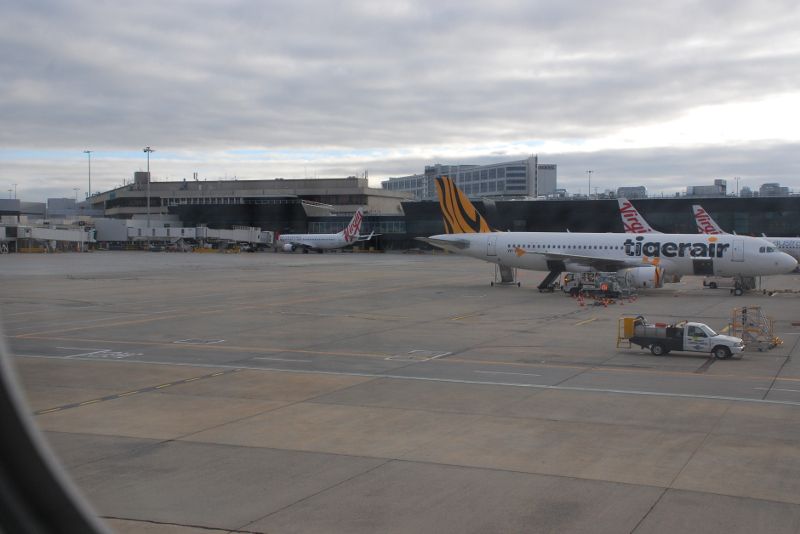 Pushed back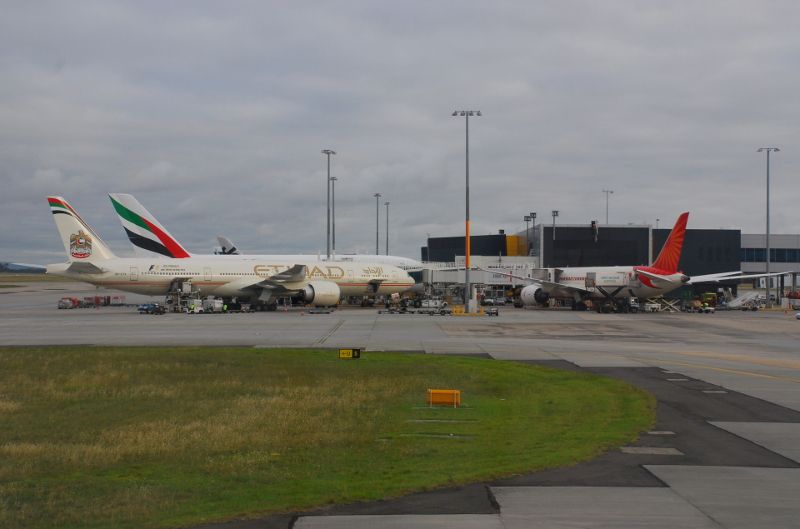 Heavies at the international terminal
VH-VKE resting having arrived as JQ8 from Singapore earlier in the morning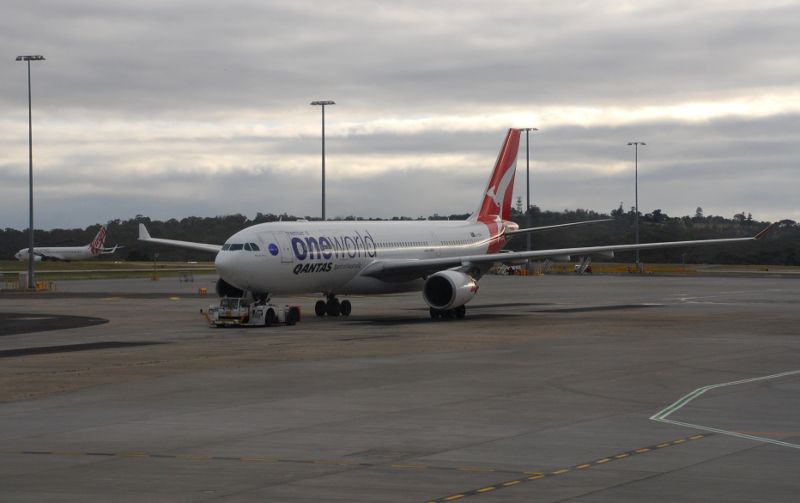 QF Oneworld logo jet VH-EBV being towed to a remote stand after operating QF36 from Singapore
SQ227 operated by 9V-SNA taxiing to the gate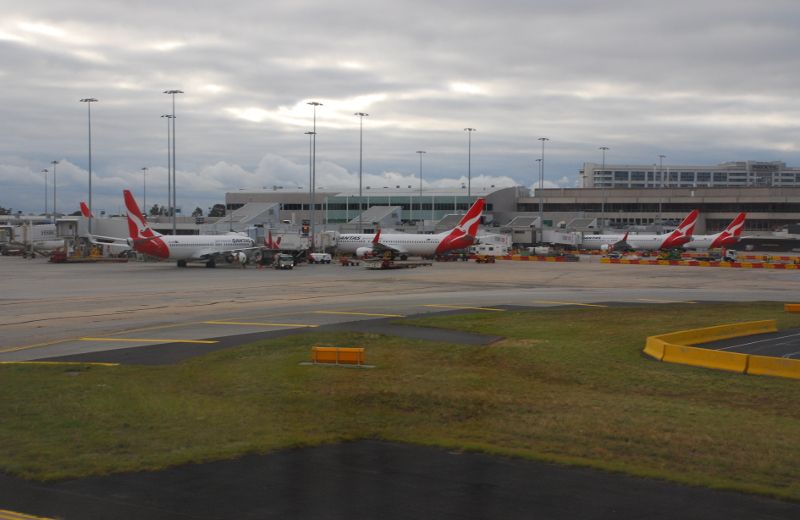 Passing the Qantas domestic terminal
Climbing out of runway 27
Once the seatbelt sign was extinguished, the crew got to work. Blankets and hot towels were offered, and breakfast orders were taken. Australian chef Luke Mangan is VA's chef consultant and my past experiences with his menu on VA have been largely positive. Here's a look at the menu and drinks selection: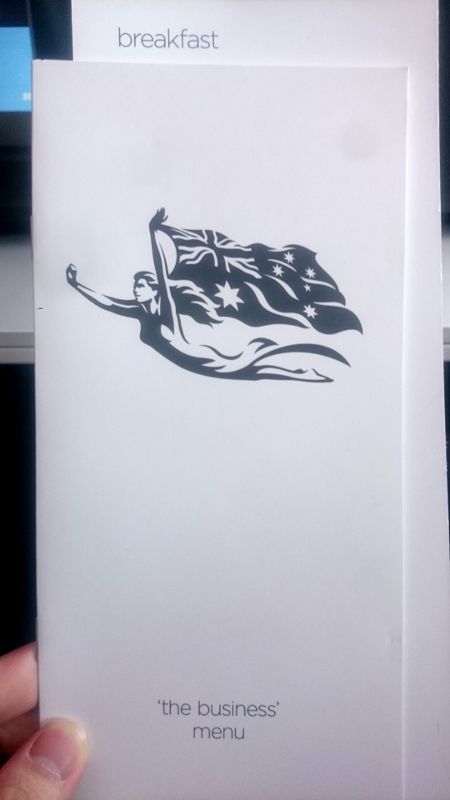 Menu cover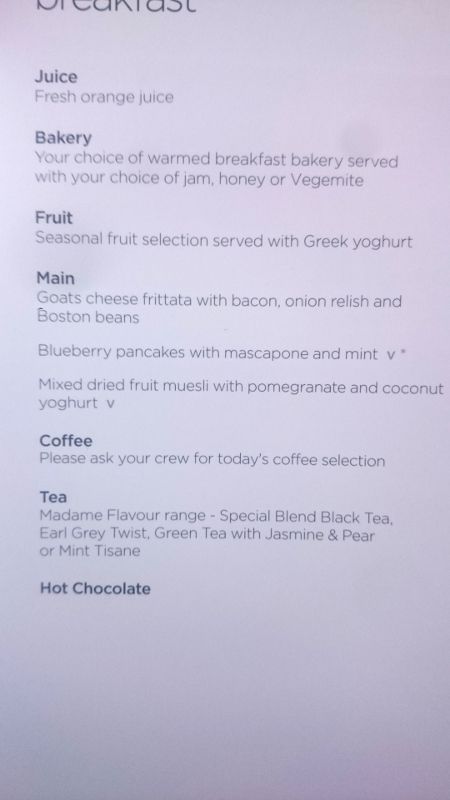 Full breakfast menu
Express breakfast option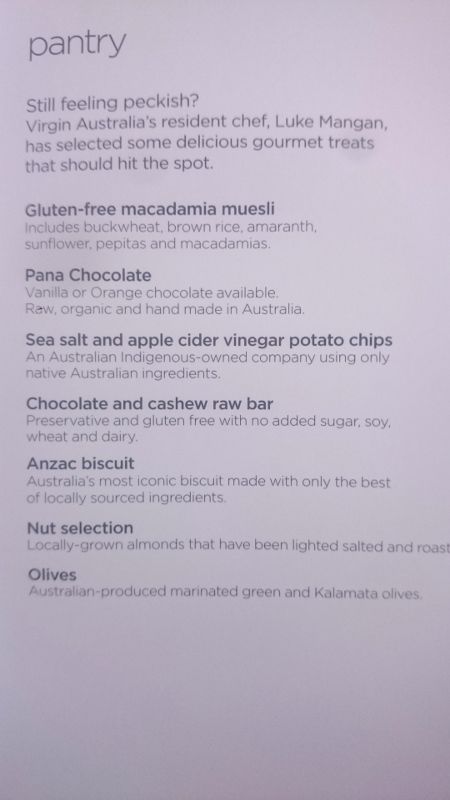 Snacks available throughout the flight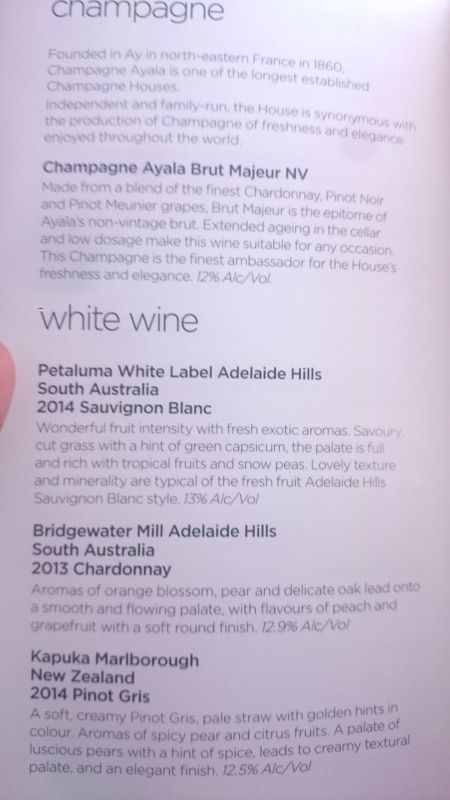 Champagne and white wines
Red wines
I opted for the full breakfast service, with the frittata for my main, accompanied by a mug of earl grey tea. The earl grey was delivered first.
Tea with proper sugar cubes, not sachets
The bread basket was next together with a choice of spreads. I selected a roll and strawberry jam.
Bread and table setting. Love the salt and pepper shakers in the shape of the Sydney Opera House
This was followed by fruits and greek yoghurt, which somehow managed to escape the attention of my camera. I didn't finish the yoghurt but had the fruits, which were sweet and refreshing. My barely-eaten yoghurt was cleared and my frittata arrived.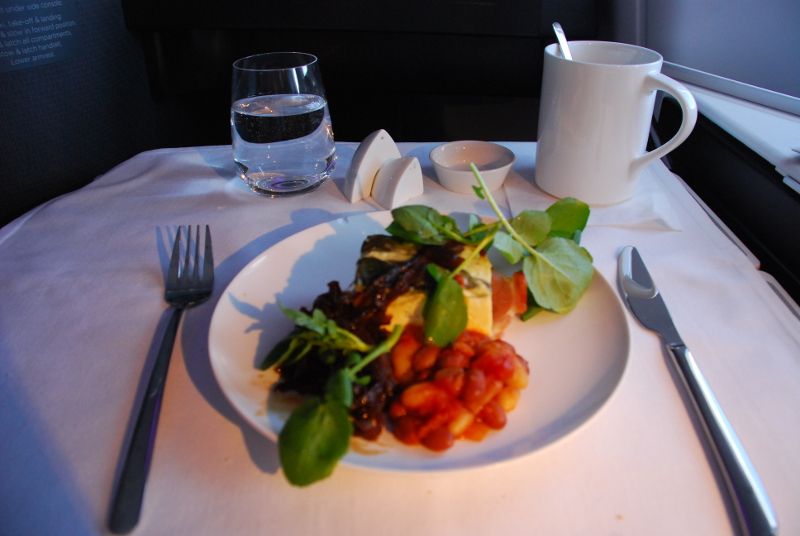 My choice of main – goat's cheese frittata with bacon, onion relish and Boston beans
The frittata was rather disappointing. I found the onion relish too sweet, while the frittata itself was rather bland, which the bacon could not compensate for. Overall, a rather average breakfast.
Once Rogue Nation finished, I decided to take a walk, having never flown on VA's A330 before.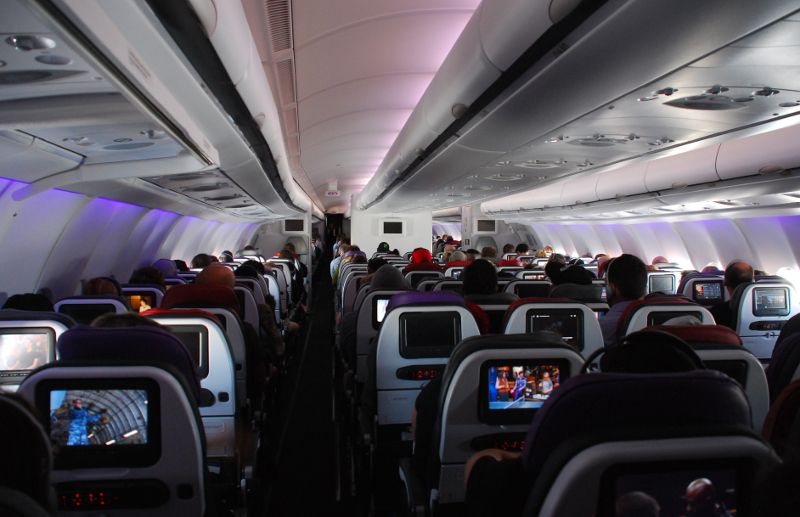 Rear economy cabin
Business cabin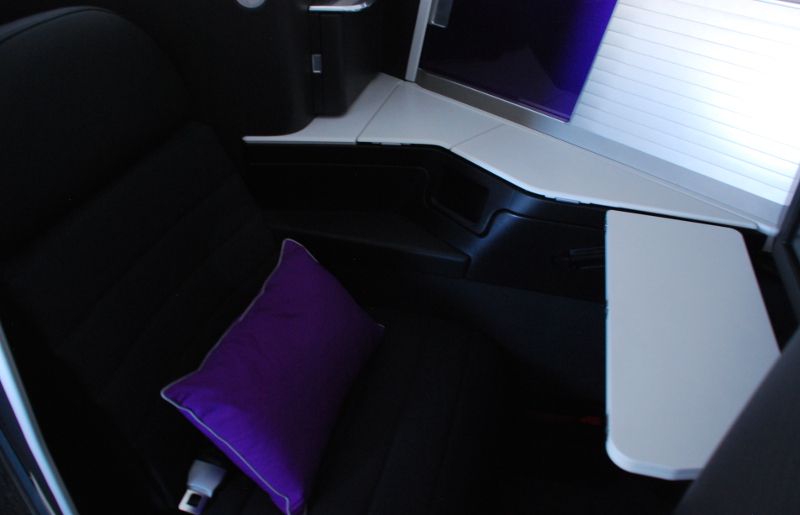 Business class centre seat
My tour of the aircraft complete and with nothing else that I felt like watching, I decided to put the seat fully flat to test it out. It passed the test, as I managed a quick nap and woke up with just under an hour to go.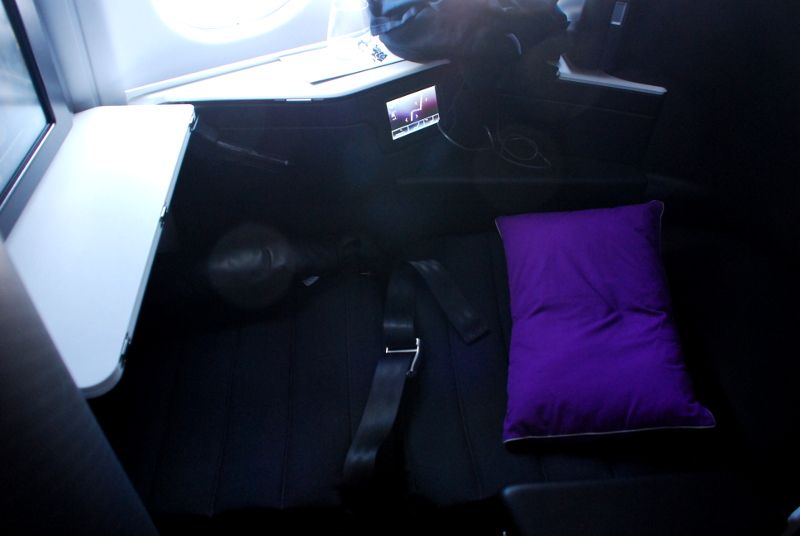 Seat in flat mode
Wanting to hit the ground running to maximise my short time in Perth, a cup of coffee felt in order. After all, it would be waste to not get a coffee from the new Nespresso machine that was part of the business cabin refit. I made a visit to the lavatory (nothing special so no pics) and requested a latte on my way through the galley. This was brought to my seat with a small bar of Pana chocolate. To be honest, I've never had coffee from a Nespresso machine so I don't know what it tastes like on the ground, but I found the latte lacking in depth and richness. My search for good airplane coffee continues.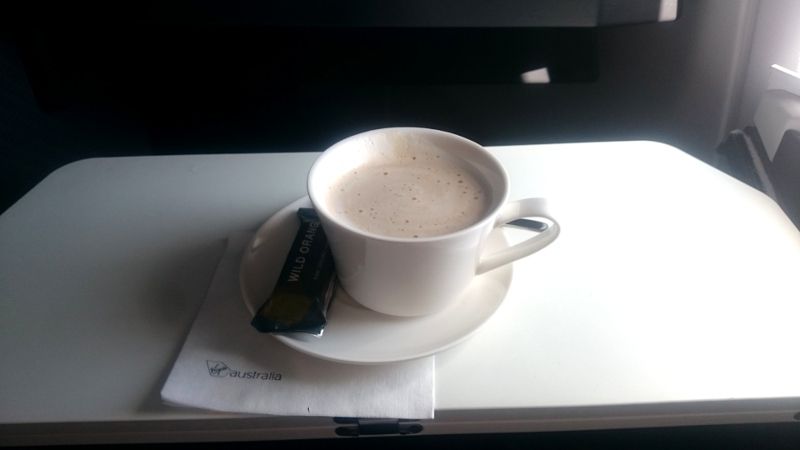 Latte with a bar of Pana chocolate
About 40min before landing, the captain came on to give some details of our arrival. I must have missed his welcome announcement having boarded relatively late, as this was the only time I heard from the cockpit up to that point. We would be arriving from the south and expected to be docking at the gate around 8.15. A second hot towel run was done as we descended. I should mention that I find the hot towels VA use rather cheap, thin and small; I think I get better towels in SQ economy.
The approach, and indeed most of the flight, was fairly smooth and as predicted by the captain we touched down on runway 03 at 8.11am.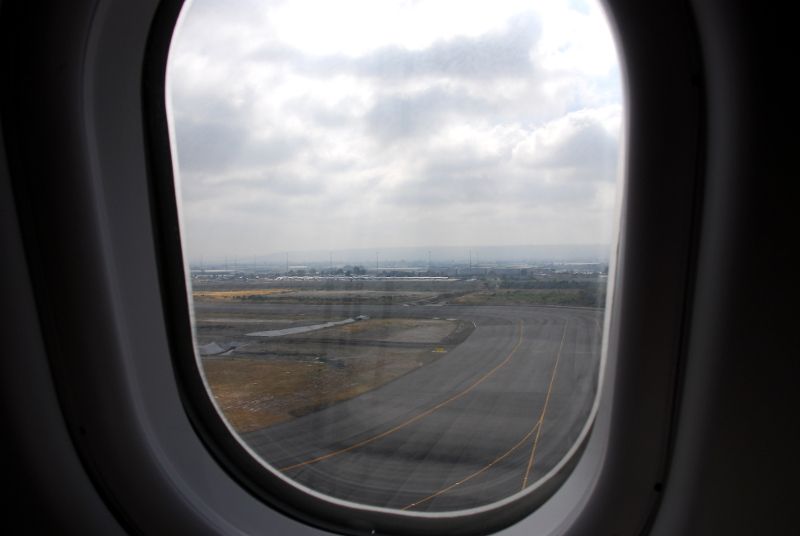 Almost there
We held for awhile after exiting the runway to the right, before
very
slowly and cautiously making our way to gate 50 at the new T1 domestic pier.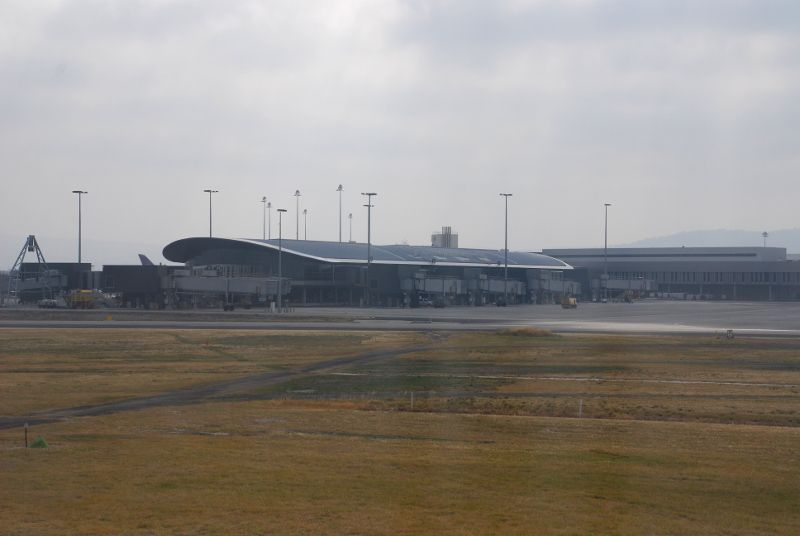 First sighting of the new T1 Domestic pier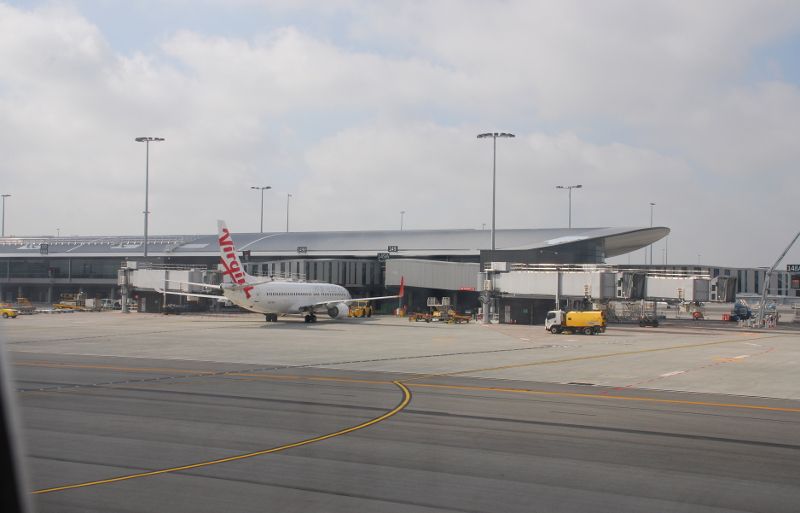 A 738 parked at gate 49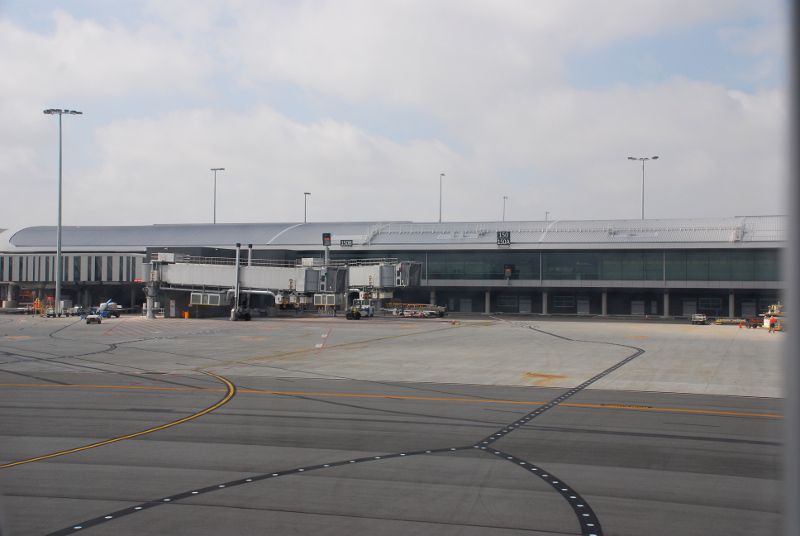 Our gate – gate 50
We parked and for a couple of minutes nothing happened. The captain finally announced they were having issues with the bridge and I later overheard a conversation between another passenger and a crew member which seemed to imply there was some confusion over whether we would be disembarking through door 1 or 2. In the end, only door 1 was used and we were off the aircraft with just a few minutes delay.
Into the brand new terminal I went, and immediately one realises how modern it is compared to the considerably older buildings of the other major Australian airports. The pier is bright, airy and wide. I don't pause for many pictures, since I'll be passing through again in a couple of days and I figure (wrongly as it turns out) that I would have more time then. Instead, it's quickly down to arrivals.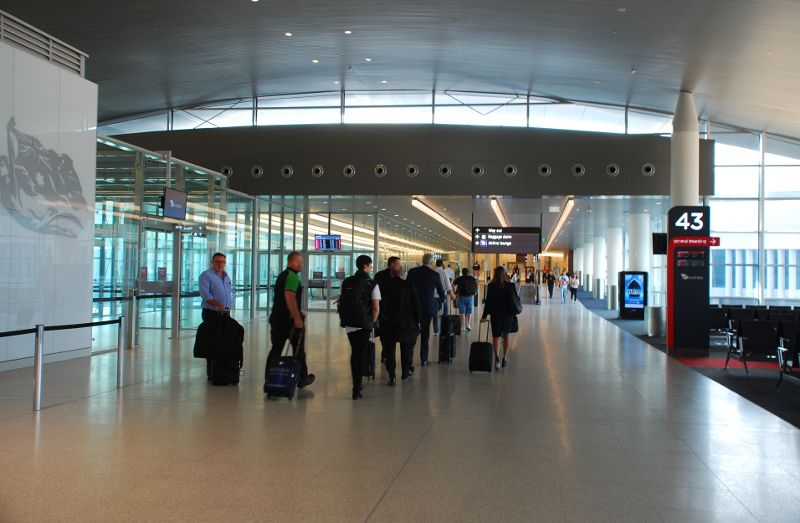 Towards arrivals and baggage claim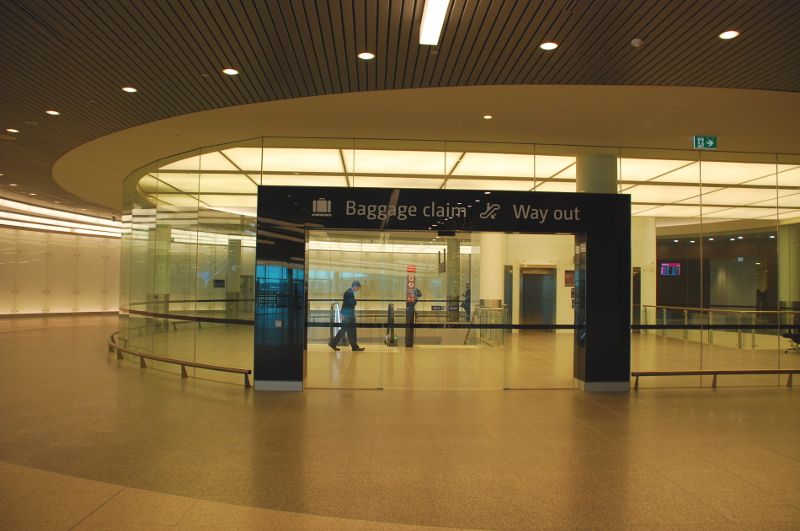 Down to baggage claim
Carousel number 1 for us today
There's only two carousels, and it seems we're the only arrival at this time. It's not long before the belt starts moving and my bag is amongst the initial wave of priority-tagged bags. The rental companies are just beside and somehow, despite my bag being out quickly, I've still ended up at the back of a six-deep Thrifty queue, which moves slowly because the computers are suffering Monday blues in the new office. No one else comes to Thrifty after me so when my turn comes I'm the only one left and I have a nice chat with the staff. Although I booked my rental just a couple of days prior, there's no compact car left, instead I get upgraded several categories to a full size Camry. From the terminal, it's a 200m walk out the right to the rental lot, where I meet my unnecessarily (for my needs) large wheels for the next 3 days. I load up, and then it's off to explore Fremantle before heading to my hotel in East Perth in the evening.
The return
25th November 2015
VA694
A330-200 VH-XFC
Scheduled dep: 5.15pm
Scheduled arr: 11.50pm
Seat: 5A
After a pleasant couple of nights in Perth, it's time to head back to Melbourne and experience departing through the new T1 domestic. I drop off the Camry at 3.45pm and head for the terminal. I spent the morning walking around Kings Park and I'm rather keen on grabbing a shower in the lounge.
Exterior of Perth T1 Domestic
Walking in the side, priority check-in is directly ahead. There's the usual self-check-in kiosks, and the interchangeable check-in counters. According to VA, these desks can serve as either manned check-in desks or self-check-in, leaving passengers check-in and tag their bags themselves. I've used the Qantas machines in Melbourne before and frankly I'm terrible at tagging my bag, so I'm glad there is one manned desk at the priority area today. The one major drawback of these machines/desks? The boarding pass is the same flimsy, thin paper that you get from the kiosks, not the solid boarding cards.
Priority check-in area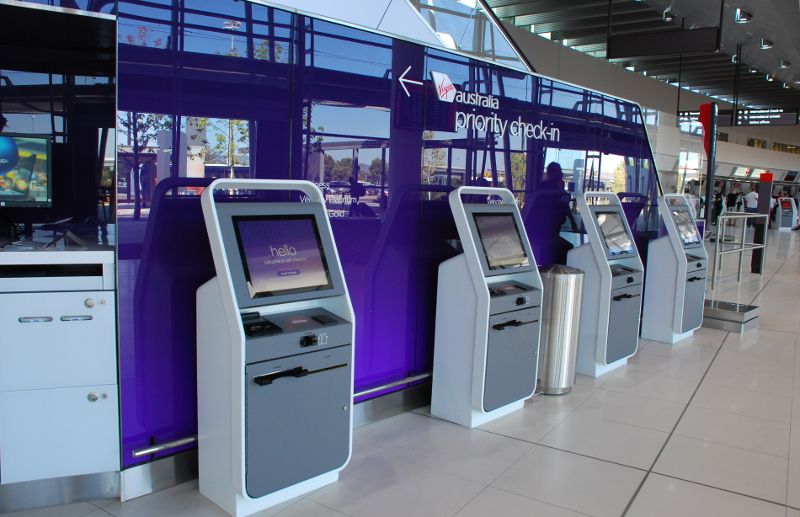 Priority check-in kiosks. Purple rather than the usual red background
Regular check-in area
Check-in kiosks
Priority area from another angle
Flimsy paper boarding pass
As you can see, check-in is pretty much deserted, so the process takes just a minute. I walk around a little bit, but there isn't much to see since this is basically just a small extension of the international side of T1. I head up the escalator and security is straight ahead to the right. There's nothing else here, except a toilet, so no getting lost. There's a priority screening lane, which leads back to the main screening area. I assume at crowded times the priority line gets dedicated screening or cuts the general queue, but today there's only one machine in use. I don't bother walking down the priority line since there's no need to. Security is quick and I turn left for the lounge.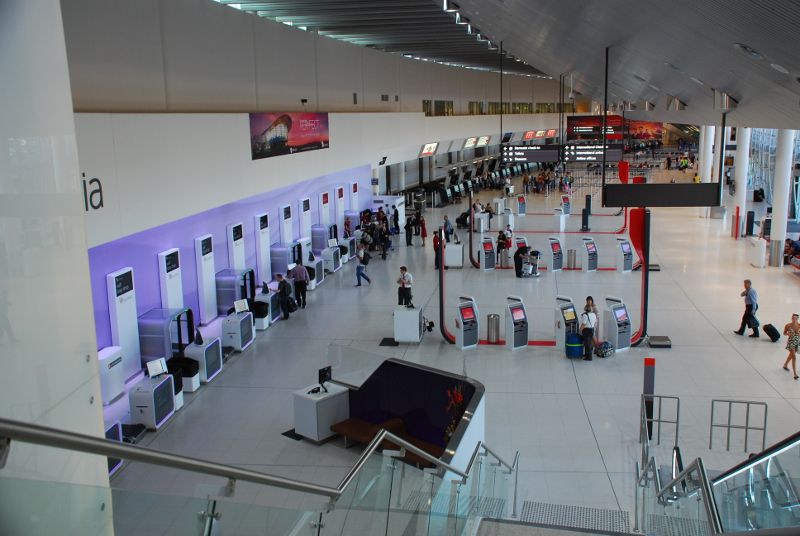 Overview of check-in area from departure screening level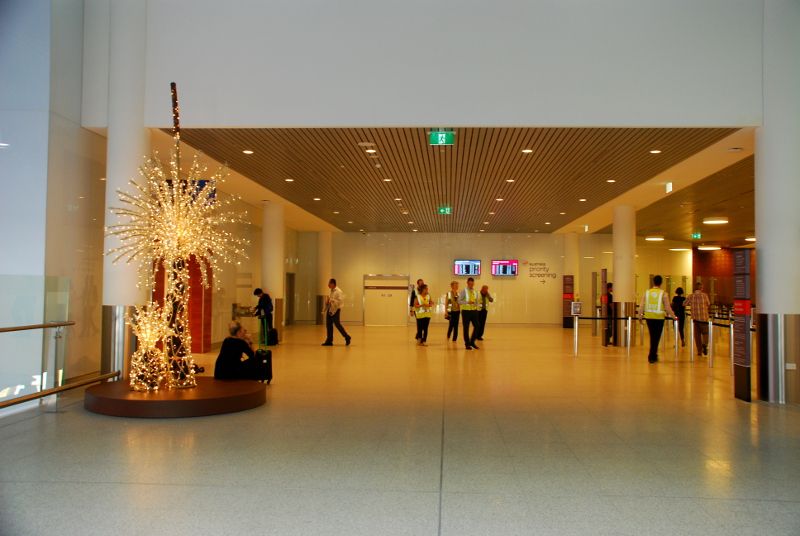 Heading towards security screening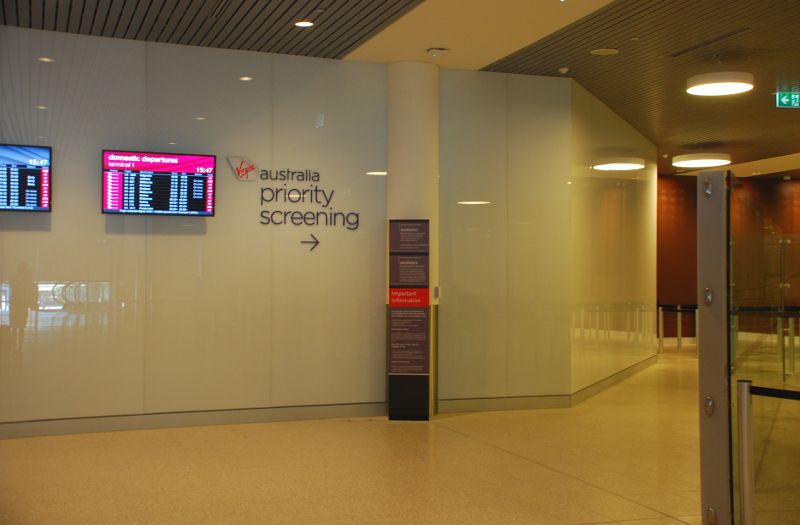 Priority screening lane. Not necessary this afternoon
Lounge entrance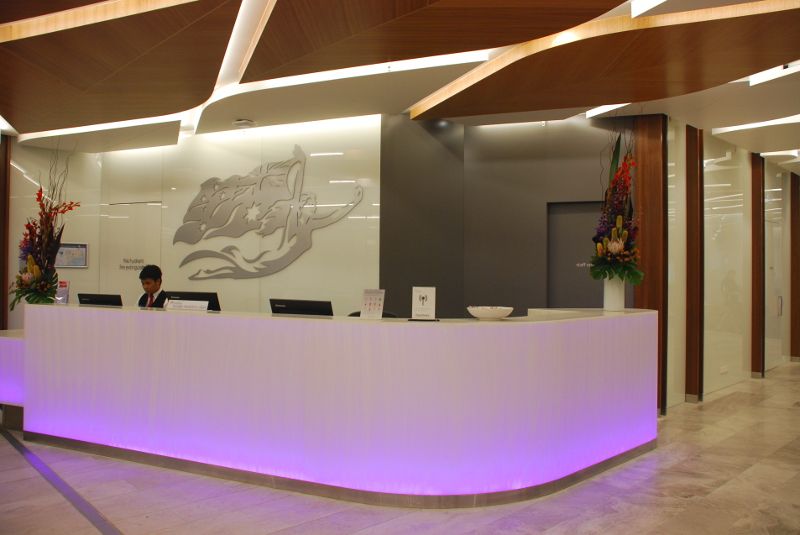 Lounge reception
The lounge agent welcomes me in and checks my boarding pass. I request a towel and he disappears momentarily to get one. The toilets are just past reception, so I head there first. I have one major criticism of the shower and that is the lack of a seat or bench, or indeed anywhere for me to place my bag except the floor. The lounge in Sydney is annoyingly the same, though I think the Melbourne one has a bench (I think I glimpsed a bench there but have never used the shower, so can't be certain). The shower is rather dark, with no light in the shower stall itself, nor is there a curtain or door to prevent splashing onto the ground outside the stall. I try my best not to splash water out but it's inevitable, at least it's not as big as the puddle I caused in Sydney the week before.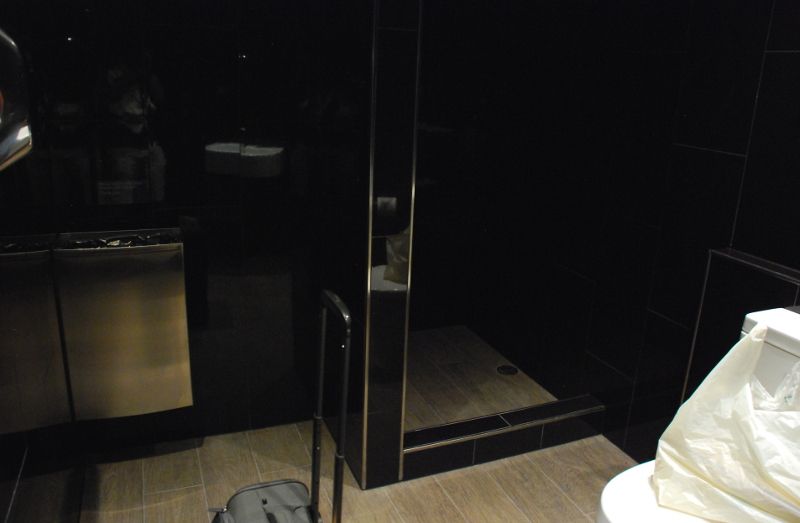 Shower area. The shower room has its own toilet and sink area, separate from the main toilet.
Refreshed, I head into the lounge proper and fortunately find a seat by the window. The lounge is similar to other VA lounges. It's bright with lots of natural light. In fact, I think the lounge almost directly faces west, so there's large panels installed on the outside to block out the full force of the afternoon sun. The offerings are standard VA: the ever-present toastie station, barista station, chips, mixed nuts, a soup that's missing its label and a decent selection of soft drinks and alcohol. I get some water and a bowl of the nameless soup, whose composition remains a mystery even after I've tasted it. I'm not hungry and there's dinner on-board anyway. The lounge is pretty much like any other VA lounge, so it's baffling that VA CEO John Borghetti described it as their "flagship". There's nothing flagship about it to me, save for the fact that it's brand new. I was hoping there would be some 'opening week specials' in terms of food offerings, but alas there's nothing.
Corridor leading to the main lounge area
Entering the main area
Buffet area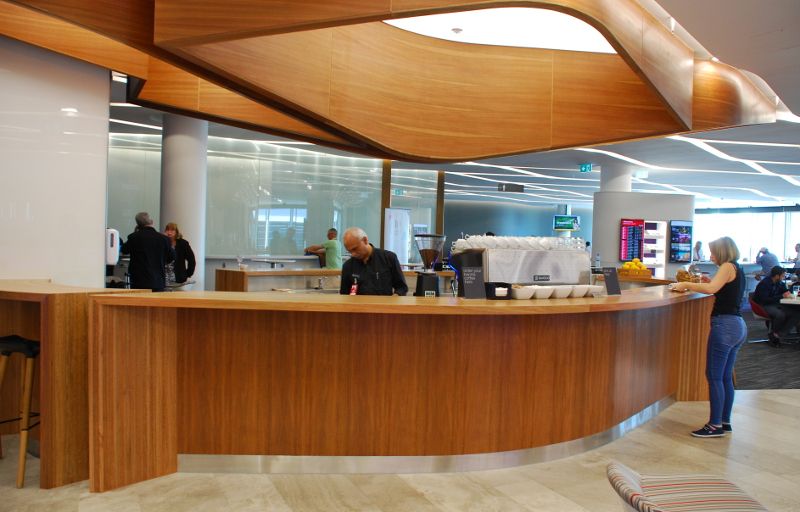 Espresso bar
FIDS in the lounge. Not many departures in the evening
View from the lounge
Boarding is supposed to be at 4.45pm at gate 49 and I plan to leave the lounge early to look around, particularly since the only thing keeping me in the lounge is my comfy window seat and wifi for my ipad. That plan is ruined when a boarding announcement for VA694 is made 10min early at 4.35pm. I grab my things, keeping the camera handy and head towards gate 49. Interestingly, the gates are numbered sequentially in a u-shape around the pier, instead of the usual left-right even-odd numbering in
Top