Hi everyone!
While planning an itinerary for a five-day holiday in Bangkok, a good deal to fly Emirates on its Bangkok to Hong Kong fifth-freedom route in J popped up and struck me. Having been exposed to the wonderful stories that come with the Emirates A380 experience, I have always wanted to fly onboard one of EK A380s. Having no plans to travel to DXB or Europe in the near future, it seems to be the best chance to fly on the EK A380. Otherwise, I can wait for EK to upgrade its SIN-MEL route to A380 later this year, but that might still subject to change.
Since I have everything booked and planned for Bangkok, it took me some contemplating whether to take this opportunity, as taking the flight means I can only do it as a day trip. Leave for Hong Kong in the afternoon, returns to Bangkok later at night. Spending a bare three-and-a half hours in HKG it is, finally we decided to book the flights and do it!
Operating a fleet of more than 70 Airbus A380, Dubai-based Emirates is the world's largest operator of the Superjumbo. Promising to bring back the golden age of air-travel, Emirates takes a pioneer role on fitting its A380 with a number of sophisticated features including the award-winning ICE In-flight entertainment system, the world's first on-board shower & spa for First Class passengers, and the on-board bar and lounge for premium passengers to socialize on a long-haul flight. All these features aim to deliver a magical experience to every passenger that travels on its flagship A380
aircraft.
FLIGHT DETAILS
Emirates, EK 384
Bangkok (BKK) to Hong Kong (HKG)
Airbus A380-861, A6-EDJ
Delivered to Emirates 07/06/2010, msn 9
ETD: 1345/GMT+7 (Actual around 1357)
ETA: 1730/GMT+8 (Actual around 1735)
Seat Number 23 A (Upper Deck)
Check-in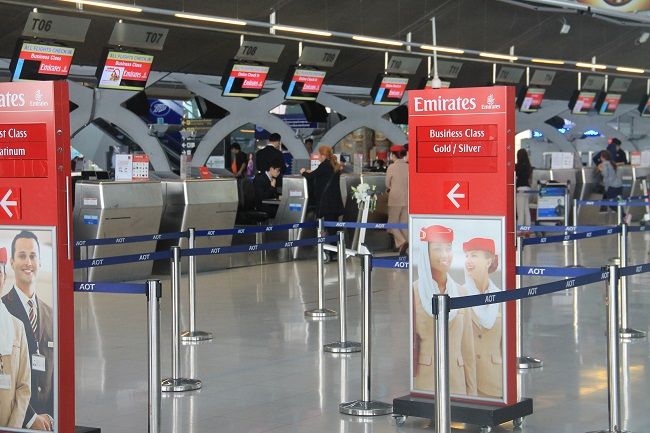 Arrived at Suvarnabhumi Airport – BKK fifteen minutes before noon, we reached EK check-in counter which was rather empty at the time.
The lady that did our check-in was quite perplexed with our day-trip itinerary. She just blurted out "Sir, how many times you traveled like this?!"
I myself was quite surprised, and then I realized that she was referring to the day-trip itinerary. I told her certainly not my first time doing a day-trip itinerary. I then asked if she could check us both for the BKK-HKG and HKG-BKK sectors, since we had no checked luggage at all.
After a few minutes call to her supervisor, the helpful lady then managed to print boarding passes for both sectors. Apparently it was her first time encountering a passenger doing the EK384/385 run as a day-trip.
The Emirates Lounge, Bangkok Airport
Following the check-in process, we proceed to the dedicated premium lane security check and passport control area. We were processed smoothly right after a bunch of BR crew possibly leaving for TPE.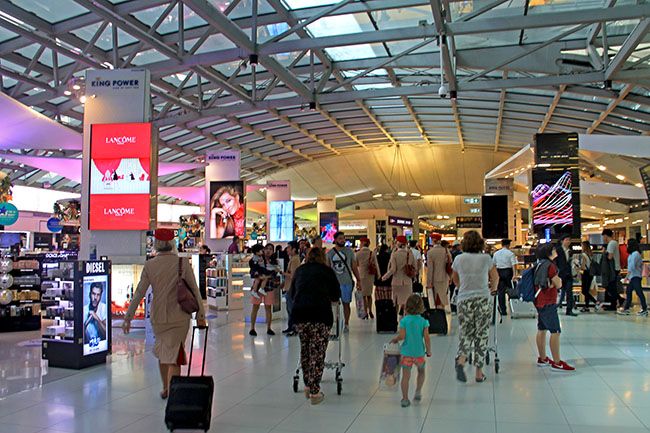 Post-immigration duty free area at BKK, as the group of EK crew making their way to our A380.
Entrance to the Emirates lounge. It is situated at the level below the departure area. The lounge was refurbished in 2014 following a refurbishment project that costs around USD 1 million.
Seating areas on the lounge are divided into the living room style sofas or the dining tables.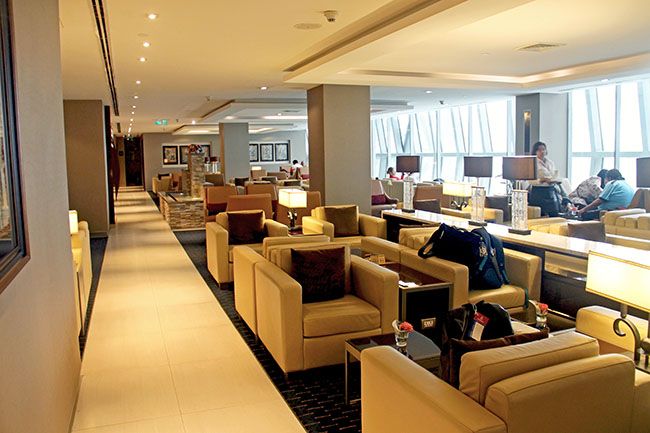 We picked the sofa this time round!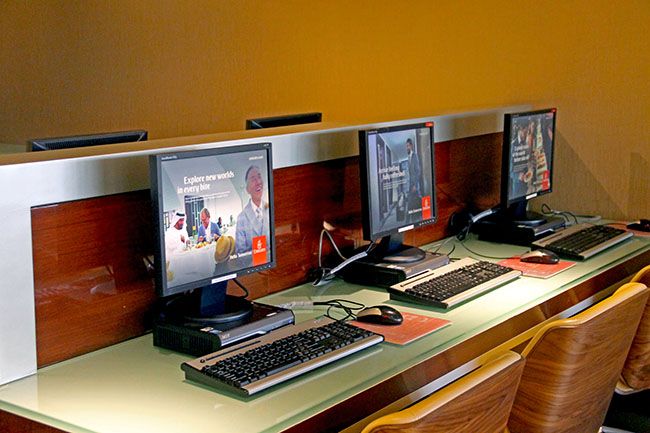 Working stations fitted with free-access computers and a fax/copier machine. There is also a free wireless internet provided within the lounge itself, to those with their own personal devices. Needless to worry, there are an adequate amount of power plugs to charge your devices.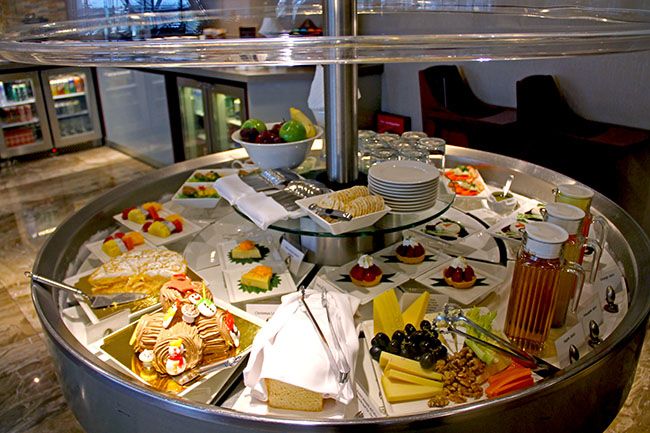 Dessert bar featuring a Christmas log cake, cheese plates, and fresh fruits.
The buffet area offering a western and Asian option, including a Thai Chicken Red curry, fish and chips, and fried noodles.
Not to mention, the lounge comes with a complimentary access to a range of alcoholic beverages as seen on the beverages corner.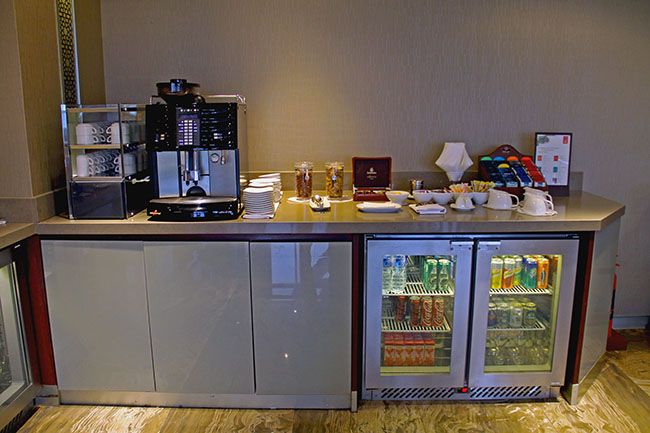 Those preferring hot beverages may use the espresso machine, complete with a range of teas and coffees, or hot chocolate. Soft drinks and juices are available on the fridge below. This is a neat and efficient design.
Soup corner.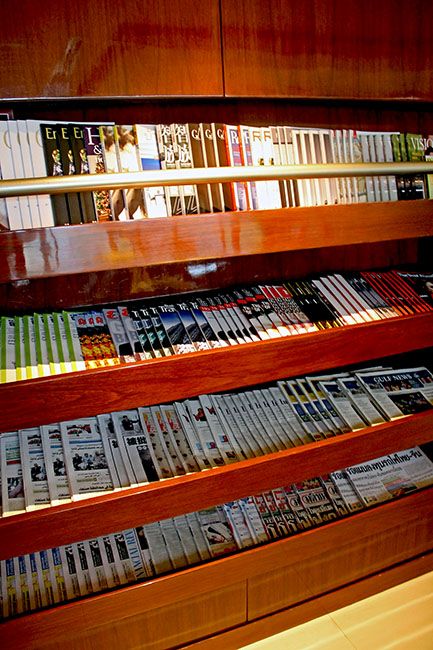 Magazine rack filled with adequate copies of reading materials.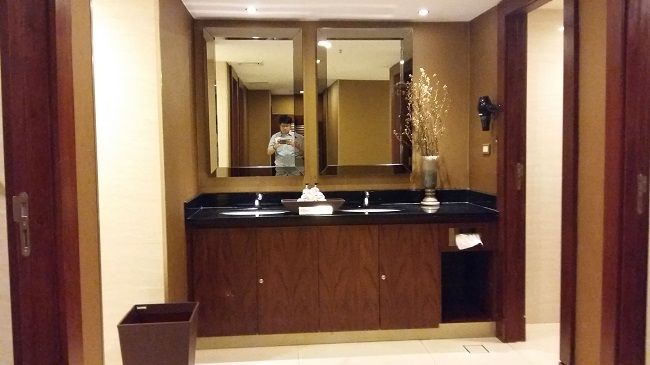 The toilet inside the lounge was also well maintained and spacious.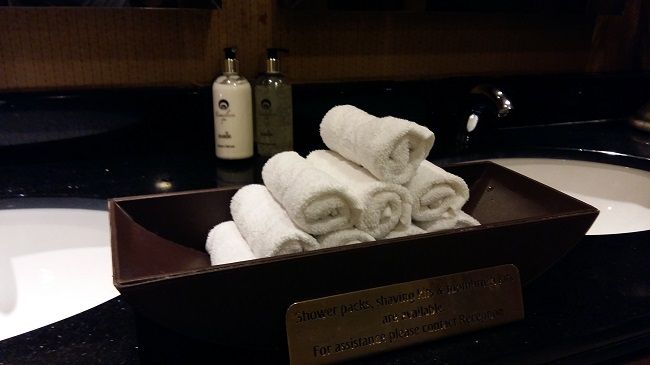 Forget paper towel to dry your hand, EK lounge provides hand towels for your use.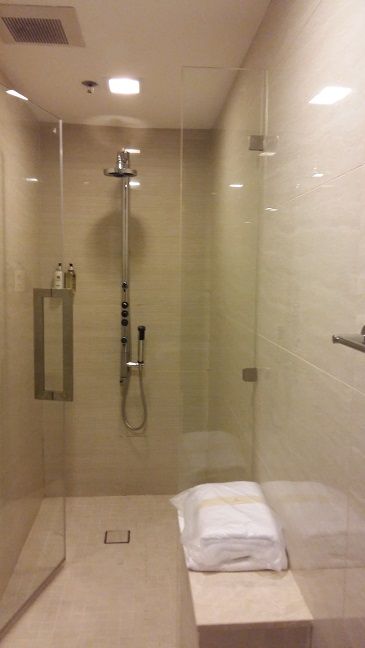 There's also showers built in the lounge toilet, in case you prefer to take a shower on the ground rather than a five-minute shower on the A380.
On the other end of the lounge, there are more living-room style sofas with a television playing the world's latest breaking news.
Boarding the Emirates A380
After spending a little more than an hour on the lounge, we proceed for our aircraft which was boarding from the nearby gate E4.
Our aircraft A6-EDJ parked at E4. The aircraft has 517 seats on board, in a configuration of 14 First / 76 Business / 427 Economy seats.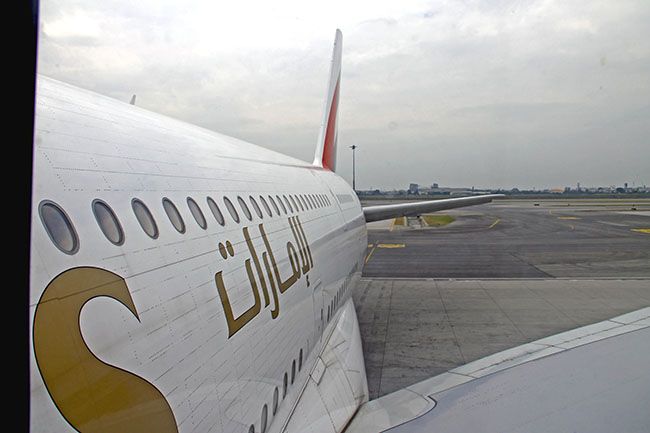 One last photo as we boarded through the aerobridge connected straight to the upper deck.
As we entered, the senior FA standing on the door, Amanda greeted us and showed the way to our seats. Making our way down to the back of the A380 we passed through a lot of unoccupied seats, which means the load on J class was a light one today.
Upon reaching our seats, we met Irene who stood nearby. She cheerfully greeted us and offered us welcome drink.
It was soon followed by a hot towel.
I enquired her about the row 24 which was blocked off from the advance seat selection on the internet. Thanks to this, my brother was booked on 25A and I was in 23A. Owing to the empty load on board the flight today, she allowed my brother to be seated in 24A. She offered us the two seats on the center for us to be seated together, but being the enthusiast I am, I preferred to sit on the window especially during the take-off and landing.
Soon after, her lovely colleague, Cristina introduced herself and joined our conversation about my interests in aviation photography and then subsequently Irene enquired if I am doing a write-up on the flight that day. Having planned a TR in mind I told her I am intending to write about my experience on board the world-famous Emirates A380, both ways between BKK-HKG and HKG-BKK. That took them by surprise it seems.
"Wait, you're flying Bangkok to Hong Kong and back on the same day?!"
"Yes indeed, I am. Flying the EK385 back to Bangkok tonight"
"Oh I'm afraid I have a bad news for you guys!"
Bad news?! , I wondered.
"Yes, you're going to be stuck with us the entire day!"
"Phew, what bad news? That might actually be the best news I have heard this entire day!"
We all broke into laughter, and shortly the command to secure all doors for pushback has been given, in which they cleared our drinks and towels before excusing themselves.
View of my seat 23 A
The seat features a storage compartment on the side, while I must admit that the seat itself was relatively wide with adequate legroom space. Certainly not as claustrophobic as I might have thought, after seeing some pictures of the seat.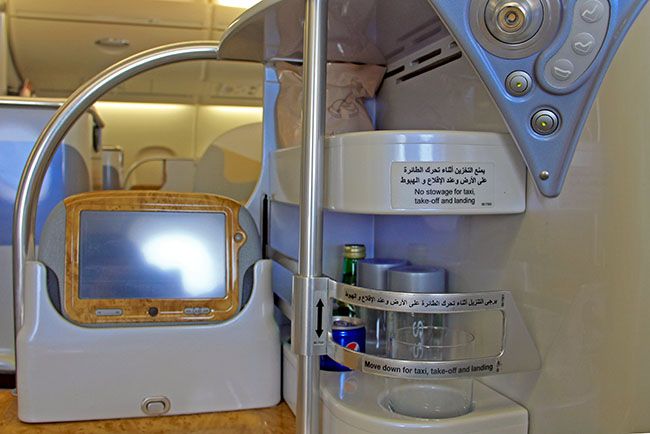 The EK J class mini-bar filled with Voss water bottles and Soft drink cans.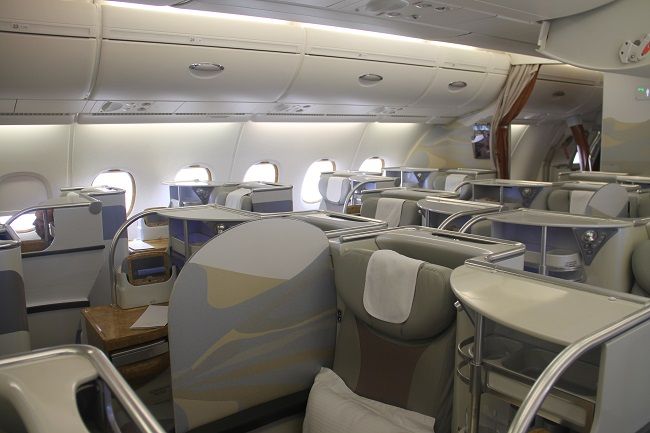 Thankfully the load to HKG that afternoon was relatively empty.
As soon as the doors were closed, some of the crew members passing by our aisle greeted us and enquired if we are flying BKK-HKG-BKK as a day-trip, which I confirmed. Later on, Cristina returned to my seat taking our lunch orders.
While on pushback, the crew who welcomed us on the door, Amanda greeted us again and thanking us for flying with EK A380 to HKG and back. Shortly after, Irene returns gave us two amenity kits, as a memorabilia for our first flight on an EK A380.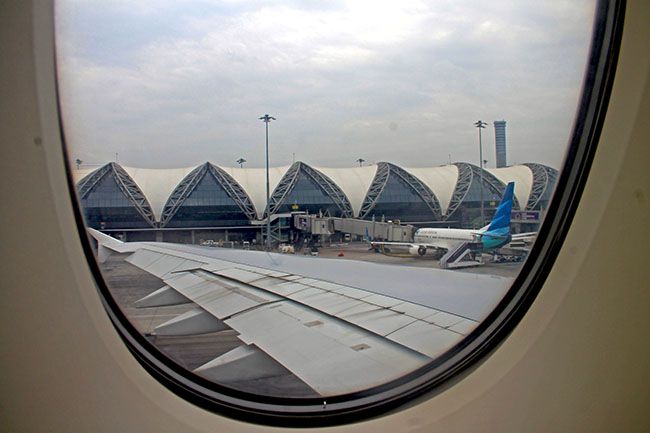 Taxing to the runway, passing through our dearest friend Garuda B738.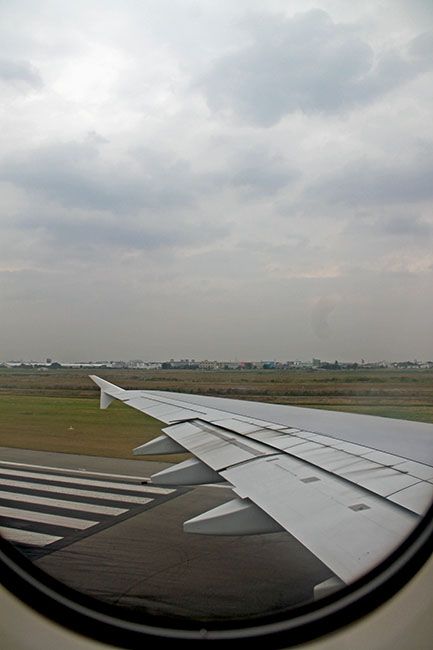 Finally it was time for take-off, as our A380 powering its four engines up to the skies above Bangkok.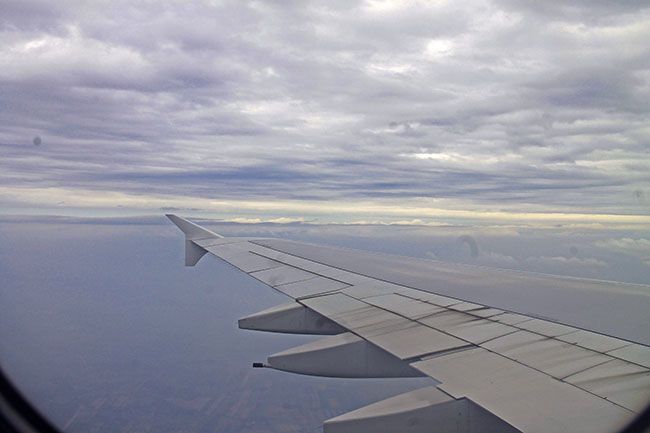 In no time, we were airborne and climbing smoothly to our cruising altitude.
The cabin was put into mood lighting as soon as the seatbelt signs were off.
The seats on reclining position, as my brother on settling back to enjoy the ICE system.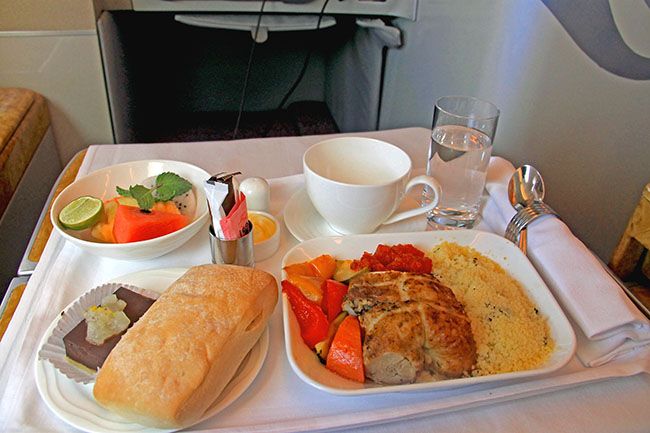 Meal service commenced soon after we reach cruising altitude. Irene brought my roasted chicken fillet with couscous and vegetables meal tray. She apologized that due to the short length of the flight, the meal (including appetizer and desserts) would be served under a single tray.
She then took her time to explain the meal service order on a long-haul flight, such as on the earlier DXB to BKK sector, where a range of appetizers, main course, and then desserts would be served in a sequential order. I thanked her for giving me the insights of EK long-haul meal service.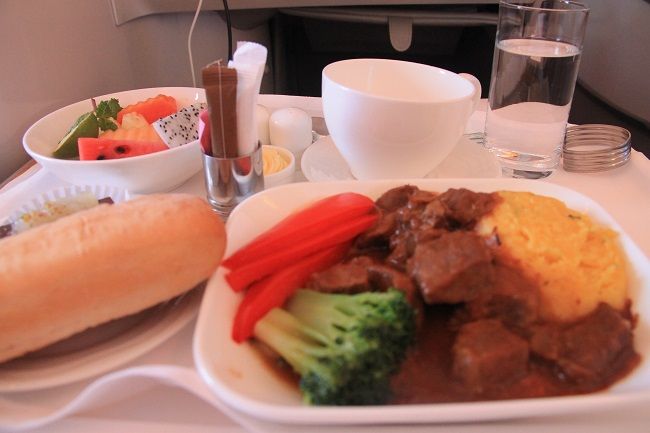 My brother opted for the beef brisket with orange sauce, served with mashed potato and saffron.
While I was having my lunch, the Chief Purser in the black uniform, stopped by my seat and welcomed me aboard in Thai. She quickly switched to English realizing Thai isn't one of the languages I mastered. Like the other members of the team, she enquired if I will be returning with them to Bangkok on the same day, which I confirmed again. Boy, I didn't know that words do spread so quickly on the A380 haha!
She then invited me for a tour of the First Class section and the shower/spa corner on the front of the superjumbo. An invitation I gladly accept once I am done with my lunch. I later found out that this 'tour' was a rare occasion and I would like to thank the purser for giving us the opportunity.
Emirates First Class / Shower & Spa
Although for only five minutes, now it is possible for you to take a shower on cruising altitude. This feature was introduced by EK when it launched its A380. Currently this feature is only offered by EK and EY.
So far the most spacious aircraft lavatory I've ever visited!
The sink equipped with a range of body lotion and moisturizing cream from the Timeless Spa and a perfume. And, don't forget to dry your hands using the neatly stacked hand towel!
Needless to say that amenity is well stocked in this lavatory. From shaving kits, hair brush, toothbrush set amongst other stuff.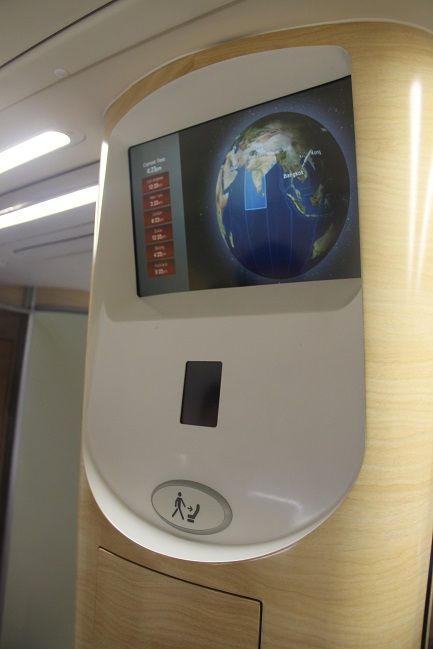 Do check how far along is your journey through the screen inside the lavatory. This screen is not part of your ICE system though!
.
I don't take pictures of myself in the toilet but this can be an exception, okay? (Disclaimer).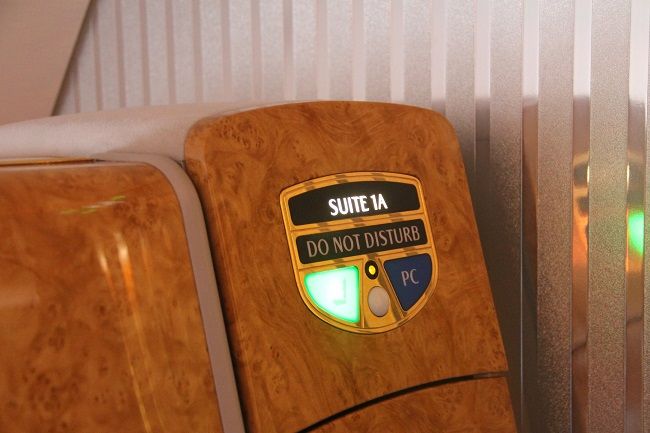 Next stop is the First Class Suite 1A. Load on the F class that day were only 2 of 14, and they were at the other side of the F class cabin.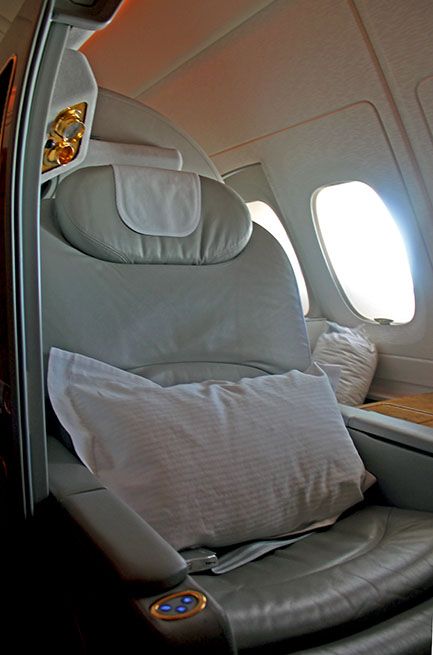 Irene, who was assigned as our tour guide, explained thoroughly about the features and functions of the seat. And, note the absence of the overhead compartments on the F cabin.
The mini bar, additional built in amenities, reading light, and mirror for the use by First Class passengers. Obviously, one can notice the additional space and privacy offered by each First Class suite compared to our Business Class seats.
Had my picture taken before we return to the back of the bus!
The Business Class cabin, taking it easy this afternoon with a load of less than 50 percent.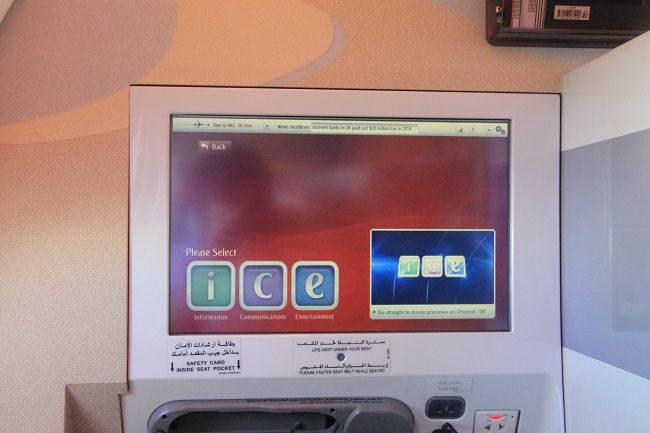 Returning to my seat and enjoying the award-winning ICE entertainment system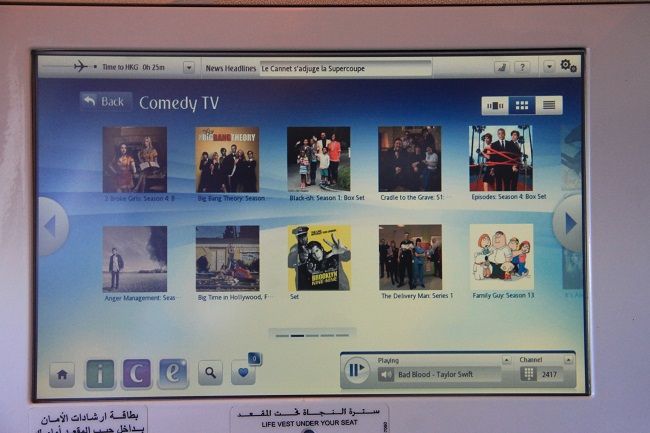 As the fasten seat-belt signs were on due to weather conditions, I use the opportunity to catch up with some TV series. I made a brief visit to the lounge behind the J cabin after the signs were off but let's save that for the next part!
Landing into Hong Kong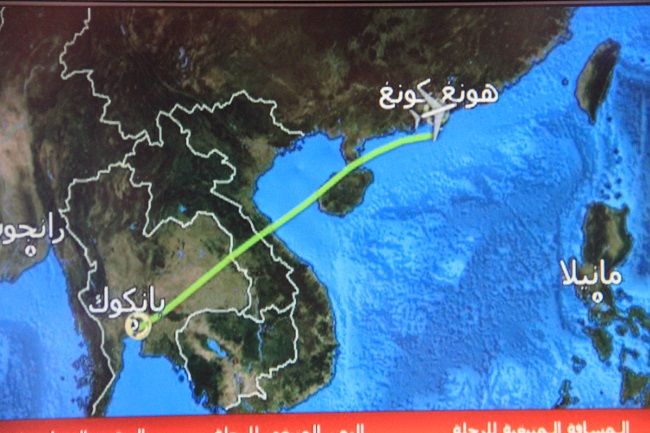 Just one episode of show later, it was time for us to commence descent into HKG.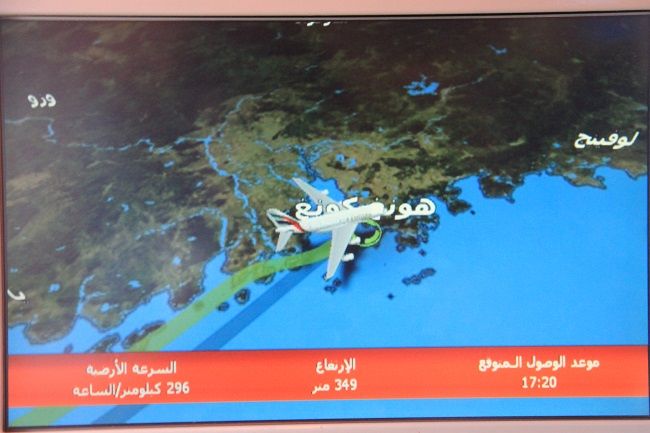 Making a turn as we descended towards HKG.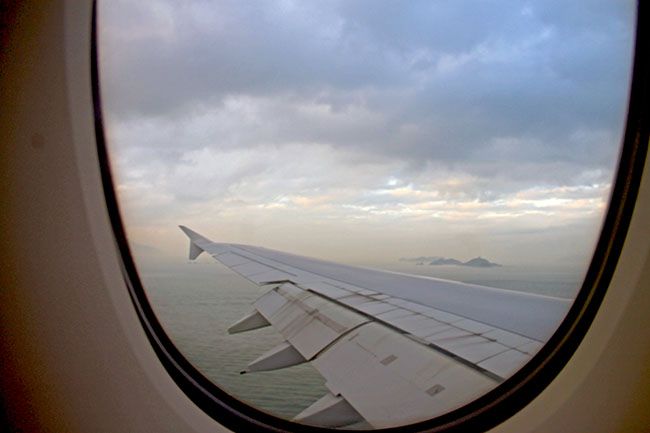 On final approach into Hong Kong, as the sun sets. My last visit to HKG was about three years earlier, coincidentally on an A380 as well, but was operated by SQ.
We were on to a short taxi after we vacated the runway, and was parked right beside another Emirates A380.
We were able to disembark through the upper deck door. We bid goodbye (more like a see you later) to Amanda and the Chief Purser who were standing on the door. We had a brief chat about my trip reporting activities and they were surprised that I was not living in BKK, and had made a CGK-SIN-BKK sector just a few days before this trip.
We are back in HKG again after three years. It took quite a long walk (and a train ride) to reach passport control, which seems to be at its limit of efficiency.
Nonetheless, we are finally able to clear immigration and headed for the Terminal 2, since we are curious about the terminal (and its Aviation Discovery Centre).
Final thoughts of the flight
Having our first half of the journey completed, the EK A380 is indeed a massive aircraft with the top notch luxuries one would expect (although that title might be challenged by EY these days). We would like to thank the crew for going the extra lengths to make our first impression onboard the Emirates A380 a magical one!
The magical Emirates A380 experience continues in Part Two | EK385 HKG-BKK