Let the Blue Times Roll—JetBlue's Inaugural flight into Daytona Beach, Florida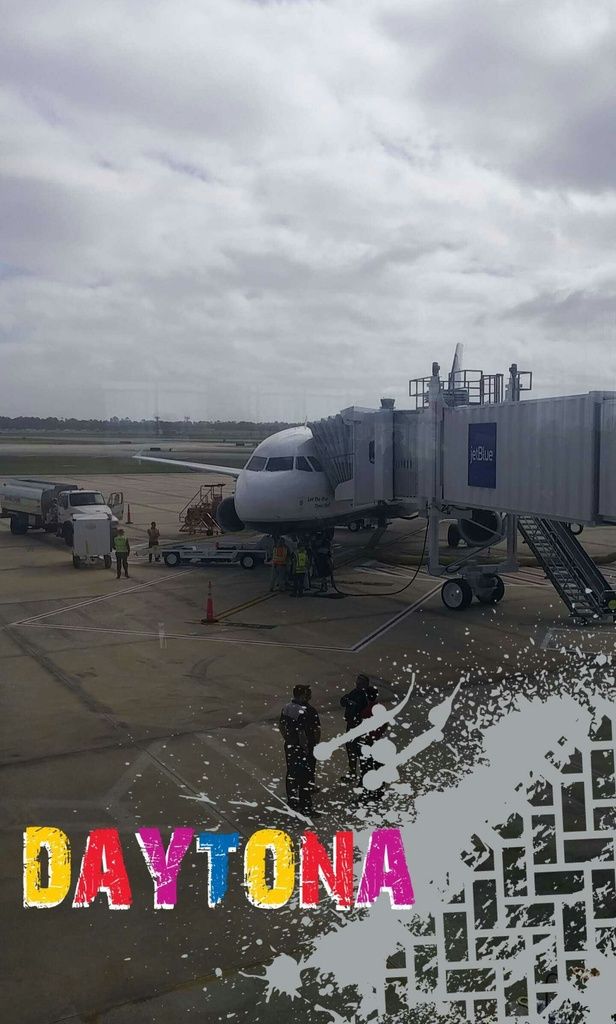 The month was February 2015, and I had just committed to Embry Riddle Aeronautical University in Daytona Beach. I was dreading having to go from living directly under the CAMERON approach for Kennedy International Airport to living at an airport with eight or nine daily commercial departures.
One morning around 0600 I was waiting outside my friend's house to pick her up for school. Don't ask me why I remember so many details about the morning; I just have a good memory haha. I was sitting in my car waiting for her to come outside (she was late as usual, but that's okay because she still, to this day, puts up with me like a champ and I was perusing Airliners.net like I normally did each morning (and afternoon, evening, night, and generally 24/7
)and I saw "JetBlue announces DAB service". My heart skipped a beat for a second and I read the news that my two homes would be connected just as I started college! Perfect! My first thought was, "Wow wouldn't it be cool to run over to the observation deck at the school and watch the first flight come in?" Then I texted my dad (also an avgeek despite having some less than ideal experiences while in the military) and he said that we could look at booking on the inaugural flight if our schedules lined up (at the time he was commuting up and down the east coast for business at least once a week) and if the price was right.
Well, the price was right, we had enough points to book his ticket for free, and here we are!
BACKGROUND
As I mentioned, I'm now attending Embry Riddle Aeronautical University with a major in Aeronautical Science and a minor in Business Administration (loving it by the way). I am a HUE fan of JetBlue, with most people I know saying its "nice that I respect the company as much as I do". This is their way of telling me I have an unhealthy obsession! SO imagine my excitement when my favorite airline announced flights between my two home airports.
By the beginning of 2016 my family had relocated in Myrtle Beach and my dad and I needed a way to get to New York for the inaugural flight! So we booked two seats on JetBlue out of Charleston, South Carolina (my personal favorite airport I've been to) for the day before the Daytona trip (Wednesday, January 6th). So this trip report will cover both the CHS-JFK flight on January 6th and the JFK-DAB flight on January 7th (obviously with a bigger emphasis placed on the Daytona flight).
Welcome aboard flight 1274 with nonstop service to New York's John F. Kennedy International Airport…
On the morning of January 5th, I direct messaged JetBlue on twitter and asked what tail number we could expect on flight 1274 the next day. I can usually wait the night before and find out for myself but I got impatient this day and decided to just reach out to the airline and get a quick response-which is just what happened.
**Sidenote: JetBlue's social media team really is the greatest out there. They ALWAYS respond even when it isn't exactly necessary. They really want their customers to know that they care and they are paying attention to what customers want and need.
Five whole minutes after I messaged them, B6 responded saying that ship 569 was set to operate the flight. I was excited as I haven't flown the Tenth Anniversary jet yet. My dad and I are both proficient in using flightaware and flightradar24 to track our planes, so both being excited about the special aircraft, we were both monitoring N569JB the night before our flight.
We woke up at 0630 on the morning of the sixth and saw that we had a delay notice from JetBlue. We looked and saw a 60 minute delay for out inbound flight, 1273 from JFK. We continued getting ready until we got another delay notification, letting us know that our inbound was now two hours late, and our flight was 90 minutes behind schedule. We didn't mind, as we were just planning on killing the day hanging around T5 at JFK before heading to our hotel for the evening. By the time flight 1273 took off from JFK, the registration shown on flightradar24 changed from N569JB to N715JB. Turns out 569 had sprung a hydraulic leak after operating JBU90 from San Diego to Kennedy. My family and I flew on ship 715 from BQN to JFK last Christmas, so I was familiar with our new bird. The problem, however, was that it had a Blueberry tail on it. Why does this matter? I fly JetBlue on average 30-40 times a year. (JFK-CHS-JFK is my main routing, though now that I'm at ERAU MCO-JFK-MCO is a popular choice for me). Out of my last ten JetBlue flights, six have been blueberries! I know it's a really silly thing to get aggravated about, but I'm just flat-out tired of this tailscheme lol. Lately I've been getting Tartans which is a nice change but seriously, there are too many Blueberry-tailed aircraft!
Anyway, at least this particular Blueberry had a positive connotation in my head, my last flight with it having involved the Caribbean (my favorite region).
So, with our new bird on its way to us, we left our hotel at 0915 for our 1005 flight!
JetBlue fight 1274
CHS-JFK
01/06/2016
STD: 1005
ATD: 1133 (pushback), 1145 (wheels up)
STA: 1146
ATA: 1304 (touchdown), 1308 (brakes set)
Duration: 1 hour, 21 minutes
Aircraft: N715JB "How's my flying? Call 1-800-Jetblue"
One thing that I can't get used to is the fact that, since my dad flies between CHS and JFK once a week, 99% of which is on JetBlue (every once in a while he throws in a Delta flight), the JetBlue staff at CHS know him by name! Last time we flew out of there they said, "Oh Mister XXXX, welcome back! Is this the son we keep hearing about?" I'm not used to my dad, who went almost 40 years without flying after his series of accidents in the military, is now flying enough to know the ground staff. But, I'm not gonna, judge!
We got through security without a hitch (thank you PreCheck) and were soon at our gate, which was still vacant as our aircraft was about an hour out of CHS still. I decided to walk around and get some pictures, as most bored avgeeks do.
Southwest getting ready to go to DAL
American a319 (N733UW) doing a quick CLT turn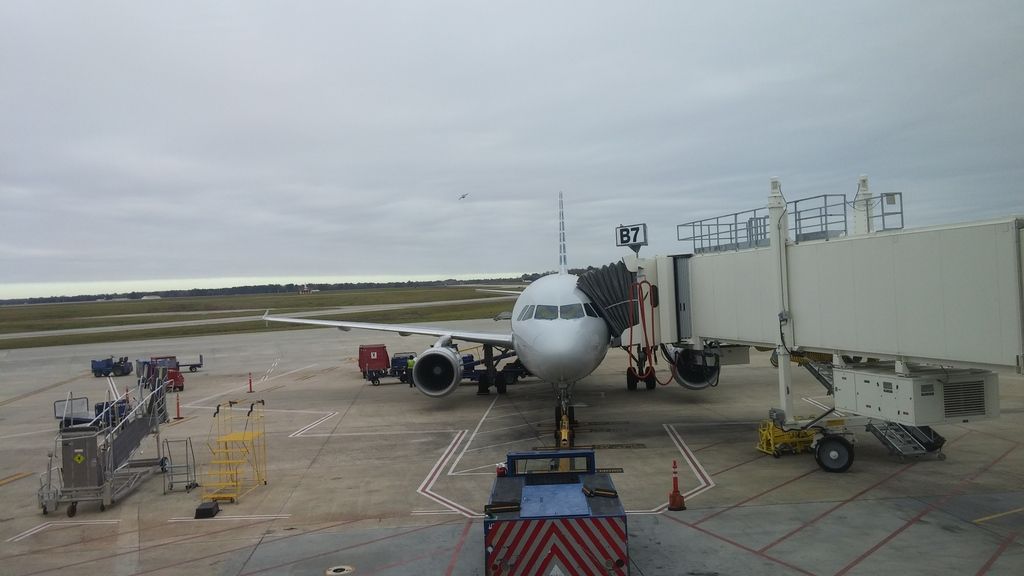 Soon enough our plane was on the ground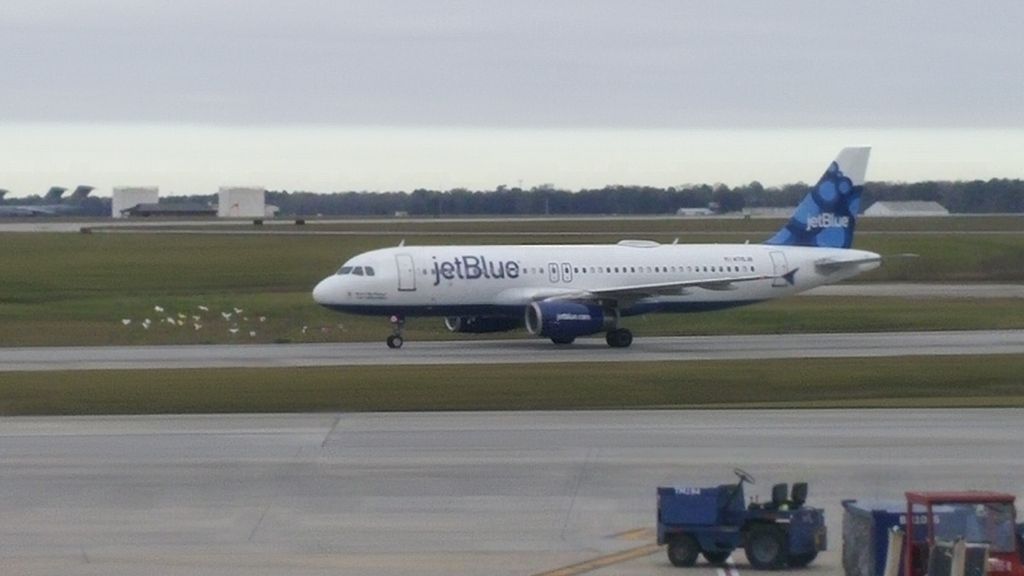 There she is! One of only two mainline aircraft I've ever boarded without a jetbridge (the other being N292JB in SXM this past April).
American pushed back from Bravo Seven only 25 minutes after parking. Impressive.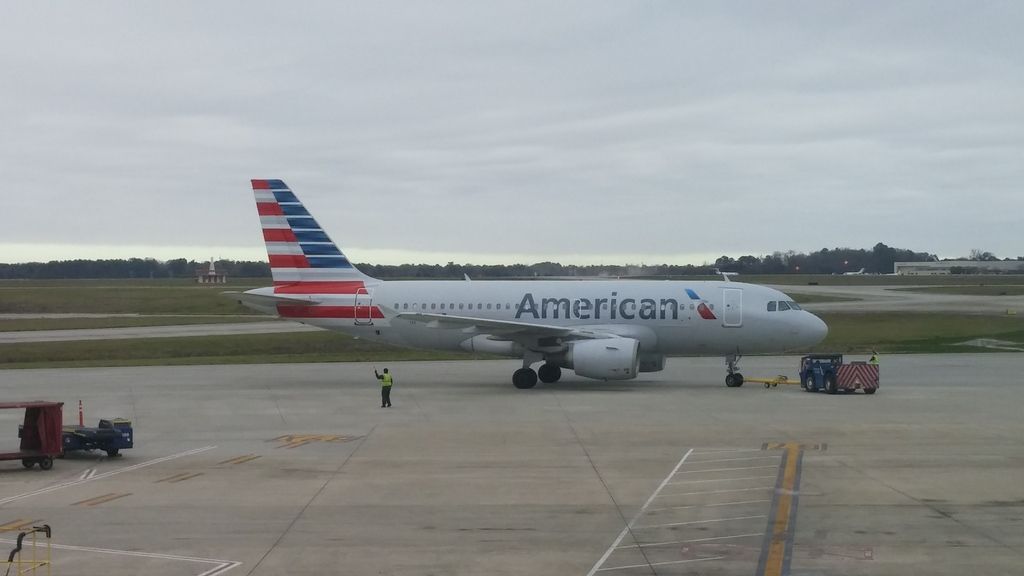 While she's not the 10th Anniversary plane, she'll do just fine for this sector.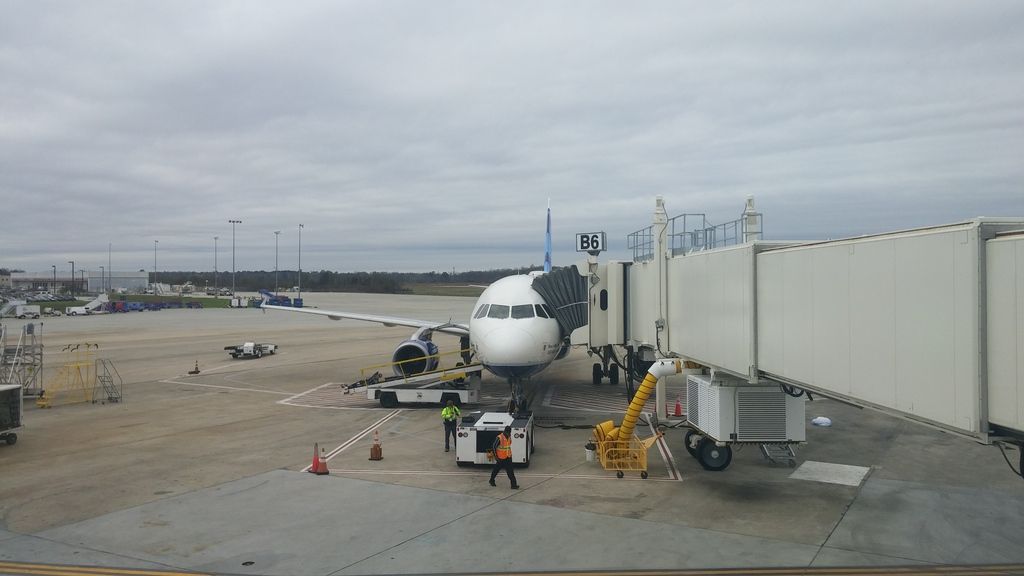 Cruising at 35,000 feet.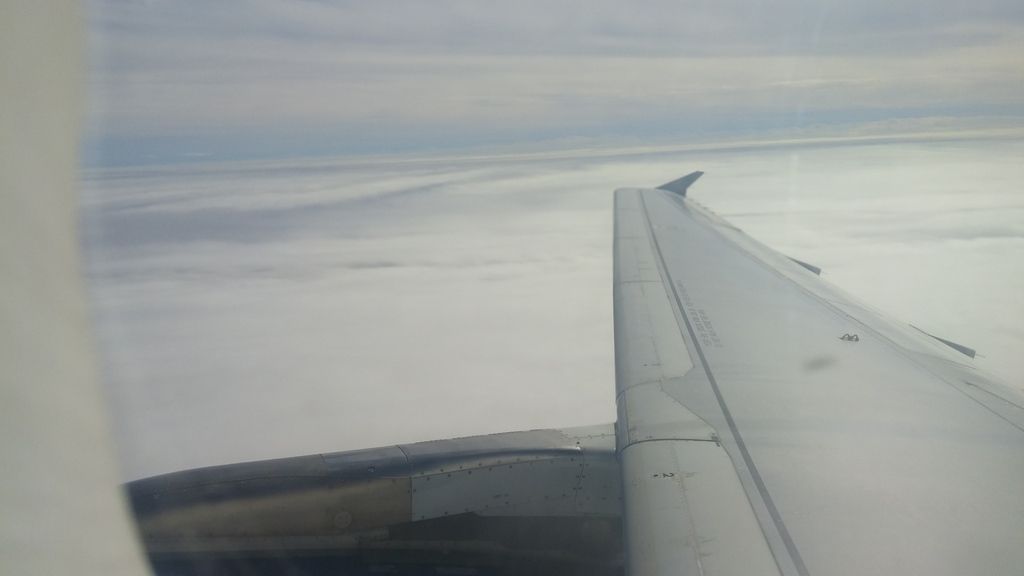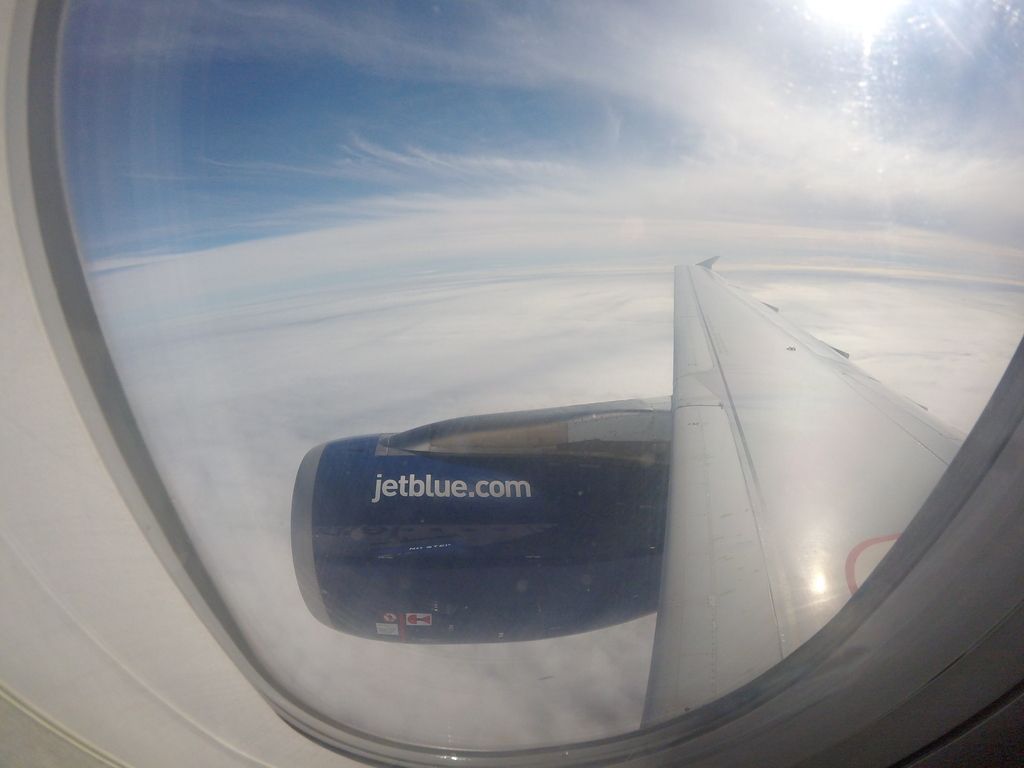 Right before we started descending into New York I happened to look up and see something strange. The side wall panels separated a little and treated guests to a nice view of the inner workings of an a320!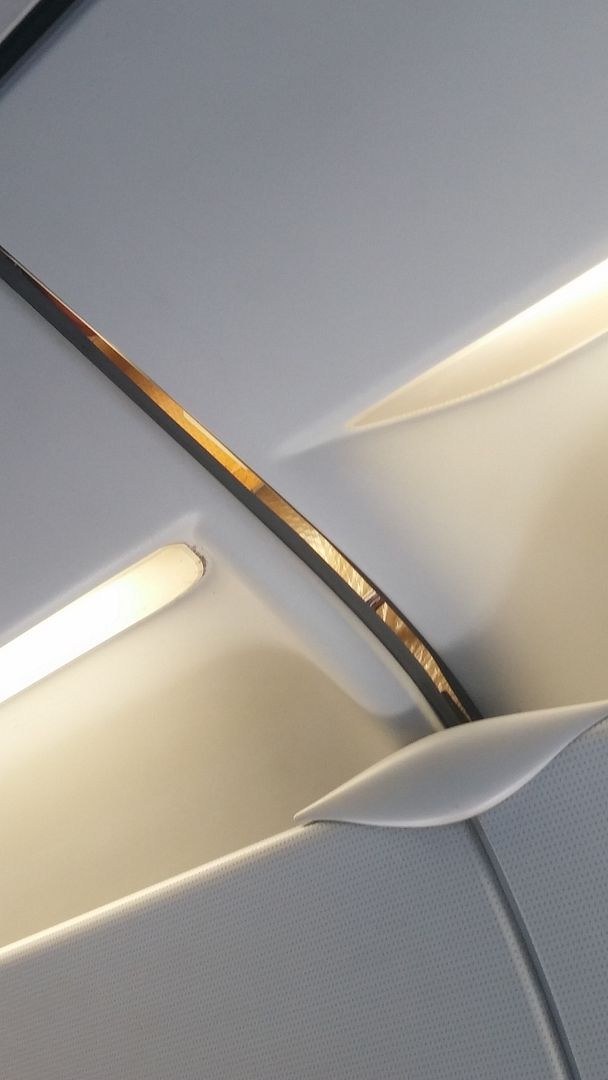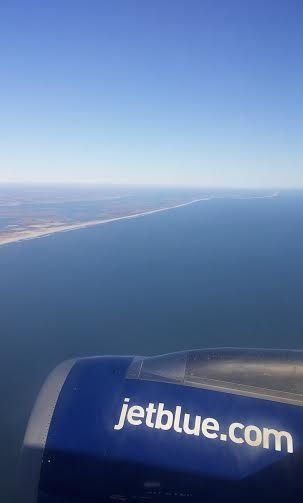 My beloved Long Island!
After a very quick one hour and twenty one minute flight, we were on the ground in New York where the temperature was a biting twenty degrees Fahrenheit!
As we had the whole day to kill, my dad and I hung around the terminal for a couple of hours before heading to the AirTrain. We had lunch at one of T5's many excellent restaurants and did some spotting.
N547JB was at gate 23 getting ready for a flight to Long Beach, California.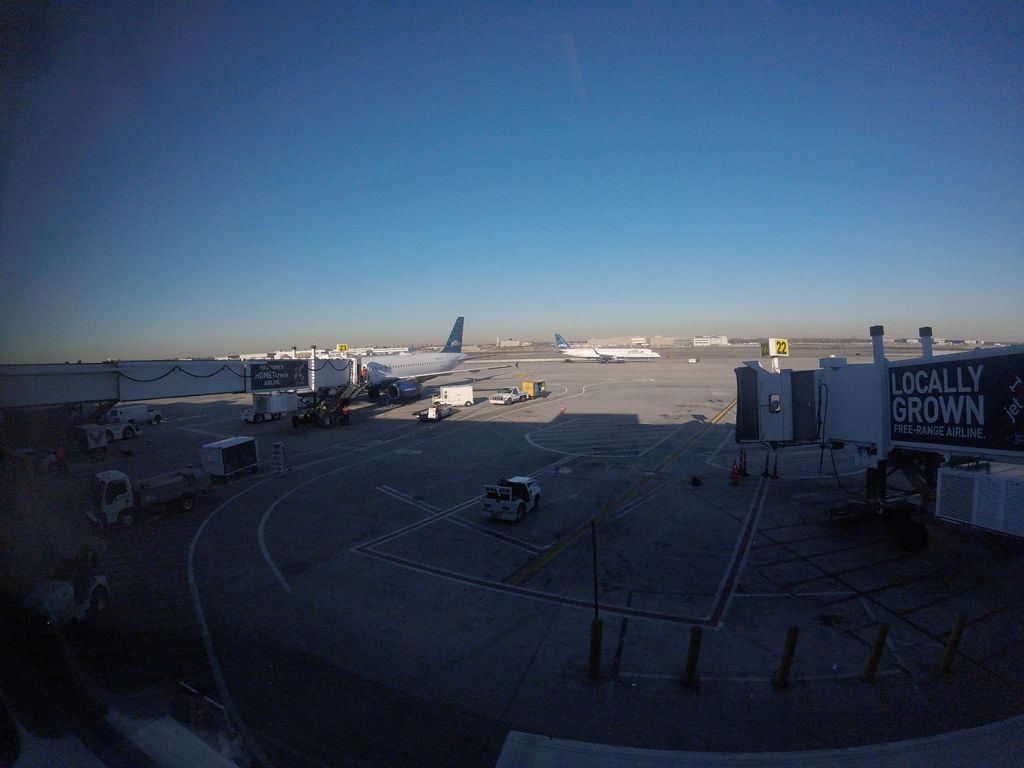 N763JB was just arriving from Houston as flight 582. It then turned around as flight 1041 to Savannah, Georgia. 763 was actually the first JetBlue plane I ever flew on, back in 2011 as flight 141 from JFK to Palm Beach. That was also the first time I ever flew on my own.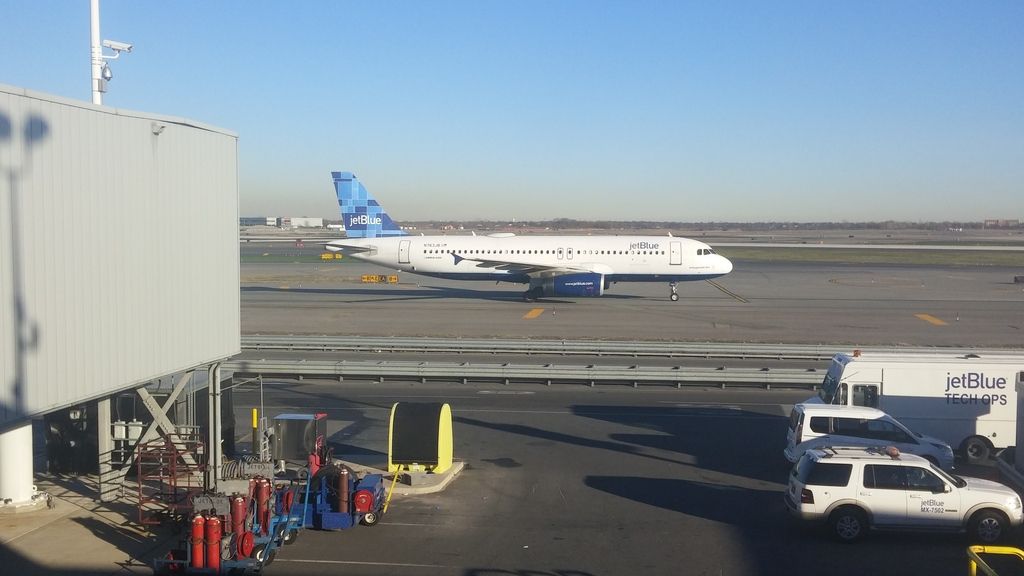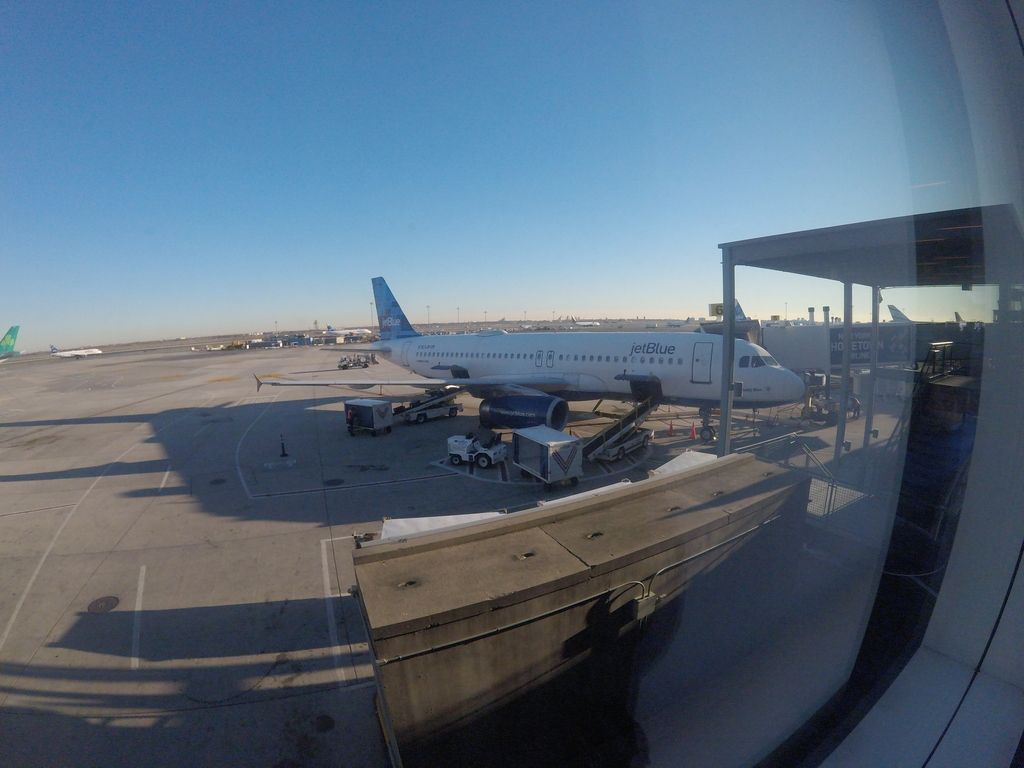 N775JB "Vets In Blue" had just arrived as flight 1026 from Tampa. It would go to Jacksonville about an hour later as flight 477.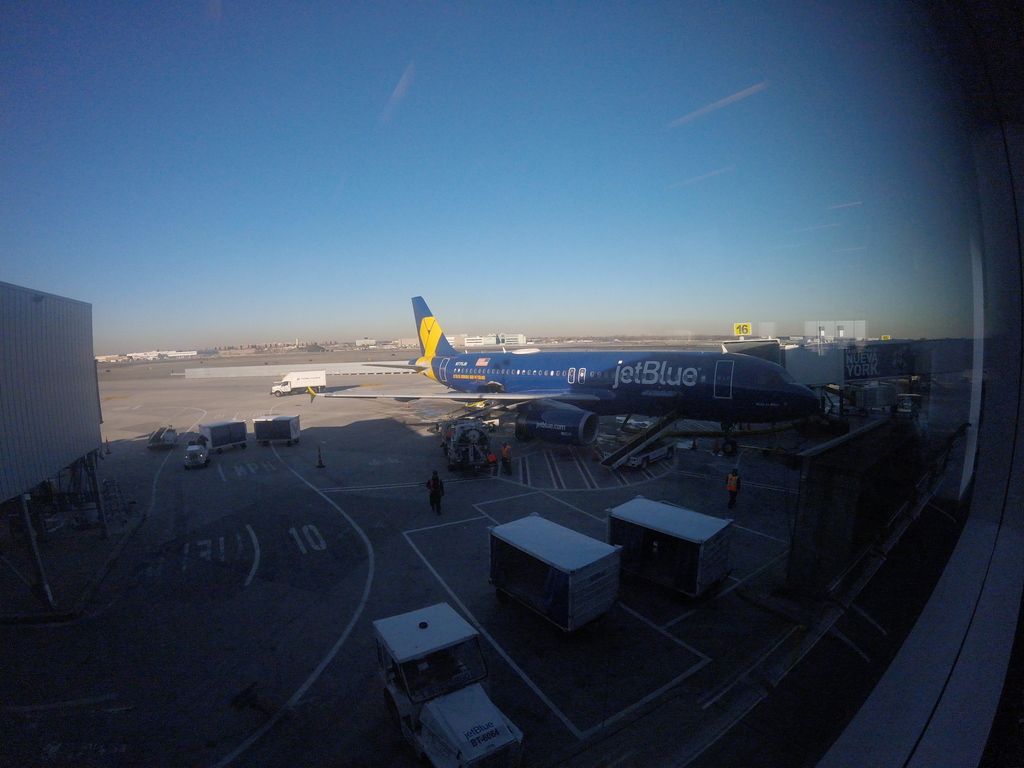 N705JB was getting ready to head to Ft Myers as flight 1729.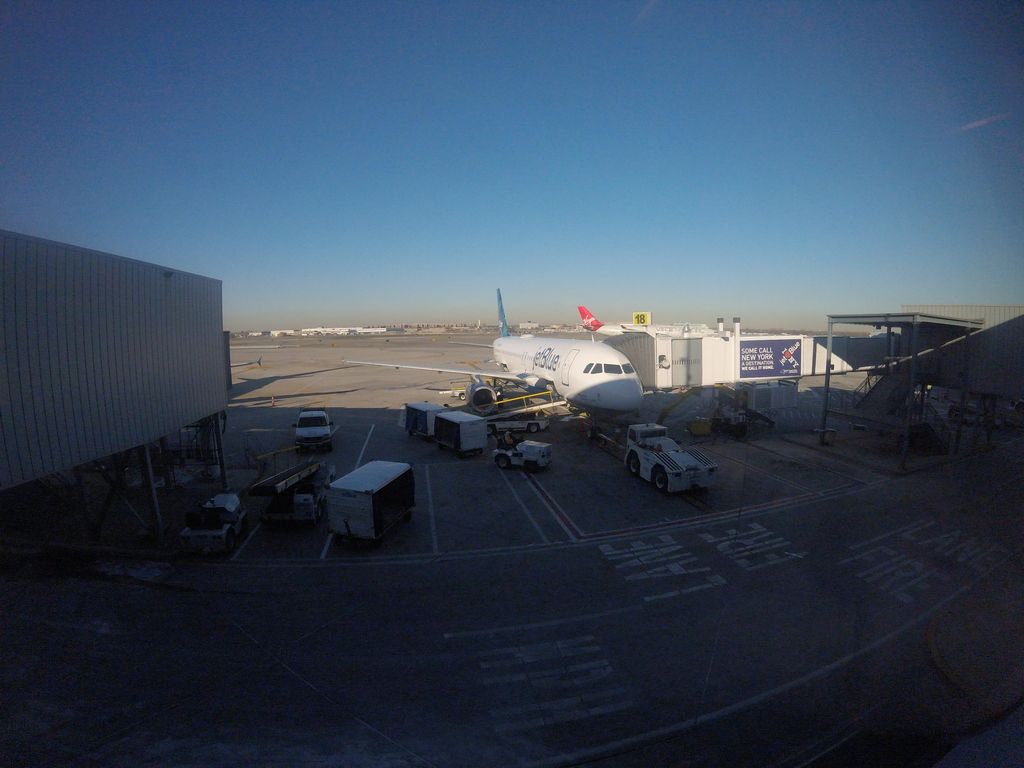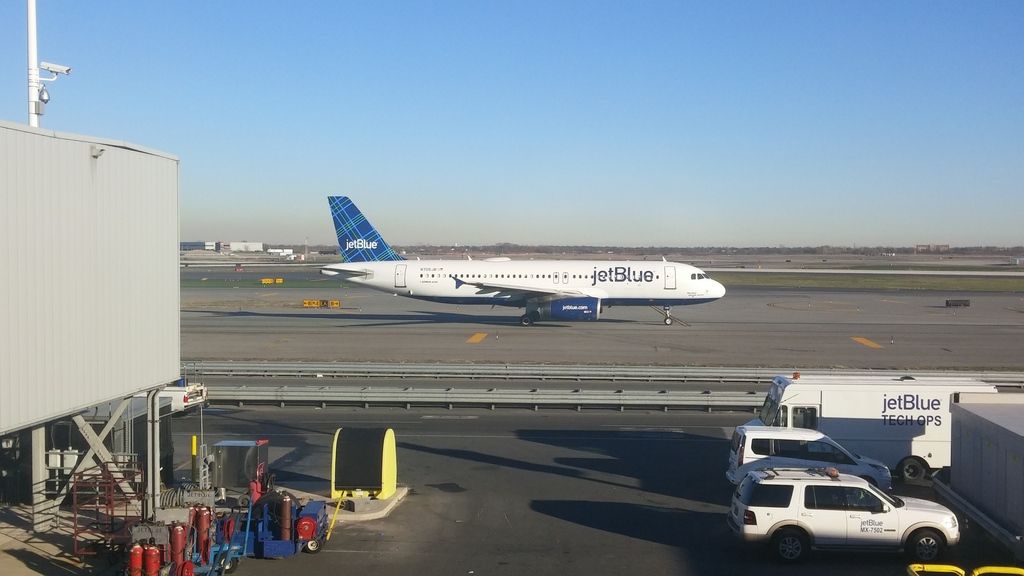 There she goes!
N653JB was seemingly done boarding for flight 581 to Houston. About two seconds after this picture was taken, the gate agent just shouted "Anyone else for Houston?" and a group of four that were just getting to the gate and sitting down looked around and said, "Oh, it already boarded? I thought we were the first ones here!" Some people are a little oblivious, I guess.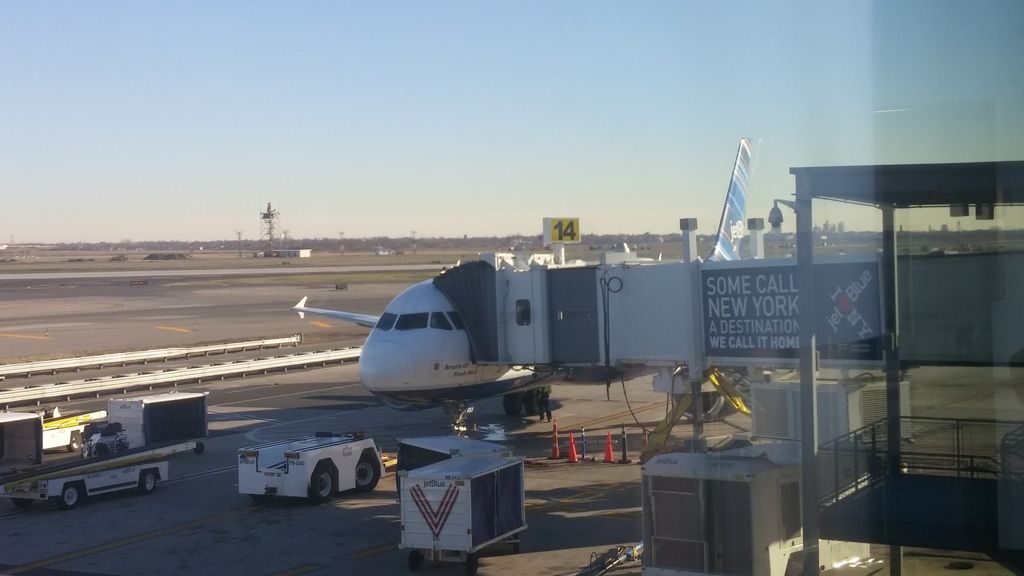 At about 1530 we decided to head over to the AirTrain and go to the hotel for the evening.
One last view before we hopped on the train. Terminal 7 looks so empty without a colony of United 757s parked around it.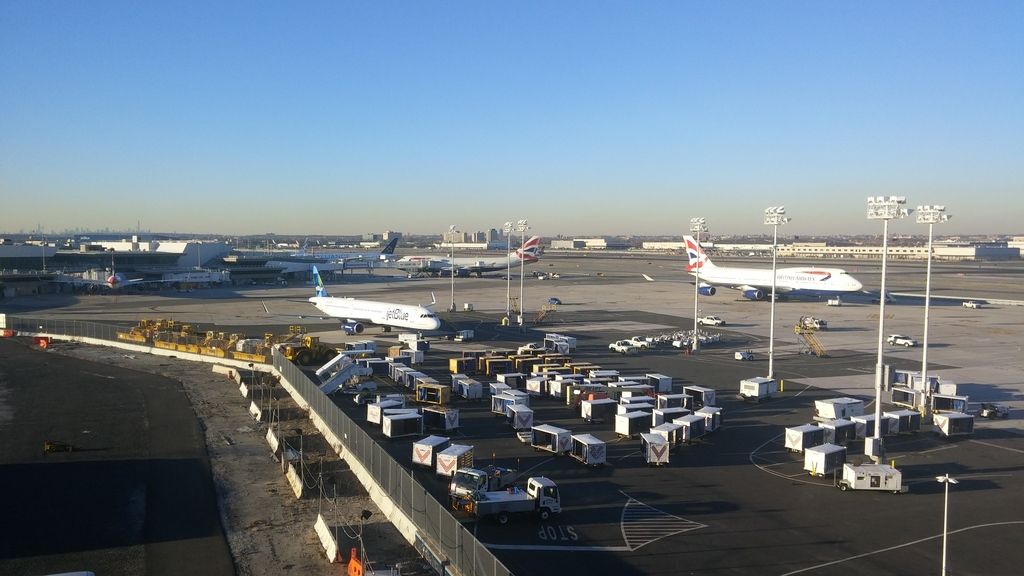 Part Two: JFK-DAB
January 7th was the day we had been looking forward to for a long time. We got to the airport around 0700 and headed over to gate 16 for the festivities.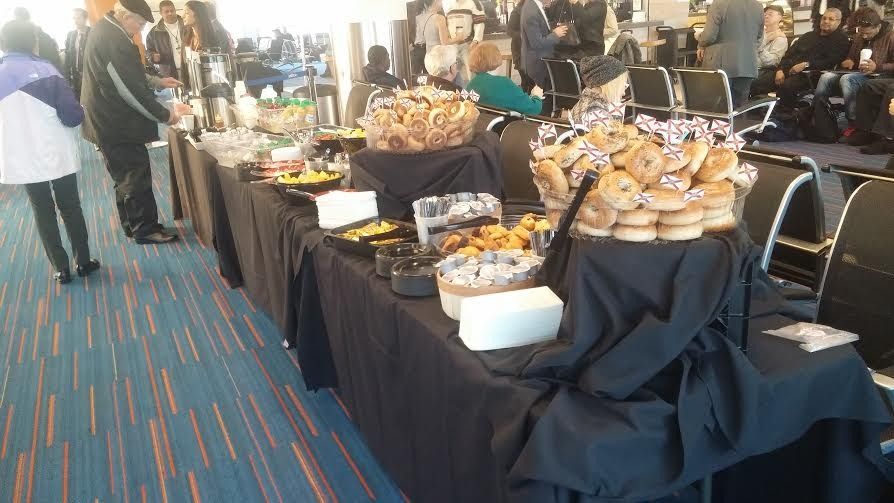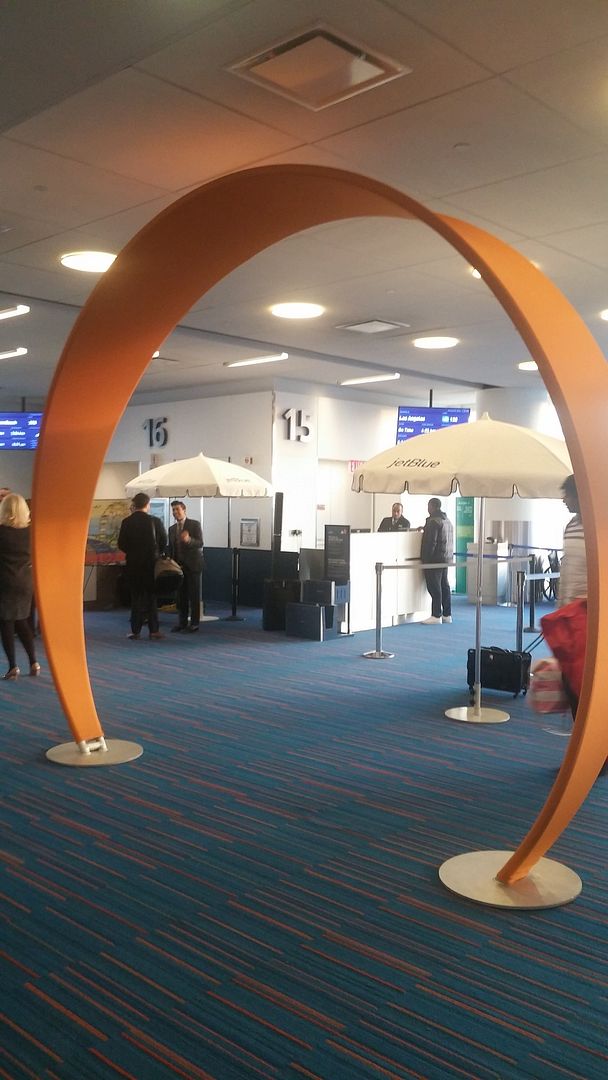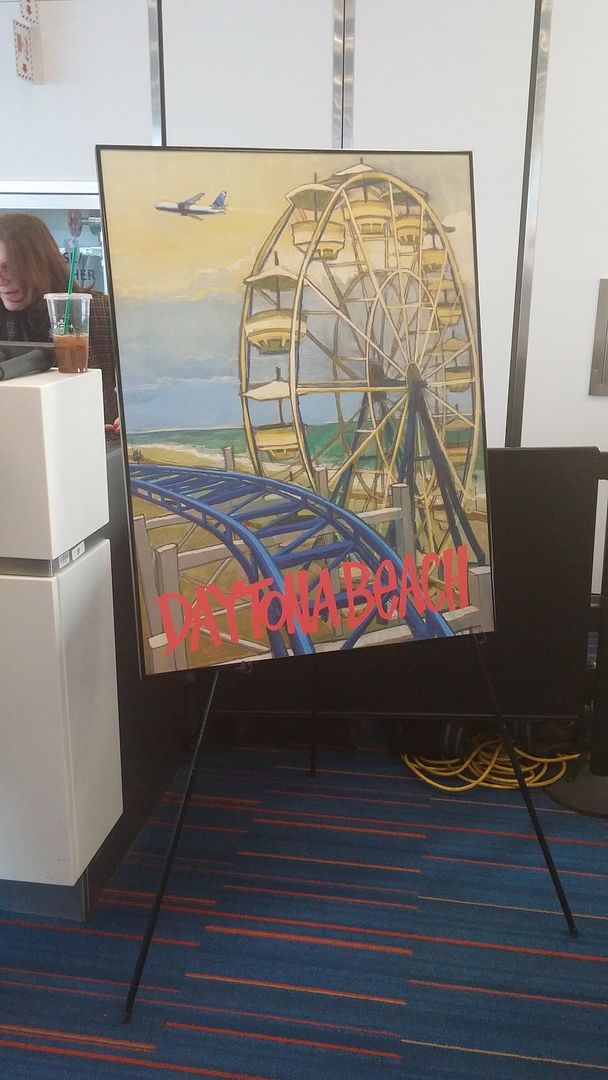 Daytona's commissioned painting (as every station receives when inaugurated)
There was a nice breakfast selection along with a bunch of balloons and music playing. Of course, it wouldn't be complete without a giant orange archway leading into the gate area! Complete with a few speeches from several Volusia County public figures and JetBlue team members and a ribbon cutting (the ribbon was being stubborn and didn't want to cut all the way, so it took a few tries but it was all in good spirit), boarding commenced right on time.
N661JB "Let the Blue Times Roll" sitting at gate 16 waiting eagerly for its passengers!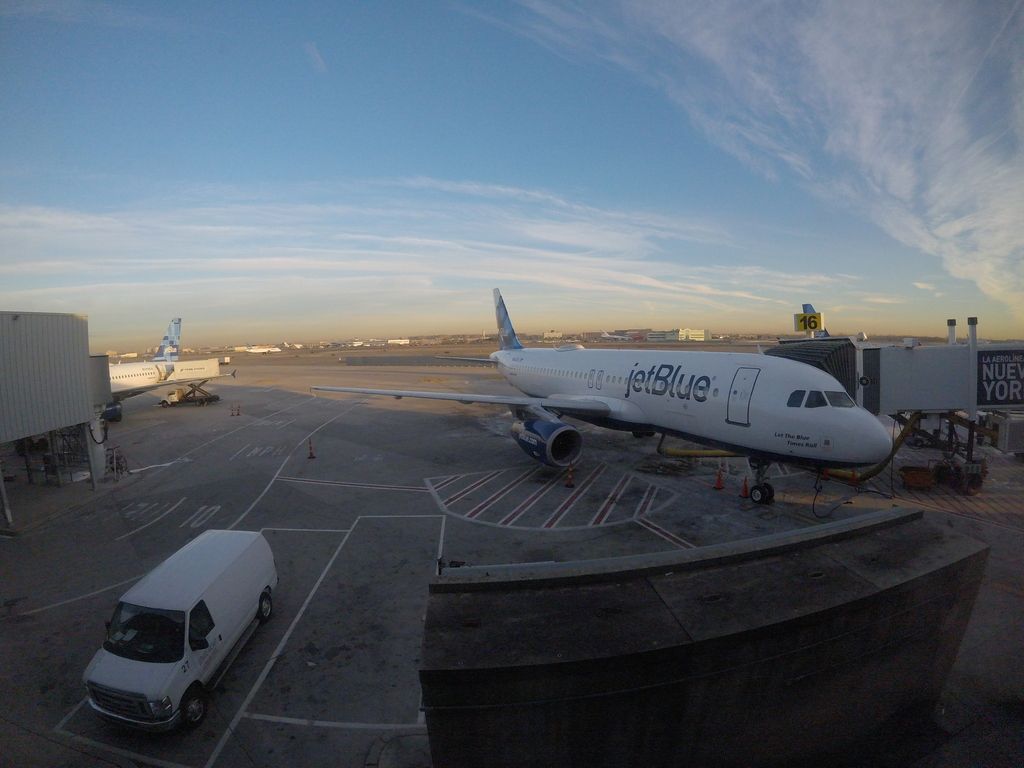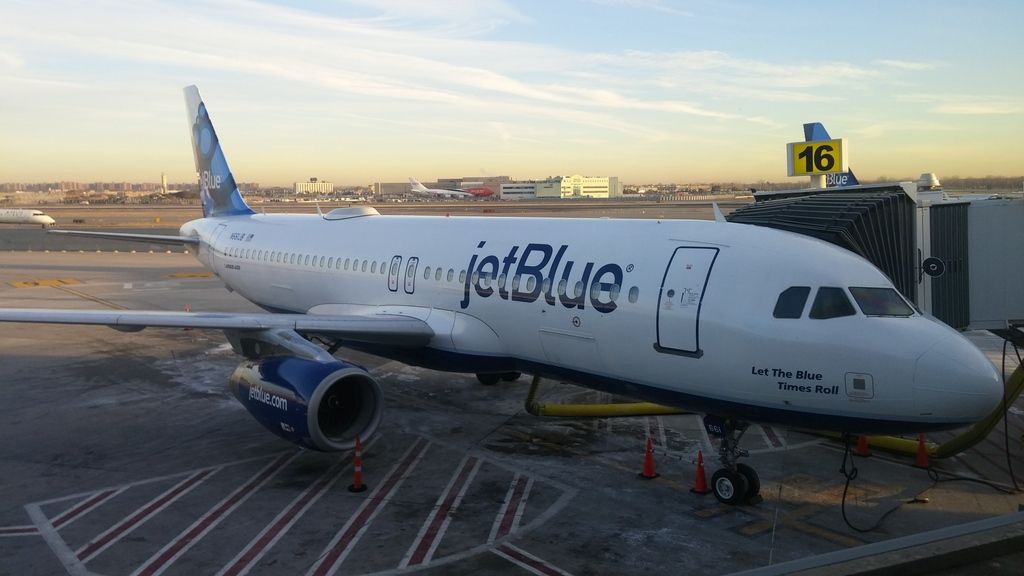 I have to say I was a little surprised that they didn't use either a sharklet-equipped aircraft or a newer one with a tartan tail. I only say that because the inaugural ALB flight was operated by N766JB, which sports the new tartan tailscheme.
Either way, our bird was shiny and ready for us to head down south!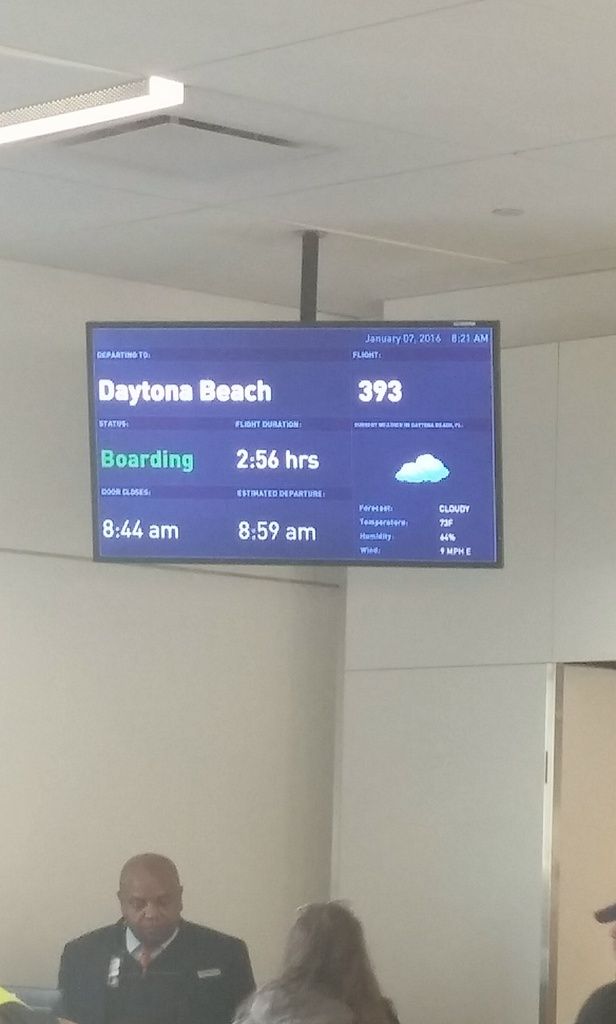 JetBlue fight 393
JFK-DAB
01/07/2016
STD: 0859
ATD: 0855 (pushback), 0910 (wheels up)
STA: 1155
ATA: 1124 (touchdown), 1128 (brakes set)
Duration: 2 hours, 14 minutes
Aircraft: N661JB "Let the Blue Times Roll"
I had been talking to our First Officer for a while before boarding and he invited me to come to the flightdeck before we left for some pictures and to talk more. Turns out he was also a Riddle guy (Class of 1994). After about ten minutes of hanging out up front, I headed back to my seat to get ready to go.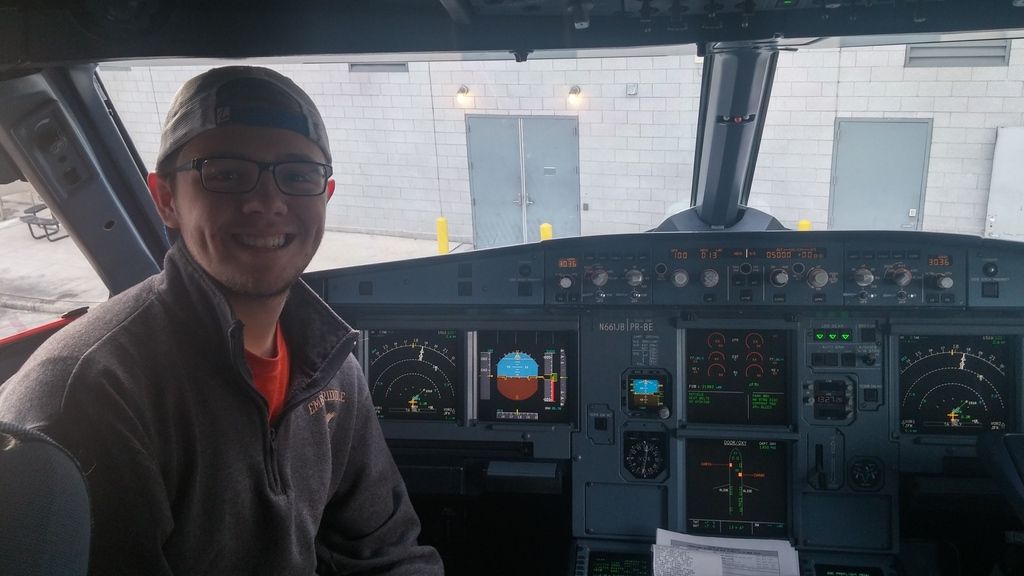 (Now you can put a face with the username)
Every seat was fitted with a small flag, the port side of the cabin with Florida flags and the starboard side with American flags.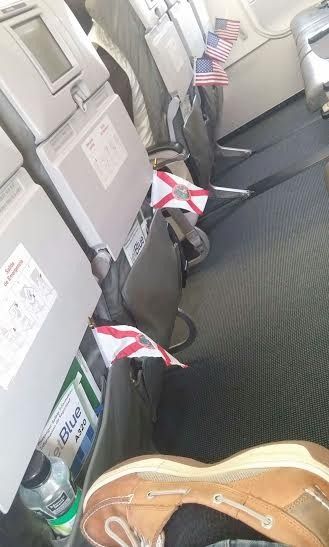 Our larger neighbor (flight 123 to LAX)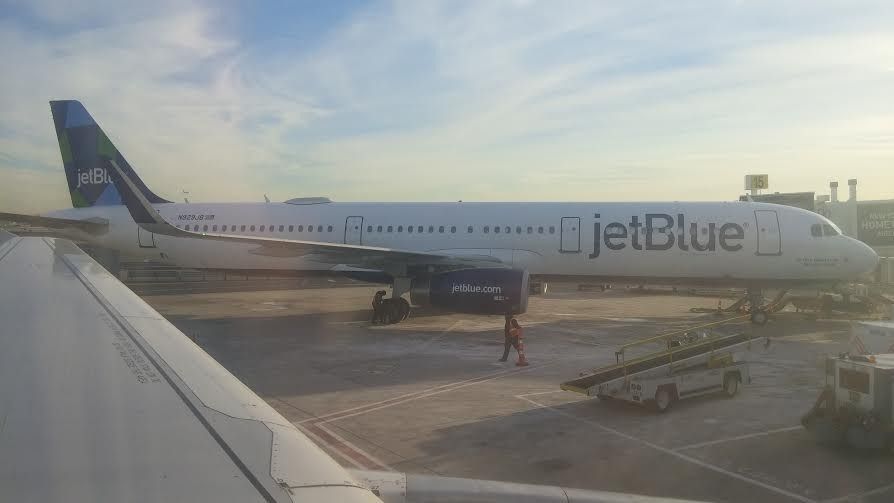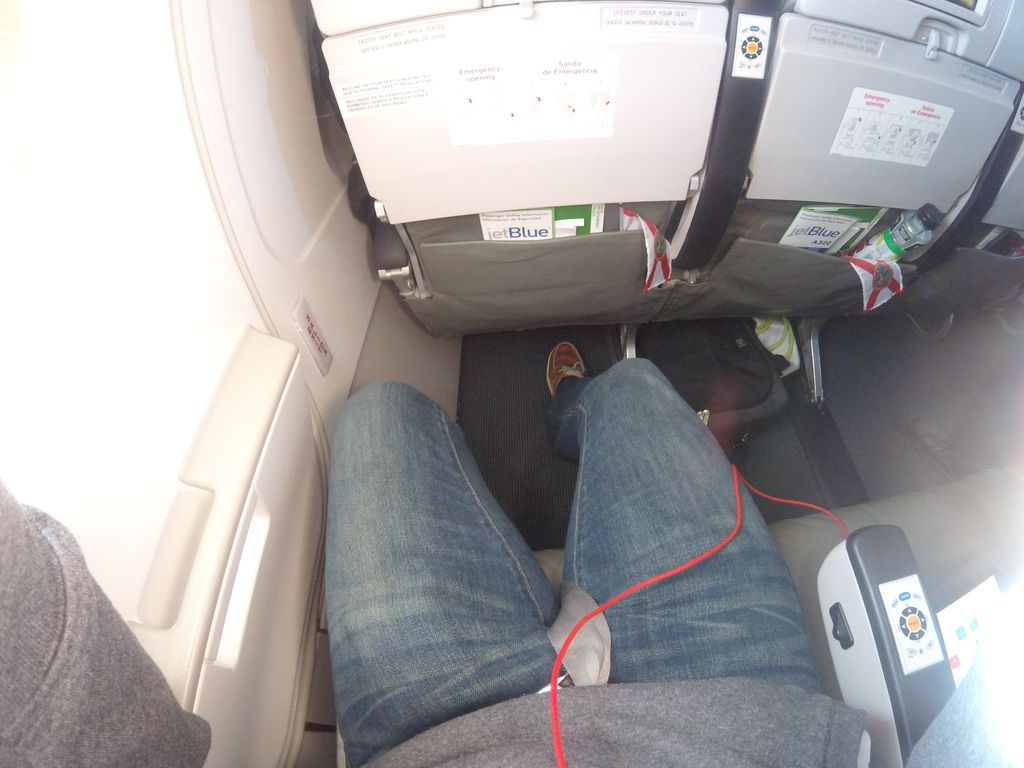 Legroom was great as usual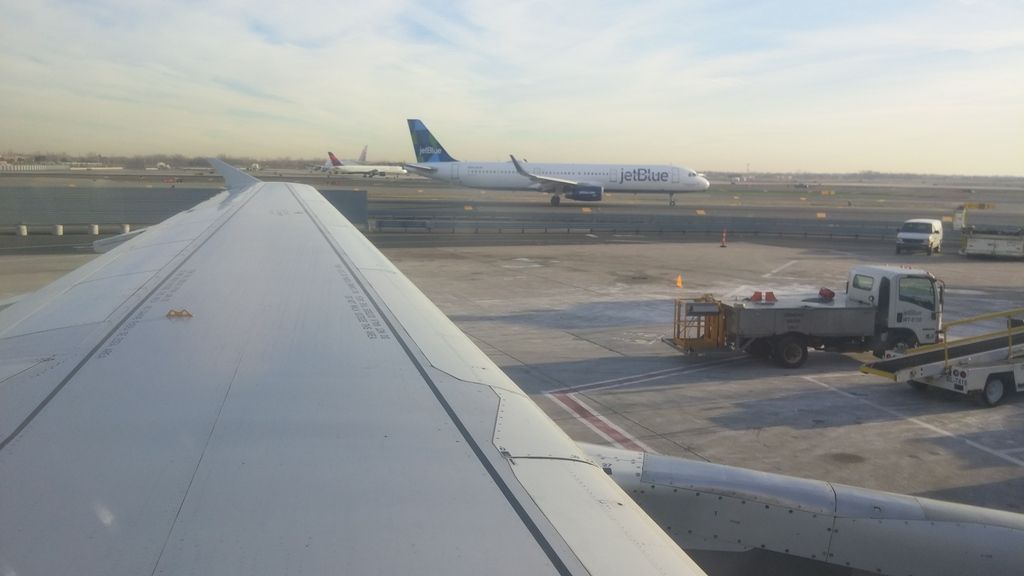 We pushed back at 0855 (four minutes ahead of schedule) and were in the air at 0910. As we pushed back we were accompanied by a tug on either side of the aircraft—one waving a large American flag and the other flying the Florida flag. They had already announced that there would be no water cannon salute at JFK due to the freezing temperatures, however there would be one on the Daytona end.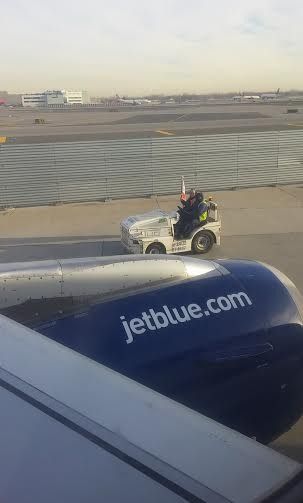 (This guy has the Florida flag)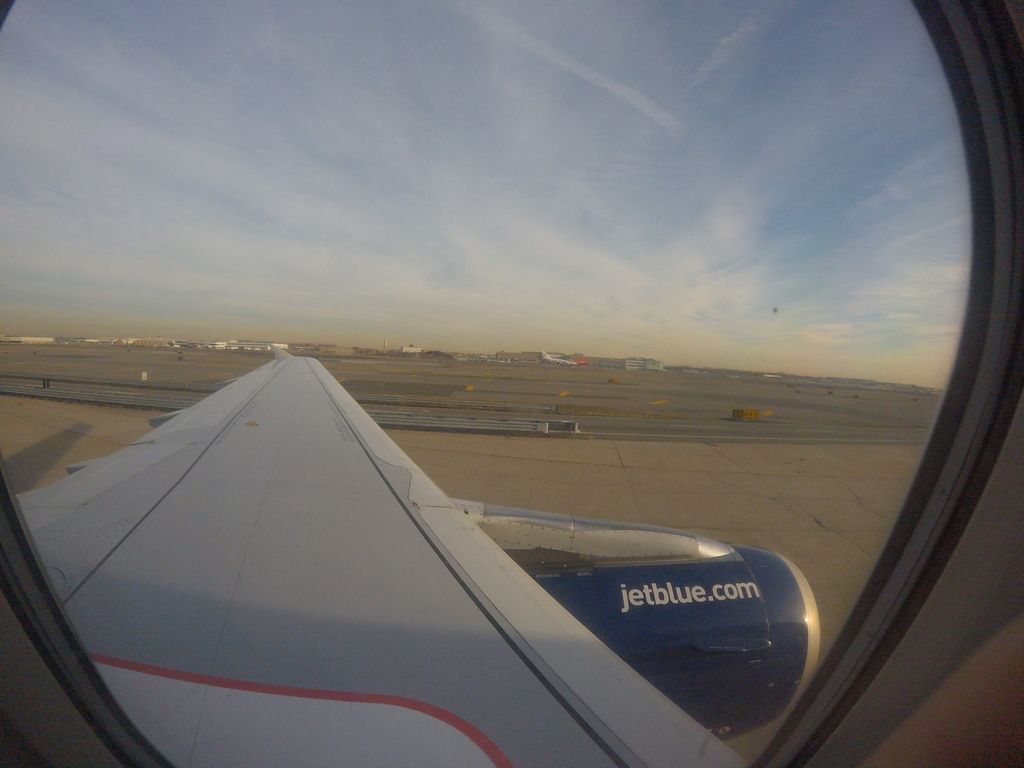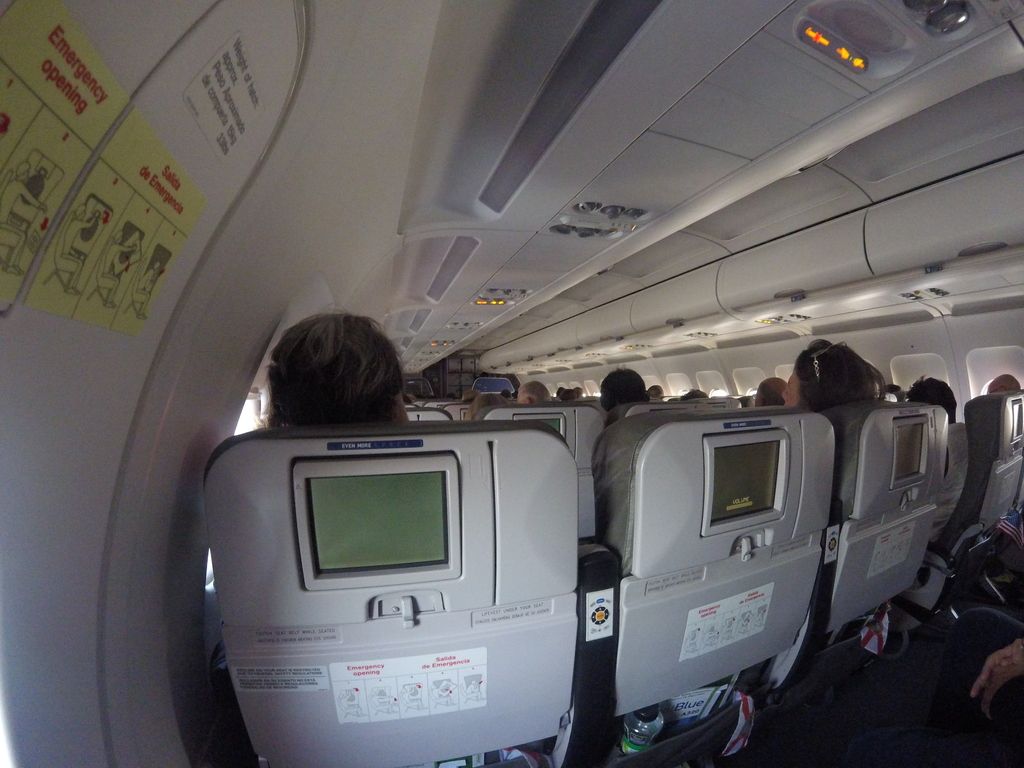 Once in the air, the flight operated as normal. For about an hour…
The complimentary beverage and snacks services began about thirty minutes after takeoff and I opted for all my usuals—black coffee, blue chips and pretzels. I got a pineapple juice a little later to finish off.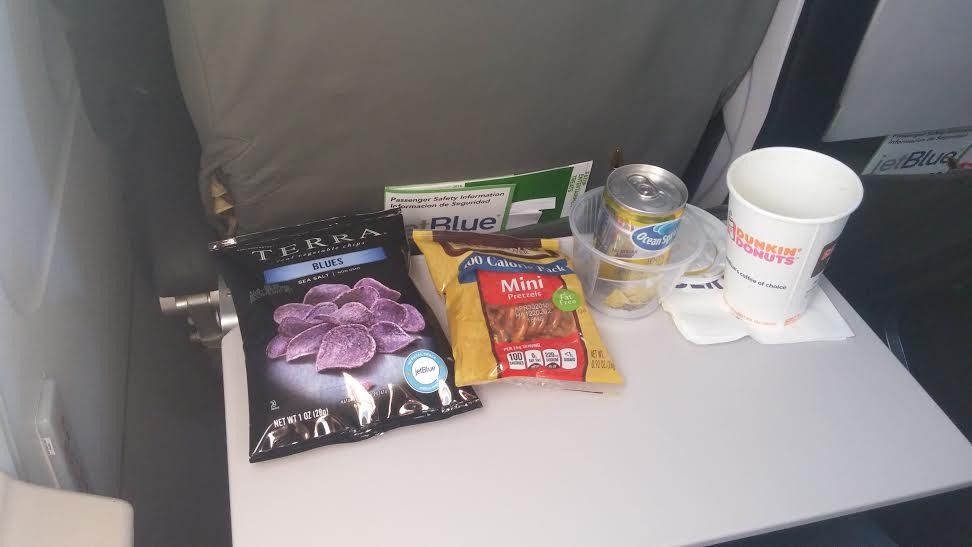 After the service was completed, the real fun began. During the flight we were playing "Inflight Bingo" which is not what it sounds like. Many partners had donated prizes for the flight and, with over twenty to distribute, random seat numbers were pulled out of a hat. We were in row 10 (we had the ABC side to ourselves with me in the window and my dad in the aisle), and my dad actually won the second largest prize (a 3 day, 2 night stay at Hammock's Resort in Palm Coast, complete with a three bedroom oceanview suite, daily breakfast for four people, and a round of golf for four).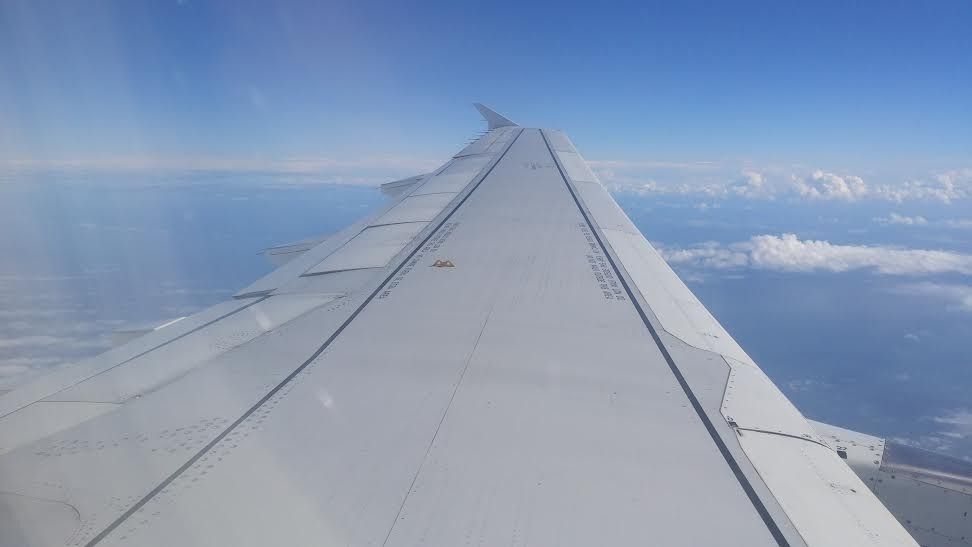 Cruising at 36,000 feet while playing bingo
As soon as the game was finished, we felt the nose turn downward and we started our descent into DAB!
Starting our descent into warmer skies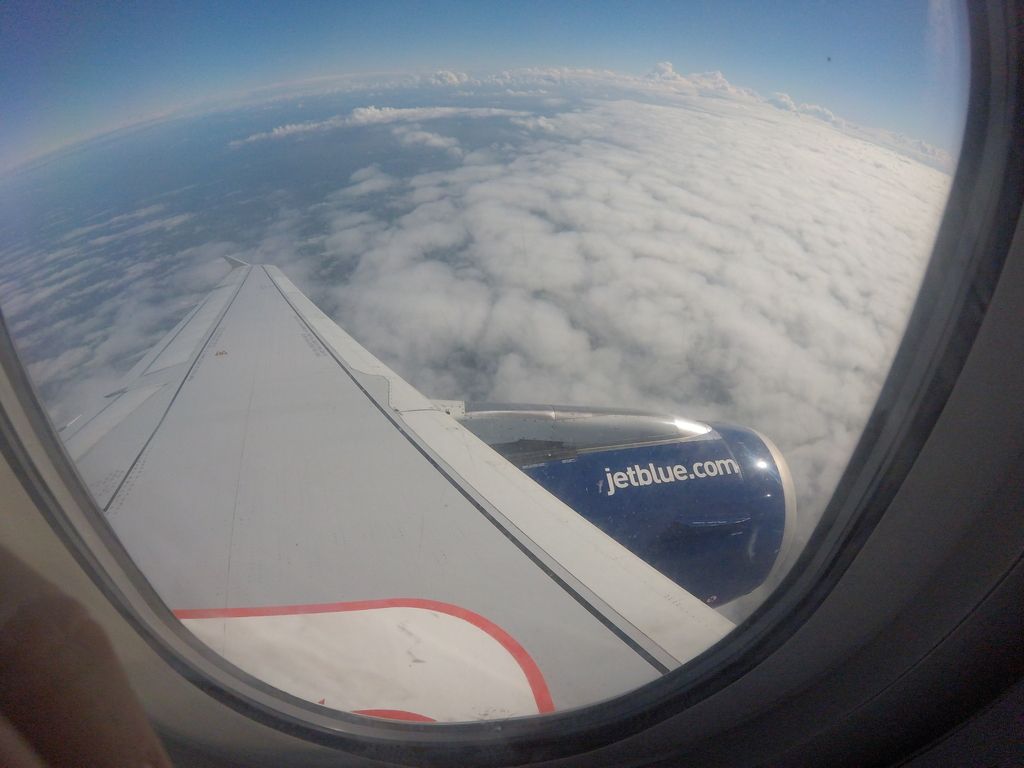 We landed on runway 07L and exited on taxiway Whiskey at 1124 local. We had a follow-me vehicle guide us to the ramp and under an arc of water from the airport fire department. Lots of people were out on the ramp, including but not limited to airport workers, news crews, people whom I assume were airport executives.
When we disembarked we were greeting with much fanfare. People were handing out nice Canvas bags full of promotional items as passengers walked into the terminal, greeting by the sound of Frank Sinatra's classic "New York, New York". I could see a New York style food cart, a bunch of cupcakes and a cake set up for the outbound passengers, with some news cameras dispersed throughout the crowd.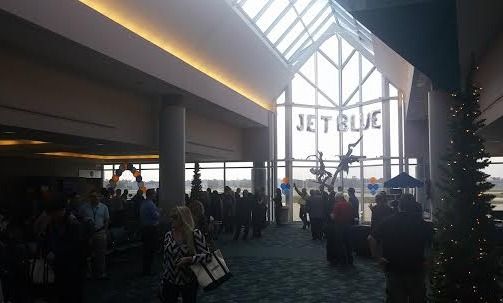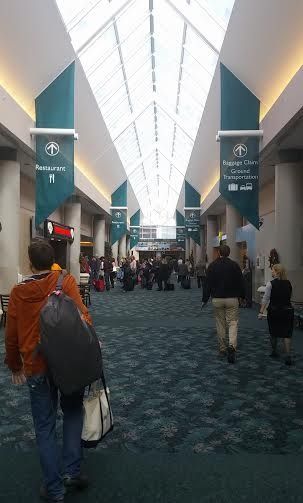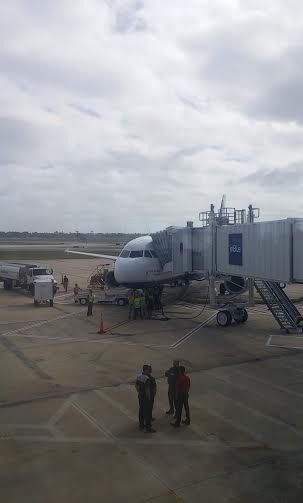 One last shot of our beautiful bird before we set out to the rental car desks.
As we exited the terminal there were easily three hundred people clapping and cheering as passengers walked down the blue carpet (no kidding, JetBlue had a Hollywood-style blue carpet rolled out! After being greeted and running into one of my professors (he runs the Hub at ERAU and is on some committee that was involved in getting JetBlue into Daytona), we made it to the rental car desk. We had rented a car to drive back to CHS to pick up our car from that was parked at the airport from the previous day.
And after about eight hours we were back at the house in Myrtle Beach and ready to get back to work the next day.
FUN FACT: The next day, I got hired by DGS to work as a ticketing and gate agent for Spirit Airlines in Myrtle Beach this summer! Finally cracked my way into the airline industry!
So there's my not-so-subtle recap of JetBlue's first ever [scheduled] flight to Daytona Beach! It was a great flight, and I'm sorry I don't have any shots of the water cannon salute. I have video but posting them in trip reports hasn't worked for me yet, so why try now? There are a bunch of pictures easily accessible throughout the internet!
Hope everybody enjoyed their respective holidays and I wish a year of good fortune for everyone! Thanks for reading and I welcome any and all comments!