AA603 - BOS-PHX
22 October 2015
Airbus 321 N189UW
Seat: First Class 1A
Departure: 16:25 Arrival: 19:08
I was on my way to Portland to see the city and visit some friends and decided to fly between Boston and Portland with American Airlines. I was extremely tempted to take Alaska Airlines and their direct flight between the two cities, however AA won out in the end solely because of the increased miles earning with British Airways.
My flight from Dublin landed on time and I transferred terminals and checked in for my flight to Phoenix. Security was quick enough (shoes off!) and I arrived in the Admirals Club. This was a former US Airways lounge of course and the decor is interestingly bland.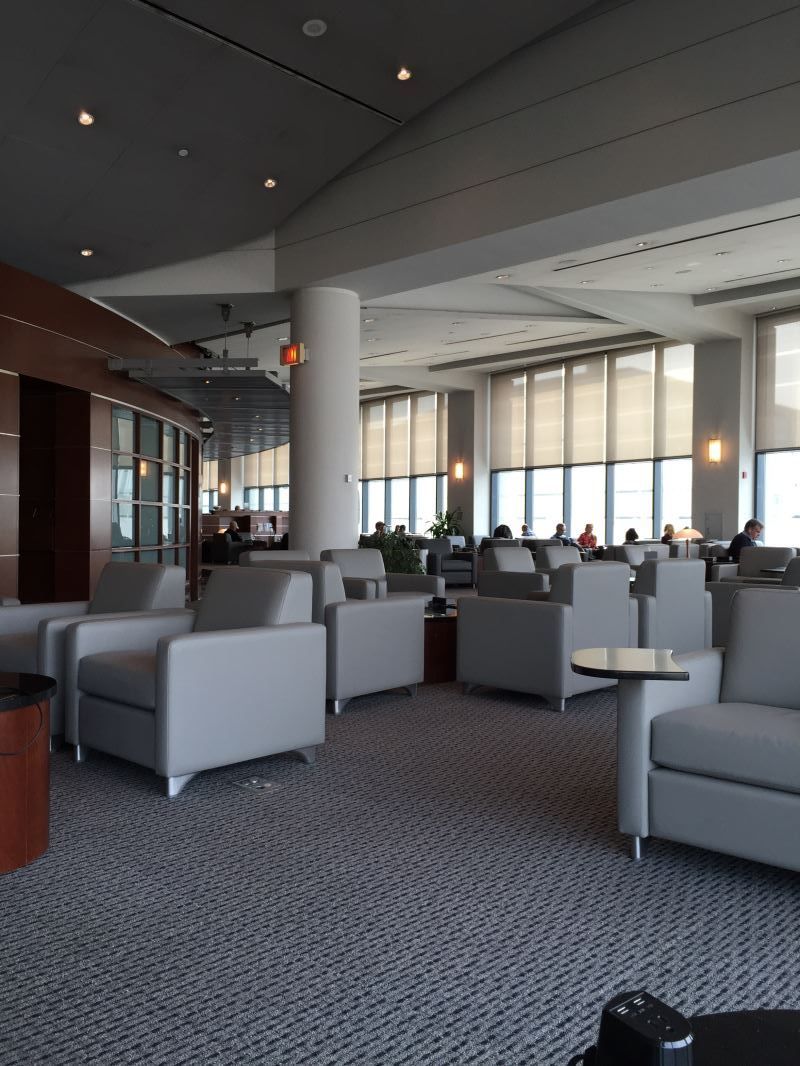 I bagged myself a seat, and took a photo of the view.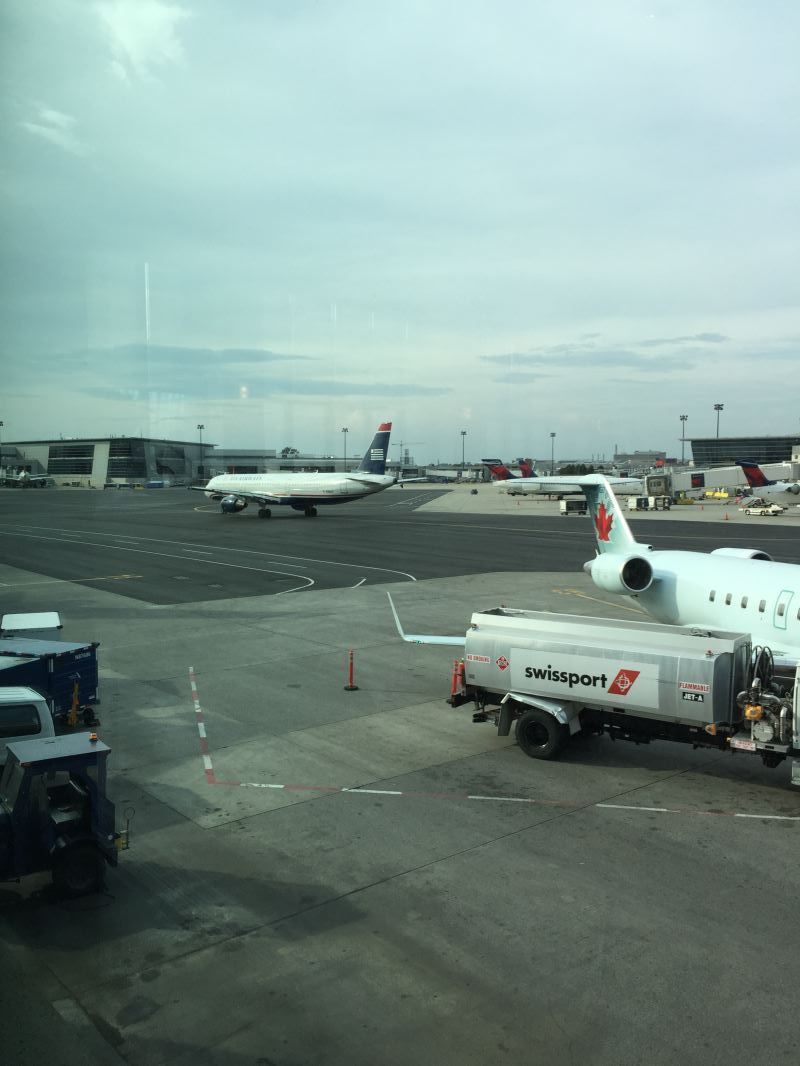 The bisque this time was Roasted Tomato and Red Pepper.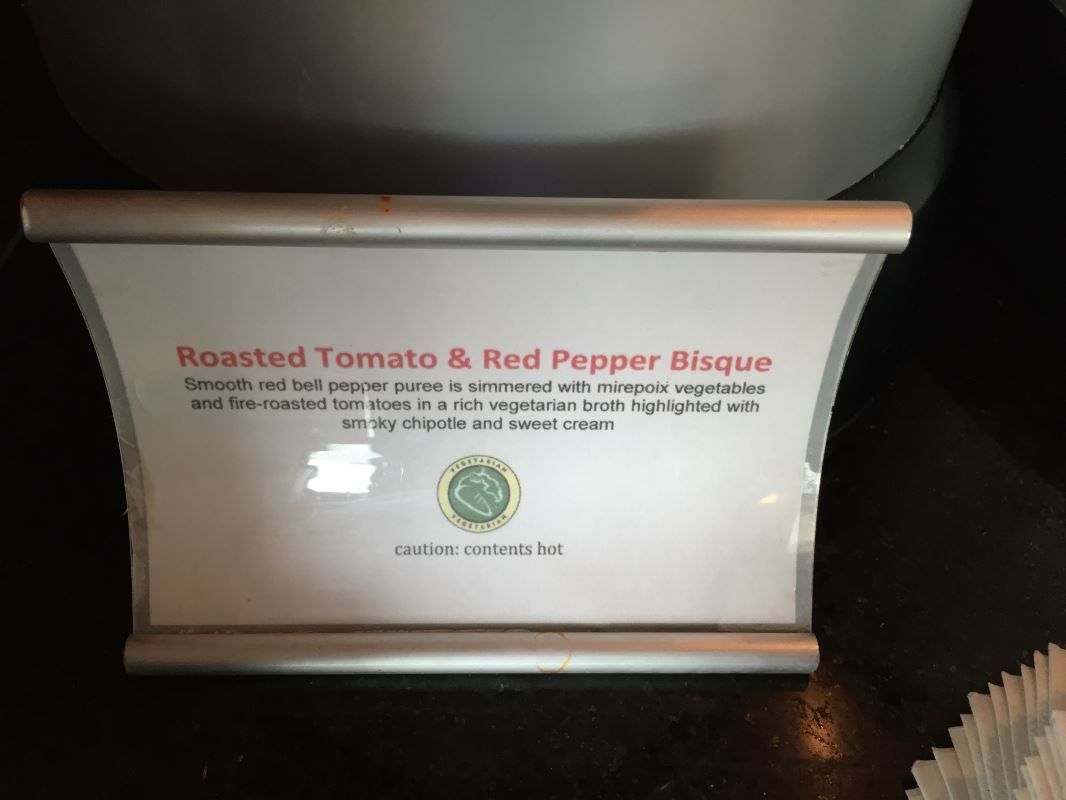 I'm a big fan of the bisque in the American Airlines lounges - it's tasty, hearty and it keeps me going back for more.
Delicious! The other choice was Tuscan Italian Wedding With Meatballs.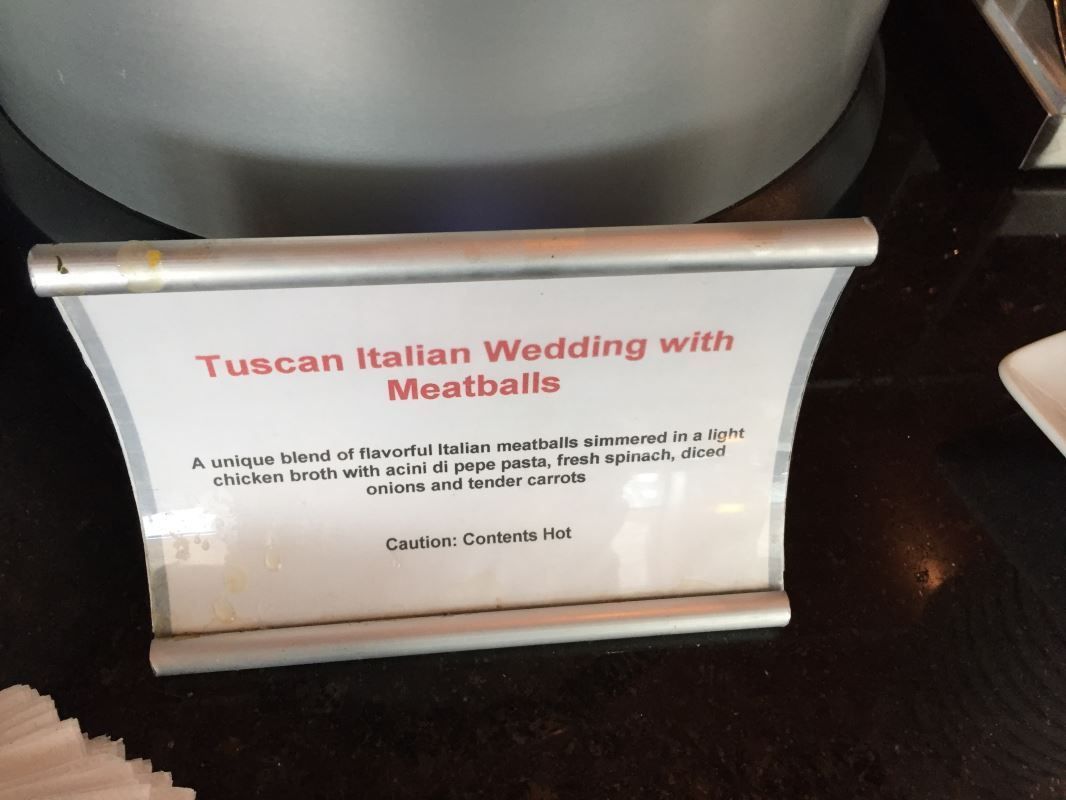 Naturally I also had some of that!
It wasn't nearly as nice as the bisque - too bland, too watery - so I finished that and switched back to bisque.
British Airways Executive Club visitors also get a voucher for a free alcoholic drink.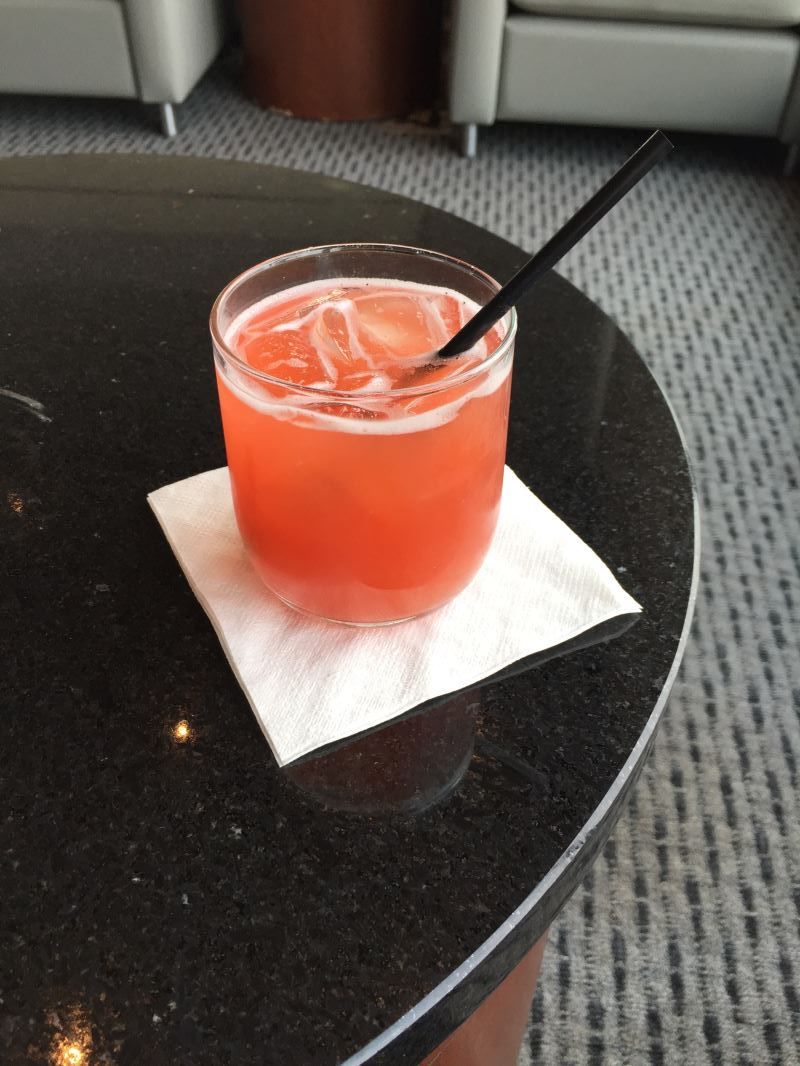 I couldn't tell you what it was, but it was colourful! I usually ask the bar tender to make me something they like or that is popular and this was one of those.
Eventually it was time to board our US Airways branded Airbus 321 for the long flight to Phoenix. It's over 5 hours long, but I was well prepared with an iPad loaded with movies so that I wouldn't be bored. As is usual with American Airlines, First Class passengers are permitted to board first. My boarding pass was checked, and I found my seat 1A. Directly in front of me was a divider.
Leg room in row 1 was pretty good.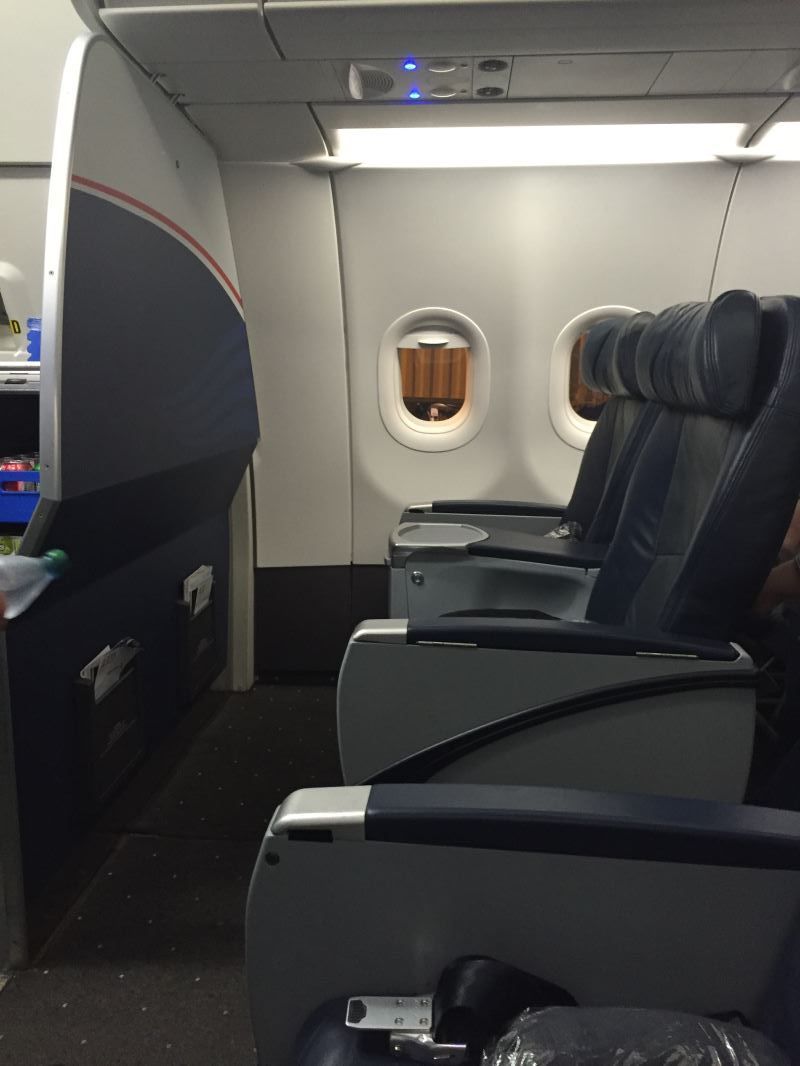 I quite like how the divider kinks to give you more room at leg level.
Speaking of leg room, this is how much I had - keeping in mind that I am 5'7". I wouldn't recommend sitting in the front row if you are tall and enjoy stretching your legs.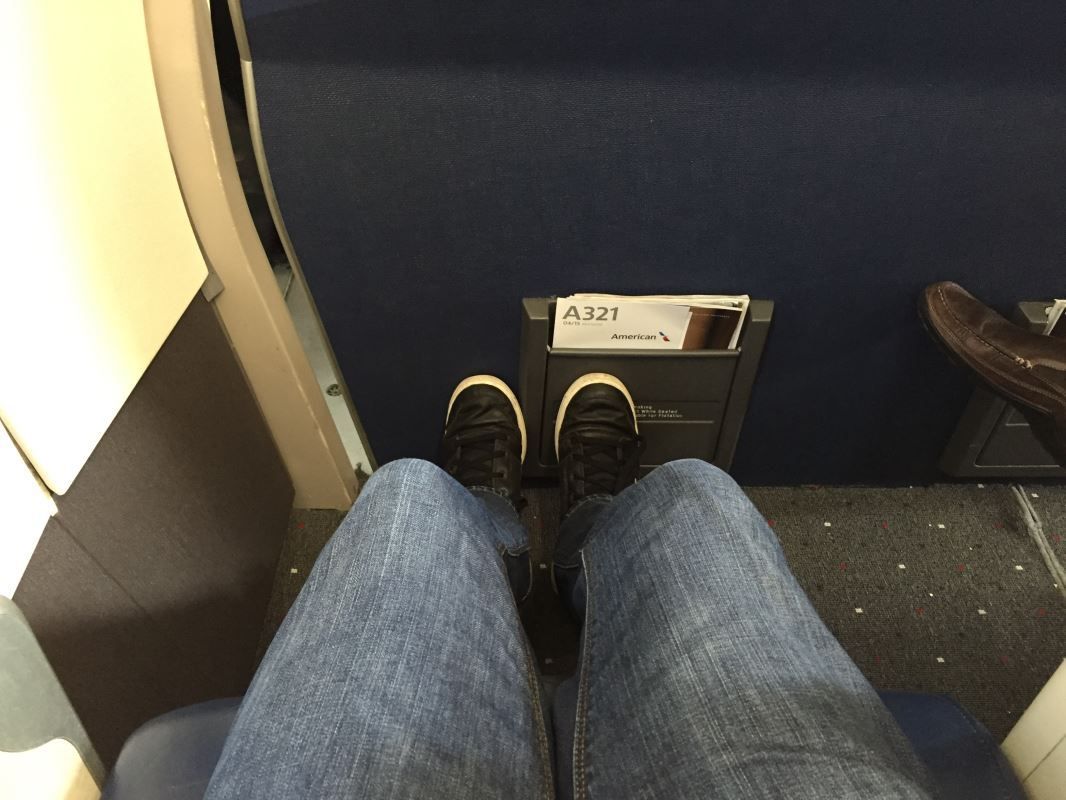 While the other passengers boarded I got a close up of the carpet pattern.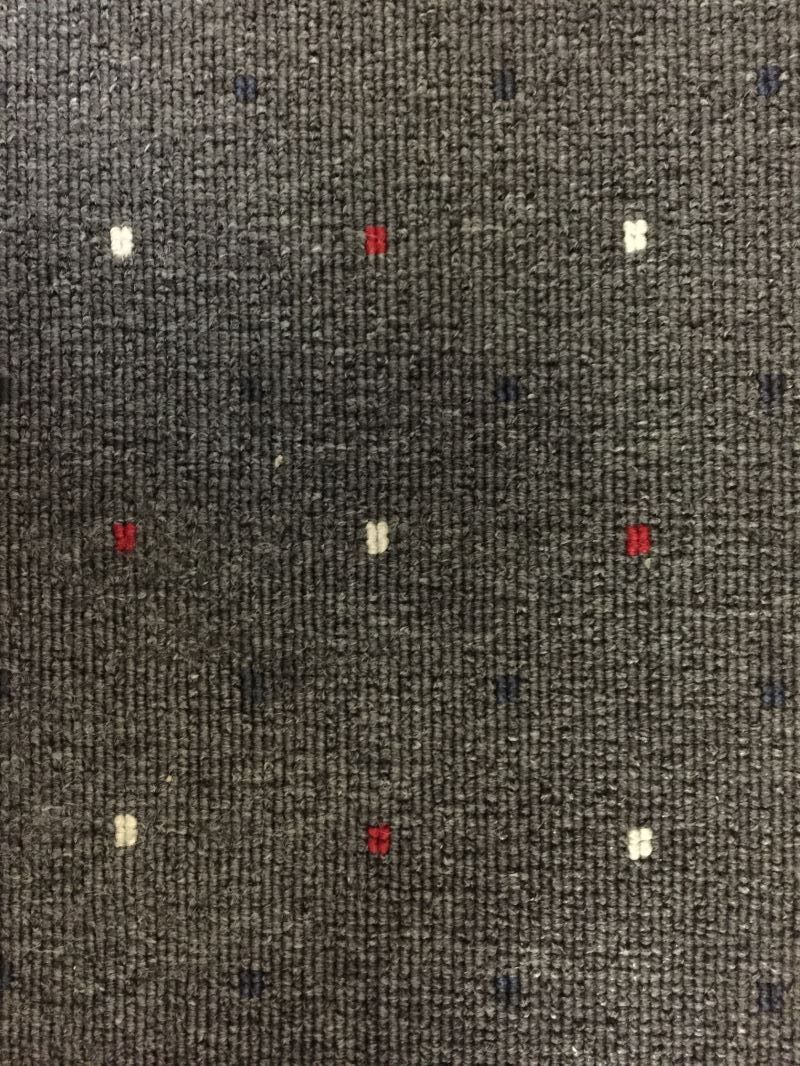 Next to us was another company aircraft.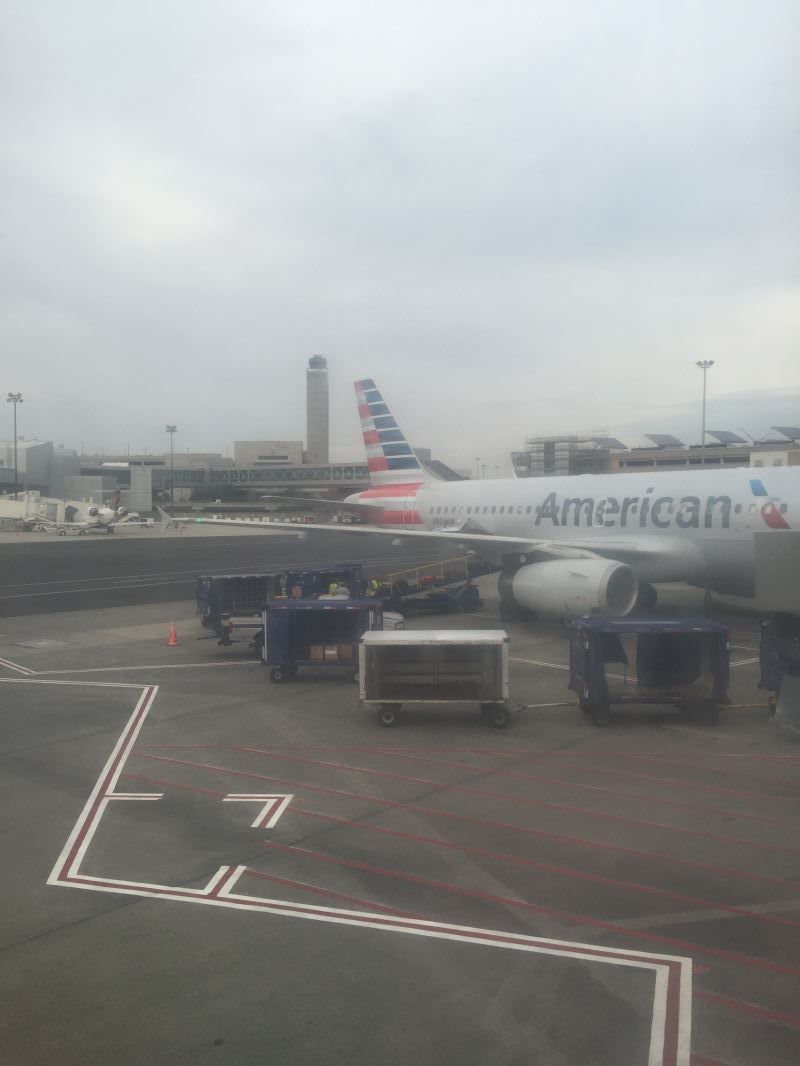 Eventually everyone was on board and we were given the safety demonstration. We pushed back, headed to our runway and took off in fairly short order. It was quite a nice evening for flying as you can see!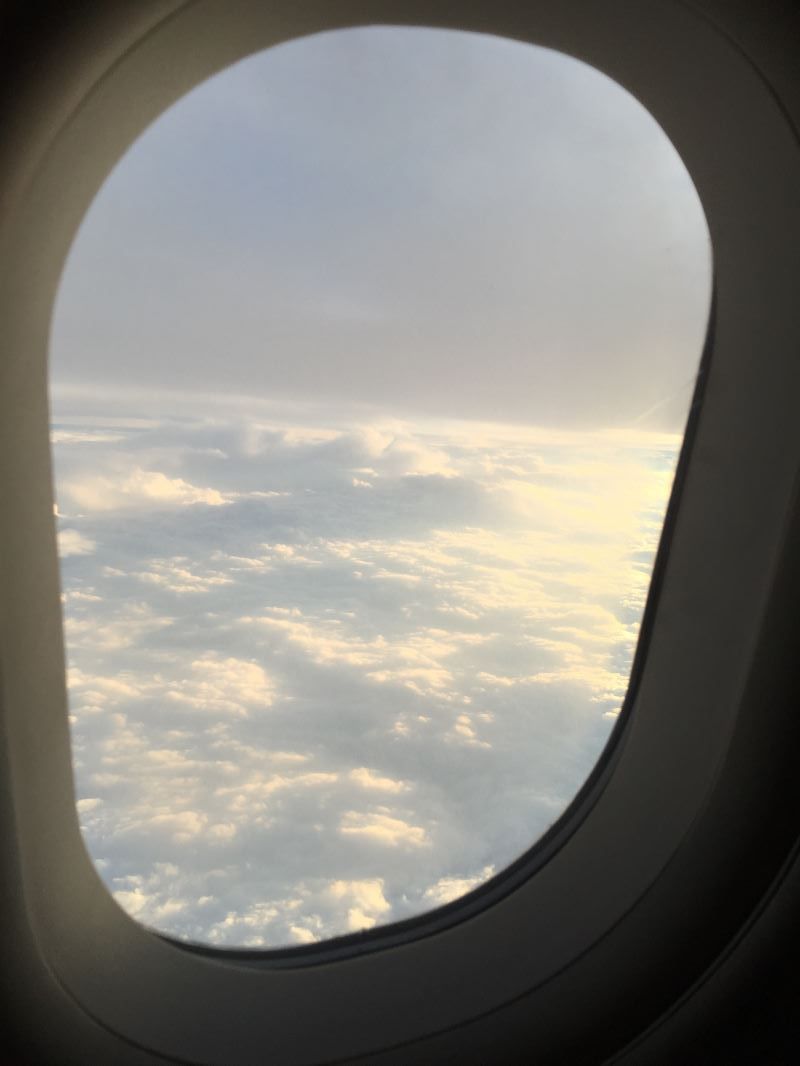 Our drink orders were taken and I asked if they had sparking wine. It took two or three tries for the flight attendant to understand what I wanted and she said she'd see if they had any. I was presented with my warm nuts in the ramekin and a bottle of sparkling wine.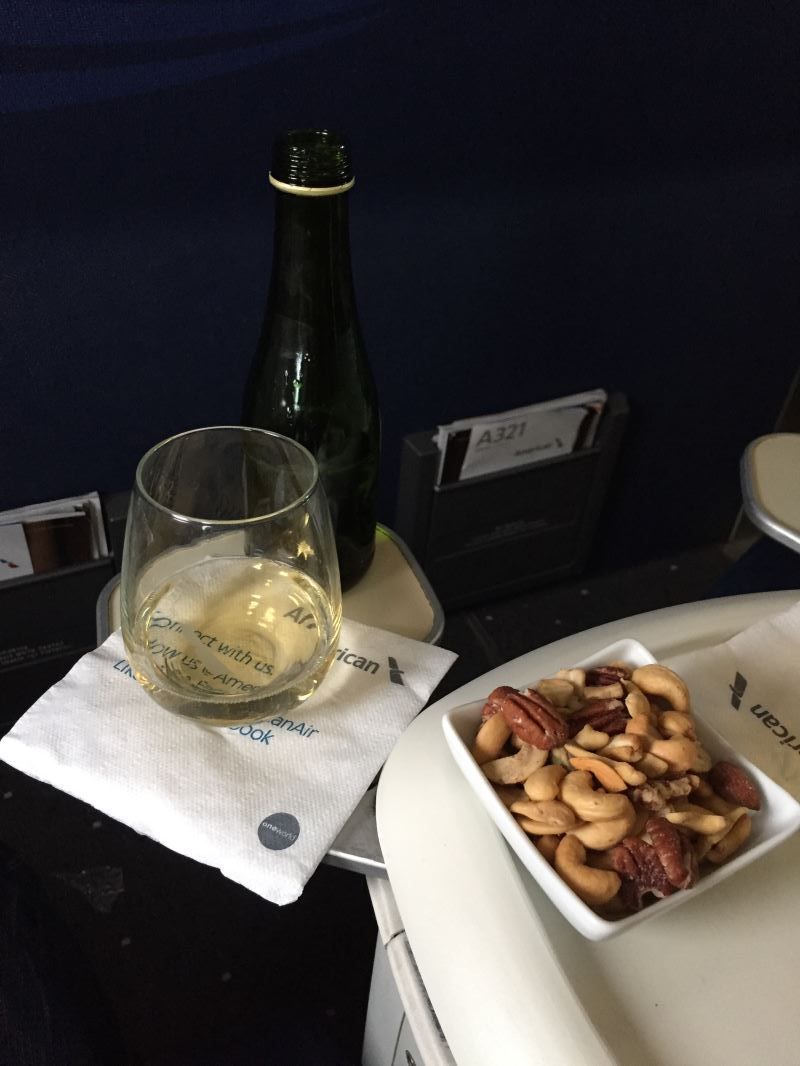 I wouldn't recommend ever drinking any bottle of anything that doesn't have a label. The sparkling wine was the most disgusting rot gut I have ever tasted on board a flight in my life. It was truly, utterly and completely vile.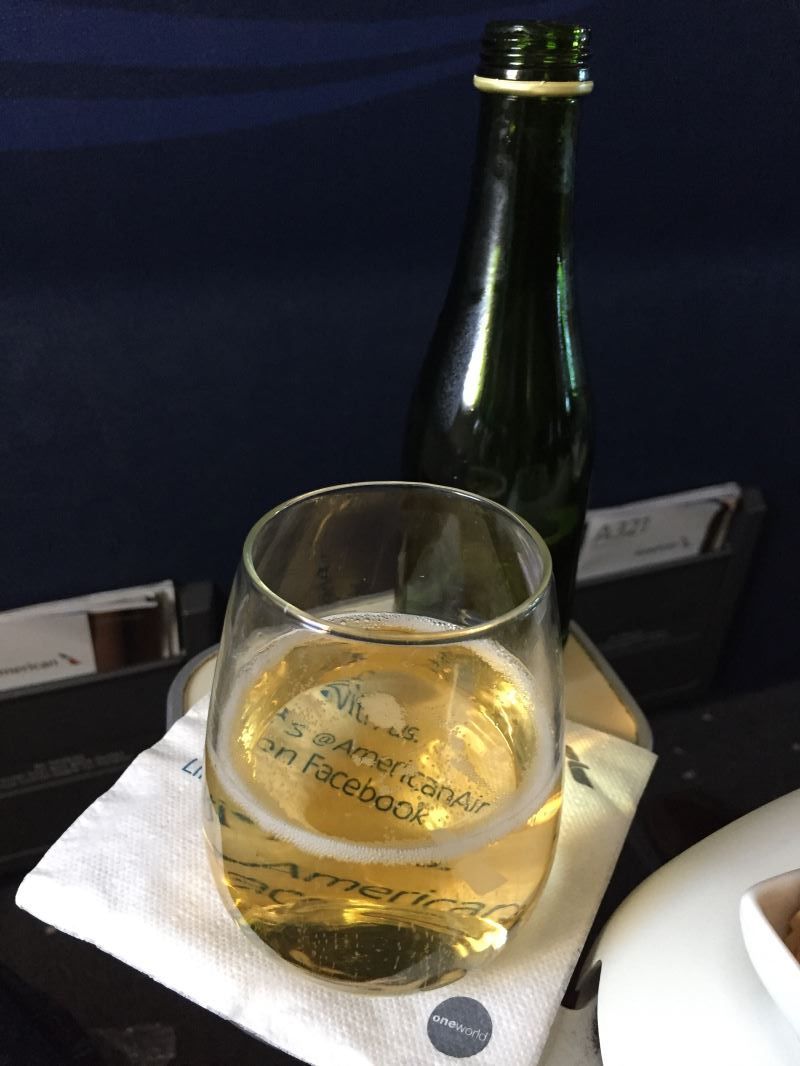 Around this point I decided to visit the bathroom, and of course I took some pictures for posterity. The sink...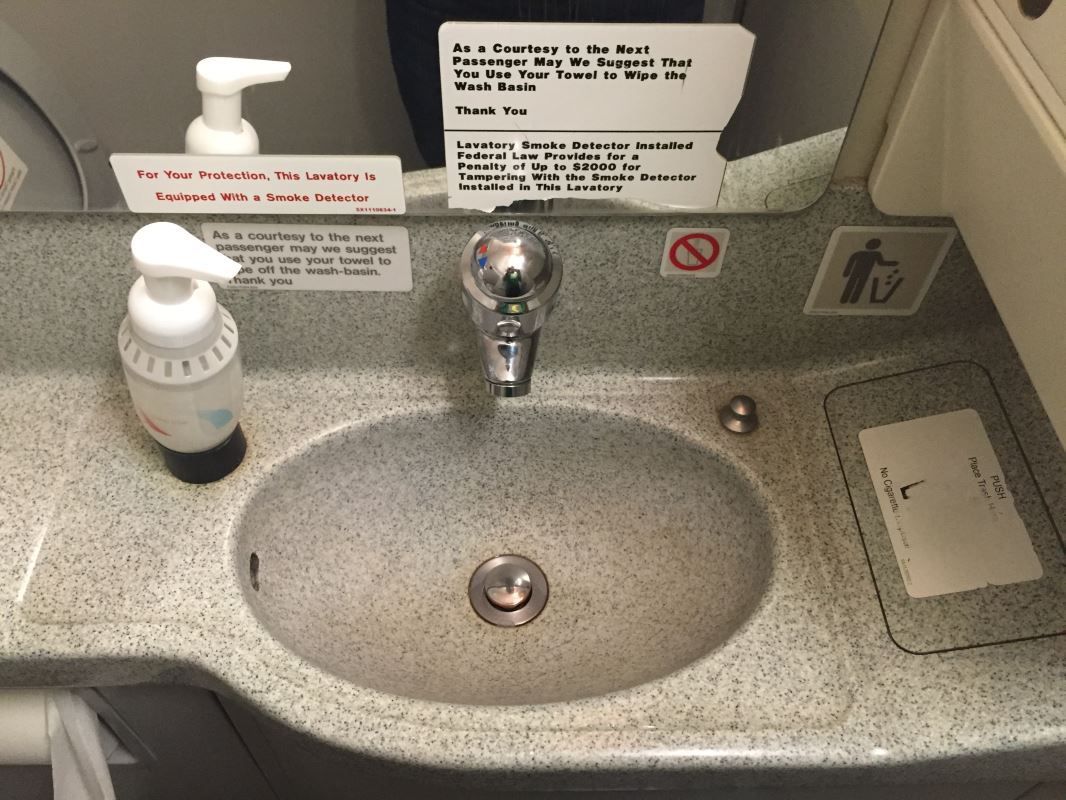 No real premium hand wash or anything there, but it's domestic First Class, so I shouldn't be too picky.
Next, the throne...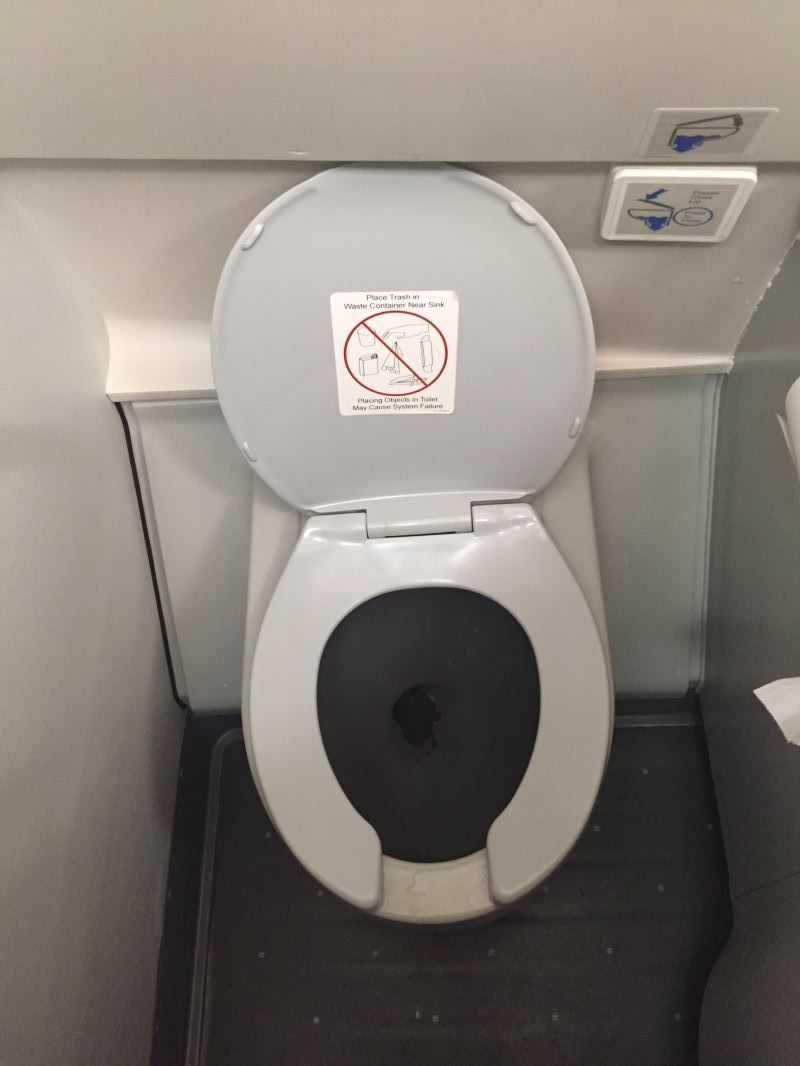 Signage...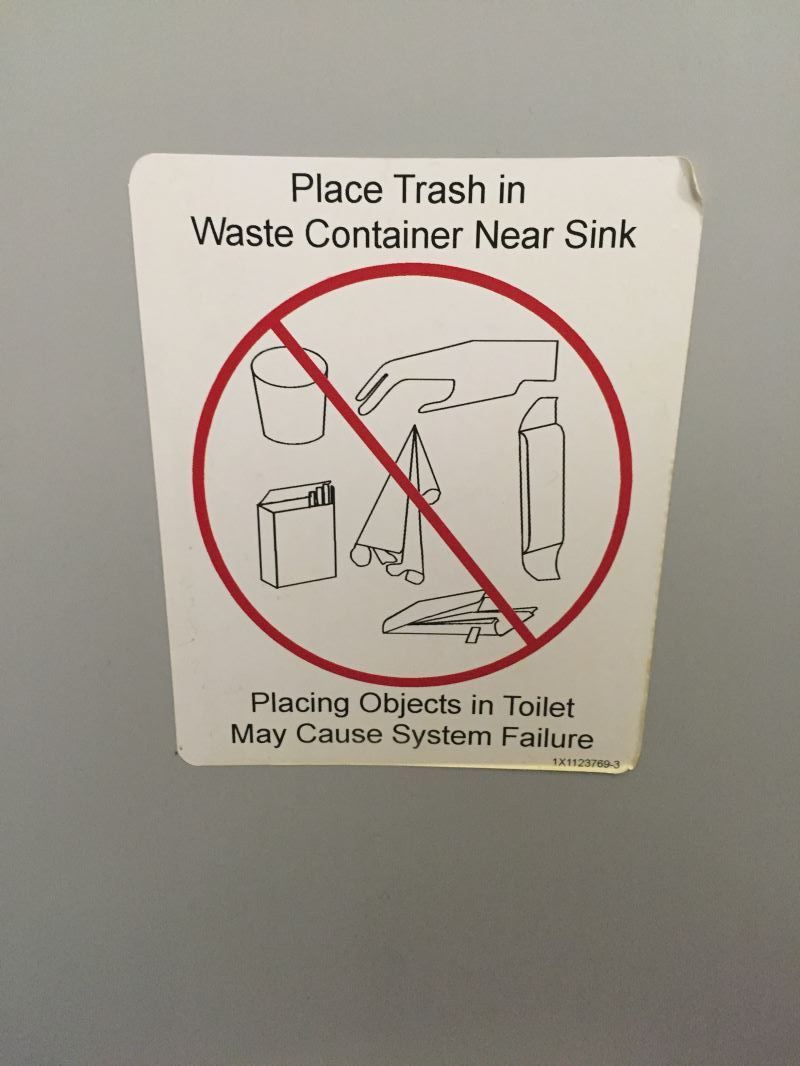 ... and paper seat covers for the squeamish!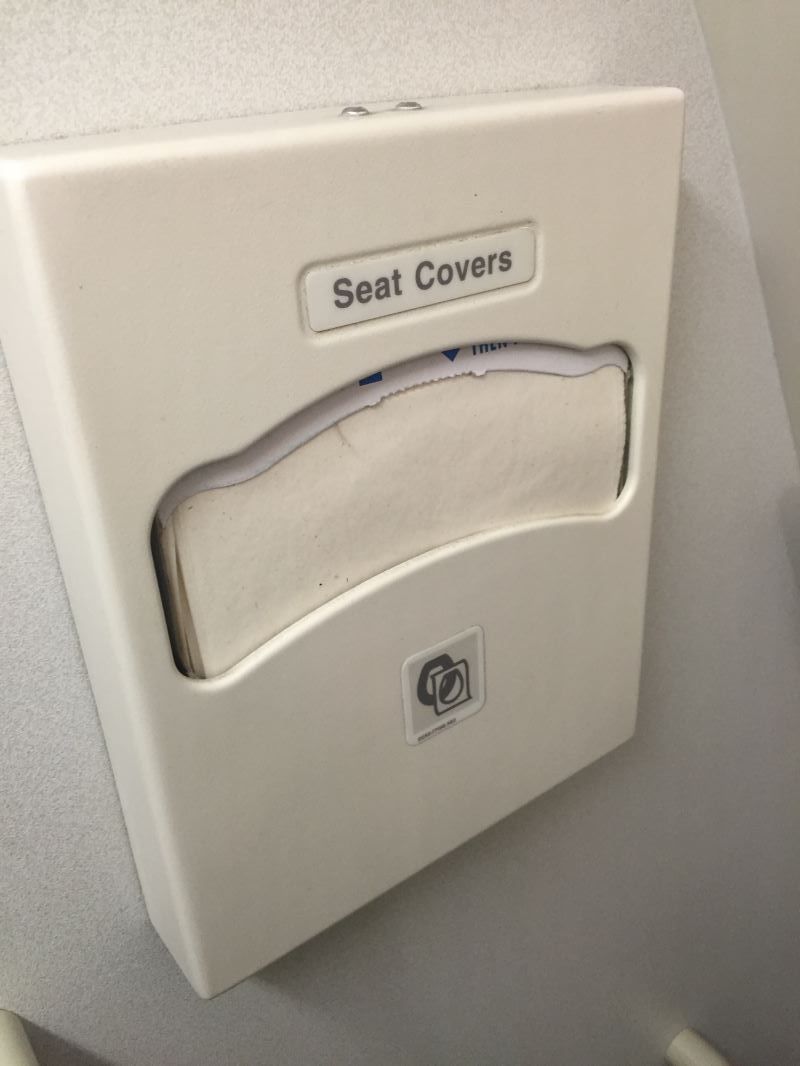 Once back, it was time for the hot towels to freshen up before dinner.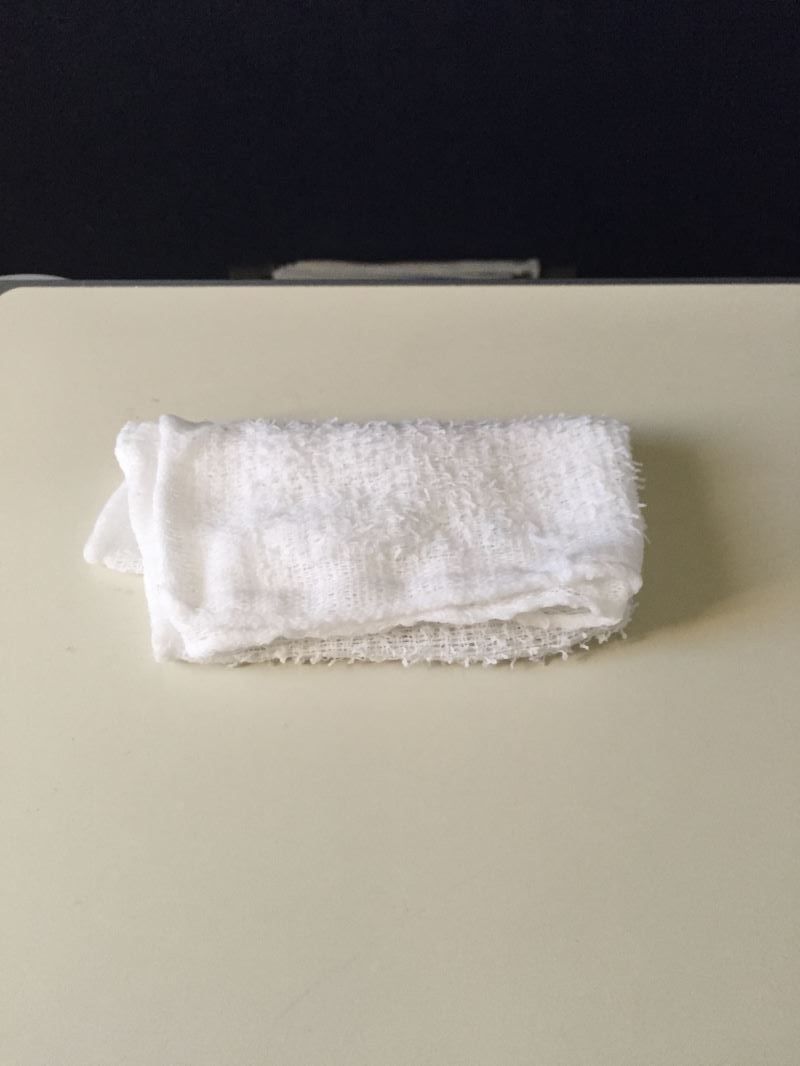 The tray table was quite easy to swivel about in its half size position, which is handy for getting out if you still have items on your tray.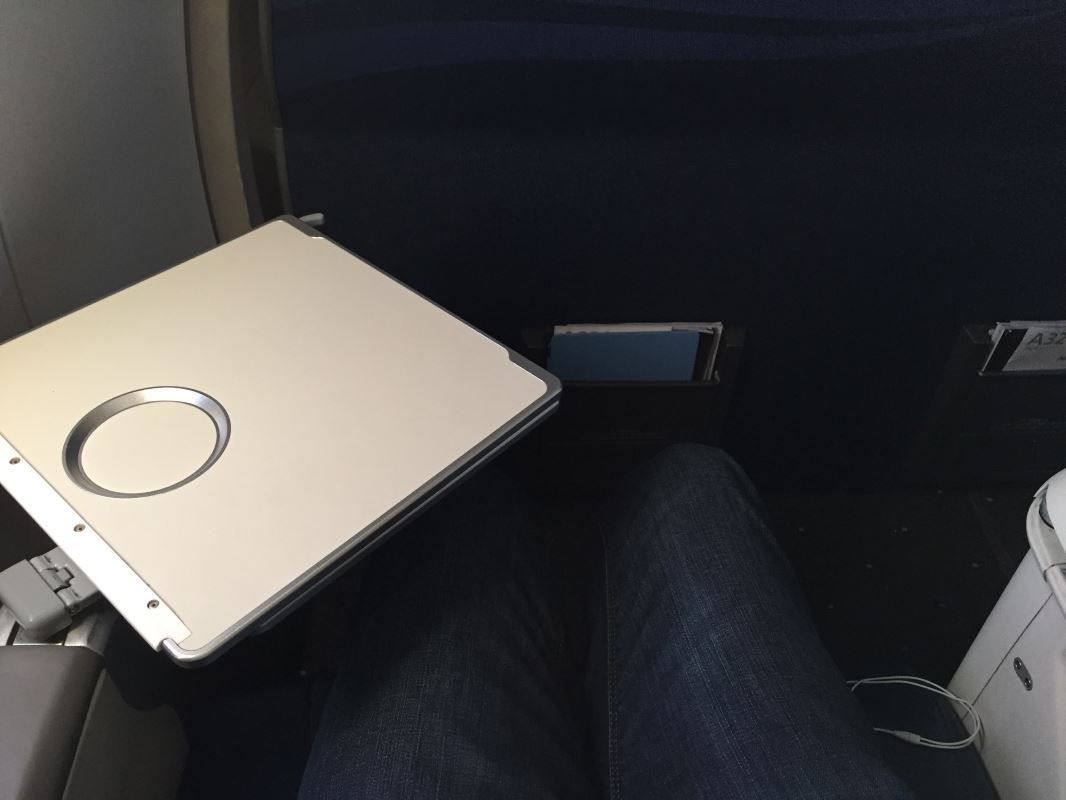 Folded out, it looked like this.
On American Airlines, you can pre-order your meal in First Class and I had chosen the Blackened Shrimp. The tray arrived and it was quite a decent amount of food!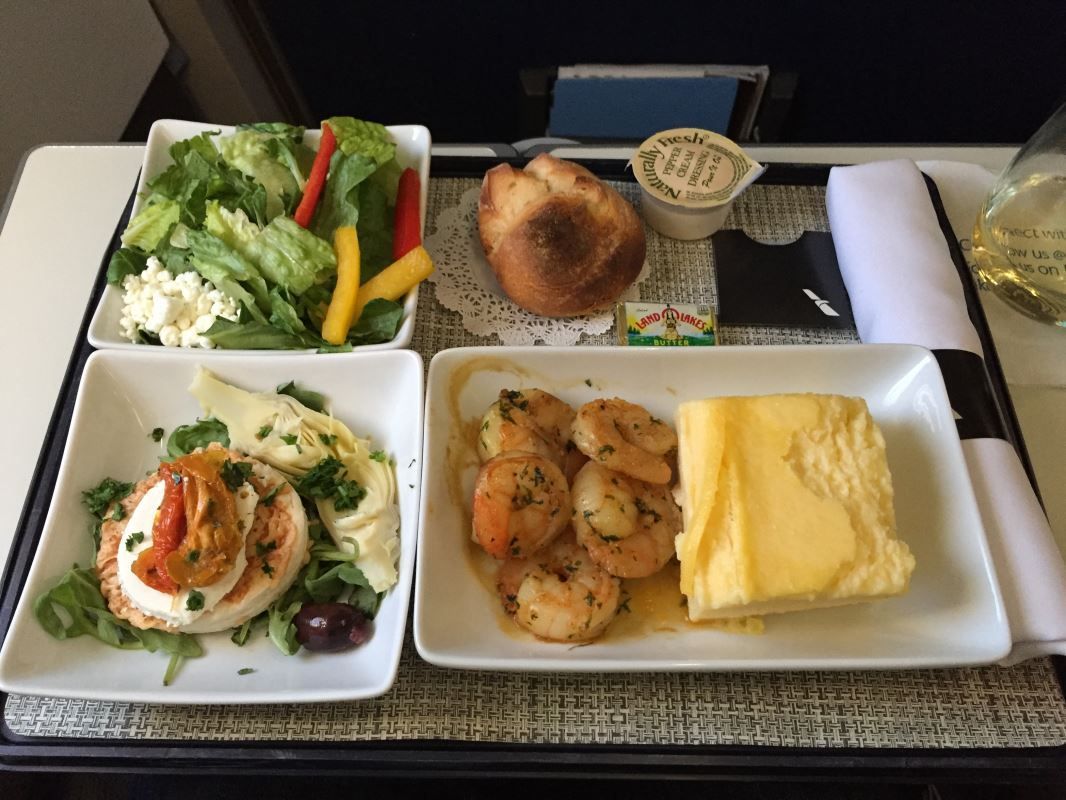 This was the starter.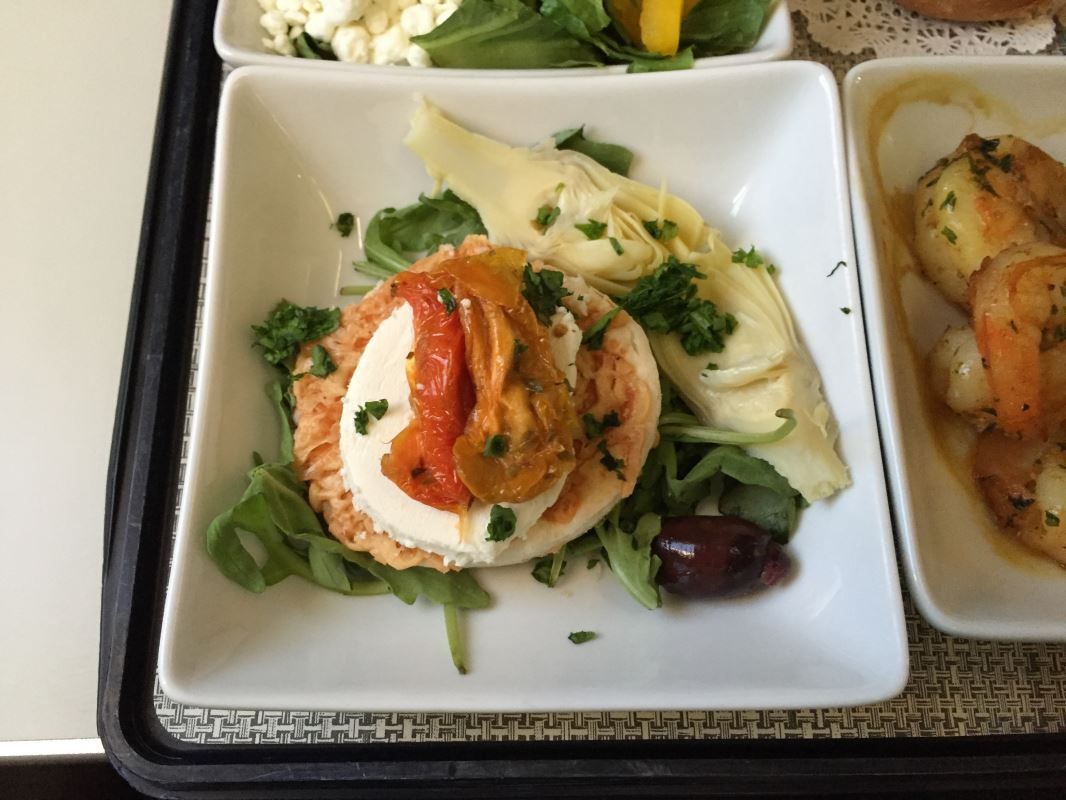 The salad...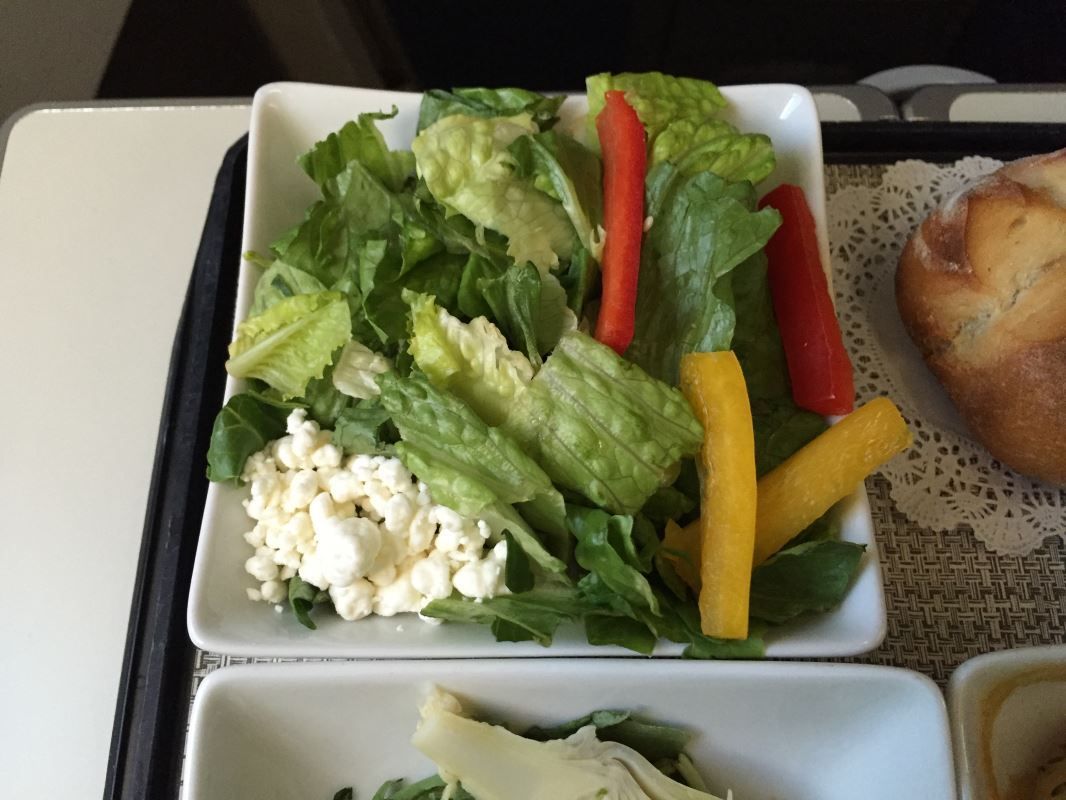 ... and finally the main!
The big yellow square of food is a hunk of polenta. I really didn't like the polenta at all it has to be said. I decided to finish it anyway and really had to force myself to swallow it. Not the best taste in the world.
Overall, I thought the meal was pretty good. The starter and salad were quite delicious as was everything else apart from the polenta. This is the meal served on the transcontinental flights apart from the few premium flights between JFK and the west coast.
Meanwhile, it was sunset outside!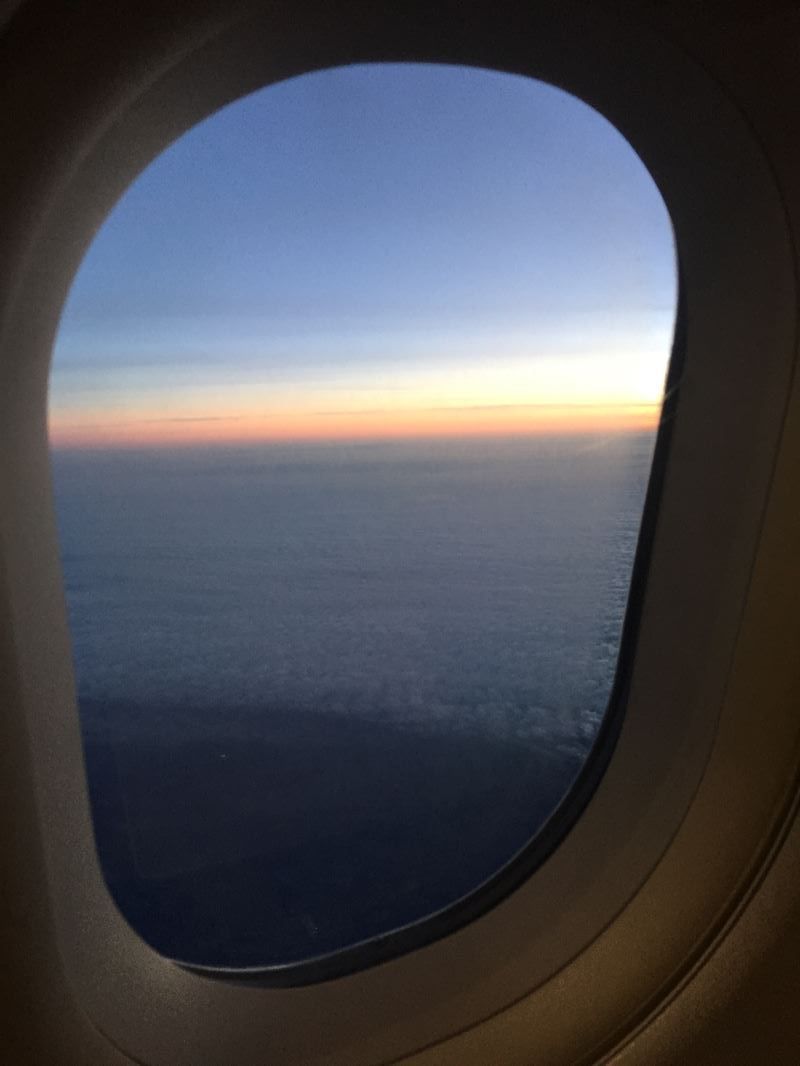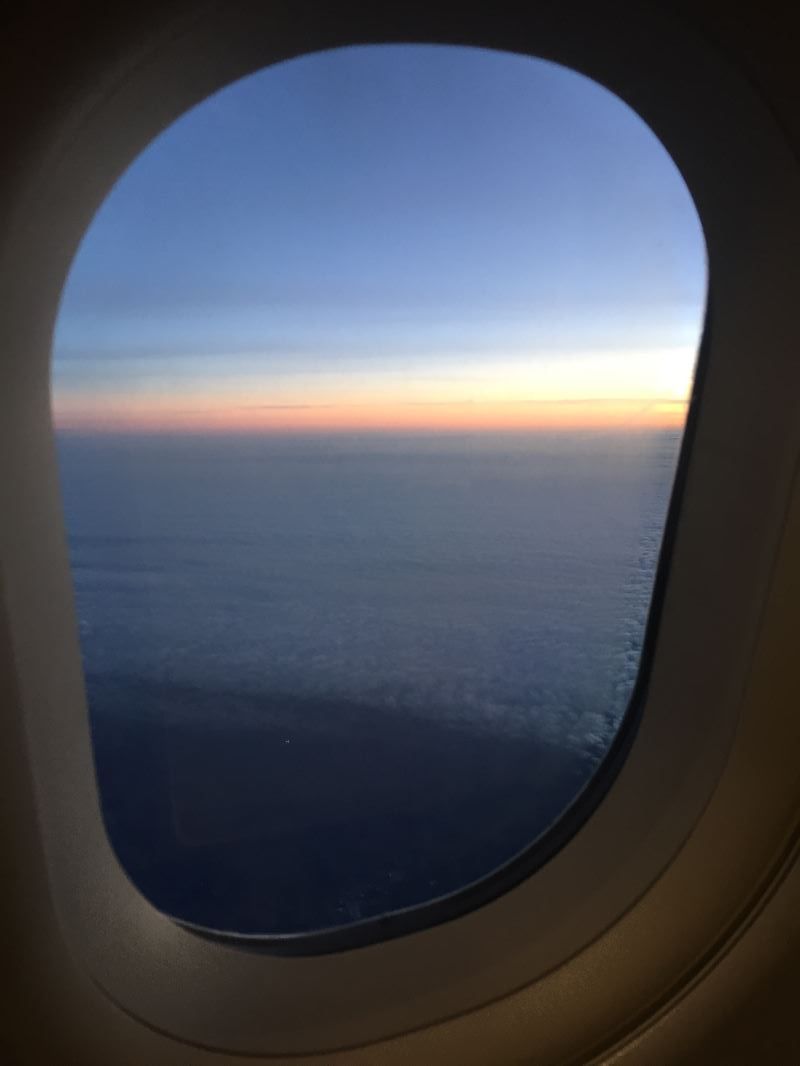 I was watching Kingsman: The Secret Service on my iPad which I was enjoying more than I had anticipated! Eye candy never hurt anybody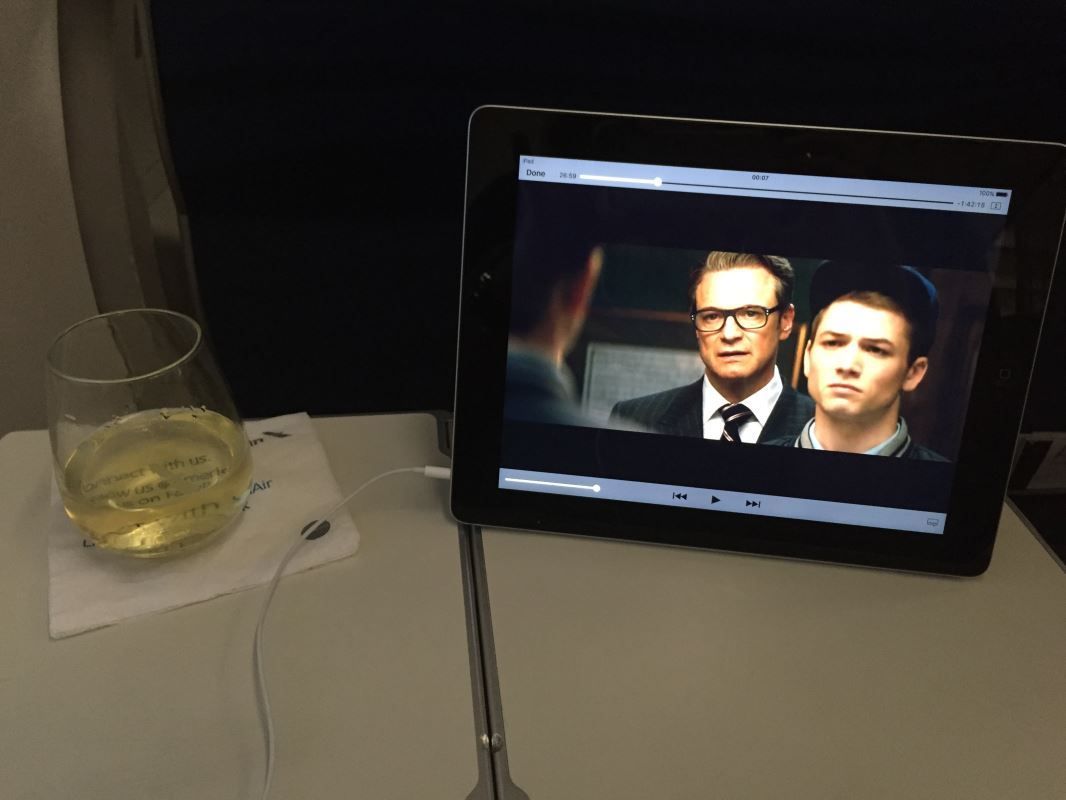 Once everything had been cleared away it was time for the famous American Airlines Ice Cream Sundae! It was all it was cracked up to be and more. I think I chose just about everything. Look at this gorgeousness!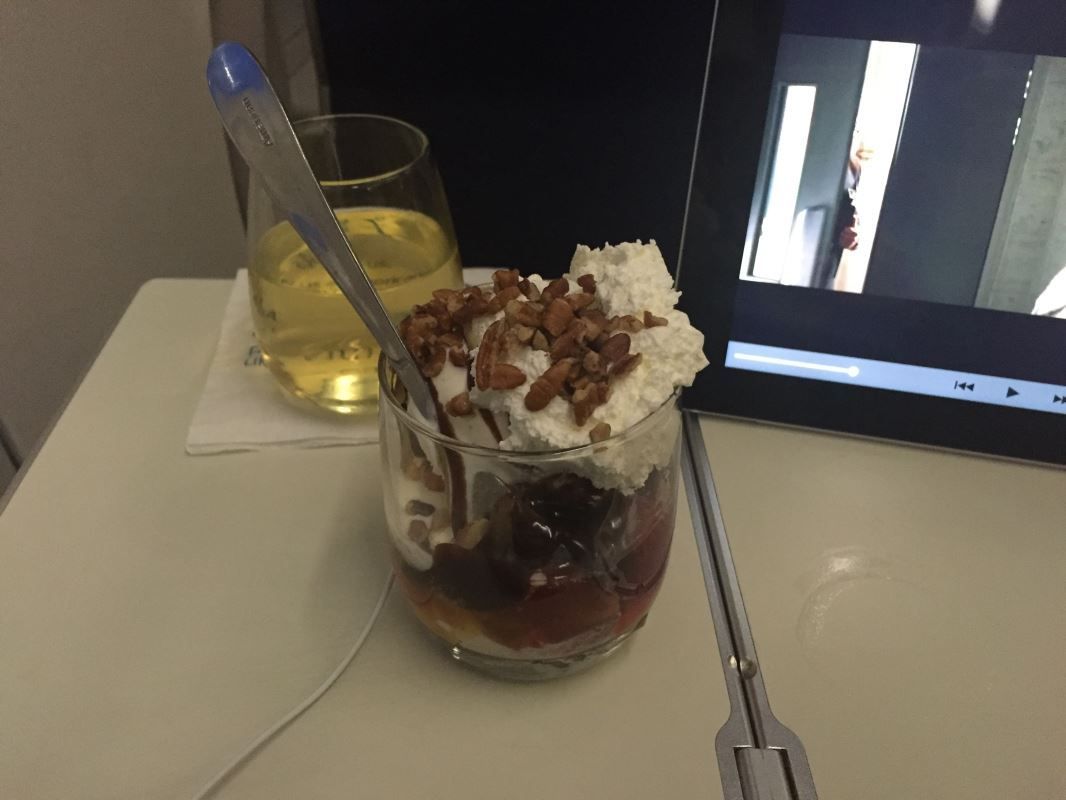 Caramel, chocolate, vanilla ice cream, cream, nuts... delicious!
It truly was amazing - eye rollingly yummy at that! I could have had another one but I was full of polenta (alas!) and didn't need anymore food.
We arrived in Phoenix on time and I connected onto another Airbus 321 to Portland. That flight had no service apart from drinks so I didn't bother to take any pictures.
What did I think of the flight? Well, I wouldn't write home about the US Airways cabin, it's quite basic overall, but it does the job. The seats are spacious enough to enjoy and of course I had no-one reclining into me so that's always a bonus. I found the flight attendants to be pretty robotic with very little deviation from the norm. That being said, if you smiled and said thank you they almost fell on the floor in gratitude. How rude must some passengers actually be?! Food wise, it tasted fine if a little on the bland side, and the polenta was a total bomb. The dish was supposed to come with something else, so perhaps this was a random substitution.
The star of the show was the sundae of course, plus the whole way it's delivered with the cart coming out with all the trimmings to select from. The flight was on time and overall I'd do it again.
Thanks for reading and if you have any comments, please leave them below.
Cheers!
My previous Trip Reports -
Speedbird From Sweden: British Airways Club Europe
Aer Lingus Business Class Review Part 2 - BOS-DUB
Aer Lingus Business Class Review Part 1 - DUB-BOS
British Airways Club World London City Review
American Airlines First Class - JFK-DCA-JFK A321
Mm Scones! British Airways Club Europe DUB-LHR-DUB
To Sydney On BA WT Plus - QF HKG Lounge And More
The Details About Cathay Pacific's Premium Economy
New Pre-Order Meals On Aer Lingus (DUB-CDG)
Three Flights In First Class On American Airlines
Destination Washington - BA World Traveller Plus
Aer Lingus - DUB-LHR-DUB - Lounges, Food, Flying!
Aer Lingus Business Class - JFK-DUB
Aer Lingus Economy Class - DUB-JFK
Champagne Across The Atlantic - BA 772 Club World
Extremely Disappointing - AA - MCO-MIA-MCO
Perfect Day For Flight - Aer Lingus LGW-DUB
Random Happenings... Easyjet A319 LGW-SXF
A Perfect Flight - Cathay Pacific Business
Aer Lingus: They Upgraded The Lounge At Last
Hello A380! Qantas Premium Economy SYD-LHR
Qantas Premium Economy! Yes! LHR-SYD B744
EI - DUB-SNN-DUB - The Lounges Make Me Cry
Royal Jordanian And Malev Business
Crown Class On Royal Jordanian
Slumming It Down In Economy On BA
1100km/h In A Qantas Skybed?! Wow!
The Midnight A310 To Bangkok!
Flying Royal Jordanian's Baby Zay!
Struck By The Upgrade Fairy! Yes!
Basic Lounges? Welcome To Aer Lingus!
DUB-LHR-JFK / QE2 / LGW-DUB Y/WT+/J
My previous Trip Reports (with airliners.net pictures only) -
I Broke The MD11! - Finnair J - SIN-BKK-HEL-LHR
BA Club Europe - London To Istanbul
AtlasJet - IST-JMK (Istanbul To Mykonos)
My previous Trip Reports (no pictures) -
Two X Economy - Qantas SYD-LAX, Aer Lingus LAX-DUB
Alaska Airlines First Class - YVR-LAX
American Airlines First - LAX - ORD & SFO - JFK
British Airways Club World - LHR To LAX
DUB-LHR On Aer Lingus
British Airways Club Europe - London To Russia
DUB-LHR-DUB - Detailed Report On Aer Lingus
HKG-LHR Qantas Business Class
LHR-KEF-LHR On Icelandair Economy Class
LGW-AMS On British Airways Economy
AMS-HEL-DUB - Finnair Business / Economy
PEK-HKG - Cathay Pacific Business Class
KIX-TPE-HKG-PEK - Cathay Pacific Business Class
HKG - NRT - Cathay Pacific Business Class
SYD - HKG - Qantas Business Class
Qantas Domestic - SYD-BNE-SYD
Qantas Transcontinental - SYD-PER-SYD
Avalon Hell! - Jetstar Experience - SYD-AVV-SYD
SYD - MCY - SYD On East-West Airlines - May 1985