Video Reports of this leg of the trip
Aegean Air - London to Santorini and Athens - Airbus A320-200
Hello A'netters. Hope you are doing well. Hope you had a good break for Christmas and the new years and looking forward to 2016 with vigor and optimism.
My wife and I explored a few Greek islands and Cyprus during our break, and that is what the below trip report is based on.
I shall be splitting the reports into 3 parts:
Part 1: Aegean airlines from London Heathrow to Santorini, via Athens and then back to Athens (Economy)
Part 2: Blue air from Athens to Larnaca (Economy)
Part 3: Larnaca to London on BA (Club Europe)
Thanks to GCMaps for the map illustrations below:
Entire trip
This part of the trip Report
Stats (Since 2010, when I started maintaining my flight reports):
1st time on Aegean Airlines, 14th time on Airbus A320-200
Aegean Airways – A3 607 – LGW (S) - ATH

Flight Reg: SX-DNA; Delivered to Aegean air from alafco leasing on June 2015. 6 month old when taking the flight
Airbus A320
Seat 7F
Flight time: 11:30 – 17:10 (11:38 - 16:45 )
25th December 2015
Aegean Airways – A3 360 – ATH - JTR

Flight Reg: SX-DVJ ; Delivered to Aegean on Jan 2008; leased from AerCap.
An incident occurred (hydraulics failure) on to aircraft on the 10th November. http://avherald.com/h?search_term=Sx...0&dosearch=1&search.x=0&search.y=0
Airbus A320
Seat 2A
Flight time: 19:00 – 19:45 (18:53 - 19:29)
25th December 2015
Price : £300 for 2 passengers including tax and check in luggage
Booking Process, website usability and online check in
We chose this airline due to the cost, but more importantly the timing of the flight. The booking process using Aegean's website was simple enough and definitely one of the more easier websites to navigate. Although Aegean did have a flaw in the end. When I had printed out my ticket, it said that I was entitled for 2 pieces of paid baggage whereas I had only paid for 1. After speaking to an Aegean Agent ,the person confirmed that this was a flaw and they were looking into rectifying it.
The week before checking the manage my booking section and it seemed to have been corrected.
Online check in for Aegean air opens 48 hours before departure date/time, upto 30 minutes before departure. Online check in was a breeze and got to select the seats of my choice, and 5 minutes later, meals chosen, passport details entered, we were all checked in and boarding passes sent to our mobile. Slick.
Airport service / checking in / Lounge
Gatwick airport looked very festive. Check in was a breeze. Aegean were strict with the baggage. Every hand baggage was strictly weighed and the weight restriction adhered to. That being said the lady in front of me somehow managed to negotiate a massive rucksack and I would be surprised if it would fit in the overhead locker. For us they even agreed to check in another hand luggage of ours for free. Fantastic! A very professional and courteous service.
Christmassy Gatwick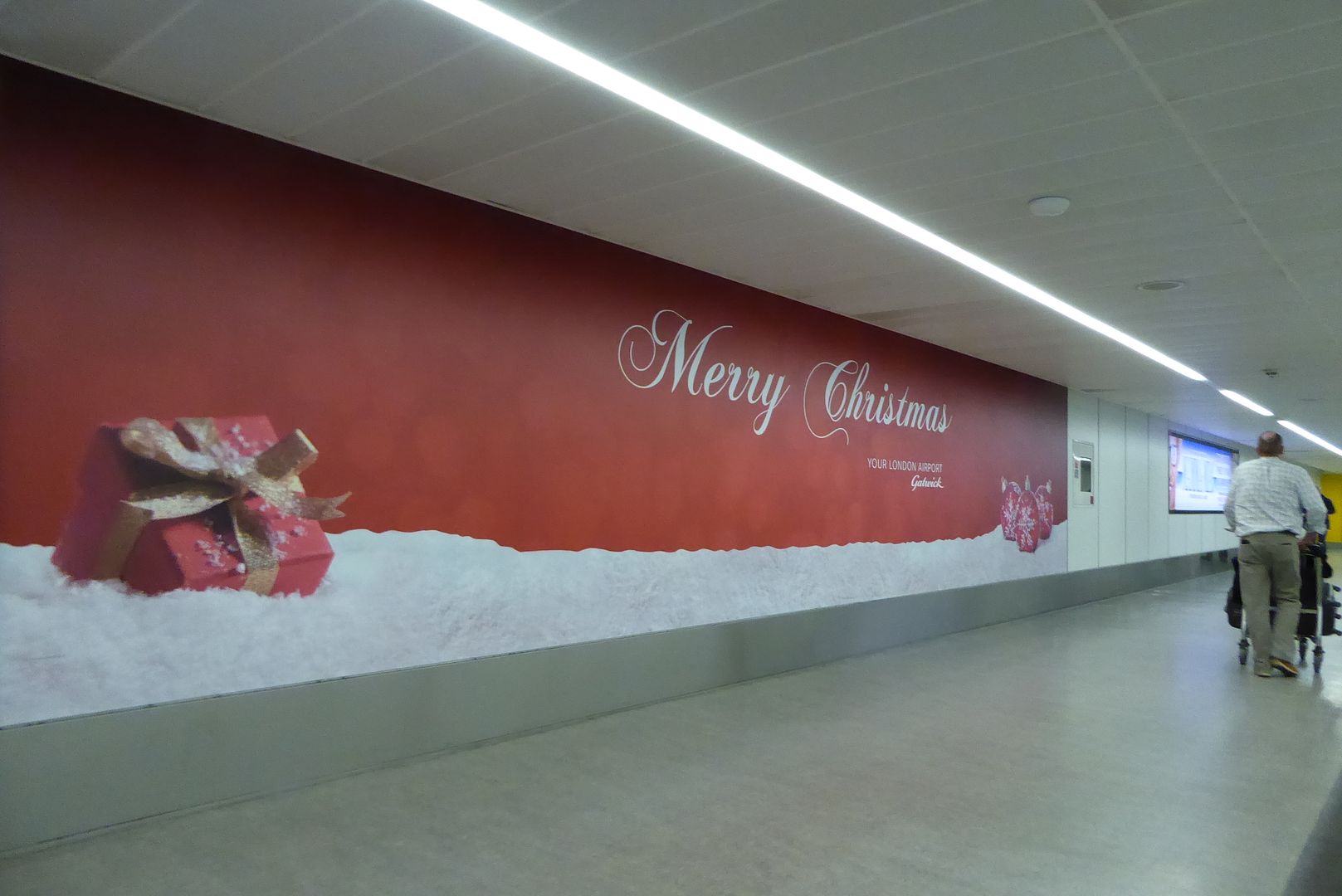 Self-check in - easy and seamless - bish, bosh, nosh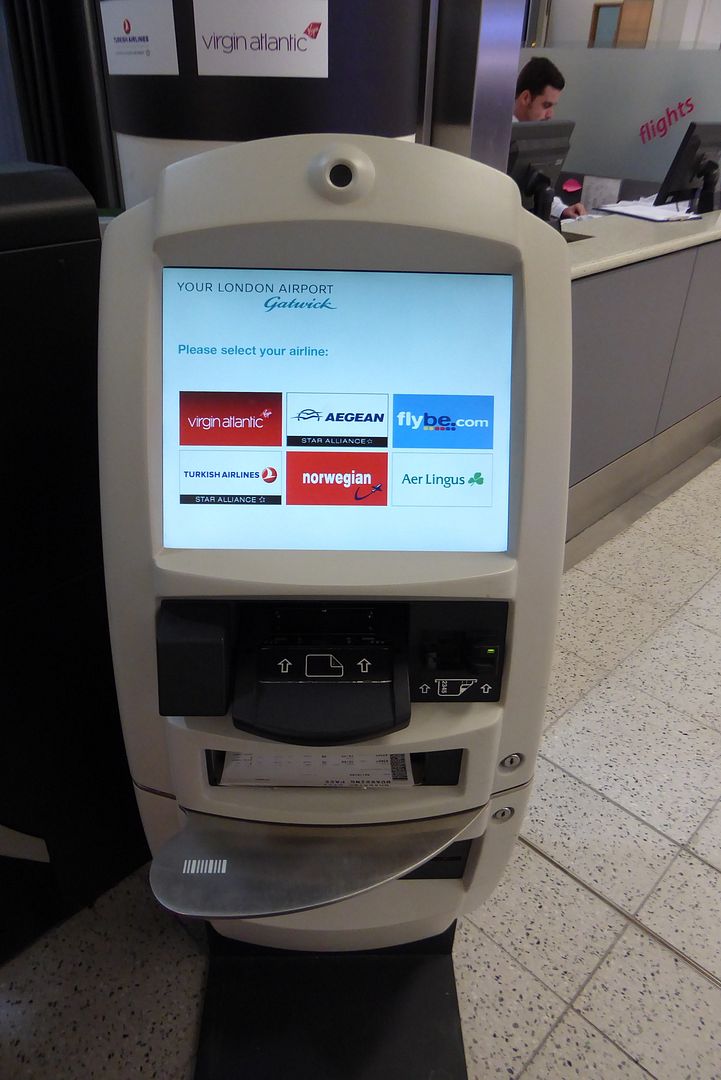 Checkin desks for Aegean at Gatwick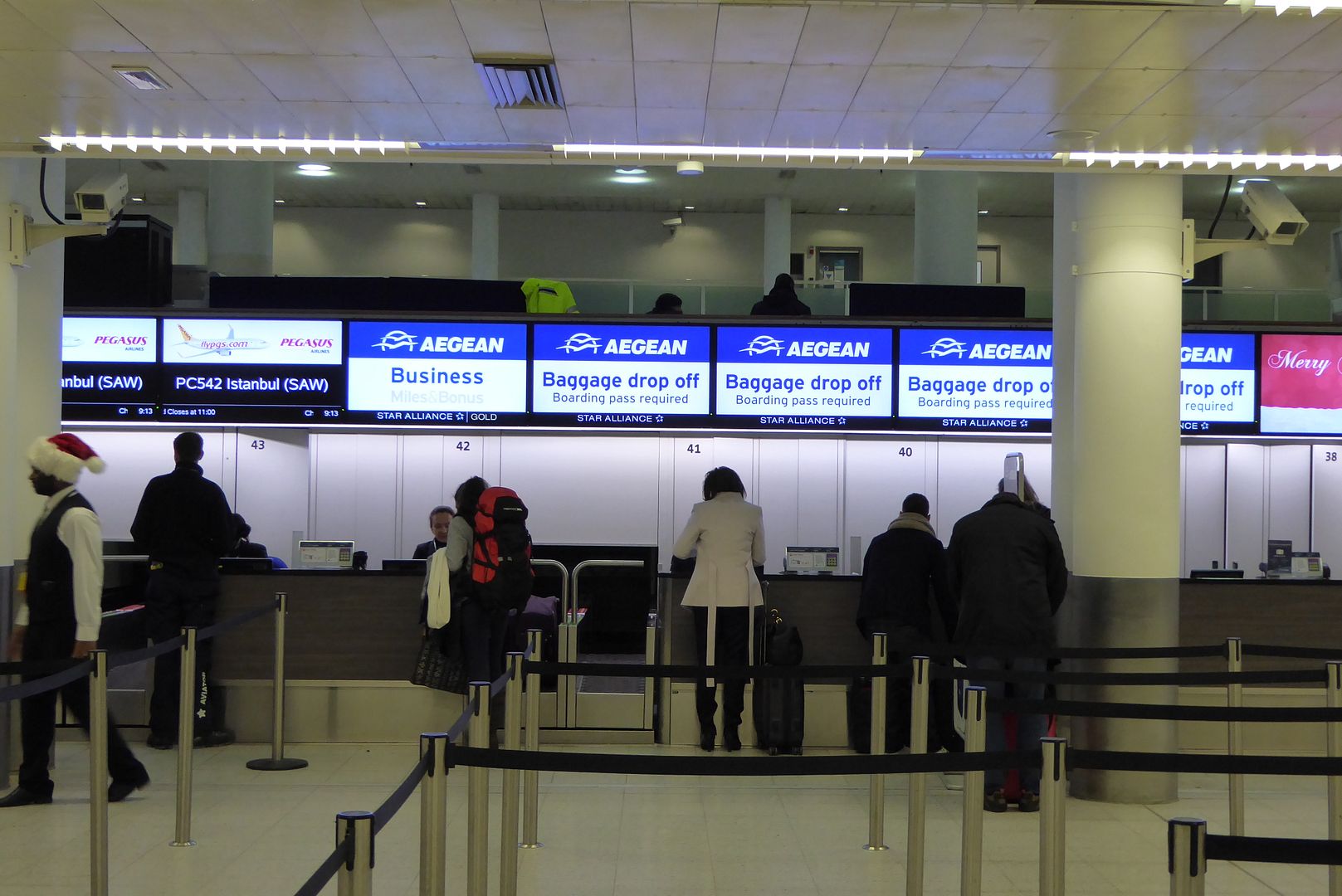 Departure time, Off we go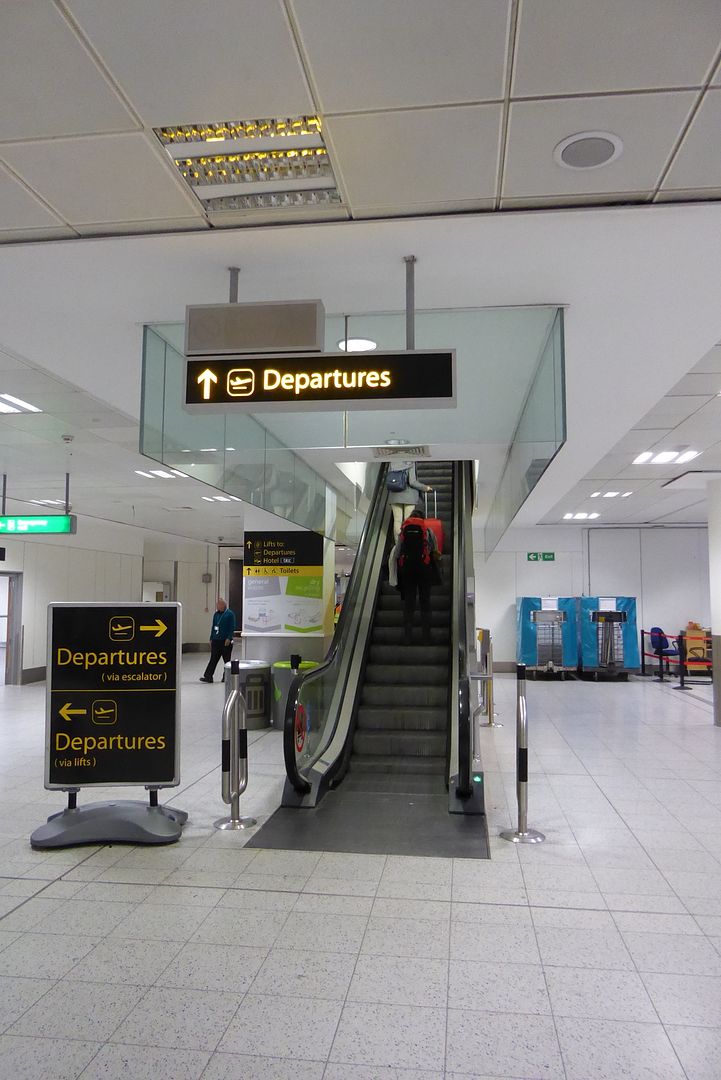 Busy for a Christmas day at Gatwick
Continuing the Christmas theme at Gatwick
From Antalya to tangier - we go everywhere
Plane spotting opportunity at Gatwick
A 4 year old Virgin A330-330, named 'Beauty Queen'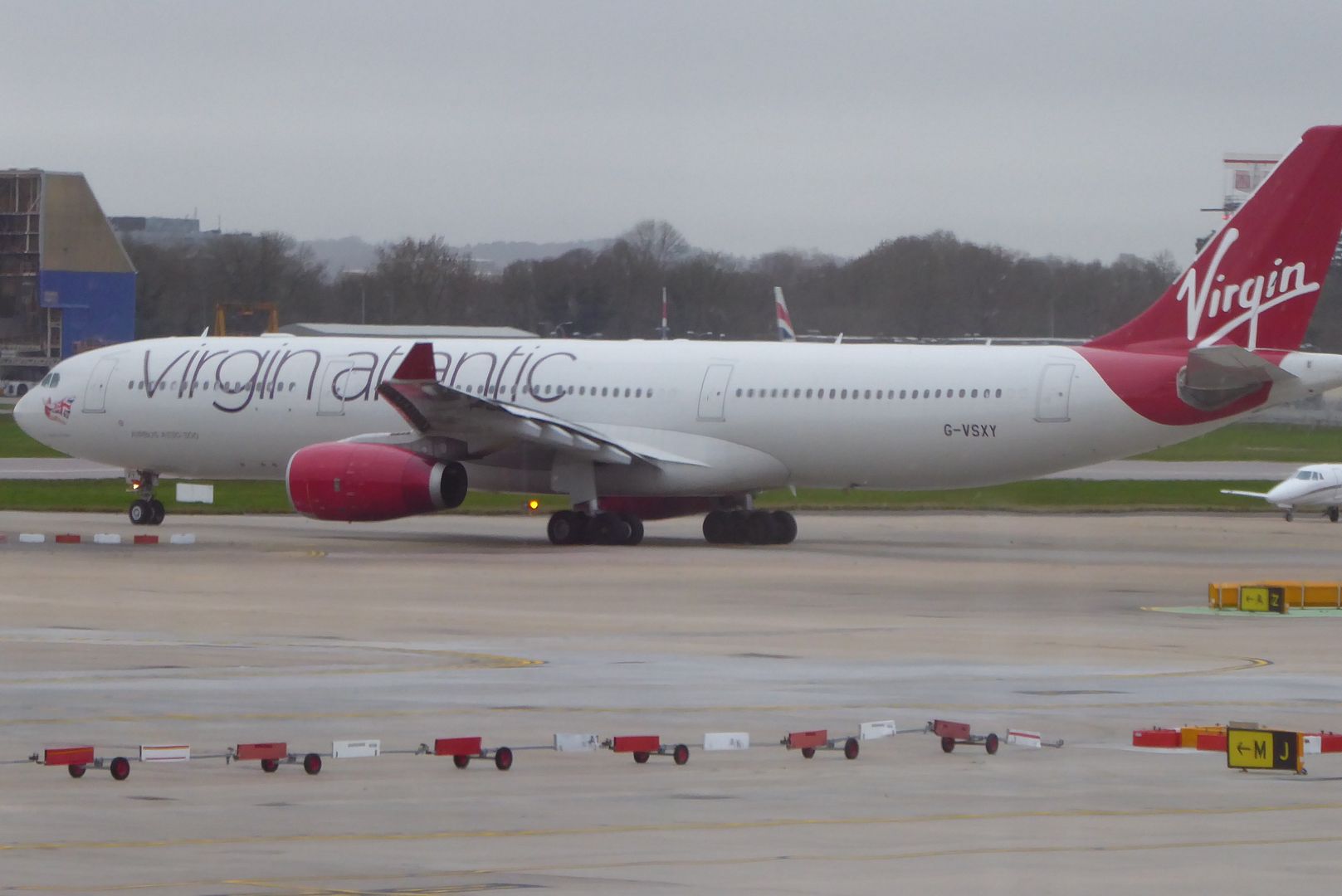 A cocktail of airlines at Gatwick South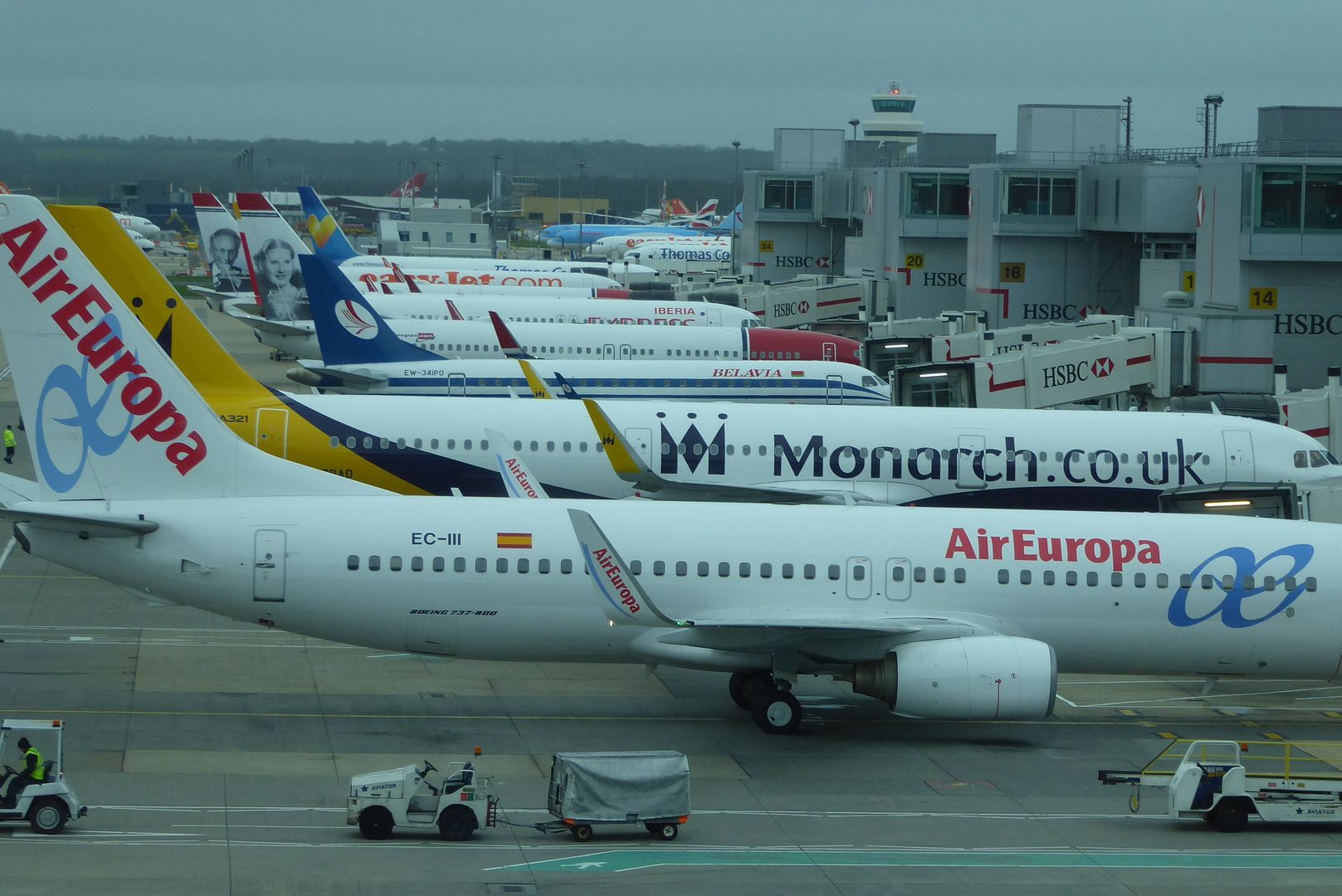 Off to Minsk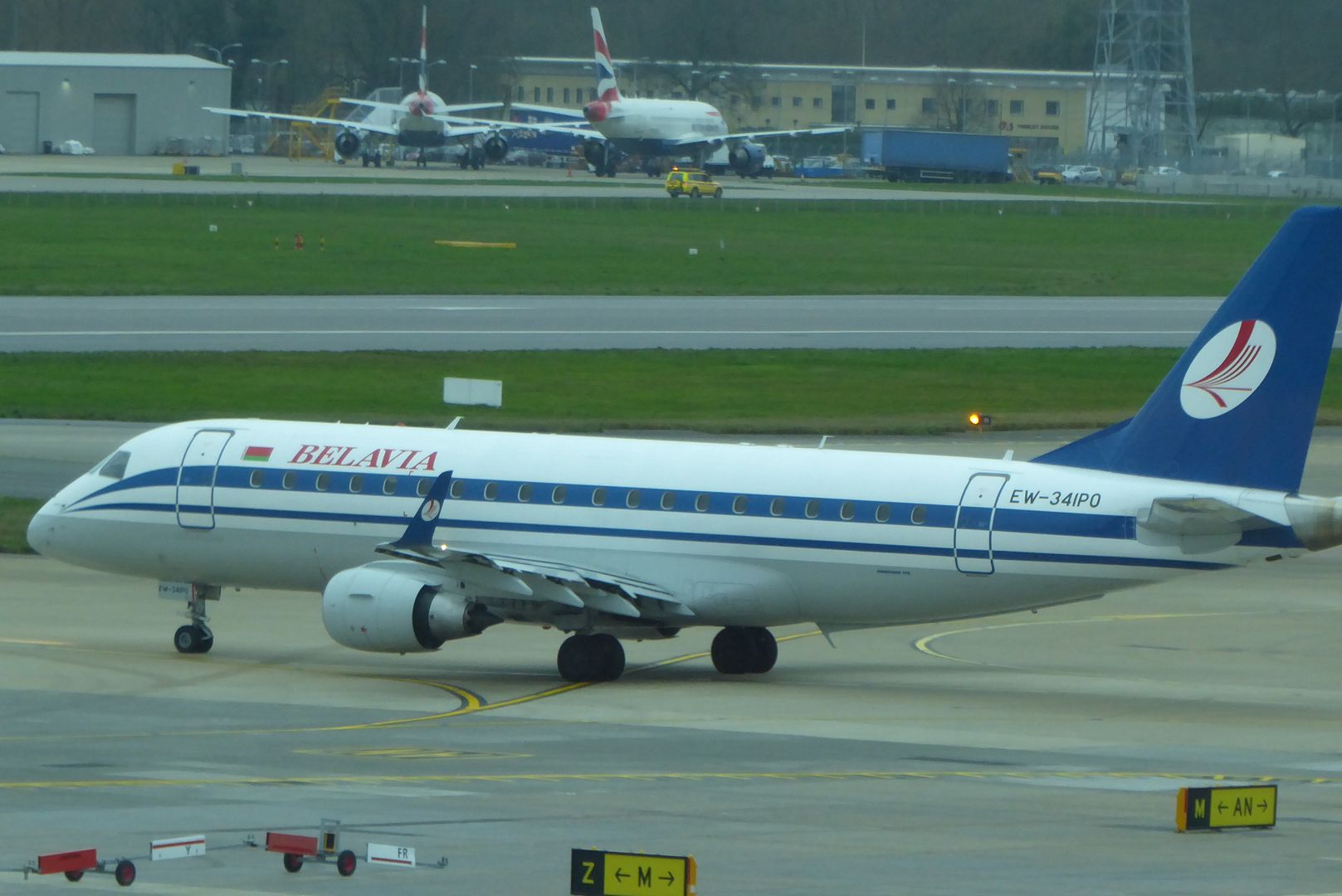 Bye Bye Titan Airways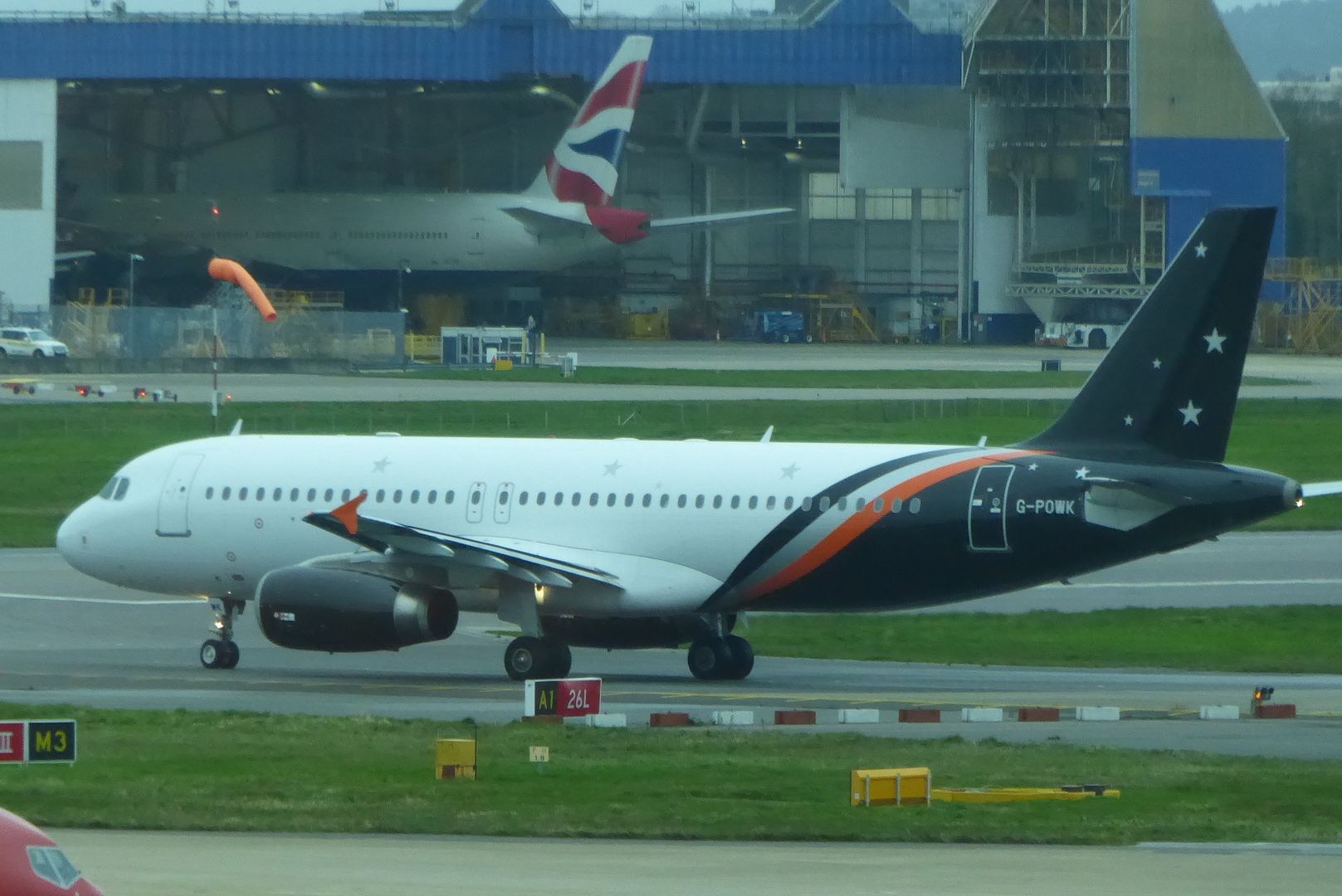 Turkish brothers in arms
There comes our ride from Athens - SX-DNA, a 6 month old A320-200 with Sharklets/Winglets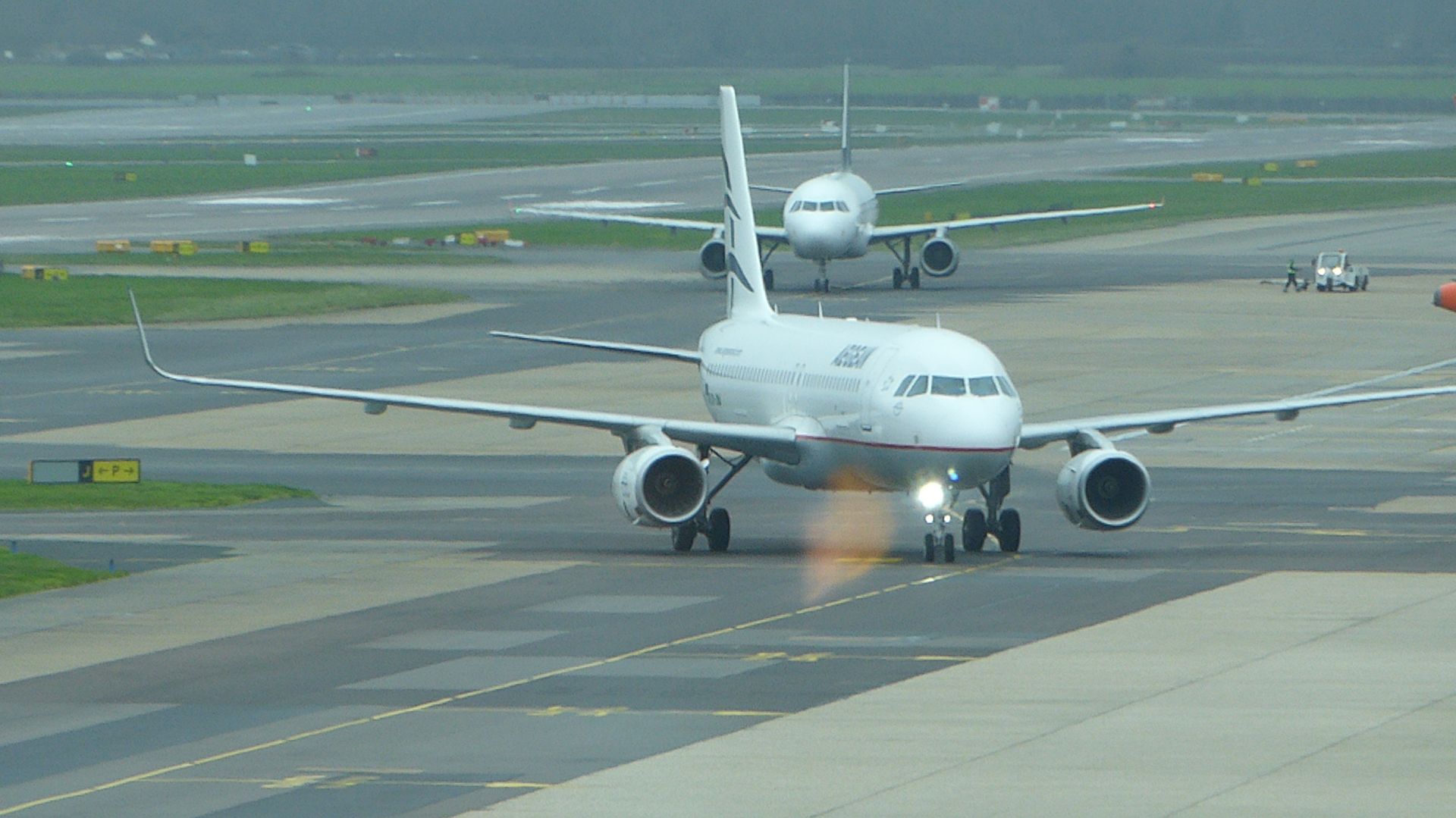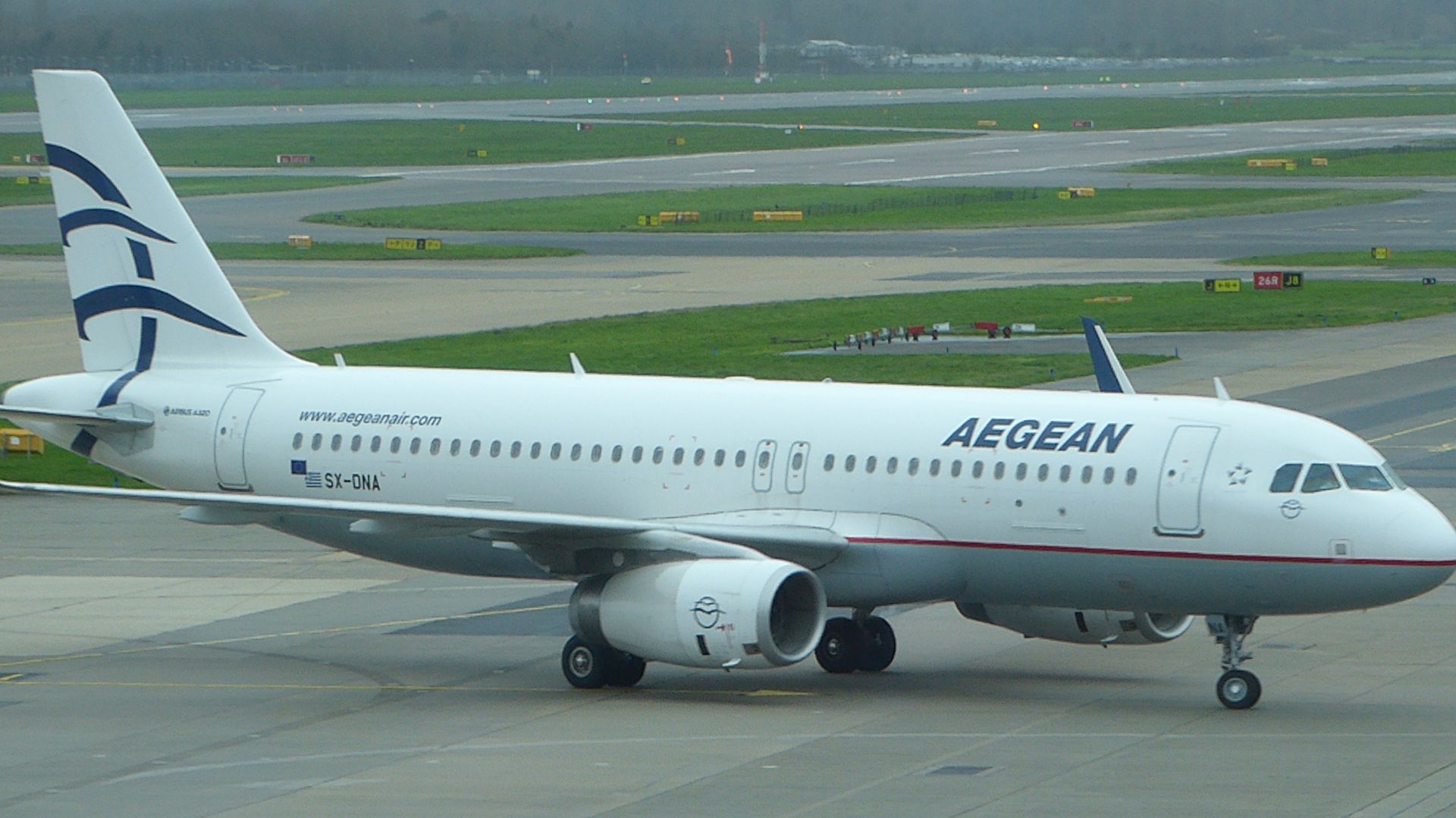 Boarding Process
The aircraft from Athens arrived on time. Aegean give their a320 an hour for turnaround. So we should be having an on time flight.
Boarding commenced on time. But it was a full flight. There were a lot of bags that were checked in at the gates.
Up close and personal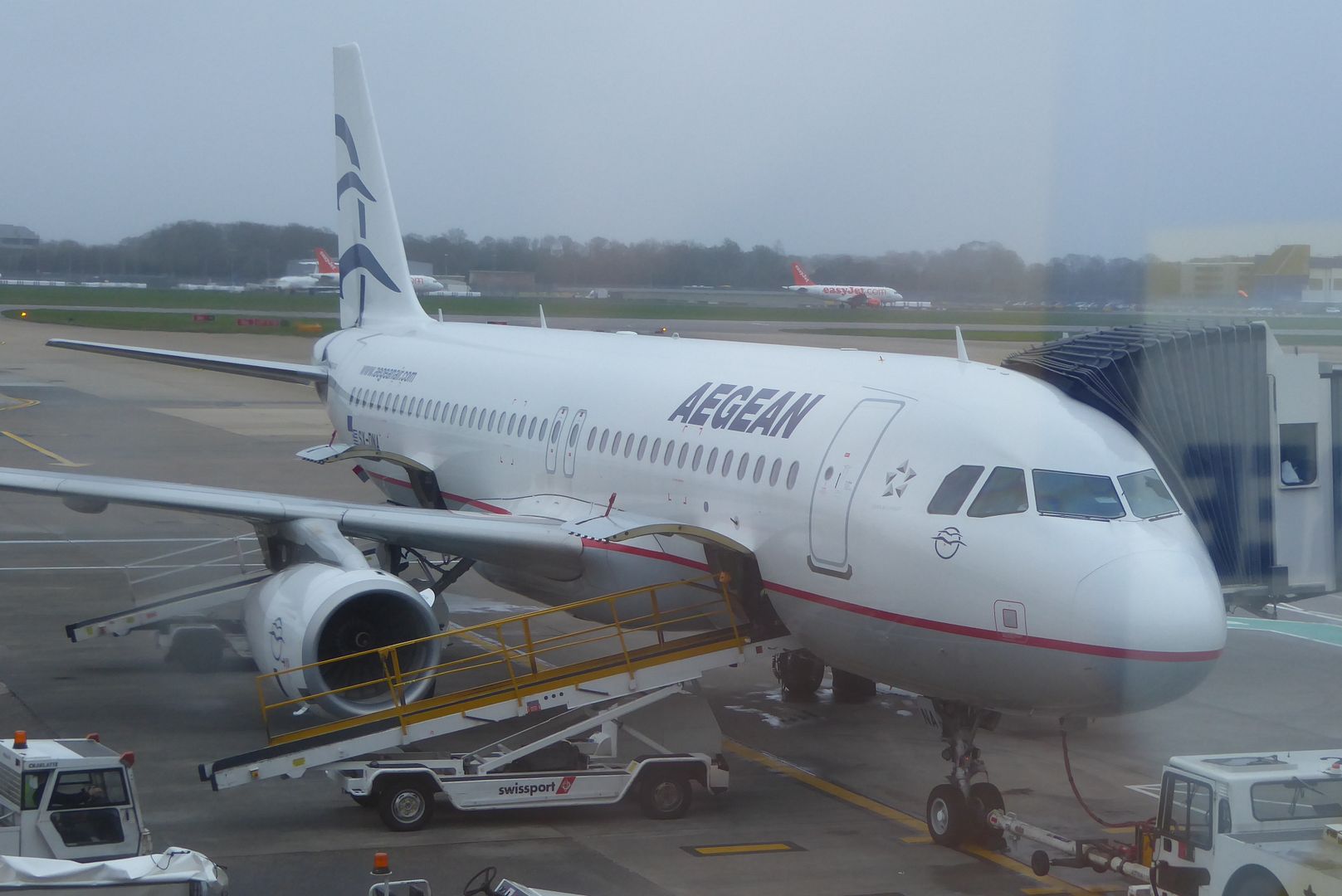 Boarding time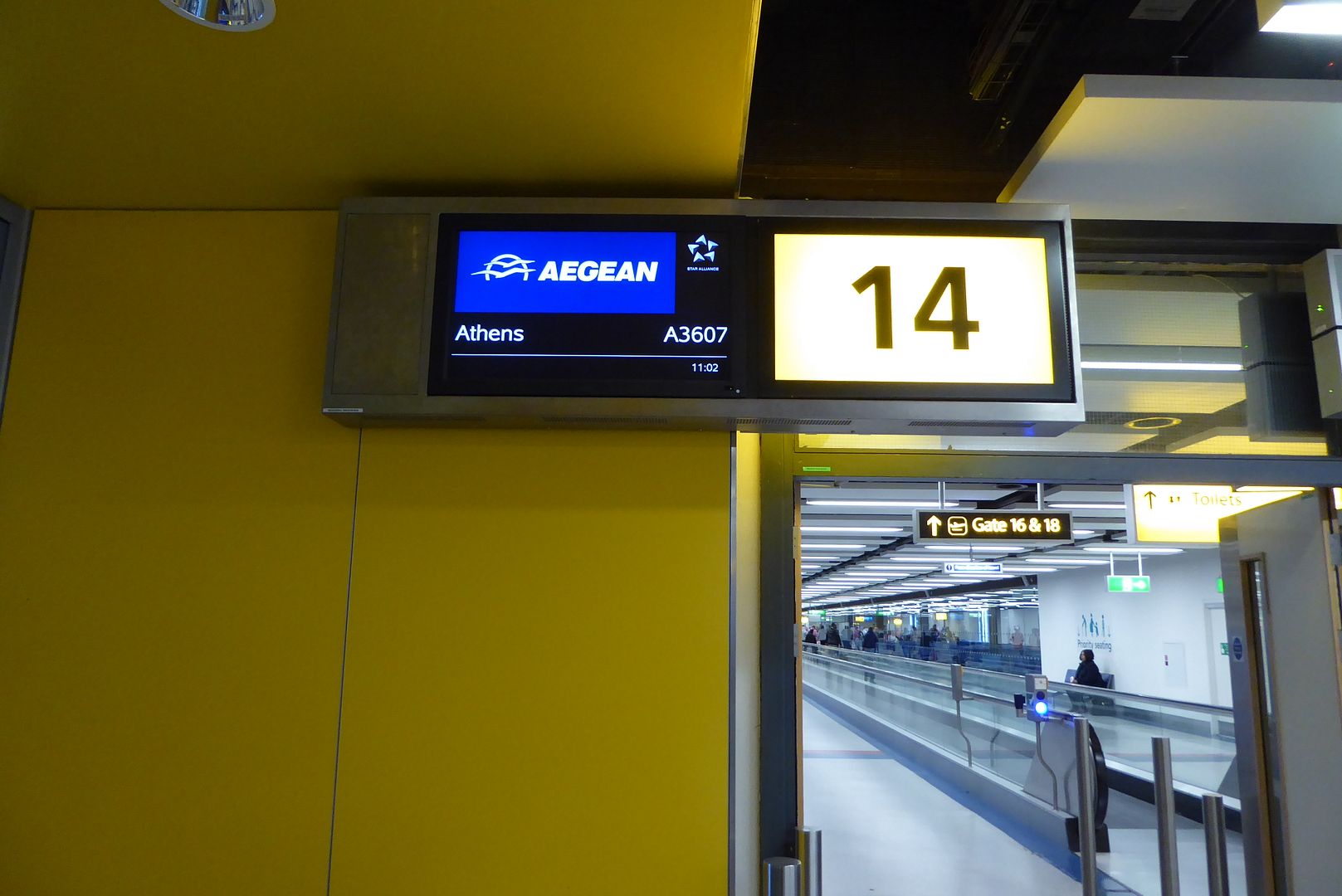 First impressions/Hard product/Aircraft Interiors
The aircraft, being new, no surprises that it looked and felt brand new. I like the interiors, neutral and minimalist. The cabin crew did look a bit overwhelmed with the flight being full and a lot of hand luggage.
On board SX-DNA
Our seats - row 7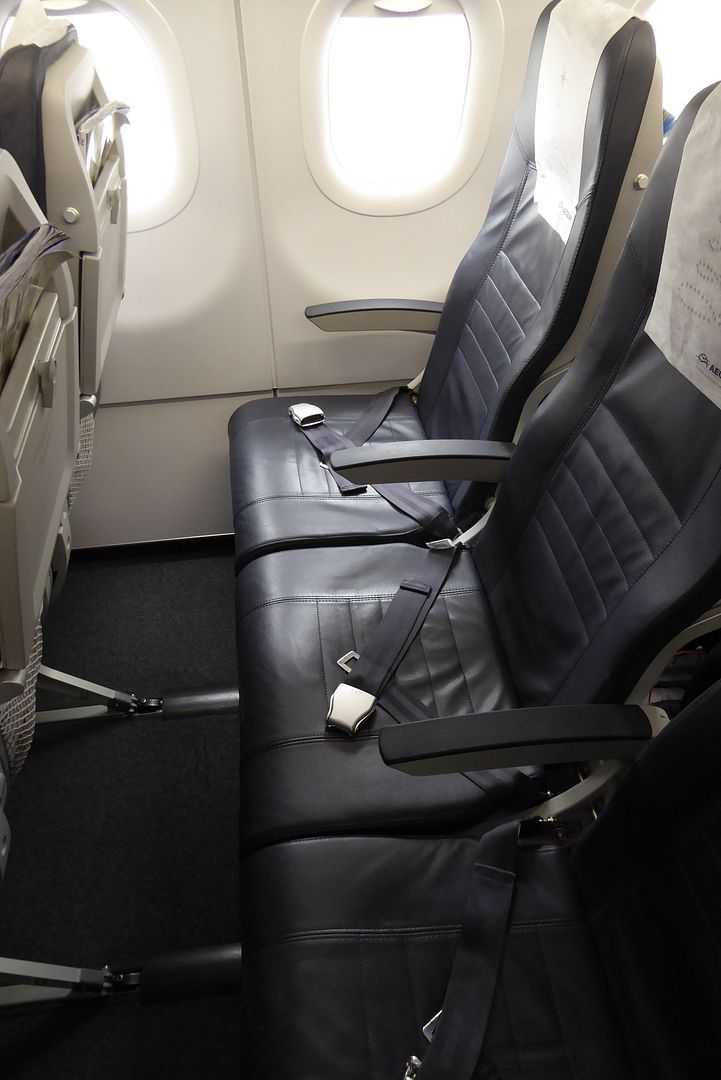 Fantastic leg space - extremely generous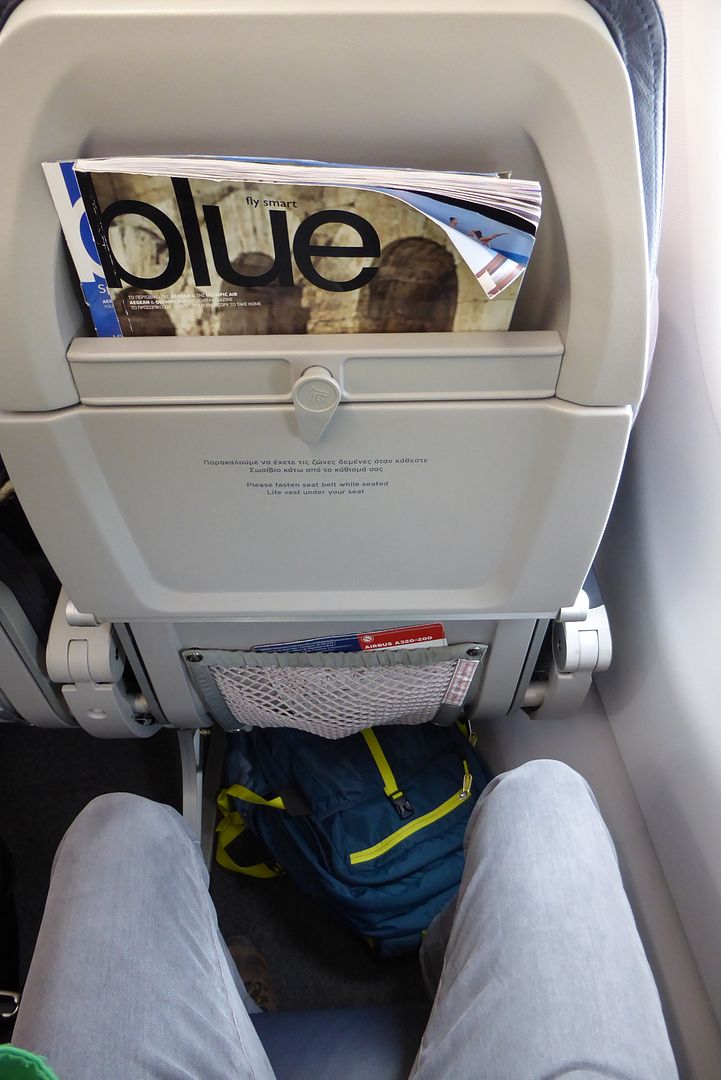 Reading paraphernalia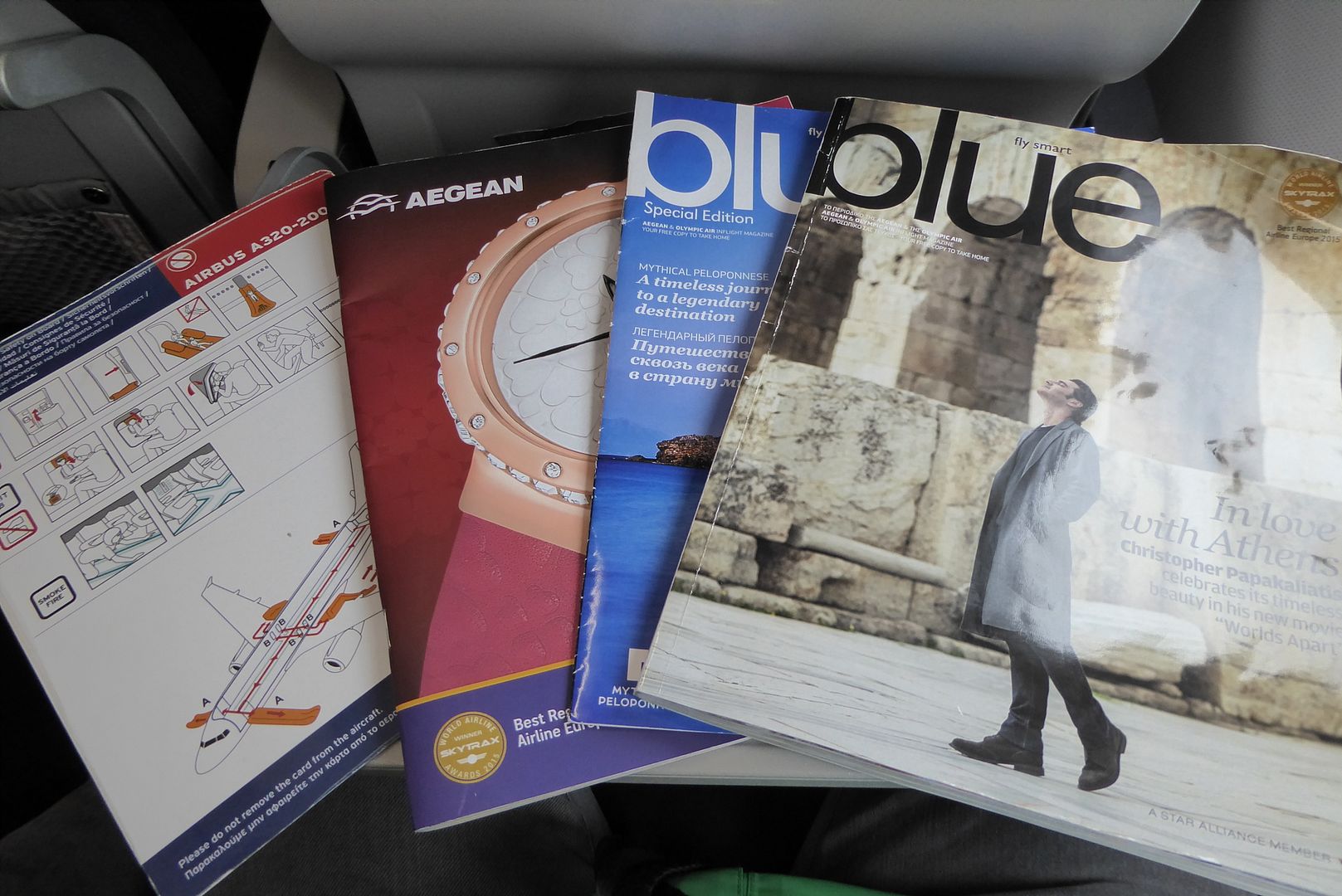 Seating/Bed
Very comfortable seating. And extremely generous leg space too. Should be comfortable for a 4-5 hour flight.
Cabin Crew/Captain announcements
The announcement from the cockpit was a bit hurried and inaudible. I did hear the captain say a flight time of around 3 hours, which is much lesser than the advertised time of 3 hr 50 minutes. Besides that, the cabin crew seemed quite inept with their English language skills. I definitely don't look Greek, and I was kept being spoken to in Greek. That being said, they were quite cheerful and being asked to work on Christmas day, that too on a full flight they need to be cut some slack.
Food was served followed the drinks round. At the end, there was a delay in collecting the trays though. Since there was a delay, there were quite a few people trying to be contortionist during their trip to the toilet with the tray table in front of them. Me being one of them.
Neighbours at Gatwick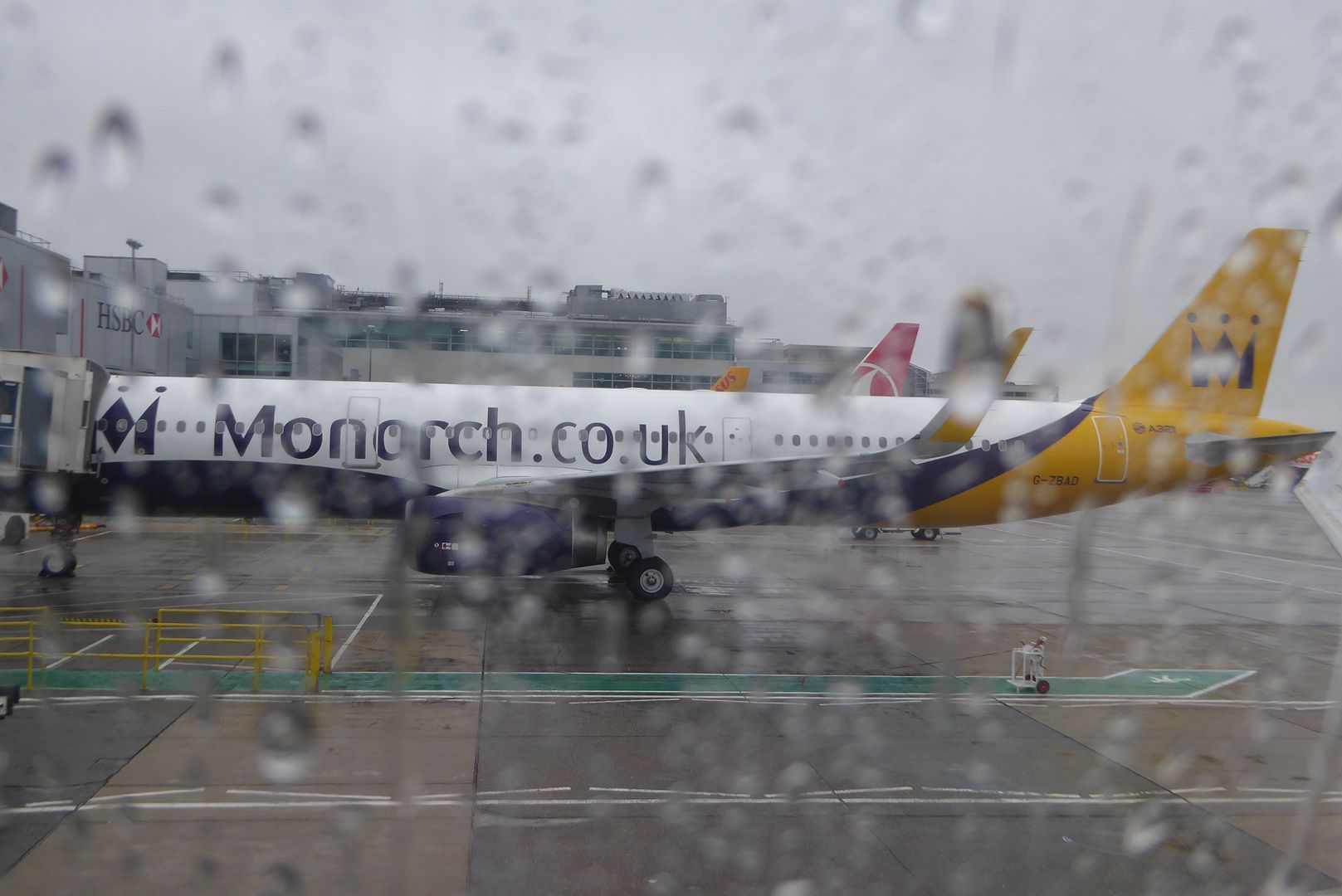 Safety time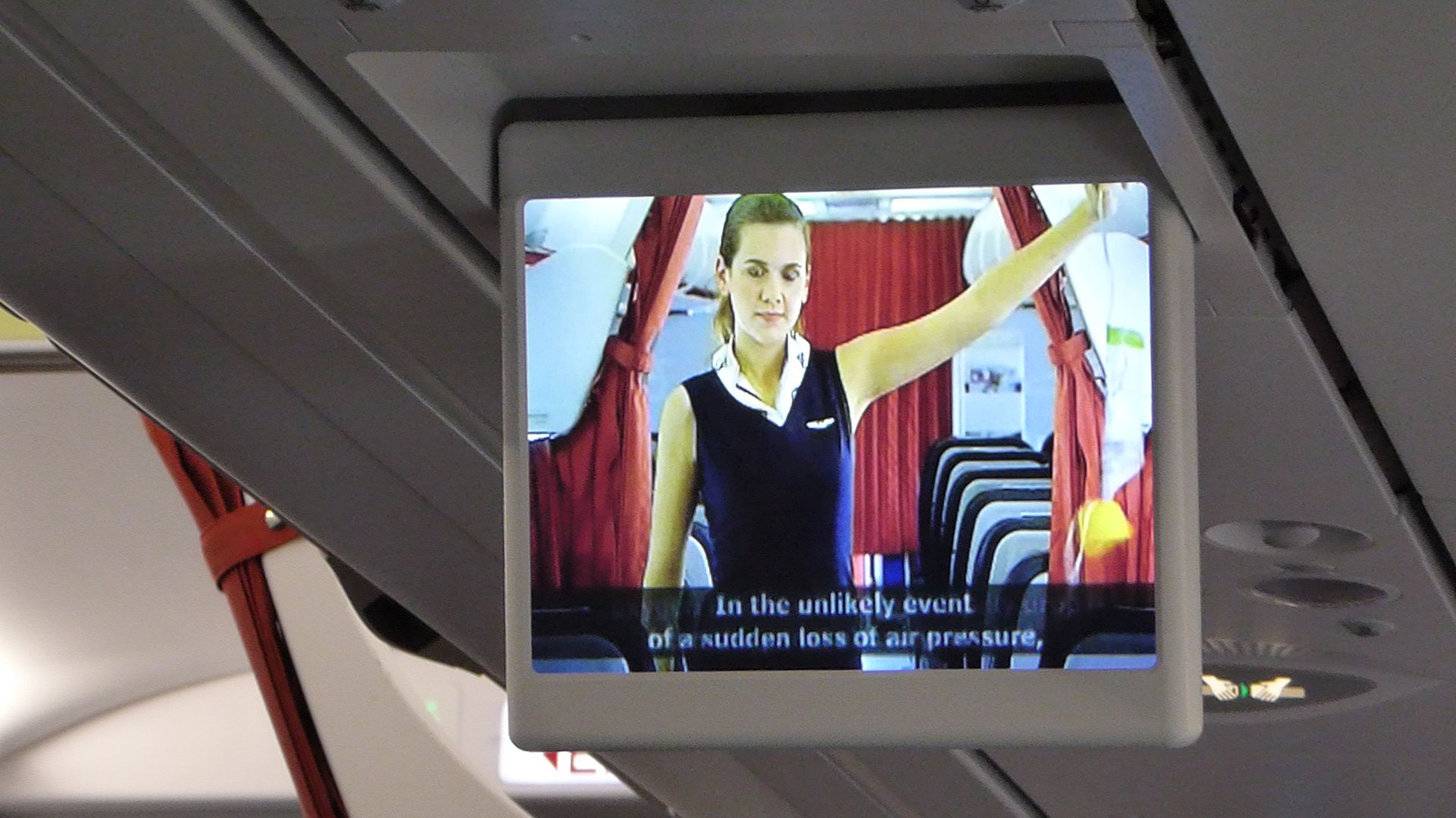 Take off time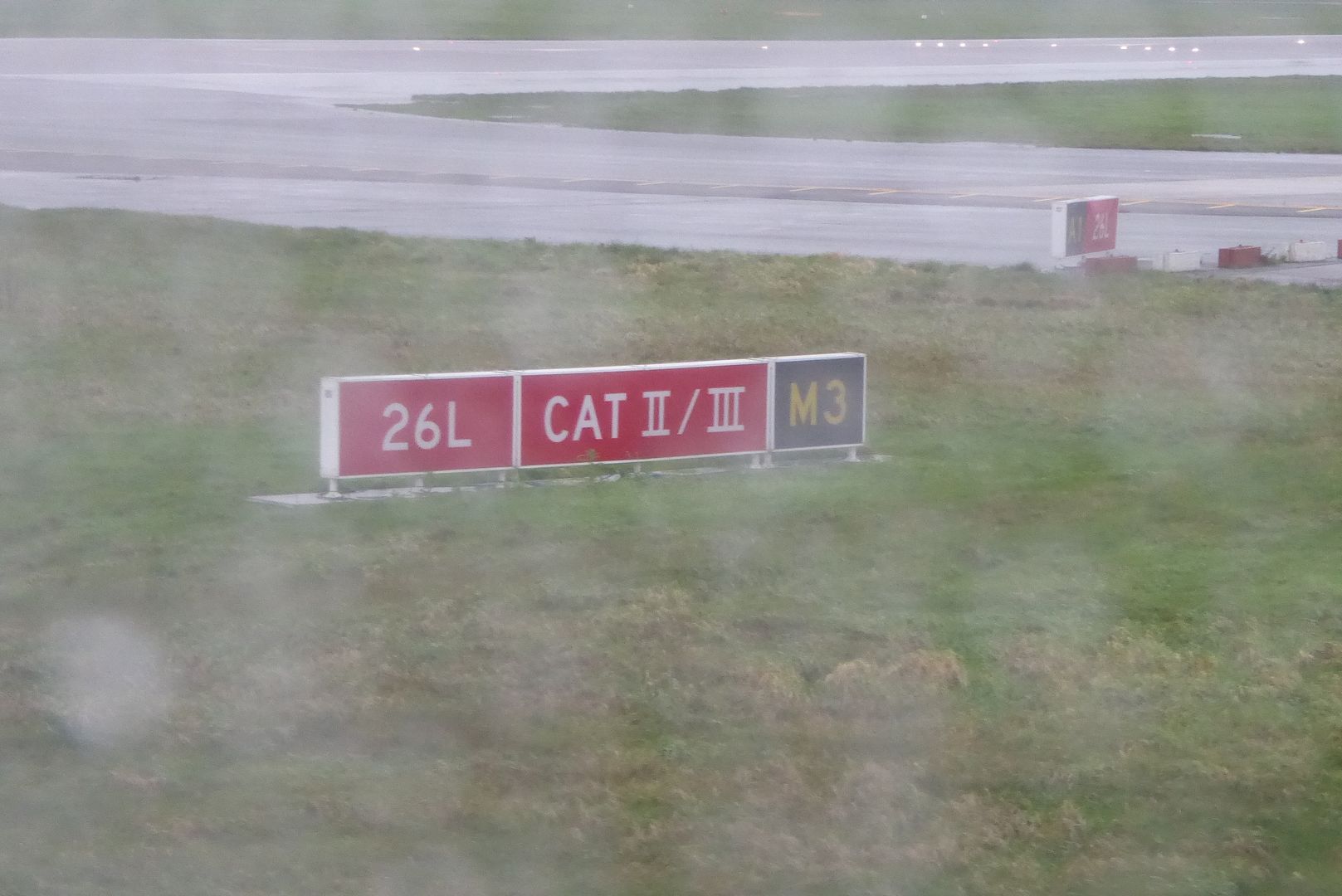 Interiors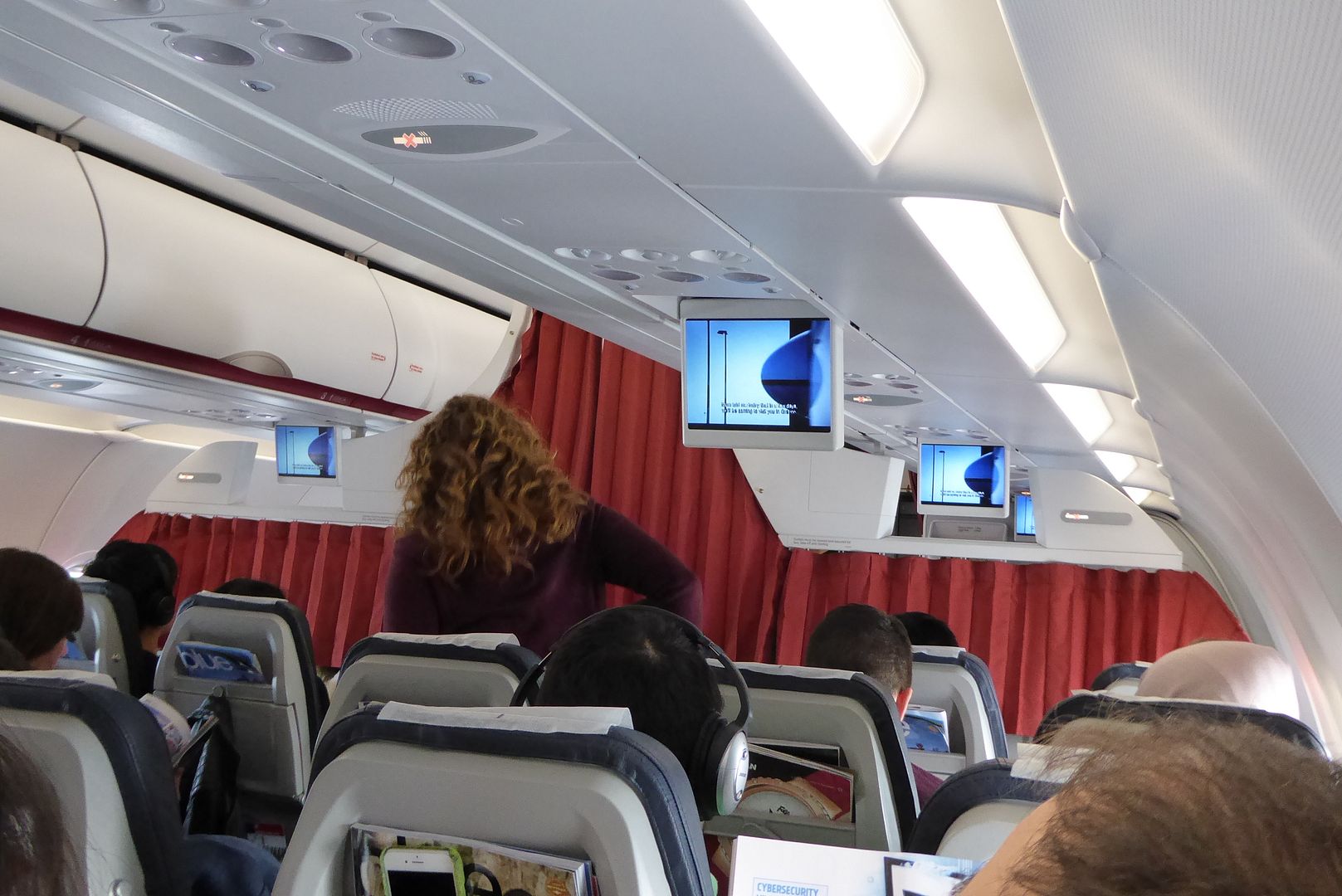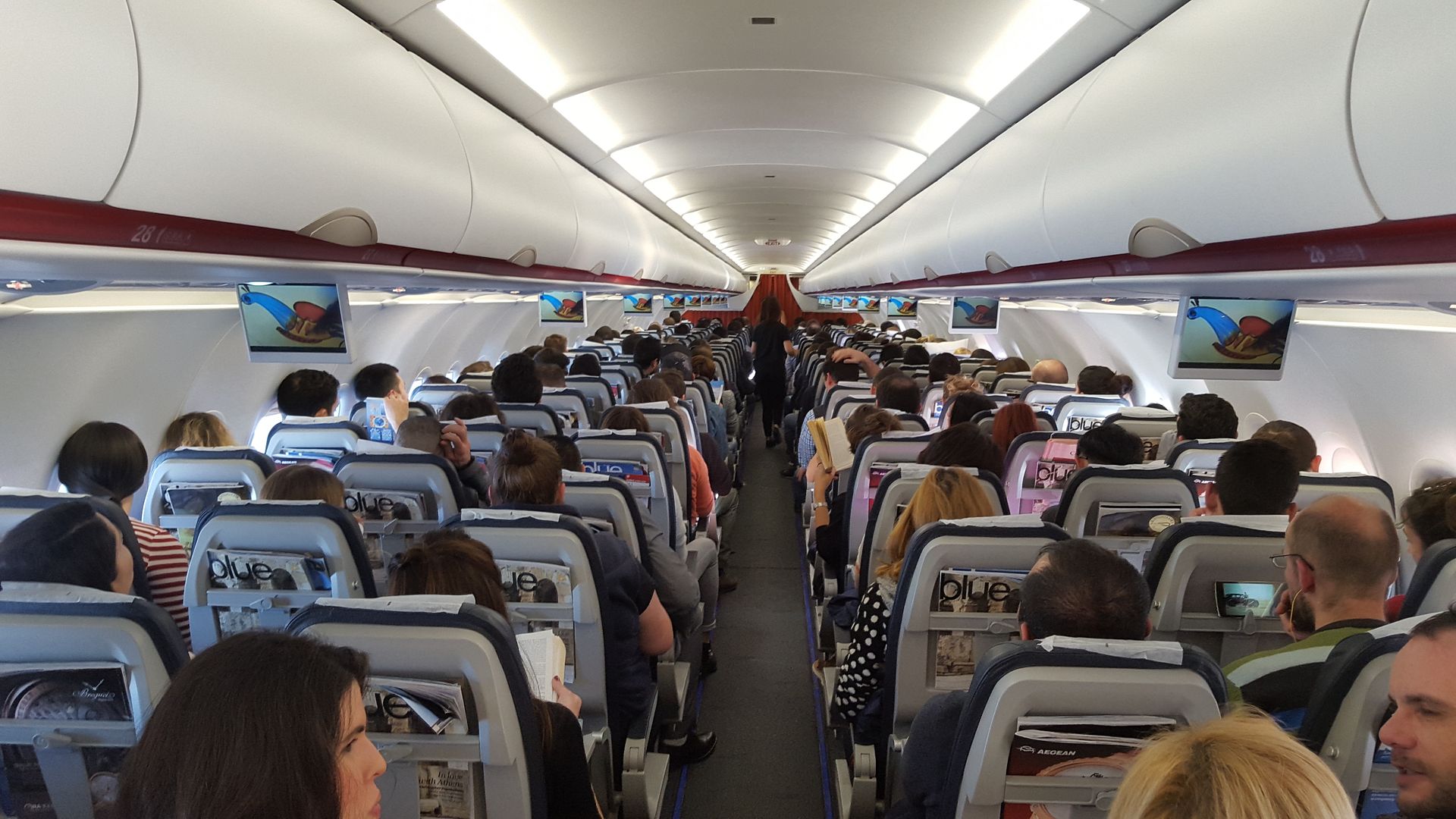 F&B
Soon after take-off, passing over the clouds, the cabin crew sprang into action and commenced the drinks service. Good choices of soft drinks, wine and beers. All complementary. Settled down with a beer and was looking forward to the rest of the flight.
Somehow, I guess based on my United profile, I had been defaulted to a low calorie meal. The meal was well presented and tasted very good too. The meal and a couple of beers set the tone right for the trip ahead.
FnB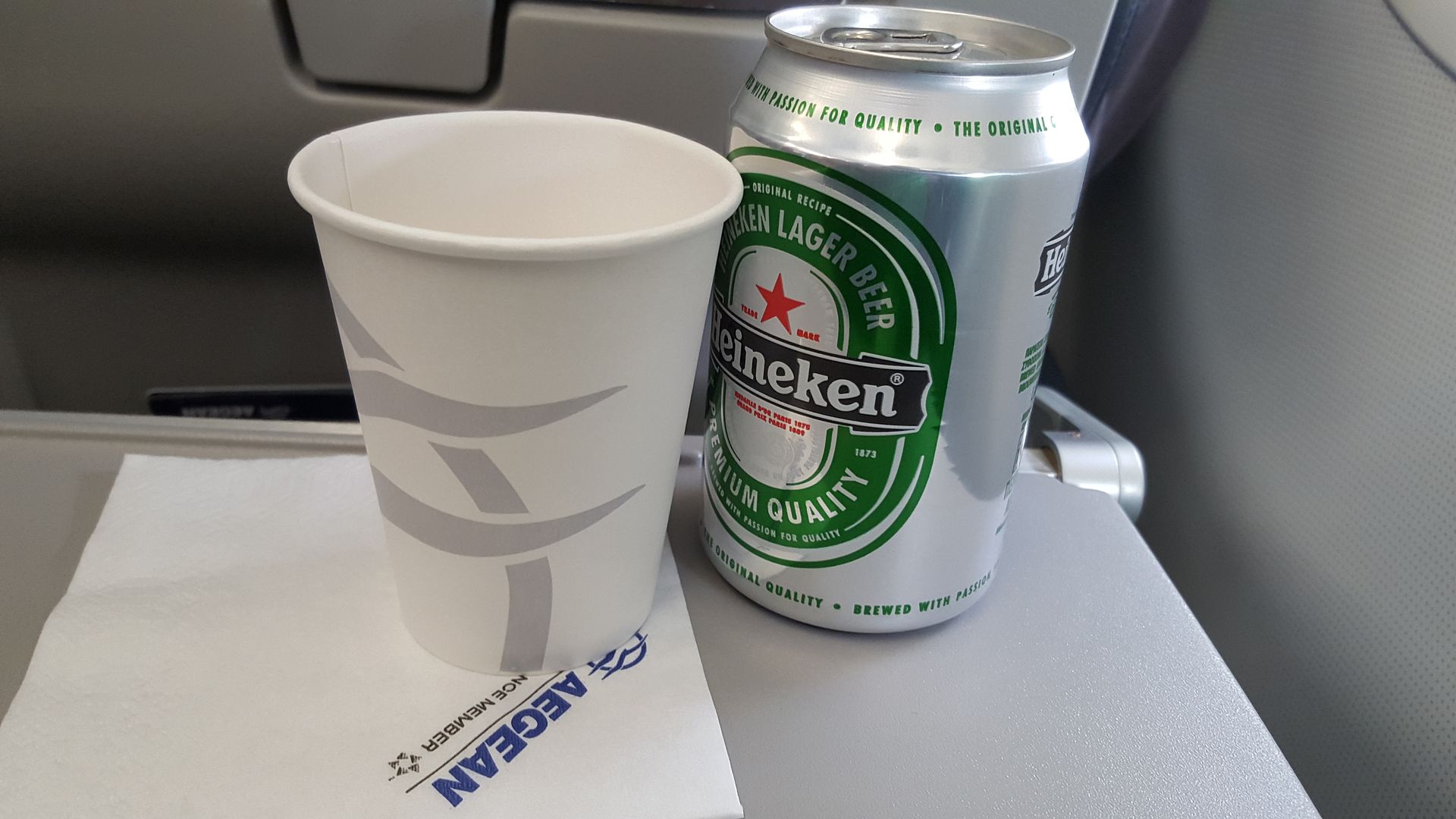 Low cal special meal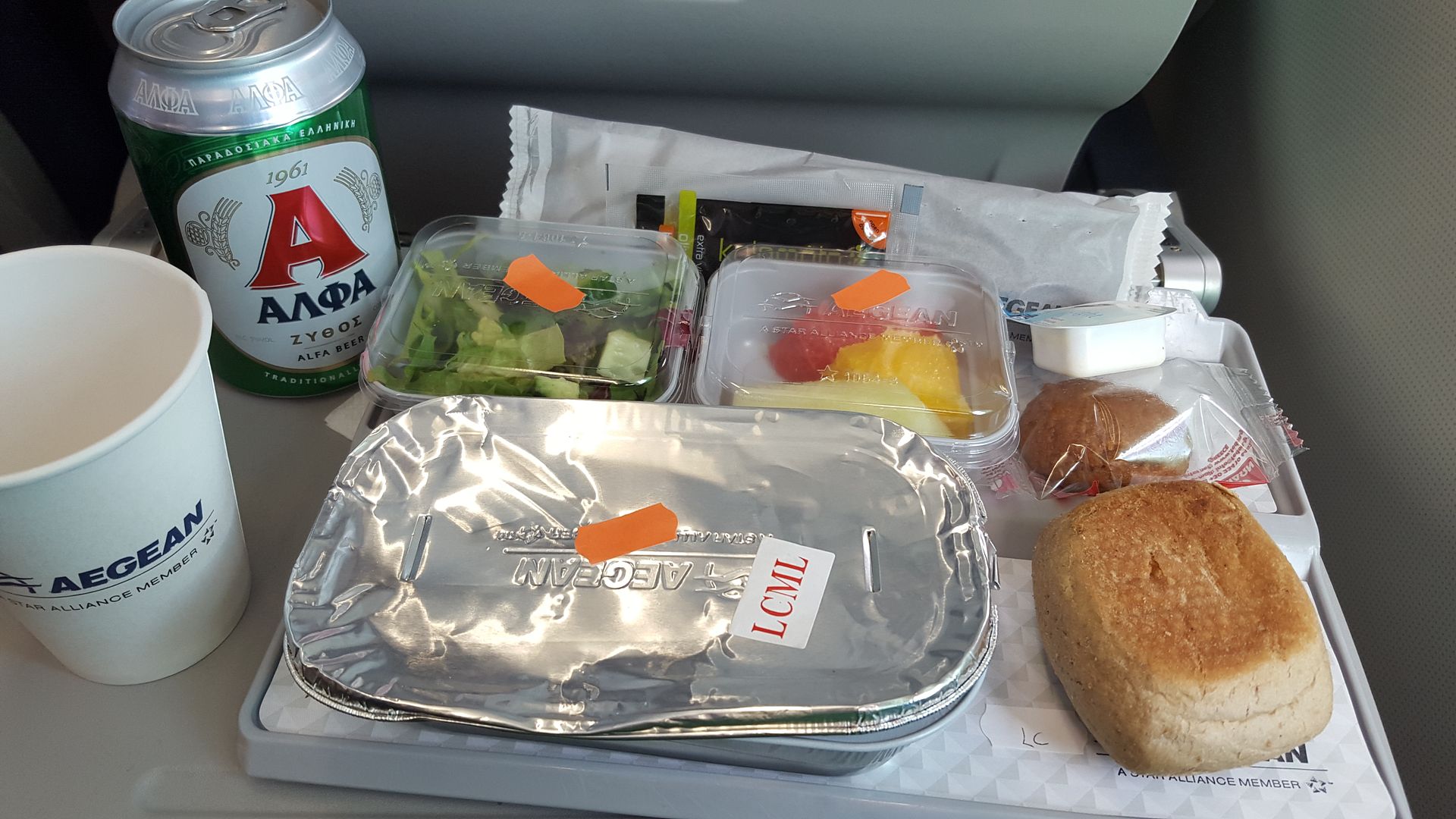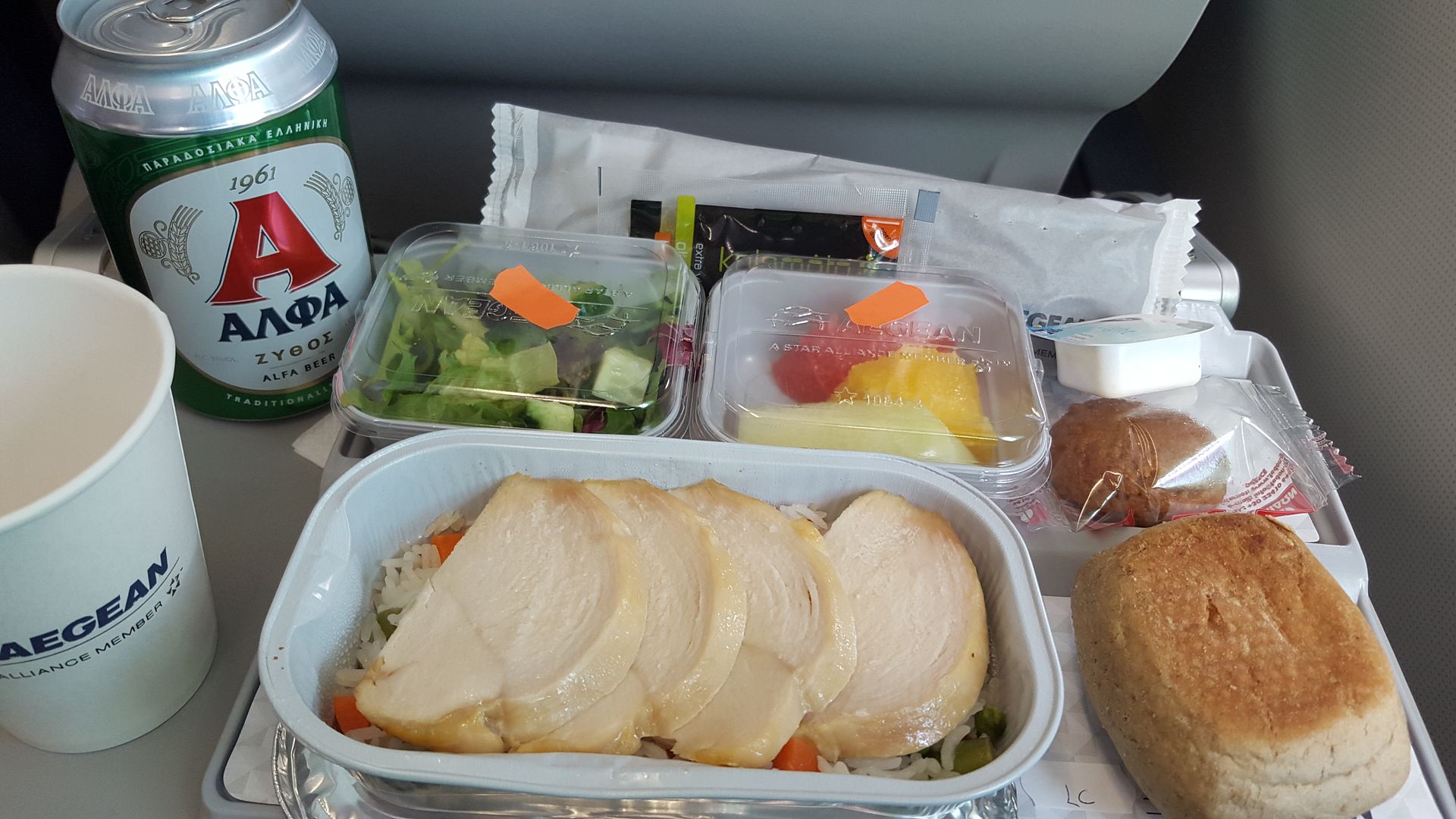 Entertainment
There was a video about Greece and Aegean airlines that was playing on a continuous loop. Something better than nothing I suppose. Apart from that I had to rely on my S6 for entertainment.
Towards the end of the journey, they started playing the moving map which was slick and looked fresh.
Overhead entertainment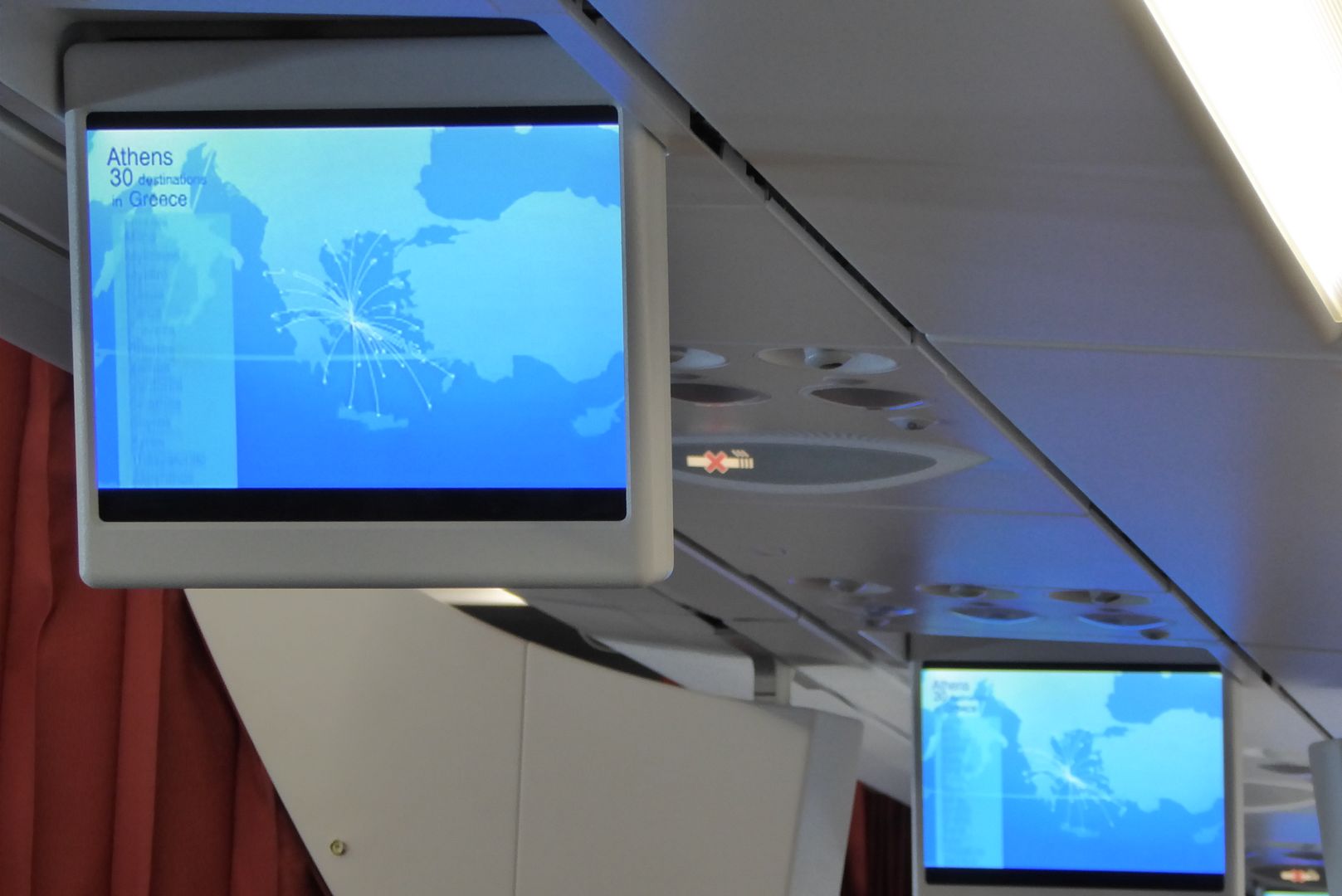 En-route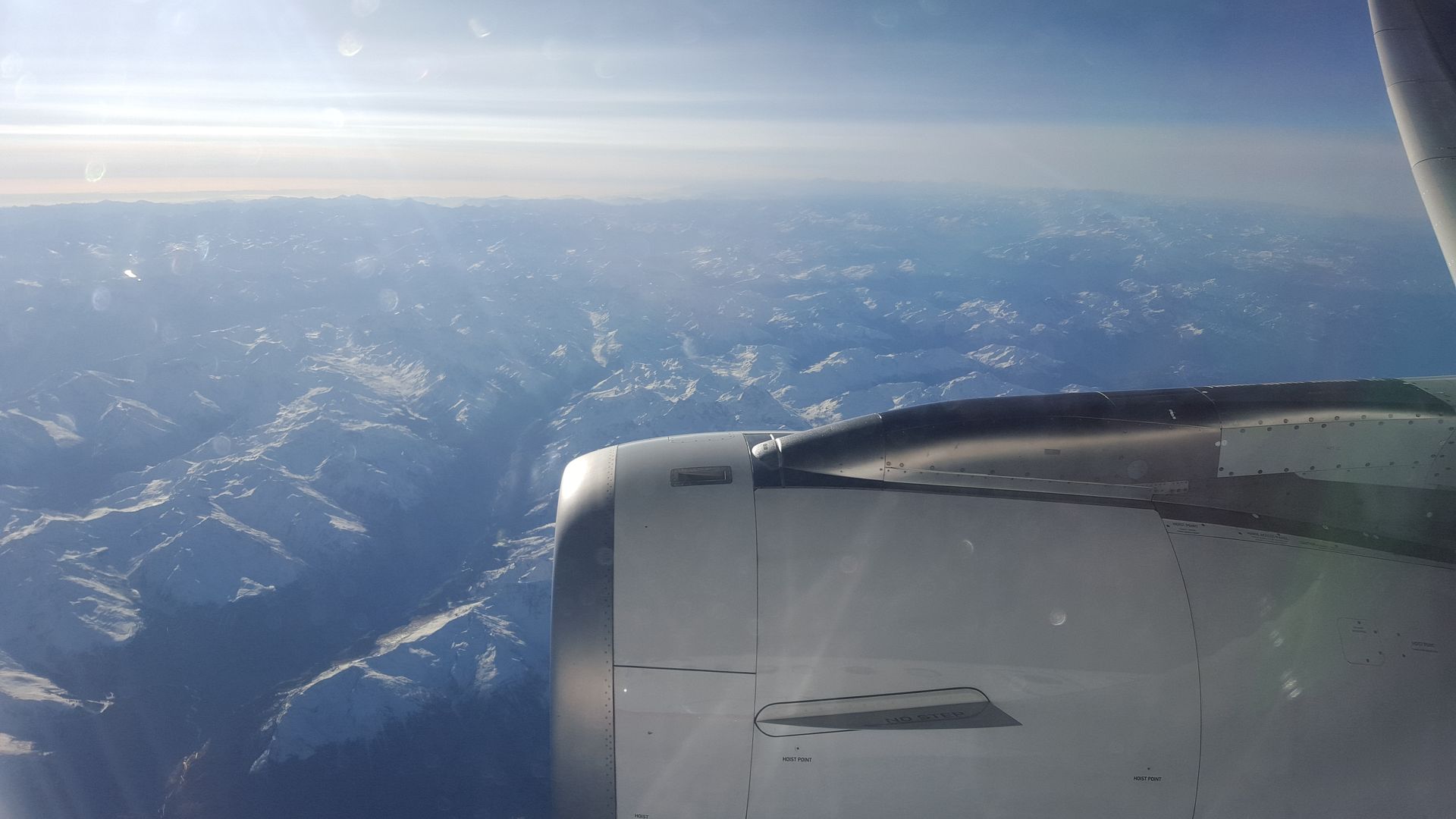 Moving map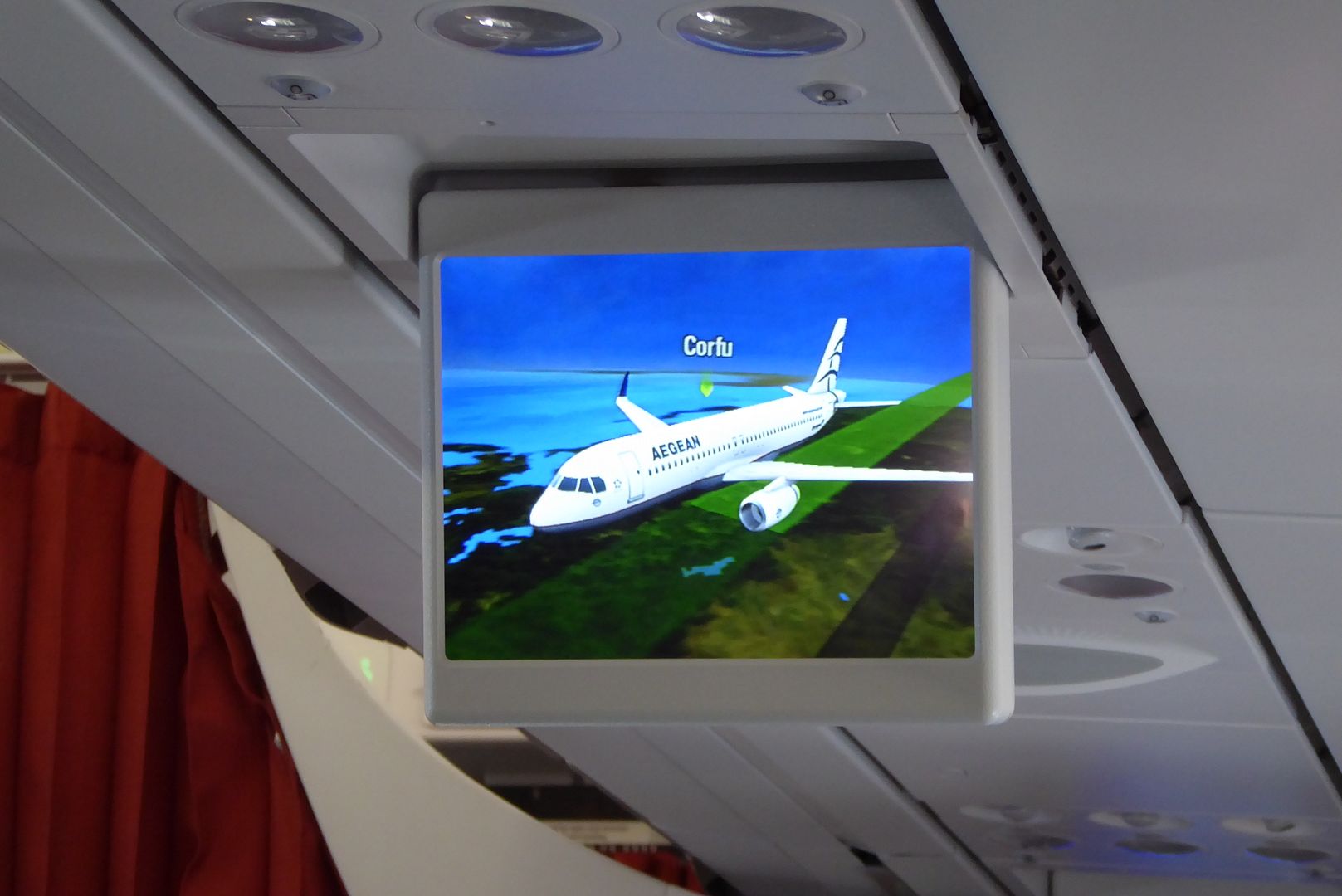 Almost there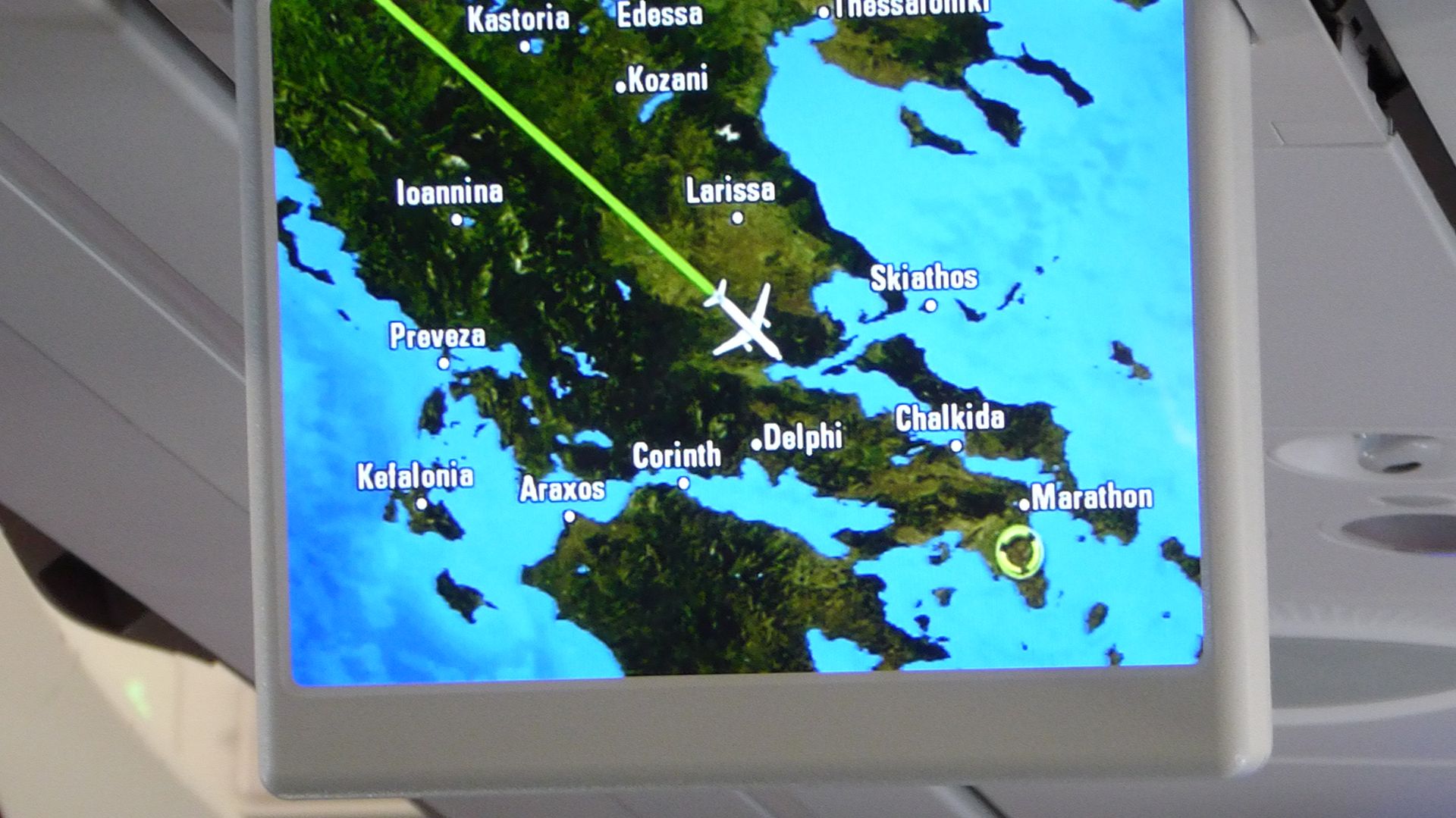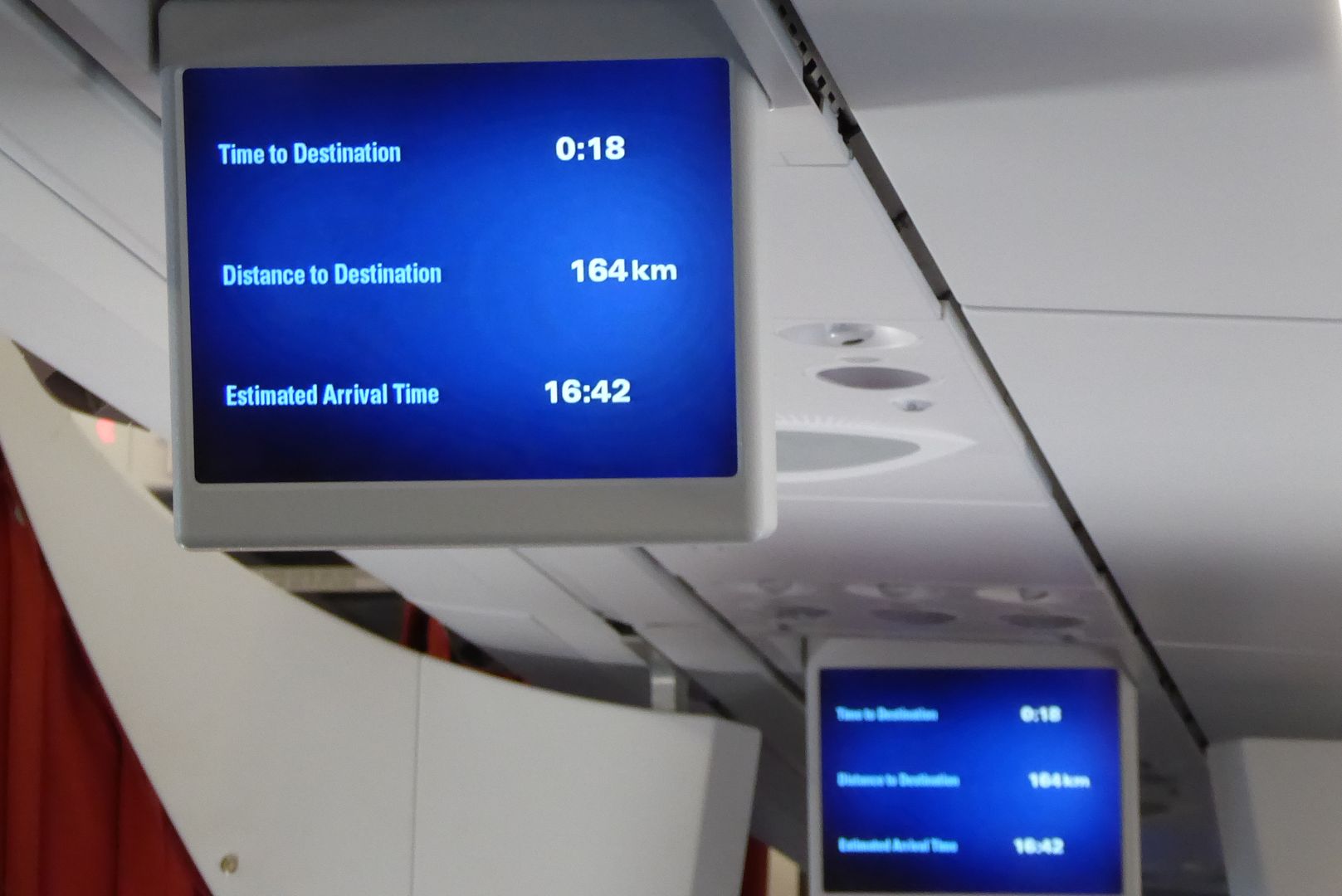 On time Performance
We disembarked the gate 8 minutes late, but made up for lost time en-route and ended up 25 minutes ahead of schedule.
WOW Factor
This had to be the full meal on board for an intra Europe flight. Not just any meal, but also an option for special meal selection was simply amazing. During my last trip in India I did get a special meal on a 45 minute flight on jet airways. But given that no other full-fledged airline in Europe provide this kind of FnB on board, Aegean has to be commended on going the extra mile. 10/10.
Transit experience
Transiting in Athens is hassle free. Our bags were checked through and all we had to do was to pass through immigration and over to the departure terminal. Seamless and quick.
Online check in was done as part of the previous sector. Although I could only check in 48 hours prior to this flight and not the entire sector. Not a big deal as I still got a very good seat pick.
At Athens
Neighbours at Athens
Not very Christmas'sy at Athens - the sole Chritsmas tree on Arrival
Transfer information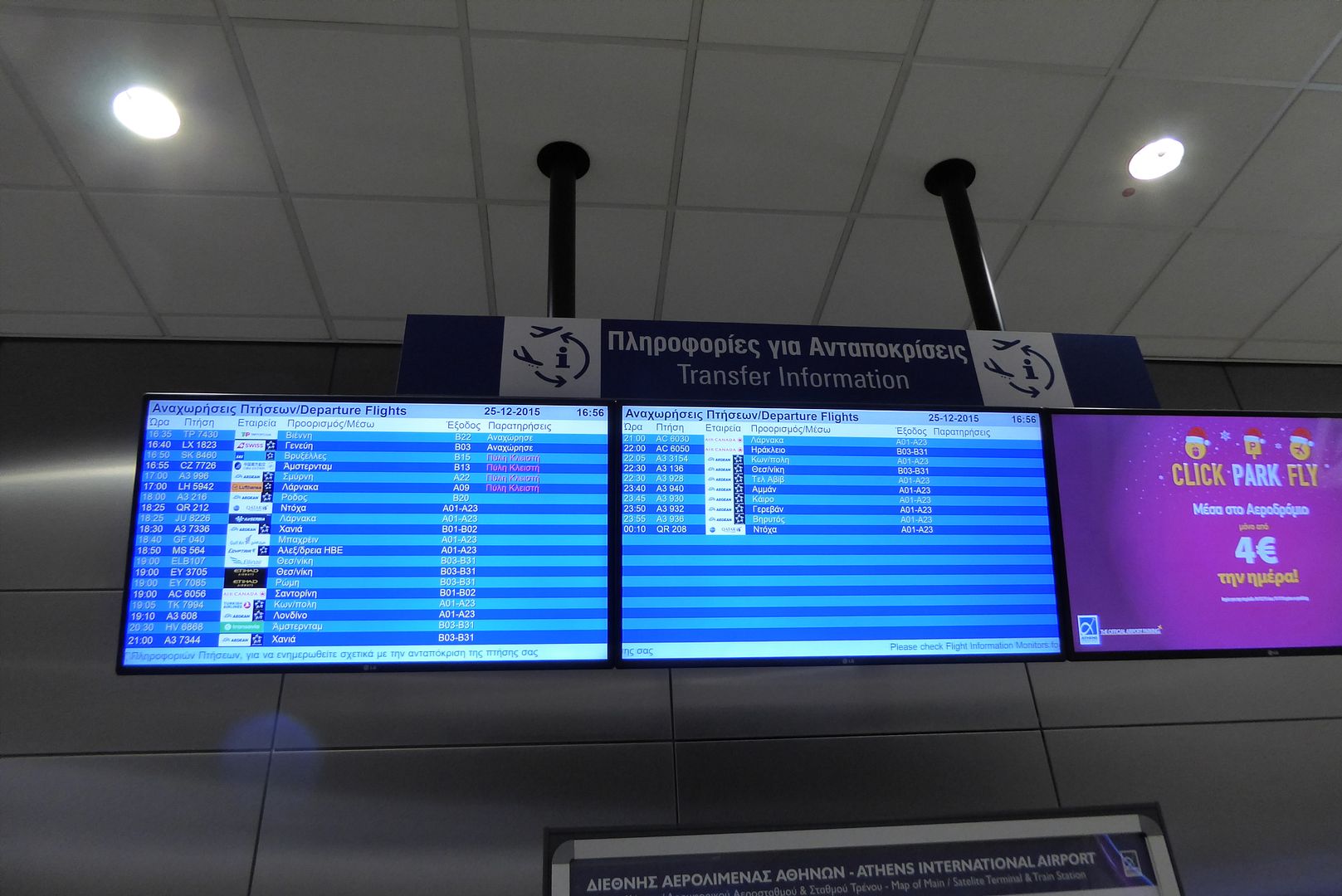 No bags to collect - through checked in to Santorini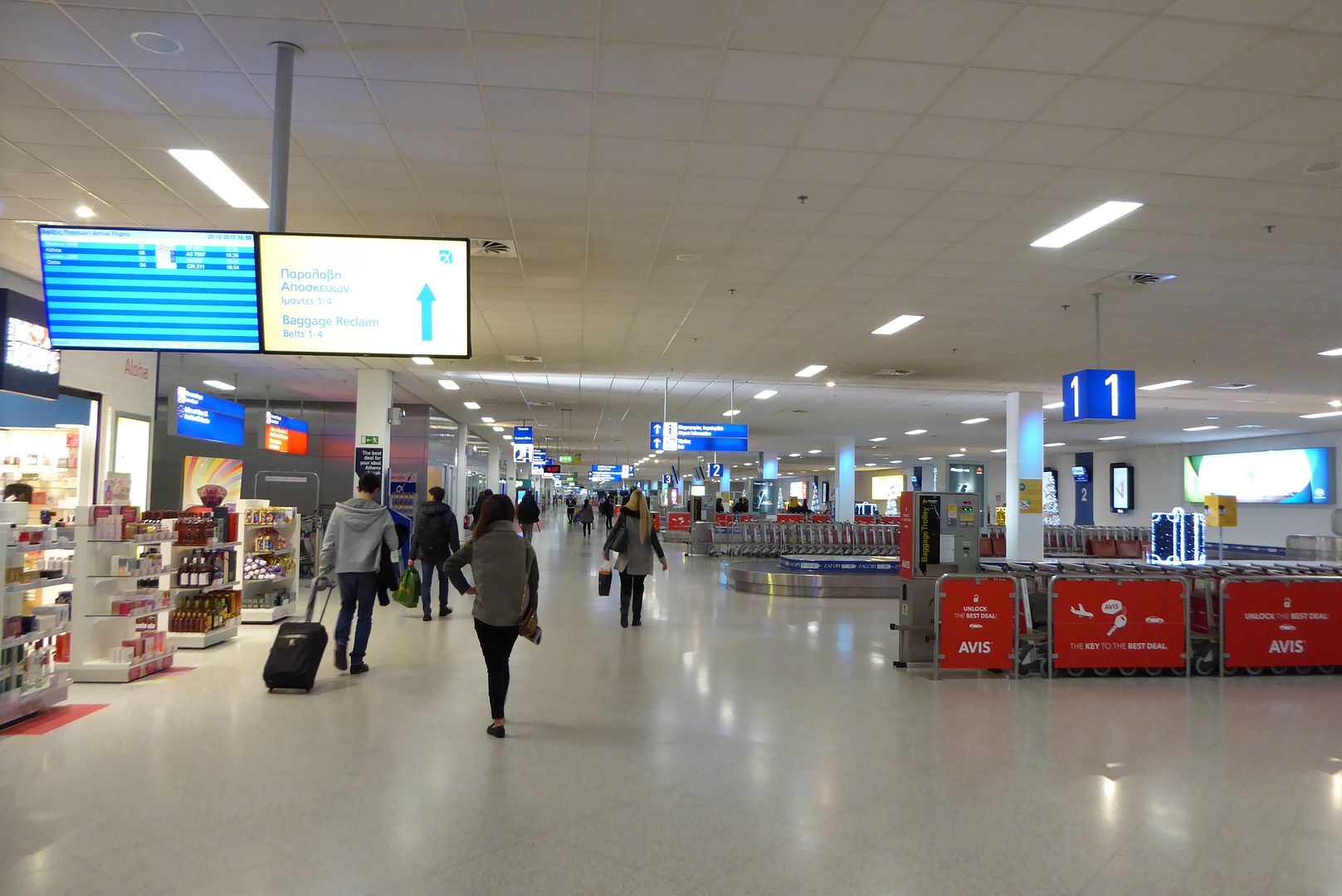 Athens Departure hall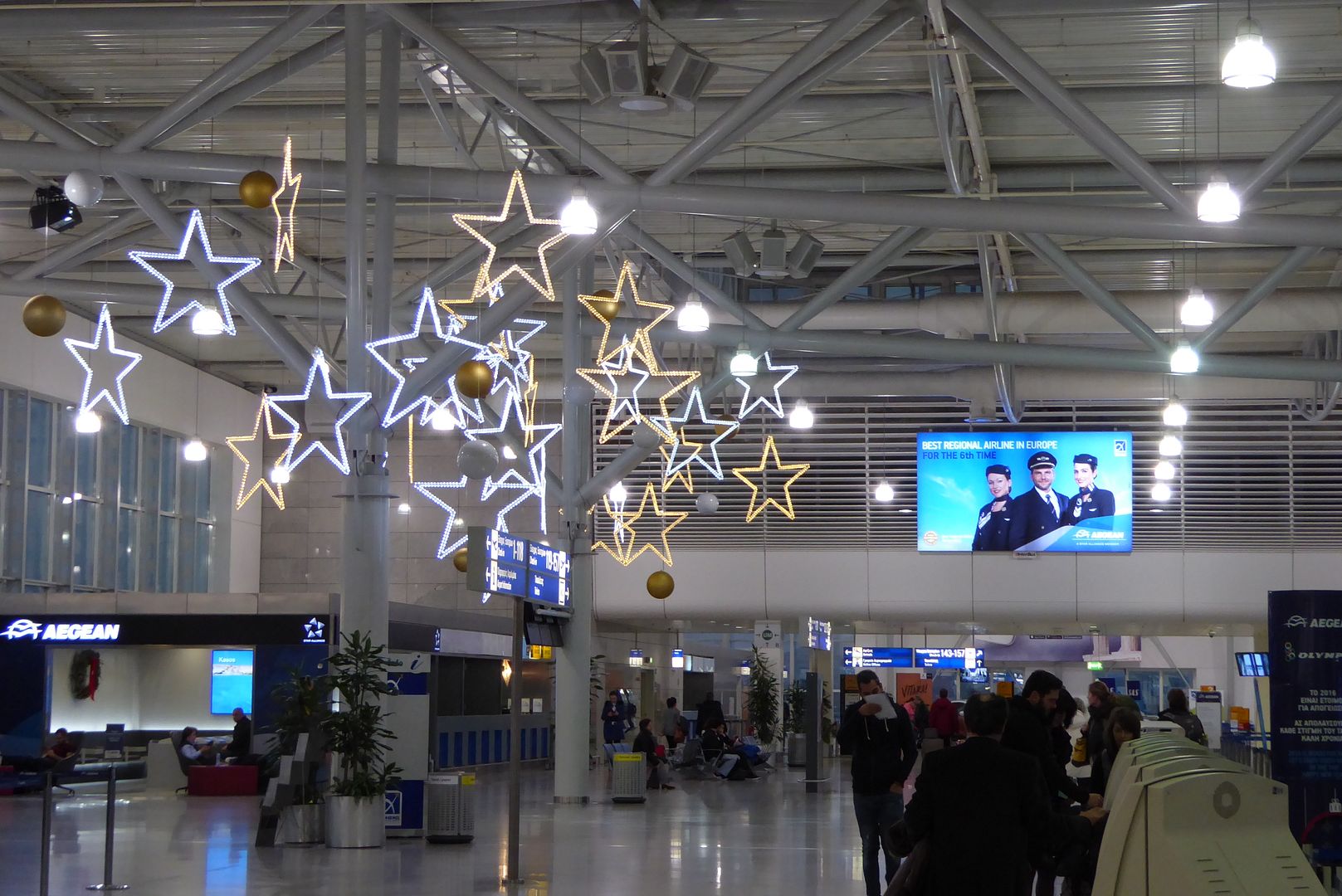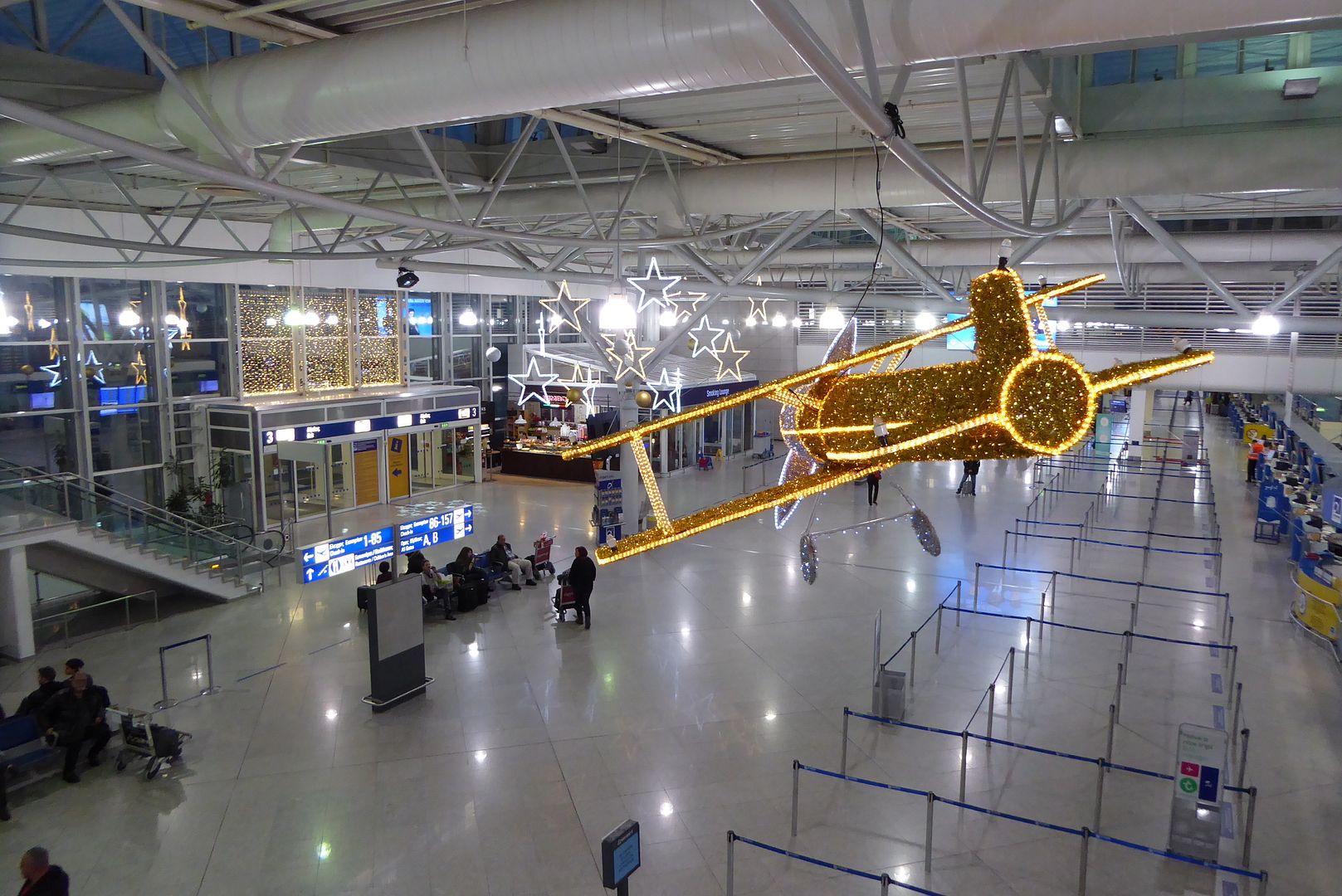 Our fight - Etihad to Santorini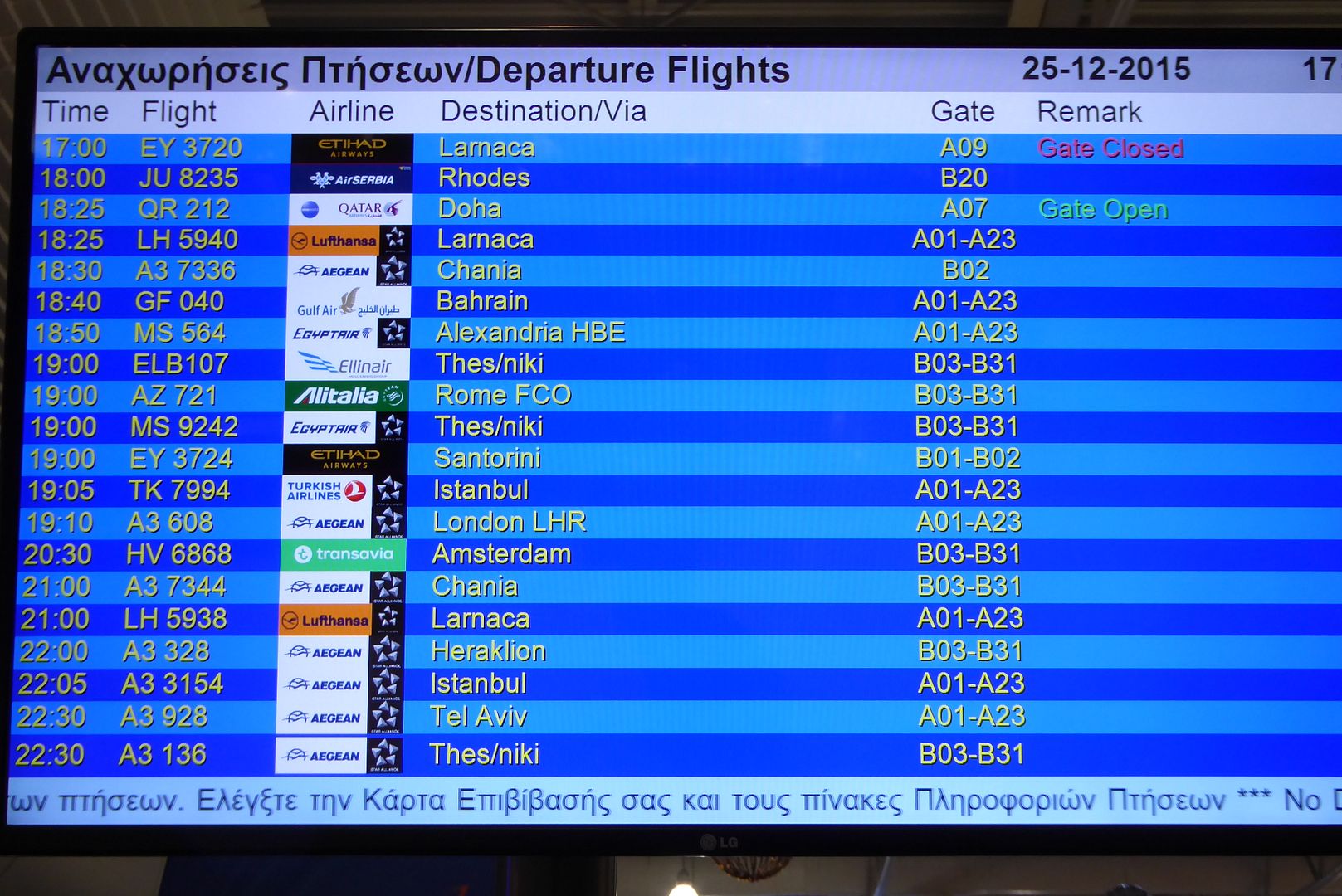 Shopping at Athens
Boarding started 30 minutes before departure. And once again another full flight. Passengers were asked to check in their hand luggage for free.
We were boarding through gate B1. Looks like this is a dedicated area for domestic flights. Once you pass through security there's nothing much near these gates. So better to eat/shop before you enter this area. Boarding was completed 15 minutes ahead of schedule and ready to disembark 10 minutes before scheduled departure time.
Boarding gates
Boarding hall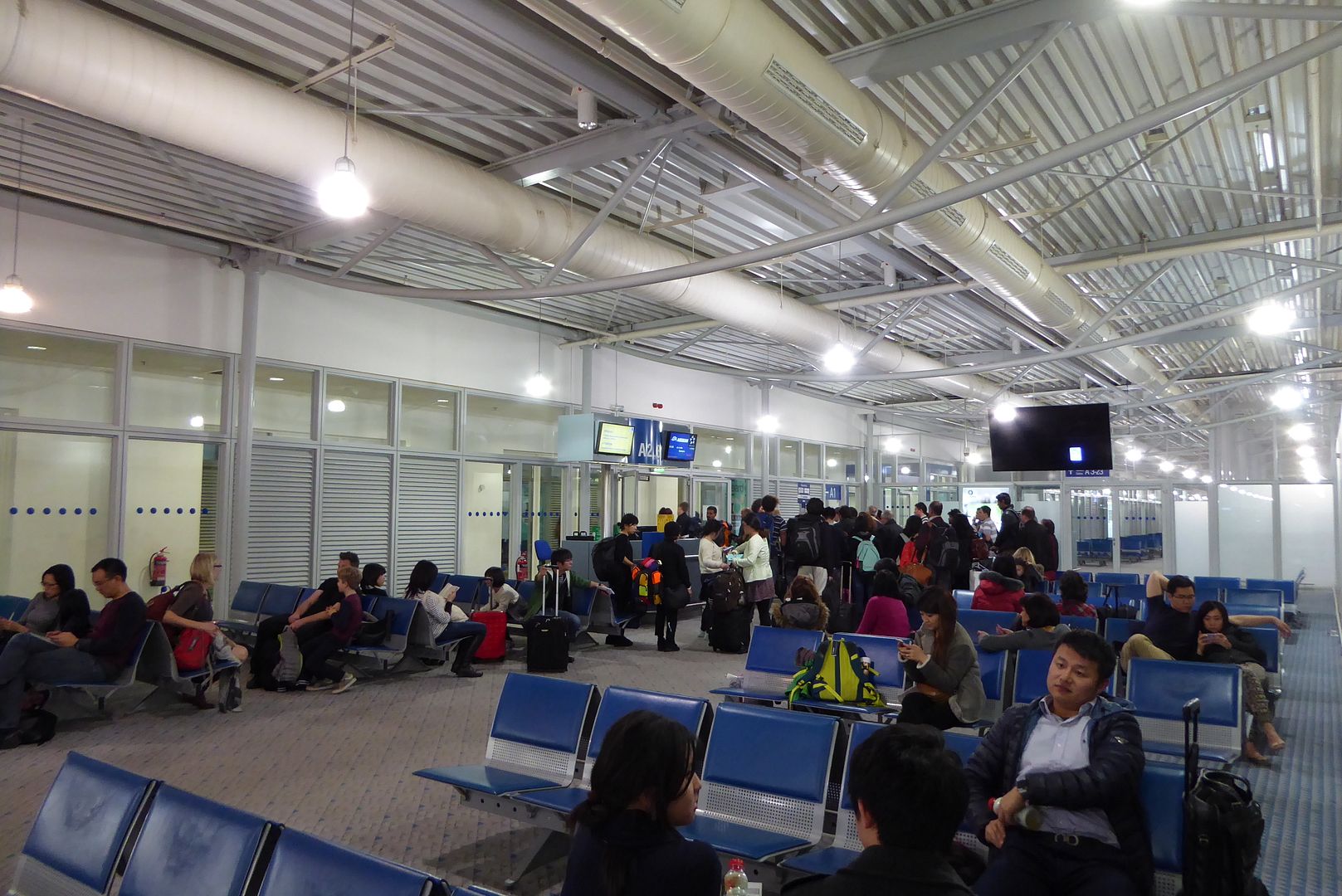 Similar to the first aircraft. Neat and minimalist. Given that this aircraft had quite a few trips throughout the day, the maintenance and the appearance of the aircraft was spotless.
On board SX-DVJ, our seat, row 2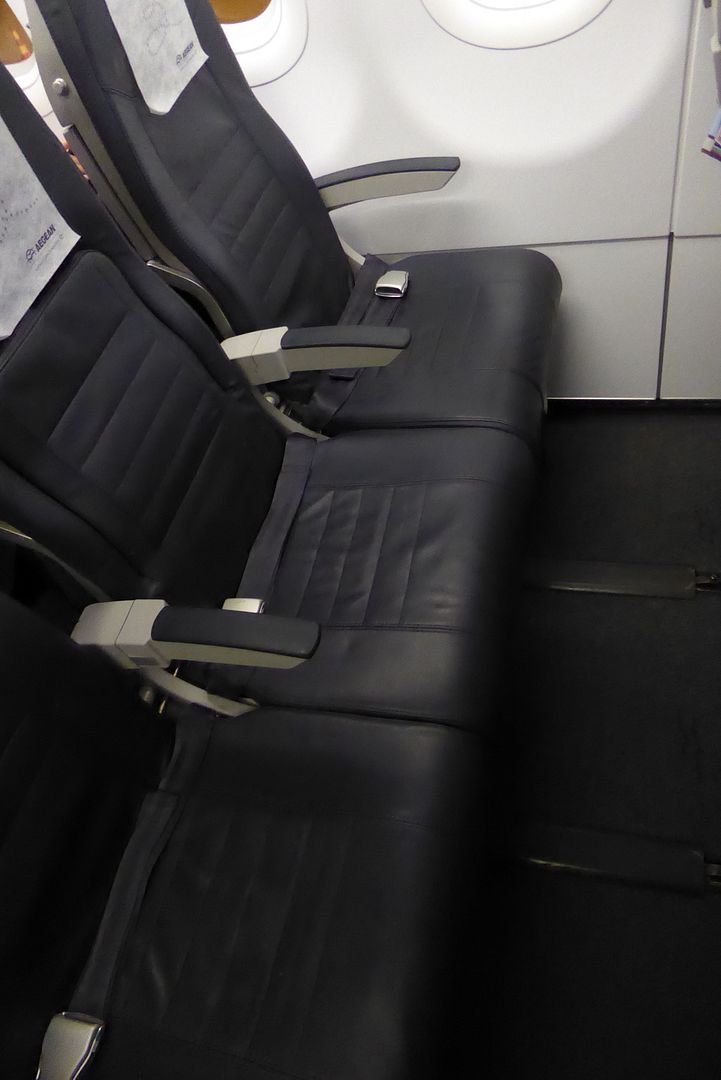 Once again, more than sufficient Leg space. we got the extra leg space seats right in the front. They're usually sold as Business class on other sectors, but on this domestic one, they seem to be running a one class service, but got this seats during online check in.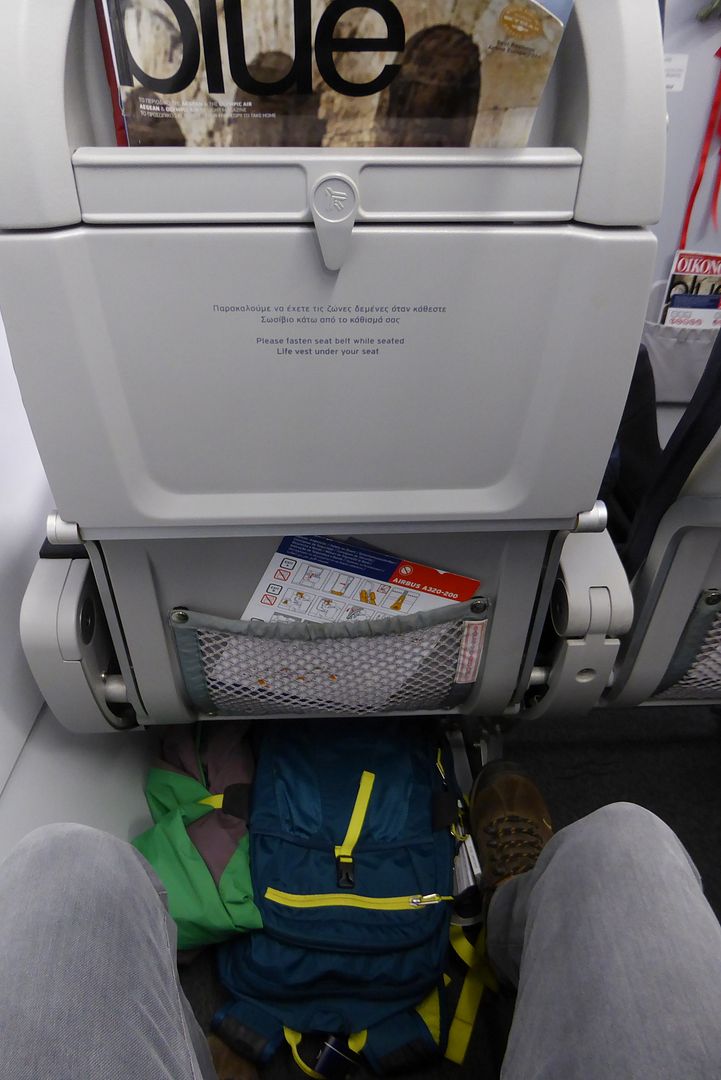 Bye SX-DNA
Once again on time departure and expected arrival ahead of schedule.
As soon as we reached cruising altitude, the 4 member crew sprang into action, serving us some sweets and a cake.
No sooner than they completed one quick round followed by a round of rubbish collection, it was time to descend. We landed at Santorini 15 minutes ahead of schedule and out to our rental car in 25 minutes.
Short flight of 25 minutes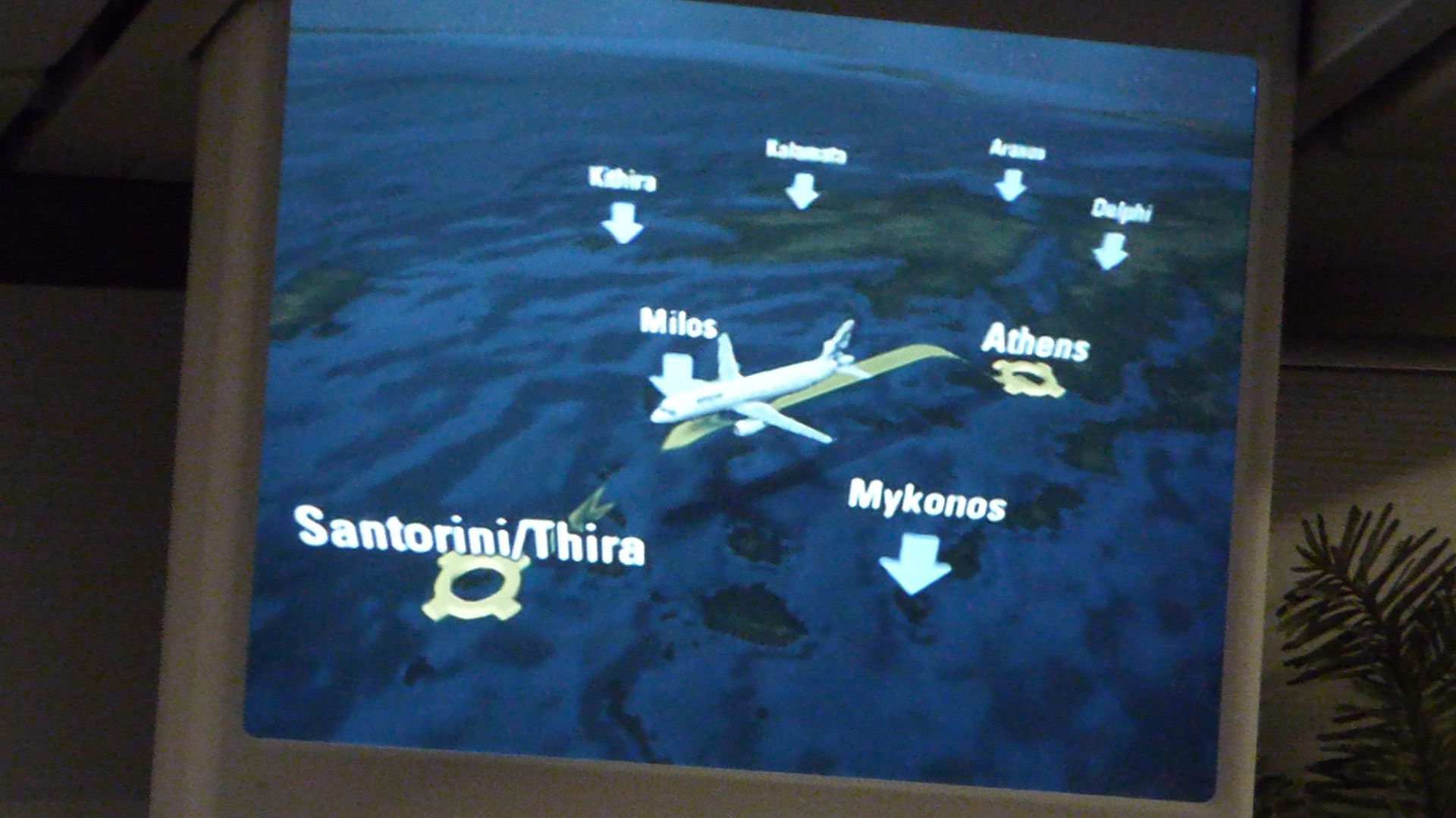 Greek kourabiedes served during the flight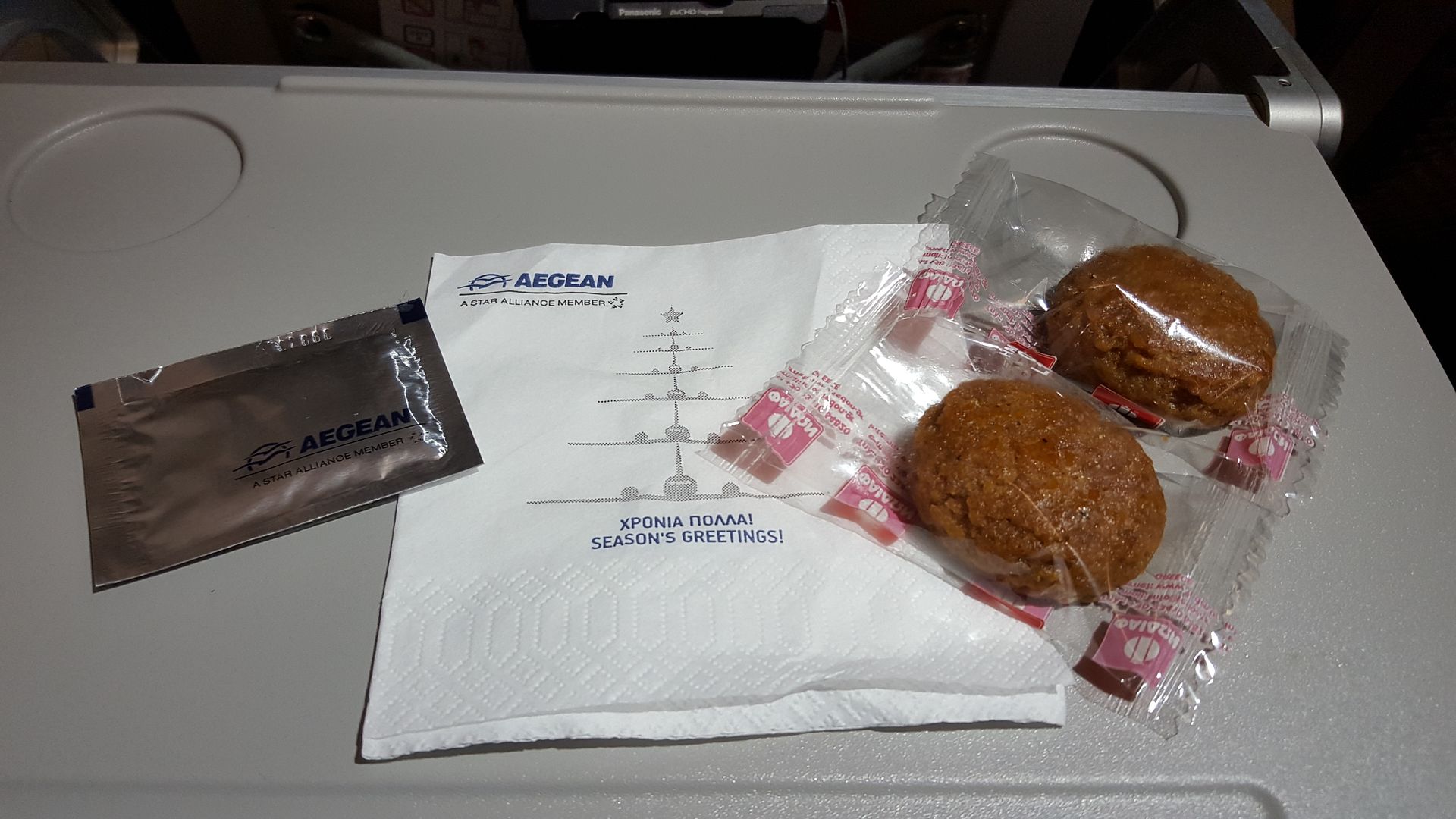 Santorini airport is minute and we would be taking this same flight back to Athens in two days' time.
Santorini Airport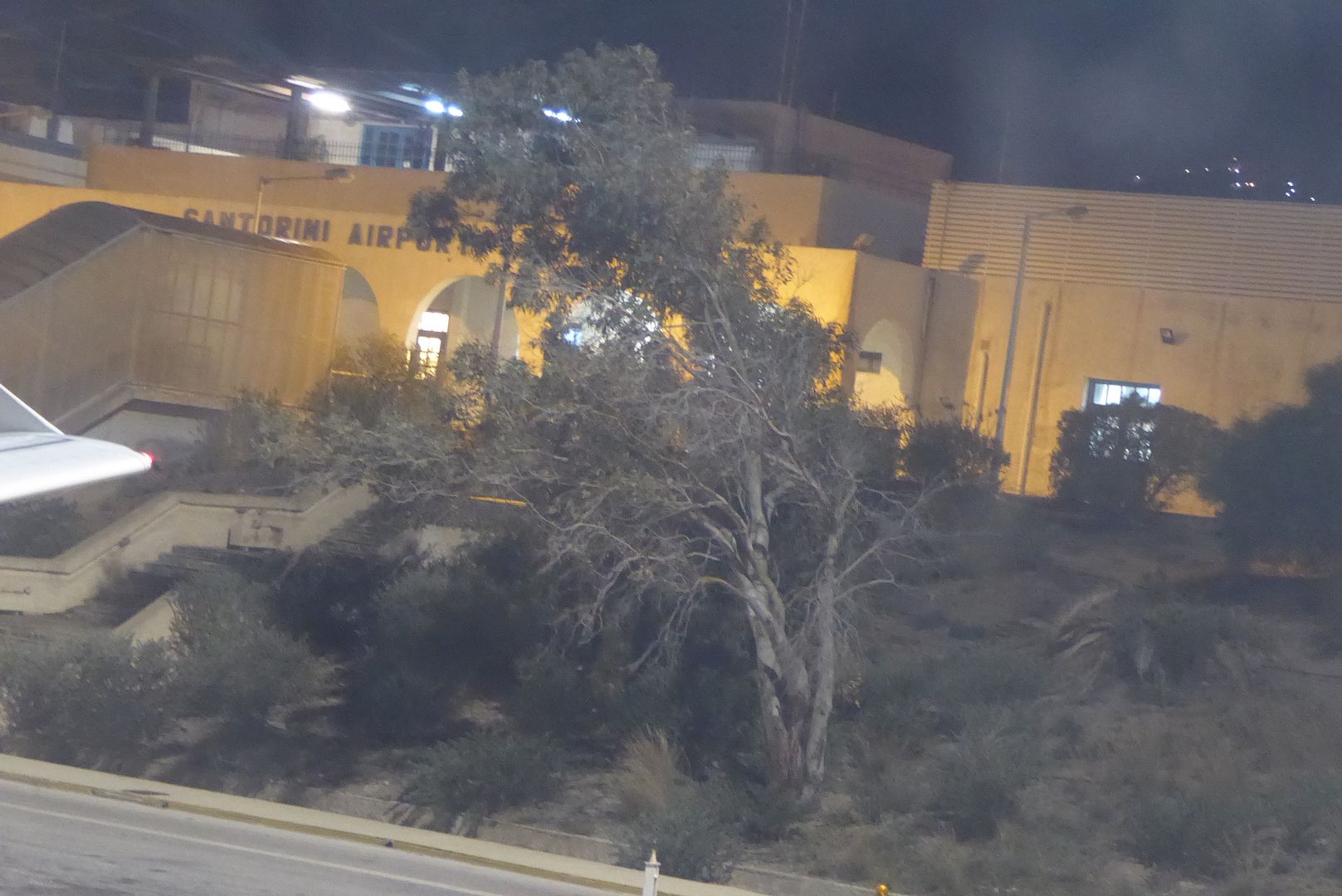 SX-DVJ, an 8 year old Airbus A320-200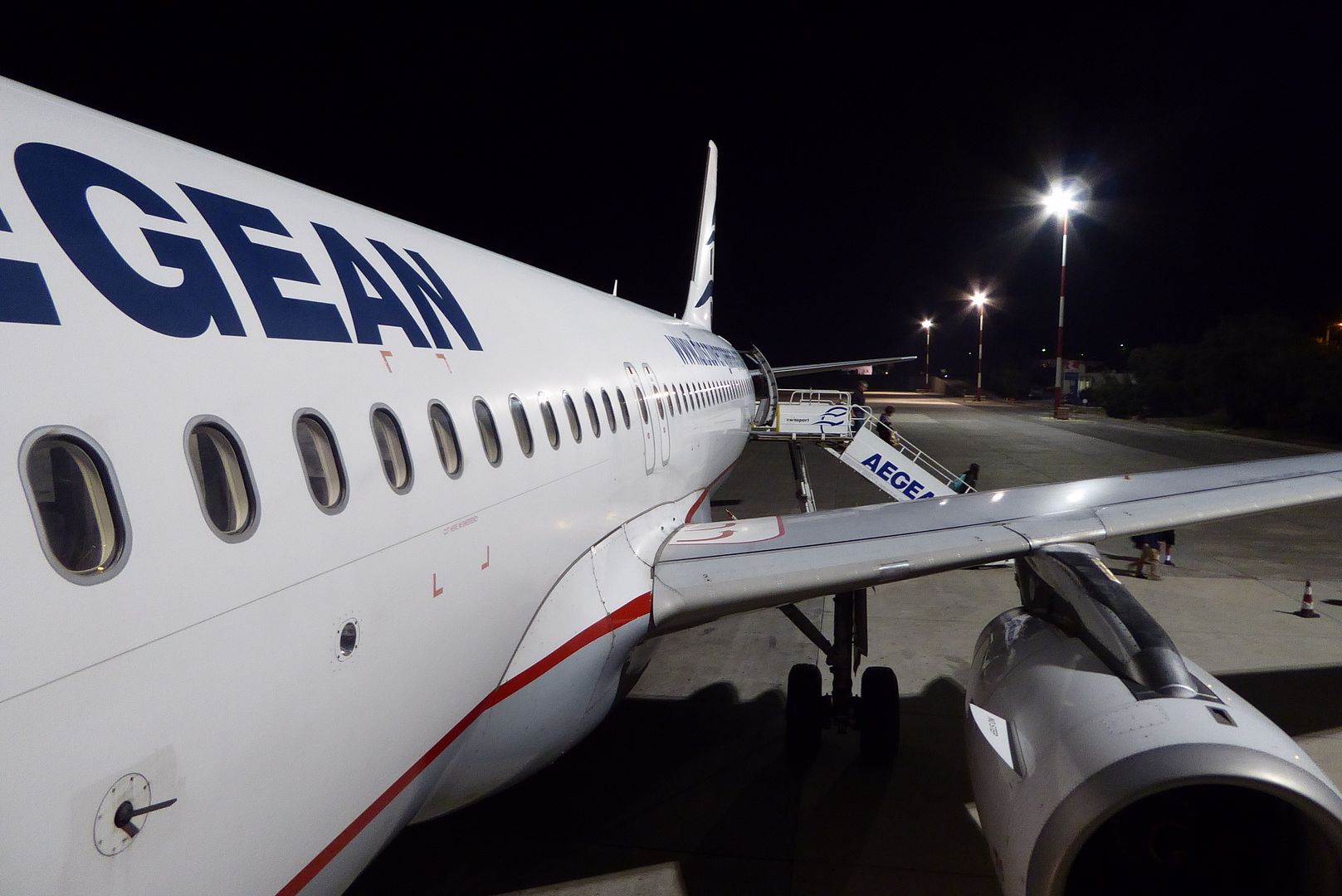 Overall a flawless display by Aegean thus far, and even though we have been travelling the entire day on Christmas day, it was a pleasant and seamless journey.
Another lonely Christmas tree at Santorini at the Baggage hall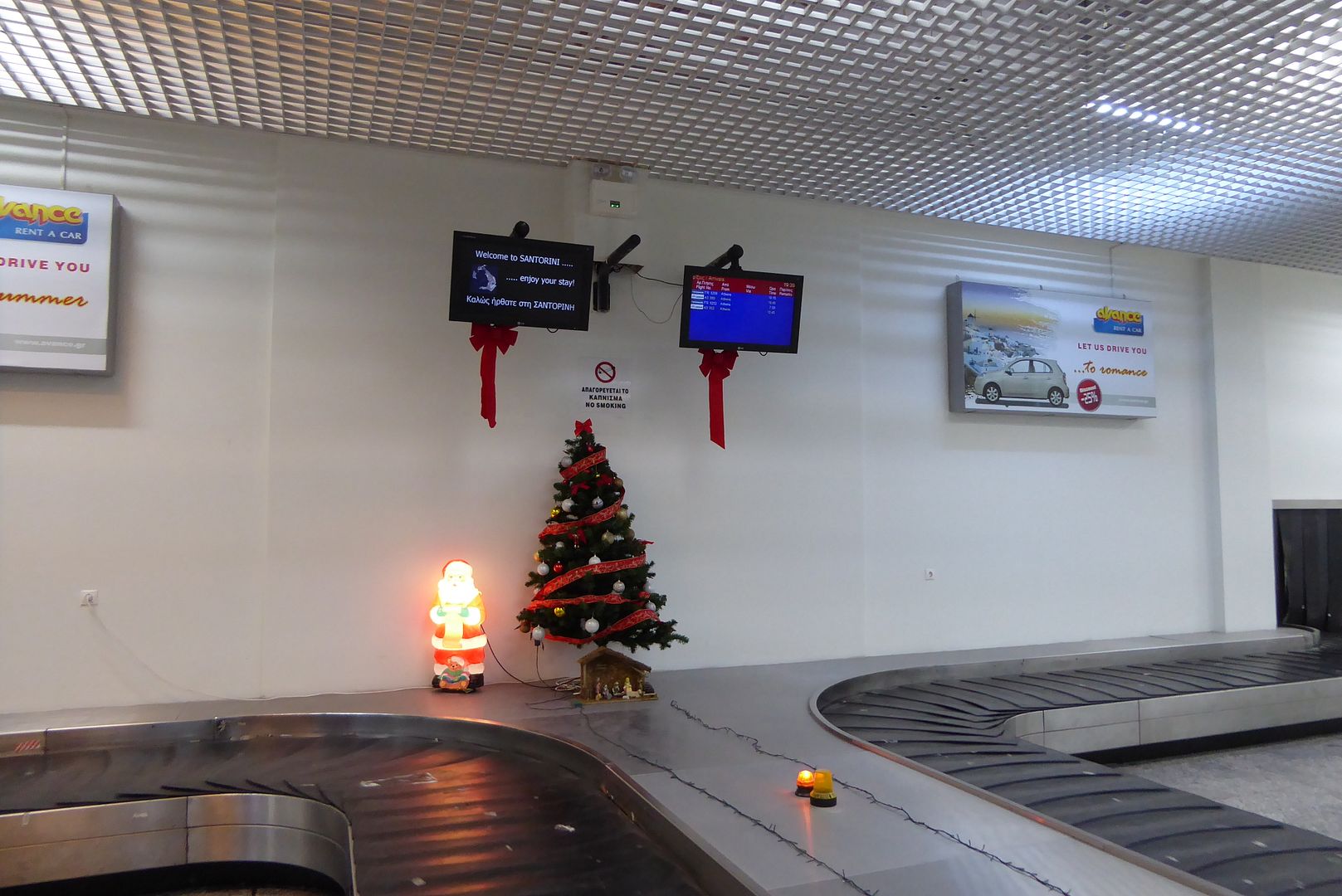 Looking forward to our time in Santorini
2 days later it was now time to fly back to Athens to continue with the rest of our trip.
Snapshot of Santorini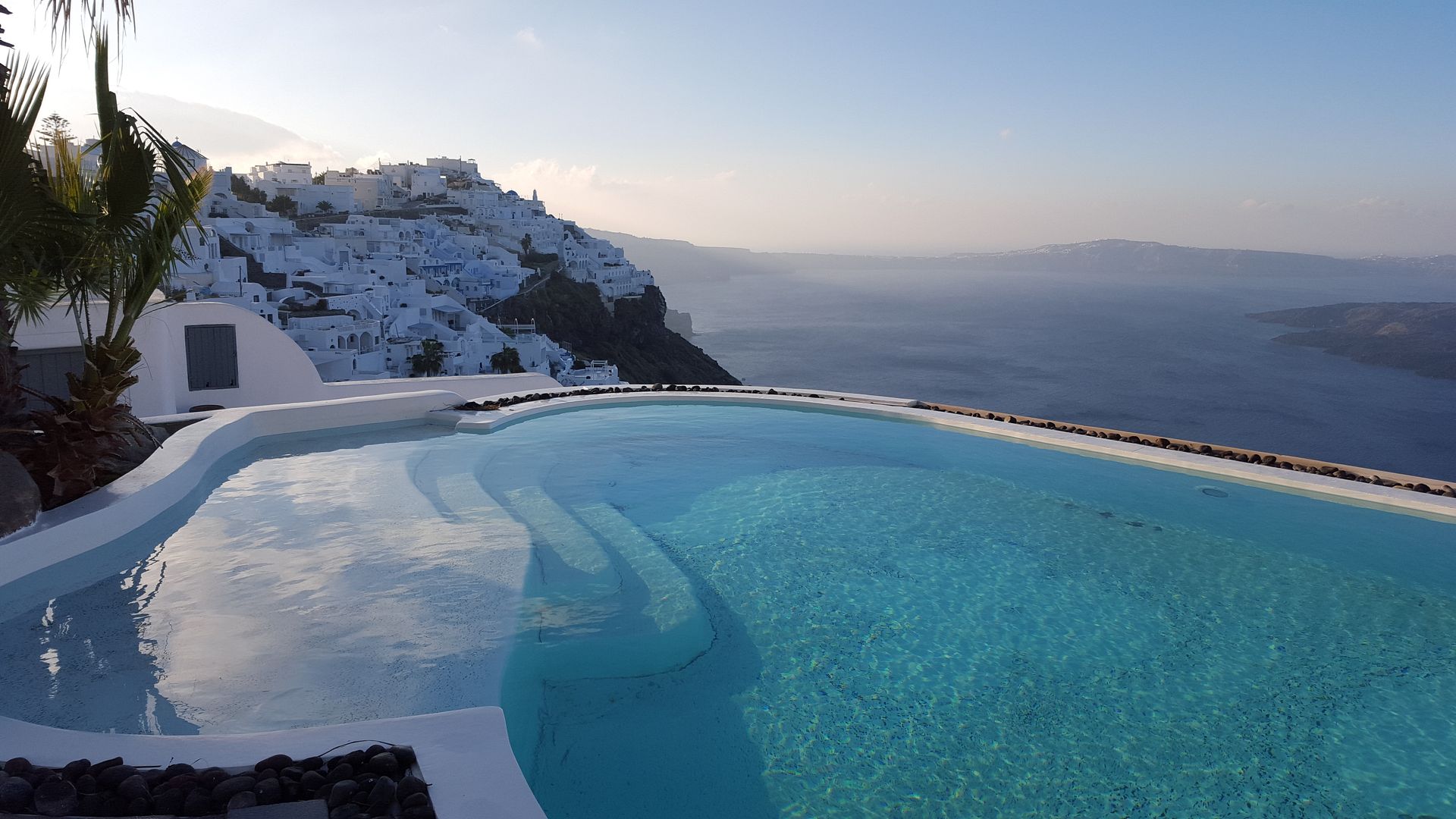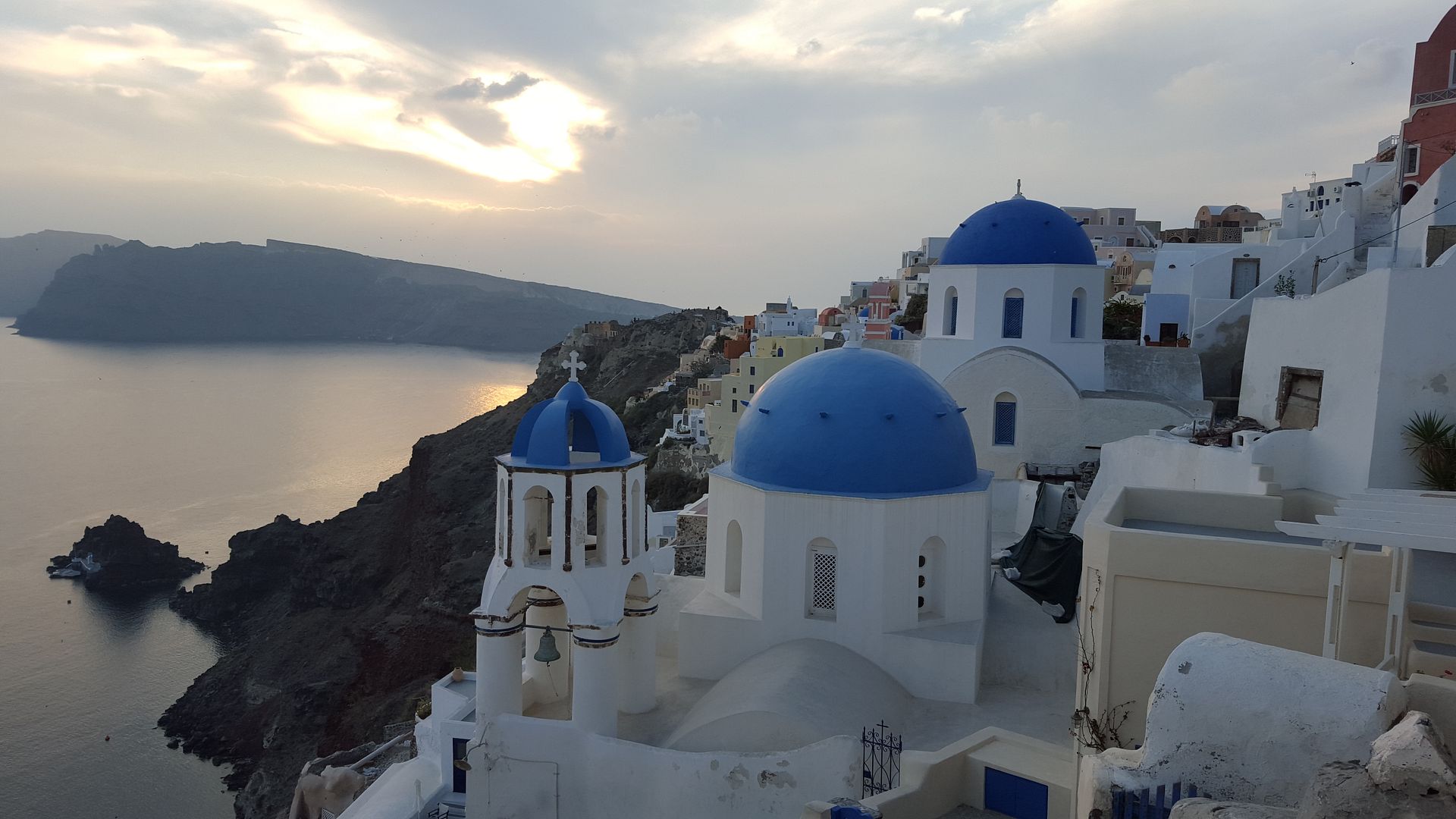 [Edited 2016-01-12 02:32:04]