Video Reports of this leg of the trip
BA Club Europe - LCA to LHR
Hello A'netters. Hope you are doing well. Below is the third and final installment of this series.
After a fantastic break for Christmas and new year's it was now time to get back to reality. I had a spare Avios upgrade voucher available, so used it for this route to upgrade ourselves to Club Europe. The timing of the flight also suited us, as it would give us the entire day to sight see around Cyprus.
I shall be splitting the reports into 3 parts:
Part 2:Blue Air - Athens-Larnaca - Boeing 737-400
(by
newbief1yer
Jan 12 2016 in Trip Reports)
Part 1: Aegean Air - LGW-ATH-JTR - A320-200
(by
newbief1yer
Jan 12 2016 in Trip Reports)
Part 3: Larnaca to London on BA (Club World)
Thanks to GCMaps for the map illustrations below:
Entire trip
This part of the trip Report
Stats (Since 2010, when I started maintaining my flight reports):
My 14th flight with BA, 5th time on a Boeing 767-300
Coincidently my second time on G-BNWZ (First time here:https://www.airliners.net/aviation-forums/trip_reports/read.main/238014/)
British Airways – BA 663 – LCA - LHR (T5) - Club Europe

Flight Reg: G-BNWZ ; Delivered February 1997
Boeing 767-300
Seat 3A
Flight time: 19:30 – 22:25 (19:20 - 22:20)
5th January 2016
Price: £34 for 2 passengers including + 17000 points + Avios Upgrade Voucher
Booking Process, website usability and online check in
Booking via the Avios voucher scheme is not the most easiest way of booking. Even the agent on the phone line had some difficulties in getting it sorted. But at the end of the day, using an upgrade voucher + 17000 point and £34 for two passengers is a steal in my book. Looking forward to a Club Europe experience on a B767.
The day before tried checking In online and that's when I realised that BA use their domestic 767 on the Larnaca sector. That's disappointing. Having looked at the schedule looks like they use this type for Athens and Larnaca apart from domestic UK and the occasional Amsterdam and Stockholm sectors . Cairo and the US get the refurbished 767. Not the best option for club Europe on a 4hr 50 minute flight. But, I shall reserve comments for after trying it out. But my expectations are significantly low compared to how it was when I initially booked it.
Larnaca Airport - Depratures hall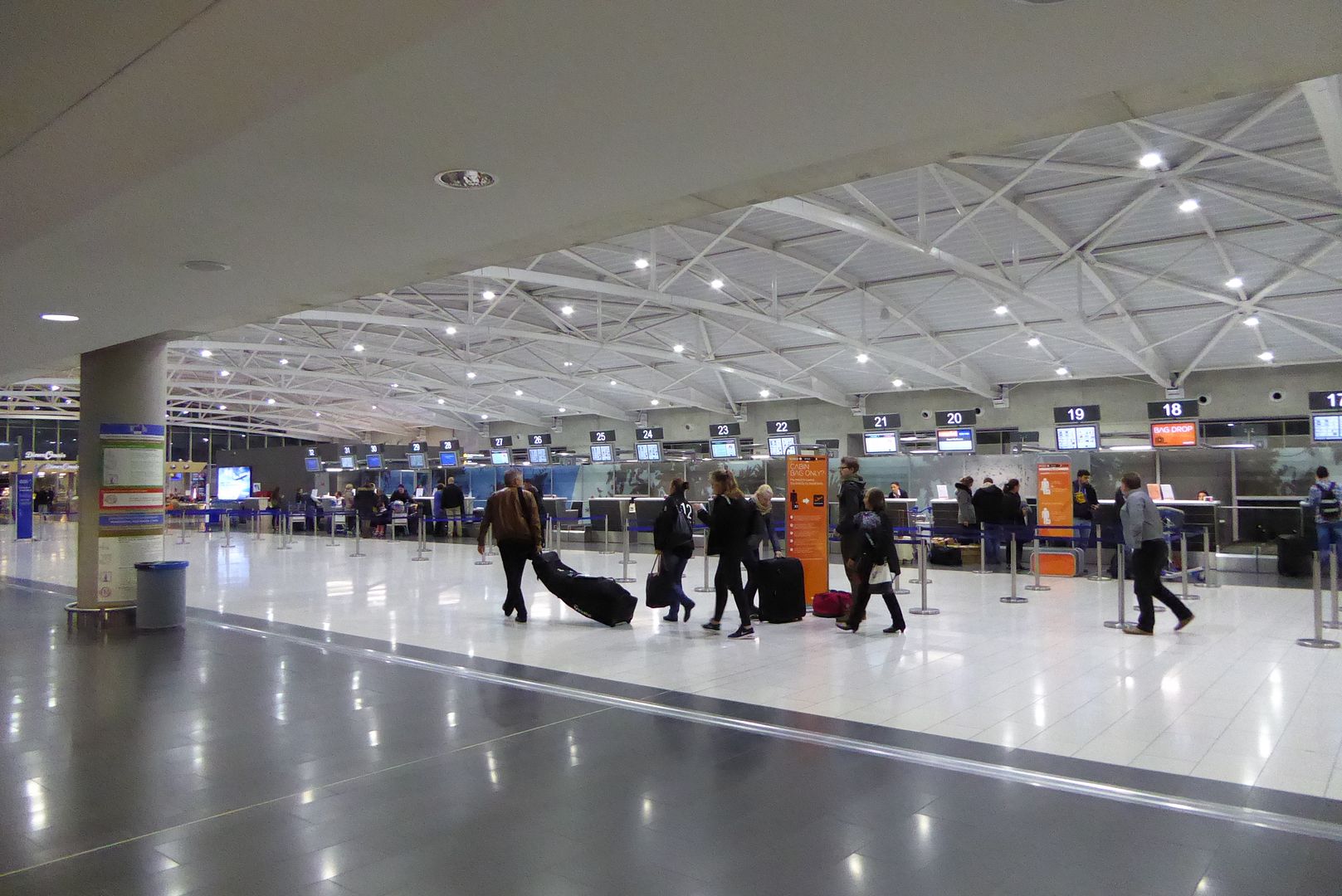 Some Samsung Tech area - Displaying their latest Curve UHD, along with phone chargers. Handy if you're out of juice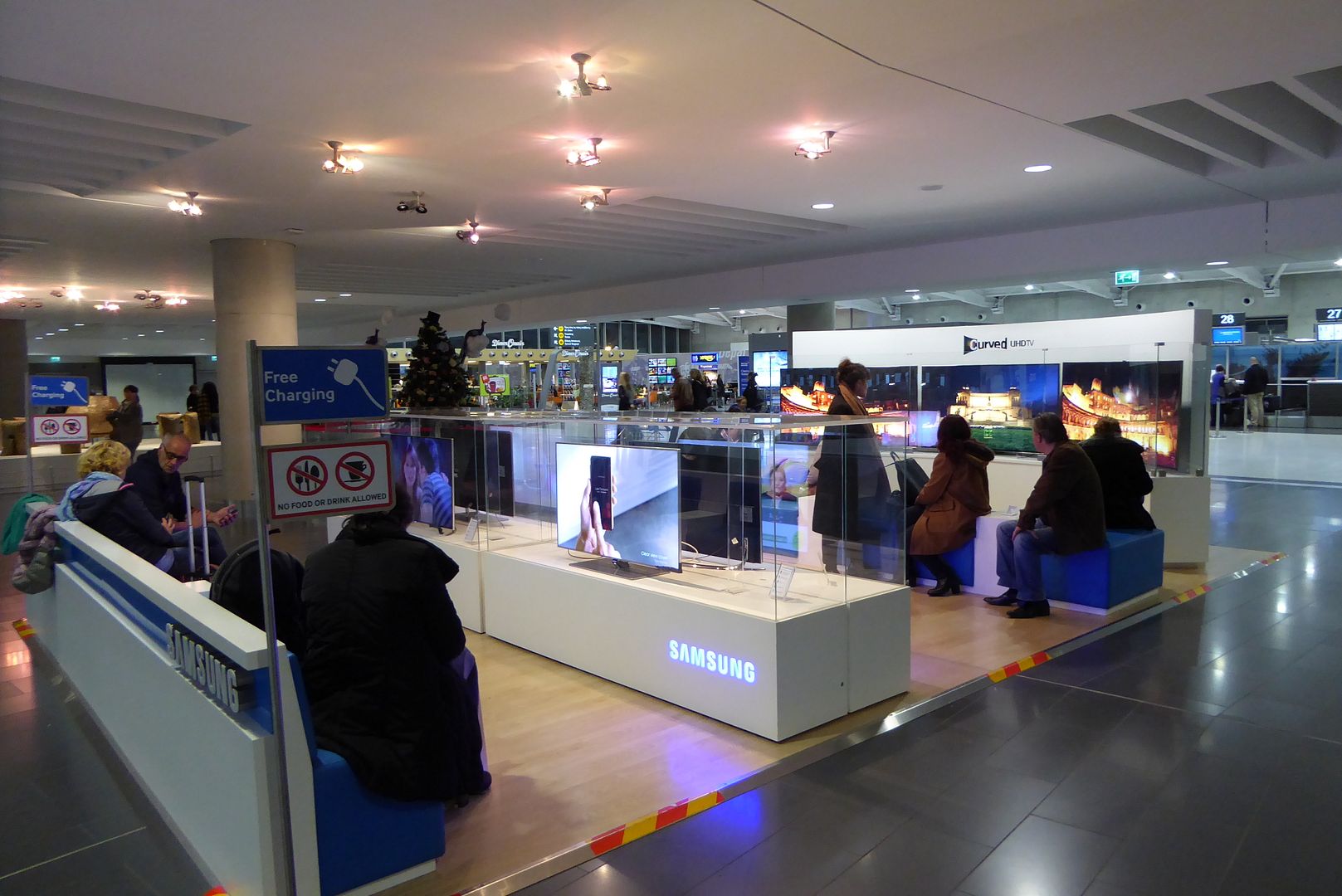 FIDS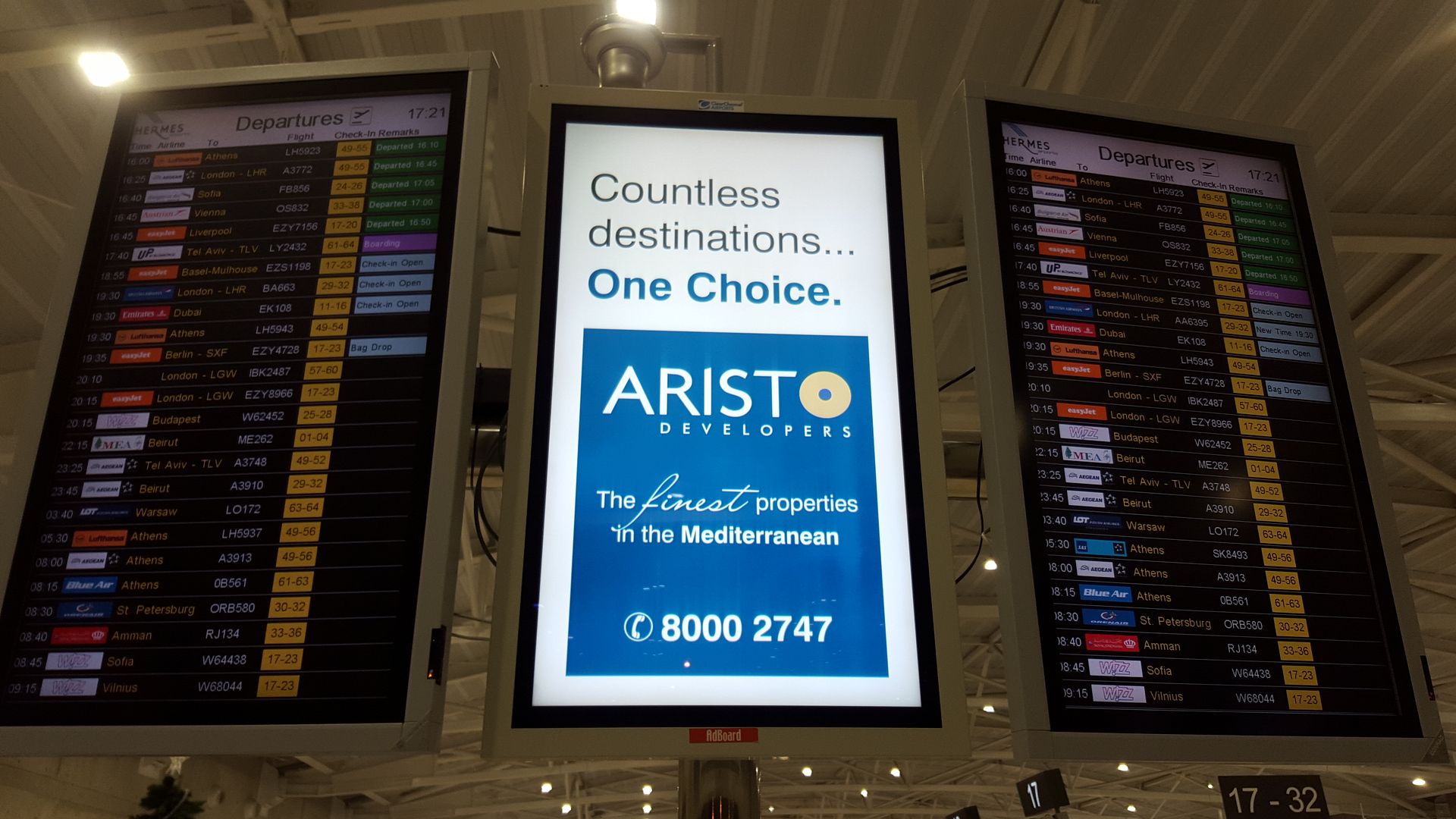 BA Check in desks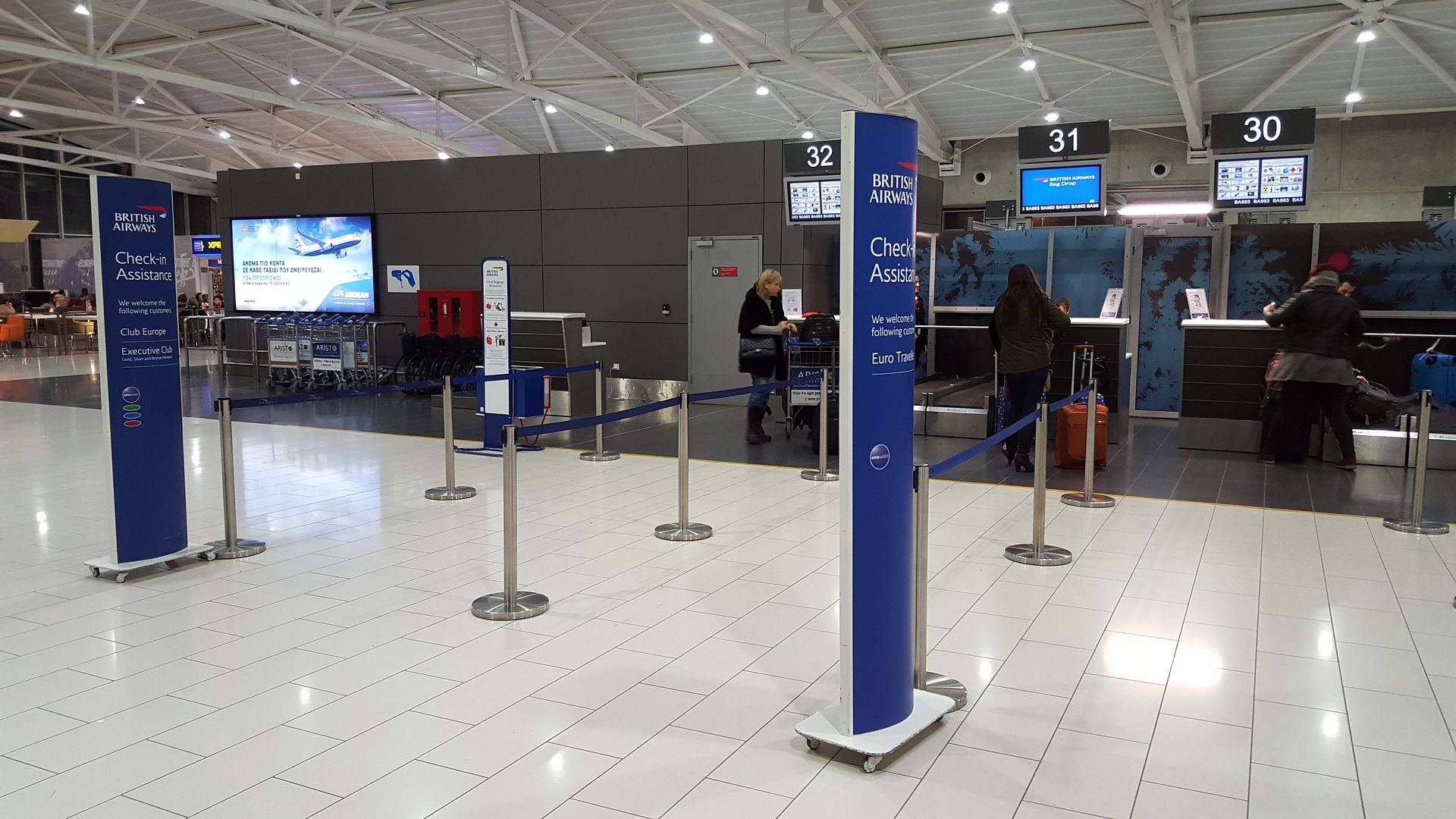 Airport service / checking in / Lounge
On the day of the flight, It was pouring as we reached the airport, so could not manage to take a photo from outside the airport.
Check in was as quick as could be. Larnaca airport is quite a good one. For its size it has a more than decent duty free
shopping and the flow of passengers is seamless. The airport also seemed very airy and spacious.
The lounge was a bit of a mixed bag. The layout is a bit confusing with a lot of partitions for a small area. That being said it was a useful lounge. It's a Swissair managed lounge with a lot of airlines using it. Food and drinks selection was decent. The terrace area would've been great for a sunny morning, but not so good for a rainy winter evening. Although I'd prefer a terrace than without one.
Thank you Cyprus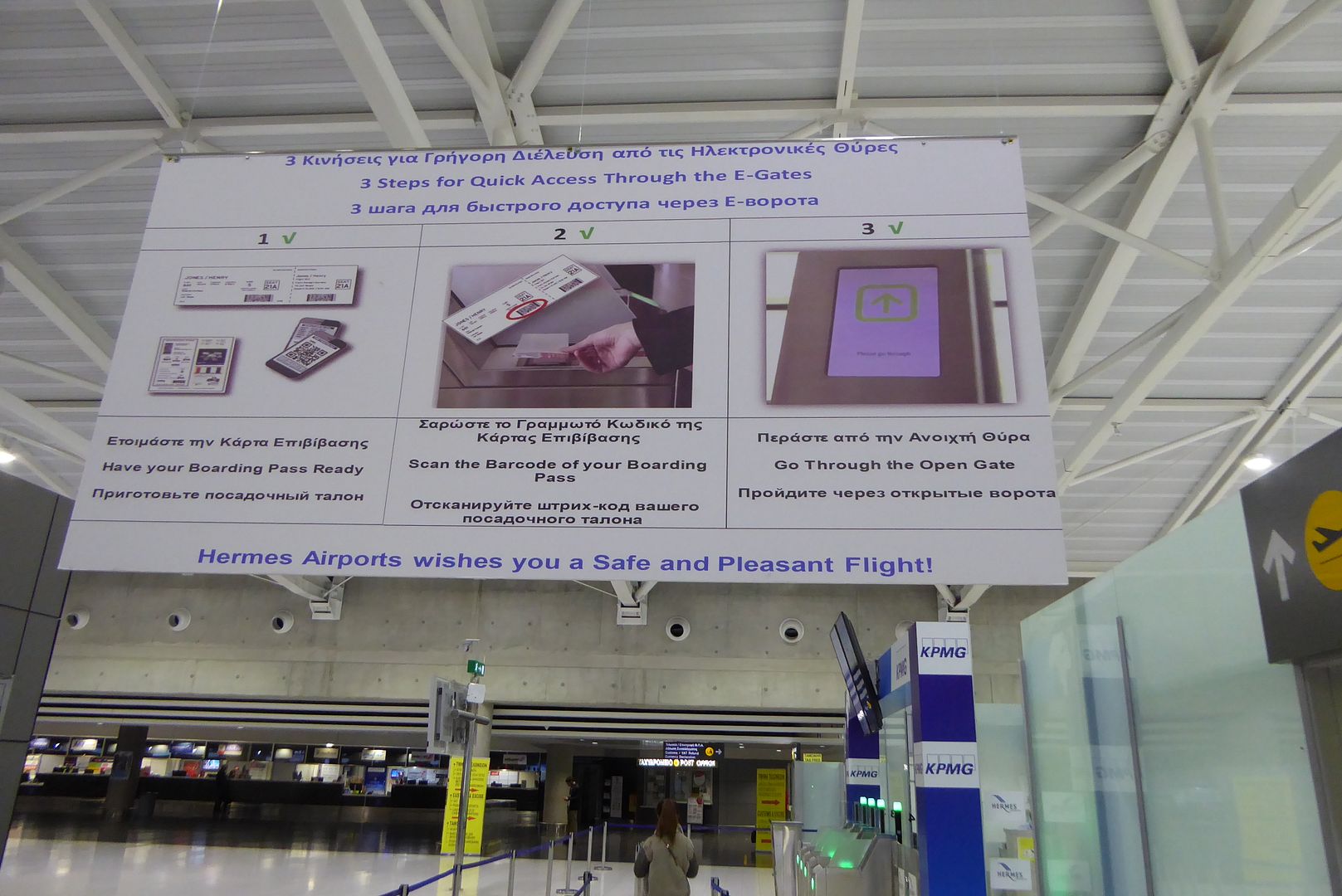 Thank you, Sir.!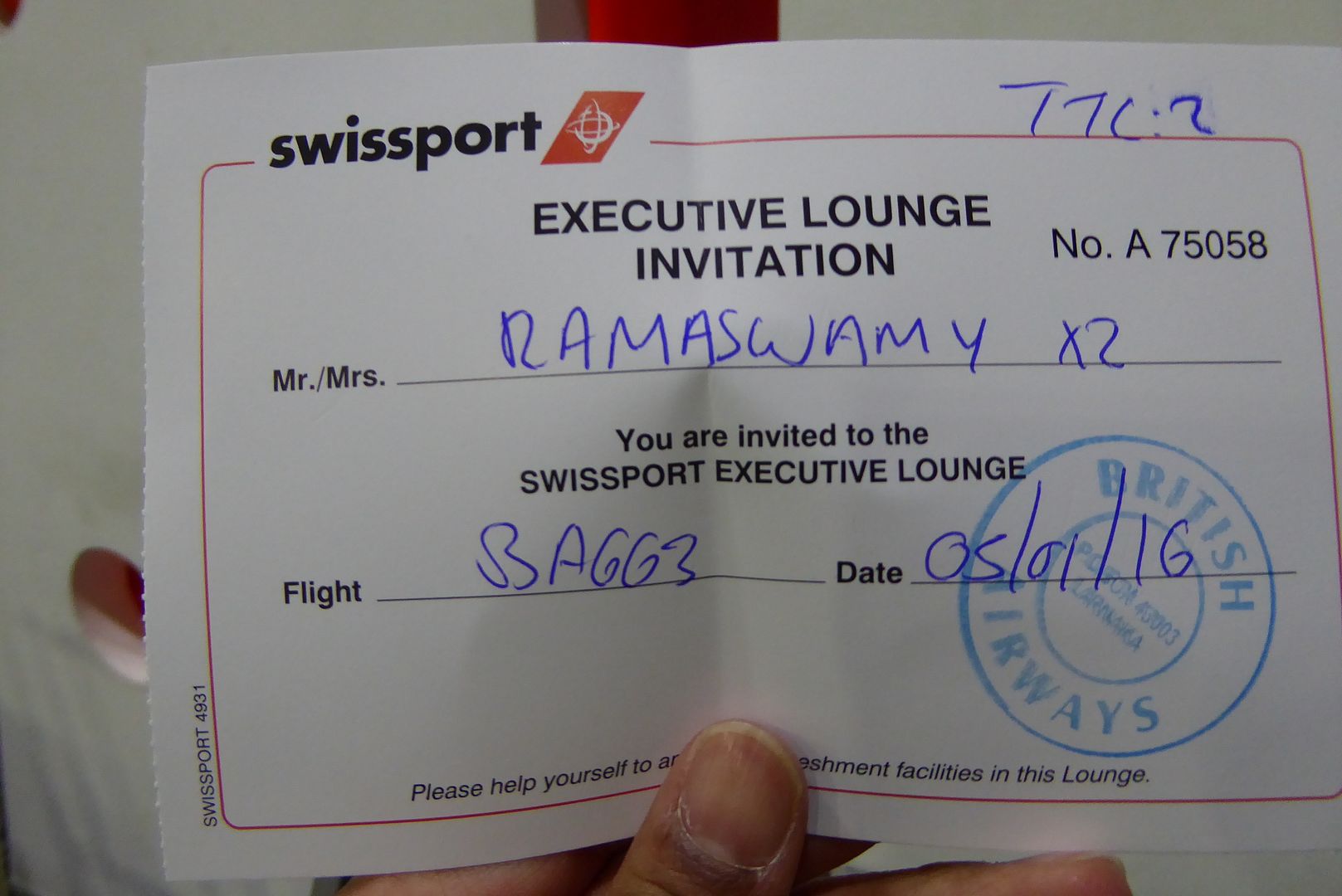 Larnaca Airside - Duty Free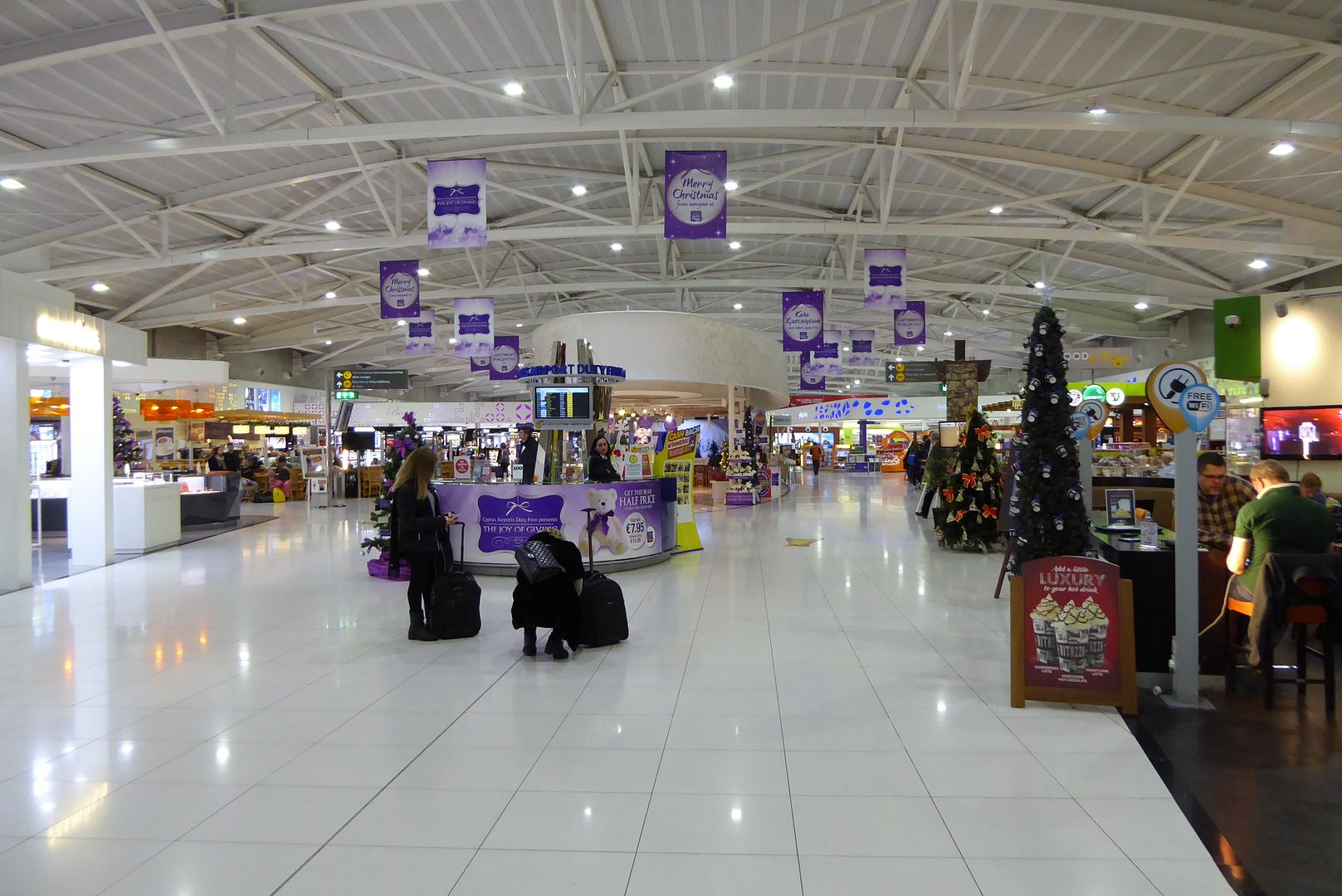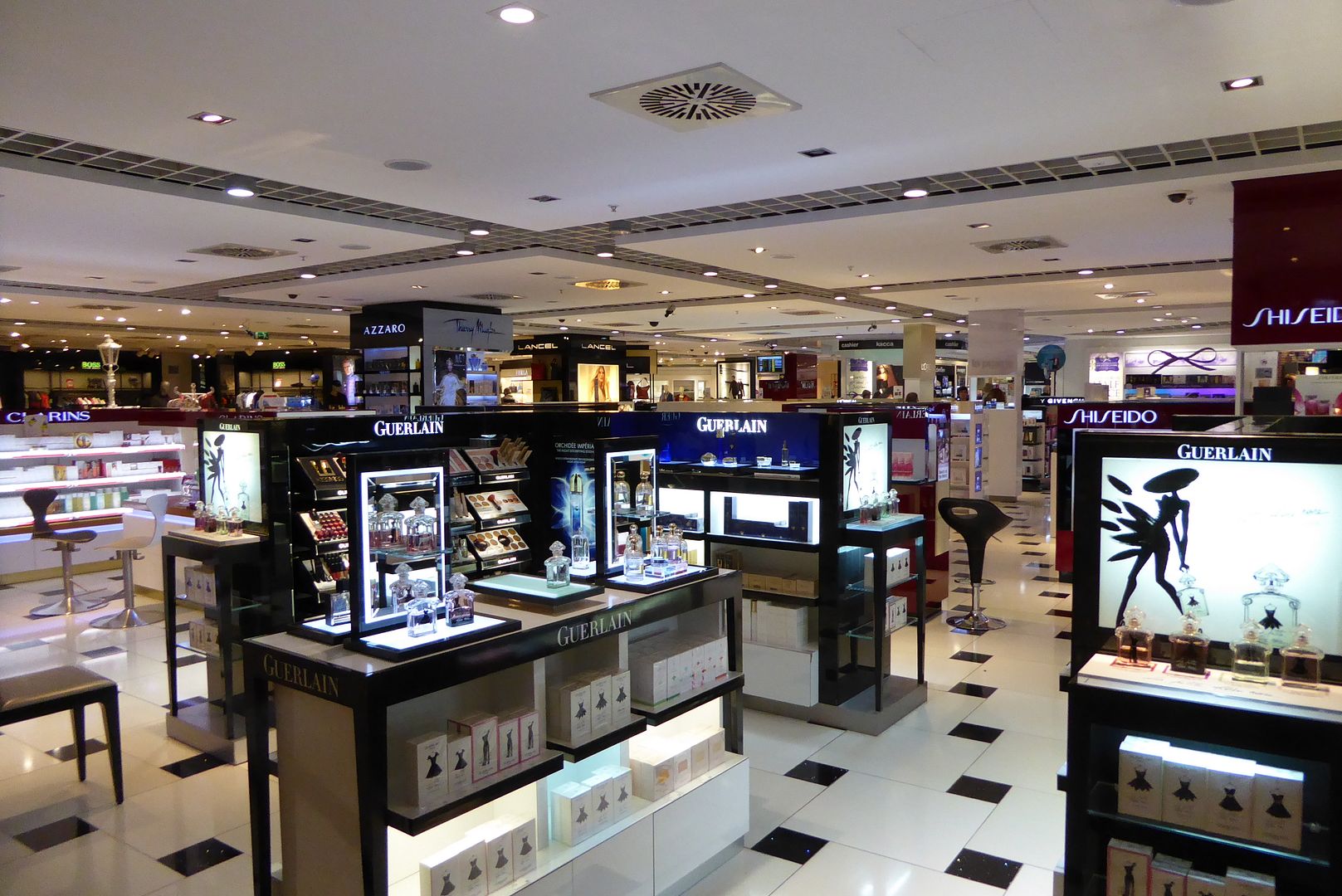 Swissport Lounge
Lounge Entrance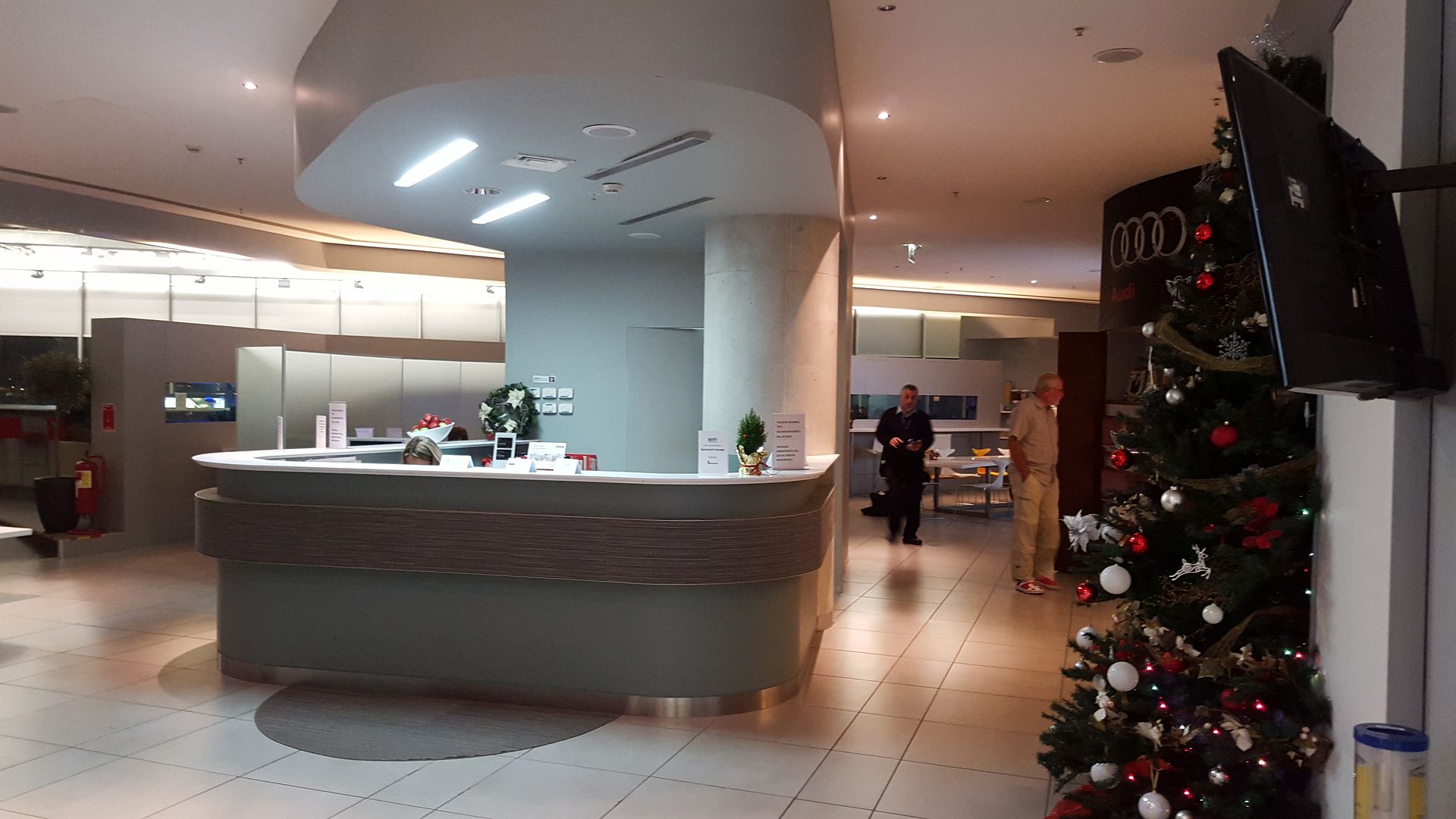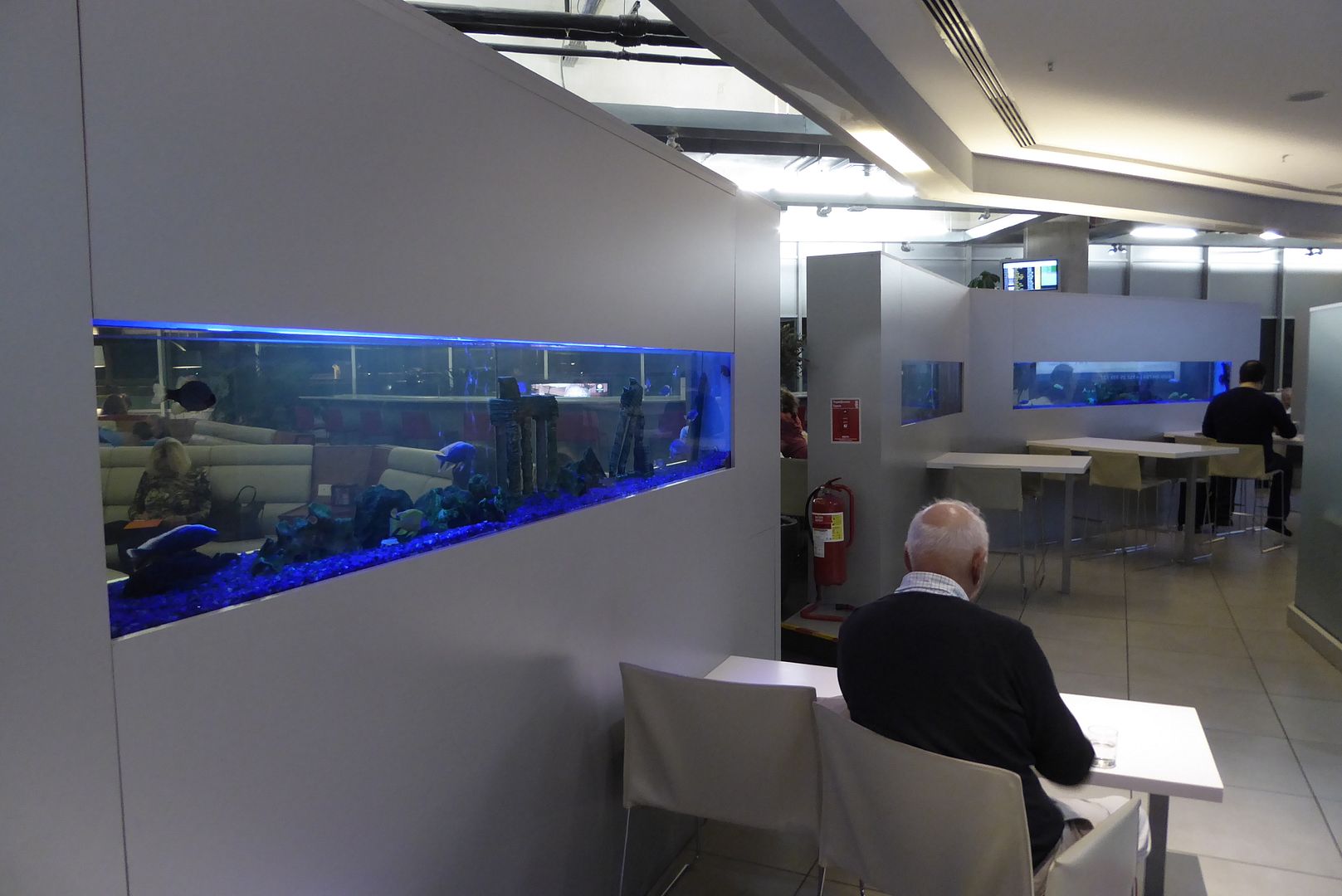 Interestingly they have terrace area, and i was right on time to see G-BNWZ park at the gates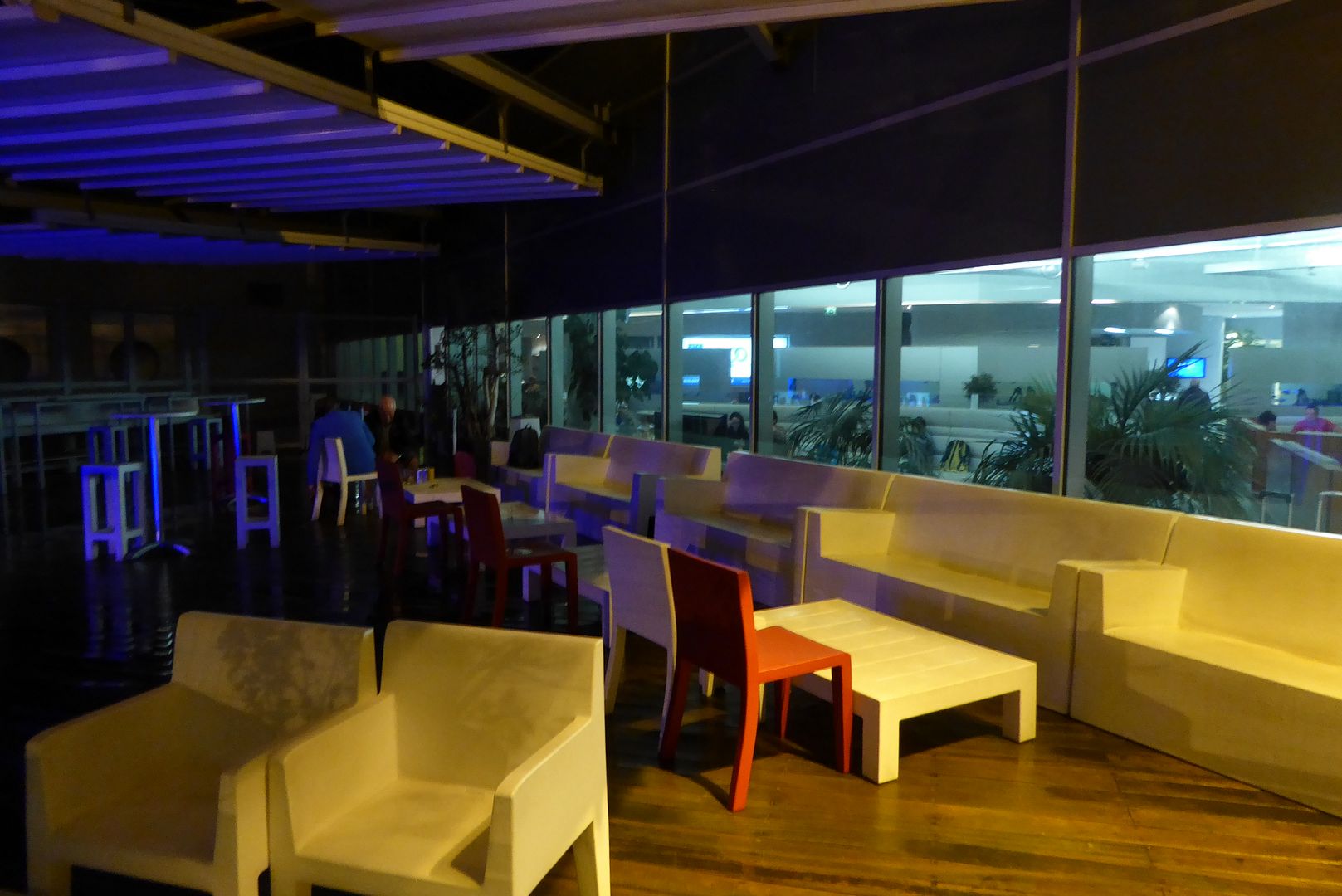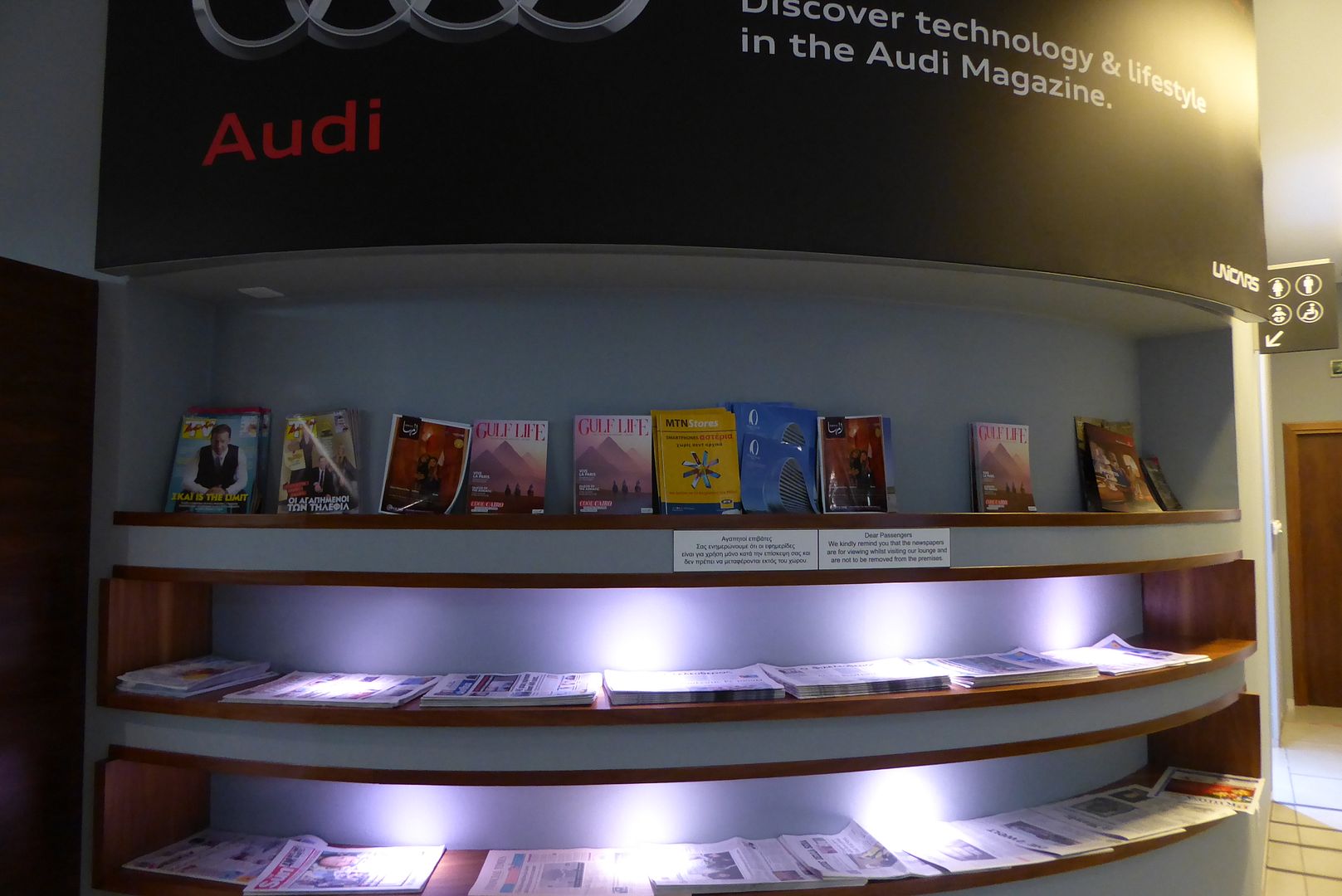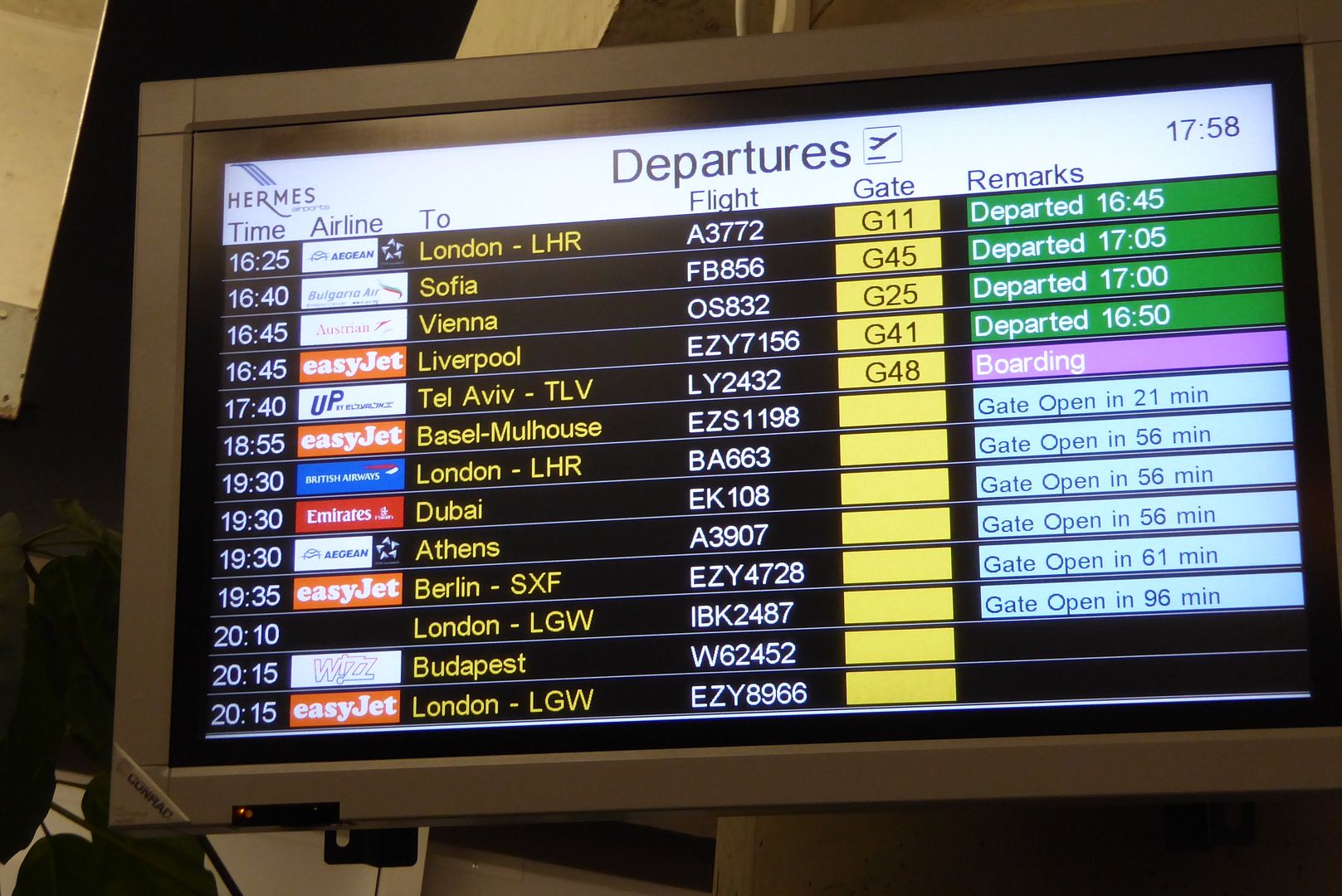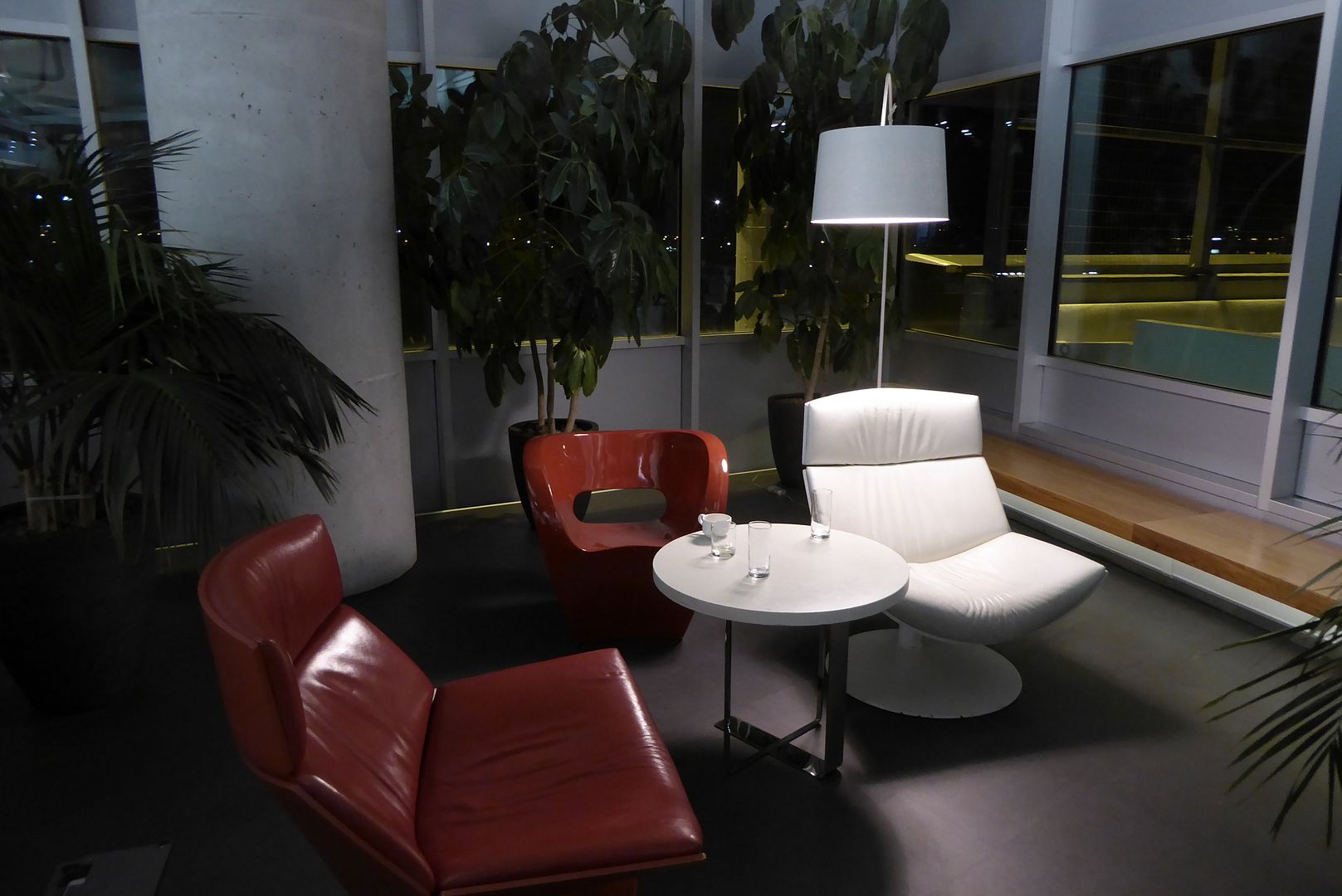 Decent spread on offer at the lounge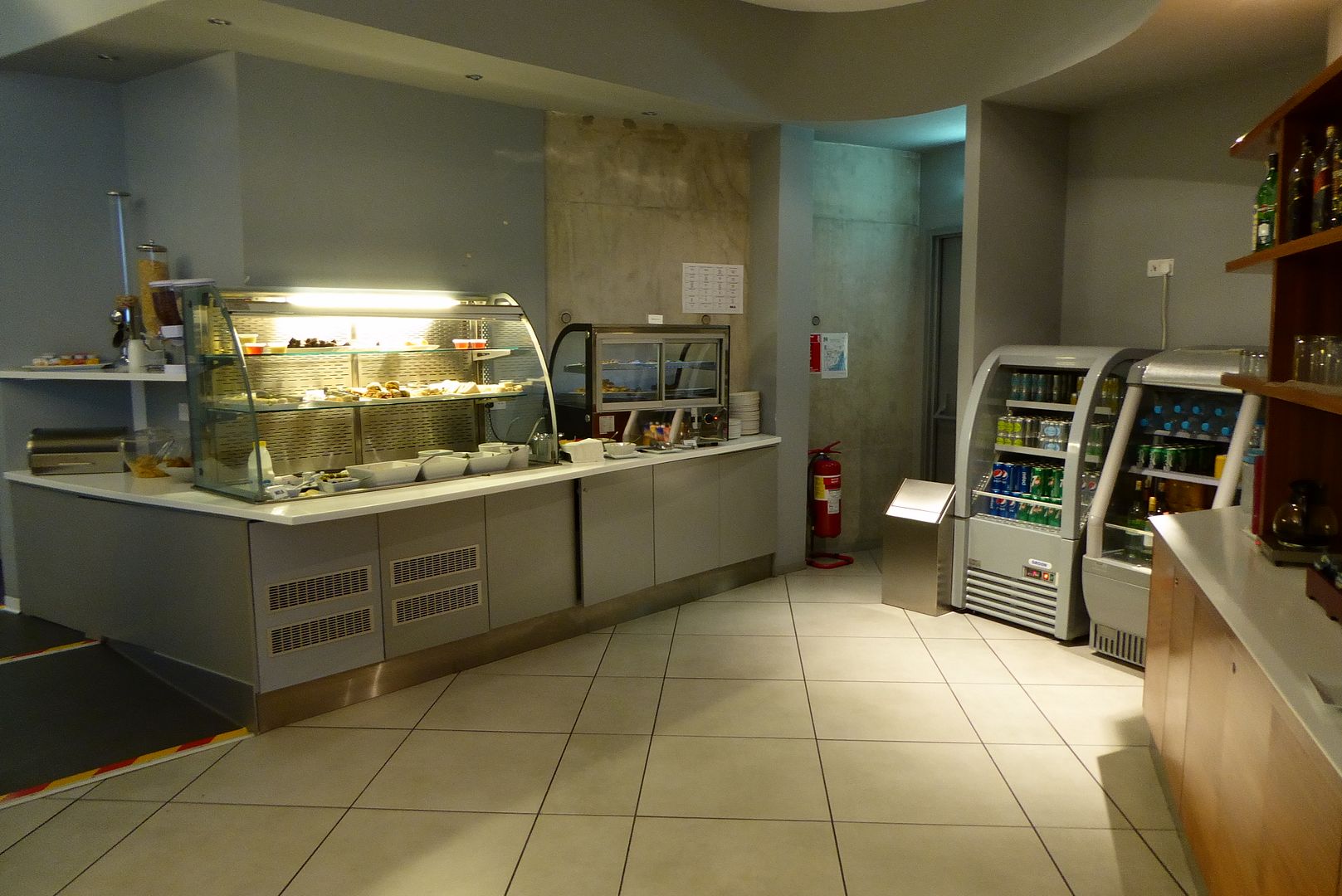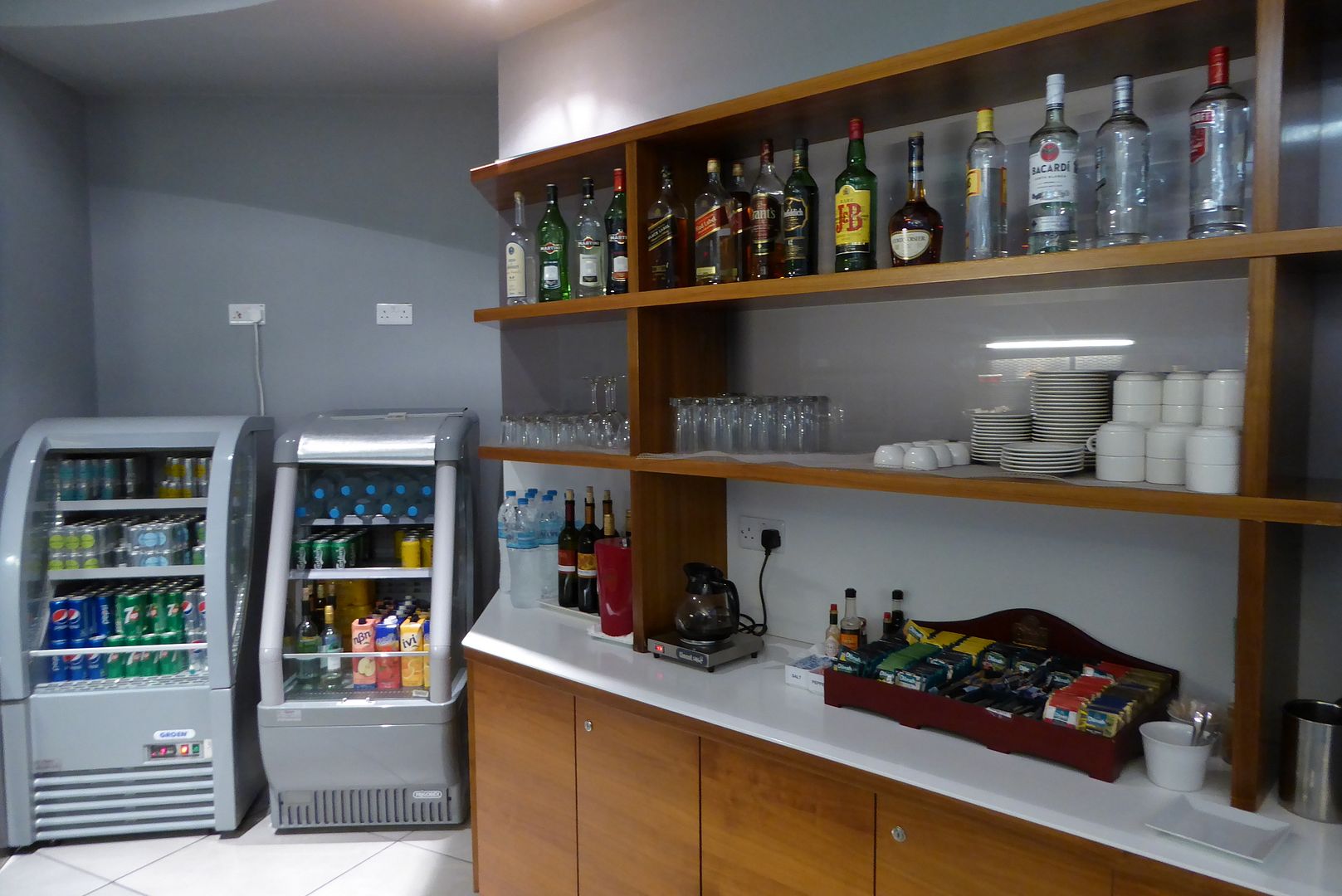 Massage chairs, anyone? This looked like an afterthought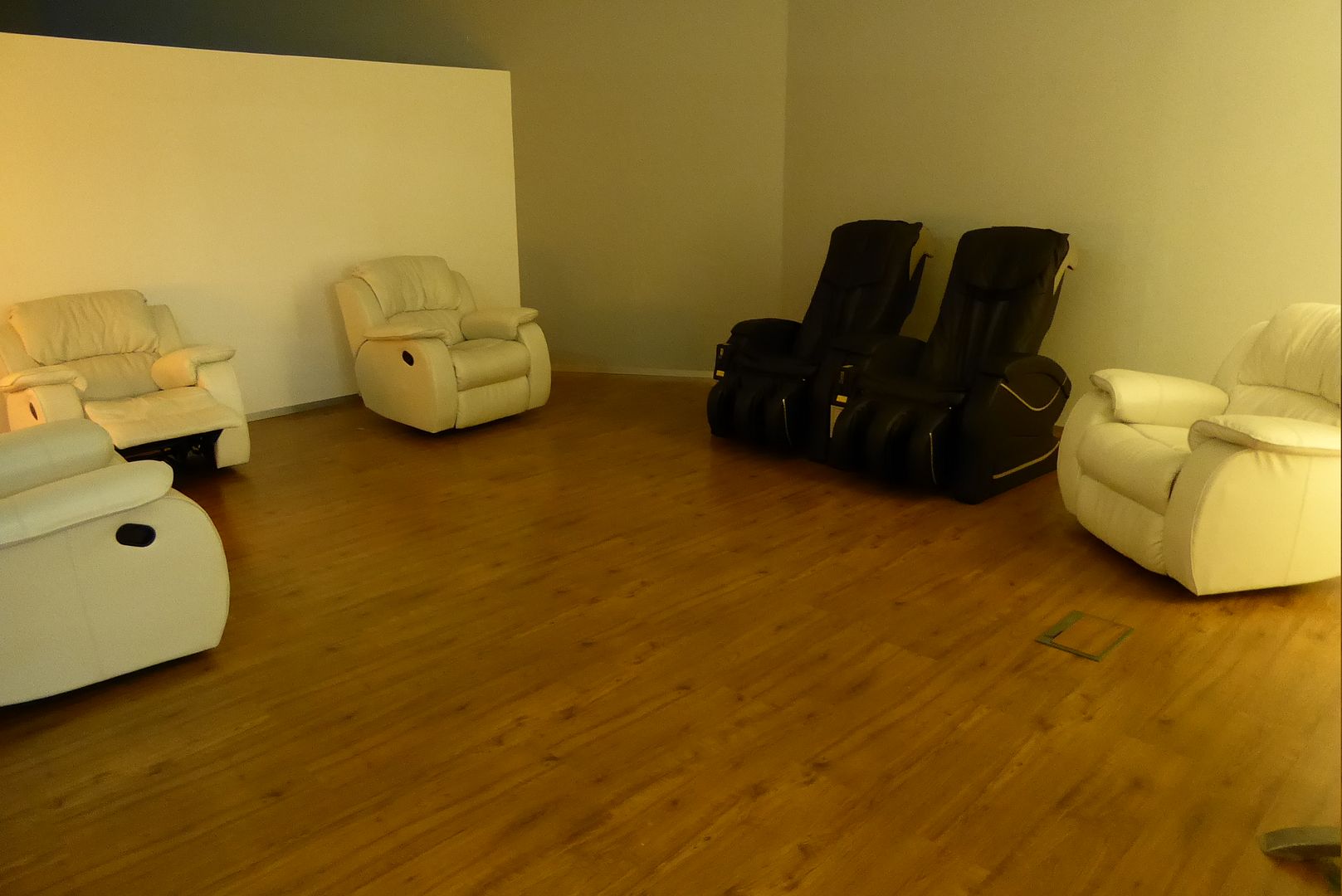 Boarding Process
There was a separate gate for club Europe travelers. But wasn't mentioned anywhere in the FIDS. We just saw it as we were walking to our gate, 44. Boarding commenced 30 minutes before scheduled departure.
During boarding, a traveler's worst night mare - two kids , one around 2 years around next the other an infant, just behind our seat. Bless them. And they were not a happy bunch. This is going to be an interesting flight, at least not an quiet one.
Boarding time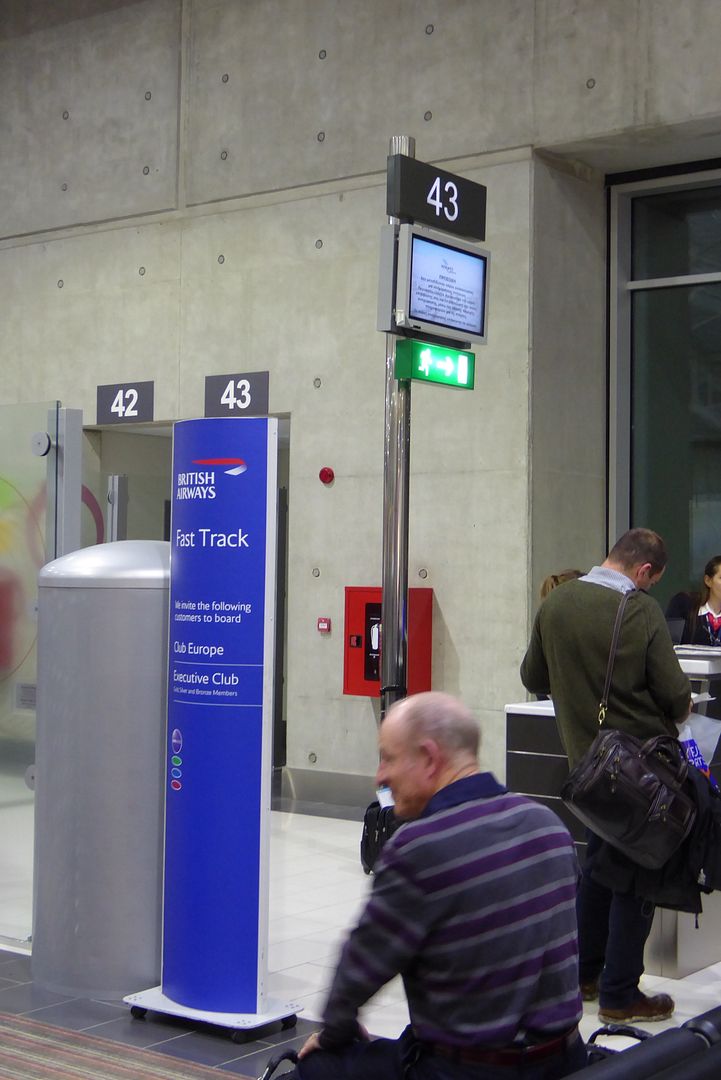 Flight route of G-BNWZ
First impressions/Hard product/Aircraft Interiors
The aircraft looked it's age - 18 years. Although it was clean and no complaints there. It was a full flight for this sector to Heathrow.
That being said, no AVOD on a 5 hour flight, on a business class seat, in this day and age is quite unacceptable. the cabin looked a bit gloomy and a stark contrast to the bright, new interiors of Aegean for our onward journey to Greece
No amenity kit on this sector.
Seating/Bed
I would've preferred a flat/angled bed for this sector, but hey ho, the seats weren't bad. But cannot be deemed as a business class seat, premium economy at best. I would be gutted to spend my own money for a full fare club Europe sector on this flight.
On board G-BNWZ
Our seats, Row 3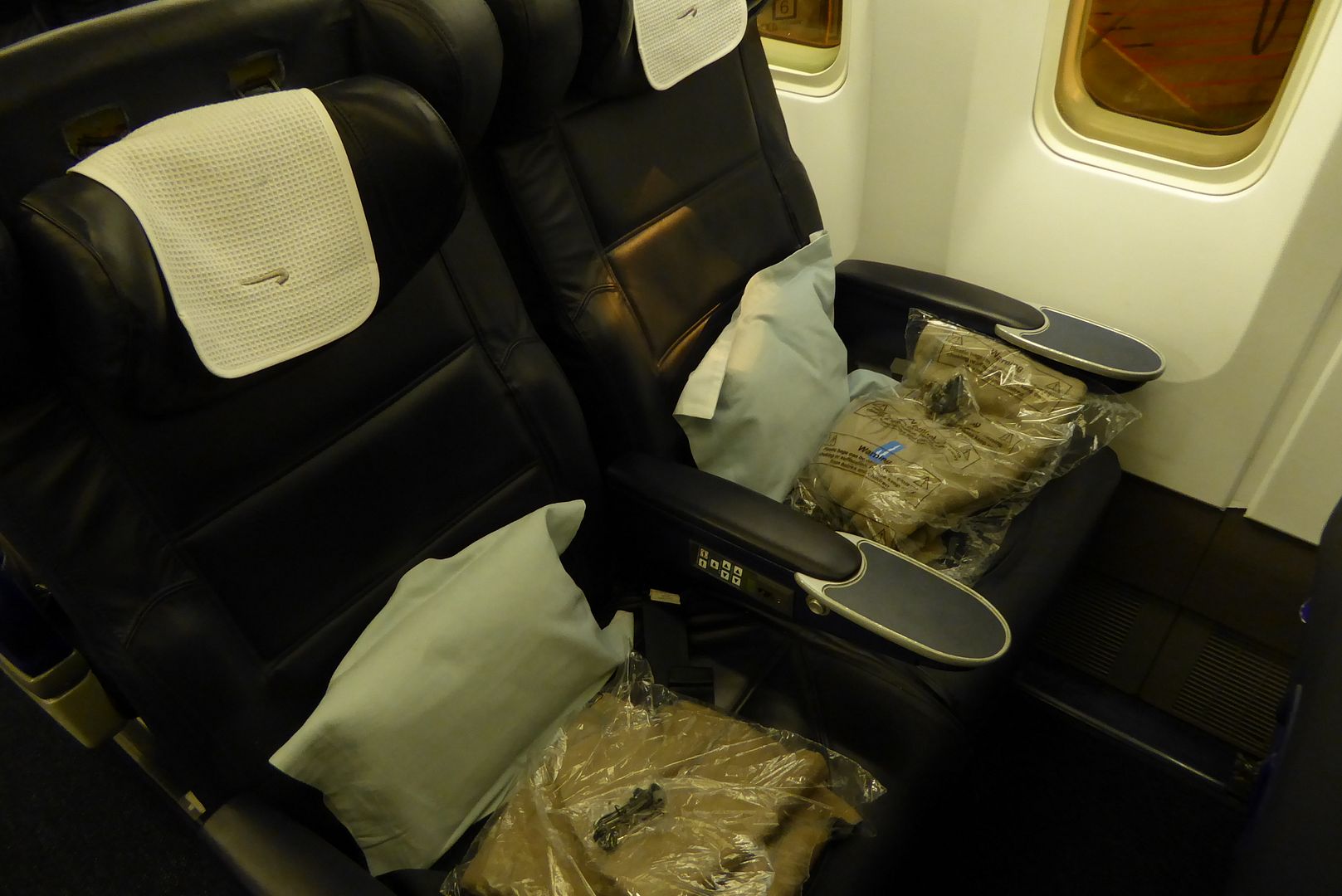 Club Europe Cabin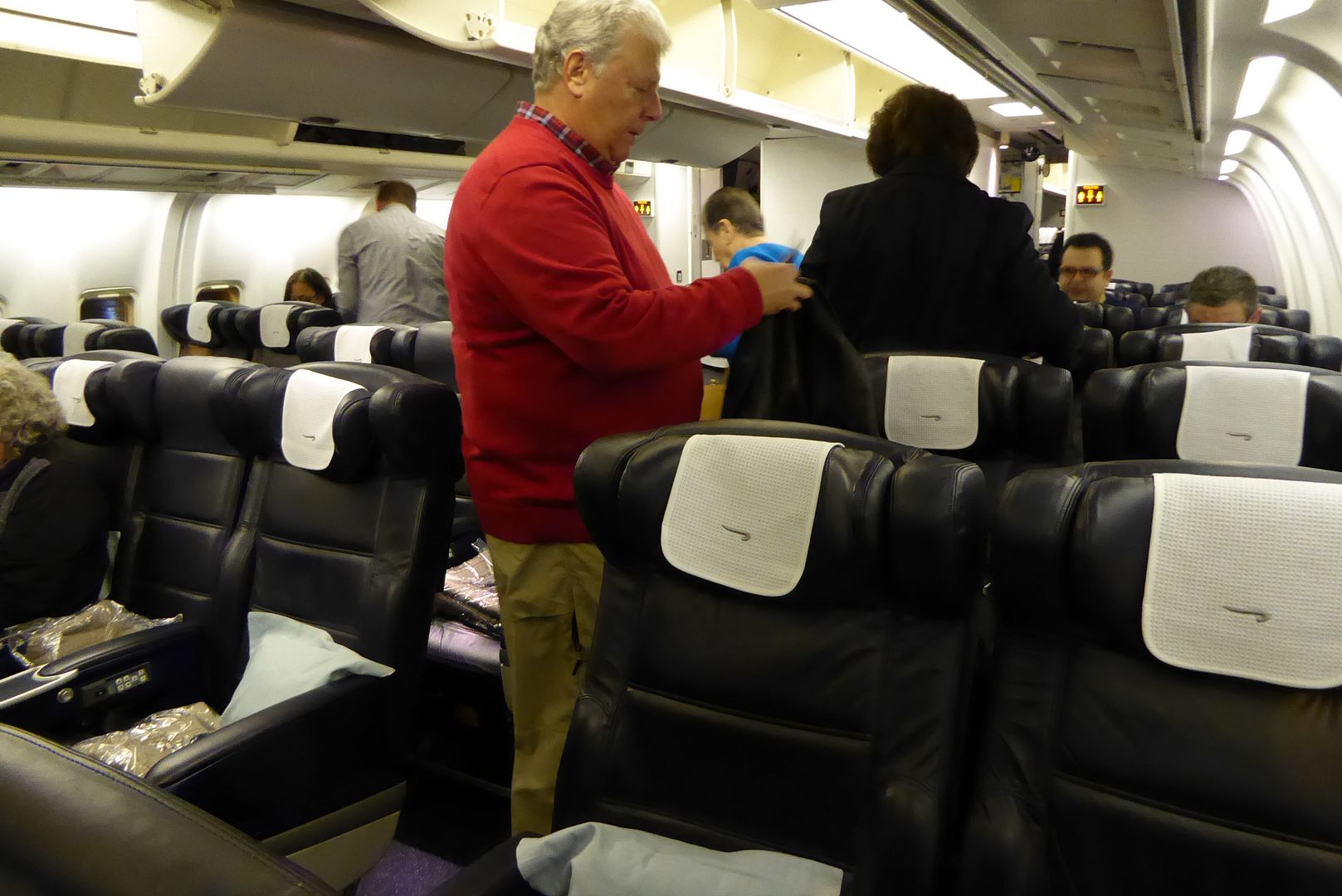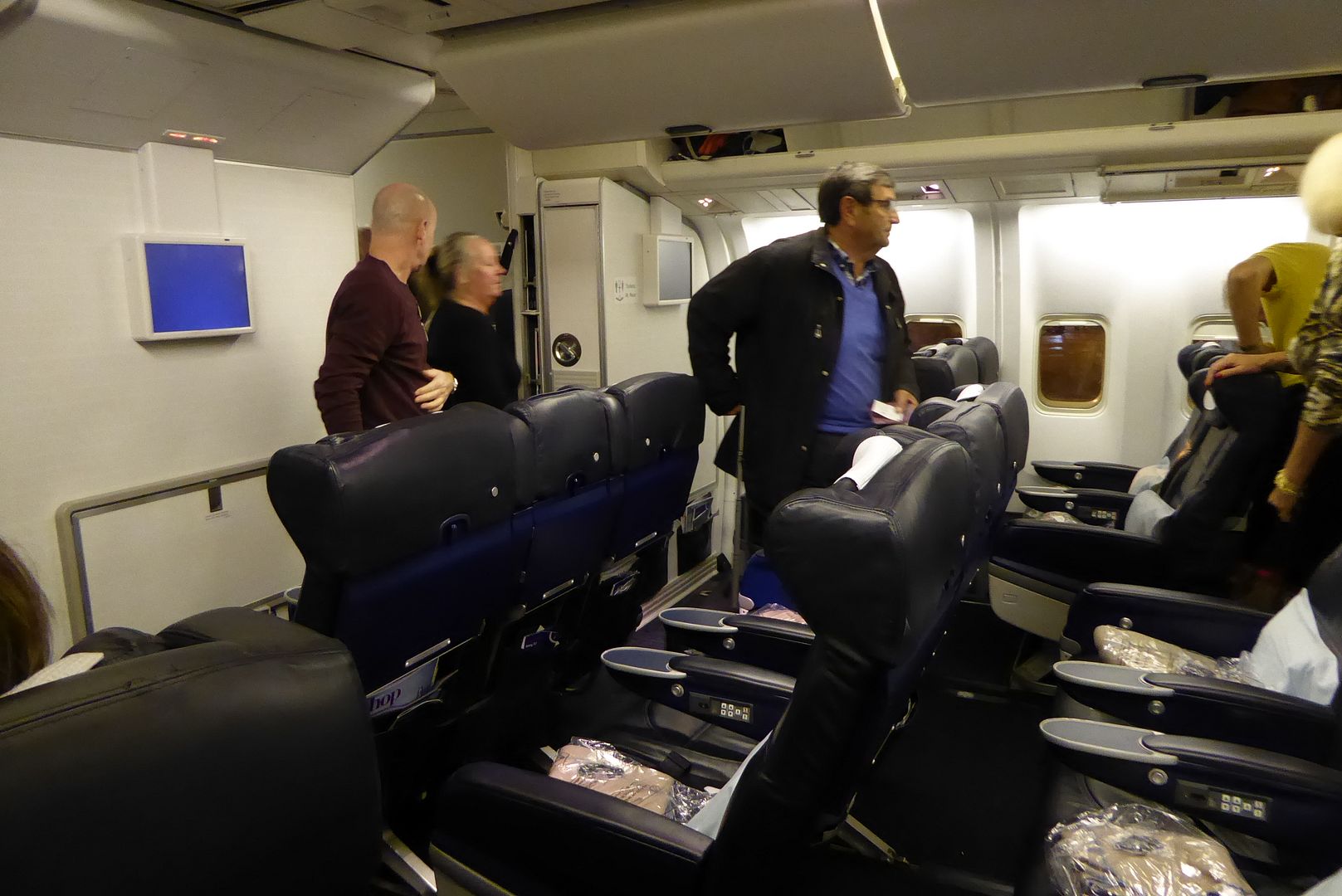 Poor leg space for a 5 hour flight, that too in Business. It was no better thatn Aegean's Economy seats
Familiar neighbour at LCA - Our ride from ATH to LCA, BLue Air YR-BAE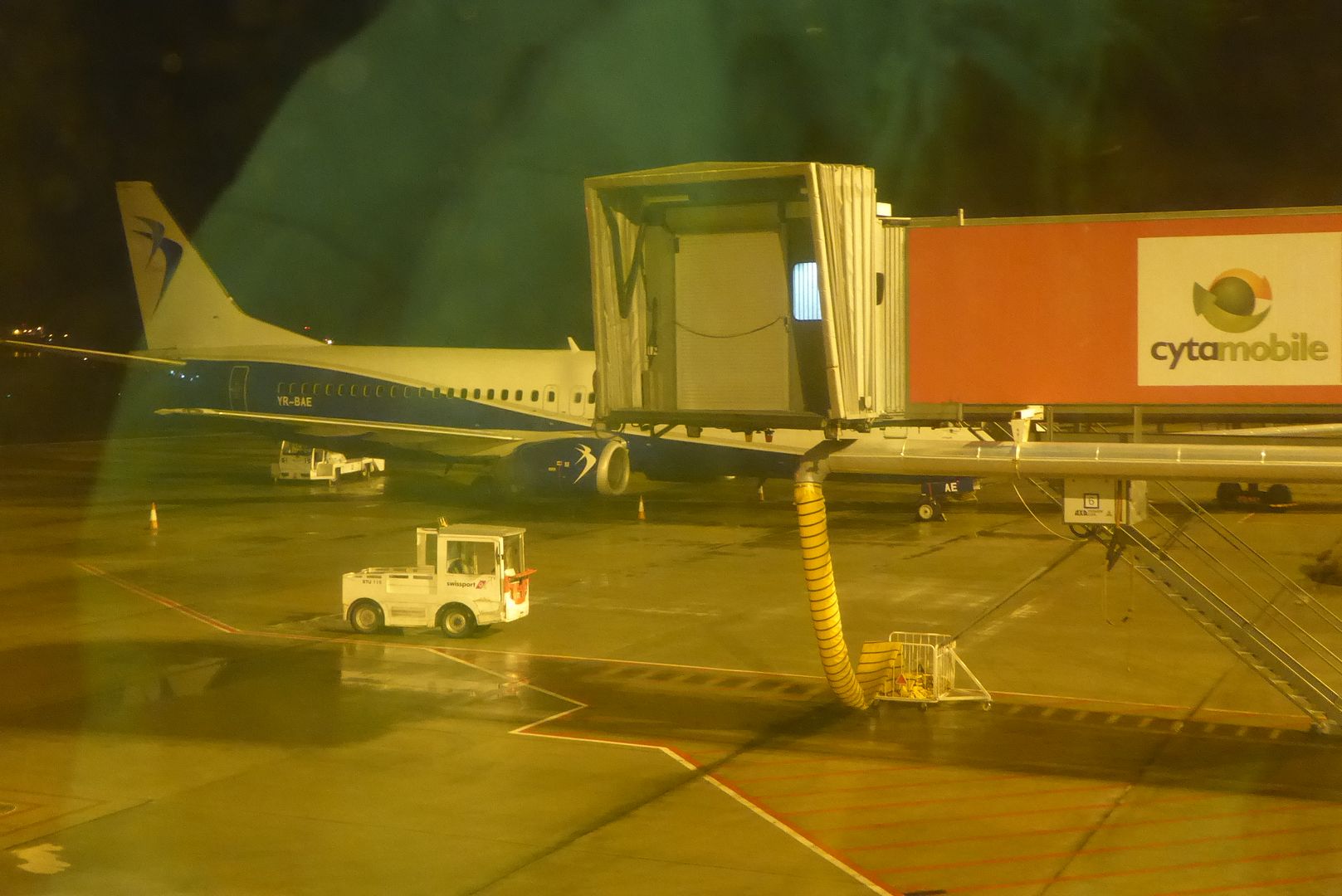 Reading material on board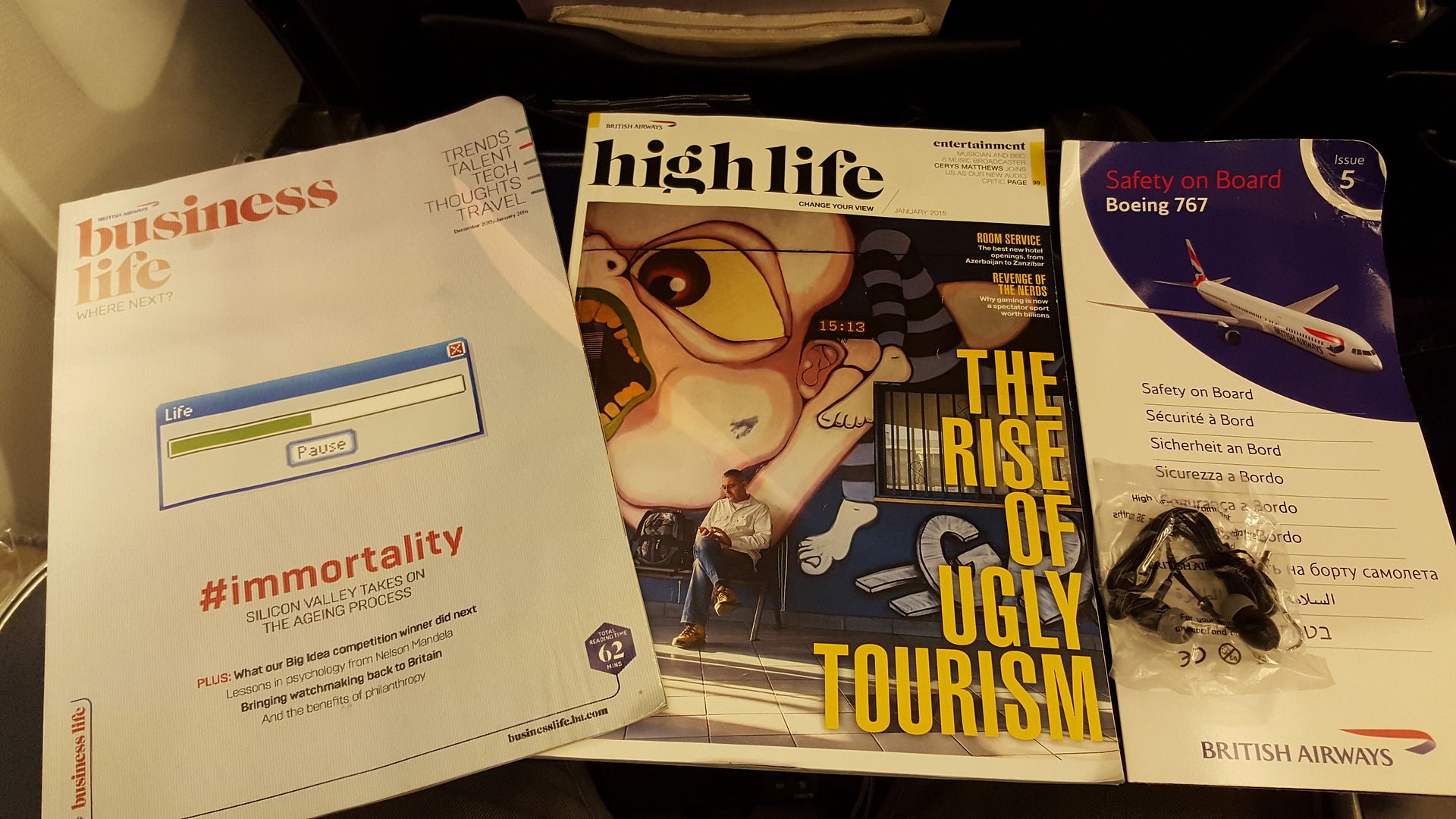 Cabin Crew/Captain announcements
Announcements from the captain is one thing that BA do exceedingly well. Well informed and just right. There were 8 crew on board today, the welcome was warm and courteous.
No welcome drink, though, on arrival, which was a shame. Warm towels served after take-off.
That being said the cabin crew serving us was phenomenal. Exactly what I would want from a cabin crew of a top airline. No task was too difficult and always, always served with a smile. She was one of the more experienced crew and you could tell. Kudos to her and the team.
F&B
Drinks round within 25 minutes after take-off. One of the best bloody Mary I've had in a very long time.
30 minutes from the drinks round food was served. The options consisted of cod and rice or spinach with chicken.
The food tasted very good and it was accompanied well with another glass of bloody Mary.
One of the best/well prepared/spicy Bloody mary's i've had in a very long time
Chicken with Spinach - Tasted very good
Missus had the Cod with rice. She said it tasted good too.
Snacks cart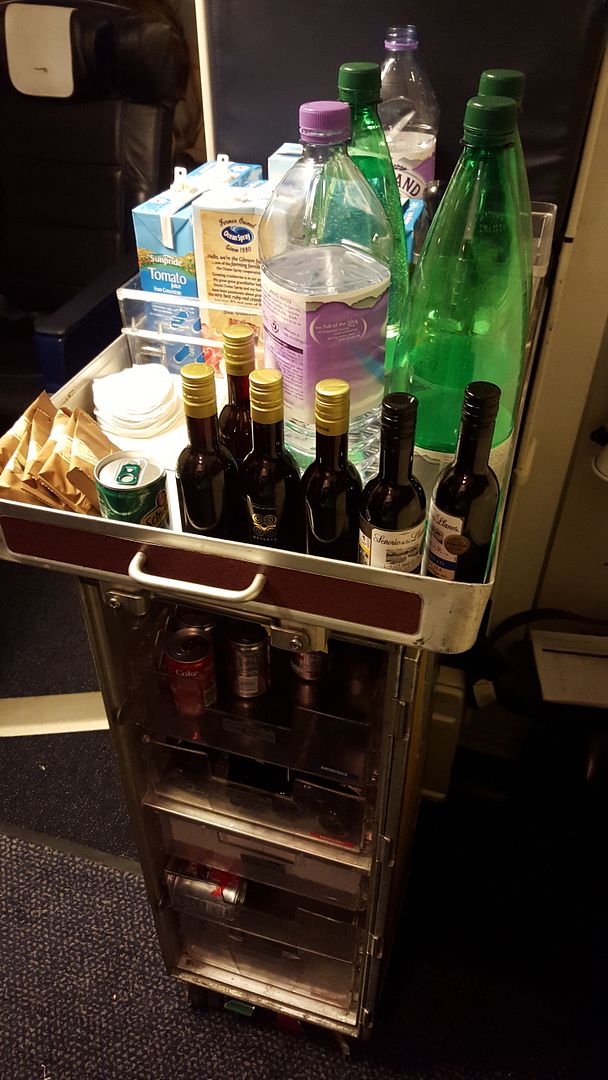 Entertainment
No in seat video which is quite unacceptable for a 5 hour flight, that too without any format form of personal media device, handed over, on a business class sector.
There were some documentaries followed by BBC news being played on the overhead monitors. This was then followed up with the 'The Intern'. A good fun flight movie.
Sacrilage! Shoddy earphones, Club Europe? Perhaps on RyanAir!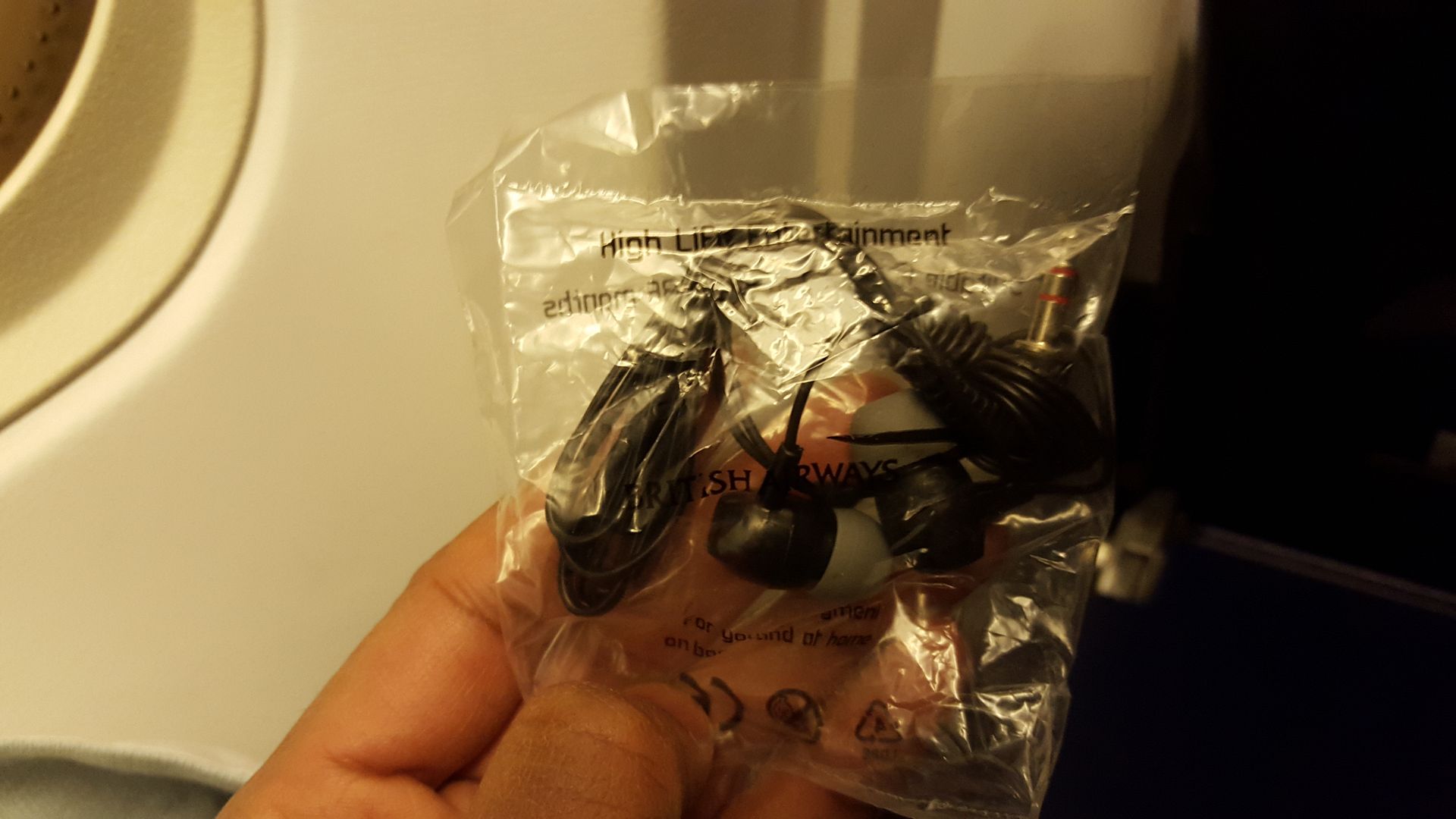 Entertainment for the day
On time Performance
Disembarked ahead of schedule, but lost time due to heavy head winds. Not too surprising, looking at the past trends and it seems to be normal on this route - an on time departure but late landing. BA should perhaps amend the block time for this sector.