Odyssey on Finnair A350-900XWB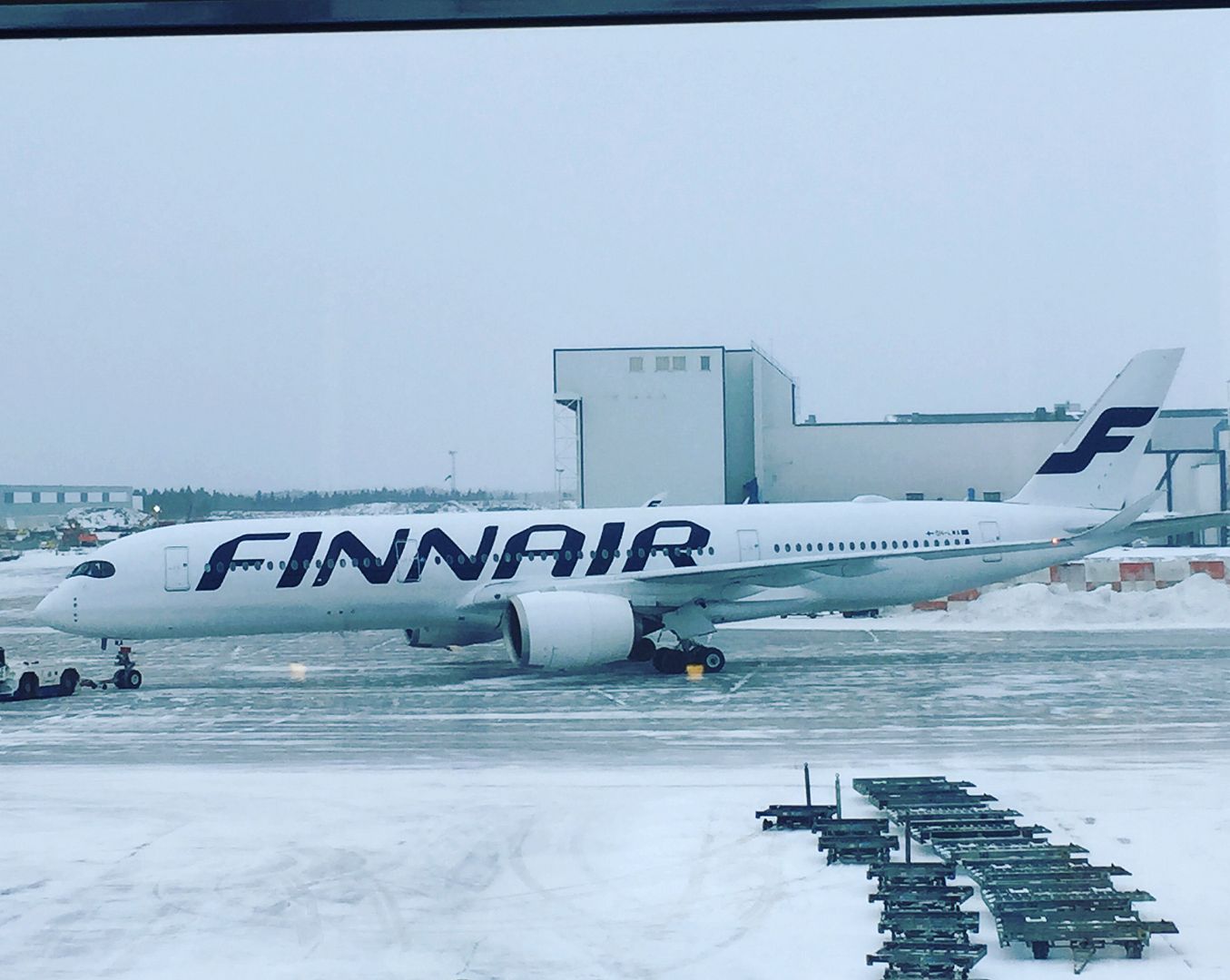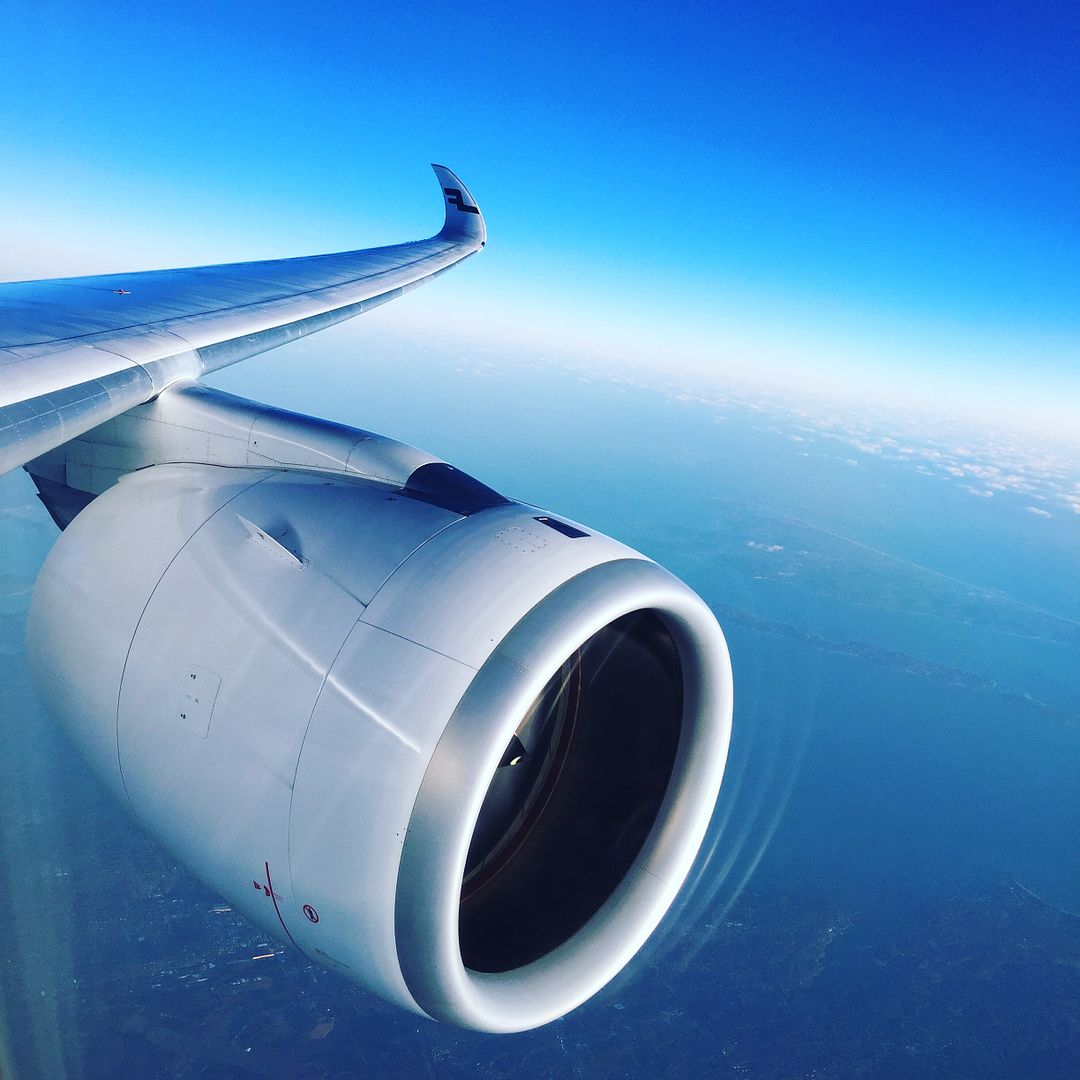 Finnair is the first A350 operator in Europe, and currently, A350 are being run on mainly Bangkok flights and Shanghai/Beijing flights, with a brief run in mid-January for its JFK flights. There are three other operators of A350s now – Qatar Airways, Vietnam Airlines, and Finnair. Finnair gives me the best price and schedule, and while Finnair is not a fancy carrier, it offers a consistent product both in the air and on the ground. I love its joint branding with Marimekko – cabin interior, upholstery, china, plates, pillow, bedding, amenity kit, and service folder. There are certain areas for improvement especially its ridiculously weak catering, but for an affordable business class ticket, Finnair provides a good product, especially when after flying an overnight transatlantic 787 flight on British Airways Club World. However, the most impressive aspect is the plane itself and A350s definitely earn its XWB badge, and the headroom/high ceiling is just unbelievable. I am a big fan of A350 now. For this trip report, I flew three A350 segments: HEL-BKK-HEL-JFK. I try to take as many pictures as possible, and since I am flying J, I also try to take some pictures in the back. Unfortunately both HEL-BKK-HEL are full 100% and HEL-JFK has a much lower load, but passengers spread out through the plane, so I never got the chance to sit at one of the Y seats.
Here is the full photo album for those, who are not interested in the written part!
http://s1213.photobucket.com/user/Ca...16/Finnair%20A350%20January%202016
January 10, 2016; Sunday
AY 89 HEL-BKK Lv1700 Arr0725+1 Airbus A350-900 OH-LWA
Flight Plan for AY 89 – I love the new display and your voucher for free wifi in J is also displayed – each seat has a different voucher – Finnair offers wifi on all the A350 flights, and the day pass costs 15EUR, but it is free for business class. Each seat features a different voucher for you to use, and the voucher is only good for one device. But you can login and logoff in one device, and then use it on another device by logging in again. The system worked pretty well on all the flights, except the BKK-HEL segment, in which it took a while for the voucher code to work. The speed was acceptable – not lighting fast of course, but you can do basic social media things. Text is fine.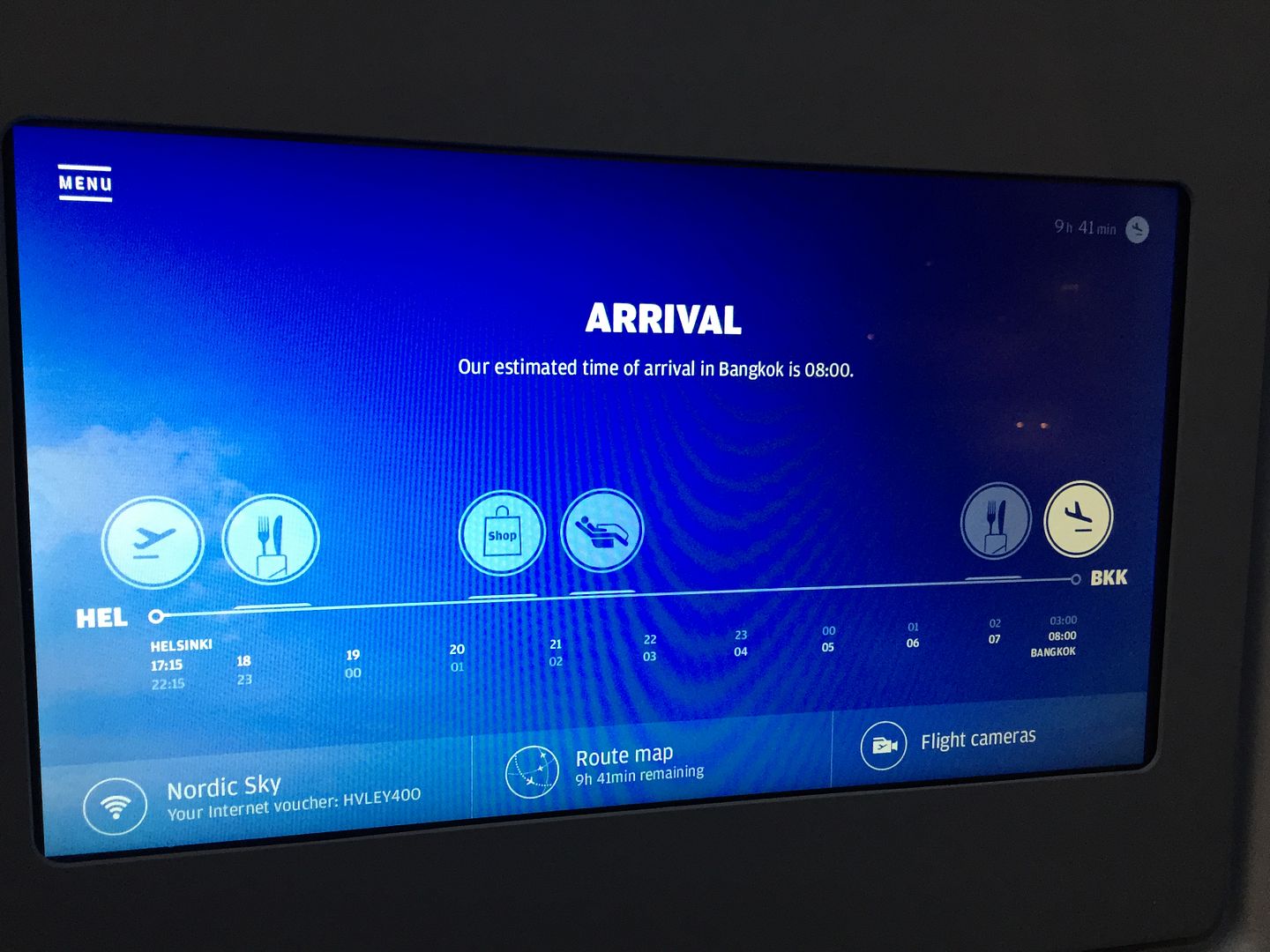 After arriving from London Heathrow on AY 832 on OH-LQB, an Airbus A340-300, I headed straight to the Finnair's Premium lounge, which is fairly crowded. It got worst, as the day progressed especially in the middle of the late afternoon Asian rush. There were passengers, who had to stand, and given how AY continues to expand, they need more lounge spaces.
A few shots of the business class cabin on the A340-300, which will give you some comparison with A350: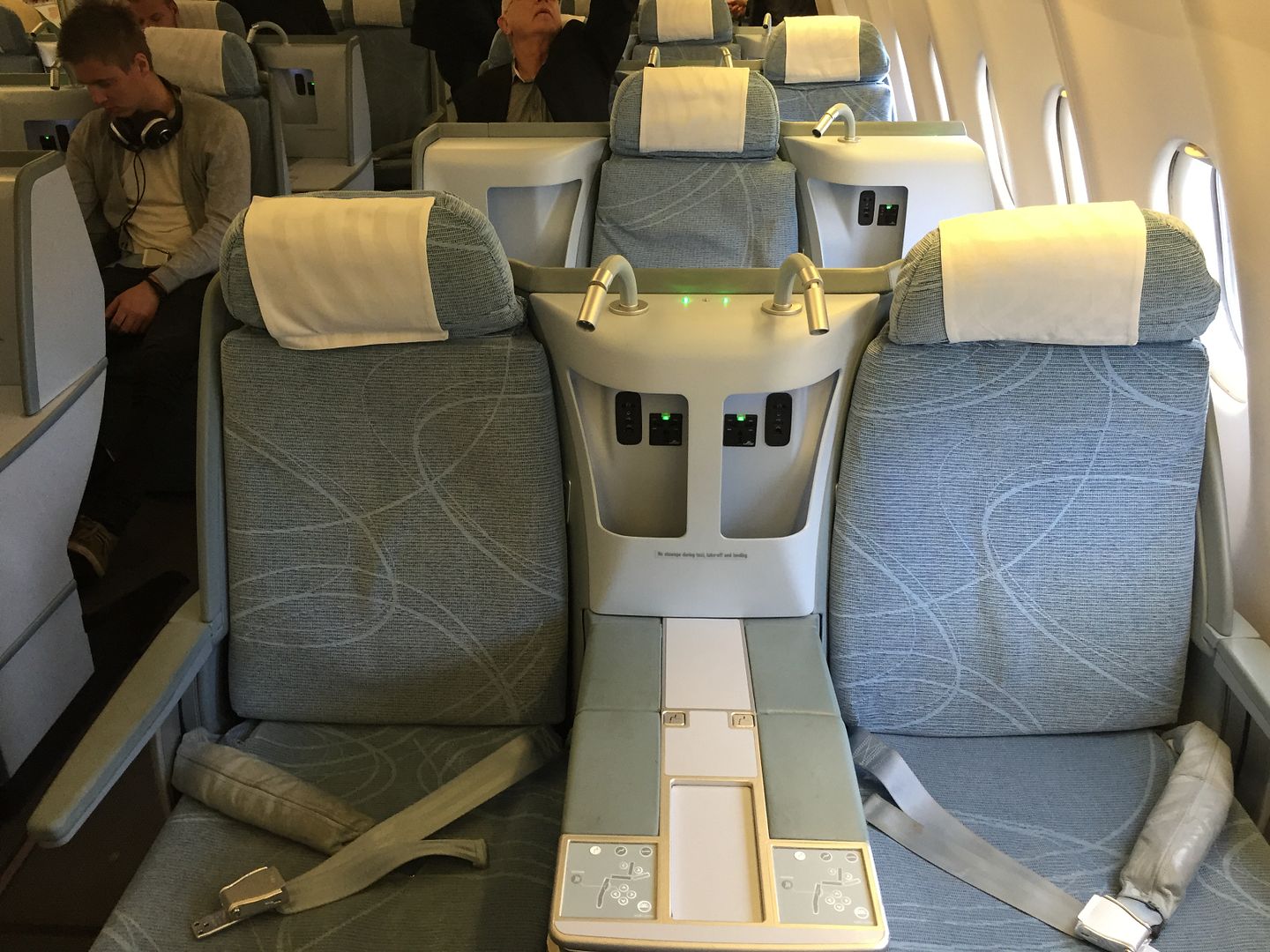 Not really bad feet space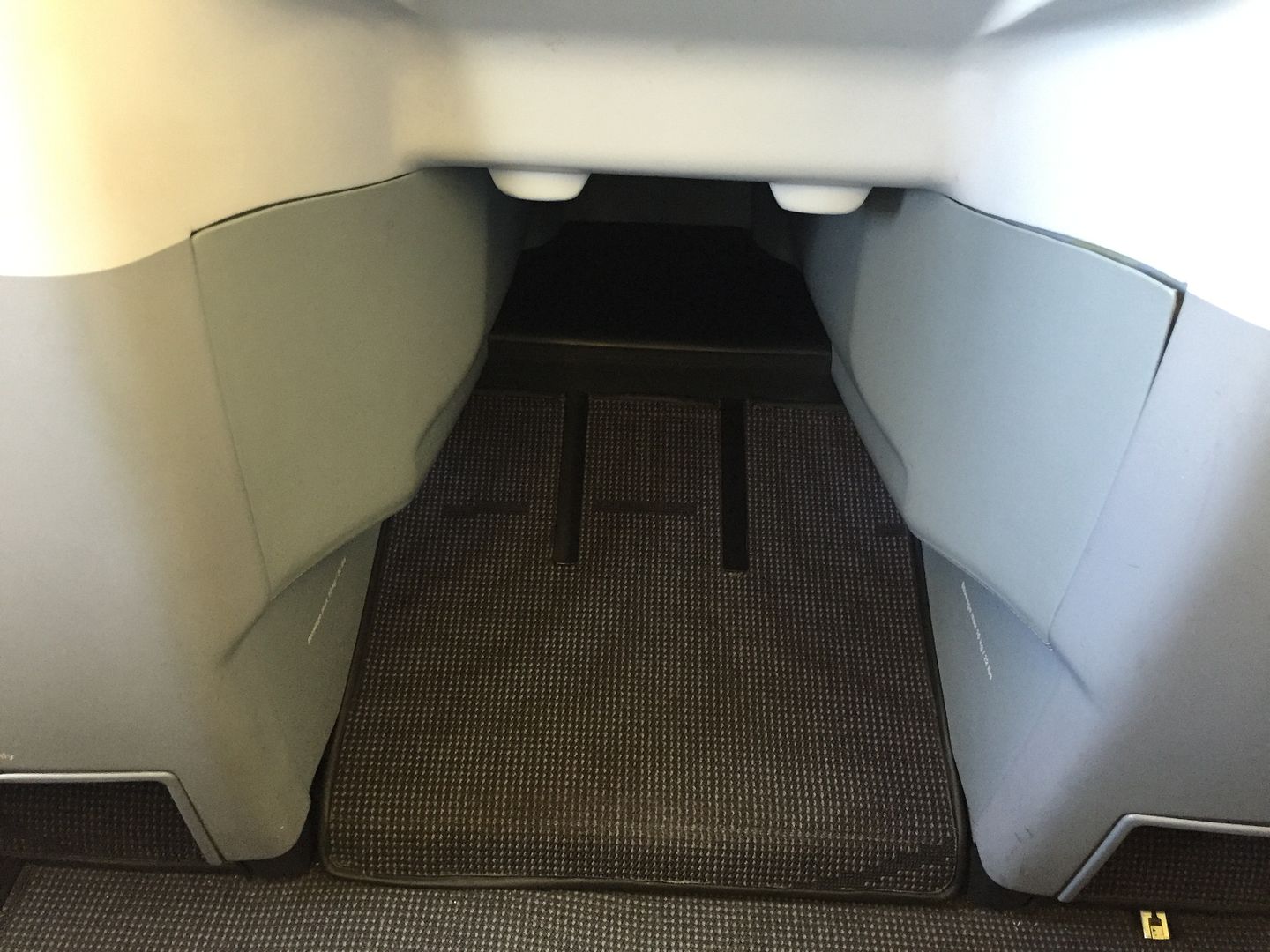 Lack luster intra-European Finnair meal – fancy printed menu, but need more substances and will it hurt to serve a real dessert, not some packaged bun? Not to mention an additional fruit or cheese plate!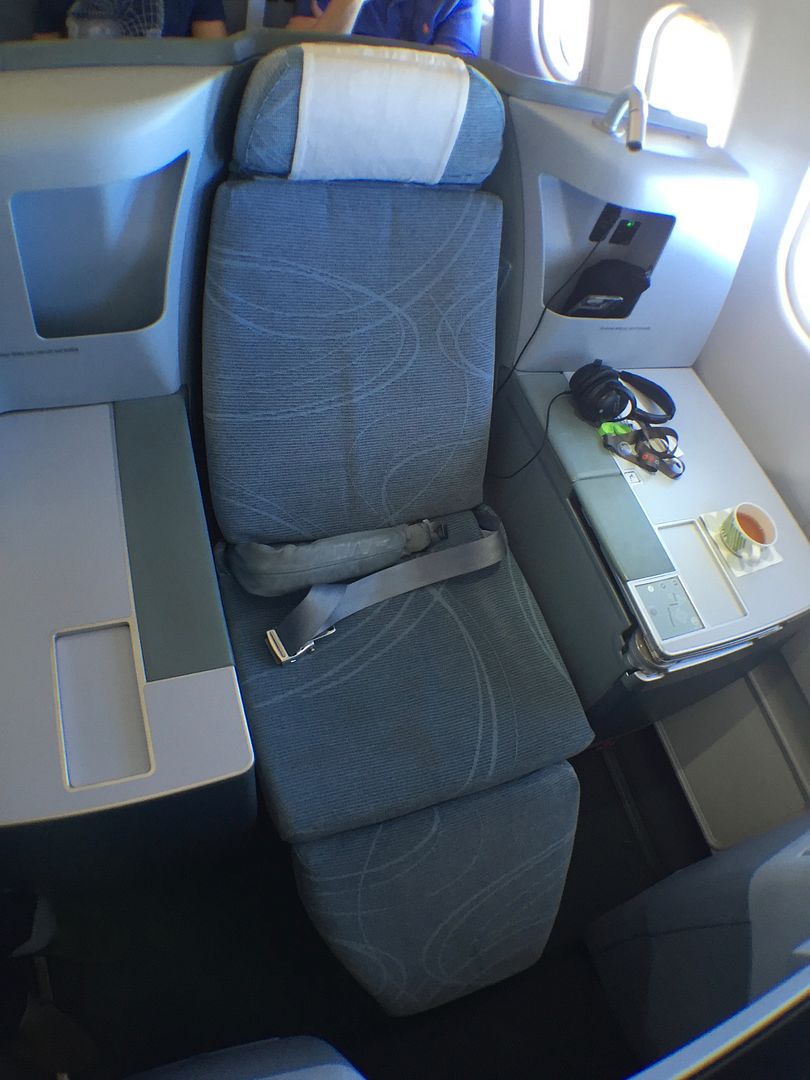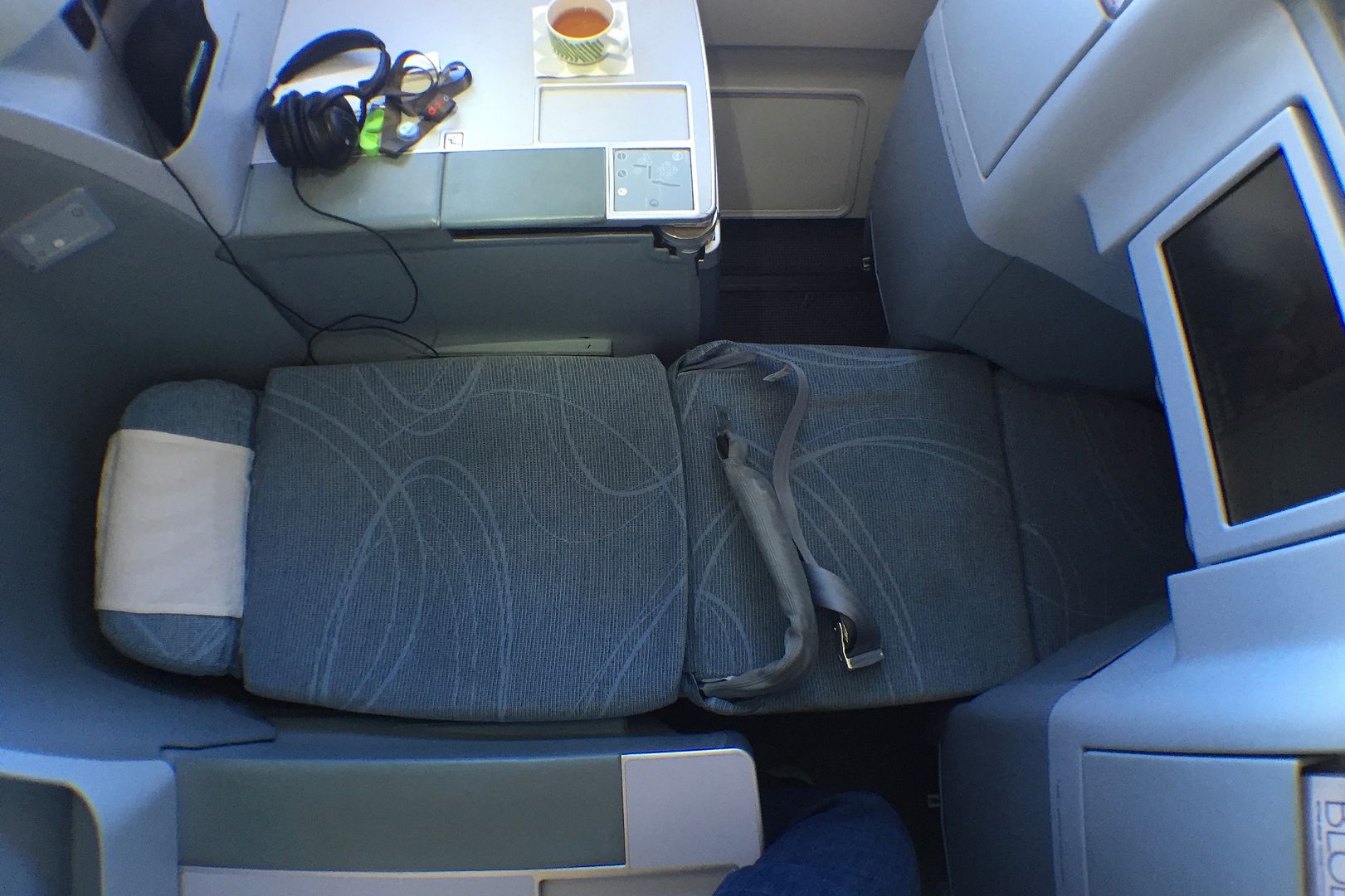 Despite the plane arrived early from Beijing, boarding did not begin till 4:36pm at Gate 32. A note about the terminal – there are much construction going around and seats are in short supply. I hope the Vantaa airport authority is aware of the problem, and things will improve after the renovation is over. There is a separate priority and economy class boarding lanes, and the agents are very good in enforcing the order of boarding.
I manage to snap a picture of the empty J min-cabin after door 2 – better pictures on my last leg
Main J section between Door 1 and 2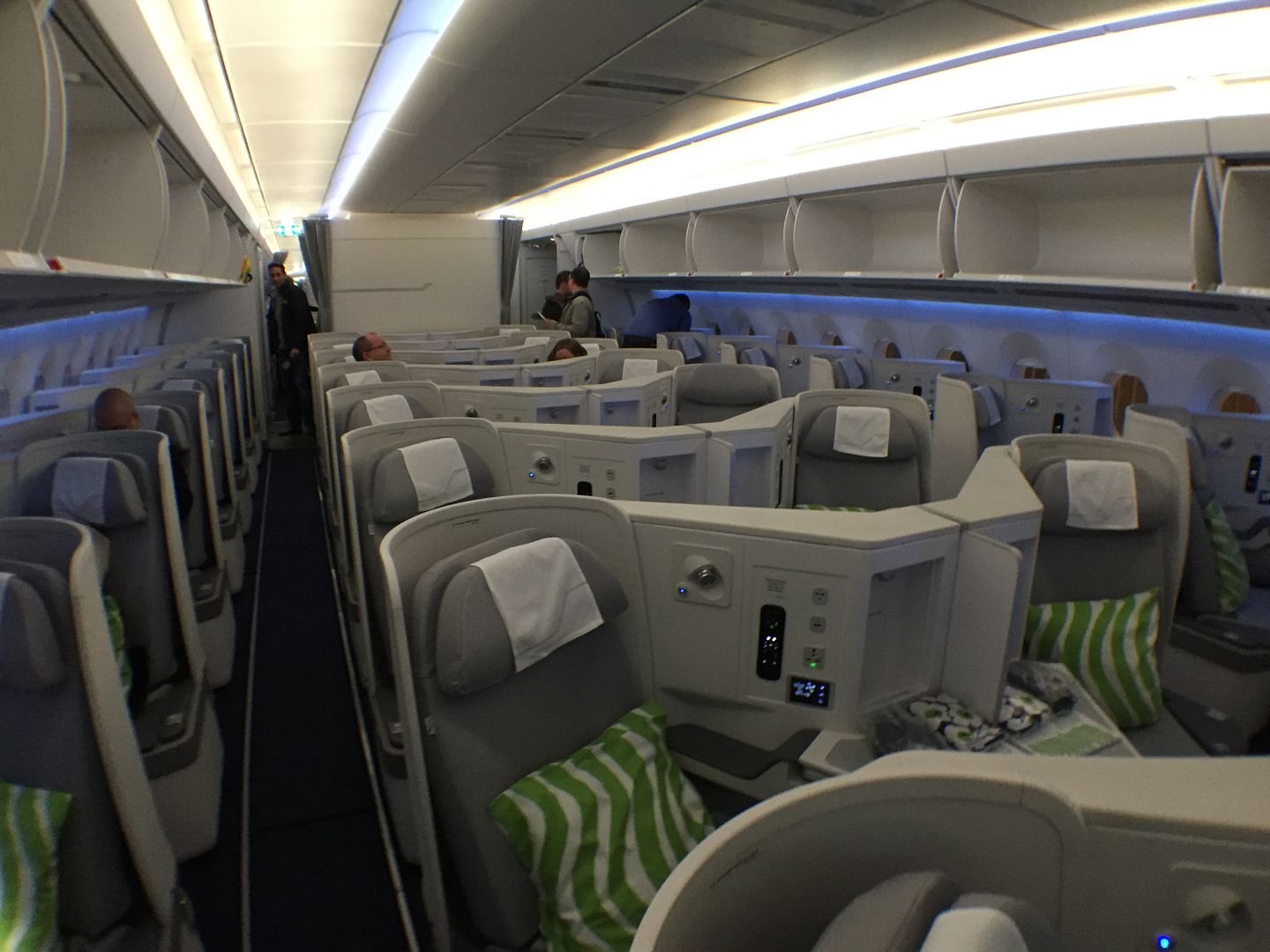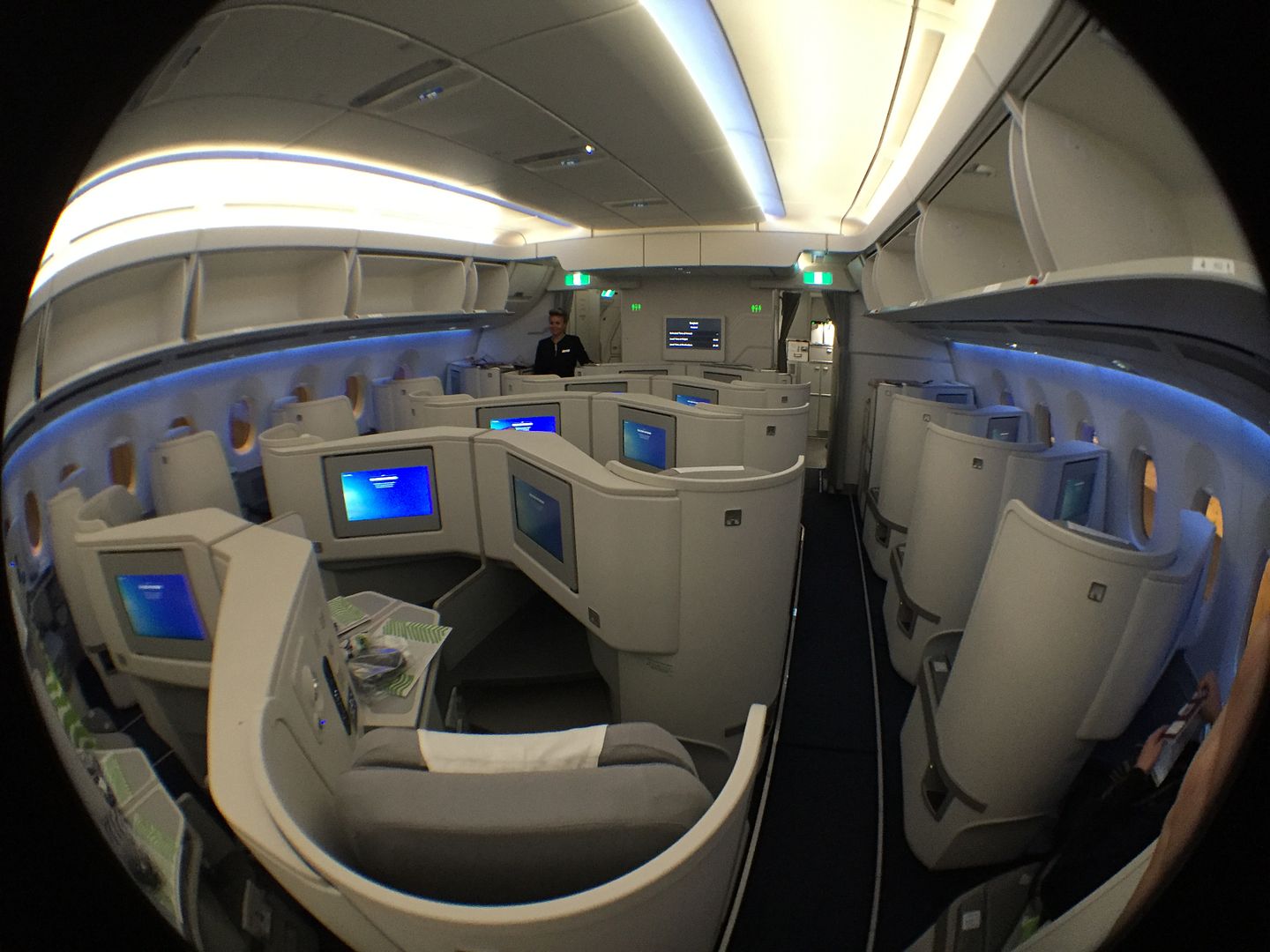 Can you tell that there is a major difference between these two business class cabins?
I just love these herringbone suites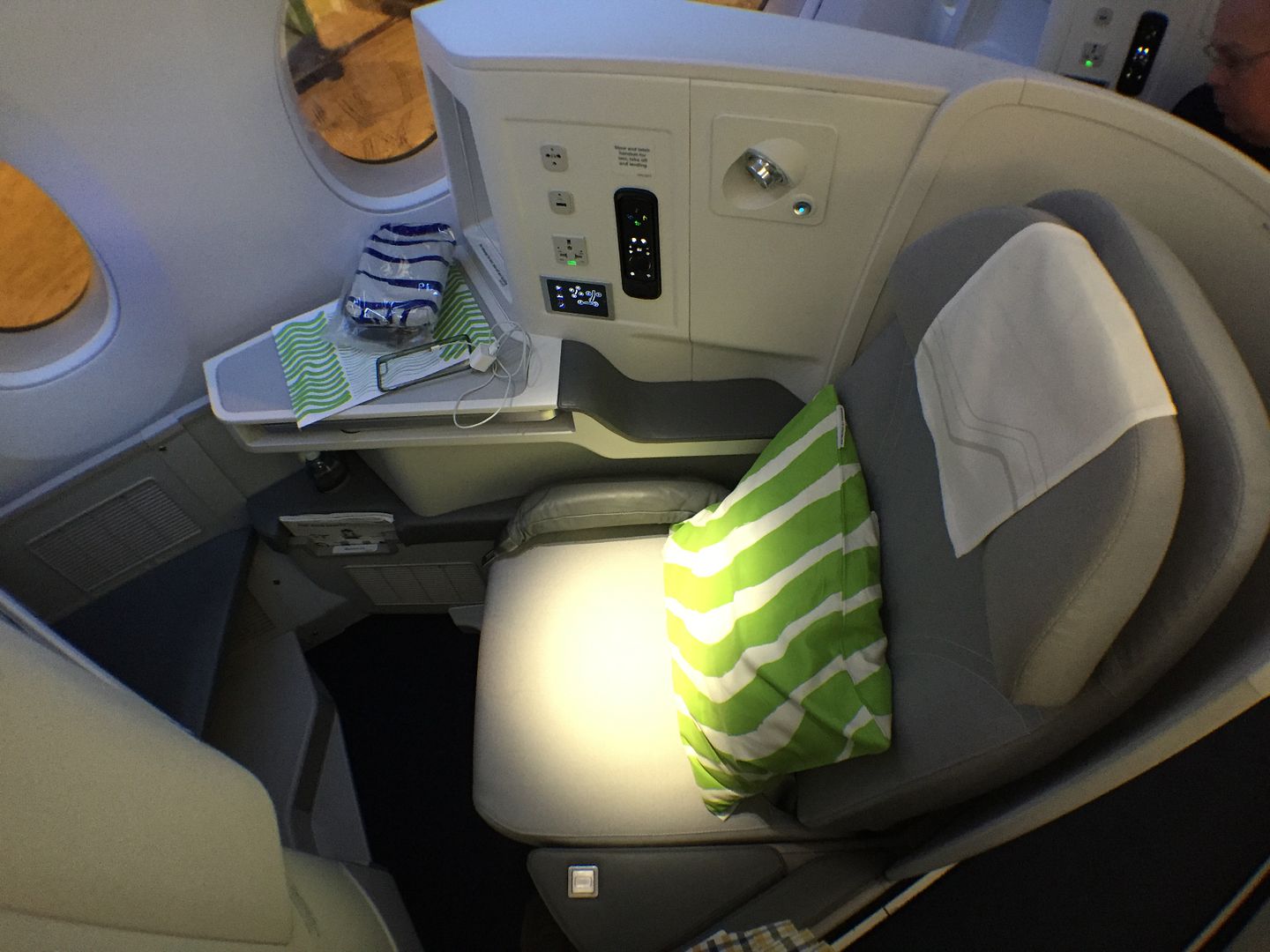 Large window
New LCD signage panel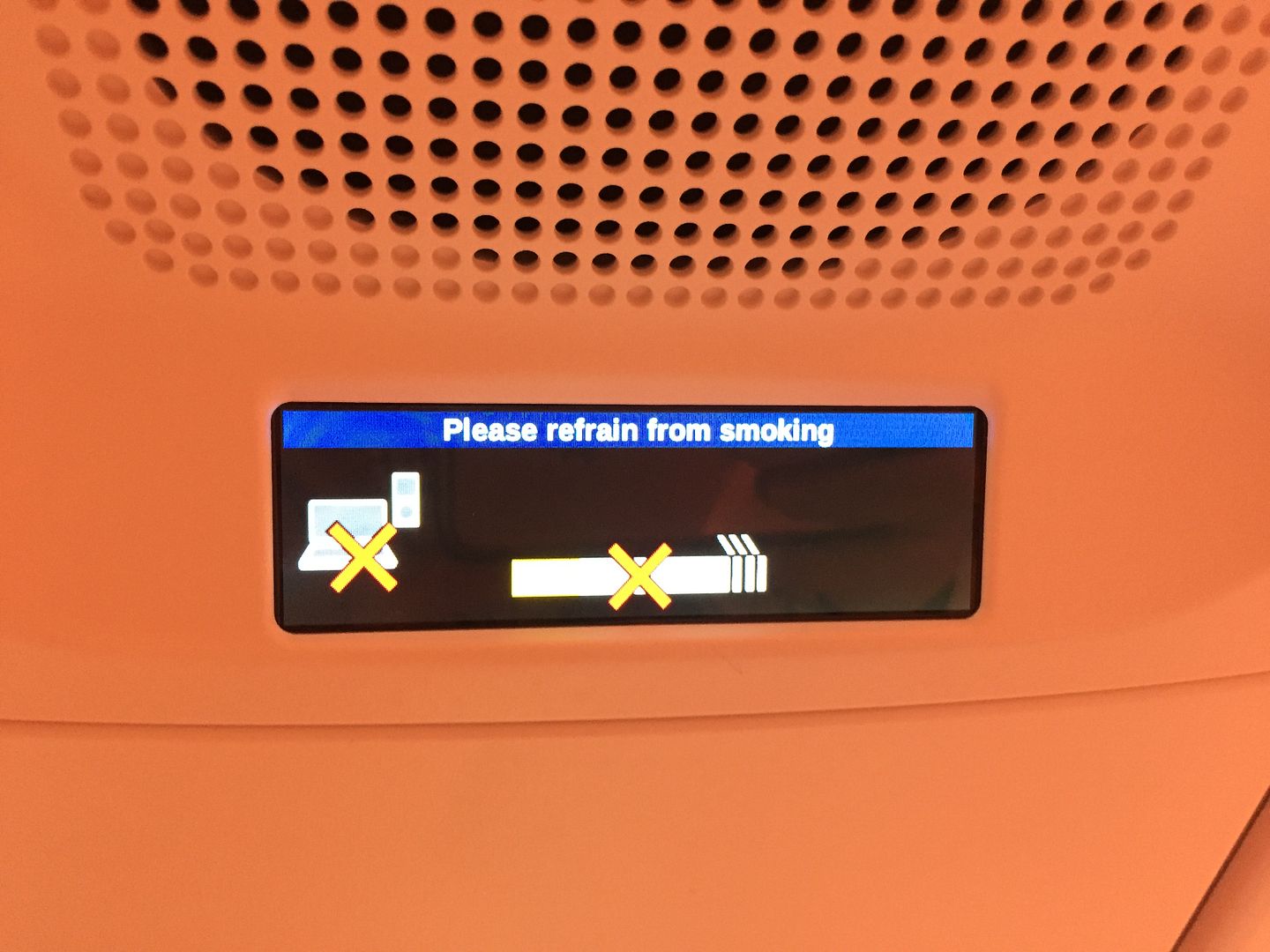 Headset console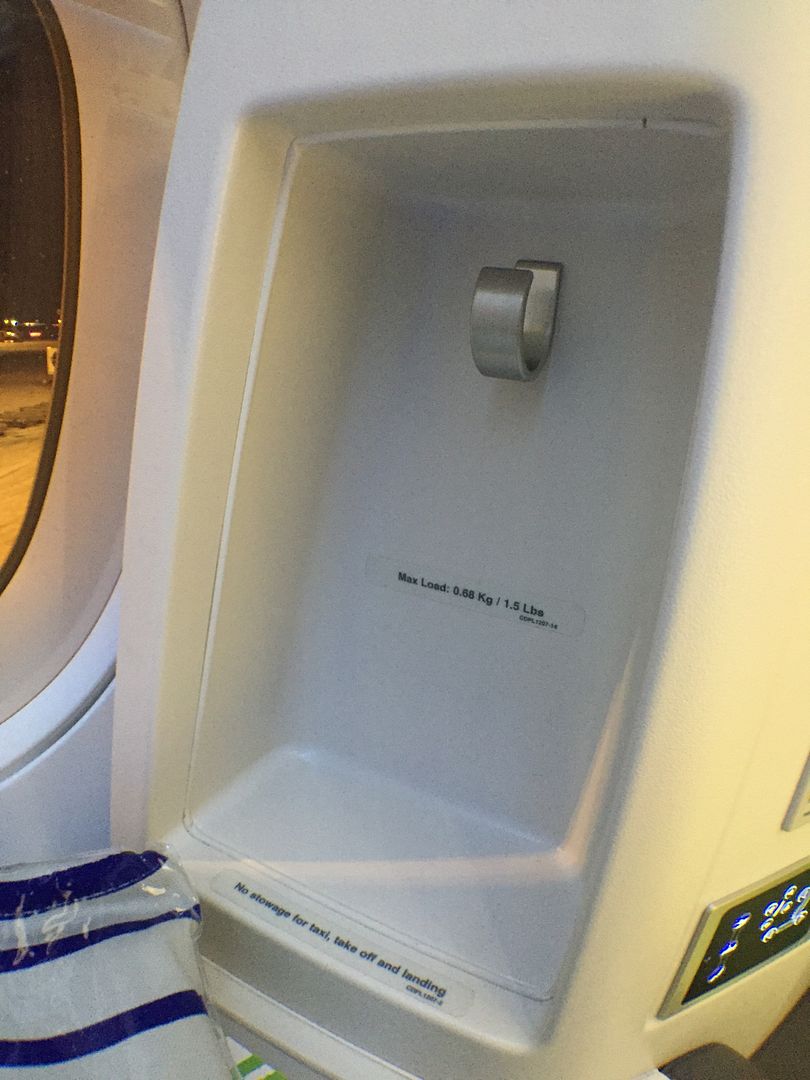 Seat control panel
Footstool
Bottled water holder and literature pocket
Breakfast card
Pre-takeoff beverage – OJ or champagne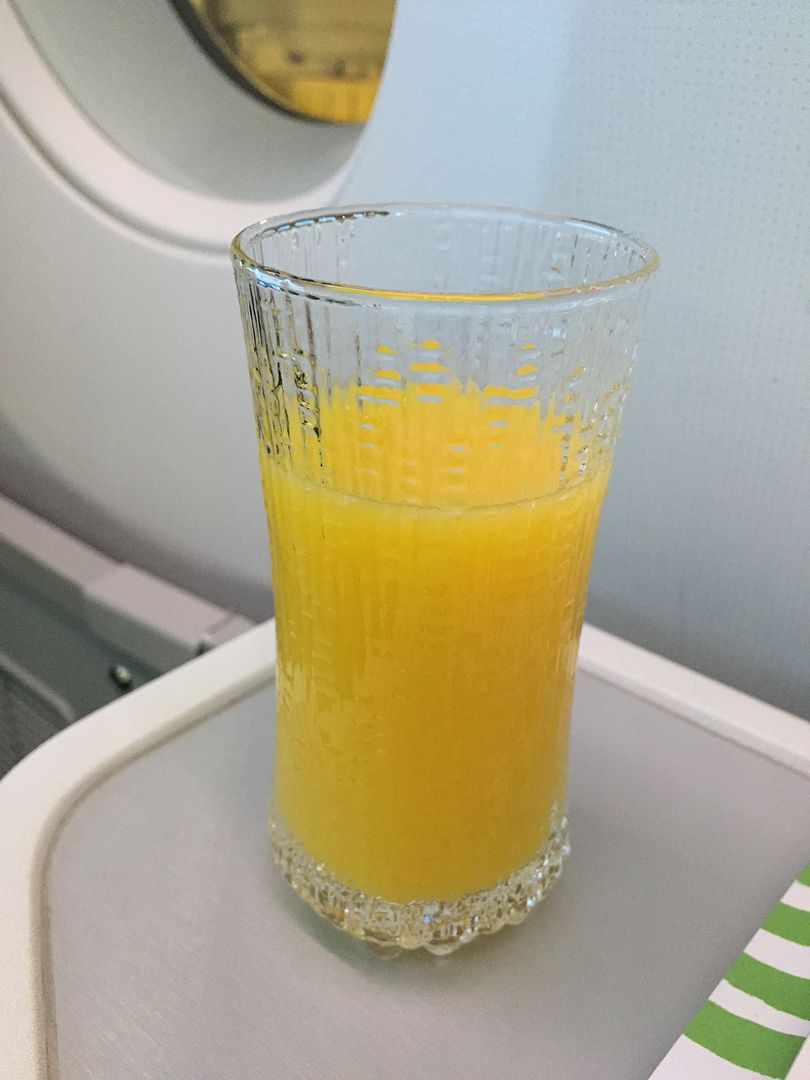 Door was only closed slightly late at 5:06pm, despite the plane was 100% full in J and Y. The pilot proudly introduced the A350 and our flying time was eight hours and fifty-five minutes, and also telling us that we need to deice the wings, which might slightly delay us. I guess since we only needed to deice the wing, we did it in the gate, instead of in a remote parking space.
I love the new tail camera
We took off from R/W4R at 5:30pm, and our routing took us over Russia – St Petersburg and Volgograd at 39,000ft, and before towards Krasnoarneysk, Liman, Aktau, Murgab, Maymana, Gharzni, and we climbed to 41,000ft before passing Sirsa, Hisar, Teonthar, Serpurjalpal, Wakema, Ye, and into Bangkok Suvarnabhumi airport.
I love the cockpit view of the new flight map: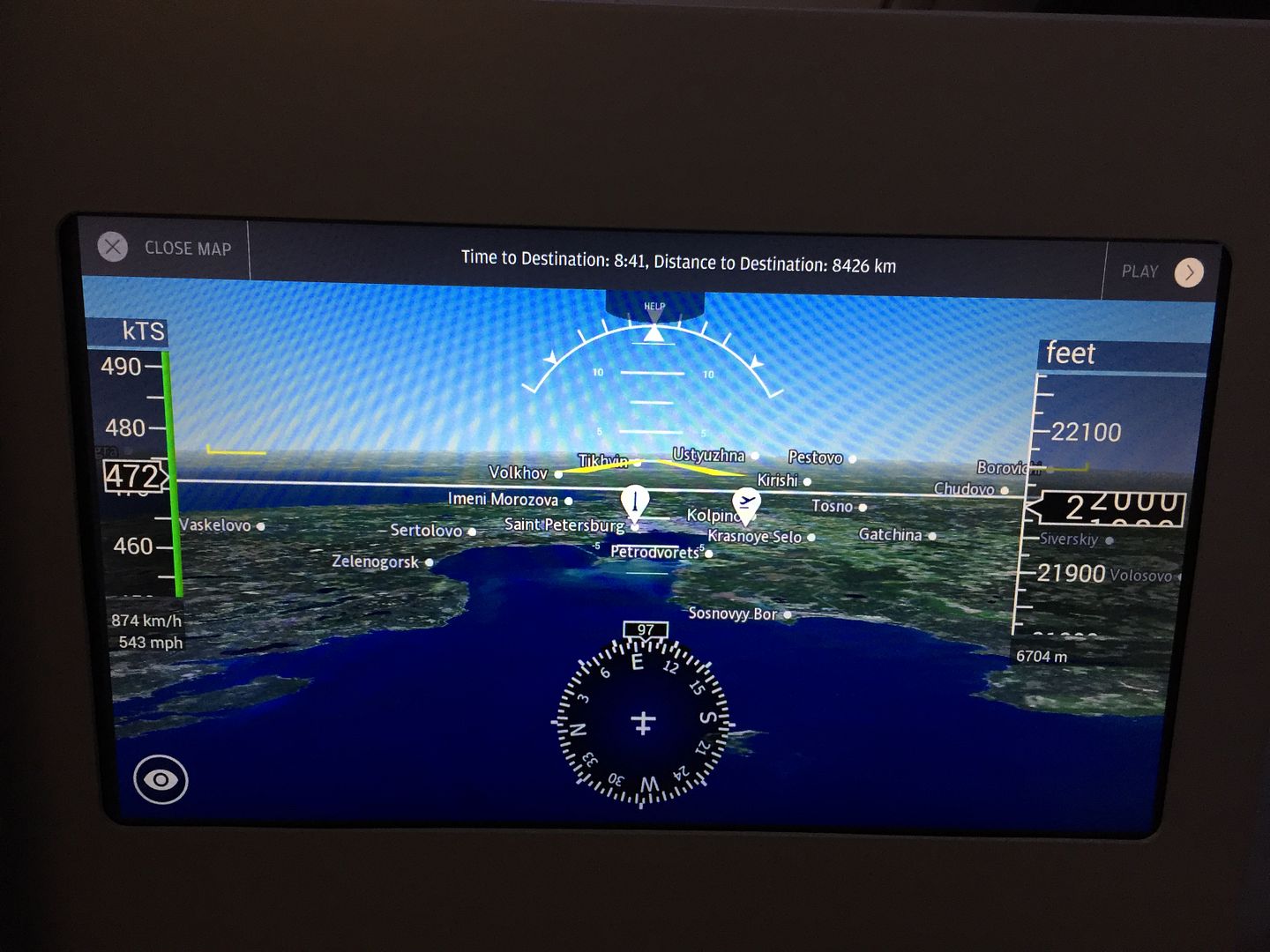 Dinner service began about thirty minutes after takeoff. I was not sure how the new A350 signature menu is significantly different from previous premium flights. The meal was nice in terms of quality, but lacking in terms of quantity and not comparable to most top tier Asian airlines. It is still better than BA though.
I tried Finnair's signature drink:
Finnair Signature Cocktail: Blue Sky
1 cl Lapponia Blueberry Liqueur
8 cl Nicolas Feuilatte Brut Grande Reserve
A350 Signature Menu
Amuse bouche
Mixed Nuts – not sure if I will call a bowl of mixed nuts an amuse bouche, but Finnair should serve both a real amuse like on the other two segments and a bowl of mixed nuts. Finnair simply does not serve enough food.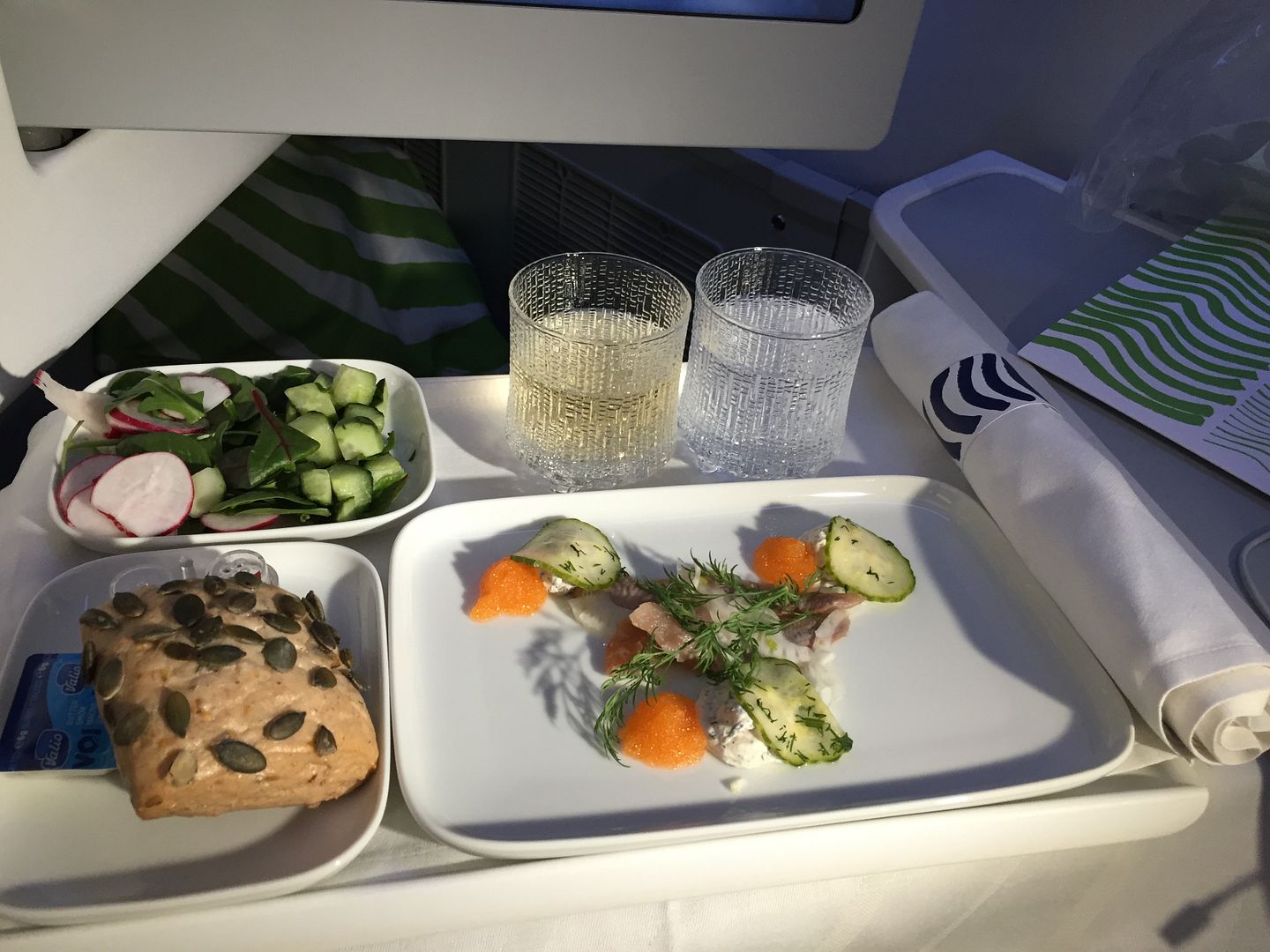 Garden Salad
Starters
Cold smoked Baltic herring, smoked herring mousse and marinated cucumbers – I was never asked for my choice, but given this herring dish automatically. I guess if you order a special entrée, they automatically assign you to one of the specific appetizers. I definitely would prefer the soup because of the weather. I also remember that they used to serve both a starter and a soup, so this is cost cutting, rather than an enhancement.
Or
Creamy crayfish soup and crayfish salad seasoned with lovage-pistou
Main Courses
I checked online for the meal choices and were not too impressed with the three choices. So I settled on one of the three pre-order only entrées.
Warm smoked arctic char, potato terrine and Granny's traditional sour cream sauce
Or
Slow cooked reindeer entrecote, Jerusalem artichoke puree and dark sea buckthorn sauce
Or
Mushroom raviolis, tomato-olive pure and cep cream seasoned with fresh thyme leaves
WHEN DEPARTING FROM HELSINKI, YOU CAN ALSO ORDER ONE OF THE FOLLOWING MAIN COURSES:
Food Lover´s Treat
Herb seasoned bratwurst sausages
- Roasted potatoes and onions with fresh tomatoes – it is pretty good.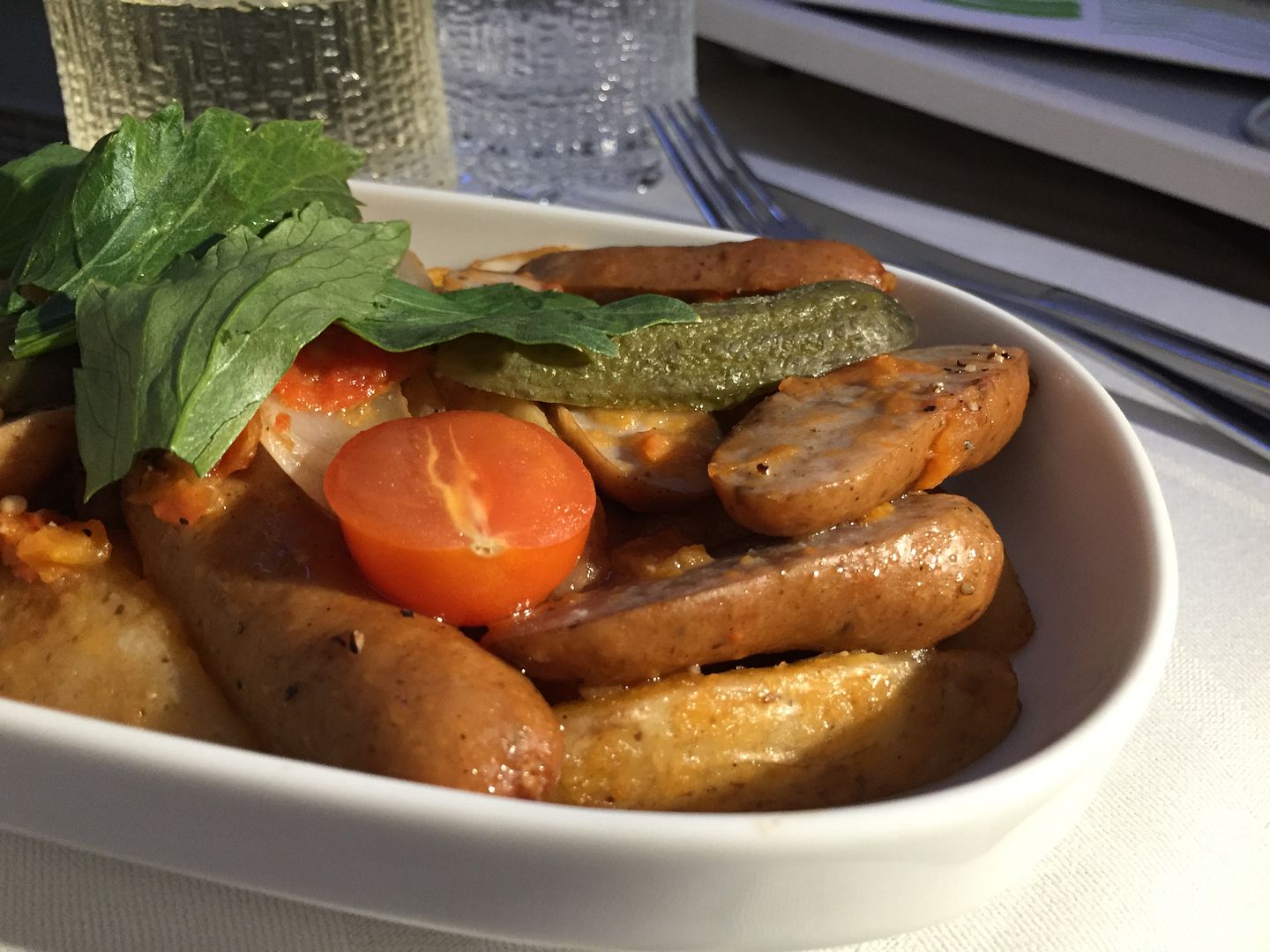 ***
Chef´s Gourmet
Roasted fillet of reindeer with ale-cranberry sauce
- Potato gratin
- Grilled vegetables
***
Wellness and Energy
Grilled chili marinated prawns with cashew nuts
- Jasmine rice
- Fresh vegetables
Desserts
Cheeses from Finnish Small producers:
Peltolan Blue cheese and Viinitarhuri, award winning, strong matured milk cheese and rhubarb jam
Macarone-sortiment
Haagen-Dazs Vanilla or strawberry cheesecake ice cream
Coffee or tea avec
Maybe it was a full flight, so I was not offered both cheese and dessert. Anyway I was so tired by this point, and only wanted to go to sleep, but I snapped a few photos before going to sleep!
Seat on recline position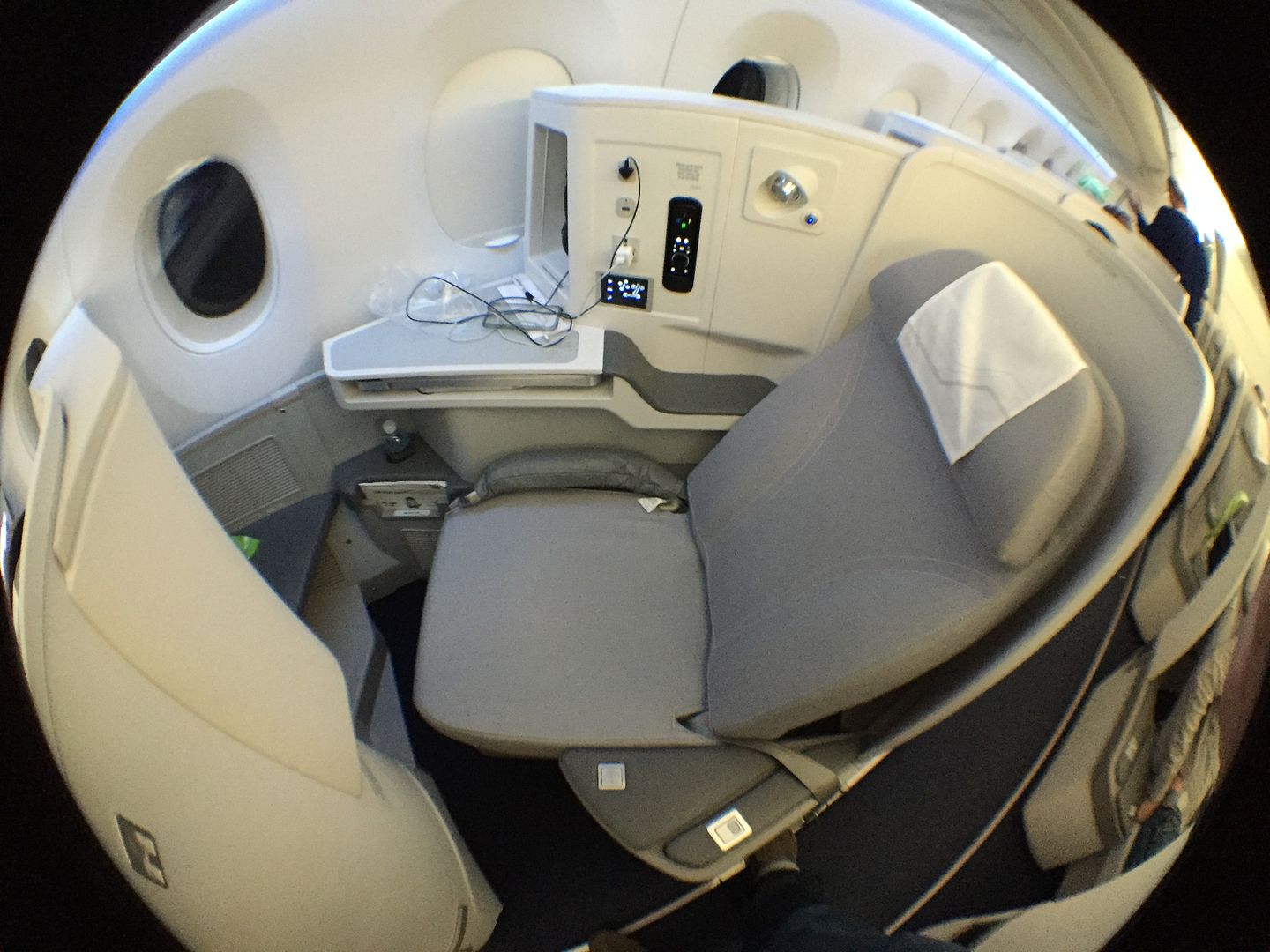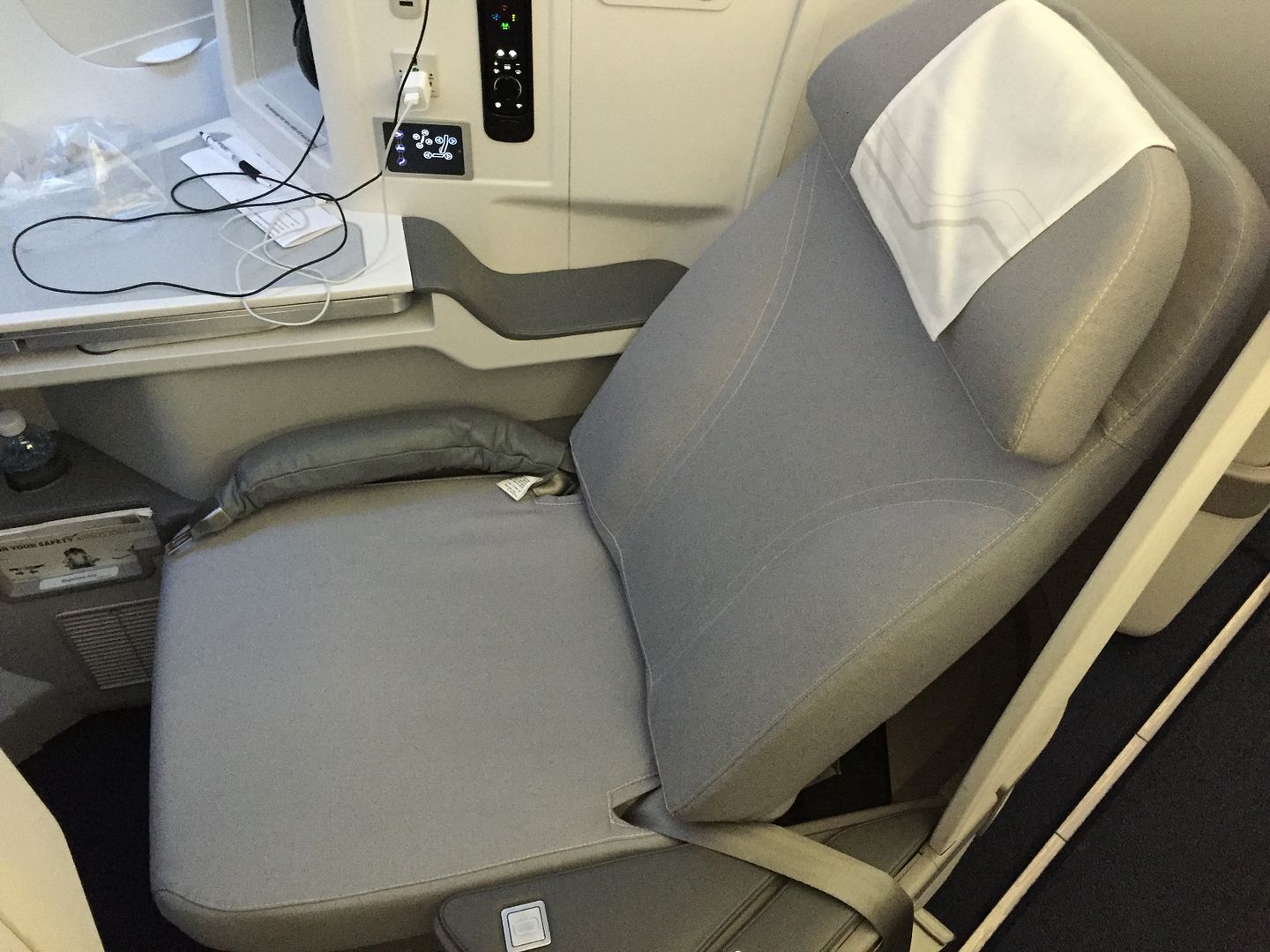 Seat on full flat position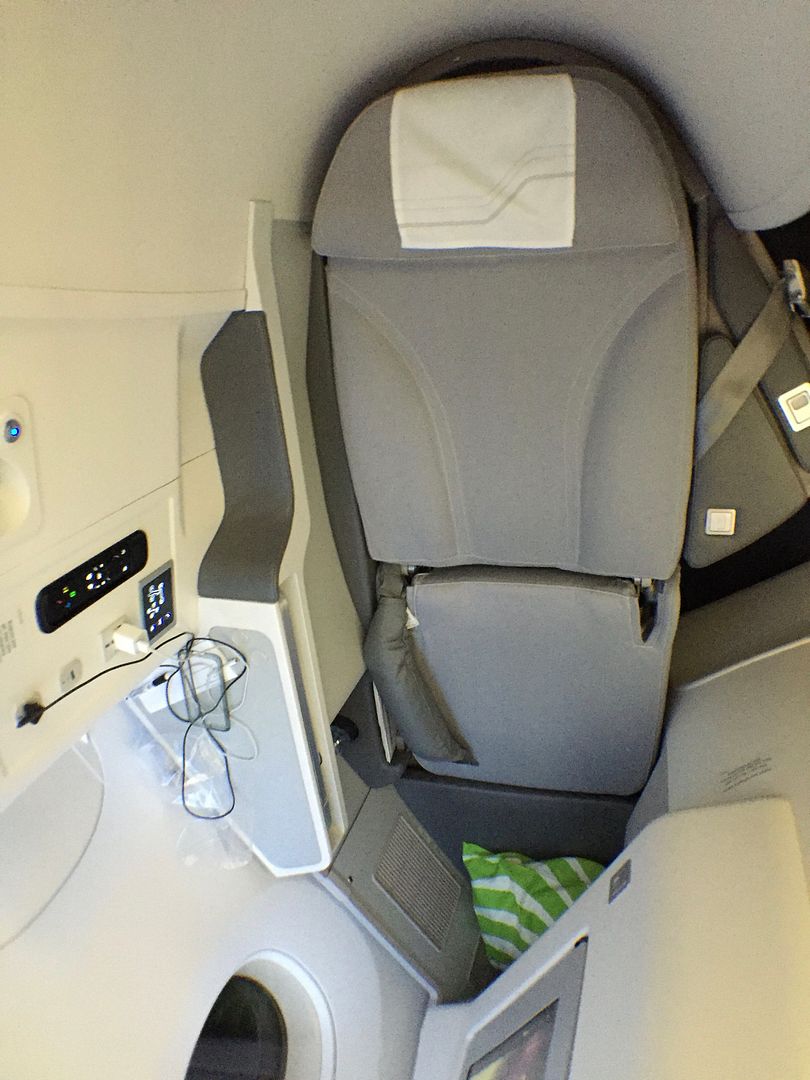 Then I slept for the rest of the flight until breakfast. The seat was very comfortable and I appreciate that the blanket was actually long enough to cover me from shoulder to toes. I have a picture showcasing the Marimekko bedding on the next segment. The breakfast card was a pretty cute concept, but given that Finnair's breakfast was fairly basic. It was really not necessary. Unlike Virgin Australia or Qantas, which actually offered a full range of choices of breads, beverages, dishes and side dishes, and the F/As did not bother recollecting the breakfast cards.
American Breakfast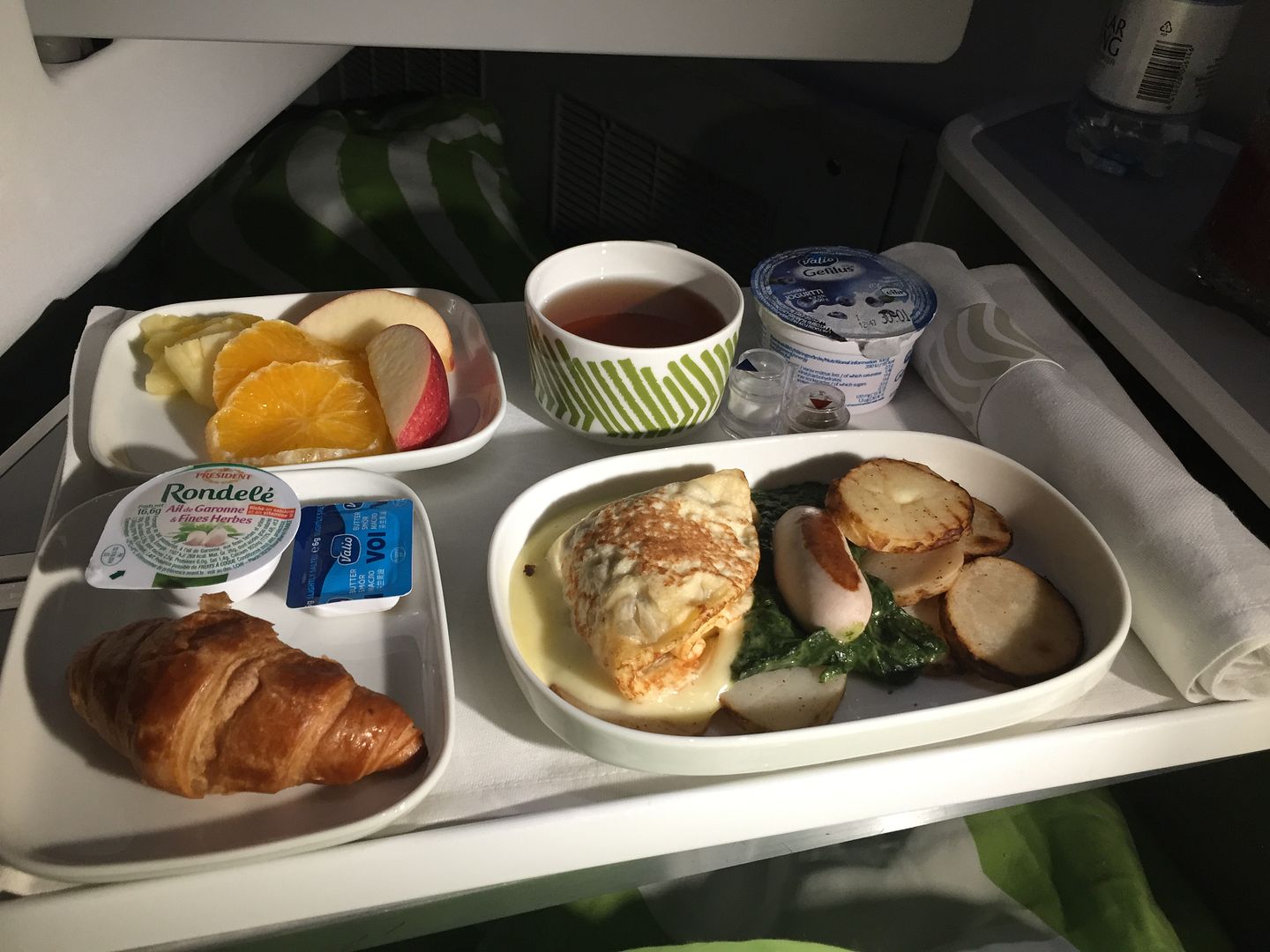 Omelette with smoked salmon, rosti potato with cream cheese and creamy spinach
Fresh Fruit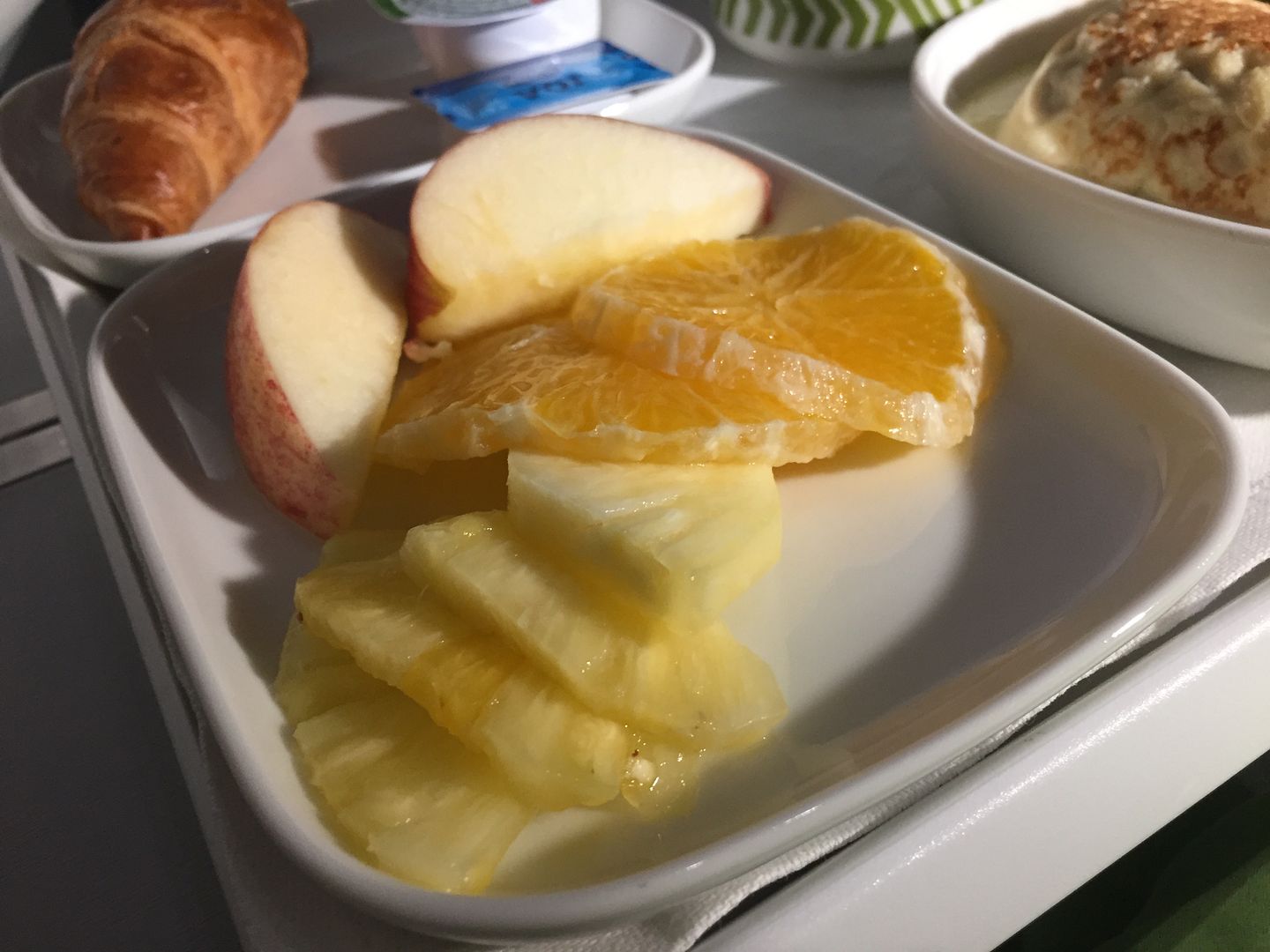 Warming morning roll and croissant
I asked for a yogurt
Or
Light Breakfast
Fresh Fruit and Yogurt
Cheese sandwich
Chicken curry toast
Muesli
Oatmeal
I always like Finnair's hot breakfast service, which is better than its light meal service on daytime flights. At least the meal is actually filling and features a warm entrée.
Descent began at 6:53am Bangkok local time.
We landed on R/W19R at 7:21am and parked at gate F6 eleven minutes later. We had to wait a bit before an ANA plane got pushed from our gate.
Bangkok Suvarnabhumi Airport remained as unimpressive as always, and on arrival, there were agents scrambling to pass out fast pass invitations to premium and elite passengers. There is a board with the list of passengers and the whole process is pretty dis-organizaed and chaotic. It makes more sense to pass those fast pass invitations during the flight. Anyway, the fast pass lanes were fairly busy and my bag had already arrived in the baggage claim by the time I deal with the so-called "fast pass" immigration lane. My bag got a few more dents after this flight.
[Edited 2016-01-26 03:02:32]